New Age Islam News Bureau
20 September 2020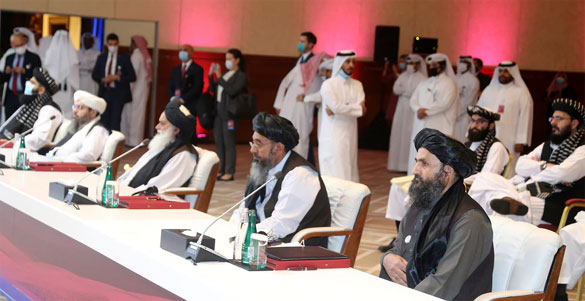 Members of the Taliban delegation are seen at the opening session of peace talks between the Afghan government and the Taliban, in Doha, Qatar, Sept. 12, 2020.
-----
• 'Islamic System' of Government in Afghanistan - Taliban Clears Its Point in the America Brokered Inter-Afghan Talk
• Birmingham: Hannah Keeling, Who Converted to Islam, Knows First-Hand What Racism and Islamophobia Looks Like
• Activists Protest In New York Against Saudi-Led Aggression, Blockade Imposed On Yemen
• Iran Calls US Attempt To 'Snapback' Sanctions 'Null and Void', Urges UN To Block It
• Islamic State Takes Over Resort Islands in The Indian Ocean
• Nigerian Islamic Bank Jaiz Targets N5.41b Gross Income In Q4
• Sherry Rehman Urges Govt To Take Notice of Anti-Shia Rallies, Act Against Banned Outfits
South Asia
• 'Islamic System' of Government in Afghanistan - Taliban Clears Its Point in the America Brokered Inter-Afghan Talk
• Tens of Thousands Attend, Allama Shah Ahmad Shafi, Hefazat-e-Islam Leader's Funeral
• Narayanganj mosque blast death toll hits 33
• 'A Unified Islamic Republic Will be a Better Position to Negotiate and Represent Views of Afghan People
• Over 30 Taliban killed in Afghan air strikes
--------
Europe
• Birmingham: Hannah Keeling, Who Converted to Islam, Knows First-Hand What Racism and Islamophobia Looks Like
• Increase in Muslims Finding Love Online During Lockdown
• Islam still faces obstacles on path to be part of Germany
• Britain, France, Germany tells UNSC Iran sanctions relief to continue beyond Sep. 20
• Islamic Finance In The Global Digital Economy
-------
North America
• Activists Protest In New York Against Saudi-Led Aggression, Blockade Imposed On Yemen
• Trump Says Kuwait May Soon Normalize Ties with Israel
• Members of Toronto Mosque Call for Murder of Volunteer to Be Investigated as Hate Crime
• Hate-filled social media posts key to Rexdale mosque murder?
• Trump's choice of top judge may sway election
--------
Mideast
• Iran Calls US Attempt To 'Snapback' Sanctions 'Null and Void', Urges UN To Block It
• Iran Says No Need for European Arms, Will Buy Weapons from Russia, China
• UN chief says will take no action on US 'snapback' push against Iran
• Evacuating Incirlik airbase could mark end to US-Turkey alliance
• IAEA will make no further demand after inspection of two Iranian sites: Nuclear chief
-------
Arab world
• Islamic State Takes Over Resort Islands in The Indian Ocean
• Taif Agreement Ensured Shia Governmental Partnership through Finance Portfolio & Binding
• Sharjah Islamic Bank wins Sukuk Deal of the Year 2020 Award
• Organization of Islamic Cooperation condemns Houthi attack on Khamis Mushayt
• Blessing in disguise: How pandemic was a catalyst for Saudi SMEs to change
• Six soldiers killed in an attack attributed to the Islamic State in eastern Syria
--------
Africa
• Nigerian Islamic Bank Jaiz Targets N5.41b Gross Income In Q4
• Muslims in Lagos State Told to Be Good Ambassadors of Islam
• Ten Chad soldiers killed in Boko Haram ambush
• Boko Haram destroys 47,615 houses, health centres, others in Borno
--------
Pakistan
• Sherry Rehman Urges Govt To Take Notice of Anti-Shia Rallies, Act Against Banned Outfits
• BankIslami wins Brand of the Year Award 2019 for Islamic Banking
• 'Hasty decision' of closure mars education, says minister
• Opposition moot to devise anti-govt strategy today
• Tareen tells FIA he'll appear on return from UK
-------
Southeast Asia
• Muslim Patani Longs For Peace, Freedom In Thailand
• Twenty Malaysian tabligh members return from India
• PM Muhyiddin's promise of a snap election during Covid-19 irresponsible, says Guan Eng
• Bersatu denies sanctioning 'Perikatan-friendly' independents in Sabah poll
Compiled by New Age Islam News Bureau
URL; https://www.newageislam.com/islamic-world-news/islamic-system-government-afghanistan-taliban/d/122897
------
'Islamic System' of Government in Afghanistan - Taliban Clears Its Point in the America Brokered Inter-Afghan Talk
By Ayaz Gul
September 19, 2020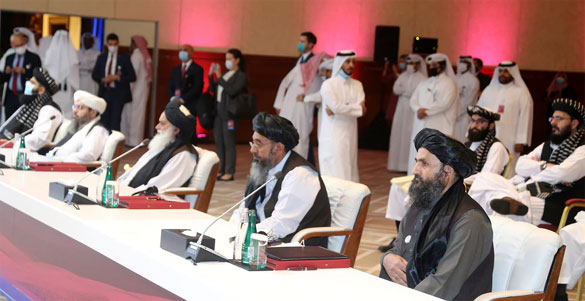 Members of the Taliban delegation are seen at the opening session of peace talks between the Afghan government and the Taliban, in Doha, Qatar, Sept. 12, 2020.
-----
ISLAMABAD - Delegates of Afghanistan's government and the Taliban continue finalizing "rules of negotiations" for a power-sharing deal a week after the two foes launched their historic U.S.-brokered direct peace dialogue.
Meanwhile, battlefield hostilities between Afghan forces and Taliban insurgents continued to inflict heavy casualties on both sides and deepen a mutual trust deficit at the negotiating table.
Airstrikes carried out by Afghan forces against Taliban positions in northeastern Kunduz province Saturday reportedly killed at least 12 civilians and injured 10 others. Defense ministry officials said the attack killed more than 40 insurgents and that investigations into reports of civilian casualties were underway.
A Taliban statement said the airstrikes killed 23 civilians, including women and children, and injured 17 others. It was not immediately possible to verify claims made by either side.
The insurgents have rejected calls for a cease-fire until they negotiate a broader political deal over the future of Afghanistan in the dialogue being hosted by Qatar.
The two negotiating teams have held daily meetings but have shared few details about the intra-Afghan dialogue that began September 12 in Doha, the Qatari capital.
In a weekly commentary published Saturday, the Taliban insisted they have, from the outset, called for the establishment of an "Islamic system" of governance in Afghanistan to be a "focal point of discussions."
The radical group asserted it "believes" the Islamic system could only bring peace and solve problems facing Afghanistan, including corruption and other crimes.
The Taliban denounce the existing Afghan ruling system as illegal and a product of what they call America's occupation of the country.
The Afghan government vehemently defends the political system as "fully Islamic" and has vowed not to compromise on it in the discussions with the insurgent interlocutors.
The peace negotiations in Doha are an outcome of the deal the U.S. signed with the Taliban in February to withdraw about 8,600 American troops remaining in the country by May 2021 and close out America's longest war.
On Friday, U.S. President Donald Trump described the Taliban as "tough" and "smart," saying his administration was dealing well with the insurgents.
"We'll be down very shortly over the next couple of weeks to 4,000 — less than 4,000 [service members] in Afghanistan. And then we'll make that final determination a little bit later on," Trump told reporters.
"We're dealing very well with the Taliban. They're very tough, they're very smart, they're very sharp. … So, we're having some very good discussions with the Taliban, as you probably heard. … And so, we'll be out of there, knowing that certain things have to happen — certain things have to be fulfilled," Trump underscored.
A U.S.-led foreign military alliance invaded Afghanistan and ousted the Taliban from power days after the September 11, 2001, terror strikes on the U.S. that al-Qaida leaders orchestrated from their Afghan sanctuaries.
Trump is seeking re-election November 3, and eliminating what he often denounces as America's "endless war" in Afghanistan has been a key campaign promise.
The Afghan war has cost Washington the lives of more than 2,400 U.S. service members and hundreds of billions of dollars.
Secretary of State Mike Pompeo earlier this week cautioned that intra-Afghan negotiations would be a "difficult" process, but would help reduce the cost of war for the U.S.
A recent survey by the nonprofit Eurasia Group Foundation found strong public support among Republican and Democratic voters for Trump administration-backed peace talks to end the 19-year-old U.S. war in Afghanistan.
The U.S.-Taliban pact binds the insurgents to disallow international terrorism from Afghan soil and engage in peace talks with rival Afghan factions to end the deadly conflict.
https://www.voanews.com/south-central-asia/taliban-want-islamic-system-government-focal-point-afghan-talks
--------
Birmingham: Hannah Keeling, Who Converted to Islam, Knows First-Hand What Racism and Islamophobia Looks Like
By Rakeem Hyatt
20 SEP 2020
Hannah Keeling (Image: Hannah Keeling)
-----
Hannah Keeling, 23, from Hall Green knows first-hand what racism and Islamophobia looks like. Growing up in Tamworth she says she has witnessed a lifetime of racial slurs and xenophobia since primary school from those around her.
Ever since she has been met with a barrage of hate filled comments, she has been forced to keep her faith private on her own social media.
Hannah has now gone a week eating like a Syrian migrant in a Jordan refugee camp to show how we're all equal human beings. And with her newfound faith Hannah wants to shut down religious ignorance everywhere in Birmingham.
"I was talking about housing with a lady outside her workplace. A woman with a Niqab walked past and the lady just said: 'that's why we have no homes, our people are on the streets'.
"Tamworth isn't nice as it is made it to be," she said. "I don't think anyone should wear a Niqab in Tamworth but I don't think anyone would want to wear it.
Birmingham has seen thousands of deaths as a result of coronavirus and one hospital trust in the city has recorded higher deaths than anywhere else in the country.
"When I was growing up there were two black kids and two Asian kids at my entire high school. I had a friend who said their dad was part of the EDL.
She was sent a box of food that refugees would eat and given the option to add just a few additional items. Shockingly she wasn't able to drink anything else besides water.
"It was very bland and it doesn't help that I was cooking for my daughter as well. But it is meant to just help you survive and be somewhat nutritious."
On Tuesday and Wednesday, I took my daughter to nursery in Solihull. I had to stay because I didn't have enough time to go back home. On Wednesday I ended up having dhaal. I used all my lentil allowance to mix some spices.
On Thursday the fried rice made another appearance despite it not being "too fried this time." On the fifth day with supplies running low Hannah was forced to get more creative. Using her leftover chickpeas, soaking them in water and blending them together she made falafel.
With the end in sight at the weekend and rations at a desperate low, Hannah was forced to eat nothing but rice for lunch and dinner.
"Looking back I think I did really well, especially balancing a child, taking her to nursery, and maintaining a home. It was challenging. I could have given up plenty of times and donated myself but I kept at it.
"I raised £166. £167 feeds a refugee for a whole year, it can provide a medical visit. It has made me understand a lot more about the experiences, a little bit closer to an understanding.
https://www.birminghammail.co.uk/news/midlands-news/mum-who-converted-islam-goes-18945605
------
Activists Protest In New York Against Saudi-Led Aggression, Blockade Imposed On Yemen
September 19, 2020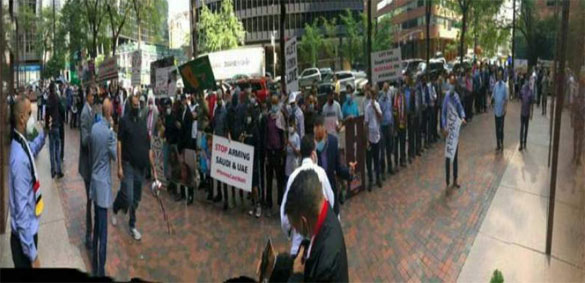 A mass rally was held on Friday, in New York, condemning the 2000 days of aggression and blockade imposed on Yemen.
-----
On Friday, a mass rally was held in New York City, marking the anniversary of Saudi-led aggression and blockade imposed on Yemen.
The protesters, led by members of the Yemeni community, Muslim communities in the US and a large number of American anti-war activists, took to the streets of Manhattan, New York.
They marched to the office of Senator Schumer, raising pictures of the victims of the aggression and the blockade.
They also chanted slogans against aggression, including: "Stop your aggression against Yemen", "Lift the siege of Sanaa International Airport", "launch the detaning oil derivatives", "Let the Yemenis decide their political future", and "no guardianship and occupation".
They also called for an end of the blockade on Yemen and the lifting of the embargo on Sanaa International Airport.
The Yemeni community, with all its political and intellectual components in New York, called on activists and community members to participate in this march condemning the war crimes committed by the Coalition of Aggression, demanding an end to the aggression, lifting the blockade by land, sea and air, lifting the siege of Sana'a International Airport and prosecuting the leaders of the states of aggression as war criminals.
https://en.abna24.com/news//activists-protest-in-new-york-against-saudi-led-aggression-blockade-imposed-on-yemen_1071768.html
---------
Iran Calls US Attempt To 'Snapback' Sanctions 'Null And Void', Urges UN To Block It
20 September 2020
Dmitry Polyanskiy
Iran says the US' claim about the return of the UN Security Council's sanctions against Tehran as per the so-called "snapback" mechanism is "null and void", calling on the UN and its Security Council to block any attempt to reinstate the bans.
Majid Takht-Ravanchi, the permanent ambassador of the Islamic Republic of Iran to the United Nations, made the remarks in a letter to the UN Security Council and to the UN Secretary-General early Sunday.
"Given that the stated objective of the United States is to completely ruin the Joint Comprehensive Plan of Action and to that end, its strategy is to create legal complication through presenting unilateral arbitrary interpretations and pseudo-legal arguments, the Islamic Republic of Iran trusts that the members of the Security Council will, once again, reject the United States' continued attempt to abuse the Security Council's process, thus undermining the authority and credibility of the Council and the United Nations," Takht-Ravanchi said in the letter.
The Iranian envoy also responded to the news on Twitter, saying that "UNSC member states continue to maintain US is NOT a JCPOA participant, so its claim of "snapback" is null & void."
"US is STILL in violation of JCPOA and Res 2231—swimming against int'l currents will only bring it more isolation," he tweeted.
US Secretary of State Mike Pompeo said on Saturday night that the US has reimposed UN sanctions against Iran based on the snapback mechanism despite global rejection, even by its own allies.
Other countries have rejected the US' argument that it could reimpose the UN sanctions that had been lifted under the Iran nuclear deal as the Trump administration withdrew from the deal in 2018 and was not a party to the deal anymore. Therefore, they are not expected to recognize the snapback sanctions.
In a televised interview a few hours before Pompeo's announcement, Iranian Foreign Minister Mohammad Javad Zarif said there was no mechanism for the US to enforce its controversial "snapback", and warned that other countries would be subjected to the same treatment if they did not resist America's move.
"The Americans claim that ... within a few hours, the resolutions [sanctions] will return. But they themselves realize that this is a false claim," the Iranian top diplomat said.
"The Americans as a rule act as a bully and impose sanction ... The world community should decide how to act towards bullying," he added.
"As they (other countries) will face the same thing tomorrow when America takes the same action towards the Nord Stream project, as well as other projects because a bully will continue to act as a bully if he is allowed to do it once," Zarif said.
He noted that the US knows UN sanctions will not return "so they have resorted to bullying, and said they will sanction anyone who sells weapons to Iran".
Zarif stressed that "there is no thing called 'snapback'. There is no automatic mode. It's not like anyone who's had a fight with their mother can up and create a 'snapback' mechanism."
"Pompeo believes this is a simple mechanism ... it is not," Zarif said, accusing him of not having read the UN security council resolutions or the agreement's text.
"He's now probably waiting for JCPOA's movie to come out so he would know what it is," he added, referring to the deal's official name, the Joint Comprehensive Plan of Action.
In reaction to Pompeo's announcement, Russia's ambassador to the UN expressed regret that the US is isolating itself by making such humiliating moves.
"It's very painful to see how a great country humiliates itself like this, opposes in its obstinate delirium other members of UN Security Council. We all clearly said in August that US claims to trigger snapback are illegitimate. Is Washington deaf?" Dmitry Polyanskiy tweeted early Sunday.
"The US seems to be persistent in undermining international law by imposing its selfish will on the others. Is it the "rules based int'l order" where rules are set by limited club of nations that our American colleagues have been ardently defending recently?"
https://www.presstv.com/Detail/2020/09/20/634567/Iran-US-snapback-sanctions-ranvachi
-----------
Islamic State Takes Over Resort Islands in The Indian Ocean
by Gary Leff
September 19, 2020
When ISIS took Mosul, in Northern Iraq, they renovated and operated the 262 room Ninawa International hotel. However, without alcohol revenue from the bars, and expelled by Iraqi and coalition forces in 2017, they didn't have enough time to recoup the capital investment.
Early in the global coronavirus pandemic, the Islamic State suspended all non-essential business travel. For a period of time jihad had to take place entirely online. Yet they've begun re-opening. And as they've worked to expand their territory, they've remembered the lessons of the Ninawa International Hotel in Mosul – that their time in power may be short-lived and so investing in and operating resorts isn't likely to be a successful investment model.
ISIS fighters have captured resort islands in the Indian Ocean but they no longer seek to run the properties. Instead the "[l]uxury islands off the coast of Mozambique, where A-list celebrities spend their holidays" have been "torched" by militants. Although there are still properties in the region that are accepting guess, subject to Covid entry restrictions.
The ISIS insurgents have ordered residents to abandon the islands of Vamizi and Mecungo – where celebrities like Daniel Craig, Bono and Prince Albert of Monaco have holidayed in luxury.
Footballer Cristiano Ronaldo and political leader Nelson Mandela have also been known to have enjoyed holidays on the picturesque island.
The Islamic State Central Africa Province hasn't announced any plans for rebuilding of the resorts they've burned down, or a path re-opening to tourists during the pandemic.
https://viewfromthewing.com/islamic-state-takes-over-resort-islands-in-the-indian-ocean/
-------
Nigerian Islamic bank Jaiz targets N5.41b gross income in Q4
BY TAOFIK SALAKO
09 SEP 2020
The management of Jaiz Bank Plc has projected that the flagship non-interest bank will post a gross income of N5.41 billion in the fourth quarter with average pre-tax profit per average sales expected at 13.03 per cent.
In a regulatory filing at the Nigerian Stock Exchange (NSE), Jaiz Bank, Nigeria's first non-interest bank and the only publicly quoted alternative finance institution, predicted that profit before tax will be N705.37 million while profit after tax is expected to close the three-month period at N634.83 million.
The forecast, signed by Jaiz Bank's Chief Financial Officer, Abdulfattah Amoo, indicated that the bottom-line performance was predicated on financing income of N4.94 billion and financing expenses of N1.39 billion, leaving net revenue from funds at N3.55 billion.
Within the three-month period between October and December 2020, the bank is expecting other incomes of about N467.45 million, which is expected to push net operating incomes to N3.85 billion. With operating expenses at N3.14 billion and taxes projected at N70.54 million, pre and post tax profits are expected to close the period at N705.37 million and N634.83 million.
Jaiz Bank seeks to achieve an overall vision of being the leading non-interest financial institution in Sub-Saharan Africa (SSA) with total income expected to be about N81.17 billion and profit after tax at N11.09 billion for the five-year period between 2018 and 2022. The bank outperformed its forecast for the 2019 financial year and the latest forecast fourth quarter 2020 indicated it may surpass the 2020 full-year targets.
According to the forecasts, gross income is expected to rise to N15.73 billion, N19.27 billion and N23.51 billion in 2020, 2021 and 2022. Profit before tax is projected to rise to N3.01 billion, N4.03 billion and N5.47 billion in 2020, 2021 and 2022. After taxes, net profit is expected to rise to N2.11 billion in 2020 and rise consecutively to N2.82 billion and N3.83 billion in 2021 and 2022.
Under the plan, the balance sheet of the bank is expected to increase consecutively over the years. Total assets is projected at N182.6 billion, N220.02 billion and N262.80 billion in 2020, 2021 and 2022 respectively. Deposit is projected to rise consecutively to N142.81 billion, N177.09 billion and N216.05 billion in 2020, 2021 and 2022. Shareholders' fund is also projected to increase to N35.23 billion by 2022.
Managing Director, Jaiz Bank Plc, Mr. Hassan Usman, has said overall vision of the bank is to become the leading non-interest financial institution in Sub-Saharan Africa.
He said the bank has been positioned to sustain its growth trajectory, pointing out that the bank has the necessary resources to achieve its growth targets.
Usman said the bank's growth strategy of focussing on the real sector, though painstaking, will ensure sustainable growth and better returns over the years.
According to him, Jaiz Bank wants to develop small and medium enterprises (SMEs), grow with them and support them not only for profit making but to ensure the country achieves real growth.
"We shall continue to internally develop new customers, new markets and new product for both our physical and virtual channels. We remain committed to continuous up-scaling of our governance mechanism to meet the highest operating standards. Cost efficiency is at the heart of our value creation model. We shall strive to be a low cost operator," Usman said.
He noted that while the bank would continue to expand its operations across the country by opening more branches, it will significantly leverage on technology to reach the nooks and crannies of the country and bring the semi-banked and unbanked population into the formal economy.
Jaiz Bank was created out of the former Jaiz International Plc which was set up in 2003 as a Special Purpose Vehicle (SPV) to establish Nigeria's first full-fledged non-interest bank. The bank is owned by some 27,000 shareholders including the Islamic Development Bank (IDB). It obtained a regional operating license to operate as a non-interest bank from the Central Bank of Nigeria (CBN) on November 11, 2011 and began full operations as the first non-interest bank in Nigeria on January 6, 2012. In 2016, it obtained the national banking license from the CBN and started to rapidly spread its network across the country.
Jaiz Bank recorded another milestone on February 9, 2017 as the first non-interest financial institution to be listed on the NSE with the admission of the entire issued share capital of the bank to the main board of the Exchange.
https://www.salaamgateway.com/story/nigerian-islamic-bank-jaiz-targets-n541b-gross-income-in-q4
---------
Sherry Rehman Urges Govt To Take Notice Of Anti-Shia Rallies, Act Against Banned Outfits
Naya Daur
September 19, 2020
In the wake of anti-Shia rallies being held by banned outfits across Pakistan to incite hatred against the minority Muslim community, Pakistan People's Party (PPP) Senator Sherry Rehman has asked the federal government to act against the proscribed outfits in line with the National Action Plan.
Speaking in a parliament session, the senator said the government has to control these outfits as it is the responsibility of the state to protect 'oppressed segments' of society. She urged the ministers to give a statement against these marches and ensure that citizens are protected.
Thank you Sen @sherryrehman for ALWAYS standing with the most vulnerable, most persecuted & most terrorised groups/communities. The ONLY Senator who dared say no one else would, the bravest voice in the Senate ❤️🙌 #StopShiaKillings pic.twitter.com/9gEqE8VVHA
"We know that speaking against such outfits will land us in trouble, but what is the use of being a parliament if we are unable to raise our voice for the oppressed people," the senator added.
'Social boycott' of Shias:
Participants of an anti-Shia rally that was organised by the banned outfits in Islamabad to protect the 'sanctity of the companions of Prophet Mohammad (PBUH)' have called for a 'social boycott' of the members of the minority Muslim community.
During the demonstration in the federal capital, a speaker asked the participants to make a promise that they would cut all ties with the Shia community.
The speaker urged the government to enact laws against the Shia community who make 'insulting remarks' against certain companions of the Prophet (PBUH). "The government should legislate against Shias just like it did against the Ahmadiyya community," the speaker added.
In a speech laden with hate, the cleric urged the government 'cut the tongues' of Shias over their alleged remarks against the Prophet's companions. He said if the government will not take action against them, they will take law in their hands to silence the Shias.
Reacting to the rally, journalist Bilal Farooqi said that the outfits participating in these rallies are on the interior ministry's list of proscribed organisations. He questioned how are these groups allowed to organise gatherings in the presence of the National Action Plan.
Earlier this month, the Tehreek-e-Labbaik Pakistan (TLP) and Ahl-e-Sunnat Wal Jamaat (ASWJ) held separate rallies in Karachi against the minority Shia community.
During the ASWJ rally, the participant chanted hate slogans, such as 'Shia kafir' against the members of the Shia community and demanded a ban on Muharram processions.
Since the start of Muharram, there has been an increase in hate campaigns against Shia groups and subsequent blasphemy allegations for reciting Ziyarat-e-Ashura — a prayer that denounces the killers of Imam Hussain. Moreover, a number of Shia orators were detained across the country for allegedly making blasphemous statements against some companions of Prophet Muhammad (PBUH).
Sudden rise in blasphemy cases against Shias:
At least 42 cases pertaining to blasphemy were registered across Pakistan in a single month, according to data compiled by a social media user.
Most of those accused of blasphemy belonged to the Shia community, who have been booked under 295-A and 298 sections of the Pakistan Penal Code for allegedly 'insulting the companions of Prophet Muhammad (PBUH)'. Similarly, members of Ahmadiyya and Christian communities are also among the people accused of blasphemy.
Blasphemy accusations are highly inflammatory in deeply conservative Pakistan and have in the past sparked mob lynchings, vigilante murders, and mass protests.
Anti-Shia wall chalking:
Days after a Shia cleric was booked for alleged blasphemous remarks, anti-Shia wall chalking — a hate practice common since the 80s — has reappeared in various neighbourhoods of Karachi.
According to a post shared on Facebook, the wall chalking also had flags of banned sectarian outfits next to it. "Today, Prime Minister and COAS are coming to Karachi and we can see how the decades-old wall chalkings of "Shia Kafir" started reappearing on the street walls of various neighbourhoods in Karachi with the flags of the banned militant outfits."
https://nayadaur.tv/2020/09/sherry-rehman-urges-govt-to-take-notice-of-anti-shia-rallies-act-against-banned-outfits/
---------
South Asia
Tens of Thousands Attend, Allama Shah Ahmad Shafi, Hefazat-e-Islam Leader's Funeral
19/09/2020
Dhaka (AFP)
Tens of thousands of people gathered to mourn the controversial leader of Bangladesh's largest Islamist group as his funeral was held on Saturday in a rural southeastern town, police said.
Allama Shah Ahmad Shafi, who had led the hardline Hefazat-e-Islam group since it was formed in 2010, died of age-related complications on Friday in the capital Dhaka. He was believed to be over 100 years old.
His death came just a day after an unprecedented revolt involving thousands of students at his highly influential madrasa, or Islamic school, forced him to resign after three decades as its chair.
Shafi made his mark in national politics when he marched tens of thousands of his followers into central Dhaka in May 2013, demanding harsh blasphemy laws and the execution of atheist bloggers.
That rally ended bloodily when police evicted his followers from the capital's main commercial centre. Around 50 people were killed in clashes with security forces -- most of them shot dead -- in some of the worst political violence the country had ever seen.
On Saturday, after Shafi's body was brought back to his school in Hathazari outside the port city of Chittagong, vast crowds of his followers rushed to the town to pay their respects.
"Some 150,000 people have already gathered here on the madrasa ground, in the buildings and out on the roads to his funeral prayers," regional police chief Anwar Hossain told AFP. Shafi's supporters said the turnout was far higher.
As supreme leader of Hefazat-e-Islam, Shafi oversaw its growth into the South Asian country's biggest Islamic fundamentalist group with millions of supporters.
Bangladesh is 90 percent Muslim and Shafi drew on support from seminaries at the tens of thousands of Islamic schools in the conservative nation of 168 million people.
His followers saw him as a key defender of the faith, but to his critics he was known as the "Tamarind Cleric", who wanted to roll back the secular character of modern Bangladesh.
Shafi's unceremonious resignation as head of the madrasa -- which is considered the heart of conservative Islam in Bangladesh -- took place on Thursday night after a two-day long demonstration at the school.
Up to 3,000 madrasa students took part in the revolt, a police spokesman told AFP, which was triggered by the sacking of three madrasa teachers, allegedly orchestrated by Shafi's powerful son Anas Madani.
In recent years, relations have improved between Hefazat-e-Islam and the secular government, which agreed to the group's demands for recognition of madrasa degrees and allowing students from all madrasas to compete for government jobs.
https://www.france24.com/en/20200919-tens-of-thousands-attend-bangladesh-islamist-leader-s-funeral
-------
Narayanganj mosque blast death toll hits 33
Staff Correspondent
Sep 19,2020
Another burn victim of the Narayanganj mosque blast died at Sheikh Hasina National Institute of Burn and Plastic Surgery in Dhaka on Saturday noon, raising the death toll to 33.
Mohammad Farid, 50, died from his injuries at about 1:45pm.
Partha Sankar Pal, a residential surgeon of the institute, confirmed the matter.
A recent blast at the mosque known as Baitus Salat Jame Masjid at Paschim Talla under Fatullah in Narayanganj left around 40 people seriously injured. Of them, 37 were immediately taken to the Dhaka hospital in a critical condition and 31 of them died from their injuries.
The explosion took place due to leakages in a gas pipeline adjacent to the mosque.
Local people blamed the negligence of the Titas authorities, saying that the agency people demanded bribe which the mosque authority refused to pay and as a result, the leakages were left unattended.
The mosque management committee complained that the Titas officials claimed Tk 50,000 as bribe when they approached them.
Non-payment of the amount finally led to the blast, locals informed the probe team.
However, the authorities concerned, on September 10, relocated the power transformer and the gas pipeline adjacent to the mosque.
https://www.newagebd.net/article/116691/narayanganj-mosque-blast-death-toll-hits-33
---------
'A Unified Islamic Republic Will be a Better Position to Negotiate and Represent Views of Afghan People
Written by Manager
September 19, 2020
Kabul (BNA) As talks are underway in Doha, Afghan negotiating team spokesman Nader Nadery says that both sides agreed on internal principles and few more points left to be addressed.
He told media through an audio clip that during a meeting with the Taliban on Wednesday almost 90 percent progress was made on the internal principles, rules and regulation of future meetings. Naderi said they were discussing technical matters for future talks and there was need for being patient and more attentive instead of stressing over acceleration.
Meanwhile Dr. Abdullah Abdullah, Chairman of the High Council for National Reconciliation, on Thursday said that the talks between the Islamic Republic of Afghanistan and the Taliban will be difficult, stating that the Afghan team will face issues that will require hard decisions to be made.
Speaking to Al-Jazeera, Dr. Abdullah said Afghanistan's future would include one that can sustain itself and one that leads to durable peace and stability.
As intra-Afghan negotiations continue, between the Afghan negotiating team and the Taliban, Dr. Abdullah said both sides need to come to a shared agreement on how to move forward.
"Both sides should see the need and come to the realization that we must put people first," he said and on whether the country's future was a Republic or an Emirate system, he stated it would come "down to the will of the people".
Asked about the Islamic Republic of Afghanistan's constitution, and any possible changes to it, he said there were provisions incorporated in the guiding document which allowed for changes to be made. He said the provisions were designed for the interests of the country to get the people in the country together in a unified manner but a change to the constitution was not impossible.
Should a peace deal be sealed and structural changes be needed, he stated: "The country needs national institutions, national army, national police or any other security sector."
Dr. Abdullah said that one aspect of the hard work that lay ahead of the peace talks teams was how to integrate the Afghan security forces and Taliban fighters.
"The blueprint has to be decided by both sides", and there shouldn't be preconditions attached to it, he said. Adding his voice to countless of other officials, both local and foreign, Abdullah said a reduction in violence was critical at this point so that the process could move towards a ceasefire.
"When I talk about casualties, it's not just on one side. It's on both sides," he said adding that this was unfortunate and a "burden on the next generation." He said there is no winner in a war and no loser in an inclusive, peaceful settlement.
"While they are not recognizing us [Afghan government] or we don't recognize them as the Islamic Emirate, but we recognize the need to get together, to sit together, to present our views which are different from one another – but to find ways how to reconcile those differences, how to find ways to live together while still maintaining some differences and fighting for it politically rather than through violence."
He said there could be groups within the Taliban that want to continue with the talks and also to continue with the fighting but that he assumes there are others that are "thinking much more maturely" – based on experience.
"The continuation of the war and suffering, endless, in an endless way, will not put anybody in a dignified position and it's not a service to the people," he said.
http://www.bakhtarnews.com.af/eng/politics/item/44056-%E2%80%98a-unified-islamic-republic-will-be-a-better-position-to-negotiate-and-represent-views-of-afghan-people%E2%80%99.html
--------
Over 30 Taliban killed in Afghan air strikes
Published in Dawn
20 Sep 2020
KABUL: The Afghan air force conducted multiple strikes on Taliban positions on Saturday that killed more than 30 insurgent fighters, officials said, as President Ashraf Ghani once again called for a ceasefire.
The Taliban claimed the strike had killed nearly two dozen civilians including women and children in the latest mass-casualty incident in Afghanistan that came even as peace talks were under way in Qatar.
"This morning, Taliban fighters attacked (Afghan army) positions in ... Khanabad district in Kunduz province," the Defence Ministry said in a statement on Twitter.
The military "intercepted the attack in accordance with 'active defense' procedures," the statement added, noting that more than 30 Taliban fighters including two commanders were killed.
In a statement, the Taliban denied its fighters were hit and said 23 civilians had been killed. The defence ministry said it was aware of the claim and would investigate.
Local hospital director Mohammad Naeem Mangal said that three dead and three wounded civilians had been brought to the facility.
The attack came shortly before Ghani once again called for a humanitarian ceasefire "to protect our people, prevent violence and terrorist incidents and to achieve a dignified and lasting peace." The insurgents have so far ignored such requests, though they have unilaterally called two short, separate truces this year in the run-up to peace talks, which opened a week ago in Doha.
Talks have progressed slowly so far, with the two sides still undecided about an agenda.Defence ministry officials in Kabul, who said more than 40 Taliban fighters had been killed in the strikes, did not confirm any civilian casualties. They said an investigation was underway into the incident which comes as the warring sides hold peace talks.
"The first strike hit the Taliban base but the second one caused civilian casualties as they had gathered at the bombed site," said Fatima Aziz, a member of parliament who represents Kunduz.
She said 11 civilians were killed and five people were missing in the Khanabad district of Kunduz province.
According to another witness, the airstrikes left 12 civilians killed, including children, and 18 others injured. The witness said that several Taliban militants had been killed.
The Taliban issued a statement accusing Afghan forces of killing at least 40 civilians in the airstrikes. The hardline militant group did not comment on casualties among their fighters. Fighting between Afghan forces and the Taliban has continued even as representatives of the government and the insurgents gathered last week for historic peace talks aimed at ending two decades of war.
The negotiations are a result of a deal between the Taliban and the US signed in February, which also paved the way for the withdrawal of all foreign forces by May 2021.
https://www.dawn.com/news/1580625/over-30-taliban-killed-in-afghan-air-strikes
--------
Europe
Increase in Muslims finding love online during lockdown
19th September
By Megan Baynes
Restrictions on meeting in public have led to a shift in how young Muslims find love, with many looking past a perceived "stigma" and turning for the first time to dating apps and websites.
When lockdown first came into force in March, the traditional method of being introduced to a spouse via family connections had to be put on hold for many single Muslims.
Muzmatch, which describes itself as the "world's largest Muslim dating app", saw the number of users logging in spike by 13% in the two weeks after restrictions began.
There was a 12.6% increase in matches (where two members like each other) in those same weeks and a 45% increase in downloads of the app in the week leading up to the lockdown announcement on March 23.
The app differs from the likes of Tinder and Hinge with features such as religious filters and the ability to add chaperones to chats.
Fahima Mohamed, a relationship coach for SingleMuslim.com, said a culture shift had begun within the community and the number of Muslim couples meeting online, via apps and dating agencies, would only increase.
She told the PA news agency: "With what is happening right now, even if lockdown is not as restricted as it was, people are not going out as much and meeting as much.
"It's part of the culture to meet with family, and to have massive weddings and to have so many other occasions where people do tend to mix, and that is obviously all taken away. So the only other best bet is going to be online.
"It's here to stay, especially once people realise it's given them more control as to who they want to look for and what is the choice out there."
However, one couple who spoke to PA asked that their names be changed because they said a "stigma" remains in the Muslim community over meeting online.
The couple, who are now engaged, said being bored during lockdown was one of the reasons they ended up spending more time online and being matched.
Halal dating guru Thanna Alghabban, who runs an Instagram offering dating advice, said: "The biggest change is that people who weren't really open to online dating, during lockdown they have come to terms with it because there really was no other way to meet anyone.
"I also think for a lot of people, standards have dropped with regards to suitable partners. They are more willing to overlook an orange flag that they might not have before."
Another pairing, Aisha Rosalie and her husband Sultan Akhtar, met on Muzmatch at the start of March, just weeks before restrictions came into force.
Aisha, a trained actor who runs a podcast and YouTube channel, said: "In Muslim culture, it is not normal to date – for me it was always about marriage."
Aisha, who comes from an atheist background and converted to Islam following a trip to Turkey, said apps like Muzmatch were her only chance of finding a Muslim husband who was serious about marriage.
Sultan, who runs an online design service, was born in Yorkshire, and said he was "heavily influenced" by British society: "(Apps) seemed the way to go."
https://www.asianimage.co.uk/news/18733297.increase-muslims-finding-love-online-lockdown/
--------
Islam still faces obstacles on path to be part of Germany
19.09.2020
Christoph Strack
It was a short statement that had a lot of impact. In his speech almost 10 years ago on the 20th anniversary of German reunification, Germany's then-President Christian declared that Islam was a part of Germany.
The claim sparked a nation-wide debate on the role of Islam in the country — one that had continued to this day. Wulff's 2010 statement enraged some, while resonating deeply with others.
Today, millions of Muslims call Germany their home. Some families have been living in the country for two, three and even four generations. But, for some, the question of integrating into German mainstream society, and gaining recognition, has not been without its difficulties.
Riem Spielhaus, an expert on Islam at the University of Göttingen, says Wulff's statement struck a chord. In the following years, she says, much progress was made in terms of the integration of and acceptance towards Muslims. But by 2016 this process stagnated, she says. "And we have partially seen advances undone."
Where, exactly, has progress been made? And where are improvements needed? Spielhaus says the German government rarely has the power to push for nation-wide changes, such as the introduction of a Muslim chaplaincy in the German military.
In many cases, the expert says, Germany's various states are the ones with the legal means to make society more accommodating towards Muslims. This relates to things like Islamic burials, giving time off on Islamic holidays, offering spiritual care in hospitals and jails, and teaching Islamic theology at universities. German states differ the most when it comes to Islamic religious lessons in school.
Spielhaus welcomes that German courts are changing their perspective, too. When ruling on fundamental religious issues, many are now emphasizing the importance of religious plurality.
Unlike in Christianity, where Churches are structured hierarchically and have official leaders, this is not the case in Islam. Some large Muslim organizations that are active in Germany, like the Turkish-Islamic Union for Religious Affairs (Ditib), are funded from abroad. German lawmakers, therefore, avoid close cooperation with the association, fearing outside interference.
A broad range of Muslim associations exists in Germany today. Not all, Spielhaus says, are as representative of the Muslim community as they might claim. This has become evident for instance during the German Islamic Conference, when different Muslim associations vehemently disagreed with one another.
This disunity has made progress difficult. Cooperation between the German state and the country's numerous Muslim associations is fraught with difficulties. In July this year, for example, Germany's Foreign Ministry endeavored to make Muslim lawyer Nurhan Soykan an adviser in one of its departments. The announcement drew criticism, however, with some accusing Soykan — who serves as vice president with the Central Council of Muslims in Germany — of doing too little to counter religious extremism. Germany's Foreign Ministry then reversed its course, and dropped Soykan.
While cooperation with official Muslim associations has not always proven easy, working together on a smaller scale has often been successful. Serap Güler, a lawmaker with the Christian Democrats (CDU), who serves as state secretary for integration matters in Germany's most populous state of North Rhine-Westphalia, cites the Coordination Council for Muslim Civic Activism as an example.
She says it cooperates with some 200 Muslim civil society organizations in the state, such as a Muslim Carnival group, a scout organization and integration initiatives. According to Güler, lawmakers are keen to empower such citizen organizations.
Dennis Sadiq Kirschbaum heads an organization working to give German Muslims a greater say in public affairs. JUMA, which was founded in 2019, represents young, active Muslims in Germany. Kirschbaum says traditional Muslim associations are losing appeal among his generation, with some turning their backs on them entirely. He says there are plans for 16 Muslim youth organizations across the country — none of which define themselves through religion alone — to create an alliance to give young German Muslims a voice.
Yet Spielhaus says Islamic groups often possess fewer "financial resources and personnel" than Christian organizations. This may limit their influence. Moreover, she warns of "growing religious skepticism and an Islamophobic climate in Germany."
Indeed, when a racist shot and killed nine individuals with a foreign background in the town of Hanau near Frankfurt in February this year, Germany — and the country's Muslim community — was shocked. In a search for a better understanding of the issues, German Interior Minister Horst Seehofer has set up a special expert body to investigate the problem of Islamophobia in the country.
https://www.dw.com/en/islam-still-faces-obstacles-on-path-to-be-part-of-germany/a-54972234
----------
Britain, France, Germany tells UNSC Iran sanctions relief to continue beyond Sep. 20
September 20, 2020
Source : Pars Today
Britain, France and Germany have told the United Nations Security Council (UNSC) that the sanctions relief provided by the world body for Iran – agreed under a 2015 nuclear deal – will continue beyond September 20 in outright rejection of assertions by the United States that the bans will snap back then.
In 2015, Iran clinched a landmark nuclear deal with a group of countries then known as the P5+1 — Britain, France, Russia, China, and Germany.
However, US President Donald Trump in 2018 unilaterally pulled his country out of the deal – officially known as the Joint Comprehensive Plan of Action (JCPOA) - and re-imposed the sanctions that had been lifted under the deal.
On August 20, US Secretary of State Mike Pompeo said that Washington formally triggered a 30-day process at the UNSC leading to a return of virtually all the UN sanctions on Iran on September 20.
He cited what he claimed to be Iranian violations of the JCPOA, to which the US is no longer a party.
On Friday, the permanent representatives of the UK, Germany and France said in a joint letter to the 15-member UNSC that any decision or action taken to restore the UN sanctions "would be incapable of legal effect."
"In this letter, we expressed our shared view that the purported notification under paragraph 11 of UNSCR 2231 (2015) received from the United States of America and circulated to the UN Security Council Members is incapable of having legal effect and so cannot bring into effect the procedure foreseen under OP 11. It flows from this that any decision and actions which would be taken based on this procedure or on its possible outcome would also be incapable of having any effect," read part of the joint letter by the UN envoys of the three European countries, known as E3.
The E3 further said that they had "worked tirelessly to preserve the nuclear agreement and remain committed to do so." They also stressed they would remain committed to "fully implementing" a 2015 Security Council resolution that endorses the JCPOA.
Earlier on Friday, the E3 in a joint statement hailed Tehran's encouraging statements on its intention to further strengthen its cooperation with the International Atomic Energy Agency (IAEA).
The trio's joint statement, which had been issued on the Non-Proliferation Treaty (NPT) Safeguards Agreement with Iran, was delivered to the IAEA Board of Governors at the September 2020 meeting.
On Thursday, Iran's permanent representative to Vienna-based international organizations Kazem Gharibabadi said Iran has the most transparent nuclear program among the IAEA member states, as proven through numerous inspections of the country's nuclear sites by the UN agency.
"The fact that 22 percent of all global inspections done by the IAEA has been carried out in Iran proves that Iran enjoys the most transparent peaceful nuclear program among the member states of the agency," Gharibabadi added, in an address to the IAEA Board of Governors.
On August 14, the UNSC rejected a US-drafted resolution to extend an arms embargo on Iran that is due to expire in October under the JCPOA.
https://en.abna24.com/news//britain-france-germany-tells-unsc-iran-sanctions-relief-to-continue-beyond-sep-20_1071950.html
-------
Islamic Finance In The Global Digital Economy
by Richie Santosdiaz
September 19, 2020
With an estimated 1.9 billion Muslims according to World Population Review, Islamic Finance has a large global reach. Islamic Finance is one of the fastest growing financial industries, even though it is still a small share of global finance. Its total assets have exceeded $2 trillion and it is expected to reach $3.8 trillion by 2023.
According to the Union of Arab Banks, ten countries accounted for 95 percent of the world's Sharia-compliant assets with Iran at 30 percent of the global total, followed by Saudi Arabia at 24 percent, Malaysia at 11 percent, the United Arab Emirates (UAE) at 10 percent, Qatar at six percent, Kuwait at five percent, Bahrain at four percent, Bangladesh at 1.8 percent, Indonesia at 1.6 percent and Pakistan at one percent.
Even though Islamic finance existed in the seventh century, its formalisation began gradually since the 1960s. Islamic finance refers to how businesses and individuals raise capital in accordance with Sharia, or Islamic law. This also includes the types of investments that are permissible under this form of law. Islamic finance can be seen as a unique form of socially responsible investment.
With regards to fintech, there are at least 127 Islamic fintech firms that offer Sharia-compliant financial products that had been launched, globally, from this past June. According to IFN Islamic Finance, the United Kingdom has the most Islamic fintechs with 27 companies followed by Malaysia with 19 companies, third is the United Arab Emirates (UAE) with at least 15 Islamic fintechs, fourth is Indonesia with 13, fifth is Saudi Arabia with 9 and tied with the USA which also reportedly has 9 companies.
The world's financial hubs such New York City, London, Dubai, Hong Kong, Tokyo and Singapore – to name a few – have various levels of degree when it comes to its status as well as being global Islamic financial hubs. That list changes slightly with some cities such as Kuala Lumpur being added, alongside for instance global hubs like London and Dubai, as global Islamic Financial Hubs.
One example is the UAE. "Dubai's Dubai International Financial Centre (DIFC) saw an increase in the volume of Islamic assets being managed, recording a 21 per cent growth year-on-year," according to Arif Amiri, CEO of DIFC Authority. Arif adds, "Malaysia's largest lender and fifth largest Sharia-compliant bank in the world, Maybank Islamic Berhad, set up in DIFC last year; DIFC has one of the largest centres globally for Sukuk (sharia-compliant bonds) listings by value at $72.6 billion, with $70.4 billion listed on Nasdaq Dubai. Islamic Fintech start-ups are also choosing DIFC as their home to access the region and will help nurture innovation in the sector."
Abu Dhabi Global Market (ADGM), another major financial services hub in the UAE and the region, has also supported Islamic Finance. This has included the likes of recent partnerships the past few years such as with Abu Dhabi Islamic Bank in an effort to support Shariah-compliant fintech-related measures including the development of online banking, artificial intelligence, distributed ledgers, blockchain – to name a few.
According to Mohammed Dawood, Head of Islamic Finance, Global Banking & Markets, HSBC Middle East, "We've witnessed very strong growth in the international Sukuk market this year, with Middle East issuers continuing to drive issuance volume. With the ample liquidity 2020 has already broken records in terms of issuance volume, with more than USD 30bn of global Sukuk supply so far this year. The key growth markets for Islamic finance will be focused around countries in the GCC – namely UAE, Saudi Arabia and Kuwait – and Malaysia. These countries continue to benefit from supportive regulatory frameworks and from housing a large number of domestic players across the sector."
An example a company embracing digital in the UAE has been UAE-based aafaq Islamic Finance which recently launched its core banking, Islamic banking and payments platforms, which have been developed by Infosys. Recently, SUSTAIN.EXCHANGE, the first Islamic compliant crypto ecosystem announced that it is building technology solutions and infrastructure on Tezos, a leading decentralised public blockchain.
With Africa, there are more than 80 Islamic financial institutions in Africa. The greatest numbers are in northern Africa, particularly in Sudan. Other countries such as Nigeria, Senegal and Kenya have implemented banking, legal and regulatory frameworks to be Sharia compliant. Also established banks have set up Islamic departments where they provide Sharia-compliant products which include: Absa Bank of South Africa, Ecobank Chad and Sterling Bank Plc of Nigeria. Islamic banking assets are set to increase 10 per cent over the next five years in total African banking assets, according to Moody's.
In terms of innovation, an example has been Amana Bank, a leading Islamic bank in Somalia, who announced that it has selected iMAL, the AAOIFI-certified core banking platform from Path Solutions to replace its legacy IT system and deploy a single, cloud-based digital banking platform to underpin its banking operations. This follows from the company also working with Premier Bank and MyBank Ltd in Somalia.
Finally, quoted as 'Islamic finance hub of the West," London is another major hub for Islamic Finance. The UK was the first non-Islamic country in the world to issue a sukuk when it raised £200 million ($256 million USD) in 2014. As of last year, over 20 banks in the UK offer Islamic services, and five of these banks are fully Sharia-compliant, including Al Rayan Bank. Assets of UK-based institutions that offer Islamic finance services totaled more than $5 billion.
According to Akmal Saleem, the Co-Founder & CEO of Rizq, the UK's 1st Alternative Islamic Digital Banking App, "We are definitely at a tectonic moment within the global Islamic Finance industry and people working within the industry are very excited. With the emergence of new technology in the past few years, the execution of sharia compliant models has become easier to structure whilst still integrating into global banking systems with flexibility and more transparency.
There is a convergence within Islamic finance in a manner which hasn't been seen before, this goes across banking, wealth management, investment, trade finance and all the key facets of Islamic finance. Previously these facets operated in isolated ways, connected to counter-parts in strategic alliances. With the advancement in technology a deep rooted appreciation to how customers (both retail and business) want to operate globally can be visibly seen.
The evidence of this is the emphatic growth of Islamic Fintechs globally which proves the low barriers in this initial lifecycle of market development. As the first batch of Islamic Fintech establish the realisation of the global potential will also establish. Recent investment into brands such as Wahed and even our own current fundraising experience within Rizq has shown the clear appetite investors have to capitalise on the global potential.
In more of a traditional sense the recent issuance within the global sukuk markets have been landmark and the trajectory shows only further growth. There is confidence that Islamic finance can if structured correctly help markets come out of the impending recession in the wake of the COVID-19 pandemic."
Islamic finance plays a growing role in the global economy, which has also been adopting to the wider digital transformation happening as well.
https://thefintechtimes.com/islamic-finance-in-the-global-digital-economy/
---------
North America
Trump says Kuwait may soon normalize ties with Israel
September 20, 2020
Source : PressTV
US President Donald Trump says Kuwait will likely be the third Persian Gulf Arab state to normalize its diplomatic ties with the occupying Israeli regime under his auspices.
During a signing ceremony at the White House on Tuesday, the United Arab Emirates and Bahrain officially normalized their relations with Israel. They became only the third and fourth Arab states to ever establish formal ties with the occupying regime after Egypt and Jordan.
At the White House, Trump claimed "five or six" more Arab countries were poised to agree to normalize relations with Israel.
The deals were widely censured by Palestinians as a betrayal of their cause, a sentiment echoed by regional players Iran and Turkey and Muslim authorities throughout the region.
Trump announced the likely normalization of bilateral ties between Kuwait and Israel at a White House press briefing Friday hours after meeting with the son of Kuwait's ruling emir.
The White House said the president had awarded the US Legion of Merit, Degree Chief Commander, to Kuwaiti Emir Sheikh Sabah al-Ahmad al-Sabah, adding that it was the first time the honor has been given since 1991.
The White House praised the ailing 91-year-old emir as a "friend and partner to the United States" who offered his country's "indispensable" support to the US government in pursuit of its foreign policy and military agenda in the Persian Gulf.
The Kuwaiti emir visited the United States in July to complete medical treatment after having undergone surgery that month.
The emir's eldest son, Sheikh Nasser Sabah al-Ahmad al-Jaber al-Sabah, accepted the award on behalf of his father at a private ceremony with Trump on Friday.
Trump's remarks were a stark contrast from what the Kuwaiti government had said last month. A local newspaper cited a Kuwaiti official as saying that the Persian Gulf state would "be the last" to sign a normalization agreement with Israel.
"Our stance on 'Israel' has not changed following the UAE normalization agreement, and we will be the last to normalize relations," the al-Qabas newspaper cited the unnamed senior official as stating.
"The Kuwaiti position is consistent with its decades-old foreign policy approach in support of the Palestinian cause, as it is the premier Arab issue," it added, quoting the official.
https://en.abna24.com/news//trump-says-kuwait-may-soon-normalize-ties-with-israel_1071954.html
---------
Members of Toronto mosque call for murder of volunteer to be investigated as hate crime
Katherine DeClerq,
September 19, 2020
Members of a Toronto mosque are calling on police to investigate the murder of a 58-year-old volunteer as a hate-motivated crime, calling it a " brazen act of violence" that has shaken the community.
One week ago, Mohamed-Aslim Zafis was sitting outside the International Muslim Organization (IMO) mosque near Rexdale Boulevard and Bergamot Avenue ensuring everyone was complying with COVID-19 health regulations when he was approached by a man and stabbed.
On Saturday, about 75 people gathered outside the same mosque, offering their prayers and remembering Zafis—a man known for his charity and goodwill.
"He was a good man. A man who was good with his friends and a man who took care of this place of worship with every ounce of his efforts," Omar Farouk, president of the IMO, said while addressing the crowd. " The reality is that every person knew brother Mohamed would testify to this."
Farouk said that Zafis' death has sent a " shockwave of fear and deep concern" throughout the community, citing a growing number of hate incidents targeting the Muslim community.
"However, I want to be clear that we will not be intimidated," Farouk added. " We will not go softly in the night. In a few days we will be letting you know when the mosque will be reopening for prayers. Because the reality is that no one is going to stop us from being here, the place we love."
Speaking through tears, Mustafa Farooq, CEO of the National Council of Canadian Muslims, spoke about the moment he learned of Zafis' death.
"Exactly one week ago, almost to the hour, I stood right there in the dark, with the blue and red flashing sirens. We had to look upon a sight that no one should have to look upon. Let me be clear, a man came to this mosque. He murdered our brother Mohamed-Aslim Zafis by slitting his throat. He was laying right there. It was a brazen act of violence."
Both Farooq and Farouk took time to praise the Toronto police for their swift investigation, which led to the arrest of a 34-year-old man on Friday.
The suspect, identified by police as Guilherme "William" Von Neutegem, has since been charged with first-degree murder in connection with the incident.
"The fact of the matter is that when you have our brother's throat slit in front of a mosque in the midst of continuing risk of attacks on religious institutions, in the midst of the growing number of hate incidents targeting the Muslim community, we have to take this matter, extremely seriously," Farouk said.
Supt. Ron Taverner spoke briefly at the vigil to say that the murder has had a direct impact on his officers, some of which are members of the mosque.
"They're deeply touched by what's going on here and the level of violence that's taken place," he said. "This is something that's affected our family and your family."
Speaking with CP24 later that day, Taverner added that police are aware of allegations that the murder suspect had ties to a neo-Nazi social media group.
"As far as the investigation goes, looking into the social media of the accused is an important part of trying to determine motive. That process is ongoing and hopefully we can have answers to that question in the coming days."
Earlier this week police said they were investigating whether the homicide was connected with another fatal stabbing on Sept. 7 near the West Humber Trail under the Highway 27 Bridge, just south of Humber College Boulevard.
Toronto police Insp. Hank Idsinga said at the time that it was still early in the investigation to say if there is a definitive connection or if the incident was hate-motivated.
"The investigation is still very active. I have about 14 investigators right now in and around 23 Division and it is going to take some time," he said. "There's several different avenues that we're exploring and the forensic evidence will obviously as well take some time before we can make some conclusions on that other investigation."
https://www.cp24.com/news/members-of-toronto-mosque-call-for-murder-of-volunteer-to-be-investigated-as-hate-crime-1.5112074
--------
Hate-filled social media posts key to Rexdale mosque murder?
Joe Warmington
Sep 20, 2020
Motivated by hate? Targeted because religion or race? A potential serial killer?
There's so much mystery surrounding the disturbing murder of a Muslim man in front of his mosque last weekend.
Toronto Police detectives are hoping the secrets of Mohamed-Aslim Zafis's slaying are inside an apartment his accused killer had been living in with his father.
Waiting for a search warrant, officers were sitting in chairs Saturday in front of Guilherme "William" Von Neutegem's off-limits residence. About six kilometre's away, some empty chairs remained in front of the International Muslims Organization (IMO) mosque on Rexdale Blvd. as they always are when members gather to pack food for the needy.
Two Toronto Police officers sit guard outside an apartment in Etobicoke believed to be where Guilherme "William" Von Neutegem, 34, lived with his father on Saturday, Sept. 19, 2020. Von Neutegem is charged with first-degree in the stabbing of Mohamed-Aslim Zafis, 58, at the International Muslim Organization (IMO) mosque in Rexdale on Sept. 12, 2020. PHOTO BY JACK BOLAND /Toronto Sun/Postmedia Network
"He saw someone circle around, looked up for a second but thenlooked back down at his phone," said IMO President Omar Farouk. "He didn't see the guy went back around behind him."
With his throat cut by a knife, the 58-year-old husband, father and humanitarian died. His killer ran off and cops spent almost a week searching for him.
Toronto Police released this image of Mohamed-Aslim Zafis, 58, who was fatally stabbed in the neck outside of an Etobicoke mosque. PHOTO BY HANDOUT
On Friday, police arrested a suspect — Von Neutegem, 34 — and charged with first-degree murder. The charges have not yet been tested in court and he is innocent until proven guilty.
On Saturday, at the same mosque, volunteers walked right by where he was murdered, went inside and started packaging hundreds of food bags for the hungry.
"There are so many questions but one look at the suspect's social media platforms and you can see white supremacist postings," said Solaiman. "We as a community are pleased Toronto Police are looking at this as a possible hate crime."
On his phone, Solaiman showed photographer Jack Boland and myself social media posts from the accused that include one from Feb. 21 stating, "Heritage and culture are the greatest treasures we inherit from our ancestors. It's in essence what we are."
Homicide Insp. Hank Idsinga said they are in possession of said social media and that the possibility of this being a hate crime has not been ruled out and is being explored.
Police also are looking to see if there is any connection to the stabbing death of Rampreet (Peter) Singh, 39, five days earlier, on Sept. 7, under a nearby bridge.
"It's so senseless," he said of the two murders. "Homicide is working very hard on this to get the answers to the family and community who are understandably devastated."
Standing at this mosque a week after the bloodshed, everything looked pretty well the same as before — except that Mohamad wasn't there. What was not there a week ago were flowers, balloons and a card from Zafis' widow that read: "To my wonderful husband on our anniversary."
"It's so sad seeing that card," said mosque member Ayesha Hussain. "I pray she can find the strength to move forward. Everybody loved 'uncle.' All of our hearts go out to her."
Mayor John Tory has visited the mosque to pay his respects. Premier Doug Ford has called mosque members, who are also his constituents, to express both sorrow and anger. Everybody should be angry.
While fondly remembering this fine man is important, what is equal in priority is to find out what ideology and potential encouragement was lurking in the shadows that led someone to do something so evil?
Whatever it was, no matter how embarrassing or inconvenient, no stone should be left unturned. Mohamed-Aslim Zafis, and the whole country, is owned nothing less.
https://torontosun.com/news/local-news/warmington-hate-filled-social-media-posts-key-to-rexdale-mosque-murder/wcm/88f91b3e-d04d-42f0-8df0-7d4346b23349/
--------
Trump's choice of top judge may sway election
September 20 2020
Eugene Gologursky
Donald Trump last night vowed to defy Ruth Bader Ginsburg's dying wish and will nominate her replacement immediately, igniting a tumultuous political battle that could determine the result of the US election in November.
In doing so the US president will redraw the electoral battle lines, making the vote less a referendum on his handling of the coronavirus, and instead an ideological fight over the future of the US Supreme Court. His campaign suggested it was a game-changing development.
"We were put in this position of power and importance to make decisions for the people who so proudly elected us, the most important of which has long been considered to be the selection of United States Supreme Court Justices. We have this obligation, without delay!" Trump said.
Joe Biden, Barack Obama, and the Democrat leadership in the Senate immediately called for the nomination to be delayed until after the election.
However, Mitch McConnell, the Republican Senate leader, vowed to press ahead with confirming Trump's nominee. He said: "President Trump's nominee will receive a vote on the floor of the US Senate."
The Senate only has to confirm by a simple majority, and Republicans hold power with 53 seats to 47. But some of the party's more moderate senators - including Mitt Romney of Utah, Susan Collins of Maine, and Lisa Murkowski of Alaska - may be reluctant to ram through the new nominee in an election year. The confirmation process usually takes about two months, so it could take place after the November 3 election, during the 'lame duck' period before the inauguration of Trump or Biden on January 20. If Trump were to lose, and Republicans drop seats in the Senate, the fate of his nominee would become uncertain.
McConnell wrote to his Republican colleagues urgently telling them to "keep their powder dry". He said: "This is not the time to prematurely lock yourselves into a position you may later regret."
A recent Pew Research Centre survey showed that, even before Justice Ginsburg's death, the Supreme Court was a more important issue to US voters than the coronavirus.
Alex Conant, a Republican strategist, said: "Joe Biden wants this election to be a referendum on Trump. Now it's going to be a referendum on whoever he nominates to the Supreme Court. It's hard to see how this doesn't help Trump politically."
Trump would become the first president since Ronald Reagan to nominate three justices to the nine-member bench. That would give the court a 6-3 conservative majority, securing its ideological leaning for a generation and cementing Trump's legacy.
The court decides issues that are fundamental to US society, including on abortion, the environment, gay rights, the power of the presidency, and gun control. Female voters in the suburbs are expected to be key to the election result, and it is probable Trump will nominate a woman.
The favourite is Amy Coney Barrett, a devoutly Catholic Chicago appeal court judge who was considered for Trump's two previous nominations, and has already been vetted by the White House.
In her deathbed statement Justice Ginsburg, who had publicly criticised Trump, said: "My most fervent wish is that I will not be replaced until a new president is installed."
Her death may galvanise liberals to turn out in large numbers for Biden in an attempt to secure her legacy.
https://www.independent.ie/world-news/north-america/us-presidential-election-2020/trumps-choice-of-top-judge-may-sway-election-39545273.html
---------
Mideast
Iran says no need for European arms, will buy weapons from Russia, China
20 September 2020
SOURCE: PRESS TV
Iran's foreign minister says the country will meet its strategic needs by purchasing weapons from Russia and China, and has no need for European weapons once the UN embargo is lifted in October.
Mohammad Javad Zarif made the remarks in a televised interview on Saturday night in reaction to a possible initiative by France, Germany, and the UK to restrict the sale of weapons to Iran following the October expiration of the UN arms embargo against the Islamic Republic.
"We haven't been a customer of European weapons, and they haven't sold us weapons after the 1979 revolution. … They even ran a campaign during the 1980s imposed war [between Iran and Iraq] to prevent the delivery of arms to Iran," Zarif said.
"However, Iran can meet its strategic needs through the countries it interacts with, like Russia and China; though it is self-sufficient in many cases, and is an exporter [of arms] itself," Zarif said.
Thanks to God's grace and the efforts of the country's Armed Forces, "Iran has become self-sufficient in many cases, but in cases of need, other countries will have the right to trade with Iran once the UN embargo is lifted," the Iranian top diplomat added.
Following a humiliating failure at the UN Security Council to secure an extension of the arms embargo against Iran, the United States recently threatened to use its "secondary" sanctions to block any arms trades with Tehran after the expiry of the UN ban next month.
US Special Representative for Venezuela and Iran Elliott Abrams claimed on Wednesday that Washington could deny access to the US market to anyone who trades in weapons with Tehran.
Sanctions "will have a very significant impact" on arms manufacturers and traders that seek to do business with Tehran, he told reporters.
Zarif further pointed to the recent statement by France, Germany, and the UK in which they claimed they have "gone beyond their own commitments" towards Iran by launching the Instrument in Support of Trade Exchanges (INSTEX), a European mechanism which was supposed to facilitate trade with Iran amid the US sanctions.
"They are joking. The three self-proclaimed world powers failed to stand up to the US bullying. They failed, even though they may not have made so much efforts," he said.
"Europeans had 11 commitments to fulfil, and the INSTEX was not even one of them, but a prerequisite for them. They failed to fulfil them and said Americans didn't let them. If we accept their own words, they admitted Americans have kept them [from doing their part]."
"This is below Europe's dignity. The economy of the European Union is bigger than America's. Then why did you fail to resist the US' bullying, which is now impacting you?" Zarif said, adding that the European statement is just meant to save their face.
His comments came in reaction to a statement by France, Germany and the UK delivered to the IAEA Board of Governors at the September 2020 meeting.
They said in the statement, "The E3 has worked hard to preserve the [2015 nuclear] agreement. We have gone beyond our own commitments to facilitate legitimate trade with Iran, including by introducing the INSTEX mechanism."
In his Saturday interview, Zarif also denied the claim that the Islamic Republic is going to interfere in the upcoming US presidential elections.
Zarif said the US should first try to avoid plotting coup and violating people's choice in other countries before accusing Iran of interfering in its elections.
He made the remarks in an apparent allusion to the CIA-orchestrated 1953 coup in Iran, which toppled the democratically-elected government of Prime Minister Mohammad Mosaddegh.
Zarif further referred to the recent deals signed by the United Arab Emirates and Bahrain to normalize their relations with the Israeli regime in the hope that Tel Aviv could bring them peace and security.
"Our neighbors unfortunately think the regime can defend them. If Israel had such a power, it would have defended itself against the Palestinian Islamic Jihad and Hamas," Zarif said.
He expressed regret that a regional country is forced to sign a deal with Israel so that Trump can use it for his presidential campaign.
Bahrain and the UAE signed US-brokered normalization agreements with Israel during a ceremony in Washington on Tuesday.
The controversial event was slammed by many Arab and Muslim figures as a blatant betrayal of the Palestinian cause.
https://www.presstv.com/Detail/2020/09/20/634564/Iran-US-Zarif-arms-embargo-europe
--------
UN chief says will take no action on US 'snapback' push against Iran
20 September 2020
by AFP
The United Nations secretary-general says "uncertainty" prevents him from taking any action on a US declaration that all UN sanctions have been reinstated against Iran.
"There would appear to be uncertainty whether or not the process ... was indeed initiated," Antonio Guterres said on Saturday in a letter to the UN Security Council that was seen by Reuters.
US Secretary of State Mike Pompeo said Saturday that all UN sanctions against Iran were "back in effect" under a "snapback" mechanism featured in the 2015 nuclear deal between Iran and world powers.
"If UN member states fail to fulfill their obligations to implement these sanctions, the United States is prepared to use our domestic authorities to impose consequences for those failures and ensure that Iran does not reap the benefits of UN-prohibited activity," he said.
However, other signatories to the nuclear accord assert that the American procedure lacks legal effect because Washington left the deal, officially known as the Joint Comprehensive Plan of Action (JCPOA), in 2018.
"It is not for the Secretary-General to proceed as if no such uncertainty exists," Guterres added to his remarks that were especially timed to coincide with the deadline set by Washington.
Thirteen members of the Security Council -- including prominent Washington allies, the UK, France, and Germany -- have, however, refused to fall into line with the US's campaign, considering it either illegitimate or against efforts to preserve the nuclear deal.
Russia's Deputy UN Ambassador Dmitry Polyanskiy responded on Twitter, "We all clearly said in August that US claims to trigger snapback are illegitimate. Is Washington deaf?"
Iran's UN Ambassador Majid Takht Ravanchi also tweeted, "US illegal and false 'deadline' has come and gone ... Swimming against international currents will only bring it more isolation."
In August, the Security Council rejected a US-drafted resolution seeking to prevent an arms embargo on the Islamic Republic from expiring in October under the JCPOA.
China and Russia strongly opposed the resolution and eleven countries withheld their votes on the draft that was only backed by the Dominican Republic.
https://www.presstv.com/Detail/2020/09/20/634575/Iran-United-Nations-United-States-sanctions-snapback-nuclear
---------
Evacuating Incirlik airbase could mark end to US-Turkey alliance
September 20, 2020
Source : Al Waght News
While Turkish-Western relations have been overshadowed by clouds of differences over the past few years, Greek media recently reported that the US eyes relocating its forces from Turkey's Incirlik airbase to another base in one of the Greek islands. Washington Examiner news website, quoting Senator of Wisconsin who chairs Senate Foreign Affairs Subcommittee Ron Johnson, reported that the UN navy is building a base in Crete island in the Souda Bay south of the country.
How did rumors start?
In recent years, tensions between the US and Turkey increased considerably, especially when Washington started its support to the Kurdish People's Protection Units (YPG), which is affiliated with the Kurdistan Workers' Party (PKK). The PKK, in the battle against the Turkish government for over 30 years, has been blacklisted by both Turkey and the US a terrorist organization.
Turkey opened Incirlik for the US-led Western coalition's air operations in Syria in June 2015, with the leading party launching airstrikes in Syria from the Turkish base being the US.
But the YPG played as the US infantry on the Syrian battleground in the regions lost by the Syrian government to the ISIS terrorist organization, something seen by Turkey as a threat to its national security. This vision to the Kurds in northern Syria motivated Ankara to launch several campaigns in a bid to check the Kurdish militias' power gain.
Before the Syria issue, the attempted coup of mid-July 2016, which Ankara blamed on the US-based Turkish preacher and President Recep Tayyip Erdogan's foe Fethullah Gulen, was the main cause of the US-Turkey fraying of ties. Turkey blacklisted Gulen's secret organization as a terrorist entity and called for the Pennsylvania-based preacher extradition. The Turkish demand remains unaddressed by Washington, pushing Erdogan to suggest that the US is a backer of coup plotters.
Immediately after the power grab attempt was thwarted, Turkey closed down Incirlik, saying that some forces in the airbase were part of the plot.
The range of the dispute even widened as Turkey said it planned to buy S-400 air defenses from Russia, a move Washington seeing as against the spirit of the NATO alliance and arguing that through it Moscow can discover the Western technology secrets like those of the modern F-35 fighter jets. When the efforts to dissuade Turkey went nowhere, the US kicked Turkey out of the F-35 program. Turkey was part of the massive supply chain of the stealth fighter. Another response was blocking the scheduled delivery of the jets to Ankara. Additionally, Congress in late 2019 imposed sanctions on Turkey under CAATSA (Countering America's Adversaries Through Sanctions Act), triggering Erdogan's response.
In December 2019, Erdogan threatened that if Washington realizes its economic sanctions on Turkey for Ankara purchase of the Russian air defense systems, he will close down two strategic US bases on the Turkish soil.
"If necessary, we'll close Incirlik and also Kurecik," Erdogan told broadcaster A Haber, referring to two military bases used by the United States. "If the threat of sanctions is implemented against us, we'll respond to them in the framework of reciprocity."
Incirlik involvement in the Ankara-Washington disputes is not limited to the recent years. In the 1970s, when the US government decided to impose an arms embargo on Turkey for the latter's military action against Cyprus, their relations were hit by a crisis. Turkey in response closed down all of the bases hosting the American forces across the country and transferred their control, except for Incirlik and Izmir bases, to its military. The reason the two remained open was an agreement with NATO allies.
Incirlik significance
Turkey has been a NATO member since 1952. The military base is controlled by the Turkish military but according to a 1980 defense and economic cooperation agreement between Washington and Ankara, the US military has the right to use Incirlik for NATO operations.
The decision to build Incirlik airbase was made during the second Cairo conference in 1943. Still, the construction was delayed to 1951 due to the eruption of the Second World War.
The base played a significant role during the Cold War due to its proximity to the Soviet Union frontiers. Another significance was its accommodation of troops close to Lebanon and the Israeli regime. If the need arises, other NATO members are allowed to send troops to Incirlik within the NATO operations framework. The base is located in Adana, one of the largest Turkish cities that only 50 kilometers separate it from the Mediterranean Sea in the south. Incirlik is home to about 2,500 American troops along with hundreds of Turkish service members.
In the base, there is a squadron of A-10 Warthog aircraft. Also, about 33 percent of the aerial refueling flights and about 30 percent of the short-range air support operations are launched from the base. The US also holds about 60 B-61 nuclear bombs in this base.
Although the Turkish base played a big role in the US campaigns in Afghanistan and Syria, in the recent years, the Americans tried to reduce reliance on it and instead expanded the capacity of their base in Jordan and also built bases in northern Syria where allied Kurdish forces hold control. One reason for the US seeking replacement is the Iraq war. Turkish parliament rejected a US call to be allowed to store ammunition and weapons in 2003 ahead of the invasion of Iraq.
Incirlik nuclear bombs
One of the issues that bring Incirlik to the US and European concerns about the expansion of the tensions with Turkey is the existence of nukes at the Turkish base. Reports say that the US is considering the relocation of them to Greece as the tensions are growing with Ankara.
Amid geopolitical tensions between Ankara and the US regional allies like Greece, the Israeli regime, and Egypt in the Mediterranean and also the increasing enmity between the Turkish-led Muslim Brotherhood camp and the Saudi-Emirati alliance, Erdogan seeks to close the nuclear gaps with these countries, especially that the UAE and Saudi Arabia recently have accelerated their mysterious nuclear programs.
Although Turkey signed the Non-Proliferation Treaty (NPT) in 1980 and also joined an adjunct one in 1996, in October last year Erdogan openly expressed disappointment with Turkey not having nukes.
"Some countries have missiles with nuclear warheads, not one or two. But (they tell us) we can't have them. This, I cannot accept, There is no developed nation in the world that doesn't have them. We have Israel nearby, as almost neighbors. They scare (other nations) by possessing these. No one can touch them," the Reuters news agency quoted him as telling his ruling AK Party members in the eastern city of Sivas.
Heading to confrontation
As over the past years gaps inside the most important Western military alliance have been growing, tensions between Turkey and the European countries are the main reason.
Only a couple of days have passed since Turkey amassed heavy weapons on the border with Greece, another NATO member. The move forced Athens to shore up its combat readiness and ask European countries for help. Meanwhile, a statement published by France, which said that in case of a war between Turkey and Greece, Paris will stand by Athens, inflamed the al-ready unstable situation. Paris recently protested to Turkey for what it said threats Turkish warships posed to its naval vessels in the Mediterranean.
As the tensions gain heat, many experts say that Ankara could any time block Bosporus and thus close the way of the passing warships. Analysts suggest that Turkey in fact will have to close the link between the Red Sea and the Mediterranean, especially if the NATO allies want to compound the situation for Turkey. In March, Turkey warned it will close down Bosporus if the smallest threats are posed to its interests.
Meanwhile, the threat to evacuate Incirlik can be part of the US measures in support of Greece in its tensions with Turkey, especially that Washington has already sent out symbolic warnings to Ankara through joint military drills with Greece and also when it recently lifted a three-decade arms embargo on Cyprus.
https://en.abna24.com/news//evacuating-incirlik-airbase-could-mark-end-to-us-turkey-alliance_1071953.html
---------
IAEA will make no further demand after inspection of two Iranian sites: Nuclear chief
19 September 2020
SOURCE: PRESS TV
Iran's nuclear chief says the International Atomic Energy Agency (IAEA) has announced that it would not make further demands to inspect more sites inside Iran after visiting the two locations for verification purposes based on an agreement reached between the two sides late last month.
Head of the Atomic Energy Organization of Iran (AEOI) Ali Akbar Salehi said on Saturday that in the recent issue between the two sides, Tehran never said that it would not grant the IAEA access to inspect its nuclear sites.
He added that the IAEA had made a request that had some "legal and technical problems" after they were evaluated by Iran, but the country expressed its readiness to cooperate with the agency after the nuclear watchdog solved these issues.
"If the International Atomic Energy Organization makes a demand from Iran based on commitments, we do not have any problem to meet them. It means that the IAEA's demands should be in line with the Safeguards Agreement or the Additional Protocol, and they should be logical, solid and substantiable," he added.
Pointing to a joint statement issued by Iran and the IAEA late last month, Salehi said, "The IAEA inspectors came [to Iran] and inspected one of the two sites specified [by the agency]. The first inspection was carried out and nothing special happened."
He noted that Iran and the IAEA have also agreed the time for the inspection of the second site but it would not be made public.
At the end of a two-day trip to Tehran by the IAEA Director General Rafael Mariano Grossi, Iran and the UN nuclear agency issued a joint statement on August 26 on their agreements and the results of high-level talks between the two sides.
"After intensive bilateral consultations, Iran and the IAEA reached an agreement on the resolution of the safeguards implementation issues specified by the IAEA, in good faith. In this regard, Iran is voluntarily providing the IAEA with access to the two locations specified by the IAEA and facilitating the IAEA verification activities to resolve these issues," read part of the statement.
Speaking during his introductory statement to the IAEA's 35-member Board of Governors on Monday, Grossi said the agency's inspectors will visit the second of two sites in Iran later in September.
"Our inspectors took environmental samples which will be analyzed. A complementary access at the second specified location will take place later this month," he added.
Elsewhere in his remarks, Salehi said Iran's policies and approaches have always been based on principles set by the country, adding, "We cannot violate these principles."
"The Islamic Republic of Iran showed that it is a committed country that acts based on political code of ethics and it is not like the Americans that renege on their promises," the AEOI chief said, once again reaffirming Tehran's full compliance with its commitments.
In a joint statement delivered to the IAEA Board of Governors on Friday, Britain, France and Germany, the three European signatories to a multilateral 2015 nuclear deal with Iran hailed Tehran's encouraging statements on its intention to further strengthen its cooperation with the IAEA.
The E3 said they welcomed the joint statement reached between the agency and Iran, adding, "The statement paves a procedural way forward towards the resolution of the safeguards implementation issues specified by the Agency and towards implementation by Iran of its legal obligations to provide access to sites identified by IAEA."
https://www.presstv.com/Detail/2020/09/19/634544/Salehi-AEOI-IAEA-Iran-nuclear-sites-inspection
--------
Arab world
Taif Agreement Ensured Shia Governmental Partnership through Finance Portfolio & Binding Signature on Ministerial Decrees
Mohammad Salami
20-09-2020
Among the complications, which hinder the new cabinet formation in Lebanon, comes the rotation of the ministerial portfolios over the sects in accordance with the Constitution whose last amendment was in 1990, known as the Taif Agreement.
The essence of Taif agreement is transferring the powers of the President to the council of ministers, according to the former MP Nasser Qandil who added, in an interview with Al-Manar TV Channel, that the prime minister cannot monopolize the powers which the President enjoyed before 1990.
Kandil explained that the Shia governmental partnership is ensured through granting them the Finance portfolio which guarantees their binding signature on almost all the ministerial decrees, stressing that depriving the Shia from this right means excluding them from the partnership in the political system.
Kandil, who is also the editor-in-chief of Al-Binaa newspaper, pointed out the finance portfolio was given to the Shia in three governments formed after the Taif Agreement (Dr. Ali Khalil and Dr. Asaad Diab), adding that the House Speaker Nabih Berri agreed to relinquish it in favor of the late premier Rafik Hariri exclusively in the context of a guarantee presented by the Syrian President Hafez Al-Asad at that time.
"Shia governmental partnership was guaranteed by the troika presidential system till 2005 when Hariri was assassinated. After the regression of the political and security turmoil in 2009, the Shia secured one-third of of the government for 5 years. Since 2014, the finance portfolio has been granted to the Shia just in line with the Taif agreement."
The PM-designate Mustafa Adib, backed by a group of former premiers, insist on rotating the ministerial portfolios over the sects, without taking into consideration the distinctive conditions of the finance portfolio, while Hezbollah and Amal Movement reject denying the Shia this right and highlight its role in ensuring their participation in the Lebanese political system.
Kandil stressed that the role of the PM-designate is to contact the various political forces in order to take their opinions and views into the consideration of the government formation, adding that reaching the end of this deadlock requires this positive approach.
http://english.almanar.com.lb/1147269
--------
Sharjah Islamic Bank wins Sukuk Deal of the Year 2020 Award
19-09-2020
Hassan Bashir
SHARJAH, 19th September 2020 (WAM) - Sharjah Islamic Bank's (SIB) $500 million Sukuk received the 'Sukuk Deal of the Year 2020', at the 10th Global Islamic Finance Awards (GIFA). The bank was acknowledged with the award, during a virtual ceremony held on September 14.
SIB, which enjoys strong investment grade ratings of A- by Standard & Poors, A3 by Moody's, priced a $500 million (AED 1.83 billion) 5-year Sukuk, with a profit rate of 2.85 per cent per annum. The prestigious award is another achievement for the bank, especially after they have successfully expanded their investment and financing services across individual and corporate financing during the year.
The bank was able to generate significant momentum from regional and international investors, reflecting strongly on their reputation as a source of quality credit in the financial markets. The bank received an overwhelming response of over $3.6 billion, 7.2 times greater than the issuance for the deal closed on 16 June 2020. The funds raised from this issuance process will be used to for SIB's General corporate purposes.
Mohamed Abdalla, CEO of Sharjah Islamic Bank, said: "We are delighted to be recognized at the Global Islamic Finance Awards, which is a testimony of the bank's successful implementation of its policies. The Sukuk has achieved the best pricing globally, having competed with some of the largest traditional and Islamic banking institutions. This in turn has further helped strengthen the basic and total capital ratios of the bank, which will help achieve the targeted growth rate in the coming years."
He added: "This is SIB's 8th Sukuk issuance after launching its first Sukuk in 2006, confirming the bank's credibility despite the current exceptional circumstances. This award also contributes to enhancing the image of the bank across global financial markets and provider of strong financial tools. The award helps us strengthen our profile both as a regular issuer, providing a financial instrument which is investment grade in nature as well as generating enhanced opportunity for future business."
Courtesy of its commitment to adopting the best practices and the latest regulations in the world of finance and business, SIB has won several local, regional and international awards over the years that prove the bank's excellence and leadership.
Sharjah Islamic Bank is constantly striving to provide all electronic services and facilities, designed to meet the requirements of the retail and corporate customer base during the current period. The bank seeks to extend support to the nation, under the slogan 'We Commit Until We Succeed, that aligns with the UAE Vision 2021 aimed at building a creative, high standard and competitive knowledge-based economy.
The Global Islamic Finance Awards is one of the most respected awards in the field of Islamic banking and finance that recognizes the outstanding contributions made by governments, institutions and individuals to contribute to the sustainability of Islamic banking and finance, as a viable system within the global financial architecture.
http://wam.ae/en/details/1395302871017
--------
Organization of Islamic Cooperation condemns Houthi attack on Khamis Mushayt
SPA
September 19, 2020
RIYADH: The Organization of Islamic Cooperation (OIC) on Friday condemned the Iran-backed Houthi militia's targeting of civilians in the Saudi city of Khamis Mushayt, the Saudi Press Agency reported.
Arab coalition spokesman, Col. Turki Al-Maliki, said that an armed drone was intercepted and destroyed on Thursday.
OIC Secretary-General Dr. Yousef Al-Othaimeen stressed his organization's denunciation of the continual assaults by Houthi terrorist militia and their supporters that systematically and deliberately attacked civilians and civil targets in the Kingdom.
https://www.arabnews.com/node/1736646/saudi-arabia
--------
Blessing in disguise: How pandemic was a catalyst for Saudi SMEs to change
RUBA OBAID
September 20, 2020
JEDDAH: Saudis continue to shop online despite the government easing the COVID-19 lockdown, with the surge in e-commerce prompting small and medium-sized enterprises to adapt.
E-commerce saved global retail markets from collapse and stopped consumers from having to go out during the first wave of the outbreak. However, SMEs were the most vulnerable to the pandemic's consequences and e-platforms played a crucial role in their survival.
Saudi Arabia's consumer behavior was transformed during the COVID-19 lockdown as soon as stores were ordered to shut their doors, creating a frenzy among consumers although they were quick to adapt. SMEs were also forced to adapt, not only to accommodate the growing demand for online shopping but to ensure they survived with minimal losses.
Marion Janson, the chief economist at the UN's International Trade Centre, said in June that around 20 percent of SMEs globally may not survive the pandemic.
A recent report from Visa revealed increased anxiety among merchants in Saudi Arabia, with 67 percent of small businesses noticing a decrease in average consumer spending.
Many Saudi consumers started shopping online for the first time, primarily for essentials. The Visa report showed that two-thirds of the Saudi consumers surveyed said that COVID-19 led to their first online grocery purchase, while 59 percent made their first online purchase from pharmacies.
"With the confusion at the beginning, we didn't know what was acceptable and what wasn't," said Dr. Suhad Zain, a government employee in Jeddah. "Can we risk going out to shop for our daily needs or not? We needed to be sure that everyone in the house was safe, including the driver, and not expose ourselves to the invisible menace that changed our lifestyles. Most of our groceries were obtained online, from produce to water bottles to even appliances and leisure items. It had to be done, even though we needed time to accept the new change."
Fear of the virus is expected to change the way consumers behave forever. "It became more convenient even after the lockdown was lifted," Zain added. "After a few months we got used to it and, as a family, it became our new preferred means of purchase."
Such conditions were a catalyst for online commerce, according to the Visa report, with 38 percent of merchants in the country reporting the introduction of online offerings as a direct result of the pandemic while more than half had an e-commerce presence before the pandemic.
Two-thirds of the Saudi consumers said COVID-19 led to their first online grocery purchase, while 59% made their first online purchase from pharmacies. (GettyImages)
The report also said there was a surge in e-commerce, a preference for trusted brands, a decline in discretionary spending, and a polarization of sustainability. Consumers have a larger basket, but reduced shopping frequency, and will shift to stores closer to home. A change can easily be detected in Saudi consumer behavior.
But the shift to online commerce, with cash transactions being replaced by digital payments, has negatively influenced cash-only retailers and presents a tough challenge to these merchants, who have to understand the shift in consumer behavior and adapt accordingly and urgently.
"Saudi business owners currently face multiple challenges that they need to deal with when they want to shift to e-commerce, some of them even lack the knowledge of how technology could benefit them and what options it could offer," Talal Abdullah, a business development and marketing consultant, told Arab News.
"Also some will need to find a technical partner to successfully transform to e-commerce and, most importantly, they need to revisit their business model canvas to determine how they want to employ this technology for the best of their businesses."
In order to overcome these challenges, Abdullah suggested that business owners look for the right technical partner based on their new model.
"If they fail to find a suitable technical partner, then they need to set a clear budget for the application or website they need to set up. But before reaching out to any company that offers support with these technical services, you must get in touch with real clients of these companies and inquire about their business and how they deal with them."
He added that seeking assistance from technical consultants or owners of similar projects could cut down on time and effort. Joining business accelerators and incubators, as well as entrepreneurship and technology communities, could help with expanding knowledge and relationships and contribute overall to a smoother transition.
But these changes have their costs too, imposing new financial burdens on an already weakened business due to the pandemic and the time required to build and adapt a new business model that targets a completely different group of customers. It is a serious challenge for many small retailers.
Abu Mohammed has been in the retail business for 20 years. He used to have frequent customers who came in for a specific type of clothing with a certain price range. But, with the lockdown, he could hardly sell anything.
"I began targeting a different kind of customer in the past couple of years where I was importing new clothes and selling them through Instagram and e-commerce websites," he told Arab News. "However I still cannot completely substitute my current store with a completely virtual one. That needs time and money to build a reputation."
He said the lockdown had been a harsh experience for him and that he recognized the need to expedite his old plans to transform his store into an actual brand, since people were gradually moving toward online shopping from well-known brands.
"This transformation is not going to be easy at all," he added. "It will need a good marketing plan and well-spent money not only on tools but also staff. It is a completely new experience, however. I know e-commerce is here to stay and it is our only way forward. Otherwise my work for years will gradually vanish. This crisis could be a blessing in disguise, who knows."
https://www.arabnews.com/node/1737061/saudi-arabia
--------
Six soldiers killed in an attack attributed to the Islamic State in eastern Syria
Sep 19, 2020
Europe & World News
At least six Syrian soldiers were killed in an attack by the Islamic State jihadist group in a desert area in Deir Ezzor province in eastern Syria, according to the Syrian Observatory for Human Rights.
The London-based organization with informants in the Arab country stated on its website that the attack took place in the Ber Abú al Hayaya region in the Al Mayadín desert, with no current claim to authorship.
On the other hand, he has stated that a bomb exploded on Thursday afternoon when a convoy of the United States-led international coalition passed near the village of Abriha, also in Deir Ezzor, although he added that it ended without victims. The coalition did not comment on what happened.
Six soldiers killed in an attack attributed to the Islamic State in eastern SyriaSix soldiers killed in an attack attributed to the Islamic State in eastern Syria
The Syrian Democratic Forces (SDF) announced on March 23, 2019 the capture of Baghuz and the fall of the so-called territorial caliphate of the Islamic State, which no longer controls any area in Syria and Iraq, where it was defeated in December 2017.
https://www.syriahr.com/en/184778/
-------
Africa
Muslims in Lagos State Told to Be Good Ambassadors of Islam
September 19, 2020
Our Reporter
PROF. Tajudeen Gbadamosi has called on Muslims in Lagos State to be good ambassadors of Islam and pray for the betterment of the country.
Prof. Gbadamosi made the call during the visit of the Lagos State Muslim Community Committee on the pandemic to Epe to observe the level of compliance with coronavirus protocols.
The Chief Imam of Epeland, Alhaji Abdullateef Oladapo, called on government not to relent in enlightening members of the public on the risk of the pandemic.
Alhaji Oladapo commended members of the Lagos Muslim Community for being proactive in battling the terrible disease.
In his contribution, the Chief Imam of First Epe Central Mosque, Alhaji Abdulrahman Saadallah, explained that mosques in the division are in full compliance with the directives given by both federal and state governments.
According to him, "aged people are restricted from being part of the congregational prayers and that is the more reason why the traditional ruler of the land has not been part of the Jumat prayer because he is law-abiding".
Imam Saadallah appealed to government to key into taking care of the welfare of the citizens, especially the coronavirus period.
https://thenationonlineng.net/muslims-told-to-be-good-ambassadors-of-islam/
--------
Ten Chad soldiers killed in Boko Haram ambush
By AFP
19 September 2020
Ten Chadian soldiers were killed while attacking a base of the Boko Haram Islamist group in the Lake Chad region, the province's secretary-general told AFP on Saturday.
Seven soldiers were also injured in Thursday's ambush, Sadick Khatir said, confirming information given by an anonymous military source.
Contacted by AFP, however, army spokesman Azem Mbermandoa, did not confirm the death toll but added that the Chadian army had "destroyed a Boko Haram base, recovered weapons and ammunition".
The jihadist group, which originated in Nigeria in 2009, has established bases on islets dotting Lake Chad, a vast swampy expanse on the border between Nigeria, Chad, Niger and Cameroon.
The Chadian army launched an offensive against Boko Haram in April after the death of some 100 soldiers in an attack by the group on one of its bases.
In Chad's Lake Province, more than 360,000 people have fled their homes to avoid attacks and also flooding, according to the International Organization for Migration (IOM).
The president admitted in early August that "Boko Haram would still do a lot of damage" in Chad.
https://guardian.ng/news/world/africa/ten-chad-soldiers-killed-in-boko-haram-ambush/
----------
Boko Haram destroys 47,615 houses, health centres, others in Borno
By Njadvara Musa
20 September 2020
Zulum disclosed this at the weekend to an 18-member House Committee on the North East Development Commission (NEDC) at Government House, Maiduguri.
According to him, the statistics on massive destruction of property are devastating and scaring. "The Boko Haram insurgency has also triggered acute humanitarian crises," he said, adding that the over a decade long terrorism has devastated the social and economic impacts on people.
He told the legislators that there were also "deepening fragility and poverty" in the Northeast sub-region. While lamenting massive destructions of property, he said: "The insurgents have destroyed over 400,000 houses in the state. About 5,000 classrooms were also torched.
"No less than 202 health centres were destroyed along with the torching of 1,613 water supply points," he said. He added that other infrastructural facilities and public buildings destroyed include, 713 energy distribution lines that plunged the state into darkness for over two years.
According to him, 800 municipal buildings were set ablaze, including hospitals, police stations and 22 council secretariat complexes.
Speaking on number of orphans and widows, Zulum disclosed, "we harvested a total number of 53,111 orphans, while about 54,000 women were also widowed by the terrorists."He said these are unofficial figures, noting the confirmed number of orphans and widows are more than 107,111.
"We also have over a million IDPs in the state," he said, stating that the task is enormous. He, however, noted that credit must be given to Federal Government, because about 22 councils were under the control of Boko Haram. He said that from September 2015 to date, most of the councils were fully recovered, despite the challenges being faced in the state.
https://guardian.ng/news/boko-haram-destroys-47615-houses-health-centres-others-in-borno/
---------
Pakistan
BankIslami wins Brand of the Year Award 2019 for Islamic Banking
-PR
September 19, 2020
KARACHI-BankIslami, the country's leading Islamic bank, has bagged one of the most prestigious national accolades this year by becoming the Brand of the Year 2019. The bank won in the Islamic Banking category in acknowledgment of its achievements in highlighting brand excellence as well as noteworthy performance across the industry. The Brand of the Year Awards which is an annual event celebrating outstanding services and innovative products by organizations across a diverse range of sectors was attended this year by notable dignitaries and ministers. The jury this year recognized the marketing as well as strategic efforts implemented by BankIslami to promote the image of a technologically advanced, modern Islamic Bank. The brand reputation along with trust ratios for BankIslami has risen among and beyond its target audience leading to award one of the most renowned marketing accolades in Pakistan. Speaking at the occasion, President & CEO, BankIslami Syed Amir Ali, stated; "At BankIslami, we believe in enabling our customers as well as all other stakeholders in having access to the most convenient Shariah-compliant financial services in the market. We continue to expand financial inclusion across the country by building credibility as well as an image of an institution that simplifies banking for its customers. Being recognized by a platform like Brand of the Year is certainly a feather in our cap and we hope to keep our momentum going in the times to come." BankIslami took numerous steps which included formulation of effective strategies to rebrand a refreshed image of the organization among both existing and potential target markets. The Bank aspires to accelerate towards the right direction to accomplish further accolades like these while delivering quality to its customers.
https://nation.com.pk/19-Sep-2020/bankislami-wins-brand-of-the-year-award-2019-for-islamic-banking
--------
'Hasty decision' of closure mars education, says minister
Ikram Junaidi
20 Sep 2020
ISLAMABAD: Federal Educa­tion Minister Shafqat Mahmood on Saturday warned against 'any hasty decision' to close institutions, as tens of educational institutions were closed soon after their reop­e­ning across the country over viola­tion of Standard Operating Proce­dures (SOPs) and detection of the novel coronavirus (Covid-19) cases among some students, teachers and other staff, while Sindh had already decided to delay the reopening of middle schools for another week.
"There is no change regarding the timetable announced earlier after inter provincial meeting of education ministers. We will meet in the NCOC on 22nd to decide finally but if the current trend remains, no reason to postpone 6 to 8 opening on 23rd September," the federal minister in a tweet declared, before claiming that health of "students is our first priority and any decision we make will be guided by the advice of health ministry.
"Having said that 6 months clo­sure deeply affected the students. Decision to open was taken with great care. Any hasty decision to close will destroy education."
In Balochistan, a university was closed while another postponed resumption of classes amid reported cases of coronavirus. The provincial government claimed that 67 cases had been detected in educational institutions since their reopening on September 15. At least 10 government-run schools in Quetta, Zhob and other areas were also closed following the emergence of coronavirus cases.
As a precautionary measure, the Pakistan Medical Association (PMA) has suggested that like Sindh, the federal and provincial governments should also delay the reopening of middle schools. The health professionals' association feared that the number of Covid-19 cases could surge in the coming days. The PMA, however, believed the National Command and Operation Centre (NCOC) on Covid-19 should take such decisions, considering drop in temperature and violation of SOPs.
However, Special Assistant to Prime Minister (SAPM) on Health Dr Faisal Sultan rejected such fears and made it clear that the "slight increase" [in cases] should not be attributed to the reopening of the educational institutions. He said the incubation period of the virus was one week while the institutions were reopened on September 15.
The PM's aide said that there was a 'global trend of increase' in cases, but in Pakistan, aggressive testing was the reason for the [recent] increase in number of cases.
For the last few days, the number of cases has started increasing, with the number of patients on ventilators hovering in three digits again after remaining in double digits for some time.
PMA General Secretary Dr Qaisar Sajjad told Dawn that as compared to other countries, in Pakistan, virus behaved differently. "While number of cases was increasing in other countries, opposite to estimates, in Pakistan numbers started to drop and in August per day only 200 to 300 cases were being reported," he said, but it was yet to be ascertained whether the people had developed immunity or there could be some other reason for the dwindling numbers. "It is being observed that the cases have again started increasing in the United States, the United Kingdom, Brazil, Canada, etc. In Australia, curfew has been imposed due to increasing number of cases," Dr Sajjad said.
In Pakistan, he said, 90 per cent of people believed that the virus had already been defeated and eradicated, as they had stopped following the SOPs. "Even educated people have again started shaking hand and they even hug each other."
The PMA general secretary said: "I believe the decrease in temperature is also a reason for increase in cases, as viruses of influenza and corona family become more active in low temperature."
Dr Sajjad in reply to a question said students should be allowed to remove face masks for 10 minutes after every couple of hours, as high level of carbon dioxide in the body could cause death among children. He said school administration should be bound to hold antibodies tests of staff and students. "If antibodies tests are found positive, teachers and students can teach and study without taking any precautionary measures and all the attention should be given to those who have not contracted virus," he added.
"Sindh has rightly decided to delay opening of middle standard schools, but that sort of decisions should be taken at the platform of NCOC to avoid confusion. Other provinces and federal govt should also take similar decision," he said.
The Balochistan authorities, meanwhile, closed a university and 10 government-run schools in Quetta and other cities during the past 24 hours after detecting deadly virus in large number of students and teachers after reopening of varsities, colleges and high schools.
Sardar Bahadur Khan Women University Quetta postponed the resumption of classes, which were scheduled to commence from September 21, while Balochistan University has been closed amid reported cases of coronavirus.
Speaking at a press conference on Saturday evening, spokesman for the Balochistan government Liaquat Shahwani said: "Balochistan University was closed after reports of coronavirus cases." He said 67 Covid-19 cases had been confirmed in educational institutions since September 15.
Apart from this, 10 government-run schools were closed in Quetta, Zhob, and other parts of Balochistan after reports of Covid-19 cases. "The educational institution that reported more than two cases would be closed," said Mr Shahwani.
He feared that the number of cases could increase further in October. Since the outbreak of coronavirus, Balochistan has reported a total of 14,138 cases with 145 deaths.
Mr Shahwani said random testing would be conducted at educational institutions. "Around 1,000 tests have already been conducted in Balochistan," he said, claiming that the positive cases ratio in educational institutions was 14 per cent. "We want to expand the process of testing in Balochistan," he said, adding that the provincial government would establish labs at the divisional level to reach out to the maximum number of patients.
The provincial government had reopened universities, colleges, and higher secondary schools after a gap of nearly eight months. The government also formed committees at district level to ensure implementation of the Standard Operating Procedures.
While talking to Dawn, PM's aide on health Dr Sultan said there was a slight increase in number of cases but the rise should not be attributed to opening of school as incubation period of the virus was almost one week.
He then explained: "We were holding around 20,000 tests per day, but after opening of schools intensive testing has been started due to which number of daily tests has reached 30,000. Though number of positive cases is increased, the positive ratio to tests is still 2 per cent."
Having said that, he said he was worried the masses had declared a victory against the Covid-19 and stopped wearing masks.
Dr Sultan said the decision about reopening or closing of schools would be taken from the platform of the NCOC.
https://www.dawn.com/news/1580644/hasty-decision-of-closure-mars-education-says-minister
--------
Opposition moot to devise anti-govt strategy today
Amir Wasim
20 Sep 2020
ISLAMABAD: The stage is set for a much-hyped gathering of the opposition leaders at the PPP-hosted multiparty conference (MPC) aimed at devising a strategy to oust the PTI-led coalition government.
The MPC being held at a five-star hotel on Sunday (today) has become all the more significant with the announcement that sup­reme leader of the Pakistan Mus­lim League-Nawaz (PML-N) and deposed prime minister Nawaz Sharif will address its participants via video link from London, marking his political comeback after more than a year.
Besides Mr Sharif, Pakistan Peoples Party (PPP) leader Asif Ali Zardari also plans to deliver an opening speech through video link as he will not be able to physically attend the event due to his poor health condition.
Mr Sharif, who has been living in London for medical treatment and who has been declared a proclaimed off­en­der by an accountability court earlier this month in the Toshakhana vehicles reference with the court directive to the National Accountability Bureau to make his arrest through Interpol, had agreed to address the MPC after PPP chairman Bilawal Bhutto-Zardari talked to him over telephone on Friday and extended a formal invitation.
Responding to the opposi­tion's announcement regar­ding Mr Sharif's address to the MPC, a number of government ministers and advisers declared that a "proclaimed offender and a convicted person" could not address a political gathering and also warned of "legal action" if television channels aired his speech.
Special Assistant to the Prime Minister on Political Communication Shahbaz Gill on Saturday through his social media account on Twitter said "the Pakistan Electronic Media Regula­tory Authority (Pemra) and other legal options" would be used if Nawaz Sharif addressed the MPC and if his speech was aired by TV channels.
"How is it possible that a fugitive carries out political activities and gives speeches? The Sharif clan can only spew lies. They are such big liars that they also lie about [their] medical conditions," tweeted Mr Gill.
On the other hand, the PML-N criticised the government's planned move to black out the speeches of Mr Sharif and his daughter and the party's vice-president Maryam Nawaz through a tweet suggested that his "speech should be telecast through live streaming on social media platforms such as Facebook, Twitter, and YouTube so that it can't be blocked in the country".
Ms Nawaz has already arrived in Islamabad from Lahore for participation in the MPC and she will be part of the 11-member PML-N del­e­gation under party president Shahbaz Sharif. The PML-N on Saturday offi­cially announc­ed the names of its leaders who would represent the party in the MPC. The party delegation will comprise Khawaja Asif, Ahsan Iqbal, Ayaz Sadiq, Pervaiz Rasheed, Maryam Nawaz, Khawaja Saad Rafique, Rana Sanaullah, Ameer Maqam and Marriyum Aurangzeb.
Meanwhile, as host of the MPC, Mr Bhutto-Zardari spent a busy day on Saturday holding a PPP meeting to discuss the agenda and arrangements for the event besides talking to the heads of other opposition parties. He also visited the residence of Jamiat Ulema-i-Islam (JUI-F) chief Maulana Fazlur Rehman to discuss the possible agenda of the opposition's moot. Before that, the PPP chairman talked over telephone to the presidents of two factions of the Balochistan National Party, Sardar Akhtar Mengal and Israrullah Zehri, Qaumi Watan Party chief Aftab Sherpao and National Party leader Dr Abdul Malik.
Talking to Dawn, PPP vice president Sherry Rehman said that heads and representatives of 12 opposition parties would be attending the MPC. She said initially the conference was to be held at Zardari House but due to the size of the gathering and to ensure social distancing in the wake of Covid-19, they had finally decided to arrange the conference at the hotel.
"We will make a final decision in tomorrow's MPC against the actions of this government," announced PPP Punjab president Qamar Zaman Kaira at a press conference at Zardari House after attending a party meeting.
Responding to a question, Mr Kaira dispelled the impression in some political and journalistic circles that the PPP was not in favour of launching a full-fledged movement against the PTI government as it did not want to sacrifice its own provincial government in Sindh.
"We have also arrived at the conclusion that this government must go. We have not previously decided to send this government packing and tried to correct it… but now we believe that this government must go before the current challenges become irreversible," he said.
Political analysts believe that opening speeches of Mr Sharif and Mr Zardari will set the tone of the MPC which will be participated by the opposition leaders having divided opinion on the future strategy against the government.
They say there are hawkish elements in almost all the parties who want to launch a full-fledged street agitation against the government even at the cost of their seats in the parliament. On the other hand, there are some saner elements, especially in the PPP and the PML-N, who are against this idea as they fear that "undemocratic forces" can take advantage of the situation.
Sources told Dawn that the PPP and the PML-N were against the idea of holding an indefinite sit-in like the PTI and the JUI-F had done in the past and which had failed to bring any result. They said the leaders of the two major opposition parties had conveyed this to the JUI-F leadership which wanted to go all out against the government.
Speaking at a news conference, Federal minister for Information Shibli Faraz and Adviser to the Prime Minister on Interior Shahzad Akbar claimed that the opposition's MPC posed no threat to the government.
"This MPC simply means accused plus convicts. They have met in the past several times with zero result and are bound to fail this time as well," Mr Faraz said.
He said the timing of the MPC made it clear that the opposition leaders were worried about the recent amendments to the anti-money laundering law. He said their sole mission was to save their leaders who were involved in money laundering.
He alleged that the opposition wanted to create anarchy in the country while the government continued with its efforts for socio-economic development.
Mr Akbar said it was an established law that no convict or proclaimed offender could address political gatherings. He said under verdicts of the court and declarations of Pemra, TV channels and other media were also barred from airing the same.
Commenting on the government's warning against airing of Mr Sharif's speech, renowned lawyer Salman Akram Raja termed it against the spirit of Article 19 of the Constitution, which guaranteed fundamental right of freedom of expression.
Advocate of the Supreme Court Kashif Ali Malik said Pemra had amended its regulations last year and banned airing of convicts and under-trial prisoners. He, however, said since Pemra regulations were subordinate legislation, it could not override the fundamental rights guaranteed by the constitution.
According to him, Article 19 only imposes certain restrictions related to the glory of Islam, security of Pakistan and relations with the friendly countries and these restrictions have nothing to do with the coverage of a convict or under trial prisoner.
https://www.dawn.com/news/1580646/opposition-moot-to-devise-anti-govt-strategy-today
----------
Tareen tells FIA he'll appear on return from UK
Zulqernain Tahir
20 Sep 2020
LAHORE: Pakistan Tehreek-i-Insaf's disgruntled leader Jehangir Tareen, who is currently in the United Kingdom (UK) and was summoned by the Federal Investigation Agency (FIA) over the sugar scam investigation, submitted a 'short reply' on Saturday, seeking more time to respond to the FIA's queries.
In his reply, Mr Tareen said he is in the United Kingdom and undergoing medical treatment, pledging that once he got well he would return to the country to appear before the FIA in person.
He said he needed more time to file a reply to the FIA's questions related to his businesses, assets and sugar mills.
The FIA Lahore's combined investigation team is probing into the sugar scam. It had also summoned Mr Tareen's son Ali, who is the owner of the Pakistan Super League (PSL) franchise `Multan Sultan', on Friday last to record his statement.
The FIA has sought details of Mr Tareen's assets here and abroad, his bank transactions, especially transfer of money abroad, bank accounts of his family members and his employees and sugar-related transactions of his firm JDW.
A source close to Mr Tareen told Dawn that the FIA had been activated against Mr Tareen by a powerful adviser to the prime minister and a bureaucrat following Prime Minister Imran Khan's recent television interview in which he had talked about his (Tareen's) services for the party and his close association with Mr Khan. The PM had expressed the hope that Mr Tareen would come clean of the charges he was facing (in the scam).
"The groups against Mr Tareen — both in the PTI and bureaucracy — are making it sure not to let him off the hook. They believe this will give political mileage to the PTI if one of its own stalwarts gets fixed by 'honest' Imran regime," he said.
However, some in the party are of the view that Mr Tareen had been allowed to leave the country till investigation into the sugar scandal is complete and once the dust settles and a new situation arises on the political map of the country, he will be given green signal for return to the country.
Earlier, Mr Tareen had described the sugar scam as a "frivolous" case. "What is the link between some old transactions (of my company) and the current sugar price increase?" he had asked, saying there were more than 80 sugar mills in the country but only his mills were being targeted.
On the sugar scam, the inquiry committee, headed by FIA director general Wajid Zia, had prepared a report in April last. It had probed into the increase in the sugar prices and the subsidy obtained by sugar barons during the last year in particular and past four years in general.
The report revealed that two main groups had obtained maximum benefit during the crisis, one of these being JDW that had six sugar mills. As per the report, the JDW obtained 12.28 per cent of the total export subsidy amounting to Rs3.058 billion during 2015-18.
The report said that during 2018-19, Mr Tareen's companies exported 17.24pc of the total sugar production and availed 22.71pc of total export subsidy, amounting to Rs561 million.
Special Assistant to the Prime Minister (SAPM) on Accountability Shehzad Akbar had said the JDW sugar mills had committed "double booking, under-reporting and over-invoicing".
"The report noted that the mills (JDW) under-invoiced sales from bagasse and molasses which resulted in 25pc cost inflation. They also committed corporate fraud whereby money was transferred from their PLC to their private company. Forward sales, satta, unnamed sales have all been associated with JDW too," Mr Akbar said.
https://www.dawn.com/news/1580642/tareen-tells-fia-hell-appear-on-return-from-uk
----------
Southeast Asia
Muslim Patani longs for peace, freedom in Thailand
Pizaro Gozali Idrus
19.09.2020
JAKARTA, Indonesia
The Thai government last Sunday met a delegation of Muslim groups in southern Thailand to hear their aspirations amid ongoing violence in the region.
The Southern Thai Peace Delegation was led by Baba Abdulrahman, the chair of the Pattani Islamic Religious Council, while Wanlop Rugsanaoh was present as the head of the government delegation.
Muslim representatives asked the government to proclaim Friday, a holy day for Muslims, as a public holiday and for the Malay language to be declared as the official language of southern Pattani, Yala, Narathiwat and Songkhla provinces.
The four provinces have a large population of the Muslim Malay community, Patani, with 1.4 million residents, according to government data.
Representatives also proposed those familiar with Islamic practices be put in charge of pilgrimage affairs, drafting Islamic laws for the provinces and the development of a halal industry.
Teuku Zulkhairi, an Indonesian Islamic expert in Southeast Asia from Ar-Raniry State Islamic University, voiced appreciation for the meeting.
Zulkhairi told Anadolu Agency minority groups in the south are part of the Malay Muslim entity that has a strong and long history in southeast Asia.
He said they are not a new community in southern provinces and noted that Islam had entered the region in the 15th century, which led to the establishment of the Patani Darussalam Kingdom.
"The Patani name came from al-Fatani in Arabic which means 'intellectuals' since there were many Muslim ulemas [scholars] born there," Zulkhairi said.
The Patani Darussalam Kingdom was then conquered by the Kingdom of Siam, the Thai ruler, in 1785. Siam took control of Patani's entire territory and divided it into seven provinces.
Thai ruler, King Chulalongkorn, broke the peace treaty with the provinces in 1901 and launched a military campaign. It ended in 1909 with the Anglo-Siam treaty, which paved the way for the Kingdom to annex the southern Thailand region.
Zulkhairi voiced the importance for the Thai government to provide freedom for Muslim minorities in carrying out religious teachings in language and an education curriculum.
He also called on the largest Muslim countries in southeast Asia -- Indonesia and Malaysia -- to encourage Thailand to protect the rights of the Patani Muslim minority.
Zulkhairi said if Muslims in southern Thailand can live in peace and enjoy freedom and justice, it will have a positive influence on Thailand's image in international eyes.
Human rights activist Mustopha Mansor from the Malaysian Civil Society Solidarity Association, which often provides humanitarian assistance in southern Thailand, has a similar view regarding Muslim minorities.
"The demands from Patani Muslim delegations were in accordance with the 1948 UN Universal Declaration of Human Rights," Mansor said.
Based on the declaration, he said, Patani Muslim minorities have the right to express their opinion, choose their religion and beliefs and be free from fear.
Zahri Ishak, a Thai human rights activist from the NGO Bicara Patani, said it was the third time Wanlop visited the southern region to accommodate the aspirations of Patani Muslims.
"He was there to hear proposals or demands from various parties, it can be done at any time by the Thai government," he told Anadolu Agency.
Ishak, however, reminded the peace negotiation team not to abandon the ongoing dialogue with the most influential insurgent group, Malay National Revolutionary Front (BRN), since it is a different entity that the Southern Thailand Peace Delegation.
Thailand officially launched a peace process with insurgent group Barisan Revolusi Nasional Melayu Patani (BRN) on Jan. 21 in Kuala Lumpur, Malaysia. The negotiations have been mediated by Malaysia.
"There is an impression that the Thai government wants to localize the Muslim minority case and make it remain as a domestic problem, not an international issue," the activist said.
Meanwhile, Mansor said that since the administration of Malaysian former ruling party Pakatan Harapan collapsed, negotiations between BRN and Thailand were no longer as solid as they used to be.
Meanwhile, Marwan Ahmad, 29, a Muslim in Pattani province, voiced his wish that meetings between authorities and Muslim groups were not just a formality.
"Many Patani people don't trust the Thai delegation's peace negotiation team because currently there has been a wave of protests in Bangkok against the abuse of power by military junta government," Ahmad said.
He said the government sees the conflict in the south as an ordinary riot, even though the conflict started since Patani was annexed in 1909.
Thai government imposed martial law in three Muslim-majority provinces in southern Thailand -- Pattani, Narathiwat, Yala -- following deadly violence in 2004.
At least 7,040 residents have since been arrested by the military, while 4,928 have been released, according to Bicara Patani.
https://www.aa.com.tr/en/asia-pacific/muslim-patani-longs-for-peace-freedom-in-thailand/1978644#
---------
Twenty Malaysian tabligh members return from India
19 Sep 2020
by Saw Siow Feng
KUALA LUMPUR, Sept 19 ― Twenty Malaysian tabligh members in New Delhi and Mumbai arrived home safely at 3.40 pm yesterday, said Deputy Foreign Minister Datuk Kamarudin Jaffar.
He said they were the fifth group to return, and so far, the ministry had brought back 144 of 189 members of the group stranded in India.
Kamarudin said the remaining members in India were undergoing the legal process in several provinces, namely, New Delhi, Bihar, Telangana and Tamil Nadu.
"The ministry will continue to monitor the issue closely, and provide appropriate consular assistance to ensure their rights and welfare are protected.
"The ministry will continue to coordinate with local authorities in India to bring home the remaining 45 Malaysian tabligh members who are still stranded in the country," he said in a statement here today.
He said 124 individuals were previously repatriated through four Humanitarian Assistance and Disaster Relief (HADR) missions only July 18, 22, 29 and Aug 26.
https://www.malaymail.com/news/malaysia/2020/09/19/twenty-malaysian-tabligh-members-return-from-india/1904818
-------
PM Muhyiddin's promise of a snap election during Covid-19 irresponsible, says Guan Eng
BY SOO WERN JUN
19 Sep 2020
KUALA LUMPUR, Sept 19 — DAP secretary-general Lim Guan Eng said Prime Minister Tan Sri Muhyiddin Yassin exposed his desperation to win the Sabah state election when he promised his party allies a snap poll should they succeed.
In a statement today, Lim regarded Muhyiddin's move as irresponsible as he had used the general election as bait to push respective parties aligned to Perikatan Nasional (PN) to work harder in the Sabah election despite the Covid-19 situation in the country.
"It is irresponsible for the prime minister to ignore Covid-19 health concerns and use a snap general election as bait to persuade Umno to work harder to secure a victory in the state election.
The Bagan MP was referring to Muhyiddin who yesterday said that the result of the state election could determine when he will call a general election.
"There is no need to dissolve Parliament and call for a snap election when the Opposition bloc comprising 109 MPs do not want to endanger public health and safety with the rise of Covid-19 cases.
"Many countries in the world, the latest being Britain, is facing a second wave of Covid-19 and Malaysia could be similarly affected," said Lim.
The premature state election was called after former chief minister Tan Sri Musa Aman of Umno mounted an abortive takeover bid on the back of lawmakers' defections.
"The only political parties who want an early snap election in Malaysia is Muafakat Nasional (PAS and Umno) who are part of the government bloc of 113 MPs," he said.
He also said that Muhyiddin's election promises to Sabahans sound hollow when he has still not implemented his promise made in Sandakan on August 30, which is to increase Social Welfare Department's monthly aid to needy recipients, from RM200 and RM300 to RM1,000.
"Such an increase to RM1,000 is urgently needed following an admission by the Human Resources Minister that the number of unemployed will rise to a historic high of one million workers by the end of September," he said.
https://www.malaymail.com/news/malaysia/2020/09/19/pm-muhyiddins-promise-of-a-snap-election-during-covid-19-irresponsible-says/1904775
--------
Bersatu denies sanctioning 'Perikatan-friendly' independents in Sabah poll
BY JULIA CHAN
20 Sep 2020
KOTA KINABALU, Sept 20 – Claiming it has never approved any "Perikatan Nasional-friendly independents", the coalition said last night it has however not ruled out accepting independents who win in the Sabah election into its fold.
Its secretary-general Datuk Hamzah Zainuddin dismissed talks of such a sanction, but stopped short of saying they will not be accepting winning assemblymen into the party.
"That is hypothetical — it's not fair to say that," he said, when asked to comment on whether the party would accept those candidates claiming to be PN-friendly.
"First of all, we never asked anyone to come up with that kind of tagline to say that they're friendly with us. The only party we allow to say that is Parti Bersatu Sabah. But because there're too many independents who claim to be friendly now PBS are our partners instead. It's very much higher than friendly.
Hamzah, who is also Bersatu secretary general, said that he has asked independent candidates, like Sukau incumbent Datuk Saddi Abdul Rahman, not to use the PN banner in his campaign.
The Sukau seat is being contested by Barisan Nasional's (BN) Datuk Jafry Ariffin from Umno, an ally of PN, giving way to rumours that Saddi was contesting as PN-friendly as a strategy for PN to gain more seats.
The Gabungan Rakyat Sabah — a loose alliance consisting of PN, Barisan Nasional and PBS — had tried to come to an agreement to encourage straight fights between them and the Warisan government but failed negotiations led to clashes between parties in 17 seats.
Within the alliance, PN and BN are also at odds, with both vying for more seats in order to be able to name the chief minister should they win, giving way to rumours that the "PN-friendly independents" were a deliberate decision to hedge their bets.
"That was beginning of some disenchantment among the leaders. People asked why must BN do that after PN announced much earlier," he said.
The Home Minister said that more and more clashes started to emerge, some independent and some formerly from various parties like PBS, STAR and Bersatu, and he could not stop them.
"But now we are starting to call them and say the most important thing is the struggle for this state, more than the individual. All of us should accept that. We should calm down, sit down and bear no hard feelings among them and actually come out with a decision who should support one candidate that we feel can win," he said.
Hamzah said that he was hoping to manage the parties and individuals but declined to comment whether it would come to fruition.
https://www.malaymail.com/news/malaysia/2020/09/20/bersatu-denies-sanctioning-perikatan-friendly-independents-in-sabah-poll/1904857
---------
URL: https://www.newageislam.com/islamic-world-news/islamic-system-government-afghanistan-taliban/d/122897
New Age Islam, Islam Online, Islamic Website, African Muslim News, Arab World News, South Asia News, Indian Muslim News, World Muslim News, Women in Islam, Islamic Feminism, Arab Women, Women In Arab, Islamophobia in America, Muslim Women in West, Islam Women and Feminism