New Age Islam News Bureau
5 Nov 2014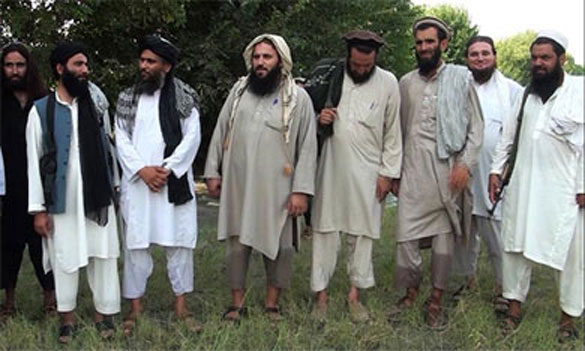 Photo of key commanders of TTP Jamatul Ahrar, including group spokesperson Ehsanullah Ehsan (2nd R) — Zahir Shah Sherazi/File
----------
India
• Taliban Group Threatens To Attack India Following Wagah Blast
• Minority Communities Are No Threat to Indian Pluralism: Analyst
• Hindus join Muslims in observing Muharram in TN village
• Pakistan has to make a conscious choice of peace with India: Minister
• Clashes in Kashmir after army kills two civilians
• Indian Warships Moved After Terror Alert
-----------
Southeast Asia
• Indonesian Minister: Islamic Boarding Schools Not the Place for Radicalism
• Malaysian Muslim group angered by bottler's use of Hindu god's image
• For Obama and Xi, fight against Islamic State a brief moment to agree
------------
Arab World
• Kingdom of Saudi Arabia Raps Zionist Land Grab, 'Criminal Acts' At Al-Aqsa
• Syria-Turkey Border Heats Up As Iraqi Kurds Approach Kobani
• Death toll in Al-Ahsa terror attack rises to 11
• Five Shias shot dead at Ashura congregation in Saudi Arabia
• France, Saudi Arabia sign Lebanon weapons deal
• Clashes between Saudi forces, gunmen kill 4
• Action against Terrorists in Saudi Arabia 'Yielding Positive Results'
• Palestine asks Egypt to reopen Rafah crossing
• Shia Muslim Houthis commemorate Ashura in Yemen
• Crown prince honours winners of historical research prize
• Kurds defiant in 'House of the Wounded'
------------
Mideast
• Israel Settler Plan 'Slap in Face' Of US: Palestinians
• Over 30 Killed As Shiites Battle Al-Qaeda in Yemen
• Syria-Turkey Border Heats Up As Iraqi Kurds Approach Kobani
• Israelis, Palestinian worshippers clash in al-Aqsa Mosque
• International Union of Muslim Scholars Mobilise World Muslims for Al-Aqsa
• Iraq seeks closer security cooperation with Iran
• Israel committed war crimes in Gaza: Amnesty International
• Turkey Is Seen As A Model Democratic Muslim Country: Hayajneh
• The rise of political Islam in Turkey: how the West got it wrong
• Iran censures terrorist attack against Shia mourners in Saudi Arabia
-----------
North America
• Muslim Congressman in Election Challenge
• Canada Anti-ISIL Rally Marks `Ashura
• UN warns of Iraq disastrous situation, urges aid ahead of winter
• Palestine to demand UN resolution to end Israel occupation
• US Midterm Elections… How Muslims Vote?
------------
Pakistan
• Five killed as security forces target militant hideouts in Khyber
• Government official shot dead in Multan
• Scouts to fight off terror threats in Karachi
• 8,000 stranded Pakistanis evacuated from Libya: envoy
• 'No terrorist activity can weaken morale of Pakistani nation': Minister
• Arrests in Pakistan after Christian couple lynched by mob
------------
South Asia
• Bangladesh International Crimes Tribunal indicts 3 for crimes in 1971
• Family meets, condemned war criminal, Kamaruzzaman at Dhaka jail
• 121 illegal Afghan immigrants detained in Chaghi
------------
Africa
• Boko Haram Carries out Attacks in Nigeria's Northeast
• Blast hits Shia ceremony in Nigeria's Yobe
------------
Europe
• New EU Foreign Chief Urges Creation of Palestinian State
• Blair Views on Islam to Ignite Religious War: Aide
• Ukraine sends more troops to east
• UK ends Libya army course after 'sex attacks'
• Kiev to deploy more troops to east to foil attacks
• Yusuf Islam, an English artist, Unfolds His Spiritual Journey
• Anti-Semitic Muslim Preacher Banned from Entering Belgium
-----------
Australia
• Australia to see more counter-terrorism raids
Compiled by New Age Islam News Bureau
URL: https://www.newageislam.com/islamic-world-news/new-age-islam-news-bureau/taliban-group-threatens-to-attack-india-following-wagah-blast/d/99880
-------------
India
Taliban group threatens to attack India following Wagah blast
Nov 5, 2014
ISLAMABAD: A Pakistani Taliban group behind this week's devastating suicide bombing on the Wagah border has said the attack was as much aimed at India as Pakistan, suggesting that Indian targets might be next.
At least 57 Pakistanis were killed during a popular flag-lowering ceremony on Sunday when a bomber tried to get as close as possible to the border in a possible attempt to cause casualties on the Indian side as well.
In a tweet issued after the attack, the splinter group, Tehreek-e-Taliban Pakistan Jamaat Ahrar (TTP-JA), said it was determined to attack both sides.
"This attack is an open message to both governments across the border," TTP-JA spokesman Ehsanullah Ehsan said in an Urdu-language message. "If we can attack this side, the other side could also be attacked."
He also tweeted in English: "You (Indian Prime Minister Narendra Modi) are the killer of hundreds of Muslims. We wl take the revenge of innocent people of Kashmir and Gugrat" (sic).
Gujarat - misspelt in the tweet - is a state where more than 1,000 people, most of them Muslims, were killed in inter-religious rioting in 2002, when Modi was its chief minister.
The authenticity of the tweets could not be immediately verified and then did not show on Ehsan's Twitter page as of Wednesday morning.
India has long accused Pakistani militants of trying to attack its targets, particularly after the 2008 Mumbai attacks in which 166 people were killed when Pakistani gunmen went on a three-day rampage in India's financial capital.
TTP-JA is a new outfit that broke away from the mainstream Taliban movement in September and has announced its support for the Middle Eastern group Islamic State, whose belligerent anti-Western ideology has begun to inspire militants across South Asia.
TTP-JA's openly anti-Indian rhetoric differs from that of the mainstream Pakistani Taliban, who are mainly focused on their insurgency against Pakistani security forces in the volatile tribal northwest of the country.
A successful attack on an Indian target would severely affect the already frosty relations between the two countries.
Shelling on their disputed Kashmir border is an almost daily occurrence, a constant reminder that a full-blown conflict is always a threat.
Further unnerving India, al-Qaida chief Ayman al-Zawahiri, said to be close to TTP-JA, has announced the creation of a South Asia wing of al-Qaida, threatening to stage attacks on countries across the subcontinent.
The new group's first major attack was a botched attempt in September to hijack a Pakistani warship and attack a US navy vessel at a base near the port city of Karachi.
On Tuesday, India's navy withdrew two warships from the eastern port of Kolkata after intelligence agencies warned of an attack on the port and the city.
http://timesofindia.indiatimes.com/india/Taliban-group-threatens-to-attack-India-following-Wagah-blast/articleshow/45043762.cms
-------------
Minority Communities Are No Threat to Indian Pluralism: Analyst
5 November 2014
The growing majoritarianism in India is a sign of declining pluralism in a multicultural country known for its unity in diversity and has to be seen in the context of increasing intolerance of secular values, said Dr. Manzoor Alam, chairman of Delhi-based Milli Council and senior political analyst.
"It is indeed the increasing majoritarianism in Indian politics that needs to be contested; minority communities are no threat to Indian pluralism," Alam said.
The senior political researcher, who is in the Kingdom on a brief tour, expressed his resentment at the intolerance and recent violence in New Delhi.
Reacting with great displeasure, he also blamed the Indian media for exercising bias in favour of the current political scenario.
"The media is the fourth pillar of a democracy and it must behave responsibly," he asserted.
He went on to say: "It is not a party that is doing well in the Indian elections one after another, but it is the media which stands exposed failing to discharge its duty with dignity."
When asked if the minority community have made any serious efforts to learn about the evolution of the contemporary media in India, he underlined that the Milli Council itself had begun a caravan tour from Murshidabad to Mysore.
http://www.arabnews.com/saudi-arabia/news/655241
-------------
Hindus join Muslims in observing Muharram in TN village
November 5, 2014
Holding up a model of communal harmony, Muthuvanthidal village near Madurai today witnessed Hindus joining Muslims in observing Muharram as they continued with the long-standing tradition of respecting each other's religious faith and rituals.
As part of the observances on the day of mourning, Hindu men walked through a fire pit while women put burning charcoal pieces on their heads in front of the mosque at the village.
Muslim women would smear ash on the foreheads of the Hindu community members after they had walked through the fire pit. Muslims believe that this ceremony protects them from various diseases, said Khaleeja, a local woman.
80-year old Karmegam, a resident of the village, said Hindus and Muslims there used to observe all their respective festivals and rituals together.
Before starting paddy transplantation, they would make a ritual offering of the sapling at the mosque, Karmegam said, adding that, after the harvest, too, the villagers offered a small quantity of the paddy there.
Noorjahan, now in her 70s, said the two communities want to celebrate their festivals together and had been doing so since the time she was young.
http://www.business-standard.com/article/pti-stories/hindus-join-muslims-in-observing-muharram-in-tn-village-114110500002_1.html
------
Pakistan has to make a conscious choice of peace with India: Minister
Nov 5, 2014,
NEW DELHI: Pakistan should draw a red line whether it wants to talk to government of India or those who want to break India, defence minister Arun Jaitley said on Wednesday asking it to make a "conscious" choice.
India, he said, was "ready to speak to Pakistan" and is "willing to normalise the relationship" but "then there are a few red lines".
"We create the environment, we fix up a dialogue at the level of foreign secretaries, our foreign secretary is to visit Pakistan (and) literally a few hours before that they invite the separatists for a dialogue to their high commission (in New Delhi).
"So I think a new red line has to be drawn in Pakistan to reconsider this question that who they want to speak to? Do they want to speak to the government of India or they want to speak to those who want to break India," he said at the India Economic Summit here.
"So unless Pakistan makes the conscious choice, a dialogue with Pakistan will not be possible," he said.
India in August called off a scheduled foreign secretary-level talks after Pakistan's envoy met Kashmir separatists on the eve of the dialogue.
Referring to ceasefire violations by Pakistan on the Line of Control, he said the consequences of its "misadventure" like firing on civilian population and uprooting of village, "would be an unaffordable cost for Pakistan."
READ ALSO: Pakistan using terror proxies against India, US says
( Indian jawans on a patrol at the LoC.)
Jaitley, who is also the finance minister, said New Delhi has given three messages to Pakistan.
"The first is that we want to talk. So we invited them. The second is we send a foreign secretary there. But they must decide whether they are ready to speak to our foreign secretary or to speak to those who want to break India. The third is that this kind of a situation in international border cannot go on.
"That's not an environment for a dialogue... India would like to normalise the relationship. But whether Pakistan wants to normalise the relationship depends on Pakistan," he said.
( A file photo of an Indian border post at the Line of Control.)
http://timesofindia.indiatimes.com/india/Pakistan-has-to-make-a-conscious-choice-of-peace-with-India-Arun-Jaitley/articleshow/45044443.cms
-------------
Clashes in Kashmir after army kills two civilians
5 November 2014
SRINAGAR: Hundreds of angry protesters clashed with police in Indian-held Kashmir on Tuesday, a day after soldiers shot dead two civilians, police said.
Police in Srinagar fired tear gas to disperse crowds of protesters chanting anti-India slogans and hurling rocks, an officer told AFP on condition of anonymity as he was not authorised to speak to the media.
The protests came after soldiers fired at a private car on the outskirts of Srinagar on Monday killing two passengers and critically wounding another two.
Kashmir's Chief Minister Omar Abdullah said the "avoidable deaths" had marred the political atmosphere, already strained by devastating floods in September, ahead of state elections due to start later this month.
"Such killings have no place in an otherwise improving security environment where militancy incidents are at record low levels," Abdullah tweeted.
Separatists opposed to Indian rule have called for a strike on Wednesday to protest against the killings. Police registered a criminal case against the soldiers, while the army ordered an enquiry into what it called the "unfortunate loss of lives".
"Nothing incriminating was found from the possession of slain or injured youth," police officer Muhammad Irshad told Greater Kashmir, a local daily.
The two victims were buried on Tuesday as Shia Muslims marked Ashura, traditionally a flashpoint day in Indian-held Kashmir.
The traditional mourning procession has been banned in the state since 1990 when an armed rebellion against Indian rule broke out.
Kashmir has been divided between India and Pakistan since 1947, but both claim the region in full.
Tens of thousands of people, most of them civilians, have died in fighting between Indian forces and a dozen rebel groups seeking independence or a merger of the territory with Pakistan.
Kashmir is still reeling from devastating floods that killed more than 200 people and destroyed public infrastructure and businesses in September.
http://www.dawn.com/news/1142384/clashes-in-kashmir-after-army-kills-two-civilians
-------------
Indian warships moved after terror alert
Nov 5, 2014
The Indian Navy has taken two warships out of the port of Kolkata in the country's east after warning of a terror attack against the port and the city.
The ships were withdrawn from the port on Tuesday after intelligence agencies warned of the attack.
"They had come there as part of preparations for the navy week exercise and moved out of the port for some prior operational reasons," said navy spokesman Captain D.K. Sharma. "Like every year, the ships will return as and when the opportunity exists."
"The alert is for the port area. We have taken security measures following the alert," the inspector in charge of the state control room said, asking not to be named.
India has tightened security following a bomb attack on the Pakistani side of the Wagah border -- the only road border crossing between Pakistan and India -- which claimed the lives of at least 55 people.
Full report at:
http://www.presstv.ir/detail/2014/11/05/384803/india-warships-moved-after-terror-alert/
-------------
Southeast Asia
Indonesian Minister: Islamic Boarding Schools Not the Place for Radicalism
By Suara Pembaruan
Nov 05, 2014
Surabaya. Islamic boarding schools in Indonesia should teach students to embrace diversity, and steer clear of radicalism and violence, Religious Affairs Minister Lukman Hakim Saifuddin said on Wednesday.
"If there is an Islamic boarding school that teaches radicalism and violence, then to me that is not an Islamic boarding school," Lukman said during a public discussion at the Indonesia Shariah Economic Festival in Surabaya, East Java.
Full report at:
http://thejakartaglobe.beritasatu.com/news/islamic-boarding-schools-place-radicalism/
-------------
Malaysian Muslim group angered by bottler's use of Hindu god's image
NOVEMBER 5, 2014
KUALA LUMPUR — A Muslim consumer group yesterday demanded that the Malaysian authorities punish a mineral water bottler for using the image of a Hindu god on its labels, claiming its placement near a Halal logo was insensitive to Muslims.
The Muslim Consumers Association of Malaysia (PPIM) said it was wrong for bottler Chuan Sin Sdn Bhd to use the image of Lord Murugan, a Hindu deity, on its labels as it was offensive to the country's Muslim community. The Rakyat Post news website said the image was a promotional picture for the Visit Malaysia 2014 campaign.
"How can Chuan Sin place the picture of another god next to the Halal logo? This is a very sensitive issue to the Muslims of the country," PPIM chief Nadzim Johan said. "We will make a police report and urge all Islamic authorities and non-government organisations to stop or hold the sale of this brand of mineral water until we can resolve this matter."
Chuan Sin produces mineral water under the Cactus and Spritzer brands in their factory in Perak.
Mr Nazim also urged supermarkets to immediately suspend the sale of the product, while calling on Malaysia's Islamic affairs agency, the Islamic Development Department (JAKIM), to investigate the matter. JAKIM is the body in Malaysia tasked with ensuring that products are Halal, or permissible by Islamic law.
Full report at:
http://www.todayonline.com/world/asia/malaysian-muslim-group-angered-bottlers-use-hindu-gods-image
------------
For Obama and Xi, fight against Islamic State a brief moment to agree
BY MICHAEL MARTINA AND DAVID BRUNNSTROM
Nov 2, 2014
When the United States and CHINA discuss cooperating against Islamic State later this month, the most prominent outcome is likely to be less criticism of each other's anti-terrorism policies.
Both countries have flagged that President BARACK OBAMA and President Xi Jinping will discuss the issue when they meet on the sidelines of the Asia Pacific Economic Cooperation (APEC) summit in Beijing.
Cooperation like sharing intelligence will be difficult. And CHINA will not commit troops or weapons.
But simply seeing eye-to-eye on the problem of Islamic State can pay political DIVIDENDS, experts and diplomats say, as the United States launches air strikes against the ultra-radicals in IRAQ and SYRIA and China faces condemnation of its hardline tactics in its western Xinjiang region.
"You're mostly likely to see China sit back and not criticize the United States. That is what cooperation looks like," said Philip Potter, an assistant professor at the University of Virginia who studies global terrorism.
In return, Beijing would value more recognition from Washington of what Chinese authorities say is the threat of militant Islamic separatists in its far western province of Xinjiang.
China charges that a group called the East Turkistan Islamic Movement (ETIM) is seeking to set up a separate state in Xinjiang, home to the Muslim Uighur ethnic minority.
Rights groups and Uighur exiles dispute the extent of the ETIM threat, and argue that economic marginalisation of Uighurs is one of the main causes of violence there.
Washington deemed ETIM a terrorist organization in the wake of the September 11, 2001 attacks, but a few officials in the U.S. government have privately questioned the extent of the organization's influence in Xinjiang.
However, some experts note that the United States' rhetoric on the group may be swinging back in favor of Beijing.
Full report at:
http://www.reuters.com/article/2014/11/02/us-china-usa-islamicstate-idUSKBN0IM03420141102
-------------
Kingdom of Saudi Arabia Raps Zionist Land Grab, 'Criminal Acts' At Al-Aqsa
4 November 2014
The Cabinet slammed on Monday the Israeli government for its illegal occupation of the Al-Aqsa Mosque compound and plans to build settlements nearby.
The ministers described the actions of the Zionist regime as criminal and a provocation of Muslims worldwide, Culture and Information Minister Abdul Aziz Khoja told reporters after the Cabinet meeting.
Khoja said the Israeli government was continuing its aggression against the Palestinians with its decision to build 1,000 housing units in the occupied city of Al-Quds.
Crown Prince Salman, deputy premier and minister of defence, chaired the meeting in Riyadh on Monday.
Meanwhile, based on a report submitted by the Minister of Labor Adel Fakeih, the Cabinet approved the domestic worker recruitment agreement signed by the Saudi and Philippines labour ministries in May last year.
The agreement is expected to cover housemaids, babysitters, laundrywomen, family drivers, cooks and gardeners.
The agreement agreed upon last year stipulates that workers receive a minimum monthly salary of SR1,500, their own bank accounts, weekly rest days and daily rest periods, paid vacation leave, non-withholding of passports and work permits, free communication and humane treatment.
Saudi Arabia requires workers to be medically fit, with no criminal record. At the beginning of Monday's meeting; the Cabinet was briefed about the outcome of talks on cooperation between Custodian of the Two Holy Mosques King Abdullah and Kuwaiti Emir Sheikh Sabah Al-Ahmed Al-Jabir Al-Sabah.
Full report at:
http://www.arabnews.com/featured/news/654806
-------------
Syria-Turkey Border Heats Up as Iraqi Kurds Approach Kobani
Oct. 29, 2014
SANLIURFA, Turkey—Islamic State militants unleashed a barrage of shelling near a border crossing with Turkey as elite Iraqi Kurdish fighters with heavy weaponry moved toward the Syrian city of Kobani to fight the extremist group.
About 160 Peshmerga fighters from Iraqi Kurdistan snaked through towns in Turkey's Kurdish-dominated southeast to within an hour's drive of Kobani on Wednesday. Thousands of well-wishers lined the streets to cheer them on, waving Kurdish flags, chanting support and even setting off fireworks.
The warm welcome, however, slowed the progress of the convoy after a week of delays caused by political wrangling.
Officials in Kurdish-dominated Kobani said Islamic State fighters were heavily shelling near the border point of Mursitpinar closest to city in an attempt to keep the Iraqi Kurdish reinforcements from entering through the crossing.
"Today they are fighting harder, knowing the Peshmerga will cross from there," said Khaled Barkal, vice president of the Kobani regional government. "We hear the jihadists' conversations on their walkie-talkies and their commanders are pushing the fighters to be more assertive."
On Thursday morning, the peshmerga fighters were still waiting to cross into Kobani, based in a warehouse compound guarded by Turkish security forces in the border village of Mursitpinar.
By late Wednesday night, the Peshmerga convoy had reached the village of Osmanbey close to the city of Sanliurfa, about 40 miles from the Mursitpinar border crossing. At one point, riot police used water cannons to clear the street so the convoy could pass.
The combination of the welcoming crowds and the shelling at the border made it difficult to predict when the reinforcements would enter the embattled city.
The deployment will be the first by a Western-backed foreign force during the Syrian civil war after weeks of U.S.-backed airstrikes failed to break the siege of Kobani.
The Kurdish force, which is also part of the Iraqi national army, comes equipped with artillery and other heavy weaponry to help protect the Syrian Kurdish militia that has been under siege for six weeks in Kobani.
Full report at:
http://online.wsj.com/articles/iraqi-kurdish-forces-enter-turkey-on-way-to-fight-islamic-state-in-syria-1414584247
-------------
Death toll in Al-Ahsa terror attack rises to 11
4 November 2014
Eleven people, including two terrorists and two security officers, died in terror-related attacks on Tuesday in Al-Ahsa in the Eastern Province and Al-Shaqra in Qassim Province.
"Seven men were killed and seven injured when three masked men opened fire at a group of citizens in Dalwah town in Al-Ahsa governorate," said Interior Ministry spokesman Maj. Gen. Mansour Al-Turki.
"Fifteen men involved in the terror act were caught in simultaneous police operations in six cities, including Shaqra in Qassim province, and Al-Ahsa and Alkhobar in the Eastern Province," Al-Turki said.
In the operations in Shaqra, two security officers and two wanted terror suspects died. The slain security officers were identified as Capt. Mohammed Al-Enezi and Corp. Turki Al-Rasheed.
Al-Rasheed was transferred to Qassim recently, and his wife gave birth to a daughter two months ago.
The Council of Senior Scholars condemned the attack. "This dastardly attack is a horrendous crime that should result in the harshest form of punishment under Islamic law because it ... took the lives of innocent people and disrupted the country's security, stability and peaceful life of citizens," Sheikh Fahd Al-Majed, secretary general of the council, said in a statement.
The sheikh also called on citizens to unite against attempts by criminals to destabilize the country and play into the hands of the enemies of Islam.
A source at Al-Jeffer hospital released the names of the deceased. They are Muhammad Al-Mushrif bin Husain Saleh Al-Mushrif, Hadi Khalifa Al-Motawieh, Muhammad Husain Al-Basrawi, Ibn Salman Al-Basheer and Zuhair Habib Al-Motawieh.
Full report at:
http://www.arabnews.com/news/654811#
-------------
Five Shias shot dead at Ashura congregation in Saudi Arabia
5 November 2014
RIYADH: Two Saudi policemen died in a shootout with suspects after masked gunmen killed five Shia Muslims in Saudi Arabia during an Ashura congregation, security sources said Tuesday.
The minority Shia community was left shocked and fearful after the unprecedented attack that highlighted sectarian tensions in the kingdom.
A witness, who said he saw two of the bodies, said one was a nine-year-old boy.
The policemen were killed when they came under "heavy gunfire" in Qassim region, north of the capital Riyadh, following the attack, said the interior ministry.
Two suspects were also killed, the ministry said.
Officers rounded up 15 suspects in several cities after the initial shooting late Monday in Eastern Province, which came as Shias prepared to mark the peak of Ashura.
Nine other worshippers were wounded in the attack.
Three assailants fired machineguns and pistols at the crowd in the village of Al-Dalwa, police told the official SPA news agency.
Footage posted online showed corpses lying in pools of blood after the attack in the oil-rich eastern region, where most of Saudi Arabia's two million Shias live.
Bloodstains were seen on the carpet of the hall where the commemorations were being held.
Members of Saudi Arabia's Shia minority clash sporadically with police in their region. But Monday's shooting was the first direct assault against them by unknown gunmen.
"It's very surprising because it's the first time," said Nasima al-Sada, a resident of Eastern Province. "We are shocked."
A witness, who reported hearing sustained gunfire during the attack, said the Shia community feels helpless and fearful.
Full report at:
http://www.dawn.com/news/1142392/five-shias-shot-dead-at-ashura-congregation-in-saudi-arabia
-------------
France, Saudi Arabia sign Lebanon weapons deal
Nov 5, 2014
France and Saudi Arabia have signed a USD 3 billion deal to provide the Lebanese army with French weapons.
The agreement was inked on Tuesday during a ceremony in the Saudi capital, Riyadh, in the presence of French, Lebanese and Saudi officials.
"This agreement, financed by a Saudi grant, will contribute to strengthen the Lebanese army, which guarantees the unity and stability of Lebanon," French Foreign Minister Laurent Fabius said in a statement.
He added that the deal will "strengthen the Lebanese army, which is the guarantor of the unity and stability of Lebanon."
Full report at:
http://www.presstv.ir/detail/2014/11/05/384829/france-ksa-sign-lebanon-arms-deal/
-------------
Clashes between Saudi forces, gunmen kill 4
Nov 5, 2014
Clashes between Saudi security forces and gunmen suspected of carrying out a deadly terrorist attack against the country's Shia Muslims have claimed the lives of at least four people.
The exchange of fire between the Saudi troops and armed terrorists left at least four people dead, including two members of the security forces, in the town of Buraida north of the Saudi capital Riyadh on Tuesday.
Fifteen people were also arrested in connection with the deadly terrorist offensive against the country's Shia minority.
"We cannot confirm we are done with the security operations. We have dealt with what the preliminary information provided us with. But these arrests may lead to more information that opens up new areas of operations," said Saudi Interior Ministry security spokesman Major General Mansour Turki.
Full report at:
http://www.presstv.ir/detail/2014/11/05/384813/4-killed-as-saudi-forces-chase-gunmen/
-------------
Action against Terrorists In Saudi Arabia 'Yielding Positive Results'
5 November 2014
Around 1,500 Saudis were involved in terror-related activities since 2011, most of whom were killed in battle.
The statement was made by Interior Ministry spokesman Mansour Al-Turki during the 17th International Conference and Exhibition for Industrial Security (ISEC).
"The Cabinet's deterrent decision to punish terror supporters and extremist groups, however, yielded good results, with a 50-percent decline in the number of Saudis traveling abroad for combat," said Al-Turki.
"The number of Saudis returning from conflict zones has also increased over the past eight months since the announcement," he said.
"Custodian of the Two Holy Mosques King Abdullah has made a unanimous call upon the leaders of Muslim countries to stand in the face of external forces trying to distort the image of Islam," he said.
Renowned international firms in the security industry are taking part in the three-day event, organized by the Higher Commission for Industrial Security (HCIS) in collaboration with IFSEC & OSH Arabia under the aegis of Interior Minister Prince Mohammed bin Naif.
The event was opened by Gen. Saeed Al-Qahtani, assistant minister for operational affairs.
Various local and international speakers addressed the first session.
Al-Turki highlighted the ministry's efforts to curb terrorism and preventing evil acts by implementing various preventive measures and deploying sophisticated security equipment. He said the Kingdom has been able to catch many instigators, enhancing protection from terrorism since the 2007 bombings.
"Several Saudis resorted to joining organizations, such as the Islamic State (IS) in Syria and Iraq, after failing to find support within the Kingdom," he said.
"The world is under threat from terrorism, and people who try and lure young, vulnerable Muslims into hindering stability," he said.
Al-Turki alluded to a recent statement made by the Interior Ministry during the Haj season denouncing deviant IS strands of thought that are promoted with the help of certain countries and organizations.
Full report at:
http://www.arabnews.com/saudi-arabia/news/655251
-------------
Palestine asks Egypt to reopen Rafah crossing
Nov 5, 2014
Palestine has asked the Egyptian government to reopen the Rafah border crossing closed by Cairo following deadly attacks in the Sinai Peninsula.
The Palestinian ambassador to Egypt, Jamal al-Shobaki, asked Cairo on Tuesday to reopen the border crossing between Egypt and the Gaza Strip
Last month, Egyptian authorities sealed the crossing -- Gaza's only land terminal that bypasses Israel -- after the October 24 attacks targeting Egyptian military personnel killed 33 Egyptian soldiers.
The Palestinian envoy said he had asked the Egyptian foreign minister to reopen the crossing for special cases, such as enabling the return of the Palestinians, who had received treatment abroad for injuries sustained in Israel's summer war on Gaza. The war killed about 2,140 Palestinians and left more than 11,000 others injured.
Shobaki said Egypt promised to reopen the crossing after the army finished the operation against the militants behind the attack.
The Israeli regime has also indefinitely shut down border crossings to the besieged Palestinian coastal sliver.
Full report at:
http://www.presstv.ir/detail/2014/11/05/384807/palestine-asks-egypt-to-reopen-rafah/
-------------
Shia Muslim Houthis commemorate Ashura in Yemen
Nov 5, 2014
Shia Muslim Houthis have commemorated Ashura, the anniversary of the martyrdom of Imam Hussein (PBUH) in the Yemeni capital Sana'a, Press TV report.
Thousands of Shia Houthis gathered in an indoor stadium in Sana'a on Tuesday to honor Ashura, the 10th day of the lunar month of Muharram, which marks the martyrdom anniversary of the third Shia imam.
"We should always remember the principles which Imam Hussein sacrificed his life for. Imam Hussein and his companions stood firmly against all the oppressors and their plots," said Ali Jadban, a Houthi loyalist, in an address to the massive gathering of mourners in Sana'a.
The leader of Yemen's Shia Houthis also spoke to the congregation, saying Yemen is facing a situation similar to that faced by Imam Hussein.
Abdul-Malik al-Houthi called on the Yemeni people to reject foreign intervention in the country's internal affairs and oppose Western hegemony and all other forms of oppression.
Imam Hussein, the grandson of Prophet Muhammad (PBUH), and 72 of his loyal companions, were martyred on Ashura in the battle of Karbala against the second Umayyad caliph, Yazid I, in 680 AD. Imam Hussein was killed after he refused to pledge allegiance to the tyrant ruler.
Houthi also brushed off the threat of sanctions by the United Nations Security Council.
"They hope to discourage and intimidate us. This is our responsibility to counter their plots. We tell them that we are not afraid of the United Nations or any tyrant entity because we follow the course of Imam Husssein that says we never bow to humiliation," the Houthi leader added.
Full report at:
http://www.presstv.ir/detail/2014/11/05/384805/shia-muslim-houthis-commemorate-ashura/
------------
Crown prince honours winners of historical research prize
5 November 2014
Crown Prince Salman, deputy premier and minister of defense who is also the head of Higher Supervisory Committee for Prince Salman Prize for Post-Graduate Studies, honored the winners of the research prize on the History and Civilization of Arabian Peninsula, in Riyadh on Tuesday, according to the Saudi press Agency.
Earlier, the Crown Prince received the King Saud University Rector Dr. Badran al-Omar, Secretary General of King Abdulaziz Center of Research and Archives (Darah) Dr. Fahad Al-Sammari, Secretary General of the Prize Dr. Abdulla Al-Subaie, and members of the Scientific Committee of the Prize.
At the outset of the event, the rector of KSU expressed thanks to the Crown Prince for his support and confidence towards the university as the incubator of the prize.
The prize embodied the Crown Prince's commitment to science and historic studies that documented the old history of the Arabian Peninsula in refined scientific forms, which will be beneficial to current and future generations, he said.
Some 43 researchers, 37 Saudis and another 6 from other GCC countries vied for the prize's ten winning areas, in addition to three researchers who gave support to post-graduate students.
Full report at:
http://www.arabnews.com/saudi-arabia/news/655216
-------------
Kurds defiant in 'House of the Wounded'
04 Nov 2014
Derike, Syria - Zagros, 22, sits on the edge of his hospital bed, singing songs pledging alliance to the People's Protection Units, the Kurdish forces fighting the Islamic State of Iraq and the Levant (ISIL).
He is in remarkable spirits despite having had both arms mangled by an improvised explosive device that hit the car he was travelling in near Jazaa, in north-eastern Syria along the Iraqi border.
"I didn't receive any medical treatment until I arrived at the hospital," Zagros tells Al Jazeera at the hospital in Derike, a small and largely deserted Syrian town in Hasaka province. "They just threw me in the back of the truck and drove. I was conscious the entire time."
Zagros arrived at this somewhat rundown hospital more than an hour later. His right arm was so badly blown apart that what remained of it had to be taped to his stomach.
"It's a miracle he survived," Dr Hazar Ahmad, deputy director of the hospital, told Al Jazeera. "The YPG [People's Protection Units] don't have the numbers to have paramedics on the front line. When you have to choose between fighting power and paramedics, they choose the fighting force."
Ahmad said there were no medical or mobile clinics across the region, and a severe shortage of doctors.
"The trained medical staff stay at the hospitals, away from the front line," he said. "We have a lack of surgeons and specialists [so] we can't spare sending them to the front line. Of the 20 doctors we had, one-third have left."
Despite the nature of Zagros' injuries, he says he would return to the battlefield as soon as possible: "I still want to fight. I can aim with what I have left of my arms and use the trigger with my feet."
Many fighters choose to wear simple headscarves rather than helmets, Ahmad noted. "Every fighter sees themselves as a martyr in progress," he said. In addition to their lack of medical training, YPG fighters and their female comrades, the YPJ, generally do not use any kind of body armour.
Full report at:
http://www.aljazeera.com/news/middleeast/2014/11/kurds-defiant-house-wounded-2014111194411495140.html
-------------
Mideast
Israel settler plan 'slap in face' of US: Palestinians
5 November 2014
JERUSALEM: Israeli plans for roughly 500 new settler homes in occupied east Jerusalem are a "slap in the face" of the United States and the international community, a top Palestinian official said.
Israel approved construction of the homes on Monday as chief Palestinian negotiator Saeb Erakat met US Secretary of State John Kerry in the United States, according to settlements watchdog Peace Now.
"With the situation in occupied Jerusalem at boiling point, Israel's latest settlement announcement is a slap in the face to Kerry, to the international community, to the Palestinian people, and to peace," Erakat said in a statement.
The US and the international community have condemned repeated plans for new settler homes in east Jerusalem, which the Palestinians want as the capital of their future state.
Israel usurped the eastern sector of the city in 1967 — a move never recognized by the international community.
Prime Minister Benjamin Netanyahu's office pledged on Oct. 27 to build more than 1,000 new settler homes.
Full report at:
http://www.arabnews.com/middle-east/news/655156
-------------
Over 30 killed as Shiites battle Al-Qaeda in Yemen
4 November 2014
SANAA, Yemen: Yemeni security officials say more than 30 people have been killed in clashes between Shiite Houthi rebels and tribal fighters backed by Al-Qaeda militants in the embattled town of Radda south of the capital Sanaa.
The officials said the two sides traded heavy artillery fire that lasted until early Tuesday, killing several civilians and damaging houses and cars. The indiscriminate shelling has forced dozens of families to flee the town.
Full report at:
http://www.arabnews.com/middle-east/news/654836
-------------
Syria-Turkey Border Heats Up as Iraqi Kurds Approach Kobani
By AYLA ALBAYRAK and EMRE PEKER
Oct. 29, 2014
SANLIURFA, Turkey—Islamic State militants unleashed a barrage of shelling near a border crossing with Turkey as elite Iraqi Kurdish fighters with heavy weaponry moved toward the Syrian city of Kobani to fight the extremist group.
About 160 Peshmerga fighters from Iraqi Kurdistan snaked through towns in Turkey's Kurdish-dominated southeast to within an hour's drive of Kobani on Wednesday. Thousands of well-wishers lined the streets to cheer them on, waving Kurdish flags, chanting support and even setting off fireworks.
The warm welcome, however, slowed the progress of the convoy after a week of delays caused by political wrangling.
Officials in Kurdish-dominated Kobani said Islamic State fighters were heavily shelling near the border point of Mursitpinar closest to city in an attempt to keep the Iraqi Kurdish reinforcements from entering through the crossing.
"Today they are fighting harder, knowing the Peshmerga will cross from there," said Khaled Barkal, vice president of the Kobani regional government. "We hear the jihadists' conversations on their walkie-talkies and their commanders are pushing the fighters to be more assertive."
Full report at:
http://online.wsj.com/articles/iraqi-kurdish-forces-enter-turkey-on-way-to-fight-islamic-state-in-syria-1414584247
-------------
Israelis, Palestinian worshippers clash in al-Aqsa Mosque
Nov 5, 2014
Fresh clashes have erupted between Israeli forces and Palestinian worshippers after the Israelis entered the al-Aqsa Mosque in East al-Quds (Jerusalem) in the occupied West Bank.
At least 20 people were reportedly injured in clashes on Wednesday after the Israeli forces fired plastic bullets and tear gas and threw grenades at the Palestinian worshippers in the al-Aqsa Mosque compound to disperse them.
Israeli forces set up barriers in front of all of the compound's gates to prevent Palestinian worshippers from entering the mosque.
The mosque, widely revered by Muslims, has been the scene of clashes between Palestinians and Israeli settlers and troops in recent weeks.
Full report at:
http://www.presstv.ir/detail/2014/11/05/384846/israelis-palestinians-clash-in-alaqsa/
-------------
Iraq seeks closer security cooperation with Iran
Nov 4, 2014
Iraq's Defense Minister Khaled al-Obeidi has praised Iran's key role in supporting Baghdad in the fight against terror groups, calling for closer security cooperation between the two neighbors.
In a Monday meeting with Iran's Ambassador to Iraq Hassan Danaifar, Obeidi underscored the significance of security ties between Tehran and Baghdad, saying his country was ready to further enhance bilateral cooperation with the Islamic Republic.
The Iranian envoy, in turn, expressed the country's preparedness to further bolster security cooperation with Iraq.
Danaifar also reaffirmed Tehran's support for Baghdad in its anti-terror battle, offering congratulations to the Iraqi nation, government and armed forces on their recent victories against the ISIL Takfiri militants.
Iraqi army soldiers, who have been fighting the ISIL extremists for nearly six months, are currently carrying out mop-up operations against the Takfiri terrorists in the northern parts of the violence-stricken country.
Full report at:
http://www.presstv.ir/detail/2014/11/04/384736/iraq-stresses-security-ties-with-iran/
-------------
Israel committed war crimes in Gaza: Amnesty International
Nov 5, 2014
The Israeli military's killing of hundreds of Palestinian civilians during its summer 2014 military aggression against the Gaza Strip amounts to war crimes, Amnesty International says.
"It appears that the attacks directly and deliberately targeted civilians or civilian objects, which would constitute war crimes," the London-based rights group said in a new report on Wednesday.
It said it has examined eight cases in which Israeli airstrikes targeted homes in Gaza "without warning."
Full report at:
http://www.presstv.ir/detail/2014/11/05/384837/israel-committed-war-crimes-in-gaza/
-------------
Turkey Is Seen As A Model Democratic Muslim Country: Hayajneh
04.11.2014
ISTANBUL — The third Turk-Arab Youth Congress, which gathered youth from around the world, was held in Istanbul. Professor Adnan Hayajneh was one of the academics who spoke on the Political Affairs panel of the congress. In an exclusive interview with Daily Sabah, Hayajneh evaluated the current state of Arab youth as well as the Arab states including the perception of Turkey within the perspective of governments and the people.
Daily Sabah: Can you comment on Turkey's recent image among Arab states?
Adnan Hayajneh: Well, Turkey is really well received by them, I think – that is, the perspective of the Arab populaces – because Turkey is one of the few countries that supported the Arab Spring and the aspiration of the people. Maybe Turkey was a little bit reluctant in terms of the Arab Spring and Libya, but in general, Arab individuals hold the view that Turkey approved of the Arab Spring and received opposition groups for conferences, so it is really well received. From the perspective of governments, Turkey is not really well received because Turkey is trying to maintain regional order and control, be the hegemonic power in the region and create alliances such as with the Muslim Brotherhood in Egypt. So, there is a conflict in views, but in general, I think Turkey has done a lot for Arabs such as supporting Gaza, the Palestinians and supporting the aspiration of the people.
DS: Does this perception differ between the people of Arab states and Arab governments?
AH: I think in general, Turkey is as a model democratic Muslim country.
Full report at:
http://www.dailysabah.com/politics/2014/11/04/turkey-a-model-democratic-muslim-country-hayajneh
-------------
The rise of political Islam in Turkey: how the West got it wrong
04 Nov 2014
Political Islamism has undermined the Turkish Republic's secular social order, education and legal systems and Western pundits manifestly failed to see this coming, argues Turkish opposition MP, Safak Pavey.
The end of the Cold War did not free the world of polarised ideologies. Once the Berlin Wall fell, we hoped a new world would finally move beyond the conflict ridden past. Yet, not only did we face continuous conflicts but with the revival of religious traditions, God's role in politics was rekindled. We thought that the time for belief systems and politics which derive their legitimacy from God was over. But we were wrong. The current administration of Turkey, which was lauded as an example of a modern Islamic democracy, derives a considerable part of its mandate from the belief that they are carrying out God's mission of revenge against the godless secular system.
Islamism has hijacked my country, the Middle East and the 'Arab Spring', not only politically, but culturally as well.
Let us take the case of ISIS. It gave the Christians of Rakka three options: convert to Islam, remain Christian and pay the protection tax of the non-Muslim believers and submit to strict rules, or be prepared to die. The protection tax amounts to 14 grams of pure gold per capita. Some of the rules include prohibitions on making repairs to churches, wearing the cross or other religious symbols outside church and ringing the church bell.
Turkey's Islamists have not implemented these restrictive practices and rules formally because this would still require a major overhaul of the legal system, and they see ISIS as "uncivilized". But in everyday life social pressure is exercised in more subtle ways and people are intimidated through quiet repression on the street.
Full report at:
http://www.secularism.org.uk/blog/2014/11/the-rise-of-political-islam-in-turkey--how-the-west-got-it-wrong
-----------
Iran censures terrorist attack against Shia mourners in Saudi Arabia
Nov 4, 2014
Iran has strongly condemned a terrorist attack in Saudi Arabia on a gathering of Shia worshippers mourning the martyrdom anniversary of Imam Hussein (PBUH), the third Shia Imam.
Iran's Foreign Ministry Spokeswoman Marzieh Afkham on Tuesday denounced the assault in al-Ahsa, the largest governorate in Saudi Arabia's restive Eastern Province, which killed five mourners and wounded 30 others on Monday.
She said Muslim and non-Muslim states have always respected the traditional Ashura ceremonies and provided security for the mourners.
Afkham called on the Saudi government to ensure security for people attending religious ceremonies and identify and punish elements behind the terrorist attack in the country.
The attackers shot the victims with pistols and machine guns, the official Saudi Press Agency reported but provided no further details on the identities of the attackers or the victims.
According to the agency, an investigation into the deadly raid is underway.
Full report at:
http://www.presstv.ir/detail/2014/11/04/384759/iran-raps-shooting-shias-in-ksa/
-------------
North America
Muslim Congressman in Election Challenge
04 November 2014
MINNESOTA— Elected as the first-ever American Muslim congressman, Minnesota's Keith Ellison is facing the biggest challenge in his political career in 2014 midterm elections, where an ongoing war against the so-called Islamic States is expected to affect voters' preferences.
"It's tough. I do think that ISIS is a threat," Ellison told Voice of America on Tuesday, November 4, referring to another term for the Islamist group (ISIL).
"But I also believe that the most important ways to confront ISIS are not necessarily military in nature."
On November 4, all 435 seats in the US Senate will be contested along with 38 state and territorial governorships.
There will also be races in 46 state legislatures (excluding Louisiana, Mississippi, New Jersey and Virginia), in addition to numerous state and local races.
Ellison entered Congress in 2006 as a Democrat opposed to the Iraq War.
For US Muslims, President Barack Obama's decision to attack ISIL militants in Iraq and Syria has affected the image of the religious minority in the US.
Supporting Obama's new war, he sees that military action was not the only solution to the rise of ISIL.
"Cutting off their ability to sell oil. Cutting off their financial flows. Stopping their recruits from going through Turkey or countries in the region," Ellison, who hopes to retain his seat for a fifth consecutive term, said.
Full report at:
http://onislam.net/english/news/americas/479299-first-muslim-congressman-in-election-challenge.html
-------------
Canada Anti-ISIL Rally Marks `Ashura
03 November 2014
CALGARY – Hundreds of Calgary Muslims rallied on the weekend to pay tribute to the slain Canadian soldiers, as world Muslim marked `Ashura's annual celebrations.
"Islam is a religion of peace," Riyaz Khawaja, the leader of Calgary's Muslim community and head of the Hussaini Association of Calgary, told CBC News on Sunday, November 2.
"We are here to gather, to stand against terrorism."
Anti-Muslim attacks increased in Canada despite immediate condemnation from several Muslim groups for the two attacks against soldiers last week.
A few days ago, Canadian Muslim groups have urged Prime Minister Steven Harper to voice support to the thriving Muslim community against the increasing backlash.
In Calgary, Muslims used the annual celebrations of `Ashura to clear misconceptions about Islam, clarifying what the peaceful faith is really about.
"We are here to build this country together, to make peace and love together," said Fatima Albarri, who took part in the march.
"We are originally from the Middle East but we are Canadian."
Muslims make around 2.8 percent of Canada's 32.8 million population, and Islam is the number one non-Christian faith in the country.
Full report at:
http://onislam.net/english/news/americas/479267-canada-muslims-anti-isil-rally-marks-ashura.html
-------------
UN warns of Iraq disastrous situation, urges aid ahead of winter
Nov 5, 2014
The United Nations has warned of "disastrous" conditions for more than one million displaced Iraqis fleeing ISIL terror, appealing for USD173 million to help the Arab country's people withstand the incoming winter.
During a press conference in Geneva on Tuesday, Jens Laerke, a spokesman for the UN's Office for the Coordination of Humanitarian Affairs (OCHA), said the displaced people in Iraq were being hit by "heavy rains, strong winds and storms and low temperatures" especially in the mountainous areas.
"The situation in Iraq is, as we have said on numerous occasions, disastrous. Hundreds of thousands are sheltering in unfinished buildings and public facilities, including schools or in informal settlements, as well as out in the open," Laerke said.
He said that more than half a million Iraqis were in need of "immediate shelter support" while an estimated 1.1 million children would require "additional care" during the winter months.
Full report at:
http://www.presstv.ir/detail/2014/11/05/384849/un-warns-of-iraq-disastrous-situation/
-------------
Palestine to demand UN resolution to end Israel occupation
Nov 5, 2014
The Palestinians will submit a draft resolution to the United Nations Security Council later this month, calling for an end date for the Israeli regime's occupation.
The text, which has already been circulated to the 15 members of the Security Council, is widely expected to be vetoed by the United States, a close ally of the Zionist regime.
The draft reportedly sets 2016 as the date for a full Israeli withdrawal from the Palestinian territories.
The Palestinians say if Washington does wield its veto, they will seek membership in the International Criminal Court, where they would be able to file charges against the Israeli officials over war crimes committed in the occupied territories.
The Palestinians are pushing forward with the resolution despite the US's intense pressure on them to halt the action.
Full report at:
http://www.presstv.ir/detail/2014/11/05/384828/palestine-raises-israel-occupation-at-un/
-------------
US Midterm Elections… How Muslims Vote?
By Carissa D. Lamkahouan
03 November 2014
DALLAS – Despite the United States' ongoing issues with Muslim-majority countries like Syria and the conflict with the so-called Islamic State, American Muslim voters see domestic issues, like health care and the economy, as their top priorities heading into the Nov. 4 mid-term elections.
However, one Muslim leader said, no matter what issues concern Muslims, those who name Islam as their religion should only vote for those candidates who have never voted to harm Muslims in any way.
"If you know for a fact that you're going to contribute to the furthering of suffering then you can't cast that vote," Will Coley, national director of Muslims for Liberty, told OnIslam.net.
Coley's group, Muslims for Liberty, is a 2,500-member strong organization established in 2010 as a reaction to the anti-Muslim voices in the Tea Party, an ultra-conservative movement of the Republican party.
He said Muslims often are blind to many politicians' rhetoric, particularly if those politicians are members of the Democratic Party and are perceived as friendly to Muslims.
"Muslims want to fit in and be a part of something," he said.
"They don't care about the issues or actions of candidates so long as they have the right letter by their names. Muslims need to start voting (by) principals rather than (by) party."
In fact, a recent poll by the Council on American-Islamic Relations (CAIR) - the largest Muslim civil rights and advocacy group in the United States – showed that of the 69 percent of registered Muslims voters who plan to vote on Nov. 4, 51 percent will cast their ballots in favor of Democrats..
Full report at:
http://onislam.net/english/news/americas/479263-us-midterm-elections-how-muslims-vote.html
------------
Pakistan
Five killed as security forces target militant hideouts in Khyber
Zahir Shah Sherazi
5 November 2014
PESHAWAR: At least five suspected militants were killed and eight others were injured on Wednesday as security forces targeted insurgent hideouts in the Tirah Valley of Khyber tribal region.
According to sources, the security forces destroyed four militant hideouts in Drewand, Aarinam Wanra, and Zor kaley. The hideouts belonged to the outlawed group Lashkar-i-Islam.
The security forces used heavy machine guns and artillery to target the hideouts.
Also read: Explosion in Khyber Agency's Zakakhel bazaar kills four
However, these claims could not be independently verified as journalists have limited access to the restive tribal agency.
Full report at:
http://www.dawn.com/news/1142398/five-killed-as-security-forces-target-militant-hideouts-in-khyber
-------------
Government official shot dead in Multan
Hasnain Ejaz
5 November 2014
MULTAN: Unknown assailants gunned down a deputy chief inspector of the department of industries as he reached his office in Multan early on Wednesday.
SSP Operations Saifullah Khattak told media representatives that two gunmen were waiting in the area and approached Chaudhry Ghulam Haider as soon as he reached his office, snatched his mobile phone and fired two bullets at him.
Both bullets hit the deputy chief inspector in the head, killing him on the spot while the attackers managed to escape from the scene.
The police official added that the motive of the attack was not known.
Fear and panic gripped the area after the shooting and the slain officer's colleagues gathered on the spot and called the police.
Full report at:
http://www.dawn.com/news/1142416/government-official-shot-dead-in-multan
-------------
Scouts to fight off terror threats in Karachi
November 04, 2014
KARACHI - Threats of possible terror attacks on the Imambargahs during Muharram are higher and security has also been tightened likewise.
Despite of all threats and risks, there is a group of boys and girls who are deterred from it and are ready to remain on the frontline to safeguard the lives of their fellow countrymen.
These groups of boys and girls are from different scouts' associations, who belong from different sects. They have a similar aim to maintain discipline in Muharram processions and check every person entering the religious gathering.
Around 4,000 boy and girl scouts aged from 11 years and above have been deployed across Karachi to assist police and Rangers for security of the mourners in particular and public in general. These scouts belong to 81 different established groups of the metropolis, including Bu-Turab, Pakistan Christian Association, Al-Arabi, Asna-e-Ashri, Barkati, Pak Hyderi, Burhani and other organisations.
These scouts get civil defence training along with the life-saving techniques like physically tackling a suicide bomber and keeping an eye on any suspicious activity around the venues.
Talking to The Nation, Bu-Turab Scouts vice chairman Imtiaz Raza said around 800 of their scouts including 250 girl scouts were involved in providing security to the Muharram processions in the city.
He said there were three categories of scouts that include Shaheen or cub scouts aged between 7 and 11, normal scouts aged between 12 and 17 while Rover scouts ages between 18 and above. "It is not something that we do in Muharram only. On other occasions too, wherever able and trained people are needed, we are there. From Miladun Nabi to earthquake relief operations, the scouts' groups always render their services with same vigour," he added.
Full report at:
http://nation.com.pk/karachi/04-Nov-2014/scouts-to-fight-off-terror-threats-in-karachi
-------------
8,000 stranded Pakistanis evacuated from Libya: envoy
5 November 2014
ISLAMABAD: Around 8,000 Pakistanis stranded in Libya have been brought back to their homeland through 13 different flights since the government launched an evacuation operation on August 14, Pakistan's ambassador to Libya Lt. Gen (r) Javed Zia said late on Tuesday.
The last flight carrying 180 Pakistanis reached the country early on Wednesday (today). The first emergency flight of Pakistan International Airlines (PIA) carrying 500 Pakistanis had arrived in Lahore on Aug 14.
Read: 360 Pakistanis stranded in Libya return home
Terming the evacuation as one of the biggest and successful operations, the envoy said it was only made possible due to the timely response by the government.
Zia said a crisis management cell had been set up at the Ministry of Foreign Affairs to monitor the security situation in Libya.
Full report at:
http://www.dawn.com/news/1142403/8000-stranded-pakistanis-evacuated-from-libya-envoy
-------------
'No terrorist activity can weaken morale of Pakistani nation': Minister
November 04, 2014
ISLAMABAD: Federal Minister for Information and Broadcasting Senator Pervez Rasheed on Monday said that no terrorist activity could weaken the high morale of Pakistani nation.
He said slogans of 'Pakistan Zindabad' (Long Live Pakistan) at Wagah border are an evidence that no terrorist could suppress the patriotism.
"No doubt, the loss of innocent lives was big at Wagah border but such terrorist activity cannot suppress our national enthusiasm or morale."
"Zarb-e-Azb operation to eliminate terrorism was continuing with success and this is the victory that suicide attacks have decreased as compared to the past," he said talking to a private television channel
He said, "Today, flag lowering ceremony was held at Wagah border as usual and our next generation will continue to participate in such activities or celebration with the same spirit and enthusiasm."
Replying to a question he said that training of Rapid Response Force (RRF), was continuing, adding that a vibrant mechanism of intelligence sharing had been adopted by the intelligence institutions and law enforcement agencies.
The federal minister said that provinces are also sharing the intelligence, adding that a successful operation in Karachi was continuing due to better intelligence sharing of institutions and organizations concerned.
To another question he said, "Our law enforcement agencies, security institutions and armed forces are working together and coordinating with each other to avoid untoward incidents in any area."
Full report at:
http://www.dailytimes.com.pk/national/04-Nov-2014/no-terrorist-activity-can-weaken-morale-of-pakistani-nation
-------------
Arrests in Pakistan after Christian couple lynched by mob
11/05/2014
Police in Pakistan arrested dozens of people on Wednesday after a mob beat a Christian couple to death and burned their bodies for allegedly desecrating a Koran.
Blasphemy is a serious offense in conservative Muslim Pakistan where those accused are sometimes lynched on the spot.
Local media reported the Christian couple were accused of burning a copy of the Koran and throwing it in a rubbish bin in the province of Punjab on Tuesday.
Full report at:
http://www.jpost.com/Breaking-News/Arrests-in-Pakistan-after-Christian-couple-lynched-by-mob-380849
-------
South Asia
Bangladesh International Crimes Tribunal indicts 3 for crimes in 1971
November 5, 2014
The International Crimes Tribunal (ICT) 1 has indicted three alleged Razakar kingpins from Bagerhat for war crimes in 1971.
The three-member panel headed by ICT 1 Chairman Justice M Enayetur Rahim indicted the trio on Wednesday for their alleged crimes against humanity committed during the War of Liberation in 1971, reports BSS.
The indicted are Sheikh Sirajul Haque alias Siraj Master, 72, Khan Akram Hossain, 61, and Abdul Latif Talukder, 68.
The war crimes tribunal has framed a total of seven charges, including genocide, murder, abduction, confinement and torture, against the trio.
Of the total seven charges, Siraj Master was accused in five, Khan Akram and Latif were accused in three charges, in one charge the trio was held responsible jointly.
As the place of occurrences and incidents are same, the trio is being held responsible in the same case.
The first tribunal framed the charges, rejecting two separate petitions submitted by Advocate Abul Hasan, counsel for Siraj Master, and Barrister M Sarwar Hossain, counsel for Khan Akram and Latif, seeking discharge of the their clients from the allegations.
The ICT-1 also set December 2 for placing opening statement by the prosecution in this case.
The tribunal also asked the defence counsels to submit the lists of defence witnesses, documents before the tribunal by that day.
"Two separate application seeking discharge were filed. We are inclined to reject the petitions and hereby framing charges as follows," said Justice Rahim.
Charges are as follows:
1. Siraj Master was charged with abetting and facilitating genocide, murder, plundering and arson in village Ranjitpur under Sadar upazila of Bagerhat on May 13, 1971.
A total of 40/50 Hindus were killed in that incident.
2. Siraj Master was charged with abetting and facilitating genocide, murder, plundering and arson in Dakrar Kali Temple under Rampal police station in Bagerhat on May 21, 1971.
Around 600/700 Hindus were killed in that incident.
3. Siraj Master was charged with abetting and facilitating murder, abduction, confinement and torture in villages Besargati and Kandapara under Sadar Police Station in Bagerhat on June 18, 1971.
Full report at:
http://www.dhakatribune.com/bangladesh/2014/nov/05/tribunal-indicts-3-crimes-1971
-------------
Family meets, condemned war criminal, Kamaruzzaman at Dhaka jail
Asif Islam Shaon
november 5, 2014
The family members of condemned war criminal Mohammad Kamaruzzaman have met him at Dhaka Central Jail on Wednesday morning.
A total of 10 members, including wife, four sons, one daughter, brother, sister, maternal aunt entered the jail gate around 10:25am and came out around 11:20am after meeting with Kamaruzzaman, said Hasan Iqbal, son of the war criminal.
"We have met him as part of regular meetings," Hasan told the reporters.
"My father is well and normal," he told the journalists replying to a query.
Full report at:
http://www.dhakatribune.com/bangladesh/2014/nov/05/family-members-meet-kamaruzzaman-dhaka-jail
-------------
121 illegal Afghan immigrants detained in Chaghi
November 05, 2014
Quetta- The Frontier Corps Balochistan detained one hundred and twenty one Afghan illegal immigrants under Foreign Act in Nukundi area of Chaghi district.
The spokesman for FC told that during routine patrolling of Frontier Corps these Afghans were taken into custody in general area of Sia Reg Rikodeq, 60 kilometers North-West of Nukundi.
Full report at:
http://nation.com.pk/national/05-Nov-2014/121-illegal-afghan-immigrants-detained-in-chaghi
-------------
Africa
Boko Haram carries out attacks in Nigeria's northeast
Nov 5, 2014
Takfiri Boko Haram militants have carried out several attacks in two towns in the volatile northeastern parts of Nigeria, where violent clashes have been going on between the army and the terrorists, witnesses say.
The militants opened fire on army troopers at a military checkpoint on the suburbs of the town of Nafada in Gombe State on Tuesday.
They also set a police station ablaze, robbed a bank, and ruined the office of a political party, according to residents.
"They came in large numbers in vans and on motorcycles," said Nafada resident Abubakar Galda, adding that the extremists "blew up a police station with rocket propelled grenades."
Following the first raid, the militants rushed toward the town of Ashaka, some 20 kilometers (12 miles) away, setting fire to a French cement plant.
The fate of French nationals at the plant is still unknown, workers at the site said.
The assaults highlight the deteriorating security condition in Nigeria's northeast, where Boko Haram is relentlessly committing crimes despite claims of a ceasefire with the terrorist group by the government.
Full report at:
http://www.presstv.ir/detail/2014/11/05/384830/boko-haram-attacks-towns-in-ne-nigeria/
-------------
Blast hits Shia ceremony in Nigeria's Yobe
04 Nov 2014
A bomb targeting Shia pilgrims observing the holy day of Ashoura has exploded in Yobe state in northeastern Nigeria killing dozens of people.
The blast happened on Monday in the city of Potiskum, as Shia Muslims were marking the religious occasion.
Conflicting reports quoting sources from the community said at least 32 people were killed.
The worshippers were gathered outside a seminary in the Tsohuwar Kasuwa area of the city, after visiting the palace of the local emir, witness Ibrahim Maina and local police told the AFP news agency.
"It was a huge crowd and many of them were affected," the policemen told the AFP news agency. "The priority is to rescue the injured."
The type of blast has not yet been confirmed, and no one has claimed responsibility for the attack.
In a separate incident on Sunday, gunmen armed with dynamite freed at least 50 inmates in a raid on a prison in central Nigeria's Kogi state, the same facility attacked by Boko Haram fighters in 2012, police said on Monday.
"They blew up the thing with dynamite," national police spokesman Emmanuel Ojukwu told AFP.
Full report at:
http://www.aljazeera.com/news/africa/2014/11/blast-hits-shia-ceremony-nigeria-yobe-201411312272157976.html
-------------
Europe
New EU foreign chief urges creation of Palestinian state
Nov 5, 2014
The European Union (EU)'s newly appointed foreign policy chief has called for the creation of a Palestinian state within the five years of her term in office.
Speaking to journalists from some European newspapers on Tuesday, Federica Mogherini said simple recognition of the Palestinian state by European countries like Sweden is not enough.
"I would be happy if by the end of my term, a Palestinian state existed," the former Italian foreign minister said.
She said the EU seeks to adopt a broad regional policy with respect to the Middle East and work toward a solution to the Israeli-Palestinian conflict.
The top diplomat is scheduled to visit the Middle East this weekend. During her two-day trip, Mogherini is set to hold talks with Israeli and Palestinian officials.
Earlier this month, the Swedish government officially recognized Palestine as an independent state, confirming the Palestinians' right to self-determination.
Sweden became the first major European country to officially recognize the state of Palestine.
Israel, irked by the announcement, summoned the Swedish ambassador to Israel to protest against the decision.
Full report at:
http://www.presstv.ir/detail/2014/11/05/384841/eu-urges-creation-of-palestinian-state/
-------------
Blair Views on Islam to Ignite Religious War: Aide
02 November 2014
CAIRO – A once key assistant to Tony Blair has criticized the former British Prime Minister's opinion about Islam, warning that his mistaken view on the world's fastest growing religion could start a new religious war.
"What Tony Blair is trying to do is to look at it from the inter-faith point of view, which is something beyond me," former chief of staff Jonathan Powell said in an interview with Total Politics magazine, the Daily Mail reported on Sunday, November 2.
"The danger is that you can end up framing these conflicts in ideological terms and return to the religious wars of the 16th Century in Europe. You don't want to let this Sunni / Shia divide turn into a 21st Century version of the Thirty Years' War.
"If you view the conflict on religious grounds you will create a religious war. That's what we should be avoiding."
Blair has repeatedly blamed religious "extremism" as the main cause of the Middle East crisis.
He has also urged people to realize there is a "problem within Islam".
His view was dismissed last night by his former chief of staff who said Blair was wrong to blame the region's problems on tensions within Islam.
He even suggested that his old boss's mistaken analysis could lead to a "21st Century version" of a religious war.
"I see it from a different angle. He [Blair] argues that this is a new phenomenon we are facing. I don't accept that," Powell, one of the former premier's most loyal lieutenants during his time in office, said.
Not only Blair
The former diplomat said that British governments never learn that they cannot defeat extremists by military means.
"Every time there is a new terrorist group, [the West] says we are going to defeat them, but never does," he said.
Full report at:
http://onislam.net/english/news/europe/479247-blair-views-on-islam-to-ignite-religious-war-aide.html
-----------
Ukraine sends more troops to east
05 Nov 2014
Ukraine is rearming and deploying new units to the country's east to counter any attempt by pro-Russian rebels to take over more territory, President Petro Poroshenko has said.
Poroshenko said on Tuesday that the units would defend cities still under government control against possible incursions.
His remarks came after Ukrainian security officials claimed that Russia has intensified the transfer of troops and military equipment to separatist rebels, over the weekend. However, Moscow maintains that it does not aid the rebels.
"Several new units have been formed that will enable us to repel possible attacks in the direction of Mariupol and Berdyansk, Kharkiv, and areas north of Luhansk and the Dnipropetrovsk region," Poroshenko said, according to a statement on the presidential website.
Tensions have spiked since the weekend, when rebels held an election that was condemned by the West and Ukraine as illegal and destabilising.
Ukraine and Western governments say that Sunday's poll had gravely endangered the ceasefire that envisioned local elections across the whole of the east but under Ukrainian law.
Russia, however, quickly lent its support to the vote.
German Chancellor Angela Merkel, underlining her displeasure over what she said was Russia's role in the conflict, said on Tuesday there was no reason yet to lift European Union sanctions against Moscow.
Merkel said she hoped for a diplomatic solution to Ukraine's crisis but added the vote showed "how difficult it is even to maintain agreements that have been made, if we look at the illegal elections".
Full report at:
http://www.aljazeera.com/news/europe/2014/11/ukraine-sends-more-troops-east-20141142146355877.html
-------------
UK ends Libya army course after 'sex attacks'
04 Nov 2014
Britain's defence ministry has said it is cutting short a training programme in the UK for Libyan troops after reported sexual assaults allegedly involving five of the servicemen.
About 300 members of the troubled North African country's armed forces have been based at the Bassingbourn Barracks in Cambridgeshire, eastern England, since July.
"Training was initially expected to last until the end of November but we have agreed with the Libyan government that it is best for all involved to bring forward the training completion date," the ministry said in a statement on Tuesday.
"The recruits will be returning to Libya in the coming days."
Three of the Libyan soldiers were due in court in Cambridge on Tuesday.
Two of them have each admitted two counts of sexual assault.
The third has been charged with three counts of sexual assault but has yet to enter a plea, British media reported.
Two other servicemen have been charged with raping a man, the Cambridge News website reported.
Full report at:
http://www.aljazeera.com/news/europe/2014/11/uk-ends-libya-army-course-after-sex-attacks-2014114125618218186.html
-------------
Kiev to deploy more troops to east to foil attacks
Nov 4, 2014
Ukrainian President Petro Poroshenko says more troops will be dispatched to the country's eastern regions in an attempt to foil probable attacks by pro-Russian forces.
More military units will be deployed to protect Kharkiv, Berdyansk, Mariupol and the north of Luhansk against any possible offensive by the pro-Russian forces, Poroshenko said during a meeting of the country's National Security and Defense Council in Kiev on Tuesday.
He also denounced the recent leadership and parliamentary elections in Donetsk and Luhansk, calling them "a farce."
"Two days ago on the territories of the Donetsk and Luhansk regions a farce happened which jeopardized the Minsk agreement and the peace process, and destroyed the political dialog," the Ukrainian president stated.
Full report at:
http://www.presstv.ir/detail/2014/11/04/384800/kiev-to-deploy-more-troops-to-east/
-------------
Yusuf Islam, an English artist, Unfolds His Spiritual Journey
03 November 2014
CAIRO – Delving into his spiritual journey to Islam, Yusuf Islam, the English artist previously known as Cat Stevens, has published his memoir in a new book, "Why I Still Carry a Guitar", that shares his inspiring experience with readers.
"My abrupt departure from the spotlight confused many of my friends and fans," he writes in the opening chapter, The National reported on Sunday, November 2.
"Sadly, a few decided to believe strange rumours about my decision based on inaccurate information and myths."
In this book, Islam details the gripping story of his journey from a teenager experiencing the dizzying heights of music superstardom, selling more than 60 million albums, to a man defined by his faith, who gave up music for more than a quarter of a century but is back delivering his message of peace through music and art.
In 1977, Cat Stevens discovered a new path for his life when he reverted to Islam, took a name of Yusuf Islam.
Years after leaving the stage, Yusuf came back to the musical world mastering Islamic songs/Nasheeds; he renewed some of his old tracks and produced new ones which all speak about peace, reconciliation, and spirituality.
"Peace Train", "Little Ones Still Smiling", "Be What You Must", and "Roadsinger" are just examples of Yusuf's inspirational songs.
His latest songs came last week when he released the new blues album under the title "Tell 'Em I'm Gone".
Islam has never stopped making records over the last three decades, releasing three albums of Islam-related songs, The Life of the Last Prophet (1995), Prayers of the Last Prophet (1999) and a record for children, A Is for Allah (2000), most of them have been for humanitarian causes.
Full report at:
http://onislam.net/english/news/europe/479273-yusuf-islam-unfolds-spiritual-journey.html
-------------
Anti-Semitic Muslim Preacher Banned from Entering Belgium
11/4/2014
Belgium on Tuesday banned a Kuwaiti Muslim preacher from attending an event in Brussels, accusing him of making anti-Semitic remarks and being a threat to public order.
Tareq Al-Suwaidan, described as a leader of the Muslim Brotherhood in the Gulf state, was due to speak at the Brussels Muslim Fair this weekend.
But Belgian Interior Minister Jan Jambon ordered officials to "take the necessary steps to forbid Tareq Al-Suwaidan access to the area or to stay in it", his office said in a statement.
"It was the only decision possible," Jambon and Prime Minister Charles Michel said in the statement.
"This preacher has unacceptable anti-Semitic beliefs and his presence here is a threat to public order."
Full report at:
http://www.israelnationalnews.com/News/News.aspx/187031#.VFrWZjTF8qM
------------
Australia
Australia to see more counter-terrorism raids
Nov 4, 2014
Australians have been warned to prepare for further counter-terrorism raids as the government maintains its high terror threat level in the country.
Aussies will come to find an increase in such raids as those carried out in Sydney and Brisbane in September, in an effort to disrupt alleged plots by the supporters of Takfiri ISIL terrorists in the country, Australian Federal Police Assistant Commissioner Neil Gaughan said on Monday.
"The paradigm has changed such that we will be forced to react much quicker than what we previously have, and I think the community will see more of this where we will do a large number of execution of search warrants and probably only one or two arrests," Gaughan told members of Sydney's Muslim community during a television program.
The official refused, however, to provide details on whether any preparations were underway.
Full report at:
http://www.presstv.ir/detail/2014/11/04/384779/aussies-to-see-more-counterterror-raids/
-------------
URL: https://www.newageislam.com/islamic-world-news/new-age-islam-news-bureau/taliban-group-threatens-to-attack-india-following-wagah-blast/d/99880