New Age Islam News Bureau
7 Jun 2015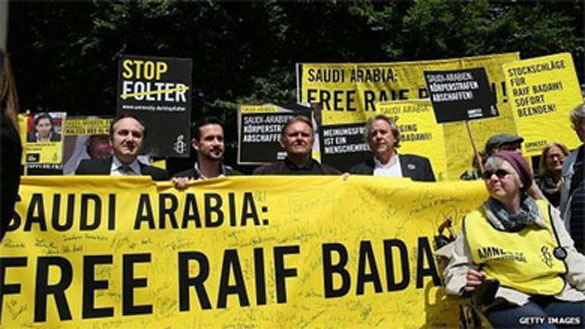 Protests were held following Badawi's first flogging by the kingdom
------------
South Asia
• Taliban Declares Mourning for 9 Women and Children Killed In Ghazni
• NDS Rescues Children Forced By Taliban for Suicide Bombing In Helmand
• Four soldiers martyred, 13 insurgents killed in military operations in Afghanistan
• Afghanistan condemns brutal torture and killing of Muslims in Burma
• Taliban confirm meeting Afghan politicians and social activists in Dubai
• Closed for Business: Asia's Human Smugglers Go to Ground
Arab World
• Suicide car bomb kills 15 in Iraq: Police
• Iraqi Airstrikes Kill 18 ISIL Militants in Samarra
• Saudi Supreme Court Upholds Jail, Lashes for Blogger
• 4 ISIL Terrorists Killed in Iraqi Air Strike
• Syrian Army Stymies ISIL Infiltration Attempt in Hasakah, 3 Villages Recaptured
• Iraqi Source: 24 ISIL Terrorists Captured in Salahuddin
• Syrian Army Pushes Back 200 ISIL Terrorists in Deir Ezzur
North America
• Amazon Has Stopped Selling ISIS Magazine 'Dabiq'
• Hundreds of young Syrians find academic home at U.S. colleges
India
• Flowers for Kerala Deities Bloom in Muslim Farms
• Ram Temple Will Be Built During BJP Rule: Sakshi Maharaj
• Meet the 73-Year-Old Muslim Warkari Who Sings Abhangs, Bhajans
• 'The Future I Dream For India Is the Future I Wish For Bangladesh': PM Narendra Mod
• India, Bangladesh Sign Historic Land Boundary Agreement, End 41-Year-Long • Misery Of 50,000 Stateless People
• 'I am confident we can reach a fair solution on Teesta': Indian PM
• Modi Govt Will Go If It Doesn't Build Ram Temple, VHP Says
Pakistan
• Mastung: Three Terrorists Killed In Shootout with Security Forces
• PM Sharif Forms Committee to Help Rohingya Muslims
• Historical Trend: 'US Wants Greater Indian Role in Afghanistan'
• Campaign against Child Marriage Starts in Punjab
• Police arrest 33 suspects over Quetta cop killings
• Billions for counter-terrorism, nothing for Nacta
• Muslim massacre in Myanmar: Nisar slates rights organisations for shutting eyes
Africa
• Nigeria: Many Feared Dead As another Blast Hits Maiduguri Cattle Market
• Somalia: Deadly Clash Leaves 4 Dead in Central Somalia
• Three killed in suspected Shabab attack in northeast Kenya: Officials
• Sudan's President Bashir forms new government
• Nigeria: Jonathan Gets Nomination for Nobel
Mideast
• Yemeni Official: Firing Scud Missiles A Warning to Saudi Arabia
• Report: 25 Palestinian Women Still in Israeli Jails
• Saudi-led coalition strikes Houthis in Taez
• Israeli army strikes Gaza Strip after rocket attack
• Tehran 'arming Houthis': Brig. Gen. Ahmad Al-Assiri
• Turkish president casts his vote in parliamentary elections, says high election turnout across country
Europe
• EU Delegation In Iran Barred From Speaking To Foreign Media
'• Stalkers': Tracking IS's Female Cheerleaders Online
• UN Report Cites Zionist 'Crimes against Children'
• British foreign secretary condemns Houthi attack on Saudi Arabia
• Pope Francis says he senses 'atmosphere of war' in world
Southeast Asia
• Liberal, Secular, Arab-Style, or Modern Malay, Embrace Them All: DAP
• Al-Qaeda-linked militants behead Philippine militiaman
• PAS' cutting ties with DAP will give rise to Malay tsunami, says DAP Johor
Compiled by New Age Islam News Bureau
URL: https://www.newageislam.com/islamic-world-news/new-age-islam-news-bureau/taliban-declares-mourning-for-9-women-and-children-killed-in-ghazni/d/103373
---------
South Asia
Taliban Declares Mourning For 9 Women And Children Killed In Ghazni
Jun 07 2015
The Taliban militants group declared mourning for the killing of nine women and children in south-eastern Ghazni province of Afghanistan.
According to the local education officials, Taliban militants forced the schools to remain closed on Sunday due to the tragic incident.
The officials further added that the message to school principals was conveyed by the head of the education of the Taliban group.
At least nine people including women and children were killed after their vehicle struck an improvised explosive device (IED) in the outskirts of Ghazni city.
The local officials said the vehicle was returning from a wedding party when it struck the roadside bomb.
This is the first the group is declaring mourning for the killing of civilians. Earlier reports suggested that the vehicle was hit by a rocket.
Taliban militants and insurgents from the other militant groups frequently use Improvised Explosive Device (IED) as the weapon of their choice to target the security forces.
However, in majority of the incidents the ordinary civilians are targeted in roadside bombings.
Improvised Explosive Devices or IEDs remained the second leading cause of civilian casualties in the first quarter of 2015 resulting in 430 civilian casualties (155 civilian deaths and 275 injured), according to the latest report by United Nations.
http://www.khaama.com/taliban-declares-mourning-for-9-women-and-children-killed-in-ghazni-9471
---------
NDS rescues children forced by Taliban for suicide bombing in Helmand
Jun 07 2015
The National Directorate of Security (NDS) – Afghanistan's intelligence agency – has rescued two children who were forced by Taliban militants for suicide bombing in southern Helmand province.
A statement issued Sunday by NDS states that Rahmatullah who is a Taliban commander took two children from Kandahar province to Helmand on the pretext of religious studies about a month before.
Rahmatullah told the family of nine year-old Fazal Amin and 12 year-old Mohammad Amin, both brothers, that the two will receive religious studies in a Madrasa (seminary) of Helmand province.
NDS statement adds that during the religious studies the children were forced to carry out suicide bombings.
The statement further adds both children were chained in order not to run away from Madrasa but they were rescued by NDS personnel during a special operation.
The kids have been returned to their families.
The statements issued by the National Directorate of Security usually do not contain the exact location of the achievements but they come after recent activities.
http://www.khaama.com/nds-rescued-children-forced-by-taliban-for-suicide-bombing-in-helmand-3451
---------
Four soldiers martyred, 13 insurgents killed in newest military operations
Jun 07 2015
Four soldiers have embraced martyrdom while 13 militants have been killed in newest military operations across the country, ministries of defense and interior announced on Sunday.
A statement issued by General Zahir Azimi, spokesman for the Ministry of Defense states that the four soldiers embraced martyrdom in past 24 hours. The statement does not specify the exact location of the incidents.
In the meantime, a statement issued by the Ministry of Interior states that 13 militatns were killed and seven others wounded in military operations in past 24 hours.
The operations were conducted in Ghazni, Khost, Paktika, Paktiya, Badghis, Kandahar, Helmand, and Uruzgan provinces were several terrorist sanctuaries were also destroyed, the statement adds.
http://www.khaama.com/four-soldiers-martyred-13-insurgents-killed-in-newest-military-operations-3447
---------
Afghanistan condemns brutal torture and killing of Muslims in Burma
Jun 07 2015
The government of Afghanistan strongly condemned sectarian violence against Muslims in Burma where score of people have been tortured and killed.
"Islamic Republic of Afghanistan strongly denounces the sectarian violence against Muslims in Burma, as a result of which a large number of innocent people have been killed," a statement by the Ministry of Foreign Affairs said.
The statement further added that the Islamic Republic of Afghanistan considers the brutal torture and killing of defenceless and oppressed people, including women, children and the elderly as inhuman and contrary to the values of human rights.
"Therefore, the Islamic Republic of Afghanistan expresses its deep sympathies to the victims' families, people who are tortured and those who have been displaced as a result of this violence from their home country, as well as asks the United Nation, international human rights organizations and the world to exert their efforts to put an end to this crimes against humanity and assist with those who are threatened by the violence," the statement added.
Hundreds of people have been killed and tens of thousands others have been displaced since religious riots erupted in Burma in June 2012 between Rohingya Muslims and Buddhists.
Some four per cent of Burma's 51.5 million-strong population are Muslim, according to official statistics – although the actual number is thought to be higher.
Thousands of Rohingya Muslims were also forced to flee the nation, where the government refuses to accept them as citizens and has rendered them stateless.
http://www.khaama.com/afghanistan-condemns-brutal-torture-and-killing-of-muslims-in-burma-9470
---------
Taliban confirm meeting Afghan politicians and social activists in Dubai
Jun 07 2015
Taliban have confirmed meeting a number of Afghan politicians and social activists in Dubai.
Taliban in a statement said that the purpose of the meeting on 6-7 June was to develop trust among Afghans.
The statement stated that "Representatives from the political office of the Islamic Emirate of Afghanistan are having private meetings with a number of eminent Afghans, but these meetings are normal,"
"These meetings are organized for exchanging views and responding to concerns about the Islamic Emirates," the statement added.
Sayed Ishaq Gilani who is one of the participants in this meeting had earlier told that limited individuals will participate in this meeting.
Gilani had also said that a member of Taliban's Quetta Shura will also take part in the meeting but he did not name the Shura member.
In the meantime, Shukria Barakzai who recently had a visit to Oslo city of Norway said that she defended women rights during her meeting with Taliban on Wednesday and Thursday.
She said that both sides agreed that war is not in the interest of any side and that the efforts for peace talks must continue.
http://www.khaama.com/taliban-confirm-meeting-afghan-politicians-and-social-activists-in-dubai-3449
---------
Closed for Business: Asia's Human Smugglers Go to Ground
Jun 07 2015
Sittwe, Myanmar. The rickety Internet huts have fallen silent in the crowded camps of displaced Rohingya Muslims in western Myanmar; no one comes anymore to bargain for the release of loved ones being held for ransom in Thailand and Malaysia.
"Before, every day at least 10 to 15 people would come here to negotiate with human traffickers," said Tun Win, a young man who offers a video-calling service from one of the bamboo and thatch huts. "Now, it's nothing."
For now at least, the smugglers who preyed for years on the misery of Myanmar's Rohingya appear to be going out of business, and Asia's most acute migrant crisis since the "boatpeople" exodus at the end of the American war in Vietnam is ebbing.
Until last month, their grim trade ran like clockwork.
Rohingya and their neighbors in Bangladesh, dreaming of a life free of persecution and poverty, were lured onto primitive boats in their thousands, taking perilous voyages from the southeast corner of the Bay of Bengal that they hoped would end with safety and jobs in Malaysia.
Full report at:
http://thejakartaglobe.beritasatu.com/international/closed-business-asias-human-smugglers-go-ground/
---------
Arab World
Suicide car bomb kills 15 in Iraq: Police
June 7, 2015
A suicide car bomb ripped through roadside restaurants at the entrance to the town of Baladruz in eastern Iraq, killing at least 15 people, police and provincial officials said Sunday.
The attack took place late Saturday at the entrance of Baladruz, which lies about 65 kilometres (40 miles) northeast of Baghdad, and was claimed by the Islamic State group.
"It hit a string of restaurants on the eastern side of town... Most of the people there were truck drivers transporting goods between Baghdad and Kurdistan," a police captain said.
The officer said 37 people were also wounded in the explosion. Khidhr Muslim Abed, a member of the Diyala provincial council, confirmed the toll.
IS claimed the attack in a statement posted on jihadist forums Sunday and said that one of those killed was a member of the counterterrorism unit in Iraq's police.
Full report at:
http://english.ahram.org.eg/NewsContent/2/8/132153/World/Region/Suicide-car-bomb-kills--in-Iraq-Police.aspx
---------
Iraqi Airstrikes Kill 18 ISIL Militants in Samarra
June 7, 2015
At least 18 ISIL terrorists were killed after Iraqi fighter jets carried out precision strikes against the positions of the terror group in the city of Samarra.
According to Iraqi media reports, the strikes targeted an area in Northwest of Samarra, 125 kilometers (78 miles) North of Baghdad, and claimed the lives of more than 18 Takfiri militants.
The reports added that the attacks also destroyed an ISIL housing unit as well as five armored vehicles.
The ISIL Takfiri terrorists currently control shrinking swathes of Syria and Iraq. They have threatened all communities, including Shiites, Sunnis, Kurds, Christians, Ezadi Kurds and others, as they continue their atrocities in Iraq.
Senior Iraqi officials have blamed Saudi Arabia, Qatar, and some Persian Gulf Arab states for the growing terrorism in their country.
The ISIL has links with Saudi intelligence and is believed to be indirectly supported by the Israeli regime.
http://english.farsnews.com/newstext.aspx?nn=13940317000432
---------
Saudi supreme court upholds jail, lashes for blogger
Jun 07 2015
Saudi Arabia's supreme court has upheld a sentence of 10 years in jail and 1,000 lashes against blogger Raif Badawi on charges of insulting Islam, his wife said today.
The judgement came despite worldwide outrage over his case and criticism from the United Nations, United States, the European Union, Canada and others.
"This is a final decision that is irrevocable," Ensaf Haidar told AFP in a telephone interview from Canada. "This decision has shocked me."
Badawi received the first 50 of the 1,000 lashes he was sentenced to outside a mosque in the Red Sea city of Jeddah on January 9. Subsequent rounds of punishment were postponed on medical grounds.
His wife expressed fear that the implementation of the flogging sentence "might resume next week."
Full report at:
http://www.themalaysianinsider.com/world/article/saudi-supreme-court-upholds-jail-lashes-for-blogger#sthash.t8qHTfAK.dpuf
---------
4 ISIL Terrorists Killed in Iraqi Air Strike
June 7, 2015
Four terrorists of the Islamic State of Iraq and the Levant (ISIL) group were killed in an Iraqi air raid in Anbar province on Sunday, sources said.
Ali Dawood, the president of al-Khalidiya city council, said that ISIL vehicle was targeted in the air strike in the district of al-Khalidiya Island, 23 km East of Ramadi. Four ISIL terrorists were killed in the air raid.
The ISIL Takfiri terrorists currently control shrinking swathes of Syria and Iraq. They have threatened all communities, including Shiites, Sunnis, Kurds, Christians, Ezadi Kurds and others, as they continue their atrocities in Iraq.
Senior Iraqi officials have blamed Saudi Arabia, Qatar, and some Persian Gulf Arab states for the growing terrorism in their country.
The ISIL has links with Saudi intelligence and is believed to be indirectly supported by the Israeli regime.
http://english.farsnews.com/newstext.aspx?nn=13940317001103
---------
Syrian Army Stymies ISIL Infiltration Attempt in Hasakah, 3 Villages Recaptured
June 7, 2015
The Syrian army seized control of three villages in the city of Hasakah on Sunday after pushing back an ISIL offensive against the Northwestern city.
According to Syrian state television, the army troops took back three villages almost two kilometers (one mile) South of the city after driving out the terrorists.
The Syrian troops also regained control over a power post and a juvenile prison in the battle.
Syrian forces, backed by volunteer forces, also stymied an attempt by the terrorist to infiltrate a village in Northeastern Hasakah.
Full report at:
http://english.farsnews.com/newstext.aspx?nn=13940317001171
---------
Iraqi Source: 24 ISIL Terrorists Captured in Salahuddin
June 7, 2015
The Iraqi army has captured 24 ISIL terrorists during a mop-up operation in the Northern province of Salahuddin, a senior military official announced on Sunday.
The commander of the 17th Iraqi Infantry Brigade, Ma'ad Badai, said that Iraqi forces apprehended the terrorists during a fire fight in the district of Makishifa.
He added that the Iraqi troops also managed to confiscate 120 vehicles rigged with explosives, 300 mobile handsets, 130 mortar shells, 28 mines, nearly 100 light and heavy weapons as well as 35 improvised explosive devices (IEDs) following the confrontation.
Back in May, Arabic-language al-Akhbar TV channel released footage showing Iraqi forces, backed by volunteer forces, have succeeded in apprehending hundreds of ISIL Takfiri militants in the country's Western province of Anbar.
Full report at:
http://english.farsnews.com/newstext.aspx?nn=13940317001076
---------
Syrian Army Pushes Back 200 ISIL Terrorists in Deir Ezzur
June 7, 2015
The Syrian army inflicted major losses on the ISIL Takfiri group after the terrorists attempted to launch an attack against an air base in the Eastern city of Deir Ezzur on Sunday.
According to Syrian media reports, more than 200 ISIL terrorists participated in a major operation early on Sunday in an attempt to take over Deir Ezzur's military airport, but the Syrian troops managed to drive them out, forcing them to flee the battlefield.
The reports added that large groups of the terrorists lost their lives in the operation.
ISIL launched another assault at the military airport of Deir Ezzur on Saturday morning, as the ISIL Takfiri terrorists attempted to infiltrate into the frontline defenses of the Syrian Arab Army's 137th Artillery Brigade.
Full report at:
http://english.farsnews.com/newstext.aspx?nn=13940317000907
---------
North America
Amazon has stopped selling ISIS magazine 'Dabiq'
7 June 2015
Online retail giant Amazon has stopped selling an ISIS militant publication online.
The magazine, called Dabiq, is: "A periodical magazine focusing on issues of tawhid, manhaj, hijrah, jihad and jama'ah," according to Al-Hayat Media Center - an ISIS arm responsible for the production and distribution of media content including brutal videos showing the beheading and torture of several Western journalists and aid workers.
ISIS uses magazines like Dabiq and social media to recruit Westerners into its ranks.
Dabiq magazines which were being sold on Amazon include one with a cover depicting an ISIS flag above an obelisk in St. Peter's Square in the Vatican.
ISIS had threatened to attack Vatican City in its quest to establish an Islamic state worldwide.
Dabiq has used the magazine to announce events such as the enslavement of Yazidi Christian women and children.
"After capture, the Yazidi women and children were then divided according to the Shariah amongst the fighters of the Islamic State who participated in the Sinjar operations, after one fifth of the slaves were transferred to the Islamic State's authority to be divided as khums," the magazine reads, according to Newsweek.
Amazon withdrew the magazines from sale amid controversy.
https://english.alarabiya.net/en/media/digital/2015/06/07/Amazon-sells-ISIS-magainzes.html
---------
Hundreds of young Syrians find academic home at U.S. colleges
7 June 2015
Brothers Molham and Mohammad Kayali spray-painted anti-government graffiti around Aleppo University in northern Syria in early 2012 and held up flags in protest against President Bashar al Assad's government. Worried that their lives were in danger, they gave up on school and fled to Turkey in September 2012.
They were reunited last year with their younger brother, Ebrahim, at Emporia State University, a small school in Kansas, joining among about 700 "academic refugees" now in the U.S. who either fled from the long-running violent conflict, attended universities that have closed or couldn't safely travel to schools in dangerous areas.
The Syrian conflict has displaced tens of thousands of students, and some schools in Syria were attacked, including in 2013 when at least 10 students were killed at an outdoor cafe at Damascus University.
It's a situation has created an educational vacuum that universities around the world, including in the U.S., are seeking to fill in the hopes that the young Syrians will someday help rebuild their country.
Full report at:
https://english.alarabiya.net/en/perspective/features/2015/06/07/Hundreds-of-young-Syrians-find-academic-home-at-U-S-colleges.html
---------
India
Flowers for Kerala deities bloom in Muslim farms
T P Nijeesh,TNN | Jun 7, 2015
MALAPPURAM: Balanced on a battered canoe, Aslam gently plucks a lotus that is just beginning to bloom and carefully places it in a pile. He moves through the vast expanse of Valiyaparappur lake in Malappuram, collecting more flowers, all meant for different temples in Kerala.
Twenty-five-year old Aslam belongs to one of the 30 Muslim families in the village of Thirunavaya, on the banks of the Bharatapuzha river, who share an deep tie with Kerala's Hindu temples.
It is known to very few devotees that the lotus blooms used in all major temples across the state including Guruvayur Sri Krishna Temple, Sabarimala, Kodungalloor Bhagavathy Temple, Paramekkavu Bhagavathi Temple, Thriprayar Sri Rama Temple and Parshinikkaadavu Muthappan Temple are all farmed by these families.
"We have been doing it for over a hundred years," says Musthafa Chakkaliparambil, who has a 40-acre farm on the Valiyaparappur lake. He supplies at least 7,000 lotuses a day to temples in Guruvayur and Kodungallur.
Full report at:
http://timesofindia.indiatimes.com/india/Flowers-for-Kerala-deities-bloom-in-Muslim-farms/articleshow/47570291.cms
---------
Ram temple will be built during BJP rule: Sakshi Maharaj
PTI | Jun 7, 2015
UNNAO: Controversial BJP MP Sakshi Maharaj on Sunday declared the Ram temple at Ayodhya will be built under the Centre's BJP government, which has "four more years to go", drawing sharp criticism from opposition Congress.
"If Ram temple is not built under BJP rule, will it be constructed under a Congress dispensation? Will (SP chief) Mulayam or (BSP leader) Mayawati build it?
"It is certain that Ram Mandir will be constructed under the BJP rule. If it is not built today, it will be built tomorrow or the day after. We have completed just one year in power, four more years are to go," he said.
Sakshi Maharaj's assertions came even as a top VHP leader said that Modi government has come to power not only for ushering in development but also to deliver on the core saffron agenda, including building a grand Ram temple at Ayodhya.
Full report at:
http://timesofindia.indiatimes.com/india/Ram-temple-will-be-built-during-BJP-rule-Sakshi-Maharaj/articleshow/47572402.cms
---------
Meet the 73-Year-Old Muslim Warkari Who Sings Abhangs, Bhajans
Sandhya Soman,TNN | Jun 7, 2015
MUMBAI: In life and in football, balance is everything. Shaikh Riyazoddin Abdul Gani would add a Maharashtrian folk art also to it. For long he has balanced a water-filled Kalash (pot) weighing up to 15kg on his head on stage. Gani would then sing soulful Meera Bhajans and abhangs, while plucking a Veena and joyfully twirling and skipping around as if light as a feather. In this avatar, he is the famous Rajubaba kirtankar, who won a Sangeet Natak Academy award in 2013 and has regaled the faithful at temples and countless prayer meets. Over the years, he has managed to rekindle faith in some or got a drunkard or two to accept a Tulsi mala (garland), announcing the end of a wayward life.
No, it is not the just the power of music that brings about such transformations. "It is the Bhagwan in us," says the artiste in true Warkari tradition, who is to perform at SPIC-MACAY at IIT-Bombay on Thursday.
Full report at:
http://timesofindia.indiatimes.com/city/mumbai/Meet-the-73-year-old-Muslim-Warkari-who-sings-abhangs-bhajans/articleshow/47573552.cms
---------
'The Future I Dream For India Is the Future I Wish For Bangladesh': PM Narendra Mod
Jun 07 2015
Excellency, Prime Minister Sheikh Hasina
Members of the media,
Thank you for your kind words of welcome. Thank you for your thoughts on the relationship and our meeting today.
I am deeply honoured and touched by your special gestures for my visit. Everything I have experienced here reflects the warmth and generosity of the people of Bangladesh. And for me, there is the wonderful feeling of visiting a close neighbour.
This morning I paid tribute to Bangabandhu, a great leader of our era. His vision and leadership, his humanism and sacrifices, gave birth to the dream of Sonar Bangla. Today, that dream prospers through the leadership of Prime Minister Sheikh Hasina and the genius of the people of Bangladesh.
Earlier today, we launched two bus services that will connect our citizens more easily and our two nations more closely. We were privileged to have with us the Chief of Minister of West Bengal.
Full report at:
http://www.dhakatribune.com/bangladesh/2015/jun/07/future-i-dream-india-future-i-wish-bangladesh#sthash.3LRhttZk.dpuf
-----------
India, Bangladesh sign historic land boundary agreement, end 41-year-long misery of 50,000 stateless people
Indrani Bagchi,TNN | Jun 7, 2015
DHAKA: India and Bangladesh settled their 4,096-km long prickly land boundary dispute on Saturday. As Prime Minister Narendra Modi and Sheikh Hasina exchanged instruments of ratification of the land boundary agreement, far away in the enclaves on the India-Bangladesh border, the door opened for over 50,000 virtually stateless people to finally get a national identity.
"We have resolved a question that has lingered since Independence. Our two nations have a settled boundary," said Modi after 22 agreements were inked between the two governments.
Of equal significance is an agreement that will allow Indian cargo vessels to use the Chittagong and Mongla ports in Bangladesh. This has immediate connectivity benefits -- Indian ships at present have to travel all the way to Singapore to offload cargo onto vessels that bring them back to Bangladesh, typically taking 30-40 days. With this agreement, their travel time will come down to a week. This will be the first time India and Bangladesh will utilize their common seas.
Full report at:
http://timesofindia.indiatimes.com/india/India-Bangladesh-sign-historic-land-boundary-agreement-end-41-year-long-misery-of-50000-stateless-people/articleshow/47570745.cms
---------
'I am confident we can reach a fair solution on Teesta': Indian PM
Jun 07 2015
Indian Prime Minister Narendra Modi yesterday said he was confident that with the support of state governments in India, the two countries could reach a fair solution on Teesta and Feni Rivers.
While delivering India-Bangladesh joint statement, the Indian prime minister further said: "Our rivers should nurture our relationship, not become a source of discord. Water sharing is, above all, a human issue.
"It affects life and livelihood on both sides of the border. We should also work together to renew and clean our rivers."
Full report at:
http://www.dhakatribune.com/bangladesh/2015/jun/07/i-am-confident-we-can-reach-fair-solution-teesta#sthash.q0DzGhRu.dpuf
---------
Modi govt will go if it doesn't build Ram temple, VHP says
June 7, 2015
NEW DELHI: Although BJP president Amit Shah says that the Narendra Modi government doesn't have the mandate to address its core issues, the Vishwa Hindu Parishad (VHP), a constituent of the Sangh Parivar, disagrees.
The VHP has said that the huge mandate with which the Modi government came to power was not only for development but also to delver on its core issues, including building a grand Ram temple at Ayodhya.
The Hindu outfit also reminded the government to be ready to "face the consequences" — like the previous NDA government led by Atal Bihari Vajpayee — if it did not deliver on the core issues.
"The mandate which the BJP got in last general election was not merely for development. People expect that they will address the core issues too," VHP spokesman and national secretary Surendra Jain told IANS.
"Despite several comments on the issue by senior BJP leaders, our hope is still alive. We expect that this government will fulfill its commitment to construct a Ram temple at Ayodhya," he added.
Full report at:
http://timesofindia.indiatimes.com/india/Modi-govt-will-go-if-it-doesnt-build-Ram-temple-VHP-says/articleshow/47566837.cms
--------
Pakistan
Mastung: Three terrorists killed in shootout with security forces
June 7, 2015
MASTUNG: Three terrorists were killed in exchange of fire with security forces while three camps of the militants were also wiped out during search operation in Mastung.
According to security sources, FC and other security troops launched large-scale search operation in Johan and Burg areas of Mastung. During exchange of fire three militants were killed and their three camps were rooted out in Johan.
The troops were assisted by eight helicopters.
Meanwhile, four people were killed and six others injured in firing over old enmity in Awaran district while two bodies were recovered from Washuk district.
http://www.thenews.com.pk/article-187226-Mastung:-Three-terrorists-killed-in-shootout-with-security-forces
---------
PM Sharif forms committee to help Rohingya Muslims
June 7, 2015
ISLAMABAD: In order to extend help to Rohingha Muslims, Prime Minister Nawaz Sharif on Saturday formed a cabinet committee, comprising Interior Minister Chaudhry Nisar, advisers to PM on foreign affairs Tariq Fatmi and Sartaj Aziz.
According to a statement issued by Interior Minister Nisar, the committee will recommend the steps to extend help to Rohingya Muslims.
He said the first meeting in this connection will be held on Sunday in the Federal Capital.
In his statement, the Interior Minister also criticized the international community, human rights groups for their 'criminal silence and failing to take appropriate steps' to highlight the persecution and genocide of Rohingya community in Myanmar.
Business tycoon Malik Riaz announces Rs100 mln help
Meanwhile, business tycoon Malik Riaz has also announced a financial help of Rs100 million for Muslims in Burma.
http://www.thenews.com.pk/article-187193-PM-Sharif-forms-committee-to-help-Rohingya-Muslims
---------
Historical Trend: 'US Wants Greater Indian Role in Afghanistan'
Jun 07 2015
MULTAN: Peoples' Lawyers' Forum on Saturday condemned what they called were Indian conspiracies to sabotage the Pakistan-China Economic Corridor plan.
They said India was trying to sabotage the plan at the behest of the United States.
The PLF also announced a week of celebrations in south Punjab for the birth anniversary of slain Pakistan People's Party (PPP) leader Benazir Bhutto.
Addressing a press conference at Multan Press Club, PLF south Punjab president Habibullah Shakir said when India and the United States had signed an agreement over cooperation on civil nuclear technology in violation of the Nuclear Non Proliferation Treaty, Pakistan had not opposed it. He said the United States double standards in foreign affairs.
"The Americans imposed sanctions on Iran and did not bat an eye when India purchased oil from Iran for $12 billion," he said.
Full report at:
http://tribune.com.pk/story/899235/historical-trend-us-wants-greater-indian-role-in-afghanistan/
--------
Campaign against Child Marriage Starts in Punjab
Jun 07 2015
LAHORE: The Democratic Commission for Human Development (DCHD) in collaboration with Save the Children organised a one-day training workshop for reporters and columnists.
The workshop was held as part of a campaign against child marriage in the Punjab. As many as 30 journalists from southern Punjab and Lahore were educated on the various aspects involved in the concepts of human rights and media role and responsibilities in effective promotion of child rights and curtailing child marriage.
On the occasion, DCHC Director Tanveer Jahan, Liaqat Ali, Waqar Mustafa and Mehmal Sarfaraz were among those prominent. The participants were trained to make effective reporting on the incidents of child marriage and in case of violation of other child rights.
Mehmal Sarfaraz briefed the audience about the gender sensitive reporting and the challenges while reporting gender/right based issues, highlighting the main causes and impact of under-age marriages. She said that media could play a vital role in sensitising the people about the harms involved in the practice. She further opined that media practitioners are required to seek and acquire information on gender issues and they should keep abreast of gender debates and issues. She said that media organizations must ensure a diverse range of female perspective on issues of politics, economics and war.
Full report at:
http://www.dailytimes.com.pk/punjab/07-Jun-2015/campaign-against-child-marriage-starts
---------
Police arrest 33 suspects over Quetta cop killings
Jun 07 2015
QUETTA: Police on Sunday claimed to have arrested 33 suspects during various raids in Quetta's Pashtoonabad area.
A crackdown was launched in Balochistan's provincial capital city in the aftermath of killing of four policemen in the area on Saturday.
A senior police official told DawnNews that 33 suspects had been arrested in various raids so far, who are being interrogated by investiogators regarding the murder of four policemen in the area a day earlier.
He added that weapons and computers were also recovered from the possession of the arrested men.
Full report at:
http://www.dawn.com/news/1186747/police-arrest-33-suspects-over-quetta-cop-killings
---------
Billions for counter-terrorism, nothing for Nacta
Jun 07 2015
ISLAMABAD: Despite having allocated tens of billions of rupees to fight the war against terrorism, the federal government hasn't been able to find any room in its budget for the National Counter-Terrorism Authority (Nacta).
With absolutely no mention of Nacta in the budget documents, Finance Minister Ishaq Dar claimed on Saturday at the sidelines of his post-budget press conference, that Nacta's budget is part of the interior ministry's allocations. However, that claim was quickly denied by a senior interior ministry official, who told The Express Tribune that the matter has in fact not been resolved yet and that he would be meeting key government officials next week for a solution.
Full report at:
http://tribune.com.pk/story/899257/billions-for-counter-terrorism-nothing-for-nacta/
---------
Muslim massacre in Myanmar : Nisar slates rights organisations for shutting eyes
Jun 07 2015
ISLAMABAD: Interior Minister Chaudhry Nisar Ali Khan on Saturday said the inaction of the international community and criminal silence of human rights organisations over the genocide of Rohingya Muslims raises serious questions about the utility and effectiveness of international forums that proclaim themselves as upholder, defender and promoter of human rights and democratic values. The minister while appealing to the United Nations, OIC and the regional powers asked the international community not to close their eyes to this genocide. He cautioned them that the level of atrocities and scale of oppression of the hapless Muslims in this part of the world would nullify recent efforts aimed at addressing the grievances of the Muslims to wean away their youth falling into the traps of terrorists. Nisar also lamented that except for a few countries, no serious effort has been witnessed from the Muslims to check the oppressor and to plead the case of the oppressed community. "This speaks volumes of our apathy and indifferent attitude towards our fellow brethren and is a matter of serious concern for the entire Muslims." The minister said that he has raised the issue twice during cabinet meetings, including the one held on Friday, in which the prime minister and the entire Cabinet expressed serious concern on the plight of Muslims in Myanmar. He said that the PM has formed a committee, which includes, besides the interior minister, Sartaj Aziz and Tariq Fatemi to suggest measures and relief efforts from Pakistan for the Rohingya Muslims of Myanmar. The committee would meet tomorrow, Sunday, to deliberate upon the issue. The Minister said that he was hopeful and optimistic that Government of Pakistan would proactively reach out to the battered and oppressed Muslims of Myanmar.
http://www.dailytimes.com.pk/national/07-Jun-2015/muslim-massacre-in-myanmar-nisar-slates-rights-organisations-for-shutting-eyes
---------
Africa
Somalia: Deadly Clash Leaves 4 Dead in Central Somalia
June 7, 2015
At least 4 people are known to have been killed in a heavy clash between Al Shabab militants and local residents in Moqokori Township in central Somalia's Hiran region, according to witnesses.
The battle broke out after villagers armed with AK-47s launched an assault on held Al Shabab areas in the town over unknown reason, killing at least 4 people a resident told Shabelle Media in Mogadishu.
However, Tension between Al Shabab militants and local residents has been running high, another resident, who asked to be unnamed because of reprisal attack, told Shabelle Media based in Mogadishu.
http://allafrica.com/stories/201506060207.html
---------
Nigeria: Many Feared Dead As Another Blast Hits Maiduguri Cattle Market
June 7, 2015
An explosion from a suspected bomb detonated by Boko Haram terrorists may have killed many persons in a usually crowded cattle market in Maiduguri, Borno State capital, witnesses and security sources said.
The cattle market, popularly known as Kasuwan-Shanu is located adjacent the abattoir that was attacked by a suicide bomber, who killed himself and about 20 others last week.
Though the sound of the explosion did not resonate all over the town as it happened at about 3:30pm amidst thunderstorm that heralded a heavy rainfall in the city, sources close to the area said many people, especially traders may have been killed.
Abbas Gava, an officer of the Vigilante Group of Nigeria, informed LEADERSHIP Sunday that "The blast occurred at the time the rain was falling; my colleague in the area said he saw people fleeing from the market area, some wailing that many lives have been lost. But he could not give details as to the number of casualties recorded".
Full report at:
http://allafrica.com/stories/201506070046.html
---------
Three killed in suspected Shebab attack in northeast Kenya: Officials
June 7, 2015
Three people have died in an attack by suspected Shebab militants in Kenya's northeastern Wajir county that borders Somalia, officials said Sunday.
Wajir county's police commander, Samuel Mukindia, said a group of gunmen opened fire in a residential area late on Saturday, killing two men and a women before escaping.
Officials and residents said the attackers were believed to have been seeking to kill a local administrator, who lives close to the scene of the attack and is known to be on a Shebab "wanted" list for speaking out against the Islamists' activities in the region.
"The attackers were possibly heading to the chief's residence, but since they were not familiar with the house, they started shooting people indiscriminately," said Ahmed Muhamed, an elder in Wajir.
Full report at:
http://english.ahram.org.eg/NewsContent/2/8/132172/World/Region/Three-killed-in-suspected-Shebab-attack-in-northea.aspx
---------
Sudan's President Bashir forms new government
7 June 2015
Sudanese President Omar al-Bashir formed a new government late Saturday, state media reported, more than a month after he swept elections boycotted by the mainstream opposition and marred by poor turnout.
Bashir, who is wanted by the International Criminal Court on war crimes charges, dissolved his last cabinet when he was sworn in for a new five-year term last Tuesday.
He handed the key foreign portfolio to Ibrahim Ghandour, a former presidential assistant, and appointed Mohamed Zayed oil minister, state broadcaster al-Sudan reported.
Lieutenant General Mustafa Osman Obeid, the army's chief-of-staff, was appointed acting defence minister.
Full report at:
https://english.alarabiya.net/en/News/africa/2015/06/07/Sudan-s-Bashir-forms-new-government-State-Media-.html
--------
Nigeria: Jonathan Gets Nomination for Nobel
June 7, 2015
A public policy organisation on African affairs, the Africa Political and Economic Strategic Center (AFRIPOL) has recommended former President Goodluck Jonathan for the Nobel Peace Prize.
The organisation noted that the will of Alfred Nobel, the progenitor of Nobel Prize stated that Peace Prize be awarded to whoever "shall have done the most or the best work for fraternity between nations, for the abolition or reduction of standing armies and for the holding and promotion of peace congresses".
Accordingly the organisation the 'peaceful way President Jonathan conceded to President-elect Buhari deserves the attention of Nobel Peace Prize committee. He may have not promoted "fraternity between nations" but he surely promoted fraternal peace among Nigerians by conceding power.'
The group maintained that the "concession speech by President Jonathan averted bloodshed, violence and imbroglio in the most populous country in Africa. This gesture by Jonathan [sic] buttressed to the whole world that Nigeria has joined the comity of civilized nations".
http://allafrica.com/stories/201506060004.html
---------
Mideast
Yemeni Official: Firing Scud Missiles A Warning to Saudi Arabia
June 7, 2015
A high-ranking Yemeni official underlined that firing missiles by Yemen into Saudi Arabia meant to give a warning to the Riyadh government to stop its continued attacks against the neighboring country.
"The goal of targeting Saudi Arabia with Scud missiles was to warn Riyadh and we hope that it has grasped the meaning," Al-Mayadeen TV quoted the senior official, who asked to remain anonymous, as saying on Sunday.
The source reiterated that the Yemeni army has many options that it can use against Saudi Arabia if the monarchy does not halt its attacks against the Sana'a government.
On Saturday, the Yemeni army fired a Scud missile into Saudi Arabia, forcing the monarchy's officials to cancel all Jizan and Abha flights.
Full report at:
http://english.farsnews.com/newstext.aspx?nn=13940317000602
---------
Report: 25 Palestinian Women Still in Israeli Jails
June 7, 2015
Twenty-five Palestinian women are being held in Israeli jails under harsh incarceration conditions, the Palestinian prisoner society said.
The society stated that 23 female prisoners are being held in Hasharon jail and two others in Ashkelon and Neve Tirtza jails, PIC reported.
It added that the women suffer from very difficult detention conditions, especially those in Hasharon jail where some of them are prevented from seeing their families.
http://english.farsnews.com/newstext.aspx?nn=13940317000533
---------
Saudi-led coalition strikes Houthis in Taez
7 June 2015
The Saudi-led coalition launched Sunday a series of airstrikes on Houthi gatherings in the southwestern city of Taez, according to Al Arabiya News Channel.
The coalition also targeted Houthi-held camps in the Yemeni capital and resumed strikes on Republican Guard bases in the northern province of Saada.
Also on Sunday, the coalition hit a Houthi convoy that was located between Omran province north of Sanaa and Saada.
Meanwhile, violent clashes took place between Houthis and the forces of the Popular Resistance – allied to President Abdrabbu Mansour Hadi – in several cities across Yemen.
The clashes led to the killing of dozens of Houthi militias and loyalists of deposed leader Ali Abdullah Saleh. including 9 Houthis in Taez
In the southern Yemeni province of Daleh, forces of the Popular Resistance captured 12 militias including two officers belonging to Saleh's forces.
They also captured 27 other Houthis in the southern city of Aden, according to the channel's correspondent on the Yemeni border.
https://english.alarabiya.net/en/News/middle-east/2015/06/07/Saudi-led-coalition-strikes-Houthis-in-Taez-.html
---------
Israeli army strikes Gaza Strip after rocket attack
7 June 2015
The Israeli military says it carried out an airstrike in the Gaza Strip in response to the latest rocket attack toward southern Israel, according to the Associated Press.
There were reported casualties in Sunday morning's strike which comes on the heels of the third rocket attack from Gaza in the past two weeks.
Israel's prime minister has slammed the international community for its silence over recent rocket attacks from Gaza - while warning that a strong reprisal is forthcoming.
Benjamin Netanyahu said Sunday he hasn't heard a word of condemnation from the world about three rocket attacks from Gaza over the past two weeks. Netanyahu says it will be "interesting to see if this silence continues when we use all our strength in exercising our right to defend ourselves
Full report at:
https://english.alarabiya.net/en/News/middle-east/2015/06/07/Israel-strikes-Gaza-in-response-to-latest-rocket-attack.html
---------
Tehran 'arming Houthis': Brig. Gen. Ahmad Al-Assiri
June 7, 2015
JEDDAH: Houthis are receiving arms shipments from Iran, said Brig. Gen. Ahmad Al-Assiri, consultant in the office of the defense minister.
In a telephonic interview with Al-Arabiya channel on Saturday, Al-Assiri said the Houthi militias and forces loyal to ousted Yemeni President Ali Abdullah Saleh have, in their possession, nearly 300 Scud ballistic missiles. "They seized these weapons from the Yemeni Army," he said.
Al-Assiri's statement came in the aftermath of Saudi Arabia's successful interception of a Scud missile that was launched toward Khamis Mushayt by the Houthis on Friday.
Saudi troops used a Patriot missile battery to intercept the missile.
"Thanks to Allah, it was intercepted by the Royal Saudi Defense Forces by two Patriot missiles," said a statement from the coalition command center. The coalition forces destroyed the rocket launcher whose location was identified south of Saada.
Full report at:
He asserted that the military operations against Saleh and the Houthi militias will continue.
http://www.arabnews.com/news/758211
--------
Turkish president casts his vote in parliamentary elections, says high election turnout across country
June 7, 2015
Turkish President Recep Tayyip Erdogan has cast his vote together with his wife, Emine Erdogan, and daughter, Sümeyye Erdogan, at the Saffet Çebi middle school in Istanbul's Üsküdar district, where his residence is registered.
Erdogan told reporters after casting his vote that he observed a high turnout at the polls, called this turnout necessary for a strong democracy in the country.
"I observe that there is a high turnout [at the polls]. Thus, this is a necessary situation for a strong democracy," said Erdogan June 7, while thanking the nation for their high participation.
Erdogan said he would follow the elections results in Istanbul, unlike former elections when he was the country's prime minister.
Full report at:
country.aspx?pageID=238&nID=83597&NewsCatID=338
---------
Europe
EU delegation in Iran barred from speaking to foreign media
7 June 2015
An EU delegation was stopped Sunday from speaking to foreign media in Tehran, with an Iranian security official threatening action against reporters and photographers if they tried to film the incident.
Having called a press conference at their hotel in the capital, the plans of the Foreign Affairs Committee of the European Parliament were disrupted, prompting an angry exchange on the street.
After being ushered off hotel premises, Elmar Brok, chairman of the committee, angrily told the security official: "You cannot stop me from talking to reporters."
But Brok, a German MEP, was pointedly warned he had no right to speak to media near the end of a two-day trip, which comes as world powers near a June 30 deadline for a deal on Iran's disputed nuclear program.
Full report at:
https://english.alarabiya.net/en/media/digital/2015/06/07/EU-delegation-in-Iran-barred-from-speaking-to-foreign-media.html
---------
'Stalkers': Tracking IS's female cheerleaders online
June 7, 2015
In a nondescript office in central London, researcher Melanie Smith stares at her laptop, scrolling down the Twitter feed of a 17-year-old British girl who ran away to join Islamic State militants.
"What we're looking at here is when she announced her husband's death," said Smith, pointing to a post from a few months ago that says: "May Allah accept my husband."
There are also lots of retweets, from screenshots of IS propaganda videos to news articles, particularly around the time of the Islamist attack on the French satirical magazine Charlie Hebdo in Paris in January.
"We saw her retweeting pictures of the cartoonists who had been killed and also others who were celebrating the attacks," Smith said.
The account is one of several held by Salma Halane, a schoolgirl from the northern city of Manchester who ran away to join the IS group with her twin sister Zahra in July 2014.
The twins are among an estimated 550 Western women that have joined the Islamist militants who have seized swathes of territory across Syria and Iraq.
Full report at:
http://english.ahram.org.eg/NewsContent/2/8/132144/World/Region/Stalkers-Tracking-ISs-female-cheerleaders-online.aspx
---------
UN report cites Zionist 'crimes against children'
June 7, 2015
NEW YORK: UN agencies in Israel and the Palestinian territories reported an alarming number of child victims in last year's war in the Gaza Strip but were split on whether Israel should be put on a list of violators of children's rights, a UN document said.
The 22-page confidential country report, obtained by Reuters on Friday, was prepared by UN agencies on the ground for submission to the UN special envoy for children and armed conflict as she readied a draft of the annual list.
The special envoy, Leila Zerrougui of Algeria sent the draft to Secretary-General Ban Ki-moon, who has final say on the list, UN sources have said.
More than 2,100 Palestinians, mostly civilians, were killed in the conflict, while 67 Israeli soldiers and six civilians in Israel were killed. The country report said some 540 children were reportedly killed, 371 of them 12 years old or younger.
UN diplomatic sources told Reuters that Israel has lobbied hard against its inclusion and that Ban was leaning against including Israel. Diplomats said US Ambassador to the UN Samantha Power had urged Ban not to list Israel.
The draft report has strong language on alleged violations of children's rights in the Gaza war.
It specified what it said were unlawful deaths and injuries of Palestinian children caused by Israeli forces, detention of Palestinian children and attacks on schools. It said more information was needed on the question of recruitment of children by Palestinian armed groups.
http://www.arabnews.com/middle-east/news/757941
---------
British foreign secretary condemns Houthi attack on Saudi Arabia
7 June 2015
British Foreign Secretary Philip Hammond has condemned the Scud missile attack on Saudi Arabia by Yemeni Houthi militias, which was intercepted by Saudi air defense forces on Saturday.
Speaking after the missile attack near to the city of Khamis Mushayt on Saturday morning, Hammond said:
"I condemn this morning's Scud missile attack on Saudi Arabia that was fired from across the border with Yemen and endorse Saudi Arabia's right to take action to defend itself from such attacks.
"This attack must not be allowed to derail the political process, which remains the only way to bring long-term stability to Yemen."
https://english.alarabiya.net/en/News/middle-east/2015/06/07/British-foreign-secretary-condemns-attack-on-Saudi-Arabia.html
---------
Pope Francis says he senses 'atmosphere of war' in world
June 7, 2015
Pope Francis said the world was beset by an "atmosphere of war" and attacked those who are guilty of inciting and fomenting it.
Many conflicts across the planet amount to "a kind of third world war being fought piecemeal and, in the context of global communications, we sense an atmosphere of war," the pontiff said in a mass at Sarajevo's Olympic Stadium during a one-day visit to the Bosnian capital.
http://english.ahram.org.eg/NewsContent/2/9/132082/World/International/Pope-Francis-says-he-senses-atmosphere-of-war-in-w.aspx
---------
Southeast Asia
Liberal, Secular, Arab-Style, or Modern Malay, Embrace Them All: DAP
Jun 07 2015
KUALA LUMPUR, June 7 — Is a liberal or secular Malay less of a Malay? Must Malays choose between being influenced by the Arabic and the modern Western culture?
These were among questions posed at a forum here titled "Melayu dan makna-maknanya" (Malay and its meanings).
DAP's Dyana Sofya Mohd Daud stressed the importance of accepting the diversity within the Malay community, having also objected to the "standardisation" of Malays.
"In my opinion, we have to celebrate diversity. What is wrong if a Malay feels that Arab issues show that he is a Malay? For me, maybe I don't have the same elements but I'm still a Malay.
"There are many types of Malays, for example, Malays in Bangsar, Malays in Shah Alam, Malays in Johor, Malays in Penang. So what is wrong if we celebrate diversity? To me, there's no problem," the political secretary to DAP veteran Lim Kit Siang said during the forum yesterday.
Full report at:
http://www.themalaymailonline.com/malaysia/article/liberal-secular-arab-style-or-modern-malay-embrace-them-all#sthash.n8pVPKPs.dpuf
---------
Al-Qaeda-linked militants behead Philippine militiaman
June 7, 2015
Members of an Al-Qaeda-linked militant group beheaded a pro-government militiaman in the latest clash in the troubled southern Philippines on Saturday, a military statement said.
Two members of the militant Abu Sayyaf group were also killed in the fighting against soldiers and pro-government volunteers in the strife-torn southern island of Basilan, the statement said.
The troops were guarding a town's water system following a series of extortion demands by Abu Sayyaf when they were attacked by about 20 gunmen.
"A fire fight ensued for five minutes (and) resulted in the death of (one civilian auxiliary) who was eventually beheaded," the report said.
Full report at:
http://english.ahram.org.eg/NewsContent/2/9/132083/World/International/AlQaedalinked-militants-behead-Philippine-militiam.aspx
---------
PAS' cutting ties with DAP will give rise to Malay tsunami, says DAP Johor
Jun 07 2015
Cutting ties with DAP for the purpose of working with Umno to push for the implementation of hudud law, PAS risked losing support, especially among middle-ground Malays and those harbouring anti-Umno sentiments, said the soclal democratic party's Johor chief.
Johor DAP chairman Liew Chin Tong said that the motion by the Islamist party to sever ties with DAP without debate at its recent congress has set the stage for the realignment of Malaysian politics beyond the dynamics of PAS.
He also said that PAS was not concerned about winning federal power as the conservatives in the party were prepared to accept ruling party Umno's continuous rule.
In contrast, said Liew, the progressives had become a force in PAS after the sacking of Datuk Seri Anwar Ibrahim in 1998, and aspired to defeat Umno.
Full report at:
http://www.themalaysianinsider.com/malaysia/article/pas-cutting-ties-with-dap-will-give-rise-to-malay-tsunami-says-dap-johor#sthash.0y3CkxGP.dpuf
---------
URL: https://www.newageislam.com/islamic-world-news/new-age-islam-news-bureau/taliban-declares-mourning-for-9-women-and-children-killed-in-ghazni/d/103373