New Age Islam News Bureau
24 March 2016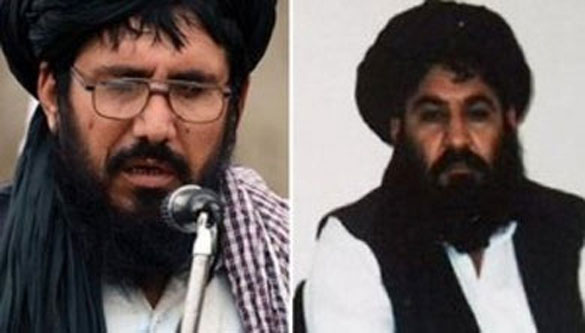 Mullah Mohammad Rasool and Mullah Akhtar Mansoor
---------
South Asia
• Taliban commander declare Jihad against the group's supreme leader in Badghis
• Gulbuddin's party wants 'power-sharing' with Kabul in exchange for peace
• Several militants killed by own car bomb in Helmand's Marja district
• 5 killed in latest Taliban infighting in Ghor province
• Insider attack claims lives of 7 policemen in Kandahar province
• 8 killed, 13 wounded in Afghan army airstrikes in Kunar and Nuristan: MoD
• Afghan army helicopters pound militants amid ongoing clashes in Nuristan
• Weapons depot seized, three suspects arrested in Logar
• Japan contributes $21.3m for humanitarian, emergency assistance in Afghanistan
-----
Mideast
• Police establish special unit to hunt Gülenists, accomplices
• Turkish military prevents Daesh attack on northern Iraq's Bashiqa camp
• Deputy Foreign Minister Iran Supports Yemen Peace Talks
• Bomb scare ends century-old run of Turkish soccer match
• Turkish Airlines cancels flights to Brussels until Friday after blasts
• Palestinian clowns offer relief to kids in Gaza hospitals
• UN Secretary General Ban Ki-moon discusses terror attacks, refugees with Istanbul mayor Topbaş
-----
Europe
• Brussels attacks: How Saudi Arabia's influence and a deal to get oil contracts sowed seeds of radicalism in Belgium
• After 27 years, Nobel panel condemns Rushdie death threats
• Prospect of Isis obtaining nuclear weapons 'obviously a concern', says UK Defence Secretary
• Salah Abdeslam says he 'didn't know' about the Brussels attacks
• 'We have to make sure that people who are drifting into an extremist mindset are yanked back': David Cameron
• Rise of Donald Trump is 'scary', says France's Nicolas Sarkozy
• Two convicted over moped drive-by London terror plot
• Man thought to be behind suicide bombing in Iraq was former Bradford College student
------
Africa
• Sudanese forces use 'sexual violence on female activists'
----
India
• India to play JeM man's audio clip for Pak. team
• Need to use resources of State for uplift of Muslims: Arun Jaitley
• Last call of missing Indian in Brussels tracked to metro
----
Arab World
• Iraq launches offensive to recapture Islamic State-held Mosul
• Syrian forces poised to retake IS-held Palmyra
• Syrian Army, Hezbollah Liberate Western Slopes of Mount Tar Near Palmyra
• Syrian Army Wins back Strategic Region in Eastern Ghouta
• ISIL Snatches Land from Rival Terrorists in Southern Syria
• Syrian Air Force Destroys ISIL Positions in Deir Ezzur
• Heavy Infighting Rages among Terrorists in Dara'a
• 4,500 American and European ISIL Militants Killed in Syria, Iraq
• ISIL Uses Modern Equipment to Attack Oil Fields in Salahuddin
------
Southeast Asia
• Malaysia arrests 13 people suspected of being linked to Islamic State
• MH370 search: Mozambique debris 'almost certainly' from Malaysia Airlines flight
• In Maldives, amendment to target 'terror groups' ratified
• New Myanmar finance chief falls victim to Pakistan's fake degree scam
----
North America
• US military strikes AQAP training camp in Yemen
----
Pakistan
• 84 Pakistanis held in Russia likely to be deported today: FO
-----
Compiled by New Age Islam News Bureau
URL: https://www.newageislam.com/islamic-world-news/new-age-islam-news-bureau/taliban-commander-declare-jihad-against-the-group's-supreme-leader-in-badghis/d/106746
-----
Taliban Commander Declare Jihad against the Group's Supreme Leader in Badghis
By GHANIZADA - Thu Mar 24 2016
Mullah Rasool and Mullah Akhtar
A Taliban group commander affiliated with Mullah Mohammad Rasool has declared Jihad against Taliban's self-declared supreme leader Mullah Akhtar Mansoor in northwestern Badghis province of Afghanistan.
The Taliban commander, Mullah Ghafoor Tufan, has accused Mansoor of working for Pakistan's Inter Service Intelligence (ISI) and murdering several Taliban leaders.
He has also accused Mullah Mansoor of killing the Taliban group founder Mullah Mohammad Omar, a claim which the Taliban dissident leaders were making following his death.
Another Taliban splinter group, Fidai Mahaz, said last year that Mullah Omar was poisoned to death by Mullah Mansoor following the opening of the Taliban liaison office in Qatar which resulted to serious rift among the two leaders.
The announcement to fight the militants loyal to Mansoor was made recently in Qads district which comes days after a deadly infighting among the fighters of the two top Taliban leaders.
The infighting in Shindand district of Herat province left nearly 200 militants dead and scores of others wounded, while the Taliban insurgents were accused of war crimes, including killing of civilians and torching their houses.
Meanwhile, the local residents in Qads district have expressed deep concerns regarding the gathering of the Taliban militants declaring war against each other, with local provincial council officials calling on the government to prevent the group to organize such gatherings.
http://www.khaama.com/taliban-commander-declare-jihad-against-the-groups-supreme-leader-in-badghis-0429
-----
Police Establish Special Unit to Hunt Gülenists, Accomplices
ERKAM ÇOBAN
ISTANBUL 24 March 2016: The Turkish National Police established a new unit to investigate the Gülenist activities members of the controversial Gülen Movement, which faces charges of running a terrorist organization with help from accomplices
As the Gülen Movement and the affiliated Gülenist Terror Organization (FETÖ) face more scrutiny, Turkish police have established a new task force dedicated to investigating the activities of the group.
The movement, led by US-based retired preacher Fethullah Gülen, is allegedly behind two coup attempts against the government in 2013, as well as a string of associated crimes, ranging from staging sham trials, illegal wiretapping and money laundering.
Since coup attempts led by Gülenists in which police and members of the judiciary linked to the movement tried to imprison ministers on what the government has described as trumped-up charges, the movement faces a massive purge. Hundreds of bureaucrats, police chiefs, judges and prosecutors loyal to the movement were dismissed and a large number of them are subject to prosecution on a wide range of charges.
Turkish National Police have established four new departments for more effective counter-terrorism efforts. The departments will be specialized to focus on terrorist organizations and the links between these groups.
One of those departments is the "Directorate of Fight Against Illegal Structures Disguised as Legal Structures." Though its name sounds awkward, it well describes the activities of Gülenists in Turkey where the group had infiltrators in the state. FETÖ is accused of hiding behind the clout of judges, prosecutors and police chiefs, who allegedly fabricated or forged evidence to imprison people they deemed hostile to the movement or simply installed Gülenists in posts previously occupied by the defendants in those trials. The department will coordinate operations against FETÖ or the Parallel State Structure, as referenced in indictments pointing to infiltrators in the state. The staff specializing in FETÖ cases will investigate connections between FETÖ members, their connections abroad as well as their financing, and infiltrators in the bureaucracy and groups that FETÖ worked with. The department will serve as an auxiliary to courts where cases related to the terrorist organization are being probed. The move aims to streamline efforts against the terrorist organization for better cooperation between state agencies.
The Gülen Movement, which boasts a large international following through its wide network of schools, companies and nonprofit organizations around the world, evolved from a simple religious community to a politicized cult. The group is now the target of multiple investigations into its activities in Turkey.
Gülen resides in Pennsylvania and has no intention of returning to Turkey for trial, as his lawyers have indicated. Authorities are working on an extradition process with the United States, as the first trial for Gülen started last year. If extradited, the 74-year-old will likely spend the rest of his life in prison, as the coup attempt charges he faces carry multiple life sentences.
Over the past weeks, authorities have stepped up the crackdown on Gülenists by detaining and arresting prominent figures linked to the group, including executives of a large business conglomerate accused of financing the terrorist organization. In a separate operation in the western city of Isparta, police detained the former head of a university and a group of Gülenist suspects accused of preparing blackmail videos targeting politicians.
A trial is also underway for nationwide fraud in an exam for civil servants in 2010. Gülenists are accused of supplying questions and answers for the exam to members of the movement, with the ultimate aim of installing people loyal to the movement in state-run agencies.
Also yesterday, the Supreme Court of Appeals ordered the capture of Celal Kara, a former prosecutor linked to the movement, who was earlier dismissed from the judiciary for his role in a 2013 probe, which is viewed as the first coup attempt targeting the government. Kara is among 54 judges and prosecutors who face life imprisonment in a case of illegal wiretapping. He is also among two other Gülen-affiliated prosecutors who remain at large, as they fled abroad following the start of an investigation into their ties to FETÖ. Kara and the others are believed to be in Europe.
http://www.dailysabah.com/investigations/2016/03/24/police-establish-special-unit-to-hunt-gulenists-accomplices
-----
Brussels Attacks: How Saudi Arabia's Influence and a Deal to Get Oil Contracts Sowed Seeds of Radicalism in Belgium
Leo Cendrowicz | The Independent | Mar 24, 2016
LONDON: There are many reasons why Belgium has become a hotbed of radical Islamism. Some of the answers may lie in the implanting of Saudi Salafist preachers in the country from the 1960s.
Keen to secure oil contracts, Belgium's King Baudouin made an offer to Saudi King Faisal, who had visited Brussels in 1967: Belgium would set up a mosque in the capital, and hire Gulf-trained clerics.
At the time, Belgium was encouraging Moroccan and Turkish workers to come into the country as cheap labour. The deal between the two Kings would make the mosque their main place of worship.
Brussels already had the perfect place. An oriental pavilion designed by Belgian architect Ernest Van Humbeek had been built in the capital's Cinquantenaire park in 1879, but was falling into disuse. The 1967 deal gave the Saudis a 99-year, rent-free lease. The pavilion was refashioned by the Saudis, opening in 1978 as the Great Mosque of Brussels, as well as the seat of the Islamic and Cultural Centre of Belgium (ICC).
Although the mosque was treated as the official voice of Muslims in Belgium, its radical Salafist teachings came from a very different tradition to the Islam of the new immigrants. Today, there are around 600,000 people of Moroccan and Turkish origin in Belgium, a country of 11 million.
"The Moroccan community comes from mountainous regions and rift valleys, not the desert. They come from the Maliki school of Islam, and are a lot more tolerant and open than the Muslims from other regions like Saudi Arabia," says George Dallemagne, a Belgian member of parliament for the centre-right CDH, an opposition party. "However, many of them were re-Islamified by the Salafist clerics and teachers from the Great Mosque. Some Moroccans were even given scholarships to study in Medina, in Saudi Arabia."
The mosque has sought to send a strong message opposing the latest attacks, with Mohamed Ndiaye, one of the centre's imams, releasing a statement in the aftermath: "We would like to express our deep sorrow over the Paris attacks. Our thoughts are with the people of Paris and the victims' families." Other officials have also come out to repeat the message that Islam is a religion of peace and has nothing to do with the terrorists of Molenbeek.
But the mosque remains a concern for the Belgian government: in August, a WikiLeaks cable revealed that a staff member of the Saudi embassy in Belgium was expelled years ago over his active role in spreading the extreme so-called Takfiri dogma. The cable - between the Saudi King and his Home Minister - referred to Belgian demands that the ICC's Saudi director, Khalid Alabri, should leave the country, saying that his messages were far too extreme, and that his status as director meant he should not be preaching anyway.
http://timesofindia.indiatimes.com/world/europe/Brussels-attacks-How-Saudi-Arabias-influence-and-a-deal-to-get-oil-contracts-sowed-seeds-of-radicalism-in-Belgium/articleshow/51537686.cms
------
After 27 Years, Nobel Panel Condemns Rushdie Death Threats
STOCKHOLM, March 24, 2016
It didn't specify what prompted its change of heart, but cited state-run Iranian media outlets' recent decision to raise the bounty by $600,000.
The Swedish Academy, which selects the winners of the Nobel Prize in literature, has condemned an Iranian death warrant against British writer Salman Rushdie, 27 years after it was pronounced.
Two members quit the academy in 1989 after it refused to condemn Ayatollah Ruholla Khomeini's fatwa against Mr. Rushdie for allegedly blaspheming Islam in his book "The Satanic Verses." Citing its code against political involvement, the academy issued a statement defending free expression but without explicitly supporting Mr. Rushdie.
It didn't specify what prompted its change of heart, but cited state-run Iranian media outlets' recent decision to raise the bounty by $600,000.
http://www.thehindu.com/news/international/after-27-years-nobel-panel-condemns-rushdie-death-threats/article8393402.ece
------
South Asia
Gulbuddin's party wants 'power-sharing' with Kabul in exchange for peace
By GHANIZADA - Wed Mar 23 2016
The Hezb-e-Islami party led by the notorious militants leader Gulbuddin Hekmatyar is seeking power-sharing with the Afghan government in exchange for peace deal, it has been reported.
The Afghan high peace council is busy negotiating peace deal with the delegation of Hezb-e-Islami party sent by Hekmatyar on 17th March.
According to the officials privy to the development, the party is seeking positions in the civil and security institutions of the country.
"At this stage, Hezb-e Islami is seeking to become a government partner by seeking positions in civil and security institutions," an Afghan official told RFE/RL on condition of anonymity because he was not authorized to speak about the ongoing talks.
The official further added that the government was "listening and evaluating the practicality of their demands," but that a final decision had not been made.
The Hezb-e-Islami was the first militant group to show a green light towards calls for peace talks following the conclusion of the last Quadrilateral Coordination Group meeting which called on the militant groups to start direct talks with the Afghan government.
"The QCG member states invite all Taliban and other groups to participate through their authorized representatives in the first round of direct peace talks with the Afghan government expected to take place by the first week of March 2016," according to a joint statement by QCG.
The call by Hezb-e-Islami party to participate in peace talks and sending the party's delegation to Kabul for the talks was welcomed by the Afghan officials amid hopes that the move would encourage other militant groups to join the talks.
However, the Taliban militants group rejected the offer and said the group will not participate in the peace talks, reiterating its preconditions for the talks which include the complete withdrawal of the foreign forces from the country.
http://www.khaama.com/gulbuddins-party-wants-power-sharing-with-kabul-in-exchange-for-peace-0428
------
Several militants killed by own car bomb in Helmand's Marja district
By ZABIHULLAH MOOSAKHAIL - Thu Mar 24 2016
Several militants have been killed by their own car bomb in Marja district of the restive Helmand province of Afghanistan.
Reports suggest that the insurgents were in the process of making a Vehicle-Borne Improvised Explosive Device (VBIED) which exploded on them at the last stages in 'Pinzam Block area' on Wednesday afternoon.
The district police chief while confirming the incident said several insurgents were killed and wounded in the powerful explosion.
Abdullah Khan did not provide a specific number of the casualties but a security official said on condition of anonymity that at least 10 bomb makers of Taliban group were killed in the explosion.
Taliban have not yet commented on the report.
Helmand is a volatile province in the southern part of the country where Taliban have a strong presence and often launch attacks on security forces.
Reports emerged earlier in the month stated that the group has taken control of Khanshin district following a coordinated attack.
Local officials said Taliban storm the district headquarters after over running security posts which were providing security to the district administrative compound.
http://www.khaama.com/several-militants-killed-by-won-bomb-in-helmands-marja-district-4758
------
5 killed in latest Taliban infighting in Ghor province
By GHANIZADA - Thu Mar 24 2016
At least five militants were killed in the latest infighting among the Taliban militants in western Ghor province of Afghanistan.
According to the local government officials, the clash between Mullah Mohammad Rasool and Mullah Akhtar Mansoor took place Ghorian district.
The officials further added that the militants killed during the infighting have been taken to Shindand district of Herat province.
The supporters of Mullah Rasool and Mullah Mansoor engaged in a week long infighting in Shindand district earlier this month.
According to the local officials, at least 200 militants were killed during the clashes and scores of others were wounded.
The officials also added that the Taliban militants belonging to the two sides also committed war crimes, including summary executions, beheadings and attacks on local residents.
Mullah Rasool is an arch rival to the self-declared Taliban supreme leader Mullah Mansoor who oppose with the leadership of Mansoor as successor of Mullah Omar.
Meanwhile, a prominent Taliban commander, Mullah Ghafoor Tufan, has declared jihad against the militants loyal to Mullah Mansoor in the northwestern Badghis province of Afghanistan.
The Taliban leader accused Mansoor of working for Pakistan's Inter Service Intelligence (ISI) and murdering several Taliban leaders.
http://www.khaama.com/5-killed-in-latest-taliban-infighting-in-ghor-province-0435
-----
Insider attack claims lives of 7 policemen in Kandahar province
By GHANIZADA - Thu Mar 24 2016
At least 7 policemen serving with the Afghan Local Police (ALP) forces were shot dead by their comrades in southern Kandahar province of Afghanistan.
According to the local government officials, the incident took place in the early hours of Thursday morning, involving three ALP forces who were apparently having links with the militants.
Provincial governor spokesman Samim Khpolwak confirmed the incident and said a investigation team has been sent to the area to probe the killing the policemen.
He did not disclose further information regarding the incident which took place in Arghandab district but a security official said 7 ALP men were killed in the attack.
The official further added that an ex-commander of the ALP forces were also among the assailants who managed to flee the area following the attack.
The Taliban militants group claimed responsibility behind the incident which takes place nearly a month after 4 policemen were martyred in a similar attack.
The last attack involving members of the policemen took place earlier this month on a highway between southern Uruzgan and Kandahar provinces.
Kandahar province has been witnessing relative peace during the recent months, however the anti-government armed militants have recently stepped up insurgency activities in parts of this province.
http://www.khaama.com/insider-attack-claims-lives-of-7-policemen-in-kandahar-province-0434
------
8 killed, 13 wounded in Afghan army airstrikes in Kunar and Nuristan: MoD
By GHANIZADA - Thu Mar 24 2016
At least 8 militants were killed and 13 others were wounded in airstrikes carried out by the Afghan Air Force (AAF) in eastern Kunar and Nuristan provinces.
The Ministry of Defense (MoD) said the airstrikes were carried out by the Afghan Air Force (AAF) gunships in Du'ab district of Nuristan and Asmar district of Kunar.
A statement by MoD said 6 militants were killed and 11 others were wounded in Baloch area of Asmar district in Kunar, while 2 militants were killed and 2 others were wounded in Nuristan.
The statement further added that a Dshk heavy machine gun of the militants was also damaged in the airstrike.
The anti-government armed militant groups including the Taliban militants have not commented regarding the report so far.
This comes as local officials in Nuristan province said heavy clashes continue since two days in Du'ab district after the Taliban militants launched coordinated attacks on security posts of the Afghan forces.
The officials further added that the security forces are receiving close-air support from the Afghan Air Force (AAF) as they fight back the militants.
The Afghan National Security Forces (ANSF) expects to start 2016 more capabilities as compared to the previous years in suppressing the anti-government armed militants as they have received additional equipment, particularly fighter fixed-wing and rotary aircraft.
Afghanistan recived A-29 light attack aircraft fromt the United States which followed by India's delivery of three Mi-25 gunship helicopters to the Afghan Air Force last year, a move that is expected to boost the capabilities of the Afghan forces in next fighting season.
http://www.khaama.com/8-killed-13-wounded-in-afghan-army-airstrikes-in-kunar-and-nuristan-mod-0432
-------
Afghan army helicopters pound militants amid ongoing clashes in Nuristan
By GHANIZADA - Thu Mar 24 2016
The Afghan Air Force (AAF) helicopters have pounded the anti-government armed militants for several times amid ongoing clashes in eastern Nuristan province of Afghanistan.
According to the local government officials, heavy gun battle continues between the Afghan security forces and the insurgents since two days.
Provincial governor Hafiz Abdul Qayum said at least 15 militants have been killed or wounded during the clashes so far as the Afghan forces are receiving close-air support by army helicopters.
He said the helicopters belonging to the Afghan Air Force (AAF) conducted at least three airstrikes targeting the militants after they launched coordinated in Du'ab district.
There are no reports regarding the possible casualties of the Afghan national security forces as a result of the ongoing clashes.
The Taliban militants group has not commented regarding the report so far.
Nuristan is among the relatively volatile provinces in eastern Afghanistan where anti-government armed militants are actively operating in a number of its districts and often carry out insurgency activities.
The foreign insurgents including the Pakistani militants are also crossing the Durand Line and conduct insurgency activities against the Afghan government and security forces.
http://www.khaama.com/afghan-army-helicopters-pound-militants-amid-ongoing-clashes-in-nuristan-0431
------
Weapons depot seized, three suspects arrested in Logar
By ZABIHULLAH MOOSAKHAIL - Thu Mar 24 2016
The National Directorate of Security (NDS) – Afghanistan's intelligence agency has seized a weapons depot of militants in central Logar province of Afghanistan.
Officials say the depot which had a rocket launcher and its two rounds, two kalashnikovs, a pistol, and two bags of explosive materials was discovered during a raid in Pul-e-Alam, the provincial capital, on Wednesday.
Another raid was jointly conducted by NDS personnel, police and army in in Jalozai area of Barak-i-Barak district in which three suspects were detained.
Security forces also seized a kalashnilov, two motorcycles and a 'Saracha' model vehicle during this raid.
Located some 60 km south of Kabul, Logar is comparatively a restive province of Afghanistan where Taliban, insurgents loyal to Gulbuddin Hekmatyar's Hizb-e-Islami and Daesh are operating.
However, it is yet unknown what group the weapons depot belonged to.
http://www.khaama.com/weapons-depot-seized-three-suspects-arrested-in-logar-4569
------
Japan contributes $21.3m for humanitarian, emergency assistance in Afghanistan
By GHANIZADA - Thu Mar 24 2016, 10:17 am
0 Comments85 viewsEmail Email Print Print
Japan aid to AfghanistanThe Government of Japan has recently provided a total of USD 21.3 million fund to UNHCR, UNICEF, UNMAS, WFP, and IOM for humanitarian and emergency assistance in Afghanistan.
According to a statement released by the Embassy of Japan in Kabul, the funding from Japan will allow those agencies to address humanitarian challenges through provision of vital support to refugees returning from Pakistan and Iran, and to people suffering from food insecurity, malnutrition, natural disaster, displacement and other critical situations. The contribution responds to requirements under UNOCHA's 2016 Humanitarian Response Plan.
The Office of the United Nations High Commissioner for Refugees (UNHCR) will receive USD 4,000,000 of the funding, the statement said, adding tha the funding will support UNHCR to facilitate voluntary repatriation of Afghan refugees from Iran and Pakistan, foster sustainable reintegration of the returnees in Afghanistan, and deliver humanitarian assistance to refugees in the south-eastern part of Afghanistan. Japan's contribution will help UNHCR to provide protection and monitoring of returnees, as well as to maintain the functioning of three encashment centres in Herat, Nangarhar and Kabul provinces, benefitting an estimated 30,000 Afghan returnees.
The statement further added that United Nations Children's Fund (UNICEF) will receive USD 2,300,000 ffrom the contribution of the Government of Japan that will enable UNICEF to provide water, sanitation and hygiene services to nearly 20,000 individuals who have been affected by conflict or natural disaster. The project supported by the Japanese fund will also facilitate protection of about 22,000 children and parents in emergency situations and reintegration of about 4,800 unaccompanied Afghan children repatriated from Iran to Afghanistan.
United Nations Mine Action Service (UNMAS) will receive USD 2,000,000 of the funding that will support demining activities in Kandahar, Kunduz, and Farah provinces, where many communities remain affected by landmines and explosive remnants of war (ERW). It is expected that a total of 1.76 square kilometres of land will be cleared of landmines and ERW, directly benefitting 13,198 people who reside within 500 meters from contaminated areas, with indirect beneficiaries estimated at 456,885. The assistance will contribute to socio-economic development as well as an overall reduction of civilian casualties.
The statement also added htat World Food Programme (WFP) will receive USD 8,000,000 of the funding that will help to directly address food insecurity and malnutrition in Afghanistan, as well as to provide Humanitarian Air Services. WFP will procure, transport, and distribute over 6,850 metric tonnes of food commodities including fortified wheat flour, fortified vegetable oil, pulses, salt and Ready to Use Supplementary Food. The food assistance is to assist about 100,000 vulnerable people with a family ration for the period from two months to nine months, especially survivors of natural disasters, internally displaced persons malnourished children and nursing mothers. In addition, WFP will operate air transportation services for passengers and cargos to facilitate humanitarian and development activities in Afghanistan, including timely medical and security evacuation as required.
International Organization for Migration (IOM) will receive USD 5,000,000 of the funds, the statement said, adding that the funding will support IOM to provide humanitarian assistance to 26,720 highly vulnerable undocumented Afghan returnees from Pakistan and Iran. Additionally, the project will establish and pilot a reintegration tracking mechanism for vulnerable undocumented returnees in the high-return provinces of Kabul, Nangarhar, Herat, Nimroz, Khost and Paktika. Japan's contribution will also help to facilitate return of 65 highly qualified Afghans from Iran, 35% of whom are expected to be female, to work in, and transfer their skills to, public institutions in Kabul.
The statement also added that Japan has been strongly supporting Afghanistan's nation-building efforts in a wide range of fields from security to economic and social development, providing assistance in various sectors including agriculture, education, health, infrastructure, rural development, and human capacity development. Cumulative Japanese assistance to Afghanistan since 2001 amounts to USD 6.131 billion.
http://www.khaama.com/japan-contributes-21-3m-for-humanitarian-emergency-assistance-in-afghanistan-0430
------
Mideast
Turkish military prevents Daesh attack on northern Iraq's Bashiqa camp
DAILY SABAH WITH AGENCIES
ISTANBUL: March 22, 2016: An attempted attack by DAESH terrorists on Bashiqa camp north of Mosul in Northern Iraq, where Turkish military experts are training Kurdistan Regional Government (KRG) peshmerga units, was prevented on Tuesday.
After the attack was prevented, Turkish artillery units pounded DAESH targets near the border.
Turkish soldiers deployed in the Bashiqa camp deterred a DAESH attack in January, killing 18 terrorists. President Recep Tayyip Erdoğan then said that the attack was a justification for the long-debated deployment of Turkish troops.
"I have been told that some 18 DAESH terrorists who tried to sneak into the Bashiqa camp were killed. The attack shows how important the steps taken regarding the Bashiqa decision are. The troops there are ready for anything at any given time. Iraq asked Turkey to train its soldiers and they are the ones showing us the place for the base," he said.
The attack took place while debates concerning the presence of recently deployed Turkish troops at the Bashiqa camp in Northern Iraq were continuing. Ankara has persistently emphasized its willingness to take part in the fight against DAESH.
On Dec. 4, 2015, 150 Turkish soldiers equipped with heavy weapons arrived on the outskirts of DAESH-held Mosul in Northern Iraq to train local Iraqi forces. Baghdad then demanded Ankara withdrawal the Turkish soldiers. Turkish officials responded by saying that Iraq's reaction was bizarre, saying that the troops were sent to Bashiqa in December 2014 at the request of Iraqi Prime Minister Haidar al-Abadi.
Turkey said the 150 soldiers and up to 25 tanks were stationed at Bashiqa to protect servicemen training Iraqi volunteers to fight DAESH. The training mission has been in operation since March of last year and is not assigned combat duties.
http://www.dailysabah.com/nation/2016/03/22/turkish-military-prevents-daesh-attack-on-northern-iraqs-bashiqa-camp
-----
Deputy Foreign Minister Iran Supports Yemen Peace Talks
Mar 24, 2016
TEHRAN (FNA)- Iranian Deputy Foreign Minister for Arab and African Affairs Hossein Amir Abdollahian voiced Tehran's strong support for national dialogue to end the ongoing war in Yemen.
Amir Abdollahian told United Nations Special Envoy to Yemen Ismail Ould Cheikh Ahmed earlier this week on a phone conversation that the settlement of the Yemeni crisis hinges on pursuit of a political approach, holding dialog among Yemeni sides, and encouraging all regional states to pursue talks as the solution to lead Yemen out of the current conflict.
"Iran's principled approach is based on a halt to war and settlement of differences through dialogue. Iran supports any effort to this end," he added.
The UN envoy, for his part, hailed constructive consultation with Iran on ways to resolve the Yemeni crisis through political approaches.
Ahmed called on all influential parties to help settle the crisis.
He said the Yemeni people are facing difficult conditions following Saudi Arabia's airstrikes against their country and expressed hope that establishment of ceasefire would prepare the ground for the delivery of humanitarian aid to crisis-ridden zones.
The Saudi-led coalition has been striking Yemen for one year now, leaving thousands of innocent people dead, injured and displaced.
Amnesty International has urged Washington and London to halt arms deliveries to Saudi Arabia, which is leading a brutal war on Yemen.
In a new statement released one year into the Saudi-led intervention and titled "Reckless arms flows decimate civilian lives," the rights watchdog urged the two Western powers and other states to "halt all transfers of arms for use in the Yemen conflict".
"Saudi Arabia's international partners have added fuel to the fire, flooding the region with arms despite the mounting evidence that such weaponry has facilitated appalling crimes and the clear risk that new supplies could be used for serious violations," said James Lynch, Amnesty International's regional deputy director.
Amnesty said that Washington and London, the largest arms suppliers to Saudi Arabia, "have continued to allow transfers of the type of arms that have been used to commit and facilitate serious abuses, generating a humanitarian crisis on an unprecedented scale."
The group said it has documented since the beginning of the conflict at least 32 air strikes by the Saudi-led coalition "that appear to have violated international humanitarian law".
The strikes had killed "almost 361 civilians, including at least 127 children", it said.
Amnesty also accused the coalition of having "repeatedly used cluster munitions, inherently indiscriminate weapons whose use is prohibited, in attacks that have killed and maimed civilians."
UN Security Council Resolution 2216, adopted in April last year, imposed an arms embargo only on the Yemeni army and Popular Committees that are resisting the Saudi-US aggression.
On February 25, the European Parliament called for an EU-wide arms embargo against Saudi Arabia, Amnesty said.
"In the absence of a Security Council embargo, Amnesty International is calling on all states to ensure that no party to the conflict in Yemen is supplied - either directly or indirectly - with weapons, munitions, military equipment or technology that would be used in the conflict."
The World Health Organization says Saudi war on Yemen has killed almost 6,300 people since March 2015, and the United Nations has warned of an unfolding humanitarian catastrophe.
http://en.farsnews.com/newstext.aspx?nn=13950105000050
------
Turkey detains Japanese man 'seeking to join Daesh' in Syria
DAILY SABAH WITH AFP
ISTANBUL: March 23, 2016
curity forces detained a Japanese citizen on suspicion of seeking to cross the border into Syria to join the Daesh terror organization, Turkish media outlets reported.
The 24-year-old man, whose name was given only as M.M., was detained late on Tuesday in the Nizip district of the southern city of Gaziantep, close to the Syrian border.
According to Doğan News Agency (DHA), he had admitted to wanting to travel to Syria after getting to know an unnamed contact by telephone and then agreeing to cross the frontier. He will be deported from Turkey back to Japan once the investigation is completed, DHA added. It said he was detained during a routine check by the gendarmerie while being driven toward the border settlement of Karkamış.
Anadolu Agency (AA) said police had confirmed his contacts with the group by examining messages on his cellphone. Images published by DHA showed the man kneeling in the middle of the road with his hands above his head, guarded by an armed soldier.
Officials from the Japanese Embassy in Ankara said they were "investigating" the reports on M.M.'s detention, and did not confirm whether the man was a Japanese national.
Turkish officials said security forces on Tuesday arrested 10 suspected Daesh members at the Syrian border in the Gaziantep region, including a would-be suicide bomber. Their nationalities were not disclosed.
Meanwhile, Istanbul police arrested seven suspects linked to the Daesh terrorist group during anti-terror raids on Tuesday.
During the raids conductedon three previously determined addresses by Istanbul Counter Terrorism and Intelligence Department units, in cooperation with German intelligence, two foreign and one Turkish national were arrested.
The alleged suspects were reportedly part of a possible terror attack plot against German schools and the German consulate in Istanbul.
The suspects were identified as Turkish national, Muhammet N., Iraqi national Ibrahim G.C.Ş., and Syrian national Ali F.. The Iraqi suspect was reportedly already on police's wanted list.
Turkey is on high security alert after a Daesh suicide bomber blew himself up on Istanbul's most famous shopping street, İstiklal Avenue, on Saturday. Due to its proximity to Syria and Iraq where the terrorist group is active, Turkey is exposed to threats from Daesh, which classifies the country among its many enemies. The group's clashes with rebels occasionally spill over into Turkish territories, while Turkey struggles to keep its lengthy border with war-torn Syria well-protected with walls and firepower.
Turkey has listed Daesh as a terrorist organization since 2013. So far, more than 3,300 suspects have been investigated for links to Daesh and other extremist groups.
According to the Interior Ministry, 847 suspected Daesh members are currently in custody, most of whom are foreigners.
Turkey is also at risk from a flow of foreign recruits to the group in Syria. The latest figures show some 27,000 people from more than 100 countries were stopped as they attempted to travel to Syria to join the militants. Though Daesh recruits militants from all across the globe including East Asian countries, no figures are available indicating whether or not Daesh recruited any from Japan. In 2015, the terrorist organization killed two Japanese hostages, a freelance journalist and a contractor, after the duo was captured by Daesh in Syria.
http://www.dailysabah.com/investigations/2016/03/23/turkey-detains-japanese-man-seeking-to-join-daesh-in-syria
-----
Turkish Airlines cancels flights to Brussels until Friday after blasts
DAILY SABAH WITH ANADOLU AGENCY
ISTANBUL, March 22, 2016: Turkey's national flagship carrier on Tuesday cancelled scheduled flights to Brussels until Friday after the city's main airport and subway was rocked by two explosions.
Reciprocal flights between Turkey and Brussels' Zaventem Airport have been cancelled until Friday, Turkish Airlines (THY) announced.
Multiple explosions hit the airport and subway in Brussels Tuesday morning, and according to preliminary reports left at least 26 people dead and 136 others injured, local media reports said.
The avenues of Turkey's capital are no longer bustling. The hotels in Istanbul and tourism centers are losing their customers. All the service sectors are suffering because of the climate of violence.
Adding to the prevailing depressive mood among many Turks, a major soccer competition was postponed at the last minute March 20 in Istanbul. The most recent casualty of terrorism in Turkey, the game was called off for the first time in 107 years.
Officials made the decision just one day after a suicide bomber believed to be affiliated with the Islamic State blew himself up in the center of Istanbul. The explosion killed five, including an Iranian tourist and three sightseers from Israel, and wounded 39. That attack came less than a week after a suicide mission by the Kurdistan Freedom Falcons, a group allegedly affiliated with the Kurdistan Workers Party (PKK), shed blood in the heart of Turkey's capital, Ankara.
President Recep Tayyip Erdogan announced that intelligence officials had made the dramatic decision to cancel the long-awaited soccer game. Intelligence sources informed the Turkish media that a suicide bomber, supposedly another IS affiliate, was planning to blow himself up at the end of the match, when the stands were packed, to maximize the death toll and its dramatic impact. Shortly before the game was to start, as the stands were filling up, fans were ordered to evacuate.
The Turkish authorities knew a terror attack was likely to happen and its rough timing, but not who was behind it, an indicator of Turkey's helplessness in the face of increasing terrorist acts in its metropolitan centers.
As Kurdish towns in the southeast are under curfew and have witnessed fighting between pro-PKK elements and government forces, the cities in the west are losing their vibrancy. Sirri Sureyya Onder, a well-known opposition deputy from the pro-Kurdish Peoples' Democratic Party, put it bluntly during a March 21 speech: "The Kurds are not able to enter their domiciles, while the Turks are not able to get out of their homes."
Most worryingly, the worst might be yet to come. The leaders of the insurgent PKK have been issuing threats for some time from their Qandil stronghold in the mountains on the Iran-Iraq frontier. They warn that when the snow melts and the weather permits them to enter Turkey from northern Iraq, they will take revenge against Turkey for destroying Kurdish towns in the southeast. They have stated openly that they will spread the armed struggle to the Kurdish countryside as well as in the urban centers. In a veiled threat, they implied that violence could reach past Ankara to the western cities.
The postponement of a major soccer game is likely to be followed by similar moves as such scares become more common. The Swedish national soccer team, apparently for security reasons, declined to bring its superstar Zlatan Ibrahimovic for a friendly March 24 match against Turkey in the Mediterranean town of Antalya. As the terrorist acts continue and increase, any public event could be canceled.
But what these cancellations reflect is a lack of direction. To a country faced with terrorism on multiple fronts, a leadership that does not know what to do and resorts to simple measures such as suspending public events does not inspire much optimism that it can overcome the violence, despite the fiery statements issued by its leaders each day.
al-monitor.com/pulse/originals/2016/03/turkey-istanbul-ankara-blast-isis-postponing-derby.html#ixzz43opo3ZPv
-----
Palestinian clowns offer relief to kids in Gaza hospitals
AP: 24 March 2016
A pair of Palestinian clowns is offering some laughs and relief to children with chronic illnesses at paediatric wards in hospitals in the Gaza Strip.
A pair of Palestinian clowns is offering some laughs and relief to children with chronic illnesses at paediatric wards in hospitals in the Gaza Strip.
With no circus or fair in Gaza to offer employment, Majed Kaloub and Alaa Miqdad began reaching out to kids in kindergartens and schools. Now, thanks to the aid of CISS, an Italian non-profit organisation, they have found a niche for their work in hospitals, bringing some much needed cheer to sick children.
Neither is formally trained in medical clowning, a profession popularised by American doctor Patch Adams and in which Israel's University of Haifa offers a bachelor's degree, but their goal is the same to raise the spirit of young patients in an already sad part of the world. "The clown is a supporting tool for the medical doctor," said Kaloub (24). "As much as we can, we try to let the child respond to us to reach his heart."
Both started clowning in hospitals in 2014. That summer, they worked with children traumatised by incessant air strikes during a deadly 50-war with Israel. They performed in damaged neighbourhoods and temporary shelters. The experience inspired the clowns to take their act to hospitals where there were children with chronic illnesses.
The clowns typically visit three medical centres a week. On a recent visit to al-Rantisi hospital, children jumped from their parents' laps to greet Miqdad, even before he put on his clown costume.
http://www.thehindu.com/news/international/palestinian-clowns-offer-relief-to-kids-in-gaza-hospitals/article8390339.ece
------
UN Secretary General Ban Ki-moon discusses terror attacks, refugees with Istanbul mayor Topbaş
DAILY SABAH
ISTANBUL, Mar 24, 2016
According to reports, the meeting was held at Istanbul's Atatürk Airport, where the mayor and UN chief discussed the threats posed by global terrorism and Syrian refugees, as well as cooperation between the UN and United Cities and Local Governments organization, where Topbaş currently serves as the president.
Underscoring Turkey's determined stance against terrorism in all platforms, Topbaş said that terrorism targets humanity as a whole and that the attacks in Paris, Ankara, Istanbul and Brussels has proved this.
''Meanwhile, Turkey also proves that humanity is not dead, by opening its doors to millions of Syrians'' Topbaş said, and added that he also discussed the preparations for the World Humanitarian Summit which will be held in Istanbul in May.
The World Humanitarian Summit (WHS) will take place in Istanbul on May 23-24 with the goal of bringing the global community together to commit to new ways of working together to save lives and reduce hardship around the globe.
http://www.dailysabah.com/war-on-terror/2016/03/24/un-secretary-general-ban-ki-moon-discusses-terror-attacks-refugees-with-istanbul-mayor-topbas
------
Europe
Prospect of Isis obtaining nuclear weapons 'obviously a concern', says UK Defence Secretary
Charlie Cooper Whitehall Correspondent, March 24, 2016
The prospect of Isis or another terror group with the "technical know-how" obtaining nuclear weapons is "obviously a concern", the Defence Secretary has said, as the Government considered its response to the deadly terror attacks in Brussels.
Michael Fallon stressed the importance of ensuring terror groups could not "get their hands on nuclear weapons" and said the UK was doing its part by maintaining strict export controls on the necessary technology.
Responding to questions following a speech on the UK's Trident nuclear weapons system, Mr Fallon said: "It is obviously a concern that we will see non-state actors with the finance and perhaps some of the technical know-how seeking to get hold of nuclear weapons.
"That is why we maintain very strict export control criteria for the technologies involved and why we need to be on our guard."
World powers are set to meet in Washington DC later this month for talks on preventing nuclear terrorism – the fourth such summit since 2010. In its Strategic Defence and Security Review 2015, the Government said the risk of terrorists obtaining nuclear, chemical or biological weapons may increase in the coming years.
Theresa May, the Home Secretary, set out the steps the Government is taking to tighten security at home amid heightened terror fears at home and abroad. She said the UK Border Force had increased the number of officers at ports in Belgium and France and introduced "enhanced searches" of inbound tourist vehicles.
http://www.independent.co.uk/news/uk/politics/prospect-of-isis-obtaining-nuclear-weapons-obviously-a-concern-says-defence-secretary-a6948691.html
----
Salah Abdeslam says he 'didn't know' about the Brussels attacks
Serina Sandhu: 24 March 2016
Salah Abdeslam, a suspect of the Paris atrocities which killed 130 people in November, did not know about the Brussels terror attacks, his lawyer has said.
Abdeslam was captured in a raid in Brussels just four days before 31 people were killed in multiple blasts in the Belgian capital.
On Tuesday, two explosions at Brussels Airport and one at Maalbeek Metro station also injured up to 270 people. Terror group Isis has claimed responsibility.
Abdeslam, who was detained and wounded after being on the run for four months, appeared in court in Brussels on Thursday. But Sven Mary, his lawyer, said his client was unaware of the attacks in Brussels, according to AFP.
The 26-year-old is wanted in France to face potential terrorism charges for his involvement in the Paris attacks on 13 November. Abdeslam, a French national who was born in Belgium, is the prime surviving suspect.
Speaking to local media, Mr Mary said Abdeslam would not fight extradition to France.
"Salah Abdeslam has asked me inform you that he wishes to leave for France as quickly as possible," said Mr Mary, adding that his client wanted "to explain himself in France".
He said that he had asked for a one month delay on any transfer while he studies a large dossier.
Previously, Mr Mary had said Abdeslam was cooperating with investigators in Brusseks but would fight being handed over to French authorities.
Abdeslam's court hearing on his detention in Brussels has been postponed until 7 April.
http://www.independent.co.uk/news/world/europe/salah-abdeslam-paris-terror-suspect-says-he-didn-t-know-about-the-brussels-attacks-a6949596.html
-----
'We have to make sure that people who are drifting into an extremist mindset are yanked back': David Cameron
Christian leaders in the UK should offer support to Muslim communities to tackle extremism, David Cameron said in the wake of the Brussels attacks.
The Prime Minister said Christians had to join the "great fight" by "reaching out" to Muslims and helping to stop people drifting into extremism.
Speaking at an Easter reception for Christians in Downing Street, he said he wanted to build "stronger and more resilient" communities.
"This is the great fight that we have to join," he said, according to a Bloomberg News report of the event. "Our brothers and sisters who are Muslims, they want our assistance.
"We should be reaching out and wanting to help them battle against extremism. We have to build stronger and more resilient communities. We have to make sure that people who are drifting into an extremist mindset are yanked back."
Setting out why liberal democracy would defeat extremism, he added: "In the end our values are far stronger, far more appealing than anything they have to offer ... It's not weak because we question our own faith. It's immensely strong.
"We are rational rather than extremist, but don't mistake that for lack of passion."
Mr Cameron used the event to talk again about his faith and why he believes Britain is a Christian country.
"We shouldn't be embarrassed about that," he said. "Sometimes people wonder if you say Britain is a Christian country that is somehow 'doing down' other faiths. Absolutely the reverse."
He added: "I'm not saying our country has reached some sort of perfection when it comes to building a multirace, multiethnic, multifaith, multicultural democracy, but I think it's pretty remarkable what we're building in our country ... A country where wherever you come from, whatever the colour of your skin, whatever god you worship, you can aim to make it to the very top."
In an explanation of the confrontational style he sometimes adopts in the Commons, he told the gathering: "When I try to explain and atone for my behaviour at Prime Minister's Questions, I sometimes say to people it's one of those occasions when you're either one of the Christians or one of the lions."
http://www.asianimage.co.uk/news/14381433._We_have_to_make_sure_that_people_who_are_drifting_into_an_extremist_mindset_are_yanked_back_/
-----
Man thought to be behind suicide bombing in Iraq was former Bradford College student
BRADFORD College has confirmed that a man named as carrying out an IS suicide bomb attack in Iraq on Monday was a former student.
Mohammed Rizwan Awan attended the city centre college for six months, starting in September 2007.
Islamic State named the bomber who carried out Monday's attack on Iraqi forces as as Abu Musa al-Britani, its customary description of a British national, and it posted images of him wearing robes and holding an AK47 on social media and propaganda pages.
Awan's family members in Huddersfield confirmed the photograph as being that of the 27-year old, who left the UK in 2015 to visit Mecca and never returned.
They have had no contact from him since.
He is thought to have lived in the Crosland Moor area of the town before leaving the country.
Awan's identity has not yet been confirmed by the British Government or Iraqi officials. The terrorist organisation has claimed 30 people died in the attack, which targeted state security personnel, as well as aligned Sunni forces. However, the Iraqi authorities say only the bomber died in the attack.
http://www.asianimage.co.uk/news/14378013.UPDATE__Man_thought_to_be_behind_suicide_bombing_in_Iraq_was_former_Bradford_College_student/?ref=ebln
-----
Rise of Donald Trump is 'scary', says France's Nicolas Sarkozy
Agencies | Mar 24, 2016
LONDON: Donald Trump is "scary" and his popularity in the United States is worrying, former French President Nicolas Sarkozy said on Wednesday.
"This man does not deserve as much attention as he gets. What is so scary is the impact he has," the leader of France's Republicans party said at an event in London.
"It makes me shudder. It makes me shudder about the state of a part of the American heartland," said Sarkozy, who led France between 2007 and 2012.
He criticised the "populism" and "vulgarity" of Trump's campaign, which has been marked by controversial statements about Muslims, as the real estate mogul closes in on his Republican Party's nomination for presidential candidate.
Sarkozy's time as president marked a warming of ties between Paris and Washington, after several years of chill under his predecessor.
After a short period out of the limelight, the 61-year-old has his eyes on another run for the presidency in 2017, but faces corruption charges relating to influence peddling.
http://timesofindia.indiatimes.com/world/us/Rise-of-Donald-Trump-is-scary-says-Frances-Nicolas-Sarkozy/articleshow/51537217.cms
------
Two convicted over moped drive-by London terror plot
Vikram Dodd Police and crime correspondent
Wednesday 23 March 2016
Two university students have been convicted of wanting to kill on London's streets in the name of Islamic State in what counter-terrorism officials believe was the most significant jihadi plot targeting Britain in a decade.
Police, soldiers and civilians were the intended targets of the conspiracy, with a moped being used to stage drive-by killings after the terrorists had gained a gun, silencer and ammunition from a London-based criminal.
Ringleader Tarik Hassane, 22, pleaded guilty to having directed others in the plot through encrypted social media programs, while he was a medical student.
His friend Suhaib Majeed, 21, a physics student at King's College London and a prize-winning maths student, was convicted of the plot by a jury at the Old Bailey. Both were born and raised in west London and were friends from Westminster City school. They were lured by extremist Islamist online propaganda and personal contacts to throw away glittering futures.
Hassane is suspected of associating with Mohammed Emwazi, who gained worldwide notoriety as Isis's "Jihadi John". They grew up in the same area and went to the same mosque in west London.
There was a five-year age difference between Hassane and Emwazi, and on social media Hassane wrote about the influence of older people he met at the mosque, when he was aged 16. He said he "met some good older practising bros. Started hanging around with them …"
The Guardian understands Hassane is also believed by investigators to have visited Isis-controlled territory in Syria and pledged allegiance to the terrorist group in July 2014.
In encrypted messages the group had called itself "the turnup terror squad", and the plotters were spurred on by a September 2014 fatwa from Isis urging "its supporters to kill disbelievers in the west". The effects of that have since been felt in Paris, Brussels and elsewhere.
Investigators believe the plotters led by Hassane were in contact and receiving directions from Isis in Syria in encrypted communications via social media platforms.
Hassane was known as "the surgeon" and communicated with other plotters via the encrypted messaging services Telegram and Pidgin, using a mixture of Arabic and London street slang.
They also used a suite of encryption tools developed by jihadis known as Asrar al-Mujahideen (Secrets of the Mujahideen), which was developed by al-Qaida.
Majeed was captured by a surveillance officer in Regent's Park. London, while communicating with the Isis contact, who was telling him how to install layers of encryption on a laptop.
Commander Dean Haydon, Scotland Yard's head of counter-terrorism, said: "This is an elevation of complexity … committing a drive-by shooting, acquiring a firearm, silencer and ammunition, in broad daylight targeting police, military and members of the public before making their getaway."
In early 2014 Hassane's extremism was clear in his writings on a social media platform called AskFM.
He praised Abu Muhammad al-Maqdisi, said by the US to be one of the most influential jihadi theorists, and there are frequent mentions of the writings and YouTube videos of Anwar al-Awlaki, the radical cleric linked to multiple terrorist plots against Britain and the US, who was killed in a drone strike.
Hassane praised Osama bin Laden as a martyr, writing: "He's a big mujahid. May Allah accept him as a shaheed [martyr] ameen."
He also wrote: "Muslims shouldn't be in the UK in the first place," and agreed it was obligatory to go to Syria.
By 2013 Hassane was a medical student in Khartoum, Sudan, at a university targeted by Islamist extremists.
The Islamic Cultural Association there was taken over by a British extremist, Mohammed Fakhri, in 2013 and other students became radicalised. Fakhri joined Isis, and 17 other British medical students also skipped their studies to join the nascent "caliphate".
The plot to attack London was stopped by a joint operation by Scotland Yard's counter-terrorism command and Britain's domestic and foreign intelligence services.
Analysis Moped plot students threw away promising future in pursuit of jihad
The first arrests came one day after the plotters took possession of the firearm, bullets and silencer in late September 2014. They were also trying to get money to buy a moped, which they would use to ride around west London to attack their targets.
These are believed to have been Shepherd's Bush police station and a Territorial Army barracks in White City, both in west London. They were reconnoitred by Hassane using Google Street View.
After his co-conspirators were arrested, Hassane still came back to London from Sudan, determined to carry out the attack, and was arrested in October 2014.
Isis intended Hassane to lead marauding armed terrorists to attack London weeks before the January 2015 atrocities in Paris. Haydon said: "It does draw parallels with Paris. The attackers were intent on murder, intent on using a firearm, intent on causing fear, distress, disorder in a particular part of west London.
http://www.theguardian.com/uk-news/2016/mar/23/two-convicted-over-moped-drive-by-london-terror-plot?utm
------
Africa
Sudanese Forces Use 'Sexual Violence on Female Activists'
AFP | Mar 24, 2016
NiCOSIA (Cyprus): Sudan's security forces have used sexual violence and intimidation to stop female activists from protesting and carrying out human rights campaigns, Human Rights Watch (HRW) said on Thursday.
The powerful National Intelligence and Security Service (NISS) regularly detains rights workers and opposition politicians in Sudan but HRW said female activists faced additional dangers from the security services.
"Women engaged in these efforts are targeted with a range of abuses, from rape and rape threats, to deliberate efforts to tar their reputations. Their male counterparts may be less likely to experience some of these abuses," the New York-based rights watchdog said in the report.
HRW said it had documented more than a dozen instances of security officers raping or threatening sexual violence against women activists, who were involved in protests, rights campaigns or had offered social services and legal aid or worked in the media.
"Many women said they felt that they had no choice but to abandon their work or flee the country, leaving careers and family behind," the report said. NISS officers were able to take advantage of "discriminatory laws and social conventions to silence" women activists, HRW Africa director Daniel Bekele said.
The report detailed the case of a group of female student activists from the war-torn western Darfur region who protested their eviction from their Khartoum University dormitory in October 2014. They were sexually harassed and beaten by security agents, HRW said, and one of the group's leaders told the rights group she was detained for more than a month and raped before being released.
http://timesofindia.indiatimes.com/world/middle-east/Sudanese-forces-use-sexual-violence-on-female-activists/articleshow/51539602.cms
------
India
India to Play JeM Man's Audio Clip for Pak. Team
VIJAITA SINGH
NEW DELHI, March 24, 2016: India will play a 15-minute audio message posted by Abdul Rauf Asghar, the brother of Jaish-e-Mohammad (JeM) chief Maulana Masood Azhar, in front of the Joint Investigation Team (JIT) from Pakistan, which arrives here on Sunday to probe the Pathankot attack.
The audio message, which will be presented as one of the many pieces of evidence establishing the Pakistan-based terror outfit's involvement in the attack, was posted on JeM's website, hours after the terrorists struck at the Pathankot airbase.
Asghar, who is one of the handlers of the Pathankot terrorists, is heard praising the attackers and also talks about the successful operation.
The National Investigation Agency (NIA) is in possession of phone intercepts between Asghar and four of the six terrorists, which have been sent to a forensic laboratory to match the voice samples with that available on the website. The audio clip has been obtained from rangonoor.com, a propaganda website of JeM.
The four terrorists had snatched mobile phones from taxi driver Ikagar Singh, police officer Salwinder Singh and his jeweller friend Rajesh Verma, with which they spoke to their handlers between December 31 and January 1. The airbase was attacked in the early hours of January 2.
Former Gurdaspur SP Salwinder Singh, whose SUV was snatched by terrorists to reach the airbase and who was subjected to intensive grilling by the NIA later on, has been asked to be present at the Pathankot airbase as a "witness" when Pakistan's JIT visits there. Officials said they would give full cooperation to the JIT which had expressed a desire to examine the witnesses. Mr. Singh is the complainant in the Pathankot FIR but till now he has not been given a clean chit by the NIA.
India has decided to provide access to the JIT to the Pathankot airbase on March 29. The witnesses include Defence Security Corps (DSC) personnel who were injured in an encounter with the terrorists. After they were challenged by the Garud commandos, the terrorists ran towards the DSC mess where they killed five DSC personnel and injured six others.
MEA, MHA discuss modalities:
On Wednesday, officials of the Ministry of External Affairs (MEA), Home Ministry and NIA discussed the modalities of the Pakistan team's visit. The JIT will arrive on March 27 through Wagah-Attari border and they will come to Delhi first. On Monday, the NIA will brief them about the evidences and the entire attack at theor headquarters. On Tuesday, the JIT will visit the Pathankot airbase. On Wednesday, the Pakistan team will present their case and the evidence collected by them so far. The discussion is expected to continue on Thursday (March 31) as well.
http://www.thehindu.com/news/national/india-to-play-jem-mans-audio-clip-for-pak-team/article8390411.ece
-----
Need to use resources of State for uplift of Muslims: Arun Jaitley
By Press Trust of India on March 23, 2016
There is a need to use resources gained from higher growth rates for uplift of minorities and "Muslims in particular" and the government is working on bringing uniformity to the growth of all sections, Finance Minister Arun Jaitley today said. Speaking at a lecture organised by the National Commission of Minorities (NCM), he also said the country experiences "policy diversions" from time to time, but maturity would be to ignore them and move towards growth in a "harmonious" way.(Also Read: Agriculture sector has to grow fastest to eradicate poverty: Arun Jaitley)
He referred to data on poverty related to various communities and said "there is a need, amongst minorities, amongst certain groups, Muslims in particular, that this advantage of the resource of the state, benefits them in more than one way." He said the government is working on the premise that all sections including minorities "need to grow and grow uniformly and is striving to bring uniformity to the extent possible". "We also have our fair share of our policy diversions. We are a functional and a reasonably noisy democracy. And therefore whereas the principal agenda really has to be to ensure the welfare of all, diversions do come up and some of them are extremely unpleasant diversions," Jaitley said.
http://www.india.com/news/india/need-to-use-resources-of-state-for-uplift-of-muslims-arun-jaitley-1054752/
------
Last call of missing Indian in Brussels tracked to metro
PTI
NEW DELHI, March 24, 2016: The last phone call of Infosys employee from Bengaluru, who has gone missing in Brussels since Tuesday's deadly terror strike, has been tracked to a metro rail in the Belgian capital, External Affairs Minister Sushma Swaraj on Thursday said.
The Indian Embassy in Brussels is making efforts to locate Raghavendran Ganesh since the terror attacks on the Brussels Airport and the metro which left 31 dead and 300 injured.
"Raghavendran Ganesh — We have tracked his last call in Brussels. He was travelling in the metro rail," Ms. Swaraj tweeted on Thursday.
Two Jet Airways crew members — Nidhi Chaphekar and Amit Motwanai — who were injured in the explosions at the airport are recovering well. Both Nidhi and Amit are from Mumbai.
"I have just spoken to Manjeev Puri, our Ambassador in Brussels. He has informed me that Nidhi and Amit are recovering well," Ms. Swaraj said.
The Brussels Airport serves as the European hub for the Mumbai-based Jet Airline's international operations, which is now being relocated to Dutch capital Amsterdam from coming Sunday.
http://www.thehindu.com/news/national/last-call-of-missing-indian-in-brussels-tracked-to-metro/article8393191.ece
-----
Arab World
Iraq Launches Offensive to Recapture Islamic State-Held Mosul
AP
BAGHDAD, March 24, 2016: Mosul is also the largest city in the group's self-declared caliphate.
The Iraqi military, backed by U.S-led coalition aircraft, on Thursday launched a long-awaited operation to recapture the northern city of Mosul from Islamic State (IS) militants, a military spokesman said.
In the push, Iraqi forces retook several villages on the outskirts of the town of Makhmour, east of Mosul, early in the morning on Thursday and hoisted the Iraqi flag there, according to the spokesman for the Joint Military Command, Brig. Gen. Yahya Rasool.
May take many months
It was not immediately clear how long such a complex and taxing offensive would take. Only recently, Iraqi and U.S. officials refrained to give a specific time on when the Mosul operation could begin, saying it would take many months to prepare Iraq's still struggling military for the long-anticipated task of retaking the key city.
Some U.S. and Iraqi officials have said it may not even be possible to retake it this year, despite repeated vows by Iraqi Prime Minister Haider al-Abadi.
Iraqi state-run TV interrupted its morning program Thursday with a series of news alerts announcing the operation and broadcasting patriotic songs and flag-waving video clips.
It is "Operation Conquest"
Brig. Gen. Rasool told The Associated Press that the U.S.-led international coalition was providing air support but would not divulge more details on the offensive, which he said was dubbed "Operation Conquest."
Mosul, Iraq's second-largest city, fell to the IS during the militants' June 2014 onslaught that captured large swathes of northern and western Iraq and also neighboring Syria. Mosul, located about 360 km northwest of Baghdad, also became the largest city in the IS's self-declared caliphate on the territories the militants' control.
After U.S. outpost announcement
Brig. Gen. Rasool's declaration came only few days after the US announced that it has set up a small Marine artillery outpost in northern Iraq to protect a nearby Iraqi military base in Makhour.
On Saturday, the militants fired to rockets at the base, killing a U.S. Marine and wounding several others.
http://www.thehindu.com/news/international/iraq-launches-offensive-to-recapture-islamic-stateheld-mosul/article8393165.ece
-------
Syrian forces poised to retake IS-held Palmyra
AP
DAMASCUS, March 24, 2016, The government forces now within 1 kilometre (half-a-mile) from the heart of the town: official
Syrian government forces were on the verge on Thursday of recapturing Palmyra, an ancient town in central Syria controlled by the Islamic State (IS) group, having pushed closer to its outer edges with the support of Russian airstrikes.
The government forces were now within 1 kilometre (half-a-mile) from the heart of the town, a Syrian official and an opposition monitoring group said.
A significant victory, if it happens
Recapturing the town, a UNESCO world heritage site, would be a significant victory for the army and its Russian allies. Russia withdrew most of its forces and aircraft from Syria last week after a long bombing campaign that succeeded in turning the tide of the war again in President Bashar Assad's favor.
From the nearby city of Homs, Gov. Talal Barazi told The Associated Press that the Syrian army has determined three directions to storm Palmyra and was now clearing all roads leading into the town of mines and explosives.
"We are doing it in an organized way"
"We might witness in the next 48 hours an overwhelming victory in Palmyra," he said over the phone, adding that "the army is advancing in a precise and organized way to protect what is possible of monuments and archaeological sites."
The Britain-based Syrian Observatory for Human Rights said that Syrian troops and Shiite militiamen helping them on the ground were facing tough resistance from IS extremists as they try to penetrate the town's limits.
IS has lost over 200 militants
The group, which monitors the Syrian conflict through a network of activists on the ground, said the IS lost over 200 militants since the government campaign to retake Palmyra began 17 days ago. The Observatory did not have figures for government losses.
Palmyra attracted tens of thousands of tourists to Syria every year and is affectionately known by Syrians as the "bride of the desert." In a big blow to the government, it was overrun by the IS last May.
No sense of history
In Palmyra, the IS destroyed many of the town's Roman-era relics, including the 2,000-year-old Temple of Bel and the iconic Arch of Triumph, and also killed dozens of captive Syrian soldiers and dissidents from the IS in public slayings at the town's grand roman theatre and other ruins.
Along with blowing up priceless archaeological treasures, among the first destructions the IS carried out in Palmyra was the demolishing of the town's infamous Tadmur prison, where thousands of Syrian government opponents had been imprisoned and tortured over the years.
As Syrian talks are on in Geneva
The advance on Palmyra comes against the backdrop of Syrian peace talks under way in Geneva between representative of the Damascus government and the Western-backed opposition. The talks, which have been boosted by a Russia-U.S.-brokered ceasefire that has mostly held since late February, were to adjourn on Thursday without having achieved any apparent breakthroughs.
The negotiations are scheduled to resume later in April.
Kerry's call to fight barbaric group
In Moscow, U.S. Secretary of State John Kerry called on Thursday for countries to boost efforts to fight the IS in Syria, Iraq and beyond in the wake of this week's deadly attacks in Brussels. He said the Brussels attack should put nations on notice that the terror threat emanating from the Middle East must be stopped.
Mr. Kerry is in Moscow for talks with Russian President Vladimir Putin and Foreign Minister Sergey Lavrov on Syria, Ukraine and the Brussels attacks. He will be seeking clarity from Mr. Putin and Mr. Lavrov as to where Russia stands on a political transition for Syria, particularly on the issue of Mr. Assad's future.
http://www.thehindu.com/news/international/syrian-forces-poised-to-retake-isheld-palmyra/article8393374.ece
-----
Syrian Army, Hezbollah Liberate Western Slopes of Mount Tar Near Palmyra
Mar 24, 2016
TEHRAN (FNA)- The Syrian Army, backed by Hezbollah imposed full control over the Western slopes of Jabal (Mount) Al-Tar after a violent battle with the ISIL terrorists near the city of Palmyra (Tadmur), Eastern Homs province.
According to a military source in Homs province, the Syrian Army forces and Hezbollah fighters broke ISIL's defense lines on the Western slopes of Jabal al-Tar, forcing them to retreat to the Eastern parts of the strategic mountain-top, West of Palmyra.
"If they mange to capture Jabal al-Tar from the ISIL terrorists, they will be able to complete the blockade of Al-Dowah, while reinforcing their presence near the ancient Palmyra Citadel," an army officer said.
In addition to the liberation of the Western slopes of Jabal Al-Tar, the Syrian Army and Hezbollah also captured a fuel station in the Southwestern suburbs of Palmyra.
With more regions in Eastern Homs province under their control, the Syrian Army is now within a 2 km distance from Palmyra city.
The ISIL terrorist group sustained growing losses and damage in the Syrian air force's nonstop assaults in the Eastern and Southeastern parts of Homs province, battlefield reports said.
"The Syrian fighter jets carried out several combat flights over the concentration centers of the ISIL militant group in the vicinity of Palmyra and in the city of Quaryatayn in Central Homs province, inflicting heavy damage and losses on the terrorists," the reports said.
http://en.farsnews.com/newstext.aspx?nn=13950105000210
-----
Syrian Army Wins back Strategic Region in Eastern Ghouta
Mar 24, 2016
TEHRAN (FNA)- Military sources said the Syrian Army and their allies have established full control over strategic hills in Eastern Ghouta region in Damascus province after heavy clashes with the al-Nusra terrorists in the region.
"The Syrian Army alongside popular forces managed to push back the militant groups' defenses in Marj region in Eastern Ghouta province, and seized full control over the strategic Tal al-Frat region.
Meanwhile, humanitarian aid packages were distributed in at least three towns in the Southern parts of Damascus province to provide humanitarian relief to the beleaguered civilians living inside the war-torn area.
According to a source in Damascus, the humanitarian relief convoy has delivered aid to the residents of three towns of Yalda, Babbila and Seyedi Meqdad in the Southern parts of Damascus province.
The humanitarian aid comprising 600 food packages and 200 packages which included toy for kids were delivered as a part of Russian support to the areas in Damascus province where peace and reconciliation are established.
In a recent development, the Syrian air force pounded the al-Nusra militants' positions in Eastern Ghouta ,Damascus province, inflicting a number of casualties on the terrorists.
"The Syrian fighter jets pounded the military positions and gathering centers of the al-Nusra terrorists in al-Marj region in Eastern Ghouta, which resulted in the destruction of the terrorists' military grid," a battlefield source said.
The Syrian air force has intensified its air raids on militants' strongholds across Ghouta region inflicting growing loss and damage on the terrorists.
http://en.farsnews.com/newstext.aspx?nn=13950105000310
------
ISIL Snatches Land from Rival Terrorists in Southern Syria
Mar 23, 2016
TEHRAN (FNA)- The ISIL-linked group, Yarmouk Martyrs Brigade, captured several towns and key areas from other terrorist groups inside the Dara'a province, battlefield sources said on Wednesday.
ISIL captured Tasil (Taseel) from rival groups, while the group also managed to inflict casualties on the al-Nusra group including its leader, "Abu Adham".
In a significant development, the ISIL-affiliated group also entered the rebel-held towns of Tafas and Muzayrib today as the rebel line of defence seems to have collapsed.
Due to ongoing clashes, these towns remain contested as fighters on both sides continue to battle it out.
Also, some 100 ISIL fighters have entrenched themselves inside the isolated Northern districts of the town of Inkhil, Northern Daraa province.
Meanwhile, the Syrian Army units along with the National Defence Forces (NDF) of Daraa watch all these events from afar without suffering a single casualty.
Despite temporary passiveness, government troops have captured Al-Naymah and Itman suburbs in Daraa city along with the strategic city of Sheikh Miskeen, all within the past two months.
Also, with the government troops having captured 50% the Daraa Al-Balad district in Daraa city some 40 days ago, insurgents now face losses all across the province of Daraa.
With a ceasefire settled in Geneva, skirmishes in the Daraa province have largely halted in the past 30 days, however ISIL never agreed to peace with any factions and as such, have begun this major offensive mainly against rebels of the Free Syrian Army and al-Nusra group.
Due to the majority of terrorists being deployed on the frontline with government soldiers, ISIL has been able to attack rebel forces from behind and capture several key towns with relative ease.
The Yarmouk Martyrs Brigade gained attention world-wide when the militia abducted 21 Filipino UN soldiers back in March, 2013.
At the time, their fighters were loyal to al-Nusra, however with ISIL proclaiming its caliphate in the summer of 2014, the leaders of Yarmouk Martyrs Brigade were quick to show allegiance to the ISIL.
http://en.farsnews.com/newstext.aspx?nn=13950104000279
------
Syrian Air Force Destroys ISIL Positions in Deir Ezzur
Mar 24, 2016
TEHRAN (FNA)- The Syrian Air Force launched several airstrikes on ISIL positions in the city of Deir Ezzur's Eastern Suburbs on Thursday, a military source said.
"The Syrian Air Force also destroyed as many as a dozen pick-up trucks and armored vehicles of ISIL in the al-Uthmaniyah district," the source said.
In addition to the destruction of the terrorist group's vehicles, the Syrian air force jets destroyed an ISIL warehouse during the aerial operation over the region, the source added.
In a recent development, ISIL's top field commander in Deir Ezzur province was killed by the Syrian Army when his unit launched a large-scale offensive to seize the provincial capital, a source reported on Wednesday.
According to a source from the Syrian Army's Airborne Brigade of the Republican Guard, the ISIL commander was identified as "Salahiddeen Al-Beljiki", a veteran terrorist from Belgium.
One day after Al-Beljiki's death, the Syrian Armed Forces also reported the death of another ISILL field command "Sayaf Al-Baqawi", nom de guerre "Sayaf Al-Mughrabi.
Al-Baqawi's was a Moroccan national that led ISIL's "Al-Bitar Battalions" in the battle for Deir Ezzur province and his death was reported to the Moroccan authorities after his identification.
http://en.farsnews.com/newstext.aspx?nn=13950105000150
------
Heavy Infighting Rages among Terrorists in Dara'a
Mar 24, 2016
TEHRAN (FNA)- Field sources in the Western parts of Syria's Dara'a province revealed intense infighting between a-Nusra Front terrorists and the ISIL-affiliated Yarmouk Martyrs Brigade group in the area.
During the clashes that have been underway all throughout the last week in the town Ain al-Zekr, both groups sustained significant casualties.
Also in another development in Dara'a, heavy clashes were reported between the two groups of the Free Syrian Army and Yarmouk Martyrs Brigade in Zizun and Tal Shahab.
In another development in Dara'a province, Jeish al-Islam terrorist group claimed on its pages in the social media that it has killed 40 ISIL militants during the clashes in al-Midrib West of Dara'a province.
Early this week, sources in the Western parts of Dara'a said intense infighting was underway between the Free Syrian Army (FSA) and Jaish Yarmouk on one side and the ISIL-affiliated Yarmouk Martyrs Brigade terrorist group on the other side in the Western parts of Dara'a.
During the clashes, a commander of al-Nusra Front named Qassem al-Mosalemah (Abolhoda) was killed.
Also in another development in Dara'a, a leader of Yarmouk Martyrs Brigade, nom de guerre Abu al-Tabn, was severely injured in clashes with Islamic Muthanna Movement (a Syrian Salafist rebel group) in a region near Adwan village.
Two terrorist groups fighting under the flag of the Free Syrian Army in Syria's Southern province of Dara'a had also engaged in fierce clashes with each other.
http://en.farsnews.com/newstext.aspx?nn=13950105000356
------
4,500 American and European ISIL Militants Killed in Syria, Iraq
Mar 24, 2016
TEHRAN (FNA)- A recent report revealed, that 4500 ISIL militants out of ten thousand American and European terrorists who joined the ISIL were killed in Iraq and Syria.
The report said "almost half of the western jihadists fighting for ISIL have been killed in Syria and Iraq," noting that, "4500 foreign fighters, including women and youths, were killed in Iraq and Syria during the battles, aerial bombardments and artillery shelling conducted in the two countries," Iraqi News said.
The New America Foundation for Studies and Research said in a statement said, "Around six per cent of the women fighters have also died in battles," indicating that, "The statistics excluded the foreign fighters of Afghanistan, Chechnya, Asia and African countries."
http://en.farsnews.com/newstext.aspx?nn=13950105000396
-----
ISIL Uses Modern Equipment to Attack Oil Fields in Salahuddin
Mar 24, 2016
TEHRAN (FNA)- Badr Organization Leader Sadiq al-Husseini revealed that the ISIL terrorists used modern equipment and weapons made in 2016 during its latest attacks on Alas and Ajil oil fields in Salahuddin Province.
Husseini said in a statement that "the latest attacks that were launched on Ajil and Alas oil fields in Salahuddin Province revealed that ISIL is using modern equipment made in 2016".
"The modern equipment that were used in the recent attacks proved that ISIL has weapons suppliers in the neighboring countries," he added.
http://en.farsnews.com/newstext.aspx?nn=13950105000388
------
Southeast Asia
Malaysia Arrests 13 People Suspected Of Being Linked To Islamic State
Mar 24, 2016
KUALA LUMPUR - Malaysian authorities have arrested 13 people believed to be part of cells linked to Islamic State (IS), the inspector-general of police said on Thursday.
The suspects were caught in an anti-terror sting launched on Wednesday, the latest arrests in an ongoing operation to clamp down on the spread of militancy in the Muslim-majority country.
The Malaysian police also confiscated IS-linked documents during the raid, inspector general Khalid Abu Bakar said in a Twitter posting.
The announcement of the arrests was made after Khalid said in an interview, published on Thursday by local daily The Star, that police will set up a counter-terrorism unit in every state in the country.
Khalid said in the interview that the deadly Brussels airport attack made it clear that Malaysian authorities have to take action "on the slightest information" and that they "cannot afford to wait and see" if there could be an actual attack.
Malaysia has been on high alert since IS-linked militants carried out an armed attack in Jakarta, Indonesia on January 14.
Malaysian Home Minister Ahmad Zahid Hamidi said earlier this month that the police had foiled an IS plot to kidnap Prime Minister Najib Razak and other senior ministers last year.
Malaysia has arrested at least 160 people since January 2015 on suspicion of being involved in militant activities, including seven believed to have been part of an IS cell.
http://news.asiaone.com/news/malaysia/malaysia-arrests-13-people-suspected-being-linked-islamic-state#sthash.HUoIT4kr.dpuf
-------
MH370 search: Mozambique debris 'almost certainly' from Malaysia Airlines flight
KRISTEN GELINEAU, Serina Sandhu 24 March 2016
Two pieces of debris found along the coast of Mozambique are "almost certainly" from the missing Malaysia Airlines Flight 370, according to officials.
Following an analysis by an international investigation team, both parts are consistent with panels from the Boeing 777 aircraft, said Australia's Transport Minister Darren Chester.
Flight 370 disappeared on 8 March 2014 while it was travelling from Kuala Lumpur to Beijing.
The discovery of the debris along the coast of the African country reinforces assertions that the aircraft, which was carrying 239 people, crashed somewhere in the southern Indian Ocean – around 6,000km to the east of Mozambique.
Authorities had initially predicted that debris could be carried to the east coast of Africa.
Mr Chester said: "The analysis has concluded the debris is almost certainly from MH370."
The key to establishing the plane's fate - one of the biggest unsolved mysteries in aviation - would be finding the main underwater wreckage, allowing investigators to examine the black boxes.
However, no trace of the wreckage has been found yet despite crews having combed through more than 70 per cent of the search zone in the Indian Ocean. By the end of June, the entire search is expected to be completed.
Mr Chester said he was hopeful the wreckage would be uncovered: "There are 25,000sq/km of the underwater search area still to be searched."
"We are focussing on completing this task and remain hopeful the aircraft will be found."
Examination of a fourth piece of debris, found by an archaeologist along the southern coast of South Africa, is also set to take place. It is possible it could be part of an aircraft engine. Additional reporting by AP
http://www.independent.co.uk/news/world/africa/mh370-search-mozambique-debris-almost-certainly-from-malaysia-airlines-flight-a6949401.html
-----
In Maldives, amendment to target 'terror groups' ratified
T. RAMAKRISHNAN: 24 03 16
Maldives President Abdulla Yameen Abdul Gayoom has ratified an amendment to the Act on Prohibition of Terrorism, empowering the authorities to prepare a list of suspected terrorist organisations.
The Maldives National Defence Force would monitor such organisations as per instructions from the National Security Council. As per the law that was enacted in October 2015, the list of organisations would be kept secret, Ibrahim Hussain Shihab, international spokesperson at the President's office, told The Hindu on Wednesday.
A week ago, the amendment was adopted by the country's legislature, the People's Majlis, with 43 votes in favour of the move and 16 votes against. A few days ago, it was announced that the amendment has ratification of the President.
Explaining the rationale behind the amendment, Mr. Shihab said it was mooted on the advice of the National Security Council. Asked whether any political party would be declared as a suspected terrorist organisation, the spokesperson replied that only those engaged in "aiding, abetting, and engaging in terrorist acts" would be targeted under the list and "any administration gains no advantage by listing a political party within the list".
Criticising the amendment, Imthiyaz Fahmy, spokesperson of the principal Opposition party, Maldivian Democratic Party (MDP), questioned the need for keeping the list of organisations secret. There were chances of people getting caught for having supported or promoted any organisation that would be a terrorist organisation as per the list without knowing the facts. "There must be transparency," Mr. Fahmy asserted, adding that his party's proposals were rejected.
He accused the government of seeking to use the law against political parties and contended that those who were "real threats to the country" had not been brought to book.
http://www.thehindu.com/news/international/in-maldives-amendment-to-target-terror-groups-ratified/article8390327.ece
-----
New Myanmar finance chief falls victim to Pakistan's fake degree scam
By AFP: March 24, 2016
YANGON: Myanmar's incoming finance minister said Wednesday he was shocked to discover his PhD is fake after netizens pointed out he had been a victim of a high profile scam run out of Pakistan that ensnared thousands of others.
Kyaw Win was one of 18 people named on Tuesday to the incoming cabinet of democracy veteran Aung San Suu Kyi, whose National League for Democracy (NLD) will take office at the end of the month — ending decades of military-led rule.
Axact earned over $205 million through selling fake degrees: FIA report
The 68-year-old was one of six NLD members in Suu Kyi's big-tent cabinet — which also includes three army officers as well as opposition party figures.
Suu Kyi, who is banned from becoming president, was confirmed as foreign minister while the other roles are expected to be formally announced later in the week.
However local media widely published a leaked list of earmarked roles, with Kyaw Win, a career bureaucrat and adviser to the NLD's economics committee, taking the influential finance and planning portfolio.
An official CV issued by the NLD shortly after the cabinet announcement stated he held a PhD from a college in the United States called Brooklyn Park University.
But social media users quickly pointed out that Brooklyn Park was one of a number of fake online organisations created by a Pakistani group that ran a global fraudulent degree empire out of Karachi until its exposure last year.
Why I left Axact: The inside picture
"I openly admit it that I studied at this fake online university in my older age," Kyaw Win, who confirmed he would take on the finance portfolio, told AFP.
He explained how, like many others in junta-run Myanmar, he had a thirst for education but little opportunity to study abroad.
"Education has been my dream since I was young. I never stopped studying my whole life. But I could not study abroad because I did not have enough money," he said.
Kyaw Win said he did not discover the degree was fake until the the news spread on Facebook after his cabinet nomination Tuesday, an experience he described as "really painful".
Myanmar has undergone a dramatic political transformation since 2011 after almost a half-century of isolation under a military junta.
Its growing political openness was crowned by a historic November election that saw the NLD storm to victory.
Suu Kyi, 70, is the only woman on the incoming cabinet. There is widespread speculation she will take on four ministerial portfolios: foreign affairs, education, energy and the president's office.
Blocked from becoming president by a junta-era constitution because she married and had children with a foreigner, she has vowed to rule through a proxy president, the recently elected Htin Kyaw.
http://tribune.com.pk/story/1071651/new-myanmar-finance-chief-discovers-phd-issued-from-pakistan-is-fake/
------
North America
US military strikes AQAP training camp in Yemen
BY BILL ROGGIO | March 23, 2016
The US military killed "dozens" of al Qaeda in the Arabian Peninsula fighters in an airstrike yesterday that targeted a training camp in western Yemen. While the US military claims that the strike will deny AQAP "safe haven," the air campaign waged by the US against the jihadist group since 2009 has done little to halt its advance.
The US military confirmed it targeted the training facility in a statement released on March 22 on the Department of Defense's website.
"The camp was located in the mountains, and was being used by more than 70 AQAP terrorists," the statement, which was attributed to spokesman Peter Cook, notes.
"We continue to assess the results of the operation, but our initial assessment is that dozens of AQAP fighters have been removed from the battlefield," Cook continues. "This strike deals a blow to AQAP's ability to use Yemen as a base for attacks that threaten US persons, and it demonstrates our commitment to defeating al Qaeda and denying it safe haven."
More than 50 AQAP fighters are reported to have been killed and 30 more are said to have been wounded, Reuters reported. The strike is said to have taken place as the AQAP fighters were lining up for dinner.
While the strike may have killed and wounded scores of AQAP fighters, it likely will do little to deny AQAP "safe haven" in southern Yemen. Since going on the offensive last year, AQAP controls at least eight major cities and towns in southern Yemen, including the provincial capitals of Hadramout (Mukallah), Abyan (Zinjibar), and Lahj (Houta). AQAP has been administering governance in many of the areas it controls. [See LWJ reports, Al Qaeda seizes more territory in southern Yemen and AQAP provides social services, implements sharia while advancing in southern Yemen.]
The US has actively targeted AQAP leaders, operatives, and fighters in multiple airstrikes since 2009, but it has not halted AQAP's advance in the south. Although AQAP has lost several key leaders in American drone strikes since early 2015, this has not slowed al Qaeda's guerrilla war. Among those killed was AQAP's emir, Nasir al Wuhayshi, who also served as a top official in al Qaeda's global organization. Not only has AQAP continued to gain ground, it also quickly introduced new leaders to serve as public faces for the organization.
The US airstrikes have also not stopped AQAP from striking in the West. AQAP has been behind multiple plots to attack the US and the West. Most recently, in January 2015, two AQAP fighters raided the headquarters of the French satirical magazine Charlie Hebdo in the heart of Paris, and killed 12 people. AQAP has also provided key technical support to al Qaeda's other branches, including Shabaab in Somalia and the Al Nusrah Front in Syria.
Bill Roggio is a Senior Fellow at the Foundation for Defense of Democracies and the Editor of The Long War Journal.
http://www.longwarjournal.org/archives/2016/03/us-military-strikes-aqap-training-camp-in-yemen.php?utm
------
U.S. agency asked me to visit Pakistan, claims Headley
SONAM SAIGAL: 24 March 2016
In another sensational claim, Pakistani-American terrorist and Lashkar-e-Taiba (LeT) operative David Coleman Headley told a court that after he was arrested by the United States' Drug Enforcement Agency (DEA) in 1997, the agency instructed him to visit Pakistan and had sponsored the trip as well.
Headley, who was made an approver in the Mumbai 26/11 trial, made this claim on Wednesday, when he was being cross-examined before Judge G.A. Sanap during a trial against one of the alleged plotters, Syed Zabiuddin Ansari alias Abu Jundal.
Headley surprised many when he claimed that he had not received any money from LeT, and that he had donated 60 to 70 lakh Pakistani rupees to the terrorist outfit. He revealed the information of donating money to LeT when defence advocate Abdul Wahab Khan asked him if he had bought a few shops in United Arab Emirates (UAE) from the money he received from LeT.
Headley also said that the money he donated was unlikely used for the November attacks."It was impossible that the money would be used [for 26/11 attack] as 2006 was the last time I had donated," he said. To a question if the money was donated for terrorist activities, he said "I had donated for many things."
Advocate Khan asked Headley if Tahawwur Hussain Rana, fellow accused in the Denmark plot, knew about his association with LeT. To which, Headley replied in affirmative. Headley told the court that he had also informed Dr Rana about the training he underwent with the terror outfit.
Headley, went ahead, and said that he had told Dr Rana that he was acting as spy for the Mumbai attacks just before the conspiracy to attack was to end. He added that Dr Rana did not object to his association and participation in the attacks and said that, "He never objected."
He also said that the only objection Dr Rana had was that he did not want Headley to continue using his office in Mumbai, which he had conceded to and had stopped using the office in July 2008, three months before the attacks that killed 164 people.
On being asked about his first wife Shazia's whereabouts and whether she was in USA or Pakistan, Headley said, "I can't disclose her location as there safety and security issues. On further being asked about Shazia, Headley said, "I am not going to answer any questions about my wife." He also said that Shazia never visited India and that he had told her about his relation with LeT.
Asked if Shazia was happy with his association with LeT, Headley snapped and said "aapko samaj mein aata hain ya nahin (do you understand or not) my communication with my wife is private and I am not going to share anything between me and my wife as it is personal family matter."
The 55-year-old deposing from an undisclosed location also said that the he had mentioned about his previous convictions in an application form when he wanted to change his name from Dawood Sayed Gilani to David Coleman Headley on his American passport. The cross examination will continue on Thursday.
http://www.thehindu.com/news/cities/mumbai/headleys-97-pak-visit-was-sponsored-by-us-dea/article8389565.ece
-------
Pakistan
84 Pakistanis held in Russia likely to be deported today: FO
DAWN.COM | MATEEN HAIDER — 24 03 2016
KARACHI: The Foreign Office has stated that 84 Pakistani nationals who are being held at Moscow airport since early morning are likely to be deported by Thursday evening.
"The Foreign office is in touch with Russian embassy in Islamabad on the matter," said FO spokesperson Nafees Zakaria.
Prime Minister Nawaz Sharif has taken notice of the reports of Pakistanis stranded in Moscow and has directed Pakistan's Ambassador in Russia to help them, a statement issued by PM Office said.
a short statement issued from PM office says that PM while directing Pakistani Ambassador to Russia to take up the matter with Russian authorities at the earliest.
Russia deported 48 Pakistanis yesterday, who were part of a group that was held after landing in the country for a business trip, he said.
The spokesman said Russian government informed Pakistan embassy in Moscow that the 48 Pakistanis are being deported but did not give any reasons for detaining them.
A video and pictures circulating on social media showed a group of Pakistanis waiting in a crowded room at the airport while in detention.
Television reports said the Pakistanis, who are part of a group of traders, were travelling to Russia for an exhibition when they were detained at Moscow airport, along with a few people coming from other countries.
The man recording the group's video said the Pakistanis landed in Moscow at about 2.30am local time and were being detained at the airport for the past eight hours.
"We have not been given any reason [for the detainment]," another man could be heard saying in the video.
The man recording the video added that the group was distributed into three different rooms, but because the rooms were not big enough, there was not enough space for everyone to fit in comfortably.
The video showed a number of people sitting, while several others can be seen lying on the floor.
Some Turkish nationals were also held by authorities, the man recording said, adding that they were later allow to leave.
This comes two days after terror attacks in Brussels, which killed 31 people and wounded 270, sending shockwaves across Europe.
Moscow is among the European capitals which beefed up security at their airports after the terror attack in Brussels.
http://www.dawn.com/news/1247635/84-pakistanis-held-in-russia-likely-to-be-deported-today-fo
------
URL: https://www.newageislam.com/islamic-world-news/new-age-islam-news-bureau/taliban-commander-declare-jihad-against-the-group's-supreme-leader-in-badghis/d/106746