New Age Islam News Bureau
29 Nov 2015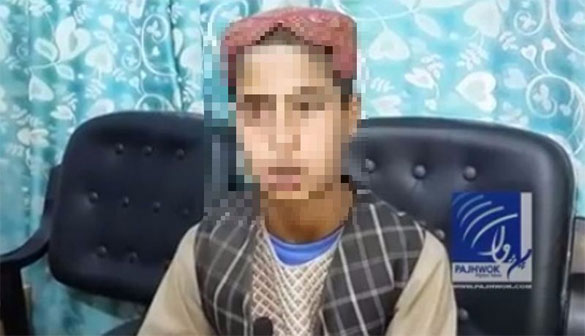 Photo: the child is originally a resident of Qaisar district who has told police that his family sold him to Taliban for AFN 700,000.
-------
South Asia
• Taliban bought 12 year old boy for $10,500, only to train as a suicide bomber
• Russia reiterates anti-terrorism assistance to Afghanistan
• CEO Abdullah Abdullah's list of properties declared
• Taliban bought 12yo boy for $10,500, only to train a suicide bomber
• Asian Development Bank to build five slaughterhouses in Afghanistan
• President Ghani's properties include $4.8m in assets and 7,000 books
• Unidentified armed men kill a teacher and his son in Urozgan's Khas Urozgan District
-----------
India
• My Muslim identity was thrust on me in 1992: Shabana Azmi
• Kalam wanted to resign as President in 2006, says ex-secy
• Obama shops book buys one of Salman Rushdie
• Now, Kulkarni to go to Pakistan for Kasuri's book launch
• Azam Khan calls Shahi Imam an RSS agent
-----------
Mideast
• Putin, citing national security, signs Turkey sanctions decree
• Top Kurdish lawyer shot dead in southeast Turkey
• Thousands of Israeli Arabs protest ban on Islamist group
• Turkey to hand over pilot's body to Moscow
• Turkey to help EU curb migration in exchange for cash, EU membership talks - draft
-----------
Pakistan
• Gen Sharif is Pakistan's real Sharif
• FIR against Mumtaz Qadri's supporters
• Imran warns of bloody revolution if peaceful change is thwarted
• Two 'peace volunteers' killed in Mohmand
-----------
Arab World
• Iranian Supreme Leader Sending Important Message to World Audience in Coming Hours
• Syria army says Turkey increases arms shipments to rebels
• Commander: Iraqi Forces' Further Advance against ISIL Blocked by US
• ISIL on the Run: Syrian Army Closes in on Aleppo
• Erdogan's Mistake: Russia May Now Initiate Own 'No-Fly Zone' Over Syria
• Kremlin: Some States Start to Change 'Assad Must Go' Stance
• US-Led Coalition's Actions in Syria Expanded ISIL-Controlled Area
• Russian Media: Triumphant Russian Campaign in Syria 'Like Knife in the Heart' for Erdogan
• Russia Has Means to Punish Turkey for Downing of Su-24 Bomber
• Syrian Army Clashes with Militants in Different Battlefields South of Aleppo
• Syrian Forces Fend Off ISIL Offensive on Deir Ezzur Airbase
• Syrian Airstrikes Hit Terrorists' Positions in Aleppo
• Russia to Launch 'Total Destruction' Operations against ISIL in Syria
-----------
Southeast Asia
• From Indonesia, a Muslim challenge to Islamic State
• Join festivals of other faiths, Johor sultan tells Muslims
----------
Africa
• Suspected jihadists kill three in rocket attack on UN base in Mali
-----------
Europe
• Cameron to order strikes on IS leadership in Syria
• C'wealth leaders put heads together to tackle terrorism
• Muslim preacher says Europe 'plundered' Muslim lands
• Muslim invaders spreading HIV across Europe at an alarming rate
• Muslim Radicalization in Europe: Roots and Resolution
-----------
North America
• Obama's climate push is shaping contours of his coming legacy
• In taking economic war to Islamic State, US developing new tools
Compiled by New Age Islam News Bureau
URL:
https://newageislam.com/islamic-world-news/new-age-islam-news-bureau/taliban-bought-12-year-old-boy-for-$10,500,-only-to-train-as-a-suicide-bomber/d/105457
------------
South Asia
Taliban bought 12 year old boy for $10,500, only to train as a suicide bomber
By Khaama Press - Sat Nov 28 2015, 8:44 pm
Faryab parents sell child to Taliban_censoredThe Ministry of Interior (MoI) on Saturday unveiled a shocking new story regarding a child trained as suicide bomber by Taliban group after he was sold by his parents for AFN 700,000, equivalent to around $10,500.
The 12-year-old child recently handed over himself to the Afghan police after managing to escape from training center where was receiving suicide attack trainings along with a group of other children.
According to a statement by MoI, the child is originally a resident of Qaisar district who has told police that his family sold him to Taliban for AFN 700,000.
The child whose name has not been disclosed apparently due to security reasons has also told police that he was kept together with six other children who were also purchased from their family.
The statement by MoI further added that the children were being trained by Taliban commander Mullah Qayum in Ghormach district of western Badghis province.
The Taliban militants wanted to use the children to target the Afghan security forces and other government officials in Qaisar district of Faryab province, MoI said.
The child also told police that he was opposing with the Taliban request to carry out suicide attack and used the opportunity to surrender to police in Charshanbe Bazar area of Qaisar district.
The Taliban militants group has not commented regarding the report so far.
This comes as the Afghan security forces last week arrested an 11-year-old child in Kunduz province who was trained by the Taliban militants since he was only 5 for a suicide attack mission.
According to the local security officials, the child, Rohullah, was abducted by the Taliban militants when he was only 5-year-old and since then he was trained on how to carry out suicide attack.
Rohullah was arrested by the security forces from an area close to a security check post in the 1st police district of Kunduz city.
http://www.khaama.com/shocking-as-taliban-bought-12yo-boy-for-100-only-to-train-a-suicide-bomber-1749
-----------
Russia reiterates anti-terrorism assistance to Afghanistan
Sun Nov 29 2015
Russian Federation has reiterated its commitment of assisting Afghanistan in its fight against terrorism.
The pledge was made during a meeting between Russian ambassador to Kabul and Afghanistan's National Security Adviser (NSA) Mohammad Hanif Atmar on Saturday.
Atmar told Russian ambassador Alexander Mantytskiy that his country needs the assistance of neighboring and regional countries to respond to the shared threats of terrorism.
"Islamic Republic of Afghanistan believes that the suppression of terrorist threat in Afghanistan requires the joint efforts of neighboring countries and the region," he said.
Mantytskiy reiterated its country's support for the anti-terrorism policies of Afghanistan saying that his country wants a safe and peaceful Afghanistan.
The meeting comes about three weeks ahead of the delivery of 10,000 Russian Kalashnikovs (AK-47s) to Afghanistan.
The Kalashnikovs would be used by Afghan security forces to fight terrorists.
Kabul is in contact with Moscow for receiving more weapons and gunship helicopters.
http://www.khaama.com/russia-reiterates-anti-terrorism-assistance-to-afghanistan-4364
--------
CEO Abdullah Abdullah's list of properties declared
By Khaama Press - Sat Nov 28 2015
The High Office of Anti-Corruption of Afghanistan on Saturday declared a list of properties in possession of the Chief Executive Officer (CEO) Abdullah Abdullah.
The list was declared in a report by published by state-run Anis Daily newspaper as part of a practice to announce the properties and belongings of high level government officials.
CEO Abdullah was born in 1960 and holds a degree in medical field, according to a report by BBC Persian, citing the report published by Anis Daily.
He initially started serving as Foreign Affairs Minister in late 2002 and later started work as Secretary General of Ahmad Shah Masood Foundation, opposition leader and Chief Executive Officer in national unity government.
According to the report, CEO Abdullah's wife and his four children currently reside in India and their academic expenses include $460 to $530 each on annual basis.
They are paying $1,500 in home rent and their living expenses include $930 on monthly basis which include expenses for water and electricity as well.
The report by the High Office of Anti-Corruption also covers total properties which is equivalent to over $153,000 and he owns $7,000 in Bank Al-Falah branch in Kabul.
Regarding the jewels CEO Abdullah is currently possessing includes a watchcase worth $6,700 and another watchcase worth $4,600 and he has received both of them as present.
CEO Abdullah's wife is also having a gold watch worth $7,400, the report said, adding that his fleet of vehicles include an armored car worth $100,000, another car worth $20,000 but the values of each vehicle have depreciated to $60,000 and $8,000.
The report also added that CEO Abdullah's wife has a car which was bought for 1.3 million Indian rupees but it's value has depreciated to 800,000 Indian rupees now.
His other properties include a house in Kart-e-Parwan acre of Kabul city and one acre of land in Paghman district of Kabul which are both registered in his wife's name (Fakhria) and the properties registered in his own name include a garden in Paghman district and guesthouse in Panjshir province.
He has also declared that his current earning include AFN 298,000 as monthly salary and AFN 100,000 as monthly expenses from the government and has no other income, according to the report.
http://www.khaama.com/ceo-abdullah-abdullahs-list-of-properties-declared-1750
----------
Asian Development Bank to build five slaughterhouses in Afghanistan
By Zabihullah Moosakhail - Sun Nov 29 2015
The Asian Development Bank (ADB) has announced a grant of $11 million for enhanced project facilities, primarily to support slaughterhouses and modernization of the livestock industry.
The fund is in fact coming from the government of the United Kingdom (UK) but it would be transferred to ADB and spent through Afghanistan Infrastructure Trust Fund (DFID Funding).
ADB provided a $30 million grant from its Special Funds for the Agriculture Market Infrastructure Project to build facilities and standards in the livestock and horticulture industries. The Afghan government is making an in-kind contribution of $1 million.
"The project is investing in five slaughterhouses as well as a number of small-scale packing, sorting, grading, drying, and cold storage facilities for the horticulture sector, and help build up the capacity of the Ministry of Agriculture, Irrigation and Livestock to create and implement sanitary and phytosanitary regulations," said Thomas Panella, ADB's country director for Afghanistan, on the occasion of the signing ceremony.
"Since 2001, there have been gains in horticulture production and livestock numbers, but the sector still needs major and rapid improvement in basic facilities, and regulatory policies. At present, butchers slaughter animals in the street or in backyards because of the destruction of abattoirs during the war."
Eklil Ahmad Hakimi, Minister of Finance, said "We are very pleased to sign this grant provided by the ADB and appreciate ADB's commitment to improved infrastructure in Afghanistan. Agriculture is one of the government's priority sectors and a foundation for improved livelihoods and economic growth. We are very appreciative to the focus of ADB and the UK to the sector's development."
The project aimed to cut product losses, raise product standards and increase product competitiveness in both domestic and international markets. It will increase returns to producers and traders, provide opportunities to add value to products and create employment, as well as bringing public health and environmental benefits.
Setting up new facilities, marketing infrastructure, and a regulatory environment that cuts post-harvest losses will also help galvanize private sector interest in the agriculture industry. It will address key constraints limiting private businesses investment, by improving marketing and supply chains, and product standards.
To help encourage private investment, the project will use a leasing model, with the management and operation of the slaughterhouses contracted to private companies. In the medium term, ownership can be transferred to the private sector. Similarly, marketing facilities set up in the horticulture sector will be operated and managed by farmer organizations and agricultural cooperatives, which will eventually assume ownership.
The project will have additional benefits for rural households and the general economy, as the incremental returns from the enterprises will provide households with viable cash alternatives to illegal opium poppy production, which has become a major cash crop for many rural households.
http://www.khaama.com/asian-development-bank-to-build-slaughterhouses-in-afghanistan-4367
----------
President Ghani's properties include $4.8m in assets and 7,000 books
By Khaama Press - Sun Nov 29 2015
The High Office of Anti-Corruption on Sunday released its report enlisting the current and fixed assets in possession of President Mohammad Ashraf Ghani and First Lady Rula Ghani.
According to the report, President Ghani and First Lady Rula Ghani are jointly in possession of the properties which includes $4.817 million in current assets mainly obtained from the sell of properties belonging to their ancestors in Lebanon and United States.
The jewelry in possession of the First Lady is worth $46,000 which was gifted to her by President Ghani's father in 1970, the report said, adding that President Ghani has a house constructed in 4 acres and 300 meters of land and is located in Dar-ul-Aman area of the city.
The report further added that the property was purchased by President Ghani in 2003 from an individual against $373,000 but the current value of the property has currently increased to $4.22 million.
Meanwhile, the First Lady Mrs. Ghani has a property in Washington having a value of $328,000 and is being financed from the funds she receives from her retirement.
According to the report, President Ghani and First Lady are both having over $71,000 cash in bank which have been obtained from retirement benefits and rent of house in United States.
President Ghani also has 8 personal vehicles with a collective value of over $105 million, the report, said adding that President Ghani and the First Lady also have 7,000 books which are kept in Kabul and Beirut, the capital city of Lebanon.
The report also added that President Ghani has 1,220 acres of land and garden in Kabul and Logar provinces which he has inherited from his father, while the First Lady shares 60 acres of land in Lebanon with his sister and two brothers.
President Ghani also has share in a research firm in United States and has a share of $67,000 and receives around $4,000 in retirement from the World Bank and over $7,000 from the government of Afghanistan.
The First Lady receives around $2,400 rent from her house in United States and their debt include $238,000 which we they had taken in 2006 from a US bank to purchase an apartment and are still payable around $56,000 to the bank.
According to the High Office of Anti-Corruption, the information regarding the properties of President Ghani was released as a part of the practice to implement the Article 154 of the Afghan Institution and Item 8 of Resolution 15, dated 25/July/2015, issued by Office of the President for the publication of the properties of high level government officials.
http://www.khaama.com/president-ghanis-properties-include-4-8m-in-assets-and-7000-books-1752
-------
Unidentified armed men kill a teacher and his son in Urozgan's Khas Urozgan District
By Khaama Press - Sun Nov 29 2015
Oruzgan 2Unidentified armed men have shot dead a teacher with his son in Khas Urozgan District of central Urozgan province.
Governor of Khas Urozgan District says gunmen went to the instructor's house in Shaikhi area and as he went out with his son they were shot dead.
He said miscreants gunned down a third person who watched the murder.
Although, Karmi held Taliban responsible for the attack but the group's spokesperson has not yet commented on the report.
This was second reported attack of unknown gunmen in Afghanistan last night.
The other attack was carried out in Zaranj, the provincial capital of southwestern Nimroz, in which a former government official was killed.
Sayed Nazir Sadat the former director of Hajj and Religious Affairs of Nimroz was returning from mosque after offering prayers when unidentified gunmen opened fire at him.
This year has been one of the deadliest for influential people and government officials. And most of these attacks have been unclaimed.
http://www.khaama.com/unidentified-armed-men-kill-teacher-and-his-son-in-urozgans-khas-urozgan-district-4366
-----------
India
My Muslim identity was thrust on me in 1992: Shabana Azmi
Yusra Husain,TNN | Nov 29, 2015
LUCKNOW: "It was in 1992 that I was, for the first time, made brazenly aware of my Muslim identity," Bollywood actor Shabana Azmi said on Saturday.
"It was a concerted effort to make religion the only identity. This is not India ki pehchaan (India's identity)," said Azmi, in reply to a question on the intolerance debate raging in the country, while speaking at the Lucknow Literature Carnival, organised by Lucknow Expressions Society and TOI.
"Intolerance has always existed and will continue as long as there are human beings. When it turns into a law and order problem, the state needs to deal with it. The maturity of the state is reflected in how it handles the situation," said Azmi.
READ ALSO: Aamir Khan on intolerance: I am alarmed, my wife suggested moving out of India
Asked about the intolerance issue in an interactive session by the audience, Azmi said that dissent and negotiation are the basis of democracy. "Intolerance has become the buzzword. But it has always been there and will not disaapear. With the multitude of people, cultures and religions, it is bound to be there. However, sensitivity is required from all sections and it is better not to get in the debate of who said what," the actor said.
"When I talk of 1992, I feel that my being a Muslim is just one aspect of my identity. But everyone then said: 'Oh, aap Muslim hain! (Oh, you are a Muslim!)'," said Azmi.
"This 'concerted effort' however, is not the identity of India. India is known for its Ganga Jamuni tehzeeb," she said. "Composite culture is our biggest strength. Isko mehfooz rakhna Hindustan ko mehfooz rakhna hai (To secure this composite culture is to keep India secure)," she added.
READ ALSO: Lok Sabha set to discuss issue of intolerance on Monday
Giving the cultural similarity of a Kashmiri Hindu and a Kashmiri Muslim, she said that both have different religions, but they are bound culturally. "A Kashmiri Muslim might not then feel connected culturally to a Tamil Muslim and this is the beauty of the Indian composite society," she said.
http://timesofindia.indiatimes.com/india/My-Muslim-identity-was-thrust-on-me-in-1992-Shabana-Azmi/articleshow/49965510.cms
---------
Kalam wanted to resign as President in 2006, says ex-secy
TNN | Nov 29, 2015
BHUBANESWAR: The former press secretary of A P J Abdul Kalam said here on Saturday that he had thought of resigning as president in 2006 when the Supreme Court quashed the presidential proclamation dissolving the Bihar assembly.
S M Khan said that Kalam was reluctant to sign the proclamation initially.
After then Bihar governor Buta Singh recommended dissolution of the assembly, the Union cabinet approved it and forwarded it to him for approval when he was on a visit to Moscow.
Recalling his days with the late President in a lecture titled "My Days with the Greatest Human Soul Ever" at the SOA University, Khan, presently director general of the Registrar of Newspapers for India (RNI), said when the SC quashed the proclamation, Kalam was apologetic, saying he should have rejected the cabinet's decision and thought of resigning.
"He even consulted his elder brother in Rameswaram. But he finally decided against any such step as it would have led to a constitutional crisis," Khan said.
Khan also narrated how the tech savvy President once made a two-hour-long Power Point presentation to former Prime Minister Atal Bihari Vajpayee and his cabinet colleagues on his vision of a developed India in 2020, a pet theme for him till the last.
Khan said Kalam had a penchant for power point presentations and would insist on the same even when he was meeting foreign dignitaries and heads of states. When former US President George Bush visited him in 2006, he made him sit through a presentation. "After the presentation ended, Bush told him," Sir, I need to be a scientist to understand this. But we will work on this," Khan recalled.
http://timesofindia.indiatimes.com/india/Kalam-wanted-to-resign-as-President-in-2006-says-ex-secy/articleshow/49965670.cms
---------
Obama shops book buys one of Salman Rushdie
PTI | Nov 29, 2015
WASHINGTON: US President Barack Obama visited a local bookstore here with his two daughters - Sasha and Malia - to buy books including one of Indian-origin writer Salman Rushdie.
In all Obama purchased nine books.
These included 'Purity: A Novel' by Jonathan Franzen; 'Two Years Eight Months and Twenty-Eight Nights' by Rushdie; and 'Elske: A Novel of the Kingdom' by Cynthia Voigt.
Other books were 'On Fortune's Wheel' and 'Jackaroo: A Novel of the Kingdom' by Cynthia Voigt, 'A Snicker of Magic' by Natalie Lloyd, 'Stargirl' by Jerry Spinelli, 'Diary of a Wimpy Kid: Hard Luck, Book 8' by Jeff Kinney and 'Dork Diaries 1: Tales from a Not-So-Fabulous Life' by Rachel Renee Russell.
Obama and his daughters shopped for books in tiny Upshur Street bookstore. He left with a brown shopping bag, and acknowledged journos with a smile as he walked to his SUV.
After their book stop yesterday, they stopped for ice cream in a nearby DC neighborhood.
http://timesofindia.indiatimes.com/world/us/Obama-shops-book-buys-one-of-Salman-Rushdie/articleshow/49969489.cms
---------
Now, Kulkarni to go to Pakistan for Kasuri's book launch
TNN | Oct 30, 2015
MUMBAI: A fortnight after his face was sprayed with oil paint by Shiv Sainiks for hosting the book launch of ex-Pakistan foreign minister Khurshid Mahmud Kasuri, Sudheendra Kulkarni is all set to go to Pakistan for the launch of the same book in Karachi.
Kulkarni, chairman of the Observer Research Foundation, told TOI he has also been invited by the Karachi Council on Foreign Relations for a seminar on Indo-Pak relations. "I said at the book launch function in the city that Mumbai was the worst victim of cross-border terrorism, and I will, in front of Kasuri, condemn Pakistan-sponsored terrorism in Karachi," he said during a debate at a literary festival in the city.
What provided food for thought at the debate on 'freedom of expression is in imminent danger' soon turned into an altercation between actor Anupam Kher, one of the speakers, when he made digs at fellow speaker Shobhaa De and her gossip columns and questioned Kulkarni's hospitality towards "abusive" neighbours.
It led to the actor being loudly booed, and Kher's reaction's was to call the crowd "a paid audience." That outraged the overcrowded hall watching the debate. A voice in the audience that stood out was someone of Kher's own ilk, actor Dhritiman Chaterji. "You must apologise to us right now," he said.
http://timesofindia.indiatimes.com/city/mumbai/Now-Kulkarni-to-go-to-Pakistan-for-Kasuris-book-launch/articleshow/49588421.cms
---------
Azam Khan calls Shahi Imam an RSS agent
Nazar Abbas,TNN | Nov 29, 2015
RAMPUR: In a fresh attack on Delhi Jama Masjid Shahi Imam Syed Ahmed Bukhari, Uttar Pradesh cabinet minister and Samajwadi Party senior leader Azam Khan labelled him as an agent of Rashtriya Swayamsevak Sangh (RSS).
Addressing mediapersons at his home on Friday, Khan said, "Had my son married a Hindu girl, it would have created a political storm, but RSS was silent when Bukhari's son married a Hindu girl. RSS could not see a love jihad in this wedding."
Khan had earlier criticized Bukhari for misleading the Muslim community in the state at the behest of the Bharatiya Janata Party. Khan asked Bukhari to pay attention to religious activities and not meddle in UP politics.
In a tit for tat, Bukhari called Khan a 'blot on the community' and demanded his dismissal from the state cabinet. Bukhari further went on to write to SP chief Mulayam Singh Yadav and chief minister Akhilesh Yadav, alleging that Muslims had no say in the UP government only because of Azam Khan, who is a blot on the community and demanded his dismissal from the cabinet.
Bukhari also targeted Khan's wife, Tazeen Fatima, a Rajya Sabha MP. Bukhari said that the SP will face dire consequences in the 2017 assembly polls if Khan was not expelled from the party.
The Imam wrote, "Resentment among Muslims against Azam and the SP government is growing every day. Muslims have already expressed their anger against the SP government by voting against them during the recently-concluded panchayat elections." He went on to add that leaders like Azam Khan have used politics for personal benefits by exploiting and fanning Hindu-Muslim fault lines.
http://timesofindia.indiatimes.com/india/Azam-Khan-calls-Shahi-Imam-an-RSS-agent/articleshow/49966068.cms
-----------
Pakistan
Gen Sharif is Pakistan's real Sharif
Sameer Arshad | TNN | Nov 28, 2015
Pakistan army chief Gen Raheel Sharif spent a day with Strategic Plans Division commandos, guarding the country's nukes, before flying to the US for a five-day trip on November 15.
The optics reaffirmed - if at all there was any doubt — who really matters in Pakistan by addressing the key nuclear security concerns.
Gen Sharif's visit followed that of Prime Minister Nawaz Sharif's US trip a month earlier during which nuke safety was among the points stressed in a joint statement.
The army had stamped its authority days before PM Sharif's visit with Lt Gen Naseer Khan Janjua's elevation as the national security advisor in place of his loyalist, Sartaj Aziz.
Gen Sharif had riled PM Sharif four days before his US by reminding him about the need for good governance after a corps commander meeting.
The army chief's muscle-flexing underlines his rising stock since he brushed aside PM Sharif's reluctance and launched an all-out operation against the Taliban in June 2014.
The operation showed immediate results with civilian casualties going down to 159 in 2014 against 1,116 when the Taliban insurgency peaked in 2008.
The casualties have gone down further substantially in 2015 and created a sense of euphoria that prompted The New York Times to call Gen Sharif "the most popular man in public office''.
Gen Sharif's popularity, underlined by the use of his pictures in electioneering, has legitimised the army's stranglehold over foreign, security affairs and altered PM Sharif's zealously conciliatory India policy.
The army had somewhat lost its sway after the lawyers' movement ousted Pervez Musharraf from power in 2008 and Osama bin Laden's killing in its backyard.
The resurgence has forced PM Sharif to accept his diminished stature, which he had earlier fought valiantly and lost power twice over it. His capitulation has been described as a silent coup without the risks of an overt takeover.
Gen Sharif's family history too adds to his popularity, which offers consolation to many Pakistanis in the otherwise disastrous history of wars with India.
His uncle, Major Aziz Bhatti, enjoys a legendary status among war heroes, whose heroics are taught in schools. Bhatti was killed preventing Indian soldiers advance after they crossed the Wagah border in 1965 and had the Lahore cantonment within the range of their tanks.
Gen Sharif's brother, Major Shabbir Sharif, followed his warrior Rajput family tradition by receiving highest military gallantry award posthumously like Bhatti after the 1971 war.
His battlefield heroics are part of the country's folklore. More so, as they were a rare ray of success in a war in which Pakistan was routed, demoralised and dismembered.
Shabbir was killed in Punjab's Fazilka sector after legendary hand-to-hand combat with Major Narain Singh. The two wrestled with each other while other soldiers were ordered against intervening.
According to the Pakistani version, Shabbir killed Singh in the fight after he charged on their positions, lobbed a grenade and prevented Indian soldiers from firing. An Indian T-54 tank shot hit Shabbir and killed him the next day.
The Indian account refutes the version saying Singh did not die in the hand-to-hand combat. He died while being taken to a medical room after a hail of bullets wounded him as he charged at Pakistani positions.
http://timesofindia.indiatimes.com/world/pakistan/Gen-Sharif-is-Pakistans-real-Sharif/articleshow/49961766.cms
---------
FIR against Mumtaz Qadri's supporters
November 29th, 2015
ISLAMABAD: About 400 activists of Shabab-i-Milli were booked by police after they took out a rally in favour of the murder convict, Mumtaz Qadri, police said here on Saturday.
On Friday a large number of people gathered at Expressway near Kuri and staged a protest against the conviction. Mumtaz Qadri sentenced to death for killing the Punjab governor, Salman Taseer.
The gathering supported the killer and demanded his acquittal. Besides, the participants criticised the government and judiciary, the police added.
After getting the information the police approached the area and asked them to disperse, but they refused, causing traffic jam at the Expressway, they said.
Later a case was registered against them on charges of PPCs 341, 188 and Amplifier Act, they added.
http://www.dawn.com/news/1222998/fir-against-mumtaz-qadris-supporters
---------
Imran warns of bloody revolution if peaceful change is thwarted
November 29th, 2015
KARACHI: Pakistan Tehreek-i-Insaf Chairman Imran Khan has warned that there will be a bloody revolution in the country if political forces are denied right to come to power through peaceful means.
He was speaking at a rally organised jointly by his party and the Jamaat-i-Islami here on Saturday in connection with the third phase of local government elections scheduled to be held in the city on Dec 5.
"People will no longer allow the group of 500 families to continue to suck their blood," he remarked.
Mr Khan criticised the Election Commission of Pakistan for adopting what he called double standards while dealing with the ruling and opposition parties.
He said the ECP had restricted his movement in Islamabad and his speeches at various other places during the campaign for local government elections in recent days, but failed to stop PML-N leaders from violating its code of conduct.
Sirajul Haq declares Dec 5 as a day of change in Karachi
Mr Khan pointed out that the ECP did not intervene when Prime Minister Nawaz Sharif announced the Rs34 billion 'Kisaan Package' and Rs40bn package for Gilgit-Baltistan.
He said a Rs2.5bn package was offered to people during a by-election in NA-154 constituency where
PTI leader Jahangir Tareen was a candidate, but the ECP never moved to stop PML-N's tactics to influence voters.
"The package politics is part of pre-poll rigging" and distribution of cheques under the Benazir Income Support Programme during election campaigns was another such tactic, he said.
The PTI chief said that two FIRs had been registered against him for violating the code of conduct and more were expected to be registered today but "these FIRs are not a slur on me but on the ECP, which is destroying democracy".
He said if PTI-JI alliance emerged victorious in the local government elections in Karachi, there would be no mafia and no land-grabbers in the "new Karachi".
JI chief Sirajul Haq declared Dec 5 "the day of revolution in Karachi".
"The people of Karachi will say goodbye for good to extortionists, target killers and those who used to stuff human bodies in gunny bags," he said.
"We will turn Karachi into a city where Altaf Hussain will feel fully secure on his return," he said sarcastically.
Earlier, Karachi Commissioner Shoaib Siddiqui said that the PTI and JI had not been granted permission for the rally. They had only informed the administration a day earlier about their plan to hold the rally, he told Dawn, adding that they were required to seek a written permission before taking out any rally.
"If they have defied the ECP code of conduct or any administrative rule, the matter would be handled as per the defined laws," he said.
http://www.dawn.com/news/1223071/imran-warns-of-bloody-revolution-if-peaceful-change-is-thwarted
---------
Two 'peace volunteers' killed in Mohmand
November 29th, 2015
GHALANAI: Two peace volunteers were killed in a roadside blast in Ambar tehsil of Mohmand Agency on Saturday.
Sources said that Hazrat Noor and Mohammad Gul were going to Daroo bazaar on a motorcycle when an improvised explosive device placed on the road in the Sanger Khawar area went off.
Noor died on the spot. Gul was critically injured and taken to hospital where he died after a while.
They had both remained members of a peace committee in the Mohmand tribal region.
After the incident, security personnel launched a search operation in the area. However, no arrest was reported.
http://www.dawn.com/news/1223052/two-peace-volunteers-killed-in-mohmand
-----------
Arab World
Iranian Supreme Leader Sending Important Message to World Audience in Coming Hours
TEHRAN (FNA)- Iran's Supreme Leader Ayatollah Seyed Ali Khamenei plans to release a crucial message to the world audience in the next few hours. The message that will be section two of his previous message to the youth in the West will focus on global terrorism.
http://en.farsnews.com/newstext.aspx?nn=13940908001097
---------
Syria army says Turkey increases arms shipments to rebels
Reuters | Nov 29, 2015
BEIRUT: The Syrian army said on Saturday that Turkey had recently increased supplies of weapons, ammunition and equipment to what it described as terrorists in Syria, and accused its northern neighbor of firing shells at Syrian army positions.
"We have certain information that the Turkish government has recently increased its support to the terrorists and the level of their supplies of weapons, ammunition and equipment necessary to continue their criminal acts," an army statement said.
The Syrian government describes as terrorists all the groups fighting President Bashar al-Assad in the 4-1/2-year-long war that has moved into a higher gear since Russia intervened militarily on the side of Damascus with air strikes on Sept. 30.
Tensions at the Syrian-Turkish border have risen since Turkey shot down a Russian warplane on Tuesday. Many of Russia's air strikes have hit rebels backed by Assad's foreign enemies including Turkey, Saudi Arabia and the United States.
The statement by the Syrian army command alleged that weapons were being delivered in shipments which Turkey claimed to be humanitarian assistance. It also alleged the weapons were supplied in exchange for looted Syrian and Iraqi antiquities and oil sold at low prices.
Turkish President Tayyip Erdogan has denied accusations his country purchased oil from Islamic State, saying anyone making such claims must prove them.
The Syrian statement also said Turkey had fired a number of mortar bombs toward Syrian army positions on Friday night from a location just over the border from Latakia province in northwestern Syria.
A Syrian military source told Reuters this week rebels were making heavy use of US-made anti-tank missiles paid for by Saudi Arabia and supplied via Turkey in recent weeks and the weapons are having an impact on the battlefield.
The so-called TOW missile is the most potent weapon in the rebel arsenal, and have appeared more frequently in battle in recent weeks. Rebels were shown using one to destroy a grounded Russian helicopter this week.
The army statement said: "The Turkish authorities deliberately created a state of security chaos at the Syrian-Turkish borders, leading to the easy movement of terrorists from Syria to Europe to carry out their terrorist crimes."
Russian President Vladimir Putin said on Tuesday that large quantities of oil and oil products from territory captured by Islamic State had been arriving in Turkey.
http://timesofindia.indiatimes.com/world/middle-east/Syria-army-says-Turkey-increases-arms-shipments-to-rebels/articleshow/49966090.cms
---------
Commander: Iraqi Forces' Further Advance against ISIL Blocked by US
TEHRAN (FNA)- A commander of Iraq's volunteer forces (Hashd al-Shaabi) complained that the US meddling in the fight against the ISIL has impeded their victory over the Takfiri terrorist group and prevented them from winning back the strategic cities of Ramadi and Fallujah.
"The US meddling prevents the Iraqi army and popular forces from concluding their battles against the ISIL in Ramadi and Fallujah cities," Commander of Imam Khamenei Battalion Haidar al-Hosseini al-Ardavi told FNA on Sunday.
He noted that the US is doing its best to prevent mop-up operations by the popular forces in Anbar province.
Al-Ardavi underlined that prolonging the Anbar battle will also negatively influence the Iraqi army's battles against the terrorists in other provinces.
In September, an Iraqi analyst said that the US is using some tribesmen in the Western province of Anbar to pressure the government in Baghdad to keep the popular forces away from the battle against terrorists in the volatile region.
Mohammad Na'na expressed regret that Washington has succeeded in persuading certain tribal leaders in Anbar to join its so-called war on the ISIL.
"Washington is pressuring the Iraqi government to exclude the popular forces from the Anbar province mop-up operations," he told FNA.
Na'na, meantime, warned against the United States' negative role in the war on ISIL, saying field reports show that the US ground troops have played no role in the operations that led to the liberation of Anbar.
Iraqi Foreign Ministry Spokesman Ahmad Jamal announced in September that Baghdad had rejected Washington's demand for the deployment of the US ground force to Iraq's war against the ISIL.
"Some of the US military officials and generals of the anti-ISIL coalition forces have indirectly underlined the necessity for dispatching the US ground troops to Iraq to join the combat against the terrorist group," Jamal said.
"But, Iraq is opposed to the presence of any ground force from the US or any other member states of the coalition in the fight against the terrorist groups, because the Iraqi people do not want to see any foreign soldiers on their soil and they do not want to experience the bitter taste of the US military presence on their land once against," the spokesman added.
Also in September, the Iraqi popular forces known as Hashed Al-Shaabi also underlined their opposition to the US forces' partnership in fighting against terrorists in the Western province of Anbar.
"The US will not sacrifice even one of its soldiers for Iraq and their present meddling in the government's affairs is a plot to disintegrate Iraq," Karim al-Nouri, a commander of the popular forces, said.
He reminded that Hashed Al-Shaabi had earned many victories against the terrorists, and said, "Therefore, the popular forces will not wait for anyone's permission and will continue fighting against the ISIL."
http://en.farsnews.com/newstext.aspx?nn=13940908000800
---------
ISIL on the Run: Syrian Army Closes in on Aleppo
TEHRAN (FNA)- The Syrian army on Saturday captured territory from ISIL East of Aleppo including a stretch of highway leading to the Takfiri terrorists' main stronghold of Raqqa.
The areas captured as part of the Syrian army's advance on the militants' positions with support from Russian airstrikes are East of the Kuweires airbase seized from ISIL control earlier this month.
According to latest report, the army captured new villages and large swathes of farmland, seizing tunnels and fortifications built by the Takfiri terrorist groups.
Earlier in November, the Syrian army lifted the siege of the Kweiris military airbase. The Kweiris airbase had been under ISIL siege for more than two years until the government forces and Hezbullah forces with Russian air support advanced into the area and cleared it of Takfiri terrorists, leaving a large number of them dead and wounded.
http://en.farsnews.com/newstext.aspx?nn=13940907001448
---------
Erdogan's Mistake: Russia May Now Initiate Own 'No-Fly Zone' Over Syria
TEHRAN (FNA)- President Erdogan's mistake in shooting down the Russian Su-24 bomber 'has waived the green light' for Russia to initiate a 'no-fly zone' by deploying additional fighter power and air defense systems in Syria, US columnist Jim W. Dean noted.
The US-led coalition's recent provocation against the Russo-Syrian counter terrorism campaign has "put nothing but torpedoes into its own sinking international credibility," according to US columnist and managing editor for Veterans Today Jim W. Dean quoted by Sputnik news agency.
Dean stressed that the destruction of the ISIL oil tanker fleet, which NATO had been "somehow" unable to detect for over a year, has predictably prompted outrage from those who have long been benefitting from the illicit oil trade.
​"We suspected the tanker-crushing move would make the people who had been marketing ISIL's oil, the Kurds and Turkey, unhappy enough to be provoked into a blunder themselves. We did not have to wait long, with the militarily-senseless shooting down of the Russian SU-24 bomber by the Turkish F-16s," Dean narrates in his recent article for New Eastern Outlook.
The US columnist emphasized that it is obvious that Turkey would never dare to carry out such a provocation "without clearing it with the US and NATO, as they would be dragged into anyway."
Turkish reports that they knew nothing about the origin of the Su-24 bomber jet sound completely unconvincing.
"Did they expect us to believe that their radar was not working, nor the US-coalition drones or spy satellites that monitor the Syria-Iraqi battlefield 24/7?" Dean asks with a trace of irony.
However, NATO with Secretary General Stoltenberg has supported Turkey. Still, there were a number of NATO envoys who expressed their concerns regarding the matter. They pointed to the fact that Turkey did not make attempts to escort the Russian bomber out of its airspace.
The Turkish claim that the Russian plane had entered the country's airspace has fallen apart at the seams since Russia presented the recording of their air combat radar plotting maps.
"They showed the Russian planes flying near the border, and the Turkish planes making their attack runs south, which actually took the Turks into Syria," Dean underscores.
The whole incident looks very fishy: the Turkish provocation has triggered justified suspicions among European lawmakers. Some of them have gone even so far as to blame Ankara for collaboration with ISIL, the US columnist noted.
Still, Turkey's provocation has not worked: the Kremlin immediately disavowed any hints of a military response, Dean emphasizes.
Instead, Russia has deployed its advanced S-400 Triumf air defense system with the capability of hitting targets at ranges of up to 400 kilometers to Hmeymim air base in Syria. Furthermore, Russia's Moskva 11,500-ton warship has reached the shores of Syria in order to ensure the security of Russian aircraft in the region.
Interestingly enough, the Turkish Hurriyet media outlet reported Friday that "the Turkish army has suspended flights over Syria as part of an ongoing joint military campaign with the United States against the Islamic State of Iraq and the Levant (ISIL) after it shot down a Russian jetfighter."
​"Turkey used its last 'freebie' by shooting the Russian plane down. There will be no Western coalition no-fly zone in northern Syria, for which some Senators and presidential candidate crazies were trying to get headlines advocating; at least not the kind they wanted," Dean points out.
Now, Russia can create a "defensive bubble" over Syria. Moscow does not want to do this, he notes, but it has been forced to. Russia has repeatedly made attempts to form a real coalition with Western countries and their partners in order to smash ISIL, but the West turned a deaf ear to its proposal.
"Erdogan's mistake in shooting the bomber down has waived the green flag for Putin to bring in enough fighter power for the Syrian coalition to initiate a no-fly zone on any uninvited airstrikes anywhere inside Syrian if attacks on Russian planes were continue," the US columnist emphasizes.
http://en.farsnews.com/newstext.aspx?nn=13940907001170
---------
Kremlin: Some States Start to Change 'Assad Must Go' Stance
TEHRAN (FNA)- Some countries started to change their stance concerning the future of Syrian President Bashar Assad, Kremlin spokesman Dmitry Peskov said Saturday.
According to the spokesman, speaking of political settlement and holding elections is not very realistic while a part of the country is controlled by the ISIL militants.
"They [countries] are abandoning this… pressured stance of 'let Assad leave primarily, and then let's think of what we should do.' This stance is unrealistic," Peskov told the Rossiya 24 television channel.
http://en.farsnews.com/newstext.aspx?nn=13940907001465
---------
US-Led Coalition's Actions in Syria Expanded ISIL-Controlled Area
TEHRAN (FNA)- The US military operation in Syria has allowed the ISIL to expand the territory under its control, while Russia's involvement has led to a breakthrough in the fight against militants, Kremlin spokesman Dmitry Peskov said Saturday.
"Over almost 15 months, a US-led coalition has been carrying out its operation in the Iraqi territory and in the Syrian airspace," Peskov said in an interview aired by Rossiya-24 TV channel.
"Unfortunately, this operation, which has been underway for over a year, has led to the expansion of ISIL-controlled territory."
Peskov added that a "fairly short-term" involvement by the Russian Aerospace Forces has "reversed the trend."
"The terrorist-held territory has begun to shrink," Peskov observed, adding this proved Russia's operation was more effective.
US-Led Coalition Not Ready for Partnership with Russia on Syria
Russia is ready for any level of cooperation on the Syrian issue with the US-led coalition, but has not received reciprocity on the matter yet, the spokesman said.
"Well, the fact that Russia is offering to exchange targets and exchange information on various groups… is well known. The Russian side holds the door open for any level of cooperation for which the US-led coalition would be ready. Let's say we don't see the reciprocal readiness yet."
A US-led international coalition has been conducting airstrikes against ISIL in Iraq and Syria since September 2014. Russia started a separate air campaign against ISIL in Syria on September 30, 2015, at the request of Syrian President Bashar al-Assad.
http://en.farsnews.com/newstext.aspx?nn=13940907001469
---------
Russian Media: Triumphant Russian Campaign in Syria 'Like Knife in the Heart' for Erdogan
TEHRAN (FNA)- Ankara's decision to shoot down a Russian bomber over Syria was not spontaneous. Some agreement by the Turkish government may have played a key role, Russian political analyst Andranik Migranyan said.
A number of economic and political reasons may have provoked Turkey to shoot down a Russian warplane over Syria. It is also possible that the personality of Turkish leader Recep Tayyip Erdogan who considers himself a "neo-Ottoman leader" of the Muslim world also played a part, Sputnik reported.
But the key factor was Erdogan's assurance he would be covered by his powerful sponsors, Russian political analyst professor Andranik Migranyan said.
On November 24, a Turkish jet shot down a Russian Su-24 bomber over Syria. Russian President Vladimir Putin described the incident as a "stab in the back carried out by accomplices of terrorists." In turn, the Russian government is now working on responsive measures to this act of aggression by Turkey.
"Probably, besides economic, political, geopolitical or Erdogan's personal interests, there was another factor which played a key role. Erdogan is an ambitious politician but he is not crazy," Migranyan told Sputnik Radio.
According to the expert, that key factor is a number of foreign agreements made by Ankara. The decision to attack the Russian aircraft was not spontaneous, he added.
"It seems like the Turkish government prepared public opinion for such an incident in advance. Earlier Turkey reported several times that Russian aircraft violated the Turkish airspace. I can't rule out that there were talks – at some level – on shooting down one Russian plane or more," Migranyan claimed.
"For Erdogan and for some Persian Gulf nations which sponsor terrorists, the triumphant Russian operation in Syria is like a knife in the heart. And that's a problem both for Turkey and Washington," the analyst underscored.
Migranyan said it may have been a temptation for Washington to spark a conflict between Moscow and Ankara.
"Now, the US Congress, especially the Republicans, is criticizing Obama for his weak leadership and inability to take decisive steps. They say Russian and Putin take all. It would be so tempting to spoil the Russian operation in Syria and spark a clash between Russia and Turkey. For the first time in the last 100 years, Turkey has challenged Russia. That couldn't happen without any foreign agreements by Ankara," he concluded.
http://en.farsnews.com/newstext.aspx?nn=13940907001463
---------
Russia Has Means to Punish Turkey for Downing of Su-24 Bomber
TEHRAN (FNA)- Turkish President Recep Tayyip Erdogan did himself and the international fight against ISIL a great disservice by shooting down the Russian warplane and antagonizing Moscow, German media wrote on Thursday.
Russia will hardly resort to a tit-for-tat response to last week's downing of its Su-24 bomber by a Turkish F-16 fighter jet, but the Russian president still has ample means available to him to punish Ankara, political analyst Abdel Mottaleb El Husseini said in an interview with Focus magazine.
"The Turks profited from the EU sanctions against Moscow, Russia by ramping up their exports to Russia, but President Putin can now punish Ankara by curtailing or banning altogether the import of billions of dollars' worth of Turkish goods. Turkey would also suffer from the loss of the millions of Russian tourists coming to its resorts every year," El Husseini added.
Russia could also dash President Erdogan's hopes of restoring Turkey's clout in the Middle East by deploying anti-aircraft missiles and missile cruisers in the region and stepping up its airstrikes along the Turkish-Syrian border.
Russia is a great power whether Erdogan likes it or not and this great power is now creating a new political situation in a region where Turkey has very few friends, the Lebanese-born analyst noted.
"Interested as it is in a union with Ankara, NATO will hardly risk a confrontation with Russia because of Erdogan whose reckless behavior is bad for Turkey and is also a threat to the international fight against ISIL," Abdel Mottaleb El Husseini said in conclusion.
http://en.farsnews.com/newstext.aspx?nn=13940907001471
---------
Syrian Army Clashes with Militants in Different Battlefields South of Aleppo
TEHRAN (FNA)- The Syrian Army and popular forces, backed up by the country's Air Force, stormed the militant groups' concentration centers in at least four key regions in the Southern territories of the Aleppo province, informed sources said Sunday.
The militant groups sustained heavy losses after the Syrian soldiers and fighter jets raided their centers near Khan Touman, Khalsa, Kherbet Maarata and Qarasi.
Firstly, the Syrian warplanes hit the Takfiri militants with many bombs and missiles and later the country's ground force engaged in heavy clashes with the terrorists.
On Saturday, the Syrian government forces continued to tighten noose around the Takfiri militants in several areas across the Northern Province of Aleppo, inflicting heavy losses on them.
The army destroyed ISIL strongholds and mortar and rocket launch pad in Balat village and its surrounding areas.
Meanwhile, the army destroyed terrorists' positions in the neighborhoods of al-Sheikh Said, al-Sheikh Lutfi, Salah Eddin and Bustan al-Bacha in the city of Aleppo, killing all the terrorists who were inside them.
http://en.farsnews.com/newstext.aspx?nn=13940908000245
---------
Syrian Forces Fend Off ISIL Offensive on Deir Ezzur Airbase
TEHRAN (FNA)- The Syrian Army troops repelled the ISIL terrorists' large-scale assault on the strategic Deir Ezzur airbase and killed scores of the militants in a heavy counter-attack, sources said on Sunday.
The sources said that the ISIL massive offensive to break through the Syrian soldiers' defense lines near Deir Ezzur airbase failed and the militants left behind many dead or wounded members and fled the battlefield after the army carried out a counter-assault against them.
On Saturday, the Syrian army troops engaged in heavy clashes with ISIL terrorists in the province of Deir Ezzur.
A large group of ISIL Terrorists were killed and injured in clashes with the Syrian army in al-Huweika and Jebila neighborhoods in Deir Ezzur, informed sources said.
Other sources said the Syrian army clashed with ISIL Takfiri terrorists who were trying to attack many residential neighborhoods in Deir Ezzur city and its military airport, destroying a number of militants' vehicles and equipment and killing and injuring much of the terrorists, while the others escaped.
http://en.farsnews.com/newstext.aspx?nn=13940908000213
---------
Syrian Airstrikes Hit Terrorists' Positions in Aleppo
TEHRAN (FNA)- The Syrian warplanes heavily bombed strongholds of the foreign-backed Takfiri militants in the Northern Province of Aleppo, leaving dozens of the terrorists dead.
The air raids hit concentration centers of terrorists in al-Atareb town in Aleppo province on Saturday, destroying amounts of weapons and ammunitions and killing scores of militants.
The Syrian fighter jets also destroyed terrorists' positions in Hayyan and Tal al-Jabin towns in the Northern countryside of Aleppo, killing tens of Takfiris.
Also on Saturday, the Syrian warplanes intensified their airstrikes against ISIL strongholds in the Eastern countryside of Aleppo, killing a large number of the terrorists.
The warplanes targeted ISIL positions in the villages of Akolah and al-Sawamea area, Rasem al-Abed, Deir Hafer and to the East of Balat in the Eastern countryside of Aleppo.
The Takfiri militants suffered heavy losses in the airstrikes. The air raids also destroyed the terrorists' machinegun-equipped vehicles, killing all terrorists on board.
Earlier on Saturday, the Syrian Army and the National Defense Forces (NDF) broke through the ISIL militants' defense lines and pushed them back from two more villages in Aleppo province.
The pro-government forces' operation was so heavy that did not leave any safe place for the ISIL militants near the villages of al-Faysal and al-Malkiyah.
The ISIL retreated forces from the abovementioned villages and their surrounding areas after leaving behind scores of dead and wounded members.
http://en.farsnews.com/newstext.aspx?nn=13940908000313
---------
Russia to Launch 'Total Destruction' Operations against ISIL in Syria
TEHRAN (FNA)- Russia plans to launch imminent 'Total Destruction' operations against the ISIL terrorists in Syria, media sources revealed on Saturday.
The Egyptian al-Youm al-Sabe' news website said in a report Russia has vowed continued fight against terrorists in Syria using its warships and has demanded the Iraqi government to suspend flights in the two provinces of Erbil and Sulaymaniyah to protect passenger flights given the intensified conflicts in Northern Iraq which is adjacent to Syria and the Turkish fighter jets' violation of the region's airspace under the pretext of bombing the PKK positions.
The news website quoted Russia's TASS news agency as reporting that Moscow will soon launch massive operations codenamed 'Total Destruction' against the terrorists using 69 Sukhoi fighter jets, Tupolev 160 bombers, submarines and warships deployed in the Mediterranean Sea.
Iraq had on November 22 suspended flights in the two Northern provinces for 48 hours.
Meantime earlier reports also said that Russia has deployed S-400 missile defense systems in Syria. The Moskva guided missile cruiser outfitted with S-300F Fort anti-air systems also took position off the coast of Lattakia; a move that many political and military analysts see as the start of Moscow's response to NATO following the downing of its bomber by Turkey over Syria.
Russia launched its own air campaign against the extremists in Syria on September 30 at the request of Damascus.
http://en.farsnews.com/newstext.aspx?nn=13940907000699
-----------
Southeast Asia
From Indonesia, a Muslim challenge to Islamic State
Joe Cochran
Indonesian kindergarten children move around a replica of Islam's holiest shrine, the Kaaba at Istiqlal mosque in Jakarta, Indonesia.
An Indonesian film seeks to fire the opening salvo in a global campaign by the world's largest Muslim group to challenge the Islamic State's ideology head-on.
The scene is horrifyingly familiar. Islamic State soldiers march a line of prisoners to a riverbank, shoot them one by one and dump their bodies over a blood-soaked dock into the water.
But instead of the celebratory music and words of praise expected in a jihadist video, the soundtrack features the former Indonesian President, Abdurrahman Wahid, singing a Javanese mystical poem: "Many who memorise the Quran and Hadith love to condemn others as infidels while ignoring their own infidelity to God, their hearts and minds still mired in filth."
Film repudiating IS
That powerful scene is one of many in a 90-minute film that amounts to a relentless, religious repudiation of the IS, and the opening salvo in a global campaign by the world's largest Muslim group to challenge its ideology head-on.
The challenge, perhaps surprisingly, comes from Indonesia, which has the world's largest Muslim population but which lies thousands of miles away from the IS's base in West Asia.
"The spread of a shallow understanding of Islam renders this situation critical, as highly vocal elements within the Muslim population at large — extremist groups — justify their harsh and often savage behaviour by claiming to act in accord with God's commands, although they are grievously mistaken," said A. Mustofa Bisri, the spiritual leader of the group Nahdlatul Ulama, an Indonesian Muslim organisation that claims more than 50 million members.
"According to the Sunni view of Islam," he said, "every aspect and expression of religion should be imbued with love and compassion, and foster the perfection of human nature."
This message of tolerance is at the heart of the group's campaign against jihadism, which will be carried out online, and in hotel conference rooms and convention centres from North America to Europe to Asia.
The film was released on Thursday at the start of a three-day congress by the organisation's youth wing in the Central Java city of Yogyakarta.
A welcome antidote
As world leaders call for Muslims to take the lead in the ideological battle against a growing and increasingly violent offshoot of their own religion, analysts say the group's campaign is a welcome antidote to jihadism.
"I see the counter-narrative as the only way that Western governments can deal with the IS propaganda, but there's no strategy right now," said Nico Prucha, a research fellow at King's College London, who analyses the IS's Arab-language online propaganda.
And Western leaders often lack credibility with those most susceptible to jihad's allure. "They don't speak Arabic or have never lived in the Muslim world," Mr. Prucha said.
The campaign by Nahdlatul Ulama, known as N.U., for a liberal, pluralistic Islam also comes at a time when Islam is at war with itself over central theological questions of how the faith is defined in the modern era.
In a way, it should not be surprising that this message comes from Indonesia, the home of Islam Nusantara, widely seen as one of the most progressive Islamic movements in the world. The movement — its name is Indonesian for "East Indies Islam" — dates back more than 500 years and promotes a spiritual interpretation of Islam that stresses nonviolence, inclusiveness and acceptance of other religions.
A counterargument to the IS
Analysts say the theology developed organically in a place where Hinduism and Buddhism were the primary religions before Islam arrived around the 13th century. Indonesian Islam blended with local religious beliefs and traditions, creating a pluralistic society despite having a Muslim majority.
Indonesia today has more than 190 million Muslims, but also has a secular government and influential Christian, Hindu and Buddhist minorities.
Such liberalism poses a counterargument to the Islamic State, analysts said.
"We are directly challenging the idea of ISIS, which wants Islam to be uniform, meaning that if there is any other idea of Islam that is not following their ideas, those people are infidels who must be killed," said Yahya Cholil Staquf, general secretary to the N.U. supreme council. "We will show that is not the case with Islam."
N.U. has established a non-profit organisation, Bayt ar-Rahmah, in Winston-Salem, North Carolina, which will be the hub for international activities including conferences and seminars to promote Indonesia's tradition of nonviolent, pluralistic Islam, Mr. Yahya said.
N.U. is also working with the University of Vienna in Austria, which collects and analyses Islamic State propaganda, to prepare responses to those messages, which N.U. will disseminate online and at conferences.
A prevention centre based in Indonesia, expected to be operational by the end of the year, will train male and female Arabic-speaking students to engage with jihadi ideology and messaging under the guidance of N.U. theologians who are consulting Western academia.
East Indies Islam
The film, Rahmat Islam Nusantara (The Divine Grace of East Indies Islam), has been translated into English and Arabic for global distribution, including online. The film explores Islam's arrival and evolution in Indonesia, and includes interviews with Indonesian Islamic scholars.
In scene after scene, they challenge and denounce the Islamic State's interpretations of the Quran and the Hadith, the book of the Prophet Muhammad's teachings, as factually wrong and perverse.
The Islamic State's theology, rooted in the fundamentalist Wahhabi movement, takes its cues from medieval Islamic jurisprudence, where slavery and execution of prisoners was accepted. The filmmakers accept the legitimacy of those positions for the time but argue that Islamic law needs to be updated to 21st-century norms.
Other sects and Muslim leaders have made this argument before. And non-Arab countries like Indonesia tend to have less influence on the practice of Islam, especially in the Middle East.
"The problem with Middle East Islam is they have what I call religious racism," said Azyumardi Azra, an Islamic scholar and former rector of the State Islamic University in Jakarta. "They feel that only the Arabs are real Muslims and the others are not."
Saudi Arabia, the birthplace of Islam and the main source of financial support for Wahhabism worldwide, has had more success in imposing its interpretation and has even made inroads in Indonesia. Analysts say a steady flow of money from Persian Gulf countries, including Saudi Arabia and Qatar, supports an active and growing Wahhabist movement here.
There are reservations here about the N.U. going global, rather than first tackling violent extremism at home. Indonesia has suffered several deadly terrorist attacks by Islamic militants in recent years that have killed hundreds, including bombings on the resort island of Bali in 2002 and 2005, and at five-star international hotels in Jakarta in 2003 and 2009.
The best known of the Indonesian jihadi groups, Jemaah Islamiyah, a onetime Southeast Asian branch of al-Qaeda, has been crushed, but splinter groups still exist, as well as other militant Muslim groups like the Islamic Defenders Front, which occasionally smash up bars and attack religious minorities and their houses of worship.
Bonar Tigor Naipospos, vice-chairman for the executive board of the Setara Institute for Democracy and Peace in Jakarta, said N.U.'s campaign applied equally to local radicals.
"They want to show to Indonesian society, 'Look, we are Islamic and we have universal values, but we also respect local cultures,'" he said. "We are not like Islam in the Middle East."
'Public discourse has to start somewhere'
Others say the international public discourse has to start somewhere, even if it is thousands of miles away from Syria and Iraq.
Hedieh Mirahmadi, president of the World Organisation for Resource Development and Education, an organisation based in Washington that works to combat extremism, said that, according to open source data, supporters of the Islamic State were sending an average of 2.8 million messages a day to their followers on Twitter.
"Who's going to counter that?" she asked.
"It's what they are doing in Indonesia, it's what we are doing in the U.S., and in other places," she said. "You flood the space, and you hope people get the right messages."
— New York Times News Service
http://www.thehindu.com/news/international/from-indonesia-a-muslim-challenge-to-islamic-state/article7927721.ece
---------
Join festivals of other faiths, Johor sultan tells Muslims
Published: 29 November 2015 3:00 PM
Johor's Sultan Ibrahim Sultan Iskandar says Muslims can celebrate non-Muslim festivals as a sign of respect. – Facebook pic, November 29, 2015.Johor's Sultan Ibrahim Sultan Iskandar says Muslims can celebrate non-Muslim festivals as a sign of respect. – Facebook pic, November 29, 2015.Sultan Ibrahim Sultan Iskandar of Johor today said Muslims can celebrate festivals with their friends and neighbours of other faiths as a sign of respect, The Star reported.
"This is what Bangsa Johor is about. It promotes closeness, tolerance and mutual respect for each other regardless of race and religion.
"We should celebrate this in peace and harmony," he said at a Deepavali gathering.
The Johor ruler said the event he attended should similarly be organised for other holidays such as Hari Raya, Chinese New Year and Christmas.
"Such events are meaningful as it helps to improve relations between me and my people," he added.
At the event, Sultan Ibrahim warned those who spread disunity to stay away from Johor, saying the state did not welcome such people.
He also reminded Indian Malaysians not to be polarised by differing political ideologies.
"The people need to think which way they want to go and what they want to achieve," he said. – November 29, 2015.
http://www.themalaysianinsider.com/malaysia/article/join-festivals-of-other-faiths-johor-sultan-tells-muslims
-----------
Mideast
Putin, citing national security, signs Turkey sanctions decree
Reuters | Nov 29, 2015
Greece: More migrants arrive on Lesbos from TurkeyGreece: More migrants arrive on Lesbos f...
MOSCOW: President Vladimir Putin signed a decree imposing a raft of punitive economic sanctions against Turkey on Saturday, underlining the depth of the Kremlin's anger toward Ankara four days after Turkey shot down a Russian warplane.
The decree, which entered into force immediately, said charter flights from Russia to Turkey would be banned, that tour firms would be told not to sell any holidays there, and that unspecified Turkish imports would be outlawed, and Turkish firms and nationals have their economic activities halted or curbed.
"The circumstances are unprecedented. The gauntlet thrown down to Russia is unprecedented. So naturally the reaction is in line with this threat," Dmitry Peskov, Putin's spokesman, said hours before the decree was published.
A senior Turkish official told Reuters the sanctions would only worsen the standoff between Moscow and Ankara.
But aides to Putin say he is incandescent that Turkish President Tayyip Erdogan has yet to apologize for the Nov. 24 incident near the Syrian-Turkish border in which one Russian pilot was killed along with a Russian marine who tried to rescue the crew of the downed SU-24 jet.
Senior Russian officials have called the episode, one of the most serious publicly acknowledged clashes between a NATO member country and Russia for half a century, a pre-planned provocation.
Erdogan has been equally robust. He has said Turkey will not apologize for downing the jet, saying Ankara was fully within its rights to defend its air space. On Saturday, he appeared to soften his rhetoric a little, saying the episode had saddened him.
Putin's spokesman suggested the Russian leader was ready for a long standoff however, saying he was "fully mobilized" to tackle what he regarded as an unprecedented threat from Turkey.
NATIONAL SECURITY
The decree, posted on the Kremlin's website, spoke of the need to protect Russia's national security and Russian citizens "from criminal and other illegal activities".
In it, Putin ordered the government to prepare a list of goods, firms and jobs that would be affected. Some of the measures announced have already been informally introduced.
The government is expected to publish the list of banned imports on Monday, Interfax news agency reported, citing a government source. The list is likely to include food and some other products, a second government source said.
Turkey mainly sells food, agricultural products and textiles to Moscow and is also one of the most popular holiday destinations for Russians. Peskov, Putin's spokesman, said he thought up to 200,000 Turkish citizens could be on Russian soil.
Putin signed the decree days before a climate change summit in Paris. Erdogan said earlier on Saturday it could be a chance to repair relations with Moscow.
"Confrontation will not bring anyone happiness. As much as Russia is important for Turkey, Turkey is important for Russia," Erdogan said in a televised speech in the western city of Baliksehir.
Peskov said Putin was aware of a Turkish request for him to meet Erdogan on the sidelines of the Paris conference but gave no indication of whether such a meeting would take place.
He called the behavior of the Turkish air force "absolute madness" and said Ankara's subsequent handling of the crisis had reminded him of the "theater of the absurd."
"Nobody has the right to traitorously shoot down a Russian plane from behind," Peskov told Russia's "News on Saturday" TV program, calling Turkish evidence purporting to show the Russian jet had violated Turkish air space "cartoons".
Turkey's foreign ministry advised people on Saturday to postpone all non-urgent travel to Russia.
Peskov, according to the TASS news agency, also spoke on Saturday of how Erdogan's son had a "certain interest" in the oil industry. Putin has said oil from Syrian territory controlled by Islamic State militants is finding its way to Turkey.
Erdogan has spoken of slander and asked anyone making such accusations to back up their words with evidence.
http://timesofindia.indiatimes.com/world/europe/Putin-citing-national-security-signs-Turkey-sanctions-decree/articleshow/49965399.cms
---------
Top Kurdish lawyer shot dead in southeast Turkey
Reuters | Nov 29, 2015
DIYARBAKIR, TURKEY: A prominent Kurdish lawyer and rights activist was shot in the head and killed in a street shootout on Saturday, an incident likely to fuel further unrest in Turkey's mostly Kurdish southeast.
The pro-Kurdish HDP Party called the killing of Tahir Elci a "planned assassination" and urged people to protest. Prime Minister Ahmet Davutoglu said it was unclear whether Elci was caught in crossfire or assassinated.
Hours later, police fired tear gas and water cannon to disperse hundreds of people marching in Istanbul to protest against the killing. The marchers chanted: "Shoulder to shoulder against fascism," and "Tahir Elci is immortal."
Reuters TV footage showed plain clothes police repeatedly shooting at a figure running past them towards Elci. He was then seen lying on the ground with blood apparently streaming from his head.
Witnesses said Elci was shot by a single bullet after speaking to media in the southeastern city of Diyarbakir, where he was president of the local bar association. Two policemen also died in gun battles.
It was difficult to piece together the sequence of events from videos showing the incident from different angles.
Privately owned Dogan News Agency reported two police officers were wounded when an investigative team, including Diyarbakir's chief prosecutor, visited the site and came under fire.
Elci had been criticised in Turkey for saying the banned Kurdistan Workers Party (PKK) was not a terrorist organisation, as the government describes it. He had, however, denounced PKK violence.
He was facing trial over his comments, which had infuriated state prosecutors.
Hundreds of people have been killed since a ceasefire between the PKK and Turkish security forces collapsed in July, reigniting a conflict in which some 40,000 people have died since it began in 1984.
The pro-Kurdish HDP, whose initials stand for Peoples' Democratic Party, called a demonstration in Istanbul.
"In the place left by Tahir Elci, thousands more Tahir Elcis will carry on the work in the struggle for law and justice," it said in a statement.
The HDP said Elci had been targeted by the ruling AK party and its media and it called for political parties, civil society and professional groups to "raise their voices" in protest.
Prime Minister Davutoglu said it was unclear whether Elci was caught in crossfire or assassinated. If it was the latter, he said, the target was clear. "The target is Turkey. It's an attack on peace and harmony in Turkey."
President Tayyip Erdogan said the incident showed Turkey was right in "its determination to fight terrorism".
"SPRAYED WITH BULLETS"
Witnesses said Elci had been shot after speaking about a historic minaret which had been damaged in clashes days before.
"The moment the statement ended, the crowd was sprayed with bullets," a local HDP party official, Omer Tastan, told Reuters.
"A single bullet struck Elci in the head," he said, adding that 11 people had also been wounded in the incident.
At a news conference with Justice Minister Bekir Bozdag, Interior Minister Efkan Ala said a gun battle erupted after someone shot at police from an unidentified car.
"Tahir Elci was caught up in fire between police and terrorists," he said, without saying whether anyone had been arrested.
http://timesofindia.indiatimes.com/world/europe/Top-Kurdish-lawyer-shot-dead-in-southeast-Turkey/articleshow/49965267.cms
---------
Thousands of Israeli Arabs protest ban on Islamist group
Reuters | Nov 29, 2015
UMM EL-FAHEM, ISRAEL: Thousands of Israeli Arabs protested on Saturday against the outlawing of a popular Islamist group that Israel says has played a central role in stoking a wave of Palestinian street attacks.
Israel's government banned the Islamic Movement's northern branch on Nov 17, risking an angry backlash by its largely quiescent 20-percent Arab minority.
Police did not say how many people attended the protest held in the northern Arab town of Umm el-Fahem. A Reuters photographer said there were about 15,000 demonstrators in what was one of the largest Arab rallies in Israel in recent years.
The Islamic Movement's northern branch does not, unlike its southern counterpart, recognize Israel's legitimacy. It runs its own educational and religious services and has been at the forefront of protests against government policies toward Israeli Arabs and the Palestinians.
The group says its activities are lawful.
But Israel says the movement has encouraged Palestinian assaults on Israelis by falsely accusing the government of trying to erode Muslim control of Jerusalem's al-Aqsa mosque complex, Islam's third holiest site which is also sacred in Judaism.
Protesters marched through the town's streets holding up Islamic Movement and Palestinian national flags and chanting: "With our spirit and blood we shall redeem you, al-Aqsa."
Almost daily Palestinian stabbings, car rammings and shootings have killed 19 Israelis and one U.S. citizen since Oct. 1.
Israeli forces have killed 93 Palestinians, some of whom were carrying out assaults and others in clashes with police and troops. Many of those killed have been teenagers.
The Palestinian attacks have been triggered in part by what the Palestinians fear are Israel's attempts to change a decades-old religious status quo at the al-Aqsa compound, known to Muslims as the Noble Sanctuary and to Jews as Temple Mount.
Israel says it has no intention of changing arrangements at the complex, at which non-Muslim prayer is banned. However, an increase in visits by religious Jewish activists and far-right lawmakers have added to Palestinian suspicions.
Israeli Arabs are descendants of residents who stayed put during the 1948 war of Israel's founding, in which hundreds of thousands of fellow Palestinians fled or were forced to leave their homes.
Though they have equal rights, Israeli Arabs often say they are treated as second-class citizens, citing inferior services and unfair allocations for education, health and housing. More than half live below the poverty line.
http://timesofindia.indiatimes.com/world/middle-east/Thousands-of-Israeli-Arabs-protest-ban-on-Islamist-group/articleshow/49966526.cms
---------
Turkey to hand over pilot's body to Moscow
IANS | Nov 29, 2015
ANKARA: The body of the pilot of the downed Russian plane will be handed over to Moscow, Turkish Prime Minister Ahmet Davutoglu said on Sunday.
The body of the Russian will be prepared in accordance with tradition before being given to Moscow, Xinhua quoted Davutoglu as saying in Ankara before his departure for the EU-Turkey Summit.
Two Turkish F-16s downed the Russian jet on November 24 alleging it had intruded into Turkish airspace. Moscow has denied any intrusion, saying it was engaged in bombing IS rebels in Syria.
The pilot and the navigator ejected safety, but the pilot was shot dead. The navigation is in a Syrian hospital.
Davutoglu said while Turkey was sad the incident had taken place, similar disasters could happen unless there was information sharing and coordination.
On Saturday, Turkish President Recep Tayyip Erdogan said: "We feel really sad about this incident. We would not like such a thing to happen, we would not want it but unfortunately it did. I wish such a thing will not happen again.
"What we tell Russia is 'Let's talk about this issue within its boundaries and let's settle it. Let's not make others happy by hurting our relationship," he said.
Erdogan had previously sought a meeting with his Russian counterpart Vladimir Putin on the sidelines of the climate summit meeting in Paris but Kremlin rejected the request.
Turkey-Russia relations have plummeted after the shooting down of the Russian.
Accordingly, Turkish transport companies shall be restricted in their operations in Russian territories. Turkish ships and boats are banned from staying at or navigating across Russian ports. Import of certain goods from Turkey will be halted.
Russia also officially suspended its visa-free travel regime with Turkey, except for Turkish diplomats and their dependents.
---------
Turkey to help EU curb migration in exchange for cash, EU membership talks - draft
November 29, 2015
Turkey will help the EUropean Union handle the flow of migrants that has called into question the future of Europe's passport-free travel in exchange for cash and restarting stalled talks on EU accession, draft conclusions of an EU-Turkey summit said.
"Both sides will, as agreed and with immediate effect, step up their active cooperation on migrants who are not in need of international protection, preventing travel to Turkey and the EU, ensuring the application of the established bilateral readmission provisions and swiftly returning migrants who are not in need of international protection to their countries of origin," the draft, seen by Reuters, said.
In exchange, Turkey will get 3 billion euros of initial aid to handle the refugees on its territory. The amount might be adjusted later on depending on developments, the draft said.
The EU would also open in December the next chapter of negotiations with Turkey in its accession talks to the EU, which have been dragging on since 2005, and prepare further chapters for discussion in the first three months of next year.
The EU also aims to lift the need for visas for Turks travelling to the EU in October 2016 if Ankara meets certain criteria specified in an agreed roadmap, said the draft, which may still be changed after the talks which start at 15.00 GMT.
http://www.todayszaman.com/latest-news_turkey-to-help-eu-curb-migration-in-exchange-for-cash-eu-membership-talks-draft_405601.html
-----------
Africa
Suspected jihadists kill three in rocket attack on UN base in Mali
Reuters | Nov 29, 2015
BAMAKO: Unknown attackers fired rockets at a United Nations peacekeeping base in northern Mali on Saturday, killing three people inside, the UN said, in the latest sign that the West African country's Islamist insurgency is intensifying.
French troops and the 10,000-strong UN force, known as MINUSMA, are struggling to stabilize the former French colony. Islamist militants attacked a hotel in the capital Bamako on November 20 and killed 20 people, in their bloodiest attack yet in the country's south.
Desert-based jihadists regularly launch rockets and missiles at northern UN bases, especially around full moon when the lighter nights make it easier to target the camps, although it is rare for the missiles to land inside the walls.
"They fired rockets from around 4 a.m. inside the MINUSMA camp," Olivier Salgado, Deputy Chief of Communication in the peacekeeping mission, told Reuters.
"We have three dead and four seriously injured," he said, adding that there were a total of 20 wounded and that medical evacuations were under way from the base in the town of Kidal.
The United Nations later identified the victims as two Guinean peacekeepers and a contractor from Burkina Faso.
"The members of the Security Council called on the Government of Mali to swiftly investigate this attack and bring the perpetrators to justice, and stressed that those responsible for the attack should be held accountable," it said, adding that the attacks may constitute war crimes.
French news agency AFP said that Malian Islamist rebel group Ansar Dine had claimed responsibility for the attack.
Ansar Dine is not one of the three Islamist militant groups - al Qaeda in the Islamic Maghreb, its splinter group al Mourabitoun and Massina Liberation Front (MLF) - that claimed last week's attack on the Radisson Blu hotel in Bamako, where the victims included Russians, Chinese and an American.
Security analysts say the groups could be collaborating.
JIHADIST WARNING
Bursts of gunfire rang out shortly after the rockets landed, as well as mortar fire coming from inside the camp, according to a witness in Kidal.
A security source in north Mali who wished to remain anonymous said the Kidal camp had received a warning two days before the attack from an unnamed jihadist group. A local deputy for Kidal, Ahmoudene Ag Ikmasse, also blamed radical Islamists.
Northern Mali was taken over by Islamist fighters, some with links to al Qaeda, for most of 2012. They were driven out by a French-led military operation a year later, but violence has continued and spread into formerly safe areas in the south.
Some analysts say the spike in jihadist attacks is designed to disrupt the implementation of a peace deal signed between various northern armed groups and Mali's government in June.
"I want to reiterate that these attacks will not impede the determination of the United Nations to support the Malian people and the peace process," said Mongi Hamdi, UN Special Envoy for the Mali mission.
A French soldier, part of the 3,500-strong Barkhane anti-terrorism force operating across the Sahel, and a UN peacekeeper were killed by landmines this week.
Germany has said it is willing to send up to 650 soldiers to bolster the UN force, which has yet to reach its full strength of 12,680 men and is mostly made of African troops.
Other West African states are also battling Islamist militants. Boko Haram, the leading such group in the region, has this year extended its attacks from Nigeria to neighboring states of Niger, Cameroon and Chad.
Suspected Boko Haram militants detonated two suicide bombs in a village in northern Cameroon on Saturday, killing at least five people, security sources and an official told Reuters.
http://timesofindia.indiatimes.com/world/rest-of-world/Suspected-jihadists-kill-three-in-rocket-attack-on-UN-base-in-Mali/articleshow/49966074.cms
-----------
Europe
Cameron to order strikes on IS leadership in Syria
As many as 115 Labour MPs are expected to support the bombing.
British Prime Minister David Cameron is set to order the country's Royal Air Force (RAF) to target Islamic State (IS) militant group leadership in Syria which masterminded the Paris massacre and is now targeting the United Kingdom, if his MPs back his plans of air strikes in the strife-torn country.
IS official spokesperson and a senior leader of the Islamic State Sheikh Abu Muhammad al-Adnani, a Syrian preacher, will be at the top of Britain's so-called "kill list" when the strikes are launched, The Sunday Times reported. Al-Adnani is reportedly in charge of the terror group's "international attacks" unit, which is believed to have orchestrated the Paris massacre and has repeatedly targeted the U.K. for a mass-casualty atrocity.
Network of jihadists
Adnani's external operations unit in the IS stronghold of Raqqa is believed to be running a network of jihadists who have returned to Britain after being trained in Syria.
The first RAF missions, expected this week, will feature high-profile strikes against suspected IS command and control hideouts in Raqqa to cut off the "snake's head" of the terrorist group.
U.S. for Brimstone missile
U.S. officials have asked the U.K. to deploy the RAF's Brimstone missile, which minimises civilian casualties, because it raises the prospect of targeting the IS leadership in Syria if intelligence locates them in built-up areas.
MPs are expected to vote in the House of Commons on extending air strikes to Syria on Wednesday. The motion will explicitly limit attacks to IS targets and rule out committing ground troops.
It will stress that any decision has UN backing and that it will protect people in Britain from terrorism as well as degrading the ability of Isis to hold ground in Syria.
Compelling case: Cameron
Speaking at the Commonwealth heads of government meeting in Malta, Mr. Cameron said: "There is a compelling case that taking military action alongside our allies can help to address the threat from IS."
"It has been working in Iraq, where we have shrunk the territory of ISIL, and it will work too in Syria," he added.
"We can't await political solution"
The British PM added: "My argument is we can't wait for that political solution. We have to start acting now to keep our country, our people and indeed others in Europe safe."
Reinforcements of two Tornado bombers and six Typhoon jets are expected to be sent to Cyprus this week, allowing the RAF to fly at least three missions a day rather than two.
Likely within 36 hours of a 'yes' vote
The first planned air strikes are expected to follow within 36 hours of a "yes" vote, but defence sources say a "dynamic targeting attack" against a target of opportunity, such as an IS leader, could take place within a few hours.
Opposition Labour and ruling Tory party whips both report that at least 80 Labour MPs are set to back the bombing. The number could rise to 115 as an internal Labour revolt sees a number of party MPs go against its leader, Jeremy Corbyn's decision to not back the strikes.
http://www.thehindu.com/news/international/cameron-to-order-strikes-on-is-leadership-in-syria/article7929993.ece?ref=sliderNews
---------
C'wealth leaders put heads together to tackle terrorism
November 29th, 2015
VALLETTA: Leaders of the Common­wealth focused on Saturday on the current global security challenges and the domestic, regional and international policy responses required to counter extremism and terrorism.
The leaders — in Malta for the 24th Commonwealth Heads of Government Meeting — were attending a retreat session titled "Violent extremism and radicalisation", to which only they were invited as their advisers and ministers were not allowed in.
During the session held at the Saint Angelo Fort in the historic city of Birgu, Prime Minister Nawaz Sharif conveyed Pakistan's condemnation of terrorist activities, whether committed by individuals, groups or states.
He apprised the other leaders of the ways in which Pakistan was cooperating with the international community in efforts to counter violent extremism.
He reiterated Pakistan's commitment to fully implementing the United Nations Security Council's sanctions regimes on terrorism.
Sharif reiterates commitment to implementing United Nations Security Council's sanctions regimes
Mr Sharif also expressed support for international efforts aimed at countering the threat posed by the militant Islamic State group.
Prominent among those who attended the session were British Prime Minister David Cameron, Canadian Prime Minister Justin Trudeau and French President Francois Hollande.
Mr Cameron had already announced funding for a Commonwealth counter-extremism unit. He said that sharing expertise would help defeat the "extremist scourge".
Mr Hollande, who rushed here after a memorial ceremony in France for the victims of the recent Paris attacks, said the issue of extremism should be tackled by all Commonwealth countries — a sentiment echoed by Mr Cameron.
The leaders also deliberated on issues of climate change and corruption during the informal talks.
Climate change
Canada pledged nearly $2 billion over five years to help developing countries cope with the effects of climate change, doubling its previous commitment.
"Canada is back and ready to play its part in combating climate change, and this includes helping the poorest and most vulnerable countries in the world adapt," said Mr Trudeau.
The Commonwealth was working on finalising a Climate Finance Access Hub, a network aimed at smaller island states that want to get access to funds to mitigate the effects of climate change, with Australia already announcing it would be putting money in.
The organisation has also come up with a debt swap for climate change action initiative, where developing countries could see their debt written down in return for undertaking projects on improving the environment.
"Thirty-one of our 53 members are small states and 25 are small island developing states, which are most vulnerable to climate change," said Commonwealth Secretary-General Kamalesh Sharma.
"Islands in the Pacific and the Caribbean are having to deal with rising sea levels that could drive them from their homelands," he said.
Britain has committed $31.6 million for Pacific disaster management, with Prime Minister Cameron saying that it was "vital" that small island states "see the benefit of a global goal and that they sign up to it".
Mr Cameron also urged his Common­wealth counterparts to be tougher on corruption.
http://www.dawn.com/news/1223049/cwealth-leaders-put-heads-together-to-tackle-terrorism
---------
Muslim preacher says Europe 'plundered' Muslim lands
By Arutz Sheva Staff
11/29/2015
Muslims will be expelled from Europe, a London-based Muslim preacher predicted two weeks ago, and they should be compensated for money Europe "plundered" from Muslims, just as the Jews were compensated for the horrors of the Holocaust, he said.
Egyptian preacher Hani Al-Sibai delivered the explosive remarks in a November 20 sermon.
Footage of the tirade was translated into English by the Middle East Media Research Institute (MEMRI).
"The Muslim [sic] have become the problem now," he began. "I foresee the homes of the Muslims being plundered and burned down in the future."
"Sadly, I see the Muslims being displaced and deported," he continued. "They will be persecuted in the streets and alleys of Europe."
"I see them being loaded onto boats and sent [back] to the Middle East. Those who are saved, by the grace of Allah, will be loaded onto giant planes and thrown to perish in some desert, or elsewhere in the Muslim countries."
"Those left [in Europe] – their women will be raped and enslaved, their money will be plundered, and their homes will be burned down."
"Europe is baring its teeth now," Al-Sibai declared. "This is the truth that we have failed to understand. You haven't realized this yet. They know you are the enemy. You can change your name, you can change, your religion, change the way you look - you are still the enemy."
The preacher further accused Europe of "taking advantage" of the Islamic State (ISIS) attacks in Paris several weeks ago to persecute Muslims, in his words.
"We don't want to live among you," he fired. "We don't want to live this wretched life that you have kindly bestowed upon us."
"You have plundered our money," he accused. "You have taken millions from Muslim lands. This loot, this gold, that is now in Britain and all of Europe belongs to us."
"This is the money of the Muslims which you had have looted: French colonialism, British colonialism for over 70 years… You have taken the treasures of the land of its people, and then you bestow upon us some [financial] support… This is the money of the Muslims!"
"You must pay us compensation for the catastrophes you have caused," he insisted. "It is you who finance those criminals [ISIS]. It is you who have used the people who attack and kill."
Al-Sibai then drew parallels to the Holocaust.
"Look what the Jews did to the Germans," he said. "Because of the issue of the Holocaust, the Germans are paying them every year. They pay them reparations ever since the end of the World War and to this day, and they will continue to pay for generations to come."
"Whether they like it or not, they pay huge sums every year," he continued. "Every government must pay for what the Germans did. What about us? What about our compensation for the occupation? For two centuries, you have been destroying us and plundering our money."
http://www.israelnationalnews.com/News/News.aspx/204101
---------
Muslim invaders spreading HIV across Europe at an alarming rate
By Carol Brown
The attacks against European civilization by Muslim colonizers come from many directions – one of which is the rise in infectious diseases imported with many colonizers.
Including HIV.
Breitbart reports that the World Health Organization (WHO) director for Europe has stated that Europe now has the highest rate of new HIV infections ever seen on the continent. And while infection rates are directly tied to IV drug use and sex between men, the director also noted that newly arrived "migrants" have a particularly high rate of infection. Although "migrants" constitute a fraction of the total population, they (and non-native Europeans) account for one third of all new HIV diagnoses in Europe.
One might be surprised to hear a director from WHO speak truthfully on this matter, since the authorities tend to gloss over anything bad about Muslim "refugees."
The director blamed the high rate of HIV infection among migrants on the "social exclusion" many of them feel – exclusion that increases the likelihood of them engaging in risky behavior.
And there you have it. The rationale for Muslims behaving badly.
So what's the fix? You know. Outreach, money, and resources in the form of free treatment.
Once again, Europe has brought this upon herself as she willfully remains stuck between a rock and a hard place. The false choice has been offered: provide free and extremely costly treatment to "migrants," which should reduce the risk of infection spreading. Or accept even higher infection rates among Europeans because "migrants" have not been treated.
Would that they (and America) would wake up to the third and only choice: do not let these people in.
http://www.americanthinker.com/blog/2015/11/muslim_invaders_spreading_hiv_across_europe_at_an_alarming_rate.html
---------
Muslim Radicalization in Europe: Roots and Resolution
By Shireen Hunter
The November 13 bombings in Paris by a number of Muslim radicals suspected of having links to the Islamic State (ISIS or IS) has once again focused attention on the challenge posed to the security of many European countries, especially those with large Muslim populations, by the radicalization of a small portion of this population.
In the past, young radical Muslims either had or were suspected of having links with other radical Muslim groups active before the emergence of IS. For example, a number of the individuals who carried out the 9/11 attacks had lived in Europe (Germany) and were linked to al-Qaeda. In the mid-1990s, perpetrators of terror acts in France were supposed to have links with the Algerian Islamist group (the Front Nationale de Salut). The likelihood is that even after IS is defeated, if the root causes of Muslim extremism are not addressed both within Muslim countries and internationally, other extremist groups will emerge to recruit Europe's Muslim youth to radicalism.
Under these circumstances, a crucial question that European countries need to address is why some of its Muslim youths are attracted to radical ideas and what can they do to prevent such attraction?
Socio-economic Roots of Muslim Radicalization
The question of whether there is a link between socio-economic deprivation and propensity to radicalization of either of a secular or religious variety has long been hotly debated. Those who dismiss the existence of any connection between economic and social deprivation and radicalism point to Osama bin Laden, who was a member of a fabulously rich Saudi Arabian family. Notwithstanding such exceptions, evidence shows that socio-economic deprivation plays a significant role in generating feelings of alienation that contribute to a propensity to radicalization.
Compared to their fellow citizens, Europe's Muslim minorities occupy some of the lowest economic ranks, although there are also successful and affluent Muslims. The rate of unemployment among Muslims, especially Muslim youth, is sometimes twice the average. Most Muslims are also employed in low-skill and hence low-paying jobs. Others often own small businesses, such as halal food shops, where they employ their own family members and cater mostly to other Muslims. Meanwhile, opportunities for upward mobility are limited. Once a Muslim is born in a ghetto, moving out of it is no easy job.
The establishment of Muslim ghettoes goes back to the first (and mostly welcome) wave of Muslim migrant workers to Europe in the late 1950s and early 1960s. These migrants were predominantly single, illiterate, and physically strong men hired to help in Europe's post-war reconstruction. They were supposed to go back to their country of origin once their job was done. Therefore, they were housed in what was to be temporary housing, either in dilapidated neighborhoods or in newly built housing states. But many of these immigrants did not go back. Instead, by the 1970s many were joined by their families as part a policy of family reunification. This process swelled the ranks of Europe's Muslims and the population of these housing states. It also made Muslims more visible, a visibility that rubbed many local populations the wrong way.
Meanwhile, changes in the patterns of industrial production in Europe, notably France, created an unemployment problem for many Muslim immigrants. The children of these early immigrants, as a result, got caught in a cycle of poverty in the ghetto. This ghetto life also meant that Muslim youth did not have the same educational opportunities, and many dropped out of school before getting a diploma. This lack of adequate education in turn further dimmed their employment prospects. But even those who managed to get an education still faced discrimination in obtaining jobs. Some studies have indicated that having a Muslim name often means that you don't even get a job interview, let alone a job.
Unemployment and poverty often trap some Muslim youth in a web of petty and not-so-petty crime, which subsequently leads to their imprisonment. Again, studies show that many of these young petty criminals become exposed to more hard-core criminals and Muslim radicals in prison. Radicalization, contrary to popular misconceptions, does not often take place in prisons rather than mosques.
Persistence of Racial and Ethnic Prejudice
Even before the rise of radical Islam and the sharp increase in the number of Europe's Muslim population, immigrants from North Africa, South Asia, and Africa were disliked because of their ethnicity and race. In the Britain of the late 1960s and early 1970s, the term "Paki-bashing," referring to Pakistani immigrants, became common. Even those Muslim immigrants who want to integrate face rejection and obstacles. This rejection, in turn, forces them to become more insular and focused on their community. It also makes them resentful of their host country, which sometimes leads them to extremism. Sadly even today, anti-Muslim expressions often hide racist and ethnic prejudice.
Ironically, the embrace by a number of European countries of multiculturalism has contributed to Europe's current problems. As long as Muslim immigrants were seen as a temporary phenomenon nothing much was done to teach them local languages, which is an important part of the process of integration. European countries also tolerated Muslim preachers who came from the immigrants' countries of origin and were often poorly educated and encouraged patterns of behavior incompatible with living in Europe. This included extremist preachers such as the blind Imam of the Finsbury Mosque in London, Sheikh Abu Hamza, who finally was imprisoned for spreading terrorist ideas.
Certain groups in Europe have also gratuitously provoked Muslims by such acts as insulting their prophet and their practices, often hiding behind principles of freedom of speech and expression and knowing full well that their governments cannot compromise on such principles. These provocations have often led to retaliatory acts by Muslims, thus setting in motion a cycle of violence. Such acts have also intensified Muslims' sense of alienation and made some of them more receptive to radical ideas.
Moreover, since the early 1990s the linkage between events in predominantly Muslim countries and the radicalization of Muslims in Europe has deepened. Such events include the Persian Gulf War of 1991, the Algerian civil war of 1991-1997, the wars in Bosnia and Chechnya, the wars in Afghanistan and Iraq, and now the civil war in Syria. Among other things, these wars have produced new extremist groups and ideologies that have then established links with European Muslims.
What is To Be Done?
In view of the above discussion, it is remarkable that only a very small portion of Europe's Muslims have been radicalized. However, even a very small number is too much, because it can do tremendous damage, as recent events have demonstrated. Therefore, it is important to address the factors contributing to Muslims' sense of alienation and greater receptivity to radical discourse.
After the riots of 2005 in Paris, Nicolas Sarkozy, who was the French minister of interior at the time, said that dealing with France's Muslim problem required the adoption of what he called a policy of "positive discrimination" vis a vis Muslims—in other words, an affirmative action program aimed at improving educational and employment opportunities for Muslim youth. But nothing was done during his presidency and afterwards. Whether such a program is necessary or not, problems of the Muslim underclass should clearly be addressed. At the same time, a more aggressive policy of cultural integration is necessary. For example, while modest Islamic dress and headscarf can be tolerated, attire such as the burqa and niqab should not be tolerated. Such glaring differences inevitably deepen cultural cleavages between Muslims and European populations. The activities of radical preachers must also be halted.
Last but not least, the connection between European—and American—involvement in events in the Muslim world and the increased risk of radicalization in Europe must be recognized. Laying all the blame at the door of Islam's inherently violent and obscurantist nature, as some do, will not solve Europe's problem of Muslim radicalization. A complex problem with complex roots, such radicalization requires a long-term and multi-dimensional approach.
https://lobelog.com/muslim-radicalization-in-europe-roots-and-resolution/
-----------
North America
Obama's climate push is shaping contours of his coming legacy
Coral Davenport | New York Times | Nov 29, 2015
WASHINGTON: At a joint news conference here Tuesday with President Francois Hollande of France, President Barack Obama veered from his focus on the terrorist attacks in Paris to bring up the huge international gathering beginning in the French capital Monday to hammer out a global response to climate change.
"What a powerful rebuke to the terrorists it will be when the world stands as one and shows that we will not be deterred from building a better future for our children," Obama said of the climate conference.
The segue brought mockery, even castigation, from the political right, but it was a reminder of the importance Obama places on climate change in shaping his legacy. During his 2012 re-election campaign, he barely mentioned global warming, but the issue has become a hallmark of his second term.
And on Sunday night he arrives in Paris, hoping to make climate policy the signature environmental achievement of his, and perhaps any, presidency.
"He comes to Paris with a moral authority that no other president has had on the issue of climate change," said Douglas Brinkley, a presidential historian at Rice University who noted that Obama's domestic climate efforts already stand alone in American history. "No other president has had a climate change policy. It makes him unique."
In Paris, Obama will join more than 120 world leaders to kick off two weeks of negotiations aimed at forging a new climate change accord that would, for the first time, commit almost every country on Earth to lowering its greenhouse gas pollution. All year, Obama's negotiators have worked behind the scenes to fashion a Paris deal.
Crucial to Obama's leverage has been the release of his domestic climate change regulations, which he then pushed other countries to emulate. So far, at least 170 countries have put forth emission reduction plans.
But even as Obama presses for a deal in Paris, it faces steep obstacles, not least the legal and legislative assault on his own regulations at home. During the course of the Paris talks, Republicans in Congress are planning a series of votes to fight Obama's climate agenda. More than half the states are suing the administration on the legality of his climate plan. And all the Republican presidential candidates have said that they would undo the regulations if elected.
On Nov. 19, Sen. James M. Inhofe, R-Okla., chairman of the environment committee and the Senate's most vocal skeptic on climate change science, and Sen. John Barrasso, R-Wyo., sent a letter to Obama, signed by 35 other senators, promising to block the funding for any climate deal unless the Paris pact is sent to Congress for ratification. A vote on the deal would fail in the Republican-controlled Congress.
"Our constituents are worried that the pledges you are committing the United States to will strengthen foreign economies at the expense of American workers," the senators wrote. "They are also skeptical about sending billions of their hard-earned dollars to government officials from developing nations."
Nonetheless, Obama is pushing forward. He unveiled the rules on curbing heat-trapping greenhouse gas emissions with a tight timeline, ensuring that they would be finalized before he leaves office. He has raised the issue of climate change in dozens of speeches and with every recent visiting foreign leader. In Washington, a team of environmental lawyers is preparing to defend the rules in court, while at the State Department, climate envoys are in constant contact with their counterparts around the world.
If his domestic regulations and a Paris accord withstand efforts to gut them, "climate change will become the heart and soul of his presidency," Brinkley said.
http://timesofindia.indiatimes.com/world/us/Obamas-climate-push-is-shaping-contours-of-his-coming-legacy/articleshow/49969887.cms
---------
In taking economic war to Islamic State, US developing new tools
Reuters | Nov 24, 2015
WASHINGTON: Since last month, US warplanes have struck Islamic State's oil infrastructure in Syria in a stepped-up campaign of economic warfare that the United States estimates has cut the group's black-market earnings from oil by about a third.
In finding their targets, US military planners have relied in part on an unconventional source of intelligence: access to banking records that provide insight into which refineries and oil pumps are generating cash for the extremist group, current and former officials say.
The intent is to choke off the Islamic State's funding by tracking its remaining ties to the global financial system. By identifying money flowing to and from the group, US officials have been able to get a glimpse into how its black-market economy operates, people with knowledge of the effort have said.
That in turn has influenced decisions about targeting for air strikes in an effort that began before Islamic State's Nov. 13 attacks on Paris and has intensified since, they said. While Islamic State's access to formal banking has been restricted, it retains some ties that US military and financial officials can use against it, the current and former officials said.
"We have done a really good job of largely keeping the Islamic State out of the formal financial system," said Matthew Levitt, who served as deputy assistant secretary for intelligence at the US Treasury in the George W. Bush administration. "But we haven't been entirely successful, and that may not be a bad thing."
Reuters was unable to verify key aspects of the campaign, including when it started or exactly which facilities have been destroyed as a result. Two current officials who confirmed the operations in outline declined to comment on their details.
It was unclear how US intelligence, Treasury, and military officials working on what the government calls "counter threat finance" operations have used banking records to identify lucrative Islamic State oil-related targets in Syria and whether that involved local banks.
A report this year by the intergovernmental Financial Action Task Force found there were more than 20 Syrian financial institutions with operations in Islamic State territory. In Iraq, Treasury has worked with government officials to cut off bank branches in the group's territory from the Iraqi and international financial systems.
Gerald Roberts, section chief of the FBI's terrorist financing operations section, said that Islamic State's recruits from outside Syria often come with financial trails that officials tracking them can "exploit."
"We are seeing them using traditional banking systems," he said at a banking conference last week in Washington, adding that young, tech-savvy Islamic State members are also familiar with virtual currencies such as Bitcoin.
Islamic State, also known as IS, ISIS or ISIL, is sometimes forced to use commercial banks because the amounts involved are too large to move using other means, said Levitt.
The US Treasury's Financial Crimes Enforcement Network (FinCEN) uses a set of "business rules" to screen the roughly 55,000 reports it receives daily from financial institutions for signs of activity involving Islamic State, a spokesman said. He declined to describe the rules, but law enforcement sources say names, IP addresses, email addresses, and phone numbers are among the data that intelligence authorities try to match.
The matches allow FinCEN "to connect the dots between seemingly unrelated individuals and entities," the FinCEN spokesman said. At present, FinCEN finds about 1,200 matches suggesting possible Islamic State-linked financial activity each month, up from 800 in April, the spokesman said.
Bank of America, JP Morgan and Wells Fargo declined to comment on whether they provided financial reports to the US government. Such reports are supplied confidentially.
Citigroup, HSBC, and Standard Chartered did not immediately respond to requests for comment.
"Tidal Wave II"
The use of financial records linked to Islamic State is only one part of the intelligence-gathering exercise for air strikes in Syria that also includes methods such as aerial surveillance by drones, officials said.
One former military official familiar with the process said that any financial intelligence collected by FinCEN would require "significant vetting" before the military acted on it.
Earlier this month, US-led coalition planes struck 116 fuel trucks used to smuggle Islamic State oil 45 minutes after dropping leaflets warning drivers to flee, a Pentagon spokesman said. Coalition strikes destroyed another 283 Islamic State fuel trucks on Saturday, the Pentagon said.
On November 8, a coalition air strike destroyed three oil refineries in Syria near the border with Turkey.
US defense officials estimate that Islamic State, an adversary the United States calls the wealthiest terrorist group of its kind in history, was earning about $47 million per month from oil sales prior to October.
That month, the US military launched an intensified effort to go after oil infrastructure, dubbed "Tidal Wave II," named after the bombing campaign targeting Romanian oil fields in World War Two.
The Pentagon estimates the strikes have reduced the Islamic State's income from oil sales by about 30 percent, one US defense official with knowledge of the previously unreported estimate said. Reuters was unable to confirm this.
The use of financial records in helping to pick US targets was first disclosed last week at the banking conference in Washington. At the conference, Kurt Gredzinski, the Counter Threat Finance Team Chief at US Special Operations Command, cited the importance of information provided by banks in the war against Islamic State.
"That to me is the first time in my recollection that we strategically targeted based on threat finance information," he said at the conference. He declined to comment further on which strike he had been referring to.
"Resilient financial portfolio"
US officials believe that diminished funding could gradually undermine Islamic State's grip on the area it controls in Iraq and Syria, because it needs revenue to pay salaries and keep public infrastructure operating, said two former officials with knowledge of the Obama administration's thinking.
Experts caution that Islamic State, which rules an area the size of Austria, has surprisingly deep pockets due to the various revenue streams it controls. It has built up what amounts to a "durable and resilient financial portfolio," funded by oil sales, extortion, and sales of antiquities, said Thomas Sanderson, an expert on terrorism at the Center for Strategic and International Studies.
"Money can be strapped to the backs of mules," Sanderson said. "It's easy to move things across a border during a time of deprivation and chaos."
Despite some initial success, cutting off its funding will require deeper cooperation from governments from Turkey to Russia, experts say. The group has shown the ability to bounce back from previous US strikes on its oil facilities.
Counter-terrorism experts say that Islamic State appears to have learned from US successes in cracking down on funding for al-Qaeda, which relied heavily on support from wealthy donors in the Gulf region.
"IS has learned that you don't want to be reliant on too many outside sources," said Sanderson. "Donors are fickle and subject to pressure and (IS) wants to be in control."
http://timesofindia.indiatimes.com/world/middle-east/In-taking-economic-war-to-Islamic-State-US-developing-new-tools/articleshow/49911032.cms
URL:
https://newageislam.com/islamic-world-news/new-age-islam-news-bureau/taliban-bought-12-year-old-boy-for-$10,500,-only-to-train-as-a-suicide-bomber/d/105457
New Age Islam, Middle East, ISIL, ISIS, Syria, Iraq, Islamic World News, African Muslim News, Arab World News, South Asia News, Indian Muslim News, World Muslim News, Islamic Website, Online Islam