New Age Islam News Bureau
6 March 2014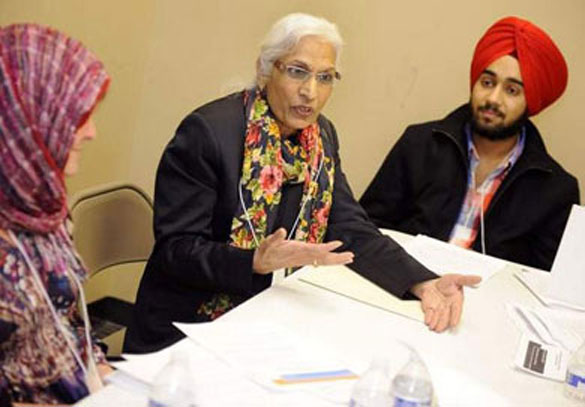 Photo: Sikhs, Muslims, Christians meet at Franklin mosque to educate, understand
---------------
Pakistan
• Taliban asked to identify renegade groups: Pakistan Ulema Council
• PTI initiates financial assistance scheme for minorities
• TTP, Ahrar-ul-Hind ate and slept together
• Pakistan has paid a heavy price for terrorism: PM Nawaz Sharif
• Two killed, three hurt in Lyari firing, grenade attacks
• 10 previous accords with militants were signed by army
• Rangers arrest 80 suspected criminals in Karachi
Arab World
• Egypt court to hear appeal to label Israel a 'terror state'
• Assad: Israel Wants Terrorists to Control Syria Border
• Two Bahrain children wounded while planting bomb: police
• Five dead in blast by security HQ in central Syria: NGO
• The royal decree: End of the road for proponents of jihad abroad
South Asia
• NATO airstrike kills 5 Afghan soldiers: Official
• Official: Xinjiang 'terrorist' attack should not be an ethnic issue
• Judiciary excluded from presidential address due to Yameen's trust in the institution
• Hamid Karzai's elder brother Qayyum Karzai quits Afghan presidential race
Africa
• Niger extradites Gaddafi's son Saadi to Tripoli, Libya says
• S. African President: Iran Entitled to Use Peaceful N. Technology
• Somalia's al-Shabab 'defeated' in Rabdhure town
• Tunisia lifts emergency rule in force since 2011 uprising
Southeast Asia
• Brunei sultan urges country to support Islamic law
• Malaysians protest over church's use of 'Allah'
• Trafficking Abuse of Myanmar Rohingya Spreads to Malaysia
• Kit Siang Wants White Paper on Action against Extremists
• Malaysian varsities again fail to be placed in global higher education survey
Mideast
• Iran hangs 16 in reprisal for Pakistan border killings
• Palestinians respond to Obama: Nothing left to make concessions on
• Israel's alleged interception at sea triggers war of words with Iran
• Domestic intelligence official assassinated in Yemen
• Iranian sentenced to having his eyes gouged out, right ear and nose cut off for hurling acid
India
• India-Pakistan-Iran pipeline remains the most viable option
• Court attack: Pak denies charge against RAW
Europe
• Lavrov Urges World Action to Stop Terrorism in Lebanon
• Chemical weapons used in Syria appear to come from army stockpile: UN
• Germany to destroy Syria chemical arms at WWI-era site
• Legoland forced to close Muslim fun day, after far-right extremists target proposed
North America
• Sikhs, Muslims, Christians meet at Franklin mosque to educate, understand
• Bin Laden son-in-law was al-Qaida chief's right-hand: Trial
• Al-Qaida continues to operate in Pakistan's FATA: Pentagon
• Egypt seeks Russian arms that could undermine treaty with Israel
• YouTube show uploads new ideas in Saudi youth
Compiled by New Age Islam News Bureau
URL: https://www.newageislam.com/islamic-world-news/new-age-islam-news-bureau/taliban-asked-to-identify-renegade-groups--pakistan-ulema-council/d/56013
-----------
Pakistan
Taliban Asked To Identify Renegade Groups: Pakistan Ulema Council
2014-03-06
ISLAMABAD: The chairman of Pakistan Ulema Council, Hafiz Mohammad Tahir Ashrafi, has asked the Taliban leadership to identify the renegade groups.
Addressing a press conference at the National Press Club on Wednesday he said the suggestion would help government differentiate between those who want to negotiate and those who didn't.
"The simple policy should be to talk with those who want to hold talks and go for operation against those who do not want to talk with the government," Hafiz Ashrafi said.
The PUC chairman also demanded that the government should go for direct talks with Taliban, instead of intermediaries as direct talks would produce fast results.
"It is a good sign that the gruesome Islamabad court incident has not shattered the ceasefire," he said.
After the ceasefire, Hafiz Ashrafi said, Taliban should show their seriousness to end the conflict.
"I demand that the Taliban leadership should return the bodies of slain FC men," he added, "while both sides should release each other's non-combatant prisoners."
He did not make any comment on the existence of foreign intelligence in Pakistan, but said that there were terrorist training centres in Afghanistan operated by the intelligence units of that country.
"They are mainly responsible for the terror activities being executed inside Pakistan," he said.
Hafiz Ashrafi, who belongs to Deobandi school of thought, but is mostly at odd with most of the Ulema of his sect because of his liberal and progressive views.
He again called upon the Taliban leadership to reconsider their position over the polio eradication drive.
"If there has been anything wrong with the anti-polio drive, they should make it public rather than opposing the whole campaign," he said.
"If there are any concerns about the campaign, they (Taliban) should let them be known to the government through media or Ulema, and even my services are available in this regard."
He said that Pakistan needed to have rigorous anti-polio campaign to counter the resurgence of this crippling disease.
"Thirty-two Islamic institutions including those in Saudi Arabia and Al Azar Egypt have validated the anti-polio drives, so considering polio eradication campaigns as un-Islamic is not correct," the PUC chairman said.
https://www.dawn.com/news/1091375/taliban-asked-to-identify-renegade-groups
-----------
PTI initiates financial assistance scheme for minorities
March 6, 2014
PESHAWAR: Special Advisor to Chief Minister Khyber-Pakhtunkhwa for Minority Affairs Dr Sardar Sooran Singh has said that for the first time in the history of the country the Pakistan Tehreek-e-Insaaf (PTI) led provincial government has initiated a financial assistance scheme for the welfare of widows hailing from the minority Hindu community.
Dr Sardar Sooran Singh said that the initiative would provide relief to the deserving women of the minority community. He made these comments while addressing a cheque distribution ceremony at Kala Bari Hindu temple.
Dr Sardar Sooran Singh said that the government was fully cognizant of the problems faced by the minorities and was taking results-oriented measures to address those problems.
He said that government was mulling over initiating several welfare projects for the minorities that would redress their grievances. PTI would live up to its slogan of change and would make serious efforts to end corruption and nepotism in the province, he added.
He also said that a check and balance system and the Right to Information Act have been introduced in the province to provide people access to the concerned departments and Ministers.
http://tribune.com.pk/story/679619/pti-initiates-financial-assistance-scheme-for-minorities/
-----------
TTP, Ahrar-ul-Hind ate and slept together
6 March 2014
ISLAMABAD - The law enforcement agencies (LEAs) on Wednesday claimed to have arrested two terror suspects belonging to a militant outfit involved in the deadly attack at Islamabad district courts on Monday that left at least 11 people dead.
The reported arrests were made following a police encounter in the suburbs of Attock on Tuesday night, highly placed security official told this correspondent. The reported terrorists are said to have direct linkages with Ahrar-ul-Hind, which, the source said, is a split faction of Tehreek-e-Taliban Pakistan (TTP).
According to a reliable source in the Joint Investigation Team (JIT) probing the Islamabad incident, two terror suspects involved in the deadly attack looked like Uzbek militants associated with the TTP and it is, he said, under investigation how they managed to break into the highly secured and posh sectors of Islamabad.
"Both the militants are Punjabi Taliban and real brothers, and they founded Ahrar-ul-Hind," the official shared, adding they have a direct hand in the attack that took place in Islamabad.
One of the main targets of the militants, the source further shared, was the Anti-Terrorism Court (ATC) Judge Atiq-ur-Rehman who narrowly escaped the attack due to the reason that his court room was shifted from the place following an intelligence agency's report just a few days before.
"Ahrar-ul-Hind is funded from across the border. Certain groups of Taliban had trained the militants of this outfit outside Pakistan to carry out gorilla attacks in Pakistan's urban areas," the officials said.
Ahrar-ul-Hind was formed when TTP activists were divided after the death of Hakimullah Mehsud.
A commander of banned militant outfit shared with this correspondent that the newly formed group derived its name from "Ahrar" because the Ahraris were against the formation of Pakistan and they believed that the entire subcontinent was their motherland. They plan to expand the fight to "the remaining part of subcontinent, India and Occupied Kashmir," the commander explained the AH manifesto.
Apart from the TTP, Ahrar-ul-Hind has reported ties with the Islamic Movement of Uzbekistan, Harkat-ul-Mujahideen, Jaish-e-Mohammed and Jundallah.
A neighbouring country, sources believe, has been involved in training the Ahrar-ul-Hind militants, who have fought alongside the TTP against the Pakistan army and LEAs.
"Practically, Ahrar-ul-Hind and TTP are the two facets of the same coin even though they have apparently parted ways. The militants of both the terrorist outfits always stick together. In most of the cases, they even sleep and eat together under one roof, besides receiving militant training together to fight against Pakistan's Armed Forces."
However, surprising was a statement, reported by a section of the media quoting Maulana Sami-ul-Haq that the Taliban themselves did not know "who the hell" Ahrar-ul-Hind is (Ahrar-ul-Hind kis bala ka naam hai). The Maulana was also quoted as saying that the TTP was trying to track the AH and rather they had tracked them using Facebook.
http://www.nation.com.pk/national/06-Mar-2014/ttp-ahrar-ul-hind-ate-and-slept-together
-----------
Pakistan has paid a heavy price for terrorism: PM Nawaz Sharif
March 06, 2014
ISLAMABAD- Prime Minister Nawaz Sharif has said that Pakistan has paid a heavy price for terrorism and will not rest until this menace is eliminated.
He said that safeguarding the lives of the citizens and peace in the country are top priorities of the government. He added that the time has come to stop blood-shed and restore peace.
The Prime Minister said the government prefers the dialogue option for lasting peace.
http://www.nation.com.pk/national/06-Mar-2014/pakistan-has-paid-a-heavy-price-for-terrorism-pm
-----------
Two killed, three hurt in Lyari firing, grenade attacks
6 March 2014
KARACHI: Two people were killed while three others sustained injuries in firing and hand grenade attacks in Lyari area of the metropolis, Geo News reported.
According to rescue sources, unidentified outlaws hurled hand grenade near Lyari General Hospital that left three people injured. The injured were rushed to the hospital.
An incident of firing took place in Haji Camp area of Lyari where unidentified assailants shot down a man.
Another man was gunned down in Kashri Chowk area.
http://www.thenews.com.pk/article-140098-Two-killed,-three-hurt-in-Lyari-firing,-grenade-attacks
-----------
10 previous accords with militants were signed by army
6 March 2014
ISLAMABAD: The Pakistan Army has been involved, either directly or indirectly, in every accord signed with the militants, including Taliban, in the last 10 years and two of these agreements are still intact and working.
The prime minister's decision of involving the army in recent negotiations with the Taliban, at the request of the government committee, is a result of the background that all the previous peace accords announced since 2004 were supervised by the army.
The peace pact between the army and Hafiz Gul Bahadur in North Waziristan in 2006 and with Maulvi Nazir Group of Wana, South Waziristan, are still valid and intact. Importantly, both these groups of Taliban have no link with the defunct Tehrik-e-Taliban Pakistan (TTP).
However, all the other accords signed with the militants and Pakistan Army directly or indirectly benefited the militants and that was the reason that all these were revoked.
The Pakistan Army also initiated talks with the militants in Malakand Division (Swat) in 2009 through the Awami National Party and Pakistan People's Party but soon it had to conduct an operation against the militants there. These two pacts were signed with Sufi Muhammad and Maulana Fazlullah, the current TTP chief. The army, in Fata, at times, directly talked to the militants while on other occasions, it got involved the tribal elders and Ulema to convince the militants.
Full report at:
http://www.thenews.com.pk/article-140139-10-previous-accords-with-militants-were-signed-by-army
-----------
Rangers arrest 80 suspected criminals in Karachi
March 6, 2014
KARACHI: Rangers conducted raids in various parts of Karachi and arrested at least 80 suspected criminals, Express News reported on Thursday.
Many of the suspects were released after initial investigation.
Rangers arrested 25 of the suspects during a raid in Attaur Rahman Goth. They also seized a vehicle, 14 pistols, three Klashnikovs, three guns, 30 magazines and 15,000 cartridges during the raid.
Full report at:
http://tribune.com.pk/story/679571/operation-cleanup-rangers-arrest-80-suspected-criminals-in-karachi/
----------
Arab World
Egypt court to hear appeal to label Israel a 'terror state'
World Bulletin / News Desk
6 March 2014
An Egyptian court has slated March 26 for the first hearing of a lawsuit demanding that Egypt sever ties with neighbouring Israel and designate it a "terrorist state," according to the lawyer who raised the lawsuit.
Hamed Seddiq told Anadolu Agency on Thursday that he had filed a lawsuit requesting that Egyptian authorities ban all "Israeli activity" in Egypt and declare Israel a "terrorist country."
The ban, said Seddiq, would include shutting down Tel Aviv's diplomatic offices in Egypt, including its Cairo embassy.
On Tuesday, the same Cairo court that will preside over the case released a verdict outlawing the activities of Palestinian resistance faction Hamas in Egypt and ordering all of the group's Egypt offices closed.
Full report at:
http://www.worldbulletin.net/headlines/130370/egypt-court-to-hear-appeal-to-label-israel-a-terror-state
-----------
Assad: Israel Wants Terrorists to Control Syria Border
6 March 2014
Syrian President Bashar al-Assad said that Israel aims to establish a terrorist-controlled area along the Golan border.
Assad warned that the Israeli regime attempts to create a buffer zone in Golan Heights as it did in Southern Lebanon, According to Lebanese newspaper Al-Akhbar, Al-Alam reported.
Assad also told an Argentinean newspaper a few months ago that Israel is assisting the militants fighting in Syria.
"Israel is directly supporting the terrorist groups in two ways," he said. "Firstly it gives them logistical support, and it also tells them what sites to attack and how to attack them. "
The daily further reported that the "axis of resistance" is fighting in the area and decided to foil the Israeli plans.
Full report at:
http://english.farsnews.com/newstext.aspx?nn=13921215000526
-----------
Two Bahrain children wounded while planting bomb: police
2014-03-06
DUBAI: Two children, aged 10 and 11, were wounded while planting a roadside bomb in a Shia-dominated village in Bahrain where a blast killed three policemen this week, police said on Thursday.
"A group of terrorists exploited these children by asking them to plant a home-made bomb" in Daih, state news agency BNA quoted a police official as saying.
He said one child was "seriously" wounded when the device exploded.
Police photos showed one child's fingers mangled by the blast and both boys' faces and bodies peppered with shrapnel.
Police said they have launched an investigation aimed at identifying those who incited the pair to plant the device.
Full report at:
https://www.dawn.com/news/1091397/two-bahrain-children-wounded-while-planting-bomb-police
-----------
Five dead in blast by security HQ in central Syria: NGO
2014-03-06
BEIRUT: At least five people were killed and more than 20 wounded on Thursday in a bomb blast near a security headquarters in Syria's central Hamas city, a monitor said.
"A truck packed with explosives detonated... near a branch of the military intelligence, killing at least five people and injuring more than 20," the Syrian Observatory for Human Rights said.
Syrian state television also reported the blast, saying four people had been killed and 22 wounded in a "terrorist explosion" at the southern entrance of the city.
In the northern province of Raqa, two suicide bombers exploded inside base 17, an army base under siege by opposition forces, according to the Observatory, a Britain-based group that relies on activists and other witnesses inside Syria.
Full report at:
https://www.dawn.com/news/1091402/five-dead-in-blast-by-security-hq-in-central-syria-ngo
-----------
The royal decree: End of the road for proponents of jihad abroad
6 March 2014
The royal decree punishing citizens who fight in war zones abroad or join and support extremist and terrorist groups came into effect on Wednesday.
Last month, Custodian of the Two Holy Mosques King Abdullah decreed jail terms of up to 20 years for citizens breaking this law. Promoting the views of such groups and organizations "through speech or writing" would also incur prison sentences.
Saudis have identified the symbols and sources of extremist groups, and individuals who support them. This includes the four-finger salute of the banned Muslim Brotherhood, YouTube videos promoting calls for jihad in Syria and other war zones, and preachers who have openly associated with known extremist groups.
Full report at:
http://www.arabnews.com/news/535626
-----------
South Asia
NATO airstrike kills 5 Afghan soldiers: Official
AP | Mar 6, 2014
KABUL, Afghanistan: A provincial government official said an early morning NATO airstrike in Afghanistan's central Logar province killed 5 Afghan National Army soldiers and wounded another 17.
The official, who asked not to be identified because he was not authorized to talk to the media, said the strike occurred at 2am on Thursday.
He said government officials were in meetings to decide their response and to conduct a further investigation into the incident.
Full report at:
http://timesofindia.indiatimes.com/world/south-asia/NATO-airstrike-kills-5-Afghan-soldiers-Official/articleshow/31522379.cms
----------
Official: Xinjiang 'terrorist' attack should not be an ethnic issue
6 March 2014
A deadly knife attack at a Chinese train station last week should not be linked to ethnicity, a senior government official said, days after authorities blamed the incident on separatists from the country's troubled far western region of Xinjiang.
China says militants from Xinjiang, home to a large Muslim Uighur minority, launched a "terrorist" attack in the southwestern city of Kunming, killing at least 29 people and injuring about 140.
It was one of the worst bouts of violence to spill out of the restive region, where more than 100 people, including several policemen, have been killed in unrest since last April.
Fear and resentment between majority Han Chinese and Uighurs have spread after the attack, said Zhu Weiqun, the chairman of the ethnic and religious affairs panel of the top advisory body to parliament, which meets this week in Beijing.
Full report at:
http://english.alarabiya.net/en/News/2014/03/06/Official-Xinjiang-terrorist-attack-should-not-be-an-ethnic-issue.html
-----------
Judiciary excluded from presidential address due to Yameen's trust in the institution
6 March 2014
President Abdulla Yameen's failure to discuss judicial reform in his first presidential address was due to the "trust [he] has in the institution" and because of the respect the government feels towards the bench, he has said.
Speaking at the opening of a campaign office for PPM candidate Mohamed Ameeth, Yameen stated that the government will not criticise the judiciary's verdicts, and that the institution has the government's trust.
Yameen had been the subject of criticism from the political opposition, who described his speech at the opening of the People's Majlis as failing to address the country's most pressing issues.
Full report at:
http://minivannews.com/politics/judiciary-excluded-from-presidential-address-due-to-yameens-%E2%80%9Cimminent-trust-in-the-institution%E2%80%9D-79069
-----------
Hamid Karzai's elder brother Qayyum Karzai quits Afghan presidential race
AP | Mar 6, 2014
KABUL: Afghan president's elder brother is dropping out of the April 5 presidential race and throwing his support behind the country's former foreign minister, a campaign official said Wednesday.
The official, who asked not to be named because he was not authorized to speak to the media, told The Associated Press that President Hamid Karzai's brother, Qayyum Karzai, was dropping out of the race and will back Zalmai Rassoul.
The decision came after days of speculation and backroom meetings, including some held at the presidential palace.
Although Hamid Karzai has not come out in support of any one candidate, he publicly declared he did not support his brother's candidacy. He said he had urged his brother not to run.
Full report at:
http://timesofindia.indiatimes.com/world/south-asia/Afghanistan-president-Hamid-Karzais-elder-brother-Qayyum-Karzai-quits-Afghan-presidential-race/articleshow/31492975.cms
-----------
Africa
Niger extradites Gaddafi's son Saadi to Tripoli, Libya says
Reuters | Mar 6, 2014
TRIPOLI: Niger has extradited Muammar Gaddafi's son Saadi, who just arrived in Tripoli and was brought to a prison, the Libyan government said on Thursday.
The North African country had been seeking the extradition of Saadi, who had fled to the southern neighbour nation after the toppling of Gaddafi in a NATO-backed uprising in 2011.
"The Libyan government received today Saadi Gaddafi and he arrived in Tripoli," the cabinet of Prime Minister Ali Zeidan said in a statement.
Saadi, one of Gaddafi's seven sons, was being held by judiciary police forces, the government said. It thanked Niger for its cooperation and said Saadi would be treated according to international justice standards for prisoners.
The website of a government-backed militia showed what it said were pictures of Saadi wearing a blue prison uniform, calling him a criminal. Libyan news websites also ran pictures showing him with his head shaven in prison.
Full report at:
http://timesofindia.indiatimes.com/world/middle-east/Niger-extradites-Gaddafis-son-Saadi-to-Tripoli-Libya-says/articleshow/31525145.cms
-----------
S. African President: Iran Entitled to Use Peaceful N. Technology
6 March 2014
South African President Jacob Zuma underlined Iran's inalienable right to use nuclear technology for civilian purposes.
Zuma made the remarks in a meeting with visiting Iranian Parliament Speaker Ali Larijani on Wednesday.
He also urged Tehran and Pretoria to promote economic relations and increase mutual cooperation between the two countries.
Larijani, for his part, underlined the importance of parliamentary relations between Iran and South Africa.
In relevant remarks on Tuesday, Larijani underlined Tehran's eagerness to expand economic ties with the African nations, specially South Africa and Congo.
"The Islamic Republic of Iran has always paid special attention to political and economic relations with the African states," Larijani told reporters before leaving Tehran for South Africa and Congo on Tuesday morning.
Full report at:
http://english.farsnews.com/newstext.aspx?nn=13921215000401
----------
Somalia's al-Shabab 'defeated' in Rabdhure town
Mar 6, 2014
Ethiopian and Somali government forces have seized a key town in central Somalia from the Islamist militant group al-Shabab, officials say.
At least 12 people were killed in heavy fighting for control of Rabdhure town in Bakol region, residents said.
The attack may signal the start of a new offensive against al-Shabab, according to a BBC reporter in Somalia.
Ethiopian troops are part of a 22,000-strong African Union (AU) force battling the militants in Somalia.
The BBC's Mohamed Moalimu in the capital, Mogadishu, says the fall of Rabdhure is significant, as it was a major al-Shabab base for attacks across the region.
It would be the first town the group has lost since September, when Mahaday in central Somalia fell to AU-backed government forces.
Full report at:
http://www.bbc.com/news/world-africa-26467047
-----------
Tunisia lifts emergency rule in force since 2011 uprising
AFP | Mar 6, 2014
TUNIS: Tunisian President Moncef Marzouki has lifted a state of emergency in force since the 2011 uprising that triggered the Arab Spring, his office said on Thursday.
"The president and commander-in-chief of the armed forces ... issued a decree lifting the state of emergency in the whole country from Wednesday, March 5, 2014," a statement said.
Tunisia has been rocked by sporadic attacks blamed on jihadists since the 2011 revolution that toppled a decades-old dictatorship and touched off uprisings across North Africa and the Middle East.
In November, Marzouki had extended the emergency rule for eight months until the end of June, meaning it has been lifted four months early.
"The lifting of the state of emergency does not limit the capacity of the security services to implement the law and does not preclude any request for military support should it be needed," said the presidency.
Full report at:
http://timesofindia.indiatimes.com/world/middle-east/Tunisia-lifts-emergency-rule-in-force-since-2011-uprising/articleshow/31544473.cms
-----------
Southeast Asia
Brunei sultan urges country to support Islamic law
6 March 2014
Brunei's ruling sultan has urged his people to support the implementation next month of a form of Islamic Shariah law that includes harsh penalties, and says foreign countries should respect the country's decision.
Starting in April, the tiny Southeast Asian nation will begin phasing in a version of Shariah that allows for penalties such as amputation for theft and stoning for adultery.
Sultan Hassanal Bolkiah told legislators today that the laws are a "great achievement for the country, and not a backward or old-fashioned step."
The plans have alarmed international human rights groups. Bolkiah said "people outside of Brunei should respect us in the same way that we respect them."
About 66 per cent of Brunei's 420,000 people are Muslims, and it has long had a conservative bent.
http://www.siasat.com/english/news/brunei-sultan-urges-country-support-islamic-law
----------
Malaysians protest over church's use of 'Allah'
March 06, 2014
Kuala Lumpur: Hundreds of Muslims today tried to storm the Justice Ministry building in the administrative capital of Putrajaya, a day after the Malaysia's highest court postponed a decision on whether to hear the Catholic church's bid to be allowed to use the Arabic word "Allah".
The church is seeking to challenge a lower court's ruling last year that forbids non-Muslims from using the Arabic "Allah" in the local Malay language to describe God.
The Federal Court has set up a seven-man panel for the first time to hear the civil dispute over the use of the word 'Allah' by Catholic weekly?Herald in its Bahasa Malaysia edition.
The panel yesterday delayed its decision on whether to allow a full hearing of the case, or whether the lower court's verdict stands. It gave no date for the decision after hearing arguments from both sides.
In 2009, the Catholic church filed a judicial review application against the Home Ministry and the government. It sought a declaration that the Ministry's decision to prohibit the publication from using the word "Allah" was illegal.
Full report at:
http://zeenews.india.com/news/world/malaysians-protest-over-church-s-use-of-allah_916180.html
----------
Trafficking Abuse of Myanmar Rohingya Spreads to Malaysia
Reuters, March 6, 2014
Bukit Mertajam, Malaysia. Human traffickers have kept hundreds of Rohingya Muslims captive in houses in northern Malaysia, beating them, depriving them of food, and demanding a ransom from their families, according to detailed accounts by the victims.
The accounts given to Reuters suggest that trafficking gangs are shifting their operations into Malaysia as Thai authorities crack down on jungle camps near the border that have become a prison for the Muslim asylum seekers fleeing persecution in Myanmar.
Police in the northern Malaysian states of Penang and Kedah have conducted several raids on the houses in recent months, including an operation in February that discovered four Rohingya men bound together with metal chains in an apartment.
But Reuters' interviews reveal a trafficking network on a far bigger scale than authorities have acknowledged so far, with brokers herding groups of hundreds of Rohingya at night over the border and holding them captive in the Southeast Asian country.
Full report at:
http://www.thejakartaglobe.com/international/trafficking-abuse-of-myanmar-rohingya-spreads-to-malaysia/
-----------
Kit Siang Wants White Paper On Action Against Extremists
6 March 2014
KUALA LUMPUR: Prime Minister Datuk Seri Najib Razak must explain the steps his government has taken to combat the rise of extremism in Malaysia when the Dewan Rakyat reopens next week, DAP's Lim Kit Siang said today.
The DAP parliamentary leader also urged the Najib administration to set up a "high-powered squad" comprising Malaysia's internet regulator, the police and representatives from Barisan Nasional (BN) and Pakatan Rakyat (PR) "to break the back of the plague of the problem of incessant incitement of racial and religious hatred through lies and falsehoods on the social media".
"When will the authorities stop the merchants and vendors of hate speech, especially on the social media, from their dastardly deeds of incessant incitement of racial and religious animosities, ill-will and hatred to pit race against race and religion against religion?" the Gelang Patah MP asked, in a statement.
Full report at:
http://www.malaysiandigest.com/news/491836-kit-siang-wants-white-paper-on-action-against-extremists.html
-----------
Malaysian varsities again fail to be placed in global higher education survey
6 March 2014
Malaysian universities have failed yet again to feature in the latest Times Higher Education World Reputation rankings released today, a sign that local varsities are losing ground to not only top universities in the world, but to those within Southeast Asia.
Malaysia had never been featured on the list, which was into its fourth year, despite Putrajaya's goals to make Malaysia an education hub for the region and attract some 200,000 students to local universities by 2020.
Education Minister Tan Sri Muhyiddin Yassin previously said that Malaysia has one of the best education systems in the world – better than United States, Britain and Germany.
DAP adviser Lim Kit Siang, one of the more prominent critics of the Malaysian education standards, however warned that local universities were losing ground not only to top universities around the world, but also to less comparable institutions in the region.
Malaysia failed to get a spot in last year's THE World University Rankings, despite the Education Ministry getting the biggest allocation in Budget 2013. The ministry received RM38.7 billion in 2013 and it is to receive a total of RM54 billion this year.
Full report at:
http://www.themalaysianinsider.com/malaysia/article/malaysian-varsities-again-fail-to-enter-global-higher-education-survey
-----------
Mideast
Iran hangs 16 in reprisal for Pakistan border killings
Mar 6, 2014
Iran said it executed 16 "rebels" Saturday in reprisal after gunmen killed at least 14 border guards near the border with Pakistan, in a rugged area often rocked by violence.
The ambush happened overnight in the mountains of Sistan-Baluchestan, a province in southeastern Iran.
The province is home to a large community of minority Sunni Muslims, unlike the rest of Shiite-dominated Iran, where drug traffickers and Sunni militants operate.
"Fourteen border guards were killed during armed clashes in the region of Saravan, and five others were wounded," the official IRNA news agency said, citing what it called an informed source.
The unnamed source identified the gunmen as "bandits or rebels opposed to the Islamic republic".
But Deputy Interior Minister Ali Abdollahi said the guards were killed in an ambush set by Iranians who were "members of hostile groups".
Full report at:
http://www.nst.com.my/world/iran-hangs-16-in-reprisal-for-pakistan-border-killings-1.499732#ixzz2vEvY7hRu
----------
Palestinians respond to Obama: Nothing left to make concessions on
Mar 6, 2014
The Palestinians responded Wednesday to U.S. President Barack Obama's promise to pressure Palestinian President Mahmoud Abbas "to make tough decisions" in their March 17 meeting, saying they have nothing left to make concessions on.
A top U.S. official told Haaretz that Obama made the promise to Prime Minister Benjamin Netanyahu during their meeting in Washington Monday.
The Palestinian Authority said in a statement Wednesday, "It is important for you to know Mr. President that there is nothing left that we can make concessions on. Don't be partners with Netanyahu in order to put us in a corner, because the choices before us are limited and clear. Is this what you want?"
The statement went on to say that the tough positions Netanyahu voiced after his meeting with Obama prove that pressure for a compromise doesn't work, and warned of the implications of the talks failing.
Full report at:
http://www.haaretz.com/news/diplomacy-defense/.premium-1.578202
----------
Israel's alleged interception at sea triggers war of words with Iran
ATUL ANEJA
6 March 2014
Israeli Prime Minister Benjamin Netanyahu went on the offensive by characterising the incident at sea as an illustration of Tehran's support for "terrorist organisations".
Iran and Israel are engaged in a war of words at a time when a new round of nuclear talks meant to normalise Tehran's ties with the West are taking place in Vienna. On Wednesday, Israel said it had thwarted an attempt by Iran to ship advanced missiles to the Gaza strip, the stronghold of the Palestinian Hamas and the Islamic Jihad.
The Israeli daily Haaretz is reporting that a Special Forces unit, Shayetet 13, overpowered Klos C — a Panama registered vessel — that was carrying dozens of 302 mm rockets that were manufactured in Syria. The interception of the vessel, bound for the Gaza strip via Sudan, took place 1,500 kilometers from the Israeli coast.
Full report at:
http://www.thehindu.com/news/international/israels-alleged-interception-at-sea-triggers-war-of-words-with-iran/article5757155.ece
-----------
Domestic intelligence official assassinated in Yemen
World Bulletin / News Desk
6 March 2014
Unidentified gunmen on Thursday gunned down a senior officer in Yemen's domestic intelligence agency in capital Sanaa, the Defense Ministry said.
Armed men on a motorbike opened fire on Colonel Abdel-Malak al-Azri of Yemen's Political Security Office near Sanaa airport, killing him instantly, according to the ministry's website.
No group has claimed responsibility for Thursday's attack.
The killing comes one week after the expiry of a three-month ban on motorbikes in Sanaa. The government imposed the ban in December following a string of attacks by motorcycle-riding gunmen.
Yemen has struggled to maintain law and order since the ouster of long-serving president Ali Abdullah Saleh in 2012.
http://www.worldbulletin.net/todays-news/130354/domestic-intelligence-official-assassinated-in-yemen
---------
Iranian sentenced to having his eyes gouged out, right ear and nose cut off for hurling acid
Mar 6, 2014
An Iranian man should be sentenced to having his eyes gouged out after pouring acid over a young girl's face leaving her blind, an Iranian court has ruled.
Opposition group, The National Council of Resistance of Iran, said the man could have his right ear and nose cut off as punishment for attacking the girl with acid, causing her to lose her eyesight and right ear.
The man was convicted last October of intentionally attacking the girl, haartez.com reported.
The national council said Iran's high court defended cutting off the body parts of those found guilty of a crime, and removing eyes, as part of the country's judicial system.
Last month, the state-run Mehr news agency, reported another Iranian man was sentenced to have one hand and one foot cut off as punishment for an unspecified crime.
As many as 95 people are thought to have been executed in Iran this year.
The dramatic rise in the use of the death penalty has dashed hopes for human rights reform under President Hassan Rohani, the United Nations said earlier this year.
President Rohani won a surprise election last year, after pledging more openness with the West.
Full report at:
http://www.dailymail.co.uk/news/article-2572938/Iranian-man-sentenced-having-eyes-gouged-right-ear-nose-cut-hurling-acid-young-girls-face-court-rules.html#ixzz2vEx0vZ9v
--------------
India
India-Pakistan-Iran pipeline remains the most viable option
SANDEEP DIKSHIT
Mar 5, 2014
Despite the Foreign Office emphasising that India was looking for an undersea route to source gas from Iran, bypassing Pakistan in the process, reliable sources here maintained that the India-Pakistan-Iran (IPI) "Peace Pipeline" still remained on the drawing board and was the most viable option.
Following talks between Iranian Foreign Minister Mohammad Javad Zarif and External Affairs Minister Salman Khurshid last week, official sources suggested that one important subject, which was also discussed with the Oman Foreign Minister the same day, was the revival of an undersea pipeline project. Official sources suggested that this pipeline, which would bypass Pakistan, was now technically feasible after the success of the North Sea undersea pipeline.
If Iran was looking at the cheapest way to get gas to customers, it would prefer European customers. But what Iran had in mind was providing spillover benefits of the surface pipeline to the region it passes through, especially the Makran Plateau common to both Pakistan and Iran and where poverty has fuelled subversive tendencies.
Full report at:
http://www.thehindu.com/news/national/indiapakistaniran-pipeline-remains-the-most-viable-option/article5754288.ece
----------
Court attack: Pak denies charge against RAW
MEENA MENON
Ministry of Foreign Affairs spokesperson Ms Tasnim Aslam on Thursday denied a news report quoting Prime Minister Nawaz Sharif as having said that there were reports of many groups, including Research and Analysis Wing (RAW), being involved in Monday's terror attack on the district court in Islamabad.
In response to a question at the weekly media briefing, Ms Aslam said the report was not correct and denied that the Prime Minister Nawaz Sharif had said any such thing.
The News on Thursday reported on its front page that Mr. Sharif had pointed to the involvement of RAW, among other groups, as a suspect behind the attack. He reportedly made the statement while meeting a group of parliamentarians from Gujranwala on Wednesday.
http://www.thehindu.com/news/international/south-asia/court-attack-pak-denies-charge-against-raw/article5757284.ece
-----------
Europe
Lavrov Urges World Action to Stop Terrorism in Lebanon
6 March 2014
Russian Foreign Minister Sergei Lavrov called on the world leaders to help end the spate of deadly car bomb attacks in Lebanon.
"He urged the international community to eradicate terrorism in Lebanon and the region as a whole," Russia's news agency Itar-Tass quoted Lavrov as saying.
Lavrov made his comments during an international donors' meeting in Paris Wednesday to help Lebanon cope with the huge influx of Syrian refugees and boost its defense and economy.
"We strongly condemn attempts to provoke an outbreak of tension through a series of terrorist acts carried out in recent months. We call on the members of the international community to pool efforts in order to raise an effective barrier on the way of those who are trying to kindle inter-confessional strife, pernicious for the region, through a series of bloody attacks in Lebanon and other Middle East countries," Lavrov said.
Full report at:
http://english.farsnews.com/newstext.aspx?nn=13921215000809
---------
Chemical weapons used in Syria appear to come from army stockpile: UN
6 March 2014
Chemical weapons used in two incidents in Syria last year appear to come from the stockpiles of the Syrian military, United Nations human rights investigators said on Wednesday in a report that went beyond previous findings.
The team of independent experts, led by Brazilian Paulo Pinheiro, said that chemical agents used in the Damascus suburb of al-Ghouta on Aug. 21 and in Khan al-Assad near Aleppo in March 2013 bore "the same unique hallmarks".
"The evidence available concerning the nature, quality and quantity of the agents used on 21 August indicated that the perpetrators likely had access to the chemical weapons stockpile of the Syrian military, as well as the expertise and equipment necessary to manipulate safely large amount of chemical agents," the investigators said in the report.
Full report at:
http://english.ahram.org.eg/NewsContent/2/8/95935/World/Region/Chemical-weapons-used-in-Syria-appear-to-come-from.aspx
-----------
Germany to destroy Syria chemical arms at WWI-era site
6 March 2014
Behind barbed wire fences at a top-security site in a German forest, workers in hazard suits will soon destroy remnants of Syrian chemical weapons of a type first tested here during World War I.
Far from the battlefields of the three-year-old Syrian war, this remote high-tech facility, which usually destroys munitions from two world wars, will help eliminate mustard gas stocks from the arsenal of President Bashar al-Assad.
The facility known as GEKA, Germany's state-owned company for disposing of chemical warfare agents, boasts incinerators and a blast-proof explosives furnace that can safely detonate munitions with the destructive power of two tonnes of TNT.
"It's not an adventure playground," a GEKA spokesman quipped Wednesday to journalists visiting the site, where the faint smell of mustard gas-contaminated soil in bags wafts through storage halls. "You wouldn't hold a children's birthday party here."
Full report at:
http://english.ahram.org.eg/NewsContent/2/8/95968/World/Region/Germany-to-destroy-Syria-chemical-arms-at-WWIera-s.aspx
-----------
Legoland forced to close Muslim fun day, after far-right extremists target proposed
Mar 6, 2014
Legoland has been forced to close this weekend after far-right extremists threatened to target a planned Muslim fun day booked by a radical cleric even though it had been cancelled.
The theme park in Windsor, Berkshire, had been hired out exclusively to the Muslim Research and Development Foundation.
The group, based in east London, is run by Haitham al-Haddad, who is said to be one of the top 25 radical preachers in Britain.
More than 1,000 Muslim families were expected to attend on Sunday at a cost of around £100,000 before police advised that the event be cancelled.
However, despite this bosses at Legoland have decided to close the theme park this weekend including its 150-room hotel because of safety fears.
A spokesman for Legoland said: 'Unfortunately the Legoland Windsor Resort has had to close the Hotel on Saturday 8th and Sunday 9th March 2014 after threats from right-wing groups made against the Resort.
Full report at:
http://www.dailymail.co.uk/news/article-2574513/Legoland-forced-close-far-right-extremists-target-proposed-Muslim-fun-day-booked-radical-cleric-cancelled.html
-----------
North America
Sikhs, Muslims, Christians meet at Franklin mosque to educate, understand
6 March 2014
FRANKLIN — Three groups of three Sikhs, three Muslims and three Christians met Sunday to share their faith and then, like any good gathering, share a meal.
The session was the final in a series of interfaith scripture dialogue circles — a structured time to share scriptures from each tradition.
"This was very powerful," said Harjeev Lahil, a Sikh from Brentwood. "All three meetings were all about God and being closer to him."
Members of the Islamic Center of Williamson County on Carothers Parkway, as host for Sunday's session, chose the final topic: forgiveness.
The groups surrounded a table with the study guide and took turns asking questions, clarifying, asking "Does that make sense?"
"Thank you for coming to our humble mosque and sharing your faith with us," Mohammed Fazili of the Islamic Center told the Christians, Sikhs and Muslims as they filled their plates and sat to eat.
Full report at:
http://www.tennessean.com/article/20140304/WILLIAMSON01/303040039/Sikhs-Muslims-Christians-meet-educate-understand
-----------
Bin Laden son-in-law was al-Qaida chief's right-hand: Trial
AFP | Mar 6, 2014
NEW YORK: The son-in-law of Osama bin Laden acted as the al-Qaida leader's right-hand man and appeared alongside the terror mastermind in a propaganda video just one day after the carnage of the 9/11 attacks, US prosecutors said on Wednesday.
Launching the most prominent 9/11-related terror trial held in New York to date, federal prosecutors said Suleiman Abu Ghaith had been one of bin Laden's key lieutenants in the days and months after the September 11, 2001 attacks which left 3,000 people dead.
The Manhattan trial is taking place just streets from where the World Trade Center was reduced to burning rubble by two airliners hijacked by al-Qaida suicide attackers.
Abu Ghaith is on trial for conspiracy to kill Americans, conspiracy to provide support and providing material support to terrorists.
The 48-year-old from Kuwait pleads not guilty to all three charges. He faces life in prison if convicted.
Full report at:
http://timesofindia.indiatimes.com/world/us/Bin-Laden-son-in-law-was-al-Qaida-chiefs-right-hand-Trial/articleshow/31518973.cms
-----------
Al-Qaida continues to operate in Pakistan's FATA: Pentagon
PTI | Mar 6, 2014
WASHINGTON: Al-Qaida continues to operate from Pakistan's tribal areas, a top Pentagon commander has said while noting that the long-lasting tensions between India and Pakistan over Kashmir are a threat to regional stability.
"Long-standing tensions between Pakistan and India also threaten regional stability as both states have substantial military forces arrayed along their borders and the disputed Kashmir Line of Control," General Lloyd J Austin, Commander of the US Central Command said in his testimony before House Armed Services Committee on Wednesday.
"Al-Qaida continues to operate in Pakistan's ( FATA) federally administered tribal areas and, to a lesser extent, areas of eastern Afghanistan," he said.
Austin said continued pressure on al-Qaida in Afghanistan and Pakistan could result in the outfit's advancement towards less restrictive areas that would serve as safe heavens for terror activities.
Full report at:
http://timesofindia.indiatimes.com/world/pakistan/Al-Qaida-continues-to-operate-in-Pakistans-FATA-Pentagon/articleshow/31520749.cms
-----------
Egypt seeks Russian arms that could undermine treaty with Israel
Mar 6, 2014
Cairo is seeking air-defense systems such as the advanced S-300 that Syria and Iran have sought, MiG fighter jets, and Kornet antitank weapons, which could cause Israel worry, according to a Washington Institute for Near East Policy report.
Despite the fact that Egypt has maintained the peace deal with Israel since 1979, a transfer of such advanced weapons "would degrade Israel's qualitative military edge," said the report, titled "Egypt's arms deal with Russia: Potential Strategic Costs," by David Schenker and Eric Trager.
"To be sure, the strategic cooperation and level of trust between Israel and Egypt, particularly on Sinai, has never been better. But changing the status quo could undermine that trust and perhaps even the Camp David peace treaty," it said.
Egypt completed a $2 billion arms deal with Russia, financed by Saudi Arabia and the United Arab Emirates, an Egyptian newspaper reported last month.
Full report at:
http://www.jpost.com/Middle-East/Report-Egypt-seeks-Russian-arms-that-could-undermine-treat-with-Israel-344465
----------
YouTube show uploads new ideas in Saudi youth
6 March 2014
YouTube, the world's largest online video-sharing community, organized an exclusive "YouTube Day in Saudi Arabia," the first roadshow of its kind in the Kingdom aimed at creating a viable business model for youth to become business and idea leaders.
"YouTube has become a cultural phenomenon in many countries around the world. Its effects are arguably most noticeable in Saudi Arabia, where 83 percent of users access the online platform on a daily basis," said Alfonso de Gaetano, branding sector head for the MENA region.
"A whopping 73 percent of users in the Kingdom view YouTube as the number one destination for online videos and 58 percent view the website as the leading platform for high-quality content," he said.
Full report at:
http://www.arabnews.com/news/535546
-----------
URL: https://www.newageislam.com/islamic-world-news/new-age-islam-news-bureau/taliban-asked-to-identify-renegade-groups--pakistan-ulema-council/d/56013