New Age Islam News Bureau
17 Jan 2017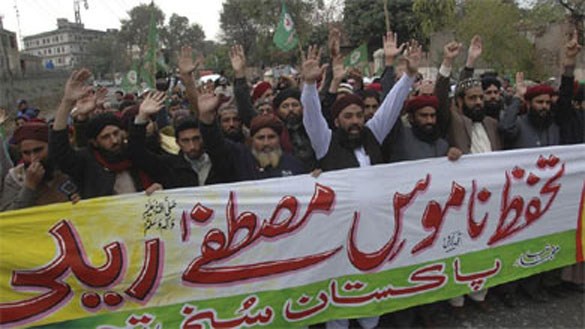 Activists from the Pakistani religious group, Sunni Tehreek, rally in support of blasphemy laws, in Rawalpindi, Pakistan. (AP File Photo)
-----
• Taking The Fight Online: Pakistan's Right Cries 'Blasphemy' To Muzzle Dissent
• Why Shahi Imam Doesn't Matter - In Islam and Upcoming Elections
• Al-Baghdadi Dispatches Delegation to Arab States to Beg Financial Aid for ISIL
• Medical Centers in Turkey Stealing Syrian Militants' Body Organs
• US 'Interventionist Policy' Destabilized Middle East: Germany
Pakistan
• Taking The Fight Online: Pakistan's Right Cries 'Blasphemy' To Muzzle Dissent
• Ready To Back Afghan-Led Peace Process But Blame Game Must Stop: COAS To US
• 10 killed in explosion near Afghan-Pakistan border
• Call for presenting missing activists before court
• KP prosecution data gives lie to claims against Afghan refugees
• IHC orders Lal Masjid caretaker removed from Fourth Schedule
--------
India
• Why Shahi Imam Doesn't Matter - In Islam And Upcoming Elections
• ISI Will Continue Its Proxy War Against India, Claims German Political Scientist
• Filed FIR against 5 West Bengal cops for LeT terrorist's escape: SIT to Bombay HC
• Three Hizbul militants killed in encounter
--------
Arab World
• Al-Baghdadi Dispatches Delegation to Arab States to Beg Financial Aid for ISIL
• Nearly 70 Civilians Killed, Injured in Turkish Air Raids in Northern Syria
• Iraqi forces battle Islamic State near Tigris river in Mosul
• Iraq forces retake Prophet Yunus' tomb in Mosul
• Top Egypt court rejects islands transfer to Saudi Arabia
• Dozens reported dead as Syrian army fights IS
• UN agency chiefs urge access for aid to civilians in Syria
• Syrian rebels to attend Kazakhstan talks: rebel officials
• Iraqi CTS commander: 90% of Mosul liberated from Daesh
• Syria: Unpaid Members of Terrorist Groups Refuse to Do Military Missions in Hama
• Syria: Over 60 'Euphrates Shield Operation' Troops Killed, Wounded in ISIL's Attack
• Turkey-Backed Terrorists Preparing for Large-Scale Offensive in Northern Syria
• ISIL Suffers Heavy Losses in Syrian Army Attacks East of Aleppo
--------
Mideast
• Medical Centers in Turkey Stealing Syrian Militants' Body Organs
• After Paris, Israelis and Palestinians look to Trump's US
• Israeli minister: Palestinians can't stop US embassy move
• Iranian anti-aircraft forces fire shots at non-military drone
• PKK bombing leaves 4 cops dead in southeastern Turkey
--------
Europe
• US 'Interventionist Policy' Destabilized Middle East: Germany
• Glasgow Church Slammed For Quran Reading in Service
• Teen Sharia Patrol behind Savage Beatings in Austria
• Support for Al Qaeda Terrorists Was Preached at New England's Largest Mosque
--------
Southeast Asia
• FPI Wants Megawati Questioned For Allegedly 'Insulting Islam'
• Malaysia Sets Islamic Fund, Wealth Management Blueprint
• Fulbright Teaching Assistants To Use Music And Arts To Teach English
• Muslim encourages Catholics to vote in Indonesia polls
• Overwhelming support for Hadi's Bill among Muslim students, poll shows
• 'Secular' politicians pretending not to understand Hadi's Bill, research group
--------
South Asia
• Taliban's Explosives Factory Discovered In Balkh Province
• Kandahar bombing likely plotted in Quetta: officials
• Afghan forces fully prepared for 2017 fighting season: Interior Minister
--------
Africa
• Attackers of UNIMAID Are Cowards Who Have No Understanding of Islam – Buhari
• Professor, child killed in two suicide bombing in Nigeria's northeast
• Libya forces retake Benghazi district from rebels
• Amnesty calls for release of Nigerian Shia leader
• Trump questions why US is spending money fighting Boko Haram
--------
North America
• You Can Help Rebuild a Mosque That Was Burned Down In America
• Canadian Senators' Unannounced Visit to Saudi Arabia Draws Criticism
• Muslim Group Wants Franklin Graham Booted from Inauguration
• Obama warns Trump not to jettison Iran nuclear deal
• Growing Muslim community looks to build Yukon's first mosque
• Trump advisor clarifies 'obsolete NATO' remarks
Obama doesn't regret 'red line' over Syria conflict
Compiled by New Age Islam News Bureau
URL: https://www.newageislam.com/islamic-world-news/new-age-islam-news-bureau/taking-the-fight-online--pakistan's-right-cries-'blasphemy'-to-muzzle-dissent/d/109752
--------
Taking The Fight Online: Pakistan's Right Cries 'Blasphemy' To Muzzle Dissent
Jan 17, 2017
A virulent social media campaign to paint five disappeared Pakistani activists as blasphemers deserving execution has spotlighted how right-wing efforts to muzzle liberal voices using the country's draconian laws have found a powerful new platform online. The five men had stood against religious intolerance and at times criticised Pakistan's military, with several of them running progressive Facebook pages.
They vanished within days of each other earlier this month, sparking fears of a government crackdown. No group has claimed responsibility. Security sources denied being involved.
As publicity surrounding their disappearances grew, with protests in major cities, observers such as Digital Rights Foundation founder Nighat Dad began to notice a worrying trend online.
"There are people trying to label these missing bloggers blasphemers. And the people supporting...(them) are being labelled blasphemers," Dad told AFP.
The allegation can be fatal in deeply conservative Muslim Pakistan, where at least 17 people remain on death row for blasphemy.
Rights groups have long criticised the colonial-era legislation as a vehicle for personal vendettas. Even unproven allegations can result in mob lynchings.
And now such accusations targeting the disappeared activists are multiplying on Facebook and Twitter.
"The group of atheists committing blasphemy on Facebook... have been defeated," said a recent post by Pakistan Defence, a powerful pro-military Facebook page run by anonymous right-wing elements which has 7.5 million likes.
The post, liked more than 5,400 times, triggered a flood of threats including one suggesting the activists' "bullet riddled corpses should be found beside any gutter".
Other pages such as ISI Pakistan1, with 192,000 Facebook likes, called for such "enemies of Islam" to be "eliminated".
Self-censorship
The attacks are perpetuated by right-wing trolls such as 25-year-old Farhan Virk, who admits he has few real friends but has 54,000 followers on his verified Twitter account.
By re-tweeting the blasphemy charges against the activists, Virk gives them a prominence on social media that can influence the mainstream news agenda.
A number of NGOs and observers believe the campaigns to silence progressive voices are carefully coordinated.
Digital rights activist Dad points to what she says is a periodic surge of new right-wing Twitter accounts with just a handful of followers whose "only purpose is to attack us".
The end result is often self-censorship, with the online attacks following a well-worn pattern.
Journalist Rabia Mehmood criticised Pakistan online after human rights activist Sabeen Mahmud was assassinated in 2015.
Mehmood received a barrage of death and rape threats on Twitter and Facebook, including many from newly created accounts, accusing her of being anti-state and an enemy of Islam.
"Overnight there were tweets warning me that there were bullets with my name on them for criticising the military and the intelligence agencies," she said.
"Since then I have started watching what I say."
The new wave of blasphemy charges that followed the activist disappearances prompted a number of liberal online commentators to close their accounts completely.
Shrinking space for dissent
Pakistan used its legal agreements with Facebook and Twitter to temporarily remove a slew of left-wing accounts in 2014, and enacted a cybercrime law last year that critics say will stifle genuine dissent.
Meanwhile, pages such as Pakistan Defence appear to operate freely, despite content that would appear to contravene basic community standards.
A Twitter spokesperson said support teams have been retrained on enforcement policies, "including special sessions on cultural and historical contextualisation of hateful conduct".
Facebook said it routinely worked to "prohibit hateful content and remove credible threats of physical harm".
Observers say the blasphemy allegations against the missing activists have already put their lives in danger of vigilante attack.
In 2011 a liberal governor who criticised the laws was gunned down in Islamabad, while in 2014 a Christian couple falsely accused of desecrating the Koran were killed by a mob, their bodies burned in a brick kiln, to cite just two examples.
"If they come back I don't think they have a life in this country," said Shahzad Ahmed, director of campaign group Bytes For All. "They will have to leave."
http://www.hindustantimes.com/world-news/taking-the-fight-online-pakistan-s-right-cries-blasphemy-to-muzzle-dissent/story-zknHREq9AWVQYywN0Gop1M.html
--------
Why Shahi Imam Doesn't Matter - In Islam And Upcoming Elections
NIZAM PASHA
16-01-2017
As elections to the UP Legislative Assembly draw near, political pundits are speculating that a lot will depend on how the Muslims vote. As political parties rush to woo the community, there is a sense of something missing. And then it strikes!
The fatwas or religious diktats to Muslim voters haven't been pronounced yet. Rahat Indori's couplet comes to mind:
Sab ko rusvā baarī baarī kiyā karo
har mausam meñ fatve jaarī kiyā karo
(Insult each person in turn,
issue a new fatwa every season)
It's the season for fatwas, so whose turn is it? Last year, Ahmed Bukhari, the Imam of the Jama Masjid in New Delhi, declared that the Samajwadi Party had betrayed Muslims and said he would campaign against it.
Over the course of the year, Bukhari has been questioning the SP on what it has delivered for the Muslims in UP. As one cringes, waiting for the fatwa to fall, a brief look at this election time phenomenon is in order.
In the 2004 general elections, Bukhari had urged Muslims to vote for the BJP led by Atal Bihari Vajpayee. In the 2007 elections in UP, he campaigned against the Samajwadi Party, but in 2012 he forged an alliance with the party, the terms of which included a ticket for his son-in-law to contest the elections.
In the 2014 general election, he backed the Congress after having denounced it several times earlier. In the run-up to the elections in Delhi, Bukhari issued a fatwa to the Muslim voters to vote for the Aam Aadmi Party. The AAP rejected his offer of support, claiming it was an attempt to communalise the atmosphere and suggested that the fatwa was the result of "resonance" between Bukhari and the BJP.
AAP chief Arvind Kejriwal pointed at the alacrity with which the BJP held a press conference denouncing this as AAP's attempt to polarise the vote, a polarisation which, incidentally, as the Lok Sabha elections had already shown, only benefits the BJP. The fact that in 2004 Bukhari had campaigned for the BJP only strengthens the possibility of such resonance.
The question that begs to be asked is, who is this seemingly vacillating individual known for election time volte faces who goes by the presumptuous title of "Shahi Imam"?
To begin with, the Jama Masjid itself has no special religious significance. Even in the Mughal era when it was built, it was at best the emperor's mosque and as such, its significance was temporal. The Imam of the mosque was appointed by the emperor and the significance of his position was also merely temporal as it signified only his affinity to power.
After the end of the Mughal empire, when the position of the Shah itself came to be abolished, it is ironic that someone claiming descent from the appointee of the erstwhile Shah should call himself by the presumptuous title of "Shahi Imam" and stake a claim to spiritual and political leadership.
The fact that at a time when the Shah's descendants themselves have faded into ignominy, anyone who claims to have descended from the Imam of the Shah's mosque can stake a claim to leadership of the community and find any takers, is indicative of how severe the crisis of leadership within the Muslim community is.
The position of Imam of a mosque is neither a title nor a position of spiritual leadership in Islam. It is a service that is limited to leading namaz five times a day in that mosque. The Imams of all mosques in Delhi are employees of the Waqf Board and no spiritual or political significance is attached to them, and for good reason.
In fact, upon evaluation, all these Imams would, if anything, carry greater religious significance than Bukhari on account of their having been employed on the basis of merit and religious learning rather than some superfluous claim of descent.
Recently, Bukhari, who is himself an employee of the Waqf Board, held an elaborate ceremony to "anoint" his son as naib or deputy Imam and his successor to the imamat.
Ironically, Sunnis who historically parted ways with the Shias on account of their opposition to Hazrat Ali's succession as the first caliph after the demise of the Prophet on the ground that it would propagate the rule of primogeniture which was unIslamic, turned up in thousands to witness, as one Imam claiming the right to lead prayers from descent instead of learning "vested" that right in his son.
No reference was made throughout to the son having had any religious learning and it was only helpfully suggested that he was pursuing a Bachelor's in Social Work degree at Amity University and had an inclination towards humanities.
The Delhi High Court hearing three petitions challenging the ceremony held that the ceremony would vest no right in Bukhari's son and issued notice on the petitions which challenged the anointment ceremony as well as the continuation of Bukhari himself in the position of Imam as illegal.
The matter is now sub judice and the court has asked the Delhi Waqf Board to explain why it has not exercised any rights or supervision over the Jama Masjid and why it has allowed Bukhari to appropriate all earnings from the Jama Masjid and not taken any action against failure to render accounts of such earnings by Bukhari, despite earlier court orders to the contrary.
More than anything else, elections are a good time for the Indian Muslim community to introspect on the primary crisis facing them; the crisis of leadership. Religion hasn't given them, particularly the Sunnis constituting the majority among Muslims, a pope.
A scattered demography hasn't left them with meaningful representation in Parliament and in Assemblies. And unfortunately for India's Muslims, the miniscule class of intellectuals that their limited access to the mainstream allows them are too busy declaring their agnosticism, trying to distance themselves from their regressive brethren and making themselves culturally indistinguishable from their non-Muslims social peers.
This leaves the field open for petty brawlers and rabble-rousers, Imams of religiously insignificant but historically prominent mosques and teachers at seminaries with cloistered ideas to swoop in to make what they can of the opportunity offered by the vacuum.
Unless Muslims can act soon to get their house in order, they will deserve the "Shahi Imam" they get.
http://www.dailyo.in/politics/imam-bukhari-islam-punjab-uttar-pradesh-assembly-elections-2017-muslim-voters/story/1/15115.html
--------
Al-Baghdadi Dispatches Delegation to Arab States to Beg Financial Aid for ISIL
Jan 16, 2017
Dr. Omar Badr al-Din, who is a senior expert in the field of extremist groups, said Al-Baghdadi is trying hard to prevent the imminent fall of Mosul city to Iraqi forces.
"Sources in Mosul have disclosed that al-Baghdadi is trying to establish links with more rich sponsors in Arab states to encourage them widen arms purchase and shipments to the ISIL, as the terrorist group has lost most of its weaponry in recent battles," Badr al-Din said, noting that "some ISIL members flee their positions without their weapons as Iraqi army troops advance in the region."
He further added that if ISIL fails to persuade its backers to assist it with funds, Mosul would fall to the army in no more than two weeks. "Even if ISIL receives new military hardware, the fall of the city will be definite", although it would take a longer time.
Badr al-Din said al-Baghdadi plans to stage a power show-off in the battle against the Iraqi army by planting numerous bombs and land mines in Western Mosul, "but the plan could deplete the entire military strength of the ISIL".
A source told local media earlier today that al-Baghdadi set an ultimatum on foreign militants in the Iraqi city of Mosul to either carry out suicide attacks against Iraqi security forces or return to their home countries.
The source told Al-Sumaria News that the ISIL leader also gave the militants the promise of going to heaven and being rewarded with 72 virgins, however the ISIL leader seems desperate to talk them into conducting suicide attacks, as they are, otherwise, destined to be executed with the ISIL group being known to harshly kill militants who try to leave the terrorist outfit.
However, it can also be assumed that convincing the terrorists to return to their home countries is for conducting terror attacks or initiating their own insurgencies, he said.
The take-it-or-leave-it offer to ISIL's foreign militants comes as other reports said earlier that the terror outfit ringleader has demoted the group's commanders in Eastern Mosul due to dramatic losses to Iraqi government forces over the past two weeks.
A source said al-Baghdadi withdrew the "emir" designation from all leaders of the militant group in the Eastern part of the city due to "delinquency and escaping" at battlefields in face of advancing Iraqi government troops.
"Baghdad has proscribed the occupation of any leading position by emirs in the Eastern section, and to instead deploy them to the frontlines as regular fighters as a sort of punishment," said the source, who asked not to be identified.
Iraqi government forces, backed by a aircraft and advisers from a US-led military coalition, launched two weeks ago the second phase of a major campaign that started in October to retake Mosul from ISIL militants. Since then, reports have been recurrent about divisions, infighting and accusations of treason among the group's leaderships.
Iraqi military and police commanders have said recently they became in control over 90 percent of the eastern region of Mosul, and hope to move onwards to the West, where ISIL still maintains outstanding strongholds, and where Baghdadi is widely believed to shelter.
Earlier this week, Iraqi troops retook the Mosul University campus, the most remarkable ISIL stronghold in Eastern Mosul.
http://en.farsnews.com/newstext.aspx?nn=13951027001090
--------
Medical Centers in Turkey Stealing Syrian Militants' Body Organs
Jan 16, 2017
The Arabic language al-Hadath news website quoted field sources as saying that the body organs of three militants have been cut out and stolen at a hospital in Southern Turkey.
The sources said three members of Ahrar al-Sham that had sustained major injures in a suicide operation of the ISIL and had been transferred to a hospital in Gaziantep border town in Southern Turkey, lost their lives in there.
Al-Hadath added that the three hospitalized militants had sustained injuries in their legs and feet but they had gone under an upper body surgical operation at the center, and some of their body organs were cut out and stolen by the medical staff at the hospital.
The news website underlined that it was not the first time that the body organs of injured militants were stolen at the hospitals of Gaziantp, Kilis and Urefa in Turkey.
"Stealing the body organs of injured militants in Turkish hospitals could have been coordinated directly with Ahrar al-Sham commanders as human body organ is now a main source of revenue and an established trade for the terrorist groups in Northern Syria," field sources were quoted by al-Hadath as saying.
A journalist, who has recently paid a visit to a camp of Syrian refugees in the Greek Lisfous island, disclosed in Jun that there had been close cooperation between the Turkish and Israeli gangs in the trafficking of Syrian refugees' body organs, specially their kidneys, to other countries.
The Israeli regime and its citizens had widely been identified in past years as the prime culprit in organ trafficking across the world.
"There are too many corpses floating through the Mediterranean sea, mainly between the Turkish waters and Greek abandoned islands," the journalist said in his investigation.
"Stiches on belly of the Syrian refugees' corpses testify that their kidneys have been taken out before their death," the journalist quoted Greek fishermen of Lisfous island as saying.
"The Syrian refugees go under illegal surgery in Turkish hospitals to take their organs out, and then their bodies are thrown away to the sea," the Greek fishermen went on to say.
"An Israeli citizen, borne in Ukraine, was arrested by the Turkish police last Decembers on charge of purchasing the organs of Syrian refugees from Turkish private clinics. Boris Voker, whose real name was Welfman, had carried out similar operations in Azerbaijan, Seri Lanka and Kosovo between the years 2008 till 2014 and had earned over 70,000 Euros," he said.
"There must be powerful hands and officials behind this process and illegal surgeries of Syrian refugees and rapid transferring of their separated organs to other countries. The separated Kidneys can stay alive only for 48 hours, but costumes formalities in airports and border-crossings last a long time, so their must be very close cooperation between the organ traffickers and relevant official in the host countries of Syrian refugees, including Turkey," the journalist stressed in his investigation.
http://en.farsnews.com/newstext.aspx?nn=13951027001160
--------
US 'interventionist policy' destabilized Middle East: Germany
Jan 16, 2017
Germany says the United States' wars and its "flawed interventionist policy" have destabilized the Middle East, leaving an increasing number of people fleeing the region to seek asylum in Europe.
Germany's Deputy Chancellor Sigmar Gabriel made the remarks on Monday in an interview with the German Bild newspaper after US President-elect Donald Trump censured German Chancellor Angela Merkel for her stance on the refugee crisis.
In a joint interview with The Times of London and the Bild on Sunday, Trump said Merkel made "one very catastrophic mistake" by admitting more than 1 million migrants from the Middle East.
"I think she made one very catastrophic mistake and that was taking all of these illegals, you know taking all of the people from wherever they come from. And nobody even knows where they come from," he said.
Gabriel said there is a link between "America's flawed interventionist policy, especially the Iraq war, and the refugee crisis."
"That's why my advice would be that we shouldn't tell each other what we have done right or wrong, but that we look into establishing peace in that region and do everything to make sure people can find a home there again," he added.
Trump also hailed the UK's withdrawal from the European Union as a "great thing," arguing that the bloc is heavily influenced by Germany. In addition, he once again criticized NATO, and described the Western military alliance as "obsolete."
Gabriel said Germany and Europe are "already making enormous achievements" in that area. "That's why I also thought it wasn't right to talk about defense spending, where Mr. Trump says we are spending too little to finance NATO. We are making gigantic financial contributions to refugee shelters in the region, and these are also the results of US interventionist policy."
In his interview, Trump also said that his administration would slap a 35 percent tariffs on BMW cars imported into the United States.
Gabriel, who is also Germany's minister for the economy, warned Trump that a custom duty on German imports would hurt US carmakers as well since they were reliant on transatlantic supply chains.
"I believe BMW's biggest factory is already in the US, in Spartanburg [South Carolina]," he said.
"The US car industry would have a bad awakening if all the supply parts that aren't being built in the US were to suddenly come with a 35% tariff," he explained.
He warned that this "would make the US car industry weaker, worse and above all more expensive."
http://www.presstv.ir/Detail/2017/01/16/506473/America-interventionist-policy-destabilized-Middle-East-Germany
--------
Pakistan
Ready to back Afghan-led peace process but blame game must stop: COAS to US
17-Jan-17
ISLAMABAD: The military leadership once again clarified Pakistan's stance on the US by reiterating that Pakistan would continue its support for an Afghan-led peace process but insisted that the blame game should be ended. Talking to General Joseph L Votel, Commander United States Central Command (US CENTCOM) General Qamar Javed Bajwa, the Chief of Army Staff (COAS) said that Pakistan played a vital role for peace in region. The meeting was held at GHQ on Monday.
According to ISPR, matters of mutual professional interest with special focus on security situation in Afghanistan were discussed in the meeting. The COAS highlighted the importance Pakistan accords to its relations with US, particularly cooperation in counter-terrorism and regional stability. The COAS said that Pakistan supports and looks forward to an Afghan-led and Afghan-owned peace and reconciliation process.
With reference to recent terrorist incidents in Afghanistan and follow up rhetoric from certain factions implicating Pakistan, COAS said that the blame game is detrimental to enduring peace and stability. The COAS highlighted that Pakistan had undertaken operations against terrorists of all factions and there were no safe havens inside Pakistan to be used against Afghanistan.
He expressed his commitment to work in close coordination with Afghanistan and US led Resolute Support Mission (RSM) for an improved security environment in the Pak-Afghan border region. In this regard, he emphasised the requirement of the Pak-Afghan bilateral border security and intelligence sharing mechanisms.
The visiting dignitary acknowledged and appreciated the Pakistan Army's successes in its fight against terrorism and continued efforts for bringing peace and stability in the region. General Joseph L Votel, emphasised the need for continued and meaningful engagement between all stakeholders involved in peace and stability of Afghanistan. He supported the views of COAS on inclusive reconciliation in Afghanistan through an Afghan owned and Afghan led process.
Earlier on arrival at GHQ, a smartly turned out contingent of the Pakistan Army presented a guard of honour to the visiting dignitary. General Joseph L Votel also laid a floral wreath at Yadgar-e- Shuhada to pay homage to martyrs.
US CENTCOM Commander General Joseph L. Votel also called on General Zubair Mahmood Hayat, Chairman Joint Chiefs of Staff Committee at Joint Staff Headquarters, Rawalpindi. Matters of mutual interest with emphasis on geo-strategic environment were discussed during the meeting. The CENTCOM Commander also acknowledged the role played by the Pakistan Armed Forces in fighting the menace of terrorism.
http://dailytimes.com.pk/pakistan/17-Jan-17/ready-to-back-afghan-led-peace-process-but-blame-game-must-stop-coas-to-us
--------
10 killed in explosion near Afghan-Pakistan border
16th Jan 2017
By Islam Sajid and Aamir Latif
ISLAMABAD and KARACHI, (AA): At least 10 people, including three security personnel, were killed and several others wounded in an explosion in eastern Afghanistan on Sunday.
The incident took place in the Pachir Wa Agam district of Afghanistan's Nangarhar province on border with Pakistan, targeting a vehicle carrying passengers, Interior Ministry spokesman Sediq Sediqqi said in a statement
He added that seven of the casualties were civilians, and four others wounded in the explosion were taken to Jalalabad hospital.
No group, including the Taliban, has so far claimed responsibility for the attack.
Nangarhar, bordering Pakistan, is considered a Daesh stronghold.
Separately, another explosion killed at least three security personnel and injured one in the Sehra Bagh area of the Khost province when an Improvised Explosive Device (IED) exploded near a vehicle carrying security officials in the area, local police sources said.
In another incident, Afghan officials Sunday said Daesh terrorists abducted 13 seminary teachers in the eastern Nangarhar province.
District governor Saz Wali Khan told Anadolu Agency that militants stormed a local seminary in the Haska Mina area and kidnapped the teachers.
"Daesh terrorists have pressured seminary teachers and students to pledge allegiance to Abu Bakr Baghdadi, the so-called caliphate, but they refused to do so," he added.
He said Daesh militants also burned down more than 50 houses of locals who refused to pledge allegiance to them.
Full report at:
http://muslimnews.co.uk/news/middle-east/10-killed-explosion-near-afghan-pakistan-border/
--------
Call for presenting missing activists before court
SAHER BALOCH
Jan 17, 2017
KARACHI: During a gathering of activists at the Human Rights Commission of Pakistan's (HRCP) office on Monday, rights activists demanded that all missing activists and bloggers be presented before court.
The activists agreed that concerns regarding enforced disappearances needed to be raised as such cases could not be seen in isolation. They also stressed the need for protests and demonstrations by all communities.
It was also decided that a protest march will be held on Jan 19, beginning from the Arts Council and ending at the Karachi Press Club.
The HRCP called a meeting to discuss the future course of protests by rights activists keeping in mind "the safety of bloggers and activists already in custody". The meeting was chaired by columnist and activist Mir Mohammad Ali Talpur and moderated by vice chairperson of the HRCP, Sindh, Asad Iqbal Butt.
Protest announced for 19th
Mr Butt said that the recent disappearance of activists and bloggers had raised concerns over the right to express opinions even on digital forums. "Irrespective of a person's ideology, or opinion, and whether or not we agree with them, everyone should have the right to speak and share their opinions," he said.
Speaking about the registration of a blasphemy case against the activists in Sector I-9 Police Station in Islamabad on Monday, Asad Butt said that "this is a result of rumours spread by Facebook pages against the activists soon after they were picked up". A senior member of the HRCP, Abdul Hayee, said that people who approached the HRCP needed to provide their exact addresses and names, otherwise their cases would not hold a chance if presented before court. "HRCP is an open space and we listen to everyone, provided we can verify the claims in order to register a case either in a police station or file a petition in court."
Full report at:
http://www.dawn.com/news/1308838/call-for-presenting-missing-activists-before-court
--------
KP prosecution data gives lie to claims against Afghan refugees
ISMAIL KHAN
Jan 17, 2017
PESHAWAR: Contrary to the widespread notion of massive involvement of Afghan refugees in major crimes, a study has revealed that they constitute just over one per cent of those found to have been involved in offences deemed heinous.
Documents retrieved through the Khyber Pakhtunkhwa Right to Information Act, 2013 provide startling details of crime statistics involving Afghan refugees that run contrary to the claims often peddled by the civil law enforcement agencies.
These documents were obtained from the Khyber Pakhtunkhwa government's Directorate of Prosecution and Department of Police to cross-check and corroborate the statistics.
The statistics obtained pertain to the period from 2014 to Sept 30, 2016, and involve major crimes including kidnapping for ransom, kidnapping and abduction, murder, robbery, extortion and bombing.
Only 134 of 10,549 cases of major crimes involved DPs from neighbouring country
According to the Directorate of Prosecution, a total of 11,685 cases were registered during the period, out of which 10,549 were put up in court. Out of these, only 134 involved Afghan refugees. This comes to 1.27 per cent of the total number of cases landing in court.
The cases involved 23,007 accused, of which only 300 were Afghan refugees. Thus, the percentage of Afghan refugees accused of the said crimes comes to 1.3pc.
The statistics fly in the face of claims often bandied about by the civil law enforcement agencies, which routinely blame Afghan refugees for the spike in crimes across the province.
Before the escalation of militancy in the region and even after it, police would often blame Afghan refugees for some of the heinous crimes, including kidnapping for ransom, extortion and bombing.
The oft-quoted figures about Afghan refugees' involvement in offences ranged from 15pc to 30pc of the total crimes taking place in Khyber Pakhtunkhwa, although neither did the police nor any other civil law enforcement agency come up with credible evidence to corroborate the claims.
The figures provided by the Department of Police, however, are slightly higher than those obtained from the Directorate of Prosecution, which is mandated to pursue cases in the courts of law.
The year-wise figure provided by the Department of Police shows that a total of 146 cases involving Afghan refugees were registered in 2014 as against the record of the prosecution directorate which puts the total number of such cases landing in court at 56 only.
Similarly, according to the Department of Police, a total of 96 cases were registered against Afghan refugees in 2015. The record of the Directorate of Prosecution shows that only 49 cases were put up in court during the period.
The Department of Police says a total of 100 cases were registered against Afghan refugees between January 1 and September 30, 2016. According to the Directorate of Prosecution, however, only 29 cases pertaining to the Afghan refugees were put up in court during the period.
The difference between the figures provided by the police and those given by the prosecution directorate could be attributed to the fact that while policemen routinely register cases, only the ones whose challans are complete are put up in court. The figures provided by the Directorate of Prosecution, thus, are considered authentic.
In 2014, according to the prosecution, of the total 87 cases of kidnapping for ransom, only nine involved Afghan refugees. Out of the 3,386 cases of murder registered during the period 32 involved Afghan refugees. Of the 133 cases pertaining to bomb blasts, only one case involved Afghan refugee.
Full report at:
http://www.dawn.com/news/1308486/kp-prosecution-data-gives-lie-to-claims-against-afghan-refugees
--------
IHC orders Lal Masjid caretaker removed from Fourth Schedule
MALIK ASAD
Jan 17, 2017
The Islamabad High Court on Monday ordered a Lal Masjid khadim, Manzoor Hussain, removed from the Fourth Schedule of the Anti-Terrorism Act (ATA).
The Fourth Schedule is a section of the ATA under which suspected terrorist are kept under observation. It is mandatory for a Fourth Scheduler to register their attendance with the local police on a regular basis.
Read more: 15 fourth schedulers missing from homes
Punjab Counter-terrorism Department (CTD) had submitted a report to the district police officer in Attock, accusing Hussain of meeting members of the banned Ahl-e-Sunnat Wal Jamaat (ASWJ), formerly Sipah-e-Sahaba, at his residence in Attock. Hussain was placed on the list by the Punjab Home Department in February 2016.
The high court had summoned officials of the Home Department and Punjab CTD to present their evidence in the case. Justice Shaukat Aziz headed the bench.
The respondents, however, failed to provide proof, including the names of the people they had accused Hussain of meeting.
Full report at:
http://www.dawn.com/news/1308796/ihc-orders-lal-masjid-caretaker-removed-from-fourth-schedule
--------
India
ISI Will Continue Its Proxy War Against India, Claims German Political Scientist
Jan 17, 2017
NEW DELHI: Pakistan's spy agency ISI will continue its proxy war against India regardless of any change in its leadership because it needs an enemy, and ISI defines it as India's "control over Kashmir", said German political scientist Hein Kiessling, who spent 13 years in Pakistan researching and interacting with its intelligence and military elites, here on Monday.
Last month, Pakistan's new army chief, General Qamar Javed Bajwa, had abruptly removed the head of ISI and appointed Lt Gen Naveed Mukhtar as director-general replacing Lt Gen Rizwan Akhtar.
The ISI, under any leadership, would continue supporting Kashmiri separatists and run terror camps in POK to keep the conflict with India alive, Kiessling said here at Observer Research Foundation, while launching the Indian edition of his book 'Faith, Unity, Discipline: The ISI of Pakistan'. The book was first published in German in 2011.
The ISI, he said, "is flexible" and could increase or decrease the "intensity" of the proxy war and even change its strategy in Kashmir to advance its hostile relationship with India. But the ISI will not cease to focus on Kashmir and Afghanistan, he claimed.
Kiessling said he personally believed Kashmir could be resolved within the status quo framework, which incidentally is the Indian position too. "But I shut my mouth," Kiessling said, after he received unfavourable reactions from the ISI in Pakistan.
The German historian, who lived in Pakistan between 1989 and 2002, saw some of the country's significant shifts from military rule to democracy and back, and from a nuclear power to a failed state. His book covers ISI's origins, failures, successes and its latest machinations domestically and foreign interventions in Kashmir and Afghanistan.
One of ISI's biggest weaknesses is that it doesn't take into account the geo-political situation, Kiessling said. "Its analysis is poor," he said, adding that a former top ISI official believed the "conspiracy theory" that "9/11 was an inside job". Kiessling said it was impossible that top ISI officials were unaware of 9/11, bin Laden's hideout in Abbottabad, Raymond Davis case and the Mumbai attacks.
Full report at:
http://timesofindia.indiatimes.com/india/isi-proxy-war-against-india-for-kashmir-to-go-on/articleshow/56610463.cms
--------
Filed FIR against 5 West Bengal cops for LeT terrorist's escape: SIT to Bombay HC
Shibu Thomas
Jan 16, 2017
MUMBAI: A Special Investigation Team (SIT) on Monday informed the Bombay high court that it had lodged an FIR against five police officers from West Bengal over the escape of suspected LeT terrorist Shaikh Abdul Naeem Karim, an accused in the 2006 Aurangabad arms haul case.
Advocate Hiten Venegaonkar, counsel for SIT, said that the agency had concluded that Karim had absconded when he was being brought to Mumbai from a prison in West Bengal by Howrah-Mumbai Express in August 2014. According to the SIT, the WB police officers had not placed hand cuffs on the accused or taken other precautions.
Full report at:
http://timesofindia.indiatimes.com/india/filed-fir-against-5-west-bengal-cops-for-let-terrorists-escape-sit-to-bombay-hc/articleshow/56605102.cms
--------
Three Hizbul militants killed in encounter
by Bashaarat Masood
January 17, 2017
Three Hizbul Mujahideen militants were gunned down in an overnight encounter in south Kashmir's Pahalgam Sunday, the Army has said.
On Sunday afternoon, personnel from J&K police and Army cordoned off Awoora village in Pahalgam after receiving inputs about the presence of militants. As the soldiers were zeroing in on a single-storey house near Awoora wildlife sanctuary, the militants opened fire and the security forces retaliated. The operation was called off on Sunday evening.
The militants have been identified as Adil Ahmad Reshi, Abid Ahmad Sheikh and Masood Ahmad Shah. While Adil joined militancy three years ago, Maqsood and Abid did so two years back. Maqsood was a PDP sarpanch before joining the militants.
The militants had been operating in Bijbehara and the surrounding villages under the command of militant commander Amir Wagay.
Full report at:
http://indianexpress.com/article/india/three-hizbul-militants-killed-in-encounter-kashmir-bsf-4477765/
--------
Arab World
Nearly 70 Civilians Killed, Injured in Turkish Air Raids in Northern Syria
Jan 16, 2017
Kurdish wesites reported that Turkish warplanes bombed the two villages of Baza'a and Tadaf in Northeastern Aleppo and a part of al-Bab town, killing 18 civilians and wounding 50 others.
Also, Turkish warplanes bombed residential areas in the village of al-Tafri'eh near the town of al-Bab on Friday, leaving four villagers from a family dead and several more injured.
A large number of people were also killed in Turkish airstrikes in Aleppo on Thursday.
Media sources also reported that the Turkish army and its allies' artillery attacks and airstrikes on al-Bab city and the two towns of Baza'a and Tadaf in Northeastern Aleppo killed 9 civilians and injured 57 others.
http://en.farsnews.com/newstext.aspx?nn=13951027001280
--------
Iraqi forces battle Islamic State near Tigris river in Mosul
JANUARY 16, 2017
Iraqi special forces battled Islamic State militants in districts near the Tigris river inMosul on Monday as they sought to bring more of the east of thecity back under government control.
The latest clashes occurred in the neighbouring Shurta and Andalus districts. At least three Islamic State suicide carbombs targeted Iraqi forces in Andalus. There was no immediate word on any casualties. In an online post, Islamic State said it had carried out a "martyrdom operation" in the area.
Iraq's elite Counter Terrorism Service (CTS) said the militants, who seized Mosul in 2014 as they swept across much ofnorthern Iraq, only to since lose much of that terrain togovernment counter-offensives, were fighting back hard.
"We've begun breaching [Shurta] but there was an attack afew moments ago. By the end of the day we'll make someprogress," CTS spokesman Sabah al-Numan said.
Shurta and Andalus are situated close to the eastern bank ofthe Tigris, separated only by some woodland, and within sight of the city's northern most bridge across the river.
Iraqi forces, which have reached three of the five bridges, say they will soon fully control the eastern bank. They have already taken areas of the river bank further south.
Once the east bank is recaptured, they can begin attacks on western Mosul, which the Sunni Muslim extremist insurgents stillhold.
Iraqi forces have seized most of the east in a 3-month-old U.S.-backed campaign to oust the militants from Iraq's secondlargest city, Islamic State's last major Iraqi stronghold. The Tigris bisects Mosul from north to south.
A Reuters cameraman in a southern district along the Tigrissaid snipers from elite interior ministry combat units were firing across the river at Islamic State positions.
Fighting has intensified since the turn of the year as Iraqi forces have renewed an offensive against the ultra-hardline militants. Troops had got bogged down in late November and December after entering Mosul as IS fighters fought back with car bombs and snipers, and concealed themselves among a civilian population of up to 1.5 million.
MORE PEOPLE MADE HOMELESS
The United Nations said a further 32,000 Mosul residents had fled the city in just over two weeks, bringing the total numberof people made homeless in the campaign to retake Mosul to161,000.
A resident in western Mosul, reached by phone, said Islamic State combatants had stopped people living in the west fromcrossing the river to the east.
Another resident said a number of IS militants, including senior leaders in western Mosul, had left the city in the direction of Tal Afar, a town towards the Syrian border.
Shia Muslim militias have advanced on IS-held Tal Afar, and linked up with Kurdish fighters nearby in November.
Full report at:
http://www.thehindu.com/news/international/Iraqi-forces-battle-Islamic-State-near-Tigris-river-in-Mosul/article17045524.ece
--------
Iraq forces retake Prophet Yunus' tomb in Mosul
Jan 17, 2017
MOSUL - Iraqi forces battling the Islamic State group in Mosul on Monday retook an area where the militants levelled one of the city's most well-known shrines in 2014, officials said.
"We retook control of Nabi Yunus area... raised the Iraqi flag above the tomb," Sabah al-Noman, spokesman for the Counter-Terrorism Service spearheading the Mosul offensive, told AFP.
He said two other neighbourhoods in eastern Mosul were also retaken from IS on Monday.
The shrine - which was built on the reputed burial site of the prophet known in the Holy Quran as Yunus and in the Bible as Jonah - was a popular pilgrimage site.
Full report at:
http://nation.com.pk/international/17-Jan-2017/iraq-forces-retake-prophet-yunus-tomb-in-mosul
--------
Top Egypt court rejects islands transfer to Saudi Arabia
Jan 17, 2017
CAIRO - Egypt's top administrative court upheld on Monday a ruling voiding a government agreement to hand over two Red Sea islands to Saudi Arabia in a deal that sparked rare protests.
The government of President Abdel Fattah al-Sisi had appealed against a lower court ruling in June that found the controversial border demarcation agreement was illegal.
In its ruling, the High Administrative Court said it was its "unanimous" decision that the two islands - Tiran and Sanafir - were sovereign Egyptian territories.
The courtroom erupted in cheers as the judge delivered the verdict, with lawyers and activists chanting: "These islands are Egyptian."
The decision came after the government referred the agreement to parliament for a vote.
It may further complicate ties between Egypt and Saudi Arabia, a main financial backer of Sisi since the former army chief toppled his Islamist predecessor in 2013.
Saudi Arabia has already signalled unease by stopping a promised flow of oil to Egypt, leaving Cairo scrambling to find a new supplier.
But relations have cooled over Egypt's stance on war-torn Syria, whose President Bashar al-Assad is seen as closer to Russia than Saudi Arabia which supports rebels fighting him.
Lawyers present in court told AFP the ruling was final, but a former senior judge said the government could still find a way to appeal it.
Mohamed Hamed al-Gamal, the former head of the administrative court, said the decision was final according to this court's procedure, but it could be unconstitutional. "The law and the constitution affirm the absence of administrative court jurisdiction in sovereign matters such as international treaties," Gamal said. The government may challenge the ruling before the constitutional court, he added.
The deal to hand over the islands, signed during an April visit by Saudi King Salman in which Riyadh showered Egypt with aid, provoked accusations that Cairo had "sold" the strategic islands.
Full report at:
http://nation.com.pk/international/17-Jan-2017/top-egypt-court-rejects-islands-transfer-to-saudi-arabia
--------
Dozens reported dead as Syrian army fights IS
Jan 17, 2017
BEIRUT - Fighting between Islamic State and the Syrian army has killed dozens in Deir al-Zor, where the militant group has launched an assault to capture a government enclave in the city, a monitoring group reported.
At least 82 people have been killed in the fighting, which is the heaviest in the city for a year, the Syrian Observatory for Human Rights said on Monday.
The dead comprised 28 from the army and allied militia, at least 40 Islamic State fighters, and 14 civilians, the British-based monitoring group said.
Syrian state news agency SANA said the army had killed dozens of Islamic State fighters in attacks on the group's positions around Deir al-Zor.
Islamic State has held most of Deir al-Zor and the surrounding area since 2015, but the government has retained control of the airport and neighbouring districts in the city, located in eastern Syria on the Euphrates river.
A US-backed coalition of Kurdish and Arab militias and rival Turkish-backed Syrian rebel groups have pushed Islamic State from much of its territory in northern Syria, but it remains embedded in the country's eastern desert and Euphrates basin. Last month it recaptured the city of Palmyra, 185km (115 miles) southwest of Deir al-Zor, from the government in an unexpected advance that demonstrated its continuing military threat. Meanwhile, Syrian rebel groups said Monday they will attend peace talks next week, in a boost to efforts by rivals Turkey and Russia to put an end to the nearly six-year-old conflict.
The talks, beginning on January 23 in the Kazakh capital Astana, are set to build on a nationwide truce that has largely held despite escalating violence across several battlefronts in recent days.
Organised by rebel backer Turkey and regime allies Russia and Iran, the meetings are the latest bid to put an end to the internecine war raging in Syria since March 2011.
The powers have backed opposing sides of Syria's conflict for years but have worked unprecedentedly closely in recent weeks to end the bloodshed.
If the Astana meetings are successful, they could augur well for fresh UN-hosted negotiations on the conflict next month in Geneva. "All the rebel groups are going (to Astana). Everyone has agreed," said Mohammad Alloush, a leading figure in the Jaish al-Islam (Army of Islam) rebel group.
"Astana is a process to end the bloodletting by the regime and its allies. We want to end this series of crimes," Alloush said. Ahmad al-Othman from the Sultan Murad faction also told AFP that "the rebel groups have decided to go to the talks."
Sources from the opposition and the regime said the talks would "probably" be face-to-face.
Several rounds of peace talks held by the United Nations have failed to produce a political solution to the conflict.
The Astana talks will assume a different approach, focusing strictly on military developments ahead of political discussions in Switzerland in February, opposition figures told AFP.
Ahmad Ramadan, from the leading National Coalition opposition group, said the Astana talks would aim to reinforce the truce "while the details of the political process will be left to Geneva."
"Despite all the truce violations, what pushed us to agree to attend was the fact that the agenda will be focused on the ceasefire only," said Osama Abu Zeid, a legal adviser to rebel groups.
The opposition's delegation to Astana "will be only military," but would be consulting with "a team of legal and political advisers" from the High Negotiations Committee, he said.
The HNC is the main umbrella group for Syria's opposition factions, negotiating on their behalf last year in Geneva.
Abu Zeid said the Fateh al-Sham Front, which changed its name from Al-Nusra Front after breaking away from Al-Qaeda, would not attend Astana.
US President-elect Donald Trump's transition team has been invited to take part, but has not yet officially responded.
Earlier this month, Syrian President Bashar al-Assad said he was "optimistic" about the talks and would be "ready for reconciliation with (rebels) on the condition that they lay down their arms", according to French lawmakers with whom he met.
More than 310,000 people have been killed and millions have fled their homes since protests erupted against Assad's rule in the spring of 2011.
Over the years, the conflict has also witnessed the rise to prominence of jihadist groups like the Islamic State group and Fateh al-Sham.
Full report at:
http://nation.com.pk/international/17-Jan-2017/dozens-reported-dead-as-syrian-army-fights-is
--------
UN agency chiefs urge access for aid to civilians in Syria
Jan 17, 2017
DAVOS: The heads of major UN organizations on Monday called for access to civilians cut off from humanitarian aid in Syria, saying the world "must not stand silent" even though the high-profile siege of the Syrian city of Aleppo is over.
The joint appeal from the UN's refugee agency, humanitarian aid coordinator OCHA, children's agency UNICEF, the World Food Program and the World Health Organization urged for an "immediate, unconditional and safe access" to all Syrian families and children in need.
According to the statement, up to 700,000 people — nearly half of them children — live in 15 besieged areas of Syria.
Many lack "the most basic elements to sustain their lives" and face "continued risk of violence," said the statement, which came from Davos in Switzerland, where business, political, cultural elites and non-governmental group leaders are gathering for the World Economic Forum.
WFP's Ertharin Cousin, Anthony Lake of UNICEF, Stephen O'Brien of OCHA, WHO's Margaret Chan and Filippo Grandi of UNHCR were in essence striving to keep international attention focused on the nearly six-year civil war in Syria, which has by some estimates left a half-million people dead.
Full report at:
http://nation.com.pk/international/16-Jan-2017/un-agency-chiefs-urge-access-for-aid-to-civilians-in-syria
--------
Syrian rebels to attend Kazakhstan talks: rebel officials
Jan 17, 2017
Syrian rebel groups have decided to attend peace talks backed by Russia and Turkey in Kazakhstan to press for implementation of a widely violated ceasefire, rebel officials said on Monday, in a boost for Moscow-led diplomacy.
Rebel groups took the decision at meetings that are underway in Ankara, and are now working to form a delegation that will be different to one sent to peace talks in Geneva last year by a Saudi-backed opposition group.
"The factions will go and the first thing they will discuss will be the matter of the ceasefire and the violations by the regime," said an official in a Free Syrian Army rebel group who declined to be identified because the rebel groups had yet to appoint a spokesman.
Full report at:
http://nation.com.pk/international/16-Jan-2017/syrian-rebels-to-attend-kazakhstan-talks-rebel-officials
--------
Iraqi CTS commander: 90% of Mosul liberated from Daesh
Jan 16, 2017
A high ranking commander in Iraq's Counter-Terrorism Service (CTS) says that around 90 percent of eastern Mosul has been purged of its Daeshi occupiers.
Staff Lieutenant General Abdulghani al-Assadi made the announcement late on Monday as clashes are raging on between CTS forces and Takfiri terrorists.
Meanwhile, CTS spokesman Sabah al-Noman said that Iraqi forces had managed to take full control Nabi Yunus area, where earlier in the day they had liberated an important mosque which is a popular pilgrimage location.
"We retook control of Nabi Yunus area... raised the Iraqi flag above the tomb," he said, adding that several other neighborhoods were also liberated during the Monday anti-terror operations.
Car bombs target progressing Iraqi forces
Daesh targeted Iraqi troops with at least three car bombs in Mosul's neighborhoods of Shurta and Andalus, where special forces are engaged with the Takfiri terrorists.
Iraqi Special Operations Forces (ISOF) react after a car bomb exploded during an operation to clear the al-Andalus district of Daesh militants, in Mosul, Iraq, January 16, 2017.
"It has been three days since the counter-terrorism service began encircling (this district) and thanks God, today they were able to clear the area completely. The situation will become better. Before it was difficult, we were unable leave our homes for ten days. It has been a real struggle," said a resident of Andalus.
Both neighborhoods are located close to the eastern bank of the Tigris river, and within sight of the city's northernmost bridge which spans the river.
Once the east bank is fully recaptured, Iraqi forces will launch operations to retake western Mosul from the terrorists.
Full report at:
http://www.presstv.ir/Detail/2017/01/16/506504/iraq-mosul-90-cts-daesh
--------
Syria: Unpaid Members of Terrorist Groups Refuse to Do Military Missions in Hama
Jan 16, 2017
The sources said that assets of Jeish al-Izzah and Jund al-Sham that are unofficially affiliated to Fatah al-Sham Front (previously known as the al-Nusra Front) have been stolen in Northern Hama, pushing the two groups into financial crisis.
"The unpaid rebels that are mainly members of Jeish al-Izzah and Jund al-Sham refuse to partake in military operations," the sources added.
In the meantime, the terrorist group's supply commander in Northern Hama called on locals to assist them with food supplies and other aids.
On Sunday, the Syrian army troops managed to repel two separate powerful attacks by the terrorists on their military positions in Hama province.
The terrorists stationed in the suburbs of the town of Aqrab in the Southern part of Hama province and near Homs provincial border were trying to capture the areas under the control of the Syrian government troops, but the Syrian army and National Defense Forces (NDF) pushed the terrorists back after three hours of clashes and killing 25 of the militants.
Full report at:
http://en.farsnews.com/newstext.aspx?nn=13951027001032
--------
Syria: Over 60 'Euphrates Shield Operation' Troops Killed, Wounded in ISIL's Attack
Jan 16, 2017
The ISIL targeted a gathering of the Euphrates Shield Operation forces with a suicide vehicle in the village of Anifiyeh in Northeastern Aleppo, killing 11 militants from the Turkey-backed operation and injuring 50 others.
Based on the reports some of the inured forces are in critical conditions.
The latest reports said war is ravaging in the region after ISIL received reinforcements and military equipment.
The ISIL fighters warded off a joint attack of the Turkish army and their militant allies from the Free Syrian Army (FSA) in the town of al-Bab in Northeastern Aleppo last week, inflicting heavy losses on the forces of the Euphrates Shield Operation.
The Turkish soldiers and FSA militants launched a new offensive on the Eastern outskirt of Al-Bab on Sunday, targeting the ISIL positions in Umm Adaseh, Qabr Maqri and al-Saqlaniyeh.
The ISIL fighters repelled the assault, inflicting heavy casualties on the forces of the Euphrates Shield Operation.
In a matter of hours, the Turkish soldiers and FSA started retreating from the Eastern outskirts of al-Bab in order to evade more losses.
Full report at:
http://en.farsnews.com/newstext.aspx?nn=13951027000872
--------
Turkey-Backed Terrorists Preparing for Large-Scale Offensive in Northern Syria
Jan 16, 2017
"The constant monitoring of the movements made by the terrorists, specially at Syria's borders with Turkey, show that militants have transferred a large volume of military equipment, including tanks, machineguns and ammunition to Idlib," the source said, adding that a large number of fresh fighters are also under training in military camps.
In the meantime, trainers are preparing suicide attackers for this upcoming operation, the source said.
"Militants' measures testify that they are planning to carry out a new round of offensives in Northern Syria," the source said.
"Corroborative evidence and information show that Turkish officers are on Syrian territories and are managing and organizing terrorist groups. The Turkish officers, meantime, are leading the militants with plans and objectives," the source underlined.
Another security source in the operations room of Syria's allies disclosed earlier this month that Turkey and al-Nusra Front (recently renamed to Fatah al-Sham Front) increased contacts to pressure Russia through certain joint moves in Idlib to make concessions in Astana peace talks.
Full report at:
http://en.farsnews.com/newstext.aspx?nn=13951027000740
--------
ISIL Suffers Heavy Losses in Syrian Army Attacks East of Aleppo
Jan 16, 2017
The army units hit hard ISIL's positions in the region of Rasm al-Harmal al-Imam, Tal (hill) Ahmar and near the Air Force Academy to the South of Kuweires airbase, killing or wounding tens of militants and destroying five vehicles.
Military sources disclosed on Sunday that the army troops were through with logistical and military preparations for massive operations to capture two strategic regions Northeast of Aleppo province.
Army commanders said their forces were fully ready to seize back al-Bab and Deir Hafer regions in Northern Aleppo province.
Syrian army's large military convoys comprising tanks, armored vehicles, heavy missile launchers and artillery units joined other Syrian army units in Northern Aleppo province to start their large-scale military operation against the ISIL terrorists.
Full report at:
http://en.farsnews.com/newstext.aspx?nn=13951027000667
--------
Mideast
After Paris, Israelis and Palestinians look to Trump's US
Jan 17, 2017
Laurent Lozano - Israel and the Palestinians remain as far apart as ever after a Paris conference, with attention now turning to whether US President-elect Donald Trump will shake up the long-stagnant Middle East peace process.
Four days before his inauguration, Trump suggested Monday that for the Middle East peace process, like many issues, his presidency may mean a plunge into uncharted waters.
On Sunday, the international community reaffirmed in Paris its commitment to an independent Palestinian state, but Trump in an interview with European newspapers the next day appeared to undermine that, saying the "Palestinians are given so much".
The Paris conference's concluding document welcomed a UN Security Council Resolution on December 23 which condemned Israeli settlements in the occupied Palestinian territories, considered illegal under international law.
The resolution, which was approved thanks to a rare American abstention in the final weeks of the administration of Barack Obama, was "terrible", Trump told The Times of London and Germany's Bild newspaper.
"The problem I have is that it makes it (Israel-Palestinian peace) a tougher deal for me to negotiate because the Palestinians are given so much," he said.
Trump also confirmed that his son-in-law Jared Kushner would play a role in trying to negotiate peace. "Jared is such a good kid and he'll make a deal with Israel that no one else can," he said.
Israeli Prime Minister Benjamin Netanyahu repeatedly denounced the Paris conference as another useless attempt at an international "diktat", arguing that only direct Israeli-Palestinian negotiations can lead to peace.
For the Netanyahu government, eight years of frosty relations with the Obama administration culminated with the December 23 resolution.
Tomorrow's world
Netanyahu said Sunday he was waiting for Trump, who has said there is no politician as pro-Israeli as him, to enter the Oval Office.
The Paris conference was one of the "last spasms of yesterday's world", according to the Israeli premier. "Tomorrow will look different and tomorrow is very close."
Referring to the Iranian nuclear deal and settlements in the West Bank, Regional Cooperation Minister Tzachi Hanegbi told reporters: "We can feel comfortable about the fact that the incoming administration, unlike its predecessor, feels the same about two major issues.
"This is a powerful change and I think it is positive for the world."
The Palestinian leadership, too, has realised the changes that the Trump presidency could bring.
They have started to sound the alarm about Trump's promise to move the US embassy in Israel from Tel Aviv to Jerusalem.
Such a transfer would break with the consensus of the vast majority of the international community, which does not recognise Jerusalem as Israel's capital.
The some 70 countries present in Paris warned they would not recognise unilateral actions that threaten a negotiated solution, while Palestinian leaders have threatened retaliatory measures.
Asked about the embassy move, Trump refused to comment to The Times and Bild, saying only "we'll see what happens".
Senior Palestinian official Saeb Erakat said the Paris conference "created a momentum" towards the end of Israel's occupation of the West Bank and east Jerusalem, which the Jewish state seized in a 1967 war.
Palestinian political scientist Khalil Shaheen welcomed the fact the conference "showed the commitment of dozens of countries to the two-state solution, an important message to the Israelis and the Trump administration".
However, "at the same time, the declaration of the Paris conference was without teeth," he added, referring to the lack of enforcement mechanisms.
The Israelis have warned they will not be bound by the declaration. Ofer Zalzberg, an analyst at the International Crisis Group think-tank, admitted the conference had not set out a new policy.
But "the Trump administration will have to deal with the fact that the European and Arab countries are saying: 'This is what we are committed to.' In this sense it is not as if it is just disappearing."
http://nation.com.pk/international/17-Jan-2017/after-paris-israelis-and-palestinians-look-to-trump-s-us
--------
Israeli minister: Palestinians can't stop US embassy move
Jan 17, 2017
JERUSALEM - An Israeli minister said Monday the Palestinians had no way to block incoming US President Donald Trump from moving his country's embassy to Jerusalem.
Palestinian president Mahmud Abbas has said such a move would have consequences as it was a "red line" whose crossing would ruin hopes for a two-state solution. But regional cooperation minister Tzachi Hanegbi, of Prime Minister Benjamin Netanyahu's Likud party, said the Palestinians were powerless to stop it.
"What can they do? What can they do?," he said in a briefing to reporters in Jerusalem. "There are not going to be any consequences."
Trump - who takes office Friday - has pledged to acknowledge Jerusalem as the capital of Israel and relocate the US embassy there from Tel Aviv. That is bitterly opposed by Palestinians, who see it as a destructive and unilateral action, as the status of the city is contested. They demand Israeli-annexed east Jerusalem as the capital of their future state, while Israel proclaims the entire city as its capital. The United States and most UN member states do not recognise Jerusalem as capital of the Jewish state, and the city's status is one of the thorniest issues of the decades-long Israeli-Palestinian conflict.
On Sunday French Foreign Minister Jean-Marc Ayrault warned the move would have "extremely serious consequences."
Full report at:
http://nation.com.pk/international/17-Jan-2017/israeli-minister-palestinians-can-t-stop-us-embassy-move
--------
Iranian anti-aircraft forces fire shots at non-military drone
16 January 2017
Iran's anti-aircraft forces fired shots at a drone in central Tehran on Monday, the governor of Tehran Province was quoted as saying by Tansim news agency, but he said the unmanned aircraft was not military.
"It has not been a military drone. It entered the no-fly zone...We do not know where it belonged to," Isa Farhadi said.
Full report at:
https://english.alarabiya.net/en/News/middle-east/2017/01/16/Iranian-anti-aircraft-forces-fire-shots-at-non-military-drone.html
--------
PKK bombing leaves 4 cops dead in southeastern Turkey
Jan 17, 2017
Four Turkish police officers have lost their lives and two others sustained injuries in a roadside bomb explosion that targeted their patrol vehicle in Turkey's southeastern and Kurdish-populated province of Diyarbakir.
A security source, speaking on condition of anonymity, said militants with the Kurdistan Workers' Party, also known as the PKK, detonated the explosives near an excavation site in the Sur district of the province, situated 676 kilometers east of the capital, Ankara, on Monday afternoon as a police vehicle was passing by.
Video footage, broadcast by the private Dogan news agency, showed ambulances, a fire truck, and security forces arriving at the scene of the blast.
Hospital sources said one of the wounded victims was in critical condition.
The governor's office later condemned the bombing as "an atrocious terror attack" in a statement, adding that police were conducting an operation in the region to arrest the perpetrators.
Full report at:
http://www.presstv.ir/Detail/2017/01/17/506518/Turkey-police-PKK-bomb-attack-Sur-Diyarbakir
--------
Europe
Glasgow Church Slammed For Quran Reading in Service
BY ELLIOT FRIEDLAND
January 16, 2017
A Quran reading from the pulpit in a Scottish cathedral has sparked outrage and anger. Passages from the Quran explicitly refuting the divinity of Jesus were read in Arabic from the lectern during the Epiphany service,which celebrates the arrival of the three kings in Bethlehem to bear witness to the birth of Jesus.
While a comparative reading of Quranic and biblical accounts of the birth of Jesus is a laudable and interesting event for a church to do for discussion purposes, to have the Quranic passages read out as part of the service is another matter entirely -- especially when the verses in question explicitly reject the divinity of Jesus at a religious ceremony during the festival that Christians believe marks the revelation of Jesus' divinity to the world.
The church claims to have received 10,000 angry messages from Christians outraged about the reading.
"Christians should know what their fellow citizens believe and this can include reading the Quran for themselves, whether in the original or in translation," the Right Reverend Michael Nazir Ali, the former bishop of Rochester told the BBC about the reading. "This is not, however, the same thing as having it read in church in the context of public worship. The authorities of the Scottish Episcopal Church should immediately repudiate this ill-advised invitation and exercise appropriate discipline for those involved."
The provost who organized the event, the Very Rev. Kelvin Holdsworth, said the church received so many threatening messages that they were forced to call the police. He also hit back at the criticism, saying the church had been involved in a number of different interfaith events in the past and that Quran readings have been conducted at the church in the past without incident.
Holdsworth also said that he was a believing Christian and that the Nicene Creed, the Christian declaration of faith, had been recited at the beginning of the service as normal.
It was unclear which verses were read on previous occasions and in what context.
"Our aim and the aim of all involved was to bring God's people together and learn from one another - something that did, beneath the waves of the storm, happen and continues to happen," Holdwsworth said in the first sermon at his church following the incident.
"Nobody at that service that night could be in any doubt that we proclaimed the divinity of Christ and preached the Gospel of God's love.
"All of this raises questions about how we live in a globally-connected world, but I cannot believe that moderate churches in the West should follow a policy of appeasement towards those who are Islamophobic and particularly not towards the recently invigorated far-right media."
Clearly the anti-Muslim abuse sent to the church following the event is unacceptable, no matter how high passions were aroused by the event. No religious leader should ever feel so personally threatened by something that happened in their place of worship, however blasphemous or heretical others may find it, that they are forced to call the police for their own safety.
Yet, how could any self-respecting religious leader allow a reading from a rival scripture from his or her own pulpit that directly contradicts the founding principles of his or her own faith on one of the holiest days in the religious year?
The head of the Scottish Episcopal Church issued a conciliatory statement aimed at calming tensions in which he expressed distress at the offense caused by the reading.
"The decisions which have led to the situation in St. Mary's Cathedral are a matter for the provost and the Cathedral community but the Scottish Episcopal Church is deeply distressed at the widespread offense which has been caused," Primus David Chillingworth, bishop of St Andrews, Dunkeld and Dunblane, wrote in his blog. "We also deeply regret the widespread abuse which has been received by the Cathedral community."
"In response to what has happened at the Cathedral, the Scottish Episcopal Church will bring together all those who are involved in the development of interfaith relations. Our intention will be as a church to explore how, particularly in the area of worship, this work can be carried forward in ways which will command respect. Our desire is that this should be a worthy expression of the reconciliation to which all Christians are called."
It is important that in an increasingly globalized world we all make an effort to understand the faiths and cultures of others and work on ourselves to remove any bigotry from within our own perspectives.
None of this means a person should be asked to give up his or her own faith and culture to understand that of another.
In inviting a Quranic reading that directly contravenes Christian beliefs into his cathedral, the Very Rev. Kelvin Holdsworth is pushing people too far in the name of multiculturalism. This kind of action is not going to produce good harmony, but rancor, mistrust and -- as we saw in this case -- anti-Muslim backlash.
It is doubtful that Holdsworth would ever go into a mosque and preach from the pulpit that Mohammed was not the messenger of Allah. He should extend the same courtesy to his own parishioners.
https://www.clarionproject.org/analysis/glasgow-church-slammed-quran-reading-service
--------
Teen Sharia Patrol Behind Savage Beatings in Austria
January 16, 2017
A teenage "sharia patrol" responsible for a brutal beating of a Polish girl is believed to be behind a series of attacks in Vienna.
The attack against the Polish school girl, identified only as Patricia, which was taped by the gang, shocked Austria when the footage was posted and it went viral.
The "sharia patrol" is made of up six young people, some originally from Chechnya, ranging in age from 16 to 21. They have all been identified. In the taped attack, which took place in a shopping center, Patricia faces her accusers defiantly with her hands in her pockets. She takes 22 hits to her face and head. At one point, she can be seen spitting out blood.
After the attack, Patricia was taken to the hospital and treated for a double jaw fracture.
WARNING GRAPHIC VIDEO of 15-year old being beaten by the sharia gang:
She later told police she was falsely accused of pulling off a woman's headscarf by the leader of the gang, a 16-year-old girl identified as Leonie. "I knew if I had fought back, I would only have been hit more. So, I just waited until it was over," Patricia said.
She was threatened by the gang not to go to the police, but while she was in the hospital, her sister did.
Full report at:
https://www.clarionproject.org/news/teen-sharia-patrol-behind-savage-beatings-austria
--------
Support For Al Qaeda Terrorists Was Preached At New England's Largest Mosque
Jan 17, 2017
Speaking at an interfaith event at the Islamic Society of Boston Cultural Center (ISBCC) in mid-December, Massachusetts Senator Elizabeth Warren told a crowd of 2,600: "Now is a time when we must be willing to say loud and clear there is no room for bigotry anywhere in the United States of America — none."
Ironically, the very room at the largest mosque in New England where she was making her speech has been the site of some of the most vicious religion-driven bigotry in Boston. A newly unearthed video reveals that when the politicians leave and the media cameras are no longer rolling, the ISBCC mosque serves as a forum for supporters of convicted Al Qaeda terrorists who use the mosque to call for jihad against America and demand that Muslims fight to bring this nation "to its knees."
On September 24, 2011, the ISBCC hosted an event, titled, "Reclaiming Power and Protecting Our Communities," which featured families of several convicted terrorists and Islamist hate preachers, who accused the Obama administration of a broad conspiracy to falsely convict and imprison American Muslims as part of a general war against Islam. Among the examples given at the at the ISBCC event were no fewer than twenty-two U.S.-based individuals convicted of material support for Al Qaeda, the Taliban, Hamas, Palestinian Islamic Jihad, and several other designated terrorist groups.
Full report at:
http://dailycaller.com/2017/01/16/the-muslim-brotherhood-isnt-the-only-gang-in-town-2/
--------
Southeast Asia
FPI wants Megawati questioned for allegedly 'insulting Islam'
January 17, 2017
Islam Defenders Front (FPI) leader Rizieq Shihab has called on the National Police to question ruling Indonesian Democratic Party of Struggle (PDI-P) chairwoman Megawati Soekarnoputri for making a comment to the group during an event last week in which he considers blasphemous toward Islam.
Rizieq said the FPI had a CD it could present as evidence of Megawati's alleged blasphemous speech. He did not elaborate further.
"We will bring a CD of Megawati's speech in which she has insulted Islam and rukun Islam [the five pillars of Islam]," Rizieq said during a rally in front of the National Police headquarters in South Jakarta, on Monday.
Hundreds of FPI members attended the rally, where they demanded the dismissal of West Java Police chief Insp. Gen. Anton Charliyan for his alleged unfairness in handling a conflict between FPI and mass organization Gerakan Masyarakat Bawah Indonesia (Indonesian Grassroots Society Movement, or GMBI).
Rizieq previously shed light on the alleged blasphemy issue when he met House of Representatives Deputy Speaker Fadli Zon prior to the former's questioning for allegedly insulting the Pancasila (state ideology) at the West Java Police headquarters last week.
Rizieq claimed Megawati made the alleged blasphemous statements when she addressed her party's 44th anniversary last Tuesday. In her speech, Rizieq said, Megawati lambasted groups she labeled as "anti-diversity". She later called the groups as having a "closed-ideology" that had caused religious and ethnic-based conflicts in the country.
In her speech, Megawati also accused members of several groups, she labeled as "intolerant", of committing a "self-fulfilling prophecy". (ebf)
http://www.thejakartapost.com/news/2017/01/17/fpi-wants-megawati-questioned-for-allegedly-insulting-islam.html
--------
Malaysia sets Islamic fund, wealth management blueprint
Jan 17, 2017
Taking into account global trends including the rising affluence in Asia Pacific and emerging Muslim economies, the Blueprint aims to leverage Malaysia's Islamic capital market ecosystem to establish the country as a leading international centre for Islamic fund and wealth management.
The initiatives will, among others, broaden linkages and connectivity, capitalise on global opportunities and increase the value add and talent base within the Islamic capital market to enhance its product and service offerings, said SC.
Malaysia's Islamic capital market has more than tripled over the last decade. It is the only country in the world with a framework for Islamic fund management companies, and now houses 20 full-fledged Islamic fund managers including large international firms.
Full report at:
https://www.hubbis.com/articles_content?aid=5625&t=1484633650&title=Malaysia+sets+Islamic+fund%2C+wealth+management+blueprint
--------
Fulbright teaching assistants to use music and arts to teach English
Nawar Firdaws
January 16, 2017
KUALA LUMPUR: Shima Germain incorporated acting in her English lessons as a way to get her students excited about learning.
Mathias Sanyer on the other hand planned to use art and music to make English easier to grasp for those who find the language difficult to master.
Nida Syed wanted to learn more about the Malaysian culture while introducing the American's to those from the less privileged community.
These three American were among 98 Fulbright teaching assistants that will be in Malaysia for 10 months, teaching English to teenagers from the rural parts of the country.
"This is my second time with the programme," said Germain, a 23-year-old from a small town in Georgia, United States (US).
She has been placed at SMK Sri Nangka, in Sabah, the same school she taught at last year.
According to Germain, she preferred to use her background in theatre to get the students involved in active learning, as she believed traditional methods of teaching alone would not be enough.
"I also like to pick those whose English proficiency is a little weaker than their peers, to lead small projects I organise.
"This will help them feel more confident and hence, more excited to improve themselves."
For Sanyer, also 23, this was his first time in Malaysia. He didn't know what to expect but was looking forward to learning more about multiracial Malaysia which he said was one of the biggest differences from his Utah community.
Armed with an experience teaching arts to children in the States, Sanyer hoped to use his knowledge in the area, along with his passion for music, to make learning English an easier process for his students in Lundu, Sarawak.
"I want to teach what they need to learn from the text books, but also experience the education system in United States which is a little different, where we have more freedom on how we teach the students.
"As for what I hoped to gain from this experience, well, I'm interested in learning about the diverse culture in Malaysia.
"Having come from a Turkish background myself, I've experienced my own family's Islamic heritage, so I want to see another culture that is predominantly Muslim but also has interesting interactions with other cultures as well."
Syed, 24, had worked with refugee children in Buffalo, US. So she planned to use her weekends to teach refugees English here in Malaysia.
Syed also wanted her students in SMK Raja Puan Tengku Fauziah, Perlis, to not only learn English, but become global citizens.
Full report at:
http://www.freemalaysiatoday.com/category/nation/2017/01/16/fulbright-teaching-assistants-to-use-music-and-arts-to-teach-english/
--------
Muslim encourages Catholics to vote in Indonesia polls
Jan 17, 2017
A prominent Muslim intellectual is urging Indonesian Catholics to put prejudices aside and vote in regional elections next month for leaders who can make society a better place for all citizens, regardless of their religious or ethnic backgrounds. Millions of Indonesians will elect new leaders on Feb. 15 in more than 100 regions across the archipelago, including Jakarta. Three candidates are vying to become Jakarta governor, including Protestant incumbent Basuki Tjahaja Purnama, commonly known as "Ahok, " who is running for a second term. But his popularity has plummeted after alleged blasphemy charges for comments made by him in September which many Muslims insisted insulted the Quran.
"We have to vote for a brave leader who can make changes in this capital," Mohammad Qodari, a prominent Muslim intellectual and executive director of Indo Barometer, an independent research and survey institute, told hundreds of Catholics at a gathering at Sacred Heart Church in Central Java, on Jan. 15. At the gathering Qodari, who appeared to back Ahok for his reforms, said that Catholics are not only good citizens but also good nation-builders.
Full report at:
http://en.radiovaticana.va/news/2017/01/16/muslim_encourages_catholics_to_vote_in_indonesia_polls/1286081
--------
Overwhelming support for Hadi's Bill among Muslim students, poll shows
January 16, 2017
KUALA LUMPUR, Jan 16 — Nearly all Muslim tertiary students polled by student group Gabungan Mahasiswa Islam Se-Malaysia (Gamis) said they support PAS president Datuk Seri Abdul Hadi Awang's private member's Bill to upgrade the Shariah courts.
In the result of the perception poll published by Gamis last week, only 4 per cent of the 2,658 students polled said they do not support the Bill.
Of those polled, 89.8 per cent said they were aware of the Bill, but just roughly 78 per cent understood the content of the Bill that is due to be tabled again in March.
The number reason among those who dissented and disagreed with the Bill was that it is a petty issue that should not have been the public's focus.
Two other reasons for disagreeing were the lack of details regarding content of the Bill, and the proposed amendment's lack of benefit.
An overwhelming percentage of respondents, at around 97 per cent, also believed that the Bill required the support of all Muslims nationwide.
In comparison, just 62 respondents (2 per cent) opted for the other answer for that same question: that the Bill is a petty and unimportant issue.
Gamis said the survey had covered Muslim students across the country, including in East Malaysia, between October 2 and 23 last year.
Following the survey, Gamis said students had agreed that the Bill is needed to strengthen the Shariah courts as an effort that can purportedly reduce social ills among the society.
In 2014, a survey by independent pollster Merdeka Center had revealed that Malays in their 20s, with access to internet and alternative media, and earning more than RM5,000 a month are likely to support controversial hudud laws being implemented in Malaysia.
According to the survey results, 71 per cent of Malays polled said they supported hudud laws. But for Malays between 21 and 30 years of age, the proportion swelled to 83 per cent.
Full report at:
http://www.themalaymailonline.com/malaysia/article/overwhelming-support-for-hadis-bill-among-muslim-students-poll-shows
--------
'Secular' politicians pretending not to understand Hadi's Bill, research group
January 16, 2017
KUALA LUMPUR, Jan 16 — Certain parties are taking advantage of the motion to amend the Bill on the Shariah Courts (Criminal Jurisdiction) (Amendment) Act 1965 as proposed by PAS president Datuk Seri Abdul Hadi Awang to frighten the public for their own political agenda, said legal experts.
They are manipulating the issue while the amendments are intended to give the Shariah court wider powers to impose heavier sentences on offences which are already within the act which has existed since 1965.
Chief Executive Officer of the Malaysian Islamic Strategic Research Institute (IKSIM) Datuk Prof Mahamad Naser Disa said certain parties were purposely taking advantage of the motion to amend the act, more commonly known as RUU355, to confuse the public when it was not as bad as had been made out.
"There are politicians with secular thinking who purposely pretend not to understand the RUU355 and then try to confuse the public. I believe they have a personal agenda.
"In fact, they compare the situation in Malaysia with Turkey in matters relating to the Shariah court. We in Malaysia have Islam, there is no secular thought like in Turkey. So they intentionally create an agenda and take advantage of the situation," he said.
He was speaking as a panel member of a special media information briefing on the Act 355 held at the Institute of Islamic Understanding Malaysia (IKIM) here today.
Abdul Hadi had proposed the Bill on the Shariah Courts (Criminal Jurisdiction) (Amendment) Act 1965 in the Dewan Rakyat on Nov 24.
Mahamad Naser said the opposition parties seemed to be uncertain over their stand on the amendments and tried to reject them, while BN was expected to make a decision on the matter soon.
"Personally, I feel the amendments will be successful. The decision will be made by the government in March," he said.
Mahamad Naser added that sentences for offences under the Act will be determined by the State Assemblies, and they will not be made lightly.
"Hadi can make any proposal, but they cannot be easily made. The State Assemblies will amend and determine the sentence. For instance, the jail sentence, the fine for khalwat cases, dumping of babies, alcohol consumption, will be increased and made heavier," he said.
Mahamad Naser stressed that non-Muslims would not be subjected to the law because they would be judged in the civil court.
Full report at:
http://www.themalaymailonline.com/malaysia/article/secular-politicians-pretending-not-to-understand-hadis-bill-research-group
--------
South Asia
Taliban's explosives factory discovered in Balkh province
Jan 17 2017
The Afghan security forces discovered an explosives factory of the Taliban group in northern Balkh province of Afghanistan.
The Afghan Intelligence, National Directorate of Security (NDS), said the factory was used to produce Improvised Explosive Device, suicide bombing vests, magnetic bombs, and remotely controlled bombs.
NDS further added that the intelligence operatives confiscated 395 remote controls used in mines, 15 time bombs, 800 electric capsules, and some other equipment and explosives used in Improvised Explosive Device.
The anti-government armed militant groups including the Taliban insurgents have not commented regarding the report so far.
Balkh is among the relatively calm provinces in north of Afghanistan but the anti-government armed militant groups have been attempting to destabilize the province.
Numerous incidents have taken place in the province including some of its key cities during the recent months.
The acting provincial governor Ata Mohammad Noor earlier had warned that the ISIS loyalists are also attempting to expand foothold in this province.
A number of large scale military operations led by Noor were launched in some remote parts of the province last year and some signs indicating the activities of ISIS loyalists were also found during the operations.
http://www.khaama.com/talibans-explosives-factory-discovered-in-balkh-province-02691
--------
Kandahar bombing likely plotted in Quetta: officials
Jan 17 2017
The Afghan security officials are saying that the deadly Kandahar bombing was likely planned in Quetta city of Pakistan.
The Afghan Intelligence, National Directorate of Security (NDS) officials have said preliminary reports indicate the attack was plotted in Quetta city.
NDS spokesman Abdul Hassib Sediqi quoted in a report by RFE/RL said initial findings indicate the attack was plotted in Mawlavi Ahmad Kandahar seminary in Quetta.
In the meantime, the officials are saying that thorough investigations are underway regarding the incident.
The investigations are being conducted by three different delegations, including a delegation of the UAE officials.
The Taliban group rejected responsibility behind the attack and blamed the Afghan officials for the incident.
At least 12 people including the deputy provincial governor and five UAE diplomats lost their lives in the attack and several others including the UAE ambassador and Kandahar governor were wounded.
Full report at:
http://www.khaama.com/kandahar-bombing-likely-plotted-in-quetta-officials-02690
--------
Afghan forces fully prepared for 2017 fighting season: Interior Minister
Jan 16 2017
The Afghan National Defense and Security Forces (ANDSF) are fully prepared for the 2017 fighting season.
The remarks were made by the Minister of Interior (MoI) general Taj Mohammad Jahid during a gathering in Kabul to mark the graduation of the Afghan Nationa Police (ANP) cadets.
A group of 450 Afghan National Police cadets graduated on Monday after completing their training courses in the national police academy in Kabul.
Noting a considerable reduction in direct encounter on the battlefield, a change in strategy of the armed militants, Gen.
Jahid said the militants have started to carry out coordinated attacks, including suicide bombings.
However, he said the fesh graduates should focus more on countering the militants' attacks rather than prioritising the ethnic and other issues.
The minister further added that the leadership of the Ministry of Interior will step up efforts to fill the gaps in equipping and preparing the forces in coming three months, the winter season which falls from December until the end of February.
The anti-government armed militant groups often start their spring offensive once the weather becomes moderate at the end of March and state of April.
The Taliban group carried some of the deadly attacks in key provinces and cities of the country since they announced their spring offensive in mid-April last year.
Full report at:
http://www.khaama.com/afghan-forces-fully-prepared-for-2017-fighting-season-interior-minister-02687
--------
Africa
Attackers of UNIMAID are cowards who have no understanding of Islam – Buhari
January 16, 2017
President Muhammadu Buhari, on Monday described perpetrators of the terrorist attack at a mosque in University of Maiduguri, UNIMAID, as cowards who have no understanding of Islam.
Earlier, a bomb which went off at a mosque in the University of Maiduguri during Morning Prayers led to the death of a Professor and several others.
Reacting to the attack, Buhari in a statement issued by his Special Adviser on Media and Publicity, Femi Adesina said the unjustifiable act of the terrorists was punishable before God Almighty and the laws of the land.
Buhari expressed his heartfelt condolences to the University Community, families of the victims, the government and people of Borno State.
The President reassured communities in Borno and other parts of the North eastern part of the country that his administration will continue to ensure that terrorism never triumph over peace-loving Nigerians.
The statement reads, "President Muhammadu Buhari strongly condemns the terrorist attack Monday morning at a mosque in the University of Maiduguri.
"The President expresses sympathy and heartfelt condolences to the university community, families of the victims and the government and people of Borno State.
"President Buhari believes that this appalling attack on a revered place of worship and Ivory Tower shows that the perpetrators have no true understanding of Islam, adding that their despicable acts of terrorism are cowardly, criminal, unjustifiable and punishable before God Almighty and the laws of the land.
"The President reassures communities in Borno and others in the North eastern part of the country that his administration will continue to ensure that terrorism never triumphs over peace-loving Nigerians.
"He reaffirms the need for Nigerians to remain more vigilant even as the security agencies continue to use all means at their disposal to combat the remnants of insurgents and their sponsors.
"President Buhari wishes those injured in the attack a speedy and full recovery, and comfort for families of the dead."
http://dailypost.ng/2017/01/16/attackers-unimaid-cowards-no-understanding-islam-buhari/
--------
Professor, child killed in two suicide bombing in Nigeria's northeast
Jan 17, 2017
A professor at the University of Maiduguri and a child were killed and 17 people wounded on Monday in a twin suicide bombing in the city in Nigeria's northeast, officials said.
State emergency agency NEMA said two suicide bombers blew themselves up at different gates to the university in Maiduguri, the capital of Borno state, the former stronghold of Boko Haram Islamist militants, at around 5 am.
There was no claim of responsibility but the attacks bore the hallmarks of Boko Haram, which has killed 15,000 people and displaced more than 2 million during a seven-year insurgency to set up an Islamic state in Nigeria's northeast.
The group has stepped up attacks in the past few weeks as the end of the rainy season facilitates movements in the bush.
In early 2015, Boko Haram controlled an area about the size of Belgium. It has been pushed out of most of that territory over the past year by Nigeria's army and troops from neighboring countries.
Full report at:
http://nation.com.pk/international/16-Jan-2017/professor-child-killed-in-two-suicide-bombing-in-nigeria-s-northeast
--------
Libya forces retake Benghazi district from rebels
16 January 2017
Forces loyal to Marshal Khalifa Haftar on Monday retook a district in Libya's Benghazi from rebels after fighting that killed nine soldiers in two days, a military source said.
"We now control the district of Abu Sneib" in the southwest of the city, said a commanding officer in the army headed by Haftar, who backs the parliament in the country's east.
"Our forces now completely surround the Qanfuda area" nearby, the same source said.
Haftar has managed to retake a large part of the eastern coastal city from rebels since Benghazi came under their control in 2014.
But rebels still control the central districts of Al-Saberi and Souq al-Hout.
These groups include the Revolutionary Shura Council of Benghazi, an alliance of militias that includes the Al-Qaeda-linked Ansar Al-Sharia.
Full report at:
http://www.worldbulletin.net/africa/183240/libya-forces-retake-benghazi-district-from-rebels
--------
Amnesty calls for release of Nigerian Shia leader
Jan 17, 2017
Amnesty International on Monday urged Nigeria to comply with a court ruling to release a pro-Iran cleric and hundreds of his supporters, as a deadline for them to be freed loomed.
Ibrahim Zakzaky, who leads the Shia Muslim Islamic Movement of Nigeria (IMN), has spent more than a year in custody since clashes between his followers and troops.
The three days of violence in the northern city of Zaria left at least 350 IMN members dead, according to human rights groups. Nigeria's military has rejected the claimed death toll.
A judge in Abuja on December 2 called the detention of Zakzaky and his followers illegal and unconstitutional, and imposed a 45-day deadline for their release, which expires later on Monday.
Amnesty Nigeria director Makmid Kamara said the government "will demonstrate a flagrant — and dangerous — contempt for the rule of law" if it ignored the ruling.
"Zakzaky is being unlawfully detained," he said in an emailed statement.
"This might be part of a wider effort to cover up the gruesome crimes committed by members of the security forces in Zaria in December 2015 that left hundreds dead."
There was no immediate response from the government.
The IMN and Zakzaky have been at loggerheads with the federal government for years, not least because he has called for an Iranian-style revolution in Nigeria.
The Kaduna state government in December said Zakzaky should be "held responsible, fully investigated and prosecuted" for "acts of lawlessness committed by the organisation" over the last 30 years.
Full report at:
http://www.africanews.com/2017/01/16/amnesty-calls-for-release-of-nigerian-shia-leader/
--------
Trump questions why US is spending money fighting Boko Haram
JANUARY 16, 2017
Just five days to his inauguration President-elect Donald J. Trump has questioned why the United State was still spending money to fight the Boko Haram insurgency in Nigeria, why all of the schoolgirls kidnapped by the group have not been rescued and whether Qaeda operatives from Africa are living in the United States. He went further questioned the effectiveness of one of the more significant counterterrorism efforts on the continent. TRUMP According to New York Times Trump in a four-page write up raised Africa-related questions. "How does U.S. business compete with other nations in Africa? Are we losing out to the Chinese?" asks one of the first questions in the unclassified document provided to The New York Times. That is quickly followed with queries about humanitarian assistance money. "With so much corruption in Africa, how much of our funding is stolen? Why should we spend these funds on Africa when we are suffering here in the U.S.? Some of the questions are those that should be asked by a new administration seeking to come to grips with the hows and whys behind longstanding American national security and foreign assistance policies. But it is difficult to know whether the probing, critical tone of other questions indicates that significant policy changes should be expected. On terrorism, the document asks why the United States is even bothering to fight the Boko Haram insurgency in Nigeria, why all of the schoolgirls kidnapped by the group have not been rescued and whether Qaeda operatives from Africa are living in the United States. And it questions the effectiveness of one of the more significant counterterrorism efforts on the continent. "We've been fighting al-Shabaab for a decade, why haven't we won?" poses one question, referring to the terrorist group based in Somalia that was behind the Westgate mall attacks in Kenya in 2013. Although the document represents a first look at how the new administration might approach policy toward Africa, a subject that was rarely touched on during the campaign, officials with the Trump transition team did not respond to queries about the list. "Many of the questions that they are asking are the right questions that any incoming administration should ask," said Monde Muyangwa, the director of the Africa program at the Woodrow Wilson Institute. But she also noted that "the framing of some of their questions suggests a narrower definition of U.S. interests in Africa, and a more transactional and short-term approach to policy and engagement with African countries." Ms. Muyangwa said the queries could signal "a dramatic turn in how the United States will engage with the continent." J. Peter Pham, who has been mentioned for the job of assistant secretary of state for African affairs in a Trump administration, said he does not expect Mr. Trump to do a complete U-turn in relations with Africa. Mr. Pham, director of the Africa program at the Atlantic Council, said he expects Mr. Trump will emphasize fighting extremism on the continent, while also looking to enhance opportunities for American businesses. In other questions, the Trump transition team challenges the benefits of a trade pact known as the African Growth and Opportunity Act. "Most of AGOA imports are petroleum products, with the benefits going to national oil companies, why do we support that massive benefit to corrupt regimes?" the questionnaire asks. Yet Mr. Pham said he expected a Trump administration would support the pact. "AGOA has created more than 120,000 jobs in the United States," Mr. Pham said in an interview. A big unknown, though, is how a Trump administration will handle foreign assistance to the continent and its 54 nations. President George W. Bush quadrupled foreign assistance levels to African countries, and President Obama largely maintained that, even as his administration was making cuts elsewhere. Even so, the amount of American aid in 2015 to other critical allies — Afghanistan ($5.5 billion), Israel ($3.1 billion), Iraq ($1.8 billion) and Egypt ($1.4 billion) — far exceeded the approximately $8 billion for all of sub-Saharan Africa. The questions seem to reflect the inaccurate view shared by many Americans about how much the United States spends on foreign aid and global health programs. Polls show that Americans believe the country spends 25 percent of its budget on foreign aid — but the truth is that foreign aid is just 1 percent of the federal budget. "We've been hunting Kony for years, is it worth the effort?" poses another series of questions related to Joseph Kony, the warlord head of Uganda's violent guerrilla group the Lord's Resistance Army, who has eluded the authorities for three decades. "The LRA has never attacked U.S. interests, why do we care? Is it worth the huge cash outlays? I hear that even the Ugandans are looking to stop searching for him, since they no longer view him as a threat, so why do we?" The hunt for Mr. Kony and his fighters has generated a huge amount of publicity around the world, in large part because of a video on his elusiveness and brutality, "Kony 2012," that has been viewed more than 100 million times on YouTube. But other questions, foreign policy experts say, return to a theme of a continent that has squandered American money and effort. The questions challenge, for instance, a hallmark of Mr. Bush's Africa policy — the Pepfar program, which has provided billions to fight AIDS and tuberculosis in Africa. Rex W. Tillerson, Mr. Trump's nominee for secretary of state, complimented the program, calling Pepfar "one of the most extraordinarily successful programs in Africa" during his Senate nomination hearing. But, in contrast, the Trump transition questionnaire asks, "Is PEPFAR worth the massive investment when there are so many security concerns in Africa? Is PEPFAR becoming a massive, international entitlement program?" J. Stephen Morrison, director of the Global Health Policy Center at the Center for Strategic and International Studies, said the questions showed an "overwhelmingly negative and disparaging outlook" on the continent. "A strange attitude runs through this," he said.
Full report at:
http://www.vanguardngr.com/2017/01/trump-questions-us-spending-money-fighting-boko-haram/
--------
North America
You Can Help Rebuild A Mosque That Was Burned Down In America
17/01/2017
His mosque was burned to the ground in the early morning hours of Saturday, but on Sunday night his heart was full of hope.
"We are so overwhelmed," said Imam Fazal Hassan, looking out over the crowd inside Sammamish High School in Bellevue, Washington. Some 400 people had gathered there to show support for the local Muslim community, according to mosque board member Tanvir Rahman.
Hassan recounted how immediately after news spread that his mosque ― the Islamic Center of Eastside in Bellevue ― had been destroyed by fire, he received calls from the area's rabbis, priests and pastors, all offering to help.
Outside the mosque, Hassan said, other non-Muslims in the Seattle area left gifts: flowers, balloons and cookies.
"They were still warm!" Hassan said of the cookies, and the crowd burst into laughter.
Hassan then cited a hadith ― "He who does not thank people, does not thank Allah" ― before thanking the town's mayor, the fire chief, the police chief, the FBI and everyone else in the Bellevue area "from the bottom of my heart."
"I thank you for all the support, love and compassion and respect you have been giving us," he said. The crowd rose to their feet in applause. (You can see the imam's remarks on video shot by an audience member here.)
It was a moving moment, Rahman told The Huffington Post, and still more moving to know that the Islamic Center has already raised over $200,000 in donations on LaunchGood toward building a new mosque. That's almost halfway to the $500,000 goal.
"We are extremely, extremely humbled by the show of support and acceptance," Rahman said.
(You can donate here.)
"I'm shaking in tears and shock right now," Varisha Khan, a senior at the University of Washington, wrote in a Facebook post on Saturday after watching a video of her childhood mosque in flames.
"This was my second home after moving to Seattle and so much of my identity was shaped from the amazing people, experiences, memories, lessons, and standing shoulder-to-shoulder in prayers here for nearly a decade of my life," she wrote.
Police have arrested 37-year-old Isaac Wayne Wilson in connection with the fire, Bellevue Police Chief Steve Mylett told reporters at a press conference on Saturday.
After responding to the blaze at 2:44 a.m., police officers discovered Wilson lying down in a nearby parking lot. Mylett said Wilson, who is homeless, made statements to officers that implicated him in the alleged arson. There is also video evidence, Mylett said.
Wilson was also wanted on a warrant in Seattle for malicious mischief. According to The Seattle Times, Hassan, the imam, said Wilson had visited the mosque last year and said he wanted to pray, but he was asked to leave after creating a disturbance and using profanities.
Speaking at Saturday's press conference, a King County assistant prosecuting attorney said he expected his office to charge Wilson with second-degree arson on Tuesday. Prosecutor Mike Hogan added there is no evidence yet that the fire was a hate crime.
In a Facebook post, the Washington state chapter of the Council on American-Islamic Relations (CAIR) asked people to "not jump to conclusions" about Wilson's motive. Nonetheless, mosques in the area have been targeted in the recent past.
Earlier this month, 36-year-old Kamal Samater was arrested and charged with malicious harassment, a hate crime, for allegedly telling a man in the Islamic Center of Eastside parking lot that he was "going to assassinate everyone" at the mosque.
"There is no place in America for Muslims," Samater allegedly said.
In the nearby community of Redmond, the Muslim Association of Puget Sound has had its sign vandalized twice in the last few months. Police are investigating those incidents as hate crimes.
In June, after the Orlando, Florida, night club shooting, Redmond police received anonymous phone calls threatening people who worship at the Islamic Center of Puget Sound.
A report last year from the Center for the Study of Hate and Extremism at California State University, San Bernardino, tallied at least 260 hate crimes targeting Muslims across the country in 2015. That's nearly an 80 percent rise from 2014 and the greatest number of such crimes in any year since 2001.
Mosques were targeted for vandalism, arson and other types of destruction 80 times in 2015, according to a report from CAIR. That's a jump of nearly 400 percent from the year before.
HuffPost also found nearly 400 acts of anti-Muslim violence, discrimination and political speech in the U.S. so far in 2016.
Farida Hakim, a founding member of the Islamic Center of Eastside, told HuffPost that her "heart is overwhelmed with the love and support of our neighbors" since the fire. She said she was especially moved by a letter that a woman dropped off at the mosque Saturday, along with a $20 donation.
"Please don't let the actions of one person (or a nation of people who are ignorant and spiteful for that matter) make you feel unsafe or welcome," the letter read.
"We care about you. We love you. We value you."
The Huffington Post is documenting the rising wave of anti-Muslim bigotry and violence in America. Take a stand against hate.
http://www.huffingtonpost.in/entry/mosque-arson-fire-bellevue-washington_us_587cfcfce4b09281d0ebc346
--------
Canadian senators' unannounced visit to Saudi Arabia draws criticism
Jan. 16, 2017
Weeks after an international human-rights group revealed that Saudi Arabia had executed more than 150 people last year, a group of Canadian senators has quietly travelled to Riyadh for an official visit with Saudi counterparts.
Speaker George Furey and senators Peter Harder, Percy Downe and Vern White went this week in a parliamentary exchange program that also includes a visit to Oman, the Speaker's office said. British human-rights organization Reprieve reported in December that Saudi Arabia executed at least 153 people in 2016, nearing 2015's record high of 158.
Mr. Furey's office did not say the senators would raise Saudi Arabia's human rights with Saudi officials. It said the senators plan to promote Canada's postsecondary educational system, discuss the refugee crisis in the region, review strategies in the fight against terrorism and examine energy policies.
Read more: Former minister calls on Trudeau to use Saudi relationship in Badawi case
Read more: Canadian meeting with Saudi human rights commission draws criticism
"The Parliament of Canada believes that engagement and exchanges with all countries can be a positive force leading to change. The goal of parliamentary exchanges such as this one are to pursue parliamentary diplomacy, an important aspect of the work done by the Speaker of the Senate," Mr. Furey's office said.
The Senate did not announce the trip ahead of time. Mr. Furey's office said he travels regularly and advisories are not typically issued beforehand, in part for security reasons.
However, the Saudi Press Agency posted a news release about Mr. Furey's arrival in Riyadh last weekend. The agency said Mr. Furey is there for several days at the invitation of Abdullah bin Mohammed bin Ibrahim Al Al-Sheikh, speaker of the Kingdom's Shura Council, with whom he will hold talks.
The Tories criticized the Senate's lack of transparency about the trip.
"Canadians shouldn't have to rely on announcements from the Saudi government to find out what Canada is doing when it comes to engaging with a country like Saudi Arabia," said Garnett Genuis, Conservative deputy critic for human rights and religious freedom.
NDP foreign affairs critic Hélène Laverdière said Mr. Furey's visit comes as the Canadian government appears to be "cozying up" to Saudi Arabia.
Canada has been highly criticized over a $15-billion deal to sell weaponized vehicles to the country, which is regularly ranked among "the worst of the worst" on human rights by independent watchdog Freedom House. During a visit by Prime Minister Justin Trudeau to a Halifax coffee shop on Monday, a man stood by the entrance with a sign reading "Military Support to Saudi Arabia is Murder."
The high-profile case of Raif Badawi, a writer sentenced to 10 years in a Saudi prison and 1,000 lashes for "insulting Islam," also has a Canadian connection – his family lives in Canada.
Full report at:
http://www.theglobeandmail.com/news/politics/canadian-senators-unannounced-visit-to-saudi-arabia-draws-criticism/article33642304/
--------
Muslim Group Wants Franklin Graham Booted from Inauguration
1-16-2017
The nation's largest Muslim advocacy group, the Council on American-Islamic Relations (CAIR), is calling on President-elect Trump to drop Rev. Franklin Graham from the list of those invited to pray at the presidential inauguration.
"If President-elect Trump truly seeks to unite our nation as he promised in his acceptance speech, he will limit the list of those offering prayers at the inauguration to religious leaders who work to bring us together, not to create divisions between faiths," said CAIR National Executive Director Nihad Awad in a press release.
Graham has called Islam a "very evil and wicked religion" and said Muslims are "enslaved by Islam."
In a 2015 Facebook post, Graham called on the U.S. government to put a stop to all immigration of Muslims to the country.
"Every Muslim that comes into this country has the potential to be radicalised – and they do their killing to honor their religion and Muhammad," he wrote.
This is not the first time that CAIR has attempted to have him banned from official Washington events. In 2010 the group complained and successfully had Graham dropped from The National Day of Prayer at the Pentagon.
While Graham has spoken harshly of Islam, he's also warned people against mocking the religion.
"Muslims are offended when people mock their faith. I disagree with Islam. But just because I disagree, I'm not going to mock them or resort to violence. We need to show respect to people of other races and beliefs. What happened to civility and respect?" Graham said in May 2015, in response to the attack that occurred in Garland during a contest to draw images of Muhammad.
CAIR's demand is unlikely to impact Trump's decision to include Graham in the inauguration. During a thank-you event last month in Alabama, Trump praised Graham and credited him with contributing to his victory.
"I want to thank so many great people, but having Franklin Graham, who was so instrumental, we won so big, with evangelical Christians, we won so big," Trump told the crowd of 20,000.
In the past CAIR has been tied to the terror group Hamas--however they remain influential in the U.S.
Full report at:
http://www1.cbn.com/cbnnews/entertainment/2017/january/american-idol-alum-danny-gokey-honors-mlk-in-new-song
--------
Obama warns Trump not to jettison Iran nuclear deal
Jan 17, 2017
WASHINGTON - US President Barack Obama on Monday marked the first anniversary of the nuclear deal with Iran by emphasizing its "significant and concrete results" and warning against undoing a pact supported by the world's major powers.
In language that seemed clearly directed at incoming president Donald Trump, who is set to take office on Friday, a White House statement said "the United States must remember that this agreement was the result of years of work, and represents an agreement between the world's major powers - not simply the United States and Iran."
It said the deal had "achieved significant, concrete results in making the United States and the world a safer place" and "verifiably prevents Iran from obtaining a nuclear weapon." Such a diplomatic solution, it added, was "far preferable to an unconstrained Iranian nuclear program or another war in the Middle East." Trump has often denounced the nuclear deal, and in a Sunday interview with the Times of London and Bild newspaper of Germany he continued his criticism, saying, "I'm not happy with the Iran deal, I think it's one of the worst deals ever made."
Meanwhile, Saudi Arabia's Foreign Minister Adel al-Jubeir said on Monday he was optimistic about the incoming US administration especially the way it wanted to restore American influence in the world, contain Iran and fight Islamic State. Speaking to reporters in Paris, Jubeir said that proposed talks in the Kazakh capital Astana aimed at reaching a ceasefire in Syria were worth testing, but warned that ties with arch rival Iran remained "tense" and could only improve if Tehran's "aggressive actions" stopped.
He also said that Britain's decision to leave the European Union would not have an impact on Riyadh's relationship with London or the bloc.
The White House insisted Monday that despite US reservations about other actions by Iran - including its support for "violent proxies" and "terrorist groups" - Tehran was upholding its nuclear commitments.
Full report at:
http://nation.com.pk/international/17-Jan-2017/obama-warns-trump-not-to-jettison-iran-nuclear-deal
--------
Growing Muslim community looks to build Yukon's first mosque
Jan 16, 2017
Yukon's Muslim community has begun a fundraising drive to build what would be the territory's first mosque. The goal is to have it built and in use within two to three years.
When Muhammad Javed and his family came to Whitehorse 16 years ago after emigrating from Pakistan, they joined up with two other families, from Fiji.
Muhammad Javed
Muhammad Javed says a small mosque with space for children and social events is needed. (Dave Croft/CBC)
"There were only three families here, including myself, and there was no place to pray," Javen said.
"We used to pray in the house for our annual, like Eids, Ramadan celebration. We used to do it in the house, those three families would get together."
Javed said as the Muslim community grew it began using the United Church for Friday prayers, but then the group outgrew that, too. Four years ago, it began renting offices downtown for a praying space.
'We cannot accomodate everybody'
Now, with about 40 Muslim families in Whitehorse, Javed said it's time to build a mosque.
"This place is getting tighter now for annual celebrations, we cannot accommodate everybody here. Also, for our gatherings, like social gatherings, this space is very little. So we need to have a bigger space, also instead of renting we'd like to have our own place," he said.
He said more space is also needed for the children to play and learn in, said Javed.
Yusuf Legere
Yusuf Legere says an Islamic charity, the Zubaidah Tallab Foundation, will make a substantial contribution to the cost of the mosque. (Dave Croft/CBC)
Yusuf Legere is a relative newcomer to Whitehorse and hopes to make it a long term home.
Full report at:
http://www.cbc.ca/news/canada/north/muslim-yukon-whitehorse-mosque-fundraising-1.3935752
--------
Trump advisor clarifies 'obsolete NATO' remarks
17 January 2017
A campaign advisor to Donald Trump clarified the US President-elect's recent remarks about NATO and the EU.
On Sunday, Trump called NATO "obsolete," in remarks that shocked European leaders.
Walid Phares told Al-Hadath television channel, Al Arabiya's sister channel, that Trump's statements were blown out of proportion.
"Trump's view of NATO is not like the media represents it and it's not even how he presents it on Twitter. He does not want an end to NATO but he wants to reform it as it has the new task of confronting terrorism and combating extremism. The new US administration will work on negotiating with NATO commanders," Phares said.
Addressing the region's affairs, Phares said the entire new administration agrees that Iran's strategic intentions towards the US and its allies are undesirable.
"There are things we must reach agreements about such as Tehran's military interventions in some of the region's countries," he said.
Regarding Syria, Phares said that during the presidential campaign, they met with UN Special Envoy for Syria Staffan de Mistura who informed them about the negotiations' process.
"We also met with a Syrian opposition delegation. Trump used to say he will not have a project of launching a war to end a war. He said he wants to negotiate and as a president-elect, relevant institutions began informing him of developments in Syria. This is new. His new stance will be assigning his teams to prepare plans," Phares added.
Phares also said that Barack Obama's administration "lost a lot of Gulf support."
Full report at:
https://english.alarabiya.net/en/News/middle-east/2017/01/17/Trump-advisor-clarifies-controversial-NATO-remarks.html
--------
Obama doesn't regret 'red line' over Syria conflict
16 January 2017
US President Barack Obama says he does not regret his speech drawing a "red line" over Syria's use of chemical weapons, a phrase critics say symbolizes the US failure to act over the country's conflict.
Obama made the comment in 2012 about possible US military action in Syria, saying "a red line for us is we start seeing a whole bunch of chemical weapons moving around or being utilized."
In what was billed as his last network interview, on CBS News program "60 Minutes" broadcast on Sunday -- less than a week before his term ends Friday -- Obama confirmed that he had ad-libbed phrase, which wasn't in the text of his speech.
"I don't regret at all saying that if I saw (Syrian President) Bashar al-Assad using chemical weapons on his people that that would change my assessments in terms of what we were or were not willing to do in Syria," he said.
Challenged by his interviewer Steve Kroft that "you didn't say that... you said--you drew the red line," Obama declined to say whether he would take it back.
"I think made a bigger mistake if I had said, 'Eh, chemical weapons. That doesn't really change my calculus.'"
"I think it was important for me as president of the United States to send a message that in fact there is something different about chemical weapons," he added. "And regardless of how it ended up playing, I think in the Beltway, what is true is Assad got rid of his chemical weapons."
Wrenching video showing people foaming at the mouth and suffering other effects of an apparent chemical attack caused outrage around the world.
But after it appeared the United States was preparing imminent air strikes against the Syrian government, Washington instead agreed to a last-minute, Moscow-brokered deal to send Syrian chemical weapons to Russia.
Full report at:
http://www.worldbulletin.net/america-canada/183202/outgoing-cia-chief-warns-trump-to-watch-his-words
--------
URL: https://www.newageislam.com/islamic-world-news/new-age-islam-news-bureau/taking-the-fight-online--pakistan's-right-cries-'blasphemy'-to-muzzle-dissent/d/109752
New Age Islam, Islam Online, Islamic Website, African Muslim News, Arab World News, South Asia News, Indian Muslim News, World Muslim News, Womens in Islam, Islamic Feminism, Arab Women, Womens In Arab, Islamphobia in America, Muslim Women in West, Islam Women and Feminism, Moderate Islam, Moderate Muslims, Progressive Islam, Progressive Muslims, Liberal Islam