New Age Islam News Bureau
21 December 2020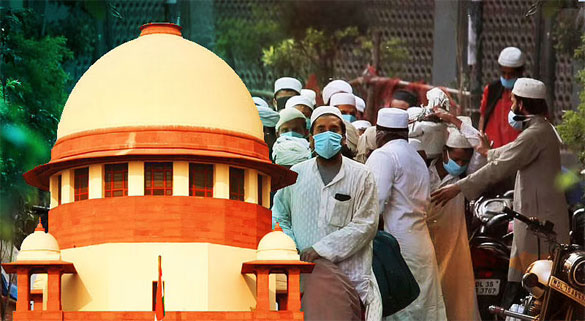 Supreme Court asks Centre to help 36 foreigners return home
-----
• Zero-Energy Ayodhya Mosque to Convey a Message on Climate Change
• I'm Democratically Elected, Army Works Under Me: Imran Khan Responds To Opposition's Puppet Jibe
• Hundreds of Children Stood Trial for 'Insulting' Erdogan Over Six Years: Report
• Govt Probes Religious Status of Malaysian, Illi Najwa Saddique, Who Married Indian Hockey Captain, Manpreet Singh Pawar
• Imam Busted over Spreading Propaganda against Security Forces
• More Syria Sanctions In Pipeline Under US Caesar Act, US Envoy To Syria Says
• ISIS-Linked Tunisian Terrorists Behead Shepherd near Algeria Border
India
• Tablighi Jamaat: Supreme Court Asks Centre to Help 36 Foreigners Return Home, After They Were Exonerated Of All Charges
• Zero-Energy Ayodhya Mosque to Convey a Message on Climate Change
• Bound For Their Homes, Tablighis Talk Of Waiting Children, Fight For Justice
• Fearing 'Love Jihad' Allegations, Interfaith Couple Flees UP, Seeks Protection in Delhi
• Amid 'Love Jihad' Row, Himachal Pradesh Implements Act against 'Forced Conversions'
• Probe finds Pakistan claims on UN vehicle firing to be false: India
• Shots fired at Pak drone near Punjab border. 11 Pak-made grenades seized
--------
Pakistan
• I'm Democratically Elected, Army Works Under Me: Imran Khan Responds To Opposition's Puppet Jibe
• Pakistani PM Denies Reports of Israel Talks, Muslim Cleric Supports Ties
• Imran Khan Warns India against 'False Flag' Attacks In Kashmir
• Opposition didn't ask army chief to overthrow govt: Ahsan
• Pakistan asks UN to probe Indian attack on observers
• Process Of Vaccine Approval In Pakistan To Be Expedited
• Govt ready to sit with PDM to solve issues: Chaudhry Sarwar
• UAE royals arrive in Chagai for hunting Houbara bustards
--------
Mideast
• Hundreds of Children Stood Trial for 'Insulting' Erdogan Over Six Years: Report
• Senior Arab Analyst: Israel Begging Biden to Strike Deal with Iran
• Parliament Condemns EU's Anti-Iran Resolution
• Turkey sentences Kurdish ex-MP Guven to 22 years in jail
• Iran parliament rejects bill to ban military commanders from running for president
• Iran news agency calls for investigating Austrian envoy for traveling across country
• Book claims slain Iranian IRGC Commander Soleimani ordered killing of Yemen's Saleh
--------
Southeast Asia
• Govt Probes Religious Status of Malaysian, Illi Najwa Saddique, Who Married Indian Hockey Captain, Manpreet Singh Pawar
• Citing 'hedonism', Putrajaya-linked missionary group wants plus-size pageant shut down
• Apologise for unethical remarks, demolishing temple, Hindus tell Kedah MB
--------
South Asia
• Imam Busted over Spreading Propaganda against Security Forces
• 27 Taliban Killed in Helmand, Kandahar: MoD
• Women, children killed as car bomb targets Afghan lawmaker in Kabul
• Officials Defuse 9 Mines in Kandahar, Saving Lives
• Abdullah Heads to Tajikistan on Afghan Peace
--------
Arab World
• More Syria Sanctions In Pipeline Under US Caesar Act, US Envoy To Syria Says
• Riyadh Agreement implementation in Yemen a step toward peace, stability: Bahrain FM
• Saudi Arabia, UAE used Israeli spyware to hack phones of three dozen journalists: Report
• Iraq's top Shia leaders condemn rocket attack on US embassy, call for state of emergency
• 73 US trucks loaded with military, logistic equipment in Syria's Hasakah: SANA
• At least 3 Katyusha rockets target US embassy in Iraq's Green Zone
--------
Africa
• ISIS-Linked Tunisian Terrorists Behead Shepherd near Algeria Border
• Three people killed, five injured in Ethiopia explosion
• Somalia accuses Kenya of arming local militia to attack its forces amid rising tensions
--------
North America
• US Prepared To 'React' If Iran Tries To Avenge Qassem Soleimani Killing: Top General
• US warship to help ongoing troop withdrawal from Somalia
• Dignity of Iranian nation infuriates US deep state
--------
Europe
• Germany, Finland to Repatriate Women, Children Nationals from Syria
• Germany brings home 3 women, 12 kids from camps in Syria
• EU complicit in Saudi-UAE genocide in Yemen: Parliament member
Compiled by New Age Islam News Bureau
URL: https://www.newageislam.com/islamic-world-news/tablighi-jamaat-supreme-court-asks/d/123832
--------
Tablighi Jamaat: Supreme Court Asks Centre to Help 36 Foreigners Return Home, After They Were Exonerated Of All Charges
Dec 21, 2020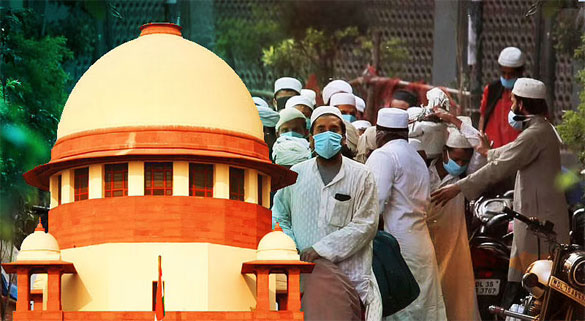 Supreme Court asks Centre to help 36 foreigners return home
-----
The Supreme Court has asked the Central government to assist 36 foreigners in going back to their countries after they were exonerated of all charges of flouting Covid-19-related guidelines by participating in the Tablighi Jamaat congregation in Delhi's Nizamuddin area.
A bench, led by Justice AM Khanwilkar, took note of applications made by the foreigners during a hearing on Friday and asked a government-appointed nodal officer to facilitate their return.
Senior advocate Menaka Guruswamy, appearing for the 36 foreign nationals from 14 countries, had put forth their pleas, pointing out that all these applicants were grateful to the top court for expediting their trial before a subordinate court.
When Guruswamy sought the intervention of the bench for the smooth departure of these foreigners, the court said that it would implore the nodal officer to process this request.
"They may make representation to the nodal officer for facilitating their return to home country which may be processed appropriately and in accordance with law," said the bench, which also included Justices BR Gavai and Krishna Murari.
The court, however, added that the direction to the nodal officer was independent of any decision to be taken by Delhi Police to challenge the acquittal.
Solicitor general Tushar Mehta assured the bench that in case any foreign national who has been exonerated has any difficulty in travelling back, their lawyers may get in touch with his office for assistance.
The court also placed on record its appreciation for Mehta after senior advocate Salman Khurshid, representing some of the foreigners, commended the SG for rendering all possible help.
On December 15, a Delhi court had dropped all charges against the 36 foreign nationals, citing lack of incriminating evidence. The trial court said that the prosecution failed to prove the presence of any of the accused inside the headquarters of the Tablighi Jamaat between March 12 and April 1, when the alleged violations took place.
Previously, the cases against eight other foreign nationals were closed after they paid the Rs 10,000 penalty.
https://www.hindustantimes.com/india-news/tablighi-jamaat-supreme-court-asks-centre-to-help-36-foreigners-return-home/story-uU0kjS9PThkgEZ9aT03XOP.html
--------
Zero-Energy Ayodhya Mosque to Convey a Message on Climate Change
Dec 20, 2020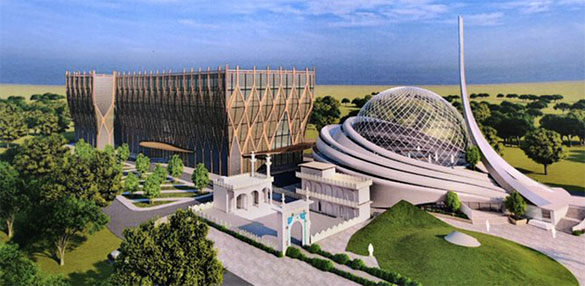 The complex would come up on five acres of land allotted to the board following the November 2019 order of the Supreme Court in the Ram Janmabhoomi- Babri Masjid case. (Special Arrangement)
-----
The Uttar Pradesh Sunni Central Waqf Board (UPSCWB) has unveiled the blueprint of the mosque along with other buildings which will be constructed on the five-acre land, allotted by the Uttar Pradesh government in Dhannipur village of Ayodhya. If the proposed maps get the required approval from the Faizabad Panchayat district board, work on the site will start immediately, officials have said.
Here's everything you need to know about the plan and design of the mosque:
1. The plan and design were showcased during an interaction with the professor SM Akhtar, who is the consultant architect for the mosque complex project. Retired JNU professor Pushpesh Pant, who is the curator of the museum, along with Mumbai-based philanthropist Mohammad Shoib also took part in the event virtually.
2. The rectangular layout of the complex in Dhannipur village also includes a speciality hospital, community kitchen and a museum housed in a multi-storey vertical structure. These will be metres away from the mosque and a century-old Sufi shrine will be in between.
3. The mosque will be spherical in shape and will be able to accommodate 2,000 Namazis or worshippers at a time and will be four times bigger than the Babri Masjid. The 300-bed hospital complex will be six times the size of the mosque. It will be built on 3,500 square metres of land while the hospital and other facilities will straddle an area of 24,150 square metres.
4. The building will be zero-energy to convey a message on climate change. All power demands in the mosque will be met with the help of solar panels and there will be no electricity connection
5. A green patch will be developed and saplings will be procured from all over the world, including Amazon rainforest, places where the bushfire took place in Australia and other geographical locations in India.
6. The community kitchen and museum have been curated by Pant.
7. There will be no grand celebration for the foundation stone laying ceremony of the mosque.
8. There is no detailed plan to collect contributions for the project. Two separate bank accounts have been created to collect money for the construction – the first for the mosque and the second, for other structures.
9. The name of the mosque has been not agreed upon but it has been decided that it will not be named after Babar or any other king, emperor or ruler, according to the board.
10. The structure is expected to be ready in two years.
https://www.hindustantimes.com/india-news/5-acre-land-zero-energy-structure-mosque-in-ayodhya-s-dhannipur-village/story-FJAVndgFZaMraRF5wxHptN.html
--------
I'm Democratically Elected, Army Works Under Me: Imran Khan Responds To Opposition's Puppet Jibe
December 19, 2020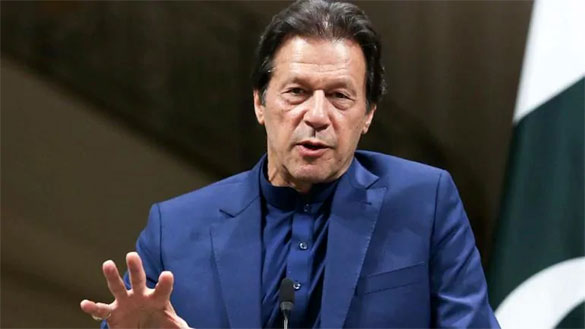 Pakistan Prime Minister Imran Khan. (Photo: AP)
-----
Taking on the Opposition over its "puppet" prime minister jibe, Pakistan Prime Minister Imran Khan has asserted that the Pakistani Army is a state institution and that it works under him.
The Opposition in Pakistan for long has been attacking Imran Khan alleging that the country's military establishment interferes in its politics and elections.
Pakistan Democratic Movement (PDM), a 11-party opposition alliance, has been holding massive rallies since its inception in September to seek Imran Khan's ouster and press the military to stop interfering in politics.
The PDM has been accusing the Pakistan Army of installing "puppet" Prime Minister Khan through a manipulated election in 2018.
The Army, which has ruled Pakistan for more than half of its 70 plus years of existence, has hitherto wielded considerable power in the matters of security and foreign policy. However, the military has denied meddling in the country's politics. Khan also denies that the army helped him win the election in 2018.
In a report, PTI said, "According to the 'Lahore Declaration' signed by the Opposition parties on Monday, the military establishment had stolen the people's mandate in the 2018 election and imposed a 'hybrid and inefficient' government on the masses."
It was this attack that Imran Khan was reportedly responding to during an interview to SAMAA TV on Friday. In it, the Pakistan PM said the Pakistan Army is a state institution, which works under him.
On Opposition's claims that his government wouldn't hold if the military did not support it, Imran Khan said reportedly said he is the country's democratically elected prime minister and so the institutions back him.
Pakistan Muslim League-Nawaz supremo and three-time former Prime Minister Nawaz Sharif has been repeatedly blaming Army chief Gen Qamar Javed Bajwa and spy agency ISI chief Lt Gen Faiz Hameed of meddling in Pakistan's political affairs.
Sharif was ousted from power in 2017 by the Supreme Court on corruption charges. He is currently out on bail, has been living in London since November last year after he was allowed by the courts and the government to go there for a period of eight weeks for medical treatment. But he did not come back, while his lawyers told the court that he was still recovering.
Khan said the Opposition does not want to hold talks with the government and is instead pressuring the Army to send a democratic government packing. This can be called treason, he said.
https://www.indiatoday.in/world/story/pakisatn-pm-imran-khan-army-relations-nawaz-sharif-1751221-2020-12-19
--------
Hundreds of Children Stood Trial for 'Insulting' Erdogan Over Six Years: Report
Jennifer Bell
20 December 2020
Figures have shown 903 minors – including 264 children aged between 12 and 14 – stood trial for "insulting" Turkish President Recep Tayyip Erdoğan over a six-year period.
The Justice Ministry statistics revealed that a total of 128,872 probes were launched over six years for insulting the president, and prosecutors have evaluated 36,066 complaints and launched criminal cases for 11,371 of them, in just 2019 alone.
For all the latest headlines follow our Google News channel online or via the app.
According to Article 299 of the Turkish Penal Code, "insulting" the president can result in a prison sentence of between one and four years. If the act is committed overtly, a one-sixth increase of the sentence is applied.
The figures showed 903 minors between the ages of 12 and 17 stood trial over the said charges over six years.
Justice Ministry statistics showed that criminal cases were launched for 27,717 of the 128,872 probes in six years, and in 31,109 cases, prosecutors decided to not lodge charges.
A total of 9,556 individuals have been convicted, usually for social media posts, and 2,676 people were handed prison sentences, out of which seven are children, including one between the ages of 12 and 14. Some 4,325 individuals were acquitted.
A total of 234 foreigners and eight legal entities were sued and nine foreigners were handed prison terms.
There has been a dramatic uptick in the number of cases filed for "insulting" the president during Erdogan's tenure.
The Constitutional Court in 2016 rejected the proposal to annul the 299th Article, saying that it's necessary for "the protection of the public order and a democratic society."
https://english.alarabiya.net/en/News/middle-east/2020/12/20/Hundreds-of-children-stood-trial-for-insulting-Erdo-an-over-six-years-report
--------
Govt Probes Religious Status of Malaysian, Illi Najwa Saddique, Who Married Indian Hockey Captain, Manpreet Singh Pawar
December 20, 2020
KOTA BHARU: The government has asked a Malaysian woman, Illi Najwa Saddique, who is married to Indian hockey captain Manpreet Singh Pawar, to come forward and explain their religious status.
Deputy Minister in the Prime Minister's Department (Religious Affairs) Ahmad Marzuk Shaary said the government was very sensitive about the matter and the woman would be summoned as soon as she returned home.
He said so far the ministry was still waiting for the official decision from the Johor Islamic Religious Department on the religious status of the woman.
"We understand that she is from Johor. According to preliminary information we obtained, she is still a Muslim and so far the government has not received an application from her to marry abroad.
"In fact, from what I have read on social media sites, it was also said that the woman is still a Muslim and the man is said to have converted to Islam at the end of last year.
"But we will wait for confirmation when she returns," he said after distributing aid to fishermen and farmers here today.
Commenting further, Marzuk said the government had not received any application from the woman to leave Islam.
"Currently, we are thinking positively that the woman is still a Muslim but the customs she went through there contradict our religion. If she is still a Muslim, then she must repent," he said.
Earlier, the media reported that Indian hockey captain Manpreet Singh Pawar wed his Malaysian lover, Illi Najwa Saddique, in Mithapur, near Jalandhar, Punjab.
Manpreet, 28, wore a Punjabi wedding suit complete with turban, while Illi Najwa was attired in a Punjabi wedding dress when they exchanged vows. This raised questions among netizens about the woman's religious status.
https://www.freemalaysiatoday.com/category/nation/2020/12/20/govt-probes-religious-status-of-malaysian-who-married-indian-hockey-star/
--------
Imam Busted over Spreading Propaganda against Security Forces
By Mohammad Haroon Alim
19 Dec 2020
Amrullah Saleh, the first vice president, said that in a mosque in the fourth district, the imam was spreading propaganda against the security forces in imitation of ISIS and the Taliban.
Saleh added, that the man was being instructed from far distances, and was being summoned today under a security pact to end his misdeeds and misleads.
Saleh said the insults and humiliation of the security and defense forces were intolerable and that they needed all our political, cultural, religious, and social support.
According to Saleh, wrong conspiracies against the country's security forces is a crime under the law and will be investigated.
According to the Ministry of Hajj and Religious Affairs, most of the mosques in the country are outside the ministry's administration, so people do not know how much propaganda is being spread in these mosques against the government and security forces.
He also said that two terrorists who had come to Kabul to plant magnetic mines and were previously involved in such acts had been detained by security forces.
According to the first vice president, one of these individuals claims that his family has been taken hostage by the Taliban and forced him to carry out such acts.
https://www.khaama.com/imam-busted-over-spreading-propaganda-against-security-forces-8796544/
--------
More Syria sanctions in pipeline under US Caesar Act, US envoy to Syria says
Emina Osmandzikovic
20 December 2020
US objectives in Syria are to end the near decade-long conflict, diffuse tensions, and secure a political solution that will pave the way for remaining foreign forces to leave the country, a senior US diplomat told Al Arabiya English.
The official also said that sanctions placed on Syria have been effective, and there are more sanctions in the pipeline.
Seen as the pathway out of conflict in Syria, the Caesar Act has been effective since mid-2020 when the US slapped sanctions on Syria that aim to put economic pressure on the Syrian government, including President Bashar al-Assad. Thirty-nine entities that conduct business with the regime, including Russian, Iranian and other regional counterparts, have also been subject to sanctions.
"The Caesar Act has been very effective in pressuring the Assad regime and its enablers," said Joel Rayburn, US Special Envoy for Syria in the US State Department, in an interview with Al Arabiya English.
"And yes, you can expect more severe Caesar Act sanctions in the future," he said.
Since June 2020, the Syrian economy has reached a new low following the imposition of additional sanctions on the Assad regime and its major supporters in the Middle East region. The crisis in neighboring Lebanon has also dealt a heavy blow to Syria as the countries' economies are inextricably linked.
Unlike previous sanctions, the Caesar Act implements the most wide-ranging set of measures against the Syrian government to date and brings under its jurisdiction third-country actors who engage in such activities, including the cross-border business networks that are crucial to the regime's survival, according to the Brookings Institution.
The objective of the 'summer of Caesar,' as it is popularly known in the US State Department, has been to minimize the military support and the illicit funding pathways between the Assad regime and its largest supporters in the region, including Hezbollah and the Iranian regime.
The imposition of sanctions will continue indefinitely until all parties accede to the implementation of Security Council Resolution 2254, which expresses support for a Syrian-led political process, calling for a ceasefire and a political settlement to the current crisis.
"We expect [sanctions] to continue on a regular basis. And inside the US government, we have a whole machinery now that is built to impose these sanctions on a routine basis and to continue to uncover the sources of support that the Assad regime uses," he said.
Prior to the Caesar Act, the Syrian regime had avoided the US Treasury's blacklist by funneling money through Lebanon's banking system, which Iran uses to funnel money to the Assad regime.
"We [have] been able to stop some of that," Rayburn said, pointing to the fact that the collapse of the Lebanese financial sector has made it hard for anyone, not just the Assad regime, to get foreign currency out of Beirut's financial sector.
Regardless, while Lebanese banks hole up foreign currency in the country, fuel and funds have continued to flow from Lebanon to Syria. Where authorities in Lebanon have said they will crack down on the issue, trucks are still seen crossing the border.
"We are watching [the smuggling issue] very closely. And we have very robust sanctions authorities that we can use when we uncover that kind of activity. So, people should beware," Rayburn added.
ISIS attacks increase
ISIS attacks in Syria and its neighboring countries have increased significantly in 2020, with the group aiming to retake territory and resources, according to the Middle East Institute. The drawdown of US forces from Syria and Iraq has left significant security gaps, and there is a threat they will be filled by ISIS or its regional affiliates.
"It is going to require continued military pressure, law enforcement pressure, and local political pressure to make sure that ISIS or other groups similar to it, al-Qaeda in Syria, for example, cannot take advantage of, let's say, unstable conditions on the ground to try to make a comeback," Rayburn said.
"We have been very fortunate that the US government has maintained support for our local security partners, the Syrian Democratic Forces and others in Syria, the Iraqi security forces and the [Kurdish] Peshmerga in Iraq, in order to keep that pressure on Daesh," he added.
https://english.alarabiya.net/en/News/middle-east/2020/12/20/Syria-crisis-More-Syria-sanctions-in-pipeline-under-US-Caesar-Act-US-envoy-to-Syria-says
--------
ISIS-linked Tunisian terrorists behead shepherd near Algeria border
20 December 2020
Terrorist militants kidnapped and beheaded a young shepherd in mountains in Tunisia near the border with Algeria on Sunday, security sources and residents said.
Troops found the body of Okba Dhouibi after he had been seized by militants, the sources said.
Prime Minister Hichem Mechichi said that act would not go unpunished.
Tunisian forces are carrying out operations in the Kasserine and Saloum mountain range to flush out Ajned Kilafha militants allied to ISIS.
Militants linked to Al Qaeda and ISIS groups has been sheltering for years in the desolate, hilly terrain along a stretch of the border with Algeria and sometimes clash with security forces there, but the threat is regarded as having been contained.
https://english.alarabiya.net/en/News/north-africa/2020/12/20/ISIS-linked-Tunisian-terrorists-behead-shepherd-near-Algeria-border
--------
India
Bound For Their Homes, Tablighis Talk Of Waiting Children, Fight For Justice
By Sourav Roy Barman
December 20, 2020
On the surface, the Tablighi Jamaat members appear content — looking forward to going home and meeting their loved ones. But a gentle prodding brings forth the anguish, of spending nearly a year in a foreign land, while facing public vilification, accusations of spreading a pandemic, and a long court trial, before finally being exonerated.
"My mother suffered two brain strokes while I was stuck in India. My old father and wife had to take care of her," says Jahedul Islam, 32, from Bangladesh. When he contacted the Bangladesh Embassy, he says, they told him their enquiries regarding his status were being stonewalled. "I get a sense that the Bangladesh government is miffed with the way we have been treated."
However, Islam hastily adds, he is not complaining. "Eta kintu abhijog na, apnake khali situation ta bolchilam (I am not complaining, I am just narrating the situation to you)… But I am happy that truth has prevailed," Islam, who runs a steel workshop in Munshiganj district, says.
On December 15, a Delhi court acquitted the last of the 36 foreign Tablighi Jamaat nationals, including Islam, charged with violating Covid guidelines when attending a gathering in the Capital in March. Of the 952 foreigners charged, 44 had chosen to stand trial rather than take a plea bargain, and eight had been acquitted earlier.
Acquitting the 36, Chief Metropolitan Magistrate Arun Kumar Garg pulled up the police and said "the prosecution has even failed to prove the disobedience of any of the directions" issued by the authorities.
Islam, a father of three, arrived in India on January 20. He was at the Tablighi Markaz in Delhi for a congregation till March 5, before moving to Mewat, the founding place of the Islamic spiritual movement. He was detained and kept in two different quarantine centres run by the Delhi government for over two months.
"At the Narela temporary detention facility, they locked us from outside, while providing what we needed, like food, medicines. At another place, we were kept in rooms that turned into furnaces during the summer, but at least we could move around," he recalls.
While on May 9 the Delhi government ordered the release of the Indian Tablighi members from quarantine centres, it directed that the foreigners be taken into police custody. On May 28, the Delhi High Court released them, allowing them to be shifted to alternative accommodations.
Irfan, 39, an Australian national, was picked up along with his wife from a friend's place in the Batla House area, where they had been staying since March 22. They were at the Markaz for a couple of hours. The couple's three-year-old son has been back home in Brisbane all this while.
A mechanical engineer who left India in 2004, Irfan says, "My wife and I had registered our names while entering the Markaz building, and I guess that is where the police got our names and contacts from. We had come to visit Delhi, and Markaz was part of our itinerary. But we did not spend even a night there."
Irfan and his wife were in detention for 62 days before getting bail. "The government school where we were kept was filthy and we cleaned it ourselves. I could not even grasp what was happening with me," he says. They told their son, who studies in Class 3, that they were stuck due to the lockdown. "How else do you convince a child?" Irfan says.
A business development manager with a firm in Brisbane, he is worried about retaining his job given his long absence.
Afuaan, 52, the owner of an advertising firm based in Indonesia's Sumatra that designs outdoor campaigns, says while the court verdict has left him "largely happy", a part of his heart would always be sad at leaving India, "a land where I learnt everything about life". Afuaan fears he may not be able to return as the Centre has blacklisted his visa along with that of the 959 others.
"My wife and my staffers tried keeping the business afloat. But we have suffered huge losses… But you see, we are taught not to complain or be bitter," he adds, smiling.
Abdullah Ramadhan, 23, is from a village near Mount Kilimanjaro in Tanzania, where he teaches Islamic scriptures and assists the family in farming. Explaining why he chose to fight rather than take a plea bargain, Ramadhan says, "It is simple. We firmly believed that the charges against us were wrong and unfair."
Senior advocate Fuzail Ahmad Ayyubi, who led the legal defence of the Tablighis, says the court verdict "reflects the capacity, independence and competence of the Indian lower judiciary", and is not worried about the police appealing against the order. "I hope the verdict will have a good impact across the globe as the case involved citizens from so many countries."
On Friday, the petitioners told the Supreme Court that since they had paid bail bonds of six months (Rs 10,000 each), they should be allowed to leave. The hearing was held on a petition filed by them in June claiming denial of rights and challenging their blacklisting.
"We told the Supreme Court that 36 Indian nationals would stand guarantee that the foreigners will return if the law requires them to. The Court asked us to approach a nodal officer (of the Delhi Police) and the Solicitor General to get their passports and facilitate their return. The lookout circulars against them also need to be revoked and they need exit visas as their normal visas have been cancelled," a Tablighi Jamaat functionary said.
The complex web of legal intricacies means Islam still has no answer when his five-year-old son asks on the phone that single question: "Abbu tumi kobe ashba (Father, when will you return)?"
https://indianexpress.com/article/india/bound-for-their-homes-tablighis-talk-of-waiting-children-fight-for-justice-7111774/
--------
Fearing 'Love Jihad' Allegations, Interfaith Couple Flees UP, Seeks Protection in Delhi
21 December, 2020
New Delhi: An interfaith couple who fled from Uttar Pradesh's Shajahanpur in late November, fearing that they would be harassed by their families and the police for choosing a partner from another religion, applied for the registration of their marriage under the Special Marriage Act after the Delhi government said in court that the couple would be provided with a safe house and police security, if required.
Shameem (25) and Simran (21) had petitioned the Delhi high court on December 16, seeking protection from their families as well as the Uttar Pradesh police, Indian Express reported. The couple also asked the court to say that should the UP police register a case, they would not be taken out of the Delhi high court's jurisdiction without prior permission.
The court did not allow this plea, saying it was based on speculation. Justice Anu Malhotra said on Wednesday that the prayers "are in the realm of speculation" and "no such orders in relation thereto can be granted presently", according to the Indian Express.
The couple fled Shahjahanpur in November because Simran's parents were forcing her to marry someone else. "The new law [UP's 'anti-conversion' ordinance] is a problem for interfaith couples. That was one of the reasons we left Shahjahanpur," Shameem told Indian Express. "Agar wahan se karte, toh love jihad keh dete (if we had married there, they would have called it love jihad)… even if I wasn't being forced into marriage, they would have said that because I am with a Muslim boy. In UP, they do this deliberately to trap the man," Simran added.
On arriving in Delhi, the two contacted an NGO that helped them file their legal plea. The couple said they plan to get married under the Special Marriage Act, without either of them converting religions.
Shameem and Simran's fears regarding how their relationship would be viewed in Uttar Pradesh are not unwarranted.
In recent months, BJP-run states like Uttar Pradesh, Haryana and Madhya Pradesh have revealed plans to enact laws to counter "love jihad" – a term coined by Sangh parivar outfits to describe an imaginary Muslim conspiracy to convert unsuspecting Hindu women to Islam.
Uttar Pradesh, which has a significant Muslim population, has been first to pass an ordinance or an executive order to tackle 'love jihad'. According to the ordinance, a marriage will be declared null and void if a woman converts into a religion solely for marriage. Those wishing to change their religion after their wedding would need to apply to the district magistrate a month in advance.
The state's cabinet approved the ordinance even though on November 11, the Allahabad high court denounced a judgment by a single-judge bench that chief minister Yogi Adityanath had openly cited as proof that his crusade against 'love jihad' had merit.
As several experts and analysts have pointed out, the law is framed in vague language and appears to be intended for the harassment of interfaith couples, rather than serious worries about 'forced conversion'. According to The Hindu, as many as 11 FIRs have already been filed under the new law, and at least 34 people arrested.
https://thewire.in/communalism/fearing-love-jihad-allegations-interfaith-couple-flees-up-seeks-protection-in-delhi
--------
Amid 'Love Jihad' Row, Himachal Pradesh Implements Act Against 'Forced Conversions'
20 December 2020
A more stringent law against conversion by force, inducement or through marriages solemnised for the "sole purpose" of adopting a new religion, with a provision of up to seven years in jail for violators, has come into force in BJP-ruled Himachal Pradesh, over a year after it was passed by the state assembly.
The Himachal Pradesh Freedom of Religion Act, 2019 was notified by the state home department on Friday. It replaces a 2006 law that has been repealed by the assembly.
The development comes in the backdrop of the Uttar Pradesh government notifying an ordinance last month against forcible or fraudulent religious conversion that provides for imprisonment of up to 10 years and a maximum fine of Rs 50,000 under different categories.
Several other BJP-ruled states are mulling such laws which party leaders say are aimed at fighting ''love jihad'', a term used by them for the alleged tricking of Hindu women into converting to Islam for marriage.
The bill was passed in the Himachal Pradesh Assembly on August 30 last year and had received the governor's assent. However, it took over 15 months for the home department to issue the notification for its implementation.
There is a provision of stringent punishment of up to seven years in jail in the Act as compared to the three years under the old Himachal Pradesh Freedom of Religion Act, 2006, which was on similar lines.
The Act prohibits conversion by misrepresentation, force, undue influence, coercion, inducement, marriage or any fraudulent means.
Any marriage for the sole purpose of conversion will also be declared null and void under Section 5 of the Act.
Asked about the delay in notifying the law, Law Minister Suresh Bhardwaj told PTI that the home department had to lay down rules for the proper procedure to be adopted for implementing the Act, so the delay in issuance of the notification could be because of that.
The home department is being additionally looked after by Chief Minister Jai Ram Thakur.
When contacted, Additional Chief Secretary (Home) Manoj Kumar said he was on leave for about a month and the in-charge officer will be able to answer the query.
As per the Act, anyone seeking to convert will need to give a month's notice to the district magistrate, stating that the person is converting on his/her own. The provision figured in the 2006 law as well and was challenged in court.
The priest who performs a conversion ceremony will also give a month's notice in advance. Those reconverting to their "parent religion" are exempted from this provision.
According to the new Act, if Dalits, women or minors were made to convert, the jail term will be between two-seven years.
Section 10 of the Act states that no person or organisation violating the provisions will be allowed to accept any donation or contribution of any kind from within or outside the country.
The Opposition had supported the Himachal Pradesh Freedom of Religion Bill, 2019, in the state Assembly and the legislation was passed unanimously with a voice vote.
Explaining the objective and reason behind the legislation, the government had said in the Assembly that it was being introduced as the society had undergone many changes since the enactment of the previous bill due to which stringent and effective legislation was required to check forced religious conversions, which are "on the rise" in the state.
https://www.outlookindia.com/website/story/india-news-as-bjp-states-mull-love-jihad-laws-himachal-pradesh-implements-act-against-forced-conversion/367850
--------
Probe finds Pakistan claims on UN vehicle firing to be false: India
Dec 20, 2020
NEW DELHI: India slammed Pakistan on Sunday for claiming that Indian forces had fired at a UN vehicle in POK as it asked Islamabad to probe its own lapses in ensuring security for UN personnel instead of making baseless and fabricated allegations. Pakistan had earlier said it had taken up the "reprehensible" attack on UNMOGIP observers by India with the UN.
The government responded with a statement saying that allegations by Pakistan regarding Indian forces targeting a UN vehicle on December 18 had been investigated in detail and found to be factually incorrect and false. "Our forward troops were aware of the visit of UN military observers in the area and did not conduct any firing as alleged," said MEA spokesperson Anurag Srivastava.
Instead of repeating baseless and fabricated allegations against India to cover up its own failure in ensuring the safety and security of UN personnel in territory under its control, said the official. India has conveyed its findings and views on these misrepresentations to the Pakistani side, he added. Pakistan has sought a "transparent" investigation into the incident by UN. Pakistan's permanent representative to the UN stated that "deliberate targeting" of the UN observers and their vehicle appeared to be a "new coercive and reckless ploy" by India to hinder UNMOGIP's work.
https://timesofindia.indiatimes.com/india/pakistans-allegations-on-attacks-by-indian-troops-on-un-vehicle-found-false-following-probe-india/articleshow/79827398.cms
--------
Shots fired at Pak drone near Punjab border. 11 Pak-made grenades seized
Shishir Gupta
Dec 21, 2020
Security forces have seized 11 hand grenades suspected to have been dropped by a drone flying in from across the Pakistan border into Punjab's Gurdaspur district, a senior police officer said on Monday. The grenades are suspected to have been made by an ordnance factory in Pakistan's Rawalpindi.
The consignment of Arges Type HG-84 series grenades, packed in a plastic box, is the eight instance of seizure of firearms and grenades smuggled into the country for terrorists from across the border in the last 15 months, a senior Punjab Police officer said.
The Arges HG-84 is an anti-personnel fragmentation grenade designed to inflict massive damage against soft targets within its blast radius, spraying shrapnel out to a distance of 30 meters at speed. The Arges grenade, manufactured by an Austrian firm, have been used in major attacks in India – including the 2008 Mumbai strike, the 1993 Mumbai blasts and the 2001 Parliament attack. The Wah Cantonment Ordnance factory in Rawalpindi earlier had a franchise to manufacture the high-explosive grenades.
The seizure comes weeks after an alert by intelligence agencies that cautioned security personnel about Pakistan's Inter Services Intelligence's moves to acquire upgraded versions of drones from China that can carry large quantities of firearms in every sortie.
The first instance of ISI-backed terror groups using drones to smuggle weapons in Punjab was on 19 August 2019 when security personnel spotted a large quadcopter dropping a weapon consignment of 10 kg including AK 47 rifles, MP9 rifle, pistols and fake Indian currency. This drone, however, ran out of battery on its way back and fell within Indian territory.
Counter-terror officials in Delhi said Pakistani terror groups and the ISI could have been using drones for arms trafficking for much longer.
"Lately, the drones have been getting bigger and more powerful, triggering concerns that these could not only be used to carry larger quantities of arms but also rain explosives at security camps in border areas," an official said.
This improves the capacity of the ISI to supply weapons for Khalistani terror groups as well as its groups in Jammu and Kashmir.
Police teams found the packet with 11 grenades during a search on Sunday morning.
Border Security Force personnel at the Chakri border outpost in Gurdaspur sector had spotted a drone entering Indian territory shortly before Saturday midnight. The soldiers, and later Punjab police officers also, fired at the drone but couldn't bring it down. They also alerted Punjab Police who also tried to bring down the drone.
The packet was found near Dhussi bandh in Salach village of Gurdaspur's Dorangla area. A senior police officer said the box of grenades had been attached with a wooden frame and lowered from the drone to the ground from a nylon rope.
https://www.hindustantimes.com/india-news/shots-fired-at-pak-drone-near-punjab-border-11-pak-made-grenades-seized/story-dvnqrMuarrlFlBDgr89UTK.html
--------
Pakistan
Pakistani PM Denies Reports Of Israel Talks, Muslim Cleric Supports Ties
By TOVAH LAZAROFF
DECEMBER 20, 2020
Pakistan's Prime Minister Imran Khan has denied reports of behind-the-scenes efforts to establish ties between his country and Israel.
Separately, a Pakistani cleric and politician Maulana Muhammad Khan Sherani reportedly said that he supported relations with Israel.
Khan rejected reports about the possibility of formal relations with Israel on Friday in an interview with Samaa TV published on Friday, the substance of which was published in the Saudi Arabian-based Arab News.
He responded directly to a charge by Noor Dahri, the founder of British think-tank, Islamic Theology of Counter-Terrorism, who claimed that an adviser to the prime minister had visited Israel at the end of November.
Dahri, who has been attacked on social media following his statements on Twitter and to the Israeli media, including The Jerusalem Post about the trip, has been very specific about the details.
"It was a morning of the last week of Nov... at around 8 a.m., a British Airways flight BA0165 flew from London Heathrow airport to Tel Aviv. The person, who booked business class, travelled from Pak[istan]," he tweeted.
The Foreign Ministry has denied any knowledge of such a trip.
Dahri said that the adviser met with Israeli officials and that Saudi Arabia was pressuring Pakistan to normalize relations with Israel by way of weaning it away from the Turkish-Iranian axis.
According to Arab News, Khan said that his country would not recognize Israel until the conflict with the Palestinians was resolved. He questioned why anyone would go to Israel, given that there are no ties between the countries.
Arab News reported that Khan said, "This is absolutely fake news,"
On Sunday Dahri posted on his twitter page information about a speech in Pashto that he said Sherani delivered on Saturday.
"Sherani a prominent religious figure, a Central Leader of JUI-F @juipakofficial and Ex-Chairman of the Pakistan Ideology Council says he supports Israel's recognition. He says in Pashto, Israel's recognition is an international issue."
Israel in the last four months has ratified normalization deals with the United Arab Emirates and Bahrain. Sudan, Morocco and Bhutan have also announced the normalization of relations with Israel.
Speculation is high that other deals with Muslim and Arab countries could be forthcoming, such as with Saudi Arabia, Oman, Pakistan and Indonesia.
Israel has a long history of covert ties with Pakistan and has tried on a number of occasions to establish diplomatic relations with Pakistan.
https://www.jpost.com/middle-east/pakistani-pm-denies-reports-of-israel-talks-muslim-cleric-supports-ties-652734
--------
Imran Khan Warns India against 'False Flag' Attacks In Kashmir
Posted by Nilavro Ghosh
Dec 21, 2020
Pakistan's military was on high alert in Kashmir on Monday as its Prime Minister warned India against carrying out any "false flag" operations in the disputed region after a UN vehicle in the Pakistan-held part came under attack.
Pakistan blamed Friday's attack on India, implying it was aimed at embarrassing Islamabad and harming relations with the international community. The two UN observers in the vehicle escaped unharmed.
"I am making absolutely clear to the (international) community that if India was to be reckless enough to conduct a false flag operation against Pakistan, it would confront a strong national Pakistani resolve & be given a befitting response at all levels of the threat. Make no mistake," Prime Minister Imran Khan tweeted Sunday.
Pakistan says the attack on the UN vehicle was deliberate, as such vehicles are clearly marked and "recognizable even from long distances."
The UN confirmed the attack and said it was being investigated.
India has not commented on the attack or responded to Khan's tweets.
The two nuclear-armed nations are bitter rivals which have fought three wars since gaining independence from British rule in 1947, two of them over the Himalayan region of Kashmir. The territory is split between Indian and Pakistani control, and both claim it in its entirety.
The two sides often exchange fire across the heavily-guarded Line of Control in Kashmir. Each accuses the other of routinely violating a 2003 cease-fire.
https://www.hindustantimes.com/india-news/imran-khan-warns-india-against-false-flag-attacks-in-kashmir/story-FjvQ42YCZTpaEWIiJ7UlgP.html
--------
Pakistan asks UN to probe Indian attack on observers
Syed Irfan Raza
21 Dec 2020
ISLAMABAD: With yet another Kashmiri woman falling victim to unrelenting ceasefire violations by Indian troops only a day after they targeted a vehicle of the UN Military Observer Group in India and Pakistan along the Line of Control (LoC), Pakistan has taken up the reprehensible attack on the UNMOGIP with the UN, urging it to initiate a transparent investigation into the incident.
As the situation along the LoC continued to deteriorate, Pakistan's Permanent Representative to the UN in a letter addressed to the UN Secretary General (UNSG) and the president of the UN Security Council requested them to forcefully condemn the attack on UNMOGIP members and ask India to respect 2003 ceasefire understanding, while Prime Minister Imran Khan warned the world community that in case of any false-flag operation, India would be given a befitting response at all levels of the threat.
Also, a senior Indian diplomat was summoned to Foreign Office to register Pakistan's strong protest over ceasefire violations by the Indian occupation forces along the LoC, resulting in serious injuries to an innocent civilian on Saturday, according to a FO statement issued here on Sunday. Sagheera, 25-year-old daughter of Mohammad Haneef, sustained serious injuries when Akhori village in the Rakhchikri sector of the LoC faced indiscriminate and unprovoked firing from Indian troops.
PM Khan in a series of tweets on Sunday said that India's deliberate firing on the UNMOGIP vehicle despite clear UN markings and flying blue UN flag showed India's total disregard for all international norms of acceptable state behaviour and respect for international law and United Nations.
Pakistan strongly condemned this rogue behaviour, he said. "I want to again warn the world community, as India's internal problems mount, especially economic recession, growing farmers protests and mishandling of COVID 19, the Modi government will divert from the internal mess by conducting a false flag operation against Pakistan. I am making absolutely clear to the int community that if India was to be reckless enough to conduct a false flag operation against Pakistan, it would confront a strong national Pakistani resolve and be given a befitting response at all levels of the threat. Make no mistake."
The PM said already, in 2020 alone, there have been 3,000 Indian ceasefire violations along the LoC and Working Boundary, by unprovoked firing deliberately targeting civilians — resulting in 276 casualties, of which 68 were children and 92 were women.
Highlighting the atrocities and crimes committed by Indian occupying forces against the innocent Kashmiris, particularly since August 2019, Pakistan has already been drawing world's attention to India's ultimate plan is to change the demography of Indian illegally occupied Jammu and Kashmir from a Muslim-majority area into a Hindu-majority territory.
In a letter to the UN secretary general and UNSC president, Pakistan's permanent representative to the UN stated that deliberate targeting of the UN Observers and their vehicle appeared to be a new coercive and reckless ploy by India to hinder UNMOGIP's work, and facilitate another Indian military misadventure against Pakistan.
The letter said Pakistan had credible information that the RSS-BJP government was planning to stage a 'false flag' attack to divert attention from its domestic difficulties, and create justification for another misadventure against Pakistan. If that were to happen, Pakistan would exercise its right to self-defence, the letter made it clear.
The permanent representative requested the UN to forcefully condemn the Indian attack on the UNMOGIP members and call on India to observe the 2003 ceasefire understanding. The UN must respond positively and urgently to repeated calls by Pakistan to strengthen UNMOGIP and improve its ability to observe and report on ceasefire violations, the letter contended.
Pakistan also reminded the UN that the illegal and inhuman military siege and communications lockdown in the occupied territory had lasted over 500 days, with India's ultimate plan being able to turn the IIOJK from a Muslim-majority area into a Hindu-majority territory.
According to the Ministry of Foreign Affairs website, Pakistan has taken up the reprehensible attack by India on the UNMOGIP Observers and their vehicle along the Line of Control (LoC) with the United Nations, urging it to initiate a transparent investigation into the incident.
The Foreign Office (FO) condemned the deplorable targeting of innocent civilians by the Indian occupation forces, underscoring that such senseless acts were in clear violation of the 2003 ceasefire understanding, and were also against all established humanitarian norms and professional military conduct. The egregious violations of international law reflected consistent Indian attempts to escalate the situation along the LoC and were a threat to regional peace and security, the FO statement added.
By raising tensions along the LoC and the WB, India could not divert attention from the grave human rights situation in the IIOJK, it said.
The Indian side was once again called upon to investigate incidents of deliberate ceasefire violations and maintain peace along the LoC and the WB. India was also asked to allow the UNMOGIP to play its mandated role as per the UNSC Resolutions.
https://www.dawn.com/news/1596965
--------
Process of vaccine approval in Pakistan to be expedited
Ikram Junaidi
21 Dec 2020
ISLAMABAD: With 15,000 of the 18,000 volunteers administered the Chinese Covid-19 vaccine, its clinical trial is expected to wind up within the current month and preparations to commence trial of another vaccine will begin.
University of Health Sciences Vice Chancellor and Scientific Task Force on Covid-19 member Dr Javed Akram told Dawn that 15,000 people — 80 per cent of the total volunteers — had been vaccinated and hoped that the trial would end in December.
The vaccine is under trial in 19 countries which will acquire it on priority.
In Pakistan, clinical trial of the Chinese vaccine began in September with the initial sample size of 10,000 volunteers. However, later the number was enhanced to 18,000.
The vaccine is Ribonucleic Acid based and will generate antibodies against the spikes as a result of which the virus will not be able to attach itself to the lungs.
"Though some of the volunteers who were administered Pfizer-BioNtech vaccine were hospitalised, not a single incident has occurred with the Chinese vaccine in Pakistan. Once the trial is completed, the process of vaccine registration will start. We will not waste a single minute as the country is losing almost 100 precious lives daily," he said.
Replying to a question, Dr Akram said though trials of three more vaccines were in the pipeline, he hoped one of them would start in January 2021.
"It is Australian, insect-based, vaccine and arrangements are being made to get approval from the Drug Regulatory Authority of Pakistan (Drap) and National Bioethics Committee (NBC)," he said.
It is worth mentioning that NBC was established on the recommendation of the now defunct Pakistan Medical Research Council in 2004 to deal with issues relating to bioethics.
The sample size of the insect-based vaccine will be 13,000 volunteers.
"The Australian vaccine will be similar to the Chinese one as it also works on spikes and will be injected. However, it will be prepared in bodies of flies, which is why it is called insect-based vaccine," Dr Akram said while replying to a question.
He said the virus would stop spreading once 75pc people were vaccinated across the country and was hopeful that a large quantity of the vaccine would become available in the second quarter of next year.
"By that time, not only will the vaccine be available in the international market, Pakistan will also get it free through Covax," he said.
"We are part of Covax by Global Alliance for Vaccines and Immunisation (GAVI), therefore free vaccine will be available for 20pc of our population," Dr Akram said, adding that "we will also get the Chinese vaccine being prepared in collaboration with a Canadian partner".
Meanwhile, data released by the National Command and Operation Centre showed that 80 deaths and 2,615 new cases were reported on Sunday, with 272 ventilators in use across the country.
In Multan, 46 per cent of the vents allocated for Covid-19 patients were occupied, 44pc in Islamabad, 33pc in Lahore and 26pc in Peshawar.
Data related to oxygen beds showed that 58pc of them were in use in Pesha­war, 41pc in Ab­­bottabad, 40pc in Rawalpindi and 38pc in Multan. According to data, 40,553 active cases were reported across the country on Sunday.
https://www.dawn.com/news/1596963/process-of-vaccine-approval-in-pakistan-to-be-expedited
--------
Govt ready to sit with PDM to solve issues: Chaudhry Sarwar
21 Dec 2020
LAHORE: Governor Chaudhry Muhammad Sarwar has hinted at holding talks with the opposition's Pakistan Democratic Movement (PDM) and hopes the political situation will improve next month.
"Inflation and unemployment are the real issues of the masses and we are ready to sit with the opposition for resolving these issues on priority," he said while talking to the media at the final match of a polo championship here on Sunday.
Responding to a question, he said that for solving the crises faced by the country both the government and the opposition would have to come to the negotiating table.
He told a questioner that he could not understand if the PDM would tender resignations from the assemblies or hold the proposed long march.
He said it seemed that the opposition parties lacked unanimity of views on tendering resignations however, he hoped, the political scene would improve next month as the opposition would understand the importance of talks.
He said the government was ready to sit with the opposition to discuss all problems.
https://www.dawn.com/news/1596942/govt-ready-to-sit-with-pdm-to-solve-issues-chaudhry-sarwar
--------
UAE royals arrive in Chagai for hunting Houbara bustards
Ali Raza Rind
21 Dec 2020
CHAGAI: Eleven members of the royal family of the United Arab Emirates (UAE) on Sunday arrived in Chagai district for hunting Houbara bustards.
According to official sources, the royal hunters who arrived at Dalbandin Airport in a special plane were led by Sheikh Sultan Bin Tehnoon Bin Mohammad Al Nahyan. Salar Khan Sanjrani, younger brother of Senate Chairman Sadiq Sanjrani, accompanied the royal delegation.
The sources said the UAE hunters had arrived in Chagai for the first time as earlier they had been allotted hunting areas in Nok­kundi, Taftan and Saindak.
The royal hunters were received by civil and military officials at the airport. Later, they moved to their camp in the Kachanawar area by road amid tight security.
The UAE delegation comprises Sheikh Sultan Bin Tehnoon Al-Nahyan, Arif Mohammad, Moham­mad Ismail, Mohammad Matar Obaid Dalmouk, Mohammad Saeed Shuwain, Eid Jauaan Mohammad Al-Shamsi, Rashed Nayel Rasheed, Abdullah Awadh Saeed, Abdul Sattar, Ali Musabeh Mishar, Saeed Abdullah Ahmed and Tanveer Zia Dar.
The sources said the delegation, which was equipped with hunting instruments and falcons, would stay in the area for one week.
https://www.dawn.com/news/1596974/uae-royals-arrive-in-chagai-for-hunting-houbara-bustards
--------
Mideast
Senior Arab Analyst: Israel Begging Biden to Strike Deal with Iran
2020-December-20
"The Iron Dome could not protect you! You fear the Iranian missiles and are now begging Biden and the Europeans to enter new nuclear talks with Iran with this precondition that Iran should not have precision-striking and long-range missiles," Atwan said, addressing Israeli officials, and added, "They want a 30-year-long agreement, that is to say they want to add another 15 years to the current agreement and extend it until 2035."
"Iran has made astonishing progress in area of the missile power and Israel says that it has Iron Dome against it but the Iron Dome has failed and Israel wants to sell them to the Arab states," he added, noting that Tel Aviv knows the missile shield is of no use against Iranian missiles.
Atwan also referred to Turkey's greed to purchase missile defence systems, and said Ankara has understood that the US missiles are not efficient and therefore has demanded to buy the Russian S-400 defence shield.
Iranian officials have in the past few years repeated opposition to talks on defense and missile issues, reiterating that the country's power components are not for compromise.
Commander of the Islamic Revolution Guards Corps (IRGC) Major General Hossein Salami underlined that enemies can never stop Iran's progress and development in defense fields or coax the country into negotiations about them.
"We will never stop increasing the defense capabilities and we will not retreat because it is among our redlines and therefore, the issue of defense capabilities is not negotiable, modifiable, stoppable and controllable," General Salami said, addressing a ceremony in Tehran in November 2019.
Asked if Iran would agree to take part in missile talks under the pressures and US sanctions, he said, "This will never happen."
General Salami downplayed military threats against Iran, and said, "We ensure the Iranian nation that the talent and capacity of the Iranian Armed Forces and the IRGC are so high that they will confront any enemy, no matter how big, and therefore, the nation should rest assured and live in tranquility because we are capable of defeating any enemy."
He also warned the enemies against approaching Iran's borders, saying that with the rapid development of the Iranian missile systems, there is no longer any safe zone for hostile aircraft carriers within or out of Iran's territorial waters.
"Given the successful mounting of ballistic missiles on (IRGC) speedboats, the enemy's aircraft carriers will no longer be safe in any spot," General Salami said.
"This is a pleasant fact for the Muslim World and us, and a painful one for the enemies," he added.
Noting that the enemy's sanctions have stimulated the stage of development in the Islamic Republic's defense sector, the IRGC chief said, "We currently possess precision-guided missiles; only experts can understand the difficulty of turning ballistic missiles into precision-guided ones."
Major General Salami said such evolutions have made Iran the biggest missile power in the region.
Also, Supreme Leader of the Islamic Revolution Ayatollah Seyed Ali Khamenei blasted the world powers which oppose Iran's missile power, and stressed once again that Tehran would not allow others to intrude in its missile and defense programs.
"This issue is none of your (enemies') business. You (the enemies) want the Iranian nation not to have missiles and other defensive possibilities so that you bully it," Ayatollah Khamenei said in Tehran in February 2018.
He underlined that production and modernization of all the tools and equipment needed by the country today and tomorrow should be prioritized, and said, "Without even a single moment of doubt, the country should move towards anything that it needs to defend itself even if the world opposes."
"Of course, we have placed a religious ban on things like nuclear bombs and WMDs but we powerfully pursue any (other) thing that we need," Ayatollah Khamenei said.
"We are aware of the enemies' open and secret threats, words and plots but we stress without any moment of doubt that the Islamic Republic which relies on people will become more powerful day by day," he added.
Ayatollah Khamenei also recited a sentence by the late founder of the Islamic Revolution, Imam Khomeini, and said, "The US can do no damn thing."
https://www.farsnews.ir/en/news/13990930000962/Senir-Arab-Analys-Israel-Begging-Biden-Srike-Deal-wih-Iran
--------
Parliament Condemns EU's Anti-Iran Resolution
2020-December-20
"The European Parliament, which has issued a resolution to oppose the execution and to protect criminals against the national security of our country, is the same body that has remained silent on the cowardly assassination of an innocent Iranian scientist, and always supported terrorists from the terrorist Monafeqin (Hypocrites as Mojahedin-e Khalq Organization members are called in Iran) with the blood of 17,000 defenseless Iranian citizens on their hands to separatist groups, hosted the leaders of terrorist groups in the European parliament, and permitted the free activity of terrorist groups in the European countries, specially in the European Parliament," the statement said.
It also referred to the European countries' collaboration with the US in preventing the Iranian patients' access to needed medicine under sanctions, and said, "The manufacturers and sellers of the WMDs to the dictator Saddam which killed thousands of young Iranian people, are not qualified to defend human rights.
The statement also blasted the European states' silence on the massacre of people in Syria, Iraq and Yemen, and called on the Iranian government to provide the names of European officials who support the terrorists for reciprocal moves.
In relevant remarks earlier this week, Secretary of Iran's High Council for Human Rights Ali Baqeri Kani blasted the European states' efforts to deny Iranian children's access to medicine, and said that the Europeans are now accused of killing dozens of sick Iranian children and are not qualified to claim advocacy for human rights.
"Those who prevent innocent children from gaining access to medicine are also not authorized to speak out even about animal rights," Baqeri Kani said while referring to the European Parliament's resolution on the situation of human rights in Iran.
He criticized the EP's recent resolution on the human rights situation in Iran, and said that most of the European officials have played and continue to play an effective role in violating the rights of the Iranian people, including the right to live, the right to have access to health facilities, the right to education, the right to employment, and the right to development, by imposing illegal and oppressive sanctions on them.
Also, on Saturday, Iranian Parliament's National Security and Foreign Policy Commission in a statement strongly condemned the recent anti-Iranian resolution issued by the European Parliament.
"The European Parliament that today issues a resolution against the execution and protection of criminals against the national security of our country is the same institution that not only did not react in the face of the cowardly assassination of innocent Iranian scientists but on the contrary always supported, sheltered terrorists, including MKO," the Iranian Parliament's National Security and Foreign Policy Commission said in its statement.
https://www.farsnews.ir/en/news/13990930000628/Parliamen-Cndemns-EU%E2%80%99s-Ani-Iran-Reslin
--------
Turkey sentences Kurdish ex-MP Guven to 22 years in jail
21 December 2020
A Turkish court on Monday sentenced a former lawmaker from the pro-Kurdish Peoples' Democratic Party (HDP) to more than 22 years in jail on terror-related charges.
Leyla Guven, who was stripped of her parliamentary immunity in June, was convicted by a court in the southeastern city of Diyarbakir of membership of a terror group and disseminating terror propaganda for outlawed Kurdish militants, an AFP reporter said.
Guven launched a hunger strike in 2018 in a bid to end jailed Kurdish leader Abdullah Ocalan's isolation.
https://english.alarabiya.net/en/News/middle-east/2020/12/21/Turkey-sentences-Kurdish-ex-MP-Guven-to-22-years-in-jail-
--------
Iran parliament rejects bill to ban military commanders from running for president
Yaghoub Fazeli
20 December 2020
Iran's parliament voted on Sunday with an overwhelming majority against a proposal to ban military personnel from running for president, amid speculation that several former and current military commanders intend to run in next year's presidential election.
Iranian lawmakers rejected the proposal with 207 votes against, 25 in favor, and five abstentions, the semi-official Tasnim news agency reported.
Opposing the proposal, Parliament Speaker Mohammad Bagher Ghalibaf, a former Islamic Revolutionary Guard Corps (IRGC) commander and potential presidential candidate, said members of the armed forces could run for election after resigning from their military posts.
Iran is due to hold presidential elections in June 2021, with several former and current military officials said to eye the presidency.
Running for election is the "right" of military personnel, Abbas Ali Kadkhodaei, spokesman for the Guardian Council, the body that vets all nominations, said on Saturday.
Military personnel who intend to run for election must first cut ties with their military institutions, Kadkhodaei added.
IRGC commander Hossein Dehghan, who is also a military adviser to Iran's supreme leader, has officially announced he will run in next year's elections.
Other potential candidates with military backgrounds and ties to the IRGC include former Parliament Speaker Ali Larijani, head of the Mostazafan Foundation Parviz Fattah, former IRGC chief Mohsen Rezaei, and IRGC commander Saeed Mohammad, according to Iranian media.
https://english.alarabiya.net/en/News/middle-east/2020/12/20/Iran-military-Iran-parliament-rejects-bill-to-ban-military-commanders-from-running-for-president
--------
Iran news agency calls for investigating Austrian envoy for traveling across country
20 December 2020
An Iranian news agency has urged the country's authorities to investigate the Austrian ambassador to Tehran for traveling across Iran, saying he could be collecting intelligence during his trips.
For the latest headlines, follow our Google News channel online or via the app.
Ambassador Stefan Scholz "has taken business trips to 25 Iranian provinces so far and none of them have been done for the purpose of sightseeing or pleasure," Iran's Mehr news agency said in a piece published on Saturday.
Mehr claimed Scholz met with Iranian businessman during his trips and "obtained an accurate estimate of the capacities, problems, and shortcomings of each province."
Since Washington's withdrawal from the Iran nuclear deal in 2018, Western intelligence services have been trying to gather information on the impact of sanctions on the Iranian economy, as well as the methods used by Iran to circumvent sanctions, Mehr claimed.
"One cannot ignore the hypothesis that these trips can be used to assess the impact of sanctions on Iran's economy," Mehr said, adding that the Iranian authorities should investigate "the unusual travels" of Scholz.
Scholz had said in an interview with a Tehran-based media outlet in October that he has so far visited 25 out of 31 Iranian provinces.
"They were all business trips. We draw up plans to establish a link between those working in the private sectors of Iran and Austria and to boost cultural cooperation," Scholz said.
In May, an Iranian newspaper accused Germany's former envoy to Tehran of being a "Zionist spy" after Berlin branded the Lebanese Iran-backed Hezbollah a "Shia terrorist organization."
https://english.alarabiya.net/en/News/middle-east/2020/12/20/Iran-news-agency-calls-for-investigating-Austrian-envoy-for-traveling-across-country
--------
Book claims slain Iranian IRGC Commander Soleimani ordered killing of Yemen's Saleh
20 December 2020
Slain Islamic Revolutionary Guards Corps (IRGC) commander Qassem Soleimani had ordered the killing of former Yemeni president Ali Abdullah Saleh, according to a recently published book on Soleimani.
For the latest headlines, follow our Google News channel online or via the app.
The book, titled "The Shadow Commander; Soleimani, the US, and Iran's Global Ambitions," is a biography of Soleimani by US-based Iranian journalist Arash Azizi.
In the book, Azizi wrote that Soleimani directly ordered the killing of Yemen's slain ex-president Saleh, who was killed in 2017 by the Iran-backed Houthi militia after he turned against it.
"Two members of the Quds Force involved in setting Iran's Yemen policy told me this separately. Additionally, a source in the Houthi leadership said this was a request from Soleimani, which had been agreed to by the Houthis themselves," Azizi said in an interview on his book with Beirut-based think tank the Malcolm H. Kerr Carnegie Middle East Center.
"The circumstances described by them led me to believe the information was credible. It also sat right with what I knew about Soleimani and his decision-making style," Azizi added.
Soleimani, who headed the Quds Force, the overseas arms IRGC, was killed in a US airstrike at Baghdad's international airport on January 3. He was considered the second most powerful figure in the Iranian regime after Supreme Leader Ali Khamenei.
https://english.alarabiya.net/en/News/middle-east/2020/12/20/Book-claims-slain-Iranian-IRGC-Commander-Soleimani-ordered-killing-of-Yemen-s-Saleh
--------
Southeast Asia
Citing 'hedonism', Putrajaya-linked missionary group wants plus-size pageant shut down
19 Dec 2020
BY DANIAL DZULKIFLY
KUALA LUMPUR, Dec 19 — Putrajaya-linked Muslim evangelical foundation Yayasan Dakwah Islamiah Malaysia (Yadim) has said today that it is urging Putrajaya to cancel the Miss/Mrs Plus World Malaysia 2020 pageant scheduled next month.
In a statement today, its chairman Nasruddin Hassan from Islamist party PAS claimed that the event which will see participants from all ethno-religious backgrounds, and not just Muslims, is "hedonistic" and allegedly "exploiting women".
"Apart from that, the concept of organising such a programme has never been allowed by any religion, especially Islam, because such programmes are more exploitative to women and akin to nourishing to a hedonistic culture by civilisations that have long been extinct,'' Nasruddin claimed, but did not elaborate on his remark.
Nasruddin also said that local authorities worldwide would not have endorsed such programs, in a bid to contain the Covid-19 outbreak, a supposed precedent that Malaysia should also uphold.
Despite his claim, the pageant's Grand Final Gala Night which will be held in Zenith Hotel in Putrajaya on January 2 has said that it will abide by Covid-19 standard operating procedures with limited seats, and is being held in the Federal Territory that is currently under recovery movement control order.
Nasruddin also said that allowing the event would also send a wrong signal that the Perikatan Nasional government under the leadership of Tan Sri Muhyiddin Yassin is perceived to endorse activities that does not contribute to society's moral development said Nasruddin.
"Hosting such programmes basically gives the wrong signal to the people, as if the government under the leadership of prime minister today approves of them,'' said Nasruddin.
He then said that Yadim will send an official protest memo to the organisers and the local authorities this Monday.
On its Facebook page, the pageant describes itself as a "platform for promoting body positivity, healthy lifestyle, and women empowerment".
Winners of the pageant will go on to compete and represent Malaysia in the international Miss Plus World Finals 2020-2021, originally planned to be held in the United States.
https://www.malaymail.com/news/malaysia/2020/12/19/citing-hedonism-putrajaya-linked-missionary-group-wants-plus-size-pageant-s/1933450
--------
Apologise for unethical remarks, demolishing temple, Hindus tell Kedah MB
Minderjeet Kaur
December 21, 2020
KUALA LUMPUR: A coalition of Malaysian NGOs is demanding that Kedah Menteri Besar Muhammad Sanusi Md Nor apologise to the Hindu community over the demolition of a temple in Kedah.
Malaysia Hindu Unity Association president V Kandasamy said they also wanted an assurance that the demolished Raja Muniswarar Temple in Taman Bersatu, Kuala Kedah, will be relocated to a new site agreed upon by the temple management and local leaders.
"The menteri besar must apologise for the unethical remarks he made against Indians and Chinese following the temple demolition issue," he told a press conference in Brickfields here.
Kandasamy said they were also appealing to the Yang di-Pertuan Agong and Kedah Sultan to take appropriate action against Sanusi, who is from PAS, to ensure such actions against Hindus or any other Malaysians are not repeated by him or any other leaders.
He said this was in line with the first principle of Rukun Negara which reads "Belief in God."
After the demolition of the shrine in Kuala Kedah, Sanusi had accused MIC and DAP of behaving like they were "drunk on toddy".
Kandasamy said the temple demolition had angered and "hurt the feelings" of Hindu community, not only in Kedah but nationwide.
"As for the menteri besar, he should have consulted the temple authorities and local leaders to avoid religiously sensitive demolitions by local authorities," he said.
He said the action showed that Sanusi "was least respectful of the sentiments of Hindus." He said most of the temples were built before independence and, due to that, should be handled delicately.
He proposed that Putrajaya set up a non-Muslim Religious Affairs Department under the Prime Minister's Department to address such issues.
Previously, Rights group Lawyers for Liberty (LFL) had slammed Sanusi for his "heavy-handed" and "unacceptable" defence of the demolition.
Three weeks ago, the Alor Setar City Council demolished the temple, which is said to be over 50 years old.
Sanusi then said places of worship must be built with permission from the local government, adding that MIC should be banned if it incites people to break the law.
https://www.freemalaysiatoday.com/category/nation/2020/12/21/apologise-for-unethical-remarks-demolishing-temple-hindus-tell-kedah-mb/
--------
South Asia
27 Taliban Killed in Helmand, Kandahar: MoD
By Mohammad Haroon Alim
21 Dec 2020
At least 15 Taliban were killed in Nawa, Gerish and Nad Ali districts of Helmand province, the Ministry of Defense said in a statement.
According to MoD, the Taliban fighters were killed in a reciprocal attack, and a large number of their weapons and ammunition were also destroyed during the operations.
This comes as the Ministry of Defense, tweeted on Monday, that 12 Taliban were killed in a clash between security forces and Taliban fighters in Kandahar.
The Taliban attack was rebuffed by the Afghan national security forces in the Zherai district of Kandahar province.
Taliban fighters had gathered in the Pushmul area of Jiri district and Dand district of Kandahar province aimed to plan attacks on the government's security and defense checkpoints, MoD stated.
During the skirmish, 12 Taliban were reported killed and 4 others wounded, and their weapons and ammunition have been destroyed.
On the other hand, 9 IEDs placed by the Taliban in the Maiwand District of Kandahar were discovered and safely defused, before these mines could result in heavy civilian casualties, Mod tweeted.
Kandahar and Helmand are the most insecure provinces in the country, where Taliban attacks in various districts of the province have increased over the past two months and amid peace negotiations in Doha.
https://www.khaama.com/27-taliban-killed-in-helmand-kandahar-mod-656577/
--------
Women, children killed as car bomb targets Afghan lawmaker in Kabul
20 December 2020
A car bomb attack has claimed the lives of at least nine Afghan people and injured many others in Kabul, in the latest of a series of deadly attacks to rock the Afghan capital.
Afghan authorities said the blast took place in the west of Kabul early on Sunday, which led to the death of at least nine civilians, including women and children, with more than 20 others injured.
Television footage showed at least two cars on fire, with plumes of thick black smoke billowing into the sky.
Afghanistan's Interior Ministry spokesman Tariq Arian blamed "terrorists" for the attack in a statement and said the explosion had also targeted the vehicle of Khan Mohammad Wardak, a member of parliament from Kabul.
The lawmaker has reportedly survived the attack and is among those injured.
"The terrorists today carried out a terror attack in PD5 of Kabul city. Children, women and elderly people are among those wounded. Homes around the area have been severely damaged. Unfortunately, eight of our compatriots were martyred and 15 more wounded, including Khan Mohammad Wardak, a member of parliament. These numbers might change," Arian said in the statement.
Interior Minister Massoud Andarabi later confirmed the spokesman's report, saying nine people had lost their lives and 20 more had been wounded in the explosion in Kabul.
It is unclear whether the explosive was planted in a car parked on the lawmaker's route or if a vehicle with the bomb was being driven by a bomber, Andarabi added.
Separate bombings were also reported on Sunday in the provinces of Logar, Nangarhar, Helmand and Badakhshan, in which a number of civilians and security forces were killed and injured.
No group or individual has so far claimed responsibility for the blasts.
The Daesh terrorist group, which has claimed responsibility for some of the recent attacks in Kabul, killed dozens of people, mostly students, in an attack on two education centers in the capital last month.
The group also fired on Saturday five rockets at Bagram Airfield, a major US airbase north of Kabul, but there were no casualties.
Afghanistan has recently witnessed a wave of deadly attacks, despite the ongoing peace talks between the Taliban militant group and the government.
On Friday, an explosion hit a religious gathering in the eastern Afghan province of Ghazni, leaving at least 15 children dead and 20 others injured. There was no claim of responsibility, but a provincial police spokesman described the Ghazni blast as a Taliban attack.
The Afghan Interior Ministry in a statement said that the Taliban had killed 487 civilians and injured 1,049 others by carrying out 35 bombing attacks and 507 blasts across the country over the past three months.
The latest violence comes as the Taliban and the Afghan government, the two sides involved in the Afghan peace process, are taking a break until January 5, after reaching a preliminary agreement this month.
The preliminary deal is the first written agreement between the two warring sides since the US-led invasion of Afghanistan in 2001.
The intra-Afghan negotiations had been set to take place in March, but were repeatedly delayed over a prisoner exchange made as part of a deal between the Taliban and the United States.
Under that deal, signed in February, the Taliban agreed to halt their attacks on international forces in return for the US military's phased withdrawal from Afghanistan and the prisoner exchange with Kabul.
Afghanistan has been gripped by insecurity since the US and its allies invaded the country as part of Washington's so-called war on terror in 2001. Many parts of the country remain plagued by militancy despite the presence of foreign troops.
https://www.presstv.com/Detail/2020/12/20/641120/Afghanistan-car-bomb-attack-Kabul
--------
Officials Defuse 9 Mines in Kandahar, Saving Lives
By Mohammad Arif Sheva
21 Dec 2020
KANDAHAR, Afghanistan – The Afghan National Army (ANA) defused at least nine Improvised Explosive Devices (IEDs), said the Ministry of Defense in a statement Monday, after discovering the explosives in Kandahar province.
According to the statement, the Taliban planted the bombs in Maiwand district of Kandahar province, targeting innocent civilians.
"9 #IEDs which were placed by #Taliban on public roads in Maiwand district of Kandahar province to kill innocent people, were discovered and defused by #ANA, yesterday," said the MoD in a tweet. "Lives of tens of civilians were saved as a result."
Meanwhile, in a separate statement, officials said a public road in Maiwant district of Kandahar is reconstructed, exclaiming the "Taliban destroy infrastructures of #AFG; ANA build them!"
"A road in Maiwand district of Kandahar province which had been destroyed by Taliban and created problems for the residents of the district, was reconstructed by #ANA last night," said the MoD in a tweet.
https://www.khaama.com/officials-defuse-9-mines-in-kandahar-saving-lives-34534/
--------
Abdullah Heads to Tajikistan on Afghan Peace
By Mohammad Arif Sheva
21 Dec 2020
KABUL, Afghanistan – Chairman of the High Council for National Reconciliation (HCNR) Abdullah Abdullah heads a high-level delegation to Tajikistan Monday on Afghan peace and bilateral ties, his office said in a statement.
According to the statement, he will met with Tajikistan president, foreign minister and other high-profile leaders in the country.
"During his two-days official visit, he will meet excellencies the President, Prime Minister, Speaker of the House of Representatives, Foreign Minister & other dignitaries," the statement read.
During his trip, Abdullah is due to meet Tajikistan leaders in order to "exchange views" and discuss status quo of the Afghan peace, as well as regional support and bilateral ties.
"In his meetings with the leadership of Tajikistan he will exchange views & discuss the #AfghanPeaceProcess, regional support & bilateral relations," the statement added. "Tajikistan is a close ally & friend of AFG & the Chairman of HCNR looking forward for a successful visit."
Previously, Abdullah have wrapped several regional trips, including Pakistan, Iran, India and Uzbekistan, where he discussed peace process and role of regional countries.
https://www.khaama.com/abdullah-heads-to-tajikistan-on-afghan-peace-34534/
--------
Arab World
Riyadh Agreement implementation in Yemen a step toward peace, stability: Bahrain FM
Jennifer Bell,
19 December 2020
Bahrain's Ministry of Foreign Affairs welcomed on Saturday the implementation of the Riyadh Agreement by Yemeni parties.
A ministry statement said it was "an important step to strengthen and unify Yemeni efforts to confront the Iran-supported Houthi militias," according to a foreign ministry statement.
For all the latest headlines follow our Google News channel online or via the app.
The statement said the agreement would "achieve the aspirations of the brotherly Yemeni people for security, peace and stability." Bahrain also commended the "sincere efforts made by the Kingdom of Saudi Arabia," who initiated the talks.
After stalling in August when the southern-separatist movement, the Southern Transitional Council, suspended their participation, the Riyadh Agreement was finalized this month.
Saudi Arabia welcomed the government formation in Yemen as part of the agreement that established a power-sharing structure between the Southern Transitional Council and the Yemeni government, consisting of 24 ministers from both groups, according to SPA.
For the latest headlines, follow our Google News channel online or via the app.
Bahrain thanked Saudi Arabia's King Salman bin Abzulaziz and Saudi Arabia's Crown Prince Mohammed bin Salman for their "concern and interest in the security, stability, and prosperity of brotherly Yemen."
The statement continued: "The Ministry of Foreign Affairs hails the formation of a government of political competencies that includes all Yemen's social components to put an end to military arrangements, appreciating the Yemeni parties' keenness on the supreme interests of the Republic of Yemen and their endeavors to unify efforts to restore Yemeni legitimacy and achieve peace and stability in all parts of brotherly Yemen.
Saudi Arabia introduced the Riyadh Agreement in November 2019 to try to end the dispute in the country's south that emerged in 2017.
https://english.alarabiya.net/en/News/gulf/2020/12/19/Riyadh-Agreement-implementation-in-Yemen-a-step-toward-peace-stability-Bahrain-FM
--------
Saudi Arabia, UAE used Israeli spyware to hack phones of three dozen journalists: Report
21 December 2020
A report says operatives linked to Saudi Arabia and the United Arab Emirates hacked the phones of dozens of Qatar-based Al Jazeera journalists using an Israeli spyware.
Researchers at Citizen Lab at the University of Toronto said it found that in July and August, at least four operatives used Israeli firm NSO Group's Pegasus spyware to hack 36 personal phones of journalists, executives, anchors and producers.
According to the report, one of the four Pegasus operators, which acted on behalf of the Saudi government, hacked 18 phones, while another operator which is believed to have acted on behalf of the UAE, spied on 15 phones.
"The zero-click techniques used against Al Jazeera staff were sophisticated, difficult to detect, and largely focused on the personal devices of reporters," the report said.
The hacking campaign was discovered after a well-known investigative journalist for Al Jazeera's Arabic network, Tamer Almisshal who thought his phone had been compromised allowed the Citizen Lab to monitor his iPhone.
The researchers found that in July, his phone — without his knowledge — had visited a website used to infect a target with the Pegasus spyware.
The Citizen Lab also said that the personal phone of Rania Dridi, a London-based presenter for Qatar's Al Araby network, had been hacked six times with spyware between October 2019 and July 2020.
Dridi told the Guardian she had been shocked by the discovery, and announced her plan to take legal action against the UAE.
"I don't know how to explain my feeling. It messes with your mind. Everything, your private life, it's not private any more. It wasn't [just] for a month, it was for a year, and they have everything: the phone calls, the pictures, videos, they can turn the microphone on," she said, adding "It makes you feel insecure."
The reports of the hacking campaign against the journalists come as Saudi Arabia and the UAE have called for the closure of Al Jazeera over concerns of its critical coverage after the onset of the diplomatic crisis with Qatar in 2017.
In June 2017, Saudi Arabia, Bahrain, Egypt and the UAE severed diplomatic and trade relations with Qatar and imposed an air, land and sea embargo on the energy-rich state.
The Saudi-led quartet accused Doha of supporting terrorism, presented it with a list of demands that included shutting down Al Jazeera, and gave it an ultimatum to comply with them or face consequences.
Qatar, however, denied terrorism charges and refused to meet the conditions laid out by the boycotting bloc, stressing that the country would not abandon its independent foreign policy.
Earlier this year, the Citizen Lab said in a report that Ben Hubbard, a New York Times reporter who has written a book about Saudi Crown Prince Mohammed bin Salman, had been targeted with Pegasus spyware linked to Saudi Arabia in 2018.
In 2019, the Citizen Lab found that the same software, which enables customers to remotely exploit and monitor devices, was used to spy on Saudi dissent journalist Jamal Khashoggi's inner circle before he was killed at the Saudi consulate in Istanbul in October 2018.
https://www.presstv.com/Detail/2020/12/21/641179/Saudi-UAE-spied-Al-Jazeera-journalists-Israel-spyware
--------
Iraq's top Shia leaders condemn rocket attack on US embassy, call for state of emergency
21 December 2020
Influential Shia leaders of Iraq have separately condemned the rocket attack against the US embassy in Baghdad, calling on the Iraqi government to protect diplomatic missions against such "uncontrolled" attacks by "outlaw" groups.
In a tweet on Sunday night, Iraqi cleric Muqtada al-Sadr said he is "ready to cooperate" with the Iraqi government in protecting civilians and diplomatic missions.
"No one has the right to use weapons outside the jurisdiction of the state," the top cleric said.
Anyone who does so is either "a terrorist or outside of the Sharia [Islamic law] and the law," he added, condemning the rocket attack against the US embassy in the heavily fortified Green Zone of Baghdad earlier in the day.
He said those who launch such attacks are putting the civilians in danger "under the pretext of resisting the occupation."
The rockets, which were fired late on Sunday, landed close to the US diplomatic mission, causing sirens blaring within the compound without any casualties apart from some material damage.
Following the attack, the Iraqi military said in a statement that an "outlaw group" had fired rockets at Baghdad's Green Zone, Reuters reported.
The rockets hit a residential complex inside the Green Zone, damaging buildings and cars, but causing no casualties, the statement added.
In his tweet, Muqtada al-Sadr also advised the US embassy to avoid responding to the rocket attack, but leave the matter to Iraq, as Iraq "is the sovereign, not you."
Sadr condemned American influence in Iraq, urging the Iraqi parliament to negotiate with the US embassy in order to put an end to its "occupation, control and interference in Iraqi affairs" in a way that preserves Iraq's security.
Kata'ib Hezbollah condemns 'uncontrolled, random attack'
Qais al-Khazali, the other influential Shia cleric and leader of Kata'ib Hezbollah resistance group, denied any responsibility on the side of the Iraqi resistance for the attack on the embassy in Baghdad.
Khazali said in a tweet, "The decision of Iraqi Resistance Coordination Commission is not to target the US embassy in the first place."
"It is our right to liberate our country and avenge our martyrs, but we specify the time to respond and it is not far away," he added.
Kata'ib Hezbollah also said in a statement the rockets attack on the US embassy in Baghdad is an "uncontrolled" act, calling on the government to take the necessary steps to arrest the perpetrators.
"We condemn the indiscriminate attack against the US embassy, as it poses a threat to civilian lives," the group said, calling on "the United States to suspend the military activities in the area for the residents' safety."
The US Embassy has been targeted several times this year, amid heightened anti-American sentiments in the Arab country in the aftermath of the US assassination of Iran's anti-terror commander Lieutenant General Qassem Soleimani, and the deputy head of Iraq's Popular Mobilization Units, Abu Mahdi al-Muhandis, in Baghdad on January 3.
The US has drawn down staff members at the embassy this month before the first anniversary of the assassination. US officials said the decision stemmed from concerns about a possible retaliatory strike.
In September, Washington warned Iraq that it would close its embassy in Baghdad if the government failed to take decisive action to end rocket and other attacks on American and allied interests in the country.
When the US announced the intention to withdraw troops from the country in November, a group of influential resistance groups announced a ceasefire to allow the process to take place safely.
https://www.presstv.com/Detail/2020/12/21/641170/Iraq-shia-groups-muqtada-sadr-khazali-kataib
--------
73 US trucks loaded with military, logistic equipment in Syria's Hasakah: SANA
20 December 2020
Another convoy consisting of 73 US Army vehicles loaded with weapons, military equipment and logistic reinforcement has arrived in Syria's oil-rich northeastern province of Hasakah from Iraq, Syria's official news agency reports.
According to SANA, citing local sources, the military convoy, tightly guarded by six vehicles affiliated with the militants of the so-called US-backed Syrian Democratic Forces (SDF) arrived in an illegal base operated by US occupation forces inside Khrab al-Jir military airport on Sunday.
The convoy entered the Syrian territories from northern Iraq through the illegal al-Walid border crossing earlier in the day, SANA said, adding that the vehicles came to shore up American forces' illegitimate presence in Syria's al-Jazeera region.
The report stressed that the reinforcements were meant to guarantee the continued stealing of the Syrian oil and underground wealth by the American forces in the region with the help of their allied SDF militant group.
The SDF, which is believed to be pillaging Syria's oil and mineral resources, is an alliance of militant groups operating against Damascus and is in control of areas in northern and eastern Syria, particularly the al-Jazira region of Hasakah province.
During the past several months, American forces have brought thousands of trucks laden with weapons and military and logistical equipment to Hasakah province through illegal border crossings from northern Iraq.
The US, in collusion with the SDF, controls most of the oil fields in al-Jazira region of the province.
The US Defense Department, Pentagon, alleges that the move aims to "protect" the fields and facilities from possible attacks by the Daesh terrorist group, but US President Donald Trump has said Washington seeks economic interests in controlling the oil fields.
Damascus, which has not authorized the presence of the US military in its territory, says Washington is plundering the country's oil and in early August, it condemned an oil agreement signed between the SDF and an American company.
The Syrian government said at the time the so-called contract was null and void with no legal effect.
Syria produced around 380,000 barrels of oil per day before the conflict erupted in 2011.
Raids and arrests of Syrian civilians by the militants continue in the SDF-controlled areas in Hasakah and Dayr al-Zawr provinces. The Syrian residents accuse the US-sponsored militants of stealing crude oil and refusing to spend money on service sectors.
New clash among Turkish-backed militants reported in Hasakah
Separately on Sunday, a renewed infighting broke out among militants supported by Turkey in Syria's occupied city of Ras al-Ain in Hasakah, leading to the injury of a number of the mercenaries, SANA reported.
It added that clashes erupted following a dispute on sharing goods that were looted from the properties of the local people.
Turkish-backed militants were deployed to northern Syria last October after Turkish military forces launched a long-threatened cross-border invasion in an alleged attempt to push the Kurdish militants away from border areas.
https://www.presstv.com/Detail/2020/12/20/641137/Syria-US-convoy-logistic-reinforcements-Hasakah-oil-Turkey-SDF
--------
At least 3 Katyusha rockets target US embassy in Iraq's Green Zone
Ismaeel Naar
20 December 2020
At least three Katyusha rockets have targeted the US embassy in Iraq's Green Zone area, according to Al Arabiya's correspondent.
Security sources said the rockets were intercepted by the US embassy's anti-missile defense systems and that they fell within the Green Zone Area.
For all the latest headlines follow our Google News channel online or via the app.
"Iraqi security forces are currently searching for the missile launchers that were used in the vicinity of the US embassy in Baghdad," Al Arabiya's correspondent in Baghdad Majid Hamid reported.
A security cordon has been imposed in the vicinity of the US embassy in Baghdad following the attack, the corresponded added.
The Iraqi military said that an "outlaw group" fired rocketsat Baghdad's heavily fortified Green Zone on Sunday.
The rockets hit a residential complex inside the Green Zone,damaging buildings and cars but causing no casualties, a military statement said.
The US Embassy in Baghdad confirmed in a statement that rockets targeting the Green Zone resulted in the engagement of the embassy's defensive systems.
"There was some minor damage on the Embassy compound but no injuries or casualties. We have received reports of damage to residential areas near the US Embassy and possibly some injuries to innocent Iraqi civilians," the statement read.
"As we have said many times, these sorts of attacks on diplomatic facilities are a violation of international law and are a direct assault on the sovereignty of the Iraqi government. We call on all Iraqi political and governmental leaders to take steps to prevent such attacks and hold accountable those responsible," the embassy added.
https://english.alarabiya.net/en/News/middle-east/2020/12/20/At-least-3-Katyusha-rockets-target-US-embassy-in-Iraq-s-Green-Zone
--------
Africa
Three people killed, five injured in Ethiopia explosion
20 December 2020
Three people died after an abandoned bomb exploded in Ethiopia's capital Addis Ababa on Sunday, a state news agency reported.
The incident happened in the Lideta area near the center of the capital, Ethiopia News Agency reported, adding the explosion killed three homeless people and injured five others.
The explosion occurred amid a six-week conflict in northern Tigray region between federal forces and the deposed regional government, but there was no indication it was linked to that.
"An investigation regarding the explosion is now going on and the public will be informed once the investigation is completed," the agency reported.
https://english.alarabiya.net/en/News/world/2020/12/20/Three-people-killed-five-injured-in-Ethiopia-explosion
--------
Somalia accuses Kenya of arming local militia to attack its forces amid rising tensions
20 December 2020
Somalia has accused Kenya of arming local militiamen on the border to attack its security forces as tension rises between the two African neighbors.
Somalia's Ministry of Information said in a Twitter message on Saturday that Kenya was providing weaponry to local militia in its border region of Mandera.
The ministry said that Somalia "is closely monitoring the military mobilization" which can "undermine general security of the Horn of Africa region."
Kenya has yet to comment on the allegations.
The alleged mobilization comes after Mogadishu cut diplomatic ties with Nairobi this week over Kenya's decision to open a consulate in the breakaway region of Somaliland.
Mogadishu, which regards Somaliland as an integral part of the country, accused Nairobi of "recurring" interference in its political affairs.
It ordered Kenyan diplomats to leave Mogadishu and called back its diplomats from Nairobi on Tuesday.
Somaliland declared independence in 1991 following a civil war.
Experts warn that the latest dispute could undermine cooperation in the fight against the al-Shabaab militant group in Somalia.
Kenya has deployed 3,600 troops to an African Union peacekeeping force to fight the terrorists.
Somalia and Kenya have also been engaged in a long-running territorial dispute over a stretch of the Indian Ocean claimed by both nations.
The region is believed to hold valuable deposits of oil and gas.
https://www.presstv.com/Detail/2020/12/20/641119/Somalia-Kenya-tensions-Somaliland-military-mobilization
--------
North America
US prepared to 'react' if Iran tries to avenge Qassem Soleimani killing: Top General
21 December 2020
Washington is "prepared to react" if Tehran launches an attack to mark the first anniversary of the killing of powerful Iranian General Qasem Soleimani, the head of US forces in the Middle East warned Sunday.
"We are prepared to defend ourselves, our friends and partners in the region, and we're prepared to react if necessary," General Kenneth McKenzie, who heads the US Central Command (Centcom), told journalists.
For all the latest headlines follow our Google News channel online or via the app.
He was touring the region weeks before the anniversary of the January 3, 2020 killing of Soleimani by a US drone strike near the Baghdad airport.
"My assessment is we are in a very good position and we'll be prepared for anything the Iranians or their proxies acting for them might choose to do," McKenzie, a four-star marine general, told a small group of journalists in a telephone interview from an undisclosed location in the region.
The Centcom commander said he had recently visited Baghdad, where he met with the head of the anti-jihadist coalition, American General Paul Calvert, as well as the Iraqi army chief of staff, General Abdul Amir Yarallah.
McKenzie said he had also gone to Syria to meet with American forces deployed in the small southern base at Al-Tanf, near the border with Jordan and Iraq.
In an apparent sign of US military leaders' concerns about Iranian intentions after Soleimani's killing, McKenzie's current tour was not announced in advance.
Similarly, last week's visits by General Mark Milley, the chairman of the US Joint Chiefs of Staff, to Qatar, Saudi Arabia, the United Arab Emirates, Israel and Afghanistan were kept secret until he had left the region.
"I talk to my commanders about it every day and I think we will be ready," McKenzie said.
Even as the US Army continues troop withdrawals from Iraq and Afghanistan ordered by President Donald Trump -- with a goal of drawing down to 2,500 in each country by January 15 -- the Pentagon has substantially reinforced its posture around Iraq to dissuade Iran from launching any attack.
The aircraft carrier USS Nimitz has been patrolling Gulf waters since late November, and two American B-52 bombers recently overflew the region in a demonstration of strength clearly aimed at Iran and its allies.
Still, a volley of rockets exploded Sunday near the US embassy in Baghdad, causing material damage but no casualties, according to Iraqi security forces.
It was the third attack on American military and diplomatic installations there since an indefinite truce was agreed with pro-Iranian groups in October.
https://english.alarabiya.net/en/News/middle-east/2020/12/21/US-prepared-to-react-if-Iran-tries-to-avenge-Qassem-Soleimani-killing-Top-General
--------
US warship to help ongoing troop withdrawal from Somalia
20 December 2020
A US warship and an aircraft have launched an operation to withdraw American forces out of Somalia, the Pentagon declared this week as it carries out a Defense Department order to transfer hundreds of troops to other locations.
The USS Hershel "Woody" Williams, an expeditionary sea base that normally carries a contingent of crisis-response Marines, along with an AC-130W Stinger II warplane are supporting the troop movement, the US military announced in a statement as cited in a Friday report by the Washington-based Stars & Stripes newspaper.
Citing security concerns, however, US Africa Command (AFRICOM), declined to elaborate on Friday about how many soldiers have so far been moved or when the withdrawal will be completed.
AFRICOM did state that roughly 700 troops will be repositioned to neighboring countries to conduct cross-border operations against the Somali-based al-Shabab militants.
While AFRICOM did not identify the countries, Djibouti and Kenya are likely destinations given that the US maintains military bases in both nations.
A limited troop presence will remain on the ground in Somalia while some forces also could be reassigned to other regions or to the United States, the command added.
Joint Task Force – Quartz, which AFRICOM formed to oversee the mission, dubbed Operation Octave Quartz, said the AC-130W Stinger II is able to provide close air support and air interdiction.
"Close air support missions include troops in contact, convoy escort and point air defense," the task force declared in a statement.
The task force, led by Air Force Maj. Gen. Dagvin Anderson, will reposition forces "in a deliberate, conditions-based manner," AFRICOM further noted in the statement.
The USS Hershel "Woody" Williams, which is assigned to AFRICOM and is based out of Souda Bay in Crete, is a relatively new asset in Europe, according to the report.
The Pentagon announced in October that the vessel would support AFRICOM missions, as well as those in Europe as needed.
The 784-foot-long ship features a four-spot flight deck that helicopters can use. There is also living space for a crew complement of about 250.
The development came after a Defense Department Inspector General released a report last month saying that AFRICOM has seen "a definitive shift" in recent months of al-Shabab's focus to attack US interests in the region.
AFRICOM had previously stated that it believes al-Shabab is the most "dangerous, capable, and imminent threat" on the continent, the report noted.
The militant group has operated for more than a decade and aims to topple the US-sponsored government in the country. American forces also conduct frequent airstrikes against militant targets, which are expected to continue even as US troops withdraw.
https://www.presstv.com/Detail/2020/12/20/641102/US-military-AFRICOM-Somalia-troop-withdrawal-
--------
Dignity of Iranian nation infuriates US deep state
20 December 2020
By John Steppling
The question of sanctions is in the broadest sense an interesting and kind of huge topic. The United States has increasingly over the last 60 years I guess, 70 years, but certainly, over the last 30 some years, has used, employed sanctions as a kind of primary weapon against its "enemies" - the people that choose to define as enemies, anybody who is at all independent is going to be viewed as an enemy.
And the US has felt over this 30 years very comfortable enacting sanctions, and they've been pretty much satisfied with the results and they don't have to engage in boots on the ground as they say. They don't have to do a lot of things they would do in conventional warfare, or even in certain kinds of occupation.
It's the sort of 21st century soft power or something. But, the effectiveness of sanctions always rests on a sort of global community and a kind of compliance with things and this is what I always find at the heart of any of these questions about Iran, and its relationship to the US, to Israel, to China, Russia, the EU.
At what point did the "global community", did the UN and Security Council, did the World Economic Forum, did Davos, did the Trilateral Commission did all the... you know, at what point was it agreed upon that Iran was going to be the villain of the moment? They were going to be defined as a pariah state. They had done nothing to earn this definition, description, and yet that's what happened.
And so the entire JCPOA always seems very strange to me because nobody asks if you praise it back. Why this question was in play at all? So, you look at all the countries that the US has enacted sanctions against Cuba, you know, an embargo and sanctions on Cuba, Venezuela is on and on and on. The through-line to all of this can be seen as what is good for Western business interests for Western capital.
But the problem now is that some of these dynamics are changing. The US is no longer an economic superpower, it's economically in a rather precarious and vulnerable position, actually. But the sanctions began in 1945, they began with Woodrow Wilson, and as part of the League of Nations notion that he had as a way to enforce peace. I mean it was laughable from the beginning.
But anyway and there had been broad sanctions and there had been sort of, you know, very targeted sanctions that only focus on certain things there have been arms embargoes and all manner of sanctions. But, uh, they invariably hurt. The most vulnerable people in the country being sanctioned, that's one thing. They don't interrupt the ruling class anywhere. Global ruling class tends to, you know, fraternize with each other and doesn't much care about what the rest of the people in their country are doing or can't have or are suffering from or whatever it might be.
But back to the point that that the US power has eroded, to some degree, is true. And, yet you know the US also remains a military superpower, and it's part of why defense spending keeps getting ratcheted up further and further and further and further.
There's enough weapons to destroy the planet 1000 times over. There were enough weapons 70 years ago to destroy the planet 1000 times over. It's a big business, though. It's a very profitable business.
So, you look at the Iranian situation in relationship to, you know, China and Russia, and other trading partners in the Pacific Rim, even in Europe to some degree, though, the EU is being been bullied by the US.
So when [Leader of the Islamic Revolution Ayatollah Seyyed Ali] Khamenei says, you know "neutralize the sanctions." I mean I think this is a reasonably wise thing to say. Because the people who are issuing sanctions are capricious. One doesn't know why they're doing well. I mean, one can guess why they're doing things, but the reasons are not logical and not rational.
So one has to look at ways to turn them into something other than entirely destructive and you have to work, with your friends in the world. Iran has to work with its partners in the world to find ways to do that neutralizing. They can't do it alone. You can't neutralize sanctions alone. I mean ever all of this is about international relationships.
I'm sort of jumping all around but I keep returning to the reason that Iran looms as such an irritant to the ideologues in Washington. Why all the neo-cons and the people from the Cato Institute and the Brookings Institute and you know all of these think tanks in a way, everybody hates Iran? And part of it is the absolute independence they have they have shown, and incredible resiliency and they've been targeted openly acknowledged as being targeted by Israel, which is the same as being targeted by the United States for sort of mythic crimes, nobody ever specifically comes up with any evidence of anything Iran did.
It's actually pretty funny at a certain point, and it's like a win-win Westerner or Israeli apologists talk about the Palestinians. You always want to ask what do you expect these people to do? What do you expect people who are occupied in prison, shut down, or sanctioned? How do you expect that country to behave?
That's the issue with sanctions. On one level, does the United States, do people like Mike Pompeo and Joe Biden, all of these people expect Iran to roll over and piddle on themselves like a little puppy or something and say, oh gosh I hope you like us now. I mean it's an absurdity, but the US is paternalistic. They treat everybody as inferior. They condescend to everybody, and they are completely unaware of the effect this has.
But things are shifting and their power, their economic power has eroded the effectiveness of their economic policies and threats. It is not nearly what it was even 10 or 15 years ago, I mean, since 2008 I guess we're in a strange situation, and I read a statistic this morning about the COVID lockdowns because this is a great depression in the US. Over 60% of small businesses in the United States are going to go under. Sixty percent of small businesses will die. That's a gutting of a nation.
What are the plans? Nobody seems to want to talk about this. And they're hurtling into this abyss, and we're going to see something very drastic happening in the United States this year and it may be people heard it off to FEMA camps or, who knows because of the homelessness and food insecurity, the desperation, and probably increasing medical problems, psychological problems. This is all. This bill is coming due for the US, and I don't think they have a plan for it.
So, whenever I see US politicians wagging their fingers and threatening nations like Iran, I think boy, this is something you very well may not be able to do much longer and the hypocrisy, of course, is stunning. So, yeah, I mean Iran, I think has earned global respect because of the dignity with which they have responded to all of these provocations, you know, the assassination of Soleimani, the nuclear scientist.
They've been remarkably dignified and I think that probably infuriates the United States even more. But, I think in the corridors of power in Washington, there is a sense that Iranian policy has not worked, is not working, has not worked, and probably as it stands, will not work. So, what they decided to do once Biden takes office will be interesting, I don't know, but it'll be interesting.
John Steppling is an American author and political commentator. He is based in Norway. He recorded this article for Press TV website.
https://www.presstv.com/Detail/2020/12/20/641160/Dignity-of-Iranian-nation-infuriates-US-deep-state
--------
Europe
Germany, Finland to repatriate women, children nationals from Syria
20 December 2020
Germany and Finland said Sunday they had repatriated 23 of their nationals, women and children, from Syria, some of whom were under criminal investigation for allegedly belonging to ISIS.
"I am very relieved that we were able to repatriate another 12 children and three mothers from camps in northeastern Syria yesterday," German Foreign Minister Heiko Maas said in a statement.
Maas said the repatriations were "humanitarian cases, primarily orphans and children who were ill -- cases in which a repatriation was deemed particularly necessary and urgent."
He added that it is not legally possible to repatriate children without their mothers.
For its part, the Finnish foreign ministry said that it had brought home six children and two adult mothers.
"Under the constitution, Finnish public authorities are obligated to safeguard the basic rights of the Finnish children interned in the camps insofar as this is possible," it said.
"The basic rights of the children interned in the al-Hol camps can be safeguarded only by repatriating them to Finland".
According to Helsinki, more than 9,000 foreign women and children, two-thirds of them children, are still being held in the al-Hol and Roj camps in northeastern Syria, housing suspected ISIS family members and sympathizers.
Many European nations have resisted repatriating their nationals from the camps, because of the security risks, it said.
According to German media reports, the three repatriated German women are aged between 21 and 38 and the children are aged between two and 12.
The group resided in a refugee camp under Kurdish control.
The three women were " wives of extremists " of ISIS and "are in very poor health," a spokesman for the Kurdish administration's foreign relations office, Kamal Akif, told AFP.
One of the German women was detained on arrival in Frankfurt, a statement by the anti-terrorist prosecutors' office said.
As well as allegedly belonging to ISIS, the woman, identified as Leonora M. and aged 21, is suspected of using a young Yazidi woman as a slave.
Her husband was a member of ISIS's "secret services", the prosecutor said.
https://english.alarabiya.net/en/News/middle-east/2020/12/20/Germany-Finland-to-repatriate-women-children-nationals-from-Syria-
--------
Germany brings home 3 women, 12 kids from camps in Syria
20 December 2020
Germany has organized the return of three women and 12 children from camps in northeastern Syria for humanitarian reasons.
Foreign Minister Heiko Maas on Sunday did not further identify the women or children, who were flown back to Germany on Saturday.
However, the German weekly Bild am Sonntag reported that all three women had left Germany in recent years to join the extremist ISIS group in Syria. The paper identified the women as Merve A., Yasmin A. and Leonora M.
Also Sunday, Germany's federal prosecutor's office said a German citizen by the name of Leonora M. had been arrested upon her arrival at Frankfurt airport. It said she is accused of membership in the foreign terrorist group Islamic State and allegedly committed crimes against humanity.
Maas said he was "very relieved" about the return of the 12 children and three of their mothers.
"These are humanitarian cases, especially orphans and children with illnesses – cases in which the departure was urgently needed," Maas said.
"This good news just before Christmas makes us confident that we will be able to organize the return of further cases as well," he said adding that the government would advocate the return of others in coming weeks and months.
Maas said the return was organized in cooperation with Finland, which brought home six children and two women.
Hundreds of Europeans – many of them young women – left the continent in the last couple of years to join ISIS and fight in Syria and Iraq. Several died, others were arrested and detained by Turkish, Kurdish or Iraqi authorities who have been eager to deport them and their children back to Europe.
European governments, however, have been reluctant to take back the often radicalized ISIS supporters and sentiment is running high across Europe against the returnees.
https://english.alarabiya.net/en/News/world/2020/12/20/Syria-crisis-Germany-brings-home-3-women-12-kids-from-camps-in-Syria
--------
EU complicit in Saudi-UAE genocide in Yemen: Parliament member
20 December 2020
A member of the European Parliament has censured Europe's double standards on human rights, saying the EU is complicit in crimes and atrocities perpetrated by the Saudi-led coalition against Yemen.
Mick Wallace, an independent Irish member of the European Parliament, made the remarks in a tweet as he took to task the EU for its selective approach to human rights violations and for failing to fulfill its duty to address the humanitarian crisis in war-torn Yemen.
"EU gives prizes to opposition in Belarus because it borders Russia," Wallace wrote in his tweet. "We love human rights when we can kick China and Iran but can't get debate in Parliament on Yemen because we're complicit in Saudi-UAE Genocide that's killed hundreds of thousands, and millions starving."
EU gives prizes to opposition in #Belarus because it borders #Russia - we love #HumanRights when we can kick #China + #Iran - but can't get debate in Parliament on #Yemen because we're complicit in #Saudi #UAE Genocide that's killed hundreds of thousands, and millions starving... pic.twitter.com/Ow2xYBMiO2
— Mick Wallace (@wallacemick) December 19, 2020
The US and European countries are major suppliers of weapons in the Saudi-led aggression against Yemen.
Saudi Arabia and a number of its regional allies, chief among them the United Arab Emirates, launched the war on Yemen in March 2015, with the goal of bringing the government of Riyadh-allied former president Abd Rabbuh Mansur Hadi back to power and crushing the popular Houthi movement.
The United Nations has highlighted the need for a ceasefire in Yemen and warned that the Saudi-led aggression has claimed tens of thousands of lives in the impoverished Arab country over the last six years.
The war has also taken a heavy toll on Yemen's infrastructure, destroying hospitals, schools, and factories. The UN says over 24 million Yemenis are in dire need of humanitarian aid, including 10 million suffering from extreme levels of hunger.
Children are among the most vulnerable victims of the Saudi war on Yemen, but the issue has barely drawn any international response.The UN children's agency warned in late June that the shortage of humanitarian assistance amid the coronavirus pandemic threatened to push more children in Yemen to the brink of starvation.
The Houthi Ansarullah movement, backed by armed forces, has been defending Yemen against the Saudi-led alliance, preventing the aggressors from fulfilling the objectives of the atrocious war.
https://www.presstv.com/Detail/2020/12/20/641113/European-Parliament-Mick-Wallace-complicit-Saudi-led-coalition
--------
URL: https://www.newageislam.com/islamic-world-news/tablighi-jamaat-supreme-court-asks/d/123832
New Age Islam, Islam Online, Islamic Website, African Muslim News, Arab World News, South Asia News, Indian Muslim News, World Muslim News, Women in Islam, Islamic Feminism, Arab Women, Women In Arab, Islamophobia in America, Muslim Women in West, Islam Women and Feminism