Age Islam News Bureau
15 Nov 2012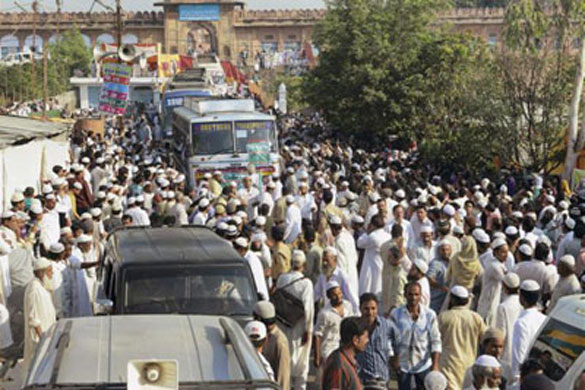 Pakistan
• Blasphemy in Pakistan: Death Sentence for Uttering Blasphemous Words in 2011
• Rise of neo-missionaries in Khyber-Pakhtunkhwa
• MQM Chief sees conspiracy to fan sectarian violence
• Pakistan freeing Afghan Taliban jihadis for peace talks
• Pakistani soldier hanged for murdering colleague; first in four years
• After 7 yrs, Pak man is out of jail
• Six Chambers of Commerce and Industry of Pakistan to participate in Punjab Trade Expo
• Proposal to rename Lahore's Fawara Chowk after Bhagat Singh cleared
• Pak trying to develop its own combat UAV
• FIA notices to Gilanis: NA committee summons interior secretary
• Aspiring Pakistani cricketer granted Australia asylum
North America
• Islamic banking influencing North American institutions
• FBI adds US 'rapping Jihadi', Somalia's al-Qaida linked Shebab to terror wanted list
• US defends Israeli attacks on Gaza at emergency UN meeting
• Obama rebukes Republicans over Benghazi
• No evidence of security breach in Petraeus scandal: Obama
• US, Afghanistan start talks on status of US troops
South Asia
• Parliament accepts bill potentially banning pork and alcohol from resorts in Maldives
• Two minors sentenced to 16 years for smuggling illegal drugs in Maldives
• I took freedom fighter training: Bangladesh Jamaat-e-Islami leader
• Will use all means to make Pakistan quit terror: Hamid Karzai
• Bangladesh HC stays bar on madrasa students for 3 months
• Kabul welcomes Pakistan's plan to free Taliban
• Muslims Plea for Obama on Rohingya Plight
• Aung San Suu Kyi says Myanmar unrest an 'international tragedy'
• David Petraeus sex scandal amuses Taliban
• Myanmar to free 452 prisoners ahead of Barack Obama visit
• Enforced disappearance, extra-judicial killings 'state-patronised': Bangladesh HR
• Dismissed minister must be reinstated to sustain coalition: Maldives JP's leader
Arab World
• Kurds take another town in Syrian 'dirty game'
• Syria Orders More Airstrikes and Calls French Recognition of Rebels 'Immoral'
• Egypt's Mursi Says Israel Attacks on Gaza 'Unacceptable'
• Dubai nabs an Asian man with heroin worth $ 1.2 m in stomach
• Thank you UAE: Man Who Begged Police to Put Him behind the Bar
• Along Syrian Border, Lives Defined by War
• Number of Egyptian over stayers in Jeddah hits 700
• Unprecedented Development Witnessed By Kingdom Of Saudi Arabia In 1433H
• Egypt asks US to stop Israel's Gaza offensive
• Sharjah International Book Fair: For the love of the written word
• Protests over Gas Prices in Jordan Turn Deadly
India
• Thousands rally in Ireland after Indian woman denied abortion dies
• 'Once in a lifetime' Haj proposal mooted by the Haj Committee of India
• 40,000 'illegal' Indian residents to return home from UAE under 'amnesty' scheme
• The seminar on Assam in Delhi adds fuel to the fire
• Aung San Suu Kyi: 'India should help in our democratisation'
• India, Pakistan should jointly combat hunger and poverty: Bihar C M
• Interpol notice against HuJI suspect
• 3 more killed in Assam violence
• Shock, protests over Assam planter, Adilur Rahman killing
• Ballooning Haj subsidy puts Centre in a fix
• Indian awarded top education prize in Doha
Africa
• Gunmen Kill Six in Northern Nigeria's Kaduna State
• Congo: U.N. Report Cites Slaughter
• Mauritania: Islamic Conference Addresses Children's Rights
Mideast Asia
• Hamas Chief Vows to Keep Up 'Resistance' After Jaabari Killed
• Iran aims for baby boom, but are Iranians in the mood?
• Israel strikes more than 200 targets in Gaza
• War looms after Hamas rocket kills 3 Israelis
• Abbas Heading Home After Swiss Talks Due to Gaza Crisis
• Israel Heightens Warnings over Palestinians' U.N. Bid
Europe
• Tablighi Jamaat promoted London's Mega-Mosque: "Recruiting Ground for Al Qaeda"
• In UN, Pakistan slams Israel's deadly offensive in Gaza
• UN chief urges Israel to avoid 'new cycle of bloodshed'
• Russia Says Helping Syrian Opposition Breaches Law
• Hague: Hamas to blame for escalating tension in Gaza and Israel
• France condemns execution of soldier in Pakistan
• France wants to review EU ban on arming Syria rebels
Compiled by New Age Islam News Bureau
Photo: 'Once in a lifetime' Haj proposal mooted by the Haj Committee of India
URL: https://www.newageislam.com/islamic-world-news/new-age-islam-news-bureau/tablighi-jamaat-promoted-london-s-mega-mosque--recruiting-ground-for-al-qaeda/d/9317
------------
Tablighi Jamaat promoted London's Mega-Mosque: "Recruiting Ground for Al Qaeda"
By Soeren Kern
November 14, 2012
"Muslims themselves oppose this mosque." — Asghar Bukhari, Spokesperson, UK Muslim Public Affairs Committee
A radical Islamic group has applied for a permit to build one of the largest mosques in the world, in London.
The East London super-mosque, known as the Abbey Mills Riverine Centre, would hold up to 10,000 worshippers. It would be the largest religious building in Britain and the largest mosque in Europe.
By comparison, Britain's largest cathedral, the Anglican Cathedral in Liverpool, can hold no more than 3,000 worshippers, and St. Paul's Cathedral, one of the iconic features of the London skyline, has a capacity of 2,500.
The 16-acre site near the Olympic Village in West Ham in the London Borough of Newham would include two 40-foot minarets, an Islamic library, a dining hall, tennis courts, sports facilities, eight apartments for visiting Muslim clerics and hundreds of parking spaces (photos here).
Much of the funding for the super-mosque, which will cost an estimated £100 million ($160 million), is expected to come from Saudi Arabia.
The project to build a "contemporary Islamic sacred space" is so massive in scale that critics believe the mega-mosque is actually a smokescreen for an ambitious plan to establish a hard-line Islamic enclave in East London.
The construction plans have been submitted by Tablighi Jamaat, a controversial Muslim missionary movement with roots in India. Tablighi Jamaat, which in English means "Society for the Spreading of the Faith" or "Proselytizing Group," is the largest group of religious proselytizers of any faith in the world.
Tablighi Jamaat is active in Southwest and Southeast Asia, Africa, Europe and North America, and has contributed to the explosive growth of Islamic religious fervour and conversion around the world.
Although Tablighi Jamaat promotes itself as open and socially integrated, and strives to project a non-threatening image, after the September 11, 2001 attacks on the United States, members of the group were accused of having ties to Muslim terrorist organizations.
In addition, two of those responsible for the suicide bombings in London on July 7, 2005, Shehzad Tanweer and Mohammad Siddique Khan, as well as failed shoe bomber Richard Reid, have been linked to a Tablighi mosque in Dewsbury, West Yorkshire.
American security officials have called Tablighi Jamaat a "recruiting ground for Al Qaeda;"
French intelligence officials have described the group as an "antechamber of fundamentalism." The French Tablighi expert Marc Gaborieau says the group's ultimate objective is nothing short of a "planned conquest of the world" in the spirit of jihad.
A former Newham town councillor, Alan Craig, has launched a campaign called "Mega Mosque No Thanks" to stop the project. He has produced 100,000 leaflets, which have been distributed throughout the borough.
Although Craig believes in the freedom of religion and does not object to mosques or any other place of worship, he has raised some important questions about this particular mosque proposal. According to Craig, "The mega-mosque is proposed and planned by a particularly disturbing Islamic sect called Tablighi Jamaat. They teach that if you want to be a good Muslim you must separate off from non-Muslims. It is only Tablighi Jamaat, of all the Islamic groups, that has created ghettos over in Toronto, in Canada. They are all around the world, this is a huge group and wherever they go they create barriers, hostility, division, they create separatism. In my view we would be mad, barking mad, if we let the project go ahead."
These concerns are being echoed by Dr. Jenny Taylor, founder of the religious literacy group called Lapido Media. She says: "The grounds on which Tablighi Jamaat is trying to set-up here in Britain are anti-British and anti-Western. This is not just going to be a mosque. This is going to be a centre of training, where they are going to try to reach out to Islamist Muslims to harden up and 'medievalize' the Islam of ordinary Muslims in this country. And I meet so many Muslims who do not want that."
Indeed, Asghar Bukhari, a spokesperson for the UK branch of the Muslim Public Affairs Committee, has been quoted by the RT news channel as saying: "Muslims themselves oppose this mosque. Not on the grounds that they do not want to worship their God, but on the grounds that women are not allowed, the local population, the Muslim population, has no say in how the mosque itself is governed."
Tablighi Jamaat first submitted plans for the mosque in 1999 amid intense opposition from local citizens; the original plans called for the mosque to hold 70,000 worshippers. In 2001, the group agreed that worship at the ramshackle site, an old chemical factory which currently houses several pre-fabricated buildings, would be on a temporary basis only. Although the temporary planning permission expired in 2006, the group continued to use the site. In 2010, Newham town council tried to shut down the existing temporary facility by serving an enforcement notice on the owners. But in 2011 Tablighi Jamaat won an appeal and a two-year extension for use of the site. Today more than 5,000 people worship there every Friday.
Originally, the town council had wanted a "mixed use" of the site with homes, shops and business units. But plans for the construction of retail units and 300 apartments were scrapped after the Muslim community said they did not want their donations going to a commercial venture.
As the revised master-plan currently stands, the mosque will form the centrepiece of the project. At 30,000 square meters (323,000 square feet), it will include a prayer hall for 7,500 men, a separate prayer facility on an upper level for 1,900 women, and an additional dining hall for 2,000. According to the architects, Tablighi Jamaat has been particularly adamant that the mosque include towering minarets, which will change the skyline in East London.
Craig says the current mosque plans would further displace the non-Muslim community in East London and he believes that Tablighi Jamaat's real aim is to establish a global base for its proselytizing operations. Says Craig: "Either way, it will be the first custom-built Sharia-controlled zone in Britain."
In an irony that says much about the sad state of British multiculturalism, just a mile from where the mosque is due to go up, the Kingsway International Christian Centre, the biggest evangelical church in Europe with 12,000 worshippers on a Sunday, was demolished in 2007 on orders of the City of London to make way for the Olympic stadium. Five years later, the British government has still not given the church permission to build a new worship center on a new site.
Newham Council, which received the proposal from Tablighi on September 5, 2012, will decide whether it will grant planning permission for the mega-mosque this December. (See here to peruse public comments on the application.)
According to Craig, "If this went ahead it would be like a tipping point, there will be no stopping fundamentalist Islam. If that happens, well we'd all need to leave the county."
Soeren Kern is a Senior Fellow at the New York-based Gatestone Institute. He is also Senior Fellow for European Politics at the Madrid-based Grupo de Estudios Estratégicos / Strategic Studies Group. Follow him on Facebook.
http://www.gatestoneinstitute.org/3446/london-mega-mosque-qaeda
------------
Pakistan
Blasphemy in Pakistan: Death Sentence for Uttering Blasphemous Words in 2011
November 15, 2012
CHITRAL: A man accused of blasphemy against Prophet Muhammad (pbuh) was declared guilty and awarded a death sentence along with a fine worth Rs100, 000 by Additional Sessions Judge Azhar Ali Khan in Chitral.
According to prosecutors, Hazrat Ali Shah uttered something blasphemous against the Holy Prophet (pbuh) in March 2011 in his village of Barenis, which was testified by many villagers.
Police registered a case under Sections 295 –(a), (b) and (c) of the Pakistan Penal Code.
The convicted man allegedly stood on the roof of his house and spoke loudly and inappropriately against the Prophet (pbuh) about one and a half year ago, creating a tense situation in the village, after which police arrested him and lodged a case.
Blasphemy is an extremely sensitive topic in Pakistan.
Scores of Pakistanis have been harassed and implicated in false cases instituted by misusing the country's blasphemy laws.
Additionally, allegations of blasphemy have led to assassinations, extrajudicial killings and threats to life and property.
With the misuse of these laws, it has become difficult to differentiate between false accusations and actual blasphemous acts.
http://tribune.com.pk/story/466170/blasphemy-charges-man-awarded-death-sentence-in-chitral/
------------
Rise of neo-missionaries in Khyber-Pakhtunkhwa
November 14, 2012
Jamshed Khan & Hanif-ur-Rehman
Centuries ago "Machiavelli observed that wrong political decisions ate like tuberculosis, difficult to detect in the beginning but easy to cure, and with the passage of time, easy to detect but difficult to cure". The above dictum provides the exact scenario of Pakistani leaders political mistakes and also incapability of our government.
No country has suffered more on account of the strife in Afghanistan than Pakistan, but our leaders are having neither any vision nor any idea of how to get rid of them. Nonetheless, what has done earlier it is now the time to change the policies otherwise the consequences is there for Pakistan. Or to put it differently there are serious problems in our country nonetheless we feel this is good time for return. During Afghan War, Pakistan has extremely propagated jihadist ideas to support the American Jihad (armed struggle) in Afghanistan against the Soviet Union which is still harming us. This article does not provide the sordid historical scenario but an eye witness accounts of one of the village in the settled area alongside the Pak-Afghan border. Six days ago I stayed in a village as a guest, where I found an opportunity to offer Maghreb (evening) prayer in a mosque.
I was very much shocked when I saw that two men who have affiliation with a Jihadi organization also entered mosque. When prayer was completed they invited the people to listen to their inflammatory rhetoric about Jihad. I also set down to listen to them. A fat bearded man with black turban on head stands among the audience and said that I am from Jaish-i- Muhammad (the army of Mohammed, the group which was disbanded by General Pervez Musharraf in 2002) and actually we have the authority to send people to Jihad in Kashmir, Palestine and Afghanistan, etc. Jaish-i- Muhammad network is spread over 78 districts and 30 tehsil offices working in the country.
He also praised Mullah Omer of Afghanistan and considered him Amir ul Mominain (leader of the faithful). He further said that Jihad is as much a primary duty of the Muslims as are the daily prayers or fasting. It was the first time in my life, to listen to the sermon of jihad in local mosque, before that I never heard such things in mosque except the sermon of Tablighi Jama'at.
But scholar like Philip Stephen Cohen is of the view that "theoretically, the Tablighi could serve as a recruitment base for more radical groups". But Metcalf described it apolitical organization that places its entire emphasis on reshaping individual lives. More than 50 people were there to hear his sermon in which 70 percent were children in the age of 10 to 15, and he continued 45 minutes among the un-educated but very peaceful people.
When he finished the speech I asked, have you ever been to jihad in your whole life? His answer was "no". Again I ask why you are encapsulating your views among the illiterate and peaceful people, for a movement he remain silent but replied loudly that Jihad is mandatory for every Muslim. Like Maudadi he said that 'Jihad is part of the overall defence of Islam which is in essence a test of our sincerity and truthfulness as believers of Islam and without it our faith is incomplete'.
If we delve into an analysis of the phenomenon of militancy in Pakistan we would found the religious parties more responsible because it have the same policies as jihadi organization especially Jama'at-i-Islami. He further told me that actually we are trying to get support from the people physically, economically and mentally, thus motivated them through different ways.
This little discussion with Jihadi compel me to ask from the village fellows that how they felt the man who was giving them the sermon about Jihad, one of my friend was so impressed by him and even told me that if his parents allowed him then he would like to take part in Jihad. He was at the age of 25 and having one child at the age of two months. Later, I told him that dear do not go to Jihad, take care of your child, wife and parents it is a big jihad. Who will look after your child if you left him in this age? He became silent at the moment and told me another day that you are right.
He further said that actually they are trying to use illiterate people for their own purposes but they themselves never did Jihad. In Pakistan the public appeal of the jihad was/is very much compelling to the people because they are bred on polemic of religious nationalism, particularly if the enemy is widely portrayed as infidel.
Radicalization in Pakistan is a result of army's decades-long policy to export militancy abroad, says Moeed Yusuf, South Asia adviser at the Washington-based United States Institute of Peace. Yet, he says, "The army never wanted the Pakistani polity to become extremist." The army, he adds, failed to foresee that these militant groups would make deep inroads into Pakistani society itself.
Pakistan has no clear cut policy to check the expansion of Jihadist culture in the country especially in Khyber Pakhtunkhwa which is stalking the security and future of our country also. Already, thousands of veteran jihadis had sown roots in the KPK and its adjacent areas over the course of the Afghan jihad. The government should start a comprehensive long term strategy to stop the spread of Jihadism and extremism in the KPK because the situation demands strategic patience and perseverance otherwise these neo-missionaries would see their power grown.
Society should also come up with sound indigenous solutions and invent new techniques as it will promote parents to children relations because in Pashtun society there are a huge gap between children and parents and as a result many children went to Jihad. In educational curriculum the reforms must be expedited to purge the educational system also or it must be completely reconstructed.
Those schools which were destroyed due to bomb blast are still closed in KPK. Government should rebuild those schools as soon as possible so that it may start their functions. The government should manage the security situation and observe strict check and balance on this neo- missionaries so that they may not dare to spread their extremist ideologies, because we have seen the blowback effect of events in Afghanistan and Kashmir.
Many people in the Pakistan considered the United States most responsible for violence in the country, and they think that it is the greatest threat to their personal safety. The United States should also start economic and educational modernization in the country especially in Khyber-Pakhtunkhwa so as to curtail the anti-Americanism in the country.
For United States Pakistan is also part of problem and part of the solution. Pakistan must improve the benefits of the US aid for the common people, so that the people may know the US interest in the well-being of Pakistan. As Robert M. Danin said "If we engaged Muslims with respect and clarify America's views, so went the logic, then all could be resolved.
This became the conventional wisdom". All this is need of the hour, because extremism and terrorism poses a formidable challenge to the realization of the vision of our founding father Quaid-i-Azam Muhammad Ali Jinnah for a modern and progressive Pakistan and pluralistic society. It has also stigmatized Islam which never preaches extremism. All these strategies are vital for us and also for Pakistan.
nashadwajid@gmail.com
http://www.thefrontierpost.com/article/191914/
------------
MQM Chief sees conspiracy to fan sectarian violence
Nov 15, 2012
KARACHI: Muttahida Qaumi Movement chief Altaf Hussain warned on Wednesday that a conspiracy was being hatched to spark sectarian violence in Karachi and urged the government, law-enforcement agencies and religious leaders to play their role in creating sectarian harmony.
"Sectarian harmony is the need of the hour," he said while addressing religious scholars belonging to different schools of thought in the Jinnah Ground, near Nine Zero, the party headquarters.
Full report at:
http://dawn.com/2012/11/15/altaf-sees-conspiracy-to-fan-sectarian-violence/
-----------
Pakistan freeing Afgan Taliban jihadis for peace talks
Nov 15, 2012
ISLAMABAD: Pakistan began releasing some Afghan Taliban prisoners who the Kabul government believes could help in reconciliation efforts, an official said on Wednesday, the clearest sign that Islamabad will support the troubled Afghan peace process.
Afghan officials, hopeful that direct contact with Taliban commanders could give them leverage in any peace talks, have long urged Pakistan for access to prisoners.
The task of energizing the Afghan peace process is gaining urgency as Nato combat troops prepare to withdraw by the end of 2014. Some Afghans fear the country could face civil war or another Taliban takeover if insurgents are not brought into a serious peace process before then.
http://timesofindia.indiatimes.com/world/pakistan/Pakistan-freeing-Afgan-Taliban-jihadis-for-peace-talks/articleshow/17222785.cms
------------
Pakistani soldier hanged for murdering colleague; first in four years
Nov 15, 2012
LAHORE: A Pakistani soldier sentenced to death for murdering a colleague was hanged in a jail in Punjab province today, becoming the first person to be executed since the PPP-led government imposed an informal moratorium on executions over four years ago.
Muhammad Hussain was hanged in Mianwali Jail at 6.30 am, officials said.
A resident of Sahiwal area of Sargodha district, Hussain was sentenced to death in 2009 for killing Havaldar Khadim Hussain in 2008.
Full report at:
http://timesofindia.indiatimes.com/world/pakistan/Pakistani-soldier-hanged-for-murdering-colleague-first-in-four-years/articleshow/17227713.cms
------------
After 7 yrs, Pak man is out of jail
By Indrani Basu
Nov 15, 2012
NEW DELHI: A 37-year-old Pakistani prisoner's release from Tihar jail has been ordered by the ministry of home affairs. The convict, jailed for terrorism, unlawful activities and under the Public Safety Act of Jammu & Kashmir, will be taken to the Wagah border on Thursday morning, to be released as part of a repatriation treaty. This comes after assurances from the J&K government to the SC that they would expedite the release of foreign prisoners who had served their sentence.
Full report at:
http://timesofindia.indiatimes.com/india/After-7-yrs-Pak-man-is-out-of-jail/articleshow/17222544.cms
------------
Six Chambers of Commerce and Industry of Pakistan to participate in Punjab Trade Expo
By Yudhvir Rana
Nov 15, 2012
AMRITSAR: The state event PHD -Punjab International Trade Expo (PITEX) 2012 would be organized by PHD Chamber of Commerce and Industry from December 6th to 10th at, Amritsar informed Chairman, Punjab Committee, PHD Chamber Rajiv Bali while talking to TOI on Thursday.
He informed that six chambers of Commerce and Industry from Pakistan have already confirmed their participation in PHD-PITEX 2012 . He claimed that this would be the largest ever Pakistan trade delegation crossing the border over the 5 days of the event.
Full report at:
http://timesofindia.indiatimes.com/india/Six-Chambers-of-Commerce-and-Industry-of-
------------
Proposal to rename Lahore's Fawara Chowk after Bhagat Singh cleared
ANITA JOSHUA
Nov 15, 2012
The ongoing saga over the renaming of Lahore's Fawara Chowk in the city's Shadman area after revolutionary freedom fighter Bhagat Singh crossed a hurdle on Wednesday with a panel of experts clearing the pending proposal. Now it is for the City District Government of Lahore to notify the recommendation of the 'Dilkash Lahore Committee' tasked with clearing recommendations for renaming select roads and places in the city.
Full report at:
http://www.thehindu.com/news/proposal-to-rename-lahores-fawara-chowk-after-bhagat-singh-cleared/article4097897.ece
------------
Pak trying to develop its own combat UAV
November 14, 2012
Pakistan is on the verge of joining an elite group of countries capable of manufacturing unmanned aircraft capable of killing as well as spying, according to a senior defence official. Pakistan, which opposes lethal drone strikes carried out by the CIA in its territory, said it is only
developing remote-controlled aircraft for surveillance purposes.
However, during a major arms fair held in Karachi last week, military officials briefed some of Pakistan's closest allies about efforts by the army to develop its own combat unmanned aerial vehicle (UAV), reports The Guardian.
Full report at:
http://www.hindustantimes.com/world-news/Pakistan/Pak-trying-to-develop-its-own-combat-UAV/Article1-959221.aspx
------------
FIA notices to Gilanis: NA committee summons interior secretary
Nov 15, 2012
ISLAMABAD: A committee of the National Assembly has summoned the Interior Secretary and the Federal Investigation Authority (FIA) investigation officer over the issuance of notices to former Prime Minister Yousuf Raza Gilani and his son Abdul Qadir Gilani in connection with the so-called Haj scandal of 2010, DawnNews reported.
Full report at:
http://dawn.com/2012/11/15/fia-notices-to-gilanis-na-committee-summons-interior-secretary/
------------
Aspiring Pakistani cricketer granted Australia asylum
Nov 15, 2012
SYDNEY: A Pakistani asylum-seeker and leg-spin bowler who helped Australia as they prepared for the first Test against South Africa was Thursday rewarded with a permanent visa to stay in the country.
Fawad Ahmed, who left his home in the border region near Afghanistan to come to Australia on a short-stay visa to play cricket in 2010, was granted his wish to stay after the personal intervention of Immigration Minister Chris Bowen.
Full report at:
http://dawn.com/2012/11/15/aspiring-pakistani-cricketer-granted-australia-asylum/
----------
North America
Islamic banking influencing North American institutions
15 November 2012
RIYADH: While Shariah-compliant banking is not widespread in the United States, Islamic financial institutions are making headway in gaining a foothold in North American banks to bring services to customers.
"I have no doubt that investment in a purely Islamic-compliant banking is growing in the US, where there is a lot of openness, I guess, through a Shariah-compliant investment," said Benjamin Newland, partner with King & Spalding. The firm has offices in Riyadh and specializes in Islamic Financing.
Full report at:
http://www.arabnews.com/islamic-banking-influencing-north-american-institutions
------------
FBI adds US 'rapping Jihadi', Somalia's al-Qaida linked Shebab to terror wanted list
Nov 15, 2012
WASHINGTON: The FBI said on Wednesday it had added to its list of most wanted terrorists the American "rapping Jihadi," an operative for Somalia's al-Qaida linked Shebab insurgents who uses rap as a propaganda tool.
Omar Shafik Hammami, who was born in Alabama but is now thought to live in Somalia, is believed to be a senior leader of the Shebab rebels, who were placed on the US State Department's terror blacklist in 2008.
Full report at:
http://timesofindia.indiatimes.com/world/us/FBI-adds-US-rapping-jihadi-to-terror-wanted-list/articleshow/17226174.cms
------------
US defends Israeli attacks on Gaza at emergency UN meeting
Nov 15, 2012
UNITED NATIONS: Arab nations demanded the UN Security Council condemn Israel's deadly attacks on Gaza at an emergency meeting late Wednesday, but the United States strongly defended Israel's military strikes.
Egypt and other Arab states called for the emergency meeting after Israel staged more than 20 air strikes on the besieged Palestinian territory, killing Hamas military commander Ahmed Jaabari.
Full report at:
http://dawn.com/2012/11/15/us-defends-israeli-attacks-on-gaza-at-emergency-un-meeting/
------------
Obama rebukes Republicans over Benghazi
Nov 15, 2012
President Barack Obama told Republican senators on Wednesday that if they had a problem with the handling of the Benghazi attack in Libya, to "go after me" rather than pick on his ambassador to the United Nations, Susan Rice.
Obama's comments, in a combative tone, came after two senior Republican senators said they would block any attempts by the president to put Rice into a Cabinet position that would require Senate confirmation.
Full report at:
http://www.thedailystar.net/newDesign/latest_news.php?nid=42457
------------
No evidence of security breach in Petraeus scandal: Obama
Nov 15, 2012
WASHINGTON: US President Barack Obama said on Wednesday that he has "no evidence" of security breach in connection with the resignation of CIA chief David Petraeus over an extramarital affair.
"I have no evidence at this point, from what I've seen, that classified information was disclosed that would have had a negative impact on our national security," Obama told reporters in his first news conference since his reelection last week.
Full report at:
http://timesofindia.indiatimes.com/world/us/No-evidence-of-security-breach-in-Petraeus-scandal-Obama/articleshow/17224359.cms
------------
US, Afghanistan start talks on status of US troops
November 15, 2012
The United States and Afghanistan are starting negotiations on an agreement that will shape America's military presence in the country after the withdrawal of most foreign combat troops at the end of 2014.
Representatives from the two countries began talks on a bilateral security accord on Thursday in Kabul.
Full report at:
http://www.thehindu.com/news/international/us-afghanistan-start-talks-on-status-of-us-troops/article4098359.ece
------------
South Asia
Parliament accepts bill potentially banning pork and alcohol from resorts in Maldives
By JJ Robinson | November 15th, 2012
Parliament has narrowly voted to accept a bill that would potentially ban pork and alcohol completely from the Maldives, requiring resorts to cease serving haram (prohibited) products to foreign tourists.
The proposed amendment to the Contraband Act was initially submitted by Maldivian Democratic Party (MDP) MP Nazim Rashad, who after the vote praised MPs' "willingness to serve Islam".
When presenting the bill, Nazim argued that the import of these products violated article 10(b) of the constitution which states that "no law contrary to any tenet of Islam shall be enacted in the Maldives."
Full report at:
http://minivannews.com/society/parliament-accepts-bill-potentially-banning-pork-and-alcohol-from-resorts-47449
------------
Two minors sentenced to 16 years for smuggling illegal drugs in Maldives
By Ahmed Nazeer | November 14th, 2012
The Juvenile Court has sentenced a 16 year-old Maldivian boy and 16 year-old girl to 16 years imprisonment for smuggling 1.5 kilograms of cannabis into the Maldives.
November 30, 2009, customs officials at Male' International Airport searched the luggage of a girl who just arrived to Male' from Trivandrum with another woman.
The officials discovered the illegal substances wrapped in a new bed sheet inside her luggage. The girl surrendered the drugs to customs and told the officials that she had more hidden inside her body.
Full report at:
http://minivannews.com/society/two-minors-sentenced-to-16-years-for-smuggling-illegal-drugs-47356
---------
I took freedom fighter training: Bangladesh Jamaat-e-Islami leader
Nov 15, 2012
War crimes accused Jamaat-e-Islami leader Abdul Quader Mollah claimed on Thursday that he had taken training as freedom fighter at his village home Faridpur in 1971.
The Jamaat assistant secretary general made the comment when he was testifying before the International Crimes Tribunal-2.
Mollah, who was a Dhaka University student in 1971, received the training under a retired joint commission officer (JCO) that time, he said.
Full report at:
http://www.thedailystar.net/newDesign/latest_news.php?nid=42469
------------
Will use all means to make Pakistan quit terror: Hamid Karzai
By Indrani Bagchi
Nov 15, 2012
Hamid Karzai, president of Afghanistan, is fighting several fires, not the least of which is the fact that Pakistan continues to want to support terrorist groups that are targeting Afghanistan and threatening it's future stability. But in an exclusive conversation with TOI during his state visit to India, Karzai shows he is ready to do battle -- to deter Pakistan from exporting terrorism, try to attract a reluctant Indian industry into investing in Afghanistan, but above all, keep his country from falling into the hands of the Taliban again.
Full report at:
http://timesofindia.indiatimes.com/india/Will-use-all-means-to-make-Pakistan-quit-terror-Hamid-Karzai/articleshow/17221331.cms
------------
Bangladesh HC stays bar on madrasa students for 3 months
Nov 15, 2012
The High Court yesterday, in response to a writ petition, stayed for three months an admission precondition of Dhaka University (DU) for which madrasa students were not eligible for enrolment in eight departments.
As per DU syndicate's September 6, 2009 decision, admission seekers must study English and Bangla courses of 200 marks each in Higher Secondary Certificate (HSC) or equivalent examinations to be eligible for enrolment in the departments.
Full report at:
http://www.thedailystar.net/newDesign/news-details.php?nid=257541
------------
Kabul welcomes Pakistan's plan to free Taliban
Nov 15, 2012
KABUL: The Afghan government Thursday welcomed Pakistan's agreement to release several Taliban prisoners, but a Taliban official dismissed the move as irrelevant to the country's peace process.
Details of the deal remained unclear a day after the agreement was reached at a meeting between the Pakistani government and Afghanistan's High Peace Council in Islamabad.
Kabul had pressed for the release of senior Taliban leaders held in Pakistan. It believed they could help bring the militants to the negotiating table to end 11 years of war before the withdrawal of US-led Nato troops in 2014.
Full report at:
http://dawn.com/2012/11/15/kabul-welcomes-pakistans-plan-to-free-taliban/
------------
Muslims Plea for Obama on Rohingya Plight
14 November 2012
CAIRO – Muslims have appealed to US President Barack Obama to use his upcoming visit to Burma to intervene to stop the systematic discrimination of Bengali-ethnic Muslims, known as Rohingyas, in the Asian country.
"The Rohingya minorities should not be overlooked because of the new regime in Myanmar (Burma)," Ekmeleddin Ihsanoglu, Secretary-General of the Organization of Islamic Cooperation (OIC), said in a letter to Obama.
"The government of Myanmar has a moral and legal obligation to protect the oppressed minorities, to restore their citizenship, to allow them to return to their homes and to put an end to the hate campaign against them."
Full report at:
http://www.onislam.net/english/news/asia-pacific/460019-muslims-plea-for-obama-on-rohingya-plight.html
------------
Aung San Suu Kyi says Myanmar unrest an 'international tragedy'
Nov 15, 2012
NEW DELHI: Aung San Suu Kyi on Thursday described violence in west Myanmar between Buddhists and Muslims as a "huge international tragedy" and said illegal migration from Bangladesh had to be stopped.
Suu Kyi, on a visit to India, said she had declined to speak out on behalf of stateless Rohingya Muslims who live on both sides of the border as she wanted to promote reconciliation after recent bloodshed.
Full report at:
http://timesofindia.indiatimes.com/world/south-asia/Aung-San-Suu-Kyi-says-Myanmar-unrest-an-international-tragedy/articleshow/17226949.cms
------------
David Petraeus sex scandal amuses Taliban
Nov 15, 2012
PESHAWA: The sex scandal that has brought down CIA chief David Petraeus may be causing heartache in the Washington security establishment but the affair has prompted laughter among the Taliban.
Petraeus resigned last week to pre-empt revelations of an affair with his married biographer Paula Broadwell, bringing to an end a glittering military career that included a spell commanding Nato forces fighting the Taliban in Afghanistan.
Full report at:
http://timesofindia.indiatimes.com/world/us/David-Petraeus-sex-scandal-amuses-Taliban/articleshow/17229873.cms
------------
Myanmar to free 452 prisoners ahead of Barack Obama visit
Nov 15, 2012
YANGON: Myanmar is set to free hundreds of prisoners on Thursday, officials said, just days ahead of a landmark visit by US President Barack Obama to a country emerging from decades of military rule.
Relatives of the scores of political detainees still languishing in jails were waiting anxiously to learn whether they would be among those released.
A prison department official said 452 prisoners would walk free on Thursday morning.
"There are some foreigners included in the amnesty," he added, speaking on condition of anonymity, without giving details of their nationalities. The planned release was also announced in state media.
Full report at:
http://timesofindia.indiatimes.com/world/south-asia/Myanmar-to-free-452-prisoners-ahead-of-Barack-Obama-visit/articleshow/17224644.cms
------------
Enforced disappearance, extra-judicial killings 'state-patronised': Bangladesh HR
Nov 15, 2012
Human Rights Forum on Thursday termed the enforced disappearance and extra-judicial killings by the law enforcers as the 'state-patronised terrorism'.
"Enforced disappearance and extra-judicial killings are obviously state-patronised terrorism," Sultana Kamal, president of the forum, said at a press conference at Dhaka Reporters Unity in the capital.
Full report at:
http://www.thedailystar.net/newDesign/latest_news.php?nid=42468
------------
Dismissed minister must be reinstated to sustain coalition: Maldives JP's leader
By Luke Powell | November 14th, 2012
Jumhoree Party (JP) MP Alhan Fahmy has warned that dismissed Transport Minister Dr Ahmed Shamheed must be reinstated in order to retain the ruling coalition.
Dr Shamheed was removed from his cabinet post after he extended the Maamigili Airport lease to JP leader Gasim Ibrahim for 99 years.
Full report at:
http://minivannews.com/politics/dismissed-minister-must-be-reinstated-if-president-wants-to-sustain-coalition-jps-alhan-fahmy-47382
------------
Arab World
Kurds take another town in Syrian 'dirty game'
Nov 15, 2012
DERIK: Kurdish militiamen and residents have wrested control of yet another town in northeastern Syria near the Turkish and Iraqi borders, in what an activist said was part of an anti-Turkey "dirty game" by the regime.
Hundreds of people gathered on Tuesday outside the town of Derik's security headquarters, the last building abandoned by the army and police, blasting out Kurdish music and hearing speeches in the officially banned Kurdish language.
"We tried to tell Assad's people to leave peacefully. We are a peaceful people", said Abdi Karim, a 56-year-old officer in the People's Defence Units (YPG), the militia involved in regaining the town.
Full report at:
http://dawn.com/2012/11/15/kurds-take-another-town-in-syrian-dirty-game/
------------
Syria Orders More Airstrikes and Calls French Recognition of Rebels 'Immoral'
By ALAN COWELL
November 15, 2012
PARIS — The Syrian authorities on Wednesday ordered airstrikes close to the tense Turkish border for the third consecutive day, and said a French decision to recognize and consider arming a newly formed coalition of Syrian government opponents was an "immoral" act "encouraging the destruction of Syria."
"This is an immoral position because it allows the killing of Syrians," said Faisal al-Miqdad, Syria's deputy foreign minister, according to Agence France-Presse. "They are supporting killers, terrorists, and they are encouraging the destruction of Syria."
Full report at:
http://www.nytimes.com/2012/11/15/world/middleeast/syria-war-
----------
Egypt's Mursi Says Israel Attacks on Gaza 'Unacceptable'
November 15, 2012
CAIRO (Reuters) - Egyptian President Mohamed Mursi condemned Israeli air strikes on the Gaza Strip as unacceptable on Thursday, in his harshest public criticism of Egypt's neighbor since taking office in June.
Mursi's televised address came as a stand-off deepened between Israel and militant groups in Gaza. A Hamas rocket killed three Israelis north of the Strip and the Palestinian death toll from Israeli attacks rose to 13.
Looking more subdued and downcast than in previous speeches, Mursi looked ill at ease as he listed steps he had taken to recall Egypt's ambassador in Israel and appeal to the United Nations Security Council.
Full report at:
http://www.nytimes.com/reuters/2012/11/15/world/middleeast/15reuters-palestinians-
---------
Dubai nabs an Asian man with heroin worth $ 1.2 m in stomach
15 November 2012
DUBAI: Customs officials at Dubai airport have arrested an Asian man attempting to smuggle 1.58 kg of heroin worth $1.2 million in his stomach, local media reported yesterday. "The contraband was stuffed in 133 capsules concealed in the guts of an Asian passenger" who arrived at Dubai International Airport.
The man was subjected to a body scan and under questioning said he was planning to deliver the drugs to someone living in Dubai in return for a cash payment, the report said, without identifying the suspect or his nationality.
It said that in a series of busts in May and October, Dubai customs foiled seven attempts to smuggle a total of 6.6 kg of heroin through the UAE's borders worth around $2.7 million.
http://www.arabnews.com/dubai-nabs-man-heroin-worth-12-m-stomach
---------
Thank you UAE: Man Who Begged Police to Put Him behind the Bar
Ishtiaq Husain set to start life afresh
By Mazhar Farooqui
November 14, 2012
Dubai: The smiles are back on the faces of Husain's family. On the edge of a precipice with no food to eat and nowhere to go until last week, the family is now faced with the proverbial problem of plenty.
After XPRESS highlighted their plight in its cover story on November 8, Ishtiaq Husain has been contacted by nearly 1,000 readers offering money, food, clothes and so many job propositions he couldn't decide which one to choose. Eventually, he took up a Dh4, 500 job offer at a real estate company in Palm Jumeirah.
Full report at:
http://gulfnews.com/news/gulf/uae/employment/thank-you-uae-ishtiaq-husain-set-to-start-life-afresh-1.1105267
------------
Along Syrian Border, Lives Defined by War
By TIM ARANGO
November 15, 2012
KILIS, Turkey — It was midday, overcast, as a Turkish man backed up his truck to the front of a beige one-story farmhouse here. It was loaded with enough fertilizer to blow up a city block.
"Whatever they ask me, I do," said the man, who did not want to give his name but was happy to talk about his willingness to help the Syrian rebels. "I don't say no."
He pulled a receipt from a pocket of his jacket to show how much money he had spent on his haul: about $2,500, to be reimbursed by his Syrian paymasters.
Full report at:
http://www.nytimes.com/2012/11/15/world/middleeast/along-syrian-border-lives-defined-
----------
Number of Egyptian over stayers in Jeddah hits 700
15 November 2012
JEDDAH: The number of Egyptian pilgrims who have overstayed their Umrah visas has grown to about 700 over the past few days. This figure includes children. This number has not been officially confirmed though.
In an attempt to get repatriated, the pilgrims have been sitting in front of the Egyptian Consulate in Jeddah and have now occupied private residential buildings in the vicinity.
Most of them are now experiencing difficulty as water and food supplies are low and they have resorted to sleeping on the street.
Full report at:
http://www.arabnews.com/number-egyptian-overstayers-hits-700
------------
Unprecedented development witnessed by KSA in 1433H
15 November 2012
JEDDAH: Saudi Arabia witnessed unprecedented progress in the educational, health and industrial sectors during the Hijrah year 1433 (2012) which ended yesterday, under the leadership of Custodian of the Two Holy Mosques King Abdullah and Crown Prince Salman.
King Abdullah successfully strengthened Saudi Arabia's political, economic and trade position at regional and international levels and the country now plays a significant role at international forums.
Full report at:
http://www.arabnews.com/unprecedented-development-witnessed-ksa-1433h-0
------------
Egypt asks US to stop Israel's Gaza offensive
November 15, 2012
Egypt has asked the United States to push Israel to stop its offensive against Hamas militants in the Gaza Strip, warning that the violence could "escalate out of control," the Foreign Ministry said on Thursday.
Foreign Minister Mohammed Kamel Amr spoke with U.S. Secretary of State Hillary Rodham Clinton late the night before, asking for "immediate U.S. intervention to stop the Israeli aggression," the ministry said in a statement. The call came after Egypt recalled its Ambassador to Israel to protest the offensive.
Full report at:
http://www.thehindu.com/news/international/egypt-asks-us-to-stop-israels-gaza-offensive/article4098111.ece
---------
Sharjah International Book Fair: For the love of the written word
15 November 2012
The Department of Culture & Information has continued to support the written word and demonstrate its passion for books since 1982, when the first Sharjah International Book Fair was organized.
For over 30 years, Sheikh Sultan bin Mohammad Al Qasimi, the UAE Supreme Council member and ruler of Sharjah, has endorsed this fair, in the hopes of promoting cultural exchange and a better understanding of Sharjah's heritage and contemporary creativity.
Full report at:
http://www.arabnews.com/sharjah-international-book-fair-love-written-word
------------
Protests Over Gas Prices in Jordan Turn Deadly
By JODI RUDOREN and RANYA KADRI
November 15, 2012
AMMAN, Jordan — A young man was killed and a dozen police officers were injured Wednesday night in the northern city of Irbid as demonstrations over increased gas prices stretched into a second day and opposition leaders scrambled to harness a spontaneous eruption of anger that spread throughout the kingdom, taking officials and opposition leaders by surprise.
Full report at:
http://www.nytimes.com/2012/11/15/world/middleeast/jordan-protests-turn-deadly-on-
---------
India
Thousands rally in Ireland after Indian woman denied abortion dies
Nov 15, 2012
DUBLIN: Thousands of people rallied outside Ireland's parliament on Wednesday to demand strict abortion rules be eased after a pregnant Indian woman repeatedly denied a termination died in an Irish hospital.
Savita Halappanavar, 31, admitted to University Hospital Galway in the west of Ireland last month, died of septicaemia a week after miscarrying 17 weeks into her pregnancy.
Her repeated requests for termination were rejected because of the presence of a foetal heartbeat, her husband told state broadcaster RTE.
Full report at:
http://timesofindia.indiatimes.com/world/uk/Thousands-rally-in-Ireland-after-Indian-woman-denied-abortion-dies/articleshow/17229639.cms
------------
'Once in a lifetime' Haj proposal mooted by the Haj Committee of India
SYED MUTHAHAR SAQAF
Nov 15, 2012
The Haj Committee of India (HCOI) is considering restricting the pilgrimage to only once in a life time for an individual from the 2013 season.
The proposal, implying a ban on the pilgrimage for those who have already performed Haj, thereby enabling other aspirants to undertake the pilgrimage without much delay, also applies to those undertaking the pilgrimage through private travel operators.
Full report at:
http://www.thehindu.com/news/national/once-in-a-lifetime-proposal-mooted/article4095741.ece
------------
40,000 'illegal' Indian residents to return home from UAE under 'amnesty' scheme
Nov 15 2012
Dubai : Around 40,000 Indians are set to accept the amnesty announced by the UAE government for illegal residents to return to their homelands without paying fines.
The Ministry of Interior on announced the general pardon for illegal residents to leave without paying penalties over a two-month period starting December 4.
Full report at:
http://www.indianexpress.com/news/40000-illegal-indian-residents-to-return-home-from-uae-under-amnesty-scheme/1031369/
--------
The seminar on Assam in Delhi adds fuel to the fire
*By M. Burhanuddin Qasmi
In a deliberate attempt to insult the genuine Muslim inhabitants of Assam, a group of 'intellectuals' in New Delhi, demanded to declare alleged 'influx from Bangladesh' a national problem.
Much to their humiliation, most of the genuine Muslim residents of Assam are branded as 'illegal migrants' by a group of people who gained fame by banking on Muslim bashing.
Such one-sided discussion would add fuel to the fire, rather than solving the problem, argued other intellectuals who are also the stakeholders in the issue.
At a national seminar on 'Conflict in Bodoland, Issue of Influx and Land Alienation in Assam: Problems and Perspectives' organised by All Bodo Students' Union (ABSU) held in New Delhi on 8th November, speakers gave the impression that so-called 'illegal influx' from Bangladesh is the only major problem this country has today.
Some of the speakers were former 'policy-makers', who were directly or indirectly involved in affairs of Assam in the past. Participants included former Home Secretary GK Pillai, former Special Director of Intelligence Bureau (IB) RN Ravi, former Governor of Assam and Jammu and Kashmir Lt General (retd), SK Sinha, former General Officer Commander Four Corp Lt General (retd), DB Shekatkar and BJP Rajya Sabha MP and columnist Chandan Mitra— most of them have negative track record dealing with sensitive Muslim issues during their service tenures or while expressing views in public through pen or speech.
The seminar presided over by Sanjoy Hazarika was also addressed by adviser of All Assam Students Union (AASU) Samujjal Bhattacharya, ABSU president Pramod Bodo, journalists Samudra Gupta Kashyap and Nitin Gokhale and founder president of SARHAD, Sanjay Nahar.
The one-sided handling of the seminar in the national capital indicates how the recent mass exodus and rioting in the BTAD of Assam, where till date thousands of innocent people remained captive in the make-shift camps, might have been influenced by people from out of Assam. National media partly reported about Muslim witch-hunts by heavily armed Bodo groups in far off villages in an attempt to cleansing the desired land area for a future Bodoland state in July-August this year, including sporadic retaliatory violence from Bengali speaking Muslim minority.
It is noteworthy that another 25-30 thousand 1993-94 Kokhrajhar riot victims in the same BTAD have yet to get shelter let alone justice. Their despair finds no end owing to the national and international apathy even after 19 years.
The rule of India's saffron brigade vis-à-vis Assam's NRC and D-voter issue — rather all insurgent and communally sensitive northeastern issues, needs serious introspection by the office bearing people in India's policy making bodies. The Bharatya Janata Party (BJP), through its tattered communal agenda is creating pro-Christian noises in case of Nagaland, Mizoram, Meghalaya and Manipur. This is because the states gradually acquired a Christian majority, and then it played up Islamophobia with Assam, for Muslims are a major chunk – 31 per cent in the state's population, yet the party is losing ground in northeast – Assam's last Assembly election can be an example. It should be imperative for the BJP to find stirring issues such as purported illegal Bangladeshi influx in Assam bringing its direct volunteers such as Sangh Parivar or indirect assistants such as named above in to the work field before 2014 general election.
Very recently Assam Chief Minister Tarun Gogoi said in New Delhi that the trend of migration from neighbouring Bangladesh has declined since 1991. Following the BTAD violence he has even questioned, "…where are the Bangladeshis in Assam…help identify them for prosecution…'' before the media in Guwahati.
In New Delhi he said that his government was "neither over-playing nor down-playing" the issue of migration from Bangladesh but wanted to put the factual position in public domain.
I am also against foreigners. But in the name of foreigners, no genuine Indian should be harassed," said the Chief Minister.
In some cases a person is declared D-Voter (doubtful) in the electoral roll and barred from using his democratic rights whereas his both mother and father are genuine voters. In a single family father and one son are government employees but on their face a slap of being D-Voter is tagged – an abusive humiliation only those going through it can imagine the impact.
State government and several reports have contended that illegal migration in Assam is not as rampant as propagated by a section of anti Muslim group. "Bringing Bangladeshi angle to Assames ethnic conflict is disservice to the nation", writes V.K. Tripathi, professor of IIT Delhi. Similarly Prof. Ram Puniyani argues, 'tendentious comments about Bangladeshi immigration fueled violence in Assam.'
Another celebrated writer and historian Amaresh Misra went down into the pages of history and brought about the facts which testified that Muslim influx from Bangladesh in Assam in the post partitioned India is a hoax. He elaborated his argument starting from 12th century down to the recent ethnic conflict in his article 'Assam violence: the very idea of India is under threat' and blames the Sangh Privar and its political wing Bharatya Janata Party (BJP) for the unrest in Assam and Bodoland Territorial Area Districts (BTAD).
*The author is a Mumbai based Assamese native and editor of English monthly Eastern Crescent. He can be reached at mb.qasmi@gmail.com
-------------
Aung San Suu Kyi: 'India should help in our democratisation'
By Saurabh Shukla
Nov 15, 2012
MYANMARESE prodemocracy icon Aung San Suu Kyi, who prefers to use the name 'Burma', wants India to play a key role in bringing real democracy to her country.
"We would like India to help us on the right path of democratisation. India should not look at superficial changes. If the constitution is not democratic then how can the country be democratic? All friends of Burma must keep up the awareness on what is happening there," said Suu Kyi, who has picked India among the first countries on her itinerary after Myanmar's rulers allowed her to travel abroad.
Full report at: Mail Today
------------
India, Pakistan should jointly combat hunger and poverty, Nitish Kumar says
Nov 15, 2012
LAHORE: Batting for peace, Bihar chief minister Nitish Kumar today said India and Pakistan should jointly combat hunger and poverty rather than fighting each other.
On his first visit to Pakistan, Kumar said he would always measure his trip to this country in terms of the enormous love he has received from the people.
"The amount of love I have received from the people here can't be artificial. In Lahore, I don't feel I am in an alien land," Kumar said while addressing a gathering at the Government College University.
Full report at:
http://timesofindia.indiatimes.com/india/India-Pakistan-should-jointly-combat-hunger-and-poverty-Nitish-Kumar-says/articleshow/17229548.cms
------------
Interpol notice against HuJI suspect
Nov 15, 2012
HYDERABAD: The hopes of Indian intelligence agencies to get the alleged Harkatul-Jihad-e-Islami (HuJI) operative Mohammed Abdul Majeed deported from Saudi Arabia have brightened after the Interpol issued a Red Corner Notice against him.
Majeed, an accused in the foiled Bengaluru terror plot, was declared a proclaimed offender by the City Crime Branch of Bengaluru police. With logistic support from an Old City youth Obaidur Rahman, he is reported to have masterminded the terror plan.
Full report at:
http://timesofindia.indiatimes.com/india/Interpol-notice-against-HuJI-suspect/articleshow/17222675.cms
------------
3 more killed in Assam violence
Samudra Gupta Kashyap
Nov 15 2012
Guwahati : Fresh incidents of violence in Assam have claimed three more lives, two in Kokrajhar and one in Baska, both Bodoland districts. The death toll in incidents since Saturday has gone up to seven.
While two persons were killed in three separate incidents, one each in Kokrajhar and Baska district on Tuesday night, a school teacher was hacked to death inside a block elementary education office, also in Kokrajhar district, on Wednesday. The victim has been identified as Asaruddin Sheikh.
Full report at:
http://www.indianexpress.com/news/3-more-killed-in-assam-violence/1031150/
------------
Shock, protests over Assam planter, Adilur Rahman killing
Samudra Gupta Kashyap
Nov 15 2012
Guwahati : The gunning down of a prominent tea planter by suspected anti-talks NDFB militants in north Assam Tuesday has sent shock waves across the Rs 6,000-crore tea industry that continues to be the backbone of the state's economy.
The 21st planter to have been killed by militant groups in Assam, Adilur Rahman was also a director of Hotel Dynasty, Guwahati's first four-star hotel. His two estates together produce about 10 lakh kg of tea per annum.
Full report at:
http://www.indianexpress.com/news/shock-protests-over-assam-planter-killing/1031278/
------------
Ballooning Haj subsidy puts Centre in a fix
KRISHNADAS RAJAGOPAL
Nov 15, 2012
Civil Aviation Ministry's affidavit in Supreme Court lists problems and priorities
A Civil Aviation Ministry affidavit filed in the Supreme Court reveals a government torn between the burden of burgeoning travel subsidy for Haj pilgrims and concern for their welfare.
The affidavit was filed after a Bench of Justices Aftab Alam and Ranjana Desai asked the Ministry, in a September 21, 2012 order, "to indicate measures that would be taken to provide cheaper air travel, either through the national carrier or private airlines to reduce the cost of travel of Haj pilgrims."
Full report at:
http://www.thehindu.com/news/national/ballooning-haj-subsidy-puts-centre-in-a-fix/article4095742.ece
------------
Indian awarded top education prize in Doha
Nov 14 2012
Dubai : An Indian scholar has been awarded the USD 500,000 WISE prize for innovation in the field of education, for his relentless work of providing low cost education to children in Mumbai slums.
Madhav Chavan, a former Chemistry lecturer was awarded at the fourth World Innovation Summit for Education (WISE) in the Qatari capital Doha, before more than 1,200 innovators from over 100 countries, including figures from the worlds of social enterprise, business, government, media and education.
Full report at:
http://www.indianexpress.com/story-print/1031095/
--------
Africa
Gunmen Kill Six in Northern Nigeria's Kaduna State
November 15, 2012
KADUNA, Nigeria (Reuters) - Gunmen have killed six people in a village in Nigeria's northern Kaduna state, a government official said on Thursday, in a region with a history of inter-ethnic violence.
The attack late on Wednesday was in a village in the Zango Katak region in Kaduna state, witnesses said, an area at the heart of post-election violence last April that left hundreds dead and thousands displaced.
Full report at:
http://www.nytimes.com/reuters/2012/11/15/world/africa/15reuters-nigeria-
----------
Congo: U.N. Report Cites Slaughter
By JEFFREY GETTLEMAN
November 15, 2012
Armed groups executed more than 250 civilians, including 83 children, in one area of the Democratic Republic of Congo this year, according to a United Nations report published Wednesday. It said that rebels in North Kivu Province, along the border with Rwanda, killed the civilians between April and September. "The systematic human rights violations committed by these armed groups, including the slaughter of so many children, are the most serious we have seen in recent times" in Congo, said the United Nations high commissioner for human rights, Navi Pillay.
http://www.nytimes.com/2012/11/15/world/africa/congo-un-report-cites-slaughter.html?ref=africa&gwh=3B752F3E4CFE1FFDB07405BD8F7713E5
----------
Mauritania: Islamic Conference Addresses Children's Rights
BY JEMAL OUMAR
13 NOVEMBER 2012
Clerics and religious scholars are participating in a national initiative to protect Mauritanian children from perilous choices.
A unique national conference under way in Mauritania is focusing on children's rights in Islam.
The event is founded on the conviction that since young people are the building blocks of an effective society, they must be deterred from the path of violence and extremism.
"This can only be realised by laying down the 'fiqh of freedom,' by activating human rights in Islam and developing the content of its fiqh message to conform with individual liberties," said Forum of Islamic Thought secretary-general and Supreme Islamic Council member Sheikh Ould Zein Ould Imam Lamine.
Full report at:
http://allafrica.com/stories/201211140710.html
----------
Mideast Asia
Hamas Chief Vows to Keep Up 'Resistance' After Jaabari Killed
November 15, 2012
KHARTOUM (Reuters) - Hamas chief Khaled Meshaal on Thursday condemned the killing of military commander Ahmed al-Jaabari and vowed to continue the "resistance" against Israel after the Jewish state launched an offensive against Palestinian militants in Gaza.
"Men and women in Palestine, we will continue the resistance," Meshaal said at a meeting of Islamic leaders in the Sudanese capital Khartoum.
(Reporting by Ulf Laessing and Alexander Dziadosz; Editing by Sonya Hepinstall)
http://www.nytimes.com/reuters/2012/11/15/world/africa/15reuters-palestinians-israel-meshaal.html?ref=africa&_r=0&gwh=DF8FAEE8128C3A4EF9C116B8440A3552
------------
Iran aims for baby boom, but are Iranians in the mood?
By Yeganeh Torbati
Nov 14, 2012
(Reuters) - Before Somayeh can have the second child she and her husband have been talking about, they must first consider the expense.
"Baby food, clothes, doctors, the hospital - it all costs a lot of money. Which we can't afford at the moment," she said, speaking to Reuters by phone from inside Iran.
Like many countries, Iran is concerned that its low population growth rate, estimated at 1 percent by the United Nations in 2011, will foster an aging population with potentially disastrous consequences for its workforce, public health infrastructure and social security network.
Full report at:
http://in.reuters.com/article/2012/11/14/us-iran-population-idINBRE8AD0UZ20121114
------------
Israel strikes more than 200 targets in Gaza
Nov 15, 2012
Israel has attacked more than 200 targets in the Gaza Strip since the killing of Hamas military commander-in-chief Ahmed Ja'abari, an army spokesman in Tel Aviv said on Thursday.
The Safa news agency of the Islamist movement that rules Gaza said the death toll in the attacks had risen to 11 Palestinians after three members of the Qassam Brigades died in a pre-dawn raid in the southern Gaza Strip.
Two children and a pregnant woman were among the dead, it said, adding that more than 100 people were injured since the attacks began on Wednesday afternoon. Israel used F-16 war planes, Apache helicopter gunships and naval vessels to shell targets.
Full report at:
http://www.thehindu.com/news/international/israel-strikes-more-than-200-targets-in-gaza/article4097703.ece
------------
War looms after Hamas rocket kills 3 Israelis
Nov 15, 2012
GAZA: A Hamas rocket killed three Israelis north of the Gaza Strip on Thursday, drawing the first blood from Israel as the Palestinian death toll rose to 13 and a military showdown lurched closer to all-out war with an invasion of the enclave.
Israeli warplanes bombed targets in and around Gaza city, where tall buildings trembled. Plumes of smoke and dust furled into a sky laced with the vapour trails of outgoing rockets.
Egyptian President Mohamed Mursi said in a televised address to the nation that Israel's attacks on the Gaza Strip were "unacceptable" and would lead to instability in the region.
Full report at:
http://timesofindia.indiatimes.com/world/middle-east/War-looms-after-Hamas-rocket-kills-3-Israelis/articleshow/17229258.cms
------------
Abbas Heading Home After Swiss Talks Due to Gaza Crisis
November 15, 2012
BERNE (Reuters) - Palestinian President Mahmoud Abbas is cutting short his European tour and flying home on Thursday after talks with Swiss officials as the situation in Gaza deteriorates by the hour, a senior Palestinian negotiator said.
"We have a very grave situation in Gaza, we have situation deteriorating on the hour every hour and President Abbas now is in touch with His Excellency President Mursi of Egypt, Dr. Nabil Elaraby of the Arab League, Ban Ki-moon ... and others in Europe and the United States, hoping to begin a process of de-escalation of the conflict," Saeb Erekat told reporters in the Swiss capital Berne, where Abbas met Swiss Foreign Minister Didier Burkhalter.
Full report at:
http://www.nytimes.com/reuters/2012/11/15/world/middleeast/15reuters-palestinians-
------------
Israel Heightens Warnings Over Palestinians' U.N. Bid
By ISABEL KERSHNER
November 15, 2012
JERUSALEM — Israel's Foreign Ministry has warned foreign governments that a successful Palestinian bid for enhanced status at the United Nations this month could lead Israel to cancel the Oslo peace accords and, possibly, to oust President Mahmoud Abbas and dismantle his Palestinian Authority, according to official documents made available to reporters on Wednesday.
Full report at:
http://www.nytimes.com/2012/11/15/world/middleeast/israel-heightens-warnings-over-
------------
Europe
In UN, Pakistan slams Israel's deadly offensive in Gaza
Nov 15, 2012
UNITED NATIONS: Pakistan has strongly condemned Israel's new anti-Palestinian offensive in the Gaza Strip, and has urged the Security Council, which met in a private emergency session on Wednesday night, to demand an immediate cessation of its military action, according to Council sources.
Ambassador Masood Khan, the permanent representative of Pakistan to the UN, told the 15-member Council that the deadly Israeli offensive of more than 20 airstrikes in Gaza in which Hamas's military commander was among the 11 people killed, threatened international peace and security, the sources said.
Full report at:
http://dawn.com/2012/11/15/in-un-pakistan-slams-israels-deadly-offensive-in-gaza/
------------
UN chief urges Israel to avoid 'new cycle of bloodshed'
Nov 15, 2012
UNITED NATIONS: UN leader Ban Ki-moon urged Israeli Prime Minister Benjamin Netanyahu to ease tensions with Gaza militants and also discussed the crisis with Egypt's president, the UN spokesman said.
The UN secretary general held telephone talks on Wednesday with Netanyahu and Egyptian President Mohamed Morsi after Israeli warplanes killed a Hamas military commander, setting off fears of a wider conflict.
Full report at:
http://timesofindia.indiatimes.com/world/middle-east/UN-chief-urges-Israel-to-avoid-new-cycle-of-bloodshed/articleshow/17223933.cms
------------
Russia Says Helping Syrian Opposition Breaches Law
November 15, 2012
MOSCOW (AP) — Providing assistance to Syrian opposition fighters would breach international law, Russia warned Thursday.
Russian Foreign Ministry spokesman Alexander Lukashevich told a briefing Thursday that any foreign help to the opposition fighting President Bashar Assad's government would represent a "gross violation" of basic principles of international law.
Full report at:
http://www.nytimes.com/aponline/2012/11/15/world/middleeast/ap-
-------------
Hague: Hamas to blame for escalating tension in Gaza and Israel
Nov 15, 2012
Palestinian Islamist group Hamas "bears principal responsibility" for escalating tension in Gaza and southern Israel, UK Foreign Secretary William Hague has said.
In a statement, Mr Hague said he deeply regretted "the loss of civilian life on both sides".
Israel should do its "utmost to reduce tension", the foreign secretary said.
But he added: "I utterly condemn rocket attacks from Gaza into southern Israel by Hamas and other armed groups."
Full report at:
http://www.bbc.co.uk/news/uk-politics-20338088
-----------
France wants to review EU ban on arming Syria rebels
Nov 15, 2012
PARIS: France will discuss supplying arms to Syrian opposition forces with its European partners in the coming weeks now that an opposition coalition has been established, foreign minister Laurent Fabius said on Thursday.
France is wary of militarizing the 20-month-old conflict, but is also reluctant to leave areas under opposition control unprotected against bomb attacks, Fabius told RTL radio.
"At the moment there is an embargo on arms, so no weapons are being delivered from Europe. The question will undoubtedly be raised for defensive arms but it's something we can only do in coordination with the rest of Europe," Fabius said.
Full report at:
http://timesofindia.indiatimes.com/world/middle-east/France-wants-to-review-EU-ban-on-arming-Syria-rebels/articleshow/17230047.cms
-------------
URL: https://www.newageislam.com/islamic-world-news/new-age-islam-news-bureau/tablighi-jamaat-promoted-london-s-mega-mosque--recruiting-ground-for-al-qaeda/d/9317