New Age Islam News Bureau
28 Jul 2013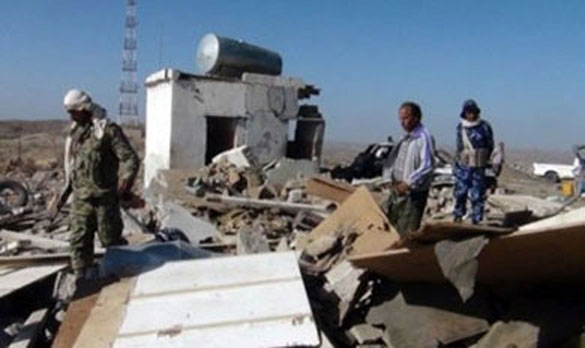 Yemeni military source reported six suspected Al-Qaeda militants dead from US drone strike. (File Photo: AFP)
-----------
Arab World
• Syrians Worried About Growing Influence of Extremists
• Suicide bomber kills eight Kurdish security personnel in Iraq
• 10 gunmen killed in Egypt Sinai operation: MENA
• 37 bodies at Islamist-run field hospital in Cairo
• 15 injured in shooting rampage in Egypt
• Shias main losers in Kuwait polls as liberals gain: Official
• Non-Muslims too enjoy Ramadan with spirit
• Al Qaeda's Iraqi, Syrian affiliates jointly battle Kurds
• Syrian troops capture historic mosque in Homs
• Haram security to monitor bridge constantly to ensure pilgrim safety
Pakistan
• Will Introduce Shariah If Given Full Mandate, Says Jamaat-e-Islami Minister
• Hazara Town residents shoot down suspected suicide bomber
• 7 terrorists killed in Hangu, Peshawar clashes
• If I hadn't fallen off the lifter, I could have been assassinated: Imran Khan
• PTI leader to face judicial inquiry in sexual harassment case
• Maulana Fazl offers PML-N quid pro quo
• Explosion in Parachinar kills one, injures two
• Pakistan: 20 die after drinking contaminated liquor during Ramzan
Africa
• Al Qaeda-linked Islamists threaten to hit Mali election
• Al Shabaab claim attack on Turkish mission in Somalia, three dead
• Libyans ransack party offices after killings
• Tunisian government alleges longtime jihadist involved in assassinations
• Ansar al Sharia Tunisia denies involvement in assassinations
• 94 killed in Darfur tribal clashes
• More than 1,000 inmates escape Libyan prison
Mideast
• 'US drone strike' kills six Qaeda suspects in Yemen: army
• Rouhani 'halted nuclear weapon programme': Ex-ambassador
• Turkish Airlines attracts GCC with 'Ramadan in Istanbul' drive
• Suicide car bomb targets Turkish diplomats in Mogadishu
• Israel to release 104 Palestinian prisoners
North America
• Dozens shot dead, US tells Egypt to pull 'back from the brink'
• US at war with Islam: US army psychiatrist accused of killing 13 people
Southeast Asia
• Malaysia Islamic Department watching growing Shariah movement
• Sampang Shiites Worried Conversions Will Haunt Homecoming Plan
• Marty Pushes for Compromise as Egypt Protests Turn Violent
• Aceh Fishermen Rescue 68 Rohingya Asylum Seekers From Indian Ocean
• Jawi denies allowing Muslim finalists to compete in Miss Malaysia World 2013
South Asia
• "Maldives cannot afford to be an inward looking, xenophobic country": Nasheed
• Afghan president to soon visit Pakistan
• 282 Jamaat-Shibir men sued in Noakhali
• "A country does not have to be invaded to lose its sovereignty": President Waheed
• Hasina spends time with war heroine Roma Chowdhury
India
• Video showing J&K grand mufti enjoying music stirs controversy
• India-Pakistan bilateral talks set to resume, water and Sir Creek on agenda
• Urdu Ghazals Veer Savarkar wrote in Andaman found
• SIT turned blind eye to damaging evidence: Zakia
• Mahabodhi temple serial blasts: NIA in a fix over Sasai's quizzing
Europe
• Mali holds first vote since coup, French intervention
• Human Rights Watch slams Egypt over protest deaths
• EU deplores Egypt violence, calls for return to civilian rule
Compiled by New Age Islam News Bureau
URL: https://newageislam.com/islamic-world-news/syrians-worried-growing-influence-extremists/d/12791
-----------
Arab World
Syrians Worried About Growing Influence of Extremists
July 28, 2013
DAMASCUS (Xinhua) - Most Syrians, having undergone four decades of secular rule, seem averse to the prospect that the power to rule their country may one day fall in the hands of some Islamic fundamentalists.
Syrians' resentment at the extremists, who are taking advantage of the ongoing to crisis to expand their influence, is becoming increasingly manifest in their daily conversation and comments on social media websites.
Even those sympathetic to the rebels at the start of the crisis have become disillusioned with them, as they have come under the sway of al-Nusra Front, an al-Qaida-linked group whose main goal is to establish an Islamic state in Syria.
Frustration is also creeping up on Syrians as they feel the road back to security and stability is obscure and drawn-out.
"We were looking for more freedom and felt the revolution would give us more benefits... However, we now feel we are moving backwards and will soon return to the medieval era," said Hanadi, 49, a private sector employee.
She said whoever still thinks what happens in Syria is a revolution is lying to themselves. "It's anything but a revolution for freedom."
"How could they bring us freedom if they (the rebels) themselves are captives held by the extremists?" she questioned.
Ahmed, in his 50s, agreed with Hanadi. "Al-Nusra Front fighters come up every day with a new unimaginable fatwa, or religious edict."
He pointed to a new fatwa imposed in the northern city of Aleppo, which forbids eating croissants because they are in the shape of a crescent, the emblem of an Islamic state.
The fatwa claims that the Europeans eat croissants during festivals to celebrate their victories over the Muslims.
Syrians post cynical comments on social media sites, poking fun at such fatwas, the latest of which ban women from driving cars and force little girls to wear veils.
Residents of some hotspots in northern Syria, where al-Nusra Front is active, said that the group has banned smoking and listening to music, and has set up its own courts and applies its own interpretation of Islam.
Islamic hardliners control large swathes of Aleppo, which are governed by a group of "chieftains" who consider the land as a "liberated Islamic emirate."
Clashes also erupted lately between al-Nusra fighters and the rebel Free Syrian Army, who has grown at odds with the former's extremist views.
Western diplomats said recently that more than 100 battalions of the Syrian Free Army, some operating in Damascus' countryside, might soon turn against al-Nusra Front and other Jihadi groups.
Daily Telegraph disclosed recently that hundreds of defectors have started returning to the army because they are frustrated with the failure to achieve the revolution goals and the penetration of the Islamists in their ranks.
David Shedd, deputy director of the US Defense Intelligence Agency, warned that extremist groups such as Jabhat al-Nusra have been the most successful in operations against troops loyal to President Bashar al-Assad.
Left unchecked, he said, more radical elements of the opposition would have a greater role, eclipsing moderates in a post-Assad Syria.
Al-Nusra Front's leader, Sheikh Abu Mohammed al-Joulani, has reportedly called for the establishment of the rule of Islam and Sharia in Syria, rejecting the political process and elections.
http://www.philstar.com/world/2013/07/28/1023861/feature-syrians-worried-about-growing-influence-extremists
-----------
Suicide bomber kills eight Kurdish security personnel in Iraq
July 28, 2013
TIKRIT: A suicide bomber driving a car packed with explosives blew himself up near a Kurdish security forces patrol killing at least eight of them early on Sunday, police said.
The attack took place in the centre of the ethnically mixed town of Tuz Khurmato, 170 km north of the capital Baghdad, in a notoriously unstable region over which both the central government and autonomous Iraqi Kurdistan claim jurisdiction.
No group claimed responsibility but suicide bombings are the trademark of Al Qaeda, which has been regaining momentum in its insurgency against the Shia-led Baghdad government.
More than 4,000 people have been killed by militants in Iraq this year, of which more than 800 were killed in July alone, according to violence monitoring group Iraq Body Count.
Sectarian tensions across the region have been inflamed by the civil war in neighbouring Syria, putting growing strain on Iraq, where Kurds, Shia and Sunni Muslims have yet to find a stable way of sharing power.
Sunni insurgents, including the al Qaeda-affiliated Islamic State of Iraq, have been recruiting from Iraq's Sunni minority, which resents Shia domination of their country since the US-led invasion that toppled Saddam Hussein in 2003.
http://www.dawn.com/news/1032523/suicide-bomber-kills-eight-kurdish-security-personnel-in-iraq
-----------
10 gunmen killed in Egypt Sinai operation: MENA
July 28, 2013
Egyptian security forces killed 10 "terrorist" gunmen and captured 20 in an operation in the Sinai Peninsula over the past 48 hours, state news agency MENA reported on Sunday.
"Security operations carried out by the armed forces and police in north Sinai to hunt down armed terrorists... (resulted) in the killing of 10 of these armed terrorist elements," the agency said, citing a security source.
The Sinai Peninsula, near Egypt's borders with Israel, has seen a spike in violence since the removal of Mohamed Morsi by the army amid nation-wide protests demanding his ouster early this month.
At least 23 members of the security forces and 10 civilians have been killed in North Sinai's Al-Arish by suspected Jihadist militants since Morsi's ouster.
Dozens of militants were also killed in crackdown by security.
http://english.ahram.org.eg/NewsContent/1/64/77623/Egypt/Politics-/-gunmen-killed-in-Egypt-Sinai-operation-MENA.aspx
-----------
37 bodies at Islamist-run field hospital in Cairo
July 27, 2013
Thirty-seven bodies were seen laid out at a field hospital in Cairo after clashes Saturday between police and Mohamed Morsi loyalists, as a medic said other hospitals received 29 corpses. All of the dead in the Islamist-run field hospital were killed by live rounds, medics told an AFP
correspondent at the makeshift hospital near the Egyptian capital's Rabaa al-Adawiya mosque.
Supporters of Morsi have been camped outside the mosque in the Cairo neighbourhood of Nasr City since the military ousted the Islamist president on July 3.
Essam Sultan, the head of the health ministry's emergency services, told AFP other Cairo hospitals had received 29 bodies of people killed in the clashes.
Sultan said his figure included only bodies that had reached morgues, excluding the 37 corpses in the Rabaa field hospital.
Doctors at the field hospital said that, including bodies taken elsewhere, at least 75 supporters of the deposed president were killed in the clashes with police and another 1,000 wounded on the road to Cairo's international airport.
The AFP correspondent at the site said at least four of those killed had gunshot wounds to their heads.
The bodies, which were spread out on the bloody floor of a section of a mosque, were covered with white sheets, on which their names were written.
Morsi's Muslim Brotherhood said police had fired live rounds when running battles broke out at dawn on the road through Nasr City, where the mosque is located, to the international airport.
The official MENA news agency cited a senior security official as saying that only tear gas was used to disperse the demonstrators.
Eight policemen suffered injuries caused by stones that were thrown at them and buckshot, the official said.
http://www.hindustantimes.com/world-news/Africa/37-bodies-at-Islamist-run-field-hospital-in-Cairo/Article1-1099294.aspx
-----------
15 injured in shooting rampage in Egypt
July 28, 2013
At least 15 people were injured on Sunday when supporters of Egypt's ousted president Mohamed Morsy went on a shooting rampage in a coastal city, the state news agency MENA reported, citing medical and security officials.
The assailants randomly fired on passers-by, using live bullets and birdshot, in the Suez Canal city of Port Said, the report said.
The attack came a day after dozens of Mr. Morsy's supporters were killed in clashes with security forces in Cairo in a protest against the Islamist president's overthrow by the army this month.
Full report at:
http://www.thehindu.com/news/international/world/15-injured-in-shooting-rampage-in-egypt/article4963391.ece
-----------
Shias main losers in Kuwait polls as liberals gain: Official
July 28, 2013
Kuwait's Shia minority lost more than half of their seats and liberals made slight gains in the Gulf state's second polls in eight months, in a major blow to radicals.
The final results, released early Sunday by judicial authorities, showed Shia candidates winning just eight seats in the 50-member parliament.
Shia candidates had won a record 17 in the previous house elected in December but scrapped in a court ruling last month. Shiites form around 30 percent of Kuwait's native population of 1.23 million.
Full report at:
http://english.ahram.org.eg/NewsContent/2/8/77597/World/Region/Shias-main-losers-in-Kuwait-polls-as-liberals-gain.aspx
-----------
Non-Muslims too enjoy Ramadan with spirit
July 28, 2013
JEDDAH — Many non-Muslims experience the spirit of Ramadan with intentions not to eat, drink or smoke in front of their fasting colleagues and friends, while others try to learn more about the Islamic community and its traditions.
A 32-year-old Joe Benata from Philippines told the Saudi Gazette that he eats early in the morning at his house before leaving to work, he does not drink or eat in front of his Muslim colleagues and if he wants to drink, he uses a private room.
"It is an important practice for Muslims; therefore, we have to respect it. I have been here for 4 years and I am used to it," he said.
Full report at:
http://www.saudigazette.com.sa/index.cfm?method=home.regcon&contentid=20130728175037
-----------
Al Qaeda's Iraqi, Syrian affiliates jointly battle Kurds
By THOMAS JOSCELYN
July 28, 2013
A stream of reports from the Syrian Observatory for Human Rights (SOHR) beginning in mid-July say that al Qaeda's Iraqi and Syrian wings are jointly fighting Kurdish forces in northern Syria. The reports suggest that a bitter disagreement between the emirs of the Al Nusrah Front and the Islamic State of Iraq and the Levant (ISIL) has not stopped the two groups from fighting side by side.
Backstory on disagreement
Abu Bakr al Baghdadi (also known as Abu Dua), the emir of al Qaeda's Islamic State of Iraq (ISI), tried to subsume control of the Al Nusrah Front in early April. Al Baghdadi announced that the ISI would now be referred to as the ISIL, given its expansion into neighboring Syria.
Full report at:
http://www.longwarjournal.org/archives/2013/07/al_qaeda_affiliates.php#ixzz2aKiv86yM
-----------
Syrian opposition condemns rebel execution of captives
July 28, 2013
The opposition Syrian National Coalition on Sunday condemned the reported "collective execution" by rebels of soldier prisoners in the north and said it had created a commission of inquiry.
At least 150 Syrian regime forces died in fighting with rebels for control of Khan al-Assal, a key town in the northern Aleppo province, the Syrian Observatory for Human Rights said on Friday.
It said more than 50 of those killed were executed by rebels after Khan al-Assal fell on Monday, while the rest died fighting for the regime's last bastion in the west of Aleppo province.
Full report at:
http://english.ahram.org.eg/NewsContent/2/8/77609/World/Region/Syrian-opposition-condemns-rebel-execution-of-capt.aspx
-----------
Haram security to monitor bridge constantly to ensure pilgrim safety
28 July 2013
The suspended Mataf bridge will be constantly watched and monitored to ensure the safety of pilgrims, said the Commander of the Makkah Haram Security Forces Maj. Gen. Yahya Al-Zahrani.
"Under a special plan, a number of security men have been posted to positions on the bridge to ensure the safety and security of the worshippers circumambulating on the bridge round the clock," he said.
The police officers present on the bridge will be accompanied by 60 cadets of the Public Security Training Institute, Al-Zahrani added.
Full report at:
http://www.arabnews.com/news/459427
-------
Pakistan
Will Introduce Shariah If Given Full Mandate, Says Jamaat-e-Islami Minister
July 28, 2013
SHERGARH: Senior minister Sirajul Haq of the Jamaat-e-Islami (JI) on Friday said his party would ensure implementation of Islamic Shariah across the country if given full mandate.
Addressing an Iftar party, Haq claimed JI joined hands with the Pakistan Tehreek-e-Insaf (PTI) at the provincial level after much deliberation. He added providing justice to the people at their doorstep and bringing change in the lives of the poor was a common agenda of both parties.
Haq maintained the process of change had already been started by the government in official departments and that if his party is given full mandate it would implement Islamic Shariah across the country.
Full report at:
http://tribune.com.pk/story/582744/islamic-law-will-introduce-shariah-if-given-full-mandate-says-ji-minister/
-----------
Hazara Town residents shoot down suspected suicide bomber
July 28, 2013
QUETTA: An alleged suicide bomber was killed by residents of Hazara Town in Quetta, the capital of Balochistan on Saturday.
Capital City Police Officer Quetta, Mir Zubair Mehmood told Dawn.com that a suspected suicide bomber traveling on foot was killed by residents of Hazara Town shortly before Iftar.
He said residents tried to stop the suspected bomber from approaching a mosque they were guarding but he refused to do so. "Residents then fired and killed him on the spot," he said.
Mehmood said a suicide jacket and a hand grenade were recovered from his possession.
"A major terrorist attack was averted," he claimed.
Full report at:
http://www.dawn.com/news/1032338/hazara-town-residents-shoot-down-suspected-suicide-bomber
-----------
7 terrorists killed in Hangu, Peshawar clashes
July 28, 2013
HANGU/PESHAWAR: At least six terrorists were killed during a clash with security forces at a check post in Hangu. According to details, the terrorists attacked the check post in Speen Tal area near Hangu late on Friday. Security forces retaliated, killing six attackers. According to Frontier Constabulary (FC), four FC officials were also injured in the attack. Both sides used heavy weapons during the fighting which lasted for more than four hours. Security forces cordoned off the area after the incident and launched a search operation. Separately, terrorists also attacked a joint check post of security forces and police in Matni area of Peshawar on Friday night. The attackers fled the scene when law enforcement agencies returned fire. A civilian was killed and four others sustained injuries when a mortar shell hit a house during the fight.
http://www.dailytimes.com.pk/default.asp?page=2013\07\28\story_28-7-2013_pg7_3
-----------
If I hadn't fallen off the lifter, I could have been assassinated: Imran Khan
July 28, 2013
LONDON: An assassination attempt was scheduled for the day after my fall during a pre-election rally in Lahore, Pakistan Tehreek-e-Insaf chairman Imran Khan said in his article for the Daily Mail.
Imran suffered injuries as he fell off a lifter while being raised onto a stage to address a huge crowd gathered in Lahore's Gulberg area on May 7.
"If I hadn't been in hospital, I could have been dead," Imran said, adding that the then interior minister told him about the scheduled assassination attempt when he visited him in the hospital.
Full report at:
http://tribune.com.pk/story/583019/if-i-hadnt-fallen-off-the-lifter-i-could-have-been-assassinated-imran-khan/
-----------
PTI leader to face judicial inquiry in sexual harassment case
July 28, 2013
PABBI: District and Sessions Judge Abdur Rauf Khan has ordered a judicial inquiry of a harassment case filed against Pakistan Tehreek-e-Insaf (PTI) provincial Finance Secretary Ishfaq Paracha on Saturday for allegedly sexually harassing a girl in his office on June 29.
Madeeha*, a student of FA in a local college from the Nowshera Cantonment filed a case with police. A large number of people were present at the case hearing on the premises of the court.
Madeeha stated she had decided to help her poverty stricken parents by working in a factory after her college was closed for the summer.
Full report at:
http://tribune.com.pk/story/583028/pti-leader-to-face-judicial-inquiry-in-sexual-harassment-case/
-----------
Maulana Fazl offers PML-N quid pro quo
July 28, 2013
ISLAMABAD: Finance Minister Ishaq Dar contacted JUI-F chief Maulana Fazlur Rehman on Saturday to seek support for his party's presidential candidate Mamnoon Hussain. "Let's first talk about the new political arrangement in Balochistan," Maulana Fazl said in reply and the talks deadlocked.
Until the JUI-F is given a role in the Balochistan government, there would be no support for the PML-N candidate, said a JUI-F member who did not want to be quoted. "We have also turned down the PML-N offer for joining the federal cabinet," he added.
Full report at:
http://tribune.com.pk/story/582956/maulana-fazl-offers-pml-n-quid-pro-quo/
-----------
Explosion in Parachinar kills one, injures two
ZAHIR SHAH SHERAZI
July 28, 2013
PESHAWAR: An roadside blast near a vehicle in Parachinar's Pewar Tangi area killed one person and injured two others on Sunday, DawnNews reported.
Political administration officials told Dawn.com that a passenger double cabin pick-up, travelling from Parachinar to Piwar Tangi area of Upper Kurram Agency, was struck by a road side Improvised Explosive Device (IED) near the Pak-Afghan border area.
One person was killed while two others were injured in the blast, political administration official Javed Ali added.
Full report at:
http://www.dawn.com/news/1032527/explosion-in-parachinar-kills-one-injures-two
---------
Pakistan: 20 die after drinking contaminated liquor during Ramzan
Jul 27 2013
Lahore : At least 20 people have died after drinking contaminated home-made liquor in a Christian-dominated area in Pakistan's Punjab province, police said today.
Muslims and Christians were among those who died over the past two day in Wasispura area of Faisalabad district, 150 km from Lahore, police officials said. The victims, most of them labourers, had bought the home-made liquor from a man named Naji Butt.
Full report at:
http://www.indianexpress.com/news/pakistan-20-die-after-drinking-contaminated-liquor-during-ramzan/1147576/
-----------
Africa
Al Qaeda-linked Islamists threaten to hit Mali election
July 28, 2013
One of the main Islamist armed groups in northern Mali said Saturday it would "strike" polling stations during Mali's presidential election on Sunday.
"The polling stations and other voting places for what they are calling the elections will be targeted by mujahideen strikes," the Movement for Oneness and Jihad in West Africa (MUJAO) said in a statement put out by the Mauritanian ANI news agency.
It did not specify what form the attacks would take.
The group warned against Malian Muslims taking part in the election, telling them to "stay away from the polls".
MUJAO, which has links with Al-Qaeda, said in the statement that government departments, army barracks and Malian police would also be targeted.
Full report at:
http://english.ahram.org.eg/NewsContent/2/9/77596/World/International/Al-Qaedalinked-Islamists-threaten-to-hit-Mali-elec.aspx
-----------
Al Shabaab claim attack on Turkish mission in Somalia, three dead
July 28, 2013
A car loaded with explosives rammed into an office housing Turkish embassy staff in the Somali capital, killing three people, witnesses and officials said on Saturday, the latest in a series of blasts claimed by Islamist al Shabaab rebels.
Al Shabaab was pushed out of bases in Mogadishu by Somali and African forces about two years ago, raising hopes of a return to relative security in a city hit by years of war.
But the militants have kept up guerrilla-style attacks and continue to control large rural areas, challenging the authority of a government less than a year old.
Full report at:
http://english.ahram.org.eg/NewsContent/2/8/77594/World/Region/Al-Shabaab-claim-attack-on-Turkish-mission-in-Soma.aspx
--------
Libyans ransack party offices after killings
July 28, 2013
TRIPOLI – Thousands of Libyans protested on Saturday against parties including the Muslim Brotherhood blamed for a wave of violence a day after a series of deadly attacks in the east.
Protesters ransacked offices of both the Brotherhood's political wing the Party of Justice and Construction (PJC) and its liberal rival the Alliance of National Forces (NFA).
In Benghazi, youths stormed and ransacked the building housing the PJC, after hundreds took to the streets overnight to denounce the assassination of Abdessalem Al-Mesmari, an anti-Islamist lawyer who campaigned for a civil state.
The demonstrators accuse the Brotherhood of being behind killings that have targeted dozens of officers, especially in Benghazi, cradle of the 2011 armed uprising that ousted dictator Muammar Gaddafi.
Full report at:
http://www.saudigazette.com.sa/index.cfm?method=home.regcon&contentid=20130728175060
-----------
Tunisian government alleges longtime jihadist involved in assassinations
By THOMAS JOSCELYN
July 28, 2013
Tunisian Interior Minister Lotfi Ben Jeddou said on Friday (July 26) that the same semi-automatic 9 mm caliber firearm was used in the assassinations of two prominent opposition politicians. According to Tunis Afrique Presse (TAP), Ben Jeddou said "ballistic analyses" showed that Mohamed Brahmi, who was shot dead on July 25, and Chokri Belaid, assassinated on Feb. 6, were killed with the same gun.
Ben Jeddou also fingered a well-known jihadist, Boubaker el Hakim, as a key suspect in the slayings. "The first elements of the investigation show the implication of Boubaker el Hakim, a Salafist extremist," ben Jeddou claimed. El Hakim is "among the most dangerous terrorists, who is being hunted internationally."
Full report at:
http://www.longwarjournal.org/archives/2013/07/the_same_gun_was_use.php#ixzz2aKlV8xHO
-----------
Ansar al Sharia Tunisia denies involvement in assassinations
By THOMAS JOSCELYN
July 28, 2013
In our report on Friday's press conference in Tunisia, during which the interior minister alleged that a longtime jihadist and members of Ansar al Sharia were connected to two high-profile assassinations this year, I was going to note that it was probably only a matter of hours until Ansar al Sharia responded. And indeed it was. Ansar al Sharia Tunisia has posted the statement above on its Facebook page and Twitter feed.
Full report at:
http://www.longwarjournal.org/threat-matrix/archives/2013/07/social_media_jihad_ansar_al_sh.php#ixzz2aKlf6BGJ
-----------
94 killed in Darfur tribal clashes
July 28, 2013
Up to 94 people have been killed in new clashes between two rival tribes in Sudan's strife-torn Darfur region, tribal leaders said on Saturday.
Conflict has raged through the vast region since 2003 when African tribes took up arms against the Arab government in Khartoum, accusing it of neglect.
Violence is down from a 2004-2005 peak, but fighting between rival tribes has increased sharply since January.
Full report at:
http://www.thedailystar.net/beta2/news/94-killed-in-tribal-clashes-in-darfur/
-----------
More than 1,000 inmates escape Libyan prison
July 28, 2013
Libyan security officials said more than 1,000 detainees have escaped from a prison near the eastern city of Benghazi in a mass jailbreak.
A government security official in Benghazi, Mohammed Hejazi, said the jailbreak happened on Saturday at Koyfiya prison, as protesters stormed the offices of Islamist-allied parties in Libya's main cities.
Full report at:
http://www.thehindu.com/news/international/world/more-than-1000-inmates-escape-libyan-prison/article4960628.ece
-----------
Mideast
'US drone strike' kills six Qaeda suspects in Yemen: army
July 28, 2013
ADEN: An apparent US drone strike killed six suspected Al-Qaeda militants overnight, a Yemeni military source told AFP on Sunday.
The six suspects were travelling in a two-vehicle convoy in Mahfad in the southern province of Abyan, much of which was held by the jihadists before an army counter-offensive last year, the source said, speaking on condition of anonymity.
"A night drone strike targeted two cars of Al-Qaeda militants in Wadi Dhiqa in Mahfad, killing the six people inside them," the official said.
In a major offensive in summer 2012, the Yemeni army drove Al-Qaeda militants out of most towns in Abyan, including Zinjibar and Jaar which they had held for a year.
Full report at:
http://www.dawn.com/news/1032521/us-drone-strike-kills-six-qaeda-suspects-in-yemen-army
--------
Rouhani 'halted nuclear weapon programme': Ex-ambassador
July 28, 2013
PARIS: Iranian President-elect Hassan Rouhani personally stopped the development of a clandestine nuclear weapon in 2003, a former ambassador to the country said on Saturday.
Writing in the International Herald Tribune newspaper, Francois Nicoullaud, France's ambassador to Iran from 2001 to 2005, said he believed Rouhani was the "main actor" in persuading the country's supreme leader Ali Khamenei to halt the secret programme.
Rouhani, who led the nuclear negotiating team under reformist former president Mohammad Khatami from 2003-2005, will take power on August 3 after his election on June 15.
Full report at:
http://timesofindia.indiatimes.com/world/europe/Rouhani-halted-nuclear-weapon-programme-Ex-ambassador/articleshow/21405658.cms
-----------
Turkish Airlines attracts GCC with 'Ramadan in Istanbul' drive
28 July 2013
Turkish Airlines, the national carrier of Turkey, is promoting the Turkish capital to GCC residents as a Ramadan destination with its "Ramadan in Istanbul" campaign, The Saudi Gazette reported on Saturday.
The campaign offers special promotional fares from Abu Dhabi to Istanbul throughout the month of Ramadan, and emphasizes the cultural and culinary attractions of the city.
Turkey is a popular destination year-round for Muslim GCC travelers, especially during Ramadan.
Full report at:
http://english.alarabiya.net/en/special-reports/ramadan-2013/2013/07/28/Turkish-Airlines-attracts-GCC-with-Ramadan-in-Istanbul-drive.html
-----------
Suicide car bomb targets Turkish diplomats in Mogadishu
July 28, 2013
A suicide car bomb attack struck a Turkish embassy building in Mogadishu Saturday, killing one Somali civilian and wounding two Turkish policemen, a diplomat and a witness said.
A Somali witness told AFP that an explosives-laden vehicle rammed the gates of a compound housing embassy staff and exploded, killing a passerby.
A diplomat in Istanbul said Turkish guards were able to kill two attackers before a third detonated the vehicle, wounding the two Turkish policemen.
http://english.ahram.org.eg/NewsContent/2/9/77555/World/International/Suicide-car-bomb-targets-Turkish-diplomats-in-Moga.aspx
-----------
Israel to release 104 Palestinian prisoners
July 28, 2013
RAMALLAH – Israel has agreed to raise the number of Palestinian prisoners that it will release as a condition for the Palestinians to return to the negotiating table from 82 to 104, Israel Radio reported on Saturday.
The report said that Israel increased the number of prisoners who were arrested before the signing of the Oslo Accords in 1993 to be freed after the Palestinians threatened that they would not return to the opening meeting of talks that was scheduled to take place next week in Washington according to Israeli Energy and Water Minister Silvan Shalom.
The report added that the some of the prisoners to be released were Palestinian prisoners from occupied Jerusalem and Arab cities inside Israel that in the past Israel had refused to free. That number reportedly includes 14 prisoners with Israeli citizenship and 7 Jerusalem residents.
Full report at:
http://www.saudigazette.com.sa/index.cfm?method=home.regcon&contentid=20130728175059
-----------
North America
Dozens shot dead, US tells Egypt to pull 'back from the brink'
uly 28, 2013
The United States urged Arab ally Egypt to pull "back from the brink" after security forces killed dozens of supporters of deposed Islamist President Mohamed Morsi and opened a dangerous new phase in the army's confrontation with his Muslim Brotherhood.
Thousands of Brotherhood supporters were hunkered down in a vigil at a Cairo mosque on Sunday, vowing to stand their ground despite a threat by the authorities to disperse them "soon".
Saturday's bloodshed, following huge rival rallies, plunged the Arab world's most populous country deeper into turmoil following two turbulent years of transition to democracy with the fall of veteran autocrat Hosni Mubarak in 2011.
Full report at:
http://www.hindustantimes.com/world-news/africa/Dozens-shot-dead-US-tells-Egypt-to-pull-back-from-the-brink/Article1-1099704.aspx
-----------
US at war with Islam: US army psychiatrist accused of killing 13 people
AFP | Jul 28, 2013
WASHINGTON, DC: A US army psychiatrist accused of killing 13 people in a shooting spree at a Texas base has claimed the United States is at war with Islam, a network reported on Saturday.
Fox News said Nidal Hasan made the claim in an exclusive six-page statement that did not directly address the 2009 massacre.
"My complicity was on behalf of a government that openly acknowledges that it would hate for the law of Almighty Allah to be the supreme law of the land," Hasan wrote.
Full report at:
http://timesofindia.indiatimes.com/world/us/US-at-war-with-Islam-Fort-Hood-shooting-suspect/articleshow/21414896.cms
-----------
Southeast Asia
Malaysia Islamic Department watching growing Shariah movement
JULY 28, 2013
The Malaysia Islamic Development Department (Jakim) is still monitoring the Shariah movement in this country.
Its director-general Datuk Othman Mustapha said the number of Shariah followers differed from one state to another and there were no specific numbers as they kept increasing.
"The respective state religious departments are also assisting us (Jakim) by being on the lookout for groups involved in Shariah practice," he said after the breaking-of-fast with Orang Asli Muslim converts at the Orang Asli Dakwah Training Centre in Kok Lanas, Kota Bharu, last night.
Full report at:
http://www.themalaysianinsider.com/malaysia/article/jakim-watching-growing-Shariah-movement-bernama
-----------
Sampang Shiites Worried Conversions Will Haunt Homecoming Plan
July 28, 2013
Sampang's persecuted Shiite Muslim minority, fearful of another round of forced conversions by Sunni Muslims, called on President Susilo Bambang Yudhoyono to ensure their religious freedom after a forum meant to negotiate the exiled group's homecoming placed the matter in the hands of Sunni clerics accused of inciting sectarian tensions in Madura Island.
"We reject all statements from state officials and local figures that ignore our religious freedoms and right to practice our own beliefs as Shiites," said attorney Herstaning Ikhlas in a statement sent to the Jakarta Globe. "The reconciliation forum must give more space to grassroots dialogue and not accommodate local figures known for their hate speech."
Full report at:
http://www.thejakartaglobe.com/news/sampang-shiites-worried-conversions-will-haunt-homecoming-plan/
-----------
Marty Pushes for Compromise as Egypt Protests Turn Violent
July 28, 2013
Indonesia's Ministry of Foreign Affairs urged citizens in Egypt to stay safe and remain in contact with the local embassy after Saturday's violent protests left at least 65 dead in Cairo.
"We urge Indonesians to avoid crowded places and not to get involved in Egypt's domestic issues," Foreign Affairs Minister Marty Natalegawa said in a statement on Sunday. "We have instructed the Indonesian Embassy to continue monitoring Egypt's situation, including [making] preparations in anticipation of worse [situations] in Egypt."
Full report at:
http://www.thejakartaglobe.com/news/marty-pushes-for-compromise-as-egypt-protests-turn-violent/
-----------
Aceh Fishermen Rescue 68 Rohingya Asylum Seekers From Indian Ocean
July 28, 2013
Banda Aceh. Fishermen rescued a more than 60 Rohingya asylum seekers stranded in a boat off the coast of Aceh Jaya on Sunday — the third disabled Rohingya boat found floating in the Indian Ocean this year.
The 68 Rohingya — including a pregnant woman and two babies — told Aceh officials they boarded the boat after being threatened with deportation in Malaysia.
"The asylum seekers who could speak Malay said they departed from Malaysia four days ago and were heading to Australia to apply for asylum," Rizal Dinata, the head of Aceh Jaya branch Indonesian Inter-Citizen Radio (RAPI), said.
Full report at:
http://www.thejakartaglobe.com/news/aceh-fishermen-rescue-68-rohingya-asylum-seekers-from-indian-ocean/
-----------
Jawi denies allowing Muslim finalists to compete in Miss Malaysia World 2013
JULY 28, 2013
The Federal Territory Islamic Religious Department (Jawi) refuted claims that it would allow the four Muslims who were dropped from the Miss Malaysia World 2013 pageant to compete in the finals.
Its director, Datuk Che Mat Che Ali, the department has not made a decision on he matter yet and urged the public not to speculate.
Full report at:
http://www.themalaysianinsider.com/malaysia/article/jawi-denies-allowing-muslim-finalists-to-complete-in-miss-malaysia-world-20
---------
South Asia
"Maldives cannot afford to be an inward looking, xenophobic country": former President Nasheed
By Mohamed Nasheed | July 27th, 2013
The following speech was given by former President Mohamed Nasheed at the launch of the Maldivian Democratic Party (MDP)'s foreign policy. President Mohamed Waheed's Independence Day address is available here.
Your Excellencies, distinguished guests, ladies and gentlemen,
We live in turbulent times. Times have always been turbulent.
We sit in the Indian Ocean, across a 1000km from North to South, where the bulk of the international trade passes. We are so strategically located that when the big boys fight, we are hemmed and wedged in-between.
Full report at:
http://minivannews.com/politics/maldives-cannot-afford-to-be-an-inward-looking-xenophobic-country-former-president-nasheed-61638
-----------
Afghan president to soon visit Pakistan
July 28, 2013
KABUL: The Afghan Foreign Ministry says the country's president will soon visit neighboring Pakistan in an effort to mend fences, and says it hopes that the new government in Islamabad will seek to improve tense relations.
Foreign Ministry spokesman Janan Mosazai told reporters Sunday that Hamid Karzai accepted an invitation delivered by Pakistan one week ago.
Full report at:
http://www.dawn.com/news/1032526/afghan-president-to-soon-visit-pakistan
-----------
282 Jamaat-Shibir men sued in Noakhali
July 28, 2013
Star Country DeskAs many as 282 Jamaat-Shibir men have been sued on charges of attack on law enforcers and obstructing them from performing their duties at the district headquarters on Thursday.
Sub-Inspector Chiranjib Kumar Das of Sudharam Model Police Station filed two separate cases with the police station on Friday.
Of the accused, 32 were identified while the remaining 250 remained unnamed, reports UNB.
On Thursday, at least five people, including two policemen, were injured in a clash between the activists of Jamaat-Shibir and the law enforcers in the town.
Full report at:
http://www.thedailystar.net/beta2/news/282-jamaat-shibir-men-sued-in-noakhali/
-----------
"A country does not have to be invaded to lose its sovereignty": President Waheed
By President Dr Mohamed Waheed Hassan Manik | July 27th, 2013
The following is a translation of President Mohamed Waheed's address on the occasion of Maldives Independence Day 2013. Former President Mohamed Nasheed's speech is available here.
Former President Mr Maumoon Abdul Gayoom, Chief Justice of the Maldives, Cabinet Ministers, Members of the People's Majlis, beloved citizens of Maldives,
Assalaam 'Alaikum wa Rahmatullah wa Barakaatuh.
On this momentous occasion, our proud Independence Day, I would like to extend my heartfelt greetings to all Maldivians. As I stand here, amidst the red, green and white decorations, my heart is brimming with nationalistic pride.
Full report at:
http://minivannews.com/politics/a-country-does-not-have-to-be-invaded-to-lose-its-sovereignty-president-waheed-61640
-----------
Hasina spends time with war heroine Roma Chowdhury
July 28, 2013
Forty-two long years have passed. There is nobody to take care of her, no government before today cared to inquire about her. But she made the supreme sacrifice for the independence of the country.
She is Roma Chowdhury, a war heroine.
Prime Minister Sheikh Hasina, after learning about her from media reports, started to gather information about her. She invited Roma around to her official residence Gono Bhaban. Roma called on the prime minister yesterday morning.
The meeting of the two led to an emotional atmosphere as they embraced each other and shed tears.
Full report at:
http://www.thedailystar.net/beta2/news/pm-meets-war-heroine-roma-chowdhury/
-----------
India
Video showing J&K grand mufti enjoying music stirs controversy
PTI | Jul 28, 2013
SRINAGAR: A video showing grand mufti of Jammu and Kashmir Bashiruddin Ahmad enjoying music, an act he termed as forbidden in Islam, went viral on Saturday, drawing sharp reactions online.
The grand mufti is seen in the video in the company of several other persons, including women, at a gathering where a local artist is singing ghazals while playing harmonium.
Ahmad drew widespread criticizm for his presence at the musical event as he had issued a "fatwa" against the first all girls rock band of Kashmir saying singing was "unislamic".
Full report at:
http://timesofindia.indiatimes.com/india/Video-showing-JK-grand-mufti-enjoying-music-stirs-controversy/articleshow/21417448.cms
-----------
India-Pakistan bilateral talks set to resume, water and Sir Creek on agenda
Jul 28 2013
New Delhi : India is actively considering the Pakistani proposal on the talk schedule for remaining secretary-level meetings in the third round of resumed dialogue with dates on the crucial issue of water and Sir Creek being suggested ahead of the meeting between their Prime Ministers in New York in September.
While India has already expressed willingness to resume the third round of comprehensive dialogue, which was paused after beheading of two Indian soldiers by Pakistani Army on the border in January, Pakistan has also shown eagerness to initiate the schedule and has suggested August 27-28 for the Wullar Barrage meeting between the water and power secretaries and September 16-17 for the Sir Creek maritime boundary issue.
Full report at:
http://www.indianexpress.com/news/indiapakistan-bilateral-talks-set-to-resume-water-and-sir-creek-on-agenda/1147827/
-----------
Urdu ghazals Veer Savarkar wrote in Andaman found
Bharati Dubey, TNN | Jul 28, 2013
MUMBAI: A Dadar-based institute has discovered two ghazals in Urdu written by freedom fighter Veer Savarkar during his 11-year imprisonment in the Andaman Cellular Jail.
The ghazals, patriotic in character, are part of a notebook kept by Savarkar in prison, and there is much surprise that Savarkar has written in fluent Urdu, a language considered unlikely for the champion of political Hindutva. A ghazal is a sublime form of Urdu poetry.
The notebook was found in the collection of books handed down by the late S P Gokhale, an associate of Savarkar, to his daughter Manjiri Marathe, a trustee of the Swatantryaveer Savarkar Rashtriya Smarak, who made the discovery.
Full report at:
http://timesofindia.indiatimes.com/india/Urdu-ghazals-Veer-Savarkar-wrote-in-Andaman-found/articleshow/21410362.cms
-----------
SIT turned blind eye to damaging evidence: Zakia
DARSHAN DESAI
July 28, 2013
SIT, which gave Modi a clean chit, itself behaved like a conspirator, counsel tells court
Zakia Jaffry, wife of former Congress MP Ehsan Jaffry who was killed in the 2002 riots, has alleged that the then Gujarat Additional Chief Secretary (Home), Ashok Narayan, brought to the notice of Narendra Modi that Hindu outfits distributed incendiary pamphlets among crowds when bodies of the Godhra train burning victims were being paraded in Ahmedabad but the Chief Minister took it casually.
Full report at:
http://www.thehindu.com/news/national/sit-turned-blind-eye-to-damaging-evidence-zakia/article4960744.ece
-----------
Mahabodhi temple serial blasts: NIA in a fix over Sasai's quizzing
Abdul Qadir, TNN | Jul 28, 2013
GAYA: Struggling for a major breakthrough in the Mahabodhi temple serial blasts on July 7, 2013, the NIA finds itself in a fix following the virtual refusal of the Japan origin monk, Surai Sasai, to appear before the NIA team at Bodh Gaya for quizzing in connection with the ongoing investigation.
Sasai expressed his inability to come down to Bodh Gaya from his base at Nagpur to answer the investigating agency's queries on ground of poor health.
The monk has not given any indication that he would be coming to Bodh Gaya in the near future. Sasai's quizzing is important, as Sasai earlier led a 'cash rich' agitation for the 'liberation' (total Buddhist control) of the Mahabodhi shrine.
Full report at:
http://timesofindia.indiatimes.com/india/Mahabodhi-temple-serial-blasts-NIA-in-a-fix-over-Sasais-quizzing/articleshow/21411623.cms
-----------
Europe
Mali holds first vote since coup, French intervention
July 28, 2013
Here is a look at the last 16 months in Mali which is holding a presidential election on Sunday. The vote follows a French-led military intervention from January that expelled Islamist militants who, with Tuareg separatists, had seized the north of the country after a March 2012 coup.
March 22, 2012 - Soldiers seize power from Mali's President Amadou Toumani Toure as a protest against the government's ineffective handling of a campaign against northern rebels. Coup leader Captain Amadou Sanogo says he is ready for talks with rebels but wants to preserve Mali's territorial integrity.
Full report at:
http://english.ahram.org.eg/NewsContent/2/9/77621/World/International/Mali-holds-first-vote-since-coup,-French-intervent.aspx
-----------
Human Rights Watch slams Egypt over protest deaths
July 28, 2013
Human Rights Watch on Sunday condemned the deaths of more than 70 people in violence that erupted at protests in Egypt, accusing authorities of a "criminal disregard for people's lives".
At least 72 people were killed in Cairo alone on Saturday morning, according to the health ministry, at a rally of supporters of ousted Islamist president Mohamed Morsi.
Protesters accused security forces of opening fire with live ammunition, but the interior ministry said only tear gas had been used.
Full report at:
http://english.ahram.org.eg/NewsContent/1/64/77600/Egypt/Politics-/Human-Rights-Watch-slams-Egypt-over-protest-deaths.aspx
----------
EU deplores Egypt violence, calls for return to civilan rule
AFP | Jul 27, 2013
BRUSSELS: The European Union said Saturday it deplored the loss of life in Egypt and was following developments there with concern after deadly clashes in Cairo between protesters against the interim military-backed government and police.
EU foreign affairs head Catherine Ashton said the authorities should ensure a speedy transition to civilian rule and repeated demands that political detainees, including President Mohammed Morsi who was ousted by the army on July 3, should be released.
Full report at:
http://timesofindia.indiatimes.com/world/europe/EU-deplores-Egypt-violence-calls-for-return-to-civilan-rule/articleshow/21400659.cms
-----------
URL: https://newageislam.com/islamic-world-news/syrians-worried-growing-influence-extremists/d/12791