New Age Islam News Bureau
19 Jan 2014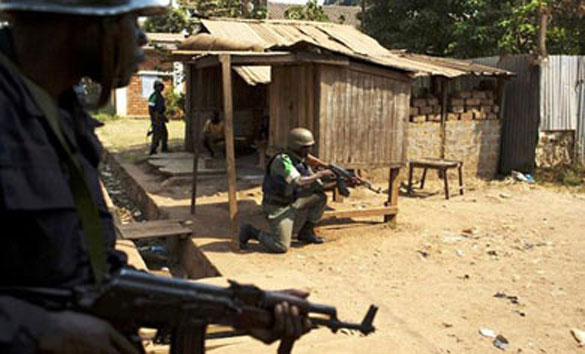 African Union peacekeeping soldiers take position after hearing repeated gun shots in a street of the capital Bangui on Sunday. Reuters/Siegfried Modola
------------
Arab World
• Syrian Society not to Accept Wahhabi and Takfiri Mentality
• OIC 'deeply concerned' about anti-Muslim violence in Myanmar
• ISIL Members Admit Relations with Saudi Arabia
• Syria govt warplanes bomb Aleppo, killing 16: Monitor
• Iraq mounts offensive against Al-Qaeda
• Egypt's Morsi to face trial on new charges: Report
• Bloodied Syria, resurgent Iran set to dominate at Davos
• 'Diabolical' Arab countries behind Iraq strife: Maliki
• Syria's Bashar al-Assad: Quitting not up for debate
• Kaaba Kiswa manufacturer seeks modern technology
• Assad comments on 'not giving up power' inaccurate: Syria
South Asia
• Myanmar frees 96 child soldiers from armed forces
• Jamaat-e-Islami a terrorist organisation: Bangladesh Commerce Minister Tofail Ahmed
• Separate explosions kill 3 policemen, 2 Afghan army soldiers
• Rocket attack kills four Afghan footballers
• BBC Bangladesh Sanglap: Punishment for anti-Hindu pogromists demanded
• Nasheed threatens impeachment after MDP wins in Addu, Malé cities
Pakistan
• 20 Pakistan soldiers killed as bomb hits military convoy
• Karachi operation: MQM calls for body to check 'rights abuse'
• Taliban on the offensive
• Pakistan-India trade: Wagah-Attari border to remain open 24/7
• No respite in sectarian strife
Africa
• Gunmen attack Muslims fleeing CAR, kill 22
• Rebels killed in Algeria gun fight
• Key South Sudan town of Bor recaptured from rebels
• Libya sends troops to restive south; armed forces on alert
• Peacekeepers deployed to protect fleeing Bangui Muslims
Southeast Asia
• Malaysian king backs court ban on non-Muslims using Allah
• The Agong says 'Allah' exclusive to Muslims, cites 1986 fatwa
• Umno road shows and burning of effigy are attacks against Christians, says Catholic leader
Mideast
• Yemen's Salafists say Houthis should be prosecuted
• Iranian MP: Takfiri Groups Pursuing Israel's Interests in Region
• IAF strikes Islamic Jihad terrorist in Gaza
• Turkey says ready to discuss judicial row with EU
Europe
• French Teens Join Foreign Terrorists in Syria
• UN chief, US condemn deadly Taliban attack in Afghanistan
• Georgian gov't attempts to divide Muslim minority
North America
• Home-grown terror worries U.S.
• US urges Egypt to fully implement rights guaranteed in new constitution
• Obama surveillance proposal will change little: Assange
• Meditation room to accommodate increasing spirituality needs in new EMU
• US setting up new office for Pakistan, Afghanistan
India
• Border survey on to end row with Bangladesh
• Import of Turkish white poppy seeds threaten Opium farmers of MP
Compiled by New Age Islam News Bureau
URL: https://newageislam.com/islamic-world-news/syrian-society-accept-wahhabi-takfiri/d/35339
-----------
Arab World
Syrian Society not to Accept Wahhabi and Takfiri Mentality
Jan 19, 2014
TEHRAN (FNA)- Syrian President Bashar al-Assad said that the Syrian society, that has been known for its amity and tolerance for centuries, will never accept the Wahhabi and takfiri mentality, adding that this dangerous mentality does not only threaten Syria but also all of the regional countries.
The remarks came during al-Assad's meeting with a delegation of the Anglican Church comprising clergymen from USA, Sweden, Switzerland, Lebanon and Syria, headed by Amgad Beblawi, Mission Coordinator for the Middle East at Presbyterian Church in the USA, SANA reported.
Al-Assad said that one of the main problems regarding the western, and particularly the US, approach in dealing with the region's issues is that most of their leaders are far from comprehending the reality and nature of the region and the interests of its peoples.
Al-Assad stressed that the majority of the western leaders are working to achieve their narrow interests which are far from the interests of their peoples and countries.
For their part, members of the delegation expressed their solidarity with Syria and rejection of any foreign intervention in the Syrian affairs, hoping that peace and security will prevail again in this country, which represents a model for cultural and religious variety.
http://english.farsnews.com/newstext.aspx?nn=13921029000077
-----------
OIC 'deeply concerned' about anti-Muslim violence in Myanmar
January 19, 2014
The acts of violence being committed against Myanmar's Rohingya Muslims represent a grave violation of the Myanmar government's international commitment to protect civilians, said Iyad Ameen Madani, secretary-general of the Organization of Islamic Cooperation (OIC).
Madani expressed "deep concern" over the recent events that took place on Jan. 14 involving the looting, raping and killing of Rohingya Muslim civilians in southern Maungdaw in the state of Rakhine.
He said that such acts violate agreements signed between the OIC ministerial contact group and Myanmar authorities during the group's visit between Nov. 14 and 16.
He stressed that these acts violate the basic rights of Rohingya Muslims to be protected as citizens and as a minority by their own government.
They also represent a grave violation of the Myanmar government's international
commitments to protect civilians.
The secretary-general urged the government of Myanmar to adhere to the framework agreed upon, to enforce the rule of law and to keep to its assurances of respecting human rights and fundamental freedoms. Madani also called on the political leaders of Myanmar, especially those who claim the high moral ground, to exercise their influence for the sake of peace, tolerance and community reconciliation.
http://www.arabnews.com/news/511466
-----------
ISIL Members Admit Relations with Saudi Arabia
Jan 19, 2014
TEHRAN (FNA)- The Iraqi 'Afaq TV' broadcast on Friday footages of a group of arrested members of the so-called 'Islamic State of Iraq and the Levant' (ISIL) confessing to their direct links with the Saudi Arabia.
The video included confessions about the ISIL relations with the Saudi authorities and their role in terrorist attacks in number of Iraqi provinces, along with transporting weapons and booby-trapped cars into Iraqi cities, Al-Manar reported.
The emir of ISIL special groups in Karbala' and Najaf is among the arrested members.
During confessions, he said he was working for 'the Saudi Abu Jassem', a military man who ordered him to carry out several attacks.
Iraqi Federal Intelligence and Investigations Directorate in Karbala' has arrested a large number of terrorists during several operation it made recently.
Earlier, a well-known Saudi tweeter named 'Mojtahed' had posted tweets about armed groups in which the Kingdom intelligence services had infiltrated.
Mojtahed distinguished between three categories of armed groups, the first was made by Bandar Bin Sultan, the second had been infiltrated partially and planted by agents, and the third had been directed by deception.
Iraqi Prime Minister declared war on Al-Qaeda terrorist organizations in the country following wave of violence against Iraqi cities.
http://english.farsnews.com/newstext.aspx?nn=13921029000105
-----------
Syria govt warplanes bomb Aleppo, killing 16: Monitor
Jan 19, 2014
Government warplanes on Saturday launched raids on the northern Syrian city of Aleppo and the surrounding countryside, killing 16 people, the Syrian Observatory for Human Rights said.
"Warplanes bombed areas in the neighbourhoods of Tariq al-Bab and Karam al-Jabal in Aleppo," killing five people, including children, the Britain-based monitoring group said.
The two areas are controlled by opposition fighters who have been battling forces loyal to the government of President Bashar al-Assad since they launched a major offensive in the city in the summer of 2012.
Warplanes also hit the Sakhur neighbourhood on Saturday morning, killing another five people, said the Britain-bases Observatory which relies on a network of activists on the ground for its reports.
The Observatory also said "helicopters dropped explosive-packed barrels on Al-Bab town (east of Aleppo) that led to the death of five fighters from the (jihadist) Islamic State of Iraq and the Levant (ISIL) and another man, leaving an unknown number of people wounded.
Helicopters also launched raids with "barrel bombs" on other areas of the northern city, once Syria's commercial capital, and two villages in the south of Aleppo province, said the Observatory without giving further details on casualties.
In December, regime warplanes launched a series of raids with the powerful barrel bombs in Aleppo province, killing more than 500 people in nearly two weeks.
Elsewhere in the country, government jets pounded two areas east of the capital Damascus in eight raids, the Observatory reported, without saying whether there had been any casualties in the attacks.
Meanwhile, the Observatory said that clashes raged between ISIL and rival rebel groups in Aleppo province on Saturday.
Fighters from groups battling the jihadist ISIL seized a village in the province, but lost ground to the other rebels in the town of Manbaj, according to the Observatory.
Nine members of one rebel group taking part in the battle against ISIL were killed early on Saturday, the Observatory reported, when a car bomb went off at a checkpoint they were manning in rural Aleppo.
http://english.ahram.org.eg/NewsContent/2/8/91896/World/Region/Syria-govt-warplanes-bomb-Aleppo,-killing--Monitor.aspx
----------
Iraq mounts offensive against Al-Qaeda
Jan 19, 2014
BAGHDAD: Iraqi government forces and allied tribal militias launched an all-out offensive Sunday to push Al-Qaeda-linked militants from a city west of Baghdad, a military official said.
Since late December, members of an Al-Qaeda offshoot — known as the Islamic State of Iraq and the Levant — have taken over parts of Ramadi, the provincial capital of the largely Sunni western province of Anbar. They also control the center of the nearby city of Fallujah, along with other non-Al-Qaeda groups that also oppose the Shiite-led government.
The officer said fierce clashes were taking place, but gave no details.
Hours after the offensive was announced, Iraq's Prime Minister vowed to continue fighting "terrorism," but left the door open for any political solution.
"Our battle is firstly to beat and eliminate terrorism," Nouri Al-Maliki said in a speech in the southern city of Nasiriyah. "Though we welcome any solution, any proposal and any political meeting that should realize the priority of destroying terrorism, Al-Qaeda, its formations and its allies," Al-Maliki added.
To the east of Baghdad, gunmen opened fire Sunday on a checkpoint run by an anti-Al-Qaeda, pro-government Sunni tribal militia outside the city of Baqouba, killing the local leader and four assistants, a police and medical officials said. The former Al-Qaeda stronghold Baqouba is located about 60 kilometers (35 miles) northeast of the capital.
The Sunni militia, known as the Awakening Council, was formed by US forces during the height of the insurgency. They are seen as traitors by Al-Qaeda's local branch and other militant groups.
All officials spoke on condition of anonymity as they were not authorized to release information.
Violence has escalated in Iraq over the past year, particularly since late last month after authorities dismantled an anti-government Sunni protest camp and arrested a Sunni lawmaker on terrorism charges. To alleviate the tension, the army pulled back from the two cities, but that allowed Al-Qaeda militants to seize control.
Last year, the country saw its highest annual death toll since the worst of the country's sectarian bloodletting began to subside in 2007, according to United Nations figures. The UN said violence killed 8,868 in 2013. Sunday's attack on the Awakening Council members brought the death toll so far this month to 364, according to an Associated Press tally.
http://www.arabnews.com/news/511641
----------
Bloodied Syria, resurgent Iran set to dominate at Davos
Jan 19, 2014
The bloody civil war in Syria and Iran's efforts to come in from the diplomatic cold will drive the agenda next week as world leaders, business chiefs and celebrities gather in the swanky Swiss ski resort of Davos.
Iranian President Hassan Rouhani tops the bill of more than 40 leaders and 2,000 of the world's most powerful economic players expected at the mountainside gathering in the annual shindig that starts Tuesday.
In what has become a tradition of its own at the World Economic Forum, burning issues other than the world economy will likely exercise the minds of the global elite during their five-day-long programme of seminars and debates.
Full report at:
http://english.ahram.org.eg/NewsContent/2/8/91917/World/Region/Bloodied-Syria,-resurgent-Iran-set-to-dominate-at-.aspx
----------
Egypt's Morsi to face trial on new charges: Report
Reuters | Jan 19, 2014
CAIRO: Deposed Egyptian President Mohamed Morsi will face trial on charges of insulting the judiciary, a judicial source said on Sunday. It is a signal that Egyptian authorities have no intention of easing the crackdown on his Muslim Brotherhood.
This is the fourth court case to hound Morsi since he was ousted by the army in July after mass protests against his one-year rule.
Morsi and 25 others have been charged with insulting the judiciary, the source said.
Egypt has been stepping up pressure on the Brotherhood, which it has labelled a terrorist organization. It has arrested thousands of its leaders on accusations of violence.
The Brotherhood, once Egypt's best-organized political and religious movement, which won five consecutive elections, denies any links to violence and accuses the army of staging a military coup.
Full report at:
http://timesofindia.indiatimes.com/world/middle-east/Egypts-Morsi-to-face-trial-on-new-charges-Report/articleshow/29062182.cms
---------
'Diabolical' Arab countries behind Iraq strife: Maliki
Jan 19, 2014
Iraqi Prime Minister Nuri al-Maliki blamed "diabolical" and "treacherous" Arab countries for a protracted surge in nationwide violence in a speech on Sunday, but stopped short of naming individual countries.
The premier said suicide bombers were coming to Iraq from as far afield as Morocco, Libya and Yemen, but did not single out countries he described as "evil" which he said were supporting violent extremists in Iraq.
"Iraq is the target for some countries that are backing terrorism, and backing evil," Maliki said in a speech in the southern city of Nasiriyah.
"The world has united with us," he continued. "The (UN) Security Council, the European Union, and most Arab countries, except some diabolical treacherous countries."
Full report at:
http://english.ahram.org.eg/NewsContent/2/8/91949/World/Region/Diabolical-Arab-countries-behind-Iraq-strife-Malik.aspx
----------
Syria's Bashar al-Assad: Quitting not up for debate
Jan 19, 2014
Syrian President Bashar al-Assad is quoted as saying he has no intention of quitting, and the issue is not up for discussion at forthcoming peace talks.
"If we wanted to surrender we would have surrendered from the start," Mr Assad told Russian MPs in Damascus, according to Interfax news agency.
The government, opposition groups and Western diplomats will attend peace talks in Switzerland from Wednesday.
More than 100,000 have been killed and millions displaced in Syria's conflict.
However, the Syrian presidency later said the comments reported by Interfax were "inaccurate", without giving further details.
Full report at:
http://www.bbc.co.uk/news/world-middle-east-25799942
----------
Kaaba Kiswa manufacturer seeks modern technology
January 19, 2014
The historical factory that manufactures the Kiswa, the covering for the Holy Kaaba in Makkah, is exploring the possibility of importing state-of-the-art technology from the US, Japan, Switzerland, Italy and Germany, to upgrade its facility in keeping with modern times.
Mohammed Abdullah Bajada, manager of the factory, said the factory had set up a committee to study the modernization process including cladding, sewing and embroidery of the Kiswa.
The move follows directives of the Presidency of the Two Holy Mosques Affairs, the manager said.
Full report at:
http://www.arabnews.com/news/511561
-----------
Assad comments on 'not giving up power' inaccurate: Syria
Reuters | Jan 19, 2014
MOSCOW: Syrian state media dismissed as "not accurate" a report by news agency Interfax that President Bashar al-Assad told visiting Russian parliamentarians he has no intention of giving up power and the issue is not up for discussion.
Assad was quoted as telling the visitors days ahead of an internationally sponsored peace conference on Syria that "if we wanted to give up, we would have done so at the very beginning. We are on guard for our country. This issue is not up for discussion".
Syrian state television said that the Assad quotes on Interfax "are not accurate". It also said Assad "did not conduct an interview with the agency", although Interfax had not said that it had.
Full report at:
http://timesofindia.indiatimes.com/world/middle-east/Assad-comments-on-not-giving-up-power-inaccurate-Syria/articleshow/29060581.cms
-----------
South Asia
Myanmar frees 96 child soldiers from armed forces
January 19, 2014
YANGON — Myanmar's army has freed 96 children and young people from its armed forces, the United Nations said Saturday, hailing a "historic step" towards ending the use of child soldiers in the formerly junta-run nation.
The move was the largest single release of child recruits since Myanmar's new reformist government and its "tatmadaw" army signed a June 2012 pact with the UN on the issue.
A total of 272 children and young people have been released over the past 18 months as the military has slowed – but not yet completely halted – its use of children. The release was "an historic step towards ending the recruitment and use of children by the Myanmar Armed Forces," the United Nations said in a statement.
Bertrand Bainvel, representative for the UN children's agency UNICEF in the country, said the move was "a strong commitment by the Myanmar Government and the Tatmadaw to end a practice that steals the lives, hopes, and dreams of children."
Full report at:
http://www.saudigazette.com.sa/index.cfm?method=home.regcon&contentid=20140119192958
-----------
Jamaat-e-Islami a terrorist organisation: Bangladesh Commerce Minister Tofail Ahmed
Jan 19, 2014
Bangladesh Commerce Minister Tofail Ahmed yesterday termed Jamaat-e-Islami a "terrorist organisation" and appeared to have ruled out possibilities of fresh parliamentary elections in the near future as demanded by some western countries.
Wrapping up his four-day visit to India, the first by a Bangladeshi minister since the January 5 elections in Bangladesh, Tofail said the BNP-led opposition had not backed out from its three key demands.
The three are for Sheikh Hasina's resignation as prime minister, installation of a neutral caretaker government, and a guarantee of victory for the opposition on joining fresh polls, said the senior Awami League (AL) leader.
Talking to mediapersons after meeting Indian Prime Minister Manmohan Singh at his official residence in the morning, he said Hasina, the AL president, had made all-out efforts for an inclusive election through the opposition's participation.
She even offered an all-party government with the option to freely choose portfolios but that offer was rejected, he said.
Full report at:
http://www.thedailystar.net/city/jamaat-a-terrorist-organisation-7395
-----------
Separate explosions kill 3 policemen, 2 Afghan army soldiers
Jan 19 2014
At least seven Afghan policemen were killed or injured following an improvised explosive device (IED) explosion in northern Sar-e-Pul province of Afghanistan.
Local security officials confirming the report said the incident took place late Saturday evening in the central city of Sar-e-Pul province.
Provincial security chief, Sakhidad Haidari said, at least three policemen were killed and four others were injured after their vehicle struck witht the roadside bomb.
In the meantime, Gen. Zahir Azimi, spokemsan for the defense ministry of Afghanistan said at least two Afghan national army soldiers were killed following two separate explosions in southern Afghanistan.
Full report at:
http://www.khaama.com/separate-explosions-kill-3-policemen-2-afghan-army-soldiers-3314
-----------
Rocket attack kills four Afghan footballers
Jan 19, 2014
Four players for a local football team were killed on Saturday, and three others were wounded, when a rocket fired by the Taliban hit the field where they were playing in southern Afghanistan, an official said.
"The rocket landed on a football field at 5 pm (1230 GMT) in Maiwand district," said Javed Faisal, spokesman for the governor of Kandahar province.
http://www.thehindu.com/news/international/south-asia/rocket-attack-kills-four-afghan-footballers/article5590679.ece
-----------
BBC Bangladesh Sanglap: Punishment for anti-Hindu pogromists demanded
Jan 19, 2014
Agriculture Minister Matia Chowdhury yesterday said the people responsible for attacking Hindus around the country should be punished regardless of their political stripes.
Such attacks were a shame for the nation, she told the BBC Bangladesh Sanglap, a debate on contemporary affairs, in the capital's Biam auditorium.
In response to a question from the audience, BNP Standing Committee Member Mahbubur Rahman, another of the four panellists, termed Hindus a "pawn on the chess board".
"After elections, one party wins while the other loses. But Hindus always remain the loser. They are never accepted by the winners," he said.
Full report at:
http://www.thedailystar.net/city/punishment-for-anti-hindu-pogromists-demanded-7392
-----------
Nasheed threatens impeachment after MDP wins in Addu, Malé cities
By Zaheena Rasheed | January 18th, 2014
Following the opposition Maldivian Democratic Party's (MDP) win in Malé and Addu cities, former President Mohamed Nasheed has predicted an MDP majority in parliamentary elections scheduled for March and threatened to impeach President Abdulla Yameen.
MDP appears to have won all six of the local government seats in Addu City and eight of the 11 Malé City seats. Results for the remaining 1083 island and atoll council seats are rolling in.
Speaking at a press conference tonight, Nasheed predicted the MDP will win approximately 700 of the 1100 local government seats and said he believed the Maldivian citizens continued to hope for an MDP administration.
Full report at:
http://minivannews.com/politics/nasheed-threatens-impeachment-following-an-mdp-win-in-addu-male-cities-75463
-----------
Pakistan
20 Pakistan soldiers killed as bomb hits military convoy
AFP | Jan 19, 2014
PESHAWAR: A bomb struck a military convoy in Pakistan's restive northwest on Sunday, killing 20 soldiers and wounding more than 30, officials said.
The attack occurred in the city of Bannu, close to the troubled North Waziristan tribal region which is a known stronghold of Taliban and al-Qaida-linked militants.
"We are trying to ascertain the exact nature of the explosion, whether it was a planted device or a suicide attack," a senior security official said.
"The explosion took place in one of the vehicles of the convoy killing 20 soldiers and wounding more than 30," he said.
Full report at:
http://timesofindia.indiatimes.com/world/pakistan/20-Pakistan-soldiers-killed-as-bomb-hits-military-convoy/articleshow/29046437.cms
-----------
Ready for meaningful dialogue with government: TTP spokesman
Jan 19, 2014
ISLAMABAD: The banned Tehreek-e-Taliban Pakistan (TTP) has put forward an offer for peace talks to the Pakistani government, Geo News reported.
In statement issued here Sunday, TTP spokesman Shahidullah Shahid said the Taliban were ready for meaningful dialogue.
The TTP spokesman said Taliban were ready for talks, however, the government should show its power and sincerity.
http://www.thenews.com.pk/article-134709-Ready-for-meaningful-dialogue-with-government:-TTP-spokesman
---------
Karachi operation: MQM calls for body to check 'rights abuse'
January 19, 2014
ISLAMABAD: The Muttahida Qaumi Movement (MQM) has reiterated its demand for an oversight body to check cases of human rights violation in the ongoing operation in Karachi.
MQM Senator Nasreen Jalil on Saturday drew the attention of the Senate Standing Committee on Human Rights towards the alleged abduction and extrajudicial killing of MQM workers during the operation.
She agreed with a proposal of Senator Mushahid Hussain Syed that a subcommittee formed to check abuses of human rights and minorities' rights in Sindh should investigate the allegations of rights violations committed during the Karachi operation.
Senator Nasreen Jalil unveiled a list containing details of alleged rights violations by Rangers during the operation. According to the list, law enforcers had taken 1,087 MQM workers into custody since August 28, 2013.
Full report at:
http://tribune.com.pk/story/660642/karachi-operation-mqm-calls-for-body-to-check-rights-abuse/
-----------
Taliban on the offensive
Jan 19, 2014
Maulana Fazlullah is firmly in the saddle now and if there were any doubts about the potential of Tehreek-i-Taliban Pakistan to launch new attacks in the aftermath of Hakeemullah Mehsud's death in a drone strike last November, the spike in the number of attacks has proved all that wrong.
As of Friday, there have been 41 attacks in all throughout Khyber Pakhtunkhwa since January 1 – 41 attacks in 17 days, claiming 24 lives. Peshawar, as usual and as always, tops the chart, incurring the major brunt of the terrorist attacks. There has been no let up.
What is more worrying is that the graph has been going up. Notwithstanding, the brief hiatus and a small decline in terrorist attacks in October and November – partly due to the death of TTP chief Hakeemullah Mehsud – the figures have jumped up from 36 per cent of the year's total in August to 48 per cent when 2013 came to a close. (Just over 830 attacks were carried out in the year.)
Government and security officials are worried. "There is an upward trajectory," says a government official. "The graph is going up and up."
Full report at:
http://www.dawn.com/news/1081307/taliban-on-the-offensive
-----------
Pakistan-India trade: Wagah-Attari border to remain open 24/7
January 19, 2014
NEW DELHI / ISLAMABAD: India and Pakistan agreed on Saturday to allow round-the-clock movement of trucks and containers through their main border crossing, signalling a thaw in relations after a year's tensions on the Line of Control (LoC) and working boundary.
A meeting between the trade ministers of the two countries in New Delhi also approved a liberalised visa policy for businessmen to help expand two-way trade, which was barely $2.5 billion in 2012/13 fiscal year against a potential $10 billion.
Both sides hope closer integration of Pakistan with India's economy would help lay the ground for a lowering of political tensions between them.
Full report at:
http://tribune.com.pk/story/660629/pakistan-india-trade-wagah-attari-border-to-remain-open-247/
-----------
No respite in sectarian strife
January 19, 2014
LAHORE - Intelligence and law enforcing agencies have intensified clampdown on the religious extremists particularly the Afghan Trained Boys (ATBs) as the menace of sectarianism swells swiftly in the Punjab province. In Karachi, the sectarian strife is already going out of control. The Afghan Trained Boys are the men trained in Afghanistan during the Afghan war of the 1980s and returned to Pakistan after the Soviet occupation forces left the war-torn state. The police, counter-terrorism department, and Special Branch are deeply monitoring the activities of the hundreds of ATBs due to suspicion of their direct or indirect involvement in the terrorist activities.
Full report at:
http://www.nation.com.pk/lahore/19-Jan-2014/no-respite-in-sectarian-strife
---------
Africa
Gunmen attack Muslims fleeing CAR, kill 22
2014-01-19
BANGUI, Central African Republic: Attackers armed with automatic rifles and machetes ambushed a convoy of Muslims fleeing sectarian violence in the Central African Republic, killing 22 people and leaving survivors with gashes spurting blood, Save the Children said Sunday. Three children are among the dead.
Spokesman Mike McCusker said doctors described gory scenes and harrowing accounts after gunmen fired a rocket grenade to halt a convoy of refugees and then attacked with firearms, machetes and clubs.
"Our doctor said there was bloody everywhere, just pouring out of people like tap water," McCusker told The Associated Press in a telephone interview.
Friday's attack took place in the remote northwest of the country outside the town of Bouar and shows African and French peacekeepers are not reaching remote areas where violence goes unreported, said the British charity's country director Robert Lankenau.
Full report at:
http://www.arabnews.com/news/511616
--------
Rebels killed in Algeria gun fight
World Bulletin / News Desk
Jan 19, 2014
Algerian army forces have killed two rebels in the eastern province of Bouïra, the Defense Ministry said Saturday.
In a statement, the ministry said that two Kalashnikov machineguns had been retained from the militants.
While the statement did not provide the identities of the slain militants, Algeria's eastern provinces are considered strongholds for militants affiliated with Al-Qaeda in the Islamic Maghreb group.
Some 220 militants were killed in Algeria between January and November 2013, according to unofficial tallies by the independent Commission for Truth, Peace and Reconciliation.
http://www.worldbulletin.net/?aType=haber&ArticleID=127180
---------
Key South Sudan town of Bor recaptured from rebels
Jan 19, 2014
South Sudan's military says it has recaptured the strategic town of Bor from rebel forces.
The Ugandan army said it had helped in the operation, while a spokesman for the rebel forces said its troops had made a tactical withdrawal.
Bor, the capital of Jonglei state, has changed hands several times in a month-long conflict that is believed to have left thousands dead.
Meanwhile, talks to try to find a ceasefire are continuing in Ethiopia.
The conflict between rebel and government forces broke out on 15 December. President Salva Kiir has accused his former deputy Riek Machar of plotting a coup - an accusation he denies.
The dispute has seen killings along ethnic lines - Mr Kiir is a member of the Dinka community, the country's largest, while Mr Machar is from the Nuer ethnic group.
Full report at:
http://www.bbc.co.uk/news/world-africa-25794699
----------
Libya sends troops to restive south; armed forces on alert
Jan 19, 2014
Libya ordered troops to the restive south on Saturday after gunmen stormed an air force base, and parliament put the armed forces on alert following days of skirmishes between rival tribesmen and militias.
Highlighting turmoil in the North African country, two Italian construction workers were kidnapped by unknown attackers in the east.
Western powers fear the OPEC producer will slide into instability as the government struggles to contain heavily-armed militias, tribesmen and Islamists who helped topped Muammar Gaddafi in 2011 but refuse to disarm.
Full report at:
http://english.ahram.org.eg/NewsContent/2/8/91899/World/Region/Libya-sends-troops-to-restive-south;-armed-forces-.aspx
----------
Peacekeepers deployed to protect fleeing Bangui Muslims
World Bulletin / News Desk
Jan 19, 2014
Members of the African peacekeeping force, MISCA, were deployed on Sunday near a predominantly Muslim neighborhood of Bangui, the capital of the Central African Republic (CAR), to help facilitate the safe evacuation of fleeing Muslims amid increasing attacks by Christian militiamen.
"As I was driving near Lakwanga this morning, I saw a huge smoke in the air," an eyewitness told Anadolu Agency.
"I stopped and was told by people in the area that the anti-balaka Christian militia group had thrown a grenade on one of the vehicles transporting Muslims who are fleeing to Chad by road," he added.
Full report at:
http://www.worldbulletin.net/?aType=haber&ArticleID=127219
---------
Southeast Asia
Malaysian king backs court ban on non-Muslims using Allah
Jan 19, 2014
KUALA LUMPUR, Jan 19 (Reuters) - Malaysia's king gave his backing on Sunday to a court ruling barring non-Muslims from using the word Allah to refer to God, weighing in for the first time on an issue that has fanned religious tensions in the multi-cultural country.
Sultan Abdul Halim Mu'adzam, whose role as head of state is largely ceremonial, alluded to the issue which has raised questions over miniority rights during his birthday speech to the Southeast Asian nation.
A court in October ruled that the word was exclusive to majority Malay Muslims, overturning an earlier decision allowing a Catholic newspaper to use Allah in its Malay-language edition.
The court ruling has since prompted Muslim leaders to call for demonstrations against Christians who do not comply. Christians make up about 9 percent of Malaysia's 29 million people.
Full report at:
http://www.trust.org/item/20140119100436-t9srl/?source=hpbreaking
-----------
The Agong says 'Allah' exclusive to Muslims, cites 1986 fatwa
Jan 19, 2014
The Yang di-Pertuan Agong today said several words including "Allah" were the exclusive rights of Muslims, citing a 1986 decree by the National Fatwa Council on their use.
Sultan Abdul Halim Mu'adzam Shah, who is also the Sultan of Kedah, said that religious sensitivity must be observed and the status of Islam as the country's official religion must be respected.
"Confusion and controversy can be avoided if all parties abide by the law and judicial decisions," he was quoted by the New Straits Times as saying in his speech during an investiture ceremony at Istana Anak Bukit in Alor Setar, today.
Full report at:
http://www.themalaysianinsider.com/malaysia/article/agung-says-allah-exclusive-to-muslims-cites-1986-fatwa
-----------
Umno roadshows and burning of effigy are attacks against Christians, says Catholic leader
Jan 19, 2014
The Catholic Church broke its silence today over the burning of an effigy of Father Lawrence Andrew, the editor of the Catholic weekly, Herald and the Allah roadshows organised by Umno, saying that it is "tantamount to an attack against the Christian community".
In a letter to Catholics in the Kuala Lumpur Archdiocese, Archbishop Emeritus Tan Sri Murphy Pakiam said that he was "deeply aggrieved and saddened" over the string of recent incidents following Andrew's remark that Catholics would continue to use the word Allah despite a 1988 Selangor enactment banning them from doing so.
Full report at:
http://www.themalaysianinsider.com/malaysia/article/umno-roadshows-and-burning-of-effigy-are-attacks-against-christians-says-ca
---------
Mideast
Yemen's Salafists say Houthis should be prosecuted
World Bulletin / News Desk
Jan 19, 2014
Yemen's only Salafist party has accused Houthis of committing "crimes against humanity" and "atrocities" in the northern flashpoint town of Dammaj, urging authorities to hold the group's leaders accountable.
In a statement, the Rashad Union party called for "bringing Houthi leaders and militiamen to justice over the crimes against humanity they committed against Dammaj people."
Since 2011, Dammaj has seen several rounds of fighting between Houthis and Salafists, leaving dozens dead.
Full report at:
http://www.worldbulletin.net/?aType=haber&ArticleID=127225
---------
Iranian MP: Takfiri Groups Pursuing Israel's Interests in Region
Jan 19, 2014
TEHRAN (FNA)- A senior Iranian lawmaker warned that Takfiri terrorists are killing Muslims for the sake of enemies' interests in the region, particularly the Zionist regime of Israel.
"Takfiri groups are used as a tool by enemies of Islam and they seem to lack a true understanding of Islam," Chairman of the Iranian Parliament's National Security and Foreign Policy Commission Alaeddin Boroujerdi said in a meeting with Syrian Grand Mufti Sheikh Ahmad Badreddin Hassoun in Tehran on Saturday.
He highlighted the role of clerics in reinforcing the resistance of the Syrian nation as well as fostering unity in the Arab country, and warned against plots by enemies to incite religious and sectarian rifts among Muslims.
Full report at:
http://english.farsnews.com/newstext.aspx?nn=13921029000322
-----------
IAF strikes Islamic Jihad terrorist in Gaza
Jan 19, 2014
IDF says target took part in firing of rockets into Israel; IDF on high alert for potential escalation on Gaza front; earlier, the IAF retaliated against Saturday evening rocket attack.
The Israel Air Force struck an Islamic Jihad member in the northern Gaza Strip on Sunday morning.
The target, named as Ahmed Sa'ad, took part in the firing of rockets at southern Israeli communities, the IDF said, and planned further attacks in the near future.
Palestinian media sources said a missile struck a 22-year-old motorcyclist in Gaza who sustained serious injuries, along with a 12-year-old boy who suffered moderate injuries.
"We acted to remove an immediate threat to Israeli civilians," the IDF spokesman said. "Sa'ad was personally responsible for the firing of rockets at Ashkelon last Thursday," he added, referring to an attack that saw five rockets fired at the southern city in the middle of the night, setting off air raid sirens. The Iron Dome anti-rocket system intercepted all of the projectiles heading to Ashkelon in that attack.
Full report at:
http://www.jpost.com/Defense/IAF-retaliates-following-rocket-attack-against-Israel-338622
----------
Turkey says ready to discuss judicial row with EU
Jan 19, 2014
Turkish Foreign Minister Ahmet Davutoğlu said on Jan. 19 the country was ready to discuss all issues with the European Union at high-profile talks this week, including a row over judicial independence that has escalated the crisis engulfing the government.
The controversy over Prime Minister Recep Tayyip Erdoğan's bid to increase his control over Turkey's top judicial oversight body, the Supreme Board of Judges and Prosecutors (HSYK), has dealt a new blow to the country's long-held goal of EU membership just as Erdoğan prepares for a crunch day of talks in Brussels on Tuesday.
Davutoğlu said the judiciary issue and all others were on the table in the EU talks, but defended the embattled Erdogan government's response to the corruption scandal that sparked the current political crisis.
Full report at:
http://www.hurriyetdailynews.com/turkey-says-ready-to-discuss-judicial-row-with-eu.aspx?pageID=238&nID=61246&NewsCatID=338
----------
Europe
French Teens Join Foreign Terrorists in Syria
Jan 19, 2014
TEHRAN (FNA)- Two teenage schoolboys have left France to fight against the Syrian government and funded the trip using one of their dad's credit cards.
The pair are just 15-years-old and from the Southwestern city of Toulouse. Their families claim they have been brainwashed on the Internet, the New York Daily News reported on Saturday.
One of the boys, known only as Hakim, left a note for his father on January 6 telling him he was off to fight the war against the Syrian government.
The father added that he had received a phone call from his son claiming he was in danger in Syria but would not call again for a month.
Full report at:
http://english.farsnews.com/newstext.aspx?nn=13921029000413
-----------
UN chief, US condemn deadly Taliban attack in Afghanistan
2014-01-19
WASHINGTON: The United States is condemning a deadly Taliban attack in Afghanistan, saying there is ''no possible justification'' for killing people who worked to help Afghans achieve a brighter future, whereas UN leader Ban Ki-moon vowed that the United Nations would maintain its work in Afghanistan despite the attack that killed four of its staff.
The US also is renewing its call for the Taliban to lay down its weapons and begin peace talks with the Afghan government.
White House spokesman Jay Carney says such a move is the surest way to bring a peaceful end to the conflict in Afghanistan.
The Taliban claimed responsibility for Friday's attack on a popular restaurant in Kabul, Afghanistan's capital and largest city.
Full report at:
http://www.dawn.com/news/1081328/un-chief-us-condemn-deadly-taliban-attack-in-afghanistan
----------
Georgian gov't attempts to divide Muslim minority
World Bulletin / News Desk
Jan 19, 2014
The authorities in the Caucasian country of Georgia has caused controversy among Georgian Muslims by appointing two muftis, thus dividing the Muslim minority in the country to eastern and western religious authorities.
Until recently, Jamal Paksadze was the mufti of all the Muslims in Georgia, after being elected in an open ballot. However, on January 9, Lasin Aliev was appointed as the mufti of the Muslims in eastern Georgia, limiting Paksadze's authority to the Muslims in the west of the country.
Full report at:
http://www.worldbulletin.net/?aType=haber&ArticleID=127162
---------
North America
Home-grown terror worries U.S.
SANDEEP JOSHI
Jan 19, 2014
Osama bin Laden may be dead but the splinter terror groups created out of Al-Qaeda, the group that the 9/11 mastermind formed, are giving sleepless nights to U.S. policymakers and their law enforcement agencies (LEAs), who feel that Al-Qaeda's ideology was fuelling homegrown terrorists that are often referred to as "lone wolves". It is the "decentralisation" of al-Qaeda that has led to emergence of several potent groups in the last two years in various parts of the world besides inspiring "homegrown terrorists" who are planning to carry out attacks in the U.S.
Describing Osama's death as a "significant step in the war against terror," Justin Siberell, Deputy Coordinator of Regional Affairs and Programmes in the State Department's Bureau of Counterterrorism, said since the Arab uprising, dozens of terror groups having affiliation with Al-Qaeda have emerged.
Full report at:
http://www.thehindu.com/news/international/world/homegrown-terror-worries-us/article5590994.ece
-----------
US urges Egypt to fully implement rights guaranteed in new constitution
Jan 19, 2014
The United States has urged Egypt to fully implement the rights guaranteed by its newly approved constitution, saying that democracy is more than one election.
Egyptians overwhelmingly approved the charter in a referendum last week by more than 98 percent, in what the government hailed as a public seal of approval of the overthrow of Islamist president Mohamed Morsi.
However, US Secretary of State John Kerry warned that "It's not one vote that determines a democracy."
"It's all the steps that follow… it's what comes next that will shape Egypt's political, economic and social framework for generations," he added in comments on Saturday
"As Egypt's transition proceeds, the United States urges the interim Egyptian government to fully implement those rights and freedoms that are guaranteed in the new constitution for the benefit of the Egyptian people, and to take steps towards reconciliation," Kerry said.
Full report at:
http://english.ahram.org.eg/NewsContent/1/64/91908/Egypt/Politics-/US-urges-Egypt-to-fully-implement-rights-guarantee.aspx
----------
Obama surveillance proposal will change little: Assange
Jan 19, 2014
WikiLeaks founder Julian Assange on Saturday criticised US President Barack Obama's proposal to limit the controversial surveillance programme, saying his plan is not concrete and will not change much.
In a bid to allay global outrage after the leak of the US snooping programme, Mr. Obama on Friday put an end to the surveillance of "foreign leaders of friendly nations".
He also announced several proposals to change how the agency collects surveillance on Americans and foreign governments.
Describing the speech as embarrassing, Mr. Assange said, "We heard a lot of lies here in this speech by Obama."
Full report at:
http://www.thehindu.com/news/international/world/obama-surveillance-proposal-will-change-little-assange/article5590964.ece
-----------
Meditation room to accommodate increasing spirituality needs in new EMU
Jan 19, 2014
Islam is the fastest growing religion in America, according to an article in the New York Daily News. The number of Muslims in America has risen from 1 million in 2000, to 2.6 million today. If the growth continues, by 2030 Muslims will make up 26.4 percent of the world's total projected population of 8.3 billion, according a Pew Research Study in 2011.
The University of Oregon has seen increases in Muslim students as well.
Professor of Arabic Language and Literature David Hollenberg says the UO has seen an increase in Muslim students over the last five to 10 years and that people of faith are becoming more spiritual. "People are beginning to be more religious in the Islamic world over the past generation," Hollenberg said. "Young people tend to be more religious than the generation previous."
Full report at:
http://dailyemerald.com/2014/01/18/meditation-room-to-accommodate-increasing-spirituality-needs-in-new-emu/
-----------
US setting up new office for Pakistan, Afghanistan
2014-01-19
WASHINGTON: US President Barack Obama is setting up a new office in the State Department to oversee America's relations with Afghanistan and Pakistan during the current transitional period.
An executive order issued on Friday afternoon said the new, temporary set-up shall be called the Afghanistan and Pakistan Strategic Partnership Office. The presidential order comes as the United States and its Nato allies prepare to pull out most of their combat troops from Afghanistan by the end of this year.
The new office, which will be a part of the State Department, will support US federal agencies in facilitating a "strategic partnership" between the United States and Afghanistan and Pakistan, promoting "further security and stabilisation" in the two countries, and transitioning to a "normalised diplomatic presence" in both countries.
http://www.dawn.com/news/1081306/us-setting-up-new-office-for-pakistan-afghanistan
-----------
India
Border survey on to end row with Bangladesh
SYED SAJJAD ALI
Jan 19, 2014
Bone of contention is a 66-acre river island in south Tripura
India and Bangladesh have initiated the process to end a five-decade row over a river island in south Tripura. Surveyors of both countries are engaged in demarcating the boundary at Muhurichar, the disputed 66-acre piece of land for which border forces on both sides have fought on numerous occasions in the past five decades.
The surveyors assisted by the Border Security Force (BSF) and the Border Guards Bangladesh (BGB) are marking the border for the past couple of days. "Temporary pillars are being set up at every point demarcated and the process is expected to take five days to complete," BSF's 89 battalion Commandant Sanjay Sharma told newsmen on Saturday.
In 1964, security forces of India and erstwhile East Pakistan, now Bangladesh, first exchanged fire over Muhurichar after it surfaced following erosion in the river Muhuri. The last skirmish that went for continuous three days was in 1999 after which border forces agreed to maintain status quo.
Full report at:
http://www.thehindu.com/news/national/border-survey-on-to-end-row-with-bangladesh/article5591084.ece
-----------
Import of Turkish white poppy seeds threaten Opium farmers of MP
Jan 19, 2014
Opium cultivators, concentrated in Neemuch and Mandsaur districts on Madhya Pradesh's northwestern border with Rajasthan, are up in arms against imports of Turkish white poppy seeds known as Postadana or Khus Khus. India is the world's single legal producer of raw opium in the form of gum. Approximately 50,000 farmers in 22 districts of MP, Rajasthan and UP raise the crop under licence from the Narcotics Commissioner of India in Gwalior.
The gum is used by pharmaceutical companies to produce drugs such as morphine, codeine and thebaine and, by-product Khus Khus is used in food. During a brief ban on imports imposed by the Allahabad High Court in May, prices of khus khus rose from Rs. 300 per kilo to Rs. 800. It's then when the farmer realised the real value of his crop. Now that imports have resumed, cultivators are holding a series of meetings to launch an agitation against the union government.
Full report at:
http://www.thehindu.com/news/national/other-states/import-of-turkish-white-poppy-seeds-threaten-opium-farmers/article5590674.ece
-----------
URL: https://newageislam.com/islamic-world-news/syrian-society-accept-wahhabi-takfiri/d/35339