New Age Islam News Bureau
3 Jan 2014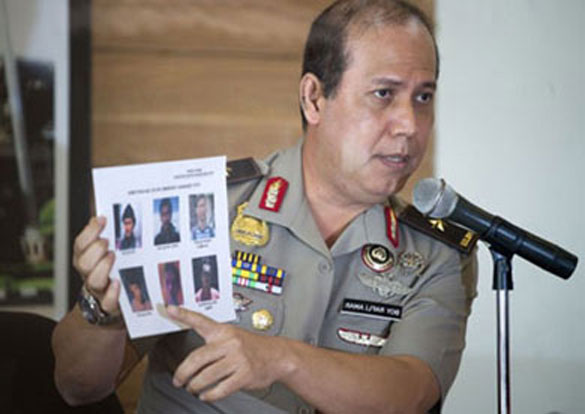 National police spokesman Boy Rafli Amar points towards images of six dead suspected terrorists during a press conference in Jakarta on January 3, 2014. (AFP Photo/Bay Ismoyo)
-------------
Arab World
• Syrian Mufti's Aide Gives Army Permission to Rape
• Suicide bomber kills 13 near Baquba: Iraq police
• Car bomb kills four in Hezbollah Beirut bastion: Health minister
• Blast kills 5 soldiers in Iraq's Fallujah
• ISIL Terrorists 'Torture, Kill, Disfigure' Ahrar Al-Sham Commander
• Up to 7,000 foreign jihadis fighting in Syria, new study finds
• 5,800 buildings to make way for Saudi Arabia's Grand Mosque expansion
• Imams face the sack if sermons are politicized
• Security analyst: Hezbollah continues transferring arms from Syria to Lebanon
Europe
• Swastikas spray painted on Sweden mosque entrance
• Volgograd suicide bombers trained in North Caucasus - source
• Nuclear war more likely than ever: threat comes from South Asia and nuke terrorists
• UK student group accused of targeting Muslims
South Asia
• Khaleda Zia will face trial for violence: Sheikh Hasina
• China voices anger over release of Uighur Guantanamo trio
• Maldives President discusses trade, security and consular issues with Indian PM
• 'Jamaat martyr' buried without bath, autopsy
• 2 dead in fresh violence in Bangladesh
North America
• US disappointed on Bangladesh's situation
• CIA-waged drone war 'spreads anarchy' around the world
• Kerry to Netanyahu: Israeli-Palestinian peace not 'mission impossible'
• US-Afghan ties hit rocks again over freeing militants
India
• Indian Mujahideen more lethal and resilient due to support from Pak: US report
• PM hopes of visiting Pakistan in coming months
• Indian PM asks Maldives for "amicable" settlement in GMR issue
• Window of citizenship opens for 50 Pak Hindu families
Pakistan
• Government did not ask Sami ul Haq to hold peace talks: Sources
• Exile in the making: Musharraf may leave country under 'clandestine deal'
• Jamaat-e-Islami likely to re-elect Munawwar party chief
• Cache of explosives recovered during raid in Chaman
Mideast
• Liberman: Peace deal must be based on Israeli security, stable Palestinian economy
• Israel says missile shield system passes 2nd flight test
• Attack on Iran's Beirut Embassy Masterminded by Saudi Prince Bandar
Southeast Asia
• Al Qaeda-linked Indonesian terrorists planned US embassy, CIA attacks
• Philippine army says nine rebels slain in attacks
• Stop 'Allah' row for country's peace, says Hishamuddin
• 'Allah' issue shows Barisan too Malay-centric, overriding national interests, say critics
Africa
• S Sudan army says closing in to retake rebel-held Bor
• Suspected CIA agents arrested in Benghazi
For Details and More Headlines from All Regions, Please click, 'More'
URL: https://www.newageislam.com/islamic-world-news/new-age-islam-news-bureau/syrian-mufti-s-aide-gives-army-permission-to-rape/d/35124
-----------
Arab World
Syrian Mufti's Aide Gives Army Permission to Rape
January 03, 2014
Human rights groups report that thousands of women have been raped by Syrian army soldiers in the ongoing war, which is now in its third year and has left 130,000 dead. That trend appears likely to only increase, as a deputy to the Chief Mufti (Islamic scholar) of Syria has given religious permission to rape.
On Thursday, Sheikh Abd al-Rahman Ali al-Dala, aid to the chief mufti of Syria, who is loyal to President Bashar Assad, gave an interview to Sham FM, a radio station that supports Assad.
In the interview, Al-Dala said Syrian army soldiers have permission to "marry" unmarried and married women, sisters and mothers of the rebel fighters, without any official marriage agreement. He clarified that the rape is intended as a punishment for not reporting the rebels to the government forces.
In making his statement, the Sheikh placed his religious authority behind the rape of women and girls by soldiers, as part of their fight against the rebels.
According to testimony taken from captured soldiers and captains before they were put to death by rebels, rape has been employed as a common practice by the army, well before Al-Dala's official religious support was stated.
While particularly attractive women are reportedly brought to senior commanders, rape victims include religious Muslim women dressed in face veils and full-body cloaks (Niqab).
It must be noted that for their part, the rebels have publicised religious permission for their fighters to do as they please with women who fall into their hands. Rebels from Al Qaeda have also apparently have been forcing Syrian Druze communities to convert to Islam.
A study in November found that Syria was the fourth worst country in the Arab world in terms of women's rights. Egypt was found to be the worst.
On December 31, Syria missed the deadline to transfer its most lethal chemical weapons out of the country for destruction.
http://www.israelnationalnews.com/News/News.aspx/175856#.UtSA49JDsqM
--------------
Suicide bomber kills 13 near Baquba: Iraq police
January 03, 2014
A suicide bomber detonated an explosives-rigged vehicle on Thursday near car dealerships in Baladruz, close to the Iraqi city of Baquba, killing 13 people, police and a doctor said.
The blast in Baladruz, north of Baghdad, also wounded 25 people, the sources said.
The bombing comes as security forces and tribesmen battled Al-Qaeda-linked militants who took control of parts of two cities in Anbar province, west of the capital.
Violence in Iraq has reached a level not seen since 2008, when the country was just emerging from a brutal period of sectarian killings.
Experts say widespread discontent among Iraq's Sunni Arab minority, who say they are marginalised by the Shiite-lead government and unfairly targeted by security forces, has fuelled the increase in violence.
But while the government has made some concessions aimed at placating Sunnis, including freeing prisoners and raising the salaries of anti-Qaeda militiamen, underlying issues remain unaddressed.
The civil war in neighbouring Syria, which has bolstered militant groups, has also played a role in the heightened unrest.
http://english.ahram.org.eg/NewsContent/2/8/90684/World/Region/Suicide-bomber-kills--near-Baquba-Iraq-police.aspx
-----------
Car bomb kills four in Hezbollah Beirut bastion: Health minister
January 03, 2014
The bombing came just weeks after a twin suicide bombing killed 25 people at the Iranian embassy in the same area and marked a new breach of the tight security in Hezbollah's stronghold.
Hezbollah's public confirmation last April that its fighters had intervened in the Syrian civil war alongside President Bashar al-Assad's forces has deepened sectarian divisions between Shiites and Sunnis, most of whom sympathise with the rebels.
"The toll from the terrorist explosion in Haret Hreik is four killed and 65 wounded," Health Minister Ali Hassan Khalil said in a statement carried by the official National News Agency (NNA).
Earlier, a ministry source had reported five killed.
An AFP photographer in the densely populated area saw flames and smoke rising from burning vehicles and at least three damaged buildings.
Hezbollah's Al-Manar television aired footage of bystanders scrambling to douse burning vehicles in a car park beneath a building whose facade had been burned out.
"The terrorist explosion targeted a densely populated residential area, just 150 to 200 metres (yards) away from Hezbollah's political bureau," Al-Manar reported, but said the building was not thought to have been the target.
The district is symbolic for Hezbollah, which once based many of its leadership institutions in the area. Al-Manar's studios were once just 200 metres away.
Much of the neighbourhood was reduced to rubble during the massive Israeli air bombing that accompanied its 2006 war with Hezbollah, but it has since been rebuilt.
The blast hit the busy Al-Arid Street commercial district. Panicked residents scurried around the streets as Al-Manar broadcast warnings to leave the area for fear of further bombs.
NNA reported that the explosion was caused by an explosives-packed four-wheel-drive vehicle.
President Michel Sleiman said the car bomb had been planted "by the same hand that plants terrorism, killing and destruction everywhere in Lebanon."
In a statement, he also called for solidarity among the Lebanese and dialogue among the country's divided leaders, and called on the security services to double their efforts and bring the perpetrators to justice.
Caretaker prime minister Najib Mikati said "the hand of terrorism does not differentiate between us, and it does not want stability for this country. Rather, it is planning a despicable conspiracy to drown the Lebanese in sectarian strife."
The US embassy tweeted: "We condemn today's terrorist bombing in #Dahieh #Beirut. Our condolences to the victims and their families."
And British Ambassador Tom Fletcher tweeted: "Condemn unequivocally today's callous attack in Beirut. Lebanese civilians again victims. Thoughts with their families and emergency teams."
Thursday's is the fourth bomb attack in south Beirut since Hezbollah announced it was fighting in Syria.
Prior to the bombing of the Iranian embassy, the southern suburbs suffered two bomb attacks.
One killed 27 people on August 15. A blast earlier that month caused no fatalities but wounded some 50 people.
Thursday's blast also comes amid soaring Sunni-Shiite tensions over the Syria civil war.
It also comes less than a week on from a car bomb in central Beirut that killed eight people, including an anti-Syrian former finance minister, Mohammad Chatah.
On Thursday, anti-Damascus former premier Saad Hariri, to whom Chatah was an adviser, condemned the southern Beirut blast as a "diabolical act."
A day earlier, Defence Minister Fayez Ghosn revealed that troops had arrested the leader of the Al-Qaeda-linked group that claimed the Iranian embassy attack.
Saudi national Majid al-Majid, "emir" of the Abdullah Azzam Brigades, was being interrogated at a secret location, Ghosn said.
The repeated violence in violence comes amid a major political crisis in Lebanon related to the war in Syria.
Divisions among pro- and anti-Damascus camps have prevented the creation of a new government ever since Mikati's cabinet resigned in April.
Damascus dominated Lebanon for nearly 30 years until 2005, after Hariri's father, ex-premier Rafiq Hariri, was killed by a car bomb. Though Syria withdrew its troops, Assad's regime still exerts influence through its allies.
http://english.ahram.org.eg/NewsContent/2/8/90674/World/Region/Car-bomb-kills-four-in-Hezbollah-Beirut-bastion-He.aspx
-----------
Blast kills 5 soldiers in Iraq's Fallujah
World Bulletin / News Desk
January 03, 2014
Five Iraqi soldiers were killed Friday and seven others injured in a car bomb blast in the western city of Fallujah, a security source said.
A bomber blew up his booby-trapped truck at an army checkpoint in northern Fallujah, the source said.
Several armored vehicles were also burnt in the blast.
The death toll is expected to rise as many of the injured are in a serious condition, the source said.
No group has claimed responsibility for the attack.
There was no comment from Iraqi authorities.
http://www.worldbulletin.net/?aType=haber&ArticleID=126171
-----------
ISIL Terrorists 'Torture, Kill, Disfigure' Ahrar Al-Sham Commander
January 03, 2014
TEHRAN (FNA)- An alliance of seven extremist rebels condemned the hard-line militants from the terrorist Islamic State of Iraq and the Levant (ISIL) after the latest outrage against a fellow insurgent.
ISIL militants were blamed this week for the kidnapping and killing of Hussein al-Suleiman, a physician who was also a commander in the Ahrar al-Sham terrorist group, Al-Alam reported.
Ahrar al-Sham is one of the country's biggest militant groups, and is a member of the Islamic Front alliance along with six other militias, most of which enjoy a nationwide presence.
A gruesome photograph of Suleiman's disfigured body has circulated widely on social media.
The Front said that Suleiman was arrested after he went to meet with an ISIL delegation in order to settle a dispute that arose in the village of Maskaneh in rural Aleppo.
Full report at:
http://english.farsnews.com/newstext.aspx?nn=13921013000268
-----------
Up to 7,000 foreign jihadis fighting in Syria, new study finds
January 03, 2014
Between 6,000 and 7,000 foreign fighters have arrived in Syria to take up arms with rebels against the Assad regime, with a large majority of them joining jihadi organizations, the Nusra Front being foremost among them, a study released Thursday said.
The Tel Aviv-based Meir Amit Intelligence and Terrorism Information Center that published the study is a part of the Israeli Intelligence and Heritage Commemoration Center, founded in the 1980s by leading members of the Israeli intelligence community.
Researchers who spent several months putting together the study warned that in Syria, foreign jihadis gain military experience, and undergo a process of radicalization.
"They are liable to continue terrorist and subversive activities in their countries of origin when they return," the document said. It added that "this past year saw a marked increase in the involvement of foreigners in the fighting against the Syrian regime."
Full report at:
http://www.jpost.com/Syria/Up-to-7000-foreign-jihadis-fighting-in-Syria-new-study-finds-336933
-----------
5,800 buildings to make way for Saudi Arabia's Grand Mosque expansion
January 03, 2014
The government has appropriated 5,800 properties at a cost of SR75 billion for the expansion of the Grand Mosque in Makkah, according to the mayor's office.
The latest appropriations include the Dar Al-Tawhid InterContinental Hotel and the building next to it that currently encompasses the old Hilton Hotel on the western and southern sides of the Grand Mosque.
The first phase of the Grand Mosque's expansion included the removal of 1,150 properties at a cost of SR33 billion, while the second stage also included the removal of 1,150 buildings.
Abbas Qattan, the office's assistant undersecretary for projects and supervisor of the northern expansion, said the owners of 700 properties have not turned up to claim compensation. In addition, the processing of 900 properties has not been completed because of problems around ownership.
Full report at:
http://www.arabnews.com/news/502781
-----------
Imams face the sack if sermons are politicized
January 03, 2014
Imams who politicize Friday sermons at mosques will not be allowed to continue in their positions, Islamic Affairs Minister Saleh Al-Asheikh said in comments published on Thursday.
"We have set up a legal panel to advise such imams. If they respond positively and follow the guidelines they will be allowed to continue. If not, then we'll tell them they are not fit for the pulpit," the minister said.
He said the ministry would continue monitoring all mosques and imams to make sure nobody violates the regulations. "The use of politics in sermons will divide the community and create hatred among people. Preachers should spread the word of Allah and the message of His Prophet (peace be upon him), and encourage people to worship."
Full report at:
http://www.arabnews.com/news/502811
-----------
Security analyst: Hezbollah continues transferring arms from Syria to Lebanon
January 03, 2014
Hezbollah has been moving long-range missiles from storage in war-ravaged Syria to Lebanon, an Israeli national security analyst told The New York Times on Thursday.
The missiles being moved include long-range Scud D missiles that can strike deep into Israel, short-range Scud C's, medium-range Iranian Fateh rockets, Iranian Fajr rockets and anti-aircraft weapons that are fired from the shoulder.
According to foreign reports, Israel has struck Lebanon-bound weapons convoys inside of Syria at least five times last year, to stop them from reaching Hezbollah.
Despite those alleged strikes, most of the long-range surface-to-surface missiles given to Hezbollah by Syria and Iran have been disassembled and moved to Lebanon, analyst Ronen Bergman said.
Full report at:
http://www.jpost.com/Middle-East/Despite-alleged-Israeli-strikes-Hezbollah-continues-moving-weapons-from-Syria-to-Lebanon-336998
-----------
Europe
Swastikas spray painted on Sweden mosque entrance
World Bulletin / News Desk
January 03, 2014
An investigation has begun after Nazi Swastika symbols were spray painted on to the entrance of a mosque in Sweden's capital Stockholm on Thursday.
The mosque, which was built in the year 2000, has often faced incidents of hate mail before, but has not faced vandalism of this scale.
It is an indication of growing anti-Muslim sentiment in a country usually known for its tolerance.
On December 22nd, at least 16 thousand people rallied against racism in the Karrtorp suburb of Stockholm carrying banners that read "united against racism".
The rally which was attended by politicians and artists came a week after another anti-racism protest was attacked by a group of neo-Nazis in the same suburb, resulting in two people being stabbed and 28 others arrested.
http://www.worldbulletin.net/?aType=haber&ArticleID=126119
-----------
Volgograd suicide bombers trained in North Caucasus - source
January 03, 2014
The suicide bombers who committed terrorist attacks in Volgograd in late December came from the North Caucasus, a source from the law enforcement authorities said quoting tentative data.
"A preliminary opinion about circumstances of the terror attacks has been made. A tentative analysis based on evidence indicates that the suicide bombers who blew themselves up at the Volgograd railroad station and on the route 15 trolley bus were not trained in the Volgograd region but were ordered to come here and destabilize the city with suicide bombings taking a heavy death and injury toll," he said.
Full report at:
http://voiceofrussia.com/news/2014_01_02/Volgograd-suicide-bombers-trained-in-North-Caucasus-source-1540/
-----------
Nuclear war more likely than ever: threat comes from South Asia and nuke terrorists
January 03, 2014
The humanity has inched closer to the precipice of an all-out nuclear war than ever before, closer than it was even at the height of the historic Cold War standoff between the US and the Soviet Union.
The main reason for this is the ongoing erosion of the non-proliferation regime, experts say. The Non-Proliferation Treaty has been continuously bashed as "unfair," but it is in fact the exclusive geopolitical environment and ensuing nuclear responsibility of a handful of states that has so far kept mankind away from the total wipeout.
The theory of reciprocal deterrence wasn't there all the time. A long two decades after the A-bomb was invented, the powers who had it in their arsenals thought of it as fair game, a weapon you could actually use in a conflict, rather than a deterrent.
Full report at:
http://voiceofrussia.com/2014_01_02/Nuclear-war-more-likely-than-ever-threat-comes-from-South-Asia-and-nuke-terrorists-1915/
-----------
UK student group accused of targeting Muslims
World Bulletin / News Desk
January 03, 2014
A student group in the UK, calling themselves 'Student Rights', have attracted the criticism of other student groups, who accuse them of fueling bigotry and Islamophobia.
The group has been accused of targeting Muslim students after they released a report in May, slamming university Islamic Societies for enforcing gender segregation at events.
Three student groups united under a new banner called 'Real Student Rights' to counter the group, who claim that they are pinpointing Muslims while ignoring far-right extremists on campus.
Rupert Sutton, a researcher at 'Student Rights', however, denied the accusations, saying that they had also monitored other groups as well.
http://www.worldbulletin.net/?aType=haber&ArticleID=126172
-----------
South Asia
Khaleda Zia will face trial for violence: Sheikh Hasina
PTI | Jan 2, 2014
DHAKA: Bangladesh prime minister Sheikh Hasina has criticized opposition's ongoing agitation to thwart the January 5 polls and warned that BNP leader Khaleda Zia would be held responsible for the deaths and violence.
"Those who are killing people, unleashing violence in the name of demonstrations, will be tried on this soil. She (Khaleda) will be held responsible for orchestrating [the violence]," Hasina said.
She accused the opposition of shielding war criminals, killing people, unleashing torching and arson attacks.
"They understand nothing but violence. They (the Opposition) do not understand democracy," she said.
Full report at:
http://timesofindia.indiatimes.com/world/south-asia/Khaleda-Zia-will-face-trial-for-violence-Sheikh-Hasina/articleshow/28295026.cms
-----------
China voices anger over release of Uighur Guantanamo trio
January 03, 2014
China voiced anger Thursday over the transfer of three Uighurs from the US military prison in Guantanamo Bay to Slovakia, branding them "terrorists" who will pose a threat to their new home.
The trio were freed earlier this week as part of Washington's efforts to close the jail, and were the last of 22 Uighurs to be held in the prison, with the others being resettled in six countries including Albania, Bermuda, El Salvador, Palau, and Switzerland.
Beijing had previously protested about the release of the men, who it says have links with the East Turkestan Islamic Movement (ETIM), which the United Nations lists as a terrorist group and which China accuses of having separatist aims in Xinjiang.
Full report at:
http://voiceofrussia.com/news/2014_01_02/China-voices-anger-over-release-of-Uighur-Guantanamo-trio-4914/
-----------
Maldives President discusses trade, security and consular issues with Indian PM
By Ahmed Rilwan | January 3rd, 2014
President Abdulla Yameen Abdul Gayoom and the first lady madam Fathmath Ibrahim have received a warm welcome from Indian counterpart Sri Pranab Mukherjee at the Presidential Residence Rashtrapati Bhavan today with a twenty-one gun salute and guard of honor.
Yameen, accompanied by a high level delegation arrived in New Delhi on 1 January and is to continue the visit till 4 January.
The president and his delegation has also met External Affairs Minister, Leader of Opposition in Lok Sabha, National Security Advisor and Foreign Secretary and Finance Minster.
Maldives delegation includes Jumhooree Party leader MP Qasim Ibrahim, leader of Maldives Development Aalliance MP Ahmed Siyam Mohamed, President Yameen's niece Foreign Minister Dunya Maumoon, his nephew State Minister for Youth and Sports Ghassan Maumoon, Tourism Minister Ahmed Adeeb, Minister at Presidents Office Mohamed Hussain Shareef, Economic Development Minister Mohamed Saeed, Health Minister Dr. Mariyam Shakeela.
Full report at:
http://minivannews.com/politics/president-discussed-trade-security-and-consular-issues-with-indian-pm-74486
-----------
'Jamaat martyr' buried without bath, autopsy
January 03, 2014
Jamaat-Shibir men barred farmer Sofed Ali from having his son's post-mortem examination and bathing of the corpse before burial since he was termed a "martyr."
Eighth-grader at a local madrasa Arijul Islam, 14, was a Shibir activist. He was shot dead during violent clashes between the BGB and the activists of Jamaat-e-Islami and its student wing Islami Chhatra Shibir at Goranbaria of Kolaroa on December 3.
Even his father believes that students of madrasa are meant to become Shibir activists. Sofed Ali is a firm believer of Jamaat-Shibir propaganda, and is unwilling to accept a reality otherwise.
Full report at:
http://www.dhakatribune.com/bangladesh/2014/jan/03/%E2%80%98jamaat-martyr%E2%80%99-buried-without-bath-autopsy#sthash.NUUzUOBO.dpuf
-----------
2 dead in fresh violence in Bangladesh
Jan 3, 2014
At least two people have been killed in clashes between pro- and anti-government supporters across Bangladesh, as five voting centres were set on fire amid the opposition's nonstop blockade two days before the elections.
Police said a driver and a trader were killed and three others injured when suspected activists of main opposition Bangladesh Nationalist Party (BNP) and its fundamentalist ally Jamaat-e-Islami hurled petrol bombs on an onion-laden truck at northwestern Hakimpur of Dinajpur district overnight.
"The driver apparently lost control over the wheels as the truck caught fire... it overturned and fell into a roadside ditch," a police officer said, adding that the driver and the trader were burnt to death.
Full report at:
http://www.thehindu.com/news/international/south-asia/2-dead-in-fresh-violence-in-bangladesh/article5534211.ece
-----------
North America
US disappointed on Bangladesh's situation
January 03, 2014
The US has expressed disappointment as the major political parties of Bangladesh have not yet reached a consensus towards holding a free and fair election.
Marie Harf, deputy spokesperson of the US Department of State, made the remarks during a regular briefing in Washington.
"We're disappointed that the major political parties have not yet reached a consensus on a way to hold free, fair, and credible elections. Obviously, that's what we're encouraging, and we will keep monitoring the situation and engaging as necessary," she said.
Reiterating the call for a constructive dialogue, she said: "We believe it's even more urgent than ever for the major parties to redouble their efforts to engage in constructive dialogue.
They need to find a way forward, to hold free and fair elections that are credible, and violence is not acceptable – never acceptable – because it subverts the democratic process."
Full report at:
http://www.dhakatribune.com/bangladesh/2014/jan/03/us-disappointed-bangladesh-political-situation#sthash.KwyRplxq.dpuf
-----------
CIA-waged drone war 'spreads anarchy' around the world
January 03, 2014
The US said it is mapping out a new national security strategy that will be announced in early 2014. The white paper on the next stage of Washington's war on al-Qaeda will be released at the time of mounting international criticism of US drone strikes in Pakistan, Afghanistan and Yemen.
Drone airstrikes are one of the main reasons for the spread of anarchy and military conflicts that have been mushrooming around the world. This is according to a report by UN special rapporteurs Ben Emmerson and Christof Heyns who accused the US of carrying out unmanned aerial attacks on foreign soil under the guise of an anti-terror war without borders.
The UN rights ombudsmen argued however that other countries could follow America's example and justify their overseas operations by the US precedent, thus triggering a domino effect, while British MP Ed Davey said US drone strikes in Pakistan, among others, used loopholes in international laws that don't mention UAVs. Mr. Davey also said Washington "transgressed the sovereignty" of Pakistan by launching airstrikes on its turf.
Full report at:
http://voiceofrussia.com/2014_01_03/CIA-waged-drone-war-spreads-anarchy-around-the-world-2660/
-----------
Kerry to Netanyahu: Israeli-Palestinian peace not 'mission impossible'
January 03, 2014
PM: Israel doubts Palestinian commitment to peace; Kerry says framework deal will clarify issues for final status deal.
Declaring peace is not "a mission impossible," US Secretary of State John Kerry arrived on Thursday and immediately met a downbeat Prime Minister Binyamin Netanyahu who spoke of growing Israeli doubts about the Palestinian commitment to peace.
Netanyahu, who together with Kerry made a brief statement before their Jerusalem meeting, said Israel's doubts stemmed from "unabated" Palestinian Authority-sponsored incitement, as well as President Mahmoud Abbas's failure to condemn the recent uptick in terrorism.
"A few days ago in Ramallah, President Abbas embraced terrorists as heroes," Netanyahu said. "To glorify the murders of innocent women and men as heroes is an outrage.
Full report at:
http://www.jpost.com/Diplomacy-and-Politics/Netanyahu-to-Kerry-Doubts-rising-about-Palestinian-commitment-to-peace-336930
-----------
US-Afghan ties hit rocks again over freeing militants
January 3, 2014
KABUL: A decision to release jailed militants further aggravated US-Afghan relations on Thursday as pressure mounts for the two countries to sign a deal allowing some American soldiers to stay after 2014.
The plan to free 88 suspected insurgents from Bagram jail has outraged US military officials and senators as final negotiations are underway on the long-delayed Bilateral Security Agreement (BSA).
Republican Senator Lindsey Graham, an influential voice on US military issues, tore into the proposed release of militants who he said had "blood on their hands".
"If this release goes forward, it… would have an unbelievably negative impact on the future relationship between the American people and the Afghan government," Graham said on a visit to Kabul.
Full report at:
http://tribune.com.pk/story/654195/us-afghan-ties-hit-rocks-again-over-freeing-of-taliban/
-----------
India
Indian Mujahideen more lethal and resilient due to support from Pak: US report
PTI | Jan 3, 2014
WASHINGTON: The outlawed terror group Indian Mujahideen (IM) is more lethal and resilient because of the support it receives from Pakistan, according to a new report by an American thinktank.
The report 'Jihadist Violence: The Indian Threat' by the Woodrow Wilson International Center for Scholars underlines that the Indian jihadist movement constitutes an "internal security issue with an external dimension."
"The Indian jihadist movement formed organically and as a result of endogenous factors, specifically communal grievances and a desire for revenge, but is more lethal and more resilient than it otherwise would have been, thanks to external support from the Pakistani state and Pakistan and Bangladesh-based militant groups," said the 100-page report.
The decentralized IM network has a loose leadership currently based in Pakistan, but moving between there and the United Arab Emirates and Saudi Arabia, said the report authored by noted South Asia security expert Stephen Tankel.
Full report at:
http://timesofindia.indiatimes.com/india/Indian-Mujahideen-more-lethal-and-resilient-due-to-support-from-Pak-US-report/articleshow/28330896.cms
-----------
PM hopes of visiting Pakistan in coming months
PTI | Jan 3, 2014
NEW DELHI: Prime Minister Manmohan Singh on Friday expressed hope of visiting Pakistan in next four months and said circumstances were "not appropriate" to visit that country so far.
Addressing a press conference, Singh was asked why he never visited Pakistan in last nearly ten years of his Prime Ministership.
"I would very much like to go to Pakistan. I was born in a village which is now part of West Punjab but as Prime Minister of the country I should go to visit Pakistan when conditions are appropriate to achieve solid results.
"I thought of it many times but ultimately I felt that circumstances are not appropriate for my visit. I still have not given up hope of going to Pakistan before I complete my tenure as Prime Minister," Singh said while addressing a press conference.
Full report at:
http://timesofindia.indiatimes.com/india/PM-hopes-of-visiting-Pakistan-in-coming-months/articleshow/28332875.cms
-----------
Indian PM asks for "amicable" settlement in GMR issue
By Ahmed Rilwan | January 3rd, 2014
Indian Prime Minister Dr Manmohan Singh has requested President Abdulla Yameen Abdul Gayoom to "amicably" settle the GMR airport issue.
In a media statement regarding Yameen's first state visit to India, Singh said he had discussed ways of expanding bilateral economic relations and said that an increase in Indian investments in Maldives would contribute to expansion of bilateral economic relations.
"In this context, I requested President Yameen to amicably settle the issue of Male International Airport and address the problems that some of our investors are facing. " Singh said.
Full report at:
http://minivannews.com/politics/indian-pm-asks-for-amicable-settlement-in-gmr-issue-74501
-----------
Window of citizenship opens for 50 Pak Hindu families
Ajay Sura,TNN | Jan 3, 2014
CHANDIGARH: In a major relief to 50-odd Pakistani Hindu families who have been living "illegally" in Ellenabad, a non-descriptive town of Sirsa district in Haryana for around 21 years, the district administration has accepted their applications for citizenship on behalf of the ministry of home affairs (MHA) by waiving the requirement of valid visa and passport.
Sixty-four families were forced to migrate from Pakistan in 1992 following the demolition of Babri Masjid in Ayodhya and had set up base in Ellenabad. As their passports and visas expired during their stay here for more than two decades, these migrants from Bahawalpur and Rahim Yar Khan in Punjab province of Pakistan were not unable to apply for Indian citizenship due to strict norms.
Full report at:
http://timesofindia.indiatimes.com/india/Window-of-citizenship-opens-for-50-Pak-Hindu-families/articleshow/28300836.cms
-----------
Pakistan
Government did not ask Samiul Haq to hold peace talks: Sources
January 3, 2014
ISLAMABAD: The government did not task Jamiat Ulema-e-Islam (JUI-S) Chief Maulana Samiul Haq to revive peace talks with the Tehreek-e-Taliban Pakistan (TTP), sources told Express News on Friday.
Express News correspondent Aamir Ilyas Rana reported that sources clarified that the influential cleric had asked for Prime Minister Nawaz Sharif's time, and after meeting him, unilaterally announced that the government had given him the task to hold peace talks.
On December 31, it was reported that Nawaz was looking to mend broken communication links with TTP, naming Haq as the government's point man and ice-breaker in the proposed negotiations.
Full report at:
http://tribune.com.pk/story/654314/government-did-not-ask-samiul-haq-to-hold-peace-talks-sources/
-----------
Exile in the making: Musharraf may leave country under 'clandestine deal'
January 3, 2014
ISLAMABAD: If sources close to General (retd) Pervez Musharraf are to be believed, the former president is likely to fly out of the country as part of a 'secret deal'.
The move would be a repeat of events in 2001 when incumbent Prime Minister Nawaz Sharif and his family were sent to Saudi Arabia under a deal. Almost 13 years on, Musharraf would be trading places with Nawaz. The sole difference between then and now is that Musharraf would be allowed safe passage on health grounds, sources privy to the development said.
Just like the 2001 agreement, the 2014 deal is being brokered by international players, the sources told The Express Tribune.
Full report at:
http://tribune.com.pk/story/654219/exile-in-the-making-musharraf-may-leave-country-under-clandestine-deal/
-----------
Jamaat-e-Islami likely to re-elect Munawwar party chief
January 03, 2014
LAHORE - The Jamaat-e-Islami central shura is likely to propose the name of incumbent Ameer Syed Munawwar Hassan including two others to lead the party for next five years.
The 3-day shura meeting will start at Mansoora on Friday (today) with the JI chief Syed Munawwar Hassan in the chair. The moot, a regular feature of the party, would approve the JI annual plan for the year 2014. A report regarding the JI's performance in 2013 would be presented at the meeting. The audit report for the outgoing year would also be presented, while the shura will approve the party budget for 2014.
Full report at:
http://www.nation.com.pk/lahore/03-Jan-2014/ji-likely-to-re-elect-munawwar-party-chief
---------
Cache of explosives recovered during raid in Chaman
2014-01-03
CHAMAN: Security forces conducted an operation on Friday and recovered a huge quantity of explosives, weapons and other documentation maps from Balochistan's Chaman district near the Pak-Afghan border, DawnNews reported.
Security sources said that acting on a tip-off received from intelligence agencies, an operation was conducted on a house situated in the Guldara Baghicha area of Chaman district during which two suspects were also taken into custody.
During the raid security forces claimed to have recovered almost one and half tonnes of explosive materials, 100 assembled improvised explosive devices, 109 land mines, weapons and other equipment used in the making of bombs.
Full report at:
http://www.dawn.com/news/1078120/cache-of-explosives-recovered-during-raid-in-chaman
-----------
Mideast
Liberman: Peace deal must be based on Israeli security, stable Palestinian economy
January 03, 2014
Foreign Minister Avigdor Liberman met on Friday morning with visiting US Secretary of State John Kerry and a delegation of visiting US senators to discuss the ongoing Israeli-Palestinian peace process.
"Any agreement between Israel and the Palestinians must be based on a solid foundation of security for Israel and a stable economy for the Palestinians," Liberman said.
However, Lieberman also raised a "next-day" issue regarding the signing of any future peace deal that would lead to the establishment of an independent Palestinian state.
Full report at:
http://www.jpost.com/Diplomacy-and-Politics/Liberman-Peace-deal-must-be-based-on-Israeli-security-stable-Palestinian-economy-337010
-----------
Israel says missile shield system passes 2nd flight test
January 03, 2014
Israel carried out another successful test on Friday of its upgraded Arrow interceptor, which is designed to destroy in space the kind of missiles held by Iran and Syria, a Defence Ministry spokeswoman said.
She said an Arrow III interceptor missile was launched over the Mediterranean sea in the second flight test for the US-backed system. Arrow III, whose deployment is expected by next year, has not yet been through a full simulated interception.
http://voiceofrussia.com/news/2014_01_03/Israel-says-missile-shield-system-passes-2nd-flight-test-4138/
---------
Attack on Iran's Beirut Embassy Masterminded by Saudi Prince Bandar
January 03, 2014
TEHRAN (FNA)- A Saudi terrorist who launched the recent deadly attack on the Iranian embassy in Lebanon took orders from Saudi Spy Chief Prince Bandar bin Sultan, Lebanese sources said.
On November 19, two bomb attacks outside the Iranian Embassy in Beirut killed 23 people and injured more than 146, including Iran's cultural attaché Ebrahim Ansari.
Lebanese information sources said that they have found information linking Majed al-Majed, the Saudi commander of the al-Qaeda affiliated group Abdullah Azzam Brigades who claimed responsibility for the attack to the Saudi spy chief.
Full report at:
http://english.farsnews.com/newstext.aspx?nn=13921012000493
-----------
Southeast Asia
Al Qaeda-linked Indonesian terrorists planned US embassy, CIA attacks
January 03, 2014
Six suspected terrorists killed in a New Year's Eve police raid near Jakarta had planned to carry out a string of attacks targeting the US embassy, a church and Buddhist temples, police said Friday.
Following a nine-hour gun battle with the six men in a house on the outskirts of the Indonesian capital, police seized a hand-written document revealing the group's targets, national police spokesman Boy Rafli Amar said.
"Take your pistols, holy warriors, and prepare to attack the US embassy," Amar said, reading from the document during a press conference. Suicide attacks were also planned, he said.
The document listed "hotels harbouring the CIA" and anti-terror police officers among targets, while National Police Chief Sutarman said the men also planned to attack a church and Buddhist temples to avenge anti-Muslim violence in Buddhist-majority Myanmar.
The men are believed to be behind a low-impact bombing on a Buddhist temple last August, which lightly injured one person, police said.
Full report at:
http://voiceofrussia.com/news/2014_01_03/Al-Qaeda-linked-Indonesian-terrorists-planned-US-embassy-CIA-attacks-1439/
-----------
Philippine army says nine rebels slain in attacks
January 3, 2014
COTABATO: Philippine troops repulsed a series of attacks by a breakaway insurgent group in the country's south that left nine rebels dead and two soldiers wounded, the army said Friday.
The series of skirmishes occurred around several small military outposts near the rural town of Pikit between Tuesday and Thursday, local military spokesman Captain Antonio Bulao told AFP.
Nine members of the Bangsamoro Islamic Freedom Fighters were killed in the fighting, Bulao said, citing intelligence reports.
The rebel faction's spokesperson, Abu Misri, confirmed that its forces were involved in the fighting, but denied that it sustained casualties.
Full report at:
http://tribune.com.pk/story/654329/philippine-army-says-nine-rebels-slain-in-attacks/
-----------
Stop 'Allah' row for country's peace, says Hishamuddin
January 03, 2014
Defence Minister Datuk Seri Hishammuddin Tun Hussein (pic) today called on all quarters to cease the polemics over the use of the word 'Allah' for the sake of peace in the country.
He said the refusal of certain quarters to accept the court's decision on the matter cultivated hatred and disunity, which was feared might cause turmoil in the country.
"The court has made its decision. We must accept it. Stop the polemics and stop politicising the issue, if not there will be chaos," he said today.
Full report at:
http://www.themalaysianinsider.com/malaysia/article/stop-allah-row-for-countrys-peace-says-hishamuddin-bernama
-----------
'Allah' issue shows Barisan too Malay-centric, overriding national interests, say critics
January 03, 2014
The ruling Barisan Nasional (BN) is an Umno-centric government whose main interest is to take care of the welfare of the Malays – specifically rural Malays, say analysts explaining Putrajaya's ambivalent stand over contentious issues affecting Malaysia.
A Selangor Islamic Religious Department (Jais) raid at a Bible-distribution centre yesterday caused outrage among Christians but only elicited calls for calm from Putrajaya over the community using the word "Allah".
Merdeka Center director Ibrahim Suffian said the national leadership was tied to the current political scenario where the BN federal government consisted of a stronger Umno representation after the 13th general election.
"So definitely, they will be more Malay-centric in their outlook as far as political leadership is concerned.
"At the same time, leaders from Umno feel they have strong support from their rural base and the strongest way to keep rural support is by maintaining a pro-Malay, pro-Islam line," the pollster told The Malaysian Insider.
Full report at:
http://www.themalaysianinsider.com/malaysia/article/allah-issue-shows-barisan-too-malay-centric-overriding-national-interests-s
----------
Africa
S Sudan army says closing in to retake rebel-held Bor
January 03, 2014
South Sudan rebels are retreating as the army pushes to retake the key town of Bor, the military said Friday, as battles rage despite peace efforts to end the conflict.
"We have enough forces who will defeat the rebels within 24 hours," army spokesman Philip Aguer told reporters.
"These forces - the rebels - are now retreating back."
South Sudanese rebels loyal to former Vice President Riek Machar have seized control of Bor, the capital of restive Jonglei state, the town's Mayor said on Wednesday.
Nhial Majak Nhial told Reuters government troops loyal to President Salva Kiir had made a "tactical withdrawal" to Malual Chaat army barracks, 3 km (2 miles) south of the town on Tuesday, after fighting that started earlier in the day.
"Yes they (rebels) have taken Bor," Nhial said from the national capital Juba, 190 km south of Bor by road.
http://voiceofrussia.com/news/2014_01_03/S-Sudan-army-says-closing-in-to-retake-rebel-held-Bor-5649/
-----------
Suspected CIA agents arrested in Benghazi
World Bulletin / News Desk
January 03, 2014
Two Americans were being held by the Libyan army at its headquarters in the city of Benghazi, a local security source and army sources told Reuters.
The identity of the two Americans was not immediately clear but the Anadolu Agency reported that two men were arrested over suspect of a being CIA agent.
Last week, four American military personnel were detained by the Libyan government on Friday and held in custody for several hours before being released, U.S. officials said.
http://www.worldbulletin.net/?aType=haber&ArticleID=126158
-----------
URL: https://www.newageislam.com/islamic-world-news/new-age-islam-news-bureau/syrian-mufti-s-aide-gives-army-permission-to-rape/d/35124