New Age Islam News Bureau
30 Nov 2014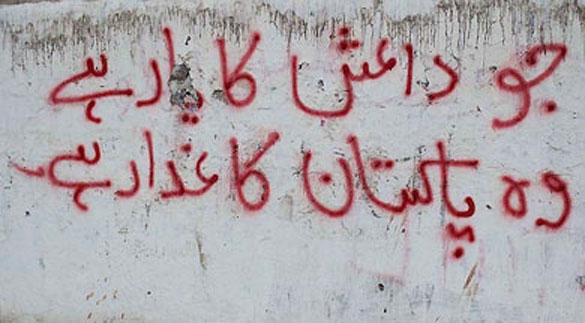 Man passing near a wall of a school on which anti Islamic State (ISIS) slogan (ISIS Friend is Pakistan's Enemy) is written, at M.R Kyani Road in Karachi. - PPI
----------
Arab World
• Syrian Army Kills Over 150 ISIL Terrorists in Hasaka
• At Least 50 Isis Fighters Killed In Syria's Kobane
• Arabs to Present Draft on Palestinian State to Security Council
• Deaths mount as Iraq strikes target ISIS areas
• Iraq's divisions will delay counter-offensive on ISIS
• Scholar says forgiving mistakes will draw non-Muslims to Islam
• Bahrain: 14 Shiite Candidates Win Seats
• Thirty US-led strikes hit ISIL in Syria's Raqqa: monitoring group
• Islamic State Killed Family That Wouldn't Allow Daughter to Marry Fighter
• Egypt death toll rises in Mubarak clashes
• A Jordanian Spins Comic Book Tales to Counter Terrorist Ideologies
Mideast
• Over 200 Iranian Sunni, Shiite Ulema Condemn Israel's Sacrilege of Al-Aqsa Mosque
• Arab-Jewish school, symbol of Jerusalem co-existence, torched
• Muslims discovered Earth is round, Turkey's science minister says
• Don't let them kiss your hands, Turkish PM instructs officials
• Netanyahu indicates patience running out on coalition antics
• Abbas: I won't give up one inch of 1967
• Israel to commemorate Jewish refugees from Arab countries for first time today
• Iranian general: Soon the West Bank will be a hell for Israelis
India
• Jamiat Ulema-e-Hind Rally Protesting 'Campaign against Madrasas', Targets Police
• No Gun, Not a Grain of Explosive Found At Simulia 'Jihadi Training Ground'
• Radicalized On Net Chat Room, Given Mosul Contact: ISIS Man
• Delhi Police told to watch out for ISIS online
• Pak scholars denied visa for Shibli function: Organisers
Pakistan
• Anti-Islamic State graffiti emerges in Karachi
• PAT, PML-Q and MWM won't join PTI's rally
• Altaf seeks army's role to check civilian govt
• Pakistan for achieving peace, stability in region: CJCSC
• Imran says will announce plan 'D' if plan 'C' fails
• FC soldier killed, two wounded in grenade attack in Balochistan
• ANP lashes out: 'PTI will be responsible for martial law'
• Interfaith harmony: CADD developing curriculum to represent minorities, SC told
South Asia
• 18 Taliban Insurgents Killed During Counter-Terrorism Operations
• Xinjiang Acts to Stop Extremism
• Abducted Afghan army soldier kills 5 Taliban rebels in Ghazni
• Two war crimes accused sent to jail in Bangladesh
• Buthpara, a safe haven for Jamaat
Europe
• Pope says Islamist violence in Syria, Iraq is a "grave sin against God"
• UK Muslims face worst job discrimination of any minority group
• 13,000 'slaves' working in UK, says survey
Southeast Asia
• Umno leaders should learn from Pope Francis' Turkey visit
• Umno more focused on race issues than people's problems, says DAP
• Enforcement of Sedition Act must be fair, says Najib
Africa
• Nigeria vows to hunt those behind 'heinous' mosque attacks
• Fighting in Libya's Benghazi kills 400 in past six weeks
• Sudan's Bashir wants 'clear' plan for UNAMID to leave Darfur
North America
• Fighting Fear: Oklahoma Muslims seek understanding in the face of criticism
• Latin America's Muslims say represented by 'wrong' people at summit
• How Jewish and Muslim Relations Are Improving In the U.S
• Muslim Returns $100,000 Found in Burger King
• My family is Muslim, Pakistani, African American and Christian. We celebrate Thanksgiving by shooting each other with paint
Compiled by New Age Islam News Bureau
URL: https://www.newageislam.com/islamic-world-news/new-age-islam-news-bureau/syrian-army-kills-over-150-isil-terrorists-in-hasaka/d/100260
---------
Arab World
Syrian Army Kills over 150 ISIL Terrorists in Hasaka
Nov 30, 2014
The Syrian Army inflicted massive casualties on the ISIL Takfiri group in the North-eastern province of Hasaka, leaving at least 150 terrorists dead.
The army soldiers targeted the fighting positions of the rebels in the areas of al-Shadadi, al-Karameh, Mabtouh, Um al-Kubar, al-Seddiq, and Tal Brak, killing and injuring hundreds of them.
Also, a number of top commanders of the Takfiri group were killed during the operations.
The conflict in Syria started in March 2011, when sporadic pro-reform protests turned into a massive insurgency following the intervention of western and regional states.
The unrest, which took in terrorist groups from across Europe, the Middle-East and North Africa, has transpired as one of the bloodiest conflicts in recent history.
As the foreign-backed insurgency in Syria continues without an end in sight, the US government has boosted its political and military support to Takfiri extremists.
Washington has remained indifferent to warnings by Russia and other world powers about the consequences of arming militant groups.
http://english.farsnews.com/newstext.aspx?nn=13930909000281
---------
At least 50 ISIS fighters killed in Syria's Kobane
30 November 2014
At least 50 Islamic State of Iraq and Syria (ISIS) group jihadists have been killed in the past 24 hours in clashes, suicide bombings and U.S.-led air strikes in Syria's Kobane, Agence France-Presse reported a monitor as saying Sunday.
The Syrian Observatory for Human Rights described number of deaths as one of the highest daily tolls for the Sunni Muslim extremist group since it launched an assault on the strategic town on the Turkish border in September.
Meanwhile, a U.S.-led coalition on Saturday carried out at least 30 air strikes in Syria against ISIS in the northern province of Raqqa, the Observatory reported.
The air strikes hit ISIS positions in the northern outskirts of Raqqa city, a major stronghold of the hard-line Islamist militants.
The areas hit by the strikes included the 17th Division, a Syrian army base that ISIS seized in July, the Observatory said.
Fighting in Aleppo
In a related story, fighting between rebels and government's forces continued in Aleppo, Syria's second city and former industrial powerhouse.
A Syrian woman and her three sons were killed overnight by rebel fire in the government-held side of Aleppo, the Observatory reported.
The woman and her children were killed when a homemade rocket fired from the rebel-held east of the city hit their home around midnight in the Ashrafiyeh district.
The Britain-based monitor said rebels were firing homemade explosive devices often using gas canisters that were even more damaging than regular mortar fire.
Aleppo has been divided between rebel control in the east and regime control in the west since shortly after fighting began there in mid-2012.
Since the end of 2013, the Syrian air force has regularly dropped explosive-packed "barrel bombs," which rights groups criticize as particularly indiscriminate, on the rebel east and surrounding province.
The barrel bomb attacks have killed several thousand people in Aleppo province, according to the Observatory.
In recent months, rebels have intensified their mortar attacks on the government-held west of the city, killing nearly 300 people in four months, the group said.
(With Reuters and AFP)
http://english.alarabiya.net/en/News/middle-east/2014/11/30/At-least-50-ISIS-fighters-killed-in-Syria-s-Kobane.html
---------
Arabs to Present Draft on Palestinian State To Security Council
Nov 30, 2014
CAIRO: Arab League foreign ministers endorsed on Saturday a draft resolution setting a timeframe for the creation of a Palestinian state and said they would formally present it to the United Nations Security Council for a vote within days.
The ministers said in a statement after their meeting that a follow-up committee including Jordan, an Arab member of the Security Council, would begin to seek international backing for the resolution. Arab League chief Nabil al-Araby said Jordan would present the draft to the Security Council within days.
A proposed resolution on a Palestinian state is unlikely to gain the support of veto-wielding council member the United States, a key ally of Israel. It is not clear whether Washington would engage in formal negotiations on such a document.
Speaking at the opening of the session in Cairo, Palestinian President Mahmoud Abbas said Israel had left his people no option but to turn directly to the international community.
"The current situation in the Palestinian territories cannot continue," he said. "There is no longer a partner for us in Israel and there is nothing for us but to internationalise the issue." Jordan circulated a draft UN Security Council resolution to members early last month that calls for an end to Israeli occupation by November 2016. Some diplomats have described the Palestinian-drafted text as "unbalanced".
France, Britain and Germany are also drafting their own resolution, diplomats said, which would set out parameters for trying to end the conflict. They have not yet circulated a text to the 15-council members.
Abbas warned in his speech that his government could limit contacts with Israel and suspend security coordination if the resolution failed to pass at the Security Council, and that Israel would bear responsibility for the consequences.
Abbas has previously described security coordination with Israel as necessary and even "sacred".
Palestinians seek statehood in the Israeli-occupied West Bank and blockaded Gaza Strip, with East Jerusalem as their capital — lands captured by Israel in a 1967 war.
Israel accepts the idea of a "two-state solution" of an independent and democratic Palestinian state existing alongside Israel, but has not accepted the 1967 borders as the basis for final negotiations, citing security and other concerns.
The latest round of efforts to forge a two-state solution collapsed in April and relations between the two sides have worsened since a 50-day war between Israel and Hamas militants in the Gaza Strip this summer.
France said on Friday it would recognise a Palestinian state if a final international effort to overcome the impasse between Israelis and Palestinians failed.
French parliamentarians will hold a symbolic vote with no immediate policy impact on Dec 2 on whether the French government should recognise Palestine as a state, after similar moves in Sweden, Britain, Ireland and Spain.
http://www.dawn.com/news/1147805/arabs-to-present-draft-on-palestinian-state-to-security-council
---------
Deaths mount as Iraq strikes target ISIS areas
30 November 2014
Seventeen people were killed in Iraq on Saturday in air strikes targeting areas controlled by Islamic State of Iraq and Syria (ISIS) militants, witnesses and an intelligence official said.
Two brothers who were members of the Albu Hishma tribe were mistakenly killed when an Iraqi military helicopter attacked the house of an ISIS militant in the town of Yathrib, 90 km (56 miles), witnesses said.
Fifteen people from the same tribe were then killed in an airstrike as they headed to the funeral of the brothers, said witnesses. Both accounts were confirmed by an intelligence official.
It's not clear who carried out the second strike.
U.S.-led airstrikes have helped Iraqi government forces, Kurdish fighters and Shiite militias retake some territory from ISIS militants, who swept through the north in June, consolidating on gains in western Iraq.
http://english.alarabiya.net/en/News/middle-east/2014/11/30/Iraq-airstrikes-kill-17-in-areas-held-by-ISIS.html
---------
Iraq's divisions will delay counter-offensive on ISIS
30 November 2014
U.S. air support and pledges of weapons and training for Iraq's army have raised expectations of a counter-offensive soon against the Islamic State of Iraq and Syria (ISIS), but sectarian rifts will hamper efforts to forge a military strategy and may delay a full-scale assault.
The Sunni Islamists stormed through northern Iraq in a 48-hour offensive in June, charging virtually unopposed toward the outskirts of Baghdad, humiliating a U.S.-trained Iraqi army which surrendered both land and weapons as it retreated.
By contrast, even a successful effort by the Shi'ite-led government to dislodge Islamic State, also known as ISIS, from Sunni territory where it rules over millions of Iraqis would be fiercely fought and could stretch well beyond next year.
The Baghdad government relies on Shiite militias and Kurdish peshmerga to contain ISIS - a dependence which underlines and may even exacerbate the sectarian rivalry which opened the door for the summer offensive.
U.S. newspapers have cited officials in Washington saying the Americans' training mission aims to prepare Iraqi troops for a spring offensive to retake territory, including Mosul, northern Iraq's largest city and ISIS's powerbase.
Hemin Hawrami, an official close to Kurdish leader Masoud Barzani, told Reuters that Iraqi forces would not be ready to take the fight to Mosul, in Iraq, until late 2015.
"There will be no spring or summer (offensive)," he said, adding that progress depended on government willingness "to reorganize the army, how quickly they can solve political issues with us and the Sunnis, (and) how quick the coalition will be in providing heavy arms to peshmerga and the Iraqi army."
'Certain victory'
The army, Shiite militias and Kurdish fighters have made some gains against ISIS, pushing back an advance toward Kurdish territory in August and last week recapturing towns in Diyala province, on the road from Baghdad to Iran.
The leader of the pro-Iranian Shi'ite Badr Organization, whose fighters battled alongside peshmerga and soldiers in Diyala, said they would turn next to the Sunni provinces of Salahuddin and Anbar - north and west of Baghdad - before moving further north to Nineveh province, where Mosul lies.
"We are counting on the support of the Sunni tribal fighters. With them joining the fight, our victory is certain," Hadi al-Amiri told Reuters by telephone from Diyala province.
Amiri said he expected to get weapons not just from the Iraqi government, which may allocate a quarter of next year's $100 billion budget to the military, but also from the $1.6 billion of arms and training which Washington plans to deliver.
Both Amiri's assumptions look optimistic, as Washington and the Sunni tribes are deeply wary of Shi'ite militia forces.
Iraqi authorities aim to overcome the deep rifts between Shi'ites, Sunni Arabs, Kurds and other groups by absorbing local fighters into a state-funded National Guard, but the role of that force remains undecided.
Long war
Government adviser Zuhair al-Chalabi told Reuters the army was in no shape to surge north and Mosul's mainly Sunni residents would resist a campaign by Shi'ite militias alone.
Instead, a combined force of army soldiers, Sunni tribes, Kurdish peshmerga and Shi'ite fighters must be assembled - and the open border with Islamic State territory in Syria sealed.
"There is a plan, but it can't be implemented that quickly," said Chalabi, who is from Mosul.
Finance Minister Hoshyar Zebari said ISIS was still a formidable force but was losing the ability to conduct major ground combat because that exposed it to air strikes.
Zebari, a Kurd, declined to give details of the military strategies of either the Baghdad government or the semi-autonomous Kurdish authorities, but said "planning and coordination are already under way" for the battle for Mosul.
"I am really not aware of spring offensives. The offensive is on - spring, summer, winter. We countered them in autumn. This is an ongoing battle with them."
The United States is setting up four training camps for Iraq's 80,000-strong armed forces - two around Baghdad, one in the Kurdish city of Arbil and the fourth in Anbar.
Washington has also set out plans to provide body armor and guns to 45,000 soldiers, 15,000 Kurdish peshmerga and 5,000 Sunni tribal forces.
A senior Western diplomat in Baghdad said the training might take six months, with the first round complete in late spring.
While he argued that the tide had turned against Islamic State in northern Iraq and was moving against it elsewhere, fighting was likely to stretch into 2016.
And without control over the border, ISIS fighters could slip away and regroup in Syria. "It's the balloon theory. You squeeze one part and it pops up elsewhere," he said.
Hawrami, the Kurdish official, foresaw a protracted and potentially inconclusive battle.
"In order to guarantee their defeat in Mosul we have to defeat them in Syria as well," he said. "ISIS cannot be vanquished. ISIS can be degraded and weakened, but this process of degrading and weakening needs years."
http://english.alarabiya.net/en/perspective/analysis/2014/11/30/Iraq-s-divisions-will-delay-counter-offensive-on-ISIS.html
---------
Scholar says forgiving mistakes will draw non-Muslims to Islam
Nov 30, 2014
RIYADH — A scholar has called for emphasizing the principles of forgiveness and tolerance in Islamic societies toward non-Muslims who make mistakes, Al-Hayat daily reported.
In his study, Saad Al-Ehaidib, a scholar at Imam Muhammad Bin Saud Islamic University's School of Dawah and Information, also called for conducting symposiums and seminars stressing the importance of forgiveness and tolerance.
The study focuses on ways to convince non-Muslims to embrace Islam by showing them the virtues of the religion, especially the humane and ethical principles that are based on forgiveness toward the mistaken and mercy for the weak.
Full report at:
http://www.saudigazette.com.sa/index.cfm?method=home.regcon&contentid=20141130225950
---------
Bahrain: 14 Shiite Candidates Win Seats
Nov 30, 2014
Fourteen Shiite candidates have won seats in Bahraini parliamentary elections that were boycotted by the country's Shiite-dominated opposition.
Among the winners in the election results released Sunday were three women. The results follow runoff elections Saturday for the 40-seat lower house of parliament in the tiny Gulf island nation.
The elections were the country's first full parliamentary elections since widespread Arab Spring-inspired protests led by the country's Shiite majority erupted in February 2011.
Bahrain is a Sunni Muslim-ruled Western ally that hosts the U.S. Navy's 5th Fleet and is part of the U.S.-led coalition striking the Islamic State group. It continues to face street clashes and other low-level unrest as Shiites press for greater political freedoms.
http://abcnews.go.com/International/wireStory/bahrain-14-shiite-candidates-win-seats-27259029
---------
Thirty US-led strikes hit ISIL in Syria's Raqqa: monitoring group
Nov 30, 2014
A U.S.-led coalition carried out at least 30 air strikes in Syria against Islamic State of Iraq and the Levant (ISIL) militants in the northern province of Raqqa on Nov. 29, a monitoring group said.
The Britain-based Syrian Observatory for Human Rights said the air strikes hit ISIL positions in the northern outskirts of Raqqa city, a major stronghold of the hardline Islamist militants.
The areas hit by the strikes included the 17th Division, a Syrian army base that ISIL seized in July, the Observatory said.
http://www.hurriyetdailynews.com/thirty-us-led-strikes-hit-isil-in-syrias-raqqa-monitoring-group.aspx?pageID=238&nID=74997&NewsCatID=352
---------
Islamic State Killed Family That Wouldn't Allow Daughter to Marry Fighter
Nov 30, 2014
Islamic State militants have executed five members of an Iraqi family because the parents refused to allow their daughter to marry a fighter in the group, according to Iraqi officials.
After killing the family members, Islamic State militants kidnapped the 14-year-old girl and took her to an unknown location, according to a statement from Iraq's Human Rights Ministry, which called the murders a "horrific crime."
Islamic State militants killed the mother, father, and three children before kidnapping the daughter, officials said. The Human Rights Ministry said in the statement that the Islamic State fighter who was trying to marry the girl was Saddam al-Jamal.
The statement did not disclose when and where the murders took place.
Jamal is a former drug dealer who was a commander in the Free Syrian Army before he defected to the Islamic State. It's not clear if Jamal is directly responsible for the murder of the Iraqi family, but a former bodyguard has disclosed previous violent acts he has committed.
Full report at:
http://www.ibtimes.co.uk/isis-kills-five-members-iraqi-family-who-refused-marry-off-daughter-jihadists-1475204
---------
Egypt death toll rises in Mubarak clashes
30 November 2014
One person was killed following clashes between Egyptian police and protesters in Cairo, bringing the total death toll to two since clashes erupted on Saturday, a health ministry spokesman said early Sunday.
The clashes followed a court decision to clear former President Hosni Mubarak over killings during an uprising which ousted him three years ago.
Nine people were injured in the violence, spokesman Hossam Abdel-Ghaffar said, which occurred in Cairo's Abdel-Moneim Riad square near the iconic Tahrir Square.
The first man to have been killed had been shot either with live ammunition or birdshot. "He had been wounded in the clashes," a health ministry official told AFP.
Egyptian police initially fired tear gas at more than 1,000 protesters who gathered to denounce the court's decision.
Full report at:
http://english.alarabiya.net/en/News/middle-east/2014/11/30/Death-toll-rises-in-Egypt-anti-Mubarak-clashes.html
---------
A Jordanian Spins Comic Book Tales to Counter Terrorist Ideologies
Nov 30, 2014
OSLO — SULEIMAN BAKHIT has made a career of studying heroes.
Mr. Bakhit, 36, is a Jordanian comic book author and entrepreneur who creates Middle Eastern stories that are an alternative to terrorist ideologies. His field research has included surveys of children in poor neighbourhoods in and around the Jordanian capital of Amman and in Syrian refugee camps.
All this, he says, has given him an insight into what fuels terrorism, and a specialist's appreciation for the propaganda strategies of the Islamic State, and how they have improved upon those pioneered by Al Qaeda. Where Osama bin Laden once lectured in didactic videos, the Islamic State, also known as ISIS or ISIL, has young jihadists speaking to potential recruits in their native tongues, whether English, French or Arabic, and connecting on an emotional level.
Full report at:
http://www.nytimes.com/2014/11/29/world/middleeast/a-jordanian-spins-comic-book-tales-to-counter-terrorist-ideologies.html?_r=2
--------
Mideast
Over 200 Iranian Sunni, Shiite Ulema Condemn Israel's Sacrilege of Al-Aqsa Mosque
Nov 30, 2014
More than 200 Sunni and Shiite Iranian ulemas (religious scholars) in a statement strongly condemned the recent provocative actions taken by Israel in the Holy Quds and Al-Aqsa Mosque, and underlined the Palestinian nation's right to continue its struggle on their path to freedom.
"We condemn the desecration of the Al-Aqsa Mosque and the Holy Quds as the sanctity and safe haven and temple of all Abrahamic religions, and voice our concern about the continuation of the Zionist regime's apartheid policies over the city," part of the statement by the Iranian religious scholars said.
The Iranian scholars reiterated that Israel's suppressive policies against the Palestinians who are under the harshest pressures in their homeland will no doubt mean that the Palestinian nation is entitled to the right to continue its struggle in the path of freedom and defending religious sanctities.
"What is presently going on in the Holy Quds is the continuation of the Zionist regime's crimes over the past 66 years which have been carried out with the support of colonial and arrogant powers …," the statement added.
Tensions have been running high at the al-Aqsa Mosque compound in East al-Quds in the last few weeks.
Full report at:
http://english.farsnews.com/newstext.aspx?nn=13930909000872
---------
Arab-Jewish school, symbol of Jerusalem co-existence, torched
Nov 30, 2014
JERUSALEM (Reuters) - Suspected Jewish extremists set fire to a classroom in an Arab-Jewish school in Jerusalem, police said on Sunday, targeting a symbol of co-existence in a city on edge over a recent surge in violence.
The premises were empty late on Saturday when assailants torched a classroom used by first-graders at the Hand in Hand school, where Palestinian and Israeli children study together in Hebrew and Arabic.
"Death to Arabs" had been scrawled on a schoolyard wall.
Police spokesman Micky Rosenfeld said the slogan pointed to "nationalist motives", a reference to suspected far-right Jewish attackers.
More than 600 pupils attend Hand in Hand. From pre-school to high school, its student population is divided equally between Jews and Arabs. There are four other such schools in the Hand to Hand network in Israel.
The smell of smoke still lingered in the air when children came to school on Sunday, the first day of the working week in Israel. A police forensic team worked in the burnt classroom where charred books were scattered on the floor.
Tearful mothers dropped off their children and about 150 people held a protest outside against the violence.
Full report at:
http://www.thestar.com.my/News/World/2014/11/30/ArabJewish-school-symbol-of-Jerusalem-coexistence-torched/
---------
Muslims discovered Earth is round, Turkey's science minister says
Nov 30, 2014
Muslim scientists working around 1,200 years ago were the first to determine that the Earth is a sphere, Turkey's science, industry and technology minister, becoming the latest Turkish official to inform the world about apparent scientific firsts on the part of Islamic world.
Speaking at a reception for business leader in the Central Anatolian province of Konya late Nov. 28, Minister Fikri Işık stressed the contributions of the Islamic world to science throughout history. "Some 700-800 years before Galileo, 71 Muslim scientists led by al-Khwarizmi convened by the order of the Caliph Al-Ma'mun and revealed that the Earth is a sphere," he said. Işık added that a copy of the original document is currently in the Museum of Islamic Science and Technology in Istanbul.
The museum was founded by Fuat Sezgin, a Turkish professor emeritus on Arabic-Islamic science who was recently referred by Turkish President Recep Tayyip Erdoğan, too. During a speech on Nov. 18, Erdoğan quoted Sezgin's theories for his controversial claim that the American continent was "discovered by Muslim sailors" some 300 years before Christopher Columbus.
Full report at:
http://www.hurriyetdailynews.com/muslims-discovered-earth-is-round-turkeys-science-minister-says.aspx?pageID=238&nID=74989&NewsCatID=338
---------
Don't let them kiss your hands, Turkish PM instructs officials
Nov 30, 2014
Turkish authorities will no longer be allowed to let citizens kiss their hands, Prime Minister Ahmet Davutoğlu has ordered, in response to criticism of Turkey's nationalist opposition, but violated his own instruction soon afterward.
While speaking at the provincial congress of the ruling Justice and Development Party (AKP) on Nov. 29, Davutoğlu emphasized the importance of staying in touch with the man in the street. "As Prime Minister, I say it as an instruction for all state officials: Nobody will let a citizen kiss [his or her] hand anymore," he said.
Kissing the hand of an elder or an esteemed figure before putting the hand to the forehead is a gesture of respect in Turkish culture.
A man approached Davutoğlu to congratulate soon after the speech and kissed his hand at an apparent moment of inattentiveness for the Turkish PM's part.
Full report at:
http://www.hurriyetdailynews.com/dont-let-them-kiss-your-hands-turkish-pm-instructs-officials.aspx?pageID=238&nID=74991&NewsCatID=338
--------
Netanyahu indicates patience running out on coalition antics
Nov 30, 2014
Prime Minister Benjamin Netanyahu hinted at Sunday's cabinet meeting that his patience with the ongoing coalition crisis is ending, saying he will "draw conclusions" if the coalition in-fighting does not cease.
"We need governmental stability and proper management," he told his cabinet ministers. "This is needed for Israeli citizens and for the state. Unfortunately this is not what we have seen recently."
Netanyahu said that not a day goes by when there are not threats or dictates from one coalition partner or another, amid the "lashing out by by ministers in the government against the government and the person at it's head."
Full report at:
http://www.jpost.com/Israel-News/Netanyahu-indicates-patience-running-out-on-coalition-antics-383224
---------
Abbas: I won't give up one inch of 1967
Nov 30, 2014
Palestinian Authority president Mahmoud Abbas said he will not negotiate over land with Israel, as well as accusing Israel of holding negotiations with Hamas, it was reported Sunday morning.
"I won't give up one inch of 1967; I have evidence that Hamas and Israel are conducting negotiations," Abbas said.
He continued by saying that Hamas is completely responsible for Gaza.
"The Palestinian Authority does not exist in the Gaza Strip. Hamas is responsible for the Gaza Strip."
http://www.jpost.com/Breaking-News/Abbas-I-wont-give-up-one-inch-of-1967-383210
---------
Israel to commemorate Jewish refugees from Arab countries for first time today
Nov 30, 2014
Israel will pay tribute for the first time on Sunday to the hundreds of thousands of Jewish refugees from Arab countries and Iran who had to flee after Israel was declared a state. Most of the refugees ended up in Israel.
As part of the commemoration, there will be special Knesset sessions devoted to the issue. Furthermore, the Education Ministry is enjoined to teach students about the history and expulsion of their ancestors and the Foreign Ministry will instruct its representatives around the world to commemorate the occasion appropriately.
http://www.jpost.com/Breaking-News/Israel-to-commemorate-Jewish-refugees-from-Arab-countries-for-first-time-today-383205
---------
Iranian general: Soon the West Bank will be a hell for Israelis
Nov 30, 2014
Deputy Commander of the Iranian Revolutionary Guards Brigadier General Hossein Salami said that the West Bank will turn into a hell for Israelis in the near future, Ma'an reports.
Salami said that the day will come when the Gaza strip and West Bank unite into one, and that the US cannot provide Israel, a land where "the fire of Hezbollah, Hamas, and the Islamic Jihad intertwine," with security.
http://www.jpost.com/Breaking-News/Iranian-general-Soon-the-West-Bank-will-be-a-hell-for-Israelis-383228
---------
India
Jamiat Ulema-e-Hind Rally Protesting 'Campaign against Madrasas', Targets Police
Nov 30, 2014
A public meeting called by the Jamiat Ulema-e-Hind (JUH) to protest "the campaign against madrasas" saw the protesters clashing with police and damaging several vehicles and one of the oldest clubs in central Kolkata after a rumour spread about a youth from the minority community allegedly suffering grievous injuries in an accident during the rally.
The clash left 11 police personnel, including two assistant commissioners, injured even as the traffic management collapsed resulting in bottlenecks at several locations causing inconvenience to the commuters.
However, as per the police, no accident was recorded in central Kolkata when the JUH meeting was being held. As per the police, following rumours about the alleged accident, a mob of protesters started pelting stones at police personnel deployed there apart from damaging several PCR vehicles. The mob also damaged the Dalhousie Athletic club.
JUH state Chief Siddiqullah Chowdhury, who was present at the rally, however, blamed the incident on "outsiders".
"Those who attacked the police were not from amongst us. We believe that some outsiders were trying to disturb our meeting and that is why they spread the rumour (about the accident)," he said.
http://indianexpress.com/article/india/india-others/juh-rally-protesting-campaign-against-madrasas-targets-police/#sthash.37HUHbjK.dpuf
---------
No gun, not a grain of explosive found at Simulia 'jihadi training ground'
Nov 30, 2014
Nine dilapidated rooms made of mud and bamboo, with peeling walls and a thatched roof, arranged in a rectangular shape. This is Simulia madrasa — the focus of a National Investigation Agency (NIA) probe, an alleged training ground for women "jihadis", and the so-called nerve centre of a terror network linked to the Burdwan blast in West Bengal.
The Simulia cluster of five villages from which the madrasa derives its name, located around 35 km from Burdwan, is surprised at the charges. The villagers, mostly Muslim, say they saw no sign of such activities.
Findings of the probe so far, in fact, point to Simulia madrasa being a radical Islamic centre than a training ground for "jehadis", with not one gun or any explosive being found. What is also clear is that it drew its girl students from outside the Simulia area. Barring one family, nobody from the villages here sent their girls there to study. Since the Burdwan blast though, Borhan Sheikh and Yousuf Sheikh, who helped set up the madrasa, are absconding.
The two had also bought land to set up another madrasa in Simulia, about half a kilometre away. Work on it has been halted.
According to the NIA, the Simulia madrasa was the centre for arms training for women cadres linked to the Jamaat-ul-Mujaheedin Bangladesh, with at least 25 of them receiving training there.
Full report at:
http://indianexpress.com/article/india/india-others/no-gun-not-a-grain-of-explosive-found-at-simulia-jihadi-training-ground/99/
---------
Radicalized on net chat room, given Mosul contact: ISIS man
Mateen Hafeez, TNN | Nov 30, 2014
MUMBAI: Arif Majeed, the 23-year-old ISIS recruit from Kalyan who returned to India on Friday, told interrogators that his indoctrination began after he visited an internet chat room. He was inspired to join the terrorist group and given the phone number of a person, whose men picked him up from Mosul in Iraq.
The three other youths, all in their twenties, who left their Kalyan homes with Majeed to join the Islamic State of Iraq and Syria, were also reportedly indoctrinated through chat rooms.
Majeed, who was arrested on Friday and booked under the anti-terror law and for waging war against a friendly Asian country, was produced before the notified National Investigation Agency (NIA) court in south Mumbai on Saturday and remanded in police custody till December 8.
Full report at:
http://timesofindia.indiatimes.com/india/Radicalized-on-net-chat-room-given-Mosul-contact-ISIS-man/articleshow/45322203.cms
---------
Delhi Police told to watch out for ISIS online
Raj Shekhar,TNN | Nov 30, 2014
NEW DELHI: Indicating that Islamic State of Iraq and Syria has been trying to recruit young men from Delhi and bordering areas using social networking websites, intelligence agencies have written to Delhi Police to "keep utmost vigil" on the "internet activity" of the terrorist organization and its offshoot, Ansar-ul-Tawhid.
Sources said there are strong possibilities that the special cell may request permission to interrogate Arif Majeed, the youth from Kalyan in Mumbai metropolitan region who has returned from Iraq via Turkey. Majeed, one of four youths from the Maharashtra town who had gone to Iraq and reportedly joined ISIS, returned to India on Friday morning and is being interrogated by National Investigation Agency.
In their communique, intelligence agencies say that ISIS and AuT are increasingly trying to mobilize support on online social forums and are motivating youths to join them for various objectives such as avenging the 2010 Batla House encounter. The agencies have mentioned that AuT's media wing had pledged revenge for those killed in the Batla encounter through the Twitter handle @isabahmedia2.
Full report at:
http://timesofindia.indiatimes.com/india/Delhi-Police-told-to-watch-out-for-ISIS-online/articleshow/45322628.cms
---------
Pak scholars denied visa for Shibli function: Organisers
Nov 30, 2014
Fourteen Pakistani scholars who were to travel to India over the weekend to attend the centenary celebrations of Shibli Academy in Azamgarh were denied visa even after the Ministry of External Affairs had cleared the trip, organisers of the function have alleged.
Vice-President Hamid Ansari was the chief guest at the inauguration of the three-day conference on Saturday.
The only person from Pakistan who could travel for the event is Professor Mohammed Ali Ghazali, a judge of the Supreme Court of Pakistan. Under SAARC rules, visa regulations do not apply to Supreme Court judges.
Organisers have not been given any reasons for the apparent refusal. Despite repeated attempts, Home Ministry officials were not available for comment.
Scholars from all over the world, including the US, Canada, Egypt, Turkey and Saudi Arabia, are in Azamgarh for the celebrations.
Full report at:
http://indianexpress.com/article/india/india-others/pak-scholars-denied-visa-for-shibli-function-organisers/#sthash.zxuLR4eO.dpuf
---------
Pakistan
Anti-Islamic State graffiti emerges in Karachi
Nov 30, 2014
KARACHI: Wall chalking against the Islamic State (IS) fighting in Iraq and Syria has emerged in Sindh's provincial capital following the recent discovery of graffiti in support of the militant organisation in parts of the country.
The anti-IS wall chalkings consist of slogans stating:
"Those who support Daish (IS) are traitors of Pakistan"
"Death to Daish"
Chalking in favour of IS had appeared in various places across all four provinces of the country causing a ripple of concern through the security administration.
A police probe into wall chalking was launched in the outskirts of Karachi and in Taxila where flags of the group, also known locally by its Arabic acronym 'Daish', were fixed to electricity poles near the Pakistan Ordinance Factories (POF).
Similarly police in Lahore arrested two suspects for plastering Islamic State stickers on walls in various localities.
Leaflets calling for support for IS were seen in several parts of Khyber Pakhtunkhwa including Bannu and South Waziristan tribal region's Wana area. Afghan refugee camps were particular targets of the IS propaganda.
The provincial government of Balochistan had also conveyed a confidential report to the federal government and law enforcement agencies warning of increased footprints of militant organisation Islamic State (IS).
http://www.dawn.com/news/1147886/anti-islamic-state-graffiti-emerges-in-karachi
---------
PAT, PML-Q and MWM won't join PTI's rally
Nov 30, 2014
LAHORE: The Pakistan Tehreek-e-Insaf (PTI) will be staging its public meeting today (Sunday) alone, as the Pakistan Awami Tehreek (PAT), the Pakistan Muslim League-Q (PML-Q) and the Majlis Wahdatul Muslimeen (MWM) on Saturday announced not to participate in rally in the federal capital. A joint meeting of the leaders of the three parties was held in the provincial capital, wherein they discussed the PTI's invitation extended to them to attend the rally against alleged rigging in the general election 2013. After thorough deliberations, the leadership of the three parties decided not to attend the rally. They were of the opinion that the PTI did not brief them on the motives of its public meeting. Talking to the media after the meeting, PAT leader Khurram Nawaz Gandapur said that they were thankful to the PTI for the invitation, but it was not possible for them to participate in the public gathering. He said that the PTI did not elaborate on the motives and objectives of its rally. Gandapur further said that they were ready to cooperate with the PTI, but it was not possible for them to practically participate in the PTI's Islamabad show. Although the PTI and PAT launched the campaign to topple the government at the same time, and which looked to be a joint struggle, cracks had started developing between the two parties ever since the beginning of the freedom-revolution marches.
http://www.dailytimes.com.pk/punjab/30-Nov-2014/pat-pml-q-and-mwm-won-t-join-pti-s-rally
---------
Altaf seeks army's role to check civilian govt
Nov 30, 2014
LONDON - Muttahida Qaumi Movement (MQM) chief Altaf Hussain has proposed a constitutional amendment to ensure the army's role in power for monitoring a civilian government.
In a telephonic address to supporters at Lal Qila ground in the wee hours of Sunday from London, he said that former military ruler Pervez Musharraf was ousted from power under a conspiracy. Industrial growth during Ayub's regime cannot be denied, he said, adding Musharraf era was the best in terms of economic developments.
He said that whenever a military government was formed in Pakistan, it always brought a local government system. He said that people of Hyderabad were deprived of higher education for many years, however, the youth of the city could get education without any fear now. He said that education is the ornament of the nation.
http://www.dailytimes.com.pk/national/30-Nov-2014/altaf-seeks-army-s-role-to-check-civilian-govt
---------
Pakistan for achieving peace, stability in region: CJCSC
Nov 30, 2014
RAWALPINDI: Chairman Joint Chiefs of Staff Committee (CJCSC) Gen Rashad Mahmood on Saturday highlighted the role played by Pakistan to achieve peace and stability in the region through a perennial resolve against terrorism in its all manifestations.
Speaking at SASEAN (South and Southeast Asian Nations) Defence Chief's Dialogue in Sri Lanka, the committee chairman dilated the functioning of Higher Defence Organisation in Pakistan and the synergetic effects of strategic thinking. He held wide-ranging bilateral talks on the sidelines of SASEAN with host country's Chief of Defence Staff General Jagath Jayasuria and delegates from other countries.
Matters related to bilateral interests came under discussion during these meetings.
The SASEAN forum is a conclave of defence chiefs of 18 regional countries that also constitutes South Asian Association for Regional Cooperation (SAARC) and Association of Southeast Asian Nations (ASEAN).
This being the first session is significant due to its regional peace, stability and confidence-building agenda and the coming into prominence of the region due to its natural geographical foray into Indo-Pacific Ocean. Delegates from China and Russia also attended the dialogue as observers.
http://www.dailytimes.com.pk/national/30-Nov-2014/pakistan-for-achieving-peace-stability-in-region
---------
Imran says will announce plan 'D' if plan 'C' fails
Nov 30, 2014
SLAMABAD: Pakistan Tehreek-e-Insaf chairman Imran Khan said that he will announce Plan D if the government doesn't accept his Plan C.
Speaking to media on Sunday ,he said was going to give a plan for the month of December through today's rally.
The PTI chairman said that his party wanted government to return to the negotiating table and resume talks from where they were suspended.
Khan claimed that it was agreed that ISI and MI will also be part of the investigation into poll rigging allegations.
Imran Khan said that the government was spending Rs30 million on advertisement campaign against him on daily basis.
Khan said that today (Sunday) was the decisive day for his party. The PTI is all set to stage a rally in Islamabad where Khan said he will announce a new campaign against the Nawaz Sharif government.
Imran Khan has been protesting against the government over what he said massive rigging in 2013 general election.
His campaign for vote recount has intensified since August 2014 when he led a long march on the federal capital and camped near the parliament house.
http://www.thenews.com.pk/article-167285-Imran-says-will-announce-plan-D-if-plan-C-fails
---------
FC soldier killed, two wounded in grenade attack in Balochistan
November 30, 2014
QUETTA: A Frontier Corps (FC) soldier was killed and two others were wounded after their vehicle was attacked with a rocket-propelled grenade in Tump area of Kech district, Balochistan on Sunday.
"A group of armed men fired a rocket propelled grenade at an FC vehicle in Tump area which was followed by intense firing; as a result of the firing, a FC subehdar Shireenul Islam was killed and two personnel sustained injuries," Balochistan FC spokesperson Khan Wasay said.
FC personnel reached the site of the incident and mounted a search operation and the injured were shifted to a hospital.
Tump, an area bordering Iran, is one of the troubled areas in Balochistan where separatists often target security forces and police. District Police Officer (DPO) Kech survived two attacks in Tump this month.
http://tribune.com.pk/story/799638/fc-soldier-killed-two-wounded-in-grenade-attack-in-balochistan/
---------
ANP lashes out: 'PTI will be responsible for martial law'
Nov 30, 2014
PESHAWAR: Awami National Party (ANP) Senior Vice President Haji Ghulam Ahmed Bilour on Saturday said Pakistan Tehreek-e-Insaf would be responsible if martial law was imposed in the country.
Speaking to journalists at his residence in the provincial capital, Bilour claimed some elements were striving towards martial law. He said Pakistan Tehreek-e-Insaf Chairman Imran Khan and his allies would be responsible if such plans materialise.
"We do not support martial law and neither do we accept it. In fact, our struggle is for democracy in Pakistan." Bilour said.
The former federal minister expressed his resentment over the increasing political polarisation of the country, alleging that certain circles were trying to disrupt the democratic process.
"We will not tolerate efforts aimed at derailing democracy," he remarked, saying the party would not accept any constitution introduced under a military government.
Responding to a question, the seasoned politician said, "Political polarisation is being sponsored and dictated by those who have long been trying to derail the democratic process at the behest of others." He made it clear that nobody apart from Pakistan Tehreek–e-Insaf Chairman Imran Khan and his aides would be responsible for derailing the democratic process.
The ANP leader reaffirmed his party's faith in democracy, the supremacy of the Constitution and Parliament.
Full report at:
http://tribune.com.pk/story/799276/anp-lashes-out-pti-will-be-responsible-for-martial-law/
---------
Interfaith harmony: CADD developing curriculum to represent minorities, SC told
November 30, 2014
ISLAMABAD: The Capital Administration and Development Division (CADD) has informed the Supreme Court that its curriculum wing is developing a course material that incorporates the standpoint of minorities to promote religious harmony and tolerance in society.
Deputy Attorney General (DAG) Sohail Mahmood submitted a report on behalf of CADD regarding the implementation of the court's June 18 verdict on the protection of minorities' rights.
Through the judgment, the Supreme Court had instructed federal and provincial governments to develop appropriate curricula at school and college levels to promote religious tolerance in the country. It has also asked the authorities to take appropriate steps to ensure that hate speeches in social media were discouraged and the delinquents were brought to justice.
The CADD's report says that a curriculum titled "National Curriculum for Human Rights Education" has been developed for elementary and secondary levels besides developing five training modules for training and orientation of teachers to promote religious and social tolerance, interfaith harmony, peace education and rights of minorities.
"In the new schemes of studies, a provision has been made to teach minority students ethics courses from third grade to seventh grade. The curriculum has accordingly been prepared and textbooks are being developed," says the report, a copy of which is available with The Express Tribune.
Full report at:
http://tribune.com.pk/story/799370/interfaith-harmony-cadd-developing-curriculum-to-represent-minorities-sc-told/
--------
South Asia
18 Taliban insurgents killed during counter-terrorism operations
Nov 30 2014
At least 18 Taliban militants were killed and 4 others were detained following military operations by Afghan national security forces in various provinces of the country.
The Ministry of Interior (MoI) following a statement said, Afghan National Police conducted several anti-terrorism joint operations with Afghan National Army and NDS to clean some of the areas from terrorists and enemies of peace and stability of Afghanistan.
The statement further added that the operations were conducted in Paktia, Logar, Zabul, Baghlan, Pawan and Nangarhar provinces.
As a result of the operations at least 18 armed Taliban members were killed and 4 others were arrested by Afghan National Security Forces, the statement said.
Also, during these operations, Afghan National Police discovered and confiscated light and heavy rounds ammunition, the statement added.
Afghan National Police discovered and defused four rounds of improvised explosive device (IED) during the operations in Helmand, Badghis and Herat provinces.
The anti-government armed militant groups have not commented regarding the report so far.
http://www.khaama.com/18-taliban-insurgents-killed-during-counter-terrorism-operations-9070
--------
Xinjiang acts to stop extremism
Nov 30, 2014
Beijing: A regulation prohibi­ting people from wearing or forcing others to wear clothes or logos associated with religious extremism was passed in the Xinjiang Uygur autonomous region.
The revised regional regulation on religious affairs is the first in the country to target religious extremism.
The measure was approved unanimously by the Standing Committee of the Xinjiang People's Congress, and is due to come into force next Jan 1. It is intended to protect legal religious activities.
"An increasing number of problems involving religious affairs have emerged in Xinjiang," said Ma Mingcheng, director of the legislative affairs committee.
"The old regulation, which was passed 20 years ago, just cannot handle new situations, such as the spreading of terrorist or extreme religious mate­rials via the Internet or social media, and using religion to interfere in people's lives."
He said the regulation had taken two-and-a-half years to draft, and was the most discussed and debated measure in the region's history.
Religious extremism has become the main threat to stability in Xinjiang and has led to an increasing number of terrorist attacks in and outside the region.
The new regulation contained 18 new articles, most of which clarify the nature of illegal and extreme religious activities, Ma said.
Full report at:
http://www.thestar.com.my/News/Regional/2014/11/30/Xinjiang-acts-to-stop-extremism/
---------
Abducted Afghan army soldier kills 5 Taliban rebels in Ghazni
Nov 30 2014
An Afghan National Army (ANA) soldier killed at least five Taliban insurgents after he was kidnapped in eastern Ghazni province.
According to local government officials, the incident took place in Andar district, a relatively volatile district where Taliban militants are actively operating.
The officials further added that the ANA soldier was also martyred during the cross-fire which took place on Saturday.
The district administrative chief Mohammad Qasim Desiwal said the ANA soldier was abducted while he was his way from Kandahar province to capital Kabul.
Desiwal further added that the ANA soldier was identified by Taliban militants and was taken down from the bus he was travelling in.
The Taliban militants group has not commented regarding the incident so far.
http://www.khaama.com/abducted-afghan-army-soldier-kills-5-taliban-rebels-in-ghazni-9066
---------
Two war crimes accused sent to jail in Bagladesh
Nov 30, 2014
The International Crimes Tribunal 1 has sent two war crimes accused to jail.
They are former Jessore-6 lawmaker Shakhawat Hossain and BNP supporter Shamsuddin Ahmed.
Prosecutor Sultan Mahmud Simon told the Dhaka Tribune that the tribunal passed the order after the duo were produced before it on Sunday afternoon.
Shakhawat was arrested from a house near Masterkhanpara Mosque area at Uttarkhan in the capital on Saturday evening.
Shamsuddin Ahmed, one of the two siblings against who the investigators found evidence of committing crimes against humanity during the 1971 Liberation War, has been arrested from Nandail of Mymensingh on Thursday evening.
http://www.dhakatribune.com/bangladesh/2014/nov/30/two-war-crimes-accused-sent-jail#sthash.6tazrExL.dpuf
---------
Buthpara, a safe haven for Jamaat
Nov 30, 2014
Buthpara is like any other village of Bangladesh by day. By night, it turns into a guarded bastion, where even law enforcers do not dare to venture.
Sharing a common wall with the Rajshahi University (RU) campus, Buthpara is a safe haven for Jamaat-e-Islami's student cadres — Islami Chhatra Shibir members.
Rajshahi University has come to be known as a stronghold of Jamaat and Shibir for decades. But nowhere are they more firmly rooted than at Buthpara village. The head of the local Jamaat unit runs the area as if it were his kingdom.
The fact that this used to be an extremely poor community, made it easy for Jamaat-Shibir men to establish a strong following among the people there. The Islamist party, which actively opposed Bangladesh's liberation in 1971, have made the villagers economically dependent on them.
Full report at:
http://www.dhakatribune.com/politics/2014/nov/30/buthpara-safe-haven-jamaat#sthash.XkDljeIR.dpuf
---------
Europe
Pope says Islamist violence in Syria, Iraq is a "grave sin against God"
Nov 30, 2014
ISTANBUL- Pope Francis said Islamic militants were carrying out a "profoundly grave sin against God" in Syria and Iraq, calling on Sunday for inter-religious dialog and action against poverty to help end conflicts there.
The pope spoke on the last day of his weekend trip to Turkey, which is sheltering nearly 2 million refugees from Syria, thousands of Christians among them.
Francis said people of all faiths could not remain indifferent to the cries of the victims of the "inhumane and brutal" war next door. "Taking away the peace of a people, committing every act of violence - or consenting to such acts - especially when directed against the weakest and defenseless, is a profoundly grave sin against God," he said.
The pope said stopping poverty was key partly because it gives rise to "the recruitment of terrorists." He has said that while it is lawful for the international community to use force to stop an "unjust aggressor," a lasting solution must be found.
http://www.jpost.com/Breaking-News/Pope-says-Islamist-violence-in-Syria-Iraq-is-a-grave-sin-against-God-383231
---------
UK Muslims face worst job discrimination of any minority group, according to research
Roger Dobson,The Independent | Nov 30, 2014
Muslims are facing the worst job discrimination of any minority group in Britain, according to new research which found that they had the lowest chance of being in work or in a managerial role.
Muslim men were up to 76 per cent less likely to have a job of any kind compared to white, male British Christians of the same age and with the same qualifications. And Muslim women were up to 65 per cent less likely to be employed than white Christian counterparts.
Muslims were the most disadvantaged in terms of employment prospects out of 14 ethno-religious groupings in the UK, researchers Dr Nabil Khattab and Professor Ron Johnston found using data from the Office for National Statistics' Labour Force Survey of more than half a million people. Skin colour made little difference to the figures.
Nabil Khattab, of Bristol University, said the situation was "likely to stem from placing Muslims collectively at the lowest stratum within the country's racial or ethno-cultural system due to growing Islamophobia and hostility against them.
Full report at:
http://timesofindia.indiatimes.com/world/uk/UK-Muslims-face-worst-job-discrimination-of-any-minority-group-according-to-research/articleshow/45324861.cms
-----------
13,000 'slaves' working in UK, says survey
Nov 30, 2014
LONDON: Up to 13,000 people in Britain are victims of trafficking, sexual exploitation or other forms of modern slavery, a government report said on Saturday, putting the figure at four times the previous estimate.
The Home Office figures — the first official estimate of the scale of the problem in Britain — included women and girls forced into prostitution or sexually exploited for profit, domestic servants working for little or no pay, and labourers forced to work in farms, factories and fishing boats.
"The first step to eradicating the scourge of modern slavery is acknowledging and confronting its existence," said Home Secretary Theresa May.
"The estimated scale of the problem in modern Britain is shocking and these new figures starkly reinforce the case for urgent action". The report, published as part of the British government's strategy to tackle trafficking and modern slavery, aimed to calculate what it called the "dark figure" of unreported victims not included by the National Crime Agency, which had put the number of victims in 2013 to 2,744.
Authorities say the number of reported cases is on the rise in recent years, but the true scale of the problem is difficult to pin down because victims are controlled, hidden, or fear reporting to police.
Many the victims are brought in by traffickers from countries including Romania, Poland, Albania and Nigeria, but officials stress that vulnerable British adults and children are also being systematically preyed upon by traffickers.
The National Crime Agency estimates that Britain was the third-most-common country of origin for victims identified last year.
A government-proposed bill to tackle the problem is being debated in Parliament.
http://www.dawn.com/news/1147791/13000-slaves-working-in-uk-says-survey
---------
Southeast Asia
Umno leaders should learn from Pope Francis' Turkey visit
Nov 30, 2014
PKR de facto leader Datuk Seri Anwar Ibrahim (pic) said while leaders of the Christian and Muslim worlds are beating a path to reach out to one another in peace and tolerance, Malaysian Muslim leaders in the just-concluded Umno general assembly are taking backward steps in relations with non-Muslims.
He said the attitude of Umno leaders and grassroots supporters, with their "racist slurs, religious intolerance and bigotry" are now "the new narrative among those in power".
Anwar, in a news conference in Kuching this afternoon, noted the diverging path the Roman Catholic's pontiff, Pope Francis who is on a visit to Turkey, was taking in contrast to Umno.
The pope had also been invited by the Mufti of Turkey to conduct religious rites in the famed Blue Mosque in Istanbul – an invitation which Anwar said was unthinkable in Malaysia.
Together with Istanbul's Grand Mufti Rahmi Yaran, Pope Francis yesterday stood for two minutes of silent prayer facing east in the Blue Mosque, one of Turkey's most important mosques, in what one news portal described as "a powerful vision of Christian-Muslim understanding at a time when neighbouring countries are experiencing violent Islamic assault on Christians and religious minorities".
Full report at:
http://www.themalaysianinsider.com/malaysia/article/umno-leaders-should-learn-from-pope-francis-turkey-visit#sthash.xC5UXhvM.dpuf
---------
Umno more focused on race issues than people's problems, says DAP
Nov 30, 2014
Important issues such as the nation's rising debt or the cost of living were not brought up at the just-concluded Umno general assembly because the Malay party's leaders were more interested in playing the race card, DAP said today.
Its secretary-general Lim Guan Eng said Umno showed its "true face" at the assembly when it ignored issues that Malaysians were concerned about.
"It was not 1Malaysia, it was Tipu Malaysia," Lim said at the Selangor DAP Convention held at the Petaling Jaya Civic Centre.
He told Selangor DAP delegates that Prime Minister Datuk Seri Najib Razak had steadily broken all of his promises.
Full report at:
http://www.themalaysianinsider.com/malaysia/article/umno-more-focused-on-race-issues-than-peoples-problems-says-dap#sthash.jZyZuaJ9.dpuf
---------
Enforcement of Sedition Act must be fair, says Najib
Nov 30, 2014
Datuk Seri Najib Razak said today that the enforcement of the Sedition Act must be fair and according to law.
The prime minister said the Act was not just about the protection of Muslims and the Malays, but extended to all races.
The law, he added, was needed to ensure that there would be no conflict and acrimonious relations between the races and various religious groups in the country.
Citing the racial riots in London three years ago and demonstrations across the United States over the past few days, Najib said even developed countries were not spared racial and religious tension.
"In Malaysia, if such things happen, it can turn up very ugly, people will be killed, people will go for each others' throats, and what we have built over such a long time since independence will be destroyed overnight.
Full report at:
http://www.themalaysianinsider.com/malaysia/article/sedition-act-wont-ensure-barisan-wins-polls-says-najib#sthash.kZkPAWkR.dpuf
---------
Africa
Nigeria vows to hunt those behind 'heinous' mosque attacks
Nov 30, 2014
Nigerian President Goodluck Jonathan vowed to hunt down those behind "heinous" attacks that killed at least 120 at the mosque of an Islamic leader who issued a call to arms against Boko Haram.
At least 270 others were also wounded when two suicide bombers blew themselves up and gunmen opened fire during weekly prayers on Friday at the Grand Mosque in Kano, the biggest city in the mainly Muslim north of the country, according to a toll given to AFP late Friday by a senior rescue official.
Jonathan "directed the security agencies to launch a full-scale investigation and to leave no stone unturned until all agents of terror... are tracked down and brought to justice," said a statement from his office on Saturday.
The mosque is attached to the palace of Kano's emir, Muhammad Sanusi II, Nigeria's second most senior Muslim cleric, who last week made a call at the same mosque urging civilians to take up arms against Islamist extremists Boko Haram.
Full report at:
http://www.hurriyetdailynews.com/nigeria-vows-to-hunt-those-behind-heinous-mosque-attacks.aspx?pageID=238&nID=75003&NewsCatID=357
---------
Fighting in Libya's Benghazi kills 400 in past six weeks
Nov 30, 2014
About 400 people have been killed in six weeks of heavy fighting between Libyan pro-government forces and Islamist groups in Libya's second-largest city Benghazi, medical staff said on Saturday.
Backed by forces led by a former general, the newly formed government army launched in mid-October an offensive against Islamists in Benghazi, expelling them from the airport area and from several camps the army had lost during the summer.
In the past three weeks the fighting has centred around Benghazi's commercial port where pro-government forces say Islamists are holed up. The port has had to close, disrupting food supplies in the eastern city.
"The death toll has risen to 400," a source at a Benghazi hospital said, declining to be identified for security reasons. Medics at other hospitals in the city confirmed the estimated death toll.
Full report at:
http://english.ahram.org.eg/NewsContent/2/8/116791/World/Region/Fighting-in-Libyas-Benghazi-kills--in-past-six-wee.aspx
---------
Sudan's Bashir wants 'clear' plan for UNAMID to leave Darfur
Nov 30, 2014
Sudanese President Omar al-Bashir Sunday called for a "clear programme" for the UN-African Union mission in Darfur to leave, saying the peacekeepers had become a "burden".
Bashir's government is locked in a dispute with UNAMID over its investigation of reports Sudanese troops raped 200 women and girls in a Darfur village in October.
The UN mission was set up in 2007 to protect civilians and secure aid to Darfur, which has been wracked by conflict since 2003 when ethnic insurgents rebelled against the government complaining of marginalisation.
"We want a clear programme for UNAMID to leave Darfur," told a news conference.
"We have asked the foreign ministry to work with the United Nations to end the presence of UNAMID forces in Darfur," he said.
The foreign ministry has called on the mission to form an "exit strategy" from the region.
Bashir charged that "UNAMID has become a burden and cannot protect itself".
"It has become a protection for rebels and not for civilians," he said.
Ties have deteriorated between Khartoum and UNAMID since the mission tried to investigate a report from a local news website that soldiers raped 200 women in the village of Tabit on October 31.
Full report at:
http://english.ahram.org.eg/NewsContent/2/8/116815/World/Region/Sudans-Bashir-wants-clear-plan-for-UNAMID-to-leave.aspx
---------
North America
Fighting Fear: Oklahoma Muslims seek understanding in the face of criticism
Nov 30, 2014
Lamiaa Ali was the only identifiable Muslim in Pryor on 9/11.
"I was the only one who was wearing the scarf in the entire city," said Ali, referring to the religious head covering that Muslim women wear.
And that meant, in a town that at the time had fewer than 9,000 people, she was a little afraid to venture out of the house after it was apparent that people who shared her faith were responsible for the attacks.
As it turns out, aside from some ugly stares by strangers at the grocery store and on the street, Ali and her family didn't deal with much backlash personally.
"Since my husband was the only internist in Pryor, lots of people knew him, and we really had lots of support," Ali said. Ali and her husband, both physicians, moved to the United States from Egypt when her husband was accepted into a residency program.
The consequences of 9/11 encouraged Muslims to share their faith and build bridges in their communities, and many Americans were receptive, Ali said.
Full report at:
http://www.tulsaworld.com/news/religion/fighting-fear-oklahoma-muslims-seek-understanding-in-the-face-of/article_b8f3849e-200f-57fe-93e4-d2d9f8b3facb.html
----------
Latin America's Muslims say represented by 'wrong' people at summit
Nov 30, 2014
Those who spoke on behalf of Latin American Muslims at a recent summit in İstanbul are not the right people to represent the Muslims of the region, some Latin American Muslims have said.
Jamal Saker, the president of the Islamic Association of Panama, told Today's Zaman that the speaker billed as the representative of Panamanian Muslims at the first Latin American Muslim Leaders' Summit, which was held in İstanbul in mid-November, is in fact a lawyer and has faced charges of aggravated fraud in the past.
Saker also criticized the Religious Affairs Directorate (DİB) over the selection of irrelevant and untrustworthy individuals as representatives at the religious summit. He added that they will bring a lawsuit against the speaker who climbed the podium at the conference on behalf of Panamanian Muslims.
Speaking to the Cihan news agency, an anonymous Panamanian Muslim made similar statements, saying that the speaker who represented Panamanian Muslims in the conference is known for cheating people in Panama. "He deceived Turkish students in Panama by collecting money from them to assist them in obtaining visas. However, those students were let down by him," he added.
Full report at:
http://www.todayszaman.com/national_latin-americas-muslims-say-represented-by-wrong-people-at-summit_365255.html
----------
Muslim Returns $100,000 Found in Burger King
Nov 30, 2014
CALIFORNIA – A Muslim owner of a Burger King branch in San Jose has returned to police a backpack which contained US$100,000 after finding it abandoned at one of the restaurant's tables.
"I am Muslim, and we believe that you have to sweat to get what you earn," Altaf Chaus, the owner of Burger King at 1305 N. Bascom Ave in San Jose, California told Santa Cruz Sentinel.
"We say: 'If you don't sweat, it's not your money,' " he said.
Hoping someone would return to claim it, Chaus kept the bag next to the cash register.
Chaus waited for hours, hoping that someone will come and pick the bag. However, he finally had to open it catch his birthday party at home, hoping to find anything that might identify its owner.
Full report at:
http://www.onislam.net/english/news/americas/480217-muslim-returns-100000-found-in-burger-king.html
----------
How Jewish and Muslim Relations Are Improving In the U.S
Nov 30, 2014
A program to introduce better relationships between Judaism and Islam, synagogues with mosques, rabbis with imams, was created in the United States of America in 2008 – and it continues to this day, bringing together two religious groups to gain a better understanding of each other. There are now many synagogues and mosques that have partnered together, and many Jewish people and Muslim people attend workshops that have been created to help the two groups comprehend each other.
Many believe that the key ideas of acceptance and understanding other people is placed firmly within the center of both religious texts. In the Quran (49:13) it states: "O humanity! We created you from a single male and female, and made you into tribes and nations, that you might know one another." A sacred text for Jewish people also follows a similar line: "Thus was humanity made from a single being … to promote peace among God's creatures, that no one may say, my ancestor was greater than yours." (Mishnah Sanhedrin 4:5)
As the Islamic faith and the Jewish faith have so much shared history and shared religious teaching, many were surprised that these sort of interfaith relations had not been established earlier – and indeed, it was discovered that some mosques already had links with synagogues. Full report at:
http://www.worldreligionnews.com/religion-news/islam/how-jewish-and-muslim-relations-are-improving-in-the-u-s
----------
My family is Muslim, Pakistani, African American and Christian. We celebrate Thanksgiving by shooting each other with paint.
By Lisa Argrette Ahmad
Nov 30, 2014
Every year, my husband's family and mine gather to celebrate Thanksgiving. They are Pakistani and Muslim. We are African American and Christian.
It's been more than 20 years since my husband and I fell in love and married. But still, when our families get together, we play it safe. No boisterous laughter; always polite about our politics. While other families cheated at board games or fought about food, ours stayed home for the holiday weekend, always being cordial.
No one wanted to commit the equivalent of holiday hari-kari by offending the other relatives.
My husband offered a mash-up of the Lord's Prayer and Bis-mi-Allah. I served turkey and lamb, collard greens and biryani. We spoke Urdu and English, wore saris and slacks. But after years of being politically correct, I wanted something more. So last Thanksgiving, I declared: "We're going paintballing."
When I informed my relatives the morning after Thanksgiving, there was absolute silence. The cousins were convinced that I'd lost my mind. My husband pooh-pooh-ed the idea altogether, fretting over the one kid who'd whine to stay home or the hyper-competitive 50-something who'd end up nursing a sprain with ice. My mother, the lawyer, added, "I just don't think it's appropriate." She exchanged looks with my uncle's wife, who rolled her eyes. My husband's parents politely excused themselves, indicating some translation glitch or their disapproval.
Full report at:
http://www.washingtonpost.com/posteverything/wp/2014/11/26/my-family-is-muslim-pakistani-african-american-and-christian-we-celebrate-thanksgiving-by-shooting-each-other-with-paint/
----------
URL: https://www.newageislam.com/islamic-world-news/new-age-islam-news-bureau/syrian-army-kills-over-150-isil-terrorists-in-hasaka/d/100260