New Age Islam News Bureau
14 May 2013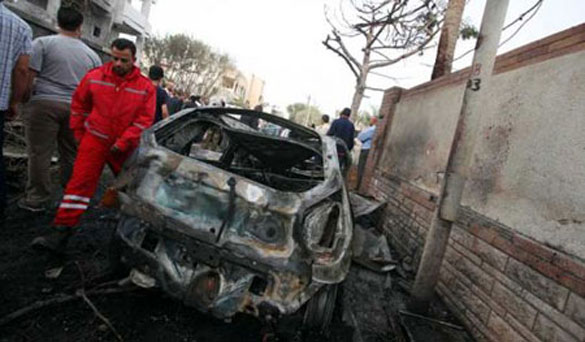 A car bomb that exploded on Monday in the parking lot of a Benghazi hospital killed at least 15 people and wounded 30
------------
Arab world
• Syria Video 'Appears To Show Rebel Mutilating Corpse', Says Human Rights Watch
• In Egypt, It's Shia Versus Naked Women
• Salafists society pulls out of national dialogue coalition
• US soldier found guilty over 2009 killings in Iraq
• Putin, Netanyahu set for talks on Syria
• KK fighters arrive in Iraq under peace deal
------------
India
• Renowned Islamic scholar, author and reformist Asghar Ali Engineer passes away
• Sheikh fake encounter case: CBI books BJP leader Gulab Chand Kataria
• Manmohan Singh not to attend Nawaz's oath-taking: Report
• Muslim groups plan protests on Mecca blasts' anniversary
• BJP hopes Sharif's desire for better ties is not hijacked
• Maulana Azad Urdu University to produce 2 documentaries
• Pakistan prisoner lodged in separate cell
• U P Government bid to free "innocent" Muslim youths 'half-hearted'?
------------
Africa
• Benghazi car bomb kills 15, at least 30 injured
• Nigeria Extremists Say They Kidnap Women, Children
• Gaddafi cousin on trial for attempted murder
• Nigeria militant video claims attacks, shows hostages
• Jihadist leader threatens war against Tunisia govt
• Darfur rebel-faction leader killed in Chad
------------
Pakistan
• UN chief calls Pak polls 'significant step forward for democracy'
• Maulana Fazl ur Rehman moves to keep PTI out of power
• 49 Pakistan poll stations record over 100 per cent voting!
• Benazir murder case: ATC extends Musharraf's judicial remand to May 28
• MQM Chief denies having threatened secession
• Results show PTI has vote bank in MQM strongholds
• British PM praises Nawaz Sharif for economic aims
• New Pakistan govt to hold firm on Taliban
• MQM wants re-elections across NA-250, not just 43 stations
• In Bajaur Agency, losing PPP, PTI, JI candidates rise against rigging
• 'Governor House will become Tahrir Square' if ECP rejects candidate demands
------------
South Asia
• Afghan roadside bomb kills 13 civilians: officials
• Taliban renounces war on anti-polio workers
• Leaving Afghanistan amid hostilities a $7b job for US
• Afghan minister names 'corrupt' MPs in house
------------
Europe
• Islamic Extremists Preach At Universities
• US, Britain say they found common ground with Russia on Syria
• British PM Cameron Visits Boston Marathon Memorial
------------
Southeast Asia
• Bekasi Mayor, MUI Petition President to Ban Ahmadiya
• Indonesia police kill bomb suspect; officer hurt
• Bandung Terrorists Stage Revenge Attack: Source
------------
Mideast
• Why Israel is becoming a pariah state
• Erdogan warns: We will respond to border blasts
• Yemeni Army jet crashes in Sanaa
------------
North America
• Obama Dismisses Benghazi Furor but Assails I.R.S.
• Obama to announce Afghanistan troop plans shortly: Kerry
Compiled by New Age Islam News Bureau
URL: https://newageislam.com/islamic-world-news/syria-video-'appears-show-rebel/d/11573
------------
Arab world
Syria Video 'Appears To Show Rebel Mutilating Corpse', Says Human Rights Watch
Paul Owen
guardian.co.uk, Tuesday 14 May 2013
Time magazine's Aryn Baker has conducted a Skype interview with the man the magazine says is the perpetrator in the now-notorious video: Khalid al Hamad aka Abu Sakkar. Here is the link. Baker writes that Hamad has confirmed the video is real and that he took a bite of the soldier's lung.
In the interview Hamad attempts to explain why he cut out the soldiers' organs:
We opened his cell phone and I found a clip of a woman and her two daughters fully naked and he was humiliating them, and sticking a stick here and there.
Hamad suggests the brutality of the regime has driven him to such extreme behaviour:
You are not seeing what we are seeing and you are not living what we are living. Where are my brothers, my friends, the girls of my neighborhood who were raped? May God bless them all.
And he says of the Alawites, the Shia minority sect of Bashar al-Assad:
Hopefully we will slaughter all of them [Alawites]. I have another video clip that I will send to them. In the clip I am sawing another Shabiha [pro-government militiaman] with a saw. The saw we use to cut trees. I sawed him in small pieces and large ones … They film as well but after what I did hopefully they will never step into the area where Abu Sakkar is.
Updated at 3.22pm BST
3.05pm BST
Time magazine's Aryn Baker has conducted a Skype interview with the man the magazine says is the perpetrator in the now-notorious video: Khalid al Hamad aka Abu Sakkar. Here is the link. More details soon ...
2.06pm BST
I've just been speaking to Peter Bouckaert, emergencies director with Human Rights Watch, about the group's decision to draw attention to this video. I asked him where the clip had come from and what convinced them that it showed rebel commander "Abu Sakkar":
We received an original copy of this video from one of our sources working on Syria last week. The version we have is unedited and much clearer than what has been posted on YouTube, so we have been analysing this video for the last week, and we have firmly established that the person in the video mutilating this soldier, cutting out his heart and his liver, and then making some very extreme statements about the Alawite community, before putting the liver in his mouth, is a commander known as Abu Sakkar, who is the commander of an independent brigade called the Independent Omar al-Farouq brigade currently fighting around the town of Qusayr.
How do they know it is him?
We have analysed the video in great detail. In fact, he's identified in the video as Abu Sakkar by the person filming, but we have also been able to match the clothing he's wearing, as well as a very distinctive scar under his left eye and the rings on his finger to other videos that have been posted by the Omar al-Farouq brigade in recent weeks. In some of those videos he is shown firing rockets into Lebanese Shia villages in retaliation for the entry of Hezbollah into the conflict in Syria. And he's also shown posing with the bodies of killed Hezbollah fighters around Qusayr. In fact, we've also been able to confirm his identity with four different international journalists who've worked in the city of Homs as well as an FSA commander still in the city of FSA … so we have very little doubt about his identity.
Some of those videos can be seen here, here and here.
(Hat tip to the New York Times and Eliot Higgins aka Brown Moses.)
I asked Peter to explain the links between the Independent Omar al-Farouq brigade and other parts of the Free Syrian Army.
Abu Sakkar was one of the founders of the mainstream Farouq brigade, which is one of the best-known and largest fighting brigades, originally from the city of Homs. He is from the district of Baba Amr, which suffered some of the most severe government siege in late 2011 and early 2012 … He split off from the main Farouq brigade in October of last year, forming his so-called Independent Omar al-Farouq brigade. But the emblem of the Omar al-Farouq brigade … still says Free Syrian Army, so they claim at least formal allegiance to the Free Syrian Army.
Did the Syrian National Coalition have any control over groups like these?
I think that is really the problem in Syria today. There is an emergence of all kinds of militias with all kinds of different loyalties, from extreme Islamist groups, to some of these more extreme sectarian groups such as the Omar al-Farouq brigade. The Syrian National Coalition … has very little control over the actual situation on the ground. Certainly one of its priorities, and one of the priorities for the Free Syrian Army, if [they want] to win any level of international acceptability, has to be to bring these abusive units under control, and to make sure that there are no links between the Free Syrian Army. and units like this, which are implicated in very extreme atrocities.
Updated at 2.16pm BST
1.21pm BST
A spokeswoman for the Syrian National Coalition has been in touch to add to the opposition group's statement about the video mentioned earlier. She said:
I would just like to reiterate that we completely condemn this act, which is an affront to human values, Islamic ethics and the ideals of the coalition and the Free Syrian Army.
Syrians standing up to the Assad regime are fighting for a just government that treats all its citizens equally and with respect regardless of their creed or ethnicity. Sectarianism has raised its ugly head as a result of the atrocities committed by the Assad regime. We will not allow the regime to perpetuate its rule by dividing our communities.
We understand that the opposition is held to a higher standard than the Assad regime. However, it is important to note the video shows an isolated incident that doesn't reflect the general conduct of the coalition or the FSA.
The coalition will investigate this incident, and when the facts are established, the perpetrator will face justice.
Syria
• Human Rights Watch says it has a video which "appears to show" a commander of a rebel Syrian brigade called the Independent Omar al-Farouq brigade mutilating the corpse of a pro-government fighter. "The figure in the video cuts the heart and liver out of the body and uses sectarian language to insult Alawites," a HRW statement claims, adding: "At the end of the video [the man] is filmed putting the corpse's heart into his mouth, as if he is taking a bite out of it." HRW writes:
It is not known whether the Independent Omar al-Farouq brigade operates within the command structure of the Free Syrian Army. But the opposition Syrian National Coalition and the Free Syrian Army leadership should take all possible steps to hold those responsible for war crimes accountable and prevent such abuses by anyone under their command ... Any party with the power to do so should do all it can to keep weapons from reaching the brigade.
HRW says it is not releasing the video because of its extremely graphic nature, but it can be seen here (WARNING: EXTREMELY GRAPHIC). The Guardian is unable to verify HRW's claims because media access to Syria is limited.
The Syrian National Coalition, the opposition umbrella group backed by the west, "strongly condemns this act - if it is revealed to be true":
The Coalition stresses that such an act contradicts the morals of the Syrian people, as well as the values and principles of the Free Syrian Army. The FSA has been and continues to fight for the dignity of every Syrian striving for freedom. The FSA is a national army above all, formed to defend civilians and deliver the Syrian people from the mentality of revenge and crime. It completely rejects the ill-treatment of the wounded and the disfigurement of the dead. The Syrian Coalition reiterates its condemnation of such an act and stresses that it is a crime, regardless of the perpetrator. The culprit will eventually be tried in court in front of an honest and fair judiciary.
http://www.guardian.co.uk/world/middle-east-live/2013/may/14/syria-video-appears-to-show-rebel-mutilating-corpse-says-human-rights-watch
------------
In Egypt, It's Shia Versus Naked Women
Robert Gordon
May 13, 2013
CAIRO: A statement from a member of Parliament of the ultra-conservative Salafist Nour Party has argued that Shia are "more dangerous than naked women" in comments that have brought on an onslaught of sardonic comments as well as anger from Egypt's activist community, who have urged the government to make it clear that discrimination will not be tolerated.
According to a report in al-Ahram – a government-run daily newspaper - members of the committee called on Tourism Minister Hesham Zaazou to discuss the issue in the council, the country's upper house of parliament which is holding legislative powers until a house of representatives is elected.
The committee, headed by Fathy Shehab El-Din of the Freedom and Justice Party (FJP), reportedly had an argument on the effects Iranian tourists could have on Egypt.
"The Shias are more dangerous than naked [women]," MP Tharwat Attallah of the Salafist Nour Party said during the meeting.
"They are a danger to Egypt's national security; Egyptians could be deceived into [converting to] Shiism, giving it a chance to spread in Egypt," he added.
Activist Nora Osman told Bikyanews.com that "this fear of the Shia is ridiculous in this country. We've had them traveling here for decades and there was no problem, but now with the rise of the conservatives, it has become one. Doesn't make sense to me." Egypt's minority Shia Muslim population has long struggled for acceptance in the majority Sunni country. It is not looking to get better for the group, however, with the country's Grand Mufti warning of the spread of Shiism.
"Propagation of Shiism means spreading rifts and divisions," said Sheikh Ali Goma'a, Egypt's former state-appointed Grand Mufti two years ago.
"We advise the wise people among the Shiites against the misplaced propagation of Shiism, which will cause instability and threaten social security," Goma'a said at a lecture during a week-long forum hosted by the Islamic Research Center, an influential arm of the Sunni world's most prestigious institution al-Azhar.
In 2012, Shia activists were detained by Egyptian officials in what was seen as another attempt to push the group outside the norms in Egypt. With the rise of the Muslim Brotherhood to the top of the government, Shia in Egypt continue to face hardships in practicing their faith.
he February detentions came less than one month after Egypt's security closed the Hussein Mosque, arguing that the Sunni majority in Egypt would become enraged over seeing Ashura celebrations in Cairo. The celebrations mark the killing of the Prophet Mohamed's grandson Imam Hussein.
"It is not new for us Shia in Egypt," said Ali, 34.
"This is my country, but I feel there is so much pressure on me to be someone I am not and to believe in things that are not my own," he told Bikyanews.com.
The reason is simple: he is Shiite. In Egypt, a predominantly Sunni Muslim country, the minority Shia have been arrested and forced into silence.
In 2011, Egyptian police arrested at least four Shia Muslims, including a visiting Australian citizen. They were charged with insulting and denying tenets of religion, judicial sources were reported saying.
Security officials reported that the Shia men were part of a group of 24 that were rounded up last week in Cairo. According to the police, most have been released, but it is still unclear how many remain behind bars.
"This is the struggle we face on a daily basis and have been forced to live in silence and fear of what the police would do if they found out we were Shia," Ali continued.
The Australian man's family alerted the Australian authorities after Safaa al-Awadi, 44, did not return to Perth when scheduled.
He was freed one month later after facing charges of blasphemy.
Seven other Shiites have been in detention since mid-2009 and charged with "forming a group trying to spread Shi'ite ideology that harms the Islamic religion."
In 2010, Egypt's Minister of Religious Endowments, Mahmoud Hamdy Zaqzouq, said in statements during a meeting with the Grand Mufti of Mount Lebanon, Sheikh Mohamed Ali Jouzo, that Egypt has "no mosques belonging to any religious or sectarian schools." He added that there are no Shia Mosques in Egypt.
The minister stressed that all mosques and religious institutions that number some 104,000 are subject to full supervision of the Ministry of Religious Endowments.
Followers of Shia doctrine believe the Prophet Mohamed should have been succeeded by his cousin Ali rather than his companion Abu Bakr, who is considered the first Imam. Ali was the fourth in traditional Sunni belief.
Making matters difficult in Egypt is that Sunnis believe any suggestion that Abu Bakr was not the rightful successor is akin to blasphemy.
"We live under these conditions every day and most of the time I keep my mouth shut, but for our government to insist that we don't exist is insulting and wrong," added Ali.
http://bikyanews.com/88712/in-egypt-its-shia-versus-naked-women/
------------
Salafists society pulls out of national dialogue coalition
By Habib Toumi
May 13, 2013
Manama: A major religious and political society has pulled out of a coalition of ten formations taking part in a national dialogue to end the political deadlock in Bahrain.
Al Asala society, the exclusive expression of Salafism in the island kingdom, attributed its unexpected decision to differences within Al Fateh coalition, one of the four segments sitting together to work out national reconciliation in the country following deep divergences, often along sectarian lines.
"We have submitted 20 points to be raised at the national dialogue, but none of them has been considered by the other formations in the coalition. The points were all related to national values and represented a security shield for the present and the future. The fact that they have been rejected shrank the role of the society and we decided that working outside the coalition would allow us to have a better performance," Al Asala said in a statement.
The society, with elected representatives at the lower chamber of the bicameral parliament since 2002, was a major player in the coalition alongside the Islamic Menbar, an offshoot of the Muslim Brotherhood, and the National Gathering Rally, a society that emerged in February 2011. The other societies do not match them in terms of number of adherents, history or achievements.
The talks, launched on February 10, brought together Al Fateh coalition, the coalition of the opposition, the parliament and the government.
Abdul Halim Murad, the head of the society, said that the decision to pull out was taken over a period of time, but added that the mixed reactions by the coalition societies to a suggestion from the opposition to meet outside the dialogue hall had been a crucial factor.
"We have been categorical about the bilateral meeting suggestion because we cannot possibly sit with people who refuse to condemn street violence," he said. "There are those who accuse Al Asala of refusing to compromise, and such a charge is not true. In order to hold a meeting, there is a need to agree on the basic issues and on the need to respect the security and stability of the other side."
Abdul Halim, a lawmaker, said that his society would not boycott or pull out of the national talks.
"Our presence at the table is a guarantee for security. If we are ever told that we had to choose between abandoning the dialogue and rejoining the coalition, we will then study the decision. We will not rush into a decision," he said.
When the call for the national dialogue rounds was issued in January, it specifically stressed that it will be between eight delegates from Al Fateh coalition, eight delegates from the opposition, eight independent parliamentarians and three government ministers.
http://gulfnews.com/news/gulf/bahrain/salafists-society-pulls-out-of-national-dialogue-coalition-1.1182698
------------
US soldier found guilty over 2009 killings in Iraq
13 May 2013
A military judge found a US soldier guilty Monday of killing five of his colleagues in Iraq four years ago, a spokesman said, after the defendant made a plea deal to escape a death sentence.
Army Sergeant John Russell was convicted over the May 2009 murders at a clinic for soldiers suffering from war-related stress at Camp Liberty, the largest US base in Iraq.
Russell, who has previously denied responsibility, admitted the killings last month, in a plea deal worked out by his lawyers at Joint Base Lewis-McChord (JBLM), in the northwestern US state of Washington.
On Monday, the judge formally found him guilty. "Sgt. Russell was found guilty of premeditated murder," Gary Dangerfield, spokesman for the military base south of Seattle, told AFP.
He faces life behind bars without the possibility of parole, as well as forfeiting pay and a dishonorable discharge, he said, adding that sentencing could take more than a week.
At the time, the Camp Liberty killings represented the single deadliest toll on US forces in a month in Iraq, and came at a sensitive moment in the US military's occupation of the country it invaded in 2003.
Russell was on his third tour of duty in Iraq, and his unit was preparing to leave the country.
Due to concerns over Russell's mental state, his commanding officer had ordered about a week before the shooting that his weapon be confiscated and that he get counseling.
After pleading guilty last month, Russell gave an account of the killings for the first time. The victims were three soldiers receiving care at the clinic and two medical officers.
"I just did it out of rage, sir," he told the military judge, Colonel David Conn, describing how he walked from room to room firing at mental health workers and patients.
"I was upset. I do not remember being angry, but I know that everyone who witnessed me outside the combat stress clinic said I looked angry," the Los Angeles Times quoted him as saying.
http://english.ahram.org.eg/NewsContent/2/9/71394/World/International/US-soldier-found-guilty-over--killings-in-Iraq.aspx
------------
Putin, Netanyahu set for talks on Syria
14 May 2013
Russian President Vladimir Putin and Israeli Prime Minister Benjamin Netanyahu were set Tuesday to hold talks on the conflict in Syria amid growing concern about Moscow's arms deliveries to the Damascus regime while the death toll spirals.
Netanyahu is just the latest world leader to beat a path to Putin's door for talks on Syria in recent days, after US Secretary of State John Kerry and British Prime Minister David Cameron met the Russian strongman last week.
In the wake of the talks with Netanyahu at Putin's vacation residence in the southern resort of Sochi, UN Secretary General Ban Ki-moon is also due to travel to Russia later this week.
"The situation (in Syria) unfortunately has a tendency towards a further escalation which can only arouse great concern on the part of Russia... and Israel," Putin's spokesman Dmitry Peskov said ahead of the talks with Netanyahu, quoted by Russian news agencies.
The West and Russia have been repeatedly at odds over the Syria conflict, with the United States and Europe accusing Moscow of seeking to prop up President Bashar al-Assad and supplying his regime with military hardware.
The flurry of diplomatic activity indicates some hope on the part of the West that Russia could be persuaded to soften its line over a conflict that according to activists has now killed over 80,000 people.
The West and Israel are particularly concerned about Russia's refusal to rule out further deliveries to Syria of advanced S-300 missile batteries under an existing contract.
Netanyahu is expected to emphatically warn Putin against delivering such weaponry which would severely complicate any future air attacks against the Assad regime.
Putin has over the last years worked to improve relations with Israel -- now home to a large Russian-speaking community -- after tetchy ties in the Soviet era when Moscow was perceived as stanchly pro-Arab.
The date of Netanyahu's trip was only announced on Monday by the Kremlin and it is not clear how far it was planned in advance.
The issues to be discussed have some parallels to a trip Netanyahu made to Moscow in September 2009 for Kremlin talks deemed so sensitive that the visit was kept secret at the time.
According to Israeli media, Netanyahu is believed on that trip to have raised fears about a Russian plan to deliver S-300s to Iran that Moscow decided in the end not to fulfil.
But Russian Foreign Minister Sergei Lavrov said last week that Moscow was "completing" supplies of equipment to Syria agreed under previous contracts that were completely legal.
According to the Wall Street Journal, citing an Israeli intelligence report, the 2010 contract with Syria includes six launchers and 144 missiles, each with a range of 125 miles (200 kilometres).
Full report at:
http://english.ahram.org.eg/NewsContent/2/8/71411/World/Region/Putin,-Netanyahu-set-for-talks-on-Syria.aspx
------------
KK fighters arrive in Iraq under peace deal
14 May 2013
The first group of Kurdish fighters to withdraw from Turkey under a peace process has entered northern Iraq.
The 13 men and women arrived in the area of Heror near Metina mountain on the Turkish-Iraqi border on Tuesday and were greeted by comrades from the Kurdistan Workers Party (PKK) in a symbolic step towards ending a three-decades-old insurgency.
They were carrying Kalashnikov assault rifles, light machineguns and rocket-propelled grenade launchers and had rucksacks on their backs.
After the welcome, the apparently-exhausted fighters put down their weapons and warmed themselves at a fire.
"We faced many difficulties because of rain and snow" during seven days on the road, one of the fighters said, adding that they were observed by Turkish aircraft.
PKK fighters began leaving their positions in southeast Turkey on May 8 after a ceasefire declared by Abdullah Ocalan, their jailed leader, in March to end a conflict that has killed 40,000 people.
"We ask the Turkish side to be sincere with us so we can achieve the common interest," said Ciger Gewker, who spoke on behalf of the arriving fighters.
"The next step is up to Turkey. If they deal with our move in a positive manner it will be quicker," he said.
Skepticism
Al Jazeera's Omar Al Saleh, reporting from Bamerni near Turkey's border, said there was worrying signs among some of the PKK fighters who arrived in northern Iraq.
He quoted the leader of the group as saying that they were "ready for peace" and were obeying the PKK leader's call to withdraw but others were sceptical about whether Turkey would implement the peace deal.
Some 2,000 PKK fighters are based in Turkey and will join several thousand of their comrades in their bases in northern Iraq in a process expected to take several months.
The PKK, designated a terrorist group by Turkey, the United States and the European Union, is seeking political reforms to boost Kurdish rights in exchange for bringing the conflict to an end.
A permanent peace could transform Turkey's impoverished Kurdish-majority southeast, where investment has remained scarce and infrastructure insufficient due to the threat of clashes.
Turkey is believed to be home to the largest single community of ethnic Kurds, who are scattered across Turkey, Iraq, Iran and Syria.
Full report at:
http://www.aljazeera.com/news/europe/2013/05/20135147251149191.html
------------
India
Renowned Islamic scholar, author and reformist Asghar Ali Engineer passes away
May 14, 2013
Renowned Islamic scholar, progressive thinker, author and Dawoodi Bohra reformist leader Asghar Ali Engineer passed away in Mumbai on Tuesday after a prolonged illness, family members said. He was 74.
Engineer, a widower, was survived by his son Irfaan and daughter Seema Indorewala. He was ailing for several months and breathed his last at his Santacruz East home around 8 a.m. The funeral is likely to be held on Wednesday, Irfaan indicated.
Born in Salumbar, Rajasthan, in a Dawoodi Bohra Amil (priest) family on March 10, 1939, Engineer acquired his training in Quranic Tafseer (commentary), Tawil (hidden interpretations of Quran), Fiqh (jurisprudence) and Hadith (Prophet's teachings, sayings) during his early days.
His father, Sheikh Qurban Husain, was the Amil who also taught the young Engineer Arabic. Later, Engineer studied all the major religious works and scriptures by eminent scholars.
He graduated as a civil engineer from Indore, Madhya Pradesh, and went on to work for nearly two decades in the BrihanMumbai Municipal Corporation (BMC).
In the early 1970s, he sought voluntary retirement from his BMC service and plunged into the reformist movement in the miniscule Dawood Bohra community, estimated at around 1.20 million worldwide.
In 1972, he assumed a leading role in the movement from Udaipur and also mobilised national and international public opinion through media articles and speeches.
In 1977, he was elected general secretary of Central Board of Dawoodi Bohra Community at its maiden conference in Udaipur and guided the reformist movement.
Later, Engineer devoted his time and energies to work for communal harmony and combat communalist forces in the country.
The recipient of several awards and honours from around the world, Engineer travelled across the globe speaking at international conferences, seminars and universities on Islam, peace, human rights and other issues.
Full report at:
http://indiatoday.intoday.in/story/islamic-scholar-author-reformist-asghar-ali-engineer-passes-away-india-today/1/271034.html
------------
Sheikh fake encounter case: CBI books BJP leader Gulab Chand Kataria
May 14, 2013
NEW DELHI: Former Rajasthan home minister and senior BJP leader Gulabchand Kataria has been booked by CBI in the Sohrabuddin Sheikh fake encounter case.
Kataria is among four others who have been named in the supplementary chargesheet and faces charges of murder along with them.
Full report at:
http://timesofindia.indiatimes.com/india/Sheikh-fake-encounter-case-CBI-books-BJP-leader-Gulab-Chand-Kataria/articleshow/20050548.cms
------------
Manmohan Singh not to attend Nawaz's oath-taking: Report
May 14, 2013
Indian Prime Minister Manmohan Singh turned down Nawaz Sharif's invitation to his oath-taking ceremony as the new premier of Pakistan, Indian media reported on Tuesday.
According to Indian TV channel Times Now, Singh told Nawaz that he would not be able to attend the ceremony due to his official engagements.
On Sunday, as soon as unofficial results of the elections declared Nawaz a winner, the Indian premier called him to congratulate and extended invitation to visit India. On Monday, Nawaz also invited Singh to Pakistan and said that it would be a great pleasure for him and for Pakistan if Singh attends his oath-taking ceremony.
Full report at:
http://tribune.com.pk/story/549102/manmohan-singh-not-to-attend-nawazs-oath-taking-report/
------------
Muslim groups plan protests on Mecca blasts' anniversary
May 14, 2013
HYDERABAD: Amid high security in run-up to the sixth anniversary of the Mecca Masjid blasts on May 18, Muslim groups are gearing up to organise public meetings and stage protests to demand the implementation of the recommendations of the AP State Minorities Commission (APSMC).
Millat Fund trustee Zaheeruddin Ali Khan, who is also managing editor of the Siasat daily, pointed out that six years had elapsed after the blasts, but the government 'failed' to act on the recommendations of the APSMC.
"The commission should be reconstituted. One of the recommendations of the APSMC was that the victims should be paid compensation from the salaries of the police officials who 'tortured them'. This has not happened," Khan said.
He noted that 14 people had died in the blasts and its aftermath and more than 100 Muslim youths were picked up and false cases foisted on them. Though, they been exonerated by courts, there is "irrefutable evidence that they were tortured while in police custody," he added.
Majlis Bachao Tehreek (MBT) is organizing a public meeting and dharna at Indira Park from 11 am to 3 pm to observe the sixth anniversary of the Mecca Masjid blasts on May 18. They have also invited other parties to join them.
"Very few have been given proper compensation. A few victims were picked up for the second time after the Dilsukhnagar bomb blasts in February this year. This would not have happened had the government taken the recommendations seriously. Many victims are unable to start a new life on account of being victimised. Fast track courts have also not been set up," MBT leader and corporator Amjedullah Khan said. Mobilisation for the public meeting has already begun, he added.
Full report at:
http://timesofindia.indiatimes.com/city/hyderabad/Muslim-groups-plan-protests-on-Mecca-blasts-anniversary/articleshow/20040688.cms
------------
BJP hopes Sharif's desire for better ties is not hijacked
May 14, 2013
NEW DELHI: Striking a note of caution optimism, BJP today described as a "positive sign" Nawaz Sharif's statements on rebuilding ties with India and hoped his overtures are not hijacked by "vested interests".
"The democratic transition of government in Pakistan is a welcome development. BJP congratulates Nawaz Sharif on his historic electoral victory. Sharif's statements on rebuilding relations with India are a positive sign," BJP chief Rajnath Singh said in a statement.
On Sharif's statement on improving relations with India, he said, "Since Sharif has publicly stated that he would pick up the pieces of 1999 peace process, we hope that the agenda for peace and stability in the region is not hijacked by vested interests operating from Pakistan."
Hoping that Sharif will be able to "walk the talk", Singh said, "Keeping in view our past experiences with Pakistan, BJP views Sharif's statement with cautious optimism."
Full report at:
http://timesofindia.indiatimes.com/india/BJP-hopes-Sharifs-desire-for-better-ties-is-not-hijacked/articleshow/20049849.cms
------------
Maulana Azad Urdu University to produce 2 documentaries
May 14, 2013
HYDERABAD: The Maulana Azad Urdu University has produced documentary films on two of well known figures. While one chronicles the life and times of Maharaja Sir Kishen Pershad, who served as the prime minister of the Nizams dominions of the erstwhile Hyderabad state for two terms, the other details the contribution of Dr Fakhruddin Ali Ahmed, the fifth president of the country.
The pen name Shaad, meaning joyous, employed by Pershad has been retained in the title, 'Shaad, Ek Anmol Ratan'.
Director Prof Mohammed Mujahid Ali, a producer from the Instructional Media Centre at Manuu, said the film will be screened shortly.
"The documentary traces the life of the former prime minister. It showcases his political life as well as his work in the field of literature. The documentary has been researched as scripted by Aqeel Hashmi, who served as the head of the Urdu department in Osmania University," he said.
Full report at:
http://timesofindia.indiatimes.com/city/hyderabad/Maulana-Azad-Urdu-University-to-produce-2-documentaries/articleshow/20040686.cms
------------
Pakistan prisoner lodged in separate cell
May 14, 2013
BANGALORE: Dismissing the life-threat claims of the lone Pakistani national jailed in Belgaum's Hindalga prison, the prisons department termed it a figment of his imagination. Jail authorities have, however, shifted Mohammad Fahad to a separate cell.
Hindalga jail officials said Pakistani terror suspect Fahad , allegedly caught possessing fake passports in Mysore on October 26, 2006, is a wily individual who knew how to kick up a fight with the prison authorities.
Mohammed Ali Hussein who was arrested along with Fahad, is now transferred to a Delhi prison in connection with another case.
"We have shifted Fahad to a separate cell now. He was apprehensive about his safety soon after the attack on Sarabjit Singh, the Indian jailed in Karachi's Kot Lakhpat jail, resulting in his death later in a hospital. Ever since he has been staging this drama about his safety in a bid to get out of jail," said an official.
Full report at:
http://timesofindia.indiatimes.com/city/bangalore/Pakistan-prisoner-lodged-in-separate-cell/articleshow/20041205.cms
------------
U P Government bid to free "innocent" Muslim youths 'half-hearted'?
Pervez Iqbal Siddiqui
May 14, 2013
LUCKNOW: Senior clerics and leaders from the Muslim community have cast aspersions on the very intention of the Samajwadi Party to withdraw cases pending against "innocent" Muslim youths languishing in jails on terror charges. On Friday, a district court in Barabanki had dismissed the state government's plea to withdraw the charges leveled against Tariq Qasmi, who is in jail in connection with the serial blasts at district courts in Lucknow, Faizabad and Varanasi on May 20, 2007.
Special Sessions Judge (SC ST Act) (Barabanki) Kalpana Misra had dismissed the government plea stating that the government has pleaded for withdrawal of charges against Tariq Qasmi on grounds of communal harmony and public interest but had not elaborated as to how it would really help in maintaining communal harmony or how the trial of the case could lead to communal flare-ups, said Qasmi's lawyer Randheer Singh Suman. "The court also pointed out that the government has not filed an affidavit with the application which is important in the eyes of the law, in case the issue is dealt with in future for any reason what so ever," Suman said.
Senior Muslim cleric Maulana Khalid Rasheed, who is the Imam of Edgah Aishbagh and member of the executive committee of All India Muslim Personal Law Board ( AIMPLB), said, "News reports suggest that the state government made a half-hearted effort in its initiative to drop charges against the individual in question. I find it difficult to believe that the district magistrate and additional district government counsel (ADGC) Barabanki were not aware that an affidavit has to be filed with the state government's application."
"The fact that the two officers did something which blocked an important government move from taking shape, itself amounts to indiscipline and insubordination. The government should have initiated action against them in case it was their fault. But no such penal action was initiated against them. One is compelled to believe that they probably did what the government wanted them to do," Maulana Rasheed said.
"I am shocked to discover how casually the state government approached the entire issue," says Abdul Rehman, a senior public servant. "It is very difficult to believe that authorities in Barabanki adopted such an approach despite being aware that the issue was extremely sensitive and important for the government," he said. "I am a government officer and so I know well how things move in the government, particularly when it comes to a commitment made by someone as important as the chief minister of state," Rehman said.
"The entire episode is a testimony to the poor and inadequate preparations that the government had made to tackle an issue as serious as withdrawing of criminal cases," said the Director of Centre for Objective Research and Development (CORD) Athar Hussain. "I only hope this was unintentional," he added.
Senior lawyer Mohammed Shoaib, who is also a key member of a non government organization (GO) Rihai Manch working for release of those languishing in jails either on fake charges or government goof-ups, says the government had a more straightforward and easy way out than approaching the court for withdrawal of charges. But the government chose a more complex route for reasons best known to the political masters of the state.
The state government had moved an application before the Barabanki court under Article 321 of the constitution but did not submit an affidavit along with the application which left the document irrelevant in the eyes of the court. The government could have taken a different route altogether which does not involve a nod from the court at least at this stage of the move, says Mohammed Shoaib.
Full report at:
http://timesofindia.indiatimes.com/city/lucknow/Government-bid-to-free-Qasmi-half-hearted/articleshow/20039405.cms
------------
Africa
Benghazi car bomb kills 15, at least 30 injured
BENGHAZI: A car bomb exploded near a hospital in the eastern Libyan city of Benghazi yesterday, killing at least 15 people, wounding dozens more and destroying a restaurant, a top official said.
Deputy Interior Minister Abdullah Massoud said it was only a "preliminary toll" and that the blast caused massive damage in the area of Al-Jala hospital.
A security official had earlier said the blast ripped through the hospital car park.
"Fifteen people have been killed and at least 30 were wounded in the explosion of a car bomb near the hospital," the deputy minister said.
He said the blast "totally destroyed a restaurant and seriously damaged nearby buildings."
A witness told AFP he heard a "very loud explosion."
Four police stations were bombed in Benghazi in recent days — two on Friday and two on Sunday — causing damage but no casualties.
Benghazi has seen frequent attacks and assassinations targeting security officials since the uprising that toppled the Qaddafi regime.
Full report at:
http://www.arabnews.com/news/451492
------------
Nigeria Extremists Say They Kidnap Women, Children
By JON GAMBRELL and SUNDAY ALAMBA
May 13, 2013
The leader of an Islamic extremist group in Nigeria says his group has started kidnapping women and children as part of its bloody guerrilla campaign against the country's government, according to a video released Monday.
Boko Haram leader Abubakar Shekau says the kidnappings are retaliation for Nigerian security forces routinely imprisoning the wives and children of his group's members. The video shows 12 children, a mix of boys and girls, though it does not identify them or say where they came from.
"If they do not leave our wives and children, we will not leave," Shekau says in the Hausa language of Nigeria's predominantly Muslim north.
Police and security forces have not announced any kidnapping cases involving Nigerians taken after Boko Haram attacks, though such abductions could be easily done in the chaos after an assault. Shekau quoted the Quran in the video and said anyone taken by the group could begin a new life as a "servant," without going into detail.
Nigerian security forces often arrest children and wives to draw out criminal suspects in other matters, human rights activists say. Security forces also have been accused of abuses in their fight against Islamic extremists.
In the video, a Kalashnikov assault rifle sits over Shekau's right shoulder as he speaks, the background covered with a rug. It's unclear when the video was shot, though Shekau claims attacks Boko Haram launched on the towns of Bama and Baga in northeastern Nigeria in recent days.
In late April, at least 187 people were killed in fighting in Baga, a town in Borno state that sits along the banks of Lake Chad. Witnesses say soldiers angry about the death of a military officer set fire to homes there and killed civilians. Human Rights Watch recently said an analysis of satellite imagery before and after the attack led them to believe the violence destroyed some 2,275 buildings and severely damaged another 125.
Nigeria's military has blamed the blazes on rocket-propelled grenades fired by extremist and denied killing civilians, despite growing criticism and evidence showing mass civilian casualties.
Full report at:
http://abcnews.go.com/International/wireStory/nigeria-extremists-kidnap-women-children-19169530#.UZKSBqIp_Ss
------------
Gaddafi cousin on trial for attempted murder
May 14, 2013
CAIRO : The cousin and former aide of slain Libyan leader Moamer Gaddafi appeared in court on Monday charged with the attempted murder of Egyptian police officers, an AFP reporter said.
Ahmed Qaddaf al-Dam denied the charges which also included possessing unlicensed weapons and resisting arrest.
The brief hearing was adjourned to Wednesday. Qaddaf al-Dam was detained in Cairo in March after a gunfight with police in his apartment and has been held in Egypt despite Libyan demands for his extradition.
Tripoli had lodged an appeal last month against an Egyptian court ruling blocking his extradition to Libya. The court ruled that Qaddaf al-Dam should be tried in Egypt.
Full report at:
http://www.nation.com.pk/pakistan-news-newspaper-daily-english-online/international/14-May-2013/gaddafi-cousin-on-trial-for-attempted-murder
------------
Nigeria militant video claims attacks, shows hostages
May 14, 2013
KANO, Nigeria : The purported head of Nigerian militant group Boko Haram has claimed two recent deadly attacks in the northeast in a video obtained by AFP Monday, which also depicts women and children apparently being held hostage.
The video features Abubakar Shekau, declared a global terrorist by the United States, seated on a rug with a kalashnikov resting behind his right shoulder.
"We are the ones that carried out the Bama attack," Shekau said in the Hausa language, referring to the May 7 assault that killed 55 people, mostly soldiers and police. "We also carried out the attack in Baga," he further said of the April 16 raid in the town near Lake Chad that sparked clashes with soldiers which killed nearly 200. Nigeria's military has been accused of causing scores of deaths in the Baga violence by deliberately setting fires that razed thousands of homes.
"It was you, the security agents that went into town the following day and burnt homes and killed people at will," Shekau said.
The military has fiercely denied the reported abuses by its soldiers, insisting that only 37 people died in the Baga violence, including 30 suspected Islamists.
Some seven minutes into the 12-minute video message, the screen splits, showing Shekau on the left with a group of unidentified women and children on the right.
The Islamist leader claimed this group is being held hostage in retaliation for the wives and children of Boko Haram members detained by the military.
Boko Haram has never before boasted about the kidnapping of Nigerian women and children.
"As long as we do not see our women and children we will never release these women and children," Shekau said.
The group set out a similar condition for the release of seven members of a French family who were kidnapped in February in Cameroon near the Nigerian border. The Moulin-Fournier family were released last month.
Before claiming the French abductions, Boko Haram had not widely been associated with kidnappings.
Their attacks, which have killed hundreds since 2009, have included suicide blasts as well as coordinated gun and bomb assaults on the security forces and other symbols of authority.
The recent attacks in the northeast have raised concern about the increasingly brazen tactics used by the insurgents, who have said they are fighting to create in Islamic state in mostly Muslim northern Nigeria.
In Bama, they stormed the commercial centre in a convoy of seven vehicles, launching coordinated pre-dawn attacks on the military, police and several government buildings.
Under pressure over his apparent inability to contain the violence, President Goodluck Jonathan created a panel to seek an amnesty deal with the insurgents.
Full report at:
http://www.nation.com.pk/pakistan-news-newspaper-daily-english-online/international/14-May-2013/nigeria-militant-video-claims-attacks-shows-hostages
------------
Jihadist leader threatens war against Tunisia govt
14 May 2013
TUNIS: The head of a Salafist group in Tunisia has threatened to wage war against the government, led by moderate party Ennahda, accusing it in a message posted online of un-Islamic policies.
"To the tyrants who think they are for Islam ... know that the stupid things you are doing are dragging you to war," said Abu Iyadh, the fugitive leader of Ansar Al-Sharia who is wanted by the police over deadly unrest last year.
"Your war is not against our young people but against religion," he said, in a statement published on the jihadist group's website.
Abu Iyadh, whose real name is Seif Allah Ibn Hussein, is accused of organizing numerous acts of violence and has been on the run since September, after an attack by Islamist protesters on the US embassy in September in which four of them died.
The authorities have hardened their position toward extremists in recent months, notably by stepping up military operations against jihadists with suspected links to Al-Qaeda who are hiding in the western region of Kasserine that borders Algeria.
"If you continue with these stupid policies, the support of America, the West, Algeria, Turkey and Qatar will not save you when the sound of swords makes itself heard," the hard-line preacher warned.
"I remind you simply that our youth sacrificed themselves for the defense of Islam in Afghanistan, in Chechnya, in Bosnia, in Iraq, in Somalia and in Syria, and they won't hesitate to sacrifice themselves for their religion in Kairouan," he said, referring to a town south of Tunis renowned for its Islamic heritage.
Full report at:
http://www.arabnews.com/news/451489
------------
Darfur rebel-faction leader killed in Chad
13 May 2013
The leader of a breakaway faction of Darfur's main rebel and his deputy have been killed after an attack inside Chad near the border with Sudan.
Mohamed Bashar and Suleiman Arko were killed during fighting with the Justice and Equality Movement (JEM), Sudan's intelligence agency announced on Sunday.
JEM fighters aboard a 30-vehicle convoy reportedly attacked Bashar's group while they were having lunch, just a few kilometres from the Sudanese border, Al Jazeera's Harriet Martin, reporting from Khartoum, said.
Martin said that there had been conflicting reports about which side started the fight.
Nahar Osman, an adviser of Bashar, said that his group was attacked.
In an interview with the Sudan Tribune, Nahar said that five other members of Bashar's group were killed, along with a Chadian security officer and two cattle keepers working nearby.
JEM said Bashar's forces attacked its base forcing them to fight back. Al Jazeera's Azhar Sukri said that the main body of JEM rebels appears to have been angry with Bashar for co-operating with the Sudanese government.
Bashar's rebel faction had signed a peace deal in Doha on April 6 with the Sudanese government to halt 10 years of fighting in Darfur. His top aide Arko led the negotiating team.
It was founded by Darfuris, loyal to a prominent religious and political leader Hassan al Turabi.
Blow to peace process
Martin said: "His [Bashar's] death and the death of his deputy is very significant," Martin said, adding that was a serious blow to the peace process.
She said that the main JEM group may not have "forgiven" Bashar for signing-up to the Darfur peace deal.
Full report at:
http://www.aljazeera.com/news/africa/2013/05/201351382751573764.html
------------
Pakistan
UN chief calls Pak polls 'significant step forward for democracy'
May 14, 2013
UNITED NATIONS
UN Secretary-General Ban Ki-moon has congratulated the people and government of Pakistan on the successful conduct of the general elections, calling it "a significant step forward for democracy in the country."
"By exercising their constitutional right to vote, the people of Pakistan have reaffirmed their desire for and commitment to a democratic Pakistan and their respect for the constitution of the country," the UN chief said of Saturday's elections, in a statement issued by his spokesman. "This is the first ever transition from one civilian government to another and a significant step forward for democracy in the country," he said.
Full report at:
http://www.nation.com.pk/pakistan-news-newspaper-daily-english-online/national/14-May-2013/un-chief-calls-pak-polls-significant-step-forward-for-democracy
------------
Maulana Fazl ur Rehman moves to keep PTI out of power
2013-05-14
PESHAWAR: Living up to its reputation, Khyber Pakhtunkhwa is again heading for a coalition government, triggering a race among parties to out-manoeuvre each other and gather partners.
As predicted, the results have been fractious though interesting, giving the major contenders a chance to have a shot at forming the provincial government.
But of all the parties, the Pakistan Tehreek-i-Insaf with a tally of 35 seats is in a stronger position to form the government.
Independents, after the JUI-F and the PML-N, have emerged as the fourth largest group in the assembly and hold the key to the citadel in Peshawar.
From the look of it, if the PTI does make an effort to form the next government, it could look up to the independents and the seven Jamaat-i-Islami members. And the effort has begun in right earnest.
PTI's secretary general and newly-elected MPA Pervez Khattak has moved into top gear for the job. An old campaigner, who under Aftab Sherpao's tutelage had learned the skill of cobbling up alliances and out-manoeuvring rivals, he could become PTI's first choice to head the coalition.
"There is no one else," he said of himself as the party's likely choice for the chief minister. "We are comfortably placed," he told Dawn in the wee hours on Sunday morning, hours after the PTI had emerged as the largest party in the province. "The independents would come to us," the PTI leader from Nowshera said.
And if need be, Khattak could also turn to his once-upon-a-time PPP leader, Aftab Sherpao, whose party has improved on its past performance and managed seven seats in the provincial assembly.
Another likely partner for the PTI could be the Awami Jamhuri Ittehad Pakistan — a wealthy cigarette-manufacturing Swabi-based, family-owned party that has secured three seats.
Knowing Imran Khan's tirade against the JUI-F, PML-N, ANP and PPP, the PTI is unlikely to turn to any of them for help.
Indeed, the numbers game is so tricky and so open to manipulation that a conglomeration of three or more parties could cause an upset and throw a spanner in the works of other contenders.
And who else can spoil the broth for the PTI but the wily Maulana from Dera Ismail Khan? The JUI-F leader, Maulana Fazl ur Rehman, has already taken the initiative and spoken to PML-N chief Mian Nawaz Sharif on the possibility of forming the government in Khyber Pakhtunkhwa.
The JUI-F has secured 13 seats and is leading in another two whose results are awaited, which may raise its strength to 15. The PML-N has 12 seats. Fazlur Rehman can speak to Sherpao, with whom he had seat adjustment in Charasadda.
Maulana Fazl told reporters in Dera Ismail Khan that he had spoken to the PML-N chief and the two parties agreed to explore the possibility. "We can speak to Sherpao too."
The PTI and the JUI-F have begun efforts to woo Mr Sherpao and it is learnt that JUI's nominee for chief minister, former CM Akram Khan Durrani, was on his way to meet the former interior minister to mull over the issue.
And when it comes to realpolitik, Fazlur Rehman will have no qualms in aligning with either his former partner Jamaat-i-Islami, the ANP, PPP or retired Gen Pervez Musharraf's lone MPA from Chitral.
Full report at:
http://dawn.com/2013/05/13/fazl-moves-to-keep-pti-out-of-power/
------------
49 Pakistan poll stations record over 100 per cent voting!
May 14, 2013
Islamabad: Believe it or not! At least 49 polling stations across Pakistan reported an unbelievable voter turnout of more than 100 per cent in the just-concluded general elections.
Amid allegations of vote rigging, the voter turnout was reported over 100 per cent in at least 49 out of 8,119 polling stations sampled across Pakistan, by observer group Free and Fair Election Network (FAFEN).
After noticing the irregularities, FAFEN has called on the Election Commission of Pakistan to put up all polling station data on its website before certifying any final election results in any constituency.
32 polling stations with greater than 100 per cent turnout were in Punjab, 10 in Sindh, six in Khyber Pakhtunkhwa and one in Balochistan, FAFEN said.
According to a report in Dawn newspaper, the statistics registered in at least five polling stations in Pakistan's biggest city, Karachi in Sindh province, showed rigging trends since the number of votes polled far exceeded the registered voters, according to the data from FAFEN.
Polling stations with over 100 per cent votes polled include Orangi Town, Model Colony, Malir Colony and Shah Faisal Colony.
According to the statistics, 2,508 and 1,484 votes were polled at two polling stations in Orangi Town, while the respective number of registered voters was 1,349 and 1,230.
In total, data provided by FAFEN shows at least 32 polling stations with over 80 per cent votes polled, which it says are abnormally high numbers.
FAFEN had over 900 trained election observers monitoring polling in Karachi, and more than 41,000 observers across the country.
Full report at:
http://www.ndtv.com/article/world/49-pakistan-poll-stations-record-over-100-per-cent-voting-366897
------------
Benazir murder case: ATC extends Musharraf's judicial remand to May 28
2013-05-14
RAWALPINDI: In the Benazir Bhutto's murder case, the special anti-terrorism court (ATC) of Rawalpindi on Tuesday extended the judicial remand of former military ruler Pervez Musharraf to May 28, DawnNews reported.
Judge of ATC's special court Chaudhry Habib ur Rehman heard the case.
During the hearing, the assistant to Musharraf counsel requested the court to postpone the hearing as Ahmed Raza Kasuri was out of the country. The court granted the request.
Azhar Chaudhry, the special prosecutor of the Federal Investigation Agency (FIA), moreover requested the court to provide him security on which the judge said the prosecutor would continue to enjoy extra protection granted to him for security reasons.
Full report at:
http://beta.dawn.com/news/1011359/benazir-murder-case-atc-extends-musharrafs-judicial-remand-to-may-28
------------
MQM Chief denies having threatened secession
2013-05-14
KARACHI: A day after he had asked the rulers and the establishment to separate Karachi from Pakistan if they did not like the mandate of the city, Muttahida Qaumi Movement chief Altaf Hussain clarified on Monday that he did not make any such demand.
According to an MQM press release, Mr Hussain denied in unequivocal terms what he called baseless allegations and said: "I request all those who are accusing me to obtain the CD of my address from Nine Zero and see my points in the light of the context in which I was speaking and then give their comments."
He said those whose forefathers had sacrificed over two million lives for the creation of Pakistan could not even imagine going against the country.
He congratulated the nation on the holding of general elections and the continuation of the democratic process and expressed the hope that it would continue. He said the nation deserved praise for defying terrorism and coming out of homes on May 11.
Mr Hussain said people had reached polling stations on time, but had to wait for long in queues because of "mismanagement" of the Election Commission (ECP).
They waited patiently but did not get disappointed, he said, adding that the massive turnout indicated that there was an awakening among the people.
Full report at:
http://beta.dawn.com/news/1011178/altaf-denies-having-threatened-secession
------------
Results show PTI has vote bank in MQM strongholds
2013-05-14
KARACHI: The results announced by the Election Commission of Pakistan on Monday show that the Pakistan Tehreek-i-Insaf has emerged as an important party in Karachi, polling over 50,000 votes in at least one National Assembly constituency.
In NA-245, North Nazimabad, a stronghold of the Muttahida Quami Movement, Riaz Haider obtained about 54,000 votes against Muttahida Qaumi Movement candidate Rehan Hashmi, who polled a little over 100,000.
Similarly, in NA-246, Federal B Area, another locality where the MQM has enjoyed a somewhat unrivalled monopoly, Amir Sharjeel of the PTI polled about 32,000 votes, whereas his heavyweight MQM opponent Nabeel Gabol, former PPP stalwart, obtained 139,386 votes.
In NA-243, another MQM dominated area comprising North Karachi and New Karachi, Zahid Hussain Hashmi of the PTI got about 30,000 votes while the MQM contestant got 192,678 votes.
Rashid Siddiqui of the PTI in NA-247 (Liaquatabad) got over 35,000 votes and NA-251 (Mehmoodabad) contestant of the PTI Raja Azhar polled nearly 39,000 votes.
PTI chief Imran Khan did not address any rally in his electioneering campaign in Karachi. The one major rally he had addressed here was in December 2011. Yet looking at the numbers one can easily deduce that the PTI has built a significant voter base in Karachi.
Mohammed Hanif, Karachi-based journalist and novelist, explains the development as: "Karachi would be a natural kind of PTI constituency. Its campaign was targeted at the urban masses who are agitated and Karachi is filled with such kind of people. Also when we talk about the Pakistan Peoples Party's incumbency factor then the same reason can be applied to the MQM. It has been in Karachi for a long time, having been in power since Musharraf's days. People want to try someone new hence these numbers are not surprising."
Moreover, the PTI polled vote figures are equally impressive in provincial constituencies. In PS-103 (Karachi 15), PTI candidates Zareena Sarwar, Siddiqullah of PS-104 (Karachi-16) and Abid Jilani of PS-120 (Karachi-32) obtained over 17,000 votes. Then there were three other PTI contestants who polled more than 20,000 votes — Muhammad Jawed Jillani of PS-105, Ataullah Khan PS-119 and Erum Butt PS-116. Arsalan Ghumman put up a good fight at PS-118 where he scored 31,802 votes against the MQM candidate, who obtained 56,145 votes.
As to how the MQM should look at these numbers, Mr Hanif says: "I hope the MQM realises that this is a healthy development and that voting for another candidate is good. They need to rethink their strategy rather than having an undue reaction to new realities which is not going to help them in the long run."
Full report at:
http://beta.dawn.com/news/1011180/results-show-pti-has-vote-bank-in-mqm-strongholds
------------
British PM praises Nawaz Sharif for economic aims
2013-05-14
LONDON: British Prime Minister David Cameron on Monday congratulated Pakistan's incoming premier Nawaz Sharif on his resounding election victory and praised his commitment to economic reforms.
Cameron broke off from a trip to Washington to speak to Sharif on the telephone and they agreed to work to reinforce the "strong bond" between their two countries, according to the British prime minister's office.
They also pledged their commitment to the trilateral process, the three-way talks between Britain, Pakistan and Afghanistan aimed at finding peace in Afghanistan, where Britain is starting to reduce its 9,000-strong troop presence.
"The Prime Minister and Nawaz Sharif agreed that the strong bond between the UK and Pakistan was a huge asset and that they would work together to strengthen the relationship further," a Downing Street spokeswoman said.
Full report at:
http://dawn.com/2013/05/13/british-pm-praises-pakistan-sharifs-for-economic-aims/
------------
New Pakistan govt to hold firm on Taliban
2013-05-14
LAHORE: Pakistan's incoming prime minister Nawaz Sharif looks set to be a pragmatic ally of Washington, unlikely to end the war against al Qaeda and the Taliban as he seeks to focus on fixing the economy.
Prime minister twice in the 1990s when Pakistan suffered no domestic terrorism, he voiced support on the campaign trail for peace talks with Taliban militants blamed for killing thousands of people in a nearly seven-year insurgency.
The fact the Taliban threatened and attacked his rival Pakistan People's Party and its main allies, drastically curtailing their ability to campaign, is in danger of being seen as contributing to his election victory.
But Sharif — who apart from tackling militancy faces a major challenge to repair the shattered economy and address a crippling energy crisis — has been quick to dispel any potential concerns from the West.
"What is most important is that we must never allow our soil to be used by anyone to create problems with any country in this world," he was quoted as telling The Sunday Telegraph as it emerged he had won Saturday's election.
US President Barack Obama said Sunday that Washington would continue to work with the new government "as equal partners in supporting a more stable, secure, and prosperous future for the people of Pakistan".
And Jonah Blank, the former Senate Foreign Relations Committee director for South Asia, said Sharif's people would be comfortable working with their US counterparts.
"I don't really see any evidence that he is an extremist leader in any way or that some of his rhetoric – anti-US rhetoric, perhaps pro-Islamist rhetoric – will translate into a wild swing in policy," he said.
The relatively weak showing of Sharif's Pakistan Muslim League-N (PML-N) in the northwest, where cricket star Imran Khan's promises to end US drone strikes and Pakistani military operations struck a chord, is another indication that his policy differs little from the outgoing government.
Sharif publicly supported major offensives against Pakistani Taliban in the district of Swat and the tribal region of South Waziristan in 2009.
Sartaj Aziz, a senior PML-N official and former Sharif cabinet minister, denied there would be a substantive change of strategy in the northwest.
"The key point which Nawaz Sharif emphasises in our manifesto is we can't negotiate with people who don't accept our writ, our constitution, our parliament, our judiciary," he said, adding what was needed was a "composite strategy" involving military action as well as negotiation.
Previous Pakistani governments, as well as the military, have forged ad hoc peace deals with insurgent factions in various parts of the northwestern tribal belt, which have often broken down quickly. The Taliban, who denounce democracy as un-Islamic, killed more than 150 people during the election campaign, including 24 on polling day itself.
Spokesman Ehsanullah Ehsan said the insurgents would "wait until political parties form their government" but told AFP before the polls that anyone who "comes into conflict with Islam" would be targeted.
Commentators believe it is significant that Sharif has been less vocal against US drone strikes than Khan and stress he is a pragmatist.
"He is likely to approach the US with maturity and dispassionately," political and security analyst Imtiaz Gul told AFP.
There has been a noticeable decline in US drone strikes. So far in 2013, there have been 11, killing around 60 people compared to 46 killing 246 in 2012 and 64 killing around 390 in 2011, according to an AFP tally.
"The war on terror and the drone campaign is winding down anyway, so he won't try to be too vocal about it the way Imran Khan is. He is likely to impress upon the US a more defensible way of conducting drone strikes," said Gul.
Commentators expect little change in policy on Afghanistan, citing a strong cross-party and civilian-military consensus on doing what they can to try to help bring peace, despite deteriorating relations with President Hamid Karzai.
Full report at:
http://www.dailytimes.com.pk/default.asp?page=2013\05\14\story_14-5-2013_pg7_14
------------
MQM wants re-elections across NA-250, not just 43 stations
May 14, 2013
KARACHI: Following protests by various political parties for re-polling in the entire city, the Muttahida Qaumi Movement (MQM) has jumped the bandwagon and demanded a re-election specifically in NA-250.
Despite bagging the most seats in the city, the party said it wants re-elections across all polling stations in NA-250, which comprises Defence, Clifton and parts of Saddar, and not just the 43 ordered by the election commission. At a press conference on Monday, MQM's NA-250 candidate Khushbakht Shujaat pointed out that voting could not take place in a number of polling stations. "At other stations, it was delayed by several hours as there were no ballot boxes," she said, adding that she would be submitting a letter to the district returning officer, stating her demands.
Shujaat felt that it was the responsibility of the election commission to provide ballot boxes, ballot papers and other items on time, and its failure to do that led to a delay in the polling. The voting was originally supposed to start at 8am.
Flanked by the provincial candidates of her constituency, Shujaat rejected the rigging allegations on the party, mainly leveled by the Pakistan Tehreek-e-Insaaf and the Jamaat-e-Islami. The MQM leader said that her party had in fact videos and written proof of rigging, which was conducted by other parties, and they would follow legal ways to expose how parties tampered with votes.
Akin to the MQM chief, Altaf Hussain's, grievances of how the media focused on only posh areas of NA-250, Shujaat said, "Only the problems of voters of DHA Phase IV were highlighted." Hundreds of voters standing barefoot in Bizerta Lines were given no coverage, she claimed, adding that polling in this area began at 2pm and at 4:15pm in Delhi Colony.
Full report at:
http://tribune.com.pk/story/548847/mqm-wants-re-elections-across-na-250-not-just-43-stations/
------------
In Bajaur Agency, losing PPP, PTI, JI candidates rise against rigging
May 14, 2013
KHAR: Candidates from NA-43 and NA-44 who faced defeat on Election Day protested in Bajaur Agency on Monday, accusing the political administration and security forces of poll rigging.
Pakistan Muslim League-Nawaz (PML-N) candidate from NA-44 Shahabud Din Khan, and independent candidate from NA-43 Haji Bismillah won the elections. Bismillah is Khyber-Pakhtunkhwa (K-P) Governor Shaukatullah Khan's father.
Losing candidates of the Pakistan Peoples Party (PPP), Pakistan Tehreek-e-Insaf (PTI) and Jamaat-e-Islami (JI) and their supporters participated in the protest. They demanded the Election Commission of Pakistan (ECP) conduct elections again in the constituency.
The demonstrators were led by JI's NA-43 and 44 candidates Sahibzada Haroon Rasheed and Sardar Khan, PTI candidates Guldad Khan and Zafar Khan. PPP supporters also participated in the rally which headed from the agency's headquarters office to the bazaar. Addressing the protesters, Sardar Khan said they will not accept the election result. He accused security forces and political administration officials of removing ballot boxes from polling stations in Ghar Shamozai and counting them in Civil Colony, where candidates were not allowed to enter. Ghar Shamozai is a JI stronghold.
PTI was among the strongest partes in NA-44 and the political administration helped PML-N's Shahabuddin to win NA-44, alleged Guldad Khan.
Sahibzada Haroon insisted he was winning when the tally started but "the political administration officials and security forces turned the tables on him as they favoured Haji Bismillah."
"Governor Shaukatullah Khan engaged in pre-poll rigging by launching development projects in the area and distributed money to help his father," alleged Haroon, "but no one took action against him."
Full report at:
http://tribune.com.pk/story/548789/in-bajaur-agency-losing-ppp-pti-ji-candidates-rise-against-rigging/
------------
'Governor House will become Tahrir Square' if ECP rejects candidate demands
By Mureeb Mohmand
May 14, 2013
SHABQADAR: Hundreds marched from lower subdivision Ekka Ghund to Ghallanai upper subdivision led by 20 candidates who had lost the general elections from NA-36 Mohmand Agency.
Pakistan Muslim League-Nawaz's Zarkhan Safi, Jamaat-e-Islami's (JI) Muhammad Saeed Khan, Pakistan Tehreek-e-Insaaf dissident Rahem Shah, and independents Nisar Mohmand and Shahsawar Khan were some of the candidates present.
Once the protest reached Ghallanai, candidates addressed the crowd. According to Nisar Mohmand, 80 of his voters who were arrested by members of the Aman Lashkar, their vehicles impounded, are still missing.
He further alleged a large number of voters were jailed, while thousands were not allowed to vote in Dawizai. According to Nisar, 'angels' came and voted in the women's polling station for one candidate only.
Once again the establishment wants to promote a 'deaf' candidate who cannot stand up for the tribals, claimed Muhammad Saeed Khan of the JI. Which is why, he alleged, the establishment rigged elections for former MNA Bilal Rehman.
The JI candidate maintained Malik Khushal was killed on Election Day for supporting another candidate and the political administration failed to protect him or bring his killers to justice.
Polling started late in the afternoon in Ekka Ghund, Safi and Ambar, was halted midway and voters sent back home. Khushal added their votes were cast by the polling staff, and some votes were added the day after elections.
Full report at:
http://tribune.com.pk/story/548792/governor-house-will-become-tahrir-square-if-ecp-rejects-candidate-demands/
------------
South Asia
Afghan roadside bomb kills 13 civilians: officials
2013-05-14
KANDAHAR, Afghanistan: A bomb killed 13 civilians including women and children in southern Afghanistan on Monday as they travelled to attend the funeral of earlier bomb victims, police said.
It was the latest violence since the Taliban launched their annual "spring offensive" on April 27, opening a crucial period for the country as its security forces take the lead in offensives against the insurgents.
"The blast hit a pick-up truck in the Arghistan district of Kandahar province, killing four women, four men and five children," Abdul Raziq, Kandahar provincial police chief, told AFP.
Raziq said the victims were travelling to the funeral of two people who were killed by a similar blast a few days ago.
"A motorbike earlier hit a roadside bomb that killed two people, and today's victims were travelling to attend that funeral when unfortunately their vehicle struck another bomb," he said.
Javed Faisal, Kandahar provincial governor spokesman, confirmed the incident.
"All the victims are civilians," he said. "The bomb was planted by Taliban insurgents in a district that borders Pakistan and civilians are often the victim of these bombs." Nine people were injured in the blast, some of them suffering life-threatening wounds, officials said.
The Taliban, who are fighting to oust the US-backed government of President Hamid Karzai, deny deliberately targeting civilians.
No large-scale attacks have been launched since the offensive was announced. But five US soldiers died in a Taliban bomb blast also in Kandahar and another bomb killed eight Afghan police in Logar province.
Full report at:
http://dawn.com/2013/05/13/afghan-roadside-bomb-kills-13-civilians-officials/
------------
Taliban renounces war on anti-polio workers
13 May 2013
The announcement comes just weeks after the Afghan government launched a new campaign to immunise more than eight million children between six months and five years old throughout the country. It said it had trained 46,000 volunteers to conduct the campaign which is funded by the American aid agency USAID, the World Health Organisation and Unicef.
Afghanistan, Pakistan and Nigeria are the three remaining countries in the world where polio remains a serious threat, but efforts to eradicate the disease have been sabotaged by the Taliban and other Islamic militants who have assassinated immunisation volunteers in all three countries.
Eleven polio workers were killed in Pakistan last year, including five women who were shot dead in Karachi in December last year. Earlier this year a police officer protecting vaccination campaigners was shot by motorcycle gunmen in Khyber Pukhtunkhwa. In Afghanistan, a 16 year old girl involved in an anti-polio vaccination campaign in Kapisa province was shot six times in the stomach outside her home last December and died later in hospital.
Full report at:
http://www.telegraph.co.uk/news/worldnews/asia/afghanistan/10053981/Taliban-renounces-war-on-anti-polio-workers.html
------------
Leaving Afghanistan amid hostilities a $7b job for US
May 14, 2013 0
The US invaded Afghanistan more than 12 years ago with a contingent of special forces and Central Intelligence Agency officers, some of them on horseback, armed with laser pointers to direct airstrikes against al-Qaeda and its Taliban hosts.
Getting Americans out again will be more complicated.
While the fighting continues, the US is mounting what may become a $7 billion effort to withdraw most of its forces from Afghanistan by the end of next year. It will require sending Humvees, helicopters, drones and 12 1/2-ton mine-resistant vehicles home by rail and truck networks stretching from Karachi to ports in the Baltic Sea.
Unlike Iraq, where "the fighting had for a good extent stopped" before the US began to withdraw, in Afghanistan "there's still certainly an active insurgency and an active fight and essentially we're in contact with the enemy as we do this," Alan Estevez, the US assistant secretary of defense for logistics, said. "All of those things make it difficult and increase the risk of our departure as we pull out."
Among the biggest contractors involved in the move are A.P. Moeller-Maersk A/S, the Copenhagen-based owner of the world's largest container line, the American President Lines unit of Singapore-based Neptune Orient Lines Ltd., and Hamburg, Germany- based Hapag-Lloyd AG, according to Estevez.
The shipping companies contract in turn with local trucking companies such as those in Pakistan to carry the cargo to ports, he said.
The US has begun withdrawing troops and war materiel from Afghanistan after the longest war in American history. So far, the conflict has cost about $600 billion, led to the deaths of 2,205 American troops and injured 18,462. About 16,725 Afghan civilians also have been killed.
Lost Intelligence
Of the 66,000 US troops now in Afghanistan, about 32,000 will return by February, and most of the rest will depart by December 2014, leaving a smaller force to train and advise Afghans as well as conduct counterterrorism operations.
Withdrawing from hostile territory is among the most difficult operations any military faces, and there's no guarantee that US-trained Afghan forces can keep the peace as American forces leave. As the number of troops dwindles, those who remain and their supply lines can be more vulnerable to ambushes. Sending reinforcements becomes more difficult and time-consuming.
Intelligence may dry up as forces and civilian personnel abandon forward positions, losing contact with Afghan allies and enemies alike in areas where the Taliban remain strong. Collecting intelligence may be compromised as the US shrinks its presence in Afghanistan, James Clapper, the top US intelligence official told Congress last month.
Reduced Footprint
"Obviously it's not going to be as robust as it is today simply because we won't have the presence in as many locales," Clapper, the director of national intelligence, told the House intelligence committee April 11. "As the other components of our presence there, the military and the diplomatic" are reduced, "that in turn affects the footprint that we will have."
Politics and geography make the withdrawal from Afghanistan more complicated than the departure from Iraq that was completed in 2011. The US was able to stockpile war materiel from Iraq in neighboring Kuwait before loading it on ships. The US moved out 2 million items from 92 bases in Iraq in about 20,000 truckloads.
In the absence of a safe and friendly zone such as Kuwait, the Pentagon plans to send about 60 percent of its inventory in Afghanistan -- mostly non-lethal items -- through Pakistan by truck to the port of Karachi, Estevez said in an interview in his Pentagon office.
Fragile Relations
In the past, Pakistan has closed the two main border crossings from Afghanistan to protest US actions. The supply route was shut from November 2011 to July 2012 after a US military strike 'mistakenly' killed 24 Pakistani troops.
Although the route is now open, the relationship between the two countries remains fragile, and Afghan President Hamid Karzai has accused Pakistan of sheltering militants and letting them stage attacks on his country.
The other 40 percent of the American cargo will go north past the Hindu Kush mountains, crisscrossing several former Soviet republics in the Caucasus by truck and rail before reaching ports on the Baltic Sea in Latvia or Lithuania, Estevez said. The tab for the withdrawal may be $5 billion to $7 billion, he said.
By the end of 2014, the Pentagon will have moved about 22,000 containers of materiel out of Afghanistan, Estevez said.
Blackhawks, Trucks
The US Army, which has the largest presence in the country, estimates that it has about $27 billion of military hardware in Afghanistan, and most of it will come home, Estevez said. The other military services have smaller inventories, he said.
About 80 percent of the war gear, including Blackhawk helicopters, radios, trucks and remotely piloted aircraft, will return to the US, Estevez said. Most of the equipment that supports US bases, such as air-conditioners, construction material and furniture, will be left behind or destroyed, he said.
Few military items will be left for the Afghans to use, US Army Brigadier General Steve Shapiro, deputy commander for theater sustainment, told reporters in Kabul in March. The military gear Afghanistan needs will be provided through the Pentagon's foreign military sales program, Shapiro said.
Sharing Roads
The US is coordinating its withdrawal with similar plans by 50 coalition partners, Major General Kenneth Dahl, deputy commanding general for US forces in Afghanistan, told reporters in Kabul in March. "Because of the geography and physics of Afghanistan, we have to coordinate so we don't all try to take the same roads," he said.
The Pentagon and the military services also are drawing up a list of excess defense articles the US doesn't need so they can be given away to allies, Dahl said. Non-military items including equipment used to support bases may be given away to several Afghan agencies, Dahl said.
Full report at:
http://www.nation.com.pk/pakistan-news-newspaper-daily-english-online/international/14-May-2013/leaving-afghanistan-amid-hostilities-a-7b-job-for-us
------------
Afghan minister names 'corrupt' MPs in house
14 May 2013
KABUL: Afghanistan's finance minister yesterday named in Parliament several lawmakers whom he said were guilty of corruption, triggering wild cheering and applause during a televised session of the lower house.
Corruption is one of the key challenges facing Afghanistan as it tries to establish a functioning state system before US-led combat troops depart next year, and the government is often accused of failing to tackle the issue.
Minister Omar Zakhilwal launched a passionate defense against attempts to impeach him over separate nepotism and graft allegations. Instead he publicly accused powerful MPs of smuggling illegal alcohol, fuel and cars.
One of the accused MPs, Naeem Lalai from the insurgency-racked Kandahar province, screamed and shouted from his seat as Zakhilwal delivered an incendiary speech that shocked and delighted many lawmakers.
The minister said Lalai had tried illegally to import 1,970 cars and Lalai and other lawmakers often demanded that customs officers allow their contraband shipments into the country.
"Any time he (Lalai) comes back from abroad he brings a lot of alcoholic drinks," Zakhilwal said. "Yesterday, he called one of my customs officers and threatened him with death."
The minister also accused Zahir Qadir, an influential MP from Nangarhar province and the son of a former warlord, of being involved in smuggling flour from Pakistan worth hundreds of millions of dollars. "I was called by Mr. Zahir asking me to release it," he said.
Last year he was reported to have burst into tears at a meeting with international diplomats in Kabul as he defended himself against accusations of corruption leveled at him by Afghan rivals.
Roadside bomb kills 10
A bomb killed 10 civilians including women and children in southern Afghanistan yesterday, officials said, in the latest violence since the Taleban launched their annual "spring offensive."
Full report at:
http://www.arabnews.com/news/451501
------------
Europe
Islamic Extremists Preach At Universities
May 14, 2013
Researchers found speakers with "a history of extremism or intolerant views" have given talks at 60 institutions since March last year. A further 12 university Islamic societies imposed segregated seating at events. One speaker, Hamza Tzortzis, at Cambridge University, called for Sharia law in Britain.
Student Rights, set up to tackle extremism, carried out the study.
Full report at:
http://www.express.co.uk/news/uk/399404/Islamic-extremists-preach-at-universities
------------
US, Britain say they found common ground with Russia on Syria
13 May 2013
The United States and Britain on Monday pledged to forge ahead with diplomatic efforts to end the civil war in Syria, saying they had found common ground with Russia on how to proceed.
U.S. President Barack Obama and British Prime Minister David Cameron vowed to increase pressure on the regime of Syria's President Bashar al-Assad, and insisted that he could not be part of a democratic transition.
"Syria's history is being written in the blood of her people, and it is happening on our watch," Cameron told a joint press conference with Obama after they held about 90 minutes of talks in the White House's Oval Office.
"The world urgently needs to come together to bring the killing to an end. None of us have any interest in seeing more lives lost, in seeing chemical weapons used."
Cameron, fresh from a trip to Russia, one of Assad's few remaining backers, said he believed Washington, London and Moscow had found "common ground" on the crisis, which has left tens of thousands dead.
Obama agreed, saying Russia had an "interest as well as an obligation" to work on resolving the crisis.
"If in fact we can broker a peaceful political transition that leads not only to Assad's departure but a state in Syria that is still intact (...) and that ends the bloodshed, stabilizes the situation, that's not just going to be good for us -- that will be good for everybody," the U.S. leader said.
Ahead of the talks, Cameron told National Public Radio that U.S. Secretary of State John Kerry made a "real breakthrough" in talks with Russian President Vladimir Putin "when they agreed to an American-Russia peace conference."
The British leader also said that Putin was "keen now to move from the generalities of having a peace conference to talking through the specifics of how we can make (this) work."
Obama has resisted directly arming the Syrian opposition but -- with reports that Syria has used chemical weapons, which would cross a U.S. a "red line" -- is coming under increasing pressure at home and abroad to do so.
Obama said last week that Washington had a moral and national security obligation to stop the slaughter in Syria, but said he wanted more concrete evidence that chemical weapons had been used.
On Monday, he said: "We will continue work to establish facts around the use of chemical weapons in Syria, and those facts will help guide our next steps."
Cameron and Obama met amid indications that Assad's regime may not be hustled swiftly out of power, as his army gained ground in the strategic central province of Homs.
The Syrian Observatory for Human Rights watchdog reported that the military, backed by the Lebanese Shiite group Hezbollah, seized much of the strategically vital Qusayr area, which connects the capital Damascus to the coast.
In southern Daraa, which nurtured the Syrian uprising against Assad, the army secured control of the town of Khirbet Ghazaleh, on the route between Damascus and the Jordanian border.
The Observatory said Monday that it has now documented the deaths of some 82,257 people since the beginning of the conflict in March 2011, including 34,473 civilians.
Reverberations meanwhile mounted from a string of deadly bombings in the Turkish town of Reyhanli, which the Ankara government blamed on Damascus.
Thousands of Turks took to the streets to urge their government to rethink its support for rebels fighting Assad, warning that the decision had provoked reprisals against Turkey, including the bombings, which killed 48 people.
Turkish Prime Minister Recep Tayyip Erdogan is due to meet Obama at the White House on Thursday, with Syria also topping their agenda.
In another sign of accelerating diplomacy, the Kremlin said Israeli Prime Minister Benjamin Netanyahu will hold talks on Tuesday with Putin amid concerns Moscow plans to deliver advanced missiles to the Damascus regime.
Full report at:
http://english.alarabiya.net/en/News/middle-east/2013/05/13/US-Britain-say-common-ground-with-Russia-on-Syria-.html
------------
British PM Cameron Visits Boston Marathon Memorial
May 14, 2013
British Prime Minister David Cameron, accompanied by Massachusetts Gov. Deval Patrick, has visited the Boston Marathon bombings memorial.
Cameron and Patrick visited the makeshift memorial that includes T-shirts, letters, running shoes and other items in the city's Copley Square early Tuesday morning.
The memorial grew in the wake of the April 15 explosions at the marathon finish line that killed three people and injured more than 260.
One suspect died in a shootout with police days later, while a second suspect is recovering in a federal prison hospital.
Full report at:
http://abcnews.go.com/US/wireStory/british-pm-cameron-visits-boston-marathon-memorial-19174483#.UZLmxaIp_Ss
------------
Bekasi Mayor, MUI Petition President to Ban Ahmadiya
May 14, 2013
Bekasi Mayor Rahmat Effendi and local Islamic leaders will petition President Susilo Bambang Yudhoyono to institute a nationwide ban on the oppressed Ahmadiya Muslim sect.
"The request is part of an agreement between Bekasi ulema and the [local] government who met to discuss the Ahmadiya today," Rahmat told the state-run Antara News Agency on Monday.
The mayor met with the Bekasi chapter of the Indonesian Council of Ulema (MUI) to hash out a solution to the city's strained relationship with its Ahmadiya community on Monday. The solution, according to Rahmat, is a complete ban on the religious sect.
The Bekasi MUI threw its support behind the city's ban on the Ahmadiya, demanding that followers renounce their beliefs and convert to mainstream Islam. Local MUI head Mursyid Kamil urged the central government to either shut down all Ahmadiya places of worship or strip them of Islamic symbols. All Ahmadiya members should convert to mainstream Islam, Mursyid said. The Bekasi MUI plans to convert the sect's Al Misbah mosque, in Pondok Gede, to mainstream Islam as a way to promote interfaith harmony, he said.
The Bekasi Public Order Agency (Satpol PP) shuttered the Al Misbah mosque on April 5, locking at least 20 followers inside the mosque. The congregation said they planned to remain in the mosque in protest of the local government's actions. But the Ahmadiya, sealed behind a metal wall erected around the mosque, have struggled with occasional police interference as officers attempted to prevent community members from delivering the protestors food.
What kind of true Islam? If he means… the FPI, it's better for us not to be Muslim
Firdaus, Jemaah Ahmadiya Indonesia
Rahmat said he didn't want to hear accusations that the police or local government had violated the community's rights.
"We banned Ahmadiya activities, but it was violated," he said. "The 20 members who decided to stay inside the mosque, it's of their own will, so don't blame the Bekasi government by saying that it's a human rights violation."
Jemaah Ahmadiya Indonesia accused Rahmat of only presenting one side of the meeting. Monday's discussion was attended by several Ulema from the Islamic Defenders Front (FPI) and Indonesian Islamic Preaching Council (DDII), who pushed for harsh sanctions against the Ahmadiya, JAI spokesman Firdaus said.
But representatives from both Nahdlat ul Ulema and the Muhammadiyah — the two largest Islamic organizations in Indonesia — were present at the meeting and offered more moderate solutions.
Firdaus refused to meet the Bekasi mayor and MUI's demands.
"If the mayor wants us to return the true Islamic teaching, please ask him what kind of true Islam that he was referring to," Firdaus said. "If he means true Islam like the FPI, it's better for us not to be Muslim."
He urged the mayor to sit with the Ahmadiya community, instead of hard-line groups, to work out a solution to the issue.
"He wants to ask the president?" Firdaus said. "This is a Democratic nation. He should sit together and have a discussion with us, to let people know the real problem. [This is] something he has never done."
Religious intolerance is a serious issue in West Java, where hard-line Islamists stage regular assaults on the institutions of religious minorities. The groups operate without fear of mass arrests and, seemingly, with tacit support from the local government, critics alleged. The Wahid Institute recorded 102 cases of intolerance and violations against religious minorities in 2012. Forty occurred in West Java.
Full report at:
http://www.thejakartaglobe.com/news/bekasi-mayor-mui-petition-sby-to-ban-ahmadiyah/
------------
Indonesia police kill bomb suspect; officer hurt
May 14 2013
Authorities have shot and killed a suspected militant after a failed attempt to bomb police in central Indonesia. One officer was critically injured while attempting to arrest the suspect.
Police spokesman Col. Martinus Sitompul said Tuesday the man threw the bomb at a police post in West Java's Tasikmalaya town late Monday. It failed to explode.
Sitompul said two traffic officers then chased the man and he tried to shoot them with a homemade gun that apparently jammed. He then slashed one officer's neck and chest with a machete while the other one shot the man to death.
Full report at:
http://www.thejakartapost.com/news/2013/05/14/indonesia-police-kill-bomb-suspect-officer-hurt.html
------------
Bandung Terrorists Stage Revenge Attack: Source
By Farouk Arnaz
May 14, 2013
A Bandung, West Java-based terrorist organization was behind Monday night's attack on a traffic police post in Tasikmalaya, West Java, that left one alleged terrorist dead and a police officer seriously injured, police said.
Two men hurled a homemade pipe bomb at a traffic police office on Jalan Mitra Batik at 8 p.m. Monday in what police called retaliation for a series of deadly Densus 88 raids aimed at crippling Java-based terrorist cells. The pipe bomb failed to explode.
"This is a revenge [attack] of the terrorist network," a source in the National Police told the Jakarta Globe on Tuesday. "The perpetrators are members of the William Maksum network. Luckily, the homemade bob thrown [at police] failed to explode."
Police chased the two men until Irwan, one of the assailants, attempted to shoot police with a homemade gun. When the gun failed to fire, he pulled a knife and stabbed First Adj. Insp. Wijartono.
"The perpetrator then draw a knife and stabbed the traffic police officer [Wijartono] in his chest," the source said.
Wijartono 's partner Brig. Wahyu shot Irwan, killing him. He then took a photo and showed it to the alleged terrorists arrested in last week's raids. They identified him as Irwan, a man who also goes by the names Salim and Dias, with the William Maksum terrorist network, the source said.
Full report at:
http://www.thejakartaglobe.com/news/bandung-terrorists-stage-revenge-attack-on-tasikmalaya-police-source/
------------
Mideast
Why Israel is becoming a pariah state
May 14, 2013 0
KAREN ENGLISH -In New Guinea there is a word for a truth that everybody knows but nobody speaks: Mokita. In the official discourse surrounding Palestine—Gaza in particular—politicians, President Obama, and the media speak from a phony script full of false vocabulary, false assertions, and deliberate omissions…all lies agreed upon.
As soon as a "crisis" erupts in the region, the phony narrative clicks into place and the Sunday morning roundtables commence with everyone speaking their lines from the official script. Israel's aggressions, the cruel economic blockade of Gaza resulting in malnutrition or anemia in nearly half of the region's children, the targeted assassinations… "Everything is ignored. Noam Chomsky calls Gaza, "the world's largest open-air prison."
We're subjected to words like conflict as if the systematic oppression and brutalization of an entire people is just a disagreement between two equal parties.
Then are those calls for a truce. Pure political theater. Imagine calls for a truce between blacks during the time of apartheid and the white apartheid government. Would such a phrase have applied?
Often there's the discussion of the two state solutions: Another phony phrase. There is no real possibility of that. And the term implies that there's legitimacy in the illegal, criminal land grab that's been going on for decades. As an innocuous, superficial model of this theft, imagine you have a house. Guests have come to visit. Little by little they begin to take over your house until you're left with a fourth of the kitchen, half of the bathroom, and a corner of a bedroom. As time goes on, these people begin to gobble up a bit of your quarter of the kitchen, half of your half of the bathroom, and half of your corner of the bedroom. Is there a possibility of a two house solution? Of course, in the official narrative facts are conveniently omitted.
Then there's always the mention of the peace process. This term is a joke. It's hard to see how anyone can keep a straight face uttering these words. This process has been going on at a snail's pace deliberately for decades. It's full of starts and stops. Long stops. It is basically a stalling mechanism that sufficiently puts things on hold while Israel builds more and more settlements to make its goal of Eretz Israel a fait accompli.
Israel's right to defend herself. Obama is always spouting this or a variation of this. It is the most disingenuous of assertions. In 2004, the International Court of Justice found that as an occupying power, Israel's right to defend itself under a UN Charter provision does not apply against those living under its rule. The assaults on Gaza and its population are not acts of self-defense. I'm sure Obama knows this. In fact, UN General Assembly Resolution 2625 "affirms the legitimacy of the struggle of peoples under colonial and alien domination recognized as being entitled to the right of self-determination to restore to themselves that right by any means at their disposal."
Full report at:
http://www.nation.com.pk/pakistan-news-newspaper-daily-english-online/international/14-May-2013/why-israel-is-becoming-a-pariah-state
------------
Erdogan warns: We will respond to border blasts
14 May 2013
REYHANLI, Turkey: Prime Minister Recep Tayyip Erdogan said yesterday Turkey would "not refrain" from responding to twin car bombings it has blamed on Syria but also said the government would be cautious and not be drawn into its neighbor's civil war.
Saturday's powerful bombings at a border town that is a main hub for Syrian refugees and rebels, was the bloodiest attack in Turkey in recent years. It escalated tensions between the two former allies and raised fears the conflict in Syria could engulf Turkey. The official death toll in the attacks stood at 46 but an Associated Press reporter saw authorities recovering at least one more body from a building on Monday.
Syria has denied being behind the attacks. Turkish authorities, however, said they had detained nine Turkish citizens with links to the Syrian intelligence agency in connection with the attacks, including a suspected ringleader.
Erdogan said yesterday Turkey had no doubt about Syria's involvement and called Syria's denial a lie.
Full report at:
http://www.arabnews.com/news/451491
------------
Yemeni Army jet crashes in Sanaa
14 May 2013
SANAA: A Russian-made Yemeni military jet ploughed into a residential district of the capital Sanaa yesterday killing the pilot, officials said, and witnesses said it exploded in mid-air before crashing.
The Sukhoi crashed into "Al-Asbahi residential district in southern Sanaa," a military official told AFP.
Witnesses said the plane exploded in the air before crashing and debris from the aircraft scattered across the area, causing light damage to buildings and shattering windows.
The Defense Ministry said on its website 26sep.net that the Sukhoi SU-22 attack aircraft was returning from a "usual training mission in (the eastern) Marib and Khawlan regions."
An air force source confirmed to 26sep.net that only "the pilot, Captain Hani Al-Aghbari, was killed in the accident" as the plane fell into a sparsely populated area.
The Defense Ministry set up a committee to probe the incident, said 26sep.net.
The accident is the second of its kind in the capital this year after 12 people died in February when another military aircraft ploughed into a building in a residential area.
That plane had also been identified as a Sukhoi SU-22 that had been on a training mission.
An air base is located near the Sanaa international airport, just 15 km north of the capital.
Such air accidents are common in the impoverished Arabian Peninsula country.
Full report at:
http://www.arabnews.com/news/451484
------------
North America
Obama Dismisses Benghazi Furor but Assails I.R.S.
By MICHAEL D. SHEAR and JONATHAN WEISMAN
May 13, 2013
WASHINGTON — President Obama, facing re-energized Republican adversaries and new questions about the administration's conduct, on Monday dismissed a furor over the handling of last year's attacks in Benghazi, Libya, as a political "sideshow" but joined a bipartisan chorus of outrage over disclosures that the Internal Revenue Service had singled out conservative groups for special scrutiny.
Mr. Obama called the I.R.S. reports "outrageous" and "contrary to our traditions," adding his voice to those of Republicans and isolating the agency as the House scheduled a hearing on Friday in what is likely to be an extensive Congressional review of the agency's actions.
"I've got no patience with it," Mr. Obama said during a joint news conference at the White House with Prime Minister David Cameron of Britain. "I will not tolerate it. And we will make sure that we find out exactly what happened on this."
Four months into his second term, the president was under increasing assault from Republicans who accused the administration of political bullying and a lack of transparency. Kathleen Sebelius, Mr. Obama's secretary of health and human services, has drawn criticism in recent days for soliciting corporate donations to pay for the rollout next year of the new health care law.
And on Monday evening, The Associated Press reported that the Justice Department had secretly obtained two months of telephone records of its reporters. The company's editors called it a "massive and unprecedented intrusion" into its news gathering, and Republicans quickly seized on the report.
Mr. Obama's blunt condemnation of the I.R.S. appeared designed to head off fallout as Republicans and Democrats called for hearings and investigations into the matter. But on Benghazi, he seemed exasperated and angry to be facing a continuing barrage of accusations that he deemed recycled and partisan.
"We don't have time to be playing these kinds of political games here in Washington," Mr. Obama said, saying any inquiry should be focused on the four people who died in Libya and how to prevent future attacks. "We dishonor them when we turn things like this into a political circus."
"Suddenly, three days ago," he added, "this gets spun up as if there's something new to the story. There's no 'there' there."
A few hours later, at a Democratic fund-raiser in New York City, Mr. Obama bemoaned "hyper-partisanship in Washington" and said he had hoped that Republicans might have been more willing to cooperate after his re-election last year.
"My thinking was when we beat them in 2012 that might break the fever, and it's not quite broken yet," Mr. Obama told supporters at the five-story West Village home of the film mogul Harvey Weinstein. "But I am persistent. And I am staying at it."
Mr. Obama's comments about the I.R.S. left the agency and its leadership alone in answering charges that its employees had put added demands on Tea Party and other conservative groups applying for tax-exempt status from 2010 to 2012, even though none appeared to have been denied the classification.
Leaders of the House Ways and Means Committee from both parties announced that the acting director of the I.R.S., Steven T. Miller, as well as the Treasury Department's inspector general for tax administration, would appear at the first hearing.
Scrutiny in Congress appeared to be focused on a detailed timeline of events from early 2010, when I.R.S. workers in Cincinnati began using key words like "Tea Party" and "patriot" to winnow out tax-exemption applicants, to last Friday, when the head of the I.R.S. division on tax-exempt organizations, Lois Lerner, apologized.
According to Senate Finance Committee aides, a "sensitive case report" on Tea Party targeting was sent from Cincinnati to Ms. Lerner and a subordinate on April 19, 2010, more than a year before previously thought.
On March 14, 2012, amid a rash of news reports alleging harassment by the I.R.S., a group of Republican senators sent a letter to Douglas Shulman, the I.R.S. commissioner at the time, asking whether Tea Party groups were being treated differently from other applicants for tax-exempt status. On April 26, 2012, Mr. Miller, then a deputy commissioner, wrote back and assured them that all applicants were receiving the same treatment.
But Congressional officials investigating the matter said that on March 29 of the same year, Mr. Miller had sent senior I.R.S. officials to Cincinnati to explore charges of harassment. That same day, the Treasury's inspector general informed the agency that he was starting an investigation.
On April 26, 2012, Ms. Lerner's superior, Joseph H. Grant, was briefed on the issue by officials returning from Cincinnati. Those officials briefed Mr. Miller on May 3 of that year, Congressional aides said Monday.
But lawmakers seeking information were kept in the dark. On June 18, Republican senators wrote to senior I.R.S. officials to request more information. Mr. Miller responded on Sept. 11, again saying nothing about the brewing controversy.
Meanwhile on Monday, the furor over the Benghazi attack showed few signs of abating. Representative Darrell Issa, the California Republican who heads the House Oversight and Government Reform Committee, said he was seeking testimony from Thomas R. Pickering, a former United States ambassador, and former Adm. Mike Mullen, the authors of report by a panel known as an accountability review board.
In a letter to the two, Mr. Issa cited accusations that their review was "incomplete" and "flawed." Republicans in Congress have seized on testimony from senior State Department employees in Libya to raise new questions about the administration's decisions before the attack and their explanations afterward.
"The president may want Americans to believe there's no 'there' there,' but he can't hide from the facts," said Brendan Buck, a spokesman for House Speaker John A. Boehner. "After four Americans died at the hands of terrorists, the administration was less than upfront about how it happened, and they continue to deny requests for further disclosures."
Mr. Pickering, in a telephone interview on Monday, defended for the second straight day the five-member panel's work, and said he and Admiral Mullen had agreed to testify before Mr. Issa's committee.
Specifically, Mr. Pickering supported the panel's decision not to question Hillary Rodham Clinton, the secretary of state at the time, when it discussed its preliminary findings with her toward the end the review, for which it interviewed more than 100 people.
Mrs. Clinton publicly took responsibility in October for the attack, but Mr. Pickering said the panel's mandate was to assign accountability to specific individuals who decided security measures.
Full report at:
http://www.nytimes.com/2013/05/14/us/politics/obama-addresses-benghazi-and-irs-controversies.html?ref=politics&_r=0
------------
Obama to announce Afghanistan troop plans shortly: Kerry
May 14, 2013
President Barack Obama will announce in the next few weeks how many combat troops the United States will leave in Afghanistan in 2014, Secretary of State John Kerry said on Tuesday.
Obama has set next year as the target for withdrawing most troops but the decision is a delicate one as sufficient forces must stay behind to train and support Afghan forces and carry out some operations.
"Very shortly, not too long from now, the president does intend to make public what his plans are for post-2014," Kerry told reporters.
Kerry declined to discuss how many troops might remain but said: "He (Obama) is committed to supporting the Afghan military beyond 2014."
U.S. lawmakers have been pressing military commanders and the Obama administration to release recommendations for the size of a force to remain in Afghanistan.
U.S. troops first went into Afghanistan after the September 11, 2001, attacks on the United States to root out al Qaeda and its Taliban protectors.
Kerry said Afghanistan was beginning its first "fighting season" with its own forces holding most responsibility for military operations and they were doing well.
Full report at:
http://www.reuters.com/article/2013/05/14/us-usa-afghanistan-kerry-idUSBRE94D0G920130514
------------
URL: https://newageislam.com/islamic-world-news/syria-video-'appears-show-rebel/d/11573