New Age Islam News Bureau
27 Oct 2015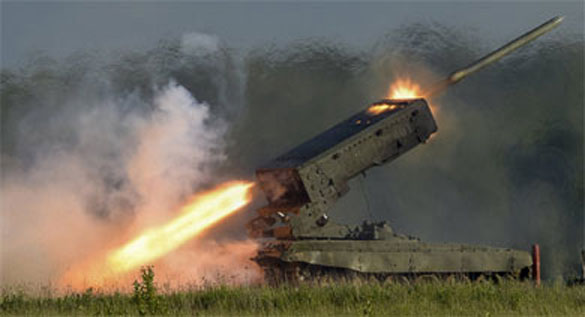 TOS-1A Solntsepyok Flame-Thrower used by Syrian Army against the ISIS Militants Copyright Sputnik/Alexander Vilf
--------
Arab World
• Syria Fires TOS-1A Solntsepyok Flame-Thrower against ISIL Terrorists
• ISIS Executes Three in Palmyra, Destroys Ancient Columns
• ISIL Claims Suicide Bombing in Najran Shia Mosque
• Saudi prince, Abd al-Muhsen Al Saud arrested on private plane with 2 tons of drugs - reports
• Over 100 Militants Surrender in Aleppo
• Spokesman: Syrian Army Continuing Advance against Terrorists
• EXCLUSIVE: Syrian Army, Hezbollah Win Back over 150 Square Kilometers of Land in Aleppo
• Militants' TOW-Missile Expert Killed in Syrian Army Attack in Hama
• Saudi Commander of ISIL Killed in Syrian Army Attack in Hama
• Syria: Jeish Al-Fath Militants Alliance Cracks, Jund Al-Aqsa Defects
• Kurdish MP: Jeish Al-Islam Ready for Reconciliation Talks with Damascus
• Saudi King Salman talks with Putin, discusses Syria
• U.N. says 120,000 displaced by rising violence in Syria
• Surveillance cameras 'key to protect mosques'
• An intolerable unimaginable heat forecast for Gulf
• U.S. coalition slows air strikes on Syria
---------
South Asia
• Taliban Threaten To Continue Fighting Until the Formation of 'Islamic System' In Afghanistan
• 'Strong evidence' of genocide in Myanmar, finds Al Jazeera investigation
• Afghan Security Adviser Warns Of Risk from IS, Al Qaeda
• NATO, Donor Countries to Renew Commitments to Afghanistan
• UN, US, India offer help to Afghanistan quake victims
• US working with Bangladesh to assess foreigners' killers
• Justice Choudhury's daughter blames BNP-Jamaat for attack
• Tribunal indicts eight from Jamalpur for war crimes
• Four Bangladeshis held for killing Italian point to 'big brother'
• 63 Dead A Powerful 7.5 Magnitude Earthquake in Afghanistan
• Lone website that 'finds ISIS link' in Dhaka
---------
Mideast
• Turkey: 'Islam' Tea House Owned By Suicide Bomber Was Isis Recruiting Hq
• Netanyahu Hints At Revoking Palestinians' Travel Rights, Other Benefits
• Turkey Confirms Strikes against Kurdish Militias in Syria
• Iran has sent more military advisers to Syria: officials
• Turkish police detain 30 ISIS suspects in raid: report
• Israel air raid hits Gaza in response to rocket fire
• Iran Unveils 16 New Defenses Electronic, Radar Projects
• Iran: Dezfoul Terrorist Attack Orchestrated by Foreign State
• Saudi aid official wants Yemen ceasefire
• Abbas asks EU to help calm surging violence
---------
Pakistan
• Seven FC men killed in South Waziristan border attack: ISPR
• Nurseries of Terrorism in Punjab Behind Attacks In Sindh: Khursheed
• Pakistan army leads rescue as death toll from Afghanistan earthquake rises
• At least 231 dead in Pakistan quake, relief efforts underway
• Nation proud of our war heroes: Raheel
• Judiciary trying to dispose of pending cases under limited resources: CJ
---------
Africa
• Top Commander of Ansar Al-Sharia Radical Group Killed In Libya
• Kenyan Troops Seize Al-Shabaab Base in Somalia
• HRW visits Qaddafi son in Tripoli prison
• S. African universities shut despite fee agreement
---------
India
• Intelligence Report on ISIS, Boko Haram Threat to India-Africa Summit, Security Tightened
• Hindu Sena Leader Calls Police to Kerala House over 'Beef' In Menu
• Kerala: Protest against Gender Segregation in a Muslim College Ends in Clash
• J&K: Two Hizb ul militants, one army officer killed in an encounter in Pulwama district
---------
Europe
• UK Government Should Withdraw Its Invitation to Abdel Fatah Al-Sisi
• Thousands Stage Anti-Israeli Rally in Casablanca
• The Iraqi Kurdish refugee family stuck in limbo at Moscow airport
• UN: 120,000 people displaced in Syria in 2 weeks
• Thousands flee Russian airstrikes in Syria
• Freezing Winter Jeopardizes Syrian Refugees
• Saudi Arabia's King Salman phones Russia's Putin over Syria
---------
Southeast Asia
• Indonesia Shariah Hub Goal Fading As Malaysia Assets Race Ahead
• Malaysian Islamic party PAS ready to work with ruling coalition
• Indonesia will join Trans-Pacific Partnership, Jokowi tells Obama
• Indonesia's fires labelled a 'crime against humanity' as 500,000 suffer
• Government must provide security for 1965 public discussions: NGOs
• Terrorism rampant in Poso despite operations
---------
North America
• U.S. sues Michigan Township over Islamic school denial
---------
Australia
• Australian jihadist wanted 'martyr's death' for his unborn son
Compiled by New Age Islam News Bureau
URL: https://www.newageislam.com/islamic-world-news/new-age-islam-news-bureau/syria-fires-tos-1a-solntsepyok-flame-thrower-against-isil-terrorists/d/105069
---------
Arab World
Syria Fires TOS-1A Solntsepyok Flame-Thrower against ISIL Terrorists
Oct 26, 2015
The Solntsepyok (which in Russian means the "Blazing Sun") is a multiple rocket launcher and a thermobaric weapon designed to defeat enemy personnel in fortification, in open country and in lightly armored vehicles, RIA Novosti reported.
Its thermobaric projectiles are especially effective in mountain areas as their blast waves resonate and are boosted in confined environments. They have an effective range of nearly three-four kilometers as the rocket has a massive payload and a compact engine unlike conventional projectiles.
The Solntsepyok explosive consists of explosive aerosol which is spread above the target and ignited. It creates a longer and more sustainable blast wave than conventional condensed explosives. In the epicenter of the explosion, the temperature rises to 1,000 degrees Celsius. More so, the explosion burns out atmospheric oxygen, and the subsequent vacuum ruptures the lungs of the victims.
The TOS-1A Solntsepyok is an upgraded version of the TOS-1 Buratino heavy flame-throwing system which underwent its first combat tests in Afghanistan in 1988-1989.
"Russian-made heavy flame-throwing systems are quite popular in the Middle East. Their use in Iraq proved that the TOS-1A is perfect for local combat operations to defeat enemy personnel in heavy fortifications," Igor Sevastyanov, head of the Rosoboronexport delegation, said during the Russia Arms Expo 2015.
http://english.farsnews.com/newstext.aspx?nn=13940804001156
---------
ISIS executes three in Palmyra, destroys ancient columns
27 October 2015
The Islamic State of Iraq and Syria (ISIS) militant group executed three people in Syria's ancient city of Palmyra by binding them to three historic columns and blowing them up, a monitoring group said Monday.
The UK-based Syrian Observatory for Human Rights said ISIS on Sunday "tied three individuals it had arrested from Palmyra and its outskirts to the columns... and executed them by blowing up" three columns.
Since taking the city in May, ISIS have already destroyed many of its statues and two of its temples. In July, ISIS released a video showing a mass execution taking place in Palmyra's ancient amphitheater.
http://english.alarabiya.net/en/News/middle-east/2015/10/27/ISIS-blows-up-ancient-columns-in-Syria-s-Palmyra-monitor.html
---------
ISIL Claims Suicide Bombing in Najran Shia Mosque
27 Oct 2015
The Islamic State of Iraq and the Levant (ISIL) has claimed responsibility for a suicide bombing at a Shia mosque in Saudi Arabia's Najran city in which at least one person was killed and 16 others were injured.
Saudi state television says the suspect's car has been found, with a note inside to his parents confirming his plan to attack the mosque.
An eye witness said the explosion took place as the suicide bomber tried to enter the mosque.
The operation targeted "the rejectionist Ismailis", said a statement carried by the group posted on Twitter, referring to the Ismaili Shia sect who are a minority in Saudi Arabia.
"A person went to the mosque and did an explosion," an interior ministry spokesman earlier told the AFP news agency.
About half of Najran's population belongs to the Shia community.
Most of Saudi Arabia's Shia live in Eastern Province, where they have been targeted four times in the past year by bombings and shootings claimed by the ISIL group.
http://www.aljazeera.com/news/2015/10/blast-hits-mosque-southwestern-saudi-city-151026163722229.html
-----
Saudi prince, Abd al-Muhsen Al Saud arrested on private plane with 2 tons of drugs - reports
26 Oct, 2015
Lebanese security forces are interrogating a Saudi prince on charges of carrying drugs on his private plane after they allegedly retrieved 2 tons of narcotics from the aircraft, local media reported.
Abd al-Muhsen bin Walid bin Abd al-Aziz Al Saud was detained on Monday in Beirut's Rafik Hariri International Airport.
The prince was about to conduct a flight on his private plane to Saudi Arabia.
Lebanese TV station Al Mayadeen also said that 40 packages of drugs, weighing 2 tons in total, were confiscated.
The prince was arrested and taken in for questioning along with four other people.
According to Press TV they were charged with attempting to smuggle pills of captagon, an amphetamine allegedly widely used among fighters in the Middle East.
https://www.rt.com/news/319727-saudi-prince-drug-arrest/
----
Over 100 Militants Surrender in Aleppo
Oct 26, 2015
Some 118 wanted people surrendered to the authorities in Aleppo, sources said.
On Saturday, over 84 terrorists have laid down arms and surrendered to the Syrian authorities in Homs province, local sources said.
Some 84 wanted persons from Homs and its countryside turned themselves in to the authorities to be pardoned, provincial officials said.
Full Report at:
http://english.farsnews.com/newstext.aspx?nn=13940804001291
---------
Spokesman: Syrian Army Continuing Advance against Terrorists
Oct 26, 2015
The Syrian army is making military gains in the Central, Northern, Southern and Eastern parts of Syria, including Lattakia and Deir Ezzur, Syrian army's General Command Spokesman General Ali Maikhoub said in a statement.
He noted that the army units also continued their operations in Harasta and Nouleh farms in Eastern Ghouta in Damascus Countryside, and took control of more areas in the region after heavy clashes with terrorists.
The Syrian army destroyed the terrorists' arms and ammunition depot in their operations in Harasta and Nouleh, General Maikhoub said.
He stated that other army units continued their advance towards Jub al-Ahmar and Salma areas in the Northern countryside of Lattakia province, and restored control over a number of hilltops and strategic areas in the regions.
General Maikhoub said that the army units also continued their operations in the Southern countryside of Aleppo province and established control over 50 villages, farms and strategic hills in an area exceeding 120 square kilometers.
"The Syrian troops are currently continuing to hunt down fleeing terrorists in the operations areas," he added.
He, meantime, declared al-Wadihi and al-Haddadeen as safe zones and asked local resident to return to those towns.
General Maikhoub went on to confirm that the armed forces thwarted repeated infiltration attempts by the ISIL terrorists and destroyed three bomb-laden cars before they could reach military posts in al-Jafra in Deir Ezzur province.
Full Report at:
http://english.farsnews.com/newstext.aspx?nn=13940804001598
---------
EXCLUSIVE: Syrian Army, Hezbollah Win Back over 150 Square Kilometers of Land in Aleppo
Oct 26, 2015
The army and the resistance forces have won back Qala'at Al-Najam village, Hadadin village, Al-Shahid hilltops, Zeytouna Farms, Al-Kabdar Garrison, Mleiha Village, Abtayn Village, Al-Vazihi village, Kodar village, Al-Sabeqiya village, Shaqidla town, Tanks Battalion, Tal al-Naa'am, Al-Naa'am town, Al-Nasseriya town, Heijeneh, Howeija town, Boqja town, al-Barijieh, Kafr Tuna and al-Harra.
The army and resistance forces are now engaged in heavy clashes with the militants to take control of the Khanasser-Ithriyah road which links Hama province to the Northern parts of the country, specially the city of Aleppo.
Informed military sources said that the Syrian army has conducted five helibrone operations in the surrounding areas of the town of Ithriyah.
The Syrian Army announced on Sunday that its forces have killed over 130 militants alongside Khanasser- Ithriyah road.
The sources said that the terrorists were killed in the Army's cleansing operation of the Khanasser-Ithriyah road.
Full Report at:
http://english.farsnews.com/newstext.aspx?nn=13940804001047
---------
Militants' TOW-Missile Expert Killed in Syrian Army Attack in Hama
Oct 26, 2015
The sources said that Khaled al-Issa known as Abu Umar, a senior member of the militant group of Free Syrian Army (FSA), was killed in the Syrian army troops' offensive on the terrorist group's positions near al-Mansoura town.
Last week, The Russian fighter jets' continued operations against the terrorist positions across the coastal province of Lattakia left at least 40 militants dead, including Basel Zimmo (Abu Hamza) a senior commander known as the King of US TOW antitank missiles.
The Russian warplanes targeted the hideout of the militant commanders in Jabal al-Akrad area by several missiles, in which at least 40 terrorists were killed and many others were injured.
Full Report at:
http://english.farsnews.com/newstext.aspx?nn=13940804000576
---------
Saudi Commander of ISIL Killed in Syrian Army Attack in Hama
Oct 26, 2015
Al-Jazrawi as well as a large number of other ISIL terrorists were killed in the Syrian army operations near Ithriyah town in the Eastern parts of Hama province, the sources said.
On Sunday, the Syrian army killed at least 8 terrorists, including a senior field commander and several of his aides, in military operations in Hama province on Sunday.
The army destroyed a hideout of the so-called "Gathering of al-Ezza Brigades" to the South of al-Latamna town, 35 km to the North of Hama city, killing at least 7 terrorists, including top field commander Ahmed Bilal, and a number of his aides and ranking members, including Abu Suleiman al-Homsi, Ahmed Mansour and Moussa Bilal.
The Syrian troops also destroyed a position of the so-called "Jund al-Aqsa" terrorist group in the vicinity of al-Latamna town, killing Mohammad Rashed aka Abu al-Atir, a leader of the group.
Full Report at:
http://english.farsnews.com/newstext.aspx?nn=13940804000820
---------
Syria: Jeish Al-Fath Militants Alliance Cracks, Jund Al-Aqsa Defects
Oct 26, 2015
Jund al-Aqsa terrorist group in a statement announced its separation from the Jeish al-Fath umbrella.
Jund al-Aqsa announced that it has defected the Jeish al-Fath Alliance because it has been under the pressure of another alliance member, Ahrar al-Sham, to fight the ISIL.
However, Jund al-Aqsa, reiterated that it does not support the ISIL, although it believes that fighting the ISIL under the present conditions will not be a wise decision.
Jund al-Aqsa terrorist group also announced that another reason for its separation from Alliance is "the dependence of some Jeish al-Fath members on the Turkish government".
The Jund al-Aqsa's separation from Jeish al-Fath came as the Syrian army and the Lebanese Hezbollah resistance forces backed by Russian airstrikes have made considerable military gains in recent weeks.
Full Report at:
http://english.farsnews.com/newstext.aspx?nn=13940804001432
---------
Kurdish MP: Jeish Al-Islam Ready for Reconciliation Talks with Damascus
Oct 26, 2015
"The participation of the Russian air force in anti-ISIL military operations in Syria has forced the Jeish al-Islam militants of Eastern Ghouta to voice their readiness to take part in Syria's national reconciliation process," the Arabic-language Al-Watan newspaper quoted Syria's Kurdish MP Omar Oussa as saying on Monday.
He reiterated that Russia's participation in anti-ISIL fight has inflicted heavy losses on the Takfiri terrorists fighting against the Syrian government.
The Syrian army, backed by Russian warplanes, has made major advances in the fight against the Takfiri terrorists across the Arab country in recent days.
Following the Syrian-Russian joint operations, thousands of Takfiri terrorists have also fled Syria to Jordan, Turkey and Europe.
Full Report at:
http://english.farsnews.com/newstext.aspx?nn=13940804001284
---------
Saudi King Salman talks with Putin, discusses Syria
26 October 2015
Saudi King Salman on Monday spoke with Russian President Vladimir Putin in a phone conversation to discuss the Syrian conflict, Al Arabiya News Channel reported.
The call comes after Saudi Foreign Minister Adel Jubair on Sunday reiterated and emphasized Riyadh's position when he said there is "no place" for President Bashar al-Assad for future Syria. Since last month, Russia has been supporting Assad's forces by striking rebel groups.
He also said Cairo - which has previously approved Russian intervention in Syria - has a "similar" position to that of Riyadh.
Full Report at:
http://english.alarabiya.net/en/News/middle-east/2015/10/26/King-Salman-discusses-with-Putin-regional-issues-.html
---------
U.N. says 120,000 displaced by rising violence in Syria
26 October 2015
At least 120,000 people have been displaced since early October in the Syrian governorates of Aleppo, Hama and Idlib, the United Nations said on Monday, more than doubling an earlier estimate of 50,000.
Most of the people who have fled from an upsurge of fighting have moved within their home regions, close to their towns and villages of origin, or to camps near the Turkish border, said Vanessa Huguenin, a spokeswoman for the U.N. Office for the Coordination of Humanitarian Affairs.
Full Report at:
http://english.alarabiya.net/en/News/middle-east/2015/10/26/U-N-says-120-000-displaced-by-rising-violence-in-Syria.html
---------
Surveillance cameras 'key to protect mosques'
27 October 2015
JEDDAH: Special security measures including fences and surveillance cameras are needed to protect the country's mosques from attacks by extremists.
This has been suggested by Adel Al-Sultan, an official in Taraif, near Al-Ahsa, where worshippers recently had to douse a fire inside the local Imam Malik bin Anas Mosque on Friday.
While an investigation is underway to determine the cause of the blaze, city officials and worshippers believe this may be the work of terrorists, particularly considering the recent spate of attacks on mosques in the Eastern Province.
"We strongly condemn what happened at the Imam Malik bin Anas Mosque. It is a strange thing to be happening in a Muslim society, which places a great deal of attention and care on holy places."
He said that he believed it was a case of arson. "It will only make us more determined to remain united and strong in the face of our enemies. The committee will follow up on the matter with the authorities and governors to ensure such actions never happen again, or anything that might jeopardize the peace and security of our community," he said.
He said there are ways to ensure the safety of mosques including building special fences with iron gates. Imams and muezzins should also make sure gates are closed after prayers. In addition, there should be surveillance cameras installed to monitor all inside areas of mosques.
Full Report at:
http://www.arabnews.com/saudi-arabia/news/826431
---------
An intolerable unimaginable heat forecast for Gulf
27 October 2015
If carbon dioxide emissions continue at their current pace, by the end of century parts of the Gulf will sometimes be just too hot for the human body to tolerate, a new study says.
How hot? The heat index — which combines heat and humidity — may hit 165 to 170 degrees (74 to 77 Celsius) for at least six hours, according to numerous computer simulations in the new study. That's so hot that the human body can't get rid of heat.
The elderly and ill are hurt most by current heart waves, but the future is expected to be so hot that healthy, fit people would be endangered, health experts say.
"You can go to a wet sauna and put the temperature up to 35 (Celsius or 95 degrees Fahrenheit) or so. You can bear it for a while, now think of that at an extended exposure" of six or more hours, said study co-author Elfatih Eltahir, an MIT environmental engineering professor.
While humans have been around, Earth has not seen that type of prolonged, oppressive combination of heat and humidity, Eltahir said. But with the unique geography and climate of the Gulf and increased warming projected if heat-trapping gas emissions continue to rise at current rates, it will happen every decade or so by the end of the century, according to the study published Monday in the journal Nature Climate Change.
This would be the type of heat that would make deadly heat wave in Europe in 2003 that killed more than 70,000 people "look like a refreshing day or event," said study co-author Jeremy Pal of Loyola Marymount University.
It would still be rare, and cities such as Abu Dhabi, Dubai and Doha wouldn't quite be uninhabitable, thanks to air conditioning. But for people living and working outside or those with no air conditioning, it would be intolerable, said Eltahir and Pal. While Mecca won't be quite as hot, the heat will likely still cause many deaths during the annual hajj pilgrimage, Eltahir said.
Full Report at:
http://english.alarabiya.net/en/News/middle-east/2015/10/27/An-intolerable-unimaginable-heat-forecast-for-Gulf-.html
---------
U.S. coalition slows air strikes on Syria
27 October 2015
U.S.-led coalition forces have not carried out any air strikes in Syria for three days as of Monday, a lull that contrasts with the continued intensity of Russia's bombing campaign.
According to Pentagon data, the last coalition strike was a drone attack on October 22 that targeted an ISIS vehicle and a "mortar tube."
Russia, on the other hand, continues to maintain an intense tempo as it nears the end of its first month of bombing in Syria.
The Russian defense ministry said Monday it had hit 94 targets in just the past 24 hours.
U.S. defense officials say Russian sorties have no bearing on coalition actions in Syria, and insist the situation reflects greater discrimination and refinement in terms of which targets are struck.
"It's not because of Russia," said Captain Jeff Davis, a Pentagon spokesman.
"Air strikes ebb and flow... We look at intelligence to find out where we have actionable targets, where we have targets that we can hit without causing civilian damage.
"We simply haven't had any (recently)... but that doesn't mean we are not on the lookout for more -- and there will be more."
Full Report at:
http://english.alarabiya.net/en/News/middle-east/2015/10/27/U-S-coalition-air-strikes-slow-in-Syria-.html
---------
South Asia
Taliban Threaten To Continue Fighting Until the Formation of 'Islamic System' In Afghanistan
Oct 27 2015
Taliban have threatened to continue fighting until the formation of an 'Islamic System' in Afghanistan.
Mullah Akhtar Mohammad Mansour, the Supreme Leader of Taliban has released an audio message on Tuesday saying that their core aim is to establish an 'Islamic System' in Afghanistan and until then the fighting will continue.
Taliban in their previous messages had emphasized on the withdrawal of foreign troops from Afghanistan but in today's message Mullah Mansour calls the government to be 'Un-Islamic'.
This comes as the constitution of Afghanistan is formed in accordance with the Islamic rules and the formal religion mentioned in there is also Islam.
Contrary, numbers of religious scholars have called the activities of Taliban to be un-Islamic and name them the servant of the intelligence agency of Pakistan, Inter-Service Intelligence (ISI).
Full Report at:
http://www.khaama.com/taliban-threaten-to-continue-fighting-until-the-formation-of-islamic-system-4046
---------
'Strong Evidence' Of Genocide in Myanmar, Finds Al Jazeera Investigation
October 26, 2015
Al Jazeera's Investigative Unit has uncovered what it says amounts to "strong evidence" of a genocide coordinated by the Myanmar government against the Rohingya people, according to an assessment by Yale University Law School.
The Lowenstein Clinic at the law school spent eight months assessing evidence from Myanmar; including documents and testimony provided by Al Jazeera and the advocacy group Fortify Rights.
"Given the scale of the atrocities and the way that politicians talk about the Rohingya, we think it's hard to avoid a conclusion that intent [to commit genocide] is present," concluded the clinic.
Exclusive evidence obtained by Al Jazeera's Investigative Unit and the advocacy group Fortify Rights reveals the government has been triggering communal violence for political gain by inciting anti-Muslim riots, using hate speech to stoke fear among the Myanmarese about Muslims and offering money to hard-line Buddhist groups that threw their support behind the leadership.
As the first fully contested general election in 25 years approaches on Nov. 8, eyewitness reports and confidential documentary evidence obtained by Al Jazeera reveals that the ruling, military-backed Union Solidarity and Development Party (USDP) has attempted to marginalize Muslims and target the Rohingya.
Al Jazeera has made several requests for comment from the Myanmar president's office and other government representatives but has not received any responses.
The investigation, presented in a new documentary, "Genocide Agenda," consults legal and diplomatic experts on whether the government's campaign amounts to systematic extermination.
University of London professor Penny Green, the director of the International State Crime Initiative, said, "President Thein Sein is prepared to use hate speech for the government's own ends, and that is to marginalize, segregate, diminish the Muslim population inside Burma. "It's part of a genocidal process."
An independent report by the International State Crime Initiative concluded that riots in 2012, which saw conflicts between ethnic Rakhine Buddhists and Rohingya Muslims erupt, were planned. The violence saw dozens of people killed and tens of thousands displaced after several thousand homes were burned.
"It wasn't communal violence," said Green. "It was planned violence. Express buses were organized" to take Rakhine Buddhists from outlying areas to take part in the aggression.
"Refreshments, meals were provided," she said. "It had to be paid by somebody. All of this suggests that it was very carefully planned."
A former United Nations Rapporteur on Myanmar, Tomás Ojea Quintana, called for Thein Sein of the USDP and the ministers for home affairs and immigration to be investigated for genocide.
Full Report at:
http://america.aljazeera.com/articles/2015/10/26/genocide-myanmar-rohingya.html
---------
Afghan security adviser warns of risk from IS, Al Qaeda
27 October 2015
KABUL: Al Qaeda has re-established a presence in Afghanistan and the self-styled Islamic State group has become a serious threat, the Afghan national security adviser warned, saying the country was in danger of again becoming a safe haven for terrorists and calling for US and Nato military backing to help drive them out.
The warning by Mohammad Hanif Atmar follows the announcement earlier this month by President Barack Obama that the US would keep 9,800 troops in Afghanistan through most of next year, casting aside a pledge to withdraw most US forces before leaving office. Obama cited the fragile security situation in the face of a resurgent Taliban.
Speaking to The Associated Press in an interview on Saturday, Atmar said Al Qaeda, the Taliban IS and other insurgents, including the brutal Haqqani network, which has ties to the Taliban, "are morphing".
"They have not been degraded, they have regenerated themselves," he said.
Atmar warned the insurgent groups are reinventing themselves, joining forces, and drawing funds and support from outside as they take advantage of a perceived weakness of Afghan forces following the end of the US-led international combat mission last year.
Highlighting Afghanistan's need for continued support from the US and Nato, the Taliban overran the key northern city of Kunduz on Sept 28 — their first seizure of a major urban area since being toppled in 2001 by the US invasion — before being driven out over a period of two weeks. The Taliban then threatened cities in different corners of the country, including Lashkar Gah, capital of southern Helmand province, and Maymana, capital of northwestern Faryab.
The Taliban have been stretching Afghan forces to the limit this year, and the shift in tactics — from scattered shootings and bombings to coordinated assaults on cities — has posed a challenge to a force accustomed to coming in behind US troops to hold territory, rather than going on the offensive.
This has provided fertile ground for insurgent groups to move into Afghanistan from other countries, particularly Pakistan, where a military campaign to eliminate their safe havens from the tribal areas of North Waziristan has pushed militants into Afghanistan.
Atmar said several groups are now using Afghanistan as a staging ground to reach their "home countries," including China, Uzbekistan and other Central Asian states, and Russia.
"What needs to be well understood is that the symbiotic network of terrorists that we are confronted with is going to be a threat to every country in this region and by extension the whole world," Atmar said.
Full Report at:
http://www.dawn.com/news/1215572/afghan-security-adviser-warns-of-risk-from-is-al-qaeda
---------
NATO, donor countries to renew commitments to Afghanistan
Oct 27 2015
North Atlantic Treaty Organization (NATO) and other donor countries are due to renew their commitments with Afghanistan, said Minister of Finance during Monday's session of the Wolesi Jirga or the Lower House of Parliament where he was summoned.
Mohammad Eklil Hakimi said the leaders of donor and NATO member countries would hold a meeting in Polish capital Warsa in coming to months and announce their support for Afghan National Security and Defense Forces (ANSDF).
He said that the participants of the meeting would figure out ways on assisting Afghan security forces for coming three years, 2017 to 2019.
Full Report at:
http://www.khaama.com/nato-donor-countries-to-renew-commitments-to-afghanistan-4047
---------
UN, US, India offer help to Afghanistan quake victims
By ZABIHULLAH MOOSAKHAIL
Oct 27 2015
United Nations, United States and India have offered help to the earthquake victims in Afghanistan and Pakistan.
United Nations Secretary-General Ban Ki-Moon has expressed sorrow over the loss of lives and damages suffered by people in the earthquake.
He says that U.N. is mobilizing its support and ready to include it in government-led relief operations in Afghanistan and Pakistan if asked.
The United States has also expressed readiness to assist victims of the earthquake in both countries.
Josh Earnest, White House spokesman said on Monday that: "The U.S. government has been in touch with the governments in Afghanistan and Pakistan and we stand ready to provide any additional support that may be needed."
Earnest further said there is a substantial USAID presence in both of these countries to try to assist their needs.
Full Report at:
http://www.khaama.com/un-us-india-offer-help-to-afghanistan-quake-victims-4045
---------
US working with Bangladesh to assess foreigners' killers
October 27, 2015
The United States is working relentlessly with the Bangladesh government and other key partners to identify the true culprits of the foreigner killings here.
"We are working closely with the Government of Bangladesh and key partners to assess who is responsible for these attacks and to help bring them to justice," John Kirby, a spokesperson of US State Department, told this to reporters at a regular press briefing yesterday.
"We certainly note with concern ISIL's (Islamic state of Iraq and the Levant) claim of responsibility for the attack. And, as we have elsewhere, we take those claims seriously," he added.
Full Report at:
http://www.thedailystar.net/country/us-working-bangladesh-govt-assess-foreigners%E2%80%99-killers-163063
---------
Justice Choudhury's daughter blames BNP-Jamaat for attack
2015-10-27
Justice Choudhury, on a personal visit to the UK, was assaulted on London streets on Oct 21 by unidentified assailants, who apparently tried to abduct him.
It was the second time the Supreme Court judge, who retired recently, came under attack in London in three years.
"…These cowards are Khaleda and Tarique, arguably under whose instructions the attack on my father took place," Nadia said in a prepared speech at a media conference in east London.
Justice Choudhury was not present at Monday's event.
Full Report at:
http://bdnews24.com/bangladesh/2015/10/27/justice-choudhurys-daughter-blames-bnp-jamaat-for-attack
---------
Tribunal indicts eight from Jamalpur for war crimes
2015-10-26
The International Crimes Tribunal indicted them on Monday for murder, abduction, confinement, torture, loot and forced disappearances during the Liberation War.
Six of the accused are absconding.
Nov 18 has been fixed as the date for the opening statement and witness deposition in the case.
The accused are former Islami Bank director Sharif Ahmmed alias Sharif Hossain, Md Ashraf Hossain, Md Abdul Mannan, Md Abdul Bari, 'Harun', Md Abul Hashem, advocate Md Shamsul Haq alias 'Badar Bhai', and SM Yusuf Ali.
Haq and Ali, who are in police custody, were produced before the tribunal for charge framing. They denied the charges brought against them.
Investigators say Haq is a former chief of Jamaat-e-Islami's Jamalpur unit while retired teacher Ali, too, was involved with Jamaat.
They were indicted based on prima facie evidence, prosecutor Tureen Afroz told bdnews24.com.
The case's trial will continue with the six others considered as fugitives from justice.
Bangladesh put suspected war criminals on trial after the formation of the first tribunal in 2010.
A second tribunal was set up two years later to expedite the trials.
But this year, the government merged the two tribunals as the number of cases has come down.
Full Report at:
http://bdnews24.com/bangladesh/2015/10/26/tribunal-indicts-eight-from-jamalpur-for-war-crimes
---------
Four Bangladeshis held for killing Italian point to 'big brother'
(10-26 18:48
Police in Bangladesh have arrested four suspects in the killing of an Italian aid worker last month, and said the alleged gunmen had confessed to being hired to attack "a white man'' to destabilize the impoverished South Asian nation.
Cesare Tavella was gunned down by motorcycle-riding assailants September 28 while jogging in the diplomatic quarter of Dhaka, Bangladesh's capital. Five days later, a Japanese citizen was killed in a similar attack in northern Bangladesh.
Responsibility for the attack on Tavella was quickly claimed by the Islamic State group, but Bangladesh's government rejected the claim.
Bangladesh has instead accused domestic Islamist militants along with Islamist political parties _ specifically the opposition Bangladesh Nationalist Party and its main ally, Jamaat-e-Islami _ of orchestrating the violence.
Dhaka Metropolitan Police Commissioner Asaduzzaman Mia said today the latest arrests supported that theory.
Full Report at:
http://www.thestandard.com.hk/breaking_news_detail.asp?id=68102&icid=4&d_str=20151027
---------
63 Dead A Powerful 7.5 Magnitude Earthquake in Afghanistan
27 October 2015
ISLAMABAD: A powerful 7.5 magnitude earthquake which rocked parts of South Asia killed 63 people in Afghanistan on Monday, including 12 Afghan girls crushed in a stampede as they fled their collapsing school.
Hundreds more were injured and hundreds of homes destroyed as the quake shook the region, sending thousands of frightened people rushing into the streets.
Full Report at:
http://www.dawn.com/news/1215629/63-dead-in-afghanistan
---------
Lone website that 'finds ISIS link' in Dhaka
October 27, 2015
Since the September 28 murder of Italian aid worker Cesare Tavella in Dhaka's diplomatic zone, one website seems to have taken it upon itself to link Bangladesh with ISIS.
Rita Katz, director of SITE Intelligence Group, has repeatedly posted in her official twitter account and the group's web page that ISIS claimed responsibility for the September 28 murder of Tavella, the October 3 killing of Japanese citizen Kunio Hoshi and Saturday's Hossaini Dalan blast.
Katz never mentioned exactly where and how ISIS, also known as IS, made the claims. Media outlets around the world had to report the claims citing SITE Intelligence Group's postings alone.
Normally terrorist outfits claim responsibilities for any attack through their own media platforms, some jihadi sites, or by sending releases to the media.
For example, ISIS claimed responsibility for the September 2 bombings at a Yemeni mosque on its social media, CNN reported.
The group broadcast a statement on its al-Bayan radio station to claim responsibility for the May 5 Texas attack, according to the Guardian.
The 2014 beheading of American journalist James Foley was produced and distributed by Al Hayat Media Center, a media outlet of IS. It was posted on YouTube.
There are numerous such examples, but in Bangladesh's case, the "IS claims" come only through the SITE intelligence.
'NOT AUTHENTIC'
It is true that over the past few months, Bangladeshi law enforcers have arrested some people for their alleged connection with the IS and some of them are under trial.
But the government and investigators maintain that there is no IS link with the two murders and the attack on the Ashura programme.
About two hours after the Hossaini Dalan blast in the early hours of Saturday, SITE tweeted: "the 3rd operation claimed by #ISIS in #Bangladesh in less than a month." Rita Katz re-tweeted it at 5:35am.
The tweets drew questions from social media users, mostly expressing their doubts about its authenticity. One user commented, "I can't understand why IS first inform [sic] you. Why they can't give any status or media release?
Talking to the media yesterday, Monirul Islam, joint commissioner of Dhaka Metropolitan Police, said IS makes its claims publicly and those can be found on the web. He said investigators did not find the claims that SITE attributed to IS anywhere else.
DMP Commissioner Asaduzzaman Mia said the IS claims as reported in the SITE page was not authentic.
He also claimed that they contacted Rita Katz through email, asking her the sources of those claims.
Full Report at:
http://www.thedailystar.net/frontpage/lone-website-finds-isis-link-162937
---------
Mideast
TURKEY: 'ISLAM' TEA HOUSE OWNED BY SUICIDE BOMBER WAS ISIS RECRUITING HQ
by JOHN HAYWARD
26 Oct 2015
An article in Monday's Hurriyet Daily News pinpoints an unassuming tea house called "Islam," in the eastern Adiyaman province, as a pivotal location in the Islamic State's assault on Turkey.
Young people were radicalized and recruited to ISIS in this tea house for years, as the terror organization gathered strength for its current wave of attacks. Many elements of the tea house saga will be familiar to those who have studied ISIS recruiting efforts in both the Middle East and Western world.
One distinctive feature of ISIS recruiting stories is the way radicalized young people drift away from their families. In Turkey, those alienated youths were often slipping across the border to matriculate at Islamic State terrorist training camps in Syria.
"Many families lost contact with their children for months at a time while they trained at ISIL camps in Syria before returning to Turkey, with some having married foreign women that are also members of ISIL in the meantime," reports Hurriyet. "Many families reported their children to police, fearing that they might be involved in terrorism, only for the police to take no action."
One Turkish recruit, Omer Deniz Dundar, was said to change his clothing and lifestyle after encountering Islamic State ideology at the tea house, informing his father that "his family did not understand true Islam, which he said was being practiced in Syria under ISIL rule."
When Omer and his twin brother Mahmut disappeared into those Syrian ISIS training camps, their father Mehmet actually went to Syria and searched every camp until he found them, only to be driven away by an ISIS commander who threatened him with execution. Despite their father's amazing effort to rescue them, the brothers are believed to remain loyal to the Islamic State and are currently being sought by the authorities in Turkey, where it is feared they are preparing for a terrorist operation.
Other deadly graduates of the tea house include suicide bombers Orhan Gonder, Seyh Abdurrahman Alagoz, and the owner of the establishment, Seyh's brother Yunus Emre Alagoz, who was one of the suicide bombers behind the attack on a peace rally in Ankara that killed over 100 people.
The tea house is a source of great controversy in Turkey, where opposition leaders charge that the Erdogan government's failure to move against the well-known center of ISIS recruiting was either an act of staggering incompetence or a means of tacitly supporting the Islamic State.
"We are not talking about failure here, but about intent. People we identified months ago are now killing our young. There is only one explanation: [the government] not seeing ISIS as a terrorist organization," charged opposition lawmaker Veli Agbaba, quoted by the Daily Beast a few days after the Ankara bombing in an article that referred to the cafe as "Turkey's ISIS tea house of death."
Full Report at:
http://www.breitbart.com/national-security/2015/10/26/turkey-islam-tea-house-owned-suicide-bomber-isis-recruiting-hq/
---------
Netanyahu hints at revoking Palestinians' travel rights, other benefits
27 October 2015
JERUSALEM: Prime Minister Benjamin Netanyahu has ordered a review of the status of certain Palestinian neighbourhoods in east Jerusalem, an official confirmed on Monday, a decision that could potentially strip tens of thousands of Palestinians of their Israeli residency rights.
Such a move is unlikely to overcome Israeli legal hurdles, but the very prospect has unnerved Palestinians in the city. The review comes after weeks of Israeli-Palestinian violence, much of it concentrated in east Jerusalem, the section of the city claimed by the Palestinians for their future capital. Many of the Palestinian attackers involved in deadly assaults came from east Jerusalem neighbourhoods. Any move to change the status of the city's Palestinians would threaten unleashing new unrest and draw international condemnations.
The current round of violence began last month with clashes at Jerusalem's most sensitive holy site, a hilltop compound in the Old City that is revered by Jews and Muslims. The clashes quickly spread to other areas of east Jerusalem, across Israel and into the West Bank and Gaza Strip.
In all, 10 Israelis have been killed, mostly in stabbings, while 51 Palestinians, including 30 identified by Israel as attackers, have been killed by Israeli fire. Palestinian neighbourhoods in east Jerusalem have experienced frequent clashes between stone-throwing youths and Israeli security forces.
The Israeli official said that Netanyahu recently ordered a review of Palestinian neighbourhoods located outside of Israel's West Bank separate barrier. Roughly-one third of the city's Palestinian population, about 100,000 people, live outside the barrier.
Israeli rights groups, citing official Israeli statistics, say a total of about 14,000 Palestinians have lost residency rights since 1967.
Israel's West Bank separation barrier, built a decade ago, slices through Arab neighborhoods of Jerusalem, leaving about 100,000 city residents on the "West Bank" side of the barrier.
Netanyahu has said the current wave of violence is the result of Palestinian incitement. But Palestinians say it is the result of years of Israeli occupation, failed peace efforts and dwindling hopes of ever gaining independence.
Neighbourhoods in east Jerusalem suffer from poor infrastructure, and a lack of classrooms, resources and services when compared to wealthier Jewish neighborhoods. Some 75 per cent of the city's Palestinians live in poverty, according to Israeli statistics.
The situation is especially dire in those areas outside the barrier, which suffer from overcrowding and lack of municipal services as Palestinians have fled a housing crunch in Arab neighborhoods inside the barrier. Israeli police often do not venture into these areas, and Israeli utilities offer only limited services.
Netanyahu's plans to review the residency of these Palestinians was first reported by Channel 2 TV.
Full Report at:
http://www.dawn.com/news/1215614/netanyahu-hints-at-revoking-palestinians-travel-rights-other-benefits
---------
Turkey Confirms Strikes against Kurdish Militias in Syria
By TIM ARANGO OCT. 27, 2015
ISTANBUL — Turkey has confirmed that it struck positions in Syria held by Kurdish militias that over the last year have become the most important allies within Syria of the American-led coalition fighting the Islamic State.
The confirmation of the strikes, which the Kurds said took place over the weekend, adds a new level of complexity to the United States' struggle to put together a coherent strategy to fight the Islamic State in Syria. It also increases tensions between the United States and Turkey, which are nominally allies in the battle against the militant group, but whose interests diverge substantially.
In an interview on a Turkish news channel Monday night, Prime Minister Ahmet Davutoglu of Turkey did not specify when the strikes had taken place, but he said they came after Ankara warned Kurdish fighters not to move west of the Euphrates River.
"We struck them twice," Mr. Davutoglu said.
The Turkish strikes were in Tal Abyad, a largely Arab border town that the Kurds captured from the Islamic State over the summer. The strikes appear to have been limited — they were said to involve machine-gun fire from across the border and did not seem to cause much damage — but they could suggest a new determination by Turkey to expand military operations against the American-allied group.
Turkey has long considered the Syrian Kurdish group known as the Democratic Union Party, or P.Y.D., as an enemy because it is the Syrian offshoot of the Kurdistan Workers' Party, which has long fought an insurgency against the Turkish state.
The armed wing of the P.Y.D., the People's Protection Units, said in a statement that Turkey had struck its positions in Tal Abyad on Saturday and Sunday, and that a separate Turkish attack, on Sunday in the village of Buban, had wounded two civilians.
The group has accused Turkey of targeting it on several occasions, but Mr. Davutoglu's comments on Monday were the first time Turkey acknowledged doing so.
The limited Turkish strikes came after the P.Y.D. declared last week that Tal Abyad was part of an autonomous region in northern Syria that the Kurds call Rojava. Turkey views the development as a national security threat because it could inflame separatist sentiments among its own Kurds.
Full Report at:
http://www.nytimes.com/2015/10/28/world/europe/turkey-syria-kurdish-militias.html
-------
Iran has sent more military advisers to Syria: officials
27 October 2015
TEHRAN: An Iranian official says the Revolutionary Guard has sent more military advisers to Syria to help President Bashar al-Assad in the fight against insurgents.
General Hossein Salami, the Guard's deputy leader, says this has led to more Iranian deaths in the conflict. Salami didn't give any specifics for the Iranian death toll or for the number of troops dispatched.
Full Report at:
http://www.dawn.com/news/1215713/iran-has-sent-more-military-advisers-to-syria-officials
---------
Turkish police detain 30 ISIS suspects in raid: report
27 October 2015
ANKARA: Turkish police detained around 30 self-styled Islamic State (IS) suspects in a dawn raid on Tuesday, a day after a deadly shootout with a group of the militants, local media reported.
Police launched simultaneous operations against IS cell houses in the conservative central Anatolian city of Konya, the Dogan news agency reported, adding that the operation was ongoing.
On Monday, two policemen and seven IS suspects were killed in a gun battle in the Kurdish majority city of Diyarbakir in the southeast of the country.
Turkey, gearing up for elections on Sunday, has launched a hunt for IS militants after blaming the group for a massive twin bomb attack in the capital Ankara this month that killed 102 people.
Full Report at:
http://www.dawn.com/news/1215714/turkish-police-detain-30-is-suspects-in-raid-report
---------
Israel air raid hits Gaza in response to rocket fire
27 October 2015
Israel carried out an air strike against two Hamas targets in the Gaza Strip after a rocket was fired onto its territory on Monday night, the military said.
"In response to this evening's rocket fire, the IAF (Israeli Air Force) targeted two Hamas terror sites in Gaza," the military said on its Twitter account.
Full Report at:
http://english.alarabiya.net/en/News/middle-east/2015/10/27/Israel-air-raid-hits-Gaza-in-response-to-rocket-fire-army.html
---------
Iran Unveils 16 New Defenses Electronic, Radar Projects
Oct 26, 2015
General Dehqan unveiled 16 new defense projects of SAIran Electronic Industries (Shiraz Electronic Industries) Company in the Southern city of Shiraz today.
The most important projects unveiled during the ceremony included a Radar system with the capability of tracking different semi-heavy and heavy weapons and providing the global positioning system (GPS) specifications for taking action during electronic warfare, Qamar 3-D search and control radar system with the capability of tracking different kinds of targets, including fighter jets and drone, up to a distance of 450 kilometers at different low and high altitudes and transferring the relevant data to the air defense network and Absar video-imaging system which can be mounted on fighter jets and drones.
General Dehqan also inaugurated the production line of air and airport navigation systems, including Multilateration (MLAT), ELINT (Electronic signals intelligence) and Communications Intelligence (COMINT) systems.
"The most important achievement of today is the manufacture of different radars which can identify and track threats and defend the country," General Dehqan said, addressing the unveiling ceremony.
He reiterated that the SAIran Electronic Industries Company has mass produced different radar systems that can cover a range of objects in distances up to 500 kilometers.
General Dehqan pointed to the indigenization of the navigation systems of warplanes as another achievement of SAIran Electronic Industries, and said, "We have made outstanding advancement in area of software production for confronting enemies' electronic warfare."
On October 19, the Iranian army unveiled and launched its newly-developed radar system during the ongoing massive wargames in the Western parts of the country.
The radar system named 'Fath (Conquer) 14' covers areas 600km in range and is capable of tracking small flying objects in high altitudes.
High agility and rapid contact with the command and control network are among other features of the semiconductor radar which can identify enemies' strategic targets in a 600km radius
According to military officials, Fath 14 is the first of a kind in the region.
Iran announced in September that the country's experts were preparing to launch a new radar system, 'Qaem Al-e Mohammad', in the near future.
The new radar system will cover a range of 1,000km which can increase the Iranian Armed Forces' capability to monitor different parts of the country and the regional moves.
According to Commander of Khatam ol-Anbia Air Defense Base Brigadier General Farzad Esmayeeli, Qaem radar system is now being mounted and launched in a special point in Iran.
On September 1, Iran unveiled two new home-made radar systems named Nazir and Bina with the capability of detecting radar-evading targets and fighting against electronic warfare.
The two radar systems were unveiled in a ceremony attended by Commander of Khatam ol-Anbia Air Defense Base Brigadier General Farzad Esmayeeli through a video conference.
Nazir is a long-range and high-precision radar system which is highly capable of detecting targets in low radar cross section and is resistant to radar evading and anti-radar missiles.
The radar can detect all radar-evading targets and is capable of fighting electronic warfare.
Bina and Nazir radar systems have been mounted in the mountainous and plain regions in Southeastern Iran.
Full Report at:
http://english.farsnews.com/newstext.aspx?nn=13940804001667
---------
Iran: Dezfoul Terrorist Attack Orchestrated by Foreign State
Oct 26, 2015
Unknown assailants killed two and injured two others in an attack in Iran's South-western city of Dezfoul in the oil-rich border province of Khouzestan on October 16.
The Khuzestan intelligence department said that the terrorists intended to carry out similar attacks on four other locations in Iran, but they were captured before making any other move.
It reiterated that the intelligence forces with the help of the Law Enforcement and Military Forces in Khuzestan province have managed to apprehend all the assailants.
The intelligence department said evidence showed that a foreign country has orchestrated the terrorist attack on the Shiite mourning ceremony.
On October 19, Head of Iran's Law Enforcement Police Brigadier General Hossein Ashtari announced that his forces had arrested the assailants of Dezfoul terrorist attack.
"The assailants of Dezfoul shooting attack were arrested last night (Sunday night) and we are running interrogations," General Ashtari told reporters, adding that further information would be released to the public in future.
Informed sources disclosed on October 18 that the assailants who launched the terrorist in Dezfoul on October 16 had received training in US military bases in Iraq and infiltrated the country for carrying out terrorist attacks.
"The gunmen who attacked the mourning ceremony have undergone military training in US military bases in Iraq and they have crossed the border for conducting terrorist operations during the holy month of Muharram," an informed source told the Persian-Language Dana news agency on October 18.
Full Report at:
http://english.farsnews.com/newstext.aspx?nn=13940804001685
---------
Saudi aid official wants Yemen ceasefire
27 October 2015
Saudi Arabia would like to see a ceasefire in Yemen to allow for the delivery of humanitarian aid, but it does not trust the Houthi militias to abide by such a truce, the head of a Saudi center that coordinates humanitarian assistance for Yemen said on Monday.
The Iranian-allied Houthis and forces loyal to former Yemen President Ali Abdullah Saleh seized the capital, Sanaa, a year ago. The Saudi-led coalition began bombing them in March in a bid to restore President Abdrabbu Mansour Hadi's authority.
A Saudi soldier stands guard as servicemen on a Saudi military cargo plane prepare to unload aid at the international airport of Yemen's southern port city of Aden. (Reuters)
"From our previous experience the ceasefire was not acknowledged and it was violated," Abdullah Al-Rabeeah, general supervisor of the five-month-old King Salman Humanitarian Aid and Relief Centre, told reporters. "If there is a ceasefire it has to be a realistic ceasefire."
Several attempts at a humanitarian truce have failed with the warring parties blaming each other for violations.
Full Report at:
http://english.alarabiya.net/en/News/middle-east/2015/10/27/Saudi-aid-official-wants-Yemen-truce.html
---------
Abbas asks EU to help calm surging violence
27 October 2015
The European Union's foreign policy chief Federica Mogherini met Palestinian president Mahmoud Abbas late on Monday to discuss "concrete steps" to calm the surge of violence between Israelis and Palestinians.
"We have a meeting tonight to discuss the ways EU can contribute to a de-escalation," Mogherini said in brief comments before a working dinner.
The EU's diplomatic chief said she hoped the pair would discuss "concrete steps on the ground, including difficult ones, that can strengthen the Palestinians on an everyday basis".
The European Commission is the biggest provider of financial aid to the Palestinians, providing more than $6.19 billion to Abbas' Palestinian Authority since 1994.
Mogherini, who met with Israeli Prime Minister Benjamin Netanyahu in Berlin on Thursday, admitted there was "a certain degree of frustration" in Europe over the peace process, which collapsed in April 2014 amid bitter recriminations.
Abbas repeated his criticism of what he said was Israel's "non-respect" for the rules at Jerusalem's Al-Aqsa Mosque compound which is at the center of the recent wave of violence.
"The situation in Palestine is extremely serious and grave and may even deteriorate. This is my fear," he said.
Full Report at:
http://english.alarabiya.net/en/News/middle-east/2015/10/27/Abbas-at-EU-to-discuss-surging-Israeli-Palestinian-violence-.html
---------
Pakistan
Seven FC men killed in South Waziristan border attack: ISPR
MATEEN HAIDER
27 October 2015
ISLAMABAD: At least seven Frontier Corps personnel were killed as a checkpost northeast of South Waziristan's Angoor Adda came under fire Tuesday, Inter-Services Public Relations (ISPR) said.
"The terrorists opened heavy fire from across the Pak-Afghan border early on Tuesday," the ISPR said.
North and South Waziristan are among Pakistan's seven tribal districts near the Afghan border which are rife with homegrown insurgents and are alleged to be strongholds of Taliban and Al Qaeda operatives, among others.
Full Report at:
http://www.dawn.com/news/1215715/seven-fc-men-killed-in-south-waziristan-border-attack-ispr
---------
Nurseries of terrorism in Punjab behind attacks in Sindh: Khursheed
27 October 2015
SUKKUR: Leader of the Opposition in the National Assembly Syed Khursheed Ahmed Shah said on Monday there were nurseries of terrorism in Punjab which were also involved in attacks inside Sindh.
He called for action against such 'nurseries' and said the Sindh government was trying to fight the menace with limited resources and it needed the federal government's cooperation to finish it off.
Mr Shah said at a press conference at the residence of PPP MNA Mir Aijaz Hussain Jakhrani in Jacobabad that terrorists were trying to misuse the name of religion to weaken the country.
He said that there was no doubt RAW was busy inflicting harm on the country and the Indian military was continuously violating ceasefire along the Line of Control but the federal minister for interior could not absolve himself of the responsibility by pointing finger at Indian secret agency, RAW.
The Modi government was behind incidents of terrorism in the country which were carried out through RAW as it could not see Pakistan getting prosperous. The Pakistan government should raise its voice against Indian activities, he said.
Mr Shah said that terrorism posed a serious challenge to the government although operations including Zarb-i-Azab in the tribal areas had brought down incidents of terrorism to a large extent.
Full Report at:
http://www.dawn.com/news/1215584/nurseries-of-terrorism-in-punjab-behind-attacks-in-sindh-khursheed
---------
Pakistan army leads rescue as death toll from Afghanistan earthquake rises
27 October 2015
Pakistan has dispatched aircraft, road clearing teams and rescuers to some of the country's most isolated valleys on Tuesday in the aftermath of a powerful earthquake that killed 311 people in the region.
A surveillance flight was ordered into the air to assess damage caused by the magnitude 7.5 quake in neighbouring Afghanistan, whilst a C-130 transport plane loaded with rations, ready meals, tents and blankets was dispatched to Chitral, a far-flung former princely state that was especially badly hit.
The prolonged tremors were some of the worst the region has experienced in recent years and were felt hundreds of miles away from the epicentre in Jurm, in north-east Afghanistan.
By mid-morning the army said its Frontier Works Organisation had cleared 27 out of 45 landslides that had blocked the Karakorum highway, the strategically valued road link to China that winds through some of the world's most forbidding mountain terrain.
Small aftershocks that continued to shake the region have not done any further damage, but schools in the city of Rawalpindi were kept shut as a precautionary measure.
Pakistan's powerful army has taken a lead role in responding to the crisis, with extra resources pushed out to its various hospitals in the affected region.
Pakistan has insisted that it does not require international assistance to cope with a disaster that caused a fraction of the damage of the devastating 2005 earthquake that killed nearly 80,000 Pakistanis and displaced millions more.
Seismologists say catastrophe was averted this time because the quake struck deep underground.
Full Report at:
http://www.theguardian.com/world/2015/oct/27/pakistan-army-leads-rescue-death-toll-afghanistan-earthquake-rises
---------
At least 228 dead in Pakistan quake, relief efforts underway
27 October 2015
KABUL/ISLAMABAD/PESHAWAR: In Pakistan, at least 228 people are confirmed dead in the aftermath of a massive 7.5 magnitude earthquake which hit northern Afghanistan and Pakistan on Monday.
The National Disaster Management Authority (NDMA) says at least 1,620 are injured across Pakistan.
Rescuers on Tuesday rushed to deliver relief aid to victims of the quake, which killed at least 291 people in the Pak-Afghan region over a wide swathe of mountainous terrain.
The initial quake — which struck the country at 2:09pm Monday — was followed by seven aftershocks, measuring as high as magnitude 4.8, according to the United States Geological Survey (USGS). The latest aftershock came just before dawn on Tuesday.
"Many houses and buildings have collapsed in the city," said Arbab Muhammad Asim, district mayor for the northwestern city of Peshawar.
Many people were trapped under piles of rubble, with officials warning that the toll was set to rise.
"The building was swinging like a pendulum, it felt as if the heavens would fall," Peshawar shop owner Tufail Ahmed told AFP.
Related: PM Nawaz convenes emergency quake meeting
Thousands spent the night outdoors in near-freezing temperatures reluctant to go back inside for fear of aftershocks, Pakistani media reported.
Pakistan Army continued relief efforts in Khyber Pakhtunkhwa (KP) and Gilgit-Baltistan (GB) on Tuesday.
Army spokesman Lt Gen Asim Bajwa said on Twitter two army helicopters each were flying in KP and GB for rescue services.
Frontier Works Organisation (FWO) personnel, he said, cleared 27 of the 45 landslides that blocked the Karakoram Highway (KKH).
A C-130 aircraft was on its way to Chitral with seven tonnes of ration, 2,500 ready-to-eat meals, medical teams, 1000 tents and blankets to be distributed in remote areas, the spokesman said.
Twenty tonnes ration, 10,000 ready-to-eat meals, 1,000 tents and 500 blankets had been dispatched by road for KP's Dir region while a ration distribution point and relief camp was also established, Bajwa said.
"Rescue work is ongoing, and tents, blankets and sleeping mats are being provided," Latifur Rehman, a Pakistani disaster management official, told Reuters from Peshawar.
Pakistan's military and civilian authorities dispatched several helicopters to affected areas to assess damage and run rescue operations, the NDMA said.
Eyewitnesses near Lower Dir's Khal area earlier today said rescue and relief teams have yet to reach their area.
One Syed Shah says, "No rescue teams have reached here yet. There is no power, no water and no roads are open."
His account is echoed by Irshadullah who says, "Our houses are not capable of living in. We spent the whole night under the open sky because we were afraid of the aftershocks. Everything we own is buried under the debris of our house."
Shah says his house, too, has been completely destroyed. "All our possessions and our money is buried under it," he says.
"We sent our children to relatives living 5km away. We are very scared."
At least 95 people, including women and children, are injured, with many admitted to District Headquarters Hospital Timergara.
At least 12 houses have been destroyed in a village near Khal, where over 50 per cent of houses have been damaged by the quake.
According to the Khyber Pakhtunkhwa (KP) Provincial Disaster Management Authority, the highest number of confirmed deaths in the province is 38 in Shangla, while the highest number of injuries has been confirmed as 248 in Lower Dir.
Prime Minister Nawaz Sharif had said he would personally oversee the rescue efforts. "We will try our best to deal with this disaster using our own resources," he had said.
The toll is expected to rise as search teams reach remote areas that are cut off by the powerful 7.5 magnitude quake, which triggered landslides and stampedes as it toppled buildings and severed communication lines.
Landslides in Pakistan's northern areas over the weekend caused by heavy rain and snow had already left thousands of tourists stranded.
Earthquake intensity: 8.1 or 7.5?
The Pakistan Meteorological Department measured the intensity of the quake as 8.1.
The US Geological Survey (USGS), however, estimated the quake's intensity at 7.7, then revised it down to 7.5 on the Richter scale.
An official from the Met Office said that the USGS readings were different from PMD's because they were monitoring the situation from mainland America, as USGS did not have a station in Afghanistan or Pakistan.
"On the other hand, PMD has bases to observe seismic activities in Cherat and Chitral. There is also an advanced station in the Pattan area of Swat, since these areas fall in the active seismic zone," the official said.
Dr. John Ebel, chairman of the Department of Earth and Environmental Sciences at Boston College in the US, said the depth of the earthquake had limited its severity and meant damage was likely to be spread broadly rather than focused in one disaster zone. But he said landslides on the unstable slopes of the mountainous region could pose a major problem.
"Obviously if a landslide comes into a village, it will take out buildings, but landslides can also take out roads and communications and power systems, so you lose the ability to access remote areas," he said.
In Washington, White House spokesman Josh Earnest said the US Agency for International Development was ready to provide emergency shelter and relief supply kits.
The US and Iran were among countries that offered to provide humanitarian assistance to Afghanistan, which already depends heavily on foreign aid after decades of war that have wrecked its economy and infrastructure.
Devastation in Afghanistan
Afghan officials said at least 63 people were confirmed dead and hundreds more injured, with casualties reported from around half a dozen of the country's 34 provinces.
The government has implored aid agencies for assistance.
But large swathes of Badakhshan, the remote province where the epicentre is located, and other areas are effectively controlled by the Taliban, posing a huge challenge to any official aid efforts.
Full Report at:
http://www.dawn.com/news/1215703/at-least-228-dead-in-pakistan-quake-relief-efforts-underway
---------
Nation proud of our war heroes: Raheel
October 27, 2015
Islamabad: "There cannot be a bigger sacrifice for the motherland than one's life or limbs," said General Raheel Sharif, Chief of Army Staff (COAS), during his visit to Armed Forces Institute of Rehabilitation Medicine (AFIRM), Rawalpindi, yesterday. The Army Chief paid rich tributes to the sacrifices, valour and determination of the soldiers who were injured in the ongoing war on terror. He said, "Our nation is proud of our war heroes."
Full Report at:
http://nation.com.pk/national/27-Oct-2015/nation-proud-of-our-war-heroes-raheel
---------
Judiciary trying to dispose of pending cases under limited resources: CJ
October 27, 2015
ISLAMABAD - Chief Justice of Pakistan Justice Anwar Zaheer Jamali has said that the judiciary under limited resources is trying its level best to dispose of pending cases.
"It is not only our duty to dispose of cases but also dispense justice. Huge backlog of cases is a failure of number of institutions which are not fulfilling their responsibilities as per law," the Chief Justice emphasized.
The Chief Justice expressed these views while talking to an 87-member delegation of PN Staff Course, Pakistan Navy War College, Lahore comprising faculty members and course participants hailing from different countries of the world during its visit to the Supreme Court as a part of their inland study tour here on Monday.
He further added that in our country, under the constitutional scheme, there are three pillars of state i.e. legislature, executive and judiciary. The state exercises its power through three components based upon the concept of separation of power.
He also added that to cater to the needs of litigants of remote areas, circuit/ branch registries of Supreme Court benches are constituted at the provincial headquarters for speedy justice. At the Provincial level High Courts are working, there are five High Courts in Pakistan under which District Judiciary comprising District & Sessions Judges, Additional District and Sessions Judges is working. Apart from regular courts some special courts are also constituted to cater to the needs of litigants which include family courts, rent controller, service tribunals, anti terrorism courts.
Full Report at:
http://nation.com.pk/islamabad/27-Oct-2015/judiciary-trying-to-dispose-of-pending-cases-under-limited-resources-cj
---------
Africa
Top commander of Ansar al-Sharia radical group killed in Libya
October 27, 2015
QAIMISHLI – Subsequent to fierce clashes with the Libyan army forces in the city of Benghazi, a top commander of the extremist group Ansar al-Sharia was killed, Libyan military sources reported on Monday.
"Sheikh Mansour Juma Shalali (aka Haroun) was martyred on Sunday during battles with Apostate army," the group said in a statement, describing the victim as "Mujahid" (stands for Jihadist).
Speaking to ARA News, Egyptian analyst Angie Ali had said that the jihadist extremism does not have a social incubator in Libya, "thus the extremists will not be able to continue for a long time in this country".
"If the Libyan national dialogue succeeds, they (extremists) will have to flee abroad immediately," she argued.
"All Libyans belong to the Sunni Muslims of the Maliki school, but if the extremist groups were able to formulate some sleeper cells in cities such as Derna and Sirte, this will be primarily related to the absence of a strong central state," she added.
The radical group of Islamic State (ISIS) has been in control of some parts of Libya, including the port city of Sirte. The group has been engaged in battles with other Libyan factions for several months.
Full Report at:
http://aranews.net/2015/10/top-commander-of-ansar-al-sharia-radical-group-killed-in-libya/
---------
Kenyan troops seize al-Shabaab base in Somalia
26 October 2015
Kenyan soldiers killed 15 al-Shabaab fighters in a raid to capture a base 180 kilometers (112 miles) inside Somalia.
The assault on Yantooy, a town on the Jubba River, was aimed at disrupting militant supply lines from their headquarters at Jilib. Yantooy has been used as a staging point for cross-border attacks on Kenya.
"The attack happened early in the morning and we have no casualties from our side," army spokesman Col. David Obonyo told Anadolu Agency.
"We managed to kill 15 al-Shabaab militants and captured Yantooy, which the militants were using as a base. The capturing of the base is vital for our operation to facilitate the easy capture of Jilib, which is currently the remaining al-Shabaab headquarters in the lower Shebelle."
Full Report at:
http://www.worldbulletin.net/africa/165655/eu-calls-in-burundi-for-rights-talks
---------
HRW visits Qaddafi son in Tripoli prison
October 27, 2015
TRIPOLI: Human Rights Watch said Monday it had been able to meet slain Libyan dictator Moamer Qaddafi's son Saadi in a Tripoli prison, where he said his rights were being violated.
"He said lawyers were not present during any of the interrogation sessions, where, he alleged, prosecution officials had intimidated and threatened him and other witnesses," the New York-based rights group reported.
Qaddafi's third oldest son spoke to HRW without guards present on September 15 at Al-Hadba prison, in what appeared to be his first meeting with a rights organisation since his extradition from Niger in March 2014, it said.
Saadi Qaddafi had sought refuge in Niger after the 2011 popular uprising that toppled his father.
He is charged with the first-degree murder in 2005 of a former trainer at Tripoli's Al-Ittihad football club and his trial is underway.
Saadi Kadhafi, 42, told HRW researchers that he had no legal representation during the pretrial and investigation phase of his case, although he was able to appoint a lawyer around the start of his trial.
He said he had been "held in solitary confinement at Al-Hadba prison since his extradition in a windowless cell, though with a fan, and has had no communication with other detainees," HRW said.
Researchers met with three other detainees including former military intelligence chief Abdullah Senussi, and two former prime ministers, Abuzeid Dorda and Al-Baghdadi Al-Mahmudi.
A Tripoli court sentenced all three to death in July for their alleged role in suppressing the 2011 uprising.
Senussi has also been named by British media as one of two new suspects Scottish prosecutors are reported to have identified in the bombing of a Pan Am jet over the Scottish town of Lockerbie in 1988 which killed 270 people.
The three former officials reported lacking private access to lawyers, court authorities refusing to allow them to speak during trial proceedings and armed groups intimidating their lawyers, HRW said.
Full Report at:
http://nation.com.pk/international/27-Oct-2015/hrw-visits-qaddafi-son-in-tripoli-prison
---------
S.African universities shut despite fee agreement
26 October 2015
South African campuses closed Monday, many for a second week, as students refused to end protests despite a government decision to scrap the tuition fee hikes that triggered nationwide demonstrations.
Student leaders have vowed further action to push for other demands, including universal free education.
Police last week fired rubber bullets and tear gas at tens of thousands of students gathered outside government headquarters in Pretoria as protests over the proposed fee hikes turned violent.
Max Price, the University of Cape Town (UCT) vice-chancellor, said the campus would be closed all week, as students had not committed to ending protests and the disruption of lectures.
"I believe no purpose will be served by attempting to keep the university open," he said in a statement.
Full Report at:
http://www.worldbulletin.net/africa/165674/safrican-universities-shut-despite-fee-agreement
---------
India
Intelligence report on ISIS, Boko Haram threat to India-Africa summit, security tightened
Raj Shekhar
Oct 27, 2015
NEW DELHI: Law enforcement agencies have been asked to step up security around dignitaries attending the Indo-Africa summit due to the possibility of outfits Boko Haram and Islamic State attempting to disrupt the meet, sources in the intelligence establishment said.
he threat perception of the summit has been marked as "very high" as several heads of state visiting Delhi are under threat from Boko Haram, which is mainly active in Nigeria and has recently pledged its allegiance to the Islamic State.
IS has been trying to mark its presence in the Indian subcontinent, and has claimed responsibility for a few strikes in neighboring Bangladesh. Agencies have a list of people radicalized by ISIS propaganda and Delhi Police has even registered an FIR to take steps against the radicalization moves.
TOI has earlier reported on IS threat in the capital. The current input points to the possibility of a lone-wolf strike aimed at dignitaries or the hotels where they are staying. Highly-placed sources said the foreign region registration office (FRRO) and Delhi Police sleuths were keeping a tab on African nationals who have arrived in Delhi in the last one week.
Over 25,000 Delhi Police and paramilitary personnel are operating in tandem with the African security apparatus in central and New Delhi areas for the summit. Security will be extra tight on October 29 when all heads of state, along with Prime Minister Narendra Modi and high-ranking Indian and African officials will congregate at the IG indoor stadium.
Full Report at:
http://timesofindia.indiatimes.com/india/Intelligence-report-on-ISIS-Boko-Haram-threat-to-India-Africa-summit-security-tightened/articleshow/49546269.cms
---------
Hindu Sena Leader Calls Police to Kerala House over 'Beef' In Menu
By Abhishek Angad
October 27, 2015
Nearly 20 police officials went to Kerala House Monday evening after Vishnu Gupta, a Hindu Sena leader, called and complained the canteen at the state guest house was serving beef, said police. Police officials were seen in the canteen, talking to the employees. However, the Kerala House said they served only buffalo meat and had named it "beef". Confirming the incident, a senior police official of New Delhi district said they received a PCR call around 4.30 pm over "beef" being served in the canteen. The officer said the police rushed to the spot to prevent any untoward situation. "It was a preventive measure. The police went to the canteen and informed the staff of the complaint of the Hindu Sena, but did not collect any samples from the canteen," said the officer. He added that when the police reached Kerala House, a few Hindu Sena activists were present at the spot. Asked about the identification of the caller, he said, "The caller was Hindu Sena leader Vishnu Gupta. We will be talking to him." The officer said the police had not detained anyone. One Hindu Sena activist was taken to Connaught Place Police Station for questioning and released, added the officer. After the police visit to Kerala House, Gupta said they did not act according to the complaint. "I made a PCR call informing the police to act as the Kerala House on its menu listed Beef Fry as a dish. They were serving cow meat, but the police did not even inquire if the canteen served cow's meat. The police did not even ask for a sample of the meat served in the canteen," alleged Gupta. He identified the Hindu Sena activist questioned at Connaught Place police station as Saket Singh. When asked what had made him call the PCR, Gupta said VHP member Pratheesh Vishwanath had informed him. "Prateesh Vishwanath of VHP sent me a picture of the menu and told me over phone from Kerala that the Kerala House in Delhi was serving beef. Pratheesh told me he got to know of this from his Malayali friends in Delhi," added Gupta.
Full Report at:
http://indianexpress.com/article/cities/delhi/hindu-sena-calls-cops-to-kerala-house-over-beef/#sthash.XhWM7jmb.dpuf
---------
Kerala: Protest against Gender Segregation In A Muslim College Ends In Clash
By Shaju Philip
October 27, 2015
Students representing different factions clashed during a protest march against the management of a Kozhikode college that cracked the whip against girls and boys sitting next to each other in class. Farook College — a prominent institution under Muslim management in Kozhikode — adheres to a strict code of conduct which disallows free intermingling between female and male students. Last week, a Malayalam professor had reportedly asked nine students — four girls and five boys — not to sit together in the classroom. Later, they were asked to leave the class and report back with their guardians. Five students, who followed the college diktat, were allowed to return. On Monday, a protest march was taken out against the incident by CPM's student wing SFI. The march ended in a clash after Muslim organisations supporting the management tried to prevent the SFI protest. Trouble began after Principal E P Embichikoya told students to counter the media campaign against the institute on Monday. Students affiliated to the Muslim Student Movement, the Students Islamic Organisation and the Kerala Students Union raised slogans supporting the college management. As SFI activists took out their protest march, they clashed with students representing the Muslim outfits. The principal, however, said that the rules had been in place for a long time.
http://indianexpress.com/article/india/india-news-india/kerala-protest-against-gender-segregation-in-farook-college-ends-in-clash/
---------
J&K: Two Hizb ul militants, one army officer killed in an encounter in Pulwama district
by Mir Ehsan
October 27, 2015
Two Hizbul Mujahideen militants and an army officer were killed in an encounter South Kashmir's Pulwama district. The operation is still in progress. On Monday evening, the Indian Army along with the Special Operations Group of police launched an operation in Drabgam village in Pulwama. As the army was busy in searching the area, militants opened fire that triggered an encounter in which two local militants of Hizbul Mujahideen were killed. A junior commissioned officer of army was also killed in the encounter. A senior army officer said that operation was launched after army received specific information about militant presence in the area. Last week, the army and police had killed two Hizbul militants in the neighboring Shopian district.
http://indianexpress.com/article/india/india-news-india/jk-two-hizbul-militants-one-army-officer-killed-in-an-encounter-in-pulwama-district/
---------
Europe
UK government should withdraw its invitation to Abdel Fatah al-Sisi
27 October 2015
We are concerned to hear that the government has invited the Egyptian dictator, Field Marshal Abdel Fatah al-Sisi, to visit the UK. We believe it violates the British values which the government claims to champion to welcome a ruler who has overthrown an elected government and instituted a regime of terror which has thrown back the cause of democracy in Egypt and the wider Middle East many years.
While not necessarily supporting deposed President Morsi or the policies of his Freedom and Justice party, we note that he was democratically elected, and that his removal from office was effected by means of a military coup led by Sisi.
Since then Sisi's military-directed regime has massacred thousands of civilians. Hundreds of supporters of the Muslim Brotherhood, including President Morsi, have been sentenced to death in mass trials that were a travesty of justice. Almost all independent political activity has been suppressed, including that of liberal and leftwing organisations. Women's rights have been violated across the country.
Sisi was "elected" president in 2014 in a vote that did not meet the most minimal democratic standards. The parliamentary elections currently taking place in the absence of any real opposition have been shunned by the vast majority of Egyptian voters with record low turnout, in the expectation that the new Egyptian parliament will be no more than a fig leaf for Sisi's authoritarian regime.
Meanwhile, security and police forces have illegally arrested, detained and tortured Egyptian citizens, media freedoms have been suppressed and many journalists arrested and abused.
Such renunciation of democracy and human rights has surely contributed to the upsurge of terrorism in Egypt, which we repudiate but regard as a consequence of, rather than a justification for, Sisi's barbarism.
Under these circumstances, we regard any visit to the UK by this despot as an affront to democratic values. No considerations of commerce or realpolitik can justify such an invitation. We urge the government to withdraw it.
Diane Abbott MP
Caroline Lucas MP
John McDonnell MP
Lindsey German Stop the War Coalition
John Pilger Journalist
Dr Anas Altikriti The Cordoba Foundation
Andrew Murray Chief of staff, Unite
Dr Daud Abdullah British Muslim Initiative
Ken Loach Film-maker
Dr Abdullah Faliq Islamic Forum of Europe
John Rees Counterfire
Dr Maha Azzam Egyptian Revolutionary Council
Harjinder Singh
Prof John L Esposito
Victoria Brittain Writer
Salma Yaqoob Former councillor
Peter Oborne Journalist
Bruce Kent CND peace campaigner
Aaron Kieley Student Broad Left
Kate Hudson CND
Full Report at:
http://www.theguardian.com/world/2015/oct/27/uk-government-should-withdraw-its-invitation-to-abdel-fatah-al-sisi
---------
Thousands stage anti-Israeli rally in Casablanca
Oct 26, 2015
Tens of thousands of protesters have held a massive rally in Morocco's port city of Casablanca to show their anger at Israel's aggressive policies toward the Palestinians.
The protesters marched down the streets of Morocco's commercial hub to denounce the policies of the Tel Aviv regime.
The massive rally was organized by a Moroccan Islamic association. Members of political parties also left behind their differences and attended the demonstration to show their support for the Palestinian cause.
The protesters carried placards demanding an end to the ongoing Israeli crimes against the Palestinians, and also called on the international community to boycott Israeli products.
The angry demonstrators also burned the flags of Israel to show their fury.
They also chanted slogans such as "Death to Israel," and "We will sacrifice our soul and our blood to you, Al-Aqsa."
Full Report at:
http://www.presstv.ir/Detail/2015/10/26/435092/Morocco-Casablanca-Palestine-Israeli-regime
---------
The Iraqi Kurdish refugee family stuck in limbo at Moscow airport
27 October 2015
For more than 40 days a family of Iraqi Kurdish refugees have come to call a glass box in the transit area of Moscow's Sheremetyevo airport home.
Khasan Aman Ando, his wife, Gulistan, and their four children (aged between three and 13) are attempting to claim asylum in Russia after fleeing from their hometown in Iraq, currently under siege from Islamic State (Isis).
Travelling from Erbil, the capital of Iraqi Kurdistan, the family brought with them seven bags, but nothing warm enough for Russia's impending winter. They've now resorted to doing their laundry in the airport toilets – drying their clothes on heaters around their glass box.
Their room, which used to be a smoking area in Terminal E, has begun to resemble a nursery adorned with space stickers. The children sleep together on a large air mattress , which overlooks the planes. Groceries and other basics are being supplied by relatives and human rights workers.
The family was detained at the Russian border after they were accused of travelling on forged passports. Syrian authorities later confirmed the authenticity of their documents, but Russian migration officials denied the family refugee status on their last attempt on 14 October.
Shortly after their arrival the Moscow Times reported that the family were stuck in limbo: "If they step outside of it, it will constitute an illegal crossing of the border, a crime punishable by up to six years in prison if committed deliberately."
"I called the federal migration service, and they told me right away that the request for asylum will be denied because of the criminal charges for crossing the border illegally," Svetlana Gannushkina, a human rights activist, told the Russian newspaper Novaya Gazeta.
Paul Goble from Interpreter magazine said the plight of the family was "emblematic of Russia's approach to refugees". As officials say that Europe must do more to accommodate people fleeing wars, Russia have only extended permanent refugee status to 816 people.
The children's mother, Gulistan, is currently undergoing treatment in Khimki, a city north west of Moscow. She was admitted on 17 October, and her sister Tamam, a Russian citizen, is helping to care for her.
Full Report at:
http://www.theguardian.com/world/2015/oct/27/refugees-moscow-airport-sheremetyevo-russia-iraqi-kurdish-family
---------
UN: 120,000 people displaced in Syria in 2 weeks
27 October 2015
At least 120,000 people have been displaced in three major Syrian cities because of fighting since early October, the United Nations said Monday.
The UN humanitarian affairs agency said that at least 120,000 people had been forced to flee their homes in Aleppo, Hama and Idlib governorates between Oct. 5 and 22.
UN spokesman Stephane Dujarric told reporters that most of these people were displaced within their governorates, while others fled to camps near the Turkish border.
"People need tents, basic household items, food, water and sanitation services," Dujarric said.
The Syrian civil war has claimed more than 250,000 lives since 2011 and made the country the world's single-largest source of refugees and displaced people.
Full Report at:
http://www.worldbulletin.net/europe/165695/un-120000-people-displaced-in-syria-in-2-weeks
---------
Thousands flee Russian airstrikes in Syria
27 October 2015
Tens of thousands of Syrians are fleeing Russian airstrikes as warplanes target civilian areas.
At the Atmeh refugee camp on the Syrian-Turkish an increasing number of refugees from Hama, Homs, Idlib and Aleppo provinces have arrived since Russia began airstrikes on Sept. 30.
"Russian planes have been bombarding residential areas, civilians and children day and night," Abdulkarim al Ahmed, from southern Aleppo, told Anadolu Agency. "We had no choice but to run away when our house was demolished."
Most of the refugees come from areas where President Bashar al-Assad's forces are facing opposition groups. Ahmed said ground held by the rebels was being targeted in particular.
Since Russia began launching airstrikes it has claimed it is only going after "terrorists", primarily ISIL. However, members of the anti-ISIL military alliance, including Turkey, say civilians and moderate opposition forces fighting the regime are bearing the brunt of the strikes.
"We would like the Muslim world to get together and raise its voice against these massacres," Ahmed said.
"What harm can the civilians give the administration and Russian army? We have no affiliation whatsoever with ISIL yet we are bombarded every single day."
He said his family's only refuge was the Turkish border. "We feel safe here."
Another new arrival, Ahmed Abu Saleh, said tens of thousands had left their homes -- a claim backed by relief agencies who say an escalation in violence since Russia joined the war is threatening one of the worst humanitarian crises in the last four years.
"Clashes have intensified in Aleppo and other cities with the help of Russian airstrikes," Saleh said. "Around 20,000 people have left their homes over the past seven days and settled in tent camps along the border."
He added: "We came here with about 300 other families. We were afraid of being bombed on the way, as they drop barrel bombs on those who flee."
Russian denial
Dmitry Peskov, spokesman for Russian President Vladimir Putin, described media reports on civilian deaths caused by Russian airstrikes as "disinformation".
Full Report at:
http://www.worldbulletin.net/europe/165680/uk-teenager-arrested-in-cyber-attack-probe
---------
Freezing Winter Jeopardizes Syrian Refugees
26 October 2015
CAIRO – Addressing the growing refugee crisis, European Commission President has warned that thousands of migrants would face freezing weather as winter approaches, amid Europe's failure to deal with the issue.
"Every day counts. Otherwise we will soon see families in cold rivers in the Balkans perish miserably," European Commission President Jean-Claude Juncker told the Telegraph on Sunday, October 25.
Warning that thousands of refugee families, facing winter temperature on the hillsides and freezing river-banks of Eastern Europe, would die, the head of European Union called for an urgent solution.
He made his comments during a Brussels meeting in which European Union and Balkan leaders have agreed a 17-point plan to cooperate on managing arrival of refugees through the Balkan Peninsula.
European leaders agreed on Sunday's meeting to create 100,000 places in reception centers along the route from Greece toward Germany, half of them will be created in Greece and the rest on the route through Balkans countries such as Macedonia and Serbia.
"Refugees need to be treated in a humane manner along the length of the Western Balkans route to avoid a humanitarian tragedy in Europe," Juncker said, Al Jazeera reported.
On his part, Greece PM Alexis Tsipras, whose country has received some 56,000 people last week, said: "We are in front of a huge humanitarian crisis."
Meanwhile, human rights groups and aid agencies and like Medecins Sans Frontiers called for offering hot food, warm shelters and washing facilities at major transit points.
"As winter looms, the sight of thousands of refugees sleeping rough as they make their way through Europe represents a damning indictment of the EU's failure to offer a coordinated response to the refugee crisis," said John Dalhuisen of Amnesty International.
Lack of Responsibility
Tsipras blamed European countries for the lack of responsibility in tackling the refugee crisis.
"Till today, it was difficult to find a solution, because a series of countries adopt a stance 'Not in my backyard','" he said.
"The discussion will be among the countries of the corridors, but everyone knows at the end of the corridor there is an entrance."
Full Report at:
http://www.onislam.net/english/news/europe/495649-freezing-winter-jeopardizes-syrian-refugees.html
---------
Saudi Arabia's King Salman phones Russia's Putin over Syria
Oct 27, 2015
Russian President Vladimir Putin and Saudi Arabia's King Salman bin Abdulaziz Al Saud have discussed resolving the crisis in Syria during a phone conversation, the Kremlin says.
According to a statement released by the Kremlin on Monday, during the call, which was initiated by Saudi Arabia, the two leaders exchanged views on "all the questions associated with resolving the Syrian crisis, including four-way talks."
The statement was referring to recent talks held between Russian Foreign Minister Sergey Lavrov and his US, Turkish and Saudi counterparts.
Full Report at:
http://www.presstv.ir/Detail/2015/10/27/435124/Putin-Salman-Syria-phone-
---------
Southeast Asia
Indonesia Shariah hub goal fading as Malaysia assets race ahead
October 27, 2015
KUALA LUMPUR, Oct 27 — Indonesia's ambitions to rival Malaysia as an Asian Islamic finance hub are shrinking along with its Shariah-compliant banking assets.
While Indonesia is host to the world's biggest Muslim population, Malaysia's government has been more aggressive in supporting the industry and announced further tax breaks for sukuk in last Friday's budget. The Jakarta-based Financial Services Authority said the nation's Islamic banking assets fell 27 per cent to 200 trillion rupiah (RM62.9 billion) in the first eight months of 2015 from a year earlier, while those of its neighbour rose 13.7 per cent to a record RM672.6 billion.
Malaysia's corporate Islamic debt sales are measured in the billions of dollars compared with millions in Indonesia, where OCBC Al-Amin Bank Bhd. says the industry is too focused on retail banking, leaving it more vulnerable to the global slowdown. President Joko Widodo was forced to reshuffle his government amid policy U-turns and wrangling among regional authorities as he seeks to make good on a pledge to boost the economy in his first year in office.
"We have yet to see the incentives that Indonesia said it was planning at the end of last year," said Abas A. Jalil, chief executive officer at Amanah Capital Group Ltd in Kuala Lumpur. "The continuation of incentives for Islamic banking in Malaysia given by the government are a key factor for the industry's growth."
While both countries have infrastructure investment programmes, Malaysia is a step ahead in encouraging sukuk sales to fund projects. It broadened tax exemptions to environmentally friendly Shariah-compliant bonds in its 2016 budget, while Indonesia has yet to reveal similar incentives as part of an industry road map.
Widodo has put in place a 5,519 trillion rupiah development programme to build roads, railways and power plants but companies in Southeast Asia's biggest economy have only sold the equivalent of US$81 million of local-currency sukuk this year. Issuance from its neighbour in 2015 totals US$8 billion and includes Shariah-compliant bonds in support of Prime Minister Datuk Seri Najib Razak's US$444 billion investment plan.
More than five years after Bank Indonesia asked the tax department to resolve the matter of double taxation on sukuk—those from capital gains and on income streams from the underlying assets—companies are still in limbo and must consult with the regulator on a case-by-case basis. Najib is giving deductions on costs associated with selling certain types of Shariah-compliant bonds through 2018 and expanded that to cover so-called socially responsible investment Islamic debt on Friday.
'More pragmatic'
Eyes will be on a stimulus package due next month from the Financial Services Authority. It may include the easing of sukuk rules and the promotion of the nation's Shariah stock index to encourage greater participation, according to an October 19 report in Investor Daily Indonesia, citing Chairman Muliaman Hadad.
Full Report at:
http://www.themalaymailonline.com/malaysia/article/indonesia-shariah-hub-goal-fading-as-malaysia-assets-race-ahead
---------
Malaysian Islamic party PAS ready to work with ruling coalition
Oct 27, 2015
KUALA LUMPUR - PAS has made its most direct overture that it is ready to meet and work with the Barisan Nasional ruling Government.
Its president Datuk Seri Abdul Hadi Awang, however, said the move was not towards forming a unity government as co-operation between the party and the Government had previously existed.
"PAS joined a mixed Government in the 1970s to form a co-operation between 1974 and 1978.
"This is not a start but a new approach that we are taking.
"We are willing to meet the ministers concerned and the Prime Minister towards resolving issues of the people," Abdul Hadi told reporters at Parliament lobby on Tuesday.
He also said that the Islamist party is willing to work with any party, be it DAP or PKR, as long as it is for good.
Full Report at:
http://news.asiaone.com/news/malaysia/malaysian-islamic-party-pas-ready-work-ruling-coalition
---------
Indonesia will join Trans-Pacific Partnership, Jokowi tells Obama
27 October 2015
Barack Obama has won Indonesia's endorsement for a contentious trans-Pacific trade deal, with the country's president promising to join.
During a meeting with the US president at the White House, Joko Widodo – known domestically as Jokowi – risked the ire of economic nationalists at home, declaring: "Indonesia intends to join the TPP."
"Indonesia is an open economy and with a population of 250 million, we are the largest economy in south-east Asia."
Twelve countries are currently party to the Trans-Pacific Partnership – including Australia, Canada, Japan, Mexico, Vietnam and the United States – creating the world's largest free trade area, in what is seen by some as a counterbalance to growing Chinese economic power in the region.
Widodo's endorsement is a political victory for Obama, who is steering the already completed pact through a hostile Republican-controlled Congress and without the full backing of his Democratic party.
Hillary Clinton, the 2016 election frontrunner, has said the deal falls short of the "high bar" she has set for helping US interests.
Obama has claimed the TPP has the strongest labour and environmental standards of any trade deal signed by the United States.
Widodo comments will also raise hopes that he will help the world's most populous Muslim nation fully realise its economic potential.
Sketching out a "key strategic partnership", Obama – who lived in Indonesia for nearly five years as a child – said the US needed good relations with Jakarta.
"Obviously I have a very personal interest in Indonesia, given the fact that I spent a bit of time there as a child and have relatives who are Indonesian," Obama said.
"But what is also true is that our partnership is very much in the interests of the United States, given Indonesia's large population, its leadership in the region, its democratic traditions, the fact that it is a large Muslim country with a tradition of tolerance and moderation, and its role in trade and commerce and economic development."
Widodo's visit to the White House was the first by an Indonesian president in a decade and came exactly a year after the former furniture salesman became president. In surviving even that long he has defied skeptics who predicted he would quickly flounder in oligarch-dominated Indonesian politics.
Full Report at:
http://www.theguardian.com/world/2015/oct/27/indonesia-will-join-trans-pacific-partnership-jokowi-tells-obama
---------
Indonesia's fires labelled a 'crime against humanity' as 500,000 suffer
26 October 2015
Raging forest fires across Indonesia are thought to be responsible for up to half a million cases of respiratory infections, with the resultant haze covering parts of Malaysia and Singapore now being described as a "crime against humanity".
Tens of thousands of hectares of forest have been alight for more than two months as a result of slash and burn – the fastest and quickest way to clear land for new plantations.
Indonesia is the world's largest producer of palm oil and fires are frequently intentionally lit to clear the land with the resulting haze an annual headache.
But this year a prolonged dry season and the impact of El Niño have made the situation far worse, with one estimate that daily emissions from the fires have surpassed the average daily emissions of the entire US economy.
The fires have caused the air to turn a toxic sepia colour in the worst hit areas of Sumatra and Kalimantan, where levels of the Pollutant Standard Index (PSI) have pushed toward 2,000. Anything above 300 is considered hazardous.
Endangered wildlife such as orangutans have also been forced to flee the forests because of the fires.
Six Indonesian provinces have declared a state of emergency.
Across the region Indonesia's haze crisis has been causing havoc – schools in neighbouring Singapore and Malaysia have been shut down, flights have been grounded, events cancelled and Indonesian products boycotted, as millions try to avoid the intense smoke.
In the worst affected parts, on Sumatra and Kalimantan, ten people have died from haze-related illnesses and more than 500,000 cases of acute respiratory tract infections have been reported since July 1.
Sutopo Puro Nugroho, the spokesperson for the Meteorology, Climatology and Geophysics Agency (BMKG) has acknowledged that for months 43 million people on the two islands have been inhaling toxic fumes. Yet, he admitted, the number of unrecorded cases was likely much higher.
Full Report at:
http://www.theguardian.com/world/2015/oct/26/indonesias-fires-crime-against-humanity-hundreds-of-thousands-suffer
---------
Government must provide security for 1965 public discussions: NGOs
Arientha Primanita
October 26 20
Non-governmental organizations have called on the government to provide security for citizens to hold open discussions on the 1965 massacres, saying it would help the State settle that nation's past human rights violations.
Wahyudi Djafar, a researcher at the Institute for Policy Research and Advocacy (ELSAM) said that President Joko "Jokowi" Widodo's administration had not been firm in taking the initiative to settle issues relating to the communist purge that took place in 1965 to 1966. He said that this contradicted Jokowi's promise of fair and dignified closure to the incident, as stated in his administration's Nawa Cita (nine programs).
"The President must use all state instruments to provide security to citizens who are taking the initiative in their own way to start giving closure of the 1965-1966 tragedy through actions including film screenings, discussions, reviews, grassroots reconciliation and meetings between victims and the younger generations that could be the core foundation of formal settlement from the State," Wahyudi told thejakartapost.com on Monday.
The initiatives, he said, showed the public spirit to understand and acknowledge the truth of Indonesia's dark past.
ELSAM is one of the 50 civilians and victims organizations under the Coalition for Justice and Disclosure of the Truth (KKPK) that has urged Jokowi to settle human rights violations that occurred during the communist purge in the mid sixties.
This year marks the 50th anniversary of the massacre that is believed to have killed up to 1 million civilians.
Elsam has recorded at least 27 events related to the 1965 communist repression that have faced restrictions and bans in the last year.
The events include 17 film screenings and discussions, four cases of forced dismissal of meetings of victims, three cases of intimidation; three cases of deportation and forceful arrest and one magazine recall.
Student magazine Lentera of the Satya Wacana Christian University's (UKSW) School of Social and Communication Sciences was last week withdrawn from circulation for publishing an issue that focused on the 1965 massacre.
The latest censorship took aim at the organizers of the Ubud Writers and Readers Festival, which canceled a session dedicated to the 50th anniversary of the 1965 tragedy after receiving pressure from local authorities.
Full Report at:
http://www.thejakartapost.com/news/2015/10/26/government-must-provide-security-1965-public-discussions-ngos.html
---------
Terrorism rampant in Poso despite operations
Ruslan Sangadji
October 26 2015
Terrorist acts are still haunting residents in Poso and Parigi Moutong in Central Sulawesi, spreading fear among the communities of the two neighboring regencies despite recent police and military operations.
In the past people in the region liked to spend their weekends at their field huts. Now they do not have the courage to do so.
They even prefer to leave their cacao trees neglected when the plantations are far from residential areas.
"The mutilation of three Parigi Moutong residents while they were in their fields made us afraid to stay long in our fields," an eyewitness of the mutilation case said recently.
Three residents of Balinggi and Torue subdistricts, Parigi Moutong, were found dead and beheaded last September after being kidnapped from their respective field huts.
The terrorism was allegedly committed by the Santoso-led East Indonesian Mujahidin (MIT) group that had expanded its operations from Poso to Parigi Moutong.
Terrorism observer Muhammad Marzuki of Tadulako University said that the expansion made by the armed civilian group was an effort to break the concentration of the security officers.
"If the security officers want to arrest the group, they have to surround both regencies simultaneously," Marzuki of the university's Conflict Management and Peace Research Center said.
Poso councilor Iskandar Lamuka said terrorism in the regency was at a concerning level.
Iskandar added that the recent Camar Maleo 1, 2 and 3 police operations against the alleged terrorists had not yet been able to guarantee the people's security to the maximum.
"President Joko Widodo has not yet seriously met his promise to end terrorism in Poso," Iskandar said.
At least 1,000 personnel from the police's Mobile Brigade (Brimob) and the Densus 88 antiterrorism squad had been deployed in the regency in the last police operation.
Besides the police operation, the Indonesian Military (TNI) also used Poso for its military exercises involving thousands of personnel from the Army, Navy and Air Force.
The war exercise forced the group members to move from the Poso forests to Parigi Moutong.
While the military bombarded the forests and mountain ranges in Poso, on April 3 the police in Parigi Moutong shot to death one of the terrorist group's leaders, Sabar Subagyo alias Daeng Koro alias Antad Rawa.
Full Report at:
http://www.thejakartapost.com/news/2015/10/26/terrorism-rampant-poso-despite-operations.html
---------
North America
U.S. sues Michigan township over Islamic school denial
October 26, 2015
Washington — The Justice Department filed a lawsuit Monday against a Washentaw County township for failing to approve a zoning request for an Islamic school.
The suit, filed in U.S. District Court in Detroit by the government's Civil Rights Division, accuses Pittsfield Township of violating the Religious Land Use and Institutionalized Persons Act "when it denied zoning approval to allow the Michigan Islamic Academy to build a school on a vacant parcel of land located in the township."
The complaint says the township imposed a substantial burden on the Muslim Community Association of Ann Arbor's exercise of religion when it refused to grant its request for rezoning to allow the association to build the school. The group runs a school in Ann Arbor and sought to build in Pittsfield Township "because it requires additional space for religious and secular educational purposes."
"Religious freedom is a cornerstone of our society, and that freedom includes being able to create the institutions and physical spaces needed for worship, religious education and other aspects of religious exercise," said Vanita Gupta, principal deputy assistant attorney general, who is head of the Civil Rights Division.
"The Justice Department is committed to ensuring that all religious groups enjoy the right to practice their faiths freely, and will continue to challenge local land use decisions that substantially burden religious exercise."
A township lawyer didn't immediately return a message seeking comment.
The Muslim Community Association sued Pittsfield Township in 2012, but a federal judge in Detroit dismissed the suit in March. The association has asked a judge to reopened the suit.
The township's Planning Commission held a meeting in June 2011 with people nearly evenly divided over approving the project. At a second meeting in August 2011 that lasted until 1:30 a.m., the Planning Commission voted to recommend denying approval, citing traffic, noise and light generated from outdoor activities. The Justice Department suit said the findings "were without factual basis and contradicted by the township's consultant."
After criticism from some in the community, the Muslim Community Association in 2011 amended its proposal to drop plans for a community center and prayer hall. The township board voted in October 2011 without debate unanimously to endorse the commission's recommendation. One member of both boards said the center could resubmit plans for a prayer hall and community center after a school was built.
The Ann Arbor school serves 190 students in prekindergarten through 12th grade. The school operates out of a building that it shares with the association community center and mosque on a 2.7 acre property in Ann Arbor.
Full Report at:
http://www.detroitnews.com/story/news/local/michigan/2015/10/26/us-sues-michigan-township-islamic-school-denial/74651290/
---------
Australia
Australian jihadist wanted 'martyr's death' for his unborn son
October 27, 2015
David Wroe
An Australian jihadist killed in Syria in March wrote to his unborn son wishing for him to die a martyr for the holy war, a new al-Qaeda linked magazine claims.
The same magazine carries an interview with another Australian fighter who appears to be Mathew Spencer, the Queensland soldier who joined al-Qaeda in Afghanistan 14 years ago.
Spencer is now training fellow jihadists in Syria, the interview published by al-Risalah magazine claims.
The letter from Abdul Salam Mahmoud to his son is included as part of an obituary for the former Sydney preacher with the Street Dawlah movement.
Mahmoud, who died while his South African-born wife was pregnant, explains to his unborn son that he has named him "Hamza" after an uncle and companion of the Prophet Muhammad who he says is the "Amir of the Martyrs" in paradise.
"I named you Hamza because … I wish martyrdom for you; martyrdom comes through Jihad, and Jihad is the path I wish for you," the letter states.
"Be like a bullet in the Gun of Islam and let the Gun shoot you wherever Islam needs you and remember me in your Dua [prayers]."
Mahmoud, who frequently posted online about his exploits in Syria, had always claimed to be an aid worker rather than a fighter. And while the al-Risalah article states he started out doing aid work, it says clearly that he died in combat.
It also says that while he initially sought to join the Islamic State, he eventually sided with Jabhat al-Nusra, al-Qaeda's offshoot in Syria and a fierce rival of the Islamic State, underscoring the competitiveness between the two groups to attract foreign recruits.
The article states that he died in a gunfight during an assault on government forces, which reportedly took place in the government stronghold province of Latakia.
His son is today about six months old. His widow Zaheeda Tshankie now lives back in South Africa according to her Facebook page.
Meanwhile the story of a man calling himself Usama Hamza Australi bears a close resemblance to that of Mathew Stewart, who served in East Timor with the Army's 2nd Battalion, Royal Australian Regiment.
Stewart was discharged with depression before travelling alone to Afghanistan and joining al-Qaeda in August 2001. In the interview, he says he's now training special forces for Jabhat al-Nusra.
"[I'm] training tactically, working in small … I hate to use the word 'commandos' … high standard infantry tactics, long range patrols, reconnaissance patrols, ambushing, raids, sabotage, harassment behind enemy lines, reaction to combat, how to fight with the enemy in a guerrilla warfare scenario, targeting convoys, targeting installations behind enemy lines with no support, and so on."
Full Report at:
http://www.smh.com.au/federal-politics/political-news/australian-jihadist-wanted-martyrs-death-for-his-unborn-son-20151027-gkjd4c.html
---------
URL: https://www.newageislam.com/islamic-world-news/new-age-islam-news-bureau/syria-fires-tos-1a-solntsepyok-flame-thrower-against-isil-terrorists/d/105069