New Age Islam News Bureau
22 Jul 2014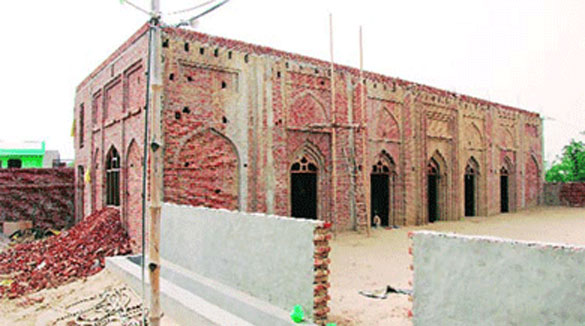 The mosque at Kadalpur, UP, a work in progress (Express photo by Gajendra Yadav
---------
Arab World
• Syria Civil War: Bloodiest 48 Hours Sees 700 Killed as ISIS Gain Influence
• Teenagers Ordered To Die For the Cause in Iraq by a Terrorist Network
• ISIL Threatens Kurds to Leave Mosul or Be Killed
• Muslims and Christians march against ISIL in Baghdad
• Campaign for Dialogue to Test Saudi Attitudes toward ISIL Militants
• Iraqi Air Strike Kills 38 Terrorists West of Anbar
• ISIS crushes and coerces on March towards Baghdad
• Jihadists seize monastery in Iraq
• Hezbollah leader says Gaza 'resistance' will defeat Israel
• Islamic militants kill 2 tribal leaders in Egypt
• No amendments to Gaza truce proposal: Egypt FM
• Arab TV reports say humanitarian cease-fire in Gaza imminent
• NGO: Jihadists sell Syrian oil to Iraqi businessmen
• Average room price near Saudi Grand Mosque vicinity exceeds $13,000
• Kurdish leader eyes independence from Iraq
Europe
• FBI Pushed Muslims to Plot Terrorist Attacks: HRW
• France slams anti-Semitic violence spilling over at pro-Gaza rallies
• Parents who fail to prevent daughters being subjected to FGM face prosecution in UK
• Report Calls Chechnya Main Exporter of Terrorism to Syria
• World pushes for truce as Israel keeps up Gaza assaults
• More than 100,000 Palestinians displaced in Gaza: UN
South Asia
• 38 Taliban militants killed in counter-terrorism operations in Afghanistan
• Maldives to boycott Israeli products, annul bilateral agreements
• Taliban Leader: Taliban Unable to Retake Control of Afghanistan
• Bangladesh Navy forms new counter-terrorism unit
Mideast
• Al-Qaeda vows to severe hands of 'corrupt' Yemen officials
• 22 Children Killed in New Israeli Assault on Gaza
• Israel air strikes kill 7 in Gaza, death toll reaches 583
• Havens are few, if not far, for Palestinians in Gaza Strip
• Normalization not possible after Gaza offensive, Turkish diplomat tells Israeli counterpart
• 28 members of a single family killed in Israeli airstrike
• Turkey moves to protect ancient sites from mass tourism
• Israel bombs five Gaza mosques among 70 targets
• Israel FM for banning Al Jazeera in Israel
Pakistan
• Six top Al Qaeda leaders killed in US drone attack: report
• Islamabad, Kabul working on joint code of conduct
• NA committee oppose ban on alcohol consumption by non-Muslims
• Muslim leaders' silence on Gaza massacre decried
• Pakistani elders forbid fleeing women from collecting food aid
• Karachi operation has failed to achieve targets: HRCP
• Hindus, Buddhists and Baha'is among IDPs
• Extremism and terrorism are Pakistan's main challenge: MQM's senior leader
India
• From Wall Pulled Down Springs the Mosque This Village Wanted
• Paradigm shift after Israel's aid during Kargil
• Delhi Police on Alert for Potential Jihadists to Iraq
North America
• Military Operation in Pakistan Targeting Militants of All Shades, US Told
• US law enforcement unfairly targeted Muslim-Americans
• PM Erdoğan's outbursts 'hurt Turkey's standing in the world,' Washington says
• Kerry promises $47 million in humanitarian aid to Gaza
• Anti-Muslim messages found at Islamic centre in Thornhill
• American Jews, other 'lone soldiers' fight for Israel
Africa
• Peoples Democratic Party Denies Linking APC to Islamic Agenda
• Seven killed in clashes between Libyan army and militants
• Violence simmers in C. Africa as peace talks open
• More Than 3,000 Kenyan Soldiers Have Died in Somalia, Kenya Losing the War
Southeast Asia
• Muslim rebel attacks kill 18 in Philippines
• Avoiding Ukraine, MAS plane flies over Syria instead, says Flightradar 24
• On a Historic Day, a Call for Peace & Reconciliation by Indonesian President
• Filipino worker beheaded in Libya
Compiled by New Age Islam News Bureau
For Details and More Headlines from All Regions, Please click, 'More'
https://newageislam.com/islamic-world-news/syria-civil-war-bloodiest-48/d/98247
----------
Arab World
Syria Civil War: Bloodiest 48 Hours Sees 700 Killed as ISIS Gain Influence
July 22, 2014
More than 700 people were killed in clashes over two days between pro-government forces and Islamic State of Iraq and the Levant (ISIS) militants in Syria.
Activists from the Syrian Observatory for Human Rights (SOHR) said that the deaths represented the bloodiest fighting since the civil war began in 2011.
Forces loyal to President Bashar al-Assad and ISIS militants battled following the rebel group's capture of the Shaar gas field east of Homs city.
By Thursday 270 have been killed in clashes while the death toll for the day's combined unrest was 396.
Friday's death toll reached 314 while 90 more people are still unaccounted for. Precise numbers of ISIS and pro-government casualties in the overall death toll remain unknown.
Rami Abdul Rahman, head of SOHR, said that the deaths were the first time 700 had been killed in the space of two days since the onset of the conflict.
Rahman said that ISIS' attack on the gas field was the "most important so far against the [Syrian] government".
Last month, ISIS declared it had formed an Islamic caliphate straddling the Iraqi-Syrian border and appointed its leader Abu Bakr al-Baghdadi as the "caliph" of all the world's Muslims.
While IISIS' offensive has been focused on northern Iraq in recents months, the militants continue to hold onto territory in eastern Syria such as Deir Ezzor, seizing all of its oil fields.
The group also continue to crack down on those who fall under its control for activities counter to their radical interpretation of Islam.
Jihadists stoned to death two women accused of adultery in the northern Raqqa province after being sentenced by an Islamic court. A mob reportedly carried out the death sentence in the Al Taqaba market area last week.
http://www.ibtimes.co.uk/syria-civil-war-bloodiest-48-hours-sees-700-killed-iSIS-gain-influence-1457596
----------
Teenagers Ordered To Die For the Cause in Iraq by a Terrorist Network
THE DAILY TELEGRAPH
JULY 22, 2014
THE Melbourne teenager who detonated a belt bomb near a Baghdad mosque is part of a "disturbing" trend of young Australians being sent to their death through a transnational terror network.
Lebanese-Australian Sheikh Hussam al-Sabbagh — an Al-Qaeda-linked cleric and commander of a Salafist militia army in northern Lebanon — was arrested on the weekend over terror charges.
Sabbagh has trained a personal army, which boasts more than 300 soldiers, and is accused by Lebanese officials of supporting terror groups in neighbouring Syria.
The Tripoli-based Sunni militia leader fled Lebanon as a teenager, moving to south-west Sydney in the late 1980s after being radicalised by Sunni militants during the civil war. He worshipped at the Lakemba mosque and worked in construction during his time in Sydney.
Sabbagh, now believed to be in his 40s and a dual citizen, returned to Lebanon in 2005 and moved to Bab al-Tabbaneh where he used a disguise of a cart-pushing peddler to avoid authorities.
Sabbagh, who rejects claims he would be named "Emir of Northern Lebanon" under an Islamic Caliphate, continues to maintain close links and connections with Sydney Muslims.
Lebanese Prime Minister Tammam Salam told local media the security crackdown in Tripoli, which also involved the killing of alleged Lebanese-Swedish terrorist Monzer al-Hassan, did not discriminate against any particular Islamic sect.
Sabbagh, who proclaims his innocence, was arrested with a bodyguard at a checkpoint and taken to a military prison in Beirut.
The high-profile arrest caused chaos in Tripoli with Sabbagh's supporters brandishing weapons.
A Sydney-based ultra-conservative Salafi preacher has vehemently denied raising money to fund Sabbagh's activities. Zouheir Issa, who ­arrived in Australia from Lebanon in 2005 and preaches at Belmore's Al-Azhar mosque, has rejected claims he raised money for Sabbagh.
Both men were previously charged with terrorism-related offences in Lebanon but later cleared.
The Daily Telegraph does not suggest Sabbagh or Issa have had any involvement in the recruitment of Australian fighters for the IISIS and al-Nusra armies.
Attorney-General George Brandis yesterday described the overseas violence and suicide bombing by the 18-year-old — who identified himself as Abu Bakr al-Australi — as a "disturbing development".
"This is a further example of the dangerous and volatile situation in Iraq at present," Mr Brandis said.
The young militant killed five people when he detonated the bomb near a Shiite mosque in an attack claimed by IISIS through Twitter.
http://www.dailytelegraph.com.au/news/nsw/teenagers-ordered-to-die-for-the-cause-in-iraq-by-a-terrorist-network/story-fni0cx12-1226996622713
----------
ISIL Threatens Kurds to Leave Mosul or Be Killed
July 22, 2014
Eyewitnesses reported that the terrorists of the Islamic State of Iraq and the Levant in Nineveh have threatened Kurdish families to leave the city or be killed.
"The terrorists of the ISIL threw leaflets at the areas dominated by the Kurdish society in Mosul city in which they threaten these families with death if they do not leave the city," the eyewitnesses told Iraqi News on Monday.
"About 100 families received these leaflets and they are preparing to depart the city as soon as possible to avoid being kidnapped or killed by the terrorists of the ISIL," the eyewitnesses added.
http://english.farsnews.com/newstext.aspx?nn=13930431000663
----------
Muslims and Christians march against ISIL in Baghdad
World Bulletin / News Desk
Jul 22, 2014
A mixed group of more than 200 Muslims and Christians marched on Sunday in the Iraqi capital to protest against the Islamic State of Iraq and the Levant (ISIL) rebel group, which banish Christians from the city over the weekend.
Gathering in front of the Catholic church in Baghdad, where both Muslims and Christians sang the national anthem and offered prayers together. Al Arabiya reported that Patriarch Louis Raphael Sako, head of the Chaldean Catholic Church, started his speech saying "I am Christian, Sunni, Shiite, Kurd, Mandean, Yazidi and I am Iraqi," in reference to the country's diversity.
Yousif al-Tamimi, a civil rights activist and journalist, organized the event to show solidarity with Iraq's 450,000-strong Christian community, which has been disheartened by the happenings in Mosul.
Al-Tamimi said more people would have liked to come but couldn't due to security complications i nthe country, so instead many posted pictures of solidarity on to the group's Facebook page.
Father Maysar Bahnam of Mar Korkis Catholic Church told Al Arabiya that he was lamenting the days when Christians and Muslims were able to peacefully coexist as "good neighbors," but now around 100 Christian families have been forced to flee to Qaraqosh, while 50 others left to Barqila, Bahshiqa and other Christian villages about 30-50 kilometers away from Mosul.
"Our dignity is being defiled because there is no unity government and when groups such as Shiites, Sunnis and Kurds who are the heavyweight sides in Iraq are not reconciling," he said, adding "even imams were executed by ISIL in Mosul because they did not obey the militant group orders."
"There was a man who was escaping Mosul with his elderly handicap mother, but he was forced to give his car and her medicine to ISIL. He had to carry his mother on his back," Father Maysar Bahnam explained
"Unfortunately this creates a bad image for Muslims," he concluded.
http://www.worldbulletin.net/todays-news/141145/muslims-and-christians-march-against-isil-in-baghdad
---------
Campaign for Dialogue to Test Saudi Attitudes toward ISIL Militants
July 22, 2014
DAMMAM – The Ministry of Islamic Affairs, Endowments, Call, and Guidance's dialogue initiative that seeks to tackle extremism promoted online is planning to conduct a survey to find out Saudi attitudes toward the Islamic State of Iraq and the Levant (ISIL), Al-Hayat daily reported.
The Assakina Campaign for Dialogue was responding to a questionnaire that was conducted online and claimed 92 percent of Saudi respondents believe ISIL is in compliance with Shariah.
The campaign wants to tackle sites that promote such reports and focuses on eradicating the original sources of extremism.
Abdulmonem Al-Mushawah, director of the campaign, said they are planning to poll certain sectors of the society to determine attitudes toward the events in Iraq, especially ISIL's declaration to establish a caliphate in the country.
"The survey will take place over a month or two and will be supervised by academic professors," said Al-Mushawah.
Full report at:
http://www.saudigazette.com.sa/index.cfm?method=home.regcon&contentid=20140722212326
----------
Iraqi Air Strike Kills 38 Terrorists West of Anbar
July 22, 2014
Iraq's military intelligence department informed of the killing of 38 terrorists in an air strike in Rawa district to the West of Anbar.
"The brave men of the Iraqi air force in coordination with the military intelligence conducted an air strike targeting a convoy of the terrorists of the Islamic State of Iraq and the Levant in Rawa district (130 km) to the West of Anbar," a statement by the department cited, noting that "the air strike killed 38 terrorists and destroyed 12 vehicles transporting them", AIN reported.
http://english.farsnews.com/newstext.aspx?nn=13930431000772
----------
ISIS crushes and coerces on march towards Baghdad
22 July 2014
Using its own version of "soft" and "hard" power, the Islamic State of Iraq and Syria is crushing reISIStance across northern Iraq so successfully that its promise to march on Baghdad may no longer be unrealistic bravado.
While conventional states try to win hearts and minds abroad before necessarily resorting to military force, the jihadist group is also achieving its aims by psychological means - backed up by a reputation for extreme violence.
The Islamic State of Iraq and Syria, which in June captured a vast stretch of territory in the north including the largest city Mosul, used this strategy when its fighters met armed reISIStance from the town of al-Alam for 13 days running.
They kidnapped 30 local families and rang up the town's most influential citizens with a simple message about the hostages: "You know their destiny if you don't let us take over the town."
Full report at:
http://english.alarabiya.net/en/perspective/features/2014/07/22/IISIS-crushes-and-coerces-on-march-towards-Baghdad.html
----------
Jihadists seize monastery in Iraq
July 22, 2014
MOSUL: Jihadist militants have taken over a monastery in northern Iraq, one of the country's best-known Christian landmarks, and expelled its resident monks, a cleric and residents said on Monday.
Islamic State (IS) fighters stormed Mar (Saint) Behnam, a 4th century monastery run by the Syriac Catholic church near the predominantly Christian town of Qaraqosh, on Sunday, the sources said.
"You have no place here anymore, you have to leave immediately," a member of the Syriac clergy quoted the Sunni militants as telling the monastery's residents.
He said the monks pleaded to be allowed to save some of the monastery's relics but the fighters refused and ordered them to leave on foot with nothing but their clothes.
Christian residents from the area said the monks walked several miles along a deserted road and were eventually picked up by Kurdish peshmerga fighters who drove them to Qaraqosh.
The Syriac cleric said five monks were expelled from Mar Behnam. Christian families in the area said there may have been up to nine people living at the monastery.
Full report at:
http://www.dawn.com/news/1120811/jihadists-seize-monastery-in-iraq
----------
Hezbollah leader says Gaza 'reISIStance' will defeat Israel
July 22, 2014
Lebanon's Hezbollah is backing the Palestinian "reISIStance" in Gaza to defeat Israel, the Shiite movement's leader Hassan Nasrallah said on Monday.
Nasrallah told Hamas' exiled chief Khaled Meshaal by telephone: "Hezbollah and the Lebanese reISIStance stand firmly on the side of the Intifada and the Palestinian people's reISIStance, and support Hamas' strategy and the just conditions it has set to end the conflict."
Hamas is demanding Israel end its siege of Gaza and has called for the release of scores of prisoners from Israeli jails before it considers peace talks proposed by Egypt.
Nasrallah, meanwhile, expressed his "complete confidence in the reISIStance's capacity to defend itself and to achieve a new victory in July", a reference to Israel's failure to crush Hezbollah in its July 2006 offensive against Lebanon.
Full report at:
http://english.alarabiya.net/en/News/middle-east/2014/07/21/Hezbollah-leader-says-Gaza-reISIStance-will-defeat-Israel-.html
----------
Islamic militants kill 2 tribal leaders in Egypt
July 22, 2014
Security officials in Egypt say suspected Islamic militants have gunned down two tribal leaders in the restive northern region of the Sinai Peninsula over their alleged connection to authorities.
The officials said that Sheik Ashtewi Maraheel and Hassan Al-Baiera, both from the well-known Sawarka Bedouin tribe of northern Sinai, were killed in two separate incidents in the town of Rafah after sunset Monday. The officials say that masked militants opened fire on each of them near their homes before fleeing.
Full report at:
http://english.ahram.org.eg/NewsContent/1/64/106794/Egypt/Politics-/Islamic-militants-kill--tribal-leaders-in-Egypt.aspx
----------
No amendments to Gaza truce proposal: Egypt FM
July 22, 2014
Egypt's Foreign Minister Sameh Shoukry said in a joint press conference with United Nations Secretary-General Ban Ki-moon in Cairo that a truce between Palestinians and Israelis proposed by Egypt and rejected by Hamas last week will not be amended.
Reuters had previously quoted three Egyptian officials saying Egypt may be ready to accommodate some of Hamas' demands, which include lifting the Israeli blockade on Gaza and opening Egypt's Rafah border crossing with Gaza.
Shoukry denied there were intentions to make amendments in order to bring Hamas to the negotiating table, said a reporter with Al-Ahram's Arabic news website who was at the conference on Monday.
Full report at:
http://english.ahram.org.eg/NewsContent/1/64/106793/Egypt/Politics-/No-amendments-to-Gaza-truce-proposal-Egypt-FM.aspx
----------
Arab TV reports say humanitarian cease-fire in Gaza imminent
July 22, 2014
Some Arab TV stations on Monday night quoted unnamed Palestinian sources as saying that a humanitarian ceasefire will be announced in Cairo Tuesday.
The sources claimed that Hamas leader Khaled Mashaal was expected to arrive in Cairo for the announcement.
Mashaal held cease-fire discussions with Palestinian Authority President Mahmoud Abbas in Qatar on Monday in the first meeting of its kind since the beginning of the current round of fighting.
During the meeting, Abbas emphasized the need for all parties to abide by the recent Egyptian cease-fire initiative, a Palestinian official accompanying the PA president said.
The official said that Abbas and Mashaal agreed to continue consultations in order to "stop the Israeli aggression" on the Gaza Strip.
Full report at:
http://www.jpost.com/Operation-Protective-Edge/Abbas-Mashaal-discuss-Egyptian-cease-fire-initiative-in-Qatar-368346
----------
NGO: Jihadists sell Syrian oil to Iraqi businessmen
July 22, 2014
The jihadist Islamic State is selling oil and liquid gas products extracted from fields under its control in Syria to Iraqi businessmen across the border, a monitoring group said Monday.
IISIS has captured large swathes of territory in Syria and Iraq, including all of oil-rich Deir Ezzor province's oil fields in eastern Syria.
"Trucks with Iraqi number plates have in the past few days travelled to Deir Ezzor's oil fields from Iraq, to fill up and transport oil towards western Iraq," said the Syrian Observatory for Human Rights.
The Britain-based monitoring group added: "These trucks belong to Iraqi businessmen who came (to Syria) to buy oil from fields under IISIS control."
Full report at:
http://english.alarabiya.net/en/News/middle-east/2014/07/21/NGO-Jihadists-sell-Syrian-oil-to-Iraqi-businessmen-.html
----------
Average room price near Saudi Grand Mosque vicinity exceeds $13,000
July 22, 2014
The average price for a room in the vicinity of the Grand Mosque in Makkah has reached SR50,000 ($13,332) for the last 10 days of Ramadan, according to a report published in Makkah daily on Sunday.
This is because of a 25 percent increase in visitors to the Holy City as compared to the same period last year, and the lack of enough accommodations in view of the expansion work in and around the Haram.
Muhammad Tariq, a hajj and Umrah service provider supervisor, attributed the rush of visitors to the summer vacation which coincided with Ramadan.
Full report at:
http://english.alarabiya.net/en/life-style/travel-and-tourism/2014/07/21/Average-room-price-near-Saudi-Grand-Mosque-vicinity-reaches-13-332-.html
----------
Kurdish leader eyes independence from Iraq
July 22, 2014
Massoud Barzani, president of the autonomous region of Kurdistan in Iraq's north, is pushing for full independence from the conflict-ravaged country.
His nine-year rule has seen Iraqi Kurdistan flourish, with relative stability, lower perceived corruption and healthy oil revenues.
This month, Barzani asked the Kurdish parliament to set a date for a referendum on independence.
The rift between Kurdish authorities and Baghdad runs deep, with Barzani slamming the governance of Iraqi Prime Minister Nouri al-Maliki.
Large swathes of the country are under the control of the Islamic State of Iraq and Syria, which recently proclaimed the establishment of an Islamic caliphate.
"We warned Maliki six months ago about what's happening but he did not listen and these are the consequences," Barzani reportedly told Kurdish lawmakers.
Full report at:
http://english.alarabiya.net/en/perspective/analyISIS/2014/07/21/Kurdish-leader-eyes-independence-from-Iraq.html
----------
Europe
FBI Pushed Muslims to Plot Terrorist Attacks: HRW
July 22, 2014
WASHINGTON: The FBI encouraged and sometimes even paid Muslims to commit terrorist acts during numerous sting operations after the 9/11 attacks, a human rights group said in a report published on Monday.
"Far from protecting Americans, including American Muslims, from the threat of terrorism, the policies documented in this report have diverted law enforcement from pursuing real threats," said the report by Human Rights Watch.
Aided by Columbia University Law School's Human Rights Institute, Human Rights Watch examined 27 cases from investigation through trial, interviewing 215 people, including those charged or convicted in terrorism cases, their relatives, defence lawyers, prosecutors and judges.
"In some cases the FBI may have created terrorists out of law-abiding individuals by suggesting the idea of taking terrorist action or encouraging the target to act," the report said.
Full report at:
http://www.dawn.com/news/1120797/fbi-pushed-muslims-to-plot-terrorist-attacks-hrw
----------
France slams anti-Semitic violence spilling over at pro-Gaza rallies
July 22, 2014
France's interior minister promised on Monday to crack down on anti-Semitism after violence marred pro-Palestinian rallies in and around Paris to protest Israel's role in the latest round of fighting in Gaza.
France possesses both the largest Jewish and Muslim populations in Europe and tensions between the two communities often flare up as a result of violence in the Middle East.
Local media showed the burnt-out front of a kosher grocery shop in the heavily Jewish Parisian suburb of Sarcelles after a non-authorized protest on Sunday. On July 13, pro-Palestinian marchers clashed with riot police outside two Paris synagogues.
"It is unacceptable to target synagogues or shops simply because they are managed by Jews," Interior Minister Bernard Cazeneuve told reporters during a visit to Sarcelles, which is also home to large non-Jewish immigrant populations.
Full report at:
http://www.jpost.com/Jewish-World/Jewish-News/France-slams-anti-Semitic-violence-spilling-over-at-pro-Gaza-rallies-368401
----------
Parents who fail to prevent daughters being subjected to FGM face prosecution in UK
July 22, 2014
Parents who fail to prevent their daughter being subjected to female genital mutilation (FGM) will face prosecution under new legislation to be unveiled by the Government at a summit in London today.
Prime Minister David Cameron is to announce a raft of measures to combat the issue at the Girl Summit, including a £1.4 million FGM Prevention Programme for survivors and those at risk of the practice and lifelong anonymity for victims.
Mr Cameron said of the issue: 'All girls have the right to live free from violence and coercion, without being forced into marriage or the lifelong physical and psychological effects of female genital mutilation.
Full report at:
http://www.dailymail.co.uk/news/article-2700787/Parents-fail-prevent-daughters-subjected-FGM-face-prosecution-Cameron-unveil-new-laws-victims-given-lifelong-anonymity.html#ixzz388czFtrJ
----------
Report Calls Chechnya Main Exporter of Terrorism to Syria
July 22, 2014
Chechnya stands atop the list of nations who have the largest number of militants fighting against the Syrian government, a new report said.
According to a report by the Lebanon-based Al-Manar satellite TV, Chechnya, with 14,000 militants, ranks first among the world countries - which also include European nations and the US - whose citizens have joined the terrorists in Syria.
The report also said that Turkey plays the most important role in sneaking terrorists from Chechnya and other countries into Syria.
A sum of 3,671 Chechen terrorists have been killed and 1,397 others have been missing in Syria.
Full report at:
http://english.farsnews.com/newstext.aspx?nn=13930430001315
----------
More than 100,000 Palestinians displaced in Gaza: UN
July 22, 2014
The UN agency for Palestinian refugees said Monday the number of people seeking refuge at its sites in Gaza to escape a two-week-old Israeli offensive on the enclave has soared to more than 100,000.
"This is a watershed moment for UNRWA, now that the number of people seeking refuge with us is more than double the figure we saw in the 2009 Gaza conflict," climbing to above 100,000, the agency's spokesman Christopher Gunness said in a statement.
UNRWA says it has opened 69 shelters in the war-torn Gaza Strip to cope with the rising numbers of displaced people, as Israel rains down air strikes, tank and artillery shells on homes, offices and other targets in its campaign to stamp out militant rocket fire.
The conflict, the bloodiest since December 2009-January 2010, has killed more than 570 Palestinians and 27 Israelis, including two civilians.
The death toll and number of displaced has risen rapidly since Israel began a ground offensive late Thursday, after 10 days of aerial and naval bombardment.
http://english.ahram.org.eg/NewsContent/2/8/106791/World/Region/More-than-,-Palestinians-displaced-in-Gaza-UN.aspx
----------
South Asia
38 Taliban militants killed in counter-terrorism operations in Afghanistan
July 22, 2014
At least 38 Taliban militants were killed following military operations in various provinces of Afghanistan in the past 24 hours.
The Interior Ministry of Afghanistan following a statement said the operations were jointly conducted by Afghan National Police, Afghan National Army and Afghan Intelligence – National Directorate of Security (NDS) operatives.
The statement further added that the operations were conducted in Helmand, Farah, Herat, Ghazni, Kandahar, Badakhshan, Parwan and Faryab provinces.
At least 13 Taliban militants were also injured and 3 others were detained during the operation, the statement added.
Interior ministry officials also said Afghan security forces also confiscated various types of light and heavy weapons along with ammunition and explosives.
Afghan police forces discovered and neutralized an improvised explosive device (IED) during operations in Tarinkot city of Uruzgan province.
The anti-government armed militant groups have not commented regarding the report so far.
http://www.khaama.com/38-taliban-militants-killed-in-counter-terrorism-operations-8351
----------
Maldives to boycott Israeli products, annul bilateral agreements
By Ahmed Rilwan | July 21st, 2014
The Government of Maldives has today announced the boycott of Israeli products and the annulment of bilateral agreements with the country.
"President Yameen and the Maldivian citizens are with the Palestinian people", said Foreign Minister Dunya Maumoon at a press conference this afternoon.
Dunya also announced that the Maldives would join other Arab nations in co-sponsoring a resolution at this week's special session of the UN Human Rights Council (HRC) calling for the protection of an independent Palestinian state and the extension of humanitarian aid.
As well as an admittedly "symbolic" boycott of Israeli products, three agreements – signed in 2009 under the administration of President Mohamed Nasheed – would now be annulled, explained the foreign minister.
Full report at:
http://minivannews.com/politics/maldives-to-boycott-israeli-products-annul-bilateral-agreements-88735
--------
Taliban Leader: Taliban Unable to Retake Control of Afghanistan
July 22, 2014
The Taliban militants group in Afghanistan is unable to retake the control of the country following the withdrawal of the NATO-led forces.
A senior Taliban leader, Agha Jan Motasim has said that the Taliban militants in Afghanistan no longer have the support they need to overrun the country, Khaama Press reported.
Motasim called on anti-government armed militant groups to sit in for peace talks and inISISted that the withdrawal of coalition forces from Afghanistan make it harder for militants to justify their war.
He said Taliban militants have even lost support among the Afghan people, while the Afghan armed forces are getting stronger each day as the international community supports Afghan forces and government.
Full report at:
http://english.farsnews.com/newstext.aspx?nn=13930430001231
----------
Bangladesh Navy forms new counter-terrorism unit
July 22, 2014
The Bangladesh Navy has intensified counter-terrorism efforts to combat crimes such as piracy, drugs and human trafficking via the Bay of Bengal, since Bangladesh got its maritime boundary set by an international court.
Petty criminals, arms and narcotics smugglers and the human traffickers often face no problems while operating via the bay because of an absence of Navy commandoes.
The Navy informed the Parliamentary Standing Committee on the Defence Ministry Monday of the formation of the new commando unit, Special Warfare Diving and Salvage command.
Officials said the US government had provided technical support for the unit.
The Navy has been demanding a commando unit for a long time but the proposal had been put on hold for years.
Full report at:
http://www.dhakatribune.com/bangladesh/2014/jul/21/navy-forms-new-counter-terrorism-unit#sthash.sqvysNyW.dpuf
----------
Mideast
Al-Qaeda vows to severe hands of 'corrupt' Yemen officials
22 July 2014
Al-Qaeda has threatened to sever the hands of "corrupt" officials in the southeastern province of Hadramawt, where the jihadists have been trying to impose their strict version of Islamic sharia law.
"After we eliminated agents of the United States in Hadramawt and after we fought witchcraft and sorcery, we warn all corrupt officials in Hadramawt... that we will apply Allah's law by kidnapping them and severing their hands," said a statement signed by Ansar al-Sharia, the name under which Al-Qaeda in Yemen sometimes operates.
The statement was printed on leaflets distributed in the province, residents said.
Earlier this week, members of the network distributed similar leaflets forbidding women to leave their homes without a male guardian -- known as "mahram" -- and threatening to punish those who fail to comply with sharia.
Full report at:
http://english.alarabiya.net/en/News/middle-east/2014/07/22/QAEDA-VOWS-TO-SEVERE-HANDS-OF-CORRUPT-YEMEN-OFFICIALS-.html
----------
22 Children Killed in New Israeli Assault on Gaza
July 22, 2014
The Zionist regime's fresh crimes against the people of Gaza took the lives of tens of other Palestinians, including 22 innocent children.
On the 14th day of its attacks against the Gazans, the Zionist army invaded a family in Rafah city, South of the Gaza Strip, killed 11 members of the family and wounded 20 others.
Also the Israeli fighter jets invaded Bani Soheila town, East of Khan Yunes, and killed 27 Palestinians, 26 of them members of Abu Jame family. 15 people of those killed in the attack were children and 7 others were women.
Israeli incursions into the Gaza Strip have claimed the lives of 73 Palestinians and destroyed tens of Gaza houses in the last 24 hours.
More than 70 residents of the Shejaiya district in Eastern Gaza were also killed in Sunday attacks by the Israeli forces.
Full report at:
http://english.farsnews.com/newstext.aspx?nn=13930430001097
----------
Israel air strikes kill 7 in Gaza, death toll reaches 583
July 22, 2014
Palestinian women evacuate a building after a warning strike was fired from an Israeli aircraft in the center of Gaza City on July 22, 2014 PHOTO: AFP
GAZA CITY: A series of Israeli air strikes early Tuesday killed seven people in Gaza, including five members of the same family, emergency services spokesperson Ashraf al-Qudra said.
The deaths hike the total Palestinian toll to 583 since the Israeli military launched Operation Protective Edge on July 8 in a bid to stamp out rocket fire from Gaza.
Qudra said a strike on Deir el-Balah in central Gaza killed five family members, four of them women.
Full report at:
http://tribune.com.pk/story/739239/israel-air-strikes-kill-7-in-gaza-death-toll-reaches-583/
----------
Havens are few, if not far, for Palestinians in Gaza Strip
Anne Barnard,NYT News Service | Jul 21, 2014
GAZA CITY, Gaza Strip: As civilian casualties mounted on Sunday in the Israeli ground invasion of the Gaza Strip, Israel's military reminded the world that it had warned people living in targeted areas to leave. The response from Palestinians here was unanimous: Where should we go?
UN shelters are already brimming, and some Palestinians fear they are not safe; one shelter was bombed by Israel in a previous conflict. Many Gaza residents have sought refuge with relatives, but with large extended families commonly consisting of dozens of relatives, many homes in the shrinking areas considered safe are already packed.
Perhaps most important, the vast majority of Gazans cannot leave Gaza. They live under restrictions that make this narrow coastal strip, which the United Nations considers occupied by Israel, unlike anywhere else.
Prime Minister David Cameron of Britain in 2010 called Gaza "an open-air prison," drawing criticism from Israel. But in reality, the vast majority of Gazans are effectively trapped, unable to seek refugee status across an international border. (Most, or their descendants, are already refugees, from what is now Israel.)
Full report at:
http://timesofindia.indiatimes.com/world/middle-east/Havens-are-few-if-not-far-for-Palestinians-in-Gaza-Strip/articleshow/38791366.cms
-----------
Normalization not possible after Gaza offensive, senior Turkish diplomat tells Israeli counterpart
July 22, 2014
Turkish Foreign Ministry Undersecretary Feridun Sinirlioğlu has conveyed to his Israeli counterpart that diplomatic normalization between the two countries is not possible due to the ongoing Israeli offensive on the Gaza Strip, a Turkish official has told the Hürriyet Daily News.
Sinirlioğlu is set to hold talks in Washington where he will also brief U.S. officials about Turkey's position on the issue of stalled rapprochement between Israel and Turkey. The July 21-23 visit is his second trip to Washington since early June and comes after the deadly Israeli raids in Gaza.
In a written statement on July 20, the Foreign Ministry said Sinirlioğlu would pay a working visit to the U.S. to discuss current bilateral, regional and global issues. "As part of the visit, the delegation is scheduled to meet with senior counterparts from various agencies, notably the United States Department of State and the National Security Council," the statement said.
Full report at:
http://www.hurriyetdailynews.com/normalization-not-possible-after-gaza-offensive-senior-turkish-diplomat-tells-israeli-counterpart.aspx?pageID=238&nID=69430&NewsCatID=510
----------
28 members of a single family killed in Israeli airstrike
July 22, 2014
Around 28 members of a single family were killed following an airstrike by Israel which targeted a house in Gaza.
According to reports, the airstrike was carried in Khan Younis on Monday.
A separate airstrike also killed 10 people including young children in Rafah, the Palestinian Centre for Human Rights said.
Another 5 people were killed and 70 others including 30 medics were injured after a hospital was attached by three shells in Deir al-Balah in central Gaza.
The Israeli military officials have claimed that anti-tank missiles were stored near the hospital. Hamas has been accused of hiding weapons and fighters behind 'human shields' by Israel.
Full report at:
http://www.khaama.com/28-members-of-a-single-family-killed-in-israeli-airstrike-8353
----------
Turkey moves to protect ancient sites from mass tourism
July 22, 2014
Fresh off of gaining two new entries to the UNESCO World Heritage List, Turkey is more eager than ever to exercise greater caution regarding access to ancient sites, in an effort to avoid the fate that has befallen other ancient sites damaged by 21st-century tourism.
"A balance must be achieved between attracting tourists keen to visit Turkey's classical heritage and protecting ancient sites from being harmed," Professor Neslihan Dostoğlu, head of Istanbul Kültür University's Architecture Department, said in the wake of the northwestern city of Bursa and its historical Cumalıkızık district being added to the UNESCO World Heritage List last month in Doha.
Saving presided over the UNESCO project for Bursa and Cumalıkızık, Dostoğlu said a more controlled and conscious protection of the areas would take place under the United Nations body.
Full report at:
http://www.hurriyetdailynews.com/turkey-moves-to-protect-ancient-sites-from-mass-tourism.aspx?pageID=238&nID=69408&NewsCatID=375
----------
Israel bombs five Gaza mosques among 70 targets
22 July 2014
Israel bombed five mosques, a sports stadium and the home of the late Hamas military chief across the Gaza Strip early Tuesday, a Gaza police official said, according to the Associated Press.
The bombs were among Israeli aircraft attacks on more than 70 targets in the Gaza Strip, Ayman Batniji, the spokesperson of Gaza police told the Associated Press.
Batniji said tank shells damaged several houses along the eastern border of the territory and that at least 19 fishing boats were burned by Israeli navy shells fired from the Mediterranean.
The unusually intense Israeli strikes came as U.N. chief Ban Ki-moon and U.S. Secretary of State John Kerry met in Cairo to launch the highest-level push to end two weeks of Israel-Hamas fighting.
Full report at:
http://english.alarabiya.net/en/News/middle-east/2014/07/22/Israeli-aircraft-hit-5-mosques-in-Gaza.html
---------
Israel FM for banning Al Jazeera in Israel
July 22, 2014
Israeli Foreign Minister Avigdor Lieberman has said the Israeli government is working to prevent Qatar-based television channel Al Jazeera from operating in the country.
Lieberman said Israeli government has already begun reviewing the Qatari television channel's status in order to stop it from working in Israel, reports Israel-based media the Haaretz.
According to the report, the minister also assailed Qatar calling it a worldwide problem.
"Qatar constitutes the economic spine of the most radical terrorist groups, which are undermining the stability of the world in general and the Middle East in particular," he said.
"Qatar is a key player in our current conflict with Hamas in Gaza, since among other things, it finances Hamas and gives asylum to Khaled Meshal," Lieberman added, referring to the head of Hamas' political wing.
Full report at:
http://www.dhakatribune.com/world/2014/jul/22/israel-fm-banning-al-jazeera-israel
----------
Pakistan
Six top Al Qaeda leaders killed in US drone attack: report
July 22, 2014
At least six Al Qaeda commanders were killed during the recent US drone attack in the Dattakhel area of North Waziristan tribal region, a report published in The News quoted leadership of the group as saying.
The head of the Al Qaeda victory committee, Sanafi al-Nasr, who is based in Syria, confirmed via a social networking site that six members from the group were killed in the July 10 drone attack.
The drone attack of July 10 was the first one since the army launched Zarb-i-Azb in North Waziristan on June 15.
The dead also included Al Qaeda's local commander Mustafa Abu Yazid. However, at the time of the strike, it could not be confirmed who were the others among the killed.
Full report at:
http://www.dawn.com/news/1120857/six-top-al-qaeda-leaders-killed-in-us-drone-attack-report
----------
Islamabad, Kabul working on joint code of conduct
July 22, 2014
WASHINGTON: Pakistan and Afghanistan are working on a joint code of conduct to regulate their cooperation in the fight against terrorists and redress each other's grievances, says the country's top diplomat.
Special adviser to the PM on Foreign Affairs, Tariq Fatemi, also said that Pakistan expected the United States to reimburse the expenses it incurred in the fight against terrorists even after the US withdrawal from Afghanistan. The Ministry of Foreign Affairs has advised the PM to attend the UN General Assembly session.
Talking to Dawn, Mr Fatemi said that Pakistan would welcome a meeting between the Indian and Pakistani prime ministers at the General Assembly later this year.
This will cover all relevant issues, "such as the complaints made by two sides, border management, enhanced cooperation between the two militaries and their security and intelligence agencies," Mr Fatemi said.
Full report at:
http://www.dawn.com/news/1120834/islamabad-kabul-working-on-joint-code-of-conduct
----------
NA committee oppose ban on alcohol consumption by non-Muslims
July 22, 2014
ISLAMABAD: The National assembly Standing Committee on Law, Justice and Human Rights on Monday opposed a proposal to withdraw an exemption allowing the drinking of alcohol by non-Muslims in Pakistan.
This was decided in the meeting of the committee which met under the chairmanship of MNA Mamhood Bashir Virk and was attended by its members along with officials of the ministry of Law, Justice and Human Rights.
JUI-F MNA Maulana Mohammad Shirani said that parliament should impose a ban on the drinking of alcohol by non-Muslims and that such an exemption provided in the law should be withdrawn.
An official of the ministry of Law, Justice and Human Rights told committee members that it was written in the Constitution that there will be no restriction on the drinking of alcohol by non-Muslims and that it is also part of the Hudood Ordinance.
Full report at:
http://www.dawn.com/news/1120671/na-committee-oppose-ban-on-alcohol-consumption-by-non-muslims
----------
Muslim leaders' silence on Gaza massacre decried
July 22, 2014
LAHORE - With Israel's continued bombing of Gaza that has left around 500 people dead and many more injured, former foreign secretary Riaz Khokhar and former foreign minister Shah Mahmood Qureshi came down hard on the role of Organization of Islamic Conference (OIC) as well as Islamabad regretting that both of them have failed to play the role expected of them.
"Given the situation, the OIC cannot do anything because it is a useless organisation. It does not enjoy any respect anywhere. The problem is that some of the Muslim countries do not want to see the OIC as a strong entity. Nothing can be done until unity is achieved but then it is pointless to even talk about Umma." said former Riaz Khokar while talking to The Nation on Monday.
Full report at:
http://www.nation.com.pk/lahore/22-Jul-2014/muslim-leaders-silence-on-gaza-massacre-decried
----------
Pakistani elders forbid fleeing women from collecting food aid
July 22, 2014
BANNU, Pakistan — Some tribal elders in a city in northwest Pakistan have decreed that families fleeing a military offensive should not allow women to collect food aid, an elder said on Monday after Reuters saw him attacking women.
"If any woman comes to the ration distribution area, she will be punished," said Malik Kaleemullah, an elder from the Malik tribe. The decision was taken by more than 40 elders on Sunday in the city of Bannu, he said, where most of the families fleeing the fighting are staying.
Last month, the military ordered the civilian population of North Waziristan, a mountainous region on the Afghan border, to leave ahead of an offensive aimed at the Pakistani Taliban.
The United States has long urged Pakistan to clear Taliban safe havens on its territory. North Waziristan was often used to launch attacks across the border into Afghanistan.
Full report at:
http://www.saudigazette.com.sa/index.cfm?method=home.regcon&contentid=20140722212291
----------
Karachi operation has failed to achieve targets: HRCP
July 22, 2014
KARACHI: Faced with growing complaints of human rights violations, a fact-finding mission of the Human Rights Commission of Pakistan concluded on Monday that the Rangers-led Karachi operation launched in September last year had failed to achieve its targets.
The mission, which assessed the law and order situation in Karachi from July 17 to July 20 after getting inputs from representatives of the media, civil society, political parties, minorities, government and law enforcement agencies as well as the families of victims, observed that the "objectives of the operation have not been met".
Briefing newsmen at the Karachi Press Club, HRCP's Secretary General I.A. Rehman said that with the exception of murders, reported crime had not registered a significant decline.
When the operation was launched, its purpose was to restore peace to the city. It appeared that no proper planning had been done to this effect.
Full report at:
http://www.dawn.com/news/1120743/karachi-operation-has-failed-to-achieve-targets-hrcp
----------
Hindus, Buddhists and Baha'is among IDPs
July 22, 2014
BANNU / PESHAWAR: A total of 165 families of non-Muslims have been displaced from North Waziristan, according to the latest count by the Fata Disaster Management Authority (FDMA). Data gathered by the National Database and Registration Authority (NADRA) states that 114 Christian, 29 Hindu, 10 Baha'i and 4 Buddhist families are among those displaced.
Additionally, 10 families have been classified as belonging to 'other' religions. "The number of ethnic or religious minorities who were living in North Waziristan may increase as we receive more data," a senior FDMA official told The Express Tribune.
Registration of those displaced from North Waziristan has now ended in Bannu and Peshawar. In the second phase of the registration process, the government says it aims to transfer compensation to the registered families while also pinpointing marginalised groups who require asISIStance.
Full report at:
http://tribune.com.pk/story/739136/hindus-buddhists-and-bahais-among-idps/
----------
Extremism and terrorism are Pakistan's main challenge: MQM's senior leader
July 22, 2014
London- MQM's senior leader Farooq Sattar has said that extremism and terrorism are the biggest challenges being faced by Pakistan.
Speaking at an Iftar dinner in London, Sattar said that there was dire need to show national unity and economic prosperity to stabilize Pakistan.
"Everyone chants slogans of revolution, but very few of them who present a practial model, can succeed," he said. Altaf Hussain has sent people from middle class to the corridors of power, he added.
http://www.nation.com.pk/national/22-Jul-2014/extremism-and-terrorism-are-pakistan-s-main-challenge-sattar
----------
India
From Wall Pulled Down Springs the Mosque This Village Wanted
Written by Dipankar Ghose
Kadalpur (greater Noida) | July 22, 2014
Eleven months ago, they knelt in prayer. Above fluttered a red cloth canopy, the only protection from the elements. In front of them was an incomplete wall. Five years of going house to house in sleepy little lanes had led to that one wall, which they hoped would one day become a Masjid. July 2013 came, and brought with it the attentions of a young IAS officer. Known for her work against illegal sand mining elsewhere in the state, she sought that the wall be demolished, for a violation of norms.
This Ramzan, people of Kadalpur village finally have a Masjid that has four walls and a roof, the red canopy folded neatly in one corner. And as they emerge from prayer, they smile and thank Durga Shakti Nagpal, an officer they once protested against violently.
It was in 2003 that a Kadalpur panchayat decided they deserved a mosque of their own. The closest Masjid was in the next village, three kilometres away, and the village had grown to close to 3,500 residents, the majority Muslim. Progress was slow, and it was in 2008 that money began to be collected from residents. Five years brought Rs 3.75 lakh, identification of a plot of land and one wall, and prayers commenced. Then came July 27, 2013, when sub divisional magistrate (Sadar) Durga Shakti Nagpal reminded them they had not followed procedure.
Full report at:
http://indianexpress.com/article/india/india-others/from-wall-pulled-down-springs-the-mosque-this-village-wanted/99/
----------
Paradigm shift after Israel's aid during Kargil
SUHASINI HAIDAR
July 22, 2014
NDA under attack for refusing to allow a resolution condemning Israel for the Gaza violence
The NDA government came under sharp attack in Parliament for refusing to allow a resolution condemning Israel for the strikes on Gaza even as the death toll crossed 500 on Monday. In particular focus is the BJP's top leaderships' close ties with Israel, given that Prime Minister Modi had travelled as Gujarat Chief Minister to Israel in 2006, promising to return if he became Prime Minister.
As Home Minister, L.K. Advani was the first senior Minister to visit Israel in 2000, and External affairs Minister Sushma Swaraj once chaired the India-Israel parliamentary friendship group and led a delegation there. As a result, the statement by the Ministry of External Affairs, that sought to criticise Israel for the airstrikes and militants in Gaza for rocket attacks "at the same time", came under severe criticism from the opposition. "A distinction must be made between the kind of air and ground aggression, and use of brute disproportionate force (by Israel) and the other side," said Congress leader Anand Sharma, who led the charge in the Rajya Sabha, in an interview to the Hindu, "The ruling BJP must explain its statement."
Full report at:
http://www.thehindu.com/news/national/paradigm-shift-after-israels-aid-during-kargil/article6234801.ece
----------
Delhi Police on alert for potential jihadists to Iraq
July 22, 2014
After news of four Mumbai youths having reportedly flown to Iraq to join the jihadists there and many disaffected youth seeking visas to go there, Delhi Police has started searching for families whose members have gone to the Middle East and might have got 'trapped' into joining the Islamist militants.
Police sources said they have not ruled out the possibility of some youth having joined the militants in Iraq, though they have not come across any such complaint from any family so far.
Four youths from Kalyan, near Mumbai, have reportedly flown to Iraq to join the Sunni militia group Islamic State of Iraq and Syria (IISIS) which has announced the establishment of a Muslim Caliphate in the fairly large areas under its control.
Delhi Police is in touch with the external affairs ministry to get details of the youths who have gone to the Middle East over the past few years, said another source.
Full report at:
http://www.business-standard.com/article/news-ians/delhi-police-on-alert-for-potential-jihadists-to-iraq-114072000433_1.html
----------
North America
Military Operation in Pakistan Targeting Militants of All Shades, US Told
July 22, 2014
ISLAMABAD: The government has re-emphasised that the military operation in North Waziristan is even-handed and militants of all shades are being targeted.
Prime Minister's Adviser on Foreign Affairs and National Security Sartaj Aziz told visiting US Special Representative for Afghanistan and Pakistan James Dobbins on Monday that "Zarb-i-Azb was addressing this menace (of militancy) without any discrimination or distinction".
Ambassador Dobbins was on a farewell visit to Islamabad, where he also met Chief of the Army Staff General Raheel Sharif and Interior Minister Chaudhry Nisar Ali Khan.
According to military figures, so far over 500 Taliban fighters have been eliminated during the operation launched on June 15.
With no word on capture or killing of militants belonging to the Haqqani network and other groups involved in Afghanistan, there is a growing perception in the United States and Afghanistan that Afghan insurgents have been spared.
Full report at:
http://www.dawn.com/news/1120783/military-operation-targeting-militants-of-all-shades-us-told
----------
US law enforcement unfairly targeted Muslim-Americans
World Bulletin / News Desk
Jul 22, 2014
Two leading rights groups alleged Monday that U.S. law enforcement agencies coerced, and in some cases paid, Muslim-Americans to plot terrorist attacks they were then prosecuted for.
Human Rights Watch and Columbia Law School's Human Rights Institute investigated 27 of the nearly 500 federal terrorism cases since September 11, 2001, and uncovered tactics that question the U.S.' counterterrorism practices.
"Since the September 11, 2001 attacks on New York and Washington DC, the United States government has failed to meet its international legal obligations with respect to its investigations and prosecutions of terrorism suspects, as well as its treatment of terrorism suspects in custody," the report alleges.
Many of the cases involve law enforcement agencies sending an informant into a Muslim-American community who then targets individuals and suggests that they take part in terrorist activity, or encourages them to act.
Full report at:
http://www.worldbulletin.net/todays-news/141140/us-law-enforcement-unfairly-targeted-muslim-americans
----------
PM Erdoğan's outbursts 'hurt Turkey's standing in the world,' Washington says
July 22, 2014
Washington has repeated its criticism of Turkish Prime Minister Recep Tayyip Erdoğan's recent remarks that compared Israel's military operation in Gaza Strip to the acts of Nazi leader Adolf Hitler, saying that such comments "hurt Turkey's standing in the world."
"We certainly believe comments like these undercut Turkey's ability to effectively influence the situation. I completely agree with what Jen [Psaki, spokesperson for the United States] said about how offensive and awful these comments were and they quite frankly hurt Turkey's international standing," Deputy Spokesperson Marie Harf said on July 21, referring to Spokesperson Psaki's recent statement.
Erdoğan has been using extremely strong language against Israel throughout the ongoing Israeli military operations in Gaza, while also chiding the U.S.
"They [Israel] always curse Hitler, but they now even exceed him in barbarism. Some Americans ask why does the Prime Minister [Erdoğan] make such comparisons with Hitler? What's that to you? You're America, what's Hitler to do with you?" Erdoğan said on July 19. One day after that, he claimed "It's America who is offensive" regarding the response to the bloodshed in Gaza.
Full report at:
http://www.hurriyetdailynews.com/pm-erdogans-outbursts-hurt-turkeys-standing-in-the-world-washington-says.aspx?pageID=238&nID=69445&NewsCatID=510
----------
Kerry promises $47 million in humanitarian aid to Gaza
AFP | Jul 22, 2014
CAIRO: The United States will provide $ 47 million (35 million euros) in humanitarian aid to help Palestinians hit by Israel's campaign in the Gaza Strip, Secretary of State John Kerry pledged Monday.
"We are deeply concerned about the consequences of Israel's appropriate and legitimate effort to defend itself," Kerry said in Cairo as he met UN Secretary General Ban Ki-moon.
"No country can stand by while rockets are attacking it, and tunnels are dug in order to come into your country and assault your people," Kerry told reporters.
"But always, in any conflict, there is concern about civilians — about children, women, communities that are caught in it," Kerry said.
Of the funding, the United States will provide $15 million to the UNRWA, the Palestinian refugee agency, to meet part of its $60 million appeal for assistance due to the crisis.
The remaining $32 million will come from the US Agency for International Development, including $10 million that was already directed toward the Palestinians but will be rechanneled to meet immediate needs, the State Department said.
http://timesofindia.indiatimes.com/world/us/Kerry-promises-47-million-in-humanitarian-aid-to-Gaza/articleshow/38827213.cms
----------
Anti-Muslim messages found at Islamic centre in Thornhill
July 22, 2014
York regional police are investigating a hate crime at an Islamic centre in Thornhill, as worshippers mark the holy month of Ramadan.
The sidewalk in front of the Ja'ffari Community Centre at 9000 Bathurst St., near Rutherford Road, was vandalized on Sunday night with anti-Muslim messages.
The sidewalk has since been powerwashed, but the area that was vandalized is cordoned off with police tape.
One of the messages read "Arab go home" while the other one read "F**k Gaza."
A spray-painted star of David remains on the sign of the centre, and a spray paint cap was found at the scene.
Full report at:
http://www.citynews.ca/2014/07/21/anti-muslim-messages-found-at-islamic-centre-in-thornhill/
----------
American Jews, other 'lone soldiers' fight for Israel
July 22, 2014
The two Americans killed in fighting in the Gaza Strip followed in the footsteps of scores of Jews from around the world who have volunteered to fight for Israel.
Israel calls them the lone soldiers — They are men and women in the prime of their lives who have left their parents and often comfortable lives behind in places like Sydney, London, Los Angeles and elsewhere to join the Israel Defence Forces, marching in the desert and taking up arms to defend the Jewish state.
There are about 2,000 lone soldiers currently serving in the military, said Marina Rozhansky, spokeswoman at the Israel Consul General in Los Angeles. Groups for families of lone soldiers have recently started in Los Angeles and other cities, providing a support network as the fighting intensifies.
Full report at:
http://www.thehindu.com/news/international/world/american-jews-other-lone-soldiers-fight-for-israel/article6237436.ece
----------
Africa
Peoples Democratic Party Denies Linking APC to Islamic Agenda
July 22, 2014
The Peoples Democratic Party has denied linking the All Progressives Congress to any Islamic agenda.
The ruling party, in a statement by its National Publicity Secretary, Chief Olisa Metuh, in Abuja on Monday, was reacting to a statement credited to a former Vice President, Alhaji Atiku Abubakar, in which he asked the ruling party to stop linking the opposition party with Islamic agenda.
Apart from this, Atiku, who was one of the founding fathers of the PDP but now a chief of the APC, said the ruling party was using the tactics to divert attention of Nigerians from the Federal Government ineptitude and apathetic posture to corruption and insecurity.
He also said no responsible government should seek to create division, suspicion and animosity among its citizens by linking the opposition leaders with terrorist activities or accusing them of harbouring extremists.
Metuh, in his reply, said though the party would not want to take on the former Vice President, and warned that he (Atiku) should not allow his media team to destroy him, said there was the need to put the record straight.
While acknowledging that Atiku was among the founding fathers of the ruling party, Metuh said the former Vice President should "caution his media managers to deISISt from associating him with propaganda, political mudslinging and character assassination that the APC has become notorious for."
Full report at:
http://www.dailytimes.com.ng/article/pdp-denies-linking-apc-islamic-agenda
----------
Seven killed in clashes between Libyan army and militants
22 July 2014
Islamist militants attacked an army base in the eastern Libyan city of Benghazi on Monday, triggering fierce clashes involving helicopters and jets that killed at least seven people and wounded 40 others after days of escalating violence.
Benghazi's clashes followed a week of fighting between rival militias for control of Tripoli International Airport in the capital that has prompted the North Africa country to appeal for international help to stop Libya becoming a failed state.
Tripoli was calmer on Monday, but in Benghazi, militants linked to Islamist group Ansar al-Sharia attacked an army camp and were repelled by troops and forces loyal to renegade retired Gen. Khalifa Haftar, who has been carrying out a self-declared war on Islamist fighters, security sources said.
"Ansar al-Sharia tried to take over one special forces camp, but the special forces and Hafter's forces fought back, using helicopters and military aircraft in their attack," one source said, asking not to be identified for security reasons.
Full report at:
http://english.alarabiya.net/en/News/middle-east/2014/07/22/Seven-killed-in-clashes-between-Libyan-army-and-militants.html
----------
Violence simmers in C. Africa as peace talks open
July 22, 2014
BRAZZAVILLE — Key players in the Central African conflict launched a fresh round of talks in Brazzaville on Monday to end more than a year of sectarian bloodshed in the direly poor nation.
But even as negotiators huddled in Congo, fresh violence erupted in the capital Bangui with the killing of a former Seleka rebel that sparked an immediate riposte.
The three-day forum for reconciliation and political dialogue, chaired by Congo's President Denis Sassou Nguesso, is aimed a resolving a criISIS that has left thousands of civilians dead and driven more than a million people from their homes.
One of Africa's poorest countries, CAR has been in criISIS since the mainly Muslim Seleka rebels seized power in a March 2013 coup, with months of atrocities by rebels gone rogue sparking reprisal attacks by mostly Christian anti-balaka vigilantes.
The African Union-led peacekeeping force in CAR, MISCA, blamed the anti-balaka groups for the killing on Monday, saying their victim was on his way "to get breakfast" near the main hospital when he was killed.
Full report at:
http://www.saudigazette.com.sa/index.cfm?method=home.regcon&contentid=20140722212293
----------
More Than 3,000 Kenyan Soldiers Have Died in Somalia, Kenya Losing the War
Jul 22, 2014
In a shocking report that has yet to be released but which we have seen, we have learnt that more than 3,000 soldiers have died in Somalia and Kenya is fighting a losing war.
Last week Raila demanded that the Uhuru government furnish reports on how many soldiers have died in Somalia but he was quickly shut down by Uhuru's cronies who questioned why he wanted this valuable information.
Well, the truth is now out. Kenyans refuse to face the fact that Operation_Linda_Nchi is costing tax payers over 100 MILLION a day to run this farce of a war.
Good men and women are dying over there for no justified reason. Soldiers get shot at EVERYDAY, Day in Day out for an ineffective government that can't safeguard security within our borders.
Full report at:
http://allafrica.com/stories/201407211939.html?aa_source=acrdn-f0
-----------
Southeast Asia
Muslim rebel attacks kill 18 in Philippines
July 22, 2014
An escalation of fighting between the Philippine army and a breakaway Muslim rebel group in the country's south killed 18 people in a single day of violence, the military said Tuesday.
Seventeen members of the rebel Bangsamoro Islamic Freedom Fighters (BIFF) and one soldier were slain in the day-long violence Monday in the strife-torn southern island of Mindanao, Brigadier General Eduardo Pangilinan, the area's military commander, said.
"One of our soldiers was killed during the (initial) attack. The 17 enemies were killed when our troops fired back and during the subsequent encounters," the general told reporters.
There was a lull in fighting on Tuesday but the military remained on alert, with helicopter gunships flying overhead and armoured vehicles parked on the streets of Cotabato City, a trading centre in the area.
"There have been no additional encounters but we are continuing our operations on the ground," Pangilinan added.
Fighting began in the early hours of Monday morning as BIFF guerrillas attacked military outposts in the violence-scarred province of Maguindanao.
Full report at:
http://news.malaysia.msn.com/tmi/muslim-rebel-attacks-kill-18-in-philippines
----------
Avoiding Ukraine, MAS plane flies over Syria instead, says Flightradar 24
July 22, 2014
Malaysia Airlines re-routed a Kuala Lumpur-to-London flight over Syrian airspace yesterday after its usual route over Ukraine was closed, flight tracking data showed today.
Flightradar24 posted a flight map on its Twitter account today showing the change in the flight's route. Flight tracking data showed this flight had previously crossed over eastern Ukraine. (To view the link: bit.ly/1wPJDUr)
After Malaysia Airlines' Flight MH17 was shot down last Thursday by a ground-to-air missile in eastern Ukraine, airlines began to avoid the airspace below which the Ukrainian military has been fighting with Russian-backed rebels.
On Friday and Saturday the Kuala Lumpur-London flight, MH4, had taken a different route over eastern Turkey, tracking data showed.
Full report at:
http://www.themalaymailonline.com/malaysia/article/avoiding-ukraine-mas-plane-flies-over-syria-instead-says-flightradar-24#sthash.EAdb3bYB.dpuf
----------
On a Historic Day, a Call for Peace & Reconciliation by Indonesian President
July 22, 2014
Jakarta. President Susilo Bambang Yudhoyono has called for the losing candidate in the presidential race and his supporters to accept defeat graciously once the official announcement of the results is made on Tuesday, with Jakarta Governor Joko Widodo virtually certain to be declared the winner.
"Admitting defeat is noble, congratulating the winner is beautiful," Yudhoyono said in Jakarta on Monday.
"God is the greatest; if we lose, then we lose. And if we extend congratulations to those who succeed, then Allah will bless us with the same honor and things [He bestows the winner]."
He made the statement a day after hosting a fast-breaking meal at the State Palace in Jakarta that brought Joko and his rival, former Army general Prabowo Subianto, to the same table.
While Yudhoyono's Democratic Party has joined the camp supporting Prabowo's presidential bid, the outgoing president has not made public his support for either candidate.
Full report at:
http://www.thejakartaglobe.com/news/historic-day-call-peace-reconciliation/
----------
Filipino worker beheaded in Libya
July 22, 2014
MANILA: A Filipino construction worker kidnapped by militia men in Libya has been beheaded by his captors, becoming the first Filipino casualty in the renewed violence in the North African state, the Philippine government said.
Department of Foreign Affairs spokesman Charles Jose said the Filipino worker was kidnapped on July 15. He was subsequently beheaded and his decomposed body was found on Sunday in a hospital in Benghazi, Libya's second-largest city.
"The vehicle he was riding in was stopped in a checkpoint. There were three of them – a Libyan, a Pakistani and a Filipino – and he was allegedly singled out because he was non-Muslim," Jose said.
The kidnappers initially demanded a $160,000 ransom from the worker's employers. But the abductors called again on Sunday, pointing them to the Benghazi hospital.
Jose said it was possible the Filipino was already dead while the kidnappers were negotiating for ransom. His family has requested that the worker's name not be released.
http://www.dawn.com/news/1120815/filipino-worker-beheaded-in-libya
----------
URL: https://newageislam.com/islamic-world-news/syria-civil-war-bloodiest-48/d/98247