New Age Islam News Bureau
14 Oct 2016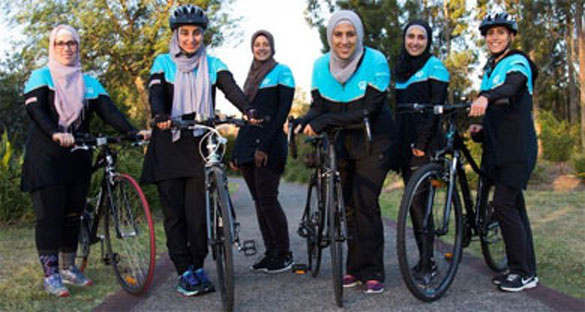 PHOTO: Sydney Cycling Sisters is a group made up of Muslim women from across Sydney. (702 ABC Sydney: Amanda Hoh)
---------
• The Hidden Cut: Female Genital Mutilation in Asia
• More Than 700 Christian Women Condemn Trump's Misogyny in Powerful Letter
• Muslim Women 'Free' From Veil to Become French, Says Hollande
• University Attack Put Young Afghan Woman's Dreams on Hold
• In These Muslim Countries Women Are 50% of Students in Technical Professions
Compiled by New Age Islam News Bureau
URL: https://www.newageislam.com/islamic-world-news/new-age-islam-news-bureau/sydney-cycling-sisters--muslim-women-get-on-their-bikes-to--eliminate-fear-/d/108859
-----
Sydney Cycling Sisters: Muslim Women Get On Their Bikes to 'Eliminate Fear'
14/10/2016
He threatened her with a crowbar before leaving and causing damage elsewhere in the centre.
"He basically stood over me ... and said, 'have you ever seen a crowbar' in a really menacing way," Ms Rahal recalled.
"It was a Thursday night — I thought I was safe.
"The intimidation was very real, very scary."
This incident, as well as other verbal and physical confrontations experienced by her friends, prompted Ms Rahal to start a cycling group.
The Sydney Cycling Sisters are a group of Muslim women who gather for weekly riding sessions.
On Sunday, more than a dozen Cycling Sisters will get on their bikes for their second Spring Cycle race from North Sydney to Homebush.
Their message?
"Muslim women are the same as any other women," Ms Rahal said.
Challenging 'negative rhetoric'
The occupational therapist and mother of four said the "negative Islamic rhetoric" in the past decade following terrorist attacks had scared a lot of people in the Muslim community.
"You watched TV and saw Tony Abbott saying: 'You've got to be on Team Australia'," Ms Rahal said.
"What does that mean? It means there's going to be some people who are not going to be included on this team.
"Even though it's a very small minority that do it, it's enough to scare women.
"I found that a lot of women stopped doing things for leisure, like going out and riding a bike.
"Muslims are tired of saying this is not our religion. We are frustrated with not being heard."
It was a sentiment she put to Pauline Hanson during the ABC's Q&A program and accused the senator of proliferating fear about Muslims.
"With this cycling group, we're trying to eliminate some of that fear," Ms Rahal said.
"We're saying we're Muslim women and we're free, we're going to ride our bikes and we're not going to assimilate the way you want us to assimilate.
"We're going to assimilate the way we want to with our hijabs on, while wearing modest clothes and observing our faith, because that's important to us.
"It doesn't make us bad people and it doesn't make us terrorists, it makes us people who enjoy life who don't want to be criticised for what we wear."
Ms Rahal said she hoped more women of all fitness levels and ethnic and religious background would join the Cycling Sisters.
http://www.abc.net.au/news/2016-10-14/sydney-cycling-sisters-ready-for-spring-cycle/7932692
--
The Hidden Cut: Female Genital Mutilation in Asia
October 14, 2016
LONDON: Clinics in Singapore are performing female genital cutting on babies, activists say, despite global pledges to end the internationally condemned practice.
A UN report on female genital mutilation (FGM) this year listed 30 countries where cutting is practised, almost all in Africa.
However, campaigners believe FGM happens in at least 45 countries and is more widespread in Asia than commonly thought.
The procedure varies between communities, ranging from the partial removal of the clitoris or clitoral hood to pricking the genitals.
Here are some Asian countries affected by FGM:
Indonesia: Around half of girls under the age of 11 have undergone FGM in Indonesia which is the only Asian country listed in the global UN report on FGM. The procedure is often carried out by health professionals. The government recently launched a campaign to end FGM despite opposition from religious leaders who have stymied past efforts to combat the practice.
Malaysia: A small study of Malay Muslims in north Malaysia found more than 90 percent of women had been cut, with 80 percent citing religious reasons. There is an increasing trend for doctors to perform the practice. In 2009, Malaysia's religious authority ruled circumcision was obligatory, unless harmful. In 2012, the health ministry called for the procedure to be standardised.
Singapore: Activists say it is practised by most Malay Muslims but there are no studies. It is legal and performed in clinics for around 20-35 Singapore dollars ($15-$26), but is not widely known about outside the Malay community. Supporters cite religious, cultural and hygiene reasons.
Brunei: The ritual is legal. There have been no major studies but one researcher says it is performed on girls aged 40 to 60 days and involves the removal of a small amount of tissue.
Thailand: Pricking or scratching of the clitoral hood is reported to be practised in southern Thailand but there are no official statistics. One researcher found women in Satun province generally supported the procedure while men opposed it.
Maldives: Cutting is legal and anecdotal reports suggest it is undergoing a resurgence, particularly on the outer islands. It has been actively encouraged by some influential Islamic scholars. One issued a fatwa in 2012 saying female circumcision was "part of nature".
India: It is practised by the close-knit Dawoodi Bohra community, a Shia Muslim sect thought to number up to 2 million worldwide. A group of Indian women subjected to FGM as children have called for the government to ban the ritual, called khatna. In most cases, part of the clitoral hood is cut, but in some cases girls have had part or all of the clitoris cut. The Bohras consider khatna a religious obligation.
Pakistan: As in India, it is carried out by the Dawoodi Bohra and remained a well-kept secret until very recently. It is typically performed on girls between the ages of six and nine years old. It is thought the practice may have come from Yemen, to where Dawoodi Bohras trace their roots and where female cutting is prevalent in some parts.
http://www.freemalaysiatoday.com/category/world/2016/10/14/the-hidden-cut-female-genital-mutilation-in-asia/
--
More Than 700 Christian Women Condemn Trump's Misogyny in Powerful Letter
14/10/2016
Christian women across the country are banding together to send a strong message about Donald Trump's misogyny.
More than 700 Christian clergy and lay leaders have signed a letter that strongly condemns the abusive remarks Trump has made towards women.
"As Christian women we are appalled by Republican presidential nominee Donald Trump's recorded remarks that disparage women and condone sexual assault," the letter reads. "We urge all religious leaders to preach, teach and help their communities heal from the twin sins of sexual violence and misogyny."
The campaign was organized by Rev. Jennifer Butler, CEO of the faith-based advocacy group Faith In Public Life Action Fund and was signed by a number of prominent Christian theologians and writers, including the author Rachel Held Evans, Auburn Seminary's Rev. Dr. Katharine Rhoades Henderson and Union Theological Seminary's Dr. Serene Jones.
Rev. Dr. Susan Brooks Thistlethwaite, a professor at the Chicago Theological Seminary, is one of the women who signed the letter. She told The Huffington Post that she wanted to add her voice to this chorus of Christian women who are confronting Donald Trump's "blatant manipulation of the Christian faith for political ends."
"He 'found Jesus' just as he was being nominated as the Republican presidential candidate, and that's only one example," she told HuffPost in an email. "Given his sexually aggressive behavior toward women, in his own words, this is an insult to the Christian faith itself."
Rev. Thistlethwaite said that she had anticipated that sexism would play a role in this election cycle. But never in her "wildest imagination" did she think it would be this "horrific."
"It is as though the underbelly of violence against women has been not only exposed in the candidacy of Donald Trump, but also the blatant misogyny that supports it."
The Faith in Public Life letter comes soon after a leaked 2005 "Access Hollywood" video captured Trump on a hot mic bragging about being able to sexually harass because he was a "star." This week, several women came forward alleging that Trump had assaulted them. The candidate has denied these latest allegations. He dismissed the banter caught in the video as "locker room talk."
Several prominent Christian leaders have stood by Trump despite his vulgar comments on the tape, but for others, the video and the recent accusations of assault could be the last straw. Over the past few days, a leading evangelical website, an evangelical theologian, and a member of Trump's own evangelical advisory council have issued harsh condemnations of the candidate's attitude towards women.
The Faith in Public Life letter goes one step further. Not only does it condemn Trump's callous attitude toward sexual assault, it also calls out those Christian leaders who don't understand that Trump's comments can't simply be dismissed as "locker room talk."
Pat Robertson, founder of the Christian Broadcasting Network, is a prime example of this. In a segment on his "700 Club" show, Robertson suggested that Trump was just trying to "look like he's macho" in that leaked video and praised the candidate for rising "like the phoenix" after the tape came out.
This kind of attitude doesn't sit well with many Christian women, and they're letting men like Robertson know.
"Christian leaders cannot condone such violent speech about women as a minor mistake or an innocent attempt to be 'macho,'" the letter reads. "These excuses teach our young people that such language is acceptable and do further harm to those who have been abused."
Rev. Butler said that it's up to congregations and religious people to "lead the way in denouncing such vile and violent behavior."
"When some Christian leaders dismiss or minimize sexually abusive remarks from a presidential candidate, they do violence to women ― particularly those recovering from abuse," Butler said in a statement. "Trump has not offered true repentance."
http://www.huffingtonpost.in/entry/more-than-700-christian-women-condemn-trumps-misogyny-in-powerful-letter_us_57fe614ee4b0e8c198a548c7
--
Muslim Women 'Free' From Veil to Become French, Says Hollande
14/10/2016
In Islamophobic remarks on Muslims and migrants in France, French President Hollande, in his tell-all book, asserts that Muslim women can fully integrate into France if they remove their headscarves and veils
President François Hollande, France's most unpopular president in the last six decades, admitted in his tell-all book that Muslim women want to choose freedom from wearing a veil. He also revealed that he no longer supports immigration.
Referring to Muslim women, "the veiled women of today will be the Marianne of tomorrow," said the French president. The statue of Marianne stands in the Place de la Republique in Paris refers to the French national symbols.
"If we give [the Muslim woman] the possibility to fulfill herself, she will free herself from her veil and become a Frenchwoman, while continuing to be religious if she so wishes," Hollande is quoted as saying.
"This woman would prefer liberty to subjugation. The veil might act as a protection for her now, but tomorrow she may not need it to be reassured about her presence in society," he added.
The book reveals President Hollande's approach toward immigrants and Muslims in the country. On the subject of immigration, the French president said he believes there are "too many immigrant arrivals who should not be [in France]."
President Hollande also reportedly told journalists in December 2015, a month after gunmen killed 130 people in Paris, that France had "a problem with Islam," comments that risk damaging his left-wing party base six months before a presidential election.
The book was written by two respected journalists, Gerard Davet and Fabrice Lhomme, who met with Hollande 61 times. Opposition politicians said on Wednesday that Hollande should spend less time talking to journalists and more time governing.
In the aftermath of the deadly attack on the French satirical magazine Charlie Hebdo on Jan. 7, 2015, Muslims in France have been subjected to violent attacks due to an increase in suspicion and negative sentiment toward the Muslim community in France. Reports of attacks on mosques and Muslim-run businesses in various places in France have led many French Muslims to fear rising Islamophobia.
France is home to the largest Muslim population in Europe, estimated at between 4 million to 5 million. The French Muslim community represents approximately 6 percent of the total French population of 58.5.
http://www.dailysabah.com/europe/2016/10/14/muslim-women-free-from-veil-to-become-french-says-hollande
--
University Attack Put Young Afghan Woman's Dreams on Hold
14 October 2016
KABUL, Afghanistan (AP) — Breshna Mosazai remembers the day of the deadly attack two months ago on the American University in Kabul. She remembers lying still on the corridor floor and playing dead, pushing the agony of the gunshot wounds out of her mind as heavily armed gunmen stalked around the campus, looking for people to kill.
That day changed her life forever and forced the 26-year-old Afghan law student to put her dreams of a future and a career on hold.
The Aug. 24 rampage went on for what seemed like an eternity as the attackers shot at students with automatic rifles and fired rocket-propelled grenades into classrooms. By the time it was over, 13 people were killed and more than 40 were wounded. No group has since claimed responsibility for the attack, fueling speculation that Afghanistan's emerging Islamic State affiliate was behind it.
In this Friday, Oct. 7, 2016, photo, Breshna Mosazai, 26, a law student of the American University of Afghanistan, where she was wounded in a Taliban attack, arrives for an interview with the Associated Press at her home in Kabul, Afghanistan. For what felt like an eternity, Mosazai lay in a corridor of the university, playing dead while heavily armed gunmen stalked around her, looking for people to kill. (AP Photo/Rahmat Gul)
Mosazai was rescued six hours into the 10-hour siege at the sprawling campus in Kabul's western outskirts. With three bullets in her left leg and foot, she was lucky — the dead included seven students, one teacher, three police officers and two security guards, according to the Interior Ministry, as well as all of the attackers.
Now at home in a wheelchair, Mosazai leans forward over the massive pin holding her shattered left leg together, and points to her bandaged foot.
"The top of this one is gone," she says of the foot, which is missing the big toe and most of the next two toes. There's a pin in there as well, holding the foot together. Though her doctor says she must walk to strengthen the leg as it heals, she can't — her right leg is withered from polio contracted as a child and can't hold her weight.
The university — established in 2006 to offer liberal arts courses modeled on the U.S. system — has been a beacon of all that Afghanistan wanted to be after the Taliban were overthrown in 2001: a nation that offered its citizens freedom, hope and progress.
But the attack tore that dream apart. Mosazai says many of her classmates now want to leave the country and that she, too, has lost hope.
"When my brothers and sister go out, I am scared and pray they come back home safe," she says. "This time I could walk ... but if this happens again, next time I won't be able to even move."
The August attack — the first such high-profile assault on the university — left unanswered many questions as to why security failed so dismally and why militants are still able to stage large-scale attacks, including in the Afghan capital.
The assault began around 7 p.m. when a car packed with explosives rammed a low wall on the campus' northwestern flank, blowing it up to make room for gunmen to storm in as night classes were getting underway and daytime students were leaving. The campus was crowded, targets were abundant; it was at least half an hour before security forces arrived.
Many of the wounded are still getting counselling to help them deal with the trauma. The university president, Mark English, resigned soon after the attack. Classes are not expected to resume before January and the students are still not allowed back on the campus.
Over the past two years, as the war intensified following the drawdown of foreign combat troops from Afghanistan, attacks on foreign targets — or those perceived as being associated with foreigners — have escalated.
Just weeks before the assault, two of the American University of Afghanistan professors, an American and an Australian, were kidnapped while being driven home from classes. Their whereabouts remain unknown.
When the August attack began, Mosazai was praying at a campus mosque close to the place of the initial explosion. She ran out shoeless, stepping over broken glass as gunfire rang out somewhere behind her.
At one point, she remembers stopping and turning to look back. "I don't know why," she said.
She saw one of the gunmen pointing his automatic weapon at her. He shot her in the left leg. When she fell to the floor, he shot her again, hitting her left foot.
"I didn't scream or move, I was too scared that he will come close to me and shoot me in the head," Mosazai said.
Later, she lay motionless as security forces battled the militants, and another bullet hit her in the left leg. "I cannot tell you how hard that was for me ... you know they can see you and if you move, they will shoot you."
When help finally arrived, two paramilitary soldiers began waving and calling her toward them.
"My clothes were soaked with my blood," she said. "I used my hands to pull myself toward the soldiers. The floor was covered in broken glass but there was no other way."
A soldier took her hand and called her "sister," then hoisted her on his back and carried her to safety.
"When he picked me up, there was unbearable pain in my leg and foot," she recounts. "The soldier told me gently that we were close to the doctor."
Outside, in an ambulance, her brother and her fiancé were waiting for her.
All these weeks later, she is still in a lot of pain, especially after the amputation of her big toe. She has nightmares in which she is being chased by the same gunman.
"The image of that shooter is always in my mind, pointing his gun on me," she said.
Mosazai has just one semester left of her law degree and had been looking forward to moving on to her Masters before going into public life. She wants to help people who have no rights, like street children and beggars, she said.
But that will have to wait.
"Now I just want to get better," Mosazai said.
http://www.dailymail.co.uk/wires/ap/article-3837684/University-attack-young-Afghan-womans-dreams-hold.html
--
In These Muslim Countries Women Are 50% of Students in Technical Professions
Oct 14 2016
Engineering classes look different in Jordan, Malaysia and Tunisia, and it has nothing to do their lecture slides. Up to 50 per cent of university students studying engineering in these Muslim-majority countries are women, while in Australia that figure sits at closer to 15 per cent.
The same can be said for America where the number of female students is between 15 to 20 per cent, and it's something Washington State University is trying to improve. Just last month they launched a research project to investigate what Jordan, Malaysia, Tunisia and even Saudi Arabia, are doing to reach gender parity in engineering studies, and how that knowledge can be applied in a Western context.
Are gendered education ideas weighing us down?
Australian mechanical engineer and former Muslim Youth of the Year, Yassmin Abdel-Magied, tells SBS she finds WSU research interesting but not surprising.
"I think it reinforces how deeply the stereotypes around the oppression of Muslim women are believed," she says.
"Many of these countries and other Eastern nations don't have the same hang ups about education and the 'gendered' association with knowledge. Almost all of my aunts are technical professionals, which often shocks people in the West."
http://www.dailytrust.com.ng/news/islamic-forum/in-these-muslim-countries-women-are-50-of-students-in-technical-professions/166719.html
--
URL: https://www.newageislam.com/islamic-world-news/new-age-islam-news-bureau/sydney-cycling-sisters--muslim-women-get-on-their-bikes-to--eliminate-fear-/d/108859
New Age Islam, Islam Online, Islamic Website, African Muslim News, Arab World News, South Asia News, Indian Muslim News, World Muslim News, Women in Islam, Islamic Feminism, Arab Women, Women In Arab, Islamophobia in America, Muslim Women in West, Islam Women and Feminism