New Age Islam News Bureau
27 Oct 2014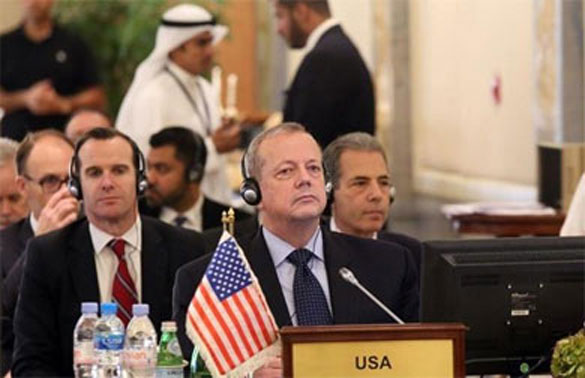 General John R. Allen (C), special presidential envoy for the global coalition to counter ISIS, attends a meeting in Kuwait City. AFP PHOTO/YASSER AL-ZAYYAT
-----------
India
• Supreme Court Of India Lifts Restrictions on Issuing 'Fatwa'
• Madrasas on India-Bangla Border under Watch
-----------
Pakistan
• Islamic State Defections Fracture Pakistan Taliban
• Fresh Controversy over Polygamy, Marriage Dissolution
• No information about presence of ISIS in Balochistan: CM
• Hindu citizens looking for Jinnah's Pakistan
• 'Revolution' can't bring any change: JI
• No One Can Spread Hatred on Ethnic, Religious Basis: Shah
• Drive for 20 new provinces to begin after Muharram, says MQM
------
North America
• U.S. Official Urges Allies to Combat ISIS Ideology
• 'Canada Parliament gunman intended to go to S Arabia'
• Horror of Canadian Parliament Shooting
• Obama invites new Afghan leaders to White House
------------
Arab World
• Emergency rule in Egypt's Sinai after bomb kills 30 troops
• Suicide Bomber Kills 27 Militiamen In Iraq, All Eyes On Kobani
• Syria regime air strikes kill 13 children
• Egypt's outlawed MB condemns Sinai attacks
• Egypt army to join police to guard key facilities
• Iraqi forces seize four villages after victory near Baghdad
• Egypt court orders arrest of leading activist Abdel Fattah
• Rise in MERS cases prompts Saudi warning to residents
• 218 Saudis charged with smuggling Haj pilgrims into holy sites
• Manual issuance of visas for house workers halted
• Militants threaten to kill Lebanon prisoners
-------------
Mideast
• Yemeni jets, US drone kill '20 Al Qaeda militants'
• Israel green lights plans for 1,000 Jerusalem settler homes
• Palestinians barred from Israeli West Bank buses
• Turkey held 5 over deadly attack blamed on PKK
• Gaza truce talks in Cairo held back, say Palestinians
--------------
Africa
• Cameroon army kills 39 Boko Haram fighters
• Boko Haram kills 17, kidnap 30 young men, women – Official
• Somalia: Jubaland forces clash with Al Shabaab, Militants take over village
-------------
South Asia
• Return of the shoe in front of Baitul Mukarram, Bangladesh
• Afghanistan's Re-Emerging Baloch
• British forces hand over control of last base in Afghanistan
• Crisis over fleeing Rohingya Muslims
-----------
Southeast Asia
• Al-Qaeda Declares War on China, Too
• China to Amend Anti-terror Law and to Set Up Anti-terrorism Intelligence System
• Iranian nationals arrested in Malaysia for alleged drug trafficking
• Future of human rights in Southeast Asia remains bleak
• Sex education campaign to be rolled out on Indonesian Youth Pledge Day
• Kontras: Ryamizard Appointment Shows Jokowi 'Negligent' on Human Rights
• Singaporean grilled in Batam for exporting US bomb devices
-------------
Europe
• London march backs Kashmiris' struggle
• Muslim inmate at Prison planned kidnap and escape, IS Flag Found in Cell
• Divided Ukraine votes under shadow of war
• ISIS threatens to kill British jihadists
• The challenges faced by Muslim soldiers in Afghanistan
• A Museum of rich Jewish life in Poland
Compiled by New Age Islam News Bureau
URL: https://www.newageislam.com/islamic-world-news/new-age-islam-news-bureau/supreme-court-of-india-lifts-restrictions-on-issuing-'fatwa'/d/99744
------------
India
Supreme Court Of India Lifts Restrictions on Issuing 'Fatwa'
26 October 2014
In a significant judgement, a bench of three judges of the Supreme Court of India has overruled a high court order restraining issuance of 'fatwa' by Dar Al-Quaza and Dar Al-Ifta in Bhopal.
The judgement is bound to have a far reaching effect as it would deter the Indian judiciary at various levels from interfering in the religious matters of Muslims. The order is expected to give relief to Muslims.
In an earlier judgement in the case of Vishwa Lochan Madan, the Supreme Court had held: "In our opinion, one may not object to issuance of fatwa on a religious issue or any other issue so long as it does not infringe upon the rights of individuals guaranteed under the law."
The Supreme Court said the high court judgement shall be treated as substituted by the above law laid down by it.
The three-member bench comprised former Chief Justice M. Lodha, Justice Kurian Joseph and Justice Rohinton Fali Nariman.
"A fatwa is an opinion, only an expert is expected to give. It is not a decree, nor binding on the court or the State or the individual. It is not sanctioned under our constitutional scheme. But this does not mean that existence of Dar Al-Quaza or for that matter practice of issuing fatwas are themselves illegal," the premier court clarified.
The judgement said it is informal justice delivery system with an objective of bringing about amicable settlement between the parties. It is within the discretion of the persons concerned either to accept, ignore, or reject it. However, as the fatwa gets strength from the religion; it causes serious psychological impact on the person intending not to abide by that.
It may be recalled here that one Mohammad Zahir Khan Koti, a resident of Jabalpur, in 2009 had filed a PIL in the MP High Court alleging that Dar Al-Quaza and Dar Al-Ifta are indulging in "the illegal activities of declaring 'Talaq' besides making various other baseless allegations. He had prayed that these two Islamic institutions be declared illegal and unconstitutional and be restrained from adjudicating matrimonial disputes."
The high court in its order dated 14-8-2012 disposing off the PIL writ petition approved the role of conciliation, meditation and arbitration being performed by Dar Al-Qaza when invited to do so by both the warring parties. However, certain part of the judgement though not forming part of the operating order seemed to imply that Dar Al-Ifta shall not render any fatwa and that now stands clarified/substituted by the Supreme Court in the Appeal filed by the Masajid Committee, Bhopal.
http://www.arabnews.com/world/news/650646
------------
Madrasas on India-Bangla border under watch
ABHINANDAN MISHRA
25th Oct 2014
Madrasas situated along India's porous borders with Bangladesh and Nepal have come under the scrutiny of security agencies in the wake of the Burdwan blast.
The National Investigation Agency (NIA), which is probing the 2 October blast in the Khagragarh locality of Burdwan, has found that the Simulia madrasa, situated 40 km from the blast site, acted as a module for terrorists operating out of Burdwan and its neighbouring districts in West Bengaal.
According to officials, almost all the identified operatives involved with the module have been found to have close links with this madrasa.
"The roles of certain madrasas in the region have been found to be suspicious in the wake of the Burdwan blast. We have strong evidence to suggest that they are acting as safe havens for terrorists. We are focusing on unrecognised madrasas that have come up along the international borders in recent times," an agency source said. The India-Bangladesh border is around 150 km from Khagragarh.
On the basis of the NIA investigation, the Ministry of Home Affairs has asked West Bengal, Bihar and Uttar Pradesh to submit a report on such madrasas, their funding and the details of the people behind them. However, the response received from West Bengal, according to officials, has not been satisfactory.
According to reports, the largest number of madrasas and mosques has come up in the border areas of Lower Assam, Bihar and Bengal that share a boundary with Nepal and Bangladesh. Sources said that at least 40% of the villages in Bengal's border districts are predominantly Muslim. "Along with the madrasas, a large number of Muslim-focused NGOs have also sprung up in the area bordering Nepal."
"Most of these madrasas and NGOs promote anti-India activities. The NGOs receive substantial and completely unregulated funding from Saudi Arabia, Kuwait and other Islamic countries, and work to radicalise the local youth," an intelligence official said.
Last week, an NIA team spent almost eight hours searching a madrasa in Murshidabad's Lalgola in West Bengal after a piece of paper with its name scribbled on it was found during the Burdwan blast probe. The madrasa is barely 7.5 km from the Bangladesh border and was set up by an illiterate mason who had no source of funds for the building. "Local intelligence suggests that it was built using foreign funding received from Bangladesh-based elements. We have not been able to trace its founder, who has not been seen since the Burdwan blast," said a Home Ministry official.
The founder of the madrasa, which the NIA says was built in 2008 along the unfenced border, used to sell eggs. In 2009, he purchased around 10 kattah of land in the same area. A majority of the 150 plus students here were girls.
What has also caught the attention of the investigators is the fact that land prices in these areas have shot up in recent times. "The reason behind the increase is that people are willing to pay whatever is being demanded by the locals. In the Burdwan incident too, we have discovered that land was purchased by the terrorists at double the market rate. A land for another unfinished madrasa in Burdwan was bought for Rs 9 lakh, although the market price is Rs 4 lakh," an official said.
http://www.sunday-guardian.com/news/madrasas-on-india-bangla-border-under-watch
------------
Pakistan
Islamic State Defections Fracture Pakistan Taliban
By Arif Rafiq
October 24, 2014
In an audio statement released last week, the former Tehreek-e Taliban Pakistan (TTP) spokesman Shahidullah Shahid announced that he and five other commanders from the terror group have given the bay'ah (oath of allegiance) to Abu Bakr al-Baghdadi, the self-styled "caliph" of the group that describes itself as the Islamic State (IS), and is also known as ISIS and ISIL. This is the first public defection of commanders from the Afghan and Pakistani Taliban groups to IS.
Their defection portends further divisions within Pakistan's jihadist community, which has rapidly splintered since the killing of the TTP leader Hakimullah Mehsud last fall in a U.S. drone strike. These divisions could result in heightened violence between anti-state jihadist groups in Pakistan. But Pakistan is also likely to see a rise in both sectarian and overall violence. Down the road, there is a risk that Pakistan's disparate jihadist groups could consolidate into a united front, even if the probability of such a scenario is low at present.
None of the TTP commanders who have defected to IS are major figures. They do not command sizable forces. But their standing within the region could be enhanced as a result of their association with IS. Some Pakistani observers claim that the IS brand is increasingly popular with younger, rank-and-file jihadists. Indeed, the al-Qaeda and Afghan Taliban brands are two decades old. Shahid and his allies could see a surge in their ranks as a result of their association with IS.
While Shahid has given the oath of allegiance to al-Baghdadi, it's unclear whether he has been accepted as a member of IS. In his audio statement, Shahid said that he had given the oath of allegiance to al-Baghdadi on three previous occasions via a number of emissaries, but still awaits a response. Evidently, al-Baghdadi has yet to respond affirmatively to Shahid's overtures, though the reasons for his silence are unclear. It may be that IS has yet to develop an actual strategy for South Asia, though another South Asian jihadist group, Ansar al-Tawhid fi Bilad al-Hind defected from the al-Qaeda orbit into the IS world, but it is India and Afghanistan-centric.
Meanwhile, the core leadership of the two major Pakistani Taliban factions, the TTP and its Jamaatul Ahrar splinter group (TTP-JA) are currently hedging between supporting al-Qaeda and IS – the two major transnational jihadist fronts. Both groups have issued statements calling on al-Qaeda's affiliate in Syria, Jabhat al-Nusra, and IS to reconcile. They will likely continue to issue statements of support for IS that fall short of making an oath of allegiance to the group.
Both regional and sectarian dynamics tie the TTP and TTP-JA to the Afghan Taliban. The Afghan Taliban, TTP, TTP-JA, and most other Pakistani jihadist groups come from the Sunni subsect known as the Deobandis. And a common attribute of Deobandi militant groups is their nominal allegiance to Mullah Omar, the leader of the Afghan Taliban, who holds the title of amir-ul-mumineen (commander of the faithful). Mullah Omar has a quasi-caliph status, and were the TTP and TTP-JA to declare allegiance to al-Baghdadi, this would likely nullify their allegiance to Mullah Omar.
IS is ascendant in the Middle East and al-Qaeda has been weakened in South Asia. But the Afghan Taliban finds itself in a favorable position as the United States completes the withdrawal of its combat forces this year. It has a decent chance of seizing significant portions of southern and eastern Afghanistan from the Kabul government in the coming years. And so the TTP and TTP-JA cannot afford a hostile relationship with the Afghan Taliban, which could very well be in control of their backyard.
Major commanders associated with the TTP and the TTP-JA are certainly discomfited by the defection of mid-level commanders to IS, which poses a potential threat to their hold over their respective fiefdoms inside Pakistan. They will have to take active measures to contain these new competitors. This containment strategy could involve direct violence against pro-IS commanders, as well as seeking to outdo them in attacks against the Pakistani state and religious minorities. The prime leadership of the TTP and TTP-JA has avoided public criticism of IS. Similarly, they may be reluctant to attack outfits that have moved into IS's orbit. While this is a battle they may hope not to fight, it may also be one they cannot avoid.
The six TTP commanders who have moved into IS's orbit come from the central region of the Federally Administered Tribal Areas (FATA) and Khyber Pakhtunkhwa (KP) province. This region, in particular the Kurram Agency, was hit by a full-scale sectarian war from 2007-11. While violence there has been reduced significantly, the major militant commanders in this region remain at-large. Undoubtedly, they will work to prevent encroachment by IS-aligned forces in their areas. At the same time, though, given IS's extreme anti-Shia focus, both the TTP and IS-aligned militants could once again renew sectarian violence in central-FATA and KP.
While the threat of Sunni-Shia sectarian violence elevates, so too does the potential for intra-Sunni sectarian tensions. Curiously, Shahid's audio statement suggested that he is now styling himself as a Salafi, the puritanical sect to which al-Baghdadi belongs. Shahid's statement was released by a media outlet called al-Muwahideen (The Monotheists), a terminology that is particularly indicative of a Salafi bent, given its fervent opposition to all sorts of shirk (polytheism or association of partners with God).
While al-Qaeda is also a Salafi jihadist group, it has had an alliance of convenience with militant organizations from the Deobandi subsect. Indeed, the amir of its new South Asia affiliate is a Deobandi cleric. And Shahid's apparent transition to Salafism may indicate that a sectarian conversion is perhaps a prerequisite for Pakistani jihadist groups to associate themselves with IS. The Deobandis as well as the many Deobandi militant clerics and seminaries will not find this congenial.
The Salafi factor raises the issue of Lashkar-e Taiba (LeT), which perpetrated the 2008 Mumbai attacks. LeT comes from the Ahl-e Hadis sect, which is effectively the South Asian equivalent of the Salafis. And so while the LeT prime organization is likely to remain aligned with the Pakistani security apparatus, there is potential for low-to-mid-level fighters from LeT to defect and join IS, moving from one Salafi jihadist group to another, seeing IS as a more authentic jihadist force – one that is not "polluted" by a partnership with a "secular" state like Pakistan.
Jihadist groups in South Asia are in the midst of a major transitional phase that is taking place against a backdrop of a global jihad that itself is in a state of flux. Old alliances and relationships will be tested. Still, senior commanders with the TTP and TTP-JA are likely to publicly maintain a polite disposition toward IS while affirming their loyalty to the Afghan Taliban. Maulvi Fazlullah, the amir of the weakened TTP, issued an audio statement this weekend in which he renewed his allegiance to Mullah Omar. The TTP-JA is more likely than the TTP to ally with IS, but its spokesman Ehsanullah Ehsan will probably continue to tease the media and other observers with statements that adulate IS but baulk at formally associating with the group. For the TTP-JA, its primary goal is to supplant the TTP as the major umbrella organization for anti-state jihadists in Pakistan. And so it will seek to maintain good ties with all regional and transnational jihadist outfits as long as possible. But if the impact of this small group of IS defectors is a wave rather than a ripple, then the TTP-JA, in particular, may have to abandon its diplomatic balancing act and choose a side.
Arif Rafiq (@arifcrafiq) is an adjunct scholar at the Middle East Institute and president of Vizier Consulting, LLC, which provides strategic guidance on Middle East and South Asian political and security issues.
http://thediplomat.com/2014/10/islamic-state-defections-fracture-pakistan-taliban/
------------
Fresh Controversy over Polygamy, Marriage Dissolution
By Waseem Ahmad Shah
October 27, 2014
The Council of Islamic Ideology (CII) stirred controversies a few months ago by putting forward certain recommendations regarding the mechanism provided under the Muslim Family Laws Ordinance 1961, for putting certain restrictions on polygamy, and the Child Marriage Restraint Act 1929, which prohibits child marriages. While those issues are yet to be settled the council created a fresh controversy by declaring against Sharia the provision of Dissolution of Muslim Marriages Act 1939, seeking dissolution of marriage by a wife on ground of husband entering another marriage without following the provision given under the law.
According to media reports, while presiding over a meeting of CII its chairman Maulana Mohammad Khan Sherani stated that a Muslim woman could not object to the second or subsequent marriages of her husband. He had added that a woman could not demand divorce if her husband married a second, third or fourth time. He was quoted as stating that the council had observed that the relevant provision of the Dissolution of Muslim Marriages Act (DMMA) 1939 was against Sharia and it wanted the government to repeal the same. He stated that the woman could seek separation if she was treated with inequality or cruelty.
Earlier, in March this year CII had declared that Section 6 of the Muslim Family Laws Ordinance (MFLO) 1961, related to polygamy, was against Sharia. Contrary to the CII decision regarding MFLO, the Federal Shariat Court (FSC), and another forum set up under the Constitution for examining laws, had on Jan 5, 2000 declared the said provision not repugnant to injunctions of Islam. However, so far there are no findings of the FSC regarding the provision of DMMA.
Lawyers dealing with cases of dissolution of marriages, dower, etc, believe that these provisions, of MFLO and DMMA, which are under debate, are beneficial to women and by invoking them they could get relief from the family courts.
"Section 6 of MFLO prohibits polygamy except with the permission of arbitration council. If a husband marry in contravention of this section he is liable to pay immediately the entire dower, whether prompt or defer, to the existing wife," said an advocate of Supreme Court Arshid Jamal Qureshi.
He said that if a husband took additional wife in presence of earlier one in violation of the provision of MFLO that could be a ground for dissolution of marriage under DMMA. He added that even if a wife had not been seeking dissolution of her marriage on that ground there were cases when she had filed suit for receiving her dower on the same ground under MFLO.
Mr Qureshi said that CII was only a recommendatory body and it was up to parliament to implement its decisions by amending the relevant laws.
Section 2 of DMMA entitles a woman, married under the Muslim Law, to obtaining a decree of dissolution of marriage on any ground provided therein. Important grounds in the said section are: that the whereabouts of the husband have not been known for four years; that the husband has neglected or has failed to provide for her maintenance for a period of two years; that the husband has been sentenced to imprisonment for seven years or more; that the husband has failed to perform, without reasonable cause, his marital obligations for three years; that the husband was impotent at the time of marriage and continues to be so; etc.
Through MFLO a sub-section II-A was included in Section 2 of DMMA so as to add another ground for dissolution of marriage, which states: "that the husband has taken an additional wife in contravention of the provisions of the Muslim Family Laws Ordinance 1961."The MFLO 1961 was promulgated keeping in view certain recommendations of the Commission on Marriage and Family Laws constituted in 1955.
About Section 6 of MFLO, related to polygamy, the FSC in its judgment in 2000 ruled: "since this section has not expressly declared the subsequent marriage as illegal and has merely prescribed a procedure to be followed for the subsequent marriages and punishment for its non-observance, we find that the spirit of this section is reformative only as it has prescribed a corrective measure for prevention of injustice to the existing wife/ wives."
The FSC ruled that there is no doubt that a Muslim male is permitted to have more than one woman as wife with a ceiling of four, at a point of time as the ultimate, but the very ayat (Verse) which gives this permission also prescribes a condition of "Adl" (justice) and the holy Quran has laid emphasis in the same Verse on the gravity and hardship of the condition which Allah Himself says is very difficult to be fulfilled.
Despite the passage of over five decades since MFLO was promulgated it still remains under debate and certain quarters are averse to it. Supporters of these laws believe that CII has presently been used for political gains and even the appointment of its chairman by the previous government was on political considerations due to which the present interpretations put forward by CII were not acceptable.
http://www.dawn.com/news/1140685/fresh-controversy-over-polygamy-marriage-dissolution
------------
No information about presence of ISIS in Balochistan: CM
By Syed Ali Shah
QUETTA: Chief Minister Balochistan Dr. Malik Baloch on Sunday said that some elements want to impose their agenda on the people through the use of force.
Speaking to journalists in a local hotel, after chairing a function regarding the promotion of the Balochi language, the chief minister said he had no information about the presence of ISIS in the volatile province.
He said however that there are fundamentalists whose approach is similar to that of ISIS.
The chief minister termed past policies of rulers as the underlying reason behind the unrest in Balochistan, plagued by growing sectarianism and violent attacks by Baloch separatists.
Baloch stated that his government was determined to restore peace in the province through political means.
"I stand for peace and I strive for a negotiated settlement of issues relating to Balochistan," he said.
Regarding security arrangements in the aftermath of recent terror acts, the chief minister stated that police and Frontier Corps (FC) personnel were deployed at all exit and entry points to ensure peace during the month of Muharram.
Capital City Police Officer Quetta, Razaq Cheema while addressing a press conference said that 71 pickets manned by 525 policemen were established in Quetta during Muharram.
He said a ban was also imposed on pillion riding from 7th to 10th Muharram.
Two people killed near Pak-Iran border
Meanwhile, armed men opened fire at a vehicle and killed two people near Mashkail, Pakistan's bordering town with Iran on Sunday morning, levies said.
Levies sources said armed men opened fire at a pick up and killed two people on the spot near the Iranian border.
"The pick up was loaded with Iranian diesel and petrol and caught fire. Both persons inside the vehicle were burnt to death", they added.
They were identified as local residents of Mashkail. Motive behind the incident was yet to be ascertained.
Levies and personnel of other law enforcement agencies reached the spot and started investigation into the incident. There was no immediate claim of responsibility for the attack.
This incident has come two days after the Iranian forces fired five mortar shells in Mashkail.
There were no fatalities and Frontier Crops retaliated against the Iranian attack. A blame game between the two countries has been intensified in recent days with regard to border skirmishes.
http://www.dawn.com/news/1140520/no-information-about-presence-of-isis-in-balochistan-dr-malik
------------
Hindu citizens looking for Jinnah's Pakistan
By Shiraz Hassan
October 27, 2014
RAWALPINDI: Hindu citizens are demanding Jinnah's Pakistan on the occasion of Diwali. From no official holiday on their religious festivals, Hindu marriage laws and social discrimination to life threatening security concerns, the Hindu community in Pakistan faces a myriad of problems.
"No holiday on Diwali is a minor issues. Our problems are much bigger," said Akash Raj, a Hindu citizen.
He narrated that he got married many months ago but his wife is still waiting for her new Computerised National Identity Card.
"Why is Hindu marriage act still pending," he demanded.
Raj criticised political leaders like Imran Khan and Bilawal Bhutto Zardari who are using Hindus for their own political gains. "If they actually care about minority rights, they should play a role in drafting legislation for us," he said.
"Jogendra Nath Mandal was Pakistan's first law minister and today we live in a state where we cannot even choose our own representatives," said Rajiv Thakur, coordinator Pakistan Hindu Seva Welfare Trust.
"Religious minorities in Pakistan are facing problems because they do not have real community representatives in assemblies; we should be given the electoral right to choose our representatives in assemblies. Nobody raises our problems in assemblies, it feels like minority lawmakers are helpless too," he added. Thakur demanded for the Pakistani school curriculum system to be reformed.
"When you promote hatred in schools, it results in creating hatred at a societal level. For a better Pakistan, followers of religions have an equal role to play," he said.
Hindu Sikh Social Welfare Organisation President Jagmohan Arora demanded that the word 'minority' should not be used as it has negative implications. "We should be called 'non-Muslim Pakistanis'," he said.
Full report at:
http://www.dawn.com/news/1140459/hindu-citizens-looking-for-jinnahs-pakistan
------------
'Revolution' can't bring any change: JI
October 27, 2014
LAHORE - Jameet-e-Islami Secretary General Liaquat Baloch has said that slogans of 'new Pakistan' and 'revolution' cannot bring any change in the country.
Addressing a communal breakfast ceremony by his party, Bloch held that the public rights only be achieved by making country a welfare Islamic state. PML-Q Secretary General Mushahid Hussain Syed and other parties' leaders also attended the ceremony.
Baloch said that country was passing through a political turmoil but politicians were busy mud-slinging on each other. He stressed that personal attacks should come to an end as these caused deep unrest among the political workers. He stressed the need for unity among the political and religious leaders.
Full report at:
http://nation.com.pk/lahore/27-Oct-2014/revolution-can-t-bring-any-change-ji
------------
No one can spread hatred on ethnic, religious basis: Shah
October 27, 2014
SUKKUR: The leader of the opposition in the National Assembly Syed Khurshid Shah said that no one can spread hatred on ethnic or religious basis. He was talking to the media in relation to the observance of black day by the MQM protesting his supposedly "derogatory remarks" against the 'Muhajirs'. Shah said that religion and politics should be kept separate. On October 18, Shah had said that Urdu-speaking people of Pakistan were now permanent residents of the Sindh and should therefore stop calling themselves 'Muhajirs'. "The word 'Muhajir' is a 'Gaali' (word of abuse) for me and I urge our friends to please stop referring to themselves as Muhajir," he had said. Shah said that all Urdu-speaking people are his brothers and the Sindhis would not let anyone spread hatred on ethnic basis. Speaking about the blasphemy charges levelled against him, he said several conspiracies had been formulated against him in the past as well, but despite all these nefarious schemes against him voters have elected me eight times and he has an important role to play in the politics of the country. On the appeal of MQM chief Altaf Hussain, businesses and petrol pumps in a few areas of Karachi, Hyderabad and other parts of Sindh were closed down.
http://www.dailytimes.com.pk/national/27-Oct-2014/no-one-can-spread-hatred-on-ethnic-religious-basis-shah
------------
Drive for 20 new provinces to begin after Muharram, says MQM
By Azfar-ul-Ashfaque
October 27, 2014
KARACHI: The Muttahida Qaumi Movement staged a big rally on Sunday in protest over the remarks of senior PPP leader Syed Khurshid Shah against the word 'Mohajir' and announced that it would launch a movement for 20 new provinces in the country after Muharram.
The rally was the culminating point of the MQM's 'black day' which was observed in the metropolis on Sunday against Leader of the Opposition in the National Assembly Khurshid Shah's remarks that he considered the word 'Mohajir' a swear word.
Despite the fact that the city was shut throughout the day, a large number of MQM workers and sympathisers, women and children included, reached the Shahrah-i-Quaideen-Sharea Faisal intersection, the venue of the rally, to condemn what they described as the blasphemous act of Mr Shah.
Wearing black armbands and carrying tri-colour party flags and portraits of their leader Altaf Hussain, the MQM workers used the event to raise the demand for a separate province for Mohajirs as well as the creation of new administrative units in the country.
Not only the workers, but every MQM leader who spoke to the protesters on the occasion pointed out discrimination and injustices allegedly meted out to the people of the urban areas of Sindh and condemned the 'feudal and landlords who are occupying resources of Karachi'.
The charged crowd shouted slogans when senior MQM leader Dr Khalid Maqbool Siddiqui announced that the party would launch a country-wide drive from Karachi after Muharram for the creation of 20 new provinces in the country.
While the MQM is being criticised for invoking the much-controversial blasphemy law against Mr Shah for his remarks against the word 'Mohajir', Dr Siddiqui said: "We are being told that from a liberal and progressive party we are becoming an extremist organisation... But we want to tell everyone that they would see us protesting whenever it comes to Namoos-i-Risalat."
Full report at:
http://www.dawn.com/news/1140617/drive-for-20-new-provinces-to-begin-after-muharram-says-mqm
------------
North America
U.S. Official Urges Allies to Combat ISIS Ideology
Oct. 27, 2014
The retired American general in charge of coordinating the U.S.-led coalition's fight against Islamic State militants is urging allies to do more to combat the group's extremist ideology.
Gen. John Allen's appeal came during a meeting of Western and Arab partners in Kuwait on Monday.
Full report at:
http://www.haaretz.com/news/middle-east/middle-east-updates/1.622945
------
'Canada Parliament gunman intended to go to S Arabia'
October 27, 2014
TORONTO - The Canadian citizen who police contend shot dead a soldier at the nation's war memorial before charging into Parliament had intended to travel to Saudi Arabia, not Syria, his mother said in a letter to a news agency published on Saturday.
The Royal Canadian Mounted Police said on Thursday that Michael Zehaf-Bibeau, 32, had traveled to Ottawa from Vancouver to try to obtain a passport and intended to travel to Syria, saying that his mother, Susan Bibeau, had revealed that information in an interview. But Bibeau told Postmedia, which publishes many major Canadian newspapers, that she had said her son intended to travel to Saudi Arabia, not Syria.
'I want to correct the statement of the RCMP,' wrote Bibeau, who is deputy chair of the Immigration and Refugee Board of Canada.
Full report at:
http://nation.com.pk/international/27-Oct-2014/canada-parliament-gunman-intended-to-go-to-s-arabia
------------
Horror of Canadian Parliament Shooting
Oct 26, 2014
The Muslim Public Affairs Council condemns the criminal behavior and actions committed by Michael Zehaf-Bibeau on Parliament Hill yesterday in Ottawa, Canada. MPAC offers its condolences to the family members of Cpl. Nathan Cirrillo and victims who were injured during the heinous attack by Zehaf-Bibeau. We stand in solidarity with the Canadian people who are horrified by the vicious attacks.
This tragedy presents an opportunity for North American Muslim communities to take leadership in ensuring continued education about Islam, especially for the most impressionable and vulnerable in our communities: young people and converts. Young people who are fed misinformation online by violent extremists must be engaged in healthy conversations in safe spaces within our schools and mosques to minimize any chance of being lured into false promises of glory. As far as converts are concerned, Dr. Maher Hathout said: "It is paradoxical because most who convert to Islam have a positive change in their life that makes them compassionate, calming, contributors to society. However, the aggregation of these few cases are a cause for alarm and create a false impression about Islam and Muslims."
Zehaf-Bibeau was a known troubled individual with a criminal history who recently converted to Islam. We must continue to educate the community and others who are interested in Islam that while this and other incidents are isolated, there is no justification within the faith that would allow such immoral and criminal behavior. Further, Zehaf-Bibeau's troubled history highlights the need for communities to have structured education, prevention, intervention and rehabilitation programs that focus on mental health, religious and counseling services. It is imperative that communities work in close coordination with law enforcement and government agencies to address some of these challenges faced by communities to ensure the public safety for all.
Full report at:
http://theamericanmuslim.org/tam.php/features/articles/horror-of-canadian-parliament-shooting/0020310
------------
Obama invites new Afghan leaders to White House
October 27, 2014
KABUL - US President Barack Obama, keen to reset relations with Afghanistan that soured under longtime president Hamid Karzai, has invited the leaders of Afghanistan's new unity government to visit the White House early next year. The new Afghan leadership comes at a crucial time as American combat troops draw down after 13 years and a remaining US force of about 10,000 shifts to a support role for Afghan security forces taking over the fight against Taliban insurgents.
Full report at:
http://nation.com.pk/international/27-Oct-2014/obama-invites-new-afghan-leaders-to-white-house
------------
Arab World
Emergency rule in Egypt's Sinai after bomb kills 30 troops
October 27, 2014
CAIRO: A state of emergency came into force Saturday across much of Egypt's Sinai Peninsula after 30 soldiers were killed in a suicide car bombing by suspected jihadists.
It was the deadliest attack on the country's security forces since the army deposed Islamist president Mohamed Morsi last year, to the fury of his supporters.
The state of emergency, which took effect from 0300 GMT in the north and centre of the Sinai, will remain in place for three months, the president's office said.
A curfew is in force from 5 pm to 7 am.
Egypt also announced it would close the Rafah crossing into the Gaza Strip, the only route into the Palestinian territory not controlled by Israel.
"The army and the police will take all necessary measures to tackle the dangers of terrorism and its financing, to preserve the security of the region... and protect the lives of citizens," the presidential decree said.
The Supreme Council of the Armed Forces was due to meet on Saturday to decide what measures to implement under the state of emergency.
The bombing on Friday was carried out by a suspected jihadist who rammed a checkpoint with his explosives-packed vehicle, security officials said.
The attack, in an agricultural area northwest of El-Arish, the main town in north Sinai, also left 29 other soldiers wounded, medics said.
A senior army official and five officers were said to be among those wounded.
Gunmen also shot dead an officer and wounded two soldiers on Friday at another checkpoint south of El-Arish, security officials said.
Jihadists in the peninsula have killed scores of policemen and soldiers since Morsi's overthrow to avenge a bloody police crackdown on his supporters.
The attacks have dealt a further blow to a tourism industry already reeling after a 2011 uprising that overthrew long-time president Hosni Mubarak.
While south Sinai is dotted with tourist resorts on the Red Sea — a popular destination for scuba divers — the lawless north is a base for militants who have launched a wave of attacks, mostly targeting security forces.
Full report at:
http://www.dawn.com/news/1140311/emergency-rule-in-egypts-sinai-after-bomb-kills-30-troops
------------
Suicide bomber kills 27 militiamen in Iraq, all eyes on Kobani
BY MICHAEL GEORGY
Oct 27, 2014
A suicide bomber killed at least 27 Shi'ite militiamen on the outskirts of the Iraqi town of Jurf al-Sakhar on Monday after security forces pushed Islamic State militants out of the area over the weekend, army and police sources said.
The attacker, driving a Humvee vehicle packed with explosives and likely stolen from defeated government troops, also wounded 60 Shi'ite militiamen, who had helped government forces retake the town just south of the capital.
Holding Jurf al-Sakhar is critical for Iraqi security forces who finally managed to drive out the Sunni insurgents after months of fighting.
It could allow Iraqi forces to prevent the Sunni insurgents from edging closer to the capital Baghdad, sever connections to their strongholds in western Anbar province, and stop them infiltrating the mainly Shi'ite Muslim south.
The group has threatened to march on Baghdad, home to special forces and thousands of Shi'ite militias expected to put up fierce resistance if the capital comes under threat.
Gains against Islamic State, an al Qaeda offshoot made up of Arab and foreign fighters, are often fragile even with the support of U.S. airstrikes on militant targets in Iraq and neighboring Syria.
As Iraqi government soldiers and militias savored their victory and were taking photographs of Islamic State corpses on Sunday, mortar rounds fired by Islamic State fighters who had fled to orchards to the west rained down on Jurf al-Sakhar.
The blast hit the militiamen, killing dozens and scattering body parts, according to a Reuters witness.
The next significant fighting near Baghdad is expected to take place just to the west in the Sunni heartland Anbar province.
The town of Amriyat al-Falluja has been surrounded by Islamic State militants on three sides for weeks. Security officials say government forces are gearing up for an operation designed to break the siege.
Gains in the Islamic State stronghold of Anbar could raise the morale of Iraqi troops after they collapsed in the face of a lighting advance by the insurgents in the north in June.
NO LETUP TO THE VIOLENCE
Islamic State kept up the pressure on security forces on Monday, attacking soldiers, policemen and Shi'ite militiamen in the town of al-Mansuriyah, northeast of Baghdad. Six members of the Iraqi security forces were killed, police said.
Kurdish peshmerga fighters also made advances over the weekend against Islamic State, which has declared a caliphate in the heart of the Middle East and is determined to redraw the map of the oil-producing region.
Full report at:
http://www.reuters.com/article/2014/10/27/us-mideast-crisis-idUSKBN0IG15G20141027
-------
Syria regime air strikes kill 13 children
October 27, 2014
BEIRUT - Syrian government air strikes on two besieged, rebel-held areas of the central province of Homs killed at least 29 people, 13 of them children, a monitoring group said on Sunday.
Sixteen members of the same family were among 22 people killed in raids late Saturday and Sunday on the town of Talbisseh, the Syrian Observatory for Human Rights said, updating an earlier toll. They included 12 children and three women, said the Britain-based monitoring group which has a wide network of sources inside Syria.
Talbisseh was one of Syria's first areas to fall under rebel government control, after the 2011 outbreak of a revolt against President Bashar al-Assad. It has been under total army siege for two years, and near-daily bombardment. In the Waer district on the outskirts of Homs - the only area of Syria's third city still in rebel hands - air strikes late on Sunday killed seven people, including a child, the Observatory said.
Activists say army bombing of densely-populated Waer has escalated in recent weeks, marring hopes of a truce similar to those reached in other parts of the country. The escalation came after 47 children were killed in an October 1 suicide attack at a school in a government-held area of Homs city.
Full report at:
http://nation.com.pk/international/27-Oct-2014/syria-regime-air-strikes-kill-13-children
------------
Egypt's outlawed MB condemns Sinai attacks
October 27, 2014
CAIRO - Egypt's outlawed Muslim Brotherhood has condemned attacks in the Sinai Peninsula that killed at least 33 security personnel on Friday but said President Abdel Fattah al-Sisi was responsible for security failures.
The attacks are a setback for the government, which had managed over the past few months to make some progress in the struggle against an Islamist militant insurgency in the Sinai as it focuses on trying to repair the economy. As army chief Sisi ousted elected President Mohamed Mursi of the Brotherhood in July 2013 after protests against his rule.
His government has since cracked down on Egypt's oldest and most organised Islamist movement, throwing thousands of Mursi's supporters in jail and labelling the group a terrorist organisation. It draws no distinction between the Brotherhood and Islamist militants in the Sinai.
Full report at:
http://nation.com.pk/international/27-Oct-2014/egypt-s-outlawed-mb-condemns-sinai-attacks
------------
Egypt army to join police to guard key facilities
October 27, 2014
CAIRO (AP) — The Egyptian president has ordered that the military will join police forces in guarding vital state facilities against terror attacks.
President Abdel-Fattah el-Sissi issued the order in a decree Monday.
It follows a surge in attacks by Islamic militants against troops and police. Thirty Egyptian soldiers were killed on Friday by suspected militants in the troubled northern part of the Sinai Peninsula. It was deadliest attack against the army in decades.
Full report at:
http://www.chron.com/news/world/article/Egypt-army-to-join-police-to-guard-key-facilities-5849938.php
------------
Iraqi forces seize four villages after victory near Baghdad
October 27, 2014
BAGHDAD - Iraqi government forces retook four villages on Sunday near a mountain ridge overlooking Islamic State supply lines, security officials said, in a campaign which has struggled to make advances against the Sunni Islamist insurgents.
Iraqi security forces backed by Shi'ite militias gained some momentum on Saturday in their bid to loosen the grip of Islamic State, which controls large swathes of territory in the north and west of the country. After months of fighting they drove Islamic State militants out of Jurf al-Sakhar, just south of Baghdad, while Kurdish fighters regained control over the town of Zumar in the north.
Sunni insurgents have been moving fighters, weapons and supplies from western Iraq through secret desert tunnels to Jurf al-Sakhar, Iraqi officials have said. Now it appears government forces may be able to disrupt that network. Iraqi security forces backed by Shi'ite militias launched an assault on Saturday on areas around the Himreen mountains, a hotbed of militant activity 100 km (60 miles) south of the oil city of Kirkuk.
On Sunday they seized control of four villages in the area, security officials said, adding that it was very difficult to accelerate efforts to capture more territory because of roadside bombs and booby-trapped houses. 'We have decided to make slow advances. We hold the ground, set up watch towers, clear the explosives and build sand barriers to prevent the armed men from returning,' army major Ahmed Nu'aman told Reuters by telephone.
The operation is designed to isolate Islamic State fighters controlling the towns of Jalawla and Saadiya and cut off the areas they seized northeast of the city of Baquba, which is held by Iraqi security forces and Shi'ite militias. Government forces and Kurdish peshmerga fighters have been trying for months to take over Jalawla and Saadiya, located northeast of Baghdad.
Islamic State swept through northern Iraq in the summer, facing little resistance from U.S.-trained government troops. The al Qaeda offshoot then declared a caliphate and threatened to march on Baghdad, rattling the Shi'ite-led government and intensifying sectarian bloodshed. While U.S. airstrikes on Islamic State targets in Iraq and Syria may have disrupted their operations, it is hard to tell whether the campaign can defeat the insurgents who want to redraw the map of the Middle East.
Full report at:
http://nation.com.pk/international/27-Oct-2014/iraqi-forces-seize-four-villages-after-victory-near-baghdad
------------
Egypt court orders arrest of leading activist Abdel Fattah
27 October, 2014
An Egyptian court detained leading activist Alaa Abdel Fattah and 20 others on Monday pending a retrial on charges of breaking a law that seeks to curb protests, judicial sources said.
Abdel Fattah, a well-known secular figure in the 2011 revolt that ended Hosni Mubarak's rule, and 24 fellow activists had been freed on bail last month pending a retrial after the presiding judge in their case stepped aside.
The first hearing in their retrial was held on Monday and the 21 activists who were attended were all detained. The remaining four were absent, but the court also ordered that they be detained.
The judge set Nov. 11 as the date of the next hearing. (Reuters)
http://www.haaretz.com/news/middle-east/middle-east-updates/1.622945
-------
Rise in MERS cases prompts Saudi warning to residents
27 October, 2014
Saudi Arabia's Health Ministry on Monday urged residents of the world's top oil exporter to renew precautions against Middle East Respiratory Syndrome (MERS) after a rise in new cases of the disease since early September.
The Health Ministry has announced a total of 23 confirmed new cases this month of the virus, which causes coughing, fever and sometimes fatal pneumonia. In addition to the 12 cases detected in September, this brings the total number in the kingdom to 777 since it was identified in 2012, of which 331 died.
Full report at:
http://www.haaretz.com/news/middle-east/middle-east-updates/1.622945
-------
218 Saudis charged with smuggling Haj pilgrims into holy sites
26 October 2014
Seasonal administrative committees at the General Directorate of Passports in Al-Shumaisi and Taif have charged 218 citizens and 36 residents with smuggling illegal and unlicensed pilgrims into the holy sites during Haj.
The director general of the Passport Department in Makkah, Col. Khlaf Allah Al-Tuwairqi, said the committees also booked 53 vehicles whose owners have been arrested for helping transport illegal pilgrims more than once.
Al-Tuwairqi called on visitors coming to the Kingdom to perform Haj or Umrah to comply with the laws of the land and leave the country after completing their religious duties before the expiry of their visas.
Meanwhile, the General Directorate of Passports issued a list of possible penalties against those found violating any of the regulations.
Any individual involved in transporting pilgrims without a license faces a fine of SR100,000 and a jail sentence of up to two years. Any pilgrim who attempts to perform Haj without obtaining a necessary permit will be immediately deported and denied entry to the Kingdom for 10 years. Pilgrims or groups who do not depart the country on expiration of their visas will be subject to a fine of SR15,000 and immediate deportation upon their first offense. A second offense will incur a fine of SR25,000, a 3 month prison term and deportation effective immediately.
Full report at:
http://www.arabnews.com/saudi-arabia/news/650761
------------
Manual issuance of visas for house workers halted
26 October 2014
The Ministry of Labor has halted the manual acceptance or issuance of domestic worker visas amid several reforms aimed at curbing high employee turnover rates and protecting the rights of domestic workers.
Under the new decision, which took effect Saturday, applications for hiring domestic labor will be submitted exclusively online through the ministry's Musaned system.
The new system will also unify recruitment fees at SR2,000, much to the relief of countless Saudi families that had reportedly been duped into paying as much as SR20,000 by recruitment agencies to hire maids and drivers.
Saad Al-Baddah, chairman of the National Recruitment Committee (NRC) at the Saudi Council of Chambers, confirmed the new measure would "increase transparency and ensure a hassle-free hiring process."
Under the previous manual system, which allowed applicants to submit requests for hiring manpower at Labor Ministry offices, many workers would eventually run away for alleged nonpayment of salaries and long working hours.
Several employers would, however, deny these allegations, but authorities would have no way of knowing who was right.
"Going electronic is bound to reduce the number of complaints and grievances voiced by expat workers and hiring losses incurred by Saudi employers," he said.
Labor-exporting countries have become increasingly reluctant to send their nationals to the Kingdom amid a large volume of controversial grievances.
Indonesia, a major labor-exporting country, has stopped sending workers, while the Philippines, Sri Lanka, India and other countries are involved in discussions with their Saudi counterparts to come up with mechanisms and guarantees to protect the rights of their workers.
Full report at:
http://www.arabnews.com/featured/news/650326
------------
Militants threaten to kill Lebanon prisoners
26 October 2014
BEIRUT: Al-Qaeda's Syrian affiliate threatened Sunday to kill Lebanese soldiers it captured in fighting in August unless the army halts operations against IS militants in Lebanon's second city Tripoli.
The Lebanese Army, meanwhile, said gunmen kidnapped a soldier from his home in the port city, the second seized in northern Lebanon since Saturday.
Al-Nusra Front, which has previously executed one captive Lebanese soldier, issued its threat after troops cleared militants from Tripoli's historic bazaar district Saturday in an operation that left one civilian and a militant dead.
Many of the militants managed to withdraw to the Bab Al-Tebbaneh district of the city, a Sunni Islamist stronghold, where troops were engaged in heavy fighting on Sunday, an AFP correspondent reported.
The army's offensive against the militants, who are suspected of having links to Al-Nusra, sparked attacks on troops across the Tripoli region that left six dead.
"We warn the Lebanese Army against any military escalation targeting Sunnis in Tripoli," the Al-Nusra statement said. "We call on it to lift its siege and accept a peaceful solution, or else we will be forced in the coming hours to bring closure to the issue of the soldiers we are holding hostage, given that they are prisoners of war."
Full report at:
http://www.arabnews.com/middle-east/news/650656
------------
Mideast
Yemeni jets, US drone kill '20 Al Qaeda militants'
October 27, 2014
SANAA: Yemeni troops and a US drone struck positions held by Al Qaeda suspects and Sunni tribes on Sunday, killing over a dozen militants battling Shia rebels, tribal sources said.
The rebels, known as Houthis, have been facing fierce resistance from Al Qaeda fighters and tribesmen as they seek to expand their areas of control after seizing the capital Sanaa and the Red Sea port city of Hudeida.
Clashes broke out on Friday evening when Houthi fighters trying to wrest control of the mountains around the central town of Rada, in Baida province, met resistance from Sunni militias, tribal sources said.
Also read: Al Qaeda attack kills two Yemeni soldiers
On Sunday, the rebels took over several of these areas after a suspected US drone and army jets raided the positions held by Al Qaeda and the Sunni tribesmen, tribal sources said.
One source said that "20 Al Qaeda militants" were killed in the strikes, although the toll could not be confirmed from independent sources.
The rebels took control of Sanaa on September 21 after orchestrating weeks of protests that paralysed the government.
They then pushed south earlier this month, meeting little or no resistance from security forces.
Full report at:
http://www.dawn.com/news/1140566/yemeni-jets-us-drone-kill-20-al-qaeda-militants
------------
Israel green lights plans for 1,000 Jerusalem settler homes
October 27, 2014
JERUSALEM: The Israeli government has given the green light for the planning of more than 1,000 new Jewish settler homes in annexed Arab east Jerusalem, an official told AFP on Monday.
"The government has decided to advance the planning of more than 1,000 units in Jerusalem — roughly 400 in Har Homa and about 600 in Ramat Shlomo," the official in Prime Minister Benjamin Netanyahu's office said in English, referring to two existing east Jerusalem settlements.
He did not elaborate and declined to comment on the likely political and diplomatic impact of such a move at a time when Palestinians and the international community are already incensed at latest settler moves in the east Jerusalem neighbourhood of Silwan, where there have been almost nightly clashes for months.
Full report at:
http://www.dawn.com/news/1140698/israel-greenlights-plans-for-1000-jerusalem-settler-homes
------------
Palestinians barred from Israeli West Bank buses
October 27, 2014
JERUSALEM - Palestinians will be effectively banned from riding the same buses as Israeli settlers in the West Bank, local media said Sunday, with a rights group slamming the plan as 'racial segregation'.
Hundreds of Palestinians travel each day to work in Israel from the occupied West Bank, mainly in the construction business, using a single crossing point at Eyal where they present travel permits. Currently they are allowed to return to the West Bank on the same buses as Israeli settlers. But a new measure announced by Israeli Defence Minister Moshe Yaalon, due to go into effect next month, will require them to again check in at the Eyal crossing point, the Haaretz daily reported. The workers would have to find separate transportation from that point on.
Full report at:
http://nation.com.pk/international/27-Oct-2014/palestinians-barred-from-israeli-west-bank-buses
------------
Turkey held 5 over deadly attack blamed on PKK
October 27, 2014
ISTANBUL - Turkey on Sunday arrested five people over the killing of three off-duty soldiers in the Kurdish-majority southeast of the country blamed by the authorities on separatist militants, the official Anatolia news agency.
The three soldiers were gunned down in the middle of the afternoon Saturday while walking in the town centre of Yuksekova in the eastern Hakkari province. The army blamed the attack on the separatist Kurdistan Workers Party (PKK), which has waged a three decade insurgency for self-rule but largely observed a ceasefire since March 2013.
As part of the investigation, police conducted several morning raids on addresses in Yuksekova, Anatolia said. Five suspects named as Mesut K., Islam B., M.Ali A., Orhan B. and Bayram A. were arrested and being interrogated, it said. The attack, for which so far no claim of responsibility has been made, dealt a heavy blow to efforts led by the ruling Justice and Development Party (AKP) to make peace with the Kurds.
In a new crime linked by some Turkish media to the PKK, the corpse of a village guard who had been missing for two months was found hanging from a telegraph post in the Tatvan district of the southeastern Bitlis region. President Recep Tayyip Erdogan said in comments published on Sunday he believed that neither the PKK or Turkey's main pro-Kurdish political party the People's Democratic Party (HDP) wanted peace.
Full report at:
http://nation.com.pk/international/27-Oct-2014/turkey-held-5-over-deadly-attack-blamed-on-pkk
------------
Gaza truce talks in Cairo held back, say Palestinians
26 October 2014
RAMALLAH, Palestine: Israeli-Palestinian talks on a lasting Gaza truce are to resume after mid-November, instead of Monday as initially planned, the chief Palestinian negotiator Azzam Al-Ahmad told AFP Sunday.
The announcement came after other Palestinian officials said the talks had been postponed due to Egypt's closure of the Rafah border crossing with the Gaza Strip.
Full report at:
http://www.arabnews.com/middle-east/news/650651
------------
Africa
Cameroon army kills 39 Boko Haram fighters
October 27, 2014
YAOUNDE - Cameroonian troops killed 39 Boko Haram fighters in clashes with the Islamists, who were carrying out three raids on Cameroon's territory, the defence ministry said Sunday.
Friday's fighting in the far north of Cameroon near Nigeria also claimed four civilian lives, the ministry said in a statement sent to AFP. Boko Haram rebels, who have been waging attacks in northern Nigeria and who kidnapped more than 200 school girls there in April, frequently cross into neighbouring Cameroon.
Full report at:
http://nation.com.pk/international/27-Oct-2014/cameroon-army-kills-39-boko-haram-fighters
------------
Boko Haram kills 17, kidnap 30 young men, women – Official
October 27, 2014Ola' Audu
The caretaker chairman of Mafa Local Government Area of Borno State, Shettima Maina, said on Sunday that suspected Boko Haram gunmen attacked communities in the council and kidnapped some residents.
Mr. Maina told journalists in Maiduguri that at least 17 people were killed by the gunmen whose attack on the communities started on Wednesday. He said 30 young men and women were also abducted by the insurgents.
The Borno State Police Command, however, said it is not aware of the attacks while an official of the Department of State Security, DSS, said the abductions could not have been in one swoop.
"We have received reports of series of attacks in communities near Mafa since last week, and during the attack Boko Haram used to pick younger ladies and boys and forcefully take them away," a DSS official who sought anonymity said on Sunday. "But we are not sure if there was a bigger kidnap that may have involved up to 30 girls.
A local vigilante official, Abbas Gava, told PREMIUM TIMES that the Boko Haram gunmen abducted about 25 women between Wednesday and Thursday last week; but only left with young ladies, leaving the older women behind.
Full report at:
https://www.premiumtimesng.com/news/headlines/170190-boko-haram-kill-17-kidnap-30-young-men-women-official.html
------------
Somalia: Jubaland forces clash with Al Shabaab, Militants take over village
Oct 26, 2014
KISMAYO, Somalia Oct 26, 2014 (Garowe Online)-As Somalia Federal Government is striving to fend off Islamist threats in southern and central Somalia, Jubaland forces clashed with Al Shabaab militants in deadly battle, Garowe Online reports. The fighting raged after Jubaland forces in armoured fighting vehicles began to thrust into Abdalla Biroole village which lies a few kilometers away from the southern port city of Kismayo on Saturday afternoon on their way to Bulo Haji vicinity. Al Shabaab militants ambushed Jubaland convoy along the road leading to Bulo Haji, 20 km west of Abdalle Birole, with residents of Bulo Haji disclosing that subsequent armed confrontation lasted nearly seven hours. Meanwhile, speaking with Garowe Online correspondent on condition of the anonymity because of the sensitivity of the matter, Jubaland forces commander said they lost 11 soldiers in the battle, and confirmed that Abdalle Birole fell to Islamist insurgents. Jubaland President Sheikh Ahmed Mohamed Islam (Madobe) who had been on visit to Raskamboni right away returned to Kismayo, holding talks with army commanders in nearby Turqato village. Beleaguered Al Shabaab militants are said to have shifted balance from fertile hinterland along Jubba River to hotbeds, west of Kismayo. - See more at: http://www.garoweonline.com/page/show/post/713/somalia-jubaland-forces-clash-with-al-shabaab-militants-take-over-village#sthash.Cq5brQSb.dpuf
http://www.garoweonline.com/page/show/post/713/somalia-jubaland-forces-clash-with-al-shabaab-militants-take-over-village
------------
South Asia
Return of the shoe in front of Baitul Mukarram, Bangladesh
October 27, 2014
It was a funeral in front of Baitul Mukarram where people threw shoes at Ghulam Azam in January 1981 as he made his first appearance at any big public gathering after returning to independent Bangladesh.
Thirty-three years have passed but he continues to draw the same ire, even after his death. A young man yesterday threw his sandal at the hearse carrying the infamous war criminal's body to Baitul Mukarram.
"When I saw the hearse pass by, I couldn't control myself. I threw a sandal on impulse," said the youth.
He was among those who gathered in front of the Jatiya Press Club around 11:30pm to prevent the funeral of Ghulam Azam from taking place at the national mosque. They included members of Blogger and Online Activist Network, Chhatra Moitree and Bangladesh Sammilito Islamic Jote.
The protesters tried to reach the mosque marching in a procession but faced police obstruction at the Paltan intersection and thus waited near the police box for about an hour.
As the azan from the mosque was heard through loudspeakers, the hearse, with a motorcade in the front and several truckloads of people at the back, reached the intersection.
"It was about 1:05pm when I saw a young man throw a sandal at the car [hearse]. The Jamaat men escorting the car pounced on him, but police acted quickly and drove away the protesters," said an eyewitness, wishing anonymity.
However, Azam's Janaza conducted by his son Abdullahil Aman Azmi was held at Baitul Mukarram, and later he was buried at his family graveyard at the capital's Moghbazar.
"How can a person who read history of Liberation War not despise Ghulam Azam and other razakars for what they did in 1971?" said the 28-year-old youth, son of a freedom fighter, while talking to The Daily Star.
Only 10 days after horrid massacre of the Bangalees on the night of March 25, 1971, Ghulam Azam met Pakistani General Tikka Khan, nicknamed butcher of Beluchistan, the very person who was one of the masterminds of the killings.
The Daily Pakistan on April 6, 1971 reported on the meeting where Azam, the then ameer of East Pakistan Jamaat-e-Islami, and leaders of other anti-liberation political parties assured Tikka Khan of all help.
Azam played the key role in forming notorious militia groups like Peace Committee, Razakar, Al-Badr and Al-Shams that collaborated with the Pakistan occupation military in committing genocide and other heinous crimes against humanity.
Full report at:
http://www.thedailystar.net/frontpage/return-of-the-shoe-47404
------------
Afghanistan's Re-Emerging Baloch
By Karlos Zurutuza
September 26, 2014
"We are the only nation that has fluent relations with all the rest in the country," claims Abdul Sattar Purdely. A former MP during the rule of Mohammad Najibullah (1987-1992), Purdely today is a professor, writer, and one of the main advocates for the Baloch language and culture in Afghanistan. In his late sixties, he looks tireless.
"In coordination with the Afghan Ministry of Education, I have written the schoolbooks in Balochi up to the 8th grade (15 years old) and they're already being used at three schools," Purdely tells The Diplomat just before producing the full set of volumes.
In the absence of comprehensive census data, Purdely puts the population of Afghan Baloch at about two million, "not all of them being Balochi speakers." However, the Baloch in Afghanistan are just a tiny portion of a people divided today by the borders of Iran, Pakistan and Afghanistan, living in a vast swathe of land the size of France. Theirs is a rugged terrain that boasts enormous deposits of gas, gold and copper, untapped sources of oil and uranium, as well as a thousand kilometers of coastline near the entrance to the Strait of Hormuz.
But despite the wealth under their sandals, the Baloch inhabit the most underdeveloped regions of their respective countries. Afghanistan is no exception.
The three schools the professor points to are in Afghanistan's remote Nimroz province, the only one that shares borders with Iran and Pakistan. In Nimroz, Afghanisan's Baloch minority are the majority.
Zaranj, the provincial capital located 900 km southwest of Kabul, lies within walking distance of the official border with Iran, across the Helmand river. For centuries, the local Baloch have lived on the banks of one of the country's main water sources, but the droughts of the past ten years have forced many families to leave their native land. Officials at the water supply department in Zaranj told The Diplomat that Iran is to blame for diverting and storing water from the Helmand river. But accusations go beyond interference in the water supply.
"Tehran is constantly trying to quell any Baloch initiative here, in Nimroz, as they consider it a potential threat to their security," Mir Mohamad Baloch, who describes himself as a "political and cultural activist," says.
Full report at:
http://thediplomat.com/2014/09/afghanistans-reemerging-baloch/
------------
British forces hand over control of last base in Afghanistan
October 27, 2014
CAMP LEATHERNECK: British forces on Sunday handed over formal control of their last base in Afghanistan to Afghan troops, ending combat operations in the country after 13 years which cost hundreds of lives.
The Union Jack was lowered at Camp Bastion in the southern province of Helmand, while the Stars and Stripes came down at the adjacent Camp Leatherneck, the last US Marine base in the country.
All Nato combat troops will depart Afghanistan by December, leaving Afghan troops and police to battle Taliban insurgents on their own.
The huge joint base built in the desert near the provincial capital Lashkar Gah was the most important installation for the Nato mission in Afghanistan.
Between 2010 to 2011, it housed almost 40,000 foreigners including sub-contractors.
Hundreds of US Marines and British troops are set to leave Helmand soon, though the precise date has not been revealed for security reasons.
In a ceremony Sunday the Afghans took formal control of the base, despite already being present in a portion of it. The British and US flags were lowered, leaving only Afghanistan's national flag to flutter in the breeze.
Britain's Defence Secretary Michael Fallon paid tribute to his nation's role in fighting the Taliban.
A total of 453 British troops and 2,349 Americans were killed.
"It is with pride that we announce the end of UK combat operations in Helmand, having given Afghanistan the best possible chance of a stable future, "he said in a statement from London.
Many facilities such as pipelines, buildings, roads and even office furniture remain in place, with the US alone estimating $230 million worth of equipment is being left behind.
Marine General Daniel D. Yoo, regional commander, said the Afghan army is now now capable of taking over the reins.
"I'm cautiously optimistic they will be able to sustain themselves. I know from my experience that they have the capability and the capacity if they allocate the resources properly," he said.
"We're very proud of what we've accomplished here," added the officer, who was among the first Marines on the ground in autumn 2001, when a US-led coalition toppled the Taliban who had been in power since 1996.
Full report at:
http://www.dawn.com/news/1140517/british-forces-hand-over-control-of-last-base-in-afghanistan
------------
Crisis over fleeing Rohingya Muslims
2014-10-26 07:27
Yangon - A growing sense of desperation is fuelling a mass exodus of Rohingya Muslims from western Myanmar, with the number who have fled by boat since communal violence broke out two years ago now topping 100 000, a leading expert said on Saturday.
Chris Lewa, director of the non-profit advocacy group Arakan Project, said there has been a huge surge since 15 October, with an average of 900 people per day piling into cargo ships parked off Rakhine state.
That's nearly 10 000 in less than two weeks, she noted, one of the biggest spikes yet.
Myanmar, a predominantly Buddhist nation of 50 million that only recently emerged from half a century of military rule, has an estimated 1.3 million Rohingya.
Though many of their families arrived from neighbouring Bangladesh generations ago, almost all have been denied citizenship. In the last two years, attacks by Buddhist mobs have left hundreds dead and 140 000 trapped in camps, where they live without access to adequate health care, education or jobs.
Lewa, who has teams monitoring embarkation points, is considered the leading authority on the number of fleeing Rohingya. But boats are now shoving off from more and more places, she said, and it's becoming increasingly difficult to keep track of how many are leaving.
Aggressive campaign
"The real number may be higher," Lewa said.
She said some Rohingya families have received phone calls notifying them that ships from the latest exodus have started arriving in neighbouring Thailand, where passengers often are brought to jungle camps, facing extortion and beatings until relatives come up with enough money to win their release.
From there they usually travel to Malaysia or other countries, but, still stateless, their futures remain bleak.
Full report at:
http://www.news24.com/World/News/Crisis-over-fleeing-Rohingya-Muslims-20141026
------------
Southeast Asia
Al-Qaeda Declares War on China, Too
By Zachary Keck
October 22, 2014
Al-Qaeda central appears to have joined the Islamic State in calling for jihad against China over its alleged occupation of Xinjiang Uyghur Autonomous Region.
This week, al-Sahab media organization, al-Qaeda's propaganda arm, released the first issue of its new English-language magazine Resurgence. The magazine has a strong focus on the Asia-Pacific in general, with feature articles on both India and Bangladesh, as well as others on Afghanistan and Pakistan.
However, the first issue also contains an article entitled "10 Facts About East Turkistan," which refers to the name given to Xinjiang by those who favor independence from China. The ten facts seek to cast Xinjiang as a longtime independent state that has only recently been brutally colonized by Han Chinese, who are determined to obliterate its Islamic heritage.
"In the last 1,000 years of its Islamic history," the article says, Xinjiang "has remained independent for 763 years, while 237 years have been spent under Chinese occupation at various intervals."
This occupation has been costly, the article argues, alleging that: "In 1949, 93 percent of the population of East Turkistan was Uyghur, while 7 percent was Chinese. Today, as a result of six decades of forced displacement of the native population and the settlement of Han Chinese in their place, almost 45 percent of the population of East Turkistan is Chinese."
The article goes on to claim that teaching the Quran in Xinjiang is punishable by up to ten years in prison, and that Muslim women caught wearing the hijab can be fined more than five times the average annual income of the area. Al-Qaeda also claims that following its takeover of the mainland in 1949, the Chinese Communist Party murdered some 4.5 million Muslims in Xinjiang. The group further claims that China has conducted no less than 35 nuclear weapon tests in Xinjiang, and the radioactive fallout from these are estimated to have killed 200,000 Muslims. In 1998 alone, the article adds, 20,000 babies were born deformed in Xinjiang as a result of these nuclear tests.
Although "10 Facts About East Turkistan" stops shorting of calling for jihad against China, the point is more directly articulated elsewhere in the first issue of Resurgence. For example, one article says that the "the victory of the Ummah" will be a "deathblow" and a "bitter defeat… for America, Iran, Russia, China and all those who have fought this war by proxy against Muslims." In a particularly troubling article for China and other state actors, al-Qaeda calls on its followers to try to disrupt shipping in the Strait of Hormuz and Strait of Malacca, noting the waterways' centrality for China and other Asian economies in particular.
Al-Qaeda central's sudden focus on China follows closely on the heels of the Islamic State also condemning Beijing for its handling of its Uyghur Muslim population. Back in July, IS leader Abu Bakr Al-Baghdadi gave a speech in which he argued "Muslim rights are forcibly seized in China, India, Palestine" and many other countries around the world. Later, IS released a map that outlined the borders of its envisioned Caliphate. Notably, Xinjiang province was included in the Caliphate.
Full report at:
http://thediplomat.com/2014/10/al-qaeda-declares-war-on-china-too/
------------
China to Amend Anti-terror Law and to Set Up Anti-terrorism Intelligence System
27/10/2014
MOSCOW, October 27 (RIA Novosti) – Beijing will set up a national anti-terrorism intelligence system and amend the country's anti-terror law in a move that it hopes will improve intelligence gathering and the sharing of information across government departments, China's Xinhua news agency reports.
The decision was made in the wake of an upsurge in violence in the far western region of Xinjiang, which has left hundreds dead over the past two years. The ongoing conflict is being blamed by Beijing on Islamists who want to establish a separate state called East Turkestan.
According to the agency, the most recent attacks in Xinjiang have pointed to serious intelligence failures despite the massive security presence there.
Improving China's anti-terror law will also assist in "bettering international cooperation in the fight", it added.
Full report at:
http://en.ria.ru/world/20141027/194657262/-China-to-Amend-Anti-terror-Law-and-to-Set-Up-National.html
---------
Iranian nationals arrested in Malaysia for alleged drug trafficking
Seven Iranian nationals, including two women, were arrested in the Malaysian capital for allegedly trafficking drugs, a senior police official said Monday.
Police also arrested a Malaysian woman believed to be an accomplice, anti-narcotics chief Noor Rashid Ibrahim said in a press briefing.
Full report at:
http://www.haaretz.com/news/middle-east/middle-east-updates/1.622945
-------
Future of human rights in Southeast Asia remains bleak
October 27 2014
The future of human rights in Southeast Asia remains gloomy, an official has said, with little progress having been made by ASEAN in applying the Declaration of Human Rights since the establishment of the ASEAN Intergovernmental Commission on Human Rights (AICHR) in 2009.
Former Indonesian foreign minister Nur Hassan Wirajuda highlighted the Terms of Reference (TOR) of AICHR, which, he said, had caused progress to be slow.
"The [fourteen] existing mandates [that can be found in the TOR] are weak and unbalanced. For me, [the standard of] AICHR's TOR is far below international and regional standards," he said during a recent event in Central Jakarta entitled "Multi-stakeholder Panel on the Future of Human Rights in ASEAN Community: Opportunities and Challenges".
Hassan argued that the TOR failed to promote the protection of human rights, which explained why several ASEAN members seemed uninterested in furthering democracy.
"We made good progress in Myanmar because it had adopted democracy. But now Myanmar has 'exported' its military junta to Bangkok [Thailand's capital city]," said Hassan, who was foreign minister from August 2001 to October 2009.
He said that he was also disappointed by the fact that after he left the foreign minister's post, Indonesia did not provide "effective intellectual leadership" to promote human rights in ASEAN.
Before 2009, Indonesia had not only been successful in convincing ASEAN members to develop the ASEAN Human Rights Body, but also in convincing them to make the legal statement official.
However, he continued, Indonesia then failed to encourage other ASEAN members to translate the principles into concrete actions.
Full report at:
http://www.thejakartapost.com/news/2014/10/27/future-human-rights-southeast-asia-remains-bleak.html
------------
Sex education campaign to be rolled out on Indonesian Youth Pledge Day
October 26 2014
A flag-raising ceremony is usually the norm to commemorate the historical moment when a group of Indonesian youths proclaimed three ideals — one motherland, one nation and one language — on Oct. 28, 1928, now known as Youth Pledge Day.
However, youngsters may instead find themselves rocking out to local tunes in Taman Menteng in Central Jakarta on Sunday, as part of a campaign by the Seperlima group to promote sex education.
The five organizations that constitute Seperlima — youth group Pamflet, the Indonesian Family Planning Association (PKBI), the Center for Education and Information on Islam and Women's Rights Issues (Rahima), Dutch NGO Hivos and the University of Indonesia's Gender and Sexuality Research Center — are holding the third Festival Seperlima with the theme "Beda Itu Biasa" (Different is Normal) in commemoration of Youth Pledge Day.
Pamflet coordinator Afra Suci Ramadhan told The Jakarta Post that the campaign's main objective was to promote the importance of sex education for youths, using the music and film event as a way of reaching out to young people in a relatable way.
"We chose this theme in honor of the Youth Pledge. We want to encourage pluralism and unity among young Indonesians, and sex education is one way of doing so. People learn how to respect themselves and each other when they are given sex education and that is also a key principle of the Youth Pledge," she said.
Last year, campaign events were held in October at 365 Eco Bar in Kemang, South Jakarta, and in April at the National Museum in Central Jakarta.
However, Afra said, Seperlima wanted to hold the Oct. 26 event in a free open space so that it would be more accessible to the public.
Full report at:
http://www.thejakartapost.com/news/2014/10/26/sex-education-campaign-be-rolled-out-youth-pledge-day.html
------------
Kontras: Ryamizard Appointment Shows Jokowi 'Negligent' on Human Rights
By Farouk Arnaz & Ezra Sihite
Oct 27, 2014
Jakarta. The Commission for Missing Persons and Victims of Violence (Kontras) says the appointment of a controversial former general to the new cabinet shows President Joko Widodo is "negligent" towards human rights issues.
The prominent human rights group has struck out at Joko's decision to name Gen. (ret.) Ryamizard Ryacudu the country's defense minister, saying his involvement in operations against the Free Aceh Movement (GAM) and the Free Papua Organization (OPM) made him unsuitable for the role.
"Ryamizard's appointment shows that our president is negligent towards human rights and the defense sector," Kontras coordinator Haris Azhar said on Sunday evening.
The retired general was one of 34 ministers announced in Indonesia's new cabinet at the State Palace on Sunday.
Ryamizard was Army chief of staff between 2002 and 2005 and chief of the Army's strategic command (Kostrad) between 2000 and 2002. He was involved in Indonesia's invasion of East Timor, but has been singled out by Kontras for his role overseeing operations in Aceh and Papua.
Haris said that Ryamizard's "sins" included his leadership role during the implementation of martial law by the Indonesian Armed Forces (TNI) in Aceh following the collapse of peace talks in 2003. A report by Human Rights Watch published in 2003 voiced concern about serious abuses of international human rights and humanitarian law committed by both the TNI and GAM forces during the period.
Full report at:
http://thejakartaglobe.beritasatu.com/news/kontras-ryamizard-appointment-shows-jokowi-negligent-human-rights/
------------
Singaporean grilled in Batam for exporting US bomb devices
October 27 2014
Riau Islands Police are intensively questioning Singaporean Lim Yong Nam, 40, who is wanted by the US Department of Justice for allegedly exporting electronic devices used to make bombs in Iran and Iraq.
The US Department of Justice has requested that the Indonesian police arrest Lim and extradite him to the US, but the Singaporean government has been carrying out efforts to stop its citizen being extradited, arguing that he did not violate the law.
Through the Singaporean Consulate in Batam, the Singaporean government has continued to provide Lim with consular aid since he was arrested by immigration officers at the Batam Center Ferry Terminal Port on Friday.
"We provide aid according to the consular convention," said Gavin Chay, consul of the Republic of Singapore in Batam, said on Sunday.
He was referring to the 1963 Vienna Convention on consular relations. Yet, he declined to give detailed information regarding his country's efforts to prevent Lim Yong Nam from being extradited by Indonesia.
Lim Yong Nam is one of four Singaporeans accused of exporting radio modules produced by the US to Iran through Singapore.
The four were identified as Wong Yuh Lan, Lim Yong Nam, Lim Kow Seng and Benson Hia Soo Gan.
Two of the four Singaporeans were extradited but Lim Yong Nam was not because he was not considered to have committed any wrongdoings in Singapore.
Full report at:
http://www.thejakartapost.com/news/2014/10/27/singaporean-grilled-batam-exporting-us-bomb-devices.html
------------
Europe
London march backs Kashmiris' struggle
October 27, 2014
LONDON: Thousands of people took part in a march here on Sunday to express solidarity with the people of Kashmir and support their decades-long struggle for the right to self-determination and to protest human rights violations by Indian troops in the occupied region.
The march which started from London's Trafalgar Square and concluded at 10 Downing Street was attended by PPP Chairman Bilawal Bhutto Zardari, his sister Assefa, leaders of Pakistan's religious and political parties, including the Muttahida Qaumi Movement, and members of civil society.
Also read: Held Kashmir: submerged and suppressed
Addressing the participants, former Azad Kashmir prime minister Barrister Sultan Mehmood said: "We have gathered here to express solidarity with the Kashmiris and draw attention of the international community to the Kashmir issue".
He said the struggle would continue till the independence of Kashmir in accordance with UN resolutions.
Full report at:
http://www.dawn.com/news/1140595/london-march-backs-kashmiris-struggle
------------
Muslim inmate at Prison planned kidnap and escape, IS Flag Found in Cell
26 October 2014
Detailed plans to kidnap a prison officer in a bid to escape from the Isle of Wight Prison were found in the cell of a Muslim inmate.
An internal Prison Service document, seen by the BBC, reveals an Islamic State, or ISIS, flag was also found in the cell at the jail's Parkhurst site.
The prisoner was placed in the jail's close supervision unit.
A Ministry of Justice (MoJ) spokesman said security measures had been shown to be "robust" by the discovery.
'Detailed' plans
Full report at:
http://www.bbc.com/news/uk-england-hampshire-29775729
------------
Divided Ukraine votes under shadow of war
October 27, 2014
KIEV - A divided Ukraine voted Sunday in parliamentary elections expected to back President Petro Poroshenko's pro-Western reforms and test support for his plan to negotiate with pro-Russian insurgents threatening to break up the country.
Reformers and nationalists supporting a drive to steer Ukraine out of Russia's sphere of influence were expected to dominate. The Petro Poroshenko Bloc was forecasted to be the biggest party, although needing partners to form a ruling coalition. 'Today we have a new Ukraine,' Poroshenko said after voting in the capital Kiev. 'I hope it will be possible to form a strong, pro-European democratic coalition.'
The snap election came eight months after a street revolt overthrew Moscow-backed president Viktor Yanukovych, sparking conflict with Russia and a crisis in relations between the Kremlin and Ukraine's Western allies. Sunday's election was meant to clear out the last vestiges of the Yanukovych regime.
But the war with pro-Russian rebels in the industrial east, in which 3,700 people have died, and Russia's earlier annexation of the southern Crimean region, cast a long shadow. Voters in Crimea and in separatist-controlled areas of the eastern Lugansk and Donetsk provinces - about five million of Ukraine's 36.5 million-strong electorate - were unable to cast ballots.
Even 25,000 soldiers deployed in the war zone were shut out, Poroshenko said, blaming the outgoing parliament for failing to make provisions. Twenty seven seats in the 450-seat parliament will remain empty. Dressed in camouflage, Poroshenko helicoptered in for a surprise visit to Kramatorsk, a government-held town in the heart of the conflict zone. The dramatic gesture was clearly meant to show that the beleaguered region has not been forgotten.
'Today on territory liberated by Ukrainian servicemen they will vote for the European future of our country,' Poroshenko said in nationally televised remarks. However, the disenfranchisement of the separatist areas and Crimea seemed likely to further cement the once peaceful, now bloody faultline between Ukraine's Russian-speaking east and Ukrainian-speaking west.
Full report at:
http://nation.com.pk/international/27-Oct-2014/divided-ukraine-votes-under-shadow-of-war
------------
ISIS threatens to kill British jihadists
October 27, 2014
British jihadi fighters desperate to return home from Syria and Iraq are being issued with death threats by the leadership of Islamic State (ISIS), the Observer has learned.
A source with extensive contacts among Syrian rebel groups said senior ISIS figures were threatening Britons who were attempting to travel home. He said: "There are Britons who upon wanting to leave have been threatened with death, either directly or indirectly."
The news comes after it was revealed that another young Muslim from Portsmouth had been killed on the frontline in Syria, the fourth to die from a group of six men known as the "Pompey lads" who travelled together to fight for ISIS.
Meanwhile, the former Guantánamo Bay detainee Moazzam Begg confirmed that he was also aware of dozens of British men keen to return to the UK but who were trapped in Syria and Iraq, in effect held by a group they wanted to leave.
Begg said he knew of more than 30 who wanted to come back. They had travelled to join rebels fighting the Syrian regime of President Bashar al-Assad but had subsequently become embroiled with ISIS, some for language reasons – ISIS had more English-speaking members.
In Syria, Muhammad Mehdi Hassan, 19, from Portsmouth was killed in fighting on Friday. He is understood to have died during the ISIS offensive to capture the Syrian border city of Kobani, which is continuing.
Full report at:
http://www.thedailystar.net/backpage/isis-threatens-to-kill-british-jihadists-47556
------------
The challenges faced by Muslim soldiers in Afghanistan
26 October 2014
BBC Inside Out looks at the experiences of Muslim soldiers fighting for Britain in Afghanistan.
British Muslims who served in Afghanistan say the conflict was not a war against Islam.
There are about 700 Muslims serving in the British armed services but they are rarely heard from or seen, largely due to hostility from extremists within their own community.
But now they have spoken to BBC Inside Out about why they fought for Britain against an enemy of the same faith.
Full report at:
http://www.bbc.com/news/uk-england-29731737
------------
A Museum of rich Jewish life in Poland
October 27, 2014
In the two millennia between ancient Israel and its modern rebirth, Jews never enjoyed as much political autonomy as they did in Poland, a land that centuries later would become intrinsically linked to the Holocaust.
The story of this great flourishing of political and cultural life is part of a 1,000-year history told in a visually striking new museum, the POLIN Museum of the History of Polish Jews, which opens its long-awaited core exhibition to the public on Tuesday amid days of celebrations.
The Polish and Israeli presidents will attend, along with Polish Holocaust survivors who helped create this memorial to the lost world of their ancestors.
Polin is Hebrew for Poland, and also means "rest here," a reference to a story Jews told themselves about their arrival in Poland in the Middle Ages- that they found favour from the rulers and were allowed to dwell there in tranquillity. The result was centuries of a flourishing Yiddish-speaking civilization that made important contributions to Polish and world culture before being nearly wiped out by Nazi Germany.
"The Holocaust has cast a shadow onto this great civilization and the generations of Jews who lived in Eastern Europe before the Second World War, as if those centuries of life were little more than a preface to the Holocaust," museum director Dariusz Stola said. "But that is absurd. This museum stresses that 1,000 years of Jewish life are not less worthy of remembrance than the six years of the Holocaust."
Poland, in a union formed in the 16th century with Lithuania called the Commonwealth, became one of Europe's largest and most ethnically diverse territories. Jews benefited from tolerance and a large degree of self-governance granted by the rulers, growing into the world's largest Jewish community. Today 9 million of the world's 14 million Jews can trace their ancestry to Poland.
Despite their once-significant presence, memory of the Jews all but disappeared from public discourse in Poland in the communist era, leaving post-war generations largely unaware that their country was once a multi-ethnic land where Jews and other religions lived in relative peace, even avoiding the religious wars that devastated other European lands.
Poland's pre-war population of 3.3 million Jews was reduced to 300,000 by Adolf Hitler's genocide, while communist-era persecution drove most of those survivors away. Today there are fewer than 30,000 Jews in Poland, though the community is again growing.
In the post-war decades, "Polish history didn't speak of Jews. It spoke of cemeteries, of the Holocaust, of the ghettos. ... It spoke exclusively of death," said Piotr Wislicki, who heads a Jewish historical association that raised $48 million for the exhibition. "And in the eyes of the world, Poland was just one big cemetery."
Full report at:
http://www.thehindu.com/news/international/a-museum-of-rich-jewish-life-in-poland/article6538248.ece
------------
URL: https://www.newageislam.com/islamic-world-news/new-age-islam-news-bureau/supreme-court-of-india-lifts-restrictions-on-issuing-'fatwa'/d/99744