New Age Islam News Bureau
12 Sept 2019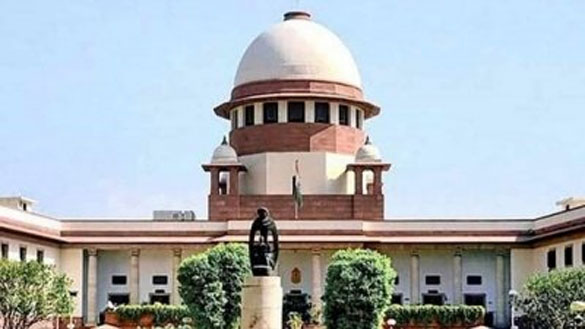 • Supreme Court of India for Inter-Faith and Inter-Caste Marriages, Asks Man to Prove Bona Fide after Conversion from Islam to Hinduism
• Jamiat Ulama-i-Hind Backs Article 370 Abrogation: Kashmir's Welfare Lies in Integration with India
• Gun-Toting Cops in Masks Treated Us like Criminals, Say Shia Muslims
• Al-Qaida Chief Calls for Muslims to Attack West in 9/11 Speech
• Muslim World League, Evangelicals Discuss Ways to Promote Coexistence
• Pakistan, 50 Countries Demand Action to End Kashmir Humanitarian Crisis
• An Unsung Hero of the 9/11 Recovery: The Muslim Engineer Who Rebuilt The Pentagon Crash Site As A Chapel
• Muslims in Britain Contributing Positively To British Economy, Says Report
• Iran and Its Proxy Hezbollah Are Partners in The Syrian Regime's Many War Crimes
• Nigeria Detained Children As Young As Five Over 'Boko Haram Links' – Report
• In Trump's Taliban Snub, a Shift of Fortune for Afghanistan's President
India
• Supreme Court of India for Inter-Faith and Inter-Caste Marriages,"Asks Man to • Prove Bona Fide after Conversion from Islam to Hinduism
• Jamiat Ulama-i-Hind Backs Article 370 Abrogation: Kashmir's Welfare Lies in Integration with India
• UAE confers Zayed II Order on outgoing envoy Navdeep Singh Suri
• Killed: J&K terrorist who shot 5-year-old girl in the leg
• Pakistan army using codes via FM transmission to contact terrorists in J&K: Sources
• Ayodhya case: After threat letter, now Muslim board lawyer says clerk assaulted
• Ayodhya hearing: Placing idols in mosque illegal usurpation, Sunni board to SC
• PM Modi invokes 9/11 to call for strong action against terror 'promoters'
• UN chief refuses to intervene on Kashmir issue, asks India-Pakistan to resolve through dialogue
• J&K: LeT militant, who wounded five-year-old girl, shot dead in encounter
• Hyderabad: Afghan hero Ahmad Shah Massoud remembered
--------
Southeast Asia
• Gun-Toting Cops in Masks Treated Us like Criminals, Say Shia Muslims
• This Malaysia Day, let's boycott hate and fear
• Minister wants to take Home Ownership Campaign to China, HK
• US declares Abu Sayyaf leader global terrorist
--------
Arab World
• Al-Qaida Chief Calls for Muslims to Attack West in 9/11 Speech
• Muslim World League, Evangelicals Discuss Ways to Promote Coexistence
• UN: Reconstruction of landmark Mosul mosque to begin in 2020
• Egypt sentences 11 Islamist leaders to life for spying
• US warplanes drop 40 tons of bombs on ISIS-infested island in Iraq
• 5 IS militants killed in anti-terror operation in central Iraq
• Iraqi MP: Washington Blames Israel for Drone Attacks against Hashd Al-Shaabi
• Arab Media: S. Arabia Building Dungeon under MbS Palace
• Egypt Muslim Brotherhood chief, deputy get life for spying
• Saudi Arabia, Cyprus agree to bolster relations on all fronts
• Saudi Arabia leads condemnation of West Bank land grab by Netanyahu
--------
Pakistan
• Pakistan, 50 Countries Demand Action to End Kashmir Humanitarian Crisis
• Baldev's Family Disputes His Minorities Mistreatment Allegation
• Pak failed to convince international community over Kashmir issue, says its interior minister
• Pakistani leaders laud Saudi stand on Netanyahu's annex pledge, draw Kashmir parallels
• Pakistani Official: Kashmir Issue Forced Troop Pullback From Afghan Border
• FM sees risk of 'accidental war' over occupied Kashmir
• All banned outfits members to be brought into mainstream: Ijaz Shah
• Pakistan sees risk of 'accidental war' over Kashmir
--------
North America
• An Unsung Hero of the 9/11 Recovery: The Muslim Engineer Who Rebuilt The Pentagon Crash Site As A Chapel
• Two US Lawmakers Have Expressed Concerns over The Human Rights Situation In Kashmir
• September 11 was terrorism. The NRA and antifa are not.
• Ilhan Omar recounts 'complete horror' of 9/11 attacks after being slammed at NYC memorial
• Pompeo hints that Trump could meet with Iranian President at UN meeting
• On 9/11, Trump vows to hit Taliban 'harder' than ever
• Blast heard near US Embassy in Kabul on 9/11 anniversary
'• We'll see what happens,' Trump says of easing illegal sanctions on Iran
--------
Europe
• Muslims in Britain Contributing Positively To British Economy, Says Report
• UK raises concerns with Iran over detained dual nationals
• Germany's Merkel: We still have every chance of orderly Brexit
• Merkel: Europe has chosen to uphold Iran deal
'• EU will not recognize any changes regarding Jerusalem'
• NATO: Turkey an 'important ally' in fighting terrorism
--------
Mideast
• Iran and Its Proxy Hezbollah Are Partners in The Syrian Regime's Many War Crimes
• Talks with US Meaningless While Sanctions Still In Place, Rouhani Tells Macron
• Iran says Netanyahu's annexation plan means to win reelection
• B-Team promoted 9/11, now leads economic terror on Iran: Zarif
• Netanyahu cannot keep Palestine under occupation forever: Hamas spokesman
• Israeli warplanes launch fresh attacks across besieged Gaza Strip
• Palestinian refugees seek immigration, find Australia most welcoming country
--------
Africa
• Nigeria Detained Children As Young As Five Over 'Boko Haram Links' – Report
• Burkina Faso Threatened With Famine Caused By Terrorism
• Nigeria: Islamic State claims 'tens' of military casualties in 2 Borno attacks
• South Sudan rivals agree to form transitional government by mid-November
• ISIS-affiliated militants kill soldiers in northeast Nigeria
• Saudi involvement conceivable in Nigeria crackdown: Commentator
• 5 killed in landmine blast in Somalia
• 189 Nigerian nationals evacuated from South Africa
• Kenya: About 1800 Amisom Soldiers Killed in Al-Shabaab War, New Report Shows
--------
South Asia
• In Trump's Taliban Snub, a Shift of Fortune for Afghanistan's President
• Taliban terrorists have no place at Camp David
• Afghans fear Trump's Taliban move means more civilians die
• Fidei donum priest feels fulfilled by the mission in Bangladesh
• Afghan forces recapture Kiran Wa Manjan district in Badakhshan province
• Special Forces kill, detain 15 militants; destroy multiple weapons caches of Taliban
• Airstrike kills two senior Taliban leaders in Faryab province
• NATO allies, partners will continue to train and advise Afghan forces: Stoltenberg
Compiled by New Age Islam News Bureau
URL: https://www.newageislam.com/islamic-world-news/supreme-court-india-inter-faith/d/119726
--------
Supreme Court of India for Inter-Faith and Inter-Caste Marriages, Asks Man to Prove Bona Fide after Conversion from Islam to Hinduism
SEPTEMBER 11, 2019
The Supreme Court on Wednesday asked a man, who converted from Islam to Hinduism to marry a Hindu girl, to prove his bona fide.
Noting that he must be "a loyal husband and not only a great lover", a Bench of Justices Arun Mishra and M.R. Shah explained that the court has asked him to prove his good intentions by filing an affidavit only in order to secure the girl's future and safety.
"We want to know whether he has converted for marriage or otherwise... We are not averse to this kind of living together. We are all for inter-faith and inter-caste marriages," the Bench remarked orally.
The case was heard on an appeal filed by the girl's parents for their daughter. They moved the court after the Chhattisgarh High Court recorded the 24-year-old girl's willingness to live with her 'husband.'
The girl's father, represented by senior advocate Mukul Rohatgi, submitted that the marriage was a sham. The man had changed his name merely for the purpose of marriage. He had returned to the fold of Islam.
Mr. Rohatgi said "around 70 policemen came and took her (the girl) away."
"Have you changed your name? Have you taken all legal steps to change the name?" the Bench asked the boy's counsel and senior advocate Rakesh Dwivedi.
Mr. Dwivedi said the court cannot intervene in the choice of a woman to decide whom to live her life with. The lawyer quoted the Hadiya case decision of the Supreme Court, which said the right to choice of partner is part of the fundamental right to life under Article 21.
Mr. Dwivedi said the court could very well summon the girl to gauge her response.
"I will file affidavit on bona fide within three days," Mr. Dwivedi responded.
Senior advocate Gopal Sankaranarayanan, for the girl, submitted she wanted protection from her father.
The Chhattisgarh government said the plea has been moved by "disgruntled parents".
https://www.thehindu.com/news/national/be-a-great-lover-loyal-husband-supreme-court-tells-muslim-man-who-wed-a-hindu-woman/article29392881.ece
--------
Jamiat Ulama-i-Hind Backs Article 370 Abrogation: Kashmir's Welfare Lies in Integration with India
Sep 12, 2019
New Delhi: A leading Muslim organisation on Thursday came out in full support of Jammu and Kashmir's full integration with India and abrogation of Article 370 that granted special status to the state.
At a general council meeting in the national capital, the Jamiat Ulama-i-Hind (JUH) adopted a resolution stating that Kashmir is India's integral part and any separatist movement there would harm the local people's interests.
The resolution states that "Kashmir is an integral part of India and that all Kashmiris are our compatriots. Any separatist movement is harmful not only for the country but for people of Kashmir as well."
The JUH further stated that the welfare of the local people of Kashmir lies in integrating with India and not separatism. The resolution slammed Pakistan and other "inimical forces" for working to destroy Kashmir.
"We feel it's our national duty to protect democratic and human rights of Kashmiri people. Nevertheless, it's our firm belief that their welfare lies in getting integrated with India. The inimical forces and neighbouring country are bent upon destroying Kashmir," the resolution read.
It may be recalled that the Union government scrapped Article 370 of the Indian Constitution on August 5. It also got a legislation passed through Parliament that divided the state into two Union Territories: Jammu and Kashmir and Ladakh. That division will come into effect on October 31.
https://www.timesnownews.com/india/article/kashmir-s-welfare-lies-in-integration-with-india-top-muslim-group-backs-article-370-abrogation/487311
--------
Gun-toting cops in masks treated us like criminals, say Shia Muslims
September 11, 2019
PETALING JAYA: Details have emerged of rough treatment allegedly given to Shia Muslims detained in a raid by Johor Islamic authorities during a private religious event on Monday, including a claim that a gun was trained on one of them.
Witnesses told FMT that a Yemeni national who was among the eight detained in the raid by the Johor Islamic Religious Department (JAINJ) in Kempas, Johor Bahru, was attempting to leave the scene when a masked police officer grabbed him from behind and aimed a gun at his head.
It was also alleged that another detainee, under whose name the premise was rented for the private ceremony marking the Ashura – an important occasion observed each year by Shias worldwide – was threatened by a police officer after apparently leaving the door open to allow guests to leave.
"The officer was warned by an ustaz there not to manhandle the group. He told them that their job was only to maintain the security that night.
"He couldn't answer, probably because he knew he was in the wrong and likely going against the law. So maybe because he had no answer to this, he put his hand on the pistol at his waist, as if to send them a message," the source, speaking on behalf of a Shia Muslim group, told FMT.
FMT is unable to independently verify the claim although the Johor police and JAINJ have been contacted for a response.
It is understood that two detainees lodged separate police reports at the Larkin police station today.
A witness told FMT that JAINJ failed to produce a warrant to raid the premise, a private residence in Taman Bukit Kempas.
He said about two dozen officers showed up during the raid, accompanied by masked policemen.
"Some of the JAINJ officers climbed over the fence to break into the house. It is an offence to break into a private premise," he told FMT, adding that the police had overstepped their boundaries by taking part in the arrests.
"It was a raid conducted by JAINJ. Police should only have been there to maintain order," he said.
In the raid on Sept 9, eight people, including a Yemeni, an Indonesian and two Singaporeans, were arrested.
One witness said the detainees had their hands cuffed behind their backs and were "treated like criminals".
They were brought to JAINJ in a black truck and released on bail after being detained overnight.
The eight are accused of violating Section 9 of the Johor Syariah Criminal Offences Enactment through the offence of being in contempt of the sultan, mufti as well as fatwa.
Similar arrests have been made in raids against Shia Muslims in Selangor.
Shia, with a substantial following in Iraq, Iran, Kuwait, Bahrain, Lebanon and several parts of Saudi Arabia, Yemen and Pakistan, is the second largest branch of Islam.
But Malaysian religious agencies have over the years been enforcing a fatwa declaring Shia teachings as "deviant", with raiding parties mostly targeting local Shias.
A witness at the raid in Johor said a police officer had kicked one of the detainees for questioning the action against them.
"This officer said, 'Don't talk too much or else I'll beat you up.' The man replied, 'Go ahead, beat me.'
"However, nothing untoward happened," he told FMT.
A Shia Muslim spokesman meanwhile said raids against the community were nothing new, especially during the Ashura ceremonies held in the first 10 days of the Islamic calendar month of Muharram.
But he said this time, detainees were treated harshly.
"In the past, their statements were taken and they were released. But this latest raid was harsher."
He added that Shia Muslims accused by JAINJ had never been charged in court.
"They have no case. They just try to scare and shame us."
https://www.freemalaysiatoday.com/category/nation/2019/09/11/gun-trotting-cops-in-masks-treated-us-like-criminals-say-shia-muslims/
--------
Al-Qaida chief calls for Muslims to attack West in 9/11 speech
SEP 12, 2019
CAIRO – Al-Qaida leader Ayman al-Zawahri called Wednesday on Muslims to attack U.S., European, Israeli and Russian targets in a speech on the 18th anniversary of the 9/11 terror attacks.
SITE Intelligence Group, which tracks online activity of jihadist groups, reported that in a video released by the militant group, the 68-year-old al-Zawahri also criticizes "backtrackers" from jihad, referring to former jihadis who changed their views in prison and called the 9/11 attacks unacceptable because innocent civilians were harmed.
"If you want Jihad to be focused solely on military targets, the American military has presence all over the world, from the East to the West," he said. "Your countries are littered with American bases, with all the infidels therein and the corruption they spread."
The coordinated al-Qaida hijackings on Sept. 11, 2001, killed nearly 3,000 people, when airliners slammed into the World Trade Center and the Pentagon and another crashed in rural Pennsylvania.
Al-Zawahri's speech was recorded in a 33-minute, 28-second video produced by the group's as-Sahab Media Foundation.
As an indicator of when the speech may have been recorded, al-Zawahri references President Donald Trump's recognition of the Golan Heights as Israeli territory, which was announced on March 25. He calls on Palestinians to seek "martyrdom" by attacking Israelis with a suicide vest in response.
Al-Zawahri, an Egyptian, became leader of al-Qaida following the 2011 killing of Osama bin Laden in Abbottabad, Pakistan, by U.S. Navy SEALs. He is believed to be hiding somewhere in the Afghanistan-Pakistan border regions. A July report by the U.N. cited reports that he is "in poor health" but provided no details.
Over recent years, al-Qaida has been engaged in fending off competition in jihadi circles from its rival, the Islamic State group. IS exploded into prominence by seizing large swaths of Iraq and Syria in 2014, declaring a "caliphate" and extending affiliates in multiple countries across the region.
IS's physical "caliphate" was crushed in Iraq and Syria, though its militants are still active and carrying out attacks.
The U.N. report said the "immediate global threat posed by al-Qaida remains unclear" but warned that some would-be IS recruits could turn to older organization.
Al-Qaida militants, meanwhile, have taken a lower profile, using regional conflicts in Afghanistan, Syria and Yemen to entrench themselves. The Yemen branch has been the most active, exploiting the chaos of the civil war to carry out bombings, shootings and assassinations in an effort to expand its footprint.
Osama bin Laden's son, Hamza bin Laden, had been viewed as an eventual heir to the leadership of al-Qaida but was killed in a military operation, U.S. officials have said. Al-Zawahri lauded Hamza in a 2015 video that appeared on jihadi websites, calling him a "lion from the den of al-Qaida."
https://www.japantimes.co.jp/news/2019/09/12/world/crime-legal-world/al-qaida-chief-9-11-speech-calls-muslim-attacks-west/#.XXnXMfAzbIU
--------
Muslim World League, evangelicals discuss ways to promote coexistence
September 12, 2019
JEDDAH: The secretary-general of the Muslim World League (MWL), Dr. Mohammed bin Abdulkarim Al-Issa, met Joel Rosenberg, head of a delegation of evangelical Christian leaders, in Jeddah on Wednesday. The meeting was held on the anniversary of the 9/11 attacks, and aimed to discuss ways to promote international coexistence and harmony.
In a joint statement, the MWL and the delegation stressed their common values and pledged to promote cooperation in this context.
They stressed the need to renounce all forms of extremism and hatred, and work together to build bridges between peoples from all religions and cultures.
The two sides agreed to promote respect for religions and mutual trust, and committed to address obstacles to coexistence and put an end to violence through education and encouraging religious harmony and cultural, racial and national integration.
Both sides stressed the importance of family in building a successful society and raising generations with the values of moderation, love and respect for others.
The statement said broad citizenship guarantees justice for all, and the constitution and rule of law should be respected in all countries.
It stressed the importance of places of worship worldwide, and the need to prosecute all who attack them.
The two sides agreed to establish and encourage programs and initiatives to combat hunger, poverty and disease.
The two sides acknowledged the right to personal freedom as long as it does not lead to mistreating others, especially on the basis of religion, culture or race.
On Tuesday, Saudi Crown Prince Mohammed bin Salman met Rosenberg and the delegation. They stressed the importance of joint efforts to promote coexistence and tolerance, and to combat extremism and terrorism.
https://www.arabnews.com/node/1553261/saudi-arabia
--------
Pakistan, 50 countries demand action to end Kashmir humanitarian crisis
September 12, 2019
GENEVA: Pakistan submitted at the UN Human Rights Council a statement on Wednesday on behalf of 50 countries, expressing concern over the illegal annexation of occupied Kashmir by India.
In the statement, the signatories call for immediate cessation of brutalities against the people of Indian Occupied Kashmir (IOK) and protection of human rights in the disputed territory.
"The worsening human rights and humanitarian situation in Indian Occupied Jammu and Kashmir, especially following decisions taken on August 5, 2019, requires urgent attention by the Human Rights Council and human rights mechanisms," it says.
The statement asks for immediate lifting of curfew while expressing concern over reports of rape, brutality, and enforced disappearances coming from the region.
It adds that the signatories share the concern expressed by High Commissioner for Human Rights Michelle Bachelet regarding the impact of recent actions on the rights of Kashmiris.
Pakistan asks for immediate halt of force and pellet guns in the region along with access for human rights organisations as well as international media.
Implementation of the recommendations of OHCHR's Kashmir Reports – including the establishment of a UN Commission of Inquiry to investigate egregious human rights violations – has also been demanded in the joint statement.
It requests for regular reporting by the UN high commissioner on human rights in Occupied Kashmir, while it says that the dispute should be resolved as per UN Security Council resolutions.
Pakistan's Foreign Office thanked the 50 countries which signed the joint statement in support of the people of IOK.
https://www.pakistantoday.com.pk/2019/09/11/pakistan-50-countries-demand-action-to-end-kashmir-humanitarian-crisis/
--------
An unsung hero of the 9/11 recovery: The Muslim engineer who rebuilt the Pentagon crash site as a chapel
By Julie Zauzmer
September 11, 2019
Eighteen years ago on a September morning she'll never forget, Manal Ezzat fled from the burning Pentagon building in such a panicked rush that her hijab fell off.
The next day, when the fires were still burning, Ezzat set to her task of rebuilding. Her vision, and the work of a huge team of public servants, led to what arose from the ashes: a new use for a site forever marked by tragedy.
Today, at the very spot where the plane piloted by terrorists crashed into the Pentagon, there is a chapel. Eighteen years after the mass murder of 184 people here, U.S. military employees of every faith gather daily to pray.
"There was a lot of emotion built into that effort," Ezzat said this year, as she contemplated the anniversary of a day she still can't fully comprehend. "We just wanted to make it a peaceful place that could help wipe away the tragedy."
'When people hurt, I know hurt': National Airport's chaplain mourns his 10-year-old son
Ezzat, an Army Corps of Engineers employee who was project manager for the Army's space in the Pentagon at the time of the attack, knew right away when she and her co-workers were charged with designing the reconstruction that she didn't want to make that segment of the Pentagon into office space again. No one would want his or her office there, she reasoned. Instead, she searched for a meaningful new purpose.
What emerged was a quiet sanctuary with cushioned blue seats and prayer books from several denominations. Stained glass windows pay tribute to those who died here: "United in Memory, September 11, 2001." Anyone who wishes can walk next door to a memorial, where every victim's name is written on the wall, and their life stories, as written by their loved ones, are told in two thick books. Pentagon employees who just want to visit the chapel without stopping at the memorial can enter through alternate doors. A schedule posted on the wall shows Episcopal and Lutheran services every Wednesday, Hindu services and Jewish study sessions every Thursday, Greek Orthodox services every Friday, Buddhist prayers twice a month, and more.
The chapel's most frequent users, according to chaplain Monica R. Lawson, are the Catholics who attend daily Mass there and the Muslims among the Pentagon's massive workforce of 26,000 people. Some Muslims who pray five times a day, as is traditional, visit the chapel when they need a private space to pray. As a group, Muslims pray daily in midafternoon in the chapel and host a service with a sermon every Friday.
The exasperating quest to get 10 men together to pray in an airport
For Ezzat — who is Muslim and who was bothered by those who blamed her entire religion because the terrorists who attacked the Pentagon were Muslim extremists — seeing Muslims who are devoted U.S. military employees at prayer in the chapel is fulfilling.
"On a personal level, I heard things, negative things. … You'd hear it in the hallways and the corridors. 'Oh, those idiots did this and did that.' It hurt me," she said. She wanted to argue — to say that the terrorists were a few horrible people, not representatives of her religion. But she brushed it off. "I'd hear it and get upset over it, and a minute later, I'm done with it," she said.
Qawiy Abdullah Sabree, a cybersecurity expert who has been a civilian employee at the Pentagon for 27 years, goes to the chapel every day, sometimes twice on Fridays. He often finds himself bowing to say Muslim prayers alongside co-workers who might be reading from a Christian prayer book, standing for Jewish davening or sitting in quiet meditation.
"It gives me that escape from the daily routine of work, to have a place to come and just reflect on your beliefs, reflect on the creator that gave us life. It's a very good thing to have," he said. "The Pentagon is a place for employment. … It's a privilege to have a place for prayer."
Sabree was just feet away from co-workers who were killed when the plane hit the Pentagon. Had he not stepped away to talk to another employee, he says, he would have died with them. "It's something you do not forget. And so you remember it and keep it from happening again, ever," he said. "That space where the chapel actually is, it's a reminder."
Lawson, who is an ordained elder in the African Methodist Episcopal Church and one of three full-time chaplains stationed at the Pentagon, said she sees this chapel as an exemplar of the American values that the terrorists couldn't destroy.
"Every day that I come in here, I think about that," she said. "It's a reminder of how privileged and honored we should be that we live in a country where we can worship here at work. The first day I started here, it hit me, the significance — where the chapel is located."
While the other two Pentagon chaplains are both Protestants like Lawson, the staff chaplains work to recruit qualified leaders for services for all other faith groups that want to use the space. "We all say 'one nation under God,' " she said. "When you walk in and you see that, and people are respectful of one another's religion, it's a blessing."
Ezzat said she appreciates that her team created a prayer space where Muslims who devote their careers to America's security can worship, in the very space where extremists attacked. "The faithful prayers which take place in this space, whether it's Jewish prayer, Islamic prayer, Christian prayer, I think it's beautiful," she said. "In Islam, we believe prayers — supplications — to the dead reach them, wherever they are."
The rush to rebuild the Pentagon was all-consuming. The young service members who give tours of the Pentagon to visitors still brag about it — how the construction team was told to rebuild in three years, and managed to do it in less than one. How they worked almost 24/7 to do it, and then donated all that overtime pay, about $3 million, to pay for this chapel and memorial and to support victims' families.
At the end of that year, Ezzat was exhausted, and overwhelmed from grieving for the co-workers she lost. "When I worked at the Pentagon, I just felt I was with my second family. … It just destroyed me," she said. "I needed to get out of here. The building brought back a lot of bad memories. I just couldn't stay."
Ezzat received a doctorate in structural engineering and then worked in private practice before joining the Army Corps of Engineers. Her first role in the Corps was working on the renovation of the Pentagon, a years-long project that was underway when the 2001 attack took place.
Ezzat says her earlier work reinforcing the exterior of the building, a costly project she had fought to get approved, saved lives when the terrorists attacked. The floors above the crash site collapsed more than 20 minutes after the initial impact, enough time for everyone there — Ezzat says it was 1,500 people — to walk out alive.
When the reconstruction that included the chapel was done in 2002, she requested a transfer out of the Pentagon, and got it.
When she herself prays, five times a day, she prays alone.
Today, she is the program manager for Defense Department schools, which educate military members' children around the world. Ezzat, who came to the United States from Egypt as a young child, says she can't imagine a job she would want more than supporting the service members who defend American ideals.
With almost 25 years in the Corps under her belt and a new grandchild drawing her attention, she is starting to think about retirement.
She remains proud of what she built out of tragedy 18 years ago, the time she created a religious haven out of wreckage. "It's part of the healing process," she said.
https://beta.washingtonpost.com/religion/2019/09/10/an-unsung-hero-attack-muslim-engineer-who-rebuilt-pentagon-crash-site-chapel/
--------
Muslims In Britain Contributing Positively To British Economy, Says Report
Majid Khattak
SEPTEMBER 12, 2019
The Muslims in Britain had a growing attitude for enterprise and positive contribution to the British economy and society as a whole, according a report by the Muslim Council of Britain (MCB).
The first comprehensive report about the Muslims in the UK by the UK representative body of Muslims (MCB) said that the around 2.7 million Muslim are living in the UK, making them around 5 percent of the total UK population, with 1 in 20 people being Muslim.
The findings of the report states that almost half of the Muslims are British born and overwhelming majority of Muslims 73% identify themselves as British, only 6% of the Muslim struggling with speaking English.
The MCB findings claim that Britain is home to the one of the most diverse communities on the earth, the evidence show that Muslims in the UK are geographically widely dispersed which counter the perception of Self- segregation. However, it also indicates that there is concentration of Muslims in the inner cities across the UK.
The most encouraging factor in the report suggests that the level of education among the Muslims increased over the last decade. Around 330,000 Muslims are in the full-time education and almost half of them are female. The findings also suggest that the number of Muslims in the higher professional and managerial class has increased with almost 6% of Muslims in such jobs. Similarly, a large number of Muslims are small employers and self- employed businessman this indicates that that the Muslims wants to contribute to the UK economy. The report points out that there is still high level of unemployment amongst the Muslims women which the report suggests demonstrating the need for further policy work for both the government and Muslim Community. The most concerning aspect of the report relates to the issue of deprivation of the Muslims, as it states that almost half of the Muslim resides in 10 % most deprived local authorities in the England which it says directly impacting on their educational achievement, income and health.
According to the data of MCB, 26 UK Parliament constituencies have a Muslim population of 20 % or more and there are currently 15 Muslim Members of Parliament with 8 of them being women. The UK current Chancellor of Exchequer Sajid Javid and Mayor London Sadiq Khan are also from the Muslim families.
https://dailytimes.com.pk/464000/muslims-contributing-positively-to-british-economy-says-report/
--------
Iran and its proxy Hezbollah are partners in the Syrian regime's many war crimes
Kareem Shaheen
Sep 11, 2019
In the ongoing saga over the Iranian oil tanker Grace 1, the outcome of the stand-off surprised few people. Earlier this week news reports said the tanker carrying two million barrels of crude from Iran and suspected to be heading to Syria, flouting EU sanctions, had unloaded its cargo in the port of Tartus, despite assurances by Tehran that it intended to do no such thing. The US and UK reacted angrily this week to satellite images showing the tanker approaching a port in Syria, with British foreign secretary Dominic Raab issuing a statement saying it was "now clear that Iran has breached these assurances and that the oil has been transferred to Syria and Assad's murderous regime", adding the move was an "unacceptable violation of international norms".
The episode has brought into stark relief once again Iran's destructive role in Syria, in support of a dictator who starves his own people. Tehran's foreign policy highlights the need to address its behaviour in the region as part of a grand rapprochement with Iran's rivals in the Middle East and the West.
British Royal Marines first impounded Grace 1 in July and the tanker was held in Gibraltar amid suspicions it was heading to Syria in violation of EU sanctions. The episode fuelled a spate of incidents and disruption of shipping channels in the Arabian Gulf that threatened to spiral out of control, raising tensions at a time when European powers were still trying to salvage the 2015 nuclear deal with Iran.
Gibraltar, an overseas British territory, eventually decided to release the ship after Tehran promised it would not send the valuable cargo to Syria, where the Assad regime, which presided over the killing of half a million Syrians and the displacement of half the country's population, continues to be affected by fuel shortages, despite claiming a military victory against the opposition. The fuel shortages have badly affected ordinary civilians and raised doubts about the regime's ability to restore normality to a shattered country and reprise its role as a state.
When Grace 1 was pictured off the coast of Tartus, the Iranian foreign ministry said it had offloaded its cargo, although it refused to confirm where it had been delivered.
The shipment is part of Tehran's long-standing alliance with the Assad regime, which has continued regardless of the Syrian government's well-documented brutality. In 2006, at the height of anti-American and anti-Israeli sentiment in the region, Iran's leaders, including the former president Mahmoud Ahmadinejad, enjoyed broad popular support there. This sentiment peaked after the Israeli campaign against Hezbollah in Lebanon, despite the enormous cost paid by Lebanese civilians. Tehran at the time was perceived as being at the vanguard of the fight against Israeli transgression in the region.
Fast forward to 2019, where Tehran is one of the prime backers of a tyrannical regime that has visited atrocities of incalculable scale, including chemical weapons attacks, on its own citizens. It has laid siege to starving civilians, vowing to burn the country in pursuit of the singular goal of maintaining the Assad family's rule over the shattered remains of Syria.
Iran and its proxy Hezbollah are partners and enablers of the Syrian regime's war crimes and have themselves carried out sieges and campaigns that aimed to crush opponents of Bashar Al Assad's dynasty. Hezbollah conducted the siege of Madaya, a town near the Lebanese border, whose inhabitants were forced to eat leaves and grass so they didn't starve to death. Militias led and backed by Tehran carried out many atrocities in the war, including spearheading the ground assault on the eastern half of the city of Aleppo, carrying out summary executions, looting and other abuses.
I remember a conversation with an official with knowledge of the surrender talks in Aleppo at the time, when Russia was negotiating an end to the fighting in exchange for the forced displacement of tens of thousands of civilians there. The official said he felt that "the Iranians just want to raze Aleppo to the ground".
While Moscow's intervention is what turned the tide of the war in Syria in Mr Al Assad's favour, the Iranians have been backers of the regime from very early on in the conflict. After initially sending advisers, Tehran propped up Mr Al Assad by extending credit lines that amount to tens of billions of dollars over the years, backing that became easier to furnish as Iran benefited from sanctions relief after the nuclear deal struck with the Obama administration.
In addition to sending operatives, Iran commanded its militias in Iraq and Lebanon to fight alongside the Assad regime, even sending impoverished Afghan refugees to fight with promises of benefits and status in the country. The participation of Iranian-backed militias further inflamed sectarian tensions that took hold in Syria. Many of these militias adopted overtly sectarian identities or symbols and participated in the forced displacement of civilians from opposition-controlled territories that surrendered to the Assad regime, presiding over demographic change meant to cement the stability of rebellious parts of the country.
Iran has sought to reap the rewards of this support for the Assad regime. In addition to cultivating ties with local communities and notables, a grassroots, long-term strategy of consolidating power, it has sought to secure a portion of the lucrative reconstruction pie and other contracts in the country, in addition to seeking influence with security forces, a goal that puts it in conflict with its Russian ally.
It has also sought to build a supply route that spans its territory all the way to the Mediterranean through Iraq and Syria, and improve its strategic position in the region by building up its presence along another front with Israel – abutting the Israeli-occupied Golan Heights – as insurance in the event of a future war.
Ultimately, Iran seeks to project its influence in the region by weakening the Syrian state. In Syria, this strategy has exposed Tehran's opportunistic foreign policy. The reality is that Iran's leaders, who claim to resist American hegemony, injustice and oppression, threw their full-throated support behind a totalitarian dictator, damning the dreams of Syrian citizens for freedom.
It is wise to de-escalate tensions in the region. No one wants a war. But the pursuit of a long-lasting easing of the confrontations between Iran and regional and world powers must take into account actions that have provoked instability in Syria and that have subsequently reverberated around the world. Tehran's support for Mr Al Assad has destabilised the region and helped provoke the refugee crisis that has transformed global politics. Sustainable peace can only happen as part of a grand bargain, part of which, by necessity, must include an end of its support for Syria's regime.
https://www.thenational.ae/opinion/comment/iran-and-its-proxy-hezbollah-are-partners-in-the-syrian-regime-s-many-war-crimes-1.909009
--------
Nigeria detained children as young as five over 'Boko Haram links' – report
11 Sep 2019
The Nigerian military arrested thousands of children it suspected of involvement with Boko Haram, holding them in squalid conditions for years in some cases, according to a new report.
Some of the children detained were as young as five, and others described being crammed into overwhelmingly hot, crowded cells in a notorious military facility in the north-eastern city of Maiduguri called Giwa barracks, said a report released by Human Rights Watch.
The allegations, which the Nigerian military denies, fit into a wider pattern of alleged abuses on the part of the country's security forces, which have been battling the extremist group Boko Haram for more than a decade.
Thousands of women and girls who believed they were being rescued were allegedly abused in exchange for food and other basics. In 2015, Amnesty International said at least 7,000 people had died in military detention in the north-east. More recently, thousands of displaced people have been sent back to unsafe areas to provide a bulwark against Boko Haram, according to officials in Borno.
More than 3,600 children, including 1,617 girls, were detained by the Nigerian armed forces between 2013 and 2019, according to data collected by the UN, though Human Rights Watch said Nigerian authorities have not allowed the UN access to military detention sites to verify these figures. It is not known how many children are currently in detention.
Before arriving in Giwa barracks, several children described beatings at the hands of security forces, the report said.
Ten-year-old Ibrahim said his family had fled their village after an attack by Boko Haram when he was five and had been arrested several days later by the military.
"We said we escaped from Boko Haram, but the military did not believe us," he said. "They said that we were part of Boko Haram. They hit us children with a rope of animal skin and slapped our parents with the flat end of a long knife. They beat us every day."
Saeed, 17, who was initially detained in the town of Banki, said he was beaten by the Civilian Joint Task Force, a vigilante group working with the military, in the presence of soldiers.
"They asked me if I was a member of Boko Haram and beat me up when I said no. They tied my hands and legs and hung me to a tree and continued to flog me. They flogged me and left me tied to the tree from morning till evening … They shot some people and even beat others to death with sticks."
Once they arrived at the barracks, children said they had to sleep close "like razor blades in a pack", with up to 300 people in a cell, sharing one toilet. Almost half the children who were spoken to said they had seen the dead bodies of other detainees, who some thought had died because of the heat.
A spokesman for Nigeria's defence headquarters said the military did arrest children attempting to detonate explosives and "provide tacit support to insurgents", including information on troop movements, but that children were treated as "victims of war and not as suspects".
"Apprehended children are kept in secured places, where they are adequately fed, profiled and de-radicalised before their release," said Onyema Nwachukwu.
https://www.theguardian.com/global-development/2019/sep/11/nigeria-children-as-young-as-five-boko-haram-links-report
--------
In Trump's Taliban Snub, a Shift of Fortune for Afghanistan's President
By Mujib Mashal, David Zucchino and Fatima Faizi
Sept. 10, 2019
KABUL, Afghanistan — Afghanistan's president, Ashraf Ghani, appeared increasingly trapped in recent months in a demoralizing swim against the political tides — until President Trump, inadvertently, tossed him a lifeline.
Mr. Ghani, in pursuit of a second five-year term, had pushed for presidential elections later this month. But the only game in town that seemed to matter was the high-energy American push for a deal with the Taliban that could end the 18-year United States military presence and, ultimately, bring the Afghan sides into a power-sharing arrangement.
Not only was Mr. Ghani's government largely left out of the initial peace efforts, a deal would almost certainly have meant the end of his time at the palace, at least for the time being, given the likelihood that a transitional government would be put in place.
Then, just when Mr. Ghani's aides appeared to be running out of options, their bags packed for a Camp David meeting meant to complete the American agreement with the Taliban, President Trump pulled the plug on the talks. All of a sudden, the elections were back in the front seat, seemingly certain to take place on Sept. 28, with Mr. Ghani one of the favorites.
The sudden change of fortune for Mr. Ghani in no way means easier times ahead for Afghanistan, even if the interruption of the peace efforts is seen by many of its critics as an opportunity for course correction. Mr. Trump has suggested he might go ahead with withdrawing troops even without a deal.
There is little doubt that violence, already taking dozens of lives daily, will now intensify, and the Taliban have vowed to target the elections. (Early Wednesday, a rocket exploded near the American Embassy compound in Kabul, though no injuries were reported.)
On any given day, there is fighting in nearly two dozen of the country's 34 provinces, and the insurgents threaten several cities. About 2,000 of the country's 7,000 polling centers will remain shut because they cannot be secured.
"We are concerned about the security situation, and that is the biggest issue," said Abdul Aziz Ibrahimi, the spokesman for Afghanistan's election commission. "We are in touch with the Afghan security institutions, and they are committed to providing the election security."
The insecurity not only makes campaigning difficult, but also deters voters from turning out.
"There are a lot of explosions and a lot of fear among the people," said Obaidullah Abid, a resident of the eastern city of Jalalabad. "I will see — if the situation is a little better, I will come out to vote. Otherwise I will stay home. For me, my life is more important than a vote."
The candidates seem to feel the same, and the result has been a presidential race that little resembles one.
For the first month of campaigning, the candidates barely held rallies, not just out of concern about attacks but because the election process felt hostage to the peace efforts. Except for a half-dozen events, Mr. Ghani was reduced to addressing "virtual rallies" across the country via video-chat. His main rival, Abdullah Abdullah, was largely meeting smaller groups at his home.
Even though campaigning is in full swing now, security, and the fear of mass-casualty bombings, is likely to prevent large gatherings.
The vote itself will be a major challenge for the country, where elections have resulted in disputes that dragged on for months. And while resuscitating the peace process after Mr. Trump's abrupt decision to end it could take awhile, it may be even further delayed if there is a serious election dispute.
In 2014, a stalemate between Mr. Ghani and Mr. Abdullah over the results of the fraudulent presidential elections threatened to tear the country apart. John Kerry, the American secretary of state at the time, negotiated a power-sharing deal that made Mr. Ghani president and Mr. Abdullah the government's chief executive, a new role equivalent to prime minister.
Western officials hope the recent sentencing of 10 former election commissioners over irregularities in a messy parliamentary vote last fall, and the introduction of biometric verification measures for voters, will help reduce large-scale fraud.
Although there are about 16 candidates running this time, the race, once again, appears to be largely between Mr. Ghani and Mr. Abdullah.
Mr. Ghani has replaced his problematic vice president, Gen. Abdul Rashid Dostum, who is accused of abducting and sexually assaulting a political opponent while he was vice president. In his stead, he has brought a younger running-mate, the former intelligence chief Amrullah Saleh.
"We will win, first round," Mr. Saleh said. "We have already won in the perceptions. It's only a matter of engraving it in reality."
Mr. Saleh said what distinguished their ticket from their opponent's was their "solid, independent Afghan position in the peace process" and an agenda for strengthening the state institutions in the face of both Taliban attacks and of ingrained patronage networks of strongmen. Mr. Abdullah, he said, has built a coalition of "complaints and criticism" without a narrative.
"The country is thirsty for freshness," said Mr. Saleh, who barely escaped a deadly attack on his office the day the campaign began. "The country is fed up with an enriched class of brokers who do not deliver."
Mr. Abdullah, backed by a large coalition including many of the strongmen Mr. Ghani has alienated, is casting himself as the man anyone can work with. During the five years of his joint government with Mr. Ghani, he embraced those strongmen, including General Dostum, that the president angered. Now he is trying to turn that into votes.
Fraidoon Khwazoon, a spokesman for Mr. Abdullah, said the "political and jihadi leaders" who are backing their ticket have long been seen as "the cards you need for victory." Mr. Ghani has alienated them at a time when they still carry support in society. Mr. Khwazoon, too, said his candidate would win the first round.
"Afghanistan cannot be led through dictatorial ways and through impatience," he said, contrasting his candidate with Mr. Ghani, who has a reputation for imperiousness. "For leading Afghanistan you need someone who has vast patience, who can accept criticism and engage in consultations. Dr. Abdullah has these characteristics, and the political leaders realize that."
Other candidates in the race include Rahmatullah Nabil, a former intelligence chief and a strong critic of the current government, and Gulbuddin Hekmatyar, a former militant who reconciled with the government in 2017.
Mr. Nabil has tried to take aim at both the current leaders of the government, saying they have failed their test and have polarized the country.
"We have all become prey to prejudice and ethnic politics," Mr. Nabil said at his campaign launch. "On a daily basis, prejudice explodes in the minds of our youth just like the suicide bombings."
Many observers fear that a dispute is looming because Mr. Ghani's team has a sense that it is entitled to a second term in office. Mr. Abdullah, who has said Mr. Ghani stole the 2014 election, is allying with people who have deep grievances against Mr. Ghani and who will not let go easily.
On Tuesday, campaigning for Mr. Ghani largely consisted of going from one small event to the next at a new campaign headquarters in Kabul.
Security forces blocked the streets around the complex, set behind blast walls bearing large murals of him and patrolled by armed guards and bomb-detection dogs. Visitors were required to pass through several layers of security, with each event space cordoned off by high walls and more security guards.
Mr. Ghani, trailed by elite guards dressed in dark suits and carrying automatic weapons, walked briskly from event to event. His security detail struggled at times to keep up with him as he shook hands with bystanders, and the president alarmed the guards when he pushed past his own security bubble.
Mr. Ghani delivered short, vigorous speeches to various constituencies — to young people and to elders from Nangarhar and Paktika Provinces inside separate tents, shaded from the sun, and to smartly dressed businesswomen in an air-conditioned meeting room inside a refurbished office tower that opened just last week.
"The Afghan people want peace, and I am ready to sacrifice anything, even my life, for it — but not the Islamic Republic of Afghanistan, not the Afghan security forces, not women's rights," Mr. Ghani told one of the groups, stressing the democratic system in the face of Taliban's theocratic vision of governance. "You are not voting for the next five years. You are voting for the next five generations."
Zabihullah Ghazi contributed reporting from Jalalabad and Najim Rahim from Mazar e Sharif.
https://www.nytimes.com/2019/09/10/world/asia/afghanistan-election-taliban-talks.html
--------
India
UAE confers Zayed II Order on outgoing envoy Navdeep Singh Suri
Sep 12, 2019
ABU DHABI (UAE): Outgoing India's ambassador to the United Arab Emirates (UAE) Navdeep Singh Suri has said that it was an "amazing surprise" to be conferred with the Order of Zayed II, the highest civilian honour in the country, by President Sheikh Khalifa bin Zayed Al Nahyan.
"I had gone to H.H Sheikh Abdullah Bin Zayed Al Nahyan, minister of foreign affairs and international cooperation, for a farewell call and I was greeted with this amazing surprise," the Indian envoy told the Emirates News Agency, WAM, on Wednesday evening.
"H.H Sheikh Abdullah was just so gracious when he told me that President His Highness Sheikh Khalifa bin Zayed Al Nahyan had decided to confer this very special award on me," he added.
The award was presented to Suri yesterday during a farewell reception by foreign minister Sheikh Abdullah bin Zayed Al Nahyan, in recognition of his efforts and his contribution to the development and strengthening of friendly relations and cooperation between the two friendly countries.
"I am delighted to receive it on behalf of our dedicated team at the embassy and at our consulate in Dubai and on behalf of our wonderful Indian community in UAE," the envoy said.
"I am grateful for this recognition though I do feel that we are merely implementing the direction provided by the visionary leadership of His Highness Sheikh Mohamed bin Zayed Al Nahyan, Crown Prince of Abu Dhabi and Deputy Supreme Commander of the UAE Armed Forces; and Indian Prime Minister Narendra Modi," the ambassador said.
Suri has been heading the Indian mission in the UAE since October 2016. During his tenure, Indian Prime Minister Narendra Modi has visited the UAE twice.
Pavan Kapoor will succeed Suri as the next ambassador.
https://timesofindia.indiatimes.com/india/uae-confers-zayed-ii-order-on-outgoing-envoy-navdeep-singh-suri/articleshow/71091251.cms
--------
Killed: J&K terrorist who shot 5-year-old girl in the leg
Sep 11, 2019
SRINAGAR: Security forces on Wednesday gunned down a "top" Lashkar-e-Taiba terrorist who they said had led the attack last week in which a five-year-old girl was shot in the leg because her trader grandfather had disobeyed the outfit's diktat to keep his fruit business shut.
Asif Maqbool Bhat of Baramulla district was killed in a hideout in Sopore town, which security forces had cordoned off on the basis of intelligence reports, officials said. Two policemen were injured when Asif hurled hand grenades on the advancing team.
Jammu and Kashmir DGP Dilbagh Singh said the slain terrorist had been intimidating traders in north Kashmir to keep their shops shut as part of his outfit's strategy to prevent the return of normalcy.
The attack on the defiant fruit trader's family at Dangerpora in Sopore, around 45km from Srinagar, was meant to scare others into submission, Singh said. Besides the little girl, two other members of her family were injured in the attack.
Eight Lashkar operatives arrested a few days ago told police that they had been assigned the task of printing and distributing posters that warn people against resuming normal life. The arrested men also revealed that they were reporting to Asif and two of his associates, Sajjad alias Hyder and Mudasir Pandit, the DGP said.
Terrorists from the Hizbul Mujahideen have also been going around asking traders and shoppers not to step out beyond the timings mentioned in the posters. "I was driving down Srinagar this afternoon when a masked youth appeared in the middle of the road near Bhagat Chowk and tried to disrupt traffic. I somehow managed to dodge him," said Mukhtar Ahmad Dar, a resident of the Channapora area.
Full report at:
https://timesofindia.indiatimes.com/india/killed-jk-terrorist-who-shot-5-year-old-girl-in-the-leg/articleshow/71087021.cms
--------
Pakistan army using codes via FM transmission to contact terrorists in J&K: Sources
Sep 11, 2019
NEW DELHI: Indian intelligence agencies recently cracked some code words being used by the Pakistan army and various terror groups based there to communicate with terrorists in Jammu and Kashmir in order to create violence in the region, sources said.
It has been learnt that the code words were being sent through FM transmission stations installed along the Line of Control (LoC) in Pakistan-occupied Kashmir (PoK) and the signs used for communication were Jaish-e-Mohammad (66/88), Lashkar-e-Taiba (A3) and Al Badr (D9).
The communications were being made through the "Qaumi Taranah", the national anthem of Pakistan, for almost a week after the abrogation of Article 370 on August 5. Landline, mobile phone and internet networks were snapped in the region following the Centre's decision.
The "Qaumi Taranah" versions were being used very actively and was run by both the Pakistan army and terrorist organisations through the FM transmission stations to send messages to there handlers and cadres in Jammu and Kashmir.
The very high frequency (VHF) radio stations were sending signals near the LoC with India by playing the "Qaumi Taranah" and these signals were also being used by the LeT, JeM and Al Badr to communicate with their local cadres in Jammu and Kashmir, the intelligence inputs said.
Sources said that VHF messages were being received by the terrorists near the LoC and they were circulating those to create violence and even mislead people in the nearby villages.
Full report at:
https://timesofindia.indiatimes.com/india/pakistan-army-using-codes-via-fm-transmission-to-contact-terrorists-in-jk-sources/articleshow/71085527.cms
--------
Ayodhya case: After threat letter, now Muslim board lawyer says clerk assaulted
September 12, 2019
The Supreme Court on Thursday took note of the submission of a lawyer, representing Muslim parties in the Ram Janmabhoomi-Babri Masjid land dispute case, that he has been receiving threat messages for appearing in the matter.
"This has to be deprecated. This is something which should not be happening," a five-judge Constitution bench headed by Chief Justice Ranjan Gogoi said on Thursday.
As the bench assembled to commence hearing in the case on 22nd day, senior lawyer Rajeev Dhavan, appearing for the Sunni Waqf Board and others, alleged that his clerk was assaulted in the apex court premises as he raised the matter of a threat message sent to him on Facebook.
"This is not the right atmosphere conducive for hearing," Dhavan said adding that these things should not happen in the court and "one word from your Lordship" will be enough on this.
Full report at:
https://www.indiatoday.in/india/story/ayodhya-case-muslim-board-lawyer-clerk-assault-supreme-court-1598280-2019-09-12
--------
Ayodhya hearing: Placing idols in mosque illegal usurpation, Sunni board to SC
September 12, 2019
The Sunni Wakf Board on Wednesday told the Supreme Court that the alleged placing of idols of Hindu deities in the Babri Masjid in December 1949 was an "illegal usurpation" and sought to know whether it can create any right in favour of Hindus.
"December 22 (1949) was an illegal usurpation and using that December 22 to January 5, 1950 (when Babri Masjid was attached by the city magistrate), can your Lordships say it creates a right," senior advocate Rajeev Dhavan, appearing for the Board and one of the appellants, M Siddiq, told a five-judge Constitution Bench headed by Chief Justice of India Ranjan Gogoi.
The bench, also comprising Justices S A Bobde, D Y Chandrachud, Ashok Bhushan and S A Nazeer, is hearing appeals against the September 30, 2010 verdict of the Allahabad High Court for a three-way division of the disputed 2.77-acre site.
Dhavan, who had accepted that idols of Hindu deities were being worshiped in Ram Chabutara on the outer courtyard of the disputed site and that the Nirmohi Akhara had shebait rights, said this did not give them any ownership rights.
The Akhara, which was granted one-third of the disputed land by the Allahabad HC, has said that the birthplace of Ram, "now commonly known as 'Janmabhoomi', belongs and has always belonged" to it.
The term 'belonging to', as per the Akhara, extended limitation period to file lawsuit, Dhavan told the bench. "The answer is that it (land) does not belong to them and 'Akhara' is not the owner of the property either under the English law on trusteeship or as a 'shebait'," he submitted.
A shebait under Hindu law is entrusted with the task of maintaining and preserving an idol and its property.
The hearing, which started only after lunch, saw Dhavan trying to explain the concepts of continuing wrong and possession under civil law.
The arguments remained inconclusive and will resume on Thursday.
SC to hear plea for live streaming on September 16
The court also said that on September 16 it will take up a plea by social activist K N Govindacharya seeking live-streaming or recording of the ongoing hearing in the case.
Govindacharya, in his plea filed through lawyer Virag Gupta, has urged the court to at least make provision for audio-recording of the proceedings if live-streaming it is not possible. The plea stated, "The common public, which is devotee of Lord Ram, is interested in knowing how an individual can represent Lord Ram before the Supreme Court…. There are crores of persons, including the petitioner, who want to witness the proceedings in the matter but cannot do the same due to the present norms in Supreme Court. There are also others who wish to intervene and attend the proceedings but cannot do the same due to orders of this Court in the matter."
Govindacharya recalled that the Supreme Court had in its September 2018 judgment in the Centre for Accountability and Systemic Change vs Secretary-General case ruled in favour of live-streaming in important constitutional matters. But that is yet to be implemented, he stated.
Full report at:
https://indianexpress.com/article/india/ayodhya-hearing-placing-idols-in-mosque-illegal-usurpation-sunni-board-to-sc-5987483/
--------
PM Modi invokes 9/11 to call for strong action against terror 'promoters'
September 12, 2019
HITTING OUT at Pakistan without naming it, Prime Minister Narendra Modi Wednesday said that India is capable of tackling the challenge of terrorism but the world needs to take "strong action" against those who "promote" terror and "provide protection and training" to terrorists.
Addressing a gathering in Mathura to launch an animal disease control programme and a cleanliness initiative, the Prime Minister also called for a ban on single-use plastic and took a dig at critics who get "rattled" by words like "Om" and "cow".
Referring to the 9/11 attack as one that "shook" the world, Modi said: "Today, terrorism has become an ideology, which is not restricted by any boundaries. It has become a global problem whose strong roots are being nurtured in our neighbourhood. The entire world needs to take a resolution, to take strong action against those who promote this ideology and provide protection and training to these terrorists."
The Prime Minister said that India is "capable of tackling this challenge". "We have shown this recently and will show it in future as well. The decision to strengthen anti-terror laws recently is also a step in this direction. Now terrorists will not be able to hide their deeds by changing the name of organisations," he said.
Speaking at the launch of the National Animal Disease Control Programme (NACP), Modi said: "Whether the problem is of terrorism, pollution or disease, we have to come together to defeat it."
Taking a dig at critics, Modi said: "Humare desh mein kuchh logon ke kaan par agar 'Om' ya 'gai' shabd padta hai, toh unke baal khade ho jaate hain. Unko lagta hai ki desh solavin aur sathravin shatabdi mein chala gaya hai. Aisa kehne walon ne desh ko barbaad karne mein koi kasar nahi chhodi hai." (If the word 'Om' or 'cow' falls on the ears of some people in our country, they get rattled. They think the country has gone back to the 16th or 17th century. People who say this have left no stone unturned in ruining the nation.)
Also launching the Swachhta Hi Seva programme, focused on reducing the use of single-use plastic, Modi said: "We should all try that by October 2 this year, our homes, offices, work places should be rid of single-use plastic." He appealed to Self Help Groups, civil society, NGOs, women and youth organisations, colleges, schools, and "every individual to join in this campaign".
"We should look for cheaper and easier alternatives for polythene bags," the Prime Minister said.
Under the NACP to eradicate Foot & Mouth Disease (FMD) and Brucellosis among livestock, over 600 million cattle will be vaccinated. Modi also launched a country wide workshop at Krishi Vigyan Kendras in all the 687 districts on vaccination and disease management, artificial insemination and productivity.
He said that animal husbandry and allied activities "have a great role to play in increasing farmers' incomes" and investments in these areas "bring in more returns".
Full report at:
https://indianexpress.com/article/india/pm-modi-invokes-9-11-to-call-for-strong-action-against-terror-promoters-5987401/
--------
UN chief refuses to intervene on Kashmir issue, asks India-Pakistan to resolve through dialogue
September 11, 2019
A day after India and Pakistan had a face-off at the 42nd session of the United Nations Human Rights Council (UNHRC) in Geneva, UN Secretary-General Antonio Guterres on Wednesday expressed concern on the potential escalation between India and Pakistan over the Kashmir issue and appealed to both sides to solve it through dialogue, PTI reported.
"His (Antonio Guterres) message to all of them has been the same, both publicly and privately, that he remains very concerned about any potential escalation between India and Pakistan over the situation. He appeals to both sides to deal with the issue through dialogue," PTI quoted UN chief's spokesperson Stephane Dujarric as saying.
Dujarric's remarks came after he was asked whether Guterres planed to mediate between India and Pakistan on Kashmir during the UN General Assembly session later this month that would be attended by both Prime Miniter Narendra Modi and Pakistan PM Imran Khan.
"You know, the position… our position on mediation has, as a matter of principle, has always remained the same," Dujarric said.
On Kashmir, the United Nations has cited the Simla Agreement of 1972, a bilateral agreement between India and Pakistan that rejects third-party mediation in Kashmir.
"The 1972 Agreement on bilateral relations between India and Pakistan, also known as the Simla Agreement, states that the final status of Jammu and Kashmir is to be settled by peaceful means, in accordance with the Charter of the United Nations," the UN said in a statement last month after approached by Pakistan to mediate on the issue.
Dujarric further quoted the High Commissioner for Human Rights and said the situation in Kashmir could only be solved with the full respect of human rights.
Guterres met Prime Minister Narendra Modi on the sidelines of the G7 Summit last month in Biarritz, France and has also spoken to Pakistan's Foreign Minister Shah Mahmood Qureshi, Dujarric informed the press on Tuesday. On Monday, the UN chief also met the Permanent Representative of Pakistan to the UN Maleeha Lodhi on her request over the Kashmir issue.
Pakistan so far has approached the UN twice in relation with the Kashmir issue. However, the global body has so far not acceded to Pakistan's request. In August, the United Nations Security Council (UNSC) held a closed-door, informal consultation on the Kashmir situation, although there were no statements or outcomes.
Full report at:
https://indianexpress.com/article/india/united-nations-antonio-guterres-india-pakistan-kashmir-5985965/
--------
J&K: LeT militant, who wounded five-year-old girl, shot dead in encounter
September 11, 2019
A Lashker-e-Taiba (LeT) militant responsible for wounding a five-year-old girl in North Kashmir's Sopore was gunned down by security forces on Wednesday, news agency PTI quoted police as saying.
Police said the militant, identified as Asif Maqbool Bhatt, was killed in a brief encounter in Baramulla district in the Valley.
J&K Police
✔
@JmuKmrPolice
The terrorist has been identified as Asif Maqbool Bhat of LeT.He was responsible recent shoot out and injuries to 03 family members of a fruit trader of Sopore The injured also included a young girl.
Was also responsible for shooting at Migrant labourer Shafi Aaalm at Sopore. https://twitter.com/KashmirPolice/status/1171641818120892417 …
Kashmir Zone Police
@KashmirPolice
Sopore update:
In a brief shoutout one terrorist is killed in #Sopore. Further details shall follow.@JmuKmrPolice @SoporePolice
2,264
10:47 AM - Sep 11, 2019
Twitter Ads info and privacy
801 people are talking about this
On September 7, militants attacked a fruit trader's house in which his five-year-old granddaughter Asma Jan suffered injuries. Her father Arshad Rather and two others — Mohammad Ashraf and Mohammad Ramzan — were shot in their legs by militants.
The fruit growers were shot in the legs, apparently as punishment for opening their shops at the Sopore fruit mandi.
Acting on specific information, security forces today launched a cordon and search operation and shot Bhat dead.
Jammu and Kashmir Director General of Police Dilbag Singh told reporters, "He (Asif) was challenged to stop but he didn't. He threw a grenade at our parties in which two of our police personnel were injured. They are out of danger."
Full report at:
https://indianexpress.com/article/india/let-militant-who-opened-fire-at-fruit-traders-in-sopore-gunned-down-5985786/
--------
Hyderabad: Afghan hero Ahmad Shah Massoud remembered
September 11, 2019
Hyderabad: A memorial meeting of the national hero of Afghanistan Ahmad Shah Massoud was observed in Osmania University earlier this week.
The meeting was organized by the ASA (Afghan Students Association), Hyderabad.
Ahmad Shah Massoud is also known as the 'Lion of Panjshir.' He was an Afghan resistance leader, politician, and a military strategist. He was among the premier Mujahideen, the Afghans who fought against the Soviet occupation of their country.
Massoud died following an attack by two suicide bombers on September 9, two days before the September 11 terrorist attacks on the U.S.
In May 2012, the National Assembly of Afghanistan declared September 9 as a national holiday to honour his memory.
The holiday is observed as Haftai Shahid or Martyr's Week. It is also observed as Massoud Day.
The students recalled Ahmed Shah Massoud's sacrifice for Afghanistan.
The memorial meeting was attended by Dr. D Ravinder, Principal of OU Arts College, Dr. Akhtar Ali, Assistant Professor of Geography, and Afghan student's association advisor, Dr. Fidel Rahmati Afghan, a Ph.D. scholar at OU.
Dr. Akhtar Ali said, "Many people are still getting killed in Afghanistan. Many of them are divided among various groups in the name of ethnic, linguistic and racial lines. We need to remember that those brave men were martyred for the country, not for one particular caste or province."
Dr. Ravinder said, "The relationship between India and Afghanistan are good for centuries. We express our homage to this great leader who fought for the liberation of Afghanistan."
"Ahmad Shah Massoud was a realist leader, politician, and warrior," said Dr. Fidel Rhamati, a PhD researcher at OU.
Full report at:
https://www.siasat.com/hyderabad-afghan-hero-ahmad-shah-massoud-remembered-1613684/
--------
Southeast Asia
This Malaysia Day, let's boycott hate and fear
Dennis Ignatius
September 12, 2019
There's no escaping the fact that we are now a nation deeply divided, full of suspicion and fear, instinctively reacting to each other, talking past each other rather than talking to each other. Our national narrative is now all about who is threatening whom and how we should respond. We are living out our fears instead of walking out our hopes.
Muslims worry about Islam losing its special status; non-Muslims worry about the increasing tide of Islamisation. Non-Malays are bitter that they are all but locked out of the civil service; Malays are resentful that they are not accepted by non-Malay corporations. Bumiputeras grumble that their special rights are being eroded; non-Bumiputeras protest that their rights are not being respected. Malays insist we need single-stream education to promote national unity; non-Malays say our national schools are not welcoming of diversity. One talks about respecting the federal constitution, the other talks about upholding the "social contract."
We are so full of fear – of Muslims and Christians, of Sunnis and Shias, of Malays and Chinese – that every time the lalang moves somebody shouts "snake" and we all rush to take out our verbal parangs.
Hostility and suspicion have shrouded our nation like the haze that is now choking us. Clearly, we can't go on this way without sooner or later facing horrible consequences.
For too long we have allowed morally-bankrupt and unscrupulous politicians to pollute our politics with extremist, divisive and racist ideas that pit us against each other. They have frightened us with a steady diet of venomous narratives, of existential threats and imaginary plots.
And we have allowed their narratives to replace the reality that we experience in our own daily lives as we interact with our fellow Malaysians – that all of us, Muslim and non-Muslim, Malay and non-Malay – want the same thing: decent jobs, security, justice, respect, tolerance and the right to live our lives in peace and harmony.
We know in our hearts that this nation of ours is big enough, rich enough, tolerant enough to be a big tent for all of us, that we can be 100% Malay or Chinese or Iban or Muslim or Christian or Hindu and still be 100% Malaysian.
For literally hundreds of years, our nation has been at the cutting edge, the confluence of great civilisations, great cultures, great religions and each of us embody that in one way or another. The English poet Alfred Lord Tennyson once said, "I am a part of all that I have met;" we Malaysians are also a part of all that history has bequeathed to us. It is part of our DNA now and finds expression in our cultures, religions, customs, languages, foods and literature. It is a distinctive uniqueness that should be celebrated, not berated.
It's time to say no to the purveyors and peddlers of hate and division who use race and religion to divide us to further their own ambitions and agendas. They speak of defending the faith when all they do is defraud the faithful. They speak of protecting their community when all they do is feather their own nests. They talk about unity while driving us apart with their hateful and unhelpful invective.
And who benefits from all this division, from all this constant sparring between ethnic and religious groups? Mostly it's the politicians and their cronies. They grow richer while the people they rule over struggle to make ends meet. They argue about what poverty means while living lives of luxury that most Malaysians can only dream about. Imagine being paid RM75,000 per month from public funds just for being an aide to the prime minister! Thousands of Malaysians don't even make half of that in a whole year. That's the real scandal, the real existential threat to our nation that all of us – Muslim and non-Muslim, Malay and non-Malay – should focus on.
This Malaysia Day, let's break free of the shackles of hate, suspicion and fear. Let's break free of the mental prisons that silly and dead-end arguments have trapped us in. Let's refuse to accept slander or hate against our fellow citizens. We don't have to always agree but when we disagree, let us do it agreeably.
A good place to start is the ongoing boycott of businesses and products owned by non-Bumiputeras. It is quickly becoming ugly with both sides slanging it out and insulting each other. It's a silly and ultimately meaningless exercise. Instead of allowing it to become an "us vs them" tussle, a better response would be for non-Malays to join the campaign to buy Malay-made products and services. There's actually enough for all to prosper. They call it a boycott; let's turn it into a campaign to prosper our Malay-Muslim brothers and sisters instead. They want to divide us; let's use it to build bridges by sucking the venom out of it.
Perhaps, in time, we can erase the hate and the fear that have been planted in us, that we have come to accept as inevitable and unavoidable. Perhaps, if we take small steps today, we can build a better tomorrow where race or religion or dress or language or culture will matter less than character, integrity, honesty, respect and service.
https://www.freemalaysiatoday.com/category/opinion/2019/09/12/this-malaysia-day-lets-boycott-hate-and-fear/
--------
Minister wants to take Home Ownership Campaign to China, HK
Robin Augustin and Nicole Ng -
September 11, 2019
KUALA LUMPUR: Putrajaya may organise another Home Ownership Campaign (HOC), only this time for buyers in China and Hong Kong, said Housing and Local Government Minister Zuraida Kamaruddin.
But, she said, only high-end homes will be sold to them.
"I was thinking of the unsold units in the high-end market, now we have RM100 billion worth of it," she told reporters on the side lines of the Smart Cities Asia 2019 conference.
"So I was thinking we should organise a HOC campaign in China or in Hong Kong where we can attract these people to come invest here and buy homes."
Homes here, she said, were cheaper than in Hong Kong and gave the example of a 250 sq ft flat she saw there which cost RM3 million.
"I said even a minister can't afford (the flat)."
She said she would still need to discuss the matter with the Cabinet and that she wanted to get Tourism, Arts and Culture Minister Mohammadin Ketapi involved.
"As it is, private developers have gone there individually to sell their units."
However, vocal pressure group Consumers Association of Penang has warned that a promotion drive by local developers to attract Hong Kong investors to buy properties in Malaysia in the wake of the political crisis on the island city could push house prices beyond the reach of ordinary citizens due to an increase in demand.
Zuraida also answered questions pertaining to the rebranding of People's Housing Projects (PPRs).
Zuraida said the housing ministry was only rebranding the PPR scheme to a rent-to-own scheme, but refused to reveal the new name for the scheme for now. She added that the ministry would be launching the programme in mid-September, and more details would be revealed then.
Politicians from Pakatan Harapan and the opposition and experts have voiced their objection to the reported plan to scrap the PPR rental scheme in favour of a programme where public housing units costing from RM35,000 to RM42,000 would be sold for at least twice the amount.
She said the rental element would remain, but it would now be a rent-to-own concept.
"The houses in the rent-to-own scheme are bigger with proper facilities and situated in strategic areas. That itself is a different concept from the PPR. This means they will have a home and after several years, they will own the home.
"When they enter this rent-to-own scheme, they enter an ownership scheme, because banks will look at their payment track record and give approval for bank loans in the future."
Meanwhile, on RaudhahVille, Zuraida said that it should not be a problem for Muslim and non-Muslims to live in one community under an Islamic code because Islamic values were universal values.
RhaudahVille is Malaysia's first gated and guarded Islamic-themed community, where Muslims and non-Muslims would live as neighbours under an Islamic code.
Full report at:
freemalaysiatoday.com/category/nation/2019/09/11/minister-wants-to-take-home-ownership-campaign-to-china-hk/
--------
US declares Abu Sayyaf leader global terrorist
September 12, 2019
MANILA: The US has added a 60-year-old leader of the pro-Daesh Abu Sayyaf Group (ASG), Hatib Hadjan Sawadjaan, and a female militant from Mindanao to its list of global terrorists.
The names of Sawadjaan and Almaida Marani Salvin, 30, were among those placed on the US Treasury's sanctions blacklist released on the eve of the Sept. 11 attacks.
It followed US President Donald Trump signing an executive order that enhances America's ability to go after financiers of militant groups, their leaders and supporters. The US State Department said that the executive order was the most significant update of terrorist designations since the aftermath of the 9/11 attacks, and "will enable the US to more effectively sanction the leaders of terrorist organizations and those who train to commit acts of terrorism."
"The State Department is moving aggressively to implement these new authorities," it said, adding that the designation of Sawadjaan and everyone else on the list "seeks to deny these terrorists the resources to plan and carry out attacks."
Sawadjaan has been called the mastermind behind the suicide attacks on Sulu Islands on Jan. 27 this year. The first attack on a cathedral in Jolo city killed 23 people — including an Indonesian couple who carried out the bombing — and wounded 109 others. The second attack on June 28 targeted an army counterterrorism unit brigade in Indanan town, killing eight people and injuring 22 others. It was also the first officially confirmed case of a suicide bombing carried out by a Filipino, identified as Norman Lasuca, in the Philippines. The other suspect in the attack was believed to be a foreigner.
A suicide bombing attempt on Sept. 8 — on another army detachment in Indanan town — involved an abaya-wearing, Caucasian-looking female who was the sole casualty. The suspect blew herself up when she attempted to enter the Army 35th IB but was stopped by a soldier who was manning the gate.
In the wake of the failed suicide attack last Sunday, Western Mindanao Command (Wesmincom) chief Lt. Gen. Cirilito Sobejana said the military was on the lookout for two more suicide bombers in Sulu who were planning to stage attacks on military camps.
Excluding the perpetrators of the Jolo Cathedral bombing, Sobejana said: "There are five of them who were anointed, who have been given the task to explode themselves."
Besides the two involved in the June 28 attack and the suspect in the explosion last Sunday, the Wesmincom chief said: "There were two more left."
Apart from the attacks in Sulu, Philippines officials also blamed Sawadjaan for organizing the first suicide bombing in the country — at a security checkpoint on Lamitan, Basilan province in July last year — killing at least 10 people.
But despite being identified as the mastermind behind all four suicide bombings in Mindanao, a spokesperson for the Philippines armed forces said: "Sawadjaan cannot be credited to have put up a squad of suicide bombers."
Marine Brig. Gen. Edgar Arevalo also said that the small number of foreign terrorists believed to be in Mindanao, with no community, relatives or groups, "need to associate with Sawadjaan for survival, logistics and intelligence to carry-out their terrorism activities. Hence, the affiliation."
"On the part of (Sawadjaan), he needs these terrorists to pursue his personal ends of becoming prominent or becoming recognized as the emir. He needs the notoriety, the grim and gruesome murder and destruction, to gain financial and logistics support from terrorist organizations abroad," Arevalo said.
In February this year, a report by the US Department of Defense (DoD) said that Sawadjaan was "the acting Daesh emir in the Philippines," replacing Isnilon Hapilon who was killed in the 2017 Marawi siege. However, "it was not clear what ties Sawadjaan had with the Daesh-core."
Last month, the seventh quarterly Operations Pacific Eagle — Philippines (OPE-P) report by the DoD Office of the Inspector General stated that "while the southern Philippines has struggled with violent separatism for decades, suicide attacks were virtually unheard of until the rise of Daesh."
Meanwhile, little is known about Salvin, who according to the US, "has materially assisted, sponsored or provided financial, material, or technological support for, or goods or services to, Daesh-Philippines."
Information provided by the US Treasury Department shows that Salvin was arrested in April this year in Zamboanga City "based on her suspected unlawful manufacture, sale, acquisition, disposition, importation or possession of an explosive or incendiary device."
During the raid, Philippines authorities recovered improvised explosive device components, as well as bank accounts and passbooks for Salvin linked to Daesh-Philippines (Daesh-P) funding.
Full report at:
https://www.arabnews.com/node/1553326
--------
Arab World
UN: Reconstruction of landmark Mosul mosque to begin in 2020
September 11, 2019
PARIS: The United Nations' cultural agency UNESCO announced Wednesday that a landmark reconstruction of Iraq's Al-Nouri mosque in Mosul, which was blown up by the Daesh group in 2017, will start at the beginning of next year.
The timeline of the restoration plan of the 12th-century monument, famed for its leaning minaret, was hammered out during a meeting in Paris between UNESCO Director General Audrey Azoulay and several Iraqi officials, including Iraqi Culture Minister Abdulamir Al-Dafar Hamdani, and Mosul's regional governor, Mansour Al-Mareed.
First launched in 2018, the mosque restoration plan will be the most eye-catching part of a $100 million UNESCO-led heritage reconstruction of Mosul.
"Revive the Spirit of Mosul" is the largest restoration plan in Iraqi history, and comes two years after the old city's destruction at the hands of extremists.
"Today we agreed on a calendar, a precise calendar and plan of action to be mobilized on the ground in Iraq. ... The ongoing phase of structural consolidation and the critical phase of site-clearing and mine-clearing (has) to be achieved from now to the end of the year," Azoulay told reporters.
"We've also agreed on a timetable that would see the reconstruction start in the first semester of 2020 for the mosque," she added.
IS leader Abu Bakr Al-Baghdadi declared an Islamic caliphate from the Al-Nouri mosque in the summer of 2014, only for IS extremists to blow it up in June 2017 as Iraqi forces closed in.
Two years after IS was evicted, Mosul is a city still very much in ruins with no meaningful international effort to rebuild — one that is still struggling with basic services like electricity, water and health care. The UN's development program is working to restore private houses in the historic Old City. Most of its residents still reside in camps.
The UNESCO initiative goes far beyond the mere restoration of the mosque, and will see the cash be used to rebuild churches, schools and a street in Mosul's Old City, which was famous for its bookshops.
The United Arab Emirates is providing $50.4 million to finance the project, focusing on the restoration of the mosque, with the European Union providing $24 million.
The decision to select Mosul, as opposed to other Iraqi cities, for a revamp owes to its particular history as a melting pot city.
"We've chosen Mosul as a symbol because Mosul was before the conflict a city of diversity, a city of tolerance — more than tolerance — a city where people lived together and knew each other beyond communities, beyond religious belongings," Azoulay said.
She stressed that she's asked that some of the $100 million go toward the rebuilding of a synagogue and Christian religious sites.
https://www.arabnews.com/node/1553131/middle-east
--------
Egypt sentences 11 Islamist leaders to life for spying
September 11, 2019
CAIRO: An Egyptian court has sentenced 11 Muslim Brotherhood leaders to life in prison on charges of espionage with the Palestinian militant group Hamas.
Among those sentenced by the Cairo criminal court was the Brotherhood's head, Mohammed Badie.
This is the latest of several sentences against Badie, who received a life sentence last week on charges related to mass prison breaks during the 2011 uprising.
Charges were also dropped Wednesday against the late former president, Mohammed Morsi, who collapsed and died in June during a court session on the case.
Morsi, a senior Brotherhood figure, became Egypt's first freely-elected president in 2012. The military overthrew Morsi in 2013 amid massive protests against his brief rule.
Full report at:
https://www.arabnews.com/node/1553081/middle-east
--------
US warplanes drop 40 tons of bombs on ISIS-infested island in Iraq
By Ben Feuerherd
September 10, 2019
US warplanes dropped more than 40 tons of bombs on a ISIS-infested island in Iraq on Tuesday, authorities said.
The operation, which targeted the Qanus Island in the Tigris River, was carried out by the US and a coalition of other countries in the fight to permanently erase ISIS strongholds in the country.
The extremest group previously controlled large swaths of land in Iraq and Syria when they declared a caliphate in the region. They were defeated in 2017 by a coalition of forces who battled them in northern Iraq.
But since their defeat, ISIS cells have sprung up in the region and carried out deadly bombings.
Video of the US-led bombing on Tuesday was posted to Twitter by the combined joint task force fighting the militants.
It shows an aerial view of the island and spurts of explosions dotting the landscape.
Full report at:
https://nypost.com/2019/09/10/us-warplanes-drop-40-tons-of-bombs-on-isis-infested-island-in-iraq/
--------
5 IS militants killed in anti-terror operation in central Iraq
2019-09-11
BAGHDAD, Sept. 10 (Xinhua) -- Five Islamic State (IS) militants were killed on Tuesday in an operation in Iraq's central province of Salahuddin, a provincial police officer said.
A Counter-Terrorism Service (CTS) force, backed by U.S.-led coalition and Iraqi aircraft, conducted in the early morning a search and clearance operation in the rugged area of Ganous near the city of Shirqat, some 280 km north of Baghdad, Khalil al-Namis, from Salahuddin provincial police command, told Xinhua.
The troops with the air support heavily pounded IS positions in the area, killing five IS militants, and also seized caches of weapons and ammunition, al-Namis said.
He said the search operation will continue until they clear the whole area from IS remnants.
The operation came a day after the CTS troops conducted an airdrop operation in Salahuddin province on IS positions in the rugged area of Mteibijah near the provincial border with neighboring Diyala province, leaving 15 IS militants killed and nine others captured.
Iraqi security forces repeatedly carried out operations to take control of rugged areas in Salahuddin province, but the vast rugged land and nearby Himreen mountainous area have made it difficult for them to completely clear the area of the extremist militants.
The security situation in Iraq has dramatically improved after Iraqi security forces fully defeated IS militants across the country in later 2017.
Full report at:
http://www.xinhuanet.com/english/2019-09/11/c_138382220.htm
--------
Iraqi MP: Washington Blames Israel for Drone Attacks against Hashd Al-Shaabi
Sep 11, 2019
Abdolkhaliq al-Azawi, a member of the Iraqi parliament's Security and Defense Committee, was quoted by the Arabic-language al-Nahrain news website as saying that the Iraqi government's fact-finding committee has ended its investigations into the cause of the explosions in Hashd al-Shaabi positions and arms caches.
"It came to be known that 12 attacks were launched, using drones," he added.
According to al-Azawi, the US which is responsible to protect Iraq's airspace has informed the Iraqi government that the attacks have been launched by the Israeli drones.
Late in August, Iraq's Hashd al-Shaabi forces in a statement announced that Israeli drones backed by the US aircraft pounded their positions near the border with Syria.
The Hashd al-Shaabi in a statement reported that two Israeli drones struck its military positions in Akashat-Alqaem Road in al-Anbar province 15 kilometers from the border with Syria.
The statement noted that the attack had taken place with the aerial support of the US and monitoring of a huge surveillance balloon near the site of the attack, and said that the attack took place with the start of the Phase 4 of Eradeh al-Nasr (the Will of Victory) military operation jointly conducted by the Iraqi Army, Police Force and Hashd al-Shaabi against the ISIL remnants in the Western part of the country.
It noted that a Hashd al-Sha'abi member was killed and another was wounded in the Israeli drone attacks.
Full report at:
https://en.farsnews.com/newstext.aspx?nn=13980620000664
--------
Arab Media: S. Arabia Building Dungeon under MbS Palace
Sep 11, 2019
"A secret prison will be built at al-Salam palace; at present, 10 stories have been constructed under the palace with solitary cells, some of completely covered in dark," the Arabic-language al-Ahd al-Jadid news website wrote on its twitter page on Wednesday.
It noted that the prison will be used for occassion like what happened in Ritz-Carlton hotel when it was closed to business and became a detention center for those detained in line with the MbS' crackdown on the opponents in November 2017.
The Arab paper went ahead so far to say that "Bin Salman, himself, intends to supervise the interrogation and torturing operations".
There is yet no other source to confirm the al-Ahd al-Jadid's report.
The Ritz-Carlton Hotel in Riyadh, hosted hundreds of rich and once-powerful Saudis who were detained in what the Saudi government called an anti-corruption campaign.
Billionaires, royals and bureaucrats who were considered as a danger to bin Salman still remain locked up, including Prince Turki bin Abdullah and former Economy Minister Adel Fakeih, a key architect of the kingdom's transformation plan.
Some are now in the al-Ha'er prison, a maximum-security facility South of the capital where many extremist militants are incarcerated.
Full report at:
https://en.farsnews.com/newstext.aspx?nn=13980620000542
--------
Egypt Muslim Brotherhood chief, deputy get life for spying
11 September 2019
An Egyptian court Wednesday sentenced 11 senior Muslim Brotherhood figures to life in prison on charges of spying for Hamas, a judicial source said.
They included the Brotherhood's supreme guide Mohamed Badie and his deputy Khairat al-Shater who were both handed life sentences - 25 years in Egypt.
Five other Brotherhood members were sentenced to jail terms ranging from seven to 10 years while six were acquitted, the source said.
The defendants were accused of "committing crimes in collaboration with foreign organizations" namely Hamas and Lebanon's Hezbollah, the source said.
They were also accused of "financing terrorism" and committing acts undermining the country's stability and security.
Mohamed Fahmy, the judge presiding over the case, said before the verdict was announced:
"The crimes the defendants committed harmed the independence and security of the country."
"They betrayed their nation and there is no excuse for them," he added.
The verdict can still be appealed, the source added.
The case initially involved ousted president Mohamed Morsi who died after falling ill during a court session in June.
Morsi, who hailed from the Brotherhood, was overthrown by the military in 2013 after a year of divisive rule.
Following his ouster, hundreds of his supporters were killed during protests.
Full report at:
https://english.alarabiya.net/en/News/middle-east/2019/09/11/Egypt-brotherhood-chief-deputy-get-life-for-spying-.html
--------
Saudi Arabia, Cyprus agree to bolster relations on all fronts
11 September 2019
Saudi Arabia's Foreign Minister Ibrahim al-Assaf affirmed on Wednesday the Kingdom's keenness to explore ways of strengthening relations with Cyprus.
Speaking at a joint press conference with his Cypriot counterpart Nikos Christodoulides, al-Assaf asserted the Kingdom's continued "support of the legitimacy and sovereignty of Cyprus," in accordance with the international resolution.
Al-Assaf said there's "high interest" in developing relations "on all fronts," given the European Union member country's geographic location and longstanding ties with the Arab world.
He said "We need to take advantages of many elements that bring us together and the economic opportunities that our two countries offer."
Foreign Ministry 🇸🇦
✔
@KSAmofaEN
#Nicosia | FM @IbAlassaf in a joint press conference with @Christodulides: "We need to take advantages of many elements that bring us together and the economic opportunities that our two countries offer".
Embedded video
45
9:31 PM - Sep 11, 2019
Twitter Ads info and privacy
42 people are talking about this
Al-Assaf said the two countries have "a good list of areas that they will be discussing in the future," noting that there are already two important agreements "in effect" between the two countries.
Cypriot Foreign Minister Christodoulides described the visit - the first by a top Saudi official - as a historic.
He said the two shared a common vision, noting the need to strengthen political and economic relations.
Full report at:
https://english.alarabiya.net/en/News/gulf/2019/09/11/Saudi-Arabia-Cyprus-agree-to-strengthen-relations.html
--------
Saudi Arabia leads condemnation of West Bank land grab by Netanyahu
September 11, 2019
JERUSALEM: Saudi Arabia led a chorus of international condemnation on Wednesday after Israeli Prime Minister Benjamin Netanyahu threatened to annex the Jordan Valley.
The Kingdom said there was "no peace without the return of the occupied Palestinian territories," and called for an emergency meeting of Arab foreign ministers.
"The Arab and Islamic worlds' preoccupation with many local and regional crises will not affect the status of the Palestinian cause," the Saudi Royal Court said.
"Israel's attempts to impose a fait-accompli policy will not obliterate the inalienable and protected rights of the Palestinian people."
Netanyahu's pledge, widely viewed as an attempt to attract hard-line right-wing votes in next week's Israeli elections, was also condemned by the Gulf Cooperation Council, the Organization of Islamic Cooperation, the UN, the EU, Jordan, Turkey and Palestinian leaders in the West Bank.
In a televised speech, Netanyahu said he would annex the valley and land north of the Dead Sea, about a third of the occupied West Bank, and also annex other Israeli settlements in the West Bank. This would effectively end the possibility of a two-state solution to the Israeli-Palestinian conflict.
"Any Israeli decision to impose its laws, jurisdictions and administration in the occupied West Bank is without any international legal effect," UN spokesman Stephane Dujarric said.
"Such a prospect would be devastating to the potential of reviving negotiations, regional peace and the very essence of a two-state solution."
Nabil Shaath, senior adviser to Palestinian President Mahmoud Abbas, told Arab News it would be a mistake to dismiss Netanyahu's plan as an electioneering gimmick.
"While this is not new to Netanyahu, it is important to know that he is not different from his opponents," Shaath said. "They want the land without the people."
A "unified effort and effective strategy" were required to combat this, Shaath said. "We need the Arab world, Muslim countries, Europe and others to stand with us to stop this effort at destroying the two-state solution."
Palestinians in the Jordan Valley said on Wednesday they had been rooted to the land for generations, and would never give it up.
"We tell Netanyahu, and whoever follows him, you will not break the Palestinians' will, you will never break our will, never, never," said Hassan Al-Abedi, 55, a farmer in the village of Jiftlik. "It is our parents' and grandparents' land. We will hold on to it no matter what it costs."
Full report at:
https://www.arabnews.com/node/1552846/middle-east
--------
Pakistan
Baldev's family disputes his minorities mistreatment allegation
Waseem Ahmad Shah | Fazal Khaliq
September 12, 2019
PESHAWAR/ MINGORA: Former Pakistan Tehreek-i-Insaf (PTI) lawmaker Baldev Kumar is seeking political asylum in India and has accused the Imran Khan-led government of mistreating minorities in Pakistan.
Mr Kumar, who belongs to the Sikh community of Barikot in Swat Valley, has the distinction of remaining a provincial lawmaker for only a single day. He was arrested in the murder case of Soran Singh, the then special adviser to the chief minister, on April 22, 2016.
He was finally acquitted by an anti-terrorism court in Buner in April 2018. He took his oath in May the same year. However, the assembly was dissolved a day later for holding the general elections.
The Khyber Pakhtun­khwa government as well as the legal heirs of the late Soran Singh had filed separate appeals against the ATC judgement, which have been pending before the Peshawar High Court, Swat bench — commonly known as Darul Qaza. A bench at Darul Qaza is scheduled to hear the appeals on Sept 30.
Mr Kumar's brother Talak and other members of non-Muslim communities in Swat have rejected the allegations made by him in the Indian media that religious minorities were mistreated in Pakistan.
The Indian media, both print and electronic, have reported that Baldev Kumar had come to India on a visa along with his two children and spouse for treatment of their 12-year-old daughter suffering from thalassaemia.
Mr Kumar, whose wife be­lon­gs to India, has reportedly applied for political asylum citing discrimination against religious minorities in Pakistan as the prime reason.
Talak Kumar, who had also remained tehsil councilor, denied the allegations levelled by his brother against Pakistan. "This is not only strange but illogical because we are born here and live happily as our people are doing businesses and working on key positions in government departments," he told Dawn.
He said that all minority communities, including Sikhs, were enjoying safety in the country. He added that the Sikh community had been living in Swat, Buner and Shangla for centuries with complete religious freedom as they never faced any problem.
He said that Swat was his motherland and he was a patriotic Pakistani and that in the time of war the Sikh community would be the first to fight for Pakistan.
Amar Jeet Malhotra, a former senator belonging to the Awami National Party, expressed surprise over the stance of Baldev Kumar and said that all his assertions were baseless as more than 450 families lived in Malakand division in a safe and sound environment.
"He did the entire drama to get Indian nationality because his wife belongs to Khanna in Indian Punjab and she does not want to come back. We never felt any threat here and even during the militancy period from 2007 to 2009 we were safe here and lived without any threat," he told Dawn.
He said that majority of people belonging to the Sikh community in Swat were connected with different lucrative businesses, particularly in the cloth industry.
An additional advocate general, Muhammad Rahim Shah, informed Dawn that they had filed an appeal against acquittal of Baldev Kumar in May 2018. He said that their case was strong and the trial court had not appreciated the evidence available against the accused persons.
https://www.dawn.com/news/1504727/baldevs-family-disputes-his-minorities-mistreatment-allegation
--------
Pak failed to convince international community over Kashmir issue, says its interior minister
Sep 12, 2019
ISLAMABAD: Pakistan interior minister Brig Ijaz Ahmed Shah has brought a major embarrassment to Prime Minister Imran Khan and his coterie of ministers with his admission that Islamabad has failed to get support from the international community over its stand on Kashmir issue.
Shah blamed Pakistan "ruling elite" including Khan for "destroying" the image of the country.
"People do not believe us... in the international community. We say they (India) impose curfew and are not giving medicines to people of Jammu and Kashmir. People do not believe us but they believe them. The ruling elite has destroyed the country. The ruling elite of this country destroyed the name. People thought we are not a serious nation," he said, during a talk show on Pakistani news channel Hum News on Wednesday.
When asked whether Khan, Benazir Bhutto, Pervez Musharraf and others were a part of the ruling elite, the former spy chief said: "Everyone is responsible. Pakistan should now do a soul searching."
Ijaz's remarks came a day after Pakistan Foreign Minister Shah Mahmood Qureshi, during a UNHRC session in Geneva, claimed that India has transformed Jammu and Kashmir into the largest "caged prison in this planet" after the abrogation of Article 370 and that the human rights were being "trampled with impunity" there.
India had rejected Qureshi's allegations and hit back saying a "fabricated narrative" on Jammu and Kashmir has come from "the epicentre of global terrorism" and from a nation, which conducts cross-border terrorism as a form of 'alternate diplomacy.
Islamabad has been left red-faced after its desperate attempts to internationalise the Kashmir issue fell flat. The country has found itself isolated after being snubbed at the United Nations, as well as by countries like the United States, France, and Russia.
India's decision has been hailed internationally with several countries calling the move as India's internal matter even as Pakistan has been trying to internationalise the issue.
Islamabad has found itself completely isolated despite desperate attempts aimed at internationalising the issue.
Pakistan has approached various world leaders, including Abu Dhabi Crown Prince Mohammed bin Zayed Al Nahyan, Saudi Arabia's Crown Prince Mohammed Bin Salman, French President Emmanuel Macron and the Jordanian King Abdullah II to seek their interventions into the issue, but in vain.
Full report at:
https://timesofindia.indiatimes.com/world/pakistan/pak-fails-to-convince-international-community-over-kashmir-issue-says-its-interior-minister/articleshow/71091396.cms
--------
Pakistani leaders laud Saudi stand on Netanyahu's annex pledge, draw Kashmir parallels
MUHAMMAD ISHTIAQ
September 11, 2019
ISLAMABAD: Key Pakistani politicians and analysts have hailed Saudi Arabia's condemnation of Israeli Prime Minister Benjamin Netanyahu's intentions to annex the Jordan Valley in the occupied West Bank and made strong comparisons with Prime Minister's Narendra Modi's recent revocation of Indian-administered Kashmir's special status.
In a controversial, televised statement on Tuesday, Netanyahu pledged Israel would move to annex Israeli settlements throughout the West Bank if he won a stiffly contested election just a week away. The West Bank was captured by Israel in a 1967 war, but Palestinians, who signed interim peace deals with Israel in the 1990s, seek to make the area part of a future state.
Around 65,000 Palestinians and 11,000 Israeli settlers live in the Jordan Valley and the northern Dead Sea area.
After the announcement, Saudi Arabia has led the call to condemn Netanyahu's remarks, and described it as "a very dangerous escalation."
"I must appreciate Saudi Arabia for taking a firm and clear position and denouncing the announcement by Netanyahu. I would also like to commend the immediate (calling) an emergency OIC meeting by Saudi Arabia," Sehar Kamran, former senator from the opposition Pakistan Peoples Party, told Arab News, and likened Netanyahu's annexation plans to Modi's move in Indian-administered Kashmir in August.
"We see (only) symbolic reactions from the Muslim world on such illegal annexations which has encouraged Netanyahu and Modi to fulfill their dangerous agendas," she said.
Arab League foreign ministers and the European Union also condemned Netanyahu's plan, saying it would undermine any chance of progress for Israeli-Palestinian peace.
In a statement issued by the Royal Court, Saudi Arabia called for an emergency meeting for the Organization of Islamic Cooperation (OIC) at the level of foreign ministers, "to discuss this issue, develop an urgent plan of action and review the attitudes toward Israel, to address this announcement and take the necessary measures."
"We welcome the kingdom's rejection and condemnation of Israeli Prime Minister's announcement and I think Pakistan should join Saudi Arabia too on this issue in OIC proposed meeting," Senator Raja Zaffar ul Haq, the leader of the opposition in the Senate from the Pakistan Muslim League (PML-N) said.
US President Donald Trump has thrown his support behind Israel since taking office, including by recognizing Jerusalem as Israel's capital and cutting hundreds of millions of dollars in aid to the Palestinians. Trump also recognized Israeli sovereignty over the occupied Golan Heights, seized from Syria in 1967.
Now, Pakistan's leading analysts and academics are drawing comparisons between Israel's annexation plan and India's abrogation of partial constitutional autonomy for the disputed region of Kashmir, which both India and Pakistan own parts of but claim in full.
"In fact, it is India that has followed Israel's example by annexing Kashmir. There is a strong similarity between the two annexations. The Muslim world has been silent on the creeping Israeli expansion over the years and a divided house can't do much," Pakistani political analyst and author, Zahid Hussain, told Arab News.
"With the expansion of settlements in the West Bank, the process of annexation had already started with the tacit support from the Trump administration. Netanyahu just wants to formalize the annexation," he said.
Lahore-based politics professor Rasul Bakhsh Rais, from the Lahore University of Management Sciences, said the situations in the West Bank and Kashmir were similar.
"In both cases, Muslim majority areas have been annexed by an occupying state. Both are attempting to fragment the native populations by gerrymandering geography," he said.
On August 5th, India flooded its part of Muslim majority Kashmir valley with troops and imposed a complete curfew and communications lockdown, as Prime Minister Modi withdrew special rights for the region.
Full report at:
https://www.arabnews.com/node/1553116/pakistan
--------
Pakistani Official: Kashmir Issue Forced Troop Pullback From Afghan Border
By Nafisa Hoodbhoy
September 10, 2019
WASHINGTON - The renewed tension with India has pushed Pakistan to move some of its troops from the border region with Afghanistan to the Indian Line of Control (LOC), leaving fewer resources to contain the cross-border infiltration of militants along the Afghanistan-Pakistan border, a senior Pakistani army official tells VOA.
"Each time there is an escalation of tension with India, we have to pull away troops from our fully porous border with Afghanistan," said the army official, speaking on condition of anonymity because he was not authorized to speak to the media given the sensitive nature of the topic.
"Forces on both sides [of the Pakistan-India border region] are on high alert since February this year after the Pulwama attack," the army official added.
The Pakistan army redeployed paramilitary forces to the LOC in February after a terror attack in Pulwama (Indian-administered Kashmir) killed 40 Indian troops.
India blamed Pakistan for the attack, triggering a high alert on both sides of the border. As tensions peaked in August, Pakistan deployed additional troops along the border as well.
Asif Ghafoor, a Pakistan army spokesperson, said during a press conference in Islamabad last week that "Kashmir is our jugular vein and we will go to any lengths to protect it."
Some experts, however, charge that Pakistan is simply trying to get the United States' attention about the Kashmir issue.
"Pakistan's army is simply making a point with the Americans," Shuja Nawaz, a fellow at the Atlantic Council's South Asia Center, told VOA. "Pakistan's troops are never too far away from India's LOC."
Nawaz said that foreign fighters, including Islamic State, had already made inroads inside Afghanistan in provinces close to the border with Pakistan, including Nangarhar, Nooristan and Kunar before the recent Kashmir escalation.
Nawaz said, however, that if neglected, the Afghanistan and Pakistan border region could become problematic, allowing militants to infiltrate.
Pakistan-IS
With U.S. and Taliban engaging in direct talks over the past year — negotiations that fell apart this week, with Trump declaring the talks "dead" — there were concerns among some in Afghanistan that Pakistan would either turn a blind eye to IS emergence in the border region or support its growth as an alternative to perceived Indian influence in Afghanistan, should Taliban part ways with Islamabad.
Even in the past, Afghan officials have suggested that IS in Afghanistan had the support and blessing of Pakistan's intelligence agency.
"Based on our intelligence, they [IS] do not have the ability to carry out such attacks in the capital or its suburbs. Unfortunately, regional intelligence agencies are trying to portray them as a powerful group," General Mohammad Radmanesh, a spokesperson for the Afghan Ministry of Defense, told VOA last year.
"And it is very clear that (the) Haqqani terrorist group is carrying out these activities [attacks] under the name of IS," Radmanesh said at the time.
A former intelligence official in Pakistan's Balochistan province told VOA that Pakistan's support for IS could be a possibility, given Pakistan's fear of India's influence in Afghanistan.
"The Pakistani establishment is giving space to the Taliban to join the more extremist IS in order to act as a check against India in Afghanistan," the official said on condition of anonymity.
Some Afghan experts charge that IS's growth in eastern Afghanistan and elsewhere in the country would have been impossible without some sort of support from a state actor.
"The Islamic State could not have become so powerful without the space provided by the Inter-Services Intelligence (ISI) (Pakistan's spy agency)," Kabul-based analyst Zmaryaray Abbasin said.
"It is the same scenario, the same agreement when Pakistan allowed foreign fighters to converge along the Durand Line and used them in Afghanistan," Abbasin told VOA.
"Daesh and Taliban are two faces of the same coin. One conducts the attack, while the other benefits from it," Asif Nang, a Kabul-based analyst and former governor of eastern Laghman province, said, using the Arabic acronym for the Islamic State terror group.
Pakistan has denied allegations it supports IS and charges that the country does not have the financial ability to fight and contain terrorism on its soil.
However, Nawaz, of the Atlantic Council, who follows developments in the region, said he has not seen evidence that Pakistan supports or provides sanctuaries to IS in Afghanistan as an alternative to the Taliban.
"I have not seen any evidence that Pakistan's army supports Islamic State," Nawaz said. "It would be suicidal if they did."
Peace talks
Some experts believe the peace talks between the U.S and Taliban, which are called off for now, would push hard-line Taliban to align with IS.
"Certain Taliban factions opposed to the peace talks with the U.S. are joining IS," Noor Zaman Achakzai, a Pakistan-based reporter and analyst, told VOA.
Last month, a bomb blast killed the brother of Afghan Taliban chief Mullah Haibatullah Akhundzada in a mosque near Kuchlak, which is a major crossing point for Afghan Taliban to move between Pakistan and Afghanistan.
Afghan U.S. officials have long accused Pakistan of being selective in its crackdown on militants on its soil, targeting those who pose a threat to Pakistan's security and overlooking those who attack NATO forces in Afghanistan. The accusations have strained ties between Washington and Islamabad in recent years.
In recent months, however, Pakistan took a number of measures against militants in the country.
Michael Kugelman, deputy director for South Asia at the Washington-based Wilson Center, said he thinks that despite recent measures by Pakistan, "there is still a mistrust factor in Washington's perceptions of Pakistan."
Kugelman said that Pakistan sees the advantage of remaining a U.S. ally.
Full report at:
https://www.voanews.com/extremism-watch/pakistani-official-kashmir-issue-forced-troop-pullback-afghan-border
--------
FM sees risk of 'accidental war' over occupied Kashmir
September 12, 2019
GENEVA: Foreign Minister Shah Mehmood Qureshi has warned that the situation in India-held Kashmir risks sparking an "accidental war", and urged UN rights chief Michelle Bachelet to visit the troubled region.
Speaking to journalists on the sidelines of the UN Human Rights Council session here on Wednesday, Mr Qureshi said he believed both Pakistan and India "understand the consequences of a conflict". But with tensions soaring since New Delhi revoked Jammu and Kashmir's autonomy last month, he warned that "you cannot rule out an accidental war". "If the situation persists ... then anything is possible," he said.
India had imposed a military clampdown on held Kashmir on Aug 5 to prevent unrest as New Delhi revoked the disputed region's autonomy. Mobile phone networks and internet are still cut off in all but a few pockets.
Mr Qureshi, who on Tuesday appealed to the Human Rights Council to launch an international investigation into the situation in India-held Kashmir, told reporters that he had spoken with Ms Bachelet and invited her to visit both the Indian and Pakistani parts of the region.
"She should visit both places and report as objectively as she can so that the world knows what the true... situation is," he added.
According to foreign minister, Ms Bachelet had said she "was keen to visit".
Her office could not immediately be reached for confirmation.
Mr Qureshi, meanwhile, ruled out the possibility of bilateral talks to resolve the tensions. "In this environment and with the mindset that we see in New Delhi today, I do not see any room for a bilateral engagement," he said, adding that a multilateral forum or a third-party mediator would likely be needed. "If the US plays a role, that can be important because they have a considerable influence" in the region, he said.
Addressing the 42nd session of the UN Human Rights Council on Tuesday, Foreign Minister Qureshi urged the council to constitute a commission of inquiry for investigation into human rights violations in India-held Kashmir, reminding the council that if India had nothing to hide it should allow unhindered access to the commission, international media and human rights organisations.
Full report at:
https://www.dawn.com/news/1504725/fm-sees-risk-of-accidental-war-over-occupied-kashmir
--------
All banned outfits members to be brought into mainstream: Ijaz Shah
September 12, 2019
ISLAMABAD: Interior Minister Brig (R) Ijaz Ahmed Shah on Wednesday said that Pakistan Tehreek-e-Insaf (PTI) government would be bringing all banned outfits into the mainstream by providing them with employment opportunities.
Talking to a private news channel, the interior minister said that the writ of government would be established at any cost throughout the country. "Nobody would be allowed to use Pakistan's soil against any country or for his own nefarious designs," he said while adding that the country had already rendered more sacrifices while fighting terrorism than any other country as 80,000 innocent people had paid with the price of their lives.
To a question about the Afghan war against Russia, he said that every aspect had some advantages and disadvantages. "Pakistan is a frontline state in the Afghan war as we share the border with it. The current government is committed to the elimination of corruption in the country for which remarkable initiatives against money laundering to improve the national economy," he stated.
"National institutions must be empowered to curb the menace of corruption from the country," he emphasised.
To another question, the minister replied that Asif Ali Zardari would not have been arrested if cases against him were not strong.
He said the PTI led government was not responsible for prevailing economic crises adding steps had been taken to stabilize the country's economy.
Full report at:
https://www.pakistantoday.com.pk/2019/09/11/all-banned-outfits-members-to-be-brought-into-mainstream-ijaz-shah/
--------
Pakistan sees risk of 'accidental war' over Kashmir
11 September 2019
Pakistan's foreign minister warned on Wednesday that the situation in Indian Kashmir risked sparking an "accidental war," and urged UN rights chief Michelle Bachelet to visit the troubled region.
Speaking to journalists on the sidelines of the UN Human Rights Council in Geneva, Shah Mehmood Qureshi said he believed both Pakistan and India "understand the consequences of a conflict."
But with tensions soaring since New Delhi revoked Kashmir's autonomy last month, he warned that "you cannot rule out an accidental war."
"If the situation persists... then anything is possible," Qureshi said.
India imposed a military clampdown on Kashmir from August 5 to prevent unrest as New Delhi revoked the disputed region's autonomy.
Mobile phone networks and the internet are still cut off in all but a few pockets.
Tensions over Kashmir, split between India and Pakistan since 1947, have sparked two major wars and countless clashes between the two nuclear-armed arch-rivals.
Qureshi, who on Tuesday appealed to the Human Rights Council to launch an international investigation into the situation in Indian Kashmir, told reporters that he had spoken with Bachelet and had invited her to visit both the Indian and Pakistani parts of the region.
"She should visit both places and report as objectively as she can so that the world knows what the true... situation is," he said.
The minister said Bachelet had said she "was keen to visit." Her office could not immediately be reached for confirmation.
Qureshi meanwhile ruled out the possibility of bilateral talks to resolve the tensions.
"In this environment and with the mindset that we see in New Delhi today, I do not see any room for a bilateral engagement," he said, adding that a multilateral forum or a third-party mediator would likely be needed.
"If the US plays a role, that can be important because they have a considerable influence" in the region, he said.
Full report at:
https://english.alarabiya.net/en/News/world/2019/09/11/Pakistan-sees-risk-of-accidental-war-over-Kashmir.html
--------
North America
Two US lawmakers have expressed concerns over the human rights situation in Kashmir, and urged Secretary of State Mike Pompeo to press India to immediately end the communication blockade and release those who have been detained.
In a letter to Pompeo dated September 11, Pramila Jayapal, the first and the only Indian-American Congresswoman in the House of Representatives, and Congressman James P McGovern said the international media and independent human rights observers must immediately be allowed into Jammu and Kashmir to investigate reports of abuse.
"We urge you to work across the Administration to press the Indian Government to immediately end its communications blackout of Kashmir, expedite the process of reviewing and releasing individuals 'preventatively' detained, ensure hospitals have access to life-saving medicines and protect the rights of the Kashmiri people to freedom of assembly and worship," reads the letter.
The two lawmakers told Pompeo that they have significant concerns about the humanitarian and human rights "crisis" in Kashmir.
"In particular, we are concerned about credible reports from journalists and advocates on the ground that the Indian government has detained thousands of people with no recourse, imposed defacto curfews and cut off internet and telephone access on the region," they said.
Restrictions were imposed when New Delhi had on August 5 scrapped the state's special status under Article 370 of the Constitution and bifurcated in into Union territories — Jammu and Kashmir, and Ladakh.
Rep. Pramila Jayapal
✔
@RepJayapal
I continue to be deeply concerned about credible reports of a humanitarian crisis in Jammu & Kashmir. Even in complex situations, we look to strong democratic allies like India to uphold basic human rights and due process.
Read my letter with @RepMcGovern to @SecPompeo ⬇️
View image on TwitterView image on Twitter
904
11:50 PM - Sep 11, 2019
Twitter Ads info and privacy
666 people are talking about this
"We also urged the Indian Government at its highest levels to make it clear that religious tolerance – long a principle of Indian history and democracy – must be upheld," the two lawmakers wrote in the letter.
Tagging the letter in a tweet, Jayapal said: "I continue to be deeply concerned about credible reports of a humanitarian crisis in Jammu & Kashmir. Even in complex situations, we look to strong democratic allies like India to uphold basic human rights and due process."
https://indianexpress.com/article/india/us-lawmakers-seek-immediate-end-of-communication-blackout-in-kashmir-5987797/
--------
September 11 was terrorism. The NRA and antifa are not.
Sept. 11, 2019
By Erik Schechter
We hit peak absurdity last week when the San Francisco city government branded the NRA a "domestic terrorist organization."
In reaching its conclusion, the city's Board of Supervisors argued, in part, that the NRA supports terrorism by making it easy for violent extremists to get guns. Now, the NRA — which has filed a lawsuit in response— is a lot of odious things, but it's not a terrorist group, domestic or otherwise.
Advocating policies, even ones that harm society, does not make one a terrorist. Trust me, I know from terrorists. I used to be a military correspondent for The Jerusalem Post. I wrote about terrorists. I interviewed them face to face. And in January 2004, one terrorist — a suicide bomber — almost killed me when he exploded on the bus I was riding on.
I still bear the scars from that day.
Though the precise definition is still debated by academics, a terrorist is a nonstate militant who targets civilians with deadly force to achieve a political objective. Innocence as defined by just war theory, which informs modern concepts of right and wrong in warfare, mean nothing to them. Terrorists make people fear for their lives.
So, yes, I wish San Francisco hadn't cheapened the pro-gun-control argument with its rank hyperbole. I also wish the resolution was an isolated incident. But over the past couple of months, we've been seeing a revival in the reckless use of the term "terrorist" by lawmakers on both sides of the aisle.
In doing so, they are further warping the meaning of the word (which already got loosey-goosey under the Patriot Act and subsequent legislation) to expand the power of the state, demonize political opponents and raise serious constitutional issues — all while doing little to make American citizens safe.
Take the case of Portland. On June 29, during a confrontation between two opposing groups of protesters, a right-wing writer named Andy Ngo was set upon by antifa activists, who punched and kicked him and, as he walked away, doused him with milkshakes.
It was a reprehensible act and, no matter what one thinks of Ngo the man or his fanboy journalism, his attackers need to be punished. And, lo and behold, there are laws on the books to do just that. But they weren't good enough for two Republican senators.
In response to Ngo being roughed up, Ted Cruz of Texas and Bill Cassidy of Louisiana quickly introduced a nonbinding resolution that called "for the groups and organizations across the country who act under the banner of antifa to be designated as domestic terrorist organizations."
The attack on Ngo didn't involve a hijacked plane, a café bombing or a synagogue shooting. It barely rose to the level of a barroom brawl. Yet here were two senators panting about antifa and domestic terrorism, exploiting a term associated with such national tragedies as 9/11 or the 2002 Bali bombings to go after a messy little protest movement our society is more than well-equipped to handle.
Worse still, the two were willing to run afoul of the Constitution in the process. There's a reason why we don't have an official list of domestic terrorist organizations like we do with foreign groups. It's called the First Amendment. You can't simply criminalize U.S. citizens for sharing the same symbols or banner as those who engage in violence.
Even if you could, it seems odd that the two senators would make targeting antifa by name a priority over, say, the neo-Nazi Atomwaffen Division or anti-government sovereign citizens movement. Both those groups are responsible for real, actual murders.
Besides the arbitrariness of it all, there's another reason why you wouldn't want to the lower the bar on domestic terrorism just to call out antifa: If you did, on what grounds could you criticize the Chinese for taking the same kind of repressive measures against their not-so-gentle protesters in Hong Kong?
Be that as it may, on Aug. 17, President Donald Trump tweeted in the lead-up to expected confrontations between far-right and far-left protesters again facing off in Portland, "Major consideration is being given to naming ANTIFA an 'ORGANIZATION OF TERROR.'"
It was chillingly authoritarian. And ironic. After all, if merely roughing up political opponents is tantamount to terrorism, what does that say about Trump? While still a candidate back in 2016, he urged his supporters: "If you see somebody getting ready to throw a tomato, knock the crap out of them, would you? Seriously, OK? Just knock the hell ... I promise you I will pay for the legal fees. I promise, I promise."
Wouldn't that make Trump, like the antifa pugilists, a domestic terrorist?
The problem, however, goes beyond Cruz, Cassidy and Trump. In the wake of recent mass shootings, other lawmakers have put domestic terrorism bills before Congress. For example, the Domestic Terrorism Penalties Act of 2019, introduced in mid-August by Texas Reps. Michael McCaul and Randy Weber, both Republicans, and Democrat Henry Cuellar, establishes federal penalties for a new all-encompassing crime of domestic terrorism, instead of what we have now: circumstance-specific terrorism laws that address bombings, hijackings, etc.
According to the congressmen, our regular laws against violence and mayhem (plus 57 federal terrorism-related laws) are insufficient to address terrorists without links to foreign organizations who go on shooting sprees, and this bill will finally plug that hole.
I don't buy it, and here's why.
First, the bill is mostly symbolic. It's good and right to call the El Paso shooter — who justified his murderous rampage in August as a response to "the Hispanic invasion of Texas" — a domestic terrorist. But public officials can label him that already; they don't need a change of law. As for prosecution, there are enough existing laws to nail him. Case in point, the state is seeking the death penalty in the El Paso case. How much more can you punish him?
Second, if you want to federally prosecute shooters as domestic terrorists, just create a law that covers politically motivated violence with firearms. Simple. Why have a bill that considers assaults resulting in "serious bodily injury" as terrorism, when such an open-ended category could be used by an overzealous prosecutor against unpopular, low-rent scrappers?
Third, the bill describes politically motivated destruction of property as an act of domestic terrorism. Property! Think of the implications. By their logic, McCaul, Weber and Cuellar are saying the Boston Tea Party is an act of terrorism and the Sons of Liberty terrorists.
Other bills under consideration have similar flaws or worse: One by Sen. Martha McSally, R-Ariz., explicitly defines attacks on military personnel as "terrorism." How exactly is that terrorism? Do we not train our own soldiers, sailors, Marines and airmen to kill enemy military personnel?
Now, it's tempting to think that these bills are just meant as a distraction from doing the hard work on gun violence in America. But there are anti-gun liberals who support these legal efforts, too. I get it. People want to take a stand against white supremacist terrorism, especially after El Paso. The question is whether what's gained by the extra bit of symbolism is worth the cost.
We are now seeing the word terrorist — the nuclear bomb of political epithets — being casually tossed about. For some, it's just a matter of hurting people on the other side of the aisle. Others, operating in a less partisan fashion, aren't thinking through all the consequences of pushing bills that list too many crimes as terrorism.
Full report at:
https://www.nbcnews.com/think/opinion/nra-antifa-are-not-domestic-terrorists-saying-they-are-threat-ncna1052191
--------
Ilhan Omar recounts 'complete horror' of 9/11 attacks after being slammed at NYC memorial
By Bob Fredericks
September 11, 2019
Lightning-rod Rep. Ilhan Omar — who previously sparked outrage with a comment minimizing the 9/11 terror attacks — posted a somber video on Twitter on Wednesday commemorating the anniversary and recounting the "complete horror" she and her family felt following the terror attacks.
"On September 11th we experienced one of the most horrific terrorist attacks that we have ever lived through as a nation. Today, we remember the victims, the first responders and their loved ones. #Neverforget," the Minnesota Democrat wrote on the post, which included the nearly minute-long video.
"I was 18 years old when that happened. I was in a classroom in college and I remember rushing home after being dismissed and getting home and seeing my father in complete horror as he sat in front of that TV. And I remember just feeling, like the world was ending," said Omar, who, along with Michigan Rep. Rashida Tlaib, are the only two Muslim women in Congress.
"The events of 9/11 were life-changing, life-altering for all of us," she said. "My feeling around it is one of complete horror. None of us are ever going to forget that day and the trauma that we will always have to live with."
Omar's video contrasted sharply with a statement she made in March about the attacks, which she described only as "some people did something."
The remark sparked widespread outrage and condemnation from critics from the right and left, who accused her of minimizing the atrocity, in which nearly 3,000 people were killed by 19 al Qaeda terrorists.
Omar and her defenders at the time said her remarks had been taken out of context, and that she was calling for Muslim activism days after a white nationalist attacked two New Zealand mosques, killing 50 people.
Tlaib also weighed in on the anniversary with a statement on Twitter.
"I will never forget 9/11. I was working at a non-profit Arab American organization, ACCESS, while in law school. My day started like any other, until I heard gasps from my co-workers in the lunch room. I rushed in and saw faces of shock facing the television," she wrote.
"Then we saw a plane hit the second tower and the room erupted in tears and heartbreak. Our country was being attacked."
She said that soon the organization's phones were swamped with threats of violence.
"Still, our communities came together to mourn, to stand in solidarity with our fellow Americans across the country to reject the hate and terror that comes from it," she continued.
"As we remember all of the lives lost from that horrific attack 18 years ago today, let us remember to not allow this type of violence to divide us, but to stand united. We are stronger together."
Rep. Alexandria Ocasio-Cortez of New York, who was 11 when the hijacked planes struck the Twin Towers, retweeted a video posted by House Speaker Nancy Pelosi showing lawmakers observing a moment of silence in Washington.
Massachusetts Rep. Ayanna Pressley, the fourth member of the self-described "Squad," had not posted about 9/11 on her Twitter account or official website.
Also Wednesday, a man whose mother was killed on 9/11 attacked the four Democratic congresswomen at a ceremony at Ground Zero to remember those killed in the 2001 terrorist attacks.
"'Some people did something,' said a freshman congresswoman from Minnesota," said Nicholas Haros Jr., wearing a black T-shirt with Omar's words: "Some people did something?"
"Today I am here to tell you exactly who did what to whom. We know objectively, there is no uncertainty about that. Why your confusion?" he continued.
Full report at:
https://nypost.com/2019/09/11/ilhan-omar-recounts-complete-horror-of-9-11-attacks-in-somber-video/
--------
Pompeo hints that Trump could meet with Iranian President at UN meeting
By Helen Regan
September 11, 2019
(CNN)US Secretary of State Mike Pompeo said Tuesday that President Donald Trump could meet with Iranian President Hassan Rouhani at the upcoming United Nations General Assembly, with "no preconditions."
The comments, made by Pompeo during a press briefing to announce a raft of new sanctions on groups including a unit in Iran's Islamic Revolutionary Guards, came just hours after Trump announced the resignation of national security adviser and Iran hawk John Bolton.
Asked about the possibility of a meeting between Trump and Rouhani later this month, Pompeo, who was speaking alongside Treasury Secretary Steven Mnuchin, said that Trump was "prepared to meet with no preconditions."
Both Trump and Rouhani are scheduled to attend the UN General Assembly in New York late September.
Mnuchin maintained that even with Bolton now out of the picture, the US would continue with its "maximum pressure" campaign against Iran. The policy aims to stop Iran from developing nuclear weapons through economic and military pressure, including sanctions, following Trump's withdrawal from the Iran nuclear deal last year.
Rouhani said last month there would be no meeting until economic sanctions imposed on Tehran are removed.
The resignation of Bolton, first announced by Trump on Twitter on Tuesday, was described by a senior adviser to Rouhani as a "clear sign that the US maximum pressure strategy has failed," according to state-run Islamic Republic News Agency (IRNA).
"The fact that John Bolton was sidelined and then eliminated isn't an accident," Hesamuddin Ashena said, and predicted that "Iran's siege will break."
Following Ashena's remarks, Iranian government spokesperson Ali Rabiei said the White House's move to oust Bolton would help the Trump administration better "understand the realities of Iran."
"With the ousting of its biggest proponent of war and economic terrorism, the White House will have fewer obstacles to understanding the realities of Iran," Rabiei wrote on Twitter, according to IRNA. "Months ago John Bolton had promised that Iran would not be there in three months; we are still standing and he is gone."
Bolton was initially brought into the administration last year to replace HR McMaster partly due to his hawkish position on Iran -- supporting Trump's exit from the Iran nuclear deal and the maximum pressure strategy -- but he soon began to clash with the President's vision for diplomacy in North Korea and most recently on Afghanistan.
Bolton maintains he offered to leave his post voluntarily, tweeting minutes after Trump's announcement, "I offered to resign last night and President Trump said, 'Let's talk about it tomorrow.'"
It's not clear that Bolton's departure was related to Iran policy. In a tweet, Tuesday, Trump said he "strongly disagreed with many" of Bolton's suggestions "as did others in the administration."
White House deputy press secretary Hogan Gidley told reporters there was "no one issue" that led to Bolton's departure, saying his "priorities and policies just don't line up with the President's."
But a senior administration official told CNN that Trump has been getting irritated with Bolton for his statements on Iran, Venezuela and Afghanistan. The two also disagreed over the President's decision to host leaders of the Taliban at Camp David, multiple people familiar with the situation told CNN.
Full report at:
https://edition.cnn.com/2019/09/11/middleeast/bolton-iran-trump-pompeo-rouhani-intl-hnk/index.html
--------
On 9/11, Trump vows to hit Taliban 'harder' than ever
11 September 2019
President Donald Trump warned Wednesday that what he describes as an unprecedented US military assault against the Taliban in Afghanistan is to continue just five days after he scrapped peace talks.
Speaking at a ceremony marking the 18th anniversary of the 9/11 attacks, Trump said that over "the last four days" US forces have "hit our enemy harder than they have ever been hit before and that will continue."
Trump said the assault was ordered after he canceled secret peace talks with the Taliban over the weekend in retaliation for a bomb attack that killed one US soldier last week.
The precise nature of the US offensive against the Taliban that Trump described was not immediately clear.
On Monday, Trump had already declared that "over the last four days, we have been hitting our Enemy harder than at any time in the last ten years!"
But US troop levels in Afghanistan are only around 14,000, a fraction of the peak of about 100,000 in 2010.
In his Pentagon speech, Trump also issued a threat against militants ever attacking on US soil again, saying the response would be unlike any ever seen before.
"If for any reason, they come back to our country, we will go wherever they are, and use power, the likes of which the United States has never used before," he said.
"I'm not even talking about nuclear power. They will never have seen anything like what will happen to them," he added.
The warlike comments were all the more startling because it was only on Saturday that the Republican former businessman announced on Twitter that he'd been about to meet with Taliban leaders on Sunday at his Camp David presidential retreat.
Before the tweet, no one outside Trump's immediate circle was aware of the development.
It came after months of painstaking, mostly behind-the-scenes negotiations on cutting back the US troop presence and extricating the United States from a long, fruitless war.
It was also stunning for the choice of the prestigious Camp David setting on a date so close to the September 11, 2001, anniversary.
Full report at:
https://english.alarabiya.net/en/News/world/2019/09/11/On-9-11-Trump-vows-to-hit-Taliban-harder-than-ever-.html
--------
Blast heard near US Embassy in Kabul on 9/11 anniversary
11 September 2019
A large explosion has been heard in Afghanistan's capital near the US Embassy shortly after midnight on the anniversary of the 9/11 attack on the United States.
A plume of smoke rose early Wednesday over Kabul. An embassy employee reached by phone confirmed the blast but had no details.
It would be the first major attack in the Afghan capital since President Donald Trump abruptly called off US-Taliban talks on the brink of an apparent deal to end America's longest war.
Full report at:
https://english.alarabiya.net/en/News/world/2019/09/11/Blast-heard-near-US-Embassy-in-Kabul-on-9-11-anniversary.html
--------
'We'll see what happens,' Trump says of easing illegal sanctions on Iran
Sep 11, 2019
US President Donald Trump has refused to rule out easing of illegal sanctions on Iran amid tensions between Washington and Tehran.
He made the comments alongside his wife, Melania, at an event in the Oval Office of the White House on Wednesday.
"We'll see what happens. We'll see what happens. I think Iran has the potential and I think North Korea - those are two countries we're dealing with right now at a very high level," claimed the US president. "I think Iran has a tremendous potential. They're incredible people. We're not looking for regime change. We hope that we can make a deal and if we can't make a deal that's fine too. OK? That's fine too. But, I think they have to make a deal."
Trump's comments came after he sacked his hawkish national security advisor, John Bolton, who had been dreaming of a war on Iran for years.
Oil prices reportedly fell more than two percent after the president made the comments.
Despite the latest statement, the US president maintained his anti-Iran tone, falsely accusing Tehran of seeking nuclear weapons.
"We cannot let Iran have a nuclear weapon, and they never will have a nuclear weapon," he claimed. "If they are thinking about enrichment, they can forget about it. Because it's going to be very dangerous for them to enrich. Very, very dangerous, okay?"
Since he pulled the United States out of a 2015 deal under which Iran, Trump has started a "maximum pressure" campaign against the Islamic Republic.
Full report at:
https://www.presstv.com/Detail/2019/09/11/605947/Trump-wont-rule-out-easing-Iran-sanctions
--------
Europe
UK raises concerns with Iran over detained dual nationals
11 September 2019
The UK Defense Secretary Ben Wallace called on Iran "to release those who have been detained and follow the rule of law," after two British-Australian women were jailed in Iran.
British Foreign Minister Dominic Raab also raised concerns about the number of dual-nationality Britons detained in Iran and the conditions in which they were being held, a foreign office statement said on Wednesday.
"The Foreign Secretary met the Iranian Ambassador this morning and raised serious concerns about the number of dual national citizens detained by Iran and their conditions of detention," the Foreign Office statement said.
The Australian government on Wednesday confirmed three Australian citizens had been detained in Iran, adding that it was helping the families of the three but gave no further details.
https://english.alarabiya.net/en/News/middle-east/2019/09/11/UK-raised-concerns-with-Iran-over-detained-dual-nationals.html
--------
Germany's Merkel: We still have every chance of orderly Brexit
11 September 2019
German Chancellor Angela Merkel said on Wednesday there was still every chance for Britain's divorce from the European Union to take place with a deal although Berlin is prepared for a disorderly Brexit in case that does not happen.
"We still have every chance of getting an orderly (Brexit) and the German government will do everything it can to make that possible - right up to the last day. But I also say we are prepared for a disorderly Brexit," Merkel told parliament.
"But the fact remains that after the withdrawal of Britain, we have an economic competitor at our door, even if we want to keep close economic, foreign and security cooperation and friendly relations," Merkel added.
Merkel added that Germany would keep trying to find solutions to disputes over Iran's nuclear program that averted escalation.
"Step by step we will keep trying to find solutions with Iran that prevent an escalation of tensions in a globally sensitive region. That's our job," Merkel told the lower house of parliament.
US-China trade war
Merkel also said that the trade conflict between the US and China was hitting Germany, which has traditionally relied on exports to propel its economy.
"We have international uncertainty due to the US-China trade conflict and that is of course having an impact on an export nation like Germany," Merkel told the Bundestag lower house of parliament.
Hong Kong human rights
Merkel also told lawmakers that China's economic rise brings an increased responsibility for Beijing on the world stage, adding that she had told Chinese leaders last week that upholding human rights was indispensable.
"It's the right thing to do for Germany to pursue ties with China in all areas, economically but also in the various dialogue formats we have about the rule of law and about human rights," Merkel said.
"During my visit, I again pointed out that upholding human rights is indispensable for us. This applies in general, and it also applies for the situation in Hong Kong, where we continue to view the principle of 'one country, two systems' as the right one."
Libya
Germany will do its part to avoid a proxy war in Libya, Chancellor Angela Merkel said on Wednesday, warning that the situation in the North African country risked destabilizing the whole of Africa.
Full report at:
https://english.alarabiya.net/en/News/middle-east/2019/09/11/Merkel-We-will-keep-trying-to-find-solutions-with-Iran-to-avoid-escalation.html
--------
Merkel: Europe has chosen to uphold Iran deal
Sep 11, 2019
German Chancellor Angela Merkel says Europe has made its choice regarding the historic 2015 nuclear agreement with Iran — which the United States has been attempting to sabotage — and will honor the agreement.
Officially known as the Joint Comprehensive Plan of Action (JCPOA), the deal was originally struck between Iran on the one side and Germany, France, the United Kingdom, China, Russia, and the US on the other. Washington, however, breached and then unilaterally pulled out of the deal in 2018. It has since been trying to stymie the agreement by imposing sanctions on Iran and its international trade partners, including Europe.
Those attempts by the US have ratcheted up tensions with Iran, which has stopped complying with some of its obligations under the deal, arguing that Europe is failing to make the deal work for Iran economically as planned.
"Step by step, we will keep trying to find solutions with Iran that prevent an escalation of tensions in a globally sensitive region. That's our job," Chancellor Merkel said on Wednesday.
The JCPOA has been ratified in the form of a United Nations Security Council resolution, making both the US's withdrawal and its imposition of the sanctions illegal.
Despite recurrent promises by Europe to offset the adverse effects of American actions on its implementation of the deal, Iran has of yet been dissatisfied, insisting that words should be followed up by real action.
Europe is contractually bound to guarantee Tehran's business interests, something it stopped doing after Washington imposed its bans.
Full report at:
https://www.presstv.com/Detail/2019/09/11/605894/Germany-Iran-deal-choice
--------
'EU will not recognize any changes regarding Jerusalem'
Diyar Güldoğan
11.09.2019
The EU will not recognize any changes with regard to Jerusalem, an official said on Wednesday in response to the Israeli premier's remarks.
"As reaffirmed in numerous Foreign Affairs Council conclusions, the EU will not recognize any changes to the pre-1967 borders including with regard to Jerusalem, other than those agreed by the parties," an EU spokesperson said.
The remarks came a day after Israeli Prime Minister Benjamin Netanyahu pledged that if he wins general elections slated for Sept. 17, he would annex parts of occupied lands in the West Bank including north of the Dead Sea and Jordan Valley.
The EU spokesperson said the policy of settlement construction and expansion, including in East Jerusalem, is illegal under international law.
This would undermine the viability of the two-state solution and the prospects for a lasting peace, spokesperson added.
Some 650,000 Israeli Jews currently live in more than 100 settlements built since 1967, when Israel occupied the West Bank and East Jerusalem.
The Palestinians see these territories -- along with the Gaza Strip -- as integral for the establishment of a future Palestinian state.
Full report at:
https://www.aa.com.tr/en/europe/eu-will-not-recognize-any-changes-regarding-jerusalem/1579257
--------
NATO: Turkey an 'important ally' in fighting terrorism
11.09.2019
BRUSSELS / ANKARA
Turkey has been a significant ally in international efforts to counter terrorism, the chief of the NATO alliance said on Wednesday.
"Turkey has been a very important ally in the fight against terrorism," Secretary-General Jens Stoltenberg told reporters.
His remarks followed a ceremony at NATO headquarters in Brussels commemorating the Sept. 11, 2001 terrorist attacks.
Stoltenberg said he had spoken with Turkish Foreign Minister Mevlut Cavusoglu on the phone on Wednesday, adding that Turkey is "one of the lead" nations in Afghanistan.
He added that Turkey is also a key country in the fight against Daesh in Iraq and Syria, and without its contributions it would be "much harder" to make gains against Daesh.
The NATO chief also praised cooperation between Turkey and the U.S. in northern Syria.
Remembering 9/11
"This memorial symbolizes that while 9/11 was an attack against the United States, it was also an attack against all NATO allies," Stoltenberg said, speaking in front of a wreckage from the Twin Towers.
He added that in the wake of the attack, for the first and only time in NATO's history, the alliance invoked its collective defense clause – Article 5, which says an attack against any country in the alliance is an attack against all.
Slain al-Qaeda leader Osama Bin Laden claimed responsibility for the Sept. 11, 2001 attacks on New York's Twin Towers as well as on the Pentagon.
Nearly 3,000 people were killed, including citizens of 77 countries, on that day 18 years ago.
Full report at:
https://www.aa.com.tr/en/europe/nato-turkey-an-important-ally-in-fighting-terrorism/1579213
--------
Mideast
Talks with US meaningless while sanctions still in place, Rouhani tells Macron
Sep 11, 2019
Iranian President Hassan Rouhani has informed his French counterpart Emmanuel Macron that there is no point in talks with the United States as long as it keeps sanctions against the Islamic Republic in place.
Speaking to Macron over phone on Wednesday, Rouhani said the US violated its commitments under the 2015 nuclear deal once it decided to quit it in May 2018.
"From the viewpoint of Iran's government, parliament and people, as long as there are sanctions in place, there is no point in negotiating with the US," he said.
Ever since quitting the Joint Comprehensive Plan of Action (JCPOA), US President Donald Trump has been trying to force Iran into accepting a more wide-ranging alternative that curbs Tehran's missile program and regional influence .
It has also been working with its allies to form a patrol force in the Persian Gulf to protect shipping against what it calls threats from Iran.
American officials have also sent mixed requests for talks while continuing the hostilities.
In response to the pressure and a lack of willingness by the European signatories of the deal -- the UK, France and Germany -- to offset it, Iran has over the past months started to cut back on its commitments under the agreement.
In the first stage of its response, Iran increased enriched uranium stockpile to over the 300kg cap defined in the JCPOA. As a second step, Iran started to enrich uranium beyond the 3.67 percent purity limit required by the deal.
The third step, revealed last week, Tehran told Europe that it was removing all limits on nuclear research and development.
Rouhani told Macron that Iran was ready to resume implementing deal at its fullest once agreements with the three European nations to implement the deal were fulfilled.
He said that the JCPOA's stability and the security of all waterways, including the Persian Gulf, were two major goals that would benefit all parties, including the United States itself.
The Iranian head of state said the JCPOA provided a great opportunity for other countries to get involved in Iran's booming economy.
"It is imperative that the European Union and France play their role in preserving the JCPOA the best they can," he told Macron.
Macron, for his part, detailed his government's negotiations with the US and said Paris would continue efforts to implement the deal.
He also laid out his country's future plans for the negotiations. The two leaders also agreed to continue talks.
https://www.presstv.com/Detail/2019/09/11/605945/Iran-France-Rouhani-Macron-US-sanctions-JCPOA-talks
--------
Iran says Netanyahu's annexation plan means to win reelection
Sep 11, 2019
Iran says the Israeli prime minister seeks to stay in power through anti-Iran accusations and annexation, after Benjamin Netanyahu said he would annex the Jordan Valley in the occupied West Bank if reelected.
"Netanyahu is after votes to stay in power and continue with expansionist policies and aggression one day through making accusations against the Islamic Republic of Iran and one day by announcing his malicious intention to annex certain parts of Palestine," Iranian Foreign Ministry Spokesman Abbas Mousavi said on Wednesday.
Mousavi said certain Arab countries claiming the leadership of the Arab world and who are busy with other issues like their military aggression against Yemen and their warming up ties with Israel had provided the Tel Aviv regime with an opportunity to disclose its ill-wished intentions.
He added that Iran welcomes any collective effort by Muslim countries to block the decision after calls for an emergency meeting of the Organization of Islamic Corporation (OIC).
The remarks came one day after Netanyahu vowed to annex the Jordan Valley in the West Bank if he emerges victorious in the forthcoming snap legislative elections.
He announced his intention "to apply Israeli sovereignty to the Jordan Valley and the northern Dead Sea" in a speech broadcast live on Israeli TV.
The 69-year-old chairman of the Likud party also reiterated his intention to annex Israeli settlements throughout the West Bank if re-elected, and in coordination with US President Donald Trump.
The announcement drew sharp criticism from Middle Eastern countries.
Ironically enough, Saudi Arabia that has been seeking to normalize ties with Israel also criticized Netanyahu for this "dangerous escalation against the Palestinian people" and called for an OIC emergency meeting.
The Jordan Valley and the northern Dead Sea constitute almost 30 percent of the West Bank. Some 65,000 Palestinians and about 11,000 illegal Israeli settlers live in the area - most of which is under Israeli military control in what is referred to as Area C.
Arab League Secretary General Ahmed Aboul Gheit also condemned Netanyahu's declaration, arguing that the plan will undermine any chances of progress in the so-called peace talks between the Israeli regime and Palestinians.
The Iranian spokesperson's remarks also came two days after Netanyahu accused Iran of operating a secret site towards obtaining nuclear arms and called on the international community to join Washington's economic sanctions on Tehran.
Full report at:
https://www.presstv.com/Detail/2019/09/11/605943/Iran-Israel-Netanyahu-election-West-Bank-Jordan-Valley-US-
--------
B-Team promoted 9/11, now leads economic terror on Iran: Zarif
Sep 11, 2019
Iranian Foreign Minister Mohammad Javad Zarif says the "B-Team" once facilitated the September 11, 2001 terror attacks on the World Trade Center (WTC), and is now pushing the White House to drive up economic terrorism against Iran.
Zarif took to twitter on Wednesday to criticize a new US presidential directive aimed at "modernizing sanctions" against what Washington determines as terrorism.
The new executive order by Donald Trump allows his administration to dish out sanctions against other countries on the grounds of countering "continuing and immediate threat of grave acts of terrorism and threats of terrorism committed by foreign terrorists, which include acts of terrorism that threaten the Middle East peace process."
The Iranian FM said in his first tweet that Washington stepped up its economic terror just when the world "minus 3 or 2 panicked cohorts—was breathing a sigh of relief over ouster of" US National Security Adviser John Bolton, who was sacked by Trump on Tuesday.
"Thirst for war—maximum pressure—should go with the warmonger-in-chief," he said, referring to the Trump administration's so-called "maximum pressure" campaign against Iran.
The campaign, which Trump revealed in May 2018 upon leaving the 2015 Iran nuclear deal and is believed to be masterminded by Bolton, seeks to force Iran into renegotiating a new deal that curbs its missile program and rolls back its regional influence.
Bolton was one of the key members of Zarif's B-Team, which comprises Israeli Prime Minister Benjamin Netanyahu, Saudi Crown Prince Mohammed bin Salman and Abu Dhabi Crown Prince Mohammed bin Zayed Al Nahyan.
Zarif called US State Secretary Mike Pompeo and Treasury Secretary Steven Mnuchin as the B-Team's "henchmen."
In a second tweet which came a few hours later, Zarif reminded his followers of the B-Team's history of backing terrorism and war.
"FIGHTING TO THE LAST US SOLDIER," he wrote. "Same #B_Team which a) provided most 9/11 terrorists & b) pushed the US into the Afghan/Iraq quagmires is now plotting war thru #EconomicTerrorism on Iranians who held a candlelight vigil as WTC was on fire."
Iran has time and again accused the US of waging an economic war using harsh economic sanctions that directly target the people by banning sale of passenger aircraft parts and medicines among other critical goods.
Trump has also stepped up its military presence in the Persian Gulf region and tried to put together an international patrol force to curb what it calls Iran's threat against ships passing through the Strait for Hormuz.
However, with his hawkish policy in tatters as a result of Iran's resistance against the pressure , Trump has been offering talks with senior Iranian officials in recent months.
Full report at:
https://www.presstv.com/Detail/2019/09/11/605931/Iran-Zarif-US-sanctions-modernization-BTeam-911-attacks-economic-terrorism
--------
Netanyahu cannot keep Palestine under occupation forever: Hamas spokesman
Sep 11, 2019
A spokesman for Palestinian Hamas resistance movement has dismissed Israeli Prime Minister Benjamin Netanyahu's controversial pledge to annex the Jordan Valley in the occupied West Bank if re-elected, stating that he is still under the delusion that the Tel Aviv regime could maintain its occupation of the Palestinian land.
Hazem Qasem stated on Wednesday that the Palestinian people would continue their struggle to remove the occupation from their territories, and establish their independent state.
Qasem then accused Netanyahu of wooing his right-wing supporters through selling illusions that the Israeli regime can occupy the Palestinian land forever.
The Hamas spokesman later stressed the need for a unified Palestinian front in the face of rightist Israeli policies.
Netanyahu annexation pledge undermines peace prospects: EU
Separately, the European Union warned on Wednesday that Netanyahu's pledge to annex the Jordan Valley in the occupied West Bank if he wins next week's election undermines chances for peace in the Middle East region.
"The policy of settlement construction and expansion... is illegal under international law and its continuation, and actions taken in this context, undermine the viability of the two-state solution and the prospects for a lasting peace," an unnamed EU spokesperson said in a statement.
Abbas threatens to end agreements with Israel
Moreover, Palestinian President Mahmoud Abbas has reiterated that the Palestinian Authority will cease all agreements signed with the Israeli regime if the latter decides to annex any part of the occupied Palestinian land.
Speaking at a meeting with visiting Luxembourgish Foreign Minister Jean Asselborn and his accompanying delegation in Ramallah on Wednesday, Abbas underscored that Benjamin Netanyahu's vow to annex the Jordan Valley in the occupied West Bank eliminates all chances of achieving peace and undermines all international efforts to end the Palestinian-Israeli conflict.
He slammed the pledge as a clear violation of all United Nations resolutions and the international law.
Abbas then lauded the position of Luxembourg and the EU in warning Israel against taking such steps, which will destroy the foundations of the so-called political process, calling on the international community to take a firm stance to force the Israeli regime to reverse such measures.
Asselborn, for his part, affirmed his country's support for the so-called two-state solution, and rejection of any measures that could undermine such an initiative.
Turkey slams Netanyahu over 'illegal' election pledges
Turkey's foreign minister on Tuesday slammed Israel's prime minister over his "illegal, unlawful and aggressive" messages in election pledges, saying they are part of a "racist apartheid" regime.
"The election promise of [Israeli Prime Minister Benjamin] Netanyahu, who is giving all kind of illegal, unlawful and aggressive messages before the election, is a racist apartheid state," Mevlut Cavusoglu wrote on her Twitter page.
Mevlüt Çavuşoğlu
✔
@MevlutCavusoglu
The election promise of Netanyahu, who is giving all kind of illegal, unlawful and aggressive messages before the election, is a racist apartheid state. Will defend rights and interests of our Palestinian brothers&sisters till the end.
660
11:40 PM - Sep 10, 2019
Twitter Ads info and privacy
234 people are talking about this
"[Turkey] will defend rights and interests of our Palestinian brothers and sisters till the end," Cavusoglu added.
Jordan, Qatar, Saudi Arabia decry annexation bid
Meanwhile, Jordan, Qatar and Saudi Arabia have strongly condemned the remarks by the Israeli prime minister in which he pledged to annex the occupied Jordan Valley.
Jordan's Foreign Minister Ayman Safadi said Netanyahu's declaration is a dangerous escalation that will torpedo the foundations of the so-called peace process, fuel the Israeli-Palestinian conflict and push the entire Middle East region towards violence.
Ayman Safadi
✔
@AymanHsafadi
We condemn announcement by Israeli PM that he intends to annex illegal settlements & Jordan Valley in occupied West Bank. This is a serious escalation that undermines all peace efforts. It'll lead to more violence & conflict. LAS condemned announcement in emergency session
70
11:16 PM - Sep 10, 2019
Twitter Ads info and privacy
55 people are talking about this
Safadi stressed Jordan's rejection of the annexation pledge, terming it as a flagrant violation of international law and an election stunt that will kill the peace process and undermine the rights of peoples in the region.
He described Netanyahu's declaration as a threat to security and peace in the region and the world.
The Qatari Foreign Ministry also said in a statement that the step is going to totally destroy all chances of peace.
It condemned it as another Israeli violation of the international law, stating that the Tel Aviv regimes continues its expropriation of the Palestinian land and denial of Palestinians' basic rights.
Saudi Arabia on Wednesday condemned as a "dangerous escalation" Netanyahu's pledge.
"The kingdom condemns and categorically rejects" the declaration, the official Saudi Press Agency said.
It added, "The kingdom affirms that this declaration is a very dangerous escalation against the Palestinian people and represents a flagrant violation of the UN charter and the principles of international law."
Saudi Arabia also called for an "emergency meeting" of the foreign ministers of the 57-member Organization of Islamic Cooperation (OIC).
Syria censures Israel's expansionism
Furthermore, Syria has condemned a vow by the Israeli prime minister to annex part of the occupied West Bank if re-elected, accusing him of expansionism.
"Syria strongly condemns the prime minister's announcement," an unnamed source at the Syrian Ministry of Foreign Affairs and Expatriates told official news agency SANA, warning Israel against a "flagrant violation" of international treaties.
The source said that the planned move is consistent with Israel's "expansionist nature" and its history of "attacking the rights of Palestinians."
He also criticized Arab states for seeking to normalize ties with the Israeli regime, saying they "bear a historical responsibility for its rogue behavior."
UAE condemns Jordan Valley annexation plan
The United Arab Emirates also strongly condemned and categorically rejected Netanyahu's planned annexation of land from the occupied West Bank in the event of an election win.
Sheikh Abdullah bin Zayed Al Nahyan, Minister of Foreign Affairs and International Cooperation, stated that this announcement represents a dangerous escalation that violates all international resolutions without the slightest regard for their legitimacy by undermining the noble intentions of those in the international community working towards a peaceful resolution to the Palestinian issue.
He underscored that this declaration threatens to undermine decades of political efforts by the international community to achieve a fair and just resolution to the Palestinian issue, emphasizing the matter's centrality to Arabs and Muslims.
Hezbollah: Palestinians to confront Netanyahu
Additionally, the Lebanese Hezbollah resistance movement on Wednesday denounced as an act of aggression the Israeli prime minister's pledge to annex Palestinian territories in the occupied West Bank if he emerges victorious in the September 17 polls.
Hezbollah said in a statement that Palestinian people have the right to confront any aggressive move against their land.
"This decision comes in the wake of positions taken by (Persian) Gulf Arab states in support of the Zionist regime (of Israel)," the statement read, noting that such stances had encouraged the Tel Aviv regime to go ahead with aggression against Arab people in Lebanon and Palestine.
"Normalization attempts by these states represented a chance for Netanyahu to seize more land," Hezbollah said, noting that the Israeli premier had previously announced to annex Jerusalem al-Quds as well as territories in the occupied West Bank and Golan Heights.
"All Judaization attempts are doomed to failure, as Palestinian people will foil any such bids just like the so-called deal of century (proposed by US President Donald Trump) through unity. The Palestinian people's right to defend the entire Palestine will never change," the statement concluded.
Israel occupied the West Bank in the 1967 Six-Day War in a move never recognized by the international community.
Full report at:
https://www.presstv.com/Detail/2019/09/11/605941/Netanyahu-cannot-keep-Palestine-under-occupation-forever-Hamas-spokesman
--------
Israeli warplanes launch fresh attacks across besieged Gaza Strip
Sep 11, 2019
Israeli military aircraft have launched a new round of airstrikes against the besieged Gaza Strip as the Tel Aviv regime presses ahead with its acts of aggression against the impoverished Palestinian coastal sliver.
Arabic-language Palestine al-Yawm news agency reported that Israeli warplanes bombarded a position of the Palestinian Hamas resistance movement in Deir al-Balah, located over 14 kilometers south of Gaza City, early on Wednesday.
The Israeli jets carried out four airstrikes against the site and targeted an abandoned building in the al-Hikr district of the central Gaza Strip city.
In the northern Gaza Strip city of Beit Lahia, Israeli warplanes launched four rockets at a position of the resistance groups.
Later on, Israeli military aircraft fired six rockets at a Hamas naval base in Deir al-Balah. The warplanes struck a target in Khan Yunis in the southern Gaza Strip as well.
There were no immediate reports of possible casualties and the extent of damage caused.
The strikes came hours after Israeli Prime Minister Benjamin Netanyahu was forced to flee and seek shelter during a campaign event in the port city of Ashdod ahead of next week's snap legislative elections as rockets fired from the Gaza Strip threatened the area.
The siren went off on Tuesday night just as Netanyahu began his speech and addressed hundreds of supporters of the right-wing Likud-National Liberal Movement, which he chairs.
In an extraordinary scene captured on video from the event, the Israeli prime minister can be seen being whisked away from the stage by a gaggle of security guards.
"Leave quietly," Netanyahu told the crowd before walking off the stage.
The Israeli military frequently bombs the Gaza Strip, with civilians being the main target of such attacks.
Israel has also launched several wars on the Palestinian coastal sliver, the last of which began in early July 2014. The military aggression, which ended on August 26, 2014, killed nearly 2,200 Palestinians. Over 11,100 others were also wounded in the war.
The Gaza Strip has been under an Israeli siege since June 2007. The blockade has caused a decline in the standards of living as well as unprecedented levels of unemployment and unrelenting poverty.
Full report at:
https://www.presstv.com/Detail/2019/09/11/605868/Israeli-warplanes-launch-fresh-attacks-across-besieged-Gaza-Strip
--------
Palestinian refugees seek immigration, find Australia most welcoming country
NAJIA HOUSSARI
September 12, 2019
BEIRUT: Activists in Palestinian refugee camps in Lebanon have staged their third sit-in on Wednesday to demand immigration to a third country.
The participants, who gathered at the Martyrs' Square in the center of Beirut, carried the flags of Palestine, Canada, European nations and Australia, in reference to their demand that these countries open their doors to Palestinian immigrants.
In the absence of accurate figures by embassies on the number of Palestinian refugees who have applied for immigration from Lebanon and been accepted, the Lebanese General Security remains the one monitoring the refugees who leave Lebanese territory by air and do not return after more than a month, said a Lebanese-Palestinian Dialogue Committee (LPDC) source.
The source told Arab News: "We have been monitoring this phenomenon for some time and noticed that it has recently increased."
Wednesday's sit-in, in which hundreds of people took part, has come after two sit-ins organized by the Palestinian Youth Organization outside the Canadian Embassy in Lebanon.
One of participants said: "Life in Lebanon has become very difficult for us — we can no longer bear it. UNRWA has curtailed its services, and Lebanon prevents us from working. How can we live?"
Lebanon's labor minister had launched a plan to combat foreign workers, targeting Palestinian and Syrian refugees. This led to a campaign of mass protests in Palestinian camps. Communication intensified between the leaders in the Palestinian camps and the Lebanese side to contain the repercussions of the decision.
Hamas representative in Lebanon, Dr. Ahmed Abdel Hadi, believed that "what is happening is not innocent."
He told Arab News: "There is economic, security, political and social pressure on the Palestinian people, in addition to the absence of civil rights for Palestinian refugees in Lebanon, giving our people a tragic life."
"There are no job opportunities for university graduates, nor can they afford education, medicine and even a life," he said.
"Refugee homes in the camps are ramshackle and need maintenance. There are also overcrowded houses because the Lebanese authorities prevented the entry of building materials into the camps. All of this makes a Palestinian refugee wonder what he can do in the future."
Abdel Hadi said that these pressures coincide with talks about the deal of the century and ending the asylum issue. He asked: "Why is there interest in this matter now? And why are there so many protests? Is the goal to put refugees in this tragic situation? Are embassies being pressured to accept refugees? And why is Australia accepting so many refugees?"
The Hamas official refused to give any statistics on the number of refugees who have recently left Lebanon and the truth behind talks that the camps have been emptied, but he revealed to Arab News that "entire families have left Lebanon and immigrated."
He highlighted that Australia is currently the most welcoming country for Palestinian refugees. "There are families whose immigration applications have been accepted, and they have traveled. There are also individuals whose applications have been accepted, and they traveled in the hope of getting reunited with their families."
Abdel Hadi highlighted that "the Nordic countries received in previous years a large number of Palestinian refugee families from Lebanon, but Australia is now the new destination."
He refused to blame the Palestinian refugees for "emigration in search of a dignified life," stressing that "the Palestinian leaders should uphold the right of return and coordinate with our brothers in Lebanon to face the resettlement and displacement project."
Full report at:
https://www.arabnews.com/node/1553316/middle-east
--------
Africa
Burkina Faso threatened with famine caused by terrorism
10.09.2019
The latest attack came on Monday evening, when six policemen died in an ambush in the north of the country. On Sunday, 26 civilians were killed and six wounded in the northern province of Sanmatenga. Since 2015, more than 500 people have been killed in similar attacks. The rise in jihadist violence has been attributed to the spread of Islamist terrorism from neighboring Mali. It is now also metastasizing to the east and the center of the country.
According to a statement by the United Nations Office for the Coordination of Humanitarian Affairs (OCHA), around 289,000 people have had to flee their homes and are now living in shelters — triple the number compared to January.
No access to health care
According to the International Committee of the Red Cross (ICRC), "500,000 people have been deprived of health care since January due to jihadist violence." 125 health centers were hit in August, forcing 60 to shut down and leaving 65 only partially able to function. The ICRC added 1.2 million people are threatened with famine and malnutrition.
Roch KABORE
✔
@rochkaborepf
Je condamne avec la plus grande fermeté les attaques inqualifiables qui ont tué 29 civils innocents dimanche dans le centre-Nord du Burkina. Ces actes ignobles ne resteront pas impunis.
Je présente mes sincères condoléances aux familles endeuillées. RK
425
4:37 PM - Sep 9, 2019
Twitter Ads info and privacy
180 people are talking about this
Referring to the recent spate of attacks, Burkinabe President Roch Marc Christian Kabore warned in a tweet that "these despicable acts will not go unpunished."
In an interview with DW, Foreign Minister Alpha Barry said the country "is making a huge effort" to meet the challenge, including allocating an ever growing part of the budget to defense. But he also called for more coordination in the fight against jihadists. "We are convinced that no country can defeat terrorism and secure its territory by itself. We need more help from our partners," he told DW.
More help needed
Barry complained that Burkina Faso had yet to receive the aid promised by the West to Sahel countries in a conference on the region held in Brussels last year. The minister added that it was urgent that the international community "take concrete steps" after Germany and France announced more help would be sent to the Sahel region during the G7 summit in Biarritz in August. The aim is to reinforce the acting capacity of the Sahel G5, a group comprised of Mali, Chad, Burkina Faso, Mauritania and Niger which is focused on reinforcing regional cooperation in security and development.
But there is dissatisfaction within the G5 too. On a visit to Bamako on Saturday, Niger's President Mahamadou Issoufou linked Kidal's status in northern Mali, still beyond the control of the Malian government, to the spread of terrorism in the Sahel region. He said the failure to oust the National Movement for the Liberation of Azawad (MNLA) from the region has turned it into a haven for several terrorist groups.
A mistake
Issoufou argued that Kidal should fall under the control of Bamako, in accordance with an agreement signed in Algiers in 2015. Regional heads of state are due to meet in the Burkina Faso capital Ouagadougou on Saturday to discuss the security situation.
Some analysts believe the Algiers agreement in itself is more part of the problem than a solution. "As you know, this agreement was negotiated in a weak position for Mali," Nicolas Normand, former French ambassador to Ouagadougou, told DW. The international community and France too made a mistake in so far as they considered these separatist armed groups reliable political partners."
Eric Topona contributed to this article
https://www.dw.com/en/burkina-faso-threatened-with-famine-caused-by-terrorism/a-50367365
--------
Nigeria: Islamic State claims 'tens' of military casualties in 2 Borno attacks
SEPTEMBER 11, 2019
Several Nigerian soldiers were killed in an ambush on a military convoy near Gudumbali in the Lake Chad area of Borno state, sources said, after Islamic State claimed its fighters carried out two attacks in the area.
Islamic State West Africa Province fighters opened fire with heavy machine guns and rocket-propelled grenades on the convoy as it traveled to Gudumbali on Monday, September 9, the security sources told AFP.
One told AFP that "the terrorists surprised troops with an ambush as they were heading to Gudumbali."
"We lost several soldiers, vehicles and weapons to the terrorists in the attack," said the source, who asked not to be identified.
The convoy was travelling to Gudumbali to reinforce troops from Nigeria and Chad attached to the regional Multinational Joint Task Force for a major offensive to recapture the town from ISWAP, a second security source said.
He added that the losses had been great and that from reports coming in, the number of casualties was "huge."
A third security source told AFP, "It is not precisely clear the number of casualties recorded in the attack but a number paid the supreme price."
Reuters reported three soldiers and an official from a security agency as saying on Wednesday that nine soldiers were killed and 27 were missing after a Tuesday attack in Gudumbali.
The MNJTF, which comprises personnel from Chad, Cameroon, Niger, and Nigeria, launched Operation Yancin Tafki in late February to battle insurgents in the Lake Chad area. It has said the cross-border operation is aimed at "making islands and other settlements in Lake Chad untenable for Boko Haram Terrorists." MNJTF troops have engaged militants in Nigeria, Niger and Chad.
Islamic State earlier on Tuesday claimed fighters from its West Africa Province affiliate carried out two attacks in the area on Monday.
ISIS said ISWAP fighters ambushed a Nigerian army convoy between Damasak and Gudumbali, and struck another military position near the village of Garunda.
Gudumbali in Guzamala district is around 120 km (75 miles) north of Borno state capital Maiduguri, and around 20 km east of Garunda.
ISIS claimed "tens" were killed and wounded, three "trucks and armored vehicles" were destroyed and that nine vehicles, weapons and ammunition were captured.
Update September 11 ISIS propaganda agency Amaq on Wednesday released a series of images that it said showed an attack against Nigerian Army near Lake Chad. The images included a range of military vehicles it said were captured by ISWAP militants, including 4×4 trucks, an armored car, an armored personnel carrier and a large transport truck.
Images of the bodies of at least two military personnel were also released.
The Nigerian Air Force on Wednesday released video of airstrikes on ISWAP vehicles near Garunda the previous day.
An Alpha Jet aircraft on an "armed reconnaissance mission along the Gudumbali-Zari-Garunda axis spotted two ISWAP gun trucks emerging from Jumaacheri settlement heading towards Garunda," Air Commodore Ibikunle Daramola said in a statement released on Facebook.
"The attack aircraft tracked the two gun trucks as they attempted to evade detection by driving into folliage," he said.
The Alpha Jet engaged one of the vehicles in successive passes "leading to the neutralization of some of the ISWAP occupants" and the vehicle "was later seen engulfed in flames as a result of multiple mini-explosions of the on-board ammunition," Daramola said.
The second vehicle was immobilized after its occupants had abandoned it under a tree, Daramola added.
"Super camp" strategy increases ambush risk
ISWAP began to intensify attacks on Nigerian military targets in July 2018, killing dozens of soldiers, overrunning bases and capturing towns. The Lake Chad area of Nigeria, Chad and Niger, where it is the dominant insurgent group, has seen particularly fierce fighting, but it has also claimed or been blamed for attacks in the Maduguri area and further west.
ISWAP fighters have continued to attack troops in the area, and ambushes have become more frequently employed tactic, perhaps as roadside vegetation has grown during the rainy season, offering cover for attacks on vehicles.
The Nigerian Army has also adopted a "super camp" strategy that seemingly extends on its previous "garrison town" system. The strategy entails military personnel withdrawing from smaller bases in towns and villages, concentrating forces in "super camps" which are more-easily defended from ISWAP attacks.
The strategy reduces the risk of both military casualties and materiel losses, it also reduces the Nigerian Army's ability to combat ISWAP in rural areas and gives the militants more freedom of movement, Jacob Zenn, adjunct assistant professor at Georgetown University and senior fellow at The Jamestown Foundation recently noted. The concentration of forces enables mobile counter-insurgency raids, but those military movements themselves present ambush opportunities for ISWAP.
Allowing ISWAP greater freedom of movement also enables it to develop its political ambitions, expand its ISIS-style proto-state activity, and control economic activity.
The drawbacks of the "super camp" strategy became apparent on August 21, when ISWAP fighters reportedly entered Gubio and Magumeri unopposed, taking control of both towns and burning government buildings.
Borno state governor Babagana Zulum later expressed concern about the strategy, warning that "the absence of the Nigerian military in a particular place will create a vacuum" that insurgents could exploit.
Soldiers withdrew from Gudumbali in December last year, after ISWAP fighters had repeatedly attacked troops in the town.
On December 4, ISWAP fighters attacked a military base in Gudumbali, sparking a fierce firefight in which two soldiers were injured. Ten days later, ISWAP militants again attacked Gudumbali, with ISIS claiming five soldiers were killed and others injured. The Nigerian Army said troops had repelled an attack, but that one soldier was killed and another wounded in the firefight. Other reports said a dozen or more troops died.
Recent attacks in Lake Chad area
On September 4, ISWAP fighters killed at least three Nigerian soldiers and a police officer in attacks in Gajiram, around 50 km south of Gudumbali. ISIS claimed 10 soldiers were killed and others were injured.
That came just days after at least three Nigerian soldiers were killed in an ISWAP ambush between Gajiram and Monguno on August 30. Two military sources told AFP that eight troops were killed, but the Nigerian Army later said that only three were killed and eight others injured. ISIS propaganda agency Amaq later released a video that it said showed the ambush.
In an incident attributed to "Boko Haram," four people were killed and 21 women were abducted when militants attacked Gajiram on August 25, Daily Trust reported.
On August 24 and 25, ISIS claimed ISWAP fighters had targeted soldiers in Niger in two IED attacks in the Lake Chad area.
Late July saw the deadliest incident in recent months, when 25 Nigerian and Chadian soldiers were killed in clashes with ISWAP fighters near Baga that left at least 40 insurgents dead, AFP reported.
The area around Baga has been contested since late December last year, when ISWAP fighters overran military and naval bases in and around the town, which is on the shores of Lake Chad, around 70 km east of Gudumbali. One base that housed MNJTF troops was recaptured weeks later, but Baga itself and a separate naval base on Lake Chad remained under ISWAP control in August, according to AFP sources.
A decade of Islamist insurgency
The jihadist group known as Boko Haram began its bloody insurgency in northeastern Nigeria in 2009, but it has since spread into neighboring Niger, Chad and Cameroon, prompting a regional military response.
Boko Haram split into two factions in mid-2016. One, led by long-time leader Abubakar Shekau, is notorious for suicide bombings and indiscriminate killings of civilians. Shekau pledged allegiance to ISIS leader Abu Bakr Al-Baghdadi in March 2015, but ISIS central only gives formal backing to the other faction, which it calls Islamic State West Africa Province.
The ISWAP faction, which largely focuses on attacking military and government targets, was led by Abu Mus'ab Al-Barnawi, but in March, audio recordings revealed that ISIS appointed Abu Abdullah Idris bin Umar, also known as Ibn Umar al-Barnawi and Ba Idrisa, as leader. Despite releasing several videos featuring ISWAP since, ISIS has not yet made a public statement confirming the change.
On September 10, the United States added Ba Idrisa to its Specially Designated Global Terrorist list. The U.S. Treasury Department sanctions listing named him as Abu Abdullah Idris bin Umar Al-Barnawi and "Ba Idrisa" and said that he was born in Maiduguri between 1989 and 1994. The listing did not specify which group he belongs to.
Full report at:
https://thedefensepost.com/2019/09/11/nigeria-iswap-attacks-gudumbali-garunda-borno/
--------
South Sudan rivals agree to form transitional government by mid-November
Sep 11, 2019
South Sudan's President Salva Kiir and Riek Machar, the leader of the main rebel group in the African country, have agreed to form a transitional government by mid-November, a year after they signed a peace agreement to end a bloody civil war.
Machar, who lives in Sudan's capital, Khartoum, paid a rare visit to Juba this week to meet Kiir.
"The parties discussed minor issues and the principals agreed to establish transitional government by 12th November," South Sudan's Information Minister Michael Makuei Lueth told reporters on Wednesday.
The peace deal, which was reached in September 2018, called for a unity government, but it has been delayed as the government says it cannot afford the disarmament and the integration of former rebels in the army, which is a key provision of the accord.
This week's talks were aimed to iron out outstanding issues, according to government officials.
The two leaders said their talks went well, without providing details.
But the officials said that the two sides discussed constitutional amendments, security laws and the number of regional states.
South Sudan aims to hold elections after a three-year transition period.
Machar said he will make more visits to Juba. "There will be frequent meetings," he said, standing besides Kiir.
South Sudan, the youngest country in Africa, has been gripped by a bloody civil war since December 2013, when Kiir accused Machar of plotting a coup. The two sides were then involved in a cycle of retaliatory killings that have split the impoverished country along the ethnic lines. Tens of thousands have been killed and millions displaced in the conflict.
The September 2018 deal was hammered out under pressure from international and regional powers.
Full report at:
https://www.presstv.com/Detail/2019/09/11/605918/South-Sudan-transitional--government
--------
ISIS-affiliated militants kill soldiers in northeast Nigeria
11 September 2019
Several Nigerian soldiers were killed in an ambush by ISIS-affiliated terrorists on a military convoy in the country's conflict-riven northeast on Monday, security sources said.
Fighters from the ISIS West Africa Province (ISWAP) organization opened fire with heavy machine guns and rocket-propelled grenades on the convoy as it travelled to the town of Gudumbali in Borno state, the sources said.
ISWAP has claimed responsibility for the attack, saying its fighters killed or wounded dozens of troops.
A security source said "the terrorists surprised troops with an ambush as they were heading to Gudumbali".
"We lost several soldiers, vehicles and weapons to the terrorists in the attack," said the source, who asked not to be identified.
The convoy was on its way to Gudumbali to reinforce coalition forces from Nigeria and Chad for a major offensive to liberate the town from the jihadists, said a second security source.
He added that the losses had been great and that from reports coming in, the number of casualties was "huge."
A third security source said: "It is not precisely clear the number of casualties recorded in the attack but a number (of troops) paid the supreme price."
ISWAP fighters ambushed the Nigerian army convoy and "clashed with them with a variety of weapons," the group said in a statement on Tuesday claiming responsibility, according to SITE Intelligence which monitors jihadist activities worldwide.
The organization also claimed to have destroyed several trucks and captured numerous other vehicles in the attack.
Before soldiers withdrew from Gudumbali in December, ISWAP had repeatedly attacked troops in the town.
In December, ISWAP fighters carrying anti-aircraft guns attacked a base in the town, sparking a fierce firefight before the assault was repelled with aerial support.
ISWAP claimed it killed five soldiers in that attack.
In September last year the militants sacked the same base and temporarily took control of the town before withdrawing.
The ISIS-backed faction has targeted dozens of military bases since last year, killing scores of soldiers, part of a wider militant insurgency that has raged in Nigeria for a decade.
A decade-long insurgency in northeast Nigeria by Boko Haram has killed more than 27,000 people, displaced some two million, and spilt over into neighboring countries.
Full report at:
https://english.alarabiya.net/en/News/world/2019/09/11/ISIS-affiliated-militants-kill-soldiers-in-northeast-Nigeria.html
--------
Saudi involvement conceivable in Nigeria crackdown: Commentator
Sep 11, 2019
A London-based Muslim rights campaigner tells Press TV that it is only logical to perceive a Saudi role in Nigeria's deadly crackdown on the followers of Sheikh Ibrahim al-Zakzaky.
Massoud Shadjareah, the head of the London-based Islamic Human Rights Commission, made the remark on The Debate program on Tuesday.
"The fact of the matter is that the Nigerian government is out of control. One of the explanations is that it has been paid handsomely by Saudi Arabia, as Saudi Arabia has paid the previous head of the Malaysian government and indeed [former Sudanese president] Omar al-Bashir was heavily paid [by the Saudis]," he said.
"So it's fitting, sort of, norm of the Saudis to actually bribe people. And when you look at and listen to what articulation has come from the Saudi [Crown] Prince [Mohammad bin Salman] that 'We've got control of Nigeria, and we've got rid of our opponents,' then you see that everything fits," Shadjareh said.
The comments came after Nigerian security forces deployed live ammunition and tear gas against Muslim mourners marking the anniversary of the martyrdom of the third Shia Imam, Imam Hussein (PBUH), across the African country. The government-sanctioned violence killed at least 12 people and wounded many others.
The mourners were followers of Sheikh Zakzaky, who leads the Islamic Movement in Nigeria (IMN).
Since 2015, Abuja has been cracking down on the movement.
Abayomi Azikiwe, another commentator on The Debate, said the crackdown was horrific, "particularly on this very important holy day."
He blamed the Abuja government for the situation, saying it was poorly serving Nigerians.
Full report at:
https://www.presstv.com/Detail/2019/09/11/605877/Nigeria-Saudi-Arabia-crackdown
--------
5 killed in landmine blast in Somalia
Mohammed Dhaysane
12.09.2019
MOGADISHU, Somalia
At least five people, including children, were killed and several others wounded when a landmine blast rocked Dinsor in southwestern Somalia, officials said Thursday.
"The attack took place nearby Dinsor police station on Wednesday evening, killing at least five people, including two children and three soldiers and wounded others," local policeman Ibrahim Madey told Anadolu Agency.
The wounded were transported to Bay regional hospital in Baidoa, he said.
Dinsor District Commissioner Ibrahim Mohamed Nour, also known as Shigahigow, confirmed to local media the landmine was planted near the police station.
"Our civilians in the town informed us as we are trying to defuse it when the blast went off, killing several people," said Shigshigow.
Full report at:
https://www.aa.com.tr/en/africa/5-killed-in-landmine-blast-in-somalia/1579530
--------
189 Nigerian nationals evacuated from South Africa
Olarewaju Kola
12.09.2019
MAIDUGURI, Nigeria
Nearly 200 nationals were lifted to Nigeria from South Africa because of increasing xenophobic attacks.
The Nigerian nationals arrived at Lagos International Airport at 9.35 p.m. (2035GMT).
Chairman of the Nigeria Diaspora Commission (NIDCOM), Abike Dabiri-Erewa, said the nationals began boarding in Johannesburg at about 9.30 a.m. Nigerian time but were delayed by South African immigration for 15 hours because of documentation.
"We have a total of 189 Nigerians in the first batch of the evacuation exercise," she told journalists.
She said earlier Tuesday about 640 nationals are expected in Nigeria in two batches. A private airline volunteered to airlift the fleeing nationals.
Full report at:
https://www.aa.com.tr/en/africa/189-nigerian-nationals-evacuated-from-south-africa-/1579481
--------
Kenya: About 1800 Amisom Soldiers Killed in Al-Shabaab War, New Report Shows
11 SEPTEMBER 2019
By Kevin J. Kelley
The overall death toll for the African Union Mission in Somalia (Amisom) is probably in the range of 1,800 troops, says a new report by a US expert on the war against Al-Shabaab.
The findings by scholar Paul Williams are based, he states, on five sources. The most comprehensive data comes from African Union (AU) financial compensation records on sums paid to families who lost loved ones in the years since Amisom's deployment in 2007.
DEATH TOLL
Prof Williams, author of the 2015 book 'Fighting for Peace in Somalia,' also cites a new data set listing attacks on Amisom soldiers and a "Memorial Wall of Our Heroes" erected in the AU headquarters building in Ethiopia.
His estimated Amisom death toll, contained in a report released on Tuesday by the New York-based International Peace Institute, does not include calculations of losses suffered specifically by Kenya or the other countries that contribute troops to Amisom. "A plausible estimate of Amisom's fatalities between March 2007 and December 2018 could be between 1,483 and 1,884," writes Prof Williams, an international affairs scholar at George Washington University. "It is likely that the real number is closer to the higher end of this range than the lower end," he adds.
His computation does not reflect fatalities likely suffered by Amisom during a three-and-a-half-month period for which no data is currently available. The estimate also does not include any of the deaths that have occurred so far this year.
It is impossible to provide a definitive figure for the number of Amisom dead because troop-contributing countries have not released lists of their personnel killed in Somalia, Prof Williams notes.
"This is not good policy," he states.
"All peacekeepers who make the ultimate sacrifice should have their service publicly recognised," the author argues. "Not doing so is not only immoral, but it is likely to have a negative effect on morale." The non-disclosure policy could impede families' efforts to claim financial compensation to which they are entitled, Prof Williams suggests.
In addition, "not releasing full details about peacekeeper deaths in Somalia plays into Al-Shabaab's hands, who are often able to dominate the media terrain in the absence of an authoritative and trusted AU or Amisom voice."
"A mission that doesn't provide the whole truth about its own dead cannot be surprised if Somalis think it lacks credibility when trying to pronounce on other issues," Prof Williams writes.
AU financial records for the period August 2009 to September 2012 show that death compensation payments of $50,000 were made for each of 439 Amisom fatalities, the report notes. Additional payments of $10,000 were made for each of the approximately 575 Amisom soldiers injured during that time.
Newly released AU financial statements for 2014 through 2018 show that the AU paid a total of $74.6 million in death and disability compensation between 2014 and 2018.
Based on the ratio of death and disability payments derived from the AU's earlier report, it is likely that 79 percent of the $74.6 million covered compensation for deaths and 21 percent for disability, Prof Williams surmises.
That calculation produces a figure of 1,179 payments for deceased personnel and 1,567 payments for injured Amisom members.
The 79:21 ratio is plausible, Prof Williams suggests, due to "Amisom's numerous remote forward operating bases, the mission's limited capacity for rapid casualty evacuation (partly owing to a lack of rapid response forces and appropriate helicopters), and the relatively poor state of its medical facilities."
The AU's wall of heroes in its Addis Ababa headquarters lists the names and ranks of peacekeepers who have died in AU-authorised operations in Burundi, the Central African Republic and Sudan as well as Somalia.
As of August 2019, there were 1108 names listed on the wall, Prof Williams notes.
Amisom has its own memorial for fallen personnel outside its force headquarters in Mogadishu, he adds. "However, it lists no names or numbers."
Full report at:
https://allafrica.com/stories/201909120120.html
--------
South Asia
Taliban terrorists have no place at Camp David
September 12, 2019
"The Taliban, per se, is not our enemy." Thus spoke Joe Biden, Obama administration vice president and resident foreign affairs solon. It was 2011 and the administration was rationalizing its desperation to negotiate its way out of Afghanistan, where we then had about 30,000 troops. It was nothing new.
Hamid Karzai, president of the fledgling Afghan government propped up by the Bush administration after the Taliban's ouster, had been seeking negotiations for years ... only to be spurned by the Taliban.
Of course, the Taliban did not get to weigh in on Biden's babble. If they had, they would surely have said bluntly what they have demonstrated blatantly for 20 years: They are absolutely our enemy, not just per se but in aeternum.
If, as he stated in a Saturday Twitter thread, President Trump actually was planning to host Taliban leaders at Camp David this past weekend for what he and the administration describe as "peace talks," that boggles the mind.
The Taliban terrorists do not wish to hold "peace talks" with us. As shown by the humiliating negotiations that the Trump administration's emissary has been conducting in Qatar, the Taliban wish, at best, to chat about the terms of our surrender — i.e., about how willing they may be to let the president's determination to withdraw our troops look like an honorable armistice rather than a case of our being chased out of their country.
Allowing their leaders into our country — into Camp David for an audience with the president — would be every bit as outrageous as President Obama's release of five Taliban commanders from Guantanamo Bay (in exchange for deserter Bowe Bergdahl, no less).
It would be every bit as outrageous as the Obama administration's issuance of a visa to Hani Nour Eldin — a member of an Egyptian terrorist organization that, like the Taliban, conspires with al Qaeda to kill Americans — so he could come to Washington for talks about post-Mubarak Cairo.
President Trump now says he has rolled back up the red carpet initially laid out for these jihadists. He withdrew the invitation, he says, because of an attack last week in which the Taliban killed a U.S. soldier, in addition to a member of our allied forces (a Romanian soldier), and 10 other people, while wounding scores of others.
But why was yet another Taliban atrocity necessary to put the president on notice of what we're dealing with? It wasn't even the Taliban's first attack of that week.
https://www.foxnews.com/opinion/andrew-mccarthy-taliban-terrorists-camp-david
--------
Afghans fear Trump's Taliban move means more civilians die
Sep 11, 2019
KABUL: The sound of the blast ripped through Kabul, in an instant wrenching the Afghan capital's attention from a nationally televised interview in which a United States envoy revealed the first details of a deal to end America's longest war.
Last week's Taliban car bomb+ targeted a foreign compound but instead shredded Afghan homes, with stunned and bloodied families picking up children and fleeing in darkness as their once-solid world collapsed. One family saw 30 relatives wounded — many of them women— including a son still healing from an attack the year before.
"Our only hope was peace," Hayat Khan, the family's 54-year-old patriarch, said Tuesday," and that doesn't happen now."
President Donald Trump says the US-Taliban talks on ending the fighting in Afghanistan are "dead," deeply unfortunate wording for the Afghan civilians who have been killed by the tens of thousands over almost 18 years. Many fear his cancellation of negotiations will bring more carnage as the US and Taliban, as well as Afghan forces, step up their offensives and everyday people die in the crossfire.
As America on Wednesday mourns thousands of civilians killed in the 9/11 attacks, weary Afghans watch their own toll from the aftermath continue to rise.
"Here innocent people are killed and there is bloodshed everywhere. Families lose their sons, mothers, even their livestock, but no one cares about it," Khan said, a bandage still around his head from the blast. "Who remembers them? Are they not humans?"
The idea that Trump in a series of tweets over the weekend would call off a deal on the brink of completion, citing the Taliban's killing of a US service member in another Kabul blast last week, has struck many Afghans as incomprehensible.
"There are attacks every day," said Khan's 26-year-old son, Zaki, who walked The Associated Press through the family's ruined home. A relative held up a phone to show a photo of Zaki, dusty and bleeding and clutching a child, shortly after the blast. "Why doesn't he care about the killing of hundreds of civilians here?"
This also would be Afghanistan's longest war, if the fighting in the country had ever truly ended. Instead, Afghans have been plunged into various conflicts over the past four decades, from a Soviet invasion to a warlord-led civil war to the Taliban's arrival that ushered in a harsh version of Islamic law.
The collective deaths, in the hundreds of thousands, are being remembered in Martyrs' Week that continues through Sunday. Across Afghanistan, fresh graves are dug every day. And all sides— the Taliban, US and Afghan forces —are to blame.
For the first time, more Afghan civilians have been killed by international and Afghan forces than by the Taliban and other insurgents, the United Nations said of the first three months of this year, with thousands more wounded by insurgent attacks. The toll has been largely due to stepped-up airstrikes by the US as it aids Afghan ground forces in their efforts to dislodge Taliban fighters and those with the local affiliate of the Islamic State group.
The CIA-trained Afghan special forces also have been criticized, including by the UN, for heavy-handed raids on Afghan homes that often turn deadly and alienate the local population. This month the Afghan intelligence chief was forced to resign after those forces killed four brothers in a raid in the eastern city of Jalalabad. They had no known links to insurgents.
"As a responsible state we have zero tolerance for civilian casualties," Afghan President Ashraf Ghani said in announcing the resignation.
The collapse of the US-Taliban peace efforts has turned quickly to talk of more war on all sides. The Taliban, while signaling they were still open to negotiations, said they would continue their fight against foreign "occupation."
The Afghan defense ministry's deputy spokesman, Fawad Aman, confirmed on Tuesday that offensives against the Taliban have increased across the country in recent days.
For the US, Secretary of State Mike Pompeo asserted that more than 1,000 Taliban had been killed in battle during the past 10 days — an estimate that could reflect Afghan efforts as fighting intensifies ahead of this month's presidential election and the end of the "fighting season" before winter. And Trump, on the defensive after critics accused him of upending the talks in favor of rash showmanship, asserted that "we've hit the Taliban harder in the last four days than they've been hit in over 10 years." There has been no evidence to back up his statement. But the UN envoy to Afghanistan, Tadamichi Yamamoto, told the UN Security Council on Tuesday that violence had intensified.
All parties must reduce civilian casualties "to demonstrate their seriousness for peace," he said.
The talk of even fiercer fighting has anguished some in Afghanistan. "Stop breaking more hearts! The escalation in violence from all sides won't have a winner," Omaid Sharifi, the founder of an art project that now paints concrete blast walls with thousands of tulips to remember the dead, said Tuesday on Twitter.
And after an air raid was blamed in the deaths of seven family members in Maidan Wardak province this week, the Afghanistan Independent Human Rights Commission said that "such inattention and carelessness on the part of the international military forces would result in people's wrath and anger" and urged Afghan officials to investigate why such events repeatedly occur.
The family members had been returning from a memorial ceremony when they were killed, said Sharifullah Hotak, a provincial council member. With offensives stepping up in the wake of Trump's decision, he said, "unfortunately, both sides of the battle will cause more civilian casualties."
Full report at:
https://timesofindia.indiatimes.com/world/south-asia/afghans-fear-trumps-taliban-move-means-more-civilians-die/articleshow/71077605.cms
--------
Fidei donum priest feels fulfilled by the mission in Bangladesh
09/11/2019
Rajshahi (AsiaNews) – The place where "God wants me to be is Bangladesh" said Fr Belisario Ciro Montoya, a 34-year-old Colombian priest who serves in the Diocese of Sonson-Rionegro, Bangladesh as a fidei donum priest working with Pontifical Institute for Foreign Missions (PIME). He spoke to AsiaNews about his missionary experience.
"From day one, when I landed in Dhaka, I felt a sensation of fulfilment. In Colombia I went to parishes and seminaries, but here in Bangladesh I truly experience the completeness of life in Christ. I feel fulfilled, happy, a sensation that cannot be humanly explained. I myself wonder how such a diverse culture and a predominantly Muslim population are possible in such hot weather."
Fr Belisario remembers that he arrived in Dhaka in 2014. After a period of language training, he was assigned to Danjuri's mission. The first years of bearing witness to the Gospel in the Asian country were marked by various logistical difficulties, not to mention mourning for his father's death.
"For security reasons related to the attack against Fr Piero Parolari and other foreigners, the authorities gave me a five-men police escort, who never left me alone when I visit the villages." The nine months he spent there were the "hardest, but I was happy."
When his father died in 2018, he wanted to help and comfort his family. "For this reason, in agreement with the bishop of my diocese, I went home for over a year. It was a gift, because I was able to celebrate my father's funeral Mass and I was with him at the time of his death."
He came back to Bangladesh on 3 August. "It was as if I owed something. After learning the language, customs and traditions, it would have been a waste not to return. Above all I knew that people were waiting and praying for me in Bangladesh."
Currently, Fr Belisarius serves in Chandpukur parish, Rajshahi, Bangladesh's northernmost diocese on the border with India. The church covers 70 villages and 7,000 Catholics in the largely Muslim-majority area.
"Many are ethnic Santal and Orao who converted recently, but maintain some traditions linked to their culture of origin. Our work is directed above all to education, to make them understand the meaning of their new life in Christ."
As for the method, "we support a process of inculturation, as Pope Paul VI suggested, that is, we encourage those elements of the indigenous culture that do not offend human dignity and eliminate those that deviate from Christian practice and do not do the good of man."
"For example, the Santal funeral ritual involves the sacrifice of animals. Instead we explain that the blood of animals does not serve the deceased, because only the blood of Christ redeems us and gives us eternal life. On the other hand, we kept the 'bindi' in the marriage ritual, which is an exchange of a red paste on the forehead of the spouses that symbolises respect."
The missionary is the treasurer of the two hostels, one for boys and one for girls, associated with the parish. "There are so many needs because the tribal people are very poor, do not own the land and live far away. There are no schools and their language is not taught."
"They are supposed to study with Muslims, but as a minority, they are very shy. At present, our hostels have 250 kids, the youngest being 5-6. They study, eat and tend the mission farm, growing the vegetables and the rice they consume."
Fr Belisario is also a member of the Diocesan Commission for Interreligious Dialogue. "We organise meetings of members of the various communities to talk about peace and harmony, about the care of creation."
Similarly, "We hold meetings in schools, where students are eager to participate and fully understand the harmony on which Bangladesh has been built since independence, in a climate of tolerance and respect between religions."
Unfortunately, "in recent years the seeds of evil and discord sown by a radical Islam that does not belong to this country have budded, see the suicide bombings in Dhaka. However, these episodes have nothing to do with Bengali culture, which is welcoming and respectful, even to missionaries."
His latest project is a YouTube channel that was opened together with a diocesan priest "where we upload videos dedicated to the Gospel in the local language. It is an important service of Christian witness to those who cannot come to church for Mass. The Good Friday video was seen 2,000 times: this means there is a thirst for Christ."
Now, Fr Belisario is looking for funding for a video editing programme and appeals to anyone who can donate however small a sum. "Thirty euros (US$ 33) a month is enough," he said.
The clergyman will remain in Bangladesh for another four years, and has "deep gratitude and admiration" for PIME Fathers. "I am here for a limited time; they serve for life."
Full report at:
http://www.asianews.it/news-en/Fidei-donum-priest-feels-fulfilled-by-the-mission-in-Bangladesh-47979.html
--------
Afghan forces recapture Kiran Wa Manjan district in Badakhshan province
11 Sep 2019
The Afghan forces recaptured Kiran Wa Majan distrrict in Badakhshan province of Afghanistan, the Ministry of Defense said.
According to a statement released by Ministry of Defense, the security forces recaptured the district with the cooperation of the local residents launched a public uprising against Taliban.
The statement further added that the security forces and public uprising forces inflicted heavy casualties on Taliban militants during the operations.
Furthermore, the Ministry of Defense said a large number of Taliban militants also surrendered to Afghan forces.
The defense ministry also added that the security forces also destroyed multiple hideouts and fighting positions of Taliban during the operations.
Full report at:
https://www.khaama.com/afghan-forces-recapture-kiran-wa-manjan-district-in-badakhshan-province-04010/
--------
Special Forces kill, detain 15 militants; destroy multiple weapons caches of Taliban
12 Sep 2019
The Afghan Special Forces killed or detained 15 Taliban militants during their latest operations in the past 24 hours.
The military officials said Thursday that the Special Forces killed 2 Taliban militants, detained 2 others and destroyed a small cache of weapons in Chimtal district of Balkh.
The officials further added that the Special Forces killed 2 Taliban militants and arrested 4 others during a raid in Pul-e Khumri city of Baghlan province.
Furthermore, the Special Forces destroyed a cache of weapons belonging to Taliban in Uruzgan province.
Full report at:
https://www.khaama.com/special-forces-kill-detain-15-militants-destroy-multiple-weapons-caches-of-taliban-04019/
--------
Airstrike kills two senior Taliban leaders in Faryab province
12 Sep 2019
An airstrike killed two senior Taliban leaders in northern Faryab province of Afghanistan, the Afghan military said.
The 209th Shaheen Corps said in a statement that the security forces conducted the airstrike in Almar district of Faryab on Wednesday.
The statement further added that the airstrike killed Damla Sarwar, the shadow district chief of Taliban for Almar.
Furthermore, the 209th Shaheen Corps said the airstrike also killed Mullah Qutbuddin, the Red Unit commander of the group in Faryab.
Full report at:
https://www.khaama.com/airstrike-kills-two-senior-taliban-leaders-in-faryab-province-04018/
--------
NATO allies, partners will continue to train and advise Afghan forces: Stoltenberg
12 Sep 2019
The NATO Secretary General Jens Stoltenberg has said the NATO allies and partners will continue to train and advise the Afghan security forces.
He made the remarks in the September 11 commemoration ceremony at the NATO Headquarters in Brussels on Wednesday.
Stoltenberg further added "Soon after 9/11, Allies deployed to Afghanistan. Hundreds of thousands of troops, from Europe, Canada and beyond, have served shoulder-to-shoulder with US troops."
Furthermore, Stoltenberg said "Many have paid the ultimate price. And many more have been seriously wounded. We remember them. And we must make sure that their sacrifice was not in vain."
He also added that the fight against terrorism is a global, generational fight, emphasizing that "We remain committed to Afghanistan."
Stoltenberg said "NATO Allies and partners will continue to train and advise Afghan security forces. To make them stronger, so that they can fight international terrorism and create security and stability in their own country."
Full report at:
https://www.khaama.com/nato-allies-partners-will-continue-to-train-and-afghan-forces-stoltenberg-04017/
--------
URL: https://www.newageislam.com/islamic-world-news/supreme-court-india-inter-faith/d/119726
New Age Islam, Islam Online, Islamic Website, African Muslim News, Arab World News, South Asia News, Indian Muslim News, World Muslim News, Women in Islam, Islamic Feminism, Arab Women, Women In Arab, Islamophobia in America, Muslim Women in West, Islam Women and Feminism