New Age Islam News Bureau
28 Jun 2013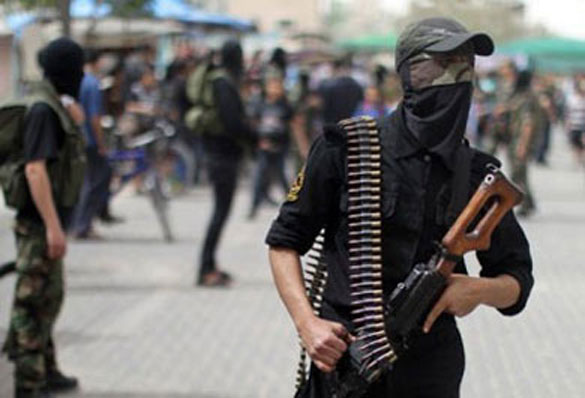 Photo: Palestinian militants from the Islamic Jihad group wait for the release of a prisoner, before his arrival in the northern Gaza Strip refugee camp, AFP/File
----------
India
• Sunni Sufi Clerics Protest Saudi Interference in the Affairs of Indian Muslims
• Four students of Aligarh Muslim University attend 'Energy Summit' in Norway
• Muslim organisations donate money for Uttarakhand relief
• 'Modi, Amit Shah knew about Ishrat encounter'
• CBI heat on IB in Sadiq Jamal fake encounter case
• Hurriyat Conference demands restriction on Amarnath Yatra
• SIT wants riot culprits to go scot-free, argues Ehsan Jafri's lawyer
• Muslim Marriage registration: cut-off date soon
• India-Turkey to enhance cooperation in renewable energy
• Dialogue with Pak after new govt settles down, Salman Khurshid says
• J&K: Militants carry out grenade attack in Sopore
Arab World
• Council of Senior Ulema Seeks a Draft Bill Criminalising the Denigration of the Companions of the Prophet
• Sixteen men killed under torture near Damascus, NGO says
• Iraq bombings toll mounts to 21
• Black Iraqis Struggle To Shake Legacy of Racism
• Saudis on death row in Iraq granted retrial
• PKK kills three in protest shooting in Syria
• Explosives target alleged Hezbollah convoy in Lebanon
• Egyptian Islamists to begin open-ended rally for Mursi
Pakistan
• Captors release abducted eight Tablighi members
• Pakistan wants friendly relations with India: Zardari
• Pakistan engaged Taliban to get talks back on track
• Gilgit-Baltistan could attract drone strikes, says lawmaker
• Key talks: Tripartite session to discuss fate of Afghan refugees
• Minorities' rights: MPA seeks help evacuate Hindu Gymkhana
• Karachi violence kills 4, injures 8
• Suspects posing as Taliban extortionists arrested in Islamabad
• Trade can lead to better Indo-Pak relations says Pakistani delegation
• PPP did not reopen cases against Nawaz: Opposition leader
Europe
• 75-year-old arrested over bomb at UK mosque
• Radical Muslims post bounty on bloggers, Facebook users
• Russia says US put it in 'tough spot' over Snowden
• HRW: Lynching of Shiites in Egypt follows months of negative rhetoric
• UN eases Saddam-era sanctions against Iraq
• 'EU decision on blacklisting Hezbollah in late 2013'
• French Jewish vigilante group comes out of shadows
• UN envoy voices sectarian worry in Iraq
Africa
• Tunisia: Equal Marriage Rights for All, but Not for All Foreigners
• At least 33 killed in Nigeria tribal clashes
• 'Mass Grave Found in North Darfur' Following Tribal Violence
• Al-Shabaab Abducting Children from Central Somalia
• Libyan Amazighs demand cultural and voting rights
South Asia
• China Police Block Site of Bloody Chinese Xinjiang Riot
• Two Muslims killed by Myanmar authorities in IDP camp: UN
• Death toll in Xinjiang violence rises to at least 35
• Myanmar Gives Official Blessing to Anti-Muslim Monks
• US move to cut trade privileges 'shocking': Bangladesh
North America
• If Pak cannot try 26/11 culprits, turn them over to ICC, US lawmaker says
• Islamic leader urges NYPD to stop Muslims' surveillance
• Boston suspect downloaded bomb instructions: US
• Obama says no 'wheeling and dealing' over Snowden
• Boston bombing suspect indicted on 30 counts
• Meetings between Abbas and Netanyahu as formula for restarting negotiations
• U.S. will ensure Lebanon's sovereignty, Kerry says
• US begins sending arms for Syrian rebels
• Obama recasts chase for Snowden as unexceptional
Mideast
• Islamic Jihad reopens contact with Hamas: officials
• Netanyahu: Peace won't end 'wild slander' against Israel
• Turkey to army rules justifying rebellions
• Security forces arrest terror cell in West Bank
• 2 'spying settlers' sentenced for 'war room' op
Southeast Asia
• Government Denies Anti-Shiite Conspiracy in Sampang
• Malaysia deports Sikh militant to India
• New Malaysian Islamic Bill allows conversion of children by just one parent's consent
• Indonesia State Visit to Kazakhstan Unveiled
Compiled by New Age Islam News Bureau
URL: https://newageislam.com/islamic-world-news/new-age-islam-news-bureau/sunni-sufi-clerics-protest-saudi-interference-in-the-affairs-of-indian-muslims/d/12341
-----------
India
Sunni Sufi Clerics Protest Saudi Interference in the Affairs of Indian Muslims
New Delhi-28 June, 2014
To discuss serious issues relating to Indian Muslim such as their economic, social, educational and political status being worst than that of the Dalits and failure of Union and State governments in addressing their problems seriously and also wrongful acceptance of Saudi /Salafi / Wahabi elements faking Indian Muslim representation in government, administrative and bureaucracy circles, a meeting of Sunni Sufi clerics and spiritual heads and intellectuals will take place on Sunday the 30th June at Rudauli, Faizabad (U.P.) Khanqah Shaikh ul Alam Rudauli will host the 8th Annual General Meeting of All India Ulema & Mashaikh Board.
The convener of meeting Shah Ammar Ahmad Ahmadi (Sajjada Nashin, Khanqah Shaikh ul Alam) informed that this one day meeting will be attended by heads of all the prime Khanqahs, Dargahs and Astanas of India besides Sajjadgan, Mashaikh and Muslim religious scholars.
Syed Babar Ashraf, National Secretary of the Board told that on the top of the agenda of this meeting is to identify the threat to the internal security of India by the hands of both the internal and external extreme forces.
This AGM will review the working of government Muslim bodies and other bodies requiring Muslim representation including Central Waqf Council, State Waqf Boards, Hajj Committee of India, State Hajj Committee as, Delhi Urs Committee etc. Besides this the AGM will review the work of the Ministry of Minority Affairs and will try to see what stops welfare schemes to reach the Indian Muslims. This AGM will also discuss how an extraterrestrial religious extreme ideology exported from Kingdom of Saudi Arabia is casting its negative effects on the internal affairs of Indian Muslims.
This meeting will discuss the interference of Saudi regime in the internal religious, social, cultural and other issues of Indian Muslims. The demolition of Sunni Sufi mosque in Delhi, mismanagement of mosques attached with tombs, demolition of known and identified Sufi mosques and monuments like Ghausia Masjid, Mehrauli Sharif in Delhi with the active connivance of Delhi Waqf Board, misuse of Waqf Board managed and ASI protected mosques for propagation of an alien extreme ideology, and exploitation of these mosques as inn by the Tablighi Jama'at and other forces are also included in the agenda besides Women Education and empowerment, Muslim representation in social, political, cultural grouping as per their ratio in population and mismanagement in Delhi Urs Committee.
As Mr Babar Ashraf said The Saudi/Wahabi institutions and individuals are creating danger to the internal security of the land by radicalizing Muslim youth and misguiding them in the name of Islam. The agenda of the 8th Annual General Meeting of All India Ulema & Mashaikh Board will discuss such threats to the nation among the radicalization of Indian Muslim Society.
As it has been observed that Indian Muslims are deprived of their rightful place in the socio political arena and they are represented by a group of people funded and guided by an alien extreme power and are promoting extremism under the patronage of government hence it is essential to devise a way in this meeting to correct things and make the Indian Muslim voice heard in policy making process for the Muslims of India.
(Media Cell, All India Ulema & Mashaikh Board)
-----------
Four students of Aligarh Muslim University attend 'Energy Summit' in Norway
New Age Islam News Bureau, June 28, 2013
New Delhi: Four students of Aligarh Muslim University attended the 'International Student Energy Summit 2013' held in Norway. All the four students – Syed Raza Qadri, Md Atif Aleem, Umar Bashirwani and Fahd Zeeshan belonged to the Zakir Hussain College for Engineering and Technology. Umar Bashirwani participated in 'Energy for All' session while Md Atif was one of the thirty students from all over the world who participated in the statecraft case and won a place among six students by preparing a case on the Energy prospects of Britain in the next fifty years.
The four students of AMU discussed the issue of renewable energy and environmental changes with various professors, representatives of companies and students from different parts of the world.
-----------
Muslim Organisations Donate Money for Uttarakhand Relief
New Age Islam News Bureau, June 28, 2013
New Delhi/Lucknow: All India Muslim Mushawarat has donated Rs One lakh to the Prime Minister's Relief Fund for the relief of the Uttarakhand flood victims. The president of the Mushawarat, Dr Zafar ul Islam Khan also appealed to all the Muslim organisations to come forward and help the flood affected people of Uttarakhand. He also expressed his satisfaction over the help and relief work carried out by Muslim organisations like the Jamat Islami, Jamiat Ulema Hind (Mahmood Madani) and others.
A sum of Rs 50,000 was also contributed to the Prime Minister's Relief Fund from Zafar ul Islam's charity.
A Muslim organisation Darul Ulum Firangi Mahal, Lucknow also donated to the relief fund of Uttarakhand. The teachers and non-teaching staff decided to donate their one month's salary to the victims of Uttarakhand. Maulana Khalid Rasheed Firangi Mahal said that the millions of people of Uttarakhand have been affected by the natural calamity and it is our duty to help our countrymen in distress.
-----------
'Modi, Amit Shah knew about Ishrat encounter'
TNN | Jun 28, 2013
AHMEDABAD: Did 'grey beard' and 'black beard' know beforehand about the Ishrat Jahan encounter? The Central Bureau of Investigation (CBI), which is probing the fake encounter case, claims to have a testimony by a cop which says Gujarat chief minister Narendra Modi and former junior home minister Amit Shah may have known about the illegal custody of Ishrat, a 19-year-old girl from Mumbra and her three accomplices. The conversation used code words grey beard and black beard to identify Modi and Shah.
Full report at:
http://timesofindia.indiatimes.com/india/Modi-Amit-Shah-knew-about-Ishrat-encounter/articleshow/20806661.cms
-----------
CBI heat on IB in Sadiq Jamal fake encounter case
Abhishek Sharan
June 28, 2013
The CBI is scanning the role of at least five senior IB officials, including two special directors, in the January 2003 Sadiq Jamal Mehtar fake encounter case. It has also recorded the witness statement of its then deputy director DD Padsalgikar.
The probe suspects Mehtar was allegedly targeted by a then IB assistant director at the behest of a Dawood Ibrahim aide, Tariq Parveen, who suspected him of having illicit relations with his wife and wanted to fix him, CBI sources said.
Full report at:
http://www.hindustantimes.com/India-news/newdelhi/CBI-heat-on-IB-in-Sadiq-Jamal-fake-encounter-case/Article1-1083661.aspx
-----------
Hurriyat Conference demands restriction on Amarnath Yatra
Jun 28 2013
Srinagar: Expressing grief over Uttarakhand tragedy, moderate Hurriyat Conference today demanded restricting Amarnath Yatra to an earlier schedule to safeguard the fragile environment of Himalayas.
"It is unfortunate that the extension of Amarnath Yatra was being viewed in the context of politics instead of looking at the damage it causes to the environment," Hurriyat chairman Mirwaiz Umer Farooq said in a statement here.
Full report at:
http://www.indianexpress.com/news/mirwaiz-umer-farooq-led-hurriyat-conference-demands-restriction-on-amarnath-yatra/1135182/
-----------
SIT wants riot culprits to go scot-free, argues Ehsan Jafri's lawyer
Jun 27 2013
Ahmedabad : The lawyer of Zakia Jafri, the widow of Congress leader and 2002 Gujarat riots victim Ehsan Jafri, today alleged that the Supreme Court-appointed Special Investigation Team's approach conveyed the impression that it "wanted riot culprits to go scot-free". "It seems that the way SIT was arguing against the petition filed by complainant Zakia Jafri...it wants accused and perpetrators of 2002 riots to go scot-free," said advocate Sanjay Parikh, arguing before Magistrate B J Ganatra.
Parikh also alleged that the SIT was deviating from the role assigned by the Supreme Court, which was to find out the truth of the "larger conspiracy" behind the post-Godhra riots. Zakia's petition challenges SIT's closure report giving clean chit to Gujarat Chief Minister Narendra Modi and others for their roles in riots as alleged in her 2008 complaint before the Apex court. The petition seeks inquiry by an independent agency other than SIT.
Full report at:
http://www.indianexpress.com/news/sit-wants-riot-culprits-to-go-scotfree-argues-ehsan-jafri-s-lawyer/1134712/
-----------
Muslim Marriage registration: cut-off date soon
K. S. SUDHI
Jun 28, 2013
Recalling the controversial circular on Muslim marriages, the government will soon come up with a new one prescribing cut-off date for registration. The new circular, which is likely to be released on Friday, will not have any prospective application besides limiting its play to marriages held before the date of issuance of the circular.
The new circular will supersede the earlier one issued by the Secretary, Local Self-Government Department, directing civic bodies to register marriages of Muslim men below 21 years and women below 18 years but over 16 years. Some of the key provisions of the Prohibition of Child Marriage Act 2006 too will be incorporated in the new order to give it more teeth, official sources said.
Full report at:
http://www.thehindu.com/news/national/kerala/marriage-registration-cutoff-date-soon/article4857178.ece
---------
India-Turkey to enhance cooperation in renewable energy
Sushma U N, TNN | Jun 27, 2013
CHENNAI: India and Turkey have agreed to enhance their cooperation in renewable energy. This was decided at a meeting held between the Turkish energy minister Taner Yildiz and Farooq Abdullah, minister of new and renewable energy at Ankara, Turkey today.
Abdullah is visiting Turkey along with a high level delegation to explore greater opportunities for cooperation and collaboration between India and Turkey. Abdullah briefed his counterpart on the energy situation in India and India's plans to add over 30 GW of renewable energy to its energy mix in the next 5 years. He also dwelt on the success of the wind programme as well as the significant cost reductions in solar energy through the Jawahar Lal Nehru National Solar Mission (JNNSM), a statement from the Press Information Bureau, Govt of India said.
Full report at:
http://timesofindia.indiatimes.com/india/India-Turkey-to-enhance-cooperation-in-renewable-energy/articleshow/20802915.cms
-----------
Dialogue with Pak after new govt settles down, Salman Khurshid says
PTI | Jun 28, 2013
SRINAGAR: India on Friday said the composite dialogue with Pakistan will be resumed after the new government there settles down, and pending confidence building measures between the two countries are implemented.
"It is not good that we say everything right at the outset. The atmosphere is good at the moment. Let it improve further to be conducive for talks," External affairs minister Salman Khurshid told reporters.
"Let them (the new government in Pakistan) settle down and understand their job, then we can resume it. However, there are some issues on which both the government and people expect some progress, and we will get some satisfaction from it. Then things can move on smoothly from there," he said.
Full report at:
http://timesofindia.indiatimes.com/india/Dialogue-with-Pak-after-new-govt-settles-down-Salman-Khurshid-says/articleshow/20814567.cms
-----------
J&K: Militants carry out grenade attack in Sopore
PTI | Jun 28, 2013
SRINAGAR: Militants today carried out a grenade attack on a CRPF picket in Sopore township of north Kashmir's Baramulla district, causing panic in the area.
"The militants hurled a grenade at CRPF picket near Sopore bus stand, but there was no damage in the incident," SP (Sopore) Imtiyaz Hussain said.
The grenade missed the intended target and exploded on the road, Hussain added.
Official sources said the explosion caused panic among the passersby who ran for their safety.
The area has been cordoned off and a hunt has been launched to nab the militants, they said. No militant outfit has so far claimed responsibility for the attack.
http://timesofindia.indiatimes.com/india/JK-Militants-carry-out-grenade-attack-in-Sopore/articleshow/20812395.cms
-----------
Arab World
Council of Senior Ulema Seeks A Draft Bill Criminalising The Denigration Of The Companions Of The Prophet
Council of Senior Ulema seeks measures to prevent insults the Companions of the Prophet
28 June 2013
The Council of Senior Ulema recently concluded its 78th session in Taif, in which it called on the international Muslim community to establish a draft bill criminalising the denigration of the Companions of the Prophet.
The statement further called on the inclusion of Sunni beliefs and the virtues of the Companions of the Prophet, peace be upon him, into the curricula of schools in Islamic countries.
During the session, the Council of Senior Scholars discussed the denigration of the Companions of the Prophet, the distortion of Islam and the false propaganda against the faith in the media.
Full report at:
http://www.arabnews.com/news/456426
-----------
Sixteen men killed under torture near Damascus, NGO says
28 June 2013
The bodies of 16 men who died under torture at the hands of Syria's feared security forces have been handed to their families, a monitoring group said early Friday.
"We have received information of the death under torture at the hands of regime forces of 16 men from Harasta," said the Syrian Observatory for Human Rights.
Tens of thousands of people are believed to be held in Syria's jails, and rights groups have condemned President Bashar al-Assad's regime for systematically torturing detainees.
It is unknown when the 16 from Harasta died, but the Observatory says the reports of their deaths emerged after the bodies were handed back to their families from a Damascus hospital.
Full report at:
http://english.alarabiya.net/en/News/middle-east/2013/06/28/Sixteen-men-killed-under-torture-near-Damascus-NGO-says.html
---------
Iraq bombings toll mounts to 21
Jun 28, 2013
The toll in the double bombing outside an cafe north-east of Baghdad has reached 21, health officials said on Friday.
Two bombs exploded on Thursday near a cafe in Baquba city, some 60 km north-east of Baghdad, injuring about 25 people.
Officials had initially said that 10 people were killed in the attacks.
More than 2,000 people have been killed in Iraq since April.
http://www.thehindu.com/news/international/world/iraq-bombings-toll-mounts-to-21/article4858220.ece
-----------
Black Iraqis Struggle To Shake Legacy of Racism
June 28, 2013
Many people are surprised to hear that there is a black minority of African descent in Iraq, particularly in Basra, and they are even more surprised to hear that this minority is being discriminated against and is falling victim to racism.
Their first reaction would be to repeat that the era of racism against blacks ended decades ago, or with the advent of Islam. But those ideas conflict with the societal reality in Iraq.
Although racism has been illegal under the Iraqi legislative system since the founding of the state in 1921, this minority is trapped by different types of discrimination and racism within society. The legislative and educational systems, as well as the official Iraqi media, need to give special attention to the issue by passing laws that criminalize any form of racism or discrimination, while educating the community in this regard.
Full report at:
http://www.al-monitor.com/pulse/originals/2013/06/black-iraqis-face-discrimination-racism.html
-----------
Saudis on death row in Iraq granted retrial
Jun 28, 2013
JEDDAH – The death sentences handed down to five Saudi prisoners in Iraq have not been commuted and the Iraqi courts have the final say in the matter, according to Iraq's Justice Minister Hassan Al-Shammary.
"Just because the Iraqi government has decided to grant a retrial to the Saudi death row prisoners, it does not mean their previous death sentences had been voided," Al-Shammary said.
He urged their lawyers to submit strong evidence to prove their clients' innocence. "Once the courts have made a decision, nothing can change that decision," the minister said.
Full report at:
http://www.saudigazette.com.sa/index.cfm?method=home.regcon&contentid=20130628171512
-----------
PKK kills three in protest shooting in Syria
28 June 2013
Three people were killed and a number of others injured when members of the Kurdistan Workers' Party (PKK) opened fire on protesters in the Syrian Kurdish-dominated town of Amuda in the Hasakeh district.
People gathered on Thursday night to call for the release of activists who had been detained by the Democratic Union Party (PYD), which is affiliated with the PKK and has control over most of Syria's Kurdish areas in the north.
Full report at:
http://english.alarabiya.net/en/News/middle-east/2013/06/28/VIDEO-PKK-kills-three-in-protest-shooting-in-Syria.html
-----------
Explosives target alleged Hezbollah convoy in Lebanon
28 June 2013
Two small explosive devices went off on Friday in the eastern Lebanese city of Zahle targeting a "security convoy."
According to Lebanese media, the convoy belonged to the Shiite military group Hezbollah, which has been fighting alongside forces loyal to Syrian President Bashar al-Assad against rebels.
"Two bombs exploded at 5:30 a.m. when a security convoy made up of three 4x4 cars were on the international highway in the city of Zahle, which leads to the city of Baalbek," a security source told AFP. "The gunmen got out of the car and fired into the air as soon as the explosion happened before they continued on their way" in the direction towards Shtoura, near the Syrian border.
Full report at:
http://english.alarabiya.net/en/News/middle-east/2013/06/28/Explosives-target-alleged-Hezbollah-convoy-in-Lebanon.html
-----------
Egyptian Islamists to begin open-ended rally for Mursi
28 June 2013
Egyptian Islamist parties are set to begin an open-ended demonstration on Friday in support of President Mohammad Mursi, two days before planned rallies against him, highlighting the country's deep divisions.
An alliance of Islamist parties and groups called the rallies outside the Rabaa al-Adawiya mosque in Cairo's Nasr City district under the slogan "legitimacy is a red line."
Mursi's legitimacy is at the heart of protests both for and against him.
His supporters say he derives his authority from the first free presidential election in Egypt's history, and that the challenges he faces – corrupt and inefficient institutions, economic troubles and religious tensions – were inherited.
Full report at:
http://english.alarabiya.net/en/News/middle-east/2013/06/28/Egyptian-Islamists-to-begin-open-ended-rally-for-Mursi.html
-----------
Pakistan
Captors release abducted eight Tablighi members
June 28, 2013
Quetta - The captors of eight Tablighi members set them free on Thursday in Awaran district, warning them not to visit the area again in future. Unidentified armed men had abducted eight preachers from a masque in Tehsil Jaho a couple of days ago. According to local administration, the abductors set the preachers free besides warning all Tablighi Jamaat to avoid visiting Awaran district in future as the Baloch nation was in a state of war. The released persons included Gul Akhtar, Khalil ur Rehman, Shakeel ur Rehman, Nasrullah Khan, Shaki Marjan, Akhtar Jan, Nouroz Ali Khan and Mir Syed Shah who belong to KPK.
http://www.nation.com.pk/pakistan-news-newspaper-daily-english-online/editors-picks/28-Jun-2013/captors-release-abducted-eight-tablighi-members
---------
Pakistan wants friendly relations with India: Zardari
June 28, 2013
President Asif Ali Zardari Friday said Pakistan desires friendly' cooperative' good neighbourly relations with India.
He was talking to Indian High Commissioner Sharat Sabharwal' who paid a farewell call on him in Islamabad on Friday.
The President appreciated the efforts of the outgoing Indian High Commissioner in improving Pak-India bilateral relations and said that Mr. Sharat Sabharwal, during his 4 year tenure in Islamabad has worked hard towards building better relations between Pakistan and India.
The President said that Pakistan wishes to have friendly, cooperative and good neighborly relations with India and there were tremendous opportunities existing between the two countries to boost their cooperation for the mutual benefit of the people of the two countries.
Full report at:
http://www.nation.com.pk/pakistan-news-newspaper-daily-english-online/islamabad/28-Jun-2013/pakistan-wants-friendly-relations-with-india-zardari
---------
Pakistan engaged Taliban to get talks back on track
BAQIR SAJJAD SYED
Jun 28, 2013
ISLAMABAD, June 27: Pakistan remains engaged with the Taliban to put the Doha process back on track after the controversial opening of the insurgent group's Doha office that deadlocked efforts for peace in Afghanistan.
A Pakistani official told Dawn on Thursday that negotiators were talking to the Taliban leadership to persuade them to get on with the talks with the Americans and the Afghan government.
"The process is continuing. In fact it is in everyone's interest that the process remains alive," the official said.
Taliban had initially agreed for talks with the US and Afghanistan's High Peace Council on Pakistan's prodding, but the row over the name of the office used in the opening ceremony and raising of a flag at the Doha office angered the Karzai government which cancelled the visit of its negotiators to Qatar and suspended talks with the US on a bilateral security arrangement.
Full report at:
http://beta.dawn.com/news/1021190/pakistan-engaged-taliban-to-get-talks-back-on-track
-----------
Gilgit-Baltistan could attract drone strikes, says lawmaker
June 28, 2013
GILGIT: Local people should detach themselves from the militant outfits or else Gilgit-Baltistan (G-B) may become the next destination for drone strikes, warned Advocate Amjad Hussain, Chairman Standing Committee in G-B Council on Thursday.
Hussain's comments came a day after regional police chief in Gilgit revealed identities of those involved in the massacre of 10 foreign tourists and their guide at the foot of Nanga Parbat, the second highest peak located in G-B's Diamer valley.
Full report at:
http://tribune.com.pk/story/569484/next-destination-g-b-could-attract-drone-strikes-says-lawmaker/
-----------
Key talks: Tripartite session to discuss fate of Afghan refugees
June 28, 2013
ISLAMABAD: Senior officials from Pakistan, Afghanistan and the UN refugee agency will discuss on Friday the fate of over two million Afghan refugees in Pakistan, officials said on Thursday.
Minister of States and Frontier Regions Abdul Qadir Baloch arrived in the Afghan capital l on Thursday to participate in the tripartite meeting between the neighbours and UNHCR, the agency's spokesman in Kabul Mohammad Nadir Farhad told The Express Tribune.
Baloch, a retired military officer who will head the Pakistani delegation, will meet his Afghan counterpart Dr Jamaher Anwary, and a number of refugees who returned to Afghanistan, the UN agency official said.
Full report at:
http://tribune.com.pk/story/569504/key-talks-tripartite-session-to-discuss-fate-of-afghan-refugees/
-----------
Minorities' rights: MPA seeks help evacuate Hindu Gymkhana
June 28, 2013
KARACHI: Pakistan Peoples Party minorities MPA, Dr Khatu Mal Jeewan, during the Sindh Assembly session, sought the government's help to evacuate Hindu Gymkhana, a historical building of the Hindu community, which is allegedly occupied by the National Academy of Performing Arts (NAPA).
In his budget speech, Dr Jeewan spoke about land grabbing and how temples and historical buildings belonging to the Hindu community were being illegally occupied by different influential people, institutions and organisations. "The President of Pakistan has also assured us of cooperation but we want to know when the Hindu Gymkhana will be handed back to us. Full report at:
http://tribune.com.pk/story/569343/minorities-rights-mpa-seeks-help-evacuate-hindu-gymkhana/
-----------
Karachi violence kills 4, injures 8
June 28, 2013
KARACHI: Violence in Karachi claimed four lives and injured eight on Friday, Express News reported.
Around 11 people sustained injuries in city's Kharadar area when unidentified armed men opened fire in the neighbourhood.
The attackers were riding a motorbike and injured a woman and a minor as well.
The injured were shifted to a local hospital where three, including the woman, succumbed to their injuries.
The firing incident created panic in the area and business activities came to a halt.
A heavy contingent of police and rangers reached the area to control the situation.
While in Lyari, a body was recovered which the police said was dumped by the roadside.
Police added that the hands and legs were tied with a rope.
http://tribune.com.pk/story/569583/karachi-violence-kills-4-injures-8/
-----------
Suspects posing as Taliban extortionists arrested in Islamabad
June 28, 2013
ISLAMABAD: Three suspects claiming to be part of the Taliban have been arrested by the police in Islamabad, Express News reported.
The CIA team of Islamabad Police arrested Alam Khan, Mohammad Tahir and Mukammal Shah on Friday and escorted them to jail.
The suspects used to drop pamphlets with a cell phone number at people's homes that asked for sums of up to Rs6.5 million.
Provincial minister Rehmanullah also got a similar threat from the same terrorists via a pamphlet that stated that Rs5.6 million should be delivered at a particular place otherwise he along with his family would be in danger.
The group of suspects also posed similar threats for large sums of money to the business community in Rawalpindi, Islamabad and KPK.
http://tribune.com.pk/story/569590/suspects-posing-as-taliban-extortionists-arrested-in-islamabad/
-----------
Trade can lead to better Indo-Pak relations says Pakistani delegation
Jun 27 2013
Chandigarh: The increase in bilateral trade is the important factor for having better relations between India and Pakistan, a delegation from Pakistan today said. "There is a lot of trade potential between two nations. If trade takes a front seat, automatically, other issues shall get pushed to back seat," said Imran Sohail, who is leading the 14-member Pakistan delegation of Jhang Chamber of Commerce and Industry.
He was speaking during an interactive session organised here by PHD Chamber of Commerce and Industry. "Booming bilateral trade may well be the strongest pillar of Indo-Pak rapprochement so much so that it shall not only overtake the pace of general confidence-building measures but also have a substantial impact on each other's mutual perceptions," Sohail said.
Full report at:
http://www.indianexpress.com/news/trade-can-lead-to-better-indopak-relations-says-pakistani-delegation/1134724/
---------
PPP did not reopen cases against Nawaz: Opposition leader
June 28, 2013
ISLAMABAD: Opposition leader in the National Assembly and Pakistan People's Party leader Syed Khursheed Shah Friday said that his party would support the federal government even if probe against former president, General (retd) Pervez Musharraf started from November 3, Geo News reported.
Speaking in the National Assembly, Shah said that constitution was not abrogated in Nov 03 emergency. He said endorsement of October 12 steps was also revoked in the 18th amendment.
Full report at:
http://www.thenews.com.pk/article-107146-PPP-did-not-reopen-cases-against-Nawaz:-Khursheed-Shah
---------
Europe
75-year-old arrested over bomb at UK mosque
27 June 2013
LONDON: British police have arrested a 75-year-old man on suspicion of causing an explosion after a homemade bomb went off near a mosque.
West Midlands Police said the man was arrested by counterterrorism officers Thursday at his home in Walsall, near the central England city of Birmingham.
About 150 people were evacuated from homes near the Aisha Mosque and Islamic Center in Walsall after remains of the device were found in an alleyway on Saturday.
Police said residents reported hearing a bang late Friday, but there were no reports of injuries and minimal damage.
Several mosques and Islamic centers in Britain have been vandalized since a British soldier was killed in London in May, allegedly by Islamic extremists.
http://www.arabnews.com/news/456350
-----------
Radical Muslims post bounty on bloggers, Facebook users
June 27, 2013
By: Christopher Collins
An Islamic jihadist website, Islamic Socialist NetWork (ISN), based out of the U.K. was found on Tuesday where Muslims in the U.K., Australia, and Canada posted cash bounties on some operators of counter-jihad bloggers and Facebook users for speaking out about Islam.
On their website, photos of Facebook page administrators on "Wanted" posters were posted along with cash rewards in various amounts of up to a million dollars for personal information such names and addresses of where the operators reside.
The web site was first revealed by Schuyler Montague of Sharia Unveiled, an educational organization that teaches the truth about radical Islam, Sharia law, and history, while they were researching a story on the recent removal of Counter-jihad pages by Facebook.
Montague said, "While researching our story yesterday on the recent removal of Counter-jihad pages by Facebook, we uncovered some very disturbing information. In an attempt to locate the source of the Islamic onslaught against the freedom of expression, we ventured down the rabbit hole of Islamic hate… and what we discovered when we got there, tucked away in a dark corner, was a website operated by a terrorist organization called the Islamic Socialist Network."
Full report at:
http://www.examiner.com/article/radical-muslims-post-bounty-on-bloggers-facebook-users
-----------
Russia says US put it in 'tough spot' over Snowden
AFP | Jun 28, 2013
MOSCOW, Russia: Russia on Friday accused the United States of putting it in a "tough spot", claiming Washington never disclosed that it had revoked the travel passport of fugitive US intelligence leaker Edward Snowden.
The former National Security Agency (NSA) contractor spent Friday holed up in a Moscow airport for a sixth day after arriving by a regular Aeroflot flight from Hong Kong where he had disclosed US surveillance secrets to the press.
A Russian official close to the matter on Friday accused the United States of apparently deliberately putting Moscow in a difficult position by never reporting that Snowden's passport had been revoked, Interfax reported.
Full report at:
http://timesofindia.indiatimes.com/world/rest-of-world/Russia-says-US-put-it-in-tough-spot-over-Snowden/articleshow/20813963.cms
-----------
HRW: Lynching of Shiites in Egypt follows months of negative rhetoric
28 June 2013
Human Rights Watch expressed alarm on Thursday over the lynching of four Shiites by a mob led by an Egyptian Salafi Sheikh in Greater Cairo on Sunday.
The rights group said the violence in the village of Abu Musallim comes after months of anti-Shiite rhetoric.
"The brutal sectarian lynching of four Shiites comes after two years of hate speech against the minority religious group, which the Muslim Brotherhood condoned and at times participated in," said Joe Stork, deputy Middle East director at HRW. "This horrific incident in Abu Musallim shows that Shiite can't even gather in the privacy of their homes to celebrate and heightens fear of persecution among all religious minorities in Egypt."
Full report at:
http://english.alarabiya.net/en/News/middle-east/2013/06/28/HRW-Lynching-of-Shiites-in-Egypt-follows-months-of-negative-rhetoric.html
-----------
UN eases Saddam-era sanctions against Iraq
June 27, 2013
United Nations: The UN Security Council on Thursday voted to ease sanctions against Iraq dating from its 1990 invasion of Kuwait amid a significant thaw between the neighbours.
The council lifted the threat of sanctions linked to the search for Kuwaitis and property missing since the invasion by Saddam's forces.
Iraq's Foreign Minister Hoshyar Zebari called the unanimous vote a "landmark" in efforts by Iraq and Kuwait to heal the wounds caused by the invasion, which was ended by an international coalition in 1991.
Full report at:
http://gulfnews.com/in-focus/iraq-anniversary/un-eases-saddam-era-sanctions-against-iraq-1.1202921
-----------
'EU decision on blacklisting Hezbollah in late 2013'
By BENJAMIN WEINTHAL
06/27/2013
BERLIN – Italian Deputy Foreign Minister for Development and Cooperation Lapo Pistelli said on Wednesday in Beirut that the EU is slated to make a decision in late 2013 on whether to include Hezbollah on its list of terrorist organizations.
The Italian official told Lebanese paper The Daily Star that a European decision on blacklisting Hezbollah will not take place for "at least five [or] six months."
Pistelli's timeline about a possible ban against Hezbollah confirms a statement made by a source who is well-versed in the EU debate on outlawing Hezbollah's military wing. The source told The Jerusalem Post that an EU decision is likely to take place in November or December.
Full report at:
http://www.jpost.com/International/Italian-official-EU-to-decide-in-late-2013-whether-to-label-Hezbollah-a-terror-group-318046
-----------
French Jewish vigilante group comes out of shadows
By CNAAN LIPHSHIZ/JTA
06/27/2013
In face of soaring anti-Semitism, France's Jewish Defense League showcases its activities, putting itself on collision course with country's Jewish establishment.
PARIS — With scooter helmets in hand, a man called Yohan and six buddies stroll around Paris' 20th arrondissement. The seven look much like a typical group of French students — until they locate a group of Arab men they suspect of perpetrating an anti-Semitic attack the previous day.
Full report at:
http://www.jpost.com/Jewish-World/Jewish-Features/French-Jewish-vigilante-group-comes-out-of-shadows-317902
-----------
UN envoy voices sectarian worry in Iraq
June 28, 2013
BAGHDAD — The UN's special envoy to Baghdad voiced worry over rising levels of violence and worsening sectarianism in Iraq in an interview with AFP, warning in particular of a deterioration in security.
Martin Kobler, who made the remarks at the conclusion of his posting to the country, said much was still to be done, with little progress in the past two years on several key political issues, including laws regulating the energy sector and the dispersal of oil income and a long-running dispute over a swathe of territory in north Iraq.
He pointed to improving bilateral ties with Kuwait and well-run elections as positive developments over his two years in Iraq, but called for economic reforms and greater political and financial federalism.
Full report at:
http://www.saudigazette.com.sa/index.cfm?method=home.regcon&contentid=20130628171455
-----------
Africa
Tunisia: Equal Marriage Rights for All, but Not for All Foreigners
27 JUNE 2013
Gay marriage has been legal in France since May. However, some expatriates won't be able to marry their same-sex partners because of bilateral agreements signed between France and their countries of origin.
In a circulaire (recommendation note) presented to French civil servants stipulating how the new marriage law should be applied, the note stated that expatriates from 11 countries are subjected to marriage laws in their home countries because of bilateral conventions signed in the past with France.
The countries affected are: Poland, Morocco, Bosnia-Herzegovina, Montenegro, Serbia, Kosovo, Slovenia, Cambodia, Laos, Tunisia and Algeria. These countries do not recognise gay marriage.
Full report at:
http://allafrica.com/stories/201306271544.html
-----------
At least 33 killed in Nigeria tribal clashes
Jun 28, 2013
At least 33 people were killed in an ethnic attack in central Nigeria's Plateau State, local newspaper This Day said on Friday.
Suspected gunmen from neighbouring Niger attacked three villages of the Tarok clan in Plateau's Langtang South area, shooting residents in their homes and setting more than 100 homes on fire, witnesses told the newspaper.
Children and elderly people were among the dead.
"We cannot know the actual number of people who lost their lives as we are still picking dead bodies from the bush. The attackers followed the victims on motorcycles and were killing them mercilessly as they tried to escape," said reverend Nandip Miri.
http://www.thehindu.com/news/international/world/at-least-33-killed-in-nigeria-tribal-clashes/article4860006.ece
--------
'Mass Grave Found in North Darfur' Following Tribal Violence
27 JUNE 2013
Al Sareif Beni Hussein — Reports from Al Sareif Beni Hussein in North Darfur say that the town is still besieged by Abbala tribesmen. Local sources claimed finding a mass grave in Al Sareif Beni Hussein city on Thursday contaning "62 bodies of members of the Beni Hussein tribe".
The sources said the Beni Hussein were killed "in an ambush by Abbala in an area four kilometres north of Al Sareif city." They added the Abbala stole "between 3,000 and 4,000 head of cattle" On the same occasion.
Representatives of Unamid, who according to sources have documented the recent incidents in the area, said that 24 wounded arrived at the hospital of Al Sareif, while more than 20 people from the Beni Hussein tribe are still missing.
Full report at:
http://allafrica.com/stories/201306280230.html?viewall=1
-----------
Al-Shabaab Abducting Children From Central Somalia
BY DAHIR JIBRIL
28 JUNE 2013
Mogadishu — Al-Shabaab in recent weeks has kidnapped hundreds of children from the militant-controlled town of El Bur in Galgadud, residents say, expressing fear that the al-Qaeda-affiliated group is forcibly recruiting them as child soldiers.
Since early May, more than 350 children under the age of 16 have been taken from Qur'an schools or while playing in the streets of El Bur and surrounding areas, said town elder Jama Hassan, 54.
Full report at:
http://allafrica.com/stories/201306260098.html
-----------
Libyan Amazighs demand cultural and voting rights
Jun 28, 2013
TRIPOLI — A group of Amazigh people protested Wednesday in front of the General National Congress building, demanding the Congress to activate the Amazigh rights in the Libyan state and demarcate Tamazight language in the Libyan Constitution.
However, the protesters demanded the Congress and the government to give more job chances for Amazighi youth people in Sebha, Murzuq, Ghat, and Ubari.
As well as they said that it is not fair that the Amazigh deprived of their rights to participate in the election of the 60-commission and municipalities because most of them do not have a family passbook.
Full report at:
http://www.saudigazette.com.sa/index.cfm?method=home.regcon&contentid=20130628171456
-----------
South Asia
China Police Block Site of Bloody Chinese Xinjiang Riot
Jun 28, 2013
TURPAN: Armed police in China's ethnically divided Xinjiang blocked the road Thursday to the site of riots that left 27 people dead a day earlier, in the restive region's deadliest violence in years.
Officers stationed 40 kilometers (25 miles) outside Turpan city's Lukqun township checked car passengers' IDs and barred AFP journalists from entering, citing safety concerns.
A visitor in Turpan – which lies about 250 kilometers from the regional capital Urumqi – told AFP he saw another roadblock with armed officers and about 20 police vehicles.
The Xinhua state news agency said Wednesday that "knife-wielding mobs" attacked police stations and other locations, and nine police or security guards and eight civilians were killed before police opened fire.
Full report at:
http://www.dailytimes.com.pk/default.asp?page=2013\06\28\story_28-6-2013_pg14_3
-----------
Two Muslims killed by Myanmar authorities in IDP camp: UN
June 28, 2013
YANGON: Two Muslims were shot dead and six others wounded when security forces opened fire at a camp for some of those displaced by last year's violence in Myanmar's restive Rakhine state, the UN refugee agency said Friday.
The incident, on Thursday morning, took place as security forces tried to break up a dispute at the Kyein Ni Pyin camp in Pauktaw, home to at least 4,400 displaced people -- mainly Rohingya Muslims whose homes were torched in deadly clashes with ethnic Rakhine locals.
"Gunfire was used by the authorities to disperse the crowd, resulting in the fatalities and wounding," the UNHCR said in a statement, adding two of the wounded were minors.
Full report at:
http://www.thenews.com.pk/article-107151-Two-Muslims-killed-by-Myanmar-authorities-in-IDP-camp:-UN
---------
Death toll in Xinjiang violence rises to at least 35
By Julie Makinen
June 28, 2013
BEIJING - The death toll in Wednesday's clashes in the western Xinjiang region has risen from 27 to at least 35, and China's state-run media are now referring to the incident as a "terrorist attack."
Initial reports by the official New China News Agency said knife-wielding rioters attacked a police station, a government building and a construction site.
It was the deadliest outbreak of violence in years in the region, where tension has simmered between Uighurs, a Muslim minority group, and ethnic Han Chinese.
The first reports on the violence said rioters killed 17 people and police shot 10 dead. But on Thursday, the news agency said rioters had slain 24 people, including two police officers, and police shot 11 to death. Another 21 people were injured, the agency said Thursday.
Full report at:
http://www.latimes.com/news/world/worldnow/la-fg-wn-china-death-toll-xinjiang-20130627,0,5933832.story
-----------
Myanmar Gives Official Blessing to Anti-Muslim Monks
By Andrew R.C. Marshall
June 28, 2013
Yangon. The Buddhist extremist movement in Myanmar, known as 969, portrays itself as a grassroots creed.
Its chief proponent, a monk named Wirathu, was once jailed by the former military junta for anti-Muslim violence and once called himself the "Burmese bin Laden."
But a Reuters examination traces 969's origins to an official in the dictatorship that once ran Myanmar, and which is the direct predecessor of today's reformist government. The 969 movement now enjoys support from senior government officials, establishment monks and even some members of the opposition National League for Democracy (NLD), the political party of Nobel peace laureate Aung San Suu Kyi.
Full report at:
http://timesofindia.indiatimes.com/world/south-asia/Myanmar-gives-official-blessing-to-anti-Muslim-monks/articleshow/20808923.cms
-----------
US move to cut trade privileges 'shocking': Bangladesh
June 28, 2013
DHAKA: Bangladesh on Friday criticised a "shocking" decision by the United States to cut trade privileges in the wake of a deadly garment factory collapse, insisting it had taken concrete action to improve safety.
"It cannot be more shocking for the factory workers of Bangladesh that the decision to suspend GSP comes at a time when the government of Bangladesh has taken concrete and visible measures to improve factory safety and protect workers' rights," a foreign ministry statement said.
Full report at:
http://tribune.com.pk/story/569579/us-move-to-cut-trade-privileges-shocking-bangladesh/
---------
North America
If Pak cannot try 26/11 culprits, turn them over to ICC, US lawmaker says
PTI | Jun 28, 2013,
WASHINGTON: Disappointed over Pakistan's slow pace of trial in Mumbai terror attack case, a top US lawmaker has demanded that the seven suspects, including LeT operational commander Zakiur Rehman Lakhvi, be handed over to the International Criminal Court to bring them to justice.
"There are seven individuals that need to be brought to justice (for their role in the 26/11 attack case)," said Congressman Ed Royce, chairman of the powerful House Foreign Relations Committee.
"If Pakistan cannot try them, turn them over to international criminal court for crimes against humanity, for what they did in their collusion, in their culpability for what happened," he said yesterday.
Full report at:
http://timesofindia.indiatimes.com/world/us/If-Pak-cannot-try-26/11-culprits-turn-them-over-to-ICC-US-lawmaker-says/articleshow/20813413.cms
---------
Islamic leader urges NYPD to stop Muslims' surveillance
June 28, 2013
NEW YORK - An Islamic leader has made a fervent appeal to the New York Police Department (NYPD) to rely more on alliances with the Muslim community and less on surveillance activity to protect the city from terrorism.
"We will help you more than you will be getting from spying on Muslims," Mustafa Senghor, head of Harlem Islamic Cultural Center in New York City, told police commissioner Ray Kelly and other religious leaders at a pre-Ramadan conference at police headquarters. The holy month begins around July 9.
Kelly listened but didn't react to Senghor's remarks, which garnered applause from the crowd that included leaders and members of the Islamic community from across the City's five boroughs.
Full report at:
http://www.nation.com.pk/pakistan-news-newspaper-daily-english-online/international/28-Jun-2013/islamic-leader-urges-nypd-to-stop-muslims-surveillance
---------
Boston suspect downloaded bomb instructions: US
June 28, 2013
Boston Marathon bombing suspect Dzhokhar Tsarnaev downloaded bomb-making instructions from an al Qaeda magazine, gathered online material on Islamic jihad and martyrdom and later scrawled anti-American messages inside the boat where he lay wounded, a federal indictment charged Thursday.
The 30-count indictment contains the bombing charges, punishable by the death penalty, that were brought in April against the 19-year-old Tsarnaev, including use of a weapon of mass destruction to kill.
It also contains many new charges covering the slaying of an MIT police officer and the carjacking of a motorist during the getaway attempt that left Tsarnaev's older brother, Tamerlan, dead.
Full report at:
http://www.hindustantimes.com/worldsectionpage/chunk-ht-ui-worldsectionpage-bostonblast/Boston-suspect-downloaded-bomb-instructions-US/Article1-1083753.aspx
-----------
Obama says no 'wheeling and dealing' over Snowden
June 28, 2013
US President Barack Obama insisted on Thursday he would not let the fate of fugitive intelligence leaker Edward Snowden ruin ties with Russia and China as Washington bluntly warned Ecuador not to give him asylum.
Snowden is wanted by the US authorities for leaking sensational details of vast US surveillance programmes.
The Kremlin says he has been in the transit zone of Moscow's Sheremetyevo airport since he arrived on a flight from Hong Kong on Sunday.
Full report at:
http://www.hindustantimes.com/world-news/africa/Obama-says-no-wheeling-and-dealing-over-Snowden/Article1-1083728.aspx
-----------
Boston bombing suspect indicted on 30 counts
June 28, 2013
Dzhokhar Tsarnaev, the survivingsuspect of Boston marathon bombing, was today indicted in the US on 30 counts, including the use of a weapon of mass destruction, over the April attacks that killed three people and injured more than 260 others. A federal grand jury returned a 30-count
indictment against Dzhokhar and many of the charges carry the possibility of life in prison or the death penalty.
The charges include: use of a weapon of mass destruction resulting in death; bombing of a place of public use resulting in death, malicious destruction of property resulting in death, conspiracy, and use of a firearm during and in relation to a violent crime, federal prosecutors said in a statement.
Full report at:
http://www.hindustantimes.com/world-news/northamerica/Boston-bombing-suspect-indicted-on-30-counts/Article1-1083718.aspx
-----------
Meetings between Abbas and Netanyahu as formula for restarting negotiations
By BEN CASPIT
06/28/2013
US Secretary of State John Kerry's formula for renewing negotiations between Israel and the Palestinians consists of a marathon series of meetings between Prime Minister Binyamin Netanyahu and Palestinian Authority President Mahmoud Abbas, some to be attended by Kerry himself.
Netanyahu has already told the Americans he agrees to the plan, and heavy pressure is now being placed on Abbas to accept the formula.
The talks would only be considered part of the efforts to renew negotiations, and would not constitute an actual renewal of negotiations themselves. This formula would allow Abbas to circumvent the preconditions to negotiations that he has set and avoid criticism.
Full report at:
http://www.jpost.com/Diplomacy-and-Politics/Kerry-pushing-series-of-meetings-between-Abbas-and-Netanyahu-as-formula-for-restarting-negotiations-318063
-----------
U.S. will ensure Lebanon's sovereignty, Kerry says
28 June 2013
AFP, Washington
Secretary of State John Kerry vowed Thursday the United States was committed to ensuring Lebanon's security in a call with President Michel Sleiman after a major gun battle.
Lebanese soldiers battled supporters of a radical cleric in Abra near Sidon last weekend in the worst clashes to hit the country since the start of the conflict in neighboring Syria, which has inflamed sectarian tensions.
Kerry "stressed that the United States is fully committed to supporting the president's efforts to safeguard Lebanon's security and sovereignty," the State Department said in a statement.
The top U.S. diplomat also voiced his condolences to the families of the 17 soldiers killed in the firefight and condemned the attack.
Full report at:
http://english.alarabiya.net/en/News/middle-east/2013/06/28/U-S-will-ensure-Lebanon-s-sovereignty-Kerry.html
-----------
US begins sending arms for Syrian rebels
June 28, 2013
The central intelligence agency (CIA) has started sending weapons to Jordan to arm small groups of vetted Syrian rebels within a month, a US media report said.
The CIA is expected to spend up to three weeks bringing light arms and possibly anti-tank missiles to Jordan, reported Wall Street Journal citing diplomats and US officials briefed on the plans Thursday.
"The agency plans to spend roughly two weeks more vetting an initial group of fighters and making sure they know how to use the weapons that they are given, clearing the way for the first US-armed rebels to enter the fight," reported Xinhua citing the US daily.
Full report at:
http://www.hindustantimes.com/world-news/northamerica/US-begins-sending-arms-for-Syrian-rebels/Article1-1083726.aspx
-----------
Obama recasts chase for Snowden as unexceptional
AP | Jun 28, 2013
WASHINGTON: The last thing President Barack Obama wants to do is turn Edward Snowden into a grand enemy of the state or a hero who speaks truth to power.
In the shifting narrative of the Obama administration, the man whose leaks of top-secret material about government surveillance programs have tied the national security apparatus in knots and brought charges under the Espionage Act has now been demoted to a common fugitive unworthy of international intrigue or extraordinary pursuit by the US government.
A "29-year-old hacker," in the words of Obama; fodder for a made-for-TV movie, perhaps, but not much more.
Full report at:
http://timesofindia.indiatimes.com/world/us/Obama-recasts-chase-for-Snowden-as-unexceptional/articleshow/20811558.cms
----------
Mideast
Islamic Jihad reopens contact with Hamas: officials
28 JUNE 2013
GAZA CITY, Palestinian Territories — Palestinian militant group Islamic Jihad has reestablished contacts with the Hamas rulers of Gaza, having severed ties after a commander in its military wing died from a police shooting, a group official said on Wednesday.
"Contacts were reopened between Islamic Jihad and Hamas after an agreement to form a joint commission of enquiry on the death of Raed Jundiya," spokesman Dawud Shihab told AFP.
He said he hoped the air would be cleared between the two Islamist groups "after the fallout from Jundiya's killing has been dealt with."
Jundiya, a 38-year-old commander in the Al-Quds Brigades, died from wounds sustained during a police raid on his house on Saturday in which he was shot in the head, according to Islamic Jihad accounts.
Full report at:
Copyright © 2013 AFP. All rights reserved
-----------
Netanyahu: Peace won't end 'wild slander' against Israel
By HERB KEINON
06/27/2013
PM stresses peace is based on Israel's ability to defend itself; Peres says bi-national state contradicts ethos of Zionism.
Just hours before US Secretary of State John Kerry arrives in Israel to again push for a restart of Israeli-Palestinian negotiations, Prime Minister Binyamin Netanyahu warned Thursday that an accord will not end the "wild slander" and delegitimization of Israel.
Netanyahu, speaking at an anniversary ceremony marking the death of Zionist visionary Theodor Herzl, said that the type of anti-Semitism that motivated Herzl to dream of a Jewish state has now been transferred onto Israel.
Full report at:
http://www.jpost.com/Diplomacy-and-Politics/Netanyahu-Peace-wont-end-wild-slander-against-Israel-317938
---------
Turkey to army rules justifying rebellions
Jun 28, 2013
ANKARA — Turkey's Islamic-rooted government will submit a proposal to parliament to amend an army rule seen as the legal basis for the military to justify coups.
The move marks the latest step in the government's efforts to curb the influence of the once powerful army, which has staged four coups in half a century.
"The draft will be submitted to parliament," Deputy Prime Minister Bekir Bozdag said in televised remarks.
Full report at:
http://www.saudigazette.com.sa/index.cfm?method=home.regcon&contentid=20130628171460
-----------
Security forces arrest terror cell in West Bank
By YAAKOV LAPPIN
06/27/2013
Security forces arrested a five-man terror cell belonging to the Popular Front for the Liberation of Palestine in the West Bank, the Shin Bet (Israel Security Agency) announced on Thursday.
The suspects hail from Hebron and Nablus, and one of them was in touch with handlers in Jordan who helped him organize attacks, according to the Shin Bet.
During questioning, the suspect said he believed his handlers abroad worked in conjunction with Hezbollah in Lebanon. Firearms were seized during the raids against the terror cell last month.
Full report at:
http://www.jpost.com/Defense/Security-forces-arrest-terror-cell-in-West-Bank-318006
-----------
2 'spying settlers' sentenced for 'war room' op
By YONAH JEREMY BOB
06/27/2013
Two of the five "spying settlers," Elad Meir and David Eliyahu, were convicted in a plea bargain on Thursday of running a "war room" to track military movements and block any IDF actions to demolish illegal outposts.
They were sentenced to 220 hours of community service each.
The sentences were much more lenient than originally expected, according to previous statements by the prosecution.
Two other "spying settlers" were sentenced on June 9 to 91 days in prison each, while the fifth is expected to get a longer combined sentence in the future in connection with a separate case against him.
Full report at:
http://www.jpost.com/National-News/2-spying-settlers-sentenced-for-war-room-op-317994
-----------
Southeast Asia
Government Denies Anti-Shiite Conspiracy in Sampang
June 28, 2013
The Indonesian government denied accusations of a conspiracy to oust Shiite Muslims from the conflict-prone district of Sampang, Madura Island, following the forced relocation of 162 Shia refugees displaced by a wave of sectarian violence to low-cost apartments in Sidoarjo, East Java.
"There's no conspiracy," the National Police's Brig. Gen. Damisnur, an assistant of social harmony at the Coordinating Ministry of Political, Legal and Security Affairs, told the state-run Antara News Agency.
On June 20, a crowd of angry Sunni Muslims amassed outside the sports center following a large outdoor prayer where prominent Sunni Islam preachers decried the Shia as "heretics" before storming over to the nearby center. The crowd confronted Iklil Al Milal, a local Shia leader, and demanded the group leave the island. Local police then loaded the community onto waiting buses and trucks and drove them out of town, according to a statement by the People's Anti-Violence Network (Jamak).
Full report at:
http://www.thejakartaglobe.com/news/government-denies-anti-shiite-conspiracy-in-sampang/
-----------
Malaysia deports Sikh militant to India
PTI | Jun 28, 2013
KUALA LUMPUR: An Indian national, believed to be part of an international Sikh militant group, has been deported by Malaysian authorities to India which sought his extradition to face trial.
Satpal Singh Raghvir Singh, 41, was arrested in the suburb of Cheras for immigration offences on January 4 and deported to India on Thursday.
"We believe he is part of a Sikh militant group called Babbar Khalsa International (BKI)," said Special Task Force (Operations and Counter Terrorism) Director Mohamad Fuzi Harun.
"He had been supplying the group with fake travel documents and using our country as a transit point for the group's activities," Harun said in a statement here.
Full report at:
http://timesofindia.indiatimes.com/india/Malaysia-deports-Sikh-militant-to-India/articleshow/20812686.cms
-----------
New Malaysian Islamic Bill allows conversion of children by just one parent's consent
Christopher Leong
Jun 28, 2013
The Malaysian Bar is concerned that section 107(b) of the Administration of Islamic Law (Federal Territories) Bill 2013 (D.R.1/2013) ("the 2013 Bill"), which has been tabled in Parliament, purports to provide that the consent of one parent alone is sufficient for the conversion of minor children to Islam.
We reiterate that the unilateral conversion of minor children to any religion by a parent, without the consent of the non-converting parent, is contrary to our constitutional scheme.
The 2013 Bill should reflect the meaning of "parent" contained in Article 12(4) of the Federal Constitution, read with Article 160 and the Eleventh Schedule of the Federal Constitution, which expressly provide that all words appearing in the Federal Constitution which are stated in one gender also include the other gender, and all words in the singular also include the plural.
Full report at:
http://www.malaysia-chronicle.com/index.php?option=com_k2&view=item&id=120691:new-islamic-bill-allows-unilateral-conversion-of-children-by-just-one-parent-bar-council-warns&Itemid=2
-----------
Indonesia State Visit to Kazakhstan Unveiled
By Bhimanto Suwastoyo
June 28, 2013
As Indonesia and Kazakhstan mark 20 years of diplomatic relations, officials from both sides called for stronger bilateral ties amid news of a presidential visit to the Central Asian nation.
Kazakhstan's ambassador to Indonesia, Askhat Orazbay, announced on Thursday that President Susilo Bambang Yudhoyono was scheduled to visit Kazakhstan this coming September.
Orazbay, addressing a round table meeting on bilateral cooperation held to mark the two decades of diplomatic ties, cited many similarities between the nations.
Both countries, he said, are states with predominantly Muslim multi-ethnic populations, hold strategic geopolitical locations and share similar positions on a range of current international issues.
Full report at:
http://www.thejakartaglobe.com/news/state-visit-to-kazakhstan-unveiled/
-----------
URL: https://newageislam.com/islamic-world-news/new-age-islam-news-bureau/sunni-sufi-clerics-protest-saudi-interference-in-the-affairs-of-indian-muslims/d/12341