New Age Islam News Bureau
26 Sept 2019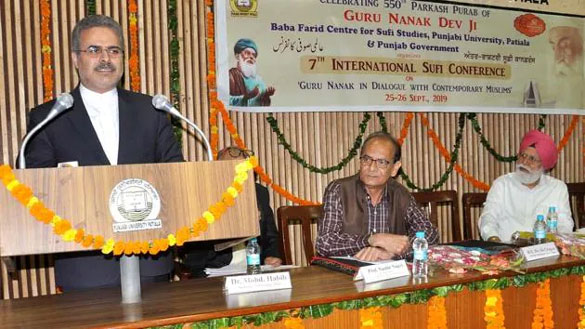 Iranian ambassador to India Dr Ali Chageni speaking during the inaugural session of a two-day International Sufi Conference at Punjabi University in Patiala on Wednesday.(HT PHOTO)
-------
• Deoband Darul Uloom Welcomes Bhagwat's Views On Mob Lynching
• Pakistan, Turkey, Malaysia to Jointly Launch Islamic TV Channel: PM Imran
• 'Religion Has Nothing to Do With Terrorism,' Says PM Imran at UN Conference On Hate Speech
• First Astronaut from UAE Blasts Off For ISS alongside Astronauts from US, Russia
• 'Fellas, Work It Out,' Trump Tells India and Pakistan
• UK Thought Police: All Criticism Of Islam Prohibited
• OIC Adopts Action Plan For Fighting Islamophobia
India
• Sufism Is More than Just Wearing a Pashmina Robe: Iranian Ambassador to India
• Deoband Darul Uloom Welcomes Bhagwat's Views On Mob Lynching
• JMB emerging as a threat in South India, NIA launches probe
• Pak terror groups use Chinese drones to airdrop 80 kg weapons in Punjab for J&K
• In Ayodhya hearing, Sunni Board clarifies its stand on Ram's birthplace
• 'Archaeology a Social Science': Muslim Side Attacks ASI Report in Ayodhya Case But SC Unimpressed
• Khalistanis burn arms-laden Pak drone after it fails to return
• UP triple talaq victims to get Rs 6,000-a-year support: Yogi
• George Kurian: 'Love jihad on in Kerala, conversion into terror, not Islam'
• India slams UK's Labour Party for Kashmir resolution
• No need to worry on Pakistan use of drones to push arms, says top Army officer
• Christians 'soft targets' of love jihad: Minority Commission VC tells Amit Shah
--------
Pakistan
• Pakistan, Turkey, Malaysia to Jointly Launch Islamic TV Channel: PM Imran
• 'Religion Has Nothing to Do With Terrorism,' Says PM Imran at UN Conference On Hate Speech
• Qureshi writes to UN chief, UNSC president regarding Kashmir situation
• For Global Terrorist Hafiz Saeed's 'Living Expenses', Pak Goes to UNSC with a Request
• Maryam Nawaz sent to jail on 14-day judicial remand in corruption case
• Pakistan PM Imran Khan warns of war as Trump, Modi buddy up
• Afghan visa now mandatory for transporters
• Pakistan joins hands with Turkey, Malaysia to counter Islamophobia
• Kashmir issue discussed in French parliament for the first time
--------
Arab World
• First Astronaut from UAE Blasts Off For ISS alongside Astronauts from US, Russia
• UNGA 2019: Qatar, Egypt Leaders Butt Heads Over Libya
• Saudi tech chief presents Kingdom's IT advances at UN gathering
• Egypt says 6 Muslim Brotherhood killed in Cairo shootout
• 'Forgotten' war: Syria conflict a footnote at UN meeting
• New Report to Congress Warns Against Syria Pullout
• Two Islamic State terrorists killed in airstrike in Iraq's Diyala
• US patience with Iran not inexhaustible, warns Saudi Arabia
• Qatar continues to finance extremists: Al Jubeir
• Mostafa, Islam present new cinematic language in 'You Will Die at 20'
• Al-Jubeir: We are committed to working together with Yemen on reconstruction
• Iraqi president demands international help for reconstruction after victory over terrorism
--------
North America
• 'Fellas, Work It Out,' Trump Tells India and Pakistan
• US Praises Bangladesh's 'Exemplary' Help For Rohingya
• Urgent New Warnings about ISIS Fighter Jailbreaks, As Trump Threatens Europe with Releasing Them
• Trump evades Pakistan-bashing trap
• US sanctions China over Iran oil purchase
• Trump blocks entry of Iranian, Venezuelan officials
• Non-profit foundations to honour leaders and activists fighting extremism
-------
Europe
• UK Thought Police: All Criticism Of Islam Prohibited
• Terror Accused Hisham Muhammad 'Searched Online For Suicide Belt'
• 12th annual Fall Muslim Life Banquet: Chaplain's Office And MSA Host Annual Muslim Life Banquet
• UN chief: World faces 'unprecedented threat' from terrorism
• Iran nuclear deal parties committed to saving it despite 'increasing' difficulties: EU
--------
Southeast Asia
• OIC Adopts Action Plan For Fighting Islamophobia
• Thailand: Muslim Leader Urges Government to Drop Muslim Student Database
• Concerns over Islamic housing project in Selangor, but developer says it is no place for extremists
• Malaysian planning attacks on politicians, non-Muslims among 16 terror suspects nabbed
• Malaysia celebrates Saudi National Day with feasts and festivities
• Ignoring police, Puteri Umno leader insists Penang rampage due to religious slurs
• Indonesia protests: Police fire tear gas on third day of unrest over laws to ban sex outside marriage
• Indonesia police detonate a bomb, seize ISIS flag found in suspects house
• Malaysian police arrest 15 over links to Daesh
--------
South Asia
• Raid on Al-Qaeda Bomb Factory Leaves Dozens Of Wedding-Goers Dead, In Latest Afghan Violence
• Special Forces kill, detain 9 Taliban militants; destroy caches of weapons in 3 provinces
• Taliban militants suffer heavy casualties in failed attack on security posts in Paktika
• Afghan forces foil militants bid to detonate an IED in Kabul
• A Journalist and a child among 10 civilians killed, wounded in Kandahar explosion
• Hekmatyar issues serious warning against fraud, foreign meddling in presidential elections
• U.S. to purchase Advanced Precision kill Weapon System for the Afghan Air Force
• U.S. airstrikes destroy 2 Taliban compounds in Ghazni, killing at least 27 militants
--------
Mideast
• Turkey Determined To Fight Anti-Muslim Attacks, Hate Speech
• Israel's Gantz Rules out Joining Govt with PM Facing Serious Indictment
• Egypt calls Erdogan statements 'ironic,' accuses Turkey of sponsoring terrorism
• Iran Has Spent More Than $16 Billion on Terrorism in Recent Years
• Is the Islamic Revolutionary Guard Corps Iran's Most Dangerous Weapon of War?
• President Rouhani Warns of Limits of Iran's Patience against US Pressures
• UK's Raab: 'Iran's record of respect for rules of international law woeful'
• If US lifts sanctions, Iran to accept 'small changes' to nuclear deal: Official
• Yemen repeats peace offer, warns Saudi against aggression
• Israel demolishes 3 Palestinian homes, arrests 10 people
• Israeli forces detain Palestinian minister of Jerusalem al-Quds affairs
• Two million Yemeni children out of school: UNICEF
• UNGA 2019: Israel irked as Erdogan takes UN podium to rap occupation
• Bomb blast hits police bus in southern Turkey, 5 injured
• Israel final vote results give Netanyahu additional seat
• Election outcome 'will make no difference to Israeli policy toward Gaza'
--------
Africa
• Libyan Prime Minister Rules Out Talks With Rivals – UNGA 2019
• US air strike kills 11 militants in southern Libya: US military
• Tunisia: Police officer stabbed to death in terror attack
• Somalia, Kenya agree to normalize bilateral relations
• Blast targeting Somali military official kills 3
Compiled by New Age Islam News Bureau
URL: https://www.newageislam.com/islamic-world-news/sufism-more-than-just-wearing/d/119842
--------
Sufism is more than just wearing a Pashmina robe: Iranian ambassador to India
Sep 25, 2019
The seventh edition of two-day International Sufi Conference, to mark the 550th birth anniversary of Guru Nanak, commenced at the Punjabi University in Patiala on Wednesday.
Iranian ambassador in India, Dr Ali Chageni, attended the inaugural session of the event that is being organised by the varsity's Baba Farid Centre for Sufi Studies.
"Sufism is much more than just wearing a Pashmina robe. It is the purity of heart and soul. Even though technology has tried to replace spirituality, but there's a hope that spirituality and culture can be brought together through dialogue," Chageni said. He added that Sufism and Sikh are similar as "both lead to union of individual with God."
On the sidelines of the event, the Iranian ambassador said that the matter of lockdown in Kashmir is an internal matter of India. "The matter should be resolved through negotiations and in a peaceful way," he said.
In his presidential address, vice-chancellor Prof BS Ghuman talked about the "deep-rooted connection between Baba Farid and Sikhism." On Guru Nanak, Ghuman said, "He is the pioneer of inter-religious dialogue."
An Emeritus-based professor, Dr Akhtarul Wasey, who is president of the Maulana Azad University in Jodhpur, said, "Guru Nanak's impact on the contemporary society cannot be denied."
On the recent language row, he said, "Language is a medium of dialogue and should not be used to create controversy. During the times of Baba Farid, Persian was the official language, and yet Baba Farid chose to preach in Punjabi."
He revered the efforts and works of Guru Nanak in the field of religion and spirituality. "It is Guru Nanak who kept alive the teachings of Baba Farid," he said.
Founder director of the Sufi centre at the varsity, Prof Nashir Naqvi, established Sufism as "the thought of love, peace and harmony, which acts as a bridge between different cultures and religions across the globe."
Dr Khwaja Syed Nizamuddin, chief caretaker of the Nizamuddin Dargah in Delhi, said that one should follow the path of truthfulness even if he/she ends up laying down their life in doing so.
In-charge of the Sufi centre, Mohammed Habib, welcomed the dignitaries and elaborated on the works and plans of the centre.
https://www.hindustantimes.com/cities/sufism-is-more-than-just-wearing-a-pashmina-robe-iranian-ambassador-to-india/story-iJ3XXS4iznCaIXNmxI7TOO.html
--------
Deoband Darul Uloom Welcomes Bhagwat's Views on Mob Lynching
September 26, 2019
Muzaffarnagar: Well known Islamic seminary Darul Uloom, Deoband, has hailed Rashtriya Swayamsevak Sangh chief Mohan Bhagwat's statement slamming mob lynching wherein he said the RSS will not hesitate to act against its volunteers if they were found involved in any kind of violence.
Reaction of Darul Uloom's Vice Chancellor
Reacting to the statement, Darul Uloom's Vice Chancellor Maulana Abul Qasim Nomani told reporters on Wednesday: "The statement of the RSS chief on mob lynching should be welcomed. But, condemning and not supporting such incidents are not enough. There is need of a proper law to stop the mob lynching incidents."
JUH Chief hails the annoucement
Jamiat Ulema-e-Hind (JUH) chief Maulana Syed Arshad Madni, who had held a meeting with RSS leaders recently and discussed various issues, including the mob lynching, also hailed the RSS chief's announcement.
"It is good to hear. I think they are taking steps to address issues raised by us. The country cannot progress without communal harmony and what the RSS chief said is good and we welcome it," Madni said
Bhagwat, on Tuesday, had said that his organisation was against all forms of violence and its volunteers work to stop incidents like lynching.
"We condemn all forms of violence. Swayamsewaks work to stop such incidents. If a swayamsevak (volunteer) is found guilty, we will disown him and law will take its own course," the RSS chief told a group of foreign journalists.
https://www.siasat.com/deoband-darul-uloom-welcomes-bhagwats-views-mob-lynching-1637208/
--------
Pakistan, Turkey, Malaysia to jointly launch Islamic TV channel: PM Imran
September 26, 2019
UNITED NATIONS: Prime Minister Imran Khan Thursday said Pakistan, Turkey and Malaysia have decided to launch an English language channel to confront multiple challenges, including those of Islamophobia.
He made this announcement on microblogging website moments after Thursday's midnight. Under the joint venture by the three countries, series and films would be produced so that the Muslims and the world at large could be educated on the Islamic history, he said.
"President Erdogan, PM Mahatir and myself had a meeting today in which we decided our 3 countries would jointly start an English language channel dedicated to confronting the challenges posed by Islamophobia and setting the record straight on our great religion – Islam," he said in the tweet.
In a later tweet, he elaborated: "Misperceptions which bring people together against Muslims would be corrected; issue of blasphemy would be properly contextualized; series & films would be produced on Muslim history to educate/inform our own people & the world; Muslims would be given a dedicated media presence."
PM Imran Khan is currently in the US to attend the 74th session of the United Nations General Assembly.
Imran Khan
✔
@ImranKhanPTI
President Erdogan, PM Mahatir and myself had a meeting today in which we decided our 3 countries would jointly start an English language channel dedicated to confronting the challenges posed by Islamophobia and setting the record straight on our great religion - Islam.
36.5K
12:46 AM - Sep 26, 2019
Twitter Ads info and privacy
15.2K people are talking about this
The premier Wednesday attended a high-level, roundtable discussion on 'Countering Hate Speech' co-hosted by Pakistan and Turkey, according to a press release issued by the PM office media wing.
Imran Khan
✔
@ImranKhanPTI
• 9h
President Erdogan, PM Mahatir and myself had a meeting today in which we decided our 3 countries would jointly start an English language channel dedicated to confronting the challenges posed by Islamophobia and setting the record straight on our great religion - Islam.
Imran Khan
✔
@ImranKhanPTI
Misperceptions which bring people together against Muslims would be corrected; issue of blasphemy would be properly contextualized; series & films would be produced on Muslim history to educate/inform our own people & the world; Muslims would be given a dedicated media presence.
17K
12:46 AM - Sep 26, 2019
Twitter Ads info and privacy
6,427 people are talking about this
PM Khan called on for effective measures to counter hate speech and Islamophobia, stressing upon the importance of addressing both the causes and consequences of these phenomena.
Noting the growing incidents of discrimination and violence based on religion and belief, the prime minister underscored that the religion had nothing to do with terrorism.
He also cautioned against attempts to defame the revered personalities and scriptures, cloaked in the claim for right to freedom of expression and opinion.
The prime minister pointed out that marginalisation of any community could lead to its radicalisation.
Turkish President Recep Tayyip Erdogan, in his remarks, said that Muslims were the most vulnerable community to hate speech across the world.
Muslims were being lynched for eating beef in India, whereas, Indian Occupied Jammu and Kashmir has turned into an open prison, he said, warning that they fear bloodshed in the occupied valley.
President Erdogan termed hate speech as among the worst crimes against humanity.
On the occasion, he also expressed his condolences over the tragic loss of lives in the earthquake-hit areas of Pakistan.
https://www.thenews.com.pk/latest/532010-pakistan-turkey-malaysia-to-jointly-launch-islamic-tv-channel-pm-imran
--------
'Religion has nothing to do with terrorism,' says PM Imran at UN conference on hate speech
September 25, 2019
Prime Minister Imran Khan on Wednesday emphasised that religion has no link to terrorism and that it is "marginalisation of communities [that] leads to radicalisation".
Pakistan and Turkey co-hosted a round table discussion on hate speech, a side event in the margins of the 74th Session of the United Nations General Assembly in New York.
The prime minister along with Turkish President Recep Tayyip Erdoğan, addressed the conference, which also featured a Key Note address by High Representative for the United Nations Alliance of Civilisations (UNAOC) Miguel Ángel Moratinos.
In his remarks, the premier noted the growing amount of "discrimination and violence based on religion and belief", a statement by the Prime Minister's Office said.
To this end, he called upon the need for addressing "both the drivers and consequences of these phenomena".
PM Imran also cautioned against the denigration of revered personalities under the guise of "freedom of expression and opinion".
"The world must understand Muslim sensitivities for Islam and the reverence for Prophet Muhammad PBUH," he said.
He underscored the need for effective measures to be put in place so that hate speech, especially that which stems from Islamophobia, can be countered.
"Marginalisation of any community leads to radicalisation," the PMO statement quoted the premier as saying.
The prime minister, during his address, said that "desperate human beings" throughout history have committed what are known as suicide attacks. "Before 9/11, 75 per cent of suicide attacks were by Tamil Tigers who were Hindus. No one talked about Hinduism having anything to do with suicide attacks."
He said when Japanese suicide bombers attacked American ships during World War II, no one blamed their religion.
"Because religion has nothing to do with [...] no religion has anything to do with terrorism," he stressed.
"Almost all terrorism is connected to politics. It is politically perceived injustices that produce desperate people.
"But now we keep hearing about radical Islam. There is only one Islam. The Islam of Prophet Muhammad (PBUH) which we follow. There is no other Islam."
He said that in communities, a majority of individuals are moderates with liberals on one end of the spectrum and fanatics on the other end and it was the same case in societies everywhere.
"What about the white supremacist that killed 49 worshippers in New Zealand? What has that got to do with religion?" he went on to say, appealing to the better sense of all those listening.
The premier urged the need to recognise that a greater understanding and tolerance between various communties across the globe needs to be promoted. "We Muslim leaders have not explained to the Western societies how painful it is when our Prophet is maligned, mocked, ridiculed."
"Why does it cause so much pain? Because the Prophet lives in our hearts. And we all know that the pain of the heart is far, far, far greater than physical pain," he explained.
He said that the UN, as a platform, provides the right space "to evolve an informed discourse on countering hate speech".
President Erdogan said that hate speech "emerges before worst crimes against humanity" and observed that Muslims remain the most vulnerable community to hate speech in the world.
He cited incidents in India where Muslims had been "lynched for eating beef".
"Kashmir has been turned into an open prison. We fear blood shed there," the Turkish president further remarked.
According to a handout by the UNAOC, the high-level roundtable "is aimed at identifying measures and approaches required to effectively address and mitigate the impacts of hate speech on societies across the world, with a view to fostering tolerance and inclusivity".
English channel to combat Islamophobia
Following the session, the prime minister announced the formation of an English language channel in partnership with Turkey and Malaysia.
"President Erdogan, PM Mahatir and myself had a meeting today in which we decided our 3 countries would jointly start an English language channel dedicated to confronting the challenges posed by Islamophobia and setting the record straight on our great religion — Islam," wrote PM Imran in a post on Twitter.
He said that the channel's efforts would be geared towards removing "misperceptions which bring people together against Muslims".
The prime minister also said that the issue of blasphemy would be properly contextualised in the content presented by the channel which will also produce series and films on Muslim history to not only educate the world but also Muslims themselves.
"Muslims would be given a dedicated media presence," he added.
https://www.dawn.com/news/1507290
--------
First astronaut from UAE blasts off for ISS alongside astronauts from US, Russia
25 September 2019
Hazzaa Al Mansoori made history on Wednesday, becoming the first Emirati astronaut to be deployed on a space mission to the International Space Station (ISS).
Al Mansoori was launched on board a Soyuz-MS 15 spacecraft from the Baikonur Cosmodrome Space Center in Kazakhstan.
Before takeoff Al Mansoori, a native of Abu Dhabi, asked God to grant him success in the mission.
"A few hours before launch and I'm filled with this indescribable feeling of glory and awe. Today I carry the dreams and ambition of my country to a whole new dimension," Hazzaa Al Mansoori shared on Twitter.
Hazzaa AlMansoori
✔
@astro_hazzaa
• 19h
ساعات حاسمة بين مجدٍ ورهبة، بين شغف البدايات وهيبة الموقف. أنطلق اليوم حاملاً على عاتقي فخر وأمال هذا الوطن إلى بعدٍ وأفق جديد. اليوم ابتعد عن وطني، عن أهلي وعن الأرض لأقترب من النجوم لطموح زايد. ادعولي بالتوفيق حتى لقاء آخر من الفضاء.. أخوكم هزاع المنصوري.
Hazzaa AlMansoori
✔
@astro_hazzaa
A few hours before launch and I'm filled with this indescribable feeling of glory and awe. Today I carry the dreams and ambition of my country to a whole new dimension. May Allah grant me success in this mission. Your brother, Hazzaa AlMansoori.
2,548
5:01 PM - Sep 25, 2019
Twitter Ads info and privacy
1,491 people are talking about this
The mission will take eight days, with Al Mansoori scheduled to land at the ISS on October 3. The landing will be livestreamed through YouTube and Dubai TV.
Once Al Mansoori reaches the ISS, he will conduct Earth observation and imaging, participate in the station's ongoing scientific missions, and present a tour of the station in Arabic.
Al Mansoori, along with Sultan Al Neyadi, are the first batch of astronauts from the UAE Astronaut Programme, launched in April 2017 by Sheikh Mohamed bin Rashid Al Maktoum, Vice President and Prime Minister of the UAE and Ruler of Dubai, and Sheikh Mohammed bin Zayed Al Nahyan, Crown Prince of Abu Dhabi and Deputy Supreme Commander of the UAE Armed Forces.
The program's mission is to train and prepare the first Emirati astronaut corps to be sent to space for various scientific missions.
Al Mansoori and Al Neyadi trained in Moscow for the mission for which Al Mansoori is the main astronaut and Sultan Al Neyadi is his back up.
Al Mansoori graduated from Khalifa bin Zayed Air College in 2004 and has 14 years of experience in military avitation.
https://english.alarabiya.net/en/News/gulf/2019/09/25/First-astronaut-from-UAE-blasts-off-for-ISS-alongside-astronauts-from-US-Russia.html
--------
'Fellas, work it out,' Trump tells India and Pakistan
September 26, 2019
US President Donald Trump on Wednesday said he encouraged India and Pakistan to work out their differences in separate meetings with their prime ministers this week.
"I said, 'Fellas, work it out. Just work it out'," Trump told a news conference after attending the United Nations General Assembly.
"Those are two nuclear countries. They've gotta work it out," he said.
Tensions between India and Pakistan reached a feverish pitch on August 5, when New Delhi unilaterally annexed occupied Kashmir, revoking a constitutional guarantee that gave a special status to the disputed territory. A strict lockdown and communications blackout was imposed in the region that has snapped off ordinary people's internet and mobile telephone service across much of occupied Kashmir. The clampdown has continued for over 50 days.
Addressing a joint press conference alongside Prime Minister Imran Khan ahead of their meeting, Trump on Monday repeated his earlier offer to mediate between Pakistan and India on the Kashmir issue. Trump first offered to mediate during a meeting with Prime Minister Imran in July.
"If I can help, I will certainly do that," he said. "If both (Pakistan and India) want, I am ready, willing and able to do it," the US president said on Monday.
Without specifying, Trump said he had heard a "very aggressive" statement from Indian Prime Minister Narendra on Sunday, adding: "I hope they (Pakistan and India) are going to be able to come together and do something that's really smart and good for both.
"There is always a solution and I do believe that there is a solution," he added.
The meeting between Trump and Imran on Monday followed a "Howdy, Modi!" rally in Houston over the weekend in which the US president and Modi shared a stage and showered each other with praise.
Addressing a press conference on Tuesday along with Modi, in response to questions from Indian journalists, Trump once again reiterated his offer of arbitration to reduce tensions between India and Pakistan, despite New Delhi's repeated rejection of his offers.
Read: Trump evades Pakistan-bashing trap
Asked "How do you make sure that you clamp down on terrorism from Pakistan?" the US leader said: "Well, I had a very good meeting with Prime Minister [Imran] Khan. It was a long meeting and we discussed a lot."
He then made his first — and the third this week — reference of the day to his mediation offer.
"And I think he'd like to see something happen that would be very fruitful, very peaceful. And I think that will happen, ultimately. I really believe that these two great gentlemen (Prime Minister Imran and Prime Minister Modi) will get together and work something," he said.
https://www.dawn.com/news/1507468/fellas-work-it-out-trump-tells-india-and-pakistan
--------
UK thought police: All criticism of Islam prohibited
September 25, 2019
A government watchdog group is calling out leadership in the United Kingdom for crushing free speech in favor of Islam, as the Conservative Party expelled numerous politicians for posting critical statements of Islam on the Internet.
"These broad-based suspensions make it clear that any criticism of Islam or Muslims – no matter how accurate it may be – is forbidden today in Boris Johnson's shabby little police state," Jihad Watch director Robert Spencer asserted. "[They] illustrate the confusion – confusion that has been deliberately sowed by leftist and Islamic supremacist groups – between legitimate criticism of Islam as a belief system and ideology, and hatred of innocent Muslims."
Crackdown protecting Islam
It appears a purge of those in British government charged with so-called "Islamophobia" is already under way, with a probe being launched to make sure any opponents of Islam are least temporarily removed from office.
"The BBC highlighted over 20 new cases to the party, who said all those found to be members who shared or supported anti-Muslim posts on Twitter and Facebook were suspended immediately; however, the officials would not reveal the exact number of members suspended," the BBC reported. "A Conservative spokesman said the party was now 'establishing the terms' of an investigation into the wider issue."
An informant on Twitter leaked specific criticisms against Islam to the leftist British media hub.
"The BBC was alerted to details of the new cases by an anonymous Twitter user, and independently verified each one before passing details to the Conservative Party," BBC informed. "The incidents ranged from individuals 'liking' anti-Muslim pictures or statements on one or two occasions, to regular Islamophobic posts by people who said they were members of the Tory party."
According to Spencer, much of the criticism was merely observable fact, as he quoted some statements BBC considered to be Islamophobic or hate speech, including, "Islam and slavery are partners in crime."
But Spencer used Islam's holy book, the Quran, to show the truth behind the statement.
"Yet slavery is sanctioned in the Quran and Sunnah, as well as by the example of Muhammad, and is still widely practiced in Islamic states in North Africa, as well as in Saudi Arabia," the expert on Islam noted. "If noting that is 'Islamophobic' and will get you suspended from the Conservative Party, then the Conservative Party is at war with the truth."
He also listed off the following anti-Islam statement used by British politicians that was red-flagged: "Islam is the religion of hate (sic)."
Again, Spencer appealed to Islamic scripture to show the truth behind the statement.
"Islam has a doctrine called al-wala wa-l-bara, 'loyalty and disavowal,' that is, loving what Allah loves and hating what he hates," the conservative watchdog pointed out. "That includes hating unbelievers as 'the most vile of created beings' (Quran 98:6)."
BBC also included the assertion, "Muslims hate = free speech (sic)," which Spencer also addressed.
"If the speaker is referring to the denial of the freedom of speech in Islamic law, that is here again simply a fact, or if he means that hating Muslims is a prerogative allowed by the freedom of speech, his statement may be obnoxious, but it is accurate," he argued. "If you're not sure of that, consider this: is hating Christians also an offense that will get you suspended from the Conservative Party? Of course not, and hating Jews is practically a requirement of being a member of the Labor Party these days."
UK's Muslim leaders silencing opposition
Muslim groups in the UK are continuing to push for the elimination of all criticism of Islam and its adherents.
"The Muslim Council of Britain (MCB) long has advocated punishment for anyone who expresses criticism of Islam," WND reported.
British politicians have been the latest target of the MCB's campaign to silence their critics.
"Since 2018, MCB has been calling for the Conservatives to launch an independent inquiry into alleged Islamophobia, and in May, the council formally asked the Equalities and Human Rights Commission (EHRC) to hold one," BBC recounted. "The MCB has listed a series of complaints against figures in the party, including Boris Johnson, for comments he made about Muslim women before becoming prime minister."
Zero tolerance for any disparaging remarks against Islam was proposed, starting with probes that elected officials were called to partake in.
"During the Conservative leadership race, then-Home Secretary Sajid Javid challenged the other candidates to commit to an external investigation and the others appeared to agree to it," BBC's Alex Forsyth recalled. "Later, though, Mr. Johnson claimed he understood they had committed to an inquiry 'into all types of prejudice and discrimination including anti-Semitism,' – not Islamophobia specifically."
Baroness Warsi a Muslim – a member of the UK Parliament since 2001 – demanded the party use more urgency when bringing detractors to "justice."
"You said you didn't need an inquiry; now acknowledge it," Warsi told BBC. "You said you needed a definition; you now have it. What new nonsense excuse are you now going to come up with simply to avoid dealing with this issue?"
Muslim Conservative Party member, Sajjad Karim – an ex MEP member – said the purge must move forward full force.
"I have experienced conversations taking place with Islamophobic content directly about me, being conducted by very senior members of the Conservative Party – in fact parliamentarians, one of whom is in fact a serving minister at this moment in time," Karm told BBC.
"Ultimately, this is about values, and if we allow Islamophobia, or any other form of discrimination, to go unchecked, what we are doing actually is undermining our own values. That is going to lead to a very different sort of society developing in the coming decades, and that is not something I think most Brits aspire to."
https://onenewsnow.com/culture/2019/09/25/uk-thought-police-all-criticism-of-islam-prohibited
--------
OIC adopts action plan for fighting Islamophobia
Dian Septiari
September 25, 2019
The Organization of Islamic Cooperation (OIC) adopted a plan of action for combating Islamophobia, religious discrimination, intolerance and hatred towards Muslims on Monday on the sidelines of the United Nations General Assembly in New York. The action plan was endorsed during a meeting of an OIC working group on peace and dialogue, chaired by Foreign Minister Retno Marsudi together with OIC Secretary-General Yousef Al-Othaimeen. "Trends in the expression of hatred, fanaticism and intolerance towards Islam continue to increase. Political rhetoric that hates Muslim groups and is not compatible with democratic values and pluralism is increasingly worrisome," Retno said as quoted in a press release obtained by The Jakarta Post on Tuesday evening. Previously, the draft of the action plan was discussed and agreed upon by the first meeting of the OIC working group on peace ...
https://www.thejakartapost.com/news/2019/09/25/oic-adopts-action-plan-for-fighting-islamophobia.html
--------
India
JMB emerging as a threat in South India, NIA launches probe
Sep 25, 2019
After its attempt in 2014 to create a base in West Bengal's Burdwan, Bangladesh-based terror outfit Jamaat-ul-Mujahideen Bangladesh has once again emerged as a big threat, this time in South India.
The National Investigation Agency (NIA) recently registered a case to probe the activities of JMB in the southern states after inputs that its members have indulged in robbery to collect funds, according to two senior officials familiar with the developments.
At least 3-4 incidents of robberies in Bengaluru, linked to JMB operatives, are currently being examined by the central probe agency while the terror outfit's leader in India – Jahidul Islam alias Kausar—is being interrogated.
"JMB, following a major crackdown in Burdwan by us in 2014, in which over 50 of its members were caught in West Bengal and Assam, failed to carry out terror attacks in that region. Kausar, who was instrumental in formation of JMB training camps, procuring explosives in 2014 for making over 100 bombs and planning the Bodhgaya blast in January 2018, had moved to Bengaluru and he was reviving the outfit. But even after his arrest in August last year, it seems somebody is furthering the activities of JMB in South India," said one of the officers cited above, requesting anonymity.
The NIA took Kausar's custody again on September 19 this year. On Tuesday, based on his interrogation, it recovered material used in making IEDs (improvised explosive devices) from JMB's hideouts in Bengaluru. A micro lithium cell, chemicals, handwritten letters in Bengali and articles that were robbed were also found during the raid.
The agency raided hideouts in Atibele, Kadugodi, K R Puram, Chikkbanavara and Shikaripalya, Electronic City in Bengaluru. "Jahidul Islam disclosed during questioning that after the 2014 Burdwan blast, he and his associates went to southern India to escape the agencies on their trail," said a NIA spokesperson.
Islam also identified locations in Krishnagiri district of Tamil Nadu where he and his associates Habibur, Arif and Fahim alias Fahad allegedly test-fired three rocket shells prepared by them during June-October 2017.
"The NIA seized remnants of explosive materials from the location," the spokesperson added.
JMB was banned by the Union ministry of home affairs in May this year. JMB's leader in Bangladesh is Salahuddin Salehin while Kausar looked over operations in India. The outfit's main objective is to establish Islamic rule across the Indian subcontinent.
Not only has the outfit used Indian soil for hideouts in West Bengal, Assam, Jharkhand and other regions but it is "quietly" carrying out subversive activities like collection of funds, recruitment of vulnerable youths to train and radicalize them.
The outfit is supported by Pakistan-based terror outfit Lashkar-e-Taiba (LeT) and has funding channels in various countries.
https://www.hindustantimes.com/india-news/jmb-emerging-as-a-threat-in-south-india-nia-launches-probe/story-9bqwuXPCtAUxDuUN2NRv3H.html
--------
Pak terror groups use Chinese drones to airdrop 80 kg weapons in Punjab for J&K
Shishir Gupta
Sep 25, 2019
At least eight drone sorties, carrying a total of 80 kg of weapons (arms and ammunition), were sent across the border into Punjab by Pakistan-based Khalistani terror groups between September 9 and 16, officials in security agencies and the Punjab Police have confirmed on condition of anonymity.
The entire consignment, using the Khalistan Zindabad Force (KZF) network, was supported by Pakistan's spy agency Inter Services Intelligence and orchestrated through Germany and Lahore; the ultimate aim — to fuel terror attacks in Jammu & Kashmir.
The details of these drops have emerged following investigations that led to and following the September 22 weapons seizure at Tarn Taran district; the eight payloads were dropped in Amritsar and Tarn Taran.
Five people have so far been arrested by Punjab Police in connection with the drone drops, with one 22-year-old Subhdeep held on Tuesday. Investigators said he was from Amritsar district and was radicalised by the prime accused in the case, Mann Singh, and another accused, Akashdeep, in Amritsar jail. The other four people, suspected to belong to a terror module, were arrested from the outskirts of village Chohla Sahib in Tarn Taran on Sunday. They were using a white Maruti Swift with a Punjab registration number.
The investigation involved multiple agencies – the Punjab Police, central security agencies, the Border Security Force, the Indian Air Force – and prima facie found that multiple Chinese commercial drones with 10 kg payloads have been used in the weapons drop operations across the border. The drones, the investigation reveals, may have been launched from locations 2 km inside Pakistan and made to travel the distance of five kilometres at a height of 2,000 feet, and then dropped off the weapons after descending to 1200 ft. The payload was slung from the platform using Chinese mountaineering ropes.
With drone activity also being seen in Punjab's Ferozepur district, the IAF and BSF have been asked by the Punjab police to intercept these unmanned aerial vehicles through low-level radars and destroy them. Officials fear that they could also be used to carry and drop off bombs.
The interrogation of those arrested has revealed that KZF's Germany-based operative Gurmeet Singh Bagga in coordination with his Pakistan-based chief Ranjeet Singh aka Neeta have made deliveries of at least four weapons, grenades, electronics, and fake currency through drones. The deliveries were made on the intervening nights of September 6/7, 9/10 and the last one on 15/16. The last drone crashed at Rajoke Village, Khalra police station, in Tarn Taran, near a border drain which is 2km from the fencing on the international border with Pakistan. The entire operation came to light after the discovery of the burnt drone, whose eight Chinese batteries were stripped off by the accused on instructions from across the border. " It has also been revealed that such deliveries took place on four different dates, mostly between 9.30 pm and 10.30 pm with the drone making two sorties within an hour," said a senior Punjab Police official. As many as five AK-47 rifles, which weigh about four kilograms with magazine, four Chinese pistols , nine HE grenades, Rs 10 lakh fake currency, 1000 rounds of ammunition and two electronic receivers were recovered by the police from the accused.
Full report at:
https://www.hindustantimes.com/india-news/at-least-8-drone-sorties-target-j-k-as-pak-based-groups-airdrop-weapons/story-ZmOg4O32XMuNzE23KtsAFO.html
--------
In Ayodhya hearing, Sunni Board clarifies its stand on Ram's birthplace
Sep 26, 2019
The Sunni Central Wakf Board clarified on Wednesday its Tuesday statement before the Supreme Court accepting Ram Chabutra (a platform within the disputed area) as the birth place of Lord Ram, saying the board's decision not to challenge the Faizabad court's 1886 finding holding the spot as the birthplace should not be construed as an acceptance of the same.
The board's counsel, senior advocate Zafaryab Jilani made the submission before a five-judge bench hearing the Ayodhya land dispute case.
Led by Chief Justice Ranjan Gogoi, the bench is hearing cross-appeals filed against Allahabad high court's 2010 verdict in the dispute. Jilani also read out various gazetteers and from travelogues to claim there was nothing to show that Hindus had any "attached aastha" to the central dome of the Masjid till 1850 or that the mosque was built over the remains of a temple.
Justice DY Chandrachud, one of the judges on the bench, referred to a gazetteer to say Hindus and Muslims offered prayers at the disputed site before the communal riots broke out in 1855.
"But the subsequent documentary evidence has belied this stand," Jilani said. Justice Ashok Bhushan, another judge, recounted statements of witnesses who said what they called Babri Masjid was the Janmabhumi for Hindus and wondered if this amounted to admission.
Justice SA Bobde asked whether Hindus had tried to worship at the site after 1528 and Muslims not allowed it. Senior Advoate Meenakshi Arora, also an advocate for Muslim parties, questioned the Archaeological Survey of India's report prepared after the site was excavated on the orders of Allahabad high court.
Full report at:
https://www.hindustantimes.com/india-news/in-ayodhya-hearing-sunni-board-clarifies-its-stand-on-ram-s-birthplace/story-XDVwye84JskKA5hioSD1QN.html
--------
'Archaeology a Social Science': Muslim Side Attacks ASI Report in Ayodhya Case But SC Unimpressed
September 26, 2019
New Delhi: Muslim parties in the Ayodhya title dispute have a tough row to hoe in discrediting the archaeological report, which had talked about the pre-existence of a structure where the Babri Masjid later stood.
The findings in the ASI report about the pre-existence of a structure gave credence to the claims by the Hindu side that a temple was demolished to build a mosque at the site.
Senior advocate Meenakshi Arora stood up on Wednesday to dispute the findings of the 2003 report of the Archaeological Survey of India (ASI) on the 31st day of hearing of the contentious matter.
She began by questioning archaeology as a science itself. "Archaeology is at best a social science. It is not a natural science like physics or chemistry since its findings cannot be verified and may differ from opinion of one person to another," Arora submitted before the Constitution Bench led by Chief Justice of India Ranjan Gogoi.
Interestingly, the senior lawyer did accept that archaeology will have a bit of anthropology, geography etc but maintained it is like "DNA testing" and not a perfect science.
Her arguments were first countered by Justice Ashok Bhushan. The judge cited the Constitution Bench judgment of 1994 in Ismail Faruqui case, wherein the top court was approached with a Presidential Reference to give an opinion whether a Hindu temple or Hindu religious structure pre-existed on the disputed site.
Justice Bhushan read out the relevant part too: "It is not our suggestion that a Court of law is not competent to decide such a question. It can be done if expert evidence of archaeologists and historians is led, and is tested in cross-examination."
The judge questioned Arora: "This is what the Constitution Bench has held. And now you are telling us archaeological evidence is no evidence." To this, Arora replied that she was saying that archaeological evidence at best is "very weak evidence" and cannot be relied upon much.
Subsequently, she also tried to discredit the report by questioning the manner in which it was commissioned by the Allahabad High Court and the way it was submitted.
Arora maintained that the report, which has 10 chapters attributed to an author, had a summary that was not attributed to anybody and no meeting was held among the members of the team to finalise the summary.
But the Bench, also comprising Justices SA Bobde, DY Chandrachud and S Nazeer, did not find favour with her submissions. The court questioned the senior lawyer on how the submissions could be entertained at the stage of appeal when the Muslim parties chose not to raise these objections before the Allahabad High Court at first instance.
"Whatever may have been your objections, however strong it may have been, it cannot be entertained by us...not at this stage," retorted the Bench.
The CJI also told Arora that the ASI report was a Court Commissioner's report. "Under the CPC, it has become part of the court record. The report could have been only questioned under Order XXVI Rule 10 of the Civil Procedure Code, that too only if the court found it not satisfactory or if any of the parties wanted to examine the ASI members," Justice Gogoi told Arora.
Arora said they had objected to the report in the High Court but were told this will be dealt with later. She added that the objections were, however, never addressed properly.
Full report at:
https://www.news18.com/news/india/archaeology-a-social-science-muslim-side-attacks-asi-report-in-ayodhya-case-but-sc-unimpressed-2323093.html
--------
Khalistanis burn arms-laden Pak drone after it fails to return
Sep 26, 2019
AMRITSAR/HISAR/CHANDIGARH: Khalistan Zindabad Force (KZF) terrorists burned the drone sent from Pakistan to drop arms and ammunition into Punjab after it failed to fly back, the Punjab police said on Wednesday. It said the half-burnt drone was recovered from the warehouse of a rice shelling unit in Chabhal area on Bhikhiwind road, Tarn Taran.
The Indian Army's South Western Command chief, Lt Gen Alok Singh Kler, meanwhile, said in Hisar that the armed forces were capable of identifying such devices and any military drone venturing towards India from Pakistan would be "shot down". The police said on Wednesday that Gurdev Singh, a brother of Germany-based Gurmeet Singh Bagga, the alleged handler of a terror module busted recently, was arrested from Jalandhar's PAP Chowk for alleged involvement in the drone operation.
The police had busted a terror module of the Khalistan Zindabad Force (KZF), backed by a group based in Pakistan and Germany, on Sunday. Four KZF terrorists — Balwant Singh, alias Nihang, Akashdeep Singh, alias Akash Randhawa, Harbhajan Singh and Balbir Singh — had been arrested from Chohla Sahib village in Tarn Taran. "The accused said the drone was burnt as it failed to return to Pakistan after dropping off the consignment of weapons in village Bhuse (in Tarn Taran)," the official said.
After it crashed, the drone operators in Pakistan sent the location of the crash to the accused, who recovered it and later burnt it, the police officer said. The police, along with a forensic team, recovered some parts on Tuesday, including the GPS antenna of the drone. "Some parts of the drone have been disposed of in a canal located near Gurdwara Baba Budha Sahib," the police officer said, adding that divers would recover them. During questioning, the accused told investigators that GPS-fitted "big" drones made multiple sorties to drop arms and ammunition from across the border.
Five AK-47 rifles, 16 magazines and 472 rounds of ammunition, four Chinese-made .30 pistols along with eight magazines and 72 rounds of ammunition, nine hand grenades, five satellite phones with ancillary equipment, two mobile phones, two wireless sets and fake Indian currency notes with a face value of Rs 10 lakh were seized from the four accused.
Another agency quoted an IB report in the case that said the ISI front man handling the airdrop from Pakistan was Ranjit Singh, alias Neeta, who operates from a guesthouse in Lahore provided by his ISI handlers. Further investigation revealed that the Chinese-built drones were flown from a place two km inside Pakistani territory, the police said.
Full report at:
https://timesofindia.indiatimes.com/india/khalistanis-burn-arms-laden-pak-drone-after-it-fails-to-return/articleshow/71303107.cms
--------
UP triple talaq victims to get Rs 6,000-a-year support: Yogi
Sep 26, 2019
LUCKNOW: UP CM Yogi Adityanath on Wednesday announced a rehabilitation package for triple talaq victims in the state, including an annual payment of Rs 6,000 each to the affected women till they become self-reliant. Yogi has asked the home, social welfare and minority affairs departments to prepare the plan, which will include Rs 5 lakh insurance cover for the victims and their children on the lines of Ayushman Bharat, apart from free legal aid.
The CM announced the package at an event where he met the victims of triple talaq. He promised action against those police personnel who have not handled cases of triple talaq as per the new law. Every woman who attended the event was asked to submit her case details to additional chief secretary (home) Awanish Awasthi, who has been tasked to monitor each case. A total of 127 applications were received.
Elaborating on the rehabilitation plan, Yogi said: "Women who are educated should be absorbed within the system and given employment. Women who are thrown out of their homes should be given houses under the PM Awas Yojna or the CM Awas Yojna. We would also look at linking them with Waqf properties across the state."
Full report at:
https://timesofindia.indiatimes.com/india/up-triple-talaq-victims-to-get-rs-6000-a-year-support-yogi/articleshow/71303026.cms
--------
George Kurian: 'Love jihad on in Kerala, conversion into terror, not Islam'
by Liz Mathew
September 26, 2019
In what could redraw the fault lines in Kerala's bipolar politics, National Commission for Minorities (NCM) vice-chairman George Kurian has alleged that there are many cases of organised conversion of Christian women not into Islam but Islamic terrorism.
In some cases, he maintained, they were "used as courier for terror activities".
"Love jihad is on, and it has been continuing in the state for a while. Here conversion is not into Islam, but into terrorism. Even the Muslim community is objecting to it," Kurian, who has written to Home Minister Amit Shah seeking a probe by the National Investigating Agency (NIA) and to bring in a law to curb such conversions, told The Indian Express on Wednesday.
In his letter to Shah, Kurian has cited the case of a Malayali Christian woman from Delhi who was abducted to a West Asian country. He stated that her parents have expressed fear that she could have been misled or cheated of brainwashed or abducted and led astray with very "nefarious designs" such as joining an outfit such as the Islamic State (IS) or being used as a slave.
On Wednesday, Kurian said the Ministry of External Affairs has got in touch with her family to take up the matter.
Kurian wrote that "fears expressed by the parents are not misplaced, given experiences in earlier similar cases".
Kerala had earlier seen several complaints from Hindutva outfits about Hindu women allegedly being brainwashed into marriage with Muslim men, and the NIA had probed a few cases of interfaith marriages after several marriages were brought to the notice of law enforcement agencies by parents of couples. The NIA failed to find any evidence of coercion into marriage in any case.
Sources said the issue of conversion, which has worried the Kerala church leadership and in the community, could be utilised by BJP, which is keen on constructing a social coalition of Christians and Hindus in a state where the party is yet to make deep electoral inroads. Christian and Muslim minorities constitute nearly half the state's population.
In his letter, Kurian referred to another incident in Kozhikode district, where a Christian college student was allegedly raped "after her juice was laced with sedatives". He wrote, "The act was also filmed to blackmail the victim to get her to convert to Islam; when she refused, an attempt was made to abduct her from the hostel…"
Kurian on Wednesday said the police have arrested the main accused in this case.
"The Kerala Catholic Bishops Conference's Commission for Social Harmony and Vigilance had launched a campaign against the 'social evil' in its publication in Jagrata," he wrote to Shah. Quoting the Commission, he stated. "It's shocking that around 4000 girls have been subjected to religious conversion since 2005 (and until 2012) after they fell in love".
According to Kurian, another study has found that more than 2,600 women were converted to Islam between 2006 and 2009. He said he got reports that around 40 or 50 of these women were from Kozhikode district.
Full report at:
https://indianexpress.com/article/india/george-kurian-love-jihad-on-in-kerala-conversion-into-terror-not-islam-6029439/
--------
India slams UK's Labour Party for Kashmir resolution
September 26, 2019
India on Wednesday slammed the UK's Labour Party after it passed a resolution calling for international intervention on the Kashmir issue.
Ministry of External Affairs (MEA) spokesperson Raveesh Kumar described the Labour Party's move as an attempt at "pandering to vote-bank interests".
There is no question of engaging with the Labour Party or its representatives on this issue, he said.
The UK's opposition Labour Party on Wednesday passed an emergency motion on Kashmir calling for party leader Jeremy Corbyn to seek international observers to "enter" the region and demand the right of self-determination for its people.
"Government has noted certain developments at the Labour Party Conference on September 25 pertaining to the Indian State of Jammu & Kashmir. We regret the uninformed and unfounded positions taken at this event," Kumar said.
"Clearly, this is an attempt at pandering to vote-bank interests. There is no question of engaging with the Labour Party or its representatives on this issue," he added.
In contrast with the British government's official stand of Kashmir being a bilateral issue between India and Pakistan, the opposition resolution tabled at the Labour Party's annual party conference in Brighton calls for intervention by Corbyn to ensure someone from the party is represented to attend the United Nations Human Rights Council (UNHRC) on the issue.
Full report at:
https://indianexpress.com/article/india/india-slams-uks-labour-party-for-kashmir-resolution-6029797/
--------
No need to worry on Pakistan use of drones to push arms, says top Army officer
by Krishn Kaushik
September 26, 2019
Chief of South Western Command of the Army, Lieutenant General Alok Singh Kler, on Wednesday said that India does not need to be "very worried" about Pakistan using drones to push arms across the border, as drones being used at present have limited capability, and Indian forces are adept at tackling them.
"I assure you that any military drone that is sent this side will be shot down using the capability of our Army and Air Force," he said.
Speaking at a seminar on Artificial Intelligence (AI) and the Army, Lt Gen Kler also emphasised that the Army will soon start inducting AI, especially in mechanised warfare. He said their use will first be constructive, but the disruptive use of the technology will also be included within two to three years.
On reports that Pakistan sent some guns across the border through drones, Lt Gen Kler said the capability for carriage is "very little" in drones being used at present. "The news that we have heard recently about drones being used from across the border, their capability is very small at the moment," he said.
That is why, he added, "we do not need to be very worried". He assured that India's radars, "our capability to identify them", are working.
On artificial intelligence, Lt Gen Kler said AI is "very, very necessary" —- from "information to decision-making to direct destruction of military capability, artificial intelligence will be used in everything."
He said, "It will be constructive in the starting…helping the commander take decisions, making sure that information is converted into intelligence; that will be among the first uses of AI for Army in a constructive manner."
He also said that the forces will soon also have to take into account the "disruptive use" of AI. "We are looking from ground to space to water to air —- Artificial Intelligence will assist every surface," he said.
"For AI and military usage, which is mechanised warfare, we will have to be network-centric," Lt Gen Kler said, adding that he is "very certain" that "very soon, within the next two-three years, we will induct some constructive and destructive" AI into Indian Army.
Full report at:
https://indianexpress.com/article/india/no-need-to-worry-on-pakistan-use-of-drones-to-push-arms-says-top-army-officer-6029526/
--------
Christians 'soft targets' of love jihad: Minority Commission VC tells Amit Shah
Rahul Shrivastava
September 24, 2019
National Commission for Minorities (NCM) Vice-Chairman George Kurian has written a letter to Union Home Minister Amit Shah, claiming that Christian girls are "soft targets" for Islamic terror recruiters in Kerala.
In the letter dated September 23, George Kurian wrote: "The spate of organised religious conversions and using the victims for terror activities by trapping them through 'love jihad' has shown that the Christian community is a soft target for Islamic radicals."
George Kurian warned that the issue is serious as it could lead to "communal disharmony" in the state.
He urged the home minister to order a National Investigation Agency (NIA) probe in the matter and implement effective law against the spate of religious conversions and use of victims for terror activities by Islamic radicals.
"It is important that the home ministry takes note of this alarming trend and order a probe by the National Investigative Agency and bring in an effective law to curb such fraudulent activities of radicalised elements," Kurian said.
He then highlighted the fact that out of 21 people who joined Islamic State from Kerala, five were converted from Christianity.
He also cited the case of a 19-year-old Christian girl who was allegedly forced to convert to Islam after being blackmailed and sexually abused.
George Kurian's statement comes after the NCM received complaints from two Christian families.
First, the Kozhikode incident in which a Christian college student was allegedly raped by the accused after she was given juice spiked with sedatives. The accused allegedly filmed the act and then used the recording to force the victim to convert to Islam.
Police alleged that when the victim resisted the "attempt to convert", she was abducted from the hostel.
The Kozhikode victim's parents have filed a case with the Nadakavu police station against 19-year-old Jasim, who was her classmate at a coaching centre in Kozhikode.
According to the complaint made by the victim's father, his daughter along with her two friends had visited Sarovaram Bio Theme Park in the city on July 7 and met Jasim there accidentally.
The father further alleged that his daughter was later drugged and sexually abused in a building in the park, adding that the accused recorded videos of the crime.
Later, Jasim allegedly blackmailed her with the videos and forced her to convert to Islam.
Highlighting the second case, Kurian said a girl from Delhi was allegedly "allured and abducted" to a West Asian country. Kurian said the girl's parents complained that the girl "could have been misled/cheated/brainwashed/abducted and led astray".
He added that the crime was committed with "very nefarious designs like joining an outfit such as Islamic State (IS) or being used as a slave."
While the RSS and its affiliates such as the Vishwa Hindu Parishad (VHP) have been carrying out campaigns against instances of love jihad, this is the first time a member of a statutory body like the NCM has used the term to point out that Christians were being targeted by radical Islamists
The National Minority Commission Vice-Chairman's letter comes after the Kozhikode incident came to light following a complaint by the victim's parents with the commission.
Full report at:
https://www.indiatoday.in/india/story/christians-soft-targets-of-love-jihad-minority-commission-vc-george-kurian-tells-amit-shah-1602777-2019-09-24
--------
Pakistan
Qureshi writes to UN chief, UNSC president regarding Kashmir situation
Sep 26, 2019
ISLAMABAD: Foreign Minister Shah Mahmood Qureshi addressed a letter to the UN Secretary-General António Guterres and the president of the UN Security Council outlining Pakistan's legal case on Indian occupied Kashmir (IoK), said a statement released by the Foreign Office on Wednesday.
The letter, along with a detailed factsheet and comprehensive annexures, highlights the illegal, unilateral, coercive Indian actions of Aug 5 when it revoked IOK's autonomy, dividing the disputed territory into two union states, controlled by New Delhi.
Additional troops were flown into the disputed valley a day before the move. In the weeks since the illegal lockdown, hundreds of Kashmiri politicians and activists have been detained or put under house arrest. Thousands of Kashmiri men – including minors – have been arrested in the name of maintaining order during nocturnal raids by Indian occupying forces.
The statement said: "Foreign Minister Qureshi's letter, not only builds on Pakistan's efforts to sensitise the international community about the continuing Indian atrocities in IOK, but also presents Pakistan's comprehensive position on the dispute, including the relevant UN Security Council resolutions, bilateral agreements and relevant letters to the UN in a sequential manner, laying out the international law and Pakistan's legal case on Jammu and Kashmir dispute."
Qureshi emphasised that "not only are the Indian actions in stark violation of its international commitments, but they also contravene the numerous bilateral commitments, including the Simla Agreement, Lahore Declaration (1999), Islamabad Declaration (2004), Joint Statement of the National Security Advisers & Foreign Secretaries of both countries (December 2015) and Pakistan – India Joint Statement (December 2015), which clearly accept the disputed status of IOK and reaffirm the commitment of peaceful resolution of the same."
The FO statement continued that, in line with the Prime Minister Imran Khan's commitment to the Kashmir cause, the letter was part of Pakistan's ongoing diplomatic efforts to sensitize the world to the plight of innocent Kashmiris, "incarcerated for more than seven weeks now and bearing the brunt of Indian atrocities for the last seven decades."
"Indian aggression and hegemonic actions in IOK are a threat to regional peace and stability and hold hostage peace and development in South Asia."
"Pakistan will continue to extend political, moral and diplomatic support to the Kashmiri struggle for the realization of the legitimate right of self-determination, enshrined in numerous UN Security Council Resolutions for an expedited resolution of the dispute, pending resolution for more than seven decades due to Indian intransigence."
https://www.pakistantoday.com.pk/2019/09/25/qureshi-writes-to-un-chief-security-council-president-amid-kashmir-issue/
--------
For global terrorist Hafiz Saeed's 'living expenses', Pak goes to UNSC with a request
Shishir Gupta
Sep 26, 2019
Pakistan has approached the UN security council committee with a request to let Lashkar-e-Taiba emir Hafiz Saeed to withdraw money for what Islamabad described as "necessary basic living expenses".
Saeed, chief of UN-designated terrorist organisation Jammat--ud-Dawa was banned in December 2008 by the United Nations Security Council after the 26/11 Mumbai attacks in which 166 people were killed. Four years later, the United States had announced a US $ 10 million bounty for his arrest.Hafiz Saeed had tried to get off the UN list earlier this year but the attempt was firmly blocked.
In a request to the UNSC panel overseeing enforcement of sanctions against terrorists such as the 26/11 Mumbai terror attacks plotter, Pakistan said one of the bank accounts frozen on UNSC's orders was one where his pension - Saeed was once a college professor before he made terror his full-time business - was deposited by the Pakistan government.
"His bank account was blocked by the Government of Pakistan under compliance with UNSC resolution 1267, requesting an asset freeze exemption to access frozen funds in the amount of Rs 1.5 lakh (USD 1000 or INR 68,000) to cover the necessary basic living expenses for himself and his family," Pakistan's request to the UNSC panel said.
Indian officials say Pakistan's hard push to let the global terrorist access a mere Rs 1.5 lakh from his bank accounts is important for three reasons.
Firstly, it highlights the nexus between Islamabad and jihadists in the country who are backed by the official machinery. Second, it confirms India's understanding and information about Hafiz Saeed's clout in the Pakistani security establishment. And thirdly, people familiar with the developments say, it is a "hugely symbolic move" that is seen to support Hafiz Saeed's claims that he was not the terrorist mastermind that Indian agencies accuse him to be but just another 'retired college professor' with a family to support.
The Pakistan request identified 69-year-old Hafiz Saeed's family, dependent on him, as wife Iffat Idrees, 42, two sons Ismael, 10, and Shoaib, 8, and daughter Sumaiyyah, 6.
Full report at:
https://www.hindustantimes.com/india-news/for-global-terrorist-hafiz-saeed-s-living-expenses-pak-goes-to-unsc-with-a-request/story-LjkUtyyDIHTJa7IUkJ7WgP.html
--------
Maryam Nawaz sent to jail on 14-day judicial remand in corruption case
Sep 25, 2019
LAHORE: Pakistan's former prime minister Nawaz Sharif's daughter Maryam Nawaz was sent to jail on a 14-day judicial remand on Wednesday by an accountability court here in a money laundering case.
Lahore Accountability Court judge Ameer Khan rejected the plea of the National Accountability Bureau (NAB) seeking further extension to her physical remand.
After the court order, Maryam was shifted to the Kot Lakhpat jail here where her father is serving a seven-year imprisonment in the Al-Azizia Mills corruption case.
The father-daughter duo are now lodged in the same jail.
The 45-year-old PML-N vice president was arrested from the Kot Lakhpat jail on August 8 in connection with the Chaudhry Sugar Mills (CSM) case when she was on her way back from visiting her father.
The NAB has accused the Sharif family of using the CSM for money laundering and availing millions of rupees in subsidy without actually exporting sugar.
Full report at:
https://timesofindia.indiatimes.com/world/pakistan/maryam-nawaz-sent-to-jail-on-14-day-judicial-remand-in-corruption-case/articleshow/71298418.cms
--------
Pakistan PM Imran Khan warns of war as Trump, Modi buddy up
Sep 25, 2019
UNITED NATIONS: Pakistani Prime Minister Imran Khan bluntly warned that war was possible over India's crackdown in Kashmir, while US President Donald Trump buddied up to Prime Minister Narendra Modi in their second meeting in three days.
Trump urged the sides to resolve their differences even as he gushed over Modi, saying he was as popular as American rock legend Elvis Presley.
Khan had a much different description for Modi when talking to reporters Tuesday at the UN General Assembly in New York: "racist".
The nuclear-armed rivals, which have fought two of their three wars over Kashmir, have been locked in a worsening standoff since August 5, when the Modi government revoked Article 370 to take away Jammu and Kashmir's special status, and proposed the bifurcation of the state into two Union territories - Jammu & Kashmir and Ladakh.
The Modi government imposed a sweeping military curfew and cut off residents in the Muslim-majority region from virtually all communications.
"For 50 days, the people of Kashmir have been locked down by 9,00,000 soldiers," Imran Khan said, describing mass arrests, non-functioning hospitals and "a total news blackout".
"Eight million people in an open jail is unprecedented in this day and age ... The biggest worry is what happens once the curfew is lifted? We fear with 9,00,000 soldiers, there will be a massacre," Khan said. "There's a potential that two nuclear-armed countries will come face to face at some stage."
India and Pakistan's conflict over Kashmir dates to the late 1940s, when they won independence from Britain. The region is one of the most heavily militarised in the world, patrolled by soldiers and paramilitary police. Most Kashmiris resent the Indian troop presence.
Modi has defended the Kashmir changes as freeing the territory from separatism, and his supporters welcomed the move.
While Khan warned of war, Trump was having a much lighter moment with Modi.
Trump on Tuesday compared Modi to Presley, the late American singer often referred to as the king of rock and roll, after Modi received a rockstar welcome on Sunday in Houston. The US president had carved out time to join Modi, who was greeted in Texas by 50,000 cheering Indian-Americans.
"Those people went crazy," Trump said as he and Modi met on the sidelines of the UN General Assembly. "That was like Elvis."
Asked to describe his chemistry with Modi, Trump said it's "as good as it can get".
"I have great respect, I have great admiration and I really like him, that's another thing," Trump told reporters.
He went on to describe Modi as a "great gentleman" and "great leader" and suggested he be called the "father of India".
Modi also showered Trump with praise, saying he's "definitely my friend, but he is also a friend of India," the Prime Minister said.
On the Kashmir standoff, Trump urged Modi and Khan to find a resolution.
"We all want to see that," said Trump, who met with Khan on Monday.
While Khan said he has raised Kashmir with world leaders this week, he expressed no interest in meeting with Modi.
"Unfortunately, India today is governed by a racist, a Hindu supremacist," Khan said. "They do not consider Muslims as equal citizens."
The Pakistan PM also addressed claims by India's army chief, General Bipin Rawat, that Pakistan has reactivated terrorist camps in its portion of Kashmir and about 500 terrorists are waiting to infiltrate India. He didn't provide any evidence to back his claims, and Khan called the assertion "nonsense".
"What possible benefit is Pakistan going to have now sending in terrorists when there are 9,00,000 security forces there? All that would happen is that there would be more oppression on the people of Kashmir," he said.
Full report at:
https://timesofindia.indiatimes.com/world/pakistan/pakistan-pm-imran-khan-warns-of-war-as-trump-modi-buddy-up/articleshow/71294820.cms
--------
Afghan visa now mandatory for transporters
September 26, 2019
LANDI KOTAL: The Afghan border police at Torkham have made acquisition of Afghan visa for all Pakistani transporters mandatory along with keeping other relevant travel documents.
In a pamphlet distributed among the Pakistani transporters on Wednesday, the Afghan border police warned that none of them would be allowed to enter Afghanistan without a valid visa, driving licence, road pass and original number plate of the vehicle.
It said that all transporters taking trade goods in their vehicles to Afghanistan were required to fulfil the requirements by the end of September as they would not be allowed to cross the border after that.
Reacting to the new restrictions imposed by the Afghan government, Israr Shinwari, president of the local transporters union, said that the new conditions were not acceptable to them as it would harm trade with Afghanistan.
He said that the officials of both the countries should sit together and sort out the matter while taking the transporters into confidence.
Full report at:
https://www.dawn.com/news/1507404/afghan-visa-now-mandatory-for-transporters
--------
Pakistan joins hands with Turkey, Malaysia to counter Islamophobia
Sep 26, 2019
Prime Minister Imran Khan, along with Turkish President Recep Tayyip Erdogan and Malaysian counterpart Mahathir Mohamad took part in a trilateral summit on the sidelines of the 74th session of the United Nations General Assembly (UNGA) on Wednesday where they agreed on possible measures to counter Islamophobia.
According to Pakistan's permanent representative Maleeha Lodhi, the states have agreed "to promote the narrative of Muslims to counter Islamophobia and to cooperate in the area of film and also establish a joint TV channel".
The three countries, she added, affirmed to pool their talent and knowledge, as well as, collaborating in research and development.
Meanwhile, the Organisation of Islamic Countries (OIC) asked India to reverse its decision of revoking the special status of Indian Occupied Kashmir (IOK) and allow "full and free access" to international bodies, including OIC and United Nations (UN), to independently investigate reports of "gross and systematic human rights violations taking place there".
Full report at:
https://www.pakistantoday.com.pk/2019/09/26/pakistan-joins-hands-with-turkey-malaysia-to-counter-islamophobia/
--------
Kashmir issue discussed in French parliament for the first time
Sep 26, 2019
The Kashmir issue was highlighted in the French parliament for the first time in a symposium organised by Jean Bernard Sempastous, the president of Pakistan-France Friendship Group, in the French National Assembly in Paris.
According to a press release received from Paris, the conference held on the theme, "Kashmir – the oldest conflict of the World", was attended by the members of the French parliament, scholars, researchers, human rights activists and French and Pakistan media in large number.
In his remarks, Sempastous said that the Kashmir conflict was 70 years old and had caused thousands of deaths. He stated that as there was little knowledge about Kashmir conflict in France, the Friendship Group decided to organise this event many months ago.
After a new historical turning point since August, reflection on this oldest conflict of the world deserved our full attention. He stressed the need for early resolution of Kashmir dispute and called upon both Pakistan and India to exercise maximum restraint and take steps to resolve the issue by peaceful means.
He also stressed the need for restoration of fundamental freedoms of the people of Kashmir. The four panelists representing French think tanks, educational institutions and human rights organizations shed light on the Kashmir dispute from the historical perspective, current developments and future prospects.
Full report at:
https://www.pakistantoday.com.pk/2019/09/25/kashmir-issue-discussed-in-french-parliament-for-the-first-time/
--------
Arab World
UNGA 2019: Qatar, Egypt leaders butt heads over Libya
Sep 25, 2019
The leaders of Egypt and Qatar have traded accusations of backing rival groups in Libya, during their speeches at the United Nations General Assembly (UNGA).
Addressing delegates and world leaders at the UNGA in New York on Tuesday, Egyptian President Abdel Fattah el-Sisi called on all countries to help stop the conflict in Libya.
Libya has been plagued by chaos since 2011, when a NATO intervention in the country's popular uprising led to the ouster of long-time dictator Muammar Gaddafi and his execution by unruly fighters. Since then, Libya has been divided between two rival camps, one located in the east and the other in the west of the country and each backed by an array of militias.
Sisi's government, along with the United Arab Emirates (UAE) and Saudi Arabia, supports renegade general Khalifa Haftar from the eastern camp, as opposed to the country's internationally recognized government, in the west.
Despite that support, Sisi said in his speech at the UN that world leaders needed to "prevent the intervention of external actors in Libya's internal affairs."
"This conflict needs to be stopped," Sisi said. "It is time to take a bold and decisive stand to address the root causes of the Libyan crisis comprehensively, and [that] can be achieved by fully committing to the United Nations plan."
He noted the significance of "identifying all national institutions in order to save our dear neighbor from the ensuing chaos by militias."
Also addressing the UNGA on the same day, Qatar's Emir Sheikh Tamim bin Hamad Al Thani said, "Certain countries… [are] supporting warlords and terrorist militias for their narrow interests against the legitimate government" in Libya.
He also accused Haftar's militia of carrying out war crimes with impunity and with the support of countries undermining Libya's internationally recognized government.
"The latest military operations [by Haftar] on the capital, Tripoli, have thwarted the holding of the comprehensive Libyan national conference," he said, referring to peace efforts brokered by the UN.
Last month, UN Libya Envoy Ghassan Salame unveiled plans for an international Libya conference to bring together rival groups and foreign powers.
Haftar's militia launched the offensive on Tripoli on April 4 in an unsuccessful attempt to take the capital from the government of Prime Minister Fayez al-Sarraj.
The ground offensive, supported by airstrikes, is being carried out with the use of foreign weapons and funding, Sarraj said in New York on Monday.
The seven-month offensive has so far displaced over 120,000 people in Tripoli alone.
"About 3,000 people were killed, thousands were injured, and hundreds of thousands displaced. Hundreds of civilians have been killed and many more injured," Sarraj said.
UN Secretary-General Antonio Guterres has previously warned that Libya could end up in "full civil war" unless "action is taken in the near term."
https://www.presstv.com/Detail/2019/09/25/607069/Egypt-Qatar-Libya-Sisi-Emir-Al-Thani
--------
Saudi tech chief presents Kingdom's IT advances at UN gathering
September 26, 2019
NEW YORK: The Kingdom's expanding role in the ICT sector can help toward connecting half the world's population to the internet, Saudi officials told the UN.
With more than 93 percent of Saudis now with internet access, the country's Communications and Information Technology Commission (CITC), headed by Dr. Abdul Aziz Al-Ruwais, participated in a meeting of the UN Broadband Commission for Sustainable Development, held in New York.
Al-Ruwais highlighted the importance of using innovative methods to finance broadband projects and best regulatory practices to stimulate competition and investment in the ICT sector.
Al-Ruwais noted the "qualitative leaps" achieved by the sector in the Kingdom over the past two years, including an increase of more than 300 percent in ICT spectrum services, the launch of at least 2,000 sites supporting 5G technologies, and a 450 percent rise in average mobile internet speeds.
Full report at:
https://www.arabnews.com/node/1559961/saudi-arabia
--------
Egypt says 6 Muslim Brotherhood killed in Cairo shootout
September 24, 2019
CAIRO — Egyptian security forces killed six suspected members of the now-outlawed Muslim Brotherhood in a shootout in Cairo, the Interior Ministry said Tuesday, amid tight security across the capital following rare anti-government protests over the weekend.
The six were killed in a firefight when police raided their hideout in the Cairo suburb of Sixth of October, the ministry said in a brief statement. The ministry oversees police forces.
The statement said the suspects were planning militant attacks. It did not say when the raids took place, whether police forces were wounded in the clashes with the militants, or otherwise elaborate.
Egypt branded the Muslim Brotherhood a terrorist organization in 2013 and arrested thousands of its members after the military's ouster of elected but divisive president, Mohammed Morsi, who hailed from the Muslim Brotherhood, amid mass protests against his brief rule.
Tuesday's development came days after rare anti-government demonstrations in several Egyptian cities over the weekend. The protesters called for President Abdel-Fattah el-Sissi to step down. Hundreds, including political activists and journalists, were arrested, according to rights lawyers.
Amnesty International called Tuesday for authorities to release the detainees and urged world leaders to confront el-Sissi, who is in New York for the United Nations General Assembly, and condemn the crackdown.
"The world must not stand silently by as President el-Sissi tramples all over Egyptians' rights to peaceful protest and freedom of expression," said Najia Bounaim, North Africa Campaigns Director at Amnesty International.
Bounaim said el-Sissi "will face a crucial test over the coming days."
Although it was calm Tuesday, security personnel were visible in Cairo's main streets and squares, especially in the city's downtown and Tahrir Square, the symbol of the 2011 pro-democracy uprising. There were calls for more protests in the coming days on social media.
The protests emerge from an online campaign led by an Egyptian businessman living in self-imposed exile who has presented himself as a whistleblower against corruption.
Mohammed Ali put out a series of viral videos earlier this month claiming corruption by the military and government.
El-Sissi has dismissed the corruption allegations as "sheer lies." However, he said he would continue building new presidential residences for the good of Egypt. "I am building a new country," he said.
On Monday, U.S. President Donald Trump voiced support to the Egyptian president, saying that el-Sissi "has done some things that are absolutely amazing in a short period of time."
He said he was not concerned with the demonstrations against el-Sissi.
"When he took over not so long ago, it was in turmoil. And it's not in turmoil now," Trump said in a press conference along with el-Sissi after their meeting. "Egypt has a great leader. He's highly respected. He's brought order. Before he was here, there was very little order. There was chaos. And so I'm not worried about that at all."
El-Sissi, who has been waging a harsh crackdown on Islamists, blamed "political Islam" for the protests and the turmoil in the Mideast. He stopped short of naming the Muslim Brotherhood directly.
Full report at:
https://www.stripes.com/news/middle-east/egypt-says-6-muslim-brotherhood-killed-in-cairo-shootout-1.600305
--------
'Forgotten' war: Syria conflict a footnote at UN meeting
By Zeina Karam 
September 25, 2019
BEIRUT — As dozens of heads of state convene for the annual U.N. General Assembly in New York this week, the lingering conflict in Syria is taking a back seat while tensions in the Persian Gulf and global trade wars take center stage.
Now in its ninth year, many Syrians fear the unresolved war has become a footnote in a long list of world crises, with weary leaders resigned to live with President Bashar Assad ruling over a wrecked and divided country for the foreseeable future.
On the eve of the global gathering in New York, U.N. Secretary-General Antonio Guterres announced that a long-awaited committee that would draft a new Syrian constitution has been finalized — a step the U.N. hopes will put the war-ravaged country on track for a political solution.
But few see any real chance that the committee can make significant progress toward that end.
"The world has forgotten about us — not that anyone cared about Syria to begin with," said Hussein Ali, a 35-year-old internally displaced father of two. He fled the violence in Aleppo years ago, and now lives with his family in a single rented room in the opposition-controlled northern town of Azaz, near the Turkish border. "The rise of Daesh made the West care momentarily, but not anymore," he said, using an Arabic acronym for the Islamic State group.
A FROZEN CONFLICT
Most of Syria has returned to government control after eight years of war. The exceptions are the opposition-held bastion of Idlib in the northwest, where rebels, Islamic militants and their families from all over the country have been cornered, and the oil-rich northeast, held by U.S.-backed Kurdish groups. The violence has largely tapered off in most of the country, but few among the nearly 6 million refugees scattered across the globe have returned. Many fear detention if they come home — or they simply have no homes to return to.
Entire towns and villages are in ruins. The West will not contribute to reconstruction plans as long as Assad is in power and other countries are unwilling to invest without there first being a political settlement.
In Idlib, a Russia-backed government offensive to recapture the province continues to claim lives. Hundreds have been killed and more than 400,000 displaced in the past four months under Syrian and Russian airstrikes. But the bloodshed hardly makes a dent in global news.
"The world apparently has long since tired of the war, and resigned itself to frozen conflict, with a nationwide cease-fire as the best possible scenario," said Heiko Wimmen, project director for Iraq, Syria and Lebanon at International Crisis Group.
Syria's conflict was a domino effect of the so-called Arab Spring uprisings that began in late 2010, toppling dictators in Tunisia, Egypt and Libya. What started in March 2011 as largely peaceful demonstrations against the Assad family rule turned into an armed insurgency following a brutal government crackdown. The conflict eventually became a proxy war pitting the U.S., Turkey and Gulf countries who supported the rebels, against Russia, Iran and Hezbollah who fought alongside the government. In the chaos, extremists such as the Islamic State group flourished, seizing a third of Syria and Iraq.
Nearly half a million people have been killed and half of Syria's prewar population displaced. The opposition has been crushed for the most part, and Assad is widely considered to have prevailed militarily. IS militants who dominated the news for years have been defeated, although the group continues to stage sporadic insurgent attacks.
A tentative cease-fire has been in place in Idlib since the end of August, but there is no suggestion it will be anything other than a pause before government troops and their allies regroup and relaunch their campaign.
"The Syrian regime appears determined to clench back every last bit of territory, without the tiniest bit of compromise," Wimmen said. "As long as Damascus persists in its attitude, and is enabled by its foreign backers, the war will continue."
DIPLOMATIC EFFORTS
While the world remains deadlocked over Syria, there is no initiative on the horizon to help resolve it. The U.N.'s current Syria envoy Geir Pedersen is the fourth to hold the post after the previous three resigned following years of mediating peace talks that led nowhere.
The constitutional committee announced Monday is made up of 150 members divided equally among government, opposition and civil society members. It took 20 months for the sides to agree on the names. The committee is tasked with drafting a new Syrian constitution in talks facilitated by the U.N. in Geneva. Desperate for a breakthrough, Guterres has touted it as "a door opener" to eventual U.N.-supervised elections and a new future.
Syria is scheduled to hold presidential elections in 2021, and the U.N. hopes the talks can help create a climate and mechanism for holding a fair vote. But with a clear military upper hand, Assad's government is unlikely to offer any concessions, and Syrian officials have suggested he will run again.
A Western diplomat called it an "important step" in the sense that talks overseen by the U.N. would provide some form of international scrutiny over the balloting.
"It will not be a solution for the war but rather a method to get a Syria platform going and try to be more inclusive than the two-side indirect talks," the diplomat said, referring to several rounds of talks between the government and the opposition in Geneva overseen by the U.N. envoy. The diplomat spoke on condition of anonymity to discuss sensitive issues.
Underlining the distrust, Syrian lawmaker Safwan Qurabi said the committee is "sensitive and is also dangerous."
"What is planned through this committee is to steal Syria's political decision, which they couldn't do through destructive military action," Qurabi said, referring to the opposition and their foreign supporters.
FAR FROM OVER
While the violence may have diminished, analysts say the war is likely to continue for a long time.
At its height, the conflict unleashed a global migrant crisis that continues to reshape Europe and neighboring countries that once opened their borders to millions fleeing war. That reception has chilled over the past year. Suffering an economic downturn and rising unemployment, the mood in Turkey, Lebanon and Jordan has soured, and calls for the refugees to return home are growing.
Turkish President Recep Tayyip Erdogan says his country can no longer shoulder the burden of 3.6 million refugees it hosts, and earlier this month, he threatened to "open the gates" and allow a flood of Syrian refugees to leave Turkey for Western countries unless a so-called "safe zone" is established in Syria soon in negotiations with the U.S.
The rising resentment against Syrians seems to be behind a new wave of migrants sailing from Turkey to the Greek island of Lesbos every day.
Erdogan used his speech at the U.N. on Tuesday to highlight the humanitarian cost of the war by holding up a photo of Aylan Kurdi, a 3-year-old boy whose lifeless body was found on a Turkish beach in 2015 and drew the world's attention to the plight of refugees.
Erdogan said the world must "never forget" the world's "baby Aylans."
An all-out Syrian government offensive to recapture Idlib, which seems inevitable, will likely have disastrous consequences, pushing hundreds of thousands of people toward the Turkish border.
Full report at:
https://www.washingtonpost.com/world/middle_east/forgotten-war-syria-conflict-a-footnote-at-un-meeting/2019/09/25/119a87a8-df59-11e9-be7f-4cc85017c36f_story.html
--------
New Report to Congress Warns Against Syria Pullout
By Jeff Seldin
September 24, 2019
WASHINGTON - A panel of former national security officials and other experts is calling for the White House and lawmakers to "halt the U.S. military withdrawal" from Syria or face potentially dire consequences.
The conclusion, at odds with plans announced late last year by U.S. President Donald Trump, is part of the final consensus report by the Syria Study Group, charged by lawmakers with helping the country craft U.S. strategy going forward.
"The Group believes that the United States is still able to exercise influence over the conflict's trajectory, and that it must do so given the threats the conflict poses to American interests," according to the report submitted to Congress Tuesday. "The United States maintains leverage to shape an outcome in Syria that protects core U.S. national security interests."
The report warns the path forward will not be easy and that it could still be years before Syria ceases to be a haven for both terrorist groups and U.S. adversaries such as Russia and Iran.
"This is a conflict where our two great strategic concerns — international terrorism on the one hand, great power conflict on the other — come together," Michael Singh, co-chair of the Syria Study Group, told lawmakers. "It's not a conflict we can simply contain or ignore."
Singh, a former senior director at the White House for Near East and North African Affairs, said that without reinvigorated and committed leadership from Washington, the threats emanating from Syria are only likely to increase.
"It could yet grow worse," he warned, pointing to a possible new exodus of refugees from Idlib — the last stronghold for some terrorist groups as well as Syrian rebels — and a flashpoint between Russia, Turkey and forces loyal to Syrian President Bashar al-Assad.
In addition, there are concerns about continued escalation in the conflict between Iran and Israel, as well as about simmering tensions between Turkey and Kurdish forces in northeastern Syria, many of which fought against Islamic State as part of the U.S.-led coalition.
IS, despite having lost control of all its territory, also poses an ongoing threat, the group warned.
"The ISIS detainee population is a few prison breaks away from reconstituting the next caliphate," said Dana Stroul, co-chair of the Syria Study Group.
Stroul, a former staff member on the Senate Foreign Relations Committee who previously worked at the Pentagon, warned there are other consequences for a U.S. withdrawal, including an evermore defiant Syrian regime, backed by a further emboldened Russia and Iran.
"Assad, Iran and Russia have faced no meaningful consequences for the use of chemical weapons and barrel bombs, torture, starvation and intentional targeting of civilian infrastructure," she said.
"Iranian boots are not leaving Syria despite U.S. sanctions and Israeli strikes," she added. "Iran is entrenching itself in Syria's economic and social fabric for long-term influence."
Both Singh and Stroul said the U.S. needed to use the tools it already has in place, including a limited number of troops, allied forces on the ground and aid programs, to prevent a further deterioration of the conflict.
"The tools for this strategy are already on the table," she said. "But effective and appropriate resourcing of these tools are needed to give them teeth."
Some lawmakers remained skeptical.
"My worry is that the recommendations you are making to us are just an invitation for the status quo to persist," Democratic Sen. Chris Murphy said.
Stroul insisted, at least for now, the small U.S. military presence in Syria and the persistence of allies on the ground give Washington "a decisive form of leverage, if not right this minute, down the line."
Full report at:
https://www.voanews.com/usa/new-report-congress-warns-against-syria-pullout
--------
Two Islamic State terrorists killed in airstrike in Iraq's Diyala
by Mohammed Ebraheem
Sep 24, 2019
Diyala (IraqiNews.com) – Two Islamic State militants were killed Tuesday in an airstrike on terrorist hotbeds in the eastern province of Diyala, a local source said.
"The Iraqi Air Force launched an air raid on two terrorist hotbeds of the Islamic State group in Qarah Tapah district, some 110 km northeast of Baqubah, leaving two militants dead," the spurce told the privately-owned Almaalomah news website.
In January 2015, Iraqi forces announced liberation of Diyala province from Islamic State extremist militants who proclaimed an "Islamic Caliphate" in Iraq and Syria in 2014.
Full report at:
https://www.iraqinews.com/iraq-war/two-islamic-state-terrorists-killed-in-airstrike-in-iraqs-diyala/
--------
US patience with Iran not inexhaustible, warns Saudi Arabia
24 Sep 2019
Saudi Arabia has said that US patience with Iran is not inexhaustible and warned that military options are still being considered following the attack on the Aramco oil facilities earlier this month.
The Saudi foreign affairs minister, Adel al-Jubeir, also said the UN-commissioned report into the origins of the attack will be available fairly soon, and described the EU's Monday statement ascribing responsibility to Iran as "very significant".
His remarks suggest Saudi Arabia is still putting private pressure on Donald Trump's administration not to limit his response to the 14 September attack to further sanctions and the deployment of additional troops to defend the oil facilities.
Jubeir said: "We want to mobilise international support, and we want to look at a whole list of options – diplomatic options, economic options and military options – and then make the decision."
Speaking on the margins of the UN general assembly in New York, he said: "This action will have consequences and Iran must know this."
He added: "When push comes to shove, there comes a point when even America's patience runs out – and Iran must be aware of that."
The attacks temporarily knocked out more than 5% of global oil production and caused petroleum prices to rise.
Also at the UN, the French president, Emmanuel Macron, said on Tuesday he was hoping for a breakthrough with Iran over the possibility of reopening talks in the coming hours.
But the Iranian president, Hassan Rouhani, denied he was willing to drop his demand that US sanctions are lifted before talks can begin.
Macron told the general assembly: "I am not naive at all and I don't believe in miracles. I believe it takes courage to build peace and that is why it is important for the United States, Iran and the signatories of the agreement to show this courage."
But Jubeir set out a series of tough conditions for renegotiating the 2015 Iran nuclear deal, including fresh restrictions on its nuclear programme after 2025, a 24/7 inspection regime all over the country and restrictions on its ballistic missile programme.
The demand, he said was "no nukes, no missiles and no terrorism", adding: "The Europeans were coming round to this being the objective. We believe appeasement does not work with Iran.
"We believe that when Europeans did not take a strong position after the attacks on the pipelines and oilfield in Shaybah [in August], this emboldened and encouraged Iran."
Although Yemen's Iran-backed Houthi rebels claimed responsibility for the attacks on the Abqaiq and Khurais facilities, Riyadh, Washington and the EU have laid the blame on Iran.
The US said it had expected Monday's statement by the UK, France and Germany, stating that Iran was behind the attack, because European and US investigators are examining weapons fragments together in Saudi Arabia.
"I really appreciate that our allies … have come forward and recognised publicly the truth," the US assistant secretary of state for the near east, David Schenker, told journalists.
"This did not come as a major surprise. The Brits and the French are on the ground with us, with the Saudis and the UN part of the investigative team in Saudi Arabia," Schenker said.
"We have been transparent in terms of chain of custody … of all the equipment that we now have from the attack. And we're exploiting it together.
"Even before we have finished this investigation, the evidence that is emerging is incontrovertible."
Full report at:
https://www.theguardian.com/world/2019/sep/24/us-patience-with-iran-not-inexhaustible-warns-saudi-arabia
--------
Qatar continues to finance extremists: Al Jubeir
September 25, 2019
Ramadan Al Sherbini
Cairo: Qatar has continued to support terrorist and militant groups despite a pledge to stop doing this, a Saudi minister has said, amid a bitter diplomatic row between the two neighbours.
"Qatar continues to finance extremists and terrorists, and interfere in others' internal affairs," Saudi Minister of State for Foreign Affairs Adel Al Jubeir added in New York on the sidelines of the annual General Assembly meetings.
In 2017, Saudi Arabia, the UAE, Bahrain and Egypt broke off diplomatic, transportation and trade ties with Qatar over its support for terrorism and sheltering wanted militants.
Saudi television Al Arabiya also quoted Al Jubeir as saying that Qatar has not observed a 2014 pact it signed in the Saudi capital to mend its ways.
"They have not implemented it over five years. And we said this is enough," the official said.
Al Jubeir also accused Qatar of providing millions of dollars for Iran-allied militias in Lebanon and Iraq.
The anti-Qatar quartet presented a list of demands to Doha to end the dispute.
They included stopping support for radical groups, downgrading ties with Iran and shutting down the Qatari Al Jazeera television network seen as a mouthpiece of the banned Muslim Brotherhood.
Full report at:
https://gulfnews.com/world/gulf/qatar/qatar-continues-to-finance-extremists-al-jubeir-1.66664574
--------
Mostafa, Islam present new cinematic language in 'You Will Die at 20'
By Angy Essam
Sep. 25, 2019
CAIRO - 25 September 2019: The Seventh movie in the history of Sudan '' You Will Die at 20'' represented another revolution in Sudan cinematic history.
After 20 years of hiatus Sudanese director Amjad Abu el Alala managed to surprise us all with this strong comeback, touch our hearts and grab the Lion of the Future (Luigi de Laurentiis) Award for Best Debut Feature at the 76th Venice International Film Festival on 7 September 2019, becoming the first Sudanese film to win such prestigious award. The hero and the heroine of this great movie ,Mostafa Shehata and Islam Mubarak sat down with Egypt Today revealing everything about this great movie.
1-How you were casted to El Mozamel role?
Moatafa: I knew the movie director Amjad Abu el Alala from the movie auditions, my friend encouraged me to apply and it was my first audition. Before I did only a couple of small roles. From this audition Amjad chose me to play El Mozamel role, I was over the moon with this choice. The script was subjected to a number of amendments but in general I didn't see anything impossible or difficult. Then we started all to prepare to our characters and Amjad really helped us a lot.
1- Did you study acting?
Mostafa: My bachelor has nothing to do with acting ( he laughs) I studied medicine and I am now an assistant ophthalmologist. Before the movie I only performed some sketches on social media.
2- How did you get ready for el Mozamel role?
Mostafa: I took a workshop one month before shooting with veteran Egyptian actress Salwa Mohamed Ali. Salwa is a great acting coach and she helped us a lot. Amjad guided us a lot and was with me in every step, he both advised and guided me, he used to send me movies to watch and learn, he mentored me even in small details, he used to tell me do this don't do that, he discussed with me all the details pertaining to El Mozamel character, his hair and outfit.
3- Tell us more about your background
Islam Mubarak: I am a Sudanese actress, I studied drama, I work more in TV series and theater as there wasn't cinema in Sudan for 20 years because of the previous regime until Amjad came and opened the door with ''You Will Die at 20''. I used to work more in TV series and ''You Will Die at 20'' is my first cinematic experience. I knew Amjad by coincidence I was in the theater performing rehearsals for my new play and Amjad was performing auditions for the movie and I decided to participate it was a new experience for me because we are not accustomed in Sudan with the idea of auditions and Amjad chose me. I have to admit that embodying Skina character in the movie was an easy mission for me despite the fact that it might be a problem if you found the character easy. I loved Skina character and lived in her world, I was Skina in front of the camera and in my personal life.
4- The film was performed with a new cinematic language, calm and deep dialogue how did both of you managed to convey that on screen? Is this your normal performance or Amjad directed both of you to act that smooth?
Islam: First veteran Egyptian actress Salwa Mohamed Ali came to Sudan and gave us an acting workshop for 15 days. I had a good experience in TV but me and Mostafa don't have any experience in cinema, so Amjad and Salwa guided me to minimise my reactions because they were so tense , I was accustomed with the theater reactions, I tried to deal easily with Skina character and I worked on myself to say the dialogue smoothly. When I feel the character I feel like we must meet in a certain point either I go to her or she comes to me.
5- What was your toughest scene?
Islam: Maybe I will surprise you, there wasn't a scene that I considered hard or tough, I felt every scene I performed, my only problem was to get out of Skina character, even after we finish shooting I wasn't able to get rid the impact Skina left on me.
6- Did you expect this huge success for the movie and the Venice Film Festival award?
Islam: I was truly confident that the huge effort we exerted in this movie and the great love that united all the film cast will make us succeed. I was both happy and proud to participate in this purely Sudanese movie after 20 years of hiatus, to be part of the seventh movie in the history of Sudan, so this represented a great challenge to present something different, I literally put my soul and spirit in this movie.
7- To what extent this movie placed Sudan on the international cinema map?
Islam: The movie is a revolution and a radical change to a lot of concepts and beliefs Sudanese people still believe in pertaining to Sufism.
9-My question to Mostafa how did you prepare to El Mozamel role?
First of all to be the hero of the seventh movie in the history of Sudan was a huge responsibility for me. I decided not to overburden myself and see it mission impossible but rather concentrate on my role to present something distinguished, because the comeback of the Sudanese cinema after 20 years should be with a unique movie. I always say that I am lucky guy to be casted for this movie because also number 7 is my favourite too (he laughs). When I was chosen by Amjad to perform El Mozamel role I was 20 years old now I am 22.
10- What was the hardest scene for you in the movie?
Mostafa: There wasn't a tough scene for El Mozamel but for Mostafa it was very hard after every scene to get rid of the influence of the character on me. But the final scene that contained that change in El Mozamel character from a person who was always fearing death to a guy who loves life, doing things he never did before, also the scene of the marriage of his lover Naima was also a hard scene.
The reason behind my simple and smooth performance is Amjad who told me that my acting performance should be natural, simple and smooth. This was my first serious acting experience, so I used to perform based on my understanding to every scene and he told me to continue on that.
During the workshop, great actress Salwa Mohamed Ali praised my performance and said that I didn't bother her and I was diligent student, so this gave me a great push and positive energy to perform my role. Salwa was with us one month before shooting then Amjad added his touches during shooting. I like improvisation and Amjad encouraged me to do so. I didn't face major difficulties in this movie because acting is my greatest passion, the only difficulty was how to get rid of the influence of El Mozamel role on my character after shooting, but the moment where I really got rid of that influence was when I watched the movie for the first time, I saw El Mozamel on screen while Mostafa is watching him, at that time El Mozamel got out of me.
11- Do you follow Egyptian cinema?
Mostafa: Of course yes, I always look up to the iconic actor Ahmed Zaki, I adore his performance, nobody will be like him, he was unrepeatable person.
12- How do you feel about the participation of ''You will Die at 20'' in El Gouna Film Festival feature film competition?
Islam: because of some problems in the visa me and Mostafa didn't travel with Amjad when the film was screened in Toronto International Film Festival or when the film won the award from Venice Film Festival but I am so happy that the Arab premiere of the movie was in Egypt because I adore Egypt and consider it my second homeland, I lived in Egypt for 5 years, the moment I saw the film here was very precious to me, because it was the first time for me and Mostafa to see the movie, n Egypt we all talk the same language and share similar emotions.
13- Who are your favourite Egyptian actors?
Islam:I adore Ghada Abdel Razek and Fardous Abdel Hamid, Sudanese people in general are influenced much with old Egyptian movies, but I don't follow much new Egyptian films. I wish to work with Ghada Abdel Razek.
Full report at:
https://www.egypttoday.com/Article/4/75187/Mostafa-Islam-present-new-cinematic-language-in-%E2%80%98You-Will-Die
--------
Al-Jubeir: We are committed to working together with Yemen on reconstruction
25 September 2019
We are committed to working together with Yemen on reconstruction, said on Wednesday the Saudi Minister of State for Foreign Affairs Adel al-Jubeir.
Al-Jubeir made the comments to reporters at the sidelines of the United Nations General Assembly alongside Mark Lowcock, the UN's Under-Secretary-General for Humanitarian Affairs and Emergency Relief Coordinator.
Al-Jubeir also answered questions about Saudi Arabia's response to the September 14 attacks on Saudi Aramco facilities.
"The initial results prove that these were Iranian weapons," said al-Jubeir, referring to investigations into the attacks, adding "We are in consultations with our friends and allies about the next steps to take."
"We will be very thorough and will come up with different options and select the appropriate options as a response to the attacks against the Kingdom of Saudi Arabia," said al-Jubeir.
The minister also addressed Saudi Arabia's relations with Iraq, which he called a "brotherly nation."
"Iraq must exercise its independence and sovereignty," said al-Jubeir, when asked about the presence of Iranian-backed Popular Mobilization Units militias in Iraq.
Full report at:
https://english.alarabiya.net/en/News/gulf/2019/09/25/Saudi-FM-.html
--------
Iraqi president demands international help for reconstruction after victory over terrorism
Sep 25, 2019
Iraqi President Barham Salih has called for international assistance to rebuild the war-ravaged Arab country in the aftermath of victory over the Daesh Takfiri terrorist group.
Addressing the 74th session of the United Nations General Assembly in New York on Wednesday, Salih stated that his country is at the doorstep of positive development after defeating the extremists, warning of attempts by Daesh remnants to re-organize.
The Iraqi president further noted that the Baghdad government values developing bilateral relationships with its neighbors in order to transform the country from a battlefield to an economic hub in the Middle East region.
Salih also called for efforts to help Syrians reach a political solution to nearly nine years of conflict.
He then condemned Israeli Prime Minister Benjamin Netanyahu's controversial pledge to annex the Jordan Valley and the adjacent northern Dead Sea in the occupied West Bank as blatant violation of international law and regulations.
Full report at:
https://www.presstv.com/Detail/2019/09/25/607114/Iraq-Salih-terrorism
--------
North America
US praises Bangladesh's 'exemplary' help for Rohingya
SM Najmus Sakib
25.09.2019
DHAKA, Bangladesh
Bangladesh's response to the Rohingya crisis sets an example to the world, the U.S. ambassador to Dhaka said on Wednesday.
"It's important for the hundreds of thousands of Bangladeshis who opened their hearts to host the refugees. It is important for the government of Bangladesh which opened its borders to provide a safe haven [for the Rohingya]," Earl Miller said in a video broadcast live on social media.
In his speech, Miller also highlighted the importance for the international donor community and NGOs working with the Bangladeshi government to address the ongoing crisis.
Expressing his great respect and appreciation for the generosity, compassion and humanity of Bangladesh's government and people, he acclaimed: "Your response to this crisis has been an example to the world."
Miller's remarks came shortly after the U.S. Department of State announced a fresh fund of $127 million to provide humanitarian aid for the Rohingya and the host communities in Bangladesh.
The new fund brought the total U.S. support to more than $669 million since the outbreak of violence in August 2017. The majority of those funds -- more than $553 million -- is spent for programs inside Bangladesh, Miller said.
According to Amnesty International, more than 750,000 Rohingya refugees, mostly women and children, have fled Myanmar and crossed into Bangladesh after Myanmar forces launched a crackdown on the minority Muslim community in August 2017.
Since Aug. 25, 2017, nearly 24,000 Rohingya Muslims have been killed, more than 34,000 were thrown into fires and over 114,000 others were beaten by Myanmar's state forces, according to a report by the Ontario International Development Agency (OIDA).
Some 18,000 Rohingya women and girls were raped by Myanmar's army and police and over 115,000 Rohingya homes were burned down and 113,000 others vandalized, it added.
https://www.aa.com.tr/en/americas/us-praises-bangladesh-s-exemplary-help-for-rohingya/1594341
--------
Urgent new warnings about ISIS fighter jailbreaks, as Trump threatens Europe with releasing them
By CONOR FINNEGAN
Sep 25, 2019
The threat of ISIS fighters breaking out of the massive prison camps where they're being held in Syria and Iraq is growing, according to a new report and a senior U.S. official.
While President Donald Trump has also warned of the urgency, he took the issue a step further in recent days and threatened to free ISIS fighters at Europe's borders if countries don't repatriate them.
U.S. ambassador-at-large for counterterrorism Nathan Sales rang those alarm bells Tuesday, but wouldn't say whether the U.S. was actively planning to carry out Trump's threat.
"It's impossible to predict what tomorrow is going to look like in Syria, let alone two months or six months from now ... You could envision all sorts of other scenarios playing out," Sales told ABC News in response to questions about Trump's comments. "We don't want to assume that the relative stability that we see today is an enduring feature."
The Institute for the Study of War reported Tuesday that ISIS "is preparing to free its loyal fighters and followers from prisons and displacement camps across Syria and Iraq."
The terror group is fundraising and organizing within some camps, according to the report, including the sprawling al Hawl Camp in northern Syria where some 70,000 people from the ISIS caliphate, mostly women and children, now live.
U.S. officials estimate that beyond the 8,000 Iraqi and Syrian ISIS fighters, there are about 2,000 foreign fighters in detention camps, mostly run by local Kurdish forces aligned with the U.S.
Sales said the U.S. has heard "some disturbing reports" about al Hawl and other camps and seen "several attempted prison breaks over the past several months," adding it all "is adding to our sense of urgency to facilitate repatriation."
For months now, the U.S. has been urging countries around the world to repatriate, or take back, their fighters for prosecution or rehabilitation.
But Trump has had a more extreme message.
"At some point, I'm going to have to say, 'I'm sorry, you either take them back or we're going to let them go at your border'," Trump said Friday in the Oval Office. "They mostly come out of Europe, and we've done them a tremendous favor ... So they have to make their decision. Otherwise, we're releasing them at the border."
The threat almost seems to be a good cop/bad cop routine -- Trump's threatening to release these ISIS fighters in countries or at their borders, while U.S. officials push these partner countries to build the political will to accept returned fighters and make reforms to their legal systems to prosecute them effectively.
To that end, the State Department has provided funding and legal know-how to several countries, including examples from American cases. Eight adults and 13 children have been repatriated to the U.S., according to State Department officials; six of those adults are facing criminal charges, according to public indictments.
But the U.S. will not accept any foreign fighters for prosecution in the U.S. or send them to the detention facility at Guantanamo Bay, Sales said.
"We are not prepared to solve this problem for other countries ... If a person was radicalized in country X sufficiently to travel to Syria to fight for ISIS, that's on country X. That's not on the United States now," Sales told ABC News.
In the meantime, the U.S. is working to strengthen the security of these ISIS prison camps, but it is also calling for more funds from other countries, in particular members of the coalition against ISIS, to do that, too.
A panel of experts report funded by Congress and published Tuesday suggested that the U.S. create a special coordinator for this specific issue of ISIS fighter repatriation, given the urgent need and complex issues involved.
Full report at:
https://abcnews.go.com/Politics/urgent-warnings-isis-fighter-jailbreaks-trump-threatens-europe/story?id=65841487
--------
Trump evades Pakistan-bashing trap
September 26, 2019
UNITED NATIONS: "I had a very good meeting with Prime Minister (Imran) Khan. It was a long meeting and we discussed a lot," said US President Donald Trump when Indian journalists pressed him to condemn Pakistan's alleged support for militants in the occupied valley.
The 74th session of the UN General Assembly, although focused on climate change, has also become an India-Pakistan battlefield, with both trying to win over the support of the international community for their position on Kashmir.
While the Pakistanis are focusing on the human rights violations in held Kashmir, the Indians try to divert the world's attention to its accusation that Islamabad intends to send 500 militants into the valley.
Since Aug 5, when India unilaterally and illegally annexed the occupied land, the US and international media have published hundreds of stories on the Indian siege of Kashmir, which entered its 51st day on Wednesday.
This makes it difficult for the Indians to deflect allegations of human rights violations in held Kashmir. They, however, counter it by trying to lead the argument to terrorism, as Indian journalists did at the Trump-Modi presser on Tuesday afternoon.
President Trump, however, refused to be dragged into this debate and in doing so, he once again reiterated his offer of arbitration to reduce India-Pakistan tensions, despite New Delhi's repeated rejection of his offers.
Asked "how do you make sure that you clamp down on terrorism from Pakistan," the US leader said: "Well, I had a very good meeting with Prime Minister Khan. It was a long meeting and we discussed a lot."
He then made his first – and the third this week – reference of the day to his mediation offer. "And I think he'd like to see something happen that would be very fruitful, very peaceful. And I think that will happen, ultimately. I really believe that these two great gentlemen (Mr Khan and Indian Prime Minister Narendra Modi) will get together and work something," he said.
"You mentioned Pakistan, but Iran would have to be at the top of the list. Because if you look at terrorist states, that's been the number one for a long time," he added.
He then went back to urging India, Pakistan to talk to each other — another suggestion New Delhi does not like.
"I really believe that Prime Minister Modi and Prime Minister Khan, they get along — they will get along when they get to know each other. And I think a lot of good things will come from that meeting."
The journalists then tried another approach, claiming that Pakistan had 30 to 40 thousand terrorists and asked Mr Trump to give a message to Islamabad on this issue.
"Well, I mean, the message is not for me to give, it's for Prime Minister Modi to give. And I think he gave that loud and clear on the other day (in Houston) when we were together. He gave a pretty loud message. And I'm sure he will be able to handle that situation."
Full report at:
https://www.dawn.com/news/1507429/trump-evades-pakistan-bashing-trap
--------
US sanctions China over Iran oil purchase
Sep 25, 2019
The Unites States has imposed new sanctions on Chinese firms and individuals over violation the US illegal sanctions on Iran.
The US Treasury Department announced Wednesday that five Chinese nationals and six entities, including two Cosco Shipping Corporation subsidiaries, were targeted in the new measure.
"And we are telling China, and all nations: know that we will sanction every violation," claimed hawkish Secretary of State Mike Pompeo at a conference on the sidelines of the United Nations General Assembly in New York. "The more Iran lashes out the greater our pressure will and should be… That path forward begins now with two new actions."
The administration of US President Donald Trump has been accusing Iran of being behind attacks on the oil facilities of Saudi Arabia on September 14 without offering any evidence.
On Tuesday, Trump threatened to step up economic terrorism against Tehran. Trump's anti-Iran approach comes on the foothills of his last year withdrawal from an international nuclear deal.
Pompeo also tried to scare away companies that have ties with the Islamic Revolution Guards Corps (IRGC).
"The United States will intensify our efforts to educate countries and companies on the risk of doing business with IRGC entities, and we will punish them if they persist in defiance of our warnings," Pompeo said.
Full report at:
https://www.presstv.com/Detail/2019/09/25/607109/US-sanctions-China-over-Iran-oil-purchase
--------
Trump blocks entry of Iranian, Venezuelan officials
Michael Hernandez
26.09.2019
WASHINGTON
Senior Iranian and Venezuelan government officials and their families will no longer be able to enter the U.S., according to a series of proclamations President Donald Trump signed into effect Wednesday.
The actions are the latest penalties imposed on Tehran and Caracas by the Trump administration as it seeks to mount diplomatic and economic pressure on the governments.
The orders do have exemptions for U.S. obligations under international agreements which would appear to allow officials representing the countries to travel to UN headquarters in New York City to fulfill their duties in the world body.
Trump originally said he signed the proclamations while speaking during his final press conference at the UN General Assembly, and the White House disseminated copies shortly after it concluded.
The ban on Venezuelan government officials pertains to all individuals holding the rank of vice minister and higher as well as officers in the Venezuelan military, police or National Guard at the rank of colonel or higher and members of Venezuela's National Constituent Assembly.
It also pertains to individuals "who derive significant financial benefit from transactions or business dealings" and "other aliens who act on behalf of or in support of the Maduro regime's efforts to undermine or injure Venezuela's democratic institutions," giving apparent leeway on enforcement.
Full report at:
https://www.aa.com.tr/en/americas/trump-blocks-entry-of-iranian-venezuelan-officials/1594420
--------
Non-profit foundations to honour leaders and activists fighting extremism
Sep 26, 2019
Community activists working to tackle extremism, intolerance and hate speech will be honoured as the Global Hope coalition holds its annual award ceremony on Thursday.
The event, taking place amid the UN General Assembly's 74th session in New York, will commend leaders for their stance against ISIS-affiliated groups operating in the Sahel and the Middle East.
The top accolade will be the 2019 Hero Awards, presented to an Italian carabinieri police unit, along with four people, for "their courageous stance and innovative solutions" to the threats posed by extremism, xenophobia and hate speech.
"It's time to recognise the key contribution and indispensable role being played by local heroes, the men and women who often take risks to oppose extremism, promote cultural heritage and promote harmonious relations in their communities," said Deborah Lehr, US president of the Global Hope Coalition group of four foundations.
Waleed El Ansary, Adama Dieng, Leah Pisar, Bushra Hyder and Enver Yucel have also been named in the 2019 awards.
The Global Hope Coalition was founded in 2016 by a group of former world leaders and philanthropists to empower those on the frontline of the fight against extremism and intolerance.
"No amount of high-level government decisions, international co-ordination, and billion-dollar programmes will be able to defeat the scourge of our times, violent extremism in all its manifestations, without the crucial contribution of the frontline activist," said Abe Radkin, the group's international co-ordinator.
"We are trying to create partnerships and mobilise resources that can help shift the balance of power in these communities."
Full report at:
https://www.thenational.ae/world/the-americas/non-profit-foundations-to-honour-leaders-and-activists-fighting-extremism-1.915244
--------
Europe
Terror accused Hisham Muhammad 'searched online for suicide belt'
24 September 2019
An Islamic State supporter accused of plotting a terrorist attack searched online for "weak points in the human body" and "suicide belt", a court has heard.
Hisham Muhammad allegedly hoarded an arsenal of weapons and a drone for a "lone wolf" attack.
The 25-year-old's trial at the Old Bailey heard he also searched online for jihadist literature.
He denies engaging in conduct in preparation for acts of terrorism.
The Bermudan national, from Bury, Greater Manchester, is accused of plotting to attack an Army barracks with a modified drone.
Jurors were told he identified a possible target at Castle Armoury, a territorial army base in Bury.
Prosecutor Emma Gargitter told the court Mr Muhammad, of Victoria Avenue, Whitefield, made a series of "no comment" responses during police interviews over search terms including "military base near me", "Glock 19", "weak points in the human body", as well as for Islamic State and Al-Shabaab literature and videos.
He also made dozens of internet searches between April and May, including for "armed police Manchester", "suicide belt" and "pressure cooker", as well as for for machetes, Samurai swords, stainless steel nuts and bolts, potassium nitrate, and aluminium oxide, the court heard.
The jury was told Mr Muhammad said in a prepared statement in June: "I have no intention to die or kill someone. Islam prohibits one from committing suicide."
He also said some of the searches were for "research purposes" and added in another police statement: "I'm not a terrorist. It's not illegal to watch such videos."
The prosecution allege he had also "researched how small drones might be adapted to drop some sort of device designed to harm others", as well as studying "how to use knives to lethal effect".
Mr Muhammad's cousin Faisal Abu Ahmad, 24, is also on trial, accused of failing to alert authorities of the alleged attack plan.
https://www.bbc.com/news/uk-england-manchester-49817734
--------
12th annual Fall Muslim Life Banquet: Chaplain's Office and MSA Host Annual Muslim Life Banquet
SEP 26, 2019
Dressed to the nines and sporting smiles, nearly 200 attendees — including students, faculty members and their families — filed into Yale on York to attend the
on Wednesday.
Guests listened to speeches, ate a halal dinner catered by Yale Dining and celebrated the beginning of the academic year for two hours on Wednesday evening. The night featured a suite of speakers — including a senior undergraduate from the Muslim Students Association, director of Muslim Life at the Chaplain's Office Omer Bajwa, Yale College Dean Marvin Chun and a keynote address from an acclaimed legal scholar Asma Uddin.
"This is our marquee event of the Muslim life program in the fall semester," Bajwa told the News. "Muslim students bring their friends, their suitemates, their teammates, people in other organizations, Heads of Colleges and Deans and administrators would come. It's a really beautiful event that showcases the spectrum of the Muslim community at Yale."
Shortly after his arrival at Yale in 2008, Bajwa sat down with University Chaplain Sharon Kugler to discuss a possible event to celebrate Muslim life at Yale. They wanted an event that would be welcoming to students of all faiths and decided to organize a banquet in the Commons for Ramadan — which at that time fell in the fall. At that event, the guests enjoyed the meal of Iftar, which is the breaking of the Ramadan fast.
Bajwa said the well-attended event turned out to be a "wonderful" way to bring students and friends together in celebration. As Ramadan and Eid moved into the summer in accordance with the lunar calendar, they decided to continue the event and renamed it the Fall Muslim Life Banquet.
"It's one of the best events I've ever been to at Yale," said Rama Varanasi '22, who attended the dinner with friends. "I always have a great time."
Samir Al-Ali '21, current president of the Muslim Students Association, delivered opening remarks before introducing the other speakers. Chun spoke about Yale's commitment to diversity of all kinds. For his part, Bajwa recognized two 50th anniversaries on campus — 50 years each since the enrollment of women at Yale College and the creation of the Yale's Afro-American Cultural Center.
"You are a beacon of energy, safety, friendship and community," he said, referring the Afro-American Cultural Center. "We are grateful for your solidarity and friendship. Long may our common vision of seeking racial, social and economic justice and of creating the beloved identity continue."
In speaking about her time at Yale, Farhha Feroz '20 recognized the many teachers, professors and mentors who she said helped her grow beyond self-doubt into the person she is today.
She expressed her gratitude for the compassion these figures showed and spoke fondly of the impact they had on her life.
"To give yourself to others in a place like Yale, where there's barely time to process your own wellbeing, is an act of heroism," Feroz told the crowd. "I'm reminded of all the wonderful teachers I've had at Yale, and I pray that our paths are forever intertwined."
Uddin — whose commitments include work as an advisor on religious liberty to the Organization for Security and Co-operation in Europe and as a visiting scholar at Brigham Young University Law School — gave the keynote address.
Her speech primarily focused on research she has done concerning religious freedom in the United States and abroad. Referencing polls, political press releases and court cases, she argued that when people advocate for religious freedom, they are often arguing for the right to practice Christianity, not necessarily other faiths. In particular, she expressed worry about some Americans' belief that Islam is a political ideology, not a religion, and therefore should not be protected under the First Amendment.
"You don't have to earn your rights or prove yourself for them," Uddin said. "As a human, you get human rights, including the right to religious freedom."
After her speech, Asma was interviewed by Greenberg World Fellow Nizam Uddin, and she stayed after the banquet to talk with attendees and sign books.
Basya Gartenstein DIV '20 came to the banquet with a group of fellow students from the Yale Divinity School, all of whom are part of their school's Interfaith Club. She commented that it was her third time coming to the event and added she was excited to celebrate.
Bajwa said he enjoyed celebrating this event with people from many different parts of the Yale community and pointed to the openness of events related to Muslim life on campus.
Full report at:
https://yaledailynews.com/blog/2019/09/26/chaplains-office-and-msa-host-annual-muslim-life-banquet/
--------
UN chief: World faces 'unprecedented threat' from terrorism
Sep 26, 2019
UNITED NATIONS: Secretary-General Antonio Guterres has warned that the world is facing "an unprecedented threat from intolerance, violent extremism and terrorism" that affects every country, exacerbating conflicts and destabilizing entire regions.
The UN chief told a Security Council ministerial meeting on the sidelines of the annual gathering of world leaders on Wednesday that "the new frontier is cyber-terrorism — the use of social media and the dark web to coordinate attacks, spread propaganda and recruit new followers."
He stressed that the response to the unprecedented terrorist threat "must complement security measures with prevention efforts that identify and address root causes, while always respecting human rights."
Russia, which holds the council presidency this month, organised the meeting on cooperation between the UN and three Eurasian organizations in countering terrorism — the Shanghai Cooperation Organization, Collective Security Treaty Organization, and Commonwealth of Independent States.
The United States and its Western allies echoed the secretary-general, stressing the importance of respecting human rights in counter-terrorism operations.
"Efforts to counter terrorism that do not respect human rights ultimately breed resentment and violent extremism," US deputy ambassador Jonathan Cohen said.
"When member states or regional organizations conflate terrorism with non-violent political dissent, they do a disservice not only to the protection of human rights and fundamental freedoms, but to our global effort to defeat terrorism."
He said the world is witnessing this "dangerous approach" in Syria, where the government and its Russian allies "justify as legitimate counter-terrorist operations airstrikes on civilians, schools, ambulances and hospitals that have killed over a thousand people since April and wounded over 2,000."
The United States is also "deeply concerned" by the plight of more than one million ethnic minority Muslims in China's Xinjiang province who have been arbitrarily detained "under the guise of counter-terrorism." "China, like all nations, has every right to respond to actual terrorist threats, but counter-terrorism cannot be used as an excuse to repress the peaceful religious practices of Chinese Muslims and an entire minority group," the Uighurs, Cohen said.
Russia's Foreign Minister Sergey Lavrov warned that the "terrorist threat" coming from Syria and Iraq is very rapidly spreading through Africa, including Libya, "and central, southern and southeast Asia are also becoming areas where savage acts of terrorism are perpetrated."
Alluding to Western criticism, he said, "the double-standards used by some countries make it more difficult to react to the challenges today, including the terrorist challenges."
"It is unacceptable — I underscore that — using terrorist entities for political purposes," Lavrov said. "There can be no justification for this." Vladimir Norov, secretary-general of the eight-nation Shanghai Cooperation Organization, said the fight against terrorism and related threats is one of its main activities and called Wednesday's meeting "extremely timely" because of increasing instability in the world due to the terrorist threat and its emerging link to transnational crime.
He said fighters that supported the Islamic State extremist group in Syria and Iraq "are striving to create new strongholds, including in the Eurasian space." And he warned that "the threat of their access to radioactive and toxic substances is growing, and their possible use of new types of financing and weapons."
The organization — which includes Russia, China, India and Pakistan — has half the world's population and is regarded as the primary security pillar in the region, but Norov stressed that "it's not a military organization aimed at other states."
Valery Semerikov, secretary-general of the Collective Security Treaty Organization, told the council "the world is under threat of global terrorism" and joint work to combat it is needed today.
Full report at:
https://timesofindia.indiatimes.com/world/us/un-chief-world-faces-unprecedented-threat-from-terrorism/articleshow/71305132.cms
--------
Iran nuclear deal parties committed to saving it despite 'increasing' difficulties: EU
Sep 25, 2019
European Union foreign policy chief Federica Mogherini says the remaining parties to the 2015 Iran nuclear deal, officially known as the Joint Comprehensive Plan of Action, have expressed their commitment to preserving the agreement, stressing, however, that there are increasing difficulties ahead.
"It is in the interests of all to remain committed to the deal, but it is becoming increasing difficult," Mogherini told reporters after a meeting of the parties at the United Nations on Wednesday.
She said France, Britain, Germany, Russia, China and Iran had agreed to continue efforts to implement the multilateral international deal, which US President Donald Trump left in May 2018.
The Trump administration also unleashed the "toughest ever" sanctions against the Islamic Republic following Washington's withdrawal in defiance of global criticism in a bid to strangle the country's oil trade.
Trump is a stern critic of the deal, which was clinched in 2015 by Iran and major world powers, including the United States, France, Britain, China, Russia, and Germany. Under the agreement, nuclear-related sanctions put in place against Iran were lifted in exchange for curbs on Tehran's nuclear program.
In response to the US move to leave the JCPOA and reimpose sanctions, Tehran has so far rowed back on its nuclear commitments three times in compliance with articles 26 and 36 of the JCPOA, but stressed that its retaliatory measures will be reversible as soon as European signatories to the accord finds practical ways to shield the mutual trade from the US sanctions.
Iran says that if it does not receive economic benefits from the JCPOA by November it will further reduce its commitments.
"Every step that has been taken so far by Iran is reversible and we call on Iran to reverse these decisions and go back to full compliance," Mogherini said, adding, "I hope that rationality will prevail."
Trump's goal has been to get another deal as he has already described the JCPOA as "the worst deal ever negotiated." The White House position has been that maximum pressure will continue until Iranian officials accept to sit at the negotiating table.
Tehran says talks with Washington are impossible as the latter is pressing ahead with its hostile policy and refuses to lift sanctions against the Islamic Republic.
Full report at:
https://www.presstv.com/Detail/2019/09/25/607111/Iran-nuclear-deal-European-Union-JCPOA-US-sanctions-Mogherini-
--------
Southeast Asia
Thailand: Muslim Leader Urges Government to Drop Muslim Student Database
2019-09-24
Thailand's top Muslim leader on Tuesday urged police to drop an order requiring universities to compile a list of Muslim students and activities they are involved in, for entry into a law enforcement database.
In a letter to National Police Chief Chakthip Chaichinda, Sheikhul Islam Aziz Phitakkumpon said the requirement was discriminatory and unconstitutional.
"The Sheikhul Islam Office has learned about the matter and has great concern because if the special branch police and universities implement the inquiry, it discriminates against Muslim citizens in Thailand," he said. "And it contradicts Article 27 of the Constitution which states that each individual is legally equal in terms of rights, liberty and protections under the law."
"The Sheikhul Islam Office requests the [national police chief] consider ordering the special branch police to stop implementing unfair practices on Muslims and all other groups of people to maintain the country's stability and security," Aziz said in the letter.
The letter said the compiling of such information could foster division among different groups throughout Thailand and further alienate people in the Deep South region where some ethnic Malay Muslims have waged an armed fight for independence for more than 15 years.
The Deep South borders Malaysia and encompasses Pattani, Narathiwat and Yala provinces as well as four districts in neighboring Songkhla. Almost 7,000 people have been killed in violence in the region since a separatist insurgency reignited in 2004.
"The government must rule the country fairly and squarely to build awareness and love for the homeland. ... Discrimination alienates people and may lead to greater separatism efforts," the letter warned.
Muslim extremists
"We admit that, in fact, there are Muslim extremists out there, but police must deal with them individually and not perform a blanket cross-check on Muslim students," Wisut Binlateh, an official in the Sheikhul Islam Office, told BenarNews on Tuesday.
"There are extremists among believers of all faiths. I don't know why they do it to Muslim students only," he said.
The police order came to light when Angkhana Neelapaijit, a former Thai National Human Rights Commission member, posted a copy of it on her Facebook page earlier this month.
Angkhana, who received the Ramon Magsaysay Award in the Philippines this month for her work championing human rights, has been vocal about alleged rights abuses in the mainly Muslim Deep South.
Following her revelation last week, national police deputy spokesman Col. Krishna Pattanacharoen confirmed letters were sent to several campuses to build a database and manage intelligence.
"In regard with the Sheikhul Islam's letter addressed to the police chief, the authorities have to study the contents and will later clarify the matter," Krishna told BenarNews on Tuesday.
Thai Prime Minister Prayuth Chan-o-cha also defended the police order last week.
"We have to admit that sometimes we cannot examine or conduct something because of a lack of a database," he said.
Meanwhile, Ismail Doloh, a third-year student at Ramkhamhaeng University in Bangkok, said the database was causing fear among people from the Deep South.
"Since the multiple bombings in Bangkok in August, we students and people from Deep South were under close watch, especially around Ramkhamhaeng University. There are many plain-clothed police," Ismail told BenarNews on Tuesday, referring to a series of small explosions during the ASEAN Foreign Ministers' Meeting.
Thai police have charged two Deep South men for their alleged roles in the bombings and have issued arrest warrants for nine other unnamed suspects.
https://www.benarnews.org/english/news/thai/data-base-09242019170154.html
--------
Concerns over Islamic housing project in Selangor, but developer says it is no place for extremists
26 Sep 2019
CYBERJAYA, Selangor: The highway leading to Cyberjaya township, which neighours the administrative capital of Putrajaya, is lined with eye-catching banners promoting RaudhahVille, a development that calls itself "the first modern Islamic city in Malaysia".
With a hashtag of #neighborstilljannah (jannah refers to paradise in Islam), the projects positions itself as an ideal neighbourhood which promotes the positive values of Islam.
"Here, people with like-minded values can live together in harmony," Raudhah City Group CEO Mohd Fadzil Hashim told CNA.
A RM12.3 billion (US$2.9 billion) project by Raudhah City Sdn Bhd and the Selangor State Development Corporation, RaudhahVille comprises residential units, an international school, a medical centre and commercial lots.
Among others, RaudhahVille will have a "community code of conduct" based on Islamic laws and an Islamic community centre, according to the marketing materials.
The development also encourages an Islamic lifestyle, such as halting daily activities to perform prayers five times a day.
Full report at:
https://www.channelnewsasia.com/news/asia/malaysia-cyberjaya-islamic-housing-development-raudhahville-11938296
--------
Malaysian planning attacks on politicians, non-Muslims among 16 terror suspects nabbed
26 September 2019
BY EMMANUEL SANTA MARIA CHIN
KUALA LUMPUR, Sept 26 — Police have arrested 16 people on suspicion of terrorism including a local militant who was plotting attacks on unnamed politicians and non-Muslim groups.
According to Bukit Aman's Special Branch Counter-terrorism Division (E8) principle assistant director, Datuk Ayob Khan Mydin Pitchay, the arrests were made in separate operations nationwide.
He told a press conference this morning that the local suspect belonged to a group of 11 Malaysian and Indonesian suspects detained here in the capital, Sarawak, Penang, Pahang, Johor and Selangor.
"They are mostly involved in social media recruiting Indonesians and Malaysians to spread the Daesh ideology and had also planned future attacks in Malaysia and Indonesia.
"One of the Malaysians from the same group planned to stage attacks on politicians and non-Muslim groups here apparently for making negative comments towards Islam, suppressing the faith, and for insulting the Malays," said Ayob.
Two more Malaysians arrested in Sabah were responsible for spreading Islamic State (Daesh) propaganda and managed the movements of eventual suicide bombers.
The duo also arranged for funds to be channelled to the Maute terrorist group in southern Philippines.
"Both of them had helped arrange the path for a couple and their three children who carried out suicide bombing attacks at a church in Jolo, South Philippines, last December," he said.
Ayob explained that the counter terrorism operations spanned from July 10 to yesterday, resulting in the arrests of three Malaysians, 12 Indonesians and one Indian national.
One of the Indonesians was arrested from Keningau, Sabah, facilitated and assisted other terrorism sympathisers' travels from Indonesia through Sabah and into the southern Philippines to carry out attacks there.
"Most of the Indonesians are employed in the labour industry, where some have been here for two to three years before they were arrested," he said.
Ayob added the Indian national was a 38-year-old woman who was a member of the Sikh For Justice group and was arrested in Subang Jaya. They later determined she was responsible for raising and channelling funds back to the group.
He said the arrests were a result of cross border cooperation between the Royal Malaysia Police, the Indonesian National Police, and Philippines National Police.
Full report at:
https://www.malaymail.com/news/malaysia/2019/09/26/malaysian-planning-attacks-on-politicians-non-muslims-among-16-terror-suspe/1794398
--------
Malaysia celebrates Saudi National Day with feasts and festivities
September 26, 2019
KUALA LUMPUR: The Kingdom's ambassador to Malaysia on Wednesday lauded the strong economic and religious ties between the two countries at a special reception to mark Saudi National Day.
More than 2,000 guests and dignitaries joined in the Kingdom's 89th anniversary celebrations at an event hosted by the Saudi Embassy in the southeast Asian country's capital Kuala Lumpur.
Saudi envoy, Mahmoud Qattan, said the two Muslim-majority nations' flourishing relationship was reflected in growing trade links and the development of their education and tourism sectors. "The relations between the two brotherly countries of Saudi Arabia and Malaysia continue to develop and progress," he added.
The value of trade between the two countries last year amounted to $4.351 billion (SR16.32 billion) with Saudi exports to Malaysia making up around $3 billion of the total.
The newly established Saudi-Malaysian Joint Committee was due to hold its first meeting soon to help further develop the volume of trade exchanges and mutual investments.
Malaysia's Islamic Affairs Minister Mujahid Yusof Rawa, said he was "honored" to attend the Saudi National Day celebratory event and paid tribute to the long-standing relationship with Saudi Arabia which had seen him involved in close discussions over the years on Hajj and Islamic affairs, to name but a few.
He told Arab News that he hoped diplomatic ties would be taken to "greater heights," and said he would be visiting the Kingdom for talks with his ministerial counterpart on Islamic-related matters in a bid to pave the way for inclusive and progressive policies.
"We will concentrate on how Islamic affairs can help to achieve greater peace and stability, not just in the Middle East, but also around the world," he added.
The national festival was celebrated in Malaysia with folklore dances and song, as well as an elaborate spread of authentic Saudi cuisine. The prestigious event featured traditional Saudi delicacies such as kabsa rice and kanafeh dessert, as well as sword dances and performances by children.
Full report at:
https://www.arabnews.com/node/1559966
--------
Ignoring police, Puteri Umno leader insists Penang rampage due to religious slurs
26 September 2019
BY JUSTIN ONG
KUALA LUMPUR, Sept 26 — Puteri Umno vice-chief Nurul Amal Mohd Fauzi claimed yesterday a Penang man shot dead by police had run amok due to co-workers' remarks insulting Islam.
According to the Malaysiakini news portal, she made her claim in Kubang Kerian, Kelantan, after Inspector-General of Police Tan Sri Abdul Hamid Bador expressly warned against inciting racial and religious hatred over the incident.
"Yesterday, a martyr was laid to rest. Sheikh Mohd Khairil was shot because he went amok in front of two kafirs who insulted the Prophet Muhammad," Nurul Amal was quoted as saying.
On September 23, a 25-year-old quality control inspector with a multinational factory had attacked two of his colleagues and was gunned down when he turned on the police team responding to the incident.
A 48-year-old woman suffered fatal wounds to her head, neck and arms while a safety director was hacked on his arms when he tried to stop the attack.
Full report at:
https://www.malaymail.com/news/malaysia/2019/09/26/ignoring-police-puteri-umno-leader-insists-penang-rampage-due-to-religious/1794441
--------
Indonesia protests: Police fire tear gas on third day of unrest over laws to ban sex outside marriage
Adam Withnall
Sep 26, 2019
Police opened fire with tear gas on students and activists who again took to the streets in Indonesia on Wednesday, the third consecutive day of protests against a string of controversial new laws and reforms.
Thousands of students clashed with police as they attempted to reach the parliament building in the capital Jakarta, the scene of similar violence after midnight on Tuesday that saw more than 300 people injured, according to official figures.
Stone-throwing protesters set fire to a bus stop before they were repelled by police hurling volleys of tear gas from the roofs of high schools near the parliamentary buildings, turning the nearby roads into a smoke-filled battleground.
The protests are against a number of mostly conservative reforms that the outgoing parliament is trying to force through before the end of its term on 1 October.
They include a sweeping new criminal code to replace Indonesia's colonial-era Dutch laws, with a number of social and moral provisions routed in conservative Islam.
The new laws would ban sex outside marriage as well as criminalising any "offensive behaviour" in public, sweeping provisions which experts say would likely be used to target LGBT+ Indonesians.
They would also make it a criminal act to insult the president, judges and the courts, provisions which may make it difficult for some NGOs and civil society groups to operate.
The extension of already strict blasphemy laws would make it illegal to promote atheism.
And the new penal code includes a four-year jail term for abortions in the absence of a medical emergency or rape, and a prison term for black magic.
"[These reforms] are highly controversial and deeply flawed, and really need a lot more careful deliberation before they are finalised," Tim Lindsey, director of the University of Melbourne's Centre for Indonesian Law, Islam and Society, told The Independent.
"For some reason the outgoing legislature is desperate to push through laws which are badly drafted or in fact regressive in nature.
Protesters are also angered by the passing of a law last week to reduce the authority of the country's anti-corruption agency.
The Corruption Eradication Commission, known by the initials KPK, was one of the few robust national institutions in a country riven with deep-seated corruption. Its success in targeting cross-party political graft had made it deeply unpopular with the country's political elites, and several past attempts to gut it had failed.
On walls near the parliament building in Jakarta, protesters scrawled: "Parliament is the state's clown" and "RIP KPK".
The rallies are not yet on the scale of the civil society backlash that brought down the former authoritarian leader Suharto, or indeed the vast Islamist protests against the Christian governor of Jakarta over alleged blasphemy in 2016.
But they have spread to other cities including Palu, Garut, Bogor and Padang, the capital of West Sumatra, where police on Wednesday were unable to stop thousands of university students who stormed into the local parliament building. The angry protesters smashed windows and chairs and wrote insults against the government on the building's walls.
And the unrest comes at a difficult time for President Joko Widodo who, despite still awaiting inauguration for his second term after a convincing April general election victory, is under pressure due to weeks of violent separatist unrest in the restive Papua region.
President Jokowi, as he is almost universally known in Indonesia, has asked parliament to delay votes on the new criminal code and three other reforms until the new legislature is sworn in next month. Parliamentarians have only consented to delay to an as-yet undecided date, and could conceivably still have time to pass the controversial changes.
The situation represents a personal embarrassment for Jokowi, whose government authorised the new laws for debate. The president, who campaigned on a ticket of business and infrastructure development and is not known for his interest in matters of law and order, claims he was not properly briefed by his justice minister.
Nonetheless, he is also responsible for courting the Islamist vote during April's election, not least by appointing a hardline Muslim cleric as his running mate.
"What we are seeing is the rising use of religious identity politics on the national political scene," Professor Lindsey said. "The election was heavily marked by the use of religious identity themes, and it's pretty apparent that this has informed the conservative position of the new criminal code in relation to sexual and moral issues."
Protesters are calling on Jokowi to pass an emergency executive order, rolling back the changes to the anti-corruption agency until the new legislature is in place. But the authorities are also taking a firm stance in a bid to avoid in Jakarta a repeat of the ongoing scenes of protest that have plagued Hong Kong in recent months.
Jakarta police chief Gatot Eddy Pramono said 39 police officers were among those injured in Tuesday's clashes, and that some of the 94 people detained had been carrying petrol bombs.
Without providing further details, he hinted that the protests could be the work of groups beyond Indonesia's traditionally formidable student movement. "We are still investigating whether they are students or other members of society with different interests," he told reporters.
Full report at:
https://www.independent.co.uk/news/world/asia/indonesia-protests-jakarta-jokowi-law-reforms-corruption-a9119981.html
--------
Indonesia police detonate a bomb, seize ISIS flag found in suspects house
September 26, 2019
The Indonesian police detonated a bomb, seized weapons and a flag in anti-ISIS coordinated raids in Cilincing, North Jakarta and in Bekasi, West Java on Monday.
Bomb experts also seized an improvised explosive device he was allegedly planning to use in an attack. The bomb, which, reportedly contained highly explosive triacetone triperoxide or TATP, was destroyed in a controlled detonation near the suspect's house.
Members of Detachment 88, the National Police's elite counterterrorism squad, arrested the suspect, a young man of 21 at his family home.
The suspect was allegedly planning to launch an attack against police in the greater Jakarta area soon, says The Jakarta Globe.
The same newspaper also reported that counterterrorism squad, have found an Islamic State flag and weapons at a rented house occupied by a terror suspect who was arrested in coordinated raids in Bekasi, West Java.
On the other hand, the Ministry of Foreign Affairs in Indonesia confirmed the arrest of three Indonesian women who are being held at the Changi Prison in Singapore under the city-state's Internal Security Act over their alleged involvement in "radical activities."
Singaporean authorities initially arrested four Indonesian migrant workers, but later released one after a preliminary investigation said an Indonesian official from the citizen protection and legal aid group at the foreign ministry, in Jakarta on Monday evening.
The Indonesian embassy in Singapore requested consular access to the four and on Sept. 13, an Indonesian official met with the released individual who was deported two days later, due to lack of evidence.
Embassy staff also visited the three arrested women, Anindia Afiyantari (33), Retno Hernayani (36) and Turmini (31), at Changi Prison on Sept. 19.
The three women, employed as domestic workers in Singapore for between six and 13 years viewed online materials related to the terrorist group Islamic State in Iraq and Syria.
Full report at:
http://theindependent.sg/indonesia-police-detonate-a-bomb-seize-isis-flag-found-in-suspects-house/
--------
Malaysian police arrest 15 over links to Daesh
September 26, 2019
KUALA LUMPUR: Malaysia has arrested 15 people, mostly foreigners from neighboring Indonesia, on suspicion of having links with the Daesh militant group, police said on Thursday.
Malaysia has been on high alert since January 2016, when gunmen allied with Daesh carried out a series of attacks in Jakarta, the capital of Indonesia.
The suspects were arrested in several raids across the country between July and September, Malaysia's police counter-terrorism chief Ayob Khan Mydin Pitchay said in a statement.
The first case involved a 25-year-old Indonesian palm plantation worker in the state of Sabah in Borneo, who police believe had acted as a facilitator for a family of five that carried out a suicide attack on a church in Jolo, in the southern Philippines in December 2018.
Ayob said the suspect had also allegedly channeled funds to the Maute group, which seized control of the lakeside town of Marawi in the Philippines for five months in 2017, a conflict that killed over 1,100 people.
Police said they also arrested 13 other Indonesians and a Malaysian in separate raids on suspicion of carrying out activities in support of Daesh, which included promoting the group's ideology and recruiting new members on social media, with the aim of launching attacks in their two countries.
Full report at:
https://www.arabnews.com/node/1560041/world
--------
South Asia
Raid on al-Qaeda bomb factory leaves dozens of wedding-goers dead, in latest Afghan violence
Kim Sengupta
Sep 26, 2019
US and Afghan Special Forces carried out a raid in Helmand specifically targeting a senior al-Qaeda leader who was hiding in a bomb factory which was producing explosive devices possibly to be used against voters in the impending presidential election, security officials have claimed.
While Pakistani-born Asim Umar, the first head of al-Qaeda in the Indian Subcontinent (AQIS) escaped, his liaison man with al-Qaeda, chief Ayman al-Zawahiri, as well as the Taliban explosives chief for the province, his two deputies and two other Taliban leaders were among 22 fighters killed.
The chief bomb-maker, according to officials, blew himself up with a suicide vest – causing many of the deaths of his fellow fighters. Umar's wife was among six Pakistani women and a Bangladeshi national arrested, and a huge cache of weapons was recovered.
Tribal leaders, politicians and officials in Helmand, however, disputed this account and accused the US and Afghan forces of killing around 40 civilians, most of them returning from a wedding party on Sunday night, many of them women and children.
Hamid Karzai, the former Afghan president, has been among public figures who has condemned the deaths and called for an investigation into what happened.
But the national security staff of his successor, Ashraf Ghani, the Afghan defence ministry and US military officials refuted the charges. They say that Umar had been tracked to the compound in the town of Musa Qala after extensive surveillance and was about to carry out terrorist acts when the military mission was authorised.
AQIS, which was set up by Zawahiri in 2014, is known to have operated in Pakistan and Bangladesh as well as Afghanistan. It is not known to have a strong presence in India, but has received support from some Kashmiri separatist groups, including Anasurut-Tawhid Wai Jihad Kashmir.
Four years ago, US forces raided an AQIS training facility in Kandahar, where they are believed to have established bases before branching out to Helmand, the former centre of British operations in Afghanistan. The town of Musa Qala, where the raid took place, had particular resonance, having changed hands several times under a British strategy of engagement with the Talibs, one which the Americans were highly critical.
US and Afghan forces faced fierce resistance, according to American officials, from a combined group of determined al-Qaeda and Taliban fighters when they surrounded a compound in Musa Qala late on Sunday night, with a firefight lasting more than six hours.
US warplanes were then called in to break the stalemate and carried out what American officials described as "precision strikes", followed by the troops moving in.
Lieutenant Colonel Josh Jacques, a spokesman for US Forces-Afghanistan said: "We assess the majority of those killed in the fighting died from al-Qaeda weapons or in the explosion of the terrorists' explosive caches or suicide vests.
"In the course of the operation, several foreigners associated with al-Qaeda were detained, including multiple persons from Pakistan and one from Bangladesh. Because of the heavy fighting, we did conduct targeted precision strikes against barricaded terrorists firing on Afghan and US forces."
US officials say that they are attempting to establish whether women, apart from the ones they had captured, may have been hiding in the compound when the shooting and air strikes were taking place.
Mohammed Zaman Hamdard, an official with the Helmand police force, said that the al-Qaeda and Taliban fighters had fled into people's homes during the raid and started shooting from there, drawing fire back in response. As a result "three women are among the dead, and three children are wounded", he stated.
Karim Atal, a member of Helmand's Provincial Council, said it had not been possible to obtain reliable information because mobile phones were not working in the area. US-led forces jam signals as a matter of routine during operations. "Some say 14 civilians were killed, others says 60, many are saying 40," he said.
Abdul Majid Akhunzada, a fellow council member, claimed that at least 12 people from a wedding party were wounded in the air strike, but he was unaware of their identities. Omar Zowak, a spokesman for the Helmand Governorate, claimed that three cars had been hit from the air, but the numbers of wounded were unclear.
https://www.independent.co.uk/news/world/asia/afghanistan-al-qaeda-bomb-factory-raid-wedding-party-presidential-election-a9118871.html
--------
Special Forces kill, detain 9 Taliban militants; destroy caches of weapons in 3 provinces
25 Sep 2019
The Afghan Special Forces killed or detained 9 Taliban militants and destroyed caches of weapons during the operations in Farah, Ghazni and Helmand provinces.
The military officials said Wednesday the Special Forces killed 8 Taliban militants during an operation in Bala Baluk district of Farah.
The officials further added that the Special Forces arrested a Taliban militant during a raid in Qarah Bagha district of Ghazni.
Furthermore, the officials said the Special Forces also destroyed a cache of weapons during the same operation.
Full report at:
https://www.khaama.com/special-forces-kill-detain-9-taliban-militants-destroy-caches-of-weapons-in-3-provinces-04126/
--------
Taliban militants suffer heavy casualties in failed attack on security posts in Paktika
25 Sep 2019
The Afghan forces repulsed a Taliban attack on security posts in South-eastern Paktika province inflicting heavy casualties on group's fighters.
The 203rd Thunder Corps said in a statement a group of Taliban militants attempted to attack the security posts in Mata Khan district but the Afghan forces effectively responded to the attack.
The statement further added that the security forces killed 13 Taliban militants during the clash and wounded at least 7 others.
Full report at:
https://www.khaama.com/taliban-militants-suffer-heavy-casualties-in-failed-attack-on-security-posts-in-paktika-04122/
--------
Afghan forces foil militants bid to detonate an IED in Kabul
25 Sep 2019
The Afghan forces foiled militants bid to detonate an Improvised Explosive Device in Kabul, the Kabul Police Headquarters said.
According to a statement released by Kabul Police, the security forces discovered the Improvised Explosive Device (IED) from a roadside at around 9:00 am on Tuesday.
The statement further added that the militants had planted the IED in Tara Khel Village of Deh Sabz district.
Furthermore, the Kabul Police Headquarters said the Explosive Ordnance Disposal team of the Afghan army assisted in defusing the bomb.
Full report at:
https://www.khaama.com/afghan-forces-foil-militants-bid-to-detonate-an-ied-in-kabul-04124/
--------
A Journalist and a child among 10 civilians killed, wounded in Kandahar explosion
25 Sep 2019
An explosion in southern Kandahar province killed at least four civilians including a journalist and a child.
Nasrat Rahimi, a spokesman for the Ministry of Interior said a bomb planted by Taliban militants went off at around 8:00 pm on Tuesday night in 4th district of Kandahar city.
Rahimi further added that the explosion killed 4 civilians including a child and Abdul Hamid Hotaki, a journalist of Heewad Radio.
Furthermore, Rahimi said the explosion also wounded 6 civilians including a woman and a child.
According to reports, the explosion took place close to election campaign office of Mohammad Ashraf Ghani.
Full report at:
https://www.khaama.com/a-journalist-and-child-among-10-civilians-killed-wounded-in-kandahar-explosion-04121/
--------
Hekmatyar issues serious warning against fraud, foreign meddling in presidential elections
25 Sep 2019
The leader of Hezb-e Islami and presidential runner Gulbuddin Hekmatyar issued serious warning against fraud and foreign meddling in upcoming presidential elections, scheduled for upcoming Saturday.
Speaking during an election rally in Kabul earlier today, Hekmatyar said he would stand against fraud and foreign meddling in the elections.
Hekmatyar further added 'Do not make us feel regret about return and going towards elections. Do not force us to adopt other routes, since we can and have its experience.'
Hekmatyar was apparently pointing towards adoption of insurgency in the event he would be disappointed with the democratic process of elections.
A day earlier, Hekmatyar had warned he would return to battlefield in the event the elections were marred with fraud.
The presidential elections are scheduled for upcoming Saturday, the 28t of September.
However, there are concerns that security issues and fraud would likely mar the elections process.
Full report at:
https://www.khaama.com/hekmatyar-issues-serious-warning-against-fraud-foreign-meddling-in-presidential-elections-04125/
--------
U.S. to purchase Advanced Precision kill Weapon System for the Afghan Air Force
26 Sep 2019
The Department of Defense has announced it has awarded a contract for the purchase of Advanced Precision Kill Weapon System (APKWS) II for the U.S. forces and the Air Forces of other countries including Afghanistan.
The Department of Defense said in a statement it has awarded the $2,684,650,000 firm-fixed-price, indefinite-delivery/indefinite-quantity contract to BAE Systems, Information and Electronic Systems Integration Inc.
The statement further added " This award procures WGU-59/B units to upgrade the current 2.75-inch rocket system to a semi-active laser guided precision weapon to support Navy, Army, Air Force, and foreign military sales requirements to include the governments of Iraq, Lebanon, Netherlands, Jordan, Afghanistan, United Kingdom, Tunisia, Philippines and Australia."
Full report at:
https://www.khaama.com/u-s-to-purchase-advanced-precision-kill-weapon-system-for-the-afghan-air-force-04128/
--------
U.S. airstrikes destroy 2 Taliban compounds in Ghazni, killing at least 27 militants
26 Sep 2019
The U.S. forces conducted airstrikes in South-eastern Ghazni province which destroyed two Taliban compounds and killed at least 27 militants.
The 203rd Thunder Corps said in a statement the U.S. forces conducted the airstrikes in Deh Yak, Andar and Qarabagh districts and Asfandi area located in the outskirts of Ghazni city.
The statement further added the airstrikes killed 27 Taliban militants and wounded another militant.
Full report at:
https://www.khaama.com/u-s-airstrikes-destroy-2-taliban-compounds-in-ghazni-killing-at-least-27-militants-04127/
--------
Mideast
Turkey determined to fight anti-Muslim attacks, hate speech
26.09.2019
Turkey is determined to contribute to efforts to fight anti-Muslim sentiments, racism and hate speech, a crime that Muslims suffer the most, President Recep Tayyip Erdoğan said at a U.N. event on countering hate speech yesterday. Underlining that hate speech has become the most frequently used tool to spread anti-Muslim sentiment, racism and xenophobia, Erdoğan said that Muslims are more likely to experience attacks based on hate speech. "Muslim women are harassed on the streets, at the market or at the workplace just because they cover their heads," Erdoğan said, indicating that hate speech cannot be confused with freedom of thought.
He criticized politicians for "normalizing" hate speech through posts they share on social media. "It is a huge slander, immorality to bring Islam, a religion of peace, together with terrorism. Such a thing cannot be accepted," the president further said, criticizing the attempts to create a false image of Islam in the international community. In order to overcome all these problems, Erdoğan suggested a platform be established by the U.N. against hate speech. "Turkey supports the establishment of a database on hate speech at the U.N.," Erdoğan said. Regarding the issue of Kashmir, Erdoğan said it has turned into an open-air prison because of India's restrictions in the region. He urged countries and organizations to take action regarding the matter. The president pointed at the young Muslim people tortured in the region for eating meat, underlining the absurdity of the situation since "It cannot be expected that everyone become vegetarians." "This is not possible. If you say there is freedom of religion, my religion does not order me to [be vegetarian.] I respect your belief. Why don't you?" Erdoğan asked.
He added that despite the fact that eating pork is forbidden in Islam, no one intervenes against those who prefer to eat pork in Turkey since "it is not our business who eats what."
The India-administered region has been dealing with a clampdown since Aug. 5, when the Indian government nixed Article 370 of the Indian Constitution, which conferred it special status.
Hundreds of people, mostly political leaders, have been detained or arrested by authorities since the action.
India and Pakistan hold Kashmir in parts and claim it in full. China also controls part of the contested region, but it is India and Pakistan who have fought two wars over Kashmir.
Anti-Muslim sentiment on rise in Europe, EU Parliament concludes
Erdoğan's remarks on rising anti-Muslim sentiment and hate speech against Muslims are a result of a years-long series of attacks against Muslims, especially in Western countries, as acknowledged by Europe as well. The EU Parliament held an event on Tuesday to discuss Islamophobia, pointing to the rising anti-Muslim sentiment on the continent.
The EU Commission coordinator on combating anti-Muslim hatred, Tomasso Chiamparino, said hatred and discrimination had become commonplace in the discourse of some politicians and that this could not be ignored.
Chiamparino said that despite discrimination against people with headscarves or beards, combating Islamophobia was not a priority in many countries.
Underlining that the voice of victims of Islamophobia was not being heard, he added that if countries failed on this issue, the EU project would be unsuccessful. EU Parliament lawmaker Magid Magid, said the far right had started to gather supporters across Europe, and that these people not only threatened human rights but also security. "Let's not give one more inch to Islamophobia. Let's push back against hijab bans and halal bans," Magid said.
Speaking to Anadolu Agency (AA) after the event, former lawmaker of the Brussels Capital Region Parliament Mahinur Özdemir said Islamophobia seriously affects Muslim women. Özdemir said women became subjects of Islamophobia at a rate of 76% in Belgium and 84% in France.
"Hate speech has started to turn into attacks," she stressed.
In order to prevent this, parliaments have to take measures as they did against anti-Semitism and racism, Özdemir added, saying, "If you cannot name something, you cannot take measures against it."
Anti-Muslim hatred has significantly risen in Europe in the recent years. Far-right extremism and xenophobia have fueled anti-Muslim hatred in Western countries, where terror attacks by Daesh and al-Qaida are used as an excuse to legitimize those views. Although enmity toward Muslims is not a new phenomenon, it intensified after 2001 when two airplanes crashed into the World Trade Center in New York City. Since then, for almost two decades, Islam has been unjustly tarnished with labels that have negative connotations and portrayed as a religion of hate and violence with anti-Western sentiment and women's oppression. This trend of intolerance has triggered deadly attacks against Muslims and immigrants since then.
With growing racism emerging as a serious problem in almost all EU states, citizens of foreign origin are more vulnerable in some countries. For example, in Germany, Muslims have become targets of countless attacks in recent years.
According to a report by the Leipzig-based Competence Center for Right-Wing Extremism and Democracy Research published last November, the country has been showing increasingly hostile attitudes toward immigrants, the Muslim community and other minorities such as the Roma, with one-in-three Germans thinking foreigners come only to exploit the welfare of the state.
https://www.dailysabah.com/diplomacy/2019/09/26/turkey-determined-to-fight-anti-muslim-attacks-hate-speech
--------
Israel's Gantz rules out joining govt with PM facing serious indictment
26 September 2019
Israel's Benny Gantz on Wednesday ruled out his Blue and White alliance joining a government led by a prime minister facing serious indictment, a reference to Benjamin Netanyahu's legal situation.
"Blue and White led by me will not agree to sit in a government with a leader against whom stands a severe indictment," Gantz said in a statement.
That came after Netanyahu was tasked with forming a new government following last week's deadlocked election, as calls mount for a unity coalition.
https://english.alarabiya.net/en/News/middle-east/2019/09/26/Israel-s-Gantz-rules-out-joining-govt-with-PM-facing-serious-indictment-.html
--------
Egypt calls Erdogan statements 'ironic,' accuses Turkey of sponsoring terrorism
25 September 2019
Egypt's foreign ministry spokesman, Ahmed Hafez, slammed Turkish President Recep Tayyip Erdogan's statements at the UN General Assembly this week where he urged the UN to "handle the suspicious death of Morsi," referring to the deceased former president of Egypt, and member of the Muslim Brotherhood.
In an official statement, Egypt's foreign ministry spokesman, Ahmed Hafez, said that Erdogan "claimed to defend the values of justice in his speech, but at the core showed feelings of hatred and spite toward Egypt and its people who have nothing but appreciation for the people of Turkey."
Hafez added that it was "ironic" for Erdogan to make these allegations "in light of his sponsorship of terrorism in the region due to his regime's flagrant violations against the friendly Turkish people where he tries to hold them hostage to a fake freedom and alleged justice."
He went on to list ongoing human rights violations in Turkey under Erdogan's leadership, including the thousands of political prisoners, the suspicious deaths of dozens of prisoners due to torture or inhuman prison conditions, and the closure of thousands of universities and educational institutions.
Erdogan had blamed Morsi's death on current President Abdel Fattah al-Sisi, stating that "Sisi is a tyrant, not a democrat."
"They didn't make the slightest intervention as the country's first democratically elected president suffered for more than 20 minutes. They didn't deliver his remains to his family or let him be buried in his hometown per his will," Erdogan said on Sunday during a gathering in New York with heads of Muslim organizations in the US.
The gathering was sponsored by the Turkish American National Steering Committee (TASC), whose co-chairperson is Erdogan's cousin. In 2016, TASC officials were questioned by US authorities on suspicion of involvement in political espionage on behalf of the Turkish government.
Former Egyptian President Mohamed Morsi died in a hospital in June after fainting during a court hearing.
The public prosecutor said he had collapsed in a defendants' cage in the courtroom shortly after speaking, and had been pronounced dead in hospital at 4:50 p.m. (1450 GMT).
Morsi's family attended funeral prayers a day after his death in the mosque of Tora prison, then buried him in Cairo's western district of Nasr City.
In the statement, Hafez said that the Turkish president's "malicious practices are apparent after he embraced the terrorist Brotherhood organization and its elements in Turkey, and provided them with political support and media platforms for its terrorist elements to continue to promote their subversive ideas in Egypt and the Region."
He added that Erdogan's statements on Egypt are a "desperate attempt for him to steer attention away from his deteriorating regime and the successive losses he is suffering on the party level, the Turkish scene, and the international arena."
Full report at:
https://english.alarabiya.net/en/News/middle-east/2019/09/25/Egypt-calls-Erdogan-statements-ironic-accuses-Turkey-of-sponsoring-terrorism.html
--------
Iran Has Spent More Than $16 Billion on Terrorism in Recent Years
Adam Kredo
SEPTEMBER 24, 2019
Iran has spent more than $16 billion during the past several years to fund militant terrorists across the Middle East, cash that was repatriated to the Islamic Republic under the terms of the landmark nuclear deal, according to new disclosures from the Trump administration.
As Iran's economy teeters on the brink of collapse under the tough sanctions regime imposed by the Trump administration, the Islamic Republic's authoritarian leadership has spent its limited cash reserves to bolster terror groups such as Hezbollah and Hamas, as well as militant terrorists in Syria, Iraq, and Yemen.
The Trump administration is taking a range of steps to thwart what it describes as Iran's expansionist foreign policy that seeks to establish hardline governments across the region.
"Our pressure is making the regime's extremist foreign policy and the ideology that drives it more expensive than ever before," Brian Hook, the administration's special representative for Iran told the Asia Society on the sidelines of the United Nations General Assembly, or UNGA, which is being held this week in New York City. "This was long overdue."
Hook, in one of the first public accounts of Iran's expenditures on terrorism since it entered the nuclear deal, conservatively estimated that Tehran has spent at least $16 billion to support regional terror organizations. The nuclear deal inked with the Obama administration was estimated to provide Iran with as much as $100 billion in cash windfalls. This is in addition to $1.7 billion in hard currency that was given to Iran as part of an Obama-era prisoner swap with Tehran.
Hook's estimate also does not include the many billions Iran spends each year to bolster its internal defenses and ongoing research into ballistic missiles and nuclear-capable technology.
"The regime has spent at least $16 billion supporting proxies in Syria, Iraq, and Yemen over the last several years," according to Hook. Additionally, "it has spent hundreds of millions on the Houthis," the Tehran-backed rebel force operating in Yemen. The Houthis have been identified as carrying out multiple cross-border terror strikes on Iran's behalf in recent months.
Iran has also provided Hezbollah, the Lebanese terror group backed by Tehran, "almost $700 million annually and gave more than $100 million a year to Palestinian terrorist groups like Hamas and Palestinian Islamic Jihad," Hook disclosed.
"Our maximum pressure campaign is reducing this cash flow and depriving the regime of billions in revenue," Hook said. "Our oil sanctions alone are denying the regime up to $50 billion. Iran's proxies, including Hezbollah, are already complaining of a lack of funding. As our pressure continues, it will become harder for Iran's proxies to get by. We call on all nations to join us in this effort. It is the right and responsible thing to do, morally and strategically."
Hook also took a shot at the United Nations, which he and other Trump administration officials have repeatedly accused of turning a blind eye to Iran's increasingly bold attacks in the region. This includes the downing of an American drone, as well as direct and indirect attacks on U.S. coalition forces stationed in the region.
"After 40 years of trying and falling short, what has been the international community's response to Iran's continued malign behavior?" Hook asked. "It has been to temper its expectations, narrow the scope of its demands, and ultimately play by Iran's rules."
"The Iran nuclear deal very much reflected this calculus," he said. "This failed approach has only fueled the regime's expansion across the region, a story one hears repeatedly from countries in the Middle East."
"The Trump administration," Hook vowed, "is challenging this status quo. We are rejecting the defeatist mentality that has creeped into the world's approach to Iran and tilted the balance in its favor."
Hook also provided further information on the recent Iran-backed attack on Saudi Arabian oil infrastructure. Secretary of State Mike Pompeo was among the first senior diplomats to acknowledge Iran's role in the attack with the E3—comprised of France, Germany, and the United Kingdom—following suit on Monday.
"We know based on intelligence and open-source analysis that these attacks were conducted by Iran," Hook said. "We are confident in this assessment. The evidence, including the complexity, scope, and impact of the attack, indicates this is the case."
Full report at:
https://freebeacon.com/national-security/iran-has-spent-more-than-16-billion-on-terrorism-in-recent-years/
--------
Is the Islamic Revolutionary Guard Corps Iran's Most Dangerous Weapon of War?
by Mark Episkopos
September 24, 2019
No other branch of the Iranian military can claim the notoriety that the Islamic Revolutionary Guard Corps (IRGC) has earned for itself over the last several decades.
Earlier this year, the White House took the unprecedented step of designating the IRGC as an organization that "actively participates in, finances, and promotes terrorism as a tool of statecraft." It was an IRGC fast attack craft that almost sparked open military conflict between the U.S. and Iran in June by staging an unprovoked attack against two oil tankers in the Gulf of Oman.
The IRGC continues to comprise a substantial part of the Iranian armed forces, but their influence—both within Iran and across the Middle-East region—extends far beyond raw combat capabilities. To understand the full extent of IRGC's current role within the Iranian military, we must go back to back to the birth of the Iranian Islamic Republic.
The IRGC was founded in the aftermath of the 1979 Iranian revolution. Skeptical of the intentions of the inherited government and wary of a counter-coup, Supreme Leader Ruhollah Khomeini founded the IRGC as a counterweight to the existing Iranian security apparatus.
Whereas the Iranian Army is sworn to defend the Iranian government, the IRGC was conceived as a "people's army" meant to safeguard the ideals of the revolution against internal opposition. That opposition was swiftly crushed by Khomeini and his allies, who had successfully consolidated power by the early 1980's. With its original purpose fulfilled, IRGC seized on the ongoing Iran-Iraq war as an opportunity to rebrand itself as a major regional player. As Syracuse University Professor Mehrzad Boroujerdi put it, "Before the war the IRGC militiamen were nothing more than bodyguards to the clerics. Their performance in the war gave them a seat at the proverbial power table." Their ranks swelled with new recruits, reaching 125,000 troops over the coming years, and the IRGC was formally integrated into the Iranian Armed Forces. Now a quasi-independent organization working within the Iranian military, the IRGC's operations expanded to include naval, air force, paramilitary, special forces, and cyberwarfare roles.
Belying the IRGC's broad mandate is a generally well-defined division of labor between the Guards and Iran's conventional military forces. For instance: the Iranian Air Force (IRIAF) operates all of Iran's jet fighters, while the IRGC's own air force branch controls most of the ballistic missiles. The IRGC wields what is arguably the most destructive weapon in Iran's power projection arsenal: the Quds Force, an elite unconventional warfare unit that spearheads Iranian military and intelligence operations across the Middle East.
The Quds Force has been a constant thorn in the side of American interests in the Middle East, providing military aid and direct combat support to anti-US militants in such hotspots as Iraq and Afghanistan. From arming the Taliban against the pro-US Karzai government in Afghanistan to an alleged assassination attempt against the Saudi Arabian ambassador to the US, the Quds Force has been no less proactive in military operations against American allies. Most recently, Quds agents were deployed in Syria to stage ground offensives against anti-Assad rebels as the Russian Air Force conducted airpower campaigns against rebel-held outposts.
Iran is no slouch in raw military power, boasting the world's 14th strongest army by the GlobalFirepower ranking system. It is, however, still grossly outmatched by the US military in every relevant category (with one notable caveat, discussed here).
But the IRGC, with its aptitude for asymmetric and unconventional warfare across the Middle-East, emerged from the chaos of the 1979 revolution to challenge the US in ways that Iran's conventional military forces never could.
Full report at:
https://nationalinterest.org/blog/buzz/islamic-revolutionary-guard-corps-irans-most-dangerous-weapon-war-82971
--------
President Rouhani Warns of Limits of Iran's Patience against US Pressures
Sep 25, 2019
"We cannot believe the invitation to talks by those who have exerted the toughest-ever sanctions imposed on the grandeur and living of our nation. How could one believe that crime and pressure on the life of 83 million Iranians, specially women and children, is pleasing and a source of honor to the US statesmen, and that resort to sanctions against a range of countries such as Iran, Venezuela, Cuba, China and Russia has turned into excessive addiction. The Iranian nation never forgets nor forgives these crimes and these criminals," President Rouhani said, addressing the 74th meeting of the United Nations General Assembly in New York on Wednesday.
"The present US administration's approach includes not only a violation of (the UN Security Council) Resolution 2231, but also violation of the sovereignty and political and economic sovereignty of all the world countries," he added.
He reminded Iran's yearlong compliance with all its nuclear deal undertakings after the US pullout of the Joint Comprehensive Plan of Action, and said Iran respected the UNSC resolution and gave Europe a chance to comply with its 11 undertakings under the Nuclear Deal to make up for the US withdrawal, "but unfortunately just heard beautiful words and witnessed no effective measure".
"It is now an established fact for everyone that the US turns its back to its commitments and Europe is unable to comply with its undertakings. We even adopted a step-to-step approach in implementing paragraphs 26 and 36 of the JCPOA and have still remained loyal to our commitment to the JCPOA; yet Iran's patience has a limit; when the United States disrespects the UN Resolution and when Europe displays its inability, the only way left is relying on national honor, dignity and might," the Iranian president stated.
"They call us to negotiation, while they run away from agreement. We were in talks with this very US administration at the negotiating table with the 5+1, but they crossed out the pledge of their predecessors," Rouhani continued.
"I declare, on behalf of my nation and country, that our response to negotiation under sanction is No. The Iranian nation and government has resisted the harshest sanctions for one and a half years and will never negotiate with an enemy that intends to make Iran surrender by means of the weapon of poverty, pressure and sanction," the Iranian President stressed.
Rouhani reiterated the Iranian Supreme Leader Ayatollah Seyed Ali Khamenei's earlier statement that resumption of nuclear deal undertakings and their implementation by the US "is the only way to talks". "If you are sensitive to the very name of the JCPOA, you can still return to its spirit by respecting the framework of Security Council Resolution 2231. This is the first step. A photo shoot ceremony is the last and not the first step in negotiations," he reiterated.
"I state very clearly that if you are satisfied with minimums, we will suffice to the minimums too. The JCPOA was the minimum, both for you and us. But if you want more, you should pay more. If what you truly demand is for Iran not to obtain and use a nuclear weapon, this can be achieved through the inspection of the (International Atomic Energy) Agency and above that, the Iranian leader's Fatwa (religious decree). You just need to return to the (underlying) reality of negotiation rather than a show of negotiation. Posing for a photo opportunity is the last station of talks and not the first," President Rouhani said.
Elsewhere, the Iranian president blasted the US for insecurity and instability in the region, and reiterated that Washington's meddling and arms sales to the regional states has disturbed peace and security in the Middle-East.
The security of the region needs the withdrawal of US forces who failed in 18 years where Iran, with the aid of neighboring nations and governments, succeeded to end ISIS's dominance. The route to peace and security in the Middle-East is "democracy at home; diplomacy abroad," he said.
"The security of Saudi Arabia requires ending the aggression to Yemen and not by inviting foreigners. Rather than levelling allegations against the innocent, the warmonger should be found. The way to stability in the Middle East is found within rather than beyond," Rouhani stated.
"We do not tolerate the interference of outsiders. We shall respond decisively to any transgression or violation of our security and territorial integrity. Yet we prefer to seek a stronger consolidation among nations with common interests in the Persian Gulf and the Hormuz region," he stressed.
He also unveiled Iran's new initiative for the establishment of peace and security in the Persian Gulf and the Strait of Hormuz, and said, "The Coalition of HOPE (Hormuz Peace Endeavor), complying with the goals of the UN, focuses on common interests while insisting on mutual respect, equal footing, peaceful settlement of differences and the fundamental principles of non-aggression and non-interference in the affairs of others."
Here is the full text of the speech of the Islamic Republic of Iran's President Hassan Rouhani:
In the name of God, the Most Compassionate, the Most Merciful:
Mr. President;
I would like to congratulate your deserved election as the president of the seventy-fourth General Assembly of the United Nations, and wish success and good luck for Your Excellency and the honorable Secretary General.
At the outset, I would like to commemorate the freedom-seeking movement of Hossein (PBUH), and pay homage to all the freedom-seekers of the world who do not bow to oppression and aggression, and tolerate all the hardships of the struggle for rights, as well as to the spirits of all the oppressed martyrs of terrorist strikes and bombardment in Yemen, Syria, Occupied Palestine, Afghanistan and other countries of the world.
Ladies and Gentlemen;
The Middle East is burning in the flames of war, bloodshed, aggression, occupation and religious and sectarian fanaticism and extremism. And under such circumstances, the suppressed people of Palestine are the biggest victim. Discrimination, appropriation of lands, settlement expansions and killings continue to be practiced against the Palestinians.
The US- and Zionist-imposed plans, such as "the deal of century", recognizing Beit-ul Moqaddas as the capital of the Zionist regime, and the accession of the Syrian Golan to the other occupied territories are doomed to fail.
In contrast to the US' destructive plans, the Islamic Republic of Iran's regional and international assistance and cooperation on security and counter-terrorism have been much decisive. The clear example of such an approach is our cooperation with Russia and Turkey within the Astana format on the Syrian crisis, and our peace proposal for Yemen in view of our active cooperation with the special envoys of the Secretary General of the United Nations as well as our efforts to facilitate reconciliation talks among the Yemeni parties, which resulted in the conclusion of the Stockholm peace accord on Hodaida Port.
Distinguished Participants;
I hail from a country that has resisted the most merciless economic terrorism, and has defended its right to independence and to science and technology development. The US government, while imposing extraterritorial sanctions and threats against other nations, has made many efforts to deprive Iran from the advantages of participating in the global economy, and has resorted to international piracy by misusing the international banking system.
We Iranians have been the pioneers of freedom-seeking movements in the region, while seeking peace and progress for our nation as well as for our neighbors, and we have never surrendered to foreign aggression and imposition. We cannot believe in the invitation to negotiation by people who claim to have applied the harshest sanctions of history against the dignity and prosperity of our nation. How can one believe that the silent killing of a great nation and pressure on the life of 83 million Iranians, especially women and children, are welcomed by the American government officials who pride themselves on such pressures and addictively exploit sanctions against a spectrum of countries such as Iran, Venezuela, Cuba, China and Russia. The Iranian nation will never ever forget and forgive these crimes and criminals.
Ladies and Gentlemen;
The attitude of the incumbent US government towards the nuclear deal (or the JCPOA) not only violates the provisions of UN Security Council Resolution 2231, but also constitutes a breach of the sovereignty and political and economic independence of all the countries of the world.
In spite of the American withdrawal from the JCPOA, and for one year, Iran remained fully faithful to all its nuclear commitments in accordance with the JCPOA. Out of respect for the Security Council resolution, we provided Europe with the opportunity to fulfill its 11 commitments made to compensate for the effects of the US withdrawal. However, unfortunately, we only heard nice words while witnessing no effective measures.
However, the alternative and proper solution for us is to strengthen consolidation among all the nations with common interests in the Persian Gulf and the Hormuz region.
This is the message of the Iranian nation:
Let's invest on hope towards a better future rather than in war and violence. Let's return to justice; to peace; to law, commitment and promise and the negotiating table.
It has now become clear for all that the United States turns its back on its commitments and Europe is unable and incapable of fulfilling its commitments. We even adopted a step-by-step approach in implementing paragraphs 26 and 36 of the JCPOA. And we remain committed to our promises in the deal. However, our patience has a limit: when the US does not respect the United Nations Security Council, and when Europe displays inability, the only way shall be to rely on national dignity, pride and strength.
They call us to negotiation while they run away from treaties and deals. We negotiated with the incumbent US government at the 5+1 negotiating table; however, the US has failed to honor the commitment made by their predecessor.
On behalf of my nation and state, I would like to announce that our response to any negotiation under sanctions is in the negative. The government and people of Iran have remained steadfast against the harshest sanctions in the past one and a half years, and will never negotiate with an enemy that seeks to force Iran to surrender with the weapon of poverty, pressure and sanction.
If you require a positive answer, and as declared by the leader of the Islamic Revolution, the only way for talks to begin is return to commitments and compliance.
If you are sensitive to the name of the JCPOA, well, then you can simply return to its framework and abide by UN Security Council Resolution 2231. Stop the sanctions so as to open the way for the start of negotiations.
I would like to make it crystal clear: If you are satisfied with minimums, we will also be working with the minimums; either for you or for us. However, if you require more, you should also give more.
If you stand by your word that you only have one demand for Iran, i.e. non-production and non-utilization of nuclear weapons, then that can easily be attained with IAEA supervision and more importantly, with the fatwa of the Iranian leader. Instead of a "show" of negotiation, you should return to the reality of negotiation. A memorial photo is the last step of negotiation; not the first one.
We in Iran, despite all the obstructions created by the US government, are staying on the path of economic and social growth and prosperity. Iran's economy in 2017 registered the highest economic growth rate in the world. And today, despite fluctuations emanating from foreign interference during the past one and a half years, we have returned to the track of growth and stability. Iran's gross domestic product minus oil has become positive again in recent months. And the trade balance of the country remains positive.
Distinguished Participants;
The security doctrine of the Islamic Republic of Iran is based on the maintenance of peace and stability in the Persian Gulf and providing freedom of navigation and safety of movement in the Strait of Hormuz. Recent incidents have seriously endangered such security. Security and peace in the Persian Gulf, Sea of Oman and the Strait of Hormuz could be provided with the participation of the countries of the region and the free flow of oil and other energy resources could be guaranteed, provided that we consider security as an umbrella in all areas for all the countries.
Based upon the historical responsibility of my country in maintaining security, peace, stability and progress in the Persian Gulf region and Strait of Hormuz, I would like to invite all the countries directly affected by the developments in the Persian Gulf and the Strait of Hormuz to the "Coalition for Hope", meaning Hormuz Peace Endeavor.
The goal of the Coalition for Hope is to promote peace, stability, progress and welfare for all the residents of the Strait of Hormuz region, and to enhance mutual understanding and peaceful and friendly relations amongst them.
This initiative includes various venues for cooperation, such as the collective supply of energy security, freedom of navigation and free transfer of oil and other resources to and from the Strait of Hormuz and beyond.
The Coalition for Hope is based on important principles such as compliance with the goals and principles of the United Nations, mutual respect, equal footing, dialog and understanding, respect for territorial integrity and sovereignty, inviolability of international borders, the peaceful settlement of all disputes, and more importantly, the two fundamental principles of non-aggression and non-interference in the domestic affairs of each other. The presence of the United Nations is necessary for the creation of an international umbrella in support of the Coalition for Hope.
The Minister of Foreign Affairs of the Islamic Republic of Iran shall provide more details of the Coalition for Hope to the beneficiary states.
Ladies and Gentlemen;
The formation of any security coalition and initiative under any title in the region with the centrality and command of foreign forces is a clear example of interference in the affairs of the region. The securitization of navigation is in contravention of the right to free navigation and the right to development, and will escalate tensions and further complication of conditions, and increase of mistrust in the region, while jeopardizing regional peace, security and stability.
The security of the region shall be provided when American troops pull out. Security shall not be supplied with American weapons and intervention. The United States, after 18 years, has failed to reduce acts of terrorism. However, the Islamic Republic of Iran managed to terminate the scourge of Daesh with the assistance of neighboring nations and governments. The ultimate path towards peace and security in the Middle East passes through inward democracy and outward diplomacy. Security cannot be purchased or supplied by foreign governments.
The peace, security and independence of our neighbors are the peace, security and independence of us. America is not our neighbor. It is the Islamic Republic of Iran that neighbors you ,and we have been long taught that the neighbor comes first, then the house. In the event of an incident, you and we shall remain alone. We are neighbors with each other, and not with the United States.
The United States is located here, not in the Middle East. The United States is not the advocate of any nation; neither is it the guardian of any state. In fact, states do not delegate power of attorney to other states and do not give custodianship to others. If the flames of the fire of Yemen have spread today to Hijaz, the warmonger should be sought and punished; rather than leveling allegations and begrudging the innocents. The security of Saudi Arabia shall be guaranteed with the termination of aggression against Yemen rather than by inviting foreigners to the region. We are ready to spend our national strength and regional credibility and international authority.
Full report at:
https://en.farsnews.com/newstext.aspx?nn=13980703001087
--------
UK's Raab: 'Iran's record of respect for rules of international law woeful'
25 September 2019
Britain still hopes it can work with Iran to reduce tensions in the region, foreign minister Dominic Raab said on Wednesday, as he urged Tehran to come back into compliance with the 2015 nuclear deal.
"Iran's record of respect for the basic rules of international law is woeful and it is getting worse," he told parliament.
Full report at:
https://english.alarabiya.net/en/News/middle-east/2019/09/25/UK-s-Raab-Iran-s-record-of-respect-for-rules-of-international-law-woeful-.html
--------
If US lifts sanctions, Iran to accept 'small changes' to nuclear deal: Official
25 September 2019
Iran is willing to give reassurances on not seeking nuclear arms and accept "small changes" to its 2015 nuclear accord with world powers if the United States returns to the deal and lifts sanctions, a government spokesman said on Wednesday.
"If the sanctions are ended and there is a return to the (nuclear) accord, there is room for giving reassurances towards breaking the deadlock and President (Hassan Rouhani) even has a proposal for small changes in the accord," the spokesman, Ali Rabiei, said on state TV.
https://english.alarabiya.net/en/News/middle-east/2019/09/25/Iran-willing-to-accept-small-changes-in-nuclear-accord-if-US-lifts-sanctions-Official.html
--------
Yemen repeats peace offer, warns Saudi against aggression
Sep 25, 2019
Yemen has once again reiterated its willingness to end hostilities with Saudi Arabia provided that the kingdom stops its years-long aggression against the impoverished country.
Mahdi al-Mashat, head of the Houthi Ansruallah's Supreme Political Council, said Wednesday that the continuation of the Riyadh regime's war on Yemen was a shame for the international community and posed a great threat to peace and stability in the region. Mashat made the remarks on the anniversary of Yemen's September 26 Revolution Day, which set the stage for the creation of the modern Republic of Yemen by overthrowing the Saudi-backed rulers of northern Yemen in 1962.
Mashat regretted the fact that the Saudis "irresponsibly" continued to pound various parts of Yemen even after the Houthis put forth their peace offer.
Referring to Saudi Arabia's recent airstrikes that have killed dozens of civilians across Yemen, Mashat said these "mass killings" are indicative of the Riyadh regime's mulishness in the face of the call for cessation of hostilities.
Last Friday, Mashat said the Houthis would end all attacks on Saudi Arabia if the kingdom and its allies agree to end their attacks on Yemen.
The proposal came a week after Yemeni strikes on Saudi Arabia's oil installations knocked out half of the kingdom's production.
Saudi Arabia and its allies launched the war on Yemen in March 2015 in an unsuccessful attempt to reinstall a former regime. Four years later, the coalition has been bogged down in the war, which it had wished to end in a matter of "months."
Full report at:
https://www.presstv.com/Detail/2019/09/25/607127/Yemen-Saudi-Arabia-Mashat-Houthi-Ansarullah-peace-offer
--------
Israel demolishes 3 Palestinian homes, arrests 10 people
Sep 25, 2019
Israeli police have arrested 10 Palestinians in clashes that erupted following the demolition of three Palestinian homes.
Palestinian media outlets reported that the houses in the city of Shefa-'Amr in the occupied territories had been demolished over the past 24 hours under the pretext of lacking building permits.
Israeli bulldozers apparently demolished two homes in the Basalia neighborhood under police protection on Wednesday morning.
Local sources said five people were arrested after clashes erupted when the police forces prevented residents from leaving their homes and approaching the demolition site.
Later, clashes renewed near Shefa-'Amr Municipality as Israeli police forces fired tear gas canisters and sound bombs to disperse protesters.
Shefa-'Amr Municipality called for a general strike on Thursday as well as a rally to protest against the demolitions.
Israeli authorities claim the residential structures that are demolished have been built without the relevant building permits, which are nearly impossible to obtain from the Israeli regime.
The residents, however, say they do not need Israeli permission to build their homes because they have received approvals from the Palestinian Authority, which is tasked with running the West Bank's affairs.
In July, Israeli forces destroyed homes on the outskirts of the occupied East Jerusalem al-Quds, despite international condemnation and mass protests.
Full report at:
https://www.presstv.com/Detail/2019/09/25/607123/Israel-Palestinian-homes
--------
Israeli forces detain Palestinian minister of Jerusalem al-Quds affairs
Sep 25, 2019
Israeli military forces have arrested the Palestinian minister of Jerusalem al-Quds affairs on charges of conducting political activity in the occupied territory.
Palestine's official WAFA news agency reported that Israeli soldiers stormed Fadi al-Hadami's house in the al-Sawana neighborhood of Jerusalem al-Quds early on Wednesday, and violently ransacking it for hours before taking the Palestinian minister away to an unknown location.
Israeli police spokesman Micky Rosenfled said Hadami was detained on charges of allegedly breaking a law prohibiting political activity in Jerusalem al-Quds by the Palestinian Authority, which is based in the occupied central West Bank city of Ramallah, located 10 kilometers (6 miles) north of Jerusalem al-Quds.
The Palestine Liberation Organization (PLO) condemned the arrest, describing it part of the Israeli regime's plans to Judaize Jerusalem al-Quds.
Adnan al-Husseini, member of PLO Executive Committee, said the Tel Aviv regime's continued arrests of Palestinian figures in Jerusalem al-Quds is unjustified and part of "violations against civil."
Additionally, the Palestinian government spokesman Ibrahim Melhem said Israel's actions "are an extension for its policy of targeting, harming and Judaizing the holy city."
Israeli forces also summoned the Palestinian Authority's governor of Jerusalem al-Quds, Adnan Ghaith, to appear for questioning as part of an unspecified investigation.
Because Ghaith was not home at the time, Israeli authorities presented his family with the summons and asked his son to appear before Israeli intelligence for questioning.
Previously, Hadami was arrested in late June by Israeli police and questioned over his "activities in Jerusalem" al-Quds.
Ghaith had been arrested last October and questioned on suspicion of being involved in an abduction case involving a Jerusalem resident.
Jerusalem al-Quds remains at the core of the Israeli–Palestinian conflict, with Palestinians hoping that the eastern part of the city would eventually serve as the capital of a future independent Palestinian state.
Israel occupied the West Bank in the 1967 Six-Day War, in a move never recognized by the international community.
Israeli forces also arrested four Palestinians, including a 41-year-old female teacher, her mother and two minors aged 13 and 15, in the southern West Bank city of al-Khalil (Hebron) located 30 kilometers (19 miles) south of Jerusalem al-Quds.
A Palestinian was detained in Birzeit town north of Ramallah after Israeli soldiers raided his student residence.
Israeli forces detained three people in Nablus, and an 18-year-old teenager in the northern West Bank city of Jenin.
A 14-year-old minor was detained in Bethlehem, while two minors were arrested in Qalqilya. A man was detained in Ariha (Jericho) as well.
More than 7,000 Palestinians are reportedly held at Israeli jails. Hundreds of the inmates have apparently been incarcerated under the practice of administrative detention, a policy under which Palestinian inmates are kept in Israeli detention facilities without trial or charge.
Some Palestinian prisoners have been held in administrative detention for up to eleven years.
Palestinian inmates regularly stage hunger strikes in protest at the administrative detention policy and their harsh prison conditions in Israeli jails.
Full report at:
https://www.presstv.com/Detail/2019/09/25/607107/Israeli-forces-detain-Palestinian-minister-of-Jerusalem-alQuds-affairs
--------
Two million Yemeni children out of school: UNICEF
Sep 25, 2019
The United Nations Children's Fund (UNICEF) estimates that two million children are out of school in Yemen, which has been the subject of a destructive Saudi-led military campaign for more than four years.
In a statement released on Wednesday, UNICEF representative in Yemen Sara Beysolow Nyanti said that a fourth of the two million Yemeni children have dropped out since the beginning of the Saudi war in March 2015.
She also warned that the education of a further 3.7 million children is at risk as teachers have not received their salaries for over two years, adding that one fifth of schools in Yemen can no longer be used as a direct result of the conflict.
"Violence, displacement and attacks on schools are preventing many children from accessing school," Nyanti said.
The UNICEF representative further raised concerns about the future of Yemeni children out of school, saying they "face increased risks of all forms of exploitation including being forced to join the fighting, child labor and early marriage."
"They lose the opportunity to develop and grow in a caring and stimulating environment, ultimately becoming trapped in a life of poverty and hardship," she added.
Saudi Arabia and its allies launched a deadly military aggression against Yemen in an attempt to reinstall a Riyadh-backed former regime and eliminate the Houthi movement, which has been defending the country along with the armed forces.
The Western-backed offensive, coupled with a naval blockade, has destroyed the country's infrastructure.
It has also led to the world's worst humanitarian crisis in Yemen, with many children suffering from cholera and severe malnutrition.
The Saudi aggression has further displaced millions and left 24.1 million -- more than two-thirds of the Yemeni population -- in need of aid.
Full report at:
https://www.presstv.com/Detail/2019/09/25/607081/Yemen-children-Saudi-Arabia
--------
UNGA 2019: Israel irked as Erdogan takes UN podium to rap occupation
Sep 25, 2019
Israeli Prime Minister Benjamin Netanyahu has lashed out at Turkish President Recep Tayyip Erdogan, accusing him of "lying" after he drew the world's attention to the Tel Aviv regime's occupation of Palestinian territories during his speech at the United Nations General Assembly.
Speaking at the 74th session of the UNGA on Tuesday, Erdogan censured Israel's unlawful expansionist polices in the occupied territories.
He brandished a famous time-lased map showing facts and figures about a "shrinking" Palestine and the Zionist regime's gradual encroachment on Palestinian land.
"The Palestinian territory under Israeli occupation has become one of the most striking places of injustice," he told world leaders. "Israel, which was almost non-existent in 1947, has continued until this day to seize Palestinian land with the aim of eliminating the state."
"How can the Golan Heights and the West Bank settlements be seized just like other occupied Palestinian territories before the eyes of the world? Is the aim of the initiative to promote, as the Deal of the Century, to entirely eliminate the presence of the state and the people of Palestine? Do you want bloodshed?" Erdogan asked.
The Turkish leader further censured Israel's disregard of "human values" and international law, which is reflected in the regime's "acts of aggression such as the inhuman blockade in Gaza, illegal settlements and attacks against the historical and legal status of Jerusalem (al-Quds)."
Erdogan went on to call for "the immediate establishment of an independent and homogeneous Palestinian state on the basis of the 1967 borders with East Jerusalem as its capital is the solution."
By showing the maps, Erdogan was apparently mimicking Netanyahu, who has the habit of taking pictures and graphs to the UN to spread lies about Iran's nuclear program.
Angered by Erdogan's comments, Netanyahu posted a video on Twitter to attack the Turkish leader, telling him to "stop lying," without explaining which parts of Erdogan's comments were factually wrong.
"He who doesn't stop lying about Israel, slaughters the Kurds in his own country, and denies the terrible slaughter of the Armenian people – shouldn't preach to Israel," Netanyahu said.
PM of Israel
✔
@IsraeliPM
Prime Minister Benjamin Netanyahu, referring to President Erdogan's remarks:
"He who doesn't stop lying about Israel, slaughters the Kurds in his own country, and denies the terrible slaughter of the Armenian people – shouldn't preach to Israel.
Erogan, stop lying."
Embedded video
12.8K
9:53 PM - Sep 24, 2019
Twitter Ads info and privacy
7,385 people are talking about this
Turkish officials came to Erdogan's defense shortly afterwards.
Presidential spokesman Ibrahim Kalin tweeted back and rejected Netanyahu's remarks, saying Erdogan's words of "truth about the Israeli occupation" had upset the Israeli premier.
"Mr. Netanyahu should understand that President Erdogan, the voice of the voiceless, will continue to defend the oppressed," he added.
Turkish Presidency Communications Director Fahrettin Altun also slammed Netanyahu's comments, saying the Israeli premier, who is "neck-deep in corruption charges," is now attempting to "distract attention" from his own "domestic troubles."
Ibrahim Kalin
✔
@ikalin1
PM of Israel is upset bc President Erdoğan speaks out the truth about Israeli occupation of Palestinian lands and the oppression of the Palestinian people. Mr. Netanyahu should understand that President Erdoğan, the voice of the voiceless, will continue to defend the oppressed. https://twitter.com/israelipm/status/1176532730730950656 …
PM of Israel
✔
@IsraeliPM
Prime Minister Benjamin Netanyahu, referring to President Erdogan's remarks:
"He who doesn't stop lying about Israel, slaughters the Kurds in his own country, and denies the terrible slaughter of the Armenian people – shouldn't preach to Israel.
Erogan, stop lying."
Embedded video
5,668
11:36 PM - Sep 24, 2019
Twitter Ads info and privacy
2,020 people are talking about this
"Wouldn't your time be better spent preparing for your court hearing – instead of attacking a leader who can actually win an election," Altun told Netanyahu.
Full report at:
https://www.presstv.com/Detail/2019/09/25/607076/Netanyahu-accuses-Erdogan-of-lying
--------
Bomb blast hits police bus in southern Turkey, 5 injured
Sep 25, 2019
A roadside bomb has targeted a police bus in the southern Turkish province of Adana, leaving five people injured.
The blast, which took place in the Yuregir district, was either from an "improvised explosive device or a different type of bomb," Adana Governor Mahmut Demirtas told Anadolu news agency on Wednesday.
One of those hurt was a police officer, Demitras said, adding that the other four injured individuals were passers-by.
"The injured are in a really good condition. Citizens went to the hospital as a precaution. There are no issues for our police," Demirtas said in a statement on its website.
Turkish media showed a badly damaged bus surrounded by debris and other damaged vehicles under a footbridge in Yuregir district.
Armed police sealed off the area and an investigation was launched into the attack.
There was no immediate claim of responsibility.
Full report at:
https://www.presstv.com/Detail/2019/09/25/607072/Turkey-bomb-blast-police-bus
--------
Israel final vote results give Netanyahu additional seat
September 25, 2019
JERUSALEM: Israel's election committee published final results from last week's election on Wednesday that gave Prime Minister Benjamin Netanyahu's Likud an additional seat, but which did not change the deadlock the country faces.
The final results from the September 17 vote gave the rightwing Likud 32 seats compared to Benny Gantz's centrist Blue and White's 33 in the 120-seat parliament.
The two parties are in the process of trying to negotiate a unity coalition, and President Reuven Rivlin has one week to name someone to form a government.
Likud's additional seat came at the expense of one of Israel's ultra-Orthodox Jewish parties, United Torah Judaism, which now has seven.
Israel's Arab parties, running together under the Joint List alliance, finished as the third-largest force in parliament with 13 seats.
Netanyahu has received the endorsement of 55 parliament members to be prime minister, while Gantz has received 54.
Neither has a clear path to a majority coalition.
Rivlin, who will formally receive the results later Wednesday, has leaned heavily on Gantz and Netanyahu to work out a unity coalition between them, including in a joint meeting on Monday.
Rivlin is due to host the two for a follow-up meeting on Wednesday night.
A rotation arrangement has been floated, but the question of who would be premier first remains a major stumbling block.
The timing is especially important for Netanyahu, who is facing possible corruption charges in the weeks ahead pending a hearing set for early October.
Full report at:
https://www.arabnews.com/node/1559576/middle-east
--------
Election outcome 'will make no difference to Israeli policy toward Gaza'
September 26, 2019
GAZA CITY: Palestinians in the Gaza Strip have been following the Israeli elections, at the level of factions and individuals, without expecting any serious change in Israeli policy toward them from either bloc after the formation of a new government.
Abdel Latif Al-Qanoua, a Hamas spokesman in Gaza, said: "The elections under occupation do not mean much to us as all Israeli governments have been two sides of the same coin.
"The leaders of the occupation are competing in their elections to show hostility and hatred for our Palestinian people."
Hamas and Israel reached understandings at the end of last year, under Egyptian auspices, to ease the Israeli blockade of the Gaza Strip and provide facilities in exchange for ending border demonstrations that have been taking place since March last year. The Popular Front for the Liberation of Palestine (PFLP) said in a press statement: "The results of the occupation elections, regardless of the progress of this party or that, will not change the reality of the occupation on the ground.
"There is no difference in the program of the (Israeli Prime Minister Benjamin) Netanyahu from the criminal leaders, their hands stained with the blood of our people, such as (Israeli politician Benny) Gantz, (former Israeli PM Ehud) Barak or (former Israeli Defense Minister Avigdor) Lieberman.
"Even the Meretz party that intersects with the Zionist right on the Judaization of Jerusalem, the recognition of the Jewish state and ending the issue of refugees; there is a consensus within these parties to liquidate the rights of our people," the PFLP added.
Gaza constituted an important area in the electoral campaign of the various Israeli parties, and there were many suggestions among competing groups on the best way to deal with the Gaza Strip.
The final results of Israeli elections showed that a blue white party led by Gantz won one seat more than the Likud party headed by Netanyahu, and the inability of either the right or center-left bloc to form the government alone, while the Yisrael Beiteinu party headed by Lieberman won eight seats.
Ordinary Palestinians in the Gaza Strip have shown no trade-off between Israeli parties in dealing with the Gaza Strip.
"Our interest in the Israeli elections is normal, but the trade-off between who will form the next Israeli government is of no value," said Sami Masalmi, 34.
"The big differences among the Israeli parties are internal issues in Israel. As far as we are concerned, there are very few differences among them on our issues. There is perhaps one strategy, but the tactics in implementation are different," Masalmi told Arab News.
The Gaza Strip has seen three wars with Israel over the past decade, most recently in 2014 when Netanyahu was premier and Gantz the chief of staff.
Dalia Masoud, 26, said: "Whatever happens in the coming days, Palestinians in the West Bank and Gaza Strip will experience Israeli aggression and a government formation by Gantz or Netanyahu will not change the reality on the ground."
On social media platforms, a hashtag appeared in which Palestinians called for their own elections and for Palestinian leaders to give their people a chance to choose their representatives, as in Israel.
"We are following the Israeli elections and our hearts are hurting because our enemy is living a democratic life while we have had no elections for many years and there is no prospect of them being held in the near future," said Ali Alian, 30.
"Yes, there are differences among the Israeli leaders, but there will be no mercy among them toward the Palestinians. They all use the big stick toward us."
Full report at:
https://www.arabnews.com/node/1559916/middle-east
--------
Africa
Libyan prime minister rules out talks with rivals – UNGA 2019
Sep 26, 2019
Libyan prime minister rules out talks with rivals
Libya's Prime Minister Fayez Sarraj has ruled out peace talks with the leader of his country's rival government, describing him as a "war criminal."
Sarraj used much of his time before the United Nations General Assembly on Wednesday to deride Khalifa Haftar and his supporters as "coup plotters" and blame them for Libya's continued instability.
Sarraj said Haftar was "not a partner for peace."
Early April, forces loyal to warlord Haftar launched a campaign to capture Tripoli from forces aligned with the UN-recognised GNA.
Clashes between the two sides since then have left more than 1,000 people dead and about 5,500 wounded, according to the World Health Organisation.
Libya has remained beset by turmoil since 2011, when long-time ruler Muammar Gaddafi was ousted and killed in a bloody NATO-backed uprising after four decades in power.
The oil-rich country has since seen the emergence of two rival seats of power: one in eastern Libya, with which warlord Haftar is affiliated, and the Tripoli-based GNA, which enjoys UN recognition.
Trump says he put 'no pressure' on Zelenskiy
President Donald Trump says he placed "no pressure" on Ukrainian President Volodymyr Zelenskiy to investigate Democratic political rival Joe Biden.
Trump commented during a meeting in New York with Zelenskiy on the sidelines of the UN General Assembly session.
Asked about their July telephone call, Zelenskiy said it was a "good phone call" and "normal" and that he and Trump discussed "many things."
Zelenskiy adds: "Nobody pushed me."
A rough transcript summarising the call that the White House released on Wednesday shows Trump repeatedly prodded Zelenskiy to work with the US attorney general and Trump's personal attorney to investigate Biden, a former US vice president.
Colombia's president blasts Venezuela's leader
Colombia's president slammed Venezuelan leader Nicolas Maduro as a dictator who offers a safe haven for terrorist groups.
In his speech at the UN General Assembly on Wednesday, Ivan Duque said he has proof Maduro is harbouring criminals plotting against Colombia. He vowed to deliver a 128-page dossier to UN leaders outlining the evidence.
Duque said the document includes information on 207 locations inside Venezuela that are controlled by ELN guerrillas. He described the neighbouring Andean nation as "fertile land" for the ELN to expand.
Maduro has denied supporting criminal organisations and accuses Duque of similarly allowing illegal armed groups to flourish.
Erdogan vows to fight Islamophobia
Muslims are most subjected to hate speech, Turkey's President Recep Tayyip Erdogan said on Wednesday, while vowing to defend rights of the people of disputed Kashmir, in an event co-hosted by Turkey and Pakistan on countering hate speech.
"Today, Muslims are the most subjected to hate speech, cultural racism, discrimination, and insults. Muslims' workplaces, homes, worshipping places are targeted by racist and fascist groups almost every day," said the president in a meeting on the sidelines of UN General Assembly in New York.
He said Muslim women are harassed for wearing headscarves on the street and workplaces.
"As a country, which has 6.5 million citizens abroad who are impacted by hate speech and attacks, we cannot overlook this issue," he added.
He also denounced violence against Muslims in India who eat beef and urged respect for freedom of faith.
"In India, how will we defend Muslim youth who are being whipped, beaten by machetes and even sentenced to death just for eating beef," Erdogan said.
He said Kashmir has turned into an open-air prison and its residents have become prisoners.
"Important duties fall on all [foreign] state institutions," said Erdogan, and urged more active steps on regional and international levels.
"Turkey is resolved to defend the rights of Muslims living in Jammu and Kashmir and make their entry and exit free," said Erdogan.
The president also criticised the Indian foreign minister and the country's envoys in Turkey for expressing discomfort over Ankara's approach to the Kashmir issue.
"Do we determine our foreign policy towards developments in any country by asking or taking permission from officials in those countries?" Erdogan asked.
Lebanon's Aoun calls for safe return of refugees to Syria
Lebanese President Michel Aoun appealed to world leaders to work on the safe return of refugees to Syria.
He said the presence of hundreds of thousands of refugees in tiny Lebanon has exacerbated the country's worsening economic crisis. He said their safe return is a joint international responsibility that should be dealt with urgently.
He added in his speech before the UN General Assembly on Wednesday that more than 250,000 refugees have returned to Syria from Lebanon "and there has been no information about anyone being persecuted or mistreated."
He said Lebanon will continue to encourage the "voluntary" return of refugees in coordination with the Syrian authorities.
US committing 'merciless economic terrorism' – Rouhani
Iran's President Hassan Rouhani accused the US of "merciless economic terrorism" on Wednesday, using his UN speech to stress that security in the Persian Gulf can be guaranteed only when his nation's security is as well — and only with the involvement of Iran's neighbours.
Rouhani told the UN General Assembly gathering that Iran would not negotiate on the issue of its nuclear programme as long as sanctions remain in place.
"Our response to any negotiation under sanctions is negative," he said adding that Iran has "resisted the most merciless economic terrorism" from a nation that is engaging in "international piracy."
He also warned Iran might exit the 2015 nuclear deal if the European powers failed to salvage it.
Rouhani also demanded that Saudi Arabia end its offensive in Yemen after an attack in the oil-rich kingdom which Washington blamed on Tehran.
"The security of Saudi Arabia will be guaranteed with the termination of aggression in Yemen, rather than by inviting foreigners," he said.
Rouhani, mirroring US efforts to rally its Arab allies, invited regional countries to join a "Coalition for Hope" in which he said they would pledge non-aggression and non-interference in one another's affairs.
"The security of the region shall be provided when American troops pull out," Rouhani said.
"In the event of an incident, you and we shall not remain alone. We are neighbours with each other and not with the United States," he said.
Land for proper Rohingya camps - Turkey
Turkey's Foreign Minister Mevlut Cavusoglu asked Bangladeshi Prime Minister Sheikh Hasina to allocate land for "proper camps" for Rohingya refugees.
Cavusoglu was speaking at a meeting on Rohingya on the margins of the 74th session of the UN General Assembly in New York.
The minister said the Rohingya crisis is one of the gravest tragedies in the world.
"We request Bangladesh to allocate land [for building camps] as we did for Syrian refugees in Turkey, which are the best camps in the world," said Cavusoglu.
'If you can do that, we are ready to build proper camps for these vulnerable people."
"We believe that the international community also should do more to share the burden of Bangladesh in decreasing the problem of Rohingya refugee camps," said Cavusoglu.
'Terrifying limbless chickens' but little Brexit from Johnson
Things the beleaguered British prime minister said in his astonishing speech on Tuesday night: "Pink-eyed Terminators from the future." "Terrifying limbless chickens." "Your fridge will beep for more cheese."
Things Boris Johnson didn't address with any substance: Brexit.
The British court ruling earlier in the day that said he acted illegally by dissolving Parliament.
Many didn't know what to expect Tuesday after the court ruling came down hours before Johnson's inaugural speech as prime minister.
But it's safe to say few anticipated what he dramatically and energetically delivered: a caffeinated screed about the damage that technology can do if misused — and the glories it can hand humanity if it is delivered properly.
In his notably energetic speech, which ended after 10 pm as more than 12 hours of UN speeches were inching to their end, Johnson said he was optimistic about technology's future — if humanity finds "the right balance between freedom and control."
Erdogan pitches for deeper Syria peace corridor
Turkey's President Recep Tayyip Erdogan called on UN members to back Ankara's efforts to ensure security in Syria's Idlib to avoid mass migration and massacres.
Turkey is "the most generous country" with humanitarian aid, he said, hosting five million displaced people fleeing conflict, starvation, persecution.
Holding a picture of Syrian refugee Aylan Kurdi, Erdogan said the beached toddler was "quickly forgotten by the world," reminding the world leaders that "the same situation may happen to you one day."
Erdogan also said "efficient functioning" of the Constitutional Committee is "critical for political and territorial unity of Syria".
The PKK/YPG terror group in northern Syria must be dealt with for safety and security of the region, Erdogan said.
The Turkish president also criticised the international community for failing to pay attention to the Kashmir conflict, which has awaited a solution for 72 years.
"In order for the Kashmiri people to look at a safe future together with their Pakistani and Indian neighbours, it is imperative to solve the problem through dialogue and on the basis of justice and equity, but not through collision," said Erdogan.
Erdogan requested the UN to designate March 15, when the Christchurch attack was carried out in New Zealand, as "International Day for Solidarity against Islamophobia."
He said the international community should provide concrete support to Palestinians beyond mere promises.
"What is the role and point of the UN if it fails to implement its own resolutions against Israel?" Erdogan asked.
Show courage to build peace – Macron tells US, Iran
The US and Iran need to take a leap of faith and show some courage to build peace, French President Emmanuel Macron said, as he urged them and key powers to negotiate to avoid a wider conflict across the Middle East.
"The attacks on Saudi Arabia have changed the situation. Today the risk is (that things) flare-up because of a miscalculation or a disproportionate response," Macron said.
"More than ever, the time has come to restart negotiations between the US, Iran, the parties to the JCPOA (nuclear deal) and concerned regional powers."
He said he was neither naive nor believed in miracles, but said it was time to build peace.
Trump warns sanctions will be 'tightened' against Iran
US President Donald Trump said that sanctions on Iran would be further increased unless it halts its "fanatical" weapons drive and "aggression" in the Middle East.
"Hoping to free itself from sanctions, the regime has escalated its violent and unprovoked aggression," Trump said.
"As long as Iran's menacing behaviour continues, sanctions will not be lifted –– they will be tightened."
Trump also put China on notice, declaring the time of trade "abuses" by Beijing was "over" and calling on the country to protect Hong Kong's "democratic ways of life."
The president implored the world's leaders to prioritise their own nations, with strong borders and one-on-one trade deals, rejecting sweeping transnational organisations and alliances.
Fallacy to say Amazon is heritage of humankind – Bolsonaro
Brazil's far-right President Jair Bolsonaro, who has come under attack for wildfires that are raging in the Amazon, told the UN the rainforest is his country's sovereign territory.
"It is a fallacy to say that the Amazon is the heritage of humankind, and a misconception confirmed by scientists to say that our Amazon forests are the lungs of the world," he said.
Bolsonaro then hit out at detractors, saying that while every country had problems, sensational reporting in the international media "aroused our patriotic sentiments."
He also defended his record on the treatment of indigenous people and said many backed him.
World splitting into two - Guterres
UN Secretary General Antonio Guterres warned global leaders of the looming risk of the world splitting in two with the two largest economies, the US and China, creating rival internets, currencies, financial rules "and their own zero-sum geopolitical and military strategies."
The UN chief said, "We must do everything possible to avert the Great Fracture," and maintain a universal economy in a multipolar world.
Guterres painted a grim picture of a deeply divided and anxious planet facing a climate crisis, "the alarming possibility" of a Gulf conflict, terrorism, and rising inequality.
"We are facing the possibility of an alarming armed conflict in the Gulf that we cannot bear the consequences of. The attack on Saudi Arabia's oil facilities is unacceptable. We need to do everything we can for common sense and sobriety, given that a small miscalculation can lead to a major crisis," he said.
https://www.trtworld.com/americas/libyan-prime-minister-rules-out-talks-with-rivals-unga-2019-30080
--------
US air strike kills 11 militants in southern Libya: US military
25 September 2019
US forces said on Wednesday they had killed 11 suspected militants linked to ISIS in their second air strike near the southern Libyan town of Murzuq in less than a week.
The attack, carried out on Tuesday, followed a Sept. 19 strike that the US said had killed eight suspected militants.
"This air strike was conducted to eliminate ISIS terrorists and deny them the ability to conduct attacks on the Libyan people," Major General William Gayler, director of operations for US Africa Command, said in a statement.
Some ISIS militants retreated south into Libya's desert as the group lost its stronghold in the coastal city of Sirte at the end of 2016.
Full report at:
https://english.alarabiya.net/en/News/north-africa/2019/09/25/US-air-strike-kills-11-in-southern-Libya-US-military.html
--------
Tunisia: Police officer stabbed to death in terror attack
September 24, 2019
A police officer was stabbed to death Monday near a court in the city of Bizerte, in Tunis governorate, in what was described as a terror attack.
Police commander Faouzi Houimli who headed the security district of the Bizerte Court of Appeal was attacked by a radicalized man who also planned, according to the interior ministry, attacks against the court with improvised explosive devices found in his backpack.
The attack occurred in a café near the court. The suspect, who has been arrested and put into custody for interrogation, also injured a soldier near the city's bus station.
Three accomplices aged between 25 and 35 have been also arrested as part of the investigations.
Large scale terror attacks in the North African country have significantly subdued since 2015 when ISIS affiliates staged attacks in Tunis and Sousse, killing over 70 people mostly foreign holiday makers.
The Monday attack comes as the country heads to the second round of presidential elections. Independent candidate Kaïd Saïed led the first round with close to 19 per cent. He will face on October 6 businessman and Heart of Tunisia's candidate Nabil Karoui currently in prison on money laundering charges.
Full report at:
http://northafricapost.com/34186-tunisia-police-officer-stabbed-to-death-in-terror-attack.html
--------
Somalia, Kenya agree to normalize bilateral relations
Mohammed Dhaysane, Andrew Wasike
25.09.2019
MOGADISHU / NAIROBI
Somalia and Kenya leaders have met in New York for the first time since March and agreed to restore bilateral relations, Somali presidency said on Wednesday.
Somali President Mohamed Abdullahi Mohamed and Kenyan President Uhuru Kenyatta agreed to work normalizing relations without any implication for the maritime disputes between the two countries, Abdinur Mohamed Ahmed, Somali presidential palace communication director, said in a statement.
The two leaders met at the sidelines of the United Nations General Assembly in New York. Egyptian President Abdelfatah Al-Sisi also attended the meeting.
"Somalia and Kenya have agreed to work towards normalizing relations without any implications for the maritime case at the ICJ [International Court of Justice] which will take its full course after Egyptian President H.E Abdelfatah Al Sisi convened a tripartite meeting on the margins of the UN General assembly," Ahmed said in a Twitter statement on Wednesday.
Somalia welcomes the opportunity to work towards normalizing relations with Kenya, as neighbors and partners, for a better common future, he added.
Kenya-Somalia conflict
Kenya and Somalia have been on the verge of a diplomatic maritime row over a disputed 62,000-square-mile (100,000-square kilometer) oil and mineral-rich land in the Indian Ocean in the shape of a triangle that both nations claim.
Kenya claimed that the disputed area had been sold at an auction on Feb. 7 in London, and immediately recalled its ambassador and returned his Somali counterpart.
The boundary should lie parallel to the line of latitude thus marking the land Kenyan territory while Somalia disagrees saying their border extends southeast, according to Kenya's claims.
All diplomatic negotiations aimed at easing tensions over the disputed area have dragged on without success.
Kenya has been pushing for an out-of-court deal with the Horn of Africa country in regard to the case which is at the ICJ, noting that the rich resources in the area are not the primary reason why Kenya is fighting for the territory.
Full report at:
https://www.aa.com.tr/en/africa/somalia-kenya-agree-to-normalize-bilateral-relations/1593983
--------
Blast targeting Somali military official kills 3
Magdalene Mukami
25.09.2019
MOGADISHU, Somalia
At least three Somali soldiers were killed in the capital Mogadishu on Wednesday by a terrorist al-Shabaab bomb targeting a military tribunal chief, said officials and the local media.
Several soldiers were also wounded when the roadside bomb struck an army vehicle in Mogadishu's Hodon district, reported local news agency Garowe online.
The Somali police confirmed that military tribunal chief Col. Hassan Ali Shuute survived an assassination attempt on the outskirts of Mogadishu, where an IED targeted his convoy.
Through their propaganda radio, Al-Qaeda-affiliated Al-Shabaab militants claimed responsibility for the attack.
Full report at:
https://www.aa.com.tr/en/africa/blast-targeting-somali-military-official-kills-3/1593854
--------
URL: https://www.newageislam.com/islamic-world-news/sufism-more-than-just-wearing/d/119842
New Age Islam, Islam Online, Islamic Website, African Muslim News, Arab World News, South Asia News, Indian Muslim News, World Muslim News, Women in Islam, Islamic Feminism, Arab Women, Women In Arab, Islamophobia in America, Muslim Women in West, Islam Women and Feminism