New Age Islam News Bureau
29 Oct 2018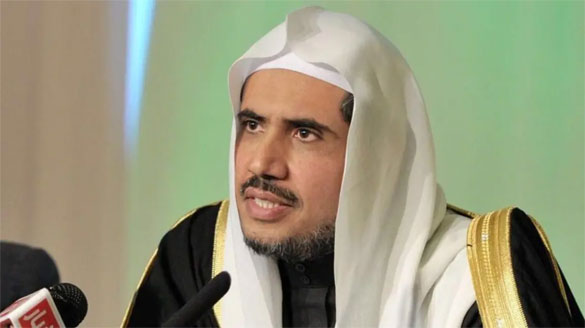 The Muslim World League Secretary General Sheikh Dr. Mohammed Alissa condemned Pittsburg Jewish synagogue attack. (Supplied)
---------
• Muslim World League condemns Pittsburg Jewish synagogue attack
• Call for collective efforts to cleanse Pakistan of terrorism
• Muslim Religious Ruling Prohibits Arabs From Voting In Jerusalem
India
• Sufi-Oriented Speakers Appeal for Spreading Peace and Brotherhood at World Islamic Sunni Meet
• Do not believe in crushing terrorism by killing terrorists because terrorism is in the mind: Satya Pal Malik
• 'Why no consultation before talaq ordinance?'
• Madrasa death: Panel blames 'govt, police apathy'
• Ayodhya case: Supreme Court to begin hearing Ram Janmabhoomi-Babri site title dispute
• NDA government walking extra mile to gain confidence of Muslims: Abdul Ansari
• On way to meet kin, J&K cop killed by terrorists
• Two Pakistani nationals nabbed by BSF near border in Punjab: Report
--------
Arab World
• Muslim World League condemns Pittsburg Jewish synagogue attack
• International Islamic Fiqh Academy event to suggest ways to fight social issues
• Arab Daily: Western States Prefer Money to Human Rights
• ISIS repels US-backed forces from east Syria holdout
• Saudi Arabia condemns Pittsburgh Jewish synagogue attack
• Organization of Islamic Cooperation pledge support for lasting peace in Somalia
• US Army Sends New Military Convoy to Northeastern Syria
• Turkish Army Reinvigorates Monitoring Posts in Northern Syria After Failure in Expelling Terrorists
• More Civilians Killed in US-Led Coalition Airstrikes in Deir Ezzur
• Turkish artillery bombards YPG forces in Syria after Erdogan's 'final warning'
--------
Pakistan
• Call for collective efforts to cleanse Pakistan of terrorism
• Sufi scholars always laid stress on following Islam: CJP
• New madrassah syllabus not being introduced, says Asad Qaiser
• Moosavi urges Muslim states to solve Yemen conflict
• Pakistan court sentences member of religious outfit to 30 years in jail
• Army seeks record of child maid torture case against its official
• Parliament should take up Israeli jet issue, says Asfandyar
--------
Mideast
• Muslim Religious Ruling Prohibits Arabs From Voting In Jerusalem
• Istanbul Syria peace offers few solutions to the conflict
• Israeli airstrike kills 3 boys aged 12 to 14 in Gaza
• Palestinian President vows to thwart Trump peace plan
• Turkish forces bombard Kurdish YPG militia positions east of Euphrates
• Coalition strikes, armed clashes kill 40 Houthis near Yemen's Hodeidah
• Khashoggi was to disclose Saudi use of chemical weapons in Yemen: source
• Gaza farmers come under attack by Israeli forces
--------
South Asia
• Bangladesh, Myanmar to hold Rohingya repatriation talks Tuesday
• Suicide attacker targets Kabul election workers, casualties: officials
• We've not made final decision on attending Moscow meeting yet, says Taliban
• U.S. drones target Taliban vehicle in Paktia leaving 5 militants dead
• Election staff among six wounded in Kabul suicide blast
• NDS Special Forces storm a key hideout of the Taliban in Nangarhar province
--------
Southeast Asia
• King Salman invites Mahathir to visit Saudi Arabia
• China exiles point spotlight on Muslim repression
• AG drops bid to appeal ban on Faisal Tehrani's books
• Police investigate 'HTI flag'-related cases in Palu, Poso
--------
Africa
• Boko Haram militants attack military base in Nigeria
• Huge crowds converge in Senegal's holy city for Sufi pilgrimage
• Tunisia's ruling party consults to form cabinet without Ennahdha
• Libya's south falls prey to foreign armed groups
• Kenyan Somalis are pawns in al Shabaab's reign of terror
--------
North America
• US Muslims start fundraisers to help Pittsburgh synagogue victims
• Rand Paul: Saudis funding terrorism worldwide
• Iranian interference makes Yemeni dialogue challenging says Arab League head
• US blanket support for Saudi Arabia, Israel enabled them to carry out atrocities: Zarif
• Pentagon chief Jim Mattis calls for transparent investigation in Khashoggi killing
--------
Europe
• Up to 80 ISIS widows to return to Britain
• Campaign launched to recognise Muslims and other faiths who fought in first world war
• UK's MI5 to combat extreme rightwing terrorism: Report
• Member of Saudi 'royal circle' ordered Khashoggi murder: UK intel
Compiled by New Age Islam News Bureau
URL: https://www.newageislam.com/islamic-world-news/sufi-oriented-speakers-appeal-spreading/d/116742
--------
Sufi-Oriented Speakers Appeal for Spreading Peace and Brotherhood at World Islamic Sunni Meet
Oct 29, 2018
NAGPUR: The three-day World Islamic Sunni meet organized by the Jamat-e-Ehle Sunnat concluded on Sunday with a note on spreading peace and brotherhood. The meet had experts on Islamic studies from different parts of the country apart from scholars from the UK, Egypt and Tanzania.
One of the key speakers, Sheikh Abubacker Musaliyar, a religious leader from Kerala, said his organization Markaz Safafathisunniya has been working for providing education since 1978. This includes education on both religious and modern lines. "Students coming from as far as Kashmir are admitted at the Markaz. It began with taking 350 students from Kashmir, who were also instilled with the spirit of nationalism," he said.
Musaliyar said, "Irrespective of the government in power, all the organization wants is support to carry further its cause."
His colleague at the Markaz, Abdul Salam Mohammed said steps are being taken to get a deemed university status for the organization. He said those at the organization believe that Islam spread in India through Sufi saint Moinuddin Chisti of Ajmer.
"Sufism is based on love and brotherhood so how can there be any place for violence," he said.
https://timesofindia.indiatimes.com/city/nagpur/speakers-appeal-for-peace-at-world-islamic-sunni-meet/articleshow/66406599.cms
--------
Muslim World League condemns Pittsburg Jewish synagogue attack
29 October 2018
Muslim World League (MWL) has expressed condemnation of the shooting incident which targeted a Jewish synagogue in Pittsburg, in Pennsylvania.
The League affirmed its rejection of such hate crimes which reflect radical thoughts, extending sympathy to the families of the victims.
The League Secretary General Sheikh Dr. Mohammed Alissa said: "The League condemns in the strongest terms the targeting of safe innocent lives, and criminalize the offense of damaging worshipping places" adding that "this terrorist attack can only increase our belief in strengthening solidarity and international cooperation" to confront extremism which does not have a religion or race.
Dr. Alissa affirmed the solidarity of the Muslim World League- representing the Muslim peoples, from its headquarter in Mecca city, the Qibla of Islam- with the families of the victims and the American authorities.
https://english.alarabiya.net/en/News/world/2018/10/29/Muslim-World-League-condemns-Pittsburg-Jewish-synagogue-attack.html
--------
Call for collective efforts to cleanse Pakistan of terrorism
October 29, 2018
MULTAN: Political and religious leaders at a seminar on Saturday called for collective efforts by state institutions, religious and political groups and the civil society within the ambit of the Constitution to cleanse Pakistan of the menaces of extremism and terrorism.
Speaking to the 'Paigham-e-Pakistan Conference', AJK LA Member Ali Raza Bukhari called for unity and a unanimous narrative to counter terrorism and extremism in Pakistan. "If we want to correct our direction for the future, it is necessary that society is peaceful and stable because without these, we cannot embark on this journey. We must also introspect and look within instead of hypothesizing about external conspiracies only," he said, adding that the unanimous fatwa issued by the religious scholars belonging to various schools of thought would undoubtedly help address the challenges posed by terrorism, extremism and sectarianism.
Bukhari highlighted the need for collective action within a collaborative framework to help encourage peace and stability in the country. He said in this age of information technology, there is a need to protect the nation's ideological sovereignty by understanding dynamics of cyber terrorism and identifying ways and means to counter those.
"There is a need for the youth and professionals to start using social media efficiently and effectively and realising its potential in countering extremism and promoting peace in the country," he added. He said Paigham-e-Pakistan initiative launched by the government earlier this year is a step in the right direction which will help portray a soft and positive image of Pakistan and highlight Islam as a religion of peace, brotherhood, tolerance and forbearance.
Ulema Mashaikh Rabita Council President Dr Badr Munir Chaudhry touted Paigham-e-Pakistan as a means to obtain national unity. "Paigham-e-Pakistan has provided a platform for national unity ... so that in the 21st Century, we can make Pakistan a distinguished country."
https://www.thenews.com.pk/print/386884-call-for-collective-efforts-to-cleanse-pakistan-of-terrorism
--------
Muslim Religious Ruling Prohibits Arabs From Voting In Jerusalem
By Gil Hoffman
OCTOBER 28, 2018
Arab residents of Jerusalem faced a new threat over the weekend against voting in Tuesday's municipal election.
Sheikh Akram Sabri, the sheikh of Al-Aqsa Mosque, convened the Council of Jerusalem sheikhs, which issued a fatwa (Muslim religious ruling) prohibiting participation in the election.
"Taking part in the election assists the occupation in entrenchment of Jewish control over the city and changing its historic and religious character," said the fatwa, which was originally revealed by the Makor Rishon newspaper.
Sabri devoted his weekly sermon at Al-Aqsa Mosque to his call to boycott the vote.
The decision could harm the Jerusalem for Jerusalemites Party led by Ramadan Dabash of the capital's Sur Baher neighborhood. Dabash is a citizen of Israel who has good relations with current Jerusalem Mayor Nir Barkat and government officials.
A source in Dabash's party said he was not surprised by the decision.
"It is a decision of a Palestinian Authority that is under pressure, and it does not reflect the Koran," the source said. "Dabash has received 22 fatwas from that he can run if he is helping his people."
A source close to Jerusalem Affairs Minister Ze'ev Elkin, who is a candidate for mayor, expressed hope that Arabs would vote in the election. There are some 180,000 eligible voters in the Arab sector.
Elkin was hurt by a final decision made Sunday by Deputy Mayor Yossi Daitch to remain in the race. Elkin had hoped that Daitch would quit and throw the support of his Agudat Yisrael Party behind him.
Daitch received a surprising endorsement Sunday from former Meretz city councilwoman Reli Ben-David. He has also been endorsed by the former head of Meretz in Jerusalem, Pepe Alalu.
Without Daitch's support, Elkin will have a tough time passing city councilmen Ofer Berkovitch and Moshe Lion and earning a place in a November 13 run-off race between the top two finishers that will be held if no candidate wins 40% of the vote.
In an effort to reach out to Elkin's voters, Berkovitch called upon Jerusalem District Police Chief Yoram Halevy on Sunday to probe who sent anonymous text messages that insulted Elkin to Jerusalem voters. Berkovitch, who heads the Hitorerut Party, called messages comparing Elkin to the Smurfs cartoon villain Gargamel "incitement."
"I have tried to run a positive and clean campaign, and avoid mudslinging," Berkovitch said. "We want to create unity, not discord. We want to win because of our abilities, not because of attacks."
https://www.jpost.com/Israel-News/Politics-And-Diplomacy/Muslim-religious-ruling-prohibits-Arabs-from-voting-in-Jerusalem-570530
--------
India
Do not believe in crushing terrorism by killing terrorists because terrorism is in the mind: Satya Pal Malik
Oct 29, 2018
Harinder Baweja
Satya Pal Malik is the first career politician in five decades to be Jammu & Kashmir governor, that too at a time when the state has been under Governor's Rule after the Bharatiya Janata Party (BJP) withdrew support from the Mehbooba Mufti government in June. As Malik tries to reach out to the alienated people of the Valley, he spoke to Harinder Baweja about the situation on the ground, the Hurriyat Conference, Pak-sponsored terror, J&K's special status, and the way forward for the strife-torn state. Edited excerpts:
Apart from a visit to J&K soon after Mufti Mohammad Sayeed's death in 2016, you came to the state in 1988 when there was normalcy. As governor of the conflict-ridden state, how do you read the ground situation now?
A lot of water has flown since then. In fact, a lot of blood has been shed and many have been killed. Kashmir has suffered. India has suffered because of terror sponsored by Pakistan.
I am clear in my mind: nothing will be gained through the gun. I am telling the terrorists, currently only 300 in number, that the solution will not flow from the barrel of a gun. I do not believe in crushing terrorism by killing the terrorists because terrorism is in the mind. I understand that there is deep alienation and the youth are staring at complete darkness. They have no faith in the state's political parties such as the National Conference (NC) and the PDP (People's Democratic Party) and they are annoyed with us (Indian government) too. It is my job to regain their trust.
Prime Minister Narendra Modi favours a dialogue and I appeal to them to give up the gun and come talk to me. Even a powerful force like the LTTE (Liberation Tigers of Tamil Eelam in Sri Lanka) could not succeed through violence. Mistakes were made in the past by Delhi and Srinagar. I concede that elections were rigged. People were let down by their own leaders. My message to them is: you have Articles 370 and 35-A; come to the table, and we are ready to give you anything under the Indian Constitution. Based on my discussions with the youth, I can tell you that they are disappointed with Pakistan too.
You have been the governor for over two months. Have you met any leader from the Hurriyat Conference? Do you consider them stakeholders?
The Hurriyat leaders must abandon Pakistan. They do have some influence but they don't even go to the toilet without Pakistan's permission. My appeal to the Hurriyat is to take an independent stand. I don't consider Pakistan a stakeholder, rather, I'd say they are trouble makers. Let me clarify that it is not my mandate to meet the Hurriyat leaders but I will work towards creating the environment for an outreach. Let me tell you, (former Pakistan President Pervez) Musharraf had told Hurriyat leaders that India is a superpower and he cannot break India. He told them that he would not be able to change the Line (of Control). He had told them that neither India nor Pakistan can afford a war and that they should negotiate concessions for Kashmir.
This is a significant claim. Are you sure of the facts?
I am 100% sure. Important people have told me this. Musharraf told the Hurriyat to talk and negotiate agreements that would include free movement for both sides across the Line of Control. I believe the Hurriyat can play a role but they must abandon Pakistan first.
But do you consider the Hurriyat Conference a 'stakeholder' or, to use your words, a 'trouble maker'?
We can talk to the Hurriyat also but the problem is that they are caught in a web. They are scared of Pakistan and they are also scared of the terrorists. They talk unreasonably.
One problem today is that more young locals are joining militancy. What is your plan to stop this? The low turnout in the local body polls only points to deep alienation.
My blueprint has already worked. I am trying to change the narrative and striving to make the youth feel that we are not at war with them. I am not asking the security forces to hunt them down, but if the terrorists engage security forces, they are not going to get bouquets in return for bullets. Not one youth has joined militancy in the two months since I took over. Earlier, at least five to six boys were joining their ranks. Stone pelting, too, has reduced. Of course, we had an unfortunate incident last week when an army jawan died after being hit by stones.
What about the killing of civilians. Would you condemn the death of the seven Kashmiris in Kulgam last week? Why was the encounter site not sanitised?
The killing of even one civilian is wrong. It is very difficult to sanitise rural locations. People should understand that they should not be rushing to encounter sites. Who do I blame for the 60 deaths on a railway track in Amritsar? The public should not be careless. We have now decided to place advertisements in newspapers asking people not to go near encounter sites for at least 48 hours. Kashmir's political parties should also tell the boys to avoid encounter sites and stone pelting. Omar (Abdullah) and Madam (Mehbooba Mufti) have agreed with me on this privately but are not willing to say it openly. After the Kulgam deaths, they condemned us. They say something else in Delhi and something else in Srinagar.
Do you think it is time for some confidence-building measures aimed at the local population, like dilution of AFSPA (Armed Forces Special Powers Act) in areas that don't have militancy, or another ceasefire call?
You fire your weapons at us and throw stones at us. Only last week, an army jawan was killed. The army is doing a very difficult job. They are the same people who rescued locals during floods. They treat locals in medical camps and yet they are targeted. We can't even have a discussion on AFSPA, leave alone diluting it.
In an interview to HT, former chief minister Mehbooba Mufti said, "The Centre should pass a direction that Article 35-A should be off limits." Do you agree? Her party and the NC stayed out of the local elections because of this.
If it is an honest statement, I can agree or disagree, but it is not. Twenty days prior, they participated in the Kargil elections and the same article was not an issue then. I am not an elected representative so I don't want to give my opinion.
But as the top official of the state, what is your view — should it be touched; what stops you or the Centre from giving the Supreme Court an affidavit to this effect?
In my opinion, the people of the state should not worry. I don't think any changes will be made. Some private persons have taken it to court. They neither represent the BJP, nor do they represent (PM Narendra) Modi.
The perception is that the petitioners have the RSS's (Rashtriya Swayamsevak Sangh) backing…
Nobody is batting for its removal. The Prime Minister is not responsible for these cases.
You had to battle a crisis when militants kidnapped families of policemen after the father of a militant was taken into custody. Do you approve of such measures?
That was an aberration. I have told the police chief not to detain anyone even for two hours. My orders are clear. I told him, your force will either take money to release, or beat them up before letting them go; and in both instances, the youth will only veer towards militancy.
My effort has been convert the governor's house into the people's home. Anybody who wants to meet me can even come without an appointment. Recently, some students had cleared exams for enrolment in the J&K Bank but were not selected because politicians had given their own list of recommendations. I have now ensured that the 582 candidates, who cleared the exams but were not selected, will be getting appointment letters.
Did the former director general of police SP Vaid pay a price because militant commander Riyaz Naikoo's father was detained?
No. He was an excellent officer and I had a good working relationship with him. I think it had been decided that he was to be replaced.
Since you strongly favour a dialogue, is greater autonomy or self-rule the way forward?
The state has its own constitution and its own flag. Each time I sit in my car, there is a second flag along with the national flag. The state has a special status. They already have so much. I have asked for the autonomy resolution that was passed in the state assembly. I will study it.
Last question. What would you describe as your most difficult or anxious moment?
The most difficult moment for me was when sedition cases were filed against two Kashmiri students studying at Aligarh Muslim University (AMU). The students were trying to hold a prayer meet after the death of Hizbul Mujahidin militant commander Manan Wani. Police came into the picture after slogans of azadi were raised. Nearly 1,200 Kashmiris studying at AMU threatened to return and that was a tense moment for me. What message would these 1,200 students bring to the Valley?
I managed to speak to Prakash Javadekar (Union education minister) and the proctor to contain the damage. I have decided now that colleges and universities across India, with more than 12 Kashmiri students on their campuses, should have liaison officers. The students shouldn't feel that they are on their own.
https://www.hindustantimes.com/india-news/do-not-believe-in-crushing-terrorism-by-killing-terrorists-because-terrorism-is-in-the-mind-satya-pal-malik/story-322AiHprYkatwfz27q28jM.html
--------
'Why no consultation before talaq ordinance?'
Oct 29, 2018
KOZHIKODE: Even while the entire state is hotly debating the Supreme Court verdict on women entry to Sabarimala, a Sunni leader has come up with a different angle to the controversy.
Samastha Kerala Sunni Students Federation (SKSSF) state general secretary Sathar Panthaloor asked the BJP leadership as to why the central government brought an ordinance on triple talaq without consulting any Muslim scholar or organization.
The Supreme Court had declared the practice of instant triple talaq unconstitutional and wanted Parliament to bring in legislation.
Accordingly, the Centre brought an ordinance in September that made the practice of instant triple talaq a crime saying that there is "overpowering urgency and a compelling necessity to bring the ordinance."
"The BJP leadership now says that the order on Sabarimala is against the belief of majority, but the Centre didn't consult any Muslim body before passing a law that touches the Sharia, which is very important for Muslims. No effort was made to know what the majority in the Muslim community think of criminalising triple talaq," Panthaloor said.
All India Muslim Personal Law Board has come out against the ordinance describing it as "infringement of the Sharia law" Samstha Kerala Jam-Iyyathul Ulema, the body of Sunni scholars, organized a protest meeting in Kozhikode and had collected 10 lakh signatures against the ordinance.
In the memorandum to be submitted to the President, Samastha said "the fundamental rights of the Muslims in India are being trampled by criminalising triple talaq in the ordinance".
It has also moved the Supreme Court seeking withdrawal of the ordinance.
Referring to BJP state president P S Sreedharan Pillai's argument that the opinion of Hindu women was not sought before the Sabarimala verdict, Panthaloor wanted to know whether any such procedure was followed before bringing the ordinance on triple talaq.
"BJP should clarify whether any opinion survey was conducted among the Muslim women on triple talaq," he said.
Full report at:
https://timesofindia.indiatimes.com/city/kozhikode/why-no-consultation-before-talaq-ordinance/articleshow/66410211.cms
--------
Madrasa death: Panel blames 'govt, police apathy'
October 29, 2018
In the wake of the death of an eight-year-old madrasa student in Begumpur, a fact-finding team of two Left parties and one of its student wings blamed the "long-standing apathy" of the government and police for the incident.
A nine-member team of the AISA, CPM and CPI (ML) visited the madrasa on October 26. In their report, they said "the killing of Azeem has a history of hate and tension concerning the madrasa". "The imam, other residents… told us that there have been several incidents of nuisance being created to harass (them)… Residents have complained… to police several times, but no action has been taken…," the report said.
It added that there is a dispute over the open space next to the madrasa. "Our team also visited the adjacent colony…. Residents said the dispute has been (going on) for a long time…. and kids from their colony play (there)…," it said.
Full report at:
https://indianexpress.com/article/cities/delhi/madrasa-death-panel-blames-govt-police-apathy-5422583/
--------
Ayodhya case: Supreme Court to begin hearing Ram Janmabhoomi-Babri site title dispute
October 29, 2018
The Supreme Court will on Monday begin hearing a clutch of petitions challenging the Allahabad High Court's 2010 verdict which divided into three parts the disputed land on the Ram Janmabhoomi-Babri Masjid site in Ayodhya. A bench, headed by Chief Justice of India Ranjan Gogoi and comprising Justices S K Kaul and K M Joseph will hear the case under "direction matters".
On September 27 this year, another apex court bench, headed by then CJI Dipak Misra had refused to send to a larger bench the 1994 observation that a mosque is not an integral part of Islam. The plea was raised by some appellants who wanted the court to reconsider its ruling in the M Ismail Faruqui Etc vs Union Of India And Others case, in which a Constitution Bench had observed that "a mosque is not an essential part of the practice of the religion of Islam and namaz (prayer) by Muslims can be offered anywhere, even in open".
Read | Ram temple not a poll issue for BJP: Devendra Fadnavis
The petitioners had claimed that the earlier decisions in the Ayodhya case were influenced by this statement in the Ismail Faruqui verdict which came on a plea challenging the Constitutional validity of the Acquisition of Certain Area at Ayodhya Act-1993, under which 67.703 acres were acquired in Ram Janmabhoomi-Babri Masjid complex.
Full report at:
https://indianexpress.com/article/india/ayodhya-ram-temple-case-babri-masjid-demolition-supreme-court-hearing-live-updates-5422729/
--------
NDA government walking extra mile to gain confidence of Muslims: Abdul Ansari
October 28, 2018
BJP Minority Morcha national president Abdul Rasheed Ansari has said the party's government at the Centre is walking the "extra mile" to gain the confidence of minorities and has been successful in changing the perception of it being "anti-Muslim" to a large extent.
The opposition, he alleged, had launched a "fear-mongering campaign" among minorities against the BJP.
The BJP-led NDA government has brought in development without any discrimination but the opposition has set a "separate yardstick" for the party when it came to dealing with minorities.
"Political parties (opposition) have targeted us (BJP) in order to isolate us from the minorities. They had used a fear-mongering campaign among minorities in an attempt to eat into the BJP's vote-bank.
"This has been going on for several years. But things have changed of late and you will find the party increasing its base among minorities in various parts of the country," Ansari told PTI in an interview here.
Minorities and backward classes, for the first time, have realised that the BJP, unlike other parties, "delivers rather than making false promises", he said.
Talking about the recent incidents of lynchings in the country, Ansari said the BJP leadership had spoken out against them and action has been taken against culprits.
"You have to look at the intention of the government and the party. Both Prime Minister Narendra Modi and party president Amit Shah have condemned them (lynchings). You cannot count on statements made by people, who are either not related to the party or are remotely related to it," he said.
About the incident where Union minister Jayanta Sinha felicitated eight people accused of lynching in Jharkhand, earlier this year, Ansari contended that the gesture was not appreciated by anyone in the the saffron party.
"Has anybody appreciated Jayanta Sinha for felicitating them? It is not expected that Amit Shah ji or the prime minister will speak out on a regular basis on every single incident that is happening in the country," he said.
Meat trader Alimuddin Ansari was beaten to death on June 29 last year by a mob in Ramgarh police station area on the suspicion that he was carrying beef in his car. Expressing happiness over the release of the eight accused in the case on bail, Sinha had garlanded them and offered them sweets.
Asked about poor representation of Muslims in distribution of tickets by the BJP, he said, "The issue should not be seen through the prism of religion. Tickets are not given in our party on the basis of religion. It is given on
the basis of eligibility and capability of an individual".
Ansari was also quick to point out that the BJP had given tickets to an "overwhelming number" of Muslim candidates in the West Bengal panchayat polls.
"About 850 Muslims were given BJP tickets in the three-tier rural polls in the state held in May. It only goes on to show how much we care about the community," he asserted.
Criticising the erstwhile Congress government for not doing enough for the development of the community in the country, he said the BJP government has increased the budget for minorities by "leaps and bounds".
"Since Independence there has been a huge gap between what was promised to the minorities and what was actually delivered. But we are serious about development of Muslims as we believe in the policy of 'Sabka Sath, Sabka Vikas'.
Full report at:
https://indianexpress.com/article/india/nda-government-walking-extra-mile-to-gain-confidence-of-muslims-abdul-ansari-5422095/
--------
On way to meet kin, J&K cop killed by terrorists
Oct 28, 2018
SRINAGAR: A sub-inspector posted with Jammu and Kashmir's CID department was killed in Pulwama district on Sunday afternoon, hours after he was abducted by terrorists.
The slain officer, identified as Imtiyaz Ahmad Mir (30), was going home when terrorists intercepted his vehicle at Wahibugh. They took him to a deserted area nearby and gunned him down. Police recovered his bulletriddled body from Rushmi Nalla area in the evening.
One of his supervisors said on condition of anonymity that before Mir left to see his parents in his village in Pulwama district, he tried to dissuade him from going home as terrorists have been targeting policemen for the last few days. A few weeks ago, Jaish-e-Muhammed had issued a threat to cops to either quit their jobs or face death.
However, to dodge the terrorists, Mir had shaved his beard and had decided to use his personal vehicle. "Now they (terrorists) will not be able to recognise me" were possibly his last words to his supervisor before he left for home to spend some time with his parents, sources said.
"I had told him that he should not go as terrorists could attack him. But he was desperate to see his parents who reside at Sontabugh in the interiors of the Pulwama district," said the supervising officer.
Mir, the only son of a retired police officer, became a sub-inspector in 2010. He had served in Ganderbal district in south Kashmir for five years before being transferred to Kulgam district last year. He was shifted to the CID department in March.
Police have also launched a probe to ascertain if the information about his journey was leaked to terrorist groups as preliminary finding suggests that some terrorists were waiting to ambush him at Wahibugh.
Reacting to Mir's killing, Srinagar SSP Imtiyaz Hussain tweeted: "Sad and heart wrenching. What a promising young officer he was!!! May Almighty grant strength to family to bear this huge loss."
Terrorists have been targeting policemen in the Valley for the last few weeks. On September 21, Hizbul Mujahideen terrorists abducted and killed three policemen, triggering unrest in the lower ranks of the force.
Meanwhile, in another terror attack on Sunday, a PDP worker was killed by terrorists in Srinagar's Gangbok area. Official sources said unidentified gunmen fired at Mohammad Amin Bhat. He was taken to a hospital where he died during treatment.
Full report at:
https://timesofindia.indiatimes.com/india/police-officer-abducted-killed-in-valley/articleshow/66405511.cms
--------
Two Pakistani nationals nabbed by BSF near border in Punjab: Report
Oct 29, 2018
Two Pakistani nationals were nabbed by the Border Security Force (BSF) personnel here on Sunday, sources said.
Siraj Ahmed (31) and Mumtaz Khan (38) were caught from an area near the Border Out Post (BOP) in Ferozepur Sector on Sunday evening, BSF sources said.
At around 6.30 pm, the jawans deputed near a border pillar in the area observed some suspicious movement from the Pakistani side, they said. Later, the troops spotted the two Pakistani nationals approaching towards the Indian territory and both were apprehended.
Two Pakistani army personnel identification cards, four photographs, a smart phone and some Pakistani currency was recovered from Ahmed, they said.
The sources added that the real identity of the duo and the purpose behind their attempt to venture into the Indian territory was being ascertained.
https://www.hindustantimes.com/india-news/two-pakistani-nationals-nabbed-by-bsf-near-border-in-punjab-report/story-Q1AX9iYLd4paVXK2NlnCZP.html
--------
Arab World
International Islamic Fiqh Academy event to suggest ways to fight social issues
October 29, 2018
JEDDAH: The aim of the conference of International Islamic Fiqh Academy (IIFA) being held in Madinah is to highlight the true nature of Islam, say officials and members of the Saudi Shoura Council.
The 23rd session of the conference organized by IIFA in collaboration with the Islamic University in Madinah under the patronage of King Salman will provide research scholars with an opportunity to present their research and studies based on the Qur'an and the Sunnah.
Based on the research findings, scholars will suggest ways to eradicate social and economic issues facing the Muslim world.
The event also aims to promote the true understanding of Islam and its tolerant nature.
The conference will also highlight the role of scholars in educating the masses and in enlightening the Islamic world. Several officials and academics told the Saudi Press Agency that the Islamic Shariah has the ability to achieve social harmony and human happiness. The Shariah, they added, has the solution to all human problems. However, they stressed the need to refer to authentic religious sources to find those solutions.
http://www.arabnews.com/node/1395391/saudi-arabia
--------
Arab Daily: Western States Prefer Money to Human Rights
Oct 28, 2018
"It seems that US President Donald Trump who had clearly said that he was not willing to stop selling weapons to Riyadh for Khashoggi's killing is not the only person who prefers money to human rights," al-Ray al-Youm newspaper wrote on Sunday.
It referred to Canadian prime minister's similar remarks last Tuesday who had expressed concern about Khashoggi's murder but meantime, stressed that annulment of the contract to export armored vehicles to Saudi Arabia is difficult, and said money seems to be more important than human rights to Ottawa.
The newspaper also pointed to Turkish President Recep Tayyip Erdogan's position where Khashoggi was murdered, and underlined that he had threatened to reveal all realities about the brutal killing but he was dissuaded after meeting Director of the CIA Gina Haspel.
Khashoggi was last seen entering the Saudi Consulate in Istanbul on October 2. Following weeks of denial, Riyadh admitted on October 19 that the journalist had been killed in a brawl inside the Saudi consulate, stating, however, that it had been a rogue operation carried out by agents who had exceeded their authority.
Full report at:
http://en.farsnews.com/newstext.aspx?nn=13970806000994
--------
ISIS repels US-backed forces from east Syria holdout
28 October 2018
ISIS has ousted a US-backed coalition of Kurdish and Arab forces from its holdout in eastern Syria, killing dozens of fighters, a monitoring group said Sunday.
A Syrian Democratic Forces commander, asking not to be named, confirmed the SDF retreat from the Hajin pocket near the Iraqi border seven weeks into an offensive.
The SDF, who are backed by air strikes of the US-led coalition, launched its campaign to retake the ISIS holdout on September 10.
But they have faced a fierce fightback from the extremists, including under the cover of sandstorms, the Britain-based Syrian Observatory for Human Rights says.
"In counterattacks since Friday to Sunday dawn, ISIS has taken back all positions to which the SDF had advanced inside the Hajin pocket," the monitoring group's chief Rami Abdel Rahman said.
The Observatory reported 72 SDF fighters killed, as ISIS took advantage of the storm that hampered coalition air cover and dispatched suicide bombers as part of their fightback.
The SDF commander told AFP that his forces had faced a "strong dust storm" and lacked local knowledge of the terrain.
Unlike ISIS, "our forces don't know the area and can't move around in conditions of zero visibility," he said.
"Military reinforcements and heavy weapons have been sent to the front and some units will be replaced by more experienced ones," the commander said.
"We will launch a new military campaign as soon as those reinforcements have arrived," he said.
More than 300 SDF fighters and around 500 ISIS extremists have been killed in the past seven weeks of fighting, the Observatory says.
The coalition estimates that 2,000 ISIS fighters remain in the Hajin area.
ISIS overran large swathes of Syria and neighboring Iraq in 2014, proclaiming a "caliphate" across land it controlled.
But the extremist group has since lost most of that territory to various offensives in both countries.
In Syria, its presence has been reduced to parts of the vast Badia desert also in the east and the Hajin pocket.
Full report at:
https://english.alarabiya.net/en/News/middle-east/2018/10/28/ISIS-ousts-US-backed-forces-from-east-Syria-holdout-.html
--------
Saudi Arabia condemns Pittsburgh Jewish synagogue attack
28 October 2018
An official source at the Saudi Foreign Ministry has condemned in the strongest terms the recent shooting at a Jewish synagogue in Pittsburgh, which resulted in the deaths of 11 people.
"The source stressed Saudi Arabia's rejection of such criminal acts and their extremist ideology, offering condolences and sympathy to the families of the victims, the Trump administration, the American people, and wishing the injured a speedy recovery," a statement on Saudi Press Agency read.
The suspected gunman, 46-year-old Robert Bowers of Pittsburgh, stormed the Tree of Life Congregation in the Squirrel Hill neighborhood during a Saturday morning service. He also wounded six others including four police officers before being arrested.
Full report at:
https://english.alarabiya.net/en/News/world/2018/10/28/Saudi-Arabia-condemns-Pittsburgh-Jewish-synagogue-attack.html
--------
Organization of Islamic Cooperation pledge support for lasting peace in Somalia
October 29, 2018
JEDDAH: The Organization of Islamic Cooperation (OIC) will continue supporting efforts of the people and the government of Somalia to build a strong future for their country, said Hesham Youssef, OIC assistant secretary-general for humanitarian affairs.
He was speaking on behalf of OIC Secretary-General Dr. Yousef Al-Othaimeen at a ministerial meeting of the OIC Contact Group on Somalia in Mogadishu on Sunday.
Somali Prime Minister Hassan Ali Khayre opened the meeting, which was attended by 16 representatives from OIC member states. The meeting was held to explore ways and means of enhancing national reconciliation and achieving political stability, lasting peace and economic development in Somalia.
Khayre pointed out that holding this meeting is evidence of the transformation that took place in Somalia. He said the Somali government is working hard in carrying out reforms in various institutions.
http://www.arabnews.com/node/1395376/saudi-arabia
--------
US Army Sends New Military Convoy to Northeastern Syria
Oct 28, 2018
The US army forwarded a convoy of 200 trucks to Hasaka via Simalka passageway at Syria-Iraq border.
The convoy included a large number of military and armored vehicles, logistic equipment and a large volume of arms and ammunition that were sent to the US base in the town of Tal Bid North of Hasaka city.
The Syrian Observatory for Human Rights (SOHR) reported on Friday that a large convoy of US supplied military vehicles made their way to the Southeastern countryside of Deir Ezzur province.
According to the SOHR report, more than 50 armored vehicles of the US-led Coalition entered Southeastern Deir Ezzur.
Full report at:
http://en.farsnews.com/newstext.aspx?nn=13970806000837
--------
Turkish Army Reinvigorates Monitoring Posts in Northern Syria After Failure in Expelling Terrorists
Oct 28, 2018
The Arabic-language al-Mayadeen TV Channel reported that the Army sent two convoys, including 40 armored and military vehicles, to 2 truce monitoring posts in Hama and Idlib provinces.
In the meantime, the London-based Syrian Observatory for Human Rights reported that a Turkish army military convoy with over 20 vehicles and a large volume of military equipment headed towards Ankara's truce monitoring post in the town of Morek in Northern Hama after crossing the border via Kafr Lusin passageway.
It further said Ankara has failed in all its attempts to persuade terrorists to leave demilitarized zone in Northeastern Lattakia, Northwestern Hama, Southern Idlib and Western Aleppo under the Sochi Agreement.
The SOHR reported last week that Turkey failed to convince terrorist groups to withdraw from the demilitarized zone mentioned in the Sochi Agreements that covers parts of Lattakia, Idlib, Hama and Aleppo provinces a week after the agreement's deadline of October 15.
In the meantime, al-Watan daily pointed to the failure of Turkey in expelling terrorists from the demilitarized zone, and said that the Syrian Army's artillery units pounded the movements of Tahrir al-Sham Hay'at terrorists that tried to prevail over the army's positions in al-Latamina region in Northeastern Hama and in the village of al-Zarzour in Southeastern Idlib.
A number of Tahrir al-Sham terrorists were killed or wounded in the army's artillery attack.
Full report at:
http://en.farsnews.com/newstext.aspx?nn=13970806000909
--------
More Civilians Killed in US-Led Coalition Airstrikes in Deir Ezzur
Oct 28, 2018
The sources said that the fighter jets bombed a house in the village of Albudaran near the small town of al-Shafa'ah in Eastern Deir Ezzur, killing 5 civilians, including the entire members of a family, and wounding several more.
The death toll may rise due to the critical conditions of the injured.
Military experts believe that the US raids on residential areas have been carried out in line with assisting the ISIL.
Local sources in Deir Ezzur reported on Wednesday that the US warplanes pounded a mosque in the town of Hajin in Eastern Deir Ezzur.
They added that early reports showed that at least 7 civilians were killed and dozens of others were severely injured in the attack.
Full report at:
http://en.farsnews.com/newstext.aspx?nn=13970806000521
--------
Turkish artillery bombards YPG forces in Syria after Erdogan's 'final warning'
October 28, 2018
BEIRUT: Turkish artillery on Sunday bombarded Kurdish militia positions on the eastern shore of the Euphrates River in northern Syria.
The shelling came two days after Turkish President Recep Tayyip Erdogan issued a "final warning" to anyone who endangered Turkey's borders, and said Ankara would focus its attention on Syrian Kurdish fighters east of the river.
The bombardment targeted YPG militia forces in the Zor Magar area to the west of northern Syria's Ayn Al-Arab region. Turkey considers the YPG a terrorist organization and an extension of the outlawed Kurdistan Workers' Party (PKK).
The rare Turkish shelling east of the Euphrates comes a day after an international summit on Syria hosted by Turkey, which called for an inclusive political process and for creating conditions to allow the return of millions of refugees.
Speaking at the summit, Erdogan said Turkey has been among those most harmed by "terror organizations" in neighboring Syria.
"We will continue eliminating threats against our national security at its root in the Euphrates' east as we have done so in its west," Erdogan said.
Turkey's official Anadolu news agency said Turkish artillery strikes Sunday hit trenches and positions built by the YPG on a hill in the village of Zor Moghar, in rural northern Aleppo.
The village is across the Euphrates River that separates Turkey-backed Syrian opposition forces and the YPG.
The YPG said in a statement the shelling killed a Kurdish fighter from the Self Defense Forces. The newly formed forces are affiliated with the US-backed Syrian Democratic Forces, leading the fight against Daesh in eastern Syria.
The YPG said the Turkish shelling was "unprovoked" and is a distraction from the fight against Daesh in eastern Syria.
"Any illegitimate attack against northern Syria will not go unanswered," the YPG said in a statement.
The Britain-based Syrian Observatory for Human Rights and Kurdish Hawar news agency also reported the shelling, saying Turkish artillery targeted other villages east of the Euphrates as well. Hawar said there were no reports of casualties.
The Observatory said the shelling in the villages west of Kobani, a stronghold of the Kurdish fighters, came while Kurdish fighters were on high alert following Turkish threats.
The YPG took control of large areas of northeast Syria in 2012 when Assad regime forces pulled out. The militia forms the backbone of the Syrian Democratic Forces (SDF), the Kurdish-Arab alliance that has received extensive US support in the fight against Daesh.
That support is a major point of contention between the US and Turkey, and a large-scale offensive east of the Euphrates could aggravate already tense relations.
Turkey has also repeatedly threatened an attack on the YPG-controlled Syrian city of Manbij, where US troops are deployed.
To ease tensions, Washington and Ankara agreed on coordinated patrols around the city, one of which took place on Sunday.
Further east in Syria, Daesh drove the SDF from the Hajjin pocket near the Iraqi border early on Sunday, after two days of fighting.
The SDF, backed by US-led coalition air strikes, launched its campaign to recapture the Daesh holdout on Sept. 10, but have faced a fierce fightback from the militants.
Full report at:
http://www.arabnews.com/node/1395241/middle-east
--------
Pakistan
Sufi scholars always laid stress on following Islam: CJP
Imaduddin
October 28, 2018
LAHORE: Chief Justice of Pakistan (CJP) Mian Saqib Nisar Sunday said that sufi scholars had always emphasized on following Islam in its true spirit.
He said this while talking to the media persons after performing the inaugural ceremony of the 975th annual Urs of Hazrat Ali bin Usman Al-Hajveri, popularly known as Hazrat Data Ganj Bakhsh (RA) here at Data Darbar.
He said, "Islam gives a message to serve people and to create facilities for them". The CJP said there were a number of things in the country which needed to be corrected and "We have to express our love for the country by discharging our duties honestly".
He said, "I feel as now Pakistan is heading forward and if collective efforts will be made with sincerity, the country will soon achieve the goal of development".
He congratulated the organizers for making good arrangements for today's ceremony.
The CJP appealed to the people to contribute for Dams wholeheartedly as construction of dams was very much necessary and he prayed to Allah Almighty for success in this regard.
Later, Federal Minister for Religious Affairs and Interfaith Harmony Noorul Haq Qadri while talking to the media said, "The Holy Prophet Hazrat Muhammad (PBUH) has always laid stress on peace and brotherhood".
He said that teachings of Sufi scholars needed to be followed in letter and spirit, adding all of us have to play due role for the progress and prosperity of the country. The minister said that Hazrat Data Ganj Bakhsh (RA) played a remarkable role for the spread of Islam.
Earlier, chadar laying ceremony was held which was participated by the Chief Justice of Pakistan and Federal Minister for Religious Affairs and Interfaith Harmony, Provincial Minister for Aquaf and Religious Affairs Syed Saeed ul Hassan Shah, Religious Affairs and Aquaf DG Tahir Raza Bukhari and others.
https://www.brecorder.com/2018/10/28/449564/sufi-scholars-always-laid-stress-on-following-islam-cjp/
--------
New madrassah syllabus not being introduced, says Asad Qaiser
Oct 29, 2018
SWABI: National Assembly Speaker Asad Qaiser on Sunday denied reports that new syllabus is being introduced in madrassas.
"We imposed that the Holy Quran be taught with translation and included the fundamental article of faith of finality of Prophethood in the syllabus in schools across Khyber Pakhtunkhwa (KP) and will do the same in Punjab," he said while talking to media in Swabi's Panjpir area.
"Incorrect reports are being circulated regarding the syllabus of madrassas," he added.
"We are neither introducing a new syllabus for madrassas nor are we drafting any policy. Till Prime Minister Imran Khan and I are here no such thing can happen," he elaborated.
"Madrassas are Islam's forts and preach peace and are among our top priorities," Qaiser added.
https://www.pakistantoday.com.pk/2018/10/28/new-madrassah-syllabus-not-being-introduced-says-asad-qaiser/
--------
Moosavi urges Muslim states to solve Yemen conflict
October 29, 2018
ISLAMABAD: The Patron-in-Chief of the Supreme Shia Ulema Board and chief of Tehreek Nafaz Fiqh-e-Jafariya Agha Syed Hamid Ali Shah Moosavi has said that no harm is being caused to Iran by crushing anti-Zionist Yemeni people but it is fully beneficial for Israel.
Moosavi said, "Muslim rulers should come out of the shackle of stubbornness and ego and satanic trap. The Yemeni conflict is not between the two countries rather majority party of the Yemeni people is being crushed for raising their voice against unconstitutional government. America is playing the Saddam-like game against Saudi Arabia. The murder of Jamal Khashoggi is absolutely American trick. A neutral arbitrator is necessary for resolving international conflicts," says a press release on Sunday.
He said that the United Nations and the OIC will have to come forward for solution of Yemen conflict. Pakistan should understand the Yemen conflict before claiming Pakistan's arbitration, he added.
Full report at:
https://www.thenews.com.pk/print/387055-moosavi-urges-muslim-states-to-solve-yemen-conflict
--------
Pakistan court sentences member of religious outfit to 30 years in jail
Oct 28, 2018
LAHORE: An anti-terrorism court in Pakistan has sentenced a member of a religious outfit to 30-year imprisonment for opening fire and injuring former interior minister Ahsan Iqbal in the PML-N government in May.
The court in Gujranwala on Saturday also ordered confiscation of assets of 22-year-old Abid Hussain and imposed a fine of Rs 280,000 on him.
The convict would have to undergo an additional six-month imprisonment in case of his failure to pay the fine.
According to a court official, Judge Syed Imran Shah handed down 27-year imprisonment to Hussain for shooting at Iqbal and another three-year jail term for carrying illegal weapons.
The judge said the convict made an assassination attempt on the former interior minister in ex-Prime Minister Shahid Khaqan Abbasi's Cabinet by shooting at him during an election rally in Narowal, some 100 kilometres from Lahore, on May 6.
The court acquitted four accomplices of the convict by giving them the benefit of doubt.
Hussain, a member of Tehreek-e-Labbaik Pakistan (TLP), in his statement to police said he had attacked Iqbal as his government hurt the sentiments of Muslims by attempting to change the law related to Khattam-e-Nubawat (finality of Prophethood).
Full report at:
https://timesofindia.indiatimes.com/world/pakistan/pakistan-court-sentences-member-of-religious-outfit-to-30-years-in-jail/articleshow/66401543.cms
--------
Army seeks record of child maid torture case against its official
Mohammad Asghar
October 29, 2018
RAWALPINDI: Army authorities have sought the case record of a young maid who was allegedly tortured by her employers – a woman serving with the army and her husband, a private doctor.
The victim is likely to be interviewed by the army authorities within the next two days.
The doctor, who has been on an interim bail till Oct 29, on Sunday has been included in the investigation. He has to appear before the additional district and sessions judge for the confirmation of his bail on Monday.
The army official, who has been nominated as the prime suspect in the FIR registered with the Airport police on the complaint of the Child Protection Bureau, is working as a computer information technology officer at the army headquarters. Her case has been sent to the army authorities for further proceeding.
When contacted, Aamir Khan, the station house officer (SHO) of Airport police, told Dawn that they were still waiting for the medico-legal report of the maid to proceed further. However, the army authorities are investigating the suspect and have sought details of the case from the police, he added.
The SHO said though the doctor did not admit to abusing the maid; he did say they used to taunt her whenever she went out of the house and once when she slipped down the stairs.
The 11-year-old maid has been kept with the Child Protection Bureau after she was brought back to Rawalpindi from her native town of Faisalabad.
Initially, three cuts with a blunt weapon were found on the victim's head besides multiple bruises on other parts of her body. After she complained of a severe pain in her left arm, a medical examination was conducted on her body, including consultancy with a neurologist. However, the police are still waiting for the medico-legal report.
When contacted, a child protection officer said the maid alleged that she was 'tortured' last when her employer's two-year-old baby fell from her arms.
He said the army authorities may record the statement of the maid during the next two days to complete their investigation.
Full report at:
https://www.dawn.com/news/1442028/army-seeks-record-of-child-maid-torture-case-against-its-official
--------
Parliament should take up Israeli jet issue, says Asfandyar
October 29, 2018
PESHAWAR: Awami National Party President Asfandyar Wali Khan has said that reports about landing of Israeli plane in Islamabad is a serious matter and asked the government to clarify its position in the parliament.
In a statement issued here on Sunday, he said that denial by the foreign and information ministers about landing of Israeli jet in the federal capital was insufficient and the matter should come under debate in the parliament.
He said that reports about landing of Israel jet was related to national security while information minister was joking with the nation.
This report should come under discussion in the parliament and the government must explain details of this 'secret mission', he added.
Asfandyar said that an Israeli jet had never landed in Pakistan during last 70 years.
He declared that as the Pakistan Tehreek-i-Insaf was in the government, arrival of Israeli mission in Islamabad could not be ruled out.
He said that three superpowers and three nuclear states had presence in the region and the government should maintain balance in relations with big powers.
Full report at:
https://www.dawn.com/news/1442046/parliament-should-take-up-israeli-jet-issue-says-asfandyar
--------
Mideast
Istanbul Syria peace offers few solutions to the conflict
Kareem Shaheen
October 28, 2018
A "complete cease-fire," an "inclusive Syrian-led and Syrian-owned political process" and "safe and voluntary return of refugees" were some of the phrases uttered by Turkish and European leaders at a summit in Istanbul on Saturday, aimed at laying the groundwork for a peace process in the devastating civil war in Syria, now in its eighth year.
But the outcome of the Istanbul summit, which was chaired by Turkey's Recep Tayyip Erdogan and included Russia's Vladimir Putin, Germany's Angela Merkel and France's Emmanuel Macron, has offered little in the way of practical solutions to end the bloody conflict, succeeding only in highlighting Washington's absence and greater European involvement in peace talks.
The talks came a month after Turkish shuttle diplomacy succeeded in temporarily halting a major offensive planned by the regime of Bashar Al Assad and backed by Moscow to reclaim the province of Idlib, the last redoubt of the opposition fighting to overthrow Syria's strongman.
Fears of a humanitarian catastrophe that would send a new influx of refugees into Turkey and Europe had spurred a frantic effort to delay the battle, and those concerns are reflected in Paris and Berlin's growing involvement in the peace talks, as they try to fend off political challenges from the anti-immigrant far right across the continent.
Turkey already hosts more than three million refugees, while Germany has accepted more than half a million.
The talks were billed as an auxiliary to the Astana peace talks, led by Russia, Turkey and Iran, and which have eclipsed the UN-led peace process. But even Astana has failed in its attempts to halt the violence, despite the involvement of the powers with the greatest presence and influence on the ground in Syria.
Inch by inch, the Syrian government – backed by Russia's air force and Iranian-supported militias – has ousted the rebels from strongholds in Aleppo, the Damascus suburbs and southern Syria, exiling opposition civilians and fighters to Idlib and gathering momentum for a military victory in the war.
Europe has little leverage over the final outcome of the crisis, save for a pledge that ties any reconstruction aid to rebuild the devastated country to a credible political process. European leaders, however, are keen for a deal that allows the return of refugees, despite the persecution they are likely to face at home.
Far from setting the stage for peace talks, however, the summit highlighted how little progress has been made towards an inclusive peace process, what with Syrians absent from the meeting.
At the summit, President Putin insisted that the Idlib ceasefire deal, which had created a demilitarised zone on the province's borders, was only a "temporary" measure, raising the prospect once again that Moscow may ultimately back a military campaign to retake the region and highlighting the fragility of the deal negotiated by Ankara.
The creation of a constitutional committee meant to draft Syria's post-war charter is frozen. The outgoing UN envoy to Syria, Staffan de Mistura, had billed the committee as a key concession from the regime, and vowed to make progress in appointing its members, who are supposed to include representatives from the regime and the opposition as well as UN appointees, before leaving his post in November.
But he was rebuffed by the Syrian government earlier this month, in a move that showed President Assad felt little need to compromise with the opposition or the international community amid his military victories. The drafting of the constitution is supposed to pave the way for elections, steps that European leaders are insisting on – for now.
"There will be no real, sustainable, credible return of the refugees if the political process is not initiated," President Macron said.
That political process now is in the hands of Russia, the Assad regime's main backer, whose intervention in the war almost exactly three years ago reversed the momentum of the war at a key moment, when it looked like the government was teetering on the brink. Without military backing and political cover from Russia, President Assad's fate had looked uncertain.
And without Russian pressure, President Assad sees little need to concede on any of the key pillars of the peace process touted by the other three powers in Istanbul. The meeting, far from emphasising the multilateral nature of peace efforts, served instead to highlight Russia's primacy.
President Macron said the three powers relied on Russia to use its influence on President Assad. President Putin, rather than saying he would pressure the Syrian leader to come to an agreement with his opponents, said Moscow reserves the right to actively aid President Assad's efforts to "eliminate this terror threat."
https://www.thenational.ae/world/europe/istanbul-syria-peace-offers-few-solutions-to-the-conflict-1.785216
--------
Israeli airstrike kills 3 boys aged 12 to 14 in Gaza
29 October 2018
Palestinian medics say three boys aged 12 to 14 have been killed in an Israeli airstrike in the southeastern Gaza Strip.
Ashraf al-Kidra of the Health Ministry says ambulance crews are bringing the bodies to a hospital from the perimeter fence dividing Gaza and Israel, according to the Associated Press.
The Israeli army said an aircraft hit three Palestinians who approached the security fence Sunday "and were apparently involved in placing" an explosive device to it.
In another development, a Palestinian has died two days after suffering gunshot wounds in clashes on the Israel-Gaza border, the health ministry in the enclave said Sunday, according to AFP.
The death raises to seven the number of Palestinians killed as a result of Friday's clashes when thousands again approached the border fence.
At least 214 Palestinians have been killed by Israeli fire in months of protests and clashes along the Gaza border.
One Israeli soldier has been killed since the protests and clashes began on March 30.
Israel says its actions are necessary to defend the border and stop infiltrations and attacks, which it accuses Hamas of seeking to orchestrate.
Palestinians and rights groups say protesters have been shot while posing little threat.
Israel and Palestinian militants in Gaza, run by Hamas movement, have fought three wars since 2008.
Later on Friday and into Saturday, Palestinian militants fired dozens of rockets into southern Israel, which responded with extensive air strikes.
The violence came to an end after Islamic Jihad, the Palestinian militant group that launched the rockets, said it had agreed to an Egyptian-brokered truce.
No one was killed from the rocket fire and air strikes.
Full report at:
https://english.alarabiya.net/en/News/middle-east/2018/10/29/Israeli-airstrike-kills-3-boys-aged-12-to-14-in-Gaza.html
--------
Palestinian President vows to thwart Trump peace plan
28 October 2018
Palestinian President Mahmud Abbas on Sunday again vowed to oppose any peace proposal by US President Donald Trump as PLO officials met to consider their next moves.
Speaking at the opening of a rare meeting of the Palestinian Liberation Organization's central council, Abbas said Palestinians were facing perhaps the "most dangerous stage" in their history, highlighting a series of controversial measures taken by Trump including recognizing Jerusalem as Israel's capital.
Abbas has boycotted Trump's administration since that December decision, though the US president's team is still expected to release a peace plan in the coming months.
Abbas compared the expected Trump proposal to the 1917 Balfour Declaration, which saw the British government commit to the creation of a state for Jews in historic Palestine.
"If the Balfour Declaration passed, this deal will not pass," he pledged.
The US has also cut hundreds of millions of dollars in aid for Palestinians, with Trump angered by Abbas's refusal to meet with him or members of his administration.
He has called on Abbas to negotiate, but Palestinian leaders say they are being blackmailed to accept Trump's terms, which they see as blatantly biased in favor of Israel.
"They are still talking about the deal of the era, and that they will present it after a month or two," Abbas added, saying Trump's actions amounted to imposing a deal unilaterally.
The Palestinian leader also renewed his support for salaries for families of Palestinians killed or jailed by Israel.
Israel brands the payments for families of those who have carried out anti-Israel attacks as encouraging "terrorism", and the United States has also criticized them.
Palestinians see those jailed or killed while carrying out attacks as fighting Israel's ongoing occupation.
Full report at:
https://english.alarabiya.net/en/News/middle-east/2018/10/28/Palestinian-President-vows-to-thwart-Trump-peace-plan.html
--------
Turkish forces bombard Kurdish YPG militia positions east of Euphrates
28 October 2018
Turkish forces bombarded Kurdish YPG militia positions on the eastern shore of the Euphrates River in northern Syria, state-owned Anadolu news agency said on Sunday.
The bombardment targeted the Zor Magar area to the west of northern Syria's Ayn al-Arab region and was aimed at preventing "terrorist activities", Anadolu reported.
Turkey carried out an offensive against YPG forces in Syria's Afrin region earlier this year and has repeatedly said it would target YPG forces to the east of the Euphrates River.
https://english.alarabiya.net/en/News/middle-east/2018/10/28/Turkish-forces-bombarded-Kurdish-YPG-militia-positions-east-of-Euphrates-.html
--------
Coalition strikes, armed clashes kill 40 Houthis near Yemen's Hodeidah
28 October 2018
Yemeni military sources confirmed on Sunday that 40 members of the Houthi militias were killed and dozens injured following air strikes by the Arab coalition backing the Yemeni legitimate army.
The source said the air strikes targeted Houthis' reinforcements which were on their way to the port city of Hodeidah.
Fighting also erupted between the Yemeni legitimate army and the Iranian-backed Houthi militias near the Kilo 16 highway connecting the capital Sanaa with Hodeidah, adding to the casualties among the Houthis.
A senior Yemeni military source that the militias were trying to bring in their military reinforcements to the center of the port city, adding that the Arab coalition fighter jets destroyed a number of military vehicles and equipment reinforcements that were on the way to the Houthi militias.
Full report at:
https://english.alarabiya.net/en/News/gulf/2018/10/28/40-Houthis-killed-in-Arab-coalition-air-strikes-and-clashes-with-Yemeni-army.html
--------
Khashoggi was to disclose Saudi use of chemical weapons in Yemen: source
Oct 28, 2018
Dissident Saudi journalist, Jamal Khashoggi, who was recently murdered at the Saudi consulate in Istanbul, was about to disclose details of Saudi Arabia's use of banned chemical weapons in its imposed war on Yemen days before he was killed, a report says. British Sunday Express weekly reported that a close friend of Khashoggi, speaking on condition of anonymity, had told it on Saturday night that he was about to obtain "documentary evidence" from his murdered friend proving claims that Riyadh had used banned chemical weapons in its brutal aggression against Yemen.
"I met him a week before his death. He was unhappy and he was worried," the Middle Eastern academic told the British weekly, adding that he asked Khashoggi why he was unhappy and worried.
"He didn't really want to reply, but eventually he told me he was getting proof that Saudi Arabia had used chemical weapons. He said he hoped he be getting documentary evidence," Khashoggi's fried further revealed, adding, "All I can tell you is that the next thing I heard, he was missing."
Leading a coalition of its allies, including the United Arab Emirates, Morocco, and Sudan, Saudi Arabia invaded Yemen in March 2015 in an attempt to reinstall a former Riyadh-friendly regime, which had resigned amid popular discontent, and to crush the country's popular Houthi Ansarullah movement, which has played a significant role, alongside the Yemeni army, in defending the nation and has been running state affairs in the absence of an effective government.
The aggression initially consisted of a bombing campaign, but was later coupled with a naval blockade and the deployment of ground forces to Yemen. More than 15,000 Yemenis have so far been killed and thousands more wounded.
The Saudi-led war has also taken a heavy toll on the country's infrastructure, destroying hospitals, schools, and factories. The UN has already said that a record 22.2 million Yemenis are in dire need of food, including 8.4 million threatened by severe hunger. According to the world body, Yemen is suffering from the most severe famine in more than 100 years.
More than three and a half years into that war, Saudi Arabia has achieved neither of its objectives. This is while it had declared at the start of the invasion that the war would take no more than a couple of weeks.
Since the onset of that war, Riyadh has been accused of using banned chemical weapons against the Yemeni soldiers defending their country against the Saudi-led aggression, with reports of using US-supplied white phosphorus munitions that can maim and kill by burning to the bone.
Khashoggi's friend did not tell the Sunday Express whether the white phosphorus was one of the chemicals Saudis used against Yemenis, but the weekly speculated that it was "more likely" that the murdered journo was referring to phosphorous.
Last month, it was claimed that Saudi Arabia had been using white phosphorous munitions supplied by the US against soldiers and even civilians in Yemen, the weekly added.
"If Khashoggi did, in fact, have proof that Saudi Arabia was deliberately misusing phosphorous for this purpose, it would be highly embarrassing for the regime and provides the nearest motive yet as to why Riyadh may have acted when they did against him," the Sunday Express quoted chemical warfare expert, Col. Hamish de Bretton-Gordon, as saying.
Khashoggi, 59, an outspoken critic of the Saudi government, had been living in self-imposed exile in the United States since 2017, when Saudi authorities launched a massive crackdown on dissent. He was seeking to secure documentation for his forthcoming marriage when he entered the Saudi consulate in Istanbul on October 2, but never came out despite Riyadh's initial claim that he exited the mission less than an hour after entering.
The kingdom, however, later admitted that the journo had been murdered in the consulate after diplomatic pressure grew tremendously on Riyadh to give an account on the mysterious fate of its national. However, it said that it did not know the whereabouts of the journo's body, which is widely believed to be dismembered.
The British weekly further cited "highly-placed" intelligence source, speaking on condition of anonymity that a "member of the royal circle" of Saudi Arabia had ordered to kidnap the journalist and take him back to the Arab kingdom. But it is not clear whether the "member" had been Saudi Crown Prince Mohammed bin Salman. "Whether he was not the original issuer we cannot say," they added.
Though it was commanded that Khashoggi should be abducted and taken back to Riyadh, it "left the door open for alternative remedies," should the journo proved to be troublesome, sources added.
Last week, Saudi Arabia's Attorney General confirmed "the suspects in the incident had committed their act with a premeditated intention," in sharp contrast to initial official explanations that Khashoggi had been killed after a fight broke out in the diplomatic mission.
Those suspects, the weekly added, were within a 15-strong hit squad sent to Turkey and included serving members of Saudi General Intelligence Presidency (GIP).
MI6 knew about the plan
Separately, the highly-placed source has confirmed that Britain's MI6 had warned its Saudi Arabian counterparts to cancel the mission, though this request was ignored.
Full report at:
https://www.presstv.com/Detail/2018/10/28/578383/Khashoggi-chemical-weapons-yemen
--------
Gaza farmers come under attack by Israeli forces
Oct 28, 2018
With the Israeli military keeping up its acts of aggression against Palestinians, soldiers of the Tel Aviv regime have come to target farmers in several areas of the besieged Gaza Strip.
According to Palestinian Ma'an News Agency on Sunday, the soldiers opened fire on Palestinian farmers east of the town of Beit Hanoun in northern Gaza.
Sources confirmed that one farmer was injured by fire and rushed to Beit Hanoun Hospital.
Israeli forces also opened fire on farmers east of Maghazi refugee camp in central Gaza. The farmers were forced to leave their lands.
Farmers are not the sole target of Israeli fire. The military regularly shoots at unarmed Palestinian fishermen and shepherds near the fence separating Gaza from the occupied territories.
The coastal strip has been under a crippling siege since 2007 and witnessed three wars since 2008. It has also witnessed a fresh wave of tensions since March 30, which marked the start of "The Great March of Return" protests.
More than 200 Palestinians have so far been killed and over 20,000 others wounded by Israeli troops in the protests, according to the latest figures released by the Gaza Health Ministry.
Separately, an Israeli settler attacked two Palestinians in the village of Qaryut, south of Nablus in the occupied West Bank.
Ghassan Daghlas, an official who monitors settlement activity in occupied region, said an Israeli guard from the settlement of Eli attacked two Palestinians.
One of the victims was a member of the Qaryut village council and the other a bulldozer driver. The Palestinians came under attack while working on a new agricultural road in the area.
Settlers, mostly armed, regularly attack Palestinian villages and farms and set fire to their mosques, olive groves and other property in the West Bank under the so-called price tag policy.
Price tag attacks are acts of vandalism and violence against Palestinians and their property as well as Islamic holy sites by Israeli settlers.
Full report at:
https://www.presstv.com/Detail/2018/10/28/578359/Israel-Gaza-farmers
--------
South Asia
Bangladesh, Myanmar to hold Rohingya repatriation talks Tuesday
October 29th, 2018
Joint Working Group members to visit camps, interact with Rohingyas Wednesday
Bangladesh and Myanmar will hold their next Joint Working Group (JWG) meeting on the repatriation of verified Rohingyas on Tuesday.
The foreign secretary-level meeting will be held at a State guesthouse in Dhaka, reports UNB.
According to the report, the meeting will be co-chaired by Permanent Secretary, Ministry of Foreign Affairs of Myanmar Myint Thu and his Bangladesh counterpart Senior Secretary, Ministry of Foreign Affairs M Shahidul Haque.
Officials said they will discuss in detail about the Rohingya repatriation issue as there are "intensive efforts" to begin the repatriation as soon as possible.
There is a that the first batch of of 8000 verified Rohingyas could be repatriated before the next national election; although it is difficult to predict such a complex issue, a diplomatic source said, adding that China is pushing for the rapid implementation of repatriation agreements between Bangladesh and Myanmar.
Foreign Ministry officials said Bangladesh's JWG members discussed a breadth of issues on Sunday before the JWG meeting.
An official told UNB that the JWG members of both sides will visit the Cox's Bazar Rohingya camps on October 31 and will interact with Rohingyas.
He said Bangladesh will seek updates about which steps are being taken for the safe and sustainable return of Rohingyas to their homeland Myanmar from Bangladesh.
Bangladesh wants to be certain that the Rohingyas who are expected to return to Myanmar in the first batch of repatriation have houses—and other facilities to live in their own villages.
"We have completed village-wise verification of 8,000 Rohingyas. We want to make sure they can start living in houses in their own villages," Foreign Minister AH Mahmood Ali on October 15 said.
Stating that India has built 250 houses while China is building 1,000 more, he said: "The returnees will first stay at reception centres in Myanmar and then will go to their villages."
Myanmar has thus far failed to take steps to ensure the safe and sustainable return of the Rohingyas.
Chinese Minister and Party Committee Secretary of the Ministry of Public Security Zhao Kezhi and his Bangladesh counterpart also discussed the Rohingya issue on Friday.
The Bangladesh side sought China's role in repatriating Rohingya.
"There will be a tripartite meeting among Bangladesh Foreign Minister (AH Mahmood Ali) and his Chinese and Myanmar counterparts where they will discuss the issue further," Home Minister Asaduzzaman Khan said.
However, he did not elaborate on when and where this meeting will be held.
Similar meetings were held in New York and Beijing over the past months, indicating that pressure is mounting on Myanmar.
Prime Minister Sheikh Hasina, at the 73rd United Nations General Assembly, made three recommendations for solving the Rohingya crisis at its root—including abolishing Myanmar's discriminatory laws, policies and practices against the minority group.
According to her second recommendation, Myanmar must create an acceptable environment by building trust and guaranteeing protection, rights, and a pathway to citizenship for all Rohingyas. If needed, it should create a safe zone inside the country to protect all civilians.
Her third recommendation says atrocious crimes against Rohingyas should be prevented by bringing about accountability and justice—particularly in the light of recommendations of the Fact-Finding Mission of the UN Human Rights Council.
Foreign Minister AH Mahmood Ali along with joint working group members in August visited the northern Rakhine State and saw the trail of widespread devastation suffered by people there, the Foreign Ministry officials said.
He also visited Shwe Zar village where around 148 prefabricated houses for returnees are being built with the assistance of the government of India.
After the military crackdown in Myanmar's Rakhine state on August 25 last year, more than 700,000 Rohingyas, mostly children and women, crossed into Bangladesh.
They joined more than 400,000 existing refugees who were already living in squalid, cramped camps in Cox's Bazar.
Bangladesh and Myanmar formed the JWG on December 2017 to start repatriating Rohingya refugees by January 23, 2018.
In May, JWG's Myanmar side urged the Bangladeshi side to commence the repatriation of the prior-verified 778 muslim and 444 hindu Rohigya.
https://www.dhakatribune.com/bangladesh/rohingya-crisis/2018/10/29/bangladesh-myanmar-to-hold-rohingya-repatriation-talks-tuesday
--------
Suicide attacker targets Kabul election workers, casualties: officials
October 29, 2018
KABUL, Afghanistan: An Afghan official says a suicide car bombing near the election commission office in Kabul wounded 6 people.
The bomber exploded his vehicle early Monday morning outside the heavily fortified office of the Independent Election Commission after police suspected his intentions and opened fire, says Basir Mujahid, Kabul police chief spokesman.
The Taliban and Islamic State affiliate earlier threatened to disrupt parliamentary elections held in most provinces on Oct. 20 and in southern Kandahar on Saturday. Kandahar voting was delayed after an Oct. 18 attack by a turncoat Afghan guard killed the province's powerful provincial police chief, Gen. Abdul Razik.
The Taliban claimed the attack that also targeted Washington's top commander in Afghanistan Gen. Scott Miller, who was unhurt.
No one has yet claimed Monday's attack in Kabul.
http://www.arabnews.com/node/1395561/world
--------
We've not made final decision on attending Moscow meeting yet, says Taliban
October 28, 2018
The Afghan Taliban said on Sunday that they would attend the forthcoming meeting of the regional countries' representatives in Russia about peace in Afghanistan, but only if the agenda of the meeting is shared with the Taliban in advance.
"We have not got the agenda of the meeting yet. However, if it's going with the agenda of the previous summit, the Taliban will participate," Zabiullah Mujahid, spokesperson of the Afghan Taliban, told Arab News.
The meeting was scheduled for Sept. 4 in Moscow but it was postponed after the Afghan Government refused to attend.
Rahimullah Yusufzai, an expert on Afghan affairs, said the meeting was postponed on the request of Afghan Government. After the US refused to participate in the meeting, the Afghan Government declined to attend, he said.
Little success sans US
"It is a positive step for Afghan peace," said Yusufzai. "However, it cannot be fully successful without the participation of the US, which would choose not to attend it for the obvious reasons," he said. He added that the US, which recently said that the release from Pakistan of Mullah Omar's deputy, Mullah Abdul Ghani Baradar, was a concession to the Taliban, will never want the Russians in the leading role.
Even if it's without the US, Yusufzai said, the meeting will still bring the Afghan Taliban and the Afghan Government closer.
"They will spend some time in the same event and are most likely to have sittings on the sideline of the meeting, which will bring them closer," Yusufzai said.
No immediate role for Baradar
"Mullah Abdul Ghani Baradar has been released and has joined his family," the Taliban spokesman said.
However, Mujahid maintained that it would take some time for Baradar to develop a close association with the Mujahedeen, "so he will relax with his family for the time being."
Yusufzai did not see an immediate role for Baradar in the peace talks.
"First, Mullah Baradar was arrested on (the information of) the US from Karachi. Although the Government of Pakistan had announced in 2013 it would free him, this could not happen without US consent. Now he has been released with US consent," the Afghan affairs expert said.
Yusufzai said Baradar had been Mullah Omar's deputy and many structural changes had occurred in the Taliban's organization over several years which will not allow any active role for him immediately. "Baradar will have to become a member of the central Shoura in order to have any say in the affair, although he still enjoys highest respect among and from the Taliban ranks," Yusufzai said.
Dates yet to be fixed
While responding to a question about the Interfax agency report that the next Moscow format meeting on Afghanistan will take place in Moscow on Nov. 1, Russian Foreign Ministry spokesperson Maria Zakharova declined to confirm that date. "I can say that at the moment, the process of agreeing the dates, modalities and participants of the next Moscow format consultations on Afghanistan is still under way," she told the press here on Thursday.
Full report at:
http://www.arabnews.com/node/1395331/world
--------
U.S. drones target Taliban vehicle in Paktia leaving 5 militants dead
Oct 28 2018
At least five militants were killed after the U.S. drones targeted a vehicle of the Taliban militants in southeastern Paktia province of Afghanistan.
The 203rd Thunder Corps of the Afghan Military in the Southeast in a statement said the drone strike was carried out in the vicinity of Zurmat district.
The statement further added that a vehicle which was carrying Taliban militants was targeted in Yamnai Khel area of the district, leaving five militants dead.
The 203rd Thunder Corps also added that the vehicle was also destroyed during the same airstrike.
The anti-government armed militants including the Taliban militants have not commented regarding the report so far.
Paktia has been among the relatively calm provinces in Southeast of Afghanistan but the security situation of the province has deteriorated comparatively during the recent years.
Full report at:
https://www.khaama.com/u-s-drones-target-taliban-vehicle-in-paktia-leaving-5-militants-dead-02640/
--------
Election staff among six wounded in Kabul suicide blast
Oct 29 2018
A suicide bomber detonated his explosives close to the office of the Independent Election Commission in Kabul this morning.
A spokesman for the Kabul Police Basir Mujahid confirmed the incident and said six people were wounded, including four election staff and two policemen.
However, another security source said the suicide bomber detonated his explosives close to the vehicle of the election staff vehicle after he was identified by the police forces.
The source further added that six people including four election staff sustained injuries in the attack.
No individual or group has so far claimed responsibility behind the incident.
https://www.khaama.com/election-staff-among-six-wounded-in-kabul-suicide-blast-02641/
--------
NDS Special Forces storm a key hideout of the Taliban in Nangarhar province
Oct 28 2018
The Special Forces of the Afghan Intelligence, National Directorate of Security (NDS), have stormed a key hideout of the Taliban group in eastern Nangarhar province of Afghanistan.
The provincial government media office in a statement said at least four Taliban militants were killed in the raid and depot containing weapons and explosives was destroyed.
The statement further added that the operation was conducted at 12am local time on Friday in Khalaqdad area of Khogyani district which continued until 3am in the morning, leaving four militants dead.
Another Taliban Hamidullah who was expert in producing improvised explosive devices was arrested along with seven others during the same operation, the statement said.
The Afghan forces also confiscated some suicide bombing vests, weapons, munitions, mines, and other explosives during the operation which were later destroyed, the provincial government said, adding that the NDS forces and local residents did not suffer casualties during the operation.
Full report at:
https://www.khaama.com/nds-special-forces-storm-a-key-hideout-of-the-taliban-in-nangarhar-province-02637/
--------
Southeast Asia
King Salman invites Mahathir to visit Saudi Arabia
29 October 2018
PUTRAJAYA, Oct 29 — King Salman Abdulaziz Al Saud of Saudi Arabia has extended a personal invitation to Prime Minister Tun Dr Mahathir Mohamad to visit Saudi Arabia soon.
The monarch's special envoy, Turki Mohamed Fahd Al Saud, handed the invitation to Dr Mahathir at a meeting today at Perdana Putra here.
Foreign Minister Datuk Saifuddin Abdullah, who also attended the meeting, said the invitation for the visit is aimed at further strengthening the existing good relations between the two countries.
"The Prime Minister expressed his thanks and will consider the right time for the visit as he is busy right now," Saifuddin said to reporters after the meeting.
Saudi Arabian Ambassador to Malaysia Mahmoud Hussien Saeed Qattan also attended the meeting.
Last Friday, Saudi Arabian Foreign Minister Adel Ahmed Al-Jubeir called on Dr Mahathir. — Bernama
https://www.malaymail.com/s/1687706/king-salman-invites-mahathir-to-visit-saudi-arabia
--------
China exiles point spotlight on Muslim repression
October 28, 2018
Murat Harri Uyghur is not sure how many members of his family are among the million mainly Muslim detainees in the political "re-education" camps of northwest China. Every time he reaches someone who might know, they put the phone down on him.
The Finland-based businessman has not spoken to his parents for months but has received word through contacts and intermediaries that the pair, both in their 60s, are in detention. He remains in the dark about how many of his cousins are being held in the increasingly harsh crackdown against the 12 million Uyghurs and other Muslim minorities in China's most western region of Xinjiang.
"I know where my mother is but I have no information about my father," said the 33-year-old. "He has very bad diabetes and I'm afraid it will be difficult to survive for him to survive in the re-education camp."
Amid government suppression and a ban on outside inspectors, Uyghur exiles are providing a small window to gaze on the Chinese state's mass detention and surveillance programme of its Muslim minorities that it justifies as a programme to tackle "violent terrorism".
The campaign has led to a crackdown on the practice of Islam with thousands of mosques destroyed, steps taken to prevent the spread of halal products and the enforced shaving of beards, according to researchers. The restrictions are so harsh that it has "effectively outlawed Islam", according to a report by Human Rights Watch.
Murat told The National that he had his identity papers checked as he went to Friday prayers in the mosque in the grand bazaar of the region's capital Urumqi during a visit from Finland in 2016.
"When I was on the prayer mat, someone was walking in front of us," he said. "When I stood up, I saw that it was armed police checking where we were praying. I was shocked when I saw it."
The authorities have installed checkpoints every few hundred metres in the Uyghur old town of Urumqi, with identity card, facial recognition and fingerprint checks as part of a policy to marginalise the Turkic ethnic group, said Joshua Sooter, a China researcher.
Officials have moved into the homes of the Muslim families to document their lifestyles, religious practices and monitor their movements, said the New York-based academic.
"Part of this is about state surveillance but it's also trying to get a handle on who they are, what they're doing and how they can reshape their lives at a very basic level," said Mr Sooter. "This is an effort at quashing any independence movement on China's western border and providing stability for development."
Authorities have stepped up their decades-long suppression of a Uyghur separatist movement over the past two years to increase their control of the strategically-vital region and to curb sporadic attacks that officials blame on Islamist militants. Officials have for decades encouraged an influx of Han Chinese, the dominant ethnic group in China, to settle in the region.
Xinjiang is a vital staging post in the grand trading policy to bind China with the Middle East and Europe through investment and a series of overland and maritime routes known as the "Belt and Road" initiative. The region is also the country's biggest producer of oil and gas.
The crackdown against the Muslim minorities is led by senior party leader Chen Quanguo who moved from Tibet, where government tactics have quietened a separatist campaign that at its high point garnered broad international support behind Tibet's spiritual leader in exile in northern India. China responded by using its growing economic clout to dissuade national leaders to meet the Dalai Lama.
Campaigners for the Uyghur cause say, however, that they have struggled to rally support for their cause because of questions about the role of extremists from the region and a spate of deadly attacks blamed on Uyghur separatists by Beijing.
In 2013, a Uyghur driver mowed down pedestrians in Tiananmen Square in Beijing, the symbolic heart of the Chinese regime. The following year, a Uyghur gang stabbed and killed 31 people at a railway station in the southern province of Yunnan.
As part of its "Strike Hard against Violent Terrorism" campaign, the authorities have released a list 75 indicators or religious extremism, which includes the purchase of boxing gloves, maps, and tents "without obvious reasons", according to Human Rights Watch.
China has said that it was concerned that Muslims from the region have travelled to Syria and Iraq to fight, but have given no figures. The Syrian ambassador to China claimed in 2017 that up to 5,000 Uyghurs are fighting in various militant groups. There are reports that groups in the country's northwestern province of Idlib, still held by rebel and hard-line factions, made up solely of Chinese fighters.
Despite the scale of the re-education camp programme, the Uyghur campaign has been hampered by a lack of support from Muslim nations, said Dolkun Isa, the German-based president of the Uyghur World Congress.
"Over the last one-and-a-half years, 99 per cent of Uyghurs living in exile have lost contact with a family member and don't know where they are," he said. "But most of the Muslim countries are silent. They're just thinking of the economics."
Stung by international criticism of the dozens of secretive camps across the region, Chinese state media have "interviewed" some of the detainees in the camp who claimed that they were enjoying life inside, with some saying that they had been saved from extremism.
"The question that the Chinese government hasn't answered is: if they are just sent for vocational training, why do they need to be kept in camps?" said Patrick Poon, a China researcher at Amnesty International.
Inside the camps, detainees are forced to learn Mandarin Chinese and sing the praises of the Chinese Communist Party. Detainees are told they cannot leave unless they have learned more than 1,000 Chinese characters, Human Rights Watch said in its September report. Family members of detained Uyghurs told the group that relatives had been beaten, shackled for long periods and hung from the ceilings.
Murat Harri Uyghur has sought to bring attention to the plight of his people with demonstrations and flyer campaigns in major European cities as part of a so-called "Freedom Tour". He believes his father, a retired civil servant, was probably held because he travelled abroad for business after he retired, or because he lives in Finland. The Xinjiang authorities are seeking to have all foreign influences purged as part of its strategy.
Full report at:
https://www.thenational.ae/world/asia/china-exiles-point-spotlight-on-muslim-repression-1.785086
--------
AG drops bid to appeal ban on Faisal Tehrani's books
29 October 2018
KUALA LUMPUR, Oct 29 — Prolific writer and Muslim thinker Mohd Faizal Musa's three-year court battle against the Home Ministry is finally over.
Attorney General Tommy Thomas has withdrawn the government's bid to appeal against the Court of Appeal's January 11 decision to set aside the Home Affairs Ministry's ban on three books written by the academic under the pen name Faisal Tehrani.
"Having read the written representations on behalf of your client and taking into consideration his role as an academician, author of academic and creative books and articles, a scriptwriter and poet, I have decided that the Government of Malaysia will not proceed with its Motion for Leave to Appeal to the Federal Court against the decision of the Court of Appeal in the above-mentioned proceedings.
"Further, I will also advise the Ministry of Home Affairs to remove books written by your client from its Prohibition Order List," Thomas wrote in a letter dated October 23 that was sighted by Malay Mail.
He noted that the three books, Karbala, Ingin Jadi Nasrallah and the award-winning Tiga Kali Seminggu, were compilation of short stories and poems that were previously published elsewhere including Utusan Malaysia and its weekend edition Mingguan Malaysia as well as Milinea Muslim, Dewan Sastera and Dewan Budaya as far back as 2000 "without any evidence of the occurrence of actions prejudicial to public order and security".
He added that his decision was based on the fact that thousands of copies had been printed and sold before the ministry banned it and that in all that time, the books had not jeopardised national harmony.
Mohd Faizal, a research fellow at Universiti Kebangsaan Malaysia's Institute of the Malay World and Civilisation, filed a legal challenge in September 2015 against the Home Affairs Ministry, four months after it banned four of his books over alleged links to Shiah teachings.
Mohd Faizal also included his book titled Sebongkah Batu di Kuala Berang in his court filings, but the AG made no mention of it in his letter.
In his filing, Mohd Faizal argued that the ban was a violation of Articles 8(1) and 10(1)(a) of the Federal Constitution that deal with equality under the law and the right to freedom of speech and expression, respectively.
The High Court dismissed his bid for a judicial review in August 2016, but a three-judge panel at the Court of Appeal chaired by Justice Zaleha Yusof ruled in Mohd Faizal's favour in January this year.
Zaleha said the judges had read the disputed books and found they were love stories, adding that they could not understand the reason for the ban.
Full report at:
https://www.malaymail.com/s/1687686/ag-drops-bid-to-appeal-ban-on-faisal-tehranis-books
--------
Police investigate 'HTI flag'-related cases in Palu, Poso
October 28, 2018
The Central Sulawesi Police are investigating a recent attack against the Palu secretariat office of GP Ansor, the youth wing of the country's largest Muslim organization Nahdlatul Ulama (NU), as well as a suspected raising of the Hizbut Tahrir Indonesia (HTI) flag in Poso.
The two incidents were allegedly connected to a recent brouhaha surrounding the burning of an HTI flag in Garut, West Java, by members of NU's paramilitary group, Banser.
The police have been questioning witnesses and suspected perpetrators in both cases, a senior police officer has confirmed. They are also looking into the motive behind the flag-raising on Friday in Poso.
Central Sulawesi Police spokesman Adj. Sr. Comr. Hery Murwono confirmed that the flag that was hoisted at the Poso Regency Council was that of HTI, an organization that has been banned by the government.
He added that the flag had been raised by supporters of the hardline group Islam Defenders Front (FPI).
"They were FPI supporters, but they brought an HTI flag instead," Hery said on Saturday.
An angry mob attacked the secretariat office of GP Ansor on Jl. Lasoso in Palu on Friday afternoon, injuring several people.
At the time, members of GP Ansor's Central Sulawesi chapter and Banser were packing aid for survivors of a recent earthquake and tsunami in Palu, Donggala and Sigi. The attackers were reportedly driving a pick-up truck.
"[The attackers] barged in and verbally attacked us, aiming to destroy the office. Members of GP Ansor and Banser fought back, so they clashed," said Adha Nadjamuddin, chairman of GP Ansor's Central Sulawesi chapter.
The police have deployed officers to safeguard the secretariat office.
On Thursday, the chairman of the Muslim People Forum's (FUI) Central Sulawesi chapter, Hartono, condemned the burning of what was perceived as a tauhid flag by Banser members.
Tauhid is the core of the Islamic faith and the declaration of belief that Allah is the one and only God.
"The tauhid sentences are the core of the Islamic faith [...] It's a matter of life and death for a Muslim," he said. "Those who deny and threaten [the teaching] are infidels."
Full report at:
http://www.thejakartapost.com/news/2018/10/28/police-investigate-hti-flag-related-cases-in-palu-poso.html
--------
Africa
Boko Haram militants attack military base in Nigeria
Oct 28, 2018
Boko Haram militants launched a large assault on a military base in Nigeria's remote northeast region and killed one soldier, defense officials said Sunday.
The attack on 145 Battalion in Gashigar, Borno State, began on Saturday and continued into early Sunday morning, said Nigerian air force spokesman Ibikunle Daramola.
"BHTs (Boko Haram terrorists) in 13 gun trucks...advanced towards the camp from two different directions," Daramola said in a statement.
Nigerian troops supported by helicopters "forced the Boko Haram terrorists to retreat from the camp," Daramola said.
"One soldier was killed in action while four others were wounded," said the Nigerian army in a statement posted on its official Twitter account.
The army repelled an assault on Gashigar in September by militants in trucks mounted with anti-aircraft guns.
There have been at least nine military base attacks since July, mostly in the northern part of Borno state, near the shores of Lake Chad.
Boko Haram has in recent months intensified attacks on military bases in Borno and nearby Yobe state, undermining repeated claims by the military that they have the upper hand.
Scores of soldiers have been killed, injured or missing in attacks but the military has repeatedly denied or played down losses to the militants.
More than 27,000 people have been killed in northeast Nigeria since the Boko Haram insurgency began in 2009, while nearly two million others remain homeless.
https://www.presstv.com/Detail/2018/10/28/578372/Nigeria-Boko-Haram-militants-military-base-soldier-Nigerian-army-Borno
--------
Huge crowds converge in Senegal's holy city for Sufi pilgrimage
OCT 29, 2018
TOUBA, SENEGAL (AFP) - Hundreds of thousands of men, women and children converged on Senegal's holy city of Touba on Sunday (Oct 28) for the Grand Magal, a traditional annual march and biggest celebration of the Mouride Brotherhood, a Sufi Islamic order.
The pilgrims came from around the country, braving the heat and enormous traffic jams, headed for the Great Mosque of Touba and mausoleums in the central Senegalese city, with some estimates putting the number as high as three million.
The weekend celebration marks the life and teachings of Amadou Bamba, the brotherhood's founder who died in 1927, with readings of his poems and prayers by his tomb.
Some 90 per cent of people in Senegal, known for its religious tolerance, are Muslims. For the most part, they adhere to one of the several Sufi Islam currents represented in the country.
This year, the Grand Magal also has a political dimension, with candidates for February's presidential election making an appearance.
President Macky Sall stopped by on Thursday and Friday, inaugurated a military police barracks, and asked Mouride leader Serigne Mountakha Mbacke for "prayers for his re-election", according to local media.
On Sunday, seated in the great esplanade outside the mosque with its seven minarets, the faithful recited verses of the Koran and read from the works of Bamba who, like his sons, is considered a saint.
"The Magal is a day of glory, of feasting... to rehabilitate Islamic values," said Mouride official Youssouf Diop.
Full report at:
https://www.straitstimes.com/world/africa/huge-crowds-converge-in-senegals-holy-city-for-sufi-pilgrimage
--------
Tunisia's ruling party consults to form cabinet without Ennahdha
28 October 2018
Tunisia's ruling party Nidaa Tounes announced on Sunday that it is negotiating with the country's political powers to form a new government excluding the Islamist Ennahdha party, the second largest in parliament.
This development is the latest escalation of a row with the president's son that has paralyzed key decisions on the troubled economy.
The ruling party is led by President Beji Caid Essebsi's son Hafedh, who has been battling to oust the premier for months.
The power struggle previously came to a head in July, when the president himself called on Chahed to resign.
Tunisia is on the verge of a ministerial reshuffle amid an alliance between the government of Chahed and the Ennahdha.
Nidaa Tounes' announcement is the latest attempt to form a cabinet without the Islamist Ennahdha, accusing the later of aiming to control the state's institutions and change the will of the Tunisian voters.
Full report at:
https://english.alarabiya.net/en/News/north-africa/2018/10/28/Tunisia-s-ruling-party-consults-to-form-cabinet-without-Ennahdha.html
--------
Libya's south falls prey to foreign armed groups
October 29, 2018
TRIPOLI: Neglected by rival authorities in Tripoli and the country's east, Libya's southern desert has increasingly become a hideout for foreign rebel groups that stand accused of stoking growing insecurity.
"Kidnapping, theft and banditry have multiplied" in the region, said Ali Akri Molia, commander of a unit responsible for protecting oil installations in the Oubari area of southern Libya.
He and others blame rebel groups from neighboring Chad for much of the insecurity.
Mired in chaos since the fall of dictator Muammar Qaddafi in 2011, two entities now vie for control over Libya — the Tripoli-based Government of National Accord, and a parallel body in the east.
The eastern administration is supported by strongman Khalifa Haftar, who heads the self-styled Libyan National Army (LNA).
Various groups, from jihadists to rebel groups originally from neighboring Chad and Sudan have exploited Libya's enduring security vacuum.
The rebel factions have established rear basesin Libya and profit from trafficking and other illicit activities to finance insurgencies back home.
The groups benefit from the support of tribal communities, criss-crossing a landscape where dunes are sometimes the only identifying features.
Often on horseback, they ignore borders that for long stretches remain nothing more than imaginary lines in the sand.
The Tubu people are among those that straddle Libya and Chad. Some of them are involved in smuggling and illegal migration, according to experts.
"Most Chadian and Sudanese opposition armed groups have been seeking to increase their presence in Libya in the pursuit of profit," said a recent report by a UN group of experts on Libya.
Mohammed Emdaouar, a southern Libya lawmaker, said the groups operate in a vast area extending from Koufra near Chad to the Marzuq basin, more than 400 kilometers (250 miles) from the border.
The rebels "occupy homes and have their cars. Nobody can touch them," he lamented.
Previously accused of operating as mercenaries for rival Libyan camps, Chadian rebel groups now stand accused of driving a resurgence of violence in southern Libya.
Commander Molia cited the kidnapping in mid-October of members of a tribe near the Oum Al-Araneb region.
The captives were freed from the clutches of Chadian rebels by local armed groups, but 10 Libyan fighters were killed in the rescue operation, said Molia.
The commander complained that his forces get no support from the GNA or the eastern administration, leaving them ill-equipped to battle insecurity.
One of the freed hostages, Mohammed Ibrahim Mohammed, told AFP the Chadians claimed ransoms from families.
Two Chadian groups operating in Libya denied involvement in kidnapping activities.
"We categorically deny (what) they accuse us of," said Kingabe Ogouzeimi de Tapol, leader of the armed wing of a group called the Salvation of the Republic.
In August, his group launched an offensive in Chad's far north, before retreating to shelter in southern Libya.
Another Chadian group present in Libya, the Union of Resistance Forces, also denied involvement and accused Libyan commanders of being behind the kidnappings.
"There are Chadians... who work for the Libyans, for the tribes," said spokesman Youssouf Hamid. He said any Chadians involved would not have acted on their own initiative.
The UN Mission in Libya has condemned rights violations by foreign armed groups and has urged "the Libyan authorities to take swift and effective measures to fight anarchy in the region."
On Wednesday the UN-backed government in Tripoli held a cabinet meeting focused on the country's south.
"What is happening in the south is very dangerous," said the GNA's deputy prime minister Abdessalam Kajman.
He urged "firmness" in tackling Chadian and Sudanese opposition "bandits."
Meanwhile, the LNA has ordered a military operation to fight "criminal gangs and the Chadian opposition who engage in kidnapping and extortion, deriving significant revenues that could finance terrorist activities," LNA spokesman Ahmed Al-Mesmari told AFP.
A recent meeting in Chad's capital N'Djamena between Haftar and President Idriss Deby Itno falls within this military remit, he said.
But in reality Libya's vast south escapes the control of both the GNA and its rivals in the east, even if Haftar's self-styled LNA says that it has an on-the-ground presence.
"The southern territory is vast, difficult and... does not necessarily promise a very substantial political dividend," said Jalel Harchaoui, a Libya specialist at the University of Paris 8.
This discourages the main Libyan forces from intervening, he added.
But Harchaoui said Chad's government and former colonizer France are also worried that a jihadist presence could further unravel the Sahel region, which leaves them dependent on Haftar.
"Haftar is supposed to re-establish order in this vast territory," he said.
Full report at:
http://www.arabnews.com/node/1395556/middle-east
--------
Kenyan Somalis are pawns in al Shabaab's reign of terror
Oct. 29, 2018
Terror group al Shabaab is a constant and present danger to the socioeconomic livelihood of Kenyans due to its frequent attacks in remote areas near Somalia.
While it appears al Shabaab's main targets in the borderland regions are security agencies and non-local Kenyans, such as teachers, nurses and mechanics, Kenyan Somalis also suffer as targets of recruitment, who are used as guides and foot soldiers.
The attacks on security agencies and non-local Kenyans is double-pronged.
First, al Shabaab target the security agencies due to their frontline duties of safeguarding Kenya's territorial integrity as well as protecting the lives of its citizens.
The duty of securing Kenya's borders interferes with al Shabaab's free movement, strategies and other agendas.
The attacks on non-local Kenyans drives a wedge and creates enmity between Kenyans of Somali origin against other Kenyans. The second reason is because the clan system in the Somali community protects ethnic Somalis from one another.
The non-locals are vulnerable to al Shabaab attacks due to the absence of clan-like local mechanisms in protecting them. Where ethnic Somalis are attacked, the clan is bound to seek retribution, either in form of blood-paying sacrifice (diya) or retaliatory measures.
Despite these incessant attacks, Kenya has to a large extent been successful in thwarting and reducing continuous al Shabaab attacks in its urban cities and towns, but the same cannot be said of the rural and borderland areas.
In the borderlands, al Shabaab has become resilient and adept at changing tactics. Furthermore, it has taken advantage of the globally driven narrative and agenda to embed itself in the local socioeconomic and political issues to create continuous havoc and bloodletting in Kenya.
It attracts and takes advantage of the disillusioned youth from the border communities, as well as from other major communities in Kenya.
DOUBLE-EDGED DEVOLUTION
In the border communities, many interlinked factors fuel and give impetus to the scourge of al Shabaab in both Kenya and Somalia. Prior to the 2010 constitution of Kenya, North Eastern Kenya carried the perception of marginalisation by past administrations.
Since the 2010 constitution, the government of Kenya allocates substantial resources to the region, which has opened huge potential for development.
The border communities got a chance to influence their growth agenda. However, devolution brought unparalleled and stiff political competition, which has led to conflicts that appear to be fuelled and funded by local political and business beneficiaries.
Additionally, the resource allocations and employment opportunities in the borderland counties are determined by the governor, the political allies and elders, which attracts the wrath and ire of those excluded from the devolution opportunities and promises.
The repute and integrity of county governments is tainted where injustices are perceived or real. The disillusioned locals resonate with the idea of victimhood of the long-practised clan rivalries, with al Shabaab becoming the boogiemen. They become easy targets of al Shabaab for attacks on non-local Kenyans and security agencies.
Unemployed and lowly educated youth from these counties either become victim of forcible recruitment or are wooed by the boogieman, al Shabaab. The youth either form the brigandage or guides in the attacks because of their knowledge of the local terrain, routes and water points.
Local clan rivalries for political seats, especially for the gubernatorial and National Assembly seats, mutate into serious clan warfare, where some outsource their fight to al Shabaab to annihilate the other.
The rivalry is particularly virulent during the election period. Al Shabaab mine the roads with Improvised Explosive Devices (IEDs) along the major un-tarmacked routes to deter opponents from either organising their supporters or registering as voters.
POROUS BORDER
The proximity to Somalia also contributes to al Shabaab's menace along the Kenyan border. The absence of a stable government in Somalia provides a safe haven where al Shabaab plan, strategise and attack Kenyan security personnel who are either on patrol along the border or are on a local humanitarian mission.
The hostility between some clans at the border region continually provides a safe haven for al Shabaab. Furthermore, the hostility provides hiding places for al Shabaab attackers, especially across the border in Somalia.
The Kenyan security agencies face the preceding challenges and hence the need to gather intelligence in these border regions.
Al Shabaab takes advantage of the laxity and corruption on the part of the Kenyan security agencies. While Kenya has deployed its finest and highly trained security personnel along the border, they are at times vulnerable to attacks due to either being overconfident or fatigued.
The frontline soldiers are constantly on edge psychologically and hence susceptible to bribery, misinformation and manipulation by agents of al Shabaab.
The way forward for the government of Kenya to counter al Shabaab is to devise soft strategies that scale up the fight by investing in the goodwill of the border communities and marginalised groups.
Clan rivalries and competition for resources at the national and county level have serious exclusionary consequences. First, it alienates a large segment of the population, especially the youth in major urban centers and along the border. For example, current nominations to national and county public sector employment opportunities and contracts are dominated by the clans in power and their point men.
Hence, the government needs to take stock of clan representations in the upper echelons of power both at the national and county levels to reduce the abuse and misuse of oppressive traditional clan rivalries.
Secondly, a clear counter-narrative strategy is needed to dissuade youth (young men and women), religious leaders and community elders from joining, espousing and falling prey to al Shabaab's extremist ideology and propaganda.
The mentioned groups are susceptible to a constant barrage of misinformation and propaganda by al Shabaab. Thus the need to counter al Shabaab's efforts cannot be overemphasized, and the earlier the interventions are made the better.
Finally better coordination is needed among security agencies, especially along the border with Somalia. Despite the Kenya security agencies' presence in camps and stations along the border, small groups of al Shabaab still infiltrate and cause damage inside the country.
There should be better intelligence and information sharing among and between the security agencies, as well with the local communities, to thwart and stop al Shabaab attacks.
Full report at:
https://www.the-star.co.ke/news/2018/10/29/kenyan-somalis-are-pawns-in-al-shabaabs-reign-of-terror_c1841222
--------
North America
US Muslims start fundraisers to help Pittsburgh synagogue victims
October 28, 2018
Hours after the sheer horror unfolded at the Tree of Life synagogue in Pittsburgh when Robert Bowers walked in and murdered 11 worshippers on Saturday, US Muslims launched efforts to support the victims and the Jewish community of Pittsburgh.
Since the time of attack, several crowdfunding efforts started by Muslim-Americans and an Iranian immigrant have raised nearly $500,000 to help support the victims of the shooting.
'Muslims Unite for Pittsburgh Synagogue' is one of the campaigns started by Tarek El Messidi, the founding director of Celebrate Mercy, to help those affected. He started the campaign on Saturday with a $25,000 goal in mind, but has since then tripled that goal given the flood of donations:
In a phone call with The National, Mr Messidi said he did not expect the campaign to go viral. "We are on average receiving $1,000 every 20 minutes." The Celebrate Mercy campaign, he added, is inspired by "Prophet Mohammed's own life in responding to evil with good, and to hate with love."
"We saw a community that is hurting and is under attack at its own house of worship, and we wanted to help and show a gesture of good will."
Mr Messidi described a sense of empathy felt by many Muslim Americans toward the Jewish community given the recent spike of both Islamophobia and anti-Semitism in the United States. "There is lot of threats, lot of bigotry … While the money will not give back their loved ones, we hope it helps with the funeral costs, and medical expenses."
Some of the funds will be transferred as soon as today to the synagogue via the Islamic Center of Pittsburgh.
Another spontaneous campaign that took off after the attack was started by an Iranian American living in Washington DC. Shay Khatiri has raised so far more than $350,000 that will go directly to the Tree of Life Synagogue. More than 5,000 people have donated to his campaign:
This is not the first effort by Muslim-Americans to fundraise after tragic attacks. Last year, the community raised more than $100k to repair a Jewish cemetery that was vandalised in Missouri. Following the Portland and San Bernardino attacks, Muslim Americans also organised national crowdfunding efforts.
The symbolism is also in perceiving a common threat. Only hours before he directed his gunfire at the synagogue worshippers, Mr Bowers was rallying against immigrants.
"HIAS likes to bring invaders in that kill our people. I can't sit by and watch my people get slaughtered. Screw your optics, I'm going in," Mr Bowers wrote on an online website before storming into the synagogue:
HIAS stands for the Hebrew Immigrant Aid Society, which works to help resettle refugees in US communities. Founded in 1881, HIAS helped Jews fleeing Europe, and has recently supported many immigrants and refugees including Muslims to come to the United States.
https://www.thenational.ae/world/the-americas/us-muslims-start-fundraisers-to-help-pittsburgh-synagogue-victims-1.785266
--------
Rand Paul: Saudis funding terrorism worldwide
Oct 28, 2018
Republican Senator Rand Paul has slated Saudi Arabia as a sponsor of terrorism, saying the United States can no longer be blasé about the bad behavior of the kingdom.
Speaking at a Montana rally on Saturday with Donald Trump Jr., the Republican senator condemned the Saudi-led brutal war on the impoverished Yemen, which, so far, has killed more than 15,000 Yemenis and wounded thousands of others.
"We have to think through this idea that everything is going to be blindly for Saudi Arabia, they're involved in a war in Yemen where tens of thousands of civilians are dying," said Paul, a member of the Senate Foreign Relations Committee.
The US along with the UK and France have been providing weapons and intelligence to Saudi Arabia and the UAE over the course of the unprovoked war, which initially consisted of a bombing campaign, but was later coupled with a naval blockade and the deployment of ground forces to Yemen.
"Cutting off the arms sales will make them wake up," Paul told The Hill before he went onstage at the rally. "In fact, their air force would be grounded in two or three months if they didn't have spare parts."
Paul also pointed to the 9/11 attacks, reminding the audience that 15 of the 19 hijackers behind the incident were Saudis.
"Anyone remember who attacked us on 9/11?" he said. "Anybody heard of a madrassa? They have 20,000 madrassas in Pakistan funded by the Saudis that teach hatred of Christians, hatred of Jews, hatred of Hindus, throughout the world."
"Why do we have worldwide terrorism? The Saudis fund it," he added.
Paul, who made the comments at an event for Senate Republican candidate Matt Rosendale, described Rosendale as someone who would be an ally in Washington that will try to impose more congressional oversight on the president's ability to carry out military operations.
"What I want are allies that will come to Washington and say this: the Constitution demands that the people through their representatives vote on when we got to war," he said.
Trump Jr., who spoke shortly after Paul, did not make any reference to Saudi Arabia.
He has praised his father at several rallies in Montana for launching Tomahawk cruise missiles against Syria in April when multiple places in the war-torn country came under attack by US, British and French military forces on President Donald Trump's orders.
Trump has come under immense pressure from Republican senators to reassess American allegiance to Saudi Arabia after the murder of Saudi journalist Jamal Khashoggi at the Saudi consulate in Istanbul.
Full report at:
https://www.presstv.com/Detail/2018/10/28/578327/US-Saudi-Arabia-Yemen-terrorism-Rand-Paul-
--------
Iranian interference makes Yemeni dialogue challenging says Arab League head
October 28, 2018
External interests and heavy Iranian interference makes finding a solution to the Yemen conflict extremely difficult, says Secretary-General of the League of Arab States Ahmed Aboul Gheit.
Speaking to The National on Sunday from the sidelines of the Manama Dialogue, a major regional security conference in the Bahraini capital, the Arab League head says that "fierce Iranian interference in Yemen" makes negotiations challenging as it "has emboldened the Houthis in rejecting any diplomatic initiative or any political solution".
Mr Aboul Gheit says he sees two viable routes to resolve the protracted conflict.
Getting the Houthis to the negotiating table "could possibly be through recognising their presence, not as a militant group [but] rather as a component in the Yemeni make up".
The second option would be "to use all out force to defeat them for good."
But, he points out, the second option has clear drawbacks. "This would be a dangerous option as it would be harsh on the Yemeni people", he says.
Mr Aboul Gheit indicates that a mix of both measures may be necessary to break the current impasse. This involves telling the Houthis that "they should accept being a non-militant group or they will be defeated, that is a recognition of their presence based on an agreement under military pressure".
Ultimately, the Arab league head says he believes the Yemeni people must decide their future governance structures but suggests that a "national conference for all the components of the people could lead to a national charter and a final constitution that all sides abide by, to get out of this dilemma and to build a new Yemen".
This kind of solution is becoming an imperative, he says, given looming problems. "They must realise the danger of the future situation, for example, water scarcity is approaching very quickly and all sides must be aware of the need to put all of Yemen's resources [towards] mitigating this fast-approaching danger", he says. "We need to think where will Yemen be in 2050? Ideologies will not help the Yemenis, rather securing food, medicine and jobs is fundamental".
While he advocates for a negotiated settlement, he rules out a "grand bargain" with Iran that encompasses all regional issues, an idea that has been floated to deal with the troubles from Syria, Iraq, Lebanon and Yemen in which Iran has a role. Mr Aboul Gheit said such a deal would not be possible and, given the current climate, any such agreement would likely enable Iran rather than limit its interference.
"The Arab situation is complex at the moment, in some elements it is weak, which would not enable the Arabs to be strong in any such negotiation", he says.
On the other major regional conflict, Syria, Mr Aboul Gheit says that the lack of an Arab seat at the negotiation table is a major problem. Over the weekend, Turkey's Recep Tayyip Erdogan hosted a meeting with the leaders of France, Germany and Russia to discuss the conflict - demonstrating once more the missing Arab voice on the issue.
"The lack of an Arab consensus is the main issue," says Mr Aboul Gheit, but pointed out that some of this is due to a lack of unity. "Arabs have to agree on an approach towards Syria. Until this moment, the Arab [nations] have not agreed. Some Arabs want Syria to be reinstated to the Arab League, others do not agree on taking that step until the government [in Damascus] adheres to specific conditions".
The secretary-general says that the conditional re-entry for Syria is the most likely. "The government and opposition, the elements which are not terrorists, must agree on a new course in Syria [that is] based on a new constitution and new understanding of governance. In this instance, I do not think there would be any Arab objection to Syria taking its seat at the Arab League".
On the issue of Palestine, Mr Aboul Gheit says there remains a single, clear regional voice that supports the Arab-Israeli peace initiative under the terms agreed at the 2002 Arab League meeting in Beirut, despite the rare meeting between Oman and Israel over the weekend. This visit, he says, is not a sign of division as each country has the right to undertake its own initiatives to support the peace plan.
He says that Oman has not briefed the Arab League on the outcome of the meeting between Israeli Prime Minister Benjamin Netanyahu and Oman's Sultan Qaboos bin Said on Friday – a move described by Oman's Foreign Minister Yusuf bin Alawi as a bid to "resuscitate" peace talks in the Middle East.
"Every country has the right to take up its own independent initiatives", Mr Aboul Gheit says. "If the issue was limited to Palestine, the Palestinians would have been informed. In all cases, we are awaiting the visit of the Omani envoy to Palestine."
He also pointed out that he was in favour of any action that furthered the peace process, regardless of where it came from in the region.
"Any side that thinks it can exert efforts to change the situation [will be] a good thing. I accept any Arab effort to help the situation, from Egypt or Oman or any country, because the Palestinian issue is seeing a very difficult time and efforts for a peaceful settlement have become stagnant while Israel is acting as if all the lands belong to it without any restrictions," he says. "So if this action [from Oman] helps to limit Israel's behaviour, it would be a positive one."
The surprise move by the sultanate comes just weeks after US President Donald Trump announced that his long-awaited peace plan would be made public in the coming months. Mr Aboul Ghait suggested that the new US leader's hard line on Palestine during his first two years in office - recognising Jerusalem as the capital of Israel and opened an embassy, cutting funding to UNRWA and expelling Palestinian diplomats from Washington – meant Ramallah was sceptical of the American proposal.
"The Palestinians are not at ease about America's deal and I understand their grievances and defend their position," he says. The decision to give Jerusalem to Israel and punish the Palestinians by cutting funds to United Nations Relief and Works Agency for Palestinians "represents certain intentions" he says, adding "you cannot hit the Palestinians from one side and then tell, 'come and listen to my solution.' It would then be a distorted solution".
In short, the Arab League head said that without a major shift in US policy towards Palestine, any deal that was not "unprecedented in being favourable to the Palestinians … won't succeed.
"Washington listens only to Israel and this is a huge mistake in dealing with the Palestinian issue, they must listen to both sides and to give each side the opportunity to move closer to a solution, otherwise I don't expect much to happen".
Full report at:
https://www.thenational.ae/world/mena/iranian-interference-makes-yemeni-dialogue-challenging-says-arab-league-head-1.785203
--------
US blanket support for Saudi Arabia, Israel enabled them to carry out atrocities: Zarif
Oct 29, 2018
Foreign Minister Mohammad Javad Zarif tells CBS News that the United States' choices are to blame for the Middle East's disasters.
"The United States' choices in the Middle East are wrong, and these wrong choices lead to the disaster in our region," Zarif told the American network on Sunday.
"We knew that the invasion of Iraq was the wrong choice, although Saddam Hussein was our enemy. We knew that the attack against Afghanistan was the wrong choice although Taliban were our enemy," he added.
"We know that the invasion and attack, bombardment of Yemen are wrong choices," Zarif noted, referring to Washington's support for the 2015-present Saudi Arabia-led war on the Arab world's poorest nation.
"But the United States is continuously and persistently on the wrong side," the Iranian top diplomat asserted.
Zarif said US had emboldened Saudi Arabia and Israel to stage their atrocities by providing the regimes with "blanket support."
"I think the blanket support that the US provides to Saudi Arabia and to Israel has enabled them to carry out atrocities that would not have happened, had there not existed this blanket support," he said.
The remarks came as the kingdom has come under mounting criticism for the killing of Jamal Khashoggi, Washington Post columnist and notable critic of Riyadh's policies, who was murdered after entering the Saudi consulate in Istanbul on October 2.
Iran's President Hassan Rouhani said recently that the kingdom would not have proceeded with the killing had it not been in receipt of US support.
Washington is separately under pressure from high-profile rights groups to axe its arms sales to the kingdom and logistical support for the war on Yemen, which has killed thousands since its onset.
Full report at:
https://www.presstv.com/Detail/2018/10/29/578397/Iran-Zarif-interview-CBS-News-United-States-Middle-East-Saudi-Arabia-Israel
--------
Pentagon chief Jim Mattis calls for transparent investigation in Khashoggi killing
Oct 28, 2018
US Defense Secretary Jim Mattis has called for a transparent investigation into the killing of Saudi dissident journalist Jamal Khashoggi, following a meeting with Saudi Arabia's Foreign Minister Adel al-Jubeir.
The murder of Khashoggi, who escaped to the US last year and worked as a Washington Post columnist, has escalated into a crisis for the world's top oil exporter as Saudi Arabia's allies have reacted with outrage.
Mattis said Sunday that he met Jubeir during a conference in Bahrain on Saturday and discussed Khashoggi's killing, which occurred at the Saudi consulate in Istanbul, Turkey on October 2.
"We discussed it. You know the same thing we talked about, the need for transparency, full and complete investigation," Mattis told a small group of reporters traveling to Prague with him.
"(There was) full agreement from foreign minister Jubeir, no reservations at all, he said we need to know what happened and it was very collaborative, in agreement," Mattis added.
On Tuesday, US President Donald Trump said Saudi officials had engaged in the "worst cover-up ever" and that those behind the killing "should be in big trouble."
But Trump has also highlighted Riyadh as a major purchaser of American weapons.
US lawmakers have accused Saudi Crown Prince Mohammed bin Salman, also known as MBS and the country's de facto leader, of ordering the killing.
Khashoggi lived in self-imposed exile in the US for the past year and wrote editorial columns for The Washington Post that were critical of MBS.
Speaking alongside the Czech Prime Minister Andrej Babis later on Sunday, Mattis was asked how an investigation would be able to determine whether MBS had any involvement in the killing.
"Turkey, with the evidence that they have compiled, will ensure that there is more than one review of what is going on here and I'm certain the investigation will include the evidence that Turkey has put forward so far," Mattis said in the press conference.
Saudi Arabia's public prosecutor has said Khashoggi's killing was premeditated, contradicting a previous official statement that it happened accidentally during a tussle in the Saudi consulate in Istanbul.
On Saturday, Jubeir told a security summit in Bahrain that Riyadh's relations with the United States were "ironclad" amid what he described as "media hysteria" over the killing of Khashoggi.
At the same conference, Mattis had sharp words for Saudi Arabia, saying the killing of Khashoggi undermined the stability of the Middle East and that Washington would take additional measures against those responsible.
Asked whether the US would limit its support to the Saudi-led coalition in Yemen, Mattis said: "We'll continue to support the defense of the kingdom."
Saudi Arabia and some of its allies launched a brutal war against Yemen in March 2015 in an attempt to reinstall Yemen's former President Abd Rabbuh Mansur Hadi and crush the Houthi Ansarullah movement.
Full report at:
https://www.presstv.com/Detail/2018/10/28/578371/US-Defense-Secretary-Jim-Mattis-Saudi-Khashoggi
--------
Europe
Up to 80 ISIS widows to return to Britain
October 28, 2018
Up to 80 widowed wives of ISIS fighters in Syria are set to return to the UK where they
will be questioned and face the possibility of having their children removed from their care, an investigation revealed.
They are members of Britain's biggest suspected female terror cells, which includes in its ranks two sisters from east London, the daughter of a former British Army paratrooper and an IT graduate.
Their husbands were among the world's most infamous extremists. A joint investigation by the British newspaper The Sunday Times and the Portuguese magazine Sabado identified among the returnees six women from Britain whose Portuguese-born husbands were part of the notorious cell dubbed the Beatles, linked to Mohammed Emwazi or Jihadi John.
The Portuguese men are deemed responsible for the filming and dissemination of a series of beheading videos, including the execution of British hostages Alan Henning and David Haines.
They were said to have converted to Islam after meeting notorious hate preacher Anjem Choudary, who was released from prison in Britain this week.
The husband of Reema Iqbal, Celso Rodrigues Da Costa, was a former Harrods sales assistant who appeared in an Isis propaganda video boasting of celebrating the Muslim festival of Eid al-Adha by slaughtering infidels.
Another of the group, Fabio Pocas, the husband of Ruzina Khanam, is thought to be the one who filmed the stunt in which a captured Jordanian pilot was burnt alive.
Among the150 British women known to have travelled to Syria and Iraq to join ISIS, those who have survived the demise of the group constitute a thorny problem.
Kurdish officials have been pressuring the international community to take captured foreign members of the Islamic State back and prosecute them on their own soil.
But UK officials are aware that successful prosecution may be problematic because of the difficulty in collecting conclusive evidence.
https://www.thenational.ae/world/europe/up-to-80-isis-widows-to-return-to-britain-1.785138
--------
Campaign launched to recognise Muslims and other faiths who fought in first world war
28 Oct 2018
A campaign to recognise the people from different faiths and ethnic backgrounds who fought for Britain in the first world war, including 400,000 Muslim soldiers, has been launched ahead of the armistice centenary.
Politicians from all parties, faith leaders, former military chiefs and charities are supporting Remember Together, an initiative to highlight the often forgotten service and contribution of Muslims and other faiths.
"Most people, Muslims included, don't know that thousands of Muslim solders from present-day Pakistan fought for Britain in the first world war," said Imam Qari Asim, the chair of the Mosques and Imams National Advisory Board. "It's important that they do. This shared history of contribution is something that we can all commemorate in Britain, whatever our ethnicity or faith."
Imams in mosques across the country will give remembrance-themed services at Friday prayers.
Among those the campaign will highlight is Khudadad Khan, a Muslim from what is now Pakistan who was the first Indian soldier to be awarded the Victoria Cross, the highest military award for gallantry. He was a machine-gunner in a regiment supporting the British Expeditionary Force to prevent German troops taking the ports of Boulogne in France and Nieuport in Belgium.
Despite being overwhelmed, Khan's team held off the German forces for long enough to allow reinforcements to arrive. All were killed by bullets or bayonets except Khan, who despite being badly wounded, continued working his gun. He was left for dead, but managed to crawl to safety.
Remember Together is a joint initiative by the integration thinktank British Future and the British Legion as part of its Thank You campaign.
The campaign also highlights the fact that the backgrounds of the soldiers who fought for Britain in the first world war had much in common with those of Britain in 2018.
Sunder Katwala, the director of British Future, said: "We have seen extremists, both Anjem Choudary and Britain First, try to turn our cherished symbols of Remembrance into ammunition in their culture war. Both rely on an ignorance of our shared history when they tell Muslims and other minorities that they have no place in Britain.
"So it really matters that we commemorate the soldiers from all backgrounds who served a century ago, as more mosques, gurdwaras and other places of worship mark Remembrance this year."
Rabbi Laura Janner-Klausner, the senior rabbi at Reform Judaism, said: "The bullets on the battlefields … did not discriminate between Sikhs, Muslims, Hindus, Christians, Jews and others. One hundred years later, we honour those who fought together by remembering them together."
Full report at:
https://www.theguardian.com/world/2018/oct/28/remember-together-campaign-muslims-other-faiths-fought-first-world-war-armistice-centenary
--------
UK's MI5 to combat extreme rightwing terrorism: Report
Oct 28, 2018
The MI5 domestic intelligence service of Britain has taken over the responsibility in combating extreme right-wing terrorism in the country as fears grow that white supremacists are increasing their efforts to foment violent racial conflict in the UK
The Guardian newspaper said in a report on Sunday that MI5 will lead the mission to monitor far-right extremism, a responsibility that had previously been assigned to the British police.
The MI5 has earlier been tasked with countering terrorism linked to Takfiri ideologies, like Daesh and al-Qaeda, and those related to a separatist movement in Northern Ireland.
The Guardian said the new move to assign the MI5 with countering the far-right rise came after months of negotiations between the intelligence service, the police, and senior government officials.
It said the decision came after British authorities felt the rise of Islamophobic and anti-immigrant voices in the country had become a case of national security.
The MI5 will, under the new arrangement, be responsible for identifying suspects and assessing what danger they pose, conducting network analysis and ranking threats, said the report, adding that the Counter Terrorism Command in the British police will still maintain its executive lead in busting plots and making arrests.
Britain has seen a sensible surge in far-right activity over the past years, especially since a debate began in the country on whether it should remain as part of the European Union or leave the bloc after more than 40 years.
Full report at:
https://www.presstv.com/Detail/2018/10/28/578385/UK-far-right-rise-MI5-security
--------
Member of Saudi 'royal circle' ordered Khashoggi murder: UK intel
Oct 28, 2018
Orders by a "member of the royal circle" to abduct dissident Saudi journalist Jamal Khashoggi were intercepted by the British intelligence, a report says, adding that they "did not emanate directly" from Saudi de facto ruler Crown Prince Mohammad bin Salman.
"It is not known if he was aware of them," read a Sunday Express report.
Citing intelligence sources, the weekly claimed that British Government Communications Headquarters (GCHQ) found out about the Saudi plan and "begged" Saudis to stop it.
"We know the orders came from a member of the royal circle but have no direct information to link them to Crown Prince Mohammad bin Salman… Whether this meant he was not the original issuer we cannot say," the intelligence source was cited as saying.
An earlier report said Khashoggi, who was recently murdered at the Saudi consulate in Istanbul, intended to disclose details of Saudi Arabia's use of banned chemical weapons in Yemen.
According to the source, "These details included primary orders to capture Mr. Khashoggi and bring him back to Saudi Arabia for questioning. However, the door seemed to be left open for alternative remedies to what was seen as a big problem."
Saudi Arabia has acknowledged the murder, yet left many questions unanswered.
Turkish intelligence intercepts reportedly show that Khashoggi, who was last seen entering the Saudi mission in Istanbul on October 2, was murdered on bin Salman's direct order.
Turkish media have previously released the identities of Saudi operatives, who had apparently travelled from Riyadh to Istanbul on two private jets and entered the Saudi mission for that matter.
Full report at:
https://www.presstv.com/Detail/2018/10/28/578391/UK-intel-Order-to-kill-Khashoggi-came-from-Saudi-royal-circle
--------
URL: https://www.newageislam.com/islamic-world-news/sufi-oriented-speakers-appeal-spreading/d/116742
New Age Islam, Islam Online, Islamic Website, African Muslim News, Arab World News, South Asia News, Indian Muslim News, World Muslim News, Women in Islam, Islamic Feminism, Arab Women, Women In Arab, Islamophobia in America, Muslim Women in West, Islam Women and Feminism