New Age Islam News Bureau
12 Aug 2017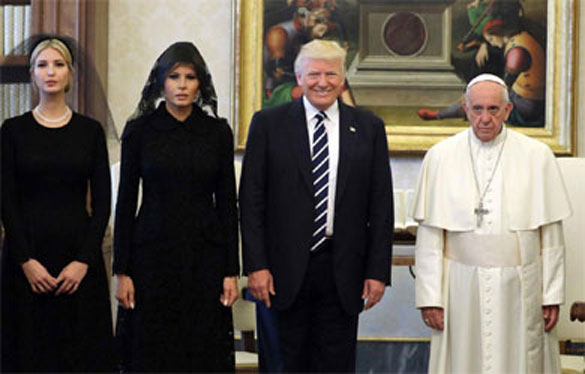 Pope Francis poses with US President Donald Trump, First Lady Melania Trump and the daughter of Ivanka Trump at the end of a private audience at the Vatican AFP/Getty
----
• Submit Video Footage of I-Day Events: UP Govt to Madrasas
• Mumbai BJP MLA: Make Vande Mataram Mandatory in All Indian Schools
• Pope Francis' Allies Accuses US Catholics of Forming an 'Alliance of Hate' To Back Trump
• Muslim Community 'Absolutely Disgusted' By Newcastle Grooming Gang
• Islamabad HC Suggests Making Blasphemy Law Tougher To Check Its Misuse
• Singapore Minister Calls on Islamic Teachers to Strengthen Moderation, Work With Other Groups in Society
India
• Submit Video Footage of I-Day Events: UP Govt to Madrasas
• Mumbai BJP MLA: Make Vande Mataram Mandatory in All Indian Schools
• Don't Let Terror Derail Peace Process with Pakistan: House Panel Tells Govt
• Pakistan-Occupied Kashmir, Gilgit-Baltistan Not A Part Of Pakistan: PoK Politician
• Tension in Maharashtra Town over Call for 'Boycott of Muslims'
• Madhya Pradesh madrasas told to hoist Tricolour, hold tiranga rallies
• J&K: Stone-pelters help cornered terrorist Zakir Musa flee
• India, Britain look to firm up strategies against terrorism
--------
North America
• Pope Francis' Allies Accuses US Catholics of Forming an 'Alliance of Hate' To Back Trump
• Police Investigate Hate Mail Sent To UK and US Mosques
• Canada Can Defend Against Terrorism without Trampling On Our Freedoms
• Columbia University in Muslim Discrimination Probe
• Trump says close to decision on Afghan strategy
--------
Europe
• Muslim Community 'Absolutely Disgusted' By Newcastle Grooming Gang
• In Small-Town Russia, a Syrian Imam Battles Islamic Extremism
• Ukip allows anti-Muslim activist to stand in leadership contest
• British ex-Muslims vow to 'boldly' challenge Islam over LGBT persecution
• Police: French soldier attack suspect not known as radical
--------
Pakistan
• Islamabad HC Suggests Making Blasphemy Law Tougher To Check Its Misuse
• The Family Who Brought an Indian Sweet to Pakistan
• New Afghan strategy threatens graduated sanctions on Pakistan
• Musharraf's N-technology disclosure embarrassed Pakistan: FO
• JUI-F opposes repealing of articles 62, 63
• Explosion in Bajaur Agency kills 3 people, injures 26
--------
Southeast Asia
• Singapore Minister Calls on Islamic Teachers to Strengthen Moderation, Work With Other Groups in Society
• Johor Princess' Future Groom Talks Of How He Embraced Islam
• Liow: Government withdrawal of unilateral conversion ban not a 'U-turn'
• Official: Indonesian family that joined IS now in Iraq
• Indonesia arrests alleged Islamic State recruiter for Philippine city siege
• Asean Must Unite to Combat Terrorism and Transnational Crime: Jokowi
--------
Mideast
• Mossad Spies in Close Quarter to Supreme Leader: Iranian Press
• 'Tel Aviv Regime Propping Up Radicalism, Violence in Occupied Lands'
• Israeli settler runs over four Palestinian kids
• Iran not to rest until eradication of all terrorists: Senior IRGC General
• Turkish government steps up counterterrorism efforts
• Israel destroyed three homes of Palestinian attackers
• US alliance with Syria Kurds strengthens other terror groups: Turkey
--------
Arab World
• Syria Suicide Blast Kills 23 near Jordan Border: Monitor
• Egypt Shootout Kills 3 'Militants behind Anti-Copt Attacks'
• Kuwaiti security forces capture 12 'Abdali cell' extremist suspects
• Homs: Terrorists' Attack on Syrian Army Strongholds Repulsed again
• Syrian Army Liberates Key Territories from ISIL in Eastern Hama
• Syrian Army Hits Terrorist Centers Hard in Eastern Damascus
• US-backed Syrian fighters pressure ISIS militants in Raqqa
• US-led coalition must be transparent on airstrikes in Syria: Rights groups
--------
Africa
• Clerics Urge Pilgrims to Pray For Peace, Economic Recovery
• Central African Republic: At Least 30 Civilians Killed in CAR Clashes
• Sudan invited to US-Egyptian military exercises
• More than half a million children in Libya need help: UNICEF
• Suicide attack at Somali prison kills 1 solide
--------
South Asia
• 30 Taliban Insurgents Killed As Suicide Vests Explodes In Farah Gathering
• Taliban Leaders among 8 Killed In US Drone Strike in Laghman Province
• US military reacts at civilian casualties allegations in Nangarhar airstrike
• Key points of Senate McCain's strategy for Afghanistan
Compiled by New Age Islam News Bureau
URL: https://www.newageislam.com/islamic-world-news/submit-video-footage-i-day/d/112190
--------
Submit video footage of I-Day events: UP govt to Madrasas
Pervez Iqbal Siddiqui & Sandeep Rai
Aug 12, 2017
LUCKNOW / MEERUT: The Uttar Pradesh government has asked state-aided Madrasas to celebrate Independence Day functions and submit video footage to minority welfare officers in all districts of the state, triggering angry reactions from the opposition as well as Muslim clerics and madrassa teachers who said the move smacked of distrust of the community.
Even as the BJP government headed by Yogi Adityanath justified the move, saying that it was meant to inspire students, critics attacked it saying that the requirement applied only to Madrasas.The backlash seemed to be particularly directed against the instruction to videograph the celebrations and submit the footage to the authorities.
Minister of state for minority affairs Baldev Aulakh warned of action against Madrasas that do not follow the order. While a similar circular has been issued for other government schools too, they have not been asked to furnish video proof.
Although the circular has stated that videography was meant to ensure that "best functions can be repeated in future", this did not carry conviction with critics who insisted that Madrasas were being targeted. "There should be uniformity in implementation, the circular must also be sent to Saraswati Shishu Mandirs (chain of schools run by RSS)," Congress member Digvijay Singh told Times Now. Rahul Gupta, registrar of the UP Madrassa Education Board, defended the government's decision. "The directions are unnecessarily being misread by a section. Photography and videography are to record novel ideas, if any, adopted by the Madrasas during celebrations. Those things can be repeated in other Madrasas next year. We have very noble and clear intentions regarding this. It is wrong to say that Madrasas are being targeted through these directions."
PTI quoted Maulana Khalid Rashid Mahali, member of the All India Muslim Personal Law Board, lodging a similar protest. Questioning the need for the directive and asking why Madrasas had been singled out, the cleric said, "If it is only to Madrasas, does it mean that our patriotism is being suspected?" CPM's Brinda Karat said, "I believe these kinds of coercive steps in the name of nationalism are shameful. It is ridiculous that it comes from people who have never been part of the freedom struggle and are imposing fake nationalism."
Defending the decision, BJP spokesperson GVL Na rasimha Rao said, "At a time when the spectre of radical Islam is a threat to the community, Muslims should welcome the move rather than place religion over nation.Respect for national symbols is non-negotiable."
The controversial circular of the UP Madrassa Education Board, which comes under the minority welfare department of the UP government, has been sent to around 8500 government-aided Madrasas, including 507 whose teachers are on government payroll. The rest get assistance under the state government's madrassa modernisation scheme, said RP Singh, joint director, minority welfare.
While such circulars have been issued in the past too, this one differs in demanding that the celebrations be videographed, ostensibly to replicate the better-organized functions in future. Sanjay Sinha, secretary of the Basic Education Council, said, "It's a routine exercise to issue a letter ahead of important days like Independence Day . This year, too, a letter asking schools to carry out tree plantation, reciting of national anthem, hoisting of national flag has been drafted. The letter will reach schools on August 12. Students should be told the significance of I-Day and about freedom fighters. But no provision of videography has been written in the letter."
Muslim teachers accused the government of subjecting them to a patriotism test. Ajaz Ahmed, national president of the Islamic Madrassa Modernisation Teachers Association of India, said, "We are being asked to submit proof of these events. It is like asking us to prove our nationalism and patriotism."
http://timesofindia.indiatimes.com/india/independence-day-events-in-up-Madrasas-to-be-video-taped/articleshow/60028768.cms
--------
Mumbai BJP MLA: Make Vande Mataram Mandatory in All Indian Schools
Aug 11, 2017
A day after the Brihanmumbai Municipal Corporation (BMC) passed a notice of motion making Vande Mataram compulsory in all civic schools across Mumbai, the Bharatiya Janata Party (BJP) MLA Raj Purohit now wants the singing of the national song made compulsory across all schools in India.
Purohit met state education minister Vinod Tawde on Friday and would be writing to the union human resource development minister Prakash Jawdekar about his demand.
He said the song will instil a sense of patriotism among students.
When asked about Muslim leaders opposing the decision, Purohit said, "The song is not against Islam. I can name thousands of Muslims who have no problem singing it."
Sources said Tawde has asked the state officials to check the feasibility of Purohit's proposal. Despite repeated attempts, Tawde remained unavailable for comment.
The opposition
Muslim corporators and leaders have said the word 'Vandan' refers to worship and a Muslim worships no other God but Allah. So making Vande Matarm mandatory in civic-schools, which includes Urdu-medium schools, is being opposed strongly.
On Friday, Samajwadi Party (SP) leader Rais Shaikh, who walked out of the general body meeting, wrote to civic chief Ajoy Mehta stating that the proposal was against constitutional rights.
"The proposal was rejected by a former municipal commissioner as well, yet it was presented in the general body again," Shaikh said. Congress corporator Sufiyan Vanu also wrote to Mehta and said the proposal must not be approved.
http://www.hindustantimes.com/mumbai-news/mumbai-bjp-mla-make-vande-mataram-mandatory-in-all-indian-schools/story-5SswHeymazbiB9FbJGQ0VM.html
--------
Pope Francis' allies accuses US Catholics of forming an 'alliance of hate' to back Trump
3 August 2017
Two people close to Pope Francis have accused ultra-conservative American Catholics of making an alliance of "hate" with evangelical Christians to back Donald Trump.
Catholic priest Antonio Spadaro and Protestant theologian Marcelo Figueroa published a joint article in La Civilta Cattolica, a journal published by Jesuit priests in Rome and overseen by the Vatican, in which they denounced US Catholics for supporting the extremist positions of the American right, saying the world view of hard-line Catholics is "not too far apart" from that Islamist jihadists.
They singled out Steve Bannon, Mr Trump's controversial chief strategist who was raised Catholic, as a "supporter of an apocalyptic geopolitics" which had hampered efforts to combat climate change and exploited fears about migrants and Muslims with demands for "walls and purifying deportations".
Although the criticism has not come directly from Pope Francis, who is a member of the Jesuit order, the two authors are known to be very close to him and all articles published in the journal have to be approved by the Holy See before publication.
The article echoes a lot of Pope Francis' more muted criticism of the Republican since he entered the White House.
In May, ahead of his first official meeting with the President at the White House, he said he would be "sincere" with the Republican about their differences on issues like immigration and climate change.
"I will say what I think and he will say what he thinks. But I have never wanted to make a judgement without first listening to the person," he said.
It is not clear whether the article received the Pope's personal approval but he has not publicly or privately reprimanded them for it since the article was first published in July despite the anger it has provoked from US Catholics, the New York Times reported.
Charles Chaput, the Archbishop of Philadelphia, wrote an article for CatholicPhilly.com where he called the authors "useful idiots" for Pope Francis and emphasised the widening gulf in opinion between the Holy Father – who is seen as a reformer – and more conservative elements in the church.
Many conservative Catholics have watched in horror as Pope Francis has made a number of public statements since being elected in Pope in 2013 which they feel are softening the Church's stance on issues like abortion.
In November last year he indefinitely extended Catholic priests' ability to forgive women who have abortions – a measure that was originally introduced as part of the Vatican's special Jubilee year which means thousands of pilgrims flock to Rome for prayer and forgiveness – though he emphasised he still believed it was a "grave sin".
http://www.independent.co.uk/news/world/americas/donald-trump-pope-francis-catholics-alliance-of-hate-la-civilta-cattolica-steve-bannon-a7875651.html
--------
Muslim community 'absolutely disgusted' by Newcastle grooming gang
Aug 12, 2017
Faith leaders across Newcastle have urged the public not to "cast blame on entire communities" in the wake of a police operation exposing the sexual exploitation of more than 700 victims across north-east England.
The former head of the Crown Prosecution Service called the abuse perpetrated over several years by grooming gangs a "profoundly racist crime" after 18 members of a grooming gang were convicted of offences including rape, assault, supplying drugs and trafficking for prostitution.
The defendants were mainly British-born Muslims and belonged to the Pakistani, Bangladeshi, Indian, Iraqi, Iranian and Turkish communities, while their victims are believed to be mainly white British girls and young women.
Following similar patterns of abuse in Rochdale, Rotherham and Oxford, the convictions have provoked fresh national debate over whether select minorities should be taking responsibility.
Dipu Ahad, Newcastle councillor, said local Muslims were "absolutely disgusted" by their crimes and feared a possible backlash.
"It's not a 'Muslim issue' but they are mostly Muslims," he told The Independent.
"So are Isis – they might not represent what Islam says but you can't deny they're Muslims."
Mr Ahad said fellow Muslims should not feel the need to "apologise" for grooming gangs, adding: "Did the white community come out and condemn the crimes of Jimmy Savile?"
But he said religion was an opportunity for faith leaders and community groups to discuss perceptions of women and relationships, using religious texts and prayers to further equality.
The Labour councillor, who represents the Elswick ward where several abusers lived, said some convicted groomers led "double lives", including one man who was already married to a white woman and recently had a child, adding: "He had one face when he was in the house, and outside he was something else."
"We need to challenge deep-rooted issues in the community, where some men looking at women – not just white women – in a way that's not acceptable," Mr Ahad added, accusing racists of trying to "exploit exploitation".
Far-right groups have seized on the Newcastle case to vindicate a long-running narrative claiming a widespread conspiracy among Muslim men and certain immigrant groups to target white women.
Greg Stone, a city councillor from the opposition Liberal Democrats, said at least two convicts were not Muslim but warned extremists were thriving on false claims of a "cover up" by police officers.
"No one wants to demonise a particular community but the fact that his is happening again and again in the same circumstances and communities is a fact we cannot ignore," he added.
"I think there needs to be a national approach – this is happening in too many places for it to be local circumstances."
Mr Stone said sexual exploitation would not "go away until we ask difficult questions", adding: "I don't think we can eliminate the scale of abuse, which has national implications, unless we ask some tough questions of the Pakistani and Bangladeshi community in particular."
Sarah Champion, Labour's Shadow Women and Equalities Minister, claimed grooming gangs have so far been made up of "predominately Pakistani men" who were involved in such cases "time and time and time again".
"The Government aren't researching what is going on," said the MP for Rotherham, where at least 1,400 children were found to have been exploited between 1997 and 2013.
"Are these cultural issues? Is there some sort of message going out within the community?
"This isn't racist, this is child protection."
The former Director of Public Prosecutions said the grooming itself was a "profoundly racist" crime.
Lord Macdonald, a Liberal Democrat peer, told BBC Radio Four's Today programme there was "a major problem in particular communities" of men viewing young white girls as "trash regarded as available for sex".
The court heard that the gang operating in Newcastle had no respect for their victims and selected them as "easy targets".
One member, Badrul Hussain, had claimed "white women are only good for one thing" during a rant at a female ticket inspector who found him travelling on public transport without a ticket in 2014.
"All white women are only good for one thing," he shouted. "For men like me to f*** and use like trash. That's all women like you are worth."
The Home Secretary said the abusers were "not restricted to any single ethnic group, religion or community" but added: "Political and cultural sensitivities must never be allowed to get in the way of preventing and uncovering it."
Chi Onwurah, the Labour MP for Newcastle Central said she was "ashamed" that her home city had harboured men committing abuse for which "there is no excuse".
She said those who sought to use the abusers' Asian or Muslim backgrounds to create division were putting other girls at risk, adding: "Assuming that grooming and child abuse is prevalent in one group helps potential abusers hide in plain sight if they are not part of that group.
"Crimes of sexual exploitation can be and are committed by members of all communities and indeed it remains regrettably true that sexual abuse is most likely to come from within the family circle."
Both Northumbria Police and Newcastle City Council have rejected accusations of "political correctness" in the three-year Operation Sanctuary probe, which has identified more than 700 victims and led to more than 400 convictions resulting in 300 years of imprisonment since 2014.
The grooming gang in Newcastle was targeted by the smaller Operation Shelter, which controversially saw a former child rapist paid almost £10,000 to gather intelligence on suspects.
Police said the gang targeted vulnerable girls and young women who were coerced into sex using alcohol, drugs, violence, threats and money, while others were incapacitated and woke to find themselves being raped.
Much of the abuse between 2010 and 2014 took place at so-called "sex parties" at homes across Newcastle's West End, some of which were under local authority control and involved girls in care, with potential failings to be examined by a serious case review.
Ewen Weir, who is responsible for social services at Newcastle City Council, said it was "oversimplistic" to attribute the attitudes underpinning the abuse to one group.
"It's not right to oversimplify this because there are men from all sorts of backgrounds, including white men, in this," he added.
"In terms of religion, I've seen no evidence personally that it is a big driver."
A statement signed by faith leaders including Christian, Catholic, Muslim, Jewish, Sikh and Hindu denominations vowed to continue their "strong and supportive relationships".
"We are all profoundly saddened by the shocking cases of grooming and child exploitation, including exploitation of vulnerable adults, uncovered by police investigations," it continued.
"We are also conscious that members of all communities are amongst those who are most disturbed and devastated by these crimes.
"It is important now that we do not compound the profound suffering that victims of these crimes have endured by casting blame on entire communities, and we all need to support one another in the aftermath of these events."
http://www.independent.co.uk/news/uk/home-news/grooming-gang-newcastle-asian-pakistani-bangladeshi-muslim-response-faith-leaders-operation-shelter-a7888946.html
--------
Islamabad HC Suggests Making Blasphemy Law Tougher To Check Its Misuse
Malik Asad
August 12, 2017
ISLAMABAD: The Islamabad High Court (IHC) has suggested that parliament make the blasphemy law tougher by fixing the same punishment for any person misusing it or falsely accusing someone of blasphemy.
In a detailed order issued on Friday, Justice Shaukat Aziz Siddiqui also ordered a complete ban on the social networking site Facebook in case the website management does not conform to Pakistani laws.
The court on March 31, 2017, had issued a short order on a petition seeking elimination of blasphemous content from social media.
In the 116-page detailed judgment, Justice Siddiqui discussed in detail the common criticism of the blasphemy law.
He said due to the misuse of the law critics even demanded abolishing it, adding it was better to stop exploitation of the law rather than abolishing it.
"Admittedly, not a single convict whether Muslim or non-Muslim has ever been executed for blasphemy in Pakistan," the judgment added.
It also explained how people due to their personal enmity managed to drag their rivals into blasphemy cases endangering the life of not only the accused person but all his family members and relatives.
However, under the existing law, the false accuser can only face proceedings under Section 182 of the Pakistan Penal Code (PPC), it added.
Section 182 of the PPC entails the maximum punishment of six months or a fine up to Rs1,000 only.
According to the judgment, this is a very minor punishment for such a serious offence of accusing someone of blasphemy.
The court said since blasphemy directly hurt the emotions of the followers of Prophet Muhammad (peace be upon him), while registering a case the investigation officer should consider adding sub-section (f) and (p) of Section 6 of the Anti-Terrorism Act 1997.
The judge referred the matter to the legislature to amend the law for awarding the same punishment for lodging a false complaint under the blasphemy law.
Besides, the court directed the Pakistan Telecommunication Authority (PTA) to create a firewall to block unwanted and sacrilegious content in Pakistan.
The court acknowledged steps taken by the federal government to eliminate such content from the social media. It, however, directed the interior ministry and other departments concerned to vigorously take up the matter with the Facebook management.
In case, the Facebook management does not remove the indecent content against the holy prophet and revered personalities the website may be banned completely in Pakistan, the verdict said.
It, however, advised the government functionaries to negotiate with Facebook which earns reasonable revenues from Pakistan.
https://www.dawn.com/news/1351121/islamabad-high-court-suggests-making-blasphemy-law-tougher-to-check-its-misuse
--------
Singapore Minister Calls on Islamic Teachers to Strengthen Moderation, Work With Other Groups in Society
Aug 12, 2017
SINGAPORE - As extremist interpretations of Islam gain ground around the world, Islamic religious teachers in Singapore can do more to keep the Muslim community from falling prey to such influences, said Minister for the Environment and Water Resources Masagos Zulkifli on Saturday (Aug 12).
They must continue to hone their efforts at preaching moderation and teaching Islam in line with the country's multi-cultural, multi-religious context, he said.
And, they must also walk the talk, he pointed out, as he urged them to stay active not just in Muslim bodies, but in grassroots organisations and non-Muslim welfare groups as well.
"This will make you ambassadors of Islam who contribute to the good of all," Mr Masagos told about 300 asatizah, or religious teachers, in a speech in Malay at a convention of religious teachers organised by the Singapore Islamic Scholars and Religious Teachers Association (Pergas) with the support of the Islamic Religious Council of Singapore (Muis).
Religious leaders must work with those from other communities, and be involved in the wider society, he said.
And it is the local asatizah who will provide a bulwark against the exclusivist and divisive interpretations of Islam that may be taught and practised overseas, he added.
"To understand and practise Islam in Singapore, the community needs the guidance of local asatizah to ensure they are not led astray from the foundations religion sets for all aspects of our lives," said Mr Masagos.
His comments come a week after a group of local Islamic teachers launched a Support Local Asatizah Movement, which hopes to encourage the Muslim community to turn to local asatizah for religious advice instead of just going online or listening to charismatic preachers from overseas. Such preachers may not be as well-versed in Singapore's multireligious context, and there is concern that some propagate views that are at odds with or could affect religious harmony.
Mr Masagos, a former president of the Association of Adult Religious Class Students (Perdaus), stressed that moderation is a key trait of Islam, which calls on its followers to practice their faith in a way that suits their surroundings and the local circumstances.
Extremist interpretations of Islam in Singapore can divide the country, he said.
He noted that outside elements have already started to change and influence the way some are going about their religious lives in Singapore.
"Among other things, they have succeeded in eroding our cultural characteristics and values as Malay/Muslims in the region - the Malay heritage that we should be proud of and continue to preserve," he said. "These elements can divide our community, and even family members."
He made a similar point at a gathering of Malay/Muslim grassroots leaders two weeks ago, when he spoke on the need for Malays in Singapore to preserve their unique culture.
This special Malay identity, he said then, can guard against foreign doctrines that are harmful to the country's multiracial society. In fact, he noted, some local traditions have come under attack by extremists who seek to "first supplant our confidence in our identity, both in our religious practice and culture, before they can replace it with one of their own".
He urged the community to have confidence in its own longstanding cultural and religious practices.
On Saturday, Mr Masagos said that youth, for one, are easily influenced by religious practices and cultures that may differ from those in Singapore - "what more if these are reinforced by local ustaz".
He was therefore pleased to see that asatizah here are making sure that the Islam that is being taught embraces peace and harmony among the different races and religions, and cited the mandatory Asatizah Recognition Scheme (ARS) as playing an important role in ensuring that Islamic education in Singapore keeps the country's context in mind.
Pergas president Hasbi Hassan in his speech said Saturday's conference was a timely opportunity to discuss what moderation means in Islam, especially with radical and sectarian elements on the rise.
He cited how differences between the Sufi and Salafi interpretations of Islam - which have given rise to bloody conflicts in some parts of the world - has riled some members of the public, turning them against each other, instead of fostering an appreciation of diversity.
The one-day conference, which is also attended by Mufti Fatris Bakaram, comes 14 years after Pergas organised a similar event to discuss moderation in Islam in the context of the Singapore Muslim community, which has helped counter extremist misinterpretations.
The group also published a book that spelt out a charter of moderation for the Muslim community here, and Pergas hopes to refresh the ideas behind the charter and align it with the Code of Ethics developed by local asatizah as part of the ARS.
Throughout the day, asatizah will discuss issues such as sectarianism and diversity as well as how they can strengthen the moderate practice of Islam in Singapore.
http://www.straitstimes.com/singapore/masagos-calls-on-islamic-teachers-to-strengthen-moderation-work-with-other-groups-in
--------
India
Don't let terror derail peace process with Pakistan: House panel tells govt
Aug 11, 2017
The parliamentary panel on external affairs said that peace process with Pakistan should not be held hostage to the acts of terrorism, a position at variance with the NDA government's stance that terror and talks cannot go together.
The standing committee on external affairs headed by Congress MP Shashi Tharoor submitted its report on India-Pakistan relationship to Parliament on Friday.
"The committee are of the considered opinion that peace process should not be held hostage to acts of terrorism, and both countries must keep the channels of communication open, even during the worst of crises and let non-state actors and their state sponsors derail or dictate the foreign policy objectives of sovereign," the committee said.
Congress vice-president Rahul Gandhi and BJP's Varun Gandhi are among the 31 members of the committee.
The peace process with Pakistan has remained fragile after the NDA government came to power 2014, a great deal of it because of the continuing mistrust between the two counties since the 2011 Mumbai terror attack which added to the legacy of suspicion against each other.
Though the then-prime minister of Pakistan Nawaz Sharif attended the swearing-in ceremony of his Indian counterpart Narendra Modi and the latter made an unannounced visit to Lahore residence of Sharif, a series of terrorist attacks ensured the peace process remained suspended.
The parliamentary committee found that the government suspending formal dialogue with Pakistan "owing to national security concerns as justified by compulsions".
But it urged the administration to make all "appropriate agencies and players" realise the "futility of continued imbroglio".
The recommendations of the parliamentary panels are not binding on government, but their reports are seen as valuable inputs from legislators on various issues.
The committee called for having a comprehensive national security framework and a coherent strategy towards Pakistan.
"The committee have desired that a comprehensive National Security Framework be worked out after evolving consensus on its various aspects and the ministry of external affairs should play a rightful role in shaping such framework without any further loss of time," it said.
http://www.hindustantimes.com/india-news/don-t-let-terror-derail-peace-process-with-pakistan-house-panel-tells-govt/story-jsJk6MIQygaIW9jD8LR4wI.html
--------
Pakistan-Occupied Kashmir, Gilgit-Baltistan Not a Part of Pakistan: PoK Politician
August 12, 2017
New Delhi: Slamming Pakistan for the atrocities committed by the forces on locals, Misfar Khan, a politician from Pakistan-occupied Kashmir region said, political parties of Islamabad need to end the drama in the area and Gilgit-Baltistan, as these areas are not a part of Pakistan.
"The loot and exploitation being done by political parties of Pakistan in PoK and Gilgit-Baltistan need to be stopped," Khan said.
Meanwhile, Taifoor Akbar, a political activist in PoK said people living in the particular region are treated as slaves.
Exposing Pakistan's cruelty, Akbar said people of PoK are called traitors and are regularly abducted and thrown in jail in the name of National Action Plan.
"PoK locals are deprived of basic amenities, they have no roads, factories, even books are banned in the region," the political activist said.
In 2016, PoK locals staged protest against the rigged July 21 election, which saw Nawaz Sharif's Pakistan Muslim League-Nawaz (PML-N) winning 32 out of 41 seats.
The protesters had claimed that they were not allowed to cast their votes, and Pakistan's Inter-Services Intelligence (ISI) agency and others rigged the polls in favour of Sharif's PML(N).
Baloch Human Rights Organisation (BHRO) chairperson Bibi Gul Baloch in January 2017 had claimed that at least 113 mutilated bodies were found dumped across Balochistan last year.
Full report at:
http://zeenews.india.com/india/pakistan-occupied-kashmir-gilgit-baltistan-not-a-part-of-pakistan-pok-2032308.html
--------
Tension in Maharashtra Town over Call for 'Boycott of Muslims'
Pavan Dahat
AUGUST 11, 2017
The circulation of pamphlets calling for a social and economic boycott of Muslims in Narkhed of Nagpur district, Maharashtra has created tension in the town.
The pamphlets appeared a week after the town witnessed a riot-like situation when a doctor was beaten up by some members of a particular community over a social media post on Vande Mataram.
They appeal to the majority community to boycott Muslim festivals and programmes.
"Don't employ Muslim workers at your home or work places. Don't call Muslims to your homes. Don't go to shops and petrol pumps owned by them. Don't vote for Muslim candidates," were some of the exhortations.
http://www.thehindu.com/news/national/other-states/tension-in-maharashtra-town/article19476415.ece
--------
Madhya Pradesh madrasas told to hoist Tricolour, hold tiranga rallies
by Milind Ghatwai
August 12, 2017
Madrasas in Madhya Pradesh will have to compulsorily hoist the Tricolour on Independence Day, hold cultural programmes, organise a tiranga rally and send photographs of these activities to the Madhya Pradesh Madarsa Board. Out of more than 7,400 madrasas in the BJP-ruled state, 2,535 are registered with the Bhopal-based board.
The madrasa organisers have been told to organise a rally in the town with students or compulsorily attend rallies that are already planned, said a circular issued by the board. The madrasa organisers have been told to email photographs of all activities to mpmadarsaboard@gmail.com.
"I am not aware of the past, but ever since I took over, this has been the practice,'' board chairman Prof Syed Imad Uddin, who was appointed in February 2016, told The Indian Express. He said Islam lays emphasis on love for one's country. "If you don't love your country, you don't believe in the Prophet and, therefore, you are not a Muslim,'' he said.
Asked about the instruction to send photographs, he said it was meant for records and could be used in the board's magazines or uploaded on its website. "We are not seeking any proof but the photographs are needed for record. We can use them in our magazine or upload them on our website,'' he said.
Full report at:
http://indianexpress.com/article/india/madhya-pradesh-madrasas-told-to-hoist-tricolour-hold-tiranga-rallies-4792902/
--------
J&K: Stone-pelters help cornered terrorist Zakir Musa flee
Aug 12, 2017
SRINAGAR: Intense clashes erupted after Zakir Musa and his aide were reportedly trapped in a residential house at Noorpora , his native village in Tral on Friday evening.
However, the stone pelting stopped after few hours and there was no firing from the house where Zakir Musa and his aide was reportedly holed-up. The security forces however, had cordoned off four villages including Peer Mohalla, Shah Mohalla, Daggarpora and Noorpora villages to prevent the exit of the militants trapped in Noorpora village.
The top intelligence sources, confirmed that Zakir Musa and his aide, who has formed his own outfit with the help of al-Qaida called Ansar Ghazwatul Hind distancing from Hizbul Mujahedeen outfit, were reportedly present in the house at Noorpora which was zeroed in by the security forces but the duo managed their escape from the village.
However, security forces suspended their anti-terror operation in view of the darkness . They may carry out the search operation of the suspected house on Saturday morning.
An another police source said, that the security forces were suspecting presence of at least three militants including Ansar Ghazwat-ul-Hind chief Zakir Musa.
According to a police official, the forces including 42RR, 130 CRPF and SOG Awantipora laid siege to Noorpora- the native village of Musa - and launched searches. He said during search operation, the locals pelted stone on forces men and they were dealt with teargas shelling. Despite clashes, the search operation continued in the area.But the clashes ceased after some time and stone pelters dispersed without further disturbing the anti-terror forces, the police sources said.
The police said that the cordon shall remain in place at Noorpora as they suspect presence of militants. Though there were reports of Zakir Musa giving slip to forces but no confirmation was given by any official.
Full report at:
http://timesofindia.indiatimes.com/india/zakir-musa-his-aide-give-slip-to-security-forces-in-noorpora-in-tralin-south-kashmir/articleshow/60026459.cms
--------
India, Britain look to firm up strategies against terrorism
Aug 11, 2017
India and the United Kingdom are planning to enhance their counter-terrorism cooperation in various areas such effective monitoring of Internet and sharing innovative community-led initiatives for re-radicalisation.
The British minister of state for Commonwealth and United Nations Tariq Mohamed met with Prime Minister Narendra's Modi's special envoy on counter-terrorism Asif Ibrahim on Thursday to firm up the plans. Mohamed was minister in-charge of countering extremism when British Prime Minister Teresa May was the home minister.
"We discussed various ways to firm up the counter-terrorism strategy and agreed to share the best practices," the minister told HT Hindustan Times in an exclusive interview.
After a slew of terror strikes in the country in recent past, UK has been looking at ways to strengthen the counter-terrorism strategy. Under the stewardship of Ibrahim, a former chief of Intelligence Bureau, India has been engaging with other countries to sharpen its efforts to prevent radicalisation of the youth, preventing terrorist financing, and working for multi-lateral legal frameworks to counter the threats of extremism and terrorism.
"We need a hard-edged strategy to counter terrorism. There are various components to this, a prevent strategy, a contest strategy and a pursue strategy", he said.
He said a great deal of efforts is needed to counter the propaganda of "sophisticated" terrorist organisations such as the Islamic state and governments need to work with private firms in this regard. "The internet and social media companies have to step up to the mark in countering these threats. They cannot sit hit and the governments will hold them responsible," he said.
He said there should be ways to take off terrorist propaganda as soon they as appear on the internet. He spoke at length about governments joining the Global Internet Forum — an initiative of Facebook, Microsoft, Twitter and YouTube to counter terrorism with an aim to "make our hosted consumer services hostile to terrorists and violent extremists."
Full report at:
http://www.hindustantimes.com/india-news/india-britain-look-to-firm-up-strategies-against-terrorism/story-dB7fMRwgGIvAM9Pt7ex0sJ.html
--------
North America
Police investigate hate mail sent to UK and US mosques
12 August 2017
Counter-terrorism police are investigating an apparent transatlantic anti-Muslim campaign after hate mail and suspicious packages were sent from a location near Sheffield to mosques in London, South Yorkshire and the US.
Handwritten notes were received by three mosques and other addresses across London in July. They all bore a Sheffield postmark, as did hate mail received by at least four US mosques earlier this year, and by three UK mosques in July last year.
Pictures of the letters seen by the Guardian showed many of them featured the same pseudonym or initials. Three of the letters received by US mosques were sent at the same time, with the postmarks reading 5.14pm or 5.15pm on 22 February. "There were two second-class stamps on all the letters sent to the US, which is interesting," said Steve Rose, who is responsible for content at Faith Matters, a community action group working to counter extremism.
There were also similarities in handwriting and imagery in the letters seen by the Guardian. "There are similarities in the shape of the numbers," Rose said. "It could be one person sending them, it could be several people."
Forest Gate mosque, Coventry Cross mosque in Bromley-by-Bow, and Shackwell Lane mosque in Dalston all received letters last month saying the sender would be visiting the mosques.
In July 2016 packages containing white powder were sent to the parliamentary office of Lord Nazir Ahmed, an independent peer, and three mosques in Leyton, Finsbury Park and Tottenham, as well as the Bank of England. "In 2016 this person targets three mosques in London, in 2017 also three mosques," Rose said.
The letters contained offensive language directed towards Pakistani Muslims. The Sunday Times reported that some of the packages came from the Sheffield area because counter-terrorism police were called after suspicious packages were found in a sorting office.
A letter sent to a New Jersey mosque threatened to kill Muslims and featured an offensive cartoon. According to TellMama, a reporting service for cases of anti-Muslim abuse, similar letters targeted mosques in New York, Georgia, and Kentucky this spring.
The Guardian has seen letters with the same pseudonym received by mosques in Washington DC, New Jersey and Alabama, all sent in February, with the latest letter received by the Islam Center in South Dakota in mid-June. "Maybe other mosques got them but didn't report it," Rose said.
On 28 February, the Dar Al-Hijrah Islamic Center in Falls Church, Virginia, received a letter that contained threats of violence and offensive cartoons. It was sent with two first-class UK stamps.
Corey Saylor, a spokesman for the Council on American-Islamic Relations, said: "All the letters I have seen have similar drawings, handwriting and originated from Sheffield.
"Whoever is behind these letters feels empowered to make people on the opposite side of the Atlantic feel afraid to go to their places of worship. Such religious intimidation is wrong in any context and I hope British authorities act to expose and bring appropriate legal charges against the sender."
In a statement about the recent letters received by mosques, the North East Counter Terrorism Unit, which is coordinating the investigation, said: "Police received a number of reports of malicious communications and packages which have been received in recent days across London.
"Specialist officers have attended the addresses and the contents of the packages were examined. In all cases, the substances were found not to be noxious or harmful."
The police were exploring the possibility that the letters were linked to the earlier suspicious packages and letters reported in London, South Yorkshire and the US.
Rose said the police reaction to the latest letters was reassuring. "It's encouraging that within a day they'd gone to mosques and the counterterrorism unit was involved. Police are taking their time with it … and it's very hard to trace. But it's good they are taking it seriously."
Rose urged people attending mosques to remain vigilant and report any threats to the police. "We need the mosques to report, and check their mail regularly. They should make sure they have hate mail policy in place for hateful mail - if you're worried, contact 101. "
https://www.theguardian.com/uk-news/2017/aug/12/police-investigate-hate-mail-sent-to-uk-and-us-mosques
--------
Canada Can Defend Against Terrorism Without Trampling On Our Freedoms
08/11/2017
John Carpay
Islam, religious freedom, hatred, and free speech: their intersection in Canada's free society is messy and complicated.
Muslims praying at Parc Safari zoo in Quebec in early July sparked public comments that religion should be private, confined to living rooms and houses of worship. After advocating for the right of Muslims (and everyone else) to pray peacefully in public, I heard from many saying that Islam is a violent, intolerant ideology that is wholly incompatible with Canada's free democracy.
For example: "Please go to Europe and see what is happening to my family, my friends, with all the killings. Islam is not a religion, but a vile and murderous system;" "Muslims who are apparently tolerant are simply biding their time until they are the majority;" "Where has Islam governed where misogyny and human rights violations aren't the norm?"; "The so-called 'peaceful majority' of Muslims aren't publicly denouncing their terrorist co-religionists."
More recently [On July 24], the Peel Regional Police announced that Mississauga resident Kevin Johnston has been criminally charged with the wilful promotion of hatred. A vocal opponent of the anti-Islamophobia Motion 103, Mr. Johnston has called its sponsor, MP Iqra Khalid, a "political Islamic terrorist" who is "bringing Sharia law to Canada." In one of his videos, he claims that all Muslims are liars. However, the police have not specified which of Mr. Johnston's statements form the basis of the criminal charge.
Curtailing Muslims' freedom of religion, and criminally prosecuting those who denounce Islam, are both wrong-headed. Both approaches strike at the very foundation of Canada's free society.
Concerns about Islam's compatibility with democratic freedom should be addressed through reasoned debate, not criminal prosecutions. Scathing denunciations of Islam, whether true or false, provide Muslims with opportunities to publicly defend their faith and promote its legitimacy. Truth emerges from the clash of opinions in the marketplace of ideas. But the criminal prosecution of speech that feels "hateful" to some (or many) listeners squelches public debate. When government prosecutes what some subjectively feel is hateful, Canadians lose their freedom to decide for themselves what is true or false.
Hate is an entirely subjective emotion. The criminal charge against Mr. Johnston is based on subjective interpretations of his virulent anti-Islamic statements, as perceived by listeners. Whether something is criminally "hateful" (as opposed to merely the legitimate expression of a controversial opinion) is determined subjectively by the police, by Ontario's attorney general (who authorized this prosecution) and ultimately by the judge hearing the case. An objective assessment of hatred is impossible. What one considers "hateful" depends on a person's culture, background, upbringing, life experience, moral beliefs, and underlying metaphysical assumptions.
Canada can defend itself against actual violence and actual terrorism, without trampling on the fundamental freedoms of expression, religion, association, and peaceful assembly. If the government can prohibit Muslims from praying peacefully in a public place, it necessarily also acquires the power to prevent all citizens from fully exercising their freedoms. If an accused child rapist is denied his right to a fair trial before an impartial judge, it would jeopardize everyone's right to be presumed innocent until proven guilty. When government wields its coercive power to prosecute vitriolic anti-Islamic speech as "hateful," this jeopardizes everyone's freedom of expression. As Martin Luther King, Jr. put it: "Injustice anywhere is a threat to justice everywhere."
If fundamental freedoms can be enjoyed only selectively, provided you don't say the "wrong" thing, and provided that you don't belong to the "wrong" religion, they are worthless. The very purpose of enshrining the freedoms of religion and expression is to protect unpopular faiths and offensive speech. As the Supreme Court explained in R. v. Zundel: "The view of the majority has no need of constitutional protection; it is tolerated in any event."
Curtailing the freedom of Muslims to practice their religion peacefully does nothing to combat violence or terrorism. Prosecuting for "hate" speech those who denounce Islam in venomous terms is also the wrong approach, because this squelches public debate and stifles honest discussion about hard issues.
Full report at:
http://www.huffingtonpost.ca/john-carpay/canada-can-defend-against-terrorism-without-trampling-on-our-fre_a_23074921/
--------
Columbia University in Muslim Discrimination Probe
11 Aug 2017
A complaint filed against Columbia University says the school's chaplain denied the requests of Muslim employees to work earlier shifts during Ramadan and reprimanded them for taking daily breaks to pray, The Columbia Spectator reports.
The student newspaper said the charges are made by a former employee in a complaint to the New York City Commission on Human Rights.
The complaint alleges that when University Chaplain Jewelnel Davis was confronted, she told the employee, "I've never had someone who works for me who takes so many breaks."
Two other current and former members of the chaplain's staff verified the ex- employee's allegations to The Spectator.
Columbia could face up to $250,000 in penalties and be ordered to reform its internal policies on religious accommodations.
Full report at:
http://www.newsmax.com/Newsfront/columbia-university-muslim-ramadan-school-chaplain/2017/08/11/id/807137/
--------
Trump says close to decision on Afghan strategy
Aug 12, 2017
WASHINGTON - President Donald Trump has said he was "very close" to revealing his keenly awaited decision on the number of US troops he plans to keep in Afghanistan.
The White House has launched a review of the US plan for Afghanistan after 16 years of war, and reports suggest that Trump's national security team is divided on whether to send more troops or to pull out.
"We're getting close. We're getting very close. It's a very big decision for me. I took over a mess, and we're going to make it a lot less messy," Trump said from his golf club retreat in New Jersey.
Trump's generals have called the Afghan conflict a "stalemate" and even after years of intensive help from the US and other NATO nations, Afghanistan's security forces are still struggling to hold back an emboldened Taliban.
Meanwhile, the US Policy on Afghanistan would include broader concern that incorporates Pakistan and India as well as a regional solution.
"We are looking at this as not just a solution to Afghanistan, but also a broader concern that incorporates India and Pakistan as well as a regional solution," State Department spokesperson Heather Nauert said at a briefing here Thursday.
Asked to comment on government's view point over the Afghan strategy announced by Senator McCain earlier in the day, the spokesperson said a lot of people are very curious about the policy which is still underway. She said there have been a lot of conversations and negotiations with the President's national security team that also includes Secretary of State Tillerson. Ms Nauert said the White House will roll out the Afghan plan, but "we just don't have that done just yet. It's still under review".
She avoided to give a direct answer to the question and only said that the state department is aware of Senator McCain's proposal. In a lighter vein, Ms Nauert said it was great to see Senator McCain back in Washington, a very strong and tough man because his father experienced the same illness that he had.
Mr McCain frustrated over delay by President Donald Trump's administration in announcement of Afghan policy, Thursday presented his own plan calling for ramping up pressure on Pakistan.
Full report at:
http://nation.com.pk/international/12-Aug-2017/trump-says-close-to-decision-on-afghan-strategy
--------
Europe
In Small-Town Russia, a Syrian Imam Battles Islamic Extremism
By Alexandra Dontsova
Aug 11, 2017
The call to prayer ushers worshipers to gather for the imam's sermon.
The main hall for men is tightly packed. A couple of dozen more spill out into the corridor. In a separate hall, three elderly Muslim women sit on benches, listening through a monitor.
The imam is preaching tolerance, love for one's neighbor and Islam as a religion of peace that calls on Muslims and non-Muslims to live in friendship and harmony.
Twelve years ago, Kifakh Bata Mohammed gave up his tourism business to become an imam at the mosque in Volzhsky, a city in Russia's southern Volgograd region. Originally from Syria, he founded what would become Russia's largest Islamic center outside a predominantly Muslim region. More than 60 students attend courses at the center on a regular basis.
"The main thing now is to protect our youth from the influence of extremists who masquerade as devout Muslims and trick them into joining Islamic State*," Kifakh Bata said. "This is especially true in southern Russia."
"A lot depends on how educated our theologians, or imams are," he said.
The Dark Side
The Volgograd region is home to around 30 mosques, all of which run extremism prevention programs. But there are still cases of Muslims switching to the "dark side."
In 2017, Russian President Vladimir Putin said there were around 9,000 people from Russia and former Soviet republics fighting in Syria.
Volgograd was also the site of twin suicide bombings in December 2014, just before the Sochi Olympic Games, that killed 34 people. The bombers were identified as coming from Dagestan in the North Caucasus, where Russian authorities are struggling to contain an Islamist insurgency.
Among the shelves lined with Arabic texts and Quran quotations in the imam's office hang plans for a new mosque. It is snow-white and round with arched vaults. The building could become the main attraction of the small city, but residents have resisted the project.
Opening the Islamic center in Volzhsky was also difficult. On two occasions city officials took back land from the Union of Muslims they had earlier allocated for the center.
So when city authorities offered Kifakh Bata dilapidated barracks on Green Island, on the outskirts of town, the imam gladly accepted. Built as temporary accommodation for Soviet workers, the barracks had for decades been without running water or central heating. But anything was better than a basement.
Undesirables
"When we came here, I said that within one month, which was the first Friday of Ramadan, I would give my first sermon here," Kifakh Bata said. "Nobody believed me. But everyone – congregants, students, employees of the center and activists – gave it their best effort."
"We remodeled the main room and patched the roof. And on the first Friday of Ramadan, we held the first namaz," he said, using the Arabic for prayer.
Volzhsky has a population of more than 300,000. Approximately 50,000 make up the city's "ummah," or Muslim community. That community numbers 200,000-250,000 over the entire region, around one-tenth of the general population.
"It is unfair that so many people cannot pray in dignified conditions," Kifakh Bata said.
By contrast, not a single Orthodox church stood in the region in the 1990s, but four large churches have been built since – and that is not counting those in small parishes. There is even a men's monastery that also stands on Green Island.
"I think it is this attitude towards Islam, and not only in our country, that prompts some Muslims to leave for Syria and fight on the side of the self-proclaimed Caliphate," said Kifakh Bata.
A circuitous route
Kifakh Bata moved from Syria to Russia in 1987.
Under a state-sponsored program, he entered the Volgograd Polytechnic University and earned an engineering degree. After graduating, he decided not to return to his native Latakia on the Mediterranean, where his parents and six siblings live.
Instead, he started a business in Volgograd helping Syrian students get into local universities. He opened several cafés and a travel agency. In the early 2000s, he went to Egypt where he arranged excursions for Russian tourists.
Kifakh Bata admits that he wanted to settle in Egypt, but his wife was so homesick that they had to return to Russia. What's more, by that time he already had theological duties in Volzhsky.
Kifakh Bata is a descendant of the Prophet. For non-Muslims, it can be difficult to understand the status such people hold in the Islamic world. It would be the same if Jesus had children, and their descendants lived among us today.
As a businessman, Kifakh Bata became a leading figure in the Volgograd Region Union of Muslims. When the Volzhsky imam passed away, Kifakh Bata was invited to replace him.
At first, he tried working both jobs. But he soon realized it was impossible to preach on a Monday and balance his accounts on Tuesday. He closed his travel agency and devoted himself entirely to theology, which he says was his true calling.
The madrasa operates as a branch of the Dagestan Islamic University, where the most highly-regarded Muslim theologians teach. The university sends instructors to the Volzhsky center and receives that school's instructors as interns.
More than 60 students of all ages study at the center. Classes begin early in the morning when everyone gathers in the main hall and sits on the floor behind desks covered with notebooks and books in Arabic. The newest students sit in the first rows and those with more experience farther back.
The basics
One of the first-year students is 32-year-old Abdullah, who went by Alexander until his conversion to Islam. A native of the small village of Uspenskoye in the Astrakhan region, he works at his notebook, meticulously copying ornamental Arabic script.
"In the first year we study the basics of Islam and I am learning to read Arabic," Abdullah said.
"In the mornings, we run and work out. We also help maintain the grounds, but our main task is to study. The students don't have to worry about clothes and food. The Lord provides and we help out," he said.
Abdullah never belonged to any religion, but always believed in God. He came to Islam when someone close to him died and praying helped ease the pain.
"After that, I woke up, washed, and told the Lord that now I was His," Abdullah said. "The same day, I gave up drinking and smoking and came to the mosque."
"In Islam, I found answers to what had burdened and troubled me for many years," he said.
"Islam does not spread through bloodshed," Kifakh Bata says. "It attracts followers through its emphasis on morality." He explained that in Islam there are two types of jihad. The greater jihad is the struggle against one's own vices. The lesser is the holy war for one's home.
The main theme running through the imam's sermons, meetings, and personal conversations – at the center, in small villages, or with prison inmates – is the danger of terrorism and extremism.
Kifakh Bata believes he is fighting a struggle for the soul of every single Muslim, helping them to choose life and peace.
"Many theologians and scholars, including several of my friends, were killed for trying to spread these teachings," Kifakh Bata says.
Youths trying to find their place in life often go to the Internet to find answers, where they fall victim to Islamic radicals. "Terrorists use the lesser jihad exclusively for their own purposes – to seize power and wealth," said Kifakh Bata. He believes that young people who are searching should go to the mosque to find answers.
"There is a great need for properly prepared theologians," Kifakh Bata said. "After all, the moral condition of congregants depends on them. It is no easy burden to be responsible for other people's souls."'
A young man who planned to go to Syria once approached the imam. Because Kifakh Bata hears stories from his relatives there, it was easy for him to dispel the young man's "romantic" notions.
He also explained that a Muslim preparing for jihad must first fulfill special conditions: he must obtain the blessing of his imam and parents.
"During the Great Patriotic War, Muslims declared jihad," Kifakh Bata explains. "They defended their home and country from the enemy."
"Who was that young man going to defend in Syria – terrorists who ravage and kill local residents, who carry out attacks in cities around the world?"
Kifakh Bata convinced the young man not to go. But how many never stop to ask for advice?
https://themoscowtimes.com/articles/imam-Russia-shelters-congregation-from-extremism-58613
--------
Ukip allows anti-Muslim activist to stand in leadership contest
11 August 2017
Peter Walker
Ukip's ruling body has permitted an anti-Muslim activist with close links to the far right to stand for its leadership, opening a potentially major division within the party over its future direction.
The party's national executive has approved the candidacy of Anne Marie Waters among the 11 people who will be put to a vote of members next month.
Ukip said in a statement that the executive voted by a majority to allow all 11 to go forward.
A series of senior Ukip members have pledged to resign if Waters wins, a result that would probably finish the party, which received the third biggest share of the vote at the 2015 election, as a mainstream political force.
Even if Waters does not win, Ukip faces the possibility of splits over its post-Brexit future, with other leading candidates taking a strongly anti-Islam stance.
The favourite, Peter Whittle, a London assembly member, has caused disquiet among some moderate party members by promising to remake Ukip as a "cultural movement" opposed to multiculturalism.
Another leading candidate and London assembly member, David Kurten, has boasted on Twitter about receiving the endorsement of Paul Joseph Watson, a Briton who edits the website of Infowars, the rightwing US conspiracy theory group that claims the Sandy Hook school massacre and the 11 September 2001 attacks were carried out by the US government.
Waters has based her campaign on what she says is an urgent need to stem the influence in the UK of Islam, a religion she has described as "evil".
She was deputy leader of the UK arm of Pegida, a far-right and anti-Islam group, and has called Islam "an expansionist, political, totalitarian and supremacist faith, commanded to world domination" and said people were wary of the religion because they feared their children would be abused by Muslims.
It later emerged she has received help in her leadership campaign from Jack Buckby, a former British National party member who later stood for parliament for another far-right group, Liberty GB.
Waters was prevented by Ukip from standing as a candidate at the election in June, leading to speculation she could be excluded from the leadership race, as the party's rules say candidates must be members "of good standing".
However, senior Ukip sources had said the belief was it might be better for Waters to stand and be defeated rather than be seen by some Ukip members as a martyr.
After Nigel Farage decided to not stand yet again for the post left vacant by Paul Nuttall, who stood down after Ukip's disastrous performance in the general election, the field of candidates, while large, is devoid of well-known names.
Also among the possible favourites is John Rees-Evans, a former soldier best known outside the party for once claiming that a gay donkey attempted to rape his horse.
Other candidates include the MEPs David Coburn and Jane Collins, the latter of whom was ordered this year to pay more than £160,000 in damages to three Labour MPs after falsely claiming in a speech they knew about the abuse of girls in Rotherham but did nothing.
More fringe candidates include Ben Walker, Marion Mason and David Allen, former councillors or council candidates, and Henry Bolton, who stood for Ukip to be Kent's police and crime commissioner.
The list is completed by Aiden Powlesland, a candidate at the June election who argued that the UK should thrive after Brexit by mining the asteroid belt and developing interstellar space travel.
One senior Ukip source said the expectation was that Whittle would win. "He seems the most likely, and my hope would be that if he does, he could be persuaded to focus less on Islam and more on Brexit. People think Brexit is over, but it's all to play for over the next two years."
Full report at:
https://www.theguardian.com/politics/2017/aug/11/ukip-allows-anti-muslim-activist-anne-marie-waters-stand-leadership-contest
--------
British ex-Muslims vow to 'boldly' challenge Islam over LGBT persecution
12 Aug, 2017
The Council of ex-Muslims of Britain will challenge Islam and any other religion for persecuting minorities, including the LGBT community, Jimmy Bangash, the spokesman for the controversial group, said during a debate on RT.
The group made headlines in the UK after its members joined an LGBT parade in London on Tuesday.
Their least controversial banners at the event read: "We're here. We're kaffir [unbelievers]. Get used to it," "Celebrating apostasy," "Make LGBT rights universal" and others, accompanied by a list of Muslim states that punish homosexuality by the death penalty.
The group's protest outraged many worshipers and UK Muslim organizations, but the group rejected the criticism, saying: "We don't need your permission to march for LGBT rights or the rights of apostates."
The Council of ex-Muslims is a "rampant Islamophobic organization" that has made its mission "to demonize Islam and the religious beliefs of Muslims," Mohammed Shafiq, chief executive of the Ramadhan Foundation, a Muslim group promoting peaceful co-existence between all British communities, said during a live debate on RT.
"Let's just say, is there a council of ex-Christians? Is there a Council of ex-Jews? A Council of ex-Hindus? A Council of ex-Sikhs?" he wondered.
Shafiq said that it was puzzling for him that the people, who themselves opted to cut ties with Islam, keep meddling in Muslim affairs.
"Let's accept that they've got a right to leave Islam – then why are they constantly obsessed about Islam? They need to get a life. Move on. Enjoy their life and their 'new freedom' as they tell us," Shafiq said.
Bangash, who described himself as "a British Pakistani, who grew up as a gay individual in a Muslim family," said that Shafiq's complaints were groundless.
"Asking us to leave the religion and then be silent about our kin across the world, who are being victimized by the Muslim states, is an absurd request," he said.
Bangash said that the group has no intention of spreading Islamophobia in the British society, explaining: "This is my community. I have no interest in galvanizing hate against Muslims because I'll be subjected to that same hate" due to own Muslim background.
However, the spokesman stressed that the Council of ex-Muslims will continue to protest persecution of minorities in Islam and other religions.
"If religion is legislating against people, like gays, we will challenge that. And we will challenge that boldly. We will challenge that in meaningful ways, holding signs that provoke thought," Bangash said.
Human rights activist Peter Tatchellbacked Bangash by arguing that the group's participation in the LGBT protest was justified.
Hatred against people is always wrong, whether they'd be Muslim or anyone else. But criticizing bigoted intolerant ideas is entirely right and proper," he said.
According to the activist, the Council of ex-Muslims was "targeting Islamist homophobia. It wasn't targeting Muslim people or even Islam, in general."
Full report at:
https://www.rt.com/uk/399374-ex-muslim-lgbt-protest-debate/
--------
Police: French soldier attack suspect not known as radical
Aug. 10, 2017
PARIS (AP) — The man suspected of ramming a BMW into a group of soldiers near Paris is a 37-year-old Algerian who was known to police as a suspect in minor crimes but not as someone with radical beliefs, police said Thursday.
Hamou Benlatreche was living legally in France and had never been convicted of a crime, a police officer involved in the case told The Associated Press. He spoke on condition of anonymity because he was not allowed to speak about an ongoing investigation. Police have not disclosed a motive for the attack.
Benlatreche's name was on the letterbox for an apartment in a building in the suburb of Bezons, north of Paris, that police searched Wednesday night. Neighbors there refused to speak to reporters Thursday.
Six soldiers were hurt in Wednesday's incident, though none had life-threatening injuries.
Benlatreche was arrested in northern France following a highway manhunt, police said. Police officers opened fire during the arrest to subdue him, and he was injured along with an officer hit by a stray police bullet, officials said. The suspect was hospitalized but police did not provide an update on his condition.
A police trainee only identified by his first name, Laurent, told Europe 1 radio that while driving on the highway north of Paris, he noticed a car passing at full speed with its windshield, hood and front bumper damaged.
"I thought, 'It's weird... I'm going to take the vehicle's license plate,'" he said.
Mohammed Benlatreche, who identified himself as the Hamou Benlatreche's uncle, told BFM television his nephew was a practicing Muslim who told his family he was working as a driver for deliveries and for Uber.
He said he was "stunned" when he heard the news. "It was not believable it was him."
He said his nephew never showed any signs of radicalization.
Counterterrorism prosecutors opened an investigation on potential charges of attempted murder of security forces in connection with a terrorist enterprise, the Paris prosecutor's office said.
Full report at:
http://www.njherald.com/article/20170810/AP/308109925
--------
Pakistan
The family who brought an Indian sweet to Pakistan
By M Ilyas Khan
The India city of Badaun and the Pakistan city of Mardan are separated by 1,200km of territory, a vicious communal divide and a heavily militarised border.
But Mardan's chief sweet delicacy - the Badauni pedha - still holds the aroma and the taste of a shared past.
And this has been made possible by a migrant family of semi-literate farmers who say they went into the pedha business because they "didn't know anything better to do".
Pedhas are grainy balls of condensed milk, or khoa, mixed with sugar and spices. They are believed to have originated in Varanasi and Mathura and have been used as religious offerings, or prasad, in Hindu temples.
While the delicacy spread to various parts of India early on, its advent in northwestern Pakistan dates to 1950 when a couple of villagers from India's Bareilly district set up a shop in Mardan.
The ambience of the shop is not dissimilar to most traditional sweet outlets across India and Pakistan; it is small and untidy, housed on the ground floor of a narrow, ramshackle three-storey building. The factory is located on the first floor.
But trading is brisk for a small city like Mardan; a salesman says they sell an average of 200kg of pedhas a day, besides other sweets.
How to make a Badauni pedha:
Asked to set out his special recipe, Mehmood Ali Khan just smiled. But here's one way to make it:
Condense milk with a special mixture of spices over a slow flame into a thick lump, called khoa
Shape the mixture into a ball and dip in sugar
Spice ingredients could include green cardamom, almonds and pistachios
A hand-painted signboard hangs from the second storey, covering the entire front of the building. Besides the name of the shop - Badauni Pedha House - it carries a portrait of Mehmood Ali Khan, the owner, who is introduced as "Baba-e-Zaiqa", or the "father of flavour".
But Mr Khan, 78 and now retired, says he is not the original founder of the business. He was just eight years old when India was divided.
"When partition happened, two of my seven brothers - the eldest and the one at number four - decided to migrate to Pakistan," he says.
"They said they would assess the situation and make arrangements for the rest of the family to relocate. But they faced problems - they couldn't find anything they could do for a living. So my elder brother, Ibn-e-Ali Khan, decided to introduce Badauni pedhas in Mardan."
Back then, local consumers were strangers to the taste of a north Indian pedha. Also, Ibn-e-Ali's pedha was still some years from mimicking the addictive, mildly sweet milky tinge of the Badauni variety.
After a year their mother, a widow, started to fret. "She said that the family ought to stay together; that either my two brothers came back to Sirauli (the family's native village in Bareilly district), or everyone went to Pakistan."
Under the rules of partition his brothers, having migrated, could not return to India as Indian nationals, and they still did not have Pakistani passports to travel as visitors. So the family decided that two more brothers, third-eldest Mehfuz Ali Khan and fifth-eldest Mohammad Ali Khan, should join them in Pakistan to expedite a final plan.
Partition of India in August 1947
Perhaps the biggest movement of people in history, outside war and famine.
Two newly-independent states were created - India and Pakistan.
About 12 million people became refugees. Between half a million and a million people were killed in religious violence.
Tens of thousands of women were abducted.
This article is part of a BBC series looking at Partition 70 years on.
But the family was not destined to reunite under one roof until the mid-1960s.
In the meantime, the four brothers who had moved to Pakistan filed claims for land compensation in lieu of what they said they had left behind in India. The claims were filed under a refugee resettlement plan devised by both India and Pakistan - believed to be one of the largest in modern history.
And some time in the early 1950s, the pedha business started to pick up.
"The only expertise Ibn-e-Ali had brought to pedha making was a farmer's knowledge of how to make khoa," says Mr Khan.
"We had grown up having buffaloes in our cattle pen and had watched the womenfolk condense leftover milk over a low flame. What he didn't know was the exact recipe, the spices."
This knowledge came in the early 1950s when, having received their Pakistani passports, Mehfuz Ali Khan and Mohammad Ali Khan went back to Sirauli. There they practiced sweet-making at some local outlets, and then went to train at Badaun's signature pedha shop, set up by the famous Mamman Khan.
"They arranged an apprenticeship at Mamman's shop through our relatives in Bareilly. The shop owner was loath to train potential competitors, but agreed to share the secret recipe after Mehfuz Ali Khan gave him his word that he would do business in Pakistan, not India. They trained at Mamman's shop for a couple of months before returning to Mardan."
As the land claims of the brothers started to mature, it was time for the mother and two youngest brothers - the youngest of all, Mohammad Wali Khan, and Mr Khan, the second-youngest - to migrate to Mardan.
"That was 1959. I was just 20 then. Our second-eldest brother, Mehboob Ali Khan, stayed back in Sirauli to sell off our holdings and clear debts. He migrated in 1964."
By this time, most of the brothers had moved to the land allotted to them in Dera Ismail Khan area, leaving the pedha business to young Mehmood Ali Khan.
Mr Khan's son, Ahmar Mehmood, who now runs the business, says that for most members of the family the pedha business was just a means to survive until they went back to farming.
"They considered it a lowly profession (given a general feudal mindset), but lived with it perhaps because they thought it was easy," he says.
"But my father made a conscious decision to stick to this business. He came to Pakistan after the deadline for property claims had lapsed, and the business was doing well by then."
But why would a landowning family abandon its place of birth and move to a country of strangers, especially when there were no serious communal riots in their region, and the family did not owe any ideological commitment to the ranks of All India Muslim League which had campaigned for a separate Muslim state in India?
Mr Khan is not very clear. "I don't know what went into their heads. They screwed us too," he gives out a hearty laugh.
One reason may be that he was very young at the time and did not know what was going on. Also, the family had suffered reverses in its fortunes and may not have remained as affluent as it once was.
"My grandfather had six sons. He was a big landowner in Saidpur (a village in Badaun district). My father died when my grandfather was still alive, which meant that (in accordance with Islamic inheritance law) we were left without a right to our father's share in our grandfather's property. So we moved with our mother to Sirauli (which was her ancestral village)."
This would explain the restlessness of the brothers to move out, and the anxiety of the mother to keep the family together even if it meant migrating to a strange land.
But nostalgia for the past survives in the family. Ahmar, who was born in Mardan, calls himself Ahmar Badayuni on his Facebook page.
He has been to India a number of times to meet his relatives, mostly with his mother, who died recently.
"When I'm in Bareilly, I'm always bewildered when I imagine how the family got split right through the middle. The love we get there feels like a different kind of love. Sometimes I do ask my father why they decided to leave that place. It would have been good if we stayed."
But the family hasn't done badly in Pakistan either. Most of them acquired land and went back to farming. One brother went to college and retired as a professor. And Mr Khan owns a cosy house in the affluent Sham Ganj area of Mardan.
And while they may have suffered trials and tribulations, they did manage to bring with them one of the most enduring legacies of the region they left behind - the grainy balls of condensed milk and spices mixed to a secret recipe of Badaun's Mamman Khan. http://www.bbc.com/news/world-asia-40849101
--------
New Afghan strategy threatens graduated sanctions on Pakistan
Anwar Iqbal
August 12, 2017
WASHINGTON: US Senator John McCain has unveiled his long-promised strategy for Afghanistan, which threatens "imposing graduated diplomatic, military, and economic costs on Pakistan" if it continues to provide the alleged support and sanctuary to terrorist and insurgent groups, including the Taliban and the Haqqani Network.
The strategy, issued on Thursday afternoon as an amendment to next fiscal year's defence bill, includes providing additional US troops for counter-terrorism missions. It also allows US advisers to work closer to the front lines with Afghan officers and giving US commanders a broader authority to target Taliban insurgents, Islamic State militants and other militias.
Senator McCain, the chairman of the Senate Armed Services Com­mittee, has long threatened to force a strategy on the administration if it doesn't come up with one to win the 16-year-old war. Mr McCain said some of America's "most experienced and respected former military and intelligence officials" contributed to this strategy.
Besides threatening Pakistan with new sanctions, the proposed policy also outlines the potential benefits of a long-term US-Pakistan strategic partnership that could result from Pakistan's cessation of support for all terrorist and insurgent groups and constructive role in bringing about a peaceful resolution of the conflict in Afghanistan.
The plan suggests a regional dialogue including Afghanistan, Pak­istan, China, India, Tajikistan, Uzbekistan, Turkmenistan, and other nations to promote Afghan political reconciliation.
It proposes intensifying US regional diplomatic efforts working through flexible frameworks to encourage this dialogue to advance regional cooperation on issues such as border security, intelligence sharing, counter-narcotics, transportation, and trade. Senator McCain hopes that this would "reduce mistrust and build confidence among regional states".
Last month, the US Department of Defence also issued a report, "Enhancing Security and Stability in Afghanistan", which recognises Pakistan as "the most influential external actor affecting Afghan stability and the outcome of both the US and Nato missions" and suggests using both carrot and stick to achieve its cooperation.
And last week, US National Security Adviser H.R. McMaster indicated that a new US strategy for Afghanistan may include this "carrot and stick" approach. The White House, which has a team of experts working on the new strategy, had promised to release it by mid-July. State Department spokesperson Hea­ther Nauert told a news briefing on Thursday that the administration "will roll out" the plan but did not say when.
Senator McCain visited Pakistan and Afghanistan last month with a team of senior US lawmakers and in an interview to PTV emphasised the importance of Pakistan's support for US efforts to end the Afghan war.
While announcing his new strategy, Senator McCain criticised both Presidents Barack Obama and Donald Trump, saying: "President Obama's 'don't lose' strategy has put us on a path to achieving the opposite result. Now, nearly seven months into President Trump's administration, we've had no strategy at all as conditions on the ground have steadily worsened."
Mr McCain said the goal of this strategy was to "ensure that Afghanistan never again becomes a sanctuary for terrorists to plot and conduct attacks against America, our allies, or our interests".
His integrated civil-military plan for Afghanistan suggests the following strategic objectives:
Deny, disrupt, degrade, and destroy the ability of terrorist groups to conduct attacks against the United States, its allies, or its core interests.
Prevent the Taliban from using military force to overthrow the government of Afghanistan and reduce the Taliban's control of the Afghan population.
Improve the capability and capacity of the Afghan government to the extent of feasible and practicable to defeat terrorist and insurgent groups as well as sustainably and independently provide security throughout Afghanistan.
Establish security conditions in Afghanistan necessary to encourage and facilitate a negotiated peace process that supports Afghan political reconciliation and an eventual diplomatic resolution to the conflict in Afghanistan.
Forge a regional diplomatic consensus in support of the long-term stabilisation of Afghanistan through integration into regional patterns of political, security, and economic cooperation.
Bolster US counterterrorism efforts by: Increasing the number of US counterterrorism forces in Afghanistan.
Providing the US military with status-based targeting authorities against the Taliban, the Haqqani Network, Al Qaeda, the Islamic State and other terrorist groups.
Pursuing a joint agreement to secure a long-term, open-ended counterterrorism partnership between the United States and the Afghan government, with an enduring US counterterrorism presence in Afghanistan.
Improving the military capability and capacity of the Afghan national forces against the Taliban and other terrorist groups by:
Establishing US military training and advisory teams and significantly increasing US air power and other critical combat enablers to support Afghan operations.
Providing sustained support to Afghan forces by providing key enabling capabilities, including intelligence, logistics, special forces, air lift, and close air support.
Full report at:
https://www.dawn.com/news/1351019/new-afghan-strategy-threatens-graduated-sanctions-on-pakistan
--------
Musharraf's N-technology disclosure embarrassed Pakistan: FO
Iftikhar A. Khan
August 12, 201
ISLAMABAD: The disclosure made by retired General Pervez Musharraf in his 2006 autobiography that Dr Abdul Qadeer Khan transferred sensitive nucl­ear material to North Korea had come as a big embarrassment to the country, an official of the Foreign Office said on Friday at a meeting of the Senate's Foreign Relations Committee.
The disclosure had forced the Foreign Office on the defensive and left it with no choice but to regurgitate the standard response that Pakistan was firmly against nuclear proliferation, the additional secretary said.
Foreign diplomats viewed the statement with scepticism and disbelief, he added.
The Foreign Office reply came in response to a question by Senator Farhatullah Babar as to what was North Korea's official reaction to Pervez Musharraf's revelation in his memoir, In the Line of Fire, that a clandestine proliferation network operating from Pakistan had transferred nearly two dozen centrifuge machines, a flow meter and some special oils to North Korea.
"Had such an irresponsible disclosure been made by a civilian minister or a bureaucrat, he would have been sent to the gallows, but Musharraf got away with it because he was a general," Senator Farhatullah observed.
The official reaction to Pervez Musharraf's disclosures would help this committee better understand "the nature and depth" of Pakistan-North Korea relations, he added.
The committee was also briefed on Islamabad's relations with Tokyo and the government's position on territorial disputes in the Strait of Malacca.
Full report at:
https://www.dawn.com/news/1351042/musharrafs-n-technology-disclosure-embarrassed-pakistan-fo
--------
JUI-F opposes repealing of articles 62, 63
Aug 12, 2017
Jamiat Ulema-e-Islam (JUI-F) Chief Maulana Fazl-ur-Rehman, an important ally of Pakistan Muslim League (PML-N), has opposed the decision of abolishing Article 62 and 63 from the constitution.
Talking to media here on Friday outside the Parliament House, he made it clear that government would have to face strong resistance if it will make any move to abolish articles 62 and 63. He said the move to repeal the said article would be considered as an effort to push the country towards secularism.
Maulana Fazl further stressed the need to explain definition of Saadiq and Amin in the constitution. He said it was not correct to abolish the law for its misuse. He said under the prevailing circumstances there was need to explain Saadiq and Amin in length. He said JUI-F would cooperate if legislation was enacted to explain articles 62 and 63 in length.
Full report at:
https://www.pakistantoday.com.pk/2017/08/12/jui-f-opposes-repealing-of-articles-62-63/
--------
Explosion in Bajaur Agency kills 3 people, injures 26
Ali Akbar
August 11, 2017
At least three people were killed and 26 injured as a result of an IED explosion in Bajaur Agency's Charmang area on Friday, according to initial reports by political administration.
The blast occurred in Nawagai tehsil of Charmang area and targeted labourers, the political administration said. The injured have been moved to District Headquarter Hospital Khar while the area has been cordoned off by security forces.
"At least three people have been killed and 26 wounded, the roadside bomb exploded when the truck passed by," Mustafa Khan, a local government official told AFP.
Anwarul Haq, a senior local government official, confirmed the casualties, telling AFP that the injured have been taken to local hospitals.
No militant group has yet claimed responsibility for the attack, but Taliban militants have carried out several bomb attacks against security forces and pro-government tribal elders in the area in the past.
The incident comes as Operation Khyber-4, launched under Operation Raddul Fasaad (RuF) by the Pakistan Army in the Rajgal Valley area of Khyber Agency, gains momentum.
Full report at:
https://www.dawn.com/news/1350954/explosion-in-bajaur-agency-kills-3-people-injures-26
--------
Southeast Asia
Johor princess' future groom talks of how he embraced Islam
August 11, 2017
JOHOR BAHRU: Dennis Muhammad Abdullah, the future husband of Johor Princess Tunku Tun Aminah Maimunah Iskandariah Sultan Ibrahim, began learning about Islam in 2014.
The 28-year-old Dutchman said he often sought the advice of his Muslim friends in Amsterdam, including following them to the mosque.
"I wanted to see and hear them perform their prayers in the mosque and get their advice on Islamic teachings and other mandatory rituals," he said in a statement issued by the Royal Press Office (RPO) here today.
The RPO is the official media and communication office of the Johor royal family.
Dennis Muhammad, who embraced Islam on May 31, 2015, at the Johor Bahru kadi's office, said he also read numerous references about Islam on the Internet to increase his knowledge.
He said the Sultan of Johor Sultan Ibrahim Sultan Iskandar advised him to study the religion in-depth after giving his blessings for the marriage.
"Since early this year, I have been attending Fardhu Ain classes and trying to memorise short chapters (surah) of the Quran.
"I have been fasting for the whole month of Ramadan since 2015 and often joined the congregation in performing Tarawih prayers at the mosque.
"Not only that, I am also interested in learning Jawi, but I was advised by many scholars not to rush into it and to study the religion slowly," said Dennis Muhammad.
"I am grateful to Allah for giving me the opportunity to learn and follow the religion without any obstacles.
"My parents have also been supportive of me becoming a Muslim," he added.
http://www.freemalaysiatoday.com/category/nation/2017/08/11/johor-princess-future-groom-talks-of-becoming-a-muslim/
--------
Liow: Government withdrawal of unilateral conversion ban not a 'U-turn'
August 12, 2017
KUALA LUMPUR, Aug 12 — MCA president Datuk Seri Liow Tiong Lai denied the government is backpeddling by dropping a proposed clause banning unilateral child conversions in its recent amendments to the marriage and divorce law.
Liow who is also a member of the Cabinet said the issue was only delayed and will be dealt with later as constitutional changes were required, The Star reported today.
"Many accused the government of making a 'U-turn' when Clause 88A was removed. This is not so.
"The issue of unilateral conversion will be resolved later, as we have to address the Federal Constitution first," he was quoted saying.
He reiterated the government's stand that the proposed Section 88A in a 2016 draft of the Law Reform (Marriage and Divorce) (Amendment) Bill was withdrawn because the Attorney-General found it against the Federal Constitution.
Liow also insisted that the Law Reform (Marriage and Divorce) (Amendment) Bill 2017, tabled in the Dewan Rakyat earlier this week, was a "big step" forward to protect the rights of a non-Muslim spouse when the other converted to Islam mid-way into the marriage.
"To accuse the government of not having the political will to prohibit unilateral conversion is wrong. We are not back to square one on this. In fact, we have taken a big step.
"Out of two main issues, we have managed to settle one," the Bentong MP was quoted saying.
He was referring to the two key issues in the 2016 Bill that had contained the proposed Section 88A to ban unilateral child conversions to Islam and also addressed issues of divorce for civil marriages where a spouse subsequently becomes a Muslim convert. Section 88A requires the consent of both parents in a civil marriage for their child to be converted to Islam if one of them becomes a Muslim convert.
The 2016 version of the Bill was abruptly withdrawn on Monday and replaced with the 2017 Bill which had the same amendments except for the proposed Section 88A clause.
The 2017 amendments empower a Muslim convert in a civil marriage to file for divorce after the religious conversion, besides entitling the surviving spouse, children and parents of the Muslim convert to the matrimonial assets if the latter dies before the divorce.
Liow was also reported saying MCA would continue to fight to bar unilateral religious conversions and will also seek feedback from NGOs.
Critics of the unilateral conversion practice had panned the government's decision to clause and following the move, highlighted the missed opportunity for a solution to interfaith child custody conflicts after a parent converts to Islam.
Wanita MCA had this week urged for the amendment of the Federal Constitution's Article 12(4) to clearly state that a minor's faith should be decided by both parents, pointing out a mysterious 2002 printing modification which changed this constitutional provision to read as "ibu atau bapa" (mother or father) without going through parliamentary proceedings.
Full report at:
http://www.themalaymailonline.com/malaysia/article/liow-government-withdrawal-of-unilateral-conversion-ban-not-a-u-turn#vqwUSqBVl1xyWDEl.97
--------
Official: Indonesian family that joined IS now in Iraq
August 11, 2017
JAKARTA, Indonesia — A Jakarta family who joined the Islamic State group in Syria out of an apparently naive belief it would give them a better life is now in Iraq and in contact with the Indonesian government, a senior Indonesian official said Friday.
Deputy Foreign Minister Abdurrahman M. Fachir said that the family of 17, which includes children and teenagers, is safe but also indicated their journey won't be straightforward.
The government in Baghdad only controls parts of Iraq and the family's travel involves dealing with different authorities depending on what region they're moving through. Some areas are controlled by Iraqi Kurdish troops known as the Peshmerga while others are held by government troops and various militias. The family crossed into Iraq from Syria on Tuesday, a local Kurdish official told The Associated Press earlier this week.
"Our representatives in Baghdad are trying to oversee this process," Fachir said. "But of course, we have to really understand the situation."
"There are some regions they have to travel through and each region has its own characteristics," he said.
Last month, an AP team in the Syrian city of Raqqa met with members of the family who were living in a camp for the displaced and reported on their journey two years ago from Jakarta to IS's self-proclaimed capital.
They told AP of how their dreams were crushed in the face of IS brutality and how different the reality of life under the militants was from the dream of an Islamic society they had pursued.
Fachir said it's not clear how long it will take for the family to get back home.
On social media in Indonesia, their story has elicited some sympathy but mostly derision.
Communal tensions and attacks on minorities in the past year have undermined Indonesia's reputation for practicing a moderate form of Islam, but surveys show the bulk of people are not in favor of hard-line groups that want to replace secular government with a caliphate.
Indonesia's Foreign Affairs Ministry said this week it had obtained information that the group were not fighters, some had spent most of their time in Syria in IS jails or other isolated conditions, and had fled Raqqa with the help of a third party on June 10.
Full report at:
http://www.columbian.com/news/2017/aug/11/official-indonesian-family-that-joined-is-now-in-iraq/
--------
Indonesia arrests alleged Islamic State recruiter for Philippine city siege
11 August, 2017
Indonesian police on Friday arrested an alleged recruiter and fundraiser for pro-Islamic State (IS) militants locked in a bloody battle for control of the southern Philippine city of Marawi.
Nearly 700 people, 120 soldiers among them, have been killed in the conflict after an alliance of militant groups launched an audacious assault to capture the Philippine city on May 23.
Philippine military and police have yet to regain control of all of Marawi, a city of about 200,000 people, amid ferocious urban fighting that has destroyed most of its centre.
The man detained at a residential complex on the outskirts of Jakarta is believed to be a member of Jemaah Ansharut Daulah (JAD), an Indonesian radical group that has pledged allegiance to IS, police spokesman Inspector General Setyo Wasisto said.
"He finds people to send to Marawi and Syria," Wasisto said in a text message to Reuters. "How many is still unclear."
Police also suspect he raised funds for recruitment.
Indonesian counter-terrorism authorities believe at least 20 Indonesians were among the fighters, along with some from Malaysia and the Middle East, who flocked to Marawi, on the island of Mindanao, long afflicted by Islamist insurgencies.
Indonesian JAD members make up most of the senior leadership of the Southeast Asian military unit fighting for IS in Syria known as Katibah Nusantara.
Two of the leaders, Bahrumsyah and Bahrun Naim, have directed and inspired a series of militant attacks in Indonesia, Indonesian police say.
Indonesia's 'militant moderates' fighting religious intolerance
Members of Katibah Nusantara have also organised funding and international recruits for the Marawi assault, the Jakarta-based Institute of Policy Analysis of Conflict said in a report.
Southeast Asian nations have vowed to step up law enforcement and intelligence cooperation to fight the rising threat of violent Islamist extremism in the wake of the Marawi siege.
Full report at:
http://www.scmp.com/news/asia/southeast-asia/article/2106476/indonesia-arrests-alleged-islamic-state-recruiter
--------
Asean Must Unite to Combat Terrorism and Transnational Crime: Jokowi
Aug 12, 2017
Jakarta. President Joko "Jokowi" Widodo said the siege of Marawi City in the southern Philippines was a wake-up call for the region to face the threat of terrorism and transnational crime.
Speaking during the 50th anniversary celebration of the Association of Southeast Asian Nations (Asean) in Jakarta on Friday (11/08), the president noted the urgency of a quick response and even stronger cooperation among member states to address the various regional and global challenges that they face together.
"The attack in Marawi is a wake-up call for all of us – it requires a swift, timely response. We must unite to build cooperation and strengthen our synergy to combat terrorism," Jokowi said.
Philippine troops have been battling Islamic State-affiliated militants who occupied Marawi on Mindanao Island on May 23. Close to 700 people have already been killed and more than 400,000 have been displaced since the fighting began.
Indonesia has been working closely with countries in the region in response to the growing threat of Islamic State influence in Southeast Asia. It has urged regional and global players to confront the complex issue.
During a high-level meeting in Manila in June, officials from Indonesia, Malaysia and the Philippines agreed to cooperate and to jointly implement counterterrorism measures and strategies.
Officials from the three countries and Australia, New Zealand and Brunei also agreed in Manado, North Sulawesi, last month to step up cooperation and develop education and the economic means for citizens to combat increasing radicalism.
Jokowi also touched on the issue of transnational crimes, saying that "there is no other way but unite" to rid Southeast Asia of illegal drugs. He added that Asean should "declare war" on narcotics.
On politics and security Jokowi said Asean will face increasing rivalry among world powers, which will have implications both regionally and globally.
"Asean must continue to preserve its unity and centrality [...] so that it can determine its own future," Jokowi said.
Founded in Bangkok on Aug. 8, 1967, the regional bloc has since doubled from its original five members and continued to be a stronghold of partnerships among its diverse members.
According to the World Economic Forum, Asean is currently the world's sixth-largest economic power. The forum predicts that the bloc will become the fifth-largest economy by 2020, and the fourth-largest by 2030.
Jokowi said Asean's success is evident from its ability to preserve and create an ecosystem of peace while moving towards mutual prosperity.
"Other countries and regions engage in power collision to solve their problems, but Asean has continued to engage in dialogue and negotiations to create resolutions," Jokowi said.
Asean Secretary General Le Luong Minh said during his opening speech that the bloc "needs to stay on course and stand united to weather the current tide of complicated developments in regional and global situations."
Although Asean is recognized as an effective model of regionalism in regional peace and security, economic integration and institution building, Minh said persisting development gaps, the spread of extremist and terrorist ideologies, protectionism, maritime sovereignty disputes and a proliferation of weapons of mass destruction are some of the challenges member states must confront together.
Full report at:
http://jakartaglobe.id/news/asean-must-unite-to-combat-terrorism-and-transnational-crime-jokowi/
--------
Mideast
Mossad Spies in Close Quarter to Supreme Leader: Iranian Press
11 August 2017
Iranian media has reported that the country's intelligence services over the past few weeks have arrested a number of people tied closely to the supreme leader Ayatollah Khamenei and the Islamic Revolutionary Guards Corps (IRGC) charging them with espionage for the Israeli Mossad.
Parliament member Mahmoud Sadeqi revealed to local media that two members of the Iranian Strategic Center for Soft,War known as Ammariyon, headed by hardline cleric, Mehdi Taib. The cleric has close links with the IRGC intelligence unit which is headed by his brother Hussein Taib.
Sadeqi revealed to local media that two members of Ammariyon - Mohammed Hussein Rustumi, the web editor of www.ammariyon.ir and Redha Kalboor, an editor at Kayhan - have been arrested.
Kayhan newspaper is funded by the Supreme Leader.
On Thursday morning, Sadeqi tweeted that as he was investigating the arrest of some pro-Rouhani journalists, he discovered that the Ammariyon journalists were held on charges of spying for Mossad.
In the same context, the IRGC intelligence service arrested a number of well-known activists or so-called "home runners," close to the Basij groups - namely, Abdul Rida Hilali, Ruhollah Bahmani and Mohammed Hussein Haddadian.
The Iranian newspaper Etemad confirmed that the activists were arrested on charges of "spying for Israel" and "involvement in illegal relations." Iranian MP Ghulam Ali Jafarzadeh posted on Thursday on Instagram that these organizers were arrested on charges of working with the Mossad and having illicit relations with the French embassy.
A spokesman for the Iranian judiciary, Gholam Hussein Mohseni, confirmed during a press conference, the arrest of two of the activists, saying one of them has been released while the other is still held pending investigations, according to Iranian news agency IRNA.
One of the men, Ruhollah Bahmani, is the brother-in-law of former Iranian president Mahmoud Ahmadinejad, who was released two weeks after the arrest, according to reformist sites.
https://english.alarabiya.net/en/News/middle-east/2017/08/11/Mossad-spies-in-close-quarter-to-Supreme-Leader-Iranian-press.html
--------
'Tel Aviv regime propping up radicalism, violence in occupied lands'
Aug 11, 2017
The Palestinian Foreign Ministry has strongly condemned the running over of four Palestinian children by an Israeli settler, stating that the incident clearly indicates that the Tel Aviv regime is fanning the flames of radicalism and violence in occupied territories.
The ministry, in a statement released on Friday, held Israeli Prime Minister Benjamin Netanyahu for the simmering tensions, arguing that Israeli courts are not serious about putting those liable for crimes against Palestinians on trial.
The statement further described the incumbent Israeli administration and religious schools run by radical rabbis as the root causes behind the spread of extremist and terrorist ideologies.
The Palestinian Foreign Ministry also called upon international organizations to intervene, and bring those accountable for the recent attack against Palestinian children to account.
On Thursday evening, an Israeli settler ran over four Palestinian children in the predominantly Palestinian neighborhood of Silwan on the outskirts of the Old City of Jerusalem al-Quds.
The Wadi Hilweh Information Center later identified the victims as 6-year-old Hamza Tayser Abu Sbeih, 9-year-old Yousif Mazin Raman, 9-year-old Amir Tayser Abu Sbeih, and 11-year-old Anas Himoni.
Raman broke a tooth in the fall, Amir Abu Sbeih sustained a deep injury in his knee that required stitches, while the two others sustained bruises.
The center added that a group of Israeli forces simply stood by and did not take any measures, before locals called an ambulance that transferred the children to Hadassah Medical Center in Jerusalem al-Quds.
There have been scores of "hit and run" incidents targeting Palestinians in different parts of the occupied West Bank, with most of them largely going uninvestigated by Israeli authorities. Some of such events have even resulted in fatalities.
On July 7, a 37-year-old Palestinian man, identified as Omar Ahmad Issa, was struck in the town of al-Khader, located 5 kilometers (3.1 miles) west of Bethlehem, while riding his motorcycle near a checkpoint leading to the occupied East Jerusalem al-Quds. Issa was critically injured in the crash and later pronounced dead at the hospital.
On May 3, an Israeli settler deliberately ran over an eight-year-old Palestinian child, identified as Laith Yousif Shatat, as the child was standing outside his school in the eastern part of Yatta city, located approximately 8 kilometers south of Hebron (al-Khalil).
Murad Samir al-Razam, 4, was run over in the center of al-Khalil, situated 30 kilometers south of Jerusalem al-Quds, on April 30. The Israeli driver fled the scene after the incident.
The Palestinian child was taken to the Governmental Hospital in al-Khalil to receive medical treatment.
Full report at:
http://www.presstv.ir/Detail/2017/08/11/531431/Palestinian-Foreign-Ministry-condemns-hit-and-run-Palestinian-kids-Israeli-settler-Silwan-Jerusalem-alQuds
--------
Israeli settler runs over four Palestinian kids
Aug 11, 2017
An Israeli settler has deliberately smashed his car into a group of Palestinian children in the occupied territories, injuring four of them.
The incident took place on Thursday evening in Silwan town, south of the al-Aqsa Mosque in East Jerusalem al-Quds.
According to reports, the children, including two brothers, were hospitalized. The settler fled the scene.
Hit-and-run incidents targeting Palestinians have been prevalent in different parts of the occupied West Bank, with most of them usually ignored by Israeli authorities. Some of such events have even resulted in fatalities.
On May 3, an Israeli settler deliberately ran over an eight-year-old Palestinian child, identified as Laith Yousif Shatat, as he was standing outside his school in the eastern part of Yatta city, located approximately eight kilometers south of al-Khalil (Hebron).
About 600,000 Israelis live in over 230 settlements built since the 1967 Israeli occupation of the Palestinian territories.
Five Palestinians shot in Ramallah
Meanwhile, undercover Israeli troops shot at least five Palestinians during clashes in the central West Bank town of Beit Rima.
Palestine's Health Ministry said the injured were taken to hospital after being targeted with live bullets in the lower parts of their bodies.
One of the protesters needed extra medical care at another hospital as his condition deteriorated.
Israeli forces also stormed a Palestinian home during the ongoing protests and used excessive amounts of tear gas and live bullets to disperse demonstrators.
The occupied Palestinian territories have witnessed new tensions ever since Israeli forces introduced restrictions on the entry of Palestinian worshipers into the al-Aqsa Mosque compound in East Jerusalem al-Quds in August 2015.
Full report at:
http://www.presstv.ir/Detail/2017/08/11/531362/Palesinian-Children-settler-hit-run-Jerusalem
--------
Iran not to rest until eradication of all terrorists: Senior IRGC General
Aug 11, 2017
General Qassem Soleimani says Iranian forces will not rest until they have taken out every last terrorist from the face of the Muslim world after Daesh reportedly beheaded an Iranian military adviser in Syria.
The general, who commands the Quds Force of Iran's Islamic Revolution Guards Corps (IRGC), made the pledge in a statement carried by Tasnim News Agency on Thursday.
Mohsen Hojaji, who was a member of the Iranian advisory support team in Syria, was reportedly taken hostage by the Takfiri group near the Iraqi border on Monday and beheaded two days later.
General Soleimani said the "horrific, inhumane crime" came in the wake of successive blows dealt on several fronts to Takfiri-Wahhabi terror groups, which are tied to global arrogance.
"The atrocity does not fall within any Islamic, or even humanitarian, principle or law," the statement said.
Such acts, the general said, would further strengthen the Iranian servicemen's resolve in pursuit of their cause "to purge every inch of the Muslim territories of their (the terrorists') evil presence."
Iranian servicemen "will avenge this bestial act with a firm decision, namely [to realize] the very eradication of the evil growth of Wahhabism and terrorism from the face of the Muslim world."
Wahhabism is the radical ideology informing the acts of terrorism perpetrated by Daesh and its fellow Takfiri outfits.
At Iraq and Syria's request, the Islamic Republic has been providing the advisory assistance to the respective countries' armies in their fight against Takfiri terrorists.
On June 7, Daesh gunmen mounted assaults on Iran's Parliament and the Mausoleum of late Founder of the Islamic Republic Imam Khomeini, leaving 18 people dead and over 50 others wounded.
The IRGC responded with a missile strike, which pummeled Daesh positions in Syria's eastern Dayr al-Zawr Province, killing more than 170 Takfiri elements and inflicting heavy damage to their weaponry and communication systems.
The group, which is by many accounts on its last legs in Iraq and Syria, is now seeking to establish footholds in countries beyond the Middle East, including Afghanistan.
On Sunday, Daesh and Taliban militants struck Mirza Olang, a Shia-populated village in the northern Afghan province of Sar-e Pol, in a rare concerted attack, killing at least 60 men, women and children.
Local officials say the killing marked one of the most hideous atrocities committed against civilians in recent years. Takfiri terrorists reportedly ambushed the fleeing residents in a ravine and rounded them up before beheading some of them and hurling some others from rocks to their deaths.
Some unconfirmed reports put the death toll as high as 120.
On Thursday, the United Nations Security Council released a report, saying Daesh continued to "motivate and enable" global attacks and funnel funds to supporters despite the defeats it has suffered Syria and Iraq.
The terror group would transfer the funds overseas in small amounts, which had made it hard to detect, the report said.
Full report at:
http://www.presstv.ir/Detail/2017/08/11/531379/Iran-Major-General-Soleimani-Syria-Daesh
--------
Turkish government steps up counterterrorism efforts
12 August 2017
ANKARA: A series of raids in the southern province of Adana and the eastern province of Elazig on Friday saw 42 people detained by police over their suspected links to the outlawed Kurdistan Workers' Party (PKK) and Daesh, respectively. The police are reportedly still looking for 10 suspects.
A suspected Daesh militant of Russian origin was also detained on Thursday. Renad Bakiev was allegedly planning a drone attack on US planes at Turkey's Incirlik air base, used by the US-led coalition in its campaign against Daesh.
The arrests come under Turkey's heightened security measures, which have been in place since a failed coup attempt on July 15. 2016, Turkey has detained over 5,000 suspected Daesh militants so far, and has deported around 3,290 foreign fighters from 95 different countries, according to officials.
According to Turkish daily Haber Turk, a recently arrested Daesh member testified that since Ankara increased security at the Syrian border, Daesh "has difficulty sneaking its members across Turkish borders from Syria."
The outlawed PKK is also a target of Turkish security measures.
Speaking to reporters in Ankara on Friday, Prime Minister Binali Yildirim said that Turkey would not tolerate the emergence of an "artificial state" at its southern border. He added that Turkey would not hesitate to "respond in the future, as we did in the past, if we face an attack on our sovereignty and security."
Kadir Ertac Celik, advisor to the Ankara Center for Crisis and Policy Studies, said Turkey is putting security at the core of its policies, as indicated by changes in its Supreme Military Council, where "successful officers in the fight against terrorism have been given substantial priority during the appointment process.
"Vicarious attacks by the PKK, Daesh and their offshoots aim to push Turkey into ethnic and sectarian chaos and conflict. Turkey, through its resolute establishment and potent intelligence activities, is endeavoring to minimize these threats."
Barin Kayaoglu — an assistant professor of world history at the American University of Iraq, — recognized the importance of the steps the Turkish government has taken against militant networks, particularly the increase in border security, but warned that further measures will be necessary to ensure the country's safety.
"Operations against these groups can curb their ability to harm security forces and the civilian population only for a while," Kayaoglu told Arab News.
Full report at:
http://www.arabnews.com/node/1143486/middle-east
--------
Israel destroyed three homes of Palestinian attackers
Aug 12, 2017
JERUSALEM: Israeli authorities have demolished three homes and sealed off a fourth of Palestinians who carried out attacks that killed a soldier and a policewoman, the army said on Thursday.
Israel regularly carries out such demolitions, which it says act as a deterrent, but human rights groups and Palestinians say they punish families for the actions of relatives.
Two houses were demolished in Deir Abu Mashaal, near Ramallah in the occupied West Bank, and a third was sealed off, an army spokeswoman said.
Village mayor Emad Zahran said Israeli soldiers entered the area around 2am with bulldozers.
On June 16, three villagers carried out an attack outside Jerusalem's Old City that killed a policewoman.
According to police, two of the assailants opened fire at a group of officers who returned fire, and a third stabbed the border policewoman a short distance away before being shot. All three attackers were killed.
http://nation.com.pk/international/11-Aug-2017/israel-destroyed-three-homes-of-palestinian-attackers
--------
US alliance with Syria Kurds strengthens other terror groups: Turkey
Aug 11, 2017
The Turkish foreign minister has warned that the US partnership with Kurdish militants in Syria's northern province of Raqqah will pave the way for "other terror organizations" in the region to strengthen their positions.
"Even if just for tactical reasons, the use of a terrorist organization, the YPG (People's Protection Units) in the Raqqah operation will lead to other terror organizations in the region gaining more ground," Mevlut Cavusoglu said in a Thursday interview with the Turkish daily Turkiye.
"The aim of the YPG is to make its territorial gains lasting through demographic engineering under the cover of the fight against the Daesh," Cavusoglu said.
Ankara views the YPG as a terror organization linked to the homegrown Kurdistan Workers' Party (YPG), which has long been fighting for the establishment of an independent Kurdish state.
Turkey has been on a collision course with the US in Syria, with Ankara sharply criticizing Washington over its support for the YPG forces in the operation in Raqqah, which serves as the main Daesh bastion in the Arab country.
Tensions between the two NATO powers have seen a rise in recent months after US-backed YPG militants made a series of gains against Daesh at the Turkish doorstep, including the capture in May of the Tabqa twon and the nearby dam from the terror group.
Cavusoglu further said Ankara has repeatedly told Washington that "fighting against one terror organization by allying with another terrorist group" is unwise and dangerous, especially for Turkey's security concerns.
"We have conveyed our sensitivities and expectations to the US administration. The US administration has made commitments to us on these. We will continue to monitor the fulfillment of these commitments," Cavusoglu said.
"When the operation is concluded, the control and security of Raqqah should be handed to local Arab groups," he pointed out.
Turkey fears that the YPG will permanently hold parts of land in northern Syria after finishing with Daesh.
In May, US President Donald Trump drew strong condemnation from Ankara by approving the dispatch of weapons to the YPG, which is part of the Washington-backed Syrian Democratic Forces, an alliance of Arab and Kurdish militia.
Washington has promised Ankara that it would take back the weapons and equipment it had supplied to the YPG after curbing Daesh in Raqqah.
Turkey, which has deployed its own military equipment and forces to northern Syria, has warned that US-supplied weapons could fall in the hands of the PKK militants on its soil.
The city of Raqqah, which lies on the northern bank of the Euphrates River, was overrun by Daesh terrorists in March 2013, and was proclaimed the center for most of the terrorists' administrative and control tasks the following year.
The SDF offensive is backed by US-led airstrikes, which have claimed hundreds of civilian lives in Raqqah over the past months.
Full report at:
http://www.presstv.ir/Detail/2017/08/11/531365/Turkey-US-Kurds-Syria
--------
Arab World
Syria suicide blast kills 23 near Jordan border: monitor
August 12, 2017
Beirut, Aug 12 (AFP) At least 23 rebel fighters were killed and dozens more wounded in a suicide blast in southern Syria near the border with Jordan, a monitoring group has said.
The Syrian Observatory for Human Rights said the bomber detonated an explosive belt yesterday at a base used by Jaish al-Islam (Army of Islam) near the Nasib border crossing.
"Most of the 23 rebels killed were from Jaish al-Islam.
Dozens were wounded, including 20 in critical condition," said Observatory head Rami Abdel Rahman.
There was no immediate claim of responsibility, but jihadists linked to the Islamic State group have attacked rebels in southern Syria.
The Nasib border crossing — known as Jaber on the Jordanian side — lies in Syria's southern Daraa province and was captured by rebel groups in April 2015.
Syria's uprising erupted in Daraa province in March 2011 with widespread protests calling for the ouster of President Bashar al-Assad.
It has since turned into an all-out war that has drawn in international powers and killed more than 330,000 people.
Under a plan hammered out in May between Russia, Turkey and Iran at peace talks in Kazakhstan, four "de-escalation zones" were to be established across swathes of Syria to ease fighting between regime and rebel forces.
Parts of southern Syria make up one zone. Another lies in the rebel bastion of Eastern Ghouta near Damascus, while a third is in the central province of Homs.
The fourth zone, in northwestern Idlib province, has yet to be implemented. (AFP)
http://www.india.com/news/agencies/syria-suicide-blast-kills-23-near-jordan-border-monitor-2395739/
--------
Egypt shootout kills 3 'militants behind anti-copt attacks'
11 August 2017
Egypt's interior ministry said on Thursday a policeman and three militants suspected of involvement in deadly attacks against the country's Coptic Christian minority were killed in a shootout.
Police had arrested one member of the cell who led them to their mountain hideout in the southern province of Qena where the two other militants opened fire on Tuesday, the ministry said.
The two suspects, who have not been identified, were killed in the ensuing firefight, along with the informer and a police officer guarding him.
Egypt is battling a local affiliate of ISIS which has claimed attacks that have killed more than 100 Copts since December.
At the hideout, police found weapons and "gold jewellery which was probably stolen from some of the Christian victims" of a massacre earlier this year.
On May 26, ISIS gunmen killed 29 Copts as they travelled in a bus to Saint Samuel monastery in Minya province south of the Egyptian capital.
The bus attack followed two suicide bombings of churches in April that killed 45 Copts. In December, a suicide bomber struck a church in Cairo, killing 29 Copts.
Copts make up about 10 percent of Egypt's 90-million population.
Full report at:
https://english.alarabiya.net/en/News/middle-east/2017/08/11/Egypt-shootout-kills-3-militants-behind-anti-copt-attacks-.html
--------
Kuwaiti security forces capture 12 'Abdali cell' extremist suspects
12 August 2017
Kuwait has confirmed that its security forces were able to capture 12 wanted persons belonging to the so-called Abdali cell.
Kuwaiti Interior Ministry announced last month that it had implemented the judgment of the Court of Cassation issued in case No. 302/2016 on the so-called Abdali cell, calling for the arrest of the suspects.
They released photos of 16 men who belonged to the extremist cell and urged citizens and residents to cooperate with security forces by providing any information about the convicts through calling 112 or reaching the nearest police station.
The Abdali cell includes a number of Kuwaitis and an Iranian who were wanted over spying for Iran and the Lebanese terrorist group Hezbollah.
Full report at:
https://english.alarabiya.net/en/News/gulf/2017/08/12/Kuwait-Interior-minister-forces-capture-12-Abdali-cell-suspects.html
--------
Homs: Terrorists' Attack on Syrian Army Strongholds Repulsed again
Aug 11, 2017
The army troops engaged in fierce clashes with ISIL in areas surrounding the town of al-Sukhnah and managed to fend off their attack.
The army men destroyed a bomb-laden vehicle of the ISIL before reaching their defense lines.
In the meantime, other units of the army continued to advance against ISIL in Eastern Homs and took control over the village of al-Tarfaqi Northeast of Abu al-Alaya.
The army soldiers, also, pushed ISIL back from the security company base East of al-Sukhnah along the al-Sukhnah-Deir Ezzur road.
Relevant reports said on Thursday that the army repelled ISIL's heavy offensive on its military positions in Eastern Homs, inflicting over 80 casualties on the terrorists.
The clashes between the army and ISIL militants erupted in Humeimeh region near the administrative border between Homs and Deir Ezzur on Wednesday afternoon.
The Syrian soldiers repulsed the ISIL attack, killing and wounding over 80 terrorists and seizing a large number of weapons and armored vehicles.
Full report at:
http://en.farsnews.com/newstext.aspx?nn=13960520000349
--------
Syrian Army Liberates Key Territories from ISIL in Eastern Hama
Aug 11, 2017
This recent advance by the army comes several days after it liberated the village of Marina (for a second time) and a number of points South of it from ISIL.
The offensive operation being witnessed in this region of Syria is all part of an ongoing effort by pro-government forces to create a large buffer zone South of the Ithriya to al-Rasafeh highway and to further isolate ISIL militants in Hama province from their comrades in the Easternmost regions of Syria.
Relevant reports said on Wednesday that the army forces clashed with ISIL terrorists in Eastern Hama, winning back control of several points near Khirbet al-Katneh region in the Southwestern parts of the village of Marina.
Meantime, the Russian fighter jets pounded the ISIL moves and positions in Eastern Hama, smashing a weapons and ammunition depot in Aqayrabat and 10 military vehicles on Aqayrabat-Sukhnah road.
Also 30 terrorists were killed in the airstrikes.
Full report at:
http://en.farsnews.com/newstext.aspx?nn=13960520000304
--------
Syrian Army Hits Terrorist Centers Hard in Eastern Damascus
Aug 11, 2017
The army, led by the 105th Brigade of the Republican Guard, began the assault by using an UR-77 mine-clearing vehicle to attack the enemy defenses in Ein Terma region.
In addition to the attack on terrorists' defense liens in Ein Terma, the army's elite 42nd Brigade of the 4th Mechanized Division carried out a powerful assault in the nearby region of Jobar, scoring direct hits with their surface-to-surface missiles.
The army has been relentlessly targeting militant positions in Eastern Damascus, as they attempt to force the militants of Faylaq al-Rahman and Al-Nusra to surrender their remaining positions in Jobar and Ein Terma.
Relevant reports said on Thursday that the army troops heavily pounded Faylaq Al-Rahman's positions in Jobar in Eastern Damascus, inflicting significant damage to the militants' defense lines.
The pro-government forces also launched attacks on Faylaq al-Rahman's positions around the strategic al-Manasher square in the Southern part of Jobar.
The Syrian soldiers have managed to win back control of about 20 blocks inside Jobar in the past few hours.
Full report at:
http://en.farsnews.com/newstext.aspx?nn=13960520000210
--------
US-backed Syrian fighters pressure ISIS militants in Raqqa
11 August 2017
US-backed Syrian fighters advancing on ISIS from the eastern and western parts of the northern city of Raqqa have linked up for the first time since launching their offensive on the miltant group's de facto capital, officials said on Friday.
The Kurdish-led Syrian Democratic Forces launched a wide offensive to capture Raqqa on June 6.
So far the Western-backed fighters, under the cover of US-backed coalition airstrikes, have captured half the city and linking up forces from the eastern and western fronts would be a major milestone in the battle for Raqqa.
The linkup of the eastern and western fronts deprives ISIS from access to the Euphrates River - and effectively leaves the remaining militants in Raqqa and thousands of civilians surrounded.
US Army Col. Ryan Dillon tweeted that SDF forces have linked up "East-West axes" in Raqqa and are continuing to pressure ISIS.
"The fighting is ongoing from room to room and from house to house," said Mustafa Bali, head of the SDF media center. Bali also confirmed that SDF fighters pushing from opposite sides of the city have met up.
Bali said by telephone from northern Syria that the key difficulty facing advancing SDF fighters is to avoid striking civilians used by ISIS as human shields.
The top US envoy for the international coalition against the ISIS, Brett McGurk, tweeted about the linkup of the two fronts, describing it as a "milestone" that is tightening the noose around ISIS.
Returns
Meanwhile, the UN migration agency said on Friday that over 600,000 displaced Syrians have returned to their homes this year, citing an increasing trend of returns while warning the situation remains "not sustainable."
International Organization for Migration spokeswoman Olivia Headon said the 602,759 returns between January and July was on track to surpass the figure of 685,000 returns for all of 2016.
But she also cautioned about the huge number of displaced Syrians this year - nearly 809,000.
IOM said that its partner agencies have found that two-thirds of the returnees have gone to the northern Aleppo governorate, where government forces ousted rebels from the city of Aleppo last year.
Full report at:
https://english.alarabiya.net/en/News/middle-east/2017/08/11/US-backed-Syrian-fighters-pressure-ISIS-militants-in-Raqqa.html
--------
US-led coalition must be transparent on airstrikes in Syria: Rights groups
Aug 11, 2017
Human rights groups have expressed concerns over the mounting civilian cost of airstrikes being carried out by the US-led coalition purportedly fighting Takfiri Daesh terrorists in Syria, stressing that the military contingent must be more transparent in how it makes targeting decisions.
"The coalition is not taking any precautions to avoid civilian casualties," Aghid al-Khodr, a senior editor at Sound and Picture, an organization that maintains a network of covert correspondents in Raqqah – the de facto Daesh capital in Syria, said.
"The number of Daesh fighters in the city does not exceed 500, but if they're going to destroy a residential building and wipe out all the people in it every time they want to kill a Daesh fighter then they will be purging the city from both Daesh and the residents," he added.
Rights groups further argued that the US-led airstrikes have on some occasions endangered large groups of civilians in an effort to kill a single Daesh militant.
"There are definitely grounds for caution and concern and the need to beef up the process by which targets are selected," Nadim Houry, the director of the terrorism and counter-terrorism program at Human Rights Watch, said.
"We know that Daesh fights from civilian areas; and in some cases intentionally uses civilians to protect itself," he pointed out.
"The coalition still has the obligation to minimize civilian casualties and have a robust mechanism in place. When it fails the result can be very deadly for civilians, so an investigation of these strikes is essential," Houry noted.
The US-led coalition has been conducting airstrikes against what are said to be Daesh targets inside Syria since September 2014 without any authorization from the Damascus government or a UN mandate.
The military alliance has repeatedly been accused of targeting and killing civilians. It has also been largely incapable of fulfilling its declared aim of destroying Daesh.
The city of Raqqah, which lies on the northern bank of the Euphrates River, was overrun by Daesh terrorists in March 2013, and was proclaimed the center for most of the Takfiris' administrative and control tasks the following year.
It is estimated that a population of 300,000 civilians is trapped inside Raqqah, including 80,000 displaced from other parts of Syria. Thousands have fled in recent months, and the United Nations Office for the Coordination of Humanitarian Affairs believes about 160,000 people remain in the city.
Full report at:
http://www.presstv.ir/Detail/2017/08/11/531416/USled-coalition-civilian-casualties-Daesh-terrorists-Raqqah
--------
Africa
Clerics Urge Pilgrims To Pray For Peace, Economic Recovery
August 11, 2017
Muslim pilgrims to Saudi Arabia have been advised to take advantage of the pilgrimage to offer prayers for the nation's peace, development and economic recovery.
Pilgrimage to the Mecca, also known as Hajj, is one of the five pillars of Islam. The airlift of intending pilgrims has since commenced across the country.
A news correspondent in Omu-Aran, Kwara State, spoke to some Muslims clerics on the significance of the pilgrimage.
Alhaji Sodiq Afolayan, the Chief Imam of Omu-Aran Central Mosque, described Hajj as "sacred period for prayers and devotion.''
"It is in the light of the holiness of the Holy pilgrimage (Hajj) period that we should not hesitate in offering prayers for guidance for our leaders.''
Afolayan urged the pilgrims to see the Hajj as a divine call to the service of Allah.
"We, as patriotic citizens and Muslims from Nigeria, should specifically offer prayers for speedy recovery of the nation's economy said to be in recession.
"Surely, this is one sacred period where prayers of the righteous are promptly accepted and granted,'' he said.
Alhaji Mustapha Abdulsalam, the Missioner of Omu-Aran Chapter of Nasrullahi-lifathi Society of Nigeria (NASFAT), urged leaders in the country to imbibe exemplary leadership style of Prophet Muhammad.
"Prophet Muhammad was an epitome of humility, honesty and integrity.
"This is just a few of the sterling qualities that endeared Prophet Muhammad to his followers during and after his sojourn on earth,'' he said.
Abdulsalam urged Muslims to reflect on the occasion and rededicate themselves to the service of Allah and humanity.
"We have to reflect on our past mistakes and misdeeds and seek for forgiveness for us to become righteous.
"This is the only way we can be able to intercede on behalf of the leaders through prayers on our challenges.''
Alhaji Issa Salahudeen, the Chief Imam of Omu-Aran Chapter of Ansarudeen Society of Nigeria, urged wealthy Muslims to extend their hands of assistance to the needy and the less privileged.
He said recent development in the country caused by the bad economic situation required citizens to be their brothers' keepers.
According to him, the current situation is not about being a Muslim or a Christian or Yoruba or Igbo or Hausa, but a Nigerian citizen.
"This is the only way we can collectively tackle and alleviate the impact of the economic recession on the people," he said.
https://www.pmnewsnigeria.com/2017/08/11/clerics-urge-pilgrims-pray-peace-economic-recovery/
--------
Central African Republic: At Least 30 Civilians Killed in CAR Clashes
9 AUGUST 2017
Clashes between an armed group and a self-defence group in southeastern Central African Republic have left at least 30 civilians dead including six Red Cross volunteers who were attending a crisis meeting at a health facility, officials said on Wednesday. The violence took place late last week in the town of Gambo, which is about 75 kilometres from Bangassou, a town that has been a flashpoint amid the upsurge of bloodshed in the long chaotic country.
"We are appalled by the news of the death of our fellow volunteers," said Antoine Mbao-Bogo, president of the Central African Red Cross. "We call on all parties to take steps to spare the civilian population, and to respect all humanitarian workers."
The deaths marked the third such attack on the Red Cross this year, officials said. Many humanitarian workers have been blocked from doing their work, and fighters also have tried to kill wounded enemies in public health facilities.
The violence late last week also underscored the deepening conflict in and around Bangassou, where at least nine UN peacekeepers have been killed this year alone.
Observers warn that the sectarian violence that erupted in 2013 in Central African Republic's capital has now moved into the southeast, prompting warnings of a national conflict roaring back to life.
Gambo fighting blamed on Seleka fighters
Local authorities blamed the Gambo fighting on a faction of the mostly Muslim rebel group once known as Seleka - fighters who now call themselves the UPC. The fighters battled against a self-defence group that has arisen in the area in a bid to ward off the UPC and other armed fighters. At times the UPC fighters shot arrows to kill their victims, local authorities said.
Central African Republic currently has some 12,000 UN peacekeepers but none are in Gambo and none was present during the deadly clashes last week.
Souleymane Daouda, a UPC spokesman for the faction led by Ali Darassa, denied to The Associated Press agency that his fighters were responsible for the violence in the town of Gambo, saying his men were protecting civilians.
"A thousand people attacked the town of Gambo," Daouda said. "As our elements were there, they reacted by evacuating the civilian population first and then on their return, they used arrows to defeat these armed bandits who massacre the population."
While UN peacekeepers were not there at the time of the violence, spokesman Vladimir Monteiro said reinforcements had been sent to the area to reassure residents.
The diamond-rich, but poverty-stricken nation has been in crisis since late 2012, when violence broke out between Muslim and Christian armed groups. A peace deal signed by the government and 13 armed groups in June was followed by renewed fighting.
Full report at:
http://allafrica.com/stories/201708110129.html
--------
Sudan invited to US-Egyptian military exercises
11 August 2017
Sudan has received an invitation to US-Egyptian military training exercises in October, a first for the country in nearly three decades, its Defense Ministry said.
The head of the Sudanese army, General Emad al-Din Adawi, announced the invitation for the joint Bright Star exercises in Egypt, the largest of their kind in the region, after meeting this week with a US State Department official, it said.
The meeting "opened the door to more dialogue" that could restore US-Sudanese military relations "to their right path", the army chief said.
In July, the United States postponed for three months a decision on whether to permanently lift sanctions on Sudan over its human rights record and other issues.
Former US President Barack Obama temporarily lifted 20-year-old sanctions for six months in January, suspending a trade embargo, unfreezing assets and removing financial sanctions.
But it said Sudan had to make progress on issues, including internal conflicts, before it would lift them permanently.
Sanctions relief would not change Sudan's designation by the United States as a state sponsor of terrorism.
Full report at:
https://english.alarabiya.net/en/News/middle-east/2017/08/11/Sudan-invited-to-US-Egyptian-military-exercises-.html
--------
More than half a million children in Libya need help: UNICEF
11 August 2017
NEW YORK: UN children agency UNICEF has warned that more than 500,000 children in Libya need help and called on warring parties to end the violence and negotiate a political solution to the crisis.
Libya has spiraled into turmoil after a civil war ousted Muammar Qaddafi in 2011. Rival brigades of former rebels backed by competing political factions have turned against each other in a fight for control.
A UN-backed government in Tripoli is trying to extend its influence, though it is facing resistance from armed rivals.
Geert Cappelaere, UNICEF regional director, said that 550,000 children need assistance due the political instability, on-going conflict, displacement, and economic collapse.
"The wellbeing of girls and boys in Libya should be a priority for authorities, civil society and the international community," Cappelaere said in a statement after visiting the country.
UNICEF said nearly 200,000 children in Libya need safe drinking water, while 315,000 need educational support with more than 550 schools in the country either destroyed, damaged or used as shelters.
Cappelaere warned that more than 80,000 children are internally displaced and migrant children in Libya are particularly vulnerable to abuse and exploitation, including in detention centers.
In a report in May, UNICEF said that thousands of unaccompanied children attempting to make it across the Mediterranean from Libya to Italy can become easy prey for traffickers who often sell them into exploitation, sometimes akin to contemporary forms of slavery.
UNICEF's concern came as a migrant rescue organization said it was racing to the aid of anti-immigration activists whose boat had run into trouble in the Mediterranean.
The C-Star, which has vowed to expose what it describes as "collaboration" between privately-funded rescue ships and people traffickers, said on Twitter it had "developed a minor technical problem during the night," leaving it adrift but not in distress.
Germany's Sea-Eye, one of nine NGOs involved in migrant search and rescue (SAR) operations and a target of the C-Star's campaign, said it had been "asked by the MRCC (command center in Rome) to assist the ship."
The Italian coast guard could not be reached for a comment.
The C-Star has been plagued with problems since its mission began last month. It was initially refused permission to travel through the Suez Canal, before later being blocked over legal questions in Cyprus.
After finally making it to Libya's SAR zone, it needed to refuel but found itself stuck off the coast of Tunisia earlier this week after fishermen and a powerful Tunisian union refused to allow passage.
French activist Clement Galand sent a message to AFP overnight Thursday to Friday saying the boat "has been refueled, everything is fine, we will return to the search and rescue zone" off Libya.
But by Friday morning the activists said a technical problem had forced them to turn off the ship's engine and inform other vessels in the area.
The ship has been off the radar on maritime traffic sites since Wednesday. Galand said the ship was currently "between Malta and the Libyan coast."
The 40-meter long ship, which is flying under a Mongolian flag, is leased by the far-right group "Generation Identity."
Funded by Internet-collected donations of more than $212,000, the Austrian, French, German and Italian activists on board have vowed to ensure migrants rescued at sea off Libya be returned to Africa.
Two NGO ships were badgered at sea by the C-Star last week with a radio message telling them to "leave the rescue zone" and "stop acting as an incentive for human traffickers."
Full report at:
http://www.arabnews.com/node/1143196/middle-east
--------
Suicide attack at Somali prison kills 1 solide
12 August 2017
At least one soldier was killed on Friday, when a suicide bomber blew himself up at the central prison in Somalia's capital Mogadishu, a security official said.
"One of our brave soldiers lost his life as he tried to prevent the attack," said Ahmed Arab, Security Ministry spokesman .
The main target of the attack was Gen. Hussein Hassan Osman, commander of the Custodial Corps -- a police branch which guards prisons, state media reported.
The commander, who was inside the prison at the time of attack, survived the alleged assassination attempt.
Militant group al-Shabaab claimed responsibility for the attack.
Full report at:
http://www.worldbulletin.net/africa/192831/president-kenyatta-reelected-for-5-more-years-in-kenya
--------
South Asia
30 Taliban insurgents killed as suicide vests explodes in Farah gathering
Aug 11 2017
At least thirty Taliban insurgents were killed after suicide attack vests exploded prematurely among the gathering of Taliban militants in western Farah province of Afghanistan.
According to the local government officials, the incident took place on Thursday in the restive Bala Bolok district.
Provincial governor's spokesman Nasir Mehri confirmed the incident and said the Taliban insurgents were killed after two suicide bombings vests went off prematurely.
He said a number of the senior Taliban commanders were also among those killed.
According to Mehri, several Taliban insurgents had gathered in a meeting in a village to discuss plans for a coordinated attack on the security posts when the incident took place.
In the meantime, the Taliban insurgents denied the reports and said no such incident has taken place to claim the lives of scores of Taliban insurgents.
This comes as the Taliban-led insurgency has been rampant during the recent months as pressures on the rise in the battleground and on international level to restrict the group's activities and freedom of action they have in their sanctuaries in the region.
http://www.khaama.com/30-taliban-insurgents-killed-as-suicide-vests-explodes-in-farah-gathering-03330
--------
Taliban leaders among 8 killed in US drone strike in Laghman province
Aug 11 2017
At least eight Taliban insurgents including their key local commanders were killed in a drone strike conducted by the US forces in eastern Laghmna province of Afghanistan.
The provincial government media office in a statement said the airstrike was carried out late on Wednesday night.
The statement further added that the airstrike was carried out in the vicinity of Alisheng district in Masmod area at around 9 pm local time.
Three senior local Taliban leaders with two of them identified as Shah Jahan and Taza Gul were among those killed, the provincial government said.
The statement also added that the militants were targeted as they were travelling in the area and were moving to an unknown location.
Commander Shah Jahan was a prominent leader of the Taliban and brother of an ex-Taliban leader Zar Jan who was originally a resident of Dawlat Shah district and was actively involved in anti-government militancy and major destructive activities, according to the local officials.
The anti-government armed militant groups including the Taliban insurgents have not commented regarding the report so far.
Full report at:
http://www.khaama.com/taliban-leaders-among-8-killed-in-us-drone-strike-in-laghman-province-03332
--------
US military reacts at civilian casualties allegations in Nangarhar airstrike
Aug 12 2017
The United States military reacted at the allegations regarding the civilian casualties during an airstrike in eastern Nangarhar province of Afghanistan.
The US Forces in Afghanistan (USFOR-A) in a statement said a U.S. airstrike killed a number of militants and destroyed their vehicle in the Haska Mena district of eastern Nangarhar Province on the evening of August 10. The strike led to allegations of civilian casualties.
"The militants were observed loading weapons in to a vehicle and were under surveillance until the vehicle was destroyed by an airstrike," said Bob Purtiman, United States Forces-Afghanistan spokesman.
He said "The strike was conducted in the middle of open terrain. There was zero chance of civilian casualties."
This is the second false claim of civilian casualties in the same district within the last three weeks, the statement by USFOR-A added.
"United States Forces-Afghanistan takes all allegations of civilian casualties seriously; reviewing each case fully. U.S. forces take every precaution to conduct all operations in a way that minimizes civilian casualties," the statement said.
Full report at:
http://www.khaama.com/us-military-reacts-at-civilian-casualties-allegations-in-nangarhar-airstrike-03334
--------
Key points of Senate McCain's strategy for Afghanistan
Aug 11 2017
As the US President Donald Trump's administration has so far failed to declare a new strategy for Afghanistan, a top US Senator john McCain on Thursday announced his strategy for the country.
Some of the main points included in Senator McCain's policy for Afghanistan include bolstering the capabilities of the Afghan government and security forces in the fight against terrorism, regional approach for the Afghan reconciliation, and increase in pressures on Pakistan to deny safe havens for the key Afghan militant groups fighting in Afghanistan with the help of their safe havens in Pakistan.
The Office of Senate John McCain in a statement said "America is adrift in Afghanistan. President Obama's 'don't lose' strategy has put us on a path to achieving the opposite result. Now, nearly seven months into President Trump's administration, we've had no strategy at all as conditions on the ground have steadily worsened. The thousands of Americans putting their lives on the line in Afghanistan deserve better from their commander-in-chief.
"Adopting a new strategy for achieving America's national security interests in Afghanistan is a decision of the highest importance, one that should be subjected to rigorous scrutiny and debate within our government. But we must face facts: we are losing in Afghanistan and time is of the essence if we intend to turn the tide.
"That is why, after consulting with some of our nation's most experienced and respected former military and intelligence officials, I have filed an amendment to the defense authorization bill that outlines the strategy we need to achieve America's national security interests in Afghanistan and the wider region.
"The goal of this strategy is to ensure that Afghanistan never again becomes a sanctuary for terrorists to plot and conduct attacks against America, our allies, or our interests. To accomplish this goal, we need an integrated civil-military approach to bolster U.S. counterterrorism efforts, strengthen the capability and capacity of the Afghan government and security forces, and intensify diplomatic efforts to facilitate a negotiated peace process in Afghanistan in cooperation with regional partners.
"America's Armed Forces in harm's way in Afghanistan deserve leadership from Washington worthy of their service and sacrifice. Adopting a clear policy and strategy in Afghanistan, backed with the authorities and resources necessary for success, would be a critical step toward restoring that kind of leadership, which has been absent for far too long."
Chairman McCain's Amendment Providing a New Strategy for Success in Afghanistan
It is in the national security interest of the United States that Afghanistan never again serve as a sanctuary for international terrorists to conduct attacks against the United States, its allies, or its core interests.
To secure the national security interest of the United States in Afghanistan, the United States should pursue an integrated civil-military strategy with the following strategic objectives:
Deny, disrupt, degrade, and destroy the ability of terrorist groups to conduct attacks against the United States, its allies, or its core interests;
Prevent the Taliban from using military force to overthrow the Government of the Islamic Republic of Afghanistan and reduce the Taliban's control of the Afghan population;
Improve the capability and capacity of the Government of the Islamic Republic of Afghanistan to the extent feasible and practicable to defeat terrorist and insurgent groups as well as sustainably and independently provide security throughout Afghanistan;
Establish security conditions in Afghanistan necessary to encourage and facilitate a negotiated peace process that supports Afghan political reconciliation and an eventual diplomatic resolution to the conflict in Afghanistan; and
Forge a regional diplomatic consensus in support of the long-term stabilization of Afghanistan through integration into regional patterns of political, security, and economic cooperation.
The United States should pursue an integrated civil-military strategy that would achieve U.S. strategic objectives in the following ways:
Bolstering the United States counterterrorism effort in Afghanistan by:
Increasing the number of U.S. counterterrorism forces in Afghanistan;
Providing the U.S. military with status-based targeting authorities against the Taliban, the Haqqani Network, al-Qaeda, the Islamic State, and other terrorist groups that threaten the United States, its allies, and its core interests; and
Pursuing a joint agreement to secure a long-term, open-ended counterterrorism partnership between the United States and the Government of the Islamic Republic of Afghanistan, which would include an enduring U.S. counterterrorism presence in Afghanistan;
Improving the military capability and capacity of the Afghan National Security and Defense Forces (ANSDF) against the Taliban and other terrorists groups by:
In the short term, establishing U.S. military training and advisory teams at the kandak-level of each Afghan corps and significantly increasing the availability of U.S. airpower and other critical combat enablers to support ANSDF operations; and
In the long term, providing sustained support to the ANSDF as it develops and expands its own key enabling capabilities, including intelligence, logistics, special forces, air lift, and close air support;
Strictly conditioning further U.S. military, economic, and governance assistance programs to the Government of the Islamic Republic of Afghanistan upon measurable progress in achieving joint U.S.-Afghan benchmarks for implementing necessary institutional reforms, especially those related to anti-corruption, financial transparency, and rule of law;
Imposing graduated diplomatic, military, and economic costs on Pakistan as long as it continues to provide support and sanctuary to terrorist and insurgent groups, including the Taliban and the Haqqani Network, while simultaneously outlining the potential benefits of a long-term U.S.-Pakistan strategic partnership that could result from Pakistan's cessation of support for all terrorist and insurgent groups and constructive role in bringing about a peaceful resolution of the conflict in Afghanistan; and
Intensifying U.S. regional diplomatic efforts working through flexible frameworks for regional dialogue together with Afghanistan, Pakistan, China, India, Tajikistan, Uzbekistan, Turkmenistan, and other nations to promote Afghan political reconciliation as well as to advance regional cooperation on issues such as border security, intelligence sharing, counternarcotics, transportation, and trade to reduce mistrust and build confidence among regional states.
Full report at:
http://www.khaama.com/key-points-of-senate-mccains-strategy-for-afghanistan-03331
--------
URL: https://www.newageislam.com/islamic-world-news/submit-video-footage-i-day/d/112190
New Age Islam, Islam Online, Islamic Website, African Muslim News, Arab World News, South Asia News, Indian Muslim News, World Muslim News, Women in Islam, Islamic Feminism, Arab Women, Women In Arab, Islamophobia in America, Muslim Women in West, Islam Women and Feminism