New Age Islam News Bureau
23 February 2021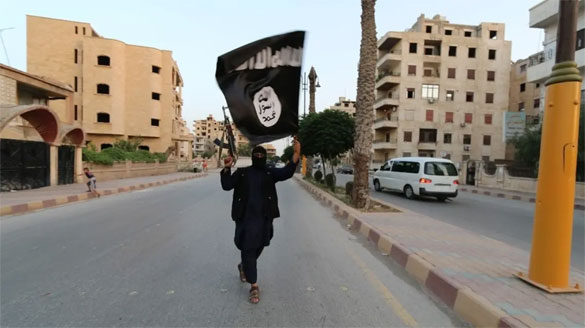 An ISIS member waves a flag in Raqqa, Syria on June 29, 2014. (File photo: Reuters)
----------
• To explain laws, AIMPLB to launch webseries and journal
• Pakistan critical to pushing Taliban to reduce violence as peace talks resume
• UN appeals for rescue of Rohingya Muslim stranded in Andaman Sea
• China Rejects 'Genocide' Attack From UN on Uyghur Muslims in Xinjiang
• Iran's Khamenei says 'no one can stop Tehran' from getting a nuclear weapon
• Boko Haram beheads woodcutters in northeast Nigeria
• US will not bow down to Iran's conditions for dialogue, EU waiting on response
• Greece rejects legal demands of Muslims for place of worship
Arab World
• Study shows people with violent extremist views may have worse cognitive abilities
• Attacks targeting US personnel in Iraq increase as Biden, Europe wait for Iran
• Protester shot dead in south Iraq, says medical source
• 'Israeli enemy ship' responsible for oil leak in Eastern Mediterranean: Lebanon's PM
• Rockets target US Embassy in Iraq, no casualties reported: Security sources
• Iraq decides not to go ahead with $2 bln China crude-supply deal, says Oil Minister
• Pope's visit to Iraqi Ziggurat to draw fresh attention to birthplace of Abraham
• Foreign minister: Syria determined to continue fight against terrorism
--------
India
• To explain laws, AIMPLB to launch webseries and journal
• NIA files chargesheet against two LeT terrorists for conspiracy to wage war against India
• 'Love jihad' non-existent but BJP uses it to hunt Muslims, says Vijayaraghavan
• Farmers' protest: Revival of brotherhood between Jats and Muslims in western Uttar Pradesh
• Poll lull in Shia waqf Board, 10 months after govt takeover
• India permits Imran Khan's aircraft to use its airspace for travel to Sri Lanka
• HC upholds bail granted to Kalyan resident with alleged ISIS links
--------
Pakistan
• Pakistan critical to pushing Taliban to reduce violence as peace talks resume
• Political parties across world oppose interference in other countries' internal affairs under human rights pretext
• Fashion to fund madressahs through Maulana Tariq Jamil's new clothing brand
• Pakistan likely to stay in FATF grey list
• 4 Pak women aid workers killed in terror attack
• Pervaiz Rashid is not an individual but an ideology: Maryam Nawaz
• ECP asks PTI to submit response in suspected tampering of Daska by-poll by tomorrow
• Tribunal dismisses Pervaiz Rashid's appeal against ECP's rejection of Senate nomination papers
--------
South Asia
• UN appeals for rescue of Rohingya Muslim stranded in Andaman Sea
• Speaking up to save Bangladesh's indigenous languages from dying
• UN: Afghanistan war civilian casualties down by 15% last year
• Republic, Taliban peace negotiators meet after many days: Doha
• Violence in Afghanistan is a wave of systematic onslaught, UN calls for 'global ceasefire'
• Fears for Rohingya stranded at sea for 10 days, as engines fail and eight die
--------
Southeast Asia
• China Rejects 'Genocide' Attack From UN on Uyghur Muslims in Xinjiang
• Johor police identify man in viral video apostasy case
• UK slams 'industrial scale' abuses in China's Xinjiang
• Federal Court to rule on man's challenge against unnatural sex charge
• Umno to hold its closely watched annual assembly at end-March
• Top court to decide Thursday on man challenging Selangor law that makes unnatural sex a Shariah offence
• Malaysian court delays deportation of 1,200 Myanmar migrants
--------
Mideast
• Iran's Khamenei says 'no one can stop Tehran' from getting a nuclear weapon
• Despite claims of supporting global peace, EU gives $15mn to Israel war industry
• Assembly of Experts: No Negotiation on Iran's Defense, Missile Power
• Tehran, Seoul Agree on Transfer of Iran's Assets from South Korea
• Rouhani: Unity of Sanctioned Nations Only Way to Counter US Illegal Moves
• Iranian lawmakers criticize Tehran's deal with IAEA on snap nuclear inspections
• Ma'rib battle: Yemeni army close to retaking city from Saudi-led forces
• UAE-backed mercenaries tortured Yemeni journalist: HRW
• COVID-19 vaccination begins in blockaded Gaza Strip
• Turkish authorities investigating pro-Kurdish lawmaker over PKK affiliation
• Yemeni prisoners committee says Amman swap talks failed
--------
Africa
• Boko Haram beheads woodcutters in northeast Nigeria
• A critical look at what's missing from Muslim education in South Africa
• Thousands of Algerians hit streets on Hirak protest movement anniversary
• Algerians mark second year of 'Hirak' protest movement
• Libya's interior minister escapes 'well-planned' assassination attempt in capital
• Suicide bomber strikes near Somali mall, police station
• UN envoy for Libya calls for compliance with cease-fire
--------
North America
• US will not bow down to Iran's conditions for dialogue, EU waiting on response
• Canada's parliament passes motion saying China's treatment of Uighurs is genocide
• US seeks to 'lengthen,' 'strengthen' nuclear deal with Iran: Blinken
• US special envoy for Yemen heading back to region for second time in a month
• Saudi govt. complicit in shooting spree at US naval base: Victims' families
--------
Europe
• Greece rejects legal demands of Muslims for place of worship
• Muslim Council of Britain urges government to end non-engagement policy
• Germany urges Iran to comply with nuclear pact, expects 'compliance, transparency'
• British arms sales to Saudi Arabia prolonging war in Yemen: Oxfam
• Bosnian Serb Declares Victory In Rerun Srebrenica Vote Amid Muslim Boycott
Compiled by New Age Islam News Bureau
URL: https://www.newageislam.com/islamic-world-news/study-shows-people-with-violent/d/124377
--------
Study shows people with violent extremist views may have worse cognitive abilities
22 February ,2021
Marco Ferrari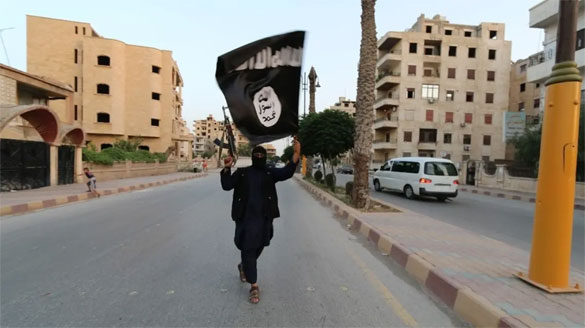 An ISIS member waves a flag in Raqqa, Syria on June 29, 2014. (File photo: Reuters)
----------
People with extremist views who endorse violence towards others may suffer from worse cognitive abilities including working memory, according to a new study by researchers from the University of Cambridge.
Those who hold dogmatic and extreme ideological beliefs were also found to be worse at taking evidence into account when making non-political decisions, and were more impulsive than others.
The study led scientists to believe that a person's deep-rooted psychology has a great deal to do with their political leanings.
Researchers studied a group of 334 US residents by administering 37 cognitive tests which had nothing to do with politics or ideology – assessing factors like working memory and evidence-gathering skills.
After two years had passed, the same group was quizzed about their political beliefs and asked to rate how strongly they agreed with statements such as 'I would sacrifice my life if it saved another American's life'.
The results published in the paper entitled 'The cognitive and perceptual correlates of ideological attitudes: a data-driven approach,' showed that a person's cognitive ability was a far better way of predicting their ideological beliefs than demographics such as age or gender.
People who held extreme views in favor of their own 'group,' supporting violence against others outside the group, were found to have worse working memory, were slower to perceive new information, and tended to be more impulsive.
Those who tested high in the dogmatism category of the ideological surveys were found to be slower at accumulating evidence when making decisions, and less likely to take social risks.
Participants who reported being politically conservative were likely to exercise more caution in the cognitive tests, taking more time to gather evidence before making a decision.
"This [study] may offer key insights for nuanced educational programs aimed at fostering humility and social understanding," the authors of the paper wrote.
https://english.alarabiya.net/News/world/2021/02/22/Terrorism-Study-shows-people-with-violent-extremist-views-may-have-worse-cognitive-abilities
--------
To explain laws, AIMPLB to launch webseries and journal
February 23, 2021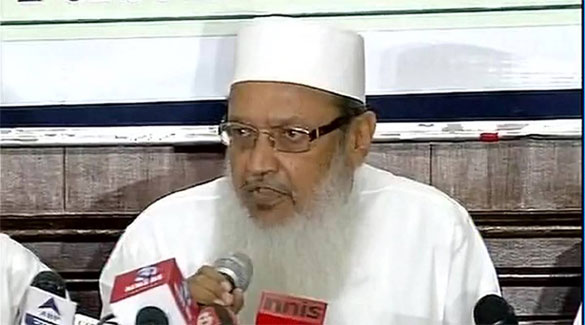 AIMPLB general secretary Syed Mohammad Wali Rahmani. (File)
-----------
The All India Muslim Personal Law Board (AIMPLB) on Monday announced that it would soon launch a legal journal in Urdu and English, and a webseries to spread awareness about Sharia and Indian laws, and explain court judgments to Muslims.
The decision was taken during a board meeting led by its president Mohd Rabey Hasani Nadvi.
"The working committee of AIMPLB passed a resolution to start a Sharia awareness webseries. It also decided to start a legal journal in the Urdu and English languages," read a tweet from AIMPLB's handle.
Speaking to The Indian Express, AIMPLB general secretary Syed Mohammad Wali Rahmani said the idea behind the web series was to spread awareness on legal issues for Muslims. "The series will be done in an interview-discussion format… The series will analyse high court and supreme court judgments so that common people can understand them. Not just Sharia, we will also focus on the country's laws and judgments," said Rahmani.
According to a statement issued by the Board, board member Asma Zehra has been tasked with preparing a blueprint for the webseries. Lawyer members like Yusuf Hatim Muchhala, Zafaryab Jilani and M R Shamshad "endorsed this suggestion, and said they will give it their time".
Advocate M R Shamshad has been asked to prepare a plan for the legal journal in English and Urdu and "present it to the general secretary".
In the meeting, the issue of safeguarding Waqf properties was also discussed and a campaign in this regard will be launched across the country.
"…The Waqf Act was prepared and approved after a lot of hard work. It has provisions to safeguard Waqf properties from being sold. But efforts are being made from several quarters to make changes to these provisions, which can threaten the safeguarding of Waqf properties. So, it was decided that for the safety of Waqf properties, a campaign should be launched across the country," read the statement issued in Urdu.
The board said it was fighting cases related to Waqf properties "in its full capacity".
https://indianexpress.com/article/india/to-explain-laws-aimplb-to-launch-webseries-and-journal-7200338/
--------
Pakistan critical to pushing Taliban to reduce violence as peace talks resume
February 23, 2021
ISLAMABAD: After more than a month of delay, escalating violence and a flurry of diplomatic activity peace talks between the Taliban and Kabul have resumed in Qatar, with Pakistan seen as critical to pushing the Afganistan-based insurgent group to reduce violence and eventually, agree on an outright ceasefire.
Taliban spokesman Dr. Mohammad Naeem tweeted Monday night that talks had resumed in Doha, where the insurgent movement maintains a political office. There were no details other than the atmosphere was "cordial", a commitment that negotiations should continue and an announcement that the first item of business will be setting the agenda.
When talks ended abruptly in January, just days after beginning, both sides submitted their wish lists for agendas. The task now is for the two sides to sift through the respective wish lists, agree on items to negotiate and the order in which they will be tackled.
The priority for the Afghan government, Washington and NATO is a serious reduction in the violence leading to a cease-fire. The Taliban have said it is negotiable, but until now have resisted any immediate cease-fire.
Washington is reviewing the February 2020 peace deal the previous Trump administration signed with the Taliban that calls for the final withdrawal of international forces by May 1. The Taliban have resisted suggestions of even a brief extension, but a consensus is mounting in Washington for a delay in the withdrawal deadline.
There is even a suggestion of a smaller intelligence-based force staying behind that would focus almost exclusively on counter-terrorism and an increasingly active and deadly Islamic State affiliate, headquartered in eastern Afghanistan.
But neither Washington nor NATO has yet to announce a decision on the fate of an estimated 10,000 troops, including 2,500 American soldiers, still in Afghanistan. The Biden administration has emphasized a political solution to the protracted Afghan conflict, retained Zalmay Khalilzad, the man who negotiated the US peace deal with the Taliban and until now avoided any definitive statements about the road forward.
The resumption in talks in Doha follows on the heels of a blizzard of diplomatic activity including a steady stream of officials to Pakistan and Army Chief Gen Qamar Javed Bajwa.
Pakistan is seen as critical to getting the Taliban back to the table but also to pressing the insurgent movement — whose leadership is headquartered in Pakistan — to reduce violence in Afghanistan.
Just this past week the US Central Command head Gen. Kenneth F. McKenzie was in Islamabad, as was Russian President Vladimir Putin's Afghan envoy, Zamir Kabulov and Qatar's foreign ministry's special envoy Dr Mutlaq Bin Majed Al Qahtani. Afghan President Ashraf Ghani's special envoy Umar Daudzai is expected in Islamabad on Wednesday.
While details of the meetings have been sketchy, Afghanistan featured prominently and officials familiar with the talks said a reduction of violence and eventual cease-fire dominated discussions.
Pakistan, which also still hosts 1.5 million Afghan refugees has repeatedly said the only solution in Afghanistan is political and has previously been credited with getting the Taliban to the negotiating table.
The latest diplomatic activity in Islamabad also coincidentally comes as Pakistan is being discussed at a meeting underway this week in Paris of the Financial Action Task Force probing terrorism financing and money laundering. Pakistan is currently on a so-called grey list, the last step before a blacklisting which would seriously erode the country's ability to borrow money.
Few analysts expect Pakistan to be blacklisted, which so far includes only Iran and North Korea, but Islamabad is pressing hard to be removed from the grey list. While Pakistan has allies, like China, among the 37-member countries that make up FATF, Russian and US support is critical to being removed from the grey list.
Still, the issues ahead for the Taliban and the Afghan government are thorny ones and it isn't immediately clear whether any country has sufficient influence with either side to force a peace deal that will last.
Afghan President Ashraf Ghani has flatly refused an interim administration, and his critics accuse him of wanting to hold on to power. Meanwhile, a Taliban official says they want a "new Islamic government" that would not include Ghani, but refused to give details of this government and whether it would even include elections. He spoke on condition of anonymity because he was not authorized to speak to the media.
In an open letter to the American people last week, the Taliban's lead negotiator in the US-Taliban deal, Mullah Abdul Ghani Baradar urged compliance with the deal, promised rights for men and women "based on Islamic law" without stipulating, vowed not to interfere in any other nation, and also vowed to end the world's largest crop of poppies, which produces opium used in the production of heroin.
https://www.pakistantoday.com.pk/2021/02/23/pakistan-critical-to-pushing-taliban-to-reduce-violence-as-peace-talks-resume/
--------
UN appeals for rescue of Rohingya Muslim stranded in Andaman Sea
FEB 22, 2021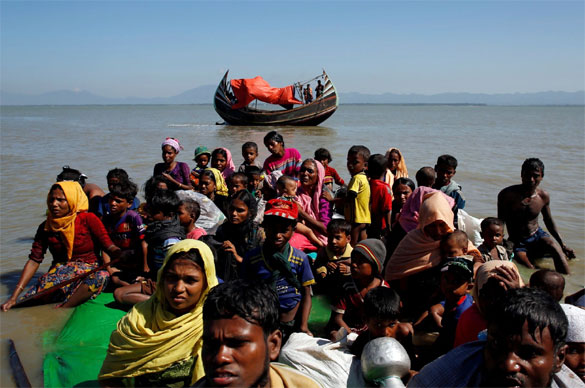 Rohingya refugees sit on a makeshift boat as they get interrogated by the Border Guard Bangladesh after crossing the Bangladesh-Myanmar border, at Shah Porir Dwip near Cox's Bazar, Bangladesh November 9, 2017. (Reuters Photo)
-------------
Adisabled boat carrying ethnic Rohingya Muslim, some dying from lack of food and water, is believed to drifting in the Andaman Sea, the United Nations' refugee agency said Monday while appealing to Southeast Asian governments to rescue them.
The vessel departed from Cox's Bazar and Teknaf in Bangladesh 10 days ago and has been adrift for over a week after the engine broke down, the U.N. High Commission For Refugees (UNHCR) said. It could not confirm the number of people or the location of the boat but said the refugees reported the vessel ran out of food and water several days ago.
"In the absence of precise information as to the refugees' location, we have alerted the authorities of the relevant maritime states of these reports and appealed for their swift assistance," the UNHCR said in a statement.
"Immediate action is needed to save lives and prevent further tragedy," it said, offering to support governments by providing humanitarian help and quarantine measures to those rescued.
"Many are in a highly vulnerable condition and are apparently suffering from extreme dehydration. We understand that a number of refugees have already lost their lives and that fatalities have risen over the past 24 hours," said Indrika Ratwatte, UNHCR director for Asia and the Pacific, according to remarks carried by The Associated Press (AP).
"The fact that refugees and migrants continue to undertake fatal journeys accentuates the need for immediate and collective regional response to search, rescue and disembarkation," it added.
A senior Indian Coast Guard official told Reuters the boat has been tracked and was reported to be safe but did not yet know the condition of those aboard.
The Rohingya are a Muslim minority that has suffered persecution in Buddhist-majority Myanmar. Hundreds of thousands of Rohingya fled a deadly crackdown by Myanmar's security forces in 2017 and poured into neighboring Bangladesh, where about a million live in poor conditions in sprawling refugee camps, unable to work or leave without government permission.
Many Rohingya have fled in rickety boats while taking perilous journeys in the hope of reaching Malaysia and Indonesia.
Malaysia, with a predominantly Muslim population, has long been a favorite destination for a group that ranks among the world's most persecuted peoples. While boat trips have declined in recent years, Southeast Asian governments have tightened borders amid the COVID-19 pandemic.
Last year, dozens of refugees were found in boats drifting near the Malaysian island of Langkawi, and many more went ashore with the help of locals in the Indonesian province of Aceh.
A report conducted by Save the Children last year said that Rohingya are still willing to pay traders to travel, despite the risks. The Britain-based charity said that since January 2020 at least 2000 refugees have been stranded on boats in the Andaman Sea and the Bay of Bengal. It also noted that authorities found over 150 unaccompanied children among the severely malnourished survivors after a boat carrying refugees washed up in Bangladesh in April last year.
https://www.dailysabah.com/world/asia-pacific/un-appeals-for-rescue-of-rohingya-muslim-stranded-in-andaman-sea
--------
China Rejects 'Genocide' Attack From UN on Uyghur Muslims in Xinjiang
February 22, 2021
New Delhi: China on Monday rejected the "slanderous attacks" about the treatment of the ethnic minority of Muslim Uyghurs and other minorities are living in Xinjiang region. The comment came in response to activists and UN rights experts who claimed that at least one million Uyghurs Muslims have been detained in camps in Xinjiang.
China claims that these camps have benefited millions of workers through educational and vocational training. However, according to testimony from survivors, these so-called education camps are the worst places so far as human rights violations are concerned.
The Asian giant urged the US to stop "smearing" the ruling Communist Party of China (CPC) and its one-party political system, lift sanctions on trade and halt Washington's backing of "separatist forces in Taiwan, Tibet, Hong Kong and Xinjiang.
Responding to the U.N. Human Rights Council, Foreign Minister Wang Yi said China was taking counter-terrorism measures in accordance with the law and that Xinjiang enjoyed "social stability and sound development" after four years without any "terrorist case".
"These basic facts show that there has never been so-called genocide, forced labour, or religious oppression in Xinjiang," Wang said, as quoted by Reuters.
"Such inflammatory accusations are fabricated out of ignorance and prejudice, they are simply malicious and politically driven hype and couldn't be further from the truth," he added.
The Chinese government has repeatedly refused to categorize Uyghurs as an indigenous population and describe Uyghurs as a regional minority. One among China's fifty-five ethnic minorities, Uyghurs are a Turkic ethnic group originating from central and eastern Asia.
As a result, China is facing criticism and worldwide condemnation over its unkind and harsh treatment towards the Uyghur Muslims.
https://www.india.com/news/world/china-rejects-genocide-attack-from-un-on-uyghur-muslims-in-xinjiang-4442758/
--------
Iran's Khamenei says 'no one can stop Tehran' from getting a nuclear weapon
22 February ,2021
Iran's Supreme Leader Ayatollah Ali Khamenei said on Monday that Tehran may enrich uranium up to 60 percent purity if the country needed it, state TV reported, adding that Tehran will never yield to the US pressure over the country's nuclear work.
"Iran's uranium enrichment level will not be limited to 20 percent. We will increase it to whatever level the country needs ... We may increase it to 60 percent," state quoted Ayatollah Ali Khamenei as saying.
He said Tehran had never sought a nuclear weapon but if it wanted to, "no one could stop Tehran from acquiring it."
"Americans and the European parties to the deal have used unjust language against Iran...Iran will not yield to pressure. Our stance will not change," Khamenei said.
US President Joe Biden's administration said last week it was ready to talk to Iran about both nations returning to the accord abandoned by Biden's predecessor Donald Trump.
Secretary of State Antony Blinken said on Monday Washington would aim to bolster and extend the 2015 pact, which aimed to limit Iran's enrichment potential - a possible pathway to atomic bombs - in exchange for a lifting of most sanctions.
Iran and the United States have been at odds over who should take the first step to revive the accord. Iran insists the United States must first rescind US sanctions while Washington says Tehran must first return to full compliance.
https://english.alarabiya.net/News/middle-east/2021/02/22/Iran-s-Khamenei-says-no-one-can-stop-Tehran-from-getting-a-nuclear-weapon
--------
Boko Haram beheads woodcutters in northeast Nigeria
Olarewaju Kola
23.02.2021
MAIDUGURI, Nigeria
Boko Haram terrorists beheaded six woodcutters in an attack in Nigeria's northeastern Borno state.
One of the survivors, Ali Musa, said the men rode to the bush last Thursday in search of firewood to sell but were attacked by the terrorists.
"Six people were killed. They were beheaded," he told Anadolu Agency.
Some locals said they recovered four corpses on the day of the attack, but two other corpses were discovered the following day.
The incident was not reported until late Monday due to poor communication and the remoteness of the area.
Damboa, the town where the attack occurred, is around 87 kilometers (54 miles) from Maiduguri, Borno state's capital and heartland of over a decade of Boko Haram terror.
The group has claimed responsibility for most of the violent attacks in the region.
https://www.aa.com.tr/en/africa/boko-haram-beheads-woodcutters-in-northeast-nigeria/2153740
--------
US will not bow down to Iran's conditions for dialogue, EU waiting on response
Joseph Haboush
22 February ,2021
The White House said Monday that the United States would not bow down to Iran's conditions for dialogue on a new nuclear treaty.
US President Joe Biden's press secretary, Jen Psaki, said that the US had clarified before and it was unyielding in its stance the sanctions would not be lifted before dialogue with Tehran.
"We will discuss with Congress future steps on Iran," Psaki told reporters.
But Psaki was quick to play down Monday's comments by Iran's supreme leader that it was capable of enriching uranium to 60 percent.
As for the European Union's offer to host US-Iran talks, Psaki said the EU was still waiting for a response.
"What we're willing to do is sit at a table and have a diplomatic conversation, because we are looking to prevent Iran from acquiring a nuclear weapon, and we believe diplomacy is the best way to do that," Psaki said.
Since becoming US president, Joe Biden has said that Iran must first come back into full compliance with the Joint Comprehensive Plan of Action (JCPOA). The US would then do the same, Biden has said.
However, on Monday, Iran announced that it would no longer comply with additional protocol with the UN nuclear watchdog.
Iran's supreme leader also claimed that Iran could reach 60 percent uranium enrichment if it wanted.
In response, State Department Spokesman Ned Price played down Ayatollah Ali Khamenei's comments and urged Iran to return to compliance with the JCPOA.
While Price expressed Washington's concern over Iran's decision to stop the additional protocol, he reiterated calls for Iran to talk to the US.
"There is now a proposition on the table," Price said. "We certainly hope the Iranians will be willing to be there."
https://english.alarabiya.net/News/middle-east/2021/02/22/Iran-nuclear-deal-US-will-not-bow-down-to-Iran-s-conditions-for-dialogue-EU-waiting-on-response
--------
Greece rejects legal demands of Muslims for place of worship
FEB 22, 2021
Greece has committed another violation of freedom against the Muslim minority in the country by rejecting the Muslim community's demand to open a place of worship in Thessaloniki.
Located in the second-largest city of Greece, Macedonia-Thrace Muslims Education Culture Foundation made a formal application for the opening of a place of worship after completing the necessary preliminary preparations in line with legal regulations.
Prior authorizations were taken from local authorities for the formal application, a process that took two years. After that, Greece's Education and Religion Ministry left the process in limbo, while it rejected the application on the basis of a lack of additional documents and technical details.
Members of the foundation slammed the decision saying that Greece wants to imply that Muslims in Thessaloniki and its surrounding areas should pray in the streets if they demand communal worship.
"Greece, which does not open the existing mosques, also does not show Muslims another place for their worship. Our applications to conduct our worship in our foundation have been also rejected with excuses outside the legal regulations," they said.
The country's unwelcoming stance toward its Muslim population is not a new phenomenon. For instance, up until recently, Athens was known as the only European capital without a mosque, even though there are an estimated 300,000 Muslims in the greater Athens area. Back in November 2020, for the first time since the 19th century, Athens witnessed the inauguration of an official mosque, as years of efforts by the Muslim community finally paid off.
Greece was under the rule of the Ottoman Empire for centuries, until 1829 when the Greek population succeeded in gaining independence from the empire. At the time, there were many mosques and other Ottoman architecture all over Greece. However, the riots and independence triggered a wave during which all such architecture was damaged or removed, eventually leaving Athens without any mosque. In fact, Athens' lack of mosques is a norm for the majority of the Greek cities as the only officially sanctioned mosques in the country are in the northern border region with Turkey where up to 150,000 members of the Muslim minority live.
Turkey has long decried Greek violations of the rights of its Muslim and Turkish minority, from closing down mosques and letting historic mosques fall into disrepair, to refusing to recognize Muslims' election of their own muftis. These measures violate the 1923 Treaty of Lausanne as well as the European Court of Human Rights (ECtHR) verdicts, making Greece a state that flouts the law, Turkish officials say.
Similarly, the election of muftis, or Islamic clerics, by Muslims in Greece has become yet another point of contention that caused trouble for the Muslims in the country. Even though it is regulated by the 1913 Treaty of Athens, a Greek-Ottoman Empire pact that was implemented by Athens in 1920, that the community will be able to elect their own muftis, in 1991, in violation of international law, Greece annulled the treaty and unlawfully started to appoint the muftis itself. The muftis appointed by the Greek state have since usurped local Muslims' right of jurisdiction on family and inheritance matters. The majority of Muslim Turks in Western Thrace do not recognize muftis appointed by the Greek state and instead elect their own.
https://www.dailysabah.com/world/europe/greece-rejects-legal-demands-of-muslims-for-place-of-worship
--------
Arab World
Attacks targeting US personnel in Iraq increase as Biden, Europe wait for Iran
22 February ,2021
Joseph Haboush
Rocket attacks on Baghdad's Green Zone are not an unusual development with the highly-secured compound housing the US Embassy and other Western embassies.
The Green Zone is a prime target for Iran-backed militias and other terrorist groups.
But over the last seven days, three separate rocket attacks have struck in and around bases and compounds that have US troops or contractors stationed inside.
Erbil attack
On Feb. 15, at least 14 rockets struck near Iraq's Erbil Airport in the country's Kurdistan region. A civilian contractor, who was not a US citizen, was killed, and several others were injured. It was one of the most significant strikes on US-led coalition forces in the last year, and the worst strike since US President Joe Biden took office.
A pro-Iran Shia group claimed the attack, while Tehran denied any links to the strike.
Al Balad Airbase
Five days later, Iraq's military reported that four rockets hit the country's Al Balad Airbase. US companies operate inside the airbase, but there were conflicting reports over injuries. At least one civilian contractor was reported to have been injured.
US Embassy targeted
On Monday, a barrage of rockets was fired at Baghdad's Green Zone with AFP saying that the US Embassy was targeted. It was not hit, and US officials referred journalists to the Iraqi military statement. The embassy was not hit, Iraq's security services said.
No casualties or injuries have been reported.
Although Iran has not and does not usually claim responsibility for attacks, US officials have voiced their belief that pro-Tehran groups were behind them.
But the attacks have not stopped the US president from softening Washington's stances on Iran.
Since becoming president, Biden has revoked the terrorist designation of Iran-backed groups and halted arms sales to Saudi Arabia and the United Arab Emirates.
Additionally, the Biden administration revoked snapback sanctions claimed by the Trump administration against Iran and revoked travel restrictions on senior Iranian diplomats at the United Nations.
Furthermore, the Biden administration voiced its readiness to sit down with Iran to discuss the now-defunct nuclear treaty that was engineered and signed in 2015 when Biden was vice president to Barack Obama.
On Monday, the State Department did not respond to whether Iran's response to what some have dubbed as US concessions was productive.
State Department Ned Price tiptoed around the topic while reiterating and repeatedly stating the US willingness to sit down with Iran "in the context of the P5+1 (Permanent UN Security Council members)."
As for the recent attacks in Iraq, Price said the US was "outraged" and would respond at a "time and place of our choosing."
He added that weapons were Iranian-made and provided by Iran "in the attack I referred to." When asked about which attack, Price backtracked and said he was implying attacks in general.
https://english.alarabiya.net/features/2021/02/23/Iraqi-militias-Attacks-targeting-US-personnel-in-Iraq-increase-as-Biden-Europe-wait-for-Iran
--------
Protester shot dead in south Iraq, says medical source
22 February ,2021
A young man was shot dead on Monday during a protest in the capital of Iraq's southern Dhi Qar province over poor public services, a local medical source told AFP.
Dozens of demonstrators had gathered in front of the governorate to demand the dismissal of governor Nazem al-Waeli over a deterioration in public services, an AFP correspondent in the provincial capital of Nasiriyah said.
They set tires alight and threw stones at the administrative building, before security forces arrived and used both tear gas and live fire to break up the demonstration.
"A demonstrator who was under 20 years old was shot dead," the medical source in Nasiriyah told AFP, saying another four protesters and 12 security forces were wounded.
Dhi Qar authorities announced a strict curfew in all major cities across the province to prevent further rallies.
Decades of war, government graft and slim investments have left Iraq's water, electricity and other public works thoroughly lacking.
Many households have only a few hours of state-provided electricity per day or complain of polluted tap water, and the resulting anger has erupted into protests in the past.
In late 2019, public frustration over poor services, unemployment and corruption morphed into an unprecedented anti-government movement across southern Iraq as well as the capital Baghdad.
Nearly 600 people have been killed in protest-related violence since then, including in mass violence at demonstrations but also in targeted assassinations of activists.
Among them are more than a dozen security forces.
In January, a policeman was shot dead and dozens more people wounded during a rally in Nasiriyah, which has long been a hotspot of protests.
https://english.alarabiya.net/News/middle-east/2021/02/22/Protests-Protester-shot-dead-in-south-Iraq-says-medical-source
--------
'Israeli enemy ship' responsible for oil leak in Eastern Mediterranean: Lebanon's PM
Rawad Taha
22 February ,2021
Lebanon and Israel face the strongest marine ecological disaster since the 2006 war oil spill after a recent oil leak that officials in Lebanon said has originated from "a ship of the Israeli enemy" and has now reached the southern shores of Lebanon.
Lebanon's Prime Minister Hassan Diab's office said he has been following up on the oil spill issue.
Diab has assigned the Ministers of Defense and Environment in the caretaker government, along with the National Council for Scientific Research, to follow up on the matter in terms of informing the United Nations Interim Force in Lebanon (UNIFIL) forces for them to conduct an official report, as well as in dealing with the leakage and its damages.
The Director of Programs at Lebanon-based Greenpeace Middle East and North Africa Julian Jreissati commented on the issue of the oil spill, with a statement calling on the Ministry of Environment to "take immediate measures to assess the magnitude of the risk of this spill by setting up an urgent survey and monitoring program."
"The authorities must develop a quick plan to reduce the impacts on the environment and public health, and based on the results of the assessment, the authorities should provide safety instructions to the Lebanese people, especially concerning fishing and swimming activities," Jreissati added.
Jreissati added that this incident adds to a long list of oil spills that threaten the rich marine biodiversity and affect the eastern Mediterranean region's inhabitants.
"It is a manifestation of the destruction of nature resulting from the addiction of the global systems to fossil fuels," he added.
2006 oil spill
The last oil spill in the region of such a scope happened during the 2006 war between Lebanon and Israel after the Jiyeh Power Station in Lebanon was bombed by Israel.
The bombing resulted in the largest oil spill in the Mediterranean, caused by the release of heavy fuel oil into the eastern basin of the Mediterranean.
The plant's damaged tanks leaked up to 30,000 tons of oil, a 10-kilometer-wide oil slick covered 170 kilometer of coastline in Lebanon and has reached both Turkey and Cyprus.
That incident threatened the habitat of endangered green sea turtles.
In 2014, The UN General Assembly approved a resolution requesting Israel to pay Lebanon over $850 million in damages for the oil.
The assembly voted 170-6 in favor of the nonbinding resolution, with three abstentions. Israel, the US, Canada, Australia, Micronesia, and Marshall Islands were the only countries to vote with a "No".
https://english.alarabiya.net/News/middle-east/2021/02/22/-Israeli-enemy-ship-responsible-for-oil-leak-in-Eastern-Mediterranean-Lebanon-s-PM
--------
Rockets target US Embassy in Iraq, no casualties reported: Security sources
22 February ,2021
A volley of rockets on Monday targeted the high-security zone in the Iraqi capital that is home to the US embassy, the military and security sources said.
The attack is the third in a week to target Western diplomatic, military or commercial installations across Iraq after months of relative calm.
At least two rockets hit within the perimeter of the Green Zone, where the American and other foreign embassies are based, according to a statement by Iraq's security services.
A security source told AFP at least one rocket hit the headquarters of Iraq's National Security Service near the US diplomatic mission.
Others crashed into nearby residential districts, including a multi-story parking complex in the neighborhood of Harithiya, a witness told AFP.
The Iraqi security services later announced that they found the rockets' launchpads, which were fired from Baghdad's Al Salam street.
The attack comes one week after more than a dozen rockets targeted a military complex at the Arbil airport in northern Iraq, which hosts foreign troops from a US-led coalition helping Iraq fight jihadists since 2014.
Two people were killed, including one foreign contractor based at the airport, who died immediately, and a civilian, who died of his wounds on Monday.
On Saturday, another wave of rockets hit the Al-Balad airbase north of Baghdad, where Iraq keeps most of the F-16s it has purchased from the US in recent years.
Security sources said at least one local contractor for Sallyport, the US company that maintains the planes, was wounded.
https://english.alarabiya.net/News/middle-east/2021/02/22/Rockets-target-US-embassy-in-Iraqi-capital-Security-sources
--------
Iraq decides not to go ahead with $2 bln China crude-supply deal, says Oil Minister
22 February ,2021
Iraq has decided against signing an oil-supply deal with a Chinese state company that would have seen the cash-strapped Arab nation get about $2 billion upfront, according to its oil minister.
Baghdad opted not to go ahead with the contract after oil prices rose in recent months, Ihsan Abdul Jabbar said in an interview with BBC Arabic.
Iraq, whose economy is reeling after last year's crash in crude prices, in November asked oil traders to bid for a five-year supply deal. Baghdad proposed delivering 4 million barrels a month, or about 130,000 barrels a day, with the buyer paying upfront for one year of supply.
China's Zhenhua Oil Co., a subsidiary of defense contractor Norinco, won the bid, Bloomberg reported in December.
Prepayment deals are rare in the oil world and this was meant to improve Iraq's financial situation. While the government is still struggling, its position has improved because oil prices have soared 62 percent since the start of November to around $63 a barrel, largely thanks to the roll-out of coronavirus vaccines.
OPEC's second-biggest producer had wanted as much liquidity as possible in January and February this year and was concerned that oil prices would not exceed $40 a barrel, Jabbar said in the interview.
After prices stabilized, "we decided to freeze this attempt or option and we did not activate it," BBC Arabic cited him as saying.
In an interview with the Iraq Oil Report earlier this month, Finance Minister Ali Allawi said pre-payment oil deals were problematic because they required a sovereign guarantee.
https://english.alarabiya.net/News/middle-east/2021/02/22/Iraq-decides-not-to-go-ahead-with-2-bln-China-crude-supply-deal-says-Oil-Minister
--------
Pope's visit to Iraqi Ziggurat to draw fresh attention to birthplace of Abraham
22 February ,2021
Pope Francis is due to hold an inter-religious prayer service at the ancient Mesopotamian site of Ur when he visits Iraq next week -- an event local
archeologists hope will draw renewed attention to the place revered as the birthplace of Abraham.
Popular with Western visitors in the 1970s and 1980s, Ur is scarcely visited today after decades of war and political instability shattered Iraq's international tourism industry. The coronavirus crisis now also keeps local tourists away.
Located about 300 km south of the capital Baghdad, the site comprises a pyramid-style Ziggurat and an adjacent residential complex as well as temples and palaces.
It was excavated about 100 years ago by Leonard Woolley, a Briton who recovered treasures rivalling those found in Tutankhamen's tomb in Egypt. But little work has since been done on one of the world's oldest cities, where urban dwelling, writing and central state power began.
According to the State Board for Antiquities and Heritage director for Ur, Ali Kadhim Ghanim, the complex next to the Ziggurat dates back to about 1900 BC.
The father of Judaism, Christianity and Islam, Abraham is described in the biblical book of Genesis as living in the city before God called upon him to create a new nation in a land he later learned was Canaan.
"This is why it is believed that this building, or house, was the house of the prophet Abraham," Ghanim said, pointing at the residential complex.
According to Ghanim, the housing settlement was restored in 1999, after Pope Francis' predecessor, Pope John Paul II, announced a trip to Iraq. But his visit was cancelled when negotiations with the government of then-Iraqi leader Saddam Hussein broke down.
This time, Ghanim hopes that Pope Francis' visit will attract international attention to the site, which he says is badly needed to fund restoration works on its palaces and temples.
"Not only tourism, but we believe that there will be a Christian pilgrimage season," Ghanim said.
Un Ponte Per, an Italian-based organization, is working with the United Nations Development Program on infrastructure works such as paths, rest areas and signposts to help visitors.
Roads around the site are being renovated and powerlines extended ahead of the pope's visit.
But without adequate funding, Ghanim says his administration has been limited to containing further damage to the site, such as digging trenches to divert rainwater from the ruins.
Basra's Archbishop Habib al-Naufaly stressed the symbolic importance of the pope's March 5-8 visit as Iraq is still recovering from the war against ISIS that destroyed scores of Christian heritage sites.
The inter-religious prayer service will be attended by Christians, Muslims, Mandaean-Sabaean, Yazidi and other religious minorities present in Iraq.
The focus will be on harmony between religious groups in a service the Vatican has named "Prayer for the sons and daughters of Abraham."
https://english.alarabiya.net/News/middle-east/2021/02/22/Pope-s-visit-to-Iraqi-Ziggurat-to-draw-fresh-attention-to-birthplace-of-Abraham
--------
Foreign minister: Syria determined to continue fight against terrorism
22 February 2021
Syrian Foreign Minister Faysal Mekdad has reiterated his country's determination to combat terrorism and practice its legal right to put an end to any illegitimate military presence on its soil.
Mekdad, who is also a former permanent envoy to the United Nations, made the remarks in a speech via video to the 46th session of Human Rights Council in Geneva on Monday.
"Terrorism remains a major threat and some countries are trying to exploit our country's suffering for political pressure," Mekdad said, stressing that, "Syria is determined to continue fighting terrorism and to exercise its legal right to end any illegal presence on its territory."
The top Syrian diplomat pointed to right violations committed by occupation forces in his country, particularly the recent activities by the Turkish military in addition to Ankara's support for terrorist groups in Syria.
"In light of the Turkish, American and Israeli occupation, terrorist groups and separatist militias continue to commit gross and systematic violations of human rights to serve the interests of their operators and supporters," Mekdad said.
"Water cuts as a collective punishment for a million citizens in Hasakah Governorate is one of the examples of the grave and systematic violations committed by the Turkish occupation forces and their groups," he added.
On October 9, 2019, Turkish forces and Ankara-backed militants launched a long-threatened cross-border invasion of northeastern Syria in a declared attempt to push Kurdish militants affiliated with the so-called People's Protection Units (YPG) away from border areas.
Ankara views the YPG, which is supported by the White House, as a terrorist organization tied to the homegrown Kurdistan Workers' Party (PKK), which has been seeking an autonomous Kurdish region in Turkey since 1984.
'Sanctions directly target Syrian civilians' livelihood'
During his virtual speech on Monday, Mekdad also touched on the issue of illegal sanctions imposed on Syria and called on Human Rights Council to place the grave and systematic violations resulting from the US and European unilateral coercive measures against the Syrian people as a top priority.
"Those who claim that these coercive measures do not affect ordinary citizens lie because they only affect the citizens in their basic needs," he said. "Some of those who adopted the draft resolutions related to Syria and others are among the governments that violate human rights the most."
The United States recently imposed a round of sanctions against Syria known as the Caesar Syria Civilian Protection Act.
The sanctions came into effect on June 17 -- six months after being signed into law by former US President Donald Trump -- targeting individuals and businesses anywhere in the world that operate directly or indirectly within the sphere of Syria's economy. This includes entities that help the Arab country produce oil or fight terrorism in any way.
The US economic measures have effectively blocked imports of essential goods, impacting the Syrian people's access to medical equipment, food, fuel, natural gas, and electricity.
Moreover, EU sanctions on the Syrian government have been in force since December 2011 and are subject to annual review.
Elsewhere in his remarks, Mekdad stressed the "inalienable" right of his country in the occupied Syrian Golan and said the right was guaranteed by international references and agreed upon by principles of the international law.
"Syria renews its firm support for the right of the Palestinian people to establish their independent state with Jerusalem as its capital on the borders of June 4, 1967, with guaranteeing the right of refugees to return home in implementation of the United Nations relevant resolutions," Mekdad added.
https://www.presstv.com/Detail/2021/02/22/645836/Syria-Faysal-Mekdad-combat-terrorism
--------
India
NIA files chargesheet against two LeT terrorists for conspiracy to wage war against India
22nd February 2021
BENGALURU: The NIA filed a supplementary chargesheet before a special court here on Monday against two terrorists of Pakistan-based terror group LeT for their alleged involvement in a conspiracy to commit subversive activities and wage a war against India, besides killing key personalities of the Hindu community in the country, an official said.
The chargesheet was filed against Dr Sabeel Ahmed of Bengaluru and Asadulla Khan of Hyderabad under sections of the India Penal Code (IPC) and the Unlawful Activities (Prevention) Act (UAPA), a spokesperson of the country's premier investigation agency said.
The case, initially registered in August 2012 in Bengaluru, pertains to a conspiracy hatched by members of proscribed terror organisations Lashkar-e-Toiba (LeT) and Harkat-ul-Jihad-e-Islami (HuJI) to commit subversive activities and wage a war against the government of India, the NIA official said.
They had procured illegal arms and ammunition for targeted killings of important personalities of the Hindu community in Karnataka's Bengaluru and Hubli, Maharashtra's Nanded and Telangana's Hyderabad to disturb communal harmony and strike terror in the society, the official said.
The National Investigation Agency (NIA) re-registered the case in November 2012 and has filed chargesheets against 17 accused.
LeT members Ahmed and Khan were involved in a criminal conspiracy, along with other accused, in supporting and furthering the cause of the terror outfit in Saudi Arabia's Dammam and Riyadh, the NIA spokesperson said.
They actively participated in meetings, where terrorist activities like targeted killings of important personalities of the Hindu community in Bengaluru, Hubli and Nanded were planned, the official added.
The special NIA court in Bengaluru convicted 13 accused in the case in September 2016 and sentenced them to five years of imprisonment for their involvement in offences under the UAPA, IPC, Arms Act and Official Secrets Act.
A trial is continuing against three accused who were named in an earlier chargesheet, the NIA official said, adding that further investigation against six absconding accused is underway.
https://www.newindianexpress.com/nation/2021/feb/22/nia-files-chargesheet-against-twolet-terrorists-for-conspiracy-to-wage-war-against-india-2267423.html
--------
'Love jihad' non-existent but BJP uses it to hunt Muslims, says Vijayaraghavan
23rd February 2021
MALAPPURAM: CPM acting state secretary A Vijayaraghavan on Monday said 'Love jihad' is non-existent and that is a creation of the Sangh Parivar. He said the usage 'Love jihad' is propagated to attack and hunt certain communities, especially Muslims. He was responding to Uttar Pradesh Chief Minister Yogi Adityanath's statement on Sunday that the Kerala government encourages 'Love jihad'.
"At the flagging off ceremony of BJP's election rally, Adityanath declared his communal agenda. 'Love jihad' is a campaign tool created by the Sangh Parivar. Some BJP-ruled states including Uttar Pradesh created laws against 'Love jihad'. But Kerala is not a place to create such barbaric laws as Chief Minister Pinarayi Vijayan had earlier clarified. Pinarayi also took a strong stand against implementing CAA in the state," Vijayaraghavan said during a press conference.
Further, he said BJP leaders are not talking about the real issues of the people. "The price of one litre of petrol has crossed `100 in the country. Unemployment rate is also at an all-time high. Yet the BJP government talks about 'Love jihad'," the CPM state secretary said.
https://www.newindianexpress.com/states/kerala/2021/feb/23/love-jihad-non-existent-but-bjp-uses-itto-hunt-muslims-says-vijayaraghavan-2267578.html
--------
Farmers' protest: Revival of brotherhood between Jats and Muslims in western Uttar Pradesh
J.P. Yadav
23.02.21
At 85, farmer leader Ghulam Mohammad Jaula has found a new and invigorating reason to live and die for. The revival of the "bhaichara" or brotherhood between Jats and Muslims in western Uttar Pradesh, abutting Delhi.
For decades, the unity between Jats and Muslims had dictated electoral politics in the region, where either community made up about 30 per cent of the population.
But the 2013 Muzaffarnagar riots had shredded that bond, fuelling the BJP's rise to dominance in an area where it never had a foothold, and contributing to the emergence of a nationwide political climate that led the party to victory in the 2014 general election.
But the Narendra Modi government's imposition of the three farm laws and crackdown on the farmer protests, particularly the one led by Rakesh Tikait at the Ghazipur border, has tentatively brought the two communities together again, promising to heal the wounds of 2013.
"Ab hum unke liye ladenge aur woh hamare liye (Now they will fight for us and we for them)," the six-foot-plus Jaula said, fingers firmly clasped around his stick as he settled in a chair in his outhouse at Jaula village, 40km from district headquarters Muzaffarnagar. "They" meant Jats and "us", Muslims.
Jaula, who derives his surname from the name of his village, wields considerable authority in the region as former right-hand man of the legendary farmer leader Mahendra Singh "Baba" Tikait, and one-time Muslim face of the Bharatiya Kisan Union.
"Hamara rishta sagey bhaiyon se bhi gehra tha (Our relationship was deeper than that between blood brothers)," is how Jaula describes his bond with the elder Tikait, whose death in 2011 left the BKU in the hands of his sons Naresh and Rakesh.
Jaula had dissociated himself from the BKU in 2013 after Jats and Muslims found themselves pitted against each other as communal violence engulfed Muzaffarnagar. More than 60 were killed and thousands of Muslim families forced to flee.
With the Tikait brothers accused of involvement in the riots, Jaula snapped ties and floated his own outfit.
Today, the octogenarian doesn't want to recall the past: the present is too exciting for him. He set off the efforts to bury the hatchet at a January 29 mahapanchayat in Muzaffarnagar, where he told Naresh Tikait to his face to acknowledge the "two mistakes" he and his Jat brethren had committed. Naresh did.
"I told them (Naresh and the Jats) that their first mistake had been to defeat their chaudhary (leader) Ajit Singh (in the 2019 Lok Sabha polls)," Jaula said.
Ajit, Rashtriya Lok Dal leader and son of revered farmer leader and former Prime Minister Charan Singh, had been fielded by a combined Opposition that included the Samajawadi Party and the Bahujan Samaj Party. He lost to the BJP's Sanjeev Balyan, who stands accused of instigating the 2013 riots.
It was Charan who had in the 1970s united the Jats and Muslims, who stood firmly behind him and Ajit through four decades, with the Samajwadis too benefiting courtesy their off-and-on alliance with Ajit.
The January 29 mahapanchayat had been called after videos from the previous night showed Rakesh Tikait sobbing at the Ghazipur border, accusing the Uttar Pradesh administration and "BJP goons" of conspiring to beat up and kill or evict the protesting farmers.
By the break of dawn, thousands — mainly from western Uttar Pradesh — had arrived at the Ghazipur border in solidarity with the farmers, turning the tide against the government.
However, with their pride and dignity hurt like seldom before, Jat farmer leaders Naresh and Rakesh began looking for political muscle to counter the government and hit on the idea of exhibiting Jat-Muslim unity. Jaula was invited to the afternoon mahapanchayat and he readily agreed.
At the gathering, Jaula reminded the Jats also about their "second mistake", which actually came six years before the "first mistake".
"The Muslims had always been with you (the Jats) but you got them killed in 2013," Jaula told Naresh. A silent crowd, made up mostly of Jat farmers, listened intently.
"These are the two big mistakes you must accept before we move forward," Jaula said.
Sitting on the stage at the mahapanchayat, Naresh acknowledged the two mistakes and vowed they won't be repeated again. The crowd cheered.
"When he (Naresh) acknowledged the mistakes, I too brushed aside the past and decided to join the fight," Jaula said. The following day, Jaula despatched his supporters to the Ghazipur border in more than 200 vehicles in a show of support for Rakesh.
"I'm confident the bond has become stronger and will hold," Jaula said. "We need each other."
Since the mahapanchayat, a series of similar farmer gatherings have taken place across western Uttar Pradesh and Haryana, reinforcing the message to the government that the protest wouldn't be called off until the new farm laws had been repealed.
But the implications of a renewed Jat-Muslim unity in western Uttar Pradesh could go beyond the farmer agitation and have electoral repercussions, with Assembly elections just about a year away.
Jaula is certain that the farmers' protest itself would influence the outcome of the state polls, particularly if the government fails to repeal the contentious farm laws. "The Jats and the Muslims will vote together in all future elections," he said.
Jaula's son Sajid Ali aka Munna Pradhan, a former gram panchayat pradhan, sounded less confident than his father about a complete revival of the old Jat-Muslim ties.
"Yes, a change is visible. Not only the older Jats but their youth too are disappointed in the BJP," Munna said.
But he added after a pause: "Waise toh sab thik lag raha hai, lekin kaun janta hai unke dil me kya hai (On the face of it everything looks fine but who knows what's in their heart)."
Recalling the events leading to the Jats' "first mistake", Munna said that Ajit, for whom Jaula had campaigned intensely, had looked set to drub Balyan in the 2019 general election.
"However, in a sudden change on polling eve, Jat youths and many of their elders shifted loyalties to the BJP," Munna said.
Jaula obliquely pointed a finger at the Tikait brothers. "They (the Tikait brothers) called a panchayat and invited Ajit Singh to assure him support," he said.
"I don't know what happened (behind the scenes) and the next day, the brothers organised a second panchayat and invited Balyan and promised to support him."
Balyan belongs to the same "khap" -- the Balyan khap --- as the Tikait brothers. The khap panchayats are traditional village councils that lack official sanctity but wield enormous influence.
It's widely believed in Muzaffarnagar that the second panchayat called by the Tikait brothers tilted the scales in Balyan's favour. Ajit lost by just over 3,700 votes.
https://www.telegraphindia.com/india/farmer-protest-revival-of-brotherhood-between-jats-and-muslims-in-western-uttar-pradesh/cid/1807503
--------
Poll lull in Shia waqf Board, 10 months after govt takeover
Feb 22, 2021
AYODHYA: Amidst frenetic activity for UP Sunni Waqf Board elections scheduled on March 6, there's a curious lull in the Shia Waqf Board, whose tenure ended in May last year, but there's no talk of elections even 10 months after the state government took control over the Board.
Talking to TOI, chief executive officer of Shia Waqf Board, Dr Naseer Hasan, said, "Elections to the Shia Waqf Board can be held only after the state government issues a notification or there is a court order. Elections to the Sunni Board were necessitated by Allahabad High Court's order, quashing the September 30, 2020, directive of the additional chief secretary minority welfare and waqf to extend the board's tenure." Top sources in the Board told TOI that ongoing investigations into corruption in functioning of the Shia waqf board has delayed elections.
"Among the 13 Waqf Board members, Bukkal Nawab and Shadab Fatima, who were elected from MLA/MLC quota, have resigned. Akhtar Hasan Rizvi, member of Rajya Sabha was elected from MP quota. Rizvi was the lone member from MP quota as there was no other Shia Muslim MP from Uttar Pradesh. Aalima Zaidi and Afshaan Zaidi were elected from the Bar Council quota and Maulana Azim Hussain and Wali Haiser were nominated by the then state government," said a Shia Board official.
On May 21 last year, the state government took charge of the Shia Waqf Board, and allowed Naseer Hasan to continue as chief executive officer.
In November last year, CBI registered a case against former chairman of Shia Waqf Board, Waseem Rizvi, for alleged illegal sale, purchase and transfer of waqf properties, cheating, criminal intimidation and criminal breach of trust.
Talking to TOI, state minorities affairs minister Mohsin Raza, said, "We are conducting elections to Sunni Waqf Board as there is an order from the High Court. However, there is no proposal yet of conducting elections to the Shia Board."
https://timesofindia.indiatimes.com/india/poll-lull-in-shia-waqf-board-10-months-after-govt-takeover/articleshow/81151884.cms
--------
India permits Imran Khan's aircraft to use its airspace for travel to Sri Lanka
Feb 23, 2021
NEW DELHI: India has allowed Pakistan Prime Minister Imran Khan's aircraft to use Indian Air Space, according to informed sources.
Imran Khan will be travelling to Sri Lanka on his maiden visit on February 23.
In 2019, Pakistan had denied opening its airspace for Prime Minister Narendra Modi's flights to the US and Saudi Arabia citing alleged human rights violations in Kashmir.
India took up the denial of permission to VVIP flight with an International Civil Aviation Organisation.
Under normal circumstances, the VVIP aircraft are granted permission by countries. However, Pakistan's denial of permission to VVIP aircraft was an aberration.
https://timesofindia.indiatimes.com/india/india-permits-imran-khans-aircraft-to-use-its-airspace-for-travel-to-sri-lanka/articleshow/81164521.cms
--------
HC upholds bail granted to Kalyan resident with alleged ISIS links
by Omkar Gokhale
February 23, 2021
The Bombay High Court on Tuesday dismissed a plea by the National Investigation Agency (NIA) seeking orders to set aside the bail granted by a special NIA court to Kalyan-resident Areeb Majeed, accused of having links with the Islamic State.
Majeed, who has spent over six years in Arthur Road Jail in Mumbai, will be released on bail pending trial, with stringent conditions on furnishing personal bond of Rs 1 lakh and sureties. He can neither leave Kalyan nor change his residence, and will have to report to the nearest police station twice a day for two months, after which he will have to report once a day for two months.
Rejected the plea by Additional Solicitor General Anil Singh, who was representing the NIA, the HC said, "… this is a question of liberty and that the detention of the accused for this long worked in his favour."
While the HC upheld the special court's March 17, 2020 order on the aspect of granting bail pending trial, it set aside the special court order pertaining to the merits of the case.
On February 4, while reserving its order on NIA's appeal against Majeed, the HC had observed that his actions had caused numerous problems for himself and his family. Majeed travelled to Iraq and Syria in 2014 to allegedly join the terror outfit.
The HC had also directed the Mumbai Central prison to produce Majeed before the court; he was present for the hearing today.
A division bench of Justices SS Shinde and Manish Pitale was hearing the case. On February 4, the hearing continued for over three hours, exceeding the regular court timing.
The bail order, however, had been stayed by the court till March 27 on a plea by the NIA, which said it wanted to file an appeal in the HC. The HC had continued the stay on operation of the special court's order.
Majeed was part of a group of pilgrims travelling to Iraq in May 2020 along with three others — Aman Tandel, Fahad Sheikh and Saheem Tanki. The NIA claimed the four separated from the tour group and joined ISIS and carried out terror acts. It said Majeed was arrested on November 28, 2014, after he returned to India with "ulterior motives".
Singh had argued for the NIA that Majeed had returned with an intention to carry out terrorist activities. He submitted a picture of Majeed, where he is holding a purported weapon, and said he was involved in "terrorist activities". The judges, in chamber, had also reviewed video clips produced by the NIA related to the "purpose" with which Majeed was allegedly involved with the banned terrorist organisation.
However, Majeed, who appeared in person before the court, said: "The entire charge is about being in Iraq between June and November 2014. The present trial is not for any offences in India, against India or anything pertaining to India. The charge of ulterior motive is not present in the chargesheet, but was later added by the prosecution."
He added that based on an application by his father, the NIA through the Indian consulate in Istanbul, Turkey, had made arrangements for his return from Istanbul. "They (NIA) do not want to admit the role they had played in my return," Majeed argued.
Justice Pitale had asked Majeed, "Why would a 21-year-old go to Iraq, who is studying, would leave family, to be with people you don't even know and haven't met in life? Don't you have enough suffering around you? By leaving your family behind. You may be immature at that time like you said. Imagine the suffering you've imposed on your family and parents."
Majeed responded, "As soon as I realised, I came back. My father had applied to the NIA."
The bench said: "You have no idea what your parents must have gone through. You cannot imagine."
"Even I have suffered for the past six years after they kept me away from them (family)," Majeed said.
"I will not shy away from what wrong I have done, but the accusations that the NIA has made such as involvement in terrorist activities are hard to digest. The NIA cannot assume things for the future. Aggrieved parties can always approach the court in that case," Majeed said.
When the bench sought to know how he was spending time in jail, Majeed said he was studying law.
Justice Pitale said, "If you had utilised your abilities and skills to the best when you were 21, that would have been a matter of joy for your family and the country too."
https://indianexpress.com/article/cities/mumbai/areeb-majeed-bail-plea-bombay-high-court-nia-7200846/
--------
Pakistan
Political parties across world oppose interference in other countries' internal affairs under human rights pretext
February 22, 2021
ISLAMABAD: In a major show of defiance, over 310 leaders and prominent personages representing more than 190 political parties and organisations from 80 plus countries on Monday expressed their resolve to oppose the western interference into the affairs of sovereign countries in the name of 'human rights'.
The pledge was made by the leaders of 190 political parties and organisations from 80 plus countries, among which over 100 are from Islamic countries, at an online conclave held under the aegis of the International Department of the CPC Central Committee (IDCPC) and the Communist Party of China (CPC) Xinjiang Uygur Autonomous Regional Committee who co-hosted the event titled 'Stories of CPC' Thematic Briefing on Xinjiang in Urumqi.
As the event took place, the parties who have been involved in an in-depth discussion on the theme of "A Better Life for All" reached broader consensus. All parties were of the view that it is the common goal and responsibility of political parties of all countries to work towards a better life for the overwhelming majority of the people.
Political parties of all countries vowed to take the improvement of people's wellbeing as their mission and strive to uplift the sense of fulfilment, happiness, and security thereof. They also noted that Covid-19 has hit over 200 countries and regions, affected more than seven billion people around the world and claimed over two million lives.
They called on all countries to continue to put the lives, safety and health of the people above everything else by deploying medical expertise and critical supplies to places where they are needed the most, saving lives with all might and main, and further promoting global joint epidemic response so that the pandemic is brought under control at an earliest possible date and the vision of building a global community of health for all appears on the horizon.
They also stressed that Covid-19 has plunged over 200 million people globally into extreme poverty and inflicted serious impact on the economic and social development of most countries, casting a dark shadow on the prospects of the United Nations 2030 Agenda for Sustainable Development.
They called on all countries to continue to strengthen coordination on macroeconomic policies, remain steadfast in maintaining the stability of the global financial market as well as that of industrial and supply chains, and to take measures to reduce debts and boost the flow of trade, so that the world economy could soon recover and grow, which will help bring global poverty reduction back on the right track as speedily as possible.
While subscribing to the protection and development of human rights, the meeting pointed out that the right to subsistence and the right to development are principal and fundamental.
"Poverty constitutes the chief obstacle to the realisation of human rights. The interests of the people should be placed in the paramount position and development should deliver greater benefit to the entire population in a more equitable manner," said the joint communique.
They also emphasised that as there is no one-size-fits-all model to advance and protect human rights, the diversity in the path of human rights development should be respected and any attempt to politicise human rights, apply double standards thereof, or to interfere in the internal affairs of other countries under the pretext of human rights should be opposed.
They called for the concerted efforts of all countries to promote the establishment of a global governance architecture on human rights that is more equitable, just and inclusive.
They also acknowledged that the Thematic Briefing has enabled them to acquire a comprehensive and in-depth understanding of China's system of regional ethnic autonomy and the development of areas with large ethnic minority populations, including the actual situation in Xinjiang, where social stability as well as equality and unity among various ethnic groups prevail, people's livelihood keeps improving and the economy develops constantly.
They also expressed appreciation of what the Chinese government has done to promote economic and social development of areas with large ethnic minority populations, and to respect and protect the right of people of all ethnic groups to freedom of religious belief and to use their own spoken and written languages.
They expressed opposition to the odious behaviour of a crumb of individuals from certain countries in misleading the international perception and smearing other countries with distorted and fabricated facts and disinformation of cooked-up rumours of so-called China's "ethnic cleansing" in Xinjiang.
Extending their best wishes to the CPC and the Chinese people on the eve of the centenary of the CPC, they applauded the CPC for its commitment to the original aspiration and founding mission of seeking happiness for the people and rejuvenation for the nation, for its leadership under which the Chinese people have created the miracle of rapid economic development together with the miracle of long-term social stability, and most recently, the major achievements in both Covid-19 response and economic and social development.
The conclave commend the important help China has offered to the global fight against the virus, in particular the honouring of its commitment to make vaccines a global public good. They expressed their willingness to strengthen exchanges and mutual learning with the CPC on governance experience, and to promote the deepening of mutually beneficial cooperation among countries towards the building of a community with a shared future for mankind.
https://www.pakistantoday.com.pk/2021/02/22/political-parties-across-world-oppose-interference-in-other-countries-internal-affairs-under-human-rights-pretext/
--------
Fashion to fund madressahs through Maulana Tariq Jamil's new clothing brand
February 23, 2021
Religious scholar Maulana Tariq Jamil has revealed details about his upcoming namesake clothing brand.
In a video posted on social media, he also cited the reasons he chose to venture into a clothing business.
Speaking about his madressahs where numerous students come to acquire religious education, he said operations had to be halted at the start of the pandemic due to depleted finances.
"I would pray to God to create a scenario where we didn't just have to rely on zakat from people," he said.
"My madressah never had an administration asking for charity. It was always me getting in touch with people I know, who would then contribute whatever they liked. However, after the pandemic I realised that everyone had been affected and I said to myself I cannot ask anyone for any more aid. I then wondered 'how will the system work now'?" he said, revealing how the idea came into being.
"When the pandemic hit, I then had the intention of starting a business whose profits could sustain the seminaries," he added, thanking some of his friends and financiers who contributed to the cause and helped him establish his namesake brand MTJ.
But he clarified that the business wasn't established for the sole purpose of making money. "My entire life, I haven't made money," he said. "God has blessed me with whatever I have. Instead, the profits will be used on the MTJ Foundation, which we envision can establish a great hospital and school," Maulana Jameel said, explaining how the latter was already in process and required a great amount of investment.
"In the Subcontinent, ulema involved in businesses are looked down upon and criticised, though I don't know where this is coming from," the religious scholar continued, citing the example of Imam Abu Hanifa who was a huge trader and cloth merchant of his time.
"In our era, a maulvi is only looked upon as a beggar. Someone who begs in front of people," he said, reiterating that the brand wasn't created for business purposes and praying that his madressah and religious institutions could sustain themselves even after he has left this world.
https://images.dawn.com/news/1186601/fashion-to-fund-madressahs-through-maulana-tariq-jamils-new-clothing-brand
--------
Pakistan likely to stay in FATF grey list
Feb 23, 2021
NEW DELHI: The FATF plenary which started on Monday is examining Pakistan's compliance — or lack thereof — with the remaining six items in its 27-point action plan meant to check terror-financing.
While Pakistan is expected to remain on the grey list, it's hoping that the Parisbased terror watchdog will allow an onsite evaluation which it can use to convince the member-states that it has done enough to get its name struck off the grey or 'increased monitoring' list.
One of the six terror-financing issues Pakistan was yet to address when FATF met in October last year related to lack of action against UNSC-proscribed terrorists like Masood Azhar. India believes Pakistan has continued to provide safe havens to these terrorists.
FATF had retained Pakistan in the grey list in October, despite acknowledging "significant progress" made by Islamabad in addressing 21 other points. It had asked Pakistan to address its "strategic deficiencies" by demonstrating effective implementation of targeted financial sanctions against all UN 1267 and 1373 designated terrorists and those acting for or on their behalf.
It's unlikely that FATF will downgrade Pakistan to the blacklist as it enjoys the support of China, Malaysia and Turkey. However, many other member-states are still trying to ascertain if Pakistan's law enforcement agencies are identifying and probing terror-financing activities.
"Background discussions with key officials and foreign diplomats suggest that the jury is divided — with the authorities claiming sufficient progress to be confident of a positive outcome but some diplomats suggesting that even in the best-case scenario Pakistan would remain in the increased monitoring list until June," reported Dawn on Monday quoting officials.
Pakistan media had also reported last week that some European countries, including France, had recommended to the FATF that Pakistan remain on the grey list as not all points had been fully addressed by Islamabad.
https://timesofindia.indiatimes.com/world/pakistan/pakistan-likely-to-stay-in-fatf-grey-list/articleshow/81163418.cms
--------
4 Pak women aid workers killed in terror attack
Feb 23, 2021
ISLAMABAD: Masked gunmen on Monday shot dead at least four women aid workers in Pakistan's northwestern district of North Waziristan, a volatile region on the border with Afghanistan that was once the headquarters of the Pakistani Taliban and a haven for the Haqqani network.
The incident occurred at 9.30am in Ippi village, near the Mir Ali town of North Waziristan.
According to police, a group of workers associated with the NGO Sabawoon was coming from Bannu city and its adjoining areas to teach sewing and embroidery to village women when the two motorcycle-borne assailants opened fire on their vehicle. The victims died where they fell while the driver was wounded.
"This is a militancy-stricken district, the threat is everywhere," senior police official Shafiullah Gandapur said, adding that the police had cordoned off the area and launched a search-and-strike operation.
The Human Rights Commission of Pakistan condemned the killing and urged the state to "book the perpetrators of this heinous crime".
"The re-emergence of terror groups in the area is a matter of grave concern. It is the responsibility of the authorities to protect the lives and property of citizens at all costs," it tweeted.
HRCP condemns the killing of four women social workers in #NorthWaziristan. The state must bring to book the perpet… https://t.co/Ox3lTZhAmG
— Human Rights Commission of Pakistan (@HRCP87) 1613983164000
North Waziristan was once the headquarters of the Tehreek-e-Taliban Pakistan (TTP), a conglomerate of outfits formed in 2007 with the sole aim of overthrowing the Pakistani government and establishing a theocratic state in line with their strict interpretation of Islam.
Movement of women had been completely restricted when the Pakistani Taliban controlled the region. The group had also banned NGOs.
In 2014, following a series of military offensives, the Pakistani army launched a major operation in North Waziristan after evacuating the entire population. The operation pushed the group's leadership into eastern Afghanistan and dented its operational capacity on Pakistani soil.
Since then, violence has dropped significantly, although TTP sporadically mounts attacks on civilians and security forces.
In recent months, there has been a surge in terrorist attacks in North Waziristan since internally displaced people started returning home after years of forced exile. At least 58 people, including tribal leaders, security forces personnel and others, have been killed in terrorist attacks in North Waziristan in the last 10 months.
https://timesofindia.indiatimes.com/world/pakistan/4-pak-women-aid-workers-killed-in-terror-attack/articleshow/81159848.cms
--------
Pervaiz Rashid is not an individual but an ideology: Maryam Nawaz
23 February,2021
LAHORE (Dunya News) – Pakistan Muslim League-Nawaz (PML-N) vice president Maryam Nawaz on Tuesday has said that her party leader Pervaiz Rashid is not an individual but an ideology.
While responding to the decision of Election Tribunal, the PML-N leader took to social-networking website Twitter and posted that Pervaiz Rashid is the bright symbol of democracy.
Such leaders always live. He will continue to be ex-Prime Minister Nawaz Sharif's trustworthy companion, she added.
The reaction came after Lahore High Court's (LHC) Election Tribunal had upheld the decision of returning officer and disqualified Pakistan Muslim League-Nawaz (PML-N) candidate Pervaiz Rashid from participating in the Senate polls.
While announcing the verdict, LHC judge justice Shahid Waheed had rejected the appeal of PML-N leader.
During the proceedings, Pervaiz Rashid said that he was ready to pay due amount to eliminate the objections raised by the Election Commission of Pakistan (ECP).
https://dunyanews.tv/en/Pakistan/589413-Pervaiz-Rashid-is-not-an-individual-but-an-ideology:-Maryam-Nawaz
--------
ECP asks PTI to submit response in suspected tampering of Daska by-poll by tomorrow
Fahad Chaudhry
February 23, 2021
The Election Commission of Pakistan (ECP) on Tuesday directed the PTI to submit its response in the suspected tampering of the NA-75 Daska by-election results by tomorrow.
The hearing, presided over by Chief Election Commissioner (CEC) Sikandar Sultan Raja, was adjourned till Thursday.
The PTI's legal counsel had asked for more time to submit the record and had asked for a week to submit "verified results and proof". However, the CEC turned down the request, stating that the "weather was no longer bad", in an apparent reference to the claims of the presiding officers regarding fog on the night of the by-election.
He also remarked that the ECP will reach a conclusion regarding the NA-75 by-poll. "If the election was [fair], the results will be released. If it is not, then re-polling can be done," he said.
During today's hearing, the PML-N candidate's lawyer, Salman Akram Raja, stated that an environment of "terror" was created in the constituency on polling day. "Shots were being fired in broad day light," he said.
He contended that 20 presiding officers suddenly vanished and "miraculously" reappeared the next day. "Re-polling should not only be done at those particular polling stations. We need to cast an eye on the election in the whole constituency," he said, adding that this was a pre-planned "operation".
A video of shot fired outside a polling station in Daska was also presented to the ECP. "PTI workers can be seen firing shots in the presence of the party's candidate, Ali Asjad Malhi," the PML-N lawyer said.
The returning office also submitted his report to the ECP. He said that the results from 337 polling stations were added to the RMS by 3:30am. "There was a delay [in the results] for 20 polling stations," he said, adding that 19 presiding officers could not be contacted.
"The presiding officers were accompanied by police officials. Did you try contacting them through the wireless?" asked the chief election commissioner. The returning officer replied that he had instructed the Daska DSP to do so but they were still unable to contact the presiding officers.
He added that out of the 20 polling stations, the results of ten were received between 4:30am and 6:30am. "There is no difference in the results of the four of these polling stations; the results of the presiding officer and the polling agents are the same," he said.
He added that some of the presiding officers said that they were unreachable due to car troubles or fog.
The CEC noted that the RO seemed "distressed" when he contacted the commission on the night of the by-poll. "You had said that the police and the administration were not cooperating," he said.
The RO replied that the administration did cooperate but a large crowd of people, comprising PML-N and PTI supporters, had gathered outside the office.
'ECP to take final decision'
Meanwhile, Information Minister Shibli Faraz said that the ECP will take the final decision regarding the NA-75 by-poll, Radio Pakistan reported.
Speaking to the media in Islamabad, he said the PML-N disturbed law and order in the recent by-elections. He said that Prime Minister Imran Khan has made an important announcement regarding the PML-N's application for re-polling in 23 polling stations. He added that the prime minister has always accepted challenges.
The minister said the government wants to introduce electronic voting in the next general elections, adding that the politics of the PML-N and the PPP is based on lies.
Have always struggled from free, fair elections: PM Imran
On Monday, Prime Minister Imran Khan had requested the PTI candidate to ask for re-polling at the 20 polling stations.
"Have always struggled for fair and free elections. So even though there is no legal compulsion to do so before ECP announces results, I would request our PTI candidate to ask for re-polling in the 20 polling stations Opposition is crying hoarse over in the Daska NA 75 be-election," he said.
"It is because we want transparency that we are seeking open ballot for Senate elections. We will always seek to strengthen a fair and free election process. Unfortunately others lack this commitment. When we wanted 4 constituencies opened after the 2013 elections, it took us over two years," he added.
The by-election in the NA-75 constituency was marred by violence after two people were killed and three others injured in a firing incident at a polling station in Daska.
In a statement last week, the ECP had said that it suspected results of 20 polling stations had been falsified in the by-election for the NA-75 constituency. The commission had said results of the NA-75 constituency were received with "unnecessary delay", adding that it tried to contact the presiding officers several times but with no success.
While the PML-N had alleged massive rigging, the PTI had claimed to win the election and had lashed out at the opposition party for only accepting results in their favour.
https://www.dawn.com/news/1608950/ecp-asks-pti-to-submit-response-in-suspected-tampering-of-daska-by-poll-by-tomorrow
--------
Tribunal dismisses Pervaiz Rashid's appeal against ECP's rejection of Senate nomination papers
Rana Bilal
February 23, 2021
An election tribunal in Lahore dismissed on Tuesday an appeal filed by PML-N leader Pervaiz Rashid against the rejection of his Senate nomination papers by the Election Commission of Pakistan (ECP).
Last week, the ECP had rejected Rashid's nomination papers. The former minister was told that he was a defaulter of the Punjab House in Islamabad and his nomination would be accepted only after he cleared the dues.
The same day, the retuning officer accepted the objection to Rashid's nomination and said that he failed to provide evidence regarding having cleared the dues.
During today's hearing, which was presided over by Justice Shahid Waheed, Rashid's lawyer said that the RO had rejected his client's papers saying that the former information minister was a defaulter of the Punjab House in Islamabad and his nomination would be accepted only after he cleared the dues.
The lawyer said that Rashid did not receive any prior notice for paying off his dues and was given one during the scrutiny process.
The judge asked the government's legal representative if the record of the Punjab House and ECP had been released to which the latter responded in the affirmative.
Rashid's lawyer added that the former lawmaker had "collected Rs9.5 million after borrowing money" but the amount was not received by the government. He said that the PML-N leader was ready to pay off all his dues and a request in this regard was submitted to the RO twice but there was no response.
The legal aide of the former minister urged the court to check the Punjab House's record to see that Rashid had not stayed in the government building. The lawyer termed Rashid's rejection as "political revenge". The judge, however, noted that Rashid had not mentioned this in his appeal.
"Pervez Rashid has contested the Senate election before as well. No one raised the issue of pending dues then," argued Rashid's legal team.
"This game [that] is being played is based on the government's maliciousness," the lawyer insisted. He further said that the courts "always allow contesting elections, after which the process of winning and losing starts".
The objector, in his arguments, said that Rashid knew that he had to pay outstanding dues but did not submit any payment. He also raised questions over the argument by Rashid's lawyer, in which the latter had denied that the PML-N leader stayed at Punjab House.
"If Pervez Rashid did not stay at the Punjab House, why is he ready to pay off the dues?" asked the objector. He added that the RO had given Rashid 48 hours to clear his dues but the former minister failed to do so.
"Where did Pervez Rashid have to submit the dues?" asked the judge.
"The money was supposed to be paid to the controller but it was not submitted," the objector responded. When the court asked Punjab House's controller, who was also present in court, about the matter he said: "I was in the hospital that day. No one contacted me or my staff."
The controller presented the record of the Punjab House as well as the audit report in court. He said that a notice regarding pending dues was sent at Rashid's DHA residence.
Advocate General (AG) of Punjab, who was also a respondent in the case, said that Rashid in his appeal had not said that he did not book a room in Punjab House.
"Pervez Rashid was not given a room on charity basis, there are charges for a room," the AG said.
The objector also brought up Ataul Haq Qasmi's controversial appointment as PTV's head. The court asked Rashid's lawyer what he had to say about Qasmi's appointment to which the latter responded that the former information minister's answer had already been submitted in the relevant court and that this matter had not come up before the RO.
After hearing both sides' arguments, the tribunal turned down Rashid's appeal.
Soon after the tribunal's decision, PML-N Vice President Maryam Nawaz tweeted a link of the news, saying "Fixed match".
In another tweet, the former premier's daughter paid tribute to the PML-N leader, saying, "Pervaiz Rashid is not the name of an individual but of a mindset, an ideology and a shining symbol of democracy. Such symbols stay alive in any situation. He has been an asset to the party in the past and will remain an asset of not only the party but of national politics as a respected companion and a veteran soldier of democracy."
Meanwhile, Rashid while talking to reporters after the tribunal's verdict said that in 2019, a "fake register" was prepared to reflect that he owed money to Punjab House.
"I know which crime I have been punished for and I will continue to commit this crime," he told reporters.
https://www.dawn.com/news/1608951/tribunal-dismisses-pervaiz-rashids-appeal-against-ecps-rejection-of-senate-nomination-papers
--------
South Asia
Speaking up to save Bangladesh's indigenous languages from dying
Stephan Uttom
February 23, 2021
Bangladesh's indigenous languages are under threat and some could die without positive action to preserve them.
Catholic and ethnic community leaders have called on authorities to protect several indigenous languages that face extinction due to a lack of government support and community efforts.
The call was made as people, irrespective of faith and ethnicity in Bangladesh and across the globe, marked the United Nations-designated International Mother Language Day on Feb. 21.
In Bangladesh, the day honors the martyrs of the Bangla Language Movement of 1952 who died when police opened fire on protesters objecting to the Pakistan government's decision to impose Urdu as the only state language when Bangladesh was East Pakistan. The popular movement forced the regime to introduce Bangla as a state language alongside Urdu in the 1956 constitution.
The Bangla Language Movement sparked a nationalist movement that culminated in independence and the emergence of secular, democratic Bangladesh from the military-ruled Islamic state of Pakistan in 1971.
Support Asia's largest network of Catholic journalists and editors.
Since independence, Feb. 21 has been known as Language Martyrs Day in Bangladesh. UNESCO declared Feb. 21 as International Mother Language Day in 1999.
Prime Minister Sheikh Hasina, who attended the inauguration ceremony for a four-day program at the International Mother Language Institute in Dhaka on the day, said her government has been making notable efforts to preserve and protect indigenous languages.
"When we give away free textbooks every year, we print out ethnic language books and give them away for free so that they [indigenous children] too can learn and speak their own language. We have set up the International Mother Language Institute to protect the rights of languages, to respect languages and to preserve the lost languages of the world," Hasina said.
Bangla, the national language, is spoken by 99 percent of people in Bengali- and Muslim-majority Bangladesh, which has a population of more than 160 million. There are about 45 ethnic indigenous groups with an estimated population of three million who have distinct languages and cultures.
Sanjeeb Drong, an ethnic Garo Catholic and secretary of the Bangladesh Indigenous Peoples Forum, noted the government has published textbooks for primary students in five indigenous languages, but this policy has not yielded the expected results.
"The government has published the books but there is no teacher recruitment and no rules for teaching and training. Publishing of books is not enough — you have to make arrangements for teaching properly," Drong told UCA News.
He cited a study conducted by the International Mother Language Institute that shows at least 40 languages have been found in Bangladesh as mother tongues of ethnic groups besides Bangla, the national language. Of these, 39 languages belong to small ethnic groups and another is Urdu. Some 14 languages are in danger of disappearing
"Language is crucial to the survival of a nation. The Bangladesh government has at least started, but I would say that for the last four years books have been coming out in five languages but they are not being taught," Drong added.
The Bangladesh government has been publishing textbooks for pre-primary levels in the Chakma, Marma, Tripura, Garo and Sadri languages for the past five years.
Bangladesh's National Education Policy 2010 stipulates that the government should take necessary steps to teach children in their mother language.
The Catholic Church has been at the forefront to protect and preserve minority languages and cultures, according to Jyoti F. Gomes, secretary of the Bangladesh Catholic Education Board, the Church's education apostolate.
With support from Catholic charity Caritas, the Church has been publishing mother language textbooks and teaching them in schools for 15 years now, he told UCA News.
"Catholic schools pick up teachers from ethnic communities so that they can teach the students properly. This is how we have been teaching ethnic children in their mother tongue for a long time," Gomes said.
Without government support and good intentions, it won't be possible to protect and preserve indigenous languages, he noted.
"Even though the books were being printed for four years, a mother language education program was not implemented due to lack of teachers or training," Gomes said.
Zinnat Imtiaz Ali, a prominent linguist and director-general of the International Mother Language Institute, said researchers would be appointed from next year to preserve endangered languages.
"We are sincere on behalf of the government of Bangladesh to preserve these languages. But among the people who speak that language, it is becoming very difficult to go ahead due to various reasons including a lack of educated people from those communities. However, we are continuing to address this issue," Ali told UCA News.
https://www.ucanews.com/news/speaking-up-to-save-bangladeshs-indigenous-languages-from-dying/91511#
--------
UN: Afghanistan war civilian casualties down by 15% last year
February 23, 2021
KABUL: The number of civilians killed and wounded in violence across war-weary Afghanistan fell by 15 percent last year compared to 2019, according to a United Nations report released Tuesday.
The UN Assistance Mission in Afghanistan and the UN Human Rights Office attributed the drop in civilian casualties in part to an apparent tactical change by insurgents to targeted killings, fewer suicide bombings and a stark drop in casualties attributed to international military forces.
Still, Afghanistan remains among the deadliest places in the world to be a civilian. A distressing feature of the conflict remains the disproportionate impact on Afghan women and children, who make up 43 percent of all casualties.
The attacks targeting civilians include assaults on members of the judiciary, media and activists. Also targeted have been religious minorities, especially the Shiite Muslim population, most of whom also belong to the Hazara ethnic group, and the Sikh population.
The overall number of civilian casualties in 2020 of 8,820 – including 3,035 killed and 5,785 others wounded – fell below 10,000 for the first time since 2013. Last year's total was 15 percent down compared to 2019, the UN said.
Afghanistan has seen a nationwide spike in bombings, targeted killings and violence on the battlefield as peace negotiations in Qatar between the Taliban and the Afghan government have stalled. It's been over a month since the sides last met to discuss how to proceed.
Meanwhile, President Joe Biden's administration is reviewing the US-Taliban peace deal that was signed Feb. 29 last year. As part of it, Washington committed to a May 1 withdrawal of all foreign troops from Afghanistan.
Afghanistan peace negotiations between representatives of the Afghan government and the Taliban in Qatar began on Sept. 12 but have failed to alleviate the scale of civilian harm – a key indicator of violence levels. Instead, there was an escalation of violence in the fourth quarter of the year.
For the first time since it began systematic documentation in 2009, UNAMA tallied an increase civilian casualties recorded in the fourth quarter compared with the third quarter. In addition, this period marked a 45 percent increase in civilian casualties compared to the same three months in 2019, especially from the use of improvised explosive devices and targeted killings.
In October, civilian casualties were the highest of any month in 2020, and in November UNAMA documented the highest number of civilian casualties of any November since it started systematic documentation in 2009. Alongside the overall increase in violence as the year ended, the population was confronted with a spate of targeted killings, referred to by many as "assassinations," of civilians, including media, civil society activists, members of the judiciary and the civilian government administration, as well as civilian family members of combatants.
"2020 could have been the year of peace in Afghanistan. Instead, thousands of Afghan civilians perished due to the conflict," said Deborah Lyons, the UN's special representative of the secretary-general for Afghanistan. "This important report has the overriding objective of providing the parties responsible with the facts, and recommendations, so they take immediate and concrete steps to protect civilians. I urge them not to squander a single day in taking the urgent steps to avoid more suffering."
The report blamed 62 percent of casualties on anti-government forces in 2020 with the Taliban responsible for most of them – 46 percent – and the Daesh group responsible for 8 percent.
Pro-government forces caused a quarter of all civilian casualties, totaling 2,231, the report said. That includes 841 killed and 1,390 wounded, a decrease of 24 percent from 2019, with the Afghan national security forces causing most of these – 22 percent of the total.
While there was an increase in the number of civilian casualties that were unclaimed by any party and for which UNAMA could not attribute responsibility, the report found the Taliban caused 19 percent fewer civilian casualties than in 2019 and IS caused 45 percent fewer than the previous year.
Ground engagements were the leading cause of civilian casualties in 2020. They were responsible for 36 percent of civilian casualties, a slight increase compared with 2019. Next were suicide and non-suicide attacks using improvised explosive devices, which caused 34.5 percent of the casualties last year, a 30 percent decrease. Anti-government forces targeted killings caused 14 percent of casualties in 2020, up by 45 percent, and pro-government airstrikes caused 8 percent of casualties, down 34 percent.
"Ultimately, the best way to protect civilians is to establish a humanitarian cease-fire," said Lyons, who is also head of UNAMA. "Parties refusing to consider a cease-fire must recognize the devastating consequences of such a posture on the lives of Afghan civilians."
https://www.arabnews.com/node/1814201/world
--------
Republic, Taliban peace negotiators meet after many days: Doha
22 Feb 2021
A meeting was held between heads and some members of the negotiating teams in Doha on Monday evening and was focused on the continuation of the negotiations, Taliban spokesman Mohammad Naeem said.
Mohammad Naeem, Taliban spokesman on Monday tweeted, that a meeting was held between both negotiating teams in Doha.
According to Naeem, the meeting was aimed to focus on the continuation of the peace talks.
Naeem added that the teams were called on to continue their meetings and finalize the agenda of peace negotiations.
This comes as the head of High Council for National Reconciliation, Abdullah Abdullah held the third monthly meeting of HCNR's Regional and International Affairs Commission alongside Foreign Minister, Mohammad Hanif Atmar, State Minister for Peace, Sayed Sadat Mansoor Naderi, and Chief peace negotiator of the republic Masoom Stanikzai
Head of HCNR, Abdullah Abdullah tweeted "We exchanged views on peace process, the challenges of the 2nd round of the talks, regional & international support for peace. We fully briefed our international partners on the latest developments in the process internally, regionally & internationally".
Abdullah added, that diplomatic corps and international partners shared their views and called for the acceleration of the peace process, the return of the Taliban to the table, and push for an immediate ceasefire.
During the meeting, international partners and diplomatic corps also condemned targeted killings and insisted on unified efforts in support of the peace process.
Peace meetings in Doha, Qatar between the two sides were halted for the last 36 days.
https://www.khaama.com/republic-taliban-peace-negotiators-held-a-meeting-doha-3242455/
--------
Violence in Afghanistan is a wave of systematic onslaught, UN calls for 'global ceasefire'
22 Feb 2021
President Ashraf Ghani in the 46th regular session of the UN human rights council on Monday said that recent violence against Afghans is an indication of a systematic onslaught, he added that targeted killings are the is sharp edge directed towards the public and it indicates the profound transformation of the Afghan society the last two decades.
"The recent wave of violence against our people, civil and civic institutions, from human rights and civil society organizations to the media, judicial, civil service and security organizations to farmers and traders are indications of a systematic onslaught against our society," Ghani said while addressing in the 46th session of UN human rights council.
The Afghan president said that the people of Afghanistan are committed and have the capability of conviction and can bravely demonstrate a sense of urgency in such situations.
"Human rights, in general, and rights of citizens, women, girls, youth and social categories, in particular, are going to figure prominently in the peace negotiations," Ghani added.
"Difficult choices will have to be made to move from being a battlefield of unrestricted warfare to a platform of an Asian roundabout and an international cooperation," Ghani said.
According to President Ghani, the Afghan people and government are placing peace-making efforts within a framework of international and regional partnership around the aligned processes of peace-building, market-building, and state-building to reinforce our shared destiny as a unified nation.
The afghan public and its government are placing peace-building efforts within the framework of international and regional partnership, aligned with processes of market-building, state-building to reinforce the shared goal as a unified country.
This comes as UN Secretary-General, António Guterres, reiterated for a global ceasefire so the world can focus on the COVID-19 pandemic.
He tweeted that a safe world will create space for diplomacy and enable humanitarian access to the rural parts of the earth.
"I renew my call for a global ceasefire to ease suffering, create space for diplomacy and enable humanitarian access – including for the delivery of Covid-19 vaccines worldwide," he said.
He said, "The entire world is suffering from the sickness of violations of human rights. The pandemic recovery gives us an opportunity to change that".
He added to his tweets that "Racism and racial inequality still permeate institutions, social structures, and everyday life. We must do more than merely condemn expressions and acts of racism. We must dig deeper. And we must act".
This comes as the seven economic power G-7 pledged to immunize developing countries against the virus and increased its funding aids to $7.5 billion to UN-backed COVID19 efforts.
https://www.khaama.com/violence-in-afghanistan-is-a-wave-of-a-systematic-onslaught-un-calls-for-global-ceasefire-4546535/
--------
Fears for Rohingya stranded at sea for 10 days, as engines fail and eight die
23 Feb 2021
The United Nations refugee agency has called for the immediate rescue of a group of Rohingya refugees adrift in their boat in the Andaman Sea without food or water, many of them ill and suffering from extreme dehydration.
The UN high commissioner for refugees (UNHCR) said it did not know the exact location of the vessel and understood that some passengers had died. The boat had left southern Bangladesh about 10 days ago and experienced engine failure, it said.
"Immediate action is needed to save lives and prevent further tragedy," UNHCR said in a statement, offering to support governments by providing humanitarian help to those rescued.
A senior Indian coastguard official confirmed to Reuters that the boat has been tracked to an area off the Andaman and Nicobar islands.
At least eight people had died on the boat, according to Chris Lewa, director of the Arakan Project, a group that monitors the Rohingya crisis.
Lewa said Indian navy vessels that were close by had provided food and water. "But we still don't know what they will do afterwards," she added.
A spokesperson for India's navy did not provide details of the situation but said a statement would be issued later.
According to UNHCR, the boat set out from the Bangladesh coastal district of Cox's Bazar, where about a million Rohingya live in dire conditions in sprawling refugee camps.
In Malaysia meanwhile, a court has temporarily stayed the deportation of 1,200 Myanmar nationals who were due to be returned home on boats provided by the Myanmar military. The migrants included members of vulnerable minorities, and had been sent to a military base on Malaysia's west coas to be loaded on to three boats for the journey home .
The United States and the UN criticised the plan, and have called for the UN refugee agency to be granted access to the detainees to assess whether any are asylum seekers.
The UN says it knows of at least six are registered with them and in need of international protection.
Hundreds of thousands of Rohingya fled to Bangladesh in 2017 after a deadly crackdown by security forces in Myanmar.
Authorities in Bangladesh said on Monday they were unaware of any boats leaving the camps. "If we had such information, we would have stopped them," said Rafiqul Islam, an additional police superintendent in Cox's Bazar.
Amnesty International said in a statement that too many lives had already been lost from countries refusing to assist Rohingya people at sea.
"Another repeat of those shameful incidents must be avoided here," said Amnesty South Asia campaigner Saad Hammadi.
"After years of limbo in Bangladesh and following the recent coup in Myanmar, Rohingya people feel they have no option but to undertake these perilous journeys."
https://www.theguardian.com/world/2021/feb/23/fears-for-rohingya-stranded-at-sea-for-10-days-as-engines-fail-and-eight-die
--------
Southeast Asia
Johor police identify man in viral video apostasy case
21 Feb 2021
JOHOR BARU, Feb 21 — Police have identified a man who claimed in a viral video to have got a Muslim woman to apostatise.
Johor Police chief Datuk Ayob Khan Mydin Pitchay said this was following a police inspection at a house in Perjiranan Dato Onn here, at 9.50pm yesterday.
"Police received information that the 29-year-old man was in the house but later found that only his father and sister live there, so no arrest and seizure was made," he said in a statement here today.
Ayob Khan said the case was being investigated by the Bukit Aman Classified Criminal Investigation Unit (USJT) under Section 4(1) of the Sedition Act 1948, Section 233 of the Multimedia Communications Act 1998 and Section 298 and 505 (C) of the Penal Code.
In the three minute and 26-second video, the man claimed to have got a Muslim woman, believed to be his wife, to apostatise.
The video has garnered thousands of views. — Bernama
https://www.malaymail.com/news/malaysia/2021/02/21/johor-police-identify-man-in-viral-video-apostasy-case/1951511
--------
UK slams 'industrial scale' abuses in China's Xinjiang
February 22, 2021
GENEVA: British Foreign Secretary Dominic Raab on Monday denounced torture, forced labour and sterilisations that he said were taking place against Muslim Uighurs on an "industrial scale" in China's Xinjiang region.
Activists and UN rights experts have said that at least 1 million Muslims are detained in camps in the remote western region.
China denies abuses and says its camps provide vocational training and are needed to fight extremism.
Raab, in a recorded speech to the UN Human Rights Council, said that the rights of people in Hong Kong – a former British colony – were being "systematically violated".
The national security law imposed by China was inhibiting freedoms, he said, calling for free and fair legislative elections to take place.
"The situation in Xinjiang is beyond the pale," he told the Geneva forum where China is among the 47 member states.
"The reported abuses – which include torture, forced labour and forced sterilisation of women – are extreme and they are extensive. They are taking place on an industrial scale," he said.
Raab called for UN High Commissioner for Human Rights Michelle Bachelet or another independent expert to be given "urgent and unfettered access" to Xinjiang and said that there should be a resolution at the council to this effect.
The Biden administration has endorsed a last-minute determination by the Trump administration that China has committed genocide in Xinjiang and has said the US must be prepared to impose costs on China.
Raab told the rights forum the situation in Myanmar was worsening after a military coup on Feb 1.
"The military must step aside. Civilian leaders must be released. And the democratic wishes of the people of Myanmar must be respected," he said.
https://www.freemalaysiatoday.com/category/world/2021/02/22/uk-slams-industrial-scale-abuses-in-chinas-xinjiang/
--------
Federal Court to rule on man's challenge against unnatural sex charge
February 22, 2021
PUTRAJAYA: The Federal Court will rule on Thursday on a legal challenge by a man that the Selangor state legislature is incompetent to pass a shariah law that makes it an offence to engage in unnatural sex.
Lawyer A Surendra Ananth said a nine-member bench chaired by Chief Justice Tengku Maimun Tuan Mat will deliver the verdict through a virtual hearing.
"The parties were informed of the judgment date today," he said in a text message to FMT.
The bench reserved judgment on Dec 14 after hearing submissions from counsel Malik Imtiaz Sarwar, who appeared for the applicant together with Surendra.
Selangor legal adviser Salim Soib @ Hamid represented the state government as the respondent, and counsel Halimatunsa'diah Abu Ahmad acted for the Selangor Islamic Religious Council as the second respondent.
Lawyer Rahim Sinwan appeared for the Federal Territories Islamic Religious Council as amicus curiae or friend of the court.
The 35-year-old applicant, whose identity is being withheld at the request of his lawyers, says Section 28 of the Syariah Criminal Offences (Selangor) Enactment 1995 is unconstitutional.
Malik submitted that only Parliament has legislative power to enact the Penal Code provisions, and state legislatures would not have the power to enact such an offence under the precepts of Islam if the said offence falls within the definition of shariah criminal law.
"The subject matter of unnatural sex is a matter within the federal list in the Constitution and falls within the ambit of criminal law," he said.
Salim submitted that the state law against unnatural sex was valid as it was against the precepts of the religion of Islam.
Among others, he submitted that the state legislature was empowered to enact such a law as per the Ninth Schedule of the Federal Constitution.
On Aug 21, 2019, the chief sharie prosecutor decided to file a charge under Section 28 of the enactment against the man in the Selangor Shariah High Court.
He is said to have attempted to commit sexual intercourse against the order of nature with other male persons in a house in Selangor on Nov 9, 2018.
The man claimed trial but proceedings had been stayed pending the outcome of his constitutional challenge in the Federal Court.
https://www.freemalaysiatoday.com/category/nation/2021/02/22/federal-court-to-rule-on-mans-challenge-against-unnatural-sex-charge/
--------
Umno to hold its closely watched annual assembly at end-March
February 23, 2021
PETALING JAYA - Umno will hold its twice-postponed 2020 annual general assembly on March 27 and 28 this year, party secretary-general Ahmad Maslan said on Tuesday (Feb 23).
"The 2020 annual general assembly will be a combination of physical and virtual meetings," he said in a statement as quoted by The Star daily.
Datuk Seri Ahmad Maslan gave the assurance that all Covid-19 health protocols will be strictly complied with.
One key issue expected to be discussed at the closely watched annual meeting is a motion to cut ties with Parti Pribumi Bersatu Malaysia (Bersatu) led by Prime Minister Muhyddin Yassin, while strengthening bonds with Parti Islam SeMalaysia (PAS).
The annual meeting of the United Malays National Organisation (Umno) was at first scheduled in early December last year but was dropped due to Covid-19 restrictions. Another one planned for late January was also postponed due to the surge in coronavirus cases.
Umno is part of the 11-month-old Perikatan Nasional government, and an official split between Umno and Bersatu would have implications on how the two parties will face the next general election, which is expected to be held later this year.
Malaysia will start its coronavirus vaccinations on Wednesday (Feb 24), two days earlier than planned, raising hopes that the country would be able to progressively remove restrictions on movements and socialising.
Selangor, Johor and Penang states along with the Kuala Lumpur federal territories - the main economic contributors to Malaysia's economic output - are under an extended Movement Control Order that was first imposed in mid-January and will last until March 4.
Umno's information chief Shahril Hamdan said on Jan 7 that the party's decision-making supreme council had decided to bring to the assembly a motion on severing ties with Bersatu and consolidating cooperation with PAS, The Star reported.
Mr Shahril said the decision was to enable the motion to be refined and decided at the highest level of the party.
The assembly is usually held at party headquarters in Putra World Trade Centre.
Most of Umno's 191 divisions had also decided at their separate annual meetings last year to raise the issue of Malaysia's general election at the assembly, Mr Shahril had said in January.
The party's divisions wanted the Umno leadership to push the Muhyiddin administration to hold national polls before the end of the first quarter of this year. It isn't clear if this motion will still be raised at the annual meeting, which will be conducted at the end of the first quarter itself.
PM Muhyiddin has said that he will call for the general election once the pandemic is over. Malaysia is currently under an "emergency" until Aug 1.
A independent committee - comprising government and opposition lawmakers , and independent personalities - has been set up by the government to decide when to lift the emergency, that has suspended all Parliament sittings.
Separately, Umno is slated to hold its internal elections later this year, with the 191 divisions picking the party's president, deputy president, three vice-presidents and other office bearers.
The Umno polls are held every three years, with eyes on whether Umno president Ahmad Zahid Hamidi, who is facing a raft of corruption charges, will be challenged.
https://www.straitstimes.com/asia/se-asia/umno-to-hold-its-closely-watched-annual-assembly-at-end-march
--------
Top court to decide Thursday on man challenging Selangor law that makes unnatural sex a Shariah offence
Monday, 22 Feb 2021
PUTRAJAYA, Feb 22 — The Federal Court will deliver its verdict on Thursday in a constitutional challenge brought by a 35-year-old man on a provision under the Selangor shariah law on sexual intercourse against the order of nature.
Lawyer A. Surendra Ananth, who is representing the man, said in a WhatsApp message today that the decision of the nine-member bench would be delivered through video conferencing via zoom application.
On December 14 last year, the bench, led by Chief Justice Tun Tengku Maimun Tuan Mat, reserved judgment in the motion initiated by the man to challenge Section 28 of the Syariah Criminal Offences (Selangor) Enactment 1995, the provision he was charged under for allegedly attempting to commit unnatural sex.
The other judges who heard the motion were Court of Appeal president Tan Sri Rohana Yusuf, Chief Judge of Malaya Tan Sri Azahar Mohamed, Chief Judge of Sabah and Sarawak Datuk Abang Iskandar Abang Hashim and Federal Court judges Datuk Seri Mohd Zawawi Salleh, Datuk Nallini Pathmanathan, Datuk Vernon Ong Lam Kiat, Datuk Zabariah Mohd Yusof and Datuk Seri Hasnah Mohammed Hashim.
On May 25 last year, the Federal Court granted leave to the man to commence proceedings by way of a petition against the Selangor government and for Decemberlaration that Section 28 of the Syariah Criminal Offences (Selangor) Enactment 1995 is invalid.
On August 21, 2019, the chief syarie prosecutor through the syariah prosecutor decided to proffer a charge under Section 28 of the enactment against the man in the Selangor Syariah High Court.
The man was charged with attempting to commit sexual intercourse against the order of nature with certain other male persons in a house in Selangor on November 9, 2018.
He pleaded not guilty to the charge and his trial at the Syariah High Court has been stayed pending the outcome of his motion.
On December 14 last year, the court heard submissions from the man's lawyer Datuk Malik Imtiaz Sarwar, who argued that the Selangor state legislature did not have the power to enact the provision as the subject matter of the provision, which is unnatural sex, was a matter within the Federal List in the Federal Constitution.
He argued that only Parliament has the exclusive power to enact laws that criminalise unnatural sex as it was in relation to the justice system.
Selangor state legal advisor Datuk Salim Soib@Hamid, who appeared for the Selangor government, submitted that the state law against unnatural sex was valid as it was against the precepts of the religion of Islam.
Counsel Halimatunsa'diah Abu Ahmad, who acted for the second respondent, the Selangor Islamic Religious Council (Mais), supported the state counsel's argument. — Bernama
https://www.malaymail.com/news/malaysia/2021/02/22/top-court-to-decide-thursday-on-man-challenging-selangor-law-that-makes-unn/1951895
--------
Malaysian court delays deportation of 1,200 Myanmar migrants
23 February ,2021
A Malaysian court Tuesday ordered a halt to the planned deportation of 1,200 Myanmar migrants to hear an appeal by two human rights groups, which say refugees, asylum seekers and minors were among those being sent back.
The court order, following a legal bid by Amnesty International Malaysia and Asylum Access Malaysia, came just after the migrants were transported to a naval base where three Myanmar military ships were waiting to take them home.
"In light of the court ruling, the government must respect the court order and ensure that not one of the 1,200 individuals is deported today," said Amnesty International Malaysia's director, Katrina Jorene Maliamauv.
Amnesty said the court will hear their appeal Wednesday and urged the government to reconsider its plans to send the migrants back home, where human rights violations are high following a February 1 military coup that deposed the country's elected leader Aung San Suu Kyi.
"It's important to note that the stay of execution granted by the court does not mean the 1,200 are safe from being deported. They are facing life-threatening risks," Maliamauv said in a statement.
Amnesty urged the government to give the UN High Commissioner for Refugees access to the 1,200 migrants and all immigration detention centers in general, which Malaysia's government has denied since August 2019.
Malaysian immigration officials couldn't be immediately reached for comment. The department earlier said there were no UNHCR cardholders or ethnic Muslim Rohingya refugees in the group, who were held for offenses including not having valid travel documents, overstaying their visas and violating social visit passes.
But the two rights groups in their legal filing named three people registered with the UNHCR and 17 minors who have at least one parent still in Malaysia. The UNHCR has separately said there were at least six people registered with it among the group due to be deported.
Amnesty and Asylum Access have said the repatriation is tantamount to legitimizing ongoing human rights violations by Myanmar's military and would put the migrants at risk of further persecution, violence and even death.
A group of 27 Malaysian lawmakers and senators also sent a letter to Prime Minister Muhyiddin Yassin on Sunday urging him to halt the deportation. There was no response from the premier's office.
Malaysia doesn't recognize asylum seekers or refugees but has allowed a large population to stay on humanitarian grounds. It is home to some 180,000 UN refugees and asylum seekers — including more than 100,000 Rohingya and other Myanmar ethnic groups.
More than 700,000 Rohingya have fled from Myanmar since August 2017, when the military cracked down in response to attacks by a rebel group. The security forces have been accused of mass rapes, killings and the burning of thousands of homes.
https://english.alarabiya.net/News/world/2021/02/23/Malaysian-court-delays-deportation-of-1-200-Myanmar-migrants
--------
Mideast
Despite claims of supporting global peace, EU gives $15mn to Israel war industry
22 February 2021
A new report says despite claims by the European Union (EU) of advocating human rights and international peace across the world, the bloc's scientific arm has already given the repressive Israeli regime millions of dollars to develop weapons it unscrupulously uses against Palestinians.
In a new report on Monday, the US-based Electronic Intifada, an online publication covering the Israeli-Palestinian conflict, said the EU gave 15 million dollars in "creative" aid to Israel's war machine, whose arms and troops have been brutally used against Palestinians for decades.
The report said two Israeli weapons firms – namely Elbit Systems and Israel Aerospace Industries – together received generous aid from Horizon 2020, the EU's scientific research program.
Furthermore, Horizon 2020 has indirectly supported Israel's military through financially supporting the regime's universities, which are in a way or another linked to the regime's war machine.
Horizon 2020 gave Israel's Weizmann Institute of Science over 244 million dollars, making it the occupying regime's number-one beneficiary. Although the so-called scientific institute claims to "advance science," it also runs courses for young people on the cusp of joining Israel's military, which is infamous for killing and maiming Palestinians.
The Weizmann center has also teamed up with Israel's weapons firms on various projects.
Tel Aviv University also gobbled up about 197 million dollars from Horizon 2020, making it Israel's number-two beneficiary.
"Elbit and the university's engineering department have set up what they call a 'unique entrepreneurship program' so that they can 'boost the next generation of technological leaders,'" the report added.
Horizon 2020 also gave Israel's Hebrew University of Jerusalem almost 193 million dollars, making it the regime's third beneficiary.
"The lavishing of Hebrew University can be seen as a triumph for creative thinking. To justify it, the EU has disregarded how the university is active in occupied East Jerusalem. The same kind of creativity can be discerned in how the EU acts oblivious to how Hebrew University trains military spies," the report said.
According to the report, Israeli firms and institutions received more than 1.45 billion dollars from the European bloc under Horizon 2020.
https://www.presstv.com/Detail/2021/02/22/645827/Israel-EU-weapons-Horizon-2020
--------
Assembly of Experts: No Negotiation on Iran's Defense, Missile Power
2021-February-22
"The Islamic Republic of Iran's foreign policy has always been based on the principle of honor, wisdom and expediency and on constructive negotiations and interaction with the world, specially the regional states. However, we believe renegotiation with the US on agreed issues (in the nuclear deal) as a redline in the Islamic Republic and we consider our defense and missile issues as non-negotiable," the statement issued in the 8th official meeting of the Assembly said.
It also stressed that the US policy of cruel sanctions and maximum pressure against Iran has failed thanks to the Iranian nation's resistance, said "another irrational US president (Trump) is now in the dustbin of history" but the Islamic Republic continues its path powerfully.
"The global arrogance should know that the return or non-return of the US to the nuclear deal leaves no impact on the resistance of the honorable Iranian people, and their return to the nuclear deal without the practical removal of sanctions is not beneficial and is even harmful," the statement said.
In relevant remarks earlier today, Iranian Foreign Ministry Spokesman Saeed Khatibzadeh declared that Tehran will never hold talks on its defense and missile program.
He underlined that Iran "will not hold talks or make concessions on its national security and defense power and everyone is aware of this and there is no need to repetition".
Also in their Monday meeting, members of Iran's Assembly of Experts re-elected Ayatollah Ahmad Jannati as the chairman of the body, which is empowered to appoint the Leader of the Islamic Revolution and supervise his performance.
They also re-elected Ayatollah Mohammad Ali Movahedi Kermani as the first deputy and Ebrahim Rayeesi, who is also the head of the Judiciary, as the second deputy of the assembly.
Speaking at the event, Ayatollah Jannati paid homage to Lieutenant General Qassem Soleimani, who was assassinated during a US strike in Iraq on January 3, 2020, directly ordered by former US President Donald Trump.
"May God damn Trump and America and those who played a role in the assassination of this beloved martyr and made a nation suffer his loss," he said.
The Americans did not dare respond to Iran's attack against Ain al-Assad airbase in western Iraq, where US forces were stationed, said Ayatollah Jannati, who is also the head of the Guardian Council, an oversight body which examines the qualifications of candidates in elections.
https://www.farsnews.ir/en/news/13991204000688/Assembly-f-Expers-N-Negiain-n-Iran%E2%80%99s-Defense-Missile-Pwer
--------
Tehran, Seoul Agree on Transfer of Iran's Assets from South Korea
2021-February-22
In a meeting held at the request of South Korean embassy in Tehran, Hemmati welcomed the approach by South Korea, reiterating, "Iran, however, would stand up for its rights regarding damages caused by non-cooperation by Korean banks in recent years."
"The Islamic Republic of Iran has been denied to use its assets with [South] Korean banks, due to those banks' full cooperation with the US maximum pressure against Iran," he continued.
Yu Jang Hian, for his part, said that his government is ready to take any measure required to transfer all Iran's assets in South Korea and there was no cap or limitations.
During the meeting, an agreement was reached on transfer of Iran's assets to specified destinations and CBI's decision on amount of the transfer and destination banks.
In relevant remarks in mid-February, Iran's Vice-President for Legal Affairs Laya Joneidi said that if diplomatic ways fail to relieve frozen assets from South Korea, the country will initiate proceedings with international courts to get access to its money.
Joneidi said that if diplomacy does not work with regards to unfreezing the crude money in the banks of Seoul, the Islamic Republic will take recourse to international courts to unblock its assets.
She noted that preparatory works for taking legal actions have been carried out.
"The US is also trying to block Iran's assets in Europe in a bid to enforce the verdicts of its domestic courts against Iran," the official went on to say.
https://www.farsnews.ir/en/news/13991204000641/Tehran-Sel-Agree-n-Transfer-f-Iran%E2%80%99s-Asses-frm-Sh-Krea
--------
Rouhani: Unity of Sanctioned Nations Only Way to Counter US Illegal Moves
2021-February-22
Rouhani, in a phone call with his Turkish counterpart Recep Tayyip Erdoğan, said that the countries that have been sanctioned by the US have no way but to get united to thwart these sanctions.
He voiced his support for Turkey against the US sanctions and underlined strengthening cooperation between Tehran and Ankara for countering common threats.
Rouhani called for implementation of the agreements of the 6th Meeting of the Turkey-Iran High Level Cooperation Council and expressed Iran's readiness to host the 28th Session of the Iran-Turkey Joint Economic Commission.
He highlighted Iran-Turkey-Russia cooperation to solve the Syrian crisis.
President Erdoğan, for his part, stressed expanding mutual ties, holding the joint commission meeting, promoting trade ties, and holding effective talks for strengthening the regional peace and security.
He also stressed the usage of all capacities to remove the cruel and illegal US sanctions.
In relevant remarks in December last year, Iran's Foreign Minister Mohammad Javad Zarif strongly condemned the US unilateral sanctions against Turkey's defense industry, and voiced the Islamic Republic's solidarity with the Turkish government and nation.
https://www.farsnews.ir/en/news/13991204000594/Rhani-Uniy-f-Sancined-Nains-Only-Way-Cner-US-Illegal-Mves
--------
Iranian lawmakers criticize Tehran's deal with IAEA on snap nuclear inspections
22 February ,2021
Iranian lawmakers protested on Monday against Tehran's decision to permit "necessary" monitoring by the UN nuclear watchdog for up to three months, saying the move broke a law mandating an end to the agency's snap inspections this week.
"The government has no right to decide and act arbitrarily," said Mojtaba Zolnour, chairman of the parliament's national security committee, according to Iranian state media.
"This arrangement is an insult to the parliament."
Iran has been gradually breaching terms of a 2015 nuclear pact with world powers since then US President Donald Trump withdrew from it in 2018 and reimposed sanctions. The pact aims to keep Iran at arm's length from being able to make nuclear arms, which Tehran says it has never wanted to build.
Under the deal, Tehran agreed to implement the Additional Protocol, which allows the International Atomic Energy Agency (IAEA) to carry out short-notice inspections at locations not declared to it.
But to pressure President Joe Biden's administration to lift sanctions, Iran's hardline-dominated parliament passed a law last year obliging the government to end implementation of the Protocol from Tuesday if US sanctions are not lifted.
To create room for diplomacy, the UN nuclear watchdog on Sunday reached a deal with Iran to cushion the blow of Iran's reduced cooperation with the agency and its refusal to permit short-notice inspections.
Under the new agreement, while the number of the IAEA inspectors on the ground will remain the same, Iran has said it will withhold footage recorded by cameras at some of its facilities from the IAEA for the time being, Iranian authorities said.
Iran has not said which cameras at which facilities, but the Additional Protocol Iran is scrapping does generally extend IAEA monitoring to some activities such as uranium mining.
If Washington lifts the sanctions in that period of up to three months, Iran's IAEA envoy Kazem Gharibabadi tweeted, Iran will share the data with the agency.
"Otherwise the data will be destroyed by Tehran forever," Gharibabadi said on Twitter.
But several prominent lawmakers criticized the agreement, accusing the government of "bypassing the law."
The IAEA, in a statement on Sunday, said it would continue "necessary verification and monitoring activities for up to three months", without specifying what those activities are.
However, Iran's foreign ministry on Monday said Tehran would continue implementing the Comprehensive Safeguards Agreement, its core obligations to the agency that allow for monitoring of its declared nuclear facilities.
Both Tehran and Washington say they are willing to come back into compliance with the badly eroded nuclear deal if the other side moves first.
https://english.alarabiya.net/News/middle-east/2021/02/22/Iran-nuclear-deal-Iranian-lawmakers-criticize-Tehran-s-deal-with-IAEA-on-snap-nuclear-inspections
--------
Ma'rib battle: Yemeni army close to retaking city from Saudi-led forces
23 February 2021
Victory appears to be on the horizon in the heated battle for Yemen's strategic central province of Ma'rib as army troops, backed by allied fighters from Popular Committees, have reportedly taken control of most areas there and dislodged Saudi-led coalition forces and Riyadh-backed militants from those regions.
A Yemeni military source, speaking on condition of anonymity, told the Arabic service of Russia's Sputnik news agency that Yemeni soldiers and their allies had encircled Ma'rib city, following weeks of fierce clashes with Saudi-led coalition forces and their mercenaries.
The source added that Yemeni forces had cut off the main supply route into the eastern flank of Ma'rib, which leads to the Arab country's largest province of Hadhramaut.
"After gaining complete control over all the heights overlooking the city of Ma'rib from all directions, mopping up operations to clear the last remaining pockets of al-Qaeda elements and mercenaries of the aggressors (Saudi-led coalition) are only a matter of time," he pointed out.
'Qaeda-affiliated Salafist Islah Party transferring militants to Ma'rib'
Meanwhile, the governor of Yemen's southern province of Aden has warned that the al-Qaeda-affiliated Salafist Islah Party is transferring Takfiri militants from southern areas to Ma'rib to join the ranks of Saudi-led coalition forces and Hadi loyalists in battles against Yemeni soldiers and their allies.
"The Islah Party, which is on the verge of collapse in Ma'rib, is brining Takfiri militants from several regions, mostly from southern provinces under the occupation of Saudi Arabia and the United Arab Emirates (UAE), into Ma'rib," Tariq Salem told Yemen's official Saba news agency.
He stressed the need to confront the deployment of such terrorists, who are seeking to carry out target killings and criminal schemes in Ma'rib in the face of the anticipated triumph of Yemeni armed forces and their allies.
"What people in the southern [Yemeni] provinces are enduring is the result of continued [Saudi-UAE] occupation and the influx of Takfiri militants. It is highly worth taking into consideration that no Yemeni citizen, either in Ma'rib or elsewhere in the country, must subject their families, their properties as well as public interests to danger," Salem pointed out.
Pro-Hadi battalion defects to Yemeni army: Reports
Furthermore, Yemeni media reports say an entire battalion loyal to former Riyadh-backed president Abd Rabbuh Mansur Hadi has defected to the Yemeni army and allied fighters from Popular Committees.
Over the past few weeks, Ma'rib has been the scene of large-scale operations by the Yemeni troops and allied Popular Committees fighters, who are pushing against Saudi-backed Hadi supporters.
The Daesh Takfiri terrorist group said last week that it had carried out operations against the Yemeni armed forces in the province, killing and wounding a number of them in the process.
Saudi-led forces violate Hudaydah truce 148 times in 24 hours
Separately, an unnamed source in Yemen's Liaison and Coordination Officers Operations Room said that during the past 24 hours, forces of the Saudi-led military coalition and their mercenaries have breached 148 times an agreement reached between the warring sides during a round of UN-sponsored peace negotiations in Sweden in December 2018.
The source at the monitor added that the violations in the western coastal province of Hudaydah included formation of fortification lines near 50th Street, al-Jabaliya and al-Mandhar neighborhoods, a dozen reconnaissance flights over Hays, al-Durayhimi and al-Tuhayat districts, 35 counts of artillery and mortar shelling, as well as 95 shooting incidents in various regions.
The Sweden deal included three provisions: a ceasefire along the Hudaydah front and the redeployment of armed forces out of the city and its port; an agreement on prisoner exchange; and a statement of understanding on the southern Yemeni city of Ta'izz.
UN: Some 400,000 Yemeni children under 5 severely malnourished
Meanwhile, the United Nations Under-Secretary-General for Humanitarian Affairs and Emergency Relief Coordinator, Mark Lowcock, has warned that some 400,000 Yemeni children under the age of five are so severely malnourished that they are in "their last weeks and months."
"We are running out of time," Lowcock said, noting that more than 16 million people are going hungry across Yemen, five million of whom are "just one step away from famine."
Saudi Arabia and a number of its regional allies launched the war on Yemen in March 2015, with the goal of bringing the government of ex-president Hadi, back to power and crushing the popular Ansarullah movement.
According to the United Nations, 80 percent of Yemen's 30 million people need some form of aid or protection. About 13.5 million Yemenis currently face acute food insecurity, UN data shows.
According to the latest figures released by the UN in December last year, over 230,000 people have been killed since the onset of the Saudi-led war.
Yemeni armed forces and allied popular groups, led by the Houthi Ansarullah movement, have gone from strength to strength against the Saudi-led invaders, and successfully defended Yemen against the aggression, leaving Riyadh and its allies bogged down in the country.
https://www.presstv.com/Detail/2021/02/23/645862/Yemeni-army-forces,-allies-very-near-in-fight-to-take-complete-control-of-Marib
--------
UAE-backed mercenaries tortured Yemeni journalist: HRW
23 February 2021
The so-called Southern Transitional Council (STC) militants, backed by the United Arab Emirates, have arbitrarily detained and possibly tortured a Yemeni journalist since last September, the Human Rights Watch says.
The Emirati-backed mercenaries have chained, threatened, and beat Adel al-Hasani to make him confess to using his work as a journalist to spy for foreign countries, a source close to the journalist said.
The Human Rights Watch and Mwatana for Human Rights both urged STC militants to immediately and unconditionally release al-Hasani.
They also urged the STC authorities to investigate and take action against those responsible for torturing or otherwise ill-treating al-Hasani.
"More and more journalists across Yemen are subjected to threats, intimidation, violence, or detention simply for doing their jobs reporting on the country," said Afrah Nasser, Yemen researcher at Human Rights Watch.
"The Southern Transitional Council's deplorable treatment of Adel al-Hasani further stains the appalling rights record of the STC and their UAE backers," said the researcher.
Human Rights Watch spoke with a source with direct knowledge of the circumstances of al-Hasani's detention, as well as three of his relatives, his lawyer, and four journalist colleagues. The source said that on September 17, around midday, STC forces stopped al-Hasani in his car at Al-'Alam checkpoint, at the eastern entrance to the Aden governorate, and detained him.
They took him to Dofus checkpoint in Abyan governorate where they kept him for a few hours alone in a room for interrogation, chaining and beating him with rifle butts. The interrogators wore uniforms that indicated they were members of a pro-STC force known as the Support and Reinforcement Brigades, the source said.
They later transferred al-Hasani to a different unknown detention center, where they also interrogated and beat him, the source said. On September 19, the STC forces transferred Al-Hasani to Bir Ahmed, an informal detention facility in a military camp the STC controls in al-Buraika district in Aden and kept him in solitary confinement until October 11.
The source said that the room in Bir Ahmed where al-Hasani was detained was filthy and did not have a toilet or drinking water access. During interrogation sessions, STC security personnel repeatedly threatened to kill al-Hasani's family if he did not confess to spying for foreign countries and groups. Later, on an unspecified date, the STC personnel forced al-Hasani to sign a document admitting that he was a spy.
Relatives of al-Hasani told Human Rights Watch that they received no information about him for 25 days after his arrest despite searching and asking about him in police stations and detention centers in Aden. They said that STC authorities denied that they were holding him, thus forcibly disappearing him. His relatives learned where he was only after he was transferred to al-Mansoura.
Al-Hasani, 35, is an investigative journalist, producer, and fixer for international journalists, based in the southern port city of Aden. In 2009, he co-founded the news website, Aden al-Ghad, which covers current affairs in Aden and across Yemen. Over the course of the Yemen war, he has worked with international freelance reporters and major media outlets, such as the BBC, CNN, Vice, and others.
He worked directly with CNN reporters who revealed in 2019 that Saudi Arabia and the UAE had transferred weapons purchased from the United States to al-Qaeda-linked forces, extremist forces, and other armed groups in Yemen, in violation of Saudi and UAE agreements with the US. The CNN report, for which al-Hasani was listed as a producer, received nominations for two News and Documentary Emmy awards in late 2020.
Human Rights Watch has documented numerous abuses by UAE-backed security forces in southern Yemen, including enforced disappearances, arbitrary detentions, and inhumane detention conditions during the Covid-19 pandemic.
In a September 2020 report, the UN Group of Eminent Experts on Yemen found that the UAE was continuing its air operations and support for local Yemeni forces on the ground in southern Yemen, despite apparently withdrawing most of its ground troops in mid-2019.
"The UAE claims that it is no longer involved in the Yemeni armed conflict, but its backing of abusive local forces makes it responsible for their rampant abuses," said Radhya Almutawakel, the chairperson of Mwatana for Human Rights.
"The UAE should end its support of abusive forces. Facilitating the prompt release of al-Hasani would be a good place to start."
Saudi Arabia and a number of its regional allies launched the campaign against Yemen in March 2015, with the goal of bringing Hadi's government back to power.
The US-based Armed Conflict Location and Event Data Project (ACLED), a nonprofit conflict-research organization, estimates that the war has claimed more than 100,000 lives for more than the past five years.
The Saudi regime has, however, failed to fulfill the objective of its deadly campaign.
The war has also taken a heavy toll on the country's infrastructure, destroying hospitals, schools, and factories. The UN says over 24 million Yemenis are in dire need of humanitarian aid, including 10 million suffering from extreme levels of hunger.
https://www.presstv.com/Detail/2021/02/23/645857/UAE-Yemen-war-HRW-journalist
--------
COVID-19 vaccination begins in blockaded Gaza Strip
23 February 2021
Ashraf Shannon
The Gaza Strip began its Coronavirus vaccination campaign using the Russian Sputnik 5 vaccine. Medical workers will be the first to receive the jabs.
The vaccination comes after long delays by the Israeli regime that only allowed a small shipment of the vaccine to reach Gaza last Thursday after coming under heavy criticism by human rights organizations.
Another shipment of the Russian vaccine arrived in through the Egyptian controlled Rafah crossing on Sunday. Nearly fifty five thousand people in the blockaded Gaza Strip have been infected with the Coronavirus mostly since late August 20. Some 550 Gazans have also died of COVID-19.
Local authorities in the Gaza Strip struggled for months to lower the Coronavirus infection rates through strict measures. The Israeli blockade has compounded the struggle of health workers in Gaza, undermining their efforts to contain and track the spread of the Coronavirus.
Hundreds of Gazan patients have already lost their lives in recent years due to the Israeli regime's inhumane practices under the watchful eye of the international community. As vaccination begins in the blockaded enclave experts say Tel Aviv must end its illegal policies and remove any barriers that may hinder Palestinians from accessing proper medical care.
https://www.presstv.com/Detail/2021/02/22/645855/COVID-19-vaccination-begins-in-the-blockaded-Gaza-Strip
--------
Turkish authorities investigating pro-Kurdish lawmaker over PKK affiliation
22 February 2021
Turkish authorities have launched a probe against a legislator from the pro-Kurdish Peoples' Democratic Party (HDP) on suspicion of affiliation to the Kurdistan Workers' Party (PKK) militant group.
Ankara Chief Public Prosecutor's Office took the measure against Dirayet Dilan Taşdemir on Sunday, after Interior Minister Suleyman Soylu told Turkish-language A Haber television news network the previous day that the 38-year-old lawmaker had recently visited the northern Iraqi region of Gara.
The probe came after Turkey's military chief said earlier this month that PKK militants had killed 13 Turkish civilians in northern Iraq.
"In a search of a cave taken under control, the bodies of 13 of our abducted citizens were found. In a first inspection it was determined that 12 of our innocent and unarmed citizens were shot in the head and martyred and one shot in the chest and martyred," Turkish Defense Minister Hulusi Akar said.
"According to initial information given by two terrorists captured alive, our citizens were martyred at the start of the operation by the terrorist responsible for the cave," he noted at the operation's control center near the Iraq border, which he was visiting with military officials.
The PKK said the 13 men had died when Turkish forces bombed the cave, where the captives were being kept.
Taşdemir dismissed Soulu's allegations in a post published on her Twitter page, and described them as "a big lie and slander."
"The interior minister of this country made a statement giving my name based on the so-called accounts of one person. We will prove that this is a giant lie and slander," she wrote.
The Turkish government has long accused the HDP of having links to the PKK, which is listed as a terrorist group by Turkey, the US as well as the EU, and has been calling for an autonomous Kurdish region since 1984.
In January, the 21st Heavy Penal Court in Ankara found former HDP lawmaker Ferhat Encu guilty of sharing pro-PKK posts on his social media accounts, calling for an uprising against the Ankara government, and working to split up a portion of the Turkish territory. He was sentenced to six years, nine months and seven days in jail.
A court in Turkey's southeastern Kurdish city of Diyarbakir also sentenced former Kurdish MP Leyla Guven to more than 22 years in prison on terror-related charges back on December 21 last year.
The court also issued an arrest warrant against the 55-year-old former member of parliament from the HDP.
https://www.presstv.com/Detail/2021/02/22/645834/Turkish-authorities-investigating-pro-Kurdish-lawmaker-over-PKK-affiliation
--------
Yemeni prisoners committee says Amman swap talks failed
22 February 2021
Abdullatif Al-Washali
After weeks of negotiating in Amman, the head of Yemen's National Committee for Prisoners Affairs says the talks have ended without making any progress due to the inflexible approach of the delegation of former government, backed by Saudi Arabia. The committee says it has made several proposals to overcome the differences, all in vain.
A member of the Supreme Political Council, Mohammed Al-Houthi, described the Saudi-backed delegation's refusal of swap deals as a crime. He said the failure of talks is a message from Saudi Arabia and its allies that they are not serious about any solution that may end the suffering of the Yemenis. He said their calls for peace are not in line with any real action.
More than 15,000 Yemenis were captured in battlefronts by both warring sides since the beginning of the war in March 2015. Of these prisoners, only more than one-thousand were released in 2020 under a UN-brokered deal, while hundreds of others have been freed through local negotiations.
The release of thousands of Yemenis from Saudi prisons needs more efforts by the United Nations to pressure the representatives of the former government and the Saudi-led coalition to stop hampering the swaps.
https://www.presstv.com/Detail/2021/02/22/645835/Yemeni-prisoners-committee-says-Amman-swap-talks-failed
--------
Africa
A critical look at what's missing from Muslim education in South Africa
February 23, 2021
Political and social landscapes are shifting in most liberal democracies, and one of the issues coming under the spotlight is the purpose and legitimacy of faith-based schools. The South African Schools Act makes provision for the establishment of independent schools, which includes privately run and faith-based schools.
Muslim schooling in the country has its roots in the forced migration of slaves and political prisoners from Indonesia and the Indian sub-continent, which lasted until 1834. It has endured through different political milieus – colonisation, apartheid and now democracy – and a changing Muslim world.
Because Muslim schooling has been, and still is, partially informal, it's difficult to say exactly how many schools and learners there are in the country. Taking into account statistics from the Association of Muslim Schools and provincial directories, a conservative estimate would be 96 formally registered schools.
In today's South Africa, few would argue against the right of Muslim-based schools to exist. Like other faith-based schools, they serve as an expression of human and religious rights, and so are a necessary and desired feature of diverse societies.
But there's a concern among scholars that Muslim schooling and education in South Africa has remained unchanged in its ideas and the way it's taught. The worry is that Muslim schools and communities may be too isolated and may not adequately prepare its learners or its teachers for the demands of a pluralist and diverse society.
In a recent journal paper we have argued that despite vast shifts in its socio-political contexts, Muslim education has remained closed off from broader political discourses. We raise the question of whether the cocooning of Muslim education has rendered its educational institutions and communities incapable of self-critique, reflection and interrogation, and hence, unprepared to adequately prepare its learners for a democracy?
More of the same
Muslim-based schools in democratic South Africa slip into two distinct camps – influenced by the historical heritage of Islam – of either a predominant "Malay" or "Indian" ethos. Because these schools are classified as independent, they don't enjoy full state support. They rely on school fees or the generosity of donors. These fees are often out of the reach of black Muslim communities, who, despite immense political reform, continue to suffer economic marginalisation.
The result is that Muslim-based schools have retained the same racial and cultural exclusivity as that enforced during apartheid. This suggests particular implications not only for whether learners at these schools are equipped for dealing with those who are different to themselves, but also how these learners conceive of themselves in pluralist society.
Furthermore, Muslim-based schools, like all other schools irrespective of whether they are public or independent, are obligated to implement the national curriculum of South Africa. Often, the curricula of Muslim-based schools are characterised by additional subjects such as Arabic, Qur'anic studies and Fiqh.
Pedagogical practices at these schools reveal an overwhelming reliance on memorisation and rote learning. Seemingly, scant attention is given to critical thinking and consciousness. Teaching and learning are largely constructed along dichotomous lines of the teacher as the only authority and the learner as a passive recipient.
This kind of teaching is closed off to deliberation and debate. Learners don't get the skills to make sense of who they are in relation to others, and their worlds.
What needs to be done
All schools in a democracy have an obligation to ensure that the type of education which they advance speaks to pluralism, diversity, mutual recognition and peaceful co-existence. A democracy is reliant on democratic forms of engagement, which necessarily implies a willingness to engage with divergent views. The fact that Muslim-based schools, as well as all other faith-based schools, exist in a democracy implies that they ought to contribute to that democracy.
The value of any form of education lies in its ability to respond to the broader society. If education fails to address social problems of exclusion, marginalisation and violence, then it has not fulfilled its responsibilities. It needs to be rethought in line with the democratic aspirations of post-apartheid South Africa.
It doesn't make sense to practise Muslim education as separate from education in other schools, as if Muslim education were only concerned with the private, spiritual aspects of human life. Integrating it into the broader school curriculum would fuse the rational, emotional and spiritual dimensions of education and relate them to the public sphere.
Muslim education in South Africa's colonial and apartheid past has always been concerned with struggle and contestation. It should persist with the struggle to become more relevant and responsive to socio-political developments of the day.
The challenge of education is to bring opposites – like the secular and non-secular – into conversation and not to present them as out of touch with each other.
https://theconversation.com/a-critical-look-at-whats-missing-from-muslim-education-in-south-africa-153677
--------
Thousands of Algerians hit streets on Hirak protest movement anniversary
22 February ,2021
Thousands of Algerians marched on Monday in the capital and other cities to mark the second anniversary of the North African nation's anti-government "Hirak" protest movement, AFP journalists said.
It is the largest march seen in Algiers since the suspension of the Hirak marches on March 13, 2020 due to the COVID-19 pandemic.
The protest movement in April 2019 forced longtime president Abdelaziz Bouteflika into resigning.
On Sunday, Algerian President Abdelmadjid Tebboune announced a government reshuffle which saw few major changes, according to a list published by the presidency.
Among those keeping their posts are under-fire Prime Minister Abdelaziz Djerad and Justice Minister Belkacem Zeghmati, seen as a symbol of Algeria's judicial crackdown on protesters and opposition activists.
https://english.alarabiya.net/News/north-africa/2021/02/22/Protests-Thousands-of-Algerians-hit-streets-on-Hirak-protest-movement-anniversary
--------
Algerians mark second year of 'Hirak' protest movement
22 February 2021
Algerians have demonstrated in the capital and other cities to mark the second anniversary of the anti-government 'Hirak' protest movement, which helped force long-time President Abdelaziz Bouteflika from power in April 2019.
Monday's demonstration in the center of Algiers was the largest since March 2020, when the movement suspended protest gatherings in the wake of the Covid-19 pandemic.
Security forces desperately attempted to block protesters from gathering around the Grand Post Office in the capital city, which was at the heart of the mass protests that kicked off on February 22, 2019 to oppose Bouteflika's bid for a fifth term.
"We are not here to celebrate, but to demand your departure," the protesters shouted.
"The fateful hour has arrived," read one banner brandished by demonstrators.
The crowd also chanted slogans such as "A civilian state not a military state," "Enough is enough," and "The people want independence."
President Abdelmadjid Tebboune on Friday dissolved the lower house of parliament and called for snap legislative elections.
Tebboune, once a prime minister under Bouteflika, was elected in December 2019.
Zaki Hannache, a 33-year-old activist, said Hirak's supporters were unimpressed by the president's reshuffle and his call for early legislative polls.
"The reshuffle doesn't interest me, it's the same old people. Same thing with parliament, the new ones (deputies) will work, like the current regime, for their own interests, not for the people."
Elsewhere in the country, massive demonstrations were held in Annaba, Oran, Setif and Mostaganem.
In Algeria, the army has been at the helm since the country won its independence war against France in 1962.
https://www.presstv.com/Detail/2021/02/22/645843/Algeria-Hirak
--------
Libya's interior minister escapes 'well-planned' assassination attempt in capital
22 February 2021
Libya's interior minister, Fathi Bashagha, has survived a "well-planned" assassination attempt by gunmen in the capital Tripoli.
According to a statement by the ministry, the gunmen encroached on Bashagha's convoy on an armored Toyota truck fitted with a machine gun, and opened fired on the motorcade, as the minister was on his way "returning from his residence in Janzur."
One of Bashagha's guards and one of the assailants were killed in an exchange of fire that followed.
An interior ministry official confirmed that Bashagha is safe and unharmed.
The guards pursued the escaping vehicle, but it overturned and they were able to arrest two people at last.
Bashagha told Reuters that, "It is not an incident that came by chance, but was well-planned."
Condemning the incident, UN special envoy for Libya, Jan Kubis, said on twitter that such "reckless" attempts are aimed at "derailing the political process" and threaten "the stability and security" of the country.
The shooting came as the Government of National Accord (GNA), in which Bashagha serves, prepares to establish a new interim government in a process led by the United Nations.
Libya had experienced a period of relative calm in the recent weeks, although heavy gunfire could be heard from central Tripoli over the weekend.
The country has been grappling with unchecked violence since the overthrow of former dictator Muammar Gaddafi in 2011 during an operation backed by the Western alliance of NATO.
Since 2014, two rival seats of power have emerged in Libya, namely the UN-recognized government based Tripoli, and another camp based in the eastern city of Tobruk, backed militarily by armed rebels.
https://www.presstv.com/Detail/2021/02/22/645786/Libyan-Interior-Minister-Escapes-Assassination-Attempt
--------
Suicide bomber strikes near Somali mall, police station
Mohammed Dhaysane
23.02.2021
MOGADISHU, Somalia
A suicide bomber blew himself up near a busy shopping mall and a police station in the Somali capital Mogadishu on Tuesday, officials said, with no casualties as yet confirmed.
"A man blew himself up between the Mogadishu Mall and the Hamar Weyne District Police Station in Mogadishu," said Ismail Mukhtar Oronjo, spokesman for the Information Ministry.
"He exploded while security forces were chasing him after the police identified him as a suspect before the bomb went off."
Eyewitness who spoke to Anadolu Agency over the phone said that they saw at least two people wounded.
Hamar Weyne is a major commercial district in Mogadishu and the second-busiest market in the capital.
No group has yet claimed responsibility for the attack, but terrorist group al-Shabaab, affiliated with al-Qaeda, has claimed responsibility for recent attacks in the Horn of African country.
https://www.aa.com.tr/en/africa/suicide-bomber-strikes-near-somali-mall-police-station/2154082
--------
UN envoy for Libya calls for compliance with cease-fire
Abdelrahman Fathy, Ramadan Mohamed, Hamdi Yildiz
23.02.2021
A UN official has called on all parties in Libya to comply with a cease-fire agreement signed last year, according to a statement issued Monday by the United Nations Support Mission in Libya (UNSMIL).
Jan Kubis, the UN secretary-general's special envoy for Libya and head of UNSMIL, held talks with the parties in the country for a week and advised them to implement UN resolutions, including the expulsion of foreign powers and mercenaries.
The statement emphasized that Kubis will continue to support efforts to reach the constitutional-based agreement necessary for holding elections in December 2021.
Delegations of Libya's warring parties signed a permanent cease-fire agreement last October in Geneva for a truce with immediate effect in all areas of the country.
During his visit to Libya, Kubis met with the president of the Tobruk House of Representatives, Aguila Saleh, on Feb. 17 and the leader of the illegitimate armed forces in the east of the country, Khalifa Haftar, on Feb. 19.
In his statement last Saturday, Kubis had said that he would continue to support Mohammad Younes Menfi, who was elected president of Libya's interim government, and Abdul Hamid Mohammed Dbeibah the prime minister.
Dbeibah, who will serve as prime minister until presidential and parliamentary elections on Dec. 24, is expected to form his cabinet by Feb. 26 at the latest and present it to the House of Representatives to receive a vote of confidence.
https://www.aa.com.tr/en/africa/un-envoy-for-libya-calls-for-compliance-with-cease-fire/2153755
--------
North America
Canada's parliament passes motion saying China's treatment of Uighurs is genocide
February 23, 2021
OTTAWA: Canada's parliament passed a non-binding motion on Monday saying China's treatment of the Uighur Muslim minority in the Xinjiang region constitutes genocide, putting pressure on Liberal Prime Minister Justin Trudeau's government to follow suit.
Canada's House of Commons voted 266-0 for the motion brought by the opposition Conservative Party. Trudeau and his Cabinet abstained from the vote, although Liberal backbenchers widely backed it.
The motion was also amended just before the vote to call on the International Olympic Committee to move the 2022 Winter Olympics from Beijing if the treatment continues.
Trudeau's Conservative rivals have been pressuring him to get tougher on China. After Canada arrested Huawei Chief Financial Officer Meng Wanzhou in 2018 on a US warrant, China detained two Canadians on spying charges, igniting bilateral tensions that still linger.
China has been widely condemned for setting up complexes in Xinjiang that it describes as "vocational training centers" to stamp out extremism and give people new skills, and which others have called concentration camps. Beijing denies accusations of rights abuses in Xinjiang.
Citing testimony, documents and media reports of human rights abuses against Uighurs, Conservative lawmaker Michael Chong said: "We can no longer ignore this. We must call it for what it is — a genocide."
Chinese foreign ministry spokesman Wang Wenbin said on Tuesday the motion "disregards facts and common sense," adding that Beijing had "lodged stern representations" with Canada.
Cong Peiwu, the Chinese ambassador to Ottawa, denied accusations of genocide.
"Western countries are in no position to say what the human rights situation in China looks like," Cong said in an interview before the vote. "There is no so-called genocide in Xinjiang at all."
Trudeau Caution
Trudeau has been reluctant to use the word genocide, suggesting that seeking broad consensus among Western allies on Chinese human rights issues would be the best approach.
"Moving forward multilaterally will be the best way to demonstrate the solidarity of Western democracies ... that are extremely concerned and dismayed by reports of what's going on in Xinjiang," Trudeau said on Friday after speaking to fellow G7 leaders.
Trudeau and US President Joe Biden will hold a virtual bilateral meeting on Tuesday afternoon, and relations with China are likely to be discussed, a government source said.
Former US President Donald Trump — on his last full day in office last month — said China had committed "genocide and crimes against humanity" by repressing Uighur Muslims.
The Biden administration is trying to ensure that the genocide declaration is upheld, according to his pick to be ambassador to the United Nations, Linda Thomas-Greenfield.
https://www.arabnews.com/node/1814286/world
--------
US seeks to 'lengthen,' 'strengthen' nuclear deal with Iran: Blinken
22 February ,2021
The United States will seek to strengthen and extend the agreement between world powers and Iran aimed at curbing its nuclear program, Secretary of State Antony Blinken said on Monday.
The UN nuclear watchdog said on Sunday it had struck a deal with Iran to cushion the blow of steps Tehran plans to take this week that include ending snap inspections, with both sides agreeing to keep "necessary" monitoring for up to three months.
The announcement by International Atomic Energy Agency (IAEA) chief Rafael Grossi, made at Vienna airport after a weekend trip to Iran, confirmed that Tehran would go ahead with its plan to slash cooperation with the agency on Tuesday.
Blinken, addressing the UN-sponsored Conference on Disarmament in Geneva, said in a pre-recorded speech: "The United States remains committed to ensuring that Iran never acquires a nuclear weapon. Diplomacy is the best path to achieve that goal."
President Joe Biden has said that if Iran comes back into "strict compliance" with the 2015 pact, his administration will do the same, Blinken said.
"Working with allies and partners, we will also seek to lengthen and strengthen the JCPOA (Joint Comprehensive Plan of Action) and address other areas of concern, including Iran's destabilizing regional behavior and ballistic missile development and proliferation," Blinken said.
"Iran must comply with its safeguards agreements with the IAEA and its international obligations," he added.
https://english.alarabiya.net/News/middle-east/2021/02/22/US-seeks-to-lengthen-strengthen-nuclear-deal-with-Iran-Blinken-
--------
US special envoy for Yemen heading back to region for second time in a month
22 February ,2021
The US envoy seeking to end Yemen's brutal war headed back to the region Monday as Iran-backed Houthis press ahead with an offensive to take the government's last northern stronghold.
Tim Lenderking, named by President Joe Biden in his first days in office in a sign of renewed US effort to address the humanitarian catastrophe, will visit several Gulf nations on a trip that will last through March 3, the State Department said.
His discussions "will focus on the United States' dual-track approach to end the conflict in Yemen: a lasting political solution and humanitarian relief for the Yemeni people," a statement from the State Department said, without specifying his exact stops.
Lenderking was in the region less than two weeks ago when he held talks in Saudi Arabia, a US ally to which Biden has pledged to cut off support for offensive operations in Yemen amid outrage over civilian casualties.
On his return to Washington, Lenderking said the administration was working "to energize international diplomatic efforts with our Gulf partners, the United Nations and others to create the right conditions for a ceasefire and to push the parties toward a negotiated settlement to end the war in Yemen."
The diplomacy comes as the Houthis shrug off international calls for restraint and seek to capture Marib, the government's last major bastion in the north which lies next to some of Yemen's richest oil fields.
The Biden administration in one of its first moves ended a last-minute designation by former president Donald Trump's team of the Iranian-linked Houthis as a terrorist organization.
The move came after humanitarian groups warned that the designation would severely hinder operations in a country where 80 percent of people survive thanks to aid.
https://english.alarabiya.net/News/gulf/2021/02/22/US-special-envoy-for-Yemen-heading-back-to-region-for-second-time-in-a-month
--------
Saudi govt. complicit in shooting spree at US naval base: Victims' families
23 February 2021
The families of the victims of a 2019 mass shooting by a Saudi air force officer at a naval base in the US state of Florida have sued Riyadh for complicity in an "act of international terrorism."
The families of the three US service members killed and 13 others who were severely injured at the Naval Air Station Pensacola filed the lawsuit in federal court in Pensacola City on Monday, saying the Saudi government knew of the assailant's plans and association with the al-Qaeda terrorist group.
The attack took place at training facilities for foreign militaries at the naval base on December 6, 2019.
The shooter, who was identified as Royal Saudi Air Force flight student Mohammed Alshamrani, was killed by local law enforcement during the incident.
US authorities said the assailant had been preparing for the attack for years, and had expressed Takfiri ideology and communicated with al-Qaeda operatives via an encrypted cell phone.
The FBI said Alshamrani contacted al-Qaeda the night before the shooting.
The claimants said in the lawsuit that the shooter's colleagues and the Saudi government were all aware of his Takfiri turn and anti-American views, which "were publicly associated with a Twitter account bearing his name" even before he joined the air force.
His social media accounts were followed and commented on by Saudi government officials and air force colleagues.
"Throughout Alshamrani's service with the Royal Saudi Air Force, Alshamrani regularly posted radical fundamental ideology on his social medial accounts, including anti-American and anti-Jewish ideology," the suit said.
It said that the fellow members of his group and an unnamed top air force official who oversaw them were aware of his schemes.
That makes the Saudi government complicit in an "act of international terrorism" and therefore, Riyadh is not protected from lawsuits by the US Foreign Sovereign Immunity Act, the families said.
They also emphasized that the Riyadh government had not made good on promises to compensate the families of the victims.
"The time of empty promises is over," the lawsuit said.
"The Kingdom of Saudi Arabia let this happen. While the prior White House administration refused to even call me, this one must do its part to stop coddling the Saudi regime and hold them accountable," ABC News quoted Shane Walters, the father of Cameron Walters, who was killed in the attack, as saying on Monday.
Following the shooting rampage, 21 Saudi military cadets were expelled from the naval base, and the training program was halted for several months until stronger vetting procedures could be implemented for the members of the Saudi military.
https://www.presstv.com/Detail/2021/02/23/645871/Saudi-govt--complicit-in-shooting-spree-at-US-naval-base--Victims--families
--------
Europe
Muslim Council of Britain urges government to end non-engagement policy
February 22, 2021
LONDON: The Muslim Council of Britain (MCB), the country's largest Muslim civil society organization, has urged ministers to reconsider their policy of non-engagement with it, saying this has had "tragic consequences" throughout the coronavirus pandemic.
The MCB asked whether "similar faith-based, democratic bodies are excluded in this way" at a time when there is concern about the levels of vaccine uptake among members of minority communities, including the UK's 2.5 million Muslims.
The MCB's work throughout the pandemic has included detailed guidance across a range of issues for individuals and mosques.
Its work has received praise from the government's Scientific Advisory Group for Emergencies.
But the MCB has been blacklisted by the government since 2009 after some of its leaders were accused of supporting violence against Israel.
Since then, communication between the MCB and the government has been inconsistent. The organization said contact was completely cut off last March.
"The tragic consequences of such a policy were seen at the height of the pandemic, when civil servants unexpectedly ceased engaging with the MCB, without providing a reason," said a spokesperson for the organization.
"This took place at a time when both parties were working hard to provide vital information and guidance to Muslim communities, and whilst government ministries were sharing our work."
Muslims in the UK have found themselves at the sharp end of the pandemic. Last June, official data found that Muslim men and women had the highest fatality of any faith group during the period of March 1 to May 15.
They also have lower vaccination rates than average, due partly to misinformation surrounding the vaccines' ingredients and health effects.
Earlier this month, the MCB announced that it had elected its first female leader, Zara Mohammed.
Her election, it said, "represents an opportunity for both the MCB and the government to come together and discuss areas where we could work together for the common good."
https://www.arabnews.com/node/1813981/world
--------
Germany urges Iran to comply with nuclear pact, expects 'compliance, transparency'
22 February ,2021
German Foreign Minister Heiko Maas called on Monday for salvaging the 2015 nuclear pact between Iran and world powers which he said was in Tehran's interest.
Addressing the UN-sponsored Conference on Disarmament in Geneva, he noted the Biden's administration's stated readiness to rejoin the pact, adding: "It is in Iran's best interest to change course now, before the agreement is damaged beyond repair."
Maas said that Germany expected "full compliance, full transparency and full cooperation" from Iran with the International Atomic Energy Agency (IAEA), whose chief Rafael Grossi returned on Sunday from a trip to Tehran.
Iran on Monday hailed as a "significant achievement" the outcome of a visit by the head of the UN nuclear watchdog and a temporary agreement they reached on-site inspections.
That deal effectively bought time as the United States, European powers and Tehran try to salvage the 2015 nuclear agreement that has been on the brink of collapse since Donald Trump withdrew from it.
https://english.alarabiya.net/News/middle-east/2021/02/22/Iran-nuclear-deal-Germany-expects-full-compliance-transparency-from-Iran-with-IAEA
--------
British arms sales to Saudi Arabia prolonging war in Yemen: Oxfam
22 February 2021
An international charity organization has rebuked the British government for allowing the export of air-to-air refueling equipment to Saudi Arabia, warning that the gear could prolong the Yemen war as it would be used to help the Saudi air force conduct indiscriminate bombing attacks in the Arab country.
Oxfam said that the technology was licensed to the Riyadh regime last summer when arms restrictions were lifted, and London approved an additional £1.4 billion ($1.96 billion) sale of other weapons, British daily newspaper the Guardian reported on Monday.
"As the US has called for an end to the conflict in Yemen, the UK is heading in the opposite direction, ramping up its support for the brutal Saudi-led war by increasing arms sales and refueling equipment that facilitate airstrikes," Sam Nadel, head of policy and advocacy at Oxfam, said.
On February 4, President Joe Biden announced an end to United States support for Saudi-led military offensive operations in Yemen.
However, a senior Yemeni official cast doubt on the purported intention of the new US administration, demanding that the Yemeni nation put up resistance in the face of the Saudi-led aggression and siege.
"The United States is seeking to lessen international hatred towards itself at the same time as building up pressure on Yemeni people through a blockade. The Yemeni nation is fairly familiar with such a ploy and trusts in God," Yemeni Information Minister Dhaifallah al-Shami said.
Late last month, Italy decided to halt arms exports to Saudi Arabia and the United Arab Emirates, which have been waging a devastating war on impoverished Yemen for years.
"Today I am announcing that the government has revoked the authorizations under way for the export of missiles and aircraft bombs to Saudi Arabia and the United Arab Emirates," Italian Foreign Minister Luigi Di Maio said.
He added, "[This is] an act that we considered due, a clear message of peace coming from our country. For us, respect for human rights is an unbreakable commitment."
Italy's Peace and Disarmament Network, a campaign group, hailed the move as "historic" and said the move would stop the supply of at least 12,700 bombs.
It "puts an end, once and for all, to the possibility that thousands of ordnance manufactured in Italy could strike civilian facilities, cause casualties among the population or contribute to worsening the already serious humanitarian situation", the group said.
This is while the UK has resisted pressure to follow suit as the humanitarian situation worsens in Yemen.
British Foreign Secretary Dominic Raab and International Trade Secretary Liz Truss agreed to a surge in arms exports to Saudi Arabia in the third quarter of last year, after they claimed following a court-mandated review that there were only "isolated incidents" of humanitarian law breaches in Saudi Arabia's atrocious military campaign against Yemen.
Oxfam also called on parties to the conflict in Yemen to adopt an urgent ceasefire, and on the UK to halt all arms exports that could be used in the crisis.
"The UK claims to support peace in Yemen. It can start by immediately ending the sale of all arms that risk being used against civilians and exacerbating the humanitarian crisis," Nadel added.
Saudi Arabia and a number of its regional allies launched the war on Yemen in March 2015, with the goal of bringing the government of former president, Abd Rabbuh Mansur Hadi, back to power and crushing the popular Ansarullah movement.
According to the United Nations, 80 percent of Yemen's 30 million people need some form of aid or protection. About 13.5 million Yemenis currently face acute food insecurity, UN data shows.
Ansarullah, backed by the Yemeni armed forces and allied popular groups, has gone from strength to strength against the Saudi-led invaders, and successfully defended Yemen against the aggression, leaving Riyadh and its allies bogged down in the county.
https://www.presstv.com/Detail/2021/02/22/645825/British-arms-sales-to-Saudi-Arabia-prolonging-war-in-Yemen,-Oxfam-says
--------
Bosnian Serb Declares Victory In Rerun Srebrenica Vote Amid Muslim Boycott
February 22, 2021
The candidate of Bosnian Serb parties says he has won a repeat of local elections in the town of Srebrenica despite a boycott of the vote by Bosnian Muslims.
Mladen Grujicic declared victory in his mayoral reelection bid in the eastern town that was the scene of the Bosnian war's worst atrocity when 8,000 Muslim men and boys were killed by Serb forces in July 1995.
Elections in Srebrenica and Doboj, in the north of the country, were repeated after numerous irregularities had been reported in the November 2020 local elections, dominated by Bosnian Serbs.
Grujicic told RFE/RL that "even if there had been no boycott by Bosniak (Bosnian Muslim) parties," the difference in the number of votes in his favor "would have been large" and he would have won reelection anyway.
Grujicic won the previous election in 2016, becoming the first Bosnian Serb to become mayor of Srebrenica since 1999.
In Doboj, where Bosnian Serbs make up about 70 percent of the population, incumbent Boris Jerinic of the Alliance of Independent Social Democrats (SNSD) also declared a "convincing" victory.
The SNSD said Jerinic won almost 70 percent of the vote.
In a news conference at midnight, Bosnia's Central Election Commission confirmed Grujicic and Jerinic's victories.
The turnout was almost 43 percent in Srebrenica and more than 55 percent in Doboj, the election commission announced.
The results of the February 21 repeat elections were almost certain to be challenged and exacerbate already high political tensions in the area.
Bosnian Muslims vowed to boycott the rerun in Srebrenica because, they said, officials haven't done enough to rectify the problems that marred first elections in November 2020 such as multiple voting and the discovery of caches of pre-marked ballots before voting began.
Moreover, the Bosniak parties complained, officials weren't including mail-in voters in the new elections.
Bosnia comprises two entities, the Muslim and Croat federation and the Serb-dominated Republika Srpska.
Srebrenica is regarded by some as a potential flashpoint for ethnic tensions because of the massacre, the worst mass killing in post-World War II Europe.
The massacre was labeled as genocide by international courts, but Serbian and Bosnian Serb officials refuse to accept that wording.
The episode came at the end of the 1992-95 Bosnian War pitting the Serbs against Bosniaks and Croats that claimed some 100,000 lives.
The country continues to struggle domestically and internationally under an ethnically based deal -- known as the Dayton Agreement -- that ended fighting among the sides.
https://www.rferl.org/a/bosnian-serb-declares-victory-in-rerun-srebrenica-vote-amid-muslim-boycott/31115527.html
--------
URL: https://www.newageislam.com/islamic-world-news/study-shows-people-with-violent/d/124377
New Age Islam, Islam Online, Islamic Website, African Muslim News, Arab World News, South Asia News, Indian Muslim News, World Muslim News, Women in Islam, Islamic Feminism, Arab Women, Women In Arab, Islamophobia in America, Muslim Women in West, Islam Women and Feminism