New Age Islam News Bureau
23 Jan 2018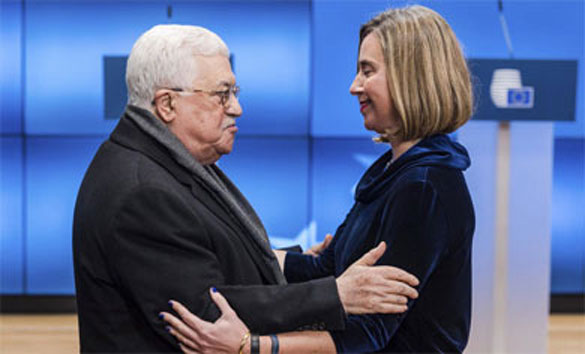 The European Union assured President Mahmoud Abbas it supported his ambition to have East Jerusalem as capital of a Palestinian state
-----
• Student Kills Pakistan College Principal after Accusing Him of Blasphemy
• 'Immediately Arrest or Expel Taliban from Your Soil,' Says US to Pakistan
• Ulema Council Calls Taliban Brutal Enemies after Deadly Hotel Attack
• Abbas Wins EU Backing for Palestinian Capital in East Jerusalem
• 'India's Bin Laden' Posed As English Teacher, Salesman on Forged Passport
Pakistan
• Student Kills Pakistan College Principal after Accusing Him of Blasphemy
• Pakistan Ulema Council Asks Kabul to Take Action against Afghan Ulema
• Refusing UN Team Access to Hafiz Saeed 'Makes World More Suspicious': Former Pak Diplomat
• Pakistan Ulema Council Launches Mass Contact Campaign to Highlight Paigham-i-Pakistan
• SC suspends death penalty of three hardcore terrorists
• Two terrorists shot dead in DG Khan Operation: ISPR
--------
North America
• 'Immediately Arrest or Expel Taliban from Your Soil,' Says US to Pakistan
• 'We Are In Your Home': After Losses, ISIS Steps Up Campaign to Inspire Attacks
• January 29 Should Be the National Day against Islamophobia
• US orders extra air cargo screening for 5 Muslim countries amid terrorism concerns
--------
South Asia
• Ulema Council Calls Taliban Brutal Enemies after Deadly Hotel Attack
• Taliban 'Searched For Foreigners' In Kabul Hotel Attack
• Bangladesh puts off Rohingya refugee return
• Key ISIS group member killed in US drone strike in Afghanistan
• Noor challenge Ghani and Abdullah in upcoming presidential elections
--------
Mideast
• Abbas Wins EU Backing for Palestinian Capital in East Jerusalem
• Dozens of Saudi Mercenaries Killed As Yemeni Forces Hit Base in Ta'izz
• Israeli forces detain Hamas-linked legislator in occupied West Bank
• Pence says US embassy in Jerusalem to open by end of 2019
• UN Security Council refrains from condemning Turkey
• UN envoy: Parties involved in Yemen to begin peace talks
--------
India
• 'India's Bin Laden' Posed As English Teacher, Salesman On Forged Passport
• Influenced By Hindu Culture, Muslim Man Gives Hindu Names to His Children
• Mughals Stood For Secularism, Inter-Religious Peace: Islamic Scholars
• Donald Trump imitates PM Modi during Afghanistan talks: report
--------
Arab World
• Anti-Terror States: Qatar's Provocations Undermining Security Will Be Confronted
• Militant Mortar Attack Kills 9 Syrian Civilians, Injures 21 In Damascus
• Syrian Army Takes Control of Key Abu Al-Dhohour City in Idlib Province
• Syria: Army Continues March on Al-Qaeda Positions in Idlib
• ISIL Retreats from another Region in Hama Countryside
• Turkish soldier killed during clashes with Kurds in Syria
--------
Southeast Asia
• Looted Cash, Gold Helps Islamic State Recruit in Philippines
• Philippines To Deport Hamas 'Rocket Scientist'
• In The Name Of Islamic Law, Christian Booze Seller Caned In Indonesia
• Malaysia Arrests Two Men Linked to Islamic State over Planned Attacks
• Mohamed Nasheed Warns Over China, Radical Islam
• All Muslims must fight corruption, says IRF
--------
Europe
• Suspect in London Van Attack on Muslims 'Ticking Time Bomb'
• Salford Man Pleads Guilty To 16 Terrorism Charges
• Finsbury Park: Man 'wanted to kill Muslims in van attack'
• EU: More engagement needed for solution in Jerusalem
• France called for UN Security Council meeting over Syria
--------
Africa
• Jordan's King Tells Pence U.S. Must Rebuild Trust after Jerusalem Decision
• Sudan refugee laments plan to imprison, deport Africans
Compiled by New Age Islam News Bureau
URL: https://www.newageislam.com/islamic-world-news/student-kills-pakistan-college-principal/d/114034
--------
Student Kills Pakistan College Principal after Accusing Him of Blasphemy
January 22, 2018
ISLAMABAD —
Police in north-western Pakistan say a student shot and killed his college principal on campus on Monday after accusing him of blasphemy.
The incident occurred at the private Islamia College in the north-western town of Charsadda. The shooter was arrested; according to area police Chief Zahoor Afridi.
Afridi explained that the slain principal, Sareer Ahmed, reprimanded one of his students for skipping classes to attend an Islamist rally supporting Pakistan's blasphemy laws. The argument angered the student, who fired six shots at Ahmed. Police arrived at the campus and took the shooter into custody along with his weapon. An investigation has been launched.
In a video recorded during the arrest, the unnamed student can be heard justifying his crime in the local Pashto language, saying he believed the college principal had committed blasphemy.
"I have been taught to kill the blasphemer and don't be afraid of disrespecting those who insult God. I, myself, killed him, and I confess it," proclaimed the 12th grade student.
The young man had travelled to Islamabad in November to participate in a sit-in protest organized by a radical Islamic group, Tehreek-e-Labaik, to denounce attempted changes in an electoral law for allegedly being blasphemous.
The protest paralyzed the national capital for three weeks and ended only after the government accepted all the group's demands, including removal of the federal law minister.
Under Pakistani blasphemy laws, insulting Islam's prophet is punishable by death. Mere accusations can stir mob violence and lynching of alleged blasphemers in the predominantly Sunni Muslim nation.
Last April, student Mashal Khan was beaten to death at his university campus in the nearby city of Mardan after fellow students accused him of posting blasphemous material on social media. The incident provoked widespread outrage and condemnation across Pakistan.
Police have since arrested nearly 60 people, including students and some faculty members, for playing a role in Khan's lynching.
Rights activists have long complained about misuse of blasphemy laws in Pakistan, where dozens of people have been murdered over unproven allegations of blasphemy.
https://www.voanews.com/a/student-kills-pakistan-college-principal-after-accusing-him-of-blasphemy/4219734.html
--------
'Immediately Arrest Or Expel Taliban From Your Soil,' Says US To Pakistan
Jan 23, 2018
NEW DELHI: After the weekend terror attack in Kabul that killed at least 22 people, many of them civilians, the US White House today told Pakistan in no uncertain terms that it needs to immediately arrest or expel the Taliban's leaders who operate from Pakistani territory.
"We call on Pakistan to immediately arrest or expel the Taliban's leaders and prevent the group from using Pakistani territory to support its operations," said Sarah Huckabee Sanders, White House spokeswoman.
The White House statement came even as the Trump administration has doubled down on the pressure on Pakistan, which it says provides safe haven to terrorists and terror groups that carry out attacks in Afghanistan and in India.
"Such attacks on civilians only strengthen our resolve to support our Afghan partners...Afghan forces with our support will continue to relentlessly pursue the enemies of Afghanistan who also seek to export terror around the world," said the White House spokeswoman.
Late on Saturday, terrorists armed with Kalashnikovs and suicide vests attacked the landmark Intercontinental Hotel overlooking the Afghan capital, in an assault that lasted more than 12 hours, reported various news agencies. The Taliban later took credit for the terror attack in which 14 non-Afghans were also killed.
Afghanistan blamed the Taliban-linked Haqqani militant group for the attack. Elimination of the group is a top priority for the US, which claims that Pakistan is doing absolutely nothing to crack down on the group. Worse, Pakistani intelligence and its army are said to covertly support the Haqqani Network.
The US earlier this month blocked $2 million in military assistance to Pakistan on this very issue, but Islamabad continues to claim it is innocent.
After the weekend Kabul attack, Pakistan's foreign office spokesman Mohammad Faisal rejected what it called "knee-jerk allegations" that the attack was carried out by Pakistan-based terrorists.
https://timesofindia.indiatimes.com/india/immediately-arrest-or-expel-taliban-from-your-soil-says-us-to-pakistan-after-weekend-attack-in-kabul/articleshow/62613401.cms
--------
Ulema Council Calls Taliban Brutal Enemies after Deadly Hotel Attack
Jan 22 2018
The Afghan Ulema General Council called the Taliban group brutal enemies of the country after the deadly attack on Intercontinental Hotel in Kabul.
The Ulema General Council issued a statement in reaction to the brutal attack saying the Council strongly condemns the attack that led to the killing of innocent people, including several innocent Afghan nationals.
The statement further added that the attack has no justification, neither in terms human and Islamic principles.
The Council also warned the anti-government armed militant groups that the enemies of the country will never achieve their goals through acts of savagery.
The Taliban militants group claimed responsibility behind the attack.
However, the ministry said their preliminary findings show that the attack was plotted by the Haqqani terrorist network which has safe havens outside Afghanistan.
No further details were given in this regard but the Afghan officials have long been insisting that the terror network has safe havens and their leadership councils are based in the key cities of Pakistan.
The Ministry of Interior said eighteen people were killed in the attack including fourteen foreigners and four Afghan nationals.
According to the ministry, at least nine people including six personnel of the Afghan national police Special Operations Forces were also wounded.
https://www.khaama.com/ulemas-council-calls-taliban-brutal-enemies-after-deadly-hotel-attack-04322
--------
Abbas wins EU backing for Palestinian capital in East Jerusalem
January 23, 2018
BRUSSELS - The European Union assured President Mahmoud Abbas it supported his ambition to have East Jerusalem as capital of a Palestinian state, in the bloc's latest rejection of US President Donald Trump's decision to recognise Jerusalem as Israel's capital.
At a meeting in Brussels with EU foreign ministers, Abbas repeated his call for East Jerusalem as capital as he urged EU governments to recognise a state of Palestine immediately, arguing that this would not disrupt negotiations with Israel on a peace settlement for the region.
While Abbas made no reference to Trump's move on Jerusalem or US Vice President Mike Pence's visit to the city on Monday, his presence at the EU headquarters in Brussels was seized on by European officials as a chance to restate opposition to Trump's Dec. 6 decision to move the US Embassy to Jerusalem.
Mogherini, in what appeared to be a veiled reference to Trump's recognition of Jerusalem as capital of Israel, called on those involved in the process to speak and act "wisely", with a sense of responsibility. "I want to reassure President Abbas of the firm commitment of the European Union to the two-state solution with Jerusalem as the shared capital of the two states," Mogherini said.
Before Abbas' arrival, she was more outspoken, saying: "Clearly there is a problem with Jerusalem. That is a very diplomatic euphemism," in reference to Trump's position. Deputy German Foreign Minister Michael Roth told reporters that Trump's decision had made peace talks harder but said all sides needed to resolve the Israeli-Palestinian conflict.
Abbas also struck a more diplomatic tone than in his recent public remarks, including earlier this month when he said he would only accept a broad, internationally-backed panel to broker any peace talks with Israel. "We are keen on continuing the way of negotiations," Abbas said. "We are determined to reunite our people and our land." But his call for the European Union to immediately and officially recognise the state of Palestine was unlikely to be answered, two senior EU diplomats said.
While nine EU governments including Sweden and Poland already recognise Palestine, the 28-nation bloc says such recognition must come as part of a peace settlement.
Only Slovenia has recently raised the possibility of recognising the state of Palestine. A parliamentary committee there is due to consider the issue on Jan. 31, but it remains unclear when the parliament could recognise Palestine. That reflects the European Union's dual role as the Palestinians' biggest aid donor and Israel's biggest trade partner, even if EU governments reject Israeli settlements on land Israel has occupied since a 1967 war – including the West Bank, East Jerusalem and the Golan Heights. The European Union also wants the Palestinians to remain open to a US-led peace plan, expected to be presented soon by Jason Greenblatt, Trump's Middle East envoy and Trump's son-in-law and senior adviser, Jared Kushner.
Abbas said there was "no contradiction between recognition (of Palestine) and the resumption of (peace) negotiations." Instead, France wants to push the European Union to offer closer trade ties through a so-called EU association agreement, an EU treaty covering unfettered access to the bloc's 500 million consumers, aid and closer political and cultural ties.
"We want to say to Mahmoud Abbas that we want to move …towards an association agreement and to start the process already," said France's Foreign Minister Jean-Yves Le Drian. But offering an EU association agreement to the Palestinians was also fraught with difficulties, diplomats said. Under EU rules, the agreements need to be agreed with sovereign states.
France argues that the EU has an association agreement with Kosovo, whose independence is not recognised by all countries, including EU member Spain.
https://nation.com.pk/23-Jan-2018/abbas-wins-eu-backing-for-palestinian-capital-in-east-jerusalem
--------
'India's Bin Laden' posed as English teacher, salesman on forged passport
Chayyanika Nigam
January 23, 2018
He is known as "India's bin Laden", provoking similar consternation among security agencies, being the mastermind of the 2008 Gujarat serial blasts and a key architect of the terrorist infrastructure in the country.
Finally, one of India's mostwanted, Abdul Subhan Qureshi, has landed in the Delhi Police net. Qureshi, alias Tauqeer, allegedly came back to the country to revive sleeper cells of the banned Students Islamic Movement of India (SIMI) and Indian Mujahideen (IM), officials said on Monday.
An engineer by profession, he is also an expert in making explosives like IEDs and is the point person to radicalise youths and facilitating training for them. Sources say he was indoctrinating unemployed Muslim youths and was filling the void left by the fall of top Indian Mujahideen leaders.
He was allegedly plotting a revival of the weak and scattered IM network and was particularly targeting the sleeper cells in Uttar Pradesh, Maharashtra, Madhya Pradesh, Gujarat and Karnataka.
After giving Indian security agencies the slip following the Gujarat serial blasts, he fled to Nepal and worked as an English teacher. In 2015, he went to Saudi Arabia and worked as a salesman in various stores based on a forged passport.
While in Saudi Arabia, he also had meetings with many SIMI and IM sympathisers. Intelligence Bureau sources told Mail Today that Tauqeer was a major fundraiser in Saudi Arabia.
"More than 50 different charitable organisations that are set up in various parts of the country, whose primary job is to raise money for funding terror in India, are the major sponsors," the sources added.
Officials confirmed that there are instances where the terror funds were received by charitable organisations from places such as Muscat and Dubai.
"However, the money raised from these places is normally donations from affluent families, who are emotionally blackmailed to sponsor," the source said.
There are a large number of people who share the ideology of terror groups and feel that it is their responsibility to support their people in such a 'war'. Tauqeer, used to identify such people and radicalise them by showing them videos, delivering passionate speeches on issues such as Kashmir, Babri Masjid and Godhra, whipping up emotions so that they join the outfit or back them with funds.
Through his established contacts, Tauqeer procured logistics for his visits to India. He had made at least three trips that have been traced by the agencies recently.
"On Friday, when he came to Delhi to meet one of his old SIMI sympathisers, he was nabbed after an encounter with the team at Ghazipur," said PS Kushwah, DCP of Delhi Police's special cell.
Sources say Tauqeer has good command over English, deep knowledge of local as well as international issues pertaining to Muslims and a gift of gab.
"He had received sound technological knowledge and had passed Microsoft Certified Software Engineering (MCSC), besides pursuing a course on industrial electronics from Bharatiya Vidhyapeeth in Mumbai, and hardware networking," Kushwah added.
Tauqeer was absconding since his associate Safdar Nagori was arrested by Indore Police just a few months ahead of the serial blasts in Gujarat in July 2008.
"As soon as the role of SIMI and Indian Mujahideen was established, he left Gujarat and fled to Ranchi in Jharkhand, where he took shelter at the residence of a member of the SIMI cadre. From Ranchi he went to Chhapra and onward to Raxaul on the Indo-Nepal border in Bihar. He crossed over to Nepal and reached Birat Nagar where he met one Nizam Khan, a SIMI sympathiser, who ran an NGO," Kushwah said.
With Nizam Khan's help he started to live in Batta, Birat Nagar, and landed a teaching job at a Christian boarding school. He stayed there from October 2008 to January 2009 and then moved to Gorkha.
"During his stay in Nepal he also managed to procure fake local civilian ID through Nizam Khan and remained in Nepal till 2015. During this period, he again came in touch with Riyaz Bhatkal who prevailed upon him to move to Riyadh, Saudi Arabia so that he could raise funds and help revive IM in India," Kushwah said.
Tauqeer is also a suspect in the 2006 Mumbai train blasts. During the investigation, the links to Saudi Arabia became extremely clear when the police tracked a hawala transaction of $10,000 (about Rs 6,38,000) which was used to carry out the July 11, 2006 serial train blasts in Mumbai that killed 209 people.
https://www.indiatoday.in/mail-today/story/-india-s-bin-laden-posed-as-english-teacher-salesman-on-forged-passport-1151939-2018-01-23
--------
Pakistan
Pakistan Ulema Council Asks Kabul to Take Action against Afghan Ulema
January 23, 2018
ISLAMABAD: Chairman Pakistan Ulema Council (PUC) Hafiz Muhammad Tahir Mehmood Ashrafi Monday said that Afghan president, instead of hurling allegations against Pakistani Ulema and religious scholars of Pakistan should take action against state clerics of Afghanistan who used to issue Jihad decrees against Pakistan. Talking to visiting delegates of different religious sects here, Tahir Ashrafi said that Ulema and Mashaikh of Pakistan had not only served people of Pakistan but also the entire Muslim world in accordance with the teachings of Quran-o-Sunnah.
He said the Afghan president should take responsibility for taking action in Afghanistan against extremist religious scholars instead of hurling accusations against clerics and Mashaikh of Pakistan. "Islamic code of life is not limited for any specific state or nation but served the entire Muslim Ummah," he added.
Ashrafi also asserted that he would expose the elements responsible for making mess on pretext of "Finality of Prophethood Law" in 28th January Conference that will be held under the aegis of Pakistan Ulema Council on Mall Road in Lahore. He underlined that religious organisations, clerics and Mashaikh of Pakistan were playing key and vital role by issuing decrees to condemn extremism and terrorism and its first time that struggle of Ulema and Mashaikh had been acknowledged at state level in Pakistan and 'state narrative against terrorism and extremism' should be implemented in the country with additional reforms. He said PUC had always remained on forefront to annihilate menace of terrorism and extremism from Pakistan since 2000.
Tahir Ashrafi also asserted that national narrative against terrorism and extremism that
has been issued with the title of, "Paigham-e-Pakistan" should be transformed into proper legislation with additional reforms to be more effective in its influence. "The seminaries and religious organisations, which have endorsed Paigham-e-Pakistan, the government of Pakistan should also bring change in its conduct for all these organisations," he said. He said the names of innocent and guiltless Ulema and Mashaikh should be delisted from 'Fourth Schedule'. Ban on seminaries' registration should be lifted. He said religious scholars and clerics of Pakistan had always issued decrees in accordance with the situation in Pakistan. He said Afghan president should take decree from Afghan clerics in accordance with the prevailing scenario in Afghanistan.
https://www.thenews.com.pk/print/271708-issuance-of-decrees-against-pakistan
--------
Refusing UN team access to Hafiz Saeed 'makes world more suspicious': Former Pak diplomat
Jan 22, 2018
NEW DELHI: Pakistan's former envoy to the US, Husain Haqqani, on Monday said that Pakistan's refusal to give a United Nations anctions monitoring team access to 26/11 Mumbai terror mastermind Hafiz Saeed "basically makes the world more suspicious," reported news agency ANI.
"It would be in Pakistan's interest to give United Nations monitoring team complete access to Hafiz Saeed and all entities associated with him. The very fact that Pakistan wants to hide him from the rest of the world basically makes the world more suspicious," ANI quoted the former diplomat as saying.
Diplomatic sources told The Nation that the country won't allow a visiting sanctions monitoring team of the United Nations Security Council+ (UNSC) any direct access to Saeed or his entities.
The UN team's visit will take place on January 25 and 26.
The UN imposed sanctions on Saeed and his organisation Jamaat-ud-Dawa soon after the Mumbai terror attack. Later, Saeed unsuccessfully petitioned the world body asking that his name be struck off the list of sanctioned terrorists.
Haqqani, who was booked for allegedly giving hate speeches and writing books and articles defaming Pakistan's military and the government, said the FIR was "aimed at propaganda war inside Pakistan," reported ANI.
One of the complainants in the case also accused Haqqani of issuing visas to "CIA and Indian agents" while serving as his country's ambassador to the US, reported PTI.
Full report at:
https://timesofindia.indiatimes.com/world/pakistan/refusing-un-team-access-to-hafiz-saeed-makes-world-more-suspicious-former-pak-diplomat/articleshow/62606906.cms
--------
Pakistan Ulema Council Launches Mass Contact Campaign to Highlight Paigham-i-Pakistan
Jan 23, 2017
Islamabad
The Pakistan Ulema Council (PUC) has started a mass contact campaign through Friday sermons at Masajid highlighting Paigham-i-Pakistan', a national narrative to counter the mindset of terrorism, extremism and intolerance in the society. The narrative Paigham-i-Pakistan, recently launched by President Mamnoon Hussain, consisting of a 22-point Fatwa (religious decree), is signed by over 1800 Ulema and religious scholars of all schools of thought from across the country. It rejects terrorism, extremism and sectarian hatred, and terms use of force to impose Shariah a rebellion against the state.
The Pakistan Ulema Council would organize Paigham-i-Pakistan conferences in various cities of the country, a PUC press release here Monday said. On the appeal of Pakistan Ulema Council, it was reiterated in sermons delivered last Friday at mosques that any armed struggle in the name of enforcement of Shariah was contrary the Islamic teachings and killing of innocent citizens on that account also had nothing to do with Islam. The killing of even a single person was like killing of the whole humanity, it was stressed.
The Ulema, in their sermons, called for giving constitutional cover to the Paigham-i-Pakistan narrative through an act of the parliament. PUC Chairman and Member Islamic Ideology Council Sahibzada Zahid Mehmood Qasmi, in his sermon, said peace, progress and prosperity was vital for Pakistan. Every Muslim had a religious obligation to make peaceful struggle for the enforcement of Islamic law in line with the teachings of Holy Quran and Sunnah, he added.
Full report at:
https://pakobserver.net/puc-launches-mass-contact-campaign-highlight-paigham-pakistan/
--------
SC suspends death penalty of three hardcore terrorists
JANUARY 23, 2018
ISLAMABAD: The Supreme Court (SC) of Pakistan has ordered authorities to halt the implementation of an order by a military court which sentenced to death three hardcore terrorists.
A two-member bench of the top court under Justice Azamat Saeed on Monday conducted a hearing into appeals filed in the SC against the verdict by three terrorists, namely Shafaqat, Sabir Shah and Muhammad Liaqat.
After hearing the arguments of the complainants, Justice Saeed ordered the suspension of the military court ruling until further orders, and adjourned proceedings indefinitely.
Muhammad Liaqat had been charged with attacking a journalist, while Sabir Shah and Shafaqat are deemed involved in the murder of Advocate Arshad Ali in Lahore.
Full report at:
https://dailytimes.com.pk/186823/sc-suspends-death-penalty-three-hardcore-terrorists/
--------
Two terrorists shot dead in DG Khan operation: ISPR
JANUARY 22, 2018
RAWALPINDI: Para-military troops gunned down two terrorists in an intelligence-based operation carried out in DG Khan on Sunday, the Inter-Services Public Relations (ISPR) said.
The military's media wing said the Rangers personnel carried out an operation on a tip-off and information provided by intelligence agencies about terrorists holed up in their hideouts in DG Khan. The ISPR said the killed terrorists were linked with a proscribed organisation and involved in attacks on security forces and kidnappings. A day earlier, Frontier Corps Balochistan conducted intelligence-based operations (IBOs) in Dera Bugti, Kohlu, and Dera Murad Jamali, according to the army's media wing. Arms and ammunition, including sub machine and light machine guns, rockets, mortar bombs, grenades, detonators, explosive and communication equipment were recovered during the operation.
https://dailytimes.com.pk/186273/two-terrorists-shot-dead-dg-khan-operation-ispr/
--------
North America
'We are in your home': After losses, ISIS steps up campaign to inspire attacks
By Joby Warrick
January 22, 2018
The man with the Islamic State scarf appears to be playing a kind of jihadist peekaboo.
In the photo, he hides his features behind the terrorist group's infamous logo but shows just enough background scenery so viewers can recognize his location: New York's Central Park, in wintertime.
"We are in your home," reads the photo's simple caption, posted online a few days after Christmas and circulated widely on a prominent jihadist Internet channel.
Precisely when the photo was taken is not known, but the message is chillingly clear. It has been repeated in similar posts in recent weeks, all purporting to show Islamic State operatives casing landmarks in Western cities and urging followers to carry out attacks wherever they are. "It is time to harvest the heads," the narrator in one such video states.
Such is the typical fare served up by the Islamic State's propaganda machine, which remains very much alive three months after the fall of the terrorist organization's capital in Raqqa, Syria. The self-proclaimed caliphate has been reduced to a handful of villages in the Syrian desert, but the "virtual caliphate" fights on, a diminished but still formidable presence focused on rallying the group's followers in the face of crushing military defeats, according to U.S. officials and independent analysts.
The content has changed significantly since the loss of Raqqa, formerly home to the group's official media division and production facilities. Gone are the glossy Islamic State magazines and slick videos extolling the virtues of life under militant Islamist rule. In their place is a steady stream of incitements, nearly all of them aimed at offering encouragement and detailed instructions for carrying out terrorist attacks.
Some are amateurish and appear to originate not from studios or official spokesmen, but from bloggers and other volunteers who often are only loosely affiliated with the Islamic State — the online equivalent of lone-wolf terrorists who act without official guidance or instruction. Terrorism analysts say the Islamic State is growing more dependent on such platforms, which are capable of distributing highly targeted appeals in scores of local languages and can't be easily silenced by military strikes.
At the same time, there are signs of new life from the group's official mouthpiece. Last week, the Islamic State's Amaq News Agency issued its first English-language communiques since mid-September, just before the fall of Raqqa. The first weeks of 2018 have also seen a sharp rise in traffic on pro-Islamic State social media accounts compared with previous months, according to an analysis released Friday by the SITE Intelligence Group, a private firm that monitors jihadist content.
"The Islamic State is now showing the first signs of a regrouping media operation," said SITE Executive Director Rita Katz. "The group suffered major setbacks by coalition and regime attacks but is now clearly taking major steps to reassemble its propaganda operation, which is among its most dangerous weapons."
The newest propaganda campaign illustrates the difficulties faced by counterterrorism officials in seeking to stop militants from connecting with would-be terrorists in the United States and throughout the West. Even after the destruction of the Islamic State's sanctuary and the successful blocking — with help from private companies — of hundreds of the group's social media accounts, the terrorists and their supporters continue to find ways to get their messages out, analysts say.
"The depletion of ISIS on the battlefield has not yet translated into the degradation of ISIS in the online space," said Tara Maller, a former CIA military analyst and senior policy adviser for the Counter Extremism Project, a nonpartisan group that promotes policies to block extremist content online. "What we see is a continuing effort to engage online and an increased effort to inspire people to carry out lone-wolf attacks."
Information warfare
U.S. officials and analysts have been watching closely to see how the collapse of the caliphate would affect the group's propaganda machine, the driving force behind the Islamic State's rise to global prominence. Beginning in Syria in 2013, the group's leaders spent millions of dollars creating a nimble, technically savvy media operation with a heavy social media presence.
Under Presidents Barack Obama and Trump, the Pentagon and CIA tried different measures to knock the terrorists offline. U.S. fighter jets and drones bombed the Islamic State's production houses and stalked its spokesmen, while the State Department pressed YouTube and other social media companies to block the militants' Web channels and chat rooms. In response, the terrorists shifted tactics, migrating to different social media platforms and cultivating a global network of allies to amplify official messages and post their own pro-Islamic State content.
Still, the fall of Raqqa in October resulted in a steep decline in the Islamic State's official media output. Rumiyah, the group's flagship online publication, appears to have ceased production entirely, while the number of routine posts and videos is down sharply. The analysis by SITE shows that websites affiliated with the Islamic State put out a total of 907 communiques, reports and videos between November and December 2016. During the same period this past year, the group and its supporters managed only 211.
An analysis published Jan. 7 by the national security blog Lawfare cites an overall drop in content of about 90 percent from the Islamic State's high-water mark in 2015.
"This is not just a media decline — it is a full-fledged collapse," the report's authors, counterterrorism researchers Charlie Winter and Jade Parker, write in the blog.
But volunteers have stepped up to fill the gap, analysts say. The broader web of militant commentators and videographers — a network that was encouraged and facilitated by the Islamic State in its heyday — was designed to continue functioning even if the mother branch was completely shut down.
While many of the individual cyberwarriors have been around for years, the Islamic State has become more reliant on them in issuing appeals for what Winter and Parker call "retributive terrorism" — acts of violence intended to avenge the group's losses while convincing followers and foes that it remains relevant.
"Before its territorial decline, a successful terrorist operation was a tactical bonus. Now, it is a strategic necessity," the writers state. "The online sphere has been tailored to facilitate these attacks more efficiently than ever before.
Lone wolves
The posting of the "peekaboo" jihadist's selfie in New York was part of a remarkable incitement campaign that began in the weeks before Christmas and continued through early January. Several videos and photographs that appeared online during the period sought to convey the impression that Islamic State warriors were lurking everywhere. The images depict well-known landmarks such as Paris's Eiffel Tower, the Sydney Harbor Bridge in Australia and the Los Angeles skyline.
The New York photo appears to have been taken outside the Metropolitan Museum of Art, on the edge of Central Park on the city's Upper East Side. It is unclear whether the photo is genuine or altered, but it depicts weather similar to that experienced by New Yorkers late last month, with pedestrians in heavy coats and hats trudging along sidewalks lightly covered with snow.
A commentary accompanying one of the videos warns of coming terrorist attacks while offering tips to supporters on how to unleash mayhem during the Christmas holiday season, when urban streets would be packed with shoppers and revelers.
"Make [explosive] devices and plant them in their celebrations," it says, "or set their homes and forests on fire, or run over the largest number of unbelievers with your vehicle, or stab them repeatedly with a knife."
Other postings in recent weeks offered detailed technical advice. On the messaging application Telegram, Islamic State supporters published a "Knights of the Lone Jihad" series with how-to manuals on everything from bombmaking to the poisoning of food supplies.
Experts who closely monitor jihadist channels say the overall impression is that of a vibrant propaganda machine that hasn't slowed appreciably or moderated its content. To ensure the broadest audience, the messages are typically translated into multiple languages, including English, Russian, Urdu and even Chinese.
"When you look at the unofficial ISIS material out there — the stuff posted by ISIS supporters — that has not diminished," said Steven Stalinsky, executive director of the Middle East Media Research Institute, a Washington nonprofit. "There is so much content — so many accounts, so many new chats — and more popping up every day."
For whatever reason, the holiday season appeals did not bear fruit, although there was at least one close call. In mid-December, federal officials arrested a 26-year-old California man for allegedly plotting a Christmas-week attack on San Francisco's famed Pier 39 commercial area. U.S. officials said the suspect, a former Marine, had expressed support for the Islamic State on social media.
Both suspects in the two attacks in New York last year — Sayfullo Saipov, the Uzbek immigrant who ran over pedestrians with a truck in Lower Manhattan on Oct. 31, and Akayed Ullah, a Bangladeshi immigrant who exploded a crude bomb in a Times Square subway tunnel on Dec. 11 — also told authorities they were inspired by Islamic State videos.
Each terrorism attempt — successful or not — serves as a reinforcer, generating waves of excitement among online jihadists while encouraging further use of the same tactics, said Stalinsky, who also is the author of "American Traitor," a biography of the al-Qaeda propagandist Adam Gadahn.
"Even if it's a small attack, it pumps blood into the cyber-body of ISIS," he said. "All it takes is one attack to produce a lot of energy for the online movement."
https://www.washingtonpost.com/world/national-security/we-are-in-your-home-after-losses-isis-steps-up-campaign-to-inspire-attacks/2018/01/22/421678a4-f7d6-11e7-a9e3-ab18ce41436a_story.html?utm_term=.68aa4a703af8
--------
January 29 Should Be The National Day Against Islamophobia
01/22/2018
Whether Prime Minister Justin Trudeau and Quebec Premier Philippe Couillard support it or not, I hope the Canadian collective conscience unites on making January 29 a National Day Against Islamophobia.
Establishing commemorative days or months are a tool to assert the need for action and solidify support for the downtrodden.
The National Council of Canadian Muslims called for making January 29 a day against Islamophobia in Canada many months ago. This call was echoed and supported by many other Muslim groups. Yet the call has not been heeded by any government to date. Some politicians dodge the question skilfully, while others even say explicitly that they will not do it. I am left to wonder which is worse.
As I think about this I ask which president decided to celebrate February as Black History Month, and which governor adopted and initiated the Pride Parade?
If the Association for the Study of Negro Life and History would have called on the United States government, in 1926, to declare the second week of February as "Negro History Week," they probably would have been waiting, till today, for President Donald Trump to tweet his consent.
And if, in June 1970, Chicago Gay Liberation would have waited for the state governor to sponsor a march to commemorate the previous year's riots following a police raid on the Stonewall Inn in the Greenwich Village neighbourhood of New York City, LGBT rights would not have achieved even a small fraction of the advancements they have witnessed today.
The Muslim community continues to look to various levels of Canadian governments as the saviour and the protector. I believe this is a vision Muslim immigrants brought with them from countries where the people have no voice or power, and where the dictators and absolute monarchs decide everything, for their country, people and even for God, in some cases.
And here, in our Canadian democracy, I learned the hard way that it is not the justice of the cause or the need of a certain community to be protected that guide political decisions. It is the number of votes the decision will bring the politician or party that is the deciding factor.
Bill 62 is not far behind us. A bill that practically adds nothing to how the system works or society is regulated. It was only passed as a signal to conservative voters that the Quebec Liberal Party, like the Coalition Avenir Québec, can lean to the right, and to nationalistic voters that the Parti Québécois isn't the only party that can come up with a "charter."
What will make Trudeau, Couillard, mayor of Quebec City Régis Labeaume or mayor of Montreal Valérie Plante declare January 29, or any other day, a day against Islamophobia is not the killing of six, 60 or even 600 people in cold blood in one incident. What will make them act is when they see 60,000 people marching in the streets of Quebec City, Montreal and other cities across the province and the country on January 29, commemorating the Quebec City massacre, year after year.
Full report at:
http://www.huffingtonpost.ca/ehab-lotayef/january-29-should-be-the-national-day-against-islamophobia_a_23338605/
--------
US orders extra air cargo screening for 5 Muslim countries amid terrorism concerns
Jan 23, 2017
The U.S. reportedly began to implement tougher cargo screening measures for inbound flights from five Muslim-majority flights Monday amid terrorism concerns.
The Transportation Security Administration order is aimed at preventing terrorist attacks in response to "persistent threats to aviation," TSA said in a statement. The countries falling under this order are Egypt, Jordan, Saudi Arabia, Qatar and United Arab Emirates.
The countries were chosen because of "demonstrated intent by terrorists groups to attack aviation from them," the statement said.
TSA said most of the requirements of the emergency order are already being carried out voluntarily by airlines in some countries, but didn't identify the countries.
Airlines that TSA said are affected by the order are EgyptAir, Royal Jordanian, Saudia, Qatar Airways, Emirates and Etihad, although EgyptAir no longer accepts cargo shipments on flights to the U.S. at the request of American authorities.
They are now required to comply with what is known as Air Cargo Advance Screening (ACAS) protocols, a typically voluntary program that requires airliners to disclose information about cargo they plan to bring to the U.S.
Carriers will be required to give background information on the packages they are carrying, such as who sent it, where from and details about its contents.
Seven airports are also affected: Egypt's Cairo International Airport, Jordan's Queen Alia International Airport, Saudi Arabia's King Abdul-Aziz International Airport and King Khalid International Airport, Qatar's Doha International Airport, and the Dubai International Airport and Abu Dhabi International Airport in the United Arab Emirates.
"We haven't necessarily seen anything 'brand new' in terms of a new threat but we are seeing things and want to stay ahead of the threat that we've seen over the past nine months or so. There's enough out there, enough threat streams, that give us enough concern that we need to move forward with this as quickly as possible," a TSA official told CBS.
Full report at:
https://www.dailysabah.com/americas/2018/01/22/us-orders-extra-air-cargo-screening-for-5-muslim-countries-amid-terrorism-concerns
--------
South Asia
Taliban 'searched for foreigners' in Kabul hotel attack
January 23, 2018
KABUL - Taliban militants who killed at least 22 people at a luxury Kabul hotel went from room to room searching for foreigners , survivors and a security source said Monday as more details of the victims emerged.
Insurgents armed with Kalashnikovs and suicide vests attacked the landmark Intercontinental Hotel overlooking the Afghan capital late Saturday in an assault that lasted more than 12 hours and prompted questions over how the attackers breached security.
Guests hid behind pillars and in rooms as gunmen sprayed bullets and set fire to parts of the six-storey building. Some people climbed over balconies and used bed sheets in a desperate attempt to escape. "They were saying, 'Kill the foreigners!'," a 20-year-old hotel employee who gave his name as Hasibullah told AFP from his hospital bed.
He described hiding in a fifth-floor room and listening as the gunmen went from room to room, forcing doors open "with daggers" and killing those inside.
Officials have said that at least 14 foreigners were killed.
"They didn't want to kill the Afghans," a security source told AFP. "The weapons and bullets they had were for the foreigners ."
One other witness claimed he had seen the militants beheading guests.
The attack ended Sunday with all six militants killed by Afghan forces, aided by Norwegian troops.
Health ministry spokesman Waheed Majroh said 22 bodies had now been taken to Kabul hospitals. "Some of the bodies (are) burned badly and need DNA tests to be identified," he said.
The interior ministry gave a lower toll Monday, saying 19 people were dead. There were also conflicting accounts of the number of attackers, which the ministry had put at six.
Authorities are known to understate death tolls in high-profile attacks, and much higher figures were circulating on local media.
At least seven Ukrainian citizens were among the dead, the country's ambassador to Tajikistan and Afghanistan Viktor Nikitiuk told Ukrainian television 112.
"A lot of Ukrainian aviation technicians work in Afghanistan. All the dead were working for the airline Kam Air and living at the Intercontinental Hotel," he said.
Kam Air, an Afghan carrier, said a further two Venezuelan staff were also killed in the assault, bringing the airline's loss to at least nine of its personnel - five crew and four pilots.
Captain Samad Usman Samadi, the airline's CEO, told AFP his staff "has been shocked and they are not in normal conditions".
"It will some time for them to recover," he said.
One German citizen and one Kazakh citizen were also killed, their foreign ministries said.
Afghan officials told AFP that senior Afghan diplomat Abdullah Poyan died along with Mufti Ahmad Farzan, a member of the High Peace Council responsible for reconciliation efforts with militants.
The employee Hasibullah said he saw two "fashionably dressed" gunmen in the hotel restaurant before the assault began.
The security source confirmed investigators had seen CCTV footage showing the attackers in the restaurant prior to the attack.
"It was around 8.30 pm... They were sitting in the corner of the hotel and they immediately started spraying bullets," Hasibullah said.
He ran to the fifth floor room and locked himself inside, though not before seeing "many" bodies on the ground.
But as the gunmen went from door to door he leapt from the window in terror. "I fell on people lying in blood... it was horrific."
Knocked unconscious, he awoke in hospital with a broken leg and other wounds.
Another survivor told AFP the attackers "even beheaded the guests and people inside the hotel".
Noorullah, 24, said he worked at the hotel checking its security cameras, but fled to the fourth floor as the power went off and the attack began.
Also describing the militants as wearing civilian clothes, he said they killed "dozens" of people, opening every single room and "raining" bullets.
He, too, jumped from a window to escape.
Witnesses said the hotel's security staff fled the scene as the attack unfolded.
Authorities warned they were still investigating how militants breached hotel security, which was taken over by a private company three weeks ago.
It was too soon to say if the militants had inside help, an interior ministry spokesman, Nasrat Rahimi told AFP.
The militants were armed with suicide vests, pistols, hand grenades and Kalashnikovs, he said.
The attack followed security warnings in recent days to avoid hotels and other locations frequented by foreigners in war-torn Kabul .
Security has been ramped up in the city, but the resurgent Taliban and Islamic State are both scaling up their assaults.
https://nation.com.pk/23-Jan-2018/taliban-searched-for-foreigners-in-kabul-hotel-attack
--------
Bangladesh puts off Rohingya refugee return
January 23, 2018
The repatriation of hundreds of thousands of Rohingya Muslims who fled violence in Myanmar will not begin as planned, Bangladesh said on Monday, with authorities admitting "a lot of preparation" was still needed.
Bangladesh had been due to start the huge process on Jan 23, after agreeing a two-year time frame with Myanmar.
But Bangladesh's Refugee Relief and Repatriation Commissioner Mohammad Abul Kalam announced on Monday there was much more work to be done.
"We have not made the preparations required to send back people from tomorrow. A lot of preparation is still needed," Kalam said.
Since August last year around 688,000 Muslim Rohingya have escaped over the border into Bangladesh in the wake of a military-led campaign in Rakhine state that the UN says amounted to "ethnic cleansing".
They poured into ill-equipped and overcrowded camps, bringing with them harrowing tales of rape, murder and torture at the hands of Myanmar's feared army or Buddhist mobs.
After a global outcry, which included loud criticism of Myanmar's civilian leader Aung San Suu Kyi, the two countries agreed earlier this month that the refugees would be returned to Myanmar in a process they said would take around two years.
Full report at:
https://nation.com.pk/23-Jan-2018/bangladesh-puts-off-rohingya-refugee-return
--------
Key ISIS group member killed in US drone strike in Afghanistan
January 22, 2018
A key member of the Islamic State terror group was killed in an airstrike of the US forces in eastern Nangarhar province of Afghanistan , reported Khaama press.
According to the local security officials, the airstrike was carried out by the unmanned aerial vehicles of the US forces targeting the key ISIS member in the vicinity of Haska Mina district.
The provincial police officials said the ISIS member killed in the airstrike was a close relative, father of a ISIS commander Abdul Khaliq, who was involved in major terrorist related activities.
The anti-government armed militant groups including the ISIS insurgents have not commented regarding the report so far.
Nangarhar is among the relatively calm provinces in East of Afghanistan where fewer incidents have been reported since the fall of the Taliban regime.
However, since the year 2014, reports continue to emerge regarding the growing insurgency activities of the ISIS terrorist groups in some remote parts of the province, including Achin.
Full report at:
https://nation.com.pk/22-Jan-2018/key-isis-group-member-killed-in-us-drone-strike-in-afghanistan
--------
Noor challenge Ghani and Abdullah in upcoming presidential elections
Jan 23 2018
Amid rising political tensions and controversies surrounding the Balkh political leadership, the chief executive of Jamiat-e-Islami Ata Mohammad Noor challenged the unity government leaders, President Mohammad Ashraf Ghani and Chief Executive Abdullah Abdullah during the upcoming Presidential Elections, scheduled for 2019.
Speaking among his supporters in northern Balkh province, Noor said he will not allow the unity government leaders to achieve victory during the upcoming elections, only if he remained alive.
Noor also issued fresh threats to the unity government leaders, apparently regarding the persistent political stalemate.
He said he and his party will adopt a further hardliner policy against the government and claimed that the nation has became further frustrated and tired of the current system in power.
This comes as a deadlock still persist between Noor and the government over the controversies surrounding his dismissal from the Balkh government.
The Office of the President, ARG Palace, announced nearly a month ago that President Ghani has approved the resignation of the Balkh governor Ata Mohammad Noor.
Noor admits had submitted his resignation as a guarantee to the government that he will step down if the demands of Jamiat-e-Islami are met by the government.
Full report at:
https://www.khaama.com/noor-challenge-ghani-and-abdullah-in-upcoming-presidential-elections-04323
--------
Mideast
Dozens of Saudi mercenaries killed as Yemeni forces hit base in Ta'izz
Jan 22, 2018
Dozens of Saudi-sponsored militiamen loyal to Yemen's resigned president, Abd Rabbuh Mansur Hadi, have been killed and scores of others sustained injuries when Yemeni army forces fired a domestically-manufactured ballistic missile at their base in the country's southwestern province of Ta'izz.
A Yemeni military source, speaking on condition of anonymity, told Yemen's Arabic-language al-Masirah television network that Yemeni soldiers and their allies launched a Qaher 2-M (Subduer 2-M) missile at al-Khayami base on Monday afternoon.
The source added that the attack left more than 35 Hadi loyalists dead and over 20 others injured.
However, medical officials close to Hadi, whose forces control the southwestern province of Aden, claimed that only 12 people were killed in the attack.
They added that the missile attack took place during a military parade and one of its main targets was Hadi's deputy interior minister, who was present at the parade.
A cameraman for the Yemeni Balqis television network was among those killed in the incident.
Yemeni army troops and Popular Committees' fighters also launched a volley of Katyusha rockets and artillery rounds at a gathering of Saudi mercenaries north of the coastal fishing village of Yakhtul in the same Yemeni province.
Later in the day, Saudi fighter jets carried out an airstrike on a residential building in the al-Azqoul area of Sahar district in the northwestern Yemeni province of Sa'ada, killing all three members of a family.
Saudi warplanes also bombarded the building of the national television station Yemen TV in the Ath'thaorah district of Sana'a Province.
The aerial attack badly damaged the network's building. There were however no immediate reports of casualties.
At least 13,600 people have been killed since the onset of Saudi Arabia's military campaign against Yemen in 2015. Much of the country's infrastructure, including hospitals, schools and factories, has been reduced to rubble due to the war.
The Saudi-led war has also triggered a deadly cholera epidemic across Yemen.
According to the World Health Organization's latest count, the cholera outbreak has killed 2,167 people since the end of April 2017 and is suspected to have infected 841,906.
In November 2017, the United Nations children's agency, UNICEF, said more than 11 million children in Yemen were in acute need of aid, stressing that it was estimated that every 10 minutes a child died of a preventable disease there.
Additionally, the UN has described the current level of hunger in Yemen as "unprecedented," emphasizing that 17 million people were food insecure in the country.
The world body says that 6.8 million, meaning almost one in four people, do not have enough food and rely entirely on external assistance.
http://www.presstv.com/Detail/2018/01/22/549799/Dozens-Saudi-mercenaries-killed-as-Yemeni-forces-hit-Saudiled-base-in-Taizz
--------
Israeli forces detain Hamas-linked legislator in occupied West Bank
Jan 22, 2018
Israeli military forces have detained a legislator affiliated to the Gaza-based Hamas resistance movement along with more than a dozen other Palestinians during separate raids across the occupied West Bank.
Local sources, who asked not to be named, said Israeli forces raided the central West Bank city of Salfit early on Monday, broke into the home of Omar Abdul-Razeq and detained him.
Abdul-Razeq is a member of the Hamas-affiliated Change and Reform bloc in the Palestinian Legislative Council (PLC).
Israeli forces also arrested three Palestinians in Kafr Malik town, located 17 kilometers northeast of the city of Ramallah, as well as Kharbatha al-Misbah town.
Another Palestinian was detained during a raid in the northern West Bank city of Jenin.
Israeli troops arrested three other Palestinians in Nablus, the Christian town of Beit Jala, located 10 kilometers south of Jerusalem al-Quds, as well as the Arab neighborhood of al-Isawiyah in Jerusalem al-Quds.
Israeli forces carry out night raids across the occupied Palestinian territories on a nearly daily basis.
More than 7,000 Palestinians are reportedly held at Israeli jails. Hundreds of the inmates have apparently been incarcerated under the practice of administrative detention, a policy under which Palestinian inmates are kept in Israeli detention facilities without trial or charge.
Some Palestinian prisoners have been held in administrative detention for up to eleven years.
Palestinian inmates regularly stage hunger strikes in protest at the administrative detention policy and their harsh prison conditions in Israeli jails.
Full report at:
http://www.presstv.com/Detail/2018/01/22/549788/Israeli-forces-arrest-Hamaslinked-legislator-occupied-West-Bank
--------
Pence says US embassy in Jerusalem to open by end of 2019
22 January 2018
US Vice President Mike Pence pledged Monday that his country would move its Israeli embassy from Tel Aviv to Jerusalem "by the end" of 2019, a step fiercely opposed by Palestinians.
In the same speech from the rostrum of the Israeli Parliament Pence urged the Palestinians to resume long-stalled peace talks with the Jewish state.
"Jerusalem is Israel's capital, and as such President Trump has directed the State Department to immediately begin preparations to move the United States embassy from Tel Aviv to Jerusalem," Pence said to prolonged applause from Israeli parliamentarians.
"In the weeks ahead our administration will advance its plan to open the United States embassy in Jerusalem. And that United States embassy will open before the end of next year."
At the start of his address, Israeli Arab lawmakers, angry at a December 6 decision by US President Donald Trump to recognize Jerusalem as Israel's capital, tried to stage a protest from the floor of the Knesset.
Members of the Joint List coalition of Arab parties, which had pledged to boycott the Pence speech, began shouting and holding up protest signs as he started speaking but were swiftly hustled out by ushers.
Israel claims all of Jerusalem as its capital, while the Palestinians see the eastern sector as the capital of their future state.
The US move to recognize Jerusalem as Israel's capital broke with decades of international consensus that the city's status should be settled as part of a two-state peace deal between Israel and the Palestinians.
It prompted the Palestinians to cut ties with the Trump administration, but Pence urged them to return to negotiations.
Full report at:
https://english.alarabiya.net/en/News/middle-east/2018/01/22/Pence-says-US-embassy-in-Jerusalem-to-open-by-end-of-2019.html
--------
UN Security Council refrains from condemning Turkey
23 January 2018
The UN Security Council discussed Turkey's intensifying offensive against Kurdish militias and the worsening humanitarian crisis in Syria on Monday but did not condemn or demand an end to the sensitive Turkish operation.
Already scheduled to hear a report from UN aid chief Mark Lowcock on his recent visit to Syria, at France's request the Security Council also touched on the latest Turkish offensive as well as the Syrian campaign in Idlib and Eastern Ghouta.
Turkish President Recep Tayyip Erdogan has vowed no stepping back to the air and ground offensive seeking to flush out the People's Protection Units (YPG) militia from its enclave of Afrin, despite concern from Ankara's allies and neighbors.
"It was of course part of the conversation," French Ambassador Francois Delattre said of Afrin after the closed-door talks at UN headquarters in New York.
"The call for restraint, I believe, was widely shared during the discussion," he added, saying that France was "attentive to the security of Turkey, its territories and its borders."
US Ambassador Nikki Haley did not attend the meeting in person, a diplomatic source said.
Turkey's operation "Olive Branch" is sensitive as Washington relied on the YPG to oust militants from the ISIS militant group from their Syrian strongholds and the Kurdish militia now holds much of Syria's north.
Western capitals fear the campaign against the YPG could shift the focus away from eliminating ISIS after a string of successes in recent months.
"It's vital to keep the unity of the allies in what remains the number one priority, which is the fight against terrorism and against Daesh in particular," Delattre stressed, using another term for the ISIS militant group.
"The number one party responsible for the humanitarian tragedy in Syria is the Syrian regime," he added.
"The number one tragedy happening before our eyes happens in Eastern Ghouta and Idlib."
"If things continue this way, Eastern Ghouta might be the new Aleppo in terms of humanitarian disaster," Delattre added.
Turkey considers the YPG a terror group and the Syrian offshoot of the Kurdistan Workers' Party which has waged a three-decade insurgency against the Turkish state.
Full report at:
https://english.alarabiya.net/en/News/middle-east/2018/01/23/UN-Security-Council-refrains-from-condemning-Turkey.html
--------
UN envoy: Parties involved in Yemen to begin peace talks
22 January 2018
The Arab Coalition supporting legitimacy in Yemen will hold a meeting in Riyadh on Monday to discuss new political negotiations and call on all parties to take proactive steps to ensure the success of this critical stage in Yemen.
Yemen's UN envoy, Ismail Weld al-Sheikh, said that the Arab Coalition was willing to be involved in the discussions. Weld al-Shiekh welcomed the opening of the Hodeidah and Saleef ports, calling on all sides to cooperate to keep them open and operating in order to secure the provision of aid and goods to the Yemeni people.
"I stand with the Yemeni people who are fighting for peace. All parties involved must abide by international humanitarian laws and give the Yemeni people the right to receive life-saving aid in a continuous and safe manner," Weld al-Sheikh said.
He also expressed his gratitude for the Saudi Arabia for providing two billion dollars in monetary aid to Yemen to help their currency.
Full report at:
https://english.alarabiya.net/en/News/gulf/2018/01/22/Weld-al-Sheikh-Parties-involved-in-Yemen-to-begin-peace-talks-.html
--------
India
Influenced By Hindu Culture, Muslim Man Gives Hindu Names to His Children
Jan 22, 2018
BASTI (UTTAR PRADESH): Badiuzzama Siddhiqui, a 65-year-old Muslim man in Uttar Pradesh's Basti has given Hindu names to his children. He says that he is very much influenced by the Hindu culture.
His elder son's name is Pankaj and the name of his daughter is Palak.
Badiuzzama heads a joint family, so he has given Hindu names to his nephews as well who are named Neeraj, Anoop, Anil and Alok respectively.
A lawyer by profession, Badiuzzama has been reciting The Ramayana and The Gita for the last 40 years. Along with the five times Namaz, listening to Hindu scriptures is a part of his daily routine. He is very much fluent in the Quranic verses as well as slokas of the Gita and Chaupai of the Ramayana. People of both Hindu and Muslim communities respect him..
A resident of Dubauliya Block of Baragal Village, Badiuzzama has set a shining example for the people who create discord between the communities in the name of religion. His son Pankaj says that whenever he goes for interviews, people get surprised after knowing his name.
https://timesofindia.indiatimes.com/city/lucknow/influenced-by-hindu-culture-muslim-man-gives-hindu-names-to-his-children/articleshow/62606810.cms
--------
Mughals Stood For Secularism, Inter-Religious Peace: Islamic Scholars
Jan 23, 2018
NAGPUR: Islamic scholars said the Mughal emperors were flag-bearers of peace, brotherhood and secularism. "Today Islam is being perceived as propagating extremism but history reveals that Muslim rulers rooted for cultural unity and religious toleration," they said.
The scholars were speaking at an all-India seminar on 'Mughal Emperors' Administration and Secularism' organized by Qidwai High School & Junior College of Arts, Commerce & Science, at Shikshak Sahakari Bank auditorium, on Monday.
"Their (Mughal emperors) rule was just, not tyrannical," said globally acclaimed Islamic scholar Akhtarul Wasey, vice-chancellor of Maulana Azad University, Jodhpur.
The speakers gave fine examples of the leniency (rawadari) practised by Mughal rulers "which made India a magnificent nation in all aspects".
"A large number of temples, including the ones in Kashi, Patna, Mathura, were built with the support of Akbar. Even Aurangzeb offered huge grants and land for construction and maintenance of temples. They never interfered with the faith of their people which helped them win hearts," said Mohammed Azhar, litterateur from Delhi.
Educationist Sameer Siddique agreed and described how inter-religious harmony was at its peak during the Mughal era and said, "Maratha emperor Shivaji never invaded the mosques. If he ever found a copy of the holy Quran after a conquest, he would respectfully hand it over to some of his Muslim soldiers."
According to Siddique, the wise Mughal rulers identified the talent of craftsmen and architects and utilized it to the best of their ability. "They allowed them to nurture their skills which paved India's way to prosperity," he said.
"No nation in the world could compete with Indian quality and standards when it came to shipbuilding, textiles and steel making business during the Sultanate period. We also nailed the art of diamond cutting," said Siddique.
Pointing out a significant difference between British and Mughal rule, Siddique quoted Shashi Tharoor and said, "The Mughal India was the richest economy in during the 17th century and it contributed an impressive 27% to the world GDP. On the other hand, the exploitation, destruction and loot during the 200 years of British rule brought 90% of the population below poverty line."
Full report at:
https://timesofindia.indiatimes.com/city/nagpur/mughals-stood-for-secularism-inter-religious-peace-scholars/articleshow/62610376.cms
--------
Donald Trump imitates PM Modi during Afghanistan talks: report
January 23, 2018
US President Donald Trump reportedly imitates Prime Minister Narendra Modi during his conversations about the state policy in Afghanistan, The Washington Post reported.
Quoting a senior official in the Trump administration, the Post reported: "The president has been known to affect an Indian accent and imitate Indian Prime Minister Narendra Modi."
PM Modi held talks with Trump during his last year visit to the US. A host of issues including the security situation in war-torn Afghanistan figured in the talks.
According to the Post, Modi told Trump in an Oval Office meeting in June: "Never has a country (US) given so much away for so little in return".
To Trump, Modi's statement was proof that the rest of the world viewed the United States as being duped and taken advantage of in Afghanistan, the Post said.
Democratic Indian-American Congressman Raja Krishnamoorthi condemned Trump's reported habit of affecting an Indian accent to imitate Modi.
"I was appalled to read that President Trump reportedly affected an Indian accent to imitate Indian Prime Minister Narendra Modi," he said.
"In the wake of the President's recent comments disparaging entire regions of the world while we still face such division at home, behaviour that belittles our allies and 'otherizes' entire communities of Americans is one of the last things we need.
"Americans are not defined by their accents, but by their commitment to this nation's values and ideals," Krishnamoorthi said.
The White House has repeatedly denied several reports from the Post including Trump's alleged "shithole" remarks during a meeting with lawmakers early this month.
Trump has quite often accused the Post of being a "fake news".
According to the daily, Trump has made it clear to senior Pentagon officials that he wants to see a quick return on the increased US investment in troops and money in Afghanistan.
Full report at:
http://indianexpress.com/article/india/donald-trump-imitates-pm-modi-during-afghanistan-talks-report-5035470/
--------
Arab World
Anti-terror states: Qatar's provocations undermining security will be confronted
22 January 2018
The Ministers of Foreign Affairs of the four Arab countries combating terrorism; Saudi Arabia, Egypt, UAE and Bahrain, held a consultative meeting on Monday.
This meeting was arranged on the sidelines of the assembly held in Riyadh by the foreign ministers of the countries backing up coalition forces in Yemen.
Egypt's Foreign Ministry Spokesman, Ahmed Abu Zeid, said that during the meeting, the foreign ministers reviewed Qatar's recent provocative practices aimed at undermining the four countries' national security.
The ministers affirmed their full solidarity with each other and their adherence to the 13 demands they requested of the Qatari government in order to normalize relations with it.
Abu Zeid also pointed out that the four ministers also discussed a number of issues related to Arab national security, and stressed their solidarity in the face of external attempts to intervene in the affairs of Arab countries.
They also warned against jeopardizing the interests of any of the four countries, asserting their positions to protect Arab national security in the face of increasing threats and risks.
https://english.alarabiya.net/en/News/gulf/2018/01/23/Anti-terror-states-Qatar-s-provocations-undermining-security-will-be-confronted.html
--------
Militant mortar attack kills 9 Syrian civilians, injures 21 in Damascus
Jan 22, 2018
At least nine people have lost their lives and nearly two dozen others sustained injuries when foreign-sponsored Takfiri militants carried out a mortar attack against a residential area in Syria's capital city of Damascus.
A source at Damascus police command center, speaking on condition of anonymity, told Syria's official news agency SANA that nine people were killed and 21 others injured when mortar shells fired by militants positioned in the Eastern Ghouta region struck the central and predominantly Christian neighborhood of Bab Touma.
The source added that the casualties occurred when a shell fell on a bus stop in the area.
On January 9, at least five people were killed and others injured in a series of militant mortar attacks against the same area in Damascus.
Also on Monday, militant mortar fire caused material damage to residential buildings and private cars in the al-Qassa'a and al-Shaqour districts of the capital.
Full report at:
http://www.presstv.com/Detail/2018/01/22/549828/Militant-mortar-attack-kills-9-Syrian-civilians-injures-21-in-Damascus
--------
Syrian Army Takes Control of Key Abu Al-Dhohour City in Idlib Province
Jan 22, 2018
The Syrian army troops seized full control of Abu Al-Dhohour city West of Abu al-Dhohour military airport.
Meantime, a battlefield commander also pointed to the Syrian army's advances in the surrounding areas of Abu Al-Dhohour military base, and said that after restoring full security to the region, the Abu Al-Dhohour military airport will soon be used by the Syrian army for its operations.
In a relevant development earlier on Monday, the Syrian Army troops repelled a heavy offensive of the Al-Nusra Front (Tahrir al-Sham Hay'at or the Levant Liberation Board) in Southeastern Idlib, killing and wounding a number of militants.
The army men fended off Al-Nusra's heavy attack in Karatin Kabirah in Southeastern Idlib, killing and wounding a number of them and forcing their remaining pockets to retreat.
The Al-Nusra used a number of suicide attackers in the failed attack.
In the meantime, the Syrian Air Force pounded the movements of the Islamic al-Turkistani Party in the village of Sham al-Hawa and in the village of Abu Omar in Southern Idlib, damaging several military vehicles.
Earlier reports said that the army men captured the villages of Showeiha Abu Issa, Um al-Houteha and Qara'a al-Qazal North of Abu al-Dhohour airbase, killing and wounding a number of terrorists of Al-Nusra Front.
Full report at:
http://en.farsnews.com/newstext.aspx?nn=13961102001569
--------
Syria: Army Continues March on Al-Qaeda Positions in Idlib
Jan 22, 2018
The army men stormed the Al-Nusra positions in Southern Aleppo and captured the village of Abu Marir Northwest of Abu al-Dhohour airbase.
The Al-Nusra suffered several casualties and its military hardware sustained major damage in the attack.
The Syrian Army General Command announced earlier today that the army soldiers freed 300 villages, towns and regions in Southern Aleppo, Southeastern Idlib and Northeastern Hama within the framework of the operation to liberate Abu al-Dhohour airbase that is the second largest in Northern Syria after Taftnaz military airport.
Full report at:
http://en.farsnews.com/newstext.aspx?nn=13961102001448
--------
ISIL Retreats from Another Region in Hama Countryside
Jan 22, 2018
The Syrian army troops managed to take control of Abu Hariraq village West of Toutah village on Monday.
The engineering units also immediately started their mop-up operations to establish their presence and reinvigorate their defense lines.
In a relevant development earlier on Monday, the Syrian Army troops stormed the ISIL's positions in Northeastern Hama and pushed ISIL back from one more key village.
The army men beat the ISIL back from the village of Hajileh following fierce clashes with terrorists.
Also, the army's artillery units pounded the positions of Al-Nusra Front (Tahrir al-Sham Hay'at or the Levant Liberation Board) in al-Satahiyat region in Hama province, killing a number of terrorists and destroying their military equipment.
Relevant reports said on Sunday that the army units won back two more villages from ISIL in Northeastern Hama as government troops were expanding the security zone around the newly-freed Abu al-Dhohour airbase in Southeastern Idlib.
Full report at:
http://en.farsnews.com/newstext.aspx?nn=13961102001499
--------
Turkish soldier killed during clashes with Kurds in Syria
Jan 23, 2018
Turkish forces, backed by Syrian militants, have seized several villages during their operations aimed at ousting Kurdish forces from northern Syria.
According to Turkey's state-run Anadolu news agency on Monday, the villages of Shankal, Qorne, Bali and Adah Manli were captured in the Afrin region along with several other rural regions.
The so-called Syrian Observatory for Human Rights reported that heavy fighting is underway between Turkish and Kurdish forces in two of the villages.
Meanwhile, one Turkish soldier was killed during the third day of clashes with Kurdish forces.
"One of our heroic soldiers was martyred during clashes" with Kurdish militants from the People's Protection Units (YPG) militia southeast of the Turkish border town of Gulbaba in Kilis, said a statement released by the Turkish military.
Turkey launched the so-called Operation Olive Branch on Saturday in a bid to eliminate the US-backed YPG, which Ankara views as a terror organization and the Syrian branch of the outlawed Kurdish Workers' Party (PKK). The latter has been fighting for an autonomous region inside Turkey since 1984.
The operation was launched days after Washington said it would work with the Kurdish militants to set up a 30,000-strong border force near Turkish soil, a move that infuriated Ankara.
Full report at:
http://www.presstv.com/Detail/2018/01/23/549846/turkey-syria-ypg-villages
--------
Southeast Asia
Looted Cash, Gold Helps Islamic State Recruit in Philippines
Jan. 22, 2018
By Tom Allard
MARAWI CITY, Philippines (Reuters) - Islamist insurgents looted cash, gold and jewelry worth tens of millions of dollars when they occupied a southern Philippines town last year, treasure one of their leaders has used to recruit around 250 fighters for fresh attacks.
The military said Humam Abdul Najib escaped from Marawi City, which the militants had hoped to establish as a stronghold for Islamic State in Southeast Asia, before it was recaptured by the military in October after five months of ferocious battles and aerial bombardment.
Since then, Najib, also known as Abu Dar, has used the booty looted from bank vaults, shops and homes in Marawi to win over boys and young men in the impoverished southern province of Lanao del Sur, military officers in the area said. Hardened mercenaries are also joining, lured by the promise of money.
As a result, Islamic State followers remain a potent threat in Southeast Asia even though hundreds of militants were killed in the battle for Marawi, the officers said.
"Definitely they haven't abandoned their intent to create a caliphate in Southeast Asia," Colonel Romeo Brawner, the deputy commander of Joint Task Force Marawi, told Reuters.
"That's the overall objective, but in the meantime while they are still trying to recover and build up again - fighters and weapons - our estimate is they are going to launch terrorist attacks."
On Saturday, militants wounded eight soldiers in two attacks in Lanao del Sur, Brawner said, the first such violence since the recapture of Marawi.
In the early days of the occupation of Marawi last May, as black-clad fighters burned churches, released prisoners and cut the power supply, other militants targeted banks and the homes of wealthy citizens, commandeering hostages to help with the plunder. "It was in the first week. They divided us into three groups with seven people each," said J.R. Montesa, a Christian construction worker who was captured by the militants.
Using explosives, the militants blew open the vaults of the city's three main banks, Landbank, the Philippine National Bank and the Al Amanah Islamic Bank, Montesa told Reuters in a town near Marawi. They trucked away the booty, easily slipping out of Marawi because a security cordon was not fully in place.
They also raided jewelry stores, pawnshops and businesses.
Landbank and Al Amanah did not respond to requests for comment. Philippine National said recovering losses because of the Marawi fighting was a concern, but did not give details.
The Islamic celebration of Ramadan was looming at the time the militants struck and banks, businesses and homes had more money than usual, said Marawi City police chief Ebra Moxsir. The Maranaos, the ethnic group that dominates the area around Marawi, are mostly Muslims.
"There was a lot of money inside the battle area," he told Reuters. "Maranaos keep millions of pesos in safety vaults in their homes. Gold, also. It is a tradition of the Maranao to give gifts of money (during Ramadan)."
Montesa said vans they loaded with the spoils of the raids were "overflowing", with money, gold and other valuables stuffed into every crevice of the vehicles.
"They were saying it was a gift from Allah. They would say 'Allahu Akbar' (God is greatest) while we were stealing."
DANGEROUS REGROUPING
The military and police have also been accused by rights groups and by Marawi residents of looting during the conflict.
Brawner said a small number of soldiers had been disciplined for looting but the practice was not widespread.
However, the center of Marawi - home to its major banks, main market and grandest residences - was under the control of militants for months.
Brawner said authorities were unclear exactly how much was taken by the militants.
"It's hard for us to say. We have heard about 2 billion pesos ($39.4 million) but that's just an estimate."
"In the first days, when we were not able to establish that security cordon around the main battle area, that was the time when they were able to slip out with their war booty."
The government also said the regrouping of militants in Mindanao, the southern region of the Philippines that has been marred by Islamic and Communist uprisings for decades, was dangerous.
Presidential spokesman Harry Roque told Reuters: "There is always the danger of these groups regaining strength enough to mount another Marawi-like operation."
Najib is believed to have fled Marawi early in the battle. There are conflicting reports about whether he had a dispute with other leaders or left as part of a preconceived plan.
He attempted to return in August with 50-100 more fighters to reinforce the militants, who by then were losing ground, but he was prevented by an improved security cordon, said Brawner.
"According to reports, they were able to recruit another 100 to 150. So the estimate is 250 all in all, and this includes children," Brawner said. "They are trying to recruit orphans, relatives of the fighters who died and sympathizers."
Parents of children are offered as much as 70,000 pesos ($1,380) plus a monthly salary of as much as 30,000 pesos ($590) to hand over their sons to the group, according to security sources and community leaders briefed on the recruitment.
The average family income in the Philippines is 22,000 pesos per month, according to a 2015 government survey. It was about half that in the Autonomous Region of Muslim Mindanao, where Marawi and surrounding areas lie.
Brawner said local residents had told the military that the militant group was also offering bonuses of up to 10,000 pesos ($200) for killing a soldier.
Rommel Banlaoi, a Manila-based security expert, said more experienced fighters had also been recruited. These were "mercenaries" attracted by the payouts, he said, but Najib has also tapped into disaffection among Maranao angered by the destruction of large parts of Marawi by the Philippine military's bombing campaign.
"That kind of narrative is being used by ISIS to lure people to continue the fight," Banlaoi said, using an acronym for Islamic State.
NEXT EMIR?
With the looted funds and a loyal following, Najib, could become the new "emir" of Islamic State in Southeast Asia following the death of Isnilon Hapilon in the battle for Marawi, security analysts say.
Najib is a hardened fighter and cleric who studied in the Middle East and reportedly trained with militants in Afghanistan, they say.
He co-founded Khalifa Islamiyah Mindanao, an insurgent group formed in about 2012 that launched a series of bombings in Mindanao.
"He is a very, very important person because he has been there from the start," said Banlaoi.
Najib had links to Al Qaeda, which earned him the nickname "al Zarqawi of the Philippines", a reference to the slain leader of Al Qaeda in Iraq (AQI), Abu Musab al Zarqawi. AQI morphed into Islamic State, to which Najib pledged allegiance in 2014.
According to Banlaoi, Najib worked closely with Mahmud Ahmad, a Malaysian militant believed to have died in Marawi who was the key conduit between the Philippines fighters and the Islamic State leadership in Syria and Iraq.
Banlaoi said the recruitment effort by the pro-Islamic State remnants led by Najib was "massive and systematic".
"If you are well funded, you can do a lot of things."
https://www.usnews.com/news/world/articles/2018-01-22/exclusive-looted-cash-gold-helps-islamic-state-recruit-in-philippines
--------
Philippines to deport Hamas 'rocket scientist'
22 January 2018
The Philippines said Monday it would deport an elderly Iraqi man described as a scientist for Hamas and accused of helping the Palestinian militant group lob missiles at Israel.
Iraq tipped off the Philippines about the presence of Taja Mohammad Al Jabori, who was arrested on Sunday, national police chief Ronald Dela Rosa told reporters.
However, the arrest was due to visa problems rather than any evidence of militant activity, the police chief emphasized.
"He's an illegal alien, his visa is expired so he has to be deported right away," Dela Rosa said.
"He admitted being a member of Hamas. He's a chemist and he has been responsible for improving the rocket technology of Hamas in firing their missiles from their area towards the other side, for Israel."
The suspect will be deported to Iraq.
The police chief said it was the first time Philippine authorities had dealt with an alleged member of Hamas, a group labelled a terrorist organization by the United States, the European Union and Israel.
The Islamist movement does not recognize Israel, with which it has fought three wars, and has vied with the rival Fatah movement for control of Palestinian territory.
The handcuffed detainee did not speak while being made to stand beside the Philippine police chief at a press conference.
Dela Rosa said it was unclear at present why the alleged Hamas chemist had travelled to the Philippines.
Police said he arrived last year as Philippine troops battled militants loyal to the Islamic State group for control of the southern city of Marawi.
Full report at:
https://english.alarabiya.net/en/News/world/2018/01/22/Philippines-to-deport-Hamas-rocket-scientist-.html
--------
In the name of Islamic law, Christian booze seller caned in Indonesia
23rd January 2018
THE crowd jeered as Indonesian Christian Jono Simbolon was caned for selling alcohol in the conservative Aceh province last Friday.
Simbolon was sentenced to 36 lashes last October for selling bootleg alcohol, a violation of both Indonesia's secular and Aceh's religious laws, the AFP reported. "This is our government's commitment to enforcing Islamic law," said Banda Aceh mayor Aminullah Usman.
"If there is a violation (of the law) immediately report it to the Syariah police and we will carry out a punishment like today's caning," he said, referring to religious authorities.
In 2014, Aceh enacted a strict Islamic criminal code that criminalises adultery, homosexuality and public displays of affection outside marriage, according to Reuters.
The conservative province had begun implementing Islamic law after being granted special autonomy in 2001, making it the only province in the Muslim-dominated country to adhere to sharia law.
More than 500 public floggings have taken place in the province since then, human rights monitor Human Rights Watch said last October. Punishments were mainly for what it called "victimless crimes" such as non-marital kissing and sexual relations, as well as gambling.
Simbolon's public flogging is the third such punishment inflicted on a non-Muslim since Islamic law was introduced. Seven other men and two women were caned together with him after prayers last Friday for offences such as prostitution, pimping and gambling.
Aceh's five million residents are almost all Muslims subject to "Qanun", as the religious law is known locally. However, since 2015, non-Muslims are given the choice to be tried under Syariah law or the regular Indonesian criminal code.
"(Simbolon) is a Christian but he decided to bow to Qanun," chief prosecutor Erwin Desman said, adding that the man may have chosen a flogging to avoid a lengthy criminal prosecution.
Last March, two Buddhists accused of cockfighting opted to be punished under Islamic law, the first non-Muslims to be caned in the province. According to Rappler, 57-year-old Alem bin Suhadi and 60-year-old Amel bin Akim received nine and seven lashes respectively, a mitigated sentence as they had already served over a month in detention since police nabbed them.
Full report at:
https://asiancorrespondent.com/2018/01/islamic-law-christian-indonesia/#PDmPLAUm6U0mk5GM.97
--------
Malaysia Arrests Two Men Linked to Islamic State Over Planned Attacks
Jan. 22, 2018
KUALA LUMPUR (Reuters) - Malaysia has arrested two men believed to have links with militant group Islamic State, including one who allegedly walked around its capital armed with a knife aiming to kill Buddhist monks, police said on Monday.
The Muslim-majority Southeast Asian nation has been on high alert since gunmen linked to Islamic State (IS) launched several attacks in Jakarta, the capital of neighboring Indonesia, in January 2016.
The two suspects were arrested in two separate raids in December and January, on suspicion of planning to carry out acts of violence and promoting IS ideology.
One of them, an Indonesian who was arrested last week, had allegedly scoured a busy district of the capital, Kuala Lumpur, in November, seeking Buddhist monks to kill, in retaliation for violence suffered by Rohingya Muslims in Myanmar.
"The attempt failed, and police managed to confiscate a knife during the raid," Mohamad Fuzi Harun, the inspector-general of police, said in a statement.
He added that the suspect had also allegedly communicated with a senior IS leader over WhatsApp, had sought to recruit several other Indonesians and put up an IS flag at the building site where he worked.
The other suspect, a Malaysian teacher at a private religious school, was detained in December on suspicion of planning an attack on entertainment outlets and to rob, kidnap or kill non-Muslims.
The suspect, who had been previously jailed under Malaysia's anti-terror law, had also maintained contact with former members of known terror groups and promoted IS ideology on his Facebook account to recruit new members, police said.
Malaysia has arrested hundreds of people over the past few years for suspected links to militant groups.
Full report at:
https://www.usnews.com/news/world/articles/2018-01-22/malaysia-arrests-two-men-linked-to-islamic-state-over-planned-attacks
--------
Mohamed Nasheed Warns Over China, Radical Islam
22 January 2018
COLOMBO: Exiled Maldives opposition leader Mohamed Nasheed accused China on Monday of seizing land in the politically-troubled Indian Ocean archipelago and undermining its sovereignty.
Nasheed, on a visit to the Sri Lankan capital Colombo where his Maldivian Democratic Party activists are based, also warned of the rise of radical Islamists in the holiday paradise.
Nasheed said Chinese interests had leased at least 16 of the nation's 1,192 scattered coral islands and were building ports and other infrastructure.
The 50-year-old said the increased Chinese presence could threaten the Muslim-majority nation of 340,000 and the wider Indian Ocean region.
Nasheed called the Chinese action a "land grab".
"This is colonialism and we must not allow it. We want other countries (in the region) to join us and speak the same language (against Chinese expansion). We are not against any country, not against direct foreign investment, but we are against relinquishing our sovereignty."
Nasheed said 80% of the Maldives' foreign debt was owed to China and it could end up handing over more land and infrastructure as it may not be able to repay the loans.
Nasheed, who wants to contest this year's presidential election, said he would renegotiate contracts with China if successful.
Nasheed in 2008 became the Maldives' first democratically elected president but was ousted in an alleged coup backed by religious extremists in February 2012.
In 2013 he stood again for the presidency but was defeated by Abdullah Yameen.
In 2015 he was jailed on terrorism charges which he says were politically motivated, and has lived in exile in Britain for two years after Maldives authorities let him travel there for medical treatment.
Paradise threatened
Nasheed said key branches of the government were being infiltrated by Salafists, an ultra-conservative branch of Sunni Islam.
"Paradise is threatened by a religious extremist takeover," he said.
"It's not an exaggeration to say that there is now a parallel state in the Maldives. A state within the state. A network of religious radicals have infiltrated strategic institutions, the government and the street gangs."
"They lie in wait, ready to overrun the country and impose a radical version of religion upon Maldivians and tourists alike," Nasheed said.
He estimated that about 300 Maldivians had joined Islamic State militants in Syria and Iraq and many were returning to the atoll nation.
Last week, the Maldivian government promised to block websites seeking to radicalise the population after the United States warned its nationals that extremist groups may attack with little warning in the popular tourist destination.
A crude explosive device was set off at a park in the capital Male in 2007 injuring a dozen tourists, most of them Chinese, in what was seen as a home-grown terror attack.
There have been no recent attacks targeting tourists however.
Nasheed is almost certain to be arrested if he returns to the Maldives for the election.
The constitution bars him from being a candidate because of his criminal conviction. But he hopes the restriction will be lifted in response to international pressure.
Full report at:
http://www.thesundaily.my/news/2018/01/22/exiled-maldives-leader-warns-over-china-radical-islam
--------
All Muslims must fight corruption, says IRF
Sheith Khidhir Bin Abu Bakar
January 23, 2018
PETALING JAYA: The Islamic Renaissance Front (IRF) has dismissed controversial preacher Zamihan Mat Zin as ignorant following his criticism of Pakatan Harapan chairman Mahathir Mohamad.
Referring to Zamihan's call on Mahathir to quit politics and spend time in prayer, IRF director Farouk Musa said the preacher had shown that he believed one could earn heaven only through such devotional practices.
Zamihan made his criticism in a recent interview with news portal Watan Online. He did not mention Mahathir by name, but the reference was obvious. He said an old man who had been in power for 22 years should enrol in a madrasah and spend time in prayer instead of questioning the leadership of his successors.
Farouk questioned whether Zamihan knew that preventing or fighting wrongdoing such as corruption would also be an act of piety.
He quoted a verse from the Quran, which reads: "Do not incline towards, nor rely upon, those who are bent on evildoing, lest the fire ( of the hereafter) touch you."
He said this could be interpreted as meaning that Muslims had a duty to fight evildoing, including corruption.
"The principle that must be adhered to by all Muslims is not to be collaborators with evil doers and I believe that to fight against a corrupt leader, even if he is a Muslim, is among these noble endeavours and an imperative in the Quran."
He added that Zamihan had shown how "rude, impudent and insolent" he could be.
International Islamic University Malaysia lecturer Maszlee Malik said he believed every able-bodied Muslim must fight corruption.
Full report at:
http://www.freemalaysiatoday.com/category/nation/2018/01/23/all-muslims-must-fight-corruption-says-irf/
--------
Europe
Suspect in London van attack on Muslims 'ticking time bomb'
January 22, 2018
LONDON — A man accused of driving a van into worshippers near London's Finsbury Park Mosque became convinced that all Muslims were extremists or rapists in pedophile gangs, a prosecutor said Monday.
Darren Osborne, 48, is accused of driving into a crowd of worshippers attending Ramadan prayers in June. A 51-year-old man, Makram Ali, was killed and nine people were injured in the attack.
Osborne, of Cardiff, Wales, denies charges of murder and attempted murder.
On the first day of Osborne's murder trial, prosecutor Jonathan Rees said the "act of extreme violence" was intended to kill as many people as possible. He said prosecutors considered it a terrorist attack.
Osborne was pinned to the ground by several men until police arrived, and was heard to say "I want to kill more Muslims," Rees said.
He said a handwritten note was found in the cab of the van within hours of the June 19 attack, complaining of terrorists and referring to a case in which several Muslim men were convicted of sexually exploiting women and girls in the northern England town of Rotherham. Osborne had watched a TV drama about a similar case shortly before the attack.
Osborne's partner, Sarah Andrews, said he had become "brainwashed" and was a "ticking time bomb," the prosecutor said.
In a statement read to jurors at Woolwich Crown Court in London, Andrews said Osborne had been "openly saying a lot of racist things and tarring all Muslims with the same brush."
"I should have realized what was going on and I feel so bad that I did not see it, so that I could have done something to stop it," she said.
https://www.washingtonpost.com/world/europe/suspect-in-london-van-attack-on-muslims-ticking-time-bomb/2018/01/22/a92e7ae2-ff8c-11e7-86b9-8908743c79dd_story.html?utm_term=.2017fc5be757
--------
Salford man pleads guilty to 16 terrorism charges
22 January 2018
A Muslim convert from Salford has pleaded guilty to 16 terrorism charges.
Adam Wyatt admitted encouraging terrorism through online postings about jihad, disseminating terrorist publications and possessing e-copies of documents useful for terrorism.
Wyatt, 48, of Bridgewater Street, Salford, was remanded into custody following his guilty pleas at Manchester Crown Court on Monday.
He will be sentenced following a further hearing in April.
Wyatt admitted nine counts of encouragement of terrorism, including postings on a Google Plus account which said jihad was an "obligation" for Muslims.
He admitted two counts of disseminating a terrorist publication, one which stated Britain must "atone for its sins in Palestine".
'Intentional acts'
Wyatt also pleaded guilty to five counts of possessing a document or record useful for someone committing or preparing an act of terrorism.
The documents included the Mujahideen Poisons Handbook and another entitled Advice To Those Who Cannot Leave To Sham.
Jonathan Sandiford, prosecuting, said a further hearing must be held to determine whether Wyatt, as his defence claims, was simply "reckless" in his activities.
Mr Sandiford said: "The prosecution case is that the defendant created for himself effectively a legend as a supporter of Islamic State, we therefore contend these were intentional acts."
Full report at:
http://www.bbc.com/news/uk-england-manchester-42772800
--------
Finsbury Park: Man 'wanted to kill Muslims in van attack'
22 January 2018
A man accused of driving a van into a crowd of people near a London mosque wanted to kill as many Muslims as he could, Woolwich Crown Court has heard.
Darren Osborne, 48, is accused of ploughing into a crowd of worshippers in Finsbury Park, killing Makram Ali, 51, and injuring nine others last year.
The court heard he became "obsessed" with Muslims and the Rochdale grooming scandal after watching a BBC TV drama.
Mr Osborne, from Cardiff, denies charges of murder and attempted murder.
Opening the trial, prosecutor Jonathan Rees QC said Mr Osborne had driven a Luton box van from Cardiff to London on 18 June.
He then deliberately targeted crowds in Finsbury Park at about 00:15 BST on 19 June, he added.
The area was busy with worshippers attending Ramadan prayers at the time, Mr Rees told the court.
Mr Osborne was seeking "to kill someone merely because of their religion," he added.
'Obsessed' with Muslims
Mr Osborne's partner, Sarah Andrews, said he had become "obsessed" with Muslims in the weeks leading up to the incident, having watched the BBC drama Three Girls about the Rochdale grooming scandal.
"He seemed brainwashed and totally obsessed with the subject," she said in a statement, read out in court.
Ms Andrews - who had been in a relationship with Mr Osborne for about 20 years and had four children with him - said he became a "ticking time-bomb" before the alleged attack, Mr Rees added.
She described Mr Osborne as a "loner and a functioning alcoholic" with an "unpredictable temperament", he said.
During the weekend prior to the attack, the defendant was heard "preaching racial hatred" in a pub, Mr Rees said.
He allegedly told a soldier in the pub: "I'm going to kill all the Muslims, Muslims are all terrorists. Your families are all going to be Muslim. I'm going to take it into my own hands."
Devices seized from Mr Osborne's home showed internet searches for Britain First and the English Defence League, the court heard.
Police also found a video - believed to be fake - showing Muslims celebrating following the Paris terror attack.
Ms Andrews told police Mr Osborne had been reading posts by former EDL leader Tommy Robinson on Twitter.
Note in van
A handwritten note, found in the van used in the attack, complained about terrorists on the streets and the Rotherham child exploitation scandal, Mr Rees told the jury.
The note allegedly referred to Muslim people as "feral" and called Muslim men "rapists" who were "preying on our children", the jury heard.
One part read: "Don't people get it, this is happening up and down our Green and pleasant land.
"Ferrel [feral] inbred raping muslim men hunting in packs preying on our children, this will be coming to a town near you soon, it most probably has, get back to the desert, you raping inbred bastards & climb back on ya camels."
The note ended: "Well Folkes gotta go busy day today. Remember peaceful vigils only & please dont look back in anger, God Save the Queen."
It also branded Labour leader Jeremy Corbyn a "terrorist sympathiser" and attacked London Mayor Sadiq Khan and singer Lily Allen, the prosecutor added.
Mr Rees said: "The underlying theme seems to be that the defendant felt that insufficient was being said or done to counter terrorism and the grooming gangs comprising predominantly Muslim males.
"Against that background, the defendant decided to take matters into his own hands."
Prosecutors believe Mr Osborne had been planning to target an Al Quds Day march in London, organised by the Islamic Human Rights Commission, on 18 June.
Mr Osborne is believed to have asked a black cab driver for directions to Grosvenor Square, the destination of the marchers, the court heard.
Mr Rees added: "We are not able to say quite how close the defendant came to the marchers or Grosvenor Square, although it seems likely the defendant was prevented from carrying out an attack because of the road closures that were put in place."
Instead, he said Mr Osborne travelled to Forest Hill, south London, at around 20:00, and asked a man where the nearest mosque was.
He was told there was none in the area and travelled north, stopping to ask a motorist the directions to Finsbury Park.
The driver allowed the defendant to follow him and he arrived in the Finsbury Park area at just before 23:30, Mr Rees added.
'Definitely alive'
Mr Rees told the court the alleged attack was "particularly horrific" because the group had gathered in the street to help Mr Ali, who had collapsed minutes earlier.
Several of those who went to help Mr Ali said he was "definitely alive" and conscious in the moments before being struck.
Mr Osborne planned to make "a public statement by killing Muslims", knowing that his handwritten note would be recovered, Mr Rees added.
Full report at:
http://www.bbc.com/news/uk-42778184
--------
EU: More engagement needed for solution in Jerusalem
23 January 2018
The European Union's foreign policy chief on Monday said Palestinians and Israelis need to show more engagement with the international community for "a negotiated outcome".
Speaking at a joint press conference with Palestinian President Mahmoud Abbas, Federica Mogherini reiterated the EU's commitment to a two-state solution, with Jerusalem (Qudus) as the shared capital of both states -- the State of Israel, and the State of Palestine.
"This is and remains the EU position, based on the Oslo accords and the international consensus embodied in the relevant UN Security Council resolutions. It is also, we believe, the only realistic and viable way to fulfill the legitimate aspirations of both parties," she said.
Mogherini urged Israel and Palestine to come together for a "negotiated outcome".
"This is not the time to disengage; on the contrary. We believe Palestinians and Israelis need to show more than ever before their engagement with the international community, with key actors in this process, so that we can together work towards a negotiated outcome."
Mogherini also looked ahead to a Jan. 31 extraordinary session of the international donor group for Palestine in Brussels -- the Ad Hoc Liaison Committee -- with the participation of Norway.
Full report at:
http://www.worldbulletin.net/europe/198109/eu-more-engagement-needed-for-solution-in-jerusalem
--------
France called for UN Security Council meeting over Syria
22 January 2018
France has called for a United Nations Security Council meeting over "humanitarian risks" as fighting escalates in Syria, its foreign minister said on Sunday in Algiers.
"This is why we have called for a Security Council meeting to evaluate all the humanitarian risks, which are very serious," he said on the sidelines of a meeting for western Mediterranean countries.
His comments came after Turkish forces on Saturday launched an operation to oust Kurdish militia from the northern Syrian enclave of Afrin.
Le Drian spoke to his Turkish counterpart in a telephone call on Sunday morning, his staff said.
The French minister also mentioned tens of thousands of Syrians trapped in a besieged rebel stronghold outside Damascus, Eastern Ghouta, which has come under deadly regime bombardment this week.
He spoke of tens of thousands more forced to flee fighting between Russia-backed regime forces and jihadists in the northwestern province of Idlib.
Le Drian called for a halt to fighting and demanded access to humanitarian aid for all.
Idlib and Eastern Ghouta were two of four "de-escalation zones" agreed last year by rebel backer Turkey and regime allies Iran and Russia.
"It is important that everything be done for the ceasefires to be applied very soon and that a political solution finally be embarked upon," he said.
Full report at:
http://www.worldbulletin.net/europe/198066/catalan-leader-puigdemont-arrives-in-denmark
--------
Africa
Jordan's king tells Pence U.S. must rebuild trust after Jerusalem decision
January 22, 2018
Jordan's King Abdullah told U.S. Vice President Mike Pence on Sunday he looked to Washington to rebuild "trust and confidence" in moving toward a two-state solution in Israel after President Donald Trump recognized Jerusalem as the country's capital.
With Pence sitting across from him in the royal palace, King Abdullah said Jordan viewed the Israel-Palestinian conflict as a "potential major source of instability".
He said he had raised his concerns for some time that such a decision on Jerusalem "does not come as a result of a comprehensive settlement to the Palestinian-Israeli conflict". He also reiterated that East Jerusalem should be the capital of a future Palestinian state.
"We hope that the U.S. will reach out and find the right way to move forward in these challenging circumstances," the king said.
At the end of the visit, Pence in remarks to the press said he "agreed to disagree" with King Abdullah on the impact of Trump's move.
Pence said in Egypt on Saturday and again in Jordan that the United States would support a two-state solution for Israelis and Palestinians if they both agreed to it.
Trump's endorsement in December of Israel's claim to Jerusalem as its capital drew universal condemnation from Arab leaders and criticism around the world. It also broke with decades of U.S. policy that the city's status must be decided in negotiations between Israel and the Palestinians.
Jordan lost East Jerusalem and the West Bank to Israel during the Arab-Israeli war in 1967.
Pence told the king that Washington was committed to preserving the status quo of holy sites in Jerusalem .
King Abdullah's Hashemite dynasty is the custodian of the Muslim holy sites in the city, making Amman particularly sensitive to any changes of status there.
"For us, Jerusalem is key to Muslims and Christians, as it is to Jews. It is key to peace in the region and key to enabling Muslims to effectively fight some of our root causes of radicalization," he said.
Jordanian officials fear Trump's move has wrecked chances of a resumption of Arab-Israeli peace talks, which King Abdullah had sought to revive.
They also worry the move could trigger violence in the Palestinian territories which could spill over into Jordan , where many people are descendants of Palestinian refugees whose families left after Israel was created in 1948.
"We take no position on boundaries and final status. Those are subject to negotiation," Pence said.
After the meeting, Pence flew to a military facility near the Syrian border to meet with U.S. troops. He will finish his three-nation Middle East trip in Israel.
https://nation.com.pk/22-Jan-2018/jordan-s-king-tells-pence-u-s-must-rebuild-trust-after-jerusalem-decision
--------
Sudan refugee laments plan to imprison, deport Africans
by Azad Essa
Jan 23, 2017
Indefinite imprisonment or a one-way ticket.
These were the options Prime Minister Benjamin Netanyahu offered to African refugees and migrants in Israel earlier in January.
Describing the 40,000-strong community as "infiltrators", Netanyahu said they had "to cooperate with us and leave voluntarily, respectably, humanely and legally, or we will have to use other tools at our disposal, which are also according to the law".
The bid to remove African refugees - mostly Sudanese and Eritreans - is not new.
Those who have made their way across the Israeli border irregularly have for years faced discrimination, exclusion and imprisonment.
But the decision to offer imprisonment or relocation to a third country, presumably Rwanda or Uganda - though both countries deny having an agreement with Israel - has outraged human rights groups and the United Nations.
"In the latest chapter of its long-standing quest to dodge its refugee protection duties, Israel is threatening to lock up thousands of asylum seekers who refuse to leave," said Gerry Simpson, associate refugee director at Human Rights Watch, on Monday. "Instead of jailing them, Israel should fairly identify and protect refugees among them."
Despite being party to the 1951 UNHCR Refugee Convention, acquiring refugee status in Israel is close to impossible. Only 200 people have been given refugee status since 1948; the African Refugee Development Center says Israel recognises fewer than one percent of refugee claims.
Thousands have languished in jails as Israeli policy looked to preserve the Jewish nature of the state.
In 2016, 30-year-old Mutasim Ali became the first Sudanese to be granted refugee status in Israel.
Born in Darfur, Ali fled Khartoum then travelled to Egypt and later to Israel, where he faced racism and alienation.
The African community, he says, is horrified with the relocation plan.
He told Al Jazeera his story.
On Israel's decision to relocate Africans...
"It is horrifying. It is a shame that the Israeli government is doing this. When you have politicians who all rally and label us as infiltrators, that's really dehumanising. Attacks are happening all the time. There's no justification for it.
"I am not in a position to talk about the treatment of Palestinians, that would be unwise for me to do so. But now is the time for Israelis to decide how they want their society to look like.
"The plan is to deport African asylum seekers to Rwanda and Uganda, but I believe many people will rather go to Saharonim (a prison near the Egyptian border) because they have nowhere to go. The community is so desperate and lost faith and spirits are down."
On being the first Sudanese with refugee status...
"Refugee status gives me temporary residency and the same rights as an Israeli citizen, except I can't vote for the national parliament. I don't want to do that anyway.
"In Israel, there is racism and mistreatment and humiliation.
"I understand when people decide to leave Israel to go nowhere because they are tired of what's happening. I was the first Sudanese to receive refugee status. The Ministry of Interior says there there is one more, but we don't know who it is."
On escaping Darfur...
"My village Dabba-naira in Northern Darfur was attacked in 2003 and then destroyed in 2005. I was there during the first attack, aged just 16. The Janjaweed militia came on horses and camels. People were murdered.
"My family and I ended up displaced; we were separated and they ended up in an IDP camp in North Darfur. I searched for an alternative and walked on my own to the south, through different cities. I took a train to Khartoum. The journey took 15 days. There was no way to communicate with my parents, there were no phone calls at that time.
"I was in Khartoum from 2003 to the beginning of 2009. I went to the Omdurman Islamic University and engaged with political activism on campus. A few of us there started to rally and were labelled as rebel groups supporting the revolutionary movements in Khartoum.
"For that reason, we were threatened and followed by the security services. I was also imprisoned several times. As it became more dangerous, I decided it was time to leave. And I went to Egypt. The problem with Egypt is that they have diplomatic relations with Sudan, so this was not the safest place to be."
On racism in Egypt...
"I wasn't persecuted in Egypt, but I felt continuously under threat. Sudanese security would let it be known that they were watching us. There was a lot of racism as well in Egypt. There is racism in Egypt and Jordan. No one is there for you.
"Egypt is not a place to host or protect genocide survivors, because it itself committed these crimes.
"I didn't want to go anywhere that had diplomatic relations with Sudan such as Jordan, Lebanon and Syria. I decided on Israel for two reasons.
"The first reason - there were no diplomatic relations between the two countries.
"Second, when the genocide began in Darfur in 2003 and there was bloodshed every day, [Sudan] was supported by China and the Arab League Countries - despite them being mostly Muslim and sharing a language.
"In the eyes of those countries we are not even Muslim, so they were supporting the government in those actions by giving money or indirectly through the Arab League."
On moving to Israel...
"The only people standing with us at that time were the Jewish diaspora from America. They launched campaigns such as Save Darfur.
"I was surprised because in school we had been taught a lot against Israel. But they were supporting us because they had experienced this in their part.
"That motivated my decision that Israel was the safest space for me.
"It was not the state of Israel that supported us, but the American Jews. Israel is a Jewish state, and so that gave me the impression that if Jews were standing up for us, Israel might be a safer place.
"I crossed the Israeli border in 2009 and the Israeli army took us in. They gave us food and water. The day after, I was taken by border police to prison."
On life in an Israeli prison...
"I saw hundreds of African prisoners from Eritrea and Guinea, Togo and Cameroon. In the compound I was in there were about 500. [Note: There are currently 1,200 Africans at the Holot prison]
"As a person who had been through solitary confinement and who had fled genocide in Darfur, I was not angry about the conditions of the prison. I was upset that the prison services were not giving me an opportunity to apply for asylum.
"The vast majority [of inmates] were from West African countries. The idea was to make it to Israel as a final destination, no one was using it as a springboard. When you're escaping danger, you don't worry about where to go, you take the closest possible option."
On applying for asylum...
"After three years of going to the Ministry of Interior, they finally allowed to me apply for asylum. Nothing happened for two years. Instead they sent me to Holot Detention Facility. It was at Holot that I started legal proceedings and was supported by the Hotline for Refugees and Migrants rights group.
Full report at:
http://www.aljazeera.com/indepth/features/sudan-refugee-laments-plan-imprison-deport-africans-180121185731099.html
--------
URL: https://www.newageislam.com/islamic-world-news/student-kills-pakistan-college-principal/d/114034
New Age Islam, Islam Online, Islamic Website, African Muslim News, Arab World News, South Asia News, Indian Muslim News, World Muslim News, Women in Islam, Islamic Feminism, Arab Women, Women In Arab, Islamophobia in America, Muslim Women in West, Islam Women and Feminism