New Age Islam News Bureau
19 March 2016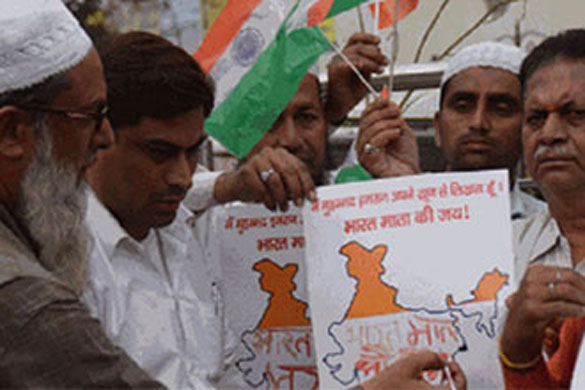 Photo: Muslims Write 'Bharat Mata Ki Jai' With Blood on Indian Map
--------
India
• Muslims Write 'Bharat Mata Ki Jai' With Blood on Indian Map
• Strengthen Sufism to Change Perception about Islam: World Sufi Forum
• 2 Muslims Herding Buffaloes Thrashed, Hanged In Jharkhand
• Security forces kill two militants in Kashmir's Kupwara district
• Top Hyderabad seminary fatwa rejects 'Bharat Mata ki jai' slogan
----------
Arab World
• 'Hezbollah and Harkat Al Nujaba Are the Twins of Resistance,' Iraqi Militia Spokesman Says
• Senior Cleric: Arab League Chief Bribed by S. Arabia to Blacklist Hezbollah
• Iran Blasts Presence of Terrorist Leaders in Geneva Talks on Syria
• Islamic State claims killing Russian soldiers at Palmyra
• 19 Arab pilgrims killed, 22 injured as bus overturns on Al-Hejra highway
• Libyan ISIL Ringleader Killed in Ramadi
• Syria: Another Top Commander of ISIL Killed near Palmyra
• Sectarian Wars: Dreams Come True for Israel
• Syrian Army Destroying More ISIL Positions near Palmyra
--------
Mideast
• Four Killed, 20 Wounded In Suicide Bombing Targeting Istanbul's Tourist District
• Germany Urges Turkey to Focus On Integrating Syrian Refugees
• Turkey's main opposition leader offers PM counterproposal for lifting immunities
• EU, Turkey strike deal on Syrian migrants, visa
• Turkey set to take back illegal migrants from Greece as of March 20: Turkish official
• Top level security at Ankara's main bus terminal
• Gallipoli victory marked on 101th anniversary
• Iran, Malaysia Review Ways to Bolster Ties, Cooperation
-------
South Asia
• US Steps Up Airstrikes against ISIS after It Gains Territory in Afghanistan
• Afghanistan Hoists New Mega Flag Gifted By India On The Occasion Of Nowruz
• Militant Shot Dead before Attacking the Residence of Acting NDS Chief
• US Air Force dropped 251 bombs, missiles in two months in Afghanistan
• Two people killed, another wounded in landmine explosion in Zabul
• Russian Ambassador reaffirms Moscow's support to equip the Afghan forces
• 5 Russian speaking suspects reportedly arrested in Nangarhar province
-----------
Europe
• British Photographer John Cantlie Appears In New ISIS Video
• UK Prisons Chief Defends Muslim Chaplains over 'Disgraceful' Extremism Claims
• Deradicalising Britain: the activists turning young Muslims away from extremism
• Students hit back over LSE Islamic society's segregated gala dinner
• Paris attack suspect Salah Abdeslam caught as video shows ISIS fugitive fleeing
------------
Southeast Asia
• Indonesian Migrant Worker Rescued From Islamic State
• Lawmakers Want Military to Combat Terrorists and Drug Traffickers
• For Malay-Muslim detainees, torture a common thread In Thailand's Deep • South torture to extract confessions remains rampant
• Indonesia to keep death penalty as punishment for drug crimes
--------
Pakistan
• Head Money Announced For 99 Militants
• PM, COAS in rare talks on military matters
• Parents of over 46,000 children refuse polio vaccine
• Security forces hold flag march in Chaman
• Benazir case may face further delays
• PPP flays PML-N over Musharraf's departure
----------
Africa
• Somalia's Puntland Says Gains Ground In Fight with Islamists
• Jihadists attack Algeria gas plant
• We'II Create Jobs to Curtail Youth Migration – President Mahama
-----------
North America
• American Islamic State Defector: I Followed a Girl into the Caliphate
• NATO Confirms No Casualties As Helicopter Makes Hard Landing in Helmand
Compiled by New Age Islam News Bureau
URL: https://newageislam.com/islamic-world-news/new-age-islam-news-bureau/strengthen-sufism-to-change-perception-about-islam--world-sufi-forum/d/106708
----------
India
Muslims Write 'Bharat Mata Ki Jai' With Blood On Indian Map
March 18, 2016
Zee Media Bureau
New Delhi: All India Majlis-e-Ittehadul Muslimeen (AIMIM) chief Asaduddin Owaisi's refusal to chant 'Bharat Mata Ki Jai' has sparked anger among the members of Muslim community, who said the Hyderabad MP had made such remarks for political gains.
According to a report published in the Times of India on Friday, a prominent Muslim community leader Mohammad Imam and his supporters held a protest march at the Bachcha Park in Meerut where they criticised Owaisi's remarks.
They maintained that Islam doesn't stop it's people from expressing love for their country or shouting slogans in that vein.
"The remark of Owaisi is completely anti-national and is not acceptable," the Imam was quoted as telling his supporters during the protest.
Imam and his supporters also wrote the slogan 'Bharat Mata Ki Jai' in blood on a map of India to express their love for the motherland.Meerut Muslims wrote 'Bharat Mata Ki Jai' with blood on India's map./ Pic Courtesy - ToI
Imam's blood was drawn out using a syringe and then he and his supporters wrote "Bharat Mata Ki Jai" using it as ink on three maps of India which they got specially made for the purpose.
Mohammad Imam, who is the district vice-president of Congress and noted community leader, said that Owaisi is making these remarks for political leverage and that he is defaming the name of Islam.
"We are Indians and saying 'Bharat Mata Ki Jai' is our responsibility."
Commenting on Owaisi's speech three days ago, Imam further said, "Saying Bharat Mata Ki Jai is equivalent to hailing the land, women, children, sisters and soldiers of India. The remark of Owaisi is completely anti-national and is not acceptable. The posters of Owaisi have BR Ambedkar's pictures along with him. I would like to ask Owaisi: is this what Baba Ambedkar taught him?"
Owaisi has faced intense criticism for his speech and got a fitting reply from legendary film personality Javed Akhtar in Parliament.
zeenews.india.com/news/india/response-to-owaisi-meerut-muslims-write-bharat-mata-ki-jai-with-blood-on-indias-map_1867083.html
----------
Strengthen Sufism to Change Perception about Islam: World Sufi Forum
PTI: March 19, 2016
New Delhi, Mar 18 (PTI) Scholars today made a strong pitch for strengthening Sufism and "changing the perception" about Islam globally by spreading the faith effectively.
Speaking at the first World Sufi Forum organised by All India Ulema and Mashaikh Board (AIUMB), speakers from various parts of the world underscored the need to tackle terrorism, which has cast negative perceptions on the Muslim community.
"We can see the effects of terrorism on Muslim community. In a recent survey, majority of Canadians expressed negative opinion about Islam. This is because what continues to happen in parts of the world. The Forum is doing a good job and hopefully we will come up with an action plan. We can meet the challenge (of terrorism) with Sufism," Canada-based scholar Sheikh Faisal Hamid Abdul Razaq said.
Razaq pitched for renewing efforts to bring Sufism to mainstream of Muslim community to tackle terrorism and suggested involving more women in the process of spreading peace.
Syed Shamimuddin Munami of India seconded Razaq and stressed on the need to fight terrorism "without funds and on the back of character and values".
AIUMB president Syed Mohammed Ashraf Kichhouchhwi said followers of Ganges-Yamuna culture should strive to "export" inherited values of Sufism to the world where terrorism is bred.
Syed Asad Ali Shah Abualai from Pakistan, said Sufism can play a big role in improving New Delhi-Islamabad ties even as he blamed "some foreign forces" for the strained relationships between the two countries over the years.
He noted that militant elements were present "not only in Islam, but all religions" and sought to condemn that. (MORE) PTI ENM PRM
indiatoday.intoday.in/story/strengthen-sufism-to-change-perception-about-islam-forum/1/624102.html
-----
2 Muslims herding buffaloes thrashed, hanged in Jharkhand
Mar 19, 2016
RANCHI/DALTONGANJ: In an incident reminiscent of the Dadri lynching, two Muslim men herding eight buffaloes on their way to a Friday market were beaten up and hanged to death from a tree by suspected cattle-protection vigilantes in Balumath forests in Latehar district, 100km from the state capital, early on Friday.
The deceased, Muhammad Majloom, 35, and Azad Khan alias Ibrahim, 15, were cattle traders and related to each other. Their bodies were strung up with their hands tried behind their backs and their mouths stuffed with cloth.
"The manner of their hanging showed that the assailants were led by extreme hatred," said Latehar SP Anoop Birthary.
Local MLA from the Jharkhand Vikas Morcha (Prajatantrik) Prakash Ram claimed that Hindu radicals were behind the killings. Reports said villagers who protested the deaths claimed the victims were targeted as they were cattle traders.
Birthary, however, did not identify the assailants. "We are gathering leads to verify whether personal or business enmity led to the murder or it was due to some other motive. The buffaloes were freed. It is yet to be known if the buffaloes were taken away by the assailants or they strayed into the forest," Birthary said.
The hanging sparked protests by people in Jhabbar village that turned violent when police tried to take down the bodies. The situation poses a serious political and law and order challenge for the BJP government in Jharkhand. In the case of Dadri case when a Muslim man was killed over rumours of beef eating, BJP had said law and order was under the SP government.
But in the Jharkhand incident, the buck stops with the state and central leadership. SDO Kamleshwar Narayan and six cops were injured when villagers threw stones at officials who arrived in the morning to manage the situation and ensure that it did not take a communal turn. Injuries to senior officials forced police to fire in the air and lathi charge the villagers.
Sources said protesting villagers have periodically claimed that assailants have targeted them in the past because they are engaged in cattle trade. "Four months ago, a group of men tried to kill a cattle trader in Gomia village of Balumath. The man managed to escape," Latehar MLA Prakash Ram said.
Local MLA Prakash Ram from the Jharkhand Vikas Morcha (Prajatantrik) party led by former BJP member Babulal Marandi alleged a group of Hindu radicals was responsible for the attack on the cattle traders. "They are supported by the police who do not act against them," Ram said.
The MLA's claims appeared to tally with statements of villagers who blocked Latehar-Chatra National Highway after the killings. An FIR was lodged against unknown persons for the murder and another FIR was lodged against unknown persons.
timesofindia.indiatimes.com/city/ranchi/2-Muslims-herding-buffaloes-thrashed-hanged-in-Jharkhand/articleshow/51465433.cms
------
Security forces kill two militants in Kashmir's Kupwara district
Mar 18, 2016
SRINAGAR: Two militants were killed in an encounter with security forces in north Kashmir's Kupwara district on Friday.
"Two terrorists have been gunned down so far by the army in an ongoing operation at Petha Wadar of Handwara area in the district," an Army official said.
Acting on specific information about the presence of militants in the area, security forces on Thursday night launched a search operation there, he said.
The hiding militants fired upon the security forces triggering an encounter in which the two militants were killed, the official said.
He said the identity of the slain militants has not been ascertained yet.
The operation is in progress and further details are awaited, the official said.
timesofindia.indiatimes.com/india/Security-forces-kill-two-militants-in-Kashmirs-Kupwara-district/articleshow/51452095.cms
------
Top Hyderabad seminary fatwa rejects 'Bharat Mata ki jai' slogan
Mar 19, 2016
HYDERABAD: Influential Islamic seminary Jamia Nizamia on Friday issued a fatwa declaring that "reason" and Islamic "faith" do not allow Muslims to chant the slogan `Bharat Mata ki jai'.
The fatwa, which is an Islamic cleric's jurisprudential opinion, came after Syed Ghulam Samdani Ali Quadri, a religious figure from the Old City here, approached the seminary for an answer three days ago.
Explaining the rationale behind the ruling, Mufti Azeemuddin, who heads the Darul Ifta, or fatwa centre of the seminary, wrote that according to the principles of reason, only a human gives birth to a human and treating the "land of Bharat" as a mother is against "reason".
"The mother of a human is human. No piece of land and no animal and no other object gives birth to humans," an excerpt from the fatwa reads.
Describing this process as the "law of nature", the mufti further wrote, "This is why calling the land of Bharat as mother is against rea son. The religion (of Islam) also says the same thing."
The seminary clarified that those who wish to treat the "land of Bharat as their mother, then this is the person's individual religious belief and that the person cannot force others (to believe in this)."
The Mufti concluded by writing that "the Muslims of Bharat love the country."
Commenting on what prompted him to seek a fatwa, Quadri, who heads the religious organisation Seerat-un-Nabi Academy in Qazipura, said that the slogan finds no mention in the Constitution and should not be considered as the only means of expressing love for the country.)
timesofindia.indiatimes.com/city/hyderabad/Top-Hyderabad-seminary-fatwa-rejects-Bharat-Mata-ki-jai-slogan/articleshow/51466904.cms
-----
Arab World
'Hezbollah and Harakat al Nujaba are the twins of resistance,' Iraqi militia spokesman says
March 18, 2016
An influential Iranian-backed Iraqi militia said that it and Hezbollah "are the twins of resistance that cannot ever be loosened or separated." The militia, known as Harakat al Nujaba, or Movement of the Noble, made the statement after the Gulf Cooperation Council and the Arab League branded Hezbollah a terrorist organization.
Hashem al Musawi, the official spokesman for Harakat al Nujaba, issued a statement on the group's official website on March 13 that defended Hezbollah from the terrorist designation by both the Gulf Cooperation Council and the Arab League earlier this month.
Musawi also indicated that Hezbollah actively fought inside Iraq and took casualties there, presumably during the US occupation as well as during the current fighting against the Islamic State.
"The blood of Hezbollah which flowed in the land of Iraq is our responsibility for so long as we exist," Musawi said at the opening of his statement, which was translated by The Long War Journal.
Full report at: says.php?utm_source=feedburner&utm_medium=email&utm_campaign=Feed%3A+LongWarJournalSiteWide+%28The+Long+War+Journal+%28Site-Wide%29%29
-------------
Senior Cleric: Arab League Chief Bribed by S. Arabia to Blacklist Hezbollah
March 18th, 2016
TEHRAN (FNA)- Tehran's provisional Friday Prayers Leader Ayatollah Mohammad Ali Movahedi Kermani said Saudi Arabia has bribed Secretary General of the Arab League Nabil al-Arabi to designate the Lebanese Hezbollah as a "terrorist group".
"Saudi Arabia has given $2mln to al-Arabi to call Hezbollah terrorist since Hezbollah has stood against the enemies," Ayatollah Movahedi Kermani said, addressing a large and fervent congregation of the people on Tehran University campus on Friday.
He also referred to the Riyadh-led attacks against the Yemeni people, and said the Saudi crimes against the Yemenis, including the recent airstrikes against a market which killed 120 people, are committed with the US support and green light.
Full report at: en.farsnews.com/newstext.aspx?nn=13941228000370
-----
Iran Blasts Presence of Terrorist Leaders in Geneva Talks on Syria
March 18th, 2016
TEHRAN (FNA)- Iranian Deputy Foreign Minister for Arab and African Affairs Hossein Amir Abdollahian criticized participation of infamous terrorist leaders in Geneva talks on Syria.
Amir Abdollahian made the remarks in phone talks with UN Special Envoy for Syria Staffan de Mistura on Friday.
He described presence of the leaders of terrorist groups at the negotiations table in Geneva as harmful.
Amir Abdollahian, meantime, appreciated de Mistura's efforts to settle the crisis in Syria politically, and underlined the necessity for focusing on Syrian-Syrian talks.
De Mistura, for his part, lauded Iran's efforts in fighting against terrorism and its support for settling the crisis in Syria politically, and said despite the challenges, the trend of Geneva talks are positive and they will continue by next Tuesday.
The Syrian peace talks have hit their first logjams, as disputes erupted over the composition of delegations to the talks and a Kurdish call to form a federal Syria with a semi-autonomous Kurdish region in the North of the country.
Full report at: en.farsnews.com/newstext.aspx?nn=13941228000521
-------
Islamic State claims killing Russian soldiers at Palmyra
March 18th, 2016
As fighting between the Islamic State and Syrian regime forces continue around the ancient city of Palmyra (or Tadmur in Arabic), the jihadist group's Aamaq News Agency has claimed that five Russian soldiers were executed in recent days. To prove this, the news outlet has posted photos from one of the slain Russian soldier's phones. Aamaq News is linked to the Islamic State and often provides reliable information about the group's local and international operations.
Full report at: longwarjournal.org/archives/2016/03/islamic-state-claims-killing-russian-soldiers-at-palmyra.php?utm_source=feedburner&utm_medium=email&utm_campaign=Feed%3A+LongWarJournalSiteWide+%28The+Long+War+Journal+%28Site-Wide%29%29
---------
19 pilgrims killed, 22 injured as bus overturns on Al-Hejra
March 19th, 2016
Riyadh: Nineteen Arab pilgrims were killed and 22 others injured on Saturday on Al-Hejra highway between Mecca and Medina.
In a statement to local Arabic daily Sabq, Medina Traffic Director said that initial investigation revealed that the Asian driver slept while driving and lost control of his vehicle causing it to overturn.
The bus was carrying 41 pilgrims, including women and children and was heading from Mecca to Medina.
Fourteen medical teams, a rapid intervention unit and the Saudi air paramedics reached the scene of accident.
The injured pilgrims were taken to different hospitals.
gdnonline.com/Details/74536/19-pilgrims-killed,-22-injured-as-bus-overturns-on-Al-Hejra-highway
-----------
Libyan ISIL Ringleader Killed in Ramadi
March 18th, 2016
TEHRAN (FNA)- A Libyan ISIL commander was killed in the Iraqi warplanes' airstrikes on Kabisa region in the Northwestern parts of Ramadi.
Ali Ibrahim Dabo'un, the commander of al-Jazeera operations in Iraq, announced the news on Friday in an interview with Soumeriya news.
He said that the ISIL ringleader was named Ishaq Liby and was killed in joint operations by the Iraqi warplanes and the US-led anti-ISIL coalition's airstrikes in Northwestern Ramadi.
According to the report, tens of other ISIL terrorists were also killed and wounded during the operations.
A security source in Anbar province said on Thursday that Iraqi fighter jets heavily bombarded the ISIL terrorist group's positions in the town of Kabisa Northwest of Ramadi.
Full report at: en.farsnews.com/newstext.aspx?nn=13941228000470
------
Syria: Another Top Commander of ISIL Killed near Palmyra
March 18th, 2016
TEHRAN (FNA)- The ISIL terrorist group lost a second top commander in clashes with the Syrian Army near the ancient city of Palmyra in the Eastern part of Homs province on Friday after Sultan bin Abdul Rahman, a Saudi commander of the terrorist group succumbed to his injuries and died earlier today.
The Lebanese national, Taha al-Dandashi nom de guerre Abu Muhammed al-Libnani, was reportedly killed during fierce clashes between the Syrian Army and the ISIL around the ancient city of Palmyra (Tadmur), Eastern Homs province.
The hunted ISIL commander was originally from the city of Tripoli and His death is considered as a huge blow to the terrorist group.
Full report at: en.farsnews.com/newstext.aspx?nn=13941228000478
------
Sectarian Wars: Dreams Come True for Israel
March 18th, 2016
TEHRAN (FNA)- They say in order to make dreams come into reality, it takes an awful lot of determination, dedication, self-discipline, and effort. Not for Israel.
The usurper regime continues to steal Palestinian lands and it doesn't need to take any effort at all. According to Iran's Supreme Leader Ayatollah Seyed Ali Khamenei, the ongoing sectarian and tribal wars are helping Tel Aviv to do just that. In his words, the ongoing wars on Syria, Iraq and Yemen have been imposed to deflect Muslims' attention away from the atrocities of Israel.
More specifically: "Were the Islamic Ummah united and relied on their commonalities, they would certainly be a unique power on the international political scene, yet major powers have imposed such divisions on the Islamic Ummah to pursue their own interests and safeguard the Zionist regime (of Israel)."
Full report at: en.farsnews.com/newstext.aspx?nn=13941228000609
------
Syrian Army Destroying More ISIL Positions near Palmyra
March 18th, 2016
TEHRAN (FNA)- Syrian and Russian fighter jets kept on pounding ISIL terrorists' positions around the ancient city of Palmyra (Tadmur) on Friday as army troops pressed on their ground advance against the terrorists, military sources said.
"Russian and Syrian warplanes are bombarding ISIL positions and their lines of communication near Palmyra," said a battlefield source.
"These strikes facilitated the advance of the Syrian ground troops towards Palmyra as they keep cutting their distance to the ancient city," the source added.
Reports said fierce battles are underway between pro-government forces and ISIL militants around Palmyra and Quaryatayn, as the Army has managed to establish control over more points near Mahasa village.
Full report at: en.farsnews.com/newstext.aspx?nn=13941228000536
------
Mideast
Five killed, 36 wounded in central Istanbul suicide bombing
Mar 19, 2016
ISTANBUL: Five people including a suicide bomber were killed and 36 wounded in a suspected attack by Kurdish militants on a major shopping and tourist district in central Istanbul on Saturday.
The fourth suicide bombing in Turkey this year hit part of Istiklal Street, a long pedestrian zone lined with global brand name shops and foreign consulates, just a few hundred metres from an area where police buses are usually parked.
Preliminary findings indicate that the outlawed Kurdistan Workers Party (PKK) or an affiliate carried out the attack, a senior Turkish official told Reuters.
"The attacker detonated the bomb before reaching the targeted point because they were scared of the police," the official said, adding the bomber had planned to hit a more crowded spot.
Full report at: dawn.com/news/1246700/four-killed-20-wounded-in-suicide-bombing-targetting-istanbuls-tourist-district
----------
Germany urges Turkey to focus on integrating Syrian refugees
Mar 19, 2016
As Turkish and EU leaders discuss a joint action plan agreement to deal with the migrant crisis, with the former asking the latter to share the burden, a German government official has underlined the need for Turkey to better integrate Syrian refugees, comparing the situation to Germany's experience dealing with "Gastarbeiter," or guest workers, in the post-war period.
"I would like to say a few words on our experience with integration in Germany first. It took us quite a while to realize that we are a country of immigration. Migrants, particularly from Turkey, were perceived as "guest workers" who would leave the country after a while. Some did; the vast majority, however, stayed in Germany," Michael Roth, Germany's minister of state for Europe at the country's federal foreign office, said when asked about Germany's proposal to Turkey for a sustainable refugee policy and whether the consequences of Syrians' obtaining Turkish citizenship and thus gaining access to the EU as Turkish citizens were reviewed by EU and German officials as an option.
Full report at: hurriyetdailynews.com/germany-urges-turkey-to-focus-on-integrating-syrian-refugees.aspx?pageID=238&nID=96639&NewsCatID=351
-------
Turkey's main opposition leader offers PM counterproposal for lifting immunities
Mar 19, 2016
Turkey's main opposition party leader has responded to Prime Minister Ahmet Davutoglu's call for parliament to lift the immunity of all lawmakers with an alternative proposal, urging a "permanent amendment" rather than the temporary change that the government has suggested.
"All along we have had a principled and consistent approach: Let no deputy have immunity accept podium immunity," Republican People's Party (CHP) leader Kemal Kiliçdaroglu said on March 18, stating that Davutoglu's proposal has only outlined "a special constitutional arrangement."
On March 17, Davutoglu raised eyebrows by proposing that parliament lift the immunity from prosecution of all lawmakers and collectively review 506 outstanding dossiers by adopting only one temporary constitutional amendment at a single plenary session of parliament.
"I'm making an extremely loud and clear call to Mr. Davutoglu. As we are changing the constitution, let's also change Article 83 of the constitution and lift all immunities except podium immunity," Kiliçdaroglu said, speaking with a group of journalists in Antalya where he attended a meeting of his party.
"In this way, let's get rid of the distinction between former legislators and current legislators, let's not allow for double standards. Let us bring in a permanent, consistent and principled solution," he added.
15 days
Full report at: hurriyetdailynews.com/turkeys-main-opposition-leader-offers-pm-counterproposal-for-lifting-immunities-.aspx?pageID=238&nID=96650&NewsCatID=338
----
EU, Turkey strike deal on Syrian migrants, visa
March/18/2016
A deal between the European Union and Turkey to curb the huge flow of asylum seekers to Europe has been agreed upon by the parties, the EU president said on March 18.
Brussels and Ankara sealed a deal to return migrants arriving across the Aegean to Europe, EU Council President and summit chairman Donald Tusk confirmed.
"Now unanimous agreement between all EU HoSG (Heads of State or Government) and Turkey's PM on EU-Turkey Statement," Tusk tweeted after talks in Brussels.
Full report at: hurriyetdailynews.com/eu-turkey-strike-deal-on-syrian-migrants-visa.aspx?pageID=238&nID=96634&NewsCatID=351
--------
Turkey set to take back illegal migrants from Greece as of March 20: Turkish official
March/18/2016
Turkey is set to begin taking back illegal migrants crossing into Greece as of March 20, and the returns will start as of April 4, a senior Turkish official has said.
According to a deal between the EU and Turkey to curb the migrant flow into the bloc, which is yet to be officially agreed upon, Turkey will take back illegal migrants that cross to Greece as of March 20, Turkish private broadcaster CNNTürk quoted a senior Turkish official as saying on March 18. These remarks came as a meeting between Turkish Prime Minister Ahmet Davutoglu and the 28 leaders of the EU was ongoing in Brussels.
Full report at: hurriyetdailynews.com/turkey-set-to-take-back-illegal-migrants-from-greece-as-of-march-20-turkish-official-.aspx?pageID=238&nID=96640&NewsCatID=351
--------
Top level security at Ankara's main bus terminal
March/18/2016
After it was revealed that the bomb that killed 37 people in Ankara was transported to the city on an intercity bus, security measures at the main bus terminal of the city (ASTI) have been widely increased. According to a statement from Ankara Metropolitan Municipality, after the March 13 attack, ASTI was placed under the highest security measures. The station hosts an average of 80,000 people daily.
Number of entrance points to the terminal has been minimized while security checks have been tightened around the clock. While the luggage of passengers arriving at ASTI via Ankaray, the city metro line, are all x-rayed, the passengers themselves are searched with detectors.
Special security forces are continuously patrolling the terminal. Advanced security cameras in nearby buildings and green spots are constantly surveilling the area.
Arriving vehicles are also checked at the entrance of ASTI with their trunks opened and searched. Even pedestrians are searched with detectors and those who refuse to be searched are not allowed to go inside.
Full report at: hurriyetdailynews.com/top-level-security-at-ankaras-main-bus-terminal.aspx?pageID=238&nID=96635&NewsCatID=341
----
Gallipoli victory marked on 101th anniversary
March/18/2016
Turkey commemorated its fallen on March 18 on the 101th anniversary of the Ottomans' World War I victory over Allied fleets attempting to break through the Strait of Dardanelles in the northwestern province of Çanakkale.
"We, as a nation, never fear or shy from battle no matter who or how powerful they [our enemies] are. ... No one can prevent us from writing a new epic as long as we protect our solidarity and brotherhood," President Recep Tayyip Erdogan told members of the audience at the official Martyrs' Day ceremony held in Çanakkale, referring to the fight against recent terror attacks in Turkey.
Erdogan praised the sacrifices of thousands of soldiers killed while preventing the Allied fleets from passing through the Dardenelles en route to Istanbul.
"Could we have sacrificed Istanbul, could we have given it away?" said the president. "That is why Çanakkale is impassable; they could not get through Çanakkale."
Nationalist Movement Party (MHP) leader Devlet Bahçeli released a written statement to mark the day.
Full report at: hurriyetdailynews.com/gallipoli-victory-marked-on-101th-anniversary.aspx?pageID=238&nID=96623&NewsCatID=341
------
Iran, Malaysia Review Ways to Bolster Ties, Cooperation
March 18th, 2016
TEHRAN (FNA)- Iranian and Malaysian officials in a meeting in Kuala Lampur discussed different avenues to further broaden bilateral relations and mutual cooperation between the two big Muslim nations.
The meeting was held on Thursday between Iranian Ambassador to Kuala Lumpur Marziyeh Afkham and Malaysian Deputy Prime Minister Ahmad Zahid Hamidi.
During the meeting, the two officials conferred on issues of mutual interest, and explored ways to promote mutual cooperation on the fight against extremism and ways to tackle organized crimes and drug trafficking.
Iran and Malaysia share cultural and social affinities. Their bilateral trade relations are also on the rise, with both cooperating on many regional and international fronts.
They are permanent members of the Organization of Islamic Cooperation (OIC) and the Non-Aligned Movement and have used these forums and bilateral relations to develop more cordial and closer political ties.
Full report at: The foreign ministers also discussed current affairs in the Muslim world.
en.farsnews.com/newstext.aspx?nn=13941228000278
----------
SouthAsia
U.S. Steps-Up Air-Strikes Against ISIS In Afghanistan
Mar 19 2016
The Hill: US stepping up airstrikes against ISIS in Afghanistan
The U.S.-led coalition in Afghanistan has in recent weeks stepped up airstrikes against former Taliban members who have rebranded themselves as part of the Islamic State in Iraq and Syria (ISIS).
"I can't give you a number, but I can tell you in the last roughly three weeks, we have significantly increased our pressure on Daesh in Afghanistan, particularly in the Nangarhar province," said Army Brig. Gen. Wilson "Al" Shoffner, deputy chief of staff for communication for the mission, using another name for ISIS.
Rules of engagement do not allow the U.S. to strike Taliban members who are not with ISIS unless they are directly threatening U.S. troops, despite recent Taliban gains and U.S. military officials being concerned about cooperation between the group and al Qaeda.
information.jokpeme.com/2016/02/us-steps-up-air-strikes-against-isis-in.html
--------
Afghanistan hoists new mega flag gifted by India on the occasion of Nowruz
Fri Mar 18 2016
Afghanistan mega flag
The Indian government has gifted a new mega flag to Afghanistan as the Afghan people are preparing to celebrate Nowruz, start of the Persian new year.
The new flag was hoisted on historic Wazir Akbar Khan hill by Vice Chief of Army Staff (VCOAS) Murad Ali Murad during a ceremony which was attended by an Indian military general.
Gen. Murad said the Afghan armed forces will not allow the militant groups to disrupt the security and stability of the country as the Afghan people will start Nowruz celebrations.
Calling on the Afghan forces to remain on high alert in a bid to prevent the terrorist attacks during Nowruz celebrations, Gen. Murad said the Afghanistan flag should remain hoisted in each and every part of the country and the enemies of the country should not be allowed to commit savagery against the Afghan people.
Full report at: khaama.com/afghanistan-hoists-new-mega-flag-gifted-by-india-on-the-occasion-of-nowruz-0379
-----
Militant shot dead before attacking the residence of acting NDS chief
Fri Mar 18 2016
AndarabiThe Afghan security forces thwarted a plot to attack the residence of acting intelligence chief Massoud Andarabi earlier today.
The militant was identified by the security forces before he manage to enter the residence of Andarabi, a security official said.
The National Directorate of Security (NDS) has not commented regarding the incident so far which comes amid deteriorating security situation.
The US embassy in Kabul earlier issued a security alert to its citizens in Afghanistan and warned regarding possible attacks planned by insurgent groups in Kabul to target the Nowruz celebrations.
The local residents and eyewitnesses have confirmed that gunshots were heard from the area which has now been cordoned off by the security personnel.
The anti-government armed militant groups have not commented regarding the incident so far.
Andarabi assumed charge of the Afghan intelligence earlier in December last year after the former NDS chief Rahmatullah Nabil resigned from his position.
He was serving as Deputy Director of Operations before he was appointed to replace Nabil as the acting intelligence chief.
khaama.com/militant-shot-dead-before-attacking-the-residence-of-acting-nds-chief-0377
------
US Air Force dropped 251 bombs, missiles in two months in Afghanistan
Mar 19 2016
US air force AfghanistanThe US Air Force has reportedly dropped 251 bombs and missiles targeting mainly the loyalists of the Islamic State of Iraq and Syria (ISIS) terrorist group in Afghanistan during the months of January and February.
According to the data compiled by the Air Force and carried in a report by The New York Times, the airstrikes in the first two months of the year was more than three times the strikes in the same period last year.
The increase in airstrikes followed by President Barack Obama's grant of authority to launch attacks on Islamic State militants who had gained control over territory in several provinces, including areas in the Tora Bora region, where Osama bin Laden once took refuge.
Earlier, the highest record was 2013 when the US Air Force conducted 490 airstrikes but the raids reduced in 2014 where 206 airstrikes were reported.
It further reduced in 2015 with just 70 airstrikes after the Afghan national security forces took full control of the security responsibilities from the coalition forces.
The authority by Obama to target the ISIS loyalists followed amid concerns that the terror group was gaining foothold in the country amid efforts to consolidate operations with the militants in Syria and Iraq.
The coalition officials had earlier estimated around 1,000 to 3,000 Islamic State fighters in eastern Afghanistan are trying to establish a base of operations in the rugged mountains of Nangahar Province.
khaama.com/us-air-force-dropped-251-bombs-missiles-in-two-months-in-afghanistan-0382
----
Two people killed, another wounded in landmine explosion in Zabul
Sat Mar 19 2016
Two people have been killed and another wounded in a landmine explosion in southern Zabul province.
Officials said the bomb was placed on a roadside in Seori Tapi area of the provincial capital Qalat which exploded on a civilian vehicle on Friday afternoon.
Colonel Ghulam Jailani Farahi, Deputy Police Chief of Zabul said those killed include a policeman and a child.
Hospital sources in Zabul said that the person wounded is also a civilian who has been shifted to the Kandahar Regional Hospital for being in critical condition.
No group has so far claimed responsibility for the explosion but the Deputy Police Chief said that a search operation has been initiated to detain those behind the incident.
khaama.com/two-civilians-killed-another-wounded-in-landmine-explosion-in-zabul-4752
-----
Russian Ambassador reaffirms Moscow's support to equip the Afghan forces
Fri Mar 18 2016
Russian ambassador to AfghanistanThe Russian Ambassador to Afghanistan Alexander Mantytskiy reaffirmed Moscow's support to equip the Afghan national security forces.
During a meeting with the National Security Adviser Hanif Atmar, the Russian envoy said Moscow supports the Afghan government's commitment in fight against terrorism and peace process.
Insisting on regional cooperation in fight against terrorism, Atmar said Moscow's support to Afghan forces could have a positive impact on the ongoing counter-terrorism efforts.
Atmar further added that the Afghan government will participate in the upcoming Islamic conference with a clear agenda and message.
The remarks by Mantytskiy to support the Afghan forces comes as the Afghan forces received the first batch of military equipment from Russia last month, consisting of 10,000 Ak-47 assault rifles and ammunition.
The Russian Foreign Ministry later reaffirmed continued support to train and equip the Afghan forces.
"We reaffirm our readiness to continue cooperation with Afghanistan in fighting against terrorism and the drug threat both on the bilateral basis and in cooperation with foreign partners and international organizations," a statement by the Ministry of Foreign Affairs of Russia said.
The Afghan government has stepped up efforts to reach out to the regional countries in a bid to attract support to the Afghan national security forces.
Meanwhile, Russia is looking to step in to support the Afghan government and security forces amid concerns that the terror groups, particularly the Islamic State of Iraq and Syria (ISIS) loyalists, are trying to establish safe havens in the country, a move that could endanger the Central Asian countries.
khaama.com/russian-ambassador-reaffirms-moscows-support-to-equip-the-afghan-forces-0380
-----
5 Russian speaking suspects reportedly arrested in Nangarhar province
Fri Mar 18 2016
NDS-AfghanistanAt least five Russian speaking suspects have been arrested in eastern Nangarhar province of Afghanistan, it has been reported.
The suspects have reportedly been arrested from Pekha district of Nangarhar province during an operation by the Afghan intelligence operatives.
A local security official speaking on the condition of anonymity has confirmed to Voice of America that the suspects include two men and three women.
The official further added that the suspects were arrested from a house during a search operation but did not elaborate further.
This comes at four people were killed following a suicide attack carried out by a foreigner woman in this province earlier in December last year.
According to the local officials, at least three children and an operative of the Afghan intelligence – National Directorate of Security (NDS) lost their lives in the attack.
The identity of the woman remained unascertained but the foreign militants have increased their insurgency activities in certain districts of Nangarhar province during the recent months.
The foreign militants are mostly operating with the loyalists of the Islamic State of Iraq and Syria (ISIS) terrorist group who are trying to establish a regional base and consolidate operations with the terror group in Syria and Iraq.
khaama.com/5-russian-speaking-suspects-reportedly-arrested-in-nangarhar-province-0378
--------
Europe
British journalist John Cantlie appears in new Isis video
19 March 2016
A new video purporting to show British war photographer John Cantlie has appeared online in which he mocks the US president, Barack Obama.
Even after escaping Isis, the suffering of the Yazidis persists
It is the first time in more than a year that Cantlie, who was captured by Islamic State in Syria in 2012, has been seen alive.
The photojournalist, who has fronted a series of videos for Isis while a hostage, appears gaunt as he ridicules US attempts to destroy the terrorist group.
His supporters swiftly dismissed the film, which is dated Saturday but has not been verified, saying: "His words are not those of a free man." They also questioned when it was made.
The Foreign Office said it was "looking at the contents of this latest propaganda video".
The clip, which first appeared on Twitter, shows the journalist clad in black as he walks around a bomb-damaged building he claims is in the northern Iraqi city of Mosul.
Filmed in daylight, Cantlie is standing beside a road busy with traffic and a number of people can be seen walking by in the background.
Full report at:
theguardian.com/world/2016/mar/19/british-photographer-john-cantlie-appears-in-new-isis-video
----------
UK prisons chief defends Muslim chaplains over 'disgraceful' extremism claims
Top official dismisses media reports suggesting inquiry into extremism in jails will accuse prison imams of holding beliefs 'contrary to British values'
Friday 18 March 2016
The head of the UK prison service has rejected speculation that a top Muslim adviser stands to lose his job for recruiting chaplains from the conservative Deobandi denomination as a result of a forthcoming government report into extremism in jails.
Writing to senior prison officials this week, Michael Spurr, the head of the National Management Offenders Service (NOMS), also criticised media reports quoting anonymous government sources suggesting that Deobandi chaplains held views that were "contrary to British values and human rights".
Spurr highlighted a particular article published by the Sunday Times newspaper on 6 March which said that Ahtsham Ali, NOMS's Muslim adviser responsible for selecting imams in the prison service, was under scrutiny because 70 percent of chaplains were from Deobandi backgrounds.
"This is inaccurate, misleading and disgraceful coverage," Spurr wrote in the letter dated Monday seen by Middle East Eye.
Full report at: middleeasteye.net/news/uk-prisons-chief-defends-muslim-chaplains-over-disgraceful-extremism-2052393559
-----
Deradicalising Britain: the activists turning young Muslims away from extremism
Friday 18 March 2016
While David Cameron urges Muslim people to do more to fight extremism, volunteers such as Jahan Mahmood are working tirelessly to steer young people away from a destructive path – and doing it much more effectively than the government's own highly distrusted counter-terrorism scheme
Jahan Mahmood doesn't bring out his stash of unexploded shells straight away. That part – and to be clear, his ordnance collection is strictly deactivated – comes later on in the evening.
We're in a community centre in Sparkbrook, Birmingham, the heating's on the blink and the group is less than half the size it was supposed to be – because of me. Mahmood is giving a counter-extremism talk – a presentation that, he says, has previously put young men off going to fight in Syria – but many of the agreed attendees cancelled at the last minute. Among young Muslims in this community, with its heavy surveillance and Syria-related terror raids, mistrust is running high: the worry is that if you talk about such issues in front of a journalist, the next thing you know, you're on a watch list.
Full report at: theguardian.com/uk-news/2016/mar/18/deradicalising-britain-the-activists-turning-young-muslims-away-from-extremism
------
Students hit back over LSE Islamic society's segregated gala dinner
Friday 18 March 2016
Students from one of London's top universities have dismissed criticism levelled at its Islamic society over a gala dinner where men and women were made to eat separately.
A large screen kept men and women apart during the London School of Economics Islamic Society's annual dinner on Sunday evening.
But today a group claiming to be former students hit back, accusing people of unfairly linking them to "jihadist ideology."
In a blog post, the group said that "soft segregation" was completely normal at Muslim family events such as weddings and other private functions.
Critics said the segregation at the dinner held at the Grand Connaught Rooms, near the university's Holborn campus, was inappropriate for a university event.
The post hit back, stating: "The segregation was consented to by all individuals. To date, there is no evidence any individual was deterred from going to the dinner, or was non-consenting, but was forced to sit somewhere, because of the segregation."
They added: "We grew up as Muslims. We went to weddings, and private functions which had such soft segregation.
"And although, in an ideal state, we might be inclined to agree there should be none, this doesn't mean such soft segregation has to be condemned and compared to jihadist ideology."
Some critics said they found the segregation "intimidating" and claimed it alienates Muslims.
Aniqa Haque, a female student, also wrote a blog post describing her experience of the event.
She said: "We knew of the seating arrangements beforehand and were free to interact with anybody. It is important to realise that people have different beliefs, viewpoints and situations in which they feel safe."
In a statement posted on its Facebook page, the Islamic Society said: "The curtain was in fact set up at the request of our members and the layout of the room was necessary for the facilitation of three prayers, a spiritual sermon, and Quran recitation.
"Furthermore, the seating arrangement at the event was not mandatory, as there were numerous spaces around the venue that allowed men and women to mix freely."
Nona Buckley-Irvine, the general secretary of LSE students union, who attended the event said: "Everyone felt comfortable, I am disappointed that this event has been misconstrued by the media as something that was oppressive to women.
"I defend the right of religious societies to organise themselves in the way that they wish."
An LSE spokesman said: "LSE follows the EHRC guidance on this matter, and regards gender segregation at events on campus or organised by LSE or the LSE community as contrary to the law, except for certain exceptions such as occasions of religious worship or where segregation is entirely voluntary.
"This dinner was organised by a society of the Students' Union, which itself is a legally separate body to LSE. The School is raising this issue with the society and Students' Union."
The Standard has contacted the Islamic Society for further comment.
--------
Paris attack suspect Salah Abdeslam caught as video shows ISIS fugitive fleeingBy Julian Robinson and Jay Akbar and Jennifer Newton for MailOnline
18 March 2016
Incredible images show one of the prime suspects behind the Paris terror attacks being wrestled to the ground by armed police following a raid on his Belgian hideout.
Salah Abdeslam, 26, was among the ISIS terror cell that massacred 130 at a rock concert, a football stadium and several cafes in November.
After evading French and Belgian authorities for four months, he was today arrested during a siege on his bolthole in the run down Molenbeek district of Brussels.
Further footage showed Abdeslam (pictured, in a white hoodie) being dragged away from the scene by armed police officers
Footage showed Abdeslam, dressed in a white hooded sweatshirt, trying to run past dozens of police officers before he was shot in the leg.
Full report at: dailymail.co.uk/news/article-3498786/Prime-suspect-Paris-attacks-escaped-police-Brussels-shoot-Salah-Abdeslam-s-fingerprints-raided-flat.html
------------
SoutheastAsia
Indonesian migrant worker rescued from Islamic State
Mar 20, 2016
The Indonesian Embassy in Damascus, Syria, has succeeded in rescuing an Indonesian migrant worker who had been living under the rule of the Islamic State (IS) movement in the group's de facto capital of Raqqa.
Sri Rahayu, 40, was successfully taken to a shelter in Damascus on March 12, following her evacuation through the Aleppo-Raqqa mountain. The clandestine journey took six days and risked the lives of both Sri and her rescuer.
She is now waiting to return to Indonesian soil with a number of other Indonesian workers who are also housed in temporary shelters in Damascus.
Indonesian Ambassador to Syria Djoko Harjanto said through an official statement from the embassy in Damascus that the success in protecting Indonesians in conflict areas was due to good cooperation among all relevant stakeholders.
"Without a strong connection between the Indonesian Embassy in Damascus, the Syrian government, and various public figures, it's impossible for us to protect Indonesians caught up in the Syrian conflict," Djoko said as quoted in a statement received by thejakartapost.com.
According to the statement, the embassy discovered that Sri was trapped in Raqqa in 2015. The officials then selected an officer from Sri's employment agency who knew of a safe land route through the mountain to pick her up.
Full report at: thejakartapost.com/news/2016/03/19/indonesian-migrant-worker-rescued-islamic-state.html
--------
Lawmakers want military to combat terrorists and drug traffickers
Sat, March 19 2016
Lawmakers want the Indonesian Military to play a broader role, beyond just international defense, and assist in the battle against terrorism and drugs, a House of Representatives member said.
Member of the House Mahfudz Siddiq said the military should help police to deal with global security issues such as terrorism, separatism and drug trafficking, in order to make efforts more effective.
"The military must be involved more [in helping police to enforce the law]," Mahfudz told reporters recently.
Full report at: thejakartapost.com/news/2016/03/19/lawmakers-want-military-combat-terrorists-and-drug-traffickers.html
-------
For Malay-Muslim detainees, torture a common thread In Thailand's deep South torture to extract confessions remains rampant
March 14, 2016
Abdullah* has a simple piece of advice for those arrested in Thailand's deep South: "confess."
"In my opinion, 99 percent will be tortured. So from my experience, it's better to just say 'yes' and the torture will be less," he explained in an interview last month.
On Nov. 9, the military showed up at Abdullah's house and said someone had reported him to be an insurgent. They took him to Pattani province's notorious Inkayuth military camp — a sprawling, fortresslike compound with a prison, barracks, hospital and base. As soon as he arrived, the beatings began. Soldiers stripped him naked, punching him with cloth wrapped around their hands to lessen the bruising. They interrogated him for hours straight and withheld food and water.
Full report at: ucanews.com/news/for-malay-muslim-detainees-torture-a-common-thread/75469
------
Indonesia to keep death penalty as punishment for drug crimes
19 March, 2016
Indonesia will continue to apply the death penalty to convicted drug traffickers despite international opposition fanned by the executions of 12 foreign convicts last year, the country's foreign minister said.
The continuing use of the law was justified by a "drug emergency" in Southeast Asia's largest nation, Retno Marsudi said in an interview in Jakarta.
"That's why we have to enforce our law," Marsudi said in her office, which has a large map of the world in one corner and a globe in the other. "It's really, really, really worrying. It is not against a country. It's against crimes being done by those guys."
[Protesters outside Indonesian embassy in Makati, Philippines, react after it was announced that the execution of Filipino Mary Jane Veloso was delayed. Photo: Reuters]
The executions of seven foreigners in April 2015 – among them Australians Andrew Chan and Myuran Sukumaran – prompted Australia to temporarily withdraw its ambassador. President Joko Widodo, who had been in office six months at the time, refused numerous appeals for clemency. Since April, there have been no executions.
"It's still part of Indonesian law," Marsudi said, when asked whether the country was prepared to keep executing drug convicts. "As long as it is there, then of course it is there."
Full report at: scmp.com/news/asia/southeast-asia/article/1927525/indonesia-keep-death-penalty-punishment-drug-crimes
------------
Pakistan
Head money announced for 99 militants
Mar 19, 2016
QUETTA: After the Balochistan home department announced on Thursday head money for 99 members of banned militant organisations, Chief Minister Nawab Sanaullah Zehri vowed 'not to pardon' people involved in terrorist activities.
The home department issued a list of 99 militants carrying head money ranging between Rs500,000 and Rs15 million. The militants belong to the Baloch Liberation Army, Baloch Republican Army, Baloch Liberation Front (BLF), Baloch Republican Guards and Lashkar-e-Balochistan.
But the names of Nawabzada Brahamdagh Bugti, Nawabzada Hairbyar Marri, Nawabzada Mehran Marri and Mir Javed Mengal, who are accused of instigating terrorist activities in Balochistan, have not been included in the list.
CM Zehri told journalists that names of more terrorists would be included in the list soon.
The chief minister said it was not clear whether the BLF chief (Dr Allah Nazar) was dead or alive. However his name has been included in the list. He said Aslam alias Achhoo, a 'known terrorist', had been killed last week.
Nawab Zehri reiterated his offer to the disgruntled Baloch leaders living in self-exile to return to Balochistan and hold negotiation with the government.
dawn.com/news/1246411/head-money-announced-for-99-militants
-----
PM, COAS in rare talks on military matters
Mar 19, 2016
ISLAMABAD: Prime Minister Nawaz Sharif chaired a special meeting on "issues related to the military" on Friday.
It was one of those rare meetings that exclusively discussed military affairs. Most previous meetings featuring the prime minister and the army chief have been about national security matters, even though this one too was described by the Prime Minister's Office as "a meeting on security".
The meeting also stuck out from past interactions in the sense that Gen Sharif was only accompanied by ISI chief Lt Gen Rizwan Akhtar. In the past, the military delegation has been much larger.
Full report at: dawn.com/news/1246675/pm-coas-in-rare-talks-on-military-matters
-----
Parents of over 46,000 children refuse polio vaccine
Mar 19, 2016
ISLAMABAD: Although the year's third nationwide polio campaign concluded with 97 per cent reported coverage, parents of 46,967 children refused to get their children vaccinated. About 130,632 children were reported with zero routine doses during the campaign.
Severe rain and snowfall also affected the campaign in some areas where new dates for vaccinating children will be announced soon.
In its meeting on Oct 5-6 last year in Britain, the Independent Monitoring Board (IMB) for polio had declared Peshawar valley and Fata as "conveyer belt" of polio transmission, noting that this was possibly the last reservoir of wild poliovirus left in the world.
The IMB works on behalf of international donor agencies and issues reports regarding performance of countries after every six months. In Nov 2012, it recommended travel restrictions on Pakistan, which were finally imposed on May 5, 2014.
Pakistan and Afghanistan are the only countries in the world where polio cases are being continuously repor­ted.
According to data released by the National Emergency Operation Centre (EOC), the campaign, which started on March 14, targeted approximately 36.8 million children under the age of five across the country.
According EOC sources, during the three-day campaign and an additional catch-up day, a total of 35.19m (97pc) children were vaccinated. Out of them, 3.57m children were recorded as un-vaccinated during the first visit, but 2.61m (73.15pc) of them were covered after revisit on the catch-up day.
Full report at: dawn.com/news/1246688/parents-of-over-46000-children-refuse-polio-vaccine
------
Security forces hold flag march in Chaman
Mar 19, 2016
CHAMAN: Personnel of Frontier Corps and other security agencies take part in a flag march held in connection with preparations for Pakistan Day here
on Friday.—INP
CHAMAN: Personnel of Frontier Corps and other security agencies take part in a flag march held in connection with preparations for Pakistan Day here on Friday.—INP
QUETTA: A flag march was held in the border town of Chaman on Friday to commemorate Pakistan Day.
Led by the Frontier Corps, a large number of officers and personnel of the Pakistan Army and law enforcement agencies such as the police and Levies participated in the march.
The participants, holding placards inscribed with slogans of 'Long Live Pakistan' and singing the national anthem in chorus, marched through different areas of the town before reaching Zero-Point. Later, they marched back to the FC Fort.
dawn.com/news/1246682/security-forces-hold-flag-march-in-chaman
------
Benazir case may face further delays
Mar 19, 2016
ISLAMABAD: The Benazir Bhutto murder case may face further delays after one of the accused, former president retired Gen Pervez Musharraf, left for Dubai early Friday morning after his name was removed from the exit control list (ECL).
The announcement to remove Mr Musharraf's name from ECL was made on Thursday by Interior Minister Nisar Ali Khan who said at a press conference that the government has decided to allow the retired general to travel abroad for treatment after the Supreme Court lifted a ban on his foreign travels a day ago.
Full report at: dawn.com/news/1246642/benazir-case-may-face-further-delays
----
PPP flays PML-N over Musharraf's departure
Mar 19, 2016
LAHORE: The PPP held a protest against the PML-N government for allowing former president retired Gen Pervez Musharraf to leave Pakistan.
A large number of PPP workers gathered in front of the Lahore Press Club carrying placards and banners. They burnt tyres as well as effigies of Prime Minister Nawaz Sharif and Gen Musharraf.
Addressing the demonstration, PPP Lahore President Samina Khalid Ghurki said Gen Musharraf was nominated in the assassination cases of former premier Benazir Bhutto and Akbar Bugti.
"Nawaz Sharif has lost the moral high ground to stay prime minister of Pakistan, as he has helped a dictator flee the country. The PPP is protesting to expose the Nawaz-Musharraf [deal]," she said.
PPP Punjab General Secretary Tanveer Ashraf Kaira alleged that Nawaz Sharif always served dictators.
Full report at: dawn.com/news/1246624/ppp-flays-pml-n-over-musharrafs-departure
----
Africa
Somalia's Puntland says gains ground in fight with Islamists
2016-03-18
Security forces in Somalia's semi-autonomous region of Puntland killed more than 60 Islamist militants and regained some territory in a counter-offensive against al Shabaab, regional officials said.
The militant group has become more active in Puntland, a large part of northern Somalia, since moving more forces there after being pushed out of strongholds farther south by an African Union force and the Somali National Army, experts and officials say.
Al Shabaab, which wants to overthrow the Western-backed government, controlled Mogadishu for several years until 2011 when African Union forces drove it out.
Omar Abdullahi, a regional governor, told Reuters that Puntland forces had killed 19 militants on Thursday and lost two of their own troops in fighting for an area called Baadqab, 90 km (55 miles) southwest of Puntland's capital Garowe
He said his forces were still pursuing al Shabaab fighters.
Puntland police officer Major Mohamed Abdullahi said 22 al Shabaab fighters had been killed in three days of fighting that was still going on in the Zuuj hills region, and that four soldiers were killed.
"We have besieged them but fighting is not over," he said.
There was no immediate comment from al Shabaab, which usually gives far lower numbers of casualties on its side and much higher death tolls for the security forces.
On Friday, the government in Mogadishu sent extra military supplies by plane to help the Puntland forces, Information Minister Mohamed Abdi Hayir said on state radio.
reuters.com/article/us-somalia-fighting-idUSKCN0WK1SU
------
Jihadists attack Algeria gas plant
2016-03-18
Algiers - Jihadists launched a rocket attack on Friday on an Algerian gas plant jointly operated by foreign companies, three years after a deadly hostage crisis at another facility in the Sahara desert.
It was the most serious such attack since the 2013 assault, when Islamist militants stormed a complex in Algeria's remote east and began a four-day siege that left dozens dead.
There were no reports of casualties in Friday's attack, companies and workers at the site said.
"This morning, at approximately 06:00 local time, the In Salah gas asset in Krechba was hit by explosive munitions fired from a distance," Norwegian oil and gas firm Statoil said in a statement.
Full report at: news24.com/Africa/News/jihadists-attack-algeria-gas-plant-20160318
------
We'II Create Jobs to Curtail Youth Migration – President Mahama
19 March 2016
President John Dramani Mahama has reiterated his government's commitment to building a strong economy that can provide decent jobs for the country's youth. According to him, accelerated economic growth through the expansion of the manufacturing sector and agriculture hold the key to empowering the youth in Africa in order to prevent them from embarking on deadly expeditions to Europe to seek greener pastures.
President Mahama made these comments during an address to a select Committee of the Scottish Parliament in Edinburgh as part of his four-day working visit to that country. He described Africa as a fast-growing continent that needed to quicken the pace of economic growth to cater for the youth.
"Africa is an emerging and fast-growing continent. We are therefore a continent in a hurry, a ticking youth bulge requires that we speed up the process of economic growth in order that we can provide a number of decent jobs for the large number of people graduating from our schools every year." President Mahama explained that guaranteeing jobs on the continent will stem the canker of the torturous migration efforts by young Africans into Europe.
"Accelerated economic growth, expansion of manufacturing and agriculture will guarantee jobs and stop the risky flow of young Africans across the Mediterranean in search of new opportunities in Europe."
Full report at: ghanaweb.com/GhanaHomePage/NewsArchive/We-II-create-jobs-to-curtail-youth-migration-Mahama-424516
---
North America
American Islamic State Defector: I Followed a Girl into the Caliphate
Mohamad Jamal Khweis has spoken for the first time about time inside Isil and his decision to escape
18 Mar 2016
An American man who joined the Islamic State (Isil) only to escape weeks later has spoken for the first time, saying he followed a woman into the so-called caliphate and immediately regretted his decision.
Mohamad Jamal Khweis, a 26-year-old from Virginia, entered Isil territory in Syria in January but surrendered to Kurdish troops in northern Iraq this week after becoming disillusioned with the jihadist group.
He told the story of how he reached Iraq and how he escaped to a Kurdish television channel, offering a rare perspective from an Isil defector.
Mohamad Jamal Khweis, an American fighter with Isil, surrenders to Kurdish troops in Iraq
Khweis presented himself as a hapless young man who travelled with little direction from his home near Washington DC to London in mid-December and then on to Amsterdam and eventually Turkey.
Full report at: telegraph.co.uk/news/worldnews/islamic-state/12197826/American-Islamic-State-defector-I-followed-a-girl-into-the-caliphate.html
-----
NATO confirms no casualties as helicopter makes hard landing in Helmand
Fri Mar 18 2016
NATO helicopterA helicopter belonging to the NATO-led Resolute Support (RS) mission made a hard landing in southern Helmand province of Afghanistan today.
The alliance the confirmed the incident and said there were no casualties as the helicopter was recovered from the incident area.
"We can confirm a Resolute Support helicopter made a hard landing in Helmand province on 18 March 2016. Initial reports indicated that there was no enemy activity in the area," Resolute Support public affairs director, U.S. Army Col. Michael Lawhorn said.
He said "All personnel on the aircraft have been recovered with no casualties. The incident is currently under investigation."
Full report at: khaama.com/nato-confirms-no-casualties-as-helicopter-makes-hard-landing-in-helmand-0376
URL: https://newageislam.com/islamic-world-news/new-age-islam-news-bureau/strengthen-sufism-to-change-perception-about-islam--world-sufi-forum/d/106708
New Age Islam, Islam Online, Islamic Website, African Muslim News, Arab World News, South Asia News, Indian Muslim News, World Muslim News, Womens in Islam, Islamic Feminism, Arab Women, Womens In Arab, Islamphobia in America, Muslim Women in West, Islam Women and Feminism, Moderate Islam, Moderate Muslims, Progressive Islam, Progressive Muslims, Liberal Islam, Liberal Muslims, Islamic World News