New Age Islam News Bureau
2 March 2015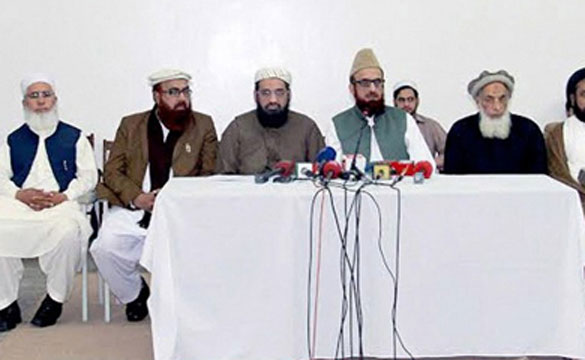 Rehman demanded that the government release the clerics arrested under the National Action Plan. He said instead of harassing clerics, the government should identify those involved in terrorist activities. PHOTO: NNI
--------------
Pakistan
• 'Stop Harassing Clerics; Identify Those Involved In Terrorist Activities': Madaris Chairman
• Kashmir issue also on agenda for talks with India: Sartaj
• Imran accuses PPP of horse-trading in collusion with JUI-F
Arab World
• Iraq: Over 59 ISIL Terrorists Killed in Anbar
• Islamic State Rise May Quell Saudi Shi'ite Fear
• ISIL Terrorists Continue to Suffer Losses in Syria's Hasaka
• Operation to retake Tikrit begins: Iraq state TV
• Jordan's king calls fight against Islamic State 'a third world war'
• 172 militants killed last month in Sinai, claims Egypt's army
• Activists say Islamic State releases 19 Syrian Christians
• 'Jews using Holocaust to suck the blood of Germans,' Egypt TV host says
• Syria opposition praises France's anti-Assad stance
• Syria rebels reject envoy plan to freeze Aleppo fighting
South Asia
• 2 ANA Martyred, 32 Insurgents Killed In Security Forces Operations
• 2 School Kids Killed, 2 Injured In Jalalabad Explosion
• Extremist blogger Farabi arrested over Avijit murder
• Political violence looking like organised crime
• Jubo Dal-Jamaat men shot in 'gunfight'
• President Yameen delivers presidential address amidst opposition protests
Mideast
• Turkish President Erdoğan Slams Austria's Controversial Islam Law
• Drone Strike Kills Three Al-Qaeda Suspects In Yemen
• Hamas 'working to double its arsenal of rockets for next war with Israel'
• Netanyahu brings his Iran nuclear fight to Washington
• Israel army launches 'surprise' West Bank drill
• Iran Reiterates Call for Int'l Campaign against Terrorism
Africa
• Two People Killed, Seven Injured in Rocket Fire in Benghazi
• Congo says kills rebels, gains ground in drive to crush insurgency
• UN fears hundreds of children kidnapped in S. Sudan
North America
• Canadian Muslim Families Are In the Front Lines
• Hawaii Dem Faces Backlash for Taking on Obama over 'Islamist' Extremism
• U.S. targeting 'Jihadi John,' senator says
• Kerry tries to ease fuss over Israeli PM's speech
Southeast Asia
• Accused Of Covert Conversions, Muslim Group Attacks Non-Muslim Holy Texts in Hotels
• After Islamic Dress Code Furore, Terengganu MB Says Come As You Are
• Curb Your Enthusiasm for Firing Squads: Indonesian Ex-Foreign Minister
• Dad of converted minor says not against Islam, religion his right as parent
India
• Historic Moment as Parties Divided By Geography & Ideology Come Together in Kashmir
• RSS Reiterates Demand to Enact Anti-Conversion Law
Europe
• Moscow denounces 'abominable' Charlie Hebdo cartoon
• Jihadi John Dressed Like a Gangster Rapper, Smoked Cannabis, Friends Have Revealed
• Germany's Pegida movement sets up in Scotland and plans anti-Islam march in Edinburgh
• Hundreds of Norwegians form human chain outside Oslo mosque
• Pope denounces 'intolerable brutality' in Iraq, Syria
Compiled by New Age Islam News Bureau
URL: https://newageislam.com/islamic-world-news/new-age-islam-news-bureau/'stop-harassing-clerics;-identify-those-involved-in-terrorist-activities'--madaris-chairman/d/101785
-----------
Pakistan
'Stop Harassing Clerics; Identify Those Involved In Terrorist Activities': Madaris Chairman
Mar 02 2015
LAHORE: Seminary managements are not opposed to registration with the government. It is the government itself which is delaying the registration process, Ittehad Tanzimat Wafaq ul Madaris chairman Mufti Muneeb ur Rehman said on Sunday.
He was addressing the media after a meeting of the confederation of education boards of seminaries belonging to the five major Muslim schools of thought in the country. The heads of all five boards were present.
Rehman demanded that the government release the clerics arrested under the National Action Plan. He said instead of harassing clerics, the government should identify those involved in terrorist activities. "We have asked the government to provide us with the list of seminaries suspected of involvement in terrorist activities," he said. He said talks between the confederation and the secretaries of the Ministries of Religious Affairs, Education and Interior Affairs were already underway in this regard. He said the government had been proceeding with a crackdown on clerics despite the confederation's offer of assistance in implementation of the NAP. "Harassing clerics and banning the use of loud speakers at mosques will not solve anything," he said. Rehman said clerics from all schools of thought had unanimously supported the 21st Constitutional Amendment despite their reservations on the establishment of the military courts and the association of terrorism only with religion. He said governments since Pervaiz Musharraf had failed to bring any evidence of seminaries' involvement in terrorist activities.
Organisation of Bareilvi mosques established
A Tanzeemul Masajid Pakistan (organisation for mosques Pakistan) was set up by the Sunni Ittehad Council on Sunday. A press release stated that mosques affiliated with the Barelvi school of thought would be organised at the union council level. There is a separate Tanzeemul Masajid Pakistan for Deobandi mosques.
http://tribune.com.pk/story/846350/stop-harassing-clerics-identify-those-involved-in-terrorist-activities/
-----------
Kashmir issue also on agenda for talks with India: Sartaj
Mar 02 2015
LAHORE: Prime Minister's Adviser on Foreign Affairs and National Security Sartaj Aziz says normalisation of Indo-Pakistan relations is urgently needed to reduce tension on the Line of Control (LoC).
"It is premature to predict the outcome of foreign secretary level talks between Pakistan and India scheduled for next week but chances of a decision to resume a composite dialogue are likely either in the upcoming or the follow-up meetings," Mr Aziz told newsmen at the launching ceremony of economist Shahid Javed Burki's Institute of Public Policy (IPP) at NetSol Technologies Ltd on Sunday.
Mr Aziz said all outstanding issues, including the Kashmir dispute, had been part of agenda for talks with India.
About the recent eight per cent increase in India's defence allocation, the PM's adviser said Pakistan had never been involved in arms race. However, he said, Pakistan would never compromise on availability of conventional weapons for its armed forces.
Answering a question that foreign policy was being controlled by the army chief, the PM's adviser said: "Harmony between political and military leadership is essential for national security which is an integral part of country's foreign policy.
It is not possible to implement the priorities on security issues without coordination with the armed forces."
Mr Aziz said the time of blame game between Afghanistan and Pakistan was over.
Cooperation between Kabul and Islamabad in intelligence sharing and defence sector had improved as confidence building environment had been restored with Afghanistan, he said.
"Pakistan will never allow its soil to be used against Afghanistan," he said while adding at present no mechanism to jointly conduct operation against terrorism existed between Pakistan and Afghanistan.
However, both countries have agreed to take steps against terrorists in their respective jurisdiction. Now there is no difference between good and bad Taliban," he said.
Earlier, in his keynote speech at the launching ceremony, Mr Aziz elaborated the background of the institute and pointed out that seven reports on state of economy have been published till date.
He appreciated Beaconhouse National University (BNU) for providing logistics for the institute and expressed his deep gratitude to the Shahid Javed Burki and Jehan Ara Burki Foundation for providing endowment fund.
He said the institute would set up series of centre of excellence and the first one would be the setting up of Dr Afaaf Centre for Science, who was a close companion of Nobel laureate Dr Abdus Salam.
He appreciated the idea of placing the institute at the NetSol Technologies, saying that science and technology would play a major role in future.
Former federal minister Dr Zubair Khan, BNU head Mrs Nasreen Mehmood Kasuri and NetSol Technologies Ltd chairman Salim Ghauri also spoke.
http://www.dawn.com/news/1166852/kashmir-issue-also-on-agenda-for-talks-with-india-sartaj
-----------
Imran accuses PPP of horse-trading in collusion with JUI-F
Mar 02 2015
ISLAMABAD: Pakistan Tehreek-e-Insaf (PTI) chief Imran Khan on Monday accused the Pakistan People's Party (PPP) of being "deeply involved" in horse-trading along with the Jamiat Ulema Islam-Fazal (JUI-F). The statement came after Imran's conversation with PPP Co-Chairman and former president Asif Ali Zardari to end horse-trading in Senate polls.
According to a PTI press release, Imran stated today he had spoken with Zardari on a one-point agenda: to bring an end to horse-trading in the Senate elections.
Imran also claimed that his efforts to persuade Zardari to oppose horse-trading have failed. He further claimed that PPP remains opposed to open balloting because it is deeply involved in horse trading along with JUI-F.
Given the bitter rivalry between the PPP and the PTI in recent months, political observers had been viewing the telephonic conversation between Mr Zardari and Imran as a "significant political development".
However, Imran's fresh statement indicates that talks between the leaders hit a dead-end.
Imran added that PTI would in no way support either PPP or PML-N in "undemocratic, corrupt designs" for the Senate. Instead he himself would lead PTI's efforts to ensure a clean Senate election in KP and expose the horse-trading currently taking place.
He further maintained that his party will never make a 'deal' with any political party with regards to Senate polls, adding that PTI will now fight the Senate elections with a renewed commitment to expose and defeat those trying to buy their way into the Senate.
http://www.dawn.com/news/1166884/imran-accuses-ppp-of-horse-trading-in-collusion-with-jui-f
-----------
Arab World
Iraq: Over 59 ISIL Terrorists Killed in Anbar
Mar 02 2015
At least 59 terrorists were killed in heavy fighting between the Iraqi army and ISIL Takfiri group in the Western province of Anbar, a military source said.
"Heroes of the 8th Infantry Brigade of the Iraqi army, with support from the Iraqi Air Force (IAF), managed to kill 27 terrorists and injure 20 others in the area Albu-Juwairyi near al-Habaniya site, located in Anbar province," a statement issued by Iraq's defense ministry said.
"Iraqi forces killed 3 terrorists and wounded 9 others, in addition to destroying a number of hideouts and vehicles belonging to the ISIL Takfiri group in Albu-Bali area," the source added.
The ISIL Takfiri terrorists currently control shrinking swathes of Syria and Iraq. They have threatened all communities, including Shiites, Sunnis, Kurds, Christians, Ezadi Kurds and others, as they continue their atrocities in Iraq.
Senior Iraqi officials have blamed Saudi Arabia, Qatar, and some Persian Gulf Arab states for the growing terrorism in their country.
The ISIL has links with Saudi intelligence and is believed to be indirectly supported by the Israeli regime.
http://english.farsnews.com/newstext.aspx?nn=13931211000304
-----------
Islamic State rise may quell Saudi Shi'ite fear
Mar 02 2015
Islamic State recruitment is on the rise. Even teenage girls are joining its fighting cadre. Since August last year, the US, with its allies, has been bombing IS targets, but that bombing has not dislodged the extremists from much of the territories they have occupied.
While the allies, without any long-term plan, depend on air power for success, their enemy has turned the war into a guerrilla type conflict. Unless the allies decide to annihilate tens of thousands of innocent civilians and call that collateral damage there is no way IS can be wiped out from the map in this way.
On the other hand, by allowing IS to carve a Sunni-zone out of Iraq and call it the Islamic State, the group may assist the US Senate's plan to divide the country into three regions, one for the Shi'ites, one for the Kurds and the third for the Sunni. This raises the question of whether the US and its allies are fully committed to destroying IS. This question becomes even more pertinent when one looks at the role of another set of players in this drama, Saudi Arabia and its Gulf allies.
Saudi Arabia is alarmed at the revival of the Shi'ites. Iran's successful revolution and Ayatollah Khomeini's declaration to export that revolution sent shock waves across the Middle East.
Full report at:
https://au.news.yahoo.com/thewest/opinion/a/26475284/islamic-state-rise-may-quell-saudi-shi-ite-fear/
-----------
ISIL Terrorists Continue to Suffer Losses in Syria's Hasaka
Mar 02 2015
The Syrian army continued to make advances in its fight against the ISIL Takfiri group in Hasaka province, and managed to claim the lives of a large number of terrorists.
The army troops stormed the hideouts of the ISIL terrorist group in the areas of Abyadh, Dawoodiya, and Milbiya in the Eastern province of Hasaka, killing and injuring scores of them.
A number of vehicles belonging to the Takfiri group were also targeted during the operation.
Also, the Syrian troops pressed a major offensive against the ISIL terrorists in the Southeast of Qamishli yesterday, and managed to liberate many villages, including Tal al-Dahab, Jalbarat, Jabbara, al-Tuffahiyeh, Tal Shaikh, Bazbagh, Kherbet Hussein, al-Taweel and al-Tawabej.
Earlier this week, the Syrian army flushed out ISIL terrorists from the outskirts of Hasaka province after inflicting major losses on the Takfiri group, and managed to regain control over five key villages.
Full report at:
http://english.farsnews.com/newstext.aspx?nn=13931211000470
-----------
Operation to retake Tikrit begins: Iraq state TV
Mar 02 2015
Backed by allied Shiite and Sunni fighters, Iraqi security forces on Monday began a large-scale military operation to recapture Saddam Hussein's hometown from Islamic State of Iraq and the Levant (ISIL), state TV said, a major step in a campaign to reclaim a large swath of territory in northern Iraq controlled by the militants.
The city of Tikrit, some 130 kilometers (80 miles) north of Baghdad, fell into the hands of the Islamic State group last summer along with the country's second-largest city of Mosul and other areas in the country's Sunni heartland after the collapse of national security forces. Tikrit is one of the largest cities held by ISIL and sits on the road to Mosul.
Security forces have so far been unable to retake Tikrit, but momentum has begun to shift after soldiers, backed by airstrikes from a U.S.-led coalition, recently took back the nearby refinery town of Beiji. Any operation to take Mosul likely would require Iraq to seize Tikrit first because of its strategic location for military enforcements.
Al-Iraqiya television said that the forces were attacking Tikrit from different directions, backed by artillery and airstrikes by Iraqi fighter jets. It said the militants were dislodged from some areas outside the city, but gave no details.
Iraq is bitterly divided between minority Sunnis, who were an important base of support for Full report at:
http://www.hurriyetdailynews.com/operation-to-retake-tikrit-begins-iraq-state-tv.aspx?pageID=238&nID=79042&NewsCatID=352
-----------
Jordan's king calls fight against Islamic State 'a third world war'
Mar 2, 2015
Jordan's King Abdullah called the fight against Islamic State a third world war, in an interview on Monday about how to best respond to Islamic State.
"This is a third world war by other means. This brings Muslims, Christians, other religions together in this generational fight," Abdullah said an interview with CNN.
The Jordanian king added that the fight against Islamic State is is not just a Western fight but one within Islam as well. "Everybody comes together against these outlaws."
The Hashemite kingdom has taken a more active role in the US-led air campaign against ISIS after the videotaped immolation of Muath al-Kasaesbeh, a Jordanian air force pilot who was shot down by ISIS and taken captive in Syria.
Abdullah said he has not seen the clip, which was released on social media and shocked the Arab and Muslim world.
Full report at:
http://www.jpost.com/Middle-East/Jordans-king-calls-fight-against-ISIS-third-world-war-392645
-----------
172 militants killed last month in Sinai, claims Egypt's army
Mar 02 2015
CAIRO: Egypt's army said at least 172 militants were killed in February in joint police and military operations in the restive Sinai where security forces are battling an Islamist insurgency.
The militants were killed in a series of security operations in the peninsula after a deadly Jan 29 attack by jihadists left 30 people dead, mostly soldiers.
The army said the militants were killed in the North Sinai cities of El-Arish, Sheikh Zuweid and in the town of Rafah that borders Israel and the Palestinian Gaza Strip.
Another 229 suspected jihadists were arrested in these operations, while 85 militant hideouts were destr­oyed last month, the army said in a statement accompanied by a picture of a suspected militant shot dead.
Egypt's army has poured troops and armour into the region to fight an Islamist insurgency since the ouster of president Mohamed Morsi in July 2013.
Most attacks are spearheaded by Ansar Beit al-Maqdis, the Egyptian affiliate of the Islamic State jihadist group that has seized territory in Syria and Iraq.
http://www.dawn.com/news/1166747/172-militants-killed-last-month-in-sinai-claims-egypts-army
-----------
Activists say Islamic State releases 19 Syrian Christians
Mar 02 2015
BEIRUT: Activists and a local leader said the Islamic State group released at least 19 Christians on Sunday who were among the more than 220 people the militants took captive in northeastern Syria last week.
Bashir Saedi, a senior official in the Assyrian Democratic Organization, said the 16 men and three women arrived safely Sunday and were now at the Church of the Virgin Mary in the city of Hassakeh.
The Britain-based Syrian Observatory for Human Rights activist group also reported that 19 Christians had been freed, but put the number at 17 men and two women.
The discrepancy could not be immediately reconciled. It was not immediately clear why the Islamic State group had freed them, although Saedi said all of the 19 who were released were around 50 years of age or older.
Observatory director Rami Abdurrahman said an Islamic State Shariah court had ordered them released, but the reasoning was unknown.
Also unclear is the fate of the more than 200 other Christian Assyrians who were taken captive by Islamic State fighters last week in sweep through a string of villages along the Khabur River in Syria's northeastern Hassakeh province.
The abductions have added to fears among religious minorities in both Syria and Iraq, who have been repeatedly targeted by the Islamic State group.
http://www.dawn.com/news/1166872/activists-say-islamic-state-releases-19-syrian-christians
-----------
'Jews using Holocaust to suck the blood of Germans,' Egypt TV host says
Mar 2, 2015
An Egyptian television news anchor accused "the Jews" of exploiting the Holocaust to "suck the blood of the Germans."
The video footage of host Gaber al-Karmoty first appeared on the Egyptian ON TV network and was translated by the Middle East Media Research Institute.
Karmoty lamented the fact that publishing cartoons of the Prophet Mohammad was permissible but that the Holocaust was "off limits."
"I'm talking about what people call the Nazi Holocaust, for which they are still sucking the blood of the Germans. Who? The Jews!" said Al-Karmoty.
Egyptian media, which is tightly regulated and controlled by the state, is rife with anti-Semitic discourse.
http://www.jpost.com/Middle-East/Jews-using-Holocaust-to-suck-the-blood-of-Germans-Egypt-TV-host-says-392655
-----------
Syria opposition praises France's anti-Assad stance
Mar 02 2015
Syria's exiled opposition praised France for maintaining its "exemplary" opposition to President Bashar al-Assad after a group of French lawmakers made a controversial visit to Damascus this week.
"The position of France has always been exemplary, and your country has consistently held to the side of the Syrian people against any attempt to rehabilitate the regime in Damascus under false pretenses," the group's leader, Khaled Khoja, wrote in a letter to the French government.
His letter followed an unofficial trip by French lawmakers to the Syrian capital last week, during which they met with Assad and other senior officials.
The trip reignited debate in Europe over whether it was time to rebuild diplomatic ties with the Syrian regime in order to counter the greater threat from jihadist groups such as the Islamic State.
Full report at:
http://english.ahram.org.eg/NewsContent/2/8/124220/World/Region/Syria-opposition-praises-Frances-antiAssad-stance.aspx
-----------
Syria rebels reject envoy plan to freeze Aleppo fighting
Mar 02 2015
Syrian rebel forces in Aleppo rejected UN envoy Staffan de Mistura's plan for a freeze in fighting in the divided northern city, dealing a blow to his peace efforts.
"We refuse to meet with Mr Staffan de Mistura if it is not on the basis of a comprehensive solution to Syria's drama through the exit of (President) Bashar al-Assad and his chief of staff, and the prosecution of war criminals," a newly-formed Aleppo revolutionary commission said.
The political and military grouping was set up on Saturday at a meeting in the Turkish border town of Kilis attended by exiled coalition chief Khaled Khoja, other opposition figures and Aleppo civil society representatives.
De Mistura's proposal "falls short of an initiative to resolve the humanitarian crisis of our people targeted by the regime's use of chemical weapons and barrel bombs prohibited by the international community", it said in a statement.
Full report at:
http://english.ahram.org.eg/NewsContent/2/8/124228/World/Region/UPDATED-Syria-rebels-reject-envoy-plan-to-freeze-A.aspx
-------
South Asia
2 ANA martyred, 32 insurgents killed in security forces operations
Mar 02 2015
Two soldiers of the Afghan National Army have embraced martyrdom while 32 insurgents have been killed in separate Afghan National Security Forces (ANSF) operations in across the country in past 24 hours, according the statements issued Monday morning by the Ministry of Defense and Ministry of Interior.
Statement issued by the Ministry of Defense states that 18 insurgents were killed and 11 others wounded in the operations conducted by the Afghan National Army in four provinces.
The statement adds that the operations were conducted in Helmand, Nangarhar, Ghazni and Khost provinces where weapons, ammunition, three cellular systems and bombs were discovered and five different types of Improvised Explosive Devices (IEDs) defused by the military.
The statement further states that two soldiers embraced martyrdom and five others wounded while on duty. The statement does not give details about the type and location of the incident.
In the meantime, a statement issued by the Ministry of Interior states that 14 insurgents were killed in police operations in 12 provinces in past 24 hours.
The statement states adds that 18 different of Improvised Explosive Devices (IEDs) were also defused by the police in Khost and Uruzgan provinces in past 24 hours.
According to the statement the operations were conducted in Takhar, Nangarhar, Sar-i-Pul, Kunduz, Balkh, Kandahar, Zabul, Uruzgan, Ghazni, Farah, Helmand and Herat provinces where weapon and ammunition were also confiscated by police.
http://www.khaama.com/2-ana-martyred-32-insurgents-killed-in-security-forces-operations-29129
-----------
2 school kids killed, 2 injured in Jalalabad explosion
Mar 02 2015
Two school children were killed and two others wounded following an explosion in Jalalabad city on Monday.
Hazrat Hussain Mashriqiwal, spokesman for the Police Headquarters of Nangarhar Province says that the explosive materials were placed in a can and exploded as the students were passing through the area to attend the school.
He added that the incident took place around 080: AM in Farm-i-Hada area of Jalalabad city.
No group has claimed responsibility for the explosion the occurred in the 2nd Police District of the city but police say they have initiated an inquiry in regards to the incident.
Last month also an explosion in Jalalabad city killed a school kid and injured two others.
That explosion took place in close to Afghan-Turk school in the 1st Police District also in the morning when students were arriving at the school to study.
The explosive materials were planted close to the school which detonated around 07:30 AM.
No group including Taliban insurgents claimed responsibility either.
More than this, a couple of schools have been bombed or burned in the eastern Afghanistan in the past few months.
Taliban insurgent reject hand in these types of acts saying that are not against the education.
http://www.khaama.com/2-school-kids-killed-1-injured-in-jalalabad-explosion29128
-----------
Extremist blogger Farabi arrested over Avijit murder
Mar 02 2015
Rapid Action Battalion (RAB) has arrested extremist blogger Farabi Shafiur Rahman for his alleged involvement in the killing of writer-blogger Avijit Roy.
RAB media wing director Mufti Mahmud said a team of RAB 7 arrested Farabi from Jatrabari bus stand on Monday morning.
In a press conference at RAB headquarters, the elite force official said Farabi admitted that he had given death threat to Avijit.
He said a case was filed against Farabi and he would be handed over to police.
"The mystery will be revealed after interrogation," he added.
Avijit, 45, was hacked to death and his wife Rafida Ahmed Bonna, 35, was seriously injured in an attack by unidentified assailants near the TSC roundabout on February 26.
Friends and family of Avijit Roy said the outspoken humanist had been receiving death threats since 2012.
Full report at:
http://www.dhakatribune.com/crime/2015/mar/02/farabi-held-over-avijit-murder#sthash.mnw3bVy8.dpuf
-----------
Political violence looking like organised crime
Mar 02 2015
As the BNP-led alliance's non-stop action programme approaches its third month, with little let up in cases of arson and bus burning, the atrocities are gradually taking the shape of organised crime.
In countrywide joint drives, law enforcement agencies have so far arrested more than 7,000 people in connection with deadly violence since the blockade which has claimed more than 70 lives began on January 6.
But nearly all those arrested are field-level operatives and the main planners who pull the strings from behind the curtains remain out of the law's reach.
Law enforcement agency sources said roughly 60% of those arrested are supporters of the BNP, 30% of Jamaat, and the rest are hired criminals and members of militant organisations.
In the pre-election violence in 2013, lawmen made around 15,000 arrests in connection with 1,500 violence cases. None of them ever went to trial because law enforcers did not want to waste resource for the minnows. Consequently, they were all freed on bail. Sources said some of them have been arrested again this year.
Full report at:
http://www.dhakatribune.com/politics/2015/mar/02/political-violence-looking-organised-crime#sthash.u4d0kwTj.dpuf
-----------
Jubo Dal-Jamaat men shot in 'gunfight'
Mar 02 2015
Two activists of Jubo Dal and Jamaat-e-Islami have been shot during a "gunfight" with police on Ramgoti-Lakshmipur road at Goj area under Komolnogor upazila in Lakshmipur.
Injured Arif Hossian, 25, is an activist of Jubo Dal and Maeen Uddin, 31, is a Jamaat activist.
Komolnogor police ASI Rezaul Karim said a gang of Jubo Dal–Jamaat activists hurled petrol and crude bombs aiming the vehicle of patrol police when they arrived in Goj area around 1am on Monday.
He said three policemen including OC Kabir Ahmed were injured in the bomb attack. They received primary treatment at the nearby hospital.
"In retaliation, the law enforcers opened fired at them, leaving the two injured with bullet. They were admitted to Lakhsmipur sadar hospital. "
Police also recovered a saw and four petrol bombs from their possession, added the OC.
http://www.dhakatribune.com/bangladesh/2015/mar/02/jubo-dal-jamaat-men-shot-%E2%80%98gunfight%E2%80%99#sthash.ZU2Yk7ac.dpuf
-----------
President Yameen delivers presidential address amidst opposition protests
By Minivan News | March 2nd, 2015
President Abdulla Yameen delivered the annual presidential address today in the face of vociferous protests from opposition MPs at the official opening of the People's Majlis for 2015.
Opposition Maldivian Democratic Party (MDP) and Jumhooree Party (JP) MPs gathered in front of the secretariat desk and clamoured for the release of former President Mohamed Nasheed, carrying placards that read, "Free President Nasheed," as well as posters depicting police manhandling and dragging the opposition leader into court.
Nasheed remains in police custody pending the outcome of a trial on charges of terrorism.
Progressive Party of Maldives (PPM) MPs responded to opposition MPs' chants of "Yaagunda resign" with "Ganjabo" and "Theyobidibo," epithets referring to the former president's alleged encouragement of drug use.
PPM and coalition partner Maldives Development Alliance (MDA) MPs held up placards that read: "Nasheed deserves to be in prison," "Nasheed supports terrorism," "Free Maldivians from Nasheed," and "MDP must learn democracy," .
Full report at:
http://minivannews.com/politics/president-yameen-delivers-presidential-address-amidst-opposition-protests-93057
-------
Mideast
Turkish President Erdoğan slams Austria's controversial Islam law
Mar 02 2015
Turkish President Recep Tayyip Erdoğan strongly criticized Austria on Feb. 28 for approving a controversial bill that revises the status of Muslims in the European country.
"On the one hand you tell about the EU acquis, but on the other hand you take steps which totally oppose the EU acquis," Erdoğan said at a meeting in Istanbul before his departure to Saudi Arabia for an official visit.
According to the Europa portal, the community acquis or acquis is "the body of common rights and obligations which bind all the member states together within the European Union… Applicant countries have to accept the Community acquis before they can join the Union."
The Austrian Parliament passed a law on Feb. 25, stirring a debate.
Full report at:
http://www.hurriyetdailynews.com/turkish-president-erdogan-slams-austrias-controversial-islam-law-.aspx?pageID=238&nID=79005&NewsCatID=338
-----------
Drone strike kills three al-Qaeda suspects in Yemen
2 March 2015
An overnight drone strike killed three suspected Al-Qaeda militants in Yemen, a country where the United States is the only power operating the unmanned aircraft, a tribal source said Monday.
The late Sunday strike in the Markha district of the southern province of Shabwa also wounded another three suspected militants, the source told AFP.
It was the second drone strike in the province in as many days. On Saturday, a drone strike on a vehicle killed three militants in the village of Bijan.
Yemen has descended into chaos since a Shiite militia overran the capital Sanaa last September.
Full report at:
http://english.alarabiya.net/en/News/middle-east/2015/03/02/Drone-strike-kills-three-al-Qaeda-suspects-in-Yemen-.html
-----------
Hamas 'working to double its arsenal of rockets for next war with Israel'
Mar 2, 2015
A senior commander of Hamas' military wing said on Monday that while his organization has no interest at the moment in fighting Israel, the Gaza-based Islamist group wants to double its arsenal of rockets and missiles in anticipation of the next round of fighting.
Marwan Issa told a gathering Gaza City that Hamas continues to manufacture rockets and forge alliances with whoever can assist its cause.
The remarks were reported by Israel Radio.
Directing his remarks at both Israel and Egypt, which recently issued an official decree outlawing the organization and its ideological forerunner, the Muslim Brotherhood, Issa said that any attempt to impose a blockade on Hamas and its military wing will ultimately fail.
Issa took up his position after Israel assassinated Ahmed Jabari during Operation Pillar of Defense. His responsibilities including coordinating the military wing's position with the organization's diplomatic bureau.
Full report at:
http://www.jpost.com/Arab-Israeli-Conflict/Hamas-working-to-double-its-arsenal-of-rockets-for-next-war-with-Israel-392648
-----------
Netanyahu brings his Iran nuclear fight to Washington
Mar 02 2015
Israeli Prime Minister Benjamin Netanyahu ramps up his mission to foil an emerging White House-backed nuclear deal with Iran with a speech on March 2 to the powerful pro-Israel AIPAC lobby.
Netanyahu has infuriated the White House and Democratic lawmakers by accepting an invitation by President Barack Obama's Republican foes to speak on Capitol Hill Tuesday.
Also addressing the 16,000 AIPAC delegates are Washington's United Nations envoy Samantha Power and National Security Advisor Susan Rice, who last week slammed Netanyahu's move to speak before a joint session of the US Congress without the blessing of the administration.
A member of Netanyahu's entourage told journalists travelling with him on Sunday that there was no intention to offend Obama.
Full report at:
http://www.hurriyetdailynews.com/netanyahu-brings-his-iran-nuclear-fight-to-washington-.aspx?pageID=238&nID=79043&NewsCatID=359
-----------
Israel army launches 'surprise' West Bank drill
Mar 02 2015
Israel's army said it launched a "surprise exercise" Sunday calling up thousands of reservists for its central region of operations that includes the West Bank.
The military said in a statement that it was mobilising "forces including some 13,000 reserves, 3,000 of whom will physically report for active duty".
The drill, initiated by newly sworn-in chief of staff Lieutenant General Gadi Eisenkot, comes nearly two months after Israel stopped transferring taxes it collects for the Palestinian Authority (PA), in retaliation for its move to join the International Criminal Court.
The United States has expressed concern over the "viability" of the West Bank-based PA if Israel continued to withhold the funds.
But army spokesman Lieutenant Colonel Peter Lerner said the drill was "not specifically connected" to possible Israeli fears of an eruption of West Bank unrest due to the Palestinian fiscal crisis.
Lerner said the army carries out such drills on a regular basis, most recently in 2013, acknowledging however the "rare" size of the new drill which he said was the choice of Eisenkot, sworn in last month.
The army had informed Palestinian authorities of the exercise, expected to run two days.
http://english.ahram.org.eg/NewsContent/2/8/124243/World/Region/Israel-army-launches-surprise-West-Bank-drill.aspx
-----------
Iran Reiterates Call for Int'l Campaign against Terrorism
Mar 02 2015
Iranian President Hassan Rouhani said that the spread of the new waves of violence and extremism is threatening peace and security worldwide, and called for global coordination and cooperation to eradicate terrorist groups.
Speaking in a meeting with Italian Foreign Minister Paulo Gentiloni on Sunday, President Rouhani said that terrorism has posed major threat to the international community and that it needs a global cooperation to get rid of menaces of terrorism.
He said that the Iranian government had repeatedly warned western governments that if they support terrorism in countries like Syria, Iraq and Libya, they will face such threats in their own homelands as well.
Full report at:
http://english.farsnews.com/newstext.aspx?nn=13931211000393
--------
Africa
Two People Killed, Seven Injured in Rocket Fire in Benghazi
Mar 02 2015
Two people were killed and seven others were injured when two rockets hit a populated area in the Eastern Libyan city of Benghazi, a medical source said.
The source from Al-Jalaa Burn Hospital, requesting anonymity, told KUNA two civilians were killed and seven injured when two mortar shells hit Sidi Hussein neighborhood in Benghazi.
The source quoted eyewitnesses and paramedics as saying the shells were fired from Al-Sabri area, which has been the scene of clashes between the Libyan army and militants over the past four months.
It is not yet known whether the mortar shells were fired deliberately or strayed.
http://english.farsnews.com/newstext.aspx?nn=13931211000675
-----------
Congo says kills rebels, gains ground in drive to crush insurgency
Mar 02 2015
The Congolese army has killed seven rebel fighters and captured territory, weapons and men since the start of its campaign to stamp out an insurgency in the east of the country, the government spokesman said on Sunday.
One soldier has been killed since the push began last week in North and South Kivu against the Democratic Forces for the Liberation of Rwanda, a force central to two decades of conflict in region that borders Rwanda, Burundi and Uganda, he said.
"They (the rebels) are being chased. They are abandoning the majority of their arms. They are less dangerous than when they are living in their usual sites," spokesman Lambert Mende told Reuters.
The rebel force of an estimated 1,400 fighters includes some former soldiers and militiamen responsible for Rwanda's 1994 genocide.
They have exploited the region's gold, diamond and tin deposits and waged periodic war with the Kinshasa government and other armed groups since fleeing to Congo at the end of the genocide.
Full report at:
http://english.ahram.org.eg/NewsContent/2/9/124241/World/International/Congo-says-kills-rebels,-gains-ground-in-drive-to-.aspx
-----------
UN fears hundreds of children kidnapped in S. Sudan
Mar 02 2015
NAIROBI: The UN children's agency said on Sunday it fears hundreds of boys were kidnapped last month in the northeast of South Sudan, raising suspicions that the abductors were from a pro-government militia.
Last week Unicef had estimated that 89 boys, some as young as 13, were abducted by an armed group in Wau Shilluk, a riverside town in government-held territory within oil-rich Upper Nile state.
"The organisation now believes the number of children may be in the hundreds," Unicef said in a statement.
It added that the suspected kidnappers were from a "militia... aligned with the government's SPLA forces". Witnesses to the mass abduction on February 15-16 said that unidentified armed soldiers surrounded the community and went house to house taking away by force any boys thought to be over 12 years old.
Full report at:
http://www.dawn.com/news/1166743/un-fears-hundreds-of-children-kidnapped-in-s-sudan
-----------
North America
Canadian Muslim families are in the front lines
Mar 02 2015
Muslim families are among the first victims of the small but troubling element of radicalism in their community
Why do some young Canadian Muslims let themselves be drawn into the dark clutches of the Islamic State and other jihadist groups? That's for political scientists, psychologists and sociologists to debate. There's no one-size-fits-all answer.
But the heartbreak young radicals leave behind is only too obvious after a week in which Canadians were riveted by reports that Muslim youths, many just 18 or 19, have been heading overseas to wage jihad in Syria. Their families in the Montreal area and Edmonton were shattered.
As the grieving father of Montrealer Bilel Zouaidia told La Presse's Vincent Larouche, this wasn't how he brought up his children.
"You are Quebecers. You are Canadians, I told my sons. We don't spit on the country that welcomed us. My son was well brought up … until the day he disappeared."
Bilel's father even seized his passport when he felt he was being radicalized. And "just like a father hen," he tried to find out who his son was hanging with at the college where he took Arabic classes. He decided to forbid his son to attend.
But "I work morning to night," the father said. "I couldn't sleep next to his bed to see whether he was on the Internet." And his son soon got another passport.
Now the Zouaidia family, like the other families of the four Montreal-area men and two women who bolted six weeks ago, can only hope they are still alive.
Full report at:
http://www.thestar.com/opinion/editorials/2015/03/01/canadian-muslim-families-are-in-the-front-lines-editorial.html
-----------
Hawaii Dem faces backlash for taking on Obama over 'Islamist' extremism
Mar 02 2015
She was Hawaii's golden girl after winning a seat in Congress with support from top liberal groups, but now that Democratic Rep. Tulsi Gabbard has been critical of President Obama, her political reputation in the bluest of blue states is taking a hit.
That isn't stopping the twice-deployed 33-year-old Army veteran from continuing to challenge the president, her home state's favorite son, over his refusal to identify terror groups like the Islamic State as driven by "radical Islam."
"Every soldier knows this simple fact: If you don't know your enemy, you will not be able to defeat him," Gabbard told FoxNews.com. "Our leaders must clearly identify the enemy as Islamist extremists, understand the ideology that is motivating them and attracting new recruits, and focus on defeating that enemy both militarily and ideologically."
Gabbard has been hitting this message for weeks now, putting her at odds with many in her party who toe the line that the Islamic State should not be associated with Islam.
Gabbard called "mind-boggling" Obama's refusal to associate ISIS with the Muslim religion, even though the terrorist army is emphatic it is enforcing a strict interpretation of Islam.
"[Obama] is completely missing the point of this radical Islamic ideology that's fueling these people," she said.
Full report at:
http://www.foxnews.com/politics/2015/02/28/hawaii-rising-dem-star-risks-future-to-take-on-obama-over-islamic-extremism/
-----------
U.S. targeting 'Jihadi John,' senator says
2 March 2015
U.S. forces are targeting the London man believed to be "Jihadi John," an Islamic State of Iraq and Syria (ISIS) executioner, a senior Democratic senator said Sunday.
London graduate Mohammad Emwazi was unmasked by media this week as allegedly the English-speaking executioner responsible for the beheading of at least five Western hostages held by the ISIS group in Syria and Iraq.
Asked whether the U.S. was "going after" Emwazi specifically, Feinstein responded affirmatively.
"Oh, yes. He's a target. There should be no question about that," the former Senate Intelligence Committee chair told CBS television's "Face the Nation."
The Kuwait-born computer expert, believed to be 26 or 27 years old, appeared for the first time in a video during the execution of American journalist James Foley in 2014.
He presided over numerous killings, and delivered English messages in execution videos.
Feinstein added that Emwazi's story of Western disaffection spoke to a "major problem" confronted by Western nations.
"What it tells us is that there are many young people, and you can see this by the number of tweets on Twitter, who are so disaffected," she said.
"Whether they feel rejected socially, whether they feel they don't have an opportunity, whether they feel this country is anti-Muslim, which it is not, I don't know."
http://english.alarabiya.net/en/News/middle-east/2015/03/02/U-S-targeting-Jihadi-John-senator-says.html
-----------
Kerry tries to ease fuss over Israeli PM's speech
2 March 2015
As U.S. Secretary of State John Kerry attempted to ease tense relations between Israel and Washington, he asserted on Monday the White House's right to "the benefit of the doubt" when it came to negotiating a nuclear deal with Iran.
The remarks come a few hours before Prime Minister Benjamin Netenyahu's arrival in Washington, where he will give a speech to Congress on Tuesday and is expected to argue against a deal with Iran.
Kerry said in an interview broadcast before he arrived in Switzerland for talks with Iran's foreign minister that Netanyahu was welcome to speak in the U.S. and that the administration did not want the event "turned into some great political football," the Associated Press reported.
"We are going to test whether or not diplomacy can prevent this weapon from being created, so you don't have to turn to additional measures including the possibility of a military confrontation," Kerry told ABC's "This Week."
Full report at:
http://english.alarabiya.net/en/News/2015/03/02/Kerry-defends-benefit-of-doubt-with-Iran-as-Netanyahu-arrives-in-U-S-.html
--------
Southeast Asia
Accused Of Covert Conversions, Muslim Group Attacks Non-Muslim Holy Texts in Hotels
March 2nd, 2015
KUALA LUMPUR, March 2 — A Muslim group targeted for its evangelism towards non-Muslims today fired back at detractors, particularly over the placement of their holy texts in hotels despite complaints of barriers against proselytisation.
Multiracial Reverted Muslims (MRM) president Firdaus Wong Wai Hung also questioned why non-Muslims felt they were being treated unfairly when Muslims wanted to distribute the Quran, claiming that the latter never protested about non-Muslims' religious materials in hotels.
"Non-Muslim friends who complained that they have no freedom to spread your religion, what is your answer to the discovery of these religious texts in hotels?
"All this while we have never made a fuss over holy books placed in hotel but why when we want to distribute al-Quran without forcing anyone to accept you are worried and cry unfairness?" the Muslim convert said in a statement today, referring to a recent controversy over a bid to distribute one million copies of the Muslims' holy books for free in the country.
Along with his statement, Wong provided a screencapture of a Facebook post last Saturday by one Bungsu Aziz Jaafar, who also provided a photograph that showed four religious books in two drawers of a purported hotel desk.
Full report at:
http://www.themalaymailonline.com/malaysia/article/accused-of-covert-conversions-muslim-group-attacks-non-muslim-holy-texts-in#sthash.Fbyefpoz.dpuf
-------
After Islamic Dress Code Furore, Terengganu MB Says Come As You Are
March 2nd, 2015
KUALA LUMPUR, March 2 — Terengganu Mentri Besar Datuk Ahmad Razif Abd Rahman denied that the state issued an Islamic dress code barring tourists from wearing revealing attire, claiming today he was surprised to hear that the story went viral.
He added that such rules to police tourists' attire were unnecessary as there were already sufficient laws to ensure public modesty.
"I've already asked the exco chairman to explain the statement … The state government has never planned to issue dressing guidelines for tourists," Ahmad Razif said as quoted by news portal Sin Chew Daily, referring to State Tourism and Cultural Affairs executive committee (exco) chairman Datuk Mohd Jidin Shafee.
"If someone dresses indecently, there are existing laws to deal with it, and the government does not intend to introduce new rules," he added in a separate story ran by English portal The Star Online.
Full report at:
http://www.themalaymailonline.com/malaysia/article/after-islamic-dress-code-furore-terengganu-mb-says-come-as-you-are#sthash.vpkw4O2Y.dpuf
-----------
Curb Your Enthusiasm for Firing Squads: Indonesian Ex-Foreign Minister
March 2nd, 2015
A former foreign minister has called on the Indonesian government to tone down its seemingly gleeful rhetoric about plans for executing foreign nationals on death row, which he says gives the impression that Indonesia enjoys such killings.
Hassan Wirajuda, Indonesia's foreign minister under presidents Megawati Soekarnoputri and Susilo Bambang Yudhoyono, said that the way Indonesian officials vividly described the planned
executions had created a sense that Indonesia was happy about the executions.
"We should not provide ammunition [for criticism], as if we enjoy killing people," he said over the weekend.
Hassan, who has been seen as the senior diplomat who groomed Retno L.P. Marsudi, Indonesia's current foreign minister, said vulgar official statements such as those regarding preparations for executions by firing squad created problems for Indonesia.
"We should be able to understand them, although Brazil has been a little bit too harsh. But Brazil probably thinks we applauded its citizen's execution," he added.
On Saturday, President Joko Widodo said Indonesia's stance was "clear" on the pending executions of two Australian drug smugglers, despite the suggestion by Australia's prime minister that he was "carefully considering" his position.
Full report at:
http://thejakartaglobe.beritasatu.com/news/curb-enthusiasm-firing-squads-indonesian-ex-foreign-minister/
-----------
Dad of converted minor says not against Islam, religion his right as parent
March 2nd, 2015
Only 11km separated rubber tapper Jilius Yapoo from his daughter at her boarding school in Kinarut, Sabah, but it was a long way on rough roads which made the journey difficult, so he entrusted the school with her safety and well-being.
He never expected that four years later, he would see the 16-year-old wearing a "tudung" (Muslim head scarf) and hear her say she had converted to Islam.
Penampang MP Darell Leiking, speaking on behalf of the father of eight, told The Malaysian Insider that Yapoo, 46, was not against his children leaving the family's religion, but only after they turned 18 and when he was certain that they could decide for themselves without undue influence.
Leiking, who is acting as the family's counsel, said Yapoo was "shocked beyond words" to find out about his daughter's conversion and that it had been hidden from him.
Full report at:
http://www.themalaysianinsider.com/malaysia/article/dad-of-converted-minor-says-religion-his-right-as-parent-not-against-islam#sthash.JGspJIrc.dpuf
-----------
India
Historic Moment as Parties Divided By Geography & Ideology Come Together in Kashmir
Sagarika Ghose,TNN | Mar 2, 2015
JAMMU: It was a historic moment at the flower bedecked Zorawar auditorium in Jammu as parties bitterly divided by geography and ideology took oath to form a coalition government on Sunday. The swearing-in of the PDP-BJP council of ministers saw a colourful difference of political cultures and styles.
While BJP MP Jugal Kishore cried, "Bharat Mata ki jai!" after the national anthem at the start and the BJP side of the auditorium burst into applause, the PDP side looked nonplussed and stayed mostly silent.
There was a contrast in the political identities of the two parties as well. The sharp-suited hat-wearing Basharat Bukhari took the oath in a ringing baritone declaring, "I swear in the name of Allah," and Maulvi Imran Ansari took oath saying, "In the name of Allah, the most beneficent."
Full report at:
http://timesofindia.indiatimes.com/india/Historic-moment-as-parties-divided-by-geography-ideology-come-together/articleshow/46424652.cms
-----------
RSS reiterates demand to enact anti-conversion law
Mar 2, 2015
NEW DELHI: Amid the raging row over Mohan Bhagwat's remarks on Mother Teresa, RSS today reiterated its demand for an anti-conversion law to check the "rising incidents" of religious conversions in the country.
Suhasrao Hiremath, the Akhil Bharatiya Saha Seva Pramukh of RSS made the remarks at a press conference called to announce an upcoming mega event, a congregation of around 800 social service organisations affiliated to the outfit, in the capital.
"The demand for an anti-conversion law to stop conversions through false promises, forceful or any other wrong means is long-standing. We have nothing against people who convert voluntarily. But considering rising incidents of such conversions, government should enact a law," Hiremath said.
Bhagwat's remarks that conversion to Christianity was the main objective behind Mother Teresa's service to the poor has sparked a major controversy leading to a fierce opposition attack on the government.
Full report at:
http://timesofindia.indiatimes.com/india/RSS-reiterates-demand-to-enact-anti-conversion-law/articleshow/46421021.cms
-----------
Europe
Moscow denounces 'abominable' Charlie Hebdo cartoon
Mar 02 2015
The head of the Russian parliament's foreign affairs committee Alexei Pushkov yesterday denounced a cartoon published in the latest issue of the French satirical weekly Charlie Hebdo on the truce in Ukraine as "abominable".
The drawing, entitled 'Ceasefire: boredom sets in in Donetsk', depicts the inhabitants of separatist-controlled eastern Ukraine standing amid ruins and rubble wondering, 'How about we do something with some cartoonists?'
"It is an abomination, not freedom of expression," Pushkov, who is known for his controversial statements, wrote on his Twitter account.
Russia initially welcomed an historic march against terrorism in Paris after January's deadly attacks on the weekly, but many media and Russian officials have subsequently turned against Charlie Hebdo, saying it disrespects religious followers.
Three Russian media outlets were handed penalties by the country's media regulator in January for reprinting recent caricatures of the Prophet Mohammed published in the magazine.
Hundreds of thousands of protesters also gathered on January 19 in Grozny, capital of the Chechnya region, to denounce the cartoons of the satirical newspaper.
http://www.themalaysianinsider.com/world/article/moscow-denounces-abominable-charlie-hebdo-cartoon#sthash.Ns2HRp83.dpuf
-----------
Jihadi John Dressed Like a Gangster Rapper, Smoked Cannabis, Friends Have Revealed
ISIS fanatic 'borderline stalked' girl he had crush on at school as friends say he dressed like a gangster rapper, smoked cannabis and drank vodka despite being Muslim
Mar 02 2015
Merciless killer Jihadi John dressed like a gangster rapper, smoked cannabis and had an obsessive crush on a girl at school, friends have revealed.
The ISIS executioner, unmasked this week as Londoner Mohammed Emwazi, was in a violent gang which used Tasers to target rich victims and 'borderline stalked' a girl he was fixated on.
Ahlam Ajjot, 27, has spoken of her horror that the world's most wanted terrorist lusted after her when the pair were just 16 and both attended Quintin Kynaston School in St John's Wood.
'He never spoke to girls unless he had to. He was awkward,' she told Simon Wright and Dan Warburton at the Sunday Mirror.
'I never knew Mohammed liked me and I can't believe it now when I think about him feeling that way.
'I was so shocked when I saw the news that he was Jihadi John. I couldn't believe the pictures of him in a balaclava and in Syria.'
Another former friend, who wished to remain anonymous, has exposed the killer's teenage past saying he took part in rowdy vodka drinking sessions and smoked cannabis despite being Muslim.
Full report at:
http://www.dailymail.co.uk/news/article-2974267/Jihadi-John-borderline-stalked-schoolgirl-crush-friends-reveal-dressed-like-gangster-rapper-smoked-cannabis-drank-vodka-despite-Muslim.html#ixzz3TD11saRv
-----------
Germany's far-right Pegida movement sets up in Scotland and plans anti-Islam march in Edinburgh
Mar 02 2015
THE first demonstration by the Scottish branch of Pegida, the far-right anti-Islam movement from Germany, is planned for Edinburgh this month.
Organisers of Pegida Scotland say they are in talks with police about holding an evening rally in the capital's city centre on March 21.
Pegida - a German acronym which translates as "patriotic Europeans against the Islamisation of the west" - has held weekly marches in Germany since October last year.
The radical group, which protests against a perceived "Islamisation" of Europe and the West, attracted 25,000 people in one rally in January following the Charlie Hebdo attacks.
Scottish organisers of Pegida told the Sunday Herald they were in regular talks with German members, who offered support and advice.
Pegida UK - another branch of the movement - held its first UK rally in Newcastle yesterday.
Around 400 far right demonstrators turned out for the march, which was backed by the British National Party (BNP), through the north-east English city.
Full report at:
http://www.heraldscotland.com/news/home-news/germanys-far-right-pegida-movement-sets-up-in-scotland-and-plans-anti-islam-march-in-.119603617
-----------
Hundreds Of Norwegians form human chain outside Oslo mosque
Mar 02 2015
OSLO: A week after hundreds of Muslims had formed a human-linked chain outside a Synagogue in Oslo to show solidarity with the Jewish community in the aftermath of attacks, hundreds of formed a circle of protection outside a mosque in the city on Saturday to demonstrate unity and peace, the Huffington Post reported.
Hundreds of people gathered around the Central Jamaat-e-Ahl-E Sunnat mosque in Oslo to show solidarity and respect for their Muslim compatriots.
The event was held to offer a symbolic "thank you" to Muslims and to express solidarity for forming a "peace circle" around an Oslo synagogue last weekend.
The organisers of the event said in a Facebook post that they wanted the ring to be read as support of peace, tolerance and respect for Muslims, who they called "a vulnerable minority in Norwegian society".
Full report at:
http://tribune.com.pk/story/846052/hundreds-of-norwegians-form-human-chain-outside-oslo-mosque/
-----------
Pope denounces 'intolerable brutality' in Iraq, Syria
Mar 02 2015
Pope Francis denounced the "intolerable brutality" being inflicted on Christians and other minorities in Iraq and Syria by the Islamic State of Iraq and Syria militant group.
"Unfortunately the tragic news just keeps coming from Iraq and Syria," the pontiff said after his weekly prayer in St Peter's Square, without specifically naming ISIS.
"We want to assure all those who find themselves in these situations that we have not forgotten them," he said. "Rather we are with them and we are praying intently for the rapid end of the intolerable brutality of which they are victims."
Last week, ISIS kidnapped 220 Assyrians in the Tal Tamr area of Syria where the extremist Islamist group has seized control of 10 Christian villages, according to the Syrian Observatory for Human Rights.
A video released Thursday by the jihadists shows men smashing ancient Assyrian statues and other priceless artefacts at the main museum and an archaeological site in the northern city of Mosul.
The pope also called on Venezuelans to refuse violence and "resume a common path for the good of the nation," after a 14-year-old boy was killed in anti-government protests last week.
http://english.alarabiya.net/en/News/middle-east/2015/03/01/Pope-denounces-intolerable-brutality-in-Iraq-Syria-.html
---------
URL: https://newageislam.com/islamic-world-news/new-age-islam-news-bureau/'stop-harassing-clerics;-identify-those-involved-in-terrorist-activities'--madaris-chairman/d/101785