New Age Islam News Bureau
04 December 2021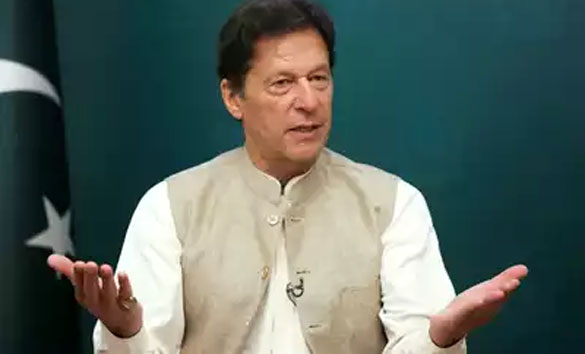 Pakistan Prime Minister Imran Khan/ Photo: Times of India
-----
• Hindu Groups Target Gurgaon's Muslim Prayer Sites; Litter-Strewn Patch Of Concrete Has Become A Religious Battlefield
• Hundreds Of Social Media Users Worldwide Took A Stand Against Islamophobia In America
• Cementing Ties With France, UAE Places $19 bln Order For 80 Rafale, Helicopters
Pakistan
• Anti-Terrorism Court Of Gujranwala Hands Down 16-Year Jail Term To 19 Tehreek-i-Labbaik Pakistan Men
• TNFJ rejects amendments to Muslim family laws
• Pakistan's Serbia embassy Twitter handle 'hacked', post targets Imran
• Pakistan re-elected to executive council of chemical weapons watchdog
--------
India
• Notice To Imam For Organizing Friday Prayers In In Noida's Phase 2 Park
• Kerala Police Books BJP-RSS Workers For Raising 'Anti-Muslim' Slogans
• Pakistan to allow Afghan trucks to ferry Indian wheat to Afghanistan
• J&K: Mysterious blinking lights seen close to border in Jammu region
--------
North America
• US: Democrats denounce lawmaker's anti-Muslim attacks
• US special envoy discusses Afghanistan with Qatari authorities
• US hits out at Iran for not coming to Vienna with constructive proposals
• US State Department phones hacked with Israeli company spyware: Sources
--------
Arab World
• Islamic State Attack Leaves Over Dozen Kurds Dead
• More than 90 Houthis killed in last 24 hours in Yemen's Marib: Arab Coalition
• US 'deeply concerned' by rising Daesh/ISIS attacks in Iraq: Secretary of state
• Turkish defence chief denounces Assad regime's 'meaningless' statement
• Lebanon's information minister resigns after Saudi Arabia comments
--------
Africa
• Saif al-Islam Is Not Looking To Resurrect His Father's Rule; Wants To Lay That Era To Rest
• Include Miyetti Allah, FUNAM on list of terrorists – Ortom to Buhari govt
• Sudan Sovereign Council head Burhan says he will not run for presidency
• UN worker killed in attack on peacekeeping convoy in Mali
--------
South Asia
• Karzai Calls For Inclusive Government In Afghanistan To Gain International Acceptance, Recognition
• Millions of Afghans starving as winter approaches: UN
• Afghan judges in Brazil still fear the Taliban
--------
Southeast Asia
• Kit Siang Asks If PM's Special Envoy To Middle East Banned From Saudi Arabia
• Philippine military says Muslim rebel leader killed in clash
• Confusing laws over marriage wreckers
• 2 telling cases of cognitive dissonance
--------
Mideast
• Iran Urges Lifting of All US Unlawful Sanctions in Draft Documents
• President Rayeesi Calls for Broadening of Iran-Laos Cooperation
• Putin criticizes Ukraine's use of Turkish drones in Erdogan call
• Israeli army arrests 24 Palestinians in West Bank
• Dozens of Palestinians injured by Israeli forces in West Bank
--------
Europe
• Family Loses Defamation Claim In UK After Questioning Donations To Mosque From 'Extremist'
• In Khashoggi's shadow, Macron set for Saudi talks with crown prince
• Macron thanks Qatar for Afghan evacuations
• Rights groups urge Macron to refuse protection to Syrian war criminal
• EU announces $367M in extra funds to support refugees in Turkey
• France's Macron says hoping for progress on Lebanon 'within next hours'
Compiled by New Age Islam News Bureau
URL: https://www.newageislam.com/islamic-world-news/pakistan-imran-lanka-lynch-blasphemy/d/125899
--------
Sri Lankan Lynched To Death, Burnt For 'Blasphemy' in Pakistan's Punjab Province, PM Imran Khan Calls It 'Day Of Shame,' Army Chief Too Condemns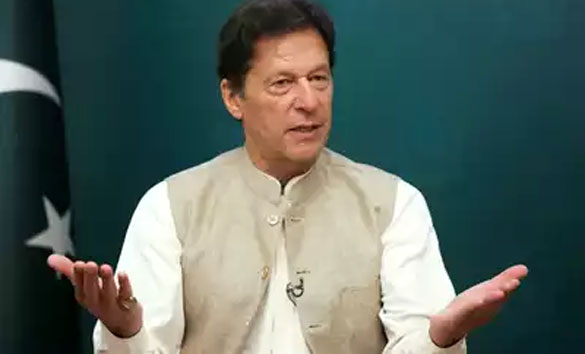 Pakistan Prime Minister Imran Khan/ Photo: Times of India
-----
Dec 3, 2021
NEW DELHI: A Sri Lankan national was beaten to death and his body burnt over allegations of blasphemy in Pakistan's Punjab province on Friday.
The man was a manager at a factory in Sialkot in the Punjab province.
Prime Minister Imran Khan tweeted, terming the incident "a day of shame for Pakistan," and said all those responsible will be punished.
The horrific vigilante attack on factory in Sialkot & the burning alive of Sri Lankan manager is a day of shame for… https://t.co/fIfArcc5mv
— Imran Khan (@ImranKhanPTI) 1638540329000
Chief minister of Punjab Usman Buzdar said he was "extremely shocked at the horrific Sialkot incident", and has ordered an inquiry.
Around 50 people have been arrested so far, according to Pakistan media reports.
Priyantha Kumara, a Sri Lankan national who was in his 40s, worked as the general manager of a factory in Sialkot district, some 100 kms from Lahore.
"Mr Kumara allegedly tore a poster of the hardline Tehreek-e-Labbaik Pakistan (TLP) in which Quranic verses were inscribed and threw it in the dustbin. The poster of the Islamist party was pasted on the wall adjoining the office of Kumara. A couple of factory workers saw him removing the poster and spread the word in the factory," a police official said.
Hundreds of men, enraged over the "blasphemy" incident, started gathering outside the factory from adjoining areas. Most of them were activists and supporters of the TLP.
He was badly beaten and succumbed to his injuries. The mob also burnt his body before police could reach the spot.
Several videos were circulated on social media showing hundreds of men gathered at the site surrounding the body and chanting slogans of the TLP.
"CCTV footage is being obtained so that those who were responsible can be identified. The IG has directed law enforcement personnel to produce results in 48 hours after which the probe will be extended," a Punjab government spokesperson said.
Pakistan has extremely strict laws against defaming Islam, including the death penalty, and rights campaigners say they are often used to settle personal disputes in the Muslim-majority country.
Mere allegations of blasphemy have triggered violence against minorities like Christians.
A Punjab governor in Islamabad was also shot and killed by his own guard in 2011, after he defended a Christian woman who was accused of blasphemy.
Pakistan has been under pressure for the past several decades to change the country's blasphemy laws. However, Islamists in the country have strongly resisted the efforts, and have prevailed upon successive governments.
Source: Times of India
Please click the following URL to read the text of the original story:
https://timesofindia.indiatimes.com/world/pakistan/pakistan-sri-lankan-lynched-to-death-over-blasphemy-pm-khan-calls-it-day-of-shame/articleshow/88077068.cms
--------
Hindu Groups Target Gurgaon's Muslim Prayer Sites; Litter-Strewn Patch Of Concrete Has Become A Religious Battlefield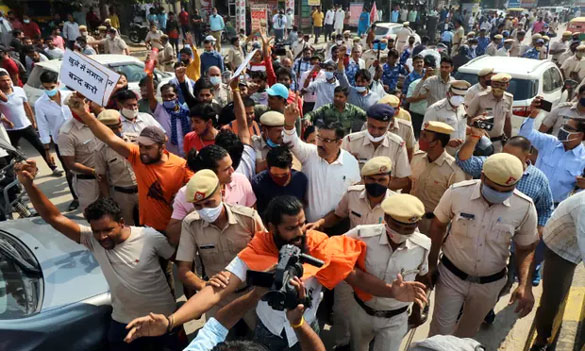 Police standing guard in Gurgaon, India, to secure the site of Friday prayers amid protests by Hindu groups in October. Photograph: Manoj Kumar/AFP/Getty
----
Hannah Ellis-Petersen in Gurgaon
Sat 4 Dec 2021
Until a few weeks ago, no one had given much thought to the car park outside sector 37 police station in Gurgaon, a satellite city to India's capital, Delhi. But for the last few Fridays the dusty, litter-strewn patch of concrete has become a religious battlefield.
This week as a Hindu nationalist mob assembled in their usual saffron, roars of their signature slogans "Jai Shri Ram" (Hail Lord Ram) and "hail the motherland" filled the air. Then a cry rang out: "The Muslims are here." And the mob began to charge.
For more than a decade, this car park has been one of hundreds of sites that the Muslims of Gurgaon have been using as a makeshift prayer ground on Fridays, their designated day of congregational prayer, for jumma namaz. Usually such prayers are held in mosques but Gurgaon, a city that rose in the 1990s from the brushland on the outskirts of Delhi to serve India's new middle class, has a severe shortage, with around 13 to cater for a city of more than 1.5 million people. Attempts to build more mosques in the area, even on Muslim-owned land, have been met with resistance and hostility.
Instead, the thousands of Muslim labourers who have flocked to this expanding metropolis for construction work on Gurgaon's corporate skyscrapers and luxury high-rise apartments found another option. Unable to travel for miles to a mosque to offer namaz, they began praying on empty patches of land. They even sought permission from the administration and by 2018 the Muslim community had been granted permission for outdoor prayers in 108 places across the district.
"People are forced to pray out in the open because we have no other choice," said Altaf Ahmad, a co-founder of the Gurgaon Muslim council.
But in 2018, rumblings of discontent began, as Hindu vigilante groups realised that Muslims were praying on public land. They began to hold protests, sometimes with more than 100 people, disrupting dozens of Friday prayers and fracturing the modern metropolis along an age-old schism.
In response, the Gurgaon administration reduced the number of namaz sites from 108 to 37, to the dismay of the Muslim leaders who felt the administration was bowing to the demands of fanatics. "They told us it was temporary and just to cool the situation down," said Ahmad. But this year, after a lull due to Covid, the objections came back with a vengeance.
Every Friday for months, members of Hindu vigilante groups alongside local residents have been gathering, occasionally armed with axes and wooden rods, at the sites of namaz to try to stop them happening. Slogans including "shoot the traitors" have been shouted and Hindu prayers and songs read out to try to drown out Qur'an readings. Cow dung has been placed at the sites and police have regularly had to hold back the mob so namaz could continue.
Last month an umbrella organistion of Hindu groups called the Sanyukt Hindu Sangharsh Samiti told police that they were ready to use weapons and go to jail if the namaz was not stopped.
At the forefront of the fight is Dinesh Thakur, who goes by the name Dinesh Bharti, a nod to his devotion to Bharat, meaning mother India. Thakur, who has set up his own one-man Hindu nationalist army called Bharat Mata Vahini, has been detained more than 10 times and arrested and charged three times for his communal actions.
On Friday Thakur sprinted towards Shehzad Khan, the Muslim leader who was there to lead the prayer, and began confronting him, getting within inches of his face shouting "no namaz here", until he was dragged away by five police officers. As the Muslims filed silently into the area for namaz, heads down and clutching their prayer mats, a line of armed police held back the Hindu nationalist mob. Seven were detained by police.
"Conducting namaz in the open is land jihad," Thakur said before being arrested. "It's an international conspiracy. They do namaz outside, then they build a shrine, then they build a mosque and then inside the mosque they are harbouring terrorists and weapons and they are a threat to the nation. I will not stop my fight until this becomes illegal."
Residents have joined the protests, including Ravinder Kumar, 45, a software engineer and joint secretary of Gurgaon's sector 47 residents' welfare association. "So many unknown people were coming here for namaz, and it created an environment of fear," said Kumar. "Afterwards they wander into our park, and we are worried they could be here for theft. A few days ago an AK47 rifle was seized from a Muslim in Gurgaon by police. We don't want such things in our area."
Kumar conceded that so far no incidents of crime had been committed by anyone coming for Friday prayer.
For the Muslim community, praying in the few public sites they have left has become a statement about their rights in society. The number of public places where Muslims are allowed to pray in Gurgaon has recently been reduced again, to 20, and owing to the continuing protests it is likely to shrink further. Mufti Mohammad Saleem Qasmi, the president of the Muslim organisation Jamiat Ulama-i-Hind, said they would continue to hold Friday prayer in these spaces as it was a matter of justice.
On Friday as the cries of "Jai Shri Ram" rang out and the police held back the protesters with batons, about 50 Muslims sat side by side in the direction of Mecca and bowed their heads to the ground. Khan then led a prayer for Hindu-Muslim harmony. "Muslims are as much citizens of India as Hindus. Our forefathers have also sacrificed for this country," he said. "Guide us, Hindu and Muslim brothers, to remain united in a bond of brotherhood."
Washi Ahmer, 25, was among those who came to pray. "We are not scared but it's not right what is happening," he said. "We have been praying here for 10 to 12 years but all this protest is new. They want to divide the nation. They have a problem with our existence."
The developments in Gurgaon reflect divisions between Hindus and Muslims that have opened up across India since the Hindu nationalist Bharatiya Janata party won power in 2014. The BJP has been accused of fanning the flames of communal tensions and enabling a persecution of Muslims – a charge it denies.
"When this first happened in 2018, it hurt me very badly," said Ahmad. "But there's been so much pressure on Muslims since then that now I have become numb. I don't feel that pain any more."
To improve communal harmony, last Friday the Sikh community stepped in and offered its five gurdwaras in Gurgaon as spaces for namaz. But this inflamed the problem even more. Several people picketed a gurdwara with placards and handed out booklets questioning how Sikhs could let Muslims inside their place of worship when their ninth Sikh guru was killed by the Mughals.
In the end, in the name of safety, no Muslims prayed in the gurdwara. Daya Singh, 72, a member of the Gurudwara Shri Guru Singh Sabha committee, said: "We know this is not really about namaz, it's all part of the plan to alienate Muslims."
The Gurgaon administration says it has resolved the issue. "We are committed to preserving communal harmony and law and order in the area," said Gurgaon's deputy commissioner Dr Yash Garg. "Namaz is now being offered peacefully. This issue is caused only by the fringe elements from both sides. This is a free country for all religions, the Muslim community can build another mosque if they want."
Source: The Guardian
Please click the following URL to read the text of the original story:
https://www.theguardian.com/world/2021/dec/04/hindu-groups-target-muslim-sites-india-gurgaon
--------
Hundreds Of Social Media Users Worldwide Took A Stand Against Islamophobia In America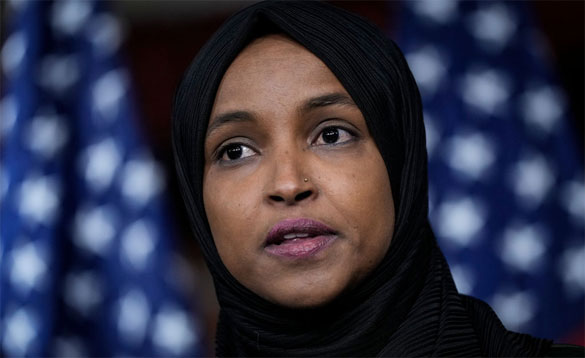 Hundreds of social media users worldwide took a stand against Islamophobia in a viral social experiment started by an American Muslim activist on Tuesday.
----
December 4, 2021
Hundreds of social media users worldwide took a stand against Islamophobia in a viral social experiment started by an American Muslim activist on Tuesday.
Saqib Hussain Javed, 27, of Detroit, Michigan, asked Twitter users to say where they're from and that they're against anti-Muslim hate.
Ex-National Basketball Association professional player Rex Chapman wrote: "I am from Kentucky and I stand against Islamophobia."
He was following the format suggested by Javed, which invites users to fill in the blank in an example post with their location.
I am from Kentucky and I stand against Islamophobia.
— Rex Chapman (RexChapman) November 30, 2021
States across the US were represented with similar messages – from Washington State to Colorado to Texas. People from cities and countries around the world joined in too: from Toronto, Canada to Kerala in India, and from Uganda to the UK.
Even the New York State Green Party got involved, saying: "We are from New York and we stand against Islamophobia."
Others expanded on the prompt.
"You will not find shelter here: only my never ending [sic] rage over your choice to exclude," one user from Colorado told Islamophobes. "You aren't welcome here."
Beasy Jennison from Ohio said: "Thank you for tweeting this experiment.
"Still so much to do to end the cancerous hate that plagues our [E]arth, but it fills one with hope to see so many from all different parts of the world uniting together."
I am from Ohio, USA and I will forever stand against islamophobia.
Thank you for tweeting this experiment.
Still so much to do to end the cancerous hate that plagues our earth, but it fills one with hope to see so many from all different parts of the world uniting together.
— Beasy Jennison (BestBea13) November 30, 2021
Javed, the experiment's creator, described Islamophobia as being "like a plague in western society".
"The reason specifically for this 'social experiment' was because of the recent attack on Muslim Congress woman [sic] Ilhan Omar, by another [C]ongress woman [sic] who happens to be white," he told The New Arab.
"She was spewing the same s**t a lot of Muslims have to hear growing up in schools as a form of bully[ing] from other students associating us with terrorism."
Javed said this was a particular issue for Muslims who, like him, grew up after the 9/11 terror attacks in 2001.
He was discussing a video of Republican Congresswoman Lauren Boebert which has prompted outrage online after being posted on Twitter by self-professed right-wing extremism monitor PatriotTakes last Thursday.
Boebert suggested her Democratic colleague Ilhan Omar belongs to a "Jihad Squad", seemingly hitting out at the progressive "Squad" of US lawmakers Omar is a member of.
The Colorado Republican also implied a police officer had believed Omar was a terrorist during an episode in a Capitol Hill lift the Democrat said never happened.
Javed said: "I got PTSD watching that video from the racial abuse I went through in grade school."
The New Arab contacted Boebert's press team for comment but did not receive a reply by the time of publication.
The day after the video was shared by PatriotTakes, last Friday, Boebert said: "I apologize to anyone in the Muslim community I offended with my comment about Rep. Omar.
"I have reached out to her office to speak with her directly."
When they talked on the telephone on Monday, Omar terminated the call.
According to Omar, this was over Boebert "refus[ing] to publicly acknowledge her hurtful and dangerous comments". Boebert said it happened after she explained she would not make a "public apology".
Islamophobia is on the rise under this government.
Today I shared my own experiences in Parliament during a debate for Islamophobia Awareness Month. pic.twitter.com/ekyOGnWV5T
— Apsana Begum MP (ApsanaBegumMP) November 24, 2021
Another inspiration for Javed's anti-Islamophobia experiment was British MP Apsana Begum speaking out about the prejudice she faces last Wednesday in the UK Parliament.
This came as part of an Islamophobia Awareness Month debate.
Reflecting on the global support his experiment received, Javed said: "It didn't necessarily make me feel better, but it gave me a sense [of] hope.
"And where there is hope there's a chance for a better world."
Source: ABNA24
Please click the following URL to read the text of the original story:
https://en.abna24.com/news//hundreds-of-social-media-users-stand-against-islamophobia-in-america_1204920.html
--------
Cementing Ties With France, UAE Places $19 bln Order For 80 Rafale, Helicopters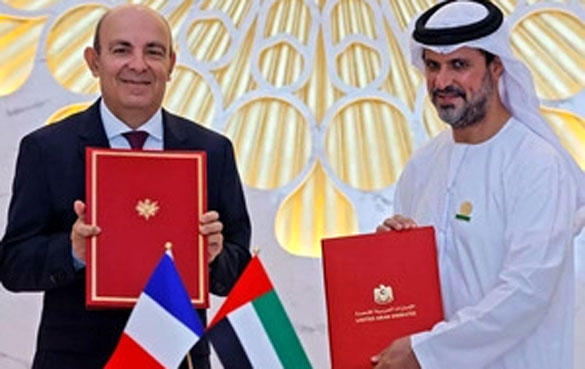 CEO of Dassault Aviation Éric Trappier (L) poses with an Emirati official after the signing of the deal.
----
03 December ,2021
The United Arab Emirates ordered 80 Rafale fighter jets and 12 military helicopters on Friday, deepening economic and political ties with France through an arms contract worth 17 billion euros ($19.20 billion).
The largest ever overseas sale of the French warplane was sealed as French President Emmanuel Macron began a two-day trip to the Gulf, during which he will also visit Qatar and Saudi Arabia.
"This contract is historic," French Armed Forces Minister Florence Parly said in a statement.
The French presidency said deal, signed at a ceremony between Abu Dhabi Crown Prince Sheikh Mohammed bin Zayed al-Nahyan (MBZ) and Macron on the side-lines of the Dubai Expo 2020, is worth $19 billion.
"This contract cements a strategic partnership that is stronger than ever and directly contributes to regional stability, the French presidency said in a statement.
Macron's visit comes at a time when Gulf Arab states have voiced uncertainty about the United States' focus on the region even as they seek more weapons from their key security ally.
The French leader has forged a good relationship with MBZ with investments flowing between the two countries. Paris has a permanent military base in the Emirati capital.
Shares in Dassault Aviation SA , the Rafale's maker, rose more than 9 percent.
It is the biggest bulk purchase of the Dassault-made Rafale, other than by the French army, and comes after deals in Greece, Egypt and Croatia this year.
Abu Dhabi also ordered 12 Caracal helicopters. It is the French code name for the H225M, the multirole military version of the Super Puma.
The on-off negotiations for the Rafale fighter jets took more than a decade with Abu Dhabi publicly rebuffing France's offer to supply 60 Rafale jets in 2011 as "uncompetitive and Unworkable." Abu Dhabi already has French-built Mirage 2000 warplanes.
Defence sources said the Rafale would replace the Mirage 2000 fleet but is unlikely to displace the American-built F-35 as the UAE continues to hedge its security with two major suppliers, France and the United States.
The deal could nonetheless be seen as a signal of impatience as the US Congress hesitates on approving an F-35 deal amid concerns about the UAE's relationship with China, including the prevalence of Huawei 5G technology in the country.
UAE order of 80 Rafale will support 7,000 jobs in France
The 80 Rafale fighter jets order by the United Arab Emirates will directly support 7,000 jobs in France and guarantee the supply chain of the Dassault Aviation made aircraft until the end of 2031, a French official told journalists.
He also said the UAE deal, the largest order ever for the warplane, would lead to an increase of the monthly Rafale warplane production.
Source: Al Arabiya
Please click the following URL to read the text of the original story:
https://english.alarabiya.net/News/gulf/2021/12/03/Cementing-ties-with-France-UAE-places-19-bln-order-for-80-Rafale-helicopters-
--------
Pakistan
Anti-Terrorism Court Of Gujranwala Hands Down 16-Year Jail Term To 19 Tehreek-i-Labbaik Pakistan Men
Waseem Ashraf Butt
December 4, 2021
GUJRAT: An anti-terrorism court of Gujranwala has convicted 19 activists of the Tehreek-i-Labbaik Pakistan (TLP) and awarded them 16-year imprisonment under four different sections in a case of attacking police during the riots in Hafizabad.
ATC judge Natasha Naseem Sipra also imposed a fine of Rs30,000 to each of the convicted person. She, however, acquitted 15 others in the case.
The Pindi Bhattian police had booked 34 TLP workers on the charges of killing a policeman, injuring several others, blocking the roads, snatching the anti-riot jackets and other such offences.
The case had been lodged under various sections including 302, 324, 148, 109 of Pakistan Penal Code as well as sections 6/7 of the Anti-Terrorism Act on April 13 this year.
The judge awarded 15 years' imprisonment and a fine of Rs30,000 each in three different offences of section 6 of ATA and one-year imprisonment in section 148 of PPC. The convicts have already been arrested and kept in the Hafizabad district jail.
Source: Dawn
Please click the following URL to read the full text of the original story:
https://www.dawn.com/news/1661832/atc-hands-down-16-year-jail-term-to-19-tlp-men
--------
TNFJ rejects amendments to Muslim family laws
December 04, 2021
ISLAMABAD: Quaid-e-Millat-e-Jaffaria Agha Hamid Ali Shah Moosavi Friday rejected the amendment to Muslim family laws, urging the CJP to take notice of the legislation based against the principles and faith of Shia school of thought. He said that despite being rejected twice by the concerned Senate Standing Committee, the passing of disputed bill is a clear violation of democratic norms and the Constitution. He said this while addressing the TNFJ core committee meeting in Rawalpindi. "Intervention continues in worship, rituals, and beliefs of Maktab-e-Tashayyo. We are peace-loving people, however, we shall never compromise on the fundamental rights." He said introduction of disputed curriculum, curbs on processions, amendments in books of Shia school of thought, banning of Majalis and discriminatory legislation are all reviving the bitter memories of Zia's martial law.
Source: The News Pakistan
https://www.thenews.com.pk/print/913954-tnfj-rejects-amendments-to-muslim-family-laws
--------
Pakistan's Serbia embassy Twitter handle 'hacked', post targets Imran
Dec 4, 2021
ISLAMABAD: A series of tweets from the official Twitter handle of Pakistan's embassy in Serbia targeted Prime Minister Imran Khan on Friday, alleging non-payment of salaries to the mission's staff for three months, prompting the Foreign Office to clarify that social media accounts of its embassy in Belgrade had been hacked.
Later, the embassy in Serbia also claimed that its account was hacked and a "baseless" tweet posted on it from a device in Karachi. The tweets were subsequently deleted and an investigation was launched.
The tweet from the embassy's verified account stated: "With inflation breaking all previous records, how long do you expect @ImranKhanPTI that we (government) official will remain silent & keep working for you without been paid for past 3 months & our children been forced out of school due to non-payment of fees. Is this #NayaPakistan?"
The tweet accompanied a video parodying Khan's "Ghabrana nahin hai" (don't worry) slogan. In a subsequent tweet, it said: "I am sorry (PM Imran Khan), am not left with another option."
The tweets provoked a storm on social media until the Foreign Office issued a statement. "The Twitter, Facebook and Instagram accounts of Pakistan's embassy in Serbia have been hacked. Messages being posted on these accounts are not from the Embassy of Pakistan in Serbia."
The Foreign Office said someone in Karachi hacked into the account through a "desktop" and a "baseless" and factually incorrect "post was made regarding non-payment of salaries". The embassy in Belgrade also made a similar statement, saying it was not responsible for the posts.
Source: Times of India
Please click the following URL to read the full text of the original story:
https://timesofindia.indiatimes.com/world/pakistan/pakistans-serbia-embassy-twitter-handle-hacked-post-targets-imran/articleshow/88080258.cms
--------
Pakistan re-elected to executive council of chemical weapons watchdog
Naveed Siddiqui
December 4, 2021
Pakistan has been re-elected to the executive council of the Organisation for the Prohibition of Chemical Weapons (OPCW), the Foreign Office said in a statement on Saturday.
Pakistan will now be a member of the executive council for a further two years from 2022 to 2024.
Elections for the council were held during the recently concluded 26th session of the Conference of States Parties in the Netherlands from November 29 to December 2.
The Chemical Weapons Convention (CWC) — the world's first multilateral disarmament agreement with 193 states as parties — is the most successful disarmament treaty eliminating an entire class of weapons of mass destruction, according to the FO statement.
The executive council is the principal policy-making organ of the OPCW, which is responsible for supervising the effective implementation of and compliance with the CWC. It also supports the scientific and economic development of its member states in the peaceful uses of chemistry, it added.
Pakistan has been a member of the executive council since 1997.
"Pakistan has been contributing constructively towards the fulfillment of the objectives of the CWC and regularly hosts OPCW routine inspections at its relevant facilities," the Foreign Office said.
Source: Dawn
Please click the following URL to read the full text of the original story:
https://www.dawn.com/news/1661903/pakistan-re-elected-to-executive-council-of-chemical-weapons-watchdog
--------
India
Notice To Imam For Organizing Friday Prayers In In Noida's Phase 2 Park
Dec 04, 2021
Noida: Police on Friday issued a notice to an imam--a Muslim priest who leads a prayer--for organising a Friday prayer in a park in Noida's Phase 2. The move came after a person tweeted a photo of the gathering in the park and tagged Noida police.
Atul Pandey tweeted a photo on Friday afternoon with the caption, "Shall we take this as open entitlement to practice religion in public parks? This was at Block B in Hosiery Complex, Noida."
Sujeet Upadhyaya, station house officer (SHO) of Phase 2 police station, said a police team soon reached the spot on getting information about the incident. "Primary investigation indicates that workers of a factory had gathered at a local mosque to offer Friday prayers. However, since the mosque was full, a group of men visited the park in the neighbourhood to offer prayers," he said.
Upadhyaya said people have been advised not to offer prayers in the park from next week. "We have also served a notice to the Imam/Maulvi Siraj Ahmad," he said.
Talking to HT, Ahmad said he works at a factory in Phase 2. "The factory workers have been offering prayers in the park for five years but due to lockdown, this practice was discontinued two years ago. The workers again gathered on Friday to offer prayers. We were not aware that offering prayers at the park is banned. We will not organise such congregation in the park from next week," he said.
Source: Hindustan Times
Please click the following URL to read the full text of the original story:
https://www.hindustantimes.com/cities/noida-news/noida-police-issues-notice-to-imam-for-organizing-friday-prayers-in-park-101638556554104.html
--------
Kerala police books BJP-RSS workers for raising 'anti-Muslim' slogans
Dec 3, 2021
THIRUVANANTHAPURAM: The Kerala police has booked RSS-BJP workers who raised highly provocative slogans against Muslims and even threatened to vandalise their places of worship.
The incident took place on Wednesday when BJP took out a march in Thalassery town in Kannur district to commemorate the Martyrdom day of Yuva Morcha leader K T Jayakrishnan. He was hacked to death allegedly by a gang of CPM workers on December 1, 1999.
According to Kannur police, the case was registered "suo motu" for raising slogans that created communal disharmony.
The cases were registered under section 153 of IPC and 143 IPC which pertains to creating enmity between different religious groups and unlawful assembly.
Though the Muslim organisations had no role in the murder, it is alleged that the BJP workers purposefully raised slogans against the community to create enmity and trigger religious polarisation.
The ruling CPM lashed out at the RSS for vitiating the peaceful atmosphere in the state and making attempts to disturb communal harmony. There was no provocation for raising such hateful slogans, said Thalassery MLA A N Shamsheer.
Source: Deccan Chronicle
Please click the following URL to read the full text of the original story:
https://www.deccanchronicle.com/nation/politics/031221/kerala-police-books-bjp-rss-workers-for-raising-anti-muslim-slogans.html
--------
Pakistan to allow Afghan trucks to ferry Indian wheat to Afghanistan
Sachin Parashar
Dec 3, 2021
NEW DELHI: India and Pakistan seemed close to breaking the deadlock over delivery of 50,000 MT of Indian wheat to Afghanistan with Islamabad announcing on Friday it had conveyed to India its consent to the proposed use of Afghan trucks for transporting the grain.
While India wanted Indian or Afghan trucks to carry the humanitarian assistance to Afghanistan, Islamabad had been insisting that India use Pakistani trucks operating under the UN banner to move aid from the Attari-Wagah border to Pakistan's Torkham border crossing with Afghanistan.
The proposal to deliver 50,000 MT to drought-stricken Afghanistan and the NSA-level conference chaired by Ajit Doval last month are the 2 most important initiatives taken by India in its efforts to remain on a solid footing after the return of the Taliban to Kabul on August 15 this year. The government has been helped by the fact that the Taliban have done nothing so far to compound India's insecurities and have, in fact, taken up with Pakistan the need to expedite aid from India.
The supply through Attari-Wagah, apart from offering a template for regional cooperation in South Asia, can also perhaps help the two countries lay the ghost of 2002 when Pakistan rejected the same proposal by India for delivering aid to Afghanistan.
Pakistan said in a statement on Friday that with a view to facilitate its decision to allow transportation of Indian wheat and life-saving medicines to Afghanistan via Wagah on an "exceptional basis" for humanitarian purposes, it had decided to allow the use of Afghan trucks for transportation from Wagah to Torkham. The same was conveyed to the Indian high commission in Islamabad on Friday. The exercise will apparently require thousands of trucks to ferry aid over a period of 30 days.
"This demonstrates the commitment and seriousness of the Government of Pakistan to facilitate the proposed humanitarian assistance. The Indian government was also urged to proceed quickly to take necessary steps to expeditiously undertake the delivery of the humanitarian assistance to Afghanistan," said the Pakistan foreign ministry.
The government said in Parliament this week that India's special relationship with the Afghan people and UNSC Resolution 2593 (passed under India's presidency) would continue to guide India's approach to Afghanistan. "In this endeavour, India has committed to provide 50,000 MT of wheat and life-saving drugs to the Afghan people as humanitarian assistance," it said, in response to a written question in Rajya Sabha.
Source: Times of India
Please click the following URL to read the full text of the original story:
https://timesofindia.indiatimes.com/india/pakistan-to-allow-afghan-trucks-to-ferry-indian-wheat-to-afghanistan/articleshow/88078558.cms
--------
J&K: Mysterious blinking lights seen close to border in Jammu region
Dec 3, 2021
JAMMU: A mysterious trail of blinking lights was witnessed in the night sky in some villages close to the LoC and International Border in the Jammu region on Friday evening, triggering curiosity panic among the locals.
The lights were visible in Rajouri, Poonch and Samba districts, as well as Akhnoor of Jammu.
The locals who were eyewitnesses to the mysterious lights informed the police following which team of police and the Border Security Force went on alert. Police sources said "The blinking light was seen moving from Ghagwal belt towards Ramgarh and many locals have captured the same on their cell phones."
"Alert has been sounded and the matter is being verified," they said.
Source: Times of India
Please click the following URL to read the full text of the original story:
https://timesofindia.indiatimes.com/india/jk-mysterious-blinking-lights-seen-close-to-border-in-jammu-region/articleshow/88079071.cms
--------
North America
US: Democrats denounce lawmaker's anti-Muslim attacks
3 December 2021
More than 40 House Democrats, including the chairs of five congressional caucuses, are calling for Congresswoman Lauren Boebert to be stripped of her committee assignments, after her repeated "anti-Muslim" attacks against fellow lawmaker Ilhan Omar.
Thirty six members of the Congressional Progressive Caucus signed a letter that called for Boebert to lose her committee assignments.
The letter, led by Congresswomen Cori Bush and Pramila Jayapal, Congressmen Jamaal Bowman and Andre Carson, said Boebert's actions made their work environment dangerous.
"We refuse to stand by as Islamophobia, anti-Blackness, anti-immigrant sentiment, and xenophobia are trafficked into the halls of Congress by members of the Republican party," the lawmakers wrote, as reported by the Washington Post.
"Today, we are calling for Rep. Boebert to be removed from her committee assignments. Our response to behavior that creates a dangerous work environment and furthers a climate of toxicity and intolerance cannot be silence."
In a separate letter, Jayapal and the chairs of four other congressional caucuses said "there must be consequences when Members of Congress demonize an entire religion and promote hate from their positions of public trust", referring to the threats Omar has received since the verbal attacks from Boebert.
"It should not be a partisan issue to condemn the explicit harassment and dangerous abuse of a colleague based on their religion," the caucus leaders wrote in their letter.
House Republican leaders have been facing numerous calls to condemn Islamophobic remarks by members of their party, including comments by Boebert and Congresswoman Marjorie Taylor Greene.
Greene previously said Muslims did not belong in government and referred to the elections of Omar and Rashida Tlaib, another Muslim woman member of Congress, as "an Islamic invasion of our government".
It is not clear if Boebert will be removed from her comittee assignments, but she would not be the first. Greene was removed from her committee duties after she supported comments encouraging violence against Democrats and peddling antisemitic tropes.
'Jihad squad'
During an event in her Colorado district last month, Boebert shared a story of an encounter with Omar, who she went on to refer as a member of the "jihad squad".
She also shared another encounter with Omar where she said she remarked to a Capitol Police officer: "Well, she doesn't have a backpack. We should be fine."
Omar condemned the remarks, saying the story was "made up", and called for her to be disciplined by House leaders.
Last week, Boebert tweeted an apology "to anyone in the Muslim community I offended with my comment about Rep. Omar".
However, in a phone call with Omar on Monday, she refused to publicly apologise and instead accused the Minnesota Democrat of "anti-American and antisemitic" rhetoric.
This is not the first time Boebert has used this verbal attack line on Omar. Earlier in November, Boebert said on the House floor that Omar was a "jihad squad member from Minnesota with a brother-husband".
Source: Middle East Eye
Please click the following URL to read the full text of the original story:
https://www.middleeasteye.net/news/us-democrats-denounce-boebert-anti-muslim-attacks-ilhan-omar
--------
US special envoy discusses Afghanistan with Qatari authorities
03 Dec 2021
US special representative to Afghanistan Thomas West met with Qatar's Deputy Prime Minister and Minister of Foreign Affairs Muhammad Bin Abdul Rahman Al-Thani and the country's National Security Advisor Mohammad Al-Misand.
The special representative in a Twitter post said that he discussed Afghanistan's situation with the Qatari partners.
Thomas West said that the US was grateful to Qatar for their robust support and value their engagement.
The meeting comes days after Thomas West had two-day talks with the Taliban's acting foreign minister Amir Khan Motaqi in the Qatari capital Doha.
Amir Khan Motaqi had dubbed the negotiations as promising and fruitful.
Not only is the best and vital aide of the US during the Kabul evacuation, but Qatar has also been the greatest partner of the country since peace talks between the US and Taliban started.
Source: Khaama Press
Please click the following URL to read the full text of the original story:
https://www.khaama.com/us-special-envoy-discusses-afghanistan-with-qatari-authorities-457457/
--------
US hits out at Iran for not coming to Vienna with constructive proposals
03 December ,2021
The US criticized Iran on Friday after the seventh round of indirect talks over the now-defunct 2015 nuclear deal, saying Tehran did not come to Vienna with constructive proposals.
"The first six rounds of negotiations made progress, finding creative compromise solutions to many of the hardest issues that were difficult for all sides. Iran's approach this week was not, unfortunately, to try to resolve the remaining issues," a State Department spokesperson said in a statement.
For the latest headlines, follow our Google News channel online or via the app.
"The new Iranian administration did not come to Vienna with constructive proposals," the official added.
Later Friday, US Secretary of State Antony Blinken slammed Iran for not being serious during this week's talks.
"What we've seen in the last couple of days is that Iran, right now, does not seem to be serious about doing what's necessary to return to compliance, which is why we ended this round of talks in Vienna," he said during the Reuters Next conference.
Iran's top diplomat was quoted as saying the Europeans and Americans were not serious in their efforts to reach an agreement on a return to the deal, also known as the JCPOA.
But senior European diplomats said Friday they were concerned over Iran's new proposals, which were seen as a reneging on previous agreements reached in earlier rounds of talks.
Asked about this week's talks in Vienna, led by the US Special Envoy for Iran Rob Malley, the State Department official said Washington's delegation was returning to the DC.
Citing Iran's "new round of nuclear provocations," the State Department official said Tehran had still failed to reach an understanding with the UN atomic watchdog to restore transparency "they have degraded in recent months."
Source: Al Arabiya
Please click the following URL to read the full text of the original story:
https://english.alarabiya.net/News/middle-east/2021/12/03/US-hits-out-at-Iran-for-not-coming-to-Vienna-with-constructive-proposals
--------
US State Department phones hacked with Israeli company spyware: Sources
03 December ,2021
Apple iPhones of at least nine US State Department employees were hacked by an unknown assailant using sophisticated spyware developed by the Israel-based NSO Group, according to four people familiar with the matter.
The hacks, which took place in the last several months, hit US officials either based in Uganda or focused on matters concerning the East African country, two of the sources said.
For the latest headlines, follow our Google News channel online or via the app.
The intrusions, first reported here, represent the widest known hacks of US officials through NSO technology.
Previously, a list of numbers with potential targets including some American officials surfaced in reporting on, but it was not clear whether intrusions were always tried or succeeded.
Reuters could not determine who launched the latest cyberattacks.
NSO Group said in a statement on Thursday that it did not have any indication their tools were used but canceled the relevant accounts and would investigate based on the Reuters inquiry.
"If our investigation shall show these actions indeed happened with NSO's tools, such customer will be terminated permanently and legal actions will take place," said an NSO spokesperson, who added that NSO will also "cooperate with any relevant government authority and present the full information we will have."
NSO has long said it only sells its products to government law enforcement and intelligence clients, helping them to monitor security threats, and is not directly involved in surveillance operations.
Officials at the Uganda embassy in Washington did not comment. A spokesperson for Apple declined to comment.
A State Department spokesperson declined to comment on the intrusions, instead pointing to the Commerce Department's recent decision to place the Israeli company on an entity list, making it harder for US companies to do business with them.
NSO Group and another spyware firm were "added to the Entity List based on a determination that they developed and supplied spyware to foreign governments that used this tool to maliciously target government officials, journalists, businesspeople, activists, academics, and embassy workers," the Commerce Department said in an announcement last month.
Easily identifiable
NSO software is capable of not only capturing encrypted messages, photos and other sensitive information from infected phones, but also turning them into recording devices to monitor surroundings, based on product manuals reviewed by Reuters.
Apple's alert to affected users did not name the creator of the spyware used in this hack.
The victims notified by Apple included American citizens and were easily identifiable as US government employees because they associated email addresses ending in state.gov with their Apple IDs, two of the people said.
They and other targets notified by Apple in multiple countries were infected through the same graphics processing vulnerability that Apple did not fix until September, the sources said.
Since at least February, this software flaw allowed some NSO customers to take control of iPhones simply by sending invisible yet tainted iMessage requests to the device, researchers who investigated the espionage campaign said.
The victims would not see or need to interact with a prompt for the hack to be successful. Versions of NSO surveillance software, commonly known as Pegasus, could then be installed.
Apple's announcement that it would notify victims came on the same day it sued NSO Group last week, accusing it of helping numerous customers break into Apple's mobile software, iOS.
In a public response, NSO has said its technology helps stop terrorism and that they've installed controls to curb spying against innocent targets.
For example, NSO says its intrusion system cannot work on phones with US numbers beginning with the country code +1.
But in the Uganda case, the targeted State Department employees were using iPhones registered with foreign telephone numbers, said two of the sources, without the US country code.
A senior Biden administration official, speaking on condition he not be identified, said the threat to US personnel abroad was one of the reasons the administration was cracking down on companies such as NSO and pursuing new global discussion about spying limits.
The official added that they have seen "systemic abuse" in multiple countries involving NSO's Pegasus spyware.
Source: Al Arabiya
Please click the following URL to read the full text of the original story:
https://english.alarabiya.net/News/middle-east/2021/12/03/US-State-Department-phones-hacked-with-Israeli-company-spyware-Sources
--------
Arab World
Islamic State Attack Leaves Over Dozen Kurds Dead
December 03, 2021
KHIDIRJIJA, IRAQ —
Bayan Mala Osman, accompanied by her three sons, was at home in the small, secluded Kurdish village in northern Iraq when she heard dogs barking. Her sons grabbed their weapons and walked outside to find the source of the commotion.
Then she heard gunshots as her sons attempted to protect the village from members of the Islamic State (IS). Outmanned and outgunned, Osman's three sons were killed.
"We didn't harm anyone," said a tearful Osman. "My sons didn't infringe on anybody's space. ISIS encroached on our land. My sons were defending themselves. The fought down to the last bullet." ISIS is an acronym for Islamic State.
At least 13 people were killed in an IS attack on two villages on Thursday evening, including 10 members of the Kurdish Peshmerga forces who had gone to reinforce the villages' defenses.
Despite losing its territorial caliphate in Iraq and Syria, it was the radical Sunni group's worst attack in months, underscoring its rising lethality.
Both settlements are in Makhmur, a town some 50 kilometers north of the Iraqi Kurdish capital Irbil, in the so-called disputed territories — tracts of land claimed by both the Kurdistan Regional Government (KRG) and Baghdad.
The tracts were under Kurdish rule until 2017, when Iraqi forces retook them following a controversial non-binding independence referendum staged by Kurds. Since then, regional experts have warned of a security gap in the disputed territory, which has allowed IS to build a foothold and begin attacks against villagers along the Hamrin Mountain Ridge.
Calls for cooperation
The president of Iraqi Kurdistan, Nechirvan Barzani, made a statement on Friday urging greater cooperation between his government and Baghdad.
"On the political front," said Barzani, "all Iraqi sides must recognize that until the political process is corrected and peace and political stability in the country are established, the terrorist groups will continue to exploit the situation.
"Therefore, it is imperative to reassess the military conditions and capabilities, to take immediate actions to optimize coordination between the Iraqi army and the Peshmerga forces, with the participation and support from the international coalition," he said.
Iraqi Prime Minister Mustafa al-Kadhimi condemned the attack, adding that IS remained a significant threat to the oil-rich country.
"The Commander-in-Chief of the Armed Forces stressed the need to close ranks and not to underestimate the pockets of ISIS terrorist gangs," said a statement published Friday by al-Kadhimi's military spokesman Yehia Rasool.
Source: VOA News
Please click the following URL to read the full text of the original story:
https://www.voanews.com/a/islamic-state-attack-leaves-over-dozen-kurds-dead-/6339163.html
--------
More than 90 Houthis killed in last 24 hours in Yemen's Marib: Arab Coalition
03 December ,2021
The Arab Coalition on Friday said its forces launched 13 military operations against the Iran-backed Houthi militia in Yemen's Marib, killing more than 90 members of the militia.
The coalition added that the operations destroyed eight military equipment.
On Thursday, the coalition revealed that an airstrike launched by its forces against a military target for the Houthis in Sanaa hit a site of qualitative weapons that were transported from Sanaa International Airport.
Source: Al Arabiya
Please click the following URL to read the full text of the original story:
https://english.alarabiya.net/News/gulf/2021/12/03/More-than-90-Houthis-killed-in-last-24-hours-in-Yemen-s-Marib-Arab-Coalition
--------
US 'deeply concerned' by rising Daesh/ISIS attacks in Iraq: Secretary of state
Zehra Nur Duz
04.12.2021
The US is "deeply concerned" by the continued escalation of Daesh/ISIS attacks in Iraq, including Thursday's attack in the country's north, US Secretary of State Antony Blinken said Friday.
The statement came after 13 people – 10 Peshmerga soldiers of the Kurdish Regional Government (KRG) and three civilians – were killed in a Daesh/ISIS terror attack in the village of Khadirjija at the foot of Mount Qarachokh, in Makhmour, Nineveh, some 50 kilometers (31 miles) south of the KRG capital Erbil.
"The US reaffirms our commitment to supporting the Iraqi Security Forces, including the Peshmerga, as they continue the fight against ISIS to ensure its enduring defeat," Blinken said in a written statement.
Blinken also extended condolences to the families of those killed and injured in the attacks.
Attacks blamed on Daesh/ISIS fighters have escalated in Iraq in recent months, especially in the provinces of Salahuddin, Diyala, and Kirkuk.
In 2017, Iraq declared victory over Daesh/ISIS by reclaiming all of its territories – about a third of the country's area – invaded by the terror group in 2014.
Source: Anadolu Agency
Please click the following URL to read the full text of the original story:
https://www.aa.com.tr/en/middle-east/us-deeply-concerned-by-rising-daesh-isis-attacks-in-iraq-secretary-of-state/2438266
--------
Turkish defence chief denounces Assad regime's 'meaningless' statement
Sarp Ozer
03.12.2021
Turkey's defense minister on Friday reacted to the statement of the so-called People's Assembly of the Bashar al-Assad regime in Syria which targeted the territorial integrity of Turkey.
"We hear some reckless and meaningless statements about our province of Hatay," Hulusi Akar said, adding these statements have no value or worth.
Akar's remarks came during military inspections together with top commanders of navy, ground and air forces in the southern Hatay province.
"We do not have our eyes on anybody's land," he said, adding that one could learn from history what happened to those who had eyes on Turkey's territory.
On Thursday, the Foreign Ministry said had said: "We strongly reject the impertinent and unlawful statement targeting the territorial integrity of our country, which has been made by the regime's so-called People's Assembly which is devoid of democratic legitimacy and under no circumstances represents the Syrian people."
Source: Anadolu Agency
Please click the following URL to read the full text of the original story:
https://www.aa.com.tr/en/middle-east/turkish-defense-chief-denounces-assad-regime-s-meaningless-statement/2438059
--------
Lebanon's information minister resigns after Saudi Arabia comments
03 December ,2021
Lebanon's Information Minister George Kordahi announced on Friday his resignation to pave the way for a possible resolution of a diplomatic spat between Lebanon and Saudi Arabia sparked by comments he made.
For the latest headlines, follow our Google News channel online or via the app.
He also explained that he understood from Lebanese Prime Minister Najib Mikati, whom he met three days ago, that the French want him to resign before Macron's visit to Saudi Arabia this weekend in order to help open a dialogue with Saudi officials about Lebanon.
Kordahi, a Christian whose Marada party is backed by Hezbollah, had refused to resign in the weeks after his comments even as PM Mikati asked him to put "national interest" first.
"I understood from Mikati ... that the French want my resignation to take place ahead of his (Macron's) visit," Kordahi told the news conference, saying he believed Mikati had assurances that Macron would discuss Lebanon's ties with Riyadh.
Critical comments by Kordahi on the war in Yemen in late October led to expel Lebanon's envoy to the kingdom, recall its ambassador and ban all imports from Lebanon, dealing a new blow to the country's ailing economy.
Source: Al Arabiya
Please click the following URL to read the full text of the original story:
https://english.alarabiya.net/News/middle-east/2021/12/03/Lebanon-s-information-minister-resigns-after-Saudi-Arabia-comments
--------
Africa
Saif al-Islam Is Not Looking To Resurrect His Father's Rule; Wants To Lay That Era To Rest
03/12/2021
Faisal Al Yafai
The sudden appearance of Seif al-Islam Gadhafi in a southern Libyan town submitting his candidacy papers for December's presidential election has caused street protests in the country and a flurry of analysis abroad over whether Libyans could really vote for a return to the Gadhafi era.
Certainly, his reappearance was astonishing. Most Libyans had not heard Seif's once-ubiquitous voice for a decade before last week's brief comments. But it was also just one more step in the return to public life of the Gadhafi clan. Imagining that Saif truly intends to become president of Libya next month is to misunderstand modern Libya and Seif's gradual grasp for power. Far from resurrecting his father's rule, Seif wants to lay that era to rest and lay the path for his own ascendancy.
Seif is not the only candidate to thrust himself into the spotlight. Monday's deadline for presidential applications led to an unedifying scramble among Libya's current political elite to put themselves forward.
Some were expected, Khalifa Haftar, the commander of the Libyan National Army, is the highest-profile military figure to stand, while some, such as the current and supposedly interim, prime minister Abdulhamid Dbeibah, who announced his candidature at the last minute, were unexpected.
Dbeibah is meant to hold the reins of power until a new president is elected, meaning he could be in the farcical situation of announcing his own victory and happily handing power to himself. By Tuesday morning, election officials said nearly 100 candidates had put themselves forward.
But the most surprising and the one who will be most closely watched, is Seif al-Islam Gadhafi.
His reappearance has complicated the calculations of the other candidates. For a figure such as Haftar, who announced his candidacy not in his trademark military fatigues but in a sober suit, Seif's involvement makes it harder to claim to be a unifying figure: why, after all, vote for a unity candidate who has waged war, when you can vote for a figure who has said nothing for ten years? Seif's silence is his greatest weapon, always talked about but rarely heard from.
The two perspectives on Seif's registration as a presidential candidate are that he is either seeking to appeal to those who are nostalgic for the previous regime, including young Libyans who may remember little beyond the past ten years of war and instability, or that he is seeking to be a consensus candidate, in the midst of faceless politicians and warring factions. As the sole person on the ballot who can command widespread name recognition, he certainly has a chance in a crowded field.
But given that the powers of the presidential office have not yet even been decided and the constant rumours that the election may not even go ahead on December 24, it is unlikely Seif truly intends, or even desires to win.
Much more likely is that his true aim in running for the office is simply to reintroduce himself to the Libyan public, the strategy of "coming back slowly, slowly, like a striptease" to which he confessed in an infamous New York Times profile earlier this year. The big reveal may have lacked some drama, but it certainly got people talking.
In fact, Seif's best route back to power is to lose this election. Not so badly that the spectre of the Gadhafi name is excised as a political possibility, but well enough, say perhaps third or fourth in a crowded field, that he becomes a kingmaker. Someone who has proven his popular support and is able to exert influence but remains above the brutal, chaotic fray. His supporters would claim he was newly humbled, a prince-in-waiting chastened by reality.
This, after all, is a terrible time to wield power in Libya. The government is not in full control of the country and rival militias and foreign powers still jockey for influence. The demise of his father's rule has had widespread repercussions in neighbouring countries, which will take years to resolve. There are regular power outages and a lack of basic governance. No president could solve these issues in one term and Seif's attraction as a candidate is not based on his credibility as an administrator, but on what he represents. Far better to remain on the sidelines than be blamed in office.
Source: The Arab Weekly
Please click the following URL to read the full text of the original story:
https://thearabweekly.com/seif-al-islam-not-looking-resurrect-his-fathers-rule
--------
Include Miyetti Allah, FUNAM on list of terrorists – Ortom to Buhari govt
December 3, 2021
By Ochogwu Sunday
Benue State Governor, Samuel Ortom has reiterated his call on the Federal Government to include Miyetti Allah Kautal Hore, Miyetti Allah Cattle Breeders Association of Nigeria, MACBAN and Fulani Nationality Movement, FUNAM on the list of terrorist groups in Nigeria.
Recall that the Federal Government through the office of the Attorney General of the Federation had approached a Federal High Court sitting in Abuja to designate bandits as terrorist organisations which the court obliged.
But Governor Ortom while speaking on Friday, in Makurdi at the wedding between Barristers Agatha Msurshima Tyokyaa and Uhamber Bamber, said the bandits being mentioned are mostly from Miyetti Allah Kautal Hore, MACBAN and FUNAM and so they should be designated as terrorist groups as well.
While commending the Federal Government for considering the option of designating bandits as terrorists, he suggested that "this should also include Miyetti Allah and FUNAM groups on the list."
He said, "I want to commend the Federal Government for being bold to designate bandits as terrorists. But I call on the government to also include Miyetti Allah Kautal Hore, Miyetti Allah Cattle Breeders Association, MACBAN and Fulani Nationality Movement, FUNAM in the category of terrorists because those bandits are their members," the Governor stated.
Source: Daily Post
Please click the following URL to read the full text of the original story:
https://dailypost.ng/2021/12/03/include-miyetti-allah-funam-on-list-of-terrorists-ortom-to-buhari-govt/
--------
Sudan Sovereign Council head Burhan says he will not run for presidency
04 December ,2021
Sudan's Sovereign Council head Abdel Fattah al-Burhan said he will not run for the presidency even if he was asked to do so, Al Arabiya TV quoted him as saying on Friday.
Burhan, who is also army chief, added his mission will end with the termination of the transitional period, saying there are efforts to form a high electoral commission in Sudan.
Source: Al Arabiya
Please click the following URL to read the full text of the original story:
https://english.alarabiya.net/News/middle-east/2021/12/04/Sudan-Sovereign-Council-head-Burhan-says-he-will-not-run-for-presidency-
--------
UN worker killed in attack on peacekeeping convoy in Mali
03 December ,2021
Unidentified armed men attacked a convoy belonging to the United Nations peacekeeping mission in Mali on Friday, killing one civilian worker and wounding another, the mission said.
The convoy was travelling from the northern city of Kidal to Gao and came under fire about 100 km (62 miles) northeast of the town of Bourem, the mission said in a statement on Twitter.
Armed attacks by extremist militants and other groups are common across vast swathes of Mali, despite a heavy presence of international troops. The UN mission MINUSMA has deployed about 13,000 troops to try to contain the violence.
Source: Al Arabiya
Please click the following URL to read the full text of the original story:
https://english.alarabiya.net/News/world/2021/12/03/UN-worker-killed-in-attack-on-peacekeeping-convoy-in-Mali
--------
South Asia
Karzai calls for inclusive government in Afghanistan to gain international acceptance, recognition
Dec 4, 2021
KABUL: Former Afghanistan President Hamid Karzai emphasized the significance of inclusive government in Afghanistan calling Loya Jirga (Great Assembly) as a good option to chart its path towards legitimacy.
Karzai necessitated the importance of an inclusive government that advocates different aspects of society in Afghanistan, to gain international acceptance and recognition, reported TOLOnews, citing his interview with BBC.
Karzai believes the Great Assembly would pose as a good option towards forming a legitimate government in Afghanistan, reported TOLOnews.
Opposing the US mission of over-the-horizon counterterrorism, the former Afghanistan President insisted the US government to work with the prevailing Afghan government.
"I have had conversations with them on a lot of issues--the return of women to back to work. The schools, the flag of the country, the national flag of the country. And the need for a political process, for a government that belongs to all Afghans, that all Afghans see as theirs--that is inclusive," quoted TOLOnews as saying, Karzai.
Karzai seeking support from the international communities to aid Afghanistan in the time of crisis, said, "They have better come and help the Afghan people. They and their allies and the international community must help Afghanistan rebuild itself, must heal the wounds that have been caused on all sides. Must work with the Taliban- they are the government today. Work towards improvements towards a better Afghanistan."
Source: Times of India
Please click the following URL to read the full text of the original story:
https://timesofindia.indiatimes.com/world/south-asia/karzai-calls-for-inclusive-government-in-afghanistan-to-gain-international-acceptance-recognition/articleshow/88085078.cms
--------
Millions of Afghans starving as winter approaches: UN
04 Dec 2021
United Nations High Commissioner for Refugees (UNHCR) has said that war and insecurity in Afghanistan have displaced 3.5 million people in the country who are on the brink of poverty as the winter season is approaching.
UNHCR's spokesperson in Refugees affairs Babur Baloch said that displaced families are lacking shelter, warm clothes, and firewoods to heat their houses and added that they also need food, medicines, and other supplies to survive.
"Humanitarian crisis is deepening in Afghanistan and starvation is now at its unprecedented level in the country. 23 million Afghans that form 55% population of the country are facing the highest level of poverty and nine million of them are facing starvation." Said Baloch.
The UN spokesperson who visited Afghanistan said, the number of malnourished children is growing, hospitals are nearly overwhelmed with malnourished children and the 3 million of these children are at a critical point.
Baloch added that one million malnourished Afghan children are close to death.
He also said that the UN needs up to $375 million to carry out humanitarian operations during this and next year's winter season.
Source: Khaama Press
Please click the following URL to read the full text of the original story:
https://www.khaama.com/millions-of-afghans-starving-as-winter-approaches-un-457457/
--------
Afghan judges in Brazil still fear the Taliban
04 December ,2021
A female judge, Muska, was hiding with her family from newly empowered Taliban militants in Afghanistan when an apparent reading mistake 7,000 miles away helped to drastically change her life.
Brazilian President Jair Bolsonaro opened his nation's doors to potential refugees from the Asian nation during remarks at the United Nations General Assembly on Sept. 21.
"We will grant humanitarian visas for Afghan Christians, women, children and judges," he read on the teleprompter — apparently mispronouncing the final word, which was "jovens" — youngsters — in his printed speech as "juizes," or judges.
Error or not, his government fulfilled that offer.
Muska and her family were taken by bus to the northern city of Mazar-i-Sharif and were then flown to Greece with six female colleagues.
By the end of October, they found themselves in Brazil — a country with very little in common with Afghanistan beyond their shared love of soccer.
Speaking to international media for the first time, Muska told The Associated Press this week that she and the other judges still fear retribution from the Taliban — some of whose members had been sentenced for various crimes in their courts.
She asked that her true name not be used, nor her precise location — at a Brazilian military installation — be published. Her colleagues declined to speak to the news media.
Muska had been a judge for almost ten years before the Taliban captured power in August and she said her home in the capital, Kabul, had recently been searched.
Afghanistan had about 300 female judges, Muska said, and many are now in hiding, their bank accounts frozen.
"We knew they (the Taliban) wouldn't let the women judges work. We would have serious threats to our lives," she said. "They released all the criminals from the prison. These were the criminals that we sentenced."
The judges who remain "are very scared, in hiding. They have serious financial problems, no salary, lost their jobs, had their bank accounts blocked. They are still in danger," the judge said. "It is not good in Kabul."
The Taliban won widespread support in Afghanistan in part because the toppled US-backed government was widely seen as corrupt.
"But women judges were the bravest, strongest and most honest officials in the previous administration," said Muska, who said the decision by US President Joe Biden to end American presence in the country meant she quickly had to leave.
"Everything happened suddenly," she said.
Judge Renata Gil, the head of the Brazilian Association of Magistrates that is sponsoring the refugees, said the Afghans arrived "in a lot of fear, still feeling threatened."
"They are being chased because they convicted Taliban fighters," she said noting that she herself had received death threats "because I sentenced drug dealers. For women this is much harder."
Speaking at the association's headquarters in the capital, Brasilia, she said, "I hope they are able to live their lives independently. But as long as they need, we will be here to help."
The judges and their 19 family members — apparently the only Afghan refugees who have come to Brazil since the Taliban returned to power — now have Brazilian bank accounts and health care. Those who can are taking lessons in Portuguese.
It's not clear yet what the future holds for them in Brazil, where at least they are protected. But Muska said they'd like to return home one day.
"I hope I can join my family members in Kabul. I have this dream I am in my house. I miss everything," the judge said.
Muska hasn't seen much of Brazil due to security reasons, difficulties with the language and her own fears. But she has found people with empathy for her situation.
"They cry with us, we know they can sense our feelings," the judge said with tears in her eyes.
Muska's three children, including a toddler, are also having a tough time adapting. The judge used to have her parents and nannies to help, but in Brazil she's largely on her own, while worrying about her future, and theirs.
The children look happy and energetic as they run and jump at a public playground, speaking Dari among themselves. But the judge said her eldest daughter has questions she cannot answer.
Source: Al Arabiya
Please click the following URL to read the full text of the original story:
https://english.alarabiya.net/News/world/2021/12/04/Afghan-judges-in-Brazil-still-fear-the-Taliban
--------
Southeast Asia
Kit Siang asks if PM's special envoy to Middle East banned from Saudi Arabia
02 Dec 2021
BY JUSTIN ONG
KUALA LUMPUR, Dec 2 — The prime minister should clarify if Saudi Arabia has barred his special envoy to the Middle East from visiting, DAP's Lim Kit Siang said today when urging the government to address claims of leakages amounting to billions of ringgit annually.
After proposing a parliamentary select committee on corruption, abuses and wastage of public funds, the federal lawmaker said the growing number of political appointments in the Prime Minister's Department deserved scrutiny.
"For instance, is it true that the prime minister's special envoy to the Middle East has been banned from Saudi Arabia and had never visited Saudi Arabia for the whole term of his appointment?
"If so, what kind of a special envoy to the Middle East is this?" Lim said in a statement today.
Earlier, Lim cited a report from the Rasuah Busters movement that estimated Malaysia to be losing as much as RM60 billion each year to corruption and illicit outflows.
While Lim did not name the person, PAS president Datuk Seri Abdul Hadi Awang is Malaysia's special envoy to the Middle East.
Hadi was appointed to the position last year when Tan Sri Muhyiddin Yassin had been the prime minister and was reappointed after Datuk Seri Ismail Sabri Yaakob took over this year.
Questions about Hadi's status in Saudi Arabia already emerged earlier this year when he was absent from Muhyiddin's entourage during the then-PM's official visit to the kingdom and the United Arab Emirates (UAE).
Source: Malay Mail
Please click the following URL to read the full text of the original story:
https://www.malaymail.com/news/malaysia/2021/12/02/kit-siang-asks-if-pms-special-envoy-to-middle-east-banned-from-saudi-arabia/2025347
--------
Philippine military says Muslim rebel leader killed in clash
Dec 3, 2021
COTABATO: Philippines, Philippine troops killed an Islamic rebel leader and four of his men in fighting in the volatile south in the latest setback for insurgent forces aligned with the Islamic State group, military officials said Friday.
Army troops gunned down Asim Karinda and four others in a gunbattle in a rural village near Mamasapano town on Thursday, just over a month after he took over Daulah Islamiya, an armed Islamic group whose previous leader was killed in an army offensive, regional military commander Maj. Gen. Juvymax Uy said.
The military did not report any army casualties in the hourlong firefight in Maguindanao province.
Small bands of Muslim rebels, who have pledged allegiance to the Islamic State group, remain in the country's south despite a 2014 peace pact between the government and the Moro Islamic Liberation Front, the largest guerilla group, which dropped its secessionist bid and embraced Muslim autonomy in the southern third of the largely Roman Catholic nation.
The military said troops retrieved the body of Karinda, an alleged bomb maker. Also known as Abu Azim, he took over Daulah Islamiya after its leader, Salahudin Hasan, died in an army offensive Oct. 29 in Maguindanao's Talayan town.
Another fighter of the Daulah Islamiya, which has been blamed for deadly bombings and assaults on government forces, was killed by troops in a clash on Tuesday in Shariff Saydona Mustapha town, also in Maguindano, the military said.
"Our series of successes in countering these terrorist elements is an indication that they are on the brink of defeat," said Col. Pedro Balisi, who leads an army mechanized brigade.
Source: Times of India
Please click the following URL to read the full text of the original story:
https://timesofindia.indiatimes.com/world/rest-of-world/philippine-military-says-muslim-rebel-leader-killed-in-clash/articleshow/88070806.cms
--------
Confusing laws over marriage wreckers
Mariam Mokhtar
December 4, 2021
Having two sets of laws operating in parallel will, at some point, cause a conflict of interest. If left unchecked, people will take advantage of loopholes and make a mockery of justice.
We cannot compartmentalise people into Muslims and non-Muslims and then expect justice when things go wrong. In the recent case of a Muslim breaking up the marriage of a non-Muslim couple, one can argue that justice was not served.
On Dec 1, Chief Justice Tengku Maimun Tuan Mat and Federal Court judge Mohd Zawari Salleh agreed that a Muslim could not be included in a legal marital dispute involving a non-Muslim couple.
Tengku Maimun dismissed an appeal by the woman, named only as AJS, who had sought to include the Muslim woman, known as JBMH, in her judicial separation petition.
JBMH had an affair with AJS's husband, whom we only know as RIS, and this relationship ultimately caused the breakdown of AJS's marriage to RIS.
One thing is clear from the CJ's judgment. A precedent has been set and many people feel that justice was not served.
The Federal Court decided that according to the Law Reform Act (LRA), the Muslim cannot be a party to this legal dispute.
The ordinary Malaysian will be under the impression that Muslims can escape justice if they were to be involved in a non-Muslim marriage dispute. How is that fair? Many may feel that they can cause marital break-ups and not face repercussions.
The dissenting judge in the appeal was P Nallini. She said that Section 3(3) of the LRA did not preclude a Muslim from being named as a party in a non-Muslim couple's marital legal dispute.
She also ruled that courts were empowered by Section 17(a) of the Interpretation Act to look at the intent and purpose of a legislation when interpreting a provision, such as the one in LRA.
We are told that non-Muslims cannot be tried under shariah law. So, does the law cherry pick who it decides to prosecute under shariah?
In March 2017, a Muslim husband contacted the religious authorities in Terengganu (JHEAT) to report that his wife, a Muslim, was having an affair with a non-Muslim man.
Officers from JHEAT raided a hotel in Kuala Nerus and caught the Muslim woman and her non-Muslim lover. The khalwat raid conducted in the early morning happened after the husband had seen the couple entering the hotel.
The couple was investigated under Section 29 of the Terengganu Syariah Criminal Offences Enactment (Takzir) 2001.
Why was the non-Muslim man investigated under shariah law in the Terengganu case? Did he have to convert, as has happened to many non-Muslim single men caught having affairs with Muslim women? Weren't we told that only Muslims could be investigated under shariah?
In the petition involving the Federal Court, the Muslim lover, JBMH, could not be included in the marital dispute and subsequent appeal lodged by AJS.
Source: Free Malaysia Today
Please click the following URL to read the full text of the original story:
https://www.freemalaysiatoday.com/category/opinion/2021/12/04/confusing-laws-over-marriage-wreckers/?__cf_chl_jschl_tk__=xDFgD84Rv93DH4qX.7D4lvwEFYRjP1TRxKM4U8_a6IE-1638608977-0-gaNycGzNDZE
--------
2 telling cases of cognitive dissonance
December 4, 2021
This past week we have seen a couple of instances of cognitive dissonance which occur when people say diametrically opposed things about the same matter.
These days the most obvious example of this affliction is when people purport to look at the evidence and say they don't believe there has been climate change, a stance that can drive climate alarmists berserk.
Well, at least this much can be said about climatological evidence: it's abstruse and so parsing it can be difficult.
But what about matters that are much less obscure and upon which firm conclusions can be drawn?
Why should cognitive dissonance occur on a matter such as Tengku Razaleigh Hamzah's announcement that, at 84 years age and 11 terms as an MP, he will give GE15 the miss?
You see, Ku Li, as he is familiarly known, has his strong supporters who can be counted on to prevail upon him to stay on.
After all, didn't Ku Li recently describe himself as an "agent of necessity" in his struggle to revive the Umno of 1946, which he argues is the true Umno, not the "Umno Baru" he says Dr Mahathir Mohamad foisted in 1988?
An "agent of necessity" has to hover around if he hopes to bring to an end a masquerade that he holds is the cause of the grand old party's advanced state of decay, with two of its top leaders indicted for massive forms of corruption.
But Ku Li did say he will retire as MP for Gua Musang. His interviewer has this announcement on videotape.
Unless, of course, Ku Li does a Lingam-like – "It looks like me, it sounds like me, but it is not me" – repudiation, it can safely be taken that the Kelantanese prince told the Free Malaysia Today reporter who interviewed him that he wants out of GE15.
True, politicians are licensed to juggle with ambiguity. About grave and weighty matters, that resort is understandable; on lesser ones, being ambiguous suggest a lack of seriousness.
Following his quit disclosure to FMT, Ku Li must have been besieged by his supporters who prevailed upon him to back away from his announcement. Though he didn't publicly renounce it, he told friends they could say he was misconstrued.
His intention to quit is not a grave matter, but trying to revive the Umno of 1946 is one. If you are an "agent of necessity" for its restoration, it hardly needs stressing you have to be a person of resolution.
Anwar Ibrahim is a politician of aspiration more than resolution. Earlier this week, he announced that a formal proposal has been submitted for a merger between the party he leads, PKR, with Amanah, a component of the Pakatan Harapan coalition Anwar heads.
Barely had the proposal wended its way into the public domain than the deputy president of Amanah, Salahuddin Ayub, piped up to deny it had even been raised in Pakatan Harapan leadership circles.
Amanah split off from PAS in 2015, a move initiated by the professionals who joined PAS in numbers in the wake of Anwar's brutal decapitation in government and Umno in late 1998.
They were a group, tertiary-qualified in the secular disciplines, who wanted to modernise a conservative party and make it and Islam appealing to non-Muslims.
They had a sympathetic patron in Nik Aziz Nik Mat, the PAS spiritual leader of high integrity and broad appeal. When Nik Aziz died in early 2014, this professional cohort were denounced as fifth columnists by the conservatives and wiped out in party polls the following year.
They left to set up Amanah.
Source: Free Malaysia Today
Please click the following URL to read the full text of the original story:
https://www.freemalaysiatoday.com/category/opinion/2021/12/04/2-telling-cases-of-cognitive-dissonance/?__cf_chl_jschl_tk__=ZKMqKUCFuy_eEDRAw9ISMzJisRVtCI3vBEASnCnR2I0-1638609296-0-gaNycGzNEKU
--------
Mideast
Iran Urges Lifting of All US Unlawful Sanctions in Draft Documents
2021-December-3
Iran has reiterated that the sanction include all those embargoes imposed under former US President Donald Trump as part of the maximum pressure campaign.
Iran's lead negotiator Ali Baqeri Kani announced that the Islamic Republic has called for the verifiable removal of sanctions and guarantees that the US will not commit further violations.
He pointed out that the ball is now in the US court.
Following talks with EU coordinator Enrique Mora on Thursday, Baqeri Kani also met the Director General of the International Atomic Energy Agency Rafael Mariano Grossi, expressing Iran's intention to continue its close cooperation with the IAEA and to remain actively engaged in the Vienna talks.
Iran's lead negotiator said he has warned other participants not to allow outside players to negatively influence or obstruct the process of talks, saying his team is serious about reaching an agreement and is ready to continue the negotiations.
The European diplomats participating in talks with Iran in Vienna talks were surprised on Thursday by the Iranian negotiating team's initiative and pragmatic proposals on removal of sanctions.
European diplomats participating in Vienna talks, planned to pursue their own agenda and push Iran to a corner.
Despite the fact that the first phase of the seventh round of nuclear negotiations among the G4+1 group (Britain, France, Russia, China plus Germany), Iran and the European Union kicked off in a positive atmosphere, some parties try to follow up political and propaganda campaign under the pressure of the US.
Reports say that the European negotiating teams, who meant to pursue their own agenda and push Iran to a corner, did not expect to face a documented initiative by the new Iranian negotiators on lifting sanctions and practical propositions for an agreement to resolve disputes over the nuclear and sanctions issues.
Certain European teams are said to be calling for the finalizing of the negotiations in the first phase of the seventh round in order to find a strategy against the Iranian initiative and to affect Iran's economy and internal affairs.
On the other hand, the Iranian delegation underlined during experts talks that they are ready to continue talks as long as needed.
Therefore, media connected to European delegations have exacerbated propaganda campaign in a bid to push the Iranian team into the trap of rushing for a consensus.
However, the negotiating teams in Vienna have officially announced that the negotiations will continue to pave the way for a conclusion, which should be acceptable in the eyes of all parties.
Iranian officials have declared that Tehran is determined to reach a fair agreement, which guarantees Iran's nuclear and economic rights.
Envoys from Iran and the G4+1 group of countries began on Monday the seventh round of talks in Vienna after a five-month pause caused by Iran's presidential election and the formation of a new administration in the country.
The following day, they participated in expert-level meetings of the working group formed to separately deal with the removal of US sanctions against Iran.
On Wednesday, the third day of the talks, working groups continued discussions on different topics. Bilateral and multilateral meetings were also held at different levels, according to the Iranian Foreign Ministry.
Former US president Donald Trump left the JCPOA in May 2018 and re-imposed the anti-Iran sanctions that the deal had lifted. He also placed additional sanctions on Iran under other pretexts not related to the nuclear case as part of his "maximum pressure" campaign.
Source: Fars News Agency
Please click the following URL to read the full text of the original story:
https://www.farsnews.ir/en/news/14000912000256/Iran-Urges-Lifing-f-All-US-Unlawfl-Sancins-in-Draf-Dcmens
--------
President Rayeesi Calls for Broadening of Iran-Laos Cooperation
2021-December-3
"I hope that through the joint efforts of the high-ranking officials of the two countries, the two nations will withness increasing expansion of relations in all areas of mutual interest," President Rayeesi said in his congratulatory message to Laotian president.
"I sincerely congratulate you and the people of your country on the occasion of the National Day of the Lao People's Democratic Republic," the Iranian president added.
President Rayeesi reiterated that the Islamic Republic of Iran and the Democratic Republic of Laos enjoy good relations and friendly cooperation, saying, "I wish the Laotian president good health and success and also wish for the well-being of the people of the Democratic Republic of Laos."
Source: Fars News Agency
Please click the following URL to read the full text of the original story:
https://www.farsnews.ir/en/news/14000912000170/Presiden-Rayeesi-Calls-fr-Bradening-f-Iran-Las-Cperain
--------
Putin criticizes Ukraine's use of Turkish drones in Erdogan call
03 December ,2021
Russian President Vladimir Putin on Friday criticized Kiev for deploying Turkish-made drones in its conflict with pro-Moscow separatists during a call with Turkey's President Recep Tayyip Erdogan.
Putin, according to a Kremlin transcript of the call, said Kiev was aiming to disrupt peace agreements in eastern Ukraine, with "provocative" military action, "including the use of Bayraktar unmanned aerial vehicles," which are produced by Turkey.
For all the latest headlines follow our Google News channel online or via the app.
The Ukrainian army in October released footage of what it said was its first use of the Turkish-made TB2 Bayraktar drone against separatists in the east of the country, where it has been fighting a trench conflict since 2014.
The move was met with criticism from Russia and also Kiev's Western allies.
Both Turkey and Israel have recently been selling drones in the former Soviet Union and they played a key role Azerbaijan's victory over Russia's ally Armenia in last year's Nagorno-Karabakh war.
The Kremlin said that during the call, "the need was emphasized for Kiev to abandon any attempts to forcefully influence the Donbass."
Ankara, for its part, said Putin and Erdorgan only discussed a range of issues "especially Syria, Libya and Ukraine."
Russia and Turkey have historically had complex relations, balancing regional rivalries with finding common ground on economic and strategic interests.
In recent years, the two powers have clashed in particular in Syria, where Moscow and Ankara support opposing camps in the civil war.
Source: Al Arabiya
Please click the following URL to read the full text of the original story:
https://english.alarabiya.net/News/world/2021/12/03/Putin-criticizes-Ukraine-s-use-of-Turkish-drones-in-Erdogan-call-
--------
Israeli army arrests 24 Palestinians in West Bank
Qais Abu Samra
04.12.2021
RAMALLAH, Palestine
Israeli forces rounded up 24 Palestinians in the West Bank city of Hebron on Saturday, according to a local official.
Israeli forces raided Hebron's town of Surif and searched a number of houses there, the official, who preferred not to be named, told Anadolu Agency.
According to the official, 24 residents were detained in the raid.
The Israeli army often carries out detention campaigns against Palestinians in the occupied West Bank and East Jerusalem, claiming to arrest wanted Palestinians.
Source: Anadolu Agency
Please click the following URL to read the full text of the original story:
https://www.aa.com.tr/en/middle-east/israeli-army-arrests-24-palestinians-in-west-bank/2438453
--------
Dozens of Palestinians injured by Israeli forces in West Bank
Awad al-Rujoub, Mohammed Ghefari
04.12.2021
RAMALLAH, Palestine
Dozens of Palestinian protesters were injured on Friday when Israeli forces fired live and rubber-coated bullets, and tear gas in the northern occupied West Bank.
Ahmed Jebril, director of the Palestinian Red Crescent, told Anadolu Agency that medical teams treated one person with live bullets, 23 with rubber-coated bullets, in addition to 73 others who suffered teargas inhalation in the villages of Beit Dajan and Beita, east of Nablus city.
He added that one of the injured was a boy who was hit in his eye and was shifted to hospital for treatment in Nablus.
Jebril noted that the Israeli forces dug the roads leading to Mt. Sbeih in Beita village which hindered the arrival of ambulances.
Meanwhile, the Palestinian official Wafa news agency reported four more people were injured and dozens of others got suffocated by tear gas in an anti-settlement rally in Kafr Qaddoum village, east of Qalqilya city.
On weekly basis, Palestinians hold demonstrations against illegal Jewish settlements in different parts of the West Bank, especially in Beita, Beit Dajan and Kafr Qaddoum villages.
Source: Anadolu Agency
Please click the following URL to read the full text of the original story:
https://www.aa.com.tr/en/middle-east/dozens-of-palestinians-injured-by-israeli-forces-in-west-bank/2438195
--------
Europe
Family loses defamation claim in UK after questioning donations to mosque from 'extremist'
Paul Peachey
Dec 3, 2021
A family lost a defamation battle with a British mosque over claims that they were permanently barred after raising questions over £250,000 donations from Sadiq Al Ghariani, the grand mufti of Libya, because of his alleged Islamist links.
Three members of the Abdulrazaq family claim they were punished by the trustees of a mosque in Exeter, south-west England, for questioning five separate payments from 2014 made by Mr Al Ghariani, who has justified suicide bomb attacks in Libya.
Mr Al Ghariani lived in Exeter where he studied for a doctorate before returning to Libya after the fall of the Libyan dictator Muammar Qaddafi. He is regarded by the Muslim Brotherhood and others as the country's grand mufti.
After an increasingly bitter dispute, in September 2019 the mosque leadership voted to bar the father and his two sons from the mosque.
It gave 24 reasons for the decision, including making frivolous complaints at the courts that were time-consuming and "put a needless strain on the mosque". They were also accused of trying to trip over a trustee in the main prayer hall and bullying a child.
The family, Tallha, Basim and Abdulaziz Abdulrazaq, said the true reason for being barred was punishment for "raising perfectly valid questions about the Al Ghariani monies", according to High Court documents.
The trustees said that the donations were legitimate and paid for building work in the Muslim community. They claimed that the real reason for the dispute was the failed attempts by a member of the family to join the mosque's executive committee.
They posted a notice at the mosque and on social media with photographs of the three men and cited the "unacceptable behaviour and malicious actions" of the three who had "caused non-Muslims to believe that the mosque condoned terrorism".
The family sued over the notice, which accused them of shattering the "peace, harmony and sanctity" of the Exeter Mosque and Cultural Centre.
But the judge ruled that the trustees were protected under law when responding to criticisms made by the family.
Mr Justice Jay said the family had claimed that "the Al Ghariani cash payments lie at the heart of this dispute, and represent the real reason for all the decisions made".
He said the family had failed to come up with evidence to back up their claim. "The limited documentary material that has been made available do not support that interpretation," he said.
Source: The National News
Please click the following URL to read the full text of the original story:
https://www.thenationalnews.com/world/uk-news/2021/12/03/family-loses-defamation-claim-in-uk-after-questioning-donations-to-mosque-from-extremist/
--------
In Khashoggi's shadow, Macron set for Saudi talks with crown prince
Dec 4, 2021
JEDDAH, SAUDI ARABIA: French President Emmanuel Macron arrived in Saudi Arabia on Saturday for face-to-face talks with Crown Prince Mohammed bin Salman, becoming the first major western leader to step on the kingdom's soil since journalist Jamal Khashoggi's 2018 murder.
Macron considers Saudi Arabia vital to help forge a region-wide peace deal with Iran, as well as an ally in the fight against Islamist terrorists from the Middle East to West Africa, and a rampart against the Muslim Brotherhood.
France is one of Saudi Arabia's main arms suppliers, but it has faced increasing pressure to review its sales because of the Saudi-led coalition fighting the Iran-aligned Houthi rebels in Yemen, now one of the world's worst humanitarian crises.
While ties between Paris and Riyadh were warmer under Macron's predecessor Francois Hollande, France has not reaped the business rewards. The relationship has cooled in recent years despite Macron, prior to Khashoggi's murder, urging detractors to give time to the then 33-year-old leader-in-waiting.
A business delegation of about 100 companies including TotalEnergies, EDF, Thales and Vivendi is due to attend an investment forum during Macron's trip.
Speaking to reporters in Dubai, Macron rejected accusations that he was legitimising the crown prince, adding that the region's multiple crises could not be dealt with by ignoring the kingdom.
"We (can) decide after the Khashoggi affair that we have no policy in the region, which is a choice some can defend, but I think France has an important role to play in the region. That doesn't mean we are complicit or that we forget," Macron said.
Recent contracts have been few, with most centred on the Al-Ula tourism project that aims to bring to life the kingdom's Nabatean history, part of Saudi Arabia's diversification drive to wean its economy off oil revenues.
Macron's visit comes at a time when Gulf Arab states have voiced uncertainty about the US focus on the region even as they seek more weapons from Washington.
Saudi Arabia has been frustrated by the approach of US President Joe Biden's administration, which has pressed Riyadh over its human rights record and the Yemen war and released intelligence linking bin Salman to Khashoggi's murder.
The crown prince has denied any involvement in the killing of the journalist in Riyadh's Istanbul consulate, an incident that sparked global outrage and tainted Prince Mohammed's image.
"Whether it's the objective or not, (this trip) contributes to a policy of rehabilitating the Saudi prince," said Agnes Callamard, secretary general of the rights group Amnesty International. "It pains me that France, the country of human rights, is the instrument of this policy."
Macron is the first major Western head of state to visit Saudi Arabia since Khashoggi's killing and the onset of the Covid-19 pandemic last year, which dashed Riyadh's hopes of hosting G20 leaders during its 2020 presidency.
Source: Times of India
Please click the following URL to read the full text of the original story:
https://timesofindia.indiatimes.com/world/europe/in-khashoggis-shadow-macron-set-for-saudi-talks-with-crown-prince/articleshow/88084417.cms
--------
Macron thanks Qatar for Afghan evacuations
04 December ,2021
French President Emmanuel Macron, on a visit to the Gulf, expressed appreciation to Qatar on Saturday for helping to organize the latest evacuation to France of more than 250 threatened Afghans.
Qatar has played a significant role both in diplomacy and evacuations at the end of a 20-year war in Afghanistan by Western nations.
"I thank Qatar for the role it has played since the start of the crisis, and which permitted the organization of several evacuations," said Macron, before heading to Saudi Arabia for the final leg of his two-day Gulf tour.
Macron met on Friday evening with Qatar's emir, Sheikh Tamim bin Hamad Al-Thani.
A flight chartered by Paris flew out the 258 Afghans who were "particularly threatened because of their activities, especially journalists, or because of their links to France, including former locally-recruited civilian personnel for our armies," the French foreign ministry said on Friday.
The same flight carried 11 French nationals and about 60 from The Netherlands, along with dependents.
The ministry said that since September 10, 110 French nationals and their dependents as well as 396 Afghans have been evacuated on 10 flights organized by Qatar.
"We are going to continue," Macron said.
Around half of the 124,000 Westerners and Western-allied Afghans flown out of Afghanistan in the waning days of the US-led military involvement in Afghanistan transited through Qatar.
Several European countries are considering opening a common site for diplomatic representation in the country's capital, Kabul, after the departure of their ambassadors following the capital's fall to the extremist Taliban in August, Macron said.
Qatar has long hosted a Taliban political office.
After his stay overnight Friday in Qatar, the world's biggest exporter of liquefied natural gas, Macron was heading to the Saudi Red Sea city of Jeddah on Saturday.
Macron will become one of the first Western leaders to meet the Kingdom's Crown Prince Mohammed bin Salman since 2018.
The United Arab Emirates signed a record 14-billion-euro ($15.8 billion) contract for 80 Rafale warplanes at the start of Macron's visit.
Source: Al Arabiya
Please click the following URL to read the full text of the original story:
https://english.alarabiya.net/News/world/2021/12/04/Macron-thanks-Qatar-for-Afghan-evacuations
--------
Rights groups urge Macron to refuse protection to Syrian war criminal
Shweta Desai
04.12.2021
PARIS
Human rights groups urged President Emmanuel Macron on Friday to ensure France exercises the principle of "universal jurisdiction" and refuse protection to perpetrators of crimes against humanity.
The request came after a court ruled that it had a lack of jurisdiction to prosecute a Syrian war criminal.
In an open letter titled, "France should not be a land where torturers are not tried in Syria," 11 organizations, including Amnesty International, Human Rights League (LDH), European Constitution and Human Rights Center (ECCHR), appealed to Macron to urgently amend the legal Code of Criminal Procedure to prosecute individuals living in France who are accused of war crimes in their country of origin.
It concerns the Nov. 24 ruling in the case of former Syrian intelligence officer Abdulhamid C, who has been imprisoned in France since January on torture and crimes against humanity charges.
Prosecutors said he was part of a state operation in notorious detention facilities where hundreds of prisoners were tortured, starved and left to die.
Horrific images of corpses in the prisons documenting systematic torture by Assad forces, were made public as the Caesar Files Group after being smuggled out by a former Syrian military police employee named "Caesar."
The criminal chamber of the Court of Cassation said French courts lacked jurisdiction to prosecute Syrians living in France for committing war crimes in Syria because that country has not ratified the Rome Statute and its domestic laws do not sanction crimes against humanity.
The court ruled on the basis of Article 689-11 in the Code of Criminal Procedure, which gives jurisdiction to French courts "over a person habitually residing in France who has committed one of the offenses listed in the Rome Statute, provided that the offense is punishable in the state in which it was committed or in the state of the person's citizenship, if the state is a party to the Rome Statute."
The letter said France has sent a "disastrous signal to all the executioners on the planet" with the ruling.
It asked Macron to commit to the assurances given by him as a presidential candidate to enforce the "application of universal jurisdiction."
The French judiciary in 2010 adopted a law which in effect rendered that genocide, crimes against humanity and war crimes committed in countries that are not a party to the Rome Statute, the Establishment of the International Criminal Court, cannot be tried in France. Thereby making "the exercise of universal jurisdiction for the most serious crimes is made legally impossible," said the letter.
Source: Anadolu Agency
Please click the following URL to read the full text of the original story:
https://www.aa.com.tr/en/europe/rights-groups-urge-macron-to-refuse-protection-to-syrian-war-criminal/2438241
--------
EU announces $367M in extra funds to support refugees in Turkey
Agnes Szucs
03.12.2021
BRUSSELS
The European Union allocated €325 million ($367 million) in additional funding for refugees in Turkey, the European Commission announced Thursday.
Extending the bloc's multi-purpose cash assistance scheme, the Emergency Social Safety Net, until early 2023, the financial support will provide refugees monthly transfers to cover the essential needs of rent, bills, food and medicine.
Visiting Turkey's capital Ankara, EU Commissioner for Crisis Management Janez Lenarcic said the support would be "a critical lifeline for hundred thousands of families, many of whom have been especially hard hit by the coronavirus pandemic."
"This cash assistance enables them to decide for themselves what they need most urgently whilst contributing to the Turkish economy," he added, calling the program a "major achievement" for the EU and Turkey.
Last week, the European Parliament gave the final green light for providing €149.6 million for the extension of the program through early 2022, financed from the remaining margin of the 2021 EU budget.
The newly announced €325 million adds to this support to prolong the scheme for another year, covered by the €3 billion support package European Commission President Ursula von der Leyen announced in June for refugees in Turkey.
Source: Anadolu Agency
Please click the following URL to read the full text of the original story:
https://www.aa.com.tr/en/europe/eu-announces-367m-in-extra-funds-to-support-refugees-in-turkey/2437263
--------
France's Macron says hoping for progress on Lebanon 'within next hours'
03 December ,2021
French President Emmanuel Macron said on Friday he hoped there would be progress on the Lebanon crisis in the next hours.
"We will do all we can to re-engage the Gulf regions for the benefit of Lebanon... I hope the coming hours will allow us to make progress." Macron said during a visit to the United Arab Emirates.
For the latest headlines, follow our Google News channel online or via the app.
Source: Al Arabiya
Please click the following URL to read the full text of the original story:
https://english.alarabiya.net/News/middle-east/2021/12/03/France-s-Macron-says-hoping-for-progress-on-Lebanon-within-next-hours-
--------
URL: https://www.newageislam.com/islamic-world-news/pakistan-imran-lanka-lynch-blasphemy/d/125899
New Age Islam, Islam Online, Islamic Website, African Muslim News, Arab World News, South Asia News, Indian Muslim News, World Muslim News, Women in Islam, Islamic Feminism, Arab Women, Women In Arab, Islamophobia in America, Muslim Women in West, Islam Women and Feminism