New Age Islam News Bureau
15 December 2020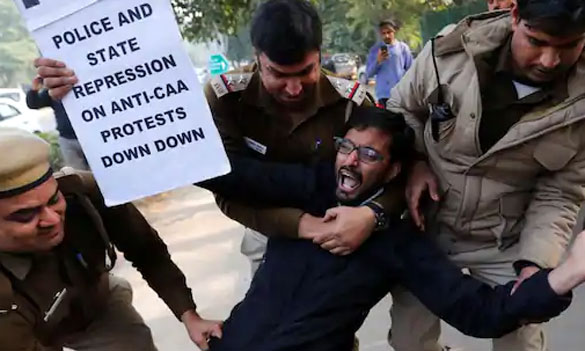 An anti-CAA protester being forcibly removed by police in New Delhi in December 2019 | Image credit: Reuters
-------
• UP 'Love Jihad': 22-Year-Old Pinki Tells Court She Is Major, Had Converted and Wanted to Return to Rashid's Family
• Osama Bin Laden's 'Spokesman' Adel Abdul Bary Returns To UK
• ICC Rejects Uighur Genocide Complaint against China
• Lebanon Jails Activist Kinda Al-Khatib for 'Collaborating' With Israel
• Court Bans Use of 'Facebook.Com.Bd' Domain in Bangladesh
• PM Says PDM's Anti-Govt Drive Buried In Lahore
• Rouhani Vows to Implement Parliament Approval Unless US Removes Sanctions
India
• South Asia State of Minorities Report 2020: India A Dangerous, Violent Place for Muslims
• UP 'Love Jihad': 22-Year-Old Pinki Tells Court She Is Major, Had Converted and Wanted to Return to Rashid's Family
• Soon, Assam Bill to Turn Govt-Run Madrassas Into General Schools
• PDP neta's PSO shot dead by terrorists in Srinagar
• Hurriyat Elects Ailing Geelani's Press Aide As His Acting Deputy
• PM Modi to hold summit with Sheikh Hasina as India-Bangladesh eye closer ties
• India, Iran, Uzbekistan hold first meeting on joint use of Chabahar port
--------
Europe
• Osama Bin Laden's 'Spokesman' Adel Abdul Bary Returns To UK
• Italians returning France's top award in protest at honouring of Egypt's Sisi
• Trial over deadly Paris jihadist attacks to begin late 2021
• Five suspected radical left activists held by French police on terror charges
• 6 officers injured in suicide attack in southern Russia
--------
Southeast Asia
• ICC Rejects Uighur Genocide Complaint against China
• Federal Court Told Only Parliament Can Criminalise 'Unnatural Sex', State Govt No Power to Introduce As Shariah Offence
• Enough politicking, Malaysia and Malays need a new vision to prosper, Mohamad Hasan tells allies and rivals alike
--------
Arab World
• Lebanon Jails Activist Kinda Al-Khatib for 'Collaborating' With Israel
• UAE Foreign Minister Hails Relations with Russia, COVID-19 Vaccine Cooperation
• Syrian lawmakers say Golan Heights inseparable part of Syria
• Syrians protest US-backed SDF forces' control over oil wells, crude plunder
• Iraq to sue US over sovereignty violation, use of depleted uranium weapons: Official
--------
South Asia
• Court Bans Use of 'Facebook.Com.Bd' Domain in Bangladesh
• Thousands attend funeral of Hefazat leader Kasemi in Dhaka
• Rohingya trafficking network sells dreams, delivers violence and extortion
• 10 Afghan security force personnel killed in Taliban attack in Kunduz
• Bomb kills deputy governor in Afghan capital
• Officials Deny Reports Afghan Forces Trapped in Ambush Attack
• Afghan-Taliban peace talks to resume in January
--------
Pakistan
• PM Says PDM's Anti-Govt Drive Buried In Lahore
• Pakistan arrests 3 Taliban terrorists involved in Rawalpindi blast
• CPEC: Pakistan army to gain 'control' of $60 billion Belt & Road projects
• COAS assures US envoy of support for regional peace
• Pakistan Chief of Army Meets Khalilzad
--------
Mideast
• Rouhani Vows to Implement Parliament Approval Unless US Removes Sanctions
• IRGC Commander: Scientific Independence Source of National Might
• Iran says it can move beyond dispute with Turkey after Erdogan poem
• US imposes new Iran sanctions on two officials linked to Ministry of Intelligence
• Biden knows that Iran's missile program is non-negotiable, says Rouhani
• Yemen pours sarcasm on Riyadh: We may help protect Saudi ports if asked
• Hamas calls for Palestinian unity, resistance against Israeli occupation
• UN's FAO: Five million Yemenis will likely be 'living just one step away from famine' next year
--------
Africa
• Sudan's Removal from US State Terror List Is First Step Towards Debt Relief: IMF
• Sudan says US has committed to providing wheat and other commodities over four years
• Boko Haram claims responsibility for kidnapping of school boys
• UN 'frustrated' as still unable to get access to Ethiopia's Tigray
• Nigerians call for release of Sheikh Zakzaky on 5th anniversary of Zaria massacre
• UN concerned as militancy in Mozambique forces 400,000 people to flee
--------
North America
• US Electoral College Makes Biden's Victory and Trump's Defeat Official
• US imposes sanctions on Turkey's presidency of defense industries
• US blames 2 Iranian intelligence officers for death of ex-FBI agent Levinson
• 'Normalizing' ties with US, Israel won't help Sudan
Compiled by New Age Islam News Bureau
URL: https://www.newageislam.com/islamic-world-news/south-asia-state-minorities-report/d/123764
------
South Asia State of Minorities Report 2020: India A Dangerous, Violent Place for Muslims
Dec 15, 2020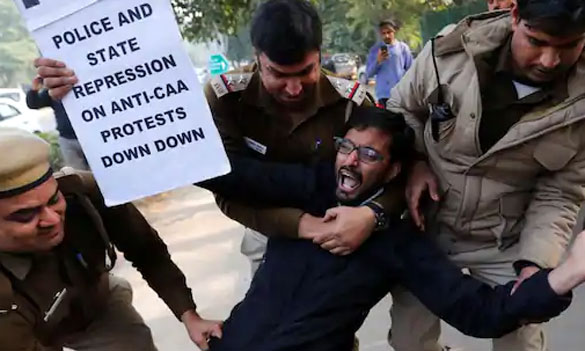 An anti-CAA protester being forcibly removed by police in New Delhi in December 2019 | Image credit: Reuters
-------
The last year ended with nation-wide protests against a series of controversial citizenship amendment laws passed by the government of India in December. And according to experts, the country has since become a "dangerous and violent space for Muslim minorities".
Throughout 2020, India's civil society has repeatedly come under attack from state and central governments for criticizing the administration or state institutions. And now, the South Asia State of Minorities Report 2020 has found that India has become increasingly intolerant of dissenters as well as religious minorities.
The annual report looks at the status of civic space and personal liberties accessible to citizens, especially minorities, living in South Asian countries like Afghanistan, Bangladesh, Bhutan, India, Nepal, Pakistan, and Sri Lanka.
While the report notes a detrimental trend in almost each of the country's attitudes toward upholding central tenets of democracy including upholding freedom of speech and secularism, its observations on India shed light on growing levels of intolerance in the country.
Attacks On Minorities
The report finds that India has become a "dangerous and violent space for Muslim minorities".
In December 2019, the government of India passed the Citizenship Amendment Act which allowed the government of India to grant citizenship to migrants from Afghanistan, Bangladesh and Pakistan who are Hindus, Sikhs, Buddhists, Jains, Parsis or Christians, and arrived in India before the end of December 2014. The law was not extended to Muslims from the three countries, all of which are Muslim-dominated.
The government also declared its intentions to implement the National Register of Indian Citizens which would allow the Indian government to identify and deport illegal immigrants. Clubbed with CAA, many critics felt laws had the potential to be used to control and discriminate against India's religious minorities.
The year has seen an increasing number of instances of attacks on minorities. While anti-CAA protests in Delhi's north-east culminated in sectarian violence in February, the onset of the coronavirus pandemic was also laced with widespread Islamophobia after the Tablighi Jamaat event in Delhi's Nizamuddin become a Covid-19 hotspot.
More recently, implementation and arrests under a new anti-conversion law in Uttar Pradesh has been dubbed as "Islamophobic" by critics for targeting Muslim men for "love jihad".
Attacks Of Human Rights Defenders
The report also finds that India's civil society actors, which include human rights lawyers, activists, protesters, academics, journalists, liberal intelligentsia, have "increasingly been under attack" for speaking out against "government excesses and majoritarianism".
Human rights defenders in India have increasingly come under attack for "protesting discriminatory laws and practices have faced restrictions, violence, criminal defamation, detention and harassment".
The findings come in the wake of increasing numbers of arrests under the Unlawful Activities Prevention Act, or UAPA. The controversial law, often dubbed as "draconian" by critics, who feel that the Act is being used to muzzle dissent in the nation.
The report also notes an increase in media censorship. It notes the temporary bans on two Kerala-based channels for being "''critical towards Delhi Police and RSS'" for its coverage of Delhi riots.
In April this year, India dropped two places on a global press freedom index to be ranked 142nd out of 180 countries in the annual Reporters without Borders analysis.
https://www.news18.com/news/buzz/india-a-dangerous-place-for-religious-minorities-south-asia-state-of-minorities-report-2020-3156896.html
--------
UP 'Love Jihad': 22-Year-Old Pinki Tells Court She Is Major, Had Converted and Wanted to Return to Rashid's Family
By Manish Sahu
December 15, 2020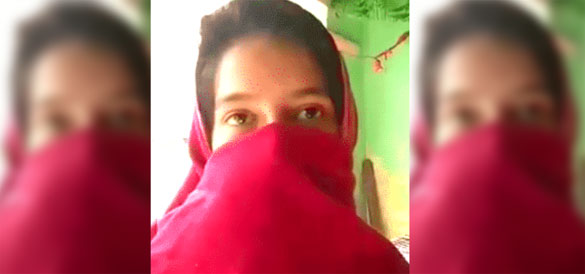 Pinki, now known as Muskan Jahan. Photo: Video screengrab.
-----
The woman who was taken to a shelter home in Moradabad by the Uttar Pradesh Police on Saturday after arresting the man she was with under the anti-conversion law passed last month, returned to his home on Monday. Pinki was allowed to leave after she told a magistrate that she and Rashid Ali, 22, got married back in July, and that she was 22 and wanted to go with his family.
Speaking to reporters after the arrest of Rashid, on Saturday morning, Pinki, who is three months pregnant, had said the two of them were going to get their marriage registered when the police caught them. Rashid's elder brother Saleem, 25, who was with them was also arrested. The police said Pinki had no proof of the marriage, and that they were acting on a complaint by Pinki's mother that Rashid had forcibly converted and married her daughter.
Additional Superintendent of Police, Moradabad, Vidya Sagar Mishra said, "The girl in her statement before the magistrate said that she was born in 1998 and that she and Rashid held a Nikah on July 24 in Dehradun." Pinki said she had converted and wanted to return to Rashid's family, Mishra added.
Dr Nirmala Pathak, Acting Chief Medical Superintendent of Moradabad Mahila District Hospital, where Pinki was examined, said the foetus could be seen clearly in her ultrasound report and seemed to be fine. "We have decided to go in for a Transvaginal Ultrasound Scan to get a more accurate condition of the foetus," Pathak said. There had been reports earlier that Pinki had suffered a miscarriage, which was denied by officials.
While Rashid and Saleem continue to be in jail under the Uttar Pradesh Prohibition of Unlawful Conversion of Religion Ordinance, 2020, the Moradabad police said they would seek legal opinion on Pinki's statement, including that she was a major and that the wedding took place before the new law was passed, to decide what to do. One of the things they would look into is if the conversion followed "legal procedures", the police said.
Soon after she was brought to the government-run home in Moradabad, Pinki had complained of pain in the abdomen, and was admitted to Mahila District Hospital. She was released on Sunday morning, but in the afternoon, again complained of pain and was taken back to hospital. On Monday, Pinki was brought before the magistrate in the morning, but the hearing had to be delayed as she complained of uneasiness. She was checked up and brought to court in the afternoon for recording of her statement.
"All details, including Pinki's claim of nikah and conversion, would be verified. Documents related to the claim would be checked. The police will also get a statement of the girl's family members and others," Senior Superintendent of Police, Moradabad, Prabhakar Chaudhary said.
https://indianexpress.com/article/india/up-love-jihad-22-year-old-tells-court-she-is-major-goes-with-mans-family-7105121/
--------
Osama Bin Laden's 'spokesman' Adel Abdul Bary returns to UK
Dominic Casciani
12 December 2020
A man dubbed Osama Bin Laden's spokesman in Europe has returned to the UK after being released from a US jail.
Adel Abdul Bary was deported after a senior New York judge concluded the prisoner had a high risk of contracting Covid-19, partly because of his weight.
In 1998, Bary was the Europe-based publicist for al-Qaeda leaders and told journalists that the terror group had bombed US embassies in east Africa.
MI5 and counter-terrorism police are reviewing his return and resettlement.
In 1999, Scotland Yard detectives arrested Bary as a co-conspirator to the embassy attacks. More than 200 people were killed in Nairobi and Dar Es Salaam - al-Qaeda's then biggest single attack against American targets.
That arrest - and those of other major UK-based suspects - triggered a mammoth extradition battle that lasted until 2012, when he was eventually flown to the US.
He went on to admit helping to plan the bombings.
His confession to a federal court in Manhattan confirmed that, working out of London, he had sent messages from journalists to Osama bin Laden - and also faxed news organisations confirming al-Qaeda had been behind the embassy attacks.
In October this year, US authorities approved Bary's release after he had served 21 years of his 25-year sentence.
His release had been pencilled in for the end of the year, after US authorities took into account the 14 years he had spent in prison in the UK before his extradition and his good behaviour since then.
But it was brought forward slightly after a court heard evidence that he had a high risk of catching and dying from Covid, if he was kept in prison any longer.
In the October ruling sanctioning Bary's release, US federal Judge Lewis Kaplan said that mercy should allow the offender to be with his family, given it may be the final period of his life.
"The [US] government concedes that the defendant has provided extraordinary and compelling reasons for his release," said the judge.
"The government notes that the defendant was diagnosed as obese in 2019 and that, as of April 2020, his body mass index was 36, which is well above the threshold for obesity.
"On that basis, the government concedes that defendant has presented an extraordinary and compelling circumstance [for release].
Following his release from a federal jail, US immigration officials took him to a detention centre before putting him on a flight to the UK on Tuesday.
After arriving in London, Bary - who is Egyptian - is believed to have been taken to his family home.
The now 60-year-old's US lawyer previously told journalists his client now wished to live a quiet life.
When prisoners convicted of terrorism offences are released from jail in the UK, the case for continuing to monitor them is considered by a team of police and probation officers, who also take into account intelligence from MI5.
Some offenders quietly get on with their lives and are eventually placed on the Security Service's massive list of former terrorism suspects. Others who have maintained ties with extremists - or try to resurrect them after years in jail - are subject to ongoing investigations.
Next year, inquests will be held into how one released offender went on to murder two people in London in 2019.
https://www.bbc.com/news/uk-55275997?utm_source=iterable&utm_medium=email&utm_campaign=1815506_
--------
ICC rejects Uighur genocide complaint against China
December 15, 2020
NETHERLANDS: International Criminal Court prosecutors have rejected calls by exiled Uighurs to investigate China for alleged genocide and crimes against humanity, the chief prosecutor's office said in a report on Monday.
The Uighurs handed a huge dossier of evidence to the court in July accusing China of locking more than one million Uighurs and other mostly Muslim minorities in re-education camps and of forcibly sterilising women.
But the office of prosecutor Fatou Bensouda said it was unable to act because the alleged acts happened on the territory of China, which is not a signatory to The Hague-based ICC.
In its annual report Bensouda's office said "this precondition for the exercise of the court's territorial jurisdiction did not appear to be met with respect to the majority of the crimes alleged."
There was also "no basis to proceed at this time" on separate claims of forced deportations of Uighurs back to China from Tajikistan and Cambodia, the ICC report said.
The Uighurs had argued that even though the alleged deportations did not happen on Chinese soil, the ICC could act because they happened on Tajik and Cambodian territory, and both of them are ICC members.
Lawyers for the Uighurs had now asked the court to reconsider "on the basis of new facts or evidence", the ICC prosecutor's report said.
China has called the accusations baseless and says the facilities in the northwestern Xinjiang region are job training centres aimed at steering people away from terrorism.
The ICC has no obligation to consider complaints filed to the prosecutor, who can decide independently what cases to submit to judges at the court, set up in 2002 to achieve justice for the world's worst crimes.
https://www.freemalaysiatoday.com/category/world/2020/12/15/icc-rejects-uighur-genocide-complaint-against-china/
--------
Lebanon jails activist Kinda al-Khatib for 'collaborating' with Israel
14 December 2020
Lebanon's military prosecution on Monday sentenced an activist to three years in prison for "collaborating" with Israel and traveling to the Jewish state, a judicial source said.
Kinda al-Khatib, who is in her twenties, was arrested in June and charged with "collaborating with the enemy", "entering the occupied Palestinian territories" and "collaborating with spies of the Israeli enemy".
Lebanon is technically still at war with Israel and forbids its citizens from traveling there.
A United Nations peacekeeping force patrols the border area between the neighboring countries.
"The military court... issued a ruling imposing a three year prison sentence with hard labor on Kinda al-Khatib," said the judicial source, speaking on the condition of anonymity because he is not authorized to comment on the issue.
Prior to her arrest, Khatib on Twitter had criticized Hezbollah, a Lebanese Shiite movement that fought a devastating 2006 war with Israel.
Her family and activists have denounced her arrest as "political" because of her tweets against those in power.
Lebanese media and activists have drawn a parallel between Khatib's case and that of actor Ziad Itani, who was also accused of "collaborating" with Israel in 2017.
Itani was declared innocent and released several months later, and a high-ranking security officer was then charged with "fabricating" the case.
Hezbollah is the only party not to have disarmed after Lebanon's 1975-1990 civil war, since when it has also become a major player in Lebanese politics.
The Shiite group is designated a "terrorist" entity by many Western governments, but its supporters credit it with ending two decades of Israeli occupation of southern Lebanon in 2000.
It fought a 33-day war against Israeli forces in 2006 that killed more than 1,200 Lebanese, mostly civilians, and over 160 Israelis, the majority soldiers.
https://english.alarabiya.net/en/News/middle-east/2020/12/14/Lebanon-jails-activist-Kinda-al-Khatib-for-collaborating-with-Israel-
--------
Court bans use of 'facebook.com.bd' domain in Bangladesh
December 14, 2020
Following the hearing of a case filed by the authorities of social media giant Facebook against a Bangladeshi firm called A1 Software, a Dhaka court has banned the use of "facebook.com.bd" domain in Bangladesh.
The court has issued an interim injunction against the defendant, along with a show-cause notice, and has asked to respond within the next 15 days, confirmed Barrister Moksadul Islam, Facebook's appointed lawyer in Bangladesh for the case.
The next hearing date has been set on March 9, 2021, Barrister Moksadul informed.
On November 22, Facebook filed a lawsuit against A1 Software Limited and one SK Shamsul Islam with the Dhaka District Judge's Court, seeking a ban on the operations of A1's "facebook.com.bd" domain, as well as USD 50,000 in compensation.
https://www.thedailystar.net/toggle/news/court-bans-use-facebookcombd-domain-bangladesh-2011233
--------
PM says PDM's anti-govt drive buried in Lahore
Syed Irfan Raza
15 Dec 2020
ISLAMABAD: Prime Minister Imran Khan on Monday declared Pakistan Democratic Movement's (PDM) rally at Minar-i-Pakistan a 'flop power show' and said the opposition's three-month-old anti-government movement was buried in Lahore on Sunday.
He lashed out at the opposition for staging public meetings and endangering people's lives amid the more lethal second wave of the coronavirus.
He made these remarks during a meeting with his spokespersons at the Prime Minister House.
The meeting took place a day after the Lahore rally during which the joint opposition's protest programme was reviewed.
"The prime minister termed the Lahore rally a flop show as people kept away from the event," a participant of the meeting said on condition of anonymity.
Blames opposition for endangering lives amid pandemic
He said Mr Khan was of the view that people of Lahore belonged to one of the sane and conscious groups of citizens and therefore did not get involved in political activity without proper thinking.
PM Khan said many 'ineffective' movements that kicked off from Lahore fizzled out in the same city, adding that "the fate of PDM will also be the same".
The prime minister expressed his displeasure over the fiery speeches and remarks against state institutions made by Pakistan Muslim League-Nawaz (PML-N) vice president Maryam Nawaz during the PDM public meetings.
"Maryam is maligning state institutions," he said, adding that she was blaming media for PDM's flop show in Lahore but the fact was that people were not inspired by the opposition's narrative.
Another PM's spokesman quoted the prime minister as saying that he had urged the opposition not to stage public meetings as the country was facing a sharp rise in Covid-19 cases and deaths but it (opposition) did not pay any heed to his advice and put the lives of people at risk.
On the other hand, Information Minister Shibli Faraz said the people of Lahore had outright rejected the PDM leaders along with their narrative.
In a series of tweets, he said those who had different directions could not have the same destiny.
Contrary to their claim of 'Now or Never', the PDM got ridiculed in Lahore as it had failed to attract residents of Lahore and Punjab.
"PDM leaders looked dejected after people of Lahore and Punjab did not show up [in the public meeting]," the minister added.
He said the opposition spewed venom against the Pakistan Army during Gujranwala public gathering and desecrated Quaid-i-Azam mausoleum in their Karachi rally. World Bank
In a meeting with Special Assistant to the Prime Minister on Poverty Alleviation and Social Safety Dr Sania Nishtar and World Bank Country Director Najy Benhassine, Prime Minister Khan was informed that the World Bank had doubled its assistance for Ehsaas Programme, which would ensure social safety of maximum deserving people through further expansion of the programme.
Describing the Ehsaas Programme as 'a flagship programme of social safety', the World Bank's country director said it was a model for other countries to follow as well.
The prime minister directed Special Assistant Dr Sania Nishtar to formulate a comprehensive strategy for the expansion of the Ehsaas Programme.
Najy Benhassine appreciated the measures taken by PM Khan on climate change.
He was appreciative of Pakistan's commitment to generating electricity through other environment-friendly and renewable energy sources instead of coal, and described it a very responsible step towards checking the increasing hazardous effects of climate change in the region.
https://www.dawn.com/news/1595832/pm-says-pdms-anti-govt-drive-buried-in-lahore
--------
Rouhani Vows to Implement Parliament Approval Unless US Removes Sanctions
2020-December-14
Speaking during a press conference here in Tehran on Monday, the president said he has ordered the administration to start compiling the procedural executives for implementing the recent parliament approval on the nuclear deal in less than two months as enshrined in the bill.
The Iranian parliamentarians in a meeting on December 1 ratified the generalities of a bill to adopt strategic measures to remove sanctions against the country and defend the nation's interests.
The lawmakers had last month given green light to the single-urgency of the strategic motion, but the plan turned into a double-urgency on Sunday after the assassination of the Iranian nuclear scientist Mohsen Fakhrizadeh.
Iranian nuclear scientist Mohsen Fakhrizadeh's car was targeted by an explosion and machinegun fire in Damavand's Absard 40 kilometers to the East of Tehran on Friday.
Under the bill, the Atomic Energy Organization of Iran (AEOI) is required to start in two months after the approval of the present bill to produce at least 120 kg of 20%-enriched uranium annually at Fordow nuclear site and store it inside the country, increase the enrichment capacity and production of enriched uranium to at least 500 kg per month, start the installation of centrifuges, gas injection, enrichment, and storage of materials up to proper purity levels within 3 months, via at least 1000 IR-2m centrifuges in the underground part of Shahid Ahmadi Roshan facility in Natanz, transfer any enrichment, research, and development operations of IR-6 centrifuges to the nuclear site of Shahid Ali Mohammadi in Fordow, and start enrichment operation via at least 164 centrifuges and expand it to 1000 by the end of 20 March 2021 (end of the Iranian calendar year) and return the 40 megawatts Arak heavy water reactor to its pre-JCPOA condition by reviving the heart (calandria) of the reactor within 4 months from the date of the adoption of this law.
Also, the government is required to suspend the nuclear deal-based regulatory access beyond the Additional Protocol within 2 months after the adoption of the law based on the articles 36 and 37 of the nuclear deal.
Also, after 3 months from the adoption of this law, if Iran's banking relations in Europe and the amount of oil purchases by them from Iran is not back to normal and to satisfactory conditions, the government is required to stop the voluntary implementation of the Additional Protocol.
Meantime, if after 3 months from the adoption of the law, the nuclear deal parties return to fulfill their undertakings, the government is required to submit a proposal to the parliament for Iran's reciprocal action to return to the nuclear deal undertakings, the bill said.
Rouhani said on Monday that the Joint Comprehensive Plan of Action (JCPOA) has contributed to the preservation of Iran's rights and failure of the US at the UN three times in their bids against Iran.
"One of Iran's goals is to gain achievements in the field of nuclear and people's rights. The end of the imposed sanctions means that Iranians can achieve one of their rights," Rouhani added.
President Rouhani stressed that the US must return to the commitments it has made before.
In relevant remarks last month, Iranian Foreign Minister Mohammad Javad Zarif cautioned US president-elect Joe Biden to return to the JCPOA and lift the unlawful sanctions, as well as stop the economic war against Tehran.
"The US has two positions. It is a member of both the JCPOA and the United Nations. Although Trump pulled the US out of the JCPOA, he did not withdraw the country from the UN. Whether under Biden or Trump, the US must remain committed to Article 25 of the UN Charter, mandating the member-states to accept and carry out the decisions of the UN Security Council," Zarif said.
The Iranian foreign minister reiterated that as a UN member and a permanent member of the UN Security Council, the US cannot say the Resolution 2231 — a July 20, 2015 resolution endorsing the JCPOA on the peaceful nuclear program of Iran — is illegal.
"By pulling Washington out of the JCPOA, Trump solely failed to benefit from the deal. This was the mistake Trump and his associates made. If Biden seeks to return to the JCPOA, he will have to fulfill US commitments under the deal and lift the sanctions," Zarif underlined.
The Iranian foreign minister said that the US is definitely in no position to set out conditions for Iran, adding, "As a UN member and a permanent member of the UN Security Council, the US is duty-bound to implement Resolution 2231."
"If the resolution is implemented, the sanctions will be removed. Iran has announced that in that case, it will resume honoring its commitments under the JCPOA," he added.
Iran signed the JCPOA with six world states — namely the US, Germany, France, Britain, Russia, and China — in 2015.
US President Donald Trump, a stern critic of the historic deal, unilaterally pulled Washington out of the JCPOA in May 2018 and unleashed the "toughest ever" sanctions against the Islamic Republic in defiance of global criticism in an attempt to strangle the Iranian oil trade, but to no avail since its "so-called maximum pressure policy" has failed to push Tehran to the negotiating table.
In response to the US' unilateral move, Tehran has so far rowed back on its nuclear commitments four times in compliance with Articles 26 and 36 of the JCPOA but stressed that its retaliatory measures will be reversible as soon as Europe finds practical ways to shield the mutual trade from the US sanctions.
Tehran has particularly been disappointed with the failure of the three European signatories to the JCPOA -- Britain, France, and Germany -- to protect its business interests under the deal after the United States' withdrawal.
On January 5, Iran took a final step in reducing its commitments and said it would no longer observe any operational limitations on its nuclear industry, whether concerning the capacity and level of uranium enrichment, the volume of stockpiled uranium, or research and development.
https://www.farsnews.ir/en/news/13990924000799/Rhani-Vws-Implemen-Parliamen-Apprval-Unless-US-Remves-Sancins
--------
India
Soon, Assam bill to turn govt-run madrassas into general schools
Dec 15, 2020
GUWAHATI: The state government will bring a bill to repeal the Assam Madrassas Education (provincialization) Act of 1995 in the winter session of the assembly in the last week of December, which will pave the way for it to close down all government-run madrassas and Arabic colleges in the state.
The state cabinet on Sunday cleared the decks for dissolving the State Madrassa Board from the next academic session and all their academic and administrative authority will be transferred to the Directorate of Secondary Education. Teachers, who are teaching theological courses in the madrassas, will be trained to teach general subjects in the schools.
Assam education minister Himanta Biswa Sarma on Monday said, "This will secularise the state education system. We are putting an end to the practice of using government funds for Islamic theological studies since pre-Indpendence days,".
"The schools will remain and will be converted to general schools and the word high madrassa will be removed along with the theological course (Quran course) from 189 such government-run schools. All theological courses will be stopped with effect from, April 1, 2021. SEBA will conduct the last High-Madrassa exam in 2021," the state minister said.
https://timesofindia.indiatimes.com/india/soon-assam-bill-to-turn-govt-run-madrassas-into-general-schools/articleshow/79731614.cms
--------
PDP neta's PSO shot dead by terrorists in Srinagar
Dec 15, 2020
SRINAGAR: The personal security officer (PSO) of PDP functionary Haji Parvaiz Ahmad was shot dead by terrorists outside the neta's residence at Natipora, Srinagar, early Monday. Parvaiz said this was the second attack on him since 2009, blaming the police for not providing adequate security cover — an allegation J&K DGP Dilbag Singh denied, stating that Parvaiz regularly violated security advisories.
PSO Manzoor Ahmed, a selection-grade constable, was returning from a grocery shop after buying milk when terrorists opened fire at him, leaving him critically wounded. He was rushed to Bone and Joint hospital with stomach injuries where he succumbed during treatment, police said. Security forces subsequently launched a massive search in the area to trace the perpetrators.
Parvaiz said, "My security cover was trimmed to a large extent though I constantly face threats. I've been repeatedly demanding protection and they are cutting it down instead. I don't know why they (BJP) are so afraid of PDP."
PDP chief Mehbooba Mufti alleged the J&K administration has left the opposition leaders in a lurch by downgrading their security. Refuting the same, DGP Singh said, "Police asked Parvaiz to shift from Natipora, a congested locality prone to terror attacks, to an area with better security but he never paid heed to our suggestions. We reviewed his security and found a need for one PSO, but two were provided."
Speaking at the wreath-laying ceremony of the slain PSO at District Police Lines, Srinagar, DGP Singh said Monday's attack was an attempt to disrupt the ongoing DDC polls which have been going on peacefully, adding that police have clues about the attackers and they will soon be brought to book. He cited Sunday's encounter in Poonch — in which two Lashkar ultras from Pakistan were killed — as proof of Pakistan's motive to stir unrest in J&K and affect the election.
J&K Police on Monday shared a video of the operation on its Twitter page, stating: "Look at the difficult site where police led by district SSP, Army unit climbed and operated yesterday and neutralised two Pakistani terrorists of Lashker-i-Toiba. (sic)"
"Elaborate security arrangements are in place but we can't put the movement of people to a complete halt while ensuring a grassroots-level exercise. In between, there is a discreet movement of some anti-national elements as well," the DGP said, adding that attacks on politicians are possible despite adequate security cover. "BJP slain youth leader Waseem Bari had 10 PSOs but still got killed," he added.
https://timesofindia.indiatimes.com/india/pdp-netas-pso-shot-dead-by-terrorists-in-srinagar/articleshow/79728824.cms
--------
Hurriyat Elects Ailing Geelani's Press Aide As His Acting Deputy
Dec 15, 2020
SRINAGAR: The separatist All Parties Hurriyat Conference, led by the ailing Syed Ali Shah Geelani, has elected his chief spokesperson Ghulam Ahmad Gulzar as acting vice-chairman of the organisation's Kashmir chapter and reposed faith in Pakistan-based Abdullah Geelani as the Hurriyat chairman in PoK.
Gulzar, a native of Kreeri Pattan in Baramulla district, was with Abdul Gani Lone's J&K People's Conference till he fell out with his sons Sajad and Bilal after their father's assassination by terrorists in 2002. He joined Syed Geelani's Hurriyat soon after.
In a statement after being elected acting vice-chairman of the outfit, Srinagar-based Gulzar said the Hurriyat conglomerate would "continue the ongoing just struggle to secure their right to self-determination" and reiterated the resolve of Kashmiris to do whatever it takes to achieve that goal.
Gulzar praised Pakistan for "efforts on the political and diplomatic fronts" to arrive at "a just resolution of the Kashmir dispute".
Sources said Ali Shah Geelani pushing for Gulzar as acting vice-chairman over his confidant Ashraf Sehrai wasn't quite expected. In the internal election on December 5, Gulzar got seven votes while the other two contenders — Bilal Siddiqi and Aga Syed Hassan — received three votes each.
While Abdullah Geelani's nomination as the senior Geelani's successor last year hadn't gone down well with the patriarch, the Hurriyat think tank's choice had Pakistan's endorsement. Ali Shah Geelani had then criticised the appointment. Early this year, he issued a clarification that Abdullah Geelani only represented the Pakistan chapter of Hurriyat.
https://timesofindia.indiatimes.com/india/hurriyat-elects-ailing-geelanis-press-aide-as-his-acting-deputy/articleshow/79728733.cms
--------
PM Modi to hold summit with Sheikh Hasina as India-Bangladesh eye closer ties
Dec 14, 2020
NEW DELHI: India and Bangladesh will kick off an important year in their bilateral relations when prime minister Narendra Modi and Sheikh Hasina meet for a bilateral summit on Thursday, a day after Bangladesh's victory day, which holds special significance this year.
This will be Modi's second virtual summit after Sri Lanka and Hasina's second virtual event during the pandemic with both sides signalling the importance of bilateral relationship. The signalling of the summit is also important, coming as it does when there is speculation in the popular discourse of a dilution in this strategic partnership.
The summit will see a number of agreements being signed, many of which are still being negotiated. A Gandhi-Mujib exhibition in the virtual format may be one of the highlights. On connectivity, a resurrection of the 12-km Chilahati-Haldibari rail link after 55 years will be highlighted. This will take freight goods initially and open up to passenger traffic after the infrastructure is in place. Infrastructure and connectivity have been steadily improving between the two countries, even during the pandemic, when India activated rail freight to carry goods to Bangladesh after the Petrapole-Benapole border post was closed.
India supported Bangladesh's candidature for executive director of the WHO's Southeast Asia centre last week, conveyed by Vikram Doraiswami, India's high commissioner to Bangladesh. India has also committed to provide over 30 million doses of Covid vaccine by the Serum Institute.
On Monday night too, a group of over 50 Mukti jodhdhas (liberation warriors) landed in Kolkata for the Victory Day celebrations hosted by the Indian army's Eastern Command.
At the summit, the Indian side will convey its interest in helping Bangladesh grow its agriculture sector with greater value addition.
https://timesofindia.indiatimes.com/india/pm-modi-to-hold-summit-with-sheikh-hasina-as-india-bangladesh-eye-closer-ties/articleshow/79726127.cms
--------
India, Iran, Uzbekistan hold first meeting on joint use of Chabahar port
Dec 14, 2020
India, Iran and Uzbekistan on Monday discussed the joint use of Chabahar port to enhance regional connectivity as the three countries held their first trilateral meeting focused on the strategic trade and transit facility in the Gulf of Oman.
The first virtual meeting of the trilateral working group was a follow-up to a suggestion by Uzbek President Shavkat Mirziyoyev during a summit with Prime Minister Narendra Modi on Friday that the three countries should jointly promote Chabahar port.
"During the meeting, the participants discussed joint use of Chabahar port for trade and transit purposes and enhanced regional connectivity. All sides also noted the significant role played by Chabahar port for the region to deliver humanitarian assistance during the Covid pandemic," the external affairs ministry said in a statement.
The statement didn't give further details on whether the three sides had proposed any measures regarding the joint use of the port.
The meeting was jointly chaired by India's secretary (shipping) Sanjeev Ranjan, Uzbekistan's deputy transport minister D Dehkanov and Iran's deputy transport minister Shahram Adamnejad.
All the countries welcomed India's proposal to hold a "Chabahar Day" on the margins of the International Maritime Summit to be hosted by New Delhi in January next year.
India currently operates one of the terminals of Chabahar port that it has developed. The strategic project has been given a waiver from sanctions imposed by the US on Iran in view of its importance in shipping cargo and humanitarian assistance to Afghanistan.
The prospects of Chabahar took a hit after US President Donald Trump unilaterally withdrew from the nuclear deal with Iran in 2018 and re-imposed crippling sanctions as part of a "maximum pressure" campaign. However, president-elect Joe Biden has said he will offer Iran a "credible path back to diplomacy" since dealing with Tehran's nuclear programme is the best way to achieve stability in the region.
These developments had resulted in renewed interest in Chabahar, and the external affairs ministry said last week it welcomes Uzbekistan's interest in using the port as a transit facility.
"This would open up economic opportunities for the traders and business community of the region. Besides Uzbekistan, other Central Asian countries have also shown interest in using the port. India seeks to cooperate closely with regional countries on this issue," the ministry added.
https://www.hindustantimes.com/india-news/india-iran-uzbekistan-hold-first-meeting-on-joint-use-of-chabahar-port/story-YWtef36CdFdY1yz8kqIvAM.html
--------
Europe
Italians returning France's top award in protest at honouring of Egypt's Sisi
15 December 2020
Two prominent Italian intellectuals have announced they are returning their Legion of Honor awards to France in protest at the awarding of Egyptian President Abdel Fattah el-Sisi with the distinction despite his government's dire human rights record.
Corrado Augias, a journalist and former member of the European Parliament, took his 2007 prize back to the French Embassy on Monday.
Giovanna Melandri, a former Italian culture minister and the president of Rome's Maxxi contemporary art museum, also said she would follow suit.
Both cited Egypt's role in the 2016 murder of an Italian student in Cairo, as well as the regime's other human rights abuses.
Augias accused Sisi of being "objectively complicit, as head of state, in the criminal behavior committed by his men."
Sisi paid a visit to France last week, when President Emmanuel Macron awarded him with the highest French honor during a closed-door ceremony.
The ceremony, which became public only when the Egyptian presidency published photos of it, took place at the same time that Rome prosecutors were detailing the torture that Italian doctoral student suffered to a parliamentary committee.
"The two things together were too strong," Augias told reporters outside the French Embassy. "I couldn't refrain from reacting."
On Thursday, Italian prosecutors formally charged four members of Egypt's national security agency with the kidnapping and murder of Regeni in Cairo.
Melandri also announced on Monday that she too would return her 2003 prize, saying it was sad but necessary to make clear that "honor" should mean something.
"I hope that this gesture can help open a frank and friendly confrontation in our two countries on which values should be that we want to defend, strengthen and continue to 'honor' in a democratic Europe and a globalized world," she said in a Facebook post.
Roberto Fico, speaker of Italy's lower house of parliament, hailed the move.
"Europe must be united and supportive, never selfish, even more so when fundamental rights are at stake," he tweeted.
Sisi has faced international condemnation for a crackdown on civil society groups since he took power in 2014, a year after a military coup spearheaded by him toppled the country's first ever democratically-elected president, Mohamed Morsi.
Since Morsi's overthrow, Egyptian authorities have been engaged in a persistent crackdown on dissent, killing hundreds and arresting thousands.
https://www.presstv.com/Detail/2020/12/15/640760/Italians-returning-France-top-award-in-protest-at-honoring-of-Egypt-Sisi
--------
Trial over deadly Paris jihadist attacks to begin late 2021
11/12/2020
The trial of 20 people charged over the November 13, 2015 jihadist attacks in Paris that were France's deadliest peacetime atrocity will get underway in late 2021, sources close to the case and prosecutors said on Friday.
The night of carnage on November 13, 2015 saw 130 people killed and 350 wounded when Islamist suicide bombers and gunmen attacked the Stade de France stadium, bars and restaurants in central Paris and the Bataclan concert hall.
The trial in Paris will begin on September 8, 2021 and end in March 2022, lawyers were told at a meeting at the Paris court. National anti-terror prosecutors confirmed the dates to AFP.
Just one of the suspected perpetrators -- French-Belgian Salah Abdeslam -- will appear in court with the 19 others accused of providing various logistical support. Six of them are targets of arrest warrants and will be tried in absentia.
The other attackers, including the suspected coordinator of the attacks -- Belgian Abdelhamid Abaaoud -- were killed in the wake of the strikes which were which were claimed by extremists from the Islamic State (IS) group.
The trial will be a massive undertaking, with 110 days of hearings envisaged. It had been expected in January 2021 but was put back due to the coronavirus pandemic.
The announcement of the beginning of the trial comes with the country again on its highest security alert following three attacks in the last months blamed on Islamist radicals.
In September, the trial had got underway of suspected accomplices in the massacre by Islamist gunmen in January 2015 of staff on the Charlie Hebdo satirical weekly, which had published cartoons of the prophet Mohammed.
True to its defiant reputation, the magazine then republished the cartoons to mark the start of the trial.
In the wake of that move, a Pakistan-born man wounded two people with a meat cleaver on September 25 outside Charlie Hebdo's former offices.
Teacher Samuel Paty, who had shown his class the cartoons, was beheaded outside his school on October 16 by an Islamist radical from Chechnya. And on October 29 a man recently arrived from Tunisia killed three people with a knife in a Nice church.
In the wake of those attacks President Emmanuel Macron presented draft legislation on cracking down on radical Islamist activity and vowed France will never renounce the right to blaspheme, in moves that have drawn anger in some Muslim countries.
https://www.france24.com/en/live-news/20201211-trial-over-deadly-paris-jihadist-attacks-to-begin-late-2021?utm_source=iterable&utm_medium=email&utm_campaign=1815506_
--------
Five suspected radical left activists held by French police on terror charges
12/12/2020
Five of the seven people arrested earlier this week by police investigating plans for violent activity by members of the French radical left have been charged with associating with terrorist criminals, and detained in custody. Two others have been conditionally released.
The seven, arrested earlier this week in raids in Paris, Toulouse and the Dordogne, are suspected of planning violent activity. No details of the sort of action allegedly planned have been released.
The six men and one woman are said to be aged between 30 and 36 years.
Weapons and material which could be used to produce explosives were discovered at the time of the arrests, according to the Internal Security branch (DGSI) of the French national police.
The French AFP news agency reports that one of those arrested, identified as Florian D and allegedly the leader of a group of activists, is known to have fought alongside Kurdish forces in Rojava, north-eastern Syria.
The right-wing politician Eric Ciotti is sure that all seven are guilty. No sooner had they been arrested than Ciotti issued a Twitter message saying "these radical left wing terrorists were planning to attack the police. They attack the uniform of the Republic because it's the only barrier to their hunger for chaos".
Attack on high-speed train service
Before this week's arrests, the last police move against suspected radical left activists was in 2008, in the southern French town of Tarnac.
On that occasion, several members of the radical left were charged in connection with damage caused to the power lines supplying high-speed trains.
Those charged successfully objected to being accused of "terrorism" and were all eventually freed without charge.
Since 2008, a number of fire-bomb attacks against police stations have been associated with the radical left. There have been no arrests.
Earlier this year, Eric Vaillant, the chief investigating judge in the eastern city of Grenoble called for a police investigation of possible radical left implication in more than 15 fires in the region around the city, targeting police stations, public buildings and churches. No investigation was undertaken.
https://www.rfi.fr/en/france/20201212-five-suspected-radical-left-activists-held-by-french-police-on-terror-charges-weapons-explosives?utm_source=iterable&utm_medium=email&utm_campaign=1815506_
--------
6 officers injured in suicide attack in southern Russia
11 December 2020
MOSCOW -- At least six Russian law enforcement officers were injured Friday in the country's south when a suicide bomber blew himself up near a local office of the top security agency, authorities said.
The explosion occurred outside the building of the Federal Security Service (FSB) in Uchkeken in the Karachayevo-Cherkessiya region of Russia's North Caucasus, Russia's Anti-Terrorism Committee said in a statement.
The Interfax news agency reported that an explosive device first went off outside the building early Friday, hurting no one. When law enforcement officers gathered to inspect the site, the suicide bomber approached them and detonated explosives, killing himself.
Chechnya, Karachayevo-Cherkessiya and other regions in Russia's volatile North Caucasus have faced bombings and other attacks by Islamist militants, some of whom have sworn allegiance to the Islamic State group.
https://abcnews.go.com/International/wireStory/officers-injured-suicide-attack-southern-russia-74671866?utm_source=iterable&utm_medium=email&utm_campaign=1815506_
--------
Southeast Asia
Federal Court Told Only Parliament Can Criminalise 'Unnatural Sex', State Govt No Power To Introduce As Shariah Offence
14 Dec 2020
BY IDA LIM
PUTRAJAYA, Dec 14 — The offence of committing "unnatural sex" is a criminal matter that only the federal government — via Parliament — has the powers to make laws on, while state governments lack the power to make state laws to criminalise and punish it as a Shariah offence, a lawyer argued in the Federal Court today.
Today was the hearing by a nine-man panel at the Federal Court of a Malaysian Muslim man's constitutional challenge against a Selangor state law that makes unnatural sex a Shariah offence in the state, with the challenge revolving around whether the Selangor state government had the power to make state Shariah laws on the offence.
This Shariah offence, which the man was charged with in the Shariah courts in Selangor, is Section 28 of the Syariah Criminal Offences (Selangor) Enactment 1995.
Section 28 makes it a Shariah offence for "any person" performing "sexual intercourse against the order of nature with any man, woman or animal", with the punishment being a maximum fine of RM5,000 or a maximum three-year jail term or a maximum whipping of six strokes or any combination.
Lawyer Datuk Malik Imtiaz Sarwar, who represented the man, explained that the case today involved the key question of the Federal Constitution's limits on what the state government can make laws on.
While the Federal Constitution gives state governments the powers to make laws on certain Islamic matters such as offences against the religion of Islam, Imtiaz pointed out that the Federal Constitution at the same time carries the condition that such state laws should not be on matters that are already within the powers of the federal government to make laws on.
"So under the Constitution, the criminal system of law is in Parliament's hands. So Parliament has what we say exclusive powers to create the laws pertaining to the criminal justice system — that means the laws, the prosecution, sentencing, everything.
"So then we have this exception for offences against the religion of Islam, which the state can make. So the question for the court is how to reconcile the two powers, because strictly speaking any offence is a matter of criminal law, and if that is correct, then that has to be in Parliament's power.
"Because the power in the state is also said as being qualified to the extent that it is not in the federal list, so that's the issue before the court.
"So what we argued today is a matter of substance, this offence is a criminal offence falling within the federal list. And just because you put a term 'Islamic' on it, doesn't change it from a criminal law or a criminal offence to one of Islamic offence, because the substance of the offence is the same going both ways," he explained to reporters when met after the hearing at the Federal Court.
Federal government's powers vs state government's powers
In the Federal Constitution's Ninth Schedule, List I which is also known as the Federal List states what the federal government via Parliament can make laws on, while List II which is also the State List states the matters which state governments through their respective state legislative assemblies can make laws on.
Citing the State List in the Federal Constitution, Imtiaz highlighted that it allows state governments to make state laws on the "creation and punishment of offences by persons professing the religion of Islam against precepts of that religion, except in regard to matters included in the Federal List", stressing that this carries the condition or acts as a "preclusion clause" to exclude the state government from making laws on matters that are in the Federal List or fall under the federal government's jurisdiction.
Imtiaz then highlighted the Federal List in the Federal Constitution, which covers matters such as internal security, police, criminal investigation, prisons, civil and criminal law and procedure and the administration of justice, and creation of offences in respect of any matters included in the Federal List or dealt with by federal law.
In arguing that the state governments have no power to make unnatural sex a Shariah offence through state laws, Imtiaz highlighted that the federal government or Parliament has already made unnatural sex an offence through a federal law known as the Penal Code.
"There's a provision in Parliament, the Penal Code is there, it provides the same offence, there cannot be two offences administered by two separate bodies," he said during the hearing.
What the Selangor government and Islamic authorities argued
Following Imtiaz's arguments in court, the judges on the panel repeatedly narrowed down the key question at hand in this case, which was whether the Selangor state government has powers under the Federal Constitution to make state laws on matters that fall within the federal government's powers.
Selangor state legal adviser Datuk Salim Soib @ Hamid, who represented the Selangor state government, argued that the Federal List did not directly mention offences against the "precepts of Islam", further arguing that this meant the state government could make laws on unnatural sex as it is related to offences against the precept of Islam.
Federal Court judge Datuk Seri Zawawi Salleh highlighted the risk of such an argument as he sought clarification from Salim, questioning if it meant that the state legislative bodies would be able to pass laws on wide-ranging matters that could easily be considered as against Islam such as stealing and robbery.
Chief Justice Tun Tengku Maimun Tuan Mat also questioned such a line of argument and whether what was contemplated was two sets of laws by the federal government and state governments for offences such as theft, robbery, murder.
"So going back to my question, is theft not precept of Islam? What about murder, rape, corruption and robbery? So my question is are we contemplating to have one set of laws under the MACC Act and another set of laws whichever state will pass that will have these offences because it is against the precept of Islam. Are we contemplating that?" she asked.
Salim argued that the state government should have the power to make state laws on any offences considered to be against the precepts of Islam, but which are not already covered under existing federal laws by the federal government.
Salim also argued that the Selangor state law's Section 28 offence on unnatural sex was worded differently to the unnatural sex offence under Section 377 of the Penal Code.
Zawawi however at one point interjected to point out that the unnatural sex offence of sodomy has long existed in federal laws, and that it was only subsequently that state governments introduced unnatural sex as a Shariah offence through state laws.
Chief Judge of Malaya Tan Sri Azahar Mohamed also reminded Salim that apart from Section 28 being said to be regarding offences against the precepts of Islam, the key question was actually on the preclusion clause in the Federal Constitution which stops state governments from making laws that are under the federal government's jurisdiction or under federal laws.
"Because the power given by Parliament is that the state legislature can legislate offences against the precepts of Islam, but it doesn't stop there. It says you can create this offence, except in respect of matters which are in the Federal List. How do you explain that? Why does the preclusion clause not apply to this case, how do you explain that?" Azahar asked.
"When Section 28 was enacted, there was already Section 377 in the Penal Code, it already existed. So how do you reconcile it?" he asked.
Lawyer Halimatunsa'diah Abu Ahmad, who represented the Selangor Islamic Religious Council (Mais) who is an intervenor in this case, responded to the issue of the preclusion clause by arguing that Parliament itself recognises that there is a difference between Shariah law and the federal law when it comes to criminal offences.
Halimatunsa'diah also argued that the elements of Section 377 and Section 28 are different such as the element of voluntariness purportedly not included under Section 28, and that the standard of proof to prove the offence of unnatural sex would differ under both laws.
Tengku Maimun questioned what the basis in the Federal Constitution was that says that the courts should be looking at distinctions of the offences instead of whether the matter falls under federal law when the courts examines whether the state government have the competency to make laws.
"We all accept what is contrary to Islamic law is contrary to the precepts of Islam... But our focus is on the provisions of the Federal Constitution in relation to demarcation of legislative power of the state and Parliament," the chief justice said at another point.
Lawyer Abdul Rahim Sinwan, who represented the Federal Territories Islamic Religious Council (MAIWP) as amicus curiae, argued that Section 28 is both valid and constitutional, arguing that Section 28 covers unnatural sex with men, women and animal but that Section 377 purportedly only covered such instances involving men and animals.
In response to the arguments by the Selangor state government, Mais and MAIWP, Imtiaz pointed out that Section 377 was identical to Section 28 before it was amended and split up into several separate provisions in its current form.
"Section 377 used to provide the same terms as Section 28, and then it was amended to make it clearer... They thought better to break Section 377 into A to E for sentencing issues to be looked at clearly, but when it started off, it was the same provision as Section 28," he said.
Under the latest edition of the Federal Constitution, Section 377 relates to the offence of sexual intercourse with an animal, Section 377A covers unnatural sex between two persons with the punishment outlined in Section 377B, Section 377C covers unnatural sex on another person without the latter's consent, Section 377CA involves sexual connection with any object, Section 377D involves outrages on decency, and Section 377E covers the offence of inciting a child to an act of gross indecency.
After hearing all the arguments, Tengku Maimun said that the Federal Court would adjourn to deliver the decision at a later time.
The other judges on today's nine-man panel are President of the Court of Appeal Tan Sri Rohana Yusuf, Chief Judge of Sabah and Sarawak Datuk Abang Iskandar Abang Hashim, Federal Court judges Datuk Nallini Pathmanathan, Datuk Vernon Ong, Datuk Zabariah Mohd Yusof, and Datuk Seri Hasnah Mohammed Hashim.
When met outside the courtroom, Imtiaz told reporters that today's case is important as it will allow the Federal Court via a nine-judge panel to clearly address once and for all on how to balance the different jurisdictions when it comes to making laws, noting that this is likely only the second time that the question has come up with such prominence in the courts.
"So the argument really turns on the offences against the precepts of Islam, what that means and the clause except where provided for in the Federal List. So it's not just a question of precepts of Islam, it is offences (against the precepts of Islam) and not provided for in the Federal List, so it narrows down the scope," he added.
Two other court cases on hold
Other than today's constitutional challenge, the Malaysian Muslim man was previously charged in the Selangor Shariah High Court with the Shariah offence of unnatural sex under the Selangor state law, and had also previously filed for judicial review to challenge the validity and constitutionality of the Section 28 offence and to also seek the quashing of the Shariah trial against him.
Lawyer Surendra Ananth, who is also representing the Malaysian Muslim man, confirmed today that both the Shariah trial and the judicial review hearingat the civil High Court has been put on hold pending the outcome of the constitutional challenge today on the ability of the Selangor state government to make state laws on the unnatural sex offence.
The name of the Malaysian Muslim man is being withheld on the request of the lawyers. His lawyers had previously highlighted the risks he would be exposed to if his identity was to be disclosed publicly.
His other lawyers today are Honey Tan Lay Ean, Tay Kit Hoo, while Nur Irmawatie Daud and Husna Abdul Halim also appeared for the Selangor state government, Azlan Sulaiman and Yap Chean Hong for Mais, and Muhamad Hisham Marzuki for MAIWP. Lawyer Andrew Khoo held a watching brief for the Human Rights Commission of Malaysia (Suhakam).
https://www.malaymail.com/news/malaysia/2020/12/14/federal-court-told-only-parliament-can-criminalise-unnatural-sex-state-govt/1931815
--------
Enough politicking, Malaysia and Malays need a new vision to prosper, Mohamad Hasan tells allies and rivals alike
15 Dec 2020
BY KEERTAN AYAMANY
KUALA LUMPUR, Dec 15 — Umno deputy president Datuk Seri Mohamad Hasan yesterday spoke critically of Malay politics and politicians, calling for a new vision to carry both country and community forward.
In a Facebook post last night, Mohamad said there has been no solution to Malaysian and Malay politics since the formation of the Perikatan Nasional (PN) government 10 months ago, adding that the public is tired of the continuous conflict "particularly coming from Malay politicians".
"What the Malays need are not merely ideas but a clear vision on how they could further advance and prosper.
"Malaysia would be better off without the formation of one political alliance after another. What the people need are new policies, ideas and ingenuity to make Malaysia prosperous," he said in the post.
Mohamad then called on Malaysia to turn the page on its history, and cultivate new sources of inspiration.
Quoting Indonesian philosopher Hamka, Mohamad said, "A wise person lives for his community and not for himself. Malaysia is in great need of such individuals".
In March, Tan Sri Muhyiddin Yassin became the eighth prime minister of Malaysia, following the resignation of Tun Dr Mahathir Mohamad, who has cited pressure to ally with Umno politicians as a reason for leaving his post.
Since then, Muhyiddin, who is also president of Parti Pribumi Bersatu Malaysia (Bersatu), has tried to maintain a fragile alliance with the Malay-centric political parties of Umno and PAS, through the PN and Muafakat Nasional coalitions.
Increasing conflict has played out between the three Malay parties, which lately saw disagreement surrounding Budget 2021, and the removal of Bersatu's Datuk Seri Ahmad Faizal Azumu from his position as Perak mentri besar through a vote of no-confidence.
Furthermore, Muhyiddin's position has also been under threat from Opposition Leader Datuk Seri Anwar Ibrahim who has repeatedly claimed he has support from enough Members of Parliament to overthrow Muhyiddin, but has yet to provide proof for his claims to date.
https://www.malaymail.com/news/malaysia/2020/12/15/enough-politicking-malaysia-and-malays-need-a-new-vision-to-prosper-mohamad/1932017
--------
Arab World
UAE foreign minister hails relations with Russia, COVID-19 vaccine cooperation
14 December 2020
The United Arab Emirates is proud of its strategic relations with Russia and has been cooperating with Moscow on the coronavirus vaccine, said UAE Foreign Minister Sheikh Abdullah bin Zayed Al Nahyan on Monday.
For all the latest headlines follow our Google News channel online or via the app.
"The UAE is proud to have strategic relations with Russia," said Sheikh Abdullah, adding that Moscow and Abu Dhabi were cooperating on the trials for the Russian-made Sputnik V coronavirus vaccine.
"Amid the ongoing [coronavirus] pandemic, we have seen very clearly that these relations are truly special. And we are determined to further promote our relations going forward," he added.
Sheikh Abdullah was speaking at a joint press conference following a meeting with his Russian counterpart Sergei Lavrov in Moscow.
"We are also proud to see that our experts are working closely, our embassies are also in close contact. It's good to see that the UAE is about to complete the third phase of the clinical trials of the Russian Sputnik V coronavirus vaccine," the UAE foreign minister said.
The two ministers were expected to discuss regional issues including Libya, Syria, and the Arab-Israeli conflict.
https://english.alarabiya.net/en/News/gulf/2020/12/14/UAE-foreign-minister-hails-relations-with-Russia-COVID-19-vaccine-cooperation
--------
Syrian lawmakers say Golan Heights inseparable part of Syria
14 December 2020
Syrian lawmakers have unanimously affirmed that the Israeli-occupied Golan Heights are an "inseparable" part of the country and will remain so, vowing that the region will return to motherland sooner or later.
The legislators of the 250-seat parliament, known in Syria as the People's Assembly, made the comments in a statement issued on Monday on the occasion of the 39th anniversary of the disastrous decision by Tel Aviv to annex the Heights.
The statement stressed that the occupation decision "is null and void," reported Syria's official news agency SANA.
In 1967, Israel waged a full-scale war against Arab territories during which it occupied a large swathe of Syria's Golan Heights and annexed it four years later, a move never recognized by the international community.
Syria has repeatedly reaffirmed its sovereignty over the Heights, saying the territory must be completely restored to its control.
In March 2019, US President Donald Trump signed a decree recognizing Israeli "sovereignty" over Golan during a meeting with Israeli Prime Minister Benjamin Netanyahu in Washington.
The Syrian lawmakers rejected all attempts made by the Zionist entity against the Golan Heights, including changing the true identity of the region and forging a fake Israeli identity for it, educational curricula, laws, and decisions for the occupied territory.
They also categorically rejected the regime's latest move in the region to establish colossal wind turbines on the agricultural land owned by true inhabitants of the Heights.
The statement also expressed gratitude to the Golan people for their continued resistance and fight against the Israeli occupying machine and its repressive measures, stressing that the true inhabitants of Golan will continue their struggle against the Tel Aviv regime until victory and liberation.
The parliament concluded the statement by reiterating that Syrians are more determined than ever to return to the occupied Heights.
Citizens of Golan, Quneitra vow to continue fight until liberation
Separately on Monday, SANA reported that Syrians in the southwestern province of Quneitra and the Golan Heights affirmed in a statement to the news agency that they would continue the fight against the occupation, Israel's policies, and its aggressive expansionist schemes in the territory.
They also clarified that the ominous decision of annexation "is illegal and has no legal value" as it would change no historical facts and geography regarding the true identity of the region.
https://www.presstv.com/Detail/2020/12/14/640740/Syria-Israel-Golan-Heights
--------
Syrians protest US-backed SDF forces' control over oil wells, crude plunder
14 December 2020
Dozens of people have staged a demonstration in Syria's eastern province of Dayr al-Zawr to protest the control of the so-called Syrian Democratic Forces (SDF) over crude oil wells in the energy-rich area, and their plunder of natural resources in collaboration with the US military.
Syria's official news agency SANA, citing sources requesting not to be named, reported that residents of Ruwaished village demonstrated against the looting and smuggling of oil by the US-backed and Kurdish-led militants.
The participants blocked al-Kharafi road, which connects Dayr al-Zawr to the neighboring province of Hasakah, and demanded an immediate end to the SDF forces' theft of Syrian crude reserves.
New convoy of US tankers laden with oil smuggled out of eastern Syria
Separately, a convoy of 35 tankers and trucks belonging to US forces has left Jazira region in Syria's province of Hasakah, and made its way to Iraq via al-Walid border crossing, SANA reported, citing local sources.
The looting of Syrian oil by the US was fist confirmed during a Senate hearing exchange between South Carolina Republican Senator Lindsey Graham and US Secretary of State Mike Pompeo in late July.
During his testimony to the Senate Foreign Relations Committee on July 30, Pompeo confirmed for the first time that an American oil company would begin work in northeastern Syria, which is controlled by SDF militants.
The SDF, a US-backed alliance of Kurdish militants operating against Damascus, currently controls areas in northern and eastern Syria.
The Syrian government has denounced in the strongest terms any agreement inked to plunder the country's natural resources, including Syrian oil and gas, with the sponsorship of the administration of US President Donald Trump.
The US president has more than once acknowledged that American military forces are in Syria for the Arab country's oil.
https://www.presstv.com/Detail/2020/12/14/640734/Dayr-al-Zawr-residents-protest-US-backed-SDF-forces-control-over-oil-wells-crude-plunder
--------
Iraq to sue US over sovereignty violation, use of depleted uranium weapons: Official
14 December 2020
An advisor to the Iraqi parliament's foreign affairs committee says the Baghdad government is planning to lodge an international lawsuit against the United States for violating the country's sovereignty and using internationally-banned munitions in civilian areas.
Hatif al-Rikabi told Arabic-language al-Maalomah news agency in an interview that Iraq is going to file the case at Swedish and German courts over appalling crimes that Washington has perpetrated in the Arab country, including the use of depleted uranium weapons.
Rikabi went on to say that such a measure will ensure international accountability for the US, and will not give it the chance to procrastinate the case.
"Hundreds of cancer cases are recorded every month [in Iraq], and the figure is clear evidence for the extent of the damage that US forces have committed," he stated, calling on the Iraqi Health Ministry to "release facts and figures about casualties caused by US bombing campaigns."
US-led wars in Iraq have left behind hundreds of tons of depleted uranium munitions and other toxic wastes.
Official Iraqi government statistics show that, prior to the outbreak of the First Persian Gulf War in 1991, the rate of cancer cases in Iraq was 40 out of 100,000 people. By 1995, it had increased to 800 out of 100,000 people, and, by 2005, it had doubled to at least 1,600 out of 100,000 people. Current estimates show the increasing trend continuing.
Contamination from depleted uranium munitions and other military-related pollution is suspected of causing a sharp rise in congenital birth defects, cancer cases, and other illnesses throughout much of Iraq.
Many doctors and scientists maintain that recent emergence of diseases that were not previously seen in Iraq, such as new illnesses in the kidney, lungs, and liver, as well as total immune system collapse are connected to public exposure to war contaminants.
Depleted uranium (DU) contamination may also be related to the substantial rise in leukemia, renal, and anemia cases, especially among children.
Moreover, there has also been a dramatic jump in miscarriages and premature births among Iraqi women, particularly in areas where heavy US military operations occurred, such as Fallujah.
During 2004, the US military carried out two massive military sieges of the city of Fallujah, using large quantities of DU ammunition, as well as white phosphorous.
https://www.presstv.com/Detail/2020/12/14/640728/Iraq-to-lodge-intl--lawsuit-against-US-over-sovereignty-violation,-use-of-depleted-uranium-weapons-Official-
--------
South Asia
Thousands attend funeral of Hefazat leader Kasemi in Dhaka
December 14th, 2020
The incident raises concern about risk of contagion amid the Covid-19 outbreak
Dealing a blow to the social distancing rules amid the pandemic, thousands of people in capital Dhaka attended the funeral prayers of a senior leader of Hefazat-e-Islami.
The namaz-e-janaza of the hardline Islamist group's Secretary General of Nur Hossain Kasemi was held at the Baitul Mukarram National Mosque Monday.
Thousands surged to the national mosque from early morning to take part in the funeral of the 75-year-old, who passed away on Sunday after being hospitalized for almost two weeks.
Kasemi, also secretary general of political party Jamiat Ulama-e-Islam, was admitted to the United Hospital on December 1 with breathing complications. He was moved to the Intensive Care Unit on Thursday after his condition deteriorated.
A Bangladeshi Deobandi Islamic scholar, Kasemi was the vice-president of Al-Haiatul Ulya Lil-Jamiatil Qawmia Bangladesh, senior vice-president of Befaqul Madarisil Arabia Bangladesh and Shaykhul Hadith and rector of Jamia Madania Baridhara, Dhaka and Jamia Sobhania Mahmud Nagar.
He founded Jamia Madania Baridhara, Dhaka in 1988, and Jamia Sobhania Madrasha at Turag in 1998.
He had played a leading role in the Hefazat movement since 2009.
Kasemi, who was the chief of Hefazat's Dhaka city unit, was elected the Qawmi madrasa-based platform's secretary general in November this year.
In 1975, he entered politics with Jamiat Ulama-e-Islam Bangladesh.
https://www.dhakatribune.com/bangladesh/dhaka/2020/12/14/thousands-attend-funeral-of-hefazat-leader-kasemi-in-dhaka
--------
Rohingya trafficking network sells dreams, delivers violence and extortion
15/12/2020
Auto rickshaws slip easily past barbed-wire checkpoints at the world's biggest refugee camp, their drivers among the smallest players in a complex human trafficking network involving high-seas extortion gangs, corrupt police and drug lords.
Aboard the spluttering rickshaws are small groups of young men, women and children hoping to escape the misery of life with other members of their stateless Rohingya group who are crowded into shanties in Bangladesh.
Nineteen-year-old Enamul Hasan was aboard one of the rickshaws early this year, taken to the coast and then by small boat into a bigger fishing vessel anchored in the Bay of Bengal where he joined hundreds of other Rohingya hoping to reach Malaysia.
"I was told I'd get the opportunity to finish my studies and earn money to get my family out of poverty," Hasan told AFP, recounting the promises of the low-level smuggler in the camp who was his main contact for organising the trip.
Instead, after enduring beatings by crew members and watching others die during more than six weeks at sea, Hasan's boat returned to Bangladesh and he is back in his squalid home.
"I will never forget what I've been through. The traffickers, the brutality of the sailors... I'd never do it again," Hasan said.
AFP spoke to Hasan as part of an in-depth investigation into the people smuggling network that included dozens of interviews with refugees in Bangladesh and Indonesia, where hundreds arrived this year after months at sea.
AFP also interviewed fishermen involved in the trade, police, government officials, community leaders and aid workers.
The investigation revealed a sophisticated and always-evolving operation worth many millions of dollars in which members of the Rohingya community play a key role in trafficking their own people.
Thai-registered fishing boats capable of holding 1,000 people, satellite phones, a mini-armada of smaller supply vessels and corrupt officials across Southeast Asia, as well as in the Bangladeshi camp, are also integral to the network.
"It's a big business that uses humanity as its cover," said Iskandar Dewantara, co-founder of the Geutanyoe Foundation, an Indonesia-based refugee advocacy group.
It can also be brutal.
Hasan provided to AFP footage from a mobile phone he said had belonged to one of the Burmese crew members showing them beating the passengers.
In the video, a trafficker uses what appears to be a whip to repeatedly strike shirtless men huddled together, with rake-thin children and women crowded around them.
The sailor who owned the phone left it when the crew abandoned the boat following a mutiny at sea, according to Hasan.
- Brides -
Muslim Rohingya have for decades endured persecution in Buddhist-majority Myanmar, where they are not recognised as citizens, and smuggling routes out by land and sea have long existed.
Relatively affluent and Muslim Malaysia has been the main destination.
More than 100,000 Rohingya now live on the margins of society in Malaysia, registered as refugees but not allowed to work, forcing the men into illegal construction and other low-paid jobs.
A Myanmar military crackdown in 2017, which UN investigators said amounted to genocide, turbo-charged the exodus, forcing 750,000 Rohingya to flee across the border into Bangladesh's southeast coastal district of Cox's Bazar.
That is now a sprawling refugee camp of one million people from where the only way out is the dangerous boat journeys.
Spurring the demand are the Rohingya men in Malaysia who pay smugglers to bring over families, or new brides from arranged marriages, according to advocacy groups and women involved.
Malaysian authorities frequently turn back boats, and fears over Covid-19 have amplified their intolerance for more refugees.
However, nearly 500 Rohingya made it to Malaysia in three vessels this year, according to an AFP tally from the landings.
Since June, about 400 Rohingya have also landed in northern Indonesia -- all trying to reach neighbouring Malaysia -- in the biggest wave of arrivals there in five years.
Hundreds more are believed to have died at sea from beatings, starvation or dehydration, while other boats have returned to Bangladesh.
Many of the boat people who arrived in Indonesia were women.
Among them was 18-year-old Janu, who told AFP at a makeshift refugee camp in Lhokseumawe, a coastal town in Indonesia's Aceh province, that her family had arranged for her to marry a Rohingya man working as a labourer in Malaysia.
"I had been waiting in the camp for two years, it was worth the risk," Janu said, hoping that like some others had already done she may now be able to find a way to Malaysia.
- Escape -
Escaping the Bangladesh camp starts with a down payment that can reach the equivalent of $2,000, often paid by a refugee's husband or other relatives in Malaysia using mobile banking applications.
Refugees then get a phone call typically from someone they do not know.
"The call came after a few days and a man instructed us to go to the rickshaw stand in the main food market area of the camp," said 20-year-old Julekha Begum, who married a Rohingya man in Malaysia via a video chat app.
Rickshaw drivers hired by traffickers take refugees to several barbed-wire security checkpoints, where security forces typically wave them through for a bribe.
Then it is a few hours' drive to half a dozen take-off zones identified by AFP that line the coast and where thousands of fishing boats make their way out to sea for nightly expeditions.
The Rohingya wait until small boats that hold about a dozen people fill up before they're taken to much bigger ships far out at sea -- sometimes two-storey fishing vessels capable of holding 1,000 people.
The big boats, usually piloted by crews from Myanmar, are equipped with GPS equipment, mobile communications as well as food and drinking water.
"Many fishing boats nowadays carry people to the deep sea where bigger vessels wait for the victims," said Hemayetul Islam, a refugee camp police battalion commander.
"When we go and check these boats, we see fishing nets and other fishing gear. It is very difficult for us to differentiate between actual fishermen and smugglers."
Once on their way to Malaysia, smaller boats regularly bring food and water to the big vessels.
Rohingya interviewed by AFP said they were told they would arrive in Malaysia -- roughly 4,000 kilometres (2,500 miles away) in a week.
In reality, the trip takes months -- if they make it at all.
Refugees who made it to Indonesia told stories of beatings and torture, near-starvation rations and threats to hold passengers hostage until their relatives paid more money.
They told varying accounts of the main boats sailing near Malaysia and some passengers being unloaded onto smaller ones for their final destination after relatives paid more money in what were essentially ransom demands.
Asmot Ullah, a 21-year-old man who landed in September, said smugglers "usually beat people on the boat if their relatives don't make payments or can't pay more".
Another passenger, Mohammad Nizam, said he was kept off a smaller, Malaysia-bound boat because of a lack of money.
"They were asking for more money than we had agreed earlier, but my parents couldn't afford it," said 25-year-old Nizam.
"If you pay more you will be brought (directly) to Malaysia."
One boatload of up to 1,000 passengers can be worth up to $3 million for the smugglers, according to authorities.
- Fake 'rescue' -
Indonesian fishermen initially claimed they had rescued the first boatload of about 100 Rohingya in June.
However, the purported "rescue" was in fact a coordinated effort by the smugglers to avoid the tighter border controls in Malaysia, authorities and traffickers involved in the operation said.
"They created this public perception that the fishermen had found them after their boat capsized," said Sony Sanjaya, director of the general crime division for Aceh's police.
"But their arrival here wasn't an accident."
Once in Indonesia, the smugglers hope to get the Rohingya into Malaysia via a narrow sea crossing that separates the two countries, according to local authorities.
However, most remain stuck in the Lhokseumawe camp, two former school buildings that local authorities have set aside for the new arrivals.
Three local fishermen were among a handful of alleged traffickers arrested in October in connection with the June landing.
Interviewed by AFP at a lockup in Aceh, the men said they were hired by a Rohingya man living in Indonesia -- who was also arrested -- to rent a boat and later to pick up a vessel filled with refugees.
"I desperately needed money then so I took the job," said father-of-six Faisal.
The fishermen were given location coordinates and instructed to flash packages of popular clove-infused cigarettes so the boat traffickers would recognise them, authorities said.
- Compassion, greed -
Inside the camps in Bangladesh, a complex mix of compassion, desperation and greed appears to drive the people trafficking network, which has links to the illicit drug trade.
The region is a well-known manufacturing hub of yaba, a cheap methamphetamine popular across Southeast Asia.
AFP spoke with a 25-year-old man who said he was born in one of the oldest refugee settlements in Bangladesh and started working for a Rohingya organised crime leader at the age of 14.
He asked only to be identified by his first name, Mohammed.
"I worked for him for two years and managed to get at least 200 Rohingya willing to go to Malaysia and away from the madness of these camps," Mohammed said, adding he was paid the equivalent of $550 a month for finding people.
Mohammed said Bangladeshi security forces eventually shot his boss dead, and after a few years out of the trade he is scouting for another way to get back in.
"If I can't find an opening here, I'll start doing it myself using my own contacts (overseas)," he said, talking about the money he hoped to make.
But other Rohingya involved in the trafficking in Cox's Bazar describe their work as a moral duty.
"If someone wants to get out of this hellish place, as a sensible brother, I think it's my duty to show them the way out."
https://www.france24.com/en/live-news/20201215-rohingya-trafficking-network-sells-dreams-delivers-violence-and-extortion
--------
10 Afghan security force personnel killed in Taliban attack in Kunduz
Dec 14, 2020
KUNDUZ/ AFGHANISTAN: At least 10 security force members, including a border police commander, were killed and six others were wounded in a Taliban attack in the Imam Sahib district of Kunduz on Sunday night, said the provincial council member on Monday.
"At least 10 security force members including a border police commander were killed and six others were wounded in a Taliban attack in Imam Sahib district of the Kunduz province on Sunday night," said Khalil Qarizada, provincial council member, as quoted by Tolo News.
Earlier on Monday, the Afghan Ministry of Defence announced that At least 65 Taliban were killed in attacks on security outposts in Zherai, Arghandab, Panjwai, and Shah Wali Kot districts of Kandahar province on Sunday, Tolo News reported further.
The Taliban is however to comment on these attacks.
https://timesofindia.indiatimes.com/world/south-asia/10-afghan-security-force-personnel-killed-in-taliban-attack-in-kunduz/articleshow/79720559.cms
--------
Bomb kills deputy governor in Afghan capital
15 Dec 2020
A deputy governor of Kabul province and his aide were killed on Tuesday by a bomb in the Afghan capital, officials said, the latest in a wave of targeted killings in the country.
Mahbobullah Mohebi was killed when a bomb attached to his vehicle detonated while he was on his way to his office, the interior ministry said.
Mohebi's secretary, who was travelling with him, was also killed and two bodyguards were wounded. Violence has raged across the country since the Taliban and Afghan government launched peace talks in Qatar in September.
Abdullah Abdullah, chairman of the High Council for National Reconciliation, condemned the attack and said the increase in attacks is a clear enemy of the Afghan peace process.
Sima Samar, special presidential envoy and state minister for human rights, tweeted that the "people are tired of terrorist attacks every day".
Samar also urged the Taliban to agree to a ceasefire to stop the killing and more bloodshed.
Afghanistan — and especially Kabul — have seen a spate of murders of prominent figures, including journalists, clerics, politicians and rights activists.
Last week a female news anchor was shot dead in the eastern city of Jalalabad, the second journalist to be murdered in less than a month.
The capital has been hit by rockets twice this month and recently battled major attacks on educational centres, including a massacre of students at a university campus.
In a separate attack in Kabul on Tuesday, a policeman was killed and two others wounded when gunmen attacked their checkpoint, officials said.
Peace talks have been paused until January, with government negotiators expected to return to Kabul from Qatar this week to meet with senior officials.
Afghan President Ashraf Ghani and some other senior officials have called for talks to be moved to Afghanistan from Doha.
https://www.dawn.com/news/1595904/bomb-kills-deputy-governor-in-afghan-capital
--------
Officials Deny Reports Afghan Forces Trapped in Ambush Attack
By Mohammad Arif Sheva
15 Dec 2020
KABUL, Afghanistan – The Afghan National Army Commando Corps freed Maidan Wardak-Jalriz highway from Taliban, denying reports said Afghan forces are trapped in an ambush by the Taliban insurgents in Maidan Wardark province.
In a report Monday, Mehdi Rasekh, a representative of Maidan Wardak in the parliament, said a long convoy of the Afghan security forces are trapped in an ambush by the Taliban on Highway No. 2 of the province.
"Commando forces cleared off Maidan wardak-Jalriz highway from Taliban today," said the MoD in a tweet. "Reports about the blockade of these forces by the Taliban are false."
Official did not provide further details but said, "commando forces will continue their operations and will not allow the enemy to harass Afghans along this highway."
Taliban did not immediately comment on the incident.
https://www.khaama.com/officials-deny-reports-afghan-forces-trapped-in-ambush-attack-4534/
--------
Afghan-Taliban peace talks to resume in January
14 December 2020
Peace talks between the Afghan government and Taliban insurgents will resume in early January as the warring sides take a break after reaching agreement on procedural ground rules for sustaining their dialogue to end the war.
Read more: Gunman opens fire during outdoor choir performance at cathedral in New York City
The talks between the Afghan sides began in Qatar in September, months after the US and the Taliban struck a deal on the withdrawal of the remaining 12,000 US troops in exchange for Taliban security guarantees and a commitment to talk peace.
Members of the Afghan government delegation said on Monday they would travel back to Kabul from Doha.
"We're taking a break for now and will be ready to discuss the agenda when talks resume," said a senior Afghan official overseeing diplomatic communications with the Taliban.
A Taliban spokesman was not immediately available for comment.
Despite the peace process, violence in Afghanistan has not ended. There are regular clashes in various parts of the country and bomb and rocket attacks in Kabul.
Last week, the US forces carried out an air strike against Taliban insurgents to protect government forces in Kandahar province in a rare US intervention since their pact with the Taliban.
Afghan officials in the southern province told media the Taliban were planning coordinated attacks on security forces when the US military bombed them, killing more than 20 Taliban fighters.
The Taliban accused the US and the Afghan government of killing civilians in the air strike.
https://english.alarabiya.net/en/News/world/2020/12/14/Afghan-Taliban-peace-talks-to-resume-in-January
--------
Pakistan
Pakistan arrests 3 Taliban terrorists involved in Rawalpindi blast
Dec 14, 2020
LAHORE: Three Taliban terrorists, involved in a blast in Rawalpindi, were arrested on Monday by Pakistan's security agencies.
At least 25 people, including women and children, were injured in the grenade attack in the Ganj Mandi area near a police station in the garrison city of Rawalpindi on Sunday.
The Counter Terrorism Department (CTD) of the Punjab police said in a statement on Monday that a CTD Rawalpindi team got information that three terrorists were hiding on Adyala-Kharakan Road along Swan River Rawalpindi.
"On this information and evidence collected from Pir Wadhai crime scene, CTD raided the place on Monday and arrested three terrorists. Explosives, detonators, cell phones and other articles recovered," it said.
During initial investigation, the CTD said it has been revealed that the arrested terrorists committed four bomb blasts in Rawalpindi in 2020 (January, March, June & December) killing four persons and injuring more than 30 others.
"The terrorists have been radicalised/motivated by ideology of the proscribed organisation Tehreek-i-Taliban Pakistan but now they were working for their masterminds based in Afghanistan. Now they were doing it for money. They further disclosed that their group leader was getting funds from Afghanistan for this terrorism," the CTD said.
It said that the building of Islamabad Stock Exchange was on the target of terrorists. Investigation has been launched in the case, it said.
Last week, the law enforcement agencies had thwarted a terror plan in Lahore and arrested five Afghan Taliban terrorists.
The CTD said the Afghan Taliban had planned to bomb the Civil Secretariat that has offices of Punjab civil bureaucracy. "The terrorists were heading for Punjab Civil Secretariat Lahore to bomb it. They were arrested just before their departure from Shahdara area of Lahore," it said.
https://timesofindia.indiatimes.com/world/pakistan/pakistan-arrests-3-taliban-terrorists-involved-in-rawalpindi-blast/articleshow/79721968.cms
--------
CPEC: Pakistan army to gain 'control' of $60 billion Belt & Road projects
Dec 14, 2020
NEW DELHI: Pakistan recently cleared a bill in Parliament that will virtually give the powerful army sweeping control over the $60 billion China Pakistan Economic Corridor (CPEC) projects while diminishing the role of the civilian government. The proposed law has caused discomfort in the opposition ranks and sparked concerns over the possible implications of establishing a "parallel government". Here's what the proposed law means and why it's controversial:
Who's calling the shots?
In 2019, the Imran Khan government had passed an ordinance to establish the China-Pakistan Economic Corridor Authority (CPECA) for timely execution of big-ticket CPEC projects. It was widely speculated that CPECA was established to please China, which had expressed dismay over the slow progress on the CPEC front and wanted the army to get directly involved. Not surprisingly, Prime Minister Imran Khan's close aide Lt General Asim Saleem Bajwa (retired) became the first chairman of the authority.
Ever since its establishment, the CPECA had been facing flak from lawmakers in Pakistan as it undercut the role of the civilian government and functioned as a "parallel authority."
But things got murkier when the ordinance lapsed in May this year.
According to reports in Pakistani media, Bajwa continued to preside over the CPEC well beyond May despite having no legal sanction to do so. This raised eyebrows within the country, with several opposition leaders questioning the legal status and functioning of the authority after the expiry of the ordinance. Concerns were particularly raised since Bajwa was involved in a major corruption scandal earlier this year and had to quit as the special advisor to Prime Minister Khan.
Tightening control
Over the last few months, the Pakistan government has been working on a draft bill that seeks to reinstate the controversial CPEC Authority. In November, a parliamentary committee finally cleared the CPEC Authority Bill 2020 in the National Assembly. The proposed law will be put to a final vote in the second week of December.
But the devil is in the details.
The bill will not only pave way for the official return of the CPEC Authority, but will give the Pakistani army far greater control over CPEC. According to a report on Nikkei Asia, the proposed law will allow Bajwa to replace the planning minister as co-chair of a Pakistan-China joint committee and eliminate the role of the planning ministry as an administrative division and the authority.
"A new post of chief of staff is also being proposed in the bill and the position of CEO is proposed to be scrapped. Presently, the CEO is a top officer from the bureaucracy. The two positions of executive directors are proposed to be abolished," the report said.
Most importantly, Bajwa would report directly to PM Imran Khan instead of the planning ministry. Observers feel this would give the army sweeping influence over the key projects since Khan is considered close to the military, with critics often giving him monikers such as "selected PM" or "puppet ruler".
The report said that the law seeks to grant legal immunity to CPECA officials, which will make them unaccountable for tens of billions of dollars spent on the projects and put them outside the purview of Pakistani courts.
The law further stipulates that the CPECA chairman will have the power to order a probe against any official who refuses to cooperate with the agency.
What's in it for China?
Military control over the CPEC project benefits China in more ways than one, according to various experts.
Sources in Pakistan's planning ministry had told Asia Times that China wanted the Pakistan army to be directly involved in CPEC — part of its ambitious Belt and Road Initiative — to expedite the pace of the projects.
Ensuring a healthy pace of BRI projects in Pakistan is crucial for Chinese ambitions as it seeks to expand its influence in the South Asian region, even if it comes at the cost of financially draining the partner nations.
A report by the Center for Global Development had pointed out that Pakistan is among the eight countries most at risk of falling into debt distress due to China's BRI projects.
The report said that nations like Pakistan are staring at rising debt-to-GDP ratios beyond 50 percent, with at least 40 percent of external debt owed to China once BRI lending is complete.
Over the next 14 days, Maldives Treasury must pay over $15m to Chinese banks. These banks have not, thus far, given… https://t.co/Y7MhzayICA
— Mohamed Nasheed (@MohamedNasheed) 1607677308000
Moreover, greater involvement of the army will also serve to address China's security concerns vis-a-vis Balochistan and Gilgit-Baltistan.
Several Chinese contractors and engineers working in the Balochistan and Sindh regions have been kidnapped and killed over the last few years. Thus, Bajwa's previous position as the former head of the army's Southern Command, which covers the province of Balochistan, will allay some of these concerns.
"Bajwa was undoubtedly selected out of a belief that he could address security concerns in particular. Beijing is worried about terrorism in Balochistan, where separatists have stepped up attacks on Chinese targets in recent years," wrote commentator Arif Rafiq in an article on Foreign Policy.
The CPEC project, which links China's western city of Kashgar to the Pakistani port of Gwadar on the Arabian Sea, also passes through the Pakistan-occupied Gilgit-Baltistan. The region is the gateway of the CPEC infrastructure plan.
"With the Gilgit-Baltistan coming under its ambit, the Pakistan army's role is even more crucial as the region has remained disputed for decades but at the same time, it is important for China as well as Pakistan to have control over this area for the construction of CPEC," an analyst on condition of anonymity told news agency IANS.
Without Gilgit-Baltistan, the Chinese will have limited access to Gwadar.
According to media reports, Pakistan decided to elevate Gilgit Baltistan to a fully-fledged province under pressure from the Chinese government. Activists claim the move was aimed at addressing China's concern about the region's disputed status. India has outrightly condemned this move, calling it Pakistan's bid to camouflage its illegal occupation of the region.
https://timesofindia.indiatimes.com/world/pakistan/pakistan-army-to-gain-control-of-60-billion-belt-road-projects/articleshow/79720962.cms
--------
COAS assures US envoy of support for regional peace
Baqir Sajjad Syed
15 Dec 2020
ISLAMABAD: Chief of the Army Staff Gen Qamar Javed Bajwa on Monday said that Pakistan would continue to back efforts for regional peace and stability.
He extended this assurance to United States Special Envoy for Afghan Reconciliation Zalmay Khalilzad who is visiting Pakistan along with Gen Austin Scott Miller, US Commander Resolute Support Mission (RSM) in Afghanistan.
Ambassador Khalilzad's latest visit is taking place at a time when the Afghan gover­nment and Afghan Taliban's negotiation teams announ­ced a 20-day break in their dialogue for 'consultations' on the agenda items.
The talks are tentatively scheduled to resume from Jan 5, 2021. It is not clear where the next round of talks will be held though the Afghan government has indicated the desire for hosting them inside Afghanistan.
The two sides are currently negotiating the agenda for the intra-Afghan dialogue after reaching an agreement on Dec 2 on the rules and procedures governing the future talks.
The break and the accompanying uncertainty are a cause of worry for the US.
Amb Khalilzad, after his arrival in Islamabad, tweeted: "Tragically, the war continues. The need for a political settlement, reduction in violence, and a ceasefire remain urgent."
"Given how much is at stake, it is imperative that there is no delays in resumption of talks and they must resume on Jan 5 as agreed," he said in another tweet.
Pakistan this year not only helped the US and Taliban sign their agreement, but also facilitated the start of intra-Afghan negotiations and more lately the agreement on rules and procedures for the dialogue.
Prime Minister Imran Khan during his last month visit to Kabul had assured the Afghan leadership of his full cooperation for reduction in violence in Afghanistan. He had assured President Ashraf Ghani "we will do whatever is within our reach".
According to Pakistan military's media wing, Inter-Services Public Relations, matters of mutual interest including overall regional security situation with particular reference to ongoing Afghan reconciliation process were discussed during the meeting at GHQ between Gen Bajwa and the US delegation.
"COAS appreciated role of RSM for peace and stability in Afghanistan and assured that Pakistan will continue to play its positive role for peace and stability in the region," the ISPR said.
"Visiting dignitary appreciated Pakistan's untiring efforts for facilitating the process towards the mutual objective of peace in the region," it added.
https://www.dawn.com/news/1595831/coas-assures-us-envoy-of-support-for-regional-peace
--------
Pakistan Chief of Army Meets Khalilzad
By Mohammad Haroon Alim
15 Dec 2020
Pakistan Chief of Army Staff General Qamar Javed Bajwa met with US Special Envoy for Afghan Peace Reconciliation Zalmay Khalilzad and Resolute Support Mission Commander in Afghanistan General Austin Scott Miller on Monday.
According to Pakistani Media, Qamar appreciated role of RS for peace and stability in Afghanistan and assured that Pakistan will continue its positive role for peace and stability.
Dignitaries discussed mutual interest including overall regional security situation in reference to ongoing Afghan reconciliation process, according to Inter-Services Public Relations (ISPR) press release.
The visiting teams have thanked Pakistan for their untiring efforts towards facilitating peace process toward mutual objective in the region.
This comes as on Monday Khalilzad urged peace delegations from both sides to continue the talks as promised on January 5, in the tweet threads he also added, that tragically, the war continues. The need for a political settlement, reduction in violence, and a ceasefire remain urgent."
https://www.khaama.com/pakistan-chief-of-army-meets-khalilzad-797999/
--------
Mideast
IRGC Commander: Scientific Independence Source of National Might
2020-December-14
"If a country's scientific reserves grow, so will the society. While political, economic, or cultural aspects are mostly considered as the factors for nations' independence, scientific independence is the source of a nation's authority," Major General Hossein Salami made the remarks on the sidelines of the inauguration ceremony of Noor Genetics Center of Baqiyatallah University of Medical Sciences on Monday.
"We have enemies who always try to keep us trivial and weak because a country that is far behind will be weak and forced to surrender," he said, adding, "But if a country comes out of foreign scientific dominance and produces basic needs domestically, it will be alive and grow even if it is under a global siege."
"When a person is assassinated for marching in the scientific arena, it means that the enemy has targeted our scientific growth and might, and everywhere that the enemy has focused on is our strong point," the IRGC commander reiterated.
Salami described the Noor Genetics Center as one of the IRGC's great achievements, noting, "When we are able to decipher the human genetic map, we will do treatment easier and more accurately, so we should not lag behind the world."
He emphasized that the efforts of Iranians can turn the threat of the enemies into an arena of growth and development.
In relevant remarks last month, the Atomic Energy Organization of Iran (AEOI) underlined that the country's nuclear scientists will continue their breakthroughs in the field, and said that the assassination of top researchers will not prevent them from making progress.
"Scientists in the nuclear industry, based on the measures and strategy of the Islamic Republic of Iran will continue the path of the country's authority with strength," the AEOI tweeted.
It pointed out that the month of November is a reminder of the heinous act of the enemies of the Islamic Republic of Iran in assassinating Majid Shahriari, the theorist and the founder of 20 percent enrichment of Iran's nuclear industry.
Majid Shahriari was Professor of Nuclear Science and Technology at the Shahid Beheshti University of Tehran and was assassinated on November 29, 2010, in a terrorist operation carried out by the US and Israeli agents.
"Martyr Shahriari, with his indescribable knowledge and faith, had brought despair to the ill-wishers of Iran," the AEOI added.
In a relevant development on Friday November 27, Iranian nuclear scientist Mohsen Fakhrizadeh came under attack by terrorists in the town of Absar in Damavand county to the East of Tehran Friday afternoon and was martyred hours later.
Fakhrizadeh's car was targeted by an explosion and machinegun fire in Damavand's Absard 40 kilometers to the East of Tehran on Friday November 27.
The nuclear scientist and one of his companions were immediately taken to a nearby hospital but he could not be saved.
Eyewitness accounts confirmed that Fakhrizadeh's car came under attack first by a blast and then by terrorists who sprayed bullets at his car.
Early in 2018, the Israeli sources had acknowledged that Mossad had tried to assassinate an Iranian nuclear scientist, but its operation failed.
According to Fars News Agency, Mossad had gained access to Fakhrizadeh's name via a UN list which referred to him as a senior scientist of Iran's Defense Ministry's Physics Research Center.
After the terrorist attack on Friday, Commander of the Islamic Revolution Guards Corps (IRGC) Major General Hossein Salami underlined that assassination of Fakhrizadeh may not undermine Iranians' resolve, and said revenge for the terror attack is already on the country's agenda.
General Salami extended condolences to Supreme Leader of the Islamic Revolution Ayatollah Seyed Ali Khamenei, martyr Fakhrizadeh's family, and the Iranian nation over the martyrdom of Head of the Research and Innovation Organization of Iran's Defense Ministry, Dr. Mohsen Fakhrizadeh, who was assassinated in an organized and pre-planned terrorist attack by the child-killing Israeli regime.
"The enemies of the Iranian nation, specially the masterminds, perpetrators and supporters of this crime, should also know that such crimes will not undermine the resolve of the Iranians to continue this glorious and power-generating path, and harsh revenge and punishment is on agenda for them," the IRGC chief commander stressed.
Iranian nuclear scientists have been the target of the western and Israeli spy agencies' assassination attempts in recent years.
In June 2012, Iran announced that its intelligence forces had identified and arrested all terrorist elements behind the assassination of the country's nuclear scientists.
"All the elements involved in the assassinations of the country's nuclear scientists have been identified and arrested," Iran's Intelligence Ministry announced in a statement.
"A number of countries, whose territories and facilities had been misused by the Mossad-backed terrorist teams, have provided the Iranian officials with relevant information," the statement added.
"Over the course of the investigations, all other elements behind the assassinations of the Iranian scientists Massoud Ali-Mohammadi, Majid Shahriari and Mostafa Ahmadi Roshan as well as Reza Qashqaei (Roshan's driver) have been apprehended," the statement read.
"Some of the perpetrators of the assassination of Dr. Fereidoun Abbasi, the current head of Iran's Atomic Energy Organization, are among those arrested," the ministry added.
According to the statement, Iran's Intelligence Ministry had detected some of Mossad's bases within the territories of one of Iran's Western neighbors, which provided training and logistical support to the terrorist networks.
In the fifth attack of its kind in two years, terrorists killed a 32-year-old Iranian scientist, Mostafa Ahmadi Roshan, and his driver on January 11, 2012.
The blast took place on the second anniversary of the martyrdom of Iranian university professor and nuclear scientist, Massoud Ali Mohammadi, who was also assassinated in a terrorist bomb attack in Tehran in January 2010.
The assassination method used in the bombing was similar to the 2010 terrorist bomb attacks against the then university professor, Fereidoun Abbassi Davani – who became the head of Iran's Atomic Energy Organization - and his colleague Majid Shahriari. While Abbasi Davani survived the attack, Shahriari was martyred.
Another Iranian scientist, Dariush Rezaeinejad, was also assassinated through the same method on 23 July 2011.
In a relevant development in January, 2015, the Islamic Revolution Guards Corps (IRGC) announced that it had thwarted an attempt by the Israeli intelligence forces to assassinate an Iranian nuclear scientist.
"In the last two years, the Zionist enemy (Israel) was trying hard to assassinate an Iranian nuclear scientist, but the timely presence of the IRGC security forces thwarted the terrorist operation," Deputy Chief Liaison Officer of Flight Guards Corps Colonel Ya'qoub Baqeri told FNA in 2015.
https://www.farsnews.ir/en/news/13990924000672/IRGC-Cmmander-Scienific-Independence-Srce-f-Nainal-Migh
--------
Iran says it can move beyond dispute with Turkey after Erdogan poem
14 December 2020
Iran's President Hassan Rouhani said on Monday that Tehran could move past a diplomatic quarrel with Turkey over a poem recited by President Tayyip Erdogan during a visit to Azerbaijan, which Tehran had called a threat to its territorial integrity.
Iran summoned Turkey's envoy last week after Erdogan recited an Azeri-Iranian poem lamenting the 19th century division of Azerbaijan's territory between Russia and Iran. Tehran appeared concerned his remarks questioned Iran's territorial integrity and could fan separatist tendencies among its Azeri minority.
"In my opinion, with the explanations (Turkish officials) gave, we can move beyond this issue, but the sensitivity of our people is very important," Rouhani told a televised news conference in Tehran.
"Based on my past knowledge of Mr Erdogan, it is very unlikely that he had any intention of insulting our territorial integrity," Rouhani said. "He always recites poetry in his speeches."
Azeris are the largest minority in Iran, and millions live in an Iranian region which shares the same name as the independent state of Azerbaijan, a former Soviet Republic. Azeris speak a language very similar to Turkish, while mostly observing Shia Islam, Iran's state religion.
Turkey has become a close ally of Azerbaijan, helping it make major territorial gains against Armenians in a war that ended with a ceasefire last month.
https://english.alarabiya.net/en/News/middle-east/2020/12/14/Iran-says-it-can-move-beyond-dispute-with-Turkey-after-Erdogan-poem
--------
US imposes new Iran sanctions on two officials linked to Ministry of Intelligence
14 December 2020
The United States on Monday imposed Iran-related sanctions on two individuals, according to the Treasury Department's website, increasing pressure on Tehran as US President Donald Trump's term nears a close.
Washington blacklisted Mohammad Baseri and Ahmad Khazai, both linked to the Iranian Ministry of Intelligence and Security, according to the website.
https://english.alarabiya.net/en/News/middle-east/2020/12/14/Iran-sanctions-US-imposes-new-Iran-sanctions-on-two-officials-linked-to-Ministry-of-Intelligence
--------
Biden knows that Iran's missile program is non-negotiable, says Rouhani
14 December 2020
Iranian President Hassan Rouhani said on Monday that Tehran's missile program was non-negotiable and that US President-Elect Joe Biden is "well aware of it."
For all the latest headlines follow our Google News channel online or via the app
Biden's victory has raised the possibility that Washington could rejoin a deal Iran reached with world powers in 2015, and he appears to see a return as a prelude to wider talks on Iran's nuclear work, its ballistic missiles and regional activities.
But Tehran has ruled out halting its missile program or changing its regional policy, and instead has demanded a change in US policy, including the lifting of sanctions and compensation for the economic damage caused during the US withdrawal from the nuclear accord.
"The Americans were trying for months to add the missile issue (to the nuclear talks) and this was rejected.... And Mr Biden knows this well," Rouhani told a televised news conference.
Tensions between Washington and Tehran have risen since 2018, when President Donald Trump abandoned the nuclear deal, and restored harsh economic sanctions to pressure Tehran into negotiating stricter curbs on its nuclear program, ballistic missile development and support for regional proxy forces.
https://english.alarabiya.net/en/News/middle-east/2020/12/14/Biden-knows-that-Iran-s-missile-program-is-non-negotiable-says-Rouhani
--------
Yemen pours sarcasm on Riyadh: We may help protect Saudi ports if asked
15 December 2020
In the wake of an explosion at a Saudi fuel transport terminal, a senior Yemeni official has heaped heavy sarcasm on the kingdom over its failure to protect its ports, saying Yemen, if asked, may consider helping safeguard them.
Mohammed Ali al-Houthi, chairman of the Supreme Revolutionary Committee of Yemen, made the remarks in a post on his Twitter account on Monday after Saudi Arabia said that a fuel transport ship anchored at a Jeddah terminal had been hit by an explosive-laden boat.
The attack resulted in a small fire which was extinguished, but there was no damage to unloading facilities nor any effect on supplies, according to the Saudi Energy Ministry spokesman.
"These acts of terrorism and vandalism, directed against vital installations, go beyond the kingdom and its vital facilities, to the security and stability of energy supplies to the world and the global economy," the ministry added.
Jeddah — the second biggest Saudi city — is home to a key Red Sea port and distribution center for oil giant Saudi Aramco.
Reacting to the explosion, Houthi said what the Saudi regime has termed as a "terrorist" attack was proof of the failure of the US and the UK to perform their task of protecting the kingdom.
He said in a sarcastic tone that the Yemenis may consider helping protect the Saudi ports, if asked.
"The Yemeni security and military organization has a lot of experience in confronting American terrorism and its branches," he added.
The Singapore-based shipping company Hafnia said on Monday that there was an explosion and a fire while its oil tanker, the BW Rhine, was discharging at Jeddah port.
The ship's crew put out the fire and no one was injured, it said, adding that parts of the vessel's hull had been damaged.
"BW Rhine has been hit from an external source whilst discharging at Jeddah, Saudi Arabia at approximately 00:40 local time on 14 December 2020, causing an explosion and subsequent fire onboard," Hafnia declared in a statement on its website.
Saudi Arabia launched a devastating military aggression against Yemen in March 2015 in collaboration with a number of its allied states, and with arms support from the US and several Western countries.
The aim was to return to power a Riyadh-backed former regime and defeat the Houthi Ansarullah movement that has taken control of state matters.
The war has failed to achieve its goals, but killed tens of thousands of innocent Yemenis and destroyed the impoverished country's infrastructure. The UN refers to the situation in Yemen as the world's worst humanitarian crisis.
https://www.presstv.com/Detail/2020/12/15/640766/Yemen-Houthi-Saudi-ports-
--------
Hamas calls for Palestinian unity, resistance against Israeli occupation
15 December 2020
The Gaza-based Hamas resistance movement has called for unity and resistance against Israel, vowing to keep fighting against the occupying regime until the liberation of Palestinian territories.
In a statement released on Monday, on the occasion of the 33rd anniversary of its establishment, Hamas said it would continue the battle against Israel "until the liberation of Palestine, from the [Mediterranean] Sea to the [Jordan] River."
"As the movement marks 33 years of its creation, Hamas calls for unifying the strategy of struggle against the occupier (Israel) to confront all the challenges that the Palestinian cause is passing through," it added.
The resistance group also stressed that it would "continue to carry the banner of resistance" against Israel "until we achieve our people's goals of freedom, the right of return [for Palestinian refugees and their descendants to their homeland] and the restoration of our land and holy sites."
It further pledged to confront "all attempts to liquidate the Palestinian cause, first and foremost the Deal of the Century," a pro-Israel scheme for the Middle East unveiled by outgoing US President Donald Trump earlier this year.
The Palestinian Authority (PA), which is headquartered in Ramallah, should withdraw from the 1990s Oslo Accords and support the popular resistance, especially in the West Bank, to confront the Israeli annexation plan, Hamas said.
It also vowed to cooperate with all Palestinian powers "to confront the wave of Arab normalization with Israel," denouncing the peace accords as "a betrayal to Palestine" and a "national sin that only serves the Zionist enterprise in the region."
In mid-September, Israeli Prime Minister Benjamin Netanyahu signed normalization pacts with Emirati Foreign Minister Sheikh Abdullah bin Zayed Al Nahyan and Bahrain's Foreign Minister Abdullatif Al Zayani during an official ceremony hosted by Trump at the White House.
The following month, Trump said Israel and Sudan had also established economic ties as a pathway toward normalized ties.
Last week, Morocco became the fourth Arab state this year to announce it had agreed to forge formal diplomatic relations with Israel.
Haniyeh criticizes PA's resumption of security ties with Israel
On Sunday evening, Ismail Haniyeh, head of Hamas' political bureau, delivered a televised speech to mark the anniversary of the movement's establishment.
During his speech aired by the Al-Aqsa TV channel, Haniyeh criticized the PA's decision last month to resume security coordination with the Tel Aviv regime, saying it "formed an intense barrier" to achieving reconciliation with the Fatah party.
"The about-face carried by the Palestinian Authority in returning to relations, cooperation and speaking to the [Israeli] occupation […] constituted a strong impediment to achieving the breakthrough in reconciliation that we were hoping for," he emphasized.
Haniyeh, however, stressed that "Hamas is ready to build a Palestinian national unified scene to confront the obliteration projects to the Palestinian cause."
Separately, leading Hamas member Hossam Badran expressed the resistance group's preparedness to resume talks for healing the inter-Palestinian rift with the Fatah-dominated Palestinian Authority government.
"We reiterate our readiness to continue dialogue to restore unity and rebuild Palestinian national institutions based on partnership," he said in a statement.
Additionally, Hamas official Mousa Abu Marzook said that the movement was trying to "develop the infrastructure of the Palestinian resistance in its various forms."
Hamas, he noted, is also working to extend its "resistance" to the West Bank to confront Israeli and US "conspiracies."
The Palestinian group is facing "challenges" from the US and Israel as both regimes are "working in cooperation with regional powers to besiege and demonize Hamas and dry up its financial resources."
Another Hamas official Ali Barakeh said the Gaza-based movement was seeking to build an Arab-Islamic coalition "to confront American and Zionist projects that are hostile to the Palestinian cause."
No Arab or Muslim leader has the right to "give up one inch of the land of Palestine," he said.
Abbas visits Qatar
On Monday, Palestinian President Mahmoud Abbas began a two-day visit to Qatar, where he met with Emir Sheikh Tamim bin Hamad Al Thani.
During the meeting, the Qatari emir affirmed his country's "firm position on the Palestinian issue and its support for the establishment of an independent Palestinian state, with East Jerusalem [al-Quds] as its capital, in accordance with international legitimacy resolutions, the two-state solution and the Arab Peace Initiative," the Qatar News Agency reported.
Palestinian sources said that Abbas was hoping that Qatar would provide financial aid to the PA amid the economic crisis caused by the coronavirus pandemic.
Abbas, the sources added, is also seeking Doha's support for his initiative to convene an international conference for peace in the Middle East early next year.
"President Abbas is aware that Qatar, which has good relations with the US and Israel, would be able to play a role in pushing forward the idea of the international parley," they explained. "He further wants Qatar to use its strong ties with Hamas to end the rivalry between his Fatah faction and Hamas."
https://www.presstv.com/Detail/2020/12/15/640764/Hamas-Palestine-resistance-Israel-
--------
UN's FAO: Five million Yemenis will likely be 'living just one step away from famine' next year
14 December 2020
The Food and Agriculture Organization of the United Nations (FAO) has warned that 5 million people in war-ravaged Yemen "will likely be living just one step away from famine" in the upcoming year.
The UN agency said in a brief statement posted on its official Twitter account on Sunday that more than half of Yemen's overall population could head further into hunger in 2021.
The statement added that an estimated 50,000 people will be living in famine-like conditions in the conflict-plagued Arab country throughout next year.
FAO noted that immediate support is urgently needed to save Yemen as "UN response remains only 49 percent funded."
UNSC concerned over military escalation, food insecurity in Yemen
Also on Sunday, the UN Security Council voiced concern over military escalation and food insecurity in Yemen.
The council members, in a press statement, reiterated their commitment to an inclusive intra-Yemeni political process, and reaffirmed the international community's firm commitment to uphold Yemen's sovereignty, unity, independence and territorial integrity.
They also expressed alarm at the new Integrated Food Security Phase Classification assessment, which states that 13.5 million Yemenis are at risk of starvation and are already facing acute food insecurity, and that the figure could soar to at least 16 million by June 2021.
The council members said they are extremely concerned about the fact that several humanitarian programs in Yemen may have to stop due to lack of funding.
They called on donor countries to take actions urgently and save lives in Yemen by disbursing pledged large funds before the end of the current year, and make early and substantial contributions next year to prevent UN program closures.
The statement noted that ongoing clashes between warring sides and economic collapse play a central role in driving famine risks in Yemen, calling for further foreign exchange injections in order to strengthen the economy.
The council members finally underlined the importance of facilitating humanitarian assistance, and stressed the need for continued donor support in order to prevent enormous loss of life in the Arab country.
Saudi Arabia and a number of its regional allies launched the war on Yemen in March 2015, with the goal of bringing the government of former president Abd Rabbuh Mansur Hadi back to power and crushing the popular Ansarullah movement.
Earlier this month, the UN Office for the Coordination of Humanitarian Affairs (OCHA) offered the staggering death toll of 233,000 from the Saudi-led war on Yemen.
The Houthi Ansarullah movement, backed by armed forces, has been defending Yemen against the Saudi-led alliance, preventing the aggressors from fulfilling the objectives of the atrocious war.
https://www.presstv.com/Detail/2020/12/14/640715/Five-million-Yemenis-will-likely-be-living-just-one-step-away-from-famine-next-year-FAO
--------
Africa
Sudan's removal from US state terror list is first step towards debt relief: IMF
14 December 2020
International Monetary Fund on Monday said it stood ready to help Sudan as it moves toward a broader package of debt relief after Washington's removal of the country from its list of state sponsors of terrorism.
For all the latest headlines follow our Google News channel online or via the app.
Carol Baker, IMF mission chief for Sudan, said removal of Sudan from the US list eliminated one of the hurdles toward debt forgiveness under the Heavily Indebted Poor Countries (HIPC) initiative launched in 1996.
But Sudan remains in arrears to the IMF, the World Bank and the African Development Bank, and cannot receive fresh funds from them until it clears up those debts, she said.
To reach that point, four other key conditions must be met that are outside the control of the IMF, including strong performance by Sudanese authorities under an IMF staff-monitored economic program for at least six months, Baker said.
In addition, Khartoum needs the support of a majority of donors, including the US, to clear its debts; a plan to settle arrears with the international financial institutions; and an external debt reconciliation that clarifies what debt is owed by Sudan to whom and on what terms.
"These steps will take time and will require patience and diligence from the Government and its partners in the international community," Baker said, adding, "I am hopeful that these steps can be achieved."
The IMF is slated to carry out its first formal review of Sudan's 12-month program of economic reforms in February 2021, following a staff visit in November.
The IMF and the World Bank launched the HIPC initiative to ensure that no poor country faces a debt burden it cannot manage. But the process can take years to complete.
Sudan, saddled by $60 billion in external debt, urgently needs financial help to reorganize its economy. Inflation hit 167 percent in August and the currency has tumbled as the government prints money to subsidize bread, fuel and electricity.
https://english.alarabiya.net/en/News/middle-east/2020/12/15/Sudan-s-removal-from-US-state-terror-list-is-first-step-towards-debt-relief-IMF
--------
Sudan says US has committed to providing wheat and other commodities over four years
14 December 2020
Sudan's acting finance minister said on Monday that the US had committed to providing support for wheat and other commodities over four years as well as for debt relief, as it removed Sudan from its list of state sponsors of terrorism.
"The US government has committed to providing over $1 billion that will support Sudan on its road to debt relief ... This is in addition to in-kind support that includes the provision of wheat and other commodities over four years," acting Finance Minister Heba Ahmed said.
https://english.alarabiya.net/en/News/middle-east/2020/12/14/Sudan-says-US-has-committed-to-providing-wheat-and-other-commodities-over-four-years
--------
Boko Haram claims responsibility for kidnapping of school boys
15 December 2020
The Boko Haram militant group has claimed responsibility for the abduction of hundreds of school students in northwestern Nigeria.
On Friday, over a hundred gunmen on motorcycles stormed the all-boys Government Science Secondary School in the country's northwestern Katsina State. Students initially fled and hid in the surrounding bushes, but hundred of them were kidnapped.
The leader of the group claimed responsibility for the attack in a video sent to the Agence France-Presse (AFP) news agency on Tuesday.
A number of students were able to escape, but at least 333 students were still missing, authorities said.
The Nigerian government had initially accused armed bandits of engaging in the attack.
Katsina is among several areas in northwest Nigeria that have been repeatedly attacked by bandits, while Boko Haram has been staging attacks in Nigeria's northeast.
The claim of responsibility by the group now marks a major escalation of Boko Haram attacks in the country's northwest.
The attack occurred in the home state of President Muhammadu Buhari, who set the fight against Boko Haram as his government's priority.
He condemned the attack and ordered security stepped up in schools, with those in Katsina State closed.
The latest incident revoked memories of the 2014 kidnap of more than 200 girls from a school in the northeastern town of Chibok. Boko Haram claimed responsibility for those abductions as well.
About half of those girls have been found or freed and an unknown number are believed to have died.
https://www.presstv.com/Detail/2020/12/15/640769/Boko-Haram-claims-responsibility-for-kidnapping-of-school-boys
--------
UN 'frustrated' as still unable to get access to Ethiopia's Tigray
15 December 2020
The United Nations (UN) says it has not been able yet to reach the people who are in desperate need of humanitarian assistance in Ethiopia's restive region of Tigray, where an armed conflict triggered a refugee crisis and a humanitarian disaster.
The UN has finalized an agreement with Ethiopian authorities on humanitarian access and assessment missions but has yet to see concrete progress, UN spokesman Stephane Dujarric said on Monday.
"It's somewhat frustrating to say that we have not been able to go in, we have not been able to reach people that we know are in need," he added. "Days wasted by a lack of agreement or a lack of green light for us is just one more day of suffering for the people who need help."
Tigray, with a population of six million — some one million of them now thought to have been displaced — has remained cut off from the world since an armed conflict erupted between Ethiopian troops and local rebels there last month.
Prime Minister Abiy Ahmed ordered an army offensive in the restive region on November 4, in response to a deadly attack on an army base that killed at least 54 people.
Abiy accused the Tigray People's Liberation Front (TPLF), the region's ruling party, of having staged the attack.
His government, which had restricted access to the region, said last week that it had defeated forces loyal to the TPLF and struck a deal with the UN to allow aid.
Aid agencies, however, said the agreement was too restrictive and security remained a problem.
Mekelle, the regional capital and home to 500,000 people, on Saturday received the first humanitarian aid convoy since the war broke out.
The UN Security Council held an informal, closed-door video conference on the situation in Tigray on Monday, at the request of the United States and European members.
"We need full, safe, unhindered access for humanitarian workers, " said Germany's UN Ambassador to Christoph Heusgen after the meeting. "We have information that refugee camps will run out of food by the end of this week."
"We have information that refugees are prevented from fleeing to Sudan... There are also reports that Eritrean soldiers appear to control some movement of refugees in the Eritrean border region. Again, all this must stop," he said.
The Ethiopian government is meanwhile trying to restore normalcy to Tigray. The government on Monday ordered civil servants to go back to work and gun owners to disarm.
Some power and telephone links were also restored in Mekelle after a virtual communications blackout, according to Abiy's government.
Accounts of hunger and harassment, however, emerged from refugees, along with reports of big fuel and food price hikes as well as water shortages.
Citing three refugees in the Adi Harush camp, Reuters said there was no food and little water and they were being mistreated by armed men without uniforms. The men had raped two women, one of the refugees said.
The UN High Commissioner for Refugees, Filippo Grandi, had said formerly that the UNHCR had received "an overwhelming number of disturbing reports" of refugees being killed or kidnapped and forcibly returned to Eritrea, which borders Tigray to the north.
Thousands of people have so far been killed in Tigray, according to the International Crisis Group think tank, and around 50,000 Ethiopians have fled to refugee camps across the border in Sudan.
Human rights groups say they have documented at least one large-scale massacre in the region, and that others are feared.
https://www.presstv.com/Detail/2020/12/15/640762/UN-frustrated-as-still-unable-to-get-access-to-Ethiopia-Tigray
--------
Nigerians call for release of Sheikh Zakzaky on 5th anniversary of Zaria massacre
14 December 2020
Nigerian people have demanded the immediate release of prominent Shia cleric Sheikh Ibrahim al-Zakzaky during protest rallies in Abuja held on the fifth anniversary of the Zaria massacre.
Followers of Sheikh Zakzaky marked the anniversary with a huge protest from Wuse market to Berger Junc. in Abuja.
The protesters demanded the immediate and unconditional release of Sheikh and his wife Malama Zeenah, who are in unlawful detention.
A second "Free Zakzaky" protest was also staged at the Federal Secretariat in Three Arms Zone of FCT Abuja about an hour after the first protest.
Five years have passed since hundreds of Muslims were killed in a massacre in the Nigerian city of Zaria.
The incident took place when the Nigerian army stormed a religious ceremony, organized by Nigeria's Islamic Movement, which represents the Shia Muslim minority in the country.
In the massacre, which took place in Kaduna State in 2015, at least 348 civilians were killed and 347 bodies were secretly buried, according to official tally. The real death toll is said to be much higher.
Not only has the Nigerian government refrained from paying compensation for the lives it took, it has also incarcerated followers of the movement and their leader Sheikh Zakzaky, whose health is deteriorating in prison.
On the occasion of the fifth anniversary of the massacre, Iran's holy city of Qom held a webinar attended by Muslim scholars to commemorate the victims of the tragedy.
Scholars in Qom described the Nigerian government as the puppet of Saudi Arabia, the US and Israel.
They say the Nigerian forces have continued the brutal assault against Sheikh Zakzaky's supporters ever since they publicly condemned Israel for its atrocities against the Palestinian people.
In 2016, Nigeria's federal high court ordered Zakzaky's unconditional release from jail following a trial, but the government has so far refused to set him free.
Zakzaky was charged in April 2018 with murder, culpable homicide, unlawful assembly and disruption of public peace, among other accusations. He has vehemently rejected all these accusations.
Sheikh Zakzaky was due to appear in court in September this year to face judgement on an application asking for the dismissal of the case against him, but the trial was adjourned to next January, something that observers say could put Sheikh's life at risk amid calls for his immediate release because of his deteriorating health in jail.
https://www.presstv.com/Detail/2020/12/14/640752/Sheikh-Zakzaky-nigeria-massacre-zaria
--------
UN concerned as militancy in Mozambique forces 400,000 people to flee
14 December 2020
The United Nations has issued a warning about an imminent humanitarian crisis unfolding in northern Mozambique, where at least 400,000 people have already been forced to flee their homes.
Mozambique's northernmost province of Cabo Delgado, which is rich in natural gas resources and hosts drilling and pumping stations estimated to be worth some $60 billion, faces regular terrorist attacks launched by militant groups causing insecurity in the region.
Reuters on Monday quoted UN refugee agency officials as saying that the refugee crisis in Mozambique threatened to spill over into neighboring African countries.
Valentin Tapsoba, the Southern African head of the United Nations High Commission for Refugees (UNHCR), told Reuters by phone from Pempa that the families, who had been reconstructing their livelihoods after sustaining heavy losses in 2019 caused by Cyclone Kenneth -- the strongest tropical cyclone to make landfall in Mozambique, were forced to flee from the violent acts of terror staged by armed groups linked to Daesh.
After seizing natural gas installations developed on the coastal zones in October, the militants began a push towards the inland districts of Cabo Delgado province.
In recent months, boatloads of refugees with little more than the clothes they wore fled their homes after falling prey to Daesh-linked militants.
Tapsoba said so far 424,000 people had fled their homes in Cabo Delgado after their villages were burned down, many of their men killed, and many young women taken into captivity, to seek refuge in the cities of Niassa, Nampula and Pempa.
The UN official predicted a further rise in the number of refugees, which the Mozambican authorities have estimated to reach to 570,000.
"The numbers are still growing ... so it is a very big concern," Tapsoba said, adding,"This is a situation starting in one country but if all the countries don't get their act together to tackle it, and wait too long, it could spread."
Tapsoba warned about the urgency of the resolving crisis, emphasizing that the onset of the rainy season could make it difficult to reach the refugee camps where thousands were living, which would be "a nightmare for these people."
Meanwhile, leaders from Mozambique, Zimbabwe, South Africa, Botswana and Tanzania were scheduled to get together for an emergency meeting in Maputo on Monday to review ways to tackle the militant insurgency and restore peace, prosperity and security to the energy-rich region.
Zimbabwean President Emmerson Mnangagwa has headed to Mozambique to attend the summit meant to find a long-lasting solution to the insurgency in Mozambique.
Extremist groups have caused havoc in Mozambique's northern Cabo Delgado province over the past three years, ravaging villages and towns as part of a campaign to establish a caliphate.
Little is known about Mozambique's extremists, who call themselves Al-Shabab with no known links to a terrorist group of the same name operating in Somalia.
https://www.presstv.com/Detail/2020/12/14/640701/Africa-Mozambique-Refugee-UNHCR
--------
North America
US Electoral College makes Biden's victory and Trump's defeat official
Anwar Iqbal
15 Dec 2020
The US Electoral College decisively confirmed Joe Biden on Monday as the nation's next president, ratifying his November victory in an authoritative state-by-state repudiation of President Donald Trump's refusal to concede he had lost.
The presidential electors gave Biden a solid majority of 306 electoral votes to Trump's 232, the same margin that Trump bragged was a landslide when he won the White House four years ago.
Heightened security was in place in some states as electors met to cast paper ballots, with masks, social distancing and other pandemic precautions the order of the day. The results will be sent to Washington and tallied in a Jan 6 joint session of Congress over which Vice President Mike Pence will preside.
For all of Trump's unsupported claims of fraud, there was little suspense and no change as every one of the electoral votes allocated to Biden and the president in last month's popular vote went officially to each man. On Election Day, the Democrat topped the incumbent Republican by more than 7 million in the popular vote nationwide.
California's 55 electoral votes put Biden over the top. Vermont, with 3 votes, was the first state to report. Hawaii, with 4 votes, was the last.
"Once again in America, the rule of law, our Constitution, and the will of the people have prevailed. Our democracy — pushed, tested, threatened — proved to be resilient, true, and strong," Biden said in an evening speech in which he stressed the size of his win and the record 81 million people who voted for him.
He renewed his campaign promise to be a president for all Americans, whether they voted for him or not, and said the country has hard work ahead on the virus and economy.
But there was no concession from the White House, where Trump has continued to make unsupported allegations of fraud.
Trump remained in the Oval Office long after the sun set in Washington, calling allies and fellow Republicans while keeping track of the running Electoral College tally, according to White House and campaign aides. The president frequently ducked into the private dining room off the Oval Office to watch on TV, complaining that the cable networks were treating it like a mini-Election Night while not giving his challenges any airtime.
The president had grown increasingly disappointed with the size of "Stop the Steal" rallies across the nation as well as efforts for the GOP to field its own slates of electors in states. A presidential wish for a fierce administration defense led to TV appearances early Monday by Stephen Miller, one of his most ferocious advocates, to try to downplay the importance of the Electoral College vote and suggest that Trump's legal challenges would continue all the way to Inauguration Day on Jan. 20.
Late in the day, he took to Twitter to announce that Attorney General William Barr was leaving the administration before Christmas. Barr's departure comes amid lingering tension over Trump's unsupported fraud claims, especially after Barr's statement this month to The Associated Press that the election results were unaffected by any fraud.
In a Fox News interview taped over the weekend, Trump said that "I worry about the country having an illegitimate president, that's what I worry about. A president that lost and lost badly."
On Monday in Arizona, Georgia, Michigan, Nevada, Pennsylvania and Wisconsin — the six battleground states that Biden won and Trump contested — electors gave Biden and Vice President-elect Kamala Harris their votes in low-key proceedings. Nevada's electors met via Zoom because of the coronavirus pandemic.
Trump's efforts to undermine the election results also led to concerns about safety for the electors, virtually unheard of in previous years. In Michigan, lawmakers from both parties reported receiving threats, and legislative offices were closed over threats of violence. Biden won the state by 154,000 votes, or 2.8 percentage points, over Trump.
Georgia state police were out in force at the state Capitol in Atlanta before Democratic electors pledged to Biden met. There were no protesters seen.
Even with the Electoral College's confirmation of Biden's victory, some Republicans continued to refuse to acknowledge that reality. Yet their opposition to Biden had no practical effect on the electoral process, with the Democrat to be sworn in next month.
Republicans who would have been Trump electors met anyway in a handful of states Biden won. Pennsylvania Republicans said they cast a "procedural vote" for Trump and Pence in case courts that have repeatedly rejected challenges to Biden's victory were to somehow still determine that Trump had won.
Meanwhile, Senate Majority Whip John Thune leads the group of Republican lawmakers who are now publicly acknowledging Biden's win.
By midnight on Monday, Senators Roy Blunt, John Cornyn, Thom Tillis, Kevin Cramer, Chuck Grassley, Roy Blunt and Shelley Moore Capito had also joined the pack.
"At some point you have to face the music. And I think […] it's time for everybody to move on," Thune told reporters but did not rule out more lawsuits.
"He's presumptive president," he said. "But I don't want to discount valid, legal disputes that'll be settled over the next couple of weeks."
"It doesn't matter what Chuck Grassley thinks, the constitution has answered that question for you," Grassley said, moments after California's 55 electoral votes affirmed Biden's win. "That's all I can say on it."
"Vice President Biden is the president-elect," Senator Blunt added.
Senator Capito urged all to move ahead. "I think it's time to turn the page and begin a new administration," she said.
In North Carolina, Utah and other states across the country where Trump won, his electors turned out to duly cast their ballots for him. Electors in North Carolina had their temperatures checked before being allowed to enter the Capitol to vote. Utah Attorney General Sean Reyes withdrew as a Trump elector and was in quarantine because he was exposed to someone with COVID-19.
Former President Bill Clinton and former Secretary of State Hillary Clinton, whom Trump defeated four years ago, were among New York's 29 electors for Biden and Harris.
https://www.dawn.com/news/1595890/us-electoral-college-makes-bidens-victory-and-trumps-defeat-official
--------
US imposes sanctions on Turkey's presidency of defense industries
14 December 2020
The United States imposes sanctions on Turkey's presidency of defense industries and its president Ismail Demir, according to the US Treasury Department website.
The US has also blacklisted three more Turkish individuals linked to Turkey's presidency of defense industries, according to the US Treasury Department.
For all the latest headlines follow our Google News channel online or via the app.
President Tayyip Erdogan said on Monday Turkey expects its NATO ally the United States to support it and not sanction it over its purchase of Russian S-400 missiles, and added he was upset that Washington went ahead with
the sanctions process.
Neither sanctions from the United States nor the EuropeanUnion would deter Turkey from defending its rights, Erdogan
added in an address after a cabinet meeting.
Reuters, citing sources, reported last week that the UnitedStates was poised to sanction Turkey over the S-400s. The US Congress has also passed a defense spending bill including aprovision for such sanctions.
https://english.alarabiya.net/en/News/middle-east/2020/12/14/US-foreign-policy-US-imposes-sanctions-on-Turkey-s-presidency-of-defense-industries
--------
US blames 2 Iranian intelligence officers for death of ex-FBI agent Levinson
14 December 2020
The Trump administration for the first time on Monday formally blamed Iran for the presumed death of retired FBI agent Robert Levinson, publicly identifying two Iranian intelligence officers believed responsible for his abduction.
Levinson disappeared in Iran under mysterious circumstances more than a decade ago, and though US diplomats and investigators have long said they thought he was taken by Iranian government agents, Monday's announcement in the final weeks of the Trump administration was the most definitive assignment of blame to date.
Besides blaming two high-ranking intelligence officers by name, US officials said the Iranian regime sanctioned the plot that led to Levinson's abduction and lied for years about its involvement in his disappearance through disinformation campaigns aimed at covering up the government's role.
The announcement comes nine months after US officials revealed that they had concluded that Levinson "may have passed some time ago" though they did not disclose at the time the information that led them to that assessment.
Officials on Monday would not describe any additional information that led them to believe Levinson had died in captivity, except to say that all evidence they had pointed in that direction, or how they came to identify the role of the two individual intelligence officers.
Officials said they were acting now, one month before Trump leaves office, not for any political reasons but simply because they had finally accumulated enough information to formally hold Iran accountable. They also said that no agreement with Iran should be reached without a deal to free the remaining handful of US citizens imprisoned in that country.
Levinson vanished on March 9, 2007, when he was scheduled to meet a source on the Iranian island of Kish. For years, US officials would say only that Levinson was working independently on a private investigation. But a 2013 Associated Press investigation revealed that Levinson had been sent on a mission by CIA analysts who had no authority to run such an operation.
The family received a video in late 2010 as well as proof-of-life photographs in 2011 in which he appeared disheveled with a long beard and wearing an orange prison jumpsuit like those given to detainees at the Guantanamo Bay prison. Even then, his whereabouts and fate were not known, and the Iran government has persistently denied having any information about Levinson.
Earlier this year, a federal judge in Washington held Iran liable for his disappearance, saying the country was "in no uncertain terms" responsible for Levinson's "hostage taking and torture."
In November 2019, the Iranian government unexpectedly responded to a United Nations query by saying that Levinson was the subject of an "open case" in Iranian Revolutionary Court. Although the development gave the family a burst of hope, Iran clarified that the "open case" was simply an investigation into his disappearance.
https://english.alarabiya.net/en/News/middle-east/2020/12/14/US-blames-2-Iranian-intelligence-officers-for-death-of-ex-FBI-agent-Levinson
--------
'Normalizing' ties with US, Israel won't help Sudan
14 December 2020
By Abayomi Azikiwe
The decision by the head of the Sovereign Council to "normalize," and I put that in quotes, because it has not been decided by any legislative body, which is still under formation in the Republic of Sudan. There hasn't been any widespread debate among civil society, and other sectors of the Sudanese population.
This is purely an opportunistic move in regard to normalizing relations with the United States in order for Sudan to be taken off the state sponsors list for terrorism, which they never should have been put on anyway. In order to be taken off the list they have to go through Tel Aviv. They have to normalize relations with Israel. This is a joint program of both Israel and the United States.
I believe that there is going to be even more objection to these moves. Also, it is paving the way for further financial assistance from Saudi Arabia and the United Arab Emirates, which have both "normalized" relations with Israel. They have not been in war with Israel since its formation in 1948. So how can they sign a peace accord when they have not been in any direct military confrontation with Israel in decades?
So I think that this is a major issue that's going to be impacting African Union member states. All of them are under pressure to either normalize or upgrade their relations with Israel.
This is a tragedy because it will not benefit in any way the majority of the people who live in those countries. Even in Egypt, which was the first to normalized relations with Israel back in 1978-1979 as a result of the Camp David Accords, the masses of people in Egypt, still suffer from poverty. Normalization of relations with Tel Aviv has not improved the general wellbeing of working people, poor people or farmers in Egypt.
Egypt gets a lot of military assistance from the United States. They have collaborative projects with the 'Israeli Defense Forces. Yet the country is still facing profound economic crises.
So the same situation will prevail in Sudan. The internal problems that are going on right now within the Sovereign Council particularly the recent arbitrary efforts by Abdel Fattah al-Burhan, who is the chair of the Sovereign Council. These undemocratic decisions are causing a lot of internal problems inside the country.
So this is going to have to be worked out by the Sudanese people themselves. This is something that cannot be imposed either by Israel or by the United States.
Abayomi Azikiwe is an African American journalist who is editor at the Pan-African News Wire, an electronic press agency that was founded in 1998. He has worked for decades in solidarity with the liberation movements and progressive governments on the African continent and the Caribbean.
https://www.presstv.com/Detail/2020/12/14/640745/%E2%80%98Normalizing%E2%80%99-ties-with-US,-Israel-won%E2%80%99t-help-Sudan
--------
URL: https://www.newageislam.com/islamic-world-news/south-asia-state-minorities-report/d/123764
New Age Islam, Islam Online, Islamic Website, African Muslim News, Arab World News, South Asia News, Indian Muslim News, World Muslim News, Women in Islam, Islamic Feminism, Arab Women, Women In Arab, Islamophobia in America, Muslim Women in West, Islam Women and Feminism