New Age Islam News Bureau
6 Oct 2015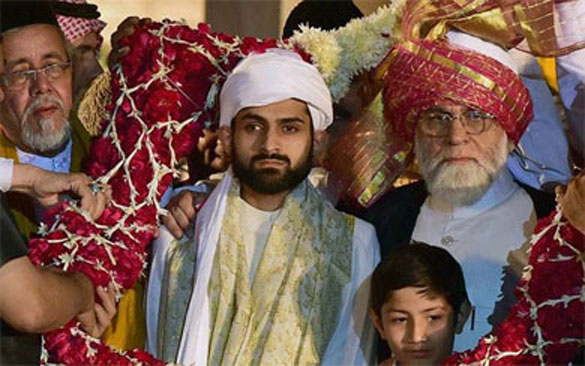 Shaban Bukhari, Photo: PTI
---------
India
• Son of Shahi Imam of Delhi's Jama Masjid, Shaban Bukhari to Marry a Hindu Woman
• Show Zero Tolerance, Act, Says Centre to States after Dadri Lynching
• 'No Work during Ramzan and Fridays Responsible For Current State of Muslims' AMU VC
• Indian Intel Rules Out IS Link to Bangla Murders
• Bangladesh PM blames opposition parties for foreigner murders; Shrugs off IS angle
--------
Arab World
• Daesh Members Threaten To Kill Their Kin in Saudi Arabia
• Car Bomb Attacks Kill 57 in Iraq
• 15 Militants Killed In Clashes with Syrian Army near Zabadani Region
• Russia Destroys 20 ISIL Tanks near Syria's Palmyra
• Top Commander: Iraq Seeking Russia's Help in War on ISIL
• Syrian Troops Hit Militants Hard in Aleppo
• Saudi clerics make call to jihad in Syria
• Syrian insurgent groups vow to attack Russian forces
• U.S. protests Baghdad opening Green Zone to traffic
• Saudi king receives Yemen's Hadi in Jeddah
• Russian Warplanes Pound ISIL Positions in Syria's Raqqa, Hama, Aleppo
• Amnesty launches petition to demand Bahraini activist's release
--------
Mideast
• 18 UAE Guards Killed in Yemeni Troops Rocket Attack on Former PM's Hotel
• Twelve More PKK Militants Slain In Southeast Turkey
• Aden Attacks: 15 Arab Coalition Forces Killed
• Turkey urges EU action on Syria to end migrant crisis
• Aden hotel used by Yemen govt hit by missile, casualties feared
• Turkey warns Russia over airspace violations
• Israeli soldiers shoot dead teen as fresh clashes erupt
• Israel toughens measures against Palestinians
• U.N. asks Iran to help in pressuring Syrian regime
• Defected Commander: Saudis Execute Pro-Hadi Forces on Treason Charges, Help Al-Qaeda in Yemen
• Iran Strongly Condemns Israel for Killing Palestinians in West Bank
• Iran Stresses Continued Efforts to Terminate Regional Crises
--------
South Asia
• Murders Underline Rise of Bangladesh Islamist Militants
• Taliban Supreme Leader Running Businesses under Fake Names and Owns A House in Dubai
• 'Islamist Bomb Expert' Killed In Bangladesh Police Search
• Muslim Groups Sue Myanmar President in New York
• NDS detain would-be suicide bomber who planned to target police in Kabul
• UN urges impartial investigation into Kundoz airstrike
• Terrorists wounded in Afghanistan rounded up from hospital in Karachi
• Bangladesh pastor escapes knife attack at his home
--------
Africa
• South Africa among World's Most Muslim-Friendly Countries for Tourists
• 85 Dead Migrants Found Washed Up In Libya
• Libya's rival factions resume peace talks in Morocco
• Libya's elected parliament extends mandate, complicating peace talks
• Nigeria Muslims Urged to Exercise Tolerance
• Nigeria Mourns 74 Killed in Mecca Stampede
--------
Southeast Asia
• Malaysia Played Proactive Role In Securing Votes for Palestine, Say Muslim NGOs
• Get GMM to Identify Moderates, Extremists, Says Kit Siang
• Penang Islamic school accuses state of tyranny after funds dry up
• Dubai Islamic Bank raises stake to 40% in Indonesia's Bank Panin Syariah
• Sharia Capital Market Grows: BEI
--------
Pakistan
• Govt to Hold Operations against ISIS-Linked: Sources
• Petitioner 'Trying To Strain Saudi-Pak Relationship', Mora Tells LHC
• Terrorist killed, another injured in Panjgur
• Senate adopts PPP bills against honour killing, rape and privatisation
• 3 Al-Qaeda members arrested in Pakistan
• Rangers claim arrest of six criminals, including 'terrorist' in Karachi raids
• NAB filed 208 corruption cases and recovered Rs18bn last year
• Jamaat backs Tehreek-e-Insaf
• PTI legislators opposing COI bill will be ousted from party: Imran Khan
--------
North America
• US Mosques Urged to Take Precaution before Rallies
• The 5 Ways American Muslims Can Respond to Anti-Muslim Protests
--------
Europe
• Young British Muslims Alienated By 'Us versus Them' Rhetoric of Counter-Terrorism
• Three in four British holidaymakers 'now avoiding Muslim countries'
• Conservatives accused of 'demonising' Muslims after banning event over links to Islamic charities
Compiled by New Age Islam News Bureau
URL: https://www.newageislam.com/islamic-world-news/new-age-islam-news-bureau/son-of-shahi-imam-of-delhi-s-jama-masjid,-shaban-bukhari-to-marry-a-hindu-woman/d/104814
--------
India
Son of Shahi Imam of Delhi's Jama Masjid, Shaban Bukhari to Marry a Hindu Woman
By FP Staff Oct 6, 2015
A story of secularism and acceptance tends to stand out in India, especially when it involves a prominent religious leader.
So when there were reports that Shaban Bukhari, the 20-year old son of Jama Masjid Shahi Imam Syed Ahmed Bhukari, and the future Iman of the mosque, was to tie the knot with a Hindu girl, it generated a considerable buzz online.
The fact that a man in Bukhari's position was accepting an inter-religious marriage was commendable and several media organisations said as much.
Shaban Bukhari is reportedly set to marry a Hindu girl from Ghaziabad with whom he has been in a relationship with for a couple of years. Syed Ahmed Bukhari was said to be against the match initially, but agreed to the union when the girl agreed to convert to Islam, according to a report by India Today.
However, this news was contradicted by a report published in Ummid, which quoted Amanullah, the office in-charge of the Jama Masjid Delhi as saying that it was a 'bundle of lies'.
In fact, he said that Shaban is engaged to marry a Muslim girl. "Shaban Bukhari is engaged with a practicing Muslim girl belonging to a religious family. The girl is a student of Islamic studies and is also memorising the Holy Quran", he told Ummid.
Shaban Bukhari is a graduate in social work from Amity University and was formally anointed as the Naib Imam of the Jama Masjid last November which makes his the next custodian of the country's largest mosque, reports Zee News.
The news about the marriage has divided opinion on social media in India. While several people see the inter-religious marriage as a step forward, several others have criticized the fact that she will be converting to Islam.
http://www.firstpost.com/india/jama-masjid-shahi-imams-son-to-marry-a-hindu-girl-who-will-convert-to-islam-suggest-reports-2456918.html
--------
Show zero tolerance, act, says Centre to states after Dadri lynching
Oct 6, 2015
A week after a mob in Dadri killed Mohammed Akhlaq over rumours of beef consumption, the Ministry of Home Affairs (MHA), while calling it an "unfortunate incident", asked states Monday to show "zero tolerance" and "take strictest action as per law" against "any attempt to weaken the secular fabric of the nation and/or exploiting religious emotions or sentiments". In a statement, the MHA said "while law and order is basically a state subject, the Ministry of Home Affairs has been concerned with various incidents with communal overtones across the country, including the recent unfortunate incident at Dadri, UP". "Consequently, the MHA has today issued an advisory to the state governments stating that there is zero tolerance for any attempt to weaken the secular fabric of the nation and/or exploiting religious emotions or sentiments. MHA has called on the states to take strictest action as per law against such elements without any exception whatsoever," it stated.
"Earlier, on October 1, 2015, MHA had sought a report on the Dadri incident from the state government of UP, and advised the state government to ensure that such incidents do not recur again," the MHA stated. In Lucknow, the state government said it had sent a report to the MHA on the Dadri incident. Principal Secretary (Home) Debasish Panda said the report sent to MHA had details of the incident and the action taken so far by police. In New Delhi, Union Minister for Minority Affairs Najma Heptulla, responding to queries from reporters on the Dadri incident, said: "An inquiry is on into the incident and the guilty will be punished as per law when the report comes in." Appealing against controversial statements, she dismissed criticism that the Prime Minister Modi had not yet spoken on the incident saying that Union Ministers speaking on the matter was the "voice of the Prime Minister". Minister of State for Minority Affairs Mukhtar Abbas Naqvi, while underlining the government's commitment to development, said: "No destructive agenda will be allowed to dominate the agenda of development. That will not happen and we will not allow it. Be it our ministry or other departments of the government, we have only one commitment — that peace and prosperity should be maintained and development reaches even the last man in the queue." Jitendra Singh, Minister of State in PMO, said the NDA government had "done more for minorities in one year than was done in the last 68 years". "We have committed ourselves to empowerment of minorities with dignity. If one has to take care of minorities in real terms, there is no need to give them alms (khairaat), they need to be empowered with rights. Modi government's commitment is empowerment of minorities with dignity," he said.
http://indianexpress.com/article/india/india-others/centre-asks-states-to-take-action-against-communal-violence/#sthash.wIpmq5mh.dpuf
--------
'No work during Ramzan and Fridays responsible for current state of Muslims' AMU VC
PTI, Lucknow: Oct 05, 2015
Aligarh Muslim University vice chancellor Lt Gen (retd) Zameeruddin Shah has said that Muslims "waste" time during the month of Ramzan and Fridays and is thus responsible for their "current state".
Addressing a function of AMU Old Boys Association on Sunday, the VC said, "We do little work during the month of Ramzan or on Fridays. It minimises one's potential. This was responsible for the current state of the community," he said.
Advocating women empowerment, he said, "Any civilisation that enslaved its women, which make 50 per cent of the unproductive population, gets enslaved itself."
The VC also condemned Dadri incident where a 50-year-old man was lynched over rumours that he had eaten beef, but said that he did not view it from any specific perspective.
About a complaint filed by the varsity earlier against the right wing outfit Hindu Yuva Vahini, he said, a case had been lodged against a youth for making objectionable comments against AMU.
The case was registered last month against the group's state president Sunil Singh and three others of the Vahini youth wing under various sections of the IPC.
The AMU authorities had charged the Vahini leaders for "deliberately" issuing communal statements designed to create unrest amongst AMU students.
http://www.hindustantimes.com/lucknow/no-work-during-ramzan-responsible-for-current-state-of-muslims/story-5Hx0Yu4K4ZIvkGVX4eOjxM.html
--------
Indian intel rules out IS link to Bangla murders
Bharti Jain,TNN | Oct 6, 2015
NEW DELHI: Indian agencies, just like Bangladesh premier Sheikh Hasina, seem to discount the possibility of Islamic State's involvement in the recent killings of an Italian and a Japanese national in the neighbouring country. They have instead sought to blame Jamaat-e-Islami rebels and see the murderous attacks as a ploy to draw attention of the Western nations to "targeting of their top leaders for 1971 war crimes without proper trial as required by an international war tribunal".
"The hanging of some top Jamaat-e-Islami (JEI) leaders may be due in the near future; one of the most prominent leaders on the death row is Motiur Rahman Nizami, whose appeal is now being heard by the Supreme Court," a senior officer of the Indian establishment pointed out. "The attacks on foreigners seem to aimed at drawing the immediate attention of the West. Also, given that IS generates the widest interest across the globe, JeI may be projecting attacks by extremists linked to it as those executed by IS. This attracts immediate condemnation by the western world and may further JeI's intention to project the Hasina government as ineffective in managing the security situation," said the officer.
Agencies feel the Bangladesh killings do not bear the IS hallmark. Beheading victims and videographing the brutal murders is a known modus operandi of IS and the killings in Bangladesh were both shooting incidents. Though Bangladesh has rounded up some suspects, no evidence of their links with IS has been found so far. "Those detained may not be the real perpetrators, but investigations are on to identify them...but until now, there is nothing beyond a claim to establish any IS link," said an official following the events in Bangladesh.
"The only explanation that can be found is that Jamaat elements, hurt by the war crimes trial of its senior leaders that has already seen the execution of Ali Ahsan Mohammad Mujahid and Mohammad Kamaruzzaman, are hitting back at Hasina regime by indulging in sensational murders of foreign citizens on its soil. The purpose may be to put the Hasina regime on the backfoot, considering that it had managed to keep things under check over the last couple of years, earning international approval," said an intelligence officer.
While an Italian aid worker was shot dead by assailants in the diplomatic area of Dhaka last Monday, a Japanese national was killed in Rangpur on Saturday. The IS owned up to both the killings, according to the SITE Intelligence Group, which monitors jihadi postings online.
http://timesofindia.indiatimes.com/india/Indian-intel-rules-out-IS-link-to-Bangla-murders/articleshow/49236241.cms
--------
Bangladesh PM blames opposition parties for foreigner murders; Shrugs off IS angle
OCTOBER 5, 2015
DHAKA–The Prime Minister of Bangladesh Sheikh Hasina is blaming the political alliance of Bangladesh Nationalist Party (BNP) and Bangladesh Jamaat-e-Islami (Jamaat) for the killings of two foreigners in less than a week in Bangladesh, while shrugging off claims that the Islamic State is responsible for the two murder incidents.
The allegations have brought to fore the political stalemate that Bangladesh still faces following its controversial elections on Jan. 5, 2014. The elections, which saw the present ruling party win again, was not deemed "credible" and "inclusive" by many western nations including the US since the main opposition comprising of BNP, Jamaat and 18 other political parties didn't participate in the polling.
The Bangladeshi PM had returned to Dhaka on Saturday after attending the UN General Assembly Summit 2015 in New York. While interacting with senior media officials at her residence on Sunday morning, the Bangladeshi PM mentioned that the murders of two foreigners is part of a conspiracy to "tarnish the image" of the government.
Claiming that the murders are "planned and politically motivated," she said that the murders have taken place at a time when the war crimes trials are taking place.
"I appeal to all citizens not to get too sensitive or carried away by these murders. We will take action and track down the culprits," she said. She added that the BNP and Jamaat have "definitely abetted these murders in an attempt to overshadow Bangladesh's achievements."
The BNP-led alliance was fingered for blame by Hasina as the political alliance of 20 parties, which includes Jamaat, have pressed the government to conduct a political dialogue that will lead to parliamentary elections.
The face off between the government and the opposition parties has a complex and bloody history.
More than 200 people were killed in street clashes across Bangladesh prior to the 2014 elections and immediately after it.
The BNP-led political alliance didn't take part in the Jan. 5, 2014 elections because its demands for Hasina to step down prior to the elections to ensure a fair election outcome fair poll outcome were ignored. This led to the ruling party's win. This was a factor that caused many western countries, including the US, to deem the elections as "not credible".
Soon after the Bangladesh Awami League led-grand alliance of 14 parties regained power in the controversial elections, current Prime Minister Sheikh Hasina declared that there will be no parliamentary polls till 2019. This led opposition protesters to take to the streets.
At the start of the year, the BNP-led main opposition parties initiated a blockade of urban hubs. They laid siege to the entry and exit points of major cities in Bangladesh. This spurred the government to bar them from organizing a nationwide "Democracy Killing Day."
The blockade continued until April. More than 150 people died during clashes between police and opposition activists, arson attacks on vehicles and other incidents. The blockade came to an abrupt end after BNP decided to have its candidates take part in mayoral polls across the country around mid-April.
Despite this, all the BNP-backed candidates pulled out of the city corporation mayoral election battles in the last few hours of polling, claiming "massive vote rigging" by the ruling party candidates.
While blaming the BNP-Jamaat alliance for the killings, the PM also downplayed the possible participation waived of IS or other global Islamic terror groups. "Until now, IS or global terror groups like it have not been able to operate in Bangladesh. Our intelligence agencies are active … we will not allow any such activities in Bangladesh," she said.
Islamic State claimed responsibility for the murder of 65-year-old Japanese farmer Kunio Hoshi, a few hours after his murder in Mahiganj village in Rangpur on Saturday.
Witnesses claimed that Hoshi was gunned by three masked assailants while he was on his way to his farm around 10:30 am on Saturday. "He was rushed to our hospital around 10:55 am. He had succumbed to the three bullet injuries on his body by then," Borkotullah, Director of Rangpur Medical College Hospital (RMCH) told Asia Times on Saturday.
Although four people were brought in for questioning, police are yet to make any headway in the case. "We are still investigating into the murder and cannot say anything at the moment," said Joynal Abedin, Assistant Superintendent of Police in Rangpur told Asia Times.
IS had also claimed responsibility for the death of Italian charity worker Cesare Tavella at Gulshan diplomatic zone on Sept. 28.
Three assailants were said to have fled the scene of the crime on motorcycles in the Kunio and Tavella killings.
The two incidents have forced Bangladeshi law enforcement agencies to beef up security for foreigners.
During a meeting with diplomatic correspondents in Dhaka on Monday, US Ambassador Marcia Bernicat commended Bangladesh's efforts in dealing with the latest security concerns. While mentioning that Bangladesh and the US need "joint efforts" to battle terrorism, she added, "We have everything we need to fight the emergence of IS in Bangladesh."
Several foreign missions including the US have asked their nationals to limit their movements inside Bangladesh.
International relations experts are concerned about the message the murders of Kunio and Tavella will send to the international community, if the culprits aren't apprehended soon.
"Bangladesh has never seen such a form of targeted killings," Dr. Delwar Hossain, founding Director of the East Asia Study Center in the University of Dhaka, told Asia Times. "This may not affect the ardent intentions of foreign donors and stakeholders (to help Bangladesh), but some nations may use these incidents to question the credibility of the Bangladesh government."
Syed Tashfin Chowdhury is a Dhaka, Bangladesh-based freelance journalist and the editor of Xtra, the weekend magazine of New Age, a leading English daily in Bangladesh.
http://atimes.com/2015/10/bangladesh-pm-blames-opposition-parties-for-foreigner-murders-shrugs-off-is-angle/
--------
Arab World
Daesh members threaten to kill their kin in Saudi Arabia
6 October 2015
JEDDAH: Several Daesh terrorists have threatened to kill their families and loved ones in the Kingdom "if they do not repent," according to a video that went viral on social networking sites on Sunday evening.
The threat comes in the wake of a citizen, Saad Al-Anzi, killing his cousin, Madous Al-Anzi, on the first day of Eid Al-Adha, in an incident that shocked Saudi society.
Saad was arrested two days after the crime was committed. The video shows Jammer Al-Khamali Al-Anzi, Al-Anbar deputy commander and a member of the Saudi branch of Daesh, posting pictures of his relatives working in the Kingdom, including his brother, and calling for their killing "if they do not repent."
Full Report at:
http://www.arabnews.com/featured/news/816381
--------
Car bomb attacks kill 57 in Iraq
October 06, 2015
BAGHDAD - At least 57 people were killed on Monday in car bomb attacks in Baghdad and the north and south of Iraq, police and medical sources said.
One attack took place near a crowded market in the town of Khalis, about 80 km (50 miles) northeast of Baghdad, killing 35 people, police said.
"The driver begged police to be allowed to park his vehicle in order to buy medication from a nearby pharmacy and five minutes later it (the bomb) went off and caused huge destruction," police captain Mohammed al-Tamimi said.
In the town of Al Zubair, about 15 km southwest of the oil town of Basra, a second attack took place also near a crowded market. Ten people died.
Another car bomb exploded in the Hussainiya district of the northern outskirts of Baghdad, killing 12 people, police and medical sources said.
Iraq, a major OPEC oil producer, is struggling to come up with a formula to contain Islamic State, the ultra-hardline group that controls a third of the country and wants to redraw the map of the Middle East. Islamic State has previously claimed responsibility for car and suicide bombings. AFP adds: The Islamic State group claimed responsibility for a deadly car bomb blast Monday near the oil hub of Basra, a southern region where it was thought to have little or no reach.
"The soldiers of the caliphate managed to detonate a parked car bomb amidst a gathering of polytheist Rafidha in Basra," said the statement posted on social media.
According to security officials, at least 10 people were killed when a car bomb exploded in a market area in the town of Zubayr, just southwest of Basra.
"At least 10 people were killed. We also have 24 wounded," said Jabbar al-Saadi of the Basra provincial council's security committee. He said the explosion, which occurred around 5:30 pm (1430 GMT), rocked a market area known as Souk al-Halaqin in Zubayr, just 10 kilometres (six miles) southwest of Basra.
Full Report at:
http://nation.com.pk/international/06-Oct-2015/car-bomb-attacks-kill-57-in-iraq
--------
15 Militants Killed in Clashes with Syrian Army near Zabadani Region
Oct 06, 2015
The sources said that the Syrian Army's 42nd and 63rd Brigades of the 4th Mechanized Division, in coordination with the National Defense Forces (NDF) and the Syrian Social Nationalist Party (SSNP), carried out a powerful assault on the positions of al-Nusra Front, and their allies from the Free Syrian Army (FSA) and Harakat Ahrar Al-Sham at the village of Ayn al-Dawlah in the East hills of Zabadani.
The sources added that over 15 militant were killed and several more were injured by the army troops in the Ayn al-Dawlah fighting.
Zabadani is located 50 kilometers Northwest of Damascus and 12 kilometers Northeast of Lebanon's Masnaa border crossing.
Full Report at:
http://english.farsnews.com/newstext.aspx?nn=13940714000695
--------
Top Commander: Iraq Seeking Russia's Help in War on ISIL
Oct 06, 2015
"Baghdad turned to Russia after it witnessed lack of seriousness of the US-led coalition in the fight against the Takfiri terrorist group," the Arabic-language Al-Horra TV channel quoted al-Ameri as saying on Tuesday.
The top commander of the Iraqi popular forces, meantime, blasted the western media for supporting the ISIL, and said, "There will be a decisive battle against the ISIL in the coming days which will change the military equations in the region."
On Monday, a spokesman for Iraqi popular forces announced that the Iraqi forces are advancing in different battlefronts against the Takfiri terrorists as the Arab country has formed a quadrilateral front against the ISIL with Iran, Russia and Syria.
"With the start of military operations by the quadrilateral coalition comprising Iraq, Iran, Russia and Syria against terrorism we will witness intensified military operations of the joint forces in all fronts in the coming days," Ahmed al-Assadi told FNA.
He reiterated that the intelligence which is to be gathered by the coalition countries on enemy movements will expedite the future battles, and said, "The quadrilateral coalition will increase its efforts to suppress terrorist groups and the destruction of the ISIL will happen sooner by giving joint security information and intelligence to the military units in the battlefield."
On Sunday, a senior Iraqi politician revealed that his country along with Iran, Russia and Syria have set up an information exchange center which will pave the ground for the formation of a quadrilateral operations room in campaign against terrorism.
"The information center has been formed some days ago after 6 months of discussions," Political Advisor to the Head of the Islamic Supreme Council of Iraq Mohsen Hakim told FNA.
Elaborating on the information exchange room, he said that the officer in charge is changed every three months but the reports are provided to the Iranian, Iraqi, Russian and Syrian armies' joint chief of staff every day to update their information.
Full Report at:
http://english.farsnews.com/newstext.aspx?nn=13940714000459
--------
Syrian Troops Hit Militants Hard in Aleppo
Oct 06, 2015
The army killed the terrorists in Jib al-Safa, al-Lairamoun, Bani Zaid and in the vicinity of the Air Force Academy in Aleppo, informed sources said.
On Monday, Syria conducted airstrikes against ISIL terrorists in several areas in the Eastern countryside of Aleppo, leaving a large group of them dead.
A military source said that the air raids destroyed terrorists' hideouts and vehicles, some of which equipped with machineguns, in the villages of Ain al-Jamajima, Jeb al-Safa in Kweiris area, and in the towns of Deir-Hafer and Maskana.
Full Report at:
http://english.farsnews.com/newstext.aspx?nn=13940714000491
--------
Saudi clerics make call to jihad in Syria
October 06, 2015
RIYADH - Dozens of Islamist Saudi Arabian clerics have called on Arab and Muslim countries to "give all moral, material, political and military" support to what they term a jihad against Syria's government and its Iranian and Russian backers.
Although the clerics who signed the online statement are not affiliated with the government, their strong sectarian and anti-Christian language reflects mounting anger among many Saudis over Russian and Iranian involvement in Syria's civil war.
Russia last week started air strikes against Syrian opposition targets that it describes as aimed at weakening the militant Islamic State group, a move Riyadh has denounced.
The clerics' statement compared it to the Soviet Union's 1980 invasion of Afghanistan, which prompted an international jihad.
"The holy warriors of Syria are defending the whole Islamic nation.
Trust them and support them .
.
.
because if they are defeated, God forbid, it will be the turn of one country after another," the statement said.
Riyadh, along with Turkey and other Gulf states, is a main supporter of rebels fighting Syrian President Bashar al-Assad, backed by Iran and Russia, but it is also worried about the rise of militant groups such as Islamic State among the opposition.
Full Report at:
http://nation.com.pk/international/06-Oct-2015/saudi-clerics-make-call-to-jihad-in-syria
--------
Syrian insurgent groups vow to attack Russian forces
6 October 2015
More than 40 Syrian insurgent groups vowed to attack Russian forces in retaliation for Moscow's air campaign in a show of unity among the usually fragmented rebels against what they called the "occupiers" of Syria.
The 41 groups, which included powerful factions such as Ahrar al-Sham, Islam Army and the Levant Front, said Russia joined the war in Syria after President Bashar Assad's forces were on the verge "of a crushing defeat."
Russia launched its air campaign on Wednesday and claims it's targeting the ISIS and al-Qaeda's Syrian affiliate, the Nusra Front. But many of the strikes appear to have hit Western-backed rebel factions.
The Russian attacks have largely focused on the northwestern and central provinces — the gateways to the heartland of Assad's powerbase in the capital, Damascus, and on the Mediterranean coast.
'New reality'
The Russian intervention was widely criticized by Syrian opposition groups and activists especially since Moscow once played the role of a mediator hosting rounds of talks between the Syrian government and its opponents.
Full Report at:
https://english.alarabiya.net/en/News/middle-east/2015/10/06/Syrian-insurgent-groups-vow-to-attack-Russian-forces.html
--------
U.S. protests Baghdad opening Green Zone to traffic
6 October 2015
The United States protested Monday the opening of Baghdad's "Green Zone" to the public, after 12 years of closure of the heavily fortified area home to top Iraqi political institutions and embassies.
The four-square-mile International Zone of Baghdad was already the seat of government power under former president Saddam Hussein and became known as the Green Zone after the 2003 U.S.-led invasion.
"We have repeated voiced our concerns over the easing of these restrictions," State Department spokesman Mark Toner told reporters.
Full Report at:
https://english.alarabiya.net/en/News/middle-east/2015/10/06/U-S-protests-Baghdad-opening-Green-Zone-to-traffic.html
--------
Saudi king receives Yemen's Hadi in Jeddah
5 October 2015
Saudi King Salman bin Abdulaziz on Monday received Yemeni President Abdrabbu Mansour Hadi in Jeddah where they discussed the latest developments in the conflict-hit country.
King Salman congratulated Hadi on his return, along with his country's legitimate cabinet, to the city of Aden last month, the Saudi Press Agency (SPA) reported.
The king also reemphasized Saudi Arabia's full support for Yemen and its legitimate government, SPA added.
For his part, Hadi thanked the Saudi king "for standing by the side of the Yemeni people and their legitimate government," the agency said.
Full Report at:
https://english.alarabiya.net/en/News/middle-east/2015/10/05/Saudi-king-receives-Yemen-s-Hadi-in-Jeddah.html
--------
Russian Warplanes Pound ISIL Positions in Syria's Raqqa, Hama, Aleppo
Oct 06, 2015
The sources said that the Russian warplanes began their air attacks on the ISIL strongholds after their reconnaissance flights reportedly captured footage of a large training camp of the terrorist group inside the village of Kassra al-Sheikh, in the Northern Raqqa governorate.
The Russian fighter jets struck the ISIL training camp at Kassra al-Sheikh around 9:30 a.m. Monday, destroying the terrorist group's camp before they turned their attention to the Tabaqa airbase.
In the meantime, the Russian warplanes conducted another air raid on the ISIL-stronghold of 'Aqayrbat in the Hama governorate, where they struck a terrorist convoy on the road to the imperative city of al-Salamiyah.
The city of 'Aqayrbat in the Hama governorate's Eastern territories was relatively untouched before the Russian airstrikes this month.
Full Report at:
http://english.farsnews.com/newstext.aspx?nn=13940714000438
--------
Amnesty launches petition to demand Bahraini activist's release
Oct 6, 2015
Amnesty International has launched a petition, calling for the immediate release of a Bahraini activist doctor currently in prison for denouncing Manama's response to 2011 anti-government protests.
In its petition, the rights group urged the unconditional release of Ali al-Ekri, a consultant surgeon, who is currently serving a five-year sentence under inhumane circumstances for peacefully exercising his rights to "freedom of expression and assembly."
Amnesty says Ekri is a prisoner of conscience as he was arrested for his "vocal denunciation of the excessive force used by the armed forces against peaceful protesters during February-March 2011 protests to the international media."
He was arrested while working in an operation room at the Salmaniya Medical Complex in the Bahraini capital, Manama, on March 17, 2011.
According to a testimony released in October 2011, the Bahraini surgeon said that he had been subjected to physical torture, including beating, kicking, sleep deprivation and sexual abuse.
"I was threatened with police dogs being brought to my cell and they made me imitate the barking of dogs, they made me lick the floor, the soles of their boots," Ekri had said.
Ekri also said he had been forced to "confess to possession of weapons, heading a militia, and occupying the hospital."
Full Report at:
http://www.presstv.ir/Detail/2015/10/06/432194/Bahrain-Amnesty-Manama-Ali-Ekri-Salmaniya
--------
Mideast
18 UAE Guards Killed in Yemeni Troops Rocket Attack on Former PM's Hotel
Oct 06, 2015
Early reports said some 20 military troops lost their lives in the attacks mostly soldiers from the United Arab Emirates (UAE) guarding Qasr Hotel.
A number of officials from the former Yemeni regime, including Khaled Bahah, were reportedly staying at the hotel.
An unspecified number of individuals have also been wounded in the attacks.
It is not immediately clear if any of the former Yemeni officials said to be residing at the hotel are among the casualties.
Full Report at:
http://english.farsnews.com/newstext.aspx?nn=13940714000296
--------
Twelve more PKK militants slain in southeast Turkey
Oct 6, 2015
At least 12 members of the Kurdistan Workers' Party (PKK) have been killed in Turkish military strikes in the southeastern part of Turkey.
The Turkish General Staff, in a statement released on Monday, said two PKK militants were killed during operations in the Kurdish-populated city of Yuksekova in Hakkari Province, located 1,026 kilometers (638 miles) east of the capital, Ankara, earlier in the day.
Turkish troopers also reportedly defused a number of roadside bombs and improvised explosive devices in the operations.
PKK militants mounted three separate attacks on Turkish border guards and security personnel in the Semdinli district of Hakkari Province. Eight Kurdish militants were killed as they engaged in fierce exchanges of gunfire with Turkish forces.
Additionally, Turkish military forces reportedly defused six improvised explosive devices placed under a bridge in the district.
Turkish police sources, speaking on condition of anonymity, said at least two PKK militants were also killed in an operation in Turkey's southeastern province of Diyarbakir on Monday.
Villagers gather around a destroyed armored vehicle near the Daglica district in Hakkari Province, southeastern Turkey, September 7, 2015. (Photo by AFP)
Meanwhile, six Turkish soldiers sustained injuries in an explosion that targeted their vehicle in Diyarbakir Province.
Turkish officials, requesting not to be named, said the troopers were traveling in the Kocakoy district of the province when their car touched off an improvised explosive device, triggering the blast.
Turkey's Interior Minister Selami Altinok said on Monday that more than 2,000 PKK members have been killed in military operations across the country since July 22.
Operations within and without Turkey
Turkey has been engaged in one of its biggest military operations in its southern border region in the recent past.
Full Report at:
http://www.presstv.ir/Detail/2015/10/06/432183/Turkey-military-soldiers-operations-Kurdish-PKK-militants-Hakkari-Diyarbakir
--------
Aden attacks: 15 Arab coalition forces killed
6 October 2015
At least 15 soldiers from a Saudi-led Arab coalition and its Yemeni allies have been killed in several attacks in Aden on Tuesday, the official WAM news agency of the United Arab Emirates (UAE) reported on its Twitter feed.
The explosions hit a hotel housing Yemeni officials and a Gulf military base in Aden, a government spokesman and residents said, in the biggest attack on the government since it retook the city from its Houthi foes in July.
Earlier in the day, a hotel where Yemen's Vice President had been staying at in Aden was attacked by rocket-propelled grenades early Tuesday morning, Al Arabiya News Channel reported.
Yemen's Vice President Khaled Bahah, who is also the country's Prime Minister, was staying at al-Qasr Hotel since his return to the liberated city of Aden on September 16 along with several members of his cabinet. Officials reported that Bahah had survived the attack unhurt.
Bahah's return from exile in Saudi Arabia follows that of several other Yemeni ministers who relocated to Aden from the kingdom in the weeks after the city's recapture. Bahah made a brief visit to Aden on Aug. 1.
Yemen's Vice President Khaled Bahah, who is also the country's Prime Minister, was staying at al-Qasr Hotel since his return to the liberated city of Aden. (Reuters)
Rockets had reportedly hit the entrance of the hotel and ambulances and civil defence forces were on the scene. The missile appeared to have been fired at the gate of the hotel. A second missile landed nearby, while a third landed in the city's Buraiqah district, residents said.
Full Report at:
https://english.alarabiya.net/en/News/middle-east/2015/10/06/Yemen-s-VP-hotel-residence-attacked.html
--------
Turkey urges EU action on Syria to end migrant crisis
Oct 6, 2015
BRUSSELS: Turkish President Recep Tayyip Erdogan urged the EU consider a no-fly zone and safe haven area in Syria during talks to address Europe's spiralling migrant crisis.
Speaking after the discussions in Brussels yesterday, Erdogan said Turkey was bearing the brunt of the crisis and pressed the bloc to act against "state-sponsored terrorism" in its war-torn neighbour.
The European Union, meanwhile, said Turkey must do more to stop the flow of hundreds of thousands of refugees who have landed on its shores in the worst such crisis since World War II.
"It is indisputable that Europe has to manage its borders better. We expect Turkey to do the same," EU President Donald Tusk told reporters.
Turkey has become a key smuggling route for thousands of migrants seeking a better life in the EU -- some 630,000 people have entered the bloc illegally this year -- many of them fleeing conflict in Syria and Afghanistan.
Most are headed for the wealthier countries of northern Europe and Germany, which has welcomed the refugees, now predicts it could receive up to 1.5 million asylum seekers in 2015.
Thousands took to the streets of the eastern city of Dresden late yesterday, accusing Chancellor Angela Merkel of "crimes against the German people" and "treason".
"It won't stop with 1.5 or two million," said Lutz Bachmann, co-founder of the anti-Islam PEGIDA movement that organised the march.
Full Report at:
http://timesofindia.indiatimes.com/world/europe/Turkey-urges-EU-action-on-Syria-to-end-migrant-crisis/articleshow/49238721.cms
--------
Aden hotel used by Yemen govt hit by missile, casualties feared
October 6, 2015
ADEN: Unidentified assailants fired a missile at a hotel in Aden used by senior Yemeni government officials on Tuesday, causing a number of casualties, residents said.
The residents said they had unconfirmed reports that about 10 people were killed or wounded.
Yemeni vice president Khaled Bahah and other Yemeni officials were unhurt in the attack, officials said. President Abd-Rabbu Mansour Hadi is believed to be overseas.
Video footage posted on Twitter purporting to show the incident showed a large sheet of flame enveloping the front of the building, followed by an expanding plume of dark smoke.
The missile appeared to have been fired at the gate of the hotel, they said.
A second missile landed nearby, while a third landed in the city's Buraiqah district, residents said.
Initial reports had described the missiles as rocket-propelled grenades. There was no official word to confirm what type of projectile had been used in the attack.
Full Report at:
http://www.dawn.com/news/1211270/aden-hotel-used-by-yemen-govt-hit-by-missile-casualties-feared
--------
Turkey warns Russia over airspace violations
October 06, 2015
BEIRUT - Turkey warned Russia on Monday against violating its airspace during raids in Syria, as Nato condemned the "extreme danger" of such intrusions and urged Moscow to stop targeting civilians.
Turkey, a Nato member, protested to Moscow after its F-16 jets intercepted a Russian fighter that violated its airspace near the Syrian border at the weekend.
Two Turkish jets were also harassed by an unidentified MIG-29 on the Syrian border, Turkey's army said.
"Our rules of engagement are clear whoever violates our airspace," Turkish Prime Minister Ahmet Davutoglu said.
"The Turkish Armed Forces are clearly instructed.
Even if it is a flying bird, it will be intercepted," he added, while playing down the idea of "a Turkey-Russia crisis".
US Secretary of State John Kerry said the incident had risked provoking a serious escalation.
"We're greatly concerned about it because it is precisely the kind of thing that had Turkey responded under its rights could have resulted in a shoot-down," he said.
At an emergency meeting, Nato warned of the "extreme danger" of such violations and condemned the incursions.
The alliance also expressed "deep concern" over Russia's military build-up in Syria, urging Moscow to "immediately cease its attacks on the Syrian opposition and civilians".
Russia later played down the incursion, saying one of its aircraft had briefly entered Turkish airspace as a result of "unfavourable weather conditions".
"There is no need to look for some conspiracy theories," a defence ministry statement said.
Turkey and Russia remain on opposing sides of the Syrian conflict, with Moscow one of the few allies of President Bashar al-Assad while Ankara backs a solution excluding the embattled leader.
Russian warplanes have been flying over Syrian territory since Wednesday, conducting air strikes on what Moscow says are IS group targets in the country's northern and central provinces.
The strikes have been criticised by opposition backers such as the United States, which heads a coalition already conducting raids against IS in Syria.
Russia said its warplanes had carried out 15 sorties on 10 IS targets on Monday, adding that 10 facilities had been hit.
The West has accused Moscow of mainly targeting moderate opponents of the regime.
More than 40 of Syria's most powerful rebel factions said Monday Russia's air campaign had "cut the road to any political solution" and urged a regional coalition to fight the regime and its allies Russia and Iran.
Full Report at:
http://nation.com.pk/international/06-Oct-2015/turkey-warns-russia-over-airspace-violations
--------
Israeli soldiers shoot dead teen as fresh clashes erupt
October 06, 2015
RAMALLAH - Fresh clashes erupted Monday in the West Bank and Israel's military shot dead a 13-year-old Palestinian boy after Prime Minister Benjamin Netanyahu pledged a crackdown following attacks that killed four Israelis.
The spike in violence in the West Bank and east Jerusalem has led to international calls for calm, with concerns the unrest could spin out of control and memories of previous Palestinian uprisings still fresh.
As part of security measures following the recent attacks, Jerusalem's Old City remained closed to Palestinians for a second straight day.
On Monday afternoon, Israel's army shot dead the 13-year-old Palestinian during clashes at a refugee camp near Bethlehem. The teen was hit in the chest, making him the second Palestinian killed by Israeli fire in 24 hours, but further details of the incident were unclear.
On Sunday night, an 18-year-old Palestinian was killed during clashes in Tulkarem in the West Bank. Dozens of others have been wounded. "He is not the first martyr, nor will he be the last, but he died for his homeland," his father Othman Suleiman told AFP at his son's funeral on Monday, attended by hundreds.
Palestinian youths throwing stones and firebombs have faced off against Israeli security forces using both live rounds and rubber bullets. Jewish settlers have also clashed with Palestinians. The rioting has followed three attacks in recent days that have killed four Israelis and wounded several others, including a two-year-old child. Late Sunday, Netanyahu pledged "a fight to the death against Palestinian terror" after meeting security chiefs immediately following his return from the United States.
Netanyahu, facing pressure from right-wing members of his governing coalition to respond forcefully, announced a package of new measures "to prevent terror and deter and punish the attackers".
They included swifter demolition of the homes of those accused of attacks, broader use of detention without trial for suspects, and police and troop reinforcements for Jerusalem and the West Bank. He also spoke of using restraining orders to keep "inciters" away from the flashpoint Al-Aqsa mosque compound, the site of repeated clashes in recent weeks.
Palestinian president Mahmud Abbas, who said in a UN speech last week that he was no longer bound by previous accords with Israel, accused the Israeli government of escalating tensions. It was not clear what Abbas's UN declaration would mean in practice, including whether he would act to end security cooperation with Israel.
Full Report at:
http://nation.com.pk/international/06-Oct-2015/israeli-soldiers-shoot-dead-teen-as-fresh-clashes-erupt
--------
Israel toughens measures against Palestinians
6 October 2015
Israel announced harsher measures to tackle engulfed violence with Palestinians on Monday as a Palestinian teenager was killed in a clash with Israeli soldiers near the West Bank town of Bethlehem, a Palestinian hospital source said.
Violence in the occupied West Bank and Jerusalem has intensified in the past few weeks and the teenager's reported death was the latest in a series of incidents that has raised fears of wider escalation.
A Bethlehem hospital said a 13-year-old boy identified as Abdel-Rahman Abeidallah of the nearby al-Aidah refugee camp died of a bullet wound to the heart.
The Israeli military said it had no specific information.
Recent bloodshed has included a drive-by shooting that killed an Israeli couple in the West Bank on Thursday and an arson attack that killed a Palestinian toddler and his parents in July.
Israel said it had arrested five men from the West Bank city of Nablus on suspicion of carrying out Thursday's drive-by shooting.
Late on Monday, Prime Minister Benjamin Netanyahu convened his security cabinet, a close circle of ministers, to authorize harsher measures to tackle the rising violence in Occupied East Jerusalem, which includes the walled Old City, and the West Bank, areas that Israel captured in a 1967 war.
Full Report at:
https://english.alarabiya.net/en/News/middle-east/2015/10/06/Israel-toughens-measures-as-violence-escalates.html
--------
U.N. asks Iran to help in pressuring Syrian regime
6 October 2015
United Nations chief Ban Ki-moon urged Iran on Monday to pressure its ally Syria to reach a peaceful resolution of the brutal civil war there.
During a meeting with Iranian Foreign Minister Javad Zarif, Ban "reiterated that there is no military solution to the conflict and asked Iran to exercise its influence in promoting a political solution," his office said.
Ban also called on all parties to implement "in good faith" the nuclear agreement Iran signed with major powers in July, according to a statement from his office.
Separately, Ban "underscored the need for Lebanon's presidential vacuum to be filled as quickly as possible," the statement added.
Full Report at:
https://english.alarabiya.net/en/News/middle-east/2015/10/06/U-N-urges-Iran-to-pressure-Syrian-regime.html
--------
Defected Commander: Saudis Execute Pro-Hadi Forces on Treason Charges, Help Al-Qaeda in Yemen
Oct 06, 2015
"The Arab coalition aggressors led by Saudi Arabia executed eight pro-Hadi militias on treason and espionage charges in a region in Abyan," Marvan Khaled told FNA on Tuesday.
He, meantime, noted that Saudi Arabia provides financial support for the Al-Qaeda militants and mercenaries of Mansour Hadi, and said, "Saudi Arabia gives cash to Al-Qaeda and the ISIL in Yemen in order to hire them for war against the Yemeni army and popular forces while the coward Saudi army has no courage and military power on the ground in Yemen."
Khaled reiterated that the UAE army has no role in Southern Yemen, and said, "The US and Saudi Arabia are now running a clandestine plot to disintegrate Yemen."
Saudi Arabia has been striking Yemen for 195 days now to restore power to Hadi, a close ally of Riyadh. The Saudi-led aggression has so far killed at least 6,445 Yemenis, including hundreds of women and children.
Full Report at:
http://english.farsnews.com/newstext.aspx?nn=13940714000662
--------
Iran Strongly Condemns Israel for Killing Palestinians in West Bank
Oct 06, 2015
Foreign Ministry Spokeswoman Marziyeh Afkham condemned the Israeli regime's terrorist attack against the defenseless Palestinian people, specially in the West Bank, which martyred a teenager and a young man.
She also warned against the aftermaths of the Zionist regime's desecration of al-Aqsa mosque and Beit al-Moqaddas.
The Israeli army fire killed Abdel Rahman Abdullah, a 13-year-old Palestinian, at a refugee camp near Bethlehem on Monday.
Also, the Israeli police at dawn Sunday shot dead a Palestinian young man in cold blood near Bab al-Amoud area in the Old City of Jerusalem, claiming that he had stabbed a Jewish settler and wounded him.
Full Report at:
http://english.farsnews.com/newstext.aspx?nn=13940714000432
--------
Iran Stresses Continued Efforts to Terminate Regional Crises
Oct 06, 2015
"Iran has always endeavored to settle these crises politically and it will continue its cooperation with the UN and the regional states similar to the past to end the regional crises through political negotiations," Zarif said during the meeting in New York on Monday held on the sidelines of the UN General Assembly conference.
At the meeting, Zarif and Ban Ki-moon also conferred on the regional developments in Syria, Yemen, Iraq and Lebanon.
Ban Ki-moon, for his part, stressed Tehran's regional position, and called for closer cooperation with Iran to settle the problems in the region.
Different regional and international figures have underscored Iran's key role in the region, and have called for using the country's capacities to settle the regional problems.
Late September, Head of the Foreign Relations Commission of the Czech Republic's Senate František Bublan underscored that all the world states had come to this conclusion that solving the problems in the region without Iran's partnership was impossible.
"Keeping in mind Iran's role in the region and its military and political power, the world nations have come up with the conclusion that problem solving in the Middle East is impossible in absence of Iran," Bublan said in a meeting with Iranian Deputy Foreign Minister Morteza Sarmani in Tehran.
He also stressed that his country was quite ready for comprehensive expansion of its relations and boosting cooperation with Iran, specially in economic and parliamentary fields.
During the meeting, the two sides also agreed on the need for international cooperation to uproot terrorism in the Middle-East.
In relevant remarks last Wednesday, German Foreign Minister Frank-Walter Steinmeier underlined that Iran should be a part of any solution to solve the problems in Syria.
There can be no military solution to the Syrian civil war, saying a political process had to be kicked off, Steinmeier said in an interview with ARD channel.
For this political process, we need the US, Russia, Syria's Arab neighbors, Saudi Arabia, Iran, Turkey and Europe, he added.
Full Report at:
http://english.farsnews.com/newstext.aspx?nn=13940714000324
--------
South Asia
Murders underline rise of Bangladesh Islamist militants
SHAFIQUL ALAM
October 06, 2015
DHAKA: The assassination of two foreigners in a week has highlighted the growing danger posed by Islamist militants in Bangladesh, with experts warning that a long-running political crisis has radicalised opponents of the government.
While experts are dubious about the self-styled Islamic State organisation's claim of responsibility for the latest killings, they say hardliners who have been shut out of the political mainstream are opting for increasingly desperate measures in a country known for its religious tolerance.
The latest killings follow the assassination of four atheist bloggers since the turn of the year, undermining the government's efforts to play down the threat posed by hardliners.
Even before Saturday's murder of Japanese national Hoshi Kunio in the northern town of Kaunia, Australia had cancelled a tour of the cricket-mad nation over security fears.
The killings of Kunio and Italian aid worker Cesare Tavella last Monday have also prompted buyers from foreign garment companies to shelve a meeting with local manufacturers due to have taken place in Dhaka in a worrying development for the $25 billion industry.
"These killings are very ominous signs. There is a pattern that these are done by militants, which makes everyone concerned," Ali Riaz, an expert on militancy in Bangladesh based at Illinois State University, told AFP by phone.
"The future of Bangladesh is at stake because if these killings are continued it'll have a ripple effect on the country's political stability and its economy."
Only this year Bangladesh officially joined the club of low to middle income economies, shedding its status as a least developed nation, after posting annual growth rates of around six per cent over the last decade.
But while the economy may appear to be in rude health, Bangladesh has been plagued by unrest in the last three years, a period which has seen the largest Islamist party banned while the mainstream opposition boycotted the last elections in January 2014 over rigging fears.
The death sentences handed down to several leading Islamists for war crimes over their role in the 1971 conflict to secede from Pakistan have exacerbated tensions between the secular government and its opponents.
Scores of opposition activists including Islamists have gone missing since the start of the year when the latest round of anti-government protests erupted, with families fearing they have either been secretly detained or killed.
Veteran political analyst Ataur Rahman said the crackdown on radical Islamists had only served to fuel militancy.
'Islamists cornered'
"There is no doubt that a big section of the people are aggrieved. Some political groups, including Islamic parties are so cornered that they may have opted for desperate measures," said Rahman.
The hitherto unheard of Ansarullah Bangla Team has claimed responsibility for three of the blogger killings while IS has put out statements claiming both of last week's assassinations — the first time that the group has been linked to any such killings in Bangladesh.
Prime Minister Sheikh Hasina has said police have no evidence to confirm the jihadist group's involvement while her interior minister has repeatedly said there is no IS presence in the country.
Full Report at:
http://www.dawn.com/news/1211146/murders-underline-rise-of-bangladesh-islamist-militants
--------
Taliban Supreme Leader running businesses under fake names and owns a house in Dubai
By ZABIHULLAH MOOSAKHAIL
Oct 06 2015
American daily newspaper the New York Times has published a report indicating that the Supreme Leader of Taliban Mullah Akhtar Mohammad Mansour is a businessman and running businesses in Dubai.
The report cites a person that knows Mullah Mansour as saying that the Taliban leader owns a cellphone company.
The news agency cites some intelligence officials as saying that Mullah Mansour is wealthy by any standard, partly because of his ties to Ishaqzai narcotics traffickers.
One Afghan intelligence official has said that some of the wealth of Mullah Mansour has been frozen by Pakistani officials.
One such time came this year when Pakistan was seeking to broker a round of talks between the Taliban leadership and the Afghan government and wanted Mullah Mansour to go along with it, the official said.
According the NYT, some of the time, he lives in a southern neighborhood of Quetta, Pakistan, known as Satellite Town, in an enclave where he and some other Taliban leaders from the same Pashtun tribe, the Ishaqzai, have built homes, according to interviews with a range of people who know him, including high-ranking Taliban leaders.
The NYT report further states that many of the people interviewed about Mullah Mansour, they spoke on the condition of anonymity to avoid offending or prompting revenge.
The report reveals that Quetta is not his only option. Although he is on the United Nations no-fly list, Mullah Mansour has repeatedly taken flights in and out of Pakistan, according to a senior Afghan intelligence official. Often, his destination has been Dubai, in the United Arab Emirates, where he has a house and several investments under different names, the official said.
Full Report at:
http://www.khaama.com/report-taliban-supreme-leader-mullah-akhtar-masour-running-businesses-in-dubai-3979
--------
'Islamist bomb expert' killed in Bangladesh police search
October 06, 2015
CHITTAGONG/DHAKA: An 'explosives expert from a banned Islamist group' was killed in Bangladesh on Tuesday when he detonated a device while security forces searched for weapons in one of the group's hideouts, police said.
Police claimed that Mohammad Javed, 24, was an explosives expert with the Jamayetul Mujahideen Bangladesh (JMB), an outlawed group blamed for a series of deadly blasts in 2005.
The death comes amid heightened tension in the Muslim majority nation after an Italian aid worker and a Japanese farmer were shot dead last week with the self-styled Islamic State (IS) organisation claiming responsibility.
Police said they arrested Javed and four other JMB militants on Monday and seized a cache of weapons from a hideout in the port city Chittagong.
"Early Tuesday morning we took Javed to conduct a search for more weapons at the city's Kuaish area where he exploded a grenade. He was injured and died," Chittagong's deputy police chief Kusum Dewan told AFP.
Also read: Japanese man shot dead in Bangladesh days after 'IS attack'
He said Javed was the "regional head of JMB's explosive unit," which has been trying to regroup after it was severely weakened in an anti-militant crackdown.
The JMB killed at least 28 people in 2005 when they carried out a series of bomb attacks on courts.
Bangladesh prides itself on being a mainly moderate Muslim country but the gruesome killings of four atheist bloggers this year have rocked the nation.
After the murder of foreigners, international schools closed temporarily and Western embassies restricted their diplomats' movements, while Australia's cricket team cancelled a planned tour due to security concerns.
Full Report at:
http://www.dawn.com/news/1211274/islamist-bomb-expert-killed-in-bangladesh-police-search
--------
Muslim Groups Sue Myanmar President In New York
October 06, 2015
NEW YORK - A coalition of Muslim groups has filed suit in New York against Myanmar President Thein Sein and other government officials for alleged crimes against the Rohingya minority, which they say amount to genocide.
The suit comes a month ahead of critical elections, seen as a test of the nation's nascent democracy.
A spokesman for the president dismissed the civil suit Monday.
"Myanmar is not a vassal to America.
There's no reason why Myanmar would go and face the lawsuit of a federal court in America," he said.
The complaint, filed Thursday, asks United States Magistrate Judge Debra Freeman to issue summonses to Sein, Foreign Minister Wunna Maung Lwin and other officials under the US Alien Tort Statute, which has been used in the past by foreign citizens seeking damages from human rights violations committed outside the United States.
The suit alleges the Rohingya "are primary targets of hate crimes and discrimination amounting to genocide fuelled by extremist nationalist Buddhist monks and Thein Sein government.
"
"Since 1962, the Burman Buddhist supremacist government of Myanmar has ruled with an exclusionary, authoritarian ideology," it says, adding that Rohingyas are excluded from obtaining citizenship in Buddhist-majority Myanmar and are "brutally persecuted because of their faith and ethnicity.
"
This treatment has led large numbers to flee the country, causing a regional migrant crisis.
The plaintiffs include the Burma Task Force, a coalition of 19 Muslim groups, and a member of the Rohingya community who fled Myanmar for the United States.
Full Report at:
http://nation.com.pk/international/06-Oct-2015/muslim-groups-sue-myanmar-president
--------
NDS detain would-be suicide bomber who planned to target police in Kabul
Oct 06 2015
The National Directorate of Security (NDS) – Afghanistan's intelligence agency has detained a would-be suicide bomber in Kabul who planned to target police.
A statement released by NDS on Tuesday identifies the arrested terrorist as Mahmood S/O Nawroz Khan who has received terrorist training from Faizul Madaris Madrasa (Seminary) in Shamshatu area of Peshawar city.
The statement further states that Mahmood who had received the assignment from Haqqani Terrorist Network had a bag full of explosives and intended to target the eight police district in Kabul city.
A footage released by NDS shows the arrested young boy telling his story about how got ready for the suicide attack.
"My name is Mahmood S/O Nawroz Khan, Mawlawi Niamtullah took me to Pakistan, there was a Madrasa in Shamshato of Pakistan by the name of Madrasa-e-Faizul Madaris, after a year and a half Mawlawi Niamatullah returned to Afghanistan and handed me over to Mawlawi Faizullah, Mawlawi Faizullah was an instructor of the Madrasa and member of Haqqani Network, he convinced me for carrying suicide attack, I said OK," he said.
"another person came and took me to a center where they were giving training on how to use Kalashnikov, rockets and other weapons, they were also giving lessons on suicide vests and explosives," he said, adding that "I received 20 days training there."
There is a cut in the video after which Mahmood says that Mawlawi Faizullah left him at Torkham border and give him the rent to Kabul with a contact number.
Full Report at:
http://www.khaama.com/breaking-news-nds-detain-would-be-suicide-bomber-who-planned-to-target-police-in-kabul-3973
--------
UN urges impartial investigation into Kundoz airstrike
Oct 06 2015
The United Nations has urged impartial investigation of an airstrike in northern Kundoz province that left dozens of civilians killed and wounded on Saturday.
Speaking in an interview with UN Radio, Nicholas Haysom the UN Secretary-General's Special envoy and head of the United Nations Assistance Mission in Afghanistan (UNAMA) said that UN has been emphasizing the need to ensure the incident – which reportedly left more than 20 people dead and was strongly condemned by a host of senior UN officials, including Secretary-General Ban Ki-moon-is investigated properly.
"We issued a series of statements which I think, collectively, are very powerful indication of our concern over an attack on a medical facility [which is] clearly protected under international law," continued, Mr. Haysom, noting that apart from his own statements, the UN High Commissioner for Human Rights, Zeid Ra'ad Al Hussein, had also issued a "very strong call for an independent and impartial inquiry."
In his interview, Haysom also expressed concern over humanitarian situation in Kundoz province.
"We all are conscious and concerned about the overall humanitarian situation. People have been without food. Today some shops opened but the cost of food escalated dramatically. We know that since the attack on the hospital, there is very limited access to any health facilities and in one place where medical assistance is offered, there is only one medic. [There is] no food and they have run out of medicines."
Full Report at:
http://www.khaama.com/un-urges-impartial-investigation-into-kundoz-airstrike-3970
--------
Terrorists wounded in Afghanistan rounded up from hospital in Karachi
Oct 06 2015
Police officials in Karachi city of Pakistan have arrested a group of terrorists from a hospital who had fought in Afghanistan.
According to news published by Pakistan's ARY news agency on October 5, Inspector General Sindh Police Ghulam Hyder Jamali has said that several terrorists wounded in Afghanistan were arrested from a hospital in Karachi where they were being treated.
The report further states that IG Ghulam Hyder Jamali after distributing cheques to the families of the slain policemen said that strict action will be taken against the staff of the hospital.
IG Jamali has further said that investigation against the arrested persons is underway, adding that terrorists affiliated with Al-Qaeda and different terrorist organizations along with agents of India's Research and Analysis Wing (RAW) have also been arrested.
Full Report at:
http://www.khaama.com/terrorists-wounded-in-afghanistan-rounded-up-from-hospital-in-karachi-3978
--------
Bangladesh pastor escapes knife attack at his home
By Julhas Alam 
October 06, 2015
DHAKA, Bangladesh — A Bangladeshi pastor has survived an attempt on his life by three men who came to his home pretending to want to learn about Christianity, police and the victim said Tuesday.
The incident follows the fatal attacks on two foreigners last week in Bangladesh, a predominantly Muslim country that is grappling with violence claimed by hard-line Islamic groups.
The Islamic State group claimed responsibility for last week's attacks, one on a Japanese agricultural worker and the other on an Italian aid worker. The IS claim has been refuted by Bangladesh's government, which blamed the opposition for trying to destabilize the country.
On Monday, 52-year-old pastor Luke Sarker suffered minor injuries when three men aged 25-30 attacked him with a knife at his home in the northwestern district of Pabna, said the area's senior police official, Siddikur Rahman.
Sarker, the pastor of Faith Bible Church, said by telephone that the men had phoned him about two weeks ago saying they wanted to visit him to learn about Christianity.
After they arrived at his home on Monday, the men suddenly attacked him with a knife and tried to slit his throat, Sarker said. But as he shouted, his wife came to his rescue and the men fled. Police later recovered a motorbike from outside his home.
Rahman said that police had no clues yet about the identities of the three men but suspect they could be members of a fundamentalist group.
Full Report at:
https://www.washingtonpost.com/world/asia_pacific/bangladesh-police-say-pastor-escapes-attackers/2015/10/06/2c623440-6beb-11e5-91eb-27ad15c2b723_story.html
--------
Africa
South Africa among world's most Muslim-friendly countries for tourists
OCTOBER 6TH, 2015
South Africa was named fourth among the non-Organization of Islamic Cooperation (OIC) destinations in the 2015 Global Muslim Travel Index.
Among the non-OIC destinations Singapore scored the highest Index score of 65.1 followed by Thailand at 59.2 with South Africa scoring 51.1.
The Index, a MasterCard and CrescentRating initiative, revealed that in 2014 this segment was worth $145 billion, with 108 million Muslim travelers representing 10% of the entire travel economy. This is forecast to grow to 150 million visitors by 2020 and 11% of the market with an expenditure projected to grow to $200 billion.
Muslim travel will continue to be one of the fastest growing travel sectors in the world. The Muslim population is growing rapidly and is expected to become 26.5% of the world's population by 2030. Faith is increasingly influencing purchasing decisions of travelers. This has been illustrated over the last decade by the accelerated growth of Halal food, Islamic banking and lifestyle sectors.
Full Report at:
http://www.capitalfm.co.ke/lifestyle/2015/10/06/travel-south-africa-among-worlds-most-muslim-friendly-countries/
--------
85 dead migrants found washed up in Libya
October 06, 2015
TRIPOLI - The bodies of 85 migrants have been found washed up on the coast of Libya, a major departure point for the sea crossing to Europe, the Red Crescent said Monday.
Since Tuesday, volunteers have recovered dozens of bodies of migrants in an advanced stage of decomposition on beaches near the capital, spokesman Mohamed al-Misrati said.
They found 75 bodies around Tripoli and another 10 in Sabratah, 70 kilometres (43 miles) to the west, he said.
The Libyan coastguard said it had also rescued 212 migrants from two overloaded rubber dinghies off the Libyan coast.
"We were informed of the presence of two large zodiacs off the coast of Garabulli" 60 kilometres east of Tripoli, a coastguard officer told AFP.
He said that 22 women were among the rescued migrants, who were of different nationalities including many Senegalese and Sudanese.
Libya, with a coastline of 1,770 kilometres, has for years been a stepping stone for Africans bound for Europe. Most head for Italy's Lampedusa island which is 300 kilometres from Libya.
People smugglers have taken advantage of chaos in Libya since the 2011 uprising that toppled and killed veteran dictator Moamer Kadhafi to step up their lucrative business. In exchange for steep fees, they take would-be migrants on board rickety boats for the treacherous crossing.
Full Report at:
http://nation.com.pk/international/06-Oct-2015/85-dead-migrants-found-washed-up-in-libya
--------
Libya's rival factions resume peace talks in Morocco
6 October 2015
Libya's rival factions resumed talks in Morocco on Monday to try to move forward with a U.N.-brokered peace deal and agree on a national unity government.
The United Nations has been piling pressure on Libyan factions to take the final step and make the appointments after months of difficult negotiations and missed deadlines.
"The envoy of the U.N. Mission for Libya is meeting a number of negotiators on Monday," said UNSMIL spokesman Samir Ghattas.
Nearly four years after the fall and death of dictator Muammar Qaddafi, Libya remains in chaos with two rival governments and parliaments.
The capital Tripoli is the seat of the General National Congress controlled by the Fajr Libya (Libya Dawn) coalition of militias.
The city of Tobruk in the far east near the border with Egypt hosts the internationally recognized parliament.
U.N. envoy Bernardino Leon has said that a deal should be reached before October 20, when the mandate of the Tobruk parliament expires.
Full Report at:
https://english.alarabiya.net/en/News/middle-east/2015/10/06/Libya-s-rival-factions-resume-peace-talks-in-Morocco.html
--------
Libya's elected parliament extends mandate, complicating peace talks
6 October 2015
Libya's elected parliament voted on Monday to extend its mandate, due to expire on Oct. 20, in a move likely to complicate U.N. attempts to end a crisis between the country's two rival governments.
Four years after the uprising that toppled veteran ruler Muammar Qaddafi, the oil-producing North African state is caught in conflict between its recognized government, with an elected parliament, and a rival self-declared administration. The two are backed by competing armed factions.
The United Nations has been negotiating a peace agreement to form a unity government. It had been pushing hard for a deal before the parliament's mandate ended on Oct. 20 to prevent the country falling deeper into chaos.
House of Representatives spokesman Faraj Hashem said the elected parliament had voted to extend its mandate until it could hand over power to a new elected body.
He told reporters the parliament, known as the HOR, was still supporting the U.N.-backed negotiating process and its delegates were in meetings with the U.N. envoy in the Moroccan city of Skhirat on Monday.
"The HOR has amended the constitutional declaration to extend its mandate to avoid a vacuum in the country," lawmaker Tarek Juroushi told Reuters.
There was no official reaction from the rival parliament, known as the GNC, and government. These have been established in Tripoli since an armed faction called Libya Dawn took over the capital last year, driving out the recognized government which now operates in the east of the country.
Full Report at:
https://english.alarabiya.net/en/News/africa/2015/10/06/Libya-s-elected-parliament-extends-mandate-complicating-peace-talks.html
--------
Nigeria Muslims Urged to Exercise Tolerance
05 October 2015
CAIRO – As world Muslim prepare to welcome the new Hijri year, a Nigerian Muslim leader has advised Muslims to emulate the Islamic teachings and morals of Prophet Muhammad as their goal and mission to be followed.
"You must have the fear of Allah and behaving in the most acceptable manner to your fellow human being," the Amir of the Muslim Congress (TMC), Imam Luqmon AbdulRaheem, was quoted by The Pulse.
"Let them revive the teachings of the Prophet by preaching peace wherever they find themselves," he added.
The prominent Muslim figure was talking at the 1436 annual lecture of the Congress titled 'Sustaining the Change Mantra' at the National Stadium, Surulere, Lagos state.
Thousands of Nigerians gathered at the stadium to listen to the program which was sponsored by the TMC.
The imam urged Muslims and non-Muslims to shun violence and any act capable of jeopardising the peace of the nation.
AbdulRaheem also asked the faithful to learn how to forgive, stressing that "Allah himself forgives."
He called on Muslims to be prayerful, saying that prayer is the key to overcome any situation they found themselves in.
Full Report at:
http://www.onislam.net/english/news/africa/494771-nigeria-muslims-urged-to-exercise-tolerance.html
--------
Nigeria Mourns 74 Killed in Mecca Stampede
October 05, 2015
LAGOS, NIGERIA—
Officials in Nigeria say at least 74 of the country's citizens were killed in last month's stampede at the annual Hajj in Saudi Arabia. Nigerians are mourning the dead and awaiting news of other missing relatives, 11 days after the tragedy.
According to the latest figures from Nigeria's Hajj commission, 74 Nigerians died in the stampede and another 64 were injured.
News reports indicate Nigeria suffered more casualties than any other country in sub-Saharan Africa.
And the death toll may still rise. Two-hundred-and-44 Nigerians who went to the Hajj remain missing. Commission officials are searching for them, after the government called for every Nigerian pilgrim to be accounted for.
The Hajj is a major draw for Nigerians. The country's population is almost evenly divided between Muslims and Christians and the commission says 85,000 pilgrims from Nigeria went to Mecca this year.
In the northern city of Kaduna, many have friends or relatives among the dead. Yusuf Yakubu Argasiyyu, the executive director Muslim League for Accountability in Nigeria, said he knew many of those who were killed.
Full Report at:
http://www.voanews.com/content/nigerians-mourn-74-killed-in-mecca-stampede/2991953.html
--------
Southeast Asia
Malaysia Played Proactive Role In Securing Votes For Palestine, Say Muslim NGOs
06 October 2015
KUALA LUMPUR: Mention Palestine and what comes to mind is a territory torn apart by war, destruction and senseless killings of innocent people.
While years of Israeli aggression have led to the sound of gunfire perpetually echoing through its streets, Palestine's plight has nevertheless always grabbed the attention of the world, particularly the Muslim community.
Now, however, Palestine can afford to smile a little as its flag is flying high at the headquarters of the United Nations (UN) in New York City, giving the beleaguered state fresh hopes of freeing itself from the clutches of the Zionist regime.
In a historic ceremony on Oct 1, Palestinian President Mahmoud Abbas hoisted his nation's flag at the UN's Rose Garden, witnessed by UN Secretary-General Ban Ki-moon. Malaysian Foreign Minister Datuk Seri Anifah Aman also attended the ceremony.
The Palestinian Authority had obtained its non-member observer status at the UN in 2012.
On Sept 10 this year, the UN General Assembly voted in favour of raising Palestine's flag at the UN headquarters following a 119-8 vote with 45 abstentions.
The eight nations which had opposed the resolution were the United States, Australia, Canada, Marshall Islands, Federated States of Micronesia, Palau, Tuvalu and Israel.
MALAYSIA'S ROLE EFFECTIVE
Can Palestine's small but symbolic success be attributed to the hard work put in by the Organisation of Islamic Cooperation (OIC), which include Malaysia?
Chairman of Muslim non-governmental organisation Pertubuhan Pribumi Perkasa Malaysia's (Perkasa) Islamic Affairs Bureau Dr Amini Amir Abdullah said Malaysia and OIC member nations' tireless efforts in lobbying for support for Palestine were finally beginning to bear fruit.
"Malaysia has been playing an effective role in voicing out its concern about Palestine and the future of its innocent people, who are being oppressed by Israel.
"Today, the Islamic community is proud of what Palestine has achieved and it was made possible with the undying support of Malaysia and other OIC countries. It has given the (global) Muslim community a glimmer of hope that Palestine will (one day) become a free state," he told Bernama.
NGO Pertubuhan Ilmuan Malaysia Secretary-General Ustaz Ahmad Fazrin Yahaya, meanwhile, expressed his hope that Palestine would go on to chart bigger victories.
"We're delighted with the recent development and hope that Palestine will rise up and achieve even more," he told Bernama in a telephone interview from Jeddah, Saudi Arabia.
He was also hopeful that the raising of the Palestine flag at the UN headquarters would act as a spur to speed up the peacemaking process between Tel Aviv and Ramallah.
"I hope it will help free Palestine from the clutches of Israel. We're praying for the best...," he added.
Full Report at:
http://malaysiandigest.com/features/572510-malaysia-played-proactive-role-in-securing-votes-for-palestine-say-muslim-ngos.html
--------
Get GMM to identify moderates, extremists, says Kit Siang
Suresh Kashuerin
October 6, 2015
KUALA LUMPUR: DAP elder statesman Lim Kit Siang has reiterated repeated calls that the Cabinet should seriously consider his suggestion that the Global Movement of Moderates (GMM), an initiative by Prime Minister Najib Razak, be commissioned to report on who were the extremists and who were the moderates in the events surrounding the 34-hour Bersih 4 rally and the four-hour September 16 Red Shirts Rally.
The Chinese Ambassador Huang Hui Kang visited Chinatown in Petaling Street, Kuala Lumpur, when the Red Shirts threatened to storm the tourist and shopping district.
"We believe that the truth will finally prevail," said Lim who is also DAP Parliamentary Leader and Gelang Patah MP. "We can withstand public scrutiny unlike the chicanery and falsehoods of dishonest propagandists. We are prepared to place our trust in GMM."
Lim was taking the opportunity to fire another salvo at MCA and Gerakan leaders who allegedly had instigated Umno elements to respond to the Bersih 4 Rally in a racist, chauvinist and extremist manner. "They gave them cause to believe that DAP had hijacked and masterminded the 34-hour Bersih 4 rally to stage a Chinese 'show-of-force' to challenge Malay political authority. This was a completely baseless supposition."
These MCA and Gerakan leaders like Gerakan Secretary-General Liang Teck Meng and the MCA religious harmony bureau chairman Ti Lian Ker were not doing the nation or the community any service, although they were praised sky-high by the Umno mouthpiece Utusan Malaysia, he added. "Those who think that just because some had rewritten Malaysia's history of the past, they can also rewrite the history of contemporary events. They will learn that they cannot be more wrong or misguided."
The cat is out of the bag on the mission of irresponsible, dishonest and insidious propagandists in the Umno/Barisan Nasional (BN) camp out to twist facts, distort the truth and even tell outright lies and falsehoods to influence public perceptions and events, said Lim, in revisiting the Chinese Ambassador turning up in Petaling Street.
He was commenting on the admission by Umno Secretary-General Tengku Adnan Mansor on Monday that Utusan Malaysia had exacerbated the diplomatic flap involving the Chinese ambassador. "Adnan said the Chinese Ambassador went to Petaling Street with good intentions but Utusan Malaysia took Ronnie Liu's and Teresa Kok's blogs and 'twisted' them into headlines, and it became a problem."
Full Report at:
http://www.freemalaysiatoday.com/category/nation/2015/10/06/get-gmm-to-identify-moderates-extremists-says-kit-siang/
--------
Penang Islamic school accuses state of tyranny after funds dry up
October 6, 2015
GEORGE TOWN, Oct 6 — Sekolah Rendah Islam Al-Ansor (SRIA) in Balik Pulau accused the DAP-led Penang government today of having a political agenda after its funding this year was axed.
SRIA director Muhammad Fauzi Yusof claimed the state government under Penang Chief Minister Lim Guan Eng, had discriminated against the school by withdrawing funding for the school this year.
"We have received annual funding and this year, we received a letter of the funding for this year but on September 3, we were told the funding was withdrawn and a Penang Islamic Religious Department (Jaipp) officer came to take back the letter," he said in a statement.
He believed this showed that there are "invisible hands" involved in this due to political intervention in the state's administration.
"This is tyranny towards a religious education institution in the state," Muhammad Fauzi added.
The school is a Sekolah Agama Rakyat (SAR) that was registered with Jaipp and had been in operations since 2008.
Muhammad Fauzi said the school currently has 215 students with a majority of them coming from middle to low income groups.
Full Report at:
http://www.themalaymailonline.com/malaysia/article/penang-islamic-school-accuses-state-of-tyranny-after-funds-dry-up
--------
Dubai Islamic Bank raises stake to 40% in Indonesia's Bank Panin Syariah
October 6, 2015
Dubai Islamic Bank PJSC (DIB) has received formal approval from the Financial Services Authority, Indonesia (OJK) to increase its shareholding in PT Bank Panin Syariah, a listed syariah commercial bank, to 40 per cent, the company said in a press statement.
The move forms part of DIB's overall investment strategy in Indonesia.
In the first phase, DIB had completed the acquisition of around 25 per cent stake in Bank Panin Syariah, procuring the entity's shares from the market, and not through a direct share purchase from Panin Bank as earlier reported in certain sections of the press.
Following the completion of the first phase, DIB initiated a formal regulatory approval process to obtain "Controlling Shareholder Status" from the Financial Services Authority.
Also Read : Indonesia Dealbook: Emirates NBD, Qatar Masraf al Rayan, Dubai Islamic Bank eye Islamic banks; Cargill plans to invest $750m
After the OJK approval, DIB is now in a position to initiate and complete phase two of the share purchase plan to increase its shareholding to 40 per cent.
"Islamic banking in Indonesia has huge potential which still remains largely unexploited", said Adnan Chilwan, Group CEO, DIB. "Given Bank Panin Syariah's knowledge of the local market and DIB's undisputed expertise in this fast growing segment, we see a massive opportunity for growth and expansion transforming what today is seen as a niche business into a more widely accepted form of banking within the country".
Full Report at:
http://www.dealstreetasia.com/stories/dubai-islamic-bank-raises-stake-to-40-in-indonesias-bank-panin-syariah-14690/
--------
Sharia Capital Market Grows: BEI
06 OCTOBER, 2015
TEMPO.CO, Padang-The sharia compliant capital markets share in Indonesia increased by 5.4 percent in the past 10 years, the Indonesia Stock Exchange (BEI) has said.
"The sharia compliant capital markets share increased to 20 percent in 2013 from 13 percent in 2003," BEI Development Director Nicky Hogan said at a workshop here on Monday, October 5.
Sharia compliant capital market is that component of the capital market which applies sharia principles. It is not an independent unit but is part of the existing capital market.
The National Sharia Council of the Indonesian Ulema Council issued the sharia principles in the form of a religious edict (fatwa) that was incorporated in the Financial Service Authority (OJK)s regulation, he said.
At 59.2 percent, the share of the sharia compliant capital market in Asia currently is the highest in the world, he said.
Full Report at:
http://en.tempo.co/read/news/2015/10/06/056706776/Sharia-Capital-Market-Grows-BEI
--------
Pakistan
Govt to hold operations against ISIS-linked: Sources
October 05, 2015
ISLAMABAD: Following the National Action Plan (NAP), the federal government has completed all preparations and arrangement to initiate a crackdown against all those organizations having relations and links with banned outfit IS.
Sources told Online, after Sindh, preparations have been finalized to eliminate all the nurseries of Daish in Punjab and federal capital Islamabad.
"It is revealed that network of religious seminaries, terrorists and sectarian organizations were being run by the Daish in outskirts and rural areas of Islamabad including Rawal Dam, Bhara Kahu and Sihala", sources disclosed and added that federal government has decided to conduct operation and to foil the network of terrorists outfits across the country.
The political and military leadership after consultation with civil institutions has finalized the operation in Punjab and federal capital against terrorist outfits.
Full Report at:
http://nation.com.pk/national/05-Oct-2015/govt-to-hold-operations-against-isis-linked-sources
--------
Petitioner 'trying to strain Saudi-Pak relationship', Mora tells LHC
IMRAN GABOL
Oct 6, 2015
LAHORE: The Ministry of Religious Affairs (Mora) on Tuesday called for the Lahore High Court (LHC) to 'reprimand' a citizen for "trying to strain the sensitive relationship between the Kingdom of Saudi Arabia and the Government of Pakistan".
The LHC's Justice Ayesha A. Malik last week took up a petition filed by Arif Idrees, who accused the ministry of hiding facts about casualties sustained as a result of the Mina stampede which occurred during the annual Haj pilgrimage this year.
The petitioner earlier claimed that international media reported 236 Pakistani pilgrims had died in the incident but Mora officials had provided misleading death toll figures.
"They were reluctant to give the exact death toll as they are not performing duties assigned to them in accordance with law," the petitioner had said.
Submitting a complete record to the court, the ministry replied to the petitioner saying the Director General (DG) Haj had placed teams at various points in Mina "for the guidance of lost pilgrims" which Mora says "is the only legal work" they are allowed by the government of Saudi Arabia.
Mora said Saudi authorities had "pushed all [Pakistani] volunteers outside the cordon and then started to work on their own" after the stampede. The government counsel further claimed that 'thousands' of pilgrims at the scene had witnessed the incident.
Read: 'Saudi carelessness' in Mina stampede criticised in Senate
The ministry claimed that a team of officers in Jeddah were amongst the first team of volunteers to arrive at the scene of the stampede.
The reply submitted by the ministry today says 76 pilgrims are dead, while 47 are injured. The DG Haj initially sent out medical teams to hospitals in Makkah, Mina and Arafat to ascertain the nationalities of the patients and casualties admitted. Mora was in contact with a team deployed at various hospitals and morgues, it said.
"A dedicated help centre was immediately set up in the Mina and Makkah camp offices to assist those Hujjaj and their families who had reportedly been separated from each other during ramee at Jamarat or were in the vicinity of the stampede area," the ministry said.
It added that ministry officials in Jeddah had first informed the media that the tragedy took place at the intersection of Mina's street 204 with street 223 and not at Jamarat.
In response to the petitioner's claim that 236 Pakistani pilgrims had perished in the stampede, the ministry said, "The very fact that the applicant has stated on record that the death toll of the Pakistani Hujjaj is 236 shows a lack of awareness and personal malice on the part of the petitioner against the Ministry of Religious Affairs and Interfaith Harmony and its officers based in Jeddah."
Full Report at:
http://www.dawn.com/news/1211267/petitioner-trying-to-strain-saudi-pak-relationship-mora-tells-lhc
--------
Terrorist killed, another injured in Panjgur
October 06, 2015
QUETTA - One terrorist was killed and another arrested in injured condition during a joint action by FC and security institutions in Panjgur area of Balochistan on Monday.
A spokesman for the FC said that the operation was carried out on the basis of intelligence reports about the presence of terrorists. He said as the law enforcement agencies personnel approached the hideout of miscreants, they opened fire.
Full Report at:
http://nation.com.pk/national/06-Oct-2015/terrorist-killed-another-injured-in-panjgur
--------
Senate adopts PPP bills against honour killing, rape and privatisation
October 06, 2015
ISLAMABAD - Three bills of the Pakistan People's Party regarding honour killing, rape and privatisation were adopted by the Senate on Monday.
The three bills referred to the joint sitting include 'The Privatisation Commission (Amendment) Bill, the Anti-honour Killing (amendment) Bill and the Anti-Rape Laws (Criminal Laws Amendment) Bill, all initially moved by PPP former Senator Sughra Imam and passed by the Senate in March this year but not passed in the National Assembly.
On Monday, PPP Senator Farhatullah Babar moved the bills again.
The first bill that was referred to the joint session was Privatisation Commission (Amendment) Bill, 2013 that seeks to bring transparency in the privatisation process.
The amendment requires that all officials involved in, or overseeing, the privatisation process must be free from any personal interest, prejudice or conflict of interests otherwise the entire privatisation process will become an exercise in controversy.
The other bill referred to joint sitting pertaining to murders in the name of honour and sought to make amendments to overcome the loopholes in the existing laws.
At present murder in the name of honour is committed by one member of the family who is then promptly pardoned by another member of the same family.
The amendment seeks to remove this lacuna in the law.
The third bill referred today to the joint sitting aims at strengthening the law against rape.
The Anti-Rape Laws Amendment Bill seeks amendments to the Pakistan Penal Code and the Qanoon-i-Shahadat to make rape prosecution free of loopholes.
A critical amendment pertains to mandatory DNA test within twenty-four of hours of receipt of rape report and to make the results of the test admissible as evidence.
Other amendments pertain to resolution of rape cases within six months, protection of the identity of rape victims and penalties for disclosures of personal information of rape victims.
Senator Farhatullah Babar said that mandatory DNA testing would not only overcome a serious loophole in terms of producing witnesses in rape case but the amendment will also provide an effective response to the proclamation of the Council of Islamic Ideology last year rejecting the importance of DNA tests in rape cases.
"The CII is merely an advisory body whose recommendations are not binding on the parliament," he said.
Full Report at:
http://nation.com.pk/national/06-Oct-2015/senate-adopts-ppp-bills-against-honour-killing-rape-and-privatisation
--------
3 Al-Qaeda members arrested in Pakistan
Oct 6, 2015
LAHORE: Three members of Al-Qaeda 'finance team in Punjab province' have been arrested from a house in Raiwind, located a few kilometres from Lahore residence of Pakistan Prime Minister Nawaz Sharif.
A team of the Counter-Terrorism Department (CTD) of the Punjab government in collaboration with an intelligence agency on Monday raided a house in Raiwind and arrested three members of Al-Qaeda, says an official of CTD.
The Al-Qaeda members have been identified as Tariq Aziz, Abdul Ghaffar and Mehar Hamid Ali.
Full Report at:
http://timesofindia.indiatimes.com/world/pakistan/3-Al-Qaeda-members-arrested-in-Pakistan/articleshow/49238761.cms
--------
Rangers claim arrest of six criminals, including 'terrorist' in Karachi raids
IMTIAZ ALI —
Oct 6, 2015
KARACHI: Pakistan Rangers Sindh claimed to have apprehended six criminals, including an alleged terrorist, during targeted raids conducted in various areas of the city, said a press release issued by the paramilitary force on Tuesday.
The statement said that Rangers personnel conducted raids in Korangi, Bahadurabad, Gulshan-i-Iqbal and Liaquatabad Town areas of the metropolis.
During the raids, Rangers arrested six alleged criminals, including a terrorist belonging to a banned outfit and a dacoit, the handout said.
Rangers personnel also claimed the recovery of weapons from the possession of the arrested men.
Also read: Ibad reaffirms support for Rangers-led operation in Karachi
The deployment of Pakistan Rangers, Sindh, in Karachi is requisitioned under Article 147 of the Constitution, and under Clause 1 of Sub-section 3 of Section 4 of Anti-Terrorism Act 1997, authorised to prevent the commission of terrorist acts, or scheduled offences in notified area for the punishment of terrorist in accordance with the provision of the Anti-Terrorism Act 1997.
Called in 1989 to assist the police in Karachi by the then PPP-led government amid a deteriorating law and order situation, the Rangers started enjoying more powers in 2009 — again extended by PPP-led governments both in the centre and the province, which allowed the force to search houses and arrest suspects without warrants.
ISLAMABAD: Monday's proceedings of Mumtaz Qadri's appeal against his death sentence provided a glimpse into the minds of the members of the Supreme Court bench, when they held that the court would determine whether criticism of the blasphemy law amounted to blasphemy.
"We have to look into whether the deceased (Salmaan Taseer) indeed committed the act of blasphemy or he commented adversely on the effects of the blasphemy law," observed Justice Dost Mohammad Khan, a member of the bench that is hearing two identical appeals against the Islamabad High Court judgment of March 9, accepting Qadri's plea to annul the sections of the Anti Terrorism Act (ATA), 1997, which he was charged under for the assassination of the former Punjab governor.
Headed by Justice Asif Saeed Khosa, the bench had taken up two appeals; one moved by Advocate Mian Nazir Akhtar on behalf of Mumtaz Qadri, and another moved by the federal government against the IHC verdict.
Elite Force personnel who stood by as Qadri killed Taseer 'still in service'
The high court had dismissed Qadri's petition against the award of a death sentence under the Pakistan Penal Code (PPC), but had accepted his application to void Section 7 of the ATA.
The federal government had approached the Supreme Court to re-include the terrorism charges against Qadri, whereas he had approached the court for a reduction in his sentence.
Given the prevailing constitutional and legal setup, Justice Dost Mohammad observed, can the accused be given the right to judge on his own cause and commit murder in uniform of a person who was under his protection, especially when there is no evidence of him having committed blasphemy, save a few press clippings.
These questions need to be focused upon, Justice Dost Mohammad emphasised adding that the impression he had gathered from reading the facts of the case was that the deceased governor was talking about the defects in the blasphemy law, which were sometimes misused for personal benefit.
Full Report at:
http://www.dawn.com/news/1211279/rangers-claim-arrest-of-six-criminals-including-terrorist-in-karachi-raids
--------
NAB filed 208 corruption cases and recovered Rs18bn last year
SYED IRFAN RAZA
ISLAMABAD: The National Accountability Bureau (NAB) filed a total of 208 corruption references in 2014 and recovered Rs18.83 billion of what has been described as looted public money.
With the addition of Rs18.83bn last year, NAB has so far recovered Rs264.4bn since its inception, NAB chairman Qamar Zaman Chaudhry said at the conclusion of Investigators' Basic Induction Course organised by the bureau's Training and Research Division (T&R) in cooperation with Police Training College in Sihala.
He said that 585 inquiries were completed last year as compared to 243 in 2013. He said the bureau carried out 188 investigations last year as against 129 in 2013.
The references filed last year rose to 205 from 135 in 2013.
According to him, Rs5.408bn was received last year under the Voluntary Return (VR) scheme as against Rs2.7bn in 2013. Recoveries under Plea Bargain (PB) deals amounted to Rs13.423bn last year.
The bureau, he said, also recovered billions of rupees and returned to people affected by the Double Shah case, the Modarba scam,
the housing societies' scams and the foreign exchange companies' scandals.
He said the bureau had changed the investigation system and, instead of one-man investigation by the Investigation Office (IO), corruption cases were now investigated by a Combined Investigation Team (CIT) to end the possibility of a single officer/official influencing the outcome. These teams include investigation and prosecution officers who work as a team to ensure transparent, unbiased, collective investigations and decisions.
In order to ensure objectivity and standardisation, he said, the Standing Operating Procedures (SOPs) have been examined and revisited through a participative exercise spreading over four months for up-gradation and implementation.
"Corruption breeds injustice, mistrust and suspicion and also generates a false sense of insecurity," he said.
Full Report at:
http://www.dawn.com/news/1211100/nab-filed-208-corruption-cases-and-recovered-rs18bn-last-year
--------
Jamaat backs Tehreek-e-Insaf
October 06, 2015
Iftikhar Alam
LAHORE - The Jamaat-e-Islami yesterday announced backing the Tehreek-e-Insaf for by-election in Lahore scheduled for October 11.
The announcement came after a meeting of JI and PTI leaders at the former's headquarters Mansora.
PTI team comprised Ch Sarwar Mahmoodur Rasheed, Umar Sarfraz Cheema and Aleem Khan while Mian Maqsood, Khalique Butt, Zikrullah Mujahid, Ehsanullah Waqas and Malk Shahid Aslam represented JI.
Tough battle between PTI and PML-N is expected in the upcoming by-polls as religo-political parties preferred supporting to either of them to contesting the votes.
The JI says that it has been enjoying the support of 17 per cent of voters in the constituency – a claim believed to be as an exaggeration.
The Majlis-e-Wahdatul Muslimeen (MWM) – considered having a good number of supporters – has already announced its support to the PTI.
The PAT is supporting the PTI for only the National Assembly seat.
PAT chairman Dr Tahirul Qadri's following could not be ruled out in NA-122.
The Sunni Ittehad Council – an alliance of two dozen religious groups – and the JUI-N are also supporting PTI, but it political pundits say the support is not a big deal.
On the other hand, Maulana Raghib Naeemi has decided to nback PML-N and JUI-F and JUP-Noornai and Jamiat Ehle Hatdith are also supporting the ruling party candidates.
Maulana Raghib, son of late Maulana Sarfraz Naeemi and head of Jamia Naeemia –
an important religious seminary of Brelvi school of thought in the constituency – has a good number of following in the area.
"We will support PTI candidates in Lahore by-polls.
PTI and Jamaat-e-Islami have also agreed on seat adjustment in 29 union council seats of Lahore," JI Punjab spokesman Farooq Chohan told The Nation.
JI Lahore chief Mian Maqsood, who had been given mandate by JI central leadership for making alliance with any of the PTI or PML-N in by-election, talking to The Nation, said that his party would support of PTI candidates in by-election.
"The JI has 17 per cent vote bank in the constituency and its support to Imran Khan's party would clearly change the scenario of by-election," he told this scribe.
Ch Sarwar said the PTI would win the election with majority votes.
Full Report at:
http://nation.com.pk/national/06-Oct-2015/jamaat-backs-tehreek-e-insaf
--------
PTI legislators opposing COI bill will be ousted from party: Imran Khan
Oct 6, 2015
PESHAWAR: Criticising the delay in passage of conflict of interest bill in Khyber Pakhtunkhwa (KP) Assembly, Pakistan Tehreek-i-Insaf (PTI) chairman Imran Khan said on Tuesday that any PTI legislator who opposes the bill has no place in his party.
In a series of tweets, Khan said that the COI bill is part of PTI's commitment to the nation and he will take strict action against the party's KP legislators who are opposing or trying to delay the passage of bill in the provincial assembly.
Tweet from Imran Khan's official account
The chief of Khyber Pakhtunkhwa's ruling party said that PTI would opt to sit in the opposition rather than renege on the core commitments made to the nation.
Tweet from Imran Khan's official account
"All PTI MPAs should know this," read the tweet.
Khan also welcomed the introduction of 'Whistleblower Protection & Vigilance Commission Bill' in KP Assembly calling it another milestone in 'strengthening accountability' in the province.
Criticising the federal government over alleged irregularities in the Nandipur power project, the PTI chief claimed that the planned probe will be a cover up as Chief Minister Punjab Shahbaz Sharif himself is directly involved in the whole mess like the Model Town tragedy.
Khan vowed that his party will not allow a possible 'cover up of the scam'.
Full Report at:
http://www.dawn.com/news/1211275/pti-legislators-opposing-coi-bill-will-be-ousted-from-party-imran-khan
--------
North America
US Mosques Urged to Take Precaution Before Rallies
05 October 2015
CAIRO – Fearing possible attacks against mosques, a leading US Muslim advocacy group has urged mosques cross America to take additional safety measures prior to anti-Islam rallies planned on October 10.
"Media reports and monitoring of anti-Muslim hate sites indicate that a small group of anti-Muslim extremists with a history of violent rhetoric are attempting to organize hate rallies outside a number of mosques across the nation on October 10," the alert issued by the Council on American-Islamic Relations (CAIR) stated.
"Organizers of the hate rallies have indicated that participants in states with open carry laws may be armed and that provocations such as the use of live pigs and Quran desecrations may occur."
CAIR cited a Facebook page titled "Global Rally for Humanity," as being the focal point for planning what is right now estimated to be 20 separate rallies nationwide. The group is calling on protesters to be armed where permitted.
The slogan for the group and their series of rallies is "The World is Saying No To Islam," and a flyer widely circulated by the group mentions the "3%ers and Oathkeepers."
"The anti-Islam rallies come at a time of increased hate-motivated crimes and bias incidents nationwide targeting persons and property associated, or perceived to be associated, with Islam and the American Muslim community," the alert read.
Though many of these planned rallied may not take place, CAIR asked Muslims to remain vigilante regardless and work with law enforcement to prevent any violence.
"Many of these planned rallies may not take place, or they may consist of only a handful of people shouting slurs at worshipers. But given the recent endorsement of Islamophobia by national public figures, it would only be prudent for mosque and community leaders to prepare for any eventuality."
US Muslims, estimated at between seven to eight million, have been sensing hostility since 9/11 attacks.
Full Report at:
http://www.onislam.net/english/news/americas/494737-us-mosques-urged-to-take-precaution-before-rallies.html
--------
The 5 Ways American Muslims Can Respond to Anti-Muslim Protests
Qasim Rashid
06/10/2015
This October, anti-Islam extremists are planning roughly twenty anti-Muslim protests in front of mosques in America. Some of those protests will be armed with loaded and deadly weapons. Those supporting these armed protests claim they do so in the name of "free speech" to maintain justice and the Constitution.
I've seen this excuse before.
As an Ahmadi Muslim, my family, friends, and community have experienced this hate for decades in Pakistan, Bangladesh, Malaysia and Indonesia. The people protesting our mosques, homes, and businesses in those countries are extremist Muslim clerics and their ignorant masses who blindly follow. As a result of these protests, Ahmadi Muslims have been boycotted, hacked to death, lynched, tortured, blown up, executed, and our homes, mosques, and businesses torched to the ground. And the irony of it all is that the protesting clerics claim they do so in the name of free speech and to "maintain constitutional order."
Such a claim is a lie in those countries, and it is a lie in our country, America.
So when I say I know how my fellow American Muslims feel, I say so because I have experienced this terrorism first hand. These armed protests in America, despite their claims of free speech and law, are quintessentially terrorism and bigotry in all its disgusting display.
But just as such clerics and their followers do not represent all Muslims, these protest leaders and protestors do not represent all Americans. Ahmadi Muslims have never responded with violence to the aforementioned anti-Ahmadi Muslim protests, and as a result our message of peace and true Islam grows rapidly. This is the example of peace that Prophet Muhammad set forth. Based on this historical lesson, I implore my fellow American Muslims to likewise not respond with violence to anti-Muslim protests. And while we shall never respond with violence, we need not respond with silence either. Prophet Muhammad raised his voice against extremism and for the downtrodden and oppressed. He won the hearts and that was his greatest success.
With this context, here are five important ways my fellow American Muslims can, and should, respond to these anti-Muslim protests in America:
1) Take action: Take action by staying alert and posting trained people at the mosque. Be prepared to call the authorities for help should the need arise. Hopefully no one will attack Muslims or the mosques. But, considering the level of spiraling gun violence in America, it would be naive to avoid taking every possible precaution to maintain awareness of what is happening around our mosques.
2) Stand United: It is long overdue that American Muslims rise above dogmatic and sectarian differences and unite with people of different sects and faiths on the principles of justice and equality. We must stop the childish infighting, takfir, and bickering. We must behave like adults and take advantage of the strength in unity that comes from loving all humanity for the sake of God and humanity. Despite our differences, we should have no difficulty agreeing on the simple principle that we exist to serve all humanity. That platform is our vehicle to move forward--together.
3) Win the Hearts: Use this opportunity to teach your children about the importance of serving all humanity. Though these people are threatening violence, know that they are our fellow human beings and we must treat them with dignity. As Imam Ali once advised, "People are of two kinds, either your brothers in faith or your equals in humanity." Lead by example and express compassion for the protesters because they know not what they do. They are not evil, but severely misinformed. This is our chance to win the hearts and show them how Prophet Muhammad truly won the hearts of the Meccans who initially hated him because of his faith.
Full Report at:
http://www.huffingtonpost.com/qasim-rashid/the-5-ways-american-musli_b_8244966.html?ir=India&adsSiteOverride=in
--------
Europe
Young British Muslims alienated by 'us versus them' rhetoric of counter-terrorism
October 06, 2015
The British government's "Prevent" counter-terrorism strategy is proving counter-productive, engulfing British Muslims further in the political rhetoric of the global "war on terror". It has contributed to a growing moral panic between a British "us" and a Muslim "other".
A hostile attitude towards Islam and Muslims and a tendency to associate Islam with intolerance and extremism, effectively asks British Muslims to decide whether they are Muslim or British by constructing these two facets of identity as incompatible.
My research has focused on Islam, identity and youth – complex, serious, and often misunderstood issues that, I'd argue, affect us all. I'm often asked what can be done about the radicalisation of our young people. I have no easy answers or solutions. But through my years of community work and interaction with young people, particularly third-generation Bangladeshis from east London, I can offer some insight on how it feels to be a young British Muslim in 2015, embroiled in a conundrum of non-belonging.
'I am 100% British'
Teenagers I've talked to for my research have told me they feel they're not considered "British" because of cultural and religious differences and the colour of their skin. Yet they're dismissed by Bangladeshis as "tourists", "Londonis" and "British" and view their parents' or grandparents' country as a place of "holiday" and not "home". They feel they don't fit in to British society, yet experience cultural and language barriers with their closest relatives at home.
As Taiba, a 17-year-old living in east London told me:
We would constantly hear things like 'go back to your own country, you don't belong here'. Where do we actually belong if we don't belong here? Why can't I be white? I used to ask my mum. I used to scrub myself hard. I used to ask my mum to bleach me.
Zeyba, 15, said: "They keep on telling me to go back to where I came from. I was born here. I am 100% British. Where is it exactly that I am supposed to go back to?"
Their stories are stories of identity crisis, dislocation, alienation, exclusion and upheaval. There are struggles with poverty, deprivation, disengagement, disconnection from language and culture, racism, Islamophobia, the complexity of "home" and the question of "Britishness".
A new British-Islamic identity
At the same time, I've seen them create a new British-Islamic identity – a new Islam for a new generation. With its emphasis on banking, fashion, entertainment, travel, education – this new trendy and chic British-Islamic identity is highly modern, "western" and "British" in its outlook. The only difference is that many of these young people have a higher degree of spirituality and faith – and perhaps have more facial hair or wear the headscarf.
Many have fused together the many cultures that they are a part of – London, British, Bengali, Muslim – and have constructed their own unique identity as a solution to the identity conundrum of non-belonging.
But they are living inside a moral panic that has been constructed by the government and the tabloid press that depicts British Muslims as the un-British, violent, irrational and terrorist "other". I'd argue that instead, British Islam is actually a peaceful, spiritual and very "British" community.
Full Report at:
http://scroll.in/article/759002/young-british-muslims-alienated-by-us-versus-them-rhetoric-of-counter-terrorism
--------
Three in four British holidaymakers 'now avoiding Muslim countries'
05 Oct 2015
More than half of those who responded to a poll said that a turbulent summer, which included the shooting in Sousse and also the migrant crisis that affected holiday destinations in the Mediterranean, had directly influenced their choice of holiday abroad.
The survey, carried out for Travelzoo, revealed a trend in holidaymakers claiming to be avoiding traditional winter sun destinations in favour of what they deemed to be "safer" destinations that they "would not otherwise have chosen to visit".
The shooting on a Tunisian beach that left 30 British tourists dead is the main cause for concern if the survey is to be believed, with more than half of those questioned claiming that the incident had put them off planning or booking a holiday anywhere abroad.
Three quarters said that they were now avoiding booking trips to Islamic countries.
• Kos migrant crisis is putting off holidaymakers
"Usually when Britain has a cool and wet summer, we are keen to take a holiday somewhere warm," said Yeganeh Morakabati, an academic in risk and tourism at Bournemouth University. "The events of this summer, however, have impacted the choices British consumers are making about where to go."
Muslims in Tunisia arriving at Carthage's El-Abidine mosque for the Eid al-Fitr prayer this July
Muslims in Tunisia arriving at Carthage's El-Abidine mosque for the Eid al-Fitr prayer this July Photo: Getty Images
"What is clear from the research is that the relative levels of risk perception have increased uncertainty and this has left the door open to fear. As a result British travellers are finding it increasingly difficult to decide on the safest destination for a holiday abroad."
The Foreign Office continues to advise against all but essential travel to Tunisia, but the poll suggests that many holidaymakers remain confused about which destinations are considered safe.
Full Report at:
http://www.telegraph.co.uk/travel/travelnews/11912275/Three-in-four-British-holidaymakers-now-avoiding-Muslim-countries.html
--------
Conservatives accused of 'demonising' Muslims after banning event over links to Islamic charities
5 October 2015
The Conservatives have been accused of an "astonishing" attack on free speech and "demonising" Muslims after officials banned an event at their conference in Manchester because it had links to two Islamic charities.
The Muslim Charities Forum and Human Appeal International helped organise the fringe meeting on the role of Muslim charities in Britain, along with the national organisation that represents UK charities.
It was due to be held on Tuesday inside the Tory conference and was going to be addressed by the Conservative Muslim peer Baroness Mobarik along with the chief executive of the Association of Chief Executives of Voluntary Organisations (Acevo), Sir Stephen Bubb, and Othman Moqbel, the chief executive of Human Appeal.
But on Sunday conference organisers informed Acevo they were banning the event without providing any explanation. While the Tories refused to explain the ban, the charities involved said it related to an article published by The Telegraph which claimed Mr Moqbel and his charity had links to Hamas.
This is categorically denied by the charity, which is funded by the World Food Programme and has an annual income of £20m. The Charity Commission has said that neither MCF, an umbrella organisation for Muslim charities, nor Human Appeal International, were under any investigation.
The decision to ban the meeting was condemned by the Conservative peer and former minister Baroness Warsi, who warned that it reflected a wider Tory failure to engage with British Muslim organisations. "There is a deeply disturbing agenda and among sections of the media and some politicians which is attempting to discredit almost every Muslim organisation and individual who puts their head above the parapet," she said. "In doing so it further disengages and alienates a community of over three million people. There are real challenges that the British Muslim community faces but these cannot be resolved if we continue with these policies of disengagement and disempowerment. Dangerous games are being played here."
Full Report at:
http://www.independent.co.uk/news/uk/politics/conservatives-accused-of-demonising-muslims-after-banning-event-over-links-to-islamic-charities-a6680961.html
--------
URL: https://www.newageislam.com/islamic-world-news/new-age-islam-news-bureau/son-of-shahi-imam-of-delhi-s-jama-masjid,-shaban-bukhari-to-marry-a-hindu-woman/d/104814