New Age Islam News Bureau
09 October 2020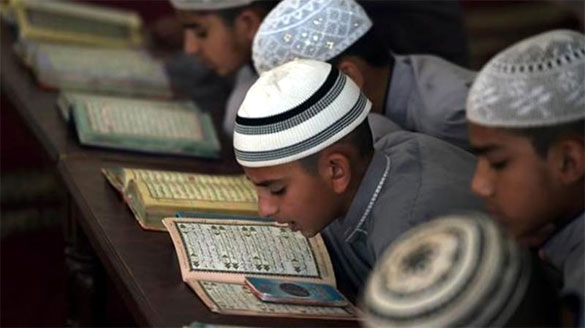 It is significant that there are 614 government madrassas in Assam and about 900 private madrassas, almost all of which are run by Jamiat Ulama, while there are about 100 government Sanskrit tols and over 500 private tols. Representational Image
-----
• The Need for Muslim Social Media is now: Many Muslims Even Consider Dropping Major Applications like Facebook
• The US, Japan and Many EU Nations Joined a Call on Tuesday Urging China to Respect the Human Rights of Minority Uighurs
• G20 Riyadh: More Than 500 Leaders to Take Part in Interfaith Forum
• Facebook Post on 'Another Possible Motorway Incident' Inside KU Premises Causes Outrage on Social Media
• Gang War Erupts In Rohingya Refugee Camps In Bangladesh, At Least 8 Killed, Thousands Flee
• Being Pro-Trump Has Caused Me More Grief than Being Osama Bin Laden's Niece
• Algeria Hands Activist Yacine Mebarki 10 Years Jail For 'Inciting Atheism': NGO
• Nagorno-Karabakh Military Death Toll Rises To 350 As New Clashes Rage On
India
• 'Some Hindus Have Turned To Terrorism to Protect Hindu Beliefs' Said the Now-Withdrawn Book in the United Kingdom
• Assam BJP Govt Announced That the State Government Will Close Down All Government-Run Madrassas in Assam
• The Need for Muslim Social Media is now: Many Muslims Even Consider Dropping Major Applications like Facebook
• Locals Protest Toilet Built Close To a Graveyard and a Mosque in Begum Bazaar, Hyderabad
• NIA arrests two Islamic State suspects in Bengaluru; agency gets 10-days custody
• J&K: Police arrests one for spying for Pakistan
• Chargesheet against 6 in JeM terror module case
• 7 Indians kidnapped in Libya; govt in touch with Libyan authorities to rescue them: MEA
• India 'among lead countries' facilitating peace restoration in Afghanistan, says Abdullah Abdullah
--------
Southeast Asia
• The US, Japan and Many EU Nations Joined a Call on Tuesday Urging China to Respect the Human Rights of Minority Uighurs
• After PAS gets a Sabah rep, PBS says will keep an eye on the Islamist party
• Malaysia's Anwar says he will meet king Tuesday in bid to oust PM
• PAS Youth urges allies to sit out Batu Sapi poll, says Muhyiddin's administration can do without seat
• King has range of options after meeting Anwar, say analysts
--------
Arab world
• G20 Riyadh: More Than 500 Leaders to Take Part in Interfaith Forum
• 'Unbearable' Memories Push Some Yazidi Survivors of IS to Suicide
• Lebanon's Sunni leader Hariri urges revival of French plan
• Iraqi People Converge on Karbala on Eve of Arbaeen
• Lebanon's Saad Hariri says he's open to becoming PM again, warns of civil war
• US strongly condemns deadly terrorist attack in Syria's Al Bab: State Department
--------
Pakistan
• Facebook Post on 'Another Possible Motorway Incident' Inside KU Premises Causes Outrage On Social Media
• CCPO proposes 'police court-martial' to punish deviant officials
• Court bars FIA from arresting journalist over his tweets
• Imran Khan's Problem Matrix to Get Complicated as FATF Decides on Pak Record
• Pakistani opposition parties plan to oust Imran Khan Government, to hold first mega rally on October 16
• PM asks Sindh governor to sort out islands issue
• 'Imran's selectors' will have to answer for country's situation today, says Nawaz
• Senior bureaucrat hired as HEC executive director
--------
South Asia
• Gang War Erupts In Rohingya Refugee Camps In Bangladesh, At Least 8 Killed, Thousands Flee
• Rights Group Calls for End to Rohingya 'Prison' Camps in Myanmar
• India can play 'vital role' for Afghan peace, top negotiator says
• Afghanistan: more than 500 assassinated by the Taliban in only six months
• Afghan officials downplay US president's announcement on early troop withdrawal
• Deputy Chief of Ghazni Prison Killed Following Abduction
• Allies to Leave Afghanistan when 'Conditions on Ground' Permits: NATO
• Khalilzad Tackles Afghan Peace with Pakistani Officials
--------
North America
• Being Pro-Trump Has Caused Me More Grief than Being Osama Bin Laden's Niece
• US Seizes 92 Iran 'Propaganda' Websites For Spreading Misinformation
• Islamic State 'Beatles' Jailers Are Charged in Abuse of Murdered Hostages
• NATO says to discuss plans to withdraw from Afghanistan after Trump announcement
• US targets Iran's financial sector, imposes sanctions on 18 banks
• David Friedman is furthering the Kosher Nostra extremist Likudnik Israeli agenda: Scholar
• Trump claims to have killed 'bigger names' than Osama Bin Laden in attack on Obama's record
--------
Africa
• Algeria Hands Activist Yacine Mebarki 10 Years Jail For 'Inciting Atheism': NGO
• Jordan's Islamists ally for upcoming parliamentary elections
• UAE, Turkey routinely violating Libya arms embargo: Investigation
• Nigeria: How Nigerian Army Can Win Boko Haram War - Borno Governor
• Somalia: Somali Military Kills Ten Al-Shabaab Fighters Including Senior Commander in Lower Shabelle Region
• 3 Mali National Guardsmen Killed in Overnight Attack
• Attackers kill 25 displaced civilians in Burkina Faso, UN says
• Malian Politician Released by Islamist Insurgents Meets with Mali's Transitional President
--------
Europe
• Nagorno-Karabakh Military Death Toll Rises to 350 as New Clashes Rage On
• Germany criticised for not listing more far-right groups as terrorist entities
• Putin invites foreign ministers of Armenia, Azerbaijan for talks Friday: Kremlin
• Turkish, Greek FMs meet for first time since eastern Mediterranean dispute
--------
Mideast
• Iran Protesters Chant 'Death to Dictator' After Death of Renowned Musician Shajarian
• Iran Underlines Willingness to Further Enhance Ties with Syria, Japan
• Latest Iran sanctions will deprive Tehran the ability to support terrorism: Pompeo
• Renowned Iranian musician, singer Mohammad Shajarian dies of heart attack
• Iran releases human rights activist Narges Mohammadi after sentence cut
• UN envoy condemns recent clashes in Yemen's Hodeidah, calls for ceasefire
Compiled by New Age Islam News Bureau
URL: https://www.newageislam.com/islamic-world-news/new-age-islam-news-bureau/some-hindus-have-turned-to-terrorism-to-protect-hindu-beliefs-said-the-now-withdrawn-book-in-the-united-kingdom/d/123092
--------
'Some Hindus Have Turned To Terrorism to Protect Hindu Beliefs' Said the Now-Withdrawn Book in the United Kingdom
Times Now
Oct 07, 2020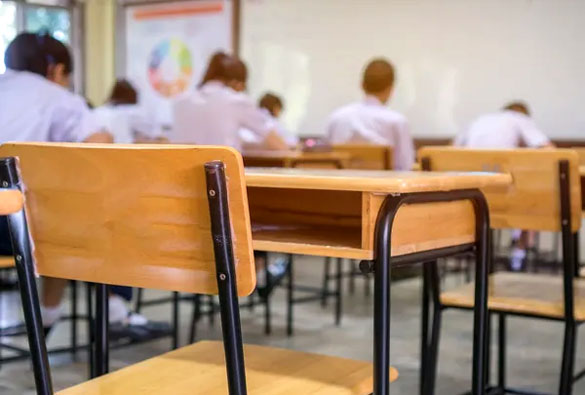 Langley school Representational image | Photo Credit: iStock Images
------
London: A publisher in the United Kingdom withdrew a GCSE (General Certificate of Secondary Education) religious studies workbook after it led to a furore among the British Indians. The book, bearing the AQA logo, was also taken down from a school's website.
Students were able to download the workbook titled, 'GCSE Religious Studies: Religion Peace and Conflict', from the curriculum section of the Langley School's website until Monday. However, it is not available now.
Langley School is located in Solihull, West Midlands.
On Page 4 of the now-withdrawn book, it was stated: "Holy books teach that it is necessary to be able to morally justify war in order to preserve dharma. Arjuna, as a Kshatriya, is reminded of his duty to uphold a righteous cause and that in fact there is nothing better than a righteous war."
"If the cause is just, Hindus will take up arms. Self-defence is justifiable; hence India has nuclear weapons to protect from aggressors. Some Hindus have turned to terrorism to protect Hindu beliefs."
"The Arthashastra scriptures state that governments must act with a suitable moral approach, which implies a just one."
Responding to contents of the book, Hindu Forum of Britain (HFB) president Trupti Patel said: "This is a political move to discredit Hindus and India. I am sure whoever wrote this did it deliberately."
Notably, the Hindu Forum of Britain is an umbrella body for British Hindus.
Patel and HFB vice-president Ramesh Pattni, the chair of HFB's religious education committee, had sent a letter to AQA and qualifications regulator 'Ofqual', calling the text as "vexatious, inaccurate and meant to teach wrong beliefs about Hindus to impressionable children".
The letter added: "You have completely misinterpreted the meaning of dharma and linked it to what you describe as terrorism... even the interpretation about Arjuna is totally misinterpreted... We suspect that there may be a political agenda behind how Hindu beliefs and practices have been portrayed."
"We have had a holding reply saying AQA will investigate," news agency IANS mentioned Patel as telling one of the Indian media.
Meanwhile, an AQA spokesperson said: "We didn't produce the workbook that's been shared on social media and our logo was used on it without our permission. Some of the material in it seems to have come from a textbook -- we've spoken to the publisher, which has withdrawn the book from sale while it addresses the issue."
Langley School has confirmed removing the book from its website "as soon as it was alerted" via e-mails earlier this week. The school added that it did not know why the workbook had the AQA logo and the book "was not used for teaching".
"A member of our staff purchased the resource from the Times Educational Supplement website some years ago. We are unaware of the author of the document. We are devastated that this oversight in our administration has caused this offence," said the school in a statement.
"We can assure you it is not used in school."
https://www.timesnownews.com/international/article/british-indians-raise-hue-and-cry-as-schoolbook-links-hinduism-to-terrorism-publisher-withdraws-it/663685
-----
Assam BJP Govt Announced That the State Government Will Close Down All Government-Run Madrassas in Assam
Oct 9, 2020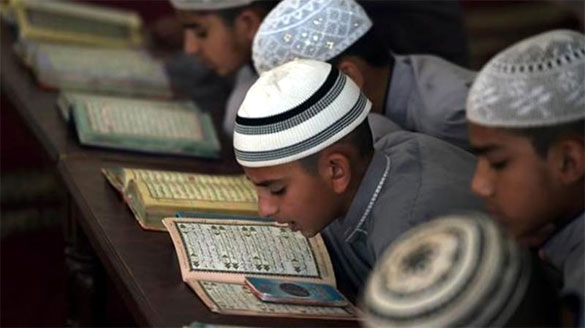 It is significant that there are 614 government madrassas in Assam and about 900 private madrassas, almost all of which are run by Jamiat Ulama, while there are about 100 government Sanskrit tols and over 500 private tols. Representational Image
-----
GUWAHATI: Assam minister Himanta Biswa Sarma on Thursday announced that the state government will close down all government-run madrassas in Assam because it cannot allow religious education with public money. Sarma said a notification will be issued next month.
"No religious educational institutes will be allowed to function with government funds. We will bring out a notification in November to this effect. We have nothing to say about privately-run madrassas," said Sarma.
Soon after this statement, AIUDF supremo and Lok Sabha MP Badruddin Ajmal said that if the BJP-led state government closes down government-run madrassas, his party would re-open them after coming to power in the assembly elections scheduled early next year.
"You cannot shut madrassas. After we come to power, we will take a cabinet decision to reopen these 50-60-year-old madrassas if this present government closes them forcibly," said Ajmal.
In February, Sarma had announced that the government planned to close down not just government-run madrassas but also government-run Sanksrit 'tols'. He had then justified it by saying that religious teachings cannot be carried out with government funds in a secular country. However, on Thursday, Sarma said, "The Sanksrit tol matter was different."
"The objection to government-run Sanksrit tols is that they are not transparent. We are taking steps to address this," he said.
There are 614 government madrassas in Assam and about 900 private madrassas, almost all of which are run by Jamiat Ulama, while there are about 100 government Sanskrit tols and over 500 private tols. The government spends about Rs 3 crore to Rs 4 crore on madrassas in the state and about Rs 1 crore on Sanskrit tols annually.
Two years ago, the state government had scrapped the two controlling boards - State Madrassa Education Board and Assam Sanskrit Board - and brought the madrassas under the Secondary Board of Education Assam and the Sanskrit tols under Kumar Bhaskar Varma Sanskrit and Ancient Studies University to introduce modern education to learners to bring them into the mainstream.
https://timesofindia.indiatimes.com/india/assam-bjp-govt-to-shut-state-run-muslim-schools/articleshow/78564457.cms
--------
The Need for Muslim Social Media is now: Many Muslims Even Consider Dropping Major Applications like Facebook
10/8/2020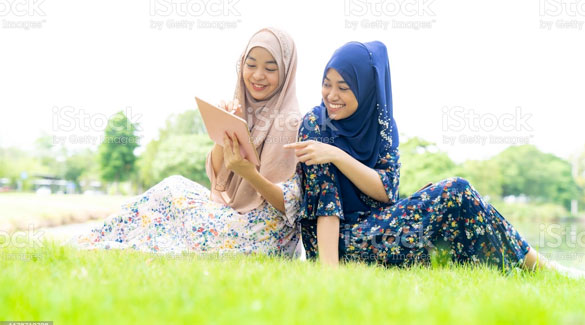 Young adult teenager Muslim Islamic Thai Asian women using smartphones and tablet in social media.
-----
Facebook Accused of Watching Users through Cameras!
Facebook Dealing with a Hate Speech Crisis!
Social Media Graphic Video Circulates!
Recent headlines like the above are not uncommon, in fact, they have been increasing in number as of late. So too have calls for stricter measures to control the spread of graphic content and misinformation. As major networks come under fire, many are starting to ask the question "Is it all worth it?" Many Muslims even consider dropping major applications like Facebook, yet it would be hard to imagine a world without Social Media. So, what can one do?
Social media users have been clamoring for some time for the creation of safe networks and platforms which not only regulate obscene language and images, but also promote a community-based approach. This is exactly what inspired J. J. Muhammad Shakur, Founder of OOLi Network, to create an application that has a policy and mission to provide positive and beneficial content for the Muslim community.
Muslims, who have often been the target of much hate-speech on networks like Facebook and Twitter, can now have a safe environment to share, like and post messages and ideas. OOLi Network wants to provide this specific environment for a niche community. As mentioned on their website, "Islam is a unique bond that connects Muslims all around the world and that alone is an incentive to have a social network to share content in a more filtered environment, for a better Muslim experience."
Those used to the Facebook or Instagram interface will immediately feel comfortable using OOLi Network and may even find some aspects more user-friendly. After signing up with a phone number, one can immediately tap into the OOLi community, made up almost entirely, but not exclusive of Muslims. "Although we had Muslims in mind, we invite other communities to check out our product," Shakur says.
While still is its early stages, OOLi Network seems to show a lot of potential and has the appeal to attract many new users. Once more users join, it is quite evident that OOLi Network will be a major networking tool for Muslims globally. And the possibilities keep expanding. "We hope to one day include a fully operational online selling platform," Shakur continues, "and we've recently added a community 'Spaces' to help organizations, masjids and communities in general make announcements and post to the public."
With regular updates, OOLi Network seems to be listening to its users and is keen on providing a quality visual and user-friendly experience. OOLi Network can be downloaded on both Google Play and App Store so that in a few minutes, you too can be connected to a safe environment and growing Muslim Online Community.
OOLi Network is set to change how Muslims network with one another globally. Dedicated to providing Muslims with a unique yet easy-to-use platform with a seamless, clean, simple and user-friendly interface, OOLi Network is your Muslim-Friendly Social Media. Share. Create. Post!
--------
The US, Japan and Many EU Nations Joined a Call on Tuesday Urging China to Respect the Human Rights of Minority Uighurs
October 7, 2020
China is accused of imposing severe restrictions on religious freedom, as well as widespread surveillance singling out Uighurs, as well as forced labour and involuntary sterilisation [File: Seda Suna/EPA]
-----
UNITED NATIONS: The US, Japan and many EU nations joined a call on Tuesday urging China to respect the human rights of minority Uighurs, and also expressing concern about the situation in Hong Kong.
"We call on China to respect human rights, particularly the rights of persons belonging to religious and ethnic minorities, especially in Xinjiang and Tibet," said German UN ambassador Christoph Heusgen, who led the initiative during of a meeting on human rights.
Among the 39 signatory countries were the US, most of the EU member states including Albania and Bosnia, as well as Canada, Haiti, Honduras, Japan, Australia and New Zealand.
"We are gravely concerned about the human rights situation in Xinjiang and the recent developments in Hong Kong," the declaration said.
"We call on China to allow immediate, meaningful and unfettered access to Xinjiang for independent observers including the UN High Commissioner for Human Rights," it added.
Immediately afterward, the envoy for Pakistan stood up and read out a statement signed by 55 countries, including China, denouncing any use of the situation in Hong Kong as an excuse for interference in China's internal affairs.
Addressing Germany, the US and Britain, Chinese ambassador Zhang Jun criticised what he called their "hypocritical" attitude and demanded that the three countries "put away your arrogance and prejudice, and pull back from the brink, now".
The organisation Human Rights Watch praised the fact that so many countries had signed on to the declaration "despite China's persistent threats and intimidation tactics against those who speak out".
In 2019, a similar text drafted by Britain only garnered 23 signatures.
Western diplomats have said that China is piling on more pressure each year to dissuade UN member states from signing such statements, threatening to block the renewal of peacekeeping missions for some countries or preventing others from building new embassy facilities in China.
On Monday, China led a group of 26 countries in a joint declaration calling for an end to US sanctions which they said violate human rights during the struggle to combat the coronavirus pandemic.
Last month, the Australian Strategic Policy Institute (ASPI) said it had identified more than 380 "suspected detention facilities" in the Xinjiang region, where China is believed to have held more than one million Uighurs and other mostly Muslim Turkic-speaking residents.
In the US, the House of Representatives passed a bill at the end of September that aims to ban imports from Xinjiang, contending that abuses of the Uighur people are so widespread that all goods from the region should be considered made with slave labour. https://www.freemalaysiatoday.com/category/world/2020/10/07/39-nations-demand-china-respect-uighur-human-rights/
--------
G20 Riyadh: More than 500 leaders to take part in interfaith forum
October 05, 2020
RIYADH: More than 500 world leaders and representatives of different religions and global policy institutions will take part in the G20 Interfaith Forum to be streamed virtually from Riyadh on Oct. 13 to 17.
The forum will address the coronavirus disease (COVID-19) pandemic, climate change, disaster risk reduction, hate speech, and racism.
Representatives from the UN, the International Dialogue Centre (KAICIID), the Organization of Islamic Cooperation, the Muslim World League and the European Commission will also attend the event.
The forum seeks global solutions by collaborating with religious thought leaders and political representatives. It calls on the world's political leaders to include religious actors in the policymaking process to promote shared values of solidarity, coexistence and respect.
The five-day event is open to the public and will be streamed live at www.G20Interfaith.live.
https://www.arabnews.com/node/1744706/saudi-arabia
--------
Facebook post on 'another possible motorway incident' inside KU premises causes outrage on social media
09 Oct 2020
Netizens took to social media to voice their anger after a Facebook user shared a chilling account of being followed and harassed by a group of men inside the Karachi University (KU) campus.
In a Facebook post on Wednesday, Syed Shaheer Ali said that he was accompanied by two female friends, one of whom he dropped off at the Institute of Business Administration (IBA) girls' hostel, which is situated inside the Karachi University campus. He said that he was on his way back with his friend, when a group of men on motorcycles surrounded the car, shouting for them to get out of the vehicle.
Ali said that he drove away from the men and reached the IBA hostel for boys. However, the men once again surrounded the car, banging on the windows and screaming: "Larki ko bahar nikal, gaari rouk [Get the girl out, stop the car]".
However, the two managed to shake off the group of men — who, Ali said, seemed to be between 15-25 years of age — and informed the guards of the incident. He added that his friend was in a state of shock after the ordeal and he has been unable to sleep peacefully, describing the incident as "another possible motorway incident".
"The point of sharing all this is that we miraculously escaped this horrible situation and it's our duty to inform all of you to be very cautious so that this doesn't happen with anyone of you," he said in the post. He added that he had informed the university administration, which was coordinating with them.
Ali, in his post, was referring to a rape incident that took place on the Lahore-Sialkot motorway last month, where a woman was gang-raped in front of her children. The main suspect of the case is still on the run.
Speaking to Dawn.com today, IBA Head of Marketing and Communications Haris Tohid termed the incident highly deplorable.
"The security and safety of students, staff and faculty members is paramount to IBA Karachi and as soon as the incident was reported to the management, the matter was taken up with the KU security personnel, the police and the Rangers.
"Throughout this time, IBA security personnel remained in coordination with the affected students and law enforcement agencies." He added that the varsity's campus, the hostels and the employees' residential complex, housed inside the KU premises, were under 24/7 CCTV surveillance and secured by round-the-clock security.
The post was shared more than 4,000 times on Facebook and became a trending topic on Twitter as people expressed outrage and shock over the incident inside a university campus. 'Karachi University is not safe' was among the top trends on Twitter throughout the day as people used the hashtag to demand an investigation of the incident.
Twitter user Muhammad Wahab, while sharing screenshots of the Facebook post, said: "KU needs literally to get this investigated and increase its security. Now we must take strict action against them. Thank God to hear that you guys were saved but the trauma you faced is speechless."
Another user Zafar Dar recalled that his wife and himself had noticed that the "wild grass and trees need(ed) immediate trimming as the road from Maskan to IBA looks like a jungle and it's not safe for girls".
Twitter user Aaisha said that the reported incident had "scared [her] so bad" as she usually walks down the same road at night.
https://www.dawn.com/news/1583948/facebook-post-on-another-possible-motorway-incident-inside-ku-premises-causes-outrage-on-social-media
--------
Gang War Erupts In Rohingya Refugee Camps In Bangladesh, At Least 8 Killed, Thousands Flee
Oct 8, 2020
DHAKA: A turf war raging between criminal armed groups in Rohingya refugee camps in southern Bangladesh has forced thousands of people to flee and at least eight have been killed in clashes in recent days, police and humanitarian workers said on Thursday. Authorities have arrested 12 people after days of gunfire, arson, and abductions by gangs competing for dominance in the sprawling settlement, the world's largest refugee camp home to more than a million people.
"A tense situation is prevailing there," Rafiqul Islam, an additional police superintendent based in the nearest town of Cox's Bazar, told Reuters by phone.
"Two groups are trying to establish dominance in the area," he said, adding that they were suspected drug and human traffickers.
The region is a crucible of the lucrative trade in methamphetamine, mostly manufactured across the border in Myanmar.
More than 100 Rohingya have been killed since 2018 in incidents human rights groups say are extrajudicial killings but police say the victims were caught in the "cross-fire" during shootouts with suspected drug smugglers.
Three refugees speaking on condition of anonymity named the two groups behind the fighting as the "Munna" gang, named after a notorious local alleged drug baron, and the Arakan Rohingya Salvation Army (ARSA), an armed group that has a presence in the sprawling camps and that refugees have accused of carrying out kidnappings and attacks.
In a Twitter post, ARSA denied responsibility for the latest violence and blamed criminals seeking to cast aspersions on the group.
Attacks by ARSA on police posts in Myanmar in 2017 triggered a sweeping military crackdown that led more than 730,000 Rohingya to flee to Bangladesh.
About 2,000 Rohingya families were displaced in the latest violence, though some had returned by Thursday, according to additional refugee relief and repatriation commissioner Mohammad Shamsu Douza.
"We are living in fear, especially at night," one of the refugees told Reuters by phone.
"Last night also, one group carried out an arson attack. Where will we go now?"
https://timesofindia.indiatimes.com/world/south-asia/gang-war-erupts-in-rohingya-refugee-camps-at-least-8-killed-thousands-flee/articleshow/78554087.cms
--------
Being pro-Trump has caused me more grief than being Osama bin Laden's niece
Noor bin Ladin
October 08, 2020
Americans are, in my experience, the warmest, most kind-hearted and open-minded people in the world. I have found this to be true for my whole life, despite being the niece of Osama bin Laden and sharing the same last name (albeit spelled slightly differently — bin Ladin is the original translation). Americans base their judgment on the content of someone's character and actions, not on the color of their skin — or their last name. This was reaffirmed last month, after I voiced my love for America and support for President Trump. The response to 'My Letter to America' has been overwhelmingly wonderful, and I am most thankful to all those who took the time to read it and send kind messages, including Spectator readers. But in my private life, I have lost a few so-called friends for backing Donald Trump over the past five years. Coming out publicly was a step too far for some, and the vitriol I received for stating my political beliefs revealed unflattering sides to certain characters. From a sociological standpoint, it is quite interesting that in some elitist circles being pro-Trump has caused me more grief than carrying the name bin Ladin.
Even more striking were the contrasting reactions to President Trump's COVID diagnosis. Gleeful comments devoid of compassion flooded social media, some even going as far as to wish for his death. Kim Jong-un showed more sympathy than many of the President's detractors. Yet for all the hate, there was an outpouring of love and well-wishes from his supporters. One take from a favorite Twitter account of mine (@HonorAndDaring) expressed it best: 'Trump is the first and only President that I've actually cared about. That's because he's the first President in recent memory that seems to care more about Americans than an abstract ideology or just enriching his donors.' This sentiment is clearly felt by many Americans, who come out in droves for the President wherever he goes, including Walter Reed Medical Center during his stay: if he can't hit the road, the rally comes to him.
And why do I support Donald Trump? Look at his record. He has stood up to China, kept America out of new wars, solidified ties with Israel, overturned the disastrous Iran deal and obliterated Isis. Domestically, he removed handicapping regulations to American economic growth, rebuilt a depleted military, brought back manufacturing and revamped dying industries by renegotiating trade deals and cutting taxes; he has achieved energy independence, curbed immigration — all of which contributed to setting record unemployment rates. He has tackled neglected issues such as human trafficking and unjust incarceration — and given America a chance at restoring her principles, pride, independence and true place in the world as beacon of liberty and hope for all.
I had intended to write this from London, but COVID quarantine restrictions prevented me from flying into the UK from Switzerland. I did try to skirt the rules, I admit, via neighboring countries, but to no avail. In proper Orwellian fashion, all traveling nowadays is monitored with mandatory governmental forms throughout Europe, even if your country isn't on the quarantine list. I missed my goddaughter's baptism as a result. Besides the sadness I felt from missing out on this, I thought of all those who couldn't be with their loved ones before passing away during lockdown, and was filled with dread at the prospect of what the future might hold: is the next step 'no vaccine, no travel'?
At least I wasn't subjected to a two-hour Black Lives Matter-themed play, The New Tomorrow at the Young Vic, unlike my friend who wasn't so lucky last weekend. She was invited by a leftist friend of hers and, unknown to her before accepting the invitation, the entire play was a BLM manifesto. Not surprisingly, she described the experience as a form of torture; her friend was enthralled. While I'm glad to miss out on London's latest cultural trends, I was disappointed at having to cancel my reunion with friends — not least with Douglas Murray whose book launch for The Madness of Crowds at the Spectator offices remains a firm highlight of last year.
Thankfully, these frustrations and let-downs are outweighed by hope, love and trust. Seeing the uplifting images of Americans rallying around the President also warms my heart and lifts my spirits. I wish I could be there with them. You can be sure I'll be on one of the first flights to America once restrictions are lifted — via London, to meet my goddaughter, of course.
https://spectator.us/being-pro-trump-caused-more-grief-bin-laden-niece-noor-bin-ladin/
--------
Algeria hands activist Yacine Mebarki 10 years jail for 'inciting atheism': NGO
08 October 2020
An Algerian court on Thursday handed a key member of the Hirak anti-government protest movement a 10-year prison sentence for "inciting atheism", a rights group said.
Yacine Mebarki was also found guilty of "offending Islam" and fined 10 million dinars ($77,400), Said Salhi, vice president of the Algerian Human Rights League.
For all the latest headlines follow our Google News channel online or via the app.
Salhi said he was "shocked by such a heavy verdict against a citizen who only expressed his opinion online."
The sentence was the longest given to a member of the Hirak, the popular anti-government movement that led demonstrations that pushed president Abdelaziz Bouteflika from power last year.
At the start of the trial, the prosecution demanded Mebarki be jailed for eight years.
But in a rare move, the judge at the Khenchela court in eastern Algeria decided to add two more years to that term.
Mebarki denied any wrongdoing and would appeal, Salhi said.
The 52-year-old activist had been arrested on September 30 during a raid at h
According to a friend, the police found an old and faded copy of the Koran with one of its pages ripped – something considered as an attack against Islam.
Salhi said Mebarki had been convicted of inciting atheism and "offending Islam" as well as inciting discrimination and hatred.
"It's a case of freedom of conscience and opinion," Salhi said, calling for Mebarki's release and for charges against him to be dropped.
The Hirak-led protests broke out in February last year and led to the resignation of Bouteflika, whose plans to run for a fifth term had sparked the protests.
Weekly demonstrations continued after Bouteflika's ouster to demand wholesale political changes but halted in March due to restrictions to end the COVID-19 pandemic.
Meanwhile, authorities have cracked down on activists, journalists, and government critics, with many jailed and convicted on various charges.
A total of 61 people are currently behind bars for acts related to "Hirak", according to CNLD, a rights group that lists prisoners of conscience in Algeria.
In a bid to satisfy the protest movement, Algeria launched on Wednesday a campaign for constitutional reforms which will be put to a referendum in November.
https://english.alarabiya.net/en/News/north-africa/2020/10/08/Algeria-hands-activist-Yacine-Mebarki-10-years-jail-for-inciting-atheism-NGO
--------
Nagorno-Karabakh military death toll rises to 350 as new clashes rage on
08 October 2020
The defense ministry of the Nagorno-Karabakh region said on Thursday it had recorded another 30 casualties among its military, pushing the military death toll to 350 since fighting with Azeri forces erupted on Sept. 27.
The fighting has surged to its worst level since the 1990s, when some 30,000 people were killed.
For all the latest headlines follow our Google News channel online or via the app.
Azerbaijan and ethnic Armenian forces fought new clashes in and around the Nagorno-Karabakh region on Thursday, before the United States, France and Russia were due to meet in Geneva to try to avert a wider war in the South Caucasus.
Azerbaijan said the city of Ganja had been shelled early on Thursday by Armenian forces and that one civilian had been killed in the Goranboy region. It said other villages were fired on by ethnic Armenian forces.
Azeri authorities have reported 30 civilian deaths since fighting broke out on Sept. 27 over Nagorno-Karabakh, a mountain enclave which under international law belongs to Azerbaijan but is populated and governed by ethnic Armenians.
Azerbaijan also says 143 civilians have been wounded but has not disclosed information about its military casualties.
Authorities in Nagorno-Karabakh said the tactical situation had not changed significantly overnight, with artillery and rocket fire reported in some areas and the main administrative centre, Stepanakert, hit by shelling.
France, the United States and Russia are co-chairs of the Organization for Security and Co-operation in Europe's (OSCE) Minsk Group that mediates over Nagorno-Karabakh. They hope to persuade the warring sides to agree a ceasefire after the deadliest fighting over Nagorno-Karabakh in more than 25 years.
https://english.alarabiya.net/en/News/world/2020/10/08/Nagorno-Karabakh-military-death-toll-rises-to-350-Defense-ministry-
--------
India
Locals Protest Toilet Built Close To A Graveyard And A Mosque In Begum Bazaar, Hyderabad
09th October 2020
HYDERABAD: Tension prevailed in Begum Bazaar and Feelkhana areas on Thursday over the construction of a public toilet near a graveyard and a mosque at Feelkhana. Traders, along with local BJP leaders, observed a bandh on Thursday in these areas.
Traders are demanding that new toilets, which are under construction, should be completed in place of the existing one at the earliest, as it is the only public toilet available in the area and without this toilet, visitors to the area would face a lot of inconvenience.
On Thursday, traders downed shutters and tried to take out a rally, along with local BJP leaders, in Begum Bazar. However, the police stopped them, saying it was a violation of the Covid-19 guidelines in force.
GHMC's Goshamahal circle took up construction of the gents toilet in question near Feelkhana Dargah, Begum Bazar, a few days ago after demolishing an older public toilet. On Wednesday, AIMIM party workers and people working at Feelkhana Dargah staged a demonstration at the construction site, demanding for the public toilet works to be topped as as it is also adjacent to a graveyard. The works were halted following the protest.
The GHMC wrote a letter to the Deputy Commissioner of Police, Central Zone, requesting police protection during the execution of works until completion of the toilet. Police deployment has been made in Begum Bazaar, Feelkhana and surrounding areas. GHMC officials said the construction is being done as per the orders of the High Court. Goshamahal MLA T Raja Singh saw a political motive behind the protests. He said the old toilet was built about 60 years ago, and in view of the upcoming GHMC polls, a certain political party was trying to gain political mileage by stalling the works.
https://www.newindianexpress.com/cities/hyderabad/2020/oct/09/locals-protest-toilet-built-close-to-mosque-cemetery-in-begum-bazaar-2207885.html
--------
NIA arrests two Islamic State suspects in Bengaluru; agency gets 10-days custody
October 08, 2020
Bengaluru: The National Investigation Agency has arrested two suspected members of the city-based Islamic State module, which was allegedly involved in radicalisation of youth and funding their trip to Syria to join the terror outfit.
Ahamed Abdul Cader (40), hailing from Ramanathapuram district in Tamil Nadu and Irfan Nasir (33) from Frazer Town were arrested by the NIA sleuths on Wednesday.
The NIA action comes weeks after the agency busted the terror module with the arrest of a doctor in Bengaluru. In continuing with the investigation, the sleuths conducted searches on the premises of Cader and Nasir in Gurappana Palya and Frazer Town and recovered incriminating material and electronic devices from their possession.
While Cader is a business analyst in a bank in Chennai, Nasir is a rice merchant here, the NIA said in a statement.
The duo was produced before Special NIA Court in Bengaluru, which granted 10 days custody to the agency for interrogation.
During the investigation of a case taken up by the NIA on September 19, certain incriminating facts emerged about a Bengaluru-based Islamic State module, the agency said.
It got a lead with the arrest of a doctor in Bengaluru.
During his examination, names of those who had travelled to Syria in 2013-14 to join Islamic State surfaced. "Further investigations resulted in busting of a module wherein it was revealed that Cader, Nasir and their associates were members of Hizb-ut-Tehrir.
They had formed a group called 'Quran Circle,' which radicalised gullible Muslim youth in Bengaluru and funded their visit to conflict zone in Syria to aid and assist the Islamic State terrorists," the NIA said.
The NIA also stated that they had played a very significant role in radicalisation of the members of the group and arranged funds through donations and own sources for visit of the doctor and other Muslim youth from Bengaluru to Syria to join Islamic State.
"Two such youth got killed in Syria," the NIA claimed. "Further investigation in the case is continued to unearth the larger conspiracy," the NIA said.
https://www.firstpost.com/india/nia-arrests-two-islamic-state-suspects-in-bengaluru-agency-gets-10-days-custody-8894571.html
--------
J&K: Police arrests one for spying for Pakistan
Oct 9, 2020
SAMBA: Jammu and Kashmir Police have arrested a person, Kuljeet Kumar, from Samba district for allegedly spying for Pakistan.
According to sources, Kuljeet had been photographing important locations in Samba and used to send them to Pakistan since 2018, he allegedly used to get paid hefty amounts for doing so.
Security agencies operating in the region nabbed the accused in coordination with Samba police.
Four mobile phones, which had photos of many important locations, along with various sim cards have been recovered from his possession.
Samba police produced him in court and have taken his remand.
The security agencies are now trying to ascertain how the accused got involved in spying for Pakistan, and what all important information he has sent across the border till date.
Speaking about the arrest, Senior Superintendent of Police (SSP), Samba, Rajesh Sharma said, "We have registered a case at the Samba police station under sections of the Enemy Agents' Ordinance Act. Our investigations are currently underway."
https://timesofindia.indiatimes.com/india/jk-police-arrests-one-for-spying-for-pakistan/articleshow/78568088.cms
--------
Chargesheet against 6 in JeM terror module case
Oct 8, 2020
JAMMU: The Jammu & Kashmir police on Thursday filed a chargesheet against six hardcore overground workers (OWG) of Jaish-e-Mohammad (JeM) in a "money and technology transfer" case registered in April this year.
The case was registered after one of the accused was arrested in RS Pura with several SIM cards, memory cards, and hawala money meant for OGWs and terrorists.
After his arrest, police raided Kot Bhalwal jail in April and recovered incriminating material, including mobiles phones, SIM cards and memory cards, which were used for communication of terrorists and OGWs from inside the jail with sleeper cells of JeM outside the jail.
The six accused against whom the chargesheet has been filed are Muzaffer Beigh, Farhan Lilu, Gulam Hassan, Ehsaan Farooq, Owais Ahmed, and Pakistani terrorist Abdul Rehman, who is currently lodged in Kot Bhalwal jail.
Investigating agencies said a JeM hardcore OGW, one Muzaffer Ahmed, was in touch with the Pakistani terrorist Abdul Rehman lodged in the Indian jail.
"Muzaffer and five others chargesheeted remained constantly in touch with JeM handlers in Pakistan and active militants on secret messaging platforms for carrying out subversive and militant activities in Kashmir valley," a police statement said.
Further investigation in the case is in progress and supplementary challan would be produced in due course, police said.
https://timesofindia.indiatimes.com/india/chargesheet-against-6-in-jem-terror-module-case/articleshow/78561159.cms
--------
7 Indians kidnapped in Libya; govt in touch with Libyan authorities to rescue them: MEA
Oct 8, 2020
NEW DELHI: Seven Indians, hailing from Andhra Pradesh, Bihar, Gujarat and Uttar Pradesh, were kidnapped in Libya last month and India is in touch with authorities in the African nation to secure their release, the ministry of external affairs said on Thursday. The Indians were kidnapped at a place called Asshwerif on September 14 when they were on their way to the Tripoli airport to catch a flight to India, external affairs ministry Spokesperson Anurag Srivastava said at a media briefing.
"The government is in touch with their family members and would like to assure them that we are making all possible efforts in consultation and coordination with Libyan authorities and the employer to trace our nationals and secure their release from captivity at the earliest," he said.
Srivastava said the Indian nationals were working at a construction and oil field supplies company.
"The employer has been contacted by the kidnappers and shown photographs as proof that the Indian nationals were safe and keeping well," he said.
Libya, an oil-rich country in North Africa, has been witnessing large-scale violence and unrest since the fall of Muammar Gaddafi's four-decade regime in 2011.
Srivastava said the Indian embassy in Tunisia has reached out to the Libyan government authorities as also the international organisations present there, seeking their help in rescuing the Indian nationals.
The Indian mission in Tunisia handles matters relating to the welfare of Indian nationals in Libya.
In September 2015, an advisory was issued by the government for Indian nationals to avoid travelling to Libya in view of the security situation there.
In May 2016, the government imposed a complete travel ban irrespective of the purpose in view of the deteriorating security situation in Libya.
"This travel ban is still in force," said Srivastava.
https://timesofindia.indiatimes.com/india/7-indians-kidnapped-in-libya-govt-in-touch-with-libyan-authorities-to-rescue-them-mea/articleshow/78560418.cms
--------
India 'among lead countries' facilitating peace restoration in Afghanistan, says Abdullah Abdullah
Posted by Susmita Pakrasi
Oct 08, 2020
Afghanistan leader and Chairman of High Council for National Reconciliation, Dr Abdullah Abdullah on Thursday said that India has been amongst the countries that helped Afghan in its journey towards peace and stability.
"In our journey in the past two decades, many countries have helped us, contributed and made sacrifices alongside our own people. India has been amongst those lead countries in this regard," Abdullah said in his address to the ''Institute for Defence Studies and Analyses' (IDSA) in the national capital today.
The chief negotiator in the intra-Afghan peace process further said that there is a chance to "look at the light at the end of the tunnel" if everyone "works towards restoring peace, stability" of Afghanistan.
"We know that now we have a chance to look at the future -- a future of peace. Afghanistan was peaceful. Despite the tensions, we enjoyed a higher degree of connectivity, trade, transit, people to people relation in all types of exchanges. We might have been on the trail for tourism but no one had to worry about terrorism at that time," he added.
Things soon changed, he said when his country was invaded by the Taliban 40 years ago: "We now have a chance to rebuild the new region, deeper ties and wider connectivity if we can work towards restoring peace, stability of Afghanistan."
Abdullah earlier today met Prime Minister Narendra Modi and re-affirmed the long-term commitment to further deepen India-Afghan ties.
This is the first visit of Abdullah to India after the formation of a new government in Afghanistan.
His visit comes at a time when the Afghanistan government and Taliban are trying to negotiate a deal in order to restore peace in the country.
The peace talks between the Afghanistan government and the Taliban began on September 12 in Qatar's capital Doha.
https://www.hindustantimes.com/india-news/india-among-lead-countries-facilitating-peace-restoration-in-afghanistan-says-abdullah-abdullah/story-ykrNWTVCLVEiY4QNzWecTJ.html
--------
Southeast Asia
After PAS gets a Sabah rep, PBS says will keep an eye on the Islamist party
08 Oct 2020
BY JULIA CHAN
KOTA KINABALU, Oct 8 — Parti Bersatu Sabah (PBS), one of the parties within the Gabungan Rakyat Sabah alliance who had objected to the inclusion of PAS in the state assembly, said it would now provide check and balance against the Islamist party.
Its president Datuk Maximus Ongkili said the party shares the same misgivings and concerns with Sabahan voters over PAS' inclusion as an appointed state assemblyman despite the party not even contesting in the recent state election.
"We hear loud and clear the unhappiness of the Sabah public, politicians and general public. We share their misgivings and concerns over the setting of a precedent whereby a member of a Malaya-based religious party is appointed to be a member of the state assembly without even having participated in the election.
"As I have informed the public in my statement earlier, we have raised this matter with the top leaders of Perikatan Nasional. They have given their explanation," said Ongkili.
The Kota Marudu MP said that the party maintain their position that there is no need to set a precedent for the appointment given the concerns on religious grounds.
"Given that the appointment has since been made, we will assume our role as a monitor and provide a check and balance to ensure that the concerns of the Sabah public are addressed," he said.
He added that they were ready to work with the PAS representative and hoped that he would be able to "disprove the wrong things and perceptions of the public".
"Our desire is nothing less than to see Sabah develop more, prosper exceedingly and strengthen, fully united under the new government of GRS," he said.
Earlier today, the Head of State Tun Juhar Mahiruddin swore in a new assembly speaker, five new state ministers, 18 assistant ministers and gave four nominated assemblymen, including PAS secretary Aliakbar Gulasan their letter of appointment.
Aliakbar's appointment is controversial because of PAS' brand of conservative religious politics is seen as not compatible with the multicultural and religiously tolerant Sabah.
Both PBS and STAR who are parties under the current government, have voiced their objection to the inclusion of PAS into the state assembly.
PAS also did not contest in the recent state elections, instead opting to support its Perikatan Nasional and Barisan Nasional allies.
Meanwhile, Ongkili thanked Chief Minister Datuk Hajiji Mohd Noor for giving PBS two Cabinet Ministers positions and three Assistant Ministers in the new government.
"Our team, led by Deputy Chief Minister, Datuk Dr Joachim Gunsalam, are all set to play their role in their respective appointments," he said.
https://www.malaymail.com/news/malaysia/2020/10/08/after-pas-gets-a-sabah-rep-pbs-says-will-keep-an-eye-on-the-islamist-party/1910942
--------
Malaysia's Anwar says he will meet king Tuesday in bid to oust PM
October 8, 2020
KUALA LUMPUR -- Malaysia's parliamentary opposition leader Anwar Ibrahim says he will meet the country's king next Tuesday to prove he has the support of a majority of lawmakers, doubling down on his attempt to topple Prime Minister Muhyiddin Yassin.
In a statement on Thursday, Anwar, 73, said King Sultan Abdullah Ri'ayatuddin had summoned him for an audience.
"At the meeting, I will present documentation of the strong and convincing majority of MPs as I mentioned earlier," said Anwar, a longtime prime minister hopeful. For now, Anwar called on Malaysians to remain calm and protect their health, as well as adhere to the government's movement restriction procedures amid a troubling wave of COVID-19 infections.
Anwar would need the backing of a minimum of 112 lower house members to form a government as the country's ninth prime minister.
Last month, his abrupt announcement that he now commands a "formidable, strong and convincing" parliamentary majority sent shock waves through the country, further destabilizing Muhyiddin's shaky government even without showing any evidence.
At last count, the Muhyiddin-led National Alliance had the support of 114 MPs, a razor-thin majority. Anwar controlled 91 via the Alliance of Hope, comprising his People's Justice Party, the Democratic Action Party and the National Honest Party. Former premier Mahathir Mohamad has about 15 MPs in his corner, including independents and lawmakers from the Sabah Heritage Party.
Anwar has been fighting for the country's top job for the past 22 years and was twice considered Mahathir's heir apparent.
But Mahathir in 1998 sacked Anwar as his deputy over allegations of corruption and sodomy, for which he was jailed from April 1999 to 2004. Muslim-majority Malaysia criminalizes homosexuality and offenders can be imprisoned for up to 20 years, as well as whipped.
Anwar was charged again in July 2008 for alleged sodomy involving a personal aide and was sentenced to five years. He and his supporters insist all his legal troubles stemmed from a political vendetta.
Mahathir and Anwar appeared to bury the hatchet when they teamed up to defeat Najib Razak in the May 2018 election, ending the 61-year rule of the National Front. Anwar was soon released on a full pardon by the king, while Mahathir became prime minister for the second time.
Anwar was expected to eventually take over, but Mahathir resigned earlier this year following an internal coup by a Muhyiddin-led faction. Ties between Mahathir and Anwar have been on a roller coaster ever since.
While Anwar has long been perceived as a leader-in-waiting, there are also questions about the breadth of his support in Malaysia, where many conservative Muslims consider him to be very liberal.
https://asia.nikkei.com/Politics/Malaysia-in-transition/Malaysia-s-Anwar-says-he-will-meet-king-Tuesday-in-bid-to-oust-PM
--------
PAS Youth urges allies to sit out Batu Sapi poll, says Muhyiddin's administration can do without seat
09 Oct 2020
BY SHAHRIN AIZAT NOORSHAHRIZAM
KUALA LUMPUR, Oct 9 — PAS Youth asked the party's allies today not to contest the Batu Sapi by-election, saying Prime Minister Tan Sri Muhyiddin Yassin's position would not be jeopardised without winning the seat.
PAS Youth deputy chief Ahmad Fadhil Shaari made the call after the party was notified of the vacancy caused by Datuk Liew Vui Keong's death.
"PAS Youth would like to suggest that Muafakat Nasional and Perikatan Nasional parties consider not contesting the seat and allow it to be retained by the incumbent party, in order to avoid aggravating Sabah's Covid-19 situation that worsened after the state election," he said.
Ahmad Fadhil said winning an election should not be given a higher order of priority than protecting lives.
He said sitting out the by-election could avoid an unnecessary campaign from taking place all while without breaching any constitutional requirements.
"PAS Youth is also confident that, even without contesting the Batu Sapi seat, the government of Tan Sri Muhyiddin Yassin will remain firm, respected and beloved by the majority of Malaysians," he said.
Liew died on October 2 due to a lung infection he developed after being hospitalised for a slipped disc.
The EC will meet on October 13 to set the dates for the poll.
Major political rivals to Liew's Warisan party have said they will not contest so as not to trigger an election campaign or force voters out while Covid-19 was raging in the state.
https://www.malaymail.com/news/malaysia/2020/10/09/pas-youth-urges-allies-to-sit-out-batu-sapi-poll-says-muhyiddins-administra/1911101
--------
King has range of options after meeting Anwar, say analysts
Minderjeet Kaur
October 9, 2020
PETALING JAYA: Political analysts have cautioned Anwar Ibrahim's supporters against expecting his meeting with the Yang di-Pertuan Agong to result in as smooth a change of government as the change that occurred early this year even if he can prove he has majority support in the Dewan Rakyat.
Speaking to FMT, they noted that the country now had a sitting prime minister, unlike in February, when Dr Mahathir Mohamad resigned from the post.
Azizuddin Mohd Sani of Universiti Utara Malaysia, Azmi Hassan of Universiti Teknologi Malaysia and political strategies consultant Syed Arabi Idid said the King now had a range of options.
He might call Prime Minister Muhyiddin Yassin for advice, Azizuddin said, adding that he might also consult the Malay rulers, the attorney-general and the chief justice or even reject Anwar's claim.
Powered by Streamlyn
Other options, according to Azizuddin and Syed Arabi, include letting a vote of confidence in the Dewan Rakyat decide the issue.
Azizuddin said the King might also ask the two sides to negotiate to retain the current government or replace it without an election to prevent campaigning in view of the danger posed by Covid-19.
Anwar said yesterday he was due to have an audience with the Yang di-Pertuan Agong on Tuesday.
At a press conference last month, he said he had a "strong, formidable and convincing majority" in the Dewan Rakyat to form a new government.
He did not reveal the number of MPs backing him, saying he would do so after an audience with the King.
Umno president Ahmad Zahid Hamidi subsequently said many MPs from Umno were supporting Anwar.
https://www.freemalaysiatoday.com/category/nation/2020/10/09/king-has-range-of-options-after-meeting-anwar-say-analysts/
--------
Arab world
'Unbearable' Memories Push Some Yazidi Survivors of IS to Suicide
By Nisan Ahmado
October 07, 2020
Driven by "unbearable" memories, the suicide rate among members of the Yazidi religious minority is increasing more than six years after the Islamic State (IS) terror group attacked Yazidis' homes in the Sinjar district in northern Iraq, according to Yazidi activists.
Many Yazidis who fled the IS into Iraqi Kurdistan's refugee camps are now facing mental health issues. The distress is particularly acute among women who experienced sexual violence while in IS captivity.
"There are multiple factors pushing some Yazidis to commit suicide, but the main reason is the unbearable memory of what happened during the IS genocide," said Khodr al-Domali, a Yazidi researcher and coordinator of social support to Yazidi women in refugee camps.
Al-Domali said thousands of Yazidis in refugee camps are afraid to return home because armed groups are fighting over who will control their villages and towns now that IS jihadists are gone. Yazidis who have returned home can't find work or educational opportunities, and they face discrimination by surrounding communities.
"Many Yazidis continue to experience the horrors they went through as their areas remain widely destroyed and they don't find adequate help ... so they could deal with the trauma," he told VOA.
In its rampage across Iraq and Syria in August 2014, IS attacked the area in northern Iraq where about 400,000 Yazidis lived. The jihadi group killed thousands of Yazidi men, kidnapped thousands of women and girls to use as sex slaves, and reportedly kidnapped young boys for training as suicide bombers and IS fighters.
The United Nations called the IS attacks a genocidal campaign.
According to the Kidnapped Yazidis Rescue Office in Duhok, Kurdistan Region, 3,543 kidnapped Yazidis have been rescued from IS, but some 2,800 remain missing.
Mostly women
Local activists say there is no official data about the Yazidi suicide rate, and some may be unreported. They are certain, however, that the majority of suicides are Yazidi women. The local news outlet Rudaw, located in Iraqi Kurdistan, estimated that some 150 Yazidi women have committed suicide since the genocide began in 2014.
"Yazidi women took the hardest toll during the genocide," said al-Domali. "We noticed that most of the women who committed suicide were waiting for the return of their kidnapped family members or they found out that their families were found in mass graves."
He continued, "The Yazidi community is ready to adapt and work on its issues, and the answer is psychological support, financial aid and social help."
Local media reported in September that a 53-year-old Yazidi woman, Dai Shirin, had set herself on fire and died in the Khanki refugee camp in Duhok province after failing to determine the fate of her husband and six children. In August, a young Yazidi man, Nashwan Sharaf, hanged himself in Duhok's Bajid Kandala camp.
Counseling support
Lina Villa, a mental health activity manager with Doctors without Borders (MSF) who works with the Yazidi and Arab communities in Sinuni Hospital in Sinjar district, said, "We see different levels of symptoms in the communities we are serving, like depression, angry and suicidal thoughts, suicidal attempts. Some patients have intrusive thoughts, and they are having revivals of the situations they have faced, flashbacks, delusions and hallucinations — also, anxiety, stress, fear and psychosomatic like short of breath, loss of appetite and lack of sleep."
Villa told VOA that between April and August, her organization received 30 reports of people who attempted suicide. Last month, 25% of the patients expressed suicidal thoughts, she added.
A 2019 MSF report based on a mental health survey from Sinuni Hospital revealed that all the families interviewed had at least one member who suffered either moderate or severe mental illness.
Giving Yazidis a voice that will allow them to feel dignified and settled in their homeland, accompanied by social support, will help address the problem of suicide, according to Villa.
"The main thing that Yazidis have lost is a sense of security and protection," she said. "The communities we serve return to their homes and fields, they find everything has been destroyed, and they feel their ordeal continues. When a traumatic situation doesn't stop, it becomes more difficult to cope with that situation."
https://www.voanews.com/extremism-watch/unbearable-memories-push-some-yazidi-survivors-suicide?utm_source=iterable&utm_medium=email&utm_campaign=1594421_
--------
Lebanon's Sunni leader Hariri urges revival of French plan
OCTOBER 9, 2020
BEIRUT (Reuters) - Lebanon's leading Sunni Muslim politician, former premier Saad al-Hariri, called for the restoration of a French plan to lift the nation out of its worst financial crisis since its 1975-1990 civil war.
Former colonial power France, which has led foreign aid efforts, has tried to rally have Lebanese leaders to launch reforms to tackle the crisis. But they failed to agree a new government - the first step in the French roadmap - and drawn a rebuke from French President Emmanuel Macron.
Lebanon urgently needs foreign cash to get out of a financial meltdown which has slashed the value of the currency since last year.
"I call on political parties to think well so as not to waste this chance...French President Macron's initiative still stands and we can still enact it," Hariri said in a TV interview late on Thursday. "If we let it fail, it would be a crime."
Talks on a new cabinet hit a logjam as politicians wrangled over ministerial posts, with Iran-backed Hezbollah and its ally Amal demanding they name the finance minister. Hariri and Hezbollah have blamed each other for the deadlock.
Hariri added that he would only return as prime minister - a post he has already held three times - if there was agreement by Lebanon's fractious parties on securing an International Monetary Fund deal.
His coalition government was toppled a year ago by huge protests by Lebanese furious at an entrenched ruling elite that has overseen a state riddled with graft and drowning in debt.
Hariri, a Western ally traditionally aligned with Gulf Arab states, also said Lebanon had no way out of the crisis other than a programme with the IMF.
Foreign donors have made clear there will be no fresh aid unless Lebanese leaders launch reforms to tackle graft and improve governance, and engage in IMF negotiations.
IMF talks stalled this year over a row among Lebanese government officials, bankers and political parties about the vast scale of financial losses.
Hariri warned that he feared civil strife as the crisis spirals. It has fuelled unrest in a country where divisions run deep since the war, which was fought along sectarian lines by factions still dominating Lebanese politics.
"What is happening in terms of carrying arms and what we are seeing in terms of military displays in the street...means the collapse of the state," Hariri said.
https://uk.reuters.com/article/uk-lebanon-crisis-hariri/lebanons-sunni-leader-hariri-urges-revival-of-french-plan-idUKKBN26T3J1
--------
Iraqi People Converge on Karbala on Eve of Arbaeen
Oct 08, 2020
Shiites, Sunnis, and people of other faiths from Iraq have been on a spiritual journey to the Iraqi city, many on foot, since days ago.
Millions of Muslims in Iraq who rallied from the city of Najaf to the city of Karbala arrived in Karbala city on Thursday to mark the Arbaeen.
Muslims from across the world, including Iran, who had attended the 100-km rally in the previous years to Karbala and to the holy shrine of Imam Hossein (PBUH) could not participate in this year's Arbaeen ceremony due to the closure of Iraq's borders for the fear of coronavirus epidemic.
In September, Shiite pilgrims of Iraq had also flocked into Karbala, some 100 km South of Baghdad, and into Kadhmiyah in Northern Baghdad to commemorate Ashoura, which marks the martyrdom of Imam Hossein (PBUH), grandson of Prophet Mohammad (PBUH) and the third Shiite Imam.
Imam Hossein (PBUH) was martyred in the 680 A.D. battle fought on the plains outside Karbala, a city in modern Iraq that's home to the Imam's holy shrine.
In the battle, Imam Hossein (PBUH) was decapitated and his body mutilated by Yazid's armies. All of Imam Hossein's male family members, relatives, friends, soldiers who all together formed a 72-member army were beheaded in an unequal war with a 30,000-strong army of the enemy in the desert of Karbala.
The occasion is the source of an enduring moral lesson for the Shiites.
Imam Hossein's martyrdom - recounted through a rich body of prose, poetry and song - remains an inspirational example of sacrifice to Shiites, who make up a majority of the Muslim population in Iran, Pakistan, Iraq and Bahrain.
https://en.farsnews.ir/newstext.aspx?nn=13990717000119
--------
Lebanon's Saad Hariri says he's open to becoming PM again, warns of civil war
Joseph Haboush
October 09, 2020
Lebanon's former Prime Minister Saad Hariri said Thursday that he was open to returning to the premiership if political sides in the country agreed to the French roadmap to recovery for Beirut, but warned of a civil war breaking out.
"I will meet with all political sides to find out their stance and approval on the French initiative, and if all sides agree, I will not close the door" to becoming prime minister, Hariri said in a televised interview.
For all the latest headlines, follow our Google News channel online or via the app.
Hariri was forced to step down amid nationwide anti-government protests that broke out in October 2019.
Following his resignation, Hezbollah and its allies formed a so-called technocratic government made up of experts. But the government, headed by Hassan Diab, was unable to reach an agreement with the International Monetary Fund for badly-needed aid and the economic crisis further deepened.
Diab stepped down after the catastrophic Aug. 4 Beirut blasts and renewed protests against corruption and sectarianism in the country.
On Thursday, Hariri voiced his fears of a civil war breaking out in Lebanon due to the weapons outside of the state's control, including Hezbollah's arsenal.
"I fear a civil war because what is taking place from military parades and arms in the streets of Beirut, and yesterday in Baalbek-Hermel, portrays the collapse of the state," Hariri said.
But the former PM reiterated that he was a candidate to head a new government "without a favor from anyone," because "I have a parliamentary bloc and it's known who I am."
Asked about Lebanon and Israel's recent agreement to begin US-mediated talks on disputed maritime borders, Hariri said Iran-backed Hezbollah and its Shia ally, Parliament Speaker Nabih Berri, feared US sanctions.
"There were sanctions on some [individuals] and [they] started looking at ways to protect themselves," Hariri said, in an apparent reference to recent US sanctions on Hezbollah's political allies.
He also called on Hezbollah to make sacrifices and stop dragging Lebanon into its external problems, including military participation in Syria and Iraq. "There is a project to drag Lebanon into a civil war. I am against war. I am against weapons," Hariri said.
"There are sides inside the country that left us no Gulf or Arab friend … and Hezbollah's interference in Syria, Iraq and Yemen caused this ordeal for Lebanon," Hariri said.
https://english.alarabiya.net/en/News/middle-east/2020/10/09/Lebanon-s-Saad-Hariri-says-he-s-open-to-becoming-PM-again-warns-of-civil-war
--------
US strongly condemns deadly terrorist attack in Syria's Al Bab: State Department
8 October 2020
Washington [US], October 7 (ANI/Sputnik): The United States is deeply concerned over the rising number of terrorist attacks in Syria and strongly condemns this week's deadly car bombing in the Syrian town of Al-Bab, State Department spokesperson Morgan Ortagus said in a statement on Wednesday.
"The United States strongly condemns the terrorist attack near a crowded traffic circle in al-Bab yesterday, which according to initial reports killed more than 20 innocent people and injured scores more," Ortagus said. "We are deeply troubled by the rise in such terrorist attacks in recent months, and we again remind all parties that violence impedes the hope for a lasting political resolution to the conflict in Syria as called for by UNSCR 2254."
On Tuesday, the state-run SANA news agency reported that dozens of civilians were killed and wounded in the blast, which occurred on the territory controlled by Turkish-backed armed groups. (ANI/Sputnik)
https://in.news.yahoo.com/us-strongly-condemns-deadly-terrorist-190015501.html?utm_source=iterable&utm_medium=email&utm_campaign=1594421_
--------
Pakistan
CCPO proposes 'police court martial' to punish deviant officials
Asif Chaudhry
09 Oct 2020
LAHORE: Pointing out inadequacies in the existing mechanism for punishing officials, Lahore Capital City Police Officer Umar Sheikh has proposed introduction of 'court martial' in police department, on the pattern of Pakistan Army, to penalise 'disobedient, violent and offending' employees to provide relief and sense of security to the members of public visiting the police stations and offices of the capital police.
While submitting recommendations to Punjab Inspector General of Police Inam Ghani, the CCPO proposed that the provincial government might be moved for new legislation to introduce 'police court martial' under article 8(3) of the Constitution.
The CCPO submitted that the prevailing disciplinary rules of police department did not cater to the frequent misconduct committed by police officers, bringing bad name to the department and hampering the maintenance of law and order in the province.
"In view of the above [mentioned facts] it is requested that the government of Punjab may be moved for new legislation regarding dedicated Accountability Rules for Police Department, including the process of Court Martial as available in the Pakistan Army, so that the police officers' accountability/discipline may be ensured in the interest of general public," reads the letter sent to the IGP.
It further stated that it was high time to review disciplinary rules of police department, rather to devise a new accountability regime to ensure service delivery to the public and better policing in the province.
"Presently, E&D Rules, 1975 are applicable to the uniformed officers/officials of police, while ministerial staff is being governed by Civil Servants Rules 1999", it further reads, adding that the ineffectiveness of these rules was quite evident from the statistics of the last five years.
The CCPO, in the letter, informed that despite the fact that every year 25-30 percent of the force was being made accountable, no visible improvement in the officials' attitude and conduct had been observed and the public, the media and the non-government organisations (NGOs) are persistently complaining about the misconduct of police.
Giving a reference of statistics pertaining to last five years, he stated that as many as 57,318 Punjab police officials were awarded various punishments in 2015 on various charges, including misconduct, disobedience, embezzlement, bribery, faulty investigation, murder in custody, etc.
This number was 61,422 in 2016, and 92,521 in 2017, he said, adding that 82,170 police officials/officers were handed down punishments in 20118.
In 2019, the then Punjab IGP had introduced a policy of bringing punishment ratio in police down when senior officers took up the issue, arguing that excessive penalties were lowering the force's morale.
Though as many as 61,573 guilty Punjab police officials/officers were given minor and major punishments in 2019, the public continued to suffer at the hands of such habitual violators.
Similarly, the CCPO stated that the misconduct of staff, particularly of accounts branch, was being reported in the form of embezzlement of funds in various field/units of the police department.
"It would not be out of place to mention here that Article 8(3) of the Constitution also takes into account the formulation of such laws as an exemption from fundamental rights enunciated in the Constitution for every citizen of Pakistan", the letter stated.
The insertion of such exemption from fundamental rights is merely to ensure discipline in the ranks and file of a law enforcement agency, including police, responsible for maintenance of law and order in society, it argued.
"Absence of such laws for the accountability of police force has greatly hampered the discipline of the police force leading to [making it] a permanent target of human rights activists, NGOs, media, political parties and the judiciary", reads the letter.
The CCPO stated the long and slow processes, multiple rights of appeal, intervention of various layers of civil courts and service tribunals has made the prevalent accountability regime nothing but a "futile exercise". Despite regular departmental inquiries, the defaulters given major penalties for their glaring misconduct find relief and re-enter the organisation with all perks and privileges, he concludes while asserting that the 'police court martial' would be the best option to take the guilty officers to task in true spirit.
https://www.dawn.com/news/1583978/ccpo-proposes-police-court-martial-to-punish-deviant-officials
--------
Court bars FIA from arresting journalist over his tweets
Malik Asad
09 Oct 2020
ISLAMABAD: The Islamabad High Court (IHC) on Thursday restrained the Federal Investigation Agency (FIA) from arresting a journalist over his allegedly objectionable tweets.
IHC Chief Justice Athar Minallah summoned the inquiry officer of the FIA's Cybercrime Wing on Oct 12 along with the record against the journalist, Rana Mohammad Arshad.
Justice Minallah was hearing a petition filed by the journalist.
This is the first case in Islamabad in which a legal committee constituted by the Pakistan Bar Council for defence of journalists has filed a petition.
A panel of lawyers comprising Mohammad Sajid Tanoli, Usman Warriach and Babar Hayat Samor and representing the journalist appeared before the court.
The counsel informed the court that the petitioner was a physically challenged person and working as a journalist.
They asserted that because of opinions and views expressed by the petitioner on social media, he was being harassed by the FIA's Cybercrime Wing.
According to one of the lawyers of the petitioner, the FIA has served the petitioner an undated notice. He termed the notice mala fide due to its vague content.
He said that the petitioner was summoned by the FIA and later his house was raided by officials of the agency.
Justice Minallah observed: "The profession of the petitioner, fundamental rights guaranteed under Articles 19 and 19-A of the Constitution of the Islamic Republic of Pakistan, 1973, and the manner in which the respondents [FIA] have so far proceeded in this case, prima facie, raises questions of public importance, particularly abuse of power under the Prevention of Electronic Crimes Act, 2016."
The court directed the registrar office to issue notices to the FIA authorities.
"The officer who has been entrusted [with] inquiry of the case is directed to appear on the next date fixed and explain under what authority of law the undated notice was issued followed by raiding the house of the petitioner as has been alleged," the court order said. "The officer shall also explain why the alleged commission and omission on part of the petitioner were not disclosed in the undated notice."
The court admitted the petition for regular hearing, issued notices to the FIA authorities and directed that "no adverse action shall be taken against the petitioner".
It adjourned the hearing till Oct 12.
Meanwhile, former senator Farhatullah Babar has deplored delay in providing him the CCTV footage related to investigation into abduction of journalist Matiullah Jan.
Mr Babar pointed out that under the related law, he was supposed to be provided the CCTV footage within 10 days of the filing of an application. However, he said, it had been weeks since he filed the application, but the interior ministry had not shared the footage with him.
https://www.dawn.com/news/1584059/court-bars-fia-from-arresting-journalist-over-his-tweets
--------
Imran Khan's problem matrix to get complicated as FATF decides on Pak record
Shishir Gupta
Oct 09, 2020
Prime Minister Imran Khan, already facing a mounting challenge to his leadership by a joint coalition of 11 opposition parties, could find his problem matrix getting far more complicated later this when the Financial Action Task Force (FATF) takes a hard look at Pakistan's track record to stop terror. The global anti-terror financing watchdog is expected to conclude that Islamabad should be kept in the grey list with a new set of compliances based on the October 2019 mutual evaluation report (MEP). The mutual evaluation report is done on member countries after every eight years.
According to diplomats based in Paris and counter-terror experts, the FATF plenary, which is going to hold its virtual meeting on 21-23 October, is likely to prepare a new action plan for Pakistan based on the October 2019 MEP and add points not compiled by Islamabad for the previous 27-point action plan.
While Islamabad routinely blames India for politicising FATF, fact is that Pakistan based terror groups such as Jaish-e-Mohammed (JeM) and Lashkar-e-Tayyiba (LeT) are constantly targeting innocent civilians and security forces in the union territory of Jammu and Kashmir. JeM's Kasim Jan, one of the key accused in the 2016 Pathankot airbase attack, is still the principal handler of terror attacks in Jammu and Kashmir with sleeper cells all over India. Proscribed LeT's co-founder Hafiz Saeed's son Talha is active in planning and executing terror action against India with impunity.
Pakistan watchers believe that PM Imran Khan may try to leverage its influence over both Taliban and Haqqani Network to negotiate for a ceasefire in Afghanistan and attempt to buy some relief at the FATF. Already, US President Donald Trump has announced that US troops will return from Afghanistan before Christmas this year.
However, this is easier said than done since the FATF's mutual evaluation report 2019 says that Pakistan faces significant money laundering and terror financing risks. "A number of terrorist outfits, including UN-listed groups, operate in Pakistan all of which raise funds through a variety of means including direct support, public fundraising, abuse of non-profitable organisations, and through criminal activities. Funds are moved through formal and informal (mainly hawala or hundis) channels. Pakistan's geographical landscape and porous borders increase its vulnerability to terror financing and heightens the risks associated with cash smuggling. At the time of the last evaluation, there were 66 organizations and approximately 7,600 individuals proscribed under UNSC resolution 1373, which was passed to prevent and suppress financing of terror acts post 9/11 attacks," the report stated.
The MEP report on Pakistan further stated : "Major money laundering crime include corruption, drug trafficking, fraud, tax evasion, smuggling, human trafficking and organized crime. Corruption is endemic across Pakistan's economy….and connected with a range of other predicate offences….Illicit funds from predicate crimes are generally money laundered through domestic real estate, precious gems/jewellery and the financial sector. Criminal proceeds are also moved offshore via formal and informal channels."
Even as Pakistan is still to comply with the previous 27-point action plan, the MEP 2019 presents a very grim picture of Pakistan with caustic comments about both its lead enforcement agencies as well as federal agencies for not understanding the full purport of money laundering and terror financing acts.
"Based on MEP 2019, a new assessment will be made of Pakistan and a set of tasks to be complied with by Islamabad will be prepared. Under the circumstances, it is very difficult for Pakistan to walk out of the grey list of FATF," said a counter-terror expert in New Delhi.
The downside of Pakistan remaining in the grey list means that much needed loans for reviving a comatose economy will be very hard to come by and PM Imran Khan's problems will be further accentuated by a united opposition, which is no longer afraid of the all powerful Pakistan Army. On Thursday, former Pak PM Nawaz Sharif, who has been a primary force in cementing the opposition, said that his problem was not with Imran Khan but his selectors (Army). FATF's October plenary, which would likely keep Pakistan in the grey list, will just exacerbate political tensions in Islamabad.
https://www.hindustantimes.com/world-news/imran-khan-s-problem-matrix-to-get-complicated-as-fatf-decides-on-pak-record/story-iQ5Nf4zE99Hy0XuUeQoQoO.html
--------
Pakistani opposition parties plan to oust Imran Khan government, to hold first mega rally on October 16
Oct 06, 2020
Islamabad: The Pakistan Democratic Movement (PDM), an alliance comprising 11 of the country`s opposition parties, will formally launch its massive campaign against PM Imran Khan-led PTI government with a public meeting in Gujranwala on October 16, instead of Quetta.
The PDM`s steering committee at its meeting on Monday released a schedule of six public meetings in the four provinces as part of the first phase of its movement in line with decisions taken at the September 20 multiparty conference (MPC) in Islamabad, reports Dawn news.
The decisions taken by the steering committee were announced by its convener Ahsan Iqbal of the Pakistan Muslim League-Nawaz (PML-N) with leaders of other PDM component parties at a media briefing.
According to Iqbal, the PDM would hold its second public meeting in Karachi on October 18, third in Quetta on October 25, fourth in Peshawar on November 22, fifth in Multan on November 30 and the last one in Lahore on December 13.
While the alliance has appointed Jamiat Ulema-i-Islam-Fazl (JUI-F) chief Maulana Fazlur Rehman as its first phase President, Iqbal said that members of the steering committee had unanimously elected Raja Pervez Ashraf of the Pakistan People's Party (PPP) as senior vice-president, whereas PML-N`s Shahid Khaqan Abbasi had been nominated as its secretary-general.
The PDM was created last month in an effort to oust the incumbent Imran Khan-led government over its "failures in all sectors".
https://zeenews.india.com/world/pakistani-opposition-parties-plan-to-oust-imran-khan-government-to-hold-first-mega-rally-on-october-16-2315166.html
--------
PM asks Sindh governor to sort out islands issue
Amir Wasim | Kalbe Ali
09 Oct 2020
ISLAMABAD: Amid widespread criticism and restlessness in Sindh over the Centre's move to take control of two islands for developing them as trade and investment hubs and international tourist destinations, Prime Minister Imran Khan on Thursday directed Sindh Governor Imran Ismael to sort out the matter related to the project in consultation with the provincial government.
The directives were issued by the prime minister to the governor when the latter called on him after a meeting which was held at the Prime Minister House to review progress on the Ravi Riverfront Urban Development in Punjab and Bundal Island projects in Sindh.
"The Bundal Island project will generate immense opportunities of investment and employment," the prime minister said during his meeting with the Sindh governor, according to a brief announcement by the PM Office.
The meeting on the Ravi Riverfront Urban Development project in Lahore and Bundal Island Project was also attended by Naya Pakistan Housing and Development Authority Chairman retired Lt Gen Anwar Ali Haider, Ravi Urban Development Authority Chairman Rashid Aziz, and the chief secretaries of Punjab and Sindh.
Meeting in PM House reviews progress on Ravi Riverfront Urban Development in Punjab and Bundal Island Project in Sindh
According to the official handout, the meeting was also attended by the chairman of the newly-established Pakistan Island Development Authority (PIDA) through a controversial presidential ordinance despite the fact that so far no one had been appointed for the post.
Upon queries, the sources in the government later told Dawn that Mr Imran Amin had actually attended the meeting as the acting chairman of PIDA. Under the ordinance, the federal government is required to appoint a serving or retired grade-22 bureaucrat or a serving or retired officer of the armed forces "not below the rank of a lieutenant general or equivalent" or an "experienced professional" or a "businessman" as the PIDA chairman for a period of four years.
Keeping parliament out of the loop, President Arif Alvi on August 31 promulgated the PIDA Ordinance 2020 to allow the federal government to take control of the two islands — Bundal and Buddo— along the Karachi coast to initiate and maintain a continuous process of reclamation, master planning, urban planning, spatial planning and to promote and stimulate the twin islands as trade, investment and logistics centres, duty-free areas and international tourist destinations.
The promulgation of the PIDA Ordinance triggered a criticism from the ruling party of Sindh as Pakistan Peoples Party (PPP) chairman Bilawal Bhutto-Zardari equated the move with the illegal annexation of India-held Jammu and Kashmir by Indian Prime Minister Narendra Modi last year.
Terming the step "illegal annexation of Sindh's islands through the presidential ordinance by the PTI government", the PPP chairman alleged that the federal government "seeks to annex these lands/islands which are properties of the provinces, to exploit them for financial gain by allowing crony capitalists to undertake housing and such other projects including tourism, which has been devolved to the provinces" under the 18th Amendment, he stated.
Speaking at a news conference after his meeting with the prime minister, Sindh Governor Imran Ismail said the Sindh government had failed to understand the importance of the Bundal Island project.
Accompanying Maritime Affairs Minister Ali Zaidi, the governor said there were some confusions in the Sindh government, declaring that these islands would remain part of the province.
Mr Ismael said the major chunk of revenues generated from the project would go to Sindh and the only interest that federal government had in the project was foreign investments amounting to around $50 billion which would help strengthen foreign exchange reserves.
Apart from huge foreign investments, he said, Bundal Island would generate around 150,000 jobs and around 4 to 5 million tourists were expected to visit the area annually.
He said Ravi city and Bundal Island were two cities being developed in the country in around five decades after the federal capital, Islamabad, was established.
Apparently contradicting the governor, Mr Zaidi stated that Bundal Island was under the Port Qasim Authority (PQA) as per the coordinates established in 1973 and lease to establish a base there was given by Port Qasim to Pakistan Navy, and it was a federal land.
On Tuesday, Mr Zaidi had posted on social media a provincial government letter, dated July 6, 2020, through which it had made "available" Bundal Island to the federal government.
Also, the Sindh cabinet in its Tuesday's meeting discussed the presidential ordinance and declared that the Constitution established the ownership of the provincial government on the lands, the islands and the land in the sea located within its territorial jurisdiction, but the ordinance was promulgated in such a way as if the islands were property of the federal government.
Meanwhile, the prime minister also presided over a weekly meeting of the National Coordination Committee for Housing, Construction and Development on Thursday in which he was given a detailed briefing on the commencement of work on stalled projects of the federal government agencies.
The prime minister also met a delegation of the country's renowned industrialists and representatives of Karachi's trade organisations. The delegation also apprised the prime minister of the difficulties faced by the business community.
Earlier, presiding over a meeting of the National Coordination Committee for SMEs, the prime minister directed the minister for industries to finalise the roadmap based on timelines for implementation of the proposed SME policy in consultation with provinces at the earliest.
https://www.dawn.com/news/1584053/pm-asks-sindh-governor-to-sort-out-islands-issue
--------
'Imran's selectors' will have to answer for country's situation today, says Nawaz
08 Oct 2020
PML-N supremo Nawaz Sharif on Thursday demanded "Imran's selectors" to answer for the ongoing crises in the country, saying that his supporters "will not sit back" until they get one.
Nawaz, who is currently in London, made the remarks in a virtual address at a convention of PML-N's parliamentarians and ticketholders, saying that the country was facing "defining moments".
The former prime minister, while commenting on the state of the economy and the challenges being faced by the masses, asked: "Who should I hold responsible for this? Just Imran Khan or those who are really responsible?"
"Imran's selectors, you will have to answer for this. You cannot go home without answering," Nawaz declared. "Without Pakistan's parliament, its institutions cannot operate. Even the judiciary cannot work. We will make you answer, we will not sit back until we get one."
He said that people in Pakistan were "crying" because of rising inflation and prices of power and gas.
"Have you thought about how they (people) are living? Was this the situation two years ago?"
The former premier regretted that so far no one has tried to "diagnose the root cause" of the country's problems and political instability and said that he had decided to "identify" it at the multiparty conference of the opposition parties held on September 24 without any "ambiguity".
In the PPP-hosted multiparty conference held last month, Nawaz had said that the opposition's struggle was not against Prime Minister Imran Khan but those who brought him into power through the 2018 elections.
In today's address, Nawaz also took a hit at the military personnel "who have digressed" from the Constitution, saying that the army can only become the "world's best" if it sticks to its constitutional role.
"I know an overwhelming majority [in the army] sticks to constitutional boundaries, but there are few who have digressed. Those names are few, they can literally be counted on fingertips [but] they have defamed the entire army and that is not acceptable to me," the PML-N supremo said. "I respect my soldiers and generals, but I cannot respect those who do not respect the Constitution, who rig elections."
He also directed his party's parliamentarians to take a stand, saying that they were not "rented members".
"You (PML-N leaders) had won the election, but he was given victory. The tabdeeli person," Nawaz said, referring to PM Imran and added that those who "rigged" the 2018 general elections, had "violated the Constitution and committed a crime".
"We are not sheep that can be herded and if this has been happening [in the past], it will not happen anymore! We will make Pakistan a respectable country," he vowed and added that any member who "was scared should sit at home. We don't need cowards. You don't deserve to be in the assemblies if you are scared".
Nawaz also criticised the PTI government for "begging" other countries for money even though they had promised not to do so.
'Disqualified for what?'
Nawaz also spoke about the Supreme Court's decision in 2017 to disqualify him in the Panama Papers case, in which he was found guilty of not declaring a receivable salary, saying that he "didn't understand what happened".
"Had there been a valid reason for my removal, I would have understood that I have been punished for a crime that I committed," he said. "I was disqualified for not taking a salary from my son.
"Why would I need an iqama? If Musharraf [had not] imposed martial law in 1999, I would not have had to leave with my family. To live there (UAE), I needed an iqama. I had to stay abroad for seven years," he told the session.
"Whether I draw a salary from my son or not, that is my choice. Is that a reason to expel me from the prime minister's office?" he asked.
He said that he had been observing how the situation of the country had changed over the past two years even when he was in prison in Pakistan and lamented that people's lives had become difficult after his party's tenure.
"At a time when people have to eat roti with water, it becomes haraam for me and you to sit peacefully. If we don't speak, we will also be guilty."
https://www.dawn.com/news/1583945/imrans-selectors-will-have-to-answer-for-countrys-situation-today-says-nawaz
--------
Senior bureaucrat hired as HEC executive director
Kashif Abbasi
09 Oct 2020
ISLAMABAD: After announcing the vacant post thrice and failing to get a "suitable" candidate, the Higher Education Commission hired services of senior bureaucrat Dr Shaista Sohail (BPS-22) on deputation against the post of Executive Director (ED).
The post fell vacant in October 2018 after the resignation of Dr Arshad Ali, who was appointed after a competitive process on the MP-I post on a four-year fixed term.
After his resignation, the HEC advertised the post thrice but surprisingly could not get a "suitable" candidate in a country where the HEC itself has been helping universities to produce a large number of PhDs for years.
Finally, the HEC decided to give up the process of filling the post through the competitive process and opted to hire the services of the senior bureaucrat.
An official in the HEC told Dawn that Dr Sohail joined the HEC on deputation after approval from HEC Selection Board. "There is no illegality in this appointment, we followed the process," said HEC's spokesperson Aayesha Ikram.
Sources in the HEC said after completing the process of appointment, the HEC selection board got a no-objection certificate (NOC) from the prime minister for appointing the new ED. They said the new ED would not get MP-1 package rather her appointment was made on standard terms and conditions of civil servants. The ED HEC acts as the principal accounting officer.
"Dr Shaista Sohail, a BPS-22 officer of Pakistan Administrative Service, has joined the HEC as its executive director," said a press release issued by HEC on Thursday.
With a doctorate in International Relations from Geneva School of Diplomacy, Switzerland, and Master's in Economics from Punjab University, Dr Sohail brings with her a diverse experience of serving at national and international levels, the press release said.
It said starting her career as a lecturer in economics at Government College for Women, Okara, she joined Civil Service of Pakistan in 1985 with her first assignment as assistant commissioner Karachi South.
Her key postings included Joint Secretary Policy and Planning, Ministry of Industries, Member Estate CDA, Joint Secretary Debt Management/Japan EAD, Additional Secretary to the President of Pakistan, Special Secretary Cabinet, Secretary Statistics, Secretary Poverty Alleviation and Social Safety Division, Deputy Secretary Commerce WTO and Economic Counsellor to WTO, Geneva.
https://www.dawn.com/news/1583991/senior-bureaucrat-hired-as-hec-executive-director
--------
South Asia
Rights Group Calls for End to Rohingya 'Prison' Camps in Myanmar
By Zsombor Peter
October 08, 2020
KUALA LUMPUR, MALAYSIA - Myanmar should end the "apartheid regime" that has left thousands of Muslim ethnic Rohingya families trapped in stifling displacement camps eight years after deadly communal clashes tore through the Buddhist-majority country's far west, the U.S. advocacy group Human Rights Watch said in a report released Thursday.
International attention on the Rohingya has focused mostly on the sprawling refugee camps in neighboring Bangladesh since a 2017 crackdown by Myanmar's police and military in Rakhine state sent 700,000 of them fleeing across the border. The United Nations called the widely alleged campaign of arson, rape and murder "a textbook example of ethnic cleansing." Rights groups have called it genocide. The government denies the claims.
Largely ignored are more than 130,000 Rohingya who have been confined to fenced-off and guarded camps in Rakhine state itself since 2012, according to U.N. figures, when a wave of communal violence between local Muslims and Buddhists drove them from their homes. About half the camps' denizens are children.
Human Rights Watch says conditions in those camps are getting worse and that the government's recent efforts to "close" them risk cementing the Rohingya's status as a segregated underclass. The group interviewed more than 30 Rohingya who live in the camps or fled them and nearly as many aid workers and advocates for its report, An Open Prison Without End: Myanmar's Mass Detention of Rohingya in Rakhine State.
Myanmar's government rejects the Rohingya's claim to a distinct ethnic identity — dismissing them instead as illegal migrants from Bangladesh — despite their roots in Rakhine going back generations, and it denies them citizenship unless they give up the claim.
"It has within that setup these camps that are effectively sites of detention," Human Rights Watch researcher Shayna Bauchner, who wrote the report, told VOA.
"It is a complete violation of all of their basic rights," she said. "They have been for eight years now been denied the ability to return to their homes, which is really all that they've been asking to do — to be able to return to their homes, to reintegrate into the community. They are instead being denied the ability to live lives with dignity, to achieve self-reliance."
Human Rights Watch says strict travel restrictions outside the camps — enforced with arrests and physical abuse — prevent many from finding work or going to school, leaving them largely dependent on deliveries from international aid agencies that increasingly are being blocked by authorities on vague and dubious grounds of health and security.
The report describes squalid and overcrowded communities with ramshackle shelters and open sewers, and cites other reports and studies that link those conditions to camp death and disease rates higher than those in surrounding villages.
The organization also warns that the government's nascent moves to "close" the camps since 2017 look less likely to relieve those conditions than perpetuate them.
The government claims to have closed three of the estimated 24 camps so far.
Human Rights Watch says a group of Buddhist ethnic Rakhine displaced by the 2012 pogroms was resettled to a site agreed on with the government, while a group of Muslim ethnic Kaman was coerced into moving hundreds of kilometers away to Yangon, Myanmar's commercial hub.
However, when authorities "closed" a Rohingya camp, Human Rights Watch says, they merely built new housing on the same site, leaving the same travel restrictions in place.
"The government is undertaking this process, which it is calling a process to close the camps, but is in reality just sort of entrenching the Rohingya's status as permanent detainees," Bauchner said.
"Their ability to work, to study, to get medical care are all severely constrained, and the result is a community that for generations will be cut off from self-reliance, from dignity, from ... being able to have opportunities to study in certain fields so that they can actually provide services on their own."
John Quinley, a human rights specialist for the advocacy group Fortify Rights who has been in regular contact with Rohingya in and out of the camps, agreed with Human Rights Watch's dire assessment.
"These are internment camps in central Rakhine state trapping thousands upon thousands of Rohingya women, children and men. It's a systematic campaign to confine these people to these camps, so 'apartheid' is, yes, the correct way to describe it," he said.
He also expressed concern that the way the government claims to be closing the camps, whether on the same sites or new ones equally constrained, will do little if anything to relieve the Rohingya's plight.
"Unless they're granted access to go back to their original homeland or places where they want to settle, it's pretty certain that the conditions will still be ones of internment," Quinley said.
He and Bauchner said the conditions in the camps, and the growing belief among the Rohingya trapped there that they will never improve, is adding to their despair. A few thousand have managed to flee the camps, often risking death to reach Malaysia by boat in hopes of a better life. Some don't make it.
"We know we will die in the sea," one Rohingya woman in the camps told Human Rights Watch. "If we reach there, we will be lucky; if we die, it is OK because we have no future here."
Win Myat Aye, Myanmar's minister of social welfare, relief and resettlement, would not speak with VOA about the camps and referred questions to the ministry's permanent secretary, Ko Ko Naing, who could not be reached. Other government officials and spokesmen did not reply to VOA's requests for comment.
https://www.voanews.com/east-asia-pacific/rights-group-calls-end-rohingya-prison-camps-myanmar
--------
India can play 'vital role' for Afghan peace, top negotiator says
SANJAY KUMAR
October 08, 2020
NEW DELHI: Afghanistan's top peace negotiator, Abdullah Abdullah, said India could play a "vital role" for peace in Afghanistan, as he met Indian Prime Minister Narendra Modi on Thursday.
Abdullah, chairman of Afghanistan's High Council for National Reconciliation, arrived in New Delhi on Wednesday for a three-day visit at Modi's invitation, as peace talks between Afghan government and Taliban negotiators continue in Doha, Qatar to strike a power-sharing deal and end decades of conflict.
"India can play a vital role in establishing lasting peace in Afghanistan and the region," Abdullah said in a statement.
"India has shown support to the first direct engagement between the Afghan government and Taliban, while underlining its concerns about possible use of Afghan soil for violence against others," he said.
During the meeting, Modi expressed India's commitment to a "permanent cease-fire" in Afghanistan. The cease-fire has been a major sticking point in the negotiations between the Taliban and Kabul, as Taliban offensives have continued even since the talks started on Sept. 12.
"The prime minister reiterated India's commitment toward sustainable peace and prosperity in Afghanistan and welcomed efforts toward a comprehensive and permanent cease-fire in Afghanistan," India's Ministry of External Affairs said in a statement.
Abdullah's visit comes at a time when India for the first time has been invited to take part in the Afghan peace process. Some experts say that New Delhi is even becoming more open to dealing with the Taliban as Afghanistan's new political setup may include them in the government.
"India can be expected to be more open in dealing with the Taliban but that will depend on a case-by-case basis, depending on the interlocutors and the subject," Anand Arni of the Bangalore-based Takshashila Institution told Arab News.
"I am sure Abdullah would be briefing India that Indian concerns will be engaged with in its discussions with the Taliban," said Arni, who for more than three decades worked with India's external intelligence agency, the Research and Analysis Wing (RAW)
"Afghanistan would like India to be supportive of its position. And to continue with its assistance in the event that there is an agreement. Abdullah would take New Delhi into confidence about the state of play, his concerns, assurances conveyed by Pakistan."
India has a $3 billion development commitment in Afghanistan, whose strategic partner it has been since 2011. It also trains the Afghan National Army (ANA).
According to India's former ambassador to Kabul, Amar Sinha, New Delhi has a significant role to play in Afghanistan's future.
"Given India's stake and equities in Afghanistan, and its friendships that cut across the spectrum in Afghanistan, I believe India has a significant role to play in advising and counselling unity and creating a common platform that represents the aspirations of a new Afghanistan," he said.
Sinha added that India had always been "willing to support and follow Afghanistan's lead" in the peace process. He said that while he did not see "a fundamental shift in India's position" toward the Taliban, it will support "efforts to reintegrate Taliban into the mainstream Afghan society."
"Preserving the unity and sovereignty of Afghanistan is key to any negotiation and likely outcomes. India will support these objectives," Sinha said, adding that New Delhi would also need to ensure that "external actors and agencies do not act as spoilers."
https://www.arabnews.com/node/1746236/world
--------
Afghanistan: more than 500 assassinated by the Taliban in only six months
Ruchi Kumar
Oct 8, 2020
Fifteen Taliban members thought to be responsible for a spate of assassinations in Kabul and beyond were captured on Tuesday, Afghanistan's primary intelligence organisation announced.
The National Directorate of Security (NDS) said the men were tasked with carrying out assassinations of security and defence forces as well as prominent political figures in Afghanistan.
"Members of this group would operate in teams of four and five, and track movements of targets who are prominent and political figures in Afghanistan before carrying out their attacks," a spokesperson for the NDS shared.
The Afghanistan Independent Human Rights Commission (AIHRC) said 533 civilians have been killed and 412 others wounded in targeted attacks in the last six months. Among these were two of AIHRC's own employees, 24-year-old Fatima Khalil and driver Ahmad Jawid Folad, who were killed in an explosion targeting their vehicle on June 26.
The Afghan Ministry of Interior (MOI) provided equally grim figures, stating that at least 70 civilians were killed and more than 140 injured in the last two weeks of September.
"Although they haven't claimed it, the Taliban are killing civilians, including children and women every day, in planned attacks targeted towards government employees," Tariq Arian, spokesperson to the MOI told The National, adding that it is likely the spike in assassinations were Taliban's attempt to pressure the government in the ongoing peace talks in Qatar.
A delegation from the Afghan government is currently in meetings with Taliban members in Doha in an effort to reconcile two decades of conflict between the parties. Earlier this year, the Taliban also penned a deal with the US administration that will facilitate the exit of foreign forces from Afghanistan.
Among many high-profile assassinations include an attack on Afghan politician Fauzia Koofi, who is among the only four women participating in the negotiations with the Taliban. While Ms Koofi survived the attempt, she was severely injured and attended the peace talks while wearing a cast.
Fifteen Taliban members thought to be responsible for a spate of assassinations in Kabul and beyond were captured on Tuesday, Afghanistan's primary intelligence organisation announced.
The National Directorate of Security (NDS) said the men were tasked with carrying out assassinations of security and defence forces as well as prominent political figures in Afghanistan.
"Members of this group would operate in teams of four and five, and track movements of targets who are prominent and political figures in Afghanistan before carrying out their attacks," a spokesperson for the NDS shared.
The Afghanistan Independent Human Rights Commission (AIHRC) said 533 civilians have been killed and 412 others wounded in targeted attacks in the last six months. Among these were two of AIHRC's own employees, 24-year-old Fatima Khalil and driver Ahmad Jawid Folad, who were killed in an explosion targeting their vehicle on June 26.
The Afghan Ministry of Interior (MOI) provided equally grim figures, stating that at least 70 civilians were killed and more than 140 injured in the last two weeks of September.
"Although they haven't claimed it, the Taliban are killing civilians, including children and women every day, in planned attacks targeted towards government employees," Tariq Arian, spokesperson to the MOI told The National, adding that it is likely the spike in assassinations were Taliban's attempt to pressure the government in the ongoing peace talks in Qatar.
A delegation from the Afghan government is currently in meetings with Taliban members in Doha in an effort to reconcile two decades of conflict between the parties. Earlier this year, the Taliban also penned a deal with the US administration that will facilitate the exit of foreign forces from Afghanistan.
Among many high-profile assassinations include an attack on Afghan politician Fauzia Koofi, who is among the only four women participating in the negotiations with the Taliban. While Ms Koofi survived the attempt, she was severely injured and attended the peace talks while wearing a cast.
Despite assurances in the deal with the US, the Taliban has not reduced violence in the country, and continues to target civilians, particularly those voices that have been critical of the group.
The latest among these is 28-year-old Zarifa Ghafari, the youngest mayor of an Afghan city of Maidan Shar in Maidan Wardak province.
Ms Ghafari survived an attack by armed gunmen on her vehicle on Sunday while travelling between the Afghan capital and Maidan Wardak province. IT was the second attempt made on her life in six months.
"I believe they target me for many reasons, but mostly because I am a woman who broke their [patriarchal] steel wall to become an empowered woman leader," she told The National.
"They also want to show that the Afghan government is weak and if they can kill a government official like a mayor, then they can show themselves as stronger party and use it to leverage the talks," she added.
While the recent bust of the Taliban gang is expected to reduce the violence to some extent, MOI officials shared that there may be as many as 100 Taliban assassins targeting those likely to present opposition to the insurgent group during the negotiations.
Ms Ghafari, too, has been very critical of the Taliban, often speaking at international forums, and seeking international support to protect the rights of the Afghan women in the talks with the insurgent group.
"It is nothing but an attempt to silence democracy and dismiss the voices of people," Ms Ghafari said of the recent spike in the assassinations in the country.
https://www.thenational.ae/world/asia/afghanistan-more-than-500-assassinated-by-the-taliban-in-only-six-months-1.1090133?utm_campaign=1594421_&utm_medium=email&utm_source=iterable
--------
Afghan officials downplay US president's announcement on early troop withdrawal
SAYED SALAHUDDIN
October 08, 2020
KABUL: Afghan government officials on Thursday said US President Donald Trump's announcement that all American troops would be withdrawn from Afghanistan by Christmas — sooner than previously outlined — would have no impact on the war-torn country's security.
In an unexpected move, Trump said in a Twitter post that the remaining US service personnel stationed in Afghanistan should be "home by Christmas."
The pullout had earlier been scheduled for spring 2021, following a US-Taliban deal in February to end the protracted conflict in Afghanistan, which started after the American invasion in 2001 that removed the Taliban from power.
"The withdrawal of foreign forces from Afghanistan will have no effect on the situation of Afghanistan and our security forces have the capacity to defend the country without the presence of foreign troops," Fawad Aman, a spokesman for the defense ministry, told Arab News.
He said that for the past six months Afghan security forces had been planning and conducting offensives independently, without assistance from US-led troops.
The US and NATO had pledged to provide support for Afghan troops, despite their soldiers' departure, until "the threat of terrorism in Afghanistan and in the region is annihilated," Aman added.
In a video message, Afghan army chief, Yasin Zia, said that Afghan forces had earned the "ability to foil enemy attacks" and were equipped with sophisticated ground and aerial weapons and aircraft which were unmatched in the region.
Afghan President Ashraf Ghani's office was unavailable for comment.
Trump's decision came as intra-Afghan talks were taking place in Doha, Qatar, where nearly a month ago Taliban and Afghan government negotiators were brought to the table to decide the country's future political setup.
Discussions have lately reached a stalemate, which may turn Afghanistan "into a Syria, if each side insists on being right on everything. It would be repeating the errors of the past," Zalmay Khalilzad, the US special envoy for Afghanistan, told Afghan media on Wednesday.
The Taliban, meanwhile, welcomed Trump's decision. The group's spokesman, Zabihullah Mujahid, told Arab News: "The Islamic Emirate welcomes this announcement and considers it as a positive step in the implementation of the agreement between the Islamic Emirate and America."
The troop withdrawal was Trump's electoral promise in 2016, which he appears to be trying to fulfill as he seeks reelection in November.
Hours before Trump's tweet, US National Security Adviser Robert O'Brien said the US would reduce the number of troops it had in Afghanistan to 2,500 early next year. Currently, some 5,000 American soldiers remain in the country. As per the US-Taliban accord, 4,000 have already left since February.
Torek Farhadi, a former adviser to the Afghan government, said Trump's announcement gave the "Taliban an edge, at least psychologically, as they see the republic (Ghani's government) side very dependent on the US, both financially and militarily."
With no sign of any breakthrough in intra-Afghan talks, he warned the war could go on for years if Afghan leaders and warring parties "don't start to find a solution for peace right there, when they are at the negotiations table."
As Ghani traveled to Qatar to help with the stalemate in talks, Farhadi said Trump's team might have briefed him about the US president's decision.
Officials in Kabul refused to comment on whether Trump had informed the Afghan government about his decision.
Zabihullah Pakteen, an analyst, told Arab News that Trump's move was "a surprise both within US military hierarchy and in Afghanistan" and could be detrimental to the peace process. "The withdrawal of troops before the deadline throws the peace process in jeopardy," he said.
https://www.arabnews.com/node/1746226/world
--------
Deputy Chief of Ghazni Prison Killed Following Abduction
By Mohammad Haroon Alim
08 Oct 2020
The Taliban have abducted and killed a Ghazni prison deputy of security chief on the Ghazni-Kabul highway in southern Ghazni province, the prison administration said.
Mohammad Ali Ahmadi, the deputy head of security at the Ghazni prison, was on his way to Kabul from Ghazni on Tuesday when he was abducted and killed by Taliban militants, Afghanistan office of prisons administration said in a press statement.
The Taliban have not yet commented on the incident.
https://www.khaama.com/ghazni-prison-security-deputy-chief-killed-following-abduction-989878/
--------
Allies to Leave Afghanistan when 'Conditions on Ground' Permits: NATO
By Mohammad Arif Sheva
09 Oct 2020
NATO asserted Thursday its members would consult and decide "together" on when to leave Afghanistan, according to sources, after the United States President Donald Trump announced to bring its troops home by Christmas.
While it remained unclear whether the announcement was an official heads-up on troops withdrawal, Trump has occasionally been tweeting on the timeline for ending America's longest war.
NATO Secretary General Jens Stoltenberg exclaimed the alliance's longstanding position that it will end its mission in Afghanistan only when "conditions on the ground" permit.
"We decided to go into Afghanistan together, we will make decisions on future adjustments together, and when the time is right, we will leave together," said Stoltenberg at a news conference after talks with North Macedonian Prime Minister Zoran Zaev, as France 24 quoted.
"We will make decisions based on the conditions on the ground, because we think it is extremely important to continue to be committed to the future of Afghanistan, because it is in our interest to preserve the long term security of Afghanistan," he added. Foreign troops withdrawal from Afghanistan is based on an agreement between the US and Taliban, which paved the way for intra-Afghan negotiations to be held, determining a political settlement in Afghanistan.
https://www.khaama.com/allies-to-leave-afghanistan-when-conditions-on-ground-permits-nato-75544es-will-leave-afghanistan-when-conditions-on-ground-permits-7654/
--------
Khalilzad Tackles Afghan Peace with Pakistani Officials
By Mohammad Arif Sheva
09 Oct 2020
ISLAMABAD, Pakistan – United States Special Representative for Afghanistan Reconciliation Zalmay Khalilzad and Commander of NATO's Resolute Support Mission Gen. Scott Miller visited Islamabad Thursday, discussing Afghan peace with Pakistani officials.
In a meeting with Chief of Army Staff Gen. Qamar Javed Bajwa, Khalilzad "thanked Prime Minister Khan and General Bajwa for their help in advancing the Afghanistan peace process," according to a statement by the US Embassy in Pakistan.
"He and General Bajwa agreed that intra-Afghan direct negotiations are an historic opportunity for achieving peace in Afghanistan and for the region," the statement read. "They also agreed the opportunity must not be lost and past mistakes should not be repeated."
Both sides addressed the efforts countries who support the peace process can undertake to help Afghans reach a political settlement and to implement it.
Meanwhile, Khalilzad, Gen. Miller, and Gen. Bajwa "affirmed the need for a significant reduction in violence in Afghanistan as peace negotiations between the two sides move forward."
In the meeting, they tackled Prime Minister Imran Khan's upcoming visit to Afghanistan and the "roadmap that would guide Pakistan-Afghanistan relations after there is a peace agreement."
https://www.khaama.com/khalilzad-tackles-afghan-peace-with-pakistani-officials-76544/
--------
North America
US seizes 92 Iran 'propaganda' websites for spreading misinformation
08 October 2020
The US has seized 92 web domains used by Iran, including four which purported to be genuine English language news sites, the Justice Department announced Wednesday.
The sites were identified first with intelligence from Google and then also with help from Twitter and Facebook, the department said.
For all the latest headlines, follow our Google News channel online or via the app.
Four of them, with the domain names "newsstand7.com," "usjournal.net," "usjournal.us," and "twtoday.net," were "operated by or on behalf" of Iran's Islamic Revolutionary Guard Corps to influence United States domestic and foreign policy, the Department said.
The other 88 domains also included purported news sites "to spread Iranian propaganda" targeted at Western Europe, the Middle East and Southeast Asia.
Visitors to the websites Wednesday could see a statement saying "This domain has been seized by the Federal Bureau of Investigation."
"We will continue to use all of our tools to stop the Iranian Government from misusing US companies and social media to spread propaganda covertly, to attempt to influence the American public secretly, and to sow discord," said Assistant Attorney General John Demers.
"Fake news organizations have become a new outlet for disinformation spread by authoritarian countries as they continue to try to undermine our democracy," Demers said.
https://english.alarabiya.net/en/News/middle-east/2020/10/08/US-seizes-92-Iran-propaganda-websites-for-spreading-misinformation
--------
Islamic State 'Beatles' Jailers Are Charged in Abuse of Murdered Hostages
By Adam Goldman and Charlie Savage
Oct. 7, 2020
WASHINGTON — Two notorious Islamic State detainees from Britain were brought to the United States on Wednesday to face federal charges over accusations that they jailed and tortured Western hostages, some of whom were beheaded, Justice Department officials said.
The transfer is a milestone in the saga of the two men, El Shafee Elsheikh, 32, and Alexanda Kotey, 36, who are half of an ISIS cell of four Britons called "the Beatles" — a nickname bestowed by their victims because of their accents — and known for their extreme brutality.
The American government has linked the group to the kidnapping and abuse of more than two dozen hostages, some of whom were ultimately beheaded for propaganda videos, including the journalists James Foley and Steven Sotloff.
The British extremists repeatedly beat the hostages they kept imprisoned in Raqqa, Syria, formerly the Islamic State's self-declared capital, according to prosecutors. They subjected their hostages to abuses including waterboarding, mock executions, painful stress positions, food deprivation, beatings with sticks lasting 20 minutes or longer, chokeholds causing blackouts and electric shocks. They also forced their hostages to fight each other and to witness murders, court papers said.
At a news conference on Wednesday, Justice Department officials and the F.B.I. director, Christopher A. Wray, announced the men had been indicted on multiple charges, including hostage-taking resulting in death and conspiracy to commit murder outside the United States. If convicted, the men could spend the rest of their lives in prison. They made an initial appearance on Wednesday in federal court in Alexandria, Va.
Justice Department officials and the F.B.I. director, Christopher A. Wray, announced that two Islamic State detainees from Britain will face federal charges over accusations that they jailed and tortured hostages.
"These charges are the product of many years of hard work in pursuit of justice for our citizens slain by ISIS," Attorney General William P. Barr said in a statement. "Although we cannot bring them back, we can and will seek justice for them, their families, and for all Americans."
Both of the detainees were captured by an American-backed Kurdish militia in Syria in early 2018. In October 2019, the American military took custody of them amid the upheaval of Turkey's attacks on the militia, and they had been held in Iraq since then.
Their arrival and the initiation of a civilian trial is a victory for the families of the hostages who were killed. The families had pushed for the men to be prosecuted in federal court instead of being sent to the military prison at Guantánamo Bay, where military commissions have proved dysfunctional in cases in which defendants contest the charges rather than plead guilty.
The two men have given numerous interviews while imprisoned, at first striking a largely unrepentant tone and dodging questions about their culpability in the killing of the hostages. But as time passed, the men seemed more apologetic and admitted holding Westerners hostage in later interviews.
Another member of the cell — Mohammed Emwazi, better known as Jihadi John — was killed in an airstrike in 2015 in Syria. Mr. Emwazi was believed to have killed Mr. Foley and Mr. Sotloff, both Americans, as well as Peter Kassig, an aid worker.
A fourth man, Aine Davis, is imprisoned in Turkey on terrorism charges. The extradition of Mr. Davis to the United States seems unlikely as the American-Turkish relationship deteriorates.
The families of Mr. Foley and Mr. Sotloff as well as those of Kayla Mueller and Peter Kassig, two Americans who were also killed in Syria, said they welcomed the news the two men were being brought to the United States to be prosecuted.
"James, Peter, Kayla and Steven were kidnapped, tortured, beaten, starved and murdered by members of the Islamic State in Syria," the families said in a statement. "Now our families can pursue accountability for these crimes against our children in a U.S. court."
The families added they were particularly grateful to Mr. Barr for his decision to waive the death penalty against the two men and thanked Ali H. Soufan, a former F.B.I. agent who quietly helped them.
Any trial would most likely involve former hostages, especially from Italy, France, Spain and Denmark, possibly testifying and recounting the horrors they experienced while imprisoned by the Islamic State in Syria.
The two men helped supervise detention facilities where hostages were held, coordinated ransom negotiations for their release and engaged in a prolonged pattern of physical and psychological violence against their prisoners, charging documents said. For example, on April 25, 2014, prosecutors said, the men forced prisoners from Europe to witness the murder of a Syrian man by Mr. Emwazi as part of a hostage negotiation process.
"Emwazi executed the Syrian prisoner by shooting him in the back of the head and then numerous times in the torso as and when he fell into a grave," the charging documents said. "Kotey instructed the hostages to kneel at the side of the grave and witness the execution while holding handmade signs pleading for their release. Elsheikh videotaped the execution of the Syrian hostage."
It added: "After the execution, Kotey, Elsheikh, and Emwazi returned the European hostages to the prison with Elsheikh telling one hostage, "You're next."
All four men had lived in West London. Mr. Kotey, born in London, is of Ghanaian and Greek Cypriot background, while Mr. Elsheikh's family fled Sudan in the 1990s. Both men have been designated foreign terrorists by the United States. The United Kingdom has stripped them of their British passports.
The Trump administration wanted to bring the two detainees to the United States for a trial in civilian court, as the families of their victims urged, but their transfer was delayed by a need for evidence in British hands that prosecutors viewed as essential to prove their case.
A lawsuit in Britain brought by the mother of one of the defendants tied up that government's ability to share the evidence because the attorney general at the time, Jeff Sessions, refused to preclude seeking the death penalty, as normally happens in such cases since Britain has abolished it.
In August, however, Mr. Barr sought to resolve the impasse by reversing the policy and telling Britain that the United States would not seek to execute the two men. The British courts swiftly permitted the government to share the evidence — clearing the way for their transfer to American soil for the case to commence.
Prosecuting foreign terrorists in civilian court, once common under the Obama administration, has become rare under the Trump administration. Mr. Sessions had attacked that approach while he was still a Republican senator from Alabama, portraying it as soft on terrorism and declaring that such suspects should be held as military combatants and tried at Guantánamo Bay.
But the military commissions trial system at Guantánamo has proved dysfunctional, and there were additional legal problems raised by the prospect of holding members of ISIS — as opposed to Al Qaeda — there without trial.
Britain also did not want to share evidence for use at Guantánamo, and the victims' family members pressed instead for prosecutions in civilian court, to avoid the risk that some would see the men as human-rights martyrs and because civilian courts have proved to be far more effective in practice.
Senator Jeanne Shaheen, Democrat of New Hampshire, who worked closely with the Foley family and pushed to have the two detainees brought to trial in civilian court rather than a military commission, hailed the charges as "a giant step towards justice."
"The families of the Americans murdered by ISIS finally have their day in court on the horizon," she said in a statement. "Through a thorough trial with all evidence presented, the United States has an opportunity to deliver real justice and honor the memories of James, Peter, Steven and Kayla."
https://www.nytimes.com/2020/10/07/us/politics/beatles-islamic-state.html?utm_source=iterable&utm_medium=email&utm_campaign=1594421_
--------
NATO says to discuss plans to withdraw from Afghanistan after Trump announcement
09 October 2020
NATO insisted Thursday that its members would consult and decide together on when to leave Afghanistan, after US President Donald Trump vowed to bring American troops home by Christmas.
Trump, trailing in polls ahead of the November 3 presidential election, made his surprise announcement on Twitter on Wednesday, dramatically speeding up the timeline for ending America's longest war.
NATO Secretary General Jens Stoltenberg repeated the alliance's longstanding position that it will end its mission in Afghanistan only when conditions on the ground permit.
For all the latest headlines, follow our Google News channel online or via the app.
"We decided to go into Afghanistan together, we will make decisions on future adjustments together, and when the time is right, we will leave together," Stoltenberg said at a news conference after talks with North Macedonian Prime Minister Zoran Zaev.
NATO went into Afghanistan following the 2001 US-led invasion to topple the Taliban in the wake of the 9/11 terror attacks.
It ended its combat operations in Afghanistan in 2014 and has vastly reduced its presence on the ground but maintains a 12,000-strong force training and advising local forces.
Stoltenberg said NATO would only leave Afghanistan when it could do so without the risk of the country once again becoming a haven for militants.
"We will make decisions based on the conditions on the ground, because we think it is extremely important to continue to be committed to the future of Afghanistan, because it is in our interest to preserve the long term security of Afghanistan," he said.
It is not clear whether NATO had any advance warning of Trump's announcement, though Stoltenberg's statement that allies would now "consult on the future of the mission" appeared to indicate that it did not.
After intense US cajoling, the Afghan government and the Taliban last month opened peace talks in Doha, but negotiations have got off to a slow start.
Trump's timeline for withdrawing forces appeared to contradict his own national security adv
https://english.alarabiya.net/en/News/world/2020/10/09/NATO-says-to-discuss-plans-to-withdraw-from-Afghanistan-after-Trump-announcement
--------
US targets Iran's financial sector, imposes sanctions on 18 banks
08 October 2020
The United States has targeted Iran's financial sector by imposing sanctions on 18 Iranian banks, in defiance of Europe's humanitarian objections.
The Treasury Department announced the measure on its website on Thursday, weeks ahead of the American presidential elections in which incumbent Republican President Donald Trump is pitted against Democrat Joe Biden.
The Trump administration took the punitive action with an aim to cut off the Islamic Republic from the world's financial system.
The Treasury Department failed to come up with any specific accusations against most of the banks. It just declared that the Iranian financial sector may be used to support the government's nuclear program and its "malign regional influence."
Treasury Secretary Steven Mnuchin claimed that the US sanctions would "stop illicit access to US dollars."
"Our sanctions programs will continue until Iran stops its support of terrorist activities and ends its nuclear programs," he said in a statement, throwing the oft-repeated baseless US accusations against Iran.
"Today's actions will continue to allow for humanitarian transactions to support the Iranian people," he added.
The Trump administration has claimed humanitarian goods are exempt from its sanction, but a web of sanctions tied around Iran over years has made foreign banks and companies extremely wary of engaging in any trade with the country.
Health officials say Iran can produce more than 96 percent of its medical needs. But specialist treatments such as those for cancer or donor transplants often rely on imports.
The Treasury on Thursday said the sanctions did not apply to transactions for the provision of agricultural commodities, food, medicine or medical devices to Iran, but European diplomats have said that US sanctions have dire humanitarian consequences.
According to Bloomberg, the new measures could sharply hinder Iran's ability to secure supplies of food and medicine at a time the country struggles to contain a resurgence of the coronavirus outbreak.
The move comes after Washington last month said it had triggered a snapback of all UN sanctions on Iran. The claim however was rejected by Washington's European allies and most UN Security Council members.
They said the US withdrew from the Iran nuclear deal in 2018 and had no right to activate the snapback mechanism.
After its pullout, the US launched a so-called "maximum pressure" campaign that has so far resulted in several rounds of sanctions against Iran.
The new sanctions is an escalation of Washington's futile bid to force Iran into new negotiations over its nuclear program, two years after Trump withdrew the US from a landmark 2015 deal with Tehran and re-imposed sweeping sanctions.
According to reports, the new sanctions are aimed to close the few remaining financial loopholes allowing Iran to earn revenue, and stymie Biden's promise to return to the nuclear deal if he wins the presidency in November.
The new sanctions would leave Iranian companies increasingly dependent on a small network of informal money changers overseas who can execute financial transfers.
Hence, the Trump administration seeks to also target money-changers and hawala transfer systems and anywhere money changes hands, the US will try to stop it.
https://www.presstv.com/Detail/2020/10/08/635955/US-targets-Iran-s-financial-sector,-imposes-sanctions-on-18-banks
--------
David Friedman is furthering the Kosher Nostra extremist Likudnik Israeli agenda: Scholar
08 October 2020
US Ambassador to Israel David Friedman is an organized crime figure who is furthering the Kosher Nostra extremist Likudnik Israeli agenda, an American political analyst has said.
Kevin Barrett, an author, journalist and radio host with a Ph.D. in Islamic and Arabic Studies, made the remarks in an interview with Press TV on Thursday.
Breaking a long-standing tradition of ambassadors being politically neutral, Friedman said on Sunday that US policy toward Iran could take a turn for the worse from the perspective of Israel if Democratic nominee Joe Biden is elected the US president in November.
"Joe Biden was part of the Obama administration, which negotiated and implemented the Iran deal, something that President [Donald] Trump — and I share his view — thinks was the worst international deal the United States has ever entered into," Friedman said in an interview with the United Arab Emirates' al-Ain news site.
"It [the Obama administration] did nothing to restrain their building of ballistic missiles," Friedman said.
Friedman added, "If we continue on this path, we think Iran will ultimately have no choice but to end its malign activity. … I'd hate to think that a new administration would undermine that, but regrettably, if Biden wins, I think they might."
Dr. Barrett said that Friedman "is a Kosher Nostra mob lawyer. He represented Trump in Trump's bankruptcies over his Atlantic City casinos."
"And he's of course a friend and associate of people like Sheldon Adelson and Bibi Netanyahu. So this guy is all-out organized crime. Trump rewarded him and the syndicate by appointing Friedman ambassador to Israel," he added.
"So now Friedman, the US ambassador to Israel, is yelling about how if Biden wins, the hardline Trump policy towards Iran will fall apart, and this wonderful effort which is just on the brink of a victory that nobody else sees will somehow be totally thwarted by a Biden victory," he said.
"This represents the hard-line Likudnik extremist Netanyahu wing of Zionists who put Trump in office by hacking voting machines, bringing in Israeli intelligence (to do so). In the summer of 2016, Israel contacted the Trump campaign and said you are gonna lose unless you bring us on board to win it for you. Trump or his people said come on and help us. And so Israel inserted Trump into office precisely to have Quds/Jerusalem handed to them on a silver platter, and to move the war on Iran into overdrive, and have the nuclear deal, the JCPOA, shredded and thrown in the trash," the scholar noted.
"All of this was the Kosher Nostra extremist Likudnik Israeli agenda. That's the reason Trump was put in office. And so they're quite right, that if Trump leaves office and Biden who is controlled by liberal Zionists rather than extremist Likudnik Zionists wins, then that policy will undoubtedly change. What's really outrageous here is that an ethnic organized crime syndicate associated with the most radical wing of a genocide project, namely the genocide of Palestine, is allowed to dominate American politics and American policy the way it does," he said.
"And of course, what Friedman could have added is that Biden will in no way challenge Israel's supremacy here in the United States, where we are Israeli occupied territory. Rather a Biden administration would simply represent a more liberal and in some ways more humane, such as it is, wing of the genocidal Zionist movement that will continue to murder and expel the Palestinians, to steal more land, to take over the holy places of nearly four and a half billion Christians and Muslims, on behalf of a religion that claims maybe 15 million people worldwide, a tiny proportion of the Abrahamic monotheists, of whom the majority of the so-called Jewish people are not even religious, and yet they have a messianic millenarian ideological genocide project going in the Holy Land," he said.
"It's outrageous and Friedman is a disgrace. Trump is a disgrace and indeed the entire leadership of the United States here which is owned and controlled by Zionists of one stripe or another is an absolute disgrace," he concluded.
https://www.presstv.com/Detail/2020/10/08/635933/%E2%80%98US-Ambassador-to-Israel-is-organized-crime-figure%E2%80%99
--------
Trump claims to have killed 'bigger names' than Osama Bin Laden in attack on Obama's record
John T. Bennett
October 08, 2020
Appearing eager to one-up former President Barack Obama, Donald Trump on Thursday claimed he has ordered the killing of "bigger names" in the violent Islamist extremist realm than al-Qaeda founder and 9/11 mastermind Osama bin Laden
Mr Obama ordered the raid into Pakistan in 2011 that ended with US Special Operations forces killing bin Laden. Mr Trump has never given the 44th president much credit for the mission, and has more recently used Mr Biden's advising against it when he was vice president as a reason voters should not elect him to the highest office in the land.
"I killed Soleimani, I killed al-Baghdadi – names that everybody, bigger names than Osama bin Laden," Mr Trump told Fox Business. "Nobody could find them until I came along"
He was referring to Abu Bakr al-Baghdadi, the last ISIS leader, and Qasem Soleimani, the late Iranian general whom the United States and other Western countries considered a terrorist.
https://www.independent.co.uk/news/world/americas/us-election/trump-obama-osama-bin-laden-al-baghdadi-soleimani-terrorism-b885943.html
--------
Africa
Jordan's Islamists ally for upcoming parliamentary elections
October 9, 2020
The Islamic Action Front (IAF), the political arm of the Muslim Brotherhood in Jordan, will participate in the next legislative elections scheduled for 10 November.
IAF officials have been attempting to form alliances, as they have previously done during the 2016 elections.
Arabi21 reported that the party formed the National Alliance for Reform, along with political personalities and currents outside the Islamic movement, which includes 100 candidates.
The party is expected to join forces with three candidates for the Christian seats, while 40 candidates from outside the IAF are anticipated to partake in the alliance.
The participation of the Islamic movement in the Jordanian parliamentary elections comes amid rising tensions between the IAF and the authorities. A study conducted by Mohammad Abu Rumman, researcher in the field of Islamist movements and groups, indicated that: "The regime wants to prevent the movement's representatives from winning enough seats to have a say in parliament."
https://www.middleeastmonitor.com/20201009-jordans-islamists-ally-for-upcoming-parliamentary-elections/
--------
UAE, Turkey routinely violating Libya arms embargo: Investigation
08 October 2020
The United Arab Emirates (UAE) and Turkey have been routinely violating a 2011 arms embargo on Libya and fueling the protracted war in the North African country, according to an investigation.
The Guardian newspaper revealed the findings in a report on Wednesday, saying they were part of a joint probe with the investigative journalism website Bellingcat and the media non-profit organization Lighthouse Reports.
Citing flight data and satellite images, the UK-based daily said both the UAE and Turkey were using large military cargo planes to transport military forces and goods to the nine-year conflict in Libya.
"The arms embargo remains totally ineffective," the Guardian quoted an unknown diplomat with knowledge of a forthcoming UN report on Libya as saying. "In the case of those member states directly supporting the conflict, the violations are extensive, blatant and with complete disregard for the sanctions measures."
The daily said Turkey has been using Airbus A400M military cargo jets to supply their forces on the ground in western Libya, adding that the planes flew regularly between Turkish airports in Istanbul, Gaziantep and Kayseri to Misrata in Libya throughout June, July and August.
Videos posted on social media of the forces, allegedly Syrian militants chatting and lining up to board a plane in Gaziantep, suggest that some of these flights transported mercenaries, the British paper added.
"The Turkish air force used a new route to avoid certain flight information regions," the diplomat said. "All flights are non-scheduled or special charter flights that attempt to disguise their routes by switching their transponders off."
A senior source at Turkey's defense ministry rejected the report and told the Guardian that the country's activities in Libya were focused on clearing explosives left by rebel groups under the command of renegade Libyan general Khalifa Haftar, providing humanitarian assistance and running hospitals.
"All of Turkey's activities related to Libya are within this framework and in accordance with international law," they said. "There is no violation of any decision, sanction or international law. Our military flights are solely to transport essential materials needed by our staff in fulfilling their mission in Libya, among others for mine clearing, and medical and technical supplies for the hospital run by Turkey."
As for the UAE, the Guardian said Abu Dhabi was using some of their fleet of massive long-haul military transport aircraft C-17 Globemaster to fly regularly to two remote military air bases, Sidi Barrani, in Egypt's western desert region bordering eastern Libya, and Gianaclis, near Alexandria.
The military airbases on Egypt's border with Libya are key to the UAE's efforts to support rebel groups and militias commanded by Haftar, the newspaper said.
"What's on them is either transported by road or picked up by aircraft flying for Haftar," said the diplomat. "The UN panel has written that this is indirect supply of arms and related material, which is a violation of the resolution."
Turkey and the UAE both attended a summit in Germany's Berlin in January and along with nine other states agreed to respect the existing arms embargo on the North African country.
The summit was intended to halt foreign interference via flows of weapons, troops and money into Libya.
The oil-rich country first plunged into chaos in 2011, when a popular uprising backed by a NATO intervention led to the ouster of long-time leader Muammar Gaddafi.
Two rival seats of power have emerged in Libya since 2014, namely the internationally-recognized government run by Prime Minister Fayez al-Sarraj, and the parliament based in the eastern city of Tobruk, supported militarily by Haftar's rebels.
The Libyan rebels are supported by the UAE, Egypt, and Jordan. They launched an unsuccessful military offensive to seize the capital, Tripoli, and unseat the government in April 2019.
The Libyan military has undone many of the rebels' gains.
https://www.presstv.com/Detail/2020/10/08/635910/Guardian-arms-embargo-Libya-Turkey-UAE
--------
Nigeria: How Nigerian Army Can Win Boko Haram War - Borno Governor
6 OCTOBER 2020
By Abdulkareem Haruna
The Governor of Borno State, Babagana Zulum, on Tuesday, listed some actions he believes the army can take to win the Boko Haram war.
The governor who was a special guest of honour at the 2020 joint Chief of Army Staff Conference held in Maiduguri, Borno State, said the Nigeria Army being the flagship of the nation's military, has all it takes to win the war, only if it can review its fighting strategy.
While commending the military for what he said was the recent improvement in troops' fighting spirit against the insurgents, the governor said the war could be ended in no time if the military especially the Nigeria Army can "change the war narratives."
He said it is appropriate to commend the army when it has done well "and we must also have the courage to tell each other the common truth and be critical of the troops' operations when things go wrong."
He said his administration will not relent in giving the soldiers all the needed support to win the war.
"As part of the ten-point agenda of this administration ... , the Borno state government shall sustain its role as a stakeholder in supporting the activities of the Nigerian army, through the provision of all the needed support and morale-boosting mechanism to all the security agencies to end the fight against Boko Haram crisis."
"In this direction, I wish to ask the Nigeria army to change the war narratives all together in order to end the crisis.
"Attack, they say, is the best form of defence. The Nigerian Army must have to take the war to all the hideouts of the Boko Haram.
"You should not wait and give the terrorists an opportunity for the first attack. You should as a matter of policy, embark on critical clearance operation after successful execution of attacks."
He added that the army is finding it difficult to get the buy-in of the local populace, as partners in the counterinsurgency, because it has failed in the area of confidence-building.
"The Nigerian Army must also embark on confidence-building and confidence sharing mechanism with the communities and civil authorities they found themselves, so as to expose the terrorists, their collaborates and sponsors," he said.
Governor Zulum also called on the chief of army staff to look at the issue of competence while deploying officers to command strategic military units, an area he said was not well explored.
He said the army authority should not emphasise loyalty of soldiers as criteria for postings to military commands.
"Sir, in appraising the performance of the Nigerian Army, there is a need to look at the critical issues of competence, dedication and doggedness of officers and men of the Nigerian armed forces.
"Let me re-emphasise the need for having competent and dedicated officers to head the military commands; because from my little observation, it is noted that all the locations headed by competent and dedicated officers hardly fall into the hands of the insurgents. Therefore we have to weigh the importance of loyalty and competence, which is very important."
Governor Zulum also mourned the death of Colonel Dahiru Bako, who died two weeks ago in an ambush by Boko Haram in Borno State.
He said the death of such gallant officers and soldiers was "a set back" in the fight against the insurgency.
Earlier, the army chief, Tukur Buratai, commended Nigerian troops for their sacrifices in the service of the nation.
The army chief had also commended the president and commander in chief, Muhammadu Buhari, for the support being given to the army. He equally thanked the government of Borno State for partnering with the army in most of its operations.
He said though the COVID-19 pandemic has disrupted the Nigerian army's focus of events for 2020, the army has been able to secure a new allowance.
He said the army has been able to procure and deploy PPEs to various formations to help mitigate the spread of COVID-19 pandemic.
He said the army has taken delivery of newly procured war equipment which officers and soldiers are being trained on how to handle.
He said the army had also been able to locally fabricate some of the military equipment that has been deployed in the front lines, even as he called on all commands to ensure judicious use of all the equipment in a manner that justifies the investment of the federal government.
The army chief commended the conduct of soldiers during the Edo election even as he urged them to sustain that standard in the Ondo State governorship election holding on Saturday.
He said the Nigeria Army has rolled out plans to provide free housing programme for families of all soldiers that have been killed in action while prosecuting the war against Boko Haram.
The Boko Haram insurgency in Northern Nigeria has caused the death of thousands of people and displaced millions of others, mainly in Borno State.
The efforts of the Nigerian military and other security agencies have, since 2016, limited the insurgents to the three Northeastern states of Adamawa, Borno and Yobe.
However, the insurgents are still able to carry out attacks on civilians and security agencies in those three states.
https://allafrica.com/stories/202010070081.html?utm_source=iterable&utm_medium=email&utm_campaign=1594421_
--------
Somalia: Somali Military Kills Ten Al-Shabaab Fighters Including Senior Commander in Lower Shabelle Region
6 OCTOBER 2020
Somali National Army (SNA) forces on Monday killed ten Alshabab militants including two senior Alshabab officials in a military operation near Barire town in Lower Shabelle region, military official confirms.
The two senior operatives were identified as Isse Timaweyne also known as Abu Dhere who was in charge of who was Alshabab operations and Qorey who was in charge of Zakat in the region.
Ahmed Hassan Siyad, 143 Section Commander of the Somali National Army told the military-owned radio that the successful operation conducted to flushing out terrorists and disrupting their plans to terrorize the residents in the Lower Shabelle region.
"We discovered the militants' presence in the area and launched an attack on them, killing 10 of their fighters including two officials," Siyad said
This comes hours after the military killed four Alshabab fighters in Middle Shabelle on following fierce fighting on Monday.
Alshabab group has been fighting in Somalia since 2007 to topple the internationally recognized government and establish Sharia law-based and understood in their own interpretation.
The group was driven out of Mogadishu in 2011 by the Somali military and the African Union Mission in Somalia (AMISOM) but they still carry out attacks in the capital and elsewhere.
https://allafrica.com/stories/202010070185.html?utm_source=iterable&utm_medium=email&utm_campaign=1594421_
--------
3 Mali National Guardsmen Killed in Overnight Attack
OCTOBER 7, 2020
Three national guardsmen were killed in an attack in central Mali on Tuesday night, a security official said, in the latest violence to hit the turbulent region.
Unidentified gunmen ambushed the guardsmen at around 11 pm in the village of Birga-Peul near the town of Koro, by the border with Burkina Faso, the security official said on Wednesday, killing three.
The militants also torched two vehicles and made off with another, added the official, who declined to be named.
Mali has been struggling to quell a jihadist insurgency that emerged in 2012 and has since spread into neighboring Burkina Faso and Niger.
Central Mali has become an epicenter of the conflict, which has claimed the lives of thousands of soldiers and civilians.
https://www.thedefensepost.com/2020/10/07/mali-guardsmen-killed/?utm_source=iterable&utm_medium=email&utm_campaign=1594421_
--------
Attackers kill 25 displaced civilians in Burkina Faso, UN says
7 Oct 2020
A convoy carrying dozens of displaced civilians hoping to return to their homes in central-northern Burkina Faso was ambushed by armed assailants, who then separated the men from the group and killed 25 of them, the United Nations has said.
The attack late on Sunday took place some 9km (five miles) from the town of Pissila in Sanmatenga province, the UN High Commissioner for Refugees (UNHCR) said on Wednesday.
The women and children were let go, the UNHCR said in a statement based on survivors' testimony. One man who was left for dead also survived.
"The attack on the (internally displaced people) occurred as they were returning to their homes from Pissila, hoping for an improved security situation there," the UN said.
Ioli Kimyaci, UNHCR's representative in Burkina Faso, denounced the "brutal and callous" attack. "Innocent civilians are seeking safety but instead are paying with their lives with alarming frequency," she said.
An impoverished country of some 20 million people, Burkina Faso is one of several West African states in recent years to have been gripped by escalating violence that has spread across the western portion of the Sahel region.
Last year, clashes between government forces, bandits and armed groups linked to ISIL (ISIS) and al-Qaeda led to more than 2,000 deaths in Burkina Faso. More than one million Burkinabe people have been displaced by the conflict.
For many years, Burkina Faso's various ethnic groups have been well-integrated but more recently armed groups have been trying to force division between them in an attempt to stoke violence, according to analysts.
'We've got you'
Three of the women who survived the attack told the Associated Press news agency that the assailants identified themselves as "jihadists" who said their attack was in retaliation for having volunteer defence fighters in their village.
"They said people from our town had recruited volunteers to fight them and 'today, we've got you'," one of the women said by phone from Pissila.
An official speaking on the condition on anonymity told the AFP news agency an investigation into the incident was opened.
"The attack occurred on Sunday evening, but it was on Monday morning that about 25 bodies were found, near the site of the attack," said the official.
The fatalities were from the villages of Wintokuilga and Tang-kienga, close to Pissila, he said.
The Burkinabe government has not yet confirmed the killings but several regional officials told AP they were aware of the situation and were looking into the matter.
A humanitarian worker in the town of Kaya said the casualties were "internally displaced people who were returning home" when they were ambushed.
"We still don't know the exact number of victims, because there are still people listed missing," the aid worker said.
https://www.aljazeera.com/news/2020/10/7/attack-in-burkina-leaves-25-displaced-people-killed-un?utm_source=iterable&utm_medium=email&utm_campaign=1594421_
--------
Malian Politician Released by Islamist Insurgents Meets with Mali's Transitional President
October 09, 2020
Former Malian presidential candidate Soumaila Cisse met the country's transitional president Thursday night for the first time since his release this week by Islamist insurgents in a prisoner swap.
Cisse, who had been kidnapped six months ago, did not reveal the nature of his talks with Bah N'Daw and other dignitaries at Mali's presidential palace, in the capital Bamako.
Cisse only spoke of his captivity, saying he was mostly in isolation living under difficult conditions, but that he was not the victim of any physical or verbal abuse.
Cisse and three European hostages were freed by Islamic extremists in northern Mali just days after the Malian government released nearly 200 militants despite concerns their release might further destabilize the country.
https://www.voanews.com/africa/malian-politician-released-islamist-insurgents-meets-malis-transitional-president
--------
Europe
Germany criticised for not listing more far-right groups as terrorist entities
Nicky Harley
Oct 7, 2020
German efforts to curb far-right infiltration into the police and security services are being hampered by the nation's failure to list more extremist organisations as terrorist entities.
A report on extremism in the German security forces, published Tuesday, uncovered more than 350 suspected far-right cases between 2017 and April 2020.
There have been a string of scandals involving far-right networks in the police and military in recent years.
Experts have told The National that Germany should have been quicker to designate far-right groups as terrorist organisations.
The move would have given the authorities powers to target bank accounts and electronic communications, and to raid properties in connection with their investigations.
Hans-Jakob Schindler, Director of the Counter Extremism Project think tank, said more extremist groups need to be listed as terrorist groups.
"There is clearly a problem with right-wing issues in the German security services," he said.
"Germany has this problem and needs to treat it equally to Islamist extremism. Just because these people are German and speak German does not mean they are any less dangerous.
"Since 2019 everyone has been looking closely at the issue since the murder of a politician and then the Hanau terror attack earlier this year. It is an issue which needs urgently addressing.
"The authorities should be listing far more of these groups as terror groups than as extremists. Unless they list them as terror entities they cannot just simply block their bank accounts or search their apartments."
Mr Schindler said a mass recruitment drive in the military and police in Germany in the wake of the September 11 terror attacks and the rise of ISIS in Europe led to a relaxation of standards.
"They first need to look at their recruitment methods after 2001 and after 2015," he added.
"It was massively enlarged and they lowered their recruitment standards and levels.
"Another issue is the leadership, they need to move leaders around. Leaders have developed loyalty and this has involved cover-ups.
"They also need to give right-wing extremism far more attention, people are twice as likely to fall victim to far-right violence in Germany than Islamist."
Around 300,000 members of the security forces were asked to fill out anonymous questionnaires for the report, in the hope of breaking what unions and experts have called a culture of silence.
These included security professionals from across the police and other security services, including the BfV domestic intelligence agency.
Mr Schindler told The National that there have been almost weekly incidents of far-right issues in recent months.
"This report is particularly concerning as these people are supposed to be fighting terrorism, they have weapons and access to secret information," he added.
"It definitely is a major problem. We have had a whole summer of almost weekly scandals."
In September, 29 officers were suspended from the police force in the state of North Rhine-Westphalia over their participation in private chat groups in which images of Nazi leader Adolf Hitler and a refugee in a gas chamber were shared.
The interior minister of the western state, Herbert Reul, said the 126 images shared across five WhatsApp chat groups between 2013 and 2015 were "the worst".
In July, an elite unit of Germany's Special Commando Forces was formally disbanded after some of its members were found to hold extremist views.
Police seized weapons, explosives and ammunition during a raid on the private property of a commando sergeant major in the eastern state of Saxony.
Investigators uncovered two kilograms of plastic explosives and an AK-47, plus an SS songbook and other Nazi memorabilia.
In Hesse, police chief Udo Münch was forced to resign after it emerged police computers were used to find out details of a left-wing politician who later received threatening mail from right-wing extremists.
Earlier this year, 10 people were killed and five others wounded by a far-right extremist in Hanau, near Frankfurt.
https://www.thenational.ae/world/germany-criticised-for-not-listing-more-far-right-groups-as-terrorist-entities-1.1090108?utm_source=iterable&utm_medium=email&utm_campaign=1594421_
--------
Putin invites foreign ministers of Armenia, Azerbaijan for talks Friday: Kremlin
09 October 2020
Russian President Vladimir Putin invited the foreign ministers of Armenia and Azerbaijan to come to Moscow for peace talks Friday and said fighting in the disputed Nagorno-Karabakh region should be halted for humanitarian reasons, the Kremlin said.
"The President of Russia is issuing a call to halt the fighting in the Nagorno-Karabakh on humanitarian grounds in order to exchange dead bodies and prisoners," the Kremlin said.
For all the latest headlines follow our Google News channel online or via the app.
"The foreign ministers of Azerbaijan and Armenia are being invited to Moscow on October 9," Putin said in a statement released by the Kremlin, adding that the Moscow talks would address those issues.
The Russian leader said Russian Foreign Minister Sergei Lavrov would mediate the talks.
The Kremlin said late Thursday Putin had held a series of phone talks with the leaders of Armenia and Azerbaijan.
It was not immediately clear if the top diplomats of the two countries had accepted Moscow's invitation.
Azerbaijan and Armenia have for nearly two weeks been locked in bitter fighting over Nagorno-Karabakh, an Azerbaijani region controlled by Armenians who declared an unrecognized breakaway statelet after the fall of the USSR and emerged victorious from the war that followed.
International leaders have repeatedly called for an immediate halt to the fighting but there are no signs yet of the conflict abating.
Yerevan has so far ruled out any talks between the two countries' top diplomats as long as clashes are ongoing.
https://english.alarabiya.net/en/News/world/2020/10/09/Putin-invites-foreign-ministers-of-Armenia-Azerbaijan-for-talks-Friday-Kremlin
--------
Turkish, Greek FMs meet for first time since eastern Mediterranean dispute
08 October 2020
The foreign ministers of Turkey and Greece met on Thursday for the first time since a disputeemerged between the two NATO members over energy exploration and territorial rights in the eastern Mediterranean, the Turkish Foreign Ministry said.
Turkey's Mevlut Cavusoglu and Greek counterpart Nikos Dendias met on the sidelines of the Global Security Forum in the Slovak capital Bratislava, it said. Turkish state media said the two men discussed "bilateral and regional issues".
For all the latest headlines follow our Google News channel online or via the app.
Turkey and Greece sharply disagree over rights to offshore resources and the extent of continental shelves.
Tensions simmered in August when Turkish and Greek warships collided, but later eased when Ankara and Athens agreed to resume talks.
Greece has accused Turkey of illegally carrying out seismic exploration in parts of the Mediterranean claimed by Athens and Cyprus, but Turkey says its operations are within international law.
Ankara withdrew its exploration vessels from contested waters last month to "allow for diplomacy" ahead of a meeting of EU leaders. After the summit the bloc said it would punish Turkey if it continued its operations in the region.
https://english.alarabiya.net/en/News/world/2020/10/08/Turkish-Greek-FMs-meet-for-first-time-since-eastern-Mediterranean-dispute
--------
Mideast
Iran protesters chant 'death to dictator' after death of renowned musician Shajarian
Yaghoub Fazeli
09 October 2020
A gathering of fans of the late Iranian composer and singer Mohammad Reza Shajarian in the capital Tehran outside the hospital where he died turned into an anti-government protest Thursday evening, with demonstrators chanting "death to the dictator," according to videos shared on social media.
Shajarian, 80, died of a heart attack in Tehran's Jam hospital on Thursday, his son Homayoun announced on Instagram.
For all the latest headlines follow our Google News channel online or via the app.
The legendary musician had become a symbol for the Iranian opposition after he declared his support for the protests over the disputed reelection of former president Mahmoud Ahmadinejad in 2009.
"Death to the dictator," people outside Tehran's Jam hospital were seen chanting in one video shared on Twitter. This chant is commonly used in anti-government protests in Iran and is directed at Supreme Leader Ayatollah Ali Khamenei.
Protesters also chanted against Iran's state broadcaster, which had refrained from playing Shajarian's songs since 2009.
"Our radio and television is our disgrace," protesters were seen chanting in another video shared on Twitter.
Other videos showed a heavy presence of security forces, as well as clashes between protesters and security forces.
Security forces beat protesters with batons and arrested a number of them, according to social media reports.
https://english.alarabiya.net/en/News/middle-east/2020/10/09/Iran-protesters-chant-death-to-dictator-after-death-of-renowned-musician-Shajarian
--------
Iran Underlines Willingness to Further Enhance Ties with Syria, Japan
Oct 08, 2020
During the meetings in Tehran on Wednesday, outgoing Syrian and Japanese Ambassadors to Tehran Adnan Mahmoud and Mitsugu Saito described relations as historic and brotherly.
They considered the development of relations with Iran as a breakthrough, thanking the Iranian officials for their constructive cooperation.
High-ranking Iranian and Japanese diplomats in a meeting in Moscow last month had discussed the latest developments related to the nuclear deal and Syria as well as ways to further broaden bilateral ties.
The meeting was held between Iranian Ambassador to Moscow Kazzem Jalali and his Japanese counterpart Toyohisa Kozuki.
During the meeting, the ambassadors discussed ways to expand cooperation and issues of mutual interests, including political and economic cooperation between the two countries as well as regional and international issues, Syria, coronavirus, and the Comprehensive Plan of Action (JCPOA).
Jalali, for his part, stressed the illegality of the US actions against Iran and Washington's attempts to restore sanctions despite the opposition of the world, specially the members of the United Nations Security Council.
He added that Iran has been deprived of the economic and political interests of the JCPOA due to US sabotage.
Japan's ambassador stressed Iran's constructive role in peace and stability of the region.
https://en.farsnews.ir/newstext.aspx?nn=13990717000242
--------
Latest Iran sanctions will deprive Tehran the ability to support terrorism: Pompeo
Joseph Haboush
08 October 2020
The latest batch of sanctions on 18 Iranian banks will further deprive Tehran the ability to support terrorist activities and "nuclear extortion that threatens the world," US Secretary of State Mike Pompeo said Thursday.
"Our maximum economic pressure campaign will continue until Iran is willing to conclude a comprehensive negotiation that addresses the regime's malign behavior," Pompeo said.
For all the latest headlines, follow our Google News channel online or via the app.
Sanctions were placed by the US Department of Treasury on 16 Iranian banks for their role in the country's financial sector, one bank for being owned or controlled by another sanctioned Iranian bank and one military-affiliated bank, the Treasury Department said.
Some of them had been covered by previous designations but Thursday's move places them all under the same authority covering Iran's entire financial sector.
Pompeo said that Iran's Supreme Leader Khamenei used funding meant for the Iranian people and the response to the coronavirus pandemic, to increase funding for the Islamic Revolutionary Guard Corps and "doubled the funding for the regime's Basij forces that terrorize the Iranian people every single day."
Despite criticism that the sanctions will impact humanitarian needs, including medicine and food, Pompeo, like US officials earlier Thursday, reiterated that Washington continued to stand with the Iranian people. "Today's actions pursuant to E.O. 13902 do not affect existing authorizations and exceptions for humanitarian exports to Iran, which remain in full force and effect," the US diplomat said.
He added: "We are committed to continuing the Iranian people's access to humanitarian goods and other essential goods and services, and we reaffirm the United States' offer to assist Iran in its response efforts to the COVID-19 outbreak."
https://english.alarabiya.net/en/News/middle-east/2020/10/09/Latest-Iran-sanctions-will-deprive-Tehran-the-ability-to-support-terrorism-Pompeo
--------
Renowned Iranian musician, singer Mohammad Shajarian dies of heart attack
Yaghoub Fazeli
08 October 2020
Renowned Iranian musician and singer Mohammad Reza Shajarian died of a heart attack at the age of 80, his son Homayoun announced on Instagram on Thursday.
The legendary singer was rushed to a hospital in the capital Tehran on Sunday after his health deteriorated.
For all the latest headlines follow our Google News channel online or via the app.
In 2016, Shajarian revealed to the Iranian public that he had been battling cancer for 15 years.
Iran's state broadcaster had refrained from playing Shajarian's songs since 2009 due to his support of the protests over the disputed reelection of former president Mahmoud Ahmadinejad.
He was also banned from performing any concerts in Iran soon after.
https://english.alarabiya.net/en/News/middle-east/2020/10/08/Renowned-Iranian-musician-singer-Mohammad-Shajarian-dies-of-heart-attack
--------
Iran releases human rights activist Narges Mohammadi after sentence cut
08 October 2020
Iranian human rights activist and journalist Narges Mohammadi has been released from prison after her sentence was reduced, her husband and the judiciary said on Thursday.
"Narges was released from Zanjan prison at 3 am (1130 GMT). Wishing freedom for all prisoners," her husband Taghi Rahmani announced on Twitter.
For all the latest headlines follow our Google News channel online or via the app
Mohammadi, 48, is a campaigner against the death penalty and was the spokeswoman for the Defenders of Human Rights Center in Iran -- founded by Nobel Peace laureate Shirin Ebadi -- when she was arrested in May 2015.
The mother-of-two was sentenced to a total of 10 years in prison for "forming and managing an illegal group."
According to international press freedom organization Reporters Without Borders (RSF), she was transferred in late December from Tehran's Evin prison, where she had been held since 2015, to a prison in Zanjan, northwest of the capital.
The activist, reportedly suffering from a neurological disease that causes muscular paralysis and a lung condition, requested temporary release from prison in June for medical treatment.
Her release comes days after UN human rights chief Michelle Bachelet called on Iran to "immediately release" political prisoners who have been excluded from a push to empty prisons amid the coronavirus pandemic.
Since March, more than 100,000 detainees in Iran have been granted furlough or sentence remissions to help limit the spread of Covid-19.
The disease has killed 27,658 people in Iran and infected 483,844, according to health ministry figures.
Iran is ranked 173 out of 180 countries in the 2020 edition of RSF's World Press Freedom Index.
https://english.alarabiya.net/en/News/middle-east/2020/10/08/Iran-releases-human-rights-activist-Narges-Mohammadi-after-sentence-cut
--------
UN envoy condemns recent clashes in Yemen's Hodeidah, calls for ceasefire
08 October 2020
A top UN official Thursday condemned recent clashes in Yemen's strategic port city of Hodeidah, which have left dozens killed and wounded, urging the country's warring parties to immediately stop the fighting.
Since Saturday, clashes have flared up between Yemen's Houthi militia and government forces south of the port in Hodeidah, which handles about 70 percent of Yemen's commercial and humanitarian imports.
For all the latest headlines follow our Google News channel online or via the app.
Yemeni officials said Wednesday the death toll had reached 52 and that around 70 people were wounded, including two dozen civilians.
"This military escalation not only constitutes a violation of the Hodeidah ceasefire agreement but it runs against the spirit of the ongoing UN-facilitated negotiations that aim to achieve a nationwide ceasefire, humanitarian and economic measures and the resumption of the political process," said UN Special Envoy for Yemen Martin Griffiths in a statement.
Griffiths said he is following with "deep concern" reports of civilian casualties, including women and children.
"I have been engaging with all sides. I call on them to immediately stop the fighting, respect the commitments they made under the Stockholm agreement," he said.
On Monday, the UN mission to Yemen called for an immediate halt of violence in order "not to put the population at further risk and jeopardize the delivery of humanitarian assistance."
The war in Yemen has spawned the world's worst humanitarian crisis, leaving millions suffering from food and medical shortages. It has killed over 112,000 people, including fighters and civilians, according to a database project that tracks violence.
https://english.alarabiya.net/en/News/gulf/2020/10/08/UN-envoy-condemns-recent-clashes-in-Yemen-s-Hodeida-calls-for-ceasefire
--------
URL: https://www.newageislam.com/islamic-world-news/new-age-islam-news-bureau/some-hindus-have-turned-to-terrorism-to-protect-hindu-beliefs-said-the-now-withdrawn-book-in-the-united-kingdom/d/123092
New Age Islam, Islam Online, Islamic Website, African Muslim News, Arab World News, South Asia News, Indian Muslim News, World Muslim News, Women in Islam, Islamic Feminism, Arab Women, Women In Arab, Islamophobia in America, Muslim Women in West, Islam Women and Feminism