New Age Islam News Bureau
2 Apr 2019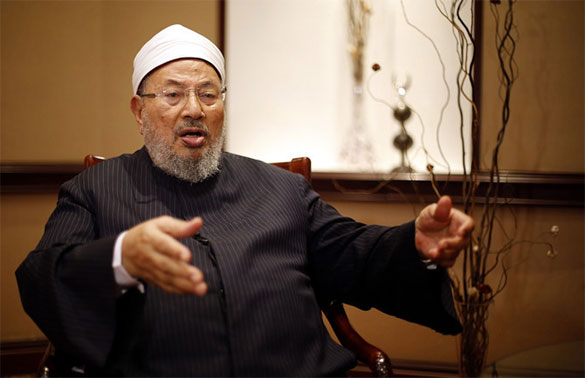 In media appearances spanning decades, Yusuf Al-Qaradawi has espoused extreme views, which have included justifying suicide bombings and authorizing attacks on Jews. (Getty Images)
----------
• Social Media Companies Must Probe Qatar Hate Preacher, Yusuf Al-Qaradawi
• Bangladesh Home Ministry Steps In To Stop Damaging Religious Sermons
• China Says US Move to Blacklist JeM Chief 'Setting Bad Example'
• Exodus by Brunei's LGBT Community Ahead Of New Sharia Law
• ANP Claims 'Resurgence' Of Taliban in South Waziristan
• ISIS Bride Shamima Begum Asks UK For A Second Chance
• 'Won't Give Muslims Tickets As They Don't Believe In Us': Karnataka BJP Leader
• US Has Done Nothing To Address Khashoggi Murder: Report
Arab World
• Social Media Companies Must Probe Qatar Hate Preacher, Yusuf Al-Qaradawi
• Saudi Arabia Compensating Khashoggi Children: Report
• Protest Rallies against Trump's Decision on Golan Heights Continue across Syria
• Syrian Army Heavily Pounds Terrorists in Hama, Idlib
• Turkish Army Launches Heavy Offensives against Kurds in Aleppo
• US-Backed SDF Blocks Syrian Gov't's Humanitarian Aid to Hasaka
--------
South Asia
• Bangladesh Home Ministry Steps In To Stop Damaging Religious Sermons
• China Says US Move to Blacklist JeM Chief 'Setting Bad Example'
• Taliban attacks on checkpoints kill 8
• Taliban leader in charge of media activities killed in Helmand airstrike
• Afghan forces carried out multiple surprise attacks against Taliban in Arghanj Khwa: MoD
• U.S. envoy discuss outcome of Qatar talks with Afghan Chief Executive Abdullah Abdullah
--------
Southeast Asia
• Exodus by Brunei's LGBT Community Ahead Of New Sharia Law
• Religious Freedom in Malaysia under Microscope
• Race, Religion and Rhetoric Ramp Up In 'New Malaysia'
• Muslim dress code in private sector still under study, says deputy HR minister
--------
Pakistan
• ANP Claims 'Resurgence' Of Taliban in South Waziristan
• Pakistan military courts cease to function
• KP police, ANP leaders accused of trying to protect people behind Kohistan killings
• US envoy Zalmay Khalilzad to reach Pakistan today
• Saudi Arabia executes two Pakistanis for drug trafficking
--------
Europe
• ISIS Bride Shamima Begum Asks UK For A Second Chance
• Chancellor Kurz Condemns Islamophobic Attack In Austria
• No US F-35 equipment shipment to Turkey over Russia's S-400: Report
• Saudi Arabia, UK conduct joint military exercises
• Serbia's leader congratulates Erdogan's local vote win
--------
India
• 'Won't Give Muslims Tickets As They Don't Believe In Us': Karnataka BJP Leader
• Hizbul militant tried to replicate Pulwama attack, developed cold feet: J&K DGP
• On row over using F-16 jets against India, Pakistan military now says it was 'self defence'
--------
North America
• US Has Done Nothing To Address Khashoggi Murder: Report
• US considering additional Iran sanctions, perhaps in May
• US Supreme Court turns away families of dead USS Cole sailors in Sudan suit
• Lockheed Martin receives $2.5bn deal to forward US THAAD deal with Saudi Arabia
--------
Mideast
• Yemen Army Kills 167 Houthis in Five-Day Firefight
• Ruling AKP asks Turkey election board to settle row over Istanbul vote results
• Houthis lose areas in Hodeidah's Hais and Hajjah's Abs
• Israel loosens restrictions on Gaza fishermen
• Zarif: US waging 'economic terrorism' against Iran
• Israeli forces fatally shoot young Palestinian during West Bank raid
--------
Africa
• Nigeria: Troops Kill 16 'Boko Haram Terrorists' In Lake Chad Area, MNJTF Says
• Fears over future of children orphaned by Boko Haram
• Sudan protest demands 'legitimate' but caused deaths, says Al-Bashir
• Sudan's Bashir vows reform as protests enter 4th month
• An al-Shabaab leader surrenders to Somali justice
• Kenya Says Al-Shabab Executed Three Kenyans in Somalia
Compiled by New Age Islam News Bureau
URL: https://www.newageislam.com/islamic-world-news/social-media-companies-probe-qatar/d/118205
--------
Social Media Companies Must Probe Qatar Hate Preacher, Yusuf Al-Qaradawi
April 01, 2019
LONDON: It is time for social media companies to get tough with Qatar-based Yusuf Al-Qaradawi, experts on extremism have said, as the controversial cleric is named in Arab News' ongoing "Preachers of Hate" series.
In media appearances spanning decades, notably on the Doha-based Al Jazeera news channel, Al-Qaradawi have voiced his often extreme views, which have included justifying suicide bombings, praising the Holocaust and authorizing attacks on all Jews. He has also issued Fatwas (religious edicts) that demean women.
It is for this reason that Al-Qaradawi was included in this newspaper's "Preachers of Hate" series, which analyzes extremist preachers from various religions, backgrounds and nationalities.
Despite his weekly show on Al Jazeera no longer airing, and a recent tweet in which Al-Qaradawi claims that he is not a preacher of hate, experts say the renegade cleric still has vast influence. Much of this is via social media, prompting calls for action.
Josh Lipowsky, senior research analyst at the Counter-Extremism Project (CEP), said it was inappropriate for Qatar to have provided Al-Qaradawi with a media platform on Al Jazeera. "It helped raise his profile, to expand his influence. Even though he isn't making as many appearances as he once did, his words still matter and he still has influence," Lipowsky said.
"The elevation and prominence given to Al-Qaradawi has enabled him to continue to spread his views. We need to make sure these platforms are no longer available."
Research by the CEP, a non-profit organization that combats extremist groups, points to Al-Qaradawi's vast social media network.
http://www.arabnews.com/node/1476211/media
--------
Bangladesh Home Ministry Steps In To Stop Damaging Religious Sermons
April 1st, 2019
Islamic Foundation has been advised to bring highly educated speakers under registration
The Ministry of Home Affairs has made six recommendations in the wake of complaints that religious sermons foment sectarianism, instigate social divisions, denounce women who do not observe the hijab, and make derogatory comments about members of the showbiz community.
The home ministry has sent its observations to the Bangladesh Islamic Foundation, the National Board of Revenue and all divisional commissioners across the country.
The recommendations underline that those who deliver sermons and receive money should be brought under the income tax network, and they must face the law if their sermons contain seditious elements.
The Islamic Foundation has also been advised to register highly educated speakers.
Home Minister Asaduzzaman Khan Kamal told Bangla Tribune: "We receive regular reports on what the religious sermons contain and worked based on the reports."
Relevant to note, between March 19 and 23, Bangla Tribune published a series of reports on religious sermons, questioning if they were being commercialized.
In the third week of March, the political section of the home ministry released a report identifying 15 speakers whose sermons were fomenting discord, sowing seeds of radicalism, and encouraging an intolerant outlook on women's emancipation.
On several occasions, the sermons used lines like: demolishing any statue is a religious duty, Rabindranath Tagore is a heretic, a person loses faith by befriending a non-Muslim, it is not right to place flowers at the Shaheed Minar, democracy is outlawed in Islam, etc.
The report further mentions that many of these damaging sermons are being publicised through YouTube channels.
Nur Mohammad Alam, research division director at Islamic Foundation, acknowledged receiving the letter of recommendations from the ministry. "We have received the letter and will decide the course of action in the next meet," he said.
A meeting was scheduled to be held on Monday (April 1) evening.
https://www.dhakatribune.com/bangladesh/nation/2019/04/01/home-ministry-steps-in-to-stop-damaging-religious-sermons
--------
China says US move to blacklist JeM chief 'setting bad example'
Written by Sowmiya Ashok
April 2, 2019
Criticising the draft resolution put forth by the United States to blacklist Jaish-e-Mohammad (JeM) chief Masood Azhar at the United Nations, China on Monday said that the US is "setting a bad example" and it will only "complicate" the matter. "It is setting a bad example that will only complicate the matter. It is also not conducive for peace and stability in South Asia. China is opposed to this," Chinese Foreign Ministry spokesperson Geng Shuang said.
China also said it was making "positive progress" by working with various parties at the United Nations. "China has been maintaining close communication and coordination with various parties and have made some progress," Geng said. "We hope various parties will meet each other halfway and continue to properly solve this issue under the 1267 Committee framework," he said.
At the Chinese Ministry of Foreign Affairs' regular briefing here, Geng said UNSC members had exchanged views on the US proposed draft resolution last Friday.
"The majority believes that efforts should be made to solve the issues under 1267 Committee framework. They are not in favour of forcing the draft resolution. China has been working with various parties and is making positive progress," he said.
"The US knows that very well and yet, it insists on pushing the Security Council to adopt the draft resolution. This cannot be justified and is not in accordance with the rules and practices of the Security Council. It is setting a bad example that will only complicate the matter. It is also not conducive for peace and stability in South Asia. China is opposed to this."
When asked if the US is making haste in listing the issue to benefit India's ruling party, Geng reiterated that US behaviour was not consistent with rules and practices of the Security Council. "The general election is a domestic affair of India. We do not comment on that," he added.
https://indianexpress.com/article/world/china-says-us-move-to-blacklist-jem-chief-setting-bad-example-5653823/
--------
Exodus by Brunei's LGBT community ahead of new Sharia law
Apr 02, 2019
KUALA LUMPUR: As a transgender woman growing up in Brunei, Zoe saw the country's slide towards conservatism from an early age, so plans to introduce strict new Islamic laws this week came as no surprise.
The 19-year-old, who was born male but identified as female from early childhood, is now awaiting the outcome of her asylum application in Canada after fleeing her country late last year.
"Even before Sharia law, LGBT+ people could be prosecuted under civil law," Zoe told the Thomson Reuters Foundation, which is identifying her by only one name for her protection.
"I've always been scared of living my life openly in Brunei. I still am. I still think about how I present myself, because I was conditioned to survive."
Brunei, a Muslim-majority former British protectorate with a population of about 400,000, is due to implement Sharia laws from April 3, punishing sodomy, adultery and rape with the death penalty, and theft with amputation.
The laws, elements of which were first adopted in 2014, could see LGBT+ people whipped or stoned to death for same-sex activity. Some aspects of the laws will apply to non-Muslims.
"I knew it was going to happen," said Zoe, who hopes to one day undergo hormone therapy and formally change her name to the one she sometimes goes by.
"Our oil reserves were dwindling and the sultan needed a way to control the economy once he started to enforce taxes and reduce the high subsidies."
The Brunei Prime Minister's Department did not respond to an emailed request for comment on Monday.
Brunei does not hold elections and any discontent is assuaged with generous government polices including zero taxes, subsidised housing, and free healthcare and education.
Zoe, who is worried that her LGBT+ friends back in Brunei do not fully appreciate how dangerous the situation will soon become, faces an uncertain future.
"If I get sent back to Brunei, I will confess who I am and what I believe in to the Bruneian authorities," she said.
"I'd rather die being true to myself than resenting a long life. I wish that Muslims who want Sharia law just keep it with themselves and God. Not enforce it onto other people."
Asia's silence
Sultan Hassanal Bolkiah, 72, is the world's second-longest-reigning monarch and prime minister of oil-rich Brunei. He ranks as one of the world's wealthiest people.
Since details of the new laws were announced, actor George Clooney and musician Elton John are among celebrities who have called for a boycott of hotels owned by the government-owned Brunei Investment Agency.
Britain, Australia, New Zealand and the United Nations High Commissioner for Human Rights have all called on Brunei to abandon changes to its penal code.
"It is seriously regrettable that Brunei's decision contravenes a number of international norms on human rights," New Zealand's Foreign Minister Winston Peters said in a statement on Sunday.
Matthew Woolfe, founder of human rights group The Brunei Project, said it was now very unlikely that Brunei would backtrack, but diplomatic pressure from Asian countries could help ensure the laws were not enforced fully.
"We want to see more Asian governments coming out and speaking out on this. They have been too quiet," said the Australia-based campaigner.
Socially conservative attitudes prevail across Asia, with Myanmar, Malaysia and Singapore banning sexual relationships between men, while Indonesia has seen an increase in raids targeting LGBT+ people in recent years.
Members of the Association of South East Asian Nations, which did not respond to requests for a comment, have a principle of non-interference in each others' domestic affairs.
"I'm not aware of any Asian country having come out and said anything about these laws," said Woolfe.
"Barbaric laws"
Brunei, which neighbours two Malaysian states on Borneo island, already enforces Islamic teachings more strictly than Malaysia and Indonesia, the other majority Muslim countries in Southeast Asia.
Previously, homosexuality was illegal in Brunei and punishable by up
to 10 years imprisonment, while the sale of alcohol is banned and evangelism by other religions is forbidden.
Ging Cristobal, project coordinator at OutRight Action International in Manila, urged other Muslim countries in the region to put pressure on Brunei.
"In reality, Brunei will not succumb to pressure from countries that are not Muslim-majority countries," said Cristobal.
"Brunei might say that other regions are imposing on Asia, so it would be good to see other Asian nations condemn these barbaric laws."
Better to leave
Shahiransheriffuddin bin Shahrani Muhammad is a gay man who fled Brunei last year after being charged with sedition for a Facebook post that was critical of the government.
Now seeking asylum in Canada, the 40-year-old was surprised at the speed with which the new Sharia laws were being implemented.
"I expected it to happen, just not so soon," he said. I thought there would be more time for people like me in Brunei to realise that it's better to leave."
Many people in Brunei back the Sharia laws because of rising unemployment and crime, he said.
The death penalty has rarely been used in Brunei and the burden of proof needed to secure a conviction for same-sex activities is very high, he added.
Nonetheless, for LGBT+ people, the prospect of going to trial is terrifying, carrying the risk of being the first person to be stoned, he added.
Even if exonerated, they face being stigmatised for the rest of their lives – Cristobal said the new laws gave licence "for other people to see LGBTIQ (people) as criminals and commit violence and abuse towards them."
Khairul, 19, is a gay Muslim man living in Brunei who now fears for his future.
"With the added laws that affect the LGBTQ+ community, I am scared," said Khairul, who asked not to be identified by his real name for fear of reprisals. "My life here will become more complicated and hard.
"The fear of dying has become a reality, while the hope of being accepted by family is now just a dream."-Reuters
https://www.nst.com.my/world/2019/04/475211/exodus-bruneis-lgbt-community-ahead-new-sharia-law
--------
ANP claims 'resurgence' of Taliban in South Waziristan
Mohammad Ashfaq
April 02, 2019
PESHAWAR: The 'resurgence of Taliban' in South Waziristan tribal district echoed in the Khyber Pakhtunkhwa Assembly here on Monday amid heated debate over the poor law and order situation across the province, including merged districts.
The lawmakers exchanged barbs over the increasing incidents of extortion, kidnapping for ransom and child abuse, and the issues related to the Fata-KP merger.
The debate generally focused on the law and order situation in the province.
Speaker Mushtaq Ahmad Ghani presided over the session.
"A week ago, I went to South Waziristan and saw gun-toting good Taliban roam around," ANP parliamentary leader Sardar Hussain Babak told the house.
PA witnesses heated debate over security situation, Fata-KP merger
Mr Babak questioned the existence of peace committees (aman committees) in South Waziristan district.
He alleged that members of the peace committees received 30 percent kickbacks in the development work carried out in South Waziristan.
The ANP leader added that the peace committees took Rs2.4 million from every truck carrying goods from Afghanistan.
"The entire world has pressured Pakistan to eliminate proscribed organisations from its soil, while the authorities have taken steps but despite that, the activists of such outfits are delivering speeches and collecting donations in mosques," he said.
Mr Babak wondered why the provincial government was silent about the brutal assassination of the province's police officer, SP Tahir Dawar, in Afghanistan, who was kidnapped in Islamabad.
Leader of the opposition Mohammad Akram Khan Durrani said the incidents of bomb blasts had almost ended in the province but the rate of other crimes was on the rise.
"When a Peshawar High Court judge is not safe, how the people will be saved," he said while referring to the attack on Justice Ayub Khan on Feb 28 in Hayatabad.
He criticised the provincial police for its failure to arrest the people involved in extortion, kidnapping for ransom, robbery and child abuse cases.
Mr Durrani criticised the government for merging Fata with KP 'without preparation'.
He said thousands of Khasadar Force personnel had been protesting for many days due to the uncertainty surrounding their jobs.
"The entire Khasadar Force will stage a big protest demonstration in Khyber on April 3," he said.
The opposition leader also drew the government's attention towards the interference of KP Governor Shah Farman in the affairs of the merged districts.
"After Fata-KP merger, the chief minister is the chief executive of merged districts but despite that, the governor is chairing meetings regarding merged districts in violation of the Constitution," he said.
Mr Durrani demanded of the government to explain position on the floor of the house regarding that violation of the Constitution.
PTI lawmaker Babar Saleem said the previous provincial government had delegated a lot of powers to the police in the larger public interest but the police's conduct towards the people was unsatisfactory.
He warned that police should improve their conduct otherwise the power given to them could be withdrawn by amending the relevant law.
The house also passed the Khyber Pakhtunkhwa Promotion, Protection and Enforcement of Human Rights (Amendment) Bill, 2019.
https://www.dawn.com/news/1473365/anp-claims-resurgence-of-taliban-in-south-waziristan
--------
ISIS bride Shamima Begum asks UK for a second chance
Jack Dutton
April 2, 2019
ISIS bride Shamima Begum has asked to return to the UK after having her citizenship revoked, saying that she regretted leaving her east London home at the age of 15 to travel to Syria.
In her first interview since the death of her son, Ms Begum, 19, said she had been brainwashed by online groomers and extremists.
"Since I left Baghouz [in Syria] I really regretted everything I did and I feel like I want to go back to the UK for a second chance to start my life over again," she told British newspaper The Times.
"I was brainwashed. I came here believing everything that I had been told while knowing little about the truths of my religion."
Ms Begum's three-week old son Jarrah died of pneumonia in a refugee camp on March 10. Her husband Yago Riedijk, the child's father, is a Dutch ISIS fighter who is being held in a Kurdish detention centre in north-eastern Syria.
Ms Begum was moved from a refugee camp near the village of Baghouz because of risk to her safety.
The Times said she was now staying in Al Roj at a smaller camp with about 600 people, and was being de-radicalised.
Commenting on having children in Syria, she told the paper: "I do regret having children in the caliphate.
"I came thinking it would be a place of belonging where I could raise a family safely. But it was not a place to have children."
The Sun reported on March 30 that Reiddijk had been banned from entering the UK. The ban was imposed by British home secretary Sajid Javid weeks after Begum, 19, was stripped of her citizenship.
The teenager has been heavily criticised for her comments in interviews, where she defended the 2017 Manchester Arena terrorist attack and said she was unfazed by the sight of severed heads.
The stripping of Ms Begum's citizenship sparked a debate in the UK. On March 12, shadow home secretary Diane Abbott criticised Mr Javid and said Ms Begum's child died as a result of her citizenship being revoked.
About 150 Britons have had their citizenship revoked since 2010.
The British government has refused to repatriate foreign fighters' children from Syria because of security concerns.
Speaking of Ms Begum's child,British Foreign Secretary Jeremy Hunt told the BBC's Andrew Marr Show: "We have to think about the safety of the British officials that I would send into that war zone."
But other European countries, such as France, have repatriated several orphaned children from ISIS camps in Syria.
https://www.thenational.ae/world/europe/isis-bride-shamima-begum-asks-uk-for-a-second-chance-1.844111
--------
'Won't give Muslims tickets as they don't believe in us': Karnataka BJP leader
Apr 02, 2019
Senior BJP leader in Karnataka KS Eshwarappa has made a controversial statement against Muslims days ahead of the Lok Sabha election 2019.
Karnataka sends 28 members to the Lok Sabha and will go to the polls in two phases, 14 constituencies each, on
April 18 and April 23. The votes will be counted on May 23.
"Congress uses you only as a vote bank and doesn't give you tickets. We won't give Muslims tickets because you don't believe in us. Believe us and we'll give you tickets and other things," KS Eshwarappa said on Monday in Karnataka's Koppal.
He was addressing the members of Kuruba and minority communities.
This is not the first time that Eshwarappa, a member of the Kuruba backward caste, has made a controversial statement against Muslims. He had alleged in January last year that Muslims who are with the Congress "are killers", while those linked with the Bharatiya Janata Party are "good Muslims".
"Muslims who have killed 22 RSS and BJP activists are with the Congress and those who are good Muslims are with the BJP. Muslims who are killers are with the Congress," the former deputy chief minister of Karnataka had said.
The BJP will field its candidates in all the 28 Lok Sabha constituencies in Karnataka.
https://www.hindustantimes.com/lok-sabha-elections/lok-sabha-elections-2019-won-t-give-muslims-tickets-as-they-don-t-believe-in-us-karnataka-bjp-leader/story-TaY8O7E6ISPmAUFiN4NwIL.html
--------
US has done nothing to address Khashoggi murder: Report
Umar Farooq
02.04.2019
WASHINGTON
Six months after the killing of Saudi journalist Jamal Khashoggi, U.S. President Donald Trump has still done nothing to hold those responsible accountable, The Washington Post said Monday.
In an opinion piece, the newspaper said it is widely believed that Khashoggi, a contributor to The Post, was murdered on the order of Saudi Crown Prince Mohammed bin Salman. Yet Bin Salman as well as the coordinator of the operation, Saud al-Qahtani, have enjoyed freedom from repercussions.
Last October, Khashoggi entered the Saudi consulate in Istanbul, where he was subsequently killed. After offering a series of changing narratives to explain what happened, the Saudi government eventually admitted he had died there but blamed the operation on a botched rendition attempt.
"Now, half a year after this heinous act shocked the world, it is worth taking stock of what has been done in response — and what has not," The Post wrote.
"Mohammed bin Salman has jetted around the world, high-fiving Russian President Vladimir Putin, getting chummy with China, and rubbing elbows with other world leaders as part of a global tour to rehabilitate his reputation," it said.
The newspaper, however, applauded efforts by the international community to condemn the murder and call for action to be taken. Some 36 countries had united at the UN Human Rights Council to condemn the killing and call on the Saudis to cooperate with the investigation being conducted by the UN.
Congress also offered its own rebuke, passing a resolution to end U.S. support for the Saudi-led coalition's war in Yemen and repeatedly investigated and criticized Washington's response to the murder.
Meanwhile, Trump has taken a far different approach, according to The Post. The president has shied away from criticizing the crown prince and taking any further action against the kingdom other than placing sanctions on the 17 individuals the Saudi government has said were responsible for the act.
"In this impotent response, Trump isn't just violating the law. He is also undermining the credibility and moral authority of the United States," the newspaper wrote.
"Another six months cannot pass without accountability for this abhorrent crime. Justice for an innocent journalist — and America's most crucial interests — require nothing less," it added.
https://www.aa.com.tr/en/americas/us-has-done-nothing-to-address-khashoggi-murder-report/1439995
--------
Arab World
Saudi Arabia compensating Khashoggi children: Report
Servet Günerigök
02.04.2019
WASHINGTON
Saudi Arabia is compensating the children of slain journalist Jamal Khashoggi for his murder, The Washington Post reported Monday.
Each of the children were given houses in Jeddah worth as much as $4 million apiece as part of a preliminary settlement and they are also receiving monthly payments, the Post reported.
The Post said the five-figure payments that Khashoggi's two sons and daughters were getting "are part of an effort...aimed in part at ensuring that they continue to show restraint in their public statements about the killing of their father."
The newspaper cited current and former Saudi officials as well as members of Khashoggi's family.
Last October, Khashoggi, a U.S. resident and contributor to the Post, entered the Saudi consulate in Istanbul, where he was subsequently killed.
After offering a series of changing narratives to explain what happened, the Saudi government eventually admitted he had died there but blamed the operation on a botched rendition attempt.
"The delivery of homes and monthly payments of $10,000 or more to each sibling were approved late last year by King Salman as part of what one former official described as an acknowledgment that 'a big injustice has been done' and an attempt 'to make a wrong right'," it said.
The children may also receive payments -- up to tens of millions of dollars apiece -- as part of "blood money" negotiations with the Saudi government, said the newspaper, adding that the Khashoggi siblings have refrained from "any harsh criticism" of the Saudi kingdom.
According to the Post, a Saudi official described the payments as consistent with the country's practice of providing financial support to victims of violent crime or natural disasters.
The official denied the suggestion that the Khashoggi family would be obligated to remain silent.
"Such support is part of our custom and culture," the newspaper quoted the official as saying. "It is not attached to anything else."
Turkey has sought the extradition of the Saudi citizens involved in the killing as well as a fuller accounting of the killing from Riyadh.
The Saudi public prosecutor indicted 11 unnamed individuals in November last year, and secret court hearings began in January.
https://www.aa.com.tr/en/americas/saudi-arabia-compensating-khashoggi-children-report/1440011
--------
Protest Rallies against Trump's Decision on Golan Heights Continue across Syria
Apr 01, 2019
A large group of residents and activists in different cities and towns of Quneitra, Sweida, Deir Ezzur, Homs and Damascus provinces poured to the streets on Sunday to condemn Trump's measure.
They said that Trump's remarks will not change the Arab-Syrian identity of the Golan Heights, and urged the necessity for the liberation of the region as soon as possible.
The protestors also blasted the US-Israeli attempts to rise tensions and undermine the Syrian nation and army's achievements in the war on terrorism, stressing continued campaign against militants in occupied areas of Syria.
Protests against Trump's decision have been underway for more than a week now. On Sunday, the local population in Syria's Golan Heights held protest rallies to deplore Trump's decision.
SANA news agency reported that the residents of the villages of Majdal al-Shams, Baqa'atha, Mas'adeh, Ain Qineh in occupied Golan rallied in Baqa'atha to blast Trump's measure.
They carried Syria's flag, chanting slogans against Trump's "illegal" remarks and stressing the Arab nature of Golan.
The protestors underlined continued resistance against the US-Israeli plots and measures, saying that occupied Golan should be liberated and return to Syria.
Trump last Monday formally recognized Israeli sovereignty over the occupied Golan Heights, reversing decades of United State's policy. The announcement came as Prime Minister Benjamin Netanyahu visited the White House in a trip.
Full report at:
http://en.farsnews.com/newstext.aspx?nn=13980112000455
--------
Syrian Army Heavily Pounds Terrorists in Hama, Idlib
Apr 01, 2019
The Syrian army units targeted the terrorists' movements near the town of al-Latamineh and Ma'arkabeh in Northern Hama towards military positions on Monday, inflicting heavy damage on them and destroying their military equipment.
Meantime, the Arabic-language al-Watan newspaper reported that the Syrian army troops have repelled Turkistani terrorists' offensives from al-Hawijeh, al-Shariah and al-Huwaiz in Sahl al-Qab region in Northwestern Hama on military points.
Also, in Southeastern Idlib, the army troops targeted the militants' moves in regions near Khan Sheikhoun and al-Khuwain, killing a number of them.
Also, on Sunday, the Syrian army fended off offensives by Tahrir al-Sham al-Hay'at (the Levant Liberation Board or the Al-Nusra Front) terrorist group from the demilitarized zone on Northern Hama and Southern Idlib.
The Syrian army units targeted the moves of the terrorists who intended to infiltrate into the army-controlled regions from the town of al-Latamineh in Northern Hama with artillery and missile attacks, leaving several militants dead and forcing others to retreat.
Meantime, al-Watan newspaper reported that the Syrian army troops repelled Tahrir al-Sham and other terrorist groups' offensives from al-Baneh, al-Sakhar and regions near Kafr Zita towards military points in Northern Hama, inflicting heavy tolls on militants.
Full report at:
http://en.farsnews.com/newstext.aspx?nn=13980112000578
--------
Turkish Army Launches Heavy Offensives against Kurds in Aleppo
Apr 01, 2019
Sources affiliated to militants reported on Sunday that a Turkish soldier was killed and another was wounded in the Kurds' military attack against one of their military bases near the town of Mar'e in Northwestern Aleppo.
Meantime, the Kurdish-language Hawar News qouted sources in Afrin as saying that 3 Turkish soldiers were killed and 3 others were wounded in an operation against the Turkish army in the village of Marimiyeh in Shara region in Afrin in Northwestern Aleppo. Also, the London-based Syrian Observatory for Human Rights (SOHR) reported that the Turkish forces have targeted regions occupied by the Syrian Democratic Forces (SDF) in the villages of Zourmaqar in the Eastern parts of Jarabulus in Northeastern Aleppo with heavy attacks.
It added that the Turkish army also pounded with artillery fire the villages of Tatamanrash and Shawareqah as well as areas near Marimin in Sharan region in Afrin.
In a relevant development last week, over 10 Ankara-backed militants were killed and wounded in the Kurdish militias' military operations in Afrin and A'azaz regions in Northwestern Aleppo.
The Kurdish-language Hawar News reported on Friday that the Kurdish forces in 'Wrath of Olives' operations against the Turkish army forces and affiliated militants destroyed the positions of Firqat al-Hamzeh terrorists in the village of Juwaiq in the town of Afrin in Northwestern Aleppo, killing 6 people and wounding at least 4 others.
Full report at:
http://en.farsnews.com/newstext.aspx?nn=13980112000224
--------
US-Backed SDF Blocks Syrian Gov't's Humanitarian Aid to Hasaka
Apr 01, 2019
The Arabic-language al-Watan Online reported on Monday that the SDF has stopped a convoy of the Syrian Red Crescent and Red Cross societies sent to the flooded people in the villages of Tal Hamis and Tal Borak in Northern Hasaka from entering the region, forcing them to return to Qamishli.
Recent flash floods in regions occupied by Kurds in Northern Hasaka have destroyed houses and taken a toll from the population.
Meantime, field sources in Hasaka reported that the SDF has detained a number of civilians in different districts of Hasaka city, including Tal Hajar, Qawiran, al-Aziziyeh and al-Salehiyeh, with the aim of recruiting more fighters.
Field sources from Hasaka province reported last month that the rallies were held to protest at SDF's incapability to supply the needs of people in the province.
Full report at:
http://en.farsnews.com/newstext.aspx?nn=13980112000436
--------
South Asia
Taliban attacks on checkpoints kill 8
April 02, 2019
KABUL: The Taliban stor­­­­­med checkpoints in northern and western Afghan­istan, killing at least eight members of the country's security forces and in one attack, setting off an hours-long gunbattle, provincial officials said as a US envoy arrived in Kabul on Monday to push for peace talks.
According to Zabihullah Amani, spokesman for the provincial governor in northern Sari Pul province, five security forces were killed in an attack there in Sozma Qala district that started late on Sunday night. The fighting lasted until Monday morning and also left two troops wounded.
The insurgents captured six soldiers before fleeing the scene and their fate re­­m­ains unknown, Amani said. The checkpoints were later retaken and the area was brought under control once reinforcements arrived.
Amani blamed the Taliban who are active in the province and have stepped up their attacks on Afghan security forces.
https://www.dawn.com/news/1473263/taliban-attacks-on-checkpoints-kill-8
--------
Taliban leader in charge of media activities killed in Helmand airstrike
02 Apr 2019
At least five Taliban militants including a local leader of the group who was in charge of media activities were killed in an airstrike in southern Helmand province.
The provincial government media office confirmed that the militants were killed on Monday in Musa Qala district.
The statement further added that the foreign forces carried out an airstrike targeting a compound of Taliban in Musa Qala which left at least 5 militants dead, including Hafiz Rashid, a local leader of the Taliban in charge of media activities.
Another Taliban leader identified as Takai was also critically wounded in the airstrike, the provincial government media office added in its statement.
The anti-government armed militants including Taliban have not commented regarding the airstrike so far.
Full report at:
https://www.khaama.com/taliban-leader-in-charge-of-media-activities-killed-in-helmand-airstrike-03625/
--------
Afghan forces carried out multiple surprise attacks against Taliban in Arghanj Khwa: MoD
02 Apr 2019
The Ministry of Defense of Afghanistan has announced that the Afghan armed forces have carried out multiple surprise attacks against Taliban militants in Arghanj Khwa district in northeastern Badakhshan province.
"Today, Afghan National Defense and Security Forces conducted many surprise attacks and the Afghan Air Force carried multiple airstrikes on the Taliban positions in Arghanj Khwa district," the Ministry of Defense said in a statement late on Monday night.
The statement further added that "The terrorist Taliban have suffered heavy casualties."
The control of Arghanj Khwa district of Badakhshan province fell into the hands of Taliban militants late on Friday night.
Full report at:
https://www.khaama.com/afghan-forces-carried-out-multiple-surprise-attacks-against-taliban-in-arghanj-khwa-mod-03624/
--------
U.S. envoy discuss outcome of Qatar talks with Afghan Chief Executive Abdullah Abdullah
01 Apr 2019
The U.S. Special Representative for Afghanistan Reconciliation Ambassador Zalmay Khalilzad discussed the outcome of Qatar talks with the Chief Executive of the National Unity Government Abdullah Abdullah.
The Office of the Chief Executive in a statement said Chief Executive Abdullah met with Ambassador Khalilzad in Sapidar Palace today, in the presence of the U.S. Ambassador to Afghanistan John Bass.
The statement further added that foreign minister Salahuddin Rabbani was also present in the meeting during which Ambassador Khalilzad shared details regarding the outcome of Qatar talks, his recent trips, progress, and existing challenges.
Ambassador Khalilzad quoted in the statement said negotiations have taken place regarding severance of Taliban ties with terrorists and timetable regarding the U.S. troops exit from Afghanistan, insisting that no final agreement has been reached in this regard so far.
He also added that initiation of intra-Afghan talks, ceasefire, and a peace deal to include the agreement of all Afghans, are among the main components of Qatar talks.
Full report at:
https://www.khaama.com/u-s-envoy-discuss-outcome-of-qatar-talks-with-afghan-chief-executive-abdullah-abdullah-03623/
--------
Southeast Asia
Religious Freedom In Malaysia Under Microscope
Apr 1, 2019
At the end of March 2019, the International Commission of Jurists (ICJ), in cooperation with the International Panel of Parliamentarians for Freedom of Religion or Belief (IPPFoRB), published a new report scrutinizing the protection and enjoyment of the right to freedom of religion or belief in Malaysia. Malaysia may not be a state that comes to mind when one thinks of restrictions on religious freedom or of religious persecution. Yet, as the report clearly identifies, there are several challenges pertaining to the right to freedom of religion or belief in the country that need to be addressed.
Malaysia is a predominately Muslim country with 61.3% Sunni Muslim (data published by the Malaysian Department of Statistics in 2010, up to date data is not available). The remaining population consist of 19.8% Buddhist; 9.2% Christian; 6.3% Hindu; 1.3% adherents of traditional Chinese religions and 0.4% other religions. Malaysia is also ethnically diverse. Religion and ethnicity have always played an important role in politics and society. Indeed, as the report confirms "Ethnicity and religion have often been utilized by political parties to advance their agenda."
The Federal Constitution of Malaysia protects the right to freedom of religion or belief, including religious manifestation by way of professing, practicing and propagating one's religious beliefs. Despite this, federal law favors the Islamic faith over any other. Article 3 of the Federal Constitution of Malaysia equips Islam with special and effectively privileged status within the country. This has the potential to affect the enjoyment of the right to freedom of religion or belief by other religious groups.
Religious intolerance has been a pressing concern in Malaysia for some time now. The issue was raised by the UN Special Rapporteur in the field of cultural rights, following a visit to the country in September 2017. However, the situation in Malaysia goes far beyond "religious intolerance." Indeed, the report makes it clear that many religious minorities face discrimination and persecution. Among others, it identifies Shi'a and Ahmadiyah communities as targeted groups. The report identifies six main challenges pertaining to the right of freedom of religion or belief in Malaysia that are closely related to the special status of Islam and the consequential disadvantaged position of other religious groups:
1) discrimination against religious minorities; 2) limitations on the rights of children relating to personal matters governed by Islamic law; 3) discrimination against persons who wish to change or adopt a new religion; 4) criminalization and prosecution of proselytism among Muslims; 5) and prohibitions on the use of the word 'Allah' by non-Muslims; and 6) relationship with freedom of expression and the crime of sedition."
These challenges are visible from the experiences of members of the Shi'a and Ahmadiyah communities. Over the years, many Shi'a followers have been arrested for merely attending closed religious gatherings. This treatment intensified noticeably followed the fatwa issued in 1996 by the Fatwa Committee for Religious Affairs recognizing Sunni Islam as "the permitted form of Islam in Malaysia, and imposing a prohibition on the proselytism, promulgation or professing of Shi'a beliefs, including the distribution of any electronic or print resources." Public criticism of the Shi'a community has been incorporated in official public narratives. This has contributed to the negative experience of the community. In 2017, the United Nations Special Rapporteur in the field of cultural rights, Karima Bennoune, indicated that Shi'a communities are unable to worship freely and are subject to "obstacles in carrying out rituals which are both cultural and religious."
Similarly, the Ahmadiyah community faces discrimination and persecution, themselves being subject of several fatwas denying their rights or even declaring them as infidels ("kafir"). As the report identifies, "the fatwa went further in proclaiming that the state had a duty to ensure their conversion to Sunni Islam."
Despite the fact that conversion to Sunni Islam is allowed, the opposite is a criminal offence. The act of apostasy, broadly defined, is criminalized in state laws with high fines or even prison sentences. In the state of Perak, for example, apostasy is defined as "(a)ny Muslim who by his word or conduct whatsoever intentionally claims to cease to profess the religion of Islam or declares himself to be non-Muslim." The crime carries the punishment of up to two years' imprisonment or a fine of the equivalent of $730.
The state of Pahang criminalizes the acts of "claiming to be a non-Muslim", an "attempt to leave the religion of Islam", or "declaring to leave the religion of Islam for any purpose." The punishment includes "up to three years' imprisonment, a fine of $1,218, or both, and to whipping of not more than six strokes." The report indicates that "state laws do permit the act of renouncing Islam, though the implementation of these regulations in practice effectively prevents a Muslim from leaving the religion."
Furthermore, despite assurances of the right to freedom of religion or belief in the Federal Constitution of Malaysia, Article 11(4) of the document has the effect of limiting proselytism. The same can be achieved with Article 5 which restricts acts that are contrary to "public order, public health or morality." Indeed, in one of the landmark cases on proselytism, Minister for Home Affairs and Another v Jamaluddin bin Othman, a man was accused of being prejudicial to the security of Malaysia for "allegedly distributing information on Christianity to Malays and converting six Malays to Christianity."
The report made several important recommendations which are aimed at addressing the challenges. Among others, the recommendation is for Malaysia to become a party to the International Covenant on Civil and Political Rights. By doing so, Malaysia would be bound to adhere to the international standards on the right to freedom of religion or belief (in Article 18) and the minority rights (in Article 27). These, if adequately implemented, could improve the situation of religious minorities like Shi'a and Ahmadiyah communities. Without it, there is no hope that the situation will improve on its own.
https://www.forbes.com/sites/ewelinaochab/2019/04/01/religious-freedom-in-malaysia-under-microscope/#3c48906d30e4
--------
Race, religion and rhetoric ramp up in 'New Malaysia'
Harris Zainul
April 2, 2019
After recouping the Semenyih state legislative assembly seat, it comes as little surprise that the United Malays National Organisation (UMNO) and the Pan-Malaysian Islamic Party (PAS) are finally formalising their cooperation. The implication of this is that political discourse will only regress further to the right. The hardening of racial and religious divides on the back of perceived Malay-Muslim victimhood is another consequence.
Any legislation the Pakatan Harapan (PH) government introduces will be scrutinised through racially-tinted lenses. Policies perceived as affecting the interests of Malay-Muslims can expect stronger challenges from now on. At best this would come at the cost of significantly increased political effort to pass much-needed reforms – at worst, it could see an increase in the wielding of vetoes.
In this new political landscape, UMNO are no longer shackled by the Barisan Nasional consociational model of power-sharing and PAS are free to up the stakes rhetorically. This collaboration will demand even more exclusivist policies when it comes to the Malay-Muslim agenda.
. .
For UMNO and PAS this formalised collaboration also lends credence to its preferred narrative. They can argue that Malay privilege and the special position of Islam are only upheld through mutual cooperation of the Malay-Muslim political parties on one hand and the broad unwavering support of the Malay-Muslim electorate on the other.
By presenting an image of Malay-Muslim interests being under siege by the other parties, UMNO and PAS can expediently position themselves as defenders of everything 'Malay and Islam' in an attempt to consolidate votes on racial and religious grounds.
Not novel in Malaysian politics, they mirror the same sense of impending victimhood as the Democratic Action Party (DAP), a largely ethnically Chinese political party now part of the PH coalition. The DAP pushed the appointments of non-Malay-Muslims to the key positions of Attorney-General, Chief Justice, Law Minister and Finance Minister.
The political calculations for this are obvious.
Malay-Muslims constitute the largest voting bloc in Malaysia but no one political party has a significant majority over another. The Malay electorate in the 2018 election were split 25–30 per cent in favour of PH, 35–40 per cent towards UMNO–Barisan and 30–33 per cent to PAS.
. .
Also as Article 113(2) of the Constitution states, any re-delineation of constituencies is only permissible after 8 years. The constituencies allegedly delineated along racial lines just before the 2018 election will remain so until the next election. Up for grabs then will be 134 out of the total 222 federal constituencies in Malaysia that have Malay majorities.
Coupled with the reality that the non-Malay electorate had almost completely repudiated UMNO and Barisan Nasional (BN) in the previous general election, this cements the case for UMNO to collaborate with PAS and jointly attempt to capture the Malay-Muslim vote.
In contrast, PH is constrained by its positioning as a multiracial coalition and by DAP supremo Lim Kit Siang warning that his party will leave the newfound coalition if the ideals of 'New Malaysia' are abandoned. The DAP commands 42 out of 125 of PH's seats in the Dewan Rakyat, making up almost a third of their strength.
There is also the risk that even slight flirtation with any Malay-Muslim political exclusivism could come at the expense of PH's non-Malay vote base. This stood at 95 per cent of Chinese voters and 70–75 per cent of Indian voters in the 2018 election.
Temptations to flirt with Malay political exclusivism will only rise further as UMNO and PAS increase the stakes and rhetoric. PH ought to refrain from knee-jerk reactions to appease the Malay electorate that play into the hands of UMNO–PAS. Instead, PH should understand that Cameron Highlands and Semenyih have always been traditional BN strongholds and not read too much into the results.
. .
As of now it remains uncertain how successful the UMNO–PAS collaboration will be, and whether it poses a genuine threat to PH. In the meantime, PH should view the current racial and religious groundswell as a manifestation of the Malays' insecurities, and perhaps, how things have not changed for the better since the 2018 election.
The unfortunate fact is that while GDP and foreign direct investment numbers matter to some in urban bubbles, it means little to many at the grassroots if it does not improve more direct 'bread and butter' issues such as high living costs, stagnant wages and low employment opportunities.
Without meaningfully addressing this, the sense of victimhood felt by the Malay-Muslims will only amplify, making it no wild stretch of imagination for the Malay swing electorate to revert to the familiarity of UMNO and PAS in the next elections.
There lies the foundation of any counter-narrative PH can offer to the electorate. This counter-narrative also needs to be coupled with nation-building initiatives to undermine the racial and religious bravado propped up by UMNO and PAS that seeks to appeal to the baser instincts of race and religion.
Full report at:
https://www.khmertimeskh.com/50592426/race-religion-and-rhetoric-ramp-up-in-new-malaysia/
--------
Muslim dress code in private sector still under study, says deputy HR minister
02 April 2019
By Azril Annuar
KUALA LUMPUR, April 2 — The National Labour Advisory Council (NLAC) is still studying the guidelines for a Muslim dress code in the private sector, Deputy Human Resource Minister Datuk Mahfuz Omar said today.
Mahfuz said the council has gone through the proposals prepared by the Labour Department and the Islamic Development Department Malaysia (Jakim).
"The issue is still being studied by the council and this has been ongoing before Pakatan Harapan (PH) took over. The NLAC's membership include unions, government representatives, employees and workers.
"Any decision will be made by the council," Mahfuz told reporters in Parliament.
He added that the NLAC has met many times since PH took over as government, unlike the previous Barisan Nasioal administration, but did not reveal the frequency of the meetings.
Full report at:
https://www.malaymail.com/news/malaysia/2019/04/02/muslim-dress-code-in-private-sector-still-under-study-says-deputy-hr-minist/1738952
--------
Pakistan
Pakistan military courts cease to function
April 1, 2019
Military courts in Pakistan, set up in 2015 to help the government curb terror attacks, have ceased to function following the expiry of their second two-year constitutional term.
The term of these courts ended on Sunday but the Pakistan government has already made the decision to give them another extension of two years, the Express Tribune reported on Monday.
However, the government's decision lacks the support of opposition parties as it does not have the required two-thirds majority in any of the two houses of the Parliament to carry out the constitutional amendment for the purpose, the report said.
There is no official data available about the cases heard and tried by these military courts. The National Assembly, however, was informed in November that the military authorities had to decide 185 terrorism-related cases before the expiry of their two-year term in March, according to Dawn online.
Information Minister Fawad Chaudhry said the government had decided to engage the opposition to take it into confidence over the issue as without their support the period of the military courts could not be extended.
On the other hand, the Pakistan Peoples Party, which had previously taken a tough stance on the issue and extended only conditional support to the previous government of the Pakistan Muslim League-Nawaz over the issue, is opposed to giving an extension to the military courts to try civilians on terrorism charges.
Defence Minister Pervez Khattak said that the courts had over the past four years decided 478 cases and sentenced 284 people to death out of which 56 had already been executed.
Pakistan in 2015 resumed military trials for terror suspects and lifted a moratorium on the death penalty after a Taliban attack on a Peshawar school in 2014 killed 150 people, mostly young students.
https://www.business-standard.com/article/news-ians/pakistan-military-courts-cease-to-function-119040100519_1.html
--------
KP police, ANP leaders accused of trying to protect people behind Kohistan killings
Kalbe Ali
April 02, 2019
ISLAMABAD: A human rights activist has accused the leaders of a former ruling party in Khyber Pakhtunkhwa and the provincial police of trying to protect people involved in the Kohistan killings case.
Dr Farzana Bari was briefing the Senate Standing Committee on Human Rights which held a hearing on the case at the Parliament House on Monday. The committee's meeting was chaired by Dr Jehanzeb Jamaldini.
The Kohistan killings case came to light in 2011 when reports emerged that an online video of a young man dancing before a group of teenage girls had led to murder. Five girls in the audience, as well as the man who was dancing and his two brothers, were allegedly murdered on the order of a jirga.
Mohammad Afzal Kohistani, the brother of one of the boys, who was pursuing the case in the Supreme Court was also murdered last month.
Dr Bari told the committee that there were some missing links in the whole story of the Kohistan killings case, adding that some members of the provincial bureaucracy and politicians were colluding with each other to protect the people behind the killings. "It is not only the KP police, but also leaders of the Awami National Party (ANP) who have been instrumental in protecting the killers," she added.
Expressing the fear that she may also be harmed for pursing this case, Dr Bari said the KP police should be held responsible if anything happened to her.
She alleged that the ANP provincial government in 2012 had tried to play down the matter. When then chief justice of Pakistan (CJP) Iftikhar Mohammad Chaudhry took a suo motu notice on the issue, senior police officers in KP informed the Supreme Court that the girls seen in the video had not been murdered and that they were alive.
Justice Chaudhry had directed the then interior minister, Rehman Malik, to send a mission to Kohistan for holding a meeting with the girls. "I was member of that mission," Dr Bari said, adding that other members of the mission were Bushra Gohar, an ANP member of the National Assembly at that time; Mian Iftikhar, the then KP minister; and Munira Abbasi, a sessions judge from Swabi.
Dr Bari said that when the mission visited the area two girls were brought before it and the provincial officials claimed that these were the girls seen in the video. "I objected that these were not the ones seen in the video, but both Bushra Gohar and the sessions judge stated that these were the same girls," she added.
Later, the then CJP had closed the case with the condition that it could be reopened anytime.
"I sent the pictures of the girls to a digital lab in the United Kingdom and its result was that they have only 14 and 40 per cent face resemblance from two girls seen in the video," Dr Bari said.
The case was reopened after the brothers of Afzal Kohistani were killed," she said, adding: "Afzal repeatedly asked for police protection before his murder last month."
When the senators asked about the link between the five girls and Afzal, they were informed that one of his brothers was also seen in the video.
Dr Bari also raised questions over the investigation into the murder of Afzal Kohistani.
She accused the KP police of trying to project the people involved in the murder.
The committee directed the KP police to provide security to three other brothers of Afzal who were now pursuing the case, as well as the police in other provinces to ensure safety of Dr Bari.
Full report at:
https://www.dawn.com/news/1473273/kp-police-anp-leaders-accused-of-trying-to-protect-people-behind-kohistan-killings
--------
US envoy Zalmay Khalilzad to reach Pakistan today
Apr 02, 2019
ISLAMABAD: United States Special Representative for Afghan peace process Zalmay Khalilzad will reach Pakistan on Tuesday.
According to official reports, Khalilzad will meet civil and military leadership of the country to discuss recent updates on the reconciliation process of Afghanistan.
On Monday, the US envoy reached Afghanistan seeking a peace deal with the Taliban to end 17 years of war. He headed back to the region for a new round of talks and scheduled to stay till April 10, the State Department said.
The State Department did not confirm he would hold fresh talks with the Taliban but said he would stop in Qatar, the usual location for negotiations with the militants.
Khalilzad's trip is "part of an overall effort to facilitate a peace process that brings all Afghan parties together in inclusive intra-Afghan negotiations", the State Department said.
The emphasis on negotiations among Afghans comes as the Taliban refuse to sit down for talks with the internationally recognised government of President Ashraf Ghani, despite US appeals.
Tensions over the issue recently led to Ghani's national security adviser telling reporters in Washington that Khalilzad had not been transparent and accusing the US envoy — who was born in Afghanistan — of harbouring personal ambitions in his native country.
Further, the US ambassador to Kabul, John Bass, also emphasized the role of Afghans.
"Afghans deserve to make their own choices about peace, including where they are prepared to compromise, where they are not prepared to compromise, & how to mend differences," Bass tweeted.
The last negotiations between Khalilzad and the Taliban closed on March 12 in Doha and appeared to make headway.
An outline of a deal is expected to see the United States withdrawing from Afghanistan in return for the Taliban promising not to let the country be used by foreign extremists — the reason for the US attack following the 9/11 attacks.
President Donald Trump has voiced impatience with continuing America's longest war and late last year ordered the withdrawal of half the 14,000-strong US troop contingent.
The State Department said Khalilzad would also visit Belgium, Britain, Jordan and Uzbekistan as he seeks global support for a peace deal.
Full report at:
https://www.pakistantoday.com.pk/2019/04/02/us-envoy-zalmay-khalilzad-to-reach-pakistan-today/
--------
Saudi Arabia executes two Pakistanis for drug trafficking
Apr 02, 2019
Saudi Arabia's interior ministry said four people were executed on Monday for drug trafficking, including one woman, bringing to 53 the number of people put to death this year.
Two Pakistani men, a Yemeni man and a Nigerian woman were executed in the holy city of Makkah, the ministry said in statements carried by the official Saudi Press Agency.
Fifty-three people have been executed in the kingdom since the beginning of the year, according to a count based on official data released by SPA.
The ultra-conservative kingdom has one of the world's highest execution rates, with those convicted of terrorism, homicide, rape, armed robbery and drug trafficking facing the death penalty.
Rights experts have repeatedly raised concerns about the fairness of trials in the kingdom. The government says the death penalty is a deterrent for further crime.
Full report at:
https://www.pakistantoday.com.pk/2019/04/02/saudi-arabia-executes-two-pakistanis-for-drug-trafficking/
--------
Europe
Chancellor Kurz condemns Islamophobic attack in Austria
Askin Kiyagan
01.04.2019
Austria's Chancellor Sebastian Kurz on Monday condemned a verbal and physical Islamophobic attack on Muslim woman.
"A sickening attack, which I condemn in the strongest possible terms," Kurz wrote on Twitter, sharing a report which included video taken by the Austria-born Muslim woman who was attacked by an elderly Austrian woman.
"In #Österreich [Austria] we stand for a respectful and peaceful coexistence of all religions!" he added.
However, many social media users criticized Kurz's tweet saying the far-right government was responsible for the rising Islamophobia in the country.
Many citizens, especially non-governmental organizations, also condemned the attack on social media and showed solidarity with the victim.
The discriminatory, anti-immigrant and anti-Muslim policies of the far-right government in Austria, which had been in power for over a year, led to a dramatic increase in racist incidents, according to reports.
https://www.aa.com.tr/en/europe/chancellor-kurz-condemns-islamophobic-attack-in-austria/1439749
--------
No US F-35 equipment shipment to Turkey over Russia's S-400: Report
Apr 1, 2019
The United States has stopped shipment of equipment for F-35 equipment to Turkey over the country's defensive cooperation with Russia, a report says.
Reuters cited two unnamed sources in a report Monday, suggesting that the Turkish officials had been notified about the matter by their American counterparts "in recent days."
"The next shipment of training equipment, and all subsequent shipments of F-35 related material, have been canceled," read the report citing sources speaking on condition of anonymity.
Turkey has said the S-400 Triumph air defense system will be delivered by Russia despite the US pressure on the NATO member.
"The contract with Russia on S-400s remains in force and these defensive systems will be delivered to Turkey. Now talks on this issue are underway," Turkish Foreign Minister Mevlut Cavusoglu said, according to Russian media.
According to multiple reports, the production has been estimated to be completed in May for subsequent delivery to Turkey in July.
"We are not going to sell S-400s to third countries. We do not need this as we are acquiring them for our own needs," Cavusoglu reportedly said.
Turkish foreign minister is scheduled to take part in a summit for the North Atlantic Treaty Organization in the US this week.
Full report at:
https://www.presstv.com/Detail/2019/04/01/592375/No-US-F35-equipment-shipment-to-Turkey-over-Russias-S400-Report
--------
Saudi Arabia, UK conduct joint military exercises
Mahmoud Barakat
01.04.2019
Saudi and British military forces have begun holding joint exercises in the kingdom's northwestern region, the Saudi Press Agency (SPA) reported on Monday.
Dubbed "Desert Soldiers 3", the exercises are aimed at enhancing participants' fighting capabilities and combat readiness, according to the SPA.
Recent months have seen a plethora of joint military drills in the Arab Gulf region, including the "Bright Star" wargames (held in Egypt last September); "Arab Shield 1" (held in Egypt last November); and "Peninsula Shield" (held in Saudi Arabia in February).
https://www.aa.com.tr/en/europe/saudi-arabia-uk-conduct-joint-military-exercises/1439883
--------
Serbia's leader congratulates Erdogan's local vote win
Talha Öztürk
01.04.2019
Serbian President Aleksandar Vucic congratulated his Turkish counterpart Recep Tayyip Erdogan for his party's victory in the local elections on Sunday.
Vucic called Erdogan after early unofficial results were released showing the Justice and Development (AK) Party won nearly 45 percent of the vote in local elections.
The president said he looked forward to continuing cooperation between the two countries as Serbia attached great importance to its "true friendship" with Turkey, and is committed to good and solid bilateral relations.
Serbia would remain a reliable partner to Turkey and the two countries would further develop political relations and expand economic and all other forms of cooperation with mutual understanding and respect, he added.
Vucic also said he anticipated Erdogan's next visit his country to commemorate the 140th anniversary of diplomatic relations between Belgrade and Ankara, and to discuss concrete projects.
Full report at:
https://www.aa.com.tr/en/europe/serbias-leader-congratulates-erdogans-local-vote-win/1439038
--------
India
Hizbul militant tried to replicate Pulwama attack, developed cold feet: J&K DGP
Apr 01, 2019
Jammu and Kashmir's Director General of Police Dilbag Singh on Monday night said that a would-be Hizbul Mujahideen "suicide bomber" tried to repeat Pulwama-like attack on a CRPF convoy in Ramban on March 30.
Owais Amin, the suspect, was arrested Sunday night and has confessed to his crime, Singh said at a press conference here late evening. Amin is said to be from Shopian in South Kashmir.
A CRPF convoy from Srinagar to Jammu had a narrow escape when a Santro car exploded at Tethar, seven kms from Banihal in Ramban district on March 30.
The car explosion around 10:30 am had slightly damaged a CRPF bus and there was no loss of life or injuries to the CRPF personnel.
The DGP said that following the car explosion, police along with security forces launched investigations during which an unexploded IED was recovered.
"The driver of the car had escaped from the spot but police carefully worked on the clues. The dots were professionally connected with the help of FSL experts. We also recovered a tabeez (talisman), a half burnt pullover on the trail from where the suspected terrorist had escaped."
Police had also recovered some items like LPG cylinders, IED, petrol, urea and sulphur near site of the blast during the investigations.
Singh said that soon after the incident, check posts were put up on the Jammu-Srinagar highway and based upon leads a dossier of the suspected militant was prepared.
"Owais Amin was probably hiding in the vegetation adjoining the highway and last evening he came on the highway and took lift in a Kashmir-bound tipper truck," he said.
However, alert policemen and security personnel nabbed him at a check post Sunday night near Ramban while he was trying to flee back to Valley.
"We also found burn marks on his body, which suggested that he sustained them in the first explosion. He confessed that he was a suicide bomber but it appeared that the mechanism was not foolproof and the second blast could not be triggered," said the DGP.
After first blast that was minor in intensity, Owais, alias Musaib Jihadi and Huzaifa probably changed his mind and fled from the spot, said the DGP.
"He owes his allegiance to Hizbul Mujahideen and now we are trying to extract other details from him like who were his handlers, how he managed to reach Tethar and how and where his car was fabricated," said Singh.
On February 14 a Jaish-e-Mohammed suicide bomber Adil Mir had rammed his explosive laden car in a CRPF convoy at Pulwama killing over 40 personnel.
It has been learnt that investigators found a suicide note from the blast site, according to which, Owais wanted to carry out a Pulwama-type terror attack on the CRPF to avenge the "atrocities" committed by "Bharat" against the people of Kashmir.
https://www.hindustantimes.com/india-news/hizbul-would-be-suicide-bomber-behind-ramban-car-blast-arrested-j-k-dgp/story-PoCZMxTQiSsvZBjvTpXxjL.html
--------
On row over using F-16 jets against India, Pakistan military now says it was 'self defence'
Apr 02, 2019
After claiming for weeks that Islamabad had not used US-manufactured F-16 fighter jets in its attempted counter-strike against India, the Pakistan military appeared to change its stance on Monday and insisted that Islamabad had the right to use any fighter jet in its "legitimate self defence".
Pakistan had so far claimed that its air force had only used the Chinese JF17 jets in its action against India, not the US-made F-16. It also claimed that its fighter jets shot down two IAF jets. India has contested Islamabad on both points.
Indian officials believe Islamabad had to tweak its stand in face of mounting evidence with New Delhi and Washington that had nailed Pakistan's claims.
Hindustan Times had last week reported on the evidence that India had shared with the US including call signs associated with PAF F-16s and specific details of the AIM-120 Advanced Medium Range Air To Air Missile (AMRAAM) used by the intruding fighting falcons.
In a statement on Monday evening, the Pakistan military attempted a partial course correction to the narrative that it had been articulating since the February 27 aerial dogfight.
In this, the military's Inter Services Public Relations statement on Monday said the JF17 jets of the Pakistan Air Force had carried out the 27 February strikes on Indian targets from within Pakistan airspace.
"Later when 2 Indian jets crossed LOC they were shot down by PAF. Whether it was F16 or JF17 which shot down 2 Indian aircrafts is immaterial. Even if F-16 have been used as at that point in time complete PAF was airborne including F16s, the fact remains that Pakistan Airforce shot down two Indian jets in self defence," the Pak military's ISPR statement said.
Pakistan's denial on use of the F-16 fighters is linked to the condition imposed by the United States that the fighter jets will not be used in aggression against any other country, but only in the war against terror.
Full report at:
https://www.hindustantimes.com/india-news/on-using-f-16-jets-against-india-pakistan-military-now-says-it-was-self-defence/story-DUnxjGoQK9sasQWfj1VPmL.html
--------
North America
US considering additional Iran sanctions, perhaps in May
2 April 2019
The US government is considering additional sanctions against Iran that would target areas of its economy that have not been hit before, a senior Trump administration official told reporters on Monday.
The official said the administration aimed to follow through with new sanctions around the first anniversary of the US withdrawal from a 2015 nuclear deal between Iran and several world powers, which President Donald Trump announced last May.
"We just want a continued chilling effect," the official said.
He added: "We want businesses to continue to think doing business with Iran is a terrible idea at this point."
Trump announced last May that the United States would pull out of a 2015 international agreement designed to deny Tehran the ability to make nuclear weapons and he ordered sanctions be imposed again on the country.
The deal, agreed by the United States, France, Britain, Germany, Russia, China and Iran, sought to prevent Iran from developing a nuclear bomb in return for the removal of sanctions that had crippled its economy.
The official, speaking on condition of anonymity, said the administration hoped to take the additional measures in the coming weeks.
"The more we can do around the anniversary, the better," the official said, while adding that it takes time to put such sanctions together and that the US Treasury Department was working on them.
One of the tools the United States has employed includes sanctions on oil imports from Iran. Washington has granted waivers to eight Iranian oil buyers, but could change that.
The official said the United States had the ability not to give those waivers at all. "That, I think, is where we're headed," the official said.
Reducing the number of waivers would limit oil exports from Iran, the fourth-largest producer in OPEC.
The United States set an earlier target of driving Iranian oil exports to zero, and the official said that goal had not changed.
US domestic oil production would help offset such a change, the official said.
China, India, Japan, South Korea and Turkey are likely to be given waivers after they expire in May that could cap Iran's crude oil exports at about 1.1 million barrels per day, US-based analysts at Eurasia Group said earlier this year. That would remove Italy, Greece and Taiwan from the current waivers list.
https://english.alarabiya.net/en/News/middle-east/2019/04/02/US-considering-additional-Iran-sanctions-perhaps-in-May.html
--------
US Supreme Court turns away families of dead USS Cole sailors in Sudan suit
1 April 2019
The Supreme Court on Monday turned away a bid by family members of 17 US sailors killed in the 2000 al-Qaeda bombing of the Navy destroyer USS Cole to collect some $35 million in damages from Sudan for its alleged role in the attack, six days after also ruling against Americans injured in the attack.
The justices declined to hear the relatives' appeal of a lower court decision in favor of Sudan. The Richmond, Virginia-based 4th US Circuit Court of Appeals ruled that the lawsuit had not been properly initiated in 2010 because the claims were sent to Sudan's embassy in Washington instead of directly to its foreign minister in Khartoum, the African country's capital.
The high court last Tuesday ruled that the improper mailing violated the Foreign Sovereign Immunities Act, a US law governing when foreign governments may be sued in American courts, tossing out more than $314 million in damages from Sudan for a group of injured sailors and their spouses.
President Donald Trump's administration sided with Sudan. It said the United States rejects judicial notices at its embassies abroad and that allowing notices to be sent to a foreign embassy in Washington could harm US foreign relations and American treatment in foreign courts.
The Virginia lawsuit included 56 spouses, siblings, parents and children of the 17 Americans killed in the Cole attack. They accused Sudan of providing material support to al-Qaeda terrorist group, including funding and training, that helped facilitate the bombing.
Sudan has denied the allegation.
On October 12, 2000, two men in a small boat detonated explosives alongside the Navy guided missile destroyer as it was refueling in the southern Yemeni port of Aden, killing 17 sailors, wounding more than three dozen others and blasting a gaping hole in its hull. The vessel was repaired and later returned to full active duty.
The bombing came 11 months before al-Qaeda's September 11, 2001, attacks on the United States.
The relatives sued under the 1976 Foreign Sovereign Immunities Act, which generally bars suits against foreign countries except those designated by the US as a sponsor of terrorism, as Sudan has been since 1993.
Sudan did not defend against the claims in court. In 2014, a trial judge found that Sudan's aid to al-Qaeda "led to the murders" of the 17 Americans and awarded the families about $35 million, including $14 million in punitive damages.
Sudan then sought to void the judgments, arguing that the lawsuit was not properly served on its foreign minister, violating notification requirements under US and international law.
Full report at:
https://english.alarabiya.net/en/News/world/2019/04/01/US-Supreme-Court-turns-away-families-of-dead-USS-Cole-sailors-in-Sudan-suit.html
--------
Lockheed Martin receives $2.5bn deal to forward US THAAD deal with Saudi Arabia
Apr 2, 2019
The US Department of Defense has awarded arms manufacturing giant Lockheed Martin Corp a $2.5 billion contract to produce Terminal High Altitude Area Defense (THAAD) missile systems for Saudi Arabia, as part of President Donald Trump's extensive arms deals with the oil-rich kingdom.
"Lockheed Martin Corporation Missiles and Fire Control [of] Dallas, Texas is being awarded a $2,457,390,566 modification… contract for the production of THAAD interceptors… to support the US government and the Kingdom of Saudi Arabia," the Pentagon said in a press release on Monday.
In November last year, Saudi and American officials signed an agreement for the sale of 44 THAAD launchers, missiles and related equipment to Riyadh worth $15 billion.
The Pentagon said the Saudi government would pay $1.5 billion of the $2.4 billion to Lockheed.
Washington proceeded with the deal despite international outrage over the role of Saudi Crown Prince Mohammed bin Salman in the murder of journalist Jamal Khashoggi, a Saudi critic who lived in the US and disappeared after entering the Saudi consulate in Istanbul on October 2.
The THAAD is built and integrated by Lockheed Martin, America's biggest arms maker. The advanced weapon is designed to shoot down short-, medium- and intermediate-range ballistic missiles using advanced detection radars designed by Raytheon, another US arms maker.
Under the new deal, the Pentagon will upgrade obsolete systems in Saudi Arabia's air defense infrastructure to better integrate the THAAD technology.
The deal comes as Riyadh continues negotiations to purchase advanced Russian S-400 missile defense systems much to Washington's despise.
Washington and Riyadh entered formal discussions for THAAD in December 2016.
During his first trip to Saudi Arabia in 2017, Trump signed a $110 billion arms deal with the Saudis, with options to sell up to $350 billion over a decade. Facilitated by Trump's son-in-law and senior adviser Jared Kushner, the massive package includes missiles, bombs, armored personnel carriers, combat ships, THAAD missile systems and munitions.
Lockheed welcomed the deal back then, saying, "we are proud to be part of this historic announcement that will strengthen the relationship between the United States and the Kingdom of Saudi Arabia."
Congressional approval for the THAAD missile system sale was given in 2017.
Trump discussed the sale in a late September 2018 phone call with Saudi King Salman, according to Saudi sources.
The US has already supplied the advanced missile system to the United Arab Emirates, Saudi Arabia's neighbor and staunch ally. The system has also been deployed to South Korea to allegedly address US regional allies' concerns about a possible strike by North Korea.
US, Israeli forces complete joint THAAD drill
It was reported on Monday that Israeli and American forces had wrapped up a five week-long test of the missile system in the occupied Palestinian lands.
The drill began on March 4 and involved some 250 US officers and soldiers who trained with 15 Israeli Air Force personnel trained at the Nevatim Airbase on quickly deploying the missile system in Israel.
Maj. Gen. Andrew J. Rowling, Deputy Commander of the US Army in Europe, told Israeli media that the drill sought to test US troops' ability "to rapidly deploy a THAAD system thousands of miles across the globe, and then integrate into one of the most complex missile defense architectures in the world."
This was the first deployment of THAAD to Israel, where it is slated to add a new layer to the regime's missile network.
Wary of the missile prowess of Lebanese and Palestinian resistance groups as well as Iran's arsenal of powerful ballistic missiles, the Tel Aviv regime has so far spent billions of dollars on developing a range of different anti-missile systems.
The Israeli military currently employs the short-range Iron Dome, the exoatmospheric Arrow system and the David's Sling anti-missile system to counter incoming attacks. Initial trials, however, have raised doubts about their reliability.
Washington and Riyadh entered formal discussions for THAAD in December 2016.
During his first trip to Saudi Arabia in 2017, Trump signed a $110 billion arms deal with the Saudis, with options to sell up to $350 billion over a decade. Facilitated by Trump's son-in-law and senior adviser Jared Kushner, the massive package includes missiles, bombs, armored personnel carriers, combat ships, THAAD missile systems and munitions.
Lockheed welcomed the deal back then, saying, "we are proud to be part of this historic announcement that will strengthen the relationship between the United States and the Kingdom of Saudi Arabia."
Congressional approval for the THAAD missile system sale was given in 2017.
Trump discussed the sale in a late September 2018 phone call with Saudi King Salman, according to Saudi sources.
The US has already supplied the advanced missile system to the United Arab Emirates, Saudi Arabia's neighbor and staunch ally. The system has also been deployed to South Korea to allegedly address US regional allies' concerns about a possible strike by North Korea.
US, Israeli forces complete joint THAAD drill
It was reported on Monday that Israeli and American forces had wrapped up a five week-long test of the missile system in the occupied Palestinian lands.
The drill began on March 4 and involved some 250 US officers and soldiers who trained with 15 Israeli Air Force personnel trained at the Nevatim Airbase on quickly deploying the missile system in Israel.
Maj. Gen. Andrew J. Rowling, Deputy Commander of the US Army in Europe, told Israeli media that the drill sought to test US troops' ability "to rapidly deploy a THAAD system thousands of miles across the globe, and then integrate into one of the most complex missile defense architectures in the world."
This was the first deployment of THAAD to Israel, where it is slated to add a new layer to the regime's missile network.
Wary of the missile prowess of Lebanese and Palestinian resistance groups as well as Iran's arsenal of powerful ballistic missiles, the Tel Aviv regime has so far spent billions of dollars on developing a range of different anti-missile systems.
Full report at:
https://www.presstv.com/Detail/2019/04/02/592395/US-Saudi-THAAD-deal-Lockheed-Martin-Israel-drill
--------
Mideast
Yemen army kills 167 Houthis in five-day firefight
April 02, 2019
DUBAI: The Yemeni army killed 167 Houthi militants during the five-day clashes in the north of Al-Dhale province, Saudi news agency SPA reported on Monday.
A Houthi field commander also died during the clashes, and a 100 of the militia were injured.
The militants are abusing the financial and legal situation of Somalis and recruiting them to fight in some of their fronts.
http://www.arabnews.com/node/1476346/middle-east
--------
Ruling AKP asks Turkey election board to settle row over Istanbul vote results
Apr 2, 2019
The outcome of mayoral elections in Turkey's second-largest city of Istanbul remains in doubt as President Recep Tayyip Erdogan's ruling party is challenging the initial results, which gave the main opposition party a slight lead in one of the economic hub's tightest election races in decades.
Municipal elections were held across Turkey on Sunday. Erdogan's alliance led by the ruling Justice and Development Party, known as AKP, succeeded in securing over 51 percent of the vote nationally, leading him to declare an overall victory.
The AKP, however, suffered a major upset as results showed it had lost not only the political center, Ankara, and the third-largest city of Izmir, but also probably Istanbul, which is Turkey's commercial center and Erdogan's home city.
Erdogan and his AKP had not lost a local election in Ankara or Istanbul in nearly two decades.
As of Monday afternoon, with over 99 percent of the ballots cast in Istanbul counted, the AKP's candidate and former prime minister Binali Yildirim, had received 4.13 million votes, while Ekrem Imamoglu, the Republican People's Party (CHP) candidate, had won 4.16 million.
The chairman of Turkey's Supreme Election Board (YSK), Sadi Guven, said on Monday that Imamoglu was leading by nearly 28,000 votes with most ballots counted.
"So far a total of 31,102 ballot box results [in Istanbul] have been registered to the system, 84 ballot box results have not been concluded because of objections," he said.
The CHP's candidate claimed victory in the Istanbul elections and urged the AKP not to resort to unnecessary means to challenge the outcome.
Yildirim – who had initially said that he had won the race by around 4,000 votes -- admitted later that he was 25,000 votes behind Imamoglu.
"But there is an important detail here. The number of canceled votes is 319,500. This is important as this figure is 10 times more than the gap between us," the AKP candidate said. "I will congratulate him if the election board YSK announces him as the winner but I must note that the counting process is still ongoing."
Bayram Senocak, AKP's Istanbul provincial head, said that his party had "plenty of" evidence showing "irregularities" in the vote, which had an impact on the outcome.
"Some of the ballots for Binali Yildirim were wrongfully recorded for CHP's candidate Imamoglu. There are serious irregularities that may change the election results and AK Party is ready to prove them all," he said.
However, Sezgin Tanrikulu, a CHP lawmaker from Istanbul, said that although Imamoglu had won the race in Istanbul, the election board was now waiting for the objection period to end to declare the official winner.
"There have been complaints about certain ballot boxes. Legally, the party objecting should show a valid reason in doing so over each particular ballot box. Therefore, the number of boxes votes will be recounted in is limited," he told Al Jazeera. "The government should respect the results."
Still, the AKP announced plans to ask the Supreme Election Council to resolve the row over invalid votes both in Istanbul and Ankara.
Speaking at a press conference early Tuesday, AKP spokesman Omer Celik said that the appeal process is meant to remove irregularities in the election results.
"The [appeal] process is legitimate. Everyone should respect it," he added, emphasizing that there are discrepancies between reports from polling centers and vote counts for Ankara and Istanbul.
Although the AKP has secured an overall victory over its rivals, the results of Sunday's elections – which Erdogan had framed as a matter of "national survival" -- are widely seen as a major setback for the president, who first rose to power after serving as an Istanbul mayor, and a stinging blow to his 16-year-old rule.
Erdogan's election losses appear to be partially rooted in the country's economic downturn. Turkey's currency, the lira, has been losing its value recently. National economy slipped into recession in the last three months of 2018 amid public discontent with rising inflation and unemployment rate.
Full report at:
https://www.presstv.com/Detail/2019/04/02/592386/Turkey-election-Istanbul-AKP
--------
Houthis lose areas in Hodeidah's Hais and Hajjah's Abs
April 01, 2019
DUBAI: Yemen's army forced Iran-backed Houthi militia to retreat from areas in Hais, south of Hodeidah province, Saudi state-news agency SPA reported on Sunday.
The militants have been trying to infiltrate Hais since Saturday midnight but the government forces, supported by the Arab Coalition, forced them to flee, an army source said.
Meanwhile, the Houthis stormed into a village in Abs district northwest of Hajjah and abducted a civilian, local sources said.
Full report at:
http://www.arabnews.com/node/1475761/middle-east
--------
Israel loosens restrictions on Gaza fishermen
1 April 2019
Israel loosened restrictions on fishermen off the blockaded Gaza Strip on Monday by allowing them to travel up to 15 nautical miles into the Mediterranean, the largest distance in years.
The decision comes after Hamas, the group that rules Gaza, said it had been engaged in Egyptian-brokered talks with Israel on easing parts of the blockade in return for calm.
Israel has not commented on the negotiations. Prime Minister Benjamin Netanyahu is widely seen as wanting to avoid a severe escalation in the Gaza Strip ahead of April 9 Israeli elections.
"The fishing zone in the Gaza Strip has been expanded to a maximum of 15 nautical miles (28 kilometers)," said COGAT, the Israeli defense ministry unit that oversees such regulations.
It did not say in which areas the zone would extend to 15 nautical miles. Israel has in the past extended the distance in certain areas but not others.
The distance is the largest allowed in years by Israel, which has blockaded the enclave for more than a decade, said Miriam Marmur, spokeswoman for Gisha, an NGO that monitors restrictions on Gaza.
She however noted that it remains short of the 20 nautical miles agreed to under the Oslo accords of the 1990s.
The distance has fluctuated in recent years from between three nautical miles up to 12 in certain areas.
In late February, Israel extended part of the zone to 12 nautical miles while other areas remained at six.
On Sunday, Israel reopened its goods and people crossings with the Gaza Strip after having kept them closed for nearly a week following a rare long-distance rocket strike from Gaza. Restrictions had also been placed on the fishing zone after the rocket.
The rocket fire wounded seven Israelis and led to Israeli retaliatory strikes across the Gaza Strip, another serious flare-up between the two sides.
The reopening of the crossings came after tens of thousands of Palestinians protested along the Gaza border with Israel on Saturday, marking the one-year anniversary since demonstrations and clashes erupted there.
Full report at:
https://english.alarabiya.net/en/News/middle-east/2019/04/01/Israel-loosens-restrictions-on-Gaza-fishermen.html
--------
Zarif: US waging 'economic terrorism' against Iran
Apr 1, 2019
Iran's foreign minister says the US is waging "economic terrorism" against the Islamic Republic by employing restrictive measures that are troubling the relief efforts targeting flood-stricken people across the country.
Mohammad Javad Zarif tweeted the remarks on Monday, saying the sanctions are "impeding aid efforts by Iranian Red Crescent to all communities devastated by unprecedented floods. Blocked equipment includes relief choppers."
View image on TwitterView image on TwitterView image on TwitterView image on Twitter
Javad Zarif
✔
@JZarif
.@realDonaldTrump 's "maximum pressure"—flouting UNSC Res 2231 & ICJ ruling—is impeding aid efforts by #IranianRedCrescent to all communities devastated by unprecedented floods. Blocked equipment includes relief choppers: This isn't just economic warfare; it's economic TERRORISM.
1,816
12:33 AM - Apr 2, 2019
1,112 people are talking about this
Twitter Ads info and privacy
"This isn't just economic warfare; it's economic TERRORISM," he added.
The United States under President Donald Trump left a multi-lateral nuclear deal with Iran in 2017. It later returned the sanctions that had been lifted under the accord.
Zarif also reminded that the economic restrictions, which Washington is deploying against Tehran under the banner of "maximum pressure" is "flouting UNSC Res 2231 & ICJ ruling."
The nuclear accord, officially known as the Joint Comprehensive Plan of Action, has the UK, France, Russia, China, and Germany as its other signatories. It was ratified in the form of the United Nations Security Council (UNSC) Resolution 2231 after conclusion in Vienna in July 2015.
In October 2018, the International Court of Justice (ICJ), the UN's principal judicial organ, ordered in response to a lawsuit filed by Iran that the United States had to halt the unilateral sanctions it has re-imposed on "humanitarian" supplies.
Washington's refusal to relieve its bans comes as countrywide flooding, unleashed by heavy downpours on Iran since March 19, has killed scores of people and has pushed relief and rescue organizations to the utmost.
A day earlier, Zarif had said that Trump was grasping "at every straw" to portray his failed policies on Tehran as a success. "Only thing proven is that he rejoices over the misery that he thinks he has imposed on ordinary Iranians," the top diplomat tweeted.
Javad Zarif
✔
@JZarif
.@realdonaldtrump is grasping at every straw to portray his failed Iran policy as a success. Only thing proven is that he rejoices over the misery that he thinks he has imposed on ordinary Iranians. Like his predecessors, he will learn that Iranians never submit to pressure.
1,680
6:19 PM - Mar 31, 2019
Twitter Ads info and privacy
754 people are talking about this
Full report at:
https://www.presstv.com/Detail/2019/04/01/592378/Iran-United-States-economic-terrorism
--------
Israeli forces fatally shoot young Palestinian during West Bank raid
Apr 2, 2019
Israeli forces have shot and killed a young Palestinian during a pre-dawn raid against a refugee camp north of occupied Jerusalem al-Quds.
The Palestinian Wafa new agency cited local sources as saying that the regime's forces stormed the refugee camp in the occupied West Bank village of Qalandiya, which sits between Ramallah and Jerusalem al-Quds, in the early hours of Tuesday to make arrests there.
During the raid, the soldiers fired at a Palestinian vehicle that was passing by on al-Matar Street, killing its driver, identified by the Palestinian Health Ministry as Mohammad Ali Dar Adwan, a 23-year-old resident of the camp.
Two other Palestinians also sustained injuries when the Israeli troops opened fire on a group of locals protesting the raid, Wafa added.
Tel Aviv's forces detained three Palestinian brothers ransacking their home in the refugee camp, according to Wafa.
The Israeli army also said there was a "riot" during an operation in the nearby Kufr Aqab area, and "rocks and explosive devices were hurled at the troops, who responded with fire."
Israeli forces regularly storm Palestinian towns in the occupied West Bank to make arrests, in raids that frequently prompt clashes with locals.
Full report at:
https://www.presstv.com/Detail/2019/04/02/592394/Israel-Palestinian-Qalandiya-Refugee-Camp
--------
Africa
Nigeria: Troops kill 16 'Boko Haram terrorists' in Lake Chad area, MNJTF says
APRIL 1, 2019
Troops from the regional Multinational Joint Task Force killed 16 Boko Haram fighters including a commander, in the Lake Chad area of Nigeria's Borno state, the MNJTF said in a release.
Over the weekend, troops deployed with Operation Yancin Tafki were conducting clearance operation in the Kerenoa – likely meaning Kirenowa – area when "contact was made with Boko Haram Terrorists at Andakar Camp," Colonel Timothy Antigha, the MNJTF's Chief of Military Public Information, said in the Sunday, March 31 release that included graphic images of dead bodies.
A firefight followed and 16 militants including Malloum Moussa, who Antigha described as "a high ranking Boko Haram Commander," were "neutralized," a term commonly used to mean killed by security forces. Five technicals were destroyed and one woman "whose relationship with the terrorists is yet to be determined" was detained.
Antigha said Moussa had "jurisdiction" over the southern Lake Chad area including around Daban Masara, Kirta Wulgo and Koleram, and that he was "notorious for imposing hefty levies on farmers, fishermen and cattle herders."
The MNJTF, which comprises troops from Chad, Cameroon, Niger and Nigeria, launched Operation Yancin Tafki on February 21. Antigha said it is aimed at "making islands and other settlements in Lake Chad untenable for Boko Haram Terrorists."
Actions have been conducted in Nigeria and Niger as part of the operation.
On March 9, seven Nigerien police and 38 militants were killed near Gueskerou in the Diffa region, according to Niger's defense ministry. The MNJTF said in a statement that "27 terrorists" were killed.
Across the border in Nigeria on March 12, aircraft from Nigeria, Niger and Cameroon supported by MNJTF ground troops killed 33 ISWA militants around Tumbun Rego and Arege, the regional force said. Aircraft from Nigeria, Niger and Cameroon were involved in those actions.
It is unclear which Boko Haram faction was targeted in the actions around Kirenowa, but Islamic State West Africa province is the dominant insurgent force in the Lake Chad area.
The jihadist group known as Boko Haram split into two factions in mid-2016. One led by long-time leader Abubakar Shekau is notorious for suicide bombings and indiscriminate killings of civilians. Shekau pledged allegiance to ISIS leader Abu Bakr Al-Baghdadi in March 2015, but ISIS central only gives formal backing to the other faction, which it calls Islamic State West Africa province.
The ISWA faction, which largely focuses on attacking military and government targets, was led by Abu Mus'ab Al-Barnawi, but last month, audio recordings revealed that ISIS appointed Abu Abdullah Idris bin Umar, also known as Ibn Umar al-Barnawi, as leader. ISIS has not yet made a public statement confirming the change.
Boko Haram's bloody insurgency began in northeastern Nigeria in 2009 but has since spread into neighboring Niger, Chad and Cameroon, prompting a regional military response. Some 27,000 people have been killed and two million others displaced, sparking a dire humanitarian crisis in the region.
https://thedefensepost.com/2019/04/01/nigeria-mnjtf-troops-kill-16-boko-haram-kirenowa/
--------
Fears over future of children orphaned by Boko Haram
April 2, 2019
Abdulkareem Haruna
Internally displaced persons in Borno State on Monday expressed concerns over the dangers of having orphaned children growing up in camps without any form of parental or government care.
The concerned displaced elders said they are more scared about what the future holds out for them regarding the "untamed" orphans than the next attack by Boko Haram insurgents.
Speaking with PREMIUM TIMES in one of the IDP camps in Kusheri suburb of Maiduguri, TIjani Mustapha, a 60 years old IDP from Konduga Local Government Area said there are nearly a 100,000 orphans that live in different IDP camps across Borno.
He said most of them are growing wild and are uncultured "while they are conscious of what happened to their parents and how they are living without any kind of love or care they needed."
He said the kids are a perfect recipe for disaster, "worse than Boko Haram, in the nearest future."
Mr Mustapha raised this concern during a public screening of a filmed documentary on the Boko Haram insurgency titled 'Uprooted."
The movie was produced by a local NGO called PAGED Initiative in which victims relate their stories of survival.
The film is used as an advocacy tool for giving a voice to the underrepresented people especially in conflict environments.
'Ticking bomb'
Mr Mustapha and many others who watched the film were inspired to open up and shared their experiences and concerns.
"We have to begin to worry about the plights of the thousands of orphans that we have in our society now due to the activities of Boko Haram," he said.
"Government and indeed we the people must do something urgently to secure the future of these orphans; if we allow them to grow, the way they are being brought up in camps, without adequate love and care, we should as well have to worry about what they will turn out to be in our society.
"I am talking about the nearly 100,000 unaccompanied children who are presently in camps because their parents have died or killed in the insurgency. Some of the parents died during Boko Haram attacks, some abducted and have never been seen again; some were slaughtered or shot right in front of the children and some were killed by the military especially during raids and shootouts.
"These kids are everywhere; within and outside the camps; some came in as babies found abandoned because their parents were killed, some came in as toddlers, some grew up in the camps and don't even know where they come from, except they are told. Some knew where they came from but have no relation to live with because all their traceable relations have been killed or are nowhere to be found.
"They live as unaccompanied children, who go to bed and wake on their own, without any parental care."
The aged IDP said he was once a successful local businessman in Konduga but Boko Haram visited his community and took away all that he possessed.
"We are even worried about children who live in the camps with their parents, who have little or no control on how they behave because both the children and the parents depend on handouts given by government and NGOs before they can feed," he said.
"So how much more of a child that does not know anything called family."
Another male IDP, Muhammed Abuya, said: "what may happen in the future could be worse than what they have experienced."
"We fear for the future because there is greater possibility that we may face even a worse insurgency than the Boko Haram by the time these children grow up with the knowledge or memory of how their parents were killed and nobody cared for them. It would be easier for them to engage in crimes that are even worse than Boko Haram.
"The same children, if care is not taken, will turn round to start killing all of us because no one is giving them education both Islamic and Western; no one is giving them care. The government seems to have forgotten about them," he said.
Statistics
In February 2017, Borno governor, Kashim Shettima, released an official figure of 52,311 as the number of children orphaned by the Boko Haram insurgency.
The number increased to 56,000 in August of the same year.
That figure, though seen by many as conservative, could have doubled especially with the resurgence of hostility in the region.
Full report at:
https://www.premiumtimesng.com/regional/nnorth-east/323563-fears-over-future-of-children-orphaned-by-boko-haram.html
--------
Sudan protest demands 'legitimate' but caused deaths, says Al-Bashir
April 01, 2019
KHARTOUM: Sudanese President Omar Al-Bashir on Monday acknowledged that the demands of anti-government protesters were "legitimate" but said they had been expressed unlawfully causing several deaths.
Protests have rocked the east African country since December, with demonstrators calling on the veteran leader to step down.
They accuse Al-Bashir's government of mismanaging the country's economy leading to soaring food prices and regular shortages of fuel and foreign currency.
"The economic crisis has impacted a wide section of our people," Al-Bashir told lawmakers in his first speech to Parliament since a state of emergency he imposed on Feb. 22 to quell the protests.
"Some of them took to the streets to express their legitimate demands, but some of those gatherings used unlawful ways and destroyed properties."
In the inital days of protests that erupted on Dec. 19, several offices and buildings belonging to Al-Bashir's ruling National Congress Party were set on fire during protests.
"Some political groups are trying to use this to enhance hatred among the community because of which we lost many people," said Al-Bashir, dressed in traditional white-and-blue robe and white turban.
Officials say 31 people have died in protest-related violence so far, while Human Rights Watch has put the death toll at 51 including children and medics.
Protests first erupted in the central town of Atbara in response to a government decision to triple the price of bread.
But the rallies quickly escalated into nationwide demonstrations against Al-Bashir's rule of three decades.
Protesters charing "freedom, peace, justice," have staged regular demonstrations against the government.
Al-Bashir has remained defiant and imposed a nationwide state of emergency along with a slew of tough measures including a ban on unauthorized rallies.
Full report at:
http://www.arabnews.com/node/1476201/middle-east
--------
Sudan's Bashir vows reform as protests enter 4th month
Mohammed Amin
01.04.2019
Sudanese President Omar al-Bashir has pledged to carry out sweeping political and economic reforms as protests demanding his resignation entered their fourth month on Monday.
Addressing lawmakers, al-Bashir vowed to bring peace to the country by "integrating" rebel and opposition groups within the framework of his ongoing "National Dialogue" initiative.
"We are committed to supporting all our citizens, regardless of their political affiliations," he told MPs.
"We will pursue our vision of reform based on justice and transparency with a view to ensuring our country's continued stability," he added.
"I have also ordered the cabinet to adopt appropriate measures regarding state institutions and to carry out necessary reforms to the civil service, while promoting good governance, rule of law, and human rights," al-Bashir declared.
Despite the president's assurances, however, anti-regime protests continued at a number of private universities in Khartoum.
According to witnesses, at least three student protesters were seriously injured on Monday in clashes with Sudanese security forces.
Full report at:
https://www.aa.com.tr/en/africa/sudan-s-bashir-vows-reform-as-protests-enter-4th-month/1439746
--------
An al-Shabaab leader surrenders to Somali justice
2019-04-01
NEWSROOM (ADV) – A senior leader of Somali militant group al-Shabab has surrendered to Somali government forces in Marka town in the country's southern region of Lower Shabelle, officials said on Sunday.
Ahmed Abdi Ali, commander of Unit 14 October Division of Somalia National Army (SNA), told journalists that Ibrahim Mohamed Bitow has surrendered to the Somali forces following intensified military operations on the insurgents in recent days.
"After 14 days long operations on al-Shabab in Marka town, Ibrahim contacted us and surrendered to the government forces," the commander said.
He called on other remaining cells in al-Shabab extremists to imitate the action.
The former senior al-Shabab leader who served in the group for nine years said that he joined government forces at his willing.
"I was the commander of 100 fighters of al-Shabab who used to fight in Lower Shabelle region. I decided to quit al-Shabab and surrender to the government," Ibrahim said.
Ibrahim who was accompanied by one of his special guards admitted they were misled into joining the terrorist group and asked Somali people to forgive them.
Meanwhile, the Somali security forces carried out a security operation on Friday night targeting al-Shabab base in Barire town in southern Somalia.
The Ministry of Information said the security forces overran the militants' base and seized military equipment and killed several terrorists while one was arrested.
"SNA will continue to chase the runaway elements to demolish targets belonging to terrorist elements in the country," said the ministry in a brief statement issued on Saturday evening.
The move comes after Mayor of Mogadishu Abdirahman Omar Osman also announced start of door-to-door security operation in the capital which are aimed at thwarting a series of al-Shabab terror attacks.
Osman said there will be searches in neighborhoods and vehicles as part of efforts to enhance security in the restive city. The mayor said his administration will provide buses and ambulances to those affected by the road closures.
Full report at:
https://africandailyvoice.com/en/2019/04/01/an-al-shabaab-leader-surrenders-to-somali-justice/
--------
Kenya Says Al-Shabab Executed Three Kenyans in Somalia
30 MARCH 2019
A middle-aged woman is among three Kenyans who were executed by Al Shabaab in Barawe, Somalia on Wednesday for allegedly spying for Amisom and the US military.
According to an intelligence report by Kenyan security forces, Al Shabaab executed five people.
The five, who included one Kenyan woman believed to be from the Coast and two men from Wajir were executed by a firing squad in public after they were reportedly found guilty by the local militant leader of spying in a what was described as a hurriedly constituted hearing held in front of residents.
The other two were the youth of Somali origin. The executions follow recent precision attacks that were carried out by US drones in Bu'aale, Middle Juba in which more than 40 Al Shabaab commanders were killed.
Among those believed to have been killed was Kenyan-born Al Shabaab commander and propagandist Ahmed Iman of the 'Jesh Ayman.'"Al Shabaab militants believe the attack on their high command must have had an insider's work as it hit the building where their leaders were meeting and planning future targets," the intelligence report reads in part.
Meanwhile, security agents at the Coast are on high alert after five wanted terrorists fled following a raid on their hideout where weapons were seized on Thursday last week.
The suspects who escaped a police dragnet in Ngombeni, Matuga, Kwale County have been identified as Salim Rashid Mohammed, Rashid Mwatsu aka Mody, Juma Waziri, Mkauma Ali Mbuiya and Juma Mwengo. According to an intelligence report, the suspects are also members of a criminal gang that has been raiding Mpesa shops in South Coast to finance terrorism.
Full report at:
https://allafrica.com/stories/201904010485.html
--------
URL: https://www.newageislam.com/islamic-world-news/social-media-companies-probe-qatar/d/118205
New Age Islam, Islam Online, Islamic Website, African Muslim News, Arab World News, South Asia News, Indian Muslim News, World Muslim News, Women in Islam, Islamic Feminism, Arab Women, Women In Arab, Islamophobia in America, Muslim Women in West, Islam Women and Feminism