New Age Islam News Bureau
6 May 2014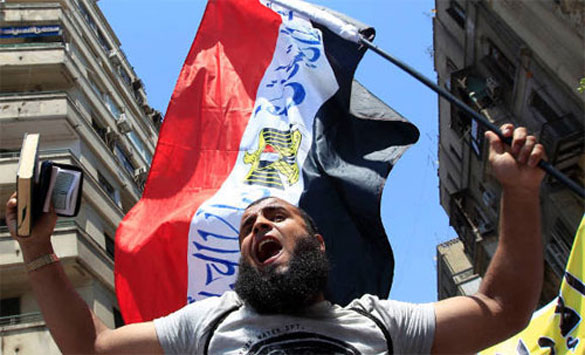 Egyptians watch Egypt's former army chief Abdel Fattah al-Sisi on a screen from the street in downtown Cairo on May 5, during his first television interview. AFP Photo
---------
Arab World
• Sisi Says There Will Be No Muslim Brotherhood in Egypt If Elected
• Bomb in Syria's Idlib kills 30 government fighters: Monitoring group
• Iraq Attacks and shelling kills nine: officials
• US recognizes Syrian opposition offices as 'foreign mission'
• Egypt-US relations improving: FM Fahmy
• US grants Syrian opposition offices diplomatic status
• Trial of Al Qaida-linked terrorist group postponed
• Financial incentive for Saudis to stay in jobs
• Abdel-Fattah El-Sisi gives first ever TV interview
----------
Southeast Asia
• Aceh Rape Victim to Be Caned, Shariah Official Insists
• Controversial Muslim Cleric Arrested for Scamming Patients
• Ending the Hudud frenzy
• Indonesian suspected to have died of MERS post-Umrah
• KPK Questions Religious Affairs Minister over Alleged Hajj Fund Graft
----------
Mideast
• Settlers launch enclave in Palestinian business hub
• Three soldiers killed in armoured vehicle crash in south-eastern Turkey
• Rival Palestinian leaders discuss reconciliation
• Yemeni authorities were warned ahead of AQAP prison raid: Documents
• Israel police arrest 7 minors over hate attacks
• Turkey builds wall in token effort to secure border with Syria
----------
South Asia
• Problem within for Hefazat-e Islam
• Afghanistan helicopter crash victims repatriated to UK
• Muslim mob attacks Hindu households, temple in Bangladesh over alleged blasphemy
• Afghan authorities seek new homes for landslide refugees
• US airlifts vehicles to Afghanistan
----------
Pakistan
• Hindus, other minorities in Pakistan face surge of violence
• Pakistan to maintain policy of non-interference in Middle East, says PM
• North Waziristan blast claims two lives
• WHO puts shackles on Pakistan over polio
• PIA accused of using untrained crew
• Many Peshawarites quit PTI; block GT Road over sackings of Minister and Advisor to CM
• Nation will reject PTI's protest call, says Sana
• Ex-CJ rubbishes Imran's 'absurd' rigging allegations
• Government promotes science & technology: Minister Aftab Ahmad
• 'PPP to stand with democracy'
----------
India
• 25 Indian firms join Saudi Energy Show for new opportunities
----------
Africa
• Nigeria, Kenya vow to defeat terrorism
• Pressure Builds for More U.S. Action on South Sudan
• Pressure to use drones to hunt for Nigerian girls, Boko Haram threatens to 'marry off' nine-year-olds
• Tunisia embroiled in debate over Israeli tourists
----------
North America
• Obama, Cameron, Merkel and Netanyahu investigated for espionage in Egypt
• RCMP raids Muslim relief group's offices as Canada declares it a terrorist organization
----------
Europe
• Islamists 'target schools ACROSS the UK' for Muslim takeover of classrooms
• More RI students interested in Morocco, says envoy
• Putin signs law banning denial of Nazi war crimes
Compiled by New Age Islam News Bureau
URL: https://www.newageislam.com/islamic-world-news/new-age-islam-news-bureau/sisi-says-there-will-be-no-muslim-brotherhood-in-egypt-if-elected/d/76896
----------
Arab World
Sisi says there will be no Muslim Brotherhood in Egypt if elected
May 6 2014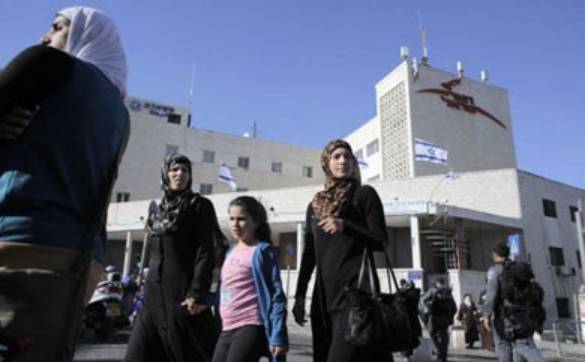 Palestinians walk past a post office building in East Jerusalem April 29, 2014.
Credit: Reuters/Ammar Awad
--------
Egypt's ex-army chief and leading presidential candidate Abdel Fattah al-Sisi said May 5 the Muslim Brotherhood movement of deposed leader Mohamed Morsi was "finished" in Egypt and would not return if he was elected.
Following the Sisi-led army ouster of Morsi in July, the Brotherhood has been banned, its leaders arrested and more than 1,400 people, mostly Islamist backers of Morsi, killed in protest clashes.
"I did not finish it, you Egyptians finished it," Sisi said in his first television interview since announcing his candidacy when asked if the Brotherhood was "finished."
Asked if he were saying it would not exist under his presidency, he responded: "Yes."
Sisi's remarks ruled out any chances of reconciliation with the blacklisted Islamist Muslim Brotherhood.
The movement, which swept all elections since the 2011 fall of longtime strongman Hosni Mubarak, has already been blacklisted as a "terrorist organisation" by the military-installed authorities.
Army to have 'no role'
Sisi, dressed in a suit and appearing composed and often smiling in what was a pre-recorded interview, said Egyptians had rejected the group's ideology and would not allow it to return.
The retired field marshal also said in what was the first part of the interview that if he was elected the army would "not have a role in ruling Egypt," adding that he was not a candidate of the army.
Aside from Morsi, all of Egypt's previous presidents have come from military ranks, including Mubarak who was toppled following a popular 18-day uprising in early 2011.
Sisi's only rival in the upcoming election is leftist leader Hamdeen Sabbahi who has often raised concerns that Egypt was returning to the autocratic era witnessed under Mubarak.
These concerns grew after some leading symbols of the anti-Mubarak revolt were jailed by the interim authorities for organising unlicensed protests.
Last month an Egyptian court even banned the April 6 youth movement which had spearheaded the anti-Mubarak revolt.
Groups such as April 6 have increasingly protested against the interim government, accusing it of restricting freedom while giving police a free hand to crush dissent.
'Two attempts' of assassination
Egypt's interim authorities had justified the ouster of Morsi following mass protests against his divisive one-year rule.
Sisi is riding a wave of popularity after ousting Morsi on July 3 after millions took to the streets demanding the Islamist's resignation.
But the ouster of Morsi, Egypt's first freely elected president, and an ensuing police crackdown on his supporters and the Muslim Brotherhood has deeply polarised the country.
Morsi and most of the top leadership of his Muslim Brotherhood have also been put on trial.
When asked, meanwhile, if he had faced any assassination attempts, Sisi without elaborating said: "Two attempts." The interview's second part will be broadcast on May 6.
http://www.hurriyetdailynews.com/sisi-says-there-will-be-no-muslim-brotherhood-in-egypt-if-elected.aspx?pageID=238&nID=66023&NewsCatID=352
----------
Bomb in Syria's Idlib kills 30 government fighters: Monitoring group
6 May 2014
About 30 Syrian government fighters were killed when rebels set off a bomb in a tunnel beneath a checkpoint in a northwestern province, activists said on Tuesday.
Videos and images posted by opposition supporters online showed a massive plume of smoke and earth shooting into the air near a small town as men shouted "Allahu akbar" (God is greatest).
Rebels fighting to overthrow President Bashar al-Assad regularly carry out guerrilla attacks against his forces, but the size of the blast, which occurred on Monday, was unusual.
The Syrian Observatory for Human Rights, a Britain-based monitoring group, said the blast took place outside the town of Ma'arat al-Nu'man in the northwestern Idlib province.
At least two officers were among those killed when insurgents from the Islamic Front and the Shields of the Revolution Council set off tonnes of explosives in a tunnel running from the road to the checkpoint, the group said.
More than 150,000 people have been killed in the three-year-old rebellion, which started as a peaceful protest movement and turned into a civil war after a government crackdown.
International powers have been deadlocked over how to resolve the conflict, further complicated by infighting between rebel groups that has killed thousands of fighters this year.
On Monday about 70 rebels were killed in clashes between a former al Qaeda affiliate, the Islamic State of Iraq and the Levant, and al Qaeda's Syrian branch, the Nusra Front, and its allies in an eastern province bordering Iraq, the Observatory said.
The fighting, which has intensified in the last few weeks, centres around villages on the outskirts of the city of Deir al-Zor, capital of the oil-producing province of the same name, where rebel groups have been fighting each other for control of oilfields and strategic areas.
The latest clashes has displaced tens of thousands of people in the area over the last few days, the Observatory said. Five civilians were killed in Monday's fighting, which resulted in the Nusra Front and its allies taking control of the village of al-Sabha, it said.
http://english.ahram.org.eg/NewsContent/2/8/100595/World/Region/Bomb-in-Syrias-Idlib-kills--government-fighters-Mo.aspx
----------
Iraq Attacks and shelling kills nine: officials
May 06, 2014
Attacks and shelling in Baghdad and northern and western Iraq killed nine people on Monday, officials said, as electoral authorities counted ballot papers from last week's general election.
The bloodshed is the latest in a protracted surge in unrest that the government has blamed on external factors such as the civil war in neighbouring Syria.
Analysts and diplomats, however, say it is at least partly due to anger in the minority Sunni Arab community over alleged mistreatment at the hands of the Shiite-led authorities.
In Fallujah, just a short drive west of Baghdad, shelling in various parts of the city killed four people and wounded another, according to Dr Ahmed Shami, chief medic at the main hospital.
It was not immediately clear who was behind the shelling, which began after midnight, but residents say the military indiscriminately targets the city with regular shelling. Defence officials say they are targeting militants.
In a sign of both the reach of anti-government militants and the weakness of security forces, all of Fallujah and shifting parts of Anbar provincial capital Ramadi, farther west, have been out of government control since early January.
Elsewhere on Monday, two men were shot dead in Baghdad, and a car bomb near a restaurant north of the capital in the ethnically mixed town of Tuz Khurmatu killed at least three soldiers.
The bloodshed comes just days after a parliamentary election, with incumbent Prime Minister Nuri al-Maliki seeking a third term despite a dramatic deterioration in security and widespread political opposition.
More than 3,000 people have been killed already this year, according to an AFP tally based on security and medical reports.
The unrest is the worst since Iraq emerged from brutal Sunni-Shiite sectarian fighting that killed tens of thousands of people in 2006 and 2007.
http://www.thedailystar.net/backpage/iraq-unrest-kills-nine-officials-22901
----------
US recognizes Syrian opposition offices as 'foreign mission'
5 May 2014
In a boost to the Syrian opposition, Washington has recognized its offices in the United States as diplomatic missions, US officials said Monday, as the movement's chief prepares for high-level talks here.
Ahead of the first official visit by the head of the Syrian National Coalition, Ahmad Jarba, the move aims "to empower the Syrian moderate opposition," a senior US administration figure told reporters.
Washington, which is already the largest single donor of humanitarian aid to Syrian people caught in the three-year conflict, is boosting its non-lethal support and speeding up military deliveries to what it sees as moderate rebels, those fighting both regime forces and the militant groups flooding onto the battlefield.
"This is an important step in the path toward a new Syria, its recognition on the international stage, and its relations with Syrian nationals in the US," Jarba said, as his delegation began arriving in Washington.
He welcomed the move as "a diplomatic blow against" the legitimacy of President Bashar al-Assad "and demonstrates how far the opposition has progressed."
Jarba will be accompanied on his eight-day trip to the United States by the new chief of staff of the Free Syrian Army (FSA), Brigadier General Abdelilah al-Bashir, his office said last week.
"He will meet US officials to discuss the supply of sophisticated weapons to the FSA to enable it to change the balance on the ground," his office said.
US officials on a conference call with reporters refused to be drawn on the type of non-lethal aid or weapons being supplied by Washington.
But the senior official acknowledged that there was "an asymmetry militarily" between the opposition rebels and the regime of President Bashar al-Assad they are fighting to overthrow.
The move to recognize the Syrian Opposition Coalition offices, which will not give the staff diplomatic immunity, comes after a peace process known as Geneva II collapsed in February amid bitter recriminations.
The US along with many EU allies recognized the Syrian coalition as the legitimate representative of the Syrian people in late 2012.
Washington in March shuttered the Syrian embassy in the US capital, prompting an angry response from Damascus.
Monday's move will "facilitate" the work of the Syrian opposition in "reaching out to the American people" and is something that the coalition had been calling for, the US official said.
A further $27 million in new non-lethal support is being unveiled taking the total in such aid to $287 million, which in the past has included such things as communications equipment, night-goggles, medical supplies and ready-to-eat meals.
Rebels recently disclosed the existence of a pilot program under which a "Western source" supplied them with 20 US-made TOW anti-tank missiles, with the promise of more if they were used effectively.
"The asymmetry that exists on the ground militarily unfortunately between the regime and the moderate opposition is problematic for the emergence of the kinds of political conditions necessary for a serious political process," the US administration official said.
But "whoever thinks there will a sustainable and decisive military solution to this is deluding themselves."
He admitted though that "the current asymmetry does not provide the calculus to get that kind of serious, negotiated political process underway."
The US and its allies were trying to find "various ways to strengthen the opposition and to try to bring increased pressure of various types on the Assad regime," he insisted.
"Of course we recognize that they need to have what they need to change the situation on the ground."
He also denounced as "a parody of democracy" presidential elections being held next month amid a brutal civil war that has killed more than 150,000 people since March 2011 and made millions homeless.
The move "rings particularly hollow given that the regime is continuing to attack and massacre the very electorate that is purporting to represent," he said.
http://english.ahram.org.eg/NewsContent/2/8/100569/World/Region/US-recognizes-Syrian-opposition-offices-as-foreign.aspx
----------
Egypt-US relations improving: FM Fahmy
6 May 2014
Egypt's relationship with the US has improved, Egyptian Foreign Minister Nabil Fahmy said in a televised interview on Tuesday.
Talking to Sky News Arabia satellite channel, Fahmy said that since Egypt had designated the Muslim Brotherhood a terrorist organisation, it had requested that the US cut all ties with the group.
"We do not think dealing with a group that has been labelled terrorist is appropriate, and we do not deal with organisations that have been designated as terrorist by foreign countries."
Bilateral relations between the two countries have soured since the ouster of Islamist president Mohamed Morsi, a member of the Muslim Brotherhood, in July 2013 amid massive protests against his rule. The US has been vocal critic of the Egyptian interim authorities since then.
In October of last year, Washington withheld from the Egyptian government deliveries of tanks, fighter aircraft, helicopters and missiles, as well as $260 million in cash aid, saying it was awaiting progress in the areas of democracy and human rights.
However, the Obama administration said last month it had decided to certify that Egypt was upholding its 35-year-old peace treaty with Israel and, therefore, qualified for some military and counter-terrorism assistance. A congressional aide said the decision cleared the way for the release of Apache helicopters to Egypt. The move also allows the US to release some of its annual $1.3 billion military assistance package to Egypt, specifically those parts dealing with security in the Sinai Peninsula and counter-terrorism efforts.
In reference to US condemnation of the death sentences handed down to hundreds of alleged Morsi supporters in recent weeks, Fahmy said he had explained to US congressmen and officials that "the Egyptian judiciary is independent and that it has its own tools by which it revises its decisions through appeals."
Last month, a judge in Upper Egypt's Minya sentenced 683 alleged Morsi supporters to death over the killing of a policeman. In a separate case he confirmed the same sentence against 37 alleged Morsi supporters.
Fahmy noted that the US decision to release some of its aid was a sign that relations were improving between the two countries.
However, he added: "It [the relationship between the two countries] should move to a new stage where there is mutual respect and where the relationship is equal."
http://english.ahram.org.eg/NewsContent/1/64/100592/Egypt/Politics-/EgyptUS-relations-improving-FM-Fahmy.aspx
----------
US grants Syrian opposition offices diplomatic status
May/06/2014
Seeking to boost the embattled Syrian opposition, Washington May 5 granted its U.S. offices diplomatic status as the rebels' political leader arrives to plead for arms to help end the three-year civil war.
A delegation led by Ahmad Jarba, head of the Syrian National Coalition (SNC), began arriving May 4 ahead of high-level talks this week with Secretary of State John Kerry and national security chief Susan Rice on his first official visit to the US since the SNC was set up in 2012.
State Department deputy spokeswoman Marie Harf said Washington was announcing new measures "to empower the moderate Syrian opposition and to bolster its efforts to help" those in Syria.
In a largely symbolic move, the U.S. now recognizes the coalition's representative offices in Washington and New York as "foreign missions under the Foreign Missions Act."
Washington, already the largest single donor of some $1.7 billion in humanitarian aid to the Syrian people, is also boosting its non-lethal support and speeding up military deliveries to what it sees as moderate rebels, now fighting both regime forces and the militant groups flooding onto the battlefield.
"This is an important step in the path toward a new Syria, its recognition on the international stage, and its relations with Syrian nationals in the U.S.," Jarba said.
He welcomed the move as "a diplomatic blow against" the legitimacy of President Bashar al-Assad.
Jarba will be accompanied on his eight-day trip by the new chief of staff of the Free Syrian Army (FSA), Brigadier General Abdelilah al-Bashir, his office said last week.
"He will meet U.S. officials to discuss the supply of sophisticated weapons to the FSA to enable it to change the balance on the ground," his office said.
U.S. officials refused to be drawn on the type of non-lethal aid or weapons being supplied by Washington.
Full report at:
http://www.hurriyetdailynews.com/us-grants-syrian-opposition-offices-diplomatic-status.aspx?pageID=238&nID=66024&NewsCatID=359
----------
Trial of Al Qaida-linked terrorist group postponed
May 5, 2014
Abu Dhabi: The trial of a nine-member cell linked to Al Qaida that was planning attacks on the UAE has been adjourned, Dr Abdul Wahab Abdul, Chief Justice of the Federal Supreme Court, told Gulf News on Monday.
"The hearing of a nine-member group linked to Al Qaida was opened on Monday at the Federal Supreme Court behind closed doors. It was postponed to May 19, until the court hires lawyers to defend them," Dr Wahab Abdul said.
The Arab defendants are charged with helping Al Qaida with recruitment, financing and logistical support.
The cell, arrested in April last year, was reportedly planning action to target the country's security and the safety of its citizens and residents, and was carrying out recruitment and promoting the actions of Al Qaida, police said.
Full report at:
http://gulfnews.com/news/gulf/uae/crime/trial-of-al-qaida-linked-terrorist-group-postponed-1.1328382
----------
Financial incentive for Saudis to stay in jobs
May 05, 2014
JEDDAH – Saudis who stay in their jobs will get financial incentives reaching up to SR24,000 as per a new program launched on Monday by the Human Resources Development Fund (Hadaf).
The aim is to encourage those who are registered with the Hafiz program to accept job offers and stay employed, Hadaf General Manager Ibrahim Al-Muaiqel told reporters at a press conference.
The financial incentives can reach up to SR24,000 per person, which will be given in three to four installments during a maximum period of two years.
Al-Muaiqel said Hadaf launched the new incentive program after it was found that 51% of those enrolled in Hafiz accepted job offers after getting the required training. Considering this percentage, Hadaf decided to encourage these youths to stay in their jobs.
Beneficiaries have been divided into four categories, he said.
Al-Muaiqel also asked private sector companies to make use of Taqat database which has the information of all those registered with Hafiz.
However, Ali Al-Tawati, an economist, considers this new financial incentive harmful to the economy.
"Financial aid should be a part of a comprehensive plan and should not be given directly to individuals. This will encourage corruption," he said.
"If we have that much cash left, we should spend it on citizens who really deserve it, like retired people or other groups in need," said Al-Tawati, adding that financial aid has to be given to companies to train the Saudi youth.
Unemployed Saudis already get SR2,000 per month for one year from the Hafiz program, which was introduced in 2011.
In a landmark decision this January, the Council of Ministers approved the insurance law for Saudis against unemployment.
The law will be enforced mandatorily on all Saudi men and women workers below 59 years of age.
Full report at:
http://www.saudigazette.com.sa/index.cfm?method=home.regcon&contentid=20140506204205
----------
Abdel-Fattah El-Sisi gives first ever TV interview
6 May 2014
The privately owned TV stations CBC and ONTV aired the first half of a pre-recorded interview with presidential hopeful Abdel-Fattah El-Sisi on Monday evening.
The former defence minister, who is expected to win the election held on 26-27 May, discussed a number of issues with ONTV's Ibrahim Eissa and CBC's Lamis El-Hadidi, including assassination attempts, his family, the Muslim Brotherhood and how he would deal with the opposition.
The first question El-Sisi was asked was why he had been silent in the past few weeks, sticking only to round-table discussions with representastives of various social groups.
"The silence was necessary, if I was representing to Egyptians a hope or a hoped-for future, then I had to be a good role model to represent the Egyptians," he said, referring to an election rule that barred candidates from campaigning before 2 May.
When asked if he would continue to maintain a low profile if elected Egypt's president, he said he wouldn't, as he would be repeating the mistakes of previous regimes. He said that previous regimes did not communicate with the people, adding that people have to "know and understand."
El-Sisi, who resigned recently from the military to run for president, said that he couldn't respect himself if he had a prearranged plan to "hijack" Egypt's presidency when he gave the 3 July speech announcing Morsi's ouster.
"Neither would I be respecting the people if I did so."
"Any responsible Egyptian who is capable of stepping in to save the nation, must do so … the country is being targeted from inside and out," El-Sisi said, explaining his decision to run for the presidency.
He said that there were signals that people wanted him to run for president.
"I do not talk much and I took the side of millions not because I was interested in power."
El-Sisi told his two interviewers that he decided to run for president when he detected an effort to "destroy the state," forcing him to heed the calls of the people.
"On the constitution referendum days, people went out to vote for the constitution, but also their demand for me to run for president was clear," El-Sisi said, in answer to what gave him indication that people wanted him to run.
Full report at:
http://english.ahram.org.eg/NewsContent/1/64/100549/Egypt/Politics-/AbdelFattah-ElSisi-gives-first-ever-TV-interview.aspx
----------
Southeast Asia
Aceh Rape Victim to Be Caned, Shariah Official Insists
May 06, 2014
Banda Aceh. A woman in Aceh who was gang raped last week after being accused of having extramarital sex now faces the indignity of a public caning for the original offense.
"We want the couple to be caned because they violated the religious bylaw on sexual relations," Ibrahim Latif, the head of the Shariah office in the eastern town of Langsa, said of the woman and her companion, a 40-year-old married man, who were raided by a group of men last Wednesday night at the woman's home.
The woman was raped by the eight vigilantes, three of whom have since been arrested. Her companion was tied up and beaten. The pair were also doused with sewage by the vigilantes, who later took them to the Shariah police, or Wilayatul Hisbah.
Ibrahim said the fact that the woman had been raped would not be taken into consideration in determining the punishment for the religious crime that she was accused of committing.
"They have to be [caned] as a form of justice because the rapists will also be processed, but in a criminal court," he said. "Besides, they've confessed to having sex on several previous occasions, even though the man is married and has five children."
The Langsa Police chief, Adj. Sr. Comr. Hariadi, and the chief of detectives, Adj. Comr. M. Firdaus, were not immediately available for comment.
Under the partial Shariah exercised in Aceh, the woman and her companion face up to nine strokes of the cane each. The rapists would have faced the same number of lashes had they been dragged through the Shariah process.
Three of them, including a 13-year-old boy, have been arrested by police, who are still hunting for the five others.
Full report at:
http://www.thejakartaglobe.com/news/aceh-rape-victim-caned-shariah-official-insists/
----------
Controversial Muslim Cleric Arrested for Scamming Patients
May 05, 2014
Jakarta. Police have arrested a celebrity cleric accused of fraud by dozens of former patients who claimed he fleeced them of hundreds of millions of rupiah by offering "spiritual healing" for their various ailments.
Guntur Bumi, a self-proclaimed ustad, or respected religious teacher, was arrested at his home in Bintaro, South Jakarta, early on Monday morning, after police named him a suspect last month in connection with one of the litany of reports filed against him.
In the report, the alleged victim said that during one of the healing sessions, Guntur had somehow made worms, cockroaches and rocks materialize, and that he had claimed it was purged from the patient's body.
He also declared the patient a victim of an evil spell, and charged the patient Rp 75 million, or $6,525, to cleanse their home as well, according to Sr. Comr. Rikwanto, a spokesman for the Jakarta Police.
Police were still questioning Guntur at the time of writing, as well as four of his assistants. "If there is enough evidence, [they] may be named suspects as well," Rikwanto said.
Police have received a total of 11 reports from former patients of Guntur, including a report representing 16 former patients.
Most of the reports allege fraud by the self-styled cleric, while a few accuse him of molestation — including one filed by a former patient who said that Guntur had groped her under pretense of examining her.
"When [she] protested, he whispered in her ear for her to be quiet," Ferry Juan, a lawyer for the former patient, said last month as quoted by Kapanlagi.com. "After the treatment he gave her an egg containing hair and maggots."
A former assistant of Guntur's, Yunita, said the cleric commonly prepared "strange items" in a storage room near his examination room to trick his patients into believing that he had supernatural powers.
Full report at:
http://www.thejakartaglobe.com/news/controversial-muslim-cleric-arrested-scamming-patients/
----------
Ending the Hudud frenzy
May 6, 2014
I am writing as a concerned Malaysian Muslim over the recent Hudud issue. My focus is obviously a response to the proposal by PAS to legislate Hudud as part of the existing Islamic penal code in Kelantan. Whilst Muslims who hold dear to Islamic laws support this move, there are others who are sceptical of this change.
Given that Hudud has yet to be implemented in this country, and, over the years, there has been very little public information available on what Hudud actually is and what it truly entails, it is hardly surprising to see Malaysians' reaction on this matter, especially when the information supposedly on Hudud has been fed by people who know little about the law itself.
From what I gather from these people, Hudud in summary is nothing short of "barbaric, inhumane, unjust, uncivilised law that has no place in this modern society". Their claims are mostly based on terrifying reports of the inhumanity and injustice brought upon by Muslim-majority countries practicing Hudud.
To what extent this is truly happening in those countries warrant further investigations beyond those provided by the media, and even if those claims are true, they are not what I and the majority of Malaysian Muslims know of Islam and the system that it brings.
How is it fair and Islamic when a rapist can walk away freely but the victim ends up in jail or stoned to death only because she fails to bring in four witnesses? How is it fair and Islamic when those punished are exclusively women, the poor and oppressed, while the rich and powerful are given the highest protection?
How is it fair and Islamic when the accused is punished by death based on unproven and dubious grounds? To claim that these are part of Hudud and the Islamic law is not only misleading, it is insulting to Islam and its believers, and defies the very purpose of the system: To restore justice, peace and harmony in society.
Those who study and investigate carefully (through credible sources) may find that Hudud and the Islamic legal system, when implemented wholly, truthfully and under the utmost strict conditions, may be the best solution to curb corruption, indecencies, atrocities and crimes in a Muslim-majority society today.
Full report at:
http://www.freemalaysiatoday.com/category/opinion/2014/05/06/ending-the-hudud-frenzy/
----------
Indonesian suspected to have died of MERS post-umrah
May 06 2014
A man died in Medan, North Sumatra on Monday after contracting what seems to be the Middle East Respiratory Syndrome (MERS) virus.
After returning from umrah (minor haj) in Saudi Arabia, the 54-year-old, identified as KS, had been treated at Adam Malik General Hospital before passing away.
Hospital spokesperson Sairi Saragih said that KS had been admitted to the hospital at 10:20 a.m. and passed away at around 2:35 p.m. from what the doctors said was a disease similar to MERS.
"He contracted symptoms such as difficulty breathing, fever and a cough, which are all symptoms of MERS. However, the patient passed away before we were able to confirm if it was MERS," she said at the hospital on Monday.
Sairi explained that KS had initially been treated at the Permata Bunda Hospital, but was later referred to Adam Malik General Hospital.
Umar Zein, one of the doctors who treated KS at Permata Bunda, said that he had been admitted on Saturday evening.
Full report at:
http://www.thejakartapost.com/news/2014/05/06/indonesian-suspected-have-died-mers-post-umrah.html
----------
KPK Questions Religious Affairs Minister Over Alleged Hajj Fund Graft
May 06, 2014
Jakarta. The Corruption Eradication Commission (KPK) on Tuesday questioned embattled Religious Affairs Minister and United Development Party (PPP) chairman Suryadharma Ali over alleged graft in the management of the government hajj fund in 2012 and 2013.
"The hajj costs are endorsed by the DPR [House of Representatives]," Suryadharma told reporters outside the KPK headquarters in Jakarta. "So whatever the cost was, it was set through DPR."
He would not comment further.
He arrived for questioning at 9:15 a.m.
KPK spokesman Johan Budi confirmed that the questioning was connected to the hajj fund investigation.
Suryadharma has said that his ministry had performed an audit into hajj pilgrimage expenditures during the period in question.
Over 200,000 Indonesians make the pilgrimage each year — a mammoth logistical challenge that falls under the Religious Affairs Ministry's purview.
The KPK began an investigation on the basis of a report released by the Financial Transaction Report and Analysis Center (PPATK) highlighting suspicious and vague transactions involving some Rp 230 billion ($20.01 million) in hajj money between 2004 to 2012.
Among other claims, the report alleged that Suryadharma used a personal bank account to manage hajj money. He has refuted the accusation, stating that the bank account was managed by the ministry.
Full report at:
http://www.thejakartaglobe.com/news/kpk-questions-religious-affairs-minister-suryadharma-hajj-funds/
----------
Mideast
Settlers launch enclave in Palestinian business hub
May 05, 2014
Palestinians walk past a post office building in East Jerusalem. A Jewish seminary, in a bustling commercial area in the same building as a post office serving thousands of Palestinians every day, is the first Jewish housing venture on Saladin Street, a main shopping thoroughfare across from the walled Old City. – Reuters
OCCUPIED JERUSALEM – The smell of fresh paint wafts through the domed lobby of the latest Israeli arrival in East Jerusalem – a Jewish seminary in a bustling commercial area in the same building as a post office serving thousands of Palestinians every day.
Otzmat Yerushalayim, which includes sleeping quarters and could house as many as 300 young Israelis, is the first Jewish housing venture on Saladin Street, a main shopping thoroughfare across from the walled Old City.
Palestinians and Israeli critics worry the placement of the academy in such a central location is asking for trouble in East Jerusalem, which has stayed largely trouble-free in recent years compared to the Gaza Strip and occupied West Bank, and which Palestinians hope will be the capital of a future state.
"Tensions are sure to spike here. It isn't going to be easy," a Palestinian pharmacist, who gave her name only as Maral, said in a drugstore across the street.
"They will just close us up the second a confrontation arises and all work will grind to a halt," she said.
Israel's annexation of East Jerusalem after its capture in a 1967 war has never been recognized, meaning most of the world views Israeli enclaves there as illegal settlements.
Settlement expansion has been a key sticking point in Israeli-Palestinian peace talks, which collapsed in April. But even when Israel froze construction temporarily in 2010, it always insisted the moratorium exclude East Jerusalem, which it views as an integral part of the country.
Full report at:
http://www.saudigazette.com.sa/index.cfm?method=home.regcon&contentid=20140506204174
----------
Three soldiers killed in armoured vehicle crash in south-eastern Turkey
May/06/2014
Three soldiers were killed and eight were injured after an armored vehicle went off of the road and tumbled into a ditch while on patrol in the southeastern province of Hakkari May 5.
A helicopter was dispatched to transfer the injured soldiers to a hospital in Şemdinli, a district located at the intersection of the Iranian and Iraqi borders. One soldier was killed at the scene of the accident while the other two died in the helicopter despite all of the medical aid, Doğan News Agency reported.
The accident took place after the driver lost control of the armored vehicle transporting the soldiers, the report also said.
Full report at:
http://www.hurriyetdailynews.com/three-soldiers-killed-in-armored-vehicle-crash-in-southeastern-turkey.aspx?pageID=238&nID=66030&NewsCatID=341
----------
Rival Palestinian leaders discuss reconciliation
6 May 2014
DOHA, Qatar: A spokesman says Hamas leader Khaled Mashaal and Palestinian President Mahmoud Abbas have held a rare meeting and agreed to move forward with a reconciliation deal between their rival movements.
The Palestinian split goes back to 2007 when the Islamic militant Hamas seized Gaza from the Western-backed Abbas, leaving him with only parts of the West Bank. The split weakened Abbas' position in peace talks with Israel.
When the latest round of those negotiations ended last week, Hamas and Abbas made another attempt to reconcile, saying they planned to form a unity government by May and hold elections by 2015.
Full report at:
http://www.arabnews.com/news/566076
----------
Yemeni authorities were warned ahead of AQAP prison raid: Documents
6 May 2014
Yemeni prison and interior ministry authorities had information as early as two months beforehand that al Qaeda militants were planning a prison break in the capital's main prison, documents seen by Reuters showed.
The warnings apparently went unheeded.
On Feb. 14, armed attackers mounted a coordinated bomb, grenade and gun assault at Sanaa's central prison to free al Qaeda-linked inmates.
At least 19 suspected militants fled in the ensuing chaos. In late March a video surfaced online showing the top leader of al Qaeda in the Arabian Peninsula (AQAP) greeting escaped inmates in open celebration and vowing to attack America.
The documents related to the jail break highlight one of the biggest challenges facing Yemen in its fight against AQAP - namely a weak, disjointed and underquipped security force, which unless radically overhauled is likely to drop the ball on more major security incidents that could threaten Western interests.
Instability in US ally Yemen also threatens neighbouring oil power Saudi Arabia. The two countries share a long, porous border, and many AQAP militants are Saudi nationals bent on toppling the ruling al-Saud family.
In a handwritten document dated Dec. 7, 2013, titled "Top Secret" and "Urgent and Important Message", the manager of Sanaa's central prison, Mohammed al-Kowl, addressed a letter to the head of Yemen's rehabilitation and reform department, which falls under the Interior Ministry.
"We have received information which indicates that elements of al Qaeda inside the (prison) are planning with the rest of the group outside the (prison) to try and storm the prison and release them, especially after the defence ministry was stormed," said the letter, written on the interior ministry's letterhead.
It's not clear what was the response of the interior minister at the time, Abdelqader Qahtan. But following the prison outbreak, Yemeni President Abd Rabbu Mansour Hadi had him replaced. Kowl has been detained while charges of dereliction of duty are investigated.
Kowl declined to comment because his case is still ongoing. Reuters was not able to reach Qahtan on repeated attempts.
In another document, of which a Reuters reporter in Sanaa saw a copy, Kowl said no one had responded to his requests that CCTV cameras be repaired, or that the prison be reinforced with extra soldiers and younger guards.
Reuters has not independently verified the authenticity of the documents, but has seen copies of Kowl's Dec. 7 document as well as another Dec. 9 document that shows the letter was seen by the public prosecutor, who wrote to Qahtan asking him to examine the concerns expressed in it.
Full report at:
http://english.ahram.org.eg/NewsContent/2/8/100593/World/Region/Yemeni-authorities-were-warned-ahead-of-AQAP-priso.aspx
----------
Israel police arrest 7 minors over hate attacks
06 May 2014
OCCUPIED JERUSALEM – Israeli police have arrested seven Jewish minors on suspicion of involvement in racist acts and vandalism, police said on Monday.
Four of them between the ages of 13 and 15 are suspected of spraying racist graffiti at a building site by an Arab village west of Jerusalem on Sunday, spokeswoman Luba Samri said.
Another three were arrested near Jerusalem's Old City on Sunday for spitting at a priest. In their bags, police found Israeli flags with Hebrew slogans on them, including the words "revenge" and "price tag," she said, without giving their ages.
"Price tag" is the euphemism for nationally-motivated hate crimes by Jewish extremists which predominantly target Palestinian and Arab property, but have also included attacks on other non-Jews as well as leftwing Israelis or the security forces.
Such attacks tend to involve vandalism and trademark racist graffiti in Hebrew.
All seven suspects are to be brought before a judge on Monday to extend their remand in custody, Samri said.
Full report at:
http://www.saudigazette.com.sa/index.cfm?method=home.regcon&contentid=20140506204175
----------
Turkey builds wall in token effort to secure border with Syria
May 05, 2014
REYHANLI, Turkey – Turkey has started building a new wall along a fragment of its southeastern border with Syria as it struggles against smuggling, illegal migration and the threat from Al-Qaeda fighters among Syria's rebel ranks.
Slabs of concrete have sprung up in recent days, snaking for just over one kilometer over the rolling hills of Hatay province, a finger of land which was part of Syria until the late 1930s, dotted with villages that have thrived on an illicit cross-border trade in everything from fuel to cigarettes.
Turkey has kept an open-border policy throughout Syria's three-year civil war and has vowed to maintain it, providing a lifeline to rebels battling President Bashar Al-Assad by allowing supplies in and refugees out.
But the policy has had its costs. Smuggling has thrived, and a growing number of Syrians forced by the war to eke out a living where they can, swell the ranks of those trying to cross back and forth outside the official border posts.
That has compounded the challenge of securing the 900-km (560-mile) border for Turkey's authorities, already accused of doing too little to stop militants from entering Syria and posing an even bigger risk to the wider region.
Car bombs in the Turkish town of Reyhanli killed dozens almost a year ago and there has been more violence since then. The International Crisis Group estimates that more than 75 Turkish citizens have been killed in fighting that has spilled over the frontier.
"Turks are reminded of the security risks by deadly car bombs and armed incidents on their territory, especially as northern Syria remains an unpredictable no-man's land," the think-tank said in a report.
Full report at:
"Even a bird can't pass," she said, looking towards Syria. – Reuters
http://www.saudigazette.com.sa/index.cfm?method=home.regcon&contentid=20140506204172
----------
South Asia
Problem within for Hefazat-e Islam
May 06, 2014
The government has apparently managed to hush Hefazat-e Islam, which only a year ago literally declared war against the Hasina administration for "backing atheist bloggers" of Gonojagoron Mancha.
The Qaumi madrasa-based organisation last month even announced that it has no enmity with the Awami League, Chhatra League or Jubo League. This change in attitude, according to Hefazat insiders, owes much to various advantages offered by the government.
Besides, the Hefazat's taking a new stance coincides with the split of Gonojagoron Mancha, a youth platform formed to lead the Shahbagh movement in February last year.
Hefazat-e Islam was not on the scene when the movement began on February 5 last year after notorious war criminal Quader Mollah being sentenced to life imprisonment walked out of court, flashing a V-sign.
But it took centre stage as a force opposed to Gonojagoron Mancha after the February 15 brutal murder of Ahmed Rajib Haider, a blogger branded an atheist.
In the wake of recent tensions between the Mancha and pro-Awami League groups, many including Shahbagh activists are now under the impression that the government has withdrawn support from the Mancha to appease the Islamist group.
While talking to The Daily Star yesterday, a number of Hefajat leaders in Dhaka admitted that they believe the Hefajat has become "bankrupt" by receiving undue benefits from the Awami League government.
"We have come to know that some top leaders, including Anas Madani, elder son of Hefajat Ameer Shah Ahmed Shafi, Organising Secretary Azizul Haq and Joint Secretary General Moinuddin Ruhee joined hands with the Hasina government after getting undue advantages," said a Hefajat leader who is also a central leader of Bangladesh Khelafat Andolon.
He noted the government had recently completed all formalities regarding a leasing out of 33 acres of railway land to Hefazat.
Wishing anonymity, another Hefazat leader said he has come to know that those leaders even received money from the government as part of an understanding not to act against the administration.
Full report at:
http://www.thedailystar.net/backpage/problem-within-for-hefajat-22891
----------
Afghanistan helicopter crash victims repatriated to UK
6 May 2014
The bodies of five UK service personnel who died in a helicopter crash in southern Afghanistan will arrive back in the UK later.
Capt Thomas Clarke, Warrant Officer Class 2 Spencer Faulkner and Cpl James Walters were from the Army Air Corps.
The others killed on 26 April were RAF intelligence officer Flt Lt Rakesh Chauhan and L/Cpl Oliver Thomas of the Intelligence Corps.
An aircraft carrying the bodies will land at RAF Brize Norton at 13:30 BST.
A ceremony will be held at the airbase before the cortege leaves for the John Radcliffe Hospital at about 16:45.
An investigation is under way into how the Lynx helicopter came down in the Takhta Pul district of Kandahar, some 30 miles from the Pakistan border, on 27 April.
The MoD said the crash appeared to have been a "tragic accident" which happened during "a routine flight".
Full report at:
http://www.bbc.com/news/uk-england-27289712
----------
Muslim mob attacks Hindu households, temple in Bangladesh over alleged blasphemy
May 06, 2014
An around 3,000-strong mob attacked Hindu households and a temple in Bangladesh's Comilla district, media reported on Monday.
The attacks took place on Sunday after rumours were spread over loudspeakers that two youths had defamed Prophet Muhammad, bdnews24.com reported.
Locals and police said teachers and students of eight madrasas in Homna upazila led the assault on Hindus at Baghsitarampur village.
Twenty-eight families have been affected in the attacks.
A mob of nearly 3,000 carried out the attacks and looted belongings of the Hindus, most of whom were poor farmers and fishermen.
Full report at:
http://indiatoday.intoday.in/story/bangladeshi-hindus-attacked-comilla-district-prophet-muhammad-bodo-militants-bangladeshi-muslims/1/359195.html
----------
Afghan authorities seek new homes for landslide refugees
06 May 2014
AAB BAREEK, Afghanistan — Afghan officials on Monday said they were seeking to build new homes for hundreds of families displaced by a landslide that entombed a village, killing at least 300 people.
Also Monday, presidential candidate Ashraf Ghani visited the scene in the north-eastern Badakhshan province, a mountainous and relatively peaceful region bordering Tajikstan, China and Pakistan.
Rival and frontrunner Abdullah Abdullah was due later Monday night, officials said.
Following heavy rain on Friday, a torrent of mud and rocks swept down a deep valley, leveling the village of Aab Bareek.
The disaster has left at least 300 dead, according to local authorities, who warned that the toll could rise rise by hundreds more. Initial reports suggested that as many as 2,500 people may have died.
The landslide left around 700 people homeless, with some finding shelter in neighboring villages and others sleeping in tents provided by humanitarian organizations.
Abdullah Homayun Dehqan, head of the provincial disaster management authority, said: "A commission has been established to look for lands to build houses for the affected families.
"We are in touch with the locals in adjacent villages, the government is even ready to buy lands for them so that they can move in."
Full report at:
http://www.saudigazette.com.sa/index.cfm?method=home.regcon&contentid=20140506204203
----------
US airlifts vehicles to Afghanistan
May 06, 2014
ISLAMABAD - Federal Board of Revenue (FBR) released Customs General Order 2014 on Monday allowing the United States to transport 1,628 vehicles to the security forces in Afghanistan.
The permission to use airspace was granted on America's request, an FBR official said.
First commercial flight to Afghanistan with 15 military vehicles onboard took off from Karachi for Bagram Air Base on Monday.
The arrangement has been made to facilitate rapid delivery of vital military cargo to brotherly country Afghanistan to enhance its security and stability.
The transportation by air has been allowed to airlift vehicles meant for Afghan National Security Forces (ANSF) as special gesture by the government of Pakistan. The vehicles are of vital importance and urgently required by Afghan forces.
Full report at:
http://www.nation.com.pk/islamabad/06-May-2014/us-airlifts-vehicles-to-afghanistan
----------
Pakistan
Hindus, other minorities in Pakistan face surge of violence
By Reuters Published: May 6, 2014
RAHIM YAR KHAN: The mob arrived at around midnight, brandishing clubs. They smashed statues, looted gold artefacts and then set the Hindu temple ablaze.
An accusation of blasphemy sparked the attack in the town of Larkana, human rights activists said, part of a spike in violence against Hindus in predominately Muslim Pakistan.
March was the worst month for attacks on Hindus in 20 years with five temples attacked, up from nine during the whole of 2013, said Life for All, a rights group. But it's not just Hindus who feel victimised.
All minorities in the country – Hindus, Christians, Ahmadis and even Shia Muslims – feel that the state fails to protect them, and even tolerates violence against them.
Many complain the problem has become worse since Prime Minister Nawaz Sharif came to power last year.
Non-Muslims make up a small fraction of the 180 million people in nuclear-armed Pakistan.
Muhammad Ali Jinnah, the hero of the country's creation as a haven for the sub-continent's Muslims, ushered in independence in 1947 with a promise to minorities that they would enjoy freedom of worship and equality without discrimination.
But for many members of Pakistan's minorities those words ring hollow.
The US Commission on Religious Freedom said in a recent report that conditions in Pakistan had "hit an all-time low" and governments had failed to adequately protect minorities and arrest perpetrators of crimes against them.
"Pakistan is increasingly failing to protect its minorities for two broad reasons: principally, rising religious intolerance and the space ceded to violent ideologies," said Sherry Rehman, who was a government minister and ambassador to the United States under the previous administration.
Full report at:
http://tribune.com.pk/story/704806/hindus-other-minorities-in-pakistan-face-surge-of-violence/
----------
Pakistan to maintain policy of non-interference in Middle East, says PM
May 06, 2014
ISLAMABAD: Prime Minister Nawaz Sharif on Tuesday categorically stated that Pakistan desired peace and tranquillity in the Middle East and would maintain the policy of non-interference in the internal affairs of states.
Addressing the concluding session of the Envoys Conference which focused on the Middle East, at the Foreign Office in the federal capital, Sharif said Pakistan had an equal aspiration to forge closer bilateral ties with all countries in the region.
"Our efforts to develop bilateral ties with one country are not, and will not be, at the expense of another," the Prime Minister said and added Pakistan remains ready to take two steps to greet a hand extended in friendship "Our approach to the transition in the Arab world, would continue to be guided by the principles, enshrined in the United Nations Charter."
Full report at:
http://www.dawn.com/news/1104549/pakistan-to-maintain-policy-of-non-interference-in-me-says-pm
----------
North Waziristan blast claims two lives
Zahir Shah Sherazi
May 06, 2014
PESHAWAR: At least two people were killed and one person injured on Tuesday in a blast which occurred in the Miramshah bazaar of North Waziristan.
According to sources, explosive material had been planted in the Miramshah bazaar which later exploded with a loud bang.
The deceased include the members of Punjabi Taliban Committee, intelligence sources claimed.
Following the incident, security forces cordoned off the area and took control of it.
North Waziristan is one of the seven regions in Pakistan's Federally Administered Tribal Areas (Fata) governed by tribal laws.
Full report at:
http://www.dawn.com/news/1104543/north-waziristan-blast-claims-two-lives
----------
WHO puts shackles on Pakistan over polio
Ikram Junaidi
May 06, 2014
ISLAMABAD: The inevitable has finally happened. To prevent the possible spread of the polio virus from Pakistan to other countries, the World Health Organisation (WHO) decided on Monday to impose strict travel restrictions on the country.
The decision was taken on the recommendation of the emergency committee of WHO, which had met on April 28 and suggested imposing travel restriction on Pakistan because of the continuous increase in polio cases in the country.
An official who works for WHO said that last year 60 per cent polio cases were a result of the international spread of the wild poliovirus. There was evidence that adult travellers contributed to this spread, he added.
Although polio only affects children, adults can be carriers of the disease.
The Minister of State for National Health Services, Saira Afzal Tarar, said that the government would try to address the concerns of the WHO so that by the next assessment (the decision will be reviewed in three months), the travel restrictions are reversed.
She said that the restrictions had been imposed on Syria and Cameroon along with Pakistan, while seven countries were warned to control the virus.
"I tried to avoid the ban by suggesting that the sanctions should be applicable on the Federally Administered Tribal Area, but the WHO said that it only dealt with international boundaries."
Full report at:
http://www.dawn.com/news/1104449/who-puts-shackles-on-pakistan-over-polio
----------
PIA accused of using untrained crew
May 06, 2014
KARACHI: The Pakistan International Airlines (PIA) is operating an Airbus-320, obtained from a Czech company on wet lease, on regular and scheduled routes allegedly with untrained cabin crew, creating an air safety hazard, it has been learnt through reliable sources.
To use the untrained crew, the national flag carrier invoked a provision in the relevant law called "safety minimum" which allows a lesser number of crew to operate an aircraft but rarely and in an emergency or because of an unforeseen situation, according to the sources.
When contacted, PIA spokesperson said the airline had obtained permission from the regulator, the Civil Aviation Authority, for the purpose.
The CAA spokesperson avoided offering any comment.
The PIA cabin crew's representatives said that the untrained crew must be under stress while on broad, a situation tantamount to an air safety hazard.
PIA spokesperson Mashhood Tajwar said that the maximum number of crew required for A-320 with a capacity of 189 passengers was six but it could be operated with four crew members under the "safety minimum" provision of the law.
Full report at:
http://www.dawn.com/news/1104461/pia-accused-of-using-untrained-crew
----------
Many Peshawarites quit PTI; block GT Road over sackings of Minister and Advisor to CM
May 06, 2014
PESHAWAR: Pakistan Tehreek-i-Insaf office-bearers in 10 union councils of the provincial capital on Monday announced resignation from their offices to protest the recent sacking of Yaseen Khalil as adviser to the chief minister.
Also in the day, some PTI activists took out a rally and blocked GT Road near the Lahore Bus Terminal against the removal of Shaukat Yousufzai as provincial minister.
Former nazim Gul Bashar Khalil told reporters at the Peshawar Press Club that the PTI workers had set the May 4 deadline for the reinstatement of Yaseen Khalil as adviser to the chief minister but neither the PTI leadership nor the provincial government heeded it forcing them to come onto the streets.
He said PTI Union Council Tehkal-II unit president Malik Shahzad Khan, Union Council 40 Tehkal Bala president Imadul Haq, Union Council 37 Shaheen Town president Asif Khan, Union Council 42 Malakander president Akhtar Gul, Union Council Hayatabad-I president Adnan, Union
Council Hayatabad-II president Farid Khan, Union Council 36 University Town and Union Council Hassan Ghari-II president Azam Khan along with all other office-bearers in their respective areas had resigned.
"We will set up a hunger strike camp outside the Town police station for indefinite period to press for our demands," Mr Bashar said.
Meanwhile, PTI activists and sympathisers staged a rally on GT Road near the Lahore Bus Terminal before blocking it for sometime to protest the sacking of Shaukat Ali Yousufzai as minister.
Full report at:
http://www.dawn.com/news/1104497/many-peshawarites-quit-pti-block-gt-road-over-sackings
----------
Nation will reject PTI's protest call, says Sana
May 06, 2014
FAISALABAD: Pakistan Tehreek-i-Insaf chief Imran Khan first betrayed his voters by representing the Taliban and now he will do the same again by joining hands with Tahirul Qadri who does not believe in democracy.
Punjab Minister for Law and Parliamentary Affairs Rana Sanaullah said this while talking to reporters after addressing a seminar at the Faisalabad Chamber of Commerce and Industry (FCCI) here on Monday.
He claimed the nation would reject Mr Khan's May 11 protest campaign and he would be left as lonely as he was when he had joined the politics.
The minister said 'rejected politicians' wanted to wash their dirty linen in the public using the name of army.
He said the elements indulging in politics of protest were hell bent upon stopping the country's progress.
Full report at:
http://www.dawn.com/news/1104513/nation-will-reject-ptis-protest-call-says-sana
----------
Ex-CJ rubbishes Imran's 'absurd' rigging allegations
May 06, 2014
ISLAMABAD: Former chief justice of Pakistan Iftikhar Muhammad Chaudhry on Tuesday rejected the rigging accusations made against him by Pakistan Tehreeak-i-Insaf (PTI) chief Imran Khan, terming them as 'baseless', DawnNews reported.
The former chief justice said that Returning Officers (ROs) for the 2013 elections were appointed by the Election Commission of Pakistan and not by him. He added that the 'absurd' allegations hurled by the PTI chief did not warrant a response.
Earlier in May, PTI chief Imran Khan had openly criticised the former chief justice and the Jang/Geo group for their alleged involvement in the rigging during the 2013 polls. Khan had asked the current chief justice to take notice of how, with the support of former chief justice Iftikhar Muhammad Chaudhry, this powerful media house had 'stolen' the general elections in favour of one party.
Full report at:
http://www.dawn.com/news/1104553/ex-cj-rubbishes-imrans-absurd-rigging-allegations
----------
Government promotes science & technology: Minister Aftab Ahmad
May 06, 2014
Islamabad- Minister of State for Parliamentary Affairs Sheikh Aftab Ahmad says the government is making efforts to promote science and technology in the country.
Addressing an exhibition on water today, he hailed the role of Pakistan Science Foundation in this regard. He hoped the exhibition will go a long way in finding solution to the scarcity of water both for drinking and irrigation purposes. Speaking on the occasion, French Ambassador to Pakistan Philippe Thiebaud said his country is helping in construction of several hydro power projects. He said France is also assisting Pakistan in improving sanitation system in major cities.
Full report at:
http://www.nation.com.pk/national/06-May-2014/government-promotes-science-technology-minister-aftab-ahmad
----------
'PPP to stand with democracy'
May 06, 2014
ISLAMABAD - Leader Of the Opposition in National Assembly Syed Khursheed Shah has said that Pakistan People's Party will stand with the democracy and democratic system and not with any person including Prime Minister Nawaz Sharif.
While talking to reporters outside the parliament house, Shah advised the PTI Chairman Imran Khan to come into the Parliament to express his grievances, as it was the most suitable forum for the parliamentarians rather continuing his rhetoric publicly. He blamed that more than seventy per cent colleagues of Imran Khan were old politicians while his slogan was 'new Pakistan.'
Full report at:
http://www.nation.com.pk/islamabad/06-May-2014/ppp-to-stand-with-democracy
----------
India
25 Indian firms join Saudi Energy Show for new opportunities
May 05, 2014
JEDDAH — At least 25 Indian engineering firms with capabilities to supply and service critical machinery and technology products to power and oil exploration sectors will explore new business possibilities at the forthcoming 'Saudi Energy Show' at the Riyadh International Convention and Exhibition Center on May 26-28.
The initiative to organize the India Pavilion at the Saudi Energy Show is being taken by EEPC India, formerly known as the Engineering Export Promotion Council with the support of the Indian government.
Keen on forging industry-to-industry relationship with the Kingdom, the Indian participation in the Saudi Energy Show is being promoted by the Indian Embassy in Riyadh.
Economy forms an intrinsic part of India Saudi Arabia strategic partnership and promoting economic engagement is the key element of Delhi Declaration of 2006 and Riyadh Declaration of 2010. India-Saudi Arabia bilateral trade exceeded $43 billion in 2013-14 and has already exceeded $43.6 billion in April 2013-February 2014.
There is increasing trend of upward bilateral investments between the two countries. However, there remains vast untapped potential to further diversify bilateral trade and commerce. The recent visit of Saudi Crown Prince, Defence Minister and Deputy Prime Minister Prince Salman Bin Abdulaziz to India in February 2014 has provided a renewed thrust to bilateral relations especially in the economic and trade areas.
India's oil import during 2013-14 was $167 billion making it among the largest oil importing countries of the world and largest volumes of imports being sourced from Saudi Arabia. India imports around 19 percent of its oil imports from the Kingdom.
Full report at:
http://www.saudigazette.com.sa/index.cfm?method=home.regcon&contentid=20140506204145
----------
Africa
Nigeria, Kenya vow to defeat terrorism
May 6, 2014
PRESIDENT Goodluck Jonathan and visiting President of Kenya, Uhuru Kenyatta, on Monday, vowed that terrorism would not be allowed to derail the progress of both countries, which have continued to be attacked by Boko Haram and Al-Shabab Islamic sects respectively.
Both presidents addressed State House correspondents after their bilateral meeting at the Presidential Villa, on Monday, agreeing that they would do all that was necessary to defeat the terrorists in their countries.
The Kenya leader was in the country for a state visit and the World Economic Forum for Africa meeting taking place in Abuja from tomorrow.
Jonathan condoled with the Kenyan leader for the latest terrorist attack in Nairobi and commended his courage for not aborting his visit to Nigeria over the bombing in his country, saying "that is a clear indication that terrorists cannot stop the two countries from moving forward."
According to him, "the act of terror in Africa is diversionary, being organised by group of people that does not want the continent to move forward.
"Whenever a country is showing any sign of progress, this criminal elements will strike. Yes, they are setting us backward, they are slowing us down, they are killing innocent citizens, they are destroying properties. But surely, we will overcome and terror will not stop Africa from progressing.
"The terror attack is naturally to frighten people, but as governments, we will do our best to make sure that we provide maximum protection for our citizens."
Jonathan stated that both leaders had useful discussions followed by the signing of memorandum of understanding which, he said, would be faithfully implemented.
President Kenyatta also condoled with Nigeria for what it had suffered in the hands of terrorists.
Full report at:
http://www.tribune.com.ng/news/top-stories/item/4644-nigeria-kenya-vow-to-defeat-terrorism
----------
Pressure Builds for More U.S. Action on South Sudan
May 6, 2014
As U.S. Secretary of State John Kerry made a whirlwind visit to east and central Africa, pressure mounted for a tougher U.S. stand on the escalating conflict in South Sudan. Frank Wolf, Republican member of the U.S. House with a long Sudanese track record, wants President Obama to engage former Presidents Bill Clinton and George Bush in finding a solution. Kerry in a question-and-answer with AllAfrica called on both sides to adhere to the cessation of hostilities agreement and said the U.S. is 'actively considering' sanctions. "No civilians in the world are in greater danger than those of South Sudan," according to Eric Reeves and John Prendergast - two long-time activists.
http://allafrica.com/view/group/main/main/id/00030266.html
----------
Pressure to use drones to hunt for Nigerian girls, Boko Haram threatens to 'marry off' nine-year-olds
May 5, 2014
Pressure was growing Monday night for Western military drones to be used in the hunt for more than 200 schoolgirls abducted in Nigeria, as the terrorist thought to be holding them threatened to "marry off" girls aged as young as nine.
Experts said that unmanned spy planes of the kind used in Afghanistan could be deployed along with satellite-operated cameras to search the vast areas of desert and woodland where the girls were thought to be hidden.
Over the weekend, the Nigerian military massed for a search operation in the Sambisa Forest region, although on Sunday, President Goodluck Jonathan said the government still did not know where the girls were. According to Nigerian police, some 223 girls remained missing after being abducted from their boarding school in the remote northern Nigerian town of Chibok on April 14.
The urgency of the situation was underlined yesterday when Boko Haram, the Islamist extremist group believed to have abducted the girls, released a video in which its leader gloatingly threatened to sell them as "slaves."
"I abducted your girls," said Abubakar Shekau, who appeared dressed in combat fatigues and standing in front of an armoured personnel carrier. Six masked gunmen flanked him. "I will sell them in the market, by Allah. I will marry off a woman at the age of 12. I will marry off a girl at the age of nine."
Shekau described the abduction as part of Boko Haram's war against Western-style secular education in Nigeria, in which the group has attacked dozens of schools in the predominantly Muslim north. "I said Western education should end," he added. "Girls, you should go and get married."
Full report at:
http://news.nationalpost.com/2014/05/05/calls-grow-for-west-to-use-drones-to-hunt-for-nigerian-girls-as-boko-haram-threatens-to-marry-off-nine-year-olds/
----------
Tunisia embroiled in debate over Israeli tourists
May 05, 2014
TUNIS – Tunisians are embroiled in a heated debate over allowing Israeli tourists into the country, which does not recognize the Jewish state.
It is an open secret that Israelis have been visiting Tunisia for years on the quiet.
The dispute is not over Jews from third countries, who are openly welcome, just Israelis. People ask whether allowing them in is tantamount to recognition.
Annoyance in some quarters is such that members of the National Constituent Assembly have called for the tourism minister and an interior ministry official to be sacked.
Tunisia, like most other countries in the Arab world, does not recognize Israel, primarily out of solidarity with Palestinian demands for a state of their own.
But Tunisia is one of the Arab world's most liberal countries, and some 1,500 Jews live there.
More than half are on the island of Djerba, where Africa's oldest synagogue and the focus of the annual pilgrimage is located.
The debate comes just weeks after Israeli tourists aboard an American cruise ship were denied entry.
Full report at:
http://www.saudigazette.com.sa/index.cfm?method=home.regcon&contentid=20140506204176
----------
North America
Obama, Cameron, Merkel and Netanyahu investigated for espionage in Egypt
5 May 2014
Egypt's Prosecutor-General Hisham Barakat has ordered an investigation into US President Barack Obama and other world leaders over spying allegations.
The complaint was made by lawyer Ahmed Abdel-Salam against Obama, British Prime Minister David Cameron, German Chancellor Angela Merkel and Israeli Prime Minister Benjamin Netanyahu.
Abdel-Salam referred to reports from several Egyptian media outlets stating that Egypt's General Intelligence apparatus had arrested two spy rings accused of sending reports about Egypt to foreign intelligence agencies during the country's 2012 presidential elections.
The lawyer, who demanded that Egyptian authorities include the world leaders on Cairo International Airport's watch list, added that the alleged spying amounts to "clear violations of international agreements and treaties and is considered a declaration of war against Egypt".
Abdel-Salam also called on Egypt to cut its relations with these countries and put on trial any Egyptian citizen who cooperates with them or provides them with information, in accordance with article 82 of the Egyptian penal code. He also called for an end to all cooperation between the Egyptian army and these countries, as well as a ban on their ships passing through the Suez Canal.
Full report at:
http://english.ahram.org.eg/NewsContent/1/64/100537/Egypt/Politics-/Obama,-Cameron,-Merkel-and-Netanyahu-investigated-.aspx
----------
RCMP raids Muslim relief group's offices as Canada declares it a terrorist organization
April 29, 2014
TORONTO — A Muslim relief organization accused by federal auditors of sending almost $15-million to the Palestinian terrorist group Hamas has been raided by police, who seized an "extensive amount" of evidence, the RCMP said Tuesday.
Integrated National Security Enforcement Teams searched the head office of the International Relief Fund for the Afflicted and Needy Canada in Mississauga, Ont., as well as a private residence in Montreal.
"We are determined to stop Canadian funds from getting in the hands of terrorist groups," said RCMP Assistant Commissioner James Malizia. "We continue to work diligently with our partners to investigate and disrupt organizations from misusing charitable donations to find terrorist activity."
A non-profit group that worked mostly in Muslim countries, IRFAN-Canada lost its charity status in 2011 after Canada Revenue Agency auditors called it an "integral part" of an international fundraising effort that supported Hamas.
Full report at:
http://news.nationalpost.com/2014/04/29/canada-outlaws-toronto-based-muslim-relief-group-adds-it-to-terrorist-list/
----------
Europe
Islamists 'target schools ACROSS the UK' for Muslim takeover of classrooms
May 3, 2014
The alleged plot would see the infiltration of classrooms at secular schools in order to change teaching to reflect hard-line Muslim beliefs.
It is claimed Operation Trojan Horse also involves removing head teachers and replacing them with radical Muslim staff and governors.
The National Association of Head Teachers (NAHT) said it was at first concerned about six schools in Birmingham being targeted.
But today it emerged the takeover plans are more widespread as the union said it has "connections" to other large cities, according to The Daily Telegraph.
There are concerns about the possible infiltration of schools in Bradford, Manchester and parts of London.
The NAHT's general secretary Russell Hobby said the union's members have expressed concerns about Operation Trojan Horse.
He said members were worried about pressure being put on school leaders to adopt certain philosophies.
Mr Hobby added teachers were concerned staff were being appointed on the basis of their religious beliefs and not on skill levels.
Mr Hobby is due to address the Trojan Horse allegations in his speech to the NAHT annual conference in Birmingham this weekend.
Full report at:
http://www.express.co.uk/news/uk/473888/Operation-Trojan-Horse-Muslims-target-schools-across-UK-in-Islamic-takeover-of-classrooms
----------
More RI students interested in Morocco, says envoy
May 06 2014
A growing number of Indonesian students are showing an interest in studying in Morocco, forming a strong pillar of excellent relations between the North African country and Indonesia, a Moroccan envoy says.
"Every year, the number of Indonesian students studying in Moroccan institutions rises. There are 200 Indonesians studying in Morocco, a big jump from just 10 people in 1995," Moroccan Ambassador to Indonesia Mohamed Majdi told The Jakarta Post on the sidelines of the annual Alumni Indonesia-Morocco meeting in Jakarta on Monday.
"I think the main reason is that both countries are Muslim-majority countries that embrace moderate Islam and share similar religious values. Every year, we provide 15 scholarships to Indonesian students".
Several Indonesian alumni agreed with Ambassador Majdi.
"Moroccans are very helpful and tolerant toward foreigners and other religions. This makes Indonesian students feel at home. Morocco is one of the Muslim world's knowledge hubs. No Indonesian student who studied in Morocco ever became a terrorist," Turkis Junaid Lubis, who studied in Morocco in the 1990s, said at the meeting.
The meeting was attended by numerous Indonesian alumni from various cities, members of Moroccan community in Indonesia, journalists and members of the Indonesian and Moroccan Women's Association.
Full report at:
http://www.thejakartapost.com/news/2014/05/06/more-ri-students-interested-morocco-says-envoy.html
----------
Putin signs law banning denial of Nazi war crimes
May/06/2014
Russian President Vladimir Putin on Monday signed new legislation introducing harsh punishments for the justification or denial of Nazi war crimes.
The legislation makes it a criminal offence to deny facts established by the Nuremberg trials regarding the crimes of the Axis powers and to disseminate "false information about Soviet actions" during World War II.
Such acts are punishable by up to five years in a prison camp or a fine of 500,000 rubles ($14,000), the law says. Those making such claims in mass media are liable for the harshest punishments.
The legislation was voted through by Russia's upper and lower houses of parliament last month.
Full report at:
http://www.hurriyetdailynews.com/putin-signs-law-banning-denial-of-nazi-war-crimes.aspx?pageID=238&nID=66038&NewsCatID=353
----------
URL: https://www.newageislam.com/islamic-world-news/new-age-islam-news-bureau/sisi-says-there-will-be-no-muslim-brotherhood-in-egypt-if-elected/d/76896