New Age Islam News Bureau
05 November 2021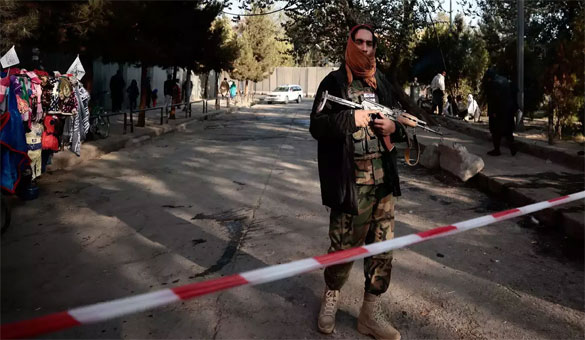 A Taliban fighter stands guard at the military hospital in Kabul
-----
• Pakistan PM Enlightens Ambassadors of Muslim countries on Rehmat ul-lil-Alameen Authority Following the Fundamental Precepts of Riasat-e-Madina Concept
• Spearheaded by Jordan's Prince El Hassan Bin Talal Christian, Muslim Leaders Launch Appeal To Protect Places of Worship
• 'Climate of Fear' Prevails For Human Rights Defenders in Afghanistan: UN Expert
• Saudi Ex-Spy Chief Warns Allies' Trust in US Waning After Failure in Afghanistan
South Asia
• Turkey not in hurry to recognize Taliban govt in Afghanistan: FM
• Kabul Hospital Attack Undermines Taliban Security Pledges
--------
Pakistan
• Foreign Minister Says Govt Committed To Making Country Safe for All Minorities
• FATF Asked to Probe India's Role in Keeping Pakistan on Grey List by Former Pakistan Interior Minister
• Lahore police top brass changed over TLP March 'mishandling'
• LHC disposes of plea against TLP chief Saad Rizvi's detention
--------
Mideast
• Vatican urges peace talks as Palestinian President Abbas meets Pope Francis
• Israeli forces demolish Palestinian mosque, other structures in occupied West Bank
• NAM Stresses Removal of Unilateral Sanctions against Countries
• Ahead of nuclear talks resumption, Iran says it doubled stock of enriched uranium
--------
Europe
• France leaves door open for IAEA action against Iran
• Germany calls for immediate end to hostilities in Ethiopia
• UNICEF Plans To Directly Fund Afghan Teachers
--------
North America
• US approves sale of $650 mln in air-to-air missiles to Saudi Arabia: State Department
• Washington Teen Charged With Right-Wing Terror Offence
• US lawmakers call on Biden admin. To designate Muslim Brotherhood as terror group
--------
Arab World
• Islamic State Attack Sparks Sectarian Bloodletting in Iraq's Diyala
• Report: Jewish-American group visits Saudi Arabia to advance Israeli normalization
• Hezbollah: Saudi should apologize for its actions concerning Lebanon
• Rights organizations warn of deteriorating health condition of imprisoned Saudi dissident
• Russia: White Helmets plotting false-flag chemical attack in Syria's Idlib to accuse Damascus
--------
India
• Post-Taliban Takeover of Afghanistan: Security Forces, Civilians Killings Go Up In Jammu and Kashmir
• India's Own FATF Assessment Pending Since 2019; Sectors Vulnerable To Terrorist Funding, Laundering Under Lens
• Reconstruct Both the Demolished Telangana Secretariat Mosques Immediately: Deccan Waqf Protection Committee
• Cops recover 'tiffin box bomb' hidden in fields near India-Pakistan border in Punjab
• India Requests Pakistan to Allow Srinagar-Sharjah Flight to Use Its Airspace
• Muslims Split, Namaz Spots Set to Shrink in Gurgaon; Muslim representative Accused RSS- • Backed Muslim Rashtriya Manch of "Sabotaging" The Talks
• Jammu and Kashmir Shines In the Latest Prestigious NEET Examination
--------
Southeast Asia
• Police Acknowledge Legal Gaming Centres in Private Clubs, But Say Muslims Not Allowed
• Opposition MPs head four out of nine Parliamentary Select Committees
• Abdul Hadi returned unopposed as PAS president
--------
Africa
• Sudanese Talks Make Progress, Source Says, As International Pressure Grows
• Tunisia issues international arrest notice against ex-leader Marzouki
• Sudan's army chief Burhan orders release of four ministers
• Turkey strongly condemns 'heinous terrorist attack' in Niger
• Somalia asks envoy of African Union Commission to leave country
• Tanzania's unique experiment of using schools to fight graft
Compiled by New Age Islam News Bureau
URL: https://www.newageislam.com/islamic-world-news/sirajuddin-haqqani-taliban-pakistan-tehreek-militancy/d/125714
--------
Sirajuddin Haqqani, Taliban Interior Minister Mediates Peace Talks between Pakistan and Tehreek-i-Taliban Pakistan to End Two-Decades of Militancy in Pakistan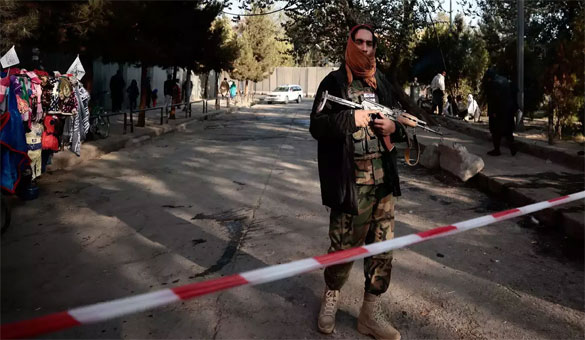 A Taliban fighter stands guard at the military hospital in Kabul
-----
ANI / Nov 5, 2021
PESHAWAR: Acting interior minister in the Taliban-led government in Afghanistan, Sirajuddin Haqqani is reportedly playing a role of a mediator between Pakistan and the banned Tehreek-i-Taliban Pakistan (TTP) to reach a "broader" "peace agreement" to bring an end to the two-decades of militancy in Pakistan, local media reported.
Pakistan has reached a possible understanding with the TTP after the "direct, face-to-face" talks between the two sides that are being held in South-western Khost province of Afghanistan for almost two weeks, reported Dawn citing the sources.
However, it is not clear who on the Pakistan side is negotiating with the TTP.
The understanding includes the declaration of a nationwide truce and the release of some TTP terrorists based on certain conditions, as part of confidence-building measures.
However, the TTP has yet not confirmed or denied the possible understanding reached between the two sides.
The number of terrorists who are to be released was not clear, however, the newspaper reported citing the sources that the number of such terrorists would not be more than two dozen.
"These are foot soldiers (terrorists), not senior or mid-level commanders. We are testing the ground. We are cautious. The truce will come into effect once the prisoners are released," Dawn quoted the sources as saying.
"Talks are being held directly between senior officers and senior TTP leadership. The TTP includes all groups without exception. There are several proposals on the table and both sides are working to hammer out a workable solution," Dawn quoted the source as saying.
However, Dawn reported citing the source that it is clear that no tribal intermediaries were being engaged in talks with the TTP leadership at the moment.
The strong resurgence of Pakistani Taliban's terror activities soon after the Taliban's takeover in Afghanistan is raising new concerns about Pakistan's overall stability, including the security of its nuclear arsenal, said a Canada-based think tank.
According to an article in International Forum for Rights and Security (IFFRAS), Pakistan efforts to pressurise the Taliban to ensure that the TTP is not allowed any sanctuary in Afghanistan, have failed to yield any visible results.
In recent times, the Pakistani Taliban has carried out multiple attacks in Pakistan.
A ceasefire between Pakistan's government and Tehreek-e-Taliban Pakistan (TTP) announced on October 1 has fallen apart in days as fears rise about the al Qaeda-linked group's true agenda, the think tank said.
Source: Times of India
Please click the following URL to read the text of the original story:
https://timesofindia.indiatimes.com/world/south-asia/taliban-interior-minister-mediates-peace-talks-between-pakistan-and-ttp/articleshow/87532993.cms
--------
Pakistan PM Enlightens Ambassadors of Muslim Countries on Rehmat ul-lil-Alameen Authority Following the Fundamental Precepts of Riasat-e-Madina Concept
November 05, 2021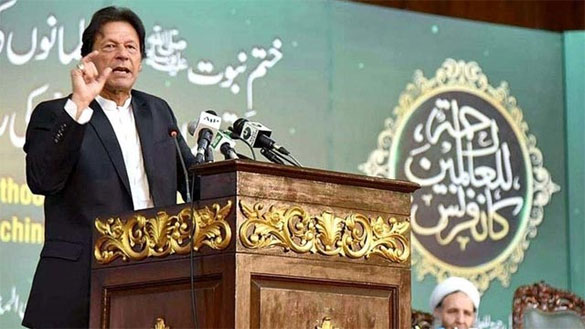 PM Imran Khan Shared His Vision to Establish Rehmatul-lil-Alameen Authority with Envoys of Muslim Countries (Photo: ACE News)
------
ISLAMABAD: Prime Minister Imran Khan Thursday held an interactive session with the ambassadors of Muslim countries, and enlightened them about the concept of establishment of the Rehmat ul-lil-Alameen Authority.
Stressing that the Holy Prophet (PBUH) was a blessing for all humanity, the PM underscored the appeal of Islam's universal message and the bounties of following the fundamental precepts of Riasat-e-Madina, including, in particular, the principles of justice, rule of law, welfare of the people and an unswerving focus on the acquisition of knowledge.
To achieve real social welfare and progress, the prime minister termed it imperative that the life and teachings of the Holy Prophet (PBUH) are fully understood and emulated by Muslims in their daily lives.
The PM elucidated that the prime objective of establishing the Rehmatul-lil-Alameen Authority was to develop a deeper understanding of the Sunnah through collaborative research and to provide essential tools to the youth to preserve their Islamic identity, values and culture in the face of diverse social and digital media influences.
He said that the Authority was mandated to coordinate with Islamic scholars around the globe to discuss contemporary issues faced by the Muslim youth and to present a coherent and logical intellectual response to modern challenges, in particular Islamophobia.
PM Imran Khan laid emphasis on teaching ethics in schools in order to help build character of the Muslim youth, in accordance with the principles and the true spirit of Islam. In this regard, he also highlighted the importance of the role of print, digital and electronic media and the influence of their content on the lifestyle and personality development of the young generation.
During the session, the PM invited constructive ideas from the envoys and hoped for active collaboration among Muslim countries, at governmental level as well as through interaction among scholars and academia.
Several envoys of the Muslim countries appreciated the initiative of the prime minister and shared the ideals of his endeavour. They also acknowledged PM's vocal support for causes of the Muslim Ummah at every international forum, and promised all possible cooperation.
Meanwhile, Special Assistant to Prime Minister Sardar Yar Muhammad Rind called on Prime Minister Imran Khan here. Matters related to PTI's provincial party organisation, and Balochistan's development issues were discussed in the meeting.
Source: The News Pakistan
Please click the following URL to read the text of the original story:
https://www.thenews.com.pk/print/906130-imran-enlightens-muslim-envoys-on-rehmatul-lil-alameen-authority
--------
Spearheaded by Jordan's Prince El Hassan Bin Talal Christian, Muslim Leaders Launch Appeal To Protect Places of Worship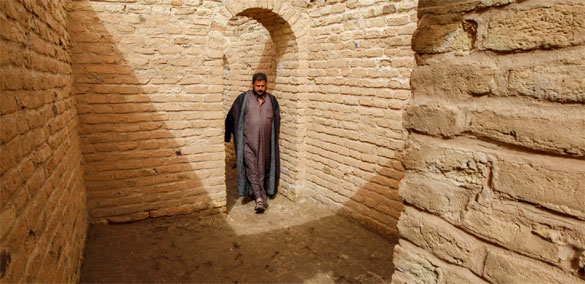 A guard walks through the ancient archaeological site of Ur, Iraq, Feb. 18, 2021. The site is the birthplace of Abraham. Mideast Christian and Muslim leaders have launched a global initiative to protect places of worship and worshippers. (Credit: Alaa Al-Marjani/Reuters via CNS.)
-----
November 05, 2021
Spearheaded by Jordan's Prince El Hassan Bin Talal, a group of Arab and international scholars, thinkers and religious figures — Muslim and Christian — have launched a global appeal to protect worshippers and places of worship.
"In the face of what we see as the continuation of repeated attacks on places of worship and on the souls of safe worshipers in several places in this world, and based on a common human and moral responsibility, we call upon a group of religious leaders, scholars and thinkers ... to urge all people to reject all forms of extremism, hatred and painful practices against the spirit of faith and human dignity," the more than 40 signatories said in their Nov. 2 appeal.
They stressed that "hate speech and polarization that provokes hatred and justifies bloodshed continues to escalate" and is accompanied by some who resort to "the misuse of religions and beliefs as a pretext for violence, exclusion and discrimination."
The Muslim and Christian signatories continued: "These abhorrent targets also include historical and archaeological sites and architectural heritage, including museums, libraries and manuscripts, which is an erasure of the memory that preserves the civilizations of peoples and their value core from extinction."
"There is no doubt that the attack on places of worship and their sanctity at a time when worshippers perform prayer and religious rites in their premises is the culmination of these atrocities. This leads us to a legitimate question: Isn't it time to consider the issue of freedom of worship as an integral part of the right to life and to consider the value of human heritage in relation to culture and identity?" they stated.
The Jordanian prince chairs the Arab Thought Forum and also the Board of the Royal Institute for Inter-Faith Studies.
The signatories included Father Rifat Bader, director of the Catholic Center for Studies and Media in Jordan; retired Bishop Salim Sayegh of Jerusalem; Nayla Tabbara, president and co-founder of the interfaith Adyan Foundation in Lebanon; and Gabriel Said Reynolds, professor of Islamic studies and theology at the University of Notre Dame, Indiana.
Source: UC News
Please click the following URL to read the text of the original story:
https://www.ucanews.com/news/christian-muslim-leaders-launch-appeal-to-protect-places-of-worship/94846
--------
'Climate Of Fear' Prevails For Human Rights Defenders In Afghanistan: UN Expert
Nov 4, 2021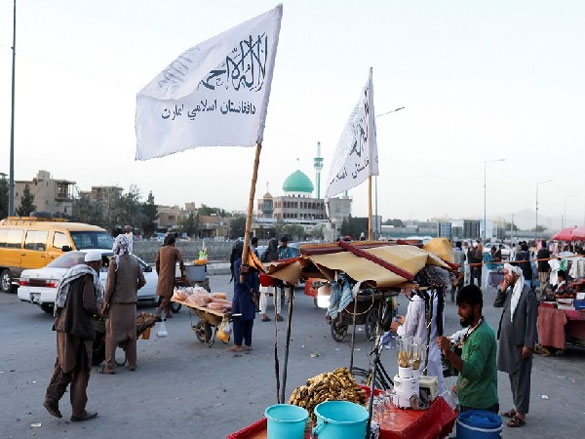 (Representative Image) 'Climate of fear' prevails for human rights defenders in Afghanistan
-----
NEW YORK: Human rights defenders in Afghanistan have reported that they are now enduring a "climate of fear", threats, and becoming increasingly desperate over conditions in the country, an independent UN expert said on Wednesday.
Stating that "the threat is very real", defenders, called for an urgent coordinated response from the international community.
"Defenders tell me of direct threats, including gendered threats against women, of beatings, arrests, enforced disappearances, and of defenders being killed. They describe living in a climate of constant fear", she said.
Those most at risk are people documenting alleged war crimes, women, in particular criminal lawyers, cultural rights defenders, especially those working in banned sectors such as musical performance, and others from minority groups.
Some told Lawlor that they have erased their online data history to evade identification, and that the Taliban are using other ways to find them. One of them, for example, was identified by an injury to his leg.
According to her, the Taliban have raided offices of human rights and civil society organisations, searching for names, addresses and contacts.
"Many defenders are well known in their local communities, in particular in rural areas, and have left for the anonymity of the cities, but even there, they are forced to constantly change locations," the UN expert said. "Most have also lost their source of income, further limiting their options to find safety." Lawlor called for immediate international support, including an urgent plan for the evacuation of those at high risk, along with their families.
She also said these are the people who have been fighting for 20 years to advance human rights in the country.
"Many say they feel abandoned. States who have supported their work for the past two decades must do more to provide visas, travel documents and routes to asylum for the hundreds of defenders left behind and at risk."
Source: Times of India
Please click the following URL to read the text of the original story:
https://timesofindia.indiatimes.com/world/south-asia/climate-of-fear-prevails-for-human-rights-defenders-in-afghanistan-un-expert/articleshow/87524065.cms
--------
Saudi Ex-Spy Chief Warns Allies' Trust In US Waning After Failure In Afghanistan
04 November 2021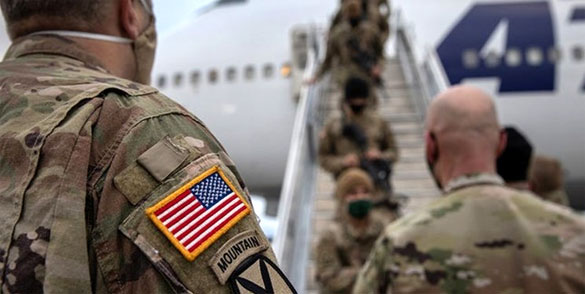 (Representative Image: Photo Fars News Agency)
----
A Saudi former spy chief has warned US President Joe Biden that the Kingdom's trust in Washington was waning as two decades of military interventions in Iraq and Afghanistan resulted in failure.
Prince Turki bin Faisal — also a former ambassador to the United States — said on Tuesday that Washington's "failed experience in Afghanistan, and I would say semi-failed experience in Iraq, are responsible for the perceived failure or defeat, if you like, of a great power, the United States."
As a result, he said, "doubts" about the US were "accumulating" and causing "strategic regional confusion."
He also warned that this strategic confusion in Washington's reliability, risks "more conflicts and crises" in the Middle East.
"No region in the world fears the danger of this strategic confusion more than the Middle East region," he added.
Al-Faisal also warned US President Joe Biden to "weigh [the issues] carefully" before taking "any steps ... that impact this historical bond" between Washington and its allies in the Middle East.
He had previously described US chaotic pullout from Afghanistan as a combination of "incompetence, carelessness, [and] bad management."
The US completed the chaotic withdrawal of its forces from Afghanistan by the end of August, in what observers saw as a botched exit after a futile military adventure lasting 20 years.
The US-led NATO alliance invaded the South Asian country in 2001 under the pretext of 'war on terror', to decimate the Taliban and Al-Qaeda. None of the goals were achieved despite massive investment.
Al-Faisal also raised concern that the stockpile of weapons and military tech that had been left behind could end up being used against Saudi Arabia.
In separate remarks, al-Faisal had even said, in addition to US assistance, the kingdom would seek "other support" to bolster its defenses against alleged missile and drone attacks.
The US deployed two Patriot missile artillery batteries in the kingdom, following attacks on Saudi oil facilities, in 2019.
Riyadh enjoyed cordial relations with the US under former president Donald Trump, who inked hefty arms deals with the kingdom despite worldwide outcry over Riyadh's war on Yemen and its human rights violations, including the murder of the journalist Jamal Khashoggi.
Source: Press TV
Please click the following URL to read the text of the original story:
https://www.presstv.ir/Detail/2021/11/04/669885/US-Saudi-Arabia-Turki-bin-Faisal-trust-waning-Biden-Afghanistan-failure
--------
South Asia
Turkey not in hurry to recognize Taliban govt in Afghanistan: FM
NOV 04, 2021
Turkey is not in a hurry to recognize the Taliban-led administration in Afghanistan, Foreign Minister Mevlüt Çavuşoğlu said Thursday, adding there is gradual engagement between Ankara and the new government in Kabul.
Çavuşoğlu presented the 2022 budget of the Foreign Ministry and related institutions at the Planning and Budget Committee of the Grand National Assembly of Turkey (TBMM).
Regarding Turkey's foreign policy toward the Afghan crisis, he said that Turkey cannot remain indifferent to Afghanistan.
"In addition to our historical ties, we have common ancestry, investments and a presence in many fields. Terrorism, migration and drug threats must be eliminated at their source, economic collapse and humanitarian crisis must be prevented," he said.
Noting that if the crisis is not managed where it is located, its consequences will directly affect everyone, Çavuşoğlu said: "For these reasons, we follow a gradual engagement with the Taliban, support in humanitarian issues and active diplomacy in the international arena. Moreover, the international community, in general, applies a policy of gradual engagement with the Taliban. We are not in a hurry, we follow the practices in the field."
Çavuşoğlu said that when he met with the acting deputy minister of Foreign Affairs of the interim Taliban government in Afghanistan, he emphasized the importance of establishing an inclusive and representative government for permanent stability.
A high-level delegation led by Amir Khan Muttaqi, the acting foreign minister of Afghanistan's interim Taliban government, visited Turkey last month to hold talks with senior Turkish officials.
This marked the first high-level contact between Turkey and the new administration in Afghanistan after the Taliban took power on Aug. 15.
Speaking to reporters after the meeting, Çavuşoğlu said that recognizing the Taliban and engaging with them are two different things. He added that Turkey reiterated the need for an inclusive government and voiced its expectations regarding the security of Kabul Hamid Karzai International Airport.
"They asked us for humanitarian aid and the continuation of investments there," Çavuşoğlu also said and added that the Turkish side once again shared its advice on girls' education and women's employment in business life.
"The Taliban leadership said they would give their best support if they (Afghan migrants) wanted to return to their country," he also said.
President Recep Tayyip Erdoğan recently highlighted the importance of an inclusive government in Afghanistan, as he said it was crucial in reaching a deal regarding the operation of the Kabul airport. Turkey has been working with Qatar to reopen the airport in the Afghan capital of Kabul for international travel. However, repairs are needed before commercial flights can resume.
Erdoğan also said at a virtual meeting between the Group of 20 most powerful economies that the international community should keep the channels of dialogue with the Taliban open, to "patiently and gradually steer" them toward establishing a more inclusive government.
He said Turkey, which already hosts more than 3.6 million Syrians, cannot bear an influx of migrants from Afghanistan, warning that European nations would also be affected by a new wave of migrants.
The Taliban say they want international recognition. They warn that weakening their government will affect security and spark an even bigger exodus of migration from the country. Taliban officials previously noted that they want Turkey to provide aid and support to the Afghan people and called on Turkey to be the first country to formally recognize the new administration in Afghanistan.
Source: Daily Sabah
Please click the following URL to read the full text of the original story:
https://www.dailysabah.com/politics/diplomacy/turkey-not-in-hurry-to-recognize-taliban-govt-in-afghanistan-fm
--------
Kabul Hospital Attack Undermines Taliban Security Pledges
November 04, 2021
Kabul: Just a few months after the Taliban took charge in Kabul and promised to restore peace in Afghanistan, many Afghans still fear an invisible enemy: the Islamic State.
The local chapter of the jihadist group is replicating the very tactics that the Taliban used to successfully destabilise the now-ousted US-backed government, including bombings against symbolic targets.
"The Taliban called us infidels. Now, they are getting killed by people who call them infidels," a shopkeeper said near the scene of the latest carnage -- a gun and suicide bomb attack on a military hospital on Tuesday.
"And they have no chance of winning this war," he told AFP.
The day after the attack, a cleaner passed by with a hose to rinse blood from the pavement and a Taliban fighter pointed with his Kalashnikov to where human remains dangled from the perimeter's razor wire.
Nineteen people were killed in the attack claimed by Islamic State-Khorasan (IS-K), the local chapter of the group.
The operation gave the Taliban a chance to launch its feared Badri special forces and deploy a team from a helicopter in a show of force as they confronted the militant attack squad.
But the commander of the force, Kabul's security chief Hamdullah Mokhlis, and at least three Taliban comrades were killed as they battled the militants.
A member of the hospital's medical staff said they warned the Taliban to manage the traffic outside the building, which had been targeted in the past.
"They didn't listen to us," he told AFP on condition of anonymity.
"They don't know how to handle the situation. Four cars burst into flames after the second explosion. They didn't even think of calling the firemen. We had to do it ourselves. They don't have the number."
The hospital was last attacked in 2017, in another operation claimed by IS-K. A six-hour gun battle erupted and militants went room to room, slaughtering patients.
One doctor said the Islamic State are the Taliban, but worse.
"I can't tell the difference between them. They have the same facial hair, the same clothing. For me they are the two ears of the donkey."
Motorcycle bomber
For some, IS-K is more deadly than the Taliban were when they were fighting for control. They see a more sophisticated strategy, with multiple bombings and more complex tactics.
On Tuesday, a motorcycle suicide bomber hit the main gate of the hospital and gunmen stormed their way in behind him.
As Taliban special forces were arriving on the scene 20 minutes later, a car bomb -- which witnesses say looked like a taxi -- exploded.
"I have seen all this before, the same exact tactics," another doctor said.
"I know these tactics so well that, after the first explosion, even when I saw people lying injured, I knew I couldn't go to treat them, because the second explosion would happen soon, and it happened."
Source: ND TV
Please click the following URL to read the full text of the original story:
https://www.ndtv.com/world-news/kabul-hospital-attack-undermines-taliban-security-pleges-2599520
--------
Pakistan
Foreign minister says govt committed to making country safe for all minorities
Imtiaz Dharani
November 5, 2021
MITHI: Foreign Minister Makhdoom Shah Mehmood Qureshi has said that Pakistan Tehreek-i-Insaf government is committed to make the country safe and secure for all minority communities and faiths in the light of vision of Qauid-i-Azam Mohammad Ali Jinnah and other founding fathers.
Qureshi said at a public gathering held to mark Diwali festival here on Thursday that he had arrived in Thar to join in festivities with his Hindu friends and supporters and celebrate the festival of lights with them.
He said that at a time when people of occupied Jammu and Kashmir were facing the worst atrocities and barbarism by Indian forces people in Thar belonging to all Hindu communities were enjoying equal rights without feeling any discrimination.
"All religious minorities enjoy equal rights in Pakistan and freely practice their religious obligations unlike Indian states where people from marginalised communities are subjected to the worst type of atrocities and discrimination," he said.
He asked Indian rulers to mend their ways and stop committing brutalities against Muslims and other minority communities. Thar lagged far behind other regions of the country but people had been living here peacefully with great communal harmony.
He warned that no one would be allowed to spoil peaceful environment in Thar for petty interests or political mileage. Pakistan Peoples Party rulers in Sindh had unleashed a reign of terror against their political opponents, especially PTI workers in Umerkot and Tharparkar districts for the past three years, he said.
He said that people of both the districts were subjected to the worst political victimisation during by-polls when PTI had decided to field its candidates to contest elections in both the districts.
Qureshi deplored that PTI supporters and voters were harassed and implicated in bogus cases at the behest of PPP leaders and warned police officials to stop acting like puppets in the hands of rulers.
He made it clear that from then onwards they would not tolerate political victimisation of supporters and voters of the party and asked the police officials to act and behave like true public servants.
He said that some powerful people affiliated with the ruling party in Sindh had been given free rein to commit atrocities against general public. They were openly occupying peoples' land and other properties but there was no law to protect the poor from such cruelties, he said.
Source: Dawn
Please click the following URL to read the full text of the original story:
https://www.dawn.com/news/1656000/foreign-minister-says-govt-committed-to-making-country-safe-for-all-minorities
--------
FATF Asked To Probe India's Role In Keeping Pakistan On Grey List By Former Pakistan Interior Minister
Iftikhar A. Khan
November 5, 2021
ISLAMABAD: Former interior minister Rehman Malik has written a letter to FATF President Dr Marcus Pleyer, seeking a probe into India's role in keeping Pakistan on the grey list of the Financial Action Task Force (FATF)
He has also written a letter to Prime Minister Imran Khan urging him to file a petition in the International Court of Justice (ICJ) against FATF's discrimination and continued victimisation of Pakistan.
In his letter to the FATF president, Mr Malik, who is also chairman of the Institute of Research and Reforms, called for investigating the confessional statement of the Indian foreign minister by a special team of FATF to expose the truth.
He said India was behind keeping Pakistan in the grey list, adding FATF was not taking Pakistan out of the grey list due to political pressure and influence by some countries.
In his confessional statment, the Indian foreign minister stated: "Bhartiya Janata Party (BJP) government led by Narendra Modi ensured that Pakistan remained on the 'grey list' of the Financial Action Task Force (FATF). Due to us, Pakistan is under the lens of FATF and it is kept on the grey list."
Mr Malik said the confession by the Indian foreign minister had raised a big question on the integrity and transparency of FATF and confirmed the Indian involvement in pushing Pakistan into the grey list.
"Unfortunately, FATF has not yet moved any action against Indian minister to prove the neutrality of FATF," he said.
"Despite clear evidence of involvement in terror financing, money laundering and even in heinous crimes of nuclear proliferation, India is being spared and no legal action is being initiated against it by FATF," the letter added.
He noted that some inimical countries were using FATF as a tool to put Pakistan under pressure with ulterior motives.
Source: Dawn
Please click the following URL to read the full text of the original story:
https://www.dawn.com/news/1656024/fatf-asked-to-probe-indias-role-in-keeping-pakistan-on-grey-list
--------
Lahore police top brass changed over TLP march 'mishandling'
Asif Chaudhry
November 5, 2021
LAHORE: The government on Thursday transferred the entire police high command of the provincial capital in a massive reshuffle in the wake of their "mishandling of the Tehreek-i-Labbaik Pakistan's violent rally."
Several regional police officers (RPOs) and district police officers (DPOs) have also been reshuffled in Punjab.
The government has posted Punjab Additional IG Investigation Fayyaz Ahmad Dev as new Lahore capital city police officer vice Ghulam Mahmood Dogar. Mr Dogar has been transferred and posted as Punjab Additional IG Logistics & Procurement vice Shahid Hanif who has been posted as Additional IG Punjab Highway Patrol.
Similarly, Rawalpindi City Police Officer Ahsan Younas has been transferred and posted as Lahore DIG Operations vice Sohail Chaudhry who has been transferred and posted as DIG Technical Procurement Punjab.
This is yet another shake-up in Punjab in recent times.
Lahore DIG Investigation Shariq Jamal has been made officer on special duty (OSD) and directed to report to the Services & General Administration Department for further order.
The government has made a mutual transfer of Lahore SSP Operations Ismail Kharrak and Mianwali District Police Officer retired Capt Mustansar Feroze.
Also read: Punjab govt releases more than 800 TLP workers two days after agreement
DIG Headquarters (Punjab) Shahzada Sultan has been transferred and posted as a new DIG Investigation Lahore. Additional IG police crime investigation branch has been given look after charge of additional IG Investigation Punjab.
Punjab DIG Establishment-I Sher Akbar has been transferred and posted as Bahawalpur Regional Police Officer vice Zubair Dareshak who has been transferred and posted as Punjab DIG Headquarters.
Awaiting posting, DIG Munir Ahmad Sheikh has been transferred and posted as Punjab Special Branch VVIP Security DIG Lahore vice Mirza Faran Baig who has been transferred and posted as Punjab DIG Establishment-I.
Punjab Assistant Inspector General (AIG) Logistics Athar Ismail Amjad has been transferred and posted as new Rawalpindi CPO.
DG Khan RPO retired Capt Mohammad Faisal Rana has been transferred and posted as Sargodha RPO vice Ashfaq Ahmad Khan who has been transferred and posted as new Rawalpindi RPO from where Imran Ahmar has been transferred and posted as Gujranwala RPO against an existing vacancy.
Awaiting posting, Iqbal Dara has been transferred and posted as Punjab Information Technology DIG vice Waqas Nazeer who has been appointed new DG Khan RPO.
Awaiting posting, Qamaruz Zaman has been transferred and posted as South Punjab DIG Administration and Establishment against an existing vacancy.
Source: Dawn
Please click the following URL to read the full text of the original story:
https://www.dawn.com/news/1655981/lahore-police-top-brass-changed-over-tlp-march-mishandling
--------
LHC disposes of plea against TLP chief Saad Rizvi's detention
November 5, 2021
LAHORE: The Lahore High Court on Thursday disposed of a petition challenging the detention of Hafiz Saad Rizvi, the chief of proscribed Tehreek-i-Labbaik Pakistan (TLP), for being infructuous.
Chief Justice Muhammad Ameer Bhatti, heading a division bench, observed that the impugned notification of the detention had expired.
Petitioner's counsel Burhan Moazzam Malik also conceded that the petition had become infructuous as the notification under challenge stood elapsed and there was no new order for the detention of Rizvi.
The counsel said he would not press the petition and intended to withdraw the same.
Additional Advocate General Akhtar Javed also supported the view of the bench.
At this, the bench disposed of the petition for being infructuous and observed that the petitioner could approach the court again if felt aggrieved by any new order of the government. Rizvi's paternal uncle Ameer Hussain had filed the petition.
The Supreme Court had suspended the operation of a LHC single bench's order whereby the detention of Rizvi was annulled and remanded the case for a fresh decision by a division bench.
Source: Dawn
Please click the following URL to read the full text of the original story:
https://www.dawn.com/news/1655982/lhc-disposes-of-plea-against-tlp-chief-saad-rizvis-detention
--------
Mideast
Vatican urges peace talks as Palestinian President Abbas meets Pope Francis
04 November ,2021
Palestinian president Mahmud Abbas held a private audience with Pope Francis Thursday and met with top Vatican officials, who emphasized the importance of resuming peace talks with Israel.
Abbas, who has met the pontiff several times before, held talks with Secretary of State Cardinal Pietro Parolin and de facto foreign minister Paul Gallagher on a trip to Rome that also included a meeting with Italian premier Mario Draghi.
The Vatican later said, "it was stressed that it is absolutely necessary to reactivate direct dialogue in order to achieve a two-state solution, also with the help of more vigorous effort on the part of the international community."
It "reiterated that Jerusalem must be recognized by all as a place of encounter and not of conflict, and that its status must preserve its identity and universal value as a Holy City for all three Abrahamic religions."
The Israeli coalition led by new hardline nationalist prime minister, Naftali Bennett, has no common position on ending the decades-long Palestinian conflict, complicating any formal diplomatic negotiations.
But recent visits to Abbas by three Israeli cabinet ministers indicate both sides are keen to promote stability and improve ties, even if peace talks remain off the table for now.
At the Vatican Thursday, the pope and Abbas exchanged gifts and then held hands as Abbas wished the pope good health and strength going forward, according to footage released by the Vatican.
Source: Al Arabiya
Please click the following URL to read the full text of the original story:
https://english.alarabiya.net/News/middle-east/2021/11/05/Vatican-urges-peace-talks-as-Palestinian-President-Abbas-meets-Pope-Francis
--------
Israeli forces demolish Palestinian mosque, other structures in occupied West Bank
04 November 2021
Israeli authorities have razed a Palestinian mosque and other structures in the occupied West Bank, as the regime's land grab policy in the occupied Palestinian territories continues unabated.
Israeli bulldozers, escorted by troops, demolished the mosque early Thursday after raiding the town of Duma south of the occupied West Bank city of Nablus, Palestine's official Wafa news agency reported.
Ghassan Daghlas, who monitors Israeli settlement activities in the northern West Bank, told Wafa that the mosque located east of the town had been attended by worshipers for the past two years.
He added that Israeli forces also razed agricultural roads in the southern part of Duma.
In a statement, the Palestinian Ministry of Endowments and Religious Affairs lambasted the mosque demolition as a clear act of aggression against Muslims' holy sites and an act of provocation against Muslim sentiments, the report added.
According to a report by the Palestinian Information Center, Duma's town council made efforts to halt the demolition measures through legal channels, but all to no avail.
Last month, Israeli authorities razed parts of the al-Yusufiya Cemetery to pave the way for building a biblical national park on the site of the graveyard, which was located outside the al-Asbat Gate of al-Quds's Old City.
Palestinian, Jordanian, and Iraqi people martyred by Israeli militias during the 1967 war in Palestine were buried in the al-Yusufiya Cemetery, which is one of the most prominent Islamic landmarks in al-Quds.
Source: Press TV
Please click the following URL to read the full text of the original story:
https://www.presstv.ir/Detail/2021/11/04/669931/Palestine-Israel-mosque-demolition-Duma-West-Bank
--------
NAM Stresses Removal of Unilateral Sanctions against Countries
2021-November-4
Deputy Permanent Representative of the Islamic Republic of Iran to the United Nations Zahra Ershadi made the remarks in a speech before the Sixth Committee of the 76h Session of the United Nations General Assembly on Agenda item 84 on behalf of the Non-Aligned Movement on Wednesday
"The Movement also expresses its deep concern regarding the imposition of laws and other forms of coercive economic measures against developing countries, including unilateral sanctions, which violate the Charter of the United Nations and undermine international law as well as the rules of the World Trade Organization," she said.
"Furthermore, the Movement calls on countries that have imposed unilateral sanctions to put an end to such sanctions immediately," Ershadi added.
The full text of the NAM statement is as follows:
While the Non-Aligned Movement continues to attach great importance to the work of the Special Committee on the Charter of the United Nations and on the Strengthening of the Role of the Organization, it can also play a key role in the current reform process of the United Nations, as mandated in Resolution 3499(XXX) of 15 December 1975.
Over the years, the Committee has worked diligently to produce various documents in the form of declarations and resolutions, such as the Manila Declaration. Negotiated and adopted by the Charter Committee in 1982, the Manila Declaration is only one of the many major achievements of the Committee. Such a body of work demonstrates the Committee's strengths as an effective forum to clarify and promote general international law and charter provisions. The Special Committee has been also instrumental in the preparation of the Handbook on the Peaceful Settlement of Disputes, which needs to be updated in light of the new developments as well as the practices of Member States in this regard.
The Non-Aligned Movement is of the view that the United Nations is a central and indispensable forum dedicated to addressing issues relating to international cooperation, economic development and social progress, peace and security, human rights and the rule of law based on dialogue, cooperation and consensus-building among States. In this context, the Movement attaches great importance to the strengthening of the role of the United Nations and recognizes the efforts taken to develop its full potential.
The Non-Aligned Movement also reiterates its concern over the continuing encroachment by the Security Council on the functions and powers of the General Assembly and those of the Economic and Social Council through addressing issues which fall within the competence of the latter organs, and the attempts to enter areas of norm-setting and establishing definitions which fall within the purview of the General Assembly.
The Non-Aligned Movement reaffirms that the reform of the Organization should be carried out in accordance with the principles and procedures established by the Charter of the United Nations while preserving the legal framework of this constitutional instrument. For this purpose, the Special Committee on the Charter of the United Nations and on the Strengthening of the Role of the organization can contribute to the examination of the legal matters in this process.
Madame Chairperson,
The Charter Committee provides an opportunity for Member States to hear from the UN Secretariat regarding all aspects of the Introduction and implementation of sanctions imposed by the United Nations, in accordance with the guidelines contained in the Annex to General Assembly resolution 64/115 of 16 December 2009.
It is important to note that this document is the product of the Charter Committee and provides a comprehensive as well as balanced approach to the issue of UN sanctions. As such, we expect that the briefing by the Secretariat will preserve such a balanced approach. In particular, we are interested in hearing more about the perceived objective assessments of the short-term and long-term socio-economic and humanitarian consequences of sanctions by the Security Council's Sanction Committees, including the methodology used for the assessment of the humanitarian implications of sanctions. We also expect the information on the humanitarian consequences of the introduction and implementation of sanctions to be presented, including those which that have a bearing on the basic living conditions of the civilian population of the target State, on its socio-economic development and on third States which have suffered or may suffer as a result of their implementation. We also call on the UN Secretariat to develop its capacity on the proper assessment of the unintended side effects of sanctions imposed by the Security Council.
We note that the capacity of the Secretariat has not been sufficiently developed in the past in order to adequately and fully assess the short-term as well as long-term socio-economic and humanitarian consequences of UN sanctions. In this regard, there is a dire need to enhance the expertise and capacity of the UN Secretariat in order to enable its ability to properly assess the unintended consequences of the UN sanctions on civilian populations.
The Security Council's imposed sanctions still remain an issue of serious concern to the Member Countries of the Non-Aligned Movement. It is the Movement's view that the imposition of sanctions should be considered as a last resort. Furthermore, targeted sanctions may be imposed only when there exists a threat to international peace and security or an act of aggression, in accordance with the Charter. They are not applicable as a preventive measure in any and all instances of violation of international law, norms or standards.
Sanctions are blunt instruments, the use of which raises fundamental ethical questions as to whether the suffering inflicted on vulnerable groups in the target country is a legitimate means of exerting political pressure. The objectives of sanctions are not to punish or otherwise exact retribution on the populace.
Sanctions regimes should avoid triggering unintended consequences in the target State or third States which may lead to violations of human rights and fundamental freedoms. They should also avoid hindering humanitarian assistance from reaching the civilian population.
In this regard, the objectives of sanctions regimes should be clearly defined based on tenable legal grounds, and their imposition should be for a specified timeframe. Lastly, such sanctions should be lifted as soon as the objectives are achieved. The conditions demanded of the State or party on which sanctions are imposed should also be distinctly outlined and be subject to monitoring its impacts and periodic review.
The Movement also expresses its deep concern regarding the imposition of laws and other forms of coercive economic measures against developing countries, including unilateral sanctions, which violate the Charter of the United Nations and undermine international law as well as the rules of the World Trade Organization. Furthermore, the Movement calls on countries that have imposed unilateral sanctions to put an end to such sanctions immediately.
Madame Chairperson,
The NAM fully supports all efforts aimed towards promoting the peaceful settlement of disputes based on provisions of international law and the Charter of the United Nations. In this regard, the annual thematic debates on the means for the settlement of disputes is an important initiative highlighted by the NAM to the Charter Committee. A constructive and informative debate was held this year on States' practices regarding the use of arbitration under the agenda item on peaceful settlement of disputes. Building upon the information presented within the debate, we are looking forward to discussing other means as well in order to work towards better understanding and progress. The Movement maintains that these annual thematic debates on means of dispute settlement can contribute to more efficient and effective use of such peaceful means while promoting a culture of peace among Member States. Moreover, when the Committee exhausts discussions on all means of dispute settlement reflected in article 33 of the UN Charter, the input and materials collected by this process can provide a valuable basis for further consideration by the Committee with an aim towards achieving concrete and result-oriented outcomes.
Source: Fars News Agency
Please click the following URL to read the full text of the original story:
https://www.farsnews.ir/en/news/14000813000464/NAM-Sresses-Remval-f-Unilaeral-Sancins-agains-Cnries
--------
Ahead of nuclear talks resumption, Iran says it doubled stock of enriched uranium
04 November ,2021
Iran has doubled its stock of enriched uranium in less than a month, Atomic Energy Organisation of Iran (AEOI) spokesman Behrouz Kamalvandi said weeks ahead of the resumption of talks with the US and Western allies to revive the abandoned 2015 nuclear deal.
"Our stock is now more than 210 kilograms of uranium enriched to 20 percent, and Iran has 25 kilograms at 60 percent, a level that no country apart from those with nuclear weapons are capable of producing," state news agency IRNA quoted Kamalvandi as saying.
The head of AEOI, Mohammed Eslami had said in October that Iran has more than 120 kilograms of 20-percent enriched uranium.
Under the abandoned 2015 nuclear deal, Iran was only allowed to enrich uranium up to 3.67 percent, way below the 90 percent required for weapons-grade uranium.
Source: Al Arabiya
Please click the following URL to read the full text of the original story:
https://english.alarabiya.net/News/middle-east/2021/11/04/Ahead-of-nuclear-talks-resumption-Iran-says-it-doubled-stock-of-enriched-uranium
--------
Europe
France leaves door open for IAEA action against Iran
04 November ,2021
France said on Thursday it could still act with its partners against Iran at an upcoming meeting of the UN nuclear watchdog's board after Tehran said it would return to nuclear talks with world powers at the end of November.
Western powers scrapped plans in September for a resolution criticizing Iran at the International Atomic Energy Agency after Tehran agreed to prolong monitoring of some nuclear activities and invited IAEA Director General Rafael Grossi to Tehran for talks on key outstanding issues.
For the latest headlines, follow our Google News channel online or via the app.
The decision by the US, France, Britain and Germany not to push for a resolution by the IAEA's 35-nation board of governors avoided an escalation with Iran that could have killed hopes of resuming wider talks in Vienna on reviving the 2015 nuclear deal.
Iran and the European Union, which coordinates those negotiations, said on Wednesday that all sides had agreed to return to the Austrian capital on Nov. 29.
Western states have increasingly become frustrated that Iran has failed to fully honor a monitoring agreement with the IAEA, continues to breach its 2015 accord, and has yet to allow Grossi to come to Tehran for high-level talks that had been promised in September. It has also not properly addressed outstanding questions on past nuclear activities.
"Iran must resume dialogue and cooperation with the agency without delay to make progress on outstanding issues," French Foreign ministry spokeswoman Anne-Claire Legendre told reporters in a daily briefing.
Source: Al Arabiya
Please click the following URL to read the full text of the original story:
https://english.alarabiya.net/News/middle-east/2021/11/04/France-leaves-door-open-for-IAEA-action-against-Iran-
--------
Germany calls for immediate end to hostilities in Ethiopia
Ayhan Şimşek
04.11.2021
BERLIN
Germany on Thursday called for an immediate cease-fire in Ethiopia amid an escalated fighting between government forces and Tigrayan rebels.
"All parties involved must immediately cease hostilities," German Foreign Minister Heiko Maas said in a statement. "The Tigray People's Liberation Front and its allies, including the Oromo Liberation Army, must end their offensive without delay."
Maas also called on the Ethiopian government to stop its airstrikes, and refrain from calls to mobilize the population.
"Together with its international partners, Germany will continue to work toward negotiations and a peaceful solution to the conflict," he stressed.
Maas warned that the human suffering in the Tigray, Amhara and Afar regions has reached catastrophic proportions as a result of the mounting humanitarian emergency.
"Now, more than ever, humanitarian aid workers need unhindered access in order to do their life-saving work," he said.
Source: Anadolu Agency
Please click the following URL to read the full text of the original story:
https://www.aa.com.tr/en/europe/germany-calls-for-immediate-end-to-hostilities-in-ethiopia/2412184
--------
UNICEF plans to directly fund Afghan teachers
04 Nov 2021
The United Nations International Children's Emergency Fund has announced that they will be funding Afghan teachers directly and without involving the de-facto authorities, the Taliban.
The International community has presently blocked money to the Taliban-led administration and has announced that they are setting up a system to fund the teachers without giving money to the Taliban.
UNICEF's Afghanistan Chief of Education Jeannette Vogelaar in her latest interview with Reuters said that they would begin registering teachers of public schools in order to put them in the system.
"The best way to support the education of girls in Afghanistan is to continue supporting their schools and teachers. UNICEF is calling upon donors not to let Afghanistan's children down" said Vogelaar.
Source: Khaama Press
Please click the following URL to read the full text of the original story:
https://www.khaama.com/unicef-plans-to-directly-fund-afghan-teachers-8657657/
--------
North America
US approves sale of $650 mln in air-to-air missiles to Saudi Arabia: State Department
04 November ,2021
The US State Department said Thursday that it was approving the $650 million sale of air-to-air missiles (AMRAAM) and related equipment to Saudi Arabia.
"The State Department has made a determination approving a possible Foreign Military Sale to the Kingdom of Saudi Arabia of AIM-120C Advanced Medium Range Air-to-Air Missiles (AMRAAM) and related equipment for an estimated cost of $650 million," a statement from the Pentagon read.
For the latest headlines, follow our Google News channel online or via the app.
The announcement comes after Riyadh requested to buy 280 AIM-120C-7/C-8 Advanced Medium Range Air-to-Air Missiles (AMRAAM) and 596 LAU-128 Missile Rail Launchers (MRL), according to the Pentagon.
"We've seen an increase in cross-border attacks against Saudi Arabia over the past year. Saudi AIM-120C missiles, deployed from Saudi aircraft, have been instrumental in intercepting these attacks that also US forces at risk and over 70,000 US citizens in the Kingdom at risk," the State Department said.
Thursday's deal also includes weapon support, spare and repair parts, US government and contractor engineering, technical and logistical support services.
"This proposed sale will support US foreign policy and national security of the United States by helping to improve the security of a friendly country that continues to be an important force for political and economic progress in the Middle East," the Pentagon said.
Source: Al Arabiya
Please click the following URL to read the full text of the original story:
https://english.alarabiya.net/News/gulf/2021/11/04/US-approves-sale-of-650-mln-in-air-to-air-missiles-State-Department
--------
Washington teen charged with right-wing terror offence
04 November ,2021
A teenager charged with a terror offence targeted police stations, drag queens and "Muslim rape gangs" in a plot to kill, a court heard.
Luke Skelton appeared at Westminster Magistrates' Court earlier charged with intending to commit acts of terrorism.
The 18-year-old, of Oxclose, Washington, Tyne and Wear, was remanded in custody.
Source: BBC News
Please click the following URL to read the full text of the original story:
https://www.bbc.com/news/uk-england-tyne-59164048
--------
US lawmakers call on Biden admin. to designate Muslim Brotherhood as terror group
04 November ,2021
US lawmakers have reintroduced a bill calling on the State Department to designate the Muslim Brotherhood as a terrorist organization.
"It's high time we join our allies in the Arab world in formally recognizing the Muslim Brotherhood for what they truly are—a terrorist organization," Senator Ted Cruz said in a statement.
Cruz and Congressman Mario Diaz Balart introduced the Muslim Brotherhood Terrorist Designation Act.
Cruz said he was proud to reintroduce the bill urging the Biden administration to make the move, and to "advance our nation's fight against radical Islamic terrorism."
"We have a duty to hold the Muslim Brotherhood accountable for their role in financing and promoting terrorism across the Middle East," Cruz said.
Source: Al Arabiya
Please click the following URL to read the full text of the original story:
https://english.alarabiya.net/News/middle-east/2021/11/04/US-lawmakers-call-on-Biden-admin-to-designate-Muslim-Brotherhood-as-terror-group
--------
Arab World
Islamic State attack sparks sectarian bloodletting in Iraq's Diyala
Shelly Kittleson
November 4, 2021
An Islamic State (IS) attack against members of a prominent Shiite-majority tribe in Iraq's eastern region of Diyala in late October was followed by retaliatory violence against local Sunnis, sparking fears of a return to the years of massive sectarian bloodshed.
An operation conducted by Iraqi security forces Nov. 3 as well as additional security forces sent to the area have failed to quell widespread concerns and indignation.
At least 11 people from the Bani Tamim tribe were killed Oct. 26 in the village of al-Rashad and over a dozen injured. Reportedly three (some reports state two) men were abducted and killed first, followed by more of their relatives after they had been called to collect the bodies.
Armed men subsequently attacked the nearby Sunni-majority village of Nahr al-Imam, reportedly killing people and burning and destroying homes and farms in an act of retaliation for assumed "collusion" by the entire local Sunni community with IS.
Both members of the tribe and men receiving government salaries as part of the Shiite-led Popular Mobilization Units (PMU) allegedly took part in the violence. Some media associated with Iran-backed groups that have brigades within the PMU reported calls for burning down the orchards in the area that the attackers are thought to have used to hide in.
Massive displacement of Sunnis followed, fostered by echoes of the terror that civilians from the same area had faced during the years of the battle against IS and frequent sectarian killings for years before that. Many on social media claimed large numbers of revenge killings and displacement of hundreds of families; precise numbers, however, were not immediately available.
Homes and orchards, which many local inhabitants rely on for their livelihoods, were burnt. It is unclear when — or whether — many of the Sunni inhabitants who fled to protect their lives and families will be able to return.
Concerns have long been voiced in several Sunni rural areas of Iraq — especially Tarmiya, some 50 kilometers (31 miles) north of Baghdad in the southern part of Salahuddin governorate — that burning down orchards will be a way to induce forced displacement with the excuse of "preventing terrorism" originating from these areas.
In early 2015, as the fight against IS raged across the country, this journalist interviewed several people in a camp for internally displaced persons in neighboring Kirkuk province who had fled their homes in Diyala's al-Muqdadiyah, where the recent attacks occurred, during the fight against IS. Many recounted horrific stories of being targeted by sectarian militias at that time as well as by airstrikes.
The province of Diyala was never entirely taken by IS, but some areas were under their control.
One Sunni family from al-Muqdadiyah said they had been shelled by government forces and that some of their male relatives had been "disappeared" by Shiite militias.
Four of the children had been killed by Iraqi government airstrikes in the fall of 2014, the father told Al-Monitor, against alleged IS positions in the area. His three remaining sons had removed shirts and pulled up trousers in the tent that they were living in to show ragged scars, noting that shrapnel remained lodged inside their bodies and that they had no way to get proper medical treatment.
Diyala province, which stretches from the Iranian border to just north of the capital, Baghdad, is crossed by the Hamrin mountain chain, infamous for its longstanding use as a hideout for insurgent groups even before IS existed.
It was east of the provincial capital of the region, Baquba, that the Jordanian-born leader of al-Qaeda in Iraq at that time, Abu Musab al-Zarqawi, was killed in a 2006 airstrike.
IS fighters in Diyala, which borders Iran, have in recent years filmed themselves in parts of the province using Iranian weapons. A Diyala security officer told Al-Monitor in April 2020 that Iran-linked PMU had abandoned some of their positions in the province the previous month, allegedly due to concerns about being targeted by US drone strikes, and that weaponry left behind had then been taken by IS fighters.
One of the towns in Diyala long known as being troublesome and a flashpoint for sectarian tensions is Jalawla. This journalist reported from the frontline with peshmerga forces during the fight to retake Jalawla from IS in September 2014. Peshmerga forces won it back in late November 2014, but Iraq's central government forces took both Kirkuk and Jalawla away from the peshmerga in October 2017, after a referendum on independence of the Kurdistan Region of Iraq (KRI) that Baghdad had been opposed to.
Many in the area are still unhappy with the security forces in the area, while security officials have claimed that some tribes — such as the Karwi — still have many IS affiliates among them.
Kirkuk and Diyala have areas that are claimed by both the central government in Baghdad and the KRI. Tensions between the KRI and Baghdad over territory and other issues continue to result in security gaps and a lack of coordination susceptible to exploitation by insurgent groups.
In recent years, Diyala has been one of the Iraqi provinces with the highest number of attacks by IS cells and has seen attacks using similar methods to the most recent one.
As this journalist reported in October 2020, "A Shiite sheikh from the Bani Kaab tribe who was reportedly active in the fight against IS near Khailaniyah in the Muqdadiyah area of Diyala was killed" and "beheaded, while his body was rigged with explosives that then killed those who had come to retrieve him."
Source: Al Monitor
Please click the following URL to read the full text of the original story:
https://www.al-monitor.com/originals/2021/11/islamic-state-attack-sparks-sectarian-bloodletting-iraqs-diyala
--------
Report: Jewish-American group visits Saudi Arabia to advance Israeli normalization
05 November 2021
A Jewish-American group has visited the Kingdom of Saudi Arabia recently in order to advance the normalization of ties between the kingdom and the Israeli regime, with a member of the group predicting a deal in the coming months or year.
The delegation, consisting of 20 Jewish-American leaders, met with senior Saudi officials, including at least six government ministers and top representatives of the Saudi royal house, according to the Israeli media.
The visit came at the invitation of the Saudis and with the support of the Biden administration, after a visit to the UAE – the first Arab country that normalized its relations with Israel in 2020 – in order to strengthen bilateral ties.
"The Saudis are preparing their citizens for normalization with Israel," said Jewish-American businessman Phil Rosen, a member of the delegation, the Israeli Ynet news website reported.
Rosen also said he "would not be surprised if we see normalization between Saudi Arabia and Israel in the coming months or year."
Under US-pushed normalization deals, a number of Arab countries, including the UAE, Bahrain, Sudan, and Morocco, have agreed to establish official diplomatic ties with Israel.
The normalization accords, however, have been denounced by Palestinians the people of the region as "treacherous", and sparked protests in the countries that signed them.
In recent weeks, Israel has approved plans for more than 1,700 new illegal units in the East al-Quds settlements of Givat Hamatos and Pisgat Zeev.
In a statement on Wednesday, UN experts condemned the regime's illegal expansion of settlements in the West Bank and East al-Quds as "the engine of the occupation" and hold Israel responsible for a wide range of rights violations against the Palestinian people.
'Saudis waiting for right moment'
According to Rosen, Riyadh has been holding covert talks with Washington about joining the so-called Abraham accords and without the kingdom's blessings, the UAE and Bahrain would not have agreed to normalize their relations with the regime in Tel Aviv.
He said the Saudis are taking various "small steps" towards normalization and are "waiting for the right moment."
Meanwhile, Saudi Arabia has officially stated that it will not normalize its relations with Israel without progress in talks between Israelis and Palestinians.
Source: Press TV
Please click the following URL to read the full text of the original story:
https://www.presstv.ir/Detail/2021/11/05/669965/Jewish-American-group-visits-KSA-advance-Israeli-Saudi-normalization
--------
Hezbollah: Saudi should apologize for its actions concerning Lebanon
05 November 2021
The Lebanese resistance movement of Hezbollah says Saudi Arabia should apologize for its actions concerning Lebanon, referring to the diplomatic war that Riyadh and its allies have initiated against Beirut.
"Saudi Arabia has initiated a war against Lebanon," Sheikh Naim Qassem, the movement's deputy secretary-general, told Lebanon's al-Manar television network on Thursday.
"Riyadh should apologize to Lebanon for this incorrect and immoral measure that does not fit with any standard," he added.
Saudi Arabia recalled its ambassador from Lebanon and expelled the Lebanese envoy to Riyadh late last month.
The move came after George Kordahi, currently Lebanon's information minister, said during a television program that the 2015-present Saudi-led war on Yemen was an act of aggression by Riyadh and the United Arab Emirates, the kingdom's most significant ally in the military campaign.
He called the war "absurd," saying it had to stop because he was opposed to wars between Arabs. The minister also said the Yemeni army forces and their allied fighters from the Popular Committees were "defending themselves... against an external aggression."
The war has killed tens of thousands of Yemenis and pushed the entire Yemen close to the brink of outright famine.
The UAE, Bahrain, and Kuwait have, however, followed in Saudi Arabia's footsteps by severing their diplomatic ties with Lebanon.
Despite Riyadh and its allies' insistence on deepening the diplomatic crisis with Lebanon, Lebanese Foreign Minister Abdallah Bou Habib called on Monday for initiation of talks with Saudi Arabia as part of efforts aimed at resolving the ongoing dispute.
The Hezbollah official put Riyadh's actions concerning Lebanon down to the Saudi kingdom's failure to influence the Lebanese politics "despite the money that it has paid to its supporters [in Lebanon]."
Source: Press TV
Please click the following URL to read the full text of the original story:
https://www.presstv.ir/Detail/2021/11/05/669955/Lebanon-Saudi-Arabia-Hezbollah-Yemen
--------
Rights organizations warn of deteriorating health condition of imprisoned Saudi dissident
04 November 2021
Human rights organizations have warned of the deteriorating health condition of an imprisoned Saudi political dissident and demanded his immediate and unconditional release, as the Riyadh regime shows no restraint on its brutal crackdown against opposition figures.
The rights group Prisoners of Conscience, which is an independent non-governmental organization seeking to promote human rights in Saudi Arabia, stated in a post on its official Twitter page that Saudi authorities have tortured and violently beaten Dr. Saud Mukhtar al-Hashimi.
"Saudi officials have refused to provide the Saudi activist with medical services and medicines," it added.
The rights group noted that Hashimi has been subjected to severe torture, and fears are growing that he might face a fate similar to that of former university professor Musa al-Qarni, who died last month after his health deteriorated while serving a 15-year prison sentence.
The Prisoners of Conscience called on international human rights organizations and advocates to pressure Saudi officials to release Hashimi, holding the authorities fully responsible for his life.
Separately, the human rights organization Together for Justice has expressed its deep concern about the deteriorating health condition of the Saudi political prisoner, stating that Hashimi is in a difficult situation due to medical negligence and deprivation of health care.
The organization, citing informed sources, said officials at Dhahban Prison in the southern Saudi port city of Jeddah have transferred Hashimi to a very cold solitary cell, without providing him with any blankets or winter clothes to further abuse him.
The sources added that the transfer took place after he was beaten, tortured and abused verbally.
Dr. Saud Mukhtar al-Hashimi, a professor of family medicine at the Faculty of Medicine at King Abdulaziz University in Jeddah, is among the most prominent political prisoners in Saudi Arabia.
He was arrested in February 2007 along with a number of intellectuals, scientists and academics for meeting to discuss how to establish democratic governance in the country.
Last September, a human rights organization expressed serious concern about the deliberate medical negligence against political dissidents being kept in detention centers across Saudi Arabia.
Sanad human rights organization, which defends political and civil rights in Saudi Arabia and monitors human rights violations and exposes them to public opinion as well as international organizations, said Saudi prison authorities deliberately deprive inmates of medical treatment as part of their policy of abusing and killing them silently.
While all governments are obliged under the international law to protect human beings against rights violations and ensure their freedom and dignity, the repressive policy of Saudi officials against jailed activists has significantly undermined such principles, Sanad noted.
Source: Press TV
Please click the following URL to read the full text of the original story:
https://www.presstv.ir/Detail/2021/11/04/669929/Rights-organizations-warn-of-deteriorating-health-condition-of-imprisoned-Saudi-dissident
--------
Russia: White Helmets plotting false-flag chemical attack in Syria's Idlib to accuse Damascus
04 November 2021
The Russian Defense Ministry has warned that members of the so-called civil defense group, White Helmets, are planning to mount yet another false-flag chemical attack against civilians in Syria's northwestern province of Idlib in order to incriminate the Damascus government.
"The Center for the Reconciliation of Opposing Sides in Syria has received information that members of the so-called humanitarian organization White Helmets are plotting a provocation with the aim of accusing government forces of launching indiscriminate strikes at ordinary people and civilian facilities," Deputy head of the center, Rear Admiral Alexander Vadim Kulit, said on Thursday.
He added that people have been hired in the Kafr Kermin and Sarmada districts of Idlib province to take part in fake a video report.
"It is planned to be covered by reporters of English-language networks, who have arrived in Idlib de-escalation zone for that reason," Kulit noted.
The White Helmets group, which claims to be a humanitarian NGO, is known for its coordination with terror outfits in Syria to carry out staged chemical attacks in order to falsely incriminate Syrian government forces and fabricate pretexts for military strikes by a US-led military coalition present in Syria since 2014.
On April 14, 2018, the United States, Britain, and France carried out a string of airstrikes against Syria over a suspected chemical weapons attack on the city of Douma, located about 10 kilometers northeast of the capital Damascus.
That alleged attack was reported by the White Helmets group, which published videos showing them purportedly treating survivors.
Washington and its allies blamed Damascus for the Douma attack, an allegation strongly rejected by the Syrian government.
The Western media and governments have repeatedly accused the Syrian government of using chemical weapons against its own citizens in the war against terrorists.
This is while Syria surrendered its stockpile of chemical weapons in 2014 to a joint mission led by the United States and the Organization for the Prohibition of Chemical Weapons (OPCW), which oversaw the destruction of the weaponry. It has also consistently denied using chemical weapons.
Syrians stage rally in Aleppo to condemn Turkish forces' occupation
Meanwhile, dozens of people staged a demonstration in Syria's northwestern province of Aleppo on Thursday to condemn the presence of Turkish occupation forces in the Arab country and call for their complete withdrawal from the Syrian soil.
Syria's official news agency, SANA, reported that residents of al-Ziyarah town, which lies in the northern flank of the province, rejected the deployment of Turkish troops and their allied militants in the area.
The participants waved national Syrian flags, condemned the brutal crimes being perpetrated by Turkish soldiers and their allies against civilians, and demanded an end to their illegitimate presence.
Turkey has deployed forces in Syria in violation of the Arab country's territorial integrity.
Ankara-backed militants were deployed to northeastern Syria in October 2019 after Turkish military forces launched a long-threatened cross-border invasion in a declared attempt to push fighters of the Kurdish People's Protection Units (YPG) away from border areas.
Source: Press TV
Please click the following URL to read the full text of the original story:
https://www.presstv.ir/Detail/2021/11/04/669914/Russia--White-Helmets-plotting-false-flag-chemical-attacks-in-Syria-Idlib
--------
India
Post-Taliban Takeover of Afghanistan: Security Forces, Civilians Killings Go Up In Jammu and Kashmir
05th November 2021
By Fayaz Wani
SRINAGAR: After the Taliban takeover in Afghanistan in mid-August, there has been a surge in the killings of security forces and civilians and drop in militant casualties in Jammu and Kashmir.
According to statistics, from August 15 till October end, 16 security men and 15 civilians lost their lives to militancy in J&K.
During the same period, 39 militants, including some top militant commanders, were also killed in encounters.
"In October, 12 security men, 20 militants and 12 civilians were killed, while in September, three security men, eight militants and one civilian were killed. In the 15-day period from August 15 to August 31, one security man, 11 militants and two civilians were killed," reveals the statistics.
The Taliban militants gained control of Kabul on August 14.
And immediately afterwards, security experts had been cautioning that the violence level in J&K would go up as Taliban win against the US would be a "morale booster" for the militants.
The data of the last two and a half months suggests that security forces and civilian killings have gone up, while the militant casualties have gone down.
There were eight security force casualties from June 1 to August 14.
During the same period, 52 militants were killed in encounters with security forces in different parts of the Valley. Twelve civilians also lost their lives.
Of the 15 civilians killed in a two and a half months period in J&K after Taliban's takeover of Afghanistan, six were migrant skilled and unskilled labourers and three minority community members.
Source: New Indian Express
Please click the following URL to read the full text of the original story:
https://www.newindianexpress.com/nation/2021/nov/05/post-taliban-takeover-of-afghanistan-security-forcescivilians-killings-go-up-in-jk-2379796.html
--------
India's Own FATF Assessment Pending Since 2019; Sectors Vulnerable To Terrorist Funding, Laundering Under Lens
Pradeep Thakur
Nov 5, 2021
NEW DELHI: A national risk assessment (NRA) is currently underway in which central agencies, including the Reserve Bank of India, have been tasked with evaluating sectors that are vulnerable to money laundering and terror financing.
The exercise has begun just ahead of India's mutual evaluation of the Financial Action Task Force (FATF), the Paris based inter-governmental body that had recently retained Pakistan on its 'Grey List' following its non-compliance in taking actions against banned terrorist outfits and UN-designated terrorists, denying them access to its financial institutions and banks.
India's own FATF assessment has been pending since 2019 and postponed twice. An internal assessment earlier had found lack of convictions in a large number of cases related to money laundering. Following this, the government had asked the ED and CBI to file charge sheets in a time-bound manner and ensure convictions in cases where prosecution complaints have been filed.
The Central Economic Intelligence Bureau (CEIB), an arm of the finance ministry, has been closely coordinating with all the intelligence and enforcement agencies, including the RBI, to further improve the inter-agency cooperation and boost actions against suspicious entities engaged in money laundering.
The real estate and gems and jewellery sectors in particular are more prone to money laundering and have been high on the government's agenda to prevent organised crime syndicates using its financial institutions to launder money and endanger the economy. Lakhs of shell firms have been deregistered by the government in the last few years after they were found engaged in money laundering with no real business activity involved.
Source: Times of India
Please click the following URL to read the full text of the original story:
https://timesofindia.indiatimes.com/india/sectors-vulnerable-to-terrorist-funding-laundering-under-lens/articleshow/87530226.cms
--------
Reconstruct Both the Demolished Telangana Secretariat Mosques Immediately: Deccan Waqf Protection Committee
By Mohammed Hussain Ahmed
5th November 2021
Hyderabad: The President Deccan Waqf Protection Committee Osman bin Mohammed Al Hajri demanded that the government of Telangana must reconstruct both the demolished secretariat mosques immediately without further delay.
The state government announced the reconstruction of these mosques for the past two years and have declared various dates for commencement of the work. "The governments delaying tactic is leading to disquiet among the Muslim community", Al Hajiri said
Al Hajri reminded the state government its promise to start the reconstruction of the mosques immediately after the Huzurabad election. The state government had already released the building plan for the mosques. Now the state government must start the reconstruction of the mosques without further delay.
"Before the reconstructions of the mosque the government must take the Muslim scholars, intellectual, public representatives and activists to review the new location of the mosques", Al Hajri demanded.
Source: Daily Siasat
Please click the following URL to read the full text of the original story:
https://www.siasat.com/build-secretariat-mosques-without-further-delay-osman-bin-mohd-al-hajri-2220314/
--------
Cops recover 'tiffin box bomb' hidden in fields near India-Pakistan border in Punjab
Nov 4, 2021
CHANDIGARH: The Punjab Police has said it foiled a possible attempt of a terror attack after it recovered an explosive-filled tiffin box hidden in an agricultural field near the Indo-Pak border in Ferozepur district on the eve of Diwali.
The recovery was made in Ali Ke village on Wednesday following interrogation of three people arrested earlier this week in connection with the Jalalabad blast case.
Director General of Police (DGP) Iqbal Preet Singh Sahota said the Ludhiana Rural police on Monday had arrested two persons for allegedly providing shelter and logistical support to Ranjeet Singh alias Gora, an accused in the Jalalabad blast case being investigated by the NIA.
The two people arrested were Jaswant Singh alias Shinda Baba, a resident of village Jhugge Nihanga Wale in Ferozepur, and Balwant Singh of village Walipur Khurd in Ludhiana. Ranjeet Singh alias Gora too has been arrested, the DGP said.
According to an official statement, one "tiffin bomb", two pen drives and Rs 1.15 lakh in cash were recovered from the trio earlier.
During the course of investigation of the case, it came to light that the accused were in possession of another "tiffin bomb" which they had kept concealed in agriculture fields.
"Following revelations of the accused persons, a joint search operation was carried out by teams of Counter Intelligence (of Punjab Police), Ferozepur and Ludhiana and CIA (crime investigation agency) Jagraon at village Ali Ke in Ferozepur on Wednesday and the tiffin bomb was recovered," the DGP said.
An FIR has been registered under relevant provisions of the Indian Penal Code (IPC) and the Unlawful Activities (Prevention) Act (UAPA) at Sidhwan Bet Police Station in Ludhiana Rural.
Additional Director General of Police (Internal Security) R N Dhoke said that further investigation in the case is on and more arrests are expected to be made soon.
The National Investigation Agency (NIA) had on Monday conducted searches at four locations in Fazilka and Ferozepur districts of Punjab in connection with the explosion in a two-wheeler near a Punjab National Bank branch in Jalalabad of Fazilka.
Balwinder Singh alias Bindu of village Jhugge Nihanga Wale died in the motorcycle blast on September 15.
Tiffin bombs have also been recovered in Amritsar Rural, Kapurthala, Fazilka and Tarn Taran in the past few months.
Source: Times of India
Please click the following URL to read the full text of the original story:
https://timesofindia.indiatimes.com/india/cops-recover-tiffin-box-bomb-hidden-in-fields-near-india-pakistan-border-in-punjab/articleshow/87527981.cms
--------
India requests Pakistan to allow Srinagar-Sharjah flight to use its airspace
Nov 4, 2021
NEW DELHI: India has requested Pakistan through diplomatic channels to allow Go First's Srinagar-Sharjah flight use its airspace keeping in mind the larger interest of common people who have booked the tickets on this service, government officials said on Thursday.
The development came after Pakistan on Tuesday had not allowed the Srinagar-Sharjah flight to use its airspace, forcing it to take a longer route and fly over Gujarat to reach its destination in the UAE.
Go First, previously known as GoAir, had started direct flights between Srinagar and Sharjah from October 23 and the service was inaugurated by Union Home Minister Amit Shah during his visit to the Valley last month.
According to the officials, till October 31, the Srinagar-Sharjah-Srinagar service was going through Pakistan airspace.
However, Pakistan on Tuesday did not allow the flight to pass through its airspace, and therefore, the service had to take a longer route, going over Gujarat, adding around 40 minutes to the flight time on the onward journey as well as the return journey, they said.
Longer route means higher fuel consumption, which may push the airline to increase the ticket prices or turn this non-stop service to one-stop service.
Therefore, the officials said that India has requested Pakistan through diplomatic channels to grant the overflight clearance to this flight keeping in mind the larger interest of common people who have booked the tickets on this service.
The Pakistan government is yet to give any specific reason for refusing the permission to the flight, they said.
According to the officials, the flight, which operates four times a week, did not face any issue when it used Pakistan airspace between October 23 and October 31.
Go First has not issued any statement or comment on this matter as yet.
The airline's Srinagar-Sharjah-Srinagar service is the first service between Jammu and Kashmir and the UAE after 11 years. Air India Express had started a Srinagar-Dubai flight in February 2009 but it was discontinued after some time due to low demand.
Reacting to Pakistan's action, former J&K chief minister and National Conference leader Omar Abdullah on Wednesday had tweeted "very unfortunate. Pakistan did the same thing with the Air India Express flight from Srinagar to Dubai in 2009-2010. I had hoped that @GoFirstairways being permitted to overfly Pak airspace was indicative of a thaw in relations but alas that wasn't to be".
Blaming the Centre, PDP chief and former J&K chief minister Mehbooba Mufti in a tweet had said, "Puzzling that GoI didn't even bother securing permission from Pakistan to use its airspace for international flights from Srinagar. Only a PR extravaganza without any groundwork."
Inaugurating the flight, Shah had said that the commencement of Srinagar-Sharjah services would boost tourism.
"There are many people from Srinagar and Jammu who are settled in the Gulf countries. There are many tourists who want to come from the Gulf countries to Jammu and Kashmir. The tourism of J&K is going to get a big boost with the commencement of Srinagar-Sharjah flights," he added.
The officials said the Srinagar-Sharjah flight takes around 3 hours and 40 minutes, while the return flight takes approximately 3 hours to reach the capital of Jammu and Kashmir if Pakistan airspace is used.
Source: Times of India
Please click the following URL to read the full text of the original story:
https://timesofindia.indiatimes.com/india/india-requests-pakistan-to-allow-srinagar-sharjah-flight-to-use-its-airspace/articleshow/87527015.cms
--------
Muslims Split, Namaz Spots Set to Shrink in Gurgaon; Muslim representative Accused RSS-Backed Muslim Rashtriya Manch of "Sabotaging" The Talks
Pheroze L. Vincent
05.11.21
Friday prayers by Muslims at public spaces are likely to be restricted further to only 21 spots in Gurgaon after Muslim representatives failed to put up a united front at tripartite talks with the district administration and Hindutva groups as well as residents' associations opposed to the practice.
A meeting on Wednesday between representatives of the Muslim community and Hindu residents, chaired by deputy commissioner Yash Garg, ended without a resolution of the month-long protests by local people led by Hindutva groups at Jumma namaz sites in public spaces.
The district administration, which has been providing police protection to namaz at sites where Hindu activists have faced off with Muslim worshippers, is said to have withdrawn consent for eight of the 37 such sites in the city.
After Wednesday's talks, Hindu groups under the banner of Sanyukt Hindu Sangharsh Samiti said in a statement: "In a joint meeting called to resolve the dispute, the Muslim community demanded that the mosques which are illegally occupied should be restored so that they can carry out their prayers. This demand was supported by the Hindu representatives by saying that it is not proper to occupy anyone's property or land…. The number of places for the coming Friday will be decided after mutual consultation."
But a key Muslim representative accused the RSS-backed Muslim Rashtriya Manch of "sabotaging" the talks.
Hindutva groups and residents' welfare associations have held protests over the past month — particularly at grounds in Sectors 47 and 12A — during Namaz on Friday.
The Samiti is set to organise a Govardhan Puja at the site in Sector 12A on November 5, Friday, to which it has invited provocative Hindutva leaders Kapil Mishra of the Delhi BJP and Yati Narsinghanand of Ghaziabad's Dasna Devi temple.
Haji Shahzad Khan, who leads the Muslim Ekta Manch — one of the parties to the talks — told this newspaper on Thursday: "We have agreed with our Hindu brothers to offer the Jumma namaz at 21 public grounds from tomorrow, in addition to 26 Muslim institutions. We will not pray on the grounds in Sectors 47 and 12A."
He added: "We have requested the administration to free up 19 waqf properties where large gatherings have been curbed because some from our community had used loudspeakers beyond the sound limit and parked vehicles on thoroughfares. We have been assured that this will gradually be done after the festive season."
In 2018, disruptions of Friday namaz by Hindutva groups had led to a curtailment of the gatherings from 106 public places to 37 designated by the district administration. Three of these spots are mosque premises.
The Gurgaon Nagrik Ekta Manch, which promotes inter-faith harmony, has underlined that the newer parts of Gurgaon — an industry hub with thousands of workers — has only two mosques. This compels the Muslim workers to use public spaces like unoccupied government and private land.
After Wednesday's meeting, community leader Altaf Ahmad who had participated in it said in a statement: "Today's meeting at DC office was sabotaged by Right-wing group representatives & Muslim Rashtriya Manch (RSS wing) representative Khurshid Rajak who are driving their one-point agenda of suppressing Muslims.
"The Muslim community is shocked to know that administration has cancelled 8 points from the 37 spots of Juma namaz agreed upon in 2018. The administration (is) certainly under pressure from threats issued publicly by the Right-wing groups."
DC Garg did not respond to calls or WhatsApp messages from this newspaper.
After a meeting of Muslims led by Ahmad on Thursday, former Rajya Sabha MP Mohammad Adeeb told reporters that many of the representatives called by the administration represent neither Hindus nor Muslims.
Source: Telegraph India
Please click the following URL to read the full text of the original story:
https://www.telegraphindia.com/india/muslims-split-namaz-spots-set-to-shrink/cid/1837363
--------
Jammu and Kashmir Shines In the Latest Prestigious NEET Examination
News Kashmir Analysis
The prestigious National Eligibility cum Entrance Test (Undergraduate) or NEET (UG), formerly the All India Pre-Medical Test (AIPMT), is an all India pre-medical entrance test for students who wish to pursue undergraduate medical (MBBS), dental (BDS) and AYUSH (BAMS, BUMS, BHMS, etc.) courses in government and private institutions in India and also, for those intending to pursue primary medical qualification abroad.
The exam is conducted by National Testing Agency (NTA), which provides the results to the Directorate General of Health Services under Ministry of Health and Family Welfare and State Counselling Authorities for seat allocation.
Jammu and Kashmir has shined in the latest NEET exam results.
Jammu boy Tanmay Gupta, scored the All India first rank in the National Eligibility Cum Entrance Test (NEET) 2021, he said that continuing with his hobbies helped him focus on studies.
Tanmay is one of the three students who scored 720 marks. The other two are Mrinal Kutteri and Karthika G Nair.
It is really great that Eighteen-year-old Tanmay Gupta from Jammu has created history by becoming the first from Jammu and Kashmir to be the national topper of NEET 2021.
Many boys and girls too from Kashmir valley shined with flying colours in the NEET results. Ansab Moonisa, a resident of Tral has secured 670 points and got 1586 AIR.
Similarly, Maleeha Zahoor, a student from Kangan has secured 662 points. Another successful candidate, Suhail Ashraf from Kuzwera Chadoora in Budgam district has secured 615 points.
While speaking to ANI in Jammu, Tanmay said, "I started preparing in standard 11 and studied 4 to 5 hours a day. I continued my hobbies with my studies. If you continue your hobbies, you will have more interest in studies."
The students from Jammu and Kashmir successfully crossing the NEET exams is a news to cherish for all of us .
On the otherhand, Unlike many toppers who claim to have studied for 12-14 hours a day, NEET 2021 All India Rank 1 holder Mrinal Kutteri told News18.com in an exclusive interview that he could not follow a fixed routine and took breaks every 45 minutes. He claims to have binged sitcoms on Netflix and Amazon Prime during the 2.5 years he spent in NEET preparation. The TV shows, said the topper, kept him motivated during grim times.
One hopes the students from Jammu and Kashmir and other parts of the country make us proud by taking forward their NEET achievements to develop a positive society for one and all.
--------
Southeast Asia
Police acknowledge legal gaming centres in private clubs, but say Muslims not allowed
04 Nov 2021
KUALA LUMPUR, Nov 4 — Some private clubs in the country included licensed gaming centres among their facilities, the police said.
However, Bukit Aman Criminal Investigation Department (CID) director Datuk Seri Abd Jalil Hassan stressed during a press conference yesterday that such gaming facilities were expressly prohibited to Muslim members and patrons.
The senior police official also explained that hosting a licensed gaming centre did not preclude these clubs from offering other services and facilities that were accessible to Muslims.
Source: Malay Mail
Please click the following URL to read the full text of the original story:
https://www.malaymail.com/news/malaysia/2021/11/04/police-acknowledge-legal-gaming-centres-in-private-clubs-but-say-muslims-no/2018447
--------
Opposition MPs head four out of nine Parliamentary Select Committees
05 Nov 2021
BY RADZI RAZAK
KUALA LUMPUR, Nov 5 — Dewan Rakyat Speaker Datuk Azhar Azizan Harun announced today that four out of the nine Parliamentary Select Committees (PSC) will be headed by the Opposition MPs.
The decision followed the Parliamentary restructuring and reform after the signing of the Memorandum of Understanding on Transformation and Political Stability signed between the federal government and Pakatan Harapan (PH) on September 13.
"The chairman of the Select Committee is also divided between the government and the opposition in a ratio of 5:4," he said in a statement.
The statement also listed the chairman of each Select Committee:
Government MPs:
* Fundamental Freedoms and Rights under the Constitution: Datuk Seri Azizah Mohd Dun (Bersatu-Beaufort)
* Finance and Economic: Datuk Seri Hasan Arifin (Umno-Rompin)
* Agencies under the Prime Minister's Department: Abdul Latiff Abdul Rahman (PAS-Kuala Krai)
* Infrastructure Development: Yusuf Abd Wahab (GPS-Tanjong Manis)
* Women and Child Affairs and Social Development: Datuk Seri Azalina Othman Said (Umno-Pengerang)
Opposition MPs:
* Security: Datuk Johari Abdul (PKR-Sungai Petani)
* Agriculture and Domestic Trade: Datuk Seri Saifuddin Nasution Ismail (PKR-Kulim Bandar Baru)
* Education: Maszlee Malik (Independent-Simpang Renggam)
* Health, Science and Innovation: Dr Kelvin Yii (DAP-Bandar Kuching)
Azhar also said that there will be another Select Committee to be established — the Select Committee on International Affairs, bringing the total number of Select Committees to 10.
"The Select Committee is currently in the process of selecting members.
Source: Malay Mail
Please click the following URL to read the full text of the original story:
https://www.malaymail.com/news/malaysia/2021/11/05/opposition-mps-head-four-out-of-nine-parliamentary-select-committees/2018678
--------
Abdul Hadi returned unopposed as PAS president
04 Nov 2021
KUALA TERENGGANU, Nov 4 — Datuk Seri Abdul Hadi Awang was returned unopposed as PAS president at the 67th PAS Muktamar (annual general assembly) for the 2021-2023 term.
PAS secretary-general Datuk Seri Takiyuddin Hassan said Datuk Seri Tuan Ibrahim Tuan Man was also returned unopposed as the party's deputy president.
"Hussin Ismail and Kamal Ashaari were returned unopposed as permanent chairman and deputy permanent chairman," he told a press conference in conjunction with the annual general assembly here today.
Meanwhile, Takiyuddin said four candidates would contest in the elections for the post of vice-presidents, namely Minister in the Prime Minister's Department (Religious Affairs) Idris Ahmad; Terengganu Mentri Besar Datuk Seri Ahmad Samsuri Mokhtar; Kelantan Deputy Mentri Besar Datuk Mohd Amar Nik Abdullah and PAS Central Working Committee member Mohd Zuhdi Marzuki.
He said Kedah Mentri Besar Datuk Seri Muhammad Sanusi Md Nor, who was previously nominated for the party's vice-presidential post, had withdrawn, while for Central Committee members, 36 candidates would be contesting for the 18 seats.
Takiyuddin said the 67th PAS Muktamar would be held on Saturday and Sunday here in a hybrid format that involves the physical attendance of 694 delegates while 852 delegates would be attending the assembly virtually.
Source: Malay Mail
Please click the following URL to read the full text of the original story:
https://www.malaymail.com/news/malaysia/2021/11/04/abdul-hadi-returned-unopposed-as-pas-president/2018471
--------
Africa
Sudanese talks make progress, source says, as international pressure grows
05 November ,2021
Talks between Sudanese Prime Minister Abdalla Hamdok and the leaders of an Oct. 25 military coup are making progress, a source close to Hamdok said on Thursday as the US and UN pressed for a solution.
A second source said Sudan could set up a new 14-member sovereign council soon in a first step by the military towards forming new transitional institutions.
In the latest sign of increasing international pressure, UN Secretary-General Antonio Guterres spoke to army chief Abdel Fattah al-Burhan on Thursday and urged him to restore constitutional order and the transitional process.
For the latest headlines, follow our Google News channel online or via the app.
In a phone call with US Secretary of State Antony Blinken on Thursday, Burhan agreed on the need to accelerate the formation of a government, Burhan's office said.
"The two parties agreed on the need to maintain the path of the democratic transition, the need to complete the structures of the transitional government and to speed up the formation of the government," his office said.
The US State Department said Blinken in the call urged Burhan to immediately release all political figures detained since the coup and "return to a dialogue that returns Prime Minister Hamdok to office and restores civilian-led governance in Sudan."
The United Nations has been trying to mediate an end to the political crisis that followed the coup in which top civilian politicians were detained and Hamdok was placed under house arrest.
The U.N. special envoy for Sudan, special representative Volker Perthes, said talks had yielded the outline of a potential deal on a return to power-sharing, including the ousted premier's reinstatement.
But he urged an agreement in "days not weeks" before both sides' positions harden.
Hamdok has demanded the release of all detainees and the reversal of the coup as conditions for any further negotiations with the military.
The country's highest authority, the joint civilian-military Sovereign Council, had been dissolved by Burhan along with the civilian-led cabinet.
Burhan, who says he is committed to a transition to democracy and elections, said after the coup that a new Sovereign Council and cabinet would be appointed.
Late on Thursday, state TV said Burhan had ordered the release of four civilian members of Hamdok's cabinet who had been detained.
Source: Al Arabiya
Please click the following URL to read the full text of the original story:
https://english.alarabiya.net/News/north-africa/2021/11/05/Sudanese-talks-make-progress-source-says-as-international-pressure-grows
--------
Tunisia issues international arrest notice against ex-leader Marzouki
04 November ,2021
Tunisia has issued an international arrest notice against former president Moncef Marzouki, state news agency TAP reported on Thursday, a month after he called on France to end support for the current administration.
There were no mention of what charge Marzouki faced, but current President Kais Saied last month ordered an inquiry into what he said were allegations that Marzouki had conspired against state security.
For the latest headlines, follow our Google News channel online or via the app.
Said has faced mounting criticism abroad since he assumed executive authority in July, then brushed aside most of the constitution to seize near total power in moves his critics called a coup.
Said unveiled a new government in October and has promised a national "dialogue", but has yet to lay out a detailed plan to restore normal constitutional order as donors demand.
Source: Al Arabiya
Please click the following URL to read the full text of the original story:
https://english.alarabiya.net/News/north-africa/2021/11/04/Tunisia-issues-international-arrest-notice-against-ex-leader-Marzouki
--------
Sudan's army chief Burhan orders release of four ministers
04 November ,2021
Sudan's General Abdel Fattah al-Burhan on Thursday ordered the release of four ministers detained since he led a military power grab last week, state-run television said.
The releases came as the army said the formation of a new government was "imminent".
"The Supreme Commander of the Armed Forces has ordered the release of Hashem Hassab Alrasoul, Ali Geddo, Hamza Baloul, Youssef Adam," Sudan TV said.
For the latest headlines, follow our Google News channel online or via the app.
Alrasoul is telecommunications minister, Geddo heads the trade ministry, Baloul is information minister, and Adam holds the youth and sports portfolio.
Burhan -- Sudan's de facto leader since the 2019 ouster of autocratic president Omar al-Bashir -- last week dissolved the government, detained the civilian leadership and declared a state of emergency.
Sudan's army said earlier Thursday that a new government was on the way.
"We are considering all internal and external initiatives to serve the national interest," Burhan's media advisor Taher Abouhaga said. "The government formation is imminent."
The ministers' release came shortly after a phone call between Burhan and UN chief Antonio Guterres, who personally appealed to the military chief to restore the democratic transition.
Guterres encouraged "all efforts toward resolving the political crisis in Sudan and urgently restoring the constitutional order and Sudan's transitional process", a United Nations statement said.
Sudan has since August 2019 been ruled by a joint civilian-military council as part of the now derailed transition to full civilian rule.
Source: Al Arabiya
Please click the following URL to read the full text of the original story:
https://english.alarabiya.net/News/north-africa/2021/11/04/Sudan-s-army-chief-Burhan-orders-release-of-four-ministers
--------
Turkey strongly condemns 'heinous terrorist attack' in Niger
Jeyhun Aliyev and Fatma Esma Arslan
05.11.2021
Turkey on Thursday strongly condemned a "heinous terrorist attack" on Niger's border with Mali which left at least 69 people dead.
"We are deeply saddened to receive the news that more than 60 people lost their lives during an attack perpetrated in a village located in the Tillaberi region of Niger on 4 November 2021," the Turkish Foreign Ministry said in a statement.
The ministry also extended its sincere condolences to the families of those who lost their lives and to the "friendly and brotherly" people and government of Niger and wished a speedy recovery to the wounded.
Speaking on state television, Niger's Interior Minister Alkache Alhada said the village of Adab-Dab in the Tillaberi region was attacked by members of an armed terrorist group.
Alhada noted that 69 people, including the mayor of Banibangou district, to which the village is affiliated, lost their lives in the attack.
Source: Anadolu Agency
Please click the following URL to read the full text of the original story:
https://www.aa.com.tr/en/africa/turkey-strongly-condemns-heinous-terrorist-attack-in-niger/2412432
--------
Somalia asks envoy of African Union Commission to leave country
Magdalene Mukami
04.11.2021
MOGADISHU, Somalia
Somalia on Thursday asked the African Union Commission (AUC) representative in the country to leave within a week after declaring him persona non grata.
Simon Mulongo, the AUC's deputy special representative in Mogadishu, is no longer welcome in the Horn of African country due to his alleged activities that are not under the country's laws, the country's Foreign Ministry said in a statement.
He has seven days to leave Somalia, it added, without giving any further reasons for why the official is ordered to leave the country.
"The Ministry of Foreign Affairs and International Cooperation of the Federal Republic of Somalia presents its compliments to the African Union Commission and has the honor to inform the commission that the individual listed below (Simon Mulongo) is designated 'persona non grata' and ordered to leave Somalia within seven days for engaging in activities (that are) incompatible with AMISOM's (African Union Mission in Somalia) mandate and Somalia's security strategy," the ministry statement said.
According to the African Union, AMISOM forces first arrived in Somalia in March 2007. Since then, the AMISOM military component has aided the Somali National Security Forces in driving out the al-Qaeda-affiliated terror group Al-Shabaab from most of the major cities and towns of southern Somalia.
Source: Anadolu Agency
Please click the following URL to read the full text of the original story:
https://www.aa.com.tr/en/africa/somalia-asks-envoy-of-african-union-commission-to-leave-country/2412202
--------
Tanzania's unique experiment of using schools to fight graft
Kizito Makoye
04.11.2021
BABATI, Tanzania
A relentless campaign over the past few years to use school children to combat graft in the government and society has helped the East African country of Tanzania to improve its ranking in the global transparency index.
In 2015, Tanzania began experimenting with involving school children to campaign against corruption.
Speaking to Anadolu Agency, Holle Makungu, a senior official at the country's Prevention and Combating of Corruption Bureau (PCCB) said the anti-corruption clubs set up in schools and institutes of higher learning have helped to cultivate the culture of integrity among students.
Tanzania which ranked 99nd out of 180 countries in Transparency International's 2018 corruption perceptions index (CPI) was at 96th place in 2019, gaining four points.
The global watchdog has also acknowledged that Tanzania's scores have been steadily improving since 2015.
"The clubs are aimed to nurture appropriate value and positive attributes among students to enhance their knowledge of ethics and integrity thus promoting their ethical behavior," said Makungu.
He added that these clubs are not only creating awareness but also working to inculcate moral uprightness in the younger generation.
Benedicta Mrema, a program officer with HakiElimu – a voluntary group working in the education sector -- said the anti-corruption clubs in schools have helped promote integrity.
"When children are taught to reject corruption when they are still very young, they are likely to uphold the highest degree of ethical conduct when they grow up," she told Anadolu Agency.
But many experts believe that fighting corruption in the East African country is an uphill struggle, which requires hard decisions.
The anti-corruption clubs in primary and secondary schools also teach the values of open and responsible governance.
Effective in spreading awareness
According to Makungu, these anti-corruption clubs comprising students have not only proved effective in spreading awareness but are also working as watchdogs to report incidents of graft.
"We have been receiving hundreds of calls through our hotline numbers, where people report about corruption. We investigate them and many times have prosecuted those involved in bribery," he said.
Around 7,788 such clubs with 555,770 members have been set up in many primary and secondary schools across the country so far, said Sultan Ngaladizi, the head of the public education desk at the PCCB.
Source: Anadolu Agency
Please click the following URL to read the full text of the original story:
https://www.aa.com.tr/en/africa/tanzanias-unique-experiment-of-using-schools-to-fight-graft/2411606
--------
URL: https://www.newageislam.com/islamic-world-news/sirajuddin-haqqani-taliban-pakistan-tehreek-militancy/d/125714
New Age Islam, Islam Online, Islamic Website, African Muslim News, Arab World News, South Asia News, Indian Muslim News, World Muslim News, Women in Islam, Islamic Feminism, Arab Women, Women In Arab, Islamophobia in America, Muslim Women in West, Islam Women and Feminism