New Age Islam News Bureau
15 Sept 2017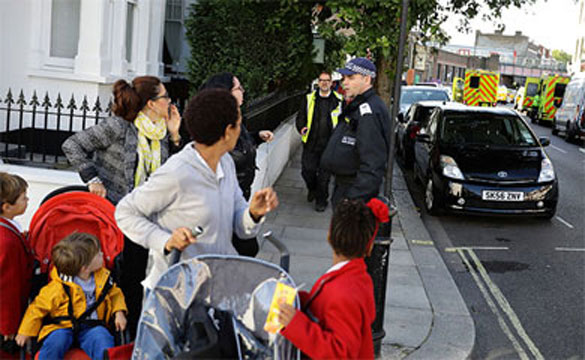 Parsons Green explosion is investigated by London police, emergency services are present at tube station
-----
• Singapore Says Zakir Naik, Ismail Menk a Threat to Multiracial Society
• 74 Killed 93 Wounded By Twin Bombings in Iraq
• London Tube Explosion: District Line 'Bucket Bomb' Was Terrorism, Say Police
• 'Ladakh Muslims Write to CM on Threat from Buddhists'
• Jihadist Support for Rohingya puts Pakistan and China on the Spot
• Rohingya Muslim Crisis: Burma's Security Forces Using Scorched Earth Tactics to Drive out Minority, New Evidence Finds
Southeast Asia
• Singapore Says Zakir Naik, Ismail Menk a Threat to Multiracial Society
• Malaysian Fighters Could Enter Myanmar through Underground Channels
• Islamic State caliphate a 'crocodile's lair', former members say in Indonesian anti-terror video
• Najib looks to boost defence, intelligence cooperation with the US
• Police thwart IS attempt to bomb non-Muslim houses of worship
• NasDem politician detained over 'blasphemous' Facebook post
-------
Arab World
• 74 Killed 93 Wounded By Twin Bombings in Iraq
• Osama Bin Laden's Son Calls Muslims to Join Syria Jihad against 'Crusaders and Shias'
• Anti-Terror States: Measure Taken Against Qatar Is 'Boycott' Not 'Blockade'
• Saudi to take bids to kick off ambitious nuclear power plants: Report
• Iran a partner in Syrian victory: Assad's letter to Ayatollah Khamenei
• Daesh convoy reaches Syria's Dayr al-Zawr, Hezbollah fighter back in Lebanon
• Iraq, Turkey step up pressure over Kurd independence vote
• ISIL Commanders Fleeing Deir Ezzur after Syrian Soldiers' Rapid Advances
-------
Europe
• London Tube Explosion: District Line 'Bucket Bomb' Was Terrorism, Say Police
• EU Condemns Rohingya Catastrophe in Myanmar
• Russian submarines attack Daesh targets in Dayr al-Zawr
• Watchdog slams jail sentence for Morocco journalist
-------
India
• 'Ladakh Muslims Write to CM on Threat from Buddhists'
• An Inter-Religion Marriage Triggers Communal Divide in Leh, And Exodus
• Affidavit calling Rohingyas security threat is 'incomplete', not the final version, government says
• India, Japan slam terror, corner Pakistan, N Korea
• Top Lashkar terrorist Abu Ismail, aide killed in encounter in Kashmir's Nowgam
• After BRICS, India-Japan joint statement names Pakistan-based terror groups Lashkar, Jaish
• UP ATS nabs three Bangladeshi youths on suspicion of terror links
• Rohingya Muslims Are Threat To National Security, Centre Tells Supreme Court In Response To PIL
-------
Pakistan
• Jihadist Support for Rohingya puts Pakistan and China on the Spot
• Afghan Taliban Will Support Pakistan against Foreign Aggression: Sami
• Pak-Afghan-US Meeting: Trio Reaffirms Resolve against Daesh
• Terror shadow on Lahore bypoll: Hafiz Saeed's man in fray for NA-120 seat
• No two parties on same page over Fata
• Continued democracy will eliminate poverty, terrorism: Bilawal Bhutto
-------
South Asia
• Rohingya Muslim Crisis: Burma's Security Forces Using Scorched Earth Tactics to Drive out Minority, New Evidence Finds
• Rohingya Hindus Too Fleeing To Bangladesh
• ISIS Behead Two Afghan Civilians on Espionage Charges in Kunar
• Rohingya Muslim exodus to Bangladesh reaches 389,000: UN
• PM Hasina: I hope Myanmar will wake up
• ISIS headquarter discovered from a flour mill in Pakistan
-------
Mideast
• Houthi Leader Threatens To Attack Gulf States
• Iran, Turkey Military Chiefs: Kurdish Vote 'Dangerous'
• Gargash to Houthis: Your goals are despicable, your threat reveals despair
• Clashes in Turkey over trial of two hunger-striking teachers
• No Zarif-Tillerson meeting on Iran's UN agenda: Qassemi
• China signs deal to provide Iran with $10bn in loans
• JCPOA not renegotiable, better deal "pure fantasy": Iran's Zarif
-------
Africa
• NSCIA, FOMWAN Seek World Leaders' Intervention in Rohingya Massacre
• The Karakaria in Algeria: Religious group or 'foreign conspiracy'?
• Military campaign against ISIS could push it to south Jordan, says King Abdullah
-------
North America
• Drastic Drop in US Admissions is Bad News for Muslim Refugees
• US Treasury Announces New Iran Sanctions
• Trump says Iran breaking 'spirit' of nuclear deal
Compiled by New Age Islam News Bureau
URL: https://www.newageislam.com/islamic-world-news/singapore-says-zakir-naik-ismail/d/112538
-------
Singapore says Zakir Naik, Ismail Menk a threat to multiracial society
September 14, 2017
SINGAPORE: Home Affairs and Law Minister K Shanmugam has raised the alarm over what he calls a "worrying trend" in the region: the rise of exclusivist views, and the influence of foreign preachers who lead young men astray.
The Straits Times (ST) quoted him as saying: "Unfortunately, in this region no one is stopping this kind of teaching."
Praising Singapore's Malays for their success and tolerance, Shanmugam noted that they faced many challenges today, especially radicalism and terrorism.
The ST report said he singled out Islamic preachers Zakir Naik and Ismail Menk, who have preached in the region, as being among those teaching exclusivist views.
The ST reported that Naik had said Muslims could not vote for non-Muslims, or have Christians and Jews as friends while Menk had said it was blasphemous for Muslims to greet believers of other faiths during festivals such as Christmas or Deepavali.
Both these preachers have also given speeches in Malaysia. Naik, who has been given permanent resident status by the Malaysian government, has come under fire by various groups which claim his speeches are a danger to national unity.
Naik is on the run from India as he is wanted for questioning over money laundering and terrorism-related charges.
Shanmugam said exclusivist preachers were also found in other religions, noting that the Singapore ministry of home affairs had denied entry to two foreign Christian preachers.
The home ministry said last Friday that it had rejected applications by the two Christian preachers for short-term work passes to speak in Singapore as they had made "denigrating and inflammatory comments" on other religions in the past.
Shanmugam warned that the government would take a tough stand against anyone who denigrated another race or religion.
Shanmugam was addressing about 400 Malay grassroots leaders and People's Association staff at a dialogue on religious harmony and resilience on Sept 13 at the Grassroots' Club.
According to the report he called on the community to stay alert for signs of radicalism, urging them to help the security agencies.
He urged grassroots leaders to help the youth understand the "multi-racial ethos" of Singapore society.
"Without the community this cannot be done, and if this is not done, we get more radicalisation. Ultimately… we will get more Islamophobia and all of us will lose. The country will lose," the ST quoted Shanmugam as saying.
He said Singapore's Malay/Muslim community, given the progress it had made, could be "a beacon" in the present troubled times.
Noting that the community was better educated, had more assets, and was more resilient, he added: "The Muslim society in Singapore can be an example, on tolerance, on success, on education. In every field… we can be the example. Look around at other societies in the world, how many have this kind of success."
The ST reported that Shanmugam highlighted successful members of the community from the public and private sectors, and urged the community to continue working hard.
He told them to be confident in their culture, traditions and religion, while integrating into Singapore's multi-racial fabric.
http://www.freemalaysiatoday.com/category/nation/2017/09/14/singapore-says-zakir-naik-ismail-menk-a-threat-to-multiracial-society/
-------
74 killed 93 wounded by twin bombings in Iraq
14 September 2017
Gunmen and suicide car bombers killed at least 74 people, including seven Iranians, near the southern Iraqi city of Nasiriya on Thursday, an official said, giving an updated toll.
"There are now 74 deaths and 93 wounded," Abdel Hussein al-Jabri, deputy health chief for the mainly Shiite province of Dhiqar, said of the attack claimed by the Islamic State group.
A statement on the Amaq news agency, which supports ISIS, said the attacks carried out by its suicide fighters targeted a restaurant and a checkpoint, killing dozens.
That was up from the previous toll of 60 dead and 91 wounded in what was already the deadliest IS attack in Iraq since pro-government forces drove the jihadists out of second city Mosul in July.
Saudi Arabia condemns attack
An official source at the Saudi Ministry of Foreign Affairs condemned the double attack on in southern Iraq.
The source reiterated the Kingdom's position on condemning terrorism and extremism and standing by the Republic of Iraq offering condolences to the families of the victims and to the Iraqi people and wishing a speedy recovery to the injured.
https://english.alarabiya.net/en/News/middle-east/2017/09/14/60-killled-by-twin-bombng-in-Iraq.html
-------
London Tube Explosion: District Line 'Bucket Bomb' Was Terrorism, Say Police
15 September 2017
An explosion that injured a number of people at Parsons Green underground station in west London was a terrorist incident, the Met police have said.
Commuters on a tube train reported hearing a bang and seeing a fireball flying down the carriage during Friday morning rush-hour. Pictures and video, purporting to be from the train carriage, were posted of flames coming out of a carrier bag containing a white bucket.
London ambulance service said it had taken 18 patients to a number of hospitals. None was thought to be in a serious or life-threatening condition.
Speaking outside New Scotland Yard, Mark Rowley, the assistant Met police commissioner, said: "We now assess that this was a detonation of an improvised explosive device."
He said most of those injured were believed to have suffered flash burns.
Rowley said the investigation was being led by the Met's counter-terrorism command and involved hundreds of detectives with support from MI5. He said there would be an enhanced police presence in the wake of the attack, particularly in the capital and on the public transport system.
Rowley refused to say whether there was anyone in custody in connection with the incident.
Downing Street said the Prime Minister, Theresa May, would be chairing a meeting of the government's Cobra emergencies committee on Friday morning and was receiving regular updates on the situation.
May said: "My thoughts are with those injured at Parsons Green and the emergency services who, once again, are responding swiftly and bravely to a suspected terrorist incident."
Armed officers attended the scene, along with the London ambulance service and London fire brigade, though their official statements revealed little about the nature of the incident.
St Mary's hospital, Paddington, declared a "major incident" in anticipation of an influx of patients from Parsons Green.
A Transport for London spokeswoman said the District line had been suspended between Earl's Court and Wimbledon due to a security alert.
One witness said there were injuries at Parsons Green after a "stampede" of passengers.
Media technology consultant Richard Aylmer-Hall, 53, was sitting on the District line train bound for central London at about 8.20am when he said there was panic around him.
"Suddenly there was panic, lots of people shouting, screaming, lots of screaming," he said. "There was a woman on the platform who said she had seen a bag, a flash and a bang, so obviously something had gone off."
He added: "I saw crying women, there was lots of shouting and screaming, there was a bit of a crush on the stairs going down to the streets. Some people got pushed over and trampled on. I saw two women being treated by ambulance crews."
Witnesses said that children, who were on their way to school, were among the injured.
A reporter from London's Metro newspaper said he had seen people with facial burns. The BBC's Sophie Raworth said she had seen two ambulances leaving the scene and several people treated, including a woman with burns.
Chris Wildish, who was on the train, said he saw a "device" in the last carriage. "It was a white bucket, a builder's bucket, in a white Aldi bag or Lidl bag," he told BBC 5 Live.
"Flames were still coming out of it when I saw it and had a lot of wires hanging out of it – I can only assume it was done on purpose," he said. "It was standing against the door of the rear-most carriage."
Five Metropolitan police vans arrived on the scene at about 9.40am along with a BTP command van. A 100-metre cordon was erected around the station.
The incident is the fourth terrorist attack in the UK this year, following incidents at Westminster, London Bridge, Manchester and Finsbury Park in north London. The UK terrorism threat level remains at severe, meaning an attack is highly likely.
The mayor of London, Sadiq Khan, said the city "utterly condemns the hideous individuals who attempt to use terror to harm us and destroy our way of life". He urged Londoners to "remain calm and vigilant".
theguardian.com/uk-news/2017/sep/15/parsons-green-district-line-suspended-in-west-london-over-incident
-----
'Ladakh Muslims write to CM on threat from Buddhists'
Sep 15, 2017
Kargil, Sep 14: Anjuman Jamiat-ul- Ulama Asna Asharia Islamia School, Kargil Ladakh has written to the Chief Minister Mehbooba Mufti alleging imminent threat to local Muslim population from Buddhists, sources said.
The alleged threat according to the letter written to Mehbooba has come after a recent conversion of a Buddhist girl to Islam.
The letter has demanded "safety and security of Muslims" living in Leh saying "the Ladakh Buddhist Association (LBA) has threatened the Muslims living in Leh particularly the Muslims belonging to Kargil."
Pertinently, a marriage between a Buddhist woman and Muslim man has stoked tensions in Jammu and Kashmir's Ladakh, with the region's apex religious body threatening communal unrest unless the woman is "brought back".
The Ladakh Buddhist Association (LBA) had also written to Chief Minister Mehbooba Mufti, asking for an annulment of the marriage between local-born 30-year-old Shifah, formerly called Stanzin Saldon, and her 32-year-old husband Murtaza Aga of Kargil. The woman converted to Islam in 2015. She married Aga, an engineer, last year.
In an affidavit, Shifah said on July 7, 2016, she got married to Syed Murtaza Aga , out of her "own free will and consent". She declared that she was not "induced or abducted" by her husband and was not under wrongful confinement. (CNS)
https://www.kashmirmonitor.in/Details/132189/%E2%80%98ladakh-muslims-write-to-cm-on-threat-from-buddhists
-------
Jihadist Support for Rohingya puts Pakistan and China on the Spot
14 SEP 2017
James Dorsey
A call for action to help Rohingya Muslims by prominent US Treasury-designated Pakistani militant Masood Azhar puts both Pakistan and China on the spot and raises the specter of the plight of Myanmar's beleaguered Muslim community energizing jihadists in South and Southeast Asia.
Saadi, widely believed to be a pen name for Mr. Azhar, the leader of Jaish-e-Mohammed (JeM), a jihadist group also proscribed by the United Nations and Pakistan, positioned the Rohingya as a new wake-up call in his most recent weekly column in Al-Qalam, the organization's magazine.
"It is because of the sacrifices of the Myanmar Muslims that the ummah is waking up and we are seeing this new awakening among the Muslims of the world. All Muslims of the world must unite for this cause. We have to do something. And do it urgently. Myanmar's soil is earnestly waiting for the thumping sound of the footsteps of the conquerors," Mr. Azhar wrote.
A brutal crackdown on Myanmar's Rohingya minority that in recent weeks has sent some 300,000 people fleeing the violence into neighbouring Bangladesh, has already stirred deep-seated emotions across the Muslim world. Pakistan has officially protested against the violence while thousands of demonstrators have taken to the streets of Pakistani and other predominantly Muslim cities. Pakistan has for decades been home to some 55,000 Rohingya who have no hope of obtaining Pakistani citizenship.
By adding his voice to the protests, Mr. Azhar, a former fighter in the anti-Soviet jihad in Afghanistan who is believed to have been responsible for an attack last year on India's Pathankot Air Force Station, has complicated things for Pakistan and China. Adding fuel to the fire, Mr. Azhar coupled his defence of the Rohingya with praise for Osama bin Laden.
Launching a tirade against Myanmar Buddhist extreme nationalist leader Ashin Wirathu, Mr. Azhar argued that it was wrong to designate him as 'Buddhism's Bin Laden.'
"Bin Laden was a lion who came out to help the helpless, while Wirathu is just a dog who is barking while sitting in the comforts of his home. Bin Laden was a brave and fearless man who challenged global imperialism on its face, while Wirathu is a lowly coward who is attacking unarmed civilians," Mr. Azhar wrote.
The problem for Pakistan and China is not simply that Mr. Azhar is a wanted fugitive who is able to write in a magazine that is published by a group that although banned continues to publicly raise funds and recruit fighters, but that the article indicates jihadist exploitation of the Rohingya issue at a time that the Islamic State (IS) responds to setbacks in Syria and Iraq by expanding operations beyond the Middle East.
The article puts Pakistan and China in a position of shielding the leader of a group that has been designated as terrorist and who has no compunctions about his support for jihadist figures like Mr. Bin Laden. China has repeatedly vetoed Mr. Azhar's designation by the United Nations Security Council, allegedly at Pakistan's behest. The council is scheduled to again discuss designating Mr. Azhar in early 2018.
China's position is even more on the line after President Xi Jingping this month joined the leaders of Russia, India, Brazil and South Africa for the first time in identifying Pakistan-backed militant groups as a regional security threat.
Mr. Azhar's article followed a call by Indonesia's militant Islamic -Defenders Front (FPI) for volunteers to wage jihad in defence of the Rohingya, raising the spectre of foreign fighters making their way to the country. A militant insurgency in Rakhine state would open a second front against jihadists in Southeast Asia where Filipino forces since May have been battling the IS-affiliated Maute group in the southern city of Marawi.
Shaykh Abu Ibrahim al-Hanif, the leader of an IS offshoot in Bangladesh vowed in an interview with Dabiq, an IS magazine, to "begin launching operations within Burma once we've reached the capability to do so." For now, Mr. Al-Hanif's threat seems little more than empty words. He said IS would only have the capacity once it had toppled the government of Bangladesh much like it has postponed targeting Israel until it had overthrown the leaders of Egypt and Syria.
The FPI's call is supported by fatwas or religious opinions issued by Islamic scholars in the last year in Saudi Arabia, the United Arab Emirates, Bangladesh and India as well as Mufti Ziabur Rahman, a Rakhine-based Saudi Rohingya cleric. The scholars argued that resistance to forces opposing Islam was legitimate.
Quoting Indian intelligence, The Indian Express reported that JeM had trained Rohingya in camps in Bangladesh. It said that Khalid Mohammed, a member of the Rohingya Solidarity Organisation (RSO), admitted to Indian police that he had received explosives training. Two other RSO members were detained in 2013 in Indonesia on charges of planning to attack the Myanmar embassy in Jakarta.
The Indian paper said that Lashkar-e-Taibe, another banned Pakistani group whose leader Hafez Saeed was put under house arrest in Lahore earlier this year had organized in 2012 a conference in solidarity with the Rohingya and sent operatives to Bangladesh and Thailand to contact refugees from Myanmar.
Whipping up emotions, Mr. Azhar asserted that "had whatever Ashin Wirathu and his supporters are doing been done by a Muslim country to its non-Muslim minorities, there would have been an uproar. The United Nations Security Council would have passed a resolution against it, there would have been economic sanctions against Muslims and finally, their country would have been bombarded by western forces."
Turkish and Indonesian efforts to aid the Rohingya coupled with a request by Britain and Sweden for a meeting of the UN Security Council are in part designed to take the wind out of jihadist sails and pre-empt an escalation in Myanmar and radicalization among the Rohingya. Those are first steps. Without a structural solution and a more universal crackdown on jihadist groups that see mileage in the Rohingya's suffering, Myanmar's Bengali Muslims are just as likely to become yet another festering wound that feeds extremist narratives.
https://intpolicydigest.org/2017/09/14/jihadist-support-rohingya-puts-pakistan-china-spot/
-------
Rohingya Muslim crisis: Burma's security forces using scorched earth tactics to drive out minority, new evidence finds
Sep 15, 2017
Security forces in Burma are using scorched-earth tactics to drive out Rohingya Muslims, new evidence appears to show.
Entire Rohingya villages are being burned down by vigilante mobs and security forces in an orchestrated campaign that has lasted almost three weeks, campaigners have warned. Those trying to flee the attacks are being shot dead.
Fire-detection data, satellite imagery, photographs and videos from the ground has indicated at least 80 large-scale fires in inhabited areas across northern Rakhine State since 25 August, according to Amnesty International.
Satellite sensors during the same month-long period over the past four years detected no fires whatsoever of this magnitude anywhere in the state.
While the extent of the damage caused by the fires cannot be independently verified on the ground due to access restrictions by the Burma government, Amnesty said security forces are likely to have burned down whole villages, forcing tens of thousands to flee in terror.
Satellite images from the village tract of Inn Din, a mixed ethnic area in south Maungdaw, show how an area of Rohingya homes has been burned to the ground, while non-Rohingya areas alongside them appear to have been left untouched.
One 48-year-old man said he witnessed the army and police storm into his village of Yae Twin Kyun in northern Maungdaw township on 8 September.
"When the military came, they started shooting at people who got very scared and started running. I saw the military shoot many people and kill two young boys. They used weapons to burn our houses. There used to be 900 houses in our village, now only 80 are left. There is no one left to even bury the bodies," he said.
The true number of fires and extent of property destruction is likely to be high, as cloud cover during the monsoon season has made it difficult for satellites to pick up all burnings and smaller fires have gone undetected by environmental satellite sensors, the campaign group said.
Tirana Hassan, Amnesty International's Crisis Response Director, who has spoken to people who have fled across the border to Bangladesh, described the current situation as an "ethnic cleansing".
She said: "The evidence is irrefutable - the Myanmar security forces are setting northern Rakhine State ablaze in a targeted campaign to push the Rohingya people out of Myanmar.
"Make no mistake: this is ethnic cleansing. There is a clear and systematic pattern of abuse here. Security forces surround a village, shoot people fleeing in panic and then torch houses to the ground.
"In legal terms, these are crimes against humanity - systematic attacks and forcible deportation of civilians."
The news comes as the Foreign Secretary Boris Johnson called on Burma's de facto leader Aung San Suu Kyi to speak out against the "abomination" of the persecution of Rohingya Muslims.
Mr Johnson's comments followed an announcement that the UK would provide an additional £25m to help hundreds of thousands of Rohingya Muslims driven out of their homes by the violence.
Announcing the money, International Development Secretary Priti Patel said she was "appalled" by allegations of human rights violations by the Burmese military and militias in Rakhine state.
She appealed to the Burmese military to put a stop to attacks and ensure access for humanitarian workers seeking to reach displaced people.
Mr Johnson, who was previously criticised for describing Nobel Peace Prize-winner Ms Suu Kyi as "one of the most inspiring figures of our age", has urged her to stop the violence against the Rohingyas.
Speaking at a press conference in London alongside US Secretary of State Rex Tillerson, the Foreign Secretary described events in Burma as a "tragedy" involving "gross abuses of human rights".
Asked about his earlier comments about Ms Suu Kyi, he added: "Let's be clear, she led Burma after a period of decades of repression by a military junta and I yield to no-one in my admiration of what she stood for and the way she fought for democracy. I think many people around the world share that admiration.
"But I think it's now vital for her to use that moral capital and that authority to make the point about the suffering of the people of Rakhine.
"Nobody wants to see a return to military rule in Burma, nobody wants to see a return of the generals.
"But it is vital for her now to make clear that this is an abomination and that those people will be allowed back to Burma and that preparation is being made and that the abuse of their human rights and the hundreds, perhaps even thousands, of killings will stop."
http://www.independent.co.uk/news/world/asia/rohingya-muslim-burma-myanmar-latest-ethnic-cleansing-claims-scorched-earth-tactics-a7947476.html
-------
Southeast Asia
Malaysian fighters could enter Myanmar through underground channels
Zam Yusa
September 15, 2017
KOTA KINABALU: It is possible for Malaysians aspiring to join Rohingya insurgents in their fight against government forces to enter Myanmar through underground channels from Bangladesh and Thailand, FMT has learned.
This followed a recent report by a conflict think tank which said many Southeast Asians, particularly Indonesians and Malaysians, want to help the Rohingya in their armed resistance against Myanmar's security forces.
Malaysia's counter-terrorism police division meanwhile has not discounted the possibility that some Malaysians want to participate in waging "jihad" against the alleged oppressors of the Rohingya.
"People intent on sneaking into Myanmar from the Bangladesh side have to take a boat to cross the strait," Mohd Rafiq Khairul Bashar, chairman of the Ethnic Rohingya Committee of Arakan Malaysia here, told FMT.
"They have to start from Sabrang or Teknaf in Bangladesh and cross the waters into Maungdaw, a town in Rakhine state in Myanmar.
"From Maungdaw, it's only two to three hours' drive to the conflict areas."
Rafiq however urged Malaysians to refrain from doing this as it could be against the law.
"I think to do so could land them in trouble with the law. As police have said, they're monitoring for this new possibility, so it's better to do as the government says.
"What we need more now is not fighters, but help in terms of basic necessities and diplomacy so that the conflict can be resolved peacefully."
Malaysian police have said they will monitor for possible Islamic State-linked cells in the country trying to incite Rohingya refugees to return home and fight the government in the name of the terror group.
However, Rafiq said he had not heard of such recruitment taking place, adding that the committee would report the matter to security agencies if it came across any information on it.
"We'll keep an eye out for such a possibility, and I hope the Rohingya community in Malaysia will remain alert against such an undertaking by people supportive of terrorists."
Meanwhile, a Bangkok-based conflict expert who wished to remain anonymous told FMT that he had not heard of aspiring fighters transiting through Thailand to join the Arakan Rohingya Salvation Army (Arsa) so far.
"It's possible, of course, but entering from Thailand means that they would be on the wrong side of Myanmar for the fight, so to speak.
"Given the scale of the problem and the intensity of feelings it has aroused in parts of Southeast Asia, I'll be keeping my ears open for more information on this possibility."
The fighting between Arsa and Myanmar forces is reportedly taking place in Rakhine state, closer to the nation's border with Bangladesh in the west, while Thailand sits farther to the east.
In an earlier FMT report, the Jakarta-based Institute for Policy Analysis of Conflict (Ipac) warned that many Southeast Asians were eager to join the fight in Myanmar despite Arsa's apparent lack of machinery to receive would-be fighters from neighbouring countries.
"I think many want to go," Ipac director Sydney Jones had told FMT.
"For example, thousands of Indonesians are reported to have signed up through the FPI (Islamic Defenders Front) and other such groups, but they have no channel for getting in.
"Indonesian and Malaysian mujahidin (jihadist fighters) have long been interested in helping their persecuted brethren in Myanmar, but have had no good channel for doing so," the Ipac report added.
Bukit Aman anti-terrorism chief Ayob Khan Mydin Pitchay had said it was possible that would-be Malaysian jihadist fighters were seeing similarities between the current troubles in Myanmar and the 1999-2002 conflict in Ambon, Indonesia, between Christians and Muslims.
"During the Indonesian conflict, VCDs were distributed throughout Malaysia to recruit people to fight in Ambon," Ayob had told FMT.
"It could be the same with the Rohingya crisis in Myanmar.
"We aren't saying yet that such a recruitment exists, but we will keep monitoring for this new possibility."
Hundreds of thousands of Rohingya refugees have fled Myanmar's Rakhine state to escape religious persecution and to avoid being trapped in the fighting between government troops and Arsa.
Arsa recently announced a month-long ceasefire to allow humanitarian aid to reach the Rohingya refugees.
UN Secretary-General Antonio Guterres was quoted as saying on Wednesday that ethnic cleansing was taking place in Myanmar against the Rohingya Muslim minority.
He added that the UN Security Council condemned the violence that has led to nearly 380,000 Rohingya fleeing to Bangladesh.
http://www.freemalaysiatoday.com/category/nation/2017/09/15/malaysian-fighters-could-enter-myanmar-through-underground-channels/
-------
Islamic State caliphate a 'crocodile's lair', former members say in Indonesian anti-terror video
Sep 15, 2017
Indonesians returning from life in Islamic State's rapidly-shrinking caliphate have described a horrific and brutal world — a "pit of lies" where fighters chased three things: power, money and women.
The Indonesians feature in a video released by the nation's anti-terror body, the BNPT.
They are devout Muslims who say they were enticed to life in the IS caliphate by promises of a better life. The Indonesian Government says they did not go to fight — but to become willing citizens of what they thought was a holier place.
What they found was awful.
"Their promises are all empty," one woman, Lasmiati, said.
"It's tough there," said another, Difansa.
"For people who haven't gone there, be grateful for not falling into the crocodile's lair, it's a pit of lies.
"Save your time, save your money, save your life. Don't waste your life only to get lied by ISIS.
"ISIS will be destroyed soon if God is willing.
These are extraordinarily blunt comments from a group of people who were once IS's most enthusiastic supporters.
They are deeply religious people brought up to believe an Islamic caliphate is the ideal place in which to live.
"Just because it's a caliphate, it doesn't mean all will be good," one woman, Naila, said.
"I never thought it would be that bad after I entered Syria. When I arrived at the women's dorm, their behaviour, oh my God, I can say it's worse than animals."
Woman describes 'jihad marriage'
The returnees are not in custody in Indonesia because they have not broken local laws.
An estimated 800 Indonesians are thought to have travelled to Iraq and Syria to live in the caliphate.
Some, like Difansa, brought their children with them. She was shocked by the greed of the fighters.
"ISIS are after three things: power, money, and women," Difansa said.
"When it comes to women, it is very clear, I saw it myself. When me and my family arrived, the members of my family who were single were chased after.
"They call it jihad marriage, and for the people there, getting married is like a competition.
"They get married once, twice, until the fourth time then divorce again, married again. I don't know how many times already — and it is facilitated by ISIS.
"Every person who marries a virgin gets money from ISIS."
One man, Heru, described watching children kick a decapitated head around the streets.
Even religious study was a nightmare, Heru said.
"I was so stressed. We were afraid there. If we made mistakes we were hit," he said.
"There were six of us Indonesians with one teacher. We took turns reading the Koran and when it was my friend's turn to read there was a mistake.
"After repeatedly making the same mistake, the back of his head was hit. I was there, his ears were pulled and they screamed in his ear how the verse should be read.
"I was angry but I couldn't do anything. But when I remember, I'm sad I couldn't do anything, to see him treated like that, he was crying, as loud as he can."
Full report at:
http://www.abc.net.au/news/2017-09-14/islamic-state-caliphate-a-pit-of-lies-indonesian-muslims-say/8946588
-------
Najib looks to boost defence, intelligence cooperation with the US
Nirmal Ghosh
Sep 15, 2017
Malaysia looks forward to closer intelligence and law enforcement cooperation with the United States, Prime Minister Najib Razak told an audience at the Centre for Strategic and International Studies (CSIS) in Washington.
In a keynote address a day after meeting President Donald Trump at the White House, Datuk Seri Najib focused on shared security concerns and cooperation, including over the Islamic State in Iraq and Syria (ISIS) and North Korea.
Citing a slew of regular US- Malaysia joint drills, he said on Wednesday (Sept 13): "Many of these operations have evolved in complexity over the years. This marks a growth in trust and capability between our forces."
He told the audience of academics, policymakers, diplomats and government officials: "Military operations have increasingly involved crossing between the physical and virtual domains, and I strongly encourage our forces to share their expertise and experiences as military doctrines, rules, and norms develop in cyberspace."
Using an Arabic acronym for ISIS, he said: "Daesh has ensnared some of our citizens both in life and in death, from Mosul to Marawi.
"Men, women and children from Malaysia have travelled to Syria and Iraq to fight for a false cause, burning their passports, and hoping never to return. Others seek to kill members of our government and other prominent figures.
"These people... are our enemies just as much as they are your enemies. Indeed, by claiming their terrorism is Islamic in nature, these individuals blaspheme against our religion - something for which we simply cannot forgive them. I want to reiterate here, in your capital, that Malaysia is the United States' firm ally in this battle."
He emphasised, however, the importance of fighting the ideology that drives terrorism through narratives that counter online and offline extremist propaganda.
"We look forward to even closer intelligence and law enforcement cooperation with the United States, and in sharing our expertise in countering radicalism and violent extremism of all ideologies," Mr Najib said.
He voiced commitment to isolate North Korea, saying: "Asia must not be held hostage to the prospect of either a WMD (weapons of mass destruction) or conventional war breaking out in our midst. The stakes are simply too high.
"President Trump and I discussed this at length yesterday, and Malaysia offers its full support and assistance in resolving the current very dangerous tension over North Korea."
Mr Najib also expressed grave concern over the crisis in Myanmar's Rakhine state, which has seen more than 300,000 Rohingya Muslims fleeing to Bangladesh.
Full report at:
http://www.straitstimes.com/world/united-states/najib-looks-to-boost-defence-intelligence-cooperation-with-the-us
-------
Police thwart IS attempt to bomb non-Muslim houses of worship
September 15, 2017
KUALA LUMPUR: Malaysian police have arrested a man who is suspected of having received orders from the Islamic State to launch attacks on non-Muslims and their places of worship here.
The man, 21,was one of three people arrested in operations conducted in Perak, Selangor and Melaka from Sept 8 to Sept 10. He had allegedly been told how to assemble explosive devices and had tried to produce a bomb.
Inspector-General of Police Mohamad Fuzi Harun said in a statement that the jobless man was arrested on Sept 8 in Bagan Serai, Perak, and that he had sworn allegiance to the Islamic State earlier this year.
"The suspect also admitted that he has been taught by Dr Mahmud Ahmad, (Malaysia's most wanted terrorist), and a Saudi Arabian bomb expert on how to produce Improvised Explosive Devices (IED) on a large scale. He has tried to produce the bomb three times. "The suspect also received instruction from another senior Malaysian IS fighter in Syria to purchase a pistol, M-16 and AK-47 assault rifles along with a hand grenade from a neighbouring country and to launch an attack on non-Muslims and their places of worship," he said.
Fuzi said police also seized chemical materials believed kept for use to produce the IEDs.
On Sept 10, police detained a 38-year-old cendol seller in Melaka who was actively promoting IS.
"The suspect planned to join militants in the southern Philippines and Rakhine in Myanmar," said Fuzi.
Full report at:
http://www.freemalaysiatoday.com/category/nation/2017/09/15/police-thwart-is-attempt-to-bomb-non-muslim-houses-of-worship/
-------
NasDem politician detained over 'blasphemous' Facebook post
September 14, 2017
Jon Afrizal
A NasDem Party councilor in Tanjungjabung Barat regency in Jambi province has been detained on charges of inciting hostility toward Muslims after writing a Facebook post deemed to be blasphemous.
Riano Jaya Wardhana, who heads the NasDem Party's branch in the regency, has been accused of "defaming Islam and Muslims" for criticism he allegedly wrote in a Facebook post about the way some Muslims had treated former Jakarta governor Basuki "Ahok" Tjahaja Purnama, who is now in prison for blasphemy.
He allegedly said: "I am personally disgusted by Muslims, who practice the same faith as me but are senseless, as if they are the most righteous; they abuse religion [...] and do not forgive other people, as if they are as bad as the devil."
"We detained him on Wednesday for further investigation," Tanjungjabung Barat Police chief Sr. Adj. Comr. Alfonso Dolly Gelbert Sinaga said on Thursday, adding that the suspect had been charged under Article 28 of the Electronic Information and Transactions (ITE) Law.
The article criminalizes those accused of disseminating information aimed at causing hatred for or hostility toward individuals and/or groups based on ethnicity, religion, race and intergroup affiliation. It has been increasingly used to prosecute people accused of making so-called blasphemous remarks on social media.
Riano was reported to the police by Ahmad bin Kurdi of the Tanjungjabung Barat Muslim Community Alliance in May.
Full report at:
http://www.thejakartapost.com/news/2017/09/14/nasdem-politician-detained-over-blasphemous-facebook-post.html
-------
Arab World
Osama Bin Laden's son calls Muslims to join Syria jihad against 'Crusaders and Shias'
Sep 15, 2017
Hamza bin Laden, son and would-be heir of late Al-Qaeda leader Osama bin Laden, has urged Muslims around the world to join the jihad in Syria against "crusaders" and Shiites.
"The cause of Syria is the cause of the entire worldwide Muslim community," he said in an undated audio recording released on jihadist networks Thursday.
"In order for the people of Syria to resist the Crusader, Shiite and international aggression, Muslims -- all Muslims -- must stand with them, support them and give them victory," he said.
"Wakefulness is essential, as is quick, serious and organised movement, to support the people of blessed Syria before it is too late."
Hamza, who is in his mid-20s, has become active as an Al-Qaeda propagandist since his father's death at the hands of US special forces in May 2011.
Syria has been devastated by a six-year war and given an opening to jihadists including the Islamic State group and the Fateh al-Sham Front.
Hayat Tahrir al-Sham, the Sunni extremist group that last month seized control of the northern Syrian city of Idlib, is dominated by the Al-Qaeda offshoot, which officially broke ties with the network founded by Osama bin Laden.
But experts say the name change was little more than a re-branding.
Many believe the group is positioning itself as more moderate than the Islamic State group in hopes of a resurgence.
The United States added Hamza bin Laden to its terrorist blacklist in January.
The US Treasury estimates that he was born in 1989 in the Saudi city of Jeddah. His mother was Khairiah Sabar, one of the Al-Qaeda founder's three wives.
Last year, the fifth anniversary of the death of the man who ordered the 9/11 attacks on the United States, experts began to note his son's increasing prominence in the movement.
The State Department has designated him a "Specially Designated Global Terrorist", freezing any assets he holds in areas under US jurisdiction.
In an undated audio message released in August, Hamza bin Laden urged his Saudi supporters to rebel and overthrow the kingdom's rulers.
Experts believe he is preparing to take over the leadership of Al-Qaeda and exploit the Islamic State group's defeats in Syria and Iraq to unify the global jihadist movement under the banner of Al-Qaeda.
http://www.hindustantimes.com/world-news/osama-bin-laden-s-son-calls-muslims-to-join-syria-jihad-against-crusaders-and-shias/story-NGGaGaQlPRy8waeiJfAR8N.html
-------
Anti-terror States: Measure taken against Qatar is 'boycott' not 'blockade'
15 September 2017
The United Arab Emirates, Saudi Arabia, the Kingdom of Bahrain and the Arab Republic of Egypt have affirmed that the measures they have taken against Qatar are legitimate decisions that are by no means a "blockade."
The countries affirmed that the collective "boycotting" of Doha stems from the damage caused by its insensible policies manifested in its financing and harboring of terrorism and terrorist groups.
The Permanent Representative of the United Arab Emirates to the United Nations in Geneva, Obaid Salem Al Zaabi, clarified the states position in a statement, following the speech by the Qatari delegate, during the panel discussion of the unilateral coercive measures and human rights at the 36th session of the Human Rights Council in Geneva.
Al Zaabi said that the four countries welcome the convening of the panel and restate their condemnation of the imposition of coercive measures because they are contrary to international laws and represent violations of human rights.
He added that in response to the Qatari delegate statement and what Jean Ziegler, the member of the Advisory Committee pointed out, the anti-terror states reaffirm that the measures taken are legitimate, and caused by Qatar's irresponsible actions of supporting, funding and harboring terrorism and terrorists, prompting the countries to make their decision to boycott.
Al-Zaabi pointed out that if the Qatari people have been harmed as per the representative of Qatar's statement, how he would explain the declarations made by senior officials in Doha, confirming that they are not affected after severing diplomatic relations and that the state is functioning normally.
He added that such contradictions highlight the dual speech, one for internal consumption and a second for the international public to mask the real causes of the crisis which is supporting terrorism and financing terrorist organizations.
Full report at:
https://english.alarabiya.net/en/News/middle-east/2017/09/15/Anti-terror-States-Measure-taken-against-Qatar-is-boycott-not-blockade-.html
-------
Saudi to take bids to kick off ambitious nuclear power plants: Report
Sep 14, 2017
Saudi Arabia is preparing to launch a tender for its first nuclear power plants as early as next month, sources in the industry say, noting that the oil-rich kingdom is bent on diversifying its energy supply.
The world's top oil exporter is hoping to lure in potential vendors from countries like Russia, South Korea, France, China and Japan to start construction next year of reactors needed for two plants with a total capacity of up to 2.8 gigawatts, Reuters reported on Thursday, citing three sources.
"Competition will be fierce," said an industry source, noting that Riyadh was expected to file a Request for Information (RFI) to suppliers come October, officially starting the tender process after completing feasibility studies.
This will make Saudi Arabia only the second Arab country after the United Arab Emirates (UAE) to go nuclear, in a bid to provide its 32 million population with electricity. The UAE's first reactor is expected to go live next year.
Ambitious planning heats up competition
The King Abdullah City for Atomic and Renewable Energy (KACARE), the Saudi government agency drawing up the nuclear plans, has declared on its website that the kingdom is considering building 17.6 gigawatts of nuclear capacity by 2032.
That means the kingdom is considering building up to 17 standard nuclear reactors.
Although estimates put the possible tender's value at several billion dollars, it is still expected to be dwarfed by those being considered in India and South Africa.
However, deep pockets and the lack of any meaningful anti-nuclear movement in the country could easily turn Saudi Arabia into one of the most lucrative markets for an industry that has been struggling for contracts following the 2011 nuclear disaster in Fukushima, Japan.
According to Reuters, Russia's state-owned nuclear company Rosatom has long been in talks with KACARE. A top French minister and chief executives of French utility EDF and reactor builder Areva also visited the kingdom in 2013.
The two countries are facing stiff competition from South Korean consortium Kepco, which was able to beat the French in 2009 to win a $40 billion contract with the UAE.
The US-Japanese nuclear energy giant Westinghouse-Toshiba is also a viable contender given its deep ties with the Middle East.
The Trump-Russia probe
The news comes amid troubling reports for the White House that accused US President Donald Trump's former national security adviser, Michael Flynn, of secretly promoting Russian nuclear power technology in Saudi Arabia and the rest of the Middle East.
Flynn to turn over Russia documents to Senate
Full report at:
http://www.presstv.ir/Detail/2017/09/14/535187/Saudi-Arabia-nuclear-power-US-Russia-Flynn
-------
Iran a partner in Syrian victory: Assad's letter to Ayatollah Khamenei
Sep 14, 2017
Syrian President Bashar Assad has sent a letter to Leader of the Islamic Revolution Ayatollah Seyyed Ali Khamenei, thanking him and congratulating the Iranian nation on recent advances in Dayr al-Zawr.
"In the beginning, I would like to congratulate in the warmest terms Your Excellency and the friendly government and people of Iran on the strategic achievements that the Syrian Arab Army has made with the cooperation of our allies and friends, in breaking the siege on Dayr al-Zawr city," Assad said in a part of the message.
Last week, Syrian forces managed to break the years-long siege on Dayr al-Zawr, with the battle continuing to recapture the city and drive out Daesh terrorists.
President Assad said, "We regard the Iranian people who have always dedicated their blood alongside us in the fight against terrorism as partners in this victory."
"Also, through Your Excellency, I express my deep gratitude to the Islamic Republic of Iran over its principled positions against terrorism and its support for our people to liberate our homeland's soil from the contamination of Takfiri terrorists," he added.
Iran has been providing military advisers on the request of the Syrian government, helping turn around the battle which has been going on for more than six years now.
Assad said, "The Syrian Arab Republic and the Islamic Republic of Iran are continuing the fight against oppression and aggression and eliminating the threats of terrorism."
The Syrian leader also called Iran and Syria partners "in establishing a regional and international system based on justice, equality and dignity for all nations and countries."
"In the name of the people of the Syrian Arab Republic, I bestow my highest gratitude to Your Excellency and the friendly nation of Iran, and ask God to make our steps firmer in the cause of the well-being of our two nations and the entire humanity," Assad wrote.
Since the break of the Dayr al-Zawr siege, the Syrian army has brought reinforcements to the city which is the capital of an oil-rich eastern province of the same name.
Full report at:
http://www.presstv.ir/Detail/2017/09/14/535154/Iran-Syria-Bashar-Assad
-------
Daesh convoy reaches Syria's Dayr al-Zawr, Hezbollah fighter back in Lebanon
Sep 14, 2017
A convoy of hundreds of Daesh Takfiri terrorists evacuated from the Syria-Lebanon border has reached the Syrian province of Dayr al-Zawr as reports say the Hezbollah resistance movement manages to secure the release of one of its fighters from the captivity of Daesh.
Pro-opposition sources in Syria confirmed on Thursday that a convoy of buses and vehicles carrying about 400 Daesh militants had crossed into Dayr al-Zawr a day earlier, after being stranded in the Syrian desert for about two weeks.
The militants' transfer was part of a deal negotiated between Hezbollah, the Lebanese army and the Syrian government on the one side and the Daesh Takfiri group on the other.
The agreement was reached late last month when the militants were encircled by Syrian, Lebanese and Hezbollah forces in an area straddling the Lebanese-Syrian border. The militants finally surrendered and accepted to be transferred to the Syria-Iraqi border region, where Daesh still holds small towns and villages, in exchange for the terrorist group to hand over prisoners and remains of Lebanese soldiers captured in 2014.
Reports said one Hezbollah fighter surviving the cruel captivity of Daesh returned to Lebanon on Thursday.
Last month, Hezbollah fighters also identified the bodies of nine missing Lebanese soldiers held by Daesh after the militant group provided the locations of the graves.
The transfer of the convoy of militants to Bukamal, a Daesh-held town near the Iraqi border in Syria, had sparked criticism from the Iraqi government.
The US military, which leads a military coalition purportedly fighting Daesh in Iraq and Syria, had also warned that it would block the travel of the Daesh convoy across Syria. The coalition struck the road the convoy was traveling on two weeks ago but Hezbollah finally managed to secure a road for the transfer of militants to Dayr al-Zawr.
Hezbollah had assured Iraqi officials that the militants would pose no threat to Iraq's security, the Daesh members who had been evacuated from Lebanon to Syria's east were "defeated elements" and had no further thrust to fight.
Full report at:
http://www.presstv.ir/Detail/2017/09/14/535142/Hezbollah-Daesh-Syria-convoy
-------
Iraq, Turkey step up pressure over Kurd independence vote
Sep 15, 2017
BAGHDAD - Iraq and Turkey on Thursday stepped up the pressure on Iraqi Kurdistan over its planned independence referendum, as the governor of oil-rich Kirkuk province that decided to take part in the vote was sacked.
Parliament, at Prime Minister Haider al-Abadi's request, fired the governor of the northern province, Najm Eddine Karim, in a unanimous vote by 173 MPs present in the house.
With tensions rising, the Iraqi parliament on Tuesday voted to oppose plans by leaders of the autonomous Kurdish region in northern Iraq to hold the non-binding September 25 referendum.
The independence vote has faced strong opposition from the federal government in Baghdad as well as neighbouring Iran and Turkey, which fear it will stoke separatist aspirations among their own sizeable Kurdish minorities.
Critics of the vote include the United States, the European Union and even some members of Iraq's 5.5 million-strong Kurdish minority.
Turkey, a strong opponent, warned Iraqi Kurdish leaders on Thursday that any referendum would "have a cost".
Their "insistence on the referendum despite all friendly advice will definitely have a cost", the foreign ministry in Ankara said, criticising their "erroneous approach".
The provincial council of Kirkuk - which is contested by Baghdad and autonomous Iraqi Kurdistan and home to diverse communities, including Arabs and Turkmen - voted at the end of August to take part in the controversial referendum.
Arab and Turkmen members of the council boycotted that vote, while Kurdish MPs in Baghdad walked out of Thursday's hearing in parliament at which the Kirkuk government was dismissed.
On Friday, the parliament in the Kurdish regional capital of Arbil is to hold its first session in more than two years to give "a legal framework" for the referendum, according to its spokesman, Tariq Jawhar.
Disputed zones such as Kirkuk are a highly sensitive issue in ethnically fragmented Iraq, with its Shiite-dominated government in Baghdad and large Arab and Kurdish communities.
In Kirkuk province, the different communities have been arming themselves while numerous paramilitary forces have taken up positions north and west of Baghdad as joint units advance against retreating Islamic State group militants.
In the city of Kirkuk, Kurdish peshmerga fighters have taken charge of security, while Shiite paramilitary units have been deployed on the outskirts.
Hadi al-Ameri, head of the powerful Iranian-backed Badr organisation, has warned that the Kurdish referendum could lead to partition and civil war, vowing to defend the unity of Iraq.
Iraqi Kurdish leader Massud Barzani, who called the referendum, has said the vote would go ahead because "all other bids" to secure Kurdish rights had failed.
The referendum could lead to the independence of Iraqi Kurdistan, an oil-rich region in the country's rugged, mountainous north which gained de facto autonomy in 1991.
The region, whose people were brutally repressed under Saddam Hussein, won autonomy in 2005 after the dictator's ouster under a constitution which set up a federal republic in Iraq.
Iraqi Kurdistan, home to around 5.5 million Kurds, is made up of three provinces that are run by an autonomous regional government and protected by their own security services.
The referendum would "not necessarily lead to (an) immediate declaration of statehood, but rather to know the will and opinion of the people of Kurdistan about their future", Barzani said in February.
Full report at:
http://nation.com.pk/international/15-Sep-2017/iraq-turkey-step-up-pressure-over-kurd-independence-vote
-------
ISIL Commanders Fleeing Deir Ezzur after Syrian Soldiers' Rapid Advances
Sep 14, 2017
Local sources in Western Deir Ezzur confirmed on Thursday that a new group of ISIL commanders, including the terrorist group's agriculture minister named Abdol Rahman Aklat al-Aref, a commander of Islamic Police and a high-ranking ISIL security official escaped the village of Mohaymideh along with their family members.
Meantime, the government forces and their allies are preparing to start the new phase of their operations in Deir Ezzur after the arrival of reinforcements and new convoys of soldiers.
Local media reports said on Wednesday that hundreds of terrorists who have defected the ISIL after the terrorist group's heavy defeat in Syria crossed the borders to Southern Turkey as a first step to return to their countries in the Middle East, North Africa and Europe.
"The former extremist terrorists are now rallying in several towns and villages in Southern Turkey after making it through the borders," local media reported.
The ISIL has experienced heavy defeats in Homs, Hama and Deir Ezzur provinces in recent weeks.
Full report at:
http://en.farsnews.com/newstext.aspx?nn=13960623000298
-------
Europe
EU condemns Rohingya catastrophe in Myanmar
September 14, 2017
European Commission President Jean-Claude Juncker on Thursday condemned the crisis in Myanmar as a "shocking catastrophe", as the European Parliament demanded an immediate end to violence against Rohingya Muslims.
The interventions add to international pressure over the crisis that has sent nearly 380,000 people fleeing to Bangladesh, particularly on Myanmar leader Aung San Suu Kyi, who has been pilloried by rights groups for failing to speak up for the Rohingya minority.
"What is happening in Myanmar is a shocking catastrophe really, because once again people are trying to eradicate whole ethnic groups," Juncker said during a question and answer session with a young YouTube star.
"Europe is in the process of seeing with the Myanmar government and neighbouring countries in what way we can be useful."
Juncker however declined to say whether Suu Kyi should be stripped of the Nobel Peace Prize, an award the EU itself won in 2012.
Euro-MPs meeting in Strasbourg, France, passed a resolution urging Suu Kyi to "condemn unequivocally" all incitement to racial and religious hatred.
The European Parliament resolution "strongly urges the military and security forces to immediately cease the killings, harassment and rape of the Rohingya people, and the burning of their homes".
It also urges the European Union to make it clear it is prepared to consider sanctions against Myanmar if human rights abuses continue.
A crackdown by Myanmar's army, launched in response to attacks by Rohingya militants on August 25, has pushed vast numbers of the stateless Muslim minority across the border, triggering a humanitarian crisis.
The violence has driven a humanitarian crisis on both sides of the border and put intense global pressure on Suu Kyi to condemn the army campaign, which the UN says amounts to "ethnic cleansing".
Chilling accounts have emerged from Rohingya refugees telling of soldiers firing on civilians and razing entire villages in the north of Rakhine state with the help of Buddhist mobs. The army denies the allegations.
"We have put Myanmar on notice that unless the persecution and violence stops, we will take action," British MEP Amjad Bashir said.
Suu Kyi, whose reputation as a human rights champion has been left battered by her response to the crisis, is to make a speech on the issue next week.
Her limited comments so far have referenced a "huge iceberg of misinformation" and played down alleged atrocities against the Rohingya.
Bangladesh is struggling to provide relief for the huge influx of exhausted and hungry refugees, some 60% of whom are children, while nearly 30,000 ethnic Rakhine Buddhists as well as Hindus have also been displaced inside Myanmar.
http://www.dhakatribune.com/world/south-asia/2017/09/14/eu-condemns-rohingya-catastrophe-myanmar/
-------
Russian submarines attack Daesh targets in Dayr al-Zawr
Sep 14, 2017
Russia says it has launched a missile attack against positions held by Daesh in Syria's eastern province of Dayr al-Zawr from the submarines stationed in the Mediterranean Sea.
In a statement released on Thursday, the Russian Defense Ministry said seven Kalibr cruise missiles were fired from Russia's Velikiy Novgorod and Kolpino submarines in the eastern Mediterranean. The missiles, it said, hit all the planned targets, which were within a range of 500 to 670 kilometers.
The targets that came under the attack included "control centers, communication hubs, militant weapons and ammunition warehouses in ISIS (Daesh)-controlled areas in southeast Dayr al-Zawr," the statement read.
Earlier this month, the Syrian government forces broke the three-year-long Daesh siege on Dayr al-Zawr city, the provincial capital of the oil-rich province of the same name.
Syrian soldiers are now preparing for a fresh offensive to cleanse Dayr al-Zawr of Daesh elements.
On Tuesday, Russian Defense Minister Sergei Shoigu met with Syrian President Bashar al-Assad in Damascus and submitted a letter from Russian President Vladimir Putin, "congratulating him on lifting the siege" on Dayr al-Zawr.
Russia has been conducting air raids against Daesh and other terrorist outfits in Syria at the Damascus government's request since September 2015.
Russia has also maintained a naval group in the Mediterranean since the start of its anti-terror campaign in Syria.
Full report at:
http://www.presstv.ir/Detail/2017/09/14/535146/Syria-Russia-Dayr-Zawr
-------
Watchdog slams jail sentence for Morocco journalist
13 September 2017
Media watchdog Reporters Without Borders (RSF) voiced alarm Wednesday after a Moroccan court increased the prison sentence of a journalist to one year for inciting an unauthorised protest.
He was initially sentenced to three months in jail after being found guilty of helping to organise "an unauthorised march" and having "invited" others to take part, according to his website.
On Tuesday an appeals court prolonged his prison term by nine months.
RSF denounced the "incomprehensive" verdict and said it was "appalled" by El Mahdaoui's increased sentence.
RSF called on Morocco to drop the charges against the journalist and to release him as soon as possible, saying he was only doing his job and that the court had video footage proving his innocence.
And quoting his wife, the watchdog said El Mahdaoui had started a hunger strike to denounce the ruling against him.
In July RSF issued a scathing statement accusing Moroccan authorities of preventing journalists from covering months of unrest and protests in the neglected northern Rif region, particularly in Al-Hoceima.
Moroccan authorities denied the accusations.
El Mahdaoui, who was also fined 20,000 dirhams ($2,120, 1,800 euros) in July, is also accused of "undermining state security" and must appear before court on October 2.
If found guilty on that charge he risks being jailed for up to five years, said RSF.
The Rif protests erupted last October after a fishmonger was crushed to death in a rubbish truck as he tried to retrieve swordfish confiscated for being caught out of season.
Full report at:
http://www.worldbulletin.net/africa/193949/watchdog-slams-jail-sentence-for-morocco-journalist
-------
India
An inter-religion marriage triggers communal divide in Leh, and exodus
by Naveed Iqbal
September 15, 2017
On Thursday, as the deadline issued by the Ladakh Buddhist Association (LBA) for people from Kargil to leave ran out, Chandu market, a row of shops and tea stalls just off the main road in Leh, wore an abandoned look. The LBA is a self-styled "welfare group" that works towards "safeguarding the interests" of what they call a "religious micro-minority" in the Ladakh region of Muslim-majority J&K.
The undercurrents of communal discord rose to the surface here over the last week as news spread of the marriage of a Buddhist woman, who had converted to Islam in 2015, to a Muslim man from Kargil. The two were married on July 31, and the LBA suspects that the conversion and the marriage may have been conducted under duress.
A week ago, the LBA held a public rally where they asked people from Kargil, who were living and working in Leh, to "leave town by September 14 and tell their leaders in Kargil to arrange employment for them". Many Kargil residents find employment in Leh during the tourist season.
Speaking to The Indian Express, LBA vice-president P T Kunzang said, "We have a floating population of about 50,000 people in Leh. No one has ever been harassed here, but a strong message had to be sent to the religious leaders in Leh because they cannot find jobs and livelihood here and also snatch our girls."
Asked about the marriage that led to the tension, he said, "Why has the girl not been allowed to talk to her parents? I agree that she is an adult and she has the right to choose her religion and partner, but why the secrecy about her whereabouts?"
According to Uday Bhaskar B, Senior Superintendent of Police, Leh, the woman's family approached police about ten days ago to register a complaint about their "missing" daughter.
"The police investigated and the woman (Stanzin Saldon, now called Shifah) was traced in Jammu. We sent a team there along with her brother. However, we received a court order on September 8, instructing police not to harass the couple. So, the team came back," the officer said.
According to LBA, a woman police officer in Jammu told the family that she had spoken to Saldon. "The officer said she had spoken to Saldon who told her that she did not wish to speak to anyone from her family," Kunzang said.
While the family and police looked for Saldon, the LBA issued its ultimatum. In the week since, at least three incidents of violence have been recorded in Leh. Two of those were linked to Muslim men from Kargil allegedly being involved in relationships with Buddhist women in Leh. One incident involved a meat-shop owner who allegedly kept his outlet open on the day of the full moon, when Buddhists do not consume meat.
On Thursday, as tourists flooded the main plaza in town and the district administration claimed that the situation was "under control," a police vehicle remained stationed in the market and non-uniformed policemen patrolled the streets.
On Friday, the district administration will hold a "peace meeting" with the three major religious groups in town — LBA, Anjuman Imamiya (a Shia Muslim group), and Anjuman Moin-Ul-Islam (a Sunni group). Officially, the event is being described as an "introduction meeting" for the new district commissioner who took office on Thursday.
Apart from economic and political differences between the two districts, conversions remain the biggest cause for discord in the region. In 1989, the region witnessed clashes between Buddhists and Muslims. The LBA claims that in the last 25 years, over 90 cases of conversion of Buddhist women to Islam have taken place.
http://indianexpress.com/article/india/an-inter-religion-muslim-buddhist-marriage-triggers-a-communal-divide-in-leh-and-exodus-4844210/
-------
Affidavit calling Rohingyas security threat is 'incomplete', not the final version, government says
September 14, 2017
Clarification: Hours after a copy of an affidavit prepared by the Home Ministry was served to some lawyers involved in the Rohingya matter being heard in the Supreme Court, the Central Agency Section of the Law Ministry has now clarified that the affidavit in fact was 'incomplete and inadvertently' served to the lawyers.
The clarification issued by the CAS, which is responsible for conducting litigation before the Supreme Court, comes comes after Home Ministry claimed that it had not filed an affidavit. However, quite interestingly, the copy was served to the lawyers. The copy accessed by India Today has a stamp and signature from the Ministry of Home Affairs.
A strongly worded affidavit, which the Centre now says is 'incomplete', had told the Supreme Court not to interfere with the government's process of deporting illegal Rohingya immigrants from the country.
In the affidavit it has been argued that Rohingya Muslims are a threat to the national security and in many instances have been found to be part of the 'sinister design of the ISIS'.
The original story published by IndiaToday.in when news of the Centre's affidavit first broke is below. Readers, however, are advised to read the story with the government's clarification in mind:
The government today told the Supreme Court it cannot allow Rohingya Muslims to stay in India as refugees since they pose a threat to national security and could be used by domestic and foreign terror groups to create trouble in the country.
In an affidavit, the Ministry of Home Affairs has said that intelligence inputs have suggested that Rohingyas are linked with terror groups. The Centre claimed Rohingya militant groups are active in Jammu, Delhi, Hyderabad and Mewat, and could be used by the Islamic State.
"National interest warrants their deportation. No illegal immigrant has the right to stay in India," the affidavit says.
Earlier this week, the United Nations' top human rights official Zeid Ra'ad al-Hussein had criticised India for wanting to deport Rohingya refugees. "I deplore current measures in India to deport Rohingyas at a time of such violence against them in their country," Zeid said.
Noting India's obligations under international law, he said: "India cannot carry out collective expulsions, or return people to a place where they risk torture or other serious violations."
But the Indian government has maintained that it sees Rohingyas as a threat to security. Home Minister Rajnath Singh had also called them a threat to national security earlier this week. "We cannot rule out the possibility of security threat and I have already cleared our stand with regard to illegal immigrants," he had said.
MATTER IN SC
Next week, the Supreme Court will hear a plea filed by two Rohingya immigrants, Mohammad Salimullah and Mohammad Shaqir, challenging the government's decision to deport illegal Rohingya Muslim immigrants back to Myanmar. The plea, filed by senior advocate Prashant Bhushan on their behalf, claims they had taken refuge in India after escaping from Myanmar due to widespread discrimination, violence and bloodshed against the community there.
Opposing the plea, former RSS ideologue and Rashtriya Swabhiman Andolan leader KN Govindacharaya has also moved the apex court seeking to make him a party in the case filed by the two Rohingya Muslims. Govindacharya has opposed their plea saying they were "a burden" on the country's resources and posed a serious threat to national security.
Meanwhile, India has also extended humanitarian assistance for Rohingya refugees in Bangladesh by flying down food and other essential items to the neighbour to help it deal with the huge influx of Rohingyas who have fled from Myanmar.
The violent attacks allegedly by Myanmarese armymen have led to an exodus of Rohingya tribals from the western Rakhine state in that country to India and Bangladesh. Many of those who had fled to India after the earlier spate of violence, have settled in Jammu, Hyderabad, Haryana, Uttar Pradesh, Delhi-NCR and Rajasthan.The relief material will be delivered in multiple consignments under "Operation Insaniyat", with the first tranche to be flown to Chittagong by an Indian Air Force plane later today.
Full report at:
http://indiatoday.intoday.in/story/rohingyas-threat-to-national-security-cannot-stay-in-india-government-tells-supreme-court/1/1047816.html
-------
India, Japan slam terror, corner Pakistan, N Korea
Sachin Parashar
Sep 15, 2017
AHMEDABAD: In what Indian officials described as another significant achievement in pushing Islamabad to act against cross-border terrorism, India got Japan to name Pakistan-based terror groups LeT and JeM in the joint statement issued after the Modi-Abe summit. This follows the Xiamen Declaration, the first from BRICS to name the groups while expressing concern over terrorism.
The summit here also, as expected, saw Modi and Abe discuss the situation in North Korea, with the leaders, in an oblique reference to China and Pakistan, stressing the importance of holding accountable all parties that have supported Pyongyang's nuclear and missile programmes. North Korea, which recently tested a hydrogen bomb, was reported on Thursday to have threatened that it was going to "sink'' the four islands of the Japanese archipela go.
Addressing the issue of terrorism, the joint statement said Modi and Abe looked forward to the fifth India-Japan Consultation on Terrorism, and strengthening cooperation against terrorist threats from groups including "al-Qaida, IS, Jaish-e-Mohammad, Lakshar-e-Taiba and their affiliates''.
The 2016 joint statement had not named these groups even though it had called for Pakistan to bring the perpetrators of terrorist attacks, including 26/11 and the 2016 Pathankot strike, to justice.
And while the 2016 statement had underlined the need for all countries to effectively deal with "trans-national terrorism" emanating from their territory, it was a lot more direct this year, calling upon all countries to work towards rooting out terrorist havens and infrastructure, disrupting their networks and financing channels, and halting the "cross-border movement of terrorists" .
Foreign secretary S Jaishankar said the message to Pakistan was quite clear after the back-to-back Xiamen Declaration and India-Japan joint statement. The naming of LeT and JeM by BRICS was seen as a significant achievement as China had, in 2016, blocked India's move to include their names in the Goa Declaration.
Modi and Abe also condemned "in the strongest terms" North Korea's continued development of its nuclear weapons and ballistic missile programmes.
"Recognising that North Korea's continued pursuit of nuclear and ballistic missile programmes and its proliferation links, including the launch of a ballistic missile flying over Japanese territory on 29 August 2017, pose a grave and real threat to international peace and stability and the international non-proliferation efforts, the two Prime Ministers strongly urged North Korea to abandon its nuclear and ballistic missile programmes and not to take any further provocative actions, and to fully comply with its international obligations under relevant UNSC resolutions, including the newly and unanimously adopted resolution 2375, and other international commitments," said the joint statement.
Full report at:
http://timesofindia.indiatimes.com/india/india-japan-slam-terror-corner-pakistan-n-korea/articleshow/60520983.cms
-------
Top Lashkar terrorist Abu Ismail, aide killed in encounter in Kashmir's Nowgam
Sep 14, 2017
SRINAGAR/NEW DELHI: Abu Ismail, a top Lashkar-e-Taiba (LeT) terrorist operating in Kashmir and "architect of Amarnath Yatra attack", was killed on Thursday in an encounter with security forces in Aribagh area of Nowgam on the outskirts of Srinagar, police said.
"LeT terrorist Abu Ismail of Pakistan and his accomplice have been killed in Nowgam. Huge achievement for police and SF (security forces)," Jammu and Kashmir police official said, adding that he was the architect of the deadly attack on Amarnath Yatra+ in which seven pilgrims, including six women, were killed and 19 were injured.
Read this story in Bengali
Ismail, 24, who was involved in a number of terror attacks, had infiltrated into Kashmir four years ago and operated mostly in south Kashmir areas. The Lashkar terrorist and his Pakistani aide, Chotta Qasim, were gunned down after security forces zeroed in on their hideout after receiving reliable intelligence about the presence of two terrorists in a house in Nowgam, DGP S P Vaid said.
"It was a huge achievement for the police and security forces. Abu Ismail was involved in a number of terror operations," J&K police chief S P Vaid told TOI. He said the encounter was carried out successfully with the support of the people, the intelligence network and coordination between all forces.
He was also involved in the terror attack on a DPS school building, and on the security forces on the Jammu-Srinagar national highway which had left a CRPF assistant sub-inspector and a constable dead and three soldiers injured, DGP Vaid said.
Ismail formally took over as LeT commander after the killing of Abu Dujana on August 1, but Ismail was more active than the latter. While Dujana had taken to womanising, which led to his death, Ismail had become more organised, as evidenced in the attack on Amarnath yatris at Bantengo, Anantnag.
Read this story in Gujarati
Addressing a joint press conference, Inspector General of Police (IGP) Kashmir Zone Munir Khan, General Officer Commanding (GOC) Victor Force Major General BS Raju and Inspector General Operations CRPF Zulfiqar Hassan lauded and congratulated the efforts of security forces for successful operation.
"On specific information, a joint operation was launched in Aribagh in Nowgam area on the outskirts of Srinagar city. It was around 4:15 pm that a contact was established with the two hiding terrorists in a house there. In a very brief encounter, both the terrorists were killed," Khan said.
"The bodies of the slain terrorists (Ismail and Chotta Qasim) have been kept at the appropriate place for appropriate disposal," he said, adding that they (terrorists) were on their way to the Line of Control to cross into Pakistan-occupied Kashmir as they feared police were hot on their trail.
The IGP said two AK rifles, UBGLs and other material were recovered from them.
He said Ismail was involved in 15 cases including the July 10 attack on a bus carrying Amarnath yatra pilgrims in south Kashmir's Anantnag district which left eight of them dead.
"After the elimination of Abu Dujana, he (Ismail) had taken over as the chief of LeT in the valley. He was involved in around 15 criminal cases in valley which included murder, dacoities and other militancy related incidents. So, I compliment our teams for executing a wonderful operation with no collateral damage," Khan said.
"The day they (terrorist) killed yatris, the people said that such they should be brought to justice and today they have been brought to justice. It is a great success for the security forces. A chapter of these terrorists has been closed. Tomorrow will be a new day for us. We will start our work afresh.
"When the attack took place, there was total condemnation of the act committed by terrorists from all sections of the society and people said loud and clear that these killers must be killed. So, from that day onwards, these killers were our targets and our teams - whether they be police, army or the CRPF - were looking for them," he said.
He thanked the people for "expressing that sentiment that time because that was against Kashmiriyat. No Kashmiri liked that".
Asked whether all the terrorists behind the attack have been neutralised, the IGP said "One foreign and one local terrorists are left."
He said Ismail was an "A++" category terrorist while Qasim was "A+" category, but refused to share further details of the operation.
"It is better not to ask such questions because they are operational details which we do not want to divulge. It is not that whole militancy has been wiped out by their killing. So, it is better not to divulge the details," he said.
Khan said the priority of the security forces is to neutralise the militant leadership in the valley.
"Militant leadership is important to be neutralised. That has to be eliminated because they not only are militants but also provoke and motivate children. The priority is to neutralise the militant leadership. You know who are the leaders and they will be our next target," he said.
He, however, said "we have a long way to go and we will keep on trying."
Maj Gen Raju said Ismail's killing is extremely important because he was responsible for the death of about 14 security forces personnel and eight civilians.
"This success is also important because we are expecting vacuum in the foreign terrorists' leadership of the LeT. After the death of Abu Qasim, then Abu Dujana and now Ismail. In between we also killed (Abu) Ali. Now, we are looking at a serious deficiency in their leadership which should give us more opportunities," he said.
Meanwhile, internet services have been now been partly restored in the Srinagar city.
On July 12, security forces had launched a massive hunt to track down Abu+ Ismail.
Proactive operations have been launched, mainly in south Kashmir, to track down Ismail as investigations including communication intercepts have pointed out to his involvement in the attack on Amarnath pilgrims, a senior police official had said.
Full report at:
http://timesofindia.indiatimes.com/india/top-lashkar-terrorist-abu-ismail-aide-killed-in-encounter-in-kashmirs-nowgam/articleshow/60513758.cms
-------
After BRICS, India-Japan joint statement names Pakistan-based terror groups Lashkar, Jaish
Sep 14, 2017
NEW DELHI: India and Japan on Thursday called for a "zero-tolerance approach" to terrorism and committed to cooperate in the fight against terror, including the Pakistan-based groups Lashkar-e-Toiba (LeT) and Jaish-e-Muhammed (JeM).
In what appeared to be a reference to Pakistan, the two Prime Ministers Narendra Modi and Shinzo Abe, in their joint statement, called upon all countries to work towards rooting out terrorist safe havens and infrastructure, disrupting terrorist networks and financing channels and halting cross-border movement of terrorists.
When it came to the issue of perpetrators of terror attacks, including the 2008 Mumbai and 2016 Pathankot strikes, the two leaders didn't shy away from naming Pakistan, and called upon it to bring to justice those who carried out the attacks.
"PM (Narendra Modi and PM (Shinzo) Abe look forward to convening (the) 5th Japan-India consultation on terrorism and to strengthen cooperation against terrorists threats from groups including Al-Qaida, ISIS, JeM, LeT and their affiliates," said the two countries in a joint statement at the end of Abe's 2-day visit to India.
Modi and Abe condemned in the "strongest terms" the growing menace of terrorism and violent extremism, their statement added.
"They shared the view that terrorism in all its forms and manifestations is a global scourge that must be forcefully combated through concerted global action in the spirit of 'zero tolerance'," the joint document said
Modi and Abe called upon all UN member countries to implement UNSC resolution 1267 and other relevant resolutions dealing with the designation of terrorist entities, the statement said.
New Delhi has had success lately in getting Pakistan-based terror named and shamed at international forums.
Earlier this month, for the first time, BRICS countries slammed Pakistan without naming it, as they "deplored" terror attacks in member countries and the "violence caused" by Pakistan-based terror outfits.
The 'BRICS Xiamen Declaration' specifically named LeT and JeM+ , as well as the Haqqani network, the Taliban, ISIL/DAISH and Al-Qaida.
In addition, the BRICS members also called for greater efficiency in designation of terrorists. This was particularly significant, because it is BRICS member China that has been blocking designating Jaish-e-Muhammad chief Masood Azhar a terrorist. That may now change, in a further setback for JeM.
Pakistan has been at the receiving end lately on the terror issue.
Full report at:
http://timesofindia.indiatimes.com/india/after-brics-india-japan-joint-statement-names-pakistan-based-terror-groups-lashkar-jaish/articleshow/60511721.cms
-------
UP ATS nabs three Bangladeshi youths on suspicion of terror links
September 14, 2017
Three Bangladeshi youths, suspected to have links with Islamic extremist group Ansarullah Bangla Team (ABT), have been arrested by Uttar Pradesh Anti-Terrorist Squad in Lucknow. Mohammad Imran, Rajiuddin and Mohammad Firdaus – all brothers – were caught while boarding the Howrah-Amritsar Express train yesterday afternoon, IG ATS Asim Arun said on Thursday.
During interrogation, they confessed that they were residents of Bangladesh and fake Aadhaar cards were found from their possession, he said. Asim said that they were later put under arrest. The names of the three came after an ATS team on August 6 arrested suspected Bangladeshi terrorist Abdullah, associated with the ABT from Muzaffarnagar. The ABT – also called Ansar Bangla – is implicated in crimes including some brutal attacks and murders of atheist bloggers in Bangladesh.
Abdullah alias Al Mamun was arrested from Kutesara locality in Charthawal area of Muzaffarnagar district by an ATS team and during his interrogation name of some persons came to the fore and probe was done in Deoband madrassas to find his links. It was found that three persons – a madrassa teacher and his two brothers – were missing after which ATS team swung into action and three were arrested, Asim said. He said the ATS would probe whey they fled from Deoband and whether they have links with any terrorist group.
Abdullah was living in Kutesara area for a month. Earlier he resided in Deoband area of Saharanpur since 2011 and had also got his Aadhaar card and passport prepared on fake identity. ATS officials said Abdullah is associated with ABT and was involved in preparing fake identity proofs of terrorists especially of Bangladesh and help them get safe hideouts in India.
Full report at:
http://indianexpress.com/article/india/up-ats-nabs-three-bangladeshi-youths-on-suspicion-of-terror-links-4843993/
-------
Rohingya Muslims are threat to national security, Centre tells Supreme Court in response to PIL
Sep, 14 2017
The Rohingya Musims cannot stay in India as they are a threat to national security, the Centre told the Supreme Court on Thursday. The central government was responding to the apex court's questions on deportation of Rohingya refugees in a PIL filed in the court.
The government further stated that some Rohingya are linked to terror groups, and hence can not be allowed to stay. CNN-News18's legal editor, Utkarsh Anand said that with this statement at the Supreme Court, the Centre has made it clear that the Rohingya are immigrants and cannot come to the Supreme Court because they are immigrants. "They do not have constitutional rights since they are considered illegal refugees," he added.
The government of India's anti-refuge stand on the Rohingya crisis is not new.
Earlier, when Rajnath Singh visited Jammu and Kashmir, he termed the Rohingya as a national threat, as per The Times of India.
"The illegal foreign immigrants will be strongly dealt with," Rajnath had told The Times of India, replying to a question on the Rohingya refugees living in various parts of India.
According to The Times of India, in August, the Centre had declared that the "Rohingya pose serious security challenges as they may be recruited by terror groups, and asked the state governments to identify and deport them".
Minister of State for Home Affairs Kiren Rijiju had on 5 September said the Rohingya were illegal immigrants and stood to be deported.
Union minister VK Singh on Wednesday had said the government will follow its policy for refugees to tackle the Rohingya issue.
"The government will go according to the policy to deal with refugees... when the situation is good enough for them to return to their country," he told reporters.
Nobody wants to stay as a refugee, the minister of state for external affairs said.
Who are the Rohingya?
The Rohingya, a stateless Muslim minority, are regarded as illegal immigrants in Myanmar. The latest exodus, which began on 25 August, has come following a violent conflict between Myanmar Army and the Arakan Rohingya Salvation Army, according to Al Zazeera. A small group of Rohingya men had attacked around 30 police and army posts in Rakhine State, killing 12 officers, according to the government.
Around 40,000 Rohingya Muslims have settled in India, and nearly 16,000 of them have received refugee documentation, according to the United Nations. They are estimated to be around 3,00,000 Rohingya in Bangladesh.
UN human rights chief Zeid Ra'ad Al Hussein had on Tuesday accused Myanmar of waging a "systematic attack" on the minority.
Al Hussein had also criticised the Narendra Modi government for its anti-refugee stand on the issue.
Willing to offer aide but no refuge
The Centre's announcement comes as a setback to the Rohingya since on Thursday, India sent 53 tonnes of relief materials to Bangladesh for Rohingya Muslim refugees from Myanmar, who poured into Bangladesh following the ethnic violence in the neighbouring Buddhist-majority nation.
The first consignment of India's assistance comes days after Dhaka briefed New Delhi about the problems faced by it due to the influx of these refugees.
Bangladesh High Commissioner in New Delhi Syed Muazzem Ali had met foreign secretary S Jaishankar last week and discussed the issue of Rohingya in detail.
Rohingya Muslim girl Afeefa Bebi holds her few-hours-old brother at a community hospital in Kutupalong refugee camp, Bangladesh. APRohingya Muslim girl Afeefa Bebi holds her few-hours-old brother at a community hospital in Kutupalong refugee camp, Bangladesh.
Full report at:
http://www.firstpost.com/india/rohingya-muslims-are-threat-to-national-security-centre-tells-supreme-court-in-response-to-pil-4043255.html
-------
Pakistan
Afghan Taliban will support Pakistan against foreign aggression: Sami
September 15, 2017
NOWSHERA: The Afghan Taliban have announced that they would support Pakistan against any threat by the Trump administration, pledging to stand by the government in case of any aggressive design pursued by the United States against the country.
Surprisingly, the announcement was not made public by the Emarat Islami Afghanistan, the official name of the Afghan Taliban, and was released by Maulana Samiul Haq, chief of his own faction of the Jamiat Ulema-i-Islam, from Akora Khattak where he runs his madressah.
According to the statement, the Ittehad Ulema-i-Afghanistan — a little known entity — had after a meeting announced their support for Pakistan against an American aggression.
The meeting between the Afghan Taliban and Emarat Islami Afghanistan held under the banner of `Ittehad Ulema-i-Afghanistan' was led by Mufti Mehmood Zakri. Representatives of various groups and religious organisations reportedly attended the meeting. It was not clear how those religious leaders are different from the Afghan Taliban.
Later, they sent a written statement to Maulana Haq, extending full support to Pakistan in case of an attack by the US or India. They said they would fight for Pakistan like they had rendered sacrifices for their own country [Afghanistan].
They urged Pakistani political and religious parties to shun their differences and forge unity among their ranks.
They also vowed that the Afghan Taliban would continue their jihad in Afghanistan and would struggle for the implementation of Islamic system in their country.
They condemned the inhuman treatment being meted out to Rohingya Muslims in Myanmar and urged the Muslim countries to raise their voice in their support to stop their genocide.
Maulana Haq, who has been for decades known to wield influence on Taliban, has lost the position in recent years. He urged Interior Minister Ahsan Iqbal to appreciate the Afghan Taliban's announcement.
https://www.dawn.com/news/1357750/afghan-taliban-will-support-pakistan-against-foreign-aggression-sami
-------
Pak-Afghan-US meeting: Trio reaffirms resolve against Daesh
September 15, 2017
ISLAMABAD - Pakistan, Afghanistan, and the United States on Thursday reaffirmed their resolve to continue fight against the common threat Daesh.
The resolve was expressed during tripartite meetings held in Kabul, ISPR said. It said that areas of mutual security interests and concerns were deliberated upon during the interaction.
The military media wing added the three sides expressed their determination eliminate Daesh through information sharing, complementary efforts and enhanced cooperation.
A six-member high-level military delegation, headed by DG Military Operations Major General Sahir Shamshad Mirza, represented Pakistan, it said.
Pakistani and Afghan officials in a bilateral meeting at the Ministry of Defence in Kabul agreed to formulate an action plan to improve security along the Pak-Afghan border through enhanced cooperation, the ISPR added.
Participants of the bilateral meeting discussed the issues of cross-border firing and attacks, counter-terrorism. They mooted coordinated actions on their respective sides along the border, as well as exchange of prisoners.
Full report at:
http://nation.com.pk/national/15-Sep-2017/trio-reaffirms-resolve-against-daesh
-------
Terror shadow on Lahore bypoll: Hafiz Saeed's man in fray for NA-120 seat
SANYA DHINGRA
14 September, 2017
The byelection will be held on 17 September to elect disqualified former Prime Minister Nawaz Sharif's replacement in Pakistan's National Assembly.
For anyone interested in the politics of the subcontinent, the bypoll for Lahore's NA-120 National Assembly seat on 17 September is turning out to be must-watch.
The election will decide who will replace Nawaz Sharif in the lower house of Pakistan's parliament – after the Supreme Court disqualified him in connection with the Panama Papers case.
But it has become even more important because it marks the political debut of UN-designated global terrorist Hafiz Saeed's political party, the Milli Muslim League (MML) – albeit an unofficial one.
Saeed – the alleged mastermind behind the 26/11 Mumbai attacks and scores of others across India and Afghanistan – launched the party in August. It was seen as an obvious bid by his Islamist jihadi group, the Jamaat-ud-Dawa, to gain political legitimacy and exercise more power in Pakistan's warped power system.
However, the Election Commission of Pakistan (ECP) insists the MML is not a recognised political party, and no election symbol has been allotted to it. And yet, the MML's candidate, Muhammad Yaqoob Sheikh, has been allowed to fight as an independent.
At a time when Pakistan is being hauled up for its support to terror by the international community, including traditional allies like China, the fact that Hafiz Saeed's chosen candidate remains in fray is surprising. And while the ECP has fallen short of disqualifying Yaqoob, sources in Pakistan's home ministry are reported to have objected to his candidature.
MML defying election commision
The ECP order, dated 9 September, came after the MML had thrown its entire might behind Yaqoob in an incessant campaign.
The ECP insisted that "no organisation by the name of Milli Muslim League is registered with it and neither does it have any legal status."
It added: "The commission has advised the returning officer to take legal action and initiate model code of conduct proceedings against the independent candidate, and also stop him from using the name of MML."
However, despite the order, the MML continues to hail Yaqoob as its candidate. The outfit's Twitter handle, which has just over 2,000 followers, has Yaqoob in its display picture, and multiple campaign posters address him as the "central leader" and the party's chosen candidate.
What is particularly relevant is that banning a radical organisation without disqualifying its candidates has not served the interests of the country in the past. Earlier, the ECP had allowed Masroor Nawaz Jhangvi to contest an election as an independent candidate despite his association with the banned sectarian outfit Sipah-e-Sahaba, only to have him win the election.
Radical ideology
So what does the MML have to offer politically? Revolutionary and radical, the MML's politics centres around predictable fears and conspiracy theories. The League is out there to "save the country" from corruption, liberalism and secularism, and establish the Pakistan envisioned by Quaid-i-Azam Mohammad Ali Jinnah.
On Kashmir, the outfit's stand is predictably uncompromising. "Kashmiris are fighting for the completion of Pakistan," the MML said in a press conference last month. "We salute their sacrifices and their right to self-determination."
Earlier this month, Jamaat-ud-Dawa's second-in-command Abdul Rehman Makki had pledged to intensify 'jihad' against India in Kashmir.
Experts say the MML is the latest of Hafiz Saeed's many bids to "legitimise terror", and escape the national and international bans against him.
As Lt Gen. Syed Ata Hasnain (Retd.) explains here, with the uncertain political environment in the country, wherein a prime minister from the main party of the Punjab heartland can be shown the door by the Supreme Court, it would be foolhardy for Saeed to think his future in the country cannot be challenge.
Yaqoob's chances
Does Yaqoob have a realistic chance at victory in the upcoming polls? The Pakistani media unequivocally seems to think not. The contest is essentially between Sharif's wife Begum Kulsoom Nawaz of the Pakistan Muslim League-Nawaz, and Dr Yasmin Rashid of Imran Khan's Pakistan Tehreek-e-Insaf party.
Yet, Yaqoob's participation in mainstream politics should ring alarm bells in Pakistan, where it is becoming increasingly routine for proscribed outfits to launch political fronts.
Full report at:
https://theprint.in/2017/09/14/terror-shadow-lahore-bypoll-hafiz-saeeds-man-fray-na-120-seat/
-------
No two parties on same page over Fata
Kalbe Ali
September 15, 2017
ISLAMABAD: The multiparty conference held on Thursday to demand the swift merger of Fata with Khyber Pakhtunkhwa not only exposed the lack of coherence among stakeholders, but also saw some of the key players announcing their intention to block the mainstreaming of the tribal areas.
Organised by the Awami National Party (ANP) to discuss the early merger of Fata with KP and the replacement of the Frontier Crimes Regulations (FCR) with the laws of Pakistan, proceedings of the conference on the fate of tribal Pashtuns was conducted mostly in Urdu.
Although the Jamiat Ulema-i-Islam-Fazl (JUI-F) and Pakhtunkhwa Milli Awami Party (PkMAP) have already openly discredited the idea for their own reasons, even those who expressed their support for the merger presented varied roadmaps that contradicted with each other's plans.
Representatives of nearly all key political parties attended the multiparty conference, except for the ruling Pakistan Muslim League-Nawaz (PML-N) and the Pakistan Tehreek-i-Insaf (PTI).
Most of the speakers who supported the merger belonged to ideological left, but even a representative of the JUI-Sami called for a speedy merger of the tribal areas with KP and stressed the need to replace the FCR with Sharia courts.
Nearly all speakers, including Professor Ibrahim of the Jamaat-i-Islami, blamed the federal government for keeping Fata underdeveloped and its residents underprivileged.
From among leftist nationalist parties, PkMAP not only opposed the merger, but also the mainstreaming of Fata on the grounds that there was a need to preserve the culture and traditions of tribal Pashtuns.
Starting his address in Pashto, PkMAP chief Mehmood Khan Achakzai, chief of PkMAP later slipped into Urdu as he narrated his perspective on the modernisation of the tribal areas, which included an amalgam of the jirga and the current administrative system.
The other staunch opponent of the merger, Maulana Fazalur Rehman, even compared the case of Fata with Kashmir, and that of the Durand Line with the Line of Control (LoC) and said there was nothing unusual in Fata that was not happening in the rest of the country.
"We take things emotionally and leaders play with emotions. Mr Asfandyar, you have made the Fata issue controversial, just as you did in 2012," the JUI-F leader said, adding: "We cannot change the status of Fata; even the Quaid-i- Azam maintained it.
"The only solution is to hold a referendum just like the one we seek in Kashmir, just like the referendum held in Scotland and UK over Brexit."
He claimed his party had suffered significantly "at the hands of Islamabad" after initiating a dialogue with the Fata elders, adding that if the Durand Line was made controversial like the LoC, there would be continuous clashes between the Pashtuns and Muslims on both sides.
He said there were many British-era draconian laws in Pakistan and there were more underdeveloped areas in Balochistan than Fata and stressed the need to not take any hasty decisions.
The key refutation speech was made by the host, ANP chief Asfandyar Wali Khan. He stated that history had been distorted by some speakers, and clarified that Fata was a part of Pakistan, unlike Azad Kashmir.
"A committee was formed by the federal government in this regard and the only two parties opposing it are their coalition partners – either you stay with them or come with the opposition," he said.
He said reforms and mainstreaming had nothing to do with tribe, race or traditions.
"We are talking about giving equal rights to one part of Pakistan, not making a confederation of Iran, India, Bangladesh with Pakistan, along the lines of the EU," he added.
Like most of the speakers, he too lashed out at the establishment and criticised the government, saying that due to their malafide intentions, they will not implement the recent cabinet decision.
Full report at:
https://www.dawn.com/news/1357810/no-two-parties-on-same-page-over-fata
-------
Continued democracy will eliminate poverty, terrorism: Bilawal Bhutto
15-Sep-17
KARACHI: Pakistan People's Party (PPP) Chairman Bilawal Bhutto Zardari on Thursday said that democracy was the only viable and practicable form of government to foster resilient societies, and that strengthening effective, accountable and inclusive democratic institutions was the key to sustainable democracy.
In his message on International Democracy Day being observed under the aegis of the United Nations, the PPP chairman endorsed the UN theme "Democracy and conflict prevention" for the day, stressing that only continued and uninterrupted democratic process could ensure complete elimination of poverty, injustice, extremism and terrorism from the world. Bilawal said that democracy and more democracy was the cure for long-term peace and stability in the world, including Pakistan. "Democracy strengthens every segment of society, promotes equality and brotherhood, empowers women and weaker echelons, fosters tolerance and develops a human society with respectable and cohesive coexistence," he added.
Full report at:
http://dailytimes.com.pk/sindh/15-Sep-17/continued-democracy-will-eliminate-poverty-terrorism-bilawal-bhutto
-------
South Asia
Rohingya Hindus too fleeing to Bangladesh
Sep 15, 2017
KUTUPALANG, UKHIA (BANGLADESH): Akhira Dhar sits in stony silence in one corner of the makeshift camp for Rohingya refugees. Her glazed eyes have a blank stare that seems oblivious of the bustle in the camp as a fresh wave of refugees arrive, carrying with them scars and hopes. It takes a long time for Akhira to return to the present. But the horrors of the recent past have simply overwhelmed her.
In the past week, Akhira has seen her husband and in-laws being hacked to death. Masked men armed with guns and machetes beheaded them after they looted everything the villagers had. That they were Hindus, minorities among the Rohingyas, didn't matter. In the Rakhine state, violence and persecution obliterated religious boundaries. Hindu women were raped and killed before their villages were burnt.
At Fakir Bazar, the village where Akhira was married into barely a year ago, the masked men did not spare a single male member. The blood and gore that she witnessed still numbs her. "Hadi felay (They kill everyone)," she murmurs. How she, carrying a four-month life in her womb, managed the crossing across the hilly terrain and jungle tracts braving wild animals is difficult to comprehend but she did finally make it to Merinja opposite Naikhong Chari in Chittagong. Here, she is now housed in Hindupara, a Hindu settlement within the Kutupalang Camp.
Rikha Dhar, another refugee in Hindupara, recounted how her husband who had a gold shop in Myanmar's Fakir Bazar was tortured by masked men till he disclosed where he had hidden the jewellery. Once he did though, they slit his throat. "My husband told them about the jewellery when they threatened to kill our children. They then took him blindfolded towards the hills. When we were fleeing, we found his blood-soaked body along with hundreds of others," she recalled. The masked men, survivors are convinced, are not the armed forces as they speak the Rakhine dialect. These men, with their faces hidden, had spread a reign of terror in villages with Hindu settlements.
"The gun-toting masked men came one Thursday afternoon and drove us into our homes. For the next six days, they did not allow anyone to come out. On the seventh day, when they had gone to a nearby village, we fled for our lives," said Bijay Ram, a Rohingya Hindu who managed to escape along with 120 more families from Oti Roah village in Myanmar. While trekking through the jungle, they found Akhira, Rikha and six other women with children.
"We found them wandering aimlessly," said Swapan Sharma Roni, member of Haladia Palang Parishad (III), the administrative body of a block of villages which brought them along. "In the past few years, we have not seen any Hindu refugee crossing the border to enter Bangladesh. It seems no Rohingyas were spared this time," Roni said. The cold horror in the eyes of survivors like Rikha reflects the trauma. "I've seen the porch stained with the blood of my kin. There is no more strength left in me even to cry," said Rikha.
http://timesofindia.indiatimes.com/world/south-asia/not-just-rohingyas-hindus-too-fleeing-to-bangladesh/articleshow/60520756.cms
-------
ISIS behead two Afghan civilians on espionage charges in Kunar
Sep 15 2017
The loyalists of the Islamic State of Iraq and Syria (ISIS) terrorist group in Afghanistan, ISIS Khosan, have beheaded two civilians on espionage charges in eastern Kunar province.
According to the local officials in Kunar, the men were initially taken hostage and were later beheaded on charges of spying to the foreign forces and the government.
Provincial governor Wahidullah Kalimzai confirmed the incident but rejected the claims by the ISIS terrorist group regarding the involvement of the victims in espionage.
The terrorist group has released pictures of the hostages and claimed that the men were beheaded in Manogi district.
The latest incident takes place amid ongoing operations against the terror group in Kunar and other parts of the country.
US-Forces in Afghanistan in July confirmed the death of four senior advisers of the Islamic State in Iraq and Syria-Khorasan in a strike that also killed the ISIS-K emir Abu Sayid in Kunar province July 11, 2017.
Full report at:
http://www.khaama.com/isis-behead-two-afghan-civilians-on-espionage-charges-in-kunar-03368
-------
Rohingya Muslim exodus to Bangladesh reaches 389,000: UN
September 14, 2017
The number of Muslim Rohingya who have crossed into Bangladesh to escape ethnic unrest in Myanmar since August 25 hit 389,000 today, a UN spokesman said. The figure rose 10,000 in 24 hours, indicating the Rohingya crisis remains acute. UN refugee agency spokesman Joseph Tripura gave AFP the latest number. Other UN agencies have sounded the alarm over conditions for the Rohingya who have fled a military crackdown in Buddhist-dominated Myanmar's Rakhine state.
Most of the influx is concentrated around the Bangladesh border town of Cox's Bazar where more than 300,000 Rohingya refugees were packed into ill-equipped camps before the violence erupted last month in Rakhine.
The UN children's agency, UNICEF, says that 60 per cent of the new arrivals are children. "There are acute shortages of everything, most critically shelter, food and clean water," said Edouard Beigbeder, UNICEF's representative in Bangladesh, in a statement.
Full report at:
http://indianexpress.com/article/world/rohingya-muslim-exodus-to-bangladesh-reaches-389000-un-4843896/
-------
PM Hasina: I hope Myanmar will wake up
September 15, 2017
Prime Minister and Leader of the House Sheikh Hasina on Thursday told parliament that Myanmar must take their nationals back and they could not deny the citizenship of Rohingya refugees.
"I hope that Myanmar will wake up and take necessary measures to take their nationals back immediately. Just after the attack by a group of insurgents on border police that killed border police and military personnel, the Myanmar army attacked the innocent people over there," she said.
The prime minister further said that the real culprits behind the August attack needed to be found, as she expressed her confusion at the persecution of innocent Rohingya Muslims.
"I went there. I have witnessed their miserable condition. I saw that most of them are children, women and old people. I saw that not only the poor people, but many service-holders from affluent families were forced to flee their homeland," she added, saying the atrocities in the Rakhine state reminded her of the attack on Bangladesh by Pakistan in 1971, when 10,000,000 Bangladeshis sought refuge in India.
"Remembering those days, we allowed them (the Rohingya) to take shelter here on humanitarian grounds. But space is inadequate," Sheikh Hasina said.
The prime minister also recounted some of the heart wrenching tales she had heard from the refugees during her visit on Tuesday. "A boy, with scar, told me that his father, mother and three sisters were killed before his eyes. He fled to Bangladesh with his grandfather and grandmother," she said.
Sheikh Hasina also drew attention to the mounting international pressure on Myanmar to end the violence, citing visits by delegations from 45 countries to the Rohingya refugee camps, as well as a phone call from Canadian Prime Minister Justin Trudeau to Myanmar counterpart Suu Kyi where he urged her to end the conflict.
"The UN Security Council has also urged Myanmar to stop atrocities and praised Bangladesh's role in giving shelter to the victim of massive persecution in Myanmar," the Bangladesh prime minister added.
Meanwhile, Sheikh Hasina also said that a relief coordination committee headed by a deputy commissioner had been formed in Cox's Bazar, and any relief had to be handed to them for distribution.
Regarding biometric registration of the Rohingya refugees, the prime minister said Rohingya refugees would be granted ID cards that are coloured differently from those given to citizens
Full report at:
http://www.dhakatribune.com/bangladesh/2017/09/15/pm-hasina-hope-myanmar-will-wake/
-------
ISIS headquarter discovered from a flour mill in Pakistan
Sep 14 2017
The headquarter of the Islamic State of Iraq and Syria (ISIS) terrorist group has been discovered from a flour mill in Peshawar city of Pakistan.
According to the security sources in Pakistan, the flour was located in the outskirts of Peshawar city and was being used as the headquarter of the terror group.
The sources speaking on the condition of anonymity further added that the headquarter was discovered during a joint raid of the Pakistani security forces.
The sources are saying that a leader of the terror group identified as Khalil was killed during the operation.
Another companion of Khalid was killed during raid and at least five Pakistani troops were wounded, the sources added.
According to the security sources the raid was conducted sometimes in June and after the group had carried out a series of attacks on Pakistani forces.
The ISIS terrorist group has not commented regarding the report so far.
Full report at:
http://www.khaama.com/isis-headquarter-discovered-from-a-flour-mill-in-pakistan-03442
-------
Mideast
Houthi leader threatens to attack Gulf States
15 September 2017
Houthi leader Abdel-Malek al-Houthi said on Thursday his group could target Saudi oil tankers should Saudi Arabia attack Yemen's main port at Hodeidah.
"We could target Saudi oil tankers and we could do anything," he said.
In a televised speech, the leader also said his group's ballistic missiles were capable of reaching the United Arab Emirates' capital of Abu Dhabi and anywhere inside Saudi Arabia.
It was unclear whether the Houthi group has the capability to carry out its threats.
Abdel Malek said the Houthis had successfully fired a missile at Abu Dhabi earlier this month, meaning the United Arab Emirates was no longer safe from attack.
He gave no further details and there has been no indication by the UAE of any missiles landing on their territory.
UAE Minister of State for Foreign Affairs Anwar Gargash said on Twitter his country was not intimidated by Houthi threats.
"The Houthis' comments threatening the UAE and its capital are tangible proof of the need for the Decisive Storm (operation)," Gargash said, referring to the Saudi-led coalition intervening in Yemen.
"Iran's militias have vile objectives and represent a real threat," he added.
Yemen has been devastated by more than two years of civil war in which President Abd Rabu Hadi's government, backed by the coalition, is fighting to drive the Iran-allied Houthis out of cities they seized in 2014 and 2015 in a rapid rise to national power.
"Today the port of Hodeidah is being threatened and we cannot turn a blind eye to that," Abdel-Malek said.
"If the Saudi regime and with a green light from the US attack Hodeidah then we have to take steps that we haven't taken before."
The United Nations had proposed that the Red Sea port of Hodeidah, where 80 percent of food imports arrive, should be handed to a neutral party, to smooth the flow of humanitarian relief and prevent the port being engulfed by Yemen's two-year-old war.
https://english.alarabiya.net/en/News/gulf/2017/09/15/Houthi-leader-threatens-to-attack-Gulf-States-.html
-------
Iran, Turkey military chiefs: Kurdish vote 'dangerous'
Sep 14, 2017
The military chiefs of Iran and Turkey have warned of dangerous consequences of an upcoming referendum on the possible secession of Iraq's Kurdistan region.
In a phone conversation on Thursday, Iran's military Chief of Staff Mohammad Baqeri and his Turkish counterpart, Hulusi Akar, said the fallout from the plebiscite on the regional security, peace and stability would be grave.
They also underlined the need for coordination among Iraq's neighbors to oppose the referendum and block secessionist plans in the region that could result in multiple political, social and security problems.
Moreover, the two generals discussed grounds for cooperation between Iranian and Turkish armed forces and stressed the importance they attach to boosting bilateral ties.
They further denounced the "inhumane and oppressive behavior" of the Myanmar regime, calling on Muslim countries and international bodies, particularly the United Nations, to take serious action toward stopping genocide and displacement of the Rohingya Muslims.
Baqeri and Akar also stressed the need for dispatch of humanitarian aid to the oppressed Myanmar Muslims to be expedited.
The Kurdish referendum is scheduled for September 25, but the central government in Baghdad as well as regional players like Iran and Turkey are opposed to the vote.
On Tuesday, the Iraqi parliament voted against the plebiscite, prompting a walkout by Kurdish lawmakers.
Iraqi Parliament Speaker Salim al-Jabouri said the vote made it incumbent on the government to "take all steps to protect the unity of Iraq and open a serious dialog" with Kurdish officials.
Full report at:
http://www.presstv.ir/Detail/2017/09/14/535167/Iran-Turkey-Iraq
-------
Gargash to Houthis: Your goals are despicable, your threat reveals despair
15 September 2017
UAE Minister of Foreign Affairs, Anwar Gargash, said on Friday that the Houthi statements threatening to target the UAE and its capital proves why the Operation Decisive Storm was needed.
"The Iranian-backed militias are really dangerous and have vile objectives," he said in a series of tweets Friday morning.
Gargash added that the Decisive Storm was launched after realizing the danger of shifting strategic balance, which is confirmed by these Houthi threats. He stressed that the Arab alliance is fighting a necessary battle for the future of the region.
"We are not afraid of the Houthi threats and stupidity; it reveals the desperation of those who defend fragmented illusions, and it certainly reveals the intentions for the Arabian Gulf region security and stability," Gargash wrote.
The UAE minister also said that the challenges we are facing requires more solidarity among Arab countries. He said that the Arab coalition is an example of this solidarity.
Gargash's tweets came hours after open threats made by Houthi militia leader, Abdel-Malek al-Houthi.
Full report at:
https://english.alarabiya.net/en/News/gulf/2017/09/15/Gargash-to-Houthis-Your-goals-are-despicable-your-threat-reveals-despair.html
-------
Clashes in Turkey over trial of two hunger-striking teachers
Sep 14, 2017
Turkey has begun a controversial trial for two hunger-striking teachers amid violent clashes between police and protesters in the capital Ankara.
Police used tear gas to disperse protesters outside the courthouse in Ankara where literature professor Nuriye Gulmen and primary school teacher Semih Ozakca were tried in absentia.
Police said the two were prevented from appearing in court as there was a risk of escape.
The two teachers are reportedly in a dangerously weak state of health as they have been surviving on liquids and supplements for six months to draw attention to the situation of tens of thousands who have been jailed or discharged from their jobs in Turkey over their suspected role in a failed coup last year.
Authorities have also issued arrest warrants for 18 of lawyers representing Gulmen and Ozakca. Critics say the government is trying to intimidate judges by the arrests and the forced absence of the teachers in the court.
"The first obstacle before a fair trial was the detention of their lawyers, which also served as a veiled intimidation attempt at the judges trying them," said Baris Yarkadas, a lawmaker from the main opposition Republican People's Party (CHP).
"Now they are not brought to court, in an open breach of their right to defend," Yarkadas added.
Gulmen and Ozakca were arrested in May over alleged links to the DHKP-C, a militant group deemed as terrorist by the Turkish government. Many have criticized their detention and trial, including parliamentarians from the CHP and pro-Kurdish opposition Peoples' Democratic Party (HDP), who attended the protest outside the courthouse on Thursday. Reports said at least 100 lawyers turned up for the court hearing.
Full report at:
http://www.presstv.ir/Detail/2017/09/14/535151/Turkey-trial-teachers-protest
-------
No Zarif-Tillerson meeting on Iran's UN agenda: Qassemi
Sep 15, 2017
Iran says there are no plans for a meeting between Foreign Minister Mohammad Javad Zarif and his American counterpart on the sidelines of the UN General Assembly session, after media reports hinted of such a meeting.
Foreign Foreign Ministry spokesman Bahram Qassemi was responding to a question whether a meeting with US Secretary of State Rex Tillerson was on the agenda of Zarif's upcoming trip to New York, where he will attend the 72nd annual session of the UN General Assembly.
Qassemi emphasized no such meeting has been planned and that he is not aware of such a request from Washington.
Earlier, AFP had quoted "diplomats" as saying that Tillerson would hold a first meeting on the Iran nuclear deal with Zarif and other parties to the 2015 agreement, officially called the Joint Comprehensive Plan of Action (JCPOA.)
Zarif will attend the UN general assembly next week and will hold talks with counterparts from Asian, European and neighboring countries, Qassemi said.
The top diplomat is also slated to hold talks with the European Union foreign policy chief, Federica Mogherini, and some foreign ministers of the P5+1 group of countries – Russia, China, France, Britain, the US, the UK and Germany – on issues of bilateral and international significance as well as the JCPOA.
Dignitaries from 193 nations will gather September 19 for a week of speeches and sideline meetings at the annual UN General Assembly in New York.
Iranian President Hassan Rouhani is also scheduled to give a speech at the UN General Assembly next week.
Full report at:
http://www.presstv.ir/Detail/2017/09/15/535208/zarif-qassemi-UN-Tillerson-P51-AFP
-------
China signs deal to provide Iran with $10bn in loans
Sep 15, 2017
China has signed an agreement with Iran to provide a credit line of $10 billion for its infrastructure projects – what is seen as the biggest economic deal between the two countries after the removal of sanctions against the Islamic Republic in 2016.
The agreement was signed between China's CITIC Group Corporation and a consortium of Iranian banks that included Bank of Industry and Mine, Refah Bank, Parsian Bank, Bank Pasargad and Export Development Bank of Iran.
Based on it, CITIC would provide loans to the Iranian banks to fund projects in areas such as energy, natural environment, transportation and the management of water resources.
Valiollah Seif, the governor of the Central Bank of Iran (CBI) who oversaw the signing of the agreement, was quoted by media as saying that the Iranian banks could start receiving loans from CITIC as early as October.
Seif emphasized that the CBI had shown "extensive flexibilities" toward CITIC in sealing the agreement. He added that this was based on the bank's history of positive cooperation with the Islamic Republic without elaborating what those flexibilities constituted.
The Beijing-based CITIC Group Corporation, formerly the China International Trust and Investment Corporation, is a state-owned investment company established in 1979. It now owns 44 subsidiaries, including China CITIC Bank, CITIC Holding, CITIC Trust Co. and CITIC Merchant Co. Ltd in China, Hong Kong, the United States, Canada, Australia and New Zealand.
Iran media last September quoted a CITIC official as saying that the enterprise was considering to provide Iran with $10 billion of financing, mostly in the country's steel, copper and coal projects.
The official, identified as Zhou Yafang by the English-language newspaper the Financial Tribune, added that the Chinese government was expected to issue the required permits by the end of 2016 and that the financing process would start in 2017.
Full report at:
http://www.presstv.ir/Detail/2017/09/15/535211/China-signs-deal-to-provide-Iran-with-10bn-in-loans
-------
JCPOA not renegotiable, better deal "pure fantasy": Iran's Zarif
Sep 14, 2017
Iranian Foreign Minister Mohammad Javad Zarif says the 2015 nuclear deal with the P5+1 group of countries, known as the Joint Comprehensive Plan of Action (JCPOA), is not open to renegotiation, stressing that there is no better alternative to the deal.
"The #JCPOA is not (re)negotiable. A 'better' deal is pure fantasy," Zarif tweeted on Thursday, adding that it was time for the US to "stop spinning and begin complying, just like Iran."
The remarks came at a time when Washington, which is a party to the nuclear agreement, seems to be laying out a case for abandoning it.
Zarif's remarks also came following a meeting between Iran's top diplomat and Russian President Vladimir Putin in the Black Sea resort city of Sochi on Wednesday.
During the meeting, the two sides stressed that the nuclear accord was non-negotiable and that all sides to the agreement must honor their obligations, Zarif said.
"The Islamic Republic of Iran has so far fulfilled all its commitments concerning the JCPOA, but unfortunately certain sides have not remained as committed as they should. Today, we stress that this (nuclear deal) is an international and multilateral agreement and that all sides must adhere to it," he added.
Last month, US Ambassador to the UN Nikki Haley traveled to Vienna to press the IAEA on accessing Iran's military sites; a demand, which has been categorically rejected by Tehran.
The top Iranian diplomat said at the time that the US was "openly hostile toward the JCPOA and determined to undermine and destroy it."
The JCPOA was reached between Iran and the P5+1 group of countries — the US, Russia, China, France, and Britain plus Germany — in July 2015 and took effect in January 2016. Under the deal, Iran undertook to put limitations on its nuclear program in exchange for the termination of all nuclear-related sanctions against Tehran.
Full report at:
http://www.presstv.ir/Detail/2017/09/14/535181/Iran-US-JCPOA
-------
Africa
NSCIA, FOMWAN seek world leaders' intervention in Rohingya massacre
15 September 2017
The leadership of two Muslim groups – the Nigerian Supreme Council for Islamic Affairs (NSCIA) and Federation of Muslim Women's Associations in Nigeria (FOMWAN) has urged the world leaders to urgently intervene to check the wanton killings and massacre of Muslims in Rohingya.
In a statement by the Deputy Secretary-General of NSCIA, Professor Salisu Shehu, the killing is described "as a global tragedy and crime against humanity" while FOMWAN President, Alhaja Amina Omoti said failure of world leaders to act now, to save lives and bring an end to the violence in Rohingya would be tantamount to endorsement of violence against Muslims.
"The level of persecutions and the monumental brutalities being meted on such defenseless, helpless and downtrodden Muslim communities in the Rakhine State of the country amount to genocide in the real sense of it," noted the Council.
Omoti, in a statement appealed to Muslims all over the world to exercise restraint, and pray fervently unto Allah to bring succour to those helpless Muslims under persecution wherever they may be on the globe.
She stated: "FOMWAN hereby calls on world leaders to speak up now. The present silence of notable world organizations like the United Nations, The United Nations Children Fund (UNICEF), and the African Unity, (Muslims and non-Muslims) on the persecution currently going on in Rohingya is not in the best interest of humanity. Presently many families have been shattered, many husbands killed, women and children slaughtered out of mere hatred.
"Let it be here categorically affirmed that the current failure of world leaders to act now, to save lives and bring an end to the violence in Rohingya, is dangerous.
"The response gotten by the Rohingya Muslims has been described as disproportionate – wiping out whole community, burning houses and killing several Rohingya Muslims is closer to genocide than anything else.
FOMWAN hereby appeal to dear Nobel Peace Laureate, Aung San Suu Kyi, to use her power and authority, through which she used to preach, that earned her the global recognition as "…an unflinching defender of human rights" to come to the rescue of women and children who are most hit by the current massacre."
Referencing one of the sayings of Prophet Muhammad (PBUH) that 'believers, in their mercy, compassion and sympathy for one another are like a single body….', the NSCIA, on behalf of the entire Muslim Ummah in Nigeria condemns in strong terms such endless, intermittent and exterminatory cruelties against these weak and helpless human beings.
Specifically, the Council condemns, what it terms "apparent global conspiracy of silence on the matter as demonstrated by the reluctance of the United Nations and world leaders to convene a meeting of the Security Council and take the necessary measures against the government in Myanmar and its armed forces who for years have been notoriously descending on their villages to slaughter them and mercilessly drive them out of their homes and abodes."
NSCIA also expressed perplex that such crimes against humanity "are taking place at a time when a supposedly Nobel Peace Laureate in person of Aung San Suu Kyi is at the helm of affairs in Myanmar. Aung San Suu Kyi has unfortunately appeared to be, in power and authority, the opposite of what she used to preach that earned her the global recognition as an unflinching defender of human rights.
"The NSCIA hereby uses this medium to call on the United Nations and world leaders to break their unworthy silence on these vicious atrocities , stir up to immediate action and do the needful to not only save human lives, dignity and honour but to also take the world out of this tragic embarrassment in the so-called 21st Century."
Pointedly, the Council calls on the Myanmar Government to, "as a matter of urgency, bring an immediate end to it, to not only discharge its primary obligation of protecting and securing the lives of its citizens but also save its face from global shame and condemnation."
Meanwhile, the Ahmadiyya Muslim Community had earlier condemned the persecution of the Rohingya Muslims in Myanmar (Burma).The organization also urged the international community to help the Muslims in Myanmar attain their basic human rights and freedoms. The World Head of the Ahmadiyya Muslim Community, the Fifth Khalifa (Caliph), His Holiness, Hazrat Mirza Masroor Ahmad said: "All Ahmadi Muslims are extremely grief-stricken to hear of the cruel treatment inflicted upon the Rohingya Muslims in Myanmar and we pray that all of these cruelties and injustices come to an immediate end".
He said that the fact that these Muslims are being targeted seemingly with impunity is a result of the division and sectarianism within the Muslim world itself. If there was unity amongst Muslim nations and communities, such tragedies would never unfold.
Masroor, hope and prayed that the international community comes together to help the Muslims in Myanmar and in this effort the Muslim nations should be at the forefront.
He prayed that the persecution of the Muslims in Myanmar, and indeed of all people who are denied their religious rights in the world, comes to an end."We believe that all people should be free to practice their faith or beliefs without any fear and that all people should be equal under the law of their land." He said.
https://guardian.ng/features/friday-worship/nscia-fomwan-seek-world-leaders-intervention-in-rohingya-massacre/
-------
The Karakaria in Algeria: Religious group or 'foreign conspiracy'?
By Sonia Farid
14 September 2017
A Sufi group, a cult, or a foreign conspiracy? Several questions were raised about that controversial group that emerged in Algeria and whose members walk around in colorful cloaks and call themselves the Karakaria.
While the group itself is not new, its emergence in Algeria is. It all started when Musa Belghith, a young Algerian man from the coastal city of Mostaganem, announced on social media that he joined the Karakaria after seeing "the light" and being taught "divine secrets" by his sheikh, in reference to Mohamed Fawzi al-Karkari, the current leader of the group and who resides in the town of Temsamane in Morocco.
As several youths followed in Belghith's footsteps and people wearing the group's cloaks appeared in the Sidi Lakhdar Ben Khloof shrine in Mostaganem, alarm bells were sounded across the city and the entire country over the threat Karakaria poses to Algerian national security.
No link to Sufism
Sheikh Hassani Hassan, head of the Qadiriyya Sufi order in Algeria and Africa, argued that Karakaria has nothing to do with Sufism: "Sufi orders are sometimes infiltrated by foreign entities and that is why every now and then you find a new trend that calls itself a Sufi order," he said. "Is it a coincidence that this group emerged now? And where does it come from?"
Hassan added that many leaders of those groups use the internet to attract followers and spread chaos in order to steer people away from their beliefs. "What makes this possible is that there are no laws in Algeria that protect recognized Sufi orders or Maliki jurisprudence," he said, in reference to the school of thought within Sunni Islam that is predominantly followed in Algeria.
Hassan did not, however, specify the type of foreign intervention he believes is behind the emergence of the Karakaria.
The President of the Association of Algerian Muslim Scholars, Abdul Razak Qasum, argued that the Karkaria is a threat to the moderate Islamic thought adopted by Algerians, in reference to the Maliki school. "We belong to the Maliki school of thought and we do not want any other groups. We want neither the Ahmadiyya nor the Karakaria," he said.
Ahmadiyya, an Islamic movement that originated in India, is frowned upon in Algeria and the authorities rejected the request submitted by Algerian Ahmadis to be registered as an association.
Likely to lead to conflict
According to Qasum, allowing those sects to spread will turn Algeria to a battlefield similar to countries that are currently witnessing sectarian conflicts in the region. "We have one religion and one school of thought we all follow and we don't want such trends to cause divisions."
Qasum also said he believed the Karakaria aims at "serving foreign agendas," but still did not specify which.
Former advisor at the Algerian Ministry of Religious Affairs and expert in Islamic movements, Adda Fellahi, explained that Karakaria, which he said is linked to the Alawite sect in Algeria, goes back to the early 20th century and became visible in Algeria with the booming of religious tourism in the province of Mostaganem. "However, we have to admit that its emergence in Algeria now might have political implications," he added. "This group could be supported externally, by Morocco for example, or internally to distract public opinion from pressing problems, especially with the presidential elections approaching."
Fellahin predicted that the movement can spread easily in Algeria for several reasons. "First, if members of the movement get good financial support, it will be easy to recruit more due to economic problems in Algeria.
Second, the official religious discourse is too weak to counter such trends."
Yet, Fellahi noted that the group will find it difficult to establish a headquarters from which it can promote its ideas because the state will not allow it.
Allegations of prosecution
According to journalist Mustafa Washlah, the reaction of Algerian authorities and the media to the emergence of the Karakaria group enraged human rights activists across the country. "Members of the group were interrogated by the Mostaganem security bureau and official media outlets directly accused Morocco of attempting to destabilize national security in Algeria," he wrote. "Added to this is what happened before with members of the Ahmadiyya sect."
Washlah explained that Ahmadiyya leaders were arrested and many got jail sentences and their offices were demolished and their books burnt. "So now rights groups are accusing Algerian authorities of persecuting religious minorities."
Washlah also noted that the Ministry of Religious Affairs had earlier banned any religious books that are not in line with the official religious school of thought. "In addition to books related to the Ahmadiyya sect, this also included Shiite books in general."
Tuhami Magouri, member of the Algerian Association of Muslim Scholars, noted that while the current headquarters of the Karakaria is in Morocco, it originated in Algeria. "The Karakaria is an offshoot of the Alawaite sect, which started in Mostaganem that is also home to dozens of Sufi orders such as the Rahmaniyya, the Tijaniyya, and the Qadianiyya among others," he said. "It just returned to Algeria recently."
According to Magouri, supporting Sufi orders is an international tendency that aims at curbing Islam and diving its followers among small groups whose members give priority to rituals over deeds. "Sufism also promotes a quest for solitude while Islam is about unity and sharing common characteristics," he added.
"Also, Sufism is based on using a mediator between worshippers and God while Islam promotes a direct relation with God."
Full report at:
https://english.alarabiya.net/en/features/2017/09/14/The-Karakaria-in-Algeria-Religious-group-or-foreign-conspiracy-.html
-------
Military campaign against ISIS could push it to south Jordan, says King Abdullah
14 September 2017
Jordan's King Abdullah II says he is "deeply concerned" with the situation in southern Syria and that his country's border with Syria would only reopen "when the right security conditions materialize on the ground."
The monarch told the state news agency Petra in an interview published Thursday that the military campaign against ISIS in Syria "could push it south toward Jordan" and that Jordan's top priority is to protect its border.
The king also says that a cease-fire for southwest Syria, brokered in July by Jordan, Russia and the US, could be replicated elsewhere in Syria.
Russia proposes creating "de-escalation zones" in several areas of Syria. Russia's foreign minister met with Abdullah in Jordan this week to discuss the requirements for such a zone in southern Syria.
https://english.alarabiya.net/en/News/middle-east/2017/09/14/Military-campaign-against-ISIS-could-push-it-to-south-Jordan-says-king.html
-------
North America
Drastic Drop in US Admissions is Bad News for Muslim Refugees
Bill Frelick
15 September 2017
August is usually the surge month for the U.S. refugee admissions program to meet annual resettlement targets before the end of the fiscal year.
Last year, the U.S. resettled 13,255 refugees in August, the highest monthly number in a year that brought 85,000 refugees to the United States. In the last month of the Obama administration, the U.S. allowed in 1,318 Syrian refugees. In August, the Trump administration allowed only 48 Syrian refugees into the U.S., a 96 percent drop.
This August, just 913 refugees were resettled into the U.S., the smallest monthly total in 15 years, according to the State Department's refugee database.
The religious identity of refugees resettled to the United States also shifted dramatically. In August 2016, the U.S. admitted an even split of 6,059 Muslims and 5,982 Christians: 46 percent to 45 percent. In August 2017, the U.S. admitted 220 Muslims and 573 Christians, 573: 24 percent to 57 percent.
A similar shift is in evidence across the first seven months of the Trump administration. Over that period, 51 percent of the 18,944 refugees resettled were Christians while 37 percent were Muslims. In comparison, for the same February-August period in 2016, 43 percent of the 54,186 refugees admitted were Christian and 47 percent Muslim (25,269).
So, while the Christian percentage grew from 43 to 51 percent under Trump, the Muslim percentage fell from 47 to 37 percent, while the overall number of refugees resettled fell 65 percent.
It's too soon to know whether these numbers signal a long term trend. But it won't come as a surprise if that turns out to be the case.
Back in December 2015, presidential candidate Donald Trump galvanized his campaign when he called for "a total and complete shutdown of Muslims entering the United States." He employed classic scapegoating tactics to whip up fear of refugees "pouring into our country" through the "Trojan horse" of the U.S. refugee resettlement program and of Muslims, whom he broadly conflated with terrorism.
A week into his presidency, Trump issued his first order to bar entry of people from seven predominantly-Muslim countries, suspend all refugee admissions, and cut by more than half the number of refugees admitted this year. That order would have barred Syrian refugees permanently and "prioritize refugee claims made by individuals on the basis of religious based persecution" where theirs is a minority religion in their country.
That same day, he gave an interview to the Christian Broadcast Network in which he lamented the "very, very unfair" treatment of Christians by the US refugee resettlement program.
After the courts blocked that order, he issued another that attempted to clean up its overtly prejudicial language and scale back on its severity, but two U.S. courts of appeal blocked that one as well. The Supreme Court is scheduled to hear arguments on the second order on October 10.
In truth, Trump hasn't done Christian refugees any favors. The drastic cut in all refugee numbers means that in the first seven months of Trump's presidency, the U.S. admitted 13,417 fewer Christian refugees than under Obama during the same seven months last year (9,716 versus 23,133), a 58 percent decrease.
But for Muslim refugees, the drop is even more of a gut punch. Muslim refugee admissions dropped 73 percent in the first seven months of the Trump administration (6,938 versus 25,269).
These resettlement numbers add to fears that under Trump, Muslim refugees fleeing persecution, including the world's newest mass exodus, the Rohingya Muslims fleeing Burma, will no longer be able to look to the United States for rescue. For Muslims whose persecution can be tracked to their support for the United States, this will be particularly bitter.
Historically, the U.S. admissions program has responded to refugees persecuted because of their religious beliefs — recall Soviet Jews, Iranian Baha'is, and Christian "lost boys" of Sudan — but a refugee's specific faith was less relevant to a person's rescue than the seriousness of the threat they were under.
As the U.S. refugee program limps into a new fiscal year, one of the U.S.'s most effective tools for refugee protection appears to be at risk not only of being diminished but tarnished by prejudice as well.
https://www.hrw.org/news/2017/09/14/drastic-drop-us-admissions-bad-news-muslim-refugees
-------
US Treasury announces new Iran sanctions
15 September 2017
WASHINGTON - The United States on Thursday imposed economic sanctions on 11 individuals and companies accused of supporting Iran's Revolutionary Guards or engaging in hostile cyber-attacks on US banks, the Treasury Department announced.
The move to toughen sanctions for Iran's alleged destabilization of the Middle East contrasted with an expected decision by the White House to continue to exempt Iran from sanctions imposed on its nuclear program which America undertook to remove as its part of the landmark 2015 nuclear deal. Trump's administration has criticized this deal, negotiated by the prior Obama administration, but has so far continued to waive the nuclear-related sanctions.
The new sanctions announced Thursday targeted an engineering company, two air transport firms and an IT company accused of carrying out denial-of-service attacks on at least nine American financial institutions, including major banks and stock exchanges between 2011 and 2012.
"Treasury will continue to take strong actions to counter Iran's provocations, including support for the IRGC-Qods Force and terrorist extremists, the ongoing campaign of violence in Syria, and cyber-attacks meant to destabilize the US financial system," Treasury Secretary Steven Mnuchin said in a statement. Speaking on condition of anonymity, senior administration officials told reporters on Thursday the US was pursuing sanctions on Iran in areas beyond its nuclear program but that the Trump administration would hold Tehran to its obligations under the 2015 agreement. The sanctions effectively freeze their targets out of much of the global financial system and block them from accessing assets within the US.
The alleged cyber-attacks occurred between December 2011 and December 2012, according to the Treasury Department, which said the company in question, ITSec Team, was working at the time for the Revolutionary Guards, which has been under US sanctions since 2007.
Other firms designated by the Treasury included the Sadid Caran Saba Engineering Company, which Treasury said had been under contract since as early as 2014 to install explosion-proof crane systems for the Guards' Research and Self-Sufficiency Jehad Organization, which develops ballistic missiles for Iran and is already subject to US sanctions.
The Khors Aircompany, based in Ukraine, and Dart Airlines were also designated by the Treasury for allegedly helping provide US aircraft, as well as crew and services to Iran's Caspian Air and Iraq's Al-Naser Airlines, companies that are themselves already under US sanctions for supporting the Revolutionary Guards.
Full report at:
http://nation.com.pk/international/15-Sep-2017/us-treasury-announces-new-iran-sanctions
-------
Trump says Iran breaking 'spirit' of nuclear deal
15 September 2017
Donald Trump on Thursday slammed Iran for violating "the spirit" of a deal curbing its nuclear program, weeks before the US president must decide whether to stick by the agreement.
"The Iran deal is one of the worst deals I've ever seen, certainly at a minimum the spirit of the deal is atrociously kept," Trump said aboard Air Force One.
"The Iran deal is not a fair deal to this country. It's a deal that should not have ever been made," he added, tearing into the Obama-era accord.
The United States on Thursday agreed to continue for now to exempt Iran from nuclear-related sanctions but slapped new measures against targets accused of cyber attacks or fomenting militancy.
"We are not going to stand what they are doing with our country. They've violated so many different elements and they've also violated the spirit of that deal," Trump said.
On October 15, Trump is due to decide whether Iran has breached the 2015 nuclear agreement, and critics fear he may abandon an accord they think prevents Tehran from building a nuclear bomb.
But the president would not be drawn on whether he has already made a decision.
"You'll see what I'm going to be doing very shortly in October."
Critics say Trump abandoning the deal would pave the way for Iran to resume nuclear enrichment and would send a signal to North Korea and other proliferators that a diplomatic solution can be scrapped at the president's whim.
Full report at:
https://english.alarabiya.net/en/News/world/2017/09/15/Trump-says-Iran-breaking-spirit-of-nuclear-deal-.html
-------
URL: https://www.newageislam.com/islamic-world-news/singapore-says-zakir-naik-ismail/d/112538
New Age Islam, Islam Online, Islamic Website, African Muslim News, Arab World News, South Asia News, Indian Muslim News, World Muslim News, Women in Islam, Islamic Feminism, Arab Women, Women In Arab, Islamophobia in America, Muslim Women in West, Islam Women and Feminism