New Age Islam News Bureau
7 Apr 2012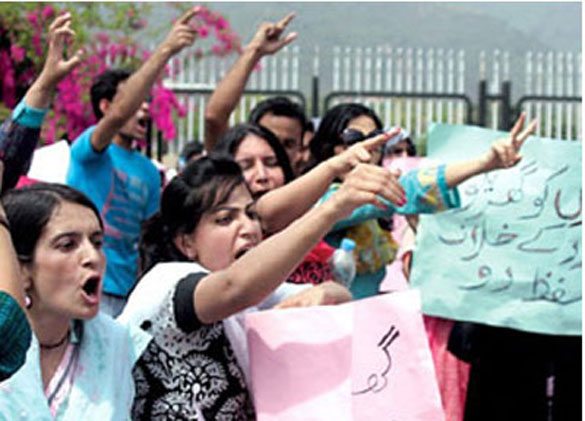 • No difference between human being, animal in Balochistan: Pak SC
• Tunisians jailed for posting 'Naked Muhammad' cartoons
• Gaza's Hamas rulers execute 3 men in dawn hangings, charged with spying, murder
• Hafiz Saeed helping de-radicalize militants
• Announcing Bounty Unfortunate: Pak PM
• Islamic laws dominate poll in Indonesia's Aceh
• Three mutilated bodies of Baloch missing persons found in Balochistan
• WUC Extremely Concerned about Latest Chinese "Terrorist List"
• China asks Pakistan to hand over Uighur terrorists
• Pak woman jailed for 34 years for acid attack
• Saleswomen at lingerie shops: Staff fights odds in Saudi Kingdom
• Triumphant Tuareg rebels fall out over al-Qaeda's jihad in Mali
• Pak girl returns without visiting dad's grave in India
• Muslim poor is poorer than 'general category poor' in India
• Syrian refugees flee with horrific accounts of mass graves
• Syrian violence claims 27 dead in run-up to truce
• No strategic message in $10m bounty on Saeed: US
• 34 Civilians die in Syria crackdown ahead of deadline
• Bangladeshi youth murdered in Malaysia
• Malala's story: A 13-year-old's struggle against terrorism
• 20 million Pakistani children not in school: UNICEF
• Pakistan: Girls' primary school blown up in Mohmand
• Pakistan: For women, it's an unending struggle
• Pak PM says Hafiz Saeed unlikely to be focus of talks with Indian PM
• Bilawal on Zardari entourage, sparks agenda speculation
• 'Pak given enough proof on Hafiz role in 26/11'
• US jails terrorists' arms supplier, Russia seethes
• India: Hope floats for 'innocent UP terrorists'
• Mali's coup leader to return power
• Karachi bleeds as three more people killed
• Gilgit-Baltistan sectarianism: Police chief denies foreign hand in violence
• The Muslim Brotherhood's Charm Offensive in Washington
• Avalanche buries 130 Pakistani soldiers near Siachen Glacier
• Sarabjit's sister hopeful of relief from Pak President
• Stone-pelting in Baramulla after Geelani's address
• PPP formed alliance with PML-N to end Musharraf's rule: Zardari
• Syria crisis: UN chief Ban Ki-moon condemns attacks
• Country can produce nuclear weapon: Iran lawmaker
• France to release 10 suspected Islamists arrested on Wednesday
• Manmohan Singh to host closed-door lunch for Asif Ali Zardari
• 100 Al Qaeda fighters killed in Yemen
• Pak media says bounty on Saeed has boosted his image
• Abduction that still haunts Valley
• Terror mastermind and his 'rising' son
• US will accept Iran civilian nuclear program: report
• A solution for prayer timings during flights
• Drug abuse, alcohol kills 312 in Jeddah in one year
• Bahrain: Hunger Striker Moved to Hospital as His Supporters Rally
• Yemen president sacks Saleh half-brother, son remains
• J&K govt to constitute SIT to probe Fai's activities in state
• SP caught in New Delhi Imam-Azam crossfire now
Complied by New Age Islam News Bureau
Photo: Civil society members chant slogans in favour of the bill, with JUI-F supporters' voice their opposition
URL: https://newageislam.com/islamic-world-news/new-age-islam-news-bureau/showdown-between-activists-of-women-rights-and-jamiat-ulema-i-islam/d/7013
----------
Showdown between activists of women rights and Jamiat Ulema-i-Islam
Apr 07 2012
ISLAMABAD: A protest demo by civil society activists against the deferral of the domestic violence bill on Friday turned ugly when activists of the Jamiat Ulema-i-Islam-Fazal (JUI-F) confronted them near Parliament.
Bad blood had been brewing between the two groups after the joint session of Parliament on Thursday after JUI-F President Fazlur Rehman accused NGOs of encouraging western moral values and trying to break the Islamic family mold by introducing the domestic violence bill. In response, the civil society activists chanted slogans condemning the maverick Maulana as he left the Parliament house, calling him "enemy of the women".
Rehman and his followers felt insulted by this, leading to the confrontation on Friday. Party members walked out of parliament house after some of their activists entered the house to "observe" the committee meeting, but were asked to leave by the committee under parliamentary rules.
JUI-F central committee member Dr Abid Rauf Orakzai deemed the refusal of protester's demands to sit in on the meeting as "an obstruction to the working of parliament". He further commented that the parliamentarians have bigger issues such as unemployment, NATO issues and electricity shortages to deal instead of domestic violence.
Incidentally, PPP former senator Safdar Abbasi, who was asked by the civil society members to join them and show his support, revealed that the government does not want to upset different parties by passing a bill with a divided vote, which could affect negotiations on the restoration of Nato supply route issue.
Reason and understanding went out the window as both groups began chanting slogans against each other, with JUI-F chanting "Death to western hearts and NGOs", with women's rights activists responding, "Down with those who bully in the name of Islam". As matters got intense, the police interjected to relax both groups.
Outspoken rights activist Tahira Abdullah said, "This is the JUI's attempt to deliberately provoke police action." Abdullah was also very disheartened by being accused of having "western agenda", as were other protesters who pressed that their actions and intentions are at the heart of every Pakistani's wellbeing.
Similarly, JUI-F members took grave offence to being called bullies in the name of Islam. JUI-F member Faiza Saleem tried to explain their stance, saying that they are not against the bill as long as it is approved by the Council of Islamic Ideology.
Zakia Abid of the JUI-F said that she and the other women members are literate and educated but they don't want the freedom associated with this bill as it will "abolish the sanctity of marriage and the dominance of the husband".
When asked what "dominance of the husband" means when he is violent, she answered that domestic violence usually begins when the wife tries to become the head of the household. However, she noted that sometimes men act out of impulse and not reason, and then only can they be brought to justice by the peaceful teachings of Islam. "This bill tries to bring these issues into the courtroom, which will be inefficient and disruptive for society."
Abid Rauf Orakzai later announced to that on Monday, JUI-F will hold a protest at the same venue with 10,000 to 20,000 women, in contrast to the 60-odd women on Friday.
The police abstained from using force and kept the two parties at bay, before city administration officials came to help them convince both groups to disperse peacefully.
http://tribune.com.pk/story/360871/clashing-mindsets-showdown-between-activists-of-women-rights-religious-party/
----------
No difference between human being, animal in Balochistan: Pak SC
April 7, 2012
QUETTA: The Supreme Court (SC) said on Friday there was no difference between a human being and animals in Balochistan where mutilated bodies were found on a daily basis.
"I think I should stay in Quetta for a month," said Chief Justice Iftikhar Muhammad Chaudhry, as a three-member SC bench resumed the hearing of a case concerning the poor security and human rights situation in Balochistan.
Following the chief justice's directive, Quetta police produced four of seven 'missing' people of the Marri tribe in the court.
The seven people were picked up during a raid in Quetta's Sariab Mill area on March 1 and had been listed 'missing' since then.
Police, who had earlier been declining having information about the missing persons, produced four of seven people. The four were Hazar Khan, Mazar Khan, Malik Sher and Javed Marri.
Justice Chaudhry suspended New Sariab SHO Noor Baksh Mengal for his false statement about the missing persons and directed police to arrest him.
The chief justice said he would also suspend the Balochistan IGP if the remaining three missing persons were not produced before the court by Monday.
Frontier Corps (FC) Inspector General Major General Ubaidullah Khan Khattak also appeared before the court and rejected charges against his force.
"PPP MPA Sadiq Umrani has accused FC of kidnapping and killing two persons near Kalat and Mastung. It is a serious allegation… the MPA was accompanied by two ministers when the incident took place and they cannot lie on floor of the House," the chief justice told Khattak.
The FC chief said his force had issued a statement the very next day, and said that no such incident had taken place.
The court directed the FC IG to appear before the court along with complete report during the next hearing.
A woman also appeared before the court and told the chief justice that her brother Doctor Naseer and his two friends – Hafiz Rudini and Akhtar Lango – had allegedly been picked up by government functionaries on April 3.
The court directed the Jinnah Town SP to ensure the safe recovery of these missing persons by April 10.
The Balochistan home secretary informed the court that as many as 1,056 people, including 227 FC personnel and 196 police officials, had been killed in Balochistan since 2009.
This annoyed the chief justice, who said that such a "figure reflects the failure of government and its functionaries".
The court adjourned the hearing until April 12.
http://www.dailytimes.com.pk/default.asp?page=2012\04\07\story_7-4-2012_pg1_2
----------
Tunisians jailed for posting 'Naked Muhammad' cartoons
April 7, 2012
Officials in Tunisia say two bloggers have been jailed for seven years after posting cartoons of the Prophet Muhammad on the internet.
The Ministry of Justice said the men had put naked caricatures of the prophet on their Facebook accounts.
Activists have criticised the sentences and voiced fears that they could herald a clampdown on free speech.
A moderate Islamist government was elected following the fall of President Zine Abidine Ben Ali last year.
One of the men, Jabeur Mejri, is in jail while the second, Ghazi Beji, was sentenced in his absence and is being sought by the police.
"They were sentenced... for violation of morality, and disturbing public order," said Chokri Nefti, a justice ministry spokesman.
'Severe sentences'
The sentences were passed on 28 March but only came to light after being discussed online. The men's lawyers say they will appeal.
"The sentences are very heavy and severe, even if these young people were at fault," one Tunisian blogger, Nebil Zagdoud, told Reuters.
"This decision is aimed at silencing freedom of expression even on the Internet. Prosecutions for offending morals are a proxy for this government to gag everyone," he said.
There have been tensions between the government and hardline Muslims who think religion should play a bigger role in the country, while secular groups say freedom of expression and the rights of women are under threat.
Dozens of Islamists were arrested in November last year during demonstrations outside a television station that showed an Iranian film which they said contained blasphemous scenes.
http://www.bbc.co.uk/news/world-africa-17640207
----------
Gaza's Hamas rulers execute 3 men in dawn hangings, charged with spying, murder
April 7, 2012
GAZA CITY, Gaza Strip — Gaza's Hamas rulers say they have executed three men in dawn hangings.
An interior ministry statement said one man was spying for Israel. Palestinians who collaborate with Israeli intelligence are widely loathed.
The man was also charged with murder, as were the other two men hanged on Saturday.
The statement said the families of the victims could have saved the condemned men by forgiving them at the last minute, but they all refused.
Gaza's Hamas rulers have executed at least 18 men since seizing power in 2007.
The Palestinian Authority, which rules the West Bank, also has the death penalty. But President Mahmoud Abbas has not approved an execution since 2004, effectively halting the practice there.
Copyright 2012 The Associated Press. All rights reserved. This material may not be published, broadcast, rewritten or redistributed.
http://www.washingtonpost.com/world/middle_east/gazas-hamas-rulers-execute-3-men-in-dawn-hangings-charged-with-spying-murder/2012/04/07/gIQA6hrA1S_story.html
----------
Hafiz Saeed helping de-radicalize militants
April 7, 2012
ISLAMABAD: Islamist leader Hafiz Saeed who had a $10 million American bounty placed on his head this week has been helping Pakistan de-radicalise militants under efforts to stabilise the strategic US ally, a top Pakistani counter-terrorism official said on Friday.
Saeed, suspected of masterminding an attack by Pakistan-based gunmen on Mumbai in 2008 that killed 166 people, including six Americans, met government officials from the Punjab province and pledged his support for the drive, the official said.
"Hafiz Saeed has agreed with the Punjab government programme of de-radicalisation and rehabilitation of former jihadis and extended full cooperation," the counter-terrorism official said.
The counter-terrorism official said that Saeed had not been paid for his de-radicalisation acitivities.
US officials in Washington said the decision to offer the reward under the State Department's longstanding "Rewards for Justice" program came after months of discussions among US agencies involved in counter-terrorism.
The $10 million figure signifies major US interest in Saeed. Only three other militants, including Taliban leader Mullah Omar, fetch that high a bounty. There is a $25 million bounty on the head of al-Qaida leader Ayman al-Zawahiri.
The announcement of a reward for Saeed comes at a time of strained ties between the United States and Pakistan and is likely to increase pressure on Islamabad to take action against one of Pakistan's most notorious Islamist leaders.
A senior police official in Punjab province, who is closely involved with investigations into militant activity, confirmed that Saeed and his supporters were helping efforts to transform militants into law-abiding citizens.
"Jamaat-ud-Dawa (JuD) were consulted, and they approved the de-radicalisation plan. They assured us of their intellectual input and resource materials. They also offered teachers," he told Reuters, referring to the charity Saeed heads.
The bounty highlighted the divide between the United States' direct approach to tackling militancy, and strategies employed by Pakistan, a nuclear-armed South Asian nation seen as critical to US efforts to pacifying Afghanistan.
While Pakistan has mounted offensives against militant groups like the homegrown Taliban, it also contends other tactics such as de-radicalisation are vital to sustaining battlefield gains.
Yahya Mujahid, the JuD spokesman, said the group had not participated in the de-radicalisaton programme.
Hafiz Khalid Waleed, another senior JuD member, declined to comment on whether the Islamist leader had been directly assisting the government in de-radicalisation.
But he said Saeed and his followers were promoting non-violence.
"Hafiz Saeed was one of the first religious leaders to denounce militancy and suicide bombings," said Waleed. "Our schools and madrassas (religious seminaries) are urging peace."
Spotting idle militants
Under the programme, former militants are urged to develop technical skills that could give them long-lasting employment to keep them from taking up arms against the state again.
Experts also try to reverse what Pakistani officials call brainwashing by militants who preach holy war against the West.
To help the deradicalisation programme, Saeed identifies former militants who may still be recruited for jihad because they are jobless and idle and he helps steer them toward the programme, said the counter-terrorism official.
India maintains Saeed is a criminal and has long called for his capture, blaming the Lashkar-e-Taiba (LeT) -- the militant group he founded in the 1990s -- for the Mumbai carnage.
The two nations have a tentative peace process underway with Pakistani President Asif Ali Zardari scheduled to meet Indian Prime Minister Manmohan Singh on Sunday, the first visit to India by a Pakistani head of state since 2005.
Pakistan is home to some of the world's most dangerous militant groups, who carry out suicide bombings and beheadings in their bid to topple the U.S.-backed government. There are also less violent groups with the same aims.
But many Pakistanis privately support Saeed's animosity to India. The two countries were born out of the 1947 division of the subcontinent after freedom from British colonial rule and hundreds of thousands were killed in rioting at the time.
The bounty, which would be paid for information leading to Saeed's arrest and conviction, however puzzled Pakistanis. His whereabouts are usually not a mystery. He wanders the country freely, fires up supporters at rallies and runs a huge charity.
Waleed mocked the decision to place a bounty on Saeed.
"President Barack Obama's election symbol was a donkey and his government is acting like one. They have no evidence against Hafiz Saeed and are scrambling to make up stories," he told Reuters.
Pakistani officials say Saeed, who Western officials suspect of links to al-Qaida, has the right to move freely because he has been cleared by Pakistani courts of a range of accusations.
Saeed abandoned the leadership of the LeT after India accused it of being behind an attack on the Indian parliament in December 2001. But his charity is suspected of being a front for the LeT.
He denies any wrongdoing and links to militants.
Over 1,000 of Saeed's supporters protested against the bounty on Friday.
Saeed agreed to support de-radicalisation because he felt that former militants should find jobs and re-join mainstream society, said the counter-terrorism official, who has been at the forefront of efforts to fight militancy in Punjab.
The counter-terrorism official, who engineered the project, said 200 former militants had participated this year in Punjab, Pakistan's most populous province, including some from Saeed's militant group.
Another 100 will be completing the programme by June.
Saeed, a former professor of Islamic studies at an engineering university, appeared at a press conference on Wednesday in the city of Rawalpindi, home to headquarters of the Pakistani army, recipient of billions of dollars in US aid.
Flanked by some of Pakistan's most virulently anti-American Islamists at a hotel about a 40-minute drive from the US embassy in the capital, he taunted the United States.
Saeed, a short bearded man, lives near a park and a mosque in a non-descript villa with a policeman stationed outside, in the central city of Lahore, capital of Punjab.
Some of his bodyguards wear olive camouflage vests while others are dressed in dark traditional shalwar-kameez, baggy shirt and trousers. Clutching AK-47 assault rifles, a few are positioned on his rooftop watching the street.
Saeed enjoys armed protection from the state because of his "new thinking", sources said.
"Al-Qaida or factions from the Pakistani Taliban may want to kill him," said one of the sources, adding India may want to target him as well.
Asked if the reward would anger Saeed's followers and undermine de-radicalisation efforts, he said: "There is resentment but I hope the programme won't be affected."
http://timesofindia.indiatimes.com/world/pakistan/Hafiz-Saeed-helping-de-radicalise-militants-Pakistan/articleshow/12561694.cms
----------
Announcing Bounty Unfortunate: Pak PM
ANITA JOSHUA
April 7, 2012
Pakistan Prime Minister Syed Yusuf Raza Gilani is apprehensive that the U.S. announcement of a bounty for information leading to the arrest and conviction of Jama'at-ud-Dawa (JuD) chief Hafiz Saeed would further strain the bilateral relations as Parliament struggles to find a way of mending fences with Washington.
Addressing the joint session of Parliament, Mr. Gilani said it was "unfortunate" that the U.S. should have announced the bounty at a time when the legislature was trying to find a way to put the derailed relationship back on track.
"Such negative messages will increase the trust deficit at a time when Parliament is engaged in framing new rules of engagement with the U.S," he said in view of the manner in which all political parties are reluctant to be seen advocating a re-engagement with the U.S.
Asking the U.S. to provide concrete proof against Saeed, the Prime Minister called it "our internal matter," adding that Pakistan has an independent judiciary that can take care of any charges against him.
"Give us concrete proof" has been the Pakistani refrain since the U.S. announcement and it was repeated on Friday after External Affairs Minister S.M. Krishna said in Bangalore that India had given Pakistan every detail of Saeed's involvement in the 2008 Mumbai terror attacks.
Reacting to this, Foreign Office spokesman Abdul Basit said: "There is nothing concrete and maintainable. From its own Mumbai trial experience, India knows well that hearsay cannot substitute for hard evidence. It is only the latter that can withstand judicial scrutiny."
Meanwhile, JuD supporters across the country organised post-Friday prayer rallies in support of Saeed and demanded that President Asif Ali Zardari cancel his visit to India on Sunday. A call for protests after Friday prayers was given on Wednesday by the Difa-e-Council Pakistan (DPC) — an umbrella organisation of right wing outfits opposed to the U.S. and India.
Given the belligerent response of the JuD to the bounty announcement, the media here has begun to comment on how the U.S. move was proving to be counter-productive as it was helping Saeed build his own profile.
The bounty has given the DPC — cobbled together in response to the NATO attack on military outposts along the Pakistan-Afghanistan border last November — a rallying point just when it had begun losing momentum.
http://www.thehindu.com/news/national/article3288186.ece
----------
Islamic laws dominate poll in Indonesia's Aceh
07 April 2012
Indonesia's only province ruled by hardline sharia laws elects its powerful governor on Monday, in polls watched by militant Muslims pushing for an Islamic government nationwide.
The elections in Aceh are the second since the province suffered 170,000 fatalities in the Asian tsunami of 2004, and since a 30-year war against Indonesian rule ended in 2005, having claimed 15,000 lives.
The restive region, on the western edge of the scattered Indonesian archipelago, now enjoys autonomy and it remains an anomaly in a country where most of the 240 million people practice a moderate form of Islam.
Alcohol is freely sold in the rest of Indonesia, the world's most populous Muslim-majority nation, but it is banned in Aceh. In some of the province's regions, women are forbidden to wear tight trousers.
Gamblers and imbibers are publicly caned. Debate still churns in Aceh over whether adulterers should continue to be publicly flogged, or stoned to death.
Irwandi Yusuf, who was elected governor in December 2006 and is seeking a second five-year term, backs sharia but has remained a bulwark against stricter enforcement, such as the harshest punishment for adultery.
No law can pass unless the provincial parliament ? dominated by Yusuf's opponents ? and the governor are both in agreement.
The 51-year-old's main challenger is Teungku Ahmad Tajuddin, an Islamic schoolteacher who is confident of victory.
The 49-year-old cleric will not say outright whether he backs the stoning laws, but condemns Yusuf for rejecting the stiffer sharia by-laws.
"I don't reject criminal by-laws, because clerics have agreed to them," he said.
"I want Aceh as a model of Islamic sharia for Indonesia and Southeast Asia," Tajuddin added.
Sporadic violence ? including arson attacks and at least six fatal shootings ? have been reported in the run-up to the polls, which have been repeatedly delayed since October.
But the province has been getting back on its feet after the civil war and the tsunami.
In the capital Banda Aceh, new concrete homes, hotels, schools and mosques cover the flood devastation, and new roads have been built wider to allow a quicker exit should another disaster strike.
A boat that landed on top of a house ? an image that became a worldwide emblem of the tsunami ? has been turned into a tourist attraction.
Across the capital Yusuf's orange campaign posters promise "continued peace and development," while Tajuddin's green banners proclaim his vow of "making Islamic sharia part of Aceh."
Acehnese agree that life is getting better. Almost no one speaks against sharia.
"Foreigners often think that people in Aceh live in the dark ages and are murderers," said Nurmi, a textiles salesman who goes by one name.
"For me, caning is fine but stoning is not acceptable or appropriate in this day and age," she said.
For Indonesia's Islamic militants who insist on sharia rule nationwide, Aceh shines as an example, and it has been a magnet for militants.
"Strict enforcement of sharia laws is not perfect in Aceh, but it's a good start and all other provinces must follow," said Farihin Ibnu Ahmad, an Islamist who has done two jail stints on terrorism convictions.
Islamic militancy in Indonesia has been weakened by an official crackdown launched after the 2002 attacks on packed nightclubs in Bali, which were blamed on the regional terror network Jemaah Islamiyah (JI).
The group's alleged founder Abu Bakar Bashir is doing a 15-year prison term on charges that include funding a terrorist training camp in Aceh.
Umar Patek, the accused bomb-maker in the Bali attacks who is on trial in Jakarta, is also charged with terrorist activities in Aceh.
But despite executions and arrests ? and police shootings of five alleged terrorists as recently as last month in Bali ? Muslim militants still remain active.
"Sharia is not negotiable and it is everyone's duty to fight for it," said Ahmad, who says he knew Patek.
http://english.alarabiya.net/articles/2012/04/07/205937.html
----------
Three mutilated bodies of Baloch missing persons found in Balochistan
April 7, 2012
Balochistan: Three mutilated bodies were found in the Kanak area of Mastung, and Peer Soohri Darbar of Dera Bugti, on Thursday and Friday respectively.
According to an official of the Balochistan Levies, some passers-by spotted two bodies dumped in a deserted location in Kanak – the electoral constituency of Balochistan Chief Minister Nawab Muhammad Aslam Khan Raisani – and informed the Levies Station.
The bodies were initially taken to a nearby state-run hospital in Mastung and later shifted to Provincial Sandeman Hospital Quetta for autopsies. Where they bodies were identified as of Abdul Manan s/o Abdul Samad Perkani and Rahees Raisani. Both were abducted by Pakistani security forces.
Separately, on Thursday (05-04-2012) the body of Sabzal S/O Hayrdad Bugti's was recovered in Dera Bugti area of peer Soohri darbar. Mr Bugti was abducted during a raid on his house from PeerKoh area of Dera Bugti.
The Voice for Baloch Missing Persons (VBMP), informed that all those whose bodies were found in the province were previously abducted by security forces and were missing. The Voice for Baloch Missing Persons says that over 400 mutilated bodies of Baloch abducted persons have been found since July 2010. Earlier the VBMP had rejected a reported released by HRCP (Human Rights Commission of Pakistan) saying that the report has distorted the accurate figure of abducted Baloch and victims of state sponsored kill and dump policy.
http://www.balochjohd.com/modules/xnews/article.php?storyid=576
----------
WUC Extremely Concerned about Latest Chinese "Terrorist List"
April 7, 2012
The World Uyghur Congress (WUC) is deeply concerned about today´s publication of a new "terrorist list" by the Chinese Ministry of Public Security. The Ministry's Security published a list of six Uyghur men along with their photographs wanted for "terrorism" on its website. China accuses them of being militant suspects accused of inciting violent attacks in East Turkestan. According to the Ministry of Public Security the men – namely Nurmemet Memetmin, Abdulkyum Kurban, Paruh Tursun, Tursunjan Ebibla, Nurmemet Raxit, and Mamat Imin Nurmamat – were "core members of an extremist group who had recruited and trained members."
According to the Ministry's statement, the named people belong to the East Turkistan Islamic Movement (ETIM), considered by the authorities "the most direct and real safety threat that China faces." It also specified that each of the men had spent time in another un-named Asian nation – a likely reference to Pakistan – where they were trained "to carry out terror attacks and incited militants in China to carry out suicide bombings and knife attacks. The Chinese authorities also called on foreign governments to help to arrest the men.
The WUC however believes that the Chinese authorities are once again overstating the "Uyghur terror threat" to the country, misusing the "global war on terror" to further increase its crackdown on the Uyghur population. The American scholar and expert Sean Roberts recently stated "the entire premise of China's "war on terror" is problematic because it remains unclear whether a militant Uyghur organization even exists that is capable of carrying out substantial and organized acts of terrorism." The expert also said that PRC's counterterrorism activities are of "questionable nature," having "grave consequences for the Uyghurs both inside and outside China, who by most independent accounts have suffered extensive restrictions on their human rights as a result of PRC counterterrorism policies during the last ten years."
In addition, the Chinese government has repeatedly labelled both Uyghur leader Rebiya Kadeer as well as His Holiness the Dalai Lama as "terrorists," accusing them groundlessly of having "instigated" violent acts such as the 5 July 2009 unrest in Urumqi (East Turkestan) and recent self-immolations in Tibet respectively.
"I urge the international community to condemn China's opportunistic use of the "global war on terror" as an excuse to crackdown on legitimate Uyghur dissent, and to systematically violate the human rights of the Uyghur people," said WUC President Rebiya Kadeer today.
The veracity of "terrorist lists" issued by the Chinese authorities has been widely questioned. In 2003, WUC Secretary General Dolkun Isa had been placed on such a list, being described by the Ministry of Counter-Terrorism and Public Security of People's Republic of China as "one of the eleven most dangerous terrorists." The Chinese authorities accused him of organising terrorist activities on behalf of the Eastern Turkistan Liberation Organisation (ETLO) inside East Turkestan. These accusations have been proven to be absolutely groundless, and recent research confirmed that China uses Interpol´s Red Notice warrants to go after dissidents or political opponents, economic targets, or environmental activists. This research specifically quoted Mr. Isa as one of the victims of this practise. Mr. Isa – whom the German authorities granted the German citizenship in 2006 – as well as the World Uyghur Congress (WUC) have repeatedly highlighted that they condemn all forms of violence and that they work with peaceful, nonviolent, and democratic means to promote Uyghur human rights.
"Based on my personal experience, I call on the international community to view the veracity of China´s "terrorist lists" with outmost scepticism," said Dolkun Isa today. "It is widely known that the Chinese government does everything possible to further oppress and discriminate the Uyghur population in East Turkestan."
http://www.uyghurcongress.org/en/?p=15320%20WUC%20Extremely%20Concerned%20about%20Latest%20Chinese%20%E2%80%9CTerrorist%20List%E2%80%9----------
China asks Pakistan to hand over Uighur terrorists
ANANTH KRISHNAN
April 7, 2012
Chinese authorities have asked Pakistan to hand over members of the extremist East Turkestan Islamic Movement (ETIM) believed to be operating out of the country, naming six terror suspects in a list issued on Friday that described the group as the "most direct and real safety threat that China faces".
The six men were "core members" of the ETIM, said the Ministry of Public Security in a statement. They were identified as Nurmemet Memetmin, Abdulkyum Kurban, Paruh Tursun, Tursunjan Ebibla, Nurmemet Raxit and Mamat Imin Nurmamat — all Uighurs, the ethnic Turkic Muslim minority from China's far-western Xinjiang region which borders Pakistan-occupied Kashmir (PoK).
Training terrorists
While the Ministry's statement stopped short of stating directly their links to terror camps in Pakistan — it only mentioned "a South Asian country" — a separate statement from the Chinese government issued last year identified Mr. Memetmin as having trained terrorists in Pakistan to carry out attacks in the city of Kashgar that left at least 20 people dead.
Mr. Nurmamat was also believed to be in Pakistan, according to Chinese analysts. The Ministry of Public Security said he had fled China after an explosion triggered accidentally at a bomb-making terror unit in Shache, Xinjiang that was plotting an attack in October 2009.
The statement named Mr. Memetmin as one of the founders of the ETIM when it was set up in 1997. It said he had dispatched another ETIM member, Memtieli Tiliwaldi, to China in 2007. Mr. Tiliwaldi was named by the Xinjiang regional government last year as being behind bombings and knife-attacks in Kashgar in July that left at least 20 people killed.
That the statement named several alleged ETIM members known to be in Pakistan underscored rising Chinese concerns over Pakistani authorities failing to effectively clamp down on the spread of terror across the border into Xinjiang. These concerns have been reflected in several public statements issued following the Kashgar violence that have unusually pointed the finger at an "all-weather ally".
The Ministry of Public Security said it hoped that "foreign governments and their law enforcing departments would help to arrest the six and hand them over to Chinese authorities", adding that it had decided to freeze their funds and assets.
Pakistani officials have said they have taken steps to crack down on the ETIM. Major General Athar Abbas, Inter Services Public Relations Director-General, said following last year's attack in Kashgar that the Pakistani Army would continue operations against the organisations. He also pointed out the successes of its operations, such as the killing of ETIM leaders Hasan Mahsum in 2003 and Miamaitming Maimaili, also known as Abdul Haq al Turkistani, in February 2011.
Major links
Last month, following violence in Yecheng, near Kashgar, that left at least 20 people killed, Xinjiang Governor Nur Bekri said those behind recent incidents had "a thousand and one links" to terrorists in neighbouring Pakistan. He did, however, add that "violent activities by individual terrorists" would not affect bilateral ties.
Critics of Mr. Bekri and some Uighur scholars such as economist Ilham Tohti have, however, accused the government of exaggerating the terror threat by describing all incidents of ethnic unrest in Xinjiang as "separatist activities" to justify harsh crackdowns. Riots in Urumqi between Uighurs and majority Han Chinese that left at least 197 people killed in July 2009 were also blamed by the government on terrorists, though they were seen by some scholars as reflecting deep-rooted ethnic tensions triggered by resentment towards increasing Han migration.
http://www.thehindu.com/news/international/article3287906.ece
----------
Pak woman jailed for 34 years for acid attack
April 7, 2012
Islamabad: A Pakistani woman, who attacked her ex-fiance's father with acid after their engagement was called off by the man's family, has been awarded a 34-year jail term by an anti-terrorism court.
The court at Faisalabad in Punjab province announced the verdict yesterday against the woman identified only as Rukhsana after recording evidence and the statements of witnesses.
It was not clear why the case was handled by the anti-terrorism court.
Rukhsana was arrested after the acid attack on Akhtar Razzaq, her ex-fiance's father, on November 20, 2010. At that time, she was engaged to Mohammad Shehzad.
Their engagement was called off due to unknown reasons by Shehzad's family.
As Shehzad prepared to marry another woman, Rukhsana went to his house and had a scuffle with his relatives.
She tried to throw acid on Shehzad but his father Akhtar Razzaq jumped in front of him.
The acid attack left Razzaq blind in one eye and he suffered serious burns on his body.
The police then arrested Rukhsana and charged her for the offence.
http://www.ndtv.com/article/world/pak-woman-jailed-for-34-years-for-acid-attack-on-ex-fiance-s-dad-194603
----------
Saleswomen at lingerie shops: Staff fights odds in Saudi Kingdom
Apr 7, 2012
Long working hours, customers' rudeness fail to deter sales ladies
Despite the growing numbers of women working in lingerie and cosmetic shops, some saleswomen are still facing peer pressure.
With the shops trying to train and appoint women salespersons and shop assistants during the Labor Ministry mandated grace period the businesses are still facing a shortage of trained female personnel. The reasons vary.
The ministry has given a grace period of six months to feminize lingerie shops and 12 months to feminize shops selling cosmetics along with other goods.
Despite initial hiccups — lack of trained personnel, long working hours, transportation issues and overcoming social taboos — the ministry is viewing the change as positive.
Assistant Undersecretary for Development at the Ministry of Labor Fahd Al-Takhaifi confirmed that the ministry aims to achieve total feminization of the lingerie and cosmetic shops and boosting economy.
"The order created a suitable environment for women to work comfortably besides boosting the nationalization of jobs. It helps economic progress because it is instrumental in generating a large number of jobs for women," he told Arab News.
The move also prevents the flow of a considerable part of Saudi investments outside the Kingdom because the employer and the employee are both Saudis, he said.
Asked about shops that refuse to employ women in lingerie shops, Al-Takhaifi said: "We did not come across any objection from investors or shop owners about the new regulations during the workshops on the implementation of the order issued by the ministry.
"Most of the questions posed by the shop owners were about the method of implementing, the order and the government assistance and training for the employment of Saudi women," he said.
Kamal Osman Jamjoom's establishment is in the forefront of hiring Saudi women in stores. For example, the company in its brand cosmetic store, Mikyajy, is implementing the plan to feminize all these brand stores in the Kingdom within three months.
"We are working to hire 400 Saudi saleswomen in our stores around the Kingdom," said Khalid Al-Yafei, retail manger at Mikyajy.
He added: "We'll hire female staff in 128 stores in different regions such as Riyadh, Jeddah, Laith, Jazan, Al-Ola, Asir, Makkah, and Al-Qunfudha. In addition, we are planning to open new 16 stores."
He said the replaced salesmen have been transferred to other brands, regions and countries.
"The replaced number of youth, estimated around 210, have been transferred, and not fired," he said, adding, "We don't want to fire any of our staff, we transfer them to other areas. Some of them moved to work in another brand, and the expatriate workers to other GCC countries."
According to Al-Yafei, many saleswomen still suffer from the social stigma of working in shops. But he hopes that this too will pass away. "Saleswomen do face difficulties, but these would go away once society accepts this new leap in the labor market," he said.
"The major problem facing saleswomen today is transportation. Saleswomen find themselves forced to pay about SR1,000 to SR1,400 monthly to drivers."
Ahmad Nabil, retail manger at Nayoumi in Jeddah, confirmed that 450 Saudi saleswoman have been hired in all Nayoumi stores around the Kingdom. "In about 90 lingerie shops around the Kingdom, about 150 salesmen were replaced by 450 saleswomen. Our ex-salesmen had been recruited in other brands belonging to KOJ establishment," he said.
He confirmed that saleswomen who are working in small villages faced society's anger especially in the first months of their work. In contrast, women working in Jeddah and Riyadh suffered transportation difficulties.
"Women in both cosmetic and lingerie shops confirmed that they face transportation difficulties and this is outside the company's purview," Nabil said.
However, he added, that some steps have been taken to solve the transportation problem like asking the woman job seeker to opt for the city and district where she would prefer to work. "This data helps us find nearest work location, for our staff, if possible, " he said.
Centrepoint outlets in the Kingdom are also looking for Saudi saleswomen to fill the vacancies for 500 Saudi saleswomen.
"We have plans to hire more female employees in our lingerie, makeup and accessories sections. Since the government issued a decision to hire Saudi saleswomen, our group has achieved required rate of feminization of the workplace. Our process continues to ensure having female employees wherever there is an expansion in our stores ," said Fida F. Hijjawi, female employment and Corporate Social Responsibility (CSR) manager.
According to Hijjawi, over 1,000 female employees were recruited across the Kingdom, and still there is a capacity for 300-500 jobs in the coming year.
She said special training academies will be established by Centrepoint to educate women about retail and marketing skills. "We are planning to establish three training academies in the Kingdom, which will train around 10,000 females over five years," she said.
According to a survey by the ministry in November last year, there are 7,353 lingerie shops in the Kingdom. While 2,032 shops are in Makkah province, 1,864 are in Riyadh province and 1,152 in the Eastern Province.
The records of retail shop data show that 28,116 women expressed their interest to work in lingerie shops, 5,621 women in Riyadh province, 5,086 in Makkah province, 3,831 in the Eastern Province and the rest in other areas.
Arab News toured some malls in Jeddah and talked to some of Saudi saleswomen. Many saleswomen said corporate policy did not allow them to talk to media, while those who chose to speak expressed great enthusiasm for the work while stressing continued societal pressure.
We'am Al-Harbi, promoted to retail manager at a lingerie shop in Red Sea Mall after seven months as a salesperson, confirmed that most saleswomen consider it difficult to work the night shift.
"I have been working as saleswoman for seven months. It is actually difficult to work in Saudi malls especially during night. This is a new experience for all us and it is still difficult to accept that change."
She continued: "Despite the long hours, my experiences have been good and enjoyable especially when most of the male staff are supporting me and my team to overcome challenges."
She added: From my position I find besides refusing to work the night shift, women still don't have skills to work professionally. They still complain and create fake stories once I am not available," she said, adding, "A large number of saleswomen have been employed in Aziz and Andalus malls."
Wala'a Mohsen, supervisor of Zirga shop for accessories in Red Sea mall, confirmed that women in lingerie shops feel more comfortable where men are banned from entering the shop. This is in sharp contrast to accessory shops where men are allowed.
"We have noticed cases of harassment from young men. They come to the shop only to talk to saleswomen and flirt. They enter, browse and collect items as if they are going to buy, only to return it to the shelf before leaving without buying," she said.
Even Saudi women mistreat the saleswomen, by showing their displeasure at the women working in shops. "They hate us and consider us impolite girls because we work in a mall. They also treat us badly and sometime accuse us of being unprofessional," she said.
According to Wala'a, some female customers, especially those with their husbands, don't like saleswomen and try to stop their husbands from talking to them.
Doa'a, a fresh graduate student from Business College at King Abdulaziz University who works at Zirga, complained that "women look at us with contempt."
"Some people underestimate us and consider us as needy girls," she said.
Samar Mohammed, a high school graduate, joined Dior section in Paris Gallery at Aziz Mall a month ago. Samar faced problems when women got jealous because their husbands talked to her. "The main issue I face is the bad treatment of some female customers, who are impolite. I hope they appreciate that we are just doing our jobs."
http://arabnews.com/saudiarabia/article606937.ece
----------
Triumphant Tuareg rebels fall out over al-Qaeda's jihad in Mali
Apr 7, 2012
As one group of rebels proudly proclaimed the independent state of Azawad in the "liberated" north of Mali last week, their allies were preparing for jihad by cutting off the hand of a "criminal" and forcing women to wear the veil.
The rebels, armed with weapons stolen from Muammar Gaddafi's formidable arsenal, took over an area of the Sahara as big as France in an astonishing 72 hours, taking advantage of the chaotic aftermath of an army coup.
Few of the people they promised to free waited to find out what freedom would be like. Instead, an estimated 250,000 people left their homes, terrified families fleeing with their children and possessions. Many told tales of looting and rape by rebels who now control a vast area in the heart of Africa.
Foreign governments were left scrambling to find out exactly who the rebels were, amid fears that a base for al-Qaeda will now be set up in the Sahara similar to ones in lawless parts of Pakistan and Somalia.
"Our law is a legal war, a sacred war, in the name of Islam," a bearded leader of the Ansar al Din militia called Omar Hamaha told his supporters in Timbuktu soon after they took control of the ancient caravan town. With its blue men, spectacular mudbrick mosques, and annual music festival under the desert stars, Timbuktu was a fashionable destination for the well-heeled tourist looking for an experience of the Sahara, until 2007 when kidnapping started.
Even more worrying than Ansar al Din were the supporters of al-Qaeda in the Maghreb (AQIM) who streamed into northern Mali with ambitions of setting up an Islamic state. They included men who have made millions of pounds of ransom money by kidnapping foreigners.
They put up their black flags over the three main cities of the north, Timbuktu, Gao, and Kidal, and strutted in the streets. Rare television pictures shot in the northern cities showed tough-looking men in turbans driving pick-up trucks, armed to the teeth with automatic weapons as crowds looked on nervously.
Some rebels grabbed the chance to loot, setting fire to buildings and abducting young women, according to refugees. Others — or perhaps the same ones - were determined to impose a Taliban-style Islamic rule, ordering men into the mosques to pray and closing bars and discos.
Communication with the north was difficult, but reports from people contacted by telephone were alarming. Youssouf Maga Touré, a manager at a transportation company in Gao, described desperation as shops were looted and food supplies ran out.
"Thousands of people will die in the coming days by hunger," he said.
"We have hundreds of people, mainly women, trying to escape. Our buses will not come here. Drivers are afraid for their own lives."
Rebels patrolled the streets, he said. "They don't speak with the local people. They just put their flags on the main government offices. Some of them don't even speak our language."
With the government gone, it was not clear exactly who had seized power — "nobody knows who is in control", said one worried resident of Timbuktu. But most of the rebels seemed to be ethnic Tuaregs loyal to the Mouvement National de liberation de l'Azawad (MNLA), who may not number many more than 1000 fighters. They say they want a free, independent, but not religious state, which they call Azawad.
Their core was formed by a group of Malian Tuareg soldiers who had been part of Colonel Gaddafi's army for years, and in some cases decades. Last summer they realised that he was doomed and deserted his army, with large amounts of his weapons which they secretly transported across the desert to Mali. There they set up the MNLA, reviving a moribund Tuareg rebellion against Mali's government which started at independence from France in 1960. In January they launched an insurrection under the command of Mohammed Ag Najm, a former officer in Gaddafi's army.
His men had fought Gaddafi's losing wars in Chad, Lebanon and against rebels in Libya last year. This time they wanted to fight for their own state, but not for religion - but they needed the support of Tuareg jihadis who were fighting the Mali government. At a tense meeting last autumn the Gaddafi deserters became allied to a group of jihadis led by a rebel called Iyad Ag Ghali, a shadowy figure who some are now calling the master of the Sahara, perhaps permaturely.
Mr Ghali, believed to be in his fifties, has been a power in Tuareg politics for decades, but became shunned by the mainstream after finding Allah in the 1990s under the tutelage of Pakistani preachers who may have been linked to Osama bin Laden.
He refuses to shake hands with a woman, and has a reputation for stern religious fervour, although he is also regarded as hospitable and generous like most Tuareg. His links to extremists are troubling; he was thrown out of Saudi Arabia because he was regarded as too extreme.
Back in Mali he carved out a role as a negotiator in some of the Sahara's high-profile kidnappings of recent years — where the usual ransom for a European has been between €3 and €10 million.
Since he became a middle man, helping resolving kidnappings, he has become a wealthy man.
In the Tuareg rebellion he was the junior partner, yet his prestige has grown. After the MNLA refused his offer of leadership last year, Mr Ghali set up his own smaller militia, Ansar al Din. It is not clear how big a role they have played in the fighting, but Mr Ghali has proved adept at political theatre, arriving in both Gao and Timbuktu ahead of MNLA leaders and stealing their glory.
With the government ejected, his relationship with them is clearly under strain. "I am not for independence," Mr Ghali has said. "It is Sharia I want for my people."
His natural partner is al-Qaeda, and in Timbuktu he arrived with three of the senior emirs of AQIM - Abou Zeid, Mokhtar Ben Mokhtar, and Abou Hamame, men who have carved out reputations for ruthlessness and greed.
They sense their chance in the chaos. But the desert may not be fertile territory for them. Youssou Guindo, a shop owner from Gao contacted by telephone, said: "Mali is a secular country, we do not need Sharia. We are free to pray. If they want Sharia they can apply it where they want, but not in Mali." Peter Tinti, who was until 2008 a United States Peace Corps volunteer in Gao, said some of his old friends had been in touch by twitter, expressing fear about their new masters.
"Most people, even most Tuareg, are probably not going to be enthusiastic about the rebels," he said. "Malians are proud of being a democracy. Trying to turn it into an Islamic state, that is going to be anathema to most people. Gao is a small, conservative town, but it also has bars and hotels and people are pretty tolerant."
As the dust settles in the desert after its most extraordinary week in decades, there is growing sense of dread about what happens next. Neighbouring governments fear the contagion of rebellion will spread to their own Tuareg minorities. Foreign governments fear al-Qaeda getting established in the desert.
Mali's government in the capital Bamako is in total chaos after the coup, and nobody expects its soldiers, chased out of the north, to be back any time soon. The rebel leaders are jubilant, but some think the MNLA may have declared independence prematurely. The jihadis want to march on the south, but that seems far-fetched.
The jihadis are under pressure, with imams in Timbuktu, one of the leading Islamic cities in Africa, telling the faithful that Mr Ghali is an upstart with no credibility as a religious leader. The MNLA fighters are now reportedly making ready for a showdown with AQIM and Ansar al Din. Mali's bloodletting may have only just begun.
http://www.telegraph.co.uk/news/worldnews/africaandindianocean/mali/9191760/Triumphant-Tuareg-rebels-fall-out-over-al-Qaedas-jihad-in-Mali.html
-----------
Pak girl returns without visiting dad's grave in India
April 7, 2012
A young Pakistani girl, Rahila Vakil, who came to India to visit her father's grave in Panipat, had to return on Thursday without fulfilling her wish. Rahila's father was killed in the Samjhauta Express blasts in 2007 and was buried there. The girl was stopped for visiting her father's grave in Panipat as her visa was only for her ancestral village in Uttar Pradesh.
According to Mr Momin Malik, an advocate based in Panipat, who is the lawyer for the kin of the victims, the month-long stay of the Pakistani girl came to an abrupt end when the police forced her to board a train to Pakistan without allowing her to visit her father's grave at Mehrana village in Panipat.
He said that despite having been granted a visa to visit the country, Rahila has been denied permission to visit her father's grave in Mehrana village of Panipat district.
Rahila had to spend four long years to find her father Mohammad Vakil, who lies buried in grave number 38 at Mehrana village.
Mohammad Vakil had boarded the fateful train on February 17 but reportedly went missing. Unmindful of the fact that her father could have been killed in the Samjhauta blasts, Rahila continued to believe that he had been arrested by the Indian security agencies and put behind bars. The Pakistani girl wrote many letters to the authorities of more than 60 Indian jails seeking information about her father, but finally she found that he had been killed in the blasts. After the NIA confirmed that Mohammad had boarded the Samjhauta Express on February 17, 2007 and that he was killed in the twin blasts, Rahila and her family applied for visa to visit his grave.
http://www.deccanchronicle.com/channels/nation/north/pak-girl-returns-without-visiting-dad%E2%80%99s-grave-386
----------
Muslim poor is poorer than 'general category poor' in India
April 7, 2012
A Muslim poor is poorer than a General Category poor. This is what a committee headed by SR Hashim, former Member of the Planning Commission, set up to derive a formula for identifying Below Poverty Line (BPL) families in urban areas, has recommended.
The Committee, which will place its report before the Plan Panel on 12th of this month, has recommended three vulnerabilities (housing, occupational and social) for automatic inclusion or exclusion of people in poverty line. Each category will have 5 points and have different parameters with certain weigthage. A person scoring maximum (maximum number of deprivations) on the scale will make to the priority category or the most vulnerable category.
While the housing and occupational vulnerabilities criteria is more or less similar to the criteria as taken into consideration for Socio-economic Caste Census 2011 (SECC) in rural areas, the social vulnerability criteria is different and has interesting parameters. A Plan Panel official told The Pioneer, "Under the third criteria households, which are child-headed, female headed (with no earning male members) and have no able-bodied members, will be automatically included. Muslims, Schedule Caste and Schedule Tribes (SC/ST) and Other Backward Castes (OBCs) will also have certain weightage on the scale of 5 points under this category (social vulnerability)." The weightage, he said, will be decided in the meeting.
This implies that if a Muslim is poor on the same parameters as a General catergroy person, say child-headed household, the Muslim household will score higher on the scale on account of the weightage given to a Muslim. A "General poor" will have the same disadvantage over SC/ST and OBCs.
What goes behind this recommendation, is the Plan Panel's recently released report on poverty. In the report, the Plan Panel revealed that among religious groups, poverty ratio at all India level is the highest for Muslims at 33.9 per cent. In urban areas, SCs have poverty ratio of 34.1 per cent, followed by STs at 30.4 per cent and OBCs at 24.3 per cent against 20.9 per cent for all classes. The Plan Panel claimed that poverty in India dipped to 29.8 per cent in 2009-10, declining by 7.3 percentage points.
Till now, the BPL Census has been restricted to rural India only. But this time, for the first time ever the Government decided to carry a separate BPL census in urban India as the intelligentsia cry grew louder that urban poor is in a worse state than rural poor and has different dynamics. While the SECC in rural India is being carried out by Rural Development Ministry, in 2011 the Government said that a separate census in urban India would be carried out by Ministry of Housing and Urban Poverty Alleviation (HUPA). While the process for conduct of census will be same as in rural areas, the questionnaire to be canvassed in urban areas will be different from that of rural areas.
After the forthcoming meeting, the Hashim Committee report will be sent to HUPA which will place it before Cabinet for approval.
http://dailypioneer.com/business/55676-muslim-poor-is-poorer-than-general-category-poor.html
----------
Syrian refugees flee with horrific accounts of mass graves
April 7, 2012
After days of relentless shelling and sniper attacks, thousands of Syrian refugees streamed across the border into Turkey with horrific accounts on Friday of mass graves, massacres and burned-out homes.
The latest reports of escalating violence fueled accusations that President Bashar Assad is rushing to stamp out as much of the year-old uprising as he can before a U.N.-brokered ceasefire next week.
The trigger for the new waves of refugees was an offensive in Idlib province, which borders Turkey and has become increasingly rebellious against the Assad regime.
Activists reported about 100 dead in the villages of Taftanaz and Killi in recent days.
A photograph provided to The Associated Press by a Syrian activist showed at least a dozen corpses wrapped in blankets in what appeared to be a mass grave in Taftanaz. The AP could not verify the authenticity of the photograph, but witnesses also described a mass grave.
"They destroyed the whole village," a refugee who asked to be identified by only one name, Anas, told the AP on Friday after fleeing Killi. "If he has to kill, Bashar would even kill 1 million people. He doesn't care."
"Helicopters and tanks are bombarding continuously," he told Turkey's state-run Anadolu agency. "Taftanaz has been burnt to the ground for three days." Activists posted video they said showed a helicopter gunship firing a missile at Taftanaz and a mosque hit by shelling.
The escalating violence has dimmed hopes that the fighting, which the U.N. says has killed more than 9,000 people, will end anytime soon. The country appears to be spiralling toward civil war a fearsome development that could bring a regional conflagration.
A vital geopolitical linchpin, Syria borders five other nations and has close ties to Iran and powerful militant groups, such as Lebanon's Hezbollah.
Mr. Assad last week accepted a ceasefire deadline brokered by international envoy Kofi Annan, which calls for his forces to pull out of towns and cities by Tuesday and for everyone to lay down their arms by 6 a.m. local time Thursday.
Western leaders have cast doubt on Mr. Assad's intentions, suggesting he is playing for time and is not serious about the plan, which aims to pave the way for talks between the regime and the opposition on a political solution.
Syria denies that the revolt is a popular uprising at all, saying instead that it is facing a foreign conspiracy by armed gangs and terrorists who want to destroy the country.
The revolt began in March 2011 with mostly peaceful protests, but the violent government crackdown has led many to take up weapons. A fighting force called the Free Syrian Army, made up largely of army defectors, is determined to bring down the regime by force of arms.
On Friday, Venezuelan President Hugo Chavez said he spoke by phone for half an hour with Mr. Assad, who told him the security situation in his country is improving and he hopes the violence will ease soon.
"He told me there have been more than 2,000 soldier martyrs and a larger number of innocent people who have died as a result of the terrorist plan to remove him from power," Chavez said in a phone call broadcast live on Venezuela's state television.
Also Friday, Syria's state-run news agency, SANA, appeared to acknowledge the recent spike in violence, but again blamed terrorism.
Syria sent letters to the United Nations and U.N. Security Council that said "acts committed by terrorists groups escalated especially after the agreement over Kofi Annan's plan was reached," SANA reported.
But witnesses who streamed in Turkey said regime forces were driving the bloodshed.
Ahmad, a refugee from Taftanaz who, like other witnesses, asked only to be identified by his first name, said families were forced to bury the dead in a "collective grave."
"The humanitarian truce promised by the Annan plan? If they grant us a two-hour truce, it would be to let us leave our houses, and then they would shoot again," he said.
Fadi al-Yassin, an activist in Idlib province, said Syrian troops took control of Taftanaz on Thursday after three days of intense shelling and attacks.
"The situation is catastrophic in Taftanaz," he said. "The grand mosque was destroyed and about 200 homes heavily damaged."
The stream of Syrians fleeing to Turkey has picked up considerably, with about one-third of the total of 24,000 refugees arriving in the past two weeks. Some 2,500 crossed the border on Thursday alone, said Ankara's Foreign Minister Ahmet Davutoglu, adding that the daily flow has doubled since Syria promised last week to abide by the truce.
Davutoglu told U.N. Secretary-General Ban Ki-moon on Friday his country would seek U.N. assistance if the influx continues. Turkey has in the past floated the idea of creating a small buffer zone inside Syria if refugee flows become overwhelming.
"We are doing our best to shelter them in camps, temporary housing units. No one is left out," Davutoglu said. "But everyone should realize that there is a problem here. We will ask for humanitarian assistance when needed."
Turkey's state TV showed dozens of refugees, including a young man on crutches and a defector from the Syrian army in military camouflage, huddled behind razor wire on the Syria-Turkey border Friday, waiting to cross into Turkey. Turkish soldiers registered their names before letting them in.
Violence also was reported Friday in Syria's central city of Homs, where thick black smoke billowed from a residential area amid the sounds of heavy gunfire and explosions. "Intense shelling by Mr. Assad's gangs," a man could be heard saying while filming what appeared to be a house on fire. "May God help us."
Regime forces also struck the town of Rastan, just north of Homs, with heavy machine guns and mortars, said the Britain-based Syrian Observatory for Human Rights. Ground troops later tried to push their way into Rastan, clashing with opposition fighters, the group said.
The government has been laying siege to Rastan since rebels took control of it in late January. However, they don't control the strategic Rastan bridge, which is the main link to northern Syria. In the past year, the rebels have tried repeatedly to overrun the bridge and break the siege.
Government forces also broadened an offensive in the Damascus suburbs of Douma, Saqba, Arbeen and Dumair, exchanging fire with rebels, activists said. The Observatory said four members of the military were killed.
Tanks fired at buildings while snipers took up positions atop a 12-storey medical building in the sprawling Douma district, about 8 miles (12 kilometres) outside the capital of Damascus, said activist Mohammed Saeed. He said two people were killed by tank fire.
Troops had entered Douma on Thursday in what activists described as one of the most violent raids near Damascus since the uprising began.
Plumes of smoke rose in Saqba, and activists said regime forces torched at least one house. In Dumair, the Observatory reported intense fighting and said an armoured vehicle was destroyed.
The Observatory said 23 civilians, nine government soldiers and four opposition fighters were killed Friday.
http://www.thehindu.com/news/international/article3289960.ece
----------
Syrian violence claims 27 dead in run-up to truce
Apr 07 2012
Beirut : At least 27 Syrian soldiers, rebels and civilians were killed in violence on Friday, opposition activists said, four days before a troop pullback agreed by President Bashar al-Assad as part of a UN-backed peace plan.
The Free Syrian Army (FSA) said it had met a delegation from peace envoy Kofi Annan this week and confirmed its fighters would stop shooting if Assad withdraws his tanks and troops to barracks before a ceasefire deadline next Thursday.
Talks were held and the FSA said if the regime commits to the plan and withdraws from the cities and returns to its original barracks then we are committed to the plan, Colonel Riad al-Asaad said. He declined to give further details.
The plan calls for a troop withdrawal by April 10 and a ceasefire by April 12. Assad told Annan two weeks ago he had accepted the terms. The Annan plan does not stipulate a withdrawal to barracks. It says the army must begin pullback of military concentrations in and around population centres.
But on Friday at the United Nations, Secretary-General Ban Ki-moon sharply criticized the Syrian government for the persistent attacks on civilians and demanded it keep its pledge to halt all military operations.
He suggested the latest killings were tantamount to a violation of U.N. Security Council demands that Damascus move toward a ceasefire.
The 10 April timeline to fulfill the Government's implementation of its (ceasefire and troop withdrawal) commitments, as endorsed by the Security Council, is not an excuse for continued killing, the statement from Ban's press office said.
The Syrian authorities remain fully accountable for grave violations of human rights and international humanitarian law, Ban's statement said. These must stop at once.
The Syrian Observatory for Human Rights said shelling had killed at least 10 people, including four rebel fighters, in the flashpoint central city of Homs. Two soldiers died in separate clashes and one person was killed in the town of Douma, it said.
The British-based Observatory, which has a network of contacts in Syria, also reported seven civilians and four soldiers killed in clashes and bombardments in Anadan, north of Aleppo. Three people were killed in Hama, it said.
Annan has said the government and opposition must stop fighting at 6 a.m. (0300 GMT) on April 12, if Damascus meets its deadline 48 hours earlier to pull back troops from cities and cease using heavy weapons.
Assad's opponents have accused the Syrian military of using the run-up to the ceasefire to intensify assaults. Syria has now charged insurgents with doing the same.
In recent days terrorist acts committed by armed groups in Syria have escalated, especially since an understanding was reached on Kofi Annan's plan, Syria said in a letter to the UN released on Friday.
The international community and the Security Council must take the necessary measures to prevent and stop the funding of any terrorist activities against Syria, it said.
Syrian forces were laying mines near the border with Turkey to try to block a flow of refugees and supplies for insurgents, rebel activists and a Turkish official said.
The Syrians have been mining the border, especially the southern Idlib part which has been restricting the flow of refugees, said the official, who declined to give his name.
Turkey said there were now 23,835 Syrian refugees on its territory of whom 2,800 arrived on Thursday alone, more than double the highest previous one-day total.
TANKS IN ACTION
On Friday, activists reported tank fire in the town of Douma near Damascus and in Anadan, Homs and Rastan.
At least five tanks and 10 buses loaded with security men and Shabiha (pro-Assad militia) entered Douma, a local activist said. In Rastan, an activist said FSA fighters confronted a morning tank thrust. They blocked the advance and the Assad army left. Then artillery started, he said.
Accounts are difficult to verify because Syria's government restricts access to independent journalists.
Washington released on Friday commercial satellite images it said showed that Syria has artillery poised to hit residential areas, and has moved forces from one town to another.
The regime and the Syrian people should know that we are watching. The regime cannot hide the truth, said Robert Ford, the U.S. ambassador to Syria.
Ford said the images, which he posted on Facebook, showed the withdrawal of tanks from Dael in Deraa province as well as from Taftanaz, a village east of Idlib city in Idlib province.
However, he said the Syrian government simply moved some armored vehicles out of Taftanaz to the nearby town of Zirdana.
Assad blames the conflict on foreign-backed terrorists and has proposed a parliamentary election on May 7 and other reforms. His opponents dismiss these as a sham, saying it is impossible to have a valid vote while bloodshed continues.
Anti-Assad demonstrations broke out after Friday prayers in the eastern province of Hasakeh, in the town of Qamishli and Deir al-Zor city, activists said. Protesters carried the white and green rebel flag. Some saluted other rebel cities.
Loyalist forces have killed more than 9,000 people during the unrest, according to a UN tally. Syria says 6,044 have died, including 2,566 soldiers and police.
Western powers are not convinced Assad will honour the promised truce and believe he may seek loopholes giving him more time to cripple the Free Syrian Army (FSA) and deter protesters.
It is also uncertain whether the FSA has enough control over its fighters to enforce Annan's ceasefire deadline.
http://www.indianexpress.com/story-print/933781/
----------
No strategic message in $10m bounty on Saeed: US
Apr 7, 2012
WASHINGTON: The United States has welcomed Pakistan president Asif Ali Zardari's one-off private trip to India this weekend while insisting the $10 million bounty on terrorist provocateur Hafiz Saeed has nothing to do with the politics of the region and was aimed strictly at inviting information to prosecute him.
Obama administration officials faced searching questions from the media, both American and subcontinental, about why it chose this point in time, when there was intense political activity and multiple exchanges in the region, to put Saeed on a terrorist bounty list.
Has Saeed been indicted in a US court? Why did the administration pick this week to put out the bounty notice, when it had the best chance of screwing up diplomacy? Hasn't it backfired? Isn't Saeed thumbing his nose at the US? State department spokesman Mark Toner, who took the brunt of the questions , maintained that the intent of the bounty notice was to secure information to ensure that Saeed was prosecuted for terrorism crimes.
"We're not playing some sort of strategic game here. We're just trying to prosecute this individual," Toner said amid off-the-wall speculation, particularly in Pakistan, that the bounty was meant to ramp up pressure on Islamabad to re-open Nato supply routes and also put Zardari on notice ahead of his India visit.
Pakistani hardliners are also blaming the "Indian lobby" in US for the bounty on a man whose toxic and hateful speeches propagating terrorism are in public domain.
But US officials have discounted India's role in the Hafiz bounty announcement while acknowledging there are close consultations between Washington and New Delhi. Toner said the US view was that Zardari's visit to India would actually be "very constructive and we're all for it" . The US certainly didn't want the bounty call to impact on Zardari's visit to India , he added.
Asked about Hafiz Saeed thumbing his nose at the US in a public spectacle, Toner said "everyone and their mother know at this point, he's hiding in plain sight in Pakistan", and what the US is seeking is not his whereabouts , but information that can be used to prosecute him in a court of law in Pakistan or elsewhere.
http://timesofindia.indiatimes.com/world/us/No-strategic-message-in-10m-bounty-on-Saeed-US/articleshow/12565594.cms
----------
34 Civilians die in Syria crackdown ahead of deadline
Apr 7, 2012
DAMASCUS: At least 34 people were killed across Syria on Saturday, mostly civilians, as President Bashar al-Assad's forces pressed a protest crackdown three days ahead of a deadline to cease fire and pull back.
Monitors reported the latest deaths despite UN chief Ban Ki-moon's latest rebuke to Damascus for stepping up its assault on dissent hubs ahead of Tuesday's deadline.
"Twenty-seven people were killed in the bombardment and shooting during an attempt by the military to storm the town of Latamna" in central Hama province, the Britain-based Syrian Observatory for Human Rights said.
It said the deaths came after regular forces launched an overnight assault on Latamna and clashed with members of the rebel Free Syrian Army.
Farther to the south at Qusayr in central Homs province, three other civilians including a woman and a child were killed, as was a defector from the police, the Observatory said.
And in the north, "one officer and two security agents were killed early on Saturday at Hreitan" in Aleppo province, the site of fierce combat for the past several days, it added.
UN-Arab League envoy Kofi Annan has warned of "alarming" casualties as the Syrian government's year-long crackdown on dissent -- which the United Nations says has killed more than 9,000 people -- showed no signs of abating.
Monitors put the number of dead at more than 10,000.
At least 77 people were killed nationwide on Thursday and 35 on Friday, mostly civilians, according to Observatory figures.
On Saturday, rebels attacked a military intelligence headquarters in the second city of Aleppo, the Observatory said, and army deserters also pressed a dawn assault on Ming air base in the same province.
Fighting was also reported between troops and deserters in districts of Hama city in central Syria.
"Regular forces launched an assault early on Saturday on the Al-Qussur district, where they burned down the house of an activist," said an activist on the ground, Abu Ghazi al-Hamwi.
Another activist, Mohammed al-Shami, said that in Damascus province the town of Irbin saw overnight fighting following protests in support of towns being attacked by the military.
The Local Coordination Committees group, which organises protests at a local level, on Saturday posted on line videos of tanks and armoured cars deploying in Douma, just north of the capital.
Ban said on Friday that the increased attacks by Assad's forces on cities "violate" a UN Security Council statement demanding an end to hostilities by Tuesday's truce deadline.
The UN chief indicated that he believes Assad's government is using the deadline to pull troops and heavy weapons away from cities as "an excuse" to step up the killing.
Ban "deplores the assault by the Syrian authorities against innocent civilians, including women and children, despite the commitments by the government of Syria to cease all use of heavy weapons in population centres," said his spokesman Martin Nesirky.
"The April 10 timeline to fulfill the government's implementation of its commitments, as endorsed by the Security Council, is not an excuse for continued killing," Ban added.
The Security Council passed one statement backing Annan's peace plan and on Thursday agreed a second "presidential statement" formally endorsing the April 10 limit for Syrian troops and big guns to be withdrawn from cities.
Russia and China, which vetoed two Security Council resolutions on Syria, have signed up to the new demands.
But Syria said on Friday that the number of what it calls "terrorist acts" has risen since the deal was reached with Annan.
"The terrorist acts committed by the armed terrorist groups in Syria have increased during the last few days, particularly after reaching an understanding on Kofi Annan's plan," it said in a letter to Ban.
At the same time, Damascus lashed out at the UN high commissioner for human rights, Navi Pillay, accusing her of turning a blind eye to "terrorism" funded from abroad.
Damascus has also demanded a written commitment that the opposition will not seek to exploit the troop withdrawal to make territorial gains.
Meanwhile, Syria's Foreign Minister Walid Muallem is scheduled to travel to Moscow on Monday for talks.
In a statement announcing the trip, Muallem's office said Russia had an "objective balanced position" on the crisis that had won "recognition and deep respect" from the Damascus regime.
http://timesofindia.indiatimes.com/world/middle-east/Civilians-die-in-Syria-crackdown-ahead-of-deadline/articleshow/12570417.cms
----------
Bangladeshi youth murdered in Malaysia
April 7, 2012
A Bangladeshi youth was found dead with a slash wound to the neck in a four-storey shophouse in Kuala Lumpur on Saturday, a Malaysian newspaper reported.
The 23-year-old victim had called his housemate earlier saying that there were people knocking on the door in his house at Jalan Kuchai Maju 13 in Kuchai Lama, The Star reported.
The report said the housemates of the youth found him at about 10:00am, after receiving the emergency call.
Brickfields deputy police chief Superintendent Aida Abdul Hamid told reporters that police believed the death was related to robbery.
"The two rooms in the house were ransacked and police believed the criminals came to rob before killing the victim," she said.
The body of the unemployed victim has been sent to Universiti Malaya Medical Centre and the case is being investigated for murder.
http://www.thedailystar.net/newDesign/latest_news.php?nid=36924
----------
Malala's story: A 13-year-old's struggle against terrorism
April 7, 2012
When terrorists took over Swat in 2007, one of the major changes that took place was the ban on education for girls. That is when Malala Yousafzai, a 13 year old girl from Mingora realized how important education was for her.
Before this incident, Malala did not know why she had to go to school.
She reminisces those days as being 'black days' of their lives. She could not understand why they were being terrorised and especially, why no one was doing anything about it. Those were times when no one would speak up against terrorism as it was considered a very big thing.
Malala, however, chose to speak her mind to the media. She told her father that she wanted to give an interview as she wanted an opportunity to reveal to the world the injustice they were facing. She gave an interview and gradually she turned this into a routine.
She transferred her thoughts to paper like one would in a diary and started sending these entries to the British Broadcasting Corporation (BBC). Malala wrote the diary for four months and poured her heart out.
Malala's struggle earned her not only peace in Swat and education for girls, but also an unexpected reward. She was presented with the National Peace Award by Prime Minister Yousaf Raza Gilani for her struggle against terrorism.
Malala is the first student to be presented with this award. Gilani on the occasion said, "This award will be presented every year to youngsters possessing extraordinary skills".
To add to the honour, an award in her name was introduced on a national level which would go down in history as the Malala Peace Award.
"I wanted to be able to attend school again. I wished for peace. The only reward I wanted was peace in Swat. I didn't want any other award, nor did I think I would get one", said Malala.
The video above was shot by Think Twice Pakistan.
http://tribune.com.pk/story/360669/malalas-story-a-13-year-olds-struggle-against-terrorism/
----------
20 million Pakistani children not in school: UNICEF
April 7, 2012
* Fund says poor girls in rural areas get about one year of education
* Urges all concerned to ensure education for all children
ISLAMABAD: Around 20 million children in Pakistan, including an estimated 7.3 million of primary school age, are not in school, said a statement issued by United Nations International Children's Emergency Fund (UNICEF) on Friday.
"Investing in children and their education is vital due to the positive impacts it has on so many socio-economic dimensions. It is therefore imperative that all children in Pakistan, both boys and girls, have the opportunity to attend and complete their schooling," the statement said.
About the efforts of the fund for promoting education for children across the country, the statement said, "UNICEF is supporting the nationwide 'Every Child in School' campaign, which encourages parents and communities to ensure that all primary school-age children are enrolled for the new school year. A special focus is being placed on enrolling girls, who represent 57 percent of primary school-age children who are not attending school. Girls from poor families in rural areas, for example, receive just over one year of education, on average."
"The disparities in educational opportunities are influenced by multiple factors, like wealth, gender, ethnicity, geographic location, early learning opportunities, access and quality of learning – and it is therefore critical that all who can positively influence children's learning opportunities should come forward to ensure that this school-year is more successful than ever," said UNICEF Pakistan Representative Dan Rohrmann.
"We must ensure that all children are in school. Free and quality education for all children, especially the most vulnerable, is essential to Pakistan's economic and social development. An investment in children is an investment in Pakistan's future," Rohrmann said, adding, "The realisation of Pakistan's vision for social and economic development depends on success of its education system."
The right of a child to receive education is enshrined in the UN Convention on the Rights of the Child. The 18th Amendment of the Constitution of Pakistan provides an added opportunity to realise this right, as Article 25A requires the state to provide free and compulsory education to all children between the ages of five and 16, as determined by the law.
http://www.dailytimes.com.pk/default.asp?page=2012\04\07\story_7-4-2012_pg7_3
----------
Pakistan: Girls' primary school blown up in Mohmand
April 7, 2012
GHALLANAI: Terrorists blew up a government-run girls primary school with explosives in the village on Friday. According to details, unidentified terrorists planted and detonated explosives in the school, which is located in the Lakrro area in Sasi tehsil of Mohmand Agency. The school building was partially damaged due to the blast. However, no causality or injury was reported, as the building was vacant at the time of the blast. Terrorists in FATA have destroyed 92 government schools, most of them for girls, schools in Mohmand Agency during the past three years.
http://www.dailytimes.com.pk/default.asp?page=2012\04\07\story_7-4-2012_pg7_7
----------
Pakistan: For women, it's an unending struggle
By Gulmina Bilal
April 7, 2012
For many it was the "Good Friday." For others it was another day of struggle. More than 600 women gathered outside the National Assembly for a protest. These women did not belong to a particular group, organisation or community, but were representing a true mix of Pakistani women. There were veiled women, women who were modestly dressed according to the socio-cultural environment and those women were also present that are considered 'modern' in our society. However, all of them were there for a common reason.
It is a misnomer in our society that women who actively talk about their rights and also go to the extent of protesting for them, are following western values. However, this was not the case here. These women had gathered to protest for the enactment of a law against domestic violence, a problem that is so widespread in our society that sometimes it gets difficult to find homes where this problem does not exist.
Surprisingly, a presumably 'religious group' of people, including men and women also started gathering around the women who were protesting for an altogether 'noble' reason. As the religious group increased in number, they started arguing with the protesting women. They were of the view that these protesting women are fighting for a cause that is not Islamic. They are working on the instructions of their western masters and are disseminating western values in society. Sadly, one thing that the religious group failed to notice was that there were veiled women in the group as well, who according to their standards are considered "Islamic." So the point of conflict or argument was not clear and it all seemed a failed effort to curb the voice of women who actively voice their concerns.
Domestic violence, if seen from a woman's perspective is one of the biggest problems in our society. In every household, whether large or small, rich or poor, domestic violence is prevalent with the exception of only a few. I strongly believe that there is nothing un-Islamic in talking or protesting about putting an end to this problem. Islamic scholars always talk about the place a woman has been given in Islam. They always talk about the rights and privileges that a Muslim woman is entitled to, but sadly, when it comes to women rights and putting an end to domestic violence, such religious people just do not want to listen to the voices of reasons. They consider talking about such issues as un-Islamic. A similar deadlock was observed in the assembly over a landmark bill that seeks to deter all forms of domestic violence against women. This deadlock was mostly due to the opposition from Jamiat Ulema-e Islam-Fazl.
It is not understandable that why do religious groups and parties raise hue and cry over such issues and try to term them un-Islamic, when there is nothing un-Islamic about protesting on women rights. Sadly, such politicians have decades of experience in politics but lack political vision. It is easily understandable that a country where 'objectives resolution' was particularly adopted to give religious colour to everything, and a constitution that ensures that every law will be enacted according to the teachings of Islam, then why these religious people are worried about a bill that is only putting an end to domestic violence. Perhaps it is something else that these people are afraid of. Islam reveres woman as mother, sister and daughter and gives her all the rights within the home and in society as well. If an effort is being made to rid the society, particularly women of domestic violence then I strongly believe that it should not be considered 'un-Islamic' or 'western.'
http://www.dailytimes.com.pk/default.asp?page=2012\04\07\story_7-4-2012_pg7_16
----------
Pak PM says Hafiz Saeed unlikely to be focus of talks with Indian PM
Apr 7, 2012
LAHORE/ISLAMABAD: On the eve of his India visit, President Asif Ali Zardari on Saturday said he did not expect the issue of Hafiz Saeed to be the focus of his meeting with Prime Minister Manmohan Singh, amid growing pressure on Pakistan to prosecute the LeT founder for his role in the Mumbai attacks.
"My stance on Saeed is not different from that of my government. My visit to India is of a religious nature and I do not think Manmohan Singh will make me sit (and discuss only) this issue," Zardari told reporters in a lighter vein at the Governor's House in Lahore.
56-year-old Zardari, who flies to India on Saturday for a luncheon meeting with Singh followed by a visit to Ajmer to pay obeisance at the shrine of Khwaja Moinuddin Chishti, has been camping in Lahore for the past few days.
He was responding to questions on his meeting with Singh against the backdrop of a USD 10 million bounty offered by the US for information leading to Saeed's prosecution.
Pakistan Prime Minister Yousuf Raza Gilani has already said in Parliament that the case of Saeed is an "internal issue" of Pakistan. Gilani further said that any evidence against Saeed should be provided to Pakistan so that it can be examined by the country's independent judiciary.
In Islamabad, Foreign Office spokesman Abdul Basit said Zardari will invite Singh to visit Pakistan by the end of this year during their meeting in New Delhi.
"President Zardari will invite Prime Minister Singh to visit Pakistan by the end of this year," Basit said.
While the Pakistani leadership has extended the invitation to the Indian Prime Minister earlier also, this would be the first time that a time-frame has been proposed for the summit meeting.
On his part, Singh has accepted the invitation earlier but made it clear that he would undertake the visit only if there is likelihood of a substantive outcome.
On the Saeed issue, New Delhi has said that this can figure along with a host of other topics during the Singh-Zardari talks.
Pakistan on Friday rejected external affairs minister S M Krishna's assertion that India had provided adequate evidence linking Saeed to the 2008 Mumbai attacks, carried out by the Pakistan-based Lashkar-e-Taiba, that left 166 people dead.
The Foreign Office said India had not given "any solid and significant evidence" against Saeed. "There is nothing concrete and maintainable. From its own Mumbai trial experience, India knows well that hearsay cannot substitute for hard evidence," Basit said.
Krishna had said that "the dossier that the home minister has provided to the Pakistan government contains every detail of Saeed's involvement in the planning and execution of terrorist attack on Mumbai."
"So no amount of denial would exonerate them unless there is a judicial enquiry into the whole episode whereby responsibilities can be fixed but unfortunately Pakistan government has not thought it proper to investigate this."
Zardari will be the first Pakistani head of state to visit India since 2005, when the then military ruler, Pervez Musharraf, had travelled to New Delhi for talks with the Indian leadership.
Pakistan's top leadership has described Zardari's trip as a "private visit" aimed at fulfilling a long-standing desire to offer prayers at the famous 13th century Sufi shrine at Ajmer in Rajasthan.
"The basic objective of the president's visit is to pay obeisance at the shrine of Khwaja Moinuddin Chishti at Ajmer Sharif," Basit said.
The meeting between Zardari and Singh has no agenda though the two leaders are expected to discuss all bilateral issues and the regional situation, Basit told the media.
He acknowledged that the visit was "important" as the two countries were currently engaged in the second round of the dialogue process that began last year after a gap of over two years in the wake of the 2008 Mumbai attacks.
"We expect this round (of the dialogue) to be completed in June-July. After that, the Indian foreign minister is to visit Pakistan to review the process," Basit said.
http://timesofindia.indiatimes.com/india/Asif-Ali-Zardari-says-Hafiz-Saeed-unlikely-to-be-focus-of-talks-with-Manmohan-Singh/articleshow/12571716.cms
------------
Bilawal on Zardari entourage, sparks agenda speculation
Apr 7, 2012
NEW DELHI: When Pakistani President Asif Ali Zardari lands in Delhi on Sunday, he will be accompanied by his dashing 24-year-old son and Pakistan People's Party chief Bilawal Bhutto Zardari. Widely regarded as the heir apparent in his country and Rahul Gandhi's counterpart, this will be his first visit to India.
While Zardari was always likely to be accompanied by some family members, Pakistani media had carried reports saying Bilawal was not going to accompany his father to India. Government sources on Friday confirmed that Bilawal, who became chairman of PPP at the age of 19 after the assassination of his mother Benazir, will attend the lunch being hosted by PM Manmohan Singh. He will then leave with his father for Ajmer where they will pay obeisance at Khwaja Moinuddin Chisti's shrine.
The father-son duo will be accompanied by Pakistani interior minister Rehman Malik. There was some speculation that Pakistani foreign minister Hina Rabbani Khar may also accompany Zardari but sources said there was no confirmation of her visit until late evening on Friday.
According to those watching Pakistani politics closely, the Oxford-educated Bilawal has become more active since 2011, especially after his father was said to have been taken to Dubai for medical treatment. Bilawal is currently on a high after the stirring speech he delivered in Sindh this week demanding an apology from the Supreme Court for its role in the "judicial murder" of his grandfather Zulfiqar Ali Bhutto.
While there is still a fair degree of confusion over whether or not home minister P Chidambaram will participate in the Sunday event, government sources confirmed that foreign minister S M Krishna will attend the lunch as well as the meeting between the two delegations. As of now, Krishna is the only certainty even though sources did not confirm his counterpart Khar accompanying Zardari.
"The PM has decided that Krishna be there as the visit involves a head of state. Chidambaram may or may not come but even if he does, there will be very little time for a separate time with his counterpart Rehman Malik," a source said.
Krishna's participation and speculation that Khar may also come has led to suggestions that there may be a more substantive agenda. Krishna, in fact, dropped a hint when he said that the PM may touch upon some bilateral issues in his meeting with Zardari.
"All bilateral issues between the two countries are likely to be discussed. I don't know if they will have enough time to go into details, but the very fact the prime minister is hosting a lunch they might get a chance to discuss some bilateral issues," he said in Bangalore.
http://timesofindia.indiatimes.com/india/Bilawal-on-Zardari-entourage-sparks-agenda-speculation/articleshow/12565764.cms
----------
'Pak given enough proof on Hafiz role in 26/11'
07 APRIL 2012
With the US' recent bounty on JuD chief Hafiz Saeed's head bringing the extremist leader into spotlight, India claimed that it had given ample proof to Pakistan that Saeed was involved in the 26/11 Mumbai attacks.
External Affairs Minister SM Krishna was reacting to Pak PM Yousuf Raza Gilani's recent claim that more proof was needed to pin Saeed. Krishna was speaking to reporters in Bangalore ahead of Pakistani President Asif Ali Zardari's India visit.
He said: "The dossier that the Home Minister has provided to Pakistan Government contains every detail of Saeed's role in the planning and execution of the terror attack on Mumbai."
SM Krishna also said that no amount of denial by Pakistan can exonerate the JuD chief's role in the terror strikes.
Krishna was asked about Pakistan Prime Minister Yousuf Raza Gilani's remark that the matter of Saeed is an internal issue and if there was any concrete proof against the Jamaat-ud-Dawah chief, then it should be provided to Pakistan.
"No amount of denial would exonerate them unless there is a judicial enquiry into the whole episode whereby responsibilities can be fixed, but unfortunately Pakistan Government has not thought it proper to investigate this," Krishna said.
Gilani had made the remarks while responding to points raised by lawmakers during a joint session of Pakistan's National Assembly and Senate about the USD 10 million bounty offered by the US for information that could be used for Saeed's prosecution.
However Krishna is not sure this issue would be discussed during the visit of Pakistan President Asif Ali Zardari. But he felt since Prime Minister Singh is hosting a lunch, they will certainly discuss all bilateral issues if they find time.
"All bilateral issues are likely to be discussed. After all, it is a private visit of President Zardari to India and he is coming on a religious mission to Ajmer and I do not know whether they will have enough time to go into greater details," Krishna said.
Zardari is coming to India to visit the Sufi shrine of Khwaja Moinuddin Chishti at Ajmer. Before travelling to Ajmer, Zardari will meet Singh over lunch in New Delhi.
However, Krishna said bilateral ties between the two neighbours have been "looking up" in the last couple of years although there are number of issues that remain to be resolved.
Quoting Pakistani Foreign Minister Hina Rabbani, Krishna said there has been a change of mindset in Pakistan towards India.
On Chinese objection to India exploring oil in the disputed areas of South China Sea, Krishna said: "South China Sea is the property of the world. ASEAN (Association of South East Asian Nations) countries have accepted it (this position). China has also accepted it".
The External Affairs Minister felt relationship between India and China too was improving and asserted that there was no strain in ties between the neighbours.
http://www.dailypioneer.com/nation/55819-pak-given-enough-proof-on-hafiz-role-in-2611.html
----------
US jails terrorists' arms supplier, Russia seethes
Apr 7, 2012
NEW YORK: International arms dealer Viktor Bout, whose network is alleged to have armed the al-Qaida and Taliban, has been sentenced to 25 years in prison by a US court for conspiring to supply deadly weapons, including missiles, to a Colombia-based terror group.
A former Soviet air force officer, Bout, dubbed as 'Merchant of Death', has also been handed down a sentence of five years of supervised release and fined $15 million.
Prosecutors had sought the life sentence for the 45-year-old arms dealer. Bout ran an international arms-trafficking ring and is said to have supplied weapons to many dictators who used it against their own civilians.
"Bout has been international arms trafficking enemy number one for many years, arming some of the most violent conflicts around the globe," Manhattan US attorney Preet Bharara said.
He said the sentence is a "fitting coda for this career arms trafficker of the most dangerous order" and who has finally been brought to justice in an US court for agreeing to provide a staggering number of military grade weapons to an avowed terrorist organization committed to killing Americans.
Meanwhile, Russia on Friday condemned the sentencing of Bout as "baseless and biased" and said it would do all it could to ensure his return home. "The Russian foreign ministry views the US court verdict sentencing Viktor Bout to 25 years in prison as baseless and biased," the ministry said in a statement.
Bout was convicted in November last year on all four counts for which he was charged after a three-week jury trial before US district judge Shira Scheindlin.
He was arrested in Thailand in March 2008 and subsequently charged in a fourcount indictment in April 2008. At trial, he was convicted of conspiring to kill US nationals, officers and employees , conspiring to acquire and export missiles and to provide material support to a foreign terrorist organization.
http://timesofindia.indiatimes.com/world/us/US-jails-terrorists-arms-supplier-Russia-seethes/articleshow/12565586.cms
----------
India: Hope floats for 'innocent UP terrorists'
April 7, 2012
FOR THOSE innocent Muslims languishing in Uttar Pradesh jails on terrorism charges, there seems to be some ray of hope.
The Akhilesh Yadav government in Uttar Pradesh is planning to withdraw terrorism charges against three people who are in prison for the last five years for their suspected role in the November 23, 2007 serial blasts that took place in the court premises of Luck now, Faizabad and Varanasi.
While there was no casualty in Lucknow, 11 people had died in the blasts in Varanasi and Faizabad.
True to its pre- poll promise, the Samajwadi Party ( SP) government has sought the opinion of the law department on exonerating Khalid Mujahid, Tariq Qasmi and Sajjadur Rehman for their alleged role in the blasts.
Acting as fillip is the observation of the Lucknow district court — where the three are being tried — that the evidence gathered seems to have been half- baked.
The state's home department has now asked the special task force ( STF) and the anti- terrorist squad ( ATS) to furnish details of the evidence against the three, besides the status of their cases in the court.
SP spokesman Rajendra Chaudhary said: "We had promised in our manifesto that innocent Muslim youth arrested in blast cases would be released. They have suffered a lot without any reason." The law says the state government, which is a party against the accused, can move an application in court to withdraw from the case.
Although the withdrawal of the cases would ultimately depend on the court, the convention is that it agrees to the state's request in such events.
State principal secretary (home) R. M. Srivastava said he didn't have specific information regarding the cases. "But it is true that information in all such cases has been sought from the law department."
In April 2011, Rehman had been cleared of his role in the Lucknow court blast by the special judge of the district court, Shashank Shekhar. But Rehman, who the Jammu and Kashmir police arrested from the state on December 22, 2007 and handed him over to the UP police four days later, is yet to walk free as the hearing in the Faizabad court blast case is still on.
The UP police had earlier arrested Aftab Alam Ansari from Kolkata for his role in Varanasi court blast. But he was released after just 22 days and the police had to apologise to him later on.
Regarding Mujahid (a Madrasa teacher from Jaunpur district's Mariahu village) and Qasmi ( a Unani doctor from Rani Ki Sarai, Azamgarh), the STF had alleged that they were terrorists belonging to the Harkatul- Jihad- al- Islami ( HuJI).
While the two had been allegedly picked up from their home towns, the STF in its report claimed the duo was arrested from Barabanki in Uttar Pradesh on December 22, 2007.
This was not the only blip in the STF story. While the two were arrested on December 22, 2007, their mobile phones ( two each of Mujahid and Qasmi) were shown to have been recovered and sealed four days prior to their arrest. And yet, the mobile phones were shown to be in use even days after their arrest.
Lawyer and human rights activist Mohammad Shoaib, who is pursuing the cases, said: " The court had found Ansari innocent and released him. Rehman has been cleared of the Lucknow blast case but the hearing in the Faizabad court blast is still on." Shoaib said he is close to proving that the police theories are all lies. " We would be happy if the state government saves its intelligence agencies from further embarrassment." The lawyer said Rehman's father Ghulam Kadir has submitted documents which prove that his son was taking classes at Darul Uloom, Deoband when the court blasts took place " The attendance register at Darul Ulomm is also a proof that Rehman is innocent. But the police claimed he was present in Lucknow at the time of the blast," Kadir said.
" While studying the evidence submitted by the police, we have found that the cases had been cooked up in haste. The date and place of the arrests have also shown to be different by different investigating agencies," Shoaib said.
PICKING HOLES IN POLICE PROBE REPORT
The three accused being taken to the court.
On Nov 23, 2007, serial blasts rocked the court premises of Lucknow, Faizabad and Varanasi. The blasts killed 11 people STF claimed to have arrested Khalid Mujahid ( of Jaunpur district) and Tariq Qasmi ( of Azamgarh) from Barabanki district.
But it is said they were allegedly picked up from their home towns While they were arrested on Dec 22, 2007, their mobile phones were shown to have been recovered and sealed four days earlier.
Surprisingly, the mobile phones were in use days after their arrest Sajjadur Rehman was claimed to have been present in Lucknow at the time of the blast. But his father said Rehman was teaching at Darul Uloom in Deoband
Mail Today
----------
Mali's coup leader to return power
April 7, 2012
Under intense pressure from the nations bordering Mali, the junior officer who seized control of the country in a coup last month signed an accord late on Friday, agreeing to return the nation to constitutional rule.
The announcement came only hours after separatist rebels in Mali's distant north declared their independence, a move that further complicates a crisis that began 16 days ago when a group of disgruntled soldiers stormed the presidential palace, reversing two decades of democratic rule in the space of a day.
On Friday, Capt. Amadou Haya Sanogo emerged from his office inside the same military base where the mutiny began and which has acted as the de facto seat of government ever since the March 21 coup.
Flanked by the ministers of neighbouring nations, he read out the accord, stating that under Article 36 of Mali's constitution the head of the national assembly becomes interim president in the event of a vacancy of power. The head of the parliament will form an interim government, which will organize new elections.
In the event of the vacancy of the presidency of the republic for whatever reason, or due to any absolute and definitive impediment," Mr. Sanogo said, "the functions of the president of the republic will be exercised by the president of the National Assembly."
Although article 36 of the constitution says elections should be held in no more than 40 days, the accord explains that that timeframe will likely be extended, due to rebellion which has turned the northern half of the country into a war zone.
"Because of the exceptional circumstances that the country is going through, because of the institutional crisis and the armed rebellion in the north which have badly affected the functioning of the institutions of the republic and because of the impossibility of organizing elections in 40 days as set out under the constitution," Mr. Sanogo said. "It is indispensable to organize a political transition with the aim of organizing free, democratic and transparent elections."
The declaration was welcomed by Burkina Faso's Foreign Minister Djibrill Bassole, who flanked Mr. Sanogo while he read the accord. Bassole said afterwards that the nations bordering Mali had agreed to lift the crippling sanctions which went into effect earlier this week, including the closure of the country's borders. Landlocked Mali imports all its fuel, and already many neighbourhoods in Bamako had only electricity for half the day.
A senior official who was involved in the negotiations said that the head of the assembly would likely fly back as early as Saturday. He said that the accord means that Mr. Sanogo who just days ago had stubbornly refused to step aside has finally chosen to put the country back on a democratic path.
A Western diplomat in Bamako, however, said that although he hoped for the best, he worried Mr. Sanogo could still make a U-turn. Neither the official nor the diplomat could be named because they had not been authorized to speak to the press.
"We have to take a wait-and-see approach," the diplomat said. "I certainly hope it's true and that the country goes back to civilian rule so that Mali can get back on its feet."
The news comes just hours after Mali's Tuareg rebels, who seized control of the country's distant north in the chaotic aftermath of the coup in the capital, declared independence Friday of their Azawad nation.
In Ivory Coast, the military chiefs of 13 of Mali's neighbours met to hash out plans for a military intervention in order to push back the rebels in the north.
The confusion in the capital created an opening for the separatists. The traditionally nomadic Tuareg people have been fighting for their own homeland since at least 1958, when Tuareg elders wrote a letter to the French president asking their colonial rulers to carve out a separate nation, called "Azawad" in their language.
Instead, the north, where the lighter-skinned Tuareg people live, was made part of the same country as the south, where the dark-skinned ethnic groups controlled the capital and the nation's finances.
The rebel group that declared independence on Friday is secular. However, they were helped by an Islamist faction which is now attempting to apply Shariah law to Mali's moderate north, including in the fabled tourist destination of Timbuktu.
France has offered to provide logistical support to the Economic Community of West Africa States, or ECOWAS, the 15-nation bloc representing nations in the region, should they decide to launch a military operation to reclaim the north.
When they first seized power, Mr. Sanogo and his men said they were ousting Mali's democratically elected leader because of his poor handling of the rebellion in the north, which began in January. The conflict has cost the lives of scores of Malian soldiers, and in the accord signed in front of reporters on Friday, there is also a section calling for reparations to be paid to the families of the dead soldiers.
In addition, the accord gives full immunity to the soldiers that took part in the coup.
Left unanswered is the fate of ex-President Amadou Toumani Toure. Mr. Toure, known by his initials ATT, went into hiding and his whereabouts remain unknown.
Mr. Bassole told reporters after the coup leader read the accord that Mali's neighbours had made a heartfelt appeal for Mr. Toure to be allowed to return.
"We also expressed our desire that President ATT be allowed to return to the home of his choice, and that his security be assured by the defence and security forces," said Mr. Bassole.
The accord does not specify if the junta has agreed to that request.
http://www.thehindu.com/news/international/article3289922.ece
----------
Karachi bleeds as three more people killed
April 7, 2012
A large contingent of police with water-canon-vehicle deploys at CM House during protest rally of residents of Orangi Town against killing of three workers of the PPP in Karachi on Friday. – Photo by PPI
KARACHI: Three people were killed in Karachi on Saturday. The combined death toll from firing incidents across the city has now climbed to nine within 24 hours, DawnNews reported.
A bullet-riddled body sealed in a gunny bag was found in Sector-21 of the Korangi Industrial Area. The victim was shot dead after being kidnapped.
Also, in Orangi Town No 4, a man was shot dead by unidentified persons.
A body was discovered from Landhi sector 5.
http://dawn.com/2012/04/07/karachi-bleeds-as-three-more-people-killed/
----------
Gilgit-Baltistan sectarianism: Police chief denies foreign hand in violence
By Peer Muhammad
April 7, 2012
ISLAMABAD: Gilgit-Baltistan (G-B) police Inspector General (IG) Hussain Asghar has denied any foreign involvement in the recent strain of violence in the region, which has claimed around 20 lives.
Talking to The Express Tribune via telephone, the IG maintained that few job opportunities and a high literacy rate among the resident youth was fueling dissatisfaction and was feeding the rise in sectarianism.
"I don't think there is any foreign hand involved in the sectarian riots. The key thing in my understanding is the high rate of literacy without employment opportunities, which allows the frustrated youth to be easily used by some elements," he said.
Talking about the 32 people held hostage in the Nagar area following the killing of passengers in Chilas by a protesting mob, the IG said efforts were still underway to recover them safely. He added that he was sure they would not be harmed considering the people of Nagar had no prior record of harming people.
Asghar said that a few suspects have been arrested and are being interrogated. However, he was reluctant to disclose the names and exact numbers of those apprehended.
The IG dispelled impressions that a major military operation had been launched in the city.
"We have imposed curfew to normalise the situation and avoiding further riots," he maintained. He claimed the situation was now under control and heading towards normalcy, especially since both political and religious leaders made efforts to placate the masses.
He also rejected the presence of huge weapon and ammunition caches in the city.
Talking about farsighted measures to stem sectarianism from the picturesque region, he suggested establishing industries to absorb the educated youth on a large scale. This would, according to him, keep them from involvement in sectarian activities.
"G-B has among the highest literacy rates in the country, but few employment oppurtunities. Such a situation frustrates the youth," he said. "If they have jobs and are busy with work, they will not have time to indulge such activities," he suggested.
http://tribune.com.pk/story/360991/gilgit-baltistan-sectarianism-police-chief-denies-foreign-hand-in-violence/
----------
The Muslim Brotherhood's Charm Offensive in Washington
Apr 07 2012
The Muslim Brotherhood's American charm offensive got off to a rough start this week. Members of the Freedom and Justice Party (FJP), the Brotherhood's political wing, arrived in Washington D.C. this week for a series of meetings with U.S. officials, media, and think tanks, with the purpose of presenting a moderate image of the Brotherhood and allaying fears that it will impose Sharia law and threaten Egypt's minority groups, including secularists and Coptic Christians. Instead, the Brotherhood's delegation was confronted with news that, back in Egypt, those fears were being confirmed.
Over the weekend, the Brotherhood announced that it would field a candidate in May's presidential election, breaking an earlier pledge not to do so. Given the Brotherhood's political and organizational clout, the candidate, businessman and Brotherhood bigwig Khairat al-Shater, is now considered the frontrunner, reinforcing concerns that the Islamist group wants to completely dominate the Egyptian parliament. Worse still for the Brotherhood's supposedly moderate image was that al-Shater made it expressly clear that his "first and final project and objective" would be to impose Sharia law on the country. Already, he has stirred controversy in Egypt by lobbying for the support of Egypt's hard-line Salafist clerics, offering them effective approval over all legislation to make sure that it is compliant with Sharia.
That left the Brotherhood's delegation scrambling to sanitize al-Shater's statements. Asked to account for its political about-face, and one that seemed likely to bring to power a committed proponent of Sharia law, the Brotherhood's visiting delegation tried to make light of the news. Abdul Mawgoud Dardery, one of the lawmakers in the delegation, insisted that the Brotherhood was committed to a "civil state" and was only seeking to implement the "principles" of Sharia law rather than its strict application. "The principles are universal: freedom, human rights, justice for all. This is the priority of the Freedom and Justice Party," Dardery said at an event at Georgetown University. Sharia, in short, was not the Brotherhood's primary concern in post-Mubarak Egypt.
But that dubious pretense became virtually indefensible on Wednesday, when an Egyptian court sentenced a 17-year-old Christian boy to three years in jail for the crime of publishing cartoons mocking the prophet Mohammed on his Facebook page. The Sharia-inspired sentence came in the aftermath of a wave of attacks on Christians by Muslim mobs, in which Christian homes were burned and Christians were injured. The violence highlighted the pressing worry that Egypt's Christians could lose their rights under a Brotherhood-led regime. Christians have already been shut out of the political process, and Christian parties have responded by quitting a working group drafting the country's new constitution, saying that their concerns were being ignored. Their departure represents a growing political disenfranchisement that gives the lie to the Brotherhood's claim of seeking "justice for all."
The rift between the Brotherhood delegation's assurances of moderation and the reality of the nascent government the Brotherhood has come to dominate is now all too apparent. One of the government's first acts, for instance, was to announce that it would prosecute 43 Germans and Americans working for pro-democracy NGOs in Egypt. Although the groups had been working in Egypt for years, the foreign workers – among them Sam LaHood, the son of U.S. Transportation Secretary Ray LaHood – were indicted by Egyptian courts for operating without a license and barred from leaving the country. The politically charged prosecutions strained U.S.-Egyptian ties and threatened the $1.6 billion in American aid that Egypt receives annually, but the Brotherhood defended them as a proper response.
Ironically, among the more outspoken defenders of the crackdown on pro-democracy groups was Abdul Mawgoud Dardery, the same Brotherhood lawmaker who is leading the Brotherhood's PR tour this week. When the prosecutions were announced, Dardery insisted that they were justified because the pro-democracy groups were working toward "a type of democracy that will not bring Islamists to power, and this is wrong." Dardery thus confirmed what was already obvious: The Brotherhood supports democracy only to the extent that it brings the Brotherhood to power. Abroad, of course, Daredy tells a different story.
How convincing this two-faced act has been in the U.S. is unclear. For its part, the White House has tried to downplay the significance of the Brotherhood's visit. Still, the unprecedented access that the Brotherhood's delegation has been afforded, including meetings with officials at the National Security Council and the State Department, can only serve to boost its domestic legitimacy. Nor did it hurt the Brotherhood's image that the Obama administration, rather than condemning its decision to run a presidential candidate despite promising to abstain, praised the Brotherhood's candidate as a more moderate alternative to the Salafist candidate in the race.
Yet that's a distinction with little substantive difference. As the Brotherhood has amply demonstrated during its brief time in office – and as its latest publicity stunt cannot obscure – when it comes to their views on secular democracy and religious pluralism, the differences between the Brotherhood and its Islamist rivals are few indeed.
Jacob Laksin is managing editor of Frontpage Magazine. He is co-author, with David Horowitz, of One-Party Classroom: How Radical Professors at America's Top Colleges Indoctrinate Students and Undermine Our Democracy. His work has appeared in the Wall Street Journal, the Philadelphia Inquirer, The Weekly Standard, City Journal, Policy Review, as well as other publications. Email him at jlaksin@gmail.com.
http://www.rightsidenews.com/2012040715999/us/islam-in-america/the-muslim-brotherhoods-charm-offensive-in-washington.html
----------
Avalanche buries 130 Pakistani soldiers near Siachen Glacier
Apr 7, 2012
ISLAMABAD: An avalanche smashed into a Pakistani army base on the Siachen Glacier
close to India on Saturday, burying around 130 soldiers, a security official said.
Rescue efforts are under way on the remote and frigid Siachen Glacier, where thousands of Pakistani and Indian troops are based, the security official said. He spoke anonymously because the military had yet to release a formal statement.
He said the snow hit a battalion headquarters in the glacier's Gayari sector at 5:45 a.m.
Siachen is on the northern tip of the divided Kashmir region.
The two neighboring countries have deployed troops at elevations of up to 6,700 metres (22,000 feet) there. There have been intermittent skirmishes since 1984, and the region is known as the world's highest battlefield.
More soldiers have died from the harsh weather there than combat.
http://timesofindia.indiatimes.com/world/pakistan/Avalanche-buries-130-Pakistani-soldiers-near-Siachen-Glacier/articleshow/12567889.cms
----------
Sarabjit's sister hopeful of relief from Pak President
Apr 07 2012
Jaipur : Sister of Sarabjit Singh, an Indian on death row in Pakistan following his conviction for alleged involvement in bomb attacks, said she will appeal to Pakistani President Asif Ali Zardari during his Rajasthan visit to release his brother on humanitarian ground.
Dalbir Kaur said she will try to meet Zardari during his private visit to Ajmer dargah on April 8.
"Mercy petition of my brother is pending with Zardari. I would urge from him to release my brother. Since he will be visiting Ajmer dargah on Sunday, I am also going there with a wish of my brother's release which is in the hands of Zardari," she said.
She said the case of his brother was that of a mistaken identity and the Pakistani government should release him as he has already spent 22 years in jail.
Sarabjit has been on death row since he was convicted for alleged involvement in four bomb blasts in 1990 that killed 14 people. His family insists he was wrongly convicted for the bombings. Though Sarabjit was set to be hanged in 2008, Pakistani authorities put off his execution indefinitely after Prime Minister Yousuf Raza Gilani intervened in the matter.
http://www.indianexpress.com/story-print/933777/
----------
Stone-pelting in Baramulla after Geelani's address
April 7, 2012
Srinagar : Stone-pelting broke out in Baramulla town of north Kashmir soon after hardline Hurriyat Conference leader Syed Ali Shah Geelani today addressed a gathering there, police said.
"Miscreants turned violent and resorted to stone-pelting on police station, Baramulla after Geelani addressed a gathering in the main town," a police spokesman said.
Police exercised maximum restraint while chasing the"miscreants" away, the spokesman said.
There were no reports of anyone getting hurt in the brief clash, he said, adding that incidents of violence after Geelani's address had taken place on several times last year
as well.
http://www.indianexpress.com/story-print/933507/
----------
PPP formed alliance with PML-N to end Musharraf's rule: Zardari
Apr 07 2012
Lahore : Pakistan President Asif Ali Zardari has said he forged an alliance with PML-N leaders Nawaz Sharif and Shahbaz Sharif after the 2008 general election only to send then military ruler Pervez Musharraf packing.
"I gave concessions to Sharif brothers to get rid of Musharraf," Zardari said while interacting with newspaper editors and workers of his Pakistan People's Party at the Governor's House last evening.
He further said: "The Sharifs have stiff necks and I know how to humble them."
Zardari, who has been camping in the capital of Punjab province for the past few days, appears to have kicked off the PPP's campaign for the 2013 general election by targeting former premier Nawaz Sharif and his brother, Punjab Chief Minister Shahbaz Sharif.
Following the fractured mandate in the 2008 general election, the PPP and PML-N formed a short-lived coalition at the centre.
The alliance ended within six months after Nawaz Sharif accused Zardari of failing to deliver on several promises.
The PPP continues to lead the ruling coalition at the centre while the PML-N rules Punjab, the country's most populous province.
During yesterday's interaction, Zardari said the PPP would form the government in Punjab after the 2013 polls because the people would reject the Sharif brothers for their "arrogant" politics.
"The Sharifs' PML-N does not have a majority in Punjab but we never tried to topple their government," he said.
Zardari asked PPP workers to begin preparing for the upcoming elections.
He told them he would visit all divisions of Punjab before the polls to strengthen the PPP in the province.
The PPP usually comes to power in hard times and the party's government at the centre had completed four years of its five-year term, he said.
Zardari said PPP workers who had made sacrifices for the party will not be ignored and that he would remain in contact with them and continued visiting Lahore.
Earlier, the President had reportedly said the Sharifs could not muster enough followers to attend the funeral of their father in Lahore.
Following criticism of these remarks, PPP leaders sought to play down the matter.
"The President did not say anything on the funeral of the father of the Sharif brothers," Information Minister Firdous Ashiq Awan said.
Zardari will remain in Lahore till Sunday, when he will leave for a private day-long visit to India.
He is scheduled to meet the Indian premier over lunch before travelling to Ajmer to offer prayers at the Sufi shrine of Khwaja Moinuddin Chishti.
http://www.indianexpress.com/story-print/933798/
----------
Syria crisis: UN chief Ban Ki-moon condemns attacks
April 7, 2012
The head of the UN, Ban Ki-moon, has condemned the Syrian government for fresh military assaults despite agreeing to a deal to end the violence.
Ban said the April 10 ceasefire deadline was "not an excuse for continued killing" by forces loyal to President Bashar al-Assad.
Activists say at least 100 people have been killed over the past two days as troops intensified operations.
Earlier, Turkey said it may need UN help after a surge in refugee arrivals.
After speaking to Ban, Foreign Minister Ahmet Davutoglu said the rate of refugees had doubled since Assad agreed to implementing the UN-Arab League plan.
The six-point peace plan, mediated by envoy and former UN chief Kofi Annan, envisages cessation of armed violence by all parties from April 10, with a full ceasefire on April 12.
However, the Syrian opposition, the US and many regional countries have expressed scepticism that Syria is committed to the plan.
In Friday's statement, Ban said the recent attacks on civilians "violate" the UN's demands and demanded the government halt military operations.
Ban "deplores the assault by the Syrian authorities against innocent civilians, including women and children, despite the commitments by the Government of Syria to cease all use of heavy weapons in population centres," it said.
"The April 10 timeline to fulfil the Government's implementation of its (ceasefire) commitments, as endorsed by the Security Council, is not an excuse for continued killing," it said.
Earlier, Turkey said that if the influx of refugees continued at the current rate, it would need international assistance. More than 2,800 Syrians have crossed over the border in 36 hours, with the total now near 24,000, Davutoglu said.
Many of the refugees have reported intense bombardment by government forces.
On Friday, activists said violence was continuing across the country.
The BBC's Jim Muir in Beirut says that in Homs and some other areas the approach of the deadline to halt all violence seems to have brought an escalation rather than a reduction.
He says activists are accusing the government of trying to complete its crackdown come what may; but government officials say it is the rebel fighters who are exploiting the impending withdrawal of the military from towns and cities.
A UN team is currently in Damascus to negotiate the possibility of deploying UN monitors to oversee any ceasefire.
Annan has said that if the truce is successful a small mobile UN monitoring mission of some 200-250 observers could be brought into Syria.
The UN estimates more than 9,000 people have died in the year-long uprising against the rule of President Assad.
http://www.bbc.co.uk/news/world-middle-east-17642576
----------
Country can produce nuclear weapon: Iran lawmaker
Apr 7, 2012
TEHRAN: A prominent Iranian lawmaker says Iran has the knowledge and scientific capability to produce nuclear weapons but will never do so.
Gholamreza Mesbahi Moghadam says Iran can easily produce the highly enriched uranium that is used to build atomic bombs but it is not Tehran's policy to go that route.
Moghadam made the comment in an interview with the parliament's news website, icana.ir, late Friday. His views do not represent the Iranian government's policy. It is the first time that a prominent Iranian politician has publicly stated that Iran has the technological capability to produce a nuclear weapon.
The US and its allies accuse Iran of seeking to develop nuclear weapons, a charge Tehran denies.
http://timesofindia.indiatimes.com/world/middle-east/Country-can-produce-nuclear-weapon-Iran-lawmaker/articleshow/12568812.cms
----------
France to release 10 suspected Islamists arrested on Wednesday
Apr 7, 2012
PARIS: French police have released without charge 10 suspected Islamists arrested in pre-dawn raids two days ago, the second such swoop in less than a week, a judicial source said on Friday.
Of 10 alleged extremists arrested on Wednesday, four were released yesterday and the remaining six walked free on today, the official said.
Wednesday's raids were carried out in the southern port city of Marseille as well as Roubaix near the Belgian border, and in several other locations in the country's south and southwest.
They came less than a week after 19 alleged Islamists were arrested in similar anti-terrorist swoops today. Prosecutors have announced that they will seek terror charges against 13 of them.
French authorities have vowed a crackdown on Islamist extremists after self-confessed al-Qaida follower Mohamed Merah was shot dead in a police siege following a killing spree in which he murdered seven people.
The killings came just weeks before France's hotly contested presidential election, with security a major campaign theme and president Nicolas Sarkozy closing the gap in opinion polls on his rival, Socialist Francois Hollande.
Sarkozy's camp has been accused by some of its opponents of exploiting fears and stage-managing militant arrests for political gain.
http://timesofindia.indiatimes.com/world/europe/France-to-release-10-suspected-Islamists-arrested-on-Wednesday/articleshow/12563716.cms
----------
Manmohan Singh to host closed-door lunch for Asif Ali Zardari
Apr 7, 2012
NEW DELHI: The Asif Zardari-Manmohan Singh meeting will be out of bounds for everybody, even note-takers. The highlight of Sunday's luncheon meeting between the Pakistani president and PM Manmohan Singh will be a pre-lunch one-on-one discussion between the two leaders. Whatever they discuss will be at a rarefied level that could change the fate of nations. Or not.
But it is clear that Zardari's visit is less spiritually inclined than is being made out to be. Crucial issues of bilateral relations will certainly be discussed. Zardari is expected to consult the Pakistani PM, army chief and ISI chief before his trip. This clearly means that the Pakistani president has a specific political mission in India. Its unlikely that there will be any detailed readout of the meeting with the PM.
The visit will give the two leaders a chance to have an unfettered political discussion, but it might not be enough to begin the process to get a prime ministerial trip to Pakistan. For that to be politically acceptable in India, Pakistan will have to take some concrete steps on the Mumbai trial.
It is unlikely that the two leaders would spend their time talking bout the nitty-gritty of the composite dialogue which is already being discussed. Instead, it is more likely that they will be looking at a political resolution of some of the more difficult issues that bedevil the two countries. Pervez Musharraf and Singh had worked on a four-point formula for the management of the Kashmir issue. It is possible that this could be part of the discussion.
However, as foreign minister S M Krishna said, "All bilateral issues are likely to be discussed. After all, it is a private visit of President Zardari to India and he is coming on a religious mission to Ajmer and I do not know whether they will have time enough to go into greater details. But the very fact that the prime minister is hosting a lunch in honour of President Zardari, they might get a chance to touch upon some of the bilateral issues."
In Pakistan, the foreign office spokesperson articulated a similar approach. "We attach importance to high-level interaction between Pakistan and India but that does not mean Pakistan is budging from its principled position on the Jammu & Kashmir dispute. We are of the view that a just and fair settlement of the Jammu & Kashmir dispute is a sine qua non for viable and lasting peace in South Asia," the spokesperson said.
The atmosphere on the bilateral front has improved considerably after Pakistan decided to open up trade with India, by moving to a negative list from a positive one. Pakistan wants India to give it the same tariff benefits as it gives to Bangladesh, but that may take some time yet. Instead, India will push for more people-to-people contacts, liberalized visas for business people etc. Pakistan is hoping that Sir Creek and Siachen may be resolved but it is not clear whether the UPA government can deliver on this front.
Meanwhile, Pakistan has come under greater terror scrutiny, and this time from its closest strategic partner. On Friday, China blacklisted six Uighur terrorists under its new terrorism law, stating unusually that they were being trained in a South Asian nation. After the events in Xinjiang province in July last year, when the Chinese government had spread the responsibility of terror events to their training bases in Pakistan, this is the first time China has gone as far as to even point to its strategic ally.
"The ministry hopes that foreign governments and their law enforcing departments would help to arrest the six and hand them over to Chinese authorities," the official Xinhua news agency said.
On Friday too, LeT boss Hafiz Saeed used the platform of his charitable organization Jamaat-ud-Dawa to preach jihad against the US. "This is the same jihad which caused the USSR to break and now America is failing because of it. Analysts and journalists don't realize why America is failing, the only reason is jihad," he said.
"There are many parties in Pakistan but America has only sent a message to Jamaat-ud-Dawa, because we do jihad. Come to us. We will teach you the meaning of jihad ... The time to fight has come," he added. The US has declared a $10 million bounty on him, but he has refused to be cowed down by the US action.
http://timesofindia.indiatimes.com/india/Manmohan-Singh-to-host-closed-door-lunch-for-Asif-Ali-Zardari/articleshow/12563586.cms
----------
100 Al Qaeda fighters killed in Yemen
April 7, 2012
Yemen's interior ministry says more than 100 Al Qaeda-linked militants have been killed in the past two days of fighting in the country's south.
Friday's statement comes as government troops are waging an offensive in the southern Abyan and Lahj provinces to rout militants from their hideouts. The area has seen heavy battles in the past week after two subsequent militant attacks on Yemeni army bases.
Large swaths in the country's south have been overrun by Al Qaeda and other militant groups who have taken advantage of Yemen's yearlong political turmoil.
The ministry's figure could not be independently confirmed. Earlier figures reported by The Associated Press said nearly 50 militants were killed in the last few days.
Meanwhile, a report from Aden said two suspected Al Qaeda suicide bombers were killed on Friday in Yemen's main southern city of Aden when their payload exploded outside an intelligence bureau they were targeting, the defence ministry said.
"Two suicide bombers belonging to the Al-Qaeda terrorist network were killed when their motorbike exploded... Early today in Mansura," the ministry's news website 26sep.Net said.
http://www.dailypioneer.com/world/55729-100-al-qaeda-fighters-killed-in-yemen.html
----------
Pak media says bounty on Saeed has boosted his image
April 7, 2012
Islamabad: The USD 10 million bounty announced by the US for LeT founder Hafiz Mohammad Saeed is a "blatant pressure tactic" and has boosted his image as the leader of resistance against the Americans, the Pakistani media said today.
Describing the bounty that has made Saeed one of the world's most wanted men as "peculiar", the influential Dawn newspaper said in its editorial that the measure could be taken advantage of by those who are opposed to the normalisation of Pakistan-US relations.
"A rather blatant pressure tactic, the American move also has the potential to backfire: the forces holding up the normalisation of ties with the US now have yet more ammunition to argue that the US is no friend of Pakistan and what it really seeks is an alliance with India to try and squeeze Pakistan," said the editorial.
The Express Tribune, in its editorial, "The curious case of Hafiz Saeed", warned that the US move could help boost his image among his followers.
"Already seen by many people as a symbol of defiance against India and the West, the bounty comes as a boon for his image of a leader of the resistance against the Americans," it said.
"The irony is that in announcing the bounty on Hafiz Saeed, the US has ended up adding to his fame, especially among his loyal constituency," it said.
Responding to the bounty offered under the Rewards for Justice programme, Prime Minister Yousuf Raza Gilani yesterday said the case of Saeed is an "internal issue".
He said the US should provide any evidence it has against Saeed so that it could be examined by Pakistani courts. However, The Express Tribune noted that the US "mishandled the situation" because it had to clarify that the bounty was not for Saeed's "whereabouts but for information that would lead to his conviction".
The daily further noted that Saeed had "done anything but" hunker down and stay quiet since the reward was announced.
http://www.ndtv.com/article/world/pak-media-says-bounty-on-saeed-has-boosted-his-image-194700
----------
Abduction that still haunts Valley
07 APRIL 2012
After fresh revelations about the fate of four foreign trekkers kidnapped by Al-Faran terrorists in 1995, two prominent rights groups in Kashmir urged the State Human Rights Commission (SHRC) to find out whether the foreigners were buried in a mass grave at a specific location in south Kashmir's Kokernag pocket.
SHRC is documenting nameless and unmarked graves in the embattled State that aims at identifying buried persons through scientific techniques including DNA sampling.
Six foreign trekkers-Americans John Childs and Don Hutchings, Britons Keith Mangan and Paul Wells, German Dirk Hasert and Norwegian Hans Christian Ostro were kidnapped on July 4 and 8 in 1995 from Pahalgam forests by Al-Faran, a front name for the now-defunct Harkat-ul- Ansar outfit.
The group had sought release of 21 jailed ultras including Masood Azhar, Omar Saeed Sheikh, Sajjad Afghani and Nasrullah Mansur Langriyal. While Azhar (now chief of Jaish-e-Muhammad outfit) and Sheikh (in US custody) were released in exchange for Indian Airlines passengers in 1999 in Kandahar, Afghani and Langriyal are still in Indian jails.
No militant was released in exchange of hostages due to subsequent events. While John Childs escaped from the abductor's clutches on July 8, Ostro's beheaded body was found in Shihildar forest on August 13, 1995. There is no conclusive evidence on the fate of the remaining foreigners.
On Friday, International Tribunal for human rights in Indian-administered Kashmir, a group that first reported presence of 2,700 unmarked and nameless graves in Kashmir in 2009, approached the SHRC to include search of four kidnapped foreigners' believed to be buried in a hole in a forest village of south Kashmir. Two British investigative journalists--Adrian Levy and Cathy Scott-Clark in their book "The Meadow, Kashmir 1995 - Where the terror began", have claimed on the basis of circumstantial evidences and unidentified sources in the Crime Branch of J&K Police that the foreigners were killed by Government-backed militants and later buried in a hole in Mati Gavran village of Kokernag on December 24, 1995. The book was released last week in England.
A prominent counterinsurgent Ghulam Nabi Mir "alpha" alias Azad Nabi has been cited as a key figure in dealing with the hostages. A series of events, including the mysterious death of Javed Ahmad Bhat alias Turki, who along with some foreign militants actually kidnapped the foreigners; failed deal with Crime Branch to release the foreigners in lieu of Rs 1 crore (due to media leaks); handover of hostages to "alpha" for `4 lacs by kidnappers and killing of kidnappers in a "mysterious" encounter have been revealed in the book.
The Tribunal, along with the Association of Parents of Disappeared Persons (APDP), has demanded that the Crime Branch investigations and findings pertaining to the kidnappings be made public. It also asked whether the final report of the Crime Branch was submitted before a competent court. The police have registered two separate FIRs regarding the case.
"As part of the ongoing work on the issue of nameless and unmarked graves in Jammu and Kashmir, we request that the case of the four kidnapped persons be considered by the SHRC", a plea of the rights groups submitted to SHRC reads.
The Jammu and Kashmir Police has not reacted to the revelations of the book, which also claims that the then Inspector General of Police (Kashmir Zone), Paramdeep Singh Gill told Paul Well's father Bob Wells that his body has been identified by DNA sampling and police was entitled to claim the US $ 2 million reward from the US Department of Justice and two other rewards of `10 lacs from the US State Department and the Government of Jammu and Kashmir.
However, three months later, based on independent DNA tests, the British Foreign Office stated that the dead body was not that of Paul Wells. The British Foreign Office suggested that what had been tested in the Indian laboratories might have been the reference sample provided by the Wells' family, against which the remains were supposed to have been matched, the petition reveals.
Gill was dumped after the change in State Government in 2002. He later became Punjab Police DGP and after retirement, joined politics to fight the recent Assembly election unsuccessfully.
"Comprehensive investigations be ordered into the kidnappings and associated events and killings, and prosecutions launched against all those responsible, including at the highest levels of the army, police, and government, for the crimes committed", the pleaders of the case--Parvez Imroz, Dr. Angana Chatterji, Zahir-ud-Din, Gautam Navlakha, Khurram Parvez and Mihir Desai have urged the SHRC.
http://dailypioneer.com/nation/55808-abduction-that-still-haunts-valley.html
----------
Terror mastermind and his ' rising' son
By Dipanjan Roy
April 7, 2012
DYNASTIES in South Asia are not limited to politicians. Even terror masterminds have joined the bandwagon. And prominent among them is Jamaat- ud- Dawa founder Hafiz Saeed against whom the US announced a $ 10- million bounty this week.
Talha Saeed, the son of one of India's most wanted fugitives, has emerged as his father's chief global publicist and is ready to take on the mantle in the coming years.
Talha's role in promoting Saeed as the face of global jihad in the post- Osama period has been disclosed by Jubair Ahmad, a Lashkar operative who will be sentenced next week in the US. Ahmad faces a maximum penalty of 15 years in prison when he is sentenced.
Talha's ambitious plan came to light when the FBI arrested a 24- year- old Pakistani- American Jubair Ahmad from Woodbridge in Virginia. Jubair made a propaganda video for the LeT and uploaded it on YouTube.
He later admitted that he did so on Talha's instruction.
Talha and Jubair were in touch throughout September and October 2010 and they discussed the images, music and audio to be used in the video, which contained footages of Saeed praising and praying for ' mujahideen' martyrs and speaking in favour of jihad as well as clippings of armoured trucks being blown off by IEDs.
It has been learnt that Talha told Ahmad to begin the video with pictures of Hafiz Saeed, then show scenes where atrocities have been inflicted on Muslims, followed by ' mujahideen' attacks in Kashmir.
At one point, Ahmad asked Talha if he wanted to include an image of the Mumbai attack to show Lashkar's power. But Talha told Jubair that he should not use anything referring to Mumbai as, according to anti- terror experts, that would have been strong evidence to prosecute Hafiz Saeed even in a Pakistani court.
Mail Today
----------
US will accept Iran civilian nuclear program: report
Apr 07 2012
Washington : President Barack Obama has told Iran the United States would accept Tehran having a civilian nuclear program if the Islamic state can prove it is not seeking atomic weapons.
Obama sent such a message to Tehran via Turkish Prime Minister Recep Tayyip Erdogan, who delivered it to Iran's Supreme leader Ali Khamenei last week, the Washington Post said.
"President Obama has signalled Iran that the United States would accept an Iranian civilian nuclear program if Supreme
leader Ayatollah Seyyed Ali Khamenei can back up his recent public claim that his nation 'will never pursue nuclear weapons'," said the newspaper's foreign affairs columnist David Ignatius.
"A few days before travelling to Iran, Erdogan had held a two-hour meeting with Obama in Seoul, in which they discussed what Erdogan would tell the ayatollah about the nuclear issue and Syria," he wrote.
The United States said that it still expected Iran to hold talks with six world powers on the Islamic republic's disputed nuclear program to go ahead next week, despite a dispute on the venue being Istanbul or Baghdad.
According to Ignatius, Obama asked Erdogan to tell Khamenei "that the Iranians should realise that time is running out for a peaceful settlement and that Tehran should take advantage of the current window for negotiations."
However, "Obama didn't specify whether Iran would be allowed to enrich uranium domestically as part of civilian program the United States would endorse. That delicate issue evidently would be left for the negotiations."
Turkey has told Iran it remains ready to host the talks between Iran and the P5+1 group, Iran's Al-Alam television station reported today, but the Islamic republic has said it wanted the meeting held in Baghdad or China instead.
Iran last held talks with the six powers – Britain, China, France, Germany, Russia and the United States – in January 2011 with no results.
Ignatius added that "the challenge for negotiators is whether it's possible to turn Khamenei's public rhetoric into a serious and verifiable commitment not to build a bomb."
http://www.indianexpress.com/story-print/933770/
----------
A solution for prayer timings during flights
April 7, 2012
SINGAPORE, April 6: As a frequent flier and devout Muslim, businessman Abdalhamid Evans always comes up against the same challenge in the air: when to say his prayers.
The prayer schedule becomes complicated when crossing various time zones at thousands of metres above sea level.
"I usually don't pray when I am in a plane," said Evans, the London-based founder of a website that provides information on the global Halal industry.
"But lately I have been thinking that it is probably better to do them in the air than make them up on arrival," he said.
The problem may be solved for travellers such as Evans thanks to an innovation called the Air Travel Prayer Time Calculator,
developed by Singapore-based Crescentrating, a firm that gives halal ratings to hotels and other travel-related establishments.
Launched earlier this month, the online tool takes data such as prayer times in the country of origin, the destination city and in countries on the flight path and uses an algorithm to plot exact prayer hours during a flight.
Current programmes only allow Muslims to find their prayer hours according to their position on land, and the absence of any tools that can be used to calculate during a flight has compromised many travellers . "I knew there was lot of frustration among the travellers on this issue, but nobody had really attempted to solve it," Crescentrating chief executive Fazal Bahardeen said in an interview.
Before embarking on a trip, a Muslim traveller can now go to the online calculator in the Crescentrating website and input their departure airport, time of flight and destination.
The calculator then comes up with the prayer times set either in the local time of the airport of origin, the destination city or the country that the aircraft is flying over, which the traveller can then email to themselves to access later.
Fazal said his team plans to develop a mobile app that will also point users in the direction of Makkah, based on the flight path.
Muslim travellers have welcomed the tool. "It's good for long-haul travelling," said Shiraz Sideek, a vice president at the Abu Dhabi Islamic Bank who travels almost a dozen times a year.
"When you cross different times zones in an aeroplane, you have a problem of timing when to pray," he said from Abu Dhabi.
"The application sounds like a very unique thing and very useful."
http://dawn.com/2012/04/07/a-solution-for-prayer-timings-during-flights/
----------
Drug abuse, alcohol kill 312 in Jeddah in one year
Apr 7, 2012
JEDDAH: A total of 312 deaths in Jeddah during the past year were semi criminal, local Arabic daily Al-Madinah reported yesterday quoting the director of the Department of Forensic Medicine and Deaths.
"Lab tests proved that the dead people used drugs or alcohol, inhaled poisonous material or took a large amount of prohibited medicines," said Dr. Talal bin Muhammad Ikram.
He said the deceased were both Saudis and foreigners, and added that lab tests on the suspicious cases proved that they died because of taking prohibited items or inhaling large amounts of carbon monoxide or pesticides.
"If there are doubts of any criminal suspicions behind the cause of death, blood and urine samples and eye fluid are examined at the Center of Poisons. This is part of our work at the forensic department," he explained, adding that a comprehensive report of the results is forwarded to the authorities concerned.
Ikram said there were 26 bodies of unidentified persons or illegitimate babies in the department's refrigerators. He said the department has a total of 270 fridges to keep bodies.
"We face difficulties in locating their families," he said.
The director said bodies of unidentified persons are kept in the fridges for three months and those of illegitimate babies for two weeks after which DNA tests are done and bodies buried. He denied claims there was shortage of caskets in the stores of the department, and said currently there are 80 empty boxes where bodies are kept.
"The department has also contracted a national company to make more caskets for the centers of the forensic medicine all over the Kingdom," he said.
Ikram said technical procedures to prepare bodies for burials would not exceed 24 hours in any case. "The body is washed after the ice melts. It is then put in a casket together with materials preventing decomposition including coal. After this, the body is handed over to the caretaker to be taken to the airport," he said.
The director said a committee consisting of representatives from the governorate, police and the Ministry of Health usually checks the fridges for bodies lying there for long periods. He said the committee sent about 1,000 bodies last year the majority of them to Pakistan.
http://arabnews.com/saudiarabia/article606948.ece
----------
Bahrain: Hunger Striker Moved to Hospital as His Supporters Rally
By REUTERS
Abdulhadi al-Khawaja, a jailed activist who has been on a hunger strike for 58 days, was moved to a hospital and fed intravenously on Friday after his health deteriorated sharply, his lawyer said. In the capital, Manama, protesters clashed with the police at a gathering of more than 5,000 people, above, who were demanding the release of Mr. Khawaja. He was sentenced to life in prison last year for leading pro-democracy protests. He began his hunger strike as a protest against abusive treatment in prison. His daughter, Zainab al-Khawaja, was detained during a protest on Thursday in front of the Interior Ministry.
http://www.nytimes.com/2012/04/07/world/middleeast/bahrain-hunger-striker-moved-to-hospital-as-his-supporters-rally.html?ref=middleeast
----------
Yemen president sacks Saleh half-brother, son remains
Apr 7, 2012
SANAA: Yemen's president removed a half brother of former leader Ali Abdullah Saleh on Friday as head of the air force, but left Saleh's son, nephew and other allies in place as heads of important military units.
Abd-Rabbu Mansour Hadi, who had served as Saleh's deputy, took power in February after standing as the only candidate in a presidential election, part of a deal negotiated by Yemen's neighbours for Saleh to step down after 33 years in power.
State news agency Saba said Hadi appointed General Rashed Ali Nasser al-Jund as air force commander, replacing Saleh's half brother, General Mohammed Saleh al-Ahmar, who was made an assistant to the defence minister.
Under the power transfer deal, Hadi is tasked with reunifying the army, which had split during a year-long uprising against Saleh's rule.
Saba said that a senior army officer loyal to dissident General Ali Mohsen, who broke away from Saleh after the protests began, was also replaced, along with two provincial governors appointed by the former president.
The reshuffle did not affect Brigadier General Ahmed Ali Abdullah Saleh, the ex-president's son and commander of the Republican Guards, or Saleh's nephew, Brigadier General Yehia Mohammed Abdullah Saleh, who heads the paramilitary Central Security Forces. http://timesofindia.indiatimes.com/world/middle-east/Yemen-president-sacks-Saleh-half-brother-son-remains/articleshow/12565850.cms
----------
J&K govt to constitute SIT to probe Fai's activities in state
Apr 7, 2012
JAMMU: Jammu and Kashmir government will constitute a Special Investigation Team (SIT) of police to probe alleged anti-national activities of Kashmiri separatist Ghulam Nabi Fai and others in the state which could lead to possible issuance of Red Corner notices against them.
"We are constituting a SIT today under Senior Superintendent of Police, Budgam, to carry forward cases of those including Fai who figured in various anti-national crimes anti-national cases or activities connected with our state", director general of police Kuldeep Khoda told reporters here.
Asked if any case was pending against Fai and Pak-based terror mastermind Hafiz Saeed in Jammu and Kashmir and the action to be taken against them, he said, "These cases will be carried forward and investigated to reach to their logical conclusion".
"The investigation will include issuance of red corner notices and other steps which are required to be taken in this regard", Khoda said.
On whether the SIT would deal with the issue of Fai and his activities in Jammu and Kashmir, the DGP said, "(it is meant for) Fai and other associates who will figure during the course of scrutiny of records of various international activities which have taken place".
"We have to sum up these operatives who are connected in the situation in J&K. We have to carry forward cases of these people", he said, adding "these people have figured prominently over the years in the cases whether it is Hafiz Saeed, Syed Sallauddin and Ghulam Nabi Fai and others".
"We have also found that there are certain activities of theirs in the past which required to be further probed into-- including Fai's", the police chief said.
62-year-old Fai was last month sentenced to two years of imprisonment by a US court for "conspiracy to defraud the US" by concealing transfer of at least USD 3.5 million from Pakistan's ISI to fund his illegal lobbying efforts on Kashmir.
Fai was arrested by the FBI on July 19 last year and had subsequently pleaded guilty before the court to the charges of being a paid agent of the ISI.
http://timesofindia.indiatimes.com/india/JK-govt-to-constitute-SIT-to-probe-Fais-activities-in-state/articleshow/12570047.cms
----------
SP caught in Imam-Azam crossfire now
Apr 07 2012
Lucknow : Syed Ahmed Bukhari, the Imam of Delhi's Jama Masjid, rejected the Samajwadi Party's decision to field his son-in-law Umar Ali Khan in the Legislative Council elections, accusing it of denying "a fair share to Muslims'' in power, like other political parties.
"The rights of Muslims cannot be satisfied by giving a seat to my son-in-law. If you do not give a fair share to Muslims in administration and power, I turn down the offer made for my son-in-law," he said in a letter to SP chief Mulayam Singh Yadav.
SP sources said Bukhari not only wanted his son-in-law to be made a minister, but his brother Yahya nominated to the Rajya Sabha. The party hadn't named Yahya for Rajya Sabha elections held last month, nor has it named him for a single by-election which will be held on April 26, along with the Council elections.
Bukhari's letter came after SP general secretary Azam Khan, earlier in the day, expressed his displeasure over the nomination of Umar Ali Khan, who had lost the Assembly election, saying, "Such people have made no contribution to the party. Any Muslim worker would have been a better choice.''
Khan said he had nothing personal against any religious leader, but clerics like Bukhari had done little for Muslims. Khan said Bukhari was talking of Muslim interests for personal gain. Clerics like him should do their job, rather than dabble in politics and seek favours for their kin. "These peshwas of religion have failed to meet any expectation," he said.
While the SP was caught in the crossfire, there was no official word on how it proposed to deal with the problem. Party spokesman Rajendra Chaudhary said, "Netaji will take a decision.''
In his letter, Bukhari said he had backed the SP in the Assembly polls, thinking it will give Muslims "an equal share in power and end their exploitation which had been going on for the last 60 years''.
But the SP, like other parties, wanted Muslim votes, without giving them their share in power, he alleged.
He said the SP had given only one Rajya Sabha seat to Muslims, that too to an "unknown man from Madhya Pradesh who won't do anything for the community''.
Munawwar Saleem, the leader from MP, is considered close to Azam Khan.
http://www.indianexpress.com/news/sp-caught-in-imamazam-crossfire-now/933687/
----------
URL: https://newageislam.com/islamic-world-news/new-age-islam-news-bureau/showdown-between-activists-of-women-rights-and-jamiat-ulema-i-islam/d/7013