New Age Islam News Bureau
19 Dec 2018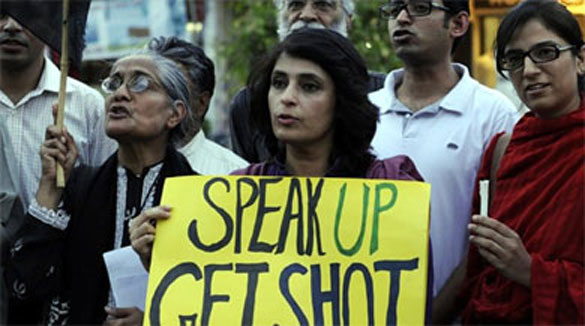 Qaisar Ayub and his brother Amoon Ayub have been sentenced to death in Pakistan on blasphemy charges.
-----------
• Should The Christian Brothers, Accused Of Blasphemy, Face Gallows In Pakistan?
• Row over Hafiz Saeed's Column in Pak Newspaper as 'Contributing Writer', in India
• Nikki Haley: Saudi Crown Prince Must Stop 'Thuggish' Behaviour
• Groups Warn Indonesia App 'Risks Worsening' Religious Intolerance
• Bangladesh HC Orders EC to Make Swift Decision on Jamaat –e-Islami Candidates
Pakistan
• Should The Christian Brothers, Accused Of Blasphemy, Face Gallows In Pakistan?
• Pakistan's Punjab Govt Lifts 12-Year-Old Ban on Celebrating Basant
• Pakistan among worst performers on gender equality: WEF
• Pak seeks 'just durable and peacefully negotiated' solution of Kashmir issue: Qureshi
• Imran Khan says Pak will do everything within its power for Afghan peace
• Pakistan minister caught on video expressing support for Lashkar founder Hafiz Saeed
• PTI govt has failed to change people's lives: JI emir
• Munizae Jahangir receives UN Human Rights Prize on her mother's behalf
• CJP Nisar calls on Erdogan, lauds Turkey's ties with Pakistan
--------
India
• Row over Hafiz Saeed's Column in Pak Newspaper as 'Contributing Writer', in India
• Muslim Body Accuses Gujarat Govt of Apathy, Demands Minority Ministry
• Suicides Follow India's Anti-Immigrant Drive Targeting Muslims
• Riyadh NRIs Vow To Revive Aligarh Movement
• Pulwama killings: All India Muslim Majlis Mushavirat calls for Governor's resignation
• Preaching Quran On The Banks Of Brahma Sarovar
• Four Muslims Arrested For Cow Slaughter in Bulandshahr Are Innocent: UP Police
--------
North America
• Nikki Haley: Saudi Crown Prince Must Stop 'Thuggish' Behaviour
• Arab League condemns Australia, Brazil for recognizing al-Quds as Israel 'capital'
• Islamic State now outdraws al Qaeda in drive for U.S., Western recruits: Survey
• US pressing for six-month ceasefire in Afghanistan
• US arms maker warns Canada against stopping sales to Saudi Arabia
• Trump told Turkey US would only look at possible extradition of Turkish cleric -spokeswoman
• America's support for SDF not long-term: US Syria envoy
• 53 journalists killed in retaliation for their work in 2018
• Oman's foreign minister visits Washington to seek greater role in Israel-Palestine peace process
--------
Southeast Asia
• Groups Warn Indonesia App 'Risks Worsening' Religious Intolerance
• 'This Is Community Consensus': Yogyakarta Villagers Destroy Cross On Public Cemetery
• AIDS Council Slams Proposed Mandatory HIV Tests For Non-Muslims
• Zahid Steps Aside as Leader of Malaysia's Main Opposition Party
• Muslim Groups Demand Return of Death Penalty for Fireman Adib's Murderers
• Maszlee's Islamic propagation remarks 'deeply concerning': S'wak churches
• Want to be president? Read party constitution first, says Zahid
--------
South Asia
• Bangladesh HC Orders EC to Make Swift Decision on Jamaat –e-Islami Candidates
• Myanmar's Moves Could Mean the Rohingya Never Go Home
• Taliban's Red Unit Commander for 5 provinces has been killed in Paktika
• Militant leader among 13 killed in U.S. drone strike in Paktia province
• Facebook takes down more accounts linked to Myanmar military
• Afghanistan sends team to join US-Taliban talks in Abu Dhabi
--------
Arab World
• Saudi-Drafted Rights Resolution Politically-Motivated: Syria UN Envoy
• Syrian Army Discovers West-Made Weapons at Captured Terrorists' Positions Again
• Kurdish Militia Incarcerate Civilians in Border Town on Verge of Turkish Offensive
• Jordanian MP Urges Repatriation of White Helmets to Syria
• US Forces Withdraw from Northern Syria on Verge of Turkish Attack on Kurds
• Lebanon seen closer to new government, minister says could be within days
• Syrian govt. forces find reconnaissance drone, munitions in Dara'a
--------
Mideast
• Are Iran And Hezbollah Digging Toward War With Israel?
• Russia, Iran and Turkey seek deal on new 'Syria constitutional body'
• Yemeni army shoots down Iranian-made Houthi drone in Marib
• Houthis violate shaky Hodeidah ceasefire as clashes erupt in several areas
• Arab League censures Turkish airstrikes in northern Iraq
• Turkish courts give life sentences to some 2,000 over 2016 botched putsch
--------
Africa
• Sub-Saharan Africa Becoming New Battleground against Violent Extremism as Jihad 'Goes South'
• Al-Shabaab Degraded by U.S., Federal Government of Somalia
• Nigerian soldier killed in latest Boko Haram attack
--------
Europe
• Muslim Widow Caught Between Sharia Law, Greek Courts In Legal Drama
• UK To Unveil Details of Post-Brexit Immigration System
• British Airways to resume flights to Pakistan in June
• Arab refugees in sights of Berlin's crime 'clans'
• How to fight anti-Semitism's resurgence in Europe
Compiled by New Age Islam News Bureau
URL: https://www.newageislam.com/islamic-world-news/should-christian-brothers-accused-blasphemy/d/117201
--------
Should The Christian Brothers, Accused Of Blasphemy, Face Gallows In Pakistan?
Dec 19, 2018
So-called mainstream media is totally silent on the cases of two Christian brothers, who possibly would get hanged in the Islamic Republic of Pakistan for "committing crime" under the infamous blasphemy law. Juts several weeks back, global media had been very loud about the case of another Christian day-labourer Asia Bibi, who had finally been acquitted of the death penalty. But now, there is clear silence, if not intentional lethargy in covering the crucial cases of Qaisar Ayub and his brother Amoon Ayub, who have been sentenced to death in Pakistan on blasphemy charges. Islamic Pakistan is notorious enough in repeatedly using this Sharia law in persecuting its religious minority groups and free thinkers.
The cases of two Christian brothers:
According to information, Qaisar Ayub and Amoon Ayub, from Lahore, were arrested in 2015 after one of the two was accused of posting offensive material against Islam on their website. Qaisar and his wife Amina have three children, whilst his brother, Amoon is married to Huma, a teacher at Lahore Cathedral School.
The allegations surfaced in 2011 when they were accused of "posting disrespectful material" on their website; however, the accused say that their website has been inactive since 2009.
The two brothers have been held in Jhelum District Jail in Pakistan since their arrest. Their case was heard on December 13, 2018 inside the jail instead of any open court. Authorities claimed, the trial had to take place behind the closed doors of the isolated prison "due to security reasons". Additional Session judge Javed Iqbal Bosal found them guilty and sentenced them to death.
Centre for Legal Aid, Assistance and Settlemen (CLAAS), an interdenominational organization dedicated to the victims of religious intolerance, has been representing the accused and now plans to appeal the sentence before the Lahore High Court.
The notorious blasphemy law:
According to the blasphemy laws in Pakistan's Penal Code, insulting the Prophet Muhammad is a crime punishable by death, while offending the ? Koran, Islam's holy book, incurs life imprisonment.
The laws remain an extremely sensitive issue in ?the predominantly Muslim nation and they have ?drawn intense criticism even within the country.
Blasphemy charges tend to trigger violent reaction among Islamic radicals, who interfere with the proper operations of the court system and threaten judges.
Unfortunately, "because of threats from hardliners lower courts pass their responsibility to the higher court and then it takes years to prove the accused innocent," said CLAAS-UK director Nasir Saeed. "We have seen this in the recent case of Asia Bibi who was similarly convicted by the lower court and it took her years to reach to the Supreme Court to get justice. I am afraid now Qaisir and Amoon will have to wait years to get justice," Saeed said.
Muslim nations feel delighted in using blasphemy law:
It is not only in Pakistan, but blasphemy law is being practiced in a number of Muslim nations in the world. In 2003, Bangladesh government brought accusations under sedition, treason and blasphemy laws for the "crimes" of confronting radical Islam and jihad; for denouncing antisemitism and Holocaust denial; for defending Israel; and for promoting interfaith harmony. Heavily Islamist inclined Bangladesh Nationalist Party (BNP) and its political cohort Jamaat-e-Islami Bangladesh (JIB) found me "guilty" under the blasphemy law as I have termed Osama Bin Lader and Yaseer Arafat as terrorists. They also found me guilty for exposing madrassas as the breeding grounds of jihadists.
An appeal to the conscious individuals:
Through this article, I am making an appeal to every conscious individual in the world to stand in defence of Christian brothers Qaisar Ayub and Amoon Ayub and save them from being hanged in Pakistan. Please note, these helpless brothers and their family members are passing extreme difficult and horrific days and nights in the Islamic Republic of Pakistan.
https://www.weeklyblitz.net/news/should-the-christian-brothers-face-gallows-in-pakistan/
--------
Row over Hafiz Saeed's Column in Pak Newspaper as 'Contributing Writer', in India
December 18, 2018
LAHORE: Mumbai attacks mastermind Hafiz Saeed has donned the hat of a column writer for a leading Urdu newspaper, stirring a debate among journalists as to how the media house allowed the head of a banned terror group to write on the Kashmir issue and the creation of Bangladesh in 1971.
Saeed was declared a global terrorist by the US and the UN after the 2008 Mumbai attack and was put under house arrest in November 2008 but freed by a court some months later.
He carries a USD 10 million American bounty on his head for his role in terror activities.
His article of Kashmir and Bangladesh appeared in Daily Dunya (an Urdu publication of Dunya media group of Mian Amer Mahmood) on Sunday.
The article carries a picture of former Prime Minister Indira Gandhi and some young men holding guns in Dhaka.
Allowing the head of a banned terror group to contribute for a known media house has stirred a debate with journalists questioning whether the company in question allowed Saeed to write due to some "direct links" with the owner or under "someone's pressure".
A court has ordered the Pakistan Electronic Media Regulatory Authority to ensure that the Pakistani media does not display Saeed's pictures.
Saeed, in his article, has extensively explained the role of India in the creation of Bangladesh and expressed his opinion as to why Kashmir is important for Pakistan.
He said Pakistan should support the Kashmiri people.
India has been demanding Pakistan not only to arrest the Lashkar-e-Taiba (LeT) founder and try him in the Mumbai attack case but also punish all those involved in this carnage.
Saeed launched the Milli Muslim League (MML) party in August 2017 with a so-called mission to implement the ideology of Pakistan in accordance with the 1973 Constitution.
In April this year, the US placed the MML on its list of foreign terror organisations for its links with the LeT.
The government has said that the MML is an off-shoot of Saeed's Jamat-ud Dawah (JuD), which has been declared as a foreign terrorist organisation by the US in June 2014.
The JuD is believed to be the front organisation for the LeT which is responsible for carrying out the 2008 Mumbai attack that killed 166 people, including some Americans.
https://www.ndtv.com/world-news/row-over-hafiz-saeeds-column-in-pak-newspaper-as-contributing-writer-1964670
--------
Nikki Haley: Saudi Crown Prince Must Stop 'Thuggish' Behaviour
Dec 19, 2018
US Ambassador to the United Nations Nikki Haley has said that Saudi Crown Prince Mohammed bin Salman (MBS) must stop the "thuggish nature in which he has been acting," in the wake of the murder of dissident journalist Jamal Khashoggi.
In an interview with The Washington Examiner on Tuesday, Haley praised the Saudi crown prince for having "a lot of good ideas," but added that he has been "careless at times."
She said that how bin Salman deals with the aftermath of the killing of Khashoggi will prove his ability to lead the Saudi kingdom moving forward.
"First and foremost, [the crown prince] owes us some accountability for what happened to Khashoggi. Without question," Haley said.
Commenting on this international lawyer and political analyst Barry Grossman said that the real point that needs to be made is that after her token and hypocritical reference to thugishness, she also praised the crown prince for having "a lot of good ideas," but added that he has been "careless at times."
"Only she can explain what she meant in saying he has been 'careless' but, peeling away the diplomatic niceties, it certainly sounds like she meant he has been a little too 'sloppy' - as in less than competent - in overseeing the 'wet work' he has ordered," Grossman added.
"In Dumbshitistan, they expect their friends to be both effective and professional when committing murder," the commentator noted.
Haley's boss, US President Donald Trump, had sought to argue that the United States had economic and national security interests in supporting Saudi leadership despite the widespread belief that the crown prince ordered the killing of Khashoggi inside the Saudi consulate in the Turkish city of Istanbul on October 2.
Turkish intelligence intercepts reportedly show that Khashoggi was murdered on a direct order from the crown prince.
Trump, who has signed a $110 billion arms deal with the monarchy, has said he would not listen to the audio of Khashoggi's killing provided to the CIA by the Turkish intelligence.
https://www.presstv.com/Detail/2018/12/19/583342/Nikki-Haley-Saudi-crown-prince-must-stop-thuggish-behavior
--------
Groups warn Indonesia app 'risks worsening' religious intolerance
by Aisyah Llewellyn
December 19, 2018
Medan, Indonesia - Indonesian human rights lawyer Ranto Sibarani is trying to remain optimistic.
His client, Meiliana, a double minority in Indonesia as a Chinese-Indonesian and a Buddhist, is awaiting the outcome of her final appeal later this month against a blasphemy conviction. In August, the mother of four was sentenced to 18 months in prison by a court in North Sumatra over a disputed comment about the volume of her local mosque's speakers.
"Meiliana is hopeful that justice will be served and she will be freed," Sibarani told Al Jazeera.
"She's surprised that her case even went to trial."
Meiliana's legal troubles began when a neighbour in her hometown of Tanjung Balai claimed that she had asked for the volume of her local mosque's speakers to be lowered, saying that they "hurt her ears".
According to Sibarani, Meiliana only remarked that the volume appeared to have increased in recent years, and made no mention of wanting the speakers to be turned down. No recordings of the conversation were presented at her trial.
But while Sibarani is hopeful about Meiliana, and despite the ire that her case has caused - including an online petition calling for her release - Indonesian authorities appear to be doubling down on reporting cases of perceived religious intolerance or blasphemy.
To that end, a new mobile application released last month by the Jakarta prosecutor's office has made it easier for members of the public to report suspected cases of religious heresy.
The Smart Pakem app takes its name from Bakor Pakem, a division sitting under the umbrella of the Jakarta prosecutor's office that has been "extremely influential" when pressuring the government to ban religious groups, according to Human Rights Watch (HRW).
The app, which can be downloaded for free via the Google Play store and is listed under the "education" label, has sparked fears among rights groups and activists that it will be used to target religious minorities in the Muslim-majority nation.
Smart Pakem enables users to report complaints about issues of "heresy" or "deviant beliefs" online - previously, those had to be submitted in writing and could lead to Bakor Pakem launching an investigation.
Featuring a list of organisations deemed to be "heretical", the app will be used as a resource by the prosecutor's office to collect and store information on groups believed to be practising faiths beyond the country's six officially-recognised religions: Islam, Catholicism, Protestantism, Hinduism, Buddhism and Confucianism.
It also states the names of the leaders of these organisations groups, including Ahmadiyyah, Gafatar and Shia, along with the addresses of their offices.
This information could be seen as a way of encouraging attacks on these individuals or their places of work, according to activists, and has led to calls for the app to be revoked.
"All Smart Pakem is going to do is exacerbate cases of religious intolerance in Indonesia," says Sibarani. "It's just going to cause more conflict between the religious communities and now all disputes will be settled through making a complaint via the app, rather than between individuals."
'Educate the public'
Baiq Wardhani, a lecturer in politics at Universitas Airlangga, says Smart Pakem needs to be treated with caution.
"How do you define heresy? This will trigger a lot of debate because the definition of the word depends on one's beliefs," she told Al Jazeera. "The app is obviously a violation of the national constitution, so it's stupid that the Jakarta prosecutor's office would allow it to be available on people's mobile because it can be easily abused for people's own interests."
Mukri, the prosecutor's office spokesperson who like many Indonesians only goes by one name, did not respond to Al Jazeera's requests for a comment.
Local media have quoted officials at the prosecutor's office as saying that the app was designed to educate Indonesians and improve the transparency of the reporting process.
"The objective … is to provide easier access to information about the spread of beliefs in Indonesia, to educate the public and to prevent them from following doctrines of an individual or a group that are not in line with the regulations," Nirwan Nawawi, a spokesperson for the prosecutor's office, told the AFP news agency in a statement in November.
Clash of old and new
Indonesia's blasphemy law, known locally as Pasal 156A KUHP, carries a maximum five-year prison sentence. Introduced in 1965 under Indonesia's first President Sukarno, the law was originally put in place to clamp down on indigenous beliefs across the archipelago, but in recent years it has been increasingly used to jail religious minorities. According to HRW, the law was only used eight times in its first four decades but saw a spike in sentencing under President Susilo Bambang Yudhoyono (2004-2014), with 125 convictions. Since 2014, under current President Joko Widodo, more than 20 people have been convicted of blasphemy.
Usman Hamid, the executive director of Amnesty Indonesia, warned that the app "will certainly trigger wider, as well as systematic, repercussions against anyone or [a] community deemed as deviant by Bakor Pakem, vigilante groups and hardliners reporting to the app".
Hamid also argued that the release of Smart Pakem is yet another step towards a more conservative form of politics in Indonesia.
"Since Yudhoyono's era, we've seen a series of closures and burnings of houses of worship, banning of organisations, imprisonment of leaders as well as persecution against civilians deemed as 'deviant'. It has been driven by Bakor Pakem as they're the one with authority to name groups or individuals as deviant," added Hamid, urging Widodo to disband the body.
Andreas Harsono, a researcher at HRW, described Smart Pakem as a troubling clash of old and new. "This app is the combination of an archaic act - a law that is being abolished in more than two thirds of the world - and a modern technology. The combination could be dangerous, more dangerous than using traditional communication means like landline or face-to-face reporting."
The app has so far been downloaded more than 1,000 times, and Harsono said Google is facing a "challenge" in its decision over "how to navigate between Indonesia's blasphemy law and the United Nations' regulations to revoke that toxic law".
Last year, a group of human rights experts from world body called on the country to scrap the crime of blasphemy following the conviction of Jakarta's ex-Governor Basuki "Ahok" Tjahaja Purnama after comments related to verses in the Quran were deemed to be blasphemous.
"Criminal laws that penalise blasphemy represent an unlawful restriction on freedom of expression, and disproportionately target persons belonging to religious minorities or traditional religions, non-believers and political dissidents," Ahmed Shaheed, special rapporteur on freedom of religion or belief, said at the time.
For Sibarani, Meiliana's lawyer, the release of the Smart Pakem app risks provoking similar cases like the one of his client, considering the ease with which members of the public can now report instances of perceived religious intolerance.
"Even without an app, Meiliana ended up in prison. With the release of Smart Pakem, there's a real fear that there'll be even more Meilianas in prison in the future," he says.
https://www.aljazeera.com/news/2018/12/groups-warn-indonesia-app-risks-worsening-religious-intolerance-181218233832014.html
--------
Bangladesh HC Orders EC to Make Swift Decision on Jamaat –e-Islami Candidates
2018-12-18
Justice Md Ashfaqul Islam and Justice Mohammad Ali issued the rule following a writ petition hearing on Tuesday.
The petition challenges the legality of allowing Jamaat leaders to become candidates since the party is no longer registered with the Election Commission.
The writ petitioners have moved the Election Commission with their plea after being advised to do so by the High Court bench in the primary hearing.
A representative of the Election Commission was present when the judges ordered the 3-day deadline for resolution of the plea.
"We have learned from various news articles that 25 candidates of the Jamaat-e-Islami have submitted nomination documents to the Election Commission disguised as independent runners or members of other political parties," the petitioners said in their plea. "The Election Commission has accepted their candidacy which is a move contrary to the law."
A High Court verdict in 2013 stripped the Jamaat of its registration as a political party. The order came over a writ petition filed by the Tarikat Foundation in 2008.
Despite the court's ruling, leaders of the Islamist party which had actively opposed Bangladesh's Liberation War have been nominated as candidates of the BNP, an ally party. There are also others who are competing as independent candidates.
The writ petitioners are Bangladesh Tarikat Federation Secretary General Syed Rezaul Haque Chandpuri, its Social Welfare Secretary Shah Mohammad Ali Hossain, Amra Muktijoddhar Sontan President Humayun Kabir and its Presidium Member Md Emdadul Haque.
Besides the 25 Jamaat candidates, the chief election commissioner, Election Commission secretary, Jamaat chief and its secretary general will have to respond to the rule.
Tania Amir, who stood for the petitioners, pointed out the cancellation of the Jamaat's registration at the hearing.
"As they (Jamaat leaders) cannot contest with their own party symbol, they don't have the opportunity to use any other party's symbol," she argued.
The 22 leaders who are contesting in the Dec 30 election with the BNP's 'paddy sheaf' symbol are Shafiqur Rahman for Dhaka-15, Rafiqul Islam Khan for Sirajganj-4, Abul Kalam Azad for Khulna-6, Syed Abdullah Mohammad Taher for Cumilla-11, Mia Ghulam Parwar for Khulna-5, Anwarul Islam for Pabna-3, Iqbal Hossain for Pabna-5, Abu Sayeed Mohammad Shahadat Hossain for Jessore-2, Abdul Hakim for Thakurgaon-2, Abu Hanif for Dinajpur-1, Anwarul Islam for Dinajpur-6, Azizul Islam for Nilphamari-3, Mazedur Rahman for Gaibandha-1, Muhaddis Abdul Khaleque for Satkhira-2, Gazi Nazrul Islam for Satkhira-4, Shameem Sayedee for Pirojpur-1, Md Moniruzzaman for Nilphamari-2, Motiar Rahma for Jhenaidah-3, Wadul Sheikh for Bagerhat-3, Abdul Alim for Bagerhat-4, and Shamsul Alam for Chattogram-15.
Jamaat leader Hamidur Rahman is fighting for the Cox's Bazar-2 seat as an independent candidate. The BNP has not fielded any candidate there.
Jamaat leaders Nurul Islam Bulbul is running for Chanpainawabganj-3, Zahirul Islam for Chattogram-16, and Nazibur Rahman for Pabna-1.
https://bdnews24.com/politics/2018/12/18/hc-orders-ec-to-make-swift-decision-on-jamaat-candidates
--------
Pakistan
Pakistan's Punjab govt lifts 12-year-old ban on celebrating Basant
Dec 18, 2018
LAHORE: Pakistan's Punjab province government on Tuesday lifted a 12-year-old ban imposed on celebrating Basant, a seasonal festival celebrated by Punjabis of all faiths to mark the commencement of the spring season.
Punjab information and culture minister Fayyazul Hassan Chohan said the traditional festival will be celebrated in the second week of February 2019, Dawn reported.
Addressing a press conference here, Chohan said a committee comprising the Punjab law minister, the provincial chief secretary, and other administrative officials, will be formed to deliberate on the modalities about how the negative aspects of the festival can be avoided and overcome.
The minister said the committee would give its recommendations within a week. "This time Lahoris will surely celebrate Basant," he added.
The festival was banned in Punjab in 2007 owing to deaths caused by sharply polished threads used to fly kites.
However, many analysts say the festival was banned due to pressure from hardline religious and extremist groups like the Hafiz Saeed-led Jamaat-ud Dawah, which claimed the festival had "Hindu origins" and was "un-Islamic".
Chohan said that the citizens and the civil society have been demanding permission to hold Basant festival for quite some time following which Punjab chief minister Usman Buzdar had sought recommendations about holding the Spring festival.
The Supreme Court in its order had clarified that there was no restriction on holding the Basant festival and that it should be celebrated while staying within the ambit of law, as well as the rules and regulations defined by the government, Chohan added.
The chief minister has said that Basant was a cultural festival, "it has no relation to religion. It is for enjoyment," the minister added.
https://timesofindia.indiatimes.com/world/pakistan/pakistans-punjab-govt-lifts-12-year-old-ban-on-celebrating-basant/articleshow/67149796.cms
--------
Pakistan among worst performers on gender equality: WEF
Amin Ahmed
December 19, 2018
ISLAMABAD: Pakistan is the second worst country in the world in terms of gender parity, ranking 148 out of 149 countries in the 'Global Gender Gap Index 2018' report released by the World Economic Forum (WEF) on Tuesday.
According to the report, four Muslim countries — Egypt, Saudi Arabia, Yemen, and Pak­istan — are the four worst-performers in the world where the number of women holding managerial positions is the lowest.
Also read: Women must wait 217 years to earn the same as men, index says
Categorised as the lowest-ranked country in South Asia, Pakistan closed 55 per cent of its overall gender gap as compared to Bangladesh and Sri Lanka which were the top-ranked countries in the region, having closed just over 72pc and nearly 68pc of their overall gender gap, respectively.
The Geneva-based organisation's annual report tracked disparities between the genders in 149 countries across four areas: education, health, economic opportunity and political empowerment.
Pakistan's scorecard showed that in terms of economic participation and opportunity, it ranked 146th, while in health and survival, its rank was 145. In terms of political empowerment, the country was positioned at 97. Pakistan's population was growing at the rate of 1.93pc per annum, the report pointed out.
Pakistan made some good progress this year in wage equality as well as on the educational attainment sub-index. However, this progress was insufficiently rapid to avoid the country being overtaken by a number of faster-improving countries at the lower end of the index's global rankings, the report added.
After years of advances in education, health, and political representation, women registered setbacks in all three areas this year, the WEF said. Only in the area of economic opportunity did the gender gap narrow somewhat, although there was not much to celebrate, with the global wage gap narrowing to nearly 51pc, it added. To date, said the WEF, there was still a 32pc average gender gap that remained to be closed.
It highlighted that factors such as stagnation in the proportion of women in the workplace and women's declining representation in politics, coupled with greater inequality in access to health and education, offset improvements in wage equality and the number of women in professional positions, left the global gender gap only slightly reduced in 2018.
The report showed that there were now proportionately fewer women than men participating in the workforce, suggesting that automation was having a disproportionate impact on jobs traditionally performed by women.
Women, WEF observed, were significantly under-represented in growing areas of employment that require science, technology, engineering and mathematics skills. It decried the particularly low participation of women within the artificial intelligence field, where they made up just 22pc of the workforce.
Projecting current trends into the future, it added that the overall global gender gap would close in 108 years across the 106 countries covered since the first edition of the report. It said that the most challenging gender gaps to close were the economic and political empowerment dimensions, which would take 202 and 107 years to close, respectively.
Across the 149 countries assessed by the report, there were just 17 that currently had women as heads of state, while on average just 18pc of ministers and 24pc of parliamentarians globally were women.
Similarly, women held just 34pc of managerial positions across the countries where data was available, and less than 7pc in the in the four worst-performing countries — Egypt, Saudi Arabia, Yemen, and Pakistan.
With an average remaining gender gap of 34.2pc, South Asia was the second-lowest scoring region on this year's Global Gender Gap Index, ahead of the Middle East and North Africa and behind Sub-Saharan Africa.
With the exception of Bangladesh and Pakistan at either end of South Asia's regional table, gender parity outcomes were somewhat homogeneous across the region. The difference in gender gap size between the highest-ranked and lowest-ranked countries in the region was about 10pc for the educational attainment sub-index and about 4pc for health and survival.
On political empowerment, one country — Bangladesh — reached a level of gender parity of more than 50pc, while India had closed nearly 40pc of its gender gap on this sub-index. The region's remaining countries had yet to achieve a gender parity level of at least 20pc, the report said.
Full report at:
https://www.dawn.com/news/1452284/pakistan-among-worst-performers-on-gender-equality-wef
--------
Pak seeks 'just durable and peacefully negotiated' solution of Kashmir issue: Qureshi
Dec 18, 2018
ISLAMABAD: Pakistan's Foreign Minister Shah Mehmood Qureshi said on Tuesday that his country was looking for a "just durable and a peacefully negotiated" solution of the Kashmir issue.
Qureshi made the remarks while addressing the participants of National Security and War Course at National Defence University (NDU) in Islamabad, according to a statement issues by the army.
"While safeguarding sovereignty and territorial integrity of the state we are maintaining credible national security capabilities to deter aggression," he said while highlighting the cardinals of Pakistan's foreign policy, challenges as well as opportunities.
Pakistan was "seeking a just durable and a peacefully negotiated solution of the Kashmir dispute," the foreign minister said.
He said Pakistan was working to "take the war against extremism and terrorism to its logical conclusion, promoting economic stability through inclusive growth, integrating with major regional initiatives and global economy, pursuing friendly and cooperative relations with all countries particularly with major powers and all immediate neighbours."
Qureshi said that the government was trying to turn Pakistan's geo-strategic location into a geo-strategic asset.
Full report at:
https://timesofindia.indiatimes.com/world/pakistan/pak-seeks-just-durable-and-peacefully-negotiated-solution-of-kashmir-issue-qureshi/articleshow/67151116.cms
--------
Imran Khan says Pak will do everything within its power for Afghan peace
Dec 18, 2018
ISLAMABAD: Prime Minister Imran Khan said Tuesday that Pakistan will do everything within its power to further the peace process in Afghanistan as talks sponsored by the country between the US and the Taliban were being held in the UAE to end the 17-year bloody conflict.
The US and the Taliban have previously met on at least two occasions in Qatar but it is the first time that they are holding talks outside Doha, where the insurgent group has a political office, according to officials.
Khan highlighted the role being played by Pakistan in holding the talks between the US and the Taliban in Abu Dhabi.
He expressed his desire for peace to end the sufferings of the people of Afghanistan.
"Pakistan has helped in the dialogue between the Taliban and the US in Abu Dhabi. Let us pray that this leads to peace and ends almost three decades of suffering of the brave Afghan people," Khan said on Twitter Pakistan has helped in the dialogue between Taliban and the US in Abu Dhabi. Let us pray that this leads to peace a… https://t.co/ohyne1hoZm
— Imran Khan (@ImranKhanPTI) 1545108436000
Khan also said "Pakistan will be doing everything within its power to further the peace process".
Saudi Arabia, the UAE and Pakistan were the only three nations to recognise the Taliban government during its five-year rule from 1996-2001.
Full report at:
https://timesofindia.indiatimes.com/world/pakistan/imran-khan-says-pak-will-do-everything-within-its-power-for-afghan-peace/articleshow/67144101.cms
--------
Pakistan minister caught on video expressing support for Lashkar founder Hafiz Saeed
Dec 17, 2018
Pakistan's minister of state for interior Shehryar Khan Afridi has been caught on video expressing support for Lashkar-e-Taiba founder Hafiz Saeed and his political front, the Milli Muslim League (MML), which was designated a terror group by the United States in April.
The two-minute video, apparently shot with a mobile phone during Afridi's recent meeting with a group of MML leaders, has emerged at a time when India and other Western powers are preparing to make a case at an upcoming review meeting of the Financial Action Task Force (FATF) that Pakistan hasn't delivered on its commitments to crack down on fund-raising by terror groups such as the LeT.
In the video, an MML representative can be heard telling Afridi about the party's problems in getting registered with the Election Commission of Pakistan.
"Regarding MML's registration... the Islamabad high court has issued an order to the Election Commission of Pakistan that MML should be registered. The US has included MML in the list of global terror groups and it hasn't been registered," the representative says, speaking in Urdu.
"They said we have found out this is Hafiz Saeed sab's group and we are including it among the global terror groups," the representative adds.
Afridi, who belongs to Prime Minister Imran Khan's Pakistan Tehreek-e-Insaf party, responds: "Insha Allah, (let) any mother's son (do what they want), as long as we are in the (National) Assembly and Tehreek-e-Insaf is there, leave alone Hafiz Saeed sa'ab, anyone who is supporting Pakistan's rights... we will support them. This is our tradition."
The minister, who too is speaking in Urdu, then adds, "It is my request to you that you come and sit in the Assembly and see whether the others also support us."
The rest of the brief video is devoted to discussing religious matters and the oppression faced by the poor. The MML fielded candidates on the platform of Allah-o-Akbar Tehreek for Pakistan's general election in July after it was denied registration by the Election Commission.
The FATF, a Paris-based body that tracks terror financing and money laundering, placed Pakistan on its "grey list" in June for failing to do enough to prevent fund-raising by UN sanctioned groups such as LeT and Jaish-e-Mohammed. The move was backed by China, a close ally of Pakistan.
People familiar with developments said India and other Western powers, such as the US, the UK and France, which had sought action against Pakistan at the FATF, were preparing to highlight Islamabad's failure to crack down on terror financing at the body's review meeting in January.
"They really haven't done much except for some cosmetic steps. Even the ordinance that was passed to ban the Jamaat-ud-Dawah has lapsed," a person said.
In October, Pakistan's religious affairs minister Noor-ul-Haq Qadri, who too belongs to Imran Khan's party, shared a stage with Hafiz Saeed at an event in Islamabad. The move prompted foreign minister Shah Mahmood Qureshi to say that Qadri should have been "more sensitive".
Ajai Sahni, executive director of the Institute for Conflict Management, said the LeT was a state-sponsored terror group "controlled by and linked to the Inter-Services Intelligence that enjoys national political support" in Pakistan.
Full report at:
https://www.hindustantimes.com/world-news/pakistan-minister-caught-on-video-expressing-support-for-lashkar-founder-hafiz-saeed/story-1diFv35Ra3Y0AJFW7YDBNO.html
--------
PTI govt has failed to change people's lives: JI emir
Saleem Shahid
December 19, 2018
QUETTA: Jamaat-i-Islami emir Senator Sirajul Haq said on Tuesday that people had voted for the Pakistan Tehreek-i-Insaf (PTI) in a hope to see an improvement in their lives, but the party had failed to bring any change in any sector during its four months in power.
Speaking at a press conference here, he said instead of bringing happiness in people's lives the PTI government has increased prices of oil, gas, and electricity and raised taxes.
"Questions are being raised about PTI government's performance," Senator Haq said.
He said the Transparency International has reported that 68 per cent corruption has been reported in the works and services department of Balochistan.
He said Balochistan Chief Minister Jam Kamal Khan Alyani had himself expressed dissatisfaction over the performance of his government.
Talking about the China-Pakistan Economic Corridor (CPEC), the JI chief said Balochistan had been deprived of benefits of mega projects and today the provincial government was raising questions over the share of Balochistan in CPEC projects.
"Balochistan should be given major share in the CPEC," he said and added that local fishermen in the port city of Gwadar had been protesting for long for their demands.
Mr Haq accused Indian agencies of being involved in incidents of terrorism in Balochistan. The arrest of Indian spy Kulbhushan Jadhav had proved India's involvement in terrorist activities in Pakistan, he added.
He criticised the government for what he called not taking any step for the release of Dr Afia Siddiqui from jail in the United States.
Full report at:
https://www.dawn.com/news/1452290/pti-govt-has-failed-to-change-peoples-lives-ji-emir
--------
Munizae Jahangir receives UN Human Rights Prize on her mother's behalf
Dec 19, 2018
Munizae Jahangir, daughter of the late lawyer and human rights activist Asma Jahangir, has received the 2018 United Nations Human Rights Prize on the behalf of her mother.
Asma had been announced as one of the four winners of the quinquennial prize in October.
The announcement had been made through the official Twitter account of UN General Assembly President Maria Fernanda Espinosa Garces.
"Today I announced the 2018 winners of the UN Human Rights Prize," she had tweeted before naming Asma and three other recipients, adding: "Your work is an inspiration to us."
Tanzanian activist Rebeca Gyumi, Brazil's first indigenous lawyer Joenia Wapixana and Ireland's human rights organisation Front Line Defenders are the other three recipients of the honour.
Receiving the award on her late mother's behalf on Tuesday, Munizae dedicated it to Pakistani women and their courage.
It is worth mentioning here that Asma becomes the fourth Pakistani woman to be awarded the UN Human Rights Prize. Before her, Begum Ra'Ana Liaquat Ali Khan (1978), Benazir Bhutto (2008) and Malala Yousufzai (2013) had been accorded the honour.
Asma, who passed away in February this year, was known for her outspoken nature and unrelenting pursuit for human rights as well as for remaining undaunted in the face of extreme pressure and opposition.
Full report at:
https://www.pakistantoday.com.pk/2018/12/19/munizae-jahangir-receives-un-human-rights-prize-on-her-mothers-behalf/
--------
CJP Nisar calls on Erdogan, lauds Turkey's ties with Pakistan
Dec 19, 2018
ISLAMABAD: Chief Justice of Pakistan (CJP) Mian Saqib Nisar on Tuesday called on Turkish President Recep Tayyip Erdogan in Konya, Turkey while on an official visit to Turkey at the invitation of the president of the Constitutional Court of Turkey.
According to a press release issued by the Supreme Court public relations office, the top judge during the meeting highlighted the "special love and affection" between the people of Pakistan and Turkey.
Ergodan, while welcoming CJP Nisar to the city of Maulana Jalaluddin Rumi, also expressed his warm sentiments for the people of Pakistan.
CJP Nisar was in Turkey to participate in the "Seb-i-Arus" that was being held to commemorate the death anniversary of the renowned Sufi saint and poet, Maulana Jalaluddin Rumi and witnessed the "samah" ceremony as part of the commemorative events.
Earlier during the day, CJP Nisar met with Turkish Constitutional Court President Professor Dr Zuhtu Arslan in Ankara where the two sides exchanged views on mutual interests including the legal and judicial matters.
During the meeting, he briefed his Turkish counterpart on the judicial system of Pakistan and outlined the initiatives being taken by the Supreme Court to improve the fundamental rights of the citizens.
"The promotion and protection of the fundamental rights of Pakistani citizens is the top priority of the SC," the top judge said, adding that "the provision of these rights have a direct impact on the lives of the people and all possible measures are being taken to uphold these rights".
In this regard, the top judge further briefed Arslan regarding his initiatives for water management, population control, provision of health facilities and ensuring of justice and rule of law.
Following this, Arslan also briefed CJP Nisar on the Turkish judicial system and said that it is "one of the oldest systems in Europe".
Full report at:
https://www.pakistantoday.com.pk/2018/12/18/cjp-nisar-meets-turkish-president-erdogan/
--------
India
Muslim Body Accuses Gujarat Govt of Apathy, Demands Minority Ministry
By Syed Khalique Ahmed
December 19, 2018
Muslims from across the state assembled at Satyagraha Chhavani grounds in Gandhinagar on Tuesday to protest against their "neglect" by the state government. The event coincided with the United Nations International Minority Rights Day.
The organisers of the protest — Minority Coordination Committee (MCC) of Gujarat — had earlier announced Gherao of the state Assembly but they dropped the plan at the last moment as the Gandhinagar police and the district administration did not give permission.
Addressing the gathering on Tuesday, MCC coordinator Mujahid Nafees said that the committee would Gherao the Assembly during its Winter Session or the Budget Session to draw the government's attention towards the plight of the Muslims in the state.
He alleged that he was asked over phone by the police to not Gherao the Assembly and also remove the words "Gherao of Gujarat Vidhan Sabha'' from their posters and banners. "This indicated the fear and panic in the state administration and the ruling political party (BJP). But, we decided to keep these words in our banners to remind the administration and political bosses in the state that they cannot neglect the constitutional rights of the Muslims," he told the gathering.
Alleging that rumours were spread that there would be police lathicharge and firing on those who would turn up for Tuesday's programme, Nafees said: "Despite this (rumours), people came for the protest, proving they are not scared of seeking their constitutional rights'', he said.
As the protest event coincided with the United Nations International Minority Rights Day, of which India is also a signatory, Nafees announced to hold such functions in all districts in the state from next year to create awareness among the state's minority communities, particularly Muslims, about their rights and how to demand their legitimate rights from the authorities.
He said that Gujarat was the only state without a state minority ministry and a state minority commission. "There is also no financial allocation in the state's budget for minorities. There is zero implementation of the Centre's minority programmes in Gujarat. Is it not unconstitutional?', he asked.
Stating that the government's slogan of 'Beti Bachao, Beti Padhao'' is hollow as far as Muslims are concerned, he said that the drop-out rate of Muslim girls in Gujarat was 10.58 per cent from Class I to V but the state government was not doing anything about it.
Stating that the claim of the BJP government that Gujarat had become riots-free after 2002 is not factual, he said: "Earlier, large scale riots took place. But now small-scale riots at local level are taking place As riots are small, they also don't get media attention'', he alleged.
Nafees demanded setting up of government schools in Muslim areas and Rs 1,000 crore annual allocation for development of Muslim areas from the state's annual budget, implementation of Prime Minister's 15-point programme in toto to uplift the conditions of the Muslims, recognising the 'madrasa' degrees equivalent to Class X of the Gujarat State Education Board to promote secular education among Muslims, setting up of Ministry of Minority Affairs and State Minority Commission.
Shafi Madani, president of the Gujarat unit of the All India Muslim Majlis Mushawarat, an umbrella body of all shades of Muslims, said whether it was the BJP or the Congress, both had neglected the Muslims.
https://indianexpress.com/article/cities/ahmedabad/gujarat-muslim-body-accuses-govt-of-apathy-demands-minority-ministry-panel/
--------
Suicides Follow India's Anti-Immigrant Drive Targeting Muslims
December 18, 2018
Vishal Arora
GUWAHATI, India (RNS) — More than a dozen residents of the northeast Indian state of Assam have killed themselves amid fears of imprisonment or deportation as the government carries out a massive exercise to drive out people it says are in the country illegally, especially Muslims from neighbouring Bangladesh.
Local media reports have linked at least 16 suicides to the ongoing process to update citizenship records in Assam, which borders Bangladesh, home to the world's fourth-largest Muslim population.
A local group claims as many as 32 people have killed themselves over the issue since the Hindu nationalist Bharatiya Janata Party won the state election in May 2016 and began updating a list of citizens created nearly 70 years ago.
More than 4 million people were excluded from a final draft of the National Register of Citizens, released in July. Those not on the list must prove their citizenship at foreigners tribunals or risk imprisonment and deportation.
In one of the most recent cases of suicide, Samsul Haque, a 46-year-old daily wage laborer, took his own life on Nov. 14, distressed because his wife, Maleka Khatun, was not on the list, The Telegraph in India reported.
Haque was a Bengali-speaking Muslim, but most of the people who have killed themselves allegedly over the issue of citizenship were Bengali-speaking Hindus, according to media reports on the 16 suicides.
Gopal Das, a 65-year-old Hindu man from Assam's Udalguri district, consumed poison to end his life on June 12, as he and many of his family members didn't find their names on an earlier draft of the list, recalled his wife, Jaymati Das.
"He was arranging some papers that evening and looked worried," she said. "He took a glass, poured something in it and went to the jungle nearby. His body was found the next morning."
While some local parties have for years portrayed Bengali-speaking residents, both Muslims and Hindus, as "outsiders," the BJP appears to be focusing solely on Muslims as a threat to the interests of the "original" residents of Assam.
The BJP, which also governs India at the federal level, introduced the Citizenship Amendment Bill 2016 in Parliament to allow Hindus who had entered the country illegally from Afghanistan, Bangladesh and Pakistan to get Indian citizenship. The bill, which has yet to be voted on, is being examined by a committee of lawmakers.
Most migration of Muslims and Hindus from Bangladesh to Assam took place 50 to 75 years ago. In the 1940s, India — then under British rule — invited outsiders to move to the state to boost agriculture. In 1947, at the partition of India and Pakistan, Hindus in large numbers moved to India and Muslims to Pakistan. Another round of migration happened around the 1971 liberation of Bangladesh — earlier known as East Bengal — from Pakistan, which was preceded by a civil war.
To be considered legal residents of the state today, people must show they have roots in Assam prior to 1971. They must be named on the previous NRC, which was drafted in 1951, or listed on an electoral roll before midnight March 24, 1971, or descended from someone named in those documents.
In its election campaign two years ago, the BJP highlighted the issue of illegal immigration. It warned the Assamese people that they risked being governed by "noncitizens" if they voted for its rivals that sought to accommodate ethnic minorities. Muslims have traditionally voted for the Indian National Congress party or local parties, not the BJP.
Some BJP leaders claim the proportion of Muslims in the state is rising at an alarming rate due to continual illegal migration of Bangladeshis, while others attribute the change to a higher birthrate among Muslim communities. Chief Minister Sarbananda Sonowal of the BJP has promised to rid Assam of people who are in the country illegally.
According to estimates, roughly a tenth of Assam's 31 million people are Bengali-speaking Hindus and about a third are Bengali-speaking Muslims.
Before the final draft of the NRC was published in July, more than 120,000 people, mostly Bengali-speaking Muslims and Hindus, had been declared "doubtful voters," a category created by the Election Commission of India in the 1990s for people whose status as residents of Assam was in doubt. "Doubtful voters" are subject to disenfranchisement and a subsequent trial in a foreigners tribunal, possibly followed by detention and deportation. The number of such tribunals has risen from 36 in 2014 to 100 today, and new detention centers are being constructed. About 1,000 people are already in the existing six detention camps across Assam.
India does not have a deportation treaty with Bangladesh, which is hosting around 750,000 Rohingya Muslim asylum-seekers from Myanmar. T. Raja Singh, a state politician from the BJP, recently said in a media interview, "If these Rohingyas and Bangladeshi illegal immigrants do not leave India respectfully, then they should be shot and eliminated."
Many local people believe a large number of unauthorized immigrants fled the state in the run-up to the NRC exercise and most of those who remain are genuine residents who are now having to prove their citizenship. Some residents who are "doubtful voters" are being arrested sporadically.
Shambhu Mallik, a 53-year-old resident of the Morigaon district and a Hindu, said police came to his house to arrest him because he is a "doubtful voter." He said he has documents to show he was born in Assam and that his late father was a legal resident of the state.
While many Assamese people have long demanded that the NRC be updated — for the first time since it was originally prepared in 1951 — they didn't expect what they see as a discriminatory process.
United Nations special rapporteurs have warned that the NRC process "poses a dire risk to thousands of Indian citizens who may wrongfully be declared as 'foreigners' and consequently rendered stateless."
Full report at:
https://religionnews.com/2018/12/18/suicides-follow-indias-anti-immigrant-drive-targeting-muslims/
--------
Riyadh NRIs vow to revive Aligarh movement
2018-12-18
By M. Zakir Azmi Nadvi
RIYADH — In order to enhance the educational empowerment of Muslims in India, the Riyadh Chapter of India Islamic Culture Centre organized here in Riyadh an international conference on "Aligarh Movement and Vision of Sir Syed" which was attended by over 500 Indians from all walks of life. The chief guest of the event was Lt. Gen. Zameeruddin Shah, former vice chancellor of Aligarh Muslim University (AMU).
Refuting the theory of partiality in selection for the top executive positions in the government jobs based on religion, caste and creed, Shah said, "If one is vigorous to learn, compete and demonstrate the extraordinary skills in any particular branch of knowledge, no one can stop him from materializing his dream from becoming true. One should dream high. The perception of discrimination on the lines of religion is baseless. I have served the Indian Army for over 40 years, but never faced such situation throughout my career."
Highlighting the importance of education and the circumstance under which he decided to establish the Sir Syed National School in Muzaffar Nagar, Shah said that it is high time for the Indian Muslims to spread the networks of Sir Syed National School across the country, particularly in the states of UP and Bihar. "The quality school education is the only ladder to marvel in the higher education. Our community lags because it is deprived of the quality school education," Shah added.
The Chairman of India Islamic Culture Center (IICC), Sirujuddin Quraishi also addressed the seminar and said, "We need to make use of Shah's experience and start the Sir Syed National School in all districts of northern India. This will help us achieve the very goal of Sir Syed to equip the community with modern education to let it prosper educationally and economically." Quraishi offered all kind of support and cooperation in fulfilling this noble cause of empowering of Indian Muslims.
Renowned educationist, Dr. Nadeem Tarin, emphasized the need to revive the mission of Sir Syed at a time when the backwardness of Muslims in India in every spheres of life is so obvious that we are marginalized in almost everything. "Undoubtedly, the current political scenario of the country is challenging and worrisome. In this daunting situation we should focus on developing a long-term educational plan as the current inappropriate state of affairs is temporary one, which can be overcome with proper modern education," Tarin outlined.
The G. A. Khan, Arab News, also addressed the event wherein he emphasized on imparting quality education and improving the level of competency in our institutions.
On the other hand, the General Secretary of BISWAS Akhtarul Islam Siddiqui highlighted the poor condition of AMU Kishan Ganj. "If the government is overlooking this very crucial AMU campus, can't 250 million Muslims contribute to build and develop it with their own resources for the betterment of their future generation?" Siddiqui appealed.
Earlier, in his welcome speech, the Convener of IICC Murshid Kamal highlighted the objective of the conference and said, "Rather than crying over the sad demolition of Babri Masjid, we should focus on building a new future. Remember, past is to learn not to live in it. It is time to re-launch the Aligarh Movement. We are privileged that in our panel we have such dedicated stalwart leaders like Gen. Shah, Sirajuddin Quraishi and Dr. Tarin who are fully capable to lead the new Aligarh Movement in the 21st century. I am hopeful, under their leadership we can spread the networks of modern education across the country for upliftment of the Muslim community."
Full report at:
http://saudigazette.com.sa/article/550533
--------
Pulwama killings: All India Muslim Majlis Mushavirat calls for Governor's resignation
by Rasia Hashmi
Dec 18, 2018
New Delhi: All India Muslim Majlis Mushavirat condemned the killings of civilians by security forces in Pulwama district of Kashmir and demanded the resignation of the governor.
President All India Muslim Majlis Mushavirat Naveed Hamed said in the gruesome incident occurred in Pulwama over a dozen innocent people were injured and through various sources, it has been proved that nearly 10 people have been killed. He said this is first of its kind incident after 1990 in which civilians were killed by security forces.
Mr Hamed recalled that earlier police had similarly opened fire on people carrying the dead body of Mohammed Farooq in which dozens were killed. But the then government took serious note of the incident and immediately removed the then governor Jagmohan.
Full report at:
https://www.siasat.com/news/pulwama-killings-all-india-muslim-majlis-mushavirat-calls-governors-resignation-1447192/
--------
Preaching Quran on the banks of Brahma Sarovar
Dec 19, 2018
A small counter with copies of the Quran and other Islamic literature on its shelf near the southern gate of the Brahma Sarovar here gives a distinct flavour to the ongoing International Gita Mahotsav.
The sales counter has been put up by the missionaries of the Ahmadiyya Muslim community, a sect based in Qadian town of Punjab.
Mubarak Ahmad, an Ahmadiyya missionary, told The Tribune on Monday that the community considered Lord Krishna as a messenger of God and a symbol of universal brotherhood.
"For Ahmadiyya Muslims, the Bhagavad Gita is a God's message of universal love and a commitment to serve humanity. Gita Jayanti is a special occasion for us to propagate the message of peace and dispel wrong notions about Islam," he said.
On the banks of the holy pond, he was seen engaging students and others in discussions focusing on jihad and kafirs (non-believers).
"Jihad is all about self-improvement and a fight against social ills, including illiteracy and mistreatment of women," he told a youth.
Another missionary Mohammad Arif Bhatti said they had been putting up a counter at Gita Jayanti since 2015 and selling spiritual literature on no-profit basis.
Full report at:
https://www.tribuneindia.com/news/haryana/preaching-quran-on-the-banks-of-brahma-sarovar/700442.html
--------
Four Muslims Arrested For Cow Slaughter in Bulandshahr Are Innocent: UP Police
December 19, 2018
Lucknow: Uttar Pradesh police has said that the four men it arrested on charges of cow slaughter that led to mob violence in Bulandshahr are innocent. They added that they would move the court for their release soon, said a report in a leading daily on Wednesday. (Also read: Main Accused Bajrang DaI Leader Yogesh Raj Absconding)
The arrests of Sarfuddin, Sajid, Asif and Nanhe followed a complaint lodged by Bajrang Dal's district convenor Yogesh Raj who alleged that seven people _ two of them were among the arrested four _ had slaughtered cows. Yogesh himself has been absconding since and is wanted for the killing of Inspector Subodh Kumar Singh and local youth, Sumit Kumar, in the ensuing violence.
Meanwhile, Sumit's father arrived in Lucknow on Thursday to meet the Chief Minister, reported ANI.
The Special Investigation Team (SIT) probing the case found the four innocent even as three other men were arrested on Tuesday in connection with the same. Bulandshahr SSP Prabhakar Chaudhary told the daily, "We found all four persons arrested earlier are innocent and after verifying other details, we will move the court for their release."
On Tuesday, police arrested Kaala, Nadeem and Raees and had gathered "scientific and other evidence" against them and recovered a licensed gun from Nadeem. They also claimed to have confiscated a vehicle that was used to transport beef from the men. Kaala was arrested two years ago in a cow slaughter case and is currently out on bail, said Chaudhary.
On December 3, after the remains of slaughtered animals were allegedly found near Siyana village, Bajrang Dal convenor, Yogesh Raj had named seven Muslims, claiming that he had seen them slaughter cows. Two among those named later turned out to be minors. Later that day, a mob went on the rampage while demanding action against cow slaughter and Police Inspector Subodh Kumar Singh, the SHO of the Siyana police station and Sumit Kumar were shot dead.
Full report at:
https://www.india.com/news/india/bulandshahr-violence-police-says-four-muslim-men-arrested-on-charges-of-cow-slaughter-are-innocent-3486481/
--------
North America
Arab League condemns Australia, Brazil for recognizing al-Quds as Israel 'capital'
Dec 18, 2018
The Arab League has in a resolution condemned Australia and Brazil for recognizing Jerusalem al-Quds as the "capital" of the Israeli regime, urging the two states to "abide by international law" concerning the status of the city.
The resolution was adopted on Tuesday by delegates from the Arab League's member states during an extraordinary meeting held at its Cairo headquarters.
The Arab League also decided to dispatch a "high-ranking delegation" to Brazil and Australia to inform officials there on the need to "abide by international law" concerning the city.
The move came after Australia formally announced on Saturday its recognition of west Jerusalem al-Quds as Israel's capital.
Following the announcement, the Arab League's assistant secretary general for Palestine and the occupied Arab territories, Saeed Abu Ali, condemned Australia's decision as a break with the international community's position that disregarded international law.
In a statement, he said it was "blatantly biased towards the positions and policies of the Israeli occupation".
Malaysian Prime Minister Mahathir Mohamad also denounced on Sunday Australia's move, saying that "they have no rights" to do so.
Australia's move was made after Brazil's president-elect Jair Bolsonaro announced in November his intention to relocate the Brazilian embassy from Tel Aviv to Jerusalem al-Quds once he formally assumed the presidency.
The move will make the giant Latin American country the third state to relocate its embassy in Israel after the United States and Guatemala.
US President Donald Trump transferred the American embassy from Tel Aviv to Jerusalem al-Quds on May 14, in a move that infuriated Palestinians and the wider Islamic world and upset Western allies.
The relocation also triggered demonstrations in the occupied Palestinian territories, Iran, Turkey, Egypt, Jordan, Tunisia, Algeria, Iraq, Morocco and other Muslim countries.
The US president had announced his decision to recognize Jerusalem al-Quds as Israel's "capital" and relocate the US embassy in the occupied territories from Tel Aviv to the city on December 6 last year.
On December 21, 2017, the United Nations General Assembly overwhelmingly voted in favor of a resolution that called on the US to withdraw its controversial policy shift, but all to no avail.
Israel occupied Jerusalem al-Quds in 1967 in a move never recognized by the international community. The Palestinians want the city as the capital of their future state.
Tensions have been running high in the occupied Palestinian territories and the Gaza Strip since December 2017, when US President Donald Trump decided to recognize Jerusalem al-Quds as Israel's "capital" and relocate Washington's embassy from Tel Aviv to the occupied city.
https://www.presstv.com/Detail/2018/12/18/583333/Arab-League-Brazil-Australia-Jerusalem-quds
--------
Islamic State now outdraws al Qaeda in drive for U.S., Western recruits: Survey
December 18, 2018
Despite its recent battlefield losses in Iraq and Syria, Islamic State has now surpassed al Qaeda in the race to recruit recruiting future jihadis from the U.S., Europe and elsewhere across the globe.
The Islamic State's ascendancy has had the most impact among American-based recruits, analysts with the RAND Corporation said in a new review released Tuesday.
ISIS "has been more successful than its predecessor organization, al Qaeda, in drawing Americans to its cause," analysts say. Focusing less on a possible terror recruit's Islamic faith or their ties to the Middle East has allowed Islamic State to tap into a recruit pool all but untouched by the older al Qaeda.
Islamic State converts are "more likely to be younger, less educated, and a U.S.-born citizen," the survey found.
RAND analysts also found a majority of new U.S. terror recruits are not of Middle East descent, but rather Caucasian or black.
"The stereotype of a Muslim, Arab, immigrant male as the most vulnerable to extremism is not representative of many terrorist recruits today," said lead author Heather Williams.
Full report at:
https://www.washingtontimes.com/news/2018/dec/18/islamic-state-now-outdraws-al-qaeda-drive-us-weste/
--------
US pressing for six-month ceasefire in Afghanistan
DECEMBER 19, 2018
ABU DHABI: The US is pressing for a six-month ceasefire as well as an agreement to name Taliban representatives to a future caretaker government in Afghanistan, as talks in Abu Dhabi between the Taliban, the United States and several other countries to work out a solution to bring peace to the war-torn nation stretched into a second day on Tuesday.
Sources privy to the talks said the Taliban, fighting to drive foreign forces from Afghanistan, were resisting a ceasefire as they felt it would damage their cause and help US and Afghan forces. "If these three countries – Saudi Arabia, UAE and Pakistan – become guarantors and the US appoints the head of a caretaker government in Afghanistan that we nominate, then we can think about a ceasefire," a senior Taliban official said.
The UAE talks come after at least a couple of rounds of meetings between Taliban delegates and US diplomats in Qatar, where a group of Taliban negotiators has lived for years. The meeting in UAE is said to be more inclusive because it involves other nations and at least two new Taliban negotiators who have apparently travelled from Pakistan.
On Monday, a Taliban delegation met officials from Saudi Arabia, Pakistan and the United Arab Emirates ahead of their meeting with US special peace envoy Zalmay Khalilzad, who was appointed to oversee Washington's peace effort in September. The three-day meeting in Abu Dhabi is at least the third time that Khalilzad has met Taliban representatives as diplomatic efforts to end the 17-year war have intensified this year.
"Americans try to reach a ceasefire to free the two American university lecturers held captive by Taliban and want Taliban to talk face to face with the Afghan government. Taliban want their names off the blacklist, their prisoners freed and the foreign forces withdrawn from Afghanistan," Nazar Mohammad Mutmaen, a political activist said.
The Afghan Presidential Palace said government's negotiating team is also in Abu Dhabi to hold proximity talks with the Taliban representatives. The Taliban, however, said that they had no plans to meet with members of the Kabul government, which they insists is just a puppet of the Americans and too divided internally to negotiate effectively.
Afghan President Ashraf Ghani plans to run for reelection in April, and his government has vehemently rejected a reported proposal that he delay the presidential election and instead form an interim government while the talks with the Taliban continue, then later hold a vote with Taliban participation.
Full report at:
https://dailytimes.com.pk/335064/us-pressing-for-six-month-ceasefire-in-afghanistan/
--------
US arms maker warns Canada against stopping sales to Saudi Arabia
Dec 18, 2018
General Dynamics Corp, a sprawling American military manufacturer, has warned Canada against acting on its avowed intention of stopping sales of armored vehicles to Saudi Arabia.
The corporation's Canada chapter said on Monday, "Were Canada to unilaterally terminate the contract, Canada would incur billions of dollars of liability to General Dynamics Land Systems-Canada," referring to its subsidiary in London, Ontario.
"Terminating the contract would have a significant negative impact on our highly skilled employees, our supply chain across Canada, and the Canadian defense sector broadly," the statement added.
Canadian Prime Minister Justin Trudeau, speaking in an interview aired on Sunday, said that he was looking for a way out of the $13 billion agreement.
He, himself, had previously acknowledged that there would be "huge penalties" if Ottawa turned its back on the deal, Reuters reported.
The premier, known for his trying to portray himself as a human rights advocate, is under pressure to scrap the deal inked by the previous government as Saudi Arabia's 2015-present war on Yemen continues down its deadly trail.
Besides killing thousands, the war, launched to return Yemen's former Saudi-allied officials, has brought the impoverished country close to the edge of nationwide famine.
'Unusual' warning
David Perry, defense analyst at the Canadian Global Affairs Institute, meanwhile, called the corp's warning "unusual," Reuters added.
He said General Dynamics Land Systems-Canada would normally keep a very low profile. "I can't imagine they are anything other than extremely worried," he said in a phone interview.
Full report at:
https://www.presstv.com/Detail/2018/12/18/583250/US-military-corporation-warning-Canada-Saudi-Arabia-Yemen
--------
Trump told Turkey US would only look at possible extradition of Turkish cleric -spokeswoman
December 18, 2018
WASHINGTON: US President Donald Trump told his Turkish counterpart Tayyip Erdogan that Washington "would take a look at" the possibility of extraditing a US-based Muslim cleric that Ankara suspects of being behind a 2016 coup attempt, but he made no commitment, the White House said on Tuesday.
"The only thing he said is that we would take a look at it," White House spokeswoman Sarah Sanders told reporters. "Nothing further at this point beyond that ... nothing committal at all in that process."
Turkey's foreign minister said on Sunday that Trump told Erdogan Washington was working on extraditing the cleric, Fethullah Gulen.
Full report at:
http://www.arabnews.com/node/1422731/world
--------
America's support for SDF not long-term: US Syria envoy
18.12.2018
U.S. Special Envoy for Syria James Jeffrey said Monday that Washington's support for armed groups in northern Syria was temporary.
The U.S.'s relationship with the SDF -- a group spearheaded by the YPG/PKK terrorist group – is "tactical" and "transactional", Jeffrey said in a speech at the Atlantic Council, a Washington, D.C.-based think-tank
"We don't have permanent relations with sub-state entities," he said, adding the U.S. supported the SDF with the specific goal of fighting against Daesh.
The U.S. has been working alongside the YPG/PKK in Syria in an effort to eliminate Daesh from the region.
Ankara views the YPG as the Syrian extension of the PKK, a designated terrorist group in Turkey, the EU and the U.S.
Full report at:
https://www.aa.com.tr/en/americas/americas-support-for-sdf-not-long-term-us-syria-envoy/1341718
--------
53 journalists killed in retaliation for their work in 2018
December 19, 2018
The number of journalists killed worldwide in retaliation for their work nearly doubled this year, according to an annual report by the Committee to Protect Journalists.
The New York-based organisation found that 34 journalists were killed in retaliation for their work as of December 14, while at least 53 were killed overall. That compares to 18 retaliation killings among the 47 deaths documented by the committee in 2017. The report issued Wednesday includes the killing of Washington Post columnist Jamal Khashoggi, a native of Saudi Arabia fiercely critical of its royal regime. His October 2 death inside the Saudi consulate in Istanbul has led to tremors on the global political scene around allegations that Saudi Crown Prince Mohammed bin Salman was involved.
Khashoggi lived in self-imposed exile in the United States, and had gone to the Saudi consulate to formalize his divorce, but was instead strangled and dismembered — allegedly by Saudi agents.
Asked whether he believed the crown prince had ordered Khashoggi's murder, President Donald Trump said last month, "Maybe he did and maybe he didn't." While the president condemned the violence against journalists, the committee noted that he has called them "enemies of the people."
In addition to retaliation killings, journalists have died in combat or crossfire, or on other dangerous assignments. The deadliest country for journalists this year has been Afghanistan, where 13 journalists were killed, some in back-to-back blasts staged by suicide bombers and claimed by ISIS, according to the report.
The deadliest single attack on the media in recent US history came on June 28, when a gunman in Annapolis, Maryland, opened fire in the newsroom of the Capital Gazette and fatally shot four journalists and a sales associate. The man had threatened the newspaper after losing a defamation lawsuit.
In addition, the committee said the imprisonment of journalists has been on the rise.
"The context for the crisis is varied and complex, and closely tied to changes in technology that have allowed more people to practice journalism even as it has made journalists expendable to the political and criminal groups who once needed the news media to spread their message," the committee said in its report.
Time magazine last week recognised jailed and killed journalists as its "person of the year," including Khashoggi, Maria Ressa imprisoned in the Philippines, Wa Lone and Kyaw Soe Oo imprisoned in Myanmar, and staff at the Capital Gazette.
Journalists also have died this year in Slovakia, where 27-year-old investigative reporter Jan Kuciak was fatally shot while probing alleged corruption, and in Malta, where Daphne Caruana Galizia, on a similar mission, was killed by a bomb placed in her car. At least four journalists were murdered in Mexico, two in Brazil, and two Palestinian journalists were shot and killed by Israeli soldiers during protests in the Gaza Strip, according to the report.
Full report at:
https://www.thenational.ae/world/the-americas/53-journalists-killed-in-retaliation-for-their-work-in-2018-1.804257
--------
Oman's foreign minister visits Washington to seek greater role in Israel-Palestine peace process
Joyce Karam
December 19, 2018
Oman's quiet diplomacy is back on display in Washington this week with the Gulf country's foreign minister set to discuss mediation efforts on two fronts: Israel-Palestine and Yemen.
Minister Yusuf bin Alawi touched down in the US capital in his second visit since July and is expected to meet with Secretary of State Mike Pompeo on Wednesday as wells as members of Congress.
Mr Alawi will also hold talks with President Donald Trump's advisor to Israel Jason Greenblatt, in a move that underscores Muscat's growing role in the Israel-Palestine peace process.
In the first meeting of its kind in more than 20 years Oman's Sultan Qaboos bin Said in October hosted Israeli Prime Minister Benjamin Netanyahu, sending shock-waves across the region.
Following Mr Netanyahu's controversial visit, in a speech at the Manama dialogue, Foreign Minister Alawi said "Israel is a state present in the region, and we all understand this...maybe it is time for Israel to be treated the same and to also bear the same obligations."
Palestinian President Mahmoud Abbas also visited Oman in October to explore jump-starting the peace talks, stalled since 2016.
Robert Danin, the former head of the Quartet Mission in Jerusalem, tweeted from Muscat on Tuesday: "Omani officials compellingly explain [that] their recent engagement with senior Israelis and Palestinians reflects a genuine desire to see a true peace and Israel integrated into the Middle East."
Mr Danin, also a former senior US official and currently a senior fellow at the Council on Foreign Relations and the Harvard Belfer Center, told The National that Mr Alawi's visit to Washington is a follow-up of Oman's diplomatic outreach.
The sultanate, explained Mr Danin, is ensuring that its diplomacy vis-a-vis Israel-Palestine "is synchronised with the Trump administration thinking".
The White House is preparing to announce its long-awaited peace plan in the first quarter of 2019, with some experts questioning whether conditions are right.
Recent developments in Israel and Palestine have exacerbated an already strained situation, and this could delay the release of the White House document.
"Oman's efforts further expand upon the regional dimension to supporting Israeli-Palestinian peace efforts...that said, no outside party can ameliorate the fundamental bilateral Israeli-Palestinian impasse," Mr Danin said.
Oman's peculiar diplomatic standing is not new. The small Gulf nation has historically played key mediating roles in times of crisis - including the Iran-Iraq war in the 80s, the first Gulf War in the early 90s and more recently in reaching a nuclear deal with Iran under the Obama administration.
Randa Slim, a senior Fellow and Director of Conflict Resolution and Track II Dialogues Program at the Middle East Institute, told The National that Oman is trying to make itself useful to the White House at a time when its GCC allies are involved in separate standoffs.
Particularly on Yemen, Oman plays both a role in border security and as a channel to the Houthi rebels, some of whose leaders live in Oman.
However, said Ms Slim, "there are different voices and power centres inside Oman working on Yemen which might not always benefit the UN effort."
While the US is supporting UN envoy Martin Griffiths "by putting pressure on Gulf partners, they also have limits in how far they can go. It is not in US interest to have any deal perceived to be in Houthis' favor," said Ms Slim.
Stephen Seche, a former US ambassador to Yemen, said Oman could play a role in bringing the warring Yemeni parties together because of its proximity to the country and its productive working relationship with the Houthi leadership.
Full report at:
https://www.thenational.ae/world/the-americas/oman-s-foreign-minister-visits-washington-to-seek-greater-role-in-israel-palestine-peace-process-1.804238
--------
Southeast Asia
'This is community consensus': Yogyakarta villagers destroy cross on public cemetery
December 18, 2018
Villagers of Purbayan in Kotagede, Yogyakarta, have cut off the cross on a Christian's grave, saying the religious symbol was not welcome in the village.
"This is community consensus. He could be buried here, but there should be no Christian symbol," Bejo Mulyono, a local figure, told reporters on Tuesday.
The deceased Christian, identified as Albertus Slamet Sugihardi, was a resident of Purbayan. He worked as a driver for the Red Cross until he died of a heart attack at the age of 63 on Monday. He was buried at the Jambon public cemetery.
Bejo said the majority of Purbayan residents were Muslims, and those buried at the local cemetery were Muslims. Slamet, he said, was allowed to be buried at the cemetery "because of an emergency", but the cross on his grave had to be cut down.
Also, Slamet could only be buried in the periphery of the cemetery, he added.
"In the future, this will be a Muslim-only cemetery," he declared.
The residents also did not allow Slamet's mourning relatives and friends to hold prayers at the deceased's house, forcing them to hold it at the nearby Pringgolayan Saint Paul Church.
"Our village is tolerant, except for religious rituals," Bejo said.
He argued that non-Muslims were prohibited from holding prayers to avoid conflicts with residents who objected to such religious activities.
He claimed that Slamet's family had accepted the rule, showing what he says was a statement from Slamet's wife, Maria Sutris Winarni, that she accepted the rules and would not make an issue of the matter.
Agustinus Sunarto, the local church official, confirmed the incident on Tuesday, saying the mass had been held at the church.
Winarni declined to comment on the incident.
"I am still sad," she said.
Yogyakarta Interfaith Brotherhood Forum secretary-general Timotius Aprianto deplored the incident, saying religious pluralism was only recognized formally but not substantially embraced by society.
"We will hold a meeting with the Kotagede community," he said.
The Yogyakarta Police, meanwhile, said they were investigating the incident.
https://www.thejakartapost.com/news/2018/12/18/this-is-community-consensus-yogyakarta-villagers-destroy-cross-on-public-cemetery.html
--------
AIDS council slams proposed mandatory HIV tests for non-Muslims
Vinodh Pillai
December 18, 2018
PETALING JAYA: The Malaysian AIDS Council (MAC) has panned a proposal by the women, family and community development ministry to make HIV tests compulsory for non-Muslims intending to tie the knot.
In a statement, MAC said conducting compulsory HIV screenings is not an "effective, long-term solution" to combat rising HIV cases, adding that HIV testing should only be done on a voluntary basis.
"This is in line with the stand of the World Health Organisation (WHO) which outlines the policy and practice of not recognising any kind of screening test that is performed involuntarily," MAC said.
"The negative results from a screening test does not guarantee if a person will remain negative if they are involved in high-risk activities such as unprotected sex and sharing of contaminated needles.
"While the HIV screening for the soon-to-be bride is only done once, the risk for HIV infections is lifelong."
MAC pointed out that the negative reading of an HIV screening before marriage would not bring about any "guarantee of safety" in terms of HIV risks after the marriage.
"The mandatory HIV test will be perceived as having a minimal impact in controlling the spread of HIV without specific intervention taken to prevent this infection," it said.
HIV, or the human immunodeficiency virus, causes HIV infection and over time, acquired immunodeficiency syndrome.
AIDS is where the progressive failure of the immune system allows life-threatening infections and cancers to thrive.
Women, Family and Community Development Minister Dr Wan Azizah Wan Ismail yesterday said that her ministry would be discussing with relevant ministries on the proposal.
At present, there are no provisions that make it compulsory for non-Muslim couples to be tested for HIV.
"In principle, we support (compulsory HIV testing) but it involves costs and provisions, we do agree and we will work on getting it," Wan Azizah said when winding up the debate on the Supply Bill 2019 for her ministry at the Dewan Negara.
Wan Azizah said so far, discussions with members of an interfaith council had been good.
MAC said voluntary HIV screenings should be done at all government clinics nationwide and HIV treatments should be sponsored by the health ministry.
It also said that those who wished to undergo HIV screenings should be given counselling before and after the tests so that they "understand, discuss preventive methods, and if needed, discuss treatment options".
"MAC is ready to assist and give its views to whichever related ministries as well as parties for their consideration," it said.
Wan Azizah had cited the possible involvement of the home and finance ministries as non-Muslim marriages are bound by civil law and carrying out the mandatory testing would require costs.
Meanwhile, the Kuala Lumpur AIDS Support Services Society (Klass) cautioned against the implementation of Wan Azizah's proposal.
"We hope the ministry will use this opportunity to put in place a premarital HIV testing programme that encourages linkage to treatment and care and minimises harm," Klass general manager Martin Choo said.
Speaking to FMT, Choo said that in mandatory HIV testing, if counselling those who go through HIV screenings and generating awareness on risks for infections were not followed, it could result in harming those who were tested.
"There should be a mechanism to ensure people who tested HIV positive are supported and linked into treatment and care. This is not always the case with mandatory testing regimens.
Full report at:
https://www.freemalaysiatoday.com/category/nation/2018/12/18/aids-council-slams-proposed-mandatory-hiv-tests-for-non-muslims/
--------
Zahid Steps Aside as Leader of Malaysia's Main Opposition Party
2018-12-18
The president of Malaysia's longest-ruling party relinquished his duties Tuesday, after 17 of its 54 members of parliament abandoned the party over the last six months in what analysts said showed its failure to adapt to being in the opposition.
UMNO, the acronym for United Malays National Organization, had been Malaysia's dominant political force since the country gained independence on Aug. 31, 1957.
But it emerged in tatters after elections in May, winning only 54 seats in the nation's 222-seat parliament in a devastating electoral defeat that saw the four-party Pakatan Harapan (PH) bloc take power. Since then, several of UMNO's top leaders have been investigated for corruption.
"Based on the crisis enveloping the party today, I am making the decision to entrust to the deputy president to carry the duties of the president," UMNO leader Ahmad Zahid Hamidi said, referring to his deputy, Mohamad Hasan.
"I feel there is a discontent among some UMNO leadership who are worried that they will be pressured, investigated and accused again and again like how I endured," said Zahid, the former deputy prime minister of Malaysia.
Zahid's statement came a day after lawmaker Nurul Izzah Anwar sent shockwaves throughout the Muslim-majority nation when she quit as vice president and state chairman of People's Justice Party (PKR), the leading party in the ruling PH coalition.
Nurul Izzah, 38, is the daughter of PKR president Anwar Ibrahim – who is expected to be Malaysia's next prime minister – and Wan Azizah Wan Ismail, the current deputy prime minister.
She did not make clear what triggered her resignation, but local reports said there were signs she may have objected to UMNO bigwigs crossing over to the ruling party.
"Our party was attacked before by defections," she tweeted on Sunday. "Wouldn't want that kind of pain and antics upon anyone else. There is no meaning to democracy if Malaysia is governed by elite-based politicking."
On Sunday, UMNO cancelled its monthly Supreme Council meeting, as party officials reportedly scrambled to deal with the mass exodus and calls for Zahid to resign.
Last week, UMNO's bloc in Sabah, which claims a 100,000-strong membership, was rocked when more than 30 state leaders and office holders announced that they would leave the party.
UMNO's Sabah chairman, Hajiji Mohd Noor, said the party includes non-Muslim members and the current Islamist leanings of the UMNO leadership had put the support from that bloc in jeopardy.
On Dec. 8, several UMNO leaders, including Zahid, shared a stage with the Islamist Pan-Malaysian Islamic Party (PAS) at a massive rally in Kuala Lumpur to protest the government's proposal to ratify a United Nations convention against racial discrimination.
"It is for this reason that we have decided to take the initiative to chart our own political future," Hajiji said during a news conference in the state capital Kota Kinabalu.
'They will survive'
Speaking to reporters in Kuala Lumpur Tuesday, Zahid said he would continue to hold the post of president but without executing any of its duties.
"This decision is a middle ground to save UMNO, especially when there are intentions among members of parliament and division leaders, and also to prevent any more 'crossings' and incidents of party hopping," Zahid said, adding that his deputy would hold full authority "for a period of time."
Awang Azman Awang Pawi, a professor at the University of Malaya, said that the party would survive the crisis.
"It is a sign of UMNO leaders' failure to adapt to life as members of the opposition after being accustomed to the trappings of leadership for so long," he told BenarNews.
"They will survive, but perhaps as a much smaller party," he said.
All of the country's prime ministers had been members of UMNO – until the party's stunning defeat in the last elections ushered in a triumphant political re-entry for Mahathir Mohamad.
Ahmad Marthada, a former academician, said the growing rapport with the conservative Muslim party PAS had played a role in the mass exodus of UMNO members.
"PAS and UMNO are different. They cannot be in a coalition," Ahmad told BenarNews. "PAS wants an Islamic State with Shariah laws, but not UMNO."
"UMNO is more towards securing Malay power, not religion," he said.
'Tainted'
Zahid, like former Prime Minister Najib Razak, faces multiple charges of abuse of power, criminal breach of trust and money laundering. Several other former officials are also being prosecuted.
Chandra Muzaffar, chairman of the nonprofit foundation Promoting National Unity, said the party had become too closely associated with corruption, as the new government pushed forward in investigating the 1MDB investment fund scandal and other cases.
"More than a lack of direction, it is perhaps the multiple charges of corruption, criminal breach of trust and money laundering, among other instances of power abuse … that have eroded the confidence of these legislators and other UMNO personalities in the party," he said.
"When the men at the helm of an organization are so badly tainted and tarnished with allegations of crimes of such magnitude, one should not expect the people around them to remain loyal to their authority," Chandra said in an opinion column published Monday by the Free Malaysia Today.
He said party's internal hemorrhage could also be linked to the psychological setback inflicted against its leaders after they lost the "perks and privileges of high office" that they used to enjoy when UMNO, the mainstay of the Barisan Nasional coalition, lost power after more than 60 years.
Full report at:
https://www.benarnews.org/english/news/malaysian/malaysia-politics-12182018163131.html
--------
Muslim Groups Demand Return of Death Penalty for Fireman Adib's Murderers
18 December 2018
KUALA LUMPUR, Dec 18 — A coalition of Muslim groups have demanded that Putrajaya rescind the moratorium on the death penalty, so it could be used against the murderers of slain firefighter Muhammad Adib Mohd Kassim.
In a press conference, Gerakan Pembela Ummah said those found guilty should hang under Section 302 of the Penal Code, which stipulates the capital punishment for murder.
"The police must investigate this matter quickly and bring justice to those guilty of murdering the late Muhammad Adib. The Attorney General must charge those responsible without favouring anyone under Section 302 of the Penal Code," said its chairman Aminuddin Yahaya, who is also the deputy president of Islamist group Ikatan Muslimin Malaysia (Isma).
In addition, Ummah also demanded that two federal ministers and a Selangor executive councillor be arrested immediately, for allegedly inciting racial hatred and subsequently causing Adib's death.
It claimed minister in charge of racial unity P. Waytha Moorthy, Human Resource Minister M. Kulasegaran, and Selangor exco V. Ganabatirau should be investigated and charged under the Sedition Act.
"This is to be read together with Section 3(1)(e) for spreading bad intentions, animosity and hatred among the races, Section 186 of the Penal Code for obstructing the duties of civil servants as well as Sections 505(b) and (c) of the Penal Code for issuing statements that caused friction between two religious communities.
"And they must resign immediately because they failed to handle this case leading to racial tension," said Aminuddin, who was accompanied by the leaders of around 30 other Muslim groups.
Ummah also demanded for those who claimed a fire engine had run over Adib to apologise to the late fire fighter's family and the Fire and Rescue Department.
It also directed its ire against Agriculture and Agro-based Industries Minister Datuk Salahuddin Ayub, Health Minister Datuk Seri Dzulkefly Ahmad, and Selangor Mentri Besar Amirudin Shari for purportedly attempting to play down the incident.
It said it will head to the Prime Minister's Office this Friday to hand a memorandum of that effect to Prime Minister Tun Dr Mahathir Mohamad.
"Our online petition calling for the resignation of Waytha Moorthy, Kulasegaran and Ganabatirau has received 200,000 signatures. This shows the people are behind us on this," he claimed.
Full report at:
https://www.malaymail.com/s/1704278/muslim-groups-demand-return-of-death-penalty-for-fireman-adibs-murderers
--------
Maszlee's Islamic propagation remarks 'deeply concerning': S'wak churches
19 Dec 2018
KUCHING: The Federal Government must stop using civil servants or teachers to carry out any form of Islamisation in Sarawak and Sabah, says the Association of Churches in Sarawak (ACS).
The ACS said it was "deeply concerned" about Education Minister Maszlee Malik's recent statement in Parliament appealing to religious teachers from Kelantan, Terengganu and Kedah who were teaching in Sabah and Sarawak not to return to Peninsular Malaysia. He urged them to make Sabah and Sarawak their Islamic propagation field ("medan dakwah").
"The statement by the Education Minister is not in the spirit of the Malaysia Agreement 1963 and appears to be sanctioning Islamic religious teachers from Peninsular Malaysia to promote Islamisation and propagation to local students in non-religious schools in Sabah and Sarawak," ACS said in a statement.
"If West Malaysian teachers were to make Sabah and Sarawak their medan dakwah, it could make the atmosphere in and outside schools intimidating, and the local students and parents may feel uneasy and no proper learning can take place.
"While the practice of sending teachers from Peninsular Malaysia to serve in Sabah and Sarawak may alleviate teacher shortage in the interim, teachers who are public servants should not be used as a tool to promote Islamisation in Sabah and Sarawak," it added.
The ACS called on the federal government to honour the undertakings of religious freedom and Borneanisation of the public service as guaranteed in the Inter-Governmental Committee (IGC) Report 1963, the Malaysia Agreement and the Federal Constitution.
"The majority of the people of Sarawak are non-Muslims, and the Sarawak Constitution provides for a secular government and society where Islam is not the state religion of Sarawak.
"It is clearly stated in the IGC report that there should be no application to the Borneo states of any federal requirements regarding religious education," it said.
In addition, the ACS said the IGC report also called for the Borneonisation of public services in Sarawak and Sabah as a major policy objective to protect the interests of the indigenous peoples of both states.
"Fifty-five years after the formation of Malaysia, the promises and assurance of Borneonisation have yet to be fulfilled.
Full report at:
https://www.thestar.com.my/news/nation/2018/12/19/maszlees-islamic-propagation-remarks-deeply-concerning-swak-churches/
--------
Want to be president? Read party constitution first, says Zahid
Melissa Darlyne Chow
December 19, 2018
KUALA LUMPUR: Umno president Ahmad Zahid Hamidi today took a swipe at those who had called on him to step down as president and for a re-election to be held.
In response to the calls, Zahid turned cheeky and agreed to re-elections to be held again — in 2021.
"Yes, re-elections can be held in 2021, when my term is over. 'Yang nak gila talak ini pasal apa? (Why are you so hard up for the post of president?)
"When the time comes, you can contest again. By that time, the post will be vacant.
"Furthermore, it is not yet certain whether I will contest or not.
"It could be YB GST (referring to Pontian MP Ahmad Maslan), or Pasir Salak (Tajuddin Abdul Rahman)," he said during a discourse with party members on Tuesday night.
While Zahid did not give names, he is believed to be referring to Rembau MP Khairy Jamaluddin, who had recently joined a chorus of calls for Zahid to resign as Umno president.
Khairy lost to Zahid in the Umno presidential election in June.
Sabah Umno Youth had also issued a call for Zahid's immediate resignation in the wake of a mass exit of leaders from the party's chapter in the state.
Zahid said in the coming three years, he, along with other elected party leaders, should be given a chance to carry out their duties.
"Accept the fact that they have been elected. Do your job. 'Jangan cucuk-cucuk dari bawah dan belakang' (Don't instigate from all corners)," he said.
The Bagan Datuk MP went on to state that there were no provisions in the party constitution that a re-election must be held. The president should be allowed to complete his term, which lasts three years, he added.
Zahid said there were also those who were of the view that an extraordinary general meeting needs to be called.
He pointed out that there were three clauses in the party constitution which allows for an EGM to be held.
"Firstly, the EGM can be called if the president calls for it. Secondly, if 50% of Umno members put it in writing and, thirdly, all divisions hold their delegates' meeting and two-thirds of them vote for an EGM.
"Please read the party constitution, if you want to be president," he said.
Zahid urged those in Umno not to be like crabs in a basket stepping over each other to get out of the basket.
He cautioned that in stepping over each other, not one crab can get out and all will die.
"I am a realist. Umno must be given a new lease of life. Do not leave it to the president alone to rebuild the party.
"We are all in this together. I am willing to sacrifice, to carry out changes in the interest of the party.
"To those who have been persuaded or threatened to jump, please come back.
"I am willing to sacrifice, but I will never resign," he added.
Zahid subsequently announced that he would hand over his duties as president to his deputy, Mohamad Hasan.
'We were treated like faeces'
Zahid also related how he and other senior Umno leaders had been treated like faeces by certain people in meetings which took place after the general election.
However, he made no mention of the people he met or the nature of the meetings which had taken place.
The people they met, Zahid said, imposed conditions which were impossible to fulfil. He also claimed they were treated "like the filthiest of faeces. The faeces of animals forbidden in Islam".
"We were told that Umno must be disbanded, and its members must hop over to a new party.
"This means that Umno's seven decades of history will be erased just like that because the people really hate Umno over its alleged corruption, theft and robbery.
"My stand then, while carrying out the duties of the president, was that I would not compromise. I will never hop over (to another party). Nor will I disband Umno, for the sake of religion, race and country.
"The price was too much to pay, not just for me, but also for other partners.
Full report at:
https://www.freemalaysiatoday.com/category/nation/2018/12/19/want-to-be-president-read-party-constitution-first-says-zahid/
--------
South Asia
Myanmar's moves could mean the Rohingya never go home
18 December 2018
Myanmar's leaders are promising to bring home hundreds of thousands of Rohingya Muslims who fled a brutal military crackdown. But the government, led by Nobel laureate Aung San Suu Kyi, is taking steps that make their return increasingly unlikely.
The areas where the Rohingya lived in Myanmar's western Rakhine State before the army ousted them are being dramatically transformed. The northern reaches of this region were once a Muslim-majority enclave in the overwhelmingly Buddhist nation.
Hundreds of new houses are now being built in villages where the Rohingya resided, satellite images show. Many of these villages were burned, then flattened and scraped by bulldozers. The new homes are being occupied mainly by Buddhists, some from other parts of Rakhine. The security forces are also building new facilities in these areas.
See the satellite images in our interactive report https://reut.rs/2LkLxMg
A clear picture of the changes on the ground has been elusive, however, because of restrictions on travel to the region. To document Myanmar's plans for the Rohingya, Reuters analysed satellite photographs of construction work in the region from the past year and an unpublished resettlement map drafted by the government. Reporters also interviewed national and state-level government officials in charge of resettlement policy, aid workers, refugees in the camps in Bangladesh, and Rohingya still living in northern Rakhine.
See a map of destroyed villages in Northern Rakhine https://reut.rs/2SVhBcu
The government is both building some of the new homes and helping to facilitate the Buddhist resettlement push, according to local officials and new settlers. The campaign is being spearheaded by Buddhist nationalists who want to establish a Buddhist majority in the area.
And the Rohingya resettlement map drafted by the government, described here for the first time, reveals that many refugees who do return to Rakhine won't go back to their homes or even their original villages. The map shows they would be herded into several dozen Rohingya-only settlements, segregating them from the rest of the population.
See Myanmar Burning: A Reuters series https://reut.rs/2CjqOWo
Many of the Rohingya who stayed behind say conditions are growing intolerable. A scattered community of more than 200,000 Rohingya remains in northern Rakhine, according to an internal U.N. document reviewed by Reuters. More than two dozen people who recently fled to Bangladesh told Reuters they faced intimidation and beatings by security forces, as well as curfews and travel restrictions that made it difficult to work or obtain food. The result is a continued flow of Rohingya into Bangladesh. Almost 15,000 have fled so far this year, according to the United Nations.
Yanghee Lee, the U.N. special rapporteur on human rights in Myanmar, said the Reuters findings showed the actions of the authorities in Myanmar were making the expulsion of the Rohingya irreversible. The aim, she said, is to change the terrain by removing "any remnants" of Rohingya villages. "For people to go back to their places of origin, identify landmarks to go back to, it's become impossible."
The Myanmar authorities "wanted to get everyone out," she added. "Now they've got them out, they sure aren't going to give it back to the Rohingya."
Myanmar has been ready to take back the refugees since January, the Ministry of Social Welfare, Relief and Resettlement said in reply to questions from Reuters. The government was investing "all physical (efforts) and wisdom to overcome the challenges that we faced in Rakhine State," it said in a statement.
REMAKING RAKHINE
Aung San Suu Kyi told an audience in Singapore in August that Myanmar is pursuing "the voluntary, safe and dignified return" of the displaced Rohingya. A return of some refugees is possible, to be sure, as Myanmar tries to ease international pressure over the crisis.
Across the border in Bangladesh, however, refugees are skeptical. Plans to begin the repatriation on Nov. 15 with a group of some 2,200 Rohingya collapsed when they refused to go unless they were granted citizenship and allowed back to their original homes.
Myo Nyunt, a spokesman for the ruling National League for Democracy, said the Rohingya were to blame for delays in their return because of their demand for citizenship as a prerequisite for their repatriation. "We absolutely can't accept this," he said.
He also said that bureaucratic obstacles in Bangladesh were holding up repatriation. "The longer it takes for people to return, the greater the possibility that other people will take their place," he said.
Hussein Ahmed says if he can't recover his land, there's no point returning. Sitting in a shack in Kutupalong refugee camp in Bangladesh, he examines satellite photos of Inn Din, the village where he was born 73 years ago and fled during the army crackdown last year.
It's almost unrecognizable. All the Muslim homes are gone. The Buddhist homes remain. Hussein Ahmed points to where his once stood, a newly built two-story structure. In its place, there's a long, red-roofed building.
"This was my village," says Hussein Ahmed, who was the village chairman in Inn Din. "All our homes were burned," he said. "The army has occupied our land. So I don't think we'll get it back."
Hear from Hussein Ahmed, a refugee in the Kutupalong camp https://reut.rs/2ChG5XE
Myanmar was ruled for half a century by a succession of repressive military leaders. The junta yielded in 2011 to a nominally civilian government, now led by the National League for Democracy of Suu Kyi. The military retains great power, however, and the generals and Suu Kyi's cabinet have shown a united front on Rohingya policy.
Northern Rakhine is home to multiple ethnic groups. The two largest are the Rohingya and a Buddhist people, the Rakhine, who share the name of the state. The junta tried for decades to alter the population balance by bolstering the number of Buddhists there. The aim was to stop "an incursion of people," said Sai Tun Nyo, a spokesman for the military-controlled Ministry of Border Affairs, referring to Muslims. "We need a human fence to stop it."
The Rohingya trace their roots back centuries in the Rakhine area, a reading of history supported by independent scholars. Buddhist nationalists see the Rohingya as Muslim interlopers who invented an ethnic identity after migrating from the Indian sub-continent. They want to curb the number of Muslims in northern Rakhine.
The expulsion of the Rohingya on Suu Kyi's watch has gone a long way to achieving that goal. There is now more or less numerical parity between Buddhists and Muslims in northern Rakhine, according to the internal U.N. document.
The Rohingya exodus has produced the world's biggest refugee camp, the result of "ethnic cleansing" with "genocidal intent," according to the United Nations. An offensive by Myanmar security forces last year in northern Rakhine that has driven out more than 730,000 Rohingya included mass killings and gang rapes, the United Nations said. Myanmar rejects these accusations, saying the crackdown was a legitimate response to "terrorism."
In August last year, a group of Rohingya insurgents attacked security posts in the region, killing 13 members of the security forces. Almost 400 Rohingya villages were damaged or destroyed in the ensuing military-led offensive.
With many of the villages still smoldering, the government signaled its intent to reshape northern Rakhine.
Win Myat Aye, the minister responsible for resettlement, invoked a law on natural disasters under which, he said, "burnt land becomes government-managed land," according to state media.
Within a few months, the government sent in bulldozers to flatten what was left of Rohingya homes, mosques and other buildings in dozens of villages, satellite images showed. In aerial photographs taken over northern Rakhine in February, scrape marks in the sand from the bulldozers are visible.
A U.N. fact-finding mission said reports about the destruction of villages raised "serious concerns" that Myanmar was trying to destroy evidence of its actions. The government says the bulldozing was done with good intentions - to make way for new development and improved living conditions for the Rohingya.
"When the news of that misunderstanding came out, we were surprised," said Win Myat Aye, the minister in charge of resettlement.
One of those villages is Inn Din, the site of a massacre of 10 Muslim men amid the 2017 offensive that was reported by Reuters this February. The 6,000 Rohingya who lived there, almost 90 percent of the population, are all gone. So are their homes.
INN DIN
Satellite images of Inn Din (See the images https://reut.rs/2A6ozUK) reveal that more than a dozen rectangular, red-roofed buildings have been built on land where thatch-roofed Rohingya homes and at least one mosque stood. Visitors to the village said the new structures are a border police facility.
The road running through Inn Din has been widened. Satellite images show new roads and infrastructure are being built across northern Rakhine.
The Rakhine state government is building 100 new homes in the village for Buddhists, according to local officials.
More new dwellings in Inn Din, also earmarked for Buddhists, have been built by a group called the Ancillary Committee for the Reconstruction of Rakhine National Territory in the Western Frontier. The group, made up of Buddhist nationalists, has resettled more than 130 families from elsewhere in Rakhine.
These families are now in Inn Din and Koe Tan Kauk, another village that also had a large Muslim majority until the Rohingya fled.
"Muslims are a worldwide disease. Anyone who says different is lying," said Than Tun, one of the group's founders. "My desire, and what any Rakhine would say, if I'm not being diplomatic, is that we only want Rakhines."
Than Tun is one of many Rakhine Buddhist leaders who strongly oppose any repatriation of Rohingya to Inn Din and the surrounding coastal region along the Bay of Bengal. They say it is a strategically important part of northern Rakhine - a buffer separating Muslim-majority Bangladesh and Myanmar's Buddhist heartland.
A senior official in Rakhine's General Administration Department told Reuters that his office signed off on the resettlement of families vetted by Than Tun's committee and that the group was operating with government approval. The department falls under the central government's Ministry of Home Affairs, which is controlled by the military.
Kyaw Soe Moe, Inn Din's administrator, said he was helping newly arrived Buddhists to settle on what he said was "vacant land" in the village.
'WE LOST EVERYTHING'
Across the Bangladeshi border in Kutupalong refugee camp, Noor Islam lives with 20 members of his extended family in a shack. He said he carried his 90-year-old mother for much of the journey to Bangladesh.
In Rakhine, he used to own several pharmacies. "My shops were filled with medicines when I fled," he said.
Now, he sells medicines from a rickety bamboo table.
His home was Taung Bazar, a cluster of hamlets named after a "mountain market" that once drew large crowds.
This is what the village looked like before the Rohingya fled https://reut.rs/2R70Spn.
The village was home to both Rakhine Buddhists and Rohingya Muslims, who were the majority.
Now, only a small Rohingya community remains and hundreds of Buddhists have moved in. On the eastern edge of Taung Bazar, the Ministry of Border Affairs has built 63 mint-green houses with blue roofs. These new homes, for mostly Buddhist ethnic groups, are on paddy fields formerly farmed by Rohingya.
More Buddhist homes have been built on the banks of the Mayu River running through the village.
After many residents fled, a Buddhist village administrator began selling off the riverfront land to Buddhist families, starting early this year, according to three Rohingya villagers on the ground who spoke by phone.
Maung Lone, the village administrator, said the riverfront land belonged to the Rakhine Buddhist community. He helped Buddhists move into the new homes there, he said, and also allowed them to live temporarily in empty Rohingya homes. He did not take any money for this, he said.
In Kutupalong refugee camp, Noor Islam recently flipped through receipts that show the tax he paid on two acres of the land where he says the mint-green houses now stand. "We lost everything," he said.
See Video: 'Now we are living under the tarpaulins' https://reut.rs/2ChZisr
An official at the Ministry of Agriculture, Livestock and Irrigation in Naypyitaw told Reuters that Noor Islam's tax receipts looked genuine. Nonetheless, the official, Than Htut, said that since Rohingya aren't citizens in Myanmar, they would have to "negotiate" with local authorities to recover their land or receive compensation.
REMAPPING RAKHINE
In her speech in Singapore in August, Suu Kyi said her government had "mapped out potential sites for the resettlement of returnees." Bangladeshi officials told Reuters her remark contradicted an agreement they had signed with Myanmar for the repatriation of the Rohingya. That deal stipulated that the Rohingya could return to their homes or nearby places of their choosing.
The plan flagged by Suu Kyi is moving forward, however. Officials in the ministry responsible for resettlement, at the behest of the minister, showed Reuters a map that plots the location of new settlements that will be built for returning refugees. The ministry says there will be 42 of these settlements.
The map reflects a broad plan to redraw the ethno-religious boundaries of northern Rakhine. Besides demarcating settlements for the Rohingya, the map also includes settlements for mainly Buddhist ethnic groups, as well as sites, marked with black circles, where only Hindus will live. The Rohingya are referred to as "Bengali" on the map, a pejorative term that suggests they are foreign interlopers.
See the resettlement map https://reut.rs/2CkrSJD
The new settlements will be an improvement on their original villages, Win Myat Aye, the minister in charge of resettlement, said in an interview. "The situation will be better, with electricity, roads and bridges."
Refugees whose houses were destroyed would be given the option of living in a "temporary tent" at one of the resettlement sites while building their own homes as part of a "cash-for-work" program, the ministry for resettlement said in a statement to Reuters.
Asked whether the Rohingya could return to their old villages, Win Myat Aye replied: "If their house is still there and if they want to go, they can."
Many villagers won't have that option. In Inn Din, for example, all the Muslim homes were burned down, and the map shows no resettlement site is planned in the village.
The map also reveals the government doesn't plan any resettlement sites for Rohingya in Rathedaung, one of the three townships that make up northern Rakhine. It was home to tens of thousands of Muslims before they fled. Only a few Rohingya villages remain now.
Myo Nyunt, the ruling party spokesman, said the reconstruction push in northern Rakhine has been driven by "security and administrative" needs.
"If we rebuild exactly as before, it would be difficult to control for security reasons," he said. "So for security, we have to build systematically so that terrorists can't hide."
Yanghee Lee, the U.N. human rights rapporteur, said the government's plans revealed an attempt to "socially re-engineer Rakhine" and would create "an apartheid-like situation" in the region. "They want to put all the Rohingya in one or several areas which will be more like long-term internment camps where they can monitor very closely," she said.
Dozens of refugees told Reuters they want to return to the homes they left. Many expressed the fear that the new settlements are part of a government plan to control their movements and will become de-facto internment camps.
There is a precedent: Close to 130,000 Muslims have been living in camps in Rakhine since a bout of communal bloodshed in 2012. Their homes were burned down by their Buddhist neighbors and some 200 people were killed, most of them Rohingya.
The government has pledged to close the camps, but most remain open. The Rohingya refer to them as "open-air prisons." Residents are barred from leaving, conditions are squalid, and inhabitants have limited access to education and healthcare.
Christopher Sidoti, a member of the United Nations fact-finding mission on Myanmar, said the fears expressed by the refugees were "entirely reasonable."
"The Rohingya still in Myanmar are living in isolated camps or urban or village ghettos, are unable to move, are cut off from their livelihoods, have no health services and inadequate, if any, access to schooling for their kids," said Sidoti.
Resettlement plans also appear to have been drawn up for Rohingya who remained behind, people in Rakhine say.
Near the village of Gu Dar Pyin, authorities have begun building new houses for Muslims on a river bank, according to Rohingya residents and a Buddhist elder. The work is moving ahead, they said, despite protests from the 76 Rohingya families still living in the village who didn't want to move.
'BACK TO GRADE ONE'
A major obstacle to the return of the Rohingya is Myanmar's requirement that the refugees accept National Verification Cards, a residency document that conveys a status short of citizenship. The Rohingya vehemently oppose the card, known as the NVC. They say the credentials brand them as new arrivals undeserving of citizenship, despite being born in Myanmar.
In the five decades the generals ruled Myanmar, they increasingly tied citizenship to ethnicity and race. Today, Suu Kyi's government adheres to a list of 135 "national races" - a legacy of the junta period - in determining who counts as a citizen. The Rohingya aren't on the list.
Their status has eroded over time. In 2015, the quasi-civilian government then ruling Myanmar stripped the Rohingya of their temporary ID documents, known as "white cards," depriving them of the right to vote in national elections that year. Now, the government is urging the Rohingya to accept the NVC as a "first step" to citizenship.
"How can we accept the NVC?" said Noor Islam, the pharmacist from Taung Bazar.
He has kept his family's old identity documents, including the papers of his father and grandfather, as proof they once shared the same citizenship status as other Burmese. "It's as if the student has passed matriculation and he is then asked to go back to grade one," he said.
More than a dozen recent arrivals at the refugee camps in Cox's Bazar, Bangladesh, said the official pressure to accept the identity cards was why they ultimately fled. They gave accounts of being beaten by soldiers and border police for refusing to accept the cards, and being blocked from traveling for lack of one.
These restrictions and a nightly curfew mean many Rohingya can't reach the fields they till or the markets where they buy food. Four refugees who arrived in Bangladesh in recent months said they had resorted to begging for food before they left. Five Rohingya men said they performed forced labor for the military.
Mohammed Rafiq, 20, who arrived in the camps in September, said he was forced to work at the barracks of Light Infantry Battalion 565 in Buthidaung township. He dug holes, cleaned the compound and cut the grass.
"If anyone slacked in their work, the soldiers would aim their guns and threaten them," he said. "I thought we could survive there, and things would improve. But I couldn't keep doing forced labor. So I came here."
In the camps, many of the Rohingya still dream of going back.
Noor Islam hopes, for his children's sake, that they will ultimately return to their homes in Myanmar. "We want to go back for our children," he said. "Our children have lost their future."
http://news.trust.org//item/20181218123415-8qrwx/
--------
Taliban's Red Unit Commander for 5 provinces has been killed in Paktika
Dec 19 2018
The Red Unit Commander of the Taliban group who was in charge of the group's activities in five provinces has been killed in an operation of the Afghan Commandos in Paktika province.
Defense Ministry spokesman Ghafoor Ahmad Javid confirmed the killing of Bilal Zadran, the Red Unit Commander of Taliban during an operation late on Tuesday night.
Javid further added that Zadran was in charge of the Red Unit activities of Taliban in Khost, Paktika, Ghazni, Logar, and Paktika provinces.
According to Javid, Zadran had major role in planning and executing terrorist related activities in the named provinces.
The anti-government armed militant groups including Taliban have not commented regarding the report so far.
This comes as the Afghan armed forces have stepped up offensive operation against the anti-government armed militants during the recent months.
The Office of the National Security Council of Afghanistan (NSC) had earlier ordered the Afghan National Defense and Security Forces (ANDSF) to increase raids against the Taliban militants.
According to a statement released by NSC in mid-November, the enemies of the country have sustained heavy casualties in face to face fight and due to the sacrifices of the National Defense and Security Forces due to which the enemies have changed their fighting strategy by killing innocent civilians, a move which demonstrate their (enemies) weakness.
The statement further added that the Taliban group continues to wage an imposed war as the Afghan nation struggles with the drought and cold weather which has added in the difficulties of the people besides inflicting losses on them.
Full report at:
https://www.khaama.com/talibans-red-unit-commander-for-5-provinces-has-been-killed-in-paktika-02959/
--------
Militant leader among 13 killed in U.S. drone strike in Paktia province
Dec 19 2018
At least thirteen militants including one of their local leaders was killed in a drone strike conducted by the U.S. forces in southeastern Paktia province of Afghanistan.
The 203rd Thunder Corps of the Afghan Military in the Southeast in a statement said the airstrike was carried out Aryoub Zazai district of the province.
The statement further added that a 4×4 vehicle was also destroyed in the airstrike which was carried out in Dor Lalai Tangi area of Aryoub Zazai district.
Paktia is among the relatively volatile provinces in Southeast of Afghanistan where the anti-government armed militants are actively operating in some of its districts and often carry out terrorist related activities.
In the meantime, a clash broke out between the Afghan army forces and the Taliban militnats in Laghwat area of Deh Yak district in Ghazni province, the 203rd Thunder Corps said, adding that two militants were killed during the clash.
Full report at:
https://www.khaama.com/militant-leader-among-13-killed-in-u-s-drone-strike-in-paktia-province-02958/
--------
Facebook takes down more accounts linked to Myanmar military
Dec 19, 2018
Facebook has removed hundreds of accounts from its platform linked to Myanmar's army and used to incite violence against minority Rohingya Muslims.
Facebook said in a blog post late on Tuesday that it had removed 425 pages, 17 groups, and 135 accounts from its social network and 15 accounts from its Instagram photo-sharing service.
The service has previously admitted that its platform is used to run hate speech and incite violence against Rohingya Muslims in the Southeast Asian country.
This is Facebook's third sweeping removal of pages and accounts for what it calls "coordinated inauthentic behavior" in Myanmar following deletions in October and August.
The social media giant removed the accounts, including that of Myanmar's army chief, after criticism that it had failed to act on hate speech amid the escalation of violence against the Rohingya Muslims in the country.
The Rohingya are considered the world's most persecuted minority, attacked and driven out of their native Rakhine State in northwestern Myanmar in what the United Nations (UN) has concluded constitutes "genocide."
The Rohingya Muslims were subjected to a campaign of killings, rape, arbitrary arrests, and arson attacks by the military and Buddhist mobs in Rakhine mainly between late 2016 and August 2017.
Full report at:
https://www.presstv.com/Detail/2018/12/19/583360/Myanmar-Facebook-accounts-removal-Rohingya-incite-violence
--------
Afghanistan sends team to join US-Taliban talks in Abu Dhabi
Dec 18, 2018
A peace negotiations team of the Kabul government has arrived in Abu Dhabi, a day after representatives of the Taliban and Washington held talks in order to end a 17-year war in Afghanistan.
The Afghan presidential spokesman Haroon Chakhansuri said in a post on Twitter on Tuesday that the team "arrived in Abu Dhabi to begin proximity dialogue with the Taliban delegation and to prepare for a face-to-face meeting between the two sides."
In a new message released Tuesday the Taliban also confirmed they had held "preliminary talks" with the US State Department's special envoy, Zalmay Khalilzad, on Monday.
Washington said meetings were ongoing in Abu Dhabi, the United Arab Emirates, "to promote an intra-Afghan dialogue toward ending the conflict."
Khalilzad "has in the past met, and will continue to meet with all interested parties, including the Taliban, to support a negotiated settlement to the conflict," it said.
Taliban issued a statement on Monday reiterating that they had also held "extensive" meetings with officials from Pakistan and Saudi Arabia and the United Arab Emirates, repeating demands for international forces to be withdrawn from Afghanistan. Saudi Arabia, the UAE and Pakistan were the only three countries to recognize the Taliban rule during its five-year rule from 1996-2001.
The meetings are the latest in a flurry of diplomatic efforts as Washington seeks a way out of the long-drawn war.
The head of the UN mission in Afghanistan, Tadamichi Yamamoto, during a recent briefing to the UN Security Council in New York voiced optimistic about the possibility of talks. "The possibility of a negotiated end to the conflict has never been more real in the past 17 years than it is now".
In November, Afghan President Ashraf Ghani announced the formation of a team for prospective peace talks with the Taliban. At an international conference on Afghanistan in Geneva, Ghani said the 12-person negotiating team includes both men and women and will be led by Abdul Salam Rahimi, his chief of staff.
The Kabul government has stepped up efforts to convince the Taliban to end the 17-year militancy amid Washington's failures on the battleground.
Contacts have already started between US special envoy Khalilzad and Taliban representatives to build a favorable position in advance of any talks.
At the request of the US, a Taliban office was established in Doha in 2013 to facilitate peace talks. In recent months, Taliban representatives and Khalilzad have discussed their conditions to end the war in Afghanistan.
Full report at:
https://www.presstv.com/Detail/2018/12/18/583304/afghanistan-taliban
--------
Arab World
Saudi-drafted rights resolution politically-motivated: Syria UN envoy
Dec 18, 2018
Syria has dismissed as politically-motivated a United Nations draft resolution presented by Saudi Arabia that accuses Damascus of human rights violations.
Addressing the 55th session of the Third Committee of the UN General Assembly on Monday, Syria's UN Ambassador Bashar al-Ja'afari said Damascus considered voting in favor of the draft resolution submitted by the Saudi regime as a hostile act.
In November, Saudi Arabia submitted a draft resolution to the UN calling on the international community to condemn Syria for alleged human rights violations.
This is while Saudi Arabia is not a party to the International Covenant on Civil and Political Rights, and is itself under mounting international pressure over human rights violations at home and abroad.
Saudi Arabia routinely jails and tortures political dissidents inside the kingdom. In October, a 15-member hit squad murdered a Saudi dissident inside the kingdom's consulate in Turkey's Istanbul on orders from the Saudi state. The Riyadh regime has also come under massive criticism for its atrocities in a war it has been waging on Yemen since 2015.
The Syrian envoy added that Israel's support for such a vote uncovers the nature and identity of the draft and attests to the Saudi-Israeli alliance.
The diplomat said the content of the draft resolution is not balanced and is aimed at distorting facts and tarnishing the image of Syria's legitimate government and state institutions.
Ja'afari said Saudi Arabia is supporting terrorism in an attempt to spread chaos and hinder the ongoing political process in Syria.
The Syrian official underlined that the Saudi regime does not possess the moral or legal capacity to submit such draft resolutions.
Ja'afari further criticized certain states, which are members of the US-led coalition purportedly fighting Takfiri terrorists in the Arab country, for backing the draft resolution.
The same coalition has been committing heinous crimes in Syria and violated human rights by targeting civilians and destroying their property, he said.
Ja'afari further called on UN member states to remain vigilant in the face of attempts to politicize human rights mechanisms and use them to put pressure on some states.
Saudi Arabia stands accused of propping up terrorist groups wreaking havoc in Syria.
Wahhabism, the radical ideology dominating Saudi Arabia and freely preached by its clerics, fuels the ideological engine of terror organizations such as Daesh and Fateh al-Sham, al-Qaeda's Syrian branch formerly known as al-Nusra Front.
https://www.presstv.com/Detail/2018/12/18/583285/Syria-UN-envoy-Jaafari-draft-resolution-human-rights-Saudi-Arabia
--------
Syrian Army Discovers West-Made Weapons at Captured Terrorists' Positions Again
Dec 18, 2018
The army's engineering units continued cleansing operation in Dara'a al-Balad district in Dara'a city and found a large volume of arms, including machineguns, RPG rockets and different munitions.
In the meantime, a field source reported that some of the discovered weapons were West-made, adding that the army men also found several drones and satellite devices.
A field source reported last month that the engineering units of the army discovered the arms and equipment which included the US-made TOW missiles, RPGs and its ammunition, machine-guns, grenades, mortars and other ammunitions in a farm between the towns of Babbila and Beit Saham near the capital Damascus.
Meantime, the army forces also found a network of tunnels near Damascus used by the terrorists for transferring goods and weapons in their purging operations in the towns of Yalda, Babbila and Beit Saham in Southern Damascus.
Full report at:
http://en.farsnews.com/newstext.aspx?nn=13970927000889
--------
Kurdish Militia Incarcerate Civilians in Border Town on Verge of Turkish Offensive
Dec 18, 2018
A large number of civilians have been trying to leave Ra'as al-Ein near the border with Turkey in the last 2 days as concerns are growing about an imminent major operation by the Ankara military troops against the Kurds on the Eastern bank of the Euphrates River.
The Kurdish militias, deployed in Ra'as al-Ein, are preventing people from leaving the town, presenting no explanation.
Meantime, the Kurdish militias continue reinvigorating their positions in al-Hawaranah, al-Abrah neighborhoods and also in the Northern Power Plant area.
The Kurds have started to dig up more trenches and camouflage their positions in Ra'as al-Ein to escape air attacks by the Turkish air force.
On Monday, Turkish President Recep Tayyip Erdogan said that the operation in Northern Syria would continue until the last of the terrorists cleared, adding that US President Donald Trump had given a positive response to Ankara's operation East of the Euphrates.
Turkey would launch a military operation East of the Euphrates River "any moment now", Erdogan stated at the mass opening ceremony at Mevlana Square in central Konya province on Monday, Middle East News reported.
Erdogan said the army completed preparations for the planned operation, adding that Turkey will do "what is necessary" regarding terror corridors East of the Euphrates River.
"We talked to [US President Donald] Trump. These terrorists have to leave areas East of the Euphrates. If they do not leave, we will dispatch them. Because they are disturbing us," he stressed.
Erdogan announced that Trump gave a positive response to Turkey's operation.
Earlier, US intelligence and diplomatic officials have urged the Free Syrian Army (FSA) and National Coalition for Syrian Revolutionary and Opposition Forces (SMDK) not to support the planned Turkish military operation against the Kurdish People's Protection Units (YPG) East of the Euphrates River.
Two days ago Erdogan and Trump discussed over the phone the future military operation in the East of Syria and agreed to coordinate military actions on the Turkish-Syrian border.
Meanwhile, Turkish Foreign Minister Mevlut Cavusoglu said that Washington was considering pulling its troops out of Syria. Washington is yet to comment on the statement.
The past several years have seen friction emerge between Turkey and the US due to Ankara's concerns over US support for the YPG, which Turkey views as an affiliate of the Kurdistan Workers' Party (PKK), blacklisted as a terrorist organization in Turkey, the US and the EU.
Full report at:
http://en.farsnews.com/newstext.aspx?nn=13970927000982
--------
Jordanian MP Urges Repatriation of White Helmets to Syria
Dec 18, 2018
Tariq Khouri, a Jordanian Member of Parliament, in an unprecedented move, condemned presence of the remaining pockets of the White Helmets in Jordan, and called for their repatriation to Damascus.
He further named the White Helmets as traitors, underlining that the White Helmets have partnered in the production of fake chemical attack theater to later raise allegation against Damascus forces.
He went on to say that the White Helmets must be handed over to Damascus to stand trial.
The MP said that those White Helmets, who have entered Jordan at Israel's demand and have been settled by the Amman government, "are dangerous people that have acted against their nation", adding that the "traitors have no place in Jordan".
The MP's criticism came after the Jordanian Interior Minister's explanations about measures taken by the White Helmets in Southern Syrian and their crossing from Israeli borders into Jordan and then their transfer to the US and other western states.
presstv reported in October that the Jordanian Foreign Ministry said in a statement that about 300 Syrian "White Helmet" workers fled Syria for Jordan three months ago.
In July, the White Helmets, fleeing advancing Syrian government troops, slipped over the Israeli-occupied Golan Heights frontier and into Jordan with the help of Israeli soldiers and Western powers.
Israeli Prime Minister Benjamin Netanyahu said at the time he had helped the evacuation at the request of US President Donald Trump and other Western leaders.
Jordan had accepted them after getting guarantees that their stay would be temporary and they would be given asylum in Canada, Germany and Britain.
The White Helmets have operated in militant-held areas in recent years.
The Russian Defense Ministry said on October 10 that chlorine canisters had fallen in the hands of ISIL Takfiri terrorists after they attacked the headquarters of the White Helmets and al-Nusra Front militants in Northern Syria.
Damascus said the so-called volunteer group staged the suspected chemical attack in the town of Douma in Syria's Eastern Ghouta on April 7. Syrian President Bashar al-Assad has also described the White Helmets as "a branch of the al-Qaeda and al-Nusra" militant groups and a "PR stunt" by the United States, Britain and France.
Syria has been gripped by foreign-backed militancy since March 2011. The Syrian government says the Israeli regime and its Western and regional allies are aiding Takfiri terrorist groups wreaking havoc in the country.
Syrian army troops, backed by allied fighters from popular defense groups, have recently made major territorial gains in battles against Daesh and other foreign-sponsored Takfiri terrorist groups, almost capturing the entire Southern part of the country after securing the capital Damascus and other key areas.
The major militant stronghold remains in the Northwestern province of Idlib, where government forces were preparing to launch a full-scale military operation.
The terrorists aimed to stage the chemical attacks and lay the blame on the Syrian government to provoke a Western attack as the Assad government was planning to launch a full-scale offensive to retake the militant-held Idlib province.
Full report at:
http://en.farsnews.com/newstext.aspx?nn=13970927000860
--------
US Forces Withdraw from Northern Syria on Verge of Turkish Attack on Kurds
Dec 18, 2018
Yeni Safak paper reported that the US forces, deployed in Tal Abyadh region in Northern Raqqa near the border with Turkey, have hand over their observation posts to the Kurdish gunmen after Ankara declared an imminent assault on the Eastern bank of the Euphrates River against the Kurds.
The paper further said that the Turkish army is planning to target the observation posts at the first phase of its major operation against the Kurds in Northern Syria.
The daily went on to say that the US army has also handed over the most modern military hardware and advanced radars to the Kurds.
Field sources had also earlier informed that the US forces were retreating from the so-called observation posts at Syria's Northern border with Turkey, mainly in Raqqa, but, Kurdish militants rejected the claims.
On Monday, Turkish President Recep Tayyip Erdogan said that the operation in Northern Syria would continue until the last of the terrorists cleared, adding that US President Donald Trump had given a positive response to Ankara's operation East of the Euphrates.
Turkey would launch a military operation East of the Euphrates River "any moment now", Erdogan stated at the mass opening ceremony at Mevlana Square in central Konya province on Monday, Middle East News reported.
Erdogan said the army completed preparations for the planned operation, adding that Turkey will do "what is necessary" regarding terror corridors East of the Euphrates River.
"We talked to [US President Donald] Trump. These terrorists have to leave areas East of the Euphrates. If they do not leave, we will dispatch them. Because they are disturbing us," he stressed.
Erdogan announced that Trump gave a positive response to Turkey's operation.
Earlier, US intelligence and diplomatic officials have urged the Free Syrian Army (FSA) and National Coalition for Syrian Revolutionary and Opposition Forces (SMDK) not to support the planned Turkish military operation against the Kurdish People's Protection Units (YPG) East of the Euphrates River.
Two days ago Erdogan and Trump discussed over the phone the future military operation in the East of Syria and agreed to coordinate military actions on the Turkish-Syrian border.
Meanwhile, Turkish Foreign Minister Mevlut Cavusoglu said that Washington was considering pulling its troops out of Syria. Washington is yet to comment on the statement.
The past several years have seen friction emerge between Turkey and the US due to Ankara's concerns over US support for the YPG, which Turkey views as an affiliate of the Kurdistan Workers' Party (PKK), blacklisted as a terrorist organization in Turkey, the US and the EU.
Full report at:
http://en.farsnews.com/newstext.aspx?nn=13970927000464
--------
Lebanon seen closer to new government, minister says could be within days
18 December 2018
Lebanon appeared to be edging towards clinching a deal to form a new national unity government after more than seven months of wrangling over cabinet posts, as the finance minister was quoted as saying there could be a new administration within days.
Efforts to form a new government led by Prime Minister-designate Saad al-Hariri have been obstructed by rival groups' conflicting demands for seats in a cabinet that must be formed in line with a finely balanced sectarian political system.
Heavily indebted and suffering from a stagnant economy, Lebanon is in dire need of an administration that can set about long-stalled economic reforms to put public debt on a sustainable footing.
"Matters in the government file are moving in a positive direction. If the situation continues with this positivity we will have a new government within a few days," Finance Minister Ali Hassan Khalil was cited as saying by al-Manar TV, which is run by the powerful Shi'ite Muslim group Hezbollah.
The Hariri-owned al-Mustaqbal newspaper reported a "positive atmosphere" which indicated the government formation effort "was close to reaching its hoped-for conclusion". "The road to the government has become open to a very large degree," it reported.
The final logjam has been over Sunni Muslim representation, with a group of Hezbollah-allied Sunni MPs demanding a cabinet seat to reflect gains in the May election in which Hariri lost more than a third of his lawmakers.
Hariri, who remains Lebanon's leading Sunni despite his losses, had ruled out ceding one of his cabinet seats to any of the six Hezbollah-allied Sunnis, who are also known for their ties to the Syrian government of President Bashar al-Assad.
Under a compromise taking shape, the Hezbollah-allied Sunnis are expected to put forward names of ministerial candidates acceptable to them for inclusion in the government rather than insisting that they themselves should get the seat.
Full report at:
https://english.alarabiya.net/en/News/middle-east/2018/12/18/Lebanon-seen-closer-to-new-government-minister-says-could-be-within-days.html
--------
Syrian govt. forces find reconnaissance drone, munitions in Dara'a
Dec 18, 2018
Syrian government forces have discovered a remote-controlled unmanned aerial vehicle (UAV) along with a considerable amount of munitions at a former stronghold of foreign-sponsored Takfiri militants in the country's southwestern province of Dara'a.
Syria's official news agency SANA reported that Syrian army troopers launched a clean-up operation in the suburbs of the Dara'a al-Balad area on Tuesday, and discovered a reconnaissance drone and a huge cache of ammunition and explosives.
The report added that the weapons included PK general-purpose machine guns, assault rifles, rocket launchers, many shells, rocket-propelled grenades, thermal night vision cameras and satellite communication devices.
On December 11, Syrian government forces discovered considerable amounts of munitions, as well as US-built anti-tank missiles at weapons depots of Takfiri terrorist groups near Nasib village, which lies about 12 kilometers southeast of Dara'a.
The munitions included 14.5mm heavy machine guns, mortars, tank shells, American BGM-71 TOW anti-tank missiles, rocket-propelled grenades, improvised explosive devices, detonators, automatic assault rifles as well as infantry combat vehicles.
Syrian army forces foil infiltration attempt by terrorists
Separately, the Syrian army has reportedly thwarted an attempt by a "terrorist group" to sneak into a military post in the western coastal province of Latakia.
An unnamed military source said Syrian soldiers engaged in violent clashes with the terrorists near Kinsabba town as they were attempting to infiltrate into the army post.
Full report at:
https://www.presstv.com/Detail/2018/12/18/583305/Syrian-govt-forces-find-reconnaissance-drone-munitions-in-Daraa
--------
Mideast
Are Iran and Hezbollah digging toward war with Israel?
18 December 2018
Israel's Operation Northern Shield, which recently exposed Hezbollah's cross-border attack tunnels, has prompted the perennial question: Are Israel and Hezbollah about to go to war in Lebanon?
Long before these latest revelations, conventional wisdom held that another war between Hezbollah and Israel was simply a matter of time. While the date remained uncertain, the results were thought to be predetermined. The next round would bring an unparalleled level of destruction to both countries, dwarfing that of the previous 34-day war in 2006.
The tunnels Hezbollah burrowed are meant to facilitate the movement and infiltration into northern Israel of hundreds of its fighters as part of its well-established military doctrine that calls for "the conquest of the Galilee."
The plan was developed after the 2006 war by Hezbollah's international terror chief, Imad Mughniyeh, and expanded upon by Mustafa Badr Al-Din, both of whom were killed by Israel in 2008 and 2016, respectively.
These subterranean shafts were likely supposed to be used if Israel takes military action in Lebanon or once Iran passes a nuclear threshold that would embolden it to embark on a sustained military confrontation with Israel, which is something the regime in Tehran would like to avoid in the near-term.
But the tunnels are only a small part of the overall threat Iran and Hezbollah pose to Israel from Lebanon. On December 3, a day before Israel made its operation public, Israeli Prime Minister Bibi Netanyahu met with US Secretary of State Pompeo in Brussels to pass on a message that should be delivered to the Lebanese authorities: They must stop Hezbollah's efforts to acquire or manufacture precision-guided missiles or Israel will act.
Perhaps equally troubling, from Israel's perspective, is the uptick in direct flights from Tehran to Beirut using converted civilian airliners that have carried advanced weaponry such as Global Positioning System (GPS) components that could upgrade Hezbollah's arsenal of unguided heavy rockets into precision-guided munitions (PGMs).
Despite hundreds of Israeli strikes in Syria, Iran has already secured many of its war-related objectives, however, it has been less successful transferring PGMs and other "game-changing" weapons to Hezbollah in Lebanon.
What's worse, from Tehran's perspective, is that the international community merely shrugs when Israel carries out such strikes and Russia hasn't acted to put an end to them either. Israel's success in interdicting these weapon transfers in Syria explains in part why Iran is shifting its advanced weapons production program to Lebanon, which constitutes a serious breach of Israel's clearly articulated red lines.
For its part, Israel is mindful of the Iranian shift in tactics. The IDF has long publicized Hezbollah's violations of UNSCR 1701, and the legacy of abject failure of the United Nations Interim Force in Lebanon (UNIFIL) and the Lebanese government.
Those efforts even included the release of a map detailing over 200 towns and villages near the Blue Line that Hezbollah turned into forward operating bases. Israel's recent focus on production facilities, however, is unmistakable and new.
For example, in March 2017, the Kuwaiti daily, al-Jarida, reported that Iran established missile manufacturing facilities in Lebanon more than 50 meters underground. A few months later, Israel's director of militarily intelligence, Maj. Gen. Herzl Halevi, publicly confirmed that the IRGC had established several weapons factories in Lebanon.
And in a rare move in January 2018, IDF spokesman Ronen Manelis published an Arabic article in Lebanese and Arab media outlets warning that Iran was using Lebanon as a "pawn" and that it had "opened a new branch" in Lebanon, turning the country "into one large missile factory."
This appears to mirror Israel's public diplomacy strategy already recognized in Syria, where Iran would establish military bases and infrastructure, the Israeli company ImageSat International would release satellite images in Western media, and shortly thereafter an Israeli strike would hit the location.
The Iranian base at al-Kiswah just south of Damascus, or the Iranian military post, surface-to-surface missile storage and manufacturing sites, and Syrian Scientific Studies and Research Center that are all located near Masyaf, are just a few recent examples.
IDF planners and military intelligence officers tend to refer to the current phase as the campaign between wars. "If you are successful in the interim campaign, then you can prevent the next war or expand the period of time between two wars. It will also make the next war less costly to fight when it happens," explained the former director of the research division of IDF Military Intelligence and former director general of Israel's Ministry of Strategic Affairs, Brig. Gen. (res.) Yossi Kuperwasser in an interview with me earlier this year. "We invest a lot in the campaign between wars."
Iran's decision to shift production to Lebanon is based on the assumption that their facilities will remain off-limits to Israeli strikes and buried too deep should they decide to attack. It also constitutes an attempt to unilaterally impose a change in the current rules of the game that have been observed since 2013, when Hezbollah and Iran became deeply immersed in the Syrian conflict on behalf of the Assad regime.
The hybrid rules of engagement that emerged as a result shifted the theater of permissible engagement from Lebanon to Syria, meaning Israel could strike at weapons shipments destined for the Lebanese terrorist group in Syria, and Hezbollah believed it could retaliate against Israel on the Golan. Lebanon would remain untouched or Hezbollah promised to counter-escalate, thus spiraling toward the devastating Lebanon war analysts have been predicting since 2006.
The question Israel must often ask and answer is if it is willing to stick to the current paradigm of the campaign between wars, which continues to kick the proverbial can down the road, in order to maintain some semblance of a favorable status quo?
Additional questions are worth pondering as well. How would Iran and Hezbollah respond if Israel chooses to strike in Lebanon and it causes very little in the way of collateral damage? Would Iran risk the defeat of Hezbollah, the devastation of Lebanon, and the diminishment its own regional position over the loss of a couple manufacturing facilities and tunnels in Lebanon? Moreover, would the Iranian regime see it as worth the risk before developing a nuclear deterrent?
On one hand, Iran has so far shown an unwillingness to confront Israel militarily if it requires sustained conventional warfare. Hundreds of successful Israeli airstrikes on Iranian assets in Syria testify to this reluctance. On the other hand, the regime in Tehran has already demonstrated it is willing to fight to the last Lebanese in Lebanon, and the last Syrian, Iraqi, Afghani, or Pakistani in Syria. And they remain willing to sacrifice the well-being of their own people in their pursuit of foreign adventures.
Short of a direct Israeli attack on Iran's nuclear facilities, it's hard to imagine that the regime would seek to escalate to a full-scale war. For that reason, Israel may conclude that limited, precision strikes in Lebanon could be the answer to shift the rules of the game back in its favor, especially if it is prepared to counter a limited retaliation. While this scenario entails significant risk, it also hinges on the Islamic Republic's understanding that the 2006 rules no longer apply.
That is to say that Israel's answer to a major counter-escalation from Hezbollah in Lebanon could have a new address, which happens to be the center of gravity and point of origin for many of the region's problems. That address, of course, is in Iran.
https://english.alarabiya.net/en/features/2018/12/18/Are-Iran-and-Hezbollah-digging-toward-war-with-Israel-.html
--------
Russia, Iran and Turkey seek deal on new 'Syria constitutional body'
18 December 2018
Russia, Iran and Turkey are close to agreement on composition of a Syrian constitutional committee, diplomats said on Monday.
The foreign ministers of the three nations, who support opposing sides in Syria's nearly eight-year war, meet for talks on Tuesday in Geneva, where they are expected to seek the United Nations' blessing for their joint proposal, they added.
Staffan de Mistura, UN Special Envoy for Syria who steps down at year-end, has tried since January to clinch agreement on the identity of 150 members of a new constitutional committee to revitalize a dormant peace process.
President Bashar al-Assad's government and the opposition fighting to topple him have each submitted a list of 50 names, but the three nations have haggled over the final 50 members from civil society and "independent" members, diplomats say.
"The three countries are coming with a proposal for the third list, which has been the heart of the problem," said one diplomat.
Turkey and other nations would consider working with Assad if he won a democratic election, Turkish Foreign Minister Mevlut Cavusoglu said on Sunday, two days before coming to Geneva to meet Russian counterpart Sergei Lavrov and Iran's Javad Zarif.
Turkey supports rebel fighters who control part of northwest Syria. A year ago, Turkish President Tayyip Erdogan described Assad as a terrorist and said it was impossible for Syrian peace efforts to continue with him.
De Mistura said at the weekend the constitutional committee could be a starting point for political progress.
"It does touch, for instance, on presidential powers, it could and should be touching on how elections are done, on division of power, in other words a big issue," he said.
De Mistura will be under "heavy pressure" to accept the trio's proposal to complete the make-up of the constitutional body, but may leave the decision to UN Secretary-General Antonio Guterres in New York later this week, the diplomats said.
Full report at:
https://english.alarabiya.net/en/News/middle-east/2018/12/18/Russia-Iran-and-Turkey-seek-deal-on-new-Syria-constitutional-body-.html
--------
Yemeni army shoots down Iranian-made Houthi drone in Marib
18 December 2018
The Yemeni army announced on Tuesday that a military drone belonging to the Houthi militias was shot down in the eastern province of Marib.
The official website of the Yemeni army, that members of the 25th Mika brigade were able to shoot down the plane in the areas between the districts of Harib and Jubba south of the Marib province.
"After inspecting the wreckage of the aircraft carrying explosives, it turned out to be Iranian-made," the statement read.
Several drones have been shot down in recent weeks in different Yemeni fronts where flight engineers from the Yemeni army confirmed that they were made in Iran. In April, two planes of the same type were dropped inside Saudi territory.
Full report at:
https://english.alarabiya.net/en/News/gulf/2018/12/18/Yemeni-army-shoots-down-Iranian-made-Houthi-drone-in-Marib.html
--------
Houthis violate shaky Hodeidah ceasefire as clashes erupt in several areas
18 December 2018
A shaky ceasefire in the Yemeni port city of Hodeidah was called into doubt after Houthi militias began shelling government forces just minutes after the truce came into effect.
Al Arabiya sources confirmed clashes erupted near the Kilo 14 and Kilo 16 areas east of the city.
An immediate ceasefire by warring parties in Yemen went into effect in Hodeidah at the stroke of midnight on Tuesday.
A statement from the legitimate Yemeni government released just 30 minutes before the ceasefire came into effect read that orders were issued for its armed forces in the fourth military region and vicinity of Hodeidah to stop all armed activity.
The ceasefire will encompass both the province and city of Hodeidah as well as its ports extending to As Salif District the port of Ras Essa.
The announcement of the ceasefire date follows Yemen's warring sides clinching a deal in Sweden on Thursday, under which an "immediate ceasefire" was to be implemented in Hodeidah.
Full report at:
https://english.alarabiya.net/en/News/gulf/2018/12/18/Yemen-government-orders-ceasefire-in-Hodeidah-to-begin-at-midnight.html
--------
Arab League censures Turkish airstrikes in northern Iraq
Dec 18, 2018
The Arab League has strongly condemned Turkey's repeated airstrikes against the purported positions of the Kurdistan Workers' Party (PKK) militant group in Iraq's northern semi-autonomous Kurdistan region, stressing that "such actions are in violation of the Iraqi state's sovereignty."
Spokesman for the regional organization of Arab states, Mahmoud Afifi, stated on Tuesday that the Turkish aerial assaults, irrespective of the motive behind them, flout international law and the principles of good-neighborliness.
Turkey's constant disregard to the Arab stance indicated that Ankara does not care about keeping good ties with the Arab countries on the basis of respecting other states' sovereignty and rejecting interference in other states' internal affairs, Afifi pointed out.
The condemnation came on the same day that Turkish defense minister said Ankara will not allow the Kurdish-populated region of Sinjar, situated over 400 kilometers northwest of the Iraqi capital Baghdad, to become "a new stronghold for the PKK terror group."
"We expect the Baghdad government to cooperate with us in ending the separatist PKK terror group's presence in Iraqi territories," Hulusi Akar told the parliament.
Akar asserted that Turkey respects the territorial integrity of Syria, Iraq and its neighbors.
"However, for the security of the country and the nation, our operations will continue until the PKK terror group has been completely defeated in the locations they exist in Iraq," he said.
Sinjar "will never be allowed to become new Qandil [Mountains], Akar said, referring to main base of the PKK militants near the border with Turkey.
On Friday, Iraq's Foreign Ministry summoned Turkish Ambassador Fatih Yildiz to protest his country's airstrikes in northern Iraq.
The ministry said in a statement Friday that it had rebuked Ankara over two air raids on Sinjar and Makhmour mountains the previous night, calling the Turkish airstrikes a violation of Iraq's national sovereignty.
Turkey, along with the European Union and the United States, has declared the PKK a terrorist group and banned it. The militant group has been seeking an autonomous Kurdish region since 1984.
A shaky ceasefire between the PKK and the Turkish government collapsed in July 2015. Attacks on Turkish security forces have soared ever since.
Over the past few months, Turkish ground and air forces have been carrying out operations against PKK positions in the country as well as in northern Iraq and neighboring Syria.
Full report at:
https://www.presstv.com/Detail/2018/12/18/583315/Arab-League-censures-Turkish-airstrikes-in-northern-Iraq
--------
Turkish courts give life sentences to some 2,000 over 2016 botched putsch
Dec 18, 2018
Courts in Turkey have sentenced nearly 2,000 people to life in prison since the failed July 2016 coup attempt, which the Ankara government asserts to have been masterminded by US-based opposition cleric Fethullah Gulen.
Turkey's official Anadolu news agency reported on Tuesday that some 1,934 suspects have been told by the courts that they will spend the rest of their life in jail.
Of these, 978 people were jailed for life, while 956 were sentenced to aggravated life imprisonment, which has replaced the death penalty in Turkey and carries harsher conditions than normal life imprisonment convictions.
The report further noted that a total of 239 cases out of 289, which were opened after the failed coup have been closed. The remaining 50 ones, include 18 in the capital Ankara and nine in the country's largest city of Istanbul.
More than 3,050 people in all have been convicted over links to Gulen, with 1,123 given different jail sentences ranging from over a year to 20 years in prison.
Gulen's nephew sentenced to seven-and-a-half years behind bars
Separately, Gulen's nephew Selman Gulen was sentenced to seven years and six months in jail on Tuesday on charges of being a "member of an armed terrorist organization."
Kutbettin Gulen, brother of the Turkish Muslim preacher now living in Pennsylvania in the United States, was jailed for 10 years and six months on the same charge in October.
During the 2016 botched putsch, a faction of the Turkish military declared that it had seized control of the country and the government of Erdogan was no more in charge. The attempt was, however, suppressed a few hours later.
Ankara has since accused Gulen of having orchestrated the coup. The opposition figure is also accused of being behind a long-running campaign to topple the government via infiltrating the country's institutions, particularly the army, police and the judiciary.
Gulen has denounced the "despicable putsch" and reiterated that he had no role in it.
"Accusations against me related to the coup attempt are baseless and politically-motivated slanders," he said in a statement.
The 77-year-old cleric has also called on Ankara to end its "witch hunt" of his followers, a move he says is aimed at "weeding out anyone it deems disloyal to President Erdogan and his regime."
Turkish officials have frequently called on their US counterparts to extradite Gulen, but their demands have not been taken heed of.
Turkey, which remains in a state of emergency since the coup, has been engaged in suppressing the media and opposition groups suspected to have played a role in the failed coup.
Tens of thousands of people have been arrested in Turkey on suspicion of having links to Gulen and the failed coup. More than 110,000 others, including military staff, civil servants and journalists, have been sacked or suspended from work over the same accusations.
Full report at:
https://www.presstv.com/Detail/2018/12/18/583290/Turkish-courts-give-life-sentences-to-some-2000-over-2016-botched-putsch
--------
Africa
Sub-Saharan Africa becoming new battleground against violent extremism as jihad 'goes south'
December 19, 2018
Extremists are penetrating sub-Saharan Africa at an alarming rate, threatening states ill-prepared to deal with the resulting complex social and security challenge, western and African officials have said.
Islamic radical groups, which include Isis, Al Qaeda affiliates and homegrown movements such as Boko Haram, threaten the continent – despite recent defeats at the hands of African armed forces. The encroachment poses unique challenges for policymakers and officials of shaky governments struggling with limited resources.
"The extremists are inside the community – they provide public services where the state has failed," said Bineta Diop, an official of the African Union. Speaking to The Independent last week at a conference in Marrakesh, Morocco, called Atlantic Dialogues, she added: "They bring water, sanitation, education. They provide opportunities to young people they don't otherwise have. There is a need to address the basics elements of human security and not leave it to extremists."
African troops backed by western intelligence and security forces have beaten back Somalia's militant al-Shabaab movement and have made strides against Boko Haram in Nigeria as well as similar groups in Mali. But in some ways, extremists have expanded their presence. Networks of Islamist militants now influence a vast area of Africa, drawing on contacts and resources from the Middle East and Europe, with radical groups exploiting ungoverned spaces throughout the continent.
Major General Christopher Craige, of the US military branch Africa Command, attributed the rise in radicalism in the continent to "lack of strong governments, lack of government services, lack of opportunities". Speaking at the sidelines of the conference, which was organised by the Moroccan think tank Policy Centre for the New South, he added that extremism was also spreading because "Europe, Africa, and the Middle East are now so connected – not just because of modern media devices, but because of travel".
Statistics show that terrorist incidents in the Middle East, North Africa, and Europe fell last year, while sub-Saharan Africa held steady, suggesting a shift in focus towards Africa.
"Everything is going south," said Rida Lyammouri, a researcher at the Policy Centre for the New South, describing militant groups' expansion in Mali and Burkina Faso. "It's very alarming. The conflicts have spread."
Extremist groups infiltrating sub-Saharan Africa often take a different approach to those drawing supporters in European or Arab cities.
Scholars increasingly find it useful to distinguish between radicalisation in urban spaces such as in Europe, or along the Mediterranean coast of North Africa, and rural spaces such as in Mali or rural Nigeria, where radical global aims become fused with local grievances. Countering violent extremism in each area requires different approaches.
"The militant groups in Mali and other places can easily find social empowerment by connecting to tribes or ethnic groups, and make common interest with the community," said Mostafa Rezrazi, president of the Moroccan Observatory for Extremism and Violence. "At that point, it becomes quite difficult to fight them just as criminals."
Mr Lyammouri, who spent a number of months in 2013 and 2014 conducting research among radicalised villagers living along the Niger River in Mali, found that militants often began infiltration by co-opting local leaders and offering help with agriculture and other services.
"It's more than just radicalisation or ideology," he said, in a presentation to former diplomats, researchers, and journalists.
"Some of the youth joined did it for money, some joined for ideology. Some joined because they had no other option. There was no state. The groups were providing services that the state wasn't providing."
Eventually, the villages began to shun the state instead of begging for services, renaming their towns from local languages for Arabic equivalents, and choosing not to interact with non-radicalised towns. Local leaders were dispatched to Ghana or Ivory Coast to study conservative forms of Islam, and return to preach.
"They had a more conservative radical ideology and imposed some extremist ways of life," said Mr Lyammouri. "Most of the communities were not educated – couldn't read or write – and were not able to challenge the preachers."
Why and at what point such communities or individuals within them choose to cross over into violence remains a question. One factor is the spread of violent messages via the internet. But perhaps more important are the mistakes made by governments that prod Islamist groups into violent resistance against the state.
When the French arrived in northern Mali to fight extremists in 2013, the Malian army accompanying them committed atrocities that continue to haunt relations between the state and the locals. The Islamist militant group Ansar al-Islam emerged in Burkina Faso after the armed forces committed atrocities. Even Boko Haram in Nigeria turned to systematic violence only after their supreme leader was summarily executed by security forces following a messy 2009 confrontation.
Even more so than in Europe, Africa's prisons are threatening to become incubators of radicalism as ordinary prisoners sometimes caught up in dragnets by police are warehoused in harsh conditions with hardened jihadists seeking recruits.
African governments also sometimes commit needless blunders that damage their own anti-radicalisation aims. In an effort to stop the spread of Boko Haram, the Nigerian government cut off the road to Lake Chad, destroying the livelihoods of fishing communities, and making them susceptible to the group.
Burkina Faso at one point sought to ban public prayer by Muslims, while Chad passed a law after a suicide bombing banning women from wearing face-covering Islamic garb. "These kinds of moves create a lot of anger towards governments," said Mr Lyammouri.
"The militant groups have built a trust with the communities that's hard to break, that took a decade to build," he said. "It's going to take more than a decade to break that."
https://www.independent.co.uk/news/world/africa/sub-saharan-africa-isis-boko-haram-al-qaeda-terror-attacks-islam-jihad-extremism-a8689126.html
--------
Al-Shabaab Degraded by U.S., Federal Government of Somalia
December 19, 2018
To support the Federal Government of Somalia's continued efforts to degrade al-Shabaab, U.S. forces conducted a total of four (4) precision airstrikes targeting al-Shabaab militants in the vicinity of Gandarshe, Somalia, December 15, 2018.
U.S. forces also conducted two (2) precision airstrikes targeting al-Shabaab militants in the vicinity of Gandarshe, Somalia, December 16, 2018.
We currently assess the airstrikes on December 15 killed thirty-four (34) militants.
We currently assess the airstrikes on December 16 killed twenty-eight (28) militants.
At this time we assess these airstrikes did not injure or kill any civilians.
All six (6) airstrikes were conducted in close coordination with the Federal Government of Somalia and targeted a known al-Shabaab encampment. U.S. Africa Command and our Somali partners conducted these airstrikes to prevent terrorists from using remote areas as a safe haven to plot, direct, inspire, and recruit for future attacks.
Alongside our Somali and international partners, we are committed to preventing al-Shabaab from taking advantage of safe havens from which they can build capacity and attack the people of Somalia. In particular, the group uses portions of southern and central Somalia to plot and direct terror attacks, steal humanitarian aid, extort the local populace to fund its operations, and shelter radical terrorists.
Full report at:
http://www.africanews.com/2018/12/18/al-shabaab-degraded-by-us-federal-government-of-somalia/
--------
Nigerian soldier killed in latest Boko Haram attack
18 December 2018
Boko Haram jihadists killed one soldier and injured another in an attack on a military base in Nigeria's northeast Borno state, the latest attack in the region, military sources said Tuesday.
Jihadists in four trucks fitted with anti-aircraft guns stormed the base in Mairari village close to the garrison town of Monguno on Monday briefly seizing it, said the sources who asked not to be identified.
One source said "soldiers were dislodged from the base and some military equipment damaged" in the attack.
"One soldier was killed, one wounded and others missing in action. Search ongoing to recover the missing ones," he added.
The base was recaptured after reinforcements arrived from Monguno, 10 kilometres away.
On Monday, a Boko Haram faction loyal to long-time leader Abubakar Shekau released pictures of an attack on a village near the Borno state capital Maiduguri, according to SITE intelligence which monitors jihadist activities.
The village was burned down, sending residents fleeing into the city.
The military said Monday troops repelled the attack in which a soldier and four insurgents were killed.
Boko Haram jihadists have recently intensified attacks on military bases in the northeast, killing scores of troops.
Full report at:
https://www.timeslive.co.za/news/africa/2018-12-18-nigerian-soldier-killed-in-latest-boko-haram-attack/
--------
Europe
Muslim widow caught between Sharia law, Greek courts in legal drama
December 18, 2018
ATHENS — Hatice Molla Sali will discover Wednesday whether she faces a life of poverty in her twilight years. That is when the European Court of Human Rights is expected to rule on the 68-year-old Muslim widow's case against an Islamic court in Greece that deprived her inheritance from her husband under Islam-based Shariah law.
Mrs. Sali's plight stems from a treaty Greece signed with the newly established Turkish republic in 1922. The two countries agreed to respect the legal systems of their respective religions of their largest minorities — Muslims in Greece and Orthodox Christians in Turkey.
Ironically, overwhelmingly Muslim Turkey banned Shariah law in 1923. But Greece still honors the treaty, making it the only country in Europe that recognizes Shariah today.
Early this year, the Greek government gave Muslim citizens an option about whether to appeal to Shariah or Greek public courts. But many of Greece's 100,000 Muslims, mostly ethnic Turks concentrated along the Turkish border, still turn to Islamic religious judges in legal disputes.
The debate over the uneasy mix of religious and secular legal systems has echoed in the United States. At least seven states have either banned Shariah or barred courts from relying on foreign or faith-based legal precedents and practices.
Mrs. Sali has declined to speak to the press, but her attorney says her plight highlights a peculiar legal dilemma in country considered to be the cradle of Western civilization.
"Two parallel systems can't exist," said Yannis Ktistakis, a lawyer who teaches international law at the Democritus University of Thrace. "Only the civil code can exist because Shariah is from its foundations opposite to European law."
Mrs. Sali's troubles started in 2008 when her sisters-in-law disputed her right to inherit her husband's properties. The substantial estate includes shops and apartments in Thrace and Istanbul and proceeds from a successful textile business. The case went forward even though Mrs. Sali could produce her husband's notarized last will and testament stipulating that she would be his sole heiress.
The sisters-in-law took the case to a Greek civil court, arguing that as Muslims they had the right to seek recourse with a mufti, an Islamic judge, under Shariah law. Greek lower courts decided in favor of Mrs. Sali, but the country's Supreme Administrative Court reversed that decision, citing the 1922 treaty. A mufti, relying on Shariah law, then ruled that Mrs. Sali should receive only a fourth of her inheritance and that her sisters-in-law should have the rest.
"Her husband decided the way he wanted his inheritance to be passed on," Mr. Ktistakis said. "The Greek court should have respected his desire."
Personal fight
Some Muslims in Greece oppose Shariah law, saying it doesn't reflect human rights that Europeans are entitled to enjoy.
For parliamentarian Mustafa Mustafa, a member of the left-leaning governing party Syriza, the fight against Shariah is personal.
When Mr. Mustafa's father, Memet, died, the son wasn't entitled to his parents' inheritance under Shariah law because he was a minor at the time. Instead, the estate should have gone to his uncles and aunts.
But, Memet Mustafa's legal guardian and great-grandfather — his grandparents had also died — made arrangements to make sure the son inherited his family's wealth.
"My great-grandfather was a wise man," said Mr. Mustafa. "He took my father, who was still a boy, and transferred to him his part of the family property. I feel like I'm honoring my family by fighting to abolish Shariah."
Under a law enacted this year, if one of the two Muslims in a Shariah legal dispute prefers a Greek civil court, then the case shall be tried in a civil court. But Mr. Mustafa still isn't content.
"The progressive members of the minority want the definitive abolition of Shariah," he said. "The state should have solved this problem decades ago. Nevertheless, we believe our small society will solve this problem on its own."
For decades, Greek politicians upheld the treaty with Turkey to placate Muslim leaders who could deliver them votes. The arrangement also suited the goals of Greek nationalists.
"For a long time, it was in the interests of the Greek government to maintain Shariah for the Turkish-speaking minority because it emphasized their religious identity more than their ethnic and linguistic [Turkish] identity," said Yuksel Sezgin, director of the Middle Eastern studies program at Syracuse University, who has studied Shariah law in Greece and around the world.
Even if the European Court ruled in Mrs. Sali's favor, Mr. Sezgin said, he doesn't think the Greek government should dispense altogether with Shariah law, which is applied relatively moderately. Instead, he recommended that the government discuss reforms with the Muslim community and codify and incorporate aspects of Shariah law in Greece. The laws aren't written down, he said.
The Greek government also should put Muslim judges on Greek civil courts in regions where Muslims appear before the bench regularly.
"Even in Israel there are Muslim civil judges, while India has 7 percent Muslim judges," he said.
But simply abolishing Shariah law will probably spark a backlash, he said.
"I'm not trying to defend Shariah, but if you abolish it unilaterally it will only radicalize certain elements in the region," Mr. Sezgin said. "And although the community is so well integrated and there's not one single case of a person going from Greece to Syria to join ISIS, under the current populist regimes, and without knowing how [Turkish President Recep Tayyip Erdogan] might react to it, it will be like setting off a time bomb."
https://www.washingtontimes.com/news/2018/dec/18/hatice-molla-sali-inheritance-under-sharia-law-gre/
--------
UK to unveil details of post-Brexit immigration system
19 December 2018
Britain's interior minister Sajid Javid will on Wednesday publish plans for a post-Brexit immigration system that would bring net migration to the UK down to "sustainable levels", his department said.
It said details of the new system, which will mark the end of free movement from other European Union countries, will be set out in an immigration white paper.
The plans will include a new visa route for skilled workers and no cap for high-skilled professions such as doctors and engineers.
Socio-economic impact
Concern about the long-term social and economic impact of immigration helped drive Britain's 2016 vote to leave the EU after large numbers of people, especially from poorer member states in eastern Europe, moved there to live and work.
"It will be a single, skills-based immigration system built around the talent and expertise people can bring, rather than where they come from – maximizing the benefits of immigration and demonstrating the UK is open for business," Javid will say.
The white paper follows a report by the Migration Advisory Committee in September which recommended Britain should not give preferential treatment to EU workers in its post-Brexit immigration system but should priorities the higher-skilled.
Full report at:
https://english.alarabiya.net/en/News/world/2018/12/19/UK-to-unveil-details-of-post-Brexit-immigration-system.html
--------
British Airways to resume flights to Pakistan in June
18 December 2018
British Airways announced on Tuesday it will resume flights to Pakistan in June, a decade after suspending them in the wake of the suicide truck bombing of the Marriott Hotel in Islamabad that killed dozens.
In a statement, Robert Williams, the BA head of sales for Asia-Pacific and the Middle East, said it was going to be "exciting to be flying between Islamabad and Heathrow" again.
BA said flights would resume on June 2, 2019, three times a week and that "tickets are on sale from today."
Thomas Drew, Britain's top diplomat in Pakistan, said the resumption of flights was excellent news and would "give a particular boost to our growing trade and investment links."
Pakistan's government and its military also welcomed the announcement. Maj. Gen. Asif Ghafoor, the military spokesman, said the development was one of the dividends of the decades-long struggle of the Pakistani nation and security forces to restore peace and stability in the country that are on the way.
BA suspended its operations shortly after the Sept. 20, 2008, suicide truck bombing devastated the Marriott in Islamabad, killing at least 54 people and wounding more than 270.
A little-known militant group calling itself "Fedayeen al-Islam" claimed responsibility for the attack but authorities blamed al-Qaida linked militants.
Full report at:
https://english.alarabiya.net/en/News/world/2018/12/18/British-Airways-to-resume-flights-to-Pakistan-in-June.html
--------
Arab refugees in sights of Berlin's crime 'clans'
December 18, 2018
BERLIN: Berlin crime gangs of Arab origin have long earned infamy with violence and brazen robberies but now, police warn, they have targeted a new generation of refugees for recruitment.
Known in the media as Berlin's "clans," whose founders themselves fled war in Lebanon in the 1980s, they have long controlled much of the city's illegal drugs trade, street prostitution and protection rackets.
While East European and Asian organized crime and homegrown biker gangs are also active, the clans have been especially visible, given many members' love of gangster bling and muscle cars.
The dozen or so Arabic and Kurdish-origin extended families, with their patriarchal structures and codes of honor, have also been mythologized by rap artists and portrayed in the TV series "4 Blocks."
Now police warn that the clans have sought out new members from among the over one million asylum-seekers who have arrived in Germany since mid-2015, half of them from Syria, Iraq and Afghanistan.
The clans "are trying to get others to do the dirty work" such as selling drugs or committing small burglaries, said Benjamin Jendro of the GDP police union.
Many refugees, he said, are "men who have arrived alone in Germany" and who "have not yet had to do with the justice system," making it less likely they will go to prison if caught.
An undercover police investigator also told Die Welt newspaper that "above all, it is the young, physically strong men who are in the sights of the clans, who make them do the dirty work."
The migrant wave that peaked three years ago sparked a xenophobic backlash in Germany, and stoked heated debate about integration efforts and crimes committed by foreigners.
This has thrown a new focus on the clans and raised questions about how Berlin's police could let them openly flout the law for so long in a generally fairly low-crime country.
Germany's best-known rapper, Bushido, long boasted about his close ties to one Berlin clan — until they had a falling out this year and he sought the protection of a rival group.
Bushido's wife, Anna-Maria Ferchichi, told news weekly Stern that the couple now feared for their lives from gangsters who had formed "parallel societies right here in Germany."
The clans' latest show of force was the September 13 funeral of an infamous underworld figure, when 2,000 mourners congregated in the Islamic section of a Berlin cemetery, watched over by some 150 police.
In scenes Stern described as "worthy of a mafia movie," they paid their last respects to Nidal Rabih, a 36-year-old violent repeat offender who had been shot dead in front of his family days earlier.
Rabih, a Palestinian born in Lebanon, had achieved cult status in the Berlin criminal underworld.
Boasting more than 100 offenses from robbery to attempted manslaughter, he had spent more than a decade behind bars but avoided a 2004 deportation attempt when Lebanon refused to issue him a passport.
Days after his death, Berlin municipal workers guarded by police whitewashed over a wall mural at the murder scene that depicted Rabih in the style of a martyred Islamic fighter.
Sociologists say the story of Berlin's clans is a cautionary tale about failed integration.
Their patriarchs mostly arrived in the 1980s as refugees from then war-torn Lebanon, among them Palestinians and members of Turkey's Arabic and Kurdish minorities.
Many had only temporary protection status and "did not have access here to education or work," said Islamologist Mathias Rohe, arguing that this sped up the descent into delinquency.
The extended families, aside from now running large chunks of Berlin's illegal economy, have also committed some of the city's most headline-grabbing criminal stunts.
In 2010, masked men wielding machetes and guns robbed a poker tournament in the Berlin Grand Hyatt, making off with about 240,000 euros ($270,000).
In 2014, robbers rampaged through Berlin's KaDeWe luxury department store, smashed glass displays and stole watches and jewelry worth 800,000 euros.
And last year, clan-linked bandits stole a 100-kilogramme (220-pound) Canadian commemorative gold coin worth over 3.75 million euros from Berlin's Bode museum, around the corner from Chancellor Angela Merkel's apartment.
Berlin's police is now under fire for having long neglected the problem — something researcher Ralph Ghadban blames partially on a "fear of stigmatising and discriminating against certain minorities."
In recent months, authorities have started to hit back by stepping up raids of shisha bars and betting shops, many in Berlin's Neukoelln district, and confiscating expensive cars for speeding.
In August, police and prosecutors seized 77 properties worth 10 million euros, alleged to have mostly been bought with proceeds from a major 2014 bank robbery.
Some of the properties were officially owned by one convicted bank robber's 19-year-old brother whose only declared income was state welfare.
The confiscations still have to stand up in court against challenges from the clan's expensive lawyers, but authorities believe they have struck a first blow.
Full report at:
http://www.arabnews.com/node/1422506/world
--------
How to fight anti-Semitism's resurgence in Europe
By Andrew Baker
December 18
Anti-Semitism is sometimes compared to a virus. While we can't eliminate it, we at least know how to keep it under control. But what if we're wrong? What if, like a virus, anti-Semitism has developed a new strain, unresponsive to all the traditional treatments?
The European Union's Agency for Fundamental Rights' (FRA) new report on discrimination and hate crimes against Jews in the E.U. is deeply disturbing. Anti-Semitism is "pervasive" and "has become disturbingly normalized," it says. "The persistence and prevalence of antisemitism hinder people's ability to live openly Jewish lives."
FRA polled more than 16,000 Jews in 12 E.U. countries this year. More than a third of those polled say they have considered emigrating. The first FRA survey, six years ago, surprised many, who imagined Jews were comfortable and secure in a prosperous and modern Europe. Instead, it revealed high levels of anxiety, Jews fearful of encountering anti-Semitic harassment or attacks, and 1 in 3 deciding not to wear any identifiable Jewish symbol in public.
Since then, international organizations and national leaders have issued declarations and virtually every European capital has hosted a conference on anti-Semitism. Yet, 85 percent of Europe's Jews say anti-Semitism is a serious problem, and nearly 90 percent say it has worsened.
The three countries where Jewish pessimism has increased the most sharply are Germany (up 23 percent), Britain (up 27 percent) and Sweden (up 22 percent). If we are looking for newly effective treatments for the virus, these are good places to start.
A unified Germany opened its doors to thousands of Jews from the former Soviet Union. They and their children are part of a vibrant and visible Jewish community. But Germany also has a growing Muslim population, with 1 million new migrants from Middle Eastern countries. They account for the largest group responsible for anti-Semitic incidents, according to Jewish participants in the FRA report. Will migrants adopt Germany's values of tolerance and responsibility for its past? Right-wing parties are also ascending. The new Alternative for Germany (AfD) party has shattered taboos and offered a space for anti-Semitism to return.
Six years ago, British Jews were among the most secure and confident in Europe. But it's not physical threats that trouble them. The British Labour Party is now led by Jeremy Corbyn, whom most Jews consider anti-Semitic. His antagonistic view of Israel is a case study in how anti-Zionism can mask anti-Semitism. Once home to a majority of the country's Jewish voters, the Labour Party is a hostile environment, and British Jews are facing the unthinkable — a possible prime minister ready to cross the line from anti-Israel animus to anti-Semitism.
Sweden's reputation for tolerance was already eroding. The largest per capita share of the 2015 wave of Middle East migrants settled in Sweden. Most anti-Semitic incidents were also attributed to the Muslim population in the report. But right-wing parties that hold strongly anti-Semitic views are on the rise there, too.
Moreover, the Swedish government is among the most strident and outspoken critics of Israel within the E.U. As Jews are frequently conflated with Israel and held responsible for its perceived misdeeds, many think twice before voicing support for the state of Israel, knowing such support has consequences. When FRA asked Jews to identify the perpetrators of anti-Semitic incidents, they said about 30 percent come from extremist Muslims, 21 percent from the political far left and 13 percent from the far right. Will Germany, Britain and Sweden find a way to reduce the numbers and reverse the trends? Can they provide answers for the rest of Europe?
Germany appointed a national commissioner to coordinate the fight against anti-Semitism. And it's devoting millions of euros for programs to assimilate Muslim immigrants. Police are being trained to recognize anti-Semitic hate crimes. British Jews are finding allies to push back against the problematic shift in the Labour Party. The country has endorsed a definition of anti-Semitism with all of its examples, including those relating to Israel.
Sweden's National Council for Crime Prevention is undertaking its first comprehensive analysis of anti-Semitism. If successful, it could finally force the government and Swedish society to face to the extent of the problem.
These countries illustrate European-wide challenges laid bare in the FRA survey, and the measures that must be taken to bring the anti-Semitic virus under control: acknowledge the sources of anti-Semitism even if it is politically incorrect; target educational programs to those most responsible; protect Jews and Jewish institutions; define anti-Semitism particularly as it relates to Israel; and continue to battle right-wing extremism.
Full report at:
https://www.washingtonpost.com/opinions/2018/12/18/how-fight-anti-semitisms-resurgence-europe/?utm_term=.34b32b91b752
--------
URL: https://www.newageislam.com/islamic-world-news/should-christian-brothers-accused-blasphemy/d/117201
New Age Islam, Islam Online, Islamic Website, African Muslim News, Arab World News, South Asia News, Indian Muslim News, World Muslim News, Women in Islam, Islamic Feminism, Arab Women, Women In Arab, Islamophobia in America, Muslim Women in West, Islam Women and Feminism