New Age Islam News Bureau
18 Apr 2018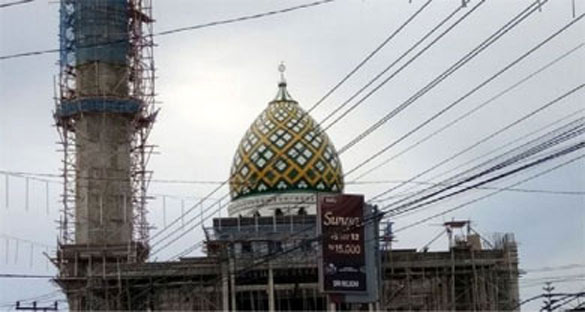 The Al-Aqsha Mosque in Jayapura, Papua, has been warned to dismantle its minaret because it is higher than any of the church steeples in the surrounding neighborhood. Photo: Dialog Sehat Katolik – Islam / Facebook
-----
• Shia Waqf Board Chairman Rizvi Moves SC against 'UnIslamic' Flags Hoisting
• Army, Judiciary Urged To Work within Constitutional Framework by Five Major Political Parties
• A 10-Minute Trial, a Death Sentence: Iraqi Justice for ISIS Suspects
• Report: Islamic State Beheads Child for Providing 'Food and Water' to Afghan Troops
• The Intolerant Reality of Indonesia's 'Religious Harmony': Christians Block Mosque Construction in Papua
India
• Shia Waqf Board Chairman Rizvi Moves SC against 'UnIslamic' Flags Hoisting
• Muslims Angry At Deen Bachao Rally Organisers' 'Deal' With Nitish
• VHP Cries 'Land Jihad', Says Muslims Taking Over Homes Owned by Hindus in This Ahmedabad Locality
• India calls for impartial probe on Syria 'chemical attack'
• 'Strong Anti-Minority Feelings': What the NIA Probe in Six Bomb Blasts Found
• India files fresh pleadings in ICJ in Kulbhushan Jadhav case
• Indian Sikh Pilgrims Caught Selling Wares on Camera in Pakistan Gurudwara
--------
Pakistan
• Army, Judiciary Urged To Work within Constitutional Framework by Five Major Political Parties
• Internal Differences to Hinder MMA's Success in Upcoming Elections
• Delay in release of funds for Hindu graveyard perturbs community
• NAB Chief Accuses Musharraf of Handing Over 4,000 Pakistanis to US
• Six killed in clash near Pak-Iran border
• Kurram, Afghan elders to discuss border dispute
• Bizenjo, Achakzai, Fazalur Rehman support 'respect my vote' movement
--------
Arab World
• A 10-Minute Trial, a Death Sentence: Iraqi Justice for ISIS Suspects
• UAE to Hold Muslim Minorities Congress in May to Tackle Challenges, Enhance Image
• Chemical inspectors enter Syria's Douma amid concerns for probe
• More Gunmen Killed on Second Day of Infighting among ISIL Terrorists in Eastern Syria
• Syrian Army Calls on Residents to Leave Terrorist-Held Regions in Dara'a
• Russia, US Backed Fighters Preparing for Colossal Showdown in Eastern Syria
• Assad prepares to assault last rebel enclave near Damascus
• Saudi Arabia open to sending troops into Syria: FM
• Syrian army shells southern Damascus area ahead of anti-terror operation
--------
South Asia
• Report: Islamic State Beheads Child for Providing 'Food and Water' to Afghan Troops
• MoD Confirms 38 Militants Killed In Joint Airstrikes in Farah
• PM Hasina: Bangladesh wants sustainable solution to Rohingya crisis
• Border Forces QRF commander killed in Kandahar city explosion
• Nicholson vows to main relentless pressure to push Taliban towards peace
--------
Southeast Asia
• The Intolerant Reality of Indonesia's 'Religious Harmony': Christians Block Mosque Construction in Papua
• Malaysian Coalitions Can't Govern Without Islamic Party Support: PAS Chief
• Indonesian Muslim leader accused of inciting religious hatred
• West Java voters refuse polygamous gubernatorial candidate, survey shows
--------
North America
• US Senator: Chemical Attack Used To 'Galvanize the World' Against Assad
• Court Hears Quebec Mosque Killer searched Net on 'Mass Shootings, Islam and Racism'
• Trump slammed by conservative supporters over Syria strike
• G7 ministers to discuss Syria next week in Canada
--------
Mideast
• UN Voices Concern about Insufficient Food Imports to Yemen
• Polish Far-Right Lodges Complaint against Israeli President under Holocaust Law
• Arab Coalition downs two Iranian drones in Yemen's Midi
• Jubeir: Houthis hardened against political process in Yemen because of Iran
• Israel has issued 50,000 administrative detention orders against Palestinians: Report
• Palestinians stage rallies to express solidarity with prisoners
--------
Africa
• Ruling on Muslim Marriages Means Usurping Parliament, Court Hears
• Boko Haram: No Amnesty for Mass Murderers
• Who are the French and Tunisian Islamic State soldiers?
• Police fire teargas at Shi'ite Muslim protesters in Nigerian capital
• Al-Qaeda Raids in Somalia Scuttle Africa's Plan to Withdraw
• Boko Haram kills three Chadian soldiers
--------
Europe
• French Court Orders Parents Rename Baby 'Jihad'
• Security forces arrest members of Daesh cell in Russia, foil planned attacks
• UK military embarrassed by lack of firepower in Syria attack
• UK's May calls Syria strikes 'in our national interest'
Compiled by New Age Islam News Bureau
URL: https://www.newageislam.com/islamic-world-news/shia-waqf-board-chairman-rizvi/d/114967
--------
Shia Waqf Board Chairman Rizvi Moves SC against 'UnIslamic' Flags Hoisting
April 17, 2018
The Shia Waqf Board today moved the Supreme Court seeking a ban on hoisting of green flags with crescent and star at buildings and religious places, terming it "un-Islamic" and resembling the flags of a Pakistani political party. Syed Waseem Rizvi, the chairman of Uttar Pradesh Shia Central Board of Waqfs, claimed in his plea that during his visit to Mumbai and other places in the country, he saw flags on several buildings and religious structures, which were allegedly a cause of tension between Hindu and Muslim communities.
The plea alleged that the flags hoisted resembled the flags of the Pakistan Muslim League, which belongs to the "enemy country". It claimed that the crescent star flag in green colour owes its origins to the erstwhile political party, Muslim League, founded by Nawaz Waqar Ul-Malik and Mohammad Ali Jinnah in 1906, but in the present day, it was being used by Indian Muslims who were treating it as an Islamic flag.
Such flags are being hoisted in Muslim-dominated areas with "utmost impunity", the plea said, claiming that the crescent and star in a green backdrop have never been part of any Islamic practice and does not have any role or significance in Islam. It said that Pakistan, as an "enemy country", has been responsible for a series of terror attacks on our country and promoting and propagating cross border terrorism. "Our country remains vulnerable to the hidden attacks by the Pakistani intelligence agencies through their militant network which is very active in our country", he claimed.
"Hoisting of enemy flags by persons under wrong belief that it is a religious flag, require immediate attention of the government agencies," it claimed.
http://indianexpress.com/article/india/shia-waqf-board-chairman-rizvi-moves-sc-against-unislamic-flags-hoisting-5141491/
--------
Army, Judiciary Urged To Work within Constitutional Framework By Five Major Political Parties
April 18, 2018
Amir Wasim
ISLAMABAD: The country's five major political parties — four of them from the ruling coalition — have vowed to launch a movement for the supremacy of parliament and preservation of the democratic process and urged the army and the judiciary to work within "constitutional framework".
Speaking at a "National Seminar on Sanctity of Ballot" at the National Library auditorium here on Tuesday, supreme leader of the Pakistan Muslim League-N (PML-N) Nawaz Sharif, Pakhtunkhwa Milli Awami Party (PkMAP) president Mehmood Khan Achakzai, Jamiat Ulema-i-Islam (JUI-F) chief Maulana Fazlur Rehman and National Party (NP) president Hasil Bizenjo expressed concern over "continued interference of the judiciary and the military in the domain of the executive" and warned that the country could face a 1971-like debacle if they did not act now.
Take a look: Judiciary, parliament should avoid 'entering into controversy', advises Rabbani
Following the Lahore High Court's directives regarding ban on airing of anti-judiciary speeches, the state-run Pakistan Television and most of the private TV channels did not cover the speeches of the speakers of the seminar. The channels went live when Nawaz Sharif came to the rostrum, but as soon as he started talking about his disqualification, the channels first muted his speech and then discontinued the live coverage.
The Awami National Party (ANP) was the only party from the opposition which participated in the seminar that was jointly organised by the PML-N, PkMAP and the NP. The ANP was represented by its general secretary Mian Iftikhar Hussain, who told the audience that he was representing party chief Asfandyar Wali Khan who could not travel due to illness.
All speakers, except Maulana Fazl, extended support to the ongoing Pashtun Tahaffuz Movement (PTM) and called for giving its leaders a 'patience hearing', terming all their demands "genuine and within the constitution."
"We should engage those running the PTM. If we can talk to India and the Tehreek-i-Labbaik Pakistan people, then what's wrong in talking to the Pashtun youth?" asked PML-N Senator Mushahid Hussain Syed who was the convener of the seminar.
Nawaz Sharif said when they did not respect the sanctity of vote in 1970, they faced the East Pakistan tragedy. He regretted that not a single prime minister was allowed a full five-year term, saying 20 elected prime ministers had ruled the country for 38 years whereas four military rulers had ruled for 32 years.
The former prime minister alleged that by continuing unabated use of powers under Article 184(3) of the Constitution, the judiciary's hands had now reached parliament. He said the executive had been paralysed as it could not even make ordinary transfers and postings. And all this wass happening when millions of cases were pending before the judiciary.
Mr Sharif alleged that the PML-N was not being provided a level-playing field in the coming elections as most of the party leaders were either facing cases in accountability courts or contempt charges. He alleged that like in Balochistan and Karachi, efforts were now on to form a political group in southern Punjab to manipulate results of the elections.
Mr Bizenjo said "trust deficit" among the state institutions was increasing at a time when Pakistan was facing international isolation. He said it was the State and not the government which was weakening due to the tussle between the institutions. The most impressive and emotional speech was delivered by ANP's Iftikhar Hussain, who said that his party was participating in the seminar despite not being in the ruling coalition because they also wanted to ensure "sanctity of ballot" in the country.
He said all demands of the PTM were constitutional. "Do you want that Pashtuns should keep silence even after facing oppression?" he asked.
He alleged that the former police officer Rao Anwar, the main accused in the extrajudicial murder of Naqeebullah Mehsud, was backed by a "network" which needed to be unearthed and punished.
There was a pin drop silence when Mr Hussain narrated how his only son was assassinated by terrorists and how he and other party leaders had held negotiations with the Taliban.
The ANP leader said popularity of Mr Sharif was increasing after he was being pushed to the wall but warned that the PML-N supreme leader could face more difficulties in the days ahead.
Mr Achakzai said a final battle between democratic and undemocratic forces had begun in the country. He said if any institution — be it the armed forces, judiciary or politicians — would go beyond constitutional limits, they would oppose them. He said if the judiciary would indulge in "activism" and interfere in the executive's affairs, it was against the basic spirit of the Constitution. Similarly, he said, if a general who had taken oath to protect the Constitution violated his oath, it was their duty to stop him from doing so.
"Don't force us to take to the streets like the people of Turkey," Mr Achakzai warned in a reference to the public revolt against military takeover in Turkey in 2016. He said Pakistan had already suffered a lot due to violation of the vote's sanctity, and warned that if it happened again, then nobody knew what would be the fate of the country.
Maulana Fazl said they had no conflict with the armed forces as the country needed them for protection of the country's geographical boundaries. "However, when it will overstep its constitutional limits and will take over the government and indulge in politics, then it is unacceptable," he said.
He also criticised the judiciary, saying the "judiciary should play the role for justice (Insaf) and not for Tehreek-i-Insaf."
He said if a judge felt that any of the parties considered him biased, he should recuse himself. "If there is a feeling in the country that a judge has become a party then the decisions of that judge will always be considered controversial," he said.
https://www.dawn.com/news/1402262/army-judiciary-urged-to-work-within-constitutional-framework
--------
A 10-Minute Trial, a Death Sentence: Iraqi Justice for ISIS Suspects
By MARGARET COKER and FALIH HASSAN
APRIL 17, 2018
BAGHDAD — The 42-year-old housewife had two minutes to defend herself against charges of supporting the Islamic State.
Amina Hassan, a Turkish woman in a flowing black abaya, told the Iraqi judge that she and her family had entered Syria and Iraq illegally and lived in the Islamic State's so-called caliphate for more than two years. But, she added: "I never took money from Islamic State. I brought my own money from Turkey."
The whole trial lasted 10 minutes before the judge sentenced her to death by hanging.
Another accused Turkish woman entered the courtroom. Then another, and another.
Within two hours, 14 women had been tried, convicted and sentenced to die.
Iraq's judicial assembly line has relentlessly churned out terrorism convictions since the battlefield victories over the Islamic State last year led to the capture of thousands of fighters, functionaries and family members. Authorities accuse them of helping to prop up the group's vicious three-year rule over nearly a third of the country.
As millions of Iraqis struggle to recover from the bloodshed and destruction of the period, Prime Minister Haider al-Abadi has found widespread public support for his push to step up the pace of prosecutions — and for punishments to the full extent of the law, which in Iraq means execution.
"These Islamic State criminals committed crimes against humanity and against our people in Iraq, in Mosul and Salahuddin and Anbar, everywhere," said Gen. Yahya Rasool, the spokesman for the Iraqi joint operations command. "To be loyal to the blood of the victims and to be loyal to the Iraqi people, criminals must receive the death penalty, a punishment that would deter them and those who sympathize with them."
But critics say the perfunctory trials in special counterterrorism courts are sweeping up bystanders and relatives as well as fighters, and executing most of them in a process more concerned with retribution than justice.
The office for the United Nations High Commissioner for Human Rights warned that flaws in the judicial process would most likely lead to "irreversible miscarriages" of justice.
Human Rights Watch has criticized Iraq for relying on an overly broad law to quickly achieve the maximum punishment of the most people.
The nation's counterterrorism law allows the death penalty for anyone "who commits, incites, plans, finances or assists in acts of terrorism." So Iraqi courts are meting out one-size-fits-all punishment for the perpetrator of crimes against humanity as well for as the wife of an Islamic State fighter who may have had little say in her husband's career.
"Individual circumstances don't matter," said Belkis Wille, the senior researcher for Iraq for Human Rights Watch. "Cooks, medical workers, everyone is given the death penalty."
The low bar for conviction under the law, she said, also means that the courts are not bothering to investigate some of the worst crimes believed to have been committed by Islamic State members, such as slavery, rape or extrajudicial killings.
Iraq's Justice Ministry rejects such criticism and praises the integrity of its judges and its standards of due process. "If there is evidence then suspects are prosecuted, and if there is no evidence then they are released," said Abdul-Sattar al-Birqdar, a judge and Justice Ministry spokesman.
The government has not released statistics about its terrorism detainees, but two people familiar with the court who were not authorized to speak to journalists said that approximately 13,000 people had been detained on suspicion of ties to the Islamic State since 2017, when the vast majority of arrests were made.
Human Rights Watch estimated in December that at least 20,000 people accused of ties to the Islamic State were being held by the Iraqi authorities. Last month, The Associated Press reported that Iraq had detained or imprisoned at least 19,000 people since 2014 on accusations of connections to the Islamic State or other terrorism-related offenses.
Many of these detainees were arrested on the battlefield. Some were detained far from combat, based on information gleaned from informers and prison interrogations.
Iraqi intelligence officials say that high-value detainees, people accused of involvement in specific terrorist attacks, are held separately from the majority of prisoners, who are suspected of having been low-level cogs in the Islamic State bureaucracy.
Since the summer of 2017, more than 10,000 cases have been referred to the courts, the people familiar with the court said. To date, they said, approximately 2,900 trials have been completed, with a conviction rate of about 98 percent.
They did not say how many had received the death penalty, or how many executions had been carried out.
The government said 11 people were executed on Monday for "terrorism crimes," fulfilling "the government's promise to kill those responsible for shedding Iraqi blood," the Justice Ministry said in a statement.
Among those held apart from the general prison population are approximately 1,350 foreign women and 580 children, the majority of whom surrendered to Iraqi security forces last August during military operations to liberate the town of Tal Afar. The vast majority of these detainees are Turkish, Russian and Central Asian.
Iraq says it is determined to try them if evidence links them to the Islamic State, but some of their home countries, including Saudi Arabia, have requested extradition for some of their citizens. Other countries, like Britain and France, have been reluctant to take their citizens back, officials from both countries said.
In rare cases, individuals have been returned to their home countries, such as a group of four Russian women and 27 children in February, after Iraqi authorities concluded they had been tricked into coming to Islamic State territory. Turkey has been working to repatriate minors whose parents took them to the caliphate, as well as those found innocent of wrongdoing.
For a nation that for more than 15 years has been an incubator for Islamist extremists and has been torn apart by terrorist bombings, Iraqis have little appetite for leniency or concern about mitigating circumstances that in other nations could be grounds for clemency. Foreigners in particular are widely assumed to have been the Islamic State's most fervent adherents since they moved there to join the caliphate.
"What concerns me the most in these trials is that the system is fundamentally prejudiced against foreign individuals," said Ms. Wille, who has observed dozens of terrorism trials. "The presumption is because you are foreign, and you were in ISIS territory, there is no need to provide more evidence."
The 14 women convicted in one afternoon this month, 12 Turks and two Azerbaijanis ranging from 20 to 44 years old, had lived in Raqqa, the former capital of the group's territory in Syria. When international airstrikes escalated there and several of their husbands were killed, they moved to Iraq and were among those who surrendered outside Tal Afar.
Gaunt, withdrawn and surrounded by plainclothes security guards, they waited in the florescent-lit hallways of Baghdad's counterterrorism court for their trials to start. Eleven toddlers who had spent the last eight months in detention with their mothers accompanied them to the court.
When Ms. Hassan was called, she handed her child to another detainee to look after. The other women cooed and hummed to try to placate her curly-haired toddler. Some appeared to whisper prayers.
Their state-appointed lawyer, Ali Sultan, said he had not prepared for the trials. He said he had no access to the evidence against his clients because information related to terrorism investigations is classified.
He added that his pay — $25 regardless of whether the case goes to appeal — hardly encourages much effort. The fee is paid only after the final appeal is exhausted or the client is executed, which, despite the push to expedite trials, can take months if not years.
After Ms. Hassan was sentenced by Judge Ahmed al-Ameri, he swiftly dispensed with the rest of the docket.
Negar Mohammed told him that she was innocent of all Islamic State crimes; he ruled otherwise.
Nazli Ismail told the judge that her husband pushed her family to go to Syria. Three of her children were killed in an airstrike, she said. The only one to survive was her youngest, a 2-year-old boy named Yahya, who was waiting outside in the hallway.
Judge Ameri asked, "Are you innocent or guilty?"
"I'm innocent," Ms. Ismail replied.
The judge sentenced her to death.
Ms. Ismail accepted her fate with a smile. "This means I will finally go to heaven," she said.
Mother and child left the courthouse under armed guard. It was unclear what would happen to the child.
https://www.nytimes.com/2018/04/17/world/middleeast/iraq-isis-trials.html?mtrref=www.google.co.in&gwh=551B139D4CB7B53BAF3C7053C92FF1F8&gwt=pay
--------
Report: Islamic State Beheads Child for Providing 'Food and Water' to Afghan Troops
17 Apr 2018
Islamic State (ISIS/IS)-linked jihadists in northern Afghanistan reportedly decapitated a 14-year-old child for providing nourishment to members of the country's U.S.-backed security forces.
Referring to the beheading, Afghanistan's Khaama Press (KP) reports:
Local officials confirmed on Tuesday that the incident has [taken] place in the vicinity of Darzab district [in northern Afghanistan's Jawzjan province], home to several ISIS militants.
Provincial security chief Abdul Hafiz Khashi said the child, believed to be 14-year-old, was beheaded by ISIS militants because he was taking food and water to the security forces in the area.
Khashi further added that the victim has been identified as x and was helping the security forces voluntarily.
ISIS has been linked to several beheadings in Afghanistan.
Despite a U.S.-assisted campaign against ISIS by the Afghan National Defense and Security Forces (ANDSF), the jihadist group has expanded its presence beyond eastern Afghanistan's Nangarhar province, ISIS's primary stronghold in the region, to the northern Jawzjan province where it has also encountered resistance from its Taliban rivals.
Under U.S. President Donald Trump, the American military has dramatically intensified airstrike operations against jihadist groups in Afghanistan, namely the Taliban and the region's Islamic State branch, known as the Khorasan province (IS-K).
"Afghan and U.S. special operations coupled with U.S. airstrikes continue to decimate the heart of IS-K in [Jawzjan province's] Darzab," notes KP. "Afghan and U.S. forces have killed 90 IS-K fighters this year, a majority were eliminated in Darzab."
As of September 2017, ISIS had spread its jihadi tentacles into seven provinces, according to the United Nations.
In addition to U.S.-backed ANDSF forces, the Taliban has been trying to push ISIS out of northern Jawzjan province. The clashes between the two groups have reportedly displaced thousands of civilians.
Voice of America reported in February:
Initially based in southern parts of eastern Nangarhar province, IS's Khorasan branch, also known as ISIS-K, emerged in early 2015 in the mountainous areas of Afghanistan and Pakistan to cover the two states and "other nearby territories."
The group has since been trying to expand and find inroads to other parts of the country, including northern Afghanistan.
As the Islamic State terror group is trying to expand from its traditional enclave of eastern Afghanistan to other parts of the country, Taliban insurgents are blocking them, sparking periodic and deadly clashes between both groups.
According to various news reports, ISIS established a presence in northern Afghanistan late last year.
http://www.breitbart.com/national-security/2018/04/17/report-islamic-state-beheads-child-providing-food-water-afghan-troops/
--------
The intolerant reality of Indonesia's 'religious harmony': Christians block mosque construction in Papua
By Andreas Harsono
Apr. 18, 2018
A Christian group in Jayapura, the capital of Papua province, recently issued a stark 14-day ultimatum to municipal authorities: Dismantle the minaret of the city's Al-Aqsa mosque by the end of February or the group would "take their own action."
The source of the Jayapura Churches Association's anger? The mosque's minaret was higher than any of the church steeples in the surrounding neighborhood.
The bad news for the Al-Aqsa congregation is that the law is on the Jayapura Churches Association's side. That's because the 2006 government regulation on "religious harmony" gives "majority religion" adherents the right to block construction of "minority religion" houses of worship.
The irony is that in Muslim-majority Indonesia, the regulation is overwhelmingly used to block the construction of non-Muslim houses of worship, including Christian churches. For example, the Taman Yasmin Indonesia Christian Church congregation in Bogor, outside Jakarta, had acquired government approval to build a church in 2003, but opposition from Muslims in the area stalled construction and eventually forced the church's closure. Despite successful legal appeals — the congregation won a Supreme Court decision in 2010 — local authorities have refused to enforce the decision and the church remains closed.
But Papua province remains a Christian-majority region, meaning that Christians have the legal right to block construction or renovation of non-Christian houses of worship. The Al-Aqsa mosque's minaret problem reflects the danger of the 2006 regulation in that it overrides the rights of religious freedom and leaves religious minorities hostage to the discriminatory whims of their "religious majority" neighbors.
The 2006 regulation requires each local administration in Indonesia to have a "Religious Harmony Forum" to approve the construction of houses of worship. The composition of the membership of these forums are "proportional" with the religious population in each area, allowing majority religious adherents to effectively have veto power over the construction of houses of worship of religious minorities.
It is one of many discriminatory regulations that hinder the religious freedom rights of Indonesia's religious minorities. Those laws include the 1965 blasphemy law, which punishes deviations from the central tenets of Indonesia's six officially recognized religions —Islam, Protestantism, Catholicism, Hinduism, Buddhism and Confucianism — with up to five years in prison. The others include the 2008 regulation on the Ahmadiyah, which makes proselytizing by members of the Ahmadiyah community a criminal offense.
Those laws are backed by a government infrastructure that supports and perpetuates those discriminatory laws. They include the Ministry of Religious Affairs, the Coordinating Board for Monitoring Mystical Beliefs in Society (Bakor Pakem) under the Attorney General's Office, and the semi-official Indonesian Ulema Council, which has eroded religious freedom by using their position of authority to press for the prosecution of "blasphemers." In predominantly Christian Papua, that infrastructure of course includes the Jayapura Churches Association.
The Jayapura Churches Association demands didn't end with its ultimatum for the dismantlement of the Al-Aqsa mosque's minaret. They submitted a laundry list of demands that included government action against "noisy loudspeakers" during the daily Islamic call to prayer, restrictions on Muslim missionaries in Papua and a restriction on mosque (but not church) construction inside government facilities.
The Jayapura municipal government responded to the ultimatum by establishing a six-member team that included three Muslims and three Christians, representing both governmental and nongovernmental organizations. The government has tasked the team with brokering a compromise between the Jayapura Churches Association and the Al-Aqsa mosque congregation. They have held several closed-door meetings since March but have yet to announce any breakthrough agreement.
Meanwhile in Jakarta, the Communion of Churches of Indonesia, an umbrella organization of Protestant churches in the country, and the Indonesian Ulema Council (MUI), the semi-official umbrella organization of Islamic groups, have become involved in the controversy. According to an MUI spokesman, the two organizations have agreed that the Muslim minority in Papua should respect the Christian majority's demands if they are "appropriate." The demands that they agree are appropriate include reducing the height of the Al-Aqsa minaret as well as limiting the volume of mosque loudspeakers. That means the Jayapura Churches Association will get the demolition it demanded of the Al-Aqsa minaret and its reconstruction to a height that the association's members apparently won't find offensive.
The International Covenant on Civil and Political Rights, which Indonesia ratified in 2005, states that "persons belonging to…minorities shall not be denied the right, in community with the other members of their group, to enjoy their own culture, to profess and practice their own religion." President Joko "Jokowi" Widodo should endorse religious freedom as a fundamental principle of his administration and ensure that government officials are not promoting abuses against religious minorities. The Jayapura case should be an opportunity to educate the Indonesian public that this majority-minorities regulation is nothing less than a legal tool to discriminate against religious minorities that erodes, rather than strengthens, Indonesia's pluralism.
https://coconuts.co/jakarta/features/intolerant-reality-indonesias-religious-harmony-christians-block-mosque-construction-papua/
--------
India
Muslims Angry At Deen Bachao Rally Organisers' 'Deal' With Nitish
SOROOR AHMED
Apr 18th 2018
Khalid Anwar files nomination papers as JD (U) candidate for Bihar Legislative Council elections in Patna, in presence of JD (U) chief and Bihar Chief Minister Nitish Kumar and Deputy CM Sushil Modi of BJP, on April 16
Till April 15 evening, AIMPLB general secretary Maulana Wali Rahmani was darling of the crowd at Patna's Gandhi Maidan. 48 hours after 'Deen Bachao, Desh Bachao' rally ended, he has fallen from grace
Till April 15 evening, Maulana Wali Rahmani, general secretary of the All India Muslim Personal Law Board, was the darling of the crowd at Patna's Gandhi Maidan. The AIMPLB and Emarat-e-Shariah Phulwarisharif had jointly organised the 'Deen Bachao, Desh Bachao' conference in Patna on that day. However, within 48 hours of the conference ending, Wali Rahmani had fallen from grace. Many of those who were praising him to the skies are now heaping abuse on him on social media and in various gatherings."Itna sasta sauda kar liya (what a cheap deal they made)," commented a man who had worked day in and day out for weeks, spending money from his own pocket to make the rally a success. His comments were in context of Khalid Anwar, a close associate of Rahmani, being nominated for the Bihar Legislative Council by Chief Minister Nitish Kumar's party Janata Dal (United) on April 15 itself, the same day of the rally. His was not an isolated reaction.Muslims are upset at the perceived 'deal' made by Wali Rahmani and Emarat-e-Shariah with the ruling JD(U) in Bihar. Muslims had travelled from across Bihar, Jharkhand and Odisha in response to the call to discuss issues considered important to the community, such as the Modi Government's Triple Talaq Bill. Now, after JD(U)'s immediate move to make rally co-organiser Anwar an MLC, upset Muslims are feeling used and targeting their anger at Wali Rahmani, who is witnessing a rapid fall from grace. The 'Deen Bachao, Desh Bachao' rally is widely perceived among Muslims to have been more for the benefit of Nitish Kumar and the JD(U), than the Muslim community.
All India Muslim Personal Law Board (AIMPLB) general secretary Maulana Wali Rehmani during 'Deen Bachao, Desh Bachao' rally at Patna's Gandhi Maidan on April 15
"Itna sasta sauda kar liya (what a cheap deal they made)," commented a man who had worked day in and day out for weeks, spending money from his own pocket to make the 'Deen Bachao, Desh Bachao' rally a success. His comments were in context of Khalid Anwar, a close associate of rally organiser AIMPLB leader Wali Rahmani, being nominated as an MLC by Bihar Chief Minister Nitish Kumar's party on the day of the rally itself
When journalists like Abdul Qadir of The Times of India and Naiyer Fatmi (formerly with Qaumi Awaz) and Prof Mohammad Sajjad of Aligarh Muslim University were earlier repeatedly questioning the purpose and timing of the rally, they were pilloried on social media. But on April 17, a senior journalist associated with a prominent Hindi daily rang up this correspondent to concede that he was proved wrong. He said he had stoutly defended the rally at all platforms, "but today I acknowledge that I was wrong. From now onward I have decided to expose all the designs of the so-called leaders of the community." He said that he was shocked to see that no mention of communal riots in Bihar was made at the rally, and that Chief Minister Nitish Kumar was praised by none else but Wali Rahmani. JD (U)'s nomination of Khalid Anwar as MLC has exposed everything; he said. A famous Muslim surgeon of Bihar was extremely upset with Rahmani when Emarat-e-Shariah announced the decision to hold the rally. However, he did not find enough courage to speak out against it at the time, as the stated purposes of the rally, such as discussion on issue of Triple Talaq, were important to the Muslim community. Dr Abbas Mustafa, another noted surgeon of Patna, said that one good thing which came out of the rally is the joint community efforts made by Muslims. "The rally was well attended and showed that the community can rise to the occasion." However, he too was upset over the way the way the whole show was hijacked by Nitish Kumar's agenda. Mahendra Yadav, one of the 15 convenors of the National Alliance of People's Movements (NAPM), was also confused over the way things turned out after the rally. However, he appreciated the call for an alliance among Muslims, Dalits and OBCs as given by the national president of the All India Backward and Minority Employees Federation (BAMCEF), Waman Meshram, during his 42-minute long speech in the rally. On the other hand, Janata Dal (United) is busy weighing the pros and cons of its move to nominate Khalid Anwar to the Bihar assembly's upper house, as he was a little known name in the party who had only joined it recently. Nitish Kumar has sacrificed senior leaders of his party to make Khalid an MLC. The chief minister will certainly seek his pound of flesh from Emarat-e-Shariah at an appropriate time.
https://www.nationalheraldindia.com/india/bihar-muslims-angry-at-deen-bachao-desh-bachao-patna-rally-organisers-deal-with-nitish-kumar-jdu-maulana-wali-rahmani-khalid-anwar
--------
VHP Cries 'Land Jihad', Says Muslims Taking Over Homes Owned by Hindus in This Ahmedabad Locality
April 17, 2018
Ahmedabad: The redevelopment of a building in Paldi locality of Ahmedabad has brought to the fore the sharp divide that exists between communities on religious lines.
The Vishwa Hindu Parishad has jumped into the fray, putting up banners in neighbouring societies and terming the redevelopment of one particular building in the area as "land jihad".
The building in question is Varsha Society in Paldi area of Ahmedabad, where a Muslim builder is said to have taken up redevelopment on a four-storeyed building that stood there.
The VHP alleges that this is an attempt to make Hindus migrate out of the area. Both Hindus and Muslims have been staying in societies adjacent to each other in the area for decades now.
Local residents of Paldi locality, where Hindus and Muslims live in buildings located opposite each other aren't willing to speak on record. Some residents though stated that some people came a couple of days ago and put up the banners on the gates of the society. Some banners stated – "Stop Land Jihad", while others read – 'Hindu Ekta Zindabad" and some others read – "Implement the Disturbed Areas Act Strictly," "Sangathan Mein Shakti Hain," "Stop Migration of Hindus" and the like.
"We removed one such banner that had been put up on our society by some people that we do not know, but then they came and put it up again on our gate, said a youth in one of the Hindu societies near Thakkar College in Paldi area.
Another said that several Hindu societies in the vicinity have passed resolutions that they will not sell their societies or individual units in violation of the Disturbed Areas Act. Muslims living across the street said that they have been living in harmony along with people of the Hindu community for years.
"Some builders might have interests in buildings in this area, but we have cordial relations with people staying here. Attempts are being made to create a rift between communities, but people living here from both communities having nothing to do with these activities," a youth from the Muslim community said.
Speaking to News18, local VHP leader Raju Patel owned up to the fact that the Vishwa Hindu Parishad has put up the banners on the gates of societies owned by Hindus in the area. He stated that although this particular area, as well as other areas in the walled city fall under the Disturbed Areas Act, land deals continue to take place, and Muslims are gradually taking over properties owned by Hindus.
"Despite the Disturbed Areas Act being in force, properties are being transferred from Hindus to Muslims using the power of attorney method. The VHP has been opposing this all along and we have put up banners in Paldi area as well," he told News18.
Additional district magistrate Mehul Dave said that the matter of the banners coming up at societies owned by Hindus has been brought to the notice of the district administration, but as far as the inquiry is concerned, it is with regards to Varsha society and its redevelopment.
Originally, the building was of four floors and had 16 flats or units, but the newly constructed building has seven floors with four different blocks.
Full report at:
https://www.news18.com/news/india/vhp-cries-land-jihad-says-muslims-taking-over-homes-owned-by-hindus-in-this-ahmedabad-locality-1721289.html
--------
India calls for impartial probe on Syria 'chemical attack'
April 17, 2018
India on Monday called for an impartial and objective investigation by the Organisation for the Prohibition of Chemical Weapons (OPCW) into the alleged use of chemical weapons in Syria's Douma two weeks ago.
The above statement was made by Ambassador and Permanent Representative of India to OPCW Venu Rajamony at the 58th meeting of the executive council of the OPCW, that was convened to discuss allegations regarding the use of chemical weapons in Douma.
Ambassador Rajamony pointed out that the use of chemical weapons anywhere, at any time, by anybody, under any circumstances, cannot be justified and the perpetrators of such abhorrent acts must be held accountable.
He said any use of chemical weapons is in complete disregard of humanity and is reprehensible and contrary to the provisions of the Chemical Weapons Convention as well as accepted international norms.
Ambassador Rajamony commended the OPCW for its prompt deployment of the fact-finding mission to Douma and expressed appreciation to the Director-General and OPCW staff for their commitment to the aims and work of the organisation often in challenging circumstances.
The Ministry of External Affairs (MEA) on Saturday said India was closely following the situation in Syria.
"We have taken note of the recent strikes in Syria. India is closely following the situation. The alleged use of chemical weapons, if true, is deplorable. We call for an impartial and objective investigation by the Organisation for the Prohibition of Chemical Weapons to establish the facts. In the meantime, we urge all Parties to show restraint and to avoid any further escalation in the situation. The matter should be resolved through dialogue, negotiations, and on the basis of the principles of the United Nations' Charter and in accordance with the international law. We hope that the long drawn suffering of the people of Syria would come to an end soon," the MEA statement read.
On April 7, an unconfirmed chemical strike was carried out in Syria's Douma, a rebel-controlled town in Eastern Ghouta, claiming the lives of over 70 civilians, including children.
The White Helmets, a voluntary aide group, pinned the blame for the assault, which claimed more than 70 civilian lives, on the Syrian President Bashar al-Assad's regime.
However, the regime has rejected the claim, calling it a "fabrication" by Jaish al-Islam, the Islamist group controlling the area. Russia, which has backed Assad throughout the seven-year-long civil war, rejected the claim too.
Full report at:
http://www.business-standard.com/article/news-ani/india-calls-for-impartial-probe-on-syria-chemical-attack-118041700981_1.html
--------
'Strong anti-minority feelings': What the NIA probe in six bomb blasts found
by Rahul Tripathi
April 18, 2018
In September 2006, a series of bomb blasts ripped through Malegaon, a town in Maharashtra, killing at least 30 people and injuring many more. Barely five months later, in February 2007, explosions in two carriages of the Delhi-Lahore Samjhauta Express left over 60 people dead. In May that year, a bomb blast in the 400-year-old Mecca Masjid in Hyderabad, and the ensuing clashes between the mob and police, left more than 15 dead. On October 11, 2007, an explosion near the Ajmer Dargah killed three people and injured over 17. Nearly a year later, in September 2008, three bomb blasts — two in Malegaon and one in Modasa, Gujarat — led to the death of at least seven people.
What was common in all the six incidents was pointed out by the NIA, which has probed the cases since 2011, in its chargesheet filed in the Samjhauta Express blasts case. The agency claimed that attackers in all the incidents were linked by a common ideology: they were all associated with Hindu extremist organisations, had "strong anti-minority feelings", and were agitated about terrorist attacks on temples.
The prime accused in all the blasts — Sandeep Dange and Ramji Kalsangra — still remain elusive. There was a partial conviction in the Ajmer blast case; in the Mecca Masjid case, all five main accused were acquitted on Monday; and the Modasa blast case was closed by the NIA in 2015.
The change of course
In the 2008 Malegaon blasts case charge-sheet, the NIA did not mention the name of Sadhvi Pragya Thakur. Another key accused, Lt Colonel Shrikant Prasad Purohit, was granted bail last year. The names of Dange and Kalsangra only cropped up when then ATS chief Hemant Karkare tracked a motorcycle, linked to Sadhvi Pragya, that was used in the blast.
The flip-flops in all the cases were first flagged in 2015 by the special public prosecutor in the Malegaon case, Rohini Salian. "After the change in government at the Centre, the NIA asked me to go soft into these terror cases…," Salian told The Indian Express in October that year.
The NIA did not appeal after Aseemanand was granted bail in both the Samjhauta Express and Mecca Masjid blasts cases. It also did not challenge the acquittal in 2017 of Aseemanand and other accused in the Ajmer Dargah case. In the case of Purohit too, the agency, which had earlier argued in the Supreme Court against his bail, now did not contest his plea.
Instead, the NIA got two witnesses, Dr R P Singh and Yashpal Bhadana, and recorded their statement in connection with the 2008 Malegaon blasts before a magistrate, saying that they were "coerced" by the Maharashtra ATS to make an accusation.
Start-stop investigations
Following the 2008 Malegaon blasts, the Maharashtra ATS arrested Sadhvi Pragya and Purohit in September that year. Pragya's motorbike was used to plant the explosives in Malegaon, it was alleged. But within a month, ATS chief Karkare, who was heading the probe, was killed in the 2008 Mumbai terror attacks, throwing the investigation out of gear. Around the same time, the Rajasthan ATS, which was probing the 2007 Ajmer Dargah case, arrested Lokesh Sharma and Devendra Gupta (both allegedly associated with the RSS), for their role in the Mecca Masjid, Ajmer Dargah, Samjhauta Express and Malegaon blast cases. Former RSS pracharak Sunil Joshi, who was murdered in 2007, was the leader of the group, which had carried out the attacks, it was alleged.
In the 2006 Malegaon blasts case, nine people were arrested under the stringent MCOCA by the Maharashtra ATS, which claimed the blasts were carried out by the banned SIMI. The CBI, which took over the probe from the ATS, also concluded that the nine men had carried out the blasts. However, it was Aseemanand's confession, which he later retracted, that helped the Muslim youths get bail. According to the chargesheet filed by the NIA in the Samjhauta Express blasts case, Dange and Joshi chose the train because most of the travellers were Pakistani Muslims. Joshi had said, "For this, we need a different kind of bomb, we need to assemble a variety of chemicals. For a number of simultaneous blasts on a running train, SIM card bombs won't do," the chargesheet alleged.
The trial in the train blast case is currently under way at the Panchkula court in Haryana. Aseemanand, who was an accused in this case as well, was released on bail in 2015.
Joining the dots
Detailed investigations in the six cases revealed the role of rightwing groups in all of them. According to the NIA, the planning to carry out the attacks started as early as in 2001, and some of the alleged attackers met for the first time in Jaipur on October 26, 2005. It was soon after this meeting that Devendra Gupta, Lokesh Sharma and Sunil Joshi arranged mobile phones and SIM cards that were used in the attacks.
As many as 11 SIM cards were purchased from West Bengal and Jharkhand using fake ID cards. Joshi and Dange also taught others how to make bombs, it was alleged.
Similar bombs
The bombs used in the Mecca Masjid, Ajmer Dargah and Malegaon blasts had many common features. Barring the Samjhauta blasts, almost all bombs contained metal pipes with grooves in single rows on one side.
Potassium chlorate, which was used in the Samjhauta Express attack, was placed in a suitcase with an arming device similar to the ones used in the Mecca Masjid and Ajmer blasts.
In its chargesheet in the Mecca Masjid blasts case, the NIA said, "Mobile and SIM cards were used in the form of timer, the containers were same, lock system was same, printed circuit boards were same, which suggest that both the bomb blasts were executed by the same groups."
Full report at:
http://indianexpress.com/article/explained/nia-malegaon-blasts-samjhauta-express-case-mecca-masjid-verdict-ajmer-dargah-blast-5141597/
--------
India files fresh pleadings in ICJ in Kulbhushan Jadhav case
Apr 17, 2018
India on Tuesday filed a fresh set of pleadings in the International Court of Justice (ICJ) relating to the case of its national Kulbhushan Jadhav, who was sentenced to death by a Pakistani military court in April last year on charges of espionage and terrorism.
The second round of written reply by India in the case was in response to the submissions by Pakistan in the ICJ on December 13 last year, the Ministry of External Affairs (MEA) said.
India had moved The Hague-based ICJ in May last after Jadhav, 47, was sentenced to death by a Pakistani military court on charges of espionage and terrorism. A 10-member bench of the ICJ on May 18 had restrained Pakistan from executing Jadhav till adjudication of the case.
"In keeping with the Order of the International Court of Justice of 17 Janaury 2018, India today submitted its reply in the court in the case of Kulbhushan Jadhav," the MEA said on Tuesday.
It said India remains committed to make all possible efforts to "secure and protect" the rights of Jadhav.
Following an order by the ICJ, India had filed its written pleadings in the case on September 13, 2017 and Pakistan submitted its "counter memorial" on December 13 last.
"Today (Tuesday), India filed its Reply to Pakistan's submissions to the court. Pakistan has been given time till July 17 by the court to file its response (Rejoinder)," the MEA said.
India has been maintaining that the trial of Jadhav by a military court in Pakistan was "farcical". In its statement today, the MEA reiterated this stand.
Pakistan claims that its security forces arrested Jadhav from restive Balochistan province on March 3, 2016 after he reportedly entered from Iran.
However, India maintains that Jadhav was kidnapped from Iran where he had business interests after retiring from the Navy. Jadhav's sentencing had evoked a sharp reaction in India.
Full report at:
https://www.hindustantimes.com/india-news/india-files-fresh-pleadings-in-icj-in-kulbhushan-jadhav-case/story-5wtalzPXYrCYJd6kcCVZhN.html
--------
Indian Sikh Pilgrims Caught Selling Wares on Camera in Pakistan Gurudwara
Apr 18, 2018
AMRITSAR: In an apparent contravention of both the visa and religious norms, a dozen Indian Sikhs, mainly women, who have travelled to Pakistan as pilgrims to celebrate Baisakhi, were caught on camera selling wares and doing brisk business inside Gurdwara Panja Sahib, Hasan Abdal.
In a video clip recorded on a mobile phone, which was sent to TOI by one of the Indian Sikh devotees on Tuesday, men and women can be seen putting up vends inside Gurdwara Panja Sahib complex, haggling and selling Indian knick-knacks and clothes to Pakistani customers.
The Sikh devotee, who didn't wish to give his name, said a handful of pligrims had brought various items such as pressure cookers, women suits, mangal sutras, bindis, women rings and other ornaments, for sale as they are reportedly in demand in Pakistan.
"Not only people from Hasan Abdal had arrived at the gurdwara to buy Indian goods, many from nearby villages also knew about the arrival of the Indian Sikh jatha and setting up of a temporary market by them," said sources.
They said these business travellers, who were in Pakistan under the garb of pilgrimage, were from Amritsar, Faridabad and Delhi. They had managed to procure visas through a group of kar sewaks (volunteers).
A Sikh jatha comprising as many as 1,800 pilgrims form India had left for pilgrimage via Attari border on April 12 and stayed at Gurdwara Panja Sahib before leaving for Gurdwara Nankana Sahib on April 15.
Full report at:
https://timesofindia.indiatimes.com/city/amritsar/indian-sikh-pilgrims-caught-selling-wares-on-camera-in-pak-gurdwara/articleshow/63806673.cms
--------
Pakistan
Internal differences to hinder MMA's success in upcoming elections
BY HAMID KHAN WAZIR
April 18, 2018
ISLAMABAD: The rebirth of Muttahida Majlis-e-Amal (MMA) has baffled the country as the religio-political parties, who were often at each other's throat, united on one platform merely for political mileage and to avoid possible embarrassing defeat in the forthcoming general elections due to their fast-shrinking vote bank.
The revival of the MMA is the classic example of the interest-driven political alliance because all the five religious parties gathered at the single platform despite having a different political and religious agenda. However, this time around, its victory prospects in the general elections as compared to 2002 are quite gloomy.
The five religious parties including Jamiat Ulema-e-Islam Fazl (JUI-F), Jamaat-e-Islami (JI), Jamiat Ulema-e-Pakistan (JUP), Tehreek-e-Islami Pakistan (TIP) and Markazi Jamiat Ahle Hadith (MJAH) announced an alliance on March 20, elected Maulana Fazlur Rehman and Liaquat Baloch as the president and secretary general of the MMA respectively. The alliance, however, failed to hold a single joint public gathering from the platform of the MMA hitherto.
Sources privy to the development told Pakistan Today that though the MMA was revived, a number of issues have yet to be settled because it's not a natural rather an interest-driven alliance since the allied parties belong to different schools of thought and have had bitter relations in the past.
Pointing out the differences in the leadership, they said, "Maulana Fazlur Rehman can be seen holding public gatherings in various cities while JI Amir Sirajul Haq holds public meetings in others."
Sources further said that the allied parties could face serious issues during the distribution of tickets as no formula pertaining to tickets' distribution has been devised so far.
Besides that, they said that two major parties of the coalition – JUI-F and JI – have differences over FATA's future status. Therefore, it was decided to leave FATA open as every party was allowed to field candidates from their respective parties' forums instead of MMA to avoid confusion, they added.
Talking to Pakistan Today, Hassan Askari Rizvi, a senior political analyst, said that MMA doesn't appear as prospective as it did in 2002 as at that time, the whole situation was in their favour and the then Musharraf regime was also sympathetic to them.
He also said at that time, all major Islamic parties were a part of it, but today, some of them were contesting elections separately.
"So I don't think MMA will be a very effective organisation, though the JI and JUI-F separately could win few seats from some areas and could bargain to get a price if no party gets a clear majority in the elections," he added.
To a question, he said that the allied parties would face a challenge to convince the public since the JUI-F remained in power in almost all the governments, either it was of Pakistan People's Party (PPP) or of the Pakistan Muslim League-N (PML-N), questioning its convictions. Similarly, he said that the JI's politics is very strange as it is part of Pakistan Tehreek-e-Insaf-led (PTI) government in Khyber-Pakhtunkhwa (KP) and now it will compete against PTI in the province under the banner of MMA.
All this will create confusion for the voters and embarrassment for the parties, Rizvi added.
When contacted, MMA Secretary General Liaquat Baloch said that they were busy in the selection of conveners and different bodies at provincial and district levels respectively in the last one month. He added that since the process had been completed, the first convention of the MMA would be held at Islamabad convention centre on May 2.
About differences over FATA issue, he said that they had a different stance regarding the resolution of FATA, but they sorted it out amicably. He added that they would contest elections in FATA from MMA's platform.
To a question, he said that the parliamentary board has to decide about the tickets while keeping in view the ground reality.
He further said that the parties would try to keep each other intact to introduce a culture of decency in politics instead of mud-slinging and allegations and counter-allegations.
https://www.pakistantoday.com.pk/2018/04/17/interest-driven-politics-to-hinder-mmas-success-in-upcoming-elections/
--------
Delay in release of funds for Hindu graveyard perturbs community
BY IHSAN QADIR
April 18, 2018
LAHORE: A delay in the release of funds for a Balmiki Hindu graveyard in the city has perturbed the community who gained their right to the land after a long legal battle.
Following a petition from Hindu representatives, the then Chief Justice of Supreme Court of Pakistan Iftikhar Muhammad Chaudhry ordered the Punjab government in August 2012 to vacate the illegal occupants and ordered the authorities to construct a graveyard on the 14,200 square feet of disputed land.
The provincial government completed the work in May 2014 but the graveyard has not been inaugurated as of yet, resulting in an irritation among the Hindu community. The cemetery had been lying unused for over five years after a crowd led by a local cleric, Qari Razaul Mustafa, prevented its inauguration on May 24, 2014.
Amar Nath Randhawa, the president of Hindu Sudhar Sabha, an NGO which works for the rights of the Hindus said the authorities handed over keys of the graveyard to them about two months ago but the funds had still not been released. He went on to say that the graveyard needed the funds for filling of land so that the community could bury their dead in a proper manner.
He said his community was overall very happy for getting the key and said, "We are thankful to Pakistan Muslim League-Nawaz (PML-N) and Member of Provincial Assembly (MPA) Shakil Alvin for lending us support in our long-awaited demand."
"We got the cemetery after a 29-year long legal battle in different courts against land mafia and finally the Supreme Court gave the decision in our favour," he said, adding, "We had completed arrangements for inauguration on May 24, 2014, but the land mafia brought goons and had forced us to stop the inauguration of graveyard."
Revealing his struggle, Amar Nath added, "The mafia referred to a grave as the resting place of Muslim saint Baba Haveli Shah and instigated goons that Hindus had desecrated the shrine. We won this land after a long battle and even invoked the authority of the President of Pakistan".
According to Pakistan Balmik Sabha, an NGO that works for Hindus' rights, around 230,000 Hindus live in Pakistan while Hindu population in Lahore is about 400. The Balmiki Hindu community bury their dead women and children.
Full report at:
https://www.pakistantoday.com.pk/2018/04/17/delay-in-release-of-funds-for-hindu-graveyard-perturbs-community/
--------
NAB chief accuses Musharraf of handing over 4,000 Pakistanis to US
17 April 2018
ISLAMABAD: Claims that former military ruler Pervez Musharraf extradited hundreds of Pakistani nationals – mainly to the US in exchange for US dollars — resurfaced when former Justice Javed Iqbal, chairman of the Commission of Inquiry on Enforced Disappearances, said as many as 4,000 Pakistanis were "secretly handed over" to foreign countries, during his rule.
Justice Iqbal made his statement in a briefing to the National Assembly Standing Committee on Human Rights on Monday, adding that Musharraf's Interior Minister Aftab Ahmed Khan Sherpao was aware of the deal.
"How could someone secretly hand over the Pakistani nationals to any other country?" asked Iqbal, describing the actions illegal, unlawful and a violation of human rights.
Iqbal, a retired judge, who chairs the country's anti-corruption watchdog National Accountability Bureau (NAB), added: "They received (US) dollars in return ... Parliament should get this investigated."
However, the claims have been rejected as "baseless" and "exaggerated" by Musharraf's and Sherpao's political parties.
"... without evidence, without any proof, without any witnesses, they are leveling outlandish allegations on a former president which amounts to no less than character assassination," said Mahreen Malik Adam, spokesperson for Musharraf's All Pakistan Muslim League (APML), while talking to Arab News.
She said: "Around 400 people were handed over and they were not Pakistanis. They were foreigners from across the border who were involved in terrorist activities damaging Pakistan's image."
"This is a lie," said Faqir Hussain, a veteran and loyalist of Sherpao's Qaumi Watan Party (QWP), speaking to Arab News. Hussain said it was out of the question that his party chief Sherpao would resort to profiting from extraditing Pakistanis. "If there is any proof, we would like them to take the matter to court," Hussain added.
A 2006 Amnesty International report said that authorities in Pakistan rounded up hundreds of people, who were accused of committing terrorist acts, and handed them to US authorities for rewards or detained individuals at undisclosed locations. Some were kept in US prisons.
The report, entitled "Pakistan: Human Rights Ignored in the 'War on Terror'," accused Pakistan of human rights violations for monetary and other gains from US and its allies.
Musharraf, who ruled from 1999-2008, took control of Pakistan in a bloodless military coup, toppling the democratically elected government. A number of court cases against him are pending. He currently lives in the UAE.
Full report at:
http://www.arabnews.com/node/1286421/world
--------
Six killed in clash near Pak-Iran border
April 18, 2018
TEHRAN: Three Iranian security personnel were killed by militants in an attack along the country's border with Pakistan on Tuesday.
An Iranian police officer was killed in an ambush on a border post in the city of Mirjaveh in Sistan-Balu­ch­estan province, and two soldiers died when their vehicle was hit by an improvised explosive device, Iran's Revolutionary Guards said.
According to Iran's official IRNA news agency, three of the attackers were also killed by security forces in retaliatory fire.
The guards and the attackers, whom IRNA identified as terrorist suspects, exchan­ged gunfire for two hours before dawn on Tuesday at the Mirjaveh border crossing.
The guards were identified as Maj Vahid Hossein­zadeh and Abolfazl Gholampour.
Iran has criticised Pakis­tan in the past for supporting the Jaish al-Adl jihadist group, which it accuses of ties to Al Qaeda and carrying out numerous attacks in Sistan-Baluchestan.
Security forces also frequently clash with drug traffickers in the restive province, which lies on a major smuggling route for Afghan opium and heroin.
On Monday, Iran said security forces had confiscated a large amount of weapons and ammunition from militants in the area.
In April last year, 10 Iranian border guards were killed by militants in Mirjaveh.
From 2005 to 2010, Sistan-Baluchestan suffered a prolonged insurgency by the jihadist group Jundallah, although violence was largely curbed after the killing of its leader in mid-2010.
Full report at:
https://www.dawn.com/news/1402264/six-killed-in-clash-near-pak-iran-border
--------
Kurram, Afghan elders to discuss border dispute
April 18, 2018
PARACHINAR: Elders of Kurram Agency and tribes from Khost province of Afghanistan would meet on Sunday to discuss border dispute and work out a joint mechanism to avoid confrontation in future. Senior military officials from both the sides would also attend the meeting.
This was decided at a jirga held in lower Kurram on Tuesday. Political Agent Baseer Khan, Commander 73 Brigade Brig Akhtar Haleem, MNA Sajid Hussain Turi and elders of various tribes attended the jirga, said an official of the political administration.
The jirga expressed concern over clashes at Laka Tiga post on the Kurram side in which five soldiers of Frontier Corps were killed and 12 others suffered injuries. The attack was launched from the Afghan side on Monday when FC personnel were erecting fence.
Reports said that overnight clashes claimed lives of 10 Afghans and several others were injured when security forces and armed tribesmen launched a retaliatory action. Bodies of the FC personnel were returned after negotiations. Clashes were stopped after flag meeting between the security officials of the two countries.
Full report at:
https://www.dawn.com/news/1402258/kurram-afghan-elders-to-discuss-border-dispute
--------
Bizenjo, Achakzai, Fazalur Rehman support 'respect my vote' movement
April 18, 2018
ISLAMABAD: Leaders of top political parties Maulana Fazlur Rehman, Hasil Khan Bizenjo, Mehmood Khan Achakzai and Mian Iftikhar Hussain on Tuesday pledged to support the "respect my vote" movement launched by Pakistan Muslim League-Nawaz (PML-N).
They extended their cooperation to PML-N supreme leader Nawaz Sharif during a seminar on the topic of "upholding of the sanctity of vote based on the constitution, democracy, the supremacy of parliament and rule of law" at National Library.
Jamiat Ulema Islam-Fazl (JUI-F) chief Maulana Fazlur Rehman said that Panama Papers was a conspiracy hatched abroad to destabilise Pakistan.
He said that Pakistan was created through a democratic process with a lot of sacrifices but the people's right to govern through vote was not accepted.
National Party (NP) chief Hasil Bizenjo said that Sharif was removed from office on the basis of holding an Iqama. He said that Pakistan was at the crossroads and all institutions should be respected and the parliament should lead the country in strengthening the democratic process. Those who get the vote of the people should have the right to form a government, he added.
He criticised Pakistan Tehreek-e-Insaf (PTI) for damaging the politics of Pakistan and for introducing a culture against the values of the Pakistani society.
Bizenjo said that some forces always tried to paint the parliament in a bad light and added that such an attitude was contrary to the interests of the country.
Awami National Party (ANP) leader Mian Iftikhar assured his party's support for the campaign of respect of vote and the supremacy of the parliament.
He said that there were numerous incidents in the history of Pakistan when aspirations of the people were suppressed and the people belonging to political parties died in violent incidents.
Mian Iftikhar said, "We support democracy and will not accept any conspiracy against the democratic system."
He said that ANP had a history of giving sacrifices for peace and the rule of law and his own son was murdered by terrorists when he steadfastly stood up against terrorism.
Pakhtunkhwa Milli Awami Party (PMAP) chief Mehmood Khan Achakzai vowed to protect the constitution of Pakistan and said that it was a social contract between people of the federating units.
"I will defend the constitution and will only respect those who respect the constitution," he added.
Full report at:
https://www.pakistantoday.com.pk/2018/04/18/bizenjo-achakzai-fazalur-rehman-support-respect-my-vote-movement/
--------
Arab World
UAE to hold Muslim Minorities Congress in May to tackle challenges, enhance image
Apr 18 2018
ABU DHABI: The United Arab Emirates (UAE) on Tuesday announced launching a new platform to address the challenges faced by Muslim minorities around the world.
Called International Muslim Minorities Congress (IMMC), the platform will be headed by the Muslim Council of Elders and will comprise representatives from 140 countries.
Its first meeting is scheduled for May 8-9, 2018, in Abu Dhabi, Dr Ali Al Nuaimi, the chairman of the International Muslim Minorities Congress, told media here during a press conference. Nuaimi was accompanied by Dr Mohammed Bechari, another IMMC member.
Nuaimi said the organisation will help bridge the gap between Muslim minorities and the governments. He expressed hope that the conference would offer a platform to tackle issues such as marginalisation and disenfranchisement in non-Muslim countries.
"Muslims in non-Muslim countries are facing many challenges, whether in terms of services or education … but the biggest challenge is for them to fit in with their societies."
Speaking with this correspondent, he said the UAE has created an opportunity to form a platform for Muslim minorities across the globe to serve them and help them to integrate into the societies
He acknowledged that Islam had been presented to the world with a distorted image, with some countries, unfortunately, having abused that notion to serve their political agendas.
"If a person wants to live in Germany, they have to live by German laws and as a German citizen given their rights and fulfilling their obligations", Nuaimi said.
He believes that the conference's success will help bring more security and stability across the world and to showcase Islam as a religion of peace and love.
The event would be one of the biggest conferences to be held in the Emirates next month, the organising committee said.
Muslim leaders and government officials will meet in Abu Dhabi next month to discuss ways to prevent radicalisation among an estimated 500 million people.
Bechari, the vice chair of the conference's high committee, said: "This is a unique event because for the first time in history, Muslim minorities will gather under one roof to discuss their issues and interact with each other".
Speaking to this correspondent, he said the platform would discuss setting up a strategy to prevent ideologising the "Islamic world" outside the Islamic countries and to teach the Muslim citizen to be a good citizen in their host community.
The conference comes out of the UAE's civilisational message to promote the culture of peace and tolerance between the followers of different religions and cultures and as an effort to protect the children and youth of the Muslim minorities from the currents of violence and extremism.
https://www.geo.tv/latest/191558-muslim-minorities-congress-in-abu-dhabi
--------
Chemical inspectors enter Syria's Douma amid concerns for probe
April 18, 2018
DAMASCUS - International investigators on Tuesday entered a Syrian town hit by an alleged chemical attack, after days of delay and warnings by Western powers that crucial evidence had likely been removed.
The suspected gas attack on April 7 on Douma, near Damascus, reportedly left more than 40 people dead and was blamed by Western powers on the regime of Syrian President Bashar al-Assad.
In response, the United States, France and Britain conducted unprecedented missile strikes on Syrian military installations, but Paris admitted on Tuesday they were a matter of "honour" that had solved nothing.
"Experts from the chemical weapons committee enter the town of Douma," state news agency SANA wrote, referring to the Organisation for the Prohibition of Chemical Weapons (OPCW).
The inspectors arrived in Damascus on the day of the Western strikes but had not been allowed to enter Douma.
France and the United States appeared to question the purpose of such a mission, warning that any incriminating evidence had likely been removed by now.
"It is highly likely that evidence and essential elements disappear from the site, which is completely controlled by the Russian and Syrian armies," the French foreign ministry said.
The US ambassador to the OPCW, Ken Ward, had claimed Monday that the site and "may have tampered with it".
Russian foreign ministry spokeswoman Maria Zakharova hit back at France, calling the accusation "very surprising" and saying that Russia had supported the inspection.
Several experts have also said however that any investigation at this stage was likely to be inconclusive.
"As with any crime scene, it is crucial to get there as soon as possible," said Olivier Lepick, a fellow at the Paris-based Foundation for Scientific Research.
"If the Russians and Syrians have nothing to hide, it's strange that they would wait 36 to 72 hours," he said. "It's probably to give themselves the time to finish cleaning up."
Stripping Legion d'Honneur
In an impassioned defence to the European Parliament on Tuesday, France's President Emmanuel Macron admitted that Saturday's strikes had been a more political than military decision.
"Three countries have intervened, and let me be quite frank, quite honest - this is for the honour of the international community," he said in the French city of Strasbourg. "These strikes don't necessarily resolve anything but I think they were important," Macron added.
The French leader was also set to strip Syrian President Bashar al-Assad of a prestigious award he was granted by former president Jacques Chirac in 2001.
"The Elysee confirms that a disciplinary procedure for withdrawing the Legion d'Honneur (Legion of Honour) is under way," Macron's office said.
The war of words continued to spiral between the Russian-backed Syria regime and the West but a military escalation looked to have been averted despite both sides trading threats after the strikes. Yet, a report on SANA that Syrian air defences had shot down missiles over Homs province overnight raised fears that further action had indeed been taken.
It branded the incident an "aggression" but did not name a specific country.
Explosions were heard near Shayrat air base, southeast of Homs city, and near Damascus where two other air bases are located, the Syrian Observatory for Human Rights reported.
'False alarm'
Later Tuesday, however, SANA retracted the report, stressing there had been "no external attack" on Syria.
"Last night, a false alarm that Syrian air space had been penetrated triggered the blowing of air defence sirens and the firing of several missiles," a military source told the agency.
After Saturday's strikes, which destroyed mostly empty buildings, the trio of Western powers trying to reassert influence on the seven-year-old war have appeared to favour diplomatic action.
Turkey, Iran vow to continue alliance with Russia
The presidents of Turkey and Iran on Tuesday vowed to press on with their alliance alongside Russia over Syria, the Turkish presidency said, after Ankara backed strikes by the US and its allies against the regime of President Bashar al-Assad.
Russia and Iran are the key allies of Assad and their military intervention in Syria is widely seen as helping him stay in power and tipping the balance in the civil war. But Moscow and Tehran have over the last months worked increasingly closely with Ankara - which has throughout the seven-year war called for Assad's ouster - in seeking to find a solution to the conflict.
In an interview with French television, French President Emmanuel Macron suggested that the weekend air strikes against Syrian government targets had succeeded in engineering a split in the Russia-Turkey alliance.
But a Turkish presidential source said, following telephone talks between Turkish President Recep Tayyip Erdogan and Iranian counterpart Hassan Rouhani, that the two sides had vowed the alliance must continue. "The two leaders emphasised the importance of continuing the joint efforts of Turkey, Iran and Russia... to protect Syrian territorial integrity and find a lasting, peaceful solution to the crisis," said the source.
KSA renews offer to
deploy troops to Syria
Saudi Foreign Minister Adel al-Jubeir reaffirmed on Tuesday the kingdom's willingness to deploy troops to Syria as part of US-led efforts to stabilise the conflict-torn country.
"We are in discussions with the US and have been since the beginning of the Syrian crisis (in 2011) about sending forces into Syria," Jubeir said at a press conference in Riyadh with UN chief Antonio Guterres.
The comments were in response to a Wall Street Journal report on Monday that US President Donald Trump's administration was seeking to assemble an Arab force, including troops from Saudi Arabia and the United Arab Emirates, to help stabilise Syria.
The report follows weekend strikes by the United States, Britain and France against Syrian leader Bashar al-Assad's regime that hit targets they said were linked to its chemical weapons programme.
Jubeir emphasised the proposal to send its troops was "not new".
"We made a proposal to the (previous US) Obama administration that if the US were to send forces... then Saudi Arabia would consider along with other countries sending forces as part of this contingent," he said.
Syria's war, the most tangled of the region's conflicts, is a key point of contention pitting Riyadh and its allies, who mainly back Sunni Muslim rebels, against regime backer Iran and its Lebanese ally Hezbollah.
Full report at:
https://nation.com.pk/18-Apr-2018/chemical-inspectors-enter-syria-s-douma-amid-concerns-for-probe
--------
More Gunmen Killed on Second Day of Infighting among ISIL Terrorists in Eastern Syria
Apr 17, 2018
The sources said that over fifty commanders and members of ISIL, mostly from Tunisia, have rebelled against the group's ringleader for the second day in a row, adding that the rebellion claimed the lives of six terrorists until last night.
The rebels have disavowed ISIL's leadership, stressing that they would not fight for Abu Bakr al-Baghdadi any more, the sources said.
In the meantime, the Syrian al-Watan daily reported that ISIL security forces have laid siege on the Tunisian gunmen whose total number stands at 50.
It added that the Tunisian members of ISIL are under siege of the terrorist group's security forces in a region between Hajin and al-Sha'afah settlements in Eastern Deir Ezzur.
The ISIL security forces call the Tunisian gunmen as Khawarej (deviators), blaming them for disobeying the Caliph, the daily said. The security men plan to stage a raid on the rebels tonight, reports said.
Last week, the Syrian Army troops, backed up by the country's Air Force, launched fresh attacks on the remaining pockets of ISIL in a region between Western Deir Ezzur and Eastern Homs, inflicting major losses on the terrorists.
The army men engaged in a tough battle with ISIL in Humeimeh region in Eastern Homs, killing and wounding a large number of the terrorists.
Full report at:
http://en.farsnews.com/newstext.aspx?nn=13970128001375
--------
Syrian Army Calls on Residents to Leave Terrorist-Held Regions in Dara'a
Apr 17, 2018
The aircraft dropped thousands of leaflets over Dara'a city to inform civilians of safe corridors toward the regions that are under the army's control.
In the meantime, field sources reported the terrorist groups' preparedness to launch a heavy attack against the army in the province, adding that differences are on the rise among the militants over the attack on government forces.
A military source said last week that Jordan had asked the Syrian Army to delay its upcoming Dara'a offensive in order to convince the rebel forces to reconcile with the government.
The source said that the Syrian Army agreed to respect Jordan's request and would once again attempt to hold reconciliation talks with the militant groups in Dara'a.
The Syrian Army and Russian military had earlier sent a delegation to Dara'a to negotiate a reconciliation deal that was similar to an agreement in Eastern Ghouta; however, the militants rejected the offer.
Full report at:
http://en.farsnews.com/newstext.aspx?nn=13970128001311
--------
Russia, US Backed Fighters Preparing for Colossal Showdown in Eastern Syria
Apr 17, 2018
The Syrian Army troops and their allies have been amassing their forces along the Western bank of the Euphrates River for nearly two weeks now, massdar quoted the source.
The source added that the government forces are planning on crossing the bridge that was recently constructed by the Russian military near the key town of Khasham in Eastern Deir Ezzur.
If the Syrian military does in fact cross the bridge, they will be within the striking distance of the Al-Umar Oilfields.
The region hosts Deir Ezzur's largest oilfields, making its capture all the more important for the Syrian government.
However, the US-backed forces are not likely to give it up without a fight, despite the fact they are greatly outnumbered by the Syrian military.
While Russia and the US will provide their respective sides with military support, it will be the latter that might have to militarily intervene.
Full report at:
http://en.farsnews.com/newstext.aspx?nn=13970128001055
--------
Assad prepares to assault last rebel enclave near Damascus
17 April 2018
The Syrian army began preparatory shelling for an assault on the last area outside its control near Damascus on Tuesday, a commander in the pro-government alliance said, building on its recent capture of the major suburb of eastern Ghouta.
Recovering the Yarmouk camp and neighboring areas located south of the city would give President Bashar al-Assad complete control over Syria's capital, further consolidating his grip on power.
Yarmouk, Syria's biggest camp for Palestinian refugees since the mid-20th century, has been under the control of Islamic State fighters for several years. Although the vast majority of residents have fled, the United Nations says thousands remain.
Assad has benefited from Russian air power since 2015 to regain large swathes of Syria, putting him in his strongest position since the early months of the seven-year-old war.
The war has killed more than 500,000 people and has drawn in regional and global powers. The United States, Britain and France launched their first coordinated strikes against Assad's government on Saturday in retaliation for what they say was a poison gas attack on April 7 that killed scores of residents in Douma, the last town in the eastern Ghouta to fall.
The Western missiles destroyed three targets that had been evacuated in advance, but did nothing to alter the wider course of the war, leaving Assad's Russian-backed forces still on the offensive with the goal of recapturing the entire country.
Damascus and Moscow have both denied using poison gas and have broadcast statements from hospital workers in Douma - which medical aid groups operating in rebel areas have dismissed as propaganda - saying that no chemical attack took place.
A team of international chemical weapons inspectors that arrived in Damascus on Friday has still not visited Douma to gather evidence, though Russia said it would do so on Wednesday.
Syrian state media reported that missiles had again targeted an airbase overnight, but a commander in the regional military alliance backing the government later told Reuters it was a false alarm.
The commander, speaking on condition of anonymity, said the new offensive would target Islamic State and Nusra Front militants in Yarmouk camp and al-Hajar al-Aswad district. Rebels in the adjoining Beit Sahm area would withdraw on buses through an agreement with the government, the commander said.
Assault on Ghouta
A government media tour on Monday of Douma, the biggest town in the former rebel enclave of eastern Ghouta just outside Damascus, revealed severe destruction and the plight of residents who had survived years of siege.
The assault on eastern Ghouta began in February and ended in government victory on Saturday when rebels withdrew from the town, hours after the Western countries were finished with their air strikes on buildings they said were used to research or store chemical weapons and equipment.
Each of the rebel groups controlling areas of eastern Ghouta eventually agreed surrender deals that involved withdrawal to opposition-held areas of northwestern Syria including Idlib.
After the recapture of eastern Ghouta, Assad still has several smaller pockets of ground to recover from rebels, as well as two major areas they hold in the northwest and southwest.
Besides the pocket south of Damascus, rebels still hold besieged enclaves in the town of Dumayr northeast of Damascus, in the Eastern Qalamoun mountains nearby, and around Rastan north of Homs.
The pro-government commander said the army had prepared for military action in the Eastern Qalamoun, but that Russia was working on the militants' withdrawal without a battle. State television said on Tuesday that rebels in Dumayr had also agreed to withdraw.
In northwest Syria, the largest area still held by rebels, a government assault could bring Damascus into confrontation with Turkey, which has set up a string of military observation posts in the area.
Full report at:
https://english.alarabiya.net/en/News/middle-east/2018/04/17/Assad-prepares-to-assault-last-rebel-enclave-near-Damascus.html
--------
Saudi Arabia open to sending troops into Syria: FM
Apr 17, 2018
Saudi Foreign Minister Adel al-Jubeir has announced that the regime in Riyadh would be ready to send troops into Syria as part of a potential wider deployment led by the United States.
Jubeir said on Tuesday that Riyadh had always been supportive of any US-led military action in Syria since a conflict began in the country in early 2011.
"We are in discussions with the US and have been since the beginning of the Syrian crisis about sending forces into Syria," he said while at a news conference in Riyadh with United Nations Secretary General Antonio Guterres.
The comments by the top Saudi diplomat come days after the United States led an air campaign against certain Syrian military facilities in response to a suspected chemical attack near the Syrian capital earlier this month.
Riyadh has backed militants opposed to the Syrian government since the very beginning of the war, while it has encouraged any Western-led action that could undermine Syria's fight against terror.
Jubeir reiterated that the proposal for sending troops into Syria was not a new one, saying that Saudis had sought to have boots on the ground in Syria during the time of former US President Barack Obama.
"We made a proposal to the Obama administration that if the US were to send forces... then Saudi Arabia would consider along with other countries sending forces as part of this contingent," said Jubeir.
Jubeir's renewed call for a deployment in Syria comes as certain countries in the Middle East and Europe are trying to convince US President Donald Trump to revise his decision to withdraw US forces from Syria. Those countries fear a US pull-out may help Syria win the fight against terrorism and clear the entire country of foreign-sponsored militants.
Full report at:
http://www.presstv.com/Detail/2018/04/17/558843/Saudi-Arabia-Syria-deployment-Jubeir
--------
Syrian army shells southern Damascus area ahead of anti-terror operation
Apr 17, 2018
The Syrian army has started shelling a militant-held area south of the capital, Damascus, ahead of a major counter-terrorism operation there, says a pro-Damascus commander.
Speaking on condition of anonymity, the commander said the shelling took place on Tuesday morning prior to the planned military campaign that would target the Daesh and the Nusra Front Takfiri terrorist groups in the Palestinian Yarmouk camp and the nearby al-Hajar al-Aswad area.
The Syrian government is also expected to retake another militant enclave near the village of Beit Sahm, said the commander, adding, however, that this will take place through a deal between the government and the militants under which they would be transferred to the northwestern Idlib Province.
"The lists of militants who will go on the buses towards Idlib are being gathered," the commander noted.
The Yarmouk district's liberation would give the Syrian government full control over the capital for the first time since 2012.
Over the past few months, Syrian forces have made sweeping gains against Takfiri terrorists who have lately increased their acts of violence across the country following a series of defeats on the ground.
On Saturday, Syrian soldiers entered the town of Douma for clean-up operations days after they fully retook the entire suburban area near Damascus from foreign-backed militants.
Douma was the last militant stronghold in the Eastern Ghouta region, which for years served as a launch pad for deadly terror attacks against civilians in the Syrian capital.
Full report at:
http://www.presstv.com/Detail/2018/04/17/558793/Syria-Daesh-Yarmouk
--------
South Asia
MoD confirms 38 militants killed in joint airstrikes in Farah
Apr 17 2018
The Ministry of Defense of Afghanistan confirmed that 38 militants were killed during the joint airstrikes conducted in western Farah province of Afghanistan.
Mod deputy spokesman Gen. Mohammad Radanish told repoters that ten seniro leaders of the anti-government armed militants were among those killed.
The 207th Zafar Corps of the Afghan Military in the West said Monday that the airstrikes were jointly conducted by the Afghan and US forces in response to a coordinated Taliban attack.
The source further added that dozens of Taliban insurgents launched a coordinated attack on security posts in the outskirts of the city at around 2 am that lasted until 6 am in the morning.
According to Zafar Corps, the airstrikes were carried out around 3 am local time to suppress the militants.
Several key commanders of the militants including Mullah Ibrahim – leading a group of 40 insurgents, Hafiz Niaz Mohammad – leading of 30 militants, Haji Basir commander of 20 militants and Saleh Moammad who was in charge of a group of at least 10 militants were among those killed.
In the meantime, Radmanish said at least 14 militants were killed in Ghazni, 10 in Paktia, 7 in Kandahar, and 2 in Helmand provinces.
Gen. Radmanish said at least 40 militants were also wounded during the operations conducted with the support of the close-air support.
According to Gen. Radmanish, at least 15 operations are underway in 11 provinces of the country at the moment while commando forces have conducted 66 raids in the past 24 hours.
He also added that the Afghan Air Force has conducted at least 4 airstrikes in support of the ground forces during the same period.
https://www.khaama.com/mod-confirms-38-militants-killed-in-joint-airstrikes-in-farah-04905/
--------
PM Hasina: Bangladesh wants sustainable solution to Rohingya crisis
April 18, 2018
Although Bangladesh has achieved successes in various sectors, this does not mean that there are no challenges
Prime Minister Sheikh Hasina on Tuesday said Bangladesh wants a peaceful, sustainable and early solution to the Rohingya crisis, as the country is currently bearing the entire brunt of the recent exodus of persecuted Myanmar nationals.
"Some 1.1 million Rohingyas are now in Bangladesh. We've given them shelter on humanitarian grounds. Many world leaders visited Rohingya camps to see their plight," she said.
The prime minister was delivering her keynote speech in an event titled "Bangladesh's Development Story: Policies, Progresses and Prospects" at the Overseas Development Institute (ODI) in London.
She said although Bangladesh has achieved successes in various sectors, this does not mean that there are no challenges. "We face the challenge of climate change although we're one of the countries who pollute the least," she said, adding that a rise in sea level will cause the displacement of millions in Bangladesh.
Mentioning that Bangladesh is in the process of developing the "Bangladesh Delta Plan 2100" to mitigate and manage the impact of climate change, she said it was the shared responsibility of the global community to "protect our planet, our biodiversity and our climate."
Regarding the global threat of terrorism and militancy, the prime minister said Bangladesh was following a "zero-tolerance" policy against militants.
Meanwhile, Sheikh Hasina also said various long, medium and short-term policies have been crafted to revitalize the economy, including special attention for the agriculture sector to make the country self-reliant in food production.
She added that the private sector has been opened up to boost investment and create job opportunities. "We've undertaken several fast-track projects with foreign investment. One hundred Special Economic Zones are being set up across the country to attract FDI."
Ten initiatives are being implemented to deal with the socio-economic emancipation of rural people, she also said.
According to the prime minister, Bangladesh is one of the fastest growing economies in the world with an optimistic outlook.
She said the growth rate was 7.28% last year, and the projected growth this year is 7.65%.
"The GDP grew by 2.5 times to $250 billion in 2017 from $100 billion in 2009. Foreign currency reserves grew more than 9 times to over $33 billion. Per capita income leaped from $543 in 2006 to $1,752 this year," she added.
The prime minister said Bangladesh is now the second largest RMG exporter in the world. Initiatives have been taken to make garments factories compliant with safety and security standards, she said. "We now have 67 RMG factories with LEED (Leadership in Energy and Environmental Design) certification. The top seven environment-friendly garments and textiles factories of the world are in Bangladesh."
Regarding Bangladesh's pharmaceutical sector, she said it meets 95% of local demand while pharmaceutical products are being exported to over 100 countries.
The country's shipbuilding industry exports ocean-going vessels to Scandinavian countries and Germany. Frozen food, leather products, IT services, jute, toys and many other products have the potential to claim greater shares in the global market, she added.
Hasina said thirteen hi-tech parks are being set up to boost the billion-dollar ICT industry. "Bangladesh is also set to launch its first satellite, Bangabandhu-I, soon."
Her government increased power capacity to 16,600 MW from only around 3,200 MW in 2009 and 90% of households now have electricity, she said. "Work on a 2,400MW nuclear power plant along with several other big power plants is going on," she added, saying that they are planning to build a deep-sea port, while country's third seaport in Payra has commenced operations.
Terming women as the change agents, the Prime Minister said: "We're providing special facilities to women entrepreneurs. They get collateral-free bank loans with only 5% service charge. They're entitled to 10% of the SME fund and 10% of industrial plots." "The 350-member Bangladesh Parliament now has 72 women MPs. A total 30% of the seats are reserved for women at local government bodies. Over 16,000 elected women speak up at the local government bodies," she added.
Full report at:
https://www.dhakatribune.com/bangladesh/2018/04/18/pm-bangladesh-wants-sustainable-solution-rohingya-crisis/
--------
Border Forces QRF commander killed in Kandahar city explosion
Apr 18 2018
The commander of the Border Forces Quick Reaction Forces in Kandahar Gen. Janan Mama was killed in an explosion in Kandahar city this morning.
The security sources are saying that the incident took place in the vicinity of the 4th police district of the city earlier today.
The sources are saying that another person was also killed and two others were wounded in the explosion.
No individual or group has so far claimed responsibility behind the incident.
Today's incident takes place as security situation in southern Kandahar province had relatively improved during the recent months but the militant groups are attempting to carry out attacks in some key parts of the province during the recent weeks and months.
Full report at:
https://www.khaama.com/border-forces-qrf-commander-killed-in-kandahar-city-explosion-04908/
--------
Nicholson vows to main relentless pressure to push Taliban towards peace
Apr 17 2018
The top US commander in Afghanistan General John Nicholson who is in command of the NATO-led Resolute Support Mission and the US forces in Afghanistan, has vowed to maintain relentless pressure on Taliban, with an aim to persuade the group to participate in peace talks.
He made the remarks during a visit to southern Kandahar province where he was accompanied by a delegation of high level officials from Afghanistan and abroad.
Gen. Nicholson, quoted in a statement by the provincial government, said the Taliban might be considering options for the reconciliation process but he emphasized that political and military pressures will be maintained on the group until they opt peace process.
The top US commander also added that the offer by the government for reconciliation process is a good opportunity for the Taliban.
This comes as the group has so far refrained from participation in direct peace talks with the Afghan government and insists on direct talks with the US.
Full report at:
https://www.khaama.com/nicholson-vows-to-main-relentless-pressure-to-push-taliban-towards-peace-04904/
--------
Southeast Asia
Malaysian Coalitions Can't Govern Without Islamic Party Support: PAS Chief
2018-04-17
Malaysia's dueling political blocs will need the Pan-Malaysian Islamic Party's (PAS) backing to form the government in next month's general election, and it will side with whichever coalition agrees to make Islam the foundation of the new administration, its leader told BenarNews.
PAS is confident it can triple its number of seats in parliament because support for it is growing, PAS President Abdul Hadi Awang said during a late-night interview Monday in northern Perak state. The party held only 13 seats in the parliament that was dissolved earlier this month but Abdul Hadi believes it can capture about 40 seats in the upcoming polls.
"We will be the kingmaker," he told Benar. "The BN and PH will not able to get the majority to form a government. PAS will make the difference."
The elections are expected to witness a tight contest between the ruling Barisan Nasional [BN] bloc, which has controlled Malaysia's government since the nation's founding in 1957, and Pakatan Harapan [PH], an opposition coalition led by former longtime Prime Minister Mahathir Mohamad. Pakatan is looking to stop the current leader, Najib Razak, from serving a third term as PM.
"In order for them to form a government, they have to rope in PAS and we have one condition if that happens – that would be for Islam to be made the foundation of any government administration," Abdul Hadi said.
"If they refuse to accept our condition, we are fine being the opposition but the question here is how can they form a government without [a] majority? Because of this, PAS is confident that they will finally accept our condition."
Campaigning for the May 9 vote doesn't officially begin till April 28, but PAS's president and his party were out and about at partisan events in the states of Perak and Penang in recent days.
On Sunday, Hadi was accompanied to a partisan assembly in Penang by 300 members of the party's youth wing, who rode in on motorcycles and mopeds.
As he did in Penang a day earlier, Hadi wore a green robe – his party's official color, which is associated with Islam – over a white shirt as he addressed a crowd of around 1,000 supporters in Bandar Seri Iskandar, a township located 40 km (24.8 miles) from Ipoh, Perak's capital.
"PAS will use Islam as the platform in its campaign for the upcoming GE14 [14th general election], where our fight is to show that all administrative matters have to be based on religion. Development too will have to be based on Islamic principles.
"We are strict on this and the Islamic principles cannot be bulldozed … We respect the ideologies of other parties but when it comes to Islam, we cannot tolerate that and everyone has to respect this basic principle. This has been PAS's platform since the beginning, and this will be the thrust of our struggle."
'PAS will only be with those who support Islam'
PAS has been governing the northern state of Kelantan for the last three decades. Nightclubs and cinemas are banned in the state, which is religiously conservative and predominantly Muslim. At supermarkets in the state, there are separate checkout lines for men and women.
Three years ago, state lawmakers unanimously passed a bill aimed at enforcing harsh penalties for criminal offences under an Islamic criminal law known locally as "hudud."
Criminal cases are currently handled by federal laws in Malaysia, where Muslims account for more than 60 percent of the 30 million population.
Critics warned that enforcing Islamic criminal law at the state level could ultimately divide the nation along religious and ethnic lines.
At the time, PAS was a member of the opposition Pakatan Rakyat alliance, but its hardline stance on the hudud issue led to the bloc breaking up in June 2015.
PAS also proposed a controversial parliamentary bill in May 2016 to give Islamic courts in the country more clout in increasing punishments meted out by them. The bill received preliminary backing by Najib's United Malays National Organization (UMNO) party, but was criticized by human rights advocates as potentially infringing on the country's secular constitution.
"PAS will only be with those who support Islam," Hadi told a large crowd of supporters in Penang on Sunday. "Why PAS is out of Pakatan Harapan? Because they rejected Sharia Islam."
Malaysia's main opposition bloc is now known as Pakatan Harapan. But because Malaysia's Registrar of Societies recently rejected its application to be registered as a coalition and de-registered Mahathir's Bersatu party, the bloc's member parties say they will contest the coming elections under the banner of the People's Justice Party (PKR). That party is led by jailed de facto opposition leader Anwar Ibrahim.
In the interview, Hadi denied allegations that his party had accepted a donation of 90 million ringgit (U.S. $23.1 million) from Najib's party.
[I]t's a lie. How can BN donate 90 million ringgit to PAS, a party that would never be with them in the coming election?" Hadi told BenarNews.
During his speech in Penang the day before, the PAS president took a verbal shot at Malaysia's elder statesman, 92-year-old Mahathir, suggesting that the ex-prime minister who was trained as a professional physician should quit politics and return to medicine.
On Tuesday, Mahathir fired back, saying Hadi did "not know anything about politics," according to Malaysian news reports.
"Hadi should not have joined politics. He should be an ustaz, teach in villages. [This would] suit him better," The New Straits Times quoted Mahathir as telling reporters.
https://www.benarnews.org/english/news/malaysian/PAS-04172018171712.html
--------
Indonesian Muslim leader accused of inciting religious hatred
April 17, 2018
An Indonesian Islamic leader has had blasphemy and hate speech allegations filed against him after he gave a controversial sermon in a mosque.
Amien Rais, the former chairman of Muhammadiyah, the second-largest Islamic organization in Indonesia, has had a police report filed against him by Aulia Fahmi, the head a group of lawyers known as the Legal and Advocacy Desk at Cyber Indonesia.
The police report accuses Rais of allegedly disseminating information aimed at inciting religious hatred or hostility during a sermon where he declared some political parties were aligned with God and the rest were aligned with Satan.
Rais, who is also patron of the Islamic-based National Mandate Party (PAN) and former chairman of the People's Consultative Assembly, allegedly made the statement during morning prayers at a South Jakarta mosque last week.
The 73-year-old said that PAN, the Islamic-based Prosperous Justice Party (PKS) and the Great Indonesia Movement Party (Gerindra) were hizbullah (the party of God) while the Satanic group was made up of people against God and those who joined an unspecified "big political party."
His statement has been criticized by some in Indonesian society.
Ma'ruf Amin, chairman of the Indonesian Ulema Council, said he disagreed with Rais' statements.
"It is not right. Do not create dichotomy … It is very dangerous," he told reporters.
Father Paulus Christian Siswantoko, executive secretary of the Indonesian bishops' Commission for the Laity, told ucanews.com that he regarded the police report as "a reminder to all of us that everyone is equal before the law and must be very careful in delivering statements."
"Everyone has the right to express their thoughts as it is guaranteed by the law," said Father Siswantoko. "But please say something good in accordance with public ethics and the values of mutual respect."
The priest said that a religious leader should create a peaceful situation instead of delivering unclear statements which could be misinterpreted. "Anything can be politicized and create chaos right now," he said.
Sebastinus Salang, a political analyst from Indonesian Parliament Watch, said many involved in politics are using any means — including sermons — to get their political message across.
"I think Amien Rais' statements aimed only to create a controversy," he said. "I would suggest that he, as a senior politician, should show a good example by delivering wise statements and doing wise deeds."
Full report at:
https://www.ucanews.com/news/indonesian-muslim-leader-accused-of-inciting-religious-hatred/82081
--------
West Java voters refuse polygamous gubernatorial candidate, survey shows
April 16, 2018
A majority of residents in religiously conservative West Java, home to approximately 47 million people, are unlikely to cast their ballots on candidates practicing polygamy, a new study shows ahead of the gubernatorial election scheduled for June.
The survey, commissioned by Jakarta-based pollster Indonesian Survey Institute (LSI), reveals that 81.4 percent of 440 respondents surveyed in West Java, the most populated province in the country, reject gubernatorial and vice-gubernatorial candidates who are polygamous.
"Candidates must take this concern seriously, since [more than 80 percent] of the public in the region say they object to gubernatorial candidates who have more than one wife leading West Java," LSI Citra Komunikasi executive director Toto Izul Fatah said, as quoted by tribunnews.com on Sunday.
Four candidate pairs - Ridwan Kamil and Uu Ruzhanul Ulum, Sudrajat and Ahmad Syaikhu, Deddy Mizwar and Dedi Mulyadi, and Tubagus Hasanuddin and Anton Charliyan - are set to contest the June election.
Although regarded as the home of many conservative Muslim groups that often claim that polygamy is allowed in Islam, the people of West Java appear to take a different stance on the subject, as seen in the case of Islamic preacher Abdullah Gymnastiar, or Aa Gym.
Full report at:
http://www.thejakartapost.com/news/2018/04/16/west-java-voters-refuse-polygamous-gubernatorial-candidate-survey-shows.html
--------
North America
US senator: Chemical attack used to 'galvanize the world' against Assad
Apr 18, 2018
US Republican Senator Rand Paul says he has seen no evidence that could justify claims about the government of Syrian President Bashar al-Assad carrying out the suspected chemical attack in the town of Douma, and that the attack was used as a pretext to "galvanize the world" against the Syrian leader.
"I still look at the attack and say, you know, either Assad must be the dumbest dictator on the planet — or maybe he didn't do it. I have yet to see evidence that he did do it," Paul said in an interview with CNN on Tuesday.
The Kentucky senator said it was unlikely that the Syrian government carried out the attack particularly after its forces have been winning the war against terrorists and militant groups in the Arab country for the past two years.
"The only thing that would galvanize the world to attack Assad directly is a chemical attack. It killed relatively few people compared to what can be killed with traditional bombs … and so you wonder really what logic would there be for Assad to be using chemical weapons," Paul noted.
Back on April 7, a suspected chemical attack on the town of Douma, in Syria's Eastern Ghouta, reportedly killed 60 people and injured hundreds more. Western countries blamed the incident on the Syrian government, but Damascus strongly rejected the accusations as "chemical fabrications" made by the terrorists themselves in a bid to halt pro-government forces' advances.
The US, Britain and France launched a barrage of cruise missiles on different Syrian government targets on Saturday morning, targeting what they called chemical weapons sites in retaliation for the Douma incident.
US President Donald Trump tweeted "Mission Accomplished" later in the day after the tripartite coalition launched more than 100 cruise missiles inside Syria over the suspected gas attack.
Washington claimed it had proof that Syrian government forces conducted the deadly chemical weapons attack on April 7, without providing any evidence.
The Syrian government surrendered its chemical weapons stockpile in 2014 during a process monitored by the Organization for the Prohibition of Chemical Weapons (OPCW), which oversaw the destruction of the weaponry.
The strike has drawn global outcry since it was carried out before the international chemical weapons watchdog could probe the incident.
In condemning the US-led attack, the Syrian president said the missile strikes would only strengthen his nation's resolve to keep its fight against Western-backed terror groups and "crush terrorism in every inch of the nation."
http://www.presstv.com/Detail/2018/04/18/558860/Rand-Paul-chemical-attack-Douma-Bashar-alAssad
--------
Court Hears Quebec Mosque Killer searched Net on 'Mass Shootings, Islam and Racism'
April 17th, 2018
Before Alexandre Bissonnette shot dead six Muslims in a Quebec City mosque in 2017, he combed the internet for stories on mass shootings, Islam and immigration policies, a Canadian court heard Monday.
The self-confessed killer pleaded guilty to six counts of first-degree murder in March. Monday was the third day of a hearing to determine what sentence Bissonnette will be given by Judge Francois Huot. He also faced six charges of attempted murder and 19 were wounded in the melee.
The 28-year-old former university student was obsessed that a terrorist attack would happen in Quebec targeting his family, he confessed to police during interrogation about 14 hours after the Jan. 29, 2017 shooting.
Bissonnette said he began drinking around noon that day.
He then switched on the television and heard that Prime Minister Justin Trudeau would welcome refugees to Canada regardless of their faith. At the same time, U.S. President Donald Trump was trying to ban travel to America from seven Muslim countries.
"When I saw that, I lost it," he told police investigator Steve Girard in the hours after his arrest.
"I was like, sure that they were going to come and kill my parents also, and my family. I was sure about that…that's why I had to do something."
At Monday's hearing, the court was told Bissonnette was particularly interested in Dylann Roof, a white supremacist who gunned down nine people in a church in South Carolina. During the month leading up to the Jan. 29 shooting, police who searched his computer found he had looked up Roof 201 times.
Bissonnette also searched Marc Lepine, who killed 14 women in 1989 at a Quebec engineering school.
He also looked for information about the Quebec Islamic Cultural Centre, where the shootings took place, and the Muslim student association at Laval University 82 times in January.
Canada does not have the death penalty, but Bissonnette could face 150 years in prison, 25 years on each of the first-degree murder charges.
Full report at:
https://www.albawaba.com/editorchoice/court-hears-quebec-mosque-killer-searched-net-mass-shootings-islam-and-racism-1118396
--------
Trump slammed by conservative supporters over Syria strike
Apr 18, 2018
US President Donald Trump has been criticized over his decision to strike Syria again by some of his most vociferous conservative supporters wary of US involvement overseas.
"What Trump said was 'America First.' That means putting America's interests first, and we have legitimate interests in Syria," said James Carafano, a defense policy expert at the Heritage Foundation who worked on the Trump transition, according to The Hill. "Trump's base trusts the president to do what's in the interest of the American people."
It is not clear, however, that the public criticism is indicative of a deeper schism, with the president's supporters still believing that the April 14 strike will not have political damage.
Trump ordered a military strike against the war-torn country despite international warnings against further escalation of the situation.
Three sites in Syria came under attack by US, British and French military forces that used Tomahawk cruise missiles and other types of bombs.
The strikes were carried out in response to an alleged chemical attack by the Syrian government, which has vehemently denied the accusation.
It was the second time Trump directly targeted the Syrian government after the first attack last year when Trump ordered a cruise missile strike against a Syrian airbase accused of being involved in another alleged chemical attack.
Days before the attack, which was more extensive than last year's, Trump was pushing his military advisers to withdraw from Syria, where US troops are claimed to be fighting Daesh.
However, before making any bid to pull out the American troops, he changed his course of action ordering an all-out attack on Syria.
Some Republicans on Capitol Hill criticized the president for acting without congressional authorization.
In an op-ed published Tuesday by CNN, Republican Senator Rand Paul urged Trump to "trust [his] gut" and not get involved further in Syria.
"President Trump is listening far too much to the foreign policy swamp that he fought against," Paul wrote.
"We need to rebuild our military, not overuse it policing the world and nation-building. President Trump knew it when he was running for office. He even knew it two weeks ago when he instructed his foreign policy team to get out of Syria. But he's listened to some bad advice from the same people who created many of these messes in the first place."
Republican Congressman Thomas, who believes the strikes were unconstitutional, said Trump's advisers are in conflict with the president's instincts.
"I think his instincts were right," Massie said. "I think his instincts are still right, and I think he's surrounded by people who are pushing him against his instincts."
Far-right pundits have also brutally reacted to Trump's decision to attack Syria. Infowars host Alex Jones said, "He was doing good and that's what makes it so bad."
"If he had been a piece of crap from the beginning, it wouldn't be so bad. We've made so many sacrifices and now he's crapping all over us. It makes me sick," Jones said.
Despite the harsh criticism, there were still some conservative commentators who did support Trump.
Full report at:
http://www.presstv.com/Detail/2018/04/18/558872/US-Syria-Donald-Trump-order-attack
--------
G7 ministers to discuss Syria next week in Canada
17 April 2018
The foreign ministers of Group of Seven (G7) countries will discuss the revival of Syrian peace talks next week in Canada, the German foreign minister announced on Tuesday.
Speaking at a news conference in Berlin following his meeting with Canadian Foreign Minister Chrystia Freeland, Heiko Maas said: "After the military strikes in Syria, now it has become necessary to initiate a political process.
"We have to use the time available now to restart the political process, indeed with the goal of reviving the political process under the auspices of the United Nations."
Maas underlined the importance of maintaining the dialogue with Russia despite recent tensions with Moscow.
"Without Russia, we won't be able to find a political solution to the conflict in Syria," he said.
Germany's top diplomat also vowed to play a more active role.
"It's important for Germany to become part of a peace initiative in Syria," he said.
Freeland backed dialogue with Russia but also criticized Moscow's support to the regime in Damascus, which she said "crossed the line" in its use of chemical weapons.
"Russia's support of that regime is unacceptable. And we have to be clear that Russia and Iran share the moral responsibility for some of the heinous actions we have seen in Syria," she said.
G7's term president Canada will host the foreign ministers meeting in Toronto between April 22 and 24.
Full report at:
http://www.worldbulletin.net/america-canada/201182/g7-ministers-to-discuss-syria-next-week-in-canada
--------
Mideast
UN voices concern about insufficient food imports to Yemen
April 18, 2018
UNITED NATIONS - UN Undersecretary-General for Humanitarian Affairs Mark Lowcock on Tuesday expressed concern about insufficient commercial imports, particularly food, to Yemen.
"We remain very concerned about commercial imports through all of Yemen's ports, most particularly (the Red Sea ports of) Hudaydah and Saleef," Lowcock told the Security Council.
Before the war, Yemen relied on imports to cover 90 percent of staple food and nearly all its medicine and fuel needs, he said. "Commercial shortages and delays at ports have led to sharp increase in the price of food and household necessities. Ports are the lifeline of Yemen."
Price increases, especially of food, are forcing hundreds of thousands of destitute families to turn to humanitarian assistance for their very survival, he said.
The United Nations is encouraging all those concerned to accelerate the normalization of commercial shipments into Hudaydah and Saleef, as well as to Yemen's other ports, he said.
"We are worried that shipping companies are reluctant to enter Yemeni waters."
The reasons are related to problems with foreign exchange and the banking sector as well as the ports, but the result is that insufficient food is being imported, he explained.
Lowcock also voiced concern over the fact that Sanaa airport remains closed to commercial traffic. The closure of the airport is preventing thousands of critically ill patients from traveling abroad to seek treatment unavailable in Yemen, he said.
Military activities conducted in the proximity of the airport over the last month have affected humanitarian flights.
Yemen, which has been in war since 2015, remains the world's worst humanitarian crisis, he said. Three quarters of the population, or more than 22 million people, urgently require some form of humanitarian help, including 8.4 million people who struggle to find their next meal, said Lowcock.
https://nation.com.pk/18-Apr-2018/un-voices-concern-about-insufficient-food-imports-to-yemen
--------
Polish far-right lodges complaint against Israeli president under Holocaust law
18 April 2018
Polish nationalist movement Ruch Narodowy (RN) said Tuesday it had filed a complaint with prosecutors against Israel's president under Poland's controversial new Holocaust law for having attributed responsibility to Poland for Nazi German crimes.
It follows a press statement released by Israeli President Reuven Rivlin's office last week after his meeting with Polish counterpart Andrzej Duda in Poland's southern city of Krakow on the occasion of the annual March of the Living at the site of the former Nazi German death camp Auschwitz-Birkenau.
According to the statement, Rivlin had said during the talks, "There is no doubt that there were many Poles who fought the Nazi regime, but we cannot deny that Poland and Poles had a hand in the extermination."
The RN movement said Rivlin "had attributed responsibility for Nazi crimes to the Polish state," which is forbidden under the new Holocaust law. The legislation, which came into effect last month penalizes such statements with fines or a jail term of up to three years.
Judicial proceedings
The Israeli statement "requires quick and effective judicial proceedings and a serious penalty, both in terms of general prevention measures and public expectations," the RN wrote on its website. "The author acted with the goal of consciously and intentionally committing a forbidden act."
The RN said it lodged the complaint with the IPN Institute of National Remembrance, with is charged with prosecuting Nazi and communist-era crimes. Poland's Holocaust law was meant to protect the country from false accusations of complicity in the Holocaust.
But it has drawn strong criticism from Israel and Jewish organizations, which accused Warsaw of denying the participation of certain Poles in the genocide of Jews. Israel also expressed deep concern that the law could open the door to prosecuting Holocaust survivors for their testimony.
Full report at:
https://english.alarabiya.net/en/News/middle-east/2018/04/18/Polish-far-right-lodges-complaint-against-Israeli-president-under-Holocaust-law.html
--------
Arab Coalition downs two Iranian drones in Yemen's Midi
17 April 2018
Al Arabiya has learned on Tuesday from sources that Arab Coalition forces were able to shoot down two Iranian drone aircrafts in the Midi district of Hajjah province.
The Houthi militias reportedly launched the Iran-made drones a day earlier to the positions of the national army and coalition in the recently liberated directorate of Midi in order to surveil and reveal military positions.
Sources said that the Houthi militias tried to repeat the operation Monday morning but did not succeed, after a second one was shot down by army and coalition forces.
https://english.alarabiya.net/en/News/gulf/2018/04/17/Arab-Coalition-downs-two-Iranian-drones-in-Yemen-s-Midi.html
--------
Jubeir: Houthis hardened against political process in Yemen because of Iran
17 April 2018
Saudi Arabia's Foreign Minister Adel al-Jubeir has said that the success of any political solution in Yemen depends on the Houthi militias.
Jubeir's comments came during a press conference with United Nations Secretary General Antonio Guterres who reiterated that no solutions exist in either Syria or Yemen other than political ones.
"Saudi Arabia did not want a war in Yemen but was forced to after the coup against the legitimate government by the Houthi militias' coup," Jubeir told reporters.
Jubeir also added that the Houthis have hardened against a political process in Yemen because of Iran's obstinacy and interference.
Meanwhile, Guterres added that the UN has seen the humanitarian aid distribution in Yemen improved significantly in recent weeks.
Full report at:
https://english.alarabiya.net/en/News/gulf/2018/04/17/Jubeir-Houthis-hardened-against-political-process-in-Yemen-because-of-Iran.html
--------
Israel has issued 50,000 administrative detention orders against Palestinians: Report
Apr 17, 2018
The Palestinian Committee of Prisoners' Affairs says Israel has issued some 50,000 orders for the so-called administrative detention against Palestinians since 1967, when the regime occupied Palestinian territories.
The Committee said on Monday that the number of administrative detention orders has increased sharply since 2002, adding 427 Palestinians are currently being held in jails under this mechanism.
Administrative detention is a sort of imprisonment without trial or charge that allows Israel to incarcerate Palestinians for up to six months. The detention order can be renewed for indefinite periods of time.
The Palestinian Prisoners' Center for Studies (PPCS) has called on human rights and international bodies to pressure Israel to abide by the provisions of the Geneva Conventions and respect the rights of Palestinian prisoners.
PPCS chief Raafat Hamdouneh said in a statement that Palestinian prisoners are facing difficult conditions and warned of the highly explosive situation in light of the daily abuses committed against them by Israeli forces.
According to Hamdouneh, nearly 6,500 Palestinian prisoners are being kept in intolerable situations, where visits are prohibited, books and education are banned, the food is poor and their health is neglected.
Gaza marks Prisoners' Day
April 17 marks the Prisoners Day across the occupied Palestinian territories. On this occasion, Palestinians show their support for inmates in Israeli jails.
In a statement on Monday, Hanan Ashrawi, a member of the Palestine Liberation Organization's Executive Committee, said, "As we continue to pay tribute to and affirm our support of all former and current Palestinian prisoners within Israeli jails, we are reminded of their steadfastness and unbreakable commitment to independence and justice in the face of the belligerent military occupier's willful breach and devaluation of their rights and lives."
Also on Sunday, dozens of wheelchair users participated in a race dubbed "Marathon 1,500" in Gaza City to show solidarity with sick or wounded Palestinians in prison, according to the Palestinian Information Center.
In recent weeks, Israel has been violently cracking down on peaceful mass demonstrations in Gaza against the regime's occupation. Over 30 Palestinians have been killed during this time.
Full report at:
http://www.presstv.com/Detail/2018/04/17/558791/Israel-administrative-detention-Palestine-Prisoners-Day
--------
Palestinians stage rallies to express solidarity with prisoners
Apr 17, 2018
Thousands of Palestinians have staged rallies across the occupied West Bank and besieged Gaza Strip in a show of solidarity with Palestinian prisoners, who are being held captive in Israeli jails and detention centers.
Activists from nationalistic and human rights organizations in addition to school students converged in the central West Bank city of Bethlehem, located about 10 kilometers (6.2 miles) south of Jerusalem al-Quds, on Tuesday, waving Palestinian flags and holding up pictures of long-term serving prisoners.
The demonstrators demanded the immediate release of the inmates.
Elsewhere in the northern West Bank city of Nablus, situated approximately 49 kilometers (30 miles) north of Jerusalem al-Quds, protesters took part in a similar rally.
People also flocked streets in Jenin to commemorate the Prisoners Day, and show their support for Palestinian inmates in Israeli jails.
In the Gaza Strip, resistance movements and prisoners' institutions called upon people to participate in a sit-in protest in al-Khayyam area, which is scheduled to start at 5:30 p.m. local time (1530 GMT).
More than 7,000 Palestinians are reportedly held at Israeli jails. Hundreds of the inmates have apparently been incarcerated under the practice of administrative detention, a policy under which Palestinian inmates are kept in Israeli detention facilities without trial or charge.
Some Palestinian prisoners have been held in administrative detention for up to eleven years.
Palestinian inmates regularly stage hunger strikes in protest at the administrative detention policy and their harsh prison conditions in Israeli jails.
Full report at:
http://www.presstv.com/Detail/2018/04/17/558810/Palestinians-stage-rallies-to-express-solidarity-with-prisoners
--------
Africa
Ruling on Muslim marriages means usurping Parliament, court hears
2018-04-17
Should the Western Cape High Court rule on the recognition of Muslim marriages, it would be usurping the function of Parliament, the advocate representing the minister of justice has argued.
Advocate Nelly Cassim, SC, on Tuesday contended that any declarator to this effect would result in the courts appropriating the powers of legislation.
"There is no constitutional obligation on government to implement legislation giving recognition to Muslim marriages," she insisted.
The right to freedom of religion meant Muslims followed the dictates of the Quran by choice.
"It's not that you can't register your marriage. You choose not to."
She said women and girl children were protected from discrimination by the Promotion of Equality and Prevention of Unfair Discrimination Amendment Act.
No judicial oversight on Muslim marriages
The application, brought by the Women's Legal Centre, aims to seek relief in the form of providing Muslim women and their children with legal protections upon the dissolution of marriages.
This is being sought due to the "continued failure on the part of government to fulfil the obligations on it by the Constitution to recognise Muslim marriages as valid marriages for all purposes in SA, and to regulate the consequences of such recognition", the non-profit law centre explained.
Ahead of the case, the Women's Legal Centre argued that there was no judicial oversight with Muslim divorces as there was in civil and customary instances.
It said that a range of constitutional rights, including the right to equality, were therefore being violated. It hoped that the high court would order the State respondents to pass legislation that "cures the unconstitutional position", or to include Muslim marriages in existing legislation for civil and customary marriages.
The matter is being heard by judges Siraj Desai, Gayaat Salie-Hlophe and Nolwazi Boqwana.
Desai questioned why Muslim marriages were considered valid for tax and in terms of the Insolvency Act. He asked why blanket recognition should not be given if there were ad hoc instances where it was accepted.
'Bastardisation of children'
But Cassim maintained that the decision on whether Muslim marriages should be recognised was not one for the court to make.
"The implications of a declarator will have ramifications. It would mean a consultative process in Parliament was not followed."
Advocate Emraan Vawda, for religious organisation Jamiatul Ulama KwaZulu-Natal, concurred with Cassim's argument and conceded that there was "no perfect solution".
"But it's a policy decision for legislature to decide, not for the courts," he said.
Desai questioned why in a state, the law of the state shouldn't apply. He pointed out that 24 years into democracy, legislation had still not dealt with issues around Muslim marriage.
"Muslim women still labour under marriages not being recognised and there is no solution in sight," he said.
This resulted in serious matters of concern, including the "bastardisation of children".
Desai said that Islam was not the problem, but its application in the 21st century.
Understanding of Islamic law
Anwar Albertus, SC, for the minister of home affairs, echoed Cassim's argument of the separation of powers and judicial overreach.
He insisted that what the applicants sought was a "broad brush, [a] sweeping approach with no regard and sensitivity for what is in its way".
Albertus said the result of such an order would mean the court decides whether a marriage comes to an end, and the judge may not understand Islamic law.
He questioned what would happen to Muslim men with second and third wives and asked about the proprietary consequences.
Attempts have been made by government to pass legislation relating to Muslim marriages, Albertus pointed out, but this was met with resistance.
Only "an insensitive government" would nevertheless push ahead.
The South African Law Reform Commission was exploring ways to resolve this, Albertus said.
The matter continues on Wednesday.
https://www.news24.com/SouthAfrica/News/ruling-on-muslim-marriages-means-usurping-parliament-court-hears-20180417
--------
Boko Haram: No amnesty for mass murderers
April 18, 2018
HAVING, in his own opinion, "technically" defeated the Boko Haram insurgents, President Muhammadu Buhari and some interest groups are anxious to grant amnesty to "repentant" insurgents. De-radicalisation, amnesty and reconciliation are, indeed, useful tools applied by governments to solve national crises, but they are to be wisely applied and only where and when appropriate. In their inordinate love for amnesty, Nigeria's leaders should not reward or allow mass murderers to walk free.
Buhari has made his offer of amnesty at home and abroad, emphasising the government's willingness to forgive Boko Haram members who surrender unconditionally. For these ones, he said, "we are ready to rehabilitate and integrate such repentant members into the larger society." If the goal is to persuade lower ranking commanders to break ranks and lure foot soldiers away from the jihadists, the strategy is sound.
Reports and confessions by some captured members have revealed some cases of young men, women and underage girls who had been coerced or brainwashed into joining the terror machine against their will. For some, it was "join us or die." For those who are not indicted in any specific instance of mass murder, abduction or arson, de-radicalisation and re-integration are desirable outcomes.
But we draw a red line where blood-stained mass killers are concerned. There should be no blanket amnesty. The responsibility of the state is to apprehend and prosecute criminals as demanded by natural justice and the law.
Elsewhere, amnesty has been granted after major conflicts − to end civil wars; resolve a domestic social problem such as reprieve by the United States government to undocumented immigrants; succour for ex-guerrillas in Colombia and the ongoing, though still controversial, amnesty programme for Niger Delta militants. Amnesty has been deployed by governments when they believe that having peace and bringing deviants into compliance with the law are more beneficial than punishment, to end a conflict or facilitate reconciliation after a conflict.
Since a truce in 2009 with Niger Delta militants-cum-criminal gangs, Nigeria's federal and state governments have become enamoured of amnesty, translated here largely to mean cash payments and undeserved privileges for perpetrators of murder, vandalism, kidnapping and mayhem. Some estimates say cash payments, scholarships and skills acquisition programmes for ex-militants have drained over N500 billion since its inception. Some N35 billion is earmarked to cater for 30,000 so-called ex-militants. That thousands more are clamouring to be included and occasionally resorting to vandalism validates findings in a study by the Brookings Institution that blanket amnesty fosters further impunity by deviants who then expect rewards for their waywardness.
We reject the long-running attempt to equate the Niger-Delta militancy with Boko Haram's campaign of terror. Boko Haram represents Islamist terrorism, nothing more: it is an ideology with messianic aspirations; its die-hard adherents are committed to global conquest through jihad that executes terror, war and anarchy. Excessive cruelty and brutality are their favoured tools and for them, all governments are illegitimate and should be violently overthrown. According to online site, TROP, Islamist terrorists have carried out 32,880 outrages since 9/11; in the seven days to April 6, this year, 31 attacks were carried out in 10 countries in which 151 persons were killed and 172 wounded.
The atrocities of Boko Haram have seen it alternate at first and second places with ISIS as the world's most deadly terror group on the Global Terrorism Index. It has accounted for over 100,000 deaths, according to a Borno State Government tally, displaced 2.3 million people, enslaved women and girls, razed entire towns and numerous villages to the ground and notoriously kidnapped 276 schoolgirls in Chibok in 2014 and another 103 in Dapchi in February.
Buhari must keep these in mind: as the Commander-in-Chief, he should remember how the terrorists posted a video that showed them slitting the throat of a Nigerian Air Force pilot whose aircraft had crashed; other videos of captured Nigerian Army, police, customs and immigration personnel, slaughtered and their corpses abused. Our gallant military have lost so many men and fine officers. The President should not crush their morale with blanket amnesty that will reward mass murderers and persons committing most heinous crimes against humanity. In Europe where de-radicalisation programmes are under way, a distinction is made between those lured into minor roles in the jihadist enterprise and those who actively participated in murder and provided decisive material support for terrorism. The former are tracked and rehabilitated, the latter are arrested and prosecuted.
Until recently, Nigeria sparingly prosecuted terrorists, appearing to favour indefinite detention of suspects. But Chad swiftly enacted new laws as the terror spilled into its territory and without delay executed 10 Boko Haram terrorists in August 2015 by firing squad, a trend it has sustained. Those who carried out attacks in France, England and the US, when caught are arraigned in court, including Nigeria's Farouk Abdumutallab, who was sentenced to life for attempting to blow up a plane over Detroit city.
Full report at:
https://punchng.com/boko-haram-no-amnesty-for-mass-murderers/
--------
Who are the French and Tunisian Islamic State soldiers?
17 April, 2018
This is the fourth article in the series 'France and Tunisia's war on terror'. Read the introduction here.
France and Tunisia are two of the biggest providers of combatants to Islamic State group (IS). What has prompted so many of their citizens, most of them young people, to join the organisation?
In Tunisia, studies and official reports have highlighted the disturbingly large numbers of young Tunisians leaving the country to join so-called jihadist groups in Syria and Iraq.
A United Nations report from July 2015 put the number of Tunisians taken on by these groups at 5,500. Their involvement was voluntary, a religious migration prompted by attraction to the concept of jihad and dreams of a return to a model Islamic state. However, key economic, social and political conditions can also be identified in these young people's lives which contribute to their support of 'jihad'
Social exclusion, creator of extremism
The involvement of Tunisians in terrorist organisations did not begin with the Syrian crisis; it has national as well as international roots. The efforts of jihadists to engage the sympathies of the Tunisian public began after the fall of Ben Ali in January 2011, a time of renewed hope.
Although it is difficult to isolate the jihadist currents prevalent during this period, they seem to have been based principally around specific charismatic leaders, and to have targeted young people.
The Tunisian Forum for Social and Economic Rights (FTDES), produced a study called "Terrorism in Tunisia through juvenile records" which shows that 75 percent of people investigated by the courts were between 18 and 34 years of age.
This tallies with the statistic quoted by the minister for internal affairs, Hedi Majdoub, in April 2017. Tunisians in combat zones numbered 3,000, 96 percent of whom were aged between 24 and 35. What makes these young people want to leave their homes to fight far away?
Studies indicate that areas on the margins of society, such as the working class districts surrounding the capital and also more rural areas, are fertile ground for jihadist implantation, whether aimed at encouraging terrorist acts at home or recruitment to conflict zones.
These young people are socially and economically fragile, affected by unemployment, poverty, high educational drop-out rates and social stigma. A study of the working class area of Douar Hicher, one of the largest in the capital, states that "a considerable proportion of these young people are unemployed or work erratically, in activities related to the informal economy; work which does not guarantee financial or psychological stability, much less high social standing".
Social exclusion feeds into the narrative of "jihad in the service of God" preached by some mosques, which seek to fill the gap created by social vulnerability.
The group Ansar Sharia, classified as a "terrorist organisation" by the Tunisian authorities in August 2013, has profited greatly from it. The Tunisian government's official position on the Syrian question in itself partly coincides with the jihadist propaganda.
The troika government, led by the Ennahdha party from 2011 to 2014, hosted a conference by Friends of Syria in February 2012 which featured visiting preachers inciting jihad. These included the Egyptians Wajdi Ghoneim and Mohamed Hassan, who gave a series of talks across the country in February 2012 and February 2013. Religious television channels and social media also carry this message.
The announcement by Abu Bakr Al-Baghdadi in June 2014 of the coming of the Islamic caliphate prompted many young Tunisians to dream of an ideal Islamic state that could transcend the nation state.
It is worth exploring the relationship between the way the Tunisian nation state presents itself, and the numbers of young people spurred on by the desire to destroy it, especially given the country has already experienced its young citizens leaving to fight in the war against the Soviet Union in Afghanistan in the late 80s, and in the second Gulf War from 2003.
The consequences of a state crisis
In the fight against terrorism, the Tunisian state lacks any clear strategy or co-ordinated overview.
Faced with the proliferation of terrorist operations, successive governments have chosen to focus on emergency security measures.
Since 2015, many official declarations have been made about a document to be published outlining a national anti-terrorism strategy. This document has still not appeared.
The state's approach to Tunisian citizens returning from combat in Syria demonstrates its inability in dealing with the problem: Since 2014, when the then minister for internal affairs, Lotfi Ben Jeddou, announced the return from Syria of around 400 young Tunisians, politicians from the parties in power and the opposition have been locked in controversy about how to deal with the consequences of this "reverse migration".
Tensions heightened following the announcement of the "repentance law", which excused many jihadists from judicial proceedings. In August 2015, after the president of the Ennahdha party requested that the doors to repentance be opened, his party was accused of pushing President Beji Caid Essebsi to enact the law. The president had already said "we will not put them all in prison… we will take the necessary measures to keep them away from harm".
Security files about the networks working to transfer young Tunisians to combat zones have been subject to political blackout, despite the creation of a parliamentary investigation commission on 31 July 2017. The commission has still not reported, due to tensions between its delegates, some of whom accuse Ennahdha of being behind the networks in question.
State policies which result in poverty and marginalisation for many citizens continue to bolster terrorism and the processes that lead to it, helping jihadists to target more widely and to root themselves into society. These policies have also fed the distrust of the state felt by young Tunisians. This non-affiliation contributes to an erosion of their faith in the future.
Poverty and exclusion
In France, as in Tunisia, there is convergence between the official position of ending Bashar al-Assad's regime in Syria, and the calls to jihad. Both countries have contributed a significant number of people to the jihadist fight. While France and Tunisia might seem very different at first glance, an investigation of the profiles of the individuals involved, as well as the response of the state, reveals some common ground.
It is hard to obtain precise statistics on the number of French people who have left to fight in Syria. The Co-ordination Unit for the Fight Against terrorism (UCLAT), created in 1984 with the aim of increasing co-operation between French security services, collected information on the profiles of the 265 French jihadists presumed dead in Syria.
It found their average age was 28, 52 percent were the descendants of immigrants, while 24 percent had no links with immigration, and 56 percent lived in one of the country's "priority neighbourhoods" (areas in which the average earnings per inhabitant are the lowest).
These figures support the theory of a correlation between socio-economic inequality and radicalisation.
Academic research on the subject has thrown up a variety of profiles, but agrees on some key points. Many of the converts to Islam are young people who have dropped out of school or have already become petty offenders and been radicalised in prison.
As in Tunisia, extremist religious ideology offers its followers the possibility of elevating their social standing and achieving some recognition, in a world in which horizons are narrow due to high unemployment and reliance on unstable and precarious employment.
In France, radicalisation is also fed by the subtle day to day discrimination experienced by the populations issuing from postcolonial immigration. Racial profiling and discrimination in recruitment, to cite just two examples, are phenomena which the state has failed to address effectively.
An end to the rule of law in an explosive social context
France has been harder hit by terrorism than any other European country. It has also provided the most recruits to the Syrian jihad, around 1,700 individuals, according to official figures cited by Edouard Philippe at the presentation of "The Fight against Radicalisation" plan.
Of the 323 adults who have returned to France, some have been remanded in custody, and others kept under observation. The Centre for Deradicalisation pilot project was closed in July 2017, the experiment having proved inconclusive.
In Syria and Iraq, 680 French adults and their families have been detained. France claims to be confident about the capacity of the Kurds and the Iraqis to judge these people fairly; however it says it will intervene in the case of the death penalty. Repatriation is a particularly unpopular option among an already polarised population.
France has the highest Muslim population in Europe, yet has always had difficulty accepting its plural identity. The increase in terrorist attacks has resulted in greater stigmatisation of Muslims, while religious extremism has widened the fracture between Muslims and non-Muslims.
Full report at:
https://www.alaraby.co.uk/english/comment/2018/4/17/who-are-the-french-and-tunisian-islamic-state-soldiers
--------
Police fire teargas at Shi'ite Muslim protesters in Nigerian capital
Apr 17, 2018
ABUJA (Reuters) - Nigerian police fired teargas at hundreds of Shi'ite Muslim protesters on Tuesday during a second day of clashes in the capital Abuja over the imprisonment of their religious leader, Reuters witnesses said.
The protesters are demanding the release of Ibrahim Zakzaky, leader of the Islamic Movement of Nigeria (IMN), held in jail without charge since December 2015, when security forces killed hundreds of members in a crackdown on a group estimated to have three million followers.
The teargas flooded the Wuse Market area of Abuja at midday on Tuesday, the Reuters witnesses said. On Monday police fired bullets to try and disperse the protesters, and organisers said at least one demonstrator had been killed and several others injured.
The crackdown on the IMN and the detention of its leader have drawn accusations that President Muhammadu Buhari's government is abusing human rights.
The IMN, which has held regular peaceful protests in Abuja in recent months, says Zakzaky must be freed after a court ruled that his detention without charge was illegal.
The crackdown has sparked fears that the IMN could become radicalised, just as the Sunni Muslim militant group Boko Haram turned into a violent insurgency in 2009 after police killed its leader.
(Reporting by Abraham Achirga and Afolabi Sotunde; Writing by Paul Carsten; Editing by Gareth Jones)
Full report at:
https://www.firstpost.com/india/police-fire-teargas-at-shiite-muslim-protesters-in-nigerian-capital-4435835.html
--------
Al-Qaeda Raids in Somalia Scuttle Africa's Plan to Withdraw
April 18, 2018
African troops battling an al-Qaeda affiliate in Somalia for the past decade stand little chance of withdrawing by their deadline in two years as the government remains fragile and a spike in militant violence has drawn in U.S. forces.
The longest-running African Union peacekeeping mission, known as Amisom, operates in a shattered country whose lawlessness has bred regional violence -- al-Shabaab has staged attacks in Kenya, Uganda and Djibouti -- and piracy that plagued global shipping in the early 2000s. Over the past year, the U.S. has boosted its cooperation with the Somali army, targeting al-Shabaab and an Islamic State faction. The U.S. Africa Command said al-Shabaab controls about a fifth of Somalia, mainly in the south.
Assaults on Ugandan peacekeepers this month show the challenge still facing the mission that deployed in 2007 as al-Shabaab stepped up its violence. Since October, Somalia has suffered its deadliest attack in three decades of civil war, debate in parliament threatened to turn violent and the federal and regional governments have been at loggerheads.
'Extremely Unrealistic'
Amisom officials still talk as if departure is imminent and say 1,000 troops from about 22,000 uniformed personnel will leave this year. Yet in March they asked the United Nations to repeal a resolution to trim the force, which also includes Kenyan, Ethiopian, Djiboutian and Burundian soldiers.
A 2020 exit is "extremely unrealistic," said Richard Cole, a former adviser to Somalia's army. Talk of leaving is based on the "war-weariness" of the troop-contributing countries rather than "the situation on the ground, where al-Shabaab has not been decisively defeated and remains a constant threat," he said.
U.S. forces have conducted 12 strikes against al-Shabaab so far this year, according to the U.S. Africa Command.
Amisom's deputy head of mission, Simon Mulongo, said it "will most likely stay longer than 2020-21 because of challenges to statehood development, despite significant gains registered." Without Amisom, the insurgents are "capable of easily retaking the reins of power," he said.
Comprehensive Training
Many Somali officials agree 2020 isn't feasible. The chief inspector of police, Hassan Mohamed Nur, said by phone that the army won't be able to take over without increased capacity, an organizational overhaul and a comprehensive training program.
Political disputes among Somali officials are the Achilles' heel of government forces, said Hussein Sheikh Ali, a former national security adviser. Amisom is undermined by a "lack of commitment" to finish the job and "constant clashes" between international donors, he said. The spokesman for the Internal Security Ministry, Abdulaziz Ali Ibrahim, said the current priority is solving splits in the government.
Amisom's departure needs institutions that can assume responsibility for security, according to Matt Bryden, director of Sahan Research, an institute in neighboring Kenya and a former head of a UN sanctions monitoring group on Somalia.
Withdrawal 'Premature'
"That scenario will prove unattainable unless there exists a stable political settlement, not only in Mogadishu, but also between the federal government and authorities in other regions," he said.
Uganda's army, the largest contributor to Amisom with more than 6,000 troops, has changed its stance on an early pullout after a review, military spokesman Richard Karemire said by phone from the capital, Kampala.
In Kenya -- whose army invaded Somalia in 2011, citing a wave of cross-border abductions by al-Shabaab, and later joined Amisom -- opinion polls show the majority of Kenyans want the troops home.
While Kenyan army spokesman David Obonyo acknowledged it would "be premature to withdraw before the country is fully fortified," the presence of his nation's forces depends on Amisom's UN mandate continuing. Officials from Djibouti, Ethiopia and Burundi didn't answer calls seeking details on their withdrawal plans.
For Cole, the former Somalia army adviser, there's simply no alternative to Amisom at the moment.
Full report at:
https://www.bloomberg.com/news/articles/2018-04-17/al-qaeda-attacks-in-somalia-scuttle-africa-s-plan-to-withdraw
--------
Boko Haram kills three Chadian soldiers
APRIL 18 2018
Three Chadian soldiers were killed in a clash with Boko Haram jihadists on Sunday, Chad's national television reported on Tuesday.
The three were given a posthumous award by the Chadian army chief of staff, the report said, adding that they were buried at the N'Djamena military cemetery.
The report gave no details of where the clash happened.
A military source said fighting took place on Sunday between Boko Haram and Multinational Joint Task Force (MNJTF) soldiers in Arge in Nigeria's Abadam district, which is on the border with Chad.
Three MNJTF soldiers were killed, the source said, without specifying whether they were Chadian.
TRACKING JIHADISTS
The MNJTF has patrolled the Lake Chad area for several years alongside civilian "watch committees" to prevent the return of Boko Haram to the region.
On the Nigerian side of the border, the MNJTF is tracking jihadists in one of their main strongholds in the Sambisa Forest of Borno State in the northeast of the country.
Boko Haram operates mainly in its birthplace Nigeria, where it commits deadly attacks and carries out kidnappings.
The jihadist group also operates in several countries neighbouring Nigeria such as Chad, Cameroon and Niger.
Full report at:
https://www.nation.co.ke/news/africa/Boko-Haram-kills-three-Chadian-soldiers/1066-4421402-ctf0v8/index.html
--------
Europe
French Court Orders Parents Rename Baby 'Jihad'
04/17/2018
A southwestern French court ordered parents to change their baby's name after naming him "Jihad," according to Le Parisien Monday.
A Toulouse court ordered Friday a family to change their baby's name, who was born in August 2017, from Jihad to Jahid due to thinking the name alludes to radical Islam, Le Parisien reported. The court had the authority to enact the change to the birth certificate due to Article 57 of the French Civil Code that permits a name change for the "best interests of the child."
The name Jihad in Arabic has several connotations such as struggle or resistance, not always in a violent sense. However, it is often associated with extremist Muslim groups. A three-year-old boy named Jihad wore a shirt to school in 2011 that said: "I am a bomb" or "Je Suis Bombe" in French. The back of the shirt read "Jihad, Born September 11," Le Figaro reported. The mother defended her actions saying that the shirt, a gift from Jihad's uncle, simply meant "I am cool" due to using the word "Bombe" that is also a French slang word for cool, according to La Provence. Jihad's mother and uncle appeared in court in 2013 but were later released. (RELATED: French Couple Not Allowed To Name Daughter Liam)
France also requires that parents name babies with letters that are only in the French alphabet. Parents from Bretagne, a region in western France, were forced to change their son Derch'en's name after giving him a traditional Breton name with letters that were not in the French alphabet, according to The Local.
http://dailycaller.com/2018/04/17/french-court-baby-jihad/
--------
Security forces arrest members of Daesh cell in Russia, foil planned attacks
Apr 17, 2018
Russian security service says it has detained several members of a terror cell run by the Daesh Takfiri terrorist group in southern Russia, foiling planned "resonant terror attacks" in the country.
In a statement released on Tuesday, the Federal Security Service of the Russian Federation (FSB) said security forces managed to arrest a total of three members of the terror cell in the southwestern region of Rostov.
It further reported that the outfit had planned to launch terror attacks in the region with the use of firearms and improvised explosive devices (IED), adding that the head of the cell was killed after he detonated an IED during the detention operation.
"During an operation, the leader of the cell put up armed resistance and triggered an improvised explosive device, eventually receiving fatal injuries," the statement said.
The FSB also noted the group had been receiving orders and instructions through emissaries from the main headquarters of Daesh in war-torn Syria, where the terror group has already lost all its strongholds and urban bastions, thanks to counter-terrorism operations by the Syrian government troops, backed by Russian airstrikes.
The statement, however, did not specify where the operation took place, noting only that an AK-47, hand grenades, and IED manuals were discovered at their safe house.
Full report at:
http://www.presstv.com/Detail/2018/04/17/558814/Russia-Daesh-FSB-Rostov
--------
UK military embarrassed by lack of firepower in Syria attack
Apr 17, 2018
Britain's lack of firepower in the recent US-led attack against Syria was "depressing" as it forced British military forces to play second fiddle to their French peers, military experts say.
The United States, the UK and France attacked Syria on Saturday, claiming that Damascus was behind an alleged chemical attack the town of Douma, Eastern Ghouta.
While the UK had sent eight fighter jets and one of its advanced warships to partake in the attack, it could only afford to fire eight missiles at Syrian targets in an operation that saw 105 missiles fired in total.
The missiles were launched from four Royal Air Force (RAF) Tornado warplanes that were being protected by four modern Eurofighter Typhoon jets and one of the Royal Navy's $1 billion Type 45 destroyers, HMS Duncan.
Unnamed military sources revealed to the British paper the Times that none of the Typhoons flying in the mission were able to fire the UK's own Storm Shadow missiles and the RAF had to rely on the Tornados do the job. This is while the 70s-era jets are bound to retire next year.
In a more embarrassing development, the UK had to remove HMS Duncan from the operation because it, too, was unable to fire cruise missiles. A much older Type 23 frigate that was supposed to help with the operation was never sent to the field for a similar reason.
The UK government has repeatedly postponed programs to arm Typhoon jets and Type 45 ships with Storm Shadows due to budget shortages.
"It is pretty depressing," a military officer said.
What made British military commanders more upset was France's ability to attack with five Rafale fighters loaded with Scalp missiles—the French version of Storm Shadow.
The French Navy also joined the offensive with a frigate that fired three cruise missiles, bringing France's share of the missiles to a total of 12.
The US military fired the remaining 85 missiles from three warships, a submarine and two B-1 Lancer aircraft operating from the Red Sea, the Persian Gulf and the Mediterranean.
"If I was analyzing this and there wasn't any countries that I know — I didn't have any loyalty to them — I would say the United States led, followed by France and then Britain," another unnamed British military officer said.
France has played down speculation that it outpowered the UK on purpose to muscle in on the special relationship between Britain and the US.
Full report at:
http://www.presstv.com/Detail/2018/04/17/558795/UK-military-France-US-Storm-Shadow-Scalp-Rafle-Syria-attack
--------
UK's May calls Syria strikes 'in our national interest'
17 April 2018
The U.K.'s military intervention in Syria was clearly "in our national interest to prevent the further use of chemical weapons in Syria", Prime Minister Theresa May said Monday.
May said the U.K. is "confident in our own assessment that the Syrian regime was highly likely responsible for this attack and that its persistent pattern of behavior meant that it was highly likely to continue using chemical weapons".
Her remarks came as she briefed lawmakers at the House of Commons about the weekend airstrikes held with the U.S. and France, which targeted the Assad regime's chemical weapons facilities.
"For we cannot allow the use of chemical weapons to become normalized -- either within Syria, on the streets of the U.K. or elsewhere," May said.
"The images of this suffering are utterly haunting.
"Innocent families -- seeking shelter in underground bunkers -- found dead with foam in their mouths, burns to their eyes and their bodies surrounded by a chlorine-like odour.
"Children gasping for life as chemicals choked their lungs.
"The fact that such an atrocity can take place in our world today is a stain on our humanity."
Full report at:
http://www.worldbulletin.net/europe/201165/uks-may-calls-syria-strikes-in-our-national-interest
--------
URL: https://www.newageislam.com/islamic-world-news/shia-waqf-board-chairman-rizvi/d/114967
New Age Islam, Islam Online, Islamic Website, African Muslim News, Arab World News, South Asia News, Indian Muslim News, World Muslim News, Women in Islam, Islamic Feminism, Arab Women, Women In Arab, Islamophobia in America, Muslim Women in West, Islam Women and Feminism