New Age Islam News Bureau
12 Sept 2014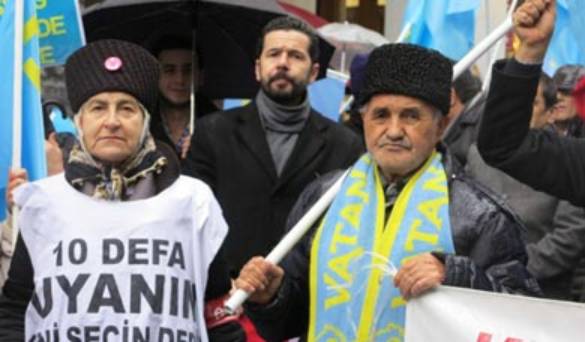 Photo: Banned book searches targeting Muslim Tatars in Crimea
------
India
• Shia Cleric Says 'Kill Muslims Who Are Involved In 'Love Jihad, Sunnis Say It's A Misnomer
• A Mosque in Kashmir Gives Shelter to Hindus Displaced By Floods
• My Name Is Khan and I Am a Hindu
• Haryana Sikhs in catch-22 situation over pilgrimage to Pakistan
• J-K debate: UK upholds Modi statement on Pakistan
Pakistan
• My Goal Is To Replace Madrasas with 'Secular' Schools: Dr Tahir Ul Qadri
• First Claim by Al-Qaeda Subcontinent Wing: Pakistan Navy Men Ours
• Nawaz Tried To Emulate Erdogan, Now Risks Sharing Fate of Morsi: WSJ
• Pakistani Christian in Custody on Accusation of Defiling Quran
• Human Rights Commission of Pakistan for stay of execution
• Sectarian killings: Altaf flays "unfounded allegations" against MQM
• Opposition Jirga presents 'workable solution' to end impasse
• 'Soldier kidnapped, killed in reaction to Lyari encounter'
• 'Six terrorists on the loose to hit PTI, PAT sit-ins'
• Militants who attacked Pakistani schoolgirl Malala arrested: Army
Arab World
• Regime Air Raids Kill 42 near Syria Capital: New Toll
• Lebanon Minister Urges TV Stations to Avoid Serving Terrorists
• Syria warns against foreign intervention after Obama speech
• ISIS has created 'more than 40 cells' in Lebanon
• Yezidi MP: Militants Retreated from Villages to Escape Stench of Massacred Victims
• Egypt trying to reposition itself as bastion of stability
• Report: Jordan to provide logistical support, training to Iraqis
Europe
• Fight against Islamist Militants Must Respect International Law: Russia
• Banned book searches targeting Muslim Tatars in Crimea
• Paris Wants Iran at Meet on Crushing Iraq Radicals
• Germany officially bans ISIL today
• Impressed by Saudi students' friendship bond, Briton embraces Islam
• France says 'particularly dangerous' jihadist recruiter held
• Vatican Calls Out Islamic State, Boko Haram for 'Contemporary Slavery'
• UN Secretary-General calls Afghan candidates to push unity government deal
• Britain won't join air strikes in Syria: Foreign secretary
North America
• CIA triples ISIS estimates, says 30,000 fighters in Iraq, Syria
• US can destroy ISIS without sending troops on ground: White House
• After 9/11, US taxpayers shell out $10.5mn every hour to fund war against terror
• Cyber Sphinx: Google launches virtual tour of Egypt monuments
• Attacking Syria may entangle U.S. in rebel rivalries
• Obama's ISIS war plan sparks warning from Syrian axis
• Obama leads US in remembrance of 9/11 victims
• U.S. Pledges Nearly $500 Million Aid for People, Nations Hit by Syria War
Africa
• South Sudan: 40 Killed in Inter-Clan Clashes in Warrap State
• Boko Haram - Nigeria Deploys Extra 500 Troops to Adamawa, Borno
Southeast Asia
• Indonesian Lawmakers Ask US to End 'Double Standard'
• Now, human rights lawyer under sedition probe for fatwa remarks
• Jakim cautions Muslims against groups assaulting Islam and royalty
Mideast
• Turkey not taking part in combat missions against IS: official
• Israel likely to take a backseat in war against Islamic State
• Hamas: No direct negotiations with Israel
• Israeli authorities shut down 'Hamas-linked' Islamist organization in Nazareth
• 43 Israel reservists refuse to serve, protest 'abuses'
• Israel, not suicide, behind inmate's death: Palestinians
• Erdogan approves law tightening Turkey's Internet controls
• Netanyahu: Fighting ISIS key, but don't forget Iran
• Blockaded Gaza faces huge challenges to rebuild after war
South Asia
• Terrorism Safe Havens Located Outside Afghanistan, Karzai Tells SCO Summit
• Dhaka launches global initiative to fight autism
Compiled by New Age Islam News Bureau
URL: https://www.newageislam.com/islamic-world-news/new-age-islam-news-bureau/shia-cleric-says--kill-muslims-who-are-involved-in--love-jihad,-sunnis-say-it's-a-misnomer/d/99039
---------
India
Shia Cleric Says 'Kill Muslims Who Are Involved In 'Love Jihad, Sunnis Say It's A Misnomer
Sep 12, 2014
Uptil now Love jihad was a burning issue among political parties and RSS but now Sunni and Shia clerics are giving their own description of Love jihad .While debating,Senior Shia cleric and All Indian Muslim Personal Law Board (AIMPLB) vice-president Maulana Kalbe Saadiq made a controversial statement in Varanasi by saying that Muslims who are involved in 'love jihad', should be 'killed'.
"Jo Musalman Love Jihad Mein Shamil Hain, Unhe Maar Dena Chahiye", he said in an informal chat with reporters in Varanasi. The cleric said a "true Muslim" never got involved with "love jihad".
He also asked Prime Minister Narendra Modi to extend every help to Iraq. "The prime minister should also come forward to help Iraq as he has done in the case of Pakistan," he added.
On the contrary Sunni clerics and faculty members of Aligarh Muslim University have described the term 'love jihad' as a "misnomer" and an idea which has not even a trace of reality in Islam.
"The very idea of luring innocent girls by making false promises of any sort is not only held abhorrent in Islam but strictly forbidden. Anyone who indulges in such an act, offering any explanation, whatsoever, is doing grave injustice to Islam and we condemn it in the harshest terms.
"The present 'love jihad' campaign by some radical Hindu organisations and political parties is the very dangerous and could play havoc with the country's internal peace and integrity and should be condemned," the statement said.
Earlier,prestigious Islamic seminary Darul Uloom at Deoband reportedly issued a "fatwa" (religious decree) against "love jihad".
The BJP leaders have been raking up the issue during the campaigning for the forthcoming by polls for 11 Assembly and one Lok Sabha constituencies in the state aiming to polarise Hindu votes which help polls.
It said that it was unfortunate that state governments and the Centre have not taken necessary steps on the issue, which can destroy the social fabric and derail the country's economic development programme.
Zahid said that if as alleged by leaders of some Hindu organisations, there were any cases of so called organised attempts to lure Hindu girls for the purpose of conversion, this should be brought to the notice of established Muslim religious organisations.
"It will then be our duty to punish and reprimand any person who indulges in such aberrant behaviour," he added. Zahid said that the word 'jihad' was a very sacred word for the community and in its highest form, it means striving for spiritual uplift.
"It is also used for denoting a just struggle against the oppressor. This term is frequently being misused today by those who are fighting to take control over land or country and indulge in killing of innocent persons," he said.
http://www.saharasamay.com/nation-news/676560639/shia-cleric-says-kill-muslims-who-are-involved-in-love-jehad-sun.html
---------
A Mosque In Kashmir Gives Shelter To Hindus Displaced By Floods
Sep 12, 2014
It is evening time and the Maulvi here just sounded the 'Azaan', the call for prayer and devouts rush inside to offer 'Namaaz'. Shortly thereafter, scores of people assemble in the tented courtyard of the mosque to have food.
This is Jama Masjid in Hyderpora area which has turned into a major relief centre for those affected by the devastating floods in the Kashmir valley, housing hundreds of people, including women and children.
Significantly, in this hour of tragedy, this mosque has become a symbol of communal harmony as a number of Hindus, who had come from outside the state for work, are also taking shelter here.
The inmates of this camp at the mosque, which remained unaffected by the floods, have come from various parts of the Valley and each one had a story of horror and pain to tell.
They narrate how water started coming into residential areas, how quickly the levels rose and how each of them managed to escape the fury, some on their own, some with the help of the army and some with the help of locals.
"I, along with other three members of family, left our house on Sunday evening (August 31) when water level started rising fast. I arranged for a boat and first dispatched my daughter to the Masjid. Then rest of us followed suit. Since then, we are staying in this masjid," says 58-year-old Bashir Ahmed Akhoon, a government servant.
0-year-old Khalida Akhtar narrates how she and six other members of her family, along with children, left their home in Tengpura in panic when water level rose on Sunday night.
"We first took shelter in a nearby hospital. But the building of the hospital also was in danger and distress calls were made to the police for help. Around midnight, the army came and rescued us. I am extremely grateful to them," she says.
She also expressed gratitude to the Masjid authorities for providing shelter to the homeless family, which includes her husband, three sons, their wives and children.
Her son Mohd Haroon says there were 2000 people in the hospital whom the army saved that night. "Though the distress call was made to the police, the army came to our rescue. We owe our new lives to them," he says.
Mohd Asif, a 26-year-old furniture craftsman from Tengpura, says he had gone to Magam in south Kashmir's Anantnag to meet an aunt. When the water fury started, he rushed back, walking for three days before reaching home.
"But I found my father, mother and two sisters missing. I looked around but did not find them. While I was losing hope, somebody suggested that I should look for them in Hyderpora Masjid where many people have taken shelter. By God's grace, I found them there," he says.
At the mosque premises, community kitchen is being run and donation of clothes is pouring in. The inmates are housed in the three-storeyed building.
Around 2400 people eat food every day at the Masjid, says Haji Ghulam Nabi Dar, president of the Hyderpora Jama Masjid Committee.
Affected people from far off places like Baramulla, Kupwara and Sopore have come here for shelter, he says.
"We decided to set up the camp on Friday last when we saw the fury of floods increasing," he said, adding the government has no role in running the camp and relief material is coming from the common people.
He says people are angry at the administration as "they did nothing to help the victims".
http://indianexpress.com/article/india/india-others/jk-floods-hyderpora-jama-masjid-a-symbol-of-communal-harmony/99/#sthash.OsTpMysM.dpuf
---------
My Name Is Khan and I Am a Hindu
Ishita Mishra, TNN | Sep 12, 2014
AGRA: If there is one place in India that just doesn't get the idea of 'Love jihad', it is Khera Sadhan in Agra. And that's because of its peculiar history. During the rule of Aurangzeb (1658-1707), villagers there were asked to either convert to Islam or leave their homes. Faced with such a threat, almost all of them had changed their religion at that time. After Independence, a group of local leaders exhorted the townsfolk to go back to Hinduism. Some did, others didn't. But religion since then hasn't mattered to the people here.
"Why should it?" asks Vikram Singh, a Thakur in the village of about 10,000 roughly 50 km away from Agra. "That's why I don't understand this 'love-jihad' nonsense. My mother Khushnuma is a Muslim, my father Kamlesh Singh a Thakur. My sister Sita is married to Inzamam and my wife Shabana is thinking of naming my newborn Santosh."
The tolerance of each other's faith and an inherent secularism that has to be seen to be believed has endured. Today in Khera Sadhan, it is common to have a family of four brothers with two of them Hindu, two Muslim. Or have a husband who doesn't care about the religion of his wife, or her children for that matter. Here, Muslims worship in temples and Hindus go to the Dargah. Eid and Diwali are both sacrosanct.
Ask 55-year-old Shaukat Ali and he will tell you that he recently arranged for his youngest brother Raju Singh to marry Lajo, daughter of Sunil Thakur and Reshma. The wedding ceremony will be attended by Shaukat's brothers Rizwan Ali and Kishan Singh. The Nikah will be held at a temple.
"We are amazed when we hear stories of people fighting about inter-faith unions," says Salim Thakur, a Geeta and Quran by his bedside. "My neighbour and first cousin Love Kush Singh has been offering Eid prayers in the village mosque for as long as I can remember. Yet, like everyone else in this village, he also celebrates Holi and Diwali."
The villagers themselves have many versions of Khera Sadhan's tryst with Islam and Hinduism. But narrating a popular strain, Munna Lal Khan, 60, says, "According to one story, a Muslim sultan called Aurangzeb told our ancestors "Either convert to Islam, get death or have your womenfolk raped'. Our forefathers selected the first option. Instead of fully converting to Islam, however, they accepted only three things of the religion -- male circumcision, eating meat by making it Halal and burial of the dead. This is why we only follow these three Islamic practices while being almost indistinguishable from Hindus in other respects."
The others, mostly younger ones who are not aware of the back-story, don't care about it too much. "I am not aware who turned us first into Muslims and then Hindus. But whoever made us what we are today, we are the better for it. There are no fights here regarding caste and community," said Shabana, a commerce student at a government college. "We are a unique community and I don't think there is any other community like us in the whole of India. Our philosophy of life is to live and let live. People must be free to worship God in whatever form they like," butts in Rohan Singh, whose email ID has the holy 876 affixed in it.
Not all, though, are happy. Some say those in nearby villages make fun of them for being neither here nor there. "They mock at us," says Karim Singh. "They claim that we are confused and ride two boats at the same time. Of course, what they say doesn't really matter. Still, the barbs do fly around and it doesn't feel great."
http://timesofindia.indiatimes.com/india/My-name-is-Khan-and-I-am-a-Hindu/articleshow/42323558.cms
---------
Haryana Sikhs in catch-22 situation over pilgrimage to Pakistan
Yudhvir Rana,TNN | Sep 12, 2014
AMRITSAR: Sikhs of Haryana, desirous of visiting Pakistan on a pilgrimage on the occasion of the birth anniversary of Guru Nanak Dev at Nankana Sahib, are in a fix due to strained relations between Sikh Gurdwara Parbandhak Committee (SGPC) and Haryana Sikh Gurdwara Management Committee (HSGMC). With the Centre yet to accord approval to the ad hoc HSGMC, which was set up by Haryana government in July, Sikhs of the state are unsure about whom to submit their passports for getting visas to Pakistan.
"We don't know where to submit our passports for pilgrimage to Pakistan. HSGMC is a new body and I don't know whether it has arrangements to send 'jathas' (group of pilgrims). We have not been able to decide about applying through SGPC this time," Ravinder Singh, a resident of Ambala, told TOI on Thursday.
He said various other smaller Sikh organizations that send "jathas" to Pak had approached them, but they were yet to take a decision since it was also a matter of their security.
SGPC has a quota of around 1,100 pilgrims while other smaller Sikh groups, including Nankana Sahib Sikh Yatree Jatha, Bhai Mardana Yadgari Kirtan Darbar Society and Khalra Mission Committee have quotas ranging from 150 to 500 persons.
SGPC additional secretary Jaspal Singh said that earlier, Sikhs from Haryana used to apply to Kurukshetra deputy commissioner (DC) for pilgrimage to Pakistan. However, sources in SGPC said that majority of Sikhs from Haryana used to submit their passports to SGPC only.
"The jatha may or may not go this time, but we will not accept the supremacy of SGPC since HSGMC is now a legal body constituted under the Indian Constitution. No one can deny our presence even if there is a dispute," said HSGMC senior vice-president Didar Singh Nalwi.
He admitted that since HSGMC was a new body and they were still engaged in a battle for survival and the process of setting up different departments had not begun yet. "We will directly approach the Union foreign ministry and the Pakistan high commission, urging them to make necessary arrangements to facilitate aspiring Sikh pilgrims of Haryana, who submit their passports with us," he said.
"Many Sikhs from Haryana, who earlier used to go with SGPC 'jathas', have now approached us for the pilgrimage," said Swaran Singh Gill, president of Nankana Sahib Sikh Yatree Jatha, adding that he wanted Haryana Sikhs to submit their passports with SGPC only. Harpal Singh Bhullar, president of the society, said 25 Sikhs from Haryana had already submitted their passports with them for pilgrimage to Pakistan.
http://timesofindia.indiatimes.com/india/Haryana-Sikhs-in-catch-22-situation-over-pilgrimage-to-Pakistan/articleshow/42312336.cms
---------
J-K debate: UK upholds Modi statement on Pakistan
Prasun Sonwalkar, Hindustan Times London, September 12, 2014
Amidst a heated debate in the House of Commons, Britain on Thursday said it agreed with Prime Minister Narendra Modi's recent statement that any meaningful dialogue between India and Pakistan 'necessarily requires an environment that is free from terrorism and violence'.
The three-hour debate in Westminster Hall on the 'political and humanitarian situation in Kashmir' witnessed strong words as MPs mostly upheld the Indian position on Jammu and Kashmir that included highlighting the plight of Kashmiri Pandits driven out of their homeland.
As MPs highlighted continued infiltration into J-K from the across the borders, foreign office minister Tobias Ellwood recalled Modi's August 29 statement on Pakistan, and reiterated Britain's known position: "It is not for the UK to prescribe a solution or to mediate in finding one".
Full report at:
http://www.hindustantimes.com/india-news/j-k-debate-uk-upholds-modi-statement-on-pakistan/article1-1263101.aspx
--------
Pakistan
My Goal Is To Replace Madrasas with 'Secular' Schools: Dr Tahir Ul Qadri
September 12, 2014
NEW YORK - As his followers pressed on with their anti-government campaign, Pakistan Awami Tehreek (PAT) chief Dr Tahirul Qadri says his goal is to eliminate madrasas by replacing them with schools that teach secular subjects.
"I am trying to lead the Muslim world toward the right, moderate, path, to bring the leadership and the people out of this confusion of extremism and terrorism, towards humanism and a peaceful society," he said in an interview with The Wall Street Journal, a major US financial newspaper.
In a dispatch from Islamabad, WSJ correspondent Yaroslav Trofimov said Qadri was proud of having been educated in a Catholic school, and the PAT chief went on to denounce Saudi Arabia as "the biggest problem of the Muslim world" for exporting its conservative strain of Islam.
"I am fighting to democratise, in a true sense, the Muslim world," he said during the interview in a shipping container that serves as his home in the middle of the Islamabad protest encampment.
The WSJ dispatch said Qadri's critics dismiss him as a "populist firebrand", and allege his throngs of followers in the tent City are being paid for their support.
"The protests launched last month by Qadri and his ally, politician Imran Khan, have thoroughly shaken the administration of Prime Minister Nawaz Sharif, paralyzing the capital's government quarter and prompting the country's powerful Army to intervene by demanding that both sides refrain from violence," the report said.
Full report at:
http://nation.com.pk/national/12-Sep-2014/my-goal-is-to-replace-madrasas-with-secular-schools
---------
First Claim By Al-Qaeda Subcontinent Wing: Pakistan Navy Men Ours
Sep 12, 2014
The newly-formed Indian subcontinent division of transnational terror group al-Qaeda has claimed responsibility for Saturday night's attack on a Naval dockyard in Karachi — the organisation's first strike since its existence was made public last month. The attackers, the statement said, were former Pakistan Navy officers-turned-jihadists who were attempting to hijack a missile frigate to stage an attack on a United States aircraft carrier.
The claim was made in a statement released online on Thursday — the 13th anniversary of the September 11, 2001 terror attacks — by Usama Mahmood, the spokesperson for Qaidat al-Jihad fi'Shibhi al-Qarrat al-Hindiya, or al-Qaeda in the Indian Subcontinent (AQIS).
Few details are available on the attack, in which a Pakistan Navy officer was reported killed along with two terrorists. Karachi police chief Ghulam Qadir Thebo told the media that the slain attackers included former Naval official Owais Jhakrani, the son of senior police officer Ali Sher Jhakrani. Pakistani media reports said the attackers succeeded in briefly seizing control of the Chinese-made F22P-type frigate, the Zulfiqar.
Mahmood's statement — in Urdu — says, "The Naval officers who were martyred on Saturday in the attack in Karachi were al-Qaeda members. They were trying to attack American marines and their cronies". Following training at an al-Qaeda camp, the men were tasked with hijacking the missiles through which they were to attack an American carrier, says the note.
Full report at:
http://indianexpress.com/article/world/world-others/first-claim-by-al-qaeda-subcontinent-wing-pakistan-navy-men-ours/99/#sthash.79H2FHEV.dpuf
---------
Nawaz tried to emulate Erdogan, now risks sharing fate of Morsi: WSJ
September 12, 2014
NEW YORK - After his landslide victory in last year's elections, Prime Minister Nawaz Sharif unsuccessfully tried to emulate Turkey's Recep Erdogan in countering the Army's political might, and he now risks sharing the fate of Egyptian President Muhammad Morsi, who was ousted by the Army after the 2013 protests, a report in a major US paper said on Wednesday.
"Sharif is finding out the hard way that the success of Turkish leader Recep Tayyip Erdogan in defanging the Generals is more of a rare exception than a workable model to follow,"Yaroslav Trofimov, an award-winning author and journalist wrote in The Wall Street Journal.
"His (Sharif's) predicament shows just how hard it is for elected politicians to challenge the 'deep state' of the military and security establishment that forms a bedrock of power in countries from Algeria to Bangladesh.
"With downtown Islamabad taken over by protesters baying for his resignation, Sharif increasingly risks following another example—that of Muhammad Morsi, the Egyptian President who was ousted by the Army after similar protests in Cairo last year, just a year after winning the popular vote," Torifemov wrote his op-ed article.
Full report at:
http://nation.com.pk/national/12-Sep-2014/nawaz-tried-to-emulate-erdogan-now-risks-sharing-fate-of-morsi-wsj
---------
Pakistani Christian in Custody on Accusation of Defiling Quran
Sep 12, 2014
LAHORE, Pakistan (Morning Star News) – Police in Pakistan have taken into custody a Christian convert from Hinduism and his Hindu co-worker for allegedly burning a Quran and a chart of Quranic verses.
The Christian's family and attorney, however, said Islamist extremist groups have falsely accused the two men in response to an increasing number of Hindus converting to Christianity in southern Punjab Province.
Police arrested school custodians Javed Masih, a Christian, and Anand Lal, a Hindu, hours after Syed Abdul Ghafoor Shah, senior headmaster of the Government Excellence High School in Satellite Town, Bahawalpur District, filed a First Information Report (FIR) on Aug. 29 about charred Quranic verses at the institution. The FIR did not mention Masih and Lal, but police picked them up on the basis of a later supplementary statement by Shah.
Masih's wife said that soon after the arrests, a Muslim mob – led by Allama Shafqat al-Rehman, secretary general of the local chapter of the Islamic extremist Jamiat-e-Ulema-e-Islam, and Maulana Muhammad Ishaq Saqi of the area chapter of the equally violent Islamist group Tahafuz Khatam-e-Nabuvat – gathered near their house. The leaders made inflammatory speeches, calling on the mob to burn down the house and kill the "blasphemer's children."
Full report at:
http://christiannews.net/2014/09/11/pakistani-christian-in-custody-on-accusation-of-defiling-Quran/
---------
Human Rights Commission of Pakistan for stay of execution
Sep 12, 2014
LAHORE: The Human Rights Commission of Pakistan (HRCP) has expressed concern over reports that, despite an informal moratorium on executions, a murder convict is scheduled to be hanged in Adiala Jail, Rawalpindi, on Sept 18.
HRCP has called upon the government to stay the hanging and announce a formal moratorium on executions.
In a statement issued on Thursday, the commission said: "HRCP has received with great alarm and dismay reports that Shoaib Sarwar, a death row prisoner currently detained in Haripur prison, is set to be hanged in Adiala Jail on Sept 18.
"The convict was awarded death sentence on July 2, 1998, on the charge of murdering Awais Nawaz in Wah Cantt in 1996. The victim's brother had moved the high court against delay in implementing the sentence despite exhaustion of all appeals by the convict and rejection of his clemency plea by the president. The high court ordered the district and sessions judge to implement the execution of the sentence.
Full report at:
http://www.dawn.com/news/1131480/hrcp-for-stay-of-execution
---------
Secterian killings: Altaf flays "unfounded allegations" against MQM
Sep 12, 2014
KARACHI: Muttahida Quami Movement (MQM) chief Altaf Hussain on Friday said that if any allegations against party members were proven true in relation to sectarian killings then the accused workers should be "hanged publicly".
In a statement issued on Friday, the MQM chief said personnel from certain law enforcement agencies were involved in spreading negative reports and disinformation against the party by linking it to the recent sectarian killings in Karachi.
If these allegations are proven groundless then those involved in spreading disinformation "should be hanged".
Full report at:
http://www.dawn.com/news/1131521/secterian-killings-altaf-flays-unfounded-allegations-against-mqm
---------
Opposition jirga presents 'workable solution' to end impasse
Sep 12, 2014
ISLAMABAD: The opposition jirga, mediating between the government and the Pakistan Tehreek-i-Insaf and Pakistan Awami Tehreek, presented on Thursday what it called "the best possible formula" to end the month-long political impasse.
After a meeting at the residence of former interior minister and Pakistan People's Party leader Rehman Malik, Jamaat-i-Islami Emir Sirajul Haq held a press conference and announced that a formula had been devised and would be presented to the government and the two protesting parties.
"After threadbare discussions, we have prepared the best possible formula and have given three days to all parties to review it thoroughly and come up with a response," Mr Haq told reporters.
Full report at:
http://www.dawn.com/news/1131440/opposition-jirga-presents-workable-solution-to-end-impasse
---------
'Soldier kidnapped, killed in reaction to Lyari encounter'
Sep 12, 2014
KARACHI: In the first such incident in recent times, a Pakistan Army soldier was kidnapped and shot dead by alleged gangsters in what was described as a reaction to the killing of a suspect in Lyari in an 'encounter', officials said on Thursday.
The 25-year-old soldier, Tariq Yunus, along with his friend had gone to Saddar to get his mobile phone repaired.
When he was returning home in Hazara Colony in Chakiwara, gunmen kidnapped him, said City SSP Sheeraz Nazeer.
The police and Rangers after receiving information about the soldier's kidnapping conducted a targeted raid on an alleged hideout of gangsters in Ghulam Mohammed Lane. However, the soldier's bullet-riddled body was found near Slaughterhouse in Baghdadi.
The body was taken to the Civil Hospital Karachi for medico-legal formalities.
The victim was posted in Hyderabad and had come to his home in Lyari on leave, added the SSP City.
Full report at:
http://www.dawn.com/news/1131378/soldier-kidnapped-killed-in-reaction-to-lyari-encounter
---------
'Six terrorists on the loose to hit PTI, PAT sit-ins'
Sep 12, 2014
ISLAMABAD: Sensitive agencies have warned that six terrorists are present in Pakistan Tehreek-e-Insaf (PTI) and Pakistan Awami Tehreek (PAT) protests in the federal capital and are ready to carry out a terrorist attack.
The Interior Ministry spokesman said that intelligence agencies, in a report sent to the ministry, said that they have intercepted a chat of the terrorists with their collaborators based in Khyber Agency which reveals that five to six terrorists are present among the PTI, PAT protesters and are looking for an opportunity to carry out a major terrorist activity. Secret agencies have asked the Interior Ministry to take every precautionary measure to prevent any major disaster, the spokesman added. Meanwhile, authorities have imposed ban on pillion riding in Islamabad for 10 days with effect from Thursday midnight.
http://www.dailytimes.com.pk/islamabad/12-Sep-2014/six-terrorists-on-the-loose-to-hit-pti-pat-sit-ins
---------
Militants who attacked Pakistani schoolgirl Malala Yousafzai arrested: Army
AFP | Sep 12, 2014
ISLAMABAD: The Pakistani army on Friday said that it had arrested the gunmen who tried to kill schoolgirl campaigner Malala Yousafzai in the country's restive northwest in 2012.
The teenage activist was shot in the head by Taliban gunmen but recovered and went on to earn international plaudits for her fight for the right of all children to an education.
http://timesofindia.indiatimes.com/world/pakistan/Militants-who-attacked-Pakistani-schoolgirl-Malala-Yousafzai-arrested-Army/articleshow/42360669.cms
-----------
Arab World
Regime air raids kill 42 near Syria capital: New toll
Sep 12, 2014
Syrian government air raids on a rebel-held area near Damascus killed 42 people, including seven children, a monitoring group said Friday, giving an updated toll.
Thursday's air strikes were carried out in Douma, a satellite suburb northeast of the capital that has been under siege for more than a year
"The toll from regime air raids on Douma has risen to 42 dead, including seven children and two women," said the Syrian Observatory for Human Rights, which on Thursday had given a death toll of 17.
Among those killed were an unspecified number of rebels who have been fighting to oust the regime of President Bashar al-Assad for more than three years, said the Britain-based group.
Activists posted videos on YouTube showing the destruction caused by the raids in Douma, a frequent target of deadly strikes.
Full report at:
http://english.ahram.org.eg/NewsContent/2/8/110551/World/Region/UPDATED-Regime-air-raids-kill--near-Syria-capital-.aspx
---------
Lebanon Minister urges TV stations to avoid serving terrorists
Sep 12, 2014
BEIRUT: Lebanon's TV stations have a responsibility to avoid becoming a podium for terrorist groups, Lebanon's information minister said Thursday, stressing the need for the media to prioritize public interests.
"We have agreed to avoid broadcasting harmful images and speeches that incite sectarian tensions," Information Minister Ramzi Joreige said after a meeting with representatives of audiovisual media outlets.
Media must "avoid giving Takfiri terrorists the chance to use TV channels as a space to publicize their speeches."
In its last session, the Cabinet called on the media to stand alongside the Army and government and avoid publishing any unverified information about the soldiers and policemen kidnapped by ISIS and the Nusra Front.
"I think the media is aware of its responsibility in this critical situation," Joreige said.
http://www.dailystar.com.lb/News/Lebanon-News/2014/Sep-12/270423-joreige-urges-tv-stations-to-avoid-serving-terrorists.ashx#ixzz3D5FYIxCA
---------
Syria warns against foreign intervention after Obama speech
Sep 12, 2014
DAMASCUS: Any foreign intervention in Syria would be an act of aggression unless it is approved by Damascus, a Syrian government minister said on Thursday, after the United States said it was prepared to strike against Islamic State militants in the country.
"Any action of any type without the approval of Syrian government is an aggression against Syria," Ali Haidar, minister of national reconciliation affairs, told reporters in Damascus. "There must be cooperation with Syria and coordination with Syria and there must be a Syrian approval of any action whether it is military or not."
Foreign countries could use Islamic State simply as a pretext for attacking Syria, Haidar told reporters ahead of a meeting with new international peace mediator Staffan de Mistura.
Washington and its Western allies have supported the insurgency against Syrian President Bashar Assad and have ruled out cooperating with him to fight Islamic State, which seeks to create a cross-border caliphate.
Full report at:
http://www.arabnews.com/middle-east/news/628916
---------
ISIS has created 'more than 40 cells' in Lebanon
Sep 12, 2014
BEIRUT: ISIS has established more than 40 undercover cells in Lebanon, according to top secret information obtained by a security body, heightening fears that new terror attacks may be on the horizon.
Each cell is believed to comprise three or four people of Lebanese, Syrian, Palestinian, Jordanian or Iraqi nationality who have been highly trained with guns, explosive belts, land mines and other weapons, a security source said.
The cell members, according to the information, have been trained in batches in Syria's Aleppo and Deir al-Zor and in Lebanon's West Bekaa, Iqlim al-Kharroub, Akkar and Naameh, reportedly by defected soldiers from the Syrian Army, and Lebanese and Palestinian nationals.
The ISIS cells have also apparently been provided with encrypted digital communication devices and pistols with silencers, the information revealed.
Most of the members are believed to have been instructed to act normally and fly under the radar of security and intelligence bodies by wearing ordinary clothes and frequenting nightclubs and cafes. Some of the cell members are thought to be carrying fake university IDs.
There are particular concerns that the cells might be planning an assassination, likely of a Sunni leadership figure, that will be blamed on another party.
Full report at:
http://www.dailystar.com.lb/News/Lebanon-News/2014/Sep-12/270431-isis-has-created-more-than-40-cells-in-lebanon.ashx#ixzz3D5EEz6ct
---------
Yezidi MP: Militants Retreated from Villages to Escape Stench of Massacred Victims
Sep 12, 2014
LONDON — Islamic State (IS/ISIS) militants massacred so many people in attacks on Yezidi villages last month that the fighters themselves had to retreat from the stench, Iraq's only Yezidi MP said at a conference in Belgium.
"ISIS retreated from several Yezidi villages because the scent of those they killed became unbearable," Vian Dakhil said at the International Peace Meeting, held in Antwerp to mark the centenary of the First World War.
"So far, 5,000 Yezidi Kurdish women have been kidnapped, and they are aged between 13 and 56 years old," Dakhil said at the three-day meeting, which concluded Tuesday.
"Before attending this conference, I saw 35 children who lost every single member of their family. They were all between four and six years old," she added.
IS militants captured the Yezidi town of Shingal and surrounding villages last month, killing thousands of men, kidnapping hundreds of women and rendering tens of thousands homeless and fleeing to the Kurdistan Region for shelter.
Full report at:
http://rudaw.net/english/world/10092014
---------
Egypt trying to reposition itself as bastion of stability
Sep 12, 2014
Next week, when President Abdel-Fattah El-Sisi arrives in New York at the head of the Egyptian delegation to the UN General Assembly he will likely seek to put an end to questions of his legitimacy as head of state. He will also, according to the same diplomatic argument, be ending the "diplomatic isolation" that "some countries" – the reference is always made to Qatar and Turkey – have tried to impose on Egypt.
This said, Cairo officials, including the head of the state himself, are aware that when all is said and done, "the return of Egypt," as would be portrayed with the arrival of El-Sisi to the podium of the UN General Assembly to address the world on behalf of Egypt is actually an incident that does not come along with many festivities.
"We know that at the end of the day we are being accepted from a sheer pragmatic sense especially in relation to wider regional stability but we also know that it is a rather lukewarm acceptance that is coming our way, especially from the leading world powers whose governments still worry about influential political and public criticism regarding some political developments in Egypt," said one high-level diplomat.
Full report at:
http://english.ahram.org.eg/NewsContent/1/64/110534/Egypt/Politics-/Egypt-trying-to-reposition-itself-as-bastion-of-st.aspx
----------
Report: Jordan to provide logistical support, training to Iraqis
12 September 2014
After Saudi Arabia vowed to support the broad, US-led coalition against the jihadist group Islamic State and host a training program for moderate Syrian fighters, it seems Jordan has taken its cue and will be following in the Saudi kingdom's footsteps.
Jordanian sources told the pan-Arab daily paper Asharq Al-Awsat on Friday that the monarchy was willing to expand its role in the global fight against Islamic State and provide training and logistical support to Iraqi tribes combating the terrorist organization.
The United States will send CIA officers to the Middle Eastern country, according to the newspaper, for security coordination and exchange of intelligence between the two states. Aid will also entail command and control centers to oversee security and intelligence operations.
Full report at:
http://www.jpost.com/Middle-East/Jordan-to-provide-logistical-support-training-to-Iraqis-375177
---------
Europe
Fight against Islamist militants must respect international law: Russia
Sep 12, 2014
MOSCOW: The fight against Islamist militants in Syria and Iraq should only be carried out in compliance with international law and with respect for the territorial integrity of these nations, the Russian Foreign Ministry said Thursday.
"It is essential to fight this evil in strict compliance with the practices of international law, U.N. Security Council resolutions and the U.N. in general ... and with strict respect for the territorial integrity of Syria and Iraq," ministry spokesman Alexander Lukashevich told a news briefing.
U.S. President Barack Obama said on Wednesday he had authorised U.S. airstrikes in Syria and more attacks in Iraq in a broad escalation of a campaign against the ISIS.
http://www.dailystar.com.lb/News/World/2014/Sep-11/270344-fight-against-islamist-militants-must-respect-international-law-russia.ashx#ixzz3D5FzAvHF
---------
Banned book searches targeting Muslim Tatars in Crimea
World Bulletin / News Desk
Sep 12, 2014
Russian authorities in the annexed peninsula of Crimea have requested to inspect the funds of Crimean Tatar and Turkish departments of the Crimean Engineering and Pedagogical University for banned literature.
The inspect is part of an ongoing region-wide operation targeting Crimean Tatar Muslims in search of a number of Islamic religious books that under Ukrainian law were legal but were later outlawed by the Russian authorities after the annexation of Crimea.
The Federal List of Extremist Materials was compiled by the Russian Ministry of Justice on July 14, 2007 and contained 1,058 items as of December 25, 2011. Producing, storing or distributing the materials on the list is an offense in Russia.
Islamic books that have been banned include the work of popular 20th century Turkish scholar Said Nursi and the famous 'Fortress of the Muslim' book of supplications of the Prophet Muhammad, which was collected by ancient Muslim scholar Saeed bin Ali bin Wahf Al-Qahtani. A certain biography of the Prophet Muhammad is also banned.
Around 300,000 Muslims in Crimea, mainly native Crimean Tatars, are having to adjust to new laws enforced by Russia after their homeland was annexed from Ukraine following a referendum in March.
Full report at:
http://www.worldbulletin.net/headlines/144233/banned-book-searches-targeting-muslim-tatars-in-crimea
-----------
Paris wants Iran at meet on crushing Iraq radicals
SEPT. 12, 2014
PARIS (AP) — France is prepared to invite Iran to an international conference Monday aimed at coordinating actions to knock out the Islamic State extremists in Iraq — even though that runs counter to the U.S. refusal to deal with Tehran.
The position marks a shift in France's policy toward Iran, a Shiite Muslim nation and neighbor of Iraq that joins regional states and the West in adamantly opposing the advance of the radicals. Tehran's long-time influence in Sunni Iraq, including at times a military presence, makes it a logical partner in France's eyes.
A French official helping plan the conference says the only hitch is agreeing with partners but added "we are not far from a consensus." The official, who was not authorized to be publicly named, didn't elaborate.
http://news.yahoo.com/paris-wants-iran-meet-crushing-iraq-radicals-115755315.html
----------
Germany officially bans ISIL today
World Bulletin/News Desk
Sep 12, 2014
Germany on Friday officially banned ISIL from any activities in the country, becoming only the second European nation to do so.
Defence minister Thomas de Mazière announced the ban on flying ISIL flags, wearing ISIL symbols and all ISIL activities at a press conference on Friday morning.
"The terror organisation ISIL is a threat to public safety in Germany as well," de Mazière said.
Meanwhile, the German government will not take part in air strikes proposed by the United States against militants, an aide to Chancellor Angela Merkel said on Friday.
"The stabilisation of the region is of great concern to the German government but I can rule out participation in military air strikes," said Merkel's spokeswoman Christiane Wirtz.
The move will also ban making donations to the group, meetings and propaganda being distributed. ISIL assets in Germany also to be confiscated and the authorities examine whether to prosecute the group's supporters in the country.
The ban, however, doesn't mean ISIL has been outlawed as a foreign terrorist organization as a court judgement is needed to do that.
Full report at:
http://www.worldbulletin.net/headlines/144240/germany-officially-bans-isil-today
---------
Impressed by Saudi students' friendship bond, Briton embraces Islam
Sep 12, 2014
A simple act of kindness can do wonders. A Briton embraced Islam after he witnessed a fellow Saudi patient being bombarded with moral and financial support from two Saudi scholarship students, who had regularly visited their compatriot at a hospital in Brighton.
Abdullah Omar Khayat, a Saudi columnist, said he had received a letter from the Saudi student about the heartwarming incident.
Khayat dedicated his latest article to the story and said such simple acts would not only enhance the Kingdom's reputation, but also inspire more people to accept Islam as their way of life.
The Saudi student, whose name was not mentioned in the article, said he was hospitalized following a road accident. "We were three in the hospital room. The other two were David, the convert, and Allen. I spent 17 days in the hospital. David was discharged five days before me."
The Saudi had received many calls from his friends while in hospital. Many friends had also visited him. Some had brought bouquets, while others lent him financial support. "David and Allen watched as their fellow patient was spoilt with affection, while they hadn't received a single visitor or call," he said.
David had taken the Saudi patient's address when he left the hospital. A few days later, the Saudi received a letter in his postbox from David.
Full report at:
http://www.arabnews.com/islam-perspective/news/629006
---------
France says 'particularly dangerous' jihadist recruiter held
12 September 2014
A "particularly dangerous" man suspected of recruiting jihadists and cultivating links with terrorist groups in Syria has been arrested in Turkey and handed over to French authorities, France's interior minister said Sept 11.
Mourad Fares was arrested on Aug. 16 in Turkey and taken into custody in France on Sept. 10, Bernard Cazeneuve said in a statement.
Cazeneuve described Fares as a "particularly dangerous individual close to jihadist terrorist movements," including the Islamic State and Al-Qaeda's Syrian affiliate Al-Nusra.
Fares, who went to Syria in July last year and had an international arrest warrant issued against him, had a "key role in recruiting French youths in Strasbourg and Toulouse and sending them to Syria," Cazeneuve said.
Full report at:
http://www.hurriyetdailynews.com/france-says-particularly-dangerous-jihadist-recruiter-held.aspx?pageID=238&nID=71618&NewsCatID=510
---------
Vatican Calls Out Islamic State, Boko Haram for 'Contemporary Slavery'
Sep 12, 2014
"We must break the silence" on the shameful scourge of contemporary slavery, said archbishop Silvano Maria Tomasi yesterday in Geneva at the 27th session of the UN Human Rights Council. Tomasi is the Permanent Observer of the Holy See to the United Nations Office in Geneva.
Tomasi further spoke of "shocking forms of contemporary slavery," which he called an "open wound on the social body," including mass kidnappings and trafficking in young girls. He referenced activities by Boko Haram Islamic extremists in Nigeria and militants of the self-styled Islamic State in Iraq.
Approximately 250,000 children—said Tomasi—have been forcibly recruited, and even used as human shields on the front line of armed conflict, while 5.7 million children are victims of forced labor or forced marriage.
The archbishop's words underscore the theme taken up by Pope Francis in his Message for the 48th World Day of Peace, January 1, 2015. Francis' message bears the title "No Longer Slaves, but Brothers and Sisters."
A statement released by the Pontifical Council for Justice and Peace last month explained Francis' choice of this topic for his annual message.
Full report at:
http://www.breitbart.com/Big-Peace/2014/09/11/Vatican-Official-Denounces-Contemporary-Slavery
---------
UN Secretary-General calls Afghan candidates to push unity government deal
Sep 12 2014
The United Nations Secretary-General Ban Ki-moon called both presidential contenders Dr. Abdullah Abdullah and Dr. Ashraf Ghani Ahmadzai on Thursday to push the two candidates for unity government deal.
"Yesterday the Secretary-General had separate phone calls with both Afghan presidential candidates, Dr. Ashraf Ghani and Dr. Abdullah Abdullah," the United Nations Assistance Mission in Afghanistan said following a statement.
The statement further added, "In his conversations, he stressed the need for both of them to abide by their public commitments and conclude the political agreement on a government of national unity. The Secretary-General said the audit, which is currently on-going and is being supported by the United Nations, was robust, comprehensive and consistent with international best practices."
Full report at:
http://www.khaama.com/un-secretary-general-calls-afghan-candidates-to-push-unity-government-deal-6676
----------
Britain won't join air strikes in Syria: Foreign secretary
Sep 12, 2014
Britain won't join the United States in air strikes against Islamic State jihadist fighters in Syria, Foreign Secretary Philip Hammond said Thursday, without ruling out similar action in Iraq.
"Let me be clear Britain will not be taking part in any air strikes in Syria," he said in Berlin.
Regarding the wider US military campaign against IS militants across the area they have captured in Syria and Iraq, he said that "we are clear that we will make a contribution".
https://paytm.com/shop/g/paytm-home/women-s-essentials-extra-50-off/watches-below-999?gclid=CPLVvPvB28ACFRWTjgodiEkA0w
-----------
North America
CIA triples ISIS estimates, says 30,000 fighters in Iraq, Syria
September 12, 2014
Islamic State militants in Iraq and Syria now have about 20,000 to 31,500 fighters on the ground, the Central Intelligence Agency (CIA) said on Thursday, much higher than a previous estimate of 10,000.
Among those in Syria are 15,000 foreign fighters including 2,000 Westerners, some of whom have joined IS, a US intelligence official told AFP.
The figures were revealed one day after President Barack Obama vowed to expand an offensive against IS extremists, a plan which foresees new air strikes against IS in Syria, expanded attacks in Iraq and new support for Iraqi government forces.
"CIA assesses the Islamic State of Iraq and the Levant (IS) can muster between 20,000 and 31,500 fighters across Iraq and Syria, based on a new review of all-source intelligence reports from May to August," CIA spokesman Ryan Trapani said in a statement.
"This new total reflects an increase in members because of stronger recruitment since June following battlefield successes and the declaration of a caliphate, greater battlefield activity, and additional intelligence," he said.
Full report at:
http://www.hindustantimes.com/world-news/iraqonthebrink/cia-triples-isis-estimates-says-30-000-fighters-in-iraq-syria/article1-1263118.aspx#sthash.FYnh8G90.dpuf
---------
US can destroy ISIS without sending troops on ground: White House
Sep 12, 2014
The US can accomplish its goal of degrading and destroying the Islamic State without sending troops on the ground in Iraq and Syria, the White House has said.
This includes a combination of measures like air strikes, supporting local troops of the ground, building an international coalition, White House Press Secretary Josh Earnest told reporters on Thursday.
"The ISIL forces wreaking havoc in this already volatile region of the world is not in our best interest. We have, therefore, an interest in acting with the international community to try to stabilise the situation.
"We can do that in a way that doesn't require the introduction of American ground combat troops to Iraq or Syria, but rather, we can deploy a tried-and-true counterterrorism strategy that this administration has used successfully in other contexts," he said.
Earnest said, "essentially, that means building up support for fighters on the ground, ramping up our support to Iraq and Kurdish security forces and ramping up our support to Syrian opposition fighters."
Full report at:
http://indianexpress.com/article/world/americas/us-can-destroy-isis-without-sending-troops-on-ground-white-house/#sthash.ybbkgY72.dpuf
---------
After 9/11, US taxpayers shell out $10.5mn every hour to fund war against terror
Sourjya Bhowmick and HT Data Team, Hindustan Times
New Delhi, September 11, 2014
The 13th anniversary of the biggest terrorist attack on American soil, which changed the global paradigm of terrorism, is on Thursday.
George Bush, the then US president, had said that the United States will use all its resources to conquer the enemy and the battle will take time to resolve but will be won.
Interestingly, US President Barack Obama laid out his ISIS plans in a televised speech on Wednesday. Obama said he has the "authority he needs to take action" against the ISIS.
A war definitely takes a huge social toll, but how much did it cost the US economically to continue with its engagements in Afghanistan and Iraq since 2001?
If we take a look at the cost of its wars in Iraq and Afghanistan, then US taxpayers have been paying $10.5 million every hour to fund it. Interestingly, $10 million has been used in Afghanistan and the figure is still increasing every second.
Full report at:
http://www.hindustantimes.com/world-news/us-taxpayers-pay-10-5-million-every-hour-to-fund-post-9-11-war/article1-1262939.aspx
---------
Cyber Sphinx: Google launches virtual tour of Egypt monuments
12 September 2014
You can now take in the wonders of ancient Egyptian monuments without braving the heat or the journey as Google has launched a project allowing people to virtually explore the pyramids and other historic ruins at the click of a mouse.
Google Street View allows Egyptian history enthusiasts to tour Cairo's Great Sphinx of Giza, the statue of a mystical creature made up of a lion's body and human's head. Internet voyagers can also view Alexandria's six-century-old Citadel of Qaitbay, Ahram Online reported Thursday.
Egypt's oldest churches and other famous landmarks are also included in the virtual tour.
The shots were captured by camera operators who photographed the 360-degree images on foot.
Full report at:
http://english.alarabiya.net/en/life-style/travel-and-tourism/2014/09/12/Cyber-Sphinx-Google-launches-virtual-tours-of-Egypt-monuments.html
---------
Attacking Syria may entangle U.S. in rebel rivalries
12 September 2014
In expanding its airstrikes into Syria against Islamic State extremists, the U.S. could find itself entangled in a morass of jihadists, rebel rivalries and religious hatred.
Unlike Iraq, the U.S. has no firm allies inside Syria to take over areas if fighters from the Islamic State group are pushed back. Unless the West decisively backs the outgunned moderate rebels, it risks the unintended consequence of prolonging the widely discredited rule of President Bashar Assad.
President Barack Obama said Wednesday that in the fight against the Islamic State group, the U.S. "cannot rely on an Assad regime that terrorizes its own people - a regime that will never regain the legitimacy it has lost."
"Instead, we must strengthen the opposition as the best counterweight to extremists like ISIL, while pursuing the political solution necessary to solve Syria's crisis once and for all," Obama said, referring to the Islamic State group by one of its acronyms.
Full report at:
http://english.alarabiya.net/en/perspective/analysis/2014/09/12/Attacking-Syria-may-entangle-U-S-in-rebel-rivalries.html
---------
Obama's ISIS war plan sparks warning from Syrian axis
12 September 2014
WASHINGTON – The embattled Syrian regime and its closest allies, Russia and Iran, will oppose American military action in its territory against Islamic State, unless the White House coordinates US actions with President Bashar Assad, the axis said on Thursday.
The group expressed its opposition to American force, which it called an "aggressive" and "illegal" intervention in a sovereign state, hours after President Barack Obama announced his intent to target Islamic State terrorists "wherever they exist."
But the White House made clear that the president's decision had already been made. Strikes will begin against targets in Syria "at a time and place" of his choosing, senior aides said.
"This is something the president has decided to do," one official said. "We will take action."
And in Iraq, the official continued, "we are going to expand the efforts of our air campaign... if there is an [Islamic State] target that we need to hit in Iraq, we will hit it."
With its veto power on the United Nations Security Council, Russia has long opposed foreign intervention in the Syrian civil war, which it considers a domestic political conflict.
Russia suggested on Thursday that without UN authorization, American action would be illegal.
Full report at:
http://www.jpost.com/Middle-East/Obamas-ISIS-war-plan-sparks-warning-from-Syrian-axis-375153
---------
Obama leads US in remembrance of 9/11 victims
(Reuters) / 12 September 2014
New York - Led by President Barack Obama, Americans commemorated the 13th anniversary of the September 11, 2001, attacks on Thursday by observing moments of silence for the thousands killed that day at New York City's World Trade Centre, the Pentagon and a Pennsylvania field.
In what has become an annual ritual, relatives began slowly reciting the nearly 3,000 names of the victims at a ceremony in lower Manhattan, from Gordon Aamoth Jr. to Igor Zukelman.
Readers would occasionally pause as a silver bell was rung to mark the exact times when each of the four planes hijacked by Al Qaeda militants crashed at the three sites and when each of the World Trade Centre's twin towers collapsed. With each bell, a moment of silence was observed.
Obama spoke at the Pentagon during a private ceremony for relatives of the 184 people killed in the attack on the US Department of Defence headquarters in Arlington, Virginia, several miles from the White House.
He laid a wreath of white lilies and chrysanthemums, and kept his hand on his heart as "Taps" played.
Full report at:
http://www.khaleejtimes.com/kt-article-display-1.asp?xfile=data/international/2014/September/international_September228.xml&section=international
---------
U.S. Pledges Nearly $500 Million Aid for People, Nations Hit by Syria War
By REUTERS
SEPT. 12, 2014
ANKARA — U.S. Secretary of State John Kerry announced on Friday nearly $500 million in humanitarian aid for people and countries hit by Syria's civil war.
The aid package includes more than $250 million "to assist refugees and host communities in the neighboring countries affected by the crisis," Kerry said in a statement.
Some 3 million Syrian refugees have registered in neighboring countries, according to the United Nations, but many remain trapped by the advance of Islamist militants or are having difficulty reaching open border crossings.
The U.N. refugee agency said two weeks ago that almost half of all Syrians had now been forced to leave their homes by the conflict, with 6.5 million thought to be displaced within Syria.
The highest concentrations of refugees in neighboring countries are in Lebanon (1.17 million), Turkey (830,000) and Jordan (613,000), according to UNHCR. Some 215,000 are in Iraq with the rest in Egypt and other countries.
http://www.nytimes.com/reuters/2014/09/12/world/middleeast/12reuters-syria-crisis-usa-aid.html?ref=middleeast&_r=0
------------
Africa
South Sudan: 40 Killed in Inter-Clan Clashes in Warrap State
Sep 12, 2014
Wonrock — Inter-clan fighting between the Luanyjang of Wun-Thoc and Wun-Adel community in Tonj East county, located in South Sudan's Warrap state, has claimed 40 lives and injured 60 others.
The clashes erupted between the two sections on Saturday when a girl eloped with a member of a rival section. Speaking to Sudan Tribune on Wednesday, a resident from the area said a high profile state government delegation led by acting governor Akech Tong Aleu had visited the county on Tuesday following the outbreak of violence between the local communities.
State information minister Paul Dhel Gum said dozens of youth were who involved in attacking one another were arrested on Tuesday, with security organs continuing to search for other culprits believed to be connected to the incident.
Gum said both sides had used heavy machine guns during the fighting, including PKMs and AK-47s, adding the situation now appeared to be calm.
Gum said the state government has embarked on a heavy crackdown on those suspected of participating in tribal violence and revenge killings.
"As the state government, we are calling for an end to such senseless conflict," said Gum, warning that anyone found to be inflaming ethnic tensions would face heavy punishment.
He has urged both parties involved in the latest clashes to remain calm and refrain from further confrontation.
http://allafrica.com/stories/201409120585.html?aa_source=mf-hdlns
-----------
Boko Haram - Nigeria Deploys Extra 500 Troops to Adamawa, Borno
Sep 12, 2014
The Nigerian military has deployed more than 500 troops to the troubled North-East to reinforce personnel on ground in the fight against Boko Haram.
Insurgents have made rapid gains in the last two weeks capturing a number of communities in Borno and Adamawa States.
The government disputes the number of towns under the control of Boko Haram.
Mike Omeri, Coordinator, National Information Centre, said Thursday that more troops have been sent to join in the fight. He made the disclosure in Abuja while giving update on the security situation in the area.
He vowed that the troops would soon flush out insurgents from Gulak, Michika and Kunchinga and other communities in Adamawa, where they currently hold sway.
"As part of efforts being made to check the incursion and Boko Haram challenge, the military has continued to reinforce its presence in several challenged communities in the North-East," he said.
Full report at:
http://allafrica.com/stories/201409111537.html?aa_source=mf-hdlns
-----------
Southeast Asia
Indonesian Lawmakers Ask US to End 'Double Standard'
Sep 12, 2014
Jakarta. Three lawmakers, who have been reelected for the 2014-2019 term, stepped up pressure on the United States to end what they called its double standard and to treat Palestine fairly.
Politicians Muhammad Misbakhun, and Maman Imanulhaq from Golkar Party and Eva Kusuma Sundari from the Indonesian Democratic Party of Struggle (PDI-P) paid a visit to US Ambassador Robert O. Blake at his residence to convey their views about the situation in Palestine and the world's most feared terrorist group ISIS.
"The US has to treat Palestine fairly and end it's double standard on the Palestinian issue," Misbakhun said.
He said the lawmakers also asked the United States to support Palestine in its bid to become a fully fledged member of the United Nations.
They also asked the world's only superpower to start pressuring Israel to reduce its military aggression against the war-torn territory.
Full report at:
http://www.thejakartaglobe.com/news/indonesian-lawmakers-ask-us-end-double-standard/
------------
Now, human rights lawyer under sedition probe for fatwa remarks
Sep 12, 2014
KUALA LUMPUR, Sept 12 — Another individual has come under Putrajaya's sedition scope — this time, human rights lawyer Edmund Bon — whose firm confirmed today is being investigated for his reported remarks on a fatwa.
New Sin Yew from Bon Advocates said Bon is being probed for comments he made to news portal The Malaysian Insider that were published in a January 20, 2014 article titled "Bukan Islam tidak perlu patuh kepada titah Diraja atau fatwa" (Non-Muslims do not have to obey royal decrees or fatwa).
"I have spoken to the IO from Penang," New told Malay Mail Online today, using the initials for investigating officer.
http://www.themalaymailonline.com/malaysia/article/now-human-rights-lawyer-under-sedition-probe-for-fatwa-remarks#sthash.MIf6myVF.dpuf
-----------
Jakim cautions Muslims against groups assaulting Islam and royalty
SEPTEMBER 12, 2014
KUALA LUMPUR, Sept 12 — The Malaysian Islamic Religious Development Department (Jakim) warned Muslims today of unnamed groups threatening the position of Islam and the Malay rulers.
In the Friday sermon uploaded on the department's website, it alleged of increasing instances in which these unidentified groups were challenging the contents of the "social contract" sealed during the country's independence.
"Based on our observation lately, there are some people who try to distort this tolerance with this incidents that should not have happened. They deliberately use a variety of issues to undermine the social contract that has been jointly endorsed," it said in the sermon to be read in mosques nationwide.
It alleged that these groups were now disputing the position of Islam as the religion of the federation, the Malay rulers' role as the heads of the religion, and the jurisdiction of the Shariah courts, among others, in the pursuit of power.
To back its assertions, it cited police statistics that purportedly show as many as 853 reports lodged over 33 cases that involve cases of racial and religious provocation between January and July this year.
Full report at:
http://www.themalaymailonline.com/malaysia/article/in-friday-sermon-jakim-cautions-muslims-against-groups-assaulting-islam-and#sthash.a3KdY6MJ.dpuf
----------
Mideast
Turkey not taking part in combat missions against IS: official
Sep 12, 2014
ANKARA: Turkey will not allow a US-led coalition to attack jihadists in neighboring Iraq and Syria from its air bases, nor will it take part in combat operations against militants, a government official told AFP Thursday.
"Turkey will not be involved in any armed operation but will entirely concentrate on humanitarian operations," the official said on condition of anonymity.
"Incirlik will be used only for logistical purposes and humanitarian assistance," the source, referring to a southern air base used for US and NATO operations in Iraq.
The decision echoes Turkey's refusal in 2003 to abet the US offensive to oust Saddam Hussein, which triggered a crisis between the allies.
Ankara refused to allow Washington to station 60,000 troops in the country to invade Iraq from the north, then denied permission for Washington to use its air bases as a staging post for attacks.
Turkey has come under fire by some critics for indirectly encouraging the formation of the Islamic State because of its support of Islamist opponents of Syrian President Bashar Assad, and its loose control of its borders.
But Ankara vehemently denies its strategy has backfired.
Drumming up support
US Secretary of State John Kerry was holding talks in Saudi Arabia on Thursday to drum up support from 10 key Arab nations and Turkey, following President Barack Obama's announcement of a new strategy against Islamic State jihadists that will include now air strikes in Syria.
Full report at:
http://www.arabnews.com/featured/news/628546
---------
Israel likely to take a backseat in war against Islamic State
12 September 2014
Israel will likely have an important yet backseat role in the international coalition forming against Islamic State in Iraq and Syria.
That role will probably be defined by Jerusalem's ability to provide rapid and precise intelligence support to the US-led military forces charged with making air strikes on Islamic State positions.
Israeli defense officials will not publicly confirm any plans to provide aid to the emerging war effort.
Over recent months, IDF Military Intelligence has grown by more than a thousand personnel to enable it to track the growing jihadi presence in neighboring Syria.
There is little reason to believe that this expanded intelligence- gathering capability can't be used to assist coalition members targeting Islamic State positions across the Middle East.
In theory, Military Intelligence can turn the gaze of its spy satellites on Islamic State movements, and, as a recent Reuters report stated, can assist coalition members in carrying out accurate battle damage assessments after air strikes.
Full report at:
http://www.jpost.com/Arab-Israeli-Conflict/Israel-likely-to-take-a-backseat-in-war-against-Islamic-State-375162
---------
Hamas: No direct negotiations with Israel
World Bulletin / News Desk
Sep 12, 2014
The political office of Palestinian resistance faction Hamas on Thursday ruled out the possibility of holding direct negotiations with Israel, saying such a move would conflict with the groups' policy.
"Holding direct negotiations with the Jewish entity [Israel] is not group policy," the Hamas political office said in a statement.
"Direct negotiations are not on the table for discussion either," it added.
One political office member said recently that Hamas might have to talk directly with Israel if the latter refused to ease its years-long blockade of the Gaza Strip in line with a recent cease-fire agreement.
Moussa Abu Marzouq, a Cairo-based member of Hamas' political office, told the pro-Hamas Al-Quds satellite channel late Wednesday that the group "would not veto political negotiations with Israel if it was deemed necessary."
Full report at:
http://www.worldbulletin.net/headlines/144211/hamas-no-direct-negotiations-with-israel
--------
Israeli authorities shut down 'Hamas-linked' Islamist organization in Nazareth
12 September 2014
Police and the Shin Bet (Israel Security Agency) closed down the offices of an Islamic Movement-run organization in Nazareth that was identified with Hamas, authorities announced on Thursday.
The offices of the Amara al-Aksa and al-Makdasat organization were closed on September 3.
Founded in 2009 by the Islamic Movement, the Islamist body's role was to ensure a permanent Muslim presence on the Temple Mount and protect the holy site, but it also cooperated with Hamas, according to the Shin Bet.
Full report at:
http://www.jpost.com/Arab-Israeli-Conflict/Israeli-authorities-shut-down-Hamas-linked-Islamist-organization-in-Nazareth-375117
---------
43 Israel reservists refuse to serve, protest 'abuses'
Sep 12, 2014
Forty-three reservists from Israel's elite army intelligence unit have announced their refusal to serve, accusing the military of "abuses" against Palestinians, in a letter published Friday.
The letter, circulated to Hebrew-language media, referred to the army's intelligence work in the occupied Palestinian territories, including targeted assassinations and intrusive surveillance of civilians.
The soldiers and officers from the elite Unit 8200, which works closely with Israel's security services, declared they no longer wanted to "continue to serve in this system, which harms the rights of millions of people," according to daily Yediot Aharonot.
"We call all soldiers serving in the unit or who are going to serve, and all Israeli citizens to make their voices heard against these abuses and work to put a stop to it," the paper quoted the letter as saying.
Full report at:
http://www.themalaysianinsider.com/world/article/43-israel-reservists-refuse-to-serve-protest-abuses#sthash.jVHWX8tK.dpuf
----------
Israel, not suicide, behind inmate's death: Palestinians
Sep 12, 2014
A Palestinian official said Thursday the results of an autopsy prove that a Palestinian prisoner Israel said had committed suicide actually died of a blow to the head.
"We deny it was suicide," said Issa Qaraqe, head of the Palestinian committee for prisoners in a press conference on the fate of Raed Abdel Salam al-Jaabari, 35.
The Israel Prisons Service (IPS) had said Tuesday that Jaabari hanged himself in a bathroom at Eshel prison in southern Israel and died en route to hospital.
But Palestinian officials and Jaabari's family rejected that claim and demanded an investigation.
Full report at:
http://english.ahram.org.eg/NewsContent/2/8/110545/World/Region/Israel,-not-suicide,-behind-inmates-death-Palestin.aspx
--------
Erdogan approves law tightening Turkey's Internet controls
12 September 2014
Turkish President Tayyip Erdogan approved a law tightening government control of the Internet and expanding the powers of the telecoms authority late on Thursday, part of the first legislative package he has effected as head of state.
Parliament passed the law late on Monday.
The new law comes on top of legislation passed in February that made it easier for the authorities to block access to web pages without a prior court order, prompting public anger and raising concern about freedom of speech.
The new law expands those powers, allowing the TIB telecoms authority - headed by a former intelligence official - to block sites if deemed necessary for matters of "national security, the restoration of public order and the prevention of crimes."
The February law limited these powers to cases of privacy violations and was only passed after former President Abdullah Gul requested amendments watering down some of the clauses.
Full report at:
http://english.alarabiya.net/en/media/digital/2014/09/12/Erdogan-approves-law-tightening-Turkey-s-Internet-controls.html
---------
Netanyahu: Fighting ISIS key, but don't forget Iran
12 September 2014
With the US now leading a coalition to fight Islamic State in Iraq and Syria, Prime Minister Binyamin Netanyahu said Thursday that the West must act against the nuclearization of Iran with equal determination.
Netanyahu came out firmly in support of US President Barack Obama's call on Wednesday for united action against Islamic State.
"All civilized countries should stand together in the fight against radical terrorism that sweeps across the Middle East, that sweeps across the world," the prime minister said. "And we are playing our part in this continued effort. Some of the things are known, some things are less known."
However, the focus of his address to the annual conference of the International Institute for Counter-Terrorism in Herzliya was Iran.
Speaking on the 13th anniversary of the September 11, 2001, terrorist attacks on the US, Netanyahu asked the participants to imagine what would have happened had al-Qaida been armed with nuclear weapons.
Full report at:
http://www.jpost.com/Israel-News/WATCH-LIVE-Netanyahu-addresses-anti-terror-conference-on-September-11-anniversary-375064
---------
Blockaded Gaza faces huge challenges to rebuild after war
12 September 2014
Fifty days of war in one of the most densely populated parts of the world have left swathes of Gaza in ruins. With the economy reeling under an Israeli-Egyptian blockade, the enclave now faces an almost impossible task of rebuilding.
To do it, Gaza will have to find billions of foreign dollars, contend with Israeli limits on construction materials entering the territory, resolve internal political strife and keep aid flowing to the battered population as it rebuilds.
One fact stands out: before the war, an average of 30 tons of cement crossed into Gaza each week. Now, an estimated 10,000 tons will be needed every day for the next six months.
In Shejaia, a town near the border hit by heavy Israeli shelling in the war, many homes and factories lie in ruins amid mounds of broken bricks and rubbish festering in the heat.
"Some of the areas here in Gaza, unbelievably enough, look as if they were hit by an earthquake," said Borge Brende, the foreign minister of Norway, who visited the area this week to try to assess the humanitarian and reconstruction needs.
The Palestinian Authority said in a study last week the work would cost $7.8 billion, two and a half times Gaza's gross domestic product, including $2.5 billion for the reconstruction of homes and $250 million for energy.
Full report at:
http://english.alarabiya.net/en/business/economy/2014/09/12/Blockaded-Gaza-faces-huge-challenges-to-rebuild-after-war.html
---------
South Asia
Terrorism safe havens located outside Afghanistan, Karzai tells SCO summit
Sep 12 2014
Afghan President Hamid Karzai has said that the terrorism safe havens are located outside Afghanistan and warned that extremism was becoming a major threat to the whole region.
Speaking during the Shanghai Cooperation Organization (SCO) summit in Dushanba, the capital city of Tajikistan, President Karzai called for joint campaign against the growing threats of terrorism in the region.
President Karzai also warned that use of terrorism and extremism as a political tool is not in the interest of anyone and insisted that Afghanistan remains committed to cooperate with the SCO members and regional countries to fight terrorism.
He said said a peaceful and stable Afghanistan is key for the stability of the region and called on regional and international leaders to assist Afghanistan in its peace process with the anti-government armed militant groups.
President Karzai sugguested that the Shanghai Cooperation Organization (SCO) and the South Asian Association for Regional Cooperation (SAARC) should work jointly to fight terrorism in the region.
Full report at:
http://www.khaama.com/terrorism-safe-havens-located-outide-afghanistan-karzai-tells-sco-summit-6682
-----------
Dhaka launches global initiative to fight autism
Sep 12, 2014
Bangladesh yesterday launched a global initiative to address the challenges of Autism Spectrum Disorders (ASDs) in the South-East Asia Region of World Health Organization.
Saima Wazed Hossain, chairperson of the National Advisory Committee on Autism in Bangladesh, will lead the initiative titled "Global Initiative on Autism", to be supported by WHO.
"In the last two to three years, we have already created awareness on autism, but much more needs to be done," she told a press briefing on the sidelines of the ongoing sixty-seventh session of the WHO Regional Committee for South-East Asia at Sonargaon Hotel in the capital.
Saima, also a school psychologist and an expert adviser of WHO on mental health, said more global partnership, involving WHO and development partners, was crucial to take forward the cause of those having autism.
Around 0.8 percent of children between the ages of 5 and 17 years have autism or neurodevelopment disorders in Bangladesh, said Prof Golam Rabbani, chairperson of Neurodevelopment Disability Protection Trust of the social welfare ministry.
He said early diagnosis of children with any neurodevelopment disorders was better to treat them.
Full report at:
http://www.thedailystar.net/city/dhaka-launches-global-initiative-to-fight-autism-41307
---------
URL: https://www.newageislam.com/islamic-world-news/new-age-islam-news-bureau/shia-cleric-says--kill-muslims-who-are-involved-in--love-jihad,-sunnis-say-it's-a-misnomer/d/99039