New Age Islam News Bureau
20 Sept 2019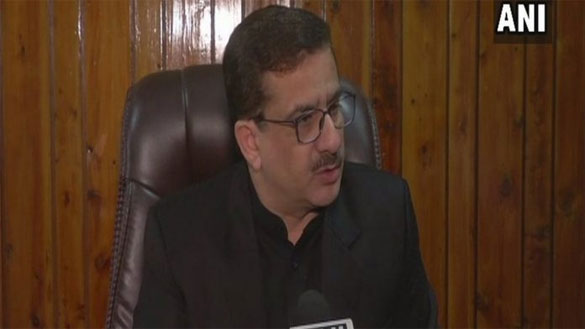 File photo of Uttar Pradesh Shia Central Waqf Board chairman Waseem Rizvi. | Twitter/ANI
---------
• India Will Soar High If Pakistan Stoops Low By Raising Kashmir Issue At UN: Ambassador Syed Akbaruddin
• Saudi Arabia Gains Membership to UN Nuclear Watchdog's Board of Governors
• UK Muslim Man Told "This Is A Christian Country and Muslims Have No Right to Be Here" On Crowded Train
• Far-Right Terrorism Fastest-Growing Threat: UK Police
• Gantz Rejects Netanyahu's Unity Offer, Vows Own Coalition
• S.Sudan: Gov't to Be Formed Regardless Of Opposition
• Machiavellian Netanyahu Played Trump Using Misinformation: Tillerson
• PM: No Talks Unless India Restores Kashmir Status
India
• Shia Body Chief Gets Delhi Minorities Commission Notice For For Purportedly Producing A 'Derogatory Film' On Aisha, Wife Of Prophet Muhammad
• India Will Soar High If Pakistan Stoops Low By Raising Kashmir Issue At UN: Ambassador Syed Akbaruddin
• ED to invoke Fugitive Economic Offenders Act against controversial Islamic preacher Zakir Naik
• Ayodhya: SC closes contempt case against man for threatening advocate representing Muslim parties
• Yogi Adityanath tells News18 he will 'follow' SC judgment in Ayodhya case, criticises Muslim parties for being 'stubborn' during mediation
• Manmohan a saintly man but robust on threats to India, considered action against Pak: Cameron
• Mumbai: Facing trial for 'travelling to Iraq, syria to join IS', Areeb Majeed's bail plea rejected again
--------
Arab World
• Saudi Arabia Gains Membership to UN Nuclear Watchdog's Board of Governors
• Saudi Arabia to UN: Aramco Strikes Were 'Organized Terrorist Attack'
• Prominent Dissident Saudi Clerics Transferred To Riyadh Ahead Of Court Hearing
• Makeshift Prisons for Islamic State Fighters Reaching Breaking Point
• Iraqi security forces seize ISIS hideout, arrest terrorist in Kirkuk
• Saudi Arabia vows to prove Iran backed 'terrorist attack' on oil facilities
• Egypt Says Police Kill 9 Suspected Militants in Cairo
• Saudi Arabia Asks Iraq for Millions of Barrels of Crude after Yemeni Drone Operation
• Russia, China veto UN resolution on Syria ceasefire
• Damascus: Some UNSC permanent members politicize humanitarian situation in Syria
• 1.9 mn expats leave Saudi over high fees, slow growth: report
--------
Europe
• UK Muslim Man Told "This Is A Christian Country and Muslims Have No Right to Be Here" On Crowded Train
• Far-Right Terrorism Fastest-Growing Threat: UK Police
• Muslim World League Paris Conference Exhorts Religious Leaders To Challenge Ideologies That Threaten Peace
• Germany extends anti-Islamic State mission in Iraq by 1 year
• Justice Department files lawsuit over Troy's rejection of Muslim place of worship
• Australian court finds man guilty of plotting to blow up flight to Abu Dhabi
• UK seeks full support for Saudi Arabia's talks on Yemen's stability
--------
Mideast
• Gantz Rejects Netanyahu's Unity Offer, Vows Own Coalition
• Yemeni Missile Strike Kills Dozens of Saudi Mercenaries in Kingdom's Asir
• B-Team remnants trying to lure Trump into Iran war: Zarif
• Yemen's Houthis Threaten To Attack United Arab Emirates Targets
• Yemen's Houthi Rebels Have Missiles That Could Sink a Navy Warship
• Iranian Army, IRGC to Stage Joint Aerial Parades on Sunday
• Israel vote deadlock confirmed by near-complete official results
• Liquidity crunch choking Palestinian economy: World Bank
• Israel president to start consultations on Sunday on next PM
• International community must take firm stance on Iran, says al-Jubeir
• Arab Coalition destroys explosive-laden boat launched by Houthis from Hodeidah
• Arab coalition hits sites in Hodeidah hours after taking out Houthi boat bomb
• KSRelief chief urges UN to condemn Iranian violence in Yemen
--------
Africa
• S.Sudan: Gov't to Be Formed Regardless Of Opposition
• Cameroon army kills 10 Boko Haram militants in repelled attack
• 2 killed, 4 injured in central Mogadishu car bombing
• Toppled Tunisian ruler Zine El Abidine Ben Ali dies at 83
• Libyan Coast Guard picks up nearly 500 migrants in region surrounding Tripoli
• Nigerian Army claims NGO aids Boko Haram and ISWAP, shuts Maiduguri and Damaturu offices
--------
North America
• Machiavellian Netanyahu Played Trump Using Misinformation: Tillerson
• Nuclear Terrorism Remains a Threat That America Should Remain Vigilant Against
• US favors 'peaceful resolution' to Saudi crisis: Pompeo
• US drone kills 30 Afghan civilians instead of Daesh terrorists
• Yemeni drones beat US, Saudi billion-dollar air defenses
• Trump Weighs Retaliation Against Iran and Names National Security Adviser
• American Airlines Flight To Dallas Cancelled Over Concerns About 2 Muslim Passengers
• US welcomes PM Imran's 'unambiguous, important' statement on Kashmir
• US to withdraw and withhold funds from Afghanistan, blames corruption
• US military to present several options to Trump on Iran
--------
Pakistan
• PM: No Talks Unless India Restores Kashmir Status
• Islamic banking holds huge growth potential: Moody's
• Trump, Imran to meet on 23rd, talks to focus on Kashmir
• Activist Gulalai Ismail 'escapes' to New York, applies for political asylum
• PM Imran in meeting with King Salman expresses Pakistan's resolve to stand with the kingdom
--------
South Asia
• Dozens of Afghans Killed in a Possible U.S. Drone Strike and a Taliban Bombing
• Rushed Afghan Deal Could Aid Terror Groups, U.S. Watchdog Says
• Special Forces kill, detain 26 Taliban militants in Ghazni and Farah provinces
• At least 30 civilians killed in air strike in eastern Afghanistan
• Rohingya killings create 'climate of fear' in Bangladesh
• Special Forces kill, detain 7 Taliban militants; destroy weapons cache in Logar
• Karzai calls on U.S. to resume peace talks with Taliban
--------
Southeast Asia
• Help End the Oppression, Shia Muslims Tell Suhakam
• Malaysia: Church Leaders Warn Of Rising Religious Tensions
• Mara Digital Mall Sees Little Boost From 'Buy Muslim-Made First' Campaign
• PAS: Christianity's 'Kingdom of God' as national narrative against Rukunegara, Constitution
• From maids to markets: Indonesia still faces challenges engaging with the Middle East
• 'Pak' Jokowi: This time you should go to New York!
• Indonesia Instrumental in UN Security Council Extending Mission in Afghanistan
Compiled by New Age Islam News Bureau
URL: https://www.newageislam.com/islamic-world-news/shia-body-chief-gets-delhi/d/119793
--------
Shia Body Chief Gets Delhi Minorities Commission Notice For Purportedly Producing A 'Derogatory Film' On Aisha, Wife Of Prophet Muhammad
ANEESHA BEDI
19 September, 2019
New Delhi: The Delhi Minorities Commission has issued a notice to Uttar Pradesh Shia Central Waqf Board chairman Waseem Rizvi for purportedly producing a "derogatory film" on Aisha, wife of Prophet Muhammad.
In a statement issued Thursday, the commission said, "He (Rizvi) has released an offensive trailer of the said film and has spoken publicly about his controversial project which has enraged many Muslims in the country."
The move came after the panel received complaints from a group of Delhi residents over media reports.
Rizvi, who wrote and produced Ram Ki Janmabhoomi earlier this year, found himself in a controversy in July after a 17-second teaser of his upcoming film Aisha was reported to feature "inappropriate scenes". He had denied the charge at the time.
The Shia body chief has been directed to file a reply by 2 October explaining the rationale of the project, what stage it is at, and if he has obtained or applied for certification from the Central Board of Film Certification (CBFC).
The commission has also asked Rizvi to attach a CD of the trailer, a copy of the CBFC certification or the application for the same, and a copy of the film's script with names of the crew members behind it.
The notice also carried an interim order stating, "Since this is a very sensitive matter which may inflame passions of millions of Muslims, may lead to violence on a large-scale and will also defame our country, you are hereby ordered not to proceed in this project in any way while this case is sub-judice at this Commission which has quasi-judicial powers."
'Gross insult'
Speaking to ThePrint, Delhi Minorities Commission Chairman Zafarul-Islam Khan said, "I have also expressed my anguish to the Central Board of Film Certification."
In his letter to the CBFC, Khan has said, "…this is a gross insult and sacrilege of highest order which will inflame millions of Muslims not only in India but also in many countries across the world as the wife of the Holy Prophet of Islam must not be shown in a film or even in caricature."
Requesting the body to deny certification to the "sacrilegious film", Khan added, "This will, without doubt, lead to violence on our streets."
The commission also plans to ban the film in Delhi-NCR if it is released here, said Khan.
In July, Rizvi had claimed that he had "created a teaser of Aisha for the digital channel". "However, some anti-social elements incorporated inappropriate scenes in the teaser and made it viral on social media."
He added that his production, Waseem Rizvi Films, did not have "any association with it".
https://theprint.in/india/his-film-on-aisha-has-inappropriate-scenes-shia-body-chief-gets-minorities-panel-notice/293843/
--------
India will soar high if Pakistan stoops low by raising Kashmir issue at UN: Ambassador Syed Akbaruddin
Sep 20, 2019
UNITED NATIONS: India will soar high if Pakistan "stoops low" by raising the Kashmir issue at a high-level UN General Assembly session here next week, India's top envoy to the United Nations has asserted, warning that Islamabad may want to mainstream hate speech after normalising terrorism in the past.
Pakistan Prime Minister Imran Khan has vowed to raise the Kashmir issue at the UN General Assembly (UNGA) session in New York on September 27. Prime Minister Narendra Modi is also scheduled to speak ahead of Imran Khan on the same day.
Pakistan foreign minister Shah Mahmood Qureshi has said Prime Minister Khan will "forcefully" raise the issue before the international community during his address to the UNGA.
At a press conference here on Thursday, India's permanent representative to the UN ambassador Syed Akbaruddin was asked whether he expected the Kashmir issue to come up during the UN General Assembly session, and, if so, how will India tackle it.
"What you're telling me is that it will be more of the same, much more of the same from the side of one country. If that is so what is our response? So let me put it this way. That it is for every country to determine its trajectory of how it wants to approach global platforms. There may be some who stoop low. Our response to them is we soar high. They may stoop low, we soar high," he said.
"We are confident that we will soar. We have given you examples of how we will not stoop. We will soar when they stoop low," he said.
Akbaruddin also laid out the focus and priorities of Prime Minister Modi when he arrives for the 74th UN General Assembly session.
He said a plethora of plurilateral and bilateral engagements and meetings of the Prime Minister outline the examples of how India will soar higher.
"What they want to do is their call. We've seen them mainstream terrorism in the past. And what you're now telling me is they may want to mainstream hate speech. It's their call, if they want to do that. Poison pens don't work for too long," he said.
Tension between India and Pakistan escalated after New Delhi revoked Jammu and Kashmir's special status on August 5. Reacting to India's move on Kashmir, Pakistan downgraded diplomatic ties with New Delhi and expelled the Indian High Commissioner.
Pakistan has been trying to internationalise the Kashmir issue but India has asserted that the abrogation of Article 370 was its "internal matter". New Delhi has also asked Islamabad to accept the reality and stop its anti-India rhetoric.
https://timesofindia.indiatimes.com/india/india-will-soar-high-if-pakistan-stoops-low-by-raising-kashmir-issue-at-un-ambassador-syed-akbaruddin/articleshow/71212597.cms
--------
Saudi Arabia gains membership to UN nuclear watchdog's board of governors
19 September 2019
Saudi Arabia has won a two-year membership to the board of governors of UN's nuclear watchdog, the International Atomic Energy Agency, Saudi Press Agency reported.
The IAEA has likened its work to nuclear accounting, patiently combing through countries' statements on their nuclear activities and materials, checking them and when necessary seeking further explanations before reaching a conclusion.
The policy-making board of governors is made up of 35 nations, which make recommendations to the general conference on the IAEA activities and budget.
https://english.alarabiya.net/en/News/gulf/2019/09/19/Saudi-Arabia-gains-membership-to-UN-nuclear-watchdog-board-of-governors-SPA.html
--------
UK Muslim Man Told "This Is A Christian Country and Muslims Have No Right to Be Here" On Crowded Train
By TellMAMA
Sep 19, 2019
The British Transport Police (BTP) are investigating an incident on the London Underground after a male passenger harassed and told a South Asian Muslim man that it's a "Christian country and Muslims have no right to be here", adding that Muslims made him feel "sick" and were "ungrateful" and "terrorists".
Speaking to Tell MAMA, the man, who wishes to remain anonymous, described how the racist passenger boarded the Central line at Bond Street station and appeared in a drunken state, and before being targeted, observed how the perpetrator had asked other passengers for cannabis and invited (unsuccessfully) various women to 'sit on his lap' before his attention turned to a woman (in front of the Muslim man) noting her crucifix necklace, and asked if she was a Christian, to which she replied 'yes', and he demonstrated a tattoo on his arm confirming his own Christian beliefs, shouting, "this is a Christian country!".
He then elbowed the Muslim man and again reiterated this was a 'Christian country' as his Islamophobic and anti-Muslim rant continued.
Due to the perpetrator's aggressive and drunken state, he feared that the man would turn violent. To remove himself from further abuse, and the potential of violence, he exited the train at Queensway Station and took alternative trains home.
For a moment, he considered challenging the racist passenger, informing him that over a million Muslims had thought for the UK during both World Wars, that thousands of Muslims arrived and settled to rebuild the country, so people like him "could sit on this train in peace and security and make those vile comments" but, in his own words, "it would have been futile trying to reason or educate an ignorant anti-Muslim drunkard".
Having not experienced such abuse before, it left him with mixed emotions and an added fear that his daughters and wife, who wear hijabs, would be targeted in the future. He told Tell MAMA: "I have mixed emotions ranging from fear, concern, anger and disappointment, and do not feel comfortable travelling on public transport like this again".
A lack of intervention from members of the public on that crowded train over the August bank holiday felt just as bad as the abuse and harassment he faced, adding, that this demonstrated to him how the normalisation of anti-Muslim language had made some 'too immune' to intervene.
After returning home, he reported the Islamophobic incident to the BTP online.
He described the perpetrator as being a male, in their early twenties, who is of mixed ethnicity.
The weaponisation of a Christian identity (despite data pointing to a falling rate of Christian belief, in contrast to rising forms of atheism, a small rise in those identifying as Muslim, as 55 per cent of people surveyed did admit to believing in a God figure) in this example, demonstrates how radical forms of othering, are direct products of colonial thinking regarding the position of religious minorities, and how racialisation facilitated racial hierarchies despite Muslims and Islam being part of British life for centuries.
In 2018, Tell MAMA verified 59 anti-Muslim and Islamophobic incidents on transport networks.
https://tellmamauk.org/muslim-man-told-this-is-a-christian-country-and-muslims-have-no-right-to-be-here-on-crowded-train/
--------
Far-right terrorism fastest-growing threat: UK police
Ahmet Gurhan Kartal
19.09.2019
LONDON
The terrorism threat from increasing far-right movements is the U.K.'s fastest-growing terror threat, British police said Thursday.
The country's top counter-terrorism officer, the Metropolitan Police's Assistant Commissioner Neil Basu, said the force was taking the threat seriously as one third of all terrorism threat originated from the same ideology.
"The problem is small but it is my fastest-growing problem," Basu said in a media briefing.
He said extreme right wing terrorism had gone from 6% of the case-load two years ago to 10% now, and seven of the 22 plots to cause mass casualties since March 2017 are being driven by extreme right wing ideology.
"When nearly a third of plots foiled by police and security services relate to rightwing ideology, it lays bare why we are taking this threat so seriously," added Basu.
Far-right terrorism
The far-right extremism movement in the U.K. has gained momentum after the Brexit referendum in 2016, and London and Manchester terror attacks in 2017.
Terrorist Thomas Mair, who confessed that he was influenced by far right propaganda, killed Labour MP Joe Cox in an attack during the EU referendum campaign in 2016.
He shouted as he repeatedly shot and stabbed Cox: "This is for Britain", "keep Britain independent", and "Britain first".
Darren Osborne, 48, killed Makram Ali, 51, and injured 11 others in June 2017 when he plowed a van into a group of Muslim worshippers after they left Ramadan prayers at the Muslim Welfare House in Finsbury Park.
The far-right terrorist was found guilty of murder and attempted murder by a British court and sentenced to life imprisonment with a minimum of 43 years.
A neo-Nazi who admitted plotting the murder of Labour MP Rosie Cooper was sentenced to life in prison, with a minimum term of 20 years in 2019.
Terrorist Jack Renshaw was investigated by the police after he mentioned the plot in a pub during a meeting attended by Christopher Lythgoe, the leader of the banned extreme neo-Nazi group National Action.
https://www.aa.com.tr/en/europe/far-right-terrorism-fastest-growing-threat-uk-police/1588508
--------
Gantz rejects Netanyahu's unity offer, vows own coalition
Sep 20, 2019
Israeli Prime Minister Benjamin Netanyahu's strongest rival, Benny Gantz, has thrown out his offer for a coalition, after their battle in the regime's latest general elections ended up in a deadlock.
Gantz's centrist Blue and White party is slightly ahead of Netanyahu's Likud in the second round of voting this year, which was held Tuesday. However, they both lack the numbers of seats in the 120-member parliament to form a ruling bloc.
Netanyahu, Israel's longest-serving leader, urged Gantz, the former military chief of the regime, to meet him Thursday, because he had pledged to form a right-wing government led by Likud.
"But to my regret, the election results show that this is impossible," Netanyahu said in a video message on Thursday. "Benny, we must set up a broad unity government, as soon as today."
Gantz, in response, said without mentioning Netanyahu and his request that he himself was going to form a "liberal" coalition, implying that he would not become allies with Netanyahu.
Moshe Yaalon, another top leader of the Blue and White, gave a more detailed response later in the day, saying his party was not willing to join forces with Likud mainly because of the looming corruption charges against Netanyahu.
"We will not enter a coalition led by Netanyahu," Yaalon said.
"The time has come for you to tell Netanyahu: 'Thank you for all you've done'," Yaalon urged Likud members, who are yet to show signs of rebellion against the PM.
The swift rejection left Netanyahu "surprised and disappointed," prompting him to repeat the call.
"It's what the public expects of us," Netanyahu said later in the day.
Gantz had taken a similar position over the course of the campaign and suggested several times that an alliance would only be possible if Likud dumped Netanyahu.
The election came five months after an inconclusive vote in August, where Netanyahu once again failed to form a majority government.
With 99 percent of votes counted, Israeli media are saying that a Likud-led right-wing bloc looks set to control 55 of the parliament's 120 seats, with up to 57 for a center-left alliance.
Despite their rivalry, Netanyahu and Gantz had only narrow differences on key issues during their campaigns, meaning that even if Netanyahu was to stand down after five terms in office, significant changes in the Tel Aviv regime's policies on relations with the United States, the standoff with Iran or the Palestinian conflict would most likely remain unchanged.
Once all the votes are counted, Israeli President Reuven Rivlin will meet with the parties that won seats and will ultimately give one party leader up to 42 days to form a government.
The deadlock has turned the regime's former minister of military affairs Avigdor Lieberman, who is now head of the far-right Yisrael Beitenu party which has eight seats, as a key influence in the coalition-building process.
Lieberman remained open to the idea of a secular unity government but said Thursday that he was unconvinced by Netanyahu's unity offer.
In a statement, he called Netanyahu's offer "no more than a trick and an attempt to paint a false picture to prepare public opinion for a third round of elections."
Lieberman resigned from Netanyahu's cabinet earlier this year and has become one of his firm critics ever since.
https://www.presstv.com/Detail/2019/09/20/606632/Israel-Netanyahu-Gantz-coalition-offer
--------
S.Sudan: Gov't to be formed regardless of opposition
Benjamin Takpiny
19.09.2019
JUBA, South Sudan
South Sudan's president said he would form a transitional government of national unity in November, even if the main opposition leader refused.
Speaking at a religious ceremony ahead of a previously agreed upon deadline to form of the transitional unity government, Salva Kiir Mayardit promised he would form the administration with other parties in November even if Riek Machar declined to join.
"Even if the SPLM-IO [Sudan People's Liberation Movement-in-Opposition] under Machar doesn't want the formation of the Transitional government of national unity in November, I will go ahead with other political parties' signatories to the revitalized peace agreement and form the transitional government of national unity," he said.
Kiir urged SPLM-IO Deputy Chairman Henry Odwar to tell Riek to come to the capital, Juba, in order to begin work to form the government on time, asserting that Machar had nothing to fear, and that he had received the opposition leader "with open arms and heart" during a previous visit.
He called all parties that signed an agreement to form the unity government to work so that country does not descend into violence.
South Sudan slid into crisis when Kiir sacked Machar as vice president in December 2013 on suspicion of plotting a coup, followed by a protracted civil war that claimed the lives of tens of thousands and forced 4 million to flee their homes.
Before a 2018 peace deal, five years of fighting between the two leaders crippled the country, with millions displaced and almost 400,000 people dead from violence and disease.
https://www.aa.com.tr/en/africa/ssudan-govt-to-be-formed-regardless-of-opposition/1588721
--------
Machiavellian Netanyahu played Trump using misinformation: Tillerson
Sep 19, 2019
Former US Secretary of State Rex Tillerson has revealed that President Donald Trump was "played" by Machiavellian Israeli Prime Minister Benjamin Netanyahu on several occasions.
Tillerson, who served in the Trump administration as the Secretary of State from February 1, 2017 to March 31, 2018, recounted on Tuesday during a panel interview with Harvard professors how Netanyahu would use "misinformation" to trick Trump, whom Tillerson had on one occasion allegedly called a moron.
"They did that with the president on a couple of occasions, to persuade him that 'We're the good guys, they're the bad guys," Tillerson noted.
"We later exposed it to the president so he understood, 'You've been played,'" explained Tillerson.
He added, "It bothers me that an ally that's that close and important to us would do that to us."
Tillerson warned that exercising skepticism was necessary when dealing with Netanyahu,
Netanyahu is "a bit Machiavellian," he told the panel. "In dealing with Bibi, it's always useful to carry a healthy amount of skepticism in your discussions with him."
The former top US diplomat and CEO of ExxonMobil had previously revealed that he was also at loggerheads with Trump's son-in-law and adviser Jared Kushner, who was secretly conducting diplomatic talks on sensitive matters in the Middle East.
Meanwhile, Netanyahu, who is a close ally of Trump, faces an uncertain future due to his failure in winning the Israeli elections.
Palestinians joined by Muslims from across the globe have condemned the Israeli occupation.
It makes no difference to them which party wins in the Israeli elections since both Netanyahu of the right-wing Likud party and his main challenger centrist Benny Gantz of the Blue and White alliance, both back the occupation of the Palestinian territories.
https://www.presstv.com/Detail/2019/09/19/606620/Israel-US-Tillerson-Netanyahu
--------
PM: No talks unless India restores Kashmir status
September 20 2019
Pledging to present the "Kashmir case" at the United Nations General Assembly "like no one ever did before", Prime Minister Imran Khan said that there is no point talking to India unless it lifted curfew and restored the special status of held Kashmir.
"To India's misfortune, it has been taken over by extremist and racist Hindus. Only a person with an extremist mindset would do what they have done in Kashmir by keeping it under curfew for 45 days," he said at a press conference after inaugurating the Integrated Transit Trade Management System at the Pak-Afghan border.
Torkham, located 55km northwest of here, serves as one of the major border crossings with Afghanistan.
The new management system has allowed for round-the-clock trade and immigration facilities at the border crossing.
"I consider this to be a very historic day," said Khan, who was the first elected prime minister ever to visit the border crossing at Torkham.
Foreign Minister Shah Mehmood Qureshi accompanied the prime minister.
Khyber Pakhtunkhwa Chief Minister Mahmood Khan and Governor Shah Farman received Prime Minister Khan at the helipad in Torkham.
The Governor of Afghanistan's Nangarhar province, Hayatullah Hayat, had driven to Torkham on special invitation to attend the ceremony.
Prime Minister Khan came down hard on the Indian leadership, whose RSS (Rashtriya Swayamsevak Sangh) ideology, he said, had led them to hate Muslims and Pakistan.
"Their entire policy towards Pakistan is a policy of hatred. This is the RSS policy of hatred towards Muslims. So, unless they lift the curfew in (Indian-administered Kashmir) and rescind the revocation of Article 370, there is no chance of negotiations [with India]," the prime minister declared.
He is due to address the 74th session of the UN General Assembly later this month.
When a reporter pointedly asked if Pakistan would permit those eager to fight for the Kashmiris, the prime minister said anyone wanting to go and fight in India-held Kashmir would do a great injustice to the Kashmiris, by undermining their legitimate cause.
"Anyone from Pakistan wanting to fight in Kashmir or go for jihad in Kashmir would do the greatest injustice to the Kashmiris. Such an act would be an act of animosity towards the Kashmiris," Prime Minister Khan emphasised.
He said that India, while keeping 900,000 troops in Kashmir, had always been blaming Pakistan for instability in the territory.
"Anyone going from here will give them the pretext to blame Pakistan for cross-border terrorism and infiltrating terrorists," he said.
Khan said that India had accused Pakistan of cross-border terrorism.
"The entire world's attention was drawn towards us, Pakistan," he said.
"Now India is stuck," the prime minister said while referring to international concerns over the state of affairs in the held valley.
"And the pressure is building up day by day," he added. "Now this is what I am going to say: 'Anyone making any such attempt [to cross over into Kashmir to fight] would be an enemy of Pakistan as well as an enemy of Kashmiris'."
On the issue of Afghan peace efforts, the prime minister said that Pakistan did all that was in its power to facilitate talks between the US and the Afghan Taliban.
"We arranged for the meetings and facilitated the travel of Afghan Taliban to Qatar. Even the Americans acknowledge this.
"We went to the extent of not participating in the peace talks.
"We didn't participate in the talks. Had we known there was some problem, we would have made more efforts," he added.
"You are right," Khan said when asked if he too, was taken by surprise by US President Donald Trump's sudden cancellation of peace talks with the Taliban.
"We read about the breakdown in talks in newspapers," he said. "This is very tragic. They were close to signing a peace agreement."
The prime minister said peace in Afghanistan was important for Pakistan, adding that Islamabad had tried to convince the Taliban to sit down with the Afghan government and conclude a peace agreement ahead of the elections.
He said peace in Afghanistan would open up trade with Central Asian republics which were more than keen to expand trade ties with Pakistan through the Gwadar port.
Khan noted that with the opening of 24/7 trade services at Torkham, trade between Pakistan and Afghanistan had shown 50% increase over the last few days.
"But this is nothing compared with the potential of trade with the Central Asian republics. Peace in Afghanistan will transform the entire region," he said.
The prime minister condemned in the strongest terms acts of vandalism against Hindus in Ghotki, saying that such acts were against the Constitution, the vision of Quaid-e-Azam Mohamed Ali Jinnah, and the spirit of Islam which considered minorities as equal citizens.
"This is a conspiracy to undermine my visit to the UN General Assembly. This has been done deliberately to sabotage [my address]," he added.
https://www.gulf-times.com/story/642191/PM-No-talks-unless-India-restores-Kashmir-status
--------
India
ED to invoke Fugitive Economic Offenders Act against controversial Islamic preacher Zakir Naik
Sep 19, 2019
New Delhi: The Enforcement Directorate (ED) is going to invoke Fugitive Economic Offenders Act (FEOA) against Islamic preacher Zakir Naik, who is currently residing in Malaysia, official sources said on Thursday. A highly placed ED source said, "We are mulling the idea to invoke FEOA against Naik in the money laundering case being probed by us."
The ED booked him in 2016 on an FIR filed by the National Investigation Agency (NIA) under the Unlawful Activities Prevention Act (UAPA). The controversial preacher is wanted by authorities for alleged money laundering and inciting extremism through hate speeches.
On Wednesday, a Special Prevention of Money Laundering (PMLA) court in Mumbai issued non-bailable warrant against Naik.
According to the ED officials, under the FEOA, any person against whom an arrest warrant has been issued in respect of a scheduled offence and who has left India to avoid criminal prosecution or is abroad or refuses to return to India will face criminal prosecution.
After the person is declared a `fugitive economic offender`, the prosecuting agency is vested with the power to confiscate all his assets and properties to recover the dues.
Fugitive businessman Vijay Mallya, the chairman of the now defunct Kingfisher Airlines was declared the first person to be declared fugitive economic offender by the ED in January this year.
The ED has also moved the court to invoke the FEOA against fugitive diamond jeweller Nirav Modi and his uncle Mehul Choksi of the Geetanjali group in a money laundering case involving Rs 13,500 crore Punjab National Bank fraud case.
Naik is a known hate preacher whose name prominently figured during the Dhaka bomb blasts in July 2016 that killed many. A bomber later confessed that he was influenced by Naik`s messages following which he fled India.
Naik, who used to preach on the now-banned `Peace TV`, has been living in Malaysia for around 3 years in a bid to escape the Indian law after cases were filed against him here in the wake of a terror attack in Bangladesh in 2016.
He was granted permanent residency in Malaysia following Britain and Canada`s refusal to grant him visa.
The ED had filed charge-sheet against Naik in May this year. It identified the proceeds of crime was worth Rs 193.06 crore and alleged that Naik`s speeches incited young Muslim men to commit terrorist acts.
Through his Mumbai-based Islamic Research Foundation (IRF) and later through Peace TV, Naik created a wide follower base. He often propagated Islam through his speeches.
Peace TV is banned in many countries because of the hate speeches he delivered, while IRF has already been declared an unlawful association by the Central government.
The ED has alleged that Naik`s IRF had organised peace conferences in Mumbai between 2007 and 2011 in which he attempted to convert people and incite terrorist acts.
Naik had denied the charges in a statement issued in June this year.
However, he was infamously quoted to have said: "If Bin Laden is fighting the enemies of Islam, I am for him. If he is terrorising America, the biggest terrorist, I am with him. Every Muslim should be a terrorist."
Naik has also defended the terrorist organisation `Islamic State` and batted for men`s right` to beat up their wives, the Indian agencies have alleged.
The Interpol has in the past rejected the NIA`s request on the ground that no charge-sheet was filed against Naik at the time of submission. The agency had termed it as a technical ground and that Interpol had not taken cognisance of it filing a charge-sheet against Naik and others before a Mumbai court in October 2017.
https://zeenews.india.com/india/ed-to-invoke-fugitive-economic-offenders-act-against-controversial-islamic-preacher-zakir-naik-2235511.html
--------
Ayodhya: SC closes contempt case against man for threatening advocate representing Muslim parties
September 19, 2019
The Supreme Court on Thursday closed a contempt case against an 88-year old retired public servant for writing objectionable letters to senior advocate Rajeev Dhavan for appearing for Muslim parties in the Ram Janmabhoomi-Babri Masjid land dispute matter. A five-judge bench headed by Chief Justice Ranjan Gogoi said the man had expressed regret for using such objectionable words in his communication to Dhavan.
The bench also comprising justices S A Bobde, D Y Chandrachud, Ashok Bhushan and S Abdul Nazeer said there should not be a repetition of such acts again.
Senior advocate Kapil Sibal, appearing for Dhavan, said he does want any punishment for the retired public servant but a message should be sent to all in the country that there should not be any intimidation of any counsel appearing for any party.
The counsel appearing for N Shanmugam said he was expressing his regret for using such words in the letter to Dhavan.
Full report at:
https://www.indiatoday.in/india/story/ayodhya-sc-closes-contempt-case-against-man-for-threatening-advocate-representing-muslim-parties-1600793-2019-09-19
--------
Yogi Adityanath tells News18 he will 'follow' SC judgment in Ayodhya case, criticises Muslim parties for being 'stubborn' during mediation
Sep 19, 2019
Uttar Pradesh chief minister Yogi Adityanath weighed in on the politically sensitive Ayodhya land dispute case in an exclusive interview with Network18 group editor-in-chief Rahul Joshi and said that the apex court's verdict after the conclusion of the daily hearings in October will be based on "facts and evidence".
He also said that the BJP in the state is "hopeful" and will follow the judgment of the Supreme Court. The matter is being heard currently by a five-judge constitution bench headed by Chief Justice of India Ranjan Gogoi. In an attempt to fast-track a conclusion to the decades-old case also referred to as the Ram Janmabhoomi-Babri Masjid dispute, the court on Wednesday set a deadline for the arguments and said that the verdict is likely to be declared by 17 November.
The apex court took up the case for daily hearings in August after the court-appointed mediation panel headed by former Supreme Court judge FM Kallifullah failed to find a resolution.
In criticism of the Muslim parties to the case, Adityanath said a solution is not possible if "people are stubborn". "It would have been good had the Muslim community taken an initiative to end this when the Supreme Court gave time for mediation, but that did not happen. It wouldn't have happened as people can only move towards a solution when they are thinking positively, but when they are stubborn about this, then only the Supreme Court can take a decision. This will only end after the Supreme Court takes a decision," he said.
The five-judge constitution bench, which also comprises Justices SA Bobde, DY Chandrachud, Ashok Bhushan and SA Nazeer, said that arguments by all parties are stipulated to end on 18 October, which will give them four weeks to complete writing the judgment.
Offering to hear the case on Saturdays as well, the court also allowed for a parallel mediation process alongside the hearings and said that the parties to the dispute are free to find an amicable solution, if they want, and place the settlement before it.
Full report at:
https://www.firstpost.com/india/yogi-adityanath-tells-news18-he-will-follow-sc-judgment-in-ayodhya-case-criticises-muslim-parties-for-being-stubborn-during-mediation-7367691.html
--------
Manmohan a saintly man but robust on threats to India, considered action against Pak: Cameron
September 20, 2019
Former British premier David Cameron released his memoirs on Thursday, in which he speaks of getting on well with "saintly" former Indian prime minister Manmohan Singh, who even confided in him about the prospect of military action against Pakistan in case of another Mumbai-like terrorist attack.
'For The Record' is a chronicle of 52-year-old Cameron's personal as well as professional life, specifically covering the period between 2010 and 2016 when he was in charge at Downing Street and had close dealings with both Singh as well Prime Minister Narendra Modi.
"I got on well with Prime Minister Manmohan Singh. He was a saintly man, but he was robust on the threats India faced. On a later visit, he told me that another terrorist attack like that (2008) in Mumbai in July 2011, and India would have to take military action against Pakistan," notes Cameron, as he recalls one of his many visits to India during his time in office.
"When it came to India, I argued that we needed a modern partnership – not one tinged with colonial guilt, but alive to the possibilities of the world's oldest democracy and the world's largest democracy. Many of Britain's most successful business leaders and cultural figures are from the Indian diaspora community and would be our greatest weapons in the endeavor," he adds.
As part of a considerable focus on the India-UK relationship in his memoirs, the 52-year-old former Conservative Party politician is all praise for the two Indian leaders and relives hugging Modi on stage during his address at Wembley Stadium in November 2015.
He recalls: "Hot on [Chinese President] Xi's heels came the new Indian PM, Narendra Modi. There were several 'moments' including the largest ever gathering of the Indian diaspora in the UK at Wembley Stadium.
"Before introducing Modi, I told the 60,000-strong crowd that I envisaged a British Indian entering No 10 Downing Street as PM one day. The roar of approval was incredible. And as Modi and I hugged on stage I hoped that this small gesture would be a signal of the open armed eagerness with which Britain approached the world."
On a more personal note, Cameron speaks fondly of travelling around Delhi in a tuk tuk and walking through the slums of Mumbai in the pouring rain to visit a community project.
"We couldn't afford to carry on obsessing about Europe and America while ignoring the fresh new forces that were shaping our world," he writes.
In particular, he delves in detail into his historic visit to the Golden Temple in Amritsar during the "largest" UK trade mission he led to India in 2013 and became the first British prime minister to express regret for the Raj era Jallianwala Bagh massacre at the site.
Cameron recalls: "For a long time, friends and colleagues in the British Indian community had encouraged me to go to the Golden Temple in Amritsar. The holiest of Sikh sites had been the scene of a massacre in 1919, when British Indian Army soldiers fired upon a peaceful public meeting, killing hundreds of people.
"No serving Prime Minister had ever been to Amritsar, let alone expressed regret for what happened. I wanted to change both those things, and would do so after the trade mission – the largest in UK history – I would lead in February 2013, " he said.
"Ahead of my visit there was an internal row about whether I should say 'sorry'. But ultimately, I felt that expressing regret for what I described in the memorial's book of condolence as a 'deeply shameful event in British history' was appropriate. I knew what it meant to British Sikhs that their prime minister made that gesture, and I'm glad I did so."
Cameron resigned as UK prime minister in June 2016, a day after Britain voted to leave the European Union (EU) in a referendum, and has since taken a back seat from the world of frontline politics.
Indian-origin peer Lord Jitesh Gadhia, who worked closely with him during his time at Downing Street, welcomed the significant efforts made the former British premier in strengthening the India-UK relationship.
"David Cameron's positive legacy with India should not be drowned out by Brexit. As someone who had the privilege of working closely with David Cameron, his efforts to build a modern partnership with India deserve more charitable treatment from historians," said Gadhia.
Full report at:
https://indianexpress.com/article/india/manmohan-a-saintly-man-but-robust-on-threats-to-india-considered-action-against-pak-cameron-6012478/
--------
Mumbai: Facing trial for 'travelling to Iraq, syria to join IS', Areeb Majeed's bail plea rejected again
September 20, 2019
A SPECIAL court in Mumbai on Thursday rejected the bail application of Areeb Majeed, who is facing trial for allegedly travelling to Iraq and Syria to join the Islamic State (IS).
Majeed, who has been behind bars since November 2014, sought bail for the third time, on grounds, including the recent amendment to the Unlawful Activities (Prevention) Act. Majeed had claimed that prior to the amendment, the NIA did not have the jurisdiction to investigate an offence that allegedly took place in Iraq and Syria.
Majeed also claimed that his return was 'facilitated' by the NIA and that he had not sneaked into the country with ulterior motives as claimed by the agency. He had also claimed that only 35 witnesses have been examined so far out of the 187 cited in the chargesheet, adding that the trial might take a long time to conclude. The NIA opposed the plea stating that allegations against him were serious and that there was sufficient evidence to show that he had travelled to Iraq and Syria and committed terrorist acts. The detailed order on the plea is yet to be made available.
Full report at:
https://indianexpress.com/article/india/mumbai-facing-trial-for-travelling-to-iraq-syria-to-join-is-areeb-majeeds-bail-plea-rejected-again-6011448/
--------
Arab World
Saudi Arabia to UN: Aramco strikes were 'organized terrorist attack'
September 19, 2019
RIYADH: Saudi Arabia said that Saturday's strikes on two Aramco facilities were an "organized terrorist attack" in a letter to the UN Security Council.
The Saudi Mission to the United Nations sent a letter to UN Secretary-General Antonio Guterres and another to the President of the Security Council Russia's Permanent Representative to the UN Vasily Nebenzya and members of the Security Council on Wednesday.
The letters stated that "all indications are that the weapons used in the Aramco attack are Iranian."
They also explained that Saudi Arabia will take measures to respond to the attacks in accordance with international law, and called on the UN and international experts to participate in the investigation into the attack.
https://www.arabnews.com/node/1556836/saudi-arabia
--------
Prominent dissident Saudi clerics transferred to Riyadh ahead of court hearing
Sep 19, 2019
Saudi authorities have transferred three prominent dissident clerics to the capital ahead of their trials, as the Riyadh regime presses ahead with its crackdown on pro-democracy campaigners in the ultra-conservative kingdom.
The rights group Prisoners of Conscience, which is an independent non-governmental organization advocating human rights in Saudi Arabia, announced in a post on its official Twitter page on Thursday that Sheikh Salman al-Awdah, Sheikh Awad al-Qarni and Sheikh Safar al-Hawali have been moved to Riyadh to stand trial within the next few days.
The Arabic-language Saudi newspaper Okaz reported on September 4, 2018 that Saudi public prosecutors had leveled 37 counts against Awdah, and even demanded his execution.
Saudi authorities detained the prominent Muslim scholar on September 7 last year and have been holding him in solitary confinement without charge or trial ever since.
Officials have imposed travel bans on members of his family as well. A family member told Human Rights Watch that the distinguished cleric was being held over his refusal to comply with an order by Saudi authorities to tweet a specific text to support the Saudi-led blockade of Qatar.
Awdah, instead, posted a tweet, saying, "May God harmonize between their hearts for the good of their people," - an apparent call for reconciliation between the Persian Gulf littoral states, the US-based rights group said in a statement.
Saudi Arabia, the United Arab Emirates, Bahrain and Egypt all cut off diplomatic ties with Qatar on June 5, 2017, after officially accusing it of "sponsoring terrorism."
Qatar said the move was unjustified and based on false claims and assumptions.
Sheikh Hawali, known for his chronic opposition to some of the kingdom's policies and the presence of American troops on Saudi soil, was arrested on July 12, 2018.
In the 1990s, he was jailed for opposing the Saudi ties with US troops leading a military operation in Kuwait. In 1993, the cleric was banned from public speaking and dismissed from his academic posts on suspicion of attempting to incite civil disobedience. In 1994, the Islamic scholar was once again arrested, but was soon released.
Saudi Arabia has lately stepped up politically-motivated arrests, prosecution and conviction of peaceful dissidents and human rights campaigners.
Over the past years, Riyadh has also redefined its anti-terrorism laws to target activism.
Full report at:
https://www.presstv.com/Detail/2019/09/19/606592/Prominent-dissident-Saudi-clerics-transferred-to-Riyadh-ahead-of-court-hearing
--------
Makeshift Prisons for Islamic State Fighters Reaching Breaking Point
By Jeff Seldin
September 18, 2019
PENTAGON - Efforts to secure prisons holding thousands of captured Islamic State fighters appear to be on the verge of crumbling, a development that could help strengthen the terror group's efforts to re-emerge in Syria and Iraq.
For months, officials have said the prisons, run by the U.S.-backed Syrian Democratic Forces, were "good enough" to hold the fighters, many of whom were captured following the fall of Baghuz, the terror group's last Syrian stronghold, in March.
But as efforts to repatriate IS foreign fighters to their countries of origin have stalled, and as thousands more wait to face some sort of justice, fears are growing that the prisons may be reaching a breaking point.
"There are not prisons controlled by forces in northeast Syria that can house 10,000 ISIS fighters," Chris Maier, director of the Pentagon's Defeat IS Task Force, told reporters Wednesday, using another acronym for the terror group.
This is not sustainable over time," he added, noting that the United States' anti-IS coalition partners "share that assessment."
Many of the prisons are buildings, like schools, that were quickly converted into detention facilities as the U.S. and coalition forces rolled back the last of the terror group's territory in Syria.
Soon, the prisons were close to overflowing. In March, the U.S. began sending the SDF material for repairs and refurbishment.
Yet those repairs have gone only so far, as the number of IS prisoners in SDF custody has remained steady, including an estimated 2,000 or more foreign fighters from over 60 countries.
"We ask for their countries to get them back. Nobody responds," Sinam Mohammed, the U.S. representative of the Syrian Democratic Council (SDC), said last week during a forum in Washington.
"We ask now for having international tribunals for these fighters," she added. "We don't have any support."
In the meantime, the danger has been growing.
"We've seen a number of attempted jailbreaks," Nathan Sales, the State Department's counterterrorism coordinator, told reporters in August. "The risk that they could get out is not trivial."
Counterterror experts also fear that once the IS prisoners do get out, they will be more capable and more lethal than before.
"We're kind of heading, I think, in this slow-motion disaster," Shiraz Maher, director of the International Center for the Study of Radicalization and Political Violence, told an extremism conference at the U.S. Institute of Peace on Wednesday.
"What's particularly striking now is we are essentially repeating many of the errors that were made in Iraq after 2003, where we gathered lots of really serious guys from al-Qaida, put them together in Camp Bucca, and then did nothing about it. And later, we released these individuals, who returned more or less immediately to their activities and went on to create ISIS," he said. "There is no off-ramp."
For now, the U.S. is providing the SDF with some help, but nothing that will extend the life of the makeshift prisons themselves.
"We continue to provide basic training and assistance to the forces that are serving that kind of warden- or prison guard-type role," Maier said.
Full report at:
https://www.voanews.com/middle-east/makeshift-prisons-islamic-state-fighters-reaching-breaking-point
--------
Iraqi security forces seize ISIS hideout, arrest terrorist in Kirkuk
by Loaa Adel
Sep 18, 2019
Kirkuk (IraqiNews) Iraqi Ministry of Interior announced on Wednesday apprehending a hideout belonging to the Islamic State group, south of Kirkuk, while arrested a terrorist who was hiding inside the hideout, and found detonators and explosive devices inside the hideout.
The ministry's Spokesman Major General Saad Maan said in a press statement that the detachments of the Federal Police based on the confessions of one of the arrested defendants, managed to seize a hideout of the ISIS terrorist group in Wadi al-Shay, where one of terrorists was arrested, while hiding inside the hideout.
Maan added that three explosive devices, a booby-trapped gas cylinder, a 120-mm grenade, a rocket launcher, two bombs, 50-meter-long detonating wires, a detonating fuse and five detonators were found inside the hideout.
Iraq declared the collapse of Islamic State's territorial influence in November 2017 with the recapture of Rawa, a city on Anbar's western borders with Syria, which was the group's last bastion in Iraq.
Full report at:
https://www.iraqinews.com/iraq-war/iraqi-security-forces-seize-isis-hideout-arrest-terrorist-in-kirkuk/
--------
Saudi Arabia vows to prove Iran backed 'terrorist attack' on oil facilities
September 18, 2019
Saudi Arabia on Wednesday said it would reveal evidence showing Iran was behind the attack on its oil facilities as Tehran threatened to retaliate "immediately" if any action is taken against it.
The Saudi Defense Ministry said it would present "material evidence and Iranian weapons proving the Iranian regime's involvement in the terrorist attack."
Iran reiterated that it played no part in the strikes on the Abqaiq refinery and the Khurais oil fields on Saturday that knocked out half of Saudi's oil production as it aired the threat of retaliation.
"If any action takes place against Iran, the action will be faced by Iran's answer immediately," state-run news agency IRNA quoted a note sent to Swiss diplomats.
The development comes as Secretary of State Mike Pompeo is expected to meet with Saudi Crown Prince Mohammad bin Salman in Jeddah to coordinate efforts against "Iranian aggression," the US Mission to the United Arab Emirates said.
The prince, in a phone call with South Korean President Moon Jae-in, said the attack posed "a real test of global will" to counter subversive acts that threaten international stability.
President Trump has said he doesn't want to start a war but insisted the US is "prepared more than anybody."
Full report at:
https://nypost.com/2019/09/18/saudi-arabia-vows-to-prove-iran-backed-terrorist-attack-on-oil-facilities/
--------
Egypt Says Police Kill 9 Suspected Militants in Cairo
By Associated Press
September 18, 2019
CAIRO - Egypt on Wednesday said police have killed nine suspected members of a militant group with links to the now-outlawed Muslim Brotherhood in two separate Cairo shootouts, while a rights lawyer said prosecutors have ordered a prominent leftist activist to remain in custody pending an investigation into charges that include joining the Muslim Brotherhood.
The Interior Ministry said in a statement the alleged militants were members of the Revolution Brigade, a breakaway faction of the Muslim Brotherhood group that has targeted security forces in militant attacks.
FILE - Lotfy Ibrahim's mother, Tahany, looks at a photograph of her son at home in Kafr al-Sheikh, Egypt, Jan. 13, 2019.
How Sissi's Egypt Hands Out Justice
Egyptian courts have sentenced some 3,000 people to death since 2014, when President Abdel Fatah el-Sissi took power, according to the Arab Network for Human Rights Information
It said the exchanges of fire took place as police were trying to arrest them at their alleged hideouts in the northeastern Obour district and the southern May 15th City suburb.
The ministry, which oversees police forces, said the dead included a militant leader accused of killing a top military officer, Brig-Gen. Adel Ragai, commander of the army's 9th armored division, who was gunned down in Oct. 2016 near his home in Obour. The suspected militant leader was also allegedly behind an attack on a checkpoint in August that year in the northern Nile delta province of Menoufia, the statement said.
The ministry claimed rifles and ammunition were found at the scene.
Egypt is fighting an insurgency led by a local affiliate of the Islamic State group in the Sinai Peninsula as well as smaller militant groups allegedly belonging to the Brotherhood.
Egyptian Army Chief, General Abdel Fattah al-Sissi (C), is seen in Cairo's Nasr City district in this September 20, 2013, file photo.
How Egypt's President Tightened his Grip
Behind the scenes, President Abdel Fatah el-Sissi's closest advisers reworked the constitution to prolong his presidency and tighten his grip on Egypt. Not since the decades-long rule of Hosni Mubarak has so much power been concentrated in the hands of one man
Meanwhile, Gamal Eid, the head of the Arab Network for Human Rights Information, said prosecutors ordered activist Kamal Khalil to remain in custody for 15 days pending an investigation into charges of joining a terrorist group and disseminating false news.
"Membership in an outlawed group" is Egyptian government parlance for having ties to a range of groups that it has outlawed, including the Muslim Brotherhood, an organization that authorities banned and labeled a terrorist group in 2014.
Eid told The Associated Press on Wednesday that police forces arrested Khalil earlier this week from his home in Cairo.
The prominent activist's arrest came in the wake of corruption allegations against the Egyptian military made earlier this month by military contractor and businessman-in-exile Mohamed Ali.
In viral social media videos posted over the past week, the entrepreneur alleged large-scale misuse of public funds in the building of luxurious hotels, presidential palaces and a tomb for general-turned-president Abdel-Fattah el-Sissi's mother, who died in 2014.
Sissi has angrily dismissed the allegations as "sheer lies and defamation." He portrayed Ali's videos as an attempt to weaken Egypt and undermine the public's trust and confidence in the military and its leader.
Since leading the military's 2013 overthrow of an elected but divisive president — the Brotherhood's Mohamed Morsi — Sissi has overseen a crackdown on dissent, jailing thousands of Morsi supporters along with secular, pro-democracy advocates, imposing tight control of the media and rolling back freedoms won in a popular 2011 uprising that brought down the 30-year rule of Hosni Mubarak.
Full report at:
https://www.voanews.com/middle-east/egypt-says-police-kill-9-suspected-militants-cairo
--------
Saudi Arabia Asks Iraq for Millions of Barrels of Crude After Yemeni Drone Operation
Sep 19, 2019
The world's largest oil exporter is looking to buy crude oil from its neighbor and additional oil products from the global market, oil traders stated, less than a week after Yemeni forces knocked out roughly half of Saudi Arabia's crude production.
Two people familiar with the matter told The Wall Street Journal that Riyadh has asked Iraq's national oil company, the State Organization for Marketing of Oil, or SOMO, for as much as 20 million barrels of crude to supply Saudi's domestic refineries.
Saudi Energy Minister Prince Abdulaziz bin Salman had claimed that Riyadh will restore its lost oil production by the end of September and has managed to recover supplies to customers to the levels they were at prior to attacks on its facilities. He alleged that the kingdom would achieve 11 million barrels per day (bpd) capacity by the end of September, and 12 million bpd by the end of November.
Shortly after Saturday's attacks, Aramco was in the market seeking products including diesel, gasoline and fuel oil for domestic use, according to traders, as, to preserve its own crude for exports, Saudi Arabia needs to reduce the amount of domestic crude it refines to make those products.
It isn't clear what Aramco's product exports will be in September, traders said, adding that this week Aramco was seeking to import an additional 300,000 barrels a day of oil products.
The drone raid affected mainly light crude grades resulting in the shutdown of the pipeline from which Bahrain's Bapco receives oil from state oil giant Aramco, Reuters reported citing two trade sources. The pipeline carries 220,000-230,000 barrels per day (bpd) and transfers Arab Light crude. The Bahraini company is looking for other ways to get about 2 million barrels of Saudi crude and may use vessels for transportation.
Aramco has also informed PetroChina that some of its loadings of light crude oil for October will be delayed by up to about 10 days after attacks on the kingdom's oil facilities, a senior Chinese state oil source with knowledge of the matter stated.
Oil refiners in Japan are gathering information on supplies from Saudi Arabia following the attack on the kingdom's key crude oil facilities over the weekend, company officials noted.
Aramco has told Indian refiners that it can't deliver the premium-grade Arab Light crude they ordered. Instead, the company will send heavy, lower-grade crude, The Wall Street Journal had reported.
Yemeni troops have warned Saudi Arabia that their targets "will keep expanding". The operation shut down about 50 percent of the kingdom's crude and gas production, and cut the state oil giant's crude oil supply by around 5.7 million barrels per day. A return to normal production could take months, not weeks, according to reports.
Full report at:
https://en.farsnews.com/newstext.aspx?nn=13980628000591
--------
Russia, China veto UN resolution on Syria ceasefire
19 September 2019
Russia and China on Thursday vetoed a UN Security Council resolution calling for a ceasefire in Syria's war-torn Idlib province after other members warned the conflict could become the century's worst humanitarian crisis.
During negotiations on the draft, Russia pressed unsuccessfully to include an exception for "anti-terrorist operations."
Russia cast its 13th veto, blocking a demand for a truce in northwest Syria because it does not include an exemption for military offensives against UN blacklisted militant groups.
China backed Russia by also blocking the text, drafted by Kuwait, Belgium and Germany. It was Beijing's seventh veto on the Syrian conflict. Equatorial Guinea abstained and the remaining 12 members of the council voted in favor.
Western states have accused Russian and Syrian forces of targeting civilians, a charge they deny. They say they are targeting militants.
Russian UN Ambassador Vassily Nebenzia told the council before the votes that be believed the "real objective" of the draft resolution by Germany, Kuwait and Belgium was "to save the international terrorists who are entrenched in Idlib from their final defeat."
Syrian President Bashar al-Assad's forces, backed by Russian air power, have been waging a five-month-long offensive in the Idlib region, the last major chunk of territory still in rebel hands after more than eight years of war.
"What we are witnessing is not counterterrorism, but an excuse to continue a violent military campaign against those who refuse to accept the Assad regime's authority," US Ambassador to the United Nations Kelly Craft told the council.
"Those ... who object to humanitarian access to Syria, those who are currently carpet-bombing Idlib, will be held accountable. And those who are doing so will have to pay for the reconstruction. We act on the principle you broke it, you own it," French U.N. Ambassador Nicolas de Rivière told reporters.
Shortly after the first draft UN resolution was proposed by Kuwait, Germany and Belgium, Damascus declared a truce on August 31 that brought a lull in air strikes. However, Syrian troops on Sunday shelled south of Idlib, according to rescuers and residents.
The United Nations said that since the start of hostilities in northwest Syria in April, more than 550 civilians have been killed and some 400,000 people displaced. Almost half of the displaced people are living in open-air areas or under trees.
The leaders of Turkey, Russia and Iran meeting in Ankara on Monday agreed to try to ease tensions in the Idlib region, but disagreements between the countries appeared to linger, especially over the threat from ISIS.
Full report at:
https://english.alarabiya.net/en/News/middle-east/2019/09/19/Russia-China-veto-UN-resolution-on-Syria-ceasefire-.html
--------
Damascus: Some UNSC permanent members politicize humanitarian situation in Syria
Sep 19, 2019
Syria says some permanent member states of the United Nations Security Council continue to abuse the body's mechanisms to politicize the humanitarian situation in the Arab country.
Syria's Ambassador to the United Nations Bashar al-Jaafari made the remark at a UNSC session on Thursday, saying those countries take advantage of the situation in Syria to undermine the country's safety and stability and support terrorism, Syria's official news agency SANA reported.
The senior diplomat added that improving the humanitarian situation in the Arab country and solving the difficulties facing Syrians need full commitment, respect for country's sovereignty and territorial integrity, and support for efforts of the government and its allies to eliminate the remaining terror groups.
Jaafari also called for an immediate end to the illegitimate presence of foreign troops in Syria, and a halt to the war crimes being committed by the US-led military coalition.
Elsewhere in his remarks, the Syrian diplomat said that foreign-backed terror groups in the northwestern province of Idlib continue to use civilians as human shields and prevent them for days from passing through the Abu al-Duhur corridor to reach areas liberated by Syrian government troops.
Jaafari added that US-backed terror groups still refuse to allow residents at al-Rukban refugee camp to leave there, forcibly seizing large amounts of humanitarian aid and transporting it to their positions in the militant-held al-Tanf area.
Large parts of Idlib and portions of the neighboring Hama province constitute the last major militant stronghold in Syria. Foreign-backed militants in these regions regularly conduct attacks against Syrian army troops and positions, Russia's bases and civilian districts.
The Syrian army troops and their allied forces, backed by Russia's air cover, are resolute to liberate the militant-held areas in the two provinces through offensives launched weeks ago.
The US and Turkey agreed on August 7 to set up a buffer zone to the east of the Euphrates River between the Turkish border and Syrian areas controlled by US-backed Kurdish militias, which Ankara views as terrorists affiliated with the homegrown Kurdistan Workers' Party (PKK) militant group.
The zone is claimed to be aimed at settling around one million displaced Syrians.
The Syrian government — which is opposed to Turkish and US military activities on its soil — has slammed the US-Turkish agreement, labeling it as a violation of Syria's sovereignty and territorial integrity as well as international law.
Syria has been gripped by foreign-backed militancy since March 2011. The Syrian government says the Israeli regime and its Western and regional allies are aiding Takfiri terrorist groups that are wreaking havoc in the country.
Russia, China veto Security Council resolution on Syria ceasefire
During Thursday session of the UN Security Council, both Russia and China voted against a resolution, which called for a ceasefire in Syria's war-torn Idlib province.
Russia's negative vote came after its UN ambassador tried unsuccessfully to include an exception for "anti-terrorist operations" in Idlib ceasefire resolution.
Ambassadors of Belgium, Kuwait and Germany had strongly urged that the resolution should not be vetoed, calling it a "purely humanitarian" measure, AFP reported.
The vetoed resolution said that all involved parties must cease hostilities "to avoid a further deterioration of the already catastrophic humanitarian situation in Idlib Governorate, beginning at noon Damascus time on 21 September."
Full report at:
https://www.presstv.com/Detail/2019/09/19/606616/Syria-UNSC-humanitarian-situation-US-Idlib-Turkey
--------
1.9 mn expats leave Saudi over high fees, slow growth: report
Sep 19, 2019
The number of foreign workers in Saudi Arabia fell by over a fifth in the 30 months to end-June due to high state levies and an economic slowdown, a report said Thursday.
Saudi Jadwa Investment said there was a net fall of 132,000 expatriate workers in the kingdom in the second quarter of 2019, taking the net outflow since the start of 2017 to nearly 1.9 million -- a fall of 22 percent.
The number of expatriate workers in the public and private sectors dropped from 8.55 million at the end of 2016 to just 6.66 million at the end of June this year.
During the same period, however, the number of domestic helpers who include maids and private drivers rose by 33 percent to 3.11 million, Jadwa said.
Economic activity in Saudi Arabia, which pumps around 10 million barrels of oil per day, has been hit hard by crude prices crashing from mid-2014.
Real GDP growth dropped sharply in the following years, and the economy shrank 0.7 percent in 2017, before partially rebounding 2.3 percent last year.
Economic growth is forecast to remain subdued over the next five years, despite high spending funded by borrowing and drawing down fiscal reserves.
The downturn has strongly impacted activity in the private sector, resulting in the closure of many small companies and thousands of workers being laid off by larger firms.
However, Jadwa also attributed the departures of expatriates to levies on such workers, which were first implemented in January 2018, six months after the introduction of fees on dependents.
In July 2017, Riyadh imposed monthly fees on dependents of expatriates starting at 100 riyals ($26.7) and rising gradually to 400 ($106.7) per dependent in 2020.
Last year, authorities for the first time required Saudi companies that employ more foreigners than Saudis to pay a fee -- around 400 riyals per worker, rising to 800 riyals this year.
Full report at:
https://www.presstv.com/Detail/2019/09/19/606623/Saudi-Arabia-foreign-workers-economic-downturn
--------
Europe
Muslim World League Paris Conference Exhorts Religious Leaders To Challenge Ideologies That Threaten Peace
September 20, 2019
PARIS: Religious leaders from more than 40 countries took part in an international "Peace and Solidarity" conference in Paris hosted by the Muslim World League (MWL) and the Foundation for Islam in France.
The event, the first of its kind, brought together Muslim, Christian and Jewish religious leaders from around the world.
Speakers at the forum emphasized the need to challenge ideologies that threaten peace by provoking racial and discriminatory strife.
MWL Secretary-General Dr. Mohammed bin Abdul Karim Al-Issa told the conference that extremists "hold on to imaginary ideas stemming from a misunderstanding of the past and present."
He highlighted the importance of protecting religion from political exploitation and the need to safeguard youth against extremist groups.
The MWL is keen to raise awareness inside and outside the Islamic world, including urging Muslims in Europe to respect the laws of the countries in which they live, he said.
Al-Issa called for the establishment of a new global education charter that "addresses negative phenomena, and offers effective initiatives and programs."
The MWL joined French Catholic, Orthodox and Protestant representatives in signing the Paris Agreement for the Abrahamic Family, becoming the first Islamic organization to bring together followers of the Biblical religions under a single cooperation document.
Under the historic agreement, the parties will work to promote peace and harmony in the face of extremism, hatred and racism.
The three sides will also encourage mutual understanding between Jews, Christians and Muslims in France.
The four organizations, in partnership with the Foundation for Islam in France, declared their commitment to the principle of freedom and to educating young people.
https://www.arabnews.com/node/1556996/world
--------
Germany extends anti-Islamic State mission in Iraq by 1 year
September 18, 2019
BERLIN — Chancellor Angela Merkel's Cabinet has approved extending Germany's military participation in an international coalition against the Islamic State group.
Merkel spokeswoman Ulrike Demmer said Wednesday the Cabinet extended the Bundeswehr's training of local Iraqi forces until Oct. 31, 2020.
A shorter extension that expires on March 31 was applied to the use of Germany's Jordan-based Tornado reconnaissance aircraft and also the use of German refueling aircraft for anti-Islamic State missions.
https://www.washingtonpost.com/world/europe/germany-extends-anti-islamic-state-mission-in-iraq-by-1-year/2019/09/18/5143e2f2-da11-11e9-a1a5-162b8a9c9ca2_story.html
--------
Justice Department files lawsuit over Troy's rejection of Muslim place of worship
Sep 20, 2019
The U.S. Justice Department filed a lawsuit Thursday, Sept. 19, against the city of Troy, alleging that it unfairly denied a Muslim group permission to establish a place of worship.
The Justice Department said in a statement that the city violated the Religious Land Use and Institutionalized Persons Act of 2000 when it rejected a proposal by the Muslim group Adam Community Center to open a worship facility.
Adam sought permission from the city to transform the former Sakura restaurant at 3565 Rochester Road into a place of worship and community center with a library, gym and banquet hall
Though the city had not yet been served with the lawsuit, it issued a statement denying the group's claims.
"We presume this new lawsuit raises many of the same allegations that were included in the lawsuit that Adam Community Center filed against the City several months ago challenging a decision of Troy's Zoning Board of Appeals denying Adam's request for seven variances. The city vehemently denies that it engaged in any impropriety or discrimination and it is aggressively defending the lawsuit," the city's statement said.
"The Zoning Board of Appeals denied the variances because it was not persuaded that Adam met its burden to demonstrate entitlement to the variances in accordance with the standards set forth in the city's zoning ordinance. These same standards are applicable to all applicants that seek a variance."
City Attorney Lori Grigg Bluhm previously said the variance requests on parking, setback from a residential neighborhood and other issues were "significant."
Federal officials say Troy held the Adam Community Center to a higher standard than that applied to nonreligious applicants.
"Zoning laws that treat mosques, churches, synagogues, and other religious assemblies less favorably than nonreligious assemblies illegally restrict religious exercise in violation of the Religious Land Use and Institutionalized Persons Act," said Assistant Attorney General Eric Dreiband for the Civil Rights Division of the Department of Justice. "The Department of Justice is committed to ensuring that local governments do not discriminate against faith communities in violation of federal law."
"Troy is obligated to treat religious assemblies and institutions on equal terms with nonreligious assemblies and institutions," said Matthew Schneider, U.S. Attorney for the Eastern District of Michigan. "This complaint reflects our commitment to protect the religious liberties of all people in this district."
In 2018, after a nine-year search for a permanent location in Troy, the center acquired a building in one of the city's commercial districts to use as a community center and place of worship, according to the release from the Justice Department.
The city's zoning laws allow a nonreligious place of assembly, such as a theater or banquet hall, to use the same building without further approval. But because of zoning restrictions on places of worship, the Muslim group had to overcome an additional hurdle and seek city approval to use the building, the Justice Department said.
On June 19, 2018, Troy's Zoning Board of Appeals denied the Adam Community Center's application. The complaint alleges that the city's denial of approval for the center, and its unequal treatment of all places of worship in the city compared to nonreligious uses, violate a provision of RLUIPA that requires religious assemblies to be treated at least as well as nonreligious assemblies.
The suit also alleges that the city's actions imposed a burden on the center's religious exercise in violation of another provision of RLUIPA.
RLUIPA is a federal law that protects religious institutions from unduly burdensome or discriminatory land use regulations.
In June 2018, the Justice Department announced its Place to Worship Initiative, which focuses on RLUIPA's provisions that protect the rights of houses of worship and other religious institutions to worship on their land. More information is available at www.justice.gov/crt/placetoworship.
In July 2018, the Department of Justice announced the formation of the Religious Liberty Task Force, which brings together Department components to coordinate their work on religious liberty litigation and policy, and to implement the Attorney General's 2017 Religious Liberty Guidance.
Those who believe they have been subjected to discrimination in land use or zoning decisions may contact the Civil Rights Division Housing and Civil Enforcement Section at 800-896-7743, or through the complaint portal on the Place to Worship Initiative on the Justice Department's website, www.justice.gov.
Full report at:
https://www.theoaklandpress.com/news/local/justice-department-files-lawsuit-over-troy-s-rejection-of-muslim/article_3bf3643c-db1e-11e9-b887-4ba417157760.html
--------
Australian court finds man guilty of plotting to blow up flight to Abu Dhabi
20 September 2019
An Australian court has found a man guilty of planning to blow up an Etihad Airways flight from Sydney to Abu Dhabi nearly two years ago with a bomb hidden in a meat grinder, a spokeswoman for the New South Wales Supreme Court said on Friday.
Police had accused the man, Mahmoud Khayat, and his brother Khaled Khayat of planning two terrorist attacks: the bomb and a chemical gas attack on the flight to Abu Dhabi in July 2017.
Khaled was found guilty by the New South Wales Supreme Court in May, but the jury was unable to reach a verdict against Mahmoud. His retrial ended with a guilty verdict on Thursday afternoon for planning "the terrorist act," the spokeswoman said.
Khaled and Mahmoud Khayat were arrested after police raids in Sydney. Police had said that high-grade explosives used to make the bomb were flown from Turkey as part of a plot "inspired and directed" by ISIS.
The court will hear sentencing submissions later, the Australian Associated Press reported.
The verdict in Mahmoud's case came only a few hours before Lebanon's military court acquitted another brother, Amer Khayat, of the plotting to blow up the Etihad flight.
The military court sentenced the three other Khayat brothers - Khaled, Mahmoud, and Tareq - in absentia to hard labor for life, Lebanese state news agency NNA said late on Wednesday.
Lebanon's police said in 2017 that Tareq was an ISIS commander in Syria.
Full report at:
https://english.alarabiya.net/en/News/world/2019/09/20/Australian-court-finds-man-guilty-of-plotting-to-blow-up-flight-to-Abu-Dhabi.html
--------
UK seeks full support for Saudi Arabia's talks on Yemen's stability
September 20, 2019
NEW YORK: UK ambassador to the International Organization of the Security Council member states, Karen Pierce, on Monday appealed for full support for the "Jeddah talks" planned by the Saudi leadership to provide stability in Yemen.
Pierce made the call during a UN Security Council session on Yemen, saying that the UK backs Saudi Arabia's efforts to establish stability in the strife-torn country.
She reaffirmed the UK's backing for the negotiations, saying: "We are ready to provide support in any way possible."
The UK envoy welcomed the Kingdom's pledge of $500 million in humanitarian aid to Yemen and called on all donors to provide additional funding in the coming year to ensure the $4.2 billion aid target was met.
Saudi Arabia is the biggest donor in the history of the UN, as well as the biggest supporter of the UN Humanitarian Response Plan for Yemen. It is also the largest supporter of humanitarian operations in Yemen through the King Salman Humanitarian Aid and Relief Center (KSRelief) and other programs such as the Saudi Development and Reconstruction Program for Yemen.
The Kingdom has supported Yemen for decades through the Saudi Fund for Development (SFD), and recently through the Saudi Development and Reconstruction Program for Yemen, which has implemented 68 development projects in the country.
The Kingdom's support for Yemen since the 1970s has included the construction of the Saudi Hospital in Hajjah in 1996 and the Al-Salam Hospital in Saada in 1982. Saudi Arabia has been paying $10 million annually to both hospitals to help cover operating expenses (salaries, medicines, maintenance), even though both hospitals are located in areas under Houthi militia control.
The Kingdom provided $3.2 billion to Yemen's central bank to support the Yemeni rial.
Saudi Arabia also provided more than $1.3 billion as of August 2019 to help Yemeni traders revitalize the country's economy and facilitate the importation of basic foods (wheat, rice, sugar, edible oils). More than $14 billion was also contributed to support transport, public support programs, humanitarian assistance, financial support, social services and development projects.
Full report at:
https://www.arabnews.com/node/1557041/saudi-arabia
--------
Mideast
Yemeni missile strike kills dozens of Saudi mercenaries in kingdom's Asir
Sep 19, 2019
Dozens of Saudi-sponsored militiamen loyal to Yemen's former president, Abd Rabbuh Mansur Hadi, have been killed and several others sustained injuries when Yemeni army forces and their allies fired a domestically-manufactured ballistic missile at their camp in Saudi Arabia's southern region of Asir.
An unnamed Yemeni military source told Arabic-language al-Masirah television network that Yemeni missile defense units launched a Zelzal-1 (Earthquake-1) missile at a position of Saudi mercenaries near al-Alab border crossing on Thursday afternoon.
He added that the missile hit the designated target with great precision, leaving dozens of Saudi-paid militiamen dead or injured.
Earlier in the day, Yemeni snipers fired shots at a group of Saudi troopers south of Harad district in Yemen's northwestern province of Hajjah, killing and injuring several of them.
Separately, Yemeni forces targeted a dozen Saudi-paid militiamen with a roadside bomb as they were traveling along a road south of Hayran district in the country's northern province of al-Jawf. A number of the Riyadh regime's mercenaries were killed or injured as a result.
Saudi Arabia and a number of its regional allies launched a devastating campaign against Yemen in March 2015, with the goal of bringing the government of Hadi back to power and crushing the Houthi Ansarullah movement.
The US-based Armed Conflict Location and Event Data Project (ACLED), a nonprofit conflict-research organization, estimates that the war has claimed more than 91,000 lives over the past four and a half years.
The war has also taken a heavy toll on the country's infrastructure, destroying hospitals, schools, and factories. The UN says over 24 million Yemenis are in dire need of humanitarian aid, including 10 million suffering from extreme levels of hunger.
https://www.presstv.com/Detail/2019/09/19/606607/Yemeni-missile-strike-kills-dozens-of-Saudi-mercenaries-in-kingdoms-Asir
--------
B-Team remnants trying to lure Trump into Iran war: Zarif
Sep 19, 2019
Iran's Foreign Minister Mohammad Javad Zarif says even though former US national security adviser John Bolton — a proponent of war with Iran — has been fired by US President Donald Trump, like-minded politicians are still attempting to drag the US president into a military confrontation with the country.
In a tweet on Thursday, Iran's top diplomat said that remnants of the "B-Team (+ambitious allies) try to deceive Donald Trump into war."
"For their own sake, they should pray that they won't get what they seek. They're still paying for much smaller Yemen war they were too arrogant to end 4yrs ago," Zarif added, a few days after Washington falsely blamed Iran for recent attacks on Saudi Arabian oil facilities and threatened to take action against Iran over the matter.
The "B-team" is a term thrown into popular usage by Zarif. It refers to a group of politicians who share an inclination toward potential war with Iran, and the letter "b" in their names. They include Israeli Prime Minister Benjamin Netanyahu, Saudi Crown Prince Mohammed bin Salman, Abu Dhabi Crown Prince Mohammed bin Zayed Al Nahyan, and, formerly, Bolton. The term has gained wider usage to refer to such Iran hawks as US Secretary of State Mike Pompeo as well as hard-line US Senators like Lindsey Graham.
The word is also a tacit reference to the group's level of competence, always lagging behind the proverbial "A-team."
Javad Zarif
✔
@JZarif
"Act of war"or AGITATION for WAR?
Remnants of #B_Team (+ambitious allies) try to deceive @realdonaldtrump into war.
For their own sake, they should pray that they won't get what they seek.
They're still paying for much smaller #Yemen war they were too arrogant to end 4yrs ago.
2,205
3:06 PM - Sep 19, 2019
Twitter Ads info and privacy
843 people are talking about this
On September 14, Yemen's Houthi Ansarullah fighters conducted strikes on two of Saudi Arabia's oil facilities, in Abqaiq and Khurais. The attacks led to a halt in about 50 percent of the Arab kingdom's crude and gas production, causing a surge in oil prices.
The Houthis publicly took credit for the attacks.
Yet, Pompeo swiftly blamed Iran.
A short while later, Trump said the US was "locked and loaded" for a response at the behest of Saudi Arabia, although he later said that he wanted no conflict with any country. Still later, the Pentagon reportedly prepared "response" options for the US president.
Tensions have significantly risen as a result of the accusations leveled against Iran, which Tehran has rejected, and there has been speculation that the US may take military or other forms of action against Iran or Iranian interests.
'Old habits die hard, Sec. Pompeo!'
In another tweet, Zarif lambasted his American counterpart for "lies and cheating," citing Pompeo's own public description of indecent work at the CIA, which he formerly directed.
"We lied, we cheated, we stole," Pompeo said back in July, referring to his time at the US spy agency.
Addressing Pompeo and referring to his anti-Iran accusation, Zarif said, "Old habits clearly die hard."
Javad Zarif
✔
@JZarif
• 21h
"Act of war"or AGITATION for WAR?
Remnants of #B_Team (+ambitious allies) try to deceive @realdonaldtrump into war.
For their own sake, they should pray that they won't get what they seek.
They're still paying for much smaller #Yemen war they were too arrogant to end 4yrs ago.
Javad Zarif
✔
@JZarif
Old habits clearly die hard, @SecPompeo.
"Lies and cheating" - and groveling to foreign clients who harbor utter disregard for blood & treasure - have reached new high over last few days.
Path to redemption: Seizing opportunity to end disaster in #Yemen - not widening it!
Embedded video
1,577
3:24 PM - Sep 19, 2019
Twitter Ads info and privacy
648 people are talking about this
The US authorities' "groveling to foreign clients who harbor utter disregard for blood & treasure - have reached new high over last few days," the Iranian foreign minister said, referring to Pompeo's rushed trip to Saudi Arabia following the attacks on the oil installations.
Trump had earlier said America was waiting Saudi instructions on how to proceed.
Saudi Arabia has been leading a deadly war on Yemen, with help from the US.
'US dodging obligation to issue visas for UN delegates'
In yet another tweet on Thursday, Zarif touched on the issue of the US's obligation to issue visas for the heads of states and high-ranking officials of other countries wishing to participate in the United Nations General Assembly summit in New York every year.
Javad Zarif
✔
@JZarif
.@SecPompeo tries to dodge US obligation to issue visas for UN delegates by resorting to self-arrogated designations.
A history lesson, perhaps, for my novice counterpart:
Nelson Mandela was on U.S. Terrorist Watch List until 2008; 15 years after receiving Nobel Peace Prize.
3,397
3:42 PM - Sep 19, 2019
Twitter Ads info and privacy
1,528 people are talking about this
The US is obligated to issue such visas but has been dragging its feet to issue the documents for Iranian President Hassan Rouhani, Zarif, and other Iranian delegates for the 2019 summit as of yet.
Full report at:
https://www.presstv.com/Detail/2019/09/19/606585/Iran-Zarif-US-Trump-war-BTeam-Saudi-oil-attacks
--------
Yemen's Houthis threaten to attack United Arab Emirates targets
SEPTEMBER 18, 2019
DUBAI (Reuters) - Yemen's Houthi group said on Wednesday it had identified dozens of sites in the United Arab Emirates as possible targets, in an attempt to underscore its military clout following a weekend attack it claims to have carried out on Saudi oil facilities.
"To the Emirati regime we say only one operation (of ours) would cost you dearly," Yahya Saria, the military spokesman for the Iran-aligned movement, said in a televised speech.
"Today and for the first time we announce that we have dozens of targets within our range in the UAE, some are in Abu Dhabi and can be attacked at any time."
He said the Houthis have new drones, powered by "normal and jet engines" that can reach targets deep in Saudi Arabia.
In Riyadh, Saudi Defense Ministry spokesman Colonel Turki al-Malki said the attack could not have come from Yemen, adding the Houthi movement was "covering up" for Iran.
The UAE is a leading partner in a Saudi-led coalition that intervened in Yemen in March 2015 to restore Hadi's government after it was toppled by the Houthis in late 2014.
Saria said the attacks were launched from three locations.
Qassef 3 drones were launched from one site, Samad 3 drones from a second and new jet powered drones from a third, he said. He said this jet-powered type will be reveled soon.
"These drones ... carried four precise bombs per strike," Saria said.
Full report at:
https://www.reuters.com/article/us-saudi-aramco-houthis-emirates/yemens-houthis-threaten-to-attack-united-arab-emirates-targets-idUSKBN1W3282
--------
Yemen's Houthi Rebels Have Missiles That Could Sink a Navy Warship
by David Axe
September 18, 2019
Yemen's Houthi rebels, who have been at war with a Saudi-Emirati coalition since 2015, claimed responsibility for coordinated attacks on two Saudi Aramco facilities on Sept. 14, 2019.
The attacks apparently involved either cruise missiles or far-flying drones firing small guided munitions. Thanks in part to support from Iran's Revolutionary Guard Corps, the Houthis possess both types of weapons.
The Houthis also have produced an array of land-attack ballistic missiles. The militants reportedly have converted old Soviet- and North Korean-made Scud rockets, which once belonged to the Yemeni military, into longer-range "Burkan" ballistic missiles.
Similar efforts resulted in an arsenal of anti-ship weapons. In 2015 and 2016 the Houthis repeatedly targeted ships sailing near Yemen. At the peak of the shipping war in October 2016, Houthi forces fired fired two cruise missiles toward the U.S. Navy destroyer USS Mason and the amphibious ship Ponce while the two vessels were sailing in international waters north of the Mandeb Strait.
Mason fired three surface-to-air missiles and launched a radar decoy. The first Houthi missile fell into the sea, either on its own or after being struck or redirected by the American weapons or decoy. The second Houthi missile harmlessly struck the water without American missiles or decoys directly intervening.
Aviation expert Tom Cooper in a 2016 article explained the origin of the Houthi anti-ship force. "As the Yemeni civil war escalated in the period from September 2014 to March 2015, as much as two-thirds of Yemen's armed forces defected to the Houthi side," Cooper wrote. "The defectors included the crews of three Chinese-made Type 021 missile boats armed with C.801 anti-ship missiles."
BLOCKQUOTE
The missiles boats were destroyed or left idle. But not so their missiles. Yemeni sailors recovered a number of the C.801s and their launchers. The sailors installed the missiles on several trucks, coupled them with various surface-search radars — and began firing back at the Saudi-led coalition that intervened in the civil war starting in May 2015.
The first attack was reported on Oct. 8, 2015 — around a week after a combined force of Emirati, Bahraini and Qatari troops forced the Yemenis to withdraw to the port of Mocha, 40 kilometers north of the strategically important Bab Al Mandab Strait, which connects the Red Sea, and thus the Suez Canal, with the Indian Ocean.
According to official reports from the Yemeni capital Sana'a, which is now under Houthi control, this attack "destroyed" the Saudi navy tanker Yunbou. Two nights later, the pro-Houthi Yemenis struck again, this time reportedly targeting either the Saudi navy tanker Boraida or an Egyptian navy warship the Houthis identified as Al Mahrousa.
In truth, neither Boraida nor Yunbou was even damaged, while Al Mahrousa is a 150-year-old presidential yacht that has certainly never ventured anywhere near Yemen in years.
Nevertheless, the Yemenis kept on trying. On Oct. 25, 2015, they fired another C.801 and claimed a third Saudi warship as "destroyed," this time releasing a video implying that the ship in question was actually either a corvette belonging to the United Arab Emirates navy or an Egyptian navy frigate.
The Houthis reported seven additional ship-attacks in November and December 2015, each time claiming to have sunk a Saudi warship near Bab Al Mandeb Strait. In each instance, the Saudi-led coalition — which has benefited from U.S. logistical support — denied any ship was damaged.
Following a longer break — probably the result of extensive but fruitless negotiations between the Houthis and the Saudi coalition — the Yemenis resumed their anti-ship operations on Oct. 1, 2016.
This time their C.801 missile scored a verifiable direct hit on the catamaran Swift, a former U.S. Navy catamaran now in Emirati service. The missile impacted at the starboard bow and wrecked the ship's bridge, injuring many of the crew but apparently killing no one.
END BLOCKQUOTE
Although the Houthis denied any role in the attacks on the American warships, Washington was quick to implicate the militant group. When Mason came under attack a second time on Oct. 12, 2016 — also unsuccessfully — the Americans retaliated.
The destroyer USS Nitze fired several Tomahawk cruise missiles at three radar sites in Houthi territory, reportedly destroying the sensors. Anti-ship attacks in the region have ebbed since then.
Full report at:
https://nationalinterest.org/blog/buzz/yemens-houthi-rebels-have-missiles-could-sink-navy-warship-81441
--------
Iranian Army, IRGC to Stage Joint Aerial Parades on Sunday
Sep 19, 2019
"The third joint aerial parades of the Islamic Republic of Iran's Army and the IRGC will be held on September 22 on the occasion of the Sacred Defense Week and hosted by martyr Abdolkarimi air defense base in Bandar Abbas (Southern Iran)," Lieutenant Commander of the Iranian Army's Air Force Brigadier General Hamid Vahedi said on Thursday.
He added that different heavy bomber fighters, light cargo planes, helicopters and patrolling and reconnaissance aircraft of the Air Force, the Navy and the IRGC Aerospace Force will participate in the parade.
General Vahedi said that the parades will send a message of peace and friendship to the friendly and neighboring states.
He underlined the necessity for the establishment of security in the Persian Gulf and the Strait of Hormuz by the regional states, and said, "The presence of foreigners in the region will inflict unrepairable damage on the security structure of this international waterway."
The parades mark the start of the Sacred Defense Week, commemorating Iranians' sacrifices during the 8 years of the Iraqi imposed war on Iran in 1980s.
Full report at:
https://en.farsnews.com/newstext.aspx?nn=13980628000501
--------
Israel vote deadlock confirmed by near-complete official results
20 September 2019
Near-complete official results Friday confirmed a deadlock in Israel's general election this week, putting Benny Gantz's party as the largest but without an obvious path to form a majority coalition.
The results from Israel's election committee showed Gantz's centrist Blue and White with 33 seats and Prime Minister Benjamin Netanyahu's right-wing Likud with 31.
Final results will be published on Wednesday, the committee said.
https://english.alarabiya.net/en/News/middle-east/2019/09/20/Israel-vote-deadlock-confirmed-by-near-complete-official-results-.html
--------
Liquidity crunch choking Palestinian economy: World Bank
20 September 2019
Despite last month's receipt from Israel of funds it owed, the Palestinian Authority still faces a financing gap that could top $1.8 billion, the World Bank said on Thursday.
Palestinian president Mahmud Abbas's PA has been in deep financial crisis since February when Israel froze transfers of VAT and customs duties it collects on the Palestinians' behalf.
His administration had to impose austerity measures, cutting almost half the salaries of its employees.
The cuts hit hard on the Palestinian territories, already suffering unemployment of around 26 percent in the second quarter of 2019, the bank said in its latest report on the Palestinian economy.
Israel collects around $190 million a month in customs duties levied on goods destined for Palestinian markets that transit through its ports, and it is supposed to transfer the money to the PA.
In February, Israel decided to deduct around $10 million a month from the revenues - the sum the PA paid inmates in Israeli jails or their families - prompting the Palestinians to refuse to take any funds at all.
Israel sees the payments to those who have carried out attacks against Israelis as encouraging further violence.
The PA describes the payments as a form of welfare, while Palestinians venerate prisoners jailed by Israel as heroes for their cause.
Last month, Israel's debt was reduced with the retroactive payment of more than $560 million (506 million euros) in fuel taxes that it collected.
But that part-payment of arrears has not fixed the liquidity crisis, the report said.
"The Palestinian Authority faces a financing gap that could exceed $1.8 billion for 2019, driven by declining aid flows and the unresolved transfer of taxes and import duties collect by Israel on behalf of the PA," it wrote.
"The outlook for the Palestinian territories is worrisome," Kanthan Shankar, World Bank country director for the West Bank and Gaza, said in a statement accompanying the report.
"The severe liquidity squeeze has started to affect the PA's ability to fulfill its responsibilities of paying its civil servants and providing public services."
Full report at:
https://english.alarabiya.net/en/News/middle-east/2019/09/20/Liquidity-crunch-choking-Palestinian-economy-World-Bank-.html
--------
Israel president to start consultations on Sunday on next PM
19 September 2019
Israeli President Reuven Rivlin will begin consultations on Sunday to decide who should form the next government following this week's general elections, a statement from his office said.
Rivlin will hold meetings with the parties elected to parliament and ask them for their recommendations on who should be the next prime minister.
He will then make his choice based on those recommendations, in consultations expected to last a couple days.
Rivlin's announcement on Thursday came as reported election results showed Prime Minister Benjamin Netanyahu and his main opponent Benny Gantz deadlocked.
Official results have not been announced, but Israeli media have said Gantz's centrist Blue and White has 33 parliamentary seats and Netanyahu's right-wing Likud 31 out of 120, with 97 percent of the votes counted.
Despite Gantz's slim lead, neither has an obvious path to form a majority coalition.
Both Netanyahu and Gantz have called for a unity government following Tuesday's vote, but the Blue and White leader has insisted that he lead it.
Netanyahu, who faces possible corruption charges in the weeks ahead, has so far shown no sign that he would be willing to accept an end to his tenure as Israel's longest-serving prime minister.
Earlier in the day, Rivlin welcomed Netanyahu's decision to join calls for a unity government.
Full report at:
https://english.alarabiya.net/en/News/middle-east/2019/09/19/Israel-president-to-start-consultations-on-Sunday-on-next-PM-.html
--------
International community must take firm stance on Iran, says al-Jubeir
19 September 2019
Targeting Abqaiq and Khurais with Iranian weapons is not only an attack on the Kingdom, but an attack on the world by targeting energy supplies to international markets, said Adel al-Jubeir, Saudi Minister of State for Foreign Affairs.
"This vicious attack is an extension of Iran's subversive and aggressive policies, and the international community must shoulder its responsibilities and take a firm stance against Iran's criminal behavior," he tweeted on Thursday.
Full report at:
https://english.alarabiya.net/en/News/gulf/2019/09/19/International-community-must-take-firm-stance-on-Iran-says-al-Jubeir.html
--------
Arab Coalition destroys explosive-laden boat launched by Houthis from Hodeidah
19 September 2019
The Saudi-led coalition intercepted and destroyed an explosives-laden boat launched by the Iran-aligned Houthi movement from Yemen's main port of Hodeidah, Al Arabiya TV said on Thursday.
It said the Western-backed, Sunni Muslim coalition foiled "an imminent terrorist act by the Houthi militia south of the Red Sea" but gave no further details.
There was no immediate confirmation by the Houthi group which had claimed responsibility for last weekend's attacks on Saudi oil facilities. Riyadh has rejected the claim and said those strikes did not come from Yemen.
https://english.alarabiya.net/en/News/gulf/2019/09/19/Arab-Coalition-destroys-explosive-laden-boat-launched-by-Houthis-from-Hodeidah.html
--------
Arab coalition hits sites in Hodeidah hours after taking out Houthi boat bomb
September 20, 2019
RIYADH: The Arab coalition fighting the Houthi militias in Yemen announced on Friday the launch of a military operation in the north of Hodeidah against legitimate military targets.
The coalition said it destroyed four sites used to gather and booby-trap remote boats and maritime mines.
The destruction of hostile sites contributes to preserving the freedom of maritime navigation, a statement from the coalition said which was carried on the Saudi Press Agency, adding that the operation abides by International law.
The coalition warned civilians to stay away from the targeted locations for their own safety.
Earlier, the coalition intercepted and destroyed a Houthi boat laden with explosives in the Red Sea.
"The coalition's naval forces detected an attempt by the terrorist Houthi militia backed by Iran to carry out an imminent act of aggression and terrorism in the southern Red Sea using an unmanned, rigged boat ... launched from Hodeidah province," coalition spokesman Colonel Turki al-Malki said in a statement.
Full report at:
https://www.arabnews.com/node/1556971/saudi-arabia
--------
KSRelief chief urges UN to condemn Iranian violence in Yemen
September 20, 2019
CHICAGO: The head of the King Salman Humanitarian Aid and Relief Center (KSRelief) called on the UN to pass a resolution condemning the Iranian government for its support of a wave of violence by the Houthis against civilian targets in Yemen.
Dr. Abdullah Al-Rabeeah said the violence is having a "significant negative impact" on the people of Yemen and on the humanitarian aid effort led by the Saudi government.
Referring to the recent drone strikes against the Aramco fields in Saudi Arabia that sent a shockwave through the oil industry and spiked oil and gasoline prices around the world, Al-Rabeeah said it was obvious the Houthis are not capable of mounting such high-tech strikes.
"The initial info indicates that the incident is an Iranian-made attack. We feel there is a need for an investigation by the UN," Al-Rabeeah said. "Iran is behind many attacks against the region. The UN should take action. There should be a resolution against Iran. The involvement of the UN delivers a message."
Although he said that the attack is still under investigation, he said that "drones are a technology that the Houthis do not have … the technology is beyond the abilities of the Houthis. There must be a country behind it."
During a press briefing at the Saudi Embassy in Washington, DC, on Wednesday, Al-Rabeeah said as many as 20 humanitarian aid workers funded by a coalition of 80 nations led by Saudi Arabia have been injured or targeted.
He said providing humanitarian aid to the people of Yemen faces many challenges, including the targeting of women and the recruitment of children by the Iranian-backed Houthi militias.
"There is a need for the international community to unify and have the political will to fight any violations against humanitarian support," Al-Rabeeah said.
Despite attacks by the Houthis against civilian and military targets and humanitarian aid workers, Al-Rabeeah said King Salman has made a commitment to ensure that the aid reaches civilians in areas controlled by the Houthis.
He said that the humanitarian effort has been hampered by the Houthi militia's shelling of government-controlled civilian areas, releasing data showing 66,403 rocket attacks, 264 Scud missiles, and 233 drone assaults "that continues to increase," such as the drone assault on the Aramco oil fields last week.
So far 113 Yemeni civilians have been killed, 1,030 have been injured and 20,357 Saudis have been displaced from border regions. Damage has been caused to 41 schools, six hospitals, and 20 mosques.
Despite the challenges, Al-Rabeeah said the humanitarian drive will continue until the conflict is brought to an end.
Full report at:
https://www.arabnews.com/node/1556986/saudi-arabia
--------
Africa
Cameroon army kills 10 Boko Haram militants in repelled attack
2019-09-18
YAOUNDE, Sept. 18 (Xinhua) -- Ten militants of terror group Boko Haram were killed when Cameroonian troops repelled a coordinated attack launched in the country's Far North region, military sources said on Wednesday.
Weapons used by the terror group were also seized during the attacks that took place on Tuesday in Manawadji, a locality in the region.
"The terrorists came to attack the locality but were unaware of the presence of the army. The troops ambushed them and killed seven on the spot. A gun battle started and lasted for over three hours. Three others were killed in the process," a senior military officer who asked not to be named told Xinhua.
There have been no reports on casualties on the side of government forces.
On Saturday, at least five Cameroonian soldiers were killed by the militants in a fight in Soueram, another locality in the Far North region according to the army.
More than 2,000 people have been killed since Boko Haram launched attacks in the Far North since 2014, according to security reports.
http://www.xinhuanet.com/english/2019-09/18/c_138402304.htm
--------
2 killed, 4 injured in central Mogadishu car bombing
2019-09-19
MOGADISHU, Sept. 18 (Xinhua) -- At least two people were killed and four others injured on Wednesday evening in a car bomb blast in Somalia's capital Mogadishu, police and witnesses said.
A police officer who declined to be named told Xinhua that a car parked near a new restaurant along the city's Maka Al-Mukarama road exploded and caused casualties and damage.
"We can confirm that two people were killed in the blast and four others injured. The death toll may rise as many people were inside the restaurant," the officer said.
He added that security forces arrived at the area and were conducting investigations.
Unconfirmed reports indicated the blast was targeting a Member of Parliament who was in the vicinity.
Eyewitnesses said the blast caused shockwaves in the area. "I heard a big bang and the whole area was shaking. I saw people lying on the ground, some were screaming for help," Asma Jama, an eyewitness, told Xinhua.
The witnesses said the death toll may rise since several people were sitting in the nearby coffee shops and small restaurants on the junction at the time of the blast.
The blast came hours after another explosion in the outskirts of Mogadishu injured three people including foreign nationals.
Full report at:
http://www.xinhuanet.com/english/2019-09/19/c_138402628.htm
--------
Toppled Tunisian ruler Zine El Abidine Ben Ali dies at 83
Sep 20, 2019
TUNIS: Former Tunisian President Zine El Abidine Ben Ali, an autocrat who led his small North African country for 23 years before being toppled by nationwide protests that unleashed revolt across the Arab world, died Thursday. He was 83.
Ben Ali, who had lived in Saudi Arabia since fleeing Tunisia in 2011, died in Jeddah, lawyer Mounir Ben Salha told The Associated Press. The former president was receiving treatment for prostate cancer and was hospitalized last week.
His body was being transferred to Mecca, where he is to be buried Friday in keeping with his last wishes, Ben Salha wrote on his Facebook page.
Ben Ali's ouster on Jan. 14, 2011, amid Tunisia's relatively peaceful ``Jasmine Revolution'' inspired what became known as the Arab Spring, a movement that saw several autocratic leaders swept from power.
Ben Ali was widely detested and convicted repeatedly of corruption in Tunisia after he went into self-imposed exile. But some loyal supporters called for his return as economic and security troubles plagued the country's new democracy.
His death comes four days after Tunisia held a first round of presidential elections, the second democratic elections for head of state since Ben Ali's ouster.
As president, Ben Ali's picture was plastered for decades on billboards and buildings across the country, his face remaining strangely ageless despite the passage of time, his hair jet-black. It seemed that only death would end his grip on power.
But as revolt swept Tunisia in late 2010 and early 2011, fueled by anger over corruption, repression and unemployment, demonstrators set fire to the president's photograph, a once-unthinkable act. His image eventually peeled off buildings and billboards nationwide like old wallpaper.
Ben Ali promoted his country of 11 million as a beach haven for European tourists and a beacon of stability in volatile North Africa. It seemed as though he had offered his people a trade-off: There was a lack of civil rights and little or no freedom of speech, but a better quality of life than in nearby countries such as Algeria and Morocco.
Tunisia's revolution changed all that, spawning a plethora of political movements and the only democracy to emerge from the Arab Spring movement across the region.
The United States and other Western powers had an ambivalent relationship with Ben Ali. WikiLeaks cables from the U.S. Embassy in Tunis described widespread allegations of corruption among the president's family, described Tunisia as a ``police state'' and said Ben Ali had lost touch with his people.
But Ben Ali tried to curry favor with the West through an ongoing crackdown on extremists that human rights groups said was far too brutal and too broad, targeting as potential terrorists anyone with a strict interpretation of Islam.
Born Sept. 3, 1936, near Sousse, a city of white- and sand-colored houses on the Mediterranean, Ben Ali embarked on a career as a professional army officer. He was responsible for Tunisia's internal security throughout a 1985 confrontation with neighboring Libya and a crackdown on Islamic fundamentalists.
He was briefly prime minister in 1987 before setting his sights on the presidency.
In a bloodless coup, Ben Ali seized power from then-president-for-life Habib Bourguiba, the founder of modern-day Tunisia who set the Muslim country on a pro-Western course after independence from France in 1956. Ben Ali removed Bourguiba from office for ``incompetence,'' saying he had become too old, senile and sick to rule.
Ben Ali promised that his leadership would ``open the horizons to a truly democratic and evolved political life.'' But after a brief period of reforms, Tunisia's political evolution stopped.
Most opposition parties were illegal. Opponents were jailed or fled into exile. Amnesty International said authorities infiltrated human rights groups and harassed dissenters. Reporters Without Borders branded Ben Ali a ``press predator'' who controlled the media.
Ben Ali consistently won elections by large margins. In 2009 he was re-elected to a fifth five-year term with 89% of the vote. He had warned political opponents they would face legal retaliation if they questioned the vote's legitimacy.
Under Ben Ali's watch, Tunisia was relatively untouched by the kind of Islamic extremist violence that wracked neighboring Algeria, except for a 2002 attack on a synagogue on the Tunisian resort island of Djerba that killed 21 people, mostly German tourists. Investigators linked the attack to al-Qaida.
After the 2011 revolution, Islamic fundamentalism surged in some quarters and security services struggled against extremists linked to the Islamic State group.
Full report at:
https://timesofindia.indiatimes.com/world/rest-of-world/toppled-tunisian-ruler-zine-el-abidine-ben-ali-dies-at-83/articleshow/71211635.cms
--------
Libyan Coast Guard picks up nearly 500 migrants in region surrounding Tripoli
20 September 2019
Libya's Coast Guard said late on Thursday it had picked up 493 migrants on six inflatable boats in six operations in a week in areas northeast and northwest of Tripoli, the capital.
The migrants, including 28 women and five children, are from sub-Saharan, Arab and Asian countries. They were all moved to detention centers run by the UN-recognized Government of National Accord, Coast Guard spokesman Ayoub Qassem said.
Libya's western coast is a main departure point for migrants fleeing war and poverty and hoping for new lives in Europe, though the number of crossings has dropped sharply since July 2017.
The migrants were taken to various detention centers: 173 to Komas, some 120 km (74.6 miles) east of Tripoli; 166 to Tripoli; 50 to Zawiya, and 104 to Zuwarah, both towns that are west of Tripoli, Qassem said.
Earlier on Thursday, a Sudanese migrant died at the Abu Sittah naval base in Tripoli from a bullet wound, hours after being returned to shore by the Libyan Coast Guard. There was no immediate comment on the incident from the Coast Guard.
Full report at:
https://english.alarabiya.net/en/News/north-africa/2019/09/20/Libyan-Coast-Guard-picks-up-nearly-500-migrants-in-region-surrounding-Tripoli.html
--------
Nigerian Army claims NGO aids Boko Haram and ISWAP, shuts Maiduguri and Damaturu offices
SEPTEMBER 20, 2019
The Nigerian Army shut down the offices of a humanitarian aid group Action Against Hunger (ACF) in the restive northeast, accusing it of "aiding and abetting terrorists," in a move the charity said endangered humanitarian assistance to millions of people. In a release posted on Facebook on Thursday evening, the army's command in the northeast said the Paris-based NGO "has been declared persona nan [sic] grata for aiding Boko Haram Terrorists/Islamic State West Africa by supplying them food and drugs" despite warnings from the military.
"The subversive and actions of the NGO Action Against Hunger (AAH) persisted despite several warnings to desist from aiding and abetting terrorists and their atrocities," said the release, which was signed by Colonel Ado Isa, the Deputy Director Army Public Relations for Operation Lafiya Dole, the military operation countering the insurgency in the northeast.
"The Command has obtained several credible intelligence [sic] indicating AAH as one of those NGOs operating in the NE that is notorious in supplying food and drugs to the criminals in the area," Isa said.
Nigerian Army closes ACF offices
Late on Wednesday, soldiers in two trucks arrived at the ACF offices in Borno state capital Maiduguri..
"They came and asked everyone in the building to leave. They said it was an order from above," a staff member said on condition of anonymity.
The aid worker said soldiers backed by two heavily armored vehicles also shut down the group's office in the city of Damaturu in neighboring Yobe state.
"The soldiers didn't explain why they shut the office. They only asked us to leave and not to take anything with us," another aid worker said, adding: "We don't know what is happening."
In a statement, ACF condemned the closure of its Maiduguri office.
"This decision, without notice and without any explanation, jeopardizes the assistance Action Against Hunger provides to the most vulnerable people in Borno State and halts, with immediate effect, the assistance Action Against Hunger provides to millions of people in Maiduguri, Monguno, and Damasak," the statement said.
It said ACF "delivers neutral, impartial and independent humanitarian aid to millions of people in Borno State by providing basic services to the most vulnerable, especially women and children," and called on "competent authorities to let us continue our work in the region."
The NGO says it helped 3,488,001 people in Nigeria in 2018.
At a news conference in Maiduguri on Thursday, the army made no mention of the incident and declined requests for comment.
ACF workers abducted by ISWAP
A humanitarian source who requested anonymity said the sudden closures could be linked to negotiations to free aid workers held by ISWAP.
In July, ISWAP ambushed a small aid convoy on the road to Damasak near the border with Niger. One driver was killed and one ACF staff member, two other drivers and three health workers were abducted.
Several days later, a video was released that showed the six captives. The only woman among them identified herself as an ACF employee and said they had been "caught by this army called the Caliphate" and pleaded for NGOs, religious organizations and the government to help secure their release.
They remain in captivity.
'Sense of impunity' within Nigerian military
Relations between the Nigerian army and aid organisations in the region have been strained for years.
Inn December, the Nigerian Army briefly suspended United Nations children's agency UNICEF from operating, claiming it was "training selected persons" as "spies" to support Boko Haram by sabotaging counter-terrorism and counter-insurgency efforts. The ban was lifted hours later.
In August 2017, soldiers conducted a search of a U.N. camp in Maiduguri, denounced by Amnesty International.
According to Yan St-Pierre, a counter-terrorism consultant for MOSECON (Modern Security Consulting Group), there is a "sense of impunity" within the Nigerian military.
"The Nigerian army has accustomed us to act in a totally unpredictable way, but the violence of this closure is a bit different from what we are used to," the expert said.
"The military may believe that ACF is not revealing everything, or authorities suspect a mole within the NGO," said Yan St Pierre, a specialist in the conflict.
A decade of Islamist insurgency
The jihadist group known as Boko Haram began its bloody insurgency in northeastern Nigeria in 2009, but it has since spread into neighboring Niger, Chad and Cameroon, prompting a regional military response.
Boko Haram split into two factions in mid-2016. One, led by long-time leader Abubakar Shekau, is notorious for suicide bombings and indiscriminate killings of civilians. Shekau pledged allegiance to ISIS leader Abu Bakr Al-Baghdadi in March 2015, but ISIS central only gives formal backing to the other faction, which it calls Islamic State West Africa Province.
The ISWAP faction, which largely focuses on attacking military and government targets, was led by Abu Mus'ab Al-Barnawi, but in March, audio recordings revealed that ISIS appointed Abu Abdullah Idris bin Umar, also known as Ibn Umar al-Barnawi and Ba Idrisa, as leader. Despite releasing several videos featuring ISWAP since, ISIS has not yet made a public statement confirming the change.
On September 10, the United States added Ba Idrisa to its Specially Designated Global Terrorist list, saying that he was born in Maiduguri between 1989 and 1994. The listing did not specify which faction he belongs to.
The U.S. assesses that Boko Haram and ISWAP have been responsible for more than 35,000 deaths since 2011. More than two million people have been displaced, sparking a dire humanitarian crisis in the region.
Earlier this month, the International Committee of the Red Cross said that early 22,000 people, mostly children, are missing as a result of the insurgency in northeast Nigeria, the highest number of missing persons registered with the organization in any country. Some 60% of the total were minors at the time they went missing.
In July, a spokesperson for President Muhammadu Buhari again insisted that Boko Haram was defeated, blaming ongoing violence in the northeast on international jihadists exploiting porous borders with Sahel countries.
Full report at:
https://thedefensepost.com/2019/09/20/nigeria-army-shuts-acf-boko-haram-iswap/
--------
North America
Nuclear Terrorism Remains a Threat That America Should Remain Vigilant Against
by Togzhan Kassenova
Sep 20, 2019
Key point: The threat of nuclear terrorism hasn't gone away.
Just in time for the annual appearance of cherry blossoms, fifty-two heads of state will come to Washington to discuss nuclear security. The fourth and final Nuclear Security Summit, launched by President Barack Obama in 2010, will take stock of the progress made in securing vulnerable nuclear material over the last six years.
Thanks to the summit process, nuclear security, which was previously relegated to small groups of mainly Western bureaucrats and nuclear nerds, has become a prominent issue on the international stage. Major media outlets cover it, governments around the world have been forced to learn about it and greater understanding exists of why protecting nuclear material is critical to international security.
Despite the buzz that these regular meetings of heads of states have generated, many states around the world and their citizens still do not consider nuclear security a relevant concern. The message the Nuclear Security Summit is promoting—that nuclear or high-risk radiological material might end up in the wrong hands and used in a bomb—just doesn't resonate.
Why is this so?
Many in non-Western countries simply think the threat of nuclear terrorism does not apply to them. They see nuclear security as a preoccupation of advanced Western countries that consider themselves potential targets of nuclear terrorism.
Semantics matters, and how we talk about the risks of nuclear terrorism contributes to these perceptions. The discourse on nuclear security focuses disproportionately on the West. For example, whenever those who care about nuclear security make their argument, they usually say something like: "Imagine a nuclear bomb detonating in Manhattan, London or Paris…" Common threat scenarios involve Western targets, and therefore make the problem seem like a Western one.
Further, divergent views on nuclear security are undergirded by tensions in the broader nuclear realm. Many countries without nuclear weapons or military nuclear materials are reluctant to embrace the idea that the nuclear security regime needs strengthening. States with nuclear weapons have prevented the Nuclear Security Summit from addressing the security of nuclear material in military stockpiles, which constitutes more than 80 percent of all global stockpiles of fissile material.
Given this, why should all states bear the burden of investing in nuclear nonproliferation and nuclear security, when nuclear weapons states fail to make progress toward disarmament and are reluctant to talk about the security of military nuclear materials? This just further contributes to the unfairness of the existing global nuclear order, these countries argue, in which a few states benefit from having nuclear weapons while others try to protect their right to peaceful nuclear energy.
However valid these arguments may be, there is an inescapable truth about nuclear terrorism. Though a terrorist attack using nuclear or radiological material may be a low-probability threat, it would have dramatic effects on the global commons. The consequences would extend to every country on Earth, not just the one on whose territory the event took place.
A nuclear terrorist event would be a global event because we live in a world of unprecedented interconnectedness. Let's consider three possible immediate global effects.
The first is the disruption of supply chains. Companies and production lines throughout the world rely on an extended international network of suppliers and transnational shipping routes. Ordering "just enough" and "just in time" means that a short interruption in supply or shipping in one country would send shock waves to many other countries around the world. The RAND Corporation once studied a simulated nuclear attack in the port of Long Beach. They concluded that it is very likely that all U.S. ports would shut down for extended periods with severe repercussions for global trade.
The second is chaos in the global financial markets. Should a nuclear event happen in a major financial hub and obliterate foreign exchange institutions, all major banks worldwide would be instantaneously affected. The average daily volume of foreign-exchange market turnover is close to $5 trillion.
The third is the effect on individual industries. As a former U.S. customs and border official once warned, if a sea container is used to transport a nuclear device that was later detonated, one can be sure that shipping of sea containers would cease, costing countries billions of dollars. Not to mention that the global nuclear industry would take a direct hit, much worse than after Fukushima.
There are enough reminders of how comparatively smaller events have disrupted our interconnected world. The events following the 9/11 attacks slowed world economic growth from 4.1 percent in 2000 to 1.4 percent in 2001, and dramatically affected the international travel industry—recall the introduction of metal cockpit doors, new security screening procedures and longer waits at the airport. The eruption of an Icelandic volcano in 2010 reverberated across worldwide travel patterns; the unprecedented air traffic shutdown caused a total loss of $1.7 billion to the airline industry and affected ten million travelers. More than one hundred thousand flights were cancelled over eight days, the equivalent of almost half of all global air traffic. This was all caused a volcano in a small European country, not a nuclear device exploding at a major airport hub.
No matter when and where a nuclear incident occurs, we would all be affected.
Togzhan Kassenova is an associate in the Nuclear Policy Program at the Carnegie Endowment. This first appeared in March 2016.
https://nationalinterest.org/blog/buzz/nuclear-terrorism-remains-threat-america-should-remain-vigilant-against-81486
--------
US favors 'peaceful resolution' to Saudi crisis: Pompeo
Sep 19, 2019
Secretary of State Mike Pompeo has said the United States prefers a peaceful resolution to the crisis sparked by the recent attacks on Saudi Arabia's state-run oil company.
"We'd like a peaceful resolution," Pompeo said on Thursday in Abu Dhabi, the capital of the United Arab Emirates, where he held talks with the leaders of the country.
"I hope the Islamic Republic of Iran sees it the same way," he told reporters.
Pompeo dialed back war rhetoric against Iran after Foreign Minister Mohammad Javad Zarif raised the prospect of "all-out war" if the United States carried out a possible military strike against the country.
Asked by CNN what the consequence of a US or Saudi military strike on Iran would be, Zarif said: "All-out war."
"We won't blink to defend our territory," Iran's foreign minister emphasized.
Asked about Zarif's comments, Pompeo sought to defuse the stand-off.
"I was here in an act of diplomacy. While the foreign minister of Iran is threatening all-out war and to fight to the last American, we're here to build out a coalition aimed at achieving peace and a peaceful resolution to this," the US secretary of state said.
"That's my mission set, what President Trump certainly wants me to work to achieve, and I hope that the Islamic Republic of Iran sees it the same way. There's no evidence of that from his statement, but I hope that that's the case," he added.
Pompeo, however, repeated his baseless claims of Iran being behind the attacks on two Saudi Aramco oil facilities on Saturday that knocked out more than half the kingdom's production.
He also threatened that Washington would impose more sanctions on Tehran.
Pompeo on Wednesday visited Saudi Arabia to hold talks with Washington's allies in Riyadh where he described the attack on Saudi oil facilities as "an act of war".
He said he was in the Middle East to build a coalition to deter Iran, which denies any involvement in the Saudi attack.
Yemen's Houthi fighters have claimed responsibility for the attack on the Saudi oil facilities, but the United States has rejected the claim with President Donald Trump saying that Iran appears to be responsible for the strike.
Pompeo has put the blame for the operation on Iran, claiming, "Tehran is behind nearly 100 attacks on Saudi Arabia" and that "there is no evidence the attacks came from Yemen."
Full report at:
https://www.presstv.com/Detail/2019/09/19/606629/Pompeo-favors-peaceful-resolution-to-Saudi-crisis
--------
US drone kills 30 Afghan civilians instead of Daesh terrorists
Sep 19, 2019
A US drone strike that was supposed to take out members of the Daesh terrorist group in Afghanistan has instead killed at least 30 farm workers who were taking a break after a day's labor, officials say.
The attack on Wednesday night also injured 40 people as it targeted tents pitched near pine nut fields at the mountainous Wazir Tangi in eastern Nangarhar province, three officials confirmed to Reuters on Thursday.
"The workers had lit a bonfire and were sitting together when a drone targeted them," tribal elder Malik Rahat Gul told Reuters over the phone.
The owner of the fields said at least 150 workers were resting when the attack happened. Many of them remained missing, he added.
A survivor, meanwhile, said about 200 laborers were sleeping in five tents near the farm when the attack took place.
"Some of us managed to escape, some were injured but many were killed," said Juma Gul, a resident of the northeastern province of Kunar.
The attack was confirmed by Afghanistan's Defense Ministry as well as a senior US official in Kabul. However, they did not share details of civilian casualties.
"US forces conducted a drone strike against Daesh terrorists in Nangarhar," Colonel Sonny Leggett, a spokesman for US forces in Afghanistan, said. "We are aware of allegations of the death of non-combatants and are working with local officials to determine the facts."
The attack outraged local residents in Nangarhar, who urged Washington to apologize and pay compensation to the families of the victims.
A large group of local men held a protest against the attack on Thursday morning as they helped carry the victims' bodies to Jalalabad city and then to the burial site.
"Such mistakes cannot be justified. American forces must realize (they) will never win the war by killing innocent civilians," said a Jalalabad residence.
Attaullah Khogyani, a spokesman for the provincial governor, said the strike was meant to target Daesh militants who often use farmlands for training and recruitment.
About 14,000 US troops are in Afghanistan, allegedly to train and advise Afghan security forces and prepare them to take on the Talibana and Daesh.
The attack on Wednesday night preceded another deadly attack by the Taliban militant group, which killed at least 20 people in the southern Afghan province of Zabul.
Taliban have killed hundreds of civilians in clashes that followed the collapse of US-Taliban peace talks this month.
They have pledged to make US President Donald Trump regret his decision to abruptly call off talks that were on the verge of ending America's 18-year-war.
Full report at:
https://www.presstv.com/Detail/2019/09/19/606627/Afghanistan-US-drone-attack-nangarhar-farms-workers-killed-daesh
--------
Yemeni drones beat US, Saudi billion-dollar air defenses
Sep 19, 2019
American and Saudi military forces and their networks of advanced air defenses never detected the Yemeni drones that were launched on Saturday to strike oil facilities deep inside Saudi Arabia, proving futile the billions of dollars that the Riyadh regime has spent on them to protect its territories.
US Secretary of State Mike Pompeo, who is in Saudi Arabia to discuss a possible response to the strike with Crown Prince Mohammed bin Salman, admitted Wednesday that the US missile defense systems had failed to stop the attack.
"We want to make sure that infrastructure and resources are put in place such that attacks like this would be less successful than this one appears to have been," he said, when asked why the Patriot missile systems deployed across the kingdom didn't do anything to stop the Yemeni aircraft.
Pompeo sounded surprised by the vastness of the operation, saying: "This is an attack of a scale we've just not seen before."
Saudi Arabia has bought multiple batteries of Patriot missile system which are meant to shoot down hostile aircraft or shorter-range ballistic missiles, providing what in military terms is called "point defense," meaning they are not suitable for covering wide swaths of land. It's not yet clear whether any of them had been positioned close to the oil sites at the time of the attack.
According to The Washington Post, US weapons maker Raytheon charges up to $1 billion for each Patriot battery.
The US also uses an array of powerful spy satellites and aircraft flying in the region to gather intelligence and share it with the Saudi military to help the kingdom with its ongoing war against Yemen. That system, however, proved futile when it was needed the most.
"We don't have an unblinking eye over the entire Middle East at all times," Marine General Joseph Dunford, chairman of the Joint Chiefs of Staff, told reporters in the aftermath of the attack.
Russian President Vladimir Putin also pointed to the utter failure of the US defense systems during his recent trip to the Turkish capital of Ankara.
Standing next to his Turkish and Iranian counterparts, Recep Tayyip Erdogan and Hassan Rouhani, Putin mockingly suggested Monday that maybe Saudis will be better off buying Russian-made S-300 or S-400 missile defense system, as Iran and Turkey have done.
"And they [Saudis] need to make one clever decision as Iran did, buying our S-300, and as Mr. Erdoğan did by deciding to buy the most advanced S-400 Triumph air defense systems from Russia," Putin continued as Rouhani smiled. "These kinds of systems are capable of defending any kind of infrastructure in Saudi Arabia from any kind of attack."
Iran, on its own, has developed missile defense systems that are far more superior to S-300, an acvhievement they best displayed in June by shooting down a stealth US drone over the Persian Gulf using the home-built Khordad 3 missile system.
Pointing finger at Iran
Perhaps that goes a long way to explain the behavior of American officials in the aftermath of the attacks, who have rejected Yemeni resistance forces' explanations about the origins of the attack and opted instead for a more complex scenario that they hope would cover up the glaring failure of their technology.
Saudi Arabia, for example, has invited experts from the US, France, Kuwait and several other countries to scavenge the attack site for any evidence that it could use to link the strike to Iran.
On Wednesday, the kingdom displayed drone and missile debris it claimed were discovered at the site and argued that they resembled Iranian-made weapons.
In its attempt to hide its vulnerability against Yemen's Houthi Ansarullah movement, Saudi Arabia has also resorted to downplaying the militant group's combat power.
The Saudi ambassador to Germany insisted that Iran had played a role in the attack and that his country kept all options on the table for retaliation.
"Of course everything is on the table but you have to discuss that well," Prince Faisal bin Farhan al-Saud told Germany's Deutschlandfunk radio on Thursday.
"We're still working on where they were launched from but wherever they came from, Iran is certainly behind them as Iran built them and they could only be launched with Iranian help," he said.
That is more or less the same line taken by American officials, who have repeatedly said over the past days that the Houthis could not have orchestrated an attack of this scale on their own.
The Yemeni resistance movement says it flew 10 drones before dawn on Saturday and successfully destroyed all the designated targets in Saudi Arabia's Khurais and Abqaiq.
They have also expressed surprise that the same Saudi leaders who attacked Yemen in March 2015 on the grounds that its missile prowess threatened their national security, are now confused by how hard the Houthis can hit back.
The Trump administration has also adopted a similar stance, with Pompeo saying that there is no evidence the drones flew from Yemen.
He has called the strike an act of war and promised a measured response. President Donald Trump, has also pledged a response. He ordered sanctions against Iran to "substantially increase" on Wednesday.
The spectacular failure of the Saudi-American defenses was first revealed in 2017, when Yemeni forces successfully targeted King Khalid International Airport in Riyadh.
Back then Saudis claimed that their Patriots had hunted the missile before it hit the target but a group of American experts debunked the claim using satellite imagery and witness accounts.
US, Saudi allies not buying Iran claims
Iran has time and again denied the allegations and dismissed them as part of what Foreign Minister Mohammad Javad Zarif has called a campaign of "maximum deceit" that aims to cover America's failures in confronting Iran through force and pressure.
French Foreign Minister Jean-Yves Le Drian has advised all sides to avoid jumping to conclusions and wait for the investigations to wrap up.
"Given that there is an international investigation, let's wait for the results," he said Thursday.
Germany and the UK have also called for restraint until the investigators finish their work.
Japanese Defense Minister Taro Kono has also weighed in on the issue, saying he has yet to see any hard evidence that links Iran to the attacks.
Full report at:
https://www.presstv.com/Detail/2019/09/19/606572/US-missile-defenses-iran-yemen-Aramco-attack-Patriot
--------
Trump Weighs Retaliation Against Iran and Names National Security Adviser
By Peter Baker and Eric Schmitt
Sept. 18, 2019
LOS ANGELES — In the space of seven minutes on an airport tarmac on Wednesday, President Trump captured the thorny decision he faces as he once again straddles the edge of war and peace.
One moment, he threatened to order "the ultimate option" of a strike on Iran in retaliation for attacks on oil facilities in Saudi Arabia. The next he ruminated about what a mistake it had been for the United States to get entangled in Middle East wars and welcomed Iran's president to visit.
To help sort through the alternatives, Mr. Trump on Wednesday named a hawkish new national security adviser, Robert C. O'Brien, the State Department's chief hostage negotiator. But as Mr. Trump spoke with reporters, shouting to be heard over the roar of Air Force One engines, Mr. Trump sounded like a commander in chief searching for a way to be tough without pulling the trigger.
"It's very easy to attack, but if you ask Lindsey, ask him how did going into the Middle East, how did that work out? And how did going into Iraq work out?" Mr. Trump told reporters, referring to Senator Lindsey Graham of South Carolina, a Republican ally who warned against showing "weakness" toward Iran. "So we have a disagreement on that. And you know, there's plenty of time to do some dastardly things. It's very easy to start."
Mr. Trump's team has developed a range of alternatives short of a retaliatory strike with bombs or missiles, including a new round of sanctions to further strangle Iran's economy, the deployment of more American forces to the region as a deterrent against future provocations and a stepped-up cybercampaign to send a message of resolve to Tehran without bloodshed, officials said.
The president, who was wrapping up a three-day campaign trip to New Mexico and California, began Wednesday by vowing more sanctions on Iran to be detailed in the next 48 hours. Secretary of State Mike Pompeo arrived in Saudi Arabia and declared the attacks an "act of war" by Iran but talked mainly of rallying allies to enhance deterrence.
"That's my mission here, is to work with our partners in the region," Mr. Pompeo told reporters on his plane. "We will be working with our European partners as well," he continued, adding, "We're working to build out a coalition to develop a plan to deter them."
The military options available to Mr. Trump are similar to the airstrikes that he called off at the last minute in June after Iran shot down an American surveillance drone. Among those potential Iranian targets were facilities like radar and missile batteries. Instead of missile attacks, the United States later mounted a cyberattack on Iran that avoided the casualties that Mr. Trump said concerned him.
Military planners at the Pentagon and at United States Central Command in Tampa, Fla., have forwarded a long-identified list of Iranian targets that could constitute a proportional response. Defense Secretary Mark T. Esper discussed those options with Mr. Trump and other top national security aides in meetings on Sunday and Monday, officials said.
The more aggressive options include strikes against Iran's Abadan oil refinery, one of the world's largest, or Kharg Island, the country's biggest oil export facility, options first reported by NBC News.
But attacking them could escalate the conflict and pull the United States deeper into a Middle East conflict.
Other potential targets include missile launch sites, bases or other assets belonging to the Islamic Revolutionary Guards Corps, the elite Iranian unit blamed for much of Iran's paramilitary operations against external foes.
American intelligence detected unusual activity at military bases in southwest Iran that would be consistent with preparations for missile and drone strikes like those against Saudi Arabia, two senior American officials said. Those bases could be among potential targets.
Any strikes against Iran would almost certainly be carried out by volleys of cruise missiles from Navy vessels. Strike aircraft would be aloft to carry out attacks if Iran retaliated against the first wave, but the priority would be to not endanger American pilots.
Michael J. Morell, a former acting director of the C.I.A., said on Monday night that the United States must retaliate, especially if Iran is found responsible for the attacks.
"We need to respond here, particularly if the attack occurred from Iran," Mr. Morell said in a presentation at George Mason University in Virginia. "That is an act of war, not just a terrorist attack. I think we have to deter Iran."
Senior officials said they were looking at cyberoptions, which would cause few or no casualties and would be considered a "proportionate response."
American war plans have long included such options against Iranian oil production facilities, a feature of a plan called Nitro Zeus, developed years ago to cripple Iranian infrastructure without resorting to bombing.
The secret cyberattack in June wiped out a critical database used by Iran's paramilitary arm to plot attacks against oil tankers and degraded Tehran's ability to covertly target shipping traffic in the Persian Gulf, at least temporarily. Iran spent months trying to recover lost information and restart some of the computer systems — including military communications networks. It is not clear whether it has succeeded.
Military planners are also advancing the idea of deploying more American forces to the region without taking direct action against Iran. Gen. Kenneth F. McKenzie Jr., the commander of Central Command, which oversees American military operations in the Middle East, has pushed to send additional troops to the region, senior military officials said.
In meetings and in memos, the general has argued that the United States should view Iran as a great power or near-peer threat, much as the Trump administration's formal national security strategy views China, Russia and North Korea.
Under that logic, the United States would include Iran along with China and Russia as a central threat, requiring sustained military commitment to the region. The attack on the Saudi oil fields, the officials said, is being used to bolster Central Command's push for more resources.
But Capt. Bill Urban, a spokesman for Central Command, disputed that characterization, which was provided by senior Pentagon officials. "That is a wildly inaccurate representation of General McKenzie's thoughts and counsel on both Iran and the National Defense Strategy," he said, without elaborating.
Mr. Trump will be assisted in making his decision by Mr. O'Brien, who will replace John R. Bolton as the national security adviser. Mr. Trump announced the appointment via Twitter on Wednesday morning, and Mr. O'Brien, a Los Angeles lawyer, then joined him on Air Force One.
In selecting Mr. O'Brien, the president opted for an outspoken advocate of tough policies toward Iran and powers like Russia and China, leaving it unclear how his advice may differ from that of Mr. Bolton, an ally with whom Mr. O'Brien has worked in the past. Mr. Bolton left the White House last week in an acrimonious break with the president after unsuccessfully urging the June strikes on Iran and resisting diplomatic outreach to Tehran.
Mr. O'Brien will be Mr. Trump's fourth national security adviser in less than three years, the most any president has had in a first term. He has written regularly about foreign policy and collected a series of essays in a book, "While America Slept: Restoring American Leadership to a World in Crisis," published in 2016 with a cover blurb from Mr. Bolton.
In that book, Mr. O'Brien warned against "appeasement and retreat" as he excoriated President Barack Obama for what he deemed a weak foreign policy. "There is simply no evidence to support the idea that we can trust revolutionary Iran to give up its long-term goal of developing a nuclear weapon and delivery systems," he wrote.
Although Mr. Trump abandoned Mr. Obama's nuclear agreement, the president remains open to negotiations with Iran. His administration denied visas to some Iranians intent on traveling to New York for next week's United Nations General Assembly session because of their ties to a designated terrorist group, but Mr. Trump said he would let top Iranian officials visit. "If it was up to me, I would let them come," he said.
His disagreement with Mr. Graham, one of his closest allies, was notable. The senator said on Tuesday that the president's decision to call off the airstrikes in June was seen by Iran as "a sign of weakness."
On the Los Angeles tarmac on Wednesday, Mr. Trump rejected that, saying, "No, I actually think it's a sign of strength."
"There are many options," Mr. Trump added. "There's the ultimate option and there are options that are a lot less than that. And we'll see. We're in a very powerful position. Right now we're in a very, very powerful position."
Full report at:
https://www.nytimes.com/2019/09/18/us/politics/robert-obrien-security-adviser.html
--------
American Airlines Flight To Dallas Cancelled Over Concerns About 2 Muslim Passengers
September 19, 2019
DALLAS (CBSDFW.COM) – A North Texas Muslim said American Airlines cancelled his flight Saturday because the flight crew didn't feel comfortable with him and his Muslim friend on the plane.
Abderraoof Alkhawaldeh called the airline's response to what he described as racial and religious profiling, as unacceptable.
"The flight attendant reported that he went to the restroom and flushed the toilet twice. The last time I know, flushing is allowed in this country," said Alkhawaldeh.
The men were flying American Airlines to Dallas from Birmingham, Alabama.
On Thursday afternoon, American Airlines provided CBS 11 the following statement on the matter:
"American Airlines Flight 5886, operated by Mesa Airlines, from Birmingham to Dallas-Fort Worth on Sept. 14 was canceled due to concerns raised by a crew member and a passenger. American and all of its regional partners have an obligation to take safety and security concerns raised by crew members and passengers seriously. All customers on Flight 5886 were rebooked on the next flight to DFW. We're committed to providing a positive experience to everyone who travels with us. Our team is working with Mesa to review this incident, and we have reached out to Mr. Alkhawaldeh and Mr. Abdallah to better understand their experience."
Alkhawaldeh is a motivational speaker from Irving and said he's flown more than a million miles with American as an Executive Platinum Member
"I fly for a living. And I'm worried what my next flight will be," he said.
He is calling on American Airlines to investigate the incident, require diversity training and issue an apology.
Full report at:
https://dfw.cbslocal.com/2019/09/19/american-airlines-flight-dallas-cancelled-concerns-about-muslim-passengers/
--------
US welcomes PM Imran's 'unambiguous, important' statement on Kashmir
September 20, 2019
The US State Department on Thursday commended Prime Minister Imran Khan's "unambiguous and important" statement, in which he warned citizens against joining the fight in occupied Kashmir.
Prime Minister Imran on Wednesday had said that anyone wanting to go and fight in occupied Kashmir would do a great injustice to the Kashmiris by undermining their legitimate cause.
"Such an act would be an act of animosity towards the Kashmiris," he had said while speaking to the media.
Acting Assistant Secretary for South and Central Asia Alice G. Wells, while welcoming the premier's remarks, said: "Pakistan's sustained commitment to counter all terrorist groups is critical to [regional] stability."
The statement by Wells comes ahead of the address by the Pakistani and Indian prime ministers at the UN General Assembly on Sept 27.
Prime Minister Khan has already announced that he will highlight the Kashmir issue in his address, exposing the ethical and legal bankruptcy of India's Aug 5 decision to annex the occupied valley.
Indian diplomats in New York and Washington have informed Indian journalists that Indian premier Narendra Modi will not talk about the Aug 5 action or its consequences. Instead, he would repeat New Delhi's claim that Pakistan may send militants into the valley to take advantage of the volatile situation.
Prime Minister Khan has already made it clear that Pakistan not only opposes all such activities but has also increased its vigilance to prevent militants from taking advantage of the situation. Islamabad fears that India may use infiltrators to carry out violent attacks inside Kashmir and blame Pakistan.
'India is stuck'
Prime Minister Imran, in response to a question on Wednesday, said that India, while stationing 900,000 troops in Kashmir, had always blamed Pakistan for instability in the occupied region.
"Anyone going from here will give them the pretext to blame Pakistan for cross-border terrorism and infiltrating terrorists," he said, adding that India has previously accused Pakistan of cross-border terrorism.
"The entire world's attention was drawn towards us, Pakistan. Now India is stuck.
"And the pressure is building up day by day.
Full report at:
https://www.dawn.com/news/1506303/us-welcomes-pm-imrans-unambiguous-important-statement-on-kashmir
--------
US to withdraw and withhold funds from Afghanistan, blames corruption
19 September 2019
US Secretary of State Mike Pompeo said on Thursday the US would return about $100 million to the treasury for an energy infrastructure project in Afghanistan and would withhold a further $60 million in planned assistance to the country due to a lack of transparency.
Pompeo said in a statement the US would complete the infrastructure project, but would do so using an "'off-budget' mechanism," faulting Afghanistan for an "inability to transparently manage US Government resources."
Full report at:
https://english.alarabiya.net/en/News/world/2019/09/19/US-to-withdraw-and-withhold-funds-from-Afghanistan-blames-corruption.html
--------
US military to present several options to Trump on Iran
September 20, 2019
WASHINGTON: The Pentagon will present a broad range of military options to President Donald Trump on Friday as he considers how to respond to what administration officials say was an unprecedented Iranian attack on Saudi Arabia's oil industry.
In a White House meeting, the president will be presented with a list of potential airstrike targets inside Iran, among other possible responses, and he also will be warned that military action against the Islamic Republic could escalate into war, according to US officials familiar with the discussions who spoke on condition of anonymity.
The national security meeting will likely be the first opportunity for a decision on how the US should respond to the attack on a key Middle East ally. Any decision may depend on what kind of evidence the US and Saudi investigators are able to provide proving that the cruise missile and drone strike was launched by Iran, as a number of officials, including Secretary of State Mike Pompeo, have asserted.
Iran has denied involvement and warned the US that any attack will spark an "all-out war" with immediate retaliation from Tehran.
Both Pompeo and Vice President Mike Pence have condemned the attack on Saudi oil facilities as "an act of war." Pence said Trump will "review the facts, and he'll make a decision about next steps. But the American people can be confident that the United States of America is going to defend our interest in the region, and we're going to stand with our allies."
The US response could involve military, political and economic actions, and the military options could range from no action at all to airstrikes or less visible moves such as cyberattacks. One likely move would be for the US to provide additional military support to help Saudi Arabia defend itself from attacks from the north, since most of its defenses have focused on threats from Houthis in Yemen to the south.
Gen. Joseph Dunford, chairman of the Joint Chiefs of Staff, emphasized to a small number of journalists traveling with him Monday that the question of whether the US responds is a "political judgment" and not for the military.
"It is my job to provide military options to the president should he decide to respond with military force," Dunford said.
Trump will want "a full range of options," he said. "In the Middle East, of course, we have military forces there and we do a lot of planning and we have a lot of options."
US Rep. Elissa Slotkin, D-Michigan, said in an interview Thursday that if Trump "chooses an option that involves a significant military strike on Iran that, given the current climate between the US and Iran, there is a possibility that it could escalate into a medium to large-scale war, I believe the president should come to Congress."
Slotkin, a former top Middle East policy adviser for the Pentagon, said she hopes Trump considers a broad range of options, including the most basic choice, which would be to place more forces and defensive military equipment in and around Saudi Arabia to help increase security.
A forensic team from US Central Command is pouring over evidence from cruise missile and drone debris, but the Pentagon said the assessment is not finished. Officials are trying to determine if they can get navigational information from the debris that could provide hard evidence that the strikes came from Iran.
Pentagon spokesman Jonathan Hoffman said Thursday that the US has a high level of confidence that officials will be able to accurately determine exactly who launched the attacks last weekend.
US officials were unwilling to predict what kind of response Trump will choose. In June, after Iran shot down an American surveillance drone, Trump initially endorsed a retaliatory military strike then abruptly called it off because he said it would have killed dozens of Iranians. The decision underscores the president's long-held reluctance to embroil the country in another war in the Middle East.
Full report at:
https://www.arabnews.com/node/1557096/middle-east
--------
Pakistan
Islamic banking holds huge growth potential: Moody's
September 20, 2019
KARACHI: Rating agency Moody's on Thursday said Islamic banking in Pakistan has substantial growth potential as around 80 percent of the country's population remains unbanked in the Muslim majority economy.
"With Pakistan's Muslim population reaching more than 96 percent of the country's total population and 79 percent of the population remaining unbanked, according to World Bank data, the potential for Islamic banking penetration is substantial," Moody's Investors Service said in a report on Thursday.
"As Islamic banking institutions attract more shariah-compliant deposits, they will benefit from stronger profitability. Islamic banking products are attracting previously unbanked customers, creating new business opportunities for banks to grow their deposit base."
Moody's said Islamic deposits have grown 21 percent on a compound annual basis for the six-year period through June 2019, outpacing the 11 percent compound annual growth rate of all other deposit types.
"In addition, Islamic deposits do not earn interest under shariah law, thereby reducing interest expense and generating higher margins and profitability," it said. "Additionally, the bulk of these deposits are low-cost, non-remunerated, shariah-compliant that will boost banks' interest income and margins."
Moody's said the return on assets for Islamic banking institutions was 2.3 percent at the end of June 2019 versus an average of 1.6 percent for all banks in the system.
"As part of the national strategy to increase financial inclusion, the Pakistani government is focusing on a series of initiatives targeting the growth of the Islamic finance industry," it added. The initiatives include the adoption of global reporting standards and the introduction of a shariah-compliant regulatory framework, such as easing initial capital requirements for Islamic banking subsidiaries, facilitating conversion into Islamic mode, introducing tax neutrality for shariah-compliant banking and crafting exceptions for using the Karachi Interbank Offered Rate as a benchmark for pricing financing.
"In addition, the government is further supporting the growth of Islamic finance through regular sukuk issuances," Moody's said. All five Pakistani banks Moody's rates offer Islamic products via either subsidiary banks or Islamic windows, and "increased Islamic banking penetration is credit positive because it will support their profitability". "A significant portion of Islamic banking customers come from populations that were previously unbanked, thus creating a new revenue source for banks."
As of June 2019, there were five fully-fledged Islamic banks in Pakistan, including MCB Bank Limited (B3 negative, b31 ) subsidiary MCB Islamic Bank Limited, as well as 17 banks with standalone Islamic branches including Allied Bank Limited (B3 negative, b3), United Bank Ltd. (B3 negative, b3), National Bank of Pakistan (B3 negative, caa1) and Habib Bank Ltd. (B3 negative, caa1).
https://www.thenews.com.pk/print/528950-islamic-banking-holds-huge-growth-potential-moody-s
--------
Trump, Imran to meet on 23rd, talks to focus on Kashmir
September 20, 2019
WASHINGTON: Prime Minister Imran Khan is likely to meet US President Donald Trump in New York on Sept 23, hours after he arrives in the city for the 74th session of the UN General Assembly, diplomatic sources told Dawn.
The sources said that this could be first of the two meetings the prime minister is expected to have with the US leader during the UN session. This would also be President Trump's second meeting with a South Asian leader in less than 24 hours.
President Trump is scheduled to address a joint rally with Indian Prime Minister Narendra Modi in Houston, Texas, on Sept 22, hours before he meets the Pakistani leader. President Trump and Mr Modi are also expected to have a separate meeting before or after the rally, focusing on India-Pakistan relations.
The prime minister is expected in New York on Sunday evening, when Mr Trump will be addressing the joint rally of an expected 50,000 American Indians in Houston. Like Mr Khan, most world leaders are also arriving on Monday, launching the high-level debates that will continue till Sept 29.
Both Pakistani and Indian prime ministers are scheduled to address the UN General Assembly on Sept 27. Mr Modi will speak first, late Friday morning, while Prime Minister Khan will speak later in the afternoon.
Prime Minister Khan has already announced that he will highlight the Kashmir issue in his address, exposing the ethical and legal bankruptcy of India's Aug 5 decision to annex the occupied valley.
Indian diplomats in New York and Washington have informed Indian journalists that Prime Minister Modi will not talk about the Aug 5 action or its consequences. Instead, he would repeat New Delhi's claim that Pakistan may send militants into the valley to take advantage of the volatile situation.
Prime Minister Khan has already made it clear that Pakistan not only opposes all such activities but has also increased its vigilance to prevent militants from taking advantage of the situation. Islamabad fears that India may use infiltrators to carry out violent attacks inside Kashmir and blame Pakistan.
On Wednesday, the prime minister warned citizens against joining the fight in held Kashmir, saying the Indian authorities were waiting for "any excuse" to crack down on the residents in the Himalayan territory.
"If someone from Pakistan goes to India and he thinks he will fight in Kashmir ... the first person he will be inflicting cruelty on is the Kashmiris. He will have acted as an enemy of the Kashmiris," Mr Khan said during a speech in Torkham.
President Trump's recent comments on Kashmir and India-Pakistan relations have triggered speculations about an indirect dialogue between the two South Asian neighbours during the UNGA, with Washington playing the role of a facilitator.
Earlier this week, President Trump told reporters at a White House briefing that "a lot of progress" has been made in defusing India-Pakistan tensions and his statement has strengthened these speculations.
Full report at:
https://www.dawn.com/news/1506247/trump-imran-to-meet-on-23rd-talks-to-focus-on-kashmir
--------
Activist Gulalai Ismail 'escapes' to New York, applies for political asylum
September 19, 2019
Rights activist Gulalai Ismail escaped Pakistani authorities last month and has reached the United States, where she has applied for political asylum, the New York Times reported on Thursday.
The US publication said that the 32-year-old is currently residing with her sister in Brooklyn, New York.
She has not disclosed how she managed to leave the country. All she revealed was: "I didn't fly out of any airport."
"I can't tell you any more," NYT quoted her as saying during an interview. "My exit story will put many lives at risk."
According to NYT, no government officials were willing to make a public comment on the matter. Security officials said that they had suspected Ismail had left the country.
In November last year, the Islamabad High Court was informed that Inter-Services Intelligence (ISI) had recommended putting Ismail's name on the Exit Control List (ECL) for her alleged anti-state activities abroad.
Following a petition by Ismail challenging the government's decision to put her name on the ECL, the Islamabad High Court had ordered the removal of her name from the list.
The court, however, had allowed the interior ministry to take appropriate action, including confiscation of her passport, in the light of recommendations made by ISI.
According to the NYT report, Ismail had remained a fugitive since late May. "Security services were searching for her in every corner of the country, raiding her friends' houses and closing in on her family," it said.
The report added that Ismail is still worried about her parents in Islamabad "who face charges of financing terrorism and remain under heavy surveillance".
In recent days, she has reportedly met with various "human rights defenders" in the US and staffs of congressional leaders.
"I will do everything I can to support Gulalai's asylum request," said Senator Charles Schumer, a member of the Democrat Party in New York. "It is clear that her life would be in danger if she were to return to Pakistan."
Full report at:
https://www.dawn.com/news/1506129/activist-gulalai-ismail-escapes-to-new-york-applies-for-political-asylum
--------
PM Imran in meeting with King Salman expresses Pakistan's resolve to stand with the kingdom
Sanaullah Khan
September 19, 2019
Prime Minister Imran Khan on Thursday met with Saudi King Salman bin Abdulaziz and expressed Pakistan's resolve to stand with Saudi Arabia "in the event of a threat to its sanctity and security", a statement by the Prime Minister's Office said.
The premier condemned the recent drone attacks on Saudi Arabia's oil facilities and assured King Salman of Pakistan's continued support to the Kingdom.
According to the PMO statement, Prime Minister Imran also briefed King Salman on the current situation in occupied Kashmir.
"King Salman reiterated the Kingdom's solidarity and long-held support on the Kashmir issue," said the statement.
The two leaders discussed relations between the two countries as well as the regional and global political situation.
They also talked about other matters of mutual interest including trade, investment and economic relations.
Foreign Minister Shah Mahmood Qureshi, Advisor to the Prime Minister on Finance Dr Abdul Hafeez Shaikh, Special Assistant to the Prime Minister on Overseas Pakistanis Syed Zulfikar Bukhari, Foreign Secretary Sohail Mehmood, and Pakistan's ambassador to Saudi Arabia Raja Ali Ejaz were in attendance during the meeting between the two leaders.
Earlier in the day, the premier met Saudi Crown Prince Mohammad bin Salman and apprised him of the latest developments in India-occupied Jammu and Kashmir.
According to the Pakistan Tehreek-i-Insaf official Twitter account, the premier "highlighted the tyranny of the Indian government" in occupied Kashmir following New Delhi's decision to strip the region of its autonomy on August 5. The occupied territory has since been under a strict government-imposed lockdown and communications blackout.
During his meeting with the Saudi prince, the prime minister also condemned the recent attacks in Saudi Arabia on Aramco's oil facilities, the PMO statement said.
The two leaders discussed ways to strengthen economic ties between Pakistan and Saudi Arabia, the statement added.
The meeting was attended by Foreign Minister Shah Mahmood Qureshi, Special Assistant to the Prime Minister on Overseas Pakistanis Syed Zulfikar Bukhari, Foreign Secretary Sohail Mehmood, and Pakistan's ambassador to Saudi Arabia Raja Ali Ejaz.
The prime minister is in Jeddah for a two-day official visit to Saudi Arabia, ahead of his trip to New York for the 74th Session of the United Nations General Assembly.
He was received by Makkah Governor Khalid Al-Faisal at the Jeddah Royal Terminal.
Prime Minister Imran has been in "regular contact" with the Saudi crown prince over the issue. The prime minister has, as part of his efforts to draw the world's attention towards the situation in the Kashmir Valley, called the crown prince earlier this month to brief him over the situation in the region.
The prime minister will also bring up the matter in his speech at the UN General Assembly next week.
As a result of his phone calls to crown princes of UAE and Saudi Arabia, the foreign ministers of both countries visited Islamabad earlier this month and discussed the situation in occupied Kashmir in their meetings with the prime minister, army chief and foreign minister.
Meeting with Pakistani diaspora in Jeddah
Later in the evening, the prime minister met with a group of Pakistanis from various walks of life.
"My aim was to brief the Saudi leadership on the occupied Kashmir situation, ahead of the United Nations General Assembly session," he told the group of his visit to the Kingdom.
"We must highlight this issue all over the world," he said.
The prime minister said that Quaid-e-Azam had "already foreseen that Muslims will not get their due rights while living in India, which Modi's actions have proven".
He said that relations between Saudi Arabia and Pakistan have "reached new heights" and that the Kingdom had "helped Pakistan in all times of difficulty".
He assured the delegation that the government was bringing improvements across all sectors of Pakistan's economy, despite all the hurdles it is faced with owing to the poor state it had been handed over in.
"Bringing in investments is our top priority for which we are instituting legislative reforms so that the investments made by overseas Pakistanis remain secure," he said.
Full report at:
https://www.dawn.com/news/1506104/pm-imran-in-meeting-with-king-salman-expresses-pakistans-resolve-to-stand-with-the-kingdom
--------
South Asia
Dozens of Afghans Killed in a Possible U.S. Drone Strike and a Taliban Bombing
By David Zucchino
Sept. 19, 2019
KABUL, Afghanistan — Afghan civilians continued to die by the dozens on Thursday in violent attacks, this time in what Afghan officials said was an American drone strike in eastern Afghanistan, and in a separate Taliban bombing that leveled a hospital in southern Afghanistan.
At least 30 people were killed and 28 wounded in the drone attack in Nangarhar Province, according to local government officials, who blamed United States aircraft. They said some of the victims had gathered to harvest pine nuts at the time of the attack. Separately, at least 22 people were killed and 90 wounded in a suicide truck bombing claimed by the Taliban at a hospital in Zabul Province, officials said.
Since peace talks between the United States and the Taliban collapsed almost two weeks ago, Afghan civilians have suffered a relentless wave of violence. The Taliban have vowed to disrupt presidential elections scheduled for Sept. 28 and to attack government facilities.
At the same time, President Trump has said American forces supporting Afghan troops have ramped up attacks against the militants. He wrote in a tweet on Sept. 9: "We have been hitting our ENEMY harder than at any time in the last ten years!"
Col. Sonny Leggett, spokesman for the American-led coalition in Afghanistan, said on Thursday that American forces had "conducted a precision strike against Da'esh terrorists in Nangarhar early this morning," using a term for the Islamic State, or ISIS.
"We are fighting in a complex environment against those who intentionally kill and hide behind civilians, as well as use dishonest claims of noncombatant casualties as propaganda weapons," Colonel Leggett said in a statement.
"We are aware of allegations of the death of noncombatants and are working with local officials to determine the facts to insure this is not a ploy to deflect attention from the civilians murdered by the Taliban at a hospital in Zabul earlier today," the statement said.
In the first six months of this year, American and Afghan Air Force strikes killed 363 civilians and injured 156, a 39 percent increase in casualties from the same period in 2018, the United Nations reported on July 30. The report said that civilian deaths attributed to American and Afghan government forces exceeded those attributed to the Taliban and other antigovernment extremists.
So far this year, the number of American airdropped missiles and bombs in Afghanistan is set to meet or possibly outpace the 7,362 munitions launched in all of 2018.
The United Nations report said the Taliban and other militants were responsible for 531 civilian deaths and 1,437 injuries in the first six months of this year. It said many militant attacks deliberately targeted civilians.
Ajmal Omar, a member of the Nangarhar provincial council, said a number of civilians planning to harvest pine nuts were inside a tent when the drone attacked about 1:30 a.m. Thursday in the village of Waziro Tangi in the Khogyani district.
Malik Maki, a community leader in the district, said the tent had been set up and occupied by Islamic State fighters, but it was unclear whether ISIS members were inside at the time of the drone strike.
"Da'esh is present in this area," Mr. Maki said. Nangarhar is a stronghold for the Islamic State in Afghanistan.
Malik Habib, a community leader in the village that was struck, said all 30 dead were civilians. But he did not elaborate on how he made that determination, or whether some of the dead could have been ISIS fighters wearing civilian clothing.
Mr. Habib said in a later interview that some of the bodies were so badly burned that he could not determine their identities.
In Qalat, the provincial capital of Zabul Province, Abdul Salam said he had taken his sick cousin to the hospital just a short time before an early morning explosion collapsed the floors and roof of the hospital. He said he was trapped under rubble for an hour, emerging with both legs broken.
"It felt like a big bomb hit the hospital right on top," Mr. Salam said. "Many patients and their relatives died because of the force of the explosion."
Gul Islam Seyal, a spokesman for Zabul's governor, said most of the civilians killed in the 6 a.m. attack were poor, rural Afghans who were either patients or visiting relatives.
"It is a big tragedy to lose such poor human beings," Mr. Seyal said. "The Taliban are trying to kill poor civilians and nobody else."
Local officials said some of the wounded had died at the scene because several ambulances were destroyed in the blast.
A Taliban spokesman, Zabihullah Mujahid, said the suicide bombing had targeted a nearby headquarters of the National Directorate of Security, the government intelligence service.
"The enemy is in the middle of a civilian area and uses civilians as shields," Mr. Mujahid said in a Twitter post. "The hospital was not the target of our attack."
But Mr. Seyal, the governor's spokesman, said the bomb exploded next to the hospital and damaged only a rear wall of the intelligence service facility.
Assadullah Kakar, a member of the Zabul provincial council, said the Taliban claim about targeting the directorate was a lie. He said the suicide bomber drove his truck through the front gate of the hospital compound.
"The force of the explosion crushed the hospital into the earth," while also damaging nearby homes, Mr. Kakar said. Noting that the hospital was the biggest in the province, he added, "This is the service the Taliban has done for the nation."
Those wounded in the attack were taken to the nearest hospital, in Kandahar, he said.
The violence on Thursday came two days after the Taliban claimed responsibility for a suicide bombing at a campaign rally in eastern Afghanistan and a separate bombing in Kabul, killing at least 48 people. Most of the victims were civilians, a consistent pattern in recent Taliban attacks.
Mr. Mujahid, the Taliban spokesman, said on Tuesday that civilians killed in the campaign rally attack were to blame for putting themselves in harm's way because the militants had warned Afghans to avoid election events, calling them "military targets."
On Thursday, the former president Hamid Karzai condemned the Taliban for the hospital attack.
"By conducting attacks on Afghans and killing them, you will not be able to defeat America in Afghanistan," Mr. Karzai said in a speech in Kabul. "We expect our Taliban brothers as Muslims and Afghans to start intra-Afghan talks so that we can be stronger to negotiate with America."
Mr. Karzai also called on the United States to resume peace negotiations, which Mr. Trump declared "dead" on Sept. 9.
The top American envoy during more than 10 months of peace talks with the Taliban said on Sept. 2 that an agreement had been reached "in principle" for the United States to begin withdrawing troops in exchange for a Taliban pledge to never again let Afghanistan be used by terrorists to stage attacks.
The deal would also have led to negotiations between the Taliban and the Afghan government to determine the country's political future, along with a possible cease-fire.
Taimoor Shah contributed reporting from Kandahar, Afghanistan; Zabihullah Ghazi from Jalalabad, Afghanistan; and Fatima Faizi from Kabul.
https://www.nytimes.com/2019/09/19/world/asia/afghanistan-bombing-taliban.html
--------
Rushed Afghan Deal Could Aid Terror Groups, U.S. Watchdog Says
By Glen Carey
September 19, 2019
A rushed peace deal in Afghanistan could leave millions of unemployed men at risk of being recruited by terrorist groups and criminal gangs, according to a Pentagon watchdog who's been tracking the war 18 years after the U.S. invaded to oust the Taliban.
Any effort to reach a peace deal between the government in Kabul and the Taliban must include a plan to reintegrate fighters into civilian life after decades of war, the U.S. Special Inspector General for Afghanistan Reconstruction, or SIGAR, said in a report published late Wednesday.
https://www.bloomberg.com/news/articles/2019-09-19/rushed-afghan-deal-could-aid-terror-groups-u-s-watchdog-says
--------
Special Forces kill, detain 26 Taliban militants in Ghazni and Farah provinces
19 Sep 2019
The Afghan Special Forces killed or detained at least 26 Taliban militants during the operations in Ghazni and Farah provinces.
The military officials said Thursday that the Special Forces killed 24 Taliban militants during an operation in Anar Darah district of Farah.
The officials further added that the Special Forces also destroyed a cache of weapons during the raid.
Furthermore, the Special Forces arrested a Taliban militant during a patrol in Deh Yak district of Ghazni.
Full report at:
https://www.khaama.com/special-forces-kill-detain-26-taliban-militants-in-ghazni-and-farah-provinces-04082/
--------
At least 30 civilians killed in air strike in eastern Afghanistan
19 September 2019
At least 30 civilians were killed and 40 injured in an air strike conducted by the Afghan security forces, backed by US air support, in eastern Afghanistan, officials said on Thursday.
The attack, on Wednesday night was aimed at destroying a hideout used by ISIS militants, but it accidentally targeted farmers near a field in Wazir Tangi area of Khogyani district in Nangarhar province, three government officials told Reuters.
Sohrab Qaderi, a provincial council member in eastern Nangarhar province said a drone strike killed 30 workers in a pine nut field and at least 40 others were injured.
The defense ministry in Kabul confirmed the strike conducted by Afghan and US forces was aimed at fighters belonging to ISIS, but refused to share details of civilians casualty caused by the attack.
Attaullah Khogyani, a spokesman for the provincial governor of Nangarhar confirmed the air strike. "The government is investigating the incident, so far nine bodies were collected from the attack site near a pine nut field."
US forces in Kabul were not immediately available for a comment.
Malik Rahat Gul, a tribal elder in Wazir Tangi said the air strike happened at a time when tired workers, mainly daily wage earners, had gathered near their tent after harvesting pine nuts in a field nearby.
Full report at:
https://english.alarabiya.net/en/News/world/2019/09/19/At-least-30-civilians-killed-in-air-strike-in-eastern-Afghanistan.html
--------
Rohingya killings create 'climate of fear' in Bangladesh
Sep 20, 2019
Human rights activists have expressed concern at rising alleged extra-judicial killings of Rohingya refugees by police in Bangladesh. In less than a month, police have killed eight refugees including two on Thursday in the southern city of Cox's Bazaar, which is home to 1.2 million Rohingya.
These killings labeled by authorities as incidents of "crossfire" or "gunfight" have been recorded following the murder of a ruling Awami League party leader. Six of those killed have been accused of a role in the murder.
Human Rights Watch (HRW) marked this decades-old conventional statement by law enforcers as "familiar explanation [that] is often a euphemism for extrajudicial executions". "The killings have created a climate of intense fear in the refugee camps," said the group's Asia Director Brad Adams.
Rohingya community leaders claim authorities often link these extra-judicial killings to drug and human trafficking, adding that any such accusations must be tried in the court of law.
"If anyone of us is accused of any unlawful practice here, produce them before trial court. But don't kill anyone without trial", Rohingya refugee at Kutupalang camp Abdur Rahim told Anadolu Agency. He added: "We fled genocide in our homeland and are now leading almost a subhuman life in camps."
The host country has imposed bans on activities of 41 non-governmental organizations in Rohingya camps, limited mobile services and is even planning to set barbed wire around the camp to prevent movement of refugees.
Bangladesh's Foreign Minister AK Abdul Momen in a news briefing on Wednesday reiterated the call for repatriation of the refugees to Myanmar. "The most important allies of Myanmar including China and Russia are now in favor of peaceful Rohingya repatriation," Momen said.
According to Amnesty International, more than 750,000 Rohingya refugees, mostly women and children, have fled Myanmar and crossed into Bangladesh after Myanmar forces launched a crackdown on the minority Muslim community in August 2017.
Since Aug. 25, 2017, nearly 24,000 Rohingya Muslims have been killed, more than 34,000 were thrown into fires and over 114,000 others were beaten by Myanmar's state forces, according to a report by the Ontario International Development Agency (OIDA).
Full report at:
https://www.dailysabah.com/asia/2019/09/20/rohingya-killings-create-climate-of-fear-in-bangladesh
--------
Special Forces kill, detain 7 Taliban militants; destroy weapons cache in Logar
19 Sep 2019
The Afghan Special Forces killed at least 4 Taliban militants during an operation in central Logar province.
The military officials said Thursday that the Special Forces conducted the operation in Baraki Barak district.
The officials further added that the Special Forces also arrested 3 Taliban militants during the operation.
Full report at:
https://www.khaama.com/special-forces-kill-detain-7-taliban-militants-destroy-weapons-cache-in-logar-04079/
--------
Karzai calls on U.S. to resume peace talks with Taliban
19 Sep 2019
The former Afghan President Hamid Karzai on Thursday called on U.S. government to resume talks with the Taliban group in a bid to end the ongoing violence in Afghanistan.
Speaking during a press conference in Kabul earlier today, Karzai also called o Taliban group to negotiate with the Afghans as well.
Karzai further added that the Taliban group must know that they will not be able to rule the country by engaging in direct talks with the United States only.
Furthermore, Karzai called on Taliban group to refrain from harming civilians and stop attacks that kill civilians, stressing that the Taliban group will not defeat U.S. by harming civilians.
The U.S. President Donald Trump called off peace talks with the Taliban group on 8th of September after a series of deadly attacks in Kabul city that killed dozens including an American soldier.
Meanwhile, President Trump said last week "There are much better ways to set up a negotiation. The Taliban knows they made a big mistake, and they have no idea how to recover!"
Full report at:
https://www.khaama.com/karzai-calls-on-u-s-to-resume-peace-talks-with-taliban-04080/
--------
Southeast Asia
Help end the oppression, Shia Muslims tell Suhakam
September 20, 2019
PETALING JAYA: A group of Shia Muslims, including those arrested during a raid by Johor religious authorities on Sept 9, have taken their case to the government's human rights commission Suhakam, alleging pressure from "powerful individuals" in stepping up state discrimination against them.
FMT has learnt that the group of 13 met with a Suhakam commissioner and other senior members of the body yesterday, and among others spoke of how Shia Muslims were barred from enrolling their children in school or registering their marriages.
They also told Suhakam that politicians as well as "powerful individuals" in Johor are involved in "oppressing" the community.
"The problem is not limited to the religious authorities or even the state mufti," a spokesman for the community told FMT on condition of anonymity.
"The pressure from these people complicates matters," he added.
Shia, with a substantial following in Iraq, Iran, Kuwait, Bahrain, Lebanon and several parts of Saudi Arabia, Yemen and Pakistan, is the second largest branch of Islam.
But its teachings are labelled as deviant by Malaysia's Islamic authorities, who have in the past raided the private religious events of its adherents.
Fatwas have been issued in most states declaring Shia Muslims as deviant, while mosques in Selangor have for years included a prayer condemning the school of thought during Friday sermons.
Islamic authorities in Selangor and Johor raided private Shia Muslim functions early this month, as adherents observed the Ashura, the death anniversary of Hussein, the grandson of Prophet Muhammad and a central figure in Shia Islam.
Dozens of Shia Muslim followers, including foreigners, were arrested in what was labelled by Suhakam as a violation of constitutional rights.
In one such raid in Kempas, Johor, Shia Muslims said the policemen who accompanied officers of the Johor Islamic Religious Department had manhandled them.
In several police reports filed after the incident, it was alleged that a policeman trained a gun on one of the participants of the private religious event.
Witnesses told FMT that two dozen officers showed up during the raid, accompanied by masked policemen, some of whom climbed over the fence to break into the house where about 50 Shia Muslims including women and children were observing the Ashura. Johor police are investigating the allegations.
Shia Muslims who met Suhakam yesterday urged the commission to help stop oppression against the community.
It said Suhakam would help arrange a meeting between the group, the state religious department and the Malaysian Islamic Development Department.
Suhakam was also told that the current crackdown on Shias was a continuation of the previous administration's policies.
"The phobia towards Shias has seeped deep into the Muslim community, with sermons of hate against Shias only making it worse."
https://www.freemalaysiatoday.com/category/nation/2019/09/20/help-end-the-oppression-shia-muslims-tell-suhakam/
--------
Malaysia: Church Leaders Warn Of Rising Religious Tensions
September 20, 2019
Church leaders in Malaysia are alarmed that conservative Muslim politicians are continuing to paint Christianity as a threat to the Muslim-majority nation.
Their unease comes after two Malay-dominated opposition parties, the United Malays National Organization (UMNO) and the Pan-Malaysian Islamic Party (PAS), formally joined forces last week under the banner of Islamic unity. The union of the once-sworn political enemies has raised fears of worsening racial and religious tensions in the multicultural nation.
The Council of Churches of Malaysia on Sept. 18 denounced a statement by PAS deputy president Tuan Ibrahim Tuan Man that some in the new government were pursuing a "Christianization agenda."
General secretary Herman Shastri said in a press statement that the council was disturbed that a national unity forum held in a church hall was being described as religious involvement in Malaysian politics.
The forum, held on Sept. 14 in the Mega Chinese Methodist Church in Kota Damansara, a township on the outskirts of Kuala Lumpur, was aimed at encouraging participants to "play their role within the unfolding story of a 'new Malaysia' by understanding our shared historical heritage, and calling for better understanding of our shared destiny as citizens of our country," he said.
Shastri said the forum, titled "Anak Malaysia? Our story of past, present and future Malaysia," was part of the church's National Day observance. It was held in a church "to help church members to contribute to nation building by participating in a shared narrative that would promote peaceful coexistence and goodwill among all communities," he said.
"To that end, the PAS leader should not imply that the forum was used for political propaganda, and therefore stop insinuating that the church was promoting it."
Deputy Youth and Sports Minister Steven Sim, a Christian and one of the speakers at the forum, said on Sept. 18 that the forum was hosted for Christians to discuss their responsibilities as Malaysians.
"In my speech, I highlighted values from the Bible as a guide to becoming good Malaysians — for example, justice, transparency, helping the meek and poor, rejecting corruption, oppression and racism," he said. "I did not criticize or touch on other religions, and in fact urged Malaysian Christians to be good citizens who practiced such values.
"As such, I urge Tuan Ibrahim to respect freedom of religion as enshrined in the federal constitution and stop spreading hate and division among Malaysians of various races."
Divisive politicking
This is the second time in three weeks that church leaders have spoken out against extremism and anti-Christian rhetoric in the country. On Aug. 28, the Christian Federation of Malaysia (CFM) chairman, Catholic Archbishop Julian Leow Beng Kim of Kuala Lumpur, said government leaders needed to speak out against divisive politicking if its vision of a "new Malaysia" was to be achieved.
"If this vision is to be realized to benefit all Malaysians including our indigenous people and the poor and marginalized, we need to major on the majors and not labor on the minors," he said in CFM's Malaysia Day message.
"Our leaders must rise up strongly and courageously spearhead a concerted effort to stamp out extremist communal and religious rhetoric, hate speech, before hearers are incited to commit criminal acts that undermine peace and public order."
Archbishop Leow said enforcement of the law without fear of favor was imperative to maintain peace in the nation.
"The exuberance and hope which buoyed us up only a mere 15 months ago after GE14 [the 14th general election] is giving way to disappointment, dismay, distrust and discontent and racial and religious tensions which jeopardize the unity we need to take our nation forward."
He made the comments after accusations by a coalition of Malay-Muslim groups that CFM was intent on placing as many Christians as it could in the country's political leadership as part of an evangelical drive.
The claim was made by the chairman of Ummah (community of Muslims) and Ikatan Muslim Malaysia president Aminuddin Yahya in his speech during the National Ummah Unity Convention on Aug. 25.
Aminuddin also claimed Christian evangelism was a major threat to the majority Malay-Muslim community along with liberalism and human rights and accused Christian evangelists of converting Muslims.
His comments drew condemnation from the Council of Churches, who demanded action be taken against Ummah for attempting to derail interfaith relations.
Full report at:
https://www.eurasiareview.com/20092019-malaysia-church-leaders-warn-of-rising-religious-tensions/
--------
Mara Digital Mall sees little boost from 'Buy Muslim-made First' campaign
Nur Hasliza Mohd Salleh
September 20, 2019
KUALA LUMPUR: Although the "Buy Muslim-made First" (BMF) campaign has been gaining traction in some circles in the country, it does not appear to have translated into better business for an information communications technology (ICT) mall set up exclusively for Bumiputera entrepreneurs.
A recent check by FMT at the Mara Digital Mall in Jalan Tuanku Abdul Rahman found it quiet, with only a few kiosks selling laptops and mobile phones.
Many of the people there appeared to be employees of other businesses in the building who were passing through to avoid using the elevators at peak hours.
One of the traders said he felt as though his own people had been boycotting businesses there from the start.
"We have been struggling, competing with other traders here for a long time," he told FMT.
"We're a long way from competing with traders at Low Yat."
Mara Digital Mall, commonly known as Low Yat 2, was established in 2015 after a highly publicised dispute at Low Yat Plaza where a youth was accused of stealing a RM800 smartphone from one of the shops there.
The trader at Mara Digital Mall who spoke to FMT said business at his outlet had not been good from the beginning, with no signs of improvement.
His alternative strategy of selling mobile phones through social media, however, is paying off as he can afford to be more flexible with his pricing there and can either post the items to his customers or deliver them himself.
He said he can sell about 20 phones a month online compared to only one or two at his shop in the mall.
Businesses at Mara Digital Mall can only get their products from a single supplier, WGN Scan Sdn Bhd (WGN). Some traders say this makes it difficult for them to lower their prices and remain competitive.
An employee at a shop selling laptops said not many customers wanted to buy goods there. The woman who asked to be called Izzah said outlets selling laptops have a harder time than those selling phone accessories.
She also said the single-supplier situation had led to stiff competition.
"It's difficult," she told FMT. "If we sell at this price, shop B sells at a different price and shop C sells at yet another price, there will be an issue with the supplier."
She added that the mall was uninviting, and that many who pass through the area do not even know of its existence.
"They should carry out some promotions, put up a signboard displaying laptop and phone accessories brands and so on.
"If it just says Mara Digital Mall, people don't know (what it is). I have relatives who think this is a place where Mara employees fix computers."
But Izzah claimed most of the traders were hesitant to raise the issue with WGN for fear of affecting their dealings with the company.
Last October, WGN marketing and storage manager Mohd Izzat Akbar Arif Amir said the mall's business was not good as the traders did not get enough support from the media.
He also criticised the mall's marketing and branding which he said was weaker then than when it first began operations.
The BMF campaign began on social media with the Bumiputera community urged to avoid buying products made by businesses owned by non-Bumiputeras.
Full report at:
https://www.freemalaysiatoday.com/category/nation/2019/09/20/mara-digital-mall-sees-little-boost-from-buy-muslim-made-first-campaign/
--------
PAS: Christianity's 'Kingdom of God' as national narrative against Rukunegara, Constitution
19 September 2019
BY JOHN BUNYAN
IPOH, Sept 19 — PAS deputy president Datuk Tuan Ibrahim Tuan Man has questioned today whether the Christian concept of "Kingdom of God" fits Rukunegara and the Federal Constitution, if it becomes part of the national narrative.
The Islamist party leader has again accused DAP of trying to shoehorn Christianity into its politics, despite repeated clarification by Deputy Youth and Sports Minister Steven Sim Chee Keong and churches on a speech he made at a forum.
"My statement did not at all dispute the good values he shared, but as Malaysia, there is worry when a DAP leader insisted on The Kingdom of God in the 'New Malaysian Narrative'," Tuan Ibrahim said in a statement.
"Indirectly, there is a question whether DAP will make 'The Kingdom of God' as a new narrative in politics in Malaysia?
"Is it not seen as contradictory with Rukunegara principles and the main provisions in the Constitution such as Islam as the religion of federation and the position of Yang Di-Pertuan Agong as the head of state?" he asked.
Despite his claim, the Rukunegara only prescribes "belief in God" and does not mention only Islam. The declaration is also not legally binding.
Article 3 of the Federal Constitution also states that while Islam is the religion of federation, all other religions can freely be practised.
Yesterday, Tuan Ibrahim had claimed Sim was zealously promoting the "Kingdom of God" idea, a Christian concept of a spiritual realm over which God reigns or the fulfilment of God's will on Earth.
Sim then said his reference to the Bible during a forum held on September 14 was merely aimed at urging Christians to become better Malaysians by rejecting racism and corruption.
The Bukit Mertajam MP stressed that he did not criticise any religion nor did he propose the establishment of a Christian government, as claimed by Tuan Ibrahim.
The Council of Churches Malaysia also explained that the "New Malaysia Narrative" forum that was held in the Mega Chinese Methodist Church in Kota Damansara, Selangor was part of the church's Malaysia Day observance to assist its members to contribute to nation building by participating in a shared narrative.
Allegations against Sim were a rebuttal to critical descriptions of the PAS-Umno alliance sealed last weekend. The DAP leader was said to have called the pact a klepto-theocracy and that the two parties exploit religion to gain support.
The phrase "Kingdom of God", or Kingdom of Heaven, occurs frequently in the New Testament, primarily attributed to Jesus Christ in the first three Gospels.
Full report at:
https://www.malaymail.com/news/malaysia/2019/09/19/pas-christianitys-kingdom-of-god-as-national-narrative-against-rukunnegara/1792260
--------
From maids to markets: Indonesia still faces challenges engaging with the Middle East
Dian Septiari
September 19, 2019
For Indonesia, the world's largest Muslim-majority country, strong political ties with the Middle East do not always translate into solid economic partnerships. As President Joko "Jokowi" Widodo's special envoy to the Middle East, former foreign minister Alwi Shihab has been leading efforts to map out Indonesia's economic opportunities in this region, including hosting discussions and business-matching events. He recently said that the President had expressed a desire to secure more fresh funds from the Middle East, but investors somehow always ended up comparing Indonesia's business climate to that of regional rivals such as Malaysia and Vietnam. "There are things that they see are easier [elsewhere]," Alwi said on the margins of a conference on boosting investments to members of the Organization for Islamic Cooperation (OIC) in T...
Full report at:
https://www.thejakartapost.com/news/2019/09/19/from-maids-to-markets-indonesia-still-faces-challenges-engaging-with-the-middle-east.html
--------
'Pak' Jokowi: This time you should go to New York!
Kornelius Purba
September 20, 2019
President Joko "Jokowi" Widodo has decided to skip, again and again, a crucial annual global forum in New York. It is very hard this time to accept the President's excuse and to let others, such as the outgoing Vice President Jusuf Kalla, act on his behalf once more.
For two years until December 2020, Indonesia serves as a nonpermanent member, for the fourth time, of the United Nations Security Council (UNSC). All the energy and time of our diplomats, led by Foreign Minister Retno LP Marsudi, expended to gain the prestigious position may mean almost nothing, when their boss remains reluctant to show appreciation for their efforts and speak up more at the global level. Indonesia is too important to ignore or belittle its international role and responsibilities.
The President cited "much more urgent domestic issues" as his reason to skip the sitting of the UN General Assembly for the fifth time. The rampant forest fires in Riau, Jambi and Kalimantan are likely to continue to choke millions of people even if he stays here next week. The brouhaha around the Corruption Eradication Commission (KPK) would not worsen just because he is momentarily out of the country. Maybe he is thinking there will possibly be angry reactions, since many of those who should be in charge of alleviating the smog in Sumatra have gone on trips while their people have had to endure the deadly disaster. Look at Riau Governor Syamsuar, who is on a visit to Thailand, and Pekanbaru Mayor Firdaus, who is travelling to Canada.
Jokowi's decision to be absent from the New York meeting is ridiculous because he will again lose an opportunity to promote Indonesia's much needed presence in the world. Jokowi has become internationally known as a very inward-looking leader in terms of global politics with little appetite for foreign affairs policy-making, unlike his six predecessors.
The President has reportedly stubbornly refused repeated suggestions from Retno, his chief diplomat, to attend the General Assembly's 74th session, which she especially urges as Indonesia is now a nonpermanent member of the Security Council.
"The President still declined to go because for him domestic problems are still much more urgent to face," a senior official told The Jakarta Post last week. This is very frustrating for Indonesian diplomats. They believe Jokowi's attendance at such an important meeting will definitely help to boost Indonesia's status at the global level.
Therefore, for the President's own good and for the sake of Indonesian diplomacy he needs to humble himself by shedding his rigid stance.
Until now, Indonesia has been the only predominantly Muslim nation that has been able to maintain its democracy despite all shortcomings. We needed less than two decades to establish our nation as the world's third-largest democratic country after India and the United States. Indonesian Muslims may indeed be becoming more intolerant, but there is also rising intolerance now in the US and Europe.
As the President does not need to apply for an ordinary visa to go to the US and also because he has a special plane that is ready anytime he wants to travel, he could still change his mind. However, time is very limited, so he needs to call his foreign minister: "Ibu Retno, please arrange my visit to New York next week."
Several ambassadors from industrialized countries shared the same opinion that President Jokowi is too focused on domestic issues. "Your President should go out and see the world," an envoy told me last week.
Former president Susilo Bambang Yudhoyono was very lucky with his decision at the very last minute to drop his intention to promote his successor during his final appearance at the UN five years ago. Otherwise it would have been an embarrassment for Yudhoyono because Jokowi has still refused to attend the annual global gathering for the whole of his first presidential term.
On Sept. 24, 2014, Yudhoyono almost announced that Jokowi was his successor when he addressed the General Assembly, which I covered. He had initially agreed with the suggestion of his top aides, including then coordinating minister for the economy, tycoon Chaerul Tanjung, to demonstrate Indonesia's achievement of having its second directly elected president after Yudhoyono. Yudhoyono changed his mind for unclear reasons.
"I do believe that with strong commitment and political will, we can make the impossible possible. As we say in Indonesia […], 'Where there is a will, there is a way'," Yudhoyono said to the applause of the audience. Jokowi clearly lacks commitment and political will on foreign affairs.
Indonesia was selected for the fourth time to be a nonpermanent member of the UNSC in June 2018 along with Germany, South Africa, Belgium and the Dominican Republic. The two-year tenure will last until December 2020.
Full report at:
https://www.thejakartapost.com/academia/2019/09/20/pak-jokowi-this-time-you-should-go-to-new-york.html
--------
Indonesia Instrumental in UN Security Council Extending Mission in Afghanistan
BY NUR YASMIN
SEPTEMBER 19, 2019
Jakarta. The United Nations Security Council passed through a resolution to extend its mission in Afghanistan, which was drafted by Indonesia, the Foreign Affairs Ministry said in a statement on Wednesday.
The UN Assistance Mission in Afghanistan (Unama) was established in March 2002 to support the people and government of Afghanistan in achieving peace and stability.
"This resolution is powered by Indonesia in cooperation with Germany and mandates various UN supports for the government and the people of Afghanistan to create peace and improve development," Dian Triansyah Djani, Indonesian Ambassador and Permanent Representative to the UN, said on Tuesday.
The ambassador said the resolution was not easy to get through, but Indonesia's diplomacy managed to bridge differences in the Security Council and prevented any veto from the permanent members of the council.
The Unama extension resolution is Indonesia's first-ever resolution draft.
The resolution extends the mission's mandate until Sept. 17 next year. It also gives a new mandate for the mission to support the Afghanistan government in human rights, gender equality, women empowerment and child protection.
Unama also mandates support for Afghanistan's presidential election on Sept. 28, marking the foundation of democracy in the country.
Full report at:
https://jakartaglobe.id/context/indonesia-instrumental-in-un-security-council-extending-mission-in-afghanistan
--------
URL: https://www.newageislam.com/islamic-world-news/shia-body-chief-gets-delhi/d/119793
New Age Islam, Islam Online, Islamic Website, African Muslim News, Arab World News, South Asia News, Indian Muslim News, World Muslim News, Women in Islam, Islamic Feminism, Arab Women, Women In Arab, Islamophobia in America, Muslim Women in West, Islam Women and Feminism