10 January 2021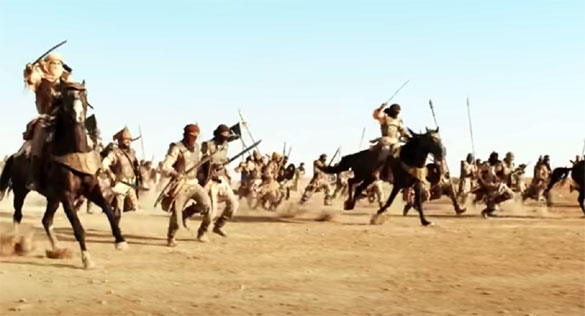 Screenshot of the trailer of "The Lady of Heaven." Photo by YouTube/Filmselect.
------
• Sheikhs Of The Salafist Currents and Islamic Scholars For Ban On British Film 'The Lady Of Heaven' About Prophet's Daughter, Fatima Al-Zahra
• Momentum Builds To Impeach Trump As More Capitol Rioters Arrested
• Former Israeli PM Ehud Barak Demands Dispose Of Liar, 'Netanyahu' Like 'Trump'
• Afghanistan War Killed 98 Americans, 40,000 Afghans In 5 Years: Ghani
• Imams, Bishops, Musicians, Others To Drive COVID-19 Awareness On Safety Of Vaccine, Says Chairman of Nigeria Governors Forum
• Corona Vaccination: Efforts In Muslim Nations To Overcome 'Halal' Concerns
• Internationalisation 'Our Agenda From Here On' As Global Islamic Economy Expands - Malaysia's Digital Agency Chief
• Custodian of the Two Holy Mosques Receives 1st Dose of Coronavirus Vaccine
• MP's 'Love Jihad' Law Comes Into Force
Europe
• Sheikhs Of The Salafist Currents Islamic Scholars, For Ban On British Film 'The Lady Of Heaven' About Prophet's Daughter. Fatima Al-Zahra
• Hong Kong Security Law Being Used To 'Eliminate Dissent' Say US, UK, Australia And Canada
• 'Inequality Must Be Removed For Muslim Women And White Working-Class Boys Alike'
• Most but Not All Russian Nationalists are Anti-Turkish and Anti-Muslim, Sidorov Says
• Navy Seal Who Shot Osama Bin Laden Relives Moment In Viral TikTok Video
• Colourful Doncaster businessman opens mosque and church at motorbike track
• Police arrest man, 47, on suspicion of 'Islamist terrorism' offences in Surrey
• French jets fly over CAR as tens of thousands flee vote tensions
------
North America
• Momentum Builds To Impeach Trump As More Capitol Rioters Arrested
• Beyond Capitol Riot, Trump Voter Fraud Claims Leave Their Mark
• US diplomat visits Western Sahara after Morocco-Israel deal
• Twitter permanently suspends Trump's account
• One in custody after man armed with knife interrupts prayer at Calgary mosque
• Incident at Calgary mosque not believed to be hate-motivated
-------
Mideast
• Former Israeli PM Ehud Barak Demands Dispose Of Liar, 'Netanyahu' Like 'Trump'
• Israeli Police Impose Restrictions On Worshipers Heading To Al-Aqsa Mosque
• Israeli Occupation Forces Closes Ibrahimi Mosque For Ten Days
• Karbala people commemorate death of Al-Qasem son of Imam al-Kadhem at his shrine
• Jerusalem dept mayor is on a mission: Muslim Tourism and women's rights
• Ayatollah Makarem Shirazi condemns crimes of Takfiri groups in Pakistan
------
South Asia
• Afghanistan War Killed 98 Americans, 40,000 Afghans In 5 Years: Ghani
• Afghanistan must have long-term relations with Iran: Ghani
• Afghanistan's First Vice President: Killing Civilians for Political Gains is A 'Failed and Errant • Three Including 'Government Spokesman' Killed in Kabul Blast
• Afghan President Discusses Bilateral Relations With Turkmen Delegation
• Security Official Detained Over Illegal Sale of Weapons to Taliban: Dykundi
• Taliban Attack Claims 'ANA Company Commander' in Takhar
-----
Africa
• Imams, Bishops, Musicians, Others To Drive COVID-19 Awareness On Safety Of Vaccine, Says • Chairman of Nigeria Governors Forum
• Ghana's Archbishop Duncan-Williams says: Let's learn from Muslims
• Libya minister: 'Hopes greatly lifted' by Biden's victory
• Cameroon Says Boko Haram, Separatists on Offensive
• Boko Haram: Massive shakeup as Army redeploys senior officers, Commanders
• Kidnappings: Govt, Miyetti Allah, Bandits Agree •181 Freed In Katsina
--------
Pakistan
• Corona Vaccination: Efforts In Muslim Nations To Overcome 'Halal' Concerns
• Pakistani Prime Minister Imran Khan reaches Quetta after Shia Hazara miners laid to rest
• Members Of UAE's Royal Family Arrive In Panjgur To Hunt Houbara Bustards
• Reference to disqualify PTM MNA Ali Wazir lands in ECP
------
Southeast Asia
• Internationalisation 'Our Agenda From Here On' As Global Islamic Economy Expands - Malaysia's Digital Agency Chief
• Indonesia's Top Islamic Council Certifies China's Sinovac COVID-19 Vaccine
• Health Ministry wants travel controls tightened if Covid-19 cases continue to rise
• Nazri: Expect more Umno MPs to withdraw support for Perikatan
• Indonesia's Sriwijaya Air lost contact after taking off from Jakarta
• Emergency Signal Allegedly Coming From Crashed Indonesian Boeing Detected in Java Sea
-------
Arab world
• Custodian of the Two Holy Mosques Receives 1st Dose of Coronavirus Vaccine
• Saudi Health Ministry: Vaccine not required to travel when flights resume
• First Qataris in three years drive across border into KSA
• Steps underway to boost Saudi art, culture contribution to GDP
• Saudi Arabia helps Yemenis fight malnutrition
------
India
• MP's 'Love Jihad' Law Comes Into Force
• UP: Assets of 'love jihad' accused to be attached
• Bhubaneswar Municipal Corporation reopens city mosque with COVID-19 restrictions in place
Compiled by New Age Islam News Bureau
URL: https://www.newageislam.com/islamic-world-news/sheikhs-salafist-currents-islamic-scholars/d/124031
------
Sheikhs Of The Salafist Currents and Islamic Scholars For Ban On British Film 'The Lady Of Heaven' About Prophet's Daughter, Fatima Al-Zahra
Amr Mostafa
Jan 10, 2021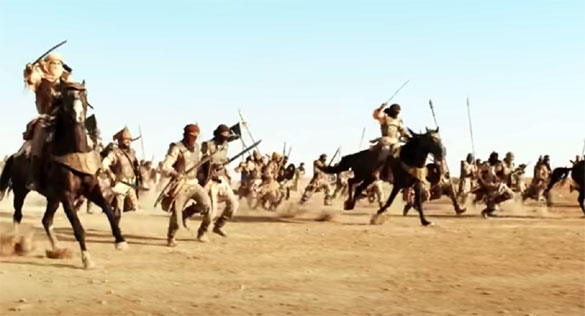 Screenshot of the trailer of "The Lady of Heaven." Photo by YouTube/Filmselect.
---
CAIRO — Paksitani authorities banned Jan. 5 the release of the controversial British film "The Lady of Heaven." They urged social media platforms to remove the trailer of the film.
The Pakistani ban has raised controversy in Egypt about this film. Similar to the Pakistani reaction, a number of social media activists, Al-Azhar scholars and sheikhs of the Salafist currents called for banning the screening of the film. They urged the issuance of fatwas prohibiting its viewing and sent official demands to the United Kingdom to stop showing it worldwide.
The film sparked controversy due to its portrayal of the character of Fatima al-Zahra, the daughter of the Prophet Muhammad and wife of Ali bin Abi Talib, the fourth and last of the rightly guided caliphs following the death of the prophet. On Jan. 2, several Egyptian and international newspapers reported that the film features the voice of the Prophet Muhammad as one of the storytellers of the film's events.
Commenting on one of the news reports criticizing the film, Facebook user Ahmad Allam wrote, "They do not respect our faith or our sanctities, and when we get angry [and defend] our religion and our Messenger, they say we are terrorists." Omar Hindawi wrote, "This film should be immediately banned," while Mona Mahmoud wondered about Al-Azhar's position on "this humiliation?"
Al-Azhar, Sunni Islam's highest religious authority, issued a press statement Dec. 27 through its adviser Mohammed Mehanna, confirming the steadfastness of Al-Azhar's position regarding the prohibition of the embodiment of the Prophet Muhammad, all prophets and the family members of the prophet (wives, daughters and sons). The statement asserted that the release of this film consecrates the continued disrespect by the West and some Shiite extremists for the sanctities and beliefs of others.
Inquiring about the possibilities of banning the film in Egypt or launching any media campaigns to prevent it from showing in Egypt or abroad, Al-Monitor talked to a source in the Al-Azhar Sheikhdom. "Al-Azhar is not an authority that can ban or permit a film," the source said on condition of anonymity. "It simply expresses the Sharia opinion regarding the prohibition of embodying the prophet and his family members. Al-Azhar leaders are not concerned with efforts to ban the film abroad and has nothing to do with the delay in its release."
The film, directed by Elli King and written by Sheikh Yasser Al-Habib, was to be released in theaters Dec. 30, before it was postponed until 2021. No new date was scheduled for its release and the reasons for its postponement have not been disclosed. But some newspapers reckoned the delay came in light of the sharp criticism the film generated or because of the coronavirus pandemic.
A source from the Ministry of Culture told Al-Monitor on condition of anonymity that the Authority for Censorship of Artistic Works affiliated with the ministry is the authority competent to ban or allow the screening of a film when its distributors apply for a request for its release in Egypt. The source explained that the authority cannot decide to ban a film before watching it, adding that the opinion of Al-Azhar and religious institutions on the embodiment of the prophet will be taken into account in addition to the opinions of scholars, if the film falsely depicts or distorts established historical facts.
The Authority for Censorship of Artistic Works had banned the screening of "The Passion of the Christ" in 2004, and "Noah" and "The Exodus; Gods and Kings" in 2014, because they portray the characters of the prophets.
Several Egyptian newspapers, notably Soutalomma and Al-Wafd, accused in press reports Dec. 31 the film and its producers of Shiism and bias toward false stories about Zahra's death. They said that the teaser of the film shows she was subjected to torture and physical assault causing her to have an abortion and to die at the hands of the Rightly Guided Caliphs who preceded Ali, namely Abu Bakr al-Siddiq, Omar bin Al-Khattab and Othman bin Affan.
But renowned film critic and writer of Arab cinema Tarek el-Shinnawy believes banning the film will create unnecessary momentum and buzz that may encourage Egyptians to watch it out of curiosity. "Sooner or later everyone will be able to watch it when it becomes available on the internet. It is better to allow its screening while holding, in tandem, historical and religious discussions to unveil its fallacies if it truly tells a historically questionable story."
The film's events take place in two different times separated by nearly 1,400 years. It tells the story of an Iraqi child who lost his parents and was displaced by an armed Islamic State attack. The boy then moves to live with his grandmother, who tells him the story of Zahra, the first victim of terrorism in history from the Shiite perspective. The film then recounts the story of Zahra.
Mohsen Qandil, a professor of Islamic history at Cairo University shares Shinnawi's opinion. "Any serious discussion about the film would reveal the weakness of the Shiite narrative that contradicts the friendly relationship that Imam Ali had with the Rightly Guided Caliphs who preceded him, even after Zahra's death. Imam Ali agreed to marry his daughter, Umm Kulthum, to Omar bin Al-Khattab and recommended him [bin Al-Khattab] as his successor."
Despite the film being accused of Shiism and promoting false or weak historical narratives, Iranian websites Ijtihad and Al-Alam reported that four Shiite religious authorities — Ayatollah Lotfollah Safi Golpaygan, Ayatollah Makarem Shirazi, Ayatollah Hossein Noori-Hamedani and Ayatollah Jaafar Subhani — labeled as haram any support or promotion for the film. The fatwas banned viewing it since it deepens the disagreement in the Islamic nation between Sunnis and Shiites. The Shiite authorities argued that fanning the flames of the inter-Muslim dispute is in the interest of those they described as the "enemies of Islam."
Mohamed Abdel Halim, an Egyptian journalist specializing in religious affairs at the London-based news website Daqaeq, told Al-Monitor that showing the film at this time while Lebanon, Syria and Iraq are witnessing divisions between Sunnis and Shiites will exacerbate existing differences.
"In case this film is shown, Al-Azhar will be forced to refute the Shiite historical allegations. Al-Azhar has always tried to ignore these allegations so as not to worsen the division between Sunnis and Shiites," Abdel Halim said. "This will abort the sheikhdom's attempts for decades to achieve rapprochement and focus on what unites Sunnis and Shiites instead of focusing on points of contention, including the historical allegations about Zahra."
https://www.al-monitor.com/pulse/originals/2021/01/egypt-al-azhar-ban-movie-prophet-daugher-sunni-shiite.html
------
Momentum Builds To Impeach Trump As More Capitol Rioters Arrested
Aljazeera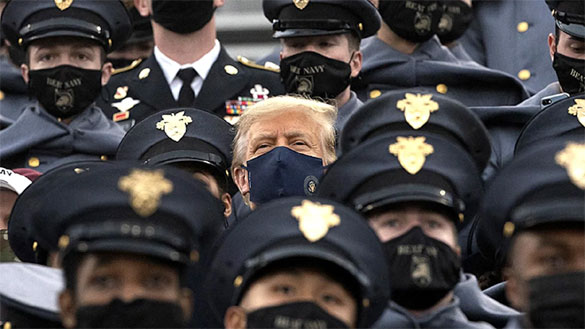 9 Jan 2021
Donald Trump, the president of the United States, faced a renewed push by Democrats to remove him from office, as federal agents arrested more Capitol Hill rioters on Saturday, including a man who carried off the House speaker's lectern.
Representative Ted Lieu said on Twitter that Democratic members of the House of Representatives will introduce formal articles of impeachment on Monday. The California Democrat, who helped draft the charges, said the articles had drawn 180 co-sponsors as of Saturday afternoon.
The impeachment declaration accuses Trump of engaging "in high Crimes and Misdemeanors by willfully inciting violence against the Government of the United States", according to a copy Lieu posted on Twitter on Friday.
It states that Trump "has demonstrated that he will remain a threat to national security, democracy and the Constitution if allowed to remain in office, and has acted in a manner grossly incompatible with self-governance and the rule of law".
The new push comes after Trump incited his supporters to storm the US Capitol on Wednesday as legislators met to certify the election victory of President-elect Joe Biden. Trump urged the crowd to march there in force during remarks in which he repeated his bogus claim that his election defeat was fraudulent.
The four-hour occupation of the seat of the US legislature shocked the country and raised questions about security preparations ahead of the well-planned and publicised event. Five people, including a rioter shot by police as she attempted to enter the House chamber and a Capitol Police officer struck by a fire extinguisher, died during the incident.
Nancy Pelosi, the House speaker, accused the Trump supporters who invaded the Capitol of choosing "their whiteness over democracy".
Addressing her hometown San Francisco constituents during an online video conference, Pelosi on Saturday said Trump's actions "cannot be exaggerated". She added, "The complicity, not only the complicity, the instigation of the president of the United States, must and will be addressed."
In a statement on Saturday, the Federal Bureau of Investigations (FBI) said it had arrested and charged two men whose alleged participation in the Capitol riot went viral, as well as a West Virginia state legislator who allegedly livestreamed his illegal entry into the building.
The FBI said it identified Jacob Anthony Chansley, also known as Jake Angeli, of Arizona, as the man "seen in media coverage who entered the Capitol building dressed in horns, a bearskin headdress, red, white and blue face paint, shirtless, and tan pants".
Chansley was charged with knowingly entering or remaining in any restricted building or grounds without lawful authority, as well as with violent entry and disorderly conduct on Capitol grounds, the FBI said.
Chansley is a supporter of the QAnon conspiracy theory and has been mainstay outside of the Arizona Capitol since 2019, according to the Arizona Republic newspaper.
In its statement, the FBI also said that Derrick Evans, a 35-year-old man recently elected to the West Virginia House of Delegates, had been arrested and charged in relation to the events.
The Reuters news agency reported that Evans resigned on Saturday, writing a one-sentence letter to West Virginia Governor Jim Justice that read, "I hereby resign as a member of the West Virginia House of Delegates, effective immediately."
On Friday, the FBI said 13 others who allegedly participated in the riot are facing federal charges. Another 40 people have been charged so far in Washington, DC Superior Court.
The riot reignited calls from legislators for Trump to be removed from office before his term ends, either through the invocation of the 25th Amendment, which allows the removal of a president who is deemed unable to fulfil the duties of the office, or through impeachment.
Democrats have pressed Vice President Mike Pence to consider the 25th Amendment, but a Pence adviser has said he opposes the idea.
Ilhan Omar, a Democratic congresswoman, tweeted on Saturday afternoon that it was important to impeach and "convict this president even if he has few days left in office". She added: "It will set a precedent. We must make it clear that no president can lead an insurrection against the US government. What we do today will matter for the rest of this nation's history."
Senator Lisa Murkowski of Alaska said on Friday that Trump should resign immediately and suggested she would consider leaving the party altogether if Republicans cannot separate themselves from him.
Senator Pat Toomey of Pennsylvania told Fox News on Saturday that Trump had "committed impeachable offences" but declined to commit to voting in favour of Trump's removal.
Senator Ben Sasse of Nebraska, a frequent Trump critic, told CBS News he would "definitely consider" impeachment because the president "disregarded his oath of office".
Trump allies, including Senator Lindsey Graham and House Republican leader Kevin McCarthy, however, urged Democrats to shelve any impeachment effort in the name of unity.
"Impeaching President Donald Trump with 12 days remaining in his presidency would only serve to further divide the country," said White House spokesman Judd Deere.
If Trump were to be impeached by the House and convicted by the Senate, he might also be prevented from running again for the presidency in 2024 or ever holding public office again. He would be the only president twice impeached.
But the odds that Trump will actually be removed before January 20, when Biden is sworn in, remain long. Any impeachment in the House would trigger a trial in the Republican-controlled Senate, which is scheduled to be in recess until January 19 and has already acquitted Trump once before.
Majority Leader Mitch McConnell sent a memo to his fellow Republican senators suggesting a trial would not begin until Trump was out of office, a source familiar with the document told Reuters. A conviction in the Senate requires a two-thirds majority vote.
Democrats will take control of the Senate later this month, after Georgia certifies two runoff elections won by Democratic challengers.
Biden, meanwhile, said he is focused on his job as he prepares to take office. Asked about impeachment, he said, "That's a decision for the Congress to make."
The deadly violence at the Capitol Hill also prompted the resignation of the Capitol Police chief and the House sergeant-at-arms – and spurred demands for a thorough investigation into what occurred.
In a series of tweets on Saturday, Representative Tim Ryan, the chair of the House Appropriations subcommittee, which oversees Capitol Police, decried the "epic failure" of intelligence and preparation.
He said the committee is working with federal authorities to identify the rioters, who he said committed an act of "domestic terrorism".
Ryan also promised to thoroughly investigate videos that showed some Capitol Police officers taking selfies with rioters and allowing them to pass barricades.
"Not only must we get to the bottom of how and why this was allowed to happen, we have a duty to ensure it never ever can happen again," he said.
https://www.aljazeera.com/news/2021/1/9/us-capitol-riot-democrats-to-introduce-trump-impeachment-article
-----------
Former Israeli PM Ehud Barak demands dispose of liar, 'Netanyahu' like 'Trump'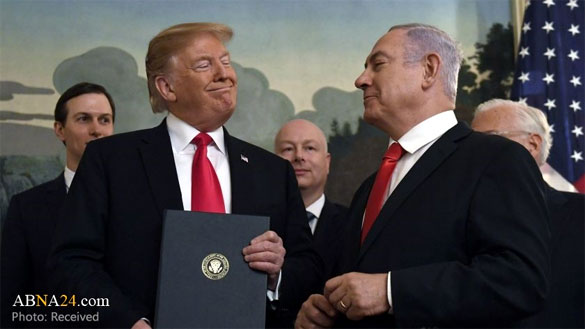 In his tweets he compared what is happening in the US congress and the protests in Israel and said : "The conmen's league. Political Siamese twins."
------
January 9, 2021
On Jan. 8, former Prime Minister Ehud Barak posted a photo of a massive billboard from a previous Israeli election campaign showing a beaming Prime Minister Benjamin Netanyahu standing alongside a broadly smiling US President Donald Trump. Next to the photo Barak tweeted, "The conmen's league. Political Siamese twins. Both narcissists, both claiming to have been framed, both serial liars contemptuous of their followers, inciting against the legal system. Both fraudsters insanely self-centered and willing to assassinate democracy. The Americans have already disposed of theirs, at a heavy cost. It is now our turn."
In a Haaretz article run the same day, Barak urged President Reuven Rivlin to declare that Netanyahu cannot serve as prime minister given his indictment and ongoing trial on a charge of bribery, even though the law does not forbid him from running for office. Barak said the president must make the pronouncement before the Feb. 4 deadline for submitting the parties' candidate lists for the March 23 elections "so that those compiling the lists take it into account and citizens are aware of it before they head for the ballot box."
Barak was not the only one to draw a parallel between Netanyahu and his supporters and the bloody mob attack on Capitol Hill by Trump supporters. Netanyahu's political opponents and opinion-shapers on social media have sought to adapt the incredibly unsettling events in the US capital to the political situation and division in Israel and to portray Netanyahu as Trump's twin.
https://en.abna24.com/news//former-israeli-pm-ehud-barak-demands-dispose-of-liar-netanyahu-like-trump_1104202.html
--------------
Afghanistan war killed 98 Americans, 40,000 Afghans in 5 years: Ghani
Source : PressTV
January 10, 2021
President Ashraf Ghani says the war in Afghanistan has killed only 98 Americans since 2015, while over 40,000 Afghan civilians and troops have been killed in the same period.
"Since I have been President – since 2015 – the number of Americans that have lost their lives is 98. While we, the Afghan people, have lost over 40,000 civilians and military. We are in the front line of your security," President Ghani told CNN's Christiane Amanpour.
"We are assuming responsibility for our future. So if the United States would like to withdraw, all we ask for is a process that is predictable that is mutually agreed," he noted.
Ghani urged US President-elect Joe Biden to make his decision and "then together we will forge a pathway to make sure our mutual interests are ensured."
The Biden administration must "define what US security interests in Afghanistan and the region are. No one wants a return to a heavy footprint," Ghani said.
"The scale and scope of US presence in Afghanistan needs to be defined. Here the most critical issue is how to marry a condition-based approach with a time-based approach," he added.
The administration of Donald Trump recently announced that the United States will reduce the current number of American troops in Afghanistan from 5,000 to 2,500 by January 15, 2021.
In a historic deal clinched between the US and the Afghan Taliban militant group in February, the United States promised to pull out all its troops by mid-2021 in return for the Taliban to stop their attacks on US-led occupation foreign forces in Afghanistan.
The Taliban agreed to negotiate a permanent ceasefire and a power-sharing formula with the Afghan government. However, the militant group has not yet fulfilled any of its commitments.
Referring to the US-Taliban deal and the peace talks, Ghani told CNN that the "process has been slow because over four months were spent just dealing with procedure."
However, he added, the message of the beginning of the second round of talks is "can we agree on the goal that the international community and the region has agreed with us namely a sovereign, democratic, united Afghanistan at peace with itself and the region."
"If that goal becomes accepted, we can move forward. But if the objective of the Taliban is to dominate and give us the peace of the grave then that will have very negative consequences. Our society is united and seeking peace but we want to have a positive peace," he made it clear.
"I have been leading the peace process; I've owned it; I secured the first ceasefire in 2018 in our history. The process must now be truly owned by the Afghan government and the Afghan people," he noted.
"One thing needs to be clear; Afghan society is not willing to go back and we are not a type of society that the Taliban-type approach of the past can be imposed on us. That was the peace of the graveyard. We want a positive peace where all of us together overcome our past, embrace each other and together rebuild an Afghanistan that can be what I call a roundabout where all civilizations, all people, all activities can interact," he added.
Two million Afghans live in Iran, and our relationship must be based on mutual interests, President Ghani said, adding that he hopes the resumption of talks between the United States and Iran will have positive results for Afghanistan.
https://en.abna24.com/news//afghanistan-war-killed-98-americans-40000-afghans-in-5-years-ghani_1104530.html
--------------
Imams, Bishops, Musicians, Others To Drive COVID-19 Awareness On Safety Of Vaccine, Says Chairman of Nigeria Governors Forum
By Terhemba Daka
09 January 2021
Indications emerged yesterday that the Federal Government is set to deploy influencers, including Imams, Bishops, musicians, sports personalities, as part of strategy to drive awareness and convince Nigerians on the safety of the COVID-19 vaccines.
Chairman of Nigeria Governors Forum (NGF) and Ekiti State Governor, Dr. Kayode Fayemi, gave the indication while fielding questions from newsmen after meeting with President Muhammadu Buhari, where security, economy, vaccines management and the general outlook, for 2021 among others, formed the crux of discussions.
He said: "The more such people are seen taking the vaccines, the more the likelihood of resistance will break down in our various localities."
Recall that the PTF had on Thursday said Buhari, Vice President Yemi Osinbajo, Secretary to the Government of the Federation (SGF), Boss Mustapha, and other prominent Nigerians would be among the first set to receive the COVID-19 vaccine on live television to help drive awareness.
Throwing more light on their discussions, Fayemi said: "For us as governors, the number one priority in vaccine management relates to public health and risk communication.
"I commended the PTF on COVID-19 for at least, wanting to use Mr. President and the Vice President as their publicity vehicles for reassuring those who may have their doubts about vaccines use that, this is no threats to them. You know there are cultural and religious concerns in various parts and we are at the state level, we are reviewing that with all of our colleagues.
"But the good thing is, Mr. President has agreed with me that he would convey to the PTF, the necessity of using other influencers, maybe Chief Imams, Bishops, top musicians, our sports personalities, because the more such people are seen taking the vaccines, the more the likelihood of resistance will break down in our various localities.
"Of course, procurement of vaccines was also discussed. Our view is that ultimately, we really need to ramp up manufacturing of vaccines locally. It's okay that COVAX is going to be delivering some vaccines to us."
"But there is nothing as good as having the ability to manufacture our own vaccines locally. And we understand that there is a partnership with May & Baker, which is important for the Federal Government to really accelerate, so that we can produce the vaccines here in Nigeria and not be dependent on what is coming from other parts."
On availability of funds, Fayemi said: "The federal government is already part of the WHO-GAVI Alliance-COVAX partnership and from what we understand from the PTF, vaccines will come from that alliance. Some of it from Pfizer in the first instance and then maybe from other various producers of the vaccines later.
"But there is no clarity yet as to when these vaccines will arrive Nigeria. So, one of the issues raised with Mr. President is the need to accelerate the delivery of vaccines to the country, so that it will be available to our people.
"Those of us at the receiving end in the states know that we also need to ramp up our own preparedness, in terms of getting our states ready for vaccines storage, particularly the freezers and cold chains that will be required for that process.
"We need to get ourselves ready at the state level. The federal government can procure, but we will receive and administer in our various states and there is a lot of work to be done in that respect."
Asked if governors were disposed to take the vaccines on live television, Fayemi said: "Absolutely! We too will like to demonstrate to our citizens that we believe that vaccines would work. Don't forget, we have a lot of experience on this.
"NGF managed the polio vaccines administration in the country and we have garnered a lot of experience. We have worked with the Primary Healthcare Development Agency, Federal Ministry of Health and will be happy to work with NCDC, PTF, etc on this as well. So, we would take a lead as well in our various states."
On whether states would contribute in the purchase of the vaccines, he said: "The details of the financial management, of course, is something that would be of interest to all the states. But we also know that there are a range of approaches to take, including health approach, because for us at the NGF, it is not just a health issue, it is also a security and economic issue."
On tackling the security situation in the country going forward, the NGF chairman said: "Obviously, you know I won't go into the nitty-gritty of what Mr. President told me on security, but he said clearly that help is on the way.
"Mr. President is very determined that this year will see a rapid reduction in the free access that bandits, kidnappers and criminals have had in the country. I believe there is a whole range of strategies that he is putting in place in order to address that.
"I have also expressed to him the commitment of governors to step up to the plate, in terms of providing support for our security agencies, sensitising our population and addressing the root causes of some of these crimes in our states.
"It is a partnership. He is our commander-in-chief; we are his field commanders and insecurity is ravaging the land collectively. So, we all have to do whatever we can to reduce it and work in collaboration with the Federal Government."
https://guardian.ng/news/imams-bishops-musicians-others-to-drive-covid-19-awareness-on-safety-of-vaccine-says-fayemi/
-------------
Corona Vaccination: Efforts In Muslim Nations To Overcome 'Halal' Concerns
News Report
January 10, 2021
Governments and religious leaders in Muslim-majority nations are talking to vaccine makers, investigating production processes and issuing guidance in an effort to make sure concerns about products prohibited by Islam don't interfere with Covid-19 inoculations, foreign media reported.
On Friday, the high clerical council in Indonesia, with the world's largest Muslim population, said that China's Sinovac vaccine is allowed by Islam, or halal. The decision came after council representatives visited Sinovac's factory in China last year and conducted a halal audit.
Gelatin taken from pigs and cells created using tissue from human fetuses, which are both common in vaccine production, aren't halal, Muslim scholars say.
Acceptance of vaccinations before the coronavirus pandemic varied widely among Muslim countries, with high trust in countries like Bangladesh and Uzbekistan, according to a study of opinion in 149 countries published in September 2020 in the Lancet medical journal.
It found that of the 10 countries with the most marked drop in confidence in vaccines over the four years through 2019, seven were predominantly Muslim: Afghanistan, Azerbaijan, Bosnia and Herzegovina, Indonesia, Malaysia, Nigeria and Pakistan. The other three were Japan, Georgia and Serbia.
In Pakistan, one of only two nations left on earth where polio is still endemic, the authorities have struggled for years to persuade people to let their children have the polio vaccine, with Islamic-related objections prominent among other concerns.
Not only do some people contend that the vaccine isn't halal—despite rulings from senior clerics there saying it is allowed—but an influential conspiracy theory contends that the West is using the inoculation to sterilize Muslims. Those objecting to vaccines for various reasons are generally a minority among Muslims, but governments and religious leaders from Jakarta to Dubai are debating how best to address halal concerns to make sure they don't become a significant obstacle to inoculating the world's 1.8 billion Muslims.
"This is a serious issue," said Muhammad Munir, a virologist at Lancaster University in the U.K., adding that none of the Covid-19 vaccines that have so far reached late-stage trials ought to be a problem for Muslims because of the ingredients and processes involved. "There is a responsibility on the [Muslim clergy] to have enough knowledge to guide the public properly."
A vaccine developed by Moderna Inc. and another by Pfizer Inc. and BioNTech SE may offer a solution. They are synthetic, with no human- or animal-sourced ingredients, said Mr. Munir. However, these vaccines are in short supply globally and need to be kept at extremely cold temperatures, which will make distribution difficult in poorer countries.
The decision from Indonesia's high clerical council Friday means that the Sinovac vaccine is ready for use in Indonesia as soon as the country's food and drug regulator authorizes it, which is expected in the coming weeks.
Zulkifli Mohammad al-Bakri, the religious affairs minister of Malaysia, where Muslims make up more than 60% of the population, said in late December that a special religious committee had determined that Muslims should follow government instructions and take the vaccines, and noted that Muslims there have been encouraged to get inoculated for other diseases in the past.
A religious body in the United Arab Emirates last month issued a fatwa, allowing Muslims to receive coronavirus vaccines, even if they contain non-halal ingredients. "Such rulings on vaccination programs do not make the inoculations halal, but the vaccine can be used if there is no alternative available," said Amrahi Buang, president of the Malaysian Pharmacists Society.
https://www.thenews.com.pk/print/772066-corona-vaccination-efforts-in-muslim-nations-to-overcome-halal-concerns
--------------
Internationalisation 'our agenda from here on' as global Islamic economy expands - Malaysia's digital agency chief
BY RICHARD WHITEHEAD
13 NOV 2019
KUALA LUMPUR - Malaysian tech companies should look beyond Malaysia as the global Islamic economy expands, said Surina Shukri, CEO of MDEC, the government agency charged with promoting the country's digital economy.
Surina was speaking at the launch of the State of the Global Islamic Economy 2019/20 report in Kuala Lumpur on Wednesday (Nov 13), that said Muslims spent 5.2% more in 2018 to $2.2 trillion across the food, pharmaceutical and lifestyle sectors.
The annual report, produced by Salaam Gateway's parent, DinarStandard, forecasts Muslim consumption to reach $3.2 trillion by 2024.
"33% of the Islamic diaspora now doesn't live in Islamic countries. The whole world is waking up in terms of the Islamic digital economy's potential," Surina told Salaam Gateway.
"This lends itself to e-commerce, not just in Malaysia but internationally. Our agenda from here on is going to be internationalisation of all our companies, not just our digital start-ups but our SMEs as well," said the CEO.
According to the report, investments have been playing an important role in driving growth across the Islamic economy. It tracked $1.2 billion invested globally in Islamic economy companies for the 12 months to end-July, reflecting an increase of 399% compared to 2017.
This figure reflects a broad span of corporate-led acquisitions, venture investments in halal-tech start-ups and private equity investment. Halal products garnered the lion's share of investments, accounting for 54% of deal value, followed by Islamic finance at 42% and 4% in Islamic lifestyle, mainly in modest fashion and Muslim-friendly tourism.
The report identified a handful of sectors, including Islamic fintech and umrah travel tech as being "hot sectors" for growth in 2020.
Baiza Bain, a Kuala Lumpur investor in halal start-ups and founder of Ficus Venture Capital, said this year's figures stacked up well for the investment community as they will help inform investors on market sizes and growth levels.
"As VCs, we look at the addressable market. Reports like this are always useful because they go in depth and they actually show the addressable market for companies we have our eyes on in terms of investment," Baiza told Salaam Gateway.
"For halal technology, you wouldn't know what is the addressable market in normal circumstances when you meet a company, because they try to extrapolate a general number," he said.
In addition to the halal and lifestyle sectors, the report said Islamic finance assets increased by 3.5% to $2.5 trillion in 2018. It forecasts assets to reach $3.5 trillion by 2024.
While this growth is "encouraging", Dr Liza Mydin, head of corporate strategy at Maybank Islamic, said there are still areas where Shariah-compliant finance still needs to catch up.
"When one speaks about the halal economy, Islamic finance should be a given, but that's not the case at the moment," Dr Liza told Salaam Gateway.
"The fact is that a number of investments still lag: we aren't putting out our investment offerings and capturing the market. That we only account for about 0.1% of overall investment globally shows what must be done in terms of providing Shariah investments to the market."
Islamic fintech also needs a boost. While DinarStandard lists 93 start-ups globally, "recent growth is still solidly based more on traditional banking services and products," it says, adding: "Islamic banks can unlock substantial growth and profitability through digitisation."
"The fintech space is very much a closed community. There needs to be more cross-sector collaboration: fintech needs to talk to the halal economy and food segments," said Dr Liza.
"At policy level and industry level we need to have more cross-sector engagement of fintech. Partnerships will need to be more central," she added.
Muslim expenditure on pharmaceuticals continues to grow and is expected to increase from $92 billion last year to $134 billion in 2024, according to the report.
Muslim-majority countries are net importers of pharmaceuticals, with exports predominantly in the hands of non-Muslim countries led by Germany and France, says the report.
"Even the concept of halal pharmaceuticals is poorly understood in Organisation of Islamic Cooperation (OIC) countries, not having gained the same traction as other Islamic economy sectors, such as halal food and modest fashion," it says.
Seri Azalina Mohd Ghazalli, halal and government relations manager at Duopharma Biotech, the first Malaysian pharmaceuticals company to have halal certification, acknowledged there are misconceptions among Muslim consumers.
"We always want to correct their understanding as to how halal is bringing a value proposition to the pharmaceutical industry," Seri Azalina told Salaam Gateway.
"Regardless of whether our products are halal or not, we are still selling our products and we know that the halal component gives them a plus factor."
Companies could "generate substantial growth" by pursuing halal gelatin, nutraceuticals and vaccines, according to DinarStandard.
"It's a realisation of the state of the economy and where we should take up the opportunity further with new product categories. In Malaysia we are looking at how we expand further," said Seri Azalina.
https://www.salaamgateway.com/story/internationalisation-our-agenda-from-here-on-as-global-islamic-economy-expands-malaysias-digital-age
-------------
Custodian of the Two Holy Mosques Receives 1st Dose of Coronavirus Vaccine
Saudi Press
2021/01/10
Riyadh, January 10, 2021, SPA -- Saudi newspapers highlighted in their editorials today a number of issues at local, regional and international arenas.
Al-Yaum newspaper said in its editorial that the Custodian of the Two Holy Mosques King Salman bin Abdulaziz Al Saud receiving the first dose of Coronavirus (COVID-19) vaccine comes as a part of the leadership's unlimited support for everything that is in the interest of the citizen and resident living on the soil of this precious motherland since the beginning of the pandemic and until now, as this thing has brought us to the stages that draw the features of the approaching end of this unprecedented crisis in modern history.
The newspaper pointed to the Ministry of Interior's announcement that starting from March 31, 2021 the following will be implemented: A - Allowing citizens to travel abroad and return to the Kingdom. B - Fully lifting of the ban on all international flights. C - Opening all land, sea and air outlets, in full. D - Carrying out those above-mentioned items, shall be in accordance with the procedures and precautions to be set forth by the pertinent committee that take all precautionary and necessary measures to prevent the spread of Coronavirus in Saudi Arabia.
These aforementioned data reflect the extent of the efforts and sacrifices made by the government, as the human rights and safety have always been a priority to Saudi Arabia throughout history, the newspaper concluded.
Al-Bilad newspaper reported in its editorial that "the Summit of Sultan Qaboos and Sheikh Sabah" charted a new approach and path for relations between the GCC countries, promoting the vision of the Custodian of the Two Holy Mosques to strengthen integration among the GCC states, which was approved by the Supreme Council in a previous session, towards a bright future, with a strong and integrated will and the ability to overcome all challenges.
This collective will, being affirmed by the GCC leaders, reflects the high wisdom and eagerness to strengthen the Gulf march, with more achievements and gains for the citizens of the GCC countries, the newspaper added.
The newspaper concluded that despite the tremendous challenges that the region has witnessed, the wisdom, will and the achievements of cooperation of the leaders affirmed their ability to move forward into the future towards the desired integration in various developmental fields.
https://www.spa.gov.sa/viewfullstory.php?lang=en&newsid=2177414
----------
MP's 'love jihad' law comes into force
TNN
Jan 10, 2021
BHOPAL: The home department on Thursday notified Madhya Pradesh Freedom of Religion ordinance 2020, bringing into effect what's being referred to as a law against 'love-jihad'. This ordinance has to be endorsed by the assembly in six months.
"A new era begins in Madhya Pradesh. We will never allow anyone to toy with the security and future of our daughters. Our daughters will be empowered and they will contribute to building an Atmanirbhar Madhya Pradesh," chief minister Shivraj Singh Chouhan said. A day earlier, Chouhan had said the new law isn't against any particular religion, and the motive is to protect girls.
Saturday's notification says: "It's an ordinance to provide freedom of religion by prohibiting conversion from one religion to another through misinterpretation, allurement, use of threat or force, undue influence, coercion, marriage or any fraudulent means, and for the matters connected therewith."
Violators shall be punished with imprisonment of up to 10 years and fines of up to Rs 1 lakh. The maximum penalties can be imposed if the victim is a minor or from an SC/ ST community, or it's a case of mass conversion. Anyone convicted of hiding their religion and marrying to force the partner into conversion can be jailed for two to 10 years and fined Rs 50,000.
Those voluntarily deciding to convert will have to give a declaration to the district magistrate 60 days in advance. This is also binding on the priests who will carry out the conversion. If a priest breaks the law, he/she will be jailed for three to five years and fined Rs 50,000.
A marriage solemnized with the intention of religious conversion would be considered null and void. These cases would be investigated by a police officer not below the rank of sub-inspector. The victim will be deemed to have returned to her parental religion.
"Parental religion of a person shall mean the religion to which his/her father belonged to at the time of birth," it says. Children born of such marriages will be entitled to maintenance and will have a share in both paternal and maternal inheritance.
Investigation can begin only when there is a written complaint. "No police officer shall inquire or investigate except upon a written complaint by the person converted in contravention of law, their parents, siblings or with the leave of the court or by any other person related by blood, marriage or adoption, guardianship or custodianship," it says.
https://timesofindia.indiatimes.com/city/bhopal/mps-love-jihad-law-comes-into-force/articleshowprint/80194309.cms
-----------
Europe
Hong Kong security law being used to 'eliminate dissent' say US, UK, Australia and Canada
Associated Press
10 Jan 2021
The foreign ministers of Australia, the United States, Britain and Canada have issued a joint statement expressing "serious concern" about the arrest of 55 democracy activists and supporters in Hong Kong last week.
The arrests were by far the largest such action taken under a national security law (NSL) that China imposed on the semi-autonomous territory a little more than six months ago.
"It is clear that the national security law is being used to eliminate dissent and opposing political views," the four foreign ministers said on Sunday.
The Chinese and Hong Kong governments say the law is needed to restore order in a city that was rocked in 2019 by months of often violent anti-government protests demanding greater democracy.
Most of those arrested last week had taken part in an unofficial primary for a legislative election that was later postponed. Authorities allege the primary was part of a plot to take control of the legislature in order to paralyse government and force the city's leader to resign.
The 55 have not been charged, and all but three have been released on bail pending further investigation. Convictions could disqualify them from running for office.
The four foreign ministers said the next legislative election should include candidates representing a range of political opinions. Only half the city's legislature is elected by popular vote.
"We call on the Hong Kong and Chinese central authorities to respect the legally guaranteed rights and freedoms of the people of Hong Kong without fear of arrest and detention," they wrote.
The statement was signed by Marise Payne of Australia, Francois-Philippe Champagne of Canada, Dominic Raab of the UK and Mike Pompeo of the US.
Separately, Pompeo announced on Saturday that the US was voiding longstanding restrictions on how its diplomats and others have contact with their counterparts in Taiwan, a self-governing island that China says should be under its rule.
The actions on Taiwan and Hong Kong will undoubtedly anger China, which views such moves as foreign interference in its internal affairs.
The Trump administration, which is in its final days, is also sending Kelly Craft, its ambassador to the United Nations, to Taiwan later this week. China has sharply criticised the upcoming visit, while the Taiwan government has welcomed it.
https://www.theguardian.com/world/2021/jan/10/hong-kong-security-law-being-used-to-eliminate-dissent-say-us-uk-australia-and-canada
---------------
'Inequality must be removed for Muslim women and white working-class boys alike'
BySaira Khan
9 JAN 2021
What do white working-class British boys, and Bangladeshi and Pakistani Muslim women who live in this country have in common?
It is the duty of those who care about equal opportunities for all to take the lead in raising awareness of these disadvantaged groups.
A House of Commons Women and Equalities Commission report, Employment opportunities for Muslims in the UK, stated: "Muslim women are more likely to be economically inactive than women from other religious groups and that nearly half (44%) of economically inactive Muslim women are inactive because they are looking after the home.
This has implications for access to resources, school attainment, progression to higher education and the availability of jobs.
Growing up in a white working-class family and having worked in schools with a high proportion of children from this background, she writes: "I don't like discussing pupils as data or percentages, but
to show you the disadvantage faced by pupils on Free School Meals (FSM), let's put these numbers in real terms by looking at take-up of FSM in relation to 2019 GCSE results.
"Currently, around 10% of white pupils, 20% of black pupils and 45% of Bangladeshi pupils receive FSM. In total, there were 33,697 boys on FSM who sat their GCSEs in 2019.
"Of these, 1,093 Bangladeshi boys achieved an average score of 42.8%, 2,880 black boys achieved an average 34.5% and 22,720 white boys achieved an average 28.5%."
When striving for this, it's important to acknowledge that the fates of white working-class boys and Muslim women are intertwined, not separate causes.
https://www.mirror.co.uk/news/uk-news/inequality-must-removed-muslim-women-23290445
--------------
Most but Not All Russian Nationalists are Anti-Turkish and Anti-Muslim, Sidorov Says
January 9, 2021
Paul Goble
Staunton, January 7 – Overwhelmingly, Russian nationalists have a negative view about Turkey and Islam, viewing both as threats to Russia's geopolitical position and domestic stability. But there are some exceptions, ranging from Russian converts to Islam to nationalists who view Turkic peoples and Muslims as potential allies, Vadim (Kharun) Sidorov says.
Sidorov, who is one of the ethnic Russian converts to Islam and was a regional leader of the National Organization of Russian Muslims in the early 2000s, surveys the exceptions to the general pattern in a detailed new article (trtrussian.com/mnenie/russkij-nacionalizm-i-islam-v-nachale-novogo-veka-4043765).
He points out that many Russian nationalists who were supportive of Islam and Turkey in the 1990s and early years of this century have changed their views in the period since, either because they have been affected by Kremlin policies that have turned them from opponents of the regime to its supporters or because of anti-Semitism and hostility to Israel.
But there are still some Russian nationalists who for principled or tactical reasons call for a more positive view of Islam and the Turkic world both internationally and within the Russian Federation. Indeed, Sidorov says, tactical considerations often determine whether underlying views emerge or not.
He gives as an example Aleksandr Dugin, the Eurasianist leader, who has long argued that Russia as a state reflects both Slavic and Turkic elements and thus both Orthodox Christian and Islamic ones. At times, he appeared so positive about this that he was viewed as a friend of both. But at others, he adopted a very hostile line.
Similar tensions are reflected in the words and actions of less prominent figures; and they likely explain why pro-Turkic and pro-Islamic trends within Russian nationalism are likely to remain marginal except at times when the Russian government itself chooses to make those part of state policy.
http://windowoneurasia2.blogspot.com/2021/01/most-but-not-all-russian-nationalists.html
-----------
Navy Seal Who Shot Osama Bin Laden Relives Moment In Viral TikTok Video
JAKE MASSEY
09 January 2021
The former Navy Seal was discussing the historic moment on The Brilliantly Dumb Show, and the above clip has been viewed more than 5.4 million times.
In it, O'Neill recalls: "It hit me after I shot him. Bin Laden was pushing his wife towards me and I was three feet away from him. And I am looking in his eyes and thinking, that's his nose, that's him, he is not surrendering, he is a threat. I've got to kill him.
"I shot him over his wife Amal twice and then once again, and I pulled her towards me because you can sort of tell when there is a threat.
"And she wasn't a threat, so I pulled her and as I'm moving her I can hear him taking his last breath, smoke out of his head where I just shot him.
"His two-year-old son is standing there, and I remember looking at this kid as a father and thinking, 'this poor kids got nothing to do with this'."
He continued: "So I picked him up, I put her (Amal) on the bed and her son on top of her, and I turn around and other Navy Seals are coming, I am the only guy in the room other than Bin Laden. And I see Navy Seals doing what I call, Navy Seal sh*t."
Also speaking on the show, Robert's dad Tom opened up about his trepidation as President Obama shared the news that the leader of the Islamist extremist group al-Qaeda had been killed.
Tom said: "My neighbours could hear me screaming at the television set, 'cause I haven't heard (if Robert had survived). It was horrible."
Matt Bissonnette, another member of the raid team, published a book entitled 'No Easy Day' in which he said that he, Robert and 'the point man' found Bin Laden down and bleeding from the head after the latter fired shots from the stairway.
Other Seals condemned both for sharing their stories, claiming they breached a code of quiet professionalism in pursuit of publicity.
https://www.ladbible.com/news/viral-navy-seal-who-shot-bin-laden-relives-moment-in-viral-tiktok-video-20210109
-------------
Colourful Doncaster businessman opens mosque and church at motorbike track
By Darren Burke
9th January 2021
Eddie Todd, who runs Uncle Eddie's motocross park at Carcroft, has turned a portable cabin into what is described by signs as a 'religious community' – complete with a Christian cross and the Muslim crescent moon and star symbol on its roof.
Another sign announces 'Memories Are Better Than Dreams – In God We Trust' while another proclaims: "Eddie Todd – A Not For Profit Religious Company."
While another describes the building on Bentley Moor Lane as a 'community amateur sports club, a charity club, a community laundry, community car wash and community nature reserve.'
The park is currently closed during coronavirus lockdown restrictions and the 'religious community' is understood to have been operating since last June when Mr Todd wrote on Facebook: "Today we opened Eddie Todd religious community to help our community and our members."
The colourful businessman, who dubs himself Uncle Eddie, last year announced how he had invented a homemade ventilator from an air pump and a hosepipe to help with the treatment of coronavirus patients, saying it could help 24 Covid-19 sufferers at a time.
Mr Todd, who has previously stood to be Mayor of Doncaster and MP for Doncaster North, regularly undertook trips to The Gambia before lockdown where he has helped to set up charity kitchens in the Muslim African country, buying vital supplies for poorer people in the nation.
In an interview with the Free Press last year he said: "I just want to help everyone. I've got loads of great ideas that can help save lives."
During previous election campaigns, his pledges have included building a Disneyland style theme park for Doncaster, building a snack bar and Post Office in the market for free, and building a power plant to heat all of Doncaster for free.
He says any medical companies or healthcare providers interested in taking him up on his ideas, can contact him on 07475047774.
https://www.doncasterfreepress.co.uk/news/people/colourful-doncaster-businessman-opens-mosque-and-church-motorbike-track-3090812
-------------
Police arrest man, 47, on suspicion of 'Islamist terrorism' offences in Surrey
By CLARE MCCARTHY
8 January 2021
A man has been arrested in Surrey on suspicion of Islamist terrorism offences.
Police said the 47-year-old was detained at an address in the Redhill area today as part of an ongoing investigation.
Detectives from Counter Terrorism Policing South East (CTPSE) arrested the man at an address on Friday under Section 41 of the Terrorism Act, which allows suspects to be held without a warrant.
Officers are searching the property where the arrest took place and police have said they are not releasing any further details regarding the location of the arrest
CTPSE said in a statement: 'The arrest, linked to Islamist terrorism, is part of an ongoing investigation and there is not believed to be any imminent threat to the public in relation to this. Inquiries continue.'
https://www.dailymail.co.uk/news/article-9127431/Police-arrest-man-47-suspicion-Islamist-terrorism-offences-Surrey.html
-------------
French jets fly over CAR as tens of thousands flee vote tensions
9 Jan 2021
Aljazeera
French fighter jets have flown over the Central African Republic (CAR) for the first time since last month's disputed presidential election amid rising concern as violence and insecurity has forced tens of thousands of people to flee into neighbouring countries.
The office of French President Emmanuel Macron said on Saturday the flight took place at the request of CAR President Faustin-Archange Touadera and with permission of the United Nations peacekeeping mission (MINUSCA) in the country.
Macron had condemned recent acts of violence during a phone call with Touadera, his office said, an apparent reference to a rebel advance which Touadera and the UN say has been mounted by former President Francois Bozize to thwart the election.
Touadera was declared the winner of the December 27 election with more than 50 percent of votes cast in a single round, avoiding a runoff against any of 16 challengers.
Many of the opposition candidates have demanded the election be annulled and for the vote to be repeated, citing irregularities and low turnout following violent clashes.
The electoral commission declared Touadera the winner with a voter turnout of more than 76 percent. However, only half the country's 1.8 million eligible voters were able to register to vote due to the rebel offensive.
On Saturday, MINUSCA spokesman Abdoulaziz Fall said government forces were attacked by "armed elements" in the western city of Bouar, which lies around 340km (210 miles) from the capital Bangui. UN peacekeepers who came to the aid of the government troops had themselves come under fire, he told AFP news agency.
In November, six of the most powerful armed rebel groups, who between them control two-thirds of the country, announced an alliance against Touadera's government. They launched a series of attacks in a bid to disrupt the presidential and legislative elections.
France has a history of repeated military interventions in the CAR, most recently from 2013-16. The UN now maintains nearly 13,000 peacekeepers there.
The disputed election could further destabilise a country whose population of 4.7 million has endured waves of armed group violence in recent years that has killed thousands of people and forced more than a million from their homes.
Bozize was removed in 2013 by mainly Muslim Seleka rebels, prompting reprisals from mostly Christian militias and plunging the CAR into a civil war.
Touadera, who was prime minister under Bozize, was first elected in 2016. He has worked to restore state institutions and signed an agreement with armed groups in 2019, but has failed to bring lasting peace. Vast swathes of the country remain under militia control.
The UN said on Friday that more than 30,000 people had already been forced to flee the CAR due to violence surrounding last month's vote, and tens of thousands of others were internally displaced.
The UN's refugee agency (UNHCR) said those who have left the CAR for neighbouring countries needed urgent assistance with water, shelter, healthcare and sanitation.
Goniwar Maxime, who fled with his family to Cameroon after armed groups took over control of Bouar, said armed group members had robbed him of his belongings.
"I was on my motorcycle when they chained my legs, look they stabbed me in the stomach and in the back, then they stole all that I had," Maxime said.
As a result of the violence, more than 24,000 crossed into the Democratic Republic of the Congo, while nearly 4,500 arrived in Cameroon, a further 2,200 in Chad and about 70 in the Republic of Congo, according to the UNHCR.
"Inside CAR, 185,000 people from at least 25 localities have fled, mostly as a preventative measure, into the bush and forests since December 15," spokesman Boris Cheshirkov told reporters in Geneva.
"A staggering amount of people [are] in need of assistance and help and any improvement in the security would mean people could return home but they can't do that at the moment," said Romain Desclous, UNHCR spokesman.
"The presidential election was supposed to bring peace to this war-torn country instead it has unleashed a wave of uncontrollable violence," he added.
https://www.aljazeera.com/news/2021/1/9/french-warplanes-fly-over-car-as-vote-tensions-grow
-------------
North America
Beyond Capitol riot, Trump voter fraud claims leave their mark
By Joseph Stepansky
9 Jan 2021
For Bonnie Scheele, the 2020 United States presidential contest was incomparable.
The need to tamp down conspiracies and misinformation, fuelled in large part by President Donald Trump's false contention that widespread voter fraud occurred in the state, was unlike anything the Republican election clerk in the US state of Michigan had seen before.
"I can't seem to convince people that there isn't some sort of conspiracy or fraud," said Scheele, a clerk in the right-leaning county of Grand Traverse who had to contend with a viral video in the wake of the November 3 election that alleged local postal workers backdated mail-in ballots.
Despite President-elect Joe Biden's commanding margin of victory in Michigan of more than 154,000 votes, Trump contended that thousands of dead people voted and that piles of fraudulent Biden ballots were added to the count after Election Day.
Even after rioters – egged on by Trump's assertions that the vote was "rigged" and "stolen" – overran the US Capitol on January 6 as Congress met to certify the final election results, the president has not dispelled his claims.
Instead, he maintained in a video released during the riot that "we had an election that was stolen from us". Facing mounting pressure, he tepidly acknowledged a day later that Biden would take office on January 20.
"I really don't know how [the future's] gonna play out," Scheele told Al Jazeera in an interview in early December, "because every time somebody's candidate doesn't win they might say that there's voter fraud – from either party."
In Wisconsin, another state that has been at the centre of Trump's campaign of baseless fraud allegations, Lori O'Bright, the clerk of Outagamie County, said while allegations of election misconduct have escalated in recent years, "this year has been unprecedented".
O'Bright, a Republican, said a lack of trust in local election administrators plays into the spread of misinformation – and urged people to speak to their local officials and get involved to understand "the checks and balances of the system".
"I'm not going to speak to one party or another party's allegations, I'm only going to speak to my duties and duties that we're charged with conducting," she told Al Jazeera before Congress met to certify the results of the vote.
"But if [voters] really want to dig into an issue and learn about it and know about it, don't look at the allegations by just anyone, whichever side. Learn what the actual processes are and understand what the actual process is."
Observers say such a plea is a tall order in the face of Trump's claims that Biden's victory was achieved only through election malfeasance.
The allegations by Trump and his allies often encompass theories that are so widespread and pervasive they would require the participation of local election workers, county clerks from both parties, and statewide election officials, to be real.
"This time, they're actually calling into question who is counting the ballots, where the machine came from. Who created the machines?" Young told Al Jazeera. "That's something that's really changed in this election cycle."
Those allegations include, among others, that there was massive "dump" of fraudulent Biden ballots in the early hours of November 4 in Wisconsin. That was actually the result of valid mail-in ballots not being counted until Election Day, per state law.
They also include debunked charges that more votes were cast than there are eligible voters in parts of Michigan and that hordes of dead people voted there, as well as in Arizona and Pennsylvania.
Another baseless allegation has been that Dominion Voting Systems, which provided voting machines across the US, is owned by Democratic actors. This week, Dominion filed a $1.3bn defamation lawsuit against Trump lawyer Sidney Powell over "wild accusations" that the company rigged the presidential election for Biden.
Nevertheless, a CBS poll released on December 13 indicated that Trump's messaging resonated within his party weeks after Election Day, with 75 percent of Republicans surveyed saying they believed the election was not over and should still be contested.
The incident on Capitol Hill, which left four rioters and one Capitol Police officer dead, served as proof for many of just how resonant Trump's claims were. A PBS NewsHour/Marist poll released two days after the riot found 18 percent of Republicans supported the pro-Trump rioters' actions.
Even in the sombre hours after the Capitol was secured, six Republican senators and 121 Republicans in the House of Representatives continued to pursue objections to the electoral results in some states based on Trump's claims.
Kelly Michaels, a municipal election clerk in the city of Brookfield in Wisconsin and chair of the legislative arm of the Wisconsin Municipal Clerks Association, said the 2020 election cycle, which began with Trump falsely claiming that increased use of mail-in ballots due to the COVID-19 pandemic would lead to more fraud, had been "discouraging".
While county clerks are elected officials in Wisconsin, municipal clerks are non-partisan career officials, which she said makes the president's allegations particularly bruising.
"It kind of feels like when someone is accused of a crime and they sort of get judged by that, even though they haven't had their day in court," Michaels told Al Jazeera in December. "It's like, even if you're exonerated, you're never exonerated because your reputation has been tarnished and muddied."
"If you have someone like the president of the United States who is encouraging [allegations of widespread fraud], how do you combat that?" she added.
"No matter how many times you say there is no proof and you have people like me who have administered elections and have have done it with high integrity, it doesn't matter, because you can say it as many times as you want, but [his supporters] will believe it."
https://www.aljazeera.com/news/2021/1/9/beyond-capitol-riot-trump-voter-fraud-claims-leave-mark
---------------
US diplomat visits Western Sahara after Morocco-Israel deal
Aljazeera
9 Jan 2021
A top United States envoy has visited contested Western Sahara after Washington recognised Morocco's sovereignty there in exchange for Rabat normalising ties with Israel.
The US embassy in Rabat called the trip on Saturday by David Schenker, assistant secretary of state for near eastern affairs, and the highest-ranking US diplomat for North Africa and the Middle East, "a historic visit".
Schenker's visit comes before the expected opening of a provisional US consulate in the desert region on Sunday, according to diplomatic sources in Rabat.
Western Sahara is a disputed and divided former Spanish colony, mostly under Morocco's control, where tensions with the pro-independence Polisario Front have simmered since the 1970s.
Last year Morocco joined the United Arab Emirates, Bahrain and Sudan in agreeing to normalise ties with Israel under US-brokered deals.
In return, US President Donald Trump fulfilled a decades-old Moroccan goal by backing its contested sovereignty over the barren but phosphate-rich region, which lies next to rich Atlantic fishing zones.
UN peacekeepers in Western Sahara are mandated to organise a referendum on self-determination for the region, and despite Washington's move, the UN insists its position is "unchanged".
US Secretary of State Mike Pompeo said in a Christmas Eve statement that Washington plans initially to establish a "virtual" presence in Western Sahara to be managed from the US Embassy in Morocco, focused on promoting economic and social development.
A "fully functioning consulate" is to follow, the statement said. It did not indicate whether the diplomatic post would be in Laayoune or Dakhla.
"Every administration has the prerogative to set foreign policy," said Schenker, speaking in a previous stop in Algeria, but ruling out US military presence in Western Sahara.
More than a dozen countries have already opened diplomatic offices in the territory, including the UAE and several African and Arab nations.
The Algerian-backed Polisario Front, which fought a war for independence from 1975 to 1991, considers such moves violations of international law.
While Western Sahara is home to fewer than a million people, it offers Morocco rich phosphate resources, fisheries and a key highway to Mauritania and the rest of West Africa.
In November, the Polisario announced it regarded a 1991 ceasefire as null and void after Morocco sent troops into a UN-patrolled buffer zone to reopen the road.
Washington's decision to recognise Morocco's claim over Western Sahara was a significant policy shift. The move unnerved both the Polisario Front and Morocco's neighbour Algeria, where the Polisario Front is based.
He was in Algeria a day earlier, reiterating there that Morocco's plan for Western Sahara's autonomy should be the framework for negotiations, the online TSA-Algeria news site reported.
https://www.aljazeera.com/news/2021/1/9/us-diplomat-visits-western-sahara-after-morocco-israel-deal
------------
Twitter permanently suspends Trump's account
Source : PressTV
January 9, 2021
Twitter Inc has that it has permanently suspended US President Donald Trump's account, citing the risk of further incitement of violence following the storming of the US Capitol by his supporters.
"After close review of recent Tweets from the @realDonaldTrump account and the context around them we have permanently suspended the account due to the risk of further incitement of violence," Twitter said in a post on Friday explaining its decision.
Social media companies have temporarily suspended Trump's accounts after he posted messages on the social media platforms to support violent protesters at the US Capitol.
Facebook CEO Mark Zuckerberg on Thursday said the ban on the outgoing US president's Facebook account will be extended indefinitely, at least until President-elect Joe Biden's inauguration on January 20.
On Thursday, Trump deleted the posts that led to the temporary suspension of his account, according to a Twitter spokesperson.
Twitter said the posts violated their policies and required the president to delete them before regaining access to his account which he got.
These were Trump's tweets which led his intimal suspension of account:
"I know how you feel, but go home and go home in peace. I know you're in pain. I know you're hurt."
"We had an election that was stolen from us."
"It was a landslide election, and everyone knows it, especially the other side."
"But you have to go home now. We have to have peace. We have to have law and order."
"We have to respect our great people in law and order. We don't want anybody hurt."
"These are the things and events that happen when a sacred landslide election victory is so unceremoniously & viciously stripped away from great patriots who have been badly & unfairly treated for so long."
"Go home with love & in peace. Remember this day forever!"
In his tweets after he regained access to his account, Trump finally acknowledged President-elect Joe Biden's victory and condemned his supporters who stormed Capitol Hill on Wednesday.
Armed protesters broke into the US Capitol, forcing the chamber to halt the ongoing vote to certify Biden's election win.
After two months of refusal to accept his defeat in the November 3 election, Trump sparked violence in the Capitol, calling on his supporters to "fight like hell."
However, in a video he released on Twitter by the White House, he said, he was "outraged" by Wednesday's "heinous" attack, noting, "This moment calls for healing and reconciliation."
He also said there will be "an orderly transition" to Biden's new administration on 20 January.
https://en.abna24.com/news//twitter-permanently-suspends-trumps-account_1104205.html
--------------
One in custody after man armed with knife interrupts prayer at Calgary mosque
By Adam Toy
anuary 8, 2021
Friday's noon prayers were interrupted at a northeast Calgary mosque by a man brandishing a knife. Attendee Zouhair Osman said prayers got underway just before noon.
"About 10 minutes into it, I heard a noise in the back," Osman told Global News. "It was a man swinging a knife at people in the prayers."
Police said they responded to the Akram Jomaa Islamic Centre on 37 Ave N.E. after receiving a call around 12:10 p.m. to try to apprehend the man.
While taking the man into custody, witnesses and CPS said officers used their less-lethal ARWEN launcher, which can fire 37-mm plastic, wood or foam rounds, along with tear gas and smoke.
CPS said there were no injuries as a result of the incident and they are not investigating it as a hate crime.
https://globalnews.ca/news/7564603/calgary-akram-jomaa-islamic-centre-prayers-arrest/
------------
Incident at Calgary mosque not believed to be hate-motivated
CBC News
Jan 08, 2021
Police have taken one man into custody after an incident Friday at the Akram Jomaa Mosque in northeast Calgary.
It is not considered a hate-motivated crime as the man is known to those at the mosque.
Police say they responded to reports of a disturbance shortly after noon on Friday, and though initial witness statements to news media said the suspect had a gun, that was not the case.
"Upon arrival, police encountered a man armed with a knife," reads a statement. "The man was taken into custody with minor injuries and no one else was injured."
Saima Jamal said she pulled into the parking lot in time to see police running to the mosque with guns drawn and worshippers rushing out of the building.
She said during the arrest she and others could see through a window into the mosque and that the officers inside were looking through a bag.
"After at least 10 minutes, they finally take out a guy out of the mosque. He's this pretty fair-skinned guy with a long beard," said Jamal.
She said people outside were scared and flustered.
"We thought initially that it was some guy, you know, the story is so familiar, coming to the mosque to kill people who are worshipping peacefully," said Jamal.
She said she was told it was an argument over a mask that started the incident, but police said that was not a factor.
https://www.cbc.ca/news/canada/calgary/calgary-mosque-gun-scare-police-1.5866681?cmp=rss
-------------
Mideast
Israeli police impose restrictions on worshipers heading to Al-Aqsa mosque
Source : Palestine Info
January 9, 2021
The Israeli police prevented worshipers other than residents of the Old City of Occupied al-Quds (Jerusalem) from reaching the holy Al-Aqsa Mosque to perform Friday prayer under the pretext of closure imposed by the Israeli government.
The Israeli police deployed barriers and tightened their procedures at the Damascus Gate and the rest of the gates and prevented worshipers from accessing Al-Aqsa.
During the Friday sermon, the preacher of Al-Aqsa Mosque, Sheikh Muhammad Hussein, warned against the Israeli occupation's exploitation of the health conditions represented by the coronavirus pandemic by closing Al-Aqsa and completing the Judaization of the city and its holy sites.
Sheikh Hussein stressed that the Al-Aqsa Mosque is witnessing a fierce attack by settlers and others in an attempt to impose a new fait accompli.
He described the demands by the so-called Temple Groups to remove the Dome of the Rock Mosque to establish the alleged Temple as "rude".
The preacher called on the Palestinian factions and parties to unify their position and called on Muslims to travel to the Al-Aqsa Mosque to protect it.
He praised the Jerusalemites for their efforts to protect their homes, lands, and properties in the city despite the injustice inflicted on them.
Sheikh Hussein emphasized that the Al-Aqsa Mosque, as every Muslim in the world knows, is composed of the whole 144-dunum area inside the wall, with all the yards, landmarks, terraces and chapels.
https://en.abna24.com/news//israeli-police-impose-restrictions-on-worshipers-heading-to-al-aqsa-mosque_1104200.html
------------
Israeli occupation forces closes Ibrahimi Mosque for ten days
Source : Palestine Info
January 9, 2021
The Israeli occupation forces (IOF) closed on Thursday the Ibrahimi Mosque in al-Khalil to worshipers and visitors for 10 days under the pretext of combating the spread of the coronavirus.
Sheikh Hefzi Abu Sneina, the director of the Ibrahimi Mosque, told the Palestinian News Agency (WAFA), "The occupation's decision to close the Ibrahimi Mosque will start from nine o'clock this evening for 10 days. Worshipers and visitors will be banned from accessing any part of the holy site."
He stressed that worshipers and visitors are committed to all health measures according to the preventive protocols in place, in addition to the fact that the IOF soldiers deployed at the military checkpoints surrounding the Haram have been allowing only 20 worshipers to enter the Haram at one time.
Meanwhile, the Palestinian Ministry of Endowments and Religious Affairs condemned the decision. Hussam Abu al-Rub, the Undersecretary of the Ministry told Anadolu Agency, "This decision is rejected and we will not accept it."
Abul-Rub added that this decision constitutes an encroachment and interference with the authority of the Palestinian government to supervise religious sites in Palestine.
He indicated that the ministry is following up on everything related to organizing the entry of worshipers and the preventive and precautionary measures related to coronavirus.
Since 1994, the Ibrahimi Mosque, which is believed to be built on the tomb of the Prophet Ibrahim, peace be upon him, has been divided into a special section for Muslims and another for Jews after a Jewish settler killed 29 Muslims while they were performing the dawn prayer on February 25, 1994.
The Ibrahimi Mosque and the Old City of the al-Khalil were listed by the United Nations Educational, Cultural and Scientific Organization (UNESCO) in 2017 on the World Heritage List.
The Mosque is located in an area under full Israeli control but it is managed by the Palestinian Ministry of Endowments.
https://en.abna24.com/news//israeli-occupation-forcescloses-ibrahimi-mosque-for-ten-days_1104195.html
-------------
Karbala people commemorate death of Al-Qasem son of Imam al-Kadhem at his shrine
Source : Al-Kafeel News
January 9, 2021
The procession of the people of Karbala, recalled the sad memory of the departure of Al-Qasem son of Imam Musa Al-Kadhem (peace be upon both of them), at his holy shrine in the city of Al-Qasem in cooperation with the Husseini rituals and processions department of the two holy shrines of Imam al-Hussayn and al-Abbas (peace be upon both of them).
The head of the aforementioned department, Haj Riyad Ni'mah Al-Salman, explained to Al-Kafeel network, saying: "The commemoration of this memory is one of the occasions that this procession has consistently held. And the two holy shrines provided the vehicles to transport the procession's participants. The shrine of al-Qasem (peace be upon him) witnessed the influx of a number of condolence processions, including the procession of the people of Karbala that had a remarkable presence, The department worked on preparing all the organizational and coordination matters related to the performance of these rituals. This is not the first time that this procession commemorates this occasion near his shrine, but It is a custom that the people of the province inherited and accustomed to perform every year. "
And he explained: "A reception ceremony was organized for the procession, by the private secretary and servant of the al-Qasem (p) shrine. The procession marched in the form of groups chanting the Hussaini chants and lamentations that recalls this memory. And upon entering his shrine, a mourning council was held, which included a number of poems and elegies that embodied with their rhymes what happened to the followers of the imams of the Ahl al-Bayt (peace be upon them), including al-Qasem (peace be upon him).
He concluded: "The participation of the processions of the people of Karbala was not limited to the mourning side, but there was also a service side, where hundreds of meals were distributed to the mourners who came to this shrine to commemorate this sad anniversary."
https://en.abna24.com/news//karbala-people-commemorate-death-of-al-qasem-son-of-imam-al-kadhem-at-his-shrine-photos_1104184.html
------------
Jerusalem dept mayor is on a mission: Muslim Tourism and women's rights
By FELICE FRIEDSON
JANUARY 9, 2021
Fleur Hassan-Nahoum grew up in Gibraltar and studied law at King's College London, where she practiced until immigrating to Israel in 2001. There, she became the executive director of Tikva, a nonprofit organization dedicated to saving abandoned and abused Jewish children from the former Soviet Union, and later established a communications consulting business.
In 2016, Hassan-Nahoum was elected to the Jerusalem Municipal Council, rising to opposition leader one year later. Upon her re-election in 2018, she was appointed deputy mayor for foreign relations, economic development and tourism.
Hassan-Nahoum is deeply involved in the advancement of women's rights and marginalized population groups in the city: its economic development, and for a pluralistic Jerusalem. Hassan-Nahoum is also the co-founder of the UAE-Israel Business Council and Gulf-Israel Women's Forum.
Fleur, one of the first Israeli women to gloss the pages of a Bahraini newspaper, is a wife and mother of four children. She is the first profiled woman guest on the premier episode of the new television program Facing the Middle East with Felice Friedson.
TML: Fleur Hassan-Nahoum is an Israeli politician and policymaker. She currently serves as deputy mayor of Jerusalem in charge of foreign relations, international economic development, and tourism. She's also a founding member of the UAE-Israel Business Council.
Hassan-Nahoum: Well, I think you are 100% right. I think it was a very under-the-radar normalization already for a number of years. In fact, we estimate that there was probably 250 Israeli businesses working in the UAE. I mean, you have to understand when we talk about working in the UAE finding ways around the kind of barriers that used to exist.
I got a friend who is a very successful entrepreneur who sells some type of a medical device. She told me that she used to have to send it to a warehouse, take everything out of a box, change the labels from 'Made in Israel' and then they could sell. So, we knew that was going on the whole time.
Back in June, my co-founder Dorian Barak who has already been working for about 10 years in the region, said to me, "Fleur, I'm telling you, this is the new frontier; we have to do something about this." I said, "Why don't we create a business council?" And we did back then in June because we've been talking about it for about a year and a half.
Neither of us imagined, three months later, two months later we were going to have these accords, so there was normalization; the normalization was definitely picking up speed, but I don't think anybody imagined that the peace accords, or the normalization accords would happen so quickly one fine day without leaking anything before. As a journalist, were you aware that anything was coming? Or, you were?
Hassan-Nahoum: Exactly! Nobody was saying by next week there's going to be accords. Yes, it was accelerated. I agree with you. So, that kind of caught us by surprise and when that happened, we worked really hard and within two days we already had an online platform and we went out into the world and said this is a place where were going to be building the bridges for businesses. And within a few weeks we had 3,000 signed up members who are telling us what areas of business they are interested in.
So, what we have is also very exciting data that can now build those bridges with some serious data about where people want to do business; what arenas.
Hassan-Nahoum: So, there's a lot of things being closed as we speak, but absolutely we've had companies closing on auto technology. We've had companies there in the UAE. Lots of different [and] even nonbusiness bridges that we're building, for example, the different nature parks, etc.
Hassan-Nahoum: As we speak, we are looking at different collaborations and sports in nature parks. You know, that's the non-business. The business, we are creating a lot of value with our events that are creating a lot of bridges. Ultimately, we believe that our job is to open the door to create the bridges and then the free market will do its own work. We're not here to handhold anybody. We're here to open doors. And that's what we're doing.
And so, every week there's a new opportunity that we're exploring and that we are hand-holding and that we are matchmaking, and then we step out of the picture when that's done.
Hassan-Nahoum: You always have the people who want to belittle anything good in the world, and those people, for whatever reasons, because they hate Trump, because they hate Bibi, whatever it is that drives this negativity, how can anybody say that peace is not good? In any situation, in anything, how can anybody say peace is not good? Peace is great!
I speak with the Arab community of Jerusalem all the time. The people I speak to are certainly very excited about it, but of course, what you're going to be hearing is the Palestinian media machine against them, because it goes against their own political interests; the political interests of the leadership that is doing absolutely nothing to their people, but is losing the faith of their people. But of course, they have to be naysayers.
We all know also, a lot of journalists are going to say, well, if you could just look at a certain publication without mentioning names, every day there is a negative story about the UAE and the UAE and Israel. These are the people who are barking and staying behind. The people who are moving forward are the people who will see the positivity in this, see the mutual prosperity in this, and see that even for the Palestinians this is a fantastic move.
Hassan-Nahoum: I really hope not. I've been speaking to a lot of people who are close to Biden, who have worked with Biden in the past and people tell me a few things. First of all, not me, but the Gulf [countries] is completely panicked about it because they have post-trauma from the Obama years.
They tell me, these are my friends in the Gulf, that during the Obama years it was very clear to them that Obama chose Iran over the Gulf. He was a bad president for the Gulf countries. This is not me. This is not Israel saying this. This is what my friends in different positions in the Gulf are telling me.
And so, they are a little bit post-traumatic and they are concerned. Having said that, [inaudible] I'm telling them, from the people that I've spoken to, Biden is not Obama and he has a different way of looking at things. We have to wait and see.
What I do believe is that the momentum is running by itself now, so nobody can stop the momentum. The doors were opened. This was really Trump and Kushner's real pièce de résistance of his presidency in terms of international relations. That's running. Nobody's going to stop that.
I'd even say more than that. If Biden gets too close to the Iranians or to a JCPOA Agreement, which is bad for Israel and bad for the Gulf, what you're going to find is that they are going to pushing Israel and Saudi Arabia into each other's arms, which is a good thing.
Hassan-Nahoum: It is completely new. What I have in mind is this. Everybody knows that Temple Mount or Haram Al-Sharif for the Muslims is the third Muslim holiest site after Mecca and Medina. Every Emirati that I spoke to when I was there have on their bucket list to go and pray [there]. This is their pilgrimage. This is what they want to do.
Therefore, Jerusalem already has a very strong brand in the Gulf countries as a place that is a must-see visit so that's exciting to me because what that means from a tourism perspective is that the anchor of their trip would be Jerusalem and not Tel-Aviv. Because, let's be honest, I love Tel Aviv. You have Dubai. Tel Aviv is a beach city with great bars and entertainment like Dubai. It's nothing different from what they [the Gulf countries] have and know. Jerusalem is different.
And then of course, from here we have the Dead Sea and they are also very much into green nature, [which are] things they don't have in a desert country, and so I believe Jerusalem can be the anchor. And this is what we have with the Christians. When Christian groups come to Israel, four or five days they are anchored in Jerusalem. That's what gives our economy a boost. The fact that the anchorage is here.
So what we are doing now is trying to prepare the best product possible for the Gulf [countries] tourism which means things that they are interested [in], which means luxury hotels, luxury service, because this is the service you get over there. I tell the hoteliers every day, and I tell the tourism industry people every day, we got to up our game.
TML: The Arab sector is generally in need of assistance. It is a sector that has been overlooked for many years, not just in tourism. Are there programs that you can speak of that are happening right now that are helping to shape the economy for East Jerusalem?
Hassan-Nahoum: So, let me just tell you, Felice, three years ago a momentous government decision was passed that many people don't know about and this was done under the tutelage of Minister [Ze'ev] Elkin who at the time was the Jerusalem affairs minister. And he saw the reality of what is going on in Jerusalem. He saw that if we want to call it one city, the city can't look like two cities. The opportunities have to be across the board.
And so, he passed this government decision called 'The Decision for Jerusalem to Close Gaps'. That decision involves serious governmental budgets and serious policy changes in three areas: one is physical infrastructure, the second is quality employment, and the third is education.
So, I focus more on the quality employment side and a little bit on the education side. Physical infrastructure is not my portfolio, but the mayor, this particular mayor, Moshe Leon, is very much a mayor leading very interesting infrastructural development changes in Jerusalem.
I don't know whether you've noticed, but the city is much cleaner. We're building everywhere. There are bigger sidewalks. All the streets are being redone anew. This is Mayor Leon. He is very much a man that wants Jerusalem to look good, to feel good, and to build it.
And so my focus is on the quality employment, because I truly believe that we will have peace the day that there's economic opportunity for all in the same way. People will not be angry if they are making great salaries, [and] if their business are flourishing. This is a way that we can embrace the Arab population in the city as part of the rest of the city.
So, I'll give you a few examples. One, for example, and this comes from a very sad statistic, that the employment participation of Arab women in East Jerusalem is amongst the lowest in the Middle East. In Saudi Arabia, more women are working in terms of percentages than in East Jerusalem. It's ridiculous, 19, 20, 22%.
Hassan-Nahoum: Absolutely! This is the Palestinian Authority purposely keeping the East Jerusalem residents poor and angry. Why? Because it serves them politically. Meanwhile, they're not giving them anything. They're not giving them an alternative. They remain poor and they want to keep the wound open, and that's their political reason for doing this, but what happens in effect, and this is when it becomes a gender issue, what happens is that at 18 years old the Arab men go to work and they find jobs in delivery or construction. They have to work, so they work. They learn Hebrew on the job.
For women, they start having children at that age and by the time they want to go out to work, they are already in their late 20s with no hope of learning Hebrew and that's why this situation with the educational system becomes a gender issue. So what we've done is that we've partnered up with a nonprofit organization called MATI that is an organization that helps develop small businesses, and have opened up an office in East Jerusalem run by Arab staff training women in what a business is, providing counseling to women who want to open a business, a business plan, and even connecting them with small loans.
Hassan-Nahoum: So, we're talking about hundreds and hundreds of women who participated. Even the ones that end up not opening their own business, end up getting a good job and so we're very excited about this. And just to say, not just with this program; we have other programs in place and of course, we are encouraging now and dealing with the matter of Hebrew and trying to combat the ignorance of Hebrew with extracurricular classes which are not unaffordable, which is what's happening right now.
So, we're very excited about MATI, but just to tell you that in the last few years the needle has moved in terms of female workforce participation, from 19% to 22/23%. So, something is moving, of course it needs to be fast, but it is moving in the right direction.
TML: We're talking about women's empowerment here and that's an exciting thing. Where do you see Jerusalem heading in terms of the women's sector? The Haredi woman, the Arab woman, they're all very different.
Hassan-Nahoum: Well, I believe, as you know, [and] I also am the co-founder of the Gulf-Israel Women's Forum which you covered so well recently, and we truly believe that women are peacebuilders and that women are change-makers because women are mothers and women are the center of their family. And so, if you can affect the life of a woman, you affect the life of the entire family and I truly believe that.
And so, we're empowering female leaders in the Arab sector, in East Jerusalem. We are absolutely empowering Haredi women; ultra-Orthodox women. The problem with the ultra-Orthodox women [is that] they work. The men are the ones who don't work. They work, but the work normally is very low-paid work so what we're doing with Haredi women is upping their skills so that they get better-paid jobs, whether in technology, whether upgrading whatever it is that they do, but giving them that kind of ambition and that kind of career advancement that they need for the better jobs. And in fact, the Haredim, the Haredi society are also very supportive of that. As long as the men don't work, they are very supportive.
The Haredi women are actually becoming today managers and team leaders at a pace that you can't imagine. That's empowering them and it's very important to empower Haredi women because we have another problem in this country [and that is] that ultra-Orthodox women are not allowed by ultra-Orthodox political parties to run for office. And what that means is that ultra-Orthodox women and families are underrepresented in their sector.
This is something that I work with partners every single day, and the more power women have in money, in great jobs, the more power that will come politically. And all they have to do is strike for two months with no work and we'll see if they're going to be allowed, but slowly, slowly the needle is also moving for ultra-Orthodox women and the power shift is happening.
Again, I'm an optimist. It may take years. It needs to change, because society, Haredi society cannot continue to have 50% of their men not working. It's just unsustainable for the country.
Women are definitely the trailblazers in the ultra-Orthodox community and the change-makers and we will continue to support them in everything that they need.
Hassan-Nahoum: …crazy… No, I believe that my strengths are in representing Israel in the world, not just because I speak a few languages, but also because I understand different cultures [and] have been raised in different cultures, because I am a Sefardi or Mizrahi woman. My mother is from Morocco. I also believe I have a certain affinity and understanding of the Arab world, so I will be anywhere my country needs me to advance Israel's image abroad, business interests abroad, and diplomatic interests abroad. And the rest is up to the electorate.
TML: Fleur, thank you very much for joining me here on Facing the Middle East. And what's important is that when looking at women one woman at a time, and seeing that change can happen, and that's all you need to hear.
https://www.jpost.com/israel-news/jerusalem-dept-mayor-is-on-a-mission-muslim-tourism-and-womens-rights-654805
------------
Ayatollah Makarem Shirazi condemns crimes of Takfiri groups in Pakistan
Source : PressTV
January 9, 2021
Senior Iranian Cleric Ayatollah Nasser Makarem Shirazi in a statement on Friday denounced recent attack in Pakistan which killed 11 miners from the country's minority Shiite Hazaras in Baluchistan province.
"The recent crime in Bolan, Baluchistan, filled the hearts of all followers of the Qur'an, the Holy Prophet (PBUH) and His Household around the world with sorrow and filled their hearts with anger," he said.
"Continuation of the crimes by the Takfiri groups in Pakistan and the targeted killing of the followers of the Ahl ul-Bayt (AS) in this Islamic land has grieved and affected me and all those who are interested in the religion greatly," he said.
Although several decades have passed since the beginning of these insecurities, but unfortunately, the government and the judicial, military and security organizations of this country have not been able to curb this great crisis, and every day the bad news of new murders and terrorist operations is heard, Ayatollah Makarem Shirazi said.
Condemning the recent crime, he urged the Pakistani statesmen and authorities to put an end to such crimes.
Daesh claimed responsibility for an attack Sunday that killed 11 miners from Pakistan's minority Shiite Hazaras in Baluchistan province.
The attack took place early on Sunday morning in the Mach area of Bolan district around 100 kilometers (62 miles) southeast of Baluchistan's capital Quetta, killing the miners who were in a shared residential room near the coal mine where they worked, officials said.
https://en.abna24.com/news//ayatollah-makarem-shirazi-condemns-crimes-of-takfiri-groups-in-pakistan_1104182.html
--------------
South Asia
Afghanistan must have long-term relations with Iran: Ghani
Source : Mehr
January 9, 2021
Referring to the impact of US sanctions on Kabul-Tehran relations, Afghan President Ashraf Ghani said that the Afghanistan government must have short-term, medium-term and long-term relations with Iran.
Afghanistan is eager for greater diplomatic cooperation with the United States, according to which US diplomatic influence, both for its own benefit and for the stability of the region, should be used for a peace that is useful after great exorbitant financial and human costs paid by the United States, said Ghani in an interview with CNN.
The government of Afghanistan must have short-term, medium-term and long-term relations with Iran, he added, saying that but the imposition of sanctions on Iran has overshadowed bilateral relations.
He noted that two million Afghans live in Iran, and the relation between the two countries should be based on mutual interests.
He expressed hope that probable resumption of talks between the United States and Iran would have positive consequences for Afghanistan.
https://en.abna24.com/news//afghanistan-must-have-long-term-relations-with-iran-ghani_1104258.html
--------------
Afghanistan's First Vice President: Killing Civilians for Political Gains is A 'Failed and Errant Strategy'
By Mohammad Haroon Alim
10 Jan 2021
Amrullah Saleh, Afghanistan's first vice president, in his early morning meetings "6:30 am meetings" stated that the Taliban would not succeed in weakening the civil society with their targeted assassinations and IED blasts.
He said that "Killing civilians for political gains, and for fulfilling foreign demands is a failed and an infamous strategy."
Saleh added, that every single targeted assassination is conducted by the Taliban, they consider the civil society a pillar of protection and defense of the Republic.
In the last two months, targeted assassination has taken the lives of journalists, civil society activities, doctors, and government employees.
On the other hand, Amrullah Saleh, the first vice president, indicated Afghan security personnel were able to arrest some perpetrators of these targeted assassinations in accordance with the Security Pact program.
Saleh previously said during the 6:30 am meeting on Saturday, that three people have been arrested in connection with the assassination of FEFA CEO "Youssef Rashid".
https://www.khaama.com/killing-civilians-for-political-gains-is-a-failed-and-errant-strategy-445533/
---------------
Three Including 'Government Spokesman' Killed in Kabul Blast
By Mohammad Haroon Alim
10 Jan 2021
The spokesman for the General Directorate of Public Protection, with 2 other individuals were killed in an explosion in Kabul City, capital police confirmed.
Zia Wadan, along with his bodyguard and driver, the incident happened at around 8 am this morning in PD8, Karte Naw area of Kabul.
This comes as parliament members on Saturday condemned the government for weak safety measures and accused the government of shoddy security plans.
As explosions and targeted killings spiked in recent months across the country, the Ministry of interior states, measures are taken to prevent such violent incidents.
Most of the assassinations of public figures, journalists, and government officials are blamed on the Taliban by the government.
Reports indicated rage of the violence in the country has displaced about 18000 people only in the past six months and about 45000 individuals in the previous year.
https://www.khaama.com/three-including-government-spokesman-killed-in-kabul-blast-667766/
-------------
Afghan President Discusses Bilateral Relations With Turkmen Delegation
By Mohammad Haroon Alim
10 Jan 2021
Afghan President Ashraf Ghani met with Turkmen High Ranking officials on Saturday.
Both countries have discussed issues like bilateral relations and regional connectivity projects and railway links.
The Turkmen delegation was led by the Deputy Chairman of Cabinet Ministers and Foreign Minister of Foreign Affairs.
Presidential Palace stated that Ghani and Meredov talked about the expansion of bilateral relations, regional connectivity projects like TAPI, TAP, fiber optics, the Afghan peace process, scholarships, and railway developments.
Afghan-Turkmenistan relations are brotherly and friendly and relationships continue to deepen in economical and trade sectors.
The two countries also stressed on developing a strong relation in transit and political areas and regional projects are the key priorities, the Afghan government is keen and ready to import electricity from Turkmenistan.
Ghani said during the meeting, "We are willing to further expand our bilateral ties and be able to accomplish large projects including TAPI, TAP, fiber optics and railways during the current year,".
Earlier, Turkmen Ulema and Ulemas from around the world jointly condemned the ongoing battle in Afghanistan.
https://www.khaama.com/afghan-president-discusses-bilateral-relations-with-turkmen-delegation-665544/
-------------
Security Official Detained Over Illegal Sale of Weapons to Taliban: Dykundi
By Mohammad Haroon Alim
09 Jan 2021
According to local officials in Daikundi, a provincial security member has been arrested on suspicion of selling government ammunition and weapons to the Taliban.
Reports indicate, that security officials confirmed the arrest of the man for selling security forces' ammunition and weapons to the Taliban.
The detainee is said to have had two Kalashnikov assault rifles, a pistol with three magazines and 40 rounds of ammunition, 16 rounds of rocket shells, 240 rounds of rockets, two laptop computers, 266 rounds of Kalashnikov assault rifle, and 13 rounds of mortar shells, a hand grenade and a grenade launcher, a mortar, 4 tactical vests, 8 magazines, 5 belts, a two-way radio device (COM) and a vehicle were obtained from the militants.
A local official, who did not want to be named, blamed the perpetrator used to sell these defense tools to Taliban militants in the Paato area of Dykundi province.
Dykundi is situated in the heart of Afghanistan, the province is one of the insecure regions in the country wherein the Taliban are active.
https://www.khaama.com/security-official-detained-over-illegal-sale-of-weapons-to-taliban-dykundi-776655/
-------------
Taliban Attack Claims 'ANA Company Commander' in Takhar
By Mohammad Haroon Alim
09 Jan 2021
Local sources in Takhar province say that the company commander for the 6th Battalion of the National Army has been killed in a skirmish against Taliban militants.
Taliban militants stormed a military base in the Darqad district of Takhar province on Friday night, killing four soldiers, local sources confirmed.
Some news outlets reported at least four Afghan security force members were killed and further six others were injured during the battle.
Taliban claimed, that at least five soldiers including an army commander, Sultan Mohammad were killed in the incident, media reports.
Local officials told media that, the Taliban also inflicted heavy casualties during the three-hour battle.
Ministry of Defense have not yet commented on the incident.
Takhar is one of the insecure provinces in the country, where Taliban militants have a large presence.
https://www.khaama.com/taliban-attack-claims-ana-company-commander-in-takhar-65557/
--------------
Africa
Ghana's Archbishop Duncan-Williams says: Let's learn from Muslims
9th January 2021
Archbishop Nicholas Duncan-Williams of Ghana, founder of Action Chapel International is one of the most influential Pentecostal leaders in Africa. He acquired global fame when invited to lead the Inauguration Day Prayer Service for President Donald Trump, becoming the first African preacher to pray for an American President. On New Year eve, I virtually "crossed over" to his church in Accra, and watched him on Dominion TV as he preached a powerful end-of-the-year sermon on fear to usher in 2021. He is one preacher I will definitely love to interview:
I say to everybody here listening to the sound of my voice: Success has nothing to do with how much money you saved and you made. True success has nothing to do with your cars, your possessions, your houses, your commitments and your deals. But true success that gives you a place in eternity and place in history has everything to do with the difference you made in the lives of others. And if you claim you are blessed and your blessing does not reflect in the lives of anybody but you and your immediate family, the Greek civilization calls you a very interesting name: idiot!
This is what they said. There are three people in every nation. The first kind of people are the idiots. And the idiots are those who are educated, achievers, successful. But are self-centred, greedy, selfish, inward-looking, desensitize, don't care about anybody, but themselves, their immediate family. They call them idiots. They had the opportunity to make a difference in life, to have a place in eternity, and to have a place in history, but they missed it because they became selfish.
The second group of people, they call them those who only live for their tribes. They are tribal leaders. Their whole living in life is about their tribe, their political party and their religion. That is all they live for and care about. Their tribe. And of this tribe, "we are superior." Like Hitler. Like Germany in the days of Adolf Hitler. They thought they were superior to any other tribes. Massacred millions of the Jews. Took over all of Europe. To prove that they are strong. Was more superior to any other tribes. This second group of people, all they believe and live for is their political party, their tribe and their religion.
And the third group, the Greeks call them the citizens. And the citizens are those who put their country first. Love for country. Fight for country. Live for country. They don't live for themselves, their tribe, their party or their religion. It's about country.
And I add one to the third to make the fourth group. I call them the global citizens. Citizens of the world, who care more than their country. They care about other countries, other nations of the world. This pandemic began in China. And in a matter of hours and few days, it invaded the entire world and brought princes and princesses to their knees. And it incapacitated economies and proved to the leaders of our nations and the world that without God, everything they claim to be is sinking sand. It means that no one is safe until everyone is safe. So, it is dangerous to just be a citizen only. You must be a citizen of the world. We live in a global village today. And we need to be bigger than just being citizens of our country and have a heart for other countries and for other nations. And until we do so, we are not generational thinkers, and we may end up not having a place in history. For those who have a place in history, are those who care. Not just about themselves, but care about others. I never get tired of Nelson Mandela. Nelson Mandela when after twenty-seven years had the opportunity to go home, stood at the gates of time and said: "I realize that as I stand in the door to my freedom, if I don't leave behind me my bitterness and my unforgiveness, I would walk through this door of freedom and still be in prison." I pray for everyone listening to the sound of my voice, that you will not leave in unforgiveness and in bitterness. Because unforgiveness and bitterness would make you a prisoner of your past. You will never be a citizen of a country, of your world, of generations yet unborn. I refuse to be bitter. I refuse to be unforgiving. I refuse to be cold. I refuse to be mean. I refuse to be insensitized. And I refuse to dishonor others because someone who should honour me dishonoured me. If you honour me, it's good. And if you dishonour me, it's good. Because you reap what you sow.
Years ago, I was travelling with Archbishop Benson Idahosa and we were flying. And I said to him: "Papa, why is it that a lot of people don't like you? Why is it that you have too many enemies? A lot of my friends fight me and they don't want me to have a relationship with you." And he looked at me and he shook his head. And he said: "My son Nicholas. Hippopotamus. The child said to the mother: "Mama, wetin make your mouth big like that?" And the mother said: "My child, bamba you go grow." I am still growing. As began to I grow, I realized that my spiritual sons and daughters also have friends who don't like me and tell them: "Don't have anything to do with this your archbishop." Then I remembered what I said to Bishop Idahosa: "Why do you have so many enemies?" You want to know why? By and by, you will grow to know.
I was talking to one of my bishops and he said: "Papa, I am tired of praying. All this pray, pray, pray." Then I said: "Son, stop acting like a kid. Wake up and grow up. If you think I am going to sympathize with you, I am not. Look at the Muslims. They pray five times a day. Whether they are sad or happy, whether they have money or not, it's a duty, and they do it. And the Jews. I have many Jewish friends. They pray three times a day. All their lives. Whether they are sad or happy. We are the only religion that we do things on our own terms. We complain about everything. And we are the only religion. When you go to Dubai, by five in the morning, you go to a mosque and you will see all kinds of cars. From the Rolls Royces, name them. From the rich to the poor, everybody is there praying. At the same time. It is only in Christianity and in the church where people become powerful and they have money and deep pockets. They begin to isolate themselves and think they are better than somebody else. You are not better than anybody, just because you have power, influence and money. We relate to people based on what they have. We stop relating to people based on values and the content of character. Martin Luther King Jr. said the other day: "I have a dream. That one day, my little children would not be judged by the colour of their skin but the content of the character." I look to the day that we would relate to men and women in this country and across the nations of the world and in the church, not based on an anointing or a gift, or a talent, or money, or position, or contact, or influence. But based on their values and the content of the character. Put your hands together and thank God.
https://www.sunnewsonline.com/ghanas-archbishop-duncan-williams-says-lets-learn-from-muslims/
------------
Libya minister: 'Hopes greatly lifted' by Biden's victory
Aljazeera
9 Jan 2021
The powerful interior minister of Libya's United Nations-recognised government, seen as a contender for the post of prime minister, has expressed hope that bringing stability to his war-torn country would become a top priority for the incoming Biden administration.
He also announced an upcoming major offensive by his Turkey-backed Libyan government forces in the country's west to go after armed groups and human smugglers, and invited the United States to assist.
"Our hopes were greatly lifted" by Joe Biden's US election victory, Fathi Bashagha told The Associated Press earlier this week. "We hope that the new administration has a major role in Libya's stability and reconciliation."
Bashagha, a former air force pilot and businessman, said he would be ready to take on the role of prime minister in a yet-to-be-formed unity government that could follow peace negotiations between Libya's warring sides.
Oil-rich Libya was plunged into chaos after a 2011 NATO-backed uprising toppled and killed longtime dictator Muammar Gaddafi and split the country between the UN-supported government in the capital, Tripoli, and rival authorities based in the east.
Since last year, the two sides have been holding UN-led talks to name an interim government before elections later in 2021, but have so far failed to agree on a voting mechanism to do so. Bashagha's name was floated as a candidate for prime minister, observers of the talks say.
In October, the warring sides agreed to a ceasefire, which raised expectations of a peaceful resolution, and said foreign fighters would leave Libya.
Bashagha, speaking from Tripoli, said the withdrawal of foreign forces would be gradual. The rival eastern-based authorities have been bolstered by Russian mercenaries.
Meanwhile, Turkey sent its own troops, Syrian mercenaries, and drones to shore up the Tripoli-based government. Both Russia and Turkey are eyeing contracts worth billions of dollars.
Bashagha also credited US efforts in helping defeat ISIL (ISIS) fighters in the coastal city of Sirte in 2016. In 2019, the US said its air strikes in southern Libya killed dozens of members of the local ISIL affiliate. Bashagha said cooperation with the United States is continuing.
But he warned armed groups regained a foothold during an attempt by eastern-based renegade Libyan military commander Khalifa Hifter to capture Tripoli. Haftar's forces have also targeted ISIL fighters in their strongholds and last year said they killed the top ISIL figure in Libya.
Bashagha said he hoped the US would back the upcoming operation in the west. Turkey has already pledged support, he said. "We hope the US will assist us … to finish off terrorist elements that have infiltrated Libya."
The Trump administration's position on Libya has at times been confusing. The US State Department condemned Haftar's push on Tripoli, but then President Trump also made a phone call to the renegade commander, praising him on "fighting terrorism". The administration later repeatedly spoke out against the Russian mercenaries employed by Haftar, who is also backed by Egypt and the United Arab Emirates.
Since becoming interior minister in 2018, Bashagha has positioned himself as one of the most powerful figures in western Libya. He cultivated ties with Turkey, France and the US, but also with Egypt and Russia – his nominal rivals in the conflict. Last month in Tripoli, he hosted a foreign ministry and senior intelligence delegation from Egypt.
But his ministry has also struggled to control the patchwork of militias that hold sway in Tripoli and western Libya. Bashagha said he plans to tackle the problem by identifying militias that should be disarmed and those that could be assimilated into the security apparatus. But he said he has faced problems in implementing the plan, alleging some armed groups are allied with other Tripoli officials and control some institutions, such as the intelligence apparatus.
Libya was plagued by corruption under Gaddafi and in the tumultuous years that have followed his removal. "The problem is that some of the parts, institutions of the state provide support to these militias," Bashagha said.
The UN-backed government remains heavily dependent on the militias to battle its eastern rivals. But the militias are not easily controlled and though they, with Turkish support, beat back Haftar's year-long offensive on Tripoli, some have also been responsible for kidnappings, infighting and civilian casualties.
For its part, the Tripoli government has faced criticism for its handling of the thousands of migrants who transit through Libya, attempting to cross the Mediterranean Sea into Europe.
A 2019 AP investigation found that militias in western Libya torture, extort and otherwise abuse migrants for ransom in detention centres, often under the UN's nose and in compounds that receive millions in European money. Conditions for migrants remain dangerous in Tripoli, according to rights groups and the UN.
Bashagha said he closed down illegal shelters and was working with the UN to monitor conditions in the remaining ones, but more funds were needed to maintain them. He also pointed to the arrest in October of Abd al-Rahman al-Milad, one of the country's most wanted human traffickers, two years after the UN levelled sanctions against him.
He said his new operation in the country's west would also target migrant smugglers and could help address the root of the problem.
"The security and stability of Libya is important for Europe and the US," Bashagha said.
https://www.aljazeera.com/news/2021/1/9/libyas-bashagha-hopes-greatly-lifted-by-bidens-victory
-------------
Cameroon Says Boko Haram, Separatists on Offensive
By Moki Edwin Kindzeka
January 09, 2021
YAOUNDE, CAMEROON - Cameroon said Saturday that at least 22 people, including four soldiers, were killed in two Friday morning attacks – one by Boko Haram fighters on its northern border with Nigeria and the other by separatists fighting to create an independent English-speaking state in the country's western regions. Officials warn of a new wave of violence and killing they say is being prepared by the separatists and Boko Haram terrorists.
Midjiyawa Bakari, governor of Cameroon's Far North region, says there was general confusion in the town of Mozogo when militiamen warned civilians about Boko Haram suicide bombers from neighboring Nigeria in their midst.
He said some scared people fled into the bush, where they always go for safety, but many Nigerian suicide bombers were already hiding there. He said 11 civilians were killed on the spot when bombers detonated explosives. He said three were shot by the terrorist group in Mozogo, a town in Cameroon's Mayo Sava administrative unit.
"Yesterday (Friday) we got an attack of Boko Haram in Mayo Tsanaga Division. Fourteen people died," said Bakari. "We have been instructed by the hierarchy to extend a message of condolence and we condemn this act of Boko Haram and all measures will be taken with our vigilant committees [militias], who are working day and night alongside our forces to secure our populations."
Bakari said the wounded were rushed to hospitals in Mozogo and the neighboring town of Mokolo. He said the military had been deployed in Mozogo to secure Cameroon's northern border with Nigeria's Borno state, an epicenter of Boko Haram activity.
Cameroon government spokesperson Rene Emmanuel Sadi in a release said heavily armed Boko Haram fighters have infiltrated villages around Mozogo and called for vigilance.
The release also says separatist fighters attacked a military post at Matazen at the western entrance to the English-speaking North-West, region killing four soldiers and two civilians. Two civilians died while being rushed to hospitals.
Among the survivors of the attack is 43-year-old trader Clarence Tatah, who was driving from the English-speaking northwestern town of Bamenda to the coastal city of Douala. He says God saved his life from more than half an hour of crossfire.
"I opened that door behind there and jumped out of the car," said Tatah. "Then I rolled and came under the car. After the shooting lasted for about 30 to 40 minutes, I discovered that a bullet went through my chair [seat] and came out behind. God protected me. The Lord preserved me."
General Valere Nka, commander of the Cameroon military forces fighting the separatists, says his troops transported several wounded people to hospitals. He says physical damage was enormous. Nka says civilians should help the military find the fighters by reporting suspects in their communities.
He says the task ahead is still enormous because there are many rebel camps his troops must destroy. He says it is imperative for everyone to know that the military is there primarily to protect civilians. He says he is urging the population to collaborate with the military, which is doing everything possible to protect civilians and their goods and restore peace.
Cameroon has been fighting to secure its northern border with Nigeria from Boko Haram incursions and combating separatist fighters in its English-peaking western regions.
The separatist crisis that is in its fourth year has killed over 3,000 people and displaced more than 500,000 others according to the United Nations.
Boko Haram terrorists have been fighting for 11 years to create an Islamic caliphate in northeast Nigeria. The fighting has spread to Cameroon, Chad, Niger and Benin.
The United Nations says Boko Haram violence has cost the lives of 30,000 people and displaced about 2 million in Nigeria, Cameroon, Niger and Chad.
https://www.voanews.com/africa/cameroon-says-boko-haram-separatists-offensive
------------
Boko Haram: Massive shakeup as Army redeploys senior officers, Commanders
January 10, 2021
By Okodili Ndidi, Abuja
The Nigerian Army last night effected a major redeployment of senior officers to reinvigorate the war against terrorism and other forms of criminality in the country.
The Director, Army Public Relations Brigadier General Sagir Musa, said the move was to rekindle the spirit of professionalism and enhance productivity of the army.
Under the new dispensation, Major General FO Agugo moves from Headquarters Nigerian Army Signals Corps Apapa Lagos to Defence Headquarters Department of Communications as Chief of Defence Communications, while Major General M Mohammed leaves the Nigerian Army Resource Center Abuja for Pronto Tech Nigeria Limited and appointed Managing Director.
Similarly, Maj Gen AR Owolabi is transferred from Defence Headquarters Abuja (Department of Communications) to Headquarters Nigerian Army Signals Corps as Commander.
According to Musa ,Major General E Akerejola leaves Army Headquarters Department of Logistics for the Nigerian Army School of Supply and Transport, Benin as Commandant "Major General UM Mohammed to remain in the Office of the Chief of Army Staff as Special Adviser Nigerian Army University Biu and Vice Chairman Nigerian Army Property Limited, Abuja, Major General CV Eze from Office of the Chief of Army Staff ( Nigerian Army Special Projects) to Army Headquarters, Department of Army Logistics and appointed Director Engineering Services.
"Major General OF Azinta from Defence Space Agency, Abuja to Defence Headquarters as Director Psychological Warfare, Major General AM Dauda from National Defence College, Abuja to Army Headquarters Department of Policy and Plans and appointed Director Policy, Major General AL Dusu from Army Headquarters, Department of Policy and Plans to Nigerian Army School of Artillery, Kachia appointed Commandant and Major General H Ahmed from Headquarters Nigerian Army Corps of Military Police to remain as Provost Marshal (Army).
"Others include: Major General TA Gagariga from Nigerian Army School of Artillery, Kachia to Defence Space Agency, Abuja appointed as Deputy Chief of Defence Space Agency, Major General JO Iwara from Army Headquarters Department of Standard and Evaluation to Department of Army Logistics appointed Director of Logistics Planning, Major General PI Eze to remain at Headquarters Theatre Command Operation LAFIYA DOLE Maiduguri and appointed Theatre Logistics Component Commander,
"Major General OO Oluyede to remain in Sector 2 Operation LAFIYA DOLE, Damaturu as Commander, Major General BR Sinjen to remain in Army Headquarters Department of Training and Operations, Abuja as Director Operations, Major General R Abubakar to remain in Defence Headquarters as Defence Liaison Officer Ministry of Foreign Affairs, Abuja, Major General OO Soyele from Defence Hedquarters, Abuja to Nigerian Army Resource Center, Abuja as Senior Research Fellow.
"Major General AK Ibrahim to remain in Headquarters 7 Division/ Sector 1 Operation LAFIYA DOLE, Maiduguri as General Officer Commanding/Commander Sector 1 Operation LAFIYA DOLE, Major General SI Igbinomwanhia to remain in Sector 3 Operation LAFIYA DOLE, Monguno as Commander and Major General IM Jallo from Headquarters 63 Brigade, Asaba to Headquarters 6 Division, Port Harcourt appointed General Officer Commanding.
"Brigadier General AIM Lapai from 302 Artillery Regiment (General Support), Onitsha to Headquarters Nigerian Army Corps of Artillery, Kontogora appointed Director Field Defence, Brigadier General Kawugana from Warrant Officers' Academy, Jaji to Hedquarters 9 Brigade, Ikeja Lagos appointed Commander, Brigadier General MO Jimoh from Defence Headquarters to Defence Space Agency, Abuja and appointed Deputy Director, Launch Vehicle Systems.
"Brigadier General MA Bolarinwa from Nigerian Army School of Supply and Transport Benin to Defence Headquarters(Annex), Lagos and appointed Deputy Director Supply, Brigadier General SM Uba to remain in 401 Special Forces' Brigade as Commander, Brigadier General WM Dangana from Army War College Nigeria, Abuja to 3 Division Garrison, Jos appointed Commander, Brigadier General AGL Haruna to remain in 7 Division Garrison, Maiduguri as Commander, Brigadier General AM Garba from Headquarters Theatre Command Operation LAFIYA DOLE, Maiduguri to Headquarters 23 Brigade, Yola appointed Commander.
"Brigade General AG Laka from Army War College Nigeria, Abuja to Nigerian Army Operations Centre, Abuja and appointed Coordinator, Brigadier General IA Ajose from Training and Doctrine Command, Minna to 4 Special Forces Command, Doma as Chief of Staff, Brigadier General DK Zirkushu from Headquarters 1 Brigade, Gusau to Headquarters 28 Task Force Brigade, Chibok and appointed Commander.
"Accordingly, Brigadier General M Ibrahim from Operation SAFE CORRIDOR, Gombe to 14 Brigade Ohafia appointed Commander, Brigadier General A Idris from Army Headquarters Department of Administration Army to Headquarters 63 Brigade, Asaba appointed Commander, Brigadier General RT Utsaha from 34 Brigade Garrison, Owerri to 32 Brigade, Akure and appointed Commander, Brigadier General MA Sadiq from Headquarters Operation DELTA SAFE, Yenagoa to Headquarters 4 Brigade, Benin and appointed Commander, Brigadier General IH Daniel from 304 Artillery Regiment Maiduguri to 34 Brigade Garrison Oweri as Commander, Brigadier General EO Ojabo from Defence Headquarters, Abuja to 81 Division Garrison, Lagos and appointed Commander, Brigadier General SS Tilawan to remain in Headquarters 5 Brigade as Commander.
"Colonel FD Babatunde from Headquarters 81 Division, Lagos to Headquarters Operation SAFE HAVEN Jos appointed Sector Commander, Colonel OJ Majebi from Operation SAFE HAVEN, Jos to 31 Brigade Garrison, Minna appointed Commander, Col JC Mbanefo from Headquarters Nigerian Army Corps of Artillery to 301 Artillery Regiment (General Support) and appointed Commander, Colonel MA Maaji from Depot Nigerian Army Zaria to 4 Operation DELTA SAFE and appointed Commander amongst others.
"All the postings and appointments take effect from the 18th of January 2021. While wishing all the officers well in their respective appointments, the Chief of Army Staff enjoins them to take their new responsibilities/appointments seriously and discharge all duties professionally with utmost loyalty to the nation and the Service."
https://thenationonlineng.net/boko-haram-massive-shakeup-as-army-redeploys-senior-officers-commanders/
--------------
Kidnappings: Govt, Miyetti Allah, Bandits Agree •181 Freed In Katsina
By Muhammad Sabiu
Jan 9, 2021
NEGOTIATIONS with bandits in KatsinaState by the state government, security agencies and Miyetti Allah have resulted in the release of 181 kidnap victims. Government and security forces said they plan to extend the negotiations to bandits in other 'vulnerable' northern states.
Governor Aminu Bello Masari of Katsina State, on Friday, said no fewer than 181 kidnapped victims had been rescued from the bandits through negotiations in recent time. He made this known while receiving another set of 77 kidnapped persons at the Government House, Katsina.
According to the governor, the victims were released by their captors after negotiations led by the state government, in collaboration with the Miyetti Allah Cattle Breeders Association (MACBAN), the Nigeria Police Force, Nigerian Army, Nigerian Air Force, Department of State Service and other security agencies.
The government plans to adopt the same method in other North West states where banditry has wrecked peace and order. Masari said 104 victims were recently released through the same collaboration. He explained that the 104 victims were from Sabuwa, Faskari, Dandume and Danmusa, while the 77 others that were handed over to him were from Batsari and Jibia axes.
Masari stated that all the negotiations for their release were in continuation of an exercise that started with the recovery of 344 students of Government Science Secondary School, Kankara. He said: "We saw an opener and we are working with the leadership of Miyetti Allah Cattle Breeders Association (MACBAN), in cooperation with the police, army, DSS, air force and other security agencies, to bring back as many of the kidnapped victims as possible.
"The process is still ongoing. We are doing this as quietly as we can to make sure that nobody is harmed and further kidnapping is stopped. Earlier, the state Commissioner of Police, Sanusi Buba, said the bandits themselves made several appeals for peace to reign in their domains. "This process has been on for some days. We are making efforts to ensure that all those that are still in captivity are safely rescued without the payment of any ransom or hindrance.
"We hope and pray that this the method will not be limited to Katsina State but will go beyond all other vulnerable states." In a similar situation, the defence headquarters, on Friday, said the troops of Operation Whirl Stroke rescued three kidnapped victims and neutralised one bandit in an operation carried out at the Maraba Udege general area in Nasarawa Local Government Area of Nasarawa State.
This was contained in a statement made available to newsmen in Abuja by the Coordinator, Defence Headquarters Operations (DMO), Major General John Enenche He explained that the operation was executed in the early hours of Thursday by the troops following credible intelligence on the movements of the bandits in the area during which three kidnapped persons were rescued and the one-armed bandit was neutralised.
General Eneche stated that the kidnapped victims were subsequently reunited with their respective families. He stated that in a related development, the Air Task Force (ATF) of Operation Lafiya Dole bombed three Boko Haram Terrorists (BHTs)' enclaves in the Sambisa Forest area of Borno State and took out their hideouts in Alagarno, including a compound housing some high-value Boko Haram leaders.
He said the ATF also destroyed no fewer than two Boko Haram terrorists' gun trucks and eliminated some of their fighters along the Wamdeo-Chul axis in the Southern part of Borno State. He said the compound housing terrorist leaders were concealed under thick vegetation and located 2.3km North-East of Kafa, and was being used by the terrorists to coordinate their activities.
General Eneche said: "The destruction of the locations was achieved through multiple airstrikes executed on 6 January 2021 as the ATF dispatched appropriate force packages of Nigerian Air Force (NAF) fighter jets and attack helicopters to engage the target areas in the day and night raids.
"The BHTs were spotted under the dense vegetation of the locations and the NAF attack aircraft took turns in engaging the targets, killing several of them "Upon sighting the NAF helicopter gunships, the terrorists, mounted on gun trucks and motorcycles attempted to beat a hasty retreat whilst firing at the attack aircraft."
He said further that the terrorists were hit by the helicopters' barrage of rocket and cannon fire which resulted in the immobilisation of two of the gun trucks, one of which was seen engulfed in flames. General Eneche vowed that the Armed Forces of Nigeria would not relent until all enemies of the country were neutralised and normalcy was restored to all troubled zones in the country.
https://tribuneonlineng.com/kidnappings-govt-miyetti-allah-bandits-agree-181-freed-in-katsina/
------------
Pakistan
Pakistani Prime Minister Imran Khan reaches Quetta after Shia Hazara miners laid to rest
Source : Dawn News
January 9, 2021
Pakistani Prime Minister Imran Khan reached Quetta on Saturday, hours after 10 coal miners from the Hazara Shia community, who were killed brutally in an attack on January 3, were laid to rest at the city's Hazara Town cemetery.
He is expected to meet the families of the miners later today.
Funeral prayers for the coal miners were offered earlier today after Grand Iranian Shia cleric 'Ayatollah Naser Makarem Shirazi' and also the government requested the family of the martyrs to bury the dead bodies.
The prayers were led by Allama Raja Nasir Abbas in Quetta's Hazara Town with close to 5,000 people attending including the relatives and friends of the deceased, locals and residents of the area.
Federal Maritime Minister Ali Zaidi, Special Assistant to the PM Zulfi Bukhari, National Assembly Deputy Speaker Qasim Suri, Provincial Home Minister Mir Zia Langove and other provincial ministers and civil society leaders were also present on the occasion.
A prayer service will be held in imambargah Wali Asr after the burials at the Hazara Town Cemetery.
The protestors continuing to stay on the road alongside the dead bodies of their loved ones for six days, eventually agreed to bury the deceased after request of Grand Shia Jurisprudent 'Ayatollah Makarem Shirazi' and also negotiations with a government team in the early hours of Saturday morning.
Balochistan CM Jam Kamal and Suri had announced yesterday that the premier will reach Quetta after the miners' burials.
Eleven miners were brutally massacred on Sunday, Jan 3, when armed assailants entered their residential compound in the Mach coalfield area of Balochistan where they were sleeping, blindfolded and trussed them up before executing them. The U.S.-Saudi backed militants of ISIS group, also known by the Arabic acronym Daesh, claimed responsibility for the attack.
Relatives and residents started their protest on the same day, arranging the coffins on the Western Bypass on the outskirts of Quetta and refusing to bury them in a symbolic gesture until the prime minister's visit and assurance of protection.
The protests later spread to other parts of the country, including Peshawar, Lahore and Karachi, where demonstrators blocked several important roads, disrupting traffic.
https://en.abna24.com/news//pakistani-prime-minister-imran-khan-reaches-quetta-after-shia-hazara-miners-laid-to-rest_1104286.html
--------------
Members of UAE's royal family arrive in Panjgur to hunt houbara bustards
Behram Baloch
January 10, 2021
GWADAR: Eleven members of royal family of the United Arab Emirates (UAE) arrived in Panjgur area of Makran division on Saturday to hunt houbara bustards, according to sources.
The official sources said members of the UAE's royal family reached Panjgur airport aboard a special plane and were led by Shaikh Khalifa Saif-al-Nahyan and Sultan Saeed Ahmed. They were taken to their palace in Piry Jhalak by road amid tight security.
The delegation was received at the airport by Panjgur's Deputy Commissioner Abdul Razzaq Sasoli, tribal elders Haji Attaullah Baloch, Haji Zahid Hussain, Haji Farooq-uz-Zaman and senior military and civilian officials.
The hunting party, equipped with hunting gear and falcons, would hunt houbara bustards during their stay in Panjgur under licence issued by the foreign ministry, the sources said.
Members of the UAE royal family, who visit Panjgur regularly for hunting the bird, have launched several development projects in the district, including water supply schemes and health facilities for deserving and underprivileged people of Panjgur town.
https://www.dawn.com/news/1600671/members-of-uaes-royal-family-arrive-in-panjgur-to-hunt-houbara-bustards
-------------
Reference to disqualify PTM MNA Ali Wazir lands in ECP
Staff Reporter
January 9, 2021
ISLAMABAD: National Assembly Speaker Asad Qaiser has sent a reference seeking disqualification of Pashtun Tahaffuz Movement (PTM) lawmaker Ali Wazir to the Election Commission of Pakistan (ECP), informed sources told Dawn.
A senior ECP official said the reference had been received on Thursday night. He said that after being processed by the legal branch, the file had been sent to Chief Election Commissioner Sikandar Sultan Raja.
He said the matter would now be decided by the ECP, adding that Article 63 of the Constitution, which dealt with disqualification for membership of Majlis-i-Shoora, listed actions that could result in a lawmaker's disqualification.
"If any question arises whether a member of parliament has become disqualified from being a member, the [National Assembly] Speaker or ... [Senate] Chairman shall, unless he decides that no such question has arisen, refer the question to the ECP within 30 days and should he fail to do so within the aforesaid period it shall be deemed to have been referred to the ECP," the article says.
The article further states that the ECP shall decide the question within 90 days from its receipt or deemed to have been received and if it is of the opinion that the member has become disqualified, he/she shall cease to be a member and his/her seat shall become vacant.
Though the grounds for disqualification mentioned in the reference against Ali Wazir were not shared, some say he has been accused of hatching a criminal conspiracy against state institutions.
Khyber Pakhtunkhwa police arrested MNA Ali Wazir last month in connection with a case registered against him and several leaders of Pashtun Tahaffuz Movement in Karachi after a public meeting.
They have been accused of committing several offences, including hatching a criminal conspiracy and passing derogatory remarks against state institutions.
https://www.dawn.com/news/1600518/reference-to-disqualify-ptm-mna-ali-wazir-lands-in-ecp
------------
Southeast Asia
Indonesia's Top Islamic Council Certifies China's Sinovac COVID-19 Vaccine
Jet Encila
January 09, 2021
A coronavirus vaccine manufactured by China's Sinovac Biotech has been deemed halal, or permissible under Islamic laws, Reuters and other news sources reported, citing Indonesia's Ulema Council.
Indonesia, the biggest Muslim-majority nation in the world, has 3 million CoronaVac doses and is looking to use the treatment when the government kicks off its immunization campaign on Wednesday, with President Joko Widodo expected to be given the first shot.
The director of the council's Fatwa Department Asorirun Niam Sholeh said that the complete fatwa, or religious decree, in connection to the safety and effectiveness of the vaccine still awaits the final approval of the Indonesian Food and Drug Authority.
Indonesia's Food and Drug Control Agency chief, Penny Lukito, said that the outcome of third stage tests of the Sinovac vaccine in Turkey and Brazil showed it had 91 percent and 78 percent efficacy, respectively. The Chinese biotech is also launching a similar clinical test in Indonesia, but data is still pending, Lukito said.
Sinovac is also set to roll out 45 million doses of the vaccine in a bulk shipment later this month for manufacture by Indonesia's government-run pharmaceutical group BioFarma, officials said.
Airlangga Hartarto, Indonesia's chief economic official, on Wednesday said the government will enforce two weeks of heightened pandemic restrictions in major parts of its heavily populated island of Java including the resort island of Bali starting January 11, in a bid to support medical facilities and minimize death figures.
Indonesia is struggling with the worst coronavirus crisis in Southeast Asia and health officials are pinning their hopes on a vaccine to help ease the economic and health crises that is overwhelming the archipelago.
As of Friday, Indonesia registered the biggest daily number with 10,618. The figure brings the total to 808,341. The country has also reported 233 fatalities in the last 24 hours, taking the figure to 23,754.
Indonesia is proposing to inoculate 182 million people, or around 67 percent of its total population, to attain the so-called herd immunity, its health minister, Budi Gunadi Sadikin, said.
Meanwhile, Philippines' representative to China, Chito Sta, Romana, said China's vaccine companies Sinovac and Sinopharm would apply for an emergency use authorisation this week with the Philippines' Food and Drug Administration.
Manila targets to complete deals with Sinovac Biotech to buy 25 million vaccine doses for delivery by March. Thailand, for its part, expects to get 200,000 CoronaVac doses by February, 800,000 in March and another 1 million by April.
https://www.btimesonline.com/articles/144838/20210109/thailand-covid-cases-thailand-new-outbreak-thailand-vaccination-sinovac-sinopharm.htm
-------------
Health Ministry wants travel controls tightened if Covid-19 cases continue to rise
MYT
09 Jan 2021
JOHOR BARU, Jan 9 — The Health Ministry (KKM) has recommended to National Security Council (MKN) to tighten controls on inter-district, inter-state travel if Covid-19 cases in the country continue to rise, said Health Minister Datuk Seri Dr Adham Baba.
He said the step was necessary because there was an increase in Covid-19 cases lately which is believed to have arisen from allowing inter-district and inter-state travel beginning December.
Apart from this, he said the rise in cases was also due to active measures to implement screening on all foreign workers in the manufacturing and construction sectors beginning January.
"Since January 1, the government has made it mandatory for employers in these sectors to have their foreign workers screened. So when more tests are done, more positive cases will be found but we did not expect a drastic and sudden increase.
"We found this was due to elements of non-compliance with Standard Operating Procedures (SOPs) that were outlined when all economic sectors were reopened," he told a press conference in conjunction with the handing over ceremony for the upgrading project of the blood collection centre at the Sultanah Aminah Hospital (Phase 2) at the main building of the hospital here today.
The Member of Parliament for Tenggara also said that the positive Covid-19 cases recorded now were sporadic cases (cases happening in the community) and not mostly of cases involving non-citizens.
"The ratio between the two is 50-50. Sporadic infections are mainly due to inter-state travel and also because of gatherings or assembling in a particular place," he said.
Yesterday, Senior Minister (Security Cluster) Datuk Seri Ismail Sabri Yaakob at a press conference in the federal capital had said that Prime Minister Tan Sri Muhyiddin Yassin will make a special announcement on Monday regarding the action to be taken by the government to deal with the recent spike in Covid-19 cases.
He said that the government is also studying and evaluating the actions that need to be taken immediately to control the spread of Covid-19, including possible tightening of the SOPs for the social sector to reduce movements and risk of Covid-19.
https://www.malaymail.com/news/malaysia/2021/01/09/health-ministry-wants-travel-controls-tightened-if-covid-19-cases-continue/1938862
-------------
Nazri: Expect more Umno MPs to withdraw support for Perikatan
BY KENNETH TEE
09 Jan 2021
PETALING JAYA, Jan 9 — Pandang Rengas MP Datuk Seri Nazri Aziz said more Umno MPs are expected to withdraw their support from Tan Sri Muhyiddin Yassin's Perikatan Nasional government.
This comes after Machang MP Datuk Seri Ahmad Jazlan Yaakub earlier announced today that he would no longer support Muhyiddin as prime minister.
By convention, a prime minister who loses majority support in the Dewan Rakyat must submit the resignation of his Cabinet to the Yang di-Pertuan Agong who will then choose a new prime minister who would command a Parliamentary majority.
Nazri however declined to confirm how many Umno MPs could be expected to withdraw their support for Muhyiddin and declined to confirm whether he was one of them.
Jazlan, who had last week quit as the chairman of the Malaysian Palm Oil Board (MPOB), made the announcement during a press conference in Kota Bharu, Kelantan this evening and later in his social media accounts.
With this and Gua Musang's MP Tan Sri Razaleigh Hamzah's similar announcement last month, Muhyiddin currently only has the support of 110 out of 220 MPs in the Dewan Rakyat.
The government bench currently comprises 50 from PN, 41 from Barisan Nasional, 18 from Gabungan Parti Sarawak, PBS (1) and one PN-friendly independent member.
On Wednesday, Umno president Datuk Seri Ahmad Zahid Hamidi after its Supreme Council meeting said a motion to sever ties with Bersatu will be decided in the Jan 31 Umno general assembly.
He said 143 out of Umno's 191 divisions had told the party leadership that they did not want to cooperate with Bersatu in the next general election.
Jazlan had previously said he would resign as MPOB chairman if the PN government does not dissolve Parliament by the end of January. However, he resigned within hours of making the statement.
https://www.malaymail.com/news/malaysia/2021/01/09/nazri-expect-more-umno-mps-to-withdraw-support-for-perikatan/1938955
------------
Indonesia's Sriwijaya Air lost contact after taking off from Jakarta
MYT
09 Jan 2021
JAKARTA, Jan 9 — A Sriwijaya Air plane thought to have 62 people on board lost contact after taking off from Indonesia's capital Jakarta today and rescuers said suspected debris had been found in the sea off the city.
The Boeing 737-500, en route to Pontianak in West Kalimantan, lost contact shortly after taking off just after 2.30 p.m. (0730 GMT), a search and rescue official told local television.
There were 56 passengers on board, including 10 children, an official of the national search and rescue agency Basarnas said. Local media said there were six crew.
Reliable tracking service Flightradar24 said on its Twitter feed that Flight SJ182 "lost more than 10,000 feet of altitude in less than one minute, about 4 minutes after departure from Jakarta".
Agus Haryono, a rescue agency official, told Reuters that a search and rescue team had found debris suspected to be from the plane in the waters north of Jakarta, but it had not been confirmed that it was from the flight.
Sriwijaya Air, an Indonesian airline, said in a statement it is still gathering more detailed information regarding the flight before it can make a fuller statement.
A Boeing spokeswoman said, "We are aware of media reports from Jakarta, and are closely monitoring the situation. We are working to gather more information".
Surachman, a local government official, told Kompas TV that fishermen found what appeared to be the wreckage. Other channels showed pictures of suspected wreckage.
Nurhasan, a fisherman in the area known as Thousand Islands, told local media that he and his crew had found several pieces of metal.
Video images from the airport showed pictures of relatives of the passengers in tears as they awaited news of the fate of the aircraft.
A Boeing 737 MAX operated by Indonesian airline Lion Air crashed off Jakarta in late 2018, killing all 189 passengers and crew. The plane that lost contact today is a much older model.
The airline has a solid safety record until now, with no onboard casualties in four incidents recorded on the Aviation Safety Network database, though a farmer was killed when a Boeing 737-200 left the runway in 2008 following a hydraulic problem.
The 737-500 is two generations of development before the most recent 737 MAX, which has been embroiled in a worldwide safety crisis following crashes in Indonesia and Ethiopia. It does not use the software system implicated in those crashes.
Nonetheless, experts say planes such as Sriwijaya's leased 737-500 are being phased out for newer fuel-saving models. Civil jets typically have an economic life of 25 years, meaning they become too expensive to keep flying beyond that compared to younger models, but they are built to last longer.
https://www.malaymail.com/news/world/2021/01/09/indonesias-sriwijaya-air-lost-contact-after-taking-off-from-jakarta/1938909
-------------
Emergency Signal Allegedly Coming From Crashed Indonesian Boeing Detected in Java Sea
by Evgeny Mikhaylov
10.01.2021
Indonesian authorities have detected signals that may be coming from a flight recorder of a missing Sriwijaya Air Boeing 737-500.
"We have detected signals in two points. This could be the black box - we will investigate", Bagus Puruhito, chief of Indonesia's search and rescue agency, told the press.
In the meantime, iNEWS has reported, citing Indonesian Navy official Wahyudin Arif, that the military discovered human body parts and some debris (including a one metre-long piece of the plane's fuselage).
Indonesian rescue members inspect what is believed to be the remains of the Sriwijaya Air plane flight SJ182, which crashed into the sea, at Jakarta International Container Terminal port in Jakarta, Indonesia, January 10, 2021. REUTERS/Ajeng Dinar Ulfiana TPX IMAGES OF THE DAY
Kompas TV later reported that divers managed to pick up signals for the plane's two flight recorders with an underwater metal detector and a pinger locator.
The Indonesian passenger flight took off from Jakarta en route to Pontianak in West Kalimantan but disappeared four minutes after takeoff, at 14:40 local time (07:40 GMT) on Saturday. The pilots did not send out an emergency alert, with Sriwijaya Air stressing that the aircraft was in good condition.
https://sputniknews.com/asia/202101101081718971-emergency-signal-allegedly-coming-from-crashed-indonesian-boeing-detected-in-java-sea/
--------------
Arab world
Saudi Health Ministry: Vaccine not required to travel when flights resume
RAWAN RADWAN
January 10, 2021
JEDDAH: Saudis leaving the Kingdom after March 31 will not require a COVID-19 vaccine to travel, a Saudi Health Ministry spokesman said on Saturday.
"There is no condition that states one must be vaccinated to travel. Studies for this are still ongoing. This matter is related to the Kingdom. Other countries might be applying this, but there is no condition in the Kingdom so far," said Dr. Mohammed Al-Abd Al-Aly.
The Health Passport is a unique service issued by the Health Ministry's "Twakkalna" application in cooperation with the Saudi Authority for Data and Artificial Intelligence and other entities. It is important that recipients of the vaccine have their appointments documented.
The ministry recorded 110 new coronavirus disease (COVID-19) cases in Saudi Arabia on Saturday, raising the total number of infections to 363,692.
The Riyadh region recorded the highest case count with 40 cases, while Makkah reported 31, and the Eastern Province and Madinah region saw 12 cases each. Hail, the Northern Border region and Al-Jouf recorded zero cases.
There were 174 new recoveries recorded, raising the total number of recoveries to 355,382. The Kingdom's recovery rate is holding steady at 97.7 percent.
The Kingdom recorded one of its lowest death rates in weeks after only four new coronavirus-related deaths were reported, raising the death toll to 6,286.
More than 11.3 million polymerase chain reaction tests have been conducted in the Kingdom since the beginning of the pandemic, with 37,043 completed in the past 24 hours.
https://www.arabnews.com/node/1790011/saudi-arabia
------------
First Qataris in three years drive across border into KSA
RAWAN RADWAN
January 10, 2021
JEDDAH: Qataris drove across the land border into Saudi Arabia on Saturday for the first time in more than three years.
"We're returning to our second home country," said the first Qatari to enter the Kingdom through the Abu Samra-Salwa border crossing. "The process and passing through was easy, and port authorities are cooperative and welcoming."
The driver of the second car through the checkpoint said: "It's good the crisis has been resolved, and the warm welcome we had, and the happiness we see in our brothers."
At least 70 vehicles passed through the crossing into the Kingdom on the first day and 20 traveled in the other direction, the crossing's customs director Ali Al-Aklabi said.
Preventive measures and health checks to contain the spread of the coronavirus are in place on both sides of the Saudi-Qatar land border.
Qataris entering Saudi Arabia must produce evidence of a negative test, take a further test at a health center set up at the crossing, and self-isolate in the Kingdom for up to seven days.
In the other direction, all arrivals into Qatar must also present a negative COVID-19 test, take a new test at the border and quarantine for one week in one of a number of selected hotels.
The Kingdom last week ended the trade, travel and diplomatic boycott of Doha imposed in June 2017 by Saudi Arabia, the UAE, Egypt and Bahrain.
The UAE said last week that travel and trade links could resume within a week of the deal, but restoring diplomatic ties required more time as parties work to rebuild trust.
Saudia, the Kingdom's national carrier, will resume flights from Riyadh and Jeddah to Doha on Monday, the airline said on Saturday.
Qatar Airways said it would resume flights to Riyadh on Monday, Jeddah next Thursday and Dammam next Saturday.
https://www.arabnews.com/node/1790066/saudi-arabia
------------
Steps underway to boost Saudi art, culture contribution to GDP
SPA
January 10, 2021
RIYADH: Saudi Arabia's Cultural Development Fund seeks to develop the cultural sector by forging partnerships with relevant bodies and nonprofit organizations, said Badr bin Hussein Al-Zahrani.
The CEO of the Cultural Development Fund said efforts are underway to promote the local art and culture scene to boost its contribution to the gross domestic product by approximately SR4.6 billion annually.
Al-Zahrani said the fund will raise social welfare indices related to the Quality of Life program.
The Kingdom has taken several measures to boost local art and culture and make the sector an important part of its economy.
Last year, more than 80 cultural occupations were approved for inclusion in the first stage such as theater producer, film director, lighting designer, documents and manuscripts restoration specialist, exhibitions designer, textile designer, curator and other basic cultural occupations in which Saudi creatives are active.
The occupations include all cultural sectors: Heritage, language, books and publications, libraries, fashion, theater and performing arts, culinary arts, movies, museums, visual arts, festivals and cultural events, and architecture and design arts, as well as occupations in the educational development of
the cultural sector and multimedia design.
https://www.arabnews.com/node/1790036/saudi-arabia
------------
Saudi Arabia helps Yemenis fight malnutrition
ARAB NEWS
January 10, 2021
JEDDAH: The King Salman Humanitarian Aid and Relief Center (KSrelief) on Saturday continued to implement its project to ensure basic health services in public schools and fight malnutrition among students and educational staff in Yemen's Aden governorate.
During December 2020, a total of 45,963 free services were provided in the form of psychological, social and nutritional support benefiting 12,773 students and staff in 62 schools in eight directorates in Aden.
The center recently signed an agreement worth $4 million to support nutrition programs for children under five, pregnant and breastfeeding women in seven Yemeni governorates.
The project will benefit 437,179 individuals. Under the agreement, health facilities will be built and equipped with modern equipment. The center will also help the Yemeni authorities operate nutrition clinics, mobile teams and provide them with medical supplies and training in this regard.
In addition several health and sanitation projects, the center is also focusing on empowering women and families who lost their breadwinners by offering training programs and helping them establish their own businesses.
Since it was founded in May 2015, KSrelief has implemented 1,329 projects in 53 countries, worth more than $4.42 billion. The countries that have benefited most from its work are Yemen ($3 billion), Palestine ($360 million), Syria ($296 million), and Somalia ($192 million).
The humanitarian, relief and development activities of KSrelief extend to all needy countries of the world, including the Arab and Islamic countries.
KSrelief's 1,367 projects and programs cover 54 different countries around the world on all its continents.
Following the deadly Aug.4 blast in Beirut, a relief air bridge was established on the directives of King Salman to provide urgent humanitarian aid to Lebanon.
The center distributed 1,500 schoolbags and supplies in the Red Sea State, Sudan among students. It is part of a KSrelief project to provide Sudanese children with school supplies in 2021.
https://www.arabnews.com/node/1789996/saudi-arabia
-----------
India
UP: Assets of 'love jihad' accused to be attached
Kanwardeep Singh
Jan 9, 2021
LUCKNOW: Police will attach properties of a resident of Tambor in Sitapur district of UP, who's on the run since December last year after being booked under provisions of the new 'love jihad' law, reports Kanwardeep Singh.
A court approval was taken to execute the proceedings under Section 83 of CrPC, which lays down that a proclaimed offender's property can be attached after s/he's declared an absconder. Zubrail, 22, had allegedly eloped with a 19-year-old Hindu girl, Neetu, on November 26.
Later, he married her and allegedly forced her to convert to Islam.
Zubrail's house and land will be attached in the presence of the sub-divisional magistrate on Saturday. His van was seized on Friday, police said.
https://timesofindia.indiatimes.com/city/lucknow/assets-of-love-jihad-accused-to-be-attached/articleshowprint/80179618.cms
-------------
Bhubaneswar Municipal Corporation reopens city mosque with COVID-19 restrictions in place
09th January 2021
By Express News Service
BHUBANESWAR: With the Bhubaneswar Municipal Corporation (BMC) allowing reopening of religious institutions in the city from January 3, the Capital mosque at Unit-IV reopened its gates for prayer with all Covid safety measures and precautions in place.
The civic body has allowed gathering at the mosque in three phases on Friday and two phases on other days in a week. The maximum number of people allowed to gather in a phase is 200.
Accordingly, the mosque authorities allowed the faithful for Friday prayers in two phases on the first day and around 400 people attended the Friday 'namaz' at the mosque.
Complying with the Covid safety norms, the mosque authorities requested people to bring prayer mats with them and offer 'namaz' at the designated area marked to maintain social distancing.
"Use of masks has been mandated and those who did not have masks were provided one," said Capital mosque president Shakilur Rahman. Children below the age of 12 and elderly persons have been requested to offer 'namaz' at home.
https://www.newindianexpress.com/states/odisha/2021/jan/09/bhubaneswar-municipal-corporation-reopenscity-mosque-with-covid-19restrictions-in-place-2247702.html
-----
URL: https://www.newageislam.com/islamic-world-news/sheikhs-salafist-currents-islamic-scholars/d/124031
New Age Islam, Islam Online, Islamic Website, African Muslim News, Arab World News, South Asia News, Indian Muslim News, World Muslim News, Women in Islam, Islamic Feminism, Arab Women, Women In Arab, Islamophobia in America, Muslim Women in West, Islam Women and Feminism