New Age Islam News Bureau
20 May 2018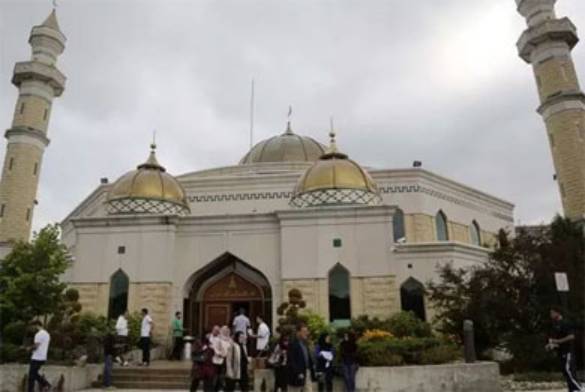 Dearborn Mosque
----
• Sharif Interview on 26/11: Pak 'Blocks' Distribution of English Daily
• US-Backed SDF Forces Looting Historical Artefacts in Manbij
• Dearborn Mosque Considers Banning Israeli Military from Entering
• UK Abstention from UN Vote on Gaza Violence 'Disgusting,' Says Labour
• Muslim Killed Over Suspicion of Cow Slaughter in Madhya Pradesh
Pakistan
• Sharif Interview on 26/11: Pak 'Blocks' Distribution of English Daily
• PTI MPA's 'Hate Remarks': Christians Warn of Agitation
• Questions given to Sharifs lean heavily on JIT report findings
• Israeli atrocities: Abbasi calls for unity among Muslim states
• Pemra warns TV channels to telecast Azaan five times a day
• Imran to announce programme for first 100 days in office
• Marriage of convenience: JUI-F's indecision to quit central govt causes resentment among JI members
• India-made Palanquin Will Be Placed in Peshawar's Gurdwara
--------
Arab World
• US-Backed SDF Forces Looting Historical Artefacts in Manbij
• Oxford Conference Adopts MWL Initiative on Religious, Cultural Integration
• US to Support Kurds in Manbij against Turkey
• Turkey-Backed Militants, Kurds Intensify Clashes in Northwestern Syria
• Assassination Operations Intensify in Northwestern Syria, Terrorist Groups Accusing Each Other
• Hariri Speaks at Saudi Embassy Iftar: 'Lebanon's Arabism Is a Red Line'
• After election victory, Sadr tweets to Iraqis 'we will not let you down'
• Syria rejects reports of truce with Daesh in southern Damascus
• Protesters demand pull-out of US naval forces from Bahrain
--------
North America
• Dearborn Mosque Considers Banning Israeli Military from Entering
• US Approves Sale of Bombs, Bunker Busters to Bahrain
• Trump's sanctions on Iran threaten plans for Chabahar port
• In first US foreign policy speech, Pompeo to discuss 'totality of Iran's threats'
• Trump Jr. met with Persian Gulf Arab, Israeli figure ahead of his dad's 2016 victory
--------
Europe
• UK Abstention from UN Vote on Gaza Violence 'Disgusting,' Says Labour
• Europe, China, Russia Discussing New Deal for Iran
• Police, rebels among 7 killed in Chechnya church attack
• EU commissioner in Iran in bid to protect trade ties
• Russia calls for foreign troop pullout from Syria including Iran, Hezbollah
--------
India
• Muslim Killed Over Suspicion of Cow Slaughter in Madhya Pradesh
• Affluent Muslims Reach Out To Poor with 'Ramzan Ration'
• Students can be emissaries of Hindu-Muslim unity
• Five Muslims Injured In Clash, RAF Rushed To Preet Vihar, Punjab
• Now, India and Pakistan Share Vision of History by academicians of O.P. Jindal Global University and Lahore University of Management Sciences
• Army has right to retaliate during Kashmir ceasefire
• Issue of Muslims Offering Prayers Being Politicised: Haryana CM
• Mirwaiz Umar Farooq detained after he defies house arrest
--------
South Asia
• Myanmar's Border Police Asks Rohingyas to Leave No-Man's Land
• Afghan Cricket Stadium Attack Leaves 8 Dead
• Bangladesh: Turkish Agency Organizes Iftar for Rohingya
• Former DGMO of Pakistani Military reportedly killed in Afghanistan
• AAF combat flight hours reached to nearly 30 hours in Farah operations
• HRW demands thorough probe after Ghani apologize regarding Kunduz airstrike
• UK may send hundreds more troops to Afghanistan, bending to Trump demands
--------
Southeast Asia
• Mahathir as Bulwark against PAS Islamic Wave
• 20 Years Since Beginning of Reformasi, How Far Have We Come?
• How 'Polarising' Former Strongman Mahathir Mohamad Could Bring Unity to Southeast Asia
• Indonesia, Malaysia show Southeast Asia's importance
• Wife of Malaysia's ex-leader slams 'public trial' of family
--------
Mideast
• Erdogan Equates Israel Actions with Those of Nazis
• Rabat Suspends Twin City Plan with Guatemala over Jerusalem Move
• 3 die of wounds in Gaza, rallies death toll up to 114
• Iran wary as EU presents plans to save nuclear deal
• Saudi air defense forces intercept Houthi ballistic missile over Khamis Mushait
• Yemeni armed forces gain control over Kitaf, raise the country's flag
• Netanyahu Dines With Emiratis As Palestinians Boycott Their Iftar
• Yemeni ballistic missile targets Saudi base in Asir in retaliatory attack
• Three Palestinians die from Israeli gunfire wounds sustained during Gaza rally
• Yemeni army advances forward east of Hajjah's Harad
--------
Africa
• Boko Haram Islamists Still Control Parts of North-eastern Nigeria
• Air Force Launches Attacks against Boko Haram, Kills Insurgents
• Whereabouts of Nigeria's Sheikh Zakzaky unknown: Islamic Movement in Nigeria
• 200 arrested in anti-terror operation in West Africa
• Boko Haram: Two suicide bombers killed in Borno
Compiled by New Age Islam News Bureau
URL: https://www.newageislam.com/islamic-world-news/sharif-interview-26-11-pak/d/115300
--------
Sharif Interview On 26/11: Pak 'Blocks' Distribution Of English Daily
May 19, 2018
WASHINGTON: Pakistani authorities have blocked the circulation of a leading English daily in many parts of the country, a media watchdog has alleged, days after the newspaper published ousted prime minister Nawaz Sharif's controversial remarks on the 2008 Mumbai terror attack.
The interview of Sharif, which reportedly displeased the Pakistan's powerful military establishment, appeared in Dawn newspaper's May 12 issue and the blocking began on May 15, Reporters Without Borders (RSF) said as it condemned the "latest attack on media freedom in Pakistan".
According to RSF, distribution is being disrupted in most of Balochistan province, many cities in Sindh province and in all military cantonments.
Sharif dropped a bombshell in an interview with Dawn newspaper last week when he said: "Militant organisations are active. Call them non-state actors, should we allow them to cross the border and kill 150 people in Mumbai? Explain it to me. Why can't we complete the trial?"
His comments triggered a massive controversy, drawing sharp criticism from all quarters. The National Security Committee (NSC) - Pakistan's top civil-military body - also condemned his statement in a high-level meeting.
The Press Council of Pakistan has notified Dawn's editor that the newspaper breached the ethical code of practice by publishing content that "may bring into contempt Pakistan or its people or tends to undermine its sovereignty or integrity as an independent country".
"The unwarranted blocking of the distribution of one of the main independent newspapers has yet again shown that the military are determined to maintain their grip on access to news and information in Pakistan," RSF said.
"It is clear that the military high command does not want to allow a democratic debate in the months preceding a general election.
"We call on the authorities to stop interfering in the dissemination of independent media and to restore distribution of Dawn throughout Pakistan," RSF added.
Several lawmakers on both sides of the aisle had fired a broadside at Nawaz for statement about the Mumbai attack, with some going as far as demanding that the PML-N supremo be tried for high treason; that his name be placed on the Exit Control List, and a thorough investigation be undertaken to determine the reasons behind the statement made by three-time prime minister.
Ten Lashkar-e-Taiba (LeT) militants from Pakistan killed 166 people and wounded dozens in Mumbai in November, 2008. Nine of the attackers were killed by police while lone survivor Ajmal Kasab was caught. Kasab was executed after a court found him guilty and handed down the death sentence. PTI LKJ CPS
https://timesofindia.indiatimes.com/world/pakistan/sharif-interview-on-26/11-pak-blocks-distribution-of-english-daily/articleshow/64233995.cms
--------
US-Backed SDF Forces Looting Historical Artefacts in Manbij
May 19, 2018
The Arabic-language Baladi news website affiliated to the dissidents reported that the SDF forces, supported by the US, loot the artifacts in Manbij in organized operations.
It added that the SDF has blocked the roads leading to Sheikh Aliq's tomb in the Center of Manbij after finding a large number of historical monuments in the region.
According to the report, the SDF has discovered several historical statutes and golden artifacts belonging to the Roman era and transferred them to Kobani in Eastern Aleppo.
They had also earlier found other historical artifacts in Byzantine graveyard in front of al-Sana'ah district, al-Hal market, historical Najm castle, Hirbole temple and several other graveyards.
Manbij, located in Eastern Aleppo, has a large number of historical monuments and artifacts belonging to the Ancient Roman era.
http://en.farsnews.com/newstext.aspx?nn=13970229000551
--------
Dearborn mosque considers banning Israeli military from entering
May 19, 2018
After protests from some congregants, one of Michigan's biggest and oldest mosques may ban Israeli military officers from visiting.
The Islamic Center of America (ICA) released a statement on its Facebook page reading in part: "Our Board of Trustees and administration will take the necessary measures to ensure that no Israeli military personnel will be received at the ICA in the future, as we continue our interfaith outreach program."
Leaders with the mosque told the Free Press Friday that the mosque's board will later make a final decision on the issue.
For the past decade, the Islamic Center of America in Dearborn has hosted a delegation of military officers from various nations as part of a program through the U.S. State Department and National Defense University, which is supported by the Pentagon.
The purpose of the annual event, usually held in the spring, is to educate the visitors about Islam in the U.S.
Founded in 1963, the Shia mosque with a predominantly Lebanese-American congregation often attracts guests of diverse backgrounds. It's one of the largest mosques in the U.S., with about 1,200 members attending Friday prayer services and leaders who interact with U.S. officials, including presidents.
On April 14, a military officer from Israel was one of about 70 military officers from foreign nations visiting the mosque as part of the annual event, according to leaders at the Islamic Center of America.
The visit angered some congregants who accuse Israel of military attacks against Arabs in Syria, Lebanon, and Palestinian territories. The 2006 war between Israel and Lebanon affected the families of many Lebanese-Americans in Dearborn who attend the mosque.
Concern among Arab-Americans about Israel has increased in recent weeks with a growing number of Palestinians killed in encounters with Israeli forces; Israel maintains it is defending itself from terrorists.
"Some people complained that with the situation in Palestine, Gaza, Syria, the mosque should not have an Israeli officer in the group" visiting the mosque, said Ned Fawaz, 81, a honorary board member and longtime leader with the mosque. "The board will have to make a decision."
Fawaz said the mosque is open to all and doesn't ask the annual delegation or any other visitors about their nationality or religion.
"The Islamic Center is open to anyone at any time, Muslims, Jews, Christians" and people of other faiths can visit, Fawaz said. "We don't discriminate."
"The Islamic Center is a very moderate center," Fawaz added. When the U.S. government asks the mosque to participate in the annual military officer visit, "we don't dig into what's his nationality, what's his rank."
But after the April 14 event this year, some members of the mosque became upset and started holding protests and criticizing the mosque on social media.
Some of their fliers read: "Did you know that Israeli military officers were welcomed at the Islamic Center of America," "Why is the board of the ICA refusing to admit to and apologize for their mistake?" and "Why did they host Israeli soldiers in our mosque?"
On May 5, the Islamic Center released a statement on its Facebook page that read in part: "For over the last ten years, the National Defense University, through the State Department, has requested to visit the Islamic Center of America to learn about Islam in the United States. Consistent with our policy to engage with those seeking knowledge about our faith, we hosted their delegation."
The letter said "this function was part of an interfaith effort and its objective was strictly educational. We addressed the group as a whole...without distinction of nationality and/or political background."
The letter said the officers were dressed in the same university uniform, not the uniform of their countries.
The May 5 letter disappointed the protesters, who rallied inside the mosque on May 11. Video posted to social media show some minor disputes breaking out as mosque leaders asked them to leave.
Fawaz said he understands the concerns of the protesters given the impact Israel's military has had on them.
Another letter, posted May 12, shifted its tone and said Israeli military officers will now be barred from future events.
The letter read in part: "Recently, the Islamic Center through its interfaith program, based upon a State Department request, received a delegation of 67 military officers from countries around the world. Without the Board's prior knowledge, regretfully, the delegation included one Israeli officer. The Center never had or will have any intentions of honoring such officer. We understand and support the concerns raised by members of our community to such a visit."
Fawaz said the letter came from the executive committee of the board, but that the full board has final say in making any decision. He said he will respect whatever decision the board makes.
Eide Alawan, a longtime mosque leader who leads their interfaith work, said: "The Islamic Center of America has and continues to be the example of the representation of Islam in Michigan as well as throughout the United States. As the Interfaith Office of the Islamic Center of America we've hosted many traditions and institutions throughout its history."
Alawan said the center "takes pride in being an open minded and welcoming institution to all who enter its doors."
https://www.freep.com/story/news/2018/05/19/michigan-mosque-considers-banning-israeli-military-leaders/621708002/
--------
UK abstention from UN vote on Gaza violence 'disgusting,' says Labour
May 20, 2018
The UK shadow foreign secretary, Emily Thornberry, has criticized the UK government for abstaining on a UN Human Rights Council vote on Israeli violence in Gaza, calling it "disgusting."
On Friday, the UN's top human rights body voted in favor of a resolution, demanding that an independent commission be "urgently" sent to investigate Israeli deadly attacks on peaceful Palestinian protesters, killing more than 100 people.
The resolution was adopted by 29 votes. Only two of the council's 47 members, the United States and Australia, voted against it, while 14 abstained, including Britain, Switzerland and Germany.
The UK said it "could not support a resolution that was partial and imbalanced. Such investigations heightened the risk on both sides," calling on Israel to conduct its own independent inquiry into the atrocities instead.
Thornberry's tweeted criticism also came after two Palestinians in Gaza, Mo'in al-Sa'y, 58, and Muhammad Alian, 20, both succumbed to their wounds on Saturday.
On Monday, Labour Party leader Jeremy Corbyn also urged the government of Prime Minister Theresa May to take action against Israel's "slaughter" of Palestinians.
The occupied territories have witnessed new tensions ever since US President Donald Trump on December 6, 2017 announced Washington's recognition of Jerusalem al-Quds as Israel's "capital."
At least 65 Palestinians were killed and more than 2,700 others wounded near the Gaza fence on the eve of the 70th anniversary of Nakba Day (Day of Catastrophe), which coincided this year with the relocation of the US embassy from Tel Aviv to Jerusalem al-Quds.
http://www.presstv.com/Detail/2018/05/20/562310/UK-Israel-Palestine-Gaza
--------
Muslim Killed Over Suspicion of Cow Slaughter In Madhya Pradesh
May 19, 2018
A Muslim tailor died of injuries in hospital after a mob allegedly attacked him and a friend in Madhya Pradesh's Satna district on suspicion of cow slaughter, the police said on Saturday.
Police identified the tailor as Riyaz, 45. His friend, Shakeel, 38, was injured in the alleged assault and admitted in a hospital in Jabalpur.
They were allegedly beaten up by the attackers armed with sticks un Amgara village, about 28km from their home in the Purani Basti neighbourhood of Maihar town, in the early hours of Friday.
Tension gripped Satna, about 485km northeast of the state capital Bhopal, following the incident and police stepped up security. Union home minister Rajnath Singh is scheduled to visit Satna on Sunday.
Riyaz died at the district hospital in Satna a few hours after the alleged assault.
He is survived by his wife and three children. Shakeel operates a taxi.
In his complaint to the police, Shakeel said a mob attacked him and Riyaz around 3am on Friday.
Police said Shakeel denied engaging in cow slaughter.
The police arrested four residents of Amgara village on charges of murder and assault.
The suspects were identified as Pawan Singh Gond, Vijay Singh Gond, Phool Singh Gond and Narayan Singh Gond.
One of the accused, Pawan Singh Gond, lodged a complaint with the police against Riyaz and Shakeel, accusing them of slaughtering cows in the village. Pawan Singh Gond also said in his complaint that Riyaz and Shakeel were injured when they fell while trying to run away. The accused denied assaulting the two men, police said.
Police registered a first information report on the basis of Pawan Singh Gond's complaint against Riyaz and Shakeel under sections of the Madhya Pradesh Cow Slaughter Ban Act, 2004, and the Madhya Pradesh Agriculture Cattle Preservation Act, 1959.
Satna superintendent of police Rajesh Kumar Hingankar said carcases of two cows were recovered from Amgara village.
"On the basis of the FIR lodged by the villager, Shakeel will be arrested after he is discharged from the hospital," he added.
Shakeel's father Ismail Khan denied the charge against his son.
"All I know is he had gone out to collect some dues from some person," said Khan. Riyaz's family members refused to talk to journalists.
Madhya Pradesh amended its rules against cow slaughter in 2012 and raised the maximum punishment from three years' imprisonment to seven years.
https://www.hindustantimes.com/india-news/muslim-assaulted-over-suspicion-of-cow-slaughter-in-madhya-pradesh-dies/story-eDU6ykm1FD30aKNay4cvkM.html
--------
Pakistan
PTI MPA's 'hate remarks': Christians warn of agitation
May 20, 2018
LAHORE: The Christian community will launch a protest movement and also move the court against "derogatory remarks" passed by Arif Abbasi – a PTI MPA from Ralwalpindi – on the last day of the Punjab Assembly session.
The resolve was expressed by the community leaders and its parliamentarians at a press conference here on Saturday.
They had gathered to protest the remarks the MPA allegedly uttered for a minority MPA, Tariq Gill.
The incident happened on the last day of the current assembly's tenure, when both sides – the opposition and the treasury – were protesting against each other, raising slogans against rival party leaders.
Though Abbasi denied having said any derogatory words, Mr Gill insisted he did and all the minority MPAs , led by provincial minister Tahir Khalil Sindhu, walked out of the house.
Addressing the press conference, Shahzad Munishi, another minority MPA, said that Mr Abbasi's remarks symbolised religious bigotry and hatred and should not have been used under any circumstances.
He said though Mr Abbasi denied it, the assembly recording stood witness to the fact.
"The Christians have helped created Pakistan as much as any other community and have been part of its progress as much as any other community. Segregating them in the name of religion and denying them (their) due rights and respect has been tragic. This social and religious division cannot go on," he said.
Flanked by other MPAs, Tariq Gill said no Christian in the country had ever turned terrorist as they were a peaceful community, which believed in peace.
"My community cleans the country out of love for this soil. In the West, many Muslim brothers do the job. No human can, or should, be humiliated on the basis of his profession and any such attempt be condemned in (the) strongest possible words," he said.
The Christians are a largehearted community and followed the God, who was merciful and liked forgiveness, he added.
"The community would forgive if he (Arif Abbasi) apologises. But if he does not, we will go to any length to protest (the remarks) and continue doing it. Within next two days, we will form an action committee to finalise the protest plan, which will include moving the court. We also demand (PTI chief) Imran Khan should intervene and make Abbasi apologise before it gets out of hand and cost him politically. Mr Khan should also not hold rallies on Christmas and Easters if he cannot ensure respect for the community within his own party," he said.
https://www.dawn.com/news/1408841/pti-mpas-hate-remarks-christians-warn-of-agitation
--------
Questions given to Sharifs lean heavily on JIT report findings
Malik Asad
May 20, 2018
ISLAMABAD: The questionnaire prepared for members of the Sharif family by the accountability judge relies more on findings of the Joint Investigation Team (JIT), which had probed money laundering allegations in the Panama Papers case, and less on the investigation conducted by the National Accountability Bureau (NAB) to connect the ex-prime minister and his family to the Avenfield properties.
Accountability Court Judge Muhammad Bashir had prepared a questionnaire of 128 questions and handed it over to the counsel representing the Sharif family on May 16. The judge has asked ex-premier Nawaz Sharif, his daughter Maryam Nawaz and son-in-law retired Captain Mohammad Safdar to respond to the questions in their statements which the court is scheduled to record on Monday (tomorrow).
Take a look: Nawaz regrets failure to abolish 'draconian NAB laws'
Of the 128 questions on the questionnaire, 77 are directly related to findings shared in the JIT report. While hearing pleas filed against the Pakistan Muslim League-Nawaz (PML-N) leaders by their political rivals Imran Khan and Sheikh Rasheed, the Supreme Court had constituted a six-member team comprising representatives of the Federal Investigation Agency (FIA), the Inter-Services Intelligence (ISI), the Military Intelligence (MI), NAB, the Securities and Exchange Commission of Pakistan (SECP) and the State Bank of Pakistan (SBP). Based on the report prepared by the JIT, the apex court had disqualified Mr Sharif from holding public office and directed NAB to file three references against his family and one against former finance minister Ishaq Dar.
The questionnaire prepared by the accountability judge carries 67 questions directly related to findings of the JIT report and the testimony provided by Wajid Zia, who had led the team; 10 of the questions are related to the testimonies offered by forensic expert Robert William Radley and Zia's cousin Akhtar Riaz Raja. The remaining 51 questions are based on testimonies shared by the rest of the prosecution witnesses, including officials of the NAB, SECP and commercial banks.
Questions posed to the prime minister include one asking why there were anomalies in the affidavits signed by Tariq Shafi regarding investment of AED12 million.
Referring to the JIT report, the court pointed out that the establishment of Gulf Steel Mills (GSM) and then its sale had proceeded in two stages — at first 75pc shares of the GSM were sold to Ahli Steel Mills (ASM) and then later the Sharif family sold 25pc of the shares they had in the ASM.
The questionnaire asked for evidence showing that the AED12 million which Sharif family had acquired from the sale of 25pc shares of the ASM had been utilised to settle an outstanding debt of AED14 million. It also questioned the Sharif family's investments with the Qatari royals.
It asked Maryam Nawaz about the trust deeds that Mr Radley had termed "forged". Question 54 of the documents asks: It is evident that PW-14 Robert W Radley had compared the certified copies … and the typing armature and font have been considered and identified as Calibri, which was developed by VISTA Window Program, and it was not commercially available until January 31, 2007.
In Question 62, the court asked why Qatari Prince Sheikh Hamad bin Jassim Bin Jaber Al-Thani had avoided joining the proceedings with JIT. It also added that there was no transaction of AED12 million which Sharif family had claimed to have invested with the Qatari royal family.
The questionnaire included information which NAB Operations director general Zahir Shah had brought before the court, which included responses from the UK's home ministry, the British Virgin Islands (BVI), the FIA, and the UAE government to requests for Mutual Legal Assistance (MLA).
The court, in its concluding questions, which may play a decisive role in the trial proceeding, asked: "will you produce any evidence in defence?"
The same question was earlier posed to counsel for the Sharif family, Khawaja Haris Ahmed, by the apex court which was trying to examine the counsel's request for additional time to conclude the reference.
Accountability Judge Muhammad Bashir had also asked the same question but Advocate Haris had replied that the matter would be decided after conclusion of the testimony presented by Wajid Zia in all three references.
The Sharif family is likely to avoid answering questions related to UAE and UK properties and Qatari investment which, according to Advocate Haris, are identical in the three references.
Full report at:
https://www.dawn.com/news/1408770/questions-given-to-sharifs-lean-heavily-on-jit-report-findings
--------
Israeli atrocities: Abbasi calls for unity among Muslim states
May 20, 2018
ISTANBUL: Prime Minister Shahid Khaqan Abbasi has reiterated Pakistan's support to Palestinian people in the face of tyranny and said member states of the Organisation of Islamic Cooperation (OIC) should enlist other countries' support to put an end to killings of Palestinians and help establish an independent and contiguous state of Palestine on the basis of internationally agreed parameters and with Al Quds as its capital.
In a statement at the seventh extraordinary summit of the OIC on Friday night, which was held to discuss the recent killings of over 100 Palestinians in Gaza, Mr Abbasi said: "It is no longer a question of choice but of necessity — to rise above our differences, demonstrate solidarity and support for the people of Palestine and above all ensure that international law is upheld without exception."
Take a look: As Israel massacres Palestinians, let's also denounce cold, cold Muslim hearts
He said the OIC member countries should demand that the UN Security Council fulfil its responsibility of ensuring implementation of its existing resolutions. They should make it clear that the council's credibility would be questioned if it did not deliver on its duties.
The prime minister said if the council was unable or unwilling to act, the Muslim countries should mobilise support in the UN General Assembly for rejection of revisionist decisions and ensuring accountability of violators of international law.
"We must also set aside our political differences. Even more important is to faithfully implement the OIC plans of action that are already in place in diverse areas," he said. Only by taking these steps could the Muslim countries take their destinies in their own hands.
He also suggested that member countries should seek opinion of the International Court of Justice about the atrocities Israel perpetrated along the Gaza border.
The prime minister said the recent killings represented yet another brazen chapter in the 70 years of injustice to the people of Palestine.
He also raised the issue of India-held Kashmir, and said the people residing there have also been facing tyranny and oppression for the last 70 years.
"For seven decades, the people of Jammu and Kashmir have been subjected to illegal Indian occupation and blatant violation of fundamental rights, including their right to self-determination," said the prime minister.
"As in the case of Palestine, the UN Security Council resolutions continue to be defied and the just struggle for freedom conveniently branded as terrorism."
OIC statement
The summit condemned the criminal actions of Israeli forces against the Palestinian people in the occupied territory, particularly in the Gaza Strip, where unarmed Palestinian civilians were exercising their right to peaceful protest against the illegal Israeli occupation.
The communiqué issued at the conclusion of the OIC summit held Israel as fully accountable for the grave atrocities in the occupied Palestinian territory, particularly for the willful killing of 60 civilians on May 14.
It called for protection of the Palestinian population, including through the dispatch of an international protection force.
The communiqué requested the OIC General Secretariat to immediately establish an independent committee of international experts to investigate the crimes and massacres committed by the Israeli forces in the Gaza Strip.
Full report at:
https://www.dawn.com/news/1408788/israeli-atrocities-abbasi-calls-for-unity-among-muslim-states
--------
Pemra warns TV channels to telecast Azaan five times a day
May 20, 2018
ISLAMABAD: The Pakis­tan Electronic Media Regul­atory Authority (Pemra) has issued the final warning to 45 TV channels to telecast Azaan five times a day.
It warned the TV channels that if they did not immediately start airing Azaan, their licences would be revoked.
The warning came after the Islamabad High Court (IHC) on May 9 directed the TV channels to telecast Azaan five times a day. A single bench comprising Justice Shaukat Aziz Siddiqui had issued the order while hearing a petition against the violation of the code of conduct for morning shows and Ramazan transmission by some TV channels.
During the hearing, Justice Siddiqui remarked that no one would be allowed to telecast 'circus' and 'Neelaam Ghar' during Ramazan.
Full report at:
https://www.dawn.com/news/1408794/pemra-warns-tv-channels-to-telecast-azaan-five-times-a-day
--------
Imran to announce programme for first 100 days in office
Amir Wasim
May 20, 2018
ISLAMABAD: The Pakistan Tehreek-i-Insaf (PTI) is scheduled to announce on Sunday (today) its targets and priorities for the first 100 days of the next government, if it comes to power, party's information secretary Fawad Chaudhry told Dawn on Saturday.
The party has organised a ceremony where PTI chief Imran Khan will disclose the "priorities of his government", should the PTI come to power. He will also announce the targets he hopes to achieve in his first 100 days as prime minister.
Interestingly, this announcement comes at a time when the party is busy preparing its election manifesto which, according to political analysts, shows that Mr Khan is, like he was before the 2013 elections, confident that he will become prime minister after the July polls.
Moreover, the cricketer-turned-politician is announcing the targets his government hopes to achieve even as the current parliament has not yet completed its term, and the Election Commission of Pakistan is yet to announce the election schedule.
Mr Chaudhry, however, explained that the "manifesto is a political document whereas tomorrow, we are going to announce our administrative and economic plans". The PTI's information secretary claimed that the party's manifesto was being formulated and would soon be launched.
Mr Khan would announce a plan that had taken a special committee three months to draft, he said. The committee, according to him, included Shah Mehmood Qureshi, Jahangir Tareen, Asad Umar and Akif Khan. He said the Policy Unit of the party's Election Management Cell and the Central Media Department had played a major role in preparing the plan.
He added that the PTI chief was planning to announce the steps needed for a merger of the Federally Administered Tribal Areas (Fata) with Khyber Pakhtunkhwa province and the creation of a new province in southern Punjab.
Besides this, he said, the PTI's future government intended to impose an "agriculture emergency" and "environmental emergency" in the country to cope with grave problems in the two sectors. Similarly, he said, the party chief would present a comprehensive programme to end the energy crisis in the country.
While addressing a public meeting in Lahore last month, Mr Khan had announced an 11-point programme to turn the country into a "new Pakistan".
The country's two largest parties — the PPP and the Pakistan Muslim League-N (PML-N) — had mocked the programme and termed the PTI's agenda mere rhetoric.
PPP's Punjab general secretary Chaudhry Manzoor Ahmed had criticised Mr Khan for not including labourers and minorities in his party's programme and termed it an "agenda of some NGOs (non-governmental organisations)".
Expressing similar sentiments, PML-N's information secretary and Minister for Climate Change Mushahidullah Khan had stated that the PTI chairman should have implemented the 11 points in KP first if he wanted the people to believe him.
Full report at:
https://www.dawn.com/news/1408793/imran-to-announce-programme-for-first-100-days-in-office
--------
Marriage of convenience: JUI-F's indecision to quit central govt causes resentment among JI members
BY HAMID KHAN WAZIR
May 20, 2018
ISLAMABAD: All is not well in the Muttahida Majlis-i-Amal (MMA), the recently-revived religious-cum-political parties' alliance of five rightist parties, after two major political parties of the alliance, including Jamiat Ulema-i-Islam-Fazl (JUI-F) and Jamaat-e-Islami (JI), failed to resolve their differences on major issues, which can pose a serious threat to their marriage of convenience in the lead-up to the general elections.
JUI-F chief Fazlur Rehman had proved himself a shrewd politician throughout his political career and had been known to utilise his cards in an effective and timely manner. This might also be the reason behind his success in convincing his allies to make him president of the alliance and adopt the book as its electoral symbol, despite strong opposition from JI in the beginning.
During MMA's revival process, both the parties agreed in principle to quit their respective coalition governments in the centre and Khyber-Pakhtunkhwa (KP), so as to fully focus on the political pursuits of MMA.
However, a senior JI leader, while talking on the condition of anonymity, told Pakistan Today that though JI had parted ways with the Pakistan Tehreek-e-Insaf (PTI) led government in KP, the JUI-F ministers were still enjoying the ministerial positions in the federal government.
He said that JUI-F's indecision to quit the federal government had spread disenchantment within JI's ranks. The JI leadership was of the view that it was not possible to keep the alliance strong if Fazl could not even give a small sacrifice by quitting the federal government before its term expired, he added.
The JI leader said that although it was not in black and white that both the parties would have to quit the governments after the revival of the defunct MMA, yet it was agreed upon orally that they would part ways with their respective coalition governments.
It is pertinent to mention here that two JUI-F ministers still occupied their posts in the federal government, including Fazl as chairman of Parliamentary Special Committee on Kashmir and Akram Khan Durrani as Federal Minister of Housing and Works.
He said that Fazl was simultaneously holding two positions as the chairman of the committee and head of the religious alliance, adding that by doing so he was not focusing on the affairs of MMA.
Despite stringent efforts, the JI could not even get hold of the top spot of the alliance in KP, as provincial chief of JUI-F Gul Naseeb Khan was appointed the provincial head of MMA.
Moreover, both JUI-F and JI have been poles apart on the government's policy for the Federally Administered Tribal Areas (FATA). While the former strongly opposed the merger of the tribal areas with KP, the latter had been a strong proponent of the merger.
It is important to mention here that MMA comprises of JUI-F, JI, Jamiat Ulema-i-Pakistan (JUP), Tehreek-i-Islami Pakistan (TIP) and Markazi Jamiat Ahle Hadith (MJAH).
Sources said that JUI-F wanted to leave the embattled Pakistan Muslim League-Nawaz (PML-N) government at the centre since it was under immense pressure from JI. However, the government did not provide them an excuse to do so, as it even deferred the plan of presenting the long-awaited FATA reforms bills, if only to please Fazl.
Talking to Pakistan Today, JI KP chief Professor Muhammad Ibrahim Khan said that JI's decision of quitting KP government was the party's own decision.
However, he said that it was discussed during the revival of MMA that the two larger parties would leave their respective governments in the centre and KP, but it was not a pre-requisite.
He said that once MMA had been revived, JUI-F should have disassociated itself from the PML-N government at the centre to solely focus on the future of the alliance.
Talking to Pakistan Today, JUI-F Senator Attaur Rehman said they did not agree on quitting their respective allied governments in the centre and KP after the revival of the religiopolitical alliance.
When asked about JI's reservations on the matter, he dropped the call and refused to receive a call from this scribe afterwards.
However, when this scribe approached JUI-F member of National Assembly (MNA) Naeema Kishwar Khan and asked about JUI-F's plan of quitting the central government, she categorically stated that no such plan was being pursued, adding that there was no reason for JUI-F to quit the central government.
Full report at:
https://www.pakistantoday.com.pk/2018/05/19/marriage-of-convenience-jui-fs-indecision-to-quit-central-govt-causes-resentment-among-ji-members/
--------
India-made palanquin will be placed in Peshawar's Gurdwara
May 20, 2018
LAHORE: 'Palki Sahib,' a specially-prepared palanquin, to be placed at the Gurdwara Bhai Biba Singh in Jogiwara area of Peshawar city has arrived here via Wagha border on Saturday.
Prepared specially from marble with an estimated cost of Rs400,000, the palanquin will be used to keep the Sikh's holy book, Gurugranth Maharaj. Traditionally, verses from the Gurugranth are read after placing the holy book on a palanquin.
Indian-side of Punjab's serviceman Baba Seva Singh has prepared the palanquin. Numerous Muslims in the Indian state of Rajasthan prepare palanquins from wood, marble and various other materials, which are sent to different Gurdwaras across the globe where Sikh community is based.
Full report at:
https://www.pakistantoday.com.pk/2018/05/19/india-made-palanquin-will-be-placed-in-peshawars-gurdwara/
--------
Arab World
Oxford Conference Adopts MWL Initiative on Religious, Cultural Integration
May 20, 2018
JEDDAH: The Conference on Peace in Revealed Religions, held at Oxford University in the UK, adopted a Muslim World League (MWL) initiative on positive national integration of religious and cultural minorities.
The conference — attended by a large number of religious, political and intellectual leaders — also adopted the MWL's call to replace the term "minorities" with "religious and cultural special category."
In his opening speech, MWL Secretary-General Mohammed bin Abdul Karim Al-Issa said two problems arise when hatred, confrontation and material interests replace the principles of justice and peace: A moral setback regarding human harmony, and the attribution of this setback to religion.
Religion has nothing to do with errors, abuses or crimes committed in its name, and history shows that many crimes have been falsely committed in the name of religion, he added.
Al-Issa laid out initiatives and programs aimed at strengthening national harmony in various societies by consolidating the concept of national unity, which ensures respect for the constitution, law and culture of the state.
"It is necessary to converge views and raise awareness by involving all qualified national actors who have the ability and influence," he said.
The act of disdaining followers of religions and cultures should be criminalized, and voices of hatred and incitement should be rejected, he added. All clash-of-civilization theories have failed, creating hope for understanding, awareness and harmony, he said.
Al-Issa called for the formation of councils and centers within national integration institutions, representing all societal sectors, with a view to organizing dialogue programs, promoting harmony and addressing all issues, including social and psychological ones.
His speech was followed by ones from Sheikh Abdullah bin Bayyah, president of the Muslim Peace Forum; Vatican representative Archbishop Kevin McDonald; Rabbi Norman Solomon; Dr. Farhan Nizami, director of the Oxford Center for Islamic Studies; and British diplomat Alan Monroe.
http://www.arabnews.com/node/1305996/saudi-arabia
--------
US to Support Kurds in Manbij against Turkey
May 19, 2018
The Kurdish-language Hawar news quoted the military command council of Manbij as saying that a meeting was held between an official delegation of the US-led coalition forces' command center and a number of Kurdish commanders in Manbij.
The meeting on the political and security situation of Manbij was held in the presence of William Urback, a representative of the US state department, Commander of the US-led coalition General Jimmy Gerrard, Commander of the Kurdish forces in Manbij Mohammad Mostafa, Spokesman for Manbij's military council affiliated to the Syrian Democratic Forces (SDF) Sharfan Darwish and Deputy Commander of Manbij military council Ibrahim Banawi.
It added that the US forces have underlined their continued presence in cooperation with the Manbij military council until they prevail control over the entire region.
Meantime, Turkish President Recep Tayyip Erdogan has several times threatened that he will send his forces to Manbij after driving out the Kurds from Afrin.
Darwish had announced earlier this month that the US forces have set up a new military base in Manbij in Northern Syria at the borders with Turkey.
He said that the French forces have been stationed in the military base with the aim of monitoring and protecting the borders, adding that the base has been established immediately after the Turkish army and its allies' attacks on the Kurdish forces in Afrin and Ankara's repeated threats to enter Manbij.
Full report at:
http://en.farsnews.com/newstext.aspx?nn=13970229000969
--------
Turkey-Backed Militants, Kurds Intensify Clashes in Northwestern Syria
May 19, 2018
The Turkey-backed militants engaged in heavy fighting with a group of the Kurdish militias in the villages of Ma'abatli region after two months of the Turkish army's rule over the region.
Also, the Turkish army's artillery units pounded the Kurdish positions in the battlefield.
A number of militants were killed or wounded on both sides, while several Kurdish militias were captured by the Ankara forces.
In the meantime, sources in Manbij region in Northern Aleppo reported that the Ankara forces have been looting people's assets and expelling them from the town of Manbij.
The Syrian Observatory for Human Rights reported on Wednesday that Faylaq al-Rahman terrorists who had left Eastern Ghouta after an agreement with the Syrian army were recruiting militants and occupying Brigade 135 bases in Shera region in Northeastern Afrin which was earlier under the control of Kurds with Turkey's support.
Meantime, informed sources said that Faylaq al-Rahman, commanded by Abdul Nasser Shamir, was recruiting and training the members, who were earlier stationed in Eastern Ghouta, in Afrin.
Faylaq al-Rahman pays a monthly 200-dollar salary to anyone who joins the terrorist group.
Full report at:
http://en.farsnews.com/newstext.aspx?nn=13970229000606
--------
Assassination Operations Intensify in Northwestern Syria, Terrorist Groups Accusing Each Other
May 19, 2018
The sources reported that a roadside bomb blast killed Jund al-Malahem Commander Abu Jasim Kansafra and two of his aides on a road connecting the town of Kafr Nabal and Kansafra settlement in Southern Idlib.
In the meantime, a bomb went off near al-Bahrah square in the town of Khan Sheikhoun in Southern Idlib, killing and wounding a number of terrorists, the sources said.
Also, two Uzbek terrorists were assassinated by unknown assailants near the town of Ma'arat Mesrin in Northern Idlib, they added.
The sources went on to say that the terrorist groups in Idlib province have started accusing each other of orchestrating assassination operations.
Field sources in Idlib reported on Thursday that unknown assailants attacked Ahrar al-Sham prisons in Northern Idlib, freeing nearly 40 ISIL inmates.
After the attack, Tahrir al-Sham Hay'at (the Levant Liberation Board or the al-Nusra front) accused Ahrar al-Sham of collaboration with the assailants to free the ISIL inmates to gather forces for an attack on Tahrir al-Sham position.
The sources said that tensions have heightened among the terrorists in the region, adding that one of the militants' checkpoints in the town of Ariha in Southern Idlib came under attack with gunfire. A number of terrorists were killed in the incident.
Reports also said that Tahrir al-Sham terrorists have detained a number of Faylaq al-Rahman militants who wanted to move from Idlib to Afrin.
Full report at:
http://en.farsnews.com/newstext.aspx?nn=13970229000418
--------
Hariri speaks at Saudi embassy iftar: 'Lebanon's Arabism is a red line'
20 May 2018
The Saudi embassy in Lebanon on Saturday held an iftar (meal to break the Ramadan fast) banquet attended by Lebanon's diplomats, representing a mix of political parties and all sectarian components in the country.
Among the attendees were Lebanese Prime Minister Saad al-Hariri and Saudi envoy Nizar Al Alula.
Saudi Charge d'Affaires in Lebanon Walid al-Bukhari welcomed the invitees, saying: "Welcome to the House of Saudi Arabia in Lebanon, home of all the Lebanese."
On the occasion, Hariri said: "This Saudi home brings together all the Lebanese and does not differentiate between them … What Saudi Arabia wants from the Lebanese is to remain unified and preserve our Arabism and our commitment to the Taif agreement."
He called on Lebanon to distance itself from problems in the region and to protect the country's Arab identity, in a reference to the Iranian-backed Hezbollah and its creeping influence in Lebanese politics.
"Saudi Arabia's history with Lebanon is full of greatness and love, and we cooperate with all the honorable people in the country to honor this history and adhere to the best relations with brotherly Arab countries. Interference in our internal affairs, and we are required in return to distance ourselves from interfering in the affairs of brotherly countries, and to consider the Arabism of Lebanon a red line that can not be avoided. "
Full report at:
https://english.alarabiya.net/en/News/middle-east/2018/05/20/Saad-al-Hariri-at-the-Saudi-embassy-Lebanon-s-Arabism-is-a-red-line-.html
--------
After election victory, Sadr tweets to Iraqis 'we will not let you down'
19 May 2018
Shiite leader Moqtada al-Sadr said in a tweet on Saturday that he would not let Iraqis down after his parliamentary election victory.
"Your vote is an honor for us and a responsibility we will shoulder," Sadr said in a Twitter post.
He added: "We will not let you down, and the blame is placed on those who failed Iraq."
The tweet comes following the confirmation of the official results of the Iraqi parliamentary election last night, with a sweeping win of the Sairoon Alliance made up of the Sadrist Movement and the Communist Party.
The tweet draws speculation about the intended party especially when he said: "who failed reform" which was interpreted as hinting to Haider al-Abadi government, consequently meaning that Sadr and in order to form the new government, will pull away from allying with al-Abadi's al-Nasar Alliance which came in third place after the Fatah Alliance came second.
It is worth mentioning that the Sairoon Alliance supported by Sadr, won 54 seats in the parliament followed by the Fatah Alliance which includes the pro-Iranian Popular Mobilization Units with 47 seats, and 42 seats for al- Nasr Alliance headed by al-Abadi.
Also the State of Law Coalition led by former Prime Minister Nouri al-Maliki, won 26 seats, while the Kurdistan Democratic Party headed by Masoud al-Barzani won 25 seats in the Iraqi parliament.
Election results repercussions
The Iraqi parliament is set to hold a deliberative session on Saturday headed by Salim al-Jabouri to discuss the repercussions of the election results. Expected to attend the meeting are 105 deputies.
Recent leaked information claim that Jabouri decided to hold an extraordinary session of the Federal Parliament to discuss the post-election results crisis. The meeting also seeks to discuss the lingering questioning of the electoral commission's integrity.
Full report at:
https://english.alarabiya.net/en/News/middle-east/2018/05/19/Al-Sadr-tweets-to-Iraqis-we-will-not-let-you-down-.html
--------
Syria rejects reports of truce with Daesh in southern Damascus
May 20, 2018
The Syrian army has rejected reports that it observed a brief ceasefire with the Daesh Takfiri terrorist group in a southern Damascus neighborhood.
In a statement carried by Syria's official SANA news agency on Saturday, a Syrian military source said the reports about an agreement with Daesh in the al-Hajar al-Aswad district were inaccurate.
The so-called Syrian Observatory for Human Rights (SOHR) had claimed that pro-Damascus forces and Daesh had observed a truce at midday on Saturday, "ostensibly for five hours," to evacuate terrorists from al-Hajar al-Aswad.
SOHR head Rami Abdel Rahman told AFP that the ceasefire had been negotiated by Russia and pro-government Palestinian factions. He also claimed late Saturday that the truce was still in effect.
Meanwhile, a Syrian soldier told Al-Masdar News that Daesh had called for the ceasefire to discuss terms of its surrender and that the terror outfit wanted evacuation to the country's eastern part.
Takfiri militants have lost much of the territory they once held in Syria amid sweeping gains by government forces on the ground over the past few months.
In April, the Syrian military launched a counter-terrorism campaign in southern Damascus. So far, it has managed to retake al-Maziniyeh, al-Qadam, al-Assali and al-Joura neighborhoods and large swaths of al-Hajar al-Aswad.
Syrian forces further liberated the Eastern Ghouta and Eastern Qalamoun regions near the capital last month.
Full report at:
http://www.presstv.com/Detail/2018/05/20/562325/Syria-Damascus-Daesh
--------
Protesters demand pull-out of US naval forces from Bahrain
May 19, 2018
Thousands of people have staged demonstrations across Bahrain, demanding the immediate withdrawal of American marines from the tiny Persian Gulf kingdom and closure of the US naval base there.
The protesters took to the streets in the capital Manama on Friday evening, carrying placards reading "Leave Our Land" and shouting slogans in condemnation of Washington's support for the ruling Al Khalifah regime.
The demonstrators also condemned the recent massacre of dozens of Palestinians during anti-occupation protest rallies along the border between the Gaza Strip and occupied territories, and stepped on the images of US President Donald Trump and Israeli Prime Minister Benjamin Netanyahu.
Similar rallies were held in the villages of Abu Saiba, Shakhurah, al-Daih, Karbabad and Buri.
At least 64 Palestinians were killed and more than 2,700 others wounded near the Gaza fence on Monday on the eve of the 70th anniversary of Nakba Day (Day of Catastrophe), which coincided this year with the relocation of the US embassy from Tel Aviv to the occupied city of Jerusalem al-Quds.
The occupied territories have witnessed new tensions ever since Trump on December 6, 2017, announced Washington's recognition of Jerusalem al-Quds as Israel's "capital" and said the US would move its embassy to the city.
The dramatic decision triggered demonstrations in the occupied Palestinian territories and elsewhere in the world. The status of Jerusalem al-Quds is the thorniest issue in the decades-long Israeli-Palestinian conflict.
Thousands of anti-regime protesters have held demonstrations in Bahrain on an almost daily basis ever since a popular uprising began in the country in mid-February 2011.
They are demanding that the Al Khalifah dynasty relinquish power and allow a just system representing all Bahrainis to be established.
Manama has gone to great lengths to clamp down on any sign of dissent. On March 14, 2011, troops from Saudi Arabia and the United Arab Emirates were deployed to assist Bahrain in its crackdown.
Scores of people have lost their lives and hundreds of others sustained injuries or got arrested as a result of the Al Khalifah regime's crackdown.
On March 5, 2017, Bahrain's parliament approved the trial of civilians at military tribunals in a measure blasted by human rights campaigners as being tantamount to imposition of an undeclared martial law countrywide.
Bahraini monarch King Hamad bin Isa Al Khalifah ratified the constitutional amendment on April 3 last year.
Full report at:
http://www.presstv.com/Detail/2018/05/19/562254/Protesters-demand-pullout-of-US-naval-forces-from-Bahrain
--------
North America
US approves sale of bombs, bunker busters to Bahrain
May 19, 2018
The United States has approved a possible sale to Bahrain of thousands of bombs, armed with special warheads, for the regime's US-made F-16 fighter jets.
The State Department said on Friday that it approved to provide Bahrain with 3,000 bomb bodies worth an estimated $45 million, in request of Manama.
It said the arms sale is aimed at boosting the regime's F-16 combat jets operations.
The sale, according to the department "will enhance the foreign policy and national security objectives of the United States by helping to improve the security of a major non-NATO ally which is an important security partner in the region."
It was, however, not immediately clear where and against whom the regime will use the US-supplied bombs.
Bahrain is part of the Saudi-led coalition that has launched a war in Yemen in 2015. The operations have so far killed and injured over 600,000 civilians, according to the Yemeni Ministry of Human Rights.
The coalition is also accused of indiscriminately bombing populated areas in the impoverished country and causing hundreds of civilian deaths.
Human Rights Watch reacted to the prospective arms sale to the regime, saying "Instead of pressing Bahrain on its persecution – and prosecution – of human rights defenders, the US blindly sells it millions of dollars worth of weapons without conditions."
"The message is clear, whether it's to the UAE, Saudi Arabia or Bahrain – buy American weapons and get a free pass on human rights issues from the US," said the organization's deputy Washington director, Andrea Prasow.
Last month, the US approved the sale to Bahrain of several attack helicopters, dozens of missiles and rockets of various kinds and a variety of navigation, missile planning, communications and electronic warfare systems at an estimated cost of $911.4 million.
The administration of Barack Obama had imposed human rights conditions on a large sale of F-16 fighter jets to Bahrain. The Trump administration, however, lifted the conditions in March, last year. Later in September, the State Department approved the sale of 19 Lockheed Martin F-16V aircraft to Manama.
http://www.presstv.com/Detail/2018/05/19/562257/USarms-saleF16Bahrain
--------
Trump's sanctions on Iran threaten plans for Chabahar port
May 20, 2018
WASHINGTON: US President Donald Trump's decision to pull out of the Iran nuclear accord and re-impose sanctions on Tehran threatens to derail a project to help build Afghanistan's economy, endangering a key goal of the US strategy to end America's longest war.
The Indian-backed Chabahar port complex in Iran is being developed as part of a new transportation corridor for land-locked Afghanistan that could potentially open the way for millions of dollars in trade and cut its dependence on Pakistan, its sometimes-hostile neighbor.
Building Afghanistan's economy would also slash Kabul's dependence on foreign aid and put a major dent in the illicit opium trade, the Taliban's main revenue source.
But Trump's decision to re-impose sanctions on Iran and penalise financial institutions for doing business with Tehran is clouding Chabahar's viability as banks, nervous they could be hit with crippling penalties, pull back from financing.
"President Trump's decision has brought us back to the drawing board and we will have to renegotiate terms and conditions on using Chabahar," a senior Indian diplomat said. "It is a route that can change the way India-Iran-Afghanistan do business, but for now everything is in a state of uncertainty."
The White House did not respond to requests for comment.
Launched in 2016, the joint Iran-India-Afghanistan Chabahar project already was facing holdups. It has yet to see significant traffic apart from some containers of donated wheat from India, and the first shipments of Afghan dried fruit to India are not expected before July. At least three contracts to build infrastructure at the port now have been delayed, with two Chinese companies and a Finnish group left hanging while bankers seek clarity from Washington before approving guarantees, a person close to the project said.
In addition, Afghan traders, who were hoping for an alternative to Pakistan's port of Karachi, now find themselves cut off from funding and forced to rely on the traditional hawala money transfer system, which is insufficient on its own to transform an economy. Hawala is a trust-based system commonly used in Afghanistan that involves the movement of funds between agents in different countries.
"We know our correspondent banks would not let us pay for imports coming through that port," said a senior executive at one major Afghan lender.
Chabahar is among a number of projects of transport and energy networks projects designed to boost Afghanistan's trade and lay the foundations for a mining industry capable of exploiting its billions of dollars in untapped mineral reserves.
Bypassing the border with Pakistan, which last year was closed for some 50 days over various disputes, Chabahar is seen as a way for Afghanistan to consolidate its relationships with India and other regional powers.
"The only way to get India more involved" in Afghanistan's economic development "is through Chabahar," said Barnett Rubin, an expert with New York University's Center for International Cooperation and a former adviser to the State Department and the United Nations. "Our Iran policy is headed for a train wreck with our Afghanistan policy."
FOREIGN AID
Some 17 years after the US-led invasion to oust the Taliban from power, Afghanistan remains one of the world's poorest countries, highly dependent on foreign aid.
Apart from illegal opium exports estimated at some $2 billion by the International Monetary Fund, its main products are dried and fresh fruits, and carpets, none of which amount to more than a fraction of the value of the drugs trade.
Initially Afghanistan would export agricultural produce – such as pomegranates and grapes – through Chabahar, utilising a section of a road India paid for and then an extension to the Iranian border that New Delhi built, experts said.
Eventually, those exports could expand to mineral resources, something Trump has expressed an interest in gaining for US firms. For India, this would mean using a planned railroad to Chabahar to export iron ore from two tracts at the Hajigak iron mine in central Afghanistan that it won the rights to exploit, the experts said.
"The economic piece is really important to get a glimmer of hope for Afghanistan to move beyond a land-locked, poppy-based economy. We are now shooting that in the head," said Thomas Lynch, a National Defense University expert and a former US Army officer who advised the chairman of the Joint Chiefs of Staff on South Asia policy.
"There is no other legitimate and reliable way to do that. You can't do it by air, you can't do it through Pakistan because they just extort for everything they do," said Lynch. "The lifeline runs through Chabahar."
In addition, by hindering the development of Chabahar, the United States will leave Afghanistan dependent on Pakistan, historically its main trade partner and outlet to the world.
That would undermine another Trump goal of pressuring Islamabad to shutter Afghan insurgent sanctuaries on its side of the border and force the militants into peace talks.
Afghan officials have lobbied hard for exemptions to the sanctions for Afghan companies operating though Chabahar without success and are waiting for clarity from Washington.
Full report at:
https://www.pakistantoday.com.pk/2018/05/20/trumps-sanctions-on-iran-threaten-plans-for-chabahar-port/
--------
In first US foreign policy speech, Pompeo to discuss 'totality of Iran's threats'
20 May 2018
US Secretary of State Mike Pompeo will outline a "diplomatic road map" and call for broad support from European and other allies to apply pressure on Iran to force it back to the negotiating table, a senior US official said on Friday, as Washington seeks to chart a course after it pulled out of a landmark nuclear deal.
Rebuffing appeals from France, Germany and Britain, U.S. President Donald Trump withdrew the United States 10 days ago from the 2015 nuclear deal between Iran and six major powers and ordered that sanctions be reimposed on Tehran.
In his first foreign policy speech on Monday, Pompeo will call for broad support to address "the totality of Iran's threats," said Brian Hook, senior US policy advisor.
Hook said US officials hoped economic pressure from renewed sanctions would lead Iran back to the table as it did a few years ago, leading to the 2015 nuclear accord.
But it was not immediately clear whether the Europeans would support the plan as they try to salvage investment and trade ties with Tehran that followed the accord.
Hook said Washington was seeking a diplomatic outcome with Iran and sanctions were part of that.
"The goal of our effort is to bring all necessary pressure to bear on Iran to change its behavior and to pursue a new framework that can resolve our concerns," Hook told reporters.
"We very much want to be, to have a kind of up-tempo diplomacy, one that's very focused and very determined to achieve our national security objectives," he said, adding: "We need a new ... framework that's going to address the totality of Iran threats."
A senior European official whose country is party to the deal said there were concerns that the Trump administration was interested in pursuing "the maximum pressure and brutal show of strength idea" instead of negotiating.
"We say that there has to be a negotiating method but if they are purely in the maximum pressure and brutal show of strength idea and they believe it will work because they believe it worked with North Korea then we will have a major problem," the official said.
The threat of US sanctions has already forced some European companies to pull back from Iran. German lender DZ Bank said it will suspend its financial transactions with Iran in July, while French gas and power group Engie also said it would end its contracts in Iran by November.
This week, the US Treasury imposed sanctions against Iranian finance officials and financiers it said were linked to Iran-backed Hezbollah.
Hook played down differences between the United States and Europe over Iran.
"We have a period of opportunity to work with our allies to try to come up with a new security architecture, a new framework," he said, adding: "I think people are overstating the disagreements between the US and Europe."
Trump said the 2015 agreement did not adequately curb Iran's nuclear ambitions or address Iran's ballistic missile program and what the Trump administration views as its destabilizing role in the region.
Under the agreement Tehran agreed to limits on its nuclear program in exchange for the lifting of sanctions against it. Iran has denied it sought in the past to develop an atomic weapon, saying its nuclear program has always been for purely peaceful purposes.
Hook said the Iran nuclear accord had given countries a false sense of security and the United States wanted to ensure any new agreement covered not only Iran's nuclear and missile capabilities, but also curbed its regional activities.
"This involves a range of things around its nuclear program, missiles, proliferating missiles and missile technology and support for terrorists and its aggressive and violent activities that fuel civil wars in Syria and Yemen," said Hook.
In recent days, US officials have highlighted protests in Iran to illustrate economic discontent among Iranians and a reason Iran should return to talks.
At least one person was killed and six others wounded in the southern city of Kazeroon, according to the semi-official Fars news agency on Thursday. Iran's President Hassan Rouhani has assured Iranians that their oil-reliant economy can withstand new sanctions.
Full report at:
https://english.alarabiya.net/en/News/middle-east/2018/05/20/In-first-US-foreign-policy-speech-Pompeo-to-discuss-totality-of-Iran-s-threats-.html
--------
Trump Jr. met with Persian Gulf Arab, Israeli figure ahead of his dad's 2016 victory
May 19, 2018
The eldest son of US President Donald Trump reportedly met with a Persian Gulf Arab, who assured him of support by crown princes of the United Arab Emirates and Saudi Arabia.
The meeting between Donald Trump Jr. and George Nader was held at Trump Tower in August 2016, The New York Times revealed Saturday.
The report comes at a time that an investigation is underway to find out whether there was collusion between Trump associates and Russia, implying that at least another country, other than Russia, may have helped the New York millionaire win the 2016 presidential election.
Another figure present at the meeting was an Israeli political strategist named Joel Zamel, whose company manipulated social media in favor of Trump.
Private security contractor Erik Prince, the former head of Blackwater and brother of Education Secretary Betsy DeVos arranged the August meeting.
"Prior to the 2016 election, Donald Trump Jr. recalls a meeting with Erik Prince, George Nader and another individual who may be Joel Zamel. They pitched Mr. Trump Jr. on a social media platform or marketing strategy. He was not interested and that was the end of it," said Alan Futerfas, a lawyer for Trump's son, in a statement.
In the run-up to the 2016 presidential election, Trump Jr., as well as President Trump's son-in-law, Jared Kushner, and then campaign manager Paul Manafort met with Russian attorney Natalia Veselnitskaya at the same tower in New York.
That meeting has played a key role in an ongoing investigation for possible collusion between the Trump campaign and the Kremlin, an allegation both sides have dismissed.
Trump Jr. has already admitted before congressional investigators that he talked to the lawyer for dirt on his father's contender, Democrat Hillary Clinton.
Full report at:
http://www.presstv.com/Detail/2018/05/19/562293/Trump-Jr-met-with-Persian-Gulf-Arab-Israeli-figure-ahead-of-his-deads-2016-victory
--------
Europe
Europe, China, Russia discussing new deal for Iran
May 20, 2018
BERLIN: Diplomats from Europe, China and Russia are discussing a new accord to offer Iran financial aid to curb its ballistic missile development and meddling in the region, in the hope of salvaging its 2015 nuclear deal, a German newspaper reported on Sunday.
The officials will meet in Vienna in the coming week under the leadership of senior European Union diplomat Helga Schmid to discuss next steps after the May 8 decision by US President Donald Trump to pull out of a 2015 nuclear accord with Iran, the Welt am Sonntag newspaper said, citing senior EU sources.
Germany, France, Britain, Russia and China would participate in the meeting, but the United States would not, it said. It was not immediately clear if Iran — which has resisted calls to curb its ballistic missile program in the past — would take part.
Under the 2015 deal, Iran agreed to curb its nuclear program in return for the lifting of most Western sanctions. One of the main complaints of the Trump administration was that the accord did not cover Iran's missile program or its support for armed groups in the Middle East which the West considers terrorists.
Concluding a new agreement that would maintain the nuclear provisions and curb ballistic missile development efforts and Tehran's activities in the region could help convince Trump to lift sanctions against Iran, the paper said.
"We have to get away from the name 'Vienna nuclear agreement' and add in a few additional elements. Only that will convince President Trump to agree and lift sanctions again," the paper quoted a senior EU diplomat as saying.
No immediate comment was available from the German foreign ministry.
The EU's energy chief sought to reassure Iran on Saturday that the 28-member bloc remained committed to salvaging the nuclear deal, and strengthening trade with Tehran.
Officials from the EU, Germany and other countries that remain committed to the deal have said it would disastrous if EU efforts fail to preserve it.
Iran has struggled to achieve financial benefits from the deal, partly because remaining unilateral US sanctions over its missile program deterred major Western investors from doing business with Tehran.
The officials are looking for a new approach given an understanding that it would be difficult for European firms to work around new US sanctions, the newspaper reported.
It said the new deal could include billions of dollars of financial aid for Iran, in line with an EU deal that provided billions in aid to Turkey for taking in millions of migrants and closing its borders, which helped end a 2015 migrant crisis.
Iran and European powers have made a good start in talks over how to salvage the 2015 deal but much depends on what happens in the next few weeks, Foreign Minister Mohammed Javad Zarif said last week.
http://www.arabnews.com/node/1306061/middle-east
--------
Police, rebels among 7 killed in Chechnya church attack
May 20, 2018
MOSCOW : An attack on an Orthodox church Saturday in the mainly Muslim southern Russian republic of Chechnya killed two policemen and a civilian and left four rebels dead, officials said.
"According to early information, two policemen in charge of security at the church ... and a civilian were killed," the officials said. They added that "four rebels have been eliminated" while two other policemen were hurt.
They also indicated a knife and a gun were found on the attackers behind the assault targeting the Archangel Michael church in central Grozny, and said police had prevented "more serious consequences and a larger number of victims."
Full report at:
https://nation.com.pk/20-May-2018/police-rebels-among-7-killed-in-chechnya-church-attack
--------
EU commissioner in Iran in bid to protect trade ties
19 May 2018
EU Energy Commissioner Miguel Arias Canete arrived in Tehran on Saturday to present plans for continuing oil and gas purchases and protect European companies despite renewed US sanctions on Iran.
"For sure there are clear difficulties with the sanctions," Canete said at a press conference alongside Iran's Atomic Energy Organisation head Ali Akbar Salehi.
"We will have to ask for waivers, for carve outs for the companies that make investments."
Canete, the first Western official to visit Iran since the US decision, was due to meet Environment Minister Isa Kalantari and Oil Minister Bijan Namdar Zanganeh later on Saturday, and Foreign Minister Mohammad Javad Zarif on Sunday.
Salehi acknowledged Europe's efforts to maintain the nuclear deal.
"We see the European Union... is making an extensive effort. They have promised to do so, and God willing, they will put that into practice," Salehi told reporters.
European leaders have vowed to maintain the deal and introduce measures to encourage trade and protect EU firms from US sanctions.
But several of their companies -- including France's Total and Holland's Maersk -- have already said it will be impossible to stay in Iran once US sanctions are fully reimposed over the next six months, unless they receive explicit exemptions from Washington.
Iran's trade with the European Union is around 20 billion euros, evenly split between imports and exports.
The vast majority of EU purchases from Iran -- 90 percent -- is oil purchases, going primarily to Spain, France, Italy, Greece, the Netherlands and Germany.
Iran, which has the world's fourth-biggest oil reserves, produces some 3.8 million barrels of oil per day, 70 percent of which goes to China and other Asian countries, and 20 percent to Europe.
It also has the second-biggest gas reserves in the world, but limited infrastructure means little is exported.
Full report at:
http://www.worldbulletin.net/europe/202213/new-catalonia-president-includes-exiled-leaders-in-govt
--------
Russia calls for foreign troop pullout from Syria including Iran, Hezbollah
19 May 2018
In comments published Friday, Russian presidential envoy to Syria Alexander Lavrentiev confirmed that President Vladimir Puttin's remarks on the need to withdraw foreign troops from Syria had implied Iranian forces and Hezbollah militia fighters as well as Turkish and American troops.
On the heels of a meeting between Putin and the Syrian President Bashar al-Assad in the Russian resort of Sochi on Thursday, Lavrentiev added: "This statement involves all foreign troops in Syria including the Turkish, American, Iranian and Hezbollah."
Lavrentiev stressed that Putin's statement on this issue represents a "political message", but added "not to view it as the beginning of a withdrawal process of foreign troops from Syria."
The Russian envoy said: "This is a very complex matter, because these measures must be implemented collectively, and start in parallel with a stabilizing process, because the military part is nearing its end and the confrontations are currently in a final stage."
Full report at:
https://english.alarabiya.net/en/News/middle-east/2018/05/19/Russia-calls-for-foreign-troops-pullout-from-Syria-including-Iran-Hezbollah-.html
--------
India
Affluent Muslims Reach Out To Poor with 'Ramzan Ration'
Mohammed Wajihuddin
May 20, 2018
MUMBAI: Half a dozen ceiling fans hum at the ground floor Maahoor Bai Community Hall at a crowded street in Dongri, giving respite from the blistering sun outside. Dozens of women who have gathered here queue up once the volunteers from the All India Memon Jamat Federation have finished registering them. Then Razia Chashmawala, the Jamat's deputy chairperson (women's wing), humbly hands the 'ration bags' out to the women. ''Those who have young daughters will also get a ladies' purse each," announces a volunteer.
This is a scene from one of the centres in the city distributing 'Ramzan Ration'. In the spirit of the current holy month of Ramzan, affluent Muslims are reaching out to the underprivileged with charity. In an effort to break the myth that Ramzan is just about fasting and feasting, many have begun pooling in resources to provide relief to the dirt poor.
A typical Ramzan ration packet carries wheat, flour, edible oil, ghee, sugar, tea, sewaiyan, dates, sherbet and everything else required for iftar and sehri (pre-dawn light meal) dishes. "The poor too should have nutritious meal in the night so that they can bear the hunger during the day's fast. There cannot be a better time than Ramzan to do charity and therefore we help the poor in whatever way we can," explains Chashmawala. She claims she will buy at least 1000 women new dresses before Eid.
Ramzan is a time to give. And they give magnanimously. There is a belief that every good deed done in Ramzan gets divine blessings 70 times more than the same deed would get in any other month. Which is why most Muslims give out zakat, the 2.5% of their annual savings, to charity in Ramzan though they can give zakat money at any time of the year.
Free food definitely is the popular part of charity in Ramzan. Sohail Khandwani, managing trustee of Mahim dargah and also a trustee at Haji Ali dargah, informs that both the Sufi shrines together distribute almost 2000 iftar packets among the rozedars every evening. Besides, around 150 devout Muslims who sit in aitekaaf (they spend the last 10 days of Ramzan in constant prayers, away from their homes, secluded in mosques) in the seven mosques across Mahim locality will get free meals-both iftar and sehri. "These people who participate in aitekaaf don't visit their homes till the new moon announcing Ramzan's end is sighted. We have decided to supply food to them so that they can pray uninterruptedly," says Khandwani.
The Mohammed Ali Road-located iconic Minara Masjid, plans to feed sehri to over 100 every night. "People have had iftar at our mosque for years. But from this year we are introducing sehri too for those in this locality shopping past midnight and cannot reach home for the pre-dawn meal," explains Minara Masjid's trustee Abdul Wahab Latif Merchant.
In this holy month some have taken upon themselves the task to ameliorate the condition of many impoverished imams. NGO Social and Educational Welfare Association (SEWA) Chief Yusuf Abrahni has made a short film highlighting the plight of the preachers. "The mosques are increasingly becoming air-conditioned while the imams who lead prayers and deliver sermons remain impoverished. They are paid a pittance (Rs 3000-Rs 5000 per month). Responding to our appeals, many trustees of the mosques have increased salaries of the imams," says Abrahni, jubilant that his "Care for Imam Film" has gone viral.
Some believe in going the "extra mile". Bandra-based activist Shadaab Patel sends 70-80 ration packets every second day during Ramzan to the impoverished living in Muslim ghetto Mumbra. "Our people have the list of target beneficiaries and we reach out to as many as we can," says Patel. At least in Ramzan many poor feel the pinch of poverty a little less.
https://timesofindia.indiatimes.com/city/mumbai/affluent-muslims-reach-out-to-poor-with-ramzan-ration/articleshow/64240784.cms
--------
Students Can Be Emissaries Of Hindu-Muslim Unity
May 19, 2018
Ramachandra Guha
In January 1942, Mahatma Gandhi was invited to speak at the Silver Jubilee Convocation of the Banaras Hindu University (BHU). He knew both the city and the university well. His first major speech after returning to India was delivered at the founding ceremonies of BHU, back in February 1916, when he famously asked the Maharajas present to shed their ostentatious lifestyles. "There is no salvation for India", he told the grandees at the ceremony, "unless you strip yourself of this jewellery and hold it in trust for your countrymen in India". "There can be no spirit of self-government about us," he added, "if we take away or allow others to take away from the peasants almost the whole of the results of their labour."
Gandhi's 1942 visit to BHU was at the invitation of the university's vice-chancellor, the renowned philosopher and future president of India, Sarvepalli Radhakrishnan. The speaker before him had boasted about the university's engineering departments. Gandhi said that was all well and good, but the university's real contribution to nation-building would lie in other spheres. He urged the BHU to have close and continuous interactions with another great university, which however carried "Muslim" rather than "Hindu" in its name. As Gandhi asked of his audience: "Have you been able to attract to your University youths from Aligarh? Have you been able to identify with them? That, I think, should be your special work, the special contribution of your University. Money has come in, and more will come in if God keeps Malaviya ji in our midst for a few more years. But no amount of money will achieve the miracle I want—I mean a heart-unity between Hindus and Muslims."
I was reminded of these words when reading of the recent happenings at the Aligarh Muslim University (AMU). As other commentators have pointed out, debates on whose portrait can or cannot hang inside the walls of the campus are legitimate; so long as they are conducted by the teachers and students of the university in question. In this case, however, it was vandals from outside, egged on by right-wing politicians, who invaded AMU and caused an ugly scene and some violence too.
The AMU has produced many fine historians, sociologists and legal scholars. It is less known that it has also had a robust tradition of science education. It was the AMU which gave us Obaid Siddiqui, who nurtured our best (and arguably only world-class) scientific institute, the National Centre for Biological Research. Of all the Indian scholars in any field I have met in my lifetime, Siddiqui was the one I most admired, for his character, intelligence, and humanity, and for what he did for our country.
I started my own professional career 30 years ago. In that time I have had many junior colleagues myself, dozens of young students who have assisted or advised me in the writing of my books and essays. Of all these research assistants, the best and most capable was a proud graduate of the AMU. But I must not name him in public, because he is a shy man, and would be embarrassed if I did. But I should say one thing about him; that he is a Hindu.
I was glad to see that when the mischief-making outsiders came crashing into the gates of the AMU, Hindu students were as determined to protect the autonomy of their university as those who were raised Muslim. Likewise, while the best known professors, and the majority of the students, of the BHU may have been Hindus, that university must also have had many Muslims who studied there and went on to build successful careers, and who retain a deep attachment to their alma mater.
That said, it remains the case that these two universities are still seen as essentially belonging to one community alone. That may be because they flag their respective religious identity in their very names; and because the student composition of AMU has a majority (or at least plurality) of Muslims and that of BHU a majority of Hindus.
I do not know what whether the AMU and the BHU actually do have regular interactions. I suspect not. In that case, such interactions should be encouraged and furthered by the faculty and students, with groups having any political affiliation (right, left, or centre) being absolutely kept out.
I have also recalled Gandhi's 1942 BHU address in my recent visits to the most-troubled state of our Union. In 2015 I spoke at the Kashmir University, in Srinagar; two years later, I spoke at the Jammu University, in Jammu. I enjoyed both visits enormously, not least because in each case I was staying at the university guest house and so my conversations with students and faculty began at breakfast and continued well into the night. Both institutions had done this Tamil from Bengaluru the immense honour of hosting and caring for him. However, each had little to do with the other. The students and faculty of Jammu University were absolutely cut off from the activities of the Kashmir University; and the reverse was also the case. The odd professor in both places recognised that this was a problem; but there seemed to be no efforts on to resolve it.
Full report at:
https://www.hindustantimes.com/columns/students-can-be-emissaries-of-hindu-muslim-unity/story-8GURyfF2QixIFLL4Gd5DxN.html
--------
Five Muslims Injured In Clash, RAF Rushed To Preet Vihar, Punjab
May 20, 2018
LUDHIANA: A day after five people were injured in a clash between members of the Muslim and Valmiki communities in Preet Vihar village here, a contingent of the Rapid Action Force was rushed in to the locality to quell any kind of violence in the wake of the brawl.
The additional force was sent as Preet Vihar had become tense after the clash had taken a communal colour. While the police claimed that the clash was the result of an old enmity, Naib Shahi Imaam Maulana Usman Ludhianvi said a mob attacked about 15 members of the Muslim community as they were opposing the construction of a mosque in the area. "They attacked the Muslims at the time they were offering Tarawi (night prayers during Ramzan)," he said. "It was unprovoked and 200 metres from the under-construction mosque."
Even as the preacher cried foul, Meherban police station SHO Davinder Kumar said they had registered a case under sections 323 (voluntarily causing hurt) and 341 (wrongful restraint) of the Indian Penal Code (IPC) against unidentified persons for the attack. ""The clash was not over the construction of a mosque. The injured persons received minor injuries; they are fine now," he said, but admitted to the mosque's proximity to the scene of the clash.
On Friday evening, alleged Ludhianavi, members of the Muslim community were getting ready for prayers when the mob of around 20-30 persons from the other community attacked them at Preet Vihar in Kailash Nagar.
He claimed that the attackers were armed with weapons. "They didn't even spare women," he said. The injured have been identified as Qayoom (44), Noordin (42), Naseeb (22), Owais (28), and Parvez (26).
Full report at:
https://timesofindia.indiatimes.com/city/ludhiana/5-muslims-injured-in-clash-raf-rushed-to-preet-vihar/articleshow/64240446.cms
--------
Now, India and Pakistan Share Vision of History by academicians of O.P. Jindal Global University and Lahore University of Management Sciences
MAY 20, 2018
An undergraduate course prepared by academicians on both sides of the border looks beyond 'official' interpretations
The hostility between India and Pakistan manifests itself in the contradictory understanding of South Asian history, which disagrees on individuals and episodes related to it.
Pitching for a change in this attitude, two educational institutes of the region have managed to create a common academic course in 'shared South Asian history.'
The O.P. Jindal Global University (OPJGU) and the Lahore University of Management Sciences (LUMS), earlier in 2017, prepared and began a course covering important historical landmarks and personalities in modern Indian and Pakistani history.
As a result, Dr. Pallavi Raghavan of OPJGU and Dr. Ali Usman Qasemi of LUMS, on two sides of the border, came up with 'Foundations of South Asian History,' an undergraduate course for students of their respective universities.
The title made it clear that there could be more than one foundation for the South Asian region. It dealt with issues that usually are lost in the highly politicised study of historical figures like Mohammed Ali Jinnah and Mahatma Gandhi.
A key feature of the course is the study of aspects like the Indus Valley Civilisation, the core of which lies in Pakistan but does not get highlighted in official history of the state, as it de-emphasises ancient history of the Af-Pak region and highlights the advent of Islam in South Asia.
So, from the official Pakistani historical perspective, the real history of the two-nation theory begins with the arrival of Islamic conqueror Mohammed Bin Qasim to Sindh in the 7th century AD. Similarly, in the Indian context, figures like Pakistan's founder 'Qaid-e-Azam' Jinnah and the first Prime Minister of Pakistan Liaquat Ali Khan are considered to be polarising figures. That apart, various historical phases like the resistance against 19th century colonialism, which is usually interpreted in both India and Pakistan in contradictory ways, formed a major challenge.
Dr. Ali Usman Qasemi explained, "What is remarkable about the course is that it gives an opportunity to students to study a shared but highly contested past. The idea is that students from Lahore and Delhi would discuss South Asian historical processes that impact our present day state, society and politics."
At the heart of framing the course was the task of removing the narrower perspective of 'official history' that is delivered by academic structures on both sides of the India-Pakistan border, said Ms. Raghavan who, like Dr. Qasemi, is a trained historian. Common understanding
"School textbooks blinker the student's sense of the past and the course was aimed at building a common understanding of South Asian history," Ms. Raghavan said, explaining the framing of the course by Dr. Qasemi and herself.
The initial process of teaching had to address the limited or negative understanding of figures like Jinnah, and Chaudhary Rahmat Ali among the Indian students and the similarly near-absent understanding of Rabindranath Tagore and Dr. B.R. Ambedkar among their Pakistani counterparts. "In fact, Pakistani students had a minimal idea about Ambedkar's contribution to India," Ms. Raghavan said.
Swaroopananda Mishra, a student of law who opted for the paper, said that as an optional paper it drew good response from scholars in multiple courses, including that of law. The course therefore had a substantial reading list of primary texts. A. L. Basham, Irfan Habib, Satish Chandra are among the recommended authors. Each reading addresses the controversies that are listed in a segment. For example, the chapter on the Indus Valley Civilisation had to deal with the controversial theory of 'Aryan invasion' and the chapter on Mughal history had to deal with the controversial perspective of 'Muslimness' of the Mughal empire. In the chapter on early Muslim history, the issue of the alleged massacre of Hindus was taken up. The goal of the course was not just to impart factual information on history, but also to ensure a deeper understanding of historical processes and dynamics. Students have to study 29 such segments dealing with 27 contested topics.
Complete autonomy
In all, the Indian batch of the subject had eight students and the Pakistani batch had 16 students. Upon completion, students will get credits that will support their overall grades. Pallavi Raghavan says that the unique academic exercise for graduate students was possible because they had complete autonomy in preparing such a course.
Similar attempts have not succeeded elsewhere. Notably, in the Delhi-based South Asian University (SAU), a course on history has so far not been implemented as member countries of the South Asian Association for Regional Cooperation (SAARC) region failed to come to a consensus on key events and narratives.
The challenge was, therefore, to craft a course where conversation could flow. Students on both sides connected through Skype could learn from faculty members and visiting lecturers, interact with each other and do collaborative course work over email and WhatsApp.
After a semester of studying through Skype and doing collaborative work, the students from Pakistan joined their Indian counterparts at OPJGU on 11 May for a physical class room experience. It was the satisfying culmination of nearly a year of effort by faculty members and visiting lecturers like Mani Shankar Aiyar, Srinath Raghavan and Meenakshi Gopinath.
Full report at:
http://www.thehindu.com/news/national/now-india-and-pakistan-share-vision-of-history/article23939499.ece
--------
Army has right to retaliate during Kashmir ceasefire
D.C. PATHAK
May 19, 2018
Jammu and Kashmir Chief Minister Mehbooba Mufti remains engaged in a battle of wits with the separatists in a bid to retain her own political constituency in the state—that she is competitive and not combative towards the Hurriyat that fronts the separatists, is not difficult to grasp. Seen in this light, her moves to seek "amnesty" for arrested stone pelters and "ceasefire" during Ramzan are understandable, but it is for Government of India to ensure that the responses in these matters be kept to the principle of saving the human face of the administration, without giving any quarter to the perpetrators of violence. From the Centre's point of view, it is important that the coalition government in the state does not do anything that comes in the way of the Army resolutely countering the armed terrorists in intelligence-based operations and the state police supported by the paramilitary—wherever necessary—maintains order in the streets. A certain weakness of the police on the law and order front has pushed the Army into situations of confrontation with the civilians.
It is good, however, that on the issues of both release of stone-pelters and Ramzan relaxation, the Army Chief has stated that counter-terror operations would continue where required and that stone-pelters supporting terrorists would be dealt with toughness. A message was clearly given to the adversary on behalf of the Centre that benevolence on the civilian front was a gesture that did not impede the serious business of putting down instigated violence.
A major gain for the nation from the functioning of the coalition government—howsoever imperfect—is that the effectiveness of the Army against the infiltrated terrorists has been maintained and measures have been taken to thwart Pakistan's usual bid to step up cross-border terrorism in the summer months. In the first four months of this year, nearly 60 terrorists were eliminated in the valley—a disquieting part of this was that they included 27 local gunmen—while 29 security personnel also lost their lives, which is a heavy price to pay in the cause of national security. A totally political view of en masse release of stone-pelters on the basis of a built-up narrative of "all these being kids" ignored two serious concerns that a government responsible for law and order ought to have shown—drawing a distinction between youngsters who acted as pawns and the masterminds who plotted the violence from behind or right on the spot, and checking out with the families in every case to evaluate if they were willing to play a role in promoting peace through the boys set free without legal action. It is not clear if this was done. As it is the phenomenon of organised stone-pelting has reappeared and many new boys have been enlisted by enemy agents.
On the "Ramzan Ceasefire" issue, Mehbooba Mufti invoked the precedence of the A.B. Vajpayee government when a Non Initiation of Combat Operations (NICO) was ordered for a few months in 2001 to coincide with Ramzan, to generate pressure on the Centre. At that time the Srinagar airport was attacked by terrorists and this time around the halting of the Army's counter-terror operations in deference to Ramzan has been followed by an encounter between the armed forces and terrorists in Shopian. It is only appropriate that the current suspension came with a clarification that the Army would have the right to retaliate if attacked. Ramzan is an all-important festival of a community and its celebration in public is a part of freedom of religion that should be exercised even in a disturbed atmospherics, subject to minimal regulations that local authorities might implement in everybody's interest. The Ramzan gesture does bring political credit to the Mehbooba government and the Centre, but playing it by the ear does not detract from the strategic challenge that India faces in Kashmir on account of Pakistan-sponsored cross-border terrorism and the rise of religious extremism due to Lashkar-e-Tayyaba—an Ahle Hadis outfit—that have pushed the value system of Kashmiriyat totally into the background.
LeT representatives in Kashmir have rejected the concession shown by the government as a mere drama and called for continuing combat against the "armed occupational forces". The Hurriyat leadership, which had all along been in the payroll of Pakistan, is now trying to bring Kashmir on the geo-political map of Islam's struggle against its enemies—the trio of Mirwaiz Umar Farooq, Yasin Malik and Syed Ali Shah Geelani asked for protests on the first Friday of Ramzan to express solidarity with their Palestinian brethren. The shifting of the US embassy in Israel to Jerusalem ordered by President Donald Trump has added a new dimension to the "war on terror".
The challenge in Kashmir is to establish the credibility and efficacy of a democratically elected government in terms of maintaining internal order, facilitating counter-terror operations of the Army by helping to prevent the loss of civilian lives and executing development projects all over the state. The coalition has remained too preoccupied with state politics to give full attention to the need for improving administration. It is time the state government reiterated the three-point Kashmir policy—that the undivided J&K is an integral part of India; that cross border terrorism will be met with zero tolerance; and that India-Pakistan talks on Kashmir cannot be resumed unless Pakistan expressly abjures terrorist violence.
Full report at:
https://www.sundayguardianlive.com/opinion/army-right-retaliate-kashmir-ceasefire
--------
Issue Of Muslims Offering Prayers Being Politicised: Haryana CM
May 20, 2018
CHANDIGARH: Haryana Chief Minister Manohar Lal Khattar said today the issue of Muslims offering prayers at open places was being "politicised" by some people.
"The matter of offering prayers at open places by Muslims, which is a social, not political, issue is being politicised by some people and taken in the wrong direction. No one has the right to hurt religious sentiments...and such matters can be settled only through peaceful dialogues," he said at an event in Chandigarh.
Mr Khattar said that the population is increasing, including the number of people belonging to the Muslim community. "With the number of people offering prayers increasing, the number of places available for offering prayers has become small," he said according to a state government release.
The Gurgaon district administration has identified 37 places where Muslims can offer prayers. Apart from this, they can also offer prayers at masjid, eidgah and private places.
Mr Khattar said the government's role is not only to carry out development, but also to steer the society in the right direction.
As far as the 'Bhagavad Gita' is concerned, he said it is a way of life and the Supreme Court has also given judgment that the 'Gita' is a way of life, that is, the art of living.
According to the release, he said the 'shlokas' of the 'Gita' had been written on every page of the Constitution, apparently referring to the values that are part of the Vedic scripture.
People around the world are willing to follow the 'Gita'. Some countries have shown interest in organising programmes related to the holy book, he said.
Mr Khattar said the state government has got the 'Gau Sanrakshan Avam Gau Samwardhan' law passed unanimously in the legislative assembly. 'Gau Seva Aayog' has been set up and stray cattle were being kept in gaushalas and nandishalas, he said.
Mr Khattar also said that the Gayatri Mantra is a part of people's faith and if anyone wanted to recite the mantra, he can. The state government has not issued any mandatory orders in this regard, he added.
Namaz, jaagran and other forms of prayers are religious matters and it is "quite okay" to offer prayers at public places until anyone raises objection, Mr Khattar said, adding when someone objects, the government has to take cognizance of it and step forward to maintain law and order.
Full report at:
https://www.ndtv.com/india-news/haryana-chief-minister-manohar-lal-khattar-says-issue-of-muslims-offering-prayers-being-politicised-1854544
--------
Mirwaiz Umar Farooq detained after he defies house arrest
May 19, 2018
Moderate Hurriyat Conference chairman Mirwaiz Umar Farooq was on Saturday detained after he defied house arrest and tried to march towards Lal Chowk city centre here to demand the resolution of the Kashmir issue during Prime Minister Narendra Modi's visit to the state.
Farooq, who was under house arrest, came out of his Nigeen residence and tried to march towards Lal Chowk, a police official said.
He said a posse of policemen, waiting outside his house, took the Hurriyat chairman into preventive custody and shifted him to the Nigeen Police Station.
Farooq Friday said the government should allow the people to assemble at Lal Chowk so that they can convey their 'Mann ki Baat' to the prime minister during his visit on Saturday.
"Mr Modi all have been listening to your 'mann ki baat' for years now. As you come here tomorrow, allow us Kashmiris to peacefully gather at Lal Chowk so that you hear our 'Mann ki baat'! It's just three words– Resolve Kashmir Dispute," Farooq had said in his address to Friday congregation at Jamia Masjid here.
Separatists under the banner of Joint Resistance Leadership (JRL) had asked people to observe a complete shutdown and march to Lal Chowk city centre to convey to Modi their demand for resolution of the Kashmir issue.
The JRL, which comprises Mirwaiz, Syed Ali Shah Geelani and Mohammad Yasin Malik, had in a statement said, "India will try to use the visit of its prime minister to mislead the world community and its own people by claiming that people of Jammu and Kashmir are happy being part of India. The ground reality is that the situation in the state is like hell."
Meanwhile, the police also took into custody several leaders and activists of the JKLF after they tried to march towards Lal Chowk.
Full report at:
http://indianexpress.com/article/india/mirwaiz-umar-farooq-detained-after-he-defies-house-arrest-5183170/
--------
South Asia
Myanmar's border police asks Rohingyas to leave no-man's land
May 20, 2018
Dhaka: Myanmar's Border Guard Police (BGP) on Saturday asked the Rohingya refugees, living in a no-man's land along the Tombru border point in Bandarban district in Bangladesh, to leave the area. "Since 8:00 am, in the loudspeaker announcements BGP is saying that residing in the no-man's land is illegal, the Rohingya people who are staying there should leave," Mohammad Arif Hossain, a local community leader was quoted by Daily Star Bangladesh as saying.
The Deputy Commander of Cox's Bazar BGB 34-Battalion Major Iqbal Ahmed also confirmed the development.
Meanwhile, Jahir Ahmad, principal of Ghumdum Government Primary School slammed the BGP's statement, calling it "highly-objectionable." "The BGP is terming the Rohingya people living in the no-man's land as Bengalis which is highly objectionable," Ahmad said. In January, Bangladesh and Myanmar agreed on a two-year timeframe for the repatriation of hundreds of thousands of Rohingya refugees.
The process, which was supposed to start from January 22 was delayed as some critics of the deal voiced concerns over the lack of security guarantees for those who would return. Rohingyas are a Muslim minority ethnic group in Myanmar. They have been regarded by many majority Buddhists as illegal migrants from Bangladesh.
More than 700,000 Rohingyas are languishing in Bangladeshi refugee camps after fleeing a brutal Myanmar military campaign launched in August last year. The United Nations (UN) had said the scorched-earth operation, which had left hundreds of villages burned to ash in Myanmar's Rakhine state, amounted to 'ethnic cleansing'.
There are more than 3,00,000 Rohingyas living in Bangladesh, who fled in earlier waves of violence from Myanmar since the last three decades. (ANI)
https://www.siasat.com/news/myanmars-border-police-asks-rohingyas-leave-no-mans-land-1357456/
--------
Afghan cricket stadium attack leaves 8 dead
May 20, 2018
JALALABAD - Eight people were killed and 45 wounded in a series of explosions targeting a cricket match in the eastern Afghan city of Jalalabad, officials said Saturday, the first attack since the holy month of Ramadan began.
The blasts exploded among spectators crowded into the stadium at around 11pm (1830 GMT) on Friday evening as they watched the local "Ramadan Cup", the provincial governor's office said.
No group has yet claimed the murders but the Taliban said they were not responsible in a WhatsApp message.
Jalalabad, the capital of Nangarhar province, on the border with Pakistan, has a Taliban presence and is also a stronghold of the Islamic State group.
In September 2017 IS claimed a suicide bombing on a cricket match in Kabul which left three dead and five injured.
Afghan President Ashraf Ghani on Saturday condemned the attack in Jalalabad.
"The terrorists did not stop killing our people even during the holy month of Ramadan ... by carrying out a terrorist attack in a populated sport stadium, once again they have proved that they are not bound to any creed or religion, and they are the enemy of humanity," a statement from his office said.
Cricket in Afghanistan struggled under the hardline Islamist Taliban regime in the late 1990s, which viewed sports as a distraction from religious duties.
Full report at:
https://nation.com.pk/20-May-2018/afghan-cricket-stadium-attack-leaves-8-dead
--------
Bangladesh: Turkish agency organizes iftar for Rohingya
19.05.2018
A Turkish aid group organized an iftar (fast-breaking meal) program for Rohingya Muslims in Bangladesh, where thousands have sought refuge.
In a statement on Saturday, Turkish Cooperation and Coordination Agency (TIKA) said it had sent food aid to 25,000 Rohingya and organized an iftar for 1,500 people.
Mahmut Cevik, TIKA's head of the Balkans and South Europe department, during the iftar program recalled the hardships the Rohingya are going through.
He said: "Turkey was with you yesterday, will be with you today and tomorrow."
Ahmet Refik Cetinkaya, TIKA's Bangladesh coordinator, extended Ramadan greetings to the Rohingya.
Ahead of the iftar program, TIKA officials visited the shelters of Rohingya and listened their problems. They also distributed food aid to families and gave gifts to the children.
The aid agency provides food to 6,000 Rohingya Muslims at the refugee camps every day and food aid to thousands.
Since Aug. 25, 2017, some 750,000 Rohingya, mostly children and women, have fled Myanmar after Myanmar forces began a crackdown on the minority Muslim community, according to Amnesty International.
At least 9,000 Rohingya were killed in Myanmar's Rakhine state from Aug. 25 to Sept. 24, 2017, according to Doctors Without Borders.
Full report at:
https://www.aa.com.tr/en/asia-pacific/bangladesh-turkish-agency-organizes-iftar-for-rohingya/1151548
--------
Former DGMO of Pakistani Military reportedly killed in Afghanistan
May 20 2018
Unconfirmed reports emerging from Pakistan indicate that the former Director General of the Military Operations (DGMO) of the Pakistani Military Lt General (R) Shahid Aziz has been killed in Afghanistan.
Reports regarding the killing of Aziz were apparently broken by one of the print medias in Pakistan.
Citing the media report, Pakistan Today, reported that has been killed in Afghanistan some time ago but no furthere information been given in this regard.
However, the former top Pakistani General's son has confirmed to the media outlets in Pakistan that reports circulating regarding his father are not true.
This comes as the former Pakistani Army Chief General (r) Pervez Musharraf had earlier said that Shahid Aziz had grown a beard and gone to Syria, according to Pakistan Today.
Citing the sources of the privy of the development, Musharraf had also added that Gen. (r) Aziz had been killed in Syria.
Full report at:
https://www.khaama.com/former-dgmo-of-pakistani-military-reportedly-killed-in-afghanistan-05190/
--------
AAF combat flight hours reached to nearly 30 hours in Farah operations
May 19 2018
The 438th Air Expeditionary Wing of the US Air Force in Afghanistan says the combat flight hours of the Afghan Air Force reached to nearly 30 hours during the operations to suppress the Taliban attack in Farah province. (Courtesy Photo – 438th Air Expeditionary Wing)
The source further added that the Afghan Air Force A=29s were armed and ready to provide overwatch and escort of the Afghan National Army forces in Farah.
The Afghan Air Force pilots flew nearly 30 hours of combat, disabling three enemy vehicles as they provided persisent on-call coverage, the 438th Air Expeditionary said in a short online statement.
This comes as the United States Department of Defense, Pentagon, had earlier hailed the Afghan National Defense and Security Forces (ANDSF), for their response to the Taliban offensive on Farah city.
"This week, the Afghan national defense and security forces, supported by U.S. air power and advisers, defeated a major Taliban offensive in Farah City in western Afghanistan. Today, in spite of vain Taliban attempts to challenge the Afghan government's control of Farah City remains under the control of Afghan defense and security forces," Pentagon spokesperson Dana White told reporters.
Full report at:
https://www.khaama.com/aaf-combat-flight-hours-reached-to-nearly-30-hours-in-farah-operations-05189/
--------
HRW demands thorough probe after Ghani apologize regarding Kunduz airstrike
May 19 2018
The Human Rights Watch (HRW) has demanded an in-depth investigation into the deadly Kunduz airstrike after President Ghani apologized over the loss of lives of civilians in the raid.
"Yes, the apology matters: it is important that the government acknowledge the loss and suffering of civilians harmed by military operations. But there was nothing in Ghani's apology addressing a possible war crime having been committed," HRW said in reaction to President Ghani's apology to the families of the victims.
According to HREW, instead Ghani stated that "the key difference between the government and insurgents is that a legitimate government will always seek forgiveness for mistakes."
The Human Rights Watch also added that a willingness to apologize does not excuse a government from its laws-of-war obligations. The government should promptly, thoroughly, and impartially investigate and hold accountable all those responsible for violating the laws of war.
"The bombing should ring alarm bells in the US. The US military plays a crucial role in support of Afghan air operations. The US provides training to the Afghan air force personnel and has recently provided it with new attack aircraft and helicopters," HRW said in a statement.
HRW also pointed towards a report on the airstrike by the United Nations Assistance Mission to Afghanistan (UNAMA) that found that the attack "rais[ed] questions as to the Government's respect of the rules of precaution and proportionality" under the laws of war
Full report at:
https://www.khaama.com/hrw-demands-thorough-probe-after-ghani-apologize-regarding-kunduz-airstrike-05187/
--------
UK may send hundreds more troops to Afghanistan, bending to Trump demands
May 20, 2018
Britain's military is reportedly considering to substantially increase the number of its troops in Afghanistan following demands by US President Donald Trump for NATO members to "pay their fair share" for the US-led military alliance.
British daily The Times reported Friday that UK's Defense Secretary Gavin Williamson is believed to have asked Prime Minister Theresa May for deployment of 400 additional military forces to purportedly assist in the battle against the Taliban insurgents, on top of the 600 British soldiers already in the war-torn Afghanistan.
Trump declared last August that the US will deploy 3,500 more troops to the Asian nation in efforts to secure areas that had fallen into Taliban control, after repeatedly warning that NATO members need to fulfill their commitments for funding the Western military alliance.
"Twenty-three of the 28 member nations are still not paying what they should be paying and what they're supposed to be paying for their defense," Trump said during leaders summit of NATO member countries last year at the alliance's headquarters in Brussels.
According to the report, May is scheduled to make an announcement about the additional troop deployment at a NATO summit next July, where it is expected Trump will press members even further for more contributions.
Britain's Ministry of Defense (MoD), meanwhile, declared that it remained "committed to NATO's ...mission, in which we play an important role, and keep our contribution under constant review."
Former commander of Britain's Joint Forces Command Richard Barrons has also stated in an interview with BBC Radio 4 Today program that the UK needed to acknowledge that challenges still remained in Afghanistan.
"When we left, it was not the case that the Afghan national army and the air force were strong enough to tip the balance against the Taliban -- and that now has to be reset," he said.
The development came less than a week after Taliban militants attacked the capital city of western Farah Province in an attempt to capture the city, killing over 30 police and military officers, but failed advance in face of fierce resistance by Afghan forces.
Local provincial council member Jamila Amini declared on Tuesday that the insurgents had attacked the city around midnight, capturing one district and parts of another.
Amini further stated that government airstrikes had been called to assist ground forces.
"Heavy fighting continues inside the city, and aircraft have just started bombarding Taliban positions," she said. Reinforcements, including commando units, have also been deployed to the region, she added.
US-led military forces invaded Afghanistan in 2001 and toppled a ruling Taliban regime as part of its purported "war on terror" campaign. The war effort, however, has failed to bring any stability to the terror-ravaged country despite the persisting presence of thousands of foreign forces.
Full report at:
http://www.presstv.com/Detail/2018/05/20/562298/Britain-military-troops-Afghanistan-NATO-US-President-Donald-Trump-Defense-Secretary-Gavin-Williamson
--------
Southeast Asia
Mahathir as bulwark against PAS Islamic wave
Robin Augustin
May 20, 2018
PETALING JAYA: For those opposed to PAS' brand of Islamisation, Prime Minister Dr Mahathir Mohamad should be considered an ally, says prominent lawyer Gurdial Singh Nijar.
Speaking to FMT while attending a forum here, former law professor Gurdial noted that Mahathir has been very vocal against the Islamisation programme propounded by PAS.
"When he was PM the first time (1981-2003), he tried to neutralise PAS' efforts to politicise Islam," Gurdial said, adding that Mahathir had tried to counter this through efforts which favoured the government at the time.
"What he did was that he declared Malaysia an Islamic state, knowing full well what the Federal Constitution says," he said after a forum on the general election results, organised by the Council of Churches Malaysia.
Then Mahathir started establishing a variety of institutions like Islamic banking and other religious institutions to support the government's viewpoints, to battle against the PAS Islamisation efforts.
Gurdial also said Mahathir has consistently been vocal against hudud criminal penalties, describing it as unIslamic and that it shouldn't be implemented in Malaysia.
"In that sense, Mahathir is an ally."
On the other hand, Gurdial noted that PKR had not taken a clear position on the efforts by PAS to expand the criminal jurisdiction of Syariah Courts through a private member's bill.
"They said it needs more time, that they need to reflect on it more carefully, get views of others and that it can't be rushed through and has to be deferred. Their position is less clear cut, compared to Mahathir's."
PAS President Abdul Hadi Awang tabled a private member's bill to amend Act 355, or the Syariah Courts (Criminal Jurisdiction) Act 1965. His proposal allows the court to mete out jail sentences of up to 30 years, levy a fine of up to RM100,000 or impose up to 100 lashes of the cane for certain offences under the syariah penal code.
Gurdial said the PAS influence in the Malay hinterland, particularly the East Coast, could be a challenge for Pakatan Harapan.
He said PAS constituencies may not be agreeable to PH's direction which was geared towards a more open, liberal, free and transparent direction. "PKR might need to moderate some policies to take into account the sensitivities of these constituencies."
http://www.freemalaysiatoday.com/category/nation/2018/05/20/mahathir-as-bulwark-against-pas-islamic-wave/
--------
20 Years Since Beginning of Reformasi, How Far Have We Come?
May 19, 2018
Jakarta. This year, the month of May comes with a bittersweet blend of history and progress, as Indonesia observes the 20th anniversary since the downfall of Suharto's regime and the beginning of reforms known as reformasi.
The regime change was triggered by months of financial crisis that rattled Asian countries, leading to mass protests, which resulted in political turmoil and power games marred by social unrest, riots and forced disappearances of activists.
During Suharto's 32-year rule, the Indonesian economy experienced rapid growth, reduction poverty and huge expansion of higher education and health care. However, the same period was also rife with restrictions on freedom of press and expression, human rights abuses, rigged elections and rampant corruption.
When the New Order regime fell and an opportunity for major reform became possible, the nation called for a number of changes, including: amendments to the 1945 Constitution; freedom of expression, abolition of the so-called dwifungsi (a military doctrine placing the Army as both a socio-political and defense force); introduction of the rule of law, human rights; and eradication of corruption, collusion, nepotism.
How far have we come since 1998?
Freedom and Democracy
"During the New Order regime, freedom was costly. People couldn't freely express themselves or criticize the government, and the press was restricted," said Ansy Lema, a former 1998 activist and lecturer at the Faculty of Social and Political Sciences of Universitas Nasional (Unas) in Jakarta.
Savic Ali, director of online affairs of Indonesia's largest Islamic organization Nahdlatul Ulama (NU), also a former organizer of the 1998 student demonstrations, echoed the words of Ansy.
"This is a blessing, because today we enjoy freedom, freedom of expression, freedom of the press, freedom to associate, freedom to establish organizations, to create communities. We are enjoying freedoms that we did not have before. And we no longer live in fear," he told the Jakarta Globe.
When Suharto was in power, the press was severely repressed, with overly critical journalists disappearing or thrown in jail. Debates on domestic politics were also restricted, showing a stark contrast in comparison to the lively discussions Indonesians have nowadays.
"We couldn't criticize the government, we could be jailed or made disappear," Ansy added.
The process toward a more democratic Indonesia began immediately after Suharto stepped down on May 21, with countless amendments to legislation in the following years, which involved including a new chapter on human rights and the lifting of restrictions on freedom of expression and association.
The political reforms of the late 1990s and early 2000s also resulted in more open and transparent governance, with decentralization aiming at equal distribution of power.
"Reformasi allowed us to have a more genuine democracy, not merely a pseudo-democracy … Public participation during the New Order was distorted, because the people were forced to do it," said Djayadi Hanan, domestic politics lecturer from Paramadina University.
In contrast, the years after reformasi showed political competition and accountability, most notably through general elections, which have been held regularly and openly, Djayadi added.
Now we have multiple political parties, under the New Order there were only three. The military and police, which earlier were one, also no longer have guaranteed seats at the House of Representatives.
Human Rights
Reformasi also came with calls on the government to address past human rights abuses, including the 1965 anti-communist purges and murders and disappearances of activists.
Although the National Commission on Human Rights (Komnas HAM) has been examining the abuses that took place since 1965, activists argue the government has yet to show a real commitment to solve them.
"There is a lack of will from the government to resolve past cases of human rights abuses, even though it's included in President Jokowi's [Joko Widodo] Nawa Cita [agenda]," said Nursyahbani Katjasungkana, human rights activist and coordinator of the International People's Tribunal on 1965 Crimes Against Humanity (IPT 1965).
Indriyanti Suparno, a commissioner at the National Commission on Violence Against Women (Komnas Perempuan), told the Jakarta Globe that the past 20 years have been marred by flawed law enforcement and impunity for perpetrators of abuses.
"For example, those who were probably involved in the events [riots] of 1998 are still holding strategic offices in the country. This affects the space that the victims can access, whether for recovery, justice or to obtain their rights," Indriyanti said. Both Nursyahbani and Indriyanti also highlighted various progressive policies adopted in the past 20 years, including ratification of international conventions concerning human rights, efforts to end violence against women, and prioritizing women's issues in national programs.
However, their implementation is not yet satisfactory.
"There is still a huge problem in terms of implementation, because our political culture has not really transformed. Corruption is still rampant, law enforcement is weak and neglectful of minority groups," Nursyahbani said.
According to Indriyanti, a lack of political will affects the implementation process.
"Though we have policies protecting women, they are difficult to realize when the political will of lawmakers is not there," she said.
Savic also touched on this aspect by saying that many active politicians "are still acting like New Order politicians."
Shortcomings
While it can be said that Indonesia has come a long way since the change of regime, it still faces a number of challenges, some of which are threat to the democratic future.
Djayadi stressed that Indonesian democracy must be strengthened, particularly through law enforcement and the government's responsiveness to the needs of the people and inequality.
"Without proper law enforcement, our democracy will be eroded. When the law is not upheld, the progress will lessen," he said.
According to data from the Central Statistics Agency (BPS), Indonesia's Gini ratio was higher in 2017, at 0.391, compared with 2002, when it stood at 0.341. The Gini coefficient is used to measure income inequality, with lower values reflecting lower inequality.
"In terms of political disparity, only certain groups can amass power through specific mechanisms. Only those with money can rule, while others cannot, and this is still happening," said Djayadi, who is also executive director at Saiful Mujani Research and Consulting (SMRC).
The government, with complex bureaucratic procedures, still lacks adequate responsiveness to the needs of the people.
"Bureaucratic reforms must be implemented to serve the people, not complicate things for them," Djayadi said.
Freedom Without Order
Is there such a thing as too much freedom? Rising intolerance, along with the spread of fake news and hate speech seem to suggest the increasing need for more order.
According to Ansy, democracy is not merely a matter of freedom, but also that of order. The two must go hand in hand for a country to truly reap the benefits of democracy.
"During the New Order regime, freedom was expensive. Whereas now, in the age of reformasi, what's expensive is order," he said.
Similarly, according to Nursyahbani, the developments concerning freedom, including that of the press and expression, have not resulted in a positive contribution toward democratization.
"Instead, they are creating division in society. We see so many cases of hate speech, because there is a gap between developments in technology and democracy," she said, adding that education will be key to address this issue.
As reformasi continues to provide room for citizens to participate in politics, Savic says many people are becoming confused by the massive amount of information available, and falsely assume that life was better during the times of Suharto.
"They were not used to facing various opinions, and suddenly there are all these different views. They become confused and think 'life is worse than before,' while in reality, that isn't true."
Despite the notable challenges, there seem to be shared optimism on the future of Indonesia. The strength of civil society in the country illustrates the potency of social justice movements to bring real change.
"Another achievement in these 20 years of reforms is the consolidation of civil society. We continue to garner tools and alternatives to ensure rights for all. In the past, we didn't have many opportunities, but now they are expanding," Indriyanti said.
She added that advocacy and hard work will continue.
Savic, who also founded Islami.co, a website promoting moderate Islamic teachings, said he believes Indonesia will continue to be religiously moderate and progressive.
Full report at:
http://jakartaglobe.id/news/20-years-since-beginning-of-reformasi-how-far-have-we-come/
--------
How 'polarising' former strongman Mahathir Mohamad could bring unity to Southeast Asia
20 May, 2018
Malaysia's election stunner, which brought a nonagenarian back to power, is expected to have immense strategic ramifications for the region. At the remarkable age of 92, Mahathir Mohamad is the oldest elected leader on Earth, yet is far from a spent force.
The return of the still fiery and feisty leader, who spent two decades in the previous century ruling his country with an iron fist, is likely to mean a more assertive Malaysian foreign policy.
If anything, Mahathir is set to reassume his historical position as one of the titans of Asean, the Association of Southeast Asian Nations. He will be inclined to push for a more strident and cohesive collective stance on central geopolitical and humanitarian issues facing the region.
To be fair, domestic political exigencies will absorb much of the newly minted Malaysian prime minister's attention. After all, he is overseeing a de facto regime change in the wake of Barisan Nasional's first electoral defeat in history.
Paradoxically, the Malaysian opposition had to reach far into the past, recruiting a former strongman to carve out a new democratic future. As part of a grand bargain with the opposition, Mahathir is expected to pave the way for his former rival and deputy, Anwar Ibrahim, to take power in the coming years.
In the meantime, the Malaysian leader has to address the public clamour for improved economic conditions, and especially rising housing costs and youth unemployment. More crucially, he will have to oversee the potential prosecution of former prime minister Najib Razak, currently under a travel ban amid the 1MDB corruption scandal.
Yet, Mahathir, who is likely to enjoy two more years in power before embracing a permanent retirement from statesmanship, is also certain to introduce major changes in Malaysia's foreign policy.
First of all, he has indicated that he plans to reset bilateral relations with China, the Southeast Asian country's most important economic partner. Unlike the previous administration, which developed an intimate relationship with Beijing, Mahathir views China as a mixture of threats and opportunities.
Certainly, the pragmatic new prime minister will seek to maintain mutually beneficial investment ties with China, which has offered close to US$134 billion in long-term investments.
His presidential council of elders includes finance and central bank luminaries as well as Chinese-Malaysian tycoon Robert Kuok, who is likely to encourage the preservation of robust ties with Beijing.
But the Mahathir government is expected to institute greater scrutiny of large-scale Chinese real estate and infrastructure projects that were signed during the corruption-plagued Najib administration.
In particular, the new government could review Guangdong-based Country Garden's US$100 billion luxury flat project in the state of Johor. The other Chinese-led project that could face greater scrutiny is the US$13 billion East Coast Rail Link, which aims to connect Kuala Lumpur's metropolitan centre to less developed eastern regions.
While these projects don't benefit local industries and citizens, any serious re-examination of them could have a chilling effect on investment sentiment. Thus, the new government will have to strike a balance between good governance reforms and overall investment sentiment.
The Mahathir administration also could adopt a tougher stance in the South China Sea, where Malaysia occupies several land features contested by China. In particular, Malaysia controls Swallow Reef in the Spratly Islands, a reclaimed land feature with advanced civilian and naval facilities.
Eager to maintain cosy relations with Beijing, the Najib administration had taken a relatively quiescent approach to the disputes. The new Malaysian leader, however, has called for a more strident assertion of his country's claims in the area, especially in light of China's rapid land-reclamation activities and deployment of advanced military assets at nearby disputed land features.
Malaysia also is concerned about the growing presence of Chinese fisherman and para-military forces within its exclusive economic zone in the South China Sea.
Given his gravitas and stature, Mahathir could leverage his seniority and influence in Asean to call for a more coherent regional response to the maritime disputes. He has already indicated his preference for negotiating a mutually acceptable arrangement that would preserve stability, prevent conflict and protect the interest of smaller claimant states.
Mahathir also is likely to call for a tougher regional stance on Myanmar's Rohingya humanitarian crisis that resonates heavily in Malaysia, a Muslim-majority country.
In recent years, the prime minister has been an outspoken critic of the Myanmar government for its treatment of the Rohingya Muslim minority. He would be expected to pressure Asean to adopt a more robust statement on and call for a swift and irreversible end to the ongoing campaign of persecution in Rakhine state.
Above all, the charismatic Mahathir can bring a greater sense of urgency and vision to a whimpering regional body that has sorely struggled to assert its importance and maintain internal coherence.
For decades, Asean has lacked a central figure to assert its voice among the great powers. The tough-talking and outspoken Mahathir is well positioned to fill the gap, re-enacting his historical role in steering Asean towards a greater role in shaping global affairs.
Full report at:
http://www.scmp.com/news/china/diplomacy-defence/article/2146650/how-polarising-former-strongman-mahathir-mohamad-could
--------
Indonesia, Malaysia show Southeast Asia's importance
May 20, 2018
Bloody, murderous terrorist attacks in Indonesia in mid-May have provided the Islamic State with another opportunity to claim victory. Two families including young children carried out suicide bombings in Surabaya, the second-largest city in the nation.
Meanwhile, May elections in Malaysia have brought an important transition in national government and a benchmark on the road to stable representative democracy. Naturally, the first news topic has received vastly more media attention.
In Indonesia, there is no meaningful victory for terrorists, whatever the current state of their collective self-delusion. Victims are added to others injured and murdered by terrorists.
Indonesia has suffered other terrorist acts. In a 2016 attack, four people died, including an Algerian-Canadian along with Indonesians. In 2002, the worst attack killed 202 people on Bali, including many foreign tourists who were targets. These crimes have only reinforced the Indonesian people's hatred of terrorism.
Malaysia parliamentary elections May 9 have resulted in a stunning upset. The governing party was defeated and an opposition coalition was successful. The Barisan Nasional and predecessor governed Malaysia from independence.
The opposition Pakatan Harapan secured 113 seats in the Dewan Rakyat, the lower house of the national parliament. This constitutes a narrow majority. In addition, the Sabah Heritage won another eight seats. This small party is aligned with Dewan Rakyat, and the two groups together have a solid majority to form a government.
New Prime Minister Mahathir Mohamad is 92 years old, making him the oldest head of government in the world. Mohamad plans to secure a pardon for jailed opposition leader Anwar Ibrahim, and then turn the office over to him.
The Indonesia attack was carried out in the world's largest nation with a Muslim majority. Geography including trade routes provides Indonesia with strategic significance. The international and foreign policy implications are self-evident, for the United States and other nations.
Washington has an opportunity to highlight Indonesia as a success story of stability, modernization and the rule of law. Since former general and longtime autocratic President Muhammad Suharto was forced from power in 1998, Indonesia has moved to representative government.
Indonesia's international conflicts today are largely technical and legal, notably the maritime disputes which generally involve the nations of East and Southeast Asia. Dictatorship has ended, but corruption remains a problem.
The situation used to be quite different. During the height of the Cold War, Indonesia was regarded as a major pivotal leader among third-world nations. Flamboyant nationalist President Sukarno played the Soviet Union and U.S. off against one another. CIA efforts to bring Sukarno down were frustrated, a sobering experience quickly overshadowed by Vietnam.
By the mid-1960s, cooperation between Indonesia and the Soviet Union was moving forward. This development was extremely important in the decision for large-scale U.S. military intervention in Vietnam in 1965. We largely have forgotten these experiences today.
British forces, with Australian and New Zealand allies, did defeat Indonesia attacks on Malaysia. Earlier, Britain defeated a virulent, aggressive Communist insurgency in Malaya, which today is part of Malaysia. Among other factors, Britain's military avoided introduction of massive firepower, in contrast to the U.S. military strategy in Vietnam especially from 1965.
Full report at:
http://www.blufftontoday.com/news/20180520/indonesia-malaysia-show-southeast-asias-importance
--------
Wife of Malaysia's ex-leader slams 'public trial' of family
19 May 2018
The wife of former Malaysian Prime Minister Najib Razak has slammed police raids on their properties, saying on Saturday they appeared targeted at vilifying the family to provoke public anger.
In her first statement since Najib's long-ruling coalition was ousted in May 9 elections, Rosmah Mansor said authorities conducting a corruption and money-laundering investigation should avoid a "premature public trial" of her family.
Thousands of Malaysians followed a livestream on social media of Thursday night's raid at a Kuala Lumpur condominium, where police confiscated 284 luxurious Hermes Birkin handbags and 72 suitcases filled with cash, jewelry and other valuable items.
Rosmah said the family will cooperate in the investigation into the 1MDB state investment fund, but that authorities should not "be feeding social media trolls."
"It is our hope that the authorities would observe the rule of law and due process, to avoid a premature public trial," she said in a statement released through her law firm.
Rosmah was reviled by many Malaysians as an avaricious first lady who loves Birkin bags and leads an opulent lifestyle, but television footage of the police haul has Malaysia gasping with shock. It is possibly the most sensational image of elite corruption in Asia in the three decades since former Philippine first lady Imelda Marcos and her infamous collection of designer shoes.
1MDB scandal
Najib started 1MDB in 2009, but the fund accumulated billions in debts and is being investigated abroad. US investigators say Najib's associates stole and laundered $4.5 billion from the fund, some of which also landed in Najib's bank account, and that some $23 million was used to buy a rare diamond pink necklace for Rosmah. Najib denies any wrongdoing.
New Prime Minister Mahathir Mohamad reopened a probe into 1MDB after a stunning victory in this month's polls that led to the first change of power since independence from Britain in 1957. Mahathir, 92, was prime minister for 22 years until 2003 but emerged from retirement to join hands with former political foes amid anger over the 1MDB scandal.
Najib and Rosmah have been barred from leaving Malaysia. The government has also told the current attorney general, who cleared Najib of wrongdoing in 2016, to go on leave, and has relieved the country's treasury chief, who is also the 1MDB chairman.
Malaysia's Anti-Corruption Commission has summoned Najib for questioning on Tuesday over the 1MDB case.
Najib slammed the police raids as "irresponsible and cavalier," his lawyer Harpal Singh Grewal said on Saturday.
He declined to comment about the Birkin bags and luggage seized. He said police took personal belongings such as cellphones, iPads, clothing and baby shoes from two of the three apartments at the condominium that were raided and occupied by two of Najib's children, Singh said.
Full report at:
https://english.alarabiya.net/en/News/world/2018/05/19/Wife-of-Malaysia-s-ex-leader-slams-public-trial-of-family.html
--------
Mideast
Erdogan equates Israel actions with those of Nazis
May 19, 2018
ISTANBUL: Turkish President Recep Tayyip Erdogan on Friday compared Israel's actions against the Palestinians in Gaza to the Nazi persecution of Jews in World War II.
"There is no difference between the atrocity faced by the Jewish people in Europe 75 years ago and the brutality that our Gaza brothers are subjected to," he told a summit of Muslim leaders in Istanbul.
Mr Erdogan called the extraordinary meeting of the Organisation of Islamic Cooperation (OIC) in Istan­bul after Israeli forces on Monday killed some 60 Pale­s­tinians on the Gaza border.
He added that the leadership of a people "who were subjected to all kinds of torture in the concentration camps during World War II is attacking the Palestinians with methods similar to the Nazis".
"I will say openly and clearly that what Israel is doing is banditry, brutality and state terror," he added.
"We will emphasise the status of the Palestine issue for our community, and that we will not allow the status of the historic city to be changed," Turkish Foreign Minister Mevlut Cavusoglu said in an opening address. "We must prevent other countries following the US example."
While addressing thousands of supporters waving Tur­kish and Palestinian flags in Istanbul's Yenikapi neighbourhood earlier in the day, Mr Erdogan called on the Muslim world to back Palestinians against what he said was Israel's cruelty in Gaza, and castigated both the United States and the United Nations over the deaths of dozens of protesters.
Mr Erdogan called for Muslim solidarity and said the United Nations had lost legitimacy for failing to stand up against Washington.
"If the Muslim world stands against cruelty in Gaza together, Israel's recklessness will not last," he said.
"The United Nations, which has failed to take effective steps against the United States, has taken another blow to its already worn-out legitimacy."
Mr Erdogan has recently described the actions of the Israeli forces as "genocide" and called Israel a "terrorist state".
Explore: As Israel massacres Palestinians, let's also denounce cold, cold Muslim hearts
The events in Gaza have also sparked a diplomatic row between Turkey and Israel, with both countries expelling each other's senior diplomats this week.
The plight of Palestinians resonates with many Turks, particularly the nationalist and religious voters who form the base of support for Mr Erdogan, running for re-election next month.
Meanwhile, Prime Min­ister Shahid Khaqan Abbasi arrived here on Friday.
Minister for Foreign Affairs and Defence Khurram Dastgir Khan and senior officials accompanied the prime minister.
Pakistan has called for an independent and transparent investigation of violence in Gaza.
https://www.dawn.com/news/1408600/erdogan-equates-israel-actions-with-those-of-nazis
--------
Rabat suspends twin city plan with Guatemala over Jerusalem move
20 May 2018
Rabat has shelved plans to for a twin city partnership with Guatemala City in protest against Guatemala's transfer of its Israel embassy from Tel Aviv to Jerusalem, the Moroccan capital's deputy mayor said on Saturday.
"Following Guatemala's decision to establish an embassy in Al Quds (Jerusalem), Rabat's city council unanimously decided to suspend the examination of a twinning project with Guatemala City in solidarity with the Palestinian people," deputy mayor Lahcen El Amrani of the Islamist PJD party told Reuters.
Guatemala opened an embassy in Jerusalem on Wednesday, two days after the United States inaugurated its new site there, a move that infuriated Palestinians and drew international condemnation.
Israel considers Jerusalem its capital and Palestinians also hope one day to have the capital of independent state there. Most countries have their Israel embassies in Tel Aviv, arguing that the status of Jerusalem must be determined in future talks.
Full report at:
https://english.alarabiya.net/en/News/north-africa/2018/05/20/Rabat-suspends-twin-city-plan-with-Guatemala-over-Jerusalem-move.html
--------
3 die of wounds in Gaza, rallies death toll up to 114
May 20, 2018
GAZA - Three Palestinians died Saturday of their wounds sustained during May 14 clashes with Israeli soldiers near the border, medics said, making the rallies' death toll increase to 114.
Ashraf al-Qedra, spokesman of Gaza health ministry, said around 12,000 were injured and some 50 are still in critical conditions. The Palestinian side accused Israel army in an official press statement of using ammunitions that are internationally forbidden.
The rallies, which started on March 30 in the Gaza Strip, are demanding the world's recognition of Palestinians' right of return and the lifting of a 11-year blockade on the Gaza Strip by Israel.
Palestinians condemn Israel's rejection to UN probe
Secretary-General of the Palestine Liberation Organization (PLO) Saeb Erekat condemned Saturday Israel's rejection to the decision of UN Human Rights Council to investigate Israeli "violations" in the Palestinians territories, particularly in the Gaza Strip. Erekat said in a statement at the official Voice of Palestine that "Israel's rejection to the probe and not allowing it to enter is concealing its crimes against the Palestinians." He reasserted that the "Palestinian side is ready to cooperate with the investigation committee and respond to all its questions and the right to go wherever it may need to."
Meanwhile, PLO Executive Committee member Hanan Ashrawi applauded in an emailed statement on Saturday the UNHRC decision, and thanked the member states that voted in favor as taking a "principled position." She went on saying that this decision "sends a clear and strong message to Israel that there is a price to pay for its unilateral actions and immoral, illegal violations." Israeli Prime Minister Benjamin Netanyahu accused the UNHRC decision on Friday of backing terrorism by launching the war crimes probe. He said that "Israel completely rejects the resolution that was adopted by an automatic anti-Israel majority whose results were known from the start," adding that "Israel will continue to defend its citizens and soldiers as it has the rights to defend itself."
The 47-member UNHRC voted with 29 in favor of, 2 against, and 14 abstained on launching an investigation commission into Israel's actions in the Palestinian territories, with focus on its treatment of Palestinian protestors on the Gaza border.
Full report at:
https://nation.com.pk/20-May-2018/3-die-of-wounds-in-gaza-rallies-death-toll-up-to-114
--------
Iran wary as EU presents plans to save nuclear deal
May 20, 2018
TEHRAN - Iran said Saturday it would wait to see whether Europe produces tangible results in overcoming US sanctions before it decides whether to stay in the nuclear deal, as a top EU official visited Tehran to present plans for maintaining trade ties.
"The ball is in the court of the EU. They have presented different proposals, we will see if they materialise," said the head of Iran's Atomic Energy Organisation, Ali Akbar Salehi.
He was speaking after meeting European Union Energy Commissioner Miguel Arias Canete, the first high-level Western official to visit Iran since the US withdrew from the 2015 nuclear deal between Tehran and world powers earlier this month.
Canete called the nuclear deal "fundamental for peace in the region" as he outlined EU plans to continue oil and gas purchases and protect European companies from US sanctions as they are phased in over the next six months.
He also had detailed talks with Oil Minister Bijan Namdar Zanganeh on practical solutions, which he said included plans for direct payments between central banks and state-backed insurance for shipments.
A group of experts later met their Iranian counterparts to hash out the details.
Zanganeh said there were no plans to change Iran's pattern of oil exports, which amount to 3.8 million barrels per day, with 70 percent going to Asia and 20 percent to Europe.
Salehi acknowledged Europe's efforts to protect trade but said: "We want tangible results, otherwise we take our own decisions. I personally don't want to see such decisions being taken."
Iran has threatened to resume industrial uranium enrichment "without limit" unless its interests are preserved by the remaining parties to the deal, which also include China and Russia.
Salehi said the Iranian people had lost trust in the nuclear agreement and that if trade benefits were not protected "they will lose more confidence... and we will be forced to leave."
Despite vows by European leaders to protect EU firms from US sanctions, several companies - including France's Total and Holland's Maersk - have already said it will be impossible to stay unless they receive explicit exemptions from Washington.
"For sure there are clear difficulties with the sanctions," Canete said at a press conference alongside Salehi. "We will have to ask for waivers, for carve-outs for the companies that make investments."
Canete was due to meet Foreign Minister Mohammad Javad Zarif on Sunday.
Iran's trade with the European Union is around 20 billion euros, evenly split between imports and exports.
Oil accounts for some 90 percent of EU imports from Iran, going primarily to Spain, France, Italy, Greece, the Netherlands and Germany.
Iran has the world's fourth-biggest oil reserves and second-largest gas reserves.
But it has only finalised two major energy deals since the sanctions were lifted: Total's $4.8-billion South Pars 11 project with the China National Petroleum Corporation, and a $740 million deal with Russia's Zarubezhneft to develop the Aban and Paydar oilfields.
Analysts say Iran's hardliners remain wary of foreign involvement in the energy sector, and the Revolutionary Guards have sought to maintain their privileged position in major projects - delaying negotiations with Western firms.
Full report at:
https://nation.com.pk/20-May-2018/iran-wary-as-eu-presents-plans-to-save-nuclear-deal
--------
Saudi air defense forces intercept Houthi ballistic missile over Khamis Mushait
19 May 2018
Saudi air defense forces intercepted a Houthi ballistic missile targeting the city of Khamis Mushait south of the kingdom.
Two missiles were fired by Houthi militias from inside Yemeni territories towards the southern borders of Saudi Arabia, where one missile was intercepted while the other landed at an unpopulated desert area in Khamis Mushait.
Coalition Spokesperson Col. Turki al-Maliki said that one missile was intercepted at 18:14 pm local time while the other failed to target any populated areas of the city after landing at a desert area.
This comes days after coalition forces spotted the Iranian-backed Houthi militia launching a ballistic missile in Yemen's Saada towards Saudi Arabia on May 15.
Former attacks
Earlier this month, Saudi air defense intercepted two ballistic missiles fired by the Houthis towards Najran, and another towards Jazan.
An Al Arabiya correspondent reported that the Saudi air defense forces destroyed the two missiles launched by the militias from Saada as soon as they entered the kingdom's airspace.
Full report at:
https://english.alarabiya.net/en/News/gulf/2018/05/19/Saudi-air-defense-forces-intercept-Houthi-ballistic-missile-over-Khamis-Mushait.html
--------
Yemeni armed forces gain control over Kitaf, raise the country's flag
19 May 2018
The Yemeni armed forces raised on Saturday the country's flag on the roofs of the liberated buildings in Kitaf directorate in Saada governorate.
This move came in the heels of the military advancement of the army backed by the Arab coalition.
On Friday the Yemeni army gained control over al-Etfayn in Kitaf directorate and raised the country's flag over a government building.
Meanwhile, Yemeni media outlets quoted a military leader in Yemeni armed forces that the military is close to gain control over al-Malajim in al-Bayda, expecting Houthi militias to surrender.
Earlier on Friday, the Yemeni armed forces backed by the Arab coalition liberated the mountain chain and al-Faraa village in Saada governorate from Houthi militia control.
Full report at:
https://english.alarabiya.net/en/News/gulf/2018/05/19/Yemeni-armed-forces-gain-control-over-Kitaf-raise-the-country-s-flag-.html
--------
Netanyahu dines with Emiratis as Palestinians boycott their iftars
May 19, 2018
UAE diplomats secretly wine and dine with Israeli Prime Minister Benjamin Netanyahu, while publicly offering Iftar to Palestinians. Netanyahu's impromptu dinner with a UAE envoy casts light on under the table cooperation between the Tel Aviv regime and Arab Persian Gulf nations.
Palestinians have launched a campaign with the hashtag "We are not hungry" (#imnothungry) on the social media, calling for the boycott of Iftar or the fast-breaking meals offered by the UAE at al-Aqsa mosque in protest at the policies of some Persian Gulf Arab states.
In March, Netanyahu was having dinner with his wife in a Georgetown restaurant while he was in the US for a pro-Israel policy conference. Halfway through their meal they were informed that the Emirati ambassador to the US, Yousef al-Otaiba, was at the restaurant and would like to meet them.
At the time, Otaiba was hosting Brian Hook, the State Department's policy planning chief, and a group of US reporters, along with Bahrain's ambassador, Sheikh Abdullah bin Rashed bin Abdullah Al Khalifa.
On their way out, the Netanyahus stopped by to say hello and answered a few questions from the American journalists, shook hands with the two ambassadors and left.
All of this went down as the United Arab Emirates doesn't even formally recognize Israel's existence.
The meeting was never publicly disclosed by the Israelis nor the Emiratis, but it was described to The Associated Press by six people who either present or were briefed on it.
The meeting itself is not a big deal, but it casts light on how friendly cooperation between Israel and the Arab nations is gradually increasing.
"It's become an open secret, even not a secret at all, demonstrated in public ways that are taboo-breaking and important in beginning a process of preparing Arab public to share the Arab leadership's view that Israel is a strategic partner," said Dan Shapiro, a former US ambassador to Israel. "But there is a danger in irrational exuberance. This is a very fragile process."
There have been numerous reports and public statements indicating covert ties between the Arab governments and Israel. Arab states, especially those in the Persian Gulf, have traditionally been depicting themselves as Israel's enemies and supporters of the Palestinian cause against Tel Aviv's occupation of the Palestinian territories.
The United Arab Emirates offers Iftar meals to the worshipers at al-Aqsa mosque annually during the Islamic holy month of Ramadan, but this year it was met with Palestinian rejection.
Full report at:
http://www.presstv.com/Detail/2018/05/19/562292/netanyahu-palestinian-uae-dinner-iftar
--------
Yemeni ballistic missile targets Saudi base in Asir in retaliatory attack
May 19, 2018
Yemeni Ansarullah forces have launched a retaliatory missile attack at a Saudi military base in the kingdom's southwestern border region of Asir.
According to Yemen's al-Masirah television network on Saturday, Yemeni troops fired a domestically built Badr-1 ballistic missile at the base.
Saudi Arabia claims to have downed the missile before it hit its target.
On Friday, Yemeni army forces, fired a domestically-designed and -developed ballistic missile at a strategic economic target in Saudi Arabia's southwestern border region of Jizan.
A Yemeni military source, speaking on condition of anonymity, said the short-range Badr-1 missile struck Jazan Economic City, located 967 kilometers southwest of the capital Riyadh, with great precision early on Friday.
The development came a day after Yemeni forces fired a Badr-1 missile at al-Anad air base in the southwestern province of Lahij, leaving scores of Saudi-backed militiamen loyal to Yemen's resigned president, Abd Rabbuh Mansur Hadi, dead and injured.
Also on Friday, more than a dozen Saudi mercenaries were killed and injured as Yemeni snipers and their allies carried out separate operations across the country.
The Yemeni army has so far launched numerous missile strikes against military and economic targets inside Saudi Arabia; however, Riyadh often claims that it intercepts incoming Yemeni missiles, despite the existence of evidence to the contrary.
Saudi Arabia and its allies launched the war on Yemen in March 2015 in support of Hadi, a close ally of Riyadh. The Yemeni Ministry of Human Rights announced in a statement on March 25 that the Saudi-led war had left 600,000 civilians dead and injured until then.
The Yemeni Ministry of Human Rights announced in a statement on March 25 that the Saudi-led war had left 600,000 civilians dead and injured since March 2015.
The United Nations says a record 22.2 million Yemenis are in need of food aid, including 8.4 million threatened by severe hunger.
Full report at:
http://www.presstv.com/Detail/2018/05/19/562290/yemen-saudi-asir-ballistic
--------
Three Palestinians die from Israeli gunfire wounds sustained during Gaza rally
May 19, 2018
Three Palestinians who were critically wounded by Israeli army gunfire nearly a week ago during an anti-occupation protest along the border between the besieged Gaza Strip and occupied territories have succumbed to their injuries.
The Gaza Ministry of Health announced in a statement that 58-year-old Moein al-Saai, a resident of al-Shati refugee camp in the northern Gaza Strip, sustained grave gunshot wounds east of Gaza City last Monday.
The statement added that Mohammed Mazen al-Ayyan, 20, died in al-Quds Hospital on Saturday morning after doctors and medical staff could not save his life. He had been shot and wounded east of al-Bureij refugee camp in the central Gaza Strip.
The third Palestinian identified as Ahmad Abu Samareh, 21, died on Saturday from the wounds he sustained in the Monday clashes.
At least 64 Palestinians were killed and more than 2,700 others wounded near the Gaza fence on the eve of the 70th anniversary of Nakba Day (Day of Catastrophe), which coincided this year with the relocation of the US embassy from Tel Aviv to the occupied city of Jerusalem al-Quds.
The occupied territories have witnessed new tensions ever since US President Donald Trump on December 6, 2017 announced Washington's recognition of Jerusalem al-Quds as Israel's "capital" and said the US would move its embassy to the city.
The dramatic decision triggered demonstrations in the occupied Palestinian territories and elsewhere in the world.
The status of Jerusalem al-Quds is the thorniest issue in the decades-long Israeli-Palestinian conflict.
The Palestinians see East Jerusalem as the capital of their future state.
On Thursday, Turkish Foreign Minister Mevlut Cavusoglu said the Israeli regime should be brought before the International Criminal Court for the recent Gaza massacre.
"Israel should be taken to the International Criminal Court [over the killing of Palestinians]. Since third parties cannot do it, Palestine needs to initiate this," Cavusoglu said in an interview with state broadcaster TRT.
The top Turkish diplomat added, "We are analyzing what kind of legal steps can be taken [against Israel]. Israel should account for its actions."
Meanwhile, Muslim leaders have called for an international force to be deployed to protect Palestinian people against Israeli crimes.
In a final communiqué issued following an emergency meeting in Istanbul on Friday, the Organization of Islamic Cooperation (OIC) condemned the May 14 massacre of dozens of Gazans as "savage crimes committed by the Israeli forces with the backing of the US administration."
It also urged the UN to "form an international investigation committee into the recent atrocities in the Gaza Strip, and enable the committee to initiate field investigation."
Full report at:
http://www.presstv.com/Detail/2018/05/19/562247/Two-Palestinians-die-of-Israeli-gunfire-wounds-sustained-during-Gaza-rally
--------
Yemeni army advances forward east of Hajjah's Harad
May 20, 2018
DUBAI: The Yemeni army has taken full control of Al-Nar mountain range, east of Harad, in the province of Hajjah, following fierce battles with the Iran-backed Houthi militia, Saudi state-news channel Al-Ekhbariya reported.
The commander of the Special Forces Brigade said in a statement issued by the Yemeni Ministry of Defense website that the forces liberated the mountain range extending more than 12 kilometers and linking Saada province to Hajjah.
http://www.arabnews.com/node/1306066/middle-east
--------
Africa
Boko Haram Islamists Still Control Parts of North-eastern Nigeria
19.05.2018
In Borno and Yobe states, residents told DW that militants of the so-called Islamic State in West Africa (ISWA) — led by Musab al-Barnawi — held sway over a territory spanning an estimated 100 miles (160 kilometers). Boko Haram rebranded itself as ISWA when it aligned with Islamic State in 2015, the year President Muhammadu Buhari pledged to defeat the group.
"Definitely Boko Haram is very much present in our area. They even mount roadblocks, conducting stop and search operations the way the military does. Luckily they don't kill people in this area," said Ahmad Muhammad, who lives in Damboa, Borno State.
Residents also told DW the militants were collecting taxes from citizens in return for what they said was "protection". The Nigerian military has refuted the claims, insisting that no territory was under ISWA control.
Read more: Nigeria fails to protect schools from Boko Haram's attacks
Mohamed Ibn Chambas, the UN Special Representative of the Secretary-General for West Africa and the Sahel, said he was not surprised by the accounts of the residents because it was wrong to assume Boko Haram was totally defeated.
"Unfortunately, this kind of struggle is difficult to eliminate completely in the short-run. What is not in doubt is that good progress has been made against Boko Haram. Most of their territory has been taken away and they have been pushed to remote areas and are being pursued there," Chambas said.
Boko Haram "technically defeated"?
In 2015, President Muhammadu Buhari pledged to defeat Boko Haram, and officials insist this has been achieved. At the time he also told media that Nigeria had "technically won the war" against the militants. But the conflict, now in its tenth year, continues.
Despite offensive attacks launched by the multinational task force fighting Boko Haram
, the Islamists still pose a threat to countries in the Lake Chad basin.
In March this year, 20 Boko Haram militants were killed in clashes with Chadian soldiers who are part of the force. And because of these recent gains, the commander of the force, Major General Lucky Irabor, dismissed reports of militants controlling areas of Nigeria.
"Narratives can always be created by anybody for whatever purpose but you also need to verify. We have troops in Gaidam, in Gashua and even in Babban Gida. So, where do they control?" Irabor said.
Political analyst Umar Baba Kumo said the army may need a new approach in the face of a continued Boko Haram presence in the northeastern states.
"This is a very devastating development and a serious threat. People are becoming very apprehensive and disturbed that, despite the gains recorded, the militants are trying to revert to the situation we had faced. I think there is a need for the military to become more strategic and focused," Kumo told DW.
More than 20,000 people have been killed and hundreds of thousands displaced in the ten years of insurgency by Boko Haram in Nigeria, Chad, Cameroon, and Niger.
http://www.dw.com/en/boko-haram-islamists-still-control-parts-of-northeastern-nigeria/a-43851013
--------
Air Force launches attacks against Boko Haram, kills insurgents
May 20, 2018
The Nigerian Air Force (NAF) yesterday said it has used its newly acquired Mi-35 helicopter gunships to fire rockets and cannon at Boko Haram Terrorists at a camp South East Bonne, Borno State, killing scores of insurgents in the process.
The Director of Public Relations and Information of the NAF, Air Vice Marshal Olatokunbo Adesanya, claimed in a statement that the operation was carried out after an Intelligence, Surveillance and Reconnaissance (ISR) platform had established the presence of the terrorists in the area.
Adesanya said: " The newly acquired Nigerian Air Force (NAF) Mi-35M helicopter gunships have successfully unleashed their firepower on Boko Haram Terrorists (BHT) at a camp, 9.7km South East of Bonne in the on-going OPERATION THUNDER STRIKE.
"An earlier Intelligence, Surveillance and Reconnaissance report had indicated the significant presence of terrorists in the camp, following which Mi-35M helicopter gunships were deployed to attack them on 15 May 2018.
"On approaching the target, the Mi-35M helicopter gunships successfully launched rocket and cannon attacks on the camp, in rapid succession.
"The footage of the attack, as captured by the helicopter's airborne camera system, indicated the destruction of the targets as the structures within the BHT camp were engulfed in fire while all the terrorists within the camp were also neutralised."
Full report at:
http://thenationonlineng.net/air-force-launches-attacks-against-boko-haram-kills-insurgents/
--------
Whereabouts of Nigeria's Sheikh Zakzaky unknown: Islamic Movement in Nigeria
May 20, 2018
The Islamic Movement in Nigeria (IMN) has said that the whereabouts of its leader Sheikh Ibrahim Zakzaky is unknown several days after he was arraigned before the state High Court.
The IMN released a statement on Saturday, in which they said phone numbers which the used to contact the Sheikh have all been disconnected.
"All the lines of the family members staying with the Sheikh while in detention in Abuja have been switched off," read the statement.
"Followers of the Sheikh are deeply concerned with this latest development because those detaining him have never hidden their intention to see to his demise, had it not been for Allah's protection. This was evident right from the December 2015 Zaria massacre by the Army," it added.
The statement went on to call on Nigeria's State Security Service to at least inform the Sheikh's family about his current location, while stressing that the Nigerian government will be held responsible if anything happens to Zakzaky.
Zakzaky's son also said he had lost contact with his father.
"As of this dawn, I would like to inform all those who may be concerned that I have lost all contact with my parents," said his Muhammad.
On Tuesday, Zakzaky was transferred to the central state of Kaduna, where he was arraigned before the state High Court along with his wife.
An oral application was moved for bail. But the presiding judge asked him to put his application officially in writing.
The case was adjourned to June 21, 2018 and the Sheikh and his wife were consequently returned to Abuja.
Zakzaky has been detained without trial for over two years over accusations of inciting public disturbances. His movement has vehemently denied the charges.
Despite the ruling of a Federal High Court, which ordered Zakzaky's unconditional release in 2016, the Nigerian government has refused to set him free.
The top cleric lost his left eyesight in a raid which was carried out by the Nigerian army on his residence in the northern town of Zaria in December 2015.
During the raid, Zakzaky's wife sustained serious wounds too and more than 300 of his followers and three of his sons were killed. Zakzaky, his wife, and a large number of the cleric's followers have since been in custody.
A judicial inquiry after the 2015 brutal raid concluded that the military had killed 347 IMN members in Zaria. Soldiers buried the bodies in mass graves.
Full report at:
http://www.presstv.com/Detail/2018/05/20/562297/zakzaky-nigeria-court-phone
--------
200 arrested in anti-terror operation in West Africa
May 19, 2018
More than 200 people were arrested last week in a joint anti-terror and security operation in the West African countries of Burkina Faso, Ghana, Benin and Togo, the Burkinabe army said.
"Fifty-two individuals were arrested in Burkina Faso, 42 in Benin, 95 in Togo and 13 in Ghana", Colonel Blaise Ouedraogo told AFP late Friday.
Explosives and contraband goods were also seized.
At least two of those arrested in Burkina were suspected of being involved in militancy, Ouedraogo said, adding that "40 sticks of explosives, 38 guns and 623 illegally registered motor bikes" had been found.
Around 2,900 security and defense officers from the four countries took part, he added.
Burkino Faso's Security Minister Clement Sawadogo said the joint operation was the result of an agreement between the leaders of the four countries in Ghana's capital, Accra, last year.
He said such operations would be repeated in future "so that we can pool our resources, our expertise and our ability to overcome serious crime and terrorism."
Full report at:
http://www.presstv.com/Detail/2018/05/19/562245/West-Africa-terrorism-crime-security-Burkina-Faso-army
--------
Boko Haram: Two suicide bombers killed in Borno
May 19, 2018
By Maina Maina
Troops of Operation Lafiya Dole Friday intercepted and neutralized two female suicide bombers who attempted to infiltrate a military Forward Operational Base in Kawuri, a remote community in Konduga Local Government Area of Borno state.
A statement from Colonel Onyema Nwachukwu, Deputy Director Public Relations Theatre Command Operation Lafiya Dole, said the suicide bombers had used the cover of darkness to stalk the military camp at about 9:45 pm, but were promptly detected by the vigilant troops who engaged them when they refused to comply with an order to halt.
Full report at:
http://dailypost.ng/2018/05/19/boko-haram-two-suicide-bombers-killed-borno/
--------
URL: https://www.newageislam.com/islamic-world-news/sharif-interview-26-11-pak/d/115300
New Age Islam, Islam Online, Islamic Website, African Muslim News, Arab World News, South Asia News, Indian Muslim News, World Muslim News, Women in Islam, Islamic Feminism, Arab Women, Women In Arab, Islamophobia in America, Muslim Women in West, Islam Women and Feminism