New Age Islam News Bureau
7 Jul 2014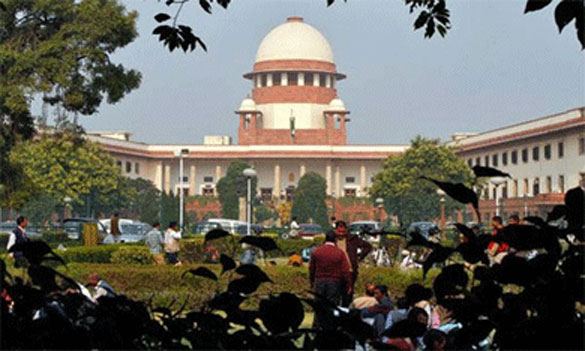 Supreme Court of India
-------
India
• Shariat Courts Not Legal, Can't Issue Diktat to Impinge Individual's Rights: SC On Fatwa
• IB red flags entry of Wahhabi preachers into India
• Iraq Conflict: 'ISIS made failed attempt to release abducted Indians'
Arab World
• Iraq's Shiites Fight for Their Shrines and Their Creed
• Islamists Slam IS 'Caliphate' Declaration
• Saudis Alert to Enemies on Both Sides of Iraq Schism
• ISIL establishing state system in Iraq's Mosul
• Egypt's Sisi says independence for Iraq's Kurds would be 'catastrophic'
• Dozens of Saudi fighters surrender in Syria
• Terrorists in UAE to be 'penalised with death penalty or life imprisonment'
• El-Sisi says he wishes Al Jazeera journalists had not been tried
• ISIL Expels Tens of Thousands in Syria's East
• Al-Faisal Woos Zionists: Imagine If I Could Fly Directly from Riyadh to Al-Quds
• Shiite preacher urges Maliki's bloc to choose new candidate
• ISIS expels thousands in east, uses fuel prices for support
South Asia
• 18 Taliban militants killed in counter-terrorism operations
• Five children killed in Afghanistan rocket attack
• 3 suicide bombers killed in Kabul-Kandahar highway
• Dalai Lama urges Buddhists to halt Muslim violence
• PM Sheikh Hasina recalls WB's role in Padma bridge issue
Pakistan
• Fight against terrorism: The nation stands behind army says Altaf
• Taliban had agreed to accept state writ, claims Maulana Fazl ur Rehman
• 18 militants held in Peshawar
• Two militants killed in 'encounter' in Karachi
• No timeframe for completion of Zarb-i-Azb: Defence Minister
• 3 Pakistani policemen killed in attack in Hyderabad
• PPP supports democracy not the government: Gillani
• 3 cops among 8 killed in Balochistan
• Up to 93 families relocate to North Waziristan village
• Pakistan Ramazan: Show-off destroys virtue, says Noorani
Europe
• Western embassies try to stop Arab uprising in Israel
• Ingush Cleric Denounces Republic Head, Prominent Sufi Brotherhood
• Kyrgyz Interior Ministry Says Religious Extremism On Rise
• Police Officer, Three Suspected Militants Killed In Daghestan
• Israel's chief rabbis deny claims they'll take part in controversial Holocaust memorial in Crimea
Mideast
• Turkish PM's presidency logo includes prophet's name in Arabic: Minister
• Hamas says 7 militants killed in Israeli strikes
• Two Palestinians killed by Israeli drone in Gaza: emergency services
• Jewish extremists held over Palestinian teen murder
• Iranian pilot killed defending Iraqi shrine: IRNA
• Iraq division in line with Israel agenda: Iran
Africa
• Al-Shabab Claims Deadly Attacks in Kenya
• Scholars Association of Libya condemns attacks on religious leaders
• Threats of fresh west Tripoli clashes fail to materialise
• Zambia Muslims launch mass Ramadan charity campaign
• Newspaper of Bashir's uncle banned again in Sudan
• Nigeria: Atheist Sent to Psychiatric Ward, Now a Fugitive
North America
• Obama's 'unity government' plan in Iraq is just a mirage
• US seeks credible probe into beating of teenager in Israel
Southeast Asia
• Islam can't override basic right of citizens, says dissenting judge in Allah case
• 'Allah not part of Christian faith' remark, a mere observation, says chief judge
• Shades of Nationalism in Indonesia's Foreign Policy
Compiled by New Age Islam News Bureau
URL: https://newageislam.com/islamic-world-news/shariat-courts-legal,-can't-issue/d/97954
-----------
India
Shariat courts not legal, can't issue diktat to impinge individual's rights: SC on fatwa
Jul 7, 2014
The Supreme Court on Monday ruled that Shariat courts did not have any sanction of law and that fatwas could not be issued to trample upon rights of individuals.
A bench led by Justice C K Prasad held that such institutions cannot issue diktat affecting the rights of the people and their decrees will be invalid and also illegal.
While refraining from issuing a blanket order prohibiting parallel courts run by institutions like the Darul Qaza and Darul-Iftaa, the bench made it clear that fatwas cannot be used to punish innocent people.
"No religion including Islam encourages people to punish innocents through decrees not sanctioned by law," it said.
The bench said that while there was no obligation on people to abide by their directives, clerics or institutions can issue fatwas only if parties approach them for adjudication of disputes.
The court said that the case in hand was an "eye-opener" wherein a Muslim girl had to desert her husband because a fatwa directed her to live with her father-in-law who had allegedly raped her.
While reserving its verdict on the petition filed by advocate Vishwa Lochan Madan, the bench had earlier observed that fatwas or religious decrees being issued by Muslim clerics were a "matter of faith and choice" and it would be difficult for a court to issue blanket orders on banning them. It had said that a court can interfere only when somebody's rights are violated by these decrees.
"Which law gives power to issue fatwa and which statute gives pundit power to make horoscope? Court can only say that the state will protect the people if one is subjected to suffering due to fatwa…These are are political and religious issues," it had said.
Madan in his petition had challenged the constitutional validity of Shariat courts for allegedly running a parallel judicial system in the country.
Madan claimed Mandan argued Darul Qaza and Darul-Iftaa function in 52 to 60 districts which have a sizeable Muslim population. He said Muslims cannot contest these decrees or fatwas, and alleged these interfere with the life and liberty of citizens.
http://indianexpress.com/article/india/india-others/shariat-courts-not-legal-cant-issue-diktat-to-impinge-individuals-rights-sc-on-fatwa/
-----------
IB redflags entry of Wahhabi preachers into India
July 07, 2014
An IB report says some 25,000 preachers of the extreme Wahhabi form of Islam came to India last year as visitors, reports Vicky Nanjappa.
The ultra conservative brand of 'Wahhabi Islam' is gaining ground in India, according to a report by the Intelligence Bureau. The report reveals that at least 25,000 scholars preaching the conservative brand of Islam have visited India in 2013 and participated in events that have drawn in crowds of over 12 lakh people.
These preachers enter the country as visitors from across 20 countries, especially Saudi Arabia, and participate in events and preach their conservative, hardline doctrine to the youth. The IB report also says that most of these preachers attended events in Uttar Pradesh, Rajasthan, Chhattisgarh, the erstwhile Andhra Pradesh, Kerala, Bihar, Maharashtra and Jharkhand.
Experts added that during these events held by the Wahhabi preachers, the focus is on the implementation of the Sharia law in its strictest form. "They speak of the importance of the law and how it is the only way to save Islam from attacks," said an IB official.
When asked who organises these events, authorities told Rediff.com that most of the events are organised by Tablighi Jamaats, who adopt a back-to-basics approach to Islam.
Other than the Tablighi Jamaat invitations, scholars preaching the Wahhabi doctrine were also invited by organisations such as the Ahl-e-Hadis and others, said an IB official.
Officials further added that most Indian Mujahideen operatives, who are in their custody, speak highly of the Wahhabi form of Islam. In fact, Yasin Bhatkal, the man behind the Indian branch of the Indian Mujahideen, which is responsible for several terror attacks in India, has said the IM was formed with the intention of implementing the Sharia law in the country.
Apart from the security threat from the indoctrination of some of the youth through these seminars, there is also a chance of hell breaking loose within the Muslim community too.
For, the overwhelming majority of India's Muslim subscribe to the moderate form of Islam. However, the worry is the gradual rise in the number of Muslims subscribing to the Wahhabi form of Islam. According to IB, around 10 years ago, this number was insignificant. Today, however, it fears that the number may have increased.
Officials say the trend needs to be kept in check. for which the hardcore preachers entering the country should be thoroughly vetted and their events should be looked into.
http://www.rediff.com/news/report/ib-redflags-entry-of-wahhabi-preachers-into-india/20140626.htm
---------
Iraq Conflict: 'ISIS made failed attempt to release abducted Indians'
Written by Shalini Narayan | New Delhi | July 7, 2014
A friend of one of the 39 Indians currently in ISIS custody in strife-torn Iraq has claimed that there was an attempt by the militants to release them nine days ago, but their route was obstructed due to heavy firing and bomb blasts in the region.
Speaking to The Indian Express from Baghdad, Major Singh, 28, said, "My friend called me and told me that they were all being taken to Ebril from Mosul when their vehicles were obstructed by heavy firing and two blasts. I have lost contact with them for over nine days as their phones are switched off. The militants asked them to get off and run. They ran in groups of two and three and were later rounded up by the militants who have presently housed them at a garments factory."
A native of Punjab, Singh had left for Iraq three years ago and was working with a German company involved in building a hospital there. Two months ago, Singh quit his job and currently he is working as a chef at a hotel in Baghdad.
Singh said, "I have been in touch with some of my friends who are presently in the custody of the ISIS. They worked with me at the construction company in Mosul. I left because the pay was not great and have asked them to leave too. They told me they would return home this year for Diwali, and then quit the job and look for something else. I wish they are freed by then."
He said, "When the attack took place, they told me that the militants had taken them into custody since their employers had ran away. They had nowhere to go. They claim the militants have been giving them food and water and other facilities. They said they were being well looked after."
Singh claimed the only reason his friends chose to stay back at Mosul was to earn more money. When reached for his comments, India's special envoy to Iraq Suresh K Reddy said, "I cannot comment on this information. But we are making all possible efforts to expedite the release of the kidnapped nationals."
2,200 Indians want to return: MEA
Around 2,200 Indians in Iraq have expressed their desire to leave the strife-torn nation for home and they are likely to reach India in 36 to 48 hours even as 200 others arrived here early on Sunday.
Four mobile teams of six persons each have been placed in non-conflict zones – Najaf, Karbala and Basra apart from Baghdad – and they have collected details of those Indians who want to return home. Of these, External Affairs Ministry spokesperson Syed Akbaruddin said 1,600 were being provided tickets by the government through facilitation process of the Baghdad mission and the rest by their companies.
The spokesperson said that there were 10 commercial flights available from Baghdad to various points in the Gulf and the government was using all seats that were available on these flights. In addition, the Centre was commissioning special flights of Iraqi Airways from other areas.
Referring to the easing of the situation, Akbaruddin said approximately 480 calls were received in control rooms in Delhi and Baghdad and that it was left on individuals to decide whether they want to come back. Now, the calls have come down from 60 to 80 calls to 4 to 6 calls a day, reflecting easing anxiety and concern. (ENS)
http://indianexpress.com/article/india/india-others/iraq-conflict-isis-made-failed-attempt-to-release-abducted-indians/99/
-----------
Arab World
Iraq's Shiites fight for their shrines and their creed
Jul 7, 2014
One by one the young volunteers approached the majestic Kadhimiya shrine, the holiest site of Shiite Islam in the Iraqi capital. They sought blessings before heading off to war and uncertain fates.
"We will fight, and if we have to give our lives, we will," said Abdullah Hussein Ali, 21, accompanied by his younger brother Rami, who also signed up for the battle. "We have no choice. It is a question of survival."
The prospect of an assault on the capital, and on the great shrines of Shiite Islam, by Al Qaeda-style Sunni Arab militants has jolted Iraq's Shiite masses into action. The military appears to have halted the insurgents' advance on Baghdad, but the threat of a militant assault or renewed suicide bomb campaign within the city remains very real.
Though the capital remains outwardly calm in the blast-furnace heat of the Iraqi summer, there is a rumbling tension beneath the surface.
Baghdad these days feels very much like a Shiite city. Plastered on walls, lampposts and elsewhere are images of Shiite holy figures and "martyrs," including many killed in neighboring Syria, where Iraqi Shiite militiamen have gone to fight on behalf of the Syrian government against a Sunni-led rebellion.
Here in Iraq, the advance of Sunni militants allied with the Islamic State, an Al Qaeda offshoot, has clearly raised sectarian tensions. The 2003 U.S.-led overthrow of Saddam Hussein, a Sunni, contributed to sharpened divisions along religious and ethnic lines here. The Sunni population represents a minority in the capital and in the country as a whole, though Sunnis predominate in the areas to the north and west that have been seized by militants.
Any militant advance on Baghdad would clearly be met with forceful resistance from determined opponents, led by Shiite soldiers and militiamen. They appear unlikely to throw away their weapons and retreat, as Iraqi soldiers did last month in the face of an offensive by the Islamic State, which at the time was calling itself the Islamic State of Iraq and Syria, or ISIS. This time they would be fighting for the Shiite heartland, not a faraway outpost.
The Shiite volunteers here say they are the vanguard protecting the great shrine cities to the south, Karbala and Najaf.
"We will defend our holy places to the death," vowed Hassan Hussein, 27, one of half a dozen special forces commandos from Najaf who came to Kadhimiya before being deployed after reenlistment.
The sense of grim resolve evident among many Shiites recalls the dark days of 2006, when Shiite militiamen began to strike back methodically and ruthlessly at Sunni opponents, including Al Qaeda militants, who had for years targeted Shiite civilians and pilgrims.
The Kadhimiya mosque and its devout attendees were favorite targets of suicide bombers, prompting strict security procedures now in place. Vehicular traffic is banned near the shrine.
The violence that soared in 2006, after an attack on a revered Shiite shrine in Samarra, plunged Iraq into a savage sectarian war. Bodies turned up floating in the Tigris, dumped on streets, stuffed into sewer pipes, tossed into lots. Morgues couldn't handle the demand. The Shiite majority emerged from the carnage as the nation's principal power.
Whether the current scenario will devolve into such bloodletting remains to be seen.
For these recruits, defending Shiites from an existential threat is much more important than protecting the Shiite-led government of Prime Minister Nouri Maliki, who has been widely accused of alienating Sunnis. Since elections this spring, Maliki has been struggling to secure another term as prime minister.
A sense of steadfastness and confidence in victory was evident as worshipers arrived at the Kadhimiya mosque for the first Friday prayers of the Ramadan month of fasting. The gold dome and slender minarets shimmered in the heat.
Prominent among the lines of faithful walking to the shrine despite the 110-plus-degree temperatures — and the Ramadan strictures on drinking and eating — were the many military-aged men, who often arrived in groups. They exuded the jaunty self-assurance of many young men headed off to war, righteous in their cause.
Some wore jeans and sandals and carried small packs of clothing and other essentials to be taken to their bases. Their possessions were few. Many were recent recruits, having volunteered after a call last month from Iraq's top Shiite cleric, Grand Ayatollah Ali Sistani, to join the "holy defense" against the "terrorists." Many described themselves as laborers or unemployed.
"We are heeding our clerics' call," said Ali, the recruit who arrived with his younger brother. They were seated in a shaded entryway at the foot of the main street leading to the shrine. Rami, the brother, nodded in agreement, but didn't utter a word.
Sistani, assailed as the "sleeping cleric" a decade ago for being slow to act as Shiites were being slaughtered on the streets, did not hesitate this time. Multitudes have since signed up for either the army or militias.
Security forces guarding the sprawling shrine have become accustomed to the fervent volunteers who come here before shipping out to the front lines, keen to show their devotion. It is a comforting ritual for many who may never return.
"They arrive here day and night, all the time," said police Sgt. Iyad Kathem, who was among those posted at one of the pedestrian entrances, where everyone receives a security pat-down, be they young or old. "They are very enthusiastic."
Iyad Aaridhi, another former special forces soldier who was reenlisting, said, "We hope to destroy this threat and force these killers to flee Iraq."
"We are fighting for our homes, for our creed," he said.
http://www.latimes.com/world/middleeast/la-fg-iraq-shiites-20140705-story.html
-----------
Islamists slam IS 'caliphate' declaration
Jul 7, 2014
BEIRUT The surprise declaration of a "caliphate" by insurgents accused of committing atrocities in Syria and Iraq has provoked an outcry even among Islamists who dream of a state under Sharia law.
The caliphate, an Islamic system of rule, was abolished nearly 100 years ago, although many Arabs and Muslims still associate it with a golden age.
But this week's announcement of a caliphate by the radical Islamic State (IS) group appears to only appeal to fanatics.
"All Islamist groups want the caliphate," said Mathieu Guidere, who teaches Islamic studies at France's University of Toulouse.
But IS, which operates in Syria and Iraq and was formerly known as the Islamic State of Iraq and the Levant (Isil), "is equated with terrorism and massacres; it has a bad track record", Guidere said.
IS's widely publicised brutality, including public beheadings and crucifixions, "give a very bad image of Islam... tainting the (caliphate) project, which Islamists view as an ideal."
IS chief Abu Bakr Al Baghdadi's designation as "caliph" has shocked most Muslims, even insurgents, who have rejected the idea outright.
Al Azhar, a leading authority of Sunni Islam, "believes that all those who are today speaking of an Islamic state are terrorists," its senior representative Sheikh Abbas Shuman said. "The Islamic caliphate can't be restored by force. Occupying a country and killing half of its population... this is not an Islamic state, this is terrorism," Shuman added.
In Saudi Arabia, Al Riyadh daily ripped the caliphate as being "no more than one person heading a terrorist organisation".
The paper said "it would be a mistake to exaggerate the importance of this initiative, by imagining it might eradicate borders... and give way to a great Islamic caliphate." Sunday's announcement by IS comes amid a major offensive it is spearheading in Iraq, capturing large swathes of territory from government hands.
The group has also secured fresh gains in Syria, where it is firmly in control of areas in the north and east of the war-torn country.
Rebels in Syria, who are fighting both IS and President Bashar Al Assad's regime, have branded the caliphate announcement as "null and void".
Baghdadi, whose group was once allied to Al Qaeda, embarked on a collision course last year with its leader, Ayman Al Zawahiri, who anointed another group, the home-grown Al Nusra Front, as its franchise in Syria.
Abu Maria Al Qahtani, Al Nusra's authority on Islamic law, has accused IS on Twitter of "excessive zeal" and branded it "a disaster for the Islamic nation".
In Iraq, the influential Association of Muslim Scholars said IS had "consulted neither residents of Iraq nor Syria."
And Lebanon's Jamaa Islamiyeh, which is the local branch of the widely influential Muslim Brotherhood, lashed out at the announcement and called it heresy.
The group also said IS's acts "are a deformation of Islam, that disgusts the people of the region."
Even more Salafist Muslims dismissed the call. "We want a caliphate; it is at the core of our ideology," said Daii Islam Al Shahhal, founder of Lebanon's Salafist movement. "But such a state should be founded on several criteria, which have not yet been met."
IS has among its ranks thousands of well-armed fighters, many of them foreigners. Its bid to annihilate all those who refuse to pledge allegiance to its project has raised the wrath of most other fighters.
"They believe they are the only Muslims," said Radwan Al Sayyed, who teaches Islamic studies at the Lebanese University.
But thanks to their "capacity to destroy, they will last for (only) months," he said.
http://www.omantribune.com/index.php?page=news&id=170862&heading=Middle%20East
-----------
Saudis Alert to Enemies on Both Sides of Iraq Schism
Jul 7, 2014
Saudi Arabia is a target for both sides in Iraq's deepening conflict, one reason it has ramped up security levels to confront a threat that's more immediate than the Arab Spring revolts three years ago.
The world's biggest oil exporter convened its national security council for a rare meeting under King Abdullah, and has bolstered defenses at the border with Iraq, where militants last month seized several cities and declared an Islamic state. The king vowed to protect the nation's "resources and territory and prevent any act of terror."
For the 90-year-old monarch, the threat is twofold. Sunni militant groups, like the Islamic State led by Abu Bakr Al-Baghdadi that now controls parts of Iraq as well as Syria, have historically posed a challenge to the Al Saud family's rule. Another danger comes from Shiite militias, which struck across the Saudi border in the past and are now being called to arms to help fight the insurgents.
"An al-Qaeda offshoot armed with heavy weaponry and flush with cash wreaking havoc a mere 100 miles from their border is not a dream scenario," said Fahad Nazer, a political analyst at JTG Inc., a consultancy based in Vienna, Virginia. "It also doesn't help that at least two Shiite militias have vowed to bring the war to Saudi Arabia."
Ties between OPEC's two largest oil producers have been strained since the U.S. invasion of Iraq in 2003.
No Embassy
As the region's main Sunni power, Saudi Arabia has links with Iraq's Sunni minority, who dominated the government before the fall of Saddam Hussein and now complain of discrimination under Prime Minister Nouri al-Maliki's Shiite leadership. There's no Saudi embassy in Baghdad, and little commercial contact.
The gap has grown wider with the recent violence.
Maliki last month accused Saudi Arabia of "siding with terrorism" by providing financial and moral support, and blamed the kingdom's leaders for the Sunni insurgency in northern and western Iraq. Saudi Arabia replied that it's at the "forefront of combating terrorism" and blamed Maliki's "sectarian policies" for destabilizing Iraq.
The conflict has raised the risk of a civil war in Saudi Arabia's neighbor. The Sunni militants have overrun Mosul, Iraq's biggest northern city, as well as Saddam's hometown of Tikrit. They're also fighting for the nation's biggest refinery in Baiji. The army said it foiled the latest attempt to seize the facility on July 4, killing all militants who took part.
Islamist 'Epidemic'
As the Islamists advanced in Iraq, the benchmark Saudi stock index posted its first monthly drop since August.
Official Saudi support for Iraq's Sunnis doesn't extend to extremists like the Islamic State, according to Gregory Gause, a professor of political science at the University of Vermont in Burlington and a specialist in Gulf politics. The group declared a caliphate on June 29 and said it was changing its name from the Islamic State in Iraq and the Levant, or ISIL.
Such organizations, including al-Qaeda, have attacked Saudi targets in the past, and accused the Al Sauds of collaborating with enemies of Islam through their alliance with the U.S. Saudi Foreign Minister Prince Saud al-Faisal has described the Islamic State as an "epidemic."
While the Saudi leaders don't like Maliki, they see the Islamic State as "very dangerous to them," Gause said. The problem is that there are plenty of people in Saudi Arabia and other Gulf states ready to support the Sunni insurgents "financially, politically and even as volunteers to fight," he said.
Transnational Jihad
Transnational jihadists, not domestic clerics from the Wahhabi school of Islam, have posed the biggest threat to the Al Saud since the kingdom's formation in 1932. It's a target because it's the birthplace of Islam, home to Mecca's Grand Mosque, Islam's holiest shrine, and Medina, where the Prophet Mohammed is buried.
Saudi Arabia's armed forces "are the shield of our country from every evil," the official Saudi Press Agency yesterday cited Crown Prince Salman as saying during a meeting with military commanders. "Maintaining the security of our country along all its borders is a major task to which the armed forces have the honor to contribute," he said.
Beyond its borders, Saudi Arabia used its armed forces and oil wealth to counter the political risks that emerged during the Arab Spring in 2011. It sent troops to neighboring Bahrain to help crush protests by the Shiite majority there against Sunni rulers.
In Syria, where the Islamic State is among the groups fighting against President Bashar al-Assad, Saudi Arabia has backed some of the more moderate rebels while seeking to stop Saudis from joining the war. Jihadi rehab centers have been set up for those who evade the ban.
'Immediate Threat'
Egypt received billions of dollars in Saudi aid after the army toppled President Mohamed Mursi, whose Muslim Brotherhood is viewed with hostility by Saudi Arabia because it seeks to bring political Islam to power via the ballot box.
"The Muslim Brotherhood is a medium to long-term threat for countries like Saudi Arabia," said Hassan Hassan, an analyst at Delma Institute, an Abu Dhabi-based research center. "The Islamic State is an immediate threat. It is openly violent and, most importantly, is more capable of galvanizing jihadi-minded citizens."
Since a wave of attacks a decade ago, including car bombs in 2006 that targeted the world's biggest oil processing plant at Abqaiq, Saudi security forces have cracked down on al-Qaeda, pushing many members across the border into Yemen.
That hasn't prevented militants from striking the kingdom. Four Saudi soldiers were killed near the Yemen border in two separate attacks by Islamists, Interior Ministry spokesman General Mansour al-Turki said on July 5. Two attackers were killed in a suicide bombing inside a Saudi intelligence building in the town of Sharourah, he said.
Unhidden Ambition
A newer generation of Islamist militants is already seeking to recruit young Saudi men, including through social media.
The Islamic State "has never hidden its ambitions about Saudi Arabia," said Mustafa Alani, an analyst at the Geneva-based Gulf Research Center.
The Sunni insurgents command some support among Saudi Arabia's dominant Sunni community, making their emergence a domestic political challenge as well as a security risk. The threat from Iraq's Shiites is different.
In November, the Shiite group Jaysh Al-Mokhtar said it fired six shells into a desert area near the kingdom's border with Iraq and Kuwait. Since then, with encouragement from Maliki and religious leaders, the Shiite militias who fought Sunnis in a bloody civil war after the U.S. invasion have regrouped to fight the Islamic State.
'Inside Iraq'
The elaborate name of one newly formed Shiite militia includes the phrase "Soldiers for the Liberation of Najd and Hejaz," the Arabic names for the main regions of Saudi Arabia, according to Nazer, who has also worked as an analyst at the Saudi Embassy in Washington.
In the eyes of Saudi Arabia's rulers, the Shiite threats ultimately emanate from Iran, their main regional rival.
Iran has supported Maliki and has close ties with some of the Shiite militias. It has shown in Syria that it's ready to help defend its ally Assad. Saudi leaders will be concerned about a similar intervention in Iraq, which unlike Syria borders their own country, according to Alani.
"They can live with Syria, they can't live with Iraq," he said. If there are signs of Iranian involvement, "there will be public pressure for counter-intervention. They will have to take measures, and the measures may not only be on the border but inside Iraq as well."
http://www.bloomberg.com/news/2014-07-06/saudis-alert-to-enemies-on-both-sides-of-iraq-schism.html
-----------
ISIL establishing state system in Iraq's Mosul
World Bulletin / News Desk
Jul 7, 2014
After capturing Iraq's second biggest city Mosul along with much of the Sunni Arab sotrongholds of northern Iraq in early June, rebels loyal to the Al Qaeda breakaway group Islamic State of Iraq and the Levant (ISIL) are establishing their authority after declaring an 'Islamic State' in the region.
On Friday, a man believed to be the ISIL leader Abu Bakr al-Baghdadi was filmed leading the Friday congregational prayers in Mosul's main mosque. Following the prayer, it is reported that he met with local defence staff for seven hours to discuss the systematic management of the city.
According to Turkey's daily Yeni Safak, the governor of Mosul ws changed three times during the meeting after disagreements withing the ISIL. At first a man simply code named as Abu Muslim was granted the post before it was finally given to an Iraqi Turkmen from Tal Afar called Fazil Ahmad al-Hiyali.
Full report at:
http://www.worldbulletin.net/headlines/140205/isil-establishing-state-system-in-iraqs-mosul
---------
Egypt's Sisi says independence for Iraq's Kurds would be 'catastrophic'
Jul 7, 2014
CAIRO: Egypt's President Abdel Fattah al-Sisi said a referendum on the independence of Iraq's Kurdish region would lead to a "catastrophic" break up of the country, which is facing an onslaught by Sunni Islamist militants.
The comments from Sisi, leader of the most populous Arab nation, indicate a growing fear in the region that the division of Iraq could further empower the insurgents who have declared a "caliphate" on land seized in Iraq and neighbouring Syria.
"The referendum that the Kurds are asking for now is in reality no more than the start of a catastrophic division of Iraq into smaller rival states," Egypt's MENA news agency quoted Sisi as saying during a meeting with local journalists.
Full report at:
http://www.dailystar.com.lb/News/Middle-East/2014/Jul-06/262861-egypts-sisi-says-independence-for-iraqs-kurds-would-be-catastrophic.ashx#ixzz36lkSpZAb
-----------
Dozens of Saudi fighters surrender in Syria
Jul 7, 2014
Dozens of Saudis fighting in Syria have voluntarily surrendered to security authorities, said Sami Al-Saleh, Saudi ambassador to Jordan.
The statement comes in the wake of the recent surrender of 28-year-old Khalaf Al-Enezi, who approached the Saudi Embassy in Amman after fighting in Syria for over 18 months.
"Al-Enezi is not the first nor the last person to surrender at the Jordanian border," said Saleh. "He is one of dozens of Saudi young men who were misled."
The Interior Ministry previously said that the Royal Court had approved a 15-day grace period for former fighters to come forward and return to the Kingdom.
"Many young Saudis benefited from the grace period granted by Custodian of the Two Holy Mosques King Abdullah in March," he said. "Since that time, we have had individual cases of surrender."
http://www.arabnews.com/news/597921
-----------
Terrorists in UAE to be 'penalised with death penalty or life imprisonment'
Jul 7, 2014
Abu Dhabi: The UAE Government has fast-tracked legislation including tough measures against those found to be involved in terror acts, financing terror or campaigning for terrorist groups.
Under the draft law offenders will face the death sentence, life imprisonment or fines of up to Dh100 million.
The Federal National Council is due to be called from its almost four-month summer break to attend a special session later this month to review the draft law, which establishes "terrorist" capital offences, which result in the death of a victim, including attacks on a head of state or his family or a representative or officer of a state; coerced recruitment of people into a "terrorist" organisation; hijacking; hostage-taking; infringement on diplomatic or consular premises in committing a "terrorist" act; use of nuclear, chemical or biological weapons and assaults on security forces.
Full report at:
http://gulfnews.com/news/gulf/uae/government/terrorists-in-uae-to-be-penalised-with-death-penalty-or-life-imprisonment-1.1356367
-----------
El-Sisi says he wishes Al Jazeera journalists had not been tried
Jul 7, 2014
Egyptian President Abdel-Fattah El-Sisi has said he wishes imprisoned Al Jazeera journalists had not been put on trial, an Egyptian daily reported on Monday, in the president's first encouraging remarks about a case that has sparked a global outcry.
Three Al Jazeera English journalists – Australian reporter Peter Greste, Egyptian-Canadian Cairo bureau chief Mohamed Fahmy and producer Baher Mohamed – were sentenced last month to between seven and 10 years in jail.
They were convicted of charges including spreading false news that harmed national security and aiding a terrorist group – identified by the authorities as the Muslim Brotherhood. The ruling has sparked a flurry of international condemnation and heightened fears of the growing muzzling of media dissent in Egypt.
Full report at:
http://english.ahram.org.eg/NewsContent/1/64/105649/Egypt/Politics-/ElSisi-says-he-wishes-Al-Jazeera-journalists-had-n.aspx
-----------
ISIL Expels Tens of Thousands in Syria's East
Jul 7, 2014
The Takfiri terrorists group, the so-called Islamis State in Iraq and Levant (ISIL), has expelled around 60,000 people from their homes in Syria's east.
The London-based "Syrian Observatory for Human Rights" said ISIL had forced out30,000 residents after seizing Shuheil on Thursday from Al-Qaeda affiliate Al-Nusra Front.
Another 30,000 residents have ISIL terroristsbeen forced from their homes in the towns of Khosham and Tabia Jazeera, also in eastern Deir Ezzor province, the Britain-based NGO said.
"Some 30,000 residents of the town of Shuheil, the former stronghold of Al-Nusra Front, have been forced out by the Islamic State," the group said.
Full report at:
http://www.almanar.com.lb/english/adetails.php?eid=159927&cid=23&fromval=1&frid=23&seccatid=20&s1=1
-----------
Al-Faisal Woos Zionists: Imagine If I Could Fly Directly from Riyadh to Al-Quds
Jul 7, 2014
Former Saudi intelligence chief Prince Turki al-Faisal has sent a letter to the so-called "Israel Peace Conference", calling on the Zionist entity to adopt the Arab peace initiative.
Former Saudi intelligence chief Prince Turki al-Faisal "Arab 48 Website" reported on Sunday that al-Faisal was talking in the letter about the profits which the Zionist entity could attain if it agrees to consider the initiative.
The Website said that al-Faisail was wooing the Zionist entity in his letter, as he mentioned the name of Palestinian city of Hebron in its both Arabic and the Hebrew languages.
Al-Faidal also voiced readiness to visit al-Aqsa Mosque's Western Wall and the Yad Vashem Museum which is considered as a memorial to the victims of the Holocaust, the Palestinian website noted.
Full report at:
http://www.almanar.com.lb/english/adetails.php?eid=159960&cid=31&fromval=1&frid=31&seccatid=259&s1=1
-----------
Shiite preacher urges Maliki's bloc to choose new candidate
Jul 7, 2014
BAGHDAD: Iraqi premier Nouri al-Maliki's coalition should withdraw its support for his bid for a third term and pick another candidate, Shiite preacher Moqtada al-Sadr urged, amid parliamentary deadlock over the formation of a new government.
Maliki has come under mounting pressure since ISIS militants took swathes of the north and west of Iraq last month, relying on local tribal and other insurgents.
In a statement published on his website late Saturday, Sadr said Maliki "has involved himself and us in long security quarrels and big political crises" and suggested that preventing Maliki from serving a third term would be a "welcome step."
Full report at:
http://www.dailystar.com.lb/News/Middle-East/2014/Jul-07/262905-sadr-urges-malikis-bloc-to-choose-new-candidate.ashx#ixzz36liJ60vq
-----------
ISIS expels thousands in east, uses fuel prices for support
Jul 7, 2014
BEIRUT: The Al-Qaeda splinter group ISIS has expelled more than 30,000 people from their homes in the eastern Syrian town of Shheil, a stronghold of its jihadist rival the Nusra Front.
It has also launched a policy to "gain popularity" in eastern areas by setting strict controls on the price of black-market fuel, according to the Syrian Observatory for Human Rights, a Britain-based, anti-regime group of activists.
The Observatory said Sunday that ISIS had "forced out" some 30,000 residents after seizing Shheil Thursday from Nusra, which is Al-Qaeda's affiliate in Syria
Another 30,000 residents have been forced from their homes in the towns of Khasham and Tabieh Jazeera, also in eastern Deir al-Zor province, the Observatory said.
"Some 30,000 residents of the town of Shheil, the former stronghold of Nusra Front, have been forced out by ISIS," the group said.
Full report at:
http://www.dailystar.com.lb/News/Middle-East/2014/Jul-07/262896-isis-expels-thousands-in-east-uses-fuel-prices-for-support.ashx#ixzz36lkNSwD0
-----------
South Asia
18 Taliban militants killed in counter-terrorism operations
Jul 07 2014
At least 18 Taliban militants were killed and another militant was injured following military operations by Afghan national security forces.
The ministry of interior (MoI), following a statement said Mondaythat the operations were conducted in Laghman, Kandahar, Maidan Wardak and Ghor provinces.
Afghan national security forces also confiscated various types of heavy and light weapons along with ammunition and explosives during the operations, MoI said.
The statement also added that Afghan national police forces confiscated a number of improvised explosive devices (IEDs) during operations.
The Taliban militants group has not commented regarding the report so far.
http://www.khaama.com/18-taliban-militants-kileed-in-counter-terrotism-operations-1783
-----------
Five children killed in Afghanistan rocket attack
Jul 7, 2014
At least five children were killed and six people injured Monday when a grenade fired by militants hit a house in northern Afghanistan, an official said.
"Taliban militants fired a rocket propelled grenade in Kunduz province and the device struck the house," the official told Xinhua.
The six injured people were from the same family and included the victims' parents, the official added.
http://www.thehindu.com/news/international/south-asia/five-children-killed-in-afghanistan-rocket-attack/article6185677.ece
-----------
3 suicide bombers killed in Kabul-Kandahar highway
Jul 07 2014
At least three would-be suicide bombers were killed and another one was injured in Kabul-Kandahar highway.
Deputy interior minister for security Gen. Ayub Salangi said the suicide bombers were killed in Shahr-e-Safa area.
He did not disclose further information regarding the incident.
In the meantime, district chief for Shahr-e-Safa in southern Zabul province, Abdul Razaq Ayubi said the suicide bombers were shot dead by Afghan forces before they manage to reach the district administrative compound.
Ayubi further added that the suicide bombers were inside a truck laden with explosives.
The anti-government armed militant groups have not commented regarding the report so far.
http://www.khaama.com/3-suicide-bombers-killed-in-kabul-kandahar-highway-8272
-----------
Dalai Lama urges Buddhists to halt Muslim violence
Jul 7, 2014
LEH: The Dalai Lama reiterated his plea to Buddhists in Myanmar and Sri Lanka to halt violence against Muslims, in a speech to tens of thousands of devotees to mark his 79th birthday.
In front of the massive crowd that included Hollywood film star Richard Gere in northern India, the Dalai Lama said the violence in both Buddhist-majority countries targeting religious minority Muslims was unacceptable.
"I urge the Buddhists in these countries to imagine an image of Buddha before they commit such a crime," Tibet's exiled spiritual leader said on the outskirts of Leh, high in the Himalayas.
"Buddha preaches love and compassion. If the Buddha is there, he will protect the Muslims whom the Buddhists are attacking," the leader, who fled Tibet for India in 1959 after a failed uprising against Chinese rule, said.
Full report at:
http://www.dawn.com/news/1117459/dalai-lama-urges-buddhists-to-halt-muslim-violence
-----------
PM Sheikh Hasina recalls WB's role in Padma bridge issue
Jul 7, 2014
Prime Minister Sheikh Hasina yesterday came down hard on a group of "conspirators," who orchestrated the cancellation of the World Bank funding on Padma bridge.
While addressing Communications Ministry officials at the secretariat yesterday, she said vested interests from the USA and also Bangladesh had provoked the global lender.
Hasina said the World Bank had never been able to place any solid proof in support of its claim that a corruption conspiracy was going on centring the Padma Multipurpose Bridge project.
"They just produced some pages from a diary where it was stated who would get what amount of commission. This is not enough to prove that there was corruption in the project," UNB quoted the premier as saying.
Full report at:
http://www.dhakatribune.com/politics/2014/jul/07/pm-recalls-wb%E2%80%99s-role-padma-bridge-issue
-----------
Pakistan
Fight against terrorism: The nation stands behind army says Altaf
July 7, 2014
KARACHI: While reaffirming his support for the armed forces, Muttahida Qaumi Movement (MQM) chief Altaf Hussain has said that after terrorism is defeated, accountability of corrupt politicians with a feudal mindset will begin.
"Once terrorism is defeated, it would be the corrupt politicians' turn to be eliminated… their accountability will begin," Altaf said on Sunday while addressing a huge rally organised by his party to express solidarity with the armed forces in Operation Zarb-e-Azb.
The MQM chief, who spoke to the crowd gathered at Jinnah Park via video link from London, said that he could see a revolution coming in Pakistan. "The time when honest people will rule and when bribery will be seen as illegal is not far away," he said.
He called upon the politicians "who have properties and money stashed abroad," to either return the country's wealth or move to countries where they have stowed away their wealth.
At the same time, Altaf paid tributes to the armed forces and said the people gathered at the rally were proof that the entire nation backed them. He warned terrorists against enforcing their ideology 'at gunpoint'.
Full report at:
http://tribune.com.pk/story/732193/fight-against-terrorism-the-nation-stands-behind-army-says-altaf/
-----------
Taliban had agreed to accept state writ, claims Maulana Fazlur Rehman
Jul 7, 2014
ISLAMABAD: Jamiat Ulema-i-Islam (JUI-F) chief Maulana Fazlur Rehman claimed on Sunday that the Taliban had agreed to accept the writ of the state, but the government did not pursue the dialogue process seriously which paved the way for the military operation in North Waziristan.
Talking to journalists at an Iftar-dinner at his Ministers Enclave residence here on Sunday, the maulana said he kept on suggesting that the
local tribal jirga be given a role in the dialogue process, but the government paid no heed to it despite the fact that Interior Minister Chaudhry Nisar Ali Khan had kept on assuring him in this regard.
Full report at:
http://www.dawn.com/news/1117576/taliban-had-agreed-to-accept-state-writ-claims-fazl
-----------
18 militants held in Peshawar
July 07, 2014
PESHAWAR - The local police during search operation arrested 18 suspected militants in Regi area and recovered sophisticated weapons from their possession on Sunday.
Following the directives of SSP operation, SHO Regi police launched an operation in various villages of Regi areas and arrested 18 persons including three proclaimed offenders. The arrested persons were wanted to police in various cases of murder and robbery. The police also recovered sophisticated weapons including LMG, Repeaters, four riffles and pistols from their possession.
Meanwhile, in another crackdown against encroachments in Board Baazar as many as 100 illegal shops were bulldozed by the police while following the directives of Irrigation Department. Most of these makeshift shops were constructed on a roadside canal, which had badly disrupted the flow of water. Despite the repeated warning of the Irrigation Department, the shopkeepers did not remove their encroachments and started protest demonstrations against the government.
Full report at:
http://www.nation.com.pk/national/07-Jul-2014/18-militants-held-in-peshawar
---------
Two militants killed in 'encounter' in Karachi
Jul 7, 2014
KARACHI: Two suspected militants were killed in an alleged encounter with police here on Sunday night.
Police said they had received information about the presence of militants at a roundabout in Baldia Town. When a police team reached the area, the suspects opened fire on them and tried to flee.
Police returned fire and killed two militants. One of them was identified Danish.
Karachi West SSP Irfan Baloch claimed that the militants belonged to Tehreek-i-Taliban Swat and were involved in killing policemen.
He said four militants belonging to the same group and allegedly involved in killing policemen were also shot dead in an encounter with police and Rangers in Pirabad and Site areas late on Saturday night.
http://www.dawn.com/news/1117578/two-militants-killed-in-encounter
-----------
No timeframe for completion of Zarb-i-Azb: Defence Minister
Jul 7, 2014
SIALKOT: Defence Minister Khawaja Mohammad Asif has ruled out any timeframe for early completion of the ongoing military operation in North Waziristan Agency (NWA) and said it will continue till elimination of terrorism, militancy and insurgency from the tribal areas.
Talking to journalists at his residence on Sunday, he said that though announcement of any timeframe for the operation was not possible at the moment, the government would take mainstream political parties into confidence over eradication of terrorism and early rehabilitation and repatriation of the people displaced from the NWA.
He said the Zarb-i-Azb operation was continuing successfully with the prayers of the nation. The government wanted an early completion of the operation.
Full report at:
http://www.dawn.com/news/1117581/no-timeframe-for-completion-of-zarb-i-azb-asif
-----------
3 Pakistani policemen killed in attack in Hyderabad
Press Trust of India | Karachi | July 7, 2014
Three Pakistani policemen have been killed and another was critically injured when unidentified gunmen on a motorbike opened indiscriminate fire on them in Sindh province's Hyderabad city.
The three policemen were killed and their colleague injured when they were on patrol duty in a police car last night in the suburbs of the Latifabad township.
The injured was rushed to a hospital.
"Masked men on motorcycles opened indiscriminate firing on the police mobile killing three of them on the spot while another has been critically injured," DIG Sanaullah Abbasi said.
"These killings of policemen could be a retaliation to the ongoing operation against terrorists in North Waziristan," Abbasi told reporters in Hyderabad after visiting the injured policemen in hospital.
Full report at:
http://indianexpress.com/article/india/india-others/3-pakistani-policemen-killed-in-attack-in-hyderabad/
-----------
3 cops among 8 killed in Balochistan
July 07, 2014
QUETTA - At least eight persons including three policemen were killed and four others injured in separate incidents of violence in different areas of Balochistan on Sunday.
Three policemen were killed in separate incidents of targeted killing in Quetta. According to police, Syed Noor and Inayatullah were deployed at Main Bazaar Chowk in Kachlak area during Iftar time when unknown assailants opened fire on them. As a result, both the policemen died on the spot.
Senior police officer Mahmood Notezai said that four gunmen attacked policemen and took their weapons with them. The victims were rushed to Civil Hospital. Earlier in the day, unknown gunmen shot and killed a police constable at Bus Stand. The slain policeman was identified as Muhammad Ashraf.
Full report at:
http://www.nation.com.pk/national/07-Jul-2014/3-cops-among-8-killed-in-balochistan
-----------
Up to 93 families relocate to North Waziristan village
July 7, 2014
BANNU/ISLAMABAD: As a top military commander visited the troops in North Waziristan Agency (NWA) on Sunday, as many as 93 displaced families have returned to the Eidak village of agency's Mirali tehsil.
The families, which amount to more than a thousand individuals, returned after security forces declared the area cleared of militants, an official of the tribal agency's political administration told The Express Tribune.
"Elders of the village have been holding talks with security forces over the past two days after the area was declared clear [of militants]," the official said. "The elders have assured security officials that they will not allow any militants into the area," he added.
According to the official, the elders, while assuring their all-out support to the armed forces, pointed out that they had razed militant seminaries and hideouts in the area in the past.
"Following the talks, 93 families moved back from Bannu and other parts of Khyber-Pakhtunkhwa to their native areas in the agency," he said.
Full report at:
http://tribune.com.pk/story/732169/up-to-93-families-relocate-to-north-waziristan-village/
-----------
Pakistan Ramazan: Show-off destroys virtue, says Noorani
July 7, 2014
KARACHI: Deeds depend on the intentions, said Khateeb Ahle Sunnat and Sawade Azam Ahle Sunnat Haqiqi Maulana Kokab Noorani, while quoting a famous tradition of the Holy Prophet (PBUH).
"Good deeds should be for attaining the acceptance of Allah Almighty instead of gaining popularity or any other worldly benefits," he said.
Noorani was speaking during the special transmission of Ramazan Pakistan hosted by Allama Nisar Ali Ujagar. The topic of the discussion was 'Knowledge, Practice, and Sincerity'.
Noorani said boasts about righteousness destroy good deeds. "We should be overt in fulfilling the obligations and covert in nawafil," he said elaborating that people do not perform the compulsory religious obligations or faraiz as there is nothing to show off about them, but they do extend their limits when there is a chance to show off piety.
"We have emptied our lives of duties assigned by the Almighty and filled our bags with pomp and splendour," he said.
http://tribune.com.pk/story/732182/pakistan-ramazan-show-off-destroys-virtue-says-noorani/
-----------
Europe
Western embassies try to stop Arab uprising in Israel
07 July 2014
British and French embassies in Israel attempted to mediate with Palestinian leaders to stop the continued Arab uprising, a senior Palestinian official told Al-Araby Al-Jadid yesterday.
The source, who is a member of the Supreme Follow-up Committee for Arabs in Israel, said that the British embassy phoned the head of the regional committee Mazen Ghanayem.
The regional committee consists of the heads of Arabic municipalities in Israel. The source said that an agreement on a meeting between Ghanayem, the chairman of the Follow-up Committee and the British embassy had been arranged.
In addition, the source said that the Israeli President Shimon Peres and the Internal Security Minister Yitzhak Aharonovich contacted Arab leaders in Israel to bring an end to the tensions.
Full report at:
https://www.middleeastmonitor.com/news/middle-east/12592-western-embassies-try-to-stop-arab-uprising-in-israel
-----------
Ingush Cleric Denounces Republic Head, Prominent Sufi Brotherhood
Jul 7, 2014
Yet another new protagonist has come forward with damaging allegations against Republic of Ingushetia head Yunus-Bek Yevkurov.
Ingush Muslim cleric Sheikh Salekh Khamkhoyev has accused Yevkurov of complicity with a Sufi brotherhood he believes is responsible for attacks on his home or property and appealed for protection to Chechen Republic head Ramzan Kadyrov, with whom Yevkurov is engaged in a protracted low-level feud.
Khamkhoyev, 58, belongs to the generation of Chechens and Ingush born in exile in Kazakhstan to parents deported in 1944. He graduated from the Bukhara madrasah (religious school), one of two functioning in Uzbekistan during the late Soviet period. In 1990, he founded an Islamic institute in Nazran, of which he served as rector. Between 1990 and 1997 he also worked as an adviser on religious affairs to Ruslan Aushev, the first president of the Republic of Ingushetia; as a consultant to the Russian Nationalities Ministry; and as an adviser to the chairman of the Russian State Duma.
Full report at:
http://www.rferl.org/content/caucasus-report-ingushetia-sufis/25447148.html
-----------
Kyrgyz Interior Ministry Says Religious Extremism On Rise
Jul 7, 2014
Kyrgyz authorities say crimes related to religious extremism are on the rise, while at least 80 Kyrgyz citizens are known to be currently fighting alongside Islamic rebels in Syria.
The Kyrgyz Interior Ministry said on July 3 that 181 crimes committed by suspected religious extremists had been registered in the first six months of 2014. Last year, 133 such crimes were registered in the period from January to June.
The ministry said 145 men and women suspected of taking part in those crimes have been arrested in Kyrgyzstan since January 1.
According to the ministry, the number of Kyrgyz women taking part in extremist activities is also increasing. It said at least 10 of the 80 Kyrgyz fighting in Syria are believed to be women.
Religious extremist groups are mainly active in Kyrgyzstan's southern regions of Jalal-Abad and Osh, as well as in Bishkek, the capital.
http://www.rferl.org/content/extremism-islam-syria-kyrgyzstan-jihad-crime/25443992.html
-----------
Police Officer, Three Suspected Militants Killed In Daghestan
Jul 7, 2014
A police officer and three suspected militants have been killed in Russia's North Caucasus Republic of Daghestan.
Russia's National Antiterrorism Agency (NAK) said on July 7 that the special operation had been launched on July 6 near the village of Maidanovskoye in Daghestan's central Untsukul district.
Three police officers have been wounded in the special operation, which is still under way.
Daghestan and other republics in Russia's restive North Caucasus region have been plagued by violence linked to Islamic extremism and organized crime for years, with scores of people being killed and injured.
http://www.rferl.org/content/daghestan-special-operation-police-militants/25447698.html
----------
Israel's chief rabbis deny claims they'll take part in controversial Holocaust memorial in Crimea
Jul 7, 2014
Israel's chief rabbis will not be attending a controversial Holocaust memorial ceremony in Russian- occupied Crimea this week despite claims to the contrary by organizers, spokesmen for the two clerics confirmed to The Jerusalem Post.
Neither Ashkenazi Chief Rabbi David Lau nor his Sephardi counterpart, Rabbi Yitzhak Yosef, will travel to Sevastopol to attend the event, which has been termed a "provocation" by a senior Jewish communal leader in Kiev who spoke to the press on condition of anonymity.
Thursday's event, he told the Post, is "a cynical use of the Holocaust for political ends."
Russia seized the Crimean peninsula from Ukraine earlier this year following the deposition of pro-Moscow president Viktor Yanukovich by pro-European protesters and annexed it in March.
Russian President Vladimir Putin has invoked the specter of anti-Semitism as one of the justifications for his involvement in both Crimea and eastern Ukraine, where a pro-Russia insurgency has claimed hundreds of lives.
Bringing senior Israeli officials in the form of the chief rabbis, some believe, would serve to add a patina of legitimacy to Putin's claim that his interventions in Ukraine are aimed at helping the Jewish community.
Full report at:
http://www.jpost.com/Jewish-World/Jewish-Features/Israels-chief-rabbis-deny-claims-theyll-take-part-in-controversial-Holocaust-memorial-in-Crimea-361723
-----------
Mideast
Turkish PM's presidency logo includes prophet's name in Arabic: Minister
Jul 7, 2014
The official presidential election campaign logo of Prime Minister Recep Tayyip Erdoğan includes the name of the Prophet Muhammed in Arabic, Finance Minister Mehmet Şimşek said on July 6.
"Did you know that 'Muhammed' in Arabic is used in the logo of our presidential candidate, Mr. Erdoğan?" Şimşek wrote via his Twitter account.
The logo stirred a debate after it was first shared with the public, with many suggesting that it resembled the logo used in U.S. President Barack Obama's campaigns in 2008 and 2012.
Both logos feature a sun to symbolize hope, with the circular shape of the Erdoğan logo tracing the outline of a tunnel. According to AKP officials, the sun - like the light at the end of a tunnel - is where a hard, zigzagging road leads, in reference to Erdoğan's "journey of life."
The Erdoğan campaign also announced two official mottos on July 1: "National will, national power" and "The man of the nation, Recep Tayyip Erdoğan."
http://www.hurriyetdailynews.com/turkish-pms-presidency-logo-includes-prophets-name-in-arabic-minister.aspx?pageID=238&nID=68760&NewsCatID=338
-----------
Hamas says 7 militants killed in Israeli strikes
Associated Press | Jerusalem | July 7, 2014
Israel arrested six Jewish suspects Sunday in the grisly slaying of a Palestinian teenager who was abducted and burned alive last week — a crime that set off a wave of violent protests in Arab sections of the country.
Leaders of the Jewish state appealed for calm amid signs the death was revenge for the recent killings of three Israeli teenagers.
"We will not allow extremists, it doesn't matter from which side, to inflame the region and cause bloodshed," Prime Minister Benjamin Netanyahu said in a nationally televised statement. "Murder is murder, incitement is incitement, and we will respond aggressively to both."
Full report at:
http://indianexpress.com/article/world/asia/hamas-says-7-militants-killed-in-israeli-strikes/99/
-----------
Two Palestinians killed by Israeli drone in Gaza: emergency services
Jul 7, 2014
GAZA CITY, Palestinian Territories: Two Palestinian fighters were killed and another wounded late Sunday by an Israeli drone strike in the Gaza Strip, emergency services said.
The victims were among a group of armed militants who were targeted by the Israeli drone east of Bureij refugee camp, near central Gaza's border with the Jewish state, witnesses said.
In a statement, Israel's army said it "has succeeded in stopping another attack against Israel by targeting terrorists who are implicated in launching rockets from central Gaza."
"The target was hit," said the statement.
Full report at:
http://www.dailystar.com.lb/News/Middle-East/2014/Jul-07/262903-two-palestinians-killed-by-israeli-drone-in-gaza-emergency-services.ashx#ixzz36lkHtXOq
-----------
Jewish extremists held over Palestinian teen murder
Jul 7, 2014
JERUSALEM: Israeli police have arrested a group of Jewish extremists in connection with the kidnap and murder of a Palestinian teenager in east Jerusalem, an Israeli official said on Sunday.
"Apparently the people arrested in relation to the case belong to an extremist Jewish group," the official said, speaking on condition of anonymity, shortly after the website of the Haaretz newspaper reported six arrests in connection with the case.
The kidnap and murder on Wednesday sparked four straight days of riots which began in annexed Arab east Jerusalem but on Saturday spread to more than half a dozen Arab towns in Israel.
Details of the case have been subjected to a strict gag order.
Earlier, police acknowledged for the first time there were "indications that the background to the killing was nationalistic."
It followed days of growing suspicion that Wednesday's murder was carried out by extremist Jews in revenge for last month's abduction and murder of three Israeli teenagers in the occupied West Bank.
Full report at:
http://www.arabnews.com/news/597471
-----------
Iranian pilot killed defending Iraqi shrine: IRNA
Jul 7, 2014
DUBAI: An Iranian pilot was killed defending Shia holy sites in neighbouring Iraq, Iran's state news agency said, in the first official report of an Iranian death related to an upsurge in violence there since June.
Shoja'at Alamdari Mourjani, who was buried in the Iranian city of Shiraz on Friday, was killed while fighting "terrorists" in Samarra, north of Baghdad, the news agency said.
Iraq's Shia-led government is fighting an insurgency by Sunni rebels led by an al Qaeda splinter group, the Islamic State, who consider Shias heretics.
There was no information in the IRNA report to indicate whether Mourjani was flying aircraft in Samarra, and whether he went there on his own initiative or on behalf of the Iranian state.
Iran has said it will not hesitate to defend Shia holy sites in Iraq if necessary, but it has also said Iraq itself is capable of putting down the rebellion.
Full report at:
http://www.dawn.com/news/1117655/iranian-pilot-killed-defending-iraqi-shrine-irna
-----------
Iraq division in line with Israel agenda: Iran
World Bulletin/News Desk
Jul 7, 2014
Iran said the idea of splitting Iraq is in line with an Israeli agenda, Press Tv reported.
Iranian Foreign Ministry Spokeswoman Marzieh Afkham said Saturday that the Iraqi nation will by no means submit to the disintegration of the country.
"Undoubtedly the vigilant Iraqi people will not allow the Zionist regime and enemies of a unified Iraq to carry out their plots and realize their immature fantasies in the region," Afkham noted.
Masoud Barzani, the president of Iraq's semi-autonomous Kurdistan Regional Government (KRG), urged the local parliament to set a date for a independence referendum.
Israeli Prime Minister Benjamin Netanyahu has expressed support for the independence of the Kurdish region from Iraq.
http://www.worldbulletin.net/todays-news/140192/iraq-division-in-line-with-israel-agenda-iran
---------
Africa
Al-Shabab Claims Deadly Attacks in Kenya
Jul 7, 2014
The Somali Islamist group al-Shabab has claimed responsibility for two attacks on coastal towns in Kenya that killed several people. Al-Shabab has vowed to push Kenyan troops out of Somalia.
The overnight raids on the coastal towns of Hindi and Gamba killed at least 22 people total, and on Sunday, al-Shabab made claims that it was behind both attacks.
A spokesperson for the group of Somali Islamists told the Reuters news agency that a group based in Somalia had carried out the attacks. The German DPA news agency reported that pro-insurgent Radio Andalus carried a statement from another al-Shabab spokesperson that made the same claims.
The death toll has steadily risen since the attacks on Saturday night, with the Kenyan Red Cross releasing an updated death toll Sunday on Twitter.
Full report at:
http://allafrica.com/stories/201407070232.html?aa_source=sptlgt-grid
-----------
Scholars Association of Libya condemns attacks on religious leaders
Jul 7, 2014
The Scholars Association of Libya has condemned the attacks targeting moderate preachers, imams and sheikhs across the country.
Religious leaders continue to fall prey to intimidation, threats, kidnappings and assassinations, the Association said today. It added that these actions were only causing the security situation to deteriorate further.
The protest by the scholars followed the most recent incident, involving the kidnapping of the Sufi imam Tarek Abbas. Abbas was abducted in front of his home, near Abu Manjel mosque in downtown Tripoli, just after Fajr prayers on 4 July.
Abbas, known in Tripoli as an orator and Quranic teacher, was said to have boldly criticized the actions of the Matiga militia. Some believe that this militia is responsible for the kidnapping, though this has not been proven.
The scholars called on the Tripoli Council and the capital's Local Crisis Committee to take full responsibility for the safety of Abbas and to bring his kidnappers to justice.
http://www.libyaherald.com/2014/07/06/scholars-association-condemns-attacks-on-religious-leaders/#ixzz36lmJEM7S
-----------
Threats of fresh west Tripoli clashes fail to materialise
Jul 7, 2014
Tensions in west Tripoli following two nights of erratic clashes between a local Janzour brigade and a security unit manned by members of Zintan's Sawaq Brigade but under the command of the Interior Ministry threatened to escalate yesterday evening into a major standoff involving a number of revolutionary brigades on one side and Zintani units on the other.
In the event, however, the spirit of Ramadan and the capital's ability to avoid trouble at the last minute appears to have prevented any serious outbreak of violence.
During the day, the Zintanis evacuated the beachside Regatta Club in Siyahiya which they have held by ever since the liberation of Tripoli almost three years ago. By the late afternoon, it had been taken over by the Fursan Janzour (Knights of Janzour) Brigade who were involved in Friday and Saturday nights' clashes. According to a Fursan commander, his forces went through the extensive club grounds – "villa by villa" – to ensure there were no remaining Zintanis there.
Full report at:
http://www.libyaherald.com/2014/07/07/threats-of-fresh-west-tripoli-clashes-fail-to-materialise/#ixzz36lmZJWtF
-----------
Zambia Muslims launch mass Ramadan charity campaign
World Bulletin / News Desk
Jul 7, 2014
The Muslim communities dotted across Zambia on Sunday donated assorted gifts including foodstuff to needy communities including schools, hospitals and prisons.
In Lusaka, the donation that was made in the form of food hampers including cooking oil, mielie-meals, and other edible items were donated to three major prisons: Chimbokaila and Kamwala remand prisons and Mwambeshi Maximum prison for convicts.
"Although the primary beneficiaries of these gifts are our Muslim brothers and sisters whose cases are still pending and are remanded in prisons and those who have already been convicted, others will get gifts such as food hampers, irrespective of the religion they belong to," Islamic Council of Zambia Council Secretary-General Sheik Shaban Phiri told Anadolu Agency.
Full report at:
http://www.worldbulletin.net/muslim-world/140182/zambia-muslims-launch-mass-ramadan-charity-campaign
-----------
Newspaper of Bashir's uncle banned again in Sudan
Jul 7, 2014
A Sudanese newspaper run by an uncle of President Omar al-Bashir has been suspended again after printing just one edition following an earlier ban, the publisher said Monday.
The blocking of Al-Saiha comes after it published on Sunday commentary critical of Bashir's national dialogue.
The dialogue, announced in January, is aimed at resolving multiple crises in the impoverished, war-ravaged nation. But the arrest of political figures and continued press censorship has raised questions about the regime's commitment to reform.
"Our newspaper was suspended indefinitely" by state security agents, Al-Saiha publisher Al-Tayeb Mustafa told AFP.
Full report at:
http://english.ahram.org.eg/NewsContent/2/8/105650/World/Region/Newspaper-of-Bashirs-uncle-banned-again-in-Sudan.aspx
-----------
Nigeria: Atheist Sent to Psychiatric Ward, Now a Fugitive
Jul 7, 2014
A Nigerian atheist released from the psychiatric ward to which his Muslim family committed him by force said yesterday that he was getting death threats for blaspheming against Islam.
Mubarak Bala, a 29-year-old chemical processing engineer, said he is in hiding in northern Nigeria, where the Sharia law holds and some interpretations have blasphemy punishable by death.
"People are threatening me, I mean life-threatening threats," he told The Associated Press (AP) in a telephone interview. He said he was too frightened of drawing attention and wouldn't allow an AP video journalist or photographer to come to his hiding place.
Bala said that since he renounced Islam and declared himself an atheist, he has not only lost the trust of his father and elder brother, but many friends.
Full report at:
http://allafrica.com/stories/201407040236.html
---------
North America
Obama's 'unity government' plan in Iraq is just a mirage
Jul 7, 2014
The Obama administration has developed a bad habit of founding its Middle East strategies on wishful thinking. In the past year, it has supposed that Syrian President Bashar al-Assad would peacefully agree to cede power at a Geneva peace conference, that the Egyptian generals who carried out a military coup would lead the country back to democracy and that Israelis and Palestinians were ready and willing to reach a final peace settlement in a matter of months.
Now the administration has a new hope: that the frighteningly extreme and war-hungry al-Qaeda state that has established itself in western Iraq and eastern Syria can be tackled through the creation of a new, "inclusive" government in Baghdad that will unite Shiite, Sunni and Kurdish forces against the terrorists.
Full report at:
http://www.washingtonpost.com/opinions/jackson-diehl-obamas-unity-government-plan-in-iraq-is-just-a-mirage/2014/07/06/62c5aeae-02c9-11e4-8fd0-3a663dfa68ac_story.html
-----------
US seeks credible probe into beating of teenager in Israel
Jul 7, 2014
WASHINGTON: The United States has demanded a "speedy, transparent and credible investigation" into the alleged beating of a Palestinian-American teenager by Israeli police earlier this week.
"We are calling for a speedy, transparent and credible investigation and full accountability for any excessive use of force," US State Department's spokesperson Jen Psaki said on Sunday.
Also on Sunday, Israel's ambassador to the US assured Americans that those found guilty of burning alive a Palestinian boy will not be lauded as heroes.
"They will not be hailed as heroes," Israeli Ambassador Ron Dermer told "Fox News on Sunday". "There will not be public squares named after them."
Full report at:
http://www.dawn.com/news/1117546/us-seeks-credible-probe-into-beating-of-teenager-in-israel
---------
Southeast Asia
Islam can't override basic right of citizens, says dissenting judge in Allah case
Jul 7, 2014
A dissenting judge in the Allah case said the position of Islam in the Federal Constitution should not be used to override the basic rights accorded to citizens.
Chief Judge of Sabah and Sarawak Tan Sri Richard Malanjum said Islam as the religion of the Federation under Article 3 could not be more important than other provisions in supreme law of the land.
"It is disquieting to note in this (Allah) case, that in determining the ranking of importance of the various Articles in the constitution, the Court of Appeal seems to have adopted the 'first-com-first served basis' approach," he said in his judgment made available to the media today.
Malanjum said if the numerical ranking of provisions argument was accepted, it could also lead to an interpretation that the judiciary was inferior to the legislature and the executive.
The Constitution first discusses the makeup of the legislature, the executive and finally the judiciary.
Full report at:
http://www.themalaysianinsider.com/malaysia/article/islam-cant-override-basic-right-of-citizens-says-chief-judge-of-sabah-and-s#sthash.kDLNHVrp.dpuf
-----------
'Allah not part of Christian faith' remark, a mere observation, says chief judge
Jul 7, 2014
A comment by the Court of Appeal last October that "Allah" was not an integral part of the Christian faith in support of the Home Minister's decision to impose a ban on the word in the Catholic weekly, Herald, was a mere passing remark, Chief Justice Tun Arifin Zakaria (pic) said in his written judgment when rejecting the Catholic Church's leave application.
He said from the facts of the case, the minister's decision (to ban the word in Herald) was never premised on theological consideration.
"Therefore, the views expressed by the Court of Appeal judges on those issues are mere obiter (by the way remark)," said Arifin who delivered the majority judgment that brought an end to the church's battle on the right to use the word.
The court in a 4-3 majority decision dismissed the leave to appeal application on June 23 but the written grounds were made available to the media today.
Full report at:
http://www.themalaysianinsider.com/malaysia/article/allah-not-part-of-christian-faith-remark-a-mere-observation-says-chief-judg#sthash.zIhIQ1ui.dpuf
-----------
Shades of Nationalism in Indonesia's Foreign Policy
Jul 7, 2014
Jakarta. Presidential hopefuls Prabowo Subianto and Joko Widodo took up a nationalist rhetoric in the foreign policy debate held on June 22, with both candidates expressing their desire to build Indonesia into a formidable regional powerhouse. And as election day draws nearer, both are posturing to win the hearts of the nation's people in a tight two-horse race.
Prabowo Subianto
In 1959, Prabowo's family fled the country to seek safety on the island of Hong Kong after his father, renowned economist Sumitro Djojohadikusumo, found himself on the Indonesian government's growing list of dissenters.
The former University of Indonesia lecturer had been involved with rebel movement PRRI-Permesta, which was made up of both civil and military leaders from Sumatra and Sulawesi seeking independence from the Sukarno-led central government at the time.
Full report at:
http://www.thejakartaglobe.com/news/shades-nationalism-indonesias-foreign-policy/
-----------
URL: https://newageislam.com/islamic-world-news/shariat-courts-legal,-can't-issue/d/97954