New Age Islam News Bureau
20 Apr 2014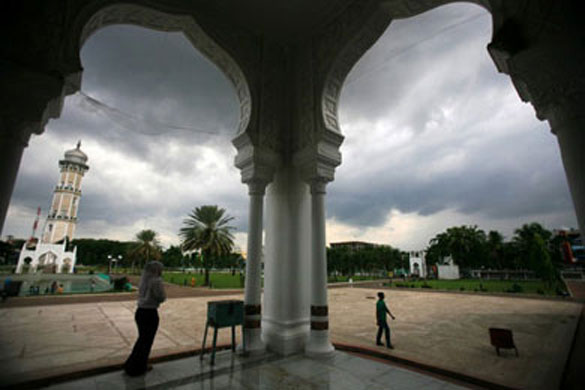 The Bait ur Rahman mosque, the largest mosque in Banda Aceh on Nov. 1, 2013 (EPA Photo)
-----------
Southeast Asia
• Shariah Violators to Face Religious Jail in Aceh: Police Chief
• Filipinos Nailed to Cross in Easter Ritual Frowned On by Church
Arab World
• Saudi Failure in Syria Root Cause of Bandar's Downfall
• Saudi citizen arrested for blasphemy
• Qaradawi attempts to soothe Gulf rift
• Iraq attacks kills nine as bomber Hits University
• Two Egyptian police officers killed in attack
• Terrorists' Mortar Attacks Continue in Damascus
• 18 Brotherhood members, jihadists arrested in Suez
• Non-Syrian Militants Killed in Lattakia
• Orthodox Patriarch: Syria's Christians won't yield
South Asia
• 2 Afghan soldiers, 18 militants killed in various incidents
• Afghan provincial council candidate killed in Quetta city of Pakistan
• First 'Halal' certificates issued to three companies in Maldives
• Entry visa no longer a requirement for Maldivian students in Malaysia
Africa
• Islamic Militants kill 11 Algerian soldiers in ambush
• Nigeria gunmen raze teachers residence at girls school
Mideast
• Drone strike in Yemen kills 5 'Qaeda' militants
• Historic mass in Turkish northern Cyprus 'like a miracle'
• Syrian leader Assad is dreaming, says Turkey's Foreign Minister
• Sixteen arrested after clashes at Jerusalem's Al-Aqsa
• Iran President: Enemy Trying to Widen Rift among Muslims
• Erdogan: Constitution change led to presidential poll
Pakistan
• Baloch CM not satisfied with anti-insurgency organisation
• PM summons meeting after attack on Hamid Mir
• Punjab govt accused of being soft on militants
• Bilawal terms Hamid Mir incident attack on free media
• Three militants killed in Balochistan violence
• Saulat Mirza, other high-profile prisoners moved to Balochistan
• PTI delays decision to challenge proposed anti-terror law
Europe
• School officials face removal over Islamism in Birmingham schools
• British charity watchdog warns of Islamist threat to Syria
• Hollande confirms France has no proof Assad's regime using chemical weapons
• Israeli Troops Block UN Envoy from Easter Service
• Anglican leader highlights suffering of Pakistani Christians in Easter sermon
• British HC dubs attack on Mir as assault on press freedom
• Gun battle in eastern Ukraine kills four: Local leader
North America
• US envoy Shapiro tells young Israelis: You are welcome in America
• Report: US lawmakers wary of Israeli spying hesitate on visa waiver
• Turkish industry to gain US$16 bn from nuke plants
• The New York Times wrestles with Israel's gag orders
India
• Oman national held for 'marrying, raping' two minors in Hyderabad, Agents, and Parents Arrested
• People foil ex-militant's attempt to kidnap girl
Compiled by New Age Islam News Bureau
URL: https://www.newageislam.com/islamic-world-news/new-age-islam-news-bureau/shariah-violators-to-face-religious-jail-in-aceh--police-chief/d/66646
-------------
Southeast Asia
Shariah Violators to Face Religious Jail in Aceh: Police Chief
April 20, 2014
Banda Aceh. Authorities in Aceh are setting up detention centers specifically for Muslims who violate Shariah law as part of the implementation of an Islamic criminal code in the semi-autonomous province.
Zulkarnain, the head of the Aceh Shariah Police, known as Wilayatul Hisbah (Wi-Ha), told the Jakarta Globe on Wednesday that detention centers would be set up at the district and municipal offices that the Wi-Ha shares with the Public Order Agency, or Satpol PP.
"We hope that the Wi-Ha in all 23 districts and towns across Aceh will soon prepare these detention rooms for violators of Shariah to be legally processed," said Zulkarnain, who is also the Aceh Satpol PP chief.
He added that detainees would be moved to regular jails if the centers became overcrowded.
Under the Shariah criminal code procedures passed by the provincial legislature in December last year, the Wi-Ha are allowed to search and detain people for suspected violations of Islamic law for up to 20 days. On conviction they can be jailed for up to 30 days.
Previously the Wi-Ha were authorized only to search and arrest violators, and then release them after "educating" them about Shariah principles.
"The implementation of Shariah in Aceh has been hampered because the Shariah police have no authority to detain violators of Shariah, so many of them can't be legally processed," Zulkarnain said.
He added that his office would notify the public about the changes in the Wi-Ha's procedures so there would be "no surprises about detentions."
"If a violator is caught for the first time, they will probably not be detained, but let off with a warning," he said. "But if the same person has been caught two or more times for a serious case, they will be detained for due legal process."
Zulkarnain said the Shariah police would also carry out more raids.
Fifty-nine people — mostly women — were rounded up in a raid on Tuesday on the outskirts of Banda Aceh for dress-code violations. Zulkarnain said they included 54 women found to be wearing "tight shirts" and five men wearing shorts in public.
"They were only advised not to repeat their offense and were told that in future, if they're caught again in another raid, they face the possibility of being taken into custody," he said.
http://www.thejakartaglobe.com/news/shariah-violators-face-religious-jail-aceh-police-chief/
-------------
Filipinos Nailed to Cross in Easter Ritual Frowned On by Church
April 20, 2014
Cutud, Philippines. Nearly 20 Filipinos and a Danish filmmaker were nailed to crosses to re-enact the crucifixion of Christ on Good Friday, a practice the Roman Catholic Church frowns upon as a distortion of the Easter message.
The annual Philippine ritual draws thousands of spectators to San Fernando, 80 kilometers north of Manila, to see penitents flagellate themselves and a series of crucifixiosn in a recreation of Christ's death on the cross.
"It was a great experience between me and God," 48-year-old Danish film director and stunt coordinator Lasse Spang Olsen, who stayed on the cross for more than 10 minutes, told Reuters before being treated for his wounds. "It was great. It was fun."
But for some in the Philippines, where about 80 percent of the population are Catholics, the re-enactments of the crucifixion are an extreme display of devotion.
Christianity teaches that Jesus Christ died on the cross on Good Friday and rose from the dead two days later, on Easter Sunday.
"I will do it as long as my body will allow me," said Danilo Ramos, 43, who has been crucified 23 times. "I hope God will see my sacrifice and take good care of my family."
The Roman Catholic Church denounces the ritual, which took hold in northern Pampanga province about 60 years ago, as self-serving and a corruption of the message of Christ's suffering for others.
"Penance does not mean you hurt yourself, because your body is a temple that houses the spirit," said Archbishop Aniceto Paciano of San Fernando.
The carnival-like atmosphere in Cutud village draws thousands of foreign and local tourists each year. British casino worker Emily Ebswoth, 24, said she had never seen anything like it.
"I don't like it," she told Reuters. "It's bloody and gory."
Additional reporting by Pedro Uchi, Jess Malabanan and Peter Blaza
Reuters
http://www.thejakartaglobe.com/news/filipinos-nailed-cross-easter-ritual-frowned-church/
----------
Arab World
Saudi Failure in Syria Root Cause of Bandar's Downfall
April 20, 2014
Secretary-General of Egypt's Hoshoud (Crowds) Movement Mohammad al-Jilani said Saudi King Abdullah ousted his notorious Intelligence Chief Bandar Bin Sultan from his post after his moves and policies in Syria faced with a crushing defeat and humiliation.
"Prince Bandar failed in his mission in Syria in practice and his case is actually closed," Jilani told FNA on Sunday.
Yet, he cautioned that the Saudi intelligence apparatus has still kept its preparedness after Bandar's fall from power to continue its operations in Syria, saying the Saudis are not likely to stop their fervent support for the terrorists, specially the Takfiri militants, since they are acting like a "safety valve" for the Saudis to remain in power.
Saudi Intelligence Chief Prince Bandar bin Sultan was forced by the country's King, Abdullah bin Abdulaziz Al Saud, to tender his resignation months after he was suspended and sent out of the country on the pretext of medical treatment.
The Saudi state-run TV announced on Tuesday that the country's King has accepted Sultan's resignation tendered days ago.
Sultan had left the country a few months ago on the pretext of medical treatment, but last week security sources in Riyadh said he would return to the kingdom within days after spending around two months abroad for surgery and retake his position as intelligence chief, including control of the Syrian dossier.
Bandar bin Sultan has been replaced with his deputy Marshal Yousef Al-Idrisi.
During Prince Bandar's absence, Saudi Interior Minister Mohammed bin Nayef was put in charge of the Syrian file and of the intelligence agency.
The security officials said last week that the 65 year-old prince was seeking medical attention in the US and resting in Morocco after surgery on his shoulder.
Bandar, who formerly served as Saudi ambassador to the US for 22 years, has had special responsibility for the Levant for years, leading Saudi intelligence and strategic affairs in the region. Analysts and intelligence sources have repeatedly said that Bandar has been the key figure trying to boost Saudi weapons flow to Syrian rebel forces seeking to oust President Bashar Assad's government.
The security sources said that Bandar held a number of official meetings while in Morocco, including with Saudi deputy defense minister Salman bin Sultan.
The deputy defense minister briefed Bandar on his official visits to Washington and Paris last month, they added, also saying that Bandar met Abu Dhabi Crown Prince Mohammed bin Zayed bin Sultan Al Nahyan while in Marrakech.
Informed sources had revealed in December that Bandar would be sidelined because the King and a large number of other Saudi princes were unhappy with his handling of Syria's crisis.
A top Saudi diplomat had previously told the Associated Press that Bandar could not have taken any decisions without King Abdullah's approval, including his moves with regard to Syria.
He said that the interior minister took over Bandar's responsibilities in his absence because he too had experience in dealing with security affairs.
In September Saudi princes in a letter to King Abdullah protested at Bandar Bin Sultan's failure in coaxing the US into a war on Syria to topple President Bashar al-Assad's government.
"The letter was signed by 17 influential Saudi princes and was submitted to King Abdullah's Chief of Staff," a Saudi source close to King Abdullah's monarchy, who asked to remain unnamed due to the sensitivity of his information, told FNA on September 18.
The source also revealed that since the Saudi King and his Crown Prince Salman Bin Abdul Aziz were not in good health conditions, the King's Chief of Staff controlled the country's affairs and the Saudi princes presented the letter to him to protest at Prince Bandar's weak performance on Syria.
The source said that Bandar's failure in persuading the US and its allies to wage war on Syria has created deep differences among the Saudi princes.
Earlier reports said that Prince Bandar Bin Sultan has spent tens of millions of dollars to persuade the US political and security officials to launch a military strike on Syria.
Prince Bandar has spent a sum of $70 million to encourage the American officials to attack Syria, a Saudi security source told FNA in Riyadh late August.
The US and Saudi Arabia are considered as among the main actors in the Middle East and many strategic regional parameters are formed by them and their interactions in the region. Prince Bandar has recently played an increasing role in the security developments in the region.
Prince Bandar who was appointed by King Abdullah as the National Security Council and intelligence chief after 8 years of ambassadorial job in Washington has played a key role in Washington-Riyadh relations over the past decades.
Prince Bandar's unique coordination with the US intelligence bodies has actually turned him into a major US field commander in the region to relentlessly direct the developments of the Middle East and the Muslim World in the US interest.
American author Bob Woodward's book titled Plan of Attack, published in 2004; said Prince Bandar has played an important role in former US President George W. Bush's decision to attack Iraq in 2003.
Prince Bandar is a member of the Saudi Royal family who was Saudi Ambassador to Washington from 1983 to 2005 before being appointed as the Arab country's intelligence chief.
Prince Bandar has closely contacted five US presidents, 10 foreign ministers, 11 national security advisors and hundreds of other American statesmen during his tenure as Saudi envoy to the US. Prince Bandar is said to be the first Saudi ambassador to have information about US State Department's security details.
http://english.farsnews.com/newstext.aspx?nn=13930131000515
-------------
Saudi citizen arrested for blasphemy
April 20, 2014
A Saudi national was arrested in the Hafr Al-Batin governorate Thursday evening after he allegedly insulted God, the Prophet and his companions tore up copies of the Holy Quran and denounced religious teachings, Al-Sharq newspaper reported on Saturday.
Members of the Commission for the Promotion of Virtue and Prevention of Vice (the Haia) in the region arrested the 30-year-old Saudi who lives in Al-Qaissoumah.
The man, who claims to be an atheist, had also published blasphemous material on social networking websites. Sources in the Haia in Hafr Al-Batin said the Haia monitored the man's activities for more than three months before arresting him.
They said the man received financial support from certain groups to publish material insulting religion on the Internet. The Haia members seized the clips.
http://english.alarabiya.net/en/News/middle-east/2014/04/20/Saudi-arrested-for-blasphemy.html
-------------
Qaradawi attempts to soothe Gulf rift
April 20, 2014
DOHA, April 20: An influential Qatar-based Islamist whose fiery sermons strained ties between Doha and its neighbors sent a conciliatory message to countries he has criticized in an apparent attempt to help end a rift between the Gulf Arab allies.
Sheikh Youssef al-Qaradawi, an Egyptian-born preacher whose sermons have often admonished the authorities in Saudi Arabia and the United Arab Emirates, said all views expressed in his preaching were his own and not those of Qatar.
"My personal position does not reflect the position of the Qatari government. ... I do not take on an official position, but just express my personal opinion," he said in an emailed statement Sunday.
Full report at:
http://www.dailystar.com.lb/News/Middle-East/2014/Apr-20/253942-qaradawi-attempts-to-soothe-gulf-rift.ashx#ixzz2zONy5Bfx
------------
Iraq attacks kills nine as bomber hits university
April 20, 2014
Attacks in Iraq, including a suicide bombing at a university in north Baghdad, killed at least nine people on Sunday, security and medical officials said.
The attacks, which come as Iraq suffers a prolonged surge in bloodshed, took place less than two weeks before a parliamentary election that will be a major test for security forces.
Officials gave varying accounts of the bombing of Baghdad's Imam Kadhim University.
A police colonel said a suicide attacker entered the university before detonating their explosives, while another bomber and a gunman were killed by security forces.
An interior ministry official meanwhile said the bombing took place at the entrance to the university, while a second bomber was shot dead.
The attack killed at least three people and wounded at least nine, officials said.
Iraq is hit by daily bombings and shootings that kill hundreds of people each month, but attacks targeting universities are relatively rare.
Full report at:
http://english.ahram.org.eg/NewsContent/2/8/99453/World/Region/Iraq-attacks-kills-nine-as-bomber-hits-university.aspx
-------------
Two Egyptian police officers killed in attack
April 20, 2014
A police officer and a conscript were killed after armed attackers opened fire on their patrol car, Egypt's interior ministry announced on Sunday, the latest deadly assault against the country's security forces.
The deaths come as militants have stepped up their attacks against security forces since the ouster of Islamist president Mohamed Morsi in July after mass protests against his rule, and just two days after a police officer was killed in a bomb blast in Cairo.
A statement from the ministry said those killed were patrolling the road between Cairo and Suez.
Full report at:
http://english.ahram.org.eg/NewsContent/1/64/99436/Egypt/Politics-/Two-Egyptian-police-officers-killed-in-attack.aspx
-------------
Terrorists' Mortar Attacks Continue in Damascus
April 20, 2014
A source at the Police command said that two mortar shells fired by militants hit the area surrounding Arnous Square in Damascus, injuring a citizen and causing material damage.
Syria has been experiencing unrest since March 2011 with organized attacks by well-armed gangs and terrorists against both the army and civilians.
Tens of thousands of people have been killed since terrorist and armed groups turned protest rallies into armed clashes.
Full report at:
http://english.farsnews.com/newstext.aspx?nn=13930131001259
-------------
18 Brotherhood members, jihadists arrested in Suez
April 20, 2014
Egyptian security forces in Suez on Sunday arrested 18 "jihadist elements" and Muslim Brotherhood leaders and members on charges of inciting violence and planning violent operations in the city, a security source told Al-Ahram's Arabic news website.
Some of the arrested possessed firearms, the source said.
Such arrest announcements have been a regular occurrence since police and army forces launched an extensive crackdown against the Brotherhood and Islamist militants after the ouster of Islamist president Mohamed Morsi in July.
On Saturday, the Egyptian army's spokesman announced the arrest of 11 jihadists in Sinai, a hot spot for militant activity against the army.
http://english.ahram.org.eg/NewsContent/1/64/99466/Egypt/Politics-/-Brotherhood-members,-jihadists-arrested-in-Suez.aspx
-----------
Non-Syrian Militants Killed in Lattakia
April 20, 2014
The Syrian army killed several foreign militants in its mop-up operation in Lattakia.
Units of the armed forces killed numbers of terrorists, including non-Syrian leaders of terrorist groups, in a number of villages and towns in the Northern countryside of Lattakia, a military source said.
The source told the state news agency that two caches for storing rockets and making explosive devices and several mortar and rocket launch pads were destroyed in the operations.
http://english.farsnews.com/newstext.aspx?nn=13930131001203
-------------
Orthodox Patriarch: Syria's Christians won't yield
April 20, 2014
DAMASCUS: The Greek Orthodox Patriarch in Syria says Christians in the war-ravaged country "will not submit and yield" to extremists who attack "our people and holy places."
In comments to mark Easter, Patriarch John Yazigi called on the warring sides to end the practice of "intimidation, displacement, extremism and takfiri mentality," a term for Islamic extremists. Such radicals have become increasingly influential among rebels, attacking Christians who they see as infidels and partly as punishment for what they consider Christians' support for President Bashar Assad.
Yazigi's message was carried by Syria's official news agency late Saturday.
Christians make up about 10 percent of Syria's population. Assad's forces and rebels trying to overthrow him are locked in a civil war in which more than 150,000 people have been killed.
http://www.dailystar.com.lb/News/Middle-East/2014/Apr-20/253929-orthodox-patriarch-syrias-christians-wont-yield.ashx#ixzz2zONt72cJ
-------------
South Asia
2 Afghan soldiers, 18 militants killed in various incidents
Apr 20 2014
At least two service members of the Afghan National Army (ANA) were killed during the past 24 hours, defense officials said Sunday.
Gen. Zahir Azimi confirmed that two Afghan soldiers were killed however he did not disclose further information regarding the exact location where the two Afghan troops were martyred.
Azimi further added that 18 anti-government armed militants were killed and 8 others were injured in the past 24 hours.
He said at least two anti-government armed militants were also arrested along with weapons and explosives during the operations.
Afghan National Army (ANA) soldiers also discovered and seized 16 improvised explosive devices (IED) during the operations, Azimi added.
The anti-government armed militant groups have not commented regarding the reports so far.
http://www.khaama.com/2-afghan-soldiers-18-militants-killed-in-various-incidents-3600
-------------
Afghan provincial council candidate killed in Quetta city of Pakistan
Apr 20 2014
According to local authorities in southern Kandahar province of Afghanistan, unknown gunmen have shot dead a provincial council candidate in Quetta city of Pakistan.
Provincial governor spokesman, Dawa Khan Meenapal said the provincial council candidate Shah Mahmood Jalali was assassinated on Saturday.
Meenapal said the dead body of Mr. Jalali was taken to Mirwais hospital in Kandahar on Saturday night.
He said it was still unclear why Mr. Jalali had visited the Quetta city of Pakistan.
This was the second provincial council candidate assassinated by anti-government armed militants.
Another provincial council candidate Hussain Nazari was earlier this month after he was abducted by anti-government armed militants in northern Sar-e-Pul province of Afghanistan.
Nazari was contesting for provincial council seat from Balkhab district.
http://www.khaama.com/afghan-provincial-council-candidate-killed-in-quetta-city-of-pakistan-3601
-------------
First 'Halal' certificates issued to three companies in Maldives
April 20, 2014
'Halal' certificates for local food products have been introduced and issued to three companies, following efforts initiated by Ministry of Islamic Affairs.
Halal certificates are issued by relevant authorities after investigation to confirm that food is produced according to Islamic standards.
The certificates were presented to five products of Felivaru Fisheries, 12 products of Maldives Industrial Fisheries Company (Mifco), and three products of Horizon Fisheries, by Minister of Economic Development Mohamed Saeed at a ceremony held at Ministry of Islamic Affairs today.
Speaking at the ceremony, Minster of Islamic Affairs Dr Mohamed Shaheem Ali Saeed said that the introduction of Halal certificates in the Maldives will result in progress for local businesses economic development for the country.
Applications for Halal certificates can be made to Ministry of Islamic Affairs.
http://www.sun.mv/english/21386
-------------
Entry visa no longer a requirement for Maldivian students in Malaysia
April 20, 2014
Ministry of Foreign Affairs has announced that Maldivian students wishing to study in Malaysia are no longer required to obtain entry visa.
This comes following a revision by Malaysian Immigration Authority of a regulation introduced in January 2014, whereby Maldivian students wishing to study in Malaysia were required to apply for entry visa upon receiving the student visa approval letter.
Students who had received the student visa approval letter prior to the introduction of the regulation in January 2014 were not required to apply for entry visa.
http://www.sun.mv/english/21332
---------
Africa
Islamic Militants kill 11 Algerian soldiers in ambush
April 20, 2014
Islamic militants have killed 11 Algerian soldiers in an ambush during a patrol in mountains east of the capital Algiers, a security source told Reuters on Sunday.
The attack in Tizi Ouzou, 120kms east of Algiers, was the deadliest in years against Algeria's security forces. Al Qaeda's north African branch, Al Qaeda in the Islamic Maghreb (AQIM), is active in Algeria.
http://english.ahram.org.eg/NewsContent/2/8/99446/World/Region/Militants-kill--Algerian-soldiers-in-ambush.aspx
----------
Nigeria gunmen raze teachers residence at girls school
April 20, 2014
KANO, Nigeria: Gunmen in northern Nigeria set fire to staff residential building at a girls' secondary school Sunday, but the 195 students sleeping in their nearby dormitories were unharmed, police and a teacher said.
The attack in Bauchi state came less than a week after Boko Haram kidnapped 129 teenage schoolgirls from the Chibok area of Borno state in the northeast. Forty-four of those girls have since escaped.
"At about 2:30 a.m., unknown gunmen carried out coordinated attacks in Yana town," Bauchi's police spokesman Haruna Mohammad said.
They burned "several buildings including a staff quarters of a girls' secondary school, an eight-block police quarters, a Shariah court and the local government secretariat," he told AFP.
Mohammad said it was not clear who carried out the attack and provided no details on casualties.
Full report at:
http://www.dailystar.com.lb/News/International/2014/Apr-20/253948-nigeria-gunmen-raze-teachers-residence-at-girls-school.ashx#ixzz2zONiqkPO
-------------
Mideast
Drone strike in Yemen kills 5 'Qaeda' militants
20 April 2014
A drone strike in south Yemen killed at least five al-Qaeda militants on Sunday, the latest in an intensified aerial campaign in the impoverished country, a tribal chief said.
The unmanned plane targeted a gathering of militants in the town of al-Mahfad, in the Abyan province, where al-Qaeda remains active despite being driven out from main cities in a 2012 army offensive, the source said.
The United States is the only country that operates drones in Yemen, but officials rarely discuss the covert programme.
The strike comes a day after a similar attack in the central Baida province, which killed 10 al-Qaeda suspects and three civilians, according to an official toll released late Saturday.
An earlier toll of Saturday's strike had said that 15 militants were killed.
The drone programme has come under criticism from human rights activists concerned over civilian casualties.
Full report at:
http://english.alarabiya.net/en/News/middle-east/2014/04/20/Drone-strike-in-Yemen-kills-5-Qaeda-militants.html
-----------
Historic mass in Turkish northern Cyprus 'like a miracle'
April 20, 2014
With a nighttime procession lit by the glimmer of devotional candles and the flash of smartphone cameras, a church in Turkish-held northern Cyprus hosted its first Easter mass in nearly 60 years.
Hundreds of Greek Cypriots crossed the Green Line to attend the ceremony at Famagusta's church of St. George Exorinos, in Turkish northern Cyprus.
Bishop Vassilis, wearing robes embroidered with gold and white and accompanied by a top Muslim cleric from the Turkish Cypriot community, led a tearful ceremony around the gardens of the 14th-century church in Famagusta's medieval walled city.
Crowds of worshippers who had crossed for the historic service pressed around as the bishop delivered a mass urging reconciliation on the divided island.
Good Friday is one of the holiest dates in the Orthodox calendar, but for Pavlos Iacovou, who helped organize the service, the fact that the mass was taking place on the Turkish side of the island made the day "like a miracle."
Full report at:
http://www.hurriyetdailynews.com/historic-mass-in-turkish-northern-cyprus-like-a-miracle.aspx?pageID=238&nID=65274&NewsCatID=351
-------------
Syrian leader Assad is dreaming, says Turkey's Foreign Minister
April 20, 2014
Turkey's Foreign Minister Ahmet Davutoğlu has rejected claims by Syrian President Bashar Assad that three-year war in his country is turning in the regime's favor.
Davutoğlu said in a televised interview on late April 18 that the Turkish government had previously made friendly suggestions to Assad to undertake necessary reforms on behalf of the Syrian people in order to stop the uprising in 2011.
He said the situation on the battlefield was different to what Assad had claimed in his statements, and stated that the Syrian opposition had taken control in Kassab and in Aleppo.
Davutoğlu also said it was understandable that Assad's forces had control of Damascus, as the regime used hunger as a weapon.
Full report at:
http://www.hurriyetdailynews.com/syrian-leader-assad-is-dreaming-says-turkeys-foreign-minister.aspx?pageID=238&nID=65275&NewsCatID=510
-------------
Sixteen arrested after clashes at Jerusalem's Al-Aqsa
April 20, 2014
Israeli police arrested 16 Palestinians Sunday as they clashed with demonstrators at the Al-Aqsa mosque compound in Jerusalem, a sensitive holy site that is frequently the scene of tensions.
"This morning, after the site was opened for visitors and tourists, the suspects threw rocks at the police, wounding two of them," police spokesman Micky Rosenfeld told AFP.
After police dispersed the crowd with sound grenades the demonstrators took shelter in the Al-Aqsa mosque, which police are not allowed to enter, he said.
A police statement later said 16 "Arab rioters" had been arrested.
The mosque compound in Jerusalem's Old City -- built on the holiest site in Judaism and considered the third holiest in Islam -- has over the past week seen clashes between Muslim protesters and Israeli police.
Full report at:
http://english.ahram.org.eg/NewsContent/2/8/99443/World/Region/Sixteen-arrested-after-clashes-at-Jerusalems-AlAqs.aspx
-------------
Iran President: Enemy Trying to Widen Rift among Muslims
April 20, 2014
Supreme Leader of the Islamic Revolution Ayatollah Seyed Ali Khamenei warned against the plots hatched by the enemies to create rift among different Muslim sects.
"The goal of the enemy is to bring Islam to its knees and prevent the Shiite community from becoming a role-model," Ayatollah Khamenei said, addressing a group of eulogists on the occasion of the birth anniversary of Hazrat Fatemeh (AS), the beloved daughter of Prophet Mohammad (PBUH), the wife of Shiite Islam's first Imam and the mother of Shiites' second and third Imams.
The Supreme Leader underlined that the Shiism has access to unique possibilities and tools to confront the enemy's plots.
Ayatollah Khamenei pointed to the attempts made by the enemies to harm Muslim unity and sow discord between Shiite and Sunni Muslims, and said, "Creating rifts among Muslims is like a sword in the hands of the enemies of Islam ..."
Full report at:
http://english.farsnews.com/newstext.aspx?nn=13930131001308
-------------
Erdogan: Constitution change led to presidential poll
April 20, 2014
The Turkish people will able to choose their president for the first time in August because of the changes the government has made to the constitution, Turkish Prime Minister Recep Tayyip Erdogan has said.
Speaking at the inauguration of a tunnel boring process at a Eurasia Tunnel Project ceremony in Istanbul on Saturday, Erdogan said the presidential elections to be held on August 10 were going ahead as a consequence of the constitutional referendum held in 2007.
He said that, after years of controversy over the previous system whereby the Turkish parliament chose the country's president, the "presidential elections are no longer a problem, after the constitutional amendment we pioneered".
He maintained that his government had overcome disputes surrounding the presidential elections by preserving politics, law and democracy.
The August polls mark the first time that Turkish citizens will be able to choose their president by direct vote.
Full report at:
http://www.worldbulletin.net/headlines/134204/erdogan-constitution-change-led-to-presidential-poll
-------------
Pakistan
Baloch CM not satisfied with anti-insurgency organisation
2014-04-20
TURBAT: An organisation which was set up to counter the insurgency in Balochistan has become the reason for increasing disorder in the province, Chief Minister Dr Abdul Malik Baloch said in an interview with Dawn.
When asked whether the growing violence can be contained, he said: "There are multiple factors at play in Balochistan. One of them is the ongoing insurgency. The main trouble spots, in terms of insurgency, are Kech district and Panjgur. Then there is the issue of tribal and personal conflicts. Lastly, an organisation formed by the government back in the day known as Musallah Difayi Tanzeem in Khuzdar, to counter the insurgency, is also adding to the problems of law and order in the province.
"But overall, the situation is getting better. There was a time when the High Court observed in its remarks that MPAs and ministers are involved in kidnapping for ransom. But that is not the case today as things are improving. Our main problem still remains the two districts that I mentioned. And the issue of missing persons is not shaping up the way I wanted it to."
On April 16, a long line of visitors including ministers, National Party members and labourers made their way towards Commissionery Road adjacent to Turbat's main bazaar. The destination was the residence of the chief minister as he was on an official visit to Turbat.
The law and order situation in Balochistan still remains bad, many explanations to the contrary given by the provincial government notwithstanding. A day before the CM's arrival in Turbat, a body was dumped on the outskirts of the town.
Full report at:
http://www.dawn.com/news/1101124/malik-not-satisfied-with-anti-insurgency-organisation
-------------
PM summons meeting after attack on Hamid Mir
2014-04-20
ISLAMABAD: Prime Minister Nawaz Sharif has summoned a meeting of political and government aides on Sunday to discuss the situation that has arisen after the attack on senior journalist Hamid Mir that took place in Karachi on Saturday evening, DawnNews reported.
The doctors responsible for treating Mir have reported his condition is out of danger.
The government has been urged to provide security to the journalists in the wake of yesterday's attack on Mir, an attack on journalist Raza Rumi last month, and several other similar attacks on the members of the journalist community in Pakistan.
PM Sharif also met with Interior Minister Chaudhry Nisar Ali Khan earlier to discuss the incident.
The police have managed to prepare sketches of the assailants with the help of three eyewitnesses. An investigation committee led by the additional inspector general of police also has been formed.
Full report at:
http://www.dawn.com/news/1101126/pm-summons-meeting-after-attack-on-hamid-mir
-------------
Punjab govt accused of being soft on militants
2014-04-20
ISLAMABAD: Although the law-enforcement agencies in Lahore busted a sectarian group this week, it is still not clear if this indicates a change of strategy on the part of Punjab government, which until now has turned a blind eye to militant activity in the province despite worrying reports and assessments.
Senior officials point out that the Punjab government has been "sleeping over" regular reports being sent to them by intelligence agencies about the increasing presence of sleeper cells of proscribed militant organisations.
More than one intelligence official involved in the preparation of these reports told Dawn that Prime Minister Nawaz Sharif and Chief Minister Shahbaz Sharif were aware of the militant threat present in Punjab, but they were not taking strict measures to counter them.
The threat has now become so serious that on April 12, the chief minister held an emergency meeting at Lahore airport soon after returning from China.
Full report at:
http://www.dawn.com/news/1101115/punjab-govt-accused-of-being-soft-on-militants
-------------
Bilawal terms Hamid Mir incident attack on free media
April 20, 2014
KARACHI: Patron-in-Chief of Pakistan People's Party (PPP) Bilawal Bhuttol Zardari while strongly denouncing the attack on Geo News senior anchor Hamid Mir, said the incident is an attack on freedom of press and media.
In a statement issued on Sunday, Bilawal said the incident is a wake-up call for those who have so far remained silent on the growing terrorism.
Linking freedom of media to the freedom of society, he said the incidents of attacks on journalists are a cause of serious concern for the people.
He said media is an important pillar for today's Pakistani society and a heavy responsibility lies on the shoulders of channels like Geo News towards uncovering the truth. But, this should not be at a cost of human lives, he added.
Full report at:
http://www.thenews.com.pk/article-145203-Bilawal-terms-Hamid-Mir-incident-attack-on-free-media
-------------
Three militants killed in Balochistan violence
April 20, 2014
QUETTA: Frontier Corps (FC) claimed to have killed three militants in Balochistan's troubled Panjgoor district on Saturday evening, an official said.
Khan Wasey, the Spokesman for FC, said miscreants opened fire at the patrolling party of FC in Tasp area of Panjgoor.
He said security forces quickly responded and three attackers were killed.
"The miscreants left three motorcycles as well," Wasey stated. The attack was followed by an exchange of fire between security forces and militants.
"Some miscreants were injured during the exchange of fire," he said.
More personnel were called in the area to bring the situation under control. The situation was tense in the aftermath of armed clash in Tasp.
Full report at:
http://www.dawn.com/news/1100975/three-militants-killed-in-balochistan-violence
-------------
Saulat Mirza, other high-profile prisoners moved to Balochistan
April 20, 2014
KARACHI: The prison authorities have informed the Sindh High Court (SHC) that four high-profile prisoners, including Muttahida Qaumi Movement's convicted activist Saulat Ali Mirza, have been shifted to Balochistan.
They have been transferred to the Machh jail under the lawful order of a competent authority and the home department as provided under rule 149 read with 150 of the Pakistan Prison Rules 1978, the Karachi Central Jail superintendent told a court bench during the hearing of a petition against shifting Mirza away from the city.
The superintendent said that there are around 5,200 inmates – most of them being high-profile, hardened and professional criminals – who are at the Karachi prison. Hundreds of them either belonged to banned outfits or are involved in the breakdown of the law and order situation in Karachi.
Full report at:
http://tribune.com.pk/story/697911/safety-concerns-saulat-mirza-other-high-profile-prisoners-moved-to-balochistan/
-------------
PTI delays decision to challenge proposed anti-terror law
April 20, 2014
ISLAMABAD - Pakistan Tehreek-e-Insaf (PTI) has decided not to challenge the controversial anti-terror bill in the Supreme Court for some time, after the legal minds of the party advised top leadership to challenge the proposed legislation only if it becomes a law, The Nation has learnt.
The National Assembly has passed the Protection of Pakistan Bill, 2014 while the government has tabled it before the upper house of the parliament to get it passed; however, the government does not enjoy required majority to sail it through the house.
The PTI on April 8 had announced to challenge the Protection of Pakistan Bill, 2014 before the apex court, a day after the lower house of the parliament passed it amid severe protest of the opposition parties.
Full report at:
http://www.nation.com.pk/national/20-Apr-2014/pti-delays-decision-to-challenge-proposed-anti-terror-law
----------
Europe
School officials face removal over Islamism in Birmingham schools
April 20, 2014
Head teachers and governors of up to seven schools in Birmingham could lose their jobs following an investigation into claims that Islamic fundamentalists attempted a takeover of secular schools, The Sunday Times reported Sunday.
Three of the schools have already failed inspections by Ofsted, the body which sets and ensures standards of teaching in schools and college, and four more are said to be at risk of failing.
Schools that fail typically have their leadership replaced, meaning Tahir Alam, the prominent chairman of governors at Park View, is at risk of losing his job.
Alam has repeatedly been at the center of the school scandal that has rocked some Birmingham schools.
He has described reports of the alleged takeover plot by Islamists as a "witch-hunt."
The Sunday Times has learned that Alam supported a recent application by governors at Washwood Heath Academy to sponsor a chain of schools. The bid was led by its chairman of governors Darren Walsh, a chief inspector with West Midlands police.
Full report at:
http://english.alarabiya.net/en/News/world/2014/04/20/School-officials-face-removal-over-Islamism-in-Birmingham-schools.html
-------------
British charity watchdog warns of Islamist threat
AFP | Apr 20, 2014
LONDON: Islamic extremism is the "most deadly" problem faced by British charities, the head of the sector's watchdog said on Sunday.
William Shawcross, the chairman of the Charity Commission, said the regulatory body was trying to take action against charities "sending cash to extremist groups in Syria", in an interview with The Sunday Times newspaper.
He also said it was "ludicrous" that people with terror or money laundering convictions are not automatically disqualified from setting up charities or becoming charity trustees.
Shawcross has written to Prime Minister David Cameron urging a change in the law.
He said the commission was taking tough measures against any charity found to be "sending cash to extremist groups in Syria" or "dispatching young Britons for training in Syria by Al-Qaeda or other extremist groups".
"The problem of Islamist extremism and charities... is not the most widespread problem we face in terms of abuse of charities, but is potentially the most deadly. And it is, alas, growing," said Shawcross.
Full report at:
http://timesofindia.indiatimes.com/world/uk/British-charity-watchdog-warns-of-Islamist-threat/articleshow/34011125.cms
--------------
Hollande confirms France has no proof Assad's regime using chemical weapons
April 20, 2014
President Francois Hollande said Sunday that France has "information" but not yet proof that Syrian President Bashar al-Assad's regime is still using chemical weapons.
"We have a few elements of information but I do not have the proof," Hollande told journalists in a radio interview after he was asked about reports that Assad was currently using chemical weapons.
"What I do know is what we have seen from this regime is the horrific methods it is capable of using and the rejection of any political transition," he told the Europe 1 radio station.
French Foreign Minister Laurent Fabius, speaking to the same radio staton, said that there were "indications" of chemical weapon use but that they had "yet to be verified."
Speaking about the recent chemical attacks in northwest Syria, the foreign minister said while they were "much less significant than those in Damascus a few months ago," but still very "deadly."
Full report at:
http://english.alarabiya.net/en/News/middle-east/2014/04/20/France-has-information-Assad-regime-using-chemical-weapons.html
-------------
Israeli Troops Block UN Envoy from Easter Service
April 20, 2014
United nations envoy to Occupied Territories Robert SerryThe Zionist police refused to let the U.N.'s peace envoy to the Middle East, other diplomats and a crowd of Palestinians pass through a barricade to attend a pre-Easter ritual in the Jerusalem church that is believed to be the burial site of Prophet Jesus, the U.N. official said on Saturday.
The incident, following two days of violence at a separate holy site known as a flashpoint, underscored rising tensions in the politically charged city ahead of Pope Francis's Holy Land visit next month.
Full report at:
http://www.almanar.com.lb/english/adetails.php?eid=147134&cid=56&fromval=1&frid=56&seccatid=68&s1=1
-------------
Anglican leader highlights suffering of Pakistani Christians in Easter sermon
April 20, 2014
LONDON: Justin Welby, the leader of the world's Anglicans, was to praise the resilience of persecuted Christian minorities around the world in his Easter sermon on Sunday.
The Archbishop of Canterbury was also to highlight the suffering of people in Syria, Ukraine, Rwanda and Pakistan.
Welby's Easter address at Canterbury Cathedral in southeast England will be his second since becoming the spiritual leader of the world's 80 million Anglicans last year.
"In Syria mothers cry for their children and husbands. In the Ukraine neighbours cry because the future is precarious and dangerous. In Rwanda tears are still shed each day as the horror of genocide is remembered," the former oil executive was to say.
Full report at:
http://tribune.com.pk/story/698057/anglican-leader-highlights-suffering-of-pakistani-christians-in-easter-sermon/
-------------
British HC dubs attack on Mir as assault on press freedom
April 20, 2014
ISLAMABAD: British High Commissioner (HC) to Pakistan Philip Barton has condemned the attack on renowned journalist and Geo News anchorperson Hamid Mir and termed it as an attack on freedom of the press and freedom of speech.
In a statement issued here, the British HC
http://www.thenews.com.pk/article-145162-British-HC-dubs-attack-on-Mir-as-assault-on-press-freedom
----------
Gunbattle in eastern Ukraine kills four: Local leader
April 20, 2014
Three pro-Russian militants and one attacker were killed in a gunbattle near the volatile eastern Ukrainian town of Slavyansk early Sunday, a local leader told journalists.
Vyatcheslav Ponomarev said the battle broke out at a barricade put up in a village east of Slavyansk, which is under the control of pro-Russian militants.
Separatist gunmen maintain a firm grip over a string of towns across Ukraine's industrial east despite an international deal signed last week demanding they vacate state buildings they are occupying.
Full report at:
http://english.ahram.org.eg/NewsContent/2/9/99435/World/International/Gunbattle-in-eastern-Ukraine-kills-four-Local-lead.aspx
-------------
North America
US envoy Shapiro tells young Israelis: You are welcome in America
April 20, 2014
Young Israelis are welcome in the United States, and the State Department is making efforts to permit as many of them into the country as is possible, Dan Shapiro, the US ambassador to Israel, said on Sunday.
In a statement posted on his Facebook account, Shapiro was responding to a report over the weekend indicating that the US government is hesitant to waive the requirement for tourist visas for Israelis wishing to travel to the states due to the American intelligence community's concerns that it would make it easier for Israeli spies to enter the country.
"[People at] the State Department are aware of the fact that despite the two-thirds of young Israelis whose visa applications are approved, there are a few people with the mistaken view that Israeli youngsters are not welcome in the United States," Shapiro wrote on his Facebook page.
Full report at:
http://www.jpost.com/International/US-envoy-Shapiro-tells-young-Israelis-You-are-welcome-in-America-349960
-----------
Report: US lawmakers wary of Israeli spying hesitate on visa waiver
April 20, 2014
American lawmakers in Washington are hesitant to ease visa restrictions for Israelis wishing to enter the United States for fear that it would increase the risk of Israeli espionage, Roll Call is reporting on Saturday.
Earlier in the week, JTA reported that the US and Israel are creating a working group to help Israel advance toward joining the visa waiver program.
"This is a goal of both the United States and Israel, and it would make travel easier for citizens of both countries," Julia Frifield, the assistant secretary of state for legislative affairs, said in a letter sent Thursday to Rep. Nita Lowey (D-N.Y.).
Permitting Israel into the visa waiver program would exempt Israeli nationals from having to produce a tourist visa, allowing them to stay in the country for a period of up to 90 days.
Until now, the widespread perception has been that two major obstacles have kept Israel from joining the program - allegations by US officials that Israel has discriminated against Arab- and Muslim-Americans seeking entry, and a proliferation of young Israelis traveling to the United States as tourists and then working illegally.
Full report at:
http://www.jpost.com/International/Report-US-lawmakers-wary-of-Israeli-spying-hesitate-on-visa-waiver-349897
----------
Turkish industry to gain US$16 bn from nuke plants
April 20, 2014
Turkey's domestic industry will gain US$16 billion from two nuclear power plant projects, the country's energy minister said on Sunday.
"Domestic industry's investment in nuclear energy will focus on construction, machinery, equipment and electrical components, and our research shows that there are currently 460 Turkish companies capable of supplying goods for the nuclear projects," Taner Yildiz said in an exclusive interview with AA.
Yildiz said that most of the this money would be generated in the construction industry.
Up to 20,000 workers are expected to participate in the construction process of the two plants and 80 percent of the construction crew will be from Turkey.
Yildiz said that once the two projects are finished, the operational amount of electricity produced by them will lower Turkey's yearly natural gas imports by US$7.2 billion dollars.
The Russian energy company Rosatom signed an agreement in 2011 to build and operate a nuclear power plant in the Mersin province on Turkey's Mediterranean coast.
Turkey also has plans to build a second nuclear plant in the port city of Sinop on the Black Sea coast with a Franco-Japanese consortium.
http://www.worldbulletin.net/todays-news/134225/turkish-industry-to-gain-us16-bn-from-nuke-plants
-----------
The New York Times wrestles with Israel's gag orders
Apr 20, 2014
The New York Times newspaper acknowledged late last week that it complies with court-ordered gag orders when reporting from Israel.
The acknowledgement followed the publication of a report on the lifting of a gag order dealing with the arrest of Majd Kayyal, an Israeli Palestinian journalist, who was held incommunicado for a week after an unauthorized visit to Lebanon.
In reporting the case, the newspaper stated that "a court-imposed gag order on the case was lifted on Thursday," without specifying that it, too, had complied with the order.
That drew criticism from several media critics, because Kayyal's arrest had been mentioned publicly by a journalist at a U.S. State Department briefing and featured prominently over several days on the pro-Palestinian Electronic Intifada website.
The confusion was palpable in a subsequent article by the paper's public editor Margaret Sullivan.
Full report at:
http://www.haaretz.com/news/diplomacy-defense/1.586479
-------------
India
Oman national held for 'marrying, raping' two minors in Hyderabad, Agents, and Parents Arrested
Written by Janyala Sreenivas | New Delhi | April 20, 2014
In yet another case of minor girls being married off on contract to wealthy Arabs, police have arrested an Oman national who married two girls aged 14 and 15 within a week, and raped them before one of them escaped from his clutches and informed police.
The second girl was found confined in a room by police who raided his flat based on the first girl's complaint. The two girls told the Bhavani Nagar police how their parents had forced them into the marriage, and how they were sexually exploited by the Omani.
Madasari Rashed Masaaod Rashid, 61, a resident of Ibri, Oman, arrived on a tourist visa on April 5 and took a flat on rent at Patel Avenue in Banjara Hills. He then approached four agents, Mohammed Jaffar Ali, Kareemunnisa Begum, Amena Begum and Mohammed Osman, to look for a young bride for him. "His instructions were the girl should be less than 16. He told them he was willing to pay as much as the girl's parents demanded," Sub-inspector N Srisailam said. The agents arranged for a 14-year-old girl. Rashid paid Rs 60,000 to her parents for the "marriage" on April 9.
Full report at:
http://indianexpress.com/article/india/india-others/oman-national-held-for-marrying-raping-two-minors-in-hyderabad/
-------------
People foil ex-militant's attempt to kidnap girl
AHMED ALI FAYYAZ
April 20, 2014
The local people stopped an ex-militant of the Lashkar-e-Taiba wielding an AK-47 from kidnapping a girl at Nowpora Kalan in Sopore and handed him over to the police on Friday night.
Later, in the morning, the people torched his house and two of his cars and a tractor and tried to kill his family members.
It is said to be the first such incident during the 25 years of militancy in northern Kashmir.
Sources said Imran, now living in the locality, along with Mudassar Shah of Khohipora, a constable at the Handwara police station, tried to enter the house of Ghulam Mohiuddin War allegedly to kidnap his daughter. The family raised an alarm, and the neighbours rushed to its help. Imran, who the police said was arrested in 2012 along with LeT's top-ranking Pakistani commander Fahadullah, and Mudassar were severely beaten up. Officials in the North Kashmir police range confirmed that they were arrested.
Full report at:
http://www.thehindu.com/news/national/people-foil-exmilitants-attempt-to-kidnap-girl/article5929305.ece
-----------
URL: https://www.newageislam.com/islamic-world-news/new-age-islam-news-bureau/shariah-violators-to-face-religious-jail-in-aceh--police-chief/d/66646