New Age Islam News Bureau
4 Aug 2017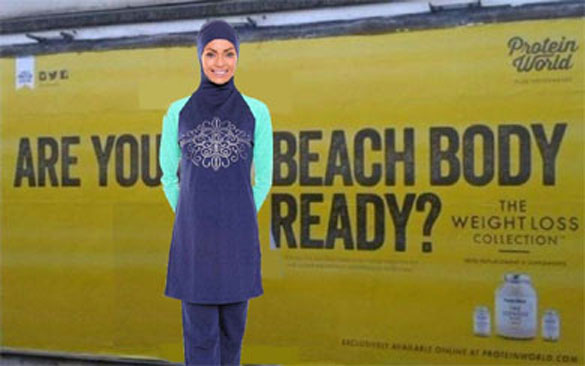 London's 1st Muslim Mayor Segregates Muslim Women at Rally, Bans Sexy Ads
-----
• Sharia Comes To London, As Muslim Mayor Bans Sexy Ads
• CAR: Muslims Seek Refuge in Cathedral to Escape Violence
• Hafiz Saeed to Register JuD as Political Party, Renames It as Milli Muslim League Pakistan
• Muslims Opting For Multiple Marriages in Uttar Pradesh Need To Register
• OIC Tells Myanmar to Protect Rights of Rohingyas
Europe
• Sharia Comes To London, As Muslim Mayor Bans Sexy Ads
• Man Threatens To Blow Up Islamic Bookshop and 'Kill the Muslims' In London
• UN urges all countries to halt weapons flow to Daesh, Al-Qaeda
• Anti-Islam UKIP leadership hopeful 'too extreme', says AM
• 'Three Musketeers' UK attack plotters given life sentences
• Police: ISIS directed Australian men to build bomb for Etihad Airways flight
• European court rejects jailed Turkish teachers' appeal
• UK govt. censoring documents on past military ties with Saudi Arabia
• EU says Iran deal sound, all parties stick to terms
-------
Africa
• CAR: Muslims Seek Refuge in Cathedral to Escape Violence
• UK Hails Tunis 'Hard Work' On Security after Terror Attacks
• Al Qaeda frees South African hostage after six years
• Kenyan officer killed in Al-Shabab raid
• Uganda: Bodies of Slain Soldiers Flown Home
-------
Pakistan
• Hafiz Saeed to Register JuD as Political Party, Renames It as Milli Muslim League Pakistan
• Ayesha Gulalai Vows to Produce Evidence against Imran
• Corruption Not Possible without Establishment's Help: JUI-F Chief
• Corps commander, governor pledge to ensure durable peace in Karachi
• Pakistan mulls steps to mitigate Daesh threat
• 3 'terrorists' killed in Gujrat
-------
India
• Muslims Opting For Multiple Marriages in Uttar Pradesh Need To Register
• Sanskrit Lessons for Aspiring Islamic Scholars
• 'Media Becoming Mouthpiece of Establishment': Veteran Journalist Saeed Naqvi
• Interrogation of Top Separatist Shows Money Flows in From Pak, London
• Pakistan constructing 6 dams in PoK with China's assistance: Government
• Hizbul terrorist gunned down in encounter in Anantnag
• ISIS Omar-al-Hindi Kerala module case: NIA conducts raids in Coimbatore and Alappuzha
• Cow vigilantes assault three Muslim men in Bihar on suspicion of carrying beef
-------
South Asia
• OIC Tells Myanmar to Protect Rights of Rohingyas
• Islamic Foundation to launch Halal Diagnostic Lab
• Escaped JMB leader now a major headache for Bangladesh, India
• World Islamic Body OIC Tells Myanmar to Protect Rights of Rohingya Minority
• Taliban and Haqqani network suffer heavy casualties in Logar air and ground operations
• Bridge detonated by Taliban in North of Afghanistan sparks furor
-------
North America
• American Muslim Family: Mcdonald's Staff Deliberately Hid Bacon in Sandwiches
• This Muslim Superhero May Battle a Real-World Threat: Islamophobia
• Suicide bomber kills NATO soldier in Afghanistan, 6 personnel wounded
• US Senate panel approves bill to suspend aid to Palestinians
• Canada's Mohammed Ahmed hopes patience is rewarded on track
-------
Southeast Asia
• Seeking a Dream, Indonesian Family Faces Nightmare in ISIS 'Caliphate'
• 'Books Should Be Read, Not Banned'
• Maqasid Shariah helps to uplift economy of Muslims in Malaysia
• Kassim Ahmad to initiate contempt proceedings if Shariah charges remain
• Turkey Promises to Eliminate Anti-China Media Reports
-------
Arab World
• Saudi Bulldozers Reduce Awamiyah to Rubble As Residents Flee Violence
• Teenage Boys Given Electric Shocks inside Police Station In Bahrain
• Information ministers from Anti-Terror Quartet countries discuss Qatar crisis
• Syrian Army Using New Armored Vehicles in Anti-Terrorism Campaign
• Several Senior ISIL Commanders Killed in Popular Uprising in Deir Ezzur
• Syrian Troops Tighten Noose on ISIL's Last Bastion in Eastern Homs
• Tens of Civilians Killed in US-Led Coalition Airstrikes in Raqqa, Deir Ezzur
• Syrian Army Advances 30km on Southern Coasts of Euphrates
• Two killed, three wounded in Egypt attack near Luxor
• Refugees reach Syria after truce with Hezbollah
• Lebanon's Hezbollah formally announces end to Arsal operation
-------
Mideast
• Kurdish Forces Destroy Turkey-Affiliated Terrorists' Base in Aleppo
• Bill To Cut Off Aid to Palestinians Passed By US Committee
• Al-Qaeda attack kills six soldiers in southern Yemen
• Israel forces abused journalists in Quds: Press body tells court
• Israel puts West Bank city on lockdown following alleged stabbing attack
• Turkish Army Sends Huge Arms Cargo to Terrorists in Al-Bab
• Saudi forces counter Houthi attack on its border with Yemen
• Israel PM boasts of record settlement construction during his term
Compiled by New Age Islam News Bureau
URL: https://www.newageislam.com/islamic-world-news/sharia-comes-london-muslim-mayor/d/112089
-------
Sharia comes to London, as Muslim mayor bans sexy ads
By Cheryl K. Chumley
August 3, 2017
London's Muslim Mayor Sadiq Khan declared an end to any kind of advertising in the city that promotes "unrealistic expectations of women's body image and health," or, in layman's, typical Western-style fashion spreads.
Sharia, meet London.
As the Gatestone Institute notes, this reminds of when ISIS took over Sirte in Libya a couple years ago and immediately set up sharia shop, ordering via billboards for all women to don baggy burka'd robes if they wanted to walk in the streets without, say, getting acid thrown in their faces, or raped.
And it's not just London.
In Berlin, where wave after wave of mostly Muslim migrant and refugee have swept away much of Germany's tolerant culture, authorities are planning to implement a ban on images of women as "beautiful but weak, hysterical, dumb, crazy, naive or ruled by their emotions."
Add Paris to the mix — Paris, city of romance-slash-sex, where nudity is practically a cultural norm — and it's an alarming trend that's sweeping Europe.
"Paris has said au revoir to 'sexist' ads on public billboards," Gatestone reported. "The Paris city council announced its ban after the Socialist Mayor Anne Hidalgo said the move meant that Paris was 'leading the way' in the fight against sexism."
What's the common denominator? These cities have undergone radical demographic shifts in recent times, with major upticks in Muslim populations — Muslim populations that bring strict Islamic principles and beliefs.
Feminists and the hard left are either silent on these new fashion impositions, fearful and unwilling to buck the Islam tide, or worse, outright cheering, seeing such government-imposed bans as helpful in the fight to show women as powerful individuals, rather than objects of lust. But it's a rather strange cheer to issue.
First off, it's the left that's promoted sex as a free-and-easy recreational activity — birth control as a woman's equalizer with immoral men. It's the left that's tied female empowerment to showcasing one's fairer sex self as alluring and seductive first, intelligent and capable, dim seconds and thirds.
But now that heavily Muslim-influenced and populated cities want to ban these same ads and images that the women of the left have fought so hard to label as empowering and liberating?
It's not just ironic. It's stupid.
It's completely missing the point of the root of these bans — and the evil they promote.
"There is a reason for this grotesque campaign banning these images," Gatestone goes on. "These cities host significant Muslim populations and politicians — the same who frantically are enacting mandatory multiculturalism — want to please 'Islam.' It is now a 'feminist' talking point to advocate sharia policy, as does Linda Sarsour. The result is that, today, few feminists dare to criticize Islam."
Indeed.
This is not a campaign from smart women, sick of the objectifying that's been embraced by even those of their own gender in recent times.
This is a government-imposed ban based on a rotten anti-freedom religion. And it should raise red flags all across the West. Sharia, whether subtly instituted or government-mandated, has absolutely no place in free societies, and must be fought in whatever form it comes.
http://www.washingtontimes.com/news/2017/aug/3/sharia-comes-london-muslim-mayor-bans-sexy-ads/
-------
CAR: Muslims Seek Refuge in Cathedral to Escape Violence
1 AUGUST 2017
Bangui — Two thousand Muslims have taken refuge in the Cathedral of Bangassou and are being guarded by UN peacekeepers, Bishop Juan José Aguirre Muñoz of Bangassou said July 27.
"Two thousand Muslims have taken refuge in the cathedral, guarded by UN peacekeepers from Morocco," he said, adding he fears for their safety as militants attempted to attack the cathedral on July 24.
"They were pushed back by [the UN peacekeepers] and one of them was killed," said the bishop, adding the fighting over the past week had taken on "alarming proportions."
"Half of the population of Bangassou has fled and sought refuge in the contiguous territory of the Democratic Republic of Congo. Fighting has been going on for days," said the bishop, Fides reported.
Bishop Muñoz said the current round of attacks began on July 21, when the militias - known as Anti-Balakas - kidnapped a young Muslim girl, as a result homes have been torched, people killed, and women raped while thousands of others have fled the violence.
Fifteen Islamic extremists responded by kidnapping two Caritas humanitarian workers and their families, around 30 people in all. They were later freed by the United Nations peacekeeping mission, called MINUSCA.
Afterward, the Islamists attacked the cathedral, causing serious damage. Three UN peacekeepers from Morocco have been killed in the past one week in Bangassou, acts that have been condemned by United Nations Secretary-General António Guterres.
"This incident brings to nine the number of peacekeepers killed in service in Bangassou since the beginning of the year," said a statement by Guterres's office.
"If allowed to continue, the prevailing situation risks undermining the hard-won gains achieved towards lasting peace. The Secretary-General calls on all parties to cease violence and to take action to avoid a further deterioration of the fragile security situation in the country," the statement added.
http://allafrica.com/stories/201708030436.html
-------
Hafiz Saeed to Register JuD as Political Party, Renames It as Milli Muslim League Pakistan
August 3, 2017
Most wanted terrorist Hafiz Saeed has decided to launch his own political party. According to reports from across the border, Hafiz Saeed has decided to rename his terror outfit Jamaat ud Dawah as the Milli Muslim League Pakistan.
Hafiz Saeed has planned to register the Milli Muslim League Pakistan as a political party with the Election Commission of Pakistan.
The development assumes significance in the wake of the ouster of Nawaz Sharif as the Prime Minister of Pakistan after a Supreme Court order. On the other hand, Hafiz Saeed is known to have close relations with the Pakistani Army and the ISI.
Incidentally, Pakistan Tehreek-i-Insaaf chief Imran Khan - the most vocal opponent of Nawaz Sharif - also finds himself in soup after a female party colleague accused him of sending obscene messages to women workers and leaders.
Earlier this week, the Pakisan's Punjab government extended the house arrest of Jamaat ud Dawa (JuD) chief Hafiz Mohammad Saeed for two more months.
Hafiz Saeed has been placed under house arrest since January 31, when he was initially interned for 90 days. His house arrest was subsequently extended for another three months which expired on July 27. But, now the provincial government has extended the curbs on his movement for another two months.
Hafiz Saeed is accused of masterminding several terror strikes in India including the Mumbai 26/11 attacks and fomenting violence in Jammu and Kashmir.
http://indiatoday.intoday.in/story/hafiz-saeed-political-party-jamaat-ud-dawah-milli-muslim-league-pakistan/1/1018115.html
-------
Muslims opting for multiple marriages in Uttar Pradesh need to register
Aug 03, 2017
Muslims opting for multiple marriages will have to get them registered separately in Uttar Pradesh and the government guidelines do not in any way interfere with practices of any religion, a top official said on Thursday.
The UP Marriage Registration Guidelines, 2017 were approved by the Cabinet on August 1. After notification, the stamp and registration department will implement it, said principal secretary to women welfare department Renuka Kumar.
She also made it clear that the guidelines "do not interfere" in practices of "any religion".
"The UP government does not intend to interfere in the practices of any religion. If any male Muslim is going to register his marriage, then he will have the option of registration a maximum of four marriages. For this, he has to fill different registration forms," she said.
However, she added that Muslims opting to marry more than once will have to get each marriage registered separately.
"But, if any Muslim male has married more than once, then he has to register each of his marriage. Males from the Muslim community will get the facility of registering four marriages, but Hindus and people practising other religions will be allowed to register only one marriage," Kumar said.
The decision of the UP government evoked mixed reactions from Muslim bodies.
While the All India Shia Personal Law Board (AISPLB) said the option of registration a maximum of four marriages might send a wrong signal, the All India Muslim Women Personal Law Board (AIMWPLB) welcomed the government's decision of "not interfering in the religious matter".
"The option of registration of a maximum of four marriages for Muslim males may send a wrong signal," AISPLB spokesperson Yasoob Abbas said.
General secretary of AIMWPLB Rabia Sandal, said, "The move to register the marriages of all religions is certainly a good one. We are also happy with the government's intention of not to interfere in the practices of any religion."
The principal secretary also said registering a marriage will not need the services of a lawyer.
"A person can register his/her marriage from home simply at the click of a mouse by visiting the website of stamp and registration department," Kumar said.
The couple will have to provide their Aadhaar number after which an OTP (One-Time Password) will be sent to the registered mobile number. As soon as the OTP is entered on the webpage, all the details (including photographs of the husband and wife) from the Aadhaar card will be auto-filled.
After this, details like the date, venue of and city of marriage need to be filled in the registration form and Rs 10 deposited through online banking as registration fees. If the marriage is registered within a year, then Rs 10 will be levied as registration charges, she said.
The marriage will be considered as registered after this, and a reference number will be given. The marriage certificate can be obtained on one's personal email id or can be downloaded from any cyber cafe, she said. Only the reference number has to be remembered, she added.
Underlining benefits of registering the marriage, Kumar said, it would come handy during application of visas while going to foreign countries.
"Many government schemes also seek the matrimonial status of both men and women. In government application forms and other documents, where the marital status is asked, the person has to only provide the reference number, from where rest of the information can be retrieved by the government."
http://www.hindustantimes.com/lucknow/muslims-opting-for-multiple-marriages-in-uttar-pradesh-need-to-register/story-WJo1e8o9wnhJpZa4g90NbK.html
-------
OIC tells Myanmar to protect rights of Rohingyas
Aug 4, 2017
DHAKA: Myanmar must protect the rights of its Rohingya Muslim minority, the chief of the Organisation of Islamic Cooperation (OIC) said on Thursday, urging the government to work with neighbouring Muslim-majority countries to tackle a refugee crisis.
About 75,000 people have fled to Bangladesh after a military crackdown, with accompanying allegations of rape, torture and extrajudicial killings by security forces, followed an attack on a Myanmar border guard post on Oct. 9.
Aung San Suu Kyi's fledgling administration has denied most of the allegations and is refusing access to a United Nations panel of experts, saying its mission will aggravate the situation on the ground in the western state of Rakhine. .
"Myanmar should sit with Bangladesh, Indonesia and Malaysia to find a roadmap for the solution of the crisis," said Yousef bin Ahmad Al-Othaimeen of the OIC, which represents 57 states and acts as the collective voice of the Muslim world.
"We call on the Myanmar government to ensure human rights for the Rohingyas," Othaimeen told reporters during a four-day visit to Bangladesh's capital of Dhaka.
"Myanmar can't deny the human rights of Rohingyas. We also call on the Myanmar government to ensure citizenship for the Rohingyas," he said.
In a separate meeting with Bangladesh's Prime Minister Sheikh Hasina, he said that a solution must be found through discussions between Buddhist leaders from Myanmar and Muslim leaders from Bangladesh.
"Religious leaders from both the countries should attend in such discussions to help solve the Rohingya issue," he said.
The prime minister reiterated her government's persistent plea that Myanmar take back its citizens. Almost 400,000 Rohingya refugees live in Bangladesh, she said.
Othaimeen is also expected to visit Rakhine Muslims in the Kutupalong camp and surrounding areas in the southern resort town of Cox's Bazar on Friday, Bangladeshi foreign ministry officials said.
Many in Myanmar see the Rohingya as illegal immigrants from Bangladesh, although about 1.1 million of them live in Rakhine state and say their roots go back generations.
http://nation.com.pk/international/04-Aug-2017/oic-tells-myanmar-to-protect-rights-of-rohingyas
-------
Europe
Man threatens to blow up Islamic bookshop and 'kill the Muslims' in London
Lizzie Dearden
Aug 4, 2017
A man has been sentenced for threatening to blow up an Islamic bookshop in London and "kill all the Muslims".
David Moffatt, 39, pleaded guilty to religiously aggravated intentional harassment, alarm and distress at Willesden Magistrates' Court.
Police said they were called to the shop, in Cricklewood, on 23 May by staff who said a man had "threatened to blow the bookshop up and 'kill the Muslims'."
The suspect left the shop after making the threats but witnesses described him wearing a high-visibility jacket and trousers.
Moffatt, of Ivy Road, Cricklewood, was identified as the suspect after he made an unrelated call to the police later the same day alleging that he had been threatened by someone else.
"Officers then noticed that Moffatt was wearing the same attire as the suspect from the Cricklewood Broadway incident earlier that day," a spokesperson for the Metropolitan Police said.
Enquiries and a review of CCTV footage in the area placed Moffatt at the bookshop and he was arrested at 11.30pm.
When officers confronted him over the allegations, he replied: "I'm not anti-Muslim, I'm Catholic."
Moffatt was sentenced to a community order requiring him to carry out 100 hours of unpaid work and to pay £620 in costs and a victim surcharge of £85 at Willesden Magistrates' Court on 28 July.
Detective Inspector Madeline Ryder said: "Hate crime is unacceptable and Brent's Community Safety Unit is committed to tackling hate crime in all its forms, supporting victims and their families and bringing perpetrators like Moffatt to justice."
A spokesperson for Scotland Yard said it was working to combat the "hidden nature" of hate crime, which remains largely unreported, and vowed to fully investigate all allegations while supporting victims and their families.
The force is appealing for anyone suffering or witnessing any form of any hate crime to report it immediately by calling 999 or 101, visiting a police station, using the MOPAC Hate Crime app or through groups like Tell MAMA for Islamophobic incidents and the Community Security Trust (CST) for anti-Semitic incidents.
http://www.independent.co.uk/news/uk/crime/islamic-book-shop-bomb-plot-david-moffatt-catholic-kill-all-muslims-london-cricklewood-broadway-a7874506.html
-------
UN urges all countries to halt weapons flow to Daesh, Al-Qaeda
4 August 2017
NEW YORK: The UN Security Council has unanimously adopted a resolution urging all countries to eliminate the supply of weapons to Daesh and other "terrorists" including by taking legal action against suppliers and marking arms to improve their traceability.
The resolution, sponsored by Egypt, strongly condemns the continuing flow of weapons, military equipment, drones and improvised explosive devices to Daesh, Al-Qaeda and their affiliates as well as illegal armed groups and criminals.
"This is one of the first resolutions aiming to prevent terrorists from acquiring weapons," Egypt's UN Ambassador Amr Abdellatif Aboulatta, the current Security Council president, said after the vote.
"Arming of terrorists and terrorist groups ... is a crime that is no less heinous than the terrorist act itself."
The resolution reaffirms the commitment of all states to preventing weapons from reaching "terrorists."
It urges the UN's 193 member states "to prevent and disrupt procurement networks for such weapons."
It also urges all countries "to act cooperatively to prevent terrorists from acquiring weapons" including via the Internet or social networks.
US Ambassador Nikki Haley accused Iran of deliberately and systematically contributing "weapons, training and funding for terrorist groups" in violation of its international obligations.
"Terrorist proxies are doing the Iranian regime's will in Iraq and in Syria," she said.
"Iran also supports Hamas and terrorist groups in Bahrain. Through its partner Hezbollah, Iran is engaged in preparing for war in Lebanon. It is building an arsenal of weapons and battle-hardened troops."
Yury Fedotov, executive director of the Vienna-based UN Office on Drugs and Crime, told the council by video link that "terrorists obtain weapons by many means, in all parts of the world, facilitated by access to poorly secured stockpiles, weak border management, the use of online platforms including hidden marketplaces, and diversion linked to poor transfer controls."
Fedotov stressed the complex challenges to keep weapons from falling into the hands of terrorists, citing "inadequate regulatory environments and data collection, lack of specialized skills and equipment, and lack of coordination within and between countries and regions."
Interpol Special Representative Emmanuel Roux told the council that although the use of weapons by terrorists is not new "today's threat landscape is one of unprecedented complexity."
"Convergence is the key word: between organized crime and terrorism; between old and new technologies; between military and law enforcement efforts," he said.
Roux said Interpol is seeing firearms used in conflict zones reappearing on streets of major cities, commercial products that are legal turned into improvised explosive devices, and guns manufactured decades ago for sale on the dark web.
In parallel, he said foreigners who fight for terrorist groups may be exploiting their knowledge from the battlefield, the organized crime contacts and supply chains they used previously, "and technology allowing the creation of modular firearms and 3D printing — to access and use weapons."
Roux said there are many "crucial actions" the international community can undertake including standardizing end-user export controls, securely managing stockpiles, and strengthening and implementing strong national legislation.
Full report at:
http://www.arabnews.com/node/1139321/middle-east
-------
Anti-Islam UKIP leadership hopeful 'too extreme', says AM
Aug 4, 2017
A frontrunner in the race to be UKIP's next leader is probably "too extreme" to be allowed to stand, a party AM has said.
Anne Marie Waters, one of several hopefuls who face vetting ahead of the election, has described Islam as evil.
AM David Rowlands said Ms Waters was "not the image" he wanted UKIP to have but Ms Waters claimed the party was trying to "ostracise" her.
Ms Waters said she was "not a racist" at a hustings in Newport on Thursday.
About 20 people attended the leadership event.
South Wales East AM Mr Rowlands, who chaired the hustings, blamed a general public weariness with politics rather than the state of the party for the low turnout.
As well as Ms Waters, other leadership hopefuls at the meeting included London assembly member David Kurten, David Allen and former UKIP councillor Ben Walker.
Nathan Gill, UKIP's MEP for Wales and an independent AM who has said the party should not become anti-Islam, is understood to be unhappy about the prospect of Ms Waters being a leadership candidate.
It has been suggested several of the party's MEPs will resign if she wins.
Ahead of the hustings Mr Rowlands told BBC Wales: "I don't even believe she will be selected [to be a candidate]."
Asked why, he said: "Because her views are too extreme. It's not the image I would want my party to have.
"I don't want us to be politically correct but I also don't think that we are there to be provocative or to offend people in what we say or in what we do.
"It would seem to me from the comments being made [by other people in UKIP] that she wouldn't get through the vetting."
Ms Waters said Mr Rowlands was "entitled to his opinion" but added: "It is only because we have been lying for so long that the truth sounds extreme, and the fact that so many of us are terrified of telling the truth, proves me right about the censorship that we now observe in the UK surrounding this issue."
She opened her statement at the hustings saying she was "not an extremist" and had never been one.
"I am not a racist or a neo-fascist," she said. She told BBC Wales she believed she would be vetted out of the candidate list.
On the BBC Sunday Politics programme earlier this year Ms Waters said she "did not like" Islam.
"The thing is a lot of people get confused on Islam and all Muslims," she said. "A lot of people think Islam equals all Muslims. It does not.
"The religion, the scriptures and how it's practiced in most of the world I find quite frankly abhorrent."
The deadline for leadership candidates to submit nominations has passed but there will be no official candidates until the vetting is complete - which is expected mid-August.
Others who have announced their intention to run but are not at the hustings in Newport include direct democracy activist John Rees Evans, London AM Peter Whittle and Scottish MEP David Coburn.
Full report at:
http://www.bbc.com/news/uk-wales-politics-40802240
-------
'Three Musketeers' UK attack plotters given life sentences
Aug 4, 2017
Four members of a British Islamist militant cell who referred to themselves as the "Three Musketeers" were on Thursday given life sentences in prison for plotting an attack.
The four men - Naweed Ali, Khobaib Hussain, Mohibur Rahman, and Tahir Aziz - were arrested in an undercover sting operation in August 2016 after police uncovered a partly-built pipe bomb, an imitation gun and a meat cleaver scratched with the Arabic word for infidel in Ali's car.
"These men shared the same radical belief in violent jihad and had reached a stage where they were planning to take action," said Sue Hemming, the state prosecutor's counter-terrorism chief.
"Recent attacks have demonstrated the kind of horror these defendants could have caused had they not been stopped."
Ali, 28, Hussain, 25, and Rahman, 33, were given life imprisonment with a minimum term of 20 years. Aziz, 38, was sentenced to life with a minimum term of 15 years.
Full report at:
http://nation.com.pk/international/04-Aug-2017/three-musketeers-uk-attack-plotters-given-life-sentences
-------
Police: ISIS directed Australian men to build bomb for Etihad Airways flight
4 August 2017
A senior ISIS commander directed a group of Australian men to build a bomb destined for an Etihad Airways flight out of Sydney, police alleged Friday.
The improvised explosive device was due to be smuggled onto the July 15 service, but the attempt was aborted before they reached security. Two men have been charged, with a third still being questioned.
"This advice was coming from a senior member of the Islamic State," Australian Federal Police Deputy Commissioner Michael Phelan said, referring to him as a "commander" based overseas.
Police also foiled a second alleged plot involving a "chemical dispersion device", designed to release highly toxic hydrogen sulphide, but this was in the early stages.
"Not only have we stopped the IED that was believed to go on the plane but we have also completely disrupted the intended chemical dispersion device," said Phelan.
The ISIS leader sent components through international cargo to the men, then directed them on how to build a bomb, police claimed.
Related: Saudi stadium terror plot thwarted
"With assistance from the ISIL commander, the accused assembled the IED into what we believe was a functioning IED to be placed on that flight," said Phelan.
"There is a little bit of conjecture as to why it didn't go ahead. It didn't get past the check-in."
Phelen referred to it as "one of the most sophisticated plots that has ever been attempted on Australian soil".
Four men were arrested during raids in Sydney on Saturday.
Two of them - aged 32 and 49 and reportedly brothers - were each charged late Thursday with two counts of "acts done in preparation for, or planning, a terrorist act" and are due in court Friday.
Full report at:
https://english.alarabiya.net/en/News/world/2017/08/04/Police-ISIS-cheif-directed-Australian-men-to-build-bomb-for-Etihad-Airways-flight.html
-------
European court rejects jailed Turkish teachers' appeal
03 August 2017
The European Court of Human Rights (ECHR) dismissed Wednesday an appeal regarding the detention of two jailed educators who have been on a hunger strike for a 147 days.
Semih Ozakca and Nuriye Gulmen both began their hunger strike on March 10 in the capital Ankara after they were dismissed by a state of emergency decree over the defeated July 15 coup attempt in Turkey.
"It examined the applicants' requests in the light of the medical reports and developments [..] and it found that the applicants' detention at the Sincan Hospital did not pose a real and imminent risk of irreparable harm to the life or limb of the applicants," the statement issued by the court said.
It therefore rejected the applicants' request that the Court order the government to release them.
The court's decision came after the medical reports issued by Ankara's Numune Hospital on July 28 said the applicants' situation was life-threatening and they could not continue to live unaided.
"Nevertheless, these findings do not necessitate the postponement of [their] detention on remand. [Their] situation can be monitored and [they] can be treated in prisons which have medical facilities comparable to those of a hospital or in zones of official medical establishments reserved for convicts," the reports added.
In June, the Turkish Constitutional Court dismissed the individual appeals by the two for their release on health condition.
Full report at:
http://www.worldbulletin.net/europe/192521/uk-security-researcher-accused-of-creating-bank-malware
-------
UK govt. censoring documents on past military ties with Saudi Arabia
Aug 4, 2017
The UK government has blocked the public release of nearly 1,000 documents detailing sensitive data about the country's past military deals with Saudi Arabia.
The censored files from 1986 and 1987 include at least 15 documents that directly discuss Saudi Arabia and include details on the "sale of Tornado and Hawk aircraft" and "training for Saudi Arabian special forces," The Times reported Thursday.
London has also refused to release an additional 27 documents connected to Prince Charles and Lady Diana's visit to the Middle East in 1986.
Normally, the government is required to declassify all documents held in various departments after 30 years and pass them on to the National Archives at Kew. However, departments can ask for a specific document to be withheld or redacted.
The Advisory Council on National Records and Archives, which rules on such requests, said in its annual report that the requests were on the rise, meaning that more documents were being withheld.
In 2015-16, for example, the council received a total of 952 censorship requests and rejected only four of them. In 2014, 793 requests came in while only three were rejected. In 2016, both figures increased as 22 requests out of 986 were overturned.
"This report suggests there is still a culture of opacity within many government departments," said Robert Barrington, the executive director of Transparency International UK.
"A lack of disclosure can often lead to concerns that the government has something to hide and therefore transparency is the best measure to ensure public trust," he added.
The UK Home Office has also been under pressure to release the "very sensitive" findings of an investigation into Saudi Arabia and its funding of extremist groups operating in the UK.
The inquiry was authorized in 2015 by former Prime Minister David Cameron in exchange for Liberal Democrat support for the extension of UK airstrikes against alleged terrorist positions in Syria.
Saudi Arabia has been incessantly pounding Yemen since March 2015. The UK has been providing the Riyadh regime with weapons and intelligence in the unprovoked war.
Full report at:
http://www.presstv.ir/Detail/2017/08/04/530640/UK-Saudi-Arabia-terrorism-secret-documents
-------
EU says Iran deal sound, all parties stick to terms
Aug 3, 2017
The European Union, which supervises the implementation of the landmark July 2015 nuclear deal between Iran and world powers, says all parties to the agreement remain committed to its implementation.
Catherine Ray, a spokeswoman for EU foreign policy chief, Federica Mogherini, said on Thursday that the EU was on the opinion that all the seven parties to the agreement had implemented their commitments and would do so in the future.
"So far we consider that all parties have been implementing their commitments under the deal," said Ray during a press briefing in Brussels, adding, "We expect their continued adherence."
The official made the remarks when asked to comment on Iran's statements that Washington had effectively violated the deal by imposing fresh sanctions on the country.
Iran maintains that the United States and five other parties to the deal should refrain from renewing or imposing sanctions on Iran during the time of the agreement which spans for more than 10 years. The six world powers, namely the US, Russia, China, Britain, Germany and France, have promised under the deal to ease pressure on Iran in return for the country to scale back its nuclear program.
On Wednesday, US president Donald Trump officially signed the bill that imposes new sanctions on Iran allegedly over the country's missile program. The controversial package of measures, already adopted in the US Congress, also imposes tough bans on Russia and North Korea.
Ray said the EU's conclusion that Iran deal remained sound was based on the results of a meeting on July 21 in Vienna, where parties to the deal discussed its implementation. She said the meeting chaired by Mogherini also allowed a discussion on the effects of US sanctions on the implementation of the nuclear agreement, adding that the Iranian view was also heard in the meeting.
Mogherini's office said at the time in a statement that participants in the meeting confirmed their continued adherence to the deal and "stressed the need to ensure its full and effective implementation in a constructive atmosphere."
Full report at:
http://www.presstv.ir/Detail/2017/08/03/530601/EU-Iran-nuclear-deal-US-sanctions
-------
Africa
UK hails Tunis 'hard work' on security after terror attacks
03 August 2017
Britain on Thursday applauded Tunisia's "patient hard work" to boost security following the 2015 terrorist attacks that killed dozens of tourists, including 30 Britons at a beach resort.
"We know that these days there can never be a situation when there is no risk at all but we are being very pleased to advise our citizens that returning to Tunis, returning to the resort areas, is something that we would like them to do," said Britain's junior foreign minister for the Middle East and North Africa, Alistair Burt, on a visit to Tunis.
The attack was claimed by the Islamic ( named )State group.
"The United Kingdom is very conscious that following the tragic events of 2015, the change in the nature of our travel advice, which was necessary to protect all our citizens, has had a significant impact," he said.
"The reason our travel advice has been changed is because of the patient hard work done by the Tunisian government and the security services to respond to the needs of those who visit this country for tourism or any other purpose."
Burt told a news conference: "Hard work has been done in terms of aviation security, maritime security, response to terrorist attack, and the United Kingdom has worked in partnership with security officials here."
Britain's advisory against travel to Tunisia was lifted last week, although it continues to caution its nationals against visits to remote areas and near the borders with Libya and Algeria.
A British inquest criticised the Tunisian police response to the massacre as "at best shambolic, at worst cowardly".
Tunisia's economy is heavily dependent on tourism and authorities had repeatedly asked for the British travel advisory to be lifted.
Before the beach attack, more than 400,000 British tourists visited Tunisia annually. But last year just 20,000 British visitors were recorded, official Tunisian figures show.
http://www.worldbulletin.net/africa/192548/uk-hails-tunis-hard-work-on-security-after-terror-attacks
-------
Al Qaeda frees South African hostage after six years
Aug 4, 2017
A South African man abducted from his hotel and held hostage by Al Qaeda in Mali since 2011 has been freed unscathed, his country's foreign ministry said on Thursday.
Stephen McGown, 42, was kidnapped from the historic trading city of Timbuktu in Mali's north along with Swede Johan Gustafsson and Dutchman Sjaak Rijke, both of whom were subsequently released.
McGown has returned to South Africa and been reunited with his family, foreign ministry official Clayson Monyela told AFP.
"It was a big surprise when he walked through the door. When I gave him a hug, he was as sound and as strong as before, so he was obviously well treated up there," Stephen's father Malcolm told reporters in Pretoria, though Stephen himself did not attend the press briefing.
State Security Minister David Mahlobo insisted that no ransom was paid to secure McGown's release which was completed on July 29.
"We were able to actually release him without any conditions," Mahlobo told the joint press conference.
"Through our shrewd engagement supported by the African Union... Stephen is back at home," he added.
As for the other former hostages, Gustafsson was released in June while Rijke was freed in April 2015 by French special forces. Rijke's wife escaped during the militant assault on the popular tourist hotel, but a German who tried to resist the abduction was killed.
Al Qaeda's North African affiliate Al Qaeda in the Islamic Maghreb (AQIM) had claimed responsibility for the kidnappings of the three men.
"We give him a warm welcome back home particularly that he lands home with a mother who has passed on during his incarceration," said Foreign Minister Maite Nkoana-Mashabane.
"He was just a tourist in Timbuktu. We are happy that he is a free man."
Stephen McGown was now undergoing medical checks.
McGown's mother Beverly died in May after battling a long illness. "It's just unfortunate that Stephen's mum isn't here," said McGown's wife Catherine at the press conference.
Imtiaz Sooliman, chairman of the Gift of the Givers charity which was previously involved in negotiating for McGown's release, had said at the time of his mother's death that Stephen's absence was beginning to "take its toll".
"We had seen the sadness in the mother's eye and watched how she patiently waited in dignified pain for the return of her son. We failed her — my heart bleeds for her," Sooliman told local media in May.
Gift of the Givers reportedly dispatched a hostage negotiator to Mali in July 2015 to push for McGown's release but was forced to give up in May this year after hitting a "dead end".
AQIM was one of the several militant groups that took control of Mali's north in 2012 before being ousted by a French-led military operation launched in January 2013.
Full report at:
http://nation.com.pk/international/04-Aug-2017/al-qaeda-frees-south-african-hostage-after-six-years
-------
Kenyan officer killed in Al-Shabab raid
Aug 3, 2017
Al-Shabab militants attacked a remote police outpost in northern Kenya on Thursday and killed an officer days before national elections, police said.
A major attack could undermine the security credentials of President Uhuru Kenyatta who is standing for a second and final term at elections next Tuesday when the country will also vote for members of parliament and regional authorities.
The attackers hit two vehicles when they fired rocket propelled grenades at the camp in Lafey village near the border with Somalia before police repulsed the attack, said Joseph Boinnet, inspector general of police.
"We have lost one officer and on the enemy side we have reason to believe that there were some casualties," Boinnet told a news conference, adding that the attackers fled with a government vehicle.
Al-Shabab claimed responsibility for the attack.
Al-Shabab is fighting to overthrow Somalia's western-backed government and establish its own rule, based on the group's strict interpretation of religion.
Full report at:
http://www.presstv.ir/Detail/2017/08/03/530618/Kenya-AlShabab-Attack-Police
-------
Uganda: Bodies of Slain Soldiers Flown Home
2 AUGUST 2017
By Raymond Tamale
Twelve bodies of slain Ugandan soldiers who were killed in an ambush on Sunday in Somalia were flown home.
In coffins draped in the national flag, the bodies were received by top military officials and families at the army air base in Entebbe on Wednesday and then taken to Bombo Military Hospital for embalmment.
The Uganda People's Defence Force (UPDF) soldiers, serving under the African Union Mission in Somalia (Amisom), were in a convoy at Gorowen in Lower Shabelle region, about 140km Southwest of Mogadishu, when they were attacked by Islamist Al Shabaab fighters early Sunday. Seven others were injured.
The Ugandan contingent was conducting a joint patrol together with the Somalia National Army.
Al Shabaab claimed to have killed 39 soldiers in the ambush. The numbers the militants give are most times exaggerated.
In September 2015, Al Shabaab overrun a UPDF base in Janaale killing 19 soldiers.
On Tuesday, Ugandan lawmakers demanded to know the human cost of the country's mission in Somalia.
Uganda has the largest contingent in Amisom with more than 6,000 troops.
Full report at:
http://allafrica.com/stories/201708040093.html
-------
Pakistan
Ayesha Gulalai vows to produce evidence against Imran
August 3, 2017
ISLAMABAD: Responding to criticism that as to why she failed to report the harassment at the hands of Imran Khan earlier despite her claims she started receiving "inappropriate messages" in 2013, Ayesha Gulalai on Thursday conceded that she only managed to summon the courage to spill the beans now.
She said she went public against Pakistan Tehreek-e-Insaf chairman after the situation became unbearable. Asked whether she asked Imran Khan to marry her, the lawmaker said she had informed her father about the "lewd messages" she received from the party chief.
She said Imran Khan would also give hints about the marriage in his "inappropriate messages" which she initially tried to ignore. She said Imran Khan asked her to meet him alone but she visited the PTI chairman along with his father and brother.
She said her father asked Imran Khan about his intention whether he really had plans to marry her.
Ayesha Gulalai said she had the record of the messages she received from Imran Khan and would present before court of law. She said Imran Khan would be responsible if any harm came to her or her family.
Meanwhile, Geo News anchor Hamid Mir said Ayesha Gulalai has shown the messages reportedly sent by Imran Khan to him.
He said the messages were shown to him in the presence of Awami National Party senator. Although he refused to disclose the content of the text messages, Hamid Mir said the communication give credence to the allegations.
The senior anchor called for an inquiry into the allegations levelled by the female lawmaker against Imran Khan.
Earlier, in an interview Pakistan Tehreek-e-Insaf chairman Imran Khan said Ayesha Gulalai has trapped herself by allowing the Pakistan Muslim League Nawaz to use her against him.
He said Pakistan Muslim League-Nawaz was behind the character assassination campaign against him, adding that it was an old habit of the ruling party. " I can't forget what they did to Benazir Bhutto, Nusrat Bhutto and Jemima." said he.
"Why did she remain silent for four years, she should have opened up during this period," he said.
https://www.thenews.com.pk/latest/221080-Ayesha-Gulalai-vows-to-produce-evidence-against-Imran
-------
Corruption not possible without establishment's help: JUI-F chief
August 04, 2017
ISLAMABAD - Maulana Fazlur Rehman, who heads his own faction of the Jamiat Ulema-e-Islam, said on Thursday that no politician could indulge in corruption without establishment's help.
Dismissing the notion that the label of corruption was associated with politicians, Fazl said a politician alone could not indulge in corruption or embezzlement activities.
"Those who were elected by the people are nowadays accusing each other of corruption. As a matter of fact, corruption isn't possible without the assistance of bureaucracy and establishment," he added.
He said Pakistan had become victim of Panama Papers conspiracy which led to parliamentarians accusing each other of corruption.
He said Panama leaks were influenced by the United States.
"This all (Panamagate) did not unfold automatically. It was hatched at international level in a bid to strip each other," he said addressing a press conference in Islamabad.
"Transparent and serious politics should be practised in the country. An environment is being created to build narrative that dictatorship is better than democracy," he said.
The beginning of anarchy in the country would be through political instability just like in Afghanistan and Iraq, he warned.
"All the hue and cry is ostensibly an internal matter, however it actually is an external conspiracy. But our focus should be on how to rescue the country from crisis," he said.
The JUI chief lashed out at India for playing pawn of world powers and occupying Kashmir.
He said, "Freedom of nations is a basic human right and if ideology and dignity is snatched from a nation it remains no more independent."
"The foreign powers are eyeing China-Pakistan Economic Corridor. If you will become a ladder for China's development you are surely going to be victim of conspiracies as China is being introduced in the region with an economic vision."
"India wants to create an environment of tension in the region by waging war against Pakistan and China," he said.
He said foreign army still persisted in Afghanistan and it had its eyes set on the South Asia. America was involved in conspiracies not in this region but all over the world, he added.
He also expressed remorse over the conflicts between Islamic countries and wondered when the time will come when the boundaries of Islamic world will become a symbol of coexistence just like Europe.
Full report at:
http://nation.com.pk/national/04-Aug-2017/corruption-not-possible-without-establishment-s-help-jui-f-chief
-------
Corps commander, governor pledge to ensure durable peace in Karachi
August 04, 2017
KARACHI: The military establishment on Thursday hinted that the Karachi operation, which is going to complete four years next month, was not going to end anytime soon as the new corps commander of the city in a meeting with the Sindh governor vowed to continue the exercise "till its logical end".
During a meeting at Governor House Governor Mohammed Zubair and Corps Commander Karachi Lt-Gen Shahid Baig Mirza discussed efforts that were afoot to make peace in the city sustainable and lasting, after the sacrifices of many security and law enforcement personnel.
"They [Sindh governor and corps commander] discussed the overall law and order situation in Sindh, the ongoing operation and issues of mutual interest in detail," said a statement issued from Governor House after the meeting. "It was agreed during the meeting that the ongoing operation would continue till its logical end. Both the dignitaries showed resolve to meet all the challenges for sustainable peace in Karachi and other parts of the province."
The corps commander's thoughts came a few days after the results of the nearly four-year-old Karachi operation were challenged in targeted attacks carried out recently in different parts of the city mainly targeting Karachi police personnel and some political workers. Only last month, some half a dozen policemen in different parts of the city and at least four workers associated with different political parties were killed.
In the aftermath of the operation, launched in September 2013, the city's security situation improved as peace was restored to both residential and commercial areas after years of bloodshed on sectarian, ethnic and political bases. However, the violent incidents witnessed a surge in recent weeks, setting alarm bells ringing in the quarters concerned.
The fresh assaults on one hand pushed the provincial government to do more when Sindh Home Minister Sohail Anwar Siyal suspended the SHOs of seven police stations for their poor performance and, on the other, attracted a warning from the Karachi corps commander to elements trying to disrupt the situation.
"Those who are trying to destabilise the situation would not be spared. The security and law enforcement agencies have offered great sacrifices for peace in Karachi and other areas of Sindh and their efforts will not go waste," the statement quoted Lt-Gen Mirza as saying.
The corps commander pledged his support to make peace in the city sustainable, which was in the larger interest of the people of Karachi. The corps commander also said that steps were under way for the continuity of suitable environment and protection of the people. Sindh Governor Zubair, meanwhile, appreciated the role of security and law enforcement agencies for peace in Karachi that had started bearing fruit.
Full report at:
https://www.dawn.com/news/1349422/corps-commander-governor-pledge-to-ensure-durable-peace-in-karachi
-------
Pakistan mulls steps to mitigate Daesh threat
04-Aug-17
ISLAMABAD: Pakistan on Thursday said it will take all necessary measures to mitigate the threat emanating from presence of Daesh in Afghanistan.
In his weekly news briefing in Islamabad, Foreign Office spokesman Nafees Zakaria said, "These measures include effective border control and management." He pointed out that there ware "swathes of ungoverned territories" in Afghanistan, and Daesh and other terrorist outfits were gaining grounds there. The spokesman rejected insinuations of Indian external affairs minister against Pakistan and said, "Our sacrifices and losses in the war on terror are unmatched." "By levelling baseless allegations, India is trying to hide its own hands in state-sponsored terrorism" in Indian-held Kashmir, he said. To a question, he said, "Pakistan wants to have sustained, meaningful and result-oriented dialogue with India that addresses all issues, particularly the [issue of] Jammu and Kashmir." Zakaria said that peace in the region was not possible without resolving the Kashmir dispute. The spokesman said that visiting Acting US Assistant Secretary of State for South and Central Asian Affairs and Acting Special Representative for Afghanistan and Pakistan Alice Wells had a meeting with Foreign Secretary Tehmina Janjua in Islamabad. "The two sides reviewed entire gamut of bilateral relations." He said that the visit was taking place in the backdrop of US policy review on Afghanistan and the region, and "it provided an important opportunity to Pakistan to share its perspective on Afghanistan and broader issues relating to this region".
http://dailytimes.com.pk/pakistan/04-Aug-17/pakistan-mulls-steps-to-mitigate-daesh-threat
-------
3 'terrorists' killed in Gujrat
04-Aug-17
GUJRAT: Three terrorists were shot dead in an encounter with Counter-Terrorism Department (CTD) personnel in Gujrat late on Wednesday.
The CTD conducted an operation at the University Road area after receiving a tip off that terrorists were present in the area. "The terrorists opened fire after they saw the security forces. Three of them were killed when the CTD personnel returned fire," officials said. Four detonators, explosive material and weapons were also seized from the spot. In another operation, CTD arrested three terrorists from Toba Tek Singh. Thirteen suspects were also arrested from Kot Lakhpat, Naseerabad and Miani Sahib areas of Lahore. Police said they seized arms and ammunition from the Miani Sahib graveyard during the search operation.
http://dailytimes.com.pk/pakistan/04-Aug-17/3-terrorists-killed-in-gujrat
-------
India
Sanskrit Lessons for Aspiring Islamic Scholars
Aug 4, 2017
THRISSUR: At a time hyper nationalism and growing vigilantism by 'gau rakshaks' is stretching the pluralistic fabric of our country, an Islamic institution is setting an example in the cultural capital of the state by teaching Sanskrit.
Academy of Sharia and Advanced Studies (ASAS) - an Islamic institution which trains students to become scholars and Madrasa teachers - provides graduation in Islamic Sharia along with a degree in Arts under Calicut University. Along with this, students are taught Sanskrit, Indian tradition and other major world languages. ASAS is run by Malik Deenar Islamic Complex (MIC), situated at Sakthan Nagar, Thrissur.
K K Yatheendran, a disciple of renowned Sanskrit scholar K P Narayana Pisharody, is teaching Sanskrit at ASAS. Principal of the institution Ustad Muhammad Faizy Onampilly said students will be learning Kalidasa's epic poems like Raghuvamsa and Kumarasambhava. Students, who finish their SSLC are selected for a residential eight-year course, during which they gain an in-depth knowledge of Islam alongside regular school and university education. The classes start at 6am and end by 5pm.
Such an attempt to learn the language, culture and philosophy of another community is a rare phenomenon. "We are training students to become Islamic scholars and teachers and we want them to have a perspective suitable for a multi-cultural society. When they learn a language in depth, the culture and philosophy of India, their perspectives will be moulded in the right manner. At the same time, they will stick to Sharia. Through a multi-lingual approach, we can develop the wisdom to understand different cultures among students," said Faizy, a Sanskrit scholar who holds an MA in Vedanta.
Full report at:
http://timesofindia.indiatimes.com/city/kochi/sanskrit-lessons-for-aspiring-islamic-scholars/articleshow/59905156.cms
-------
'Media Becoming Mouthpiece of Establishment': Veteran Journalist Saeed Naqvi
AUGUST 04, 2017
Today, it is taking on a non-existent Opposition, says veteran journalist Saeed Naqvi
The national media has become the mouthpiece of the establishment to take on a non-existent Opposition, veteran journalist Saeed Naqvi has said.
At an interaction with journalists here on Thursday, he said that the role of the media in the past was adversarial to the establishment.
"Today, it is adversarial to the Opposition. Instead of taking on a powerful establishment, it has become a mouthpiece of the establishment to take on a non-existent Opposition," Mr. Naqvi claimed.
He said that the media was now being controlled by corporates who had placed it at the disposal of the government to do what it likes. "No one knows what is actually happening in the country. There was demonetisation. But did it help? Who knows?" Mr. Naqvi alleged that crony capitalism and the government had joined hands, and the media was on their side.
The veteran journalist, the author of books such as Being the other: The Muslim in India, said that the Hindu-Muslim problems were embedded in the decision to partition British India into Pakistan and Hindustan. "Once you had created Pakistan, we had automatically become a Hindu state. Secularism was being imposed on us as an external value," he said. Instead of that, there should have been some rule of law equally applicable to Hindus and Muslims. There could have been some bargain between both sides.
About communal politics, he said, "Congress did it softly, subtly and gently and the other party is doing it brazenly. The first communal riot in Gujarat happened in 1969 when the Congress was in power. More people died then than in 2002." Narendra Modi came to power at a time when the post-9/11 wars were launched by the Americans. So, the Islamophobia in the world became a huge canopy which muffled the 2002 riots in Gujarat, he claimed.
Full report at:
http://www.thehindu.com/news/cities/kozhikode/media-becoming-mouthpiece-of-establishment/article19422054.ece
-------
Interrogation of Top Separatist Shows Money Flows In From Pak, London
August 04, 2017
NEW DELHI: In a hint that the crackdown into terror financing in Kashmir could reach the doors of prominent Hurriyat leaders too, the National Investigation Agency has reportedly seized a list of 150 terrorists in Kashmir valley from a separatist Shahid Ul Islam arrested last month.
Shahid was a key aide of Mirwaiz Umar Farooq, the leader of moderate faction of the Hurriyat, and also acted as the separatist conglomerate's spokesman.
As one of the first to have crossed into Pakistan-occupied Kashmir for arms training back in the early 1990s, security agencies say Shahid oversaw some terror launch pads. He, however, returned to Kashmir after some time and surrendered. He was later associated with the Hurriyat conference.
Shahid was arrested in late July along with half-a-dozen others by the anti-terror probe agency in its first major crackdown to choke funding of separatists. In searches, the agency said investigators also found old photographs including one with Hizbul Mujahideen chief Syed Salahuddin. In a second picture, he is seen holding an AK-47 assault rifle and other armed men, who NIA says, could be terrorists.
In his interrogation that followed, a top government official told NDTV, Shahid spoke of Hurriyat leaders receiving funds from outfits not just in Pakistan but Dubai and London as well. A senior police officer associated with the probe said investigators were still working on the channels they used to get the money.
Funding aside, the official said, the list of 150 terrorists that was seized from Shahid during its raids demonstrated that the line dividing separatists and the terrorists wasn't as wide and deep as previously believed.
This document, seen by NDTV, lists the names and areas where the terrorists operate. According to this, the Lashkar-e-Taiba has 82 terrorists active in the valley, the Hizbul Mujahideen 64, Jaish-e-Mohammed has 10 and Al-Badr, 2.
"We have some credible leads to work on... It is a wide investigation and will take some time," he said.
The official said they were trying to piece together evidence against both factions of the Hurriyat, the one led by Syed Shah Ali Geelani as well as Mirwaiz Umar Farooq as well.
At an earlier hearing, the NIA had told a Delhi court that they had been able to tie funds received by the separatists to ring leaders of stone throwers in the valley.
Sources told NDTV that investigators had also pulled out phone records of the separatists and were analysing their call records to back up its case. "We have analysed lot of phone calls we have ample technical and documentary evidence against people we have arrested and are questioning," a top NIA official Alok Mittal told NDTV.
Shahid Ul Islam and 6 others who arrested with him would be produced in court on Friday where the NIA is expected to seek some more time to interrogate him as they want to fill all the gaps. The agency will also share some of the findings of its investigation with the court to back its case.
Full report at:
http://www.ndtv.com/india-news/interrogation-of-top-separatist-shows-money-flows-in-from-pak-london-1733339
-------
Pakistan constructing 6 dams in PoK with China's assistance: Government
Aug 4, 2017
NEW DELHI: Pakistan is constructing six dams on the Indus river in PoK with China's assistance, Minister of State for External Affairs V K Singh said in a written reply in Rajya Sabha on Thursday.
Government has issued demarches to both Islamabad and Beijing over the constructions stating that it is in violation of India's sovereignty and territorial integrity, the Rajya Sabha was informed.
"India has a clear and consistent position that these territories are illegally occupied by Pakistan and that any collaborative activity there is in violation of India's sovereignty and territorial integrity," VK Singh said.
Full report at:
http://timesofindia.indiatimes.com/india/pakistan-constructing-6-dams-in-pok-with-chinas-assistance-govt/articleshow/59910509.cms
-------
Hizbul terrorist gunned down in encounter in Anantnag
Aug 4, 2017
SRINAGAR: A newly recruited local terrorist of Hizbul Mujahideen was gunned down in an overnight encounter with security forces that also resulted in the death of an unidentified person in the ensuing crossfire in south Kashmir's Anantnag district, security officials said on Friday.
The encounter broke late last night at Kanibal in Bijbehara of Anantnag district, 55kms from here, when the police along with Army and CRPF cordoned off a village following an intelligence input about the presence of militants, they said.
During the encounter, which lasted for two hours, one militant identified as Yawar, hailing from Anantnag, was killed while two other militants managed to escape under the cover of darkness, they said, adding that an Army jawan also sustained bullet injury but was stated to be stable.
Yawar, who was allegedly a "chronic stone pelter" of the area, had joined the militant outfit in the first week of last month, they said, adding that a Self-Loading Rifle (SLR) looted earlier from a police guard was recovered from him.
During the encounter, one motorcycle-borne individual, whose identity is yet to be ascertained, was found dead with bullet injuries, the officials said, expressing apprehension that he might have died in the crossfire.
The number plate of the vehicle was damaged and no identity card of the deceased was found.
Two mobile phones were recovered from the deceased who was in multi-layered clothing. The telephone contacts in his handset could not immediately help to confirm his identified.
The local police have released his picture for identification.
Full report at:
http://timesofindia.indiatimes.com/india/hizbul-terrorist-gunned-down-in-encounter-in-anantnag/articleshow/59908444.cms
-------
ISIS Omar-al-Hindi Kerala module case: NIA conducts raids in Coimbatore and Alappuzha
Neeraj Chauhan
Aug 3, 2017
NEW DELHI: The National Investigation Agency on Thursday conducted searches on three suspected ISIS operatives in Coimbatore (Tamil Nadu) and Alappuzha (Kerala) while probing its ISIS Omar-al-Hindi module case.
The three suspected are presently being examined by NIA sleuths and if anything incriminating is found against them, they could be arrested, said sources.
NIA had received information that leader of this module - Shajeer Mangalassery, who had gone to ISIS territory in Afghanistan, using online identities Abu Ayisha or Sameer Ali, had been radicalizing vulnerable youth on the ideology of ISIS/ Daesh, over social media platforms and exhorting them to indulge in violent jihad in India.
NIA Inspector General Alok Mittal said that certain persons from Kerala and Tamil Nadu were in touch with the members of the ISIS/ Daesh terror module in this case, over internet based social media platforms and have been radicalized on the ideology of ISIS/ Daesh.
NIA conducted searches at houses and workplaces of such persons today as inputs were received that these three radicalised individuals were inclined to support and further the objectives of the proscribed terrorist organization ISIS/ Daesh.
NIA has already filed a chargesheet against six persons besides Shajeer Mangalassery, who, while being outside India had hatched the criminal conspiracy and formed the terrorist gang to further the objectives of ISIS/ Daesh in India.
Shajeer Mangalassery had migrated to ISIS/ Daesh controlled territory in Afghanistan from the UAE in June 2016.
NIA said that during searches on Thursday, they have recovered several mobile phones, laptops, hard disks, pen drives, DVDs/ CDs, memory cards, SIM cards besides documents, including books and manuscripts that have been seized.
Full report at:
http://timesofindia.indiatimes.com/india/isis-omar-al-hindi-kerala-module-case-nia-conducts-raids-in-coimbatore-and-alappuzha/articleshow/59904408.cms
-------
Cow vigilantes assault three Muslim men in Bihar on suspicion of carrying beef
Aug 03, 2017
A group of cow vigilantes allegedly assaulted three Muslim men over suspicion of carrying beef in a truck in Bihar's Bhojpur district on Thursday, the latest in a spate of mob attacks in the name of bovine protection.
The mob also blocked Ara-Buxar stretch of the National Highway 84, disrupting vehicular traffic for more than three hours, alleging beef was being smuggled to neighbouring West Bengal, police said. The group also demanded action against the Shahpur station house office (SHO) for his alleged failure to check "beef smuggling."
There has been growing incidents of attacks and lynching of people, mostly in the BJP-ruled states, by self-styled cow vigilante groups over rumours of cow slaughter and beef smuggling. The attacks have triggered nationwide condemnation and outrage.
Even Prime Minister Narendra Modi recently condemned such acts, saying "killing people" in the name of "gau bhakti" is not acceptable. Despite his warning, incidents of violence in the name of cow, considered holy by Hindus, continue unabated. Fringe elements within Modi's BJP and other right-wing organisations are often accused of carrying out these mob attacks.
The reported thrashing of three persons on suspicion of transporting beef in Bihar is a "clear confirmation" of the BJP assuming power in the state, CPI(M) general secretary Sitaram Yechury told reporters in New Delhi.
"Now only Hindutva policies will be implemented while he (Nitish Kumar) continues to remain the chief minister," the CPI (M) leader alleged.
Police said the Thursday's incident took place after the mob intercepted the truck carrying meat near a petrol pump on the NH-84 under Shahpur police station area, 29 km west of district headquarters Ara and 70 km west of Patna.
Locals claimed illegal slaughterhouses had been running in the area and they had information that beef was being smuggled from Ranisagar village near Buxar for the last many days.
Additional police force had to be deployed to bring the situation under control.
Normalcy returned to the area only by noon after the Jagdishpur sub divisional police officer Dayashankar confiscated the meat-laden truck and arrested its driver Mohammad Sarfuddin Khan and two passengers Mohammad Ajmullah Khan and Mohammad Gulam Khan.
The arrested persons, who were from Rohtas district in south-west Bihar, were being interrogated to find out if the meat they were carrying was beef.
Bhojpur district magistrate Sanjiv Kumar said sample of the meat had been sent for test. Strict action would be taken against those running illegal slaughter houses in the area, the DM added.
Locals also alleged that police were also involved in running the "beef smuggling" racket.
Full report at:
http://www.hindustantimes.com/india-news/three-men-thrashed-by-mob-in-bihar-on-suspicion-of-carrying-beef-arrested/story-IFOZqhBRPI4Fx8L1nkjYsN.html
-------
South Asia
Islamic Foundation to launch Halal Diagnostic Lab
August 03, 2017
The lab will test products for their compliance with Islamic rules and regulations
The Islamic Foundation Bangladesh is set to launch its Halal Diagnostic Laboratory in Dhaka's Agargaon on August 4.
The first of its kind in the country, this lab will test products for their compliance with Islamic rules and regulations before giving them Halal certificates.
Islamic Foundation's Director General Shamim Mohammed Afzal said: "The Secretary General of the Organisation of Islamic Cooperation (OIC) Dr Yousef bin Ahmad Al-Othaimeen will inaugrate the specialised lab after a meeting at the auditorium of the Islamic Foundation's Head Office on Friday evening."
Dr Yousef bin Ahmad Al-Othaimeen will attend the meeting as the chief guest, while Religious Affairs Minister Principal Matior Rahman will preside over the meeting. Islamic scholars from around the country are also expected to be present.
Islamic Foundation's Assistant Director (Public Relations) Muhammad Nizam Uddin told the Dhaka Tribune: "Islamic Foundation usually certifies different organisations for their Halal products. The lab is set up to test the products before issuing the Halal certificate."
Full report at:
http://www.dhakatribune.com/bangladesh/2017/08/03/islamic-foundation-launch-halal-diagnostic-lab/
-------
Escaped JMB leader now a major headache for Bangladesh, India
Nuruzzaman Labu
August 03, 2017
The escaped convict is now operating the terrorist group JMB from India, police believe
Salahuddin alias Salehin, the current chief of the terrorist group Jama'atul Mujahideen Bangladesh (JMB) is a source of major headache for law enforcement in both Bangladesh and India.
Hijacked out of a prison van in Trishal, Mymensingh in 2014, Salahuddin has been out of the law enforcement's reach, despite their success in arresting many top terrorists in recent times.
Investigators in Bangladesh believe he is hiding somewhere in India. The police Counter Terrorism and Transnational Crime unit officials have discussed him with the Indian Special Task Force and the National Intelligence Agency that recently visited Dhaka.
A CTTC officer said Indian intelligence was also somewhat bothered about Salahuddin. They fear that if he is not caught, he might be able to reinvigorate the JMB.
Salahuddin gave an interview on the terrorist YouTube channel Sahm Al Hind on July 13 that JMB is reorganising with three main objectives: Dawah or motivation, training and Kital or armed combat. This implies that JMB is trying to recruit new members.
CTTC Deputy Commissioner Mohibul Islam Khan said: "Of course Salahuddin is one of our targets. After escaping from the prison van, he has been trying to reorganise the group. According to our information, he is in India. We have informed the Indian side. They are also looking for him.
"Salahuddin is a veteran JMB leader. He will not hide quietly. It is only natural that he will try to regroup. But it will take him a long time to reorganise because most of their people are in jail and many top leaders have been hanged."
Pushed by law enforcement here, many JMB leaders moved into India, from where they ran their operations here. They also built up a small following there and eventually launched a local operation. Indian authorities were mostly ignorant of this, but were jolted into action by the 2014 Khagragarh explosion in West Bengal's Burdwan.
Only eight months before that, militants attacked a prison van in Trishal and hijacked three terrorists. One of them was later killed by police. Salahuddin is one of the other two. The other is another old top leader of JMB, Jahidul Islam alias Sumon alias Harun alias Kamrul, who is known widely as Boma Mizan for being an explosives expert.
Bangladesh police have a bounty of Tk5 lakh on their heads.
A CTTC official said: "Most of the JMB top leaders are in jail and some have been hanged for their crimes. One of the few who are outside include this Salahuddin, also known as Sohel, Sajib and Towhid. He has been with JMB since its inception. He worked with the founder Shaykh Abdur Rahman for a long time.
"So there are some concerns about him. He is known to be a strong motivational speaker who can indoctrinate people quickly. He is also very dedicated."
CTTC officials say Indian intelligence has learned that the bombs being made in Khagragarh were intended for Bangladesh.
What JMB is planning now
According to Salahuddin's interview in Sahm Al Hind, the group believes in armed combat to establish Islam.
"Our target is to attain heaven by ousting Shirk (idolatry) on Allah's domain through Kital as prescribed by Allah, and establishing Tauheed (monotheism) or Allah's law," he said.
"We are executing three work plans: Dawah or motivation, training and Kital or armed combat.
"Our main targets are the Aimmatul Kufr (leaders of Kufr). If their heads are smashed, the other parts will fall apart by themselves," he added.
He said that the group thought that it was important in combat to consider costs and benefits.
"Our plan is to prioritise targets that bring effective and strong results."
He said the group was independent of the jihads that were façades for implementing "the agendas of Taghuti intelligence agencies, and wars for expanding territory based on naitonalism."
Asked about Ghazwa tul Hind (a set of Hadeeth which supposedly point to the conquest of the subcontinent by Muslims), he said:
"The same way that Mujahids in Iraq, Syria, Afghanistan, Yemen and North African countries are fighting in jihads through Hizrat, we too are advancing our plan to establish Khilafah in Hindusthan (India)."
CTTC Additional Deputy Commissioner Md Saiful Islam said: "We are looking for Salahuddin and his associate Boma Mizan."
Who is Salahuddin?
Born January 25, 1980 in Madhabpasha, Narayanganj, Salahuddin was a member of Islami Chhatra Shibir, in his student life. He was appointed to Shibir's Shathi rank in class 10 in 1997. The same year he was admitted to Sylhet Polytechnical Institute and then transferred to Dhaka Polytechnical from where passed the diploma in civil engineering.
He was arrested in April 2006 from Chittagong's Pahartali by RAB. Records of his interrogation reveals that in 1998, he was introduced to two persons named Nasrullah and Sanaullah by his brother Abdul Matin at Mohammadia Arabia Madrasa in Dhaka's Jatrabari. Those men introduced him to Shaykh Abdur Rahman and the same year he began travelling with him across the country to mobilise terrorist activities. In late 1999, he was appointed a member of JMB's first Shura committee along with Rakib Hasan alias Mahfuz, Shehed Bin Hafiz and Rana.
Full report at:
http://www.dhakatribune.com/bangladesh/crime/2017/08/03/escaped-jmb-leader-now-major-headache-bangladesh-india/
-------
World Islamic Body OIC Tells Myanmar to Protect Rights of Rohingya Minority
Aug. 3, 2017
DHAKA (Reuters) - Myanmar must protect the rights of its Rohingya Muslim minority, the chief of the Organisation of Islamic Cooperation (OIC) said on Thursday, urging the government to work with neighboring Muslim-majority countries to tackle a refugee crisis.
About 75,000 people have fled to Bangladesh after a military crackdown, with accompanying allegations of rape, torture and extrajudicial killings by security forces, followed an attack on a Myanmar border guard post on Oct. 9.
Aung San Suu Kyi's fledgling administration has denied most of the allegations and is refusing access to a United Nations panel of experts, saying its mission will aggravate the situation on the ground in the western state of Rakhine. .
"Myanmar should sit with Bangladesh, Indonesia and Malaysia to find a roadmap for the solution of the crisis," said Yousef bin Ahmad Al-Othaimeen of the OIC, which represents 57 states and acts as the collective voice of the Muslim world.
"We call on the Myanmar government to ensure human rights for the Rohingyas," Othaimeen told reporters during a four-day visit to Bangladesh's capital of Dhaka.
"Myanmar can't deny the human rights of Rohingyas. We also call on the Myanmar government to ensure citizenship for the Rohingyas," he said.
In a separate meeting with Bangladesh's Prime Minister Sheikh Hasina, he said that a solution must be found through discussions between Buddhist leaders from Myanmar and Muslim leaders from Bangladesh.
"Religious leaders from both the countries should attend in such discussions to help solve the Rohingya issue," he said.
The prime minister reiterated her government's persistent plea that Myanmar take back its citizens. Almost 400,000 Rohingya refugees live in Bangladesh, she said.
Othaimeen is also expected to visit Rakhine Muslims in the Kutupalong camp and surrounding areas in the southern resort town of Cox's Bazar on Friday, Bangladeshi foreign ministry officials said.
Full report at:
https://www.usnews.com/news/world/articles/2017-08-03/world-islamic-body-oic-tells-myanmar-to-protect-rights-of-rohingya-minority
-------
Taliban and Haqqani network suffer heavy casualties in Logar air and ground operations
Aug 03 2017
The Taliban and Haqqani network terrorists suffered heavy casualties during the air and ground operations jointly conducted by the Afghan and foreign forces in central Logar province.
According to the local government officials, the operations were conducted in the vicinity of Pul-e-Alam district, the provincial capital of Logar province.
The provincial governor's spokesman Shahpoor Ahmadzai confirmed that several Taliban and Haqqani network militants were killed in the joint operations.
He said a leader of the Haqqani terrorist network who was in charge of the suicide attacks and training of the suicide bombers was also killed during the operations.
Ahmadzai further added that the Haqqani network has been identified as Haji Asad.
In the meantime, the provincial government media office in a statement said the Afghan and US forces conducted airstrikes and ground operations in Rustam Khel and Yousuf Khel areas of Baraki Barak districts of Logar at around 9 am on Tuesday, leaving at least ten militants dead belonging to Habib Akhundzada and Syed Rahim Shahab groups.
The statement further added that a commander of the Taliban group identified as Bahram Jan was also among those killed.
In another statement, the provincial government said another key Taliban group member identified as Fahim also famous as Mustafa and who was leading a group of 12 Taliban insurgents was arrested by the security forces.
Full report at:
https://www.khaama.com/taliban-and-haqqani-network-suffer-heavy-casualties-in-logar-air-and-ground-operations-03274
-------
Bridge detonated by Taliban in North of Afghanistan sparks furor
Aug 03 2017
A key bridge was detonated with explosives by the anti-government armed militant groups in northern Balkh province of Afghanistan.
According to the Afghan government officials, the incident took place late on Wednesday night in the area located between Chamtal and Chahar Bolak districts.
The officials are saying that the bride was a key connective point between the two districts and the destruction of it will have a negative impact on the transportation.
The Government Media and Information Center (GMIC) released the photos which purportedly shows the destruction of the bride.
"Taliban, the terrorist group destroyed the bridge between Chimtal and Charbulak districts of Balkh by emplaced IED, took place last night," GMIC said.
GMIC said "Taliban, the terrorist group, the mercenary of foreigners, the bloody enemy of AFG people and reconstructing."
This comes as the Taliban insurgents detonated a water dam in southern Kandahar province of Afghanistan last week, blocking the supply of water to scores of acres of land and local residents in Shorabak district.
The Taliban insurgents frequently use explosives materials for the roadside bombings and car bombings to target the government staff and security personnel.
However, in majority of such incidents the ordinary civilians are targeted besides such bombings incur casualties to the security personnel, public welfare sites and in some cases the Taliban militants themselves are killed or wounded.
Full report at:
https://www.khaama.com/bridge-detonated-by-taliban-in-north-of-afghanistan-sparks-furor-03271
-------
North America
American Muslim family: McDonald's staff deliberately hid bacon in sandwiches
3 August 2017
A Muslim family in American claimed to have found pieces of bacon hidden in their McChicken sandwiches, US news channel Fox News reported on Wednesday.
The family documented this by recording a video clip while they were buying 14 chicken sandwiches, where the restaurant staff added slices of pork in meals.
In response to the incident, the Council on American-Islamic Relations (CAIR), the department of the McDonald's restaurant in Decatur, Alabama, called for the employees involved in the incident to be fired.
"It is a crime that reflects the extent of the hatred that Muslims in America suffer," he said in a statement.
He added that it is "an intentional act of religious and ethnic bigotry," as Islam forbids its followers from eating pork.
https://english.alarabiya.net/en/variety/2017/08/04/American-Muslim-family-McDonald-s-staff-deliberately-hid-bacon-in-sandwiches.html
-------
This Muslim Superhero May Battle A Real-World Threat: Islamophobia
Aug 3, 2017
In response to the apparent anti-Muslim sentiment during the 2016 presidential election, The CW show "DC's Legends of Tomorrow" will introduce a Muslim superhero.
Iranian-American actress Tala Ashe will play a Muslim computer hacker from the future named Zari Adrianna Tomaz.
Ashe said in regard to the show: "Representation is a really powerful thing. ... What I think is so lovely about this show is that the Legends are this tapestry that represent America today."
The executive producer says the character was inspired by the difficulties of some living in the "current political climate." According to the Council on American-Islamic Relations, total anti-Muslim hate crimes rose 44 percent from 2015-2016. And the organization claims those crimes could be especially high this year.
Experts say better representation in the media could help.
Studies have shown TV and film can affect how people see the real world. This is especially true when viewers aren't familiar with the topic or subject they're watching. In this case, the topic is Islam and the subjects are Muslim people, and past portrayals of them haven't been as positive as they could be.
Writer and religious studies expert Reza Aslan argues positive and humanizing representation in the media can "break through the walls" that cause racial, ethnic and religious biases.
Films like "The Big Sick" and shows like "Master of None" show the industry is embracing more positive Muslim-American characters. Last year, "Master of None" won a prime-time Emmy and a Peabody Award.
Actor and writer Aziz Ansari said in regard to his Peabody win: "I want to thank Netflix and Universal for believing in us and letting us tell our stories. I think they really seem to get what diversity really is. It's not, 'Hey, let's give this white protagonist a brown friend.' No, it's, 'Let's have a show where there's a token white guy.'"
And beyond "Master of None," this year's prime-time Emmy nominees are the most diverse they've ever been, and some say that's proof of more diverse programming.
Full report at:
http://www.abc2news.com/newsy/this-muslim-superhero-may-battle-a-realworld-threat-islamophobia
-------
Suicide bomber kills NATO soldier in Afghanistan, 6 personnel wounded
3 August 2017
A Taliban suicide bomber attacked a convoy of foreign forces in Afghanistan late Thursday, killing one Nato soldier and wounding six other personnel, the coalition said.
"The patrol was conducting a partnered mission with the Afghan National Army when a personnel-borne IED (improvised explosive device) detonated," in Qarabagh district in Kabul province," Nato said in a statement. The Taleban quickly claimed the attack on social media and in Whatsapp messages to journalists.
Qarabagh district is located 50 kilometers north of the capital Kabul and is near Bagram Airbase, the largest American base in Afghanistan. "One Resolute Support Soldier was killed and six personnel (five troops and one interpreter) were wounded Thursday evening when their patrol was attacked by a suicide bomber," Nato said referring to the name of its Afghan mission.
Nationality unknown
"The RS personnel who were wounded are being treated at the US military hospital at Bagram Airfield. All of the wounded are listed in stable condition," it added. The nationality of the dead soldier and injured was not immediately known. Civilians were also reported to have been wounded in the nighttime attack.
"#Afghanistan explosion in Qarabagh district, 12 wounded brought to our #Kabul hospital so far," tweeted an Italian-run hospital in the capital which specializes in dealing with victims of bombings.
Full report at:
https://english.alarabiya.net/en/News/world/2017/08/04/Suicide-bomber-kills-Nato-soldier-in-Afghanistan-6-personnel-wounded.html
-------
US Senate panel approves bill to suspend aid to Palestinians
Aug 3, 2017
The US Senate has approved suspension of American financial aid to the Palestinian Authority (PA) over the payments it makes to the families of Palestinians arrested or slain by Israel.
The Republican-led Senate Foreign Relations Committee voted 17-4 on Thursday in favor of the bill.
The measure was sponsored by Senators Lindsey Graham of South Carolina and committee chairman Bob Corker of Tennessee.
Corker said the payments by the Palestinian Authority encourage acts of terrorism against Israel and the United States.
"This is sick," he said.
Head of the Palestinian General Delegation to the US, Husam Zomlot, has described the move as "misinformed and counterproductive. "
He said the payments are part of a 52-year old program "to support families who lost their breadwinners to the atrocities of the occupation, the vast majority of whom are unduly arrested or killed by Israel."
"The program has served a social and security need to provide for our people, guarantee a better future for the children and protect the needy from the many radical groups around us," Zomlot said in an emailed statement.
Washington provides Israel with over $3 billion annually, making Tel Aviv the biggest recipient of US foreign aid.
Full report at:
http://www.presstv.ir/Detail/2017/08/03/530639/US-Senate-panel-approves-bill-to-suspend-aid-to-Palestinians
-------
Canada's Mohammed Ahmed hopes patience is rewarded on track
By KERRY GILLESPIE
Aug. 3, 2017
LONDON—When athletes talk about overcoming hurdles to succeed in sport, they're often talking about recovering from injuries or finding the money to train and compete.
But for Canada's Mohammed Ahmed, the hurdles start well before he even gets to the track for an international meet. Getting through airport screening can be more trying than his 5,000- and 10,000-metre races, especially if it's in the United States, where he lives and trains.
In a post-9/11 world, his Muslim name has always posed challenges at border crossings; he has been harassed, scrutinized and, when he was still in high school, yanked out of a car at the Peace Bridge to Buffalo, N.Y., and treated like an enemy combatant.
"There's always going to be a little bit of hurdles that you have to go through, and crossing the border and stuff like that is something that I've always dealt with, even from a young age, really young."
Ahmed, now 26, was born in Mogadishu, Somalia, and spent his first 10 years growing up in Kenya before his family moved to Canada and settled in St. Catharines, Ont.
He'll be judged by his abilities in London, where he'll race in the 10,000 on Friday and the 5,000 next week. Off the track, that's not always the case.
"I've always had to deal with people thinking I'm some sort of terrorist," he says. "You just have to have a little bit of humour, you just got to laugh it off, deal with it and get on with it."
But U.S. President Donald Trump has made that harder to do. His executive order that restricts travel for some people from six Muslim majority countries, including Somalia, has made Ahmed's heritage even more problematic at and, at times, proven to be one hurdle too many.
In May, he wasn't able to clear airport screening in Portland, Ore., where he lives, in time to make his flight to Doha to compete in a Diamond League event. As a result, the Canadian record-holder in the 5,000 metres doesn't expect to qualify for the Diamond League final later this month.
"It is what it is," he shrugged at the Canadian championships. "Some financial losses but it's OK. Hopefully things go well at worlds."
But even a man who writes poetry as self-therapy can only take so much unfairness. "Sometimes it's tough," he admits. "I try my best to not be angry about it."
A lesson he learned first from his mother, Hamilo Farah, and later honed through running has helped. "I don't want to boast but — I think I take this from my mom — I'm very patient and I think if there's one thing running has taught me is to be patient, so I try to be as patient as I can."
He is patient at airport check-in counters while he works to clear his name to get his boarding pass, and he is patient when he's pulled aside for additional screening at security. He channels his energy on what matters most to him and that's winning on the track.
But even thinking about doing that here means finding a way to beat one of the world's greatest distance runners, Britain's Mo Farah, a man he shares Somali heritage with, on his home turf.
"Mo's good, Mo's really good. He's been tactically unbeatable over the last eight years. He's at home and I know what it's like to run against him at home. The crowd is just deafening, you can't hear anything, but I try to dream big," says Ahmed, who was a young runner in the 10,000 at the 2012 London Olympics.
Farah has won every 5,000 and 10,000 outdoor title he has contested over the last six seasons, including double gold at the last two Olympics and world championships. And, much like sprinter Usain Bolt, Farah is looking to extend his winning streak to his final world championship races.
Ahmed has reason to believe a medal could be within his grasp here as well.
Hhe was in the mix for one in the 5,000 at the Rio Games last summer, right up until the final 100 metres or so when he couldn't match the final kick of the leaders and ultimately finished fourth.
"Ever since I stepped off the track in Rio, I've been thinking about London," Ahmed says.
Rio wasn't the result he wanted — no athlete dreams of a fourth-place finish and he can barely bring himself to even watch a video of the race — but his ability to stay with the leaders so close to the finish line was an eye-opening experience.
Full report at:
https://www.thestar.com/sports/amateur/2017/08/03/canadas-mohammed-ahmed-hopes-patience-is-rewarded-on-track.html
-------
Southeast Asia
Seeking a dream, Indonesian family faces nightmare in ISIS 'caliphate'
Aug 4, 2017
AIN ISSA, Syria: The 17-year old Indonesian girl made a persuasive case to her family: lured by what she had read online, she told her parents, sisters, aunts, uncles and cousins they should all move to Syria to join the Islamic State group.
Each of her two dozen relatives found something in it for them. Free education and health care for the girls. Paying outstanding debts for her father and uncle, finding work for the youngest men.
And the biggest bonus: a chance to live in what was depicted as an ideal Islamic society on the ascendant.
It didn't take long before their dreams were crushed and their hopes for a better life destroyed as each of those promised benefits failed to materialize. Instead, the family was faced with a society where single women were expected to be married off to IS fighters, injustice and brutality prevailed, and a battle raged in which all able-bodied men were compelled to report to the frontline.
In an interview with The Associated Press, Nurshardrina Khairadhania, now 19, recalled her family's fateful decision to immigrate to the IS stronghold of Raqqa two years ago — and how, only months later, their bid to escape began.
During that time the family endured separation, her grandmother died and an uncle was killed in an airstrike.
"IS shared only the good things on the internet," said the young woman, who goes by her nickname, Nur.
She now lives with her mother, two sisters, three aunts, two female cousins and their three young sons in Ain Issa, a camp for the displaced run by the Kurdish forces fighting to expel IS from Raqqa. Her father and four surviving male cousins are in detention north of there. While the men are being interrogated by the Kurdish forces for possible links to IS, the women wait in a tent in the searing heat, hoping for the family to be reunited and return to their home in Jakarta.
Nur's family is among thousands from Asia, Europe, Africa, North America and the Middle East who chased the dream of a new Islamic society advertised by IS in slickly produced propaganda videos, online blogs and other social media.
Nur recalled calling her family together just months after the extremists' declared their "caliphate" on territory seized in Syria and Iraq in the summer of 2014.
Making her pitch, she recounted the benefits laid out on the IS blogs: her 21-year-old sister could continue her computer education for free. Her 32-year-old divorced cousin, Difansa Rachmani, could get free health care for herself and her three children, one of whom was autistic. Her uncle could get out from under the debt he incurred trying to save a struggling auto mechanic business in Jakarta — and could even open a new one in Raqqa, where mechanics were in high demand to build car bombs, the extremists' signature weapon.
For Nur, the Islamic State seemed to be the perfect place to pursue her desire to study Islam and train to be a health practitioner.
"It is a good place to live in peace and justice and, God willing, after hijrah, we will go to paradise," she recalled thinking, using the Islamic term for migration from the land of persecution to the land of Islam. "I wanted to invite all my family. ... We went to be together forever, in life and afterlife."
The family sold their house, cars and gold jewelry, collecting $38,000 for the journey to Turkey and then on to Syria.
But once in Turkey, the first quarrels began, over how or even whether to sneak into Syria. Seven relatives decided to head out on their own and were detained by the Turkish authorities while trying to cross the border illegally. They were deported back to Indonesia where, the family says, they remain under surveillance because the rest of their relatives had lived in IS territories.
The saga of family separation had only just begun, however.
After arriving in Islamic State group territory in August 2015, the family was divided again: the men were ordered to take Islamic education classes, and ended up jailed for months because they refused military training and service. After their release, they lived in hiding to avoid forced recruitment or new jail sentences. The women and girls were sent to an all-female dormitory.
Nur was shocked by life in the IS-run dormitory. The women bickered, gossiped, stole from each other and sometimes even fought with knives, she said. Her name and those of her 21-year-sister and divorced cousin were put on a list of available brides circulated to IS fighters, who would propose marriage without even meeting them.
"It is crazy! We don't know who they are. We don't know their background. They want to marry and marry," she said.
"IS wants only three things: women, power and money," she and her cousin, Rachmani, said in unison.
"They act like God," Nur added. "They make their own laws. ... They are very far from Islam."
In a separate, monitored, interview with the AP at a security center run by Kurdish forces in Kobani, north of Raqqa, where he and the other male family members were being questioned for possible IS ties, her 18-year-old cousin said that living under the extremists was like living in "prison."
"We (didn't) want to go to Syria to fight," he said, speaking on condition of anonymity for fear of retribution from IS or trouble with the Kurdish authorities or those back home in Indonesia. "We just wanted to live in an Islamic state. But it is not an Islamic state. It is unjust, and Muslims are fighting Muslims."
IS officials ignored Nur's persistent queries about continuing her education in Raqqa. And because they refused to enroll in military service, the men never got the jobs they had been promised. When the battle for Raqqa intensified in June, IS militants set up checkpoints around the city, searching for fighters and came looking for the men.
Rachmani did get free surgery for a chronic neck ailment and her son got attention for his autism and was finally able to walk. Soon after the family's arrival, she was sent to the then-IS stronghold of Mosul in Iraq for the surgery.
"I left my country for my stupid selfish reason. I wanted the free facilities," Rachmani said. "Thank God I got my free (surgery) but after that all lies."
The family searched for months for a way to escape, a risky endeavor in the tightly controlled IS territory.
When the Kurdish-led campaign to retake Raqqa from IS intensified in June, the family finally saw their opportunity. At great personal risk, Nur used a computer in a public internet cafe to search for "enemies of IS," despite the danger posed by frequent raids carried out by IS there. She contacted activists and eventually found smugglers, who, for $4,000, got the family cross the frontline and into Kurdish-controlled territory. They turned themselves in to Kurdish forces on June 10.
An Indonesian Foreign Ministry official said authorities have known for several months about the presence of Indonesian nationals, including Nur's family, in the Ain Issa camp and were investigating their condition.
"However, they have been two years living in the IS area, so the risk assessment of them is required and we have been facing obstacles to reach them as they are in an area not controlled by any official government, either Iraq or Syria," said Lalu Muhammad Iqbal, the ministry's director of Indonesian citizen protection.
"I am very regretful. I was very stupid and very naive. I blame myself," Nur said of the family's plight. "May God accept my repentance because you know ... it is not like a holiday to go to Turkey. It is a dangerous, dangerous trip."
http://nation.com.pk/international/03-Aug-2017/seeking-a-dream-indonesian-family-faces-nightmare-in-isis-caliphate
-------
'Books should be read, not banned'
August 3, 2017
PETALING JAYA: Lawyers for Liberty (LFL) has criticised the government for its "trigger happy" approach in using the Printing Presses and Publications Act 1984 (PPPA) to arbitrarily ban books.
LFL executive director Eric Paulsen said using clauses in the PPPA on "prejudice to public order, "morality" or "security" as the reasons for the ban of some books just did not hold water.
"Malaysia, as a supposedly modern democracy, should not continue down the path of repression and totalitarianism where books can be banned on a whim.
"Books should be read, not banned, confiscated and destroyed," Paulsen said in a statement.
He also questioned the government on why it was afraid of differing viewpoints and knowledge, as found in three books that were recently banned by the home ministry.
"The banning of 'Breaking the Silence: Voices of Moderation – Islam in a Constitutional Democracy' by G25, 'From Majapahit to Putrajaya: Searching for Another Malaysia' by Dr Farish A Noor, and 'Menuju Reformasi Perundangan Islam' by Professor Abdullahi Ahmed An-Na'im raises serious concerns regarding the government's commitment to fundamental freedoms, academia and intellectual knowledge.
"By no stretch of the imagination have any of these books at any time remotely threatened public disorder or security to justify the authorities banning them," Paulsen said.
He also highlighted the fact that all three books banned were not released recently.
"None of the three books are recent publications, with the latter two being in print for over a decade.
"Therefore, the government's ban can only be described as irrational and out of step with reality, especially in the age of the Internet and social media," Paulsen said.
He added that the decision to ban these books only makes a mockery of Prime Minister Najib Razak's claim that Malaysia was a model of moderate Islam.
In calling for the government to revoke the ban on the three books, Paulsen said "book banning is a relic from a bygone era, an irrational policy that can only set back the prime minister's ambitious Transformasi Nasional (TN50) plan."
"It has no place in any modern and civilised society, much less among the top 20 nations of the world as Malaysia aspires to be by 2050."
Suppression of debate
Paulsen also warned of the counter-productive measure of banning these books, as it conflicts with the government's own efforts to curb extremism in the country.
"The suppression of debate on the current narrative regarding religion, particularly Islam, can only further embolden the intolerant environment that is unaccepting of different viewpoints and especially of minority rights, and has led to increasing numbers of individuals being radicalised.
"Hundreds of Malaysians have been arrested by the police for suspected Islamic State-related activities and many more are fighting or supporting them in Syria, Iraq and the Philippines," Paulsen said.
The banning of the the G25 book, "Breaking the Silence", had especially come under much criticism from a host of politicians, activists and the G25 members themselves.
The book is a collection of scholarly articles by G25, calling for a more moderate approach to Islam and for the Federal Constitution to be upheld in order to tackle intolerance and extremism.
According to LFL, "Menuju Reformasi Perundangan Islam", a translation of the book "Toward an Islamic Reformation" by Prof Abdullahi Ahmed An-Na'im of the Emory University School of Law, a distinguished scholar of constitutionalism and human rights in Islam, calls for the reformation of shariah law and for it to be in line with international law and human rights.
Full report at:
http://www.freemalaysiatoday.com/category/nation/2017/08/03/books-should-be-read-not-banned/
-------
Maqasid Shariah helps to uplift economy of Muslims in Malaysia
August 3, 2017
PUTRAJAYA, Aug 3 — The implementation of Maqasid Shariah (objectives of Islamic law) in the country's administration has succeeded in ensuring that the economy of Muslims, especially the Malays, does not lag far behind the other communities in the country.
Perak Mufti Tan Sri Harussani Zakaria said the concept of Maqasid Shariah began to be highlighted in Malaysia following the establishment of Permodalan Nasional Bhd (PNB) which he was also a part of, aimed at empowering Malays or Muslims in general, in the country's economic development.
"When PNB was set up, Muslims did not want to accept it, because it was said that the investment scheme was not shariah-compliant.
"But because at that time the economy of the Malays was stagnant, hence I stuck to the concept of Maqasid Shariah because we were in a state of emergency then, and the objective was to solve the problem."
He said this when met by the media after the Premier Ulama, Umara (leaders) and Islamic NGOs Conference and presentation of the Malaysian Shariah Index Report 2017 by Prime Minister Datuk Seri Najib Razak, here, today.
At the event, the prime minister also presented the Lifelong Religious Personality Special Award to Harussani for his role in promoting Islam in Malaysia.
Maqasid Shariah is based on the five basic principles of religion, life, mind, lineage and property for the good of the ummah (Muslim community) and to avoid ills in society.
Harussani said although at the time he received flak over his involvement in promoting the investment scheme, times had changed and they had done away with most of the non-shariah compliant aspects of it, save a few.
He said since PNB's establishment, the involvement of Malays in the economy had increased, and PNB had also poured billions in investments which had benefited the Malay community.
Commenting on the award, Harussani said the government, from past leaderships until today had close links with the religious groups, and were always open to accepting their views and comments.
"But we believe there are things that the government cannot do immediately, but they still listen and work on it, and for that reason, we can also see the shariah index rising. Alhamdulillah (Praise be to God)," he said.
He also praised Najib's leadership who was open to accepting his views in boosting the development of the Malay community.
"In 2007, he had asked for my views on why Malay support had moved away from Barisan Nasional (BN), and I said that the Malay community was angry that they were left behind economically, as well as in terms of development and education.
Full report at:
http://www.themalaymailonline.com/malaysia/article/maqasid-shariah-helps-to-uplift-economy-of-muslims-in-malaysia#94I32RpcPteVe7WT.97
-------
Kassim Ahmad to initiate contempt proceedings if Shariah charges remain
BY IDA LIM
August 4, 2017
KUALA LUMPUR, Aug 4 — Muslim intellectual Kassim Ahmad has warned Shariah prosecutors to drop charges against him next Monday, or face court proceedings for being in contempt of the Court of Appeal and Federal Court's rulings in his favour.
In a letter yesterday, Kassim's lawyers told Federal Territories Islamic Religious Department (Jawi) director Paimuzi Yahya and Jawi's Federal Territories chief Syarie prosecutor Mohammad Adib Husain that they should halt his prosecution and release three individuals from their role as his bailors when the case comes up in the Putrajaya Shariah court again next Monday.
"Therefore, we hereby give notice that on the mention date before the Syariah Court on August 7, 2017, you must: a) withdraw the prosecution against the Respondent and release the Respondent; b) release the bailors, that is Norhayati Kaprawi, Datin Paduka Marina Mahathir and Fansyurna Syalha Othman; and c) return the Respondent's bail money; in order to respect the Court of Appeal's Order and the Federal Court's Order," lawyers Rosli Dahlan and Muhammad Faizal Faiz Mohd Hasani said in the letter sighted by Malay Mail Online.
The lawyers said that they would apply to ask the Shariah judge to release Kassim and the trio if Jawi fails to comply, citing the judge's powers during trials under Section 96(g) of the Syariah Criminal Procedure (Federal Territories) Act.
"We have also received instructions from our client that if you refuse, fail and/or neglect to do what is stated [above], we will commence the committal process on you.
"We greatly hope that you will not continue to challenge the authority of the Court of Appeal and Federal Court by intentionally disobeying those court orders to the extent that it leads to intentional contempt," the lawyers added.
In the letter, the lawyers cited various documents to back up their request, including the Court of Appeal's December 21, 2015 order which quashed the Federal Territories chief Syarie prosecutor's decision to charge Kassim in 2014 with two Shariah offences and to continue prosecuting him; with the same court order also directing Jawi to cancel the arrest and bail on him.
The lawyers also cited their two letters to Jawi dated December 29, 2015 and January 15, 2016 asking for the Shariah prosecution to be dropped to respect the Court of Appeal's decision; as well as the Federal Court's decision this March 7 to affirm the Court of Appeal's ruling that the Shariah prosecution was invalid.
The lawyers also noted that there was no reply to their March 10 letter to Jawi and the minister in charge of Islamic affairs Datuk Seri Jamil Khir Baharom, in which the duo were asked to drop the Shariah charges.
Kassim — who will be turning 84 this September — has won in the civil courts in his legal challenge against Jamil Khir, Jawi's then chief Sharie prosecutor Ibrahim Deris, Jawi and the government of Malaysia over his arrest and prosecution in the Shariah courts.
On December 21, 2015, a Court of Appeal panel unanimously found Jawi's actions on Kassim — including a cross-border arrest using a defective warrant, a detention exceeding 24 hours without access to lawyers and his prosecution ― to be illegal.
The Court of Appeal order also carried an endorsement of a penal notice, which warned that failure to comply with its order to halt the Shariah prosecution could result in a "process of execution" — or contempt of court proceedings — against Jamil Khir as the minister and Mohammad Adib as the Federal Territories chief Sharie prosecutor to compel them to obey.
Despite his victories in the civil court, Kassim is still facing two separate charges of insulting Islam and defying religious authorities under Section 7(b) and Section 9 of the Syariah Criminal Offences (Federal Territories) Act 1997. Both offences are punishable with a maximum RM3,000 fine or maximum two-year jail, or both.
Whether the charges will be dropped remains to be seen. The Putrajaya Syariah Court had last February said it would defer its ruling on whether to drop his charges until the Federal Court's decision.
Full report at:
http://www.themalaymailonline.com/malaysia/article/kassim-ahmad-to-initiate-contempt-proceedings-if-shariah-charges-remain#qYM1AomtWh9B8sjl.97
-------
Turkey Promises to Eliminate Anti-China Media Reports
Aug 4, 2017
Beijing. Turkey regards China's security as akin to its own and will move to stamp out any anti-China reports in its media, Turkish Foreign Minister Mevlut Cavusoglu said on Thursday (03/08), after meeting his Chinese counterpart Wang Yi.
China and Turkey have repeatedly vowed to step up cooperation on security and counter-terrorism, amid Beijing's concerns about ethnic Uighurs from its restive far western region of Xinjiang fighting with militants in the Middle East.
"We take China's security as our security," Cavusoglu said, speaking through a Chinese translator during a joint news briefing with Wang in Beijing.
"We absolutely will not allow in Turkey any activities targeting or opposing China. Additionally, we will take measures to eliminate any media reports targeting China," he added, but did not give details.
Uighurs are a largely Muslim, Turkic-language speaking minority from China's western Xinjiang region.
Hundreds, possibly thousands, keen to escape unrest in Xinjiang have traveled clandestinely via Southeast Asia to Turkey, with which many see themselves as sharing religious and cultural ties.
Beijing says some Uighurs then end up fighting with Islamist militants in Iraq and Syria. It denies accusations that it restricts the Uighurs' religious freedoms.
European leaders have been alarmed by Turkish President Tayyip Erdogan's crackdown on opponents since a failed coup attempt last year, and what critics see as his attack on free speech.
About 150 media outlets have been shut and around 160 journalists jailed, the Turkish Journalists' Association says.
Turkish authorities say the crackdown is justified by the gravity of the coup attempt, in which rogue soldiers tried to overthrow the government, killing 250 people, mostly civilians.
In 2015, Turkey angered China by expressing concern about reports of restrictions on worship and fasting by Uighurs in Xinjiang during the holy month of Ramadan. Turkish protesters have marched on China's embassy and consulate in Turkey over the treatment of Uighurs.
The two countries have also quarreled over Thailand's deportation of Uighur migrants back to China.
But Ankara is keen to tap into Beijing's ambitious Belt and Road infrastructure investment plan to link China with the rest of Asia and the world. Erdogan visited China in May when President Xi Jinping hosted his first Belt and Road summit.
Full report at:
http://jakartaglobe.id/international/turkey-promises-eliminate-anti-china-media-reports/
-------
Arab World
Saudi bulldozers reduce Awamiyah to rubble as residents flee violence
Aug 4, 2017
Saudi military bulldozers have almost razed Awamiyah to the ground amid the deadly crackdown on the besieged Shia town, forcing hundreds of its residents to flee their homes.
The Middle East Eye news portal cited activists as saying that authorities have resorted to compulsory evictions in and around the historic al-Mosara district of Awamyiah.
The residents, according to the activists, have been driven out of their homes, while their property has been confiscated by private development firms.
The report also published an image showing a requisition order pinned to a house in the district of al-Shweikah, close to al-Mosara, which was issued by a private company with the authorization of the so-called National Joint Counterterrorism Command (NJCC).
Reports coming out of the town say Saudi military forces have been firing randomly at homes and cars in Awamiyah, destroying or setting fire to several houses and shops.
Amateur videos circulating on the Internet shows the city has been reduced to rubble, with activists saying those left inside are suffering from a lack of electricity, water, rubbish collection or fire services.
"There is a plan for forced displacement," said Ameen Nemer, a Saudi activist originally from Awamiya. "It doesn't matter where these people will end up."
Awamiyah, located in the eastern Qatif region, has been under military lockdown since May, when Saudi troops began destroying al-Mosara.
Riyadh claims al-Mosara has become a hideout for "militants," who are behind attacks on security forces in Eastern Province, but locals and the United Nations say the regime is after erasing cultural heritage in the Shia town and redeveloping the area.
Some eight people have been killed by the Saudi military in the town over the past days.
On Wednesday, Saudi police opened fire on a bus transporting people who were trying to flee the town, killing a civilian.
Nemer further said the regime is pursuing a politically-motivated project to depopulate and destroy the Shia town.
"It has nothing to do with al-Mosara and development, it has to do with punishing this town for being vocal for calling for rights, calling for reforms since 2011."
Since 2011, Eastern Province has been the scene of anti-regime demonstrations, with the protesters calling for freedom of speech, the release of political prisoners, and an end to economic and religious discrimination exercise by authorities.
http://www.presstv.ir/Detail/2017/08/04/530658/Saudi-Awamiyah-Crackdown
-------
Teenage boys given electric shocks inside police station in Bahrain
Aug 3, 2017
Two Bahraini teenagers have reportedly been subjected to electric shocks by police during questioning as the ruling Al Khalifah regime continues to target minors, arrest and expose them to various forms of torture irrespective of international calls to stop the practice.
The family of 16-year-old Mohammed Ibrahim Abdel-Jabbar, a local resident of the northwestern village of Bani Jamra, said their son had told them of being electrocuted at the Dawar 17 police station before authorities transferred him to the Dry Dock Prison, Arabic-language Bahrain al-Youm news agency reported.
They added that Mohammed Ibrahim, looking pale and gaunt, made the revelation during a family reunion on Wednesday.
The family explained that their son has been in custody pending investigation into alleged charges related to political activities.
Last month, the Public Prosecutor's Office ordered the detention of Abdel-Jabbar and another teenager, identified as Ahmed Mansoor. They were arrested on July 22.
Mohammed Ibrahim and Ahmed were questioned and subjected to ten days of torture while in detention at the Dawar 17 police station.
They were forced to stand on their feet during interrogation, and were each accompanied by two regime guards. They were also beaten and given electric shocks.
The two teenagers were forced to sign fabricated confessions, before the Public Prosecutor's Office ordered on July 30 that they must be held in prison for 30 days.
Thousands of anti-regime protesters have held demonstrations in Bahrain on an almost daily basis ever since a popular uprising began in the country in mid-February 2011.
They are demanding that the Al Khalifah dynasty relinquish power and allow a just system representing all Bahrainis to be established.
Manama has gone to great lengths to clamp down on any sign of dissent. On March 14, 2011, troops from Saudi Arabia and the United Arab Emirates were deployed to assist Bahrain in its crackdown.
Scores of people have lost their lives and hundreds of others sustained injuries or got arrested as a result of the Al Khalifah regime's crackdown.
On March 5, Bahrain's parliament approved the trial of civilians at military tribunals in a measure blasted by human rights campaigners as being tantamount to imposition of an undeclared martial law countrywide.
Full report at:
http://www.presstv.ir/Detail/2017/08/03/530617/Bahraini-teenagers-given-electric-shocks-police-station
-------
Information ministers from Anti-Terror Quartet countries discuss Qatar crisis
4 August 2017
JEDDAH: The information ministers of Saudi Arabia, the UAE, Bahrain and Egypt met here on Thursday to discuss the Qatar crisis, which has raised tensions in the region.
The ministers of the Anti-Terror Quartet (ATQ) countries discussed the importance of continuing joint media cooperation to confront extremism and terrorism of all kinds.
The importance of mitigating the effects of media hate speech sponsored by the government of Qatar was also on the agenda.
The ministers spoke about Saudi Arabia's efforts to serve pilgrims and facilitate the performance of Hajj and Umrah for all Muslims including Qataris, and reaffirmed the Kingdom's commitment to stop the Hajj from being politicized.
The meeting also dealt with a number of proposals that will enhance joint regional and international efforts to combat extremism and terrorism around the world.
The ATQ severed ties with Qatar on June 5, accusing it of supporting terrorism. One of the early demands made was for the closure of the Al Jazeera TV channel, which has been accused of giving a platform to terror groups.
Saudi Minister of Culture and Information Dr. Awwad Al-Awwad said in a statement to the media following the meeting that Saudi Arabia, since its establishment, has been dedicated to the success of the divine ritual of Hajj.
"Saudi Arabia has an excellent record of serving the guests of God from all over the world … the politicization of the Hajj is a political decline through which Qatar aims to complicate the current situation and exploit this great ritual for limited political goals. In contemporary history, only Iran tried to politicize Hajj before Qatar, and it failed miserably in its attempt," he said.
Full report at:
http://www.arabnews.com/node/1139126/saudi-arabia
-------
Syrian Army Using New Armored Vehicles in Anti-Terrorism Campaign
Aug 03, 2017
According to the Arabic website of Sputnik news agency, the army is using the AMB-S vehicles made by Slovakia which has been manufactured based on the BMP-1 vehicle design and can carry two crews.
The vehicle's speed is 63km/h and it is equipped with 23-mm caliber ZU-23-2 launchers.
The armored vehicle which was at first used for carrying ground troops can destroy enemy's military equipment and bomb-laden cars and target enemy forces 1.5km away.
Earlier reports also said that the Syrian Army has been using T-90 Tanks equipped with Chitora-1 Noise System to protect its forces against terrorists' guided missiles.
The Arabic-language website of Sputnik news agency reported in August that Chetora-1 Noise System, mounted on T-90 tanks, enjoys an approximate Automatic Navigating System to protect the tank against guided missiles.
The Chitora-1 system jams laser guided systems of the anti-tank missile via giving them false signals, forcing the missile to divert.
Meantime, the Wistinik Mordafi website reported that Chitora-1 Noise System has been used in the Syria war for the first time in the Middle East.
A military source confirmed in mid-July that the army's artillery units were using the long-range model of a new artillery system with an effective range 44km for targeting ISIL's defense lines in Eastern Hama.
The source said that the army was using the M-46 long-rang moveable artillery that was stronger that the other models used by the Syrian army for targeting ISIL's positions in Eastern Hama.
The 130mm caliber M-46 cannons can hit the targets from a 44km distance.
Russian media outlets reported in early July that the army was using an anti-drone electronic warfare system that might also be mounted on any type military vehicle.
Rossiyskaya Gazeta daily reported that the Syrian army's anti-aircraft units were equipped with a new model of electronic cannon that could be used for jamming remote-controlled drones.
The daily added that the electronic system could be mounted on any military vehicle and jams the control waves of the drones.
Full report at:
http://en.farsnews.com/newstext.aspx?nn=13960512000823
-------
Several Senior ISIL Commanders Killed in Popular Uprising in Deir Ezzur
Aug 03, 2017
Local sources in Eastern Deir Ezzur reported on Thursday that a group of residents of al-Souseh district near the town of Albu Kamal attacked the office of the supervising commander, killing him and destroying the base completely.
Also, people attacked one of the vehicles carrying a number of ISIL commanders and killed several of them, including Abu Safiyeh al-Kondari and Faisal al-Shamri.
Meantime, internal clashes among the ISIL terrorists in al-Maharim district in al-Mayadeen city in Southeastern Deir Ezzur wounded several militants.
Relevant reports said on Sunday that a number of ISIL terrorists, including non-Syrians, were killed during a popular uprising in Eastern Deir Ezzur amid the Syrian Army's intensified offensives on ISIL's positions and movements.
Three foreign members of ISIL, including one of the commanders of the group's arms and ammunition supplying branch nom de guerre Abu Qasan Albanian, were killed and their bodies were found along a road near the village of Buleil.
Also, two ISIL terrorists were killed by a woman in the village of Salehiyeh in Northern Deir Ezzur.
Full report at:
http://en.farsnews.com/newstext.aspx?nn=13960512000514
-------
Syrian Troops Tighten Noose on ISIL's Last Bastion in Eastern Homs
Aug 03, 2017
The army forces, supported by heavy air and artillery attacks, continued clashes with ISIL members in Eastern Homs, winning back control of Jabal al-Tantour mountain in the Western parts of al-Sukhnah and entering several farms near the town.
The Syrian soldiers also could regain control of several buildings in the Southwestern parts of al-Sukhnah.
Meantime, the Syrian and Russian air forces pounded the ISIL terrorists' positions and moves in al-Sukhnah and the nearby areas, smashing several of them.
In a relevant development on Monday, the Syrian army forces engaged in tough battle with ISIL in Eastern Homs and managed to impose control over more territories, paving the ground for closing off terrorists' supply lines from Hama to Eastern Homs.
The army men took control of several hills in Eastern Hama and deployed near the village of al-Dakileh al-Shamali East of the town of al-Saboureh.
In the meantime, the army soldiers pushed ISIL back from more positions South-East of the town of Ithriya, inching closer to Wadi (desert) Hasiyeh.
Meanwhile, a military source said that the army forces' advances against ISIL along the two roads of Palmyra-al-Sukhnah and Ithriya-al-Rasafeh towards East will cut off ISIL's supply lines to the North of al-Sukhnah, laying siege on al-Sukhnah.
The source further added that the army intends to close off ISIL's only supply line from al-Sukhnah to the town of Sheikh Hilal and from there to the town of Aqayrabat to lay siege on ISIL in smaller regions.
The army men also repelled ISIL's heavy attack on their positions in al-Zakiyeh crossroad East of Ithriya, the source said.
Full report at:
http://en.farsnews.com/newstext.aspx?nn=13960512000384
-------
Tens of Civilians Killed in US-Led Coalition Airstrikes in Raqqa, Deir Ezzur
Aug 03, 2017
News websites affiliated to the dissidents reported that the coalition fighter jets' attacks on several districts in Raqqa city in the past 24 hours have left 62 civilians dead.
The websites quoted local sources as saying that 12 members of a family, including several women and children, were among those killed in the US airstrikes against al-Toseiyeh district in Raqqa city.
Meantime, the US-led coalition warplanes pounded al-Mayadeen desert and the town of al-Bu Kamal in Southeastern Deir Ezzur, leaving several civilians dead and wounded.
On Wednesday, the US-led coalition fighter jets bombed different towns and regions in the provinces of Raqqa and Deir Ezzur, killing and injuring over 90 civilians, including children.
The warplanes targeted Bousaraya region in Raqqa, killing and wounding 30 civilians.
Also, the fighter jets bombed the village of al-Kashkiyeh in Southeastern Deir Ezzur, leaving a child dead and several more wounded.
In the meantime, US air raids left a sum of 60 civilian casualties in the villages of al-Kashma, al-Showayt, al-Dawayer and al-Asharah.
Relevant reports said on Tuesday that the US-led coalition warplanes bombed more towns and villages in Eastern Deir Ezzur, killing or wounding over 80 civilians.
The fighter jets pounded al-Dowayer and al-Asharah in Eastern Deir Ezzur, leaving 22 civilians dead and 40 more injured.
Full report at:
http://en.farsnews.com/newstext.aspx?nn=13960512000331
-------
Syrian Army Advances 30km on Southern Coasts of Euphrates
Aug 03, 2017
The army soldiers regained control of the villages of al-Rahbi, al-Rabiyeh, al-Ziyabiyeh, al-Mastaheh, Shamrah and Eslam in Southeastern Raqqa after clashes with the ISIL on Wednesday.
Meantime, a military source said that the Syrian army has won back control of a 30-km area on the Southern coasts of the Euphrates river.
The source added that during the operations the Syrian army killed and wounded hundreds of ISIL terrorists and destroyed 12 command centers, 330 vehicles, 5 military vehicles, 3 arms depots and 11 artilleries of ISIL.
Several senior ISIL leaders, including their supervising commander in Ma'adan named Abu Ishaq, were also among the dead.
Also on Wednesday, the Syrian Air Force bombed ISIL's positions in Southeastern Raqqa, targeting several depots of weapons and munitions.
The army aircraft pounded ISIL's positions and movements in the town of Ma'adan 40km South-East of Raqqa city, and the villages of al-Khamiseh, al-Jaber, Maqla Kabir, Maqla Saqir and around Qanem al-Ala, destroying several depots of arms and munitions and killing or injuring a large number of terrorists.
Relevant reports said on Tuesday that the army men engaged in a fresh round of clashes with ISIL and drove them out of the villages of Arhabi, al-Sharideh, Qabli, al-Sabkheh, Qanem al-Ala, Wadi al-Kharar and al-Sab'eyat.
Meanwhile, a military source said that after the recent advances, the army imposed control over a long chunk of Raqqa-Deir Ezzur road and deployed only 4km away from the town of Ma'adan at Deir Ezzur's border with Raqqa.
In the meantime, the army soldiers laid siege on the ISIL in the village of Zour Shemr.
Full report at:
http://en.farsnews.com/newstext.aspx?nn=13960512000249
-------
Two killed, three wounded in Egypt attack near Luxor
4 August 2017
A policeman and a civilian were killed and three people wounded in an attack late on Thursday on a patrol in Esna, south of Luxor, the Interior Ministry said.
The police patrol had stopped a vehicle and when stopped, two gunmen fired on the patrol, the ministry said in a statement.
Related: Two German tourists killed in Egypt beach resort knife attack
One of the perpetrators were arrested while the other fled, the ministry said, adding that the wounded have been transferred to hospital.
Related: Saudi renews support to Egypt's fight against terrorism after deadly attack
Attacks on security forces have been common in Egypt since the army, led by general-turned-President Abdel Fattah al-Sisi, ousted Muslim Brotherhood President Mohamed Mursi in 2013 following mass protests against his rule.
Related: Egypt arrests 13 terrorist suspects 'preparing attacks'
Full report at:
https://english.alarabiya.net/en/News/middle-east/2017/08/04/Two-killed-three-wounded-in-Egypt-attack-near-Luxor-.html
-------
Refugees reach Syria after truce with Hezbollah
3 August 2017
Thousands of Syrian refugees and militants evacuated from northeastern Lebanon arrived on Thursday in central Syria in territory held by rebel and militant fighters, a monitoring said.
They were bussed out of the restive border area between Lebanon and Syria as part of a ceasefire deal between Lebanon's Shiite movement Hezbollah and fighters from Al-Qaeda's former Syrian branch.
In exchange, the militant group released two Hezbollah fighters, an AFP correspondent said, adding that they arrived in Red Crescent vehicles in the area of Al-Saan in central Hama province.
A total of 7,777 people -- a vast majority of them civilians but also including militants -- were transported back into Syria from Lebanon's mountainous Jurud Arsal region on Wednesday in line with the ceasefire.
The agreement ended six days of fighting in Jurud Arsal between Hezbollah and Al-Qaeda's former Syrian affiliate, previously known as the Al-Nusra Front.
On Thursday, buses carrying three groups of Syrian militants and refugees arrived in an area of Hama under the control of the militias, the Syrian Observatory for Human Rights said.
Two more groups are still due to arrive and three more Hezbollah fighters are to be released by the end of the operation.
Jurud Arsal had been used for years as a hideout by Syrian militants, but was also home to an unknown number of refugees seeking shelter from Syria's six-year war.
Al-Nusra Front was Al-Qaeda's affiliate in Syria until mid-2016 when it broke off ties, before going on to found a new militia-led alliance called Hayat Tahrir al-Sham (HTS), which now controls large swathes of Syria's northwestern Idlib province.
Hezbollah launched the offensive on the Syrian militants on July 21 and had cornered rival fighters in a small pocket of territory when it announced the truce.
The deal also calls for the release of three detainees held in Lebanon's Roumieh prison.
The first phase of the deal took place on Monday, when Hezbollah and HTS exchanged the bodies of nine Syrian fighters for the remains of five Hezbollah fighters.
Tens of thousands of Syrian refugees live in the town of Arsal, adjacent to the border region, and an unknown number are also thought to have taken shelter in the surrounding mountains.
Full report at:
https://english.alarabiya.net/en/News/middle-east/2017/08/03/Refugees-militants-reach-Syria-after-truce-with-Hezbollah-.html
-------
Lebanon's Hezbollah formally announces end to Arsal operation
Aug 3, 2017
Hezbollah has formally announced an end to a security operation aimed at clearing the Lebanese town of Arsal on the border with Syria of al-Qaeda-linked Nusra Front terrorists.
In a statement on Thursday, the Lebanese resistance movement said its fighters had regained control over all areas in Arsal, which lies 124km northeast of Beirut, and flushed all militants out of the region.
Media reports earlier confirmed that fighters from Hezbollah were seen manning positions around the Syrian town of Flita, near the Lebanese border.
The announcement comes days after Hezbollah and the Syrian army launched an offensive to drive out militants from their last stronghold in the border area between the two countries.
Hezbollah fighters have now moved into the areas after terrorists of Nusra Front, now known as Fateh al-Sham Front, withdrew following a series of consecutive defeats, which forced them to agree to a ceasefire.
Under the deal, Syrian government will shuttle the militants and their families to Idlib Province and some other areas. About 7,000 militants and members of their families left Arsal on Wednesday.
The so-called Syrian Observatory for Human Rights said their convoy had arrived in the Hama countryside in Syria and that preparations had begun to transfer them to another area.
Hezbollah chief, Sayyed Hassan Nasrallah, said last week that the liberation of the border region, known for its harsh geographical features, by Hezbollah forces and their allies in the Lebanese and Syrian armies was indeed a great achievement.
Nasrallah also hailed the sacrifices made by the Lebanese military in the fight against terrorists, saying the army proved that it was a real partner for the resistance.
He said Lebanon's military and security officials played a major role in the operation and facilitated victories against the Nusra Front terrorists.
Nasrallah said the operation to recapture the border area was almost complete and nearly 100 percent of the territories that were under the control of Takfiri terrorists were liberated.
Hezbollah launched a major push in mid-July to clear both sides of Lebanon's border with Syria of armed terrorists.
In August 2014, Fateh al-Sham Front and Daesh terrorists overran Arsal, killing a number of Lebanese soldiers and taking 30 others hostage, most of whom have now been released.
Since then, Hezbollah and the Lebanese military have been defending Lebanon on the country's northeastern frontier against foreign-backed terrorist groups from neighboring Syria.
Full report at:
http://www.presstv.ir/Detail/2017/08/03/530609/Hezbollah-Syria-Arsal-Lebanon
-------
Mideast
Kurdish Forces Destroy Turkey-Affiliated Terrorists' Base in Aleppo
Aug 03, 2017
According to the Kurdish-language Hawar news, the Turkish army and its affiliated groups stationed in the village of Kaljabrin and the town of Mare'a targeted the positions of Kurdish forces in the village of Shiekh Issa and the town of Tal Rafat by artillery and mortar fire on Thursday.
Meantime, the Turkish spy planes flew above the villages and towns of al-Shahba region.
The Turkish forces also launched strikes against the villages of Samouqeh, Tal Maziq, Harbal and Tal Jihan.
The SDF forces, in response, attacked the terrorists' positions in the village of Kaljabrin with missiles, blowing up one of their bases.
In a relevant development on Sunday, several militants, backed up by the Turkish army, were injured in exchange of heavy fire with the SDF in Northern Aleppo.
Artillery units of the Turkish army and its militant allies in the villages of Kaljabrin and Mare'a shelled the SDF strongholds in the villages of Ein al-Daqnah and Ming in al-Shahba region in Northern Aleppo.
Hawar news further added that two Turkish spy planes flew over Ein Daqna and Ming following the artillery attacks on the villages.
The report also said that the militants' artillery units also targeted the towns of Tal Rifat, Sheikh Issa, Harbal, Samouqeh, Shahba dam, Tal Maziqa and Haliseh.
The Kurdish news outlet further said that the SDF carried out retaliatory attacks and pounded terrorists' positions, leaving three militants injured and a vehicle destroyed.
http://en.farsnews.com/newstext.aspx?nn=13960512000717
-------
Bill to cut off aid to Palestinians passed by US committee
Aug 4, 2017
WASHINGTON: A U.S. Senate committee approved a bill on Thursday that would cut off $300 million in annual U.S. aid to the Palestinian Authority unless it stops making what lawmakers described as payments that reward violent crimes.
The Senate Foreign Relations Committee voted 17-4 for the measure, known as the Taylor Force Act, after a 29-year-old American military veteran who was fatally stabbed by a Palestinian while visiting Israel last year.
The bill, which must be approved by the full Senate and House of Representatives before becoming law, is intended to stop the Palestinian Authority from paying the stipends, which can reach $3,500 per month.
Force's attacker was killed by Israeli police, but his killer's family receives such a monthly payment.
"What has happened here will hopefully, when passed, prevent other people from having the same fate: an innocent person going about their activities in an innocent way, being murdered by someone who's being incented to do that by their own government," Senator Bob Corker, the committee's Republican chairman and a co-sponsor of the bill, told a news conference.
Separately, 16 Republican and Democratic members of the committee wrote to Nikki Haley, the U.S. ambassador to the United Nations, to ask her to lead an international effort for similar action by other countries.
Force was a graduate student at Vanderbilt University in Corker's home state, Tennessee, when he was killed.
Force's parents live in South Carolina, the home state of Senator Lindsey Graham, the act's other Republican co-sponsor. Graham, who dubbed the payments "pay to slay," is chairman of the Senate subcommittee that oversees foreign aid.
Palestinian officials have said they intend to continue the payments, which they see as support for relatives of those imprisoned by Israel for fighting against occupation or who have died in connection with that cause.
To win broader support, the original act was modified to take into account the need for humanitarian aid. It exempts assistance for the East Jerusalem Hospital Network, creates an escrow account to hold assistance funds and spells out steps the Palestinian Authority can take for aid to resume.
Corker said he was confident the bill would become law sometime in the coming months. Similar legislation has also been introduced in the House of Representatives.
Full report at:
http://nation.com.pk/international/04-Aug-2017/bill-to-cut-off-aid-to-palestinians-passed-by-us-committee
-------
Al-Qaeda attack kills six soldiers in southern Yemen
3 August 2017
Six soldiers of a new anti-militant force formed by the United Arab Emirates were killed and others were abducted Wednesday in an al-Qaeda suicide bombing in southern Yemen, a Yemeni military official said.
The suicide bomber blew up his vehicle next to a military position recently set up by the Yemeni force in Shabwa province, the official told AFP, speaking on condition of anonymity.
Two vehicles belonging to the force were destroyed in the attack, which left an undetermined number wounded while other soldiers were abducted by al-Qaeda members supporting the suicide bomber, he added.
Also read: Ould Cheikh Ahmed in Muscat for new round of Yemen peace talks
The official said the victims belong to an "elite unit" set up by the United Arab Emirates. Al-Qaeda militants remain active in southern Yemen where they have exploited the security gap created by the conflict between Hadi's supporters and the Houthi militias.
The conflict in Yemen pits Houthi militias and supporters of ex-president Ali Abdullah Saleh against forces loyal to the internationally recognized president Hadi.
Full report at:
https://english.alarabiya.net/en/News/gulf/2017/08/03/Al-Qaeda-attack-kills-six-soldiers-in-southern-Yemen.html
-------
Israel forces abused journalists in Quds: Press body tells court
Aug 4, 2017
A US organization representing foreign media workers has complained to a top Israeli court over the use violent tactics by the regime forces against the journalists trying to cover the recent tensions in East Jerusalem al-Quds.
The Foreign Press Association (FPA) submitted a petition to the Israeli High Court of Justice, saying the forces would bar journalists from the site, and subject them to physical and verbal abuse without any legal mandate to do so, Israeli media outlets reported on Thursday.
The body cited the case of a Reuters cameraman, who was hospitalized with a concussion after reportedly being assaulted by an Israeli officer.
It said it had filed the petition out of frustration "after years of empty promises, smashed equipment, and injured journalists," The Times of Israel reported.
The NGO slammed the authorities in Tel Aviv as "shameful" for "standing by silently" despite its "claims to be committed to freedom of the press."
The FPA said it was seeking police guarantees that journalists would not be hindered in their future work and would be able to cover events "freely, safely, and security," The Jerusalem Post reported.
Late last month, the body had decried in a statement on its website the "deplorable situation created by Israeli security authorities."
The statement noted that journalists had been "pushed and shoved into areas where their safety is at risk, and where they bear the brunt of the Israeli security response to rioting crowds including teargas, stun grenades, and beatings resulting in several serious injuries."
"While tourists were given access to the [al-Quds'] Old City, journalists were held for questioning and relegated to distant positions totally useless for reporting or taking relevant photos," the earlier statement said.
By tourists, the body was apparently referring to hordes of Israeli settlers, whom Israeli forces would escort into the Old City, where the compound is located, while either barring Palestinians or subjecting their entrance to age limits and heavy surveillance tactics.
Israel fully closed the compound for three days following a shootout on July 14 near the site, which left two Israeli soldiers and three Palestinians dead.
The move drew sweeping international condemnation, forcing Tel Aviv to reopen the site.
Full report at:
http://www.presstv.ir/Detail/2017/08/04/530652/Israel-Palestine-Free-Press-Association-alAqsa
-------
Israel puts West Bank city on lockdown following alleged stabbing attack
Aug 3, 2017
Israeli military forces have put a city in the southern part of the occupied West Bank on complete lockdown in the wake of an alleged stabbing attack, which left an Israeli man critically wounded.
An unnamed Israeli army spokeswoman told Ma'an news agency on Thursday that Israeli forces placed Yatta, located approximately 8 kilometers south of al-Khalil (Hebron), under a complete closure hours after the purported assault, and blocked all entrances and exits of the city.
"All crossings and passages from the village will be permitted for Palestinians only after security checks," she said.
The spokeswoman added that Israeli forces stormed the alleged assailant's home and conducted a search operation late last night.
She added that overnight on Wednesday. However, the spokesperson said no detentions were carried out, and added that there were no reports of Israeli forces interrogating Abu Aram's family members during the raids.
She also noted that the army did not have any reports on whether any items were found during the raid.
A 42-year-old Israeli man sustained serious wounds on Wednesday morning, when 19-year-old Ismail Ibrahim Abu Aram from Yatta entered a supermarket in Yavne and stabbed the man several times in his upper body.
The Palestinian teenager was then tackled to the ground by civilians, before Israeli police forces arrived to arrest him.
Israeli medical sources said the man has sustained stab wounds to the chest, neck and head. He is reportedly in stable condition.
The occupied Palestinian territories have witnessed new tensions ever since Israeli forces introduced restrictions on the entry of Palestinian worshippers into the al-Aqsa Mosque compound in East Jerusalem al-Quds in August 2015.
More than 300 Palestinians have lost their lives at the hands of Israeli forces in the ongoing tensions since the beginning of October 2015.
The Tel Aviv regime has tried to change the demographic makeup of Jerusalem al-Quds over the past decades by constructing settlements, destroying historical sites and expelling the local Palestinian population. Palestinians say the Israeli measures are aimed at paving the way for the Judaization of the city.
The al-Aqsa Mosque compound is a flashpoint Islamic site, which is also holy to Jews. The mosque is Islam's third holiest site after Mecca and Medina in Saudi Arabia.
Israel to demolish 23 Palestinian homes northeast of al-Quds
Meanwhile, the Israeli regime is set to demolish nearly two dozen Palestinian homes despite international condemnation against the regime's demolition campaign against Palestinian homes and properties.
Palestinian sources told the official Wafa news agency that Israeli officials have issued demolition orders to tear down 23 homes in the Bedouin al-Fahidat neighborhood, located northeast of Jerusalem al-Quds. The sources added that local residents have been given 72 hours to appeal the orders.
The United Nations announced in late April that a total of 588 Palestinian structures had been razed since January, adding that the demolitions have affected more than 1,000 people as they have lost structures related to their source of income.
The majority of demolitions took place in Area C of the West Bank, which is the largest division in the occupied territory as it comprises 60 percent of the land, and is under full Israeli military control.
Full report at:
http://www.presstv.ir/Detail/2017/08/03/530594/Israeli-forces-lockdown-Yatta-stabbing
-------
Turkish Army Sends Huge Arms Cargo to Terrorists in Al-Bab
Aug 03, 2017
According to Hawar news, sources in al-Shahba region in Northern Aleppo reported that the cargo was sent through al-Ra'i border crossing towards the village of Sousian and then was transferred towards al-Bab region in Northern Aleppo on Wednesday.
The sources added that the cargo was delivered to several militant groups affiliated to Sultan Morad terrorist group.
Turkey sent its military into Syria in August last year to prop up local militias allied with Ankara against ISIL and Kurdish forces. The confrontation with Syrian Kurd militias, which Turkey considers an off-shoot of the Turkish-based militant movement Kurdistan Workers Party (PKK), put Ankara at odds with the US.
In relevant remarks in May, Turkey's Deputy Prime Minister Veysi Kaynak said the country is considering establishing a base near the Syrian city of al-Bab, which was the focus of Turkey's cross-border operation against the ISIL terrorist group.
Veysi Kaynak said location of the base currently being considered by the Turkish General Staff is Aqil Hill, West of al-Bab.
The Turkish military established a temporary base at the strategic site after capturing it in February and has been considering turning it into something more permanent since.
Speaking after a trip to Bosnia and Herzegovina, Kaynak added that Turkish military presence in the area has been reduced from 8,000 at the peak of the Operation Euphrates Shield to 1,500.
Full report at:
http://en.farsnews.com/newstext.aspx?nn=13960512000588
-------
Saudi forces counter Houthi attack on its border with Yemen
3 August 2017
The Saudi forces on Thursday evening foiled a major offensive by the Houthi militias and the ousted Saleh's militia against military checkpoints on the Saudi-Yemeni border in Jazan region.
Military sources confirmed that the Saudi forces managed to thwart the attack, inside the uninhabited Yemeni border villages in the governorate of Sa'ada where the militias gathered to launch the attack.
Military sources stated that their positions were identified through the joint operations' control room, where they were dealt with through rocket launchers, artillery and the Apache helicopters.
Al Arabiya correspondent reported that the attack lasted two hours and ended with the killing of dozens of Houthis and the destruction of a number of military vehicles loaded with ammunition.
https://english.alarabiya.net/en/News/gulf/2017/08/04/Saudi-forces-counter-Houthi-attack-on-its-border-with-Yemen.html
-------
Israel PM boasts of record settlement construction during his term
Aug 4, 2017
Israel's Prime Minister Benjamin Netanyahu has flaunted a record rate of settlement construction on occupied Palestinian land during his term.
"No other government has done as much for settlement in the land of Israel as the government which I lead," he said of the occupied territories belonging to Palestinians.
He made the comments while breaking the ground on a project to build more than 1,000 new settler units within the sprawling Beitar Illit settlement in the occupied West Bank.
The settlement already accommodates some 50,000 Israeli settlers.
Israel is advancing the so-called "Greater Jerusalem Bill," which seeks to expand the area under Tel Aviv's municipal authority by annexing five settlements, including Beitar Illit.
Israel occupied the entire West Bank during full-frontal military operations in 1967. It later annexed the territories. Neither move has ever been recognized by the international community.
Upon annexation, it began propping up the structures, deemed as illegal by the international community due to their construction on occupied territory.
More than 600,000 Israelis now live in the settlements.
Israel's settlement activities have the steadfast support of the United States, which keeps vetoing United Nations resolutions in their condemnation.
Last December, however, the UN Security Council declared all such settlements illegal after outgoing US President Barack Obama decided not to veto the relevant resolution in a surprise move.
Full report at:
http://www.presstv.ir/Detail/2017/08/04/530662/Israel-Netanyahu-Palestine-Beitar-Illit
-------
URL: https://www.newageislam.com/islamic-world-news/sharia-comes-london-muslim-mayor/d/112089
New Age Islam, Islam Online, Islamic Website, African Muslim News, Arab World News, South Asia News, Indian Muslim News, World Muslim News, Women in Islam, Islamic Feminism, Arab Women, Women In Arab, Islamophobia in America, Muslim Women in West, Islam Women and Feminism