Age Islam News Bureau
3 Nov 2018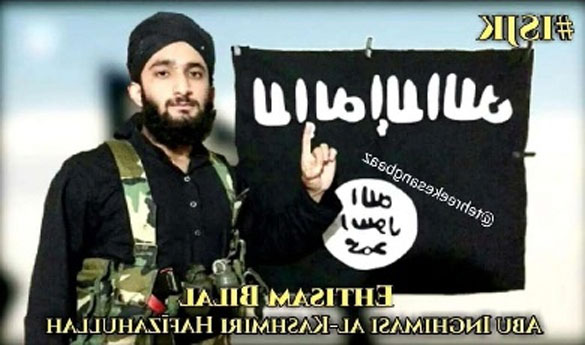 Photo: Islamic State of Jammu and Kashmir Ehitisham Bilal , DNA
• Sharda University student joins Islamic State of Jammu and Kashmir
• TLP ends blasphemy protests after deal with government
• Russia invites Afghan leaders for talks with Taliban, angering Kabul
• Hardliners in Jakarta protest burning of Muslim flag
---------
India
• Sharda University student joins Islamic State of Jammu and Kashmir
• India at UN says terrorism most serious violation of human rights, emanating from beyond its borders
• NIA court issues non-bailable warrants against Hafiz Saeed and Syed Salahuddin
• Non-bailable warrants against Hafiz Saeed, Syed Salahuddin
• Missing from Noida, Kashmiri student surfaces on social media posing as IS militant
• Supreme Court quashes pleas against instant talaq ordinance
• 'Asked' by Lord Ram, Muslim Man in UP Converts to Hinduism Along With Family
• Non-bailable warrants issued against Hafiz Saeed, Syed Salahuddin
• Intel: Team of 6-7 Hizbul men behind Kishtwar killings
--------
Pakistan
• TLP ends blasphemy protests after deal with government
• Shujaat asks Ulema to help resolve crisis
• More religious groups join protests in Rawalpindi, Islamabad
• A life spent to preach, promote Islam
• Fazl blames govt for turmoil after blasphemy accused's acquittal
• China will not let Pakistan down
• Call for concrete measures to counter growing radical narrative in country
• Close to winning war against terror: army
--------
South Asia
• Russia invites Afghan leaders for talks with Taliban, angering Kabul
• Afghan Taliban reacts to Maulana Samiul Haq's murder
• 2 Jamaat leaders among 81 held in Bagerhat
• 3 police, 4 militants killed in Afghan checkpoint clashes
• Taliban's deputy shadow governor, Red Unit in-charge killed in Ghazni
--------
Southeast Asia
• Hardliners in Jakarta protest burning of Muslim flag
• Gov't Urges Public Not to Be Provoked by Actions of Banned Hizbut Tahrir Indonesia
• Budget 2019: Civil servants get unrecorded religious leave
• Welcome to the 'most generous country' in the world: Indonesia
--------
Arab World
• ISIS claims deadly attack on Egyptian Christians on bus near Coptic monastery
• King Salman sends condolences to Egypt's Sisi on Minya terrorist attack
• Saudis respond to peace calls with heavy Sana'a bombing
• Iraq reinforces border with Syria, fearing Daesh spillover
• Christians in Egypt prepare to bury dead a day after attack
--------
Mideast
• Egypt delegation visits Israel-Gaza border protests amid truce negotiations
• Erdogan: Order to kill Khashoggi came from 'highest levels' of Saudi gov't
• Coalition intercepts, destroys Houthi missile launched toward Saudi's Najran
• New details emerge regarding Saada incident blamed on coalition
• Houthis hold 16 ships carrying migrants in Yemen's Hodeidah, Salaif ports
• Yemen's legitimate forces advance in southern neighborhoods of Hodeidah
• Yemeni drone strike hits Saudi airbase in retaliation
• Turkey, US mutually lift sanctions on top gov't officials in sign of easing tensions
• Hamas urges Brazil to abandon plan to move embassy to Jerusalem al-Quds
• US reimposes all Iran sanctions lifted under nuclear deal
• Turkey's top religious official labels deism 'very interesting trap'
--------
Africa
• Boko Haram: UN condemns attack on Borno communities
• Nigerian Army Uses Trump's Words to Justify Fatal Shooting of Rock-Throwing Protesters
• South Sudan frees rebel chief's associates to back peace deal
• Ex Al-Shabaab commander passed to run for political office
--------
North America
• Arab and Muslim Americans are taking Midterms by storm - and that's a good thing
• Palestinians slam plan to move Brazil embassy to Jerusalem
• GOP congressional candidate called Islam 'dangerous' and the work of Satan
• Sanctions lifted on Turkish officials after US pastor freed
• US re-imposes all Iran sanctions lifted under nuclear deal
• Khashoggi's fiancee: Killers must be brought to justice
--------
Europe
• Swedish Municipality Refuses Conservative Request to Ban Public Muslim Call to Prayer
• British doctor suspected of radicalisation demands right to return from ISIS ranks
• Tweets by Russian trolls aim to rouse conflict over Islam in Britain
• France, Germany, UK, EU condemn new US Iran sanctions
• EU, E3 condemn US for reimposing sanctions on Iran, vow to protect trade
• Norway summons Saudi envoy over Khashoggi murder
• UK: Amnesty places Khashoggi sign outside Saudi embassy
Compiled by New Age Islam News Bureau
URL: https://www.newageislam.com/islamic-world-news/sharda-university-student-joins-so/d/116784
--------
Sharda University student joins Islamic State of Jammu and Kashmir
November 03, 2018
Alarm bells are ringing for the security forces after a missing student of Sharda University purportedly joined radical Islamic State of Jammu and Kashmir.
Ethisham Bilal, a 19-year-old B.Tech student at Sharda University Noida released a six minute audio announcing joining the Islamic State of Jammu and Kashmir (ISJK).
Ehtishma's image, donning a black dress and a turban with IS flag in the background, was superimposed in the audio message that has now become viral in the Kashmir valley.
Raising his finger symbolizing the oneness of Allah, the usual trait of Jihadis who join terror, Ethisham took a vow accepting global ISIS chief Abu Bakr Al Bagdadi as Ameer-ul-Momineen (Leader of believers).
"I am blessed to have chosen the path of Jihad. We will not sit silent unless we unfurl flag of Islam in valley. We will spill the blood of pagans in Kashmir. We want the rule of Allah in Kashmir. We are ready to sacrifice our lives for the supremacy of Allah", he said in a six minute audio.
A resident of Khanyar in Old Srinagar city, Ehtisham had gone missing from Sharda University on October 28 and since then his whereabouts were known. A student of B.Tech, he had joined the University just few months ago.
On Thusrday, Ehtisham's parents had staged a protest in Srinagar urging the authorities to find out their son. Few days before his mother had released a video urging him to return and even appealing the people to release him if he was with them.
Director General of Police, Dilbag Singh told DNA that they are ascertaining the facts. "We are trying to find out where he could be possibly. He came to Srinagar. His leads are up to Srinagar. We are looking into the part after that. Let us confirm before we say anything", he said.
https://www.dnaindia.com/india/report-sharda-university-student-joins-islamic-state-of-jammu-and-kashmir-2682113
--------
TLP ends blasphemy protests after deal with government
Mansoor Malik
November 03, 2018
LAHORE: The Tehreek-i-Labbaik Pakistan (TLP) on Friday night agreed to end its protest sit-ins across the country after reaching an agreement with the federal and Punjab governments under which the latter will put the name of Aasia Bibi — who has been acquitted by the Supreme Court of blasphemy charge — on the Exit Control List (ECL) and refrain from objecting to review of the court judgement.
The TLP leaders later announced ending the three-day sit-in and asked the protesters to disperse peacefully.
The Tehreek-i-Labbaik Ya Rasoolullah (TLYR) has, however, distanced itself from the agreement and continued its sit-in outside Data Darbar. TLYR chief Dr Ashraf Asif Jalali said his party had nothing to do with the government-TLP agreement.
The rightwing protesters under the banner of TLP had launched the countrywide protest and sit-ins soon after the Supreme Court overturned the death sentence awarded to Aasia Bibi by a trial court and upheld by the Lahore High Court, and ordered her release on Wednesday.
The federal and Punjab governments had entered into negotiations with the TLP leaders and ulema in Lahore to resolve the issue amicably, but there was no success despite several rounds of talks.
However, on Friday night, both sides reached a five-point agreement under which the government would not object to the review petition filed against the acquittal of the Christian woman and would initiate a legal process to place her name on the ECL. The government told the TLP leadership that it would initiate legal action against those who were involved in killing some civilians and injuring law enforcement personnel during the countrywide protests, but release others arrested on Oct 30 and afterwards.
On the other hand, the TLP only tendered an apology to those who faced problems because of its protests, sit-ins and road blockades.
The agreement was signed by Minister for Religious Affairs Sahibzada Dr Noor-ul-Haq Qadri, Punjab Law Minister Basharat Raja, TLP patron-in-chief Pir Afzal Qadri and its central Nazim-i-Aala Waheed Anwar.
Following the agreement, TLP leaders Pir Afzal Qadri and Allama Khadim Hussain Rizvi held an internal meeting and addressed a press conference on The Mall, Lahore, late in the night. They claimed that some other points had also been agreed upon that were not made part of the agreement.
Mr Qadri said the Supreme Court would form a full bench without the three judges, who had issued the Oct 30 verdict in the blasphemy case, and review the decision which was "rejected by the whole nation". "This is for the first time that the whole country came to a grinding halt following a Supreme Court decision," he said, claiming that many of the SC judges had also disputed the judgement.
Referring to an apprehension that Aasia Bibi has been sent abroad, Mr Qadri said that "a war would immediately begin in the country and there (would be) a call for a revolution". "We have also made it clear to the government party that all protesters will come back to their protesting positions, if there will be any mistake," he warned.
Khadim Rizvi said all the arrested protesters, including those implicated in cases, would be immediately released. "We know how to respond if the government tried to victimise any of the arrested protesters. All protesters were defending Namoos-i-Risalat," he said.
Talking to Dawn, Punjab Auqaf and Religious Affairs Minister Pir Syed Saeed-ul-Hassan Shah said the government had held a number of rounds of talks with the rightwing party leaders because it was a sensitive religious issue. "The government took time to ensure that fitna and fassad (mayhem) is not created in the country and people's life and property are protected."
Punjab Information Minister Fayyaz-ul-Hassan Chohan said the government delegation had finally reached an agreement and the ever-worsening situation was now under control.
However, officials privy to the development said that there was not a word about the damage caused to the properties and vehicles and injuries inflicted upon the common people during the past three days.
https://www.dawn.com/news/1443244/tlp-ends-protest-after-deal-with-government
--------
Russia invites Afghan leaders for talks with Taliban, angering Kabul
November 03, 2018
KABUL: Russia has quietly invited a group of senior Afghan politicians to talk with the Taliban in Moscow, bypassing President Ashraf Ghani's government in a move that has angered officials in Kabul who say it could muddle the US-backed peace process.
The invitations, extended over the past two months by Russian diplomats in Kabul, were confirmed by six of the eight leaders, including former president Hamid Karzai, or their aides, and by other leading politicians with ties to the Afghan government.
Russia in August propos­ed holding multilateral peace talks in Moscow and invited 12 countries and the Taliban to attend a summit the following month. But the meeting was postponed after Ghani rejected the invitation on the grounds that talks with the Taliban should be led by the Afghan government. The United States had also declined to attend.
Three senior Afghan officials said the government was unhappy that Moscow was pressing ahead with plans for talks.
"We requested Russia to cancel the summit because talking to the Taliban at multiple forums will further complicate the peace process backed by the US, but they rejected the request," said a senior Afghan official who has been holding discussions with Russia.
Russia's foreign ministry spokeswoman Maria Zakha­rova said on Thursday that she hoped to be able to announce details of the conference "in the coming days".
Zakharova told reporters at a briefing that the date and list of participants were being finalised, but that Russia wanted to be absolutely sure before announcing anything publicly.
Diplomatic engagement between the Taliban and the US gained mome­ntum in October, after US special envoy for peace in Afghanistan Zalmay Khalil­zad met Taliban leaders in Qatar. But many Afghan politicians say they have been left out of the process.
Karzai, who ran the country for 13 years following the overthrow of the Taliban in 2001 but has become a vocal critic of US policy, is among those planning to travel to Moscow.
"Karzai will travel to Moscow because any opportunity for peace talks with the Taliban must not be ignored," said Mohammad Yusuf Saha, a spokesman for the former president.
Atta Mohammad Noor, a leader in the Jamiat-i-Islami and former governor of the strategic Balkh province, said he too would attend.
Noor, a powerful figure among Afghanistan's ethnic Tajiks who was once a commander of the anti-Soviet Mujahideen, said he had no problem with the US and Ghani holding private talks with the Taliban, "but they cannot decide whether we should talk to the Taliban or not".
He said many Afghans were realising that "a single fixed formula prescribed by one foreign power will not help Afghans attain peace".
Senior Taliban members in Afghanistan said they would send a delegation to Moscow, as it would give them an opportunity to engage with neighbouring countries including China, Iran, Pakistan, Tajikistan, Uzbekistan and Turkmen­istan, which have previously agreed to send their representatives.
"Most countries have acknowledged our status and invited us as a separate political force. This is, in fact, our victory," said a senior member of the Afghan Taliban.
https://www.dawn.com/news/1443249/russia-invites-afghan-leaders-for-talks-with-taliban-angering-kabul
--------
Hardliners in Jakarta protest burning of Muslim flag
November 2, 2018
Thousands of conservative Muslims took to the streets of Indonesian capital Jakarta on Nov. 2 to protest the burning of a religious flag by members of Nahdatul Ulama (NU), the country's largest moderate Islamic organization.
An estimated 3,000 people filled a major Jakarta thoroughfare after Friday prayers in a protest organized by the same groups who held a series of protests last year that culminated in the election defeat and jailing of Jakarta's Christian governor Basuki Tjahaja Purnama for blasphemy.
They demanded the police thoroughly investigate the burning of the flag, which contained religious writing, during National Santri Day celebrations in Garut, West Java, on Oct. 22 by members of Banser, the NU's youth wing.
Banser later apologised, saying that they thought the flag belonged to Hizbut Tahrir Indonesia (HTI), a Muslim group seeking a global caliphate, which was banned by the government last year.
Abdul Hamid, a protester from Banten from outside Jakarta, said the burning of the flag cannot be justified for any reason. "We want to raise awareness, including among Muslims, to respect Islam, to respect God," he said of the reasons why he was protesting.
Hidden agenda
The protest, which began at Istiqlal Mosque in central Jakarta and headed to the state palace, was said to be politically motivated, since the police had already said it was investigating the flag burning.
West Java Police have named three suspects, who face a possible three-week jail term.
According to Haedar Nasir, chairman of Muhhamadiyah, Indonesia's second largest mainstream Muslim organization, the controversy should have ended with Banser's apology. "There should be no attempt to capitalize on this case by any party," he said.
Deputy national police chief Ari Dono Sukamto also questioned the motive behind the protest. "We are conducting legal proceedings, so what is the reason to hold rallies?" he said.
Raja Juli Antoni, general secretary of the Indonesia Solidarity Party which supports President Joko Widod, suspected there was a political motive for the rally as Widodo had been strengthening his ties with moderate Muslim groups.
"We suspect that this is a political tactic carried out by certain groups who intentionally take advantage of religious issues for political purposes," he said.
Indonesia will hold presidential and parliamentary elections next April, where Widodo, who is seeking a second term, has appointed Ma'ruf Amin, an NU cleric and former chairman of Indonesian Ulema Council, as his running mate.
https://www.ucanews.com/news/hardliners-in-jakarta-protest-burning-of-muslim-flag/83784
--------
India
India at UN says terrorism most serious violation of human rights, emanating from beyond its borders
Nov 3, 2018
UNITED NATIONS: In a veiled attack on Pakistan, India at the UN said that terrorism is the most serious violation of human rights emanating from beyond its borders, urging the global community to take a resolute action against the menace in all its forms and manifestations.
A lack of consensus in the Human Rights Council's actions in situationspecific issues is a worrisome development that compromises its effectiveness and credibility, First Secretary in the Permanent Mission of India to the UN Paulomi Tripathi said at a General Assembly 3rd Committee session on 'Report of the Human Rights Council' on Friday.
"Terrorism is the most serious violation of human rights which emanates from beyond our borders. The international community must take resolute action against terrorism in all its forms and manifestations to prevent and stop abuse of human rights and fundamental freedoms of innocent people," she said.
"Adoption of aggressive and confrontational approach and overly intrusive methods, without consultation and consent of the country concerned have been counterproductive, leading only to politicisation of human rights issues," Tripathi said.
India called for the Human Rights Council to continue to strengthen its adherence to the fundamental principles of universality transparency, impartiality, objectivity, non-selectivity and constructive dialogue for retaining its relevance and efficacy.
Tripathi also pointed out that the number of Special Procedures is increasing since inception of the Council, leading to duplication of mandates, adding that the process of selection of Special Procedure mandate-holders also needs more transparency.
She said the dependence of the Council on voluntary funding is of continuing concern and the Council needs to continue to rationalise its priorities of work, to make the most efficient use of the limited resources.
The diplomat stressed that the 47-member Council also has a role in building consensus around the frontier issues such as protection of human rights in the cyberspace and impact of artificial intelligence, genetics and other emerging technologies on human rights.
India was last month elected to the Human Rights Council and remains committed to bring in pluralistic, moderate and balanced perspectives, to bridge multiple divides in human rights discourse and in action, within the Council and beyond, Tripathi added.
https://timesofindia.indiatimes.com/india/india-at-un-says-terrorism-most-serious-violation-of-human-rights-emanating-from-beyond-its-borders/articleshow/66485735.cms
--------
NIA court issues non-bailable warrants against Hafiz Saeed and Syed Salahuddin
Nov 2, 2018
NEW DELHI: A National Investigation Agency (NIA ) special court on Friday issued non-bailable warrants against Lashkar-e-Taiba (LeT) chief Hafiz Saeed and Hizbul Mujahideen leader Syed Salahuddin for their involvement in terror-funding in Jammu and Kashmir.
The central agency had approached the court seeking NBWs against two global terrorist leaders' on the basis of evidence that they were funding the terror activities in Kashmir valley and other parts of India.
NIA said that Saeed and Salahuddin mobilised Pakistan-trained terrorists and pushed them into India in connivance with secessionist and separatist leaders for waging war against India with the nefarious design of seceding Jammu and Kashmir from India.
The NIA has already filed chargesheet in the instant case on January 18 against 12 accused people including Saeed and Salahuddin.
It filed a 12,794-page charge sheet against Saeed and Salahuddin for conspiring to wage war against the government (Section 121 of Indian Penal Code) by carrying out terrorist and secessionist activities in Jammu and Kashmir.
During its probe, NIA had conducted searches at over 60 locations spread across Jammu and Kashmir, Haryana and Delhi and seized over 950 incriminating documents and over 600 electronic devices.
Over 300 witnesses were examined during the probe.
NIA has said that the scrutiny and analysis of the documents and digital devices established that the accused Hurriyat leaders, the terrorists and the stone-pelters were carrying out terrorist attacks and orchestrating violence in Jammu and Kashmir as a part of their "well-planned" criminal conspiracy.
Full report at:
https://timesofindia.indiatimes.com/india/nia-court-issues-non-bailable-warrants-against-hafiz-saeed-and-syed-salahuddin/articleshow/66479161.cms
--------
Non-bailable warrants against Hafiz Saeed, Syed Salahuddin
Nov 2, 2018
NEW DELHI: A special NIA court has issued non-bailable warrants against Pakistan-based Lashkar-e-Taiba founder Hafiz Saeed and Hizbul Mujahideen chief Syed Salahuddin for their involvement in terror funding activities, officials said Friday.
"NIA approached the special NIA court for issuing non-bailable warrants against the above accused for their active involvement in terror funding for creating unrest in the Kashmir valley and other parts of India," NIA's spokesperson said here.
The two mobilised Pakistan-trained terrorists and pushed them into India in connivance with secessionist and separatist leaders for waging war against India with the nefarious design of seceding Jammu and Kashmir from India, the agency said.
The NIA has already filed a chargesheet in the instant case on January 18 against 12 accused people including Saeed and Salahuddin.
The probe agency had filed the 12,794-page chargesheet against Saeed and Salahuddin for conspiring to wage war against the government (Section 121 of Indian Penal Code) by carrying out terrorist and secessionist activities in Jammu and Kashmir.
According to the NIA, the case was registered on May 30, 2017 and the first arrests made on July 24 last year.
The agency said that during the course of investigation, its teams conducted searches at over 60 locations spread across Jammu and Kashmir, Haryana and Delhi and seized over 950 incriminating documents and over 600 electronic devices.
Over 300 witnesses were examined during the probe, it said.
The NIA said the scrutiny and analysis of the documents and digital devices established that the accused Hurriyat leaders, the terrorists and the stone-pelters were carrying out terrorist attacks and orchestrating violence in Jammu and Kashmir as a part of their "well-planned" criminal conspiracy.
Full report at:
https://timesofindia.indiatimes.com/india/non-bailable-warrants-against-hafiz-saeed-syed-salahuddin/articleshow/66478817.cms
--------
Missing from Noida, Kashmiri student surfaces on social media posing as IS militant
Nov 03, 2018
A picture and an audio message, purportedly of Ehtisham Bilal, the Kashmiri student who went missing from Sharda University, Greater Noida, on Sunday, has gone viral on social media in Kashmir.
In the picture, the person appears wearing black outfit with some weapons strapped to his body and is posing with a flag of the Islamic State while a voice in the audio claims to be Ehtisham's and announces his joining the IS group operating in Jammu and Kashmir.
HT could not independently verify the authenticity of the picture or the audio.
Police said that they are verifying the authenticity of the picture and the audio. "We are verifying these things. This has to be confirmed," said additional director general of police (ADGP) Munir Khan.
If authentic, the picture and the audio raises fear that the teenager, a first-year student of bachelor in medical imaging technology (BMIT), might have joined militancy.
A call to Bilal Ahmad, father of the teenager, did not go through as his mobile was switched off.
Ehtisham, a native of Khanyar in downtown Srinagar, had shifted to Greater Noida three months ago after enrolling in Sharda University and was living in the varsity's hostel at the Knowledge Park area in Greater Noida.
On October 4, he was roughed up by a group of students who mistook him for an Afghan during a clash between Indian and Afghan students at Sharda University campus in Greater Noida. Police had lodged a first information report against 350 students of Sharda University for rioting.
Without mentioning the place or the incident specifically, the voice in the audio mentions some people who attacked him like "dogs" and states that he had made up his mind to join Jihad that day.
The teenager had informed his father on Sunday that he was going on a 'sight seeing' trip to Delhi while according to Noida Police, his call details showed his location in Delhi till 12 pm and in Jammu by 2.30 pm, thereby raising speculations that he caught a flight from Delhi.
J&K police have also been checking on people who have been visiting Ehtisham in Kashmir. Sajad Shah, superintendent of police, north Srinagar, on Wednesday said he was not sure of any militancy connection of the missing boy. However he mentioned that the boy was friends with a youth who had later joined militancy.
Full report at:
https://www.hindustantimes.com/india-news/missing-from-noida-kashmiri-student-surfaces-on-social-media-posing-as-is-militant/story-iQBRTd1J1TkYLxAPYeD6IK.html
--------
Supreme Court quashes pleas against instant talaq ordinance
Nov 02, 2018
The Supreme Court on Friday showed no inclination to entertain a batch of petitions questioning the constitutional validity of the Muslim Women (Protection of Rights on Marriage) Ordinance, 2018, which imposes a maximum sentence of three years on a Muslim man who pronounces instant triple talaq.
A bench led by Chief Justice Ranjan Gogoi said it would not interfere with the ordinance even though the petitioners "may have a point" in the case.
The bench suggested that the petitioners wait for Parliament's winter session to see whether the ordinance is placed before the House or not.
"Winter session of Parliament is coming. Wait for it, instead of lodging a piecemeal challenge to it," the CJI told the counsel for the petitioners.
Full report at:
https://www.hindustantimes.com/india-news/supreme-court-quashes-pleas-against-instant-talaq-ordinance/story-MMDg0eKdo0edW6w5rkfa6I.html
--------
'Asked' by Lord Ram, Muslim Man in UP Converts to Hinduism Along With Family
November 3, 2018
Lucknow: Shahzad Rana, a Muslim man in Shamli district in Uttar Pradesh, converted to Hinduism along with his family. He claimed that Lord Ram has been appearing in his dreams, asking him to return to Hinduism. The news comes exactly a month after a Muslim family in Baghpat district of the state had embraced Hinduism.
Following his conversion, Shahzad adopted the Hindu name Sanju Rana and approached the office of the district magistrate to make his conversion official. As per the claims made by him, his ancestors were Hindus, who were forced to convert to Islam.
"For the past 15-20 days, Lord Ram has been appearing in my dreams, asking me to come back (to Hinduism). We were Hindus earlier; invaders had come to our lands centuries ago and forced my ancestors to convert to Islam. I am just returning to my roots," Rana told ANI.
Clarifying further, he said that the decision to convert was his own and he was not pressurised for the same by any person or group. He even asserted that his family is also happy after converting to Hinduism.
However, Rana claims to have received threats to his life from a number of people from his neighbourhood, including his uncle, who did not wanted him to convert. "I saved my life and fled to the police station this morning. I just want to protect my children," he said.
Meanwhile, Superintendent of Police Dinesh Kumar, as quoted by ANI, said, "We haven't received any concrete evidence regarding the threat to his life. The conversion is his (Rana's) personal matter. Constitutional proceedings will be undertaken in this matter. Also, we haven't found any evidence that Rana has been forced to convert by any religious group."
Full report at:
https://www.india.com/news/india/uttar-pradesh-muslim-man-converts-to-hinduism-along-with-family-as-asked-by-lord-ram-3413263/
--------
Non-bailable warrants issued against Hafiz Saeed, Syed Salahuddin
November 03, 2018
A special court in New Delhi issued non-bailable warrants against Lashkar-e-Taiba founder Hafiz Saeed and Hizbul Mujahideen chief Syed Salahuddin in a Jammu and Kashmir terror funding case being probed by the National Investigation Agency (NIA), an official said on Friday.
The court issued the warrants on Thursday against the two Pakistan-based terrorist leaders for their active involvement in terror funding for creating unrest in the Kashmir valley and other parts of India.
The move came after the NIA approached the court seeking issuance of non-bailable warrants against Saeed, also the founder of proscribed Jamat-ud-Dawa, and Salahuddin alias Yusuf Shah, a resident of Budgam district in Jammu and Kashmir who presently resides in Islamabad.
"The two are accused of mobilising Pakistan-trained terrorists and pushing them into India from Pakistan in connivance with secessionist and separatist leaders for waging war against India with the nefarious design of seceding Jammu and Kashmir," the NIA official said.
The anti-terror agency had on January 18 filed chargesheet against 12 persons including Saeed, Salahuddin, seven Kashmiri separatist leaders and others in the case of alleged terror funding in the Kashmir Valley.
The separatist leaders arrested in the case on July 24, 2017 are Aftab Hilali Shah alias Shahid-ul-Islam, Ayaz Akbar Khandey, Farooq Ahmad Dar alias Bitta Karate, Nayeem Khan, Altaf Ahmad Shah, Raja Mehrajuddin Kalwal and Bashir Ahmad Bhat alias Peer Saifullah.
Altaf Ahmad Shah is the son-in-law of hardline Hurriyat leader Syed Ali Shah Geelani, who advocates Jammu and Kashmir's merger with Pakistan. Shahid-ul-Islam is an aide of moderate Hurriyat leader Mirwaiz Umar Farooq, and Khandey is the spokesperson for the Geelani-led Hurriyat.
Full report at:
https://www.indiatvnews.com/news/india-hafiz-saeed-lashkar-e-taiba-syed-salahuddin-hizbul-mujahideen-terror-funding-kashmir-nia-478944
--------
Intel: Team of 6-7 Hizbul men behind Kishtwar killings
Nov 3, 2018
NEW DELHI: BJP's J&K state secretary Anil Parihar was possibly killed in Kishtwar as part of a 'desperate' attempt by Kashmiri terrorists, suspected to be from Hizbul Mujahideen, to unleash an impactful attack in the otherwise calm district after having failed to strike in the valley due to the tight security arrangements for panchayat polls, according to sources in the security establishment.
Intelligence officials said while the assailants of Parihar and his brother were still being identified and traced, the modus operandi and weapons used in the attack point to the involvement of local terrorists, who were possibly assisted and facilitated by overground workers.
"Preliminary inquiry suggests that 6-7 Hizbul terrorists had been camping in Kishtwar for past few days. It is a matter of investigation whether they were in Kishtwar to escape the pressure they may be facing in Kashmir due to higher surveillance and deployment of security forces there, or if they had come on a specific mission to kill Parihar. While we are adequately convinced that it was a terror attack and not borne out of any personal vendetta, we are still trying to establish the motive that could be anything from targeting a senior BJP leader to an attempt to divert focus of security forces from Kashmir region to creating a fear psychosis ahead of panchayat polls in J&K," said an officer.
Full report at:
https://timesofindia.indiatimes.com/india/intel-team-of-6-7-hizbul-men-behind-kishtwar-killings/articleshow/66483256.cms
--------
Pakistan
Shujaat asks Ulema to help resolve crisis
November 3, 2018
LAHORE: Pakistan Muslim League-Q President and former Prime Minister Chaudhry Shujaat Hussain has said that the country is facing economic crisis and the manner in which the government under leadership of Imran Khan is trying to solve this matter and all opposition parties are also giving importance to it but some elements and foreign forces have pushed the country into another crisis.
Talking to journalists on Friday, he said "I request Ulema and Mashaikh of all schools of thought who do not have any political affiliation that they should play their role in pulling the country out of this crisis and on top of all the language which is being used about the armed forces and the Army Chief that is against Islamic teachings, especially a foreign power particularly plotting against the country, the armed forces and the Army Chief do not need certificate of being a Muslim.
He said I want to say to the protesters that they should first read the verdict in detail and if there is some deficiency in it then the Supreme Court can review it. Punjab Assembly Speaker Chaudhry Pervaiz Elahi said that we know the family of Army Chief General Qamar Javed Bajwa, he hails from a religious family.
He said that under leadership of Ch Zahoor Elahi Shaheed our house was centre of Tahuffuz-e-Khatam-e-Nabuwwat and Insha-Allah will remain, as a Speaker the meeting which was held under my leadership on a motion moved by Maulana Chinioti, we had changed the name of Rabwah to Chenab Nagar, whenever there is talk about Tahuffuz-e-Khatam-e-Nabuwwat we will be in the forefront.
https://www.thenews.com.pk/print/388922-shujaat-asks-ulema-to-help-resolve-crisis
--------
More religious groups join protests in Rawalpindi, Islamabad
November 03, 2018
ISLAMABAD/RAWALPINDI: Religious parties and other groups on Friday staged demonstrations and brought out rallies in Rawalpindi and Islamabad against the acquittal of Aasia Bibi in a blasphemy case.
The Rawalpindi police arrested over 245 protesters on the charges of violating Section 144 and holding rallies and protests.
Though Tehreek-i-Labbaik Pakistan (TLP) started the protests across the country on Wednesday, some religio-political parties tried to show their presence on Friday.
The government had ruled out any operation to get the roads back from the protesters in order to avoid conflict. It even allowed Jamiat Ulema-i-Islam-Fazl (JUI-F) to offer Friday prayers at D-Chowk.
The capital administration not only allowed the party to arrange the congregation in the Red Zone but also removed containers blocking Jinnah Avenue to facilitate the participants.
JUI-F's negotiations with the capital administration were led by Muttahida Majlis-i-Amal (MMA) parliamentarians, including Senator Maulana Abdul Ghafoor Haideri. A majority of the participants were students and teachers of seminaries.
The protest-cum-Friday prayers at D-Chowk facing the Parliament House ended with raising of political slogans against Prime Minister Imran Khan. The protesters later left the site peacefully.
The capital also witnessed protests and fiery speeches during Friday prayers in various mosques.
A protest demonstration was also held at Aabpara by a proscribed sectarian party.
The main protest by TLP continued at Faizabad where the religious group organised Friday prayers.
Meanwhile, Information Minister Fawad Chaudhry negated reports of an operation against the protesters and claimed that the law and order situation in the country was under control.
In a tweet, Mr Chaudhry said the government did not want to use force against the protesters. He said Minister for Religious Affairs Noorul Haq Qadri was holding negotiations with the protesters.
Despite the imposition of Section 144 in Rawalpindi, protest rallies were also taken out by activists of religious parties.
A protest rally was taken out in Bank Colony within the limits of the Saddar Bairooni police which was led by Qari Naveed. Hundreds of students from seminaries participated in the rally.
The participants were holding placards and banners and chanting slogans against the government and judges.
The rally was later joined by another rally led by Qari Abdul Rasheed. The participants then marched towards Faizabad to join the main protest there.
Another rally was taken out on Adiala Road by members of the civil society and a religious group. They were also chanting slogans and marched towards Faizabad.
Shabab-i-Milli leader Mufti Mohammad Hanif Qureshi led a protest rally from Jamia Masjid Syeda Amna in Dhoke Ali Akbar to Faizabad after Friday prayers.
TLP Saddar chapter brought out a rally from Jamia Mohammadia Ziaul Uloom.
The rally was led by Pir Syed Ziaul Haq Shah and Sahibzada Ahsanul Haq and attended by seminary students, traders and members of civil society.
The rally participants marched on Murree Road and were joined by various small rallies before it joined the sit-in at Faizabad.
Rallies were also taken out in Chakra, Misrial Road, Saddar, Pirwadhai, Fauji Colony, Dhoke Syedan, Bakra Mandi, Morgah, Kutchery, Jhanda Chichi, Raja Bazaar, Dhoke Kashmirian, Dhoke Hassu, Dhoke Elahi Bux, Sadiqabad and Shakrial.
The Rawalpindi police arrested over 245 protesters on charges of violating Section 144.
As many as 28 FIRs were registered with different police stations across the district.
Besides, the police sought detention orders for about 20 active members of TLP who the police believed could create law and order situation.
G.T. Road was blocked by protesters at Gujar Khan and long queues of trucks loaded with fruits and vegetables remained parked along the road for about two days.
Protest demonstrations were also held in Murree, Kotli Sattian and other areas.
Full report at:
https://www.dawn.com/news/1443212/more-religious-groups-join-protests-in-rawalpindi-islamabad
--------
A life spent to preach, promote Islam
SHAFQAT ALI
November 03, 2018
ISLAMABAD - All his life Maulana Samiul Haq preached and promoted Islam and in later years became popular as 'father of the Taliban' – due to his teacher-student ties with the prominent Taliban leaders including Mullah Muhammad Omer.
Maulana Samiul Haq was the head of Darul Uloom Haqqania, Akora Khattak. He served on the post since the death of his father, Maulana Abdul Haq, who founded the madrassah (religious seminary) in 1988. Many leaders of Afghan Taliban, including the movement's founder Mullah Omer, studied at Darul Uloom Haqqania.The Maulana studied Fiqah (jurisprudence) at Darul Uloom Haqqania. He was also a student of Arabic Literature Logic, Arabic Grammar, Tafseer Quran (Interpretation and Explanation of Holy Quran), Hadith Sharif (Holy sayings of Hazrat Muhammad -Peace Be Upon Him). The assassinated Jamiat Ulema-e-Islam (Sami) chief was also enrolled in the Qasamul Uloom Lahore and got a degree in Tafseer from spiritual leader Maulana Ahmed Ali Lahori. He was awarded honorary degrees from Darul Uloom Deoband, India and Jamia Makka Muazzama.
The cleric taught Arabic Literature and Grammar and specialised in the teaching of Hadith and Tafseer. He served as teacher of Hadith and Chancellor Darul Uloom Haqqania, Akora Khattak.
Maulana Samiul Haq was a member of Majlis-Shura - the Parliament – during former military ruler Ziaul Haq's regime (1983-85).
In 1985 he was elected unopposed by the Provincial Assembly of Khyber Pakhtunkhwa later becoming a Senator.
In 1986 he brought Shariat Bill before Senate for the implementation of Islamic Law in the country.
Maulana Samiul Haq was close to the incumbent Prime Minister Imran Khan. The ruling Pakistan Tehrik-e-Insaf formed an alliance with his party before the 2018 general elections.
He formed Mutahida Deeni Mahaz (United Religious Front), an alliance of relatively small religio-political parties, to participate in the general election 2013.
On March 25, 2013, he unveiled the electoral manifesto of the front, pledging that all high offices of the State, including the President, Prime Minister, Chief Justice and chiefs of Armed Forces, will be held only by Sunni Muslim men. It also talked of abolishing co-education and training all adult Muslims for Jehad (holy war).
Maulana Samiul Haq openly promoted the Taliban re-take of Afghanistan. He had stated: "Give them just one year and they will make the whole of Afghanistan happy. The whole of Afghanistan will be with them. Once the Americans leave, all of this will happen within a year. As long as they are there, Afghans will have to fight for their freedom," Maulana Samiul Haq said: "It's a war for freedom. It will not stop until outsiders leave."
In the backdrop of Tehrik-e-Taliban Pakistan calling polio-vaccination un-Islamic and forcing people to quit vaccinating their children, Maulana Samiul Haq on December 9, 2013, issued a fatwa (decree) in favour of polio vaccination.
The fatwa said: "Vaccination against deadly diseases is helpful in their prevention according to research conducted by renowned medical specialists. It adds that the vaccines used against these diseases are in no way harmful."
Before becoming the JUI-S chief, Maulana Haq was a part of JUI-Darkhwati and was made its President after Maulana Habibullah Darkhwati's death. The group later became the JUI-S.
He formed the Difa-e-Pakistan Afghanistan Council after 9/11, which later became the Muttahida Majlis-e-Amal.
The Maulana belonged to the Deobandi school of thought but was soft on the rival Islamic sects. He would never avoid meeting with the members of the other sects but remained committed to his viewpoint.
As the news about his assassination spread, politicians and religious leaders sent messages of condolences. President Arif Alvi, Prime Minister Imran Khan, former Prime Minister Nawaz Sharif and Opposition Leader Shehbaz Sharif condemned his murder.
The leaders of PPP, Muttahida Qaumi Movement – Senator Rehman Malik, Nayyar Bokhari and Aminul Haq - and other parties also condoled his death. Chief of rival JUI faction Maulana Fazlur Rehman too mourned the death.
JUI-S spokesperson Maulana Yousuf Shah said that the body of Maulana Samiul Haq will be taken to his native town of Akora Khattak for burial.
Full report at:
https://nation.com.pk/03-Nov-2018/a-life-spent-to-preach-promote-islam
--------
Fazl blames govt for turmoil after blasphemy accused's acquittal
November 03, 2018
PESHAWAR: JUI-F chief Maulana Fazlur Rehman on Friday held the PTI government responsible for the current turmoil in the wake of the acquittal of Christian woman Aasia Bibi in a blasphemy case and announced that the countrywide agitation would continue until the government was ousted.
"Our protest will continue until the government is sunk in the Arabian Sea," Mr Fazl told a rally here.
Seminarians and activists of other religious groups also attended the rally to condemn the Supreme Court's verdict in Aasia Bibi blasphemy case.
The charged crowd demanded withdrawal of the judgment.
The rally paralysed traffic and business activities in old part of the city.
The Jamaat-i-Islami, political ally of the JUI-F also staged separate protest rally in the city.
Addressing protesters, Mr Fazl said the Supreme Court's verdict to acquit Aasia Bibi had been issued under the US and Europe's pressure, while the rulers wanted to turn the country into a secular state.
"Americans, Europeans and secular forces have welcomed the acquittal of Aasia Bibi and showered praise on the chief justice but the controversial verdict has disappointed Muslims," he said.
The JUI-F chief criticised Prime Minister Imran Khan's 'aggressive tone' in address to the nation and warned him against using threatening language.
"We know about the culprit behind the (SC) verdict. You (Imran) is responsible for this controversial judgment," he insisted.
Mr Fazl said the JUI had forced imperialists to leave the Indian subcontinent, while his party would bring the government down.
"Do not push us against the wall otherwise we will throw your government out," he warned the prime minister.
The JUI-F chief came down heavily on the PPP and PML-N for supporting the court's verdict in Aasia Bibi blasphemy case.
He said the PPP had yet to accept the court's judgment to hang its founder, Zulfikar Ali Bhutto, while the PML-N was criticising the disqualification of its supremo, Nawaz Sharif.
Mr Fazl said he had been crying for the last one decade about the implementation of the western agenda in the country through local agents.
"The recent decisions of the government proved that my apprehensions were correct," he said.
He warned the people could 'paralyse the system to fix' the government.
PROTESTS: Religious parties continued to stage rallies across the province against the blasphemy case verdict bringing life to a standstill.
Major roads and highways remained closed in different areas.
In Mingora, angry protesters blocked all roads leading to Green Chowk.
Mostly students of seminaries and activists of religio-political parties, they took to the streets on the call of the Muttahida Majlis-i-Amal and other religious organisations.
They gathered at the Green Chowk and shouted slogans against the Supreme Court judges, Aasia Bibi and the PTI government.
In Swabi city, the JUI-F and Khatm-i-Nabuwat party jointly staged a demonstration against the acquittal of Aasia Bibi in blasphemy case after Friday congregation.
The protesters marched through the main bazaar and demanded punishment for the blasphemy accused.
They warned that their protest would continue until the Supreme Court reversed acquittal in the Aasia Bibi case.
The protesters also demanded of the PTI government to go.
In Khar area of Bajaur tribal district, too, religio-political parties staged rallies against the acquittal of Aasia Bibi.
A large number of party workers and people attended the rallies.
In Karak, the Muttahida Majlis-i-Amal took out a procession after Friday prayer against the Supreme Court verdict in Aasia Bibi case and insisted that the announcement was a step toward the abolition of the blasphemy law in the country.
In Ghalanai area of Mohmand tribal district, the Ahle Sunnat Wal Jamaat, JUI-F and other religious parties staged a demonstration against the acquittal of Aasia Bibi after Friday prayer.
The protesters marched from Chanda area to the Mohmand Press Club and demanded that the Supreme Court review acquittal of the blasphemy accused without delay.
They also blocked the main Peshawar-Bajaur Road for half an hour. The law-enforcement agencies beefed up security in the area.
In Timergara, hundreds of political workers marched on Balambat-Timergara Road against the acquittal of blasphemy accused Aasia Bibi.
The demonstration was held on the call of the Jamaat-i-Islami Lower Dir chapter, which was attended by workers of other religious organisations as well.
In parts of Shangla district, too, protests were held against the acquittal of Aasia Bibi on the call of religious parties.
The protesters demanded death penalty for the blasphemy accused and warned that they won't end street protests until her name was put on the exit control list.
Full report at:
https://www.dawn.com/news/1443230/fazl-blames-govt-for-turmoil-after-blasphemy-accuseds-acquittal
--------
China will not let Pakistan down
NOVEMBER 3, 2018
BEIJING: Chinese President Xi Jinping Friday reiterated his country's firm commitment to strengthen Pakistan-China strategic cooperative partnership for a shared future and assured his country's steadfast support to Pakistan on all issues of core interest.
At a meeting at the Great Hall of the People in Beijing, Xi told Imran Khan, who is on his first official visit to China, that he highly valued the two country's relations. "I attach great importance to China-Pakistan relations and am willing to work together with the prime minister to strengthen the China-Pakistan all-weather strategic partnership and build a new era of China-Pakistan destiny," he said.
President Xi said relations between China and Pakistan had already been growing and now those had touched new heights. "These relations have not only benefited the two all-weather strategic partners but the region and world," he said.
Imran Khan said Pakistan stood by China in safeguarding mutual interests, shared ideals and promoting multilateralism. He thanked the Chinese president, government and the people of China for their warm sentiments towards Pakistan. He congratulated them on the 40th anniversary of reform and opening-up, which has led to China's meteoric rise.
Imran Khan said friendship with China was the cornerstone of Pakistan's foreign policy and expressed the earnest desire of his government to further consolidate this relationship. He emphasized that President Xi's vision of connectivity – Belt and Road, and its flagship project CPEC – would translate into a win-win for shared prosperity in the region and beyond.
Imran Khan said he had followed President Xi as a statesman during his political carrier spanning over 22 years. The prime minister said he had watched other world leaders but the people of Pakistan were very impressed with the way China had progressed under President Xi.
Imran Khan lauded President Xi and other Chinese leaders for bringing down poverty in their country by bringing out 700 million people from poverty in 30 years. He said no other nation in the human history had been able to achieve this success.
He said that the main goal of his party and the government was to take people of Pakistan out of poverty as half of the population in the country was either on or under the poverty line. "China is the one country from which we can learn," he said.
Prime Minister Imran Khan said the way leadership of President Xi had tackled corruption was appreciable. "No other nation has held so many powerful people accountable for corruption in the last five years," he said, and added that his government and party wanted to learn from China in this area also because white collar crime was very difficult to detect. "It is easy to catch low level criminals but it is much more challenging to expose white collar crime which actually devastates a country," he added.
The two leaders discussed regional and global issues of mutual interest and agreed to work closely towards overcoming growing political-economic uncertainties. They also reviewed and held in-depth discussions on Pakistan-China bilateral relations. They reviewed the progress on CPEC, expressed satisfaction on its achievements, and vowed for its early completion to maximize the benefits for Pakistan.
The prime minister extended an invitation to President Xi Jinping to visit Pakistan, which was accepted.
During the meeting, Prime Minister Imran Khan thanked President Xi for extending warm hospitality to him and his delegation in China.
Earlier, President Xi warmly welcomed Prime Minister Imran Khan and his delegation upon their arrival at the Great Hall of the People. President Xi also congratulated Prime Minister Imran Khan on his election and assumption of the office.
Foreign Minister Shah Mahmood Qureshi, Finance Minister Asad Umar, Railways Minister Sheikh Rashid Ahmed, Minister for Planning Makhdoom Khusro Bukhtiar, Advisor to Prime Minister on Commerce Abdul Razzak Dawood, Chief Minister of Balochistan Jam Kamal Khan and Pakistan's Ambassador to China Masood Khalid were also present during the meeting.
Full report at:
https://dailytimes.com.pk/317995/china-will-not-let-pakistan-down/
--------
Call for concrete measures to counter growing radical narrative in country
NOVEMBER 3, 2018
LAHORE: Speakers at a seminar on Friday called for concrete measures to counter the growing radical narratives, adding that extremism poses a serious threat to the peace and stability, social harmony and economic and social development of the country.
The one-day event titled 'International Mehfil-e-Husan-e-Qiraat' organised as part of Paigham-e-Pakistan initiative of the government of Pakistan at Dargah Hazrat Abu al Biyaan was attended by a large number of students, ulema and notables of the city. Rafiq Ahmad Mujaddadi presided over the ceremony, while Shaikh Abdus Samee Saadni from Egypt, Shaikh Jawad al Hussani from Iran, Shaikh Darween Chaseewan from Indonesia, Qari Sadaqat Ali, Khadim Mujaddadi, Arif Mujaddadi and Syed Arif Raza participated as guests of honour.
In his keynote address on the occasion, Rouet-e-Hilal Committee UK Chairman Allama Zafar Mehmood Firashvi threw light on the role the Paigham-e-Pakistan declaration can play in the eradication of extremism and terrorism and establishment of peace in the society. While discussing a broad range of challenges facing Pakistan in the line of preventing and countering violent extremism, he also focused on the ways and means to counter radicalization and disengagement, particularly of the youth.
Emphasizing the critical role madaris and the ulema can play in countering violent extremism, Firashvi called for an exerted effort to engage madaris youth in constructive activities besides providing them ample opportunities to build their careers and grow, which will eventually generate hope among them as well as address the social, political and economic injustices and grievances.
"Paigham-e-Pakistan narrative is in fact a description and explanation of our religion through which the nation has been advised to lead a peaceful life by adhering to Islam's principles of peace, brotherhood, tolerance, equity, equality and forgiveness," he said, adding that it is the religious, national and moral responsibility of every citizen of Pakistan that he follows the national narrative and contributes towards establishment of a peaceful society.
Addressing on the occasion, Rafiq Ahmad Mujaddadi said Paigham-e-Pakistan was a historic and comprehensive document which would go a long way in eradication of militancy, extremism and sectarianism and establishment of peace and tranquility in the society. He hailed the role played by ulema by getting united in the best interest of the country as well as the Muslim Ummah.
"The institution of mosque should be strengthened. Mosque should act as a centre of training for the youth," Mujaddadi said, adding that those criticizing the religious seminaries are oblivious of the fact that these madaris are providing shelter, food and education to hundreds of thousands of poor children. He also called upon religious scholars to forge unity among their ranks. "Ulema and masses got united in Bangladesh for the sake of development of their country, which resulted in growth and progress there," he said, adding that extremism can bring no good to anyone.
He said madaris must inculcate values of tolerance, tranquility and pluralism among youth to promote peaceful coexistence. "While our armed forces are safeguarding the geographical borders of the country, the madaris must play their role to secure the ideological borders," he said.
Other speakers called for collective efforts by state institutions, religious and political groups, madaris and the civil society within the ambit of the constitution to cleanse Pakistan of the menaces of extremism and terrorism.
Full report at:
https://dailytimes.com.pk/317732/call-for-concrete-measures-to-counter-growing-radical-narrative-in-country/
--------
Close to winning war against terror: army
NOVEMBER 3, 2018
Pakistan Army Friday said it was close to winning the ongoing war against terrorism.
"Army is working on eliminating terrorism from the country … and we are close to winning the war against terrorism and our attention should not be diverted," Inter-Services Public Relations (ISPR) Director General Major General Asif Ghafoor told the state-run Pakistan Television (PTV) in an interview.
"All Muslims love Holy Prophet (Peace Be Upon Him) and there can be no compromise on that," he asserted in response to a question about protest by religious parties against acquittal of Asia Bibi in a high-profile blasphemy case. "Islam teaches us peace, forgiveness and love," he said. "We should not drift away from what Islam teaches us, nor the law," he said. "We want the situation to be resolved in a peaceful manner and in accordance with the law and constitution. People should refrain from statements against the army," he said, stressing that the matter should not be pushed to the level where army is given the responsibility to tackle the situation.
The ISPR chief appealed to the religio-political parties to seek a legal solution to their grievances. Referring to a review petition filed by Qari Salam against the Supreme Court's decision, he said they should wait for the court to decide the matter. "Asia Bibi case is a legal matter. The case was being heard in courts for the past 10 years. It is a legal matter and it will be better if the law is allowed to run its course on the matter," the ISPR chief said, adding that it was unfortunate that the military is dragged into every issue.
In reply to a question about Tehreek-i-Labbaik Pakistan (TLP) chief Khadim Hussain Rizvi's statement wherein he had alleged that the armed forces had threatened to 'eliminate' them, Maj Gen Ghafoor said members of the Inter-Services Intelligence (ISI) were part of the delegation that was sent to negotiate with the protesters. "During negotiations, discussions can get heated," he said. "These decisions are very difficult … you have to tackle law and order situations, like the current one," he said.
Full report at:
https://dailytimes.com.pk/317959/close-to-winning-war-against-terror-army/
--------
South Asia
Afghan Taliban reacts to Maulana Samiul Haq's murder
Nov 03 2018
The Afghan Taliban reacted to the murder of Maulana Samiul Haq, the leader of Jamiat-e-Ulema Islam (S), who was also famous the group's 'godfather'.
Taliban issued a statement after Maulana Samiul Haq's murder was confirmed, calling his death a major and irrecoverable loss to the Islamic world, specifically to the people of Pakistan.
Calling slain religious leader a 'martyr', the group has hailed his efforts and support against the Soviet and U.S. invasions in Afghanistan.
Maulana Samiul Haq was assassinated by unknown armed men in Rawalpindi city of Pakistan earlier this evening, his son Maulana Hamidul Haq confirmed.
Maulana Samiul Haq, who was also famous as the 'Father of Taliban' in Afghanistan, was stabbed to death in his residence.
"His driver Haqqani had gone out. On his return, he saw that Maulana Sami was lying in his bed in a pool of blood. He was no longer alive," Maulana Hamid told a local media outlet.
Maulana Samiul Haq was also the leader the Darul Uloom Haqqania religious seminary and was openly supporting the Taliban-led insurgency in Afghanistan.
No individual or group has so far claimed responsibility behind the assassination of Maulana Samiul Haq.
https://www.khaama.com/afghan-taliban-reacts-to-maulana-samiul-haqs-murder-02670/
--------
2 Jamaat leaders among 81 held in Bagerhat
November 03, 2018
Bagerhat, Nov 2 (UNB) – Police arrested 81 people, including two Bangladesh Jamaat-e-Islami leaders, from different places of the district early Friday.
The arrested Jamaat leaders are Mohidul Islam, 35, ameer of Betaga union unit Jamaat in Fakirhat upazila, and Aslam Sheikh (48), secretary of ward-4 unit of Jamaat under Fakirhat union.
Tipped off that a group of Jamaat-Shibir men was planning acts of sabotage, police conducted a drive in Fakirhat upazila headquarters and arrested the two Jamaat leaders, said Pankaj Roy, police super of the district.
The rest were arrested from different places of the district, he said.
http://unb.com.bd/category/Bangladesh/2-jamaat-leaders-among-81-held-in-bagerhat/5621
--------
3 police, 4 militants killed in Afghan checkpoint clashes
November 03, 2018
MAIMANA (Xinhua): At least three police officers and four Taliban militants were killed during clashes in Afghanistan's northern province of Faryab overnight, a local official said Friday.
"Hundreds of militants stormed a key police checkpoint in Dawlat Abad district Thursday night, causing heavy gunfight.
The clashes caused three policemen and four militants killed," a provincial council official, Sibghatullah Selab, told Xinhua.
An unknown number of police personnel and four police vehicles were captured by Taliban, he said.
Security forces launched a search operation early Friday to track the fleeing militants in the area. The province, 425 km northwest of Kabul, has been the scene of heavy clashes between Taliban and security forces from time to time.
Fighting has escalated in Afghanistan as the Taliban insurgency spreads from its traditional strongholds in the south and east to the once peaceful region in the north, where Taliban have been recruiting from the youth.
Meanwhile, at least nine Taliban militants have been killed after Afghan National Army troops launched a cleanup operation in southern province of Helmand, Afghan Ministry of Defence said Friday.
"The raid was conducted Thursday on the outskirts of provincial capital Lashkar Gah city after intelligence tips confirmed militants' activity at the areas," the ministry said in a statement.
No security force member or civilian was hurt during the operation.
Helmand, notorious for poppy growing, is also a known Taliban stronghold.
The militant group has yet to respond to the report.
Full report at:
https://nation.com.pk/03-Nov-2018/3-police-4-militants-killed-in-afghan-checkpoint-clashes
--------
Taliban's deputy shadow governor, Red Unit in-charge killed in Ghazni
Nov 02 2018
The shadow deputy governor of the Taliban group for southeastern Ghazni province was killed along with the Red Unit in-charge of the group during the airstrikes conducted by the U.S. forces in Ghazni province.
The 203rd Thunder Corps of the Afghan Military in the Southeast in a statement said a total of 12 militants were killed during the airstrikes conducted in Moqor, Aab Band, and Andar districts.
The statement further added that the deputy shadow governor of the group Mullah Nasim also famous as Dawood Lang and Red Unit in-charge Abdullah were among those killed.
Another key Taliban group leader identified as Daru Khan was also killed during the airstrikes, the statement added.
In the meantime, the 203rd Thunder Corps said a militant was killed and five others were wounded during a separate clash with the security forces in Niazi area located in the outskirts of the provincial capital of Ghazni province.
Full report at:
https://www.khaama.com/talibans-deputy-shadow-governor-red-unit-in-charge-killed-in-ghazni-02668/
--------
Southeast Asia
Gov't Urges Public Not to Be Provoked by Actions of Banned Hizbut Tahrir Indonesia
November 01, 2018
Jakarta. The government has called for unity and asked the nation not to succumb to provocations by the banned mass organization Hizbut Tahrir Indonesia.
This followed a meeting between Chief Security Minister Wiranto and related government ministries and institutions in Jakarta on Thursday to discuss a planned protest rally against the burning of the organization's flag by members of Banser, the youth wing of Nahdlatul Ulama, Indonesia's largest Muslim organization, at a gathering in Garut, West Java, last month.
The flag displays the tawhid, or Islamic declaration of the Oneness of God, written in Arabic script in white against a black background, or sometimes with the colors reversed.
West Java Police confirmed that members of Banser burned a Hizbut Tahrir Indonesia (HTI) flag but said the investigation was still ongoing. Banser and Nahdlatul Ulama have both since issued public apologies for the incident.
However, calls went out on social media platforms and popular messaging application WhatsApp this week for hardline Muslims to participate in the Defend Tawhid 211 rally in Central Jakarta on Friday.
Hizb ut-Tahrir, which means "Party of Liberation" in Arabic, is a global Islamist movement that seeks to unite all Muslim nations in a caliphate to "resume the Islamic way of life."
The organization is banned in several Muslim-majority countries, including Egypt, Saudi Arabia and Pakistan.
The Indonesian government disbanded HTI in July last year, but the organization fought the decision in the Jakarta State Administrative Court, which in May this year rejected its plea for a revocation of the ban.
"We urge the public to maintain national unity and not to succumb to the provocations of HTI, which was legally disbanded through a decree issued by the minister of justice and human rights on July 19, 2017," the government said in a statement on Thursday.
The government said Friday's planned rally was irrelevant against the background of the current situation, with the nation still mourning recent natural disasters that hit parts of West Nusa Tenggara and Central Sulawesi, killing thousands, as well as this week's crash of Lion Air flight JT-610.
Religious leaders have meanwhile encouraged all sides to resolve the issue peacefully and to allow the law to take its course in a fair and transparent manner.
https://jakartaglobe.id/news/govt-urges-public-not-to-be-provoked-by-actions-of-banned-hizbut-tahrir-indonesia/
--------
Budget 2019: Civil servants get unrecorded religious leave
02 November 2018
KUALA LUMPUR, Nov 2 — The government has approved the right to take unrecorded leave for its Muslim and non-Muslim civil servants for religious reasons, said Finance Minister Lim Guan Eng.
He said a total of seven days at once will be granted to Muslim civil servants throughout the period of their service, so they can go on Umrah (Islamic lesser pilgrimage).
"In appreciation of the 201,600 non-Muslim civil servants, the government has also extended the same length of time to them so they can fulfil their religious obligations," Lim said during the Budget 2019 tabling in the Dewan Rakyat.
Lim also proposed a RM10 million allocation for medical facilities for the parents of contractual public workers.
"We are concerned for their welfare, and acknowledge the contribution of the 30,000 contractual workers who do not enjoy the facilities as their permanent peers do," he said.
Full report at:
https://www.malaymail.com/s/1689355/now-civil-servants-can-take-unrecorded-leave-for-religious-obligations
--------
Welcome to the 'most generous country' in the world: Indonesia
November 3, 2018
Devina Heriyanto
The generalization that Indonesians are friendly and helpful might be true after all.
The 2018 World Giving Index by British organization Charities Aid Foundation (CAF) has placed Indonesia on top of the list.
Three behaviors are used to measure a country's generosity: donating money, helping a stranger and volunteering in the past month when the survey was conducted. Indonesians' participation in volunteering stands as the highest in the world at 53 percent, while its people's participation in donating money and helping a stranger are at 78 and 46 percent, respectively. The country's overall score is 59 percent.
The index, released this week, is based on surveys in 2017 by management consultancy Gallup involving more than 150,000 people worldwide -- before the devastating earthquakes in Lombok and Central Sulawesi that prompted people to donate and volunteer.
Indonesia made it to the top from its second position last year, after Myanmar dropped to ninth place after four years of enjoying the status of "world's most generous country". It is the first time has Indonesia topped the list in the history of the index, the ninth this year.
CAF notes in its report that the 2017 Rohingya crisis might "have contributed to Myanmar's people being less willing or less able to give in these ways".
Myanmar people still are the most generous when it comes to donations, with 88 percent participation -- 3 percent short of last year's rate. The country's adherence to Theravada Buddhism, which encourages its followers to donate money to those living a monastery life, might explain the high rate, according to the report.
Indonesia is in second position in terms of donating money. Similar to Myanmar, the country's adherence to Islam might explain the high rate as the religion also encourages followers to donate, a concept known as infaq.
Indonesia has the highest rate of women volunteering compared to other countries at 48 percent, even though the number is less than the rate of Indonesian men who volunteer at 59 percent.
Full report at:
http://www.thejakartapost.com/news/2018/11/02/welcome-to-the-most-generous-country-in-the-world-indonesia.html?src=mostviewed&pg=/
--------
Arab World
ISIS claims deadly attack on Egyptian Christians on bus near Coptic monastery
2 November 2018
ISIS terrorist group claimed on Friday evening responsibility for an attack which killed seven people near an Egyptian monastery, the group's AMAQ news agency said , without providing evidence of its involvement.
At least seven people were killed and dozens injured in shooting on two buses heading towards a Coptic Christian monastery in upper Egypt.
According to Coptic sources, unknown gunmen fired a barrage on two buses carrying the Copts who were on their way to the monastery of St. Samuel in Minya south of the country, killing seven people and injuring 14 others.
They also said there was heavy gunfire at a third bus, but its driver managed to steer the vehicl away from the source of the fire.
For its part, security forces quickly surrounded the area.
Searches are under way for the perpetrators.
Ambulances were rushed in to transport the injured to hospitals.
Egypt's President Abdel Fattah el-Sisi mourned the victims of the attack on the Christian bus, vows to push ahead with campaign against militants, on Twitter. " ... I wish speedy recovery of the wounded and confirm our determination to continue our efforts to combat black terrorism and to pursue the perpetrators."
"This incident will not undermine the will of our nation to continue its battle for survival and construction."
https://english.alarabiya.net/en/News/middle-east/2018/11/02/Egypt-7killed-14-injured-in-attack-on-bus-heading-toward-Coptic-monastery-.html
--------
King Salman sends condolences to Egypt's Sisi on Minya terrorist attack
2 November 2018
Saudi Arabia's King Salman bin Abdulaziz Al Saud sent a cable of condolences to Egyptian President Abdel Fattah al-Sisi following the terrorist attack on a bus in Minya governorate, which resulted in the killing of seven people and injuring of 14 others.
King Salman said: "We received the news of the terrorist attack on a bus in Minya province, and the resulting deaths and injuries, and we condemn in the strongest terms this criminal act," Saudi Press Agency (SPA) reported.
The Saudi monarchy also extended his condolences to the families of those killed and to the Egyptian people, wishing the injured a speedy recovery, reiterating the kingdom's solidarity with Egypt.
https://english.alarabiya.net/en/News/middle-east/2018/11/02/King-Salman-sends-condolences-to-Egypt-s-Sissi-on-Minya-terrorist-attack.html
--------
Saudis respond to peace calls with heavy Sana'a bombing
Nov 2, 2018
Saudi Arabia has responded to calls for a ceasefire in its war on Yemen with a heavy bombing of the capital Sana'a with more than 30 airstrikes.
Yemen's al-Masirah TV said the airstrikes early Friday targeted al-Dulaimi Air Base in Sana'a and the surrounding areas as Saudi-backed troops launched new attacks further west in the country's main port city of Hudaydah.
Saudi Arabia and the UAE on Wednesday massed thousands of additional troops near the city which is a gateway to the capital, and the lifeline for imports and relief supplies into Yemen.
Witnesses in Hudaydah said fighting was heard in areas near the airport and the university, and Apache helicopters were spotted in the sky. Airstrikes were intensified on Thursday night on Houthi bases near the eastern entrance to the port city, they said.
Yemeni armed forces and allied Houthi fighters responded to the attacks with a newly-unveiled Badr P-1 missile launched at an enemy assembly in the Saudi Najran province.
The stepped-up attacks by Saudi Arabia came after calls for a ceasefire and the renewal of peace talks by the US and Britain which are key supporters of the kingdom in the war which has been going on since March 2015.
On Thursday, US Defense Secretary Jim Mattis and Secretary of State Mike Pompeo called on all sides in the war to agree to a truce within the next 30 days.
The Houthis have expressed readiness for peace talks but strongly opposed the US proposal for mediation in the conflict, holding Washington responsible for the aggression against Yemen.
The Houthis believe that the only solution to the crisis lies in intra-Yemeni talks and non-interference by foreign parties, Houthi Political Council member Mohammed al-Bakhiiti said on Thursday.
Saudi Arabia has been waging the war against Yemen with the aim of reinstating former Yemeni president Abd Rabbuh Mansour Hadi.
The war, coupled with a Saudi naval blockade, has destroyed Yemen's infrastructure and led to famine as well as a cholera outbreak in the import-dependent state.
Last month, the Legal Center for Rights and Developments in Yemen said more than 15,000 civilians have died as a result of the conflict so far.
Full report at:
https://www.presstv.com/Detail/2018/11/02/578787/Saudi-Coalition-bomb-Sanaa
--------
Iraq reinforces border with Syria, fearing Daesh spillover
November 02, 2018
AL-QAIM: Iraqi troops have reinforced their positions along the porous frontier with neighboring war-torn Syria, fearing a spillover from clashes there between Daesh militants and US-backed forces.
For weeks, Daesh has fought back an assault by the US-backed Syrian Democratic Forces (SDF) on a key militant-held pocket in Syria's eastern Deir Ezzor province near the border with Iraq.
It managed to recapture some territory from the SDF around Hajjin, prompting Baghdad to dispatch reinforcements to its own border, including paramilitary units from the Hashed Al-Shaabi and the army.
"All measures have been taken: we have control towers, observation posts, dirt berms and trenches," Lt. Col. Abbas Mohammad, the head of one border unit, said Thursday.
"The SDF's retreat will not be a threat to Iraq," he added.
Soldiers could be seen posted along a sand berm topped by barbed wire and decorated with Iraqi flags, according to an AFP video journalist at the scene.
Military vehicles patrolled between barracks, and soldiers stationed at observation posts pointed their machine guns toward the Syrian border.
Helicopters and more armored cars arrived throughout the day.
According to Iraqi General Qassem Al-Mohammadi, who heads operations in Iraq's western Anbar province, Daesh fighters were just "five or six kilometers away, inside Syria."
Anbar, a massive desert governorate which extends from the edge of Baghdad west toward the Syrian border, served as a militant bastion before Iraqi forces retook it in late 2017.
Across the border in Syria, two separate offensives have aimed at ousting Daesh from the frontier with Iraq.
One has been carried out by Russian-backed Syrian troops, who have cleared Daesh from territory west of the Euphrates River.
That includes the Albu Kamal border post with Iraq, which was captured last year. Authorities in both Baghdad and Damascus said in mid-October that they hope to revitalize cross-border trade through it as soon as possible.
Full report at:
http://www.arabnews.com/node/1398271/middle-east
--------
Christians in Egypt prepare to bury dead a day after attack
November 03, 2018
MINYA, Egypt: Coptic Christians in the Egyptian town of Minya prepared to bury their dead on Saturday, a day after militants ambushed three buses carrying Christian pilgrims on their way to a remote desert monastery, killing seven and wounding 19.
A priest and members of a Christian congregation prayed and chanted over a row of white coffins ahead of a funeral service for the dead. All but one of those killed were members of the same family, according to a list of the victims' names released by the church, which said a boy and a girl, ages 15 and 12 respectively, were among the dead.
The local Daesh affiliate, which spearheads militants fighting security forces in the Sinai Peninsula, claimed responsibility for the attack south of Cairo in a statement. It said the attack was revenge for the imprisonment by Egyptian authorities of "our chaste sisters" without elaborating.
The Daesh affiliate claimed that 13 Christians killed and another 18 wounded, but it was not immediately possible to independently verify the claim or reconcile the discrepancy in the number of dead and wounded given by the group and the church.
The attack was likely to cast a dark shadow on one of President Abdel-Fattah el-Sissi's showpieces — the World Youth Forum — which opens Saturday in the Red Sea resort of Sharm el-Sheikh and hopes to draw thousands of local and foreign youth to discuss upcoming projects, with Egypt's 63-year-old leader taking center stage.
Daesh has repeatedly vowed to go after Egypt's Christians as punishment for their support of el-Sissi. As defense minister, el-Sissi led the military's 2013 ouster of an Islamist president, whose one-year rule proved divisive. It has claimed responsibility for a string of deadly attacks on Christians dating back to December 2016.
El-Sissi, who has made the economy and security his top priorities since taking office in 2014, wrote on his Twitter account that Friday's attack was designed to harm the "nation's solid fabric" and pledged to continue fighting terrorism. He later offered his condolences when he spoke by telephone with Pope Tawadros II, spiritual leader of Egypt's Orthodox Christians and a close el-Sissi ally.
In a somber message of his own, Tawadros said in a video clip released by the church that the latest attack would only make the Christians stronger.
"I think that this is a terrorist act which is targeting Egypt through playing the card of the Copts," said Begemy Nassem Nasr, priest of the church of St. Mary in Minya. "We know that ... President Abdel Fattah el-Sissi is hosting the youth forum and they meant to embarrass him."
Friday's attack is the second to target pilgrims heading to the St. Samuel the Confessor monastery in as many years, indicating that security measures in place since then are either inadequate or have become lax. The previous attack in May 2017 left nearly 30 people dead. It is also the latest by IS to target Christians in churches in Cairo, the Mediterranean city of Alexandria and Tanta in the Nile Delta north of the capital.
Those attacks left at least 100 people dead and led to tighter security around Christian places of worship and Church-linked facilities. They have also underlined the vulnerability of minority Christians in a country where many Muslims have since the 1970s grown religiously conservative.
The Interior Ministry, which oversees the police, said Friday's attackers used secondary dirt roads to reach the buses carrying the pilgrims, who were near the monastery at the time of the attack. Only pilgrims have been allowed on the main road leading to the monastery since last year's attack.
The Interior Ministry maintained that only one bus was attacked, but the latest statement by the church said three buses were targeted and put the death toll at 7 and the wounded at 19, including two in critical condition.
The Interior Ministry said police were pursuing the attackers, who fled the scene.
Egypt's Christians, who account for some 10 percent of the country's 100 million people, complain of discrimination in the Muslim majority country. Christian activists say the church's alliance with el-Sissi has offered the ancient community a measure of protection but failed to end frequent acts of discrimination that boil over into violence against Christians, especially in rural Egypt.
Full report at:
http://www.arabnews.com/node/1398386/middle-east
--------
Mideast
Egypt delegation visits Israel-Gaza border protests amid truce negotiations
2 November 2018
An Egyptian security delegation visited protests along the Gaza-Israel border Friday, organizers said, as it sought to broker a long-term truce between Israel and the Palestinian faction of Hamas.
In the first such publicly announced visit by Egyptian officials, the delegation briefly attended the Palestinian demonstrations in northern Gaza, a statement from the head of the organizing committee said.
Eyewitnesses said a car carrying the delegation briefly drove to a protest site a few hundred meters from the border, before departing.
Friday's protests come amid talk of a breakthrough in months of Egyptian-led negotiations. Read more
A truce deal would see the often-violent protests end in exchange for an easing of Israel's crippling blockade of the Gaza Strip.
Thousands again gathered at multiple sites near the frontier Friday but largely stayed away from the border fence, AFP correspondents said.
Hamas security prevented protesters from approaching the border too closely, the correspondents said.
In total seven Palestinians were shot and wounded, the health ministry in the strip said.
At least 218 Palestinians have been killed by Israeli fire since protests began on March 30.
One Israeli soldier was killed by a Palestinian sniper.
Demonstrators are calling for Palestinian refugees to be allowed to return to the homes their families fled or were expelled from in the 1948 war surrounding the creation of Israel and which are now inside the Jewish state.
Full report at:
https://english.alarabiya.net/en/News/middle-east/2018/11/02/Egypt-delegation-visits-Israel-Gaza-border-protests-amid-truce-negotiations.html
--------
Erdogan: Order to kill Khashoggi came from 'highest levels' of Saudi gov't
Nov 3, 2018
Turkish President Recep Tayyip Erdogan says the assassination of Saudi dissident journalist Jamal Khashoggi in Istanbul had been ordered at the "highest levels" of the Saudi government, but he does "not believe for a second" that King Salman issued the order.
In a Friday op-ed for The Washington Post, the Turkish president said there are still many "questions" for Saudi Arabia to answer regarding the killing of Khashoggi in the kingdom's consulate in Istanbul.
"Where is Khashoggi's body? Who is the "local collaborator" to whom Saudi officials claimed to have handed over Khashoggi's remains? Who gave the order to kill this kind soul? Unfortunately, the Saudi authorities have refused to answer those questions," he said.
"We know that the perpetrators are among the 18 suspects detained in Saudi Arabia. We also know that those individuals came to carry out their orders: Kill Khashoggi and leave. Finally, we know that the order to kill Khashoggi came from the highest levels of the Saudi government," Erdogan noted.
He said Ankara has friendly relations with Riyadh, and he does not believe for a second that King Salman ordered the hit on Khashoggi. "Therefore, I have no reason to believe that his murder reflected Saudi Arabia's official policy."
However, he said, longstanding friendship with Riyadh doesn't mean Ankara will turn a blind eye to the premeditated murder that unfolded in front of its very eyes.
He also described the murder as an inexplicable incident and a clear violation and a blatant abuse of the Vienna Convention on Consular Relations, and said failure to punish the perpetrators would set a very dangerous precedent.
"This is another reason we were shocked and saddened by the efforts of certain Saudi officials to cover up Khashoggi's premeditated murder rather than serve the cause of justice," he said.
"As responsible members of the international community, we must reveal the identities of the puppet-masters behind Khashoggi's killing and discover those in whom Saudi officials — still trying to cover up the murder — have placed their trust," Erdogan noted.
Khashoggi, a critic of Saudi rulers, was killed after entering the Saudi consulate in Istanbul on October 2. While Saudi authorities have admitted that the journalist's murder was premeditated, the body has yet to be found.
A top Turkish official, presidential adviser Yasin Aktay, said Friday he believes Khashoggi's body was dissolved in acid after being cut up.
The "only logical conclusion" was that those who had killed the Saudi journalist in Istanbul had destroyed his body "to leave no trace behind", he said.
"The reason they dismembered Khashoggi's body was to dissolve his remains more easily", Aktay told the Hurriyet Daily newspaper.
"Now we see that they did not only dismember his body but also vaporized it."
Saudi Crown Prince Mohammed bin Salman, who is widely believed to be the one who ordered the killing – as implicitly suggested by Erdogan in his Friday op-ed – has reportedly told the US he considered Khashoggi to be a dangerous Islamist.
During phone calls with President Donald Trump's son-in-law Jared Kushner and National Security Adviser John Bolton, Prince Mohammed said Khashoggi had been a member of the Muslim Brotherhood, a transnational Islamist organization, the Washington Post reports.
Full report at:
https://www.presstv.com/Detail/2018/11/03/578879/Erdogan-Khashoggi-murder-highest-levels-Saudi
--------
Coalition intercepts, destroys Houthi missile launched toward Saudi's Najran
2 November 2018
The Arab coalition air defense intercepted and destroyed a Houthi ballistic missile launched toward Najran in Saudi Arabia.
The spokesman of the Arab coalition forces, Colonel Turki al-Maliki, said that at exactly (06:17 Saudi local time) Friday, the coalition's air defense spotted the launch of a ballistic missile- by the Houthi pro-Iranian terrorist organization- from within the Yemeni Saada governorate toward Saudi Arabia.
He added that the missile was intercepted and destroyed over the Yemeni territories.
There were no injuries during the incident.
The total number of ballistic missiles launched by the Iranian-backed Houthi militias toward Saudi Arabia has so far reached 206, killing 112 civilians and foreigners, while injuring hundreds others.
Full report at:
https://english.alarabiya.net/en/News/gulf/2018/11/02/BREAKING-Coalition-intercepts-Houthi-ballistic-missile-over-Najran.html
--------
New details emerge regarding Saada incident blamed on coalition
2 November 2018
New details emerged regarding the August bus incident in Saada which was targeted by the Arab coalition, exposing the Houthi militias' propaganda.
Testimonies from journalists who were close to the site of the incident in Dhahian on August 9 indicate a different scenario from that of the pro-Iranian militias.
Although both the Arab coalition backing the legitimate government in Yemen and the joint Assessment Team had confirmed back in August that the targeted bus in Saada was carrying senior members of the Houthi militias and that the only mistake was probably the timing and location. The Houthi militia and its media outlets have been exploiting the accident, falsifying the facts, and suggesting that the bus was carrying innocent children.
Jamal Muqbel al-Gharab, a member in the Yemeni Media Union which is affiliated to the Houthis, revealed new details about the incident, after he defected from the group and left the country to a safer location.
Gharab said now he was free to tell what happened that day as he "left Yemen and secured his life", adding in a statement he posted few days ago on his Facebook page that he wanted to give his testimony on humanitarian grounds and to clear his conscience. He said: "When I saw and heard that the Arab coalition aircraft targeted a bus carrying dozens of children in Dhahyan, in Saada, I was saddened by this incident like other thousands of Yemenis."
The defected journalist Gharab added that he had visited the site of the incident as part of a Houthi media and human rights delegation headed by Hashim Sharaf el-Dinne, deputy Information minister in the coup government.
Gharab said: "But I found a reality different from the one promoted by the Houthi media," as after more than two hours of investigation and the collecting of information and photos, and through the testimonies of many people and eyewitnesses and owners of neighboring shops, the bus was carrying a group of the Houthi militias, headed by Salah Faiq Mohammed al-Sabeen and Yahya Bashiri who were killed in the raid. This information, he said, is the same as already confirmed by a lot of other media colleagues, led by journalist Samia al-Aghbari at the time, and anyone can refer to her page, in reference to her Facebook account.
Also read: Coalition's Assessment Team: Saada bus carried armed Houthis
Detailed report supported with photos soon
The Yemeni journalist said he will publish an enhanced report with pictures and testimonies later on, calling upon international organizations to investigate collected information from different independent sources not affiliated with the conflicting parties.
He also confirmed that he is fully prepared to testify before any international organization, including the United Nations Committee of Experts and Human Rights Watch.
For her part, journalist Mona Hammadi- who was part of the Houthi media delegation- revealed in a video published on Thursday, that the Houthis' account on the incident that involoved innocent children who were inside the bus, as a fabricated story, saying the bus was carrying senior Houthi militias' members.
The leadership of the Arab coalition supporting legitimacy in Yemen, had pledged in early September and after reviewing the report of the Assessment Committee, to hold accountable those who made the mistake in the timing of launching the raid in Dhahyan in Saada province, while reaffirming its commitment to international law.
Full report at:
https://english.alarabiya.net/en/News/gulf/2018/11/02/New-details-emerge-regarding-Saada-incident-blamed-on-coalition.html
--------
Houthis hold 16 ships carrying migrants in Yemen's Hodeidah, Salaif ports
2 November 2018
The Houthi militias are holding 16 ships in Yemen's Hodeidah and Salif ports carrying food and oil products, some of which have been in detention for more than a month, threatening to damage the cargo of some wheat and flour, the Center for Comprehensive Humanitarian Operations in Yemen said.
The center said in a statement issued on Friday that the number of vessels detained inside the port of Hodeidah are five ships carrying medicines, medical equipment, sugar and liquefied gas.
The number of vessels trapped inside the front area of in the port of Hodeidah are eight ships carrying maize, soy, wheat, flour and liquefied gas.
The statement added that the number of vessels detained inside the port of Salif were three ships, including two ships that were not allowed to unload their cargo of corn, wheat and soybeans.
They pointed out that there are 134 migrants and 293 sailors of 17 Asian, European and African nationalities aboard the vessels. The total tonnage of the captured vessels is 198,860.88 tons, of which 116,880 tons of wheat, corn, sugar and soybeans, and 79,722 tons of medicine and medical equipment, and 119,022 tons of liquified gas are held.
The statement added that these vessels carry the flags of nine countries: Djibouti, Sierra Leone, Malta, Comoros, Marshall Islands, Palhams, Panama, Nigeria and Palau, calling on the international community to exercise pressure on the Houthi militias to speed up the release of these vessels and unload their cargo.
Full report at:
https://english.alarabiya.net/en/News/gulf/2018/11/02/Yemen-s-Houthis-hold-16-ships-carrying-migrants-in-ports-of-Hodeidah-Salaif.html
--------
Yemen's legitimate forces advance in southern neighborhoods of Hodeidah
2 November 2018
The Yemeni legitimate forces advanced in the southern neighborhoods of the port city of Hodeidah, following the launch of a major military offensive on Friday morning supported by air raids.
Earlier, Al Arabiya news channel correspondent reported that violent clashes, using various types of weapons, were taking place east of the city between the Yemeni national army and the Houthi militias.
According to the correspondent, the a special elite unit in the Yemeni army advanced past the Kilo 16 area and dozens of Houthi militiamen were reportedly killed or injured.
The Arab Coalition supporting legitimacy in Yemen also intensified air raids targeting a number of Houthi military sites Friday morning on the outskirts of the port city. The heavy air raids focused on the southern city's entrance, targeting Houthis' posts where the Yemeni forces gained access to nearby areas.
Full report at:
https://english.alarabiya.net/en/News/gulf/2018/11/02/Yemeni-army-launches-military-operations-in-Hodeidah.html
--------
Yemeni drone strike hits Saudi airbase in retaliation
Nov 3, 2018
Yemeni army soldiers, backed by Houthi Ansarullah fighters, have launched a drone attack on a Saudi airbase in retaliation for the Riyadh regime's stepped-up bombing campaign on the impoverished nation.
Arabic-language al-Masirah television network reported that a Yemeni Qasif-1 (Striker-1) combat drone had accurately hit King Khalid airbase in Saudi Arabia's southwestern Asir region.
The drone strike came one day after the Saudi-led coalition attacked the al-Dulaimi airbase in the Yemeni capital, Sana'a, and its surrounding areas.
Coalition spokesman Colonel Turki al-Malki told Saudi state al-Ekhbaria TV on Friday that the airbase targeted had been used by the Houthis to "launch drone and ballistic missile attacks."
Al-Masirah said more than 30 Saudi air raids had targeted the al-Dulaimi base and its adjacent areas.
Additionally on Friday, clashes erupted between the Houthi fighters and Saudi-backed militants loyal to former Yemeni president Abd Rabbuh Mansur Hadi in the port city of Hudaydah, the entry point for most of Yemen's imports and aid supplies.
Saudi Arabia and its allies launched a brutal war against Yemen in March 2015 in an attempt to reinstall the Riyadh-allied Hadi regime and crush the Houthis.
Back in June, the Saudi-led coalition launched the Hudaydah offensive despite international warnings that it would compound the war-torn nation's humanitarian crisis.
Saudi Arabia claims that the Houthis are using the port city for weapons delivery, an allegation rejected by the fighters.
The Western-backed imposed war on Yemen, coupled with a naval blockade, has destroyed the country's infrastructure and led to famine.
Full report at:
https://www.presstv.com/Detail/2018/11/03/578890/Yemen-Saudi-Arabia-Asir
--------
Turkey, US mutually lift sanctions on top gov't officials in sign of easing tensions
Nov 3, 2018
Turkey and the United States have mutually removed sanctions on top government officials, signaling a thaw in frosty relations after the Turkish government detained American Christian pastor Andrew Brunson.
Brunson, 50, was detained in Turkey two years ago after being indicted by a Turkish court on charges of having links with the Kurdistan Workers' Party (PKK) militant group and the movement of US-based opposition cleric Fethullah Gulen, whom Ankara accuses of having masterminded the July 2016 coup attempt against President Recep Tayyip Erdogan.
In July, the pastor, who strongly rejected the allegations, was put under house arrest in the city of Izmir, but he was finally released and left Turkey in October after a court sentenced him to three years and 1-1/2 months in prison on terrorism charges. However, the court said he would not serve any further jail time after taking into account time served and good conduct.
Brunson's detention spiraled into a full-blown crisis and strained Ankara-Washington relations. The White House called for his release and took a series of punitive measures against Turkey over the continued detainment of the evangelical Christian pastor, including imposing sanctions on Turkey's Justice Minister Abdulhamit Gul and Interior Minister Suleyman Soylu in August.
In a tit-for-tat move, Ankara imposed sanctions on two corresponding top US officials - Secretary of Homeland Security Kirstjen Nielsen and Attorney General Jeff Sessions.
In a statement on Friday, the US Treasury Department announced on its website that sanctions on the two Turkish ministers had been lifted. Ankara immediately matched the US move by removing sanctions on two US officials.
According to Turkey's English-language Hurriyet Daily News, the development came after President Erdogan and his American counterpart held a phone call on Thursday and discussed the matter.
Meanwhile, Omer Celik, the spokesman for Turkey's ruling Justice and Development Party, said that the two leaders had another phone conversation over the issue last week and agreed to mutually lift the sanctions.
"It is an important step for normalization from this point forward," Celik said. The White House, however, did not have any immediate comment.
Full report at:
https://www.presstv.com/Detail/2018/11/03/578883/Turkey-US-sanctions-Brunson-Gul-Soylu
--------
Hamas urges Brazil to abandon plan to move embassy to Jerusalem al-Quds
Nov 2, 2018
Palestinian Islamic resistance movement, Hamas, has called upon Brazil's far-right President-elect Jair Bolsonaro to reverse his decision to move his country's embassy from Tel Aviv to Israeli-occupied Jerusalem al-Quds.
"We reject the Brazilian president-elect's decision to relocate the embassy from Tel Aviv to al-Quds," Hamas spokesman, Sami Abu Zuhri, wrote on his official Twitter page on Friday.
He went on to describe the Brazilian leader's decision as "an affront to the Palestinian people as well as Arab and Muslim nations."
Meanwhile, a senior member of the Palestine Liberation Organization (PLO) has strongly condemned the Brazilian President-elect's announcement that he would move his country's Israel embassy to Jerusalem al-Quds.
"These are provocative and illegal steps that will only destabilize security and stability in the region," Hanan Ashrawi, a member of the PLO's executive committee, told AFP.
She added, "It is very unfortunate that Brazil has joined this negative alliance against international law."
Bolsonaro on Thursday announced his intention to relocate the Brazilian Embassy from Tel Aviv to Jerusalem once he formally assumes the presidency. The move will make his giant Latin American country the third after the United States and Guatemala made the controversial switch.
"As previously stated during our campaign, we intend to transfer the Brazilian Embassy from Tel Aviv to Jerusalem," Bolsonaro tweeted in defiance to the Palestinians and most of the world.
Israeli Prime Minister, Benjamin Netanyahu, quickly welcomed the plan and issued a statement, praising the decision.
"I congratulate my friend Brazilian President-Elect, Jair Bolsonaro, for his intention to move the Brazilian Embassy to Jerusalem, a historic, correct and exciting step!" Netanyahu commented.
Bolsonaro, 63, who won a runoff election on Sunday, has outraged many with his overtly misogynistic and racist rhetoric.
Israel occupied Jerusalem al-Quds in 1967 in a move never recognized by the international community. The Palestinians want the city as the capital of their future state.
Tensions have been running high in the occupied Palestinian territories and the Gaza Strip since last December, when US President Donald Trump decided to recognize Jerusalem al-Quds as Israel's "capital" and relocate Washington's embassy from Tel Aviv to the occupied city.
On December 21 last year, the United Nations General Assembly overwhelmingly voted in favor of a resolution that calls on the US to withdraw its controversial policy shift.
Despite the vote, the US went ahead with the embassy transfer on May 14, triggering demonstrations in the occupied Palestinian territories, Iran, Turkey, Egypt, Jordan, Tunisia, Algeria, Iraq, Morocco and other Muslim countries.
Israel's crackdown in Gaza left over 60 protesters dead in the impoverished coastal enclave on that day alone.
Full report at:
https://www.presstv.com/Detail/2018/11/02/578830/Hamas-urges-Brazil-to-drop-plan-to-move-embassy-to-Jerusalem-alQuds
--------
US reimposes all Iran sanctions lifted under nuclear deal
November 02, 2018
LONDON: A raft of new US sanctions against Iran were announced on Friday, as it emerged that eight territories have been temporarily exempted from restrictions on importing oil from the country.
The move means all the sanctions on Tehran that had been lifted under the 2015 nuclear deal have been reimposed. The second wave of sanctions, that will come into force on Monday, cover Iran's shipping, financial and energy sectors.
The US will add 700 Iranian individuals and entities to its blacklist and also pressure the global SWIFT banking network to cut off Tehran, US officials said.
Donald Trump said Iran was going to take a very big hit from the sanctions after earlier posting a Game of Thrones - style image with the words "Sanctions are Coming."
The aim is to pressure Tehran to halt its nuclear activities and support for terrorism in the region, Secretary of State Mike Pompeo said.
"Our ultimate aim is to compel Iran to permanently abandon its well-documented outlaw activities and behave as a normal country," he added.
The new measures come six months after the US president withdrew from the 2015 nuclear deal struck between world powers and Iran.
Pompeo said the US will grant exemptions to eight "jurisdictions" that have pledged to, or have already, cut back on purchases of Iranian oil.
He did not name them, but they include India, Iraq, Japan, South Korea, and possibly China, according to reports. Turkish Energy Minister Fatih Donmez confirmed that Turkey had been told it would be granted a waiver.
The US told Iraq that it will be allowed to keep importing gas, energy supplies and food items from Iran, Reuters reported. The waiver is conditional on Iraq not paying Iran for the imports in US dollars. Iraq's economy is deeply entwined with Iran.
News of the waivers pushed oil prices down by about 1 percent on Friday, amid investor concerns over oversupply.
Iran said that it had no concerns over the reimposition of sanctions. "America will not be able to carry out any measure against our great and brave nation ... We have the knowledge and the capability to manage the country's economic affairs," Iran's Foreign Ministry spokesman Bahram Qasemi told state TV.
France, Germany, Britain and the European Union, which are all trying to save the nuclear deal, issued a joint condemnation of the US move.
"We deeply regret the reimposition of sanctions by the United States stemming from their withdrawal from the Joint Comprehensive Plan of Action," the statement said.
The deal was aimed at limiting Iran's nuclear capabilities in exchange for sanctions relief.
Peter Kiernan, lead energy analyst at the Economist Intelligence Unit, said there were fears that a complete shut off of Iranian oil exports could "cause a spike in prices and leave oil-consuming economies scrambling to buy oil elsewhere."
He added: "Saudi Arabia may be able to partially offset substantial Iranian supply losses, but not completely, leaving the market extremely vulnerable to a supply interruption from another source.
Therefore to some extent the Trump administration has had to show to some flexibility as larger oil buyers such as India and China especially have been unwilling to immediately cease all purchases from Iran."
David Butter, associate fellow for the Middle East and North Africa program at think-tank Chatham House, said that the waivers mark a "limited reprieve" for Iran.
"The waivers are only a partial concession as proceeds of sales would go into escrow accounts that would be used solely to finance Iranian imports from the buyer of the oil," he told Arab News.
"The US appears to have judged that the costs of refusing waivers would be too high in terms of impairing relations with major countries and driving up oil prices."
Robin Mills, CEO of Qamar Energy, a consultancy based in Dubai, agreed that the waivers were designed to stop oil prices soaring.
Full report at:
http://www.arabnews.com/node/1398131/middle-east
--------
Turkey's top religious official labels deism 'very interesting trap'
November 02 2018
Turkey's top religious official has labelled deism a "very interesting trap" designed to drive Muslim youth from Islam to eventually convert them into another religion.
Ali Erbaş, the head of the Directorate of Religious Affairs (Diyanet), Turkey's top religious body, met students at the Uludağ University in the western province of Bursa on Nov. 1.
"I must explain a very important subject. There have been some concepts emerging recently. Atheism as a concept was well-known, as it means to totally reject God and religions. Deism, on the other hand, is a very interesting trap. Warn them if you have any friend who can fall into this trap," Erbaş said in his address to the students.
"Those who come up with such an understanding [deism] prefer to first move the Muslim youth away from Islam instead of trying to convert them directly into another religion," the Diyanet head added.
Deism, which posits that God created the universe but rejects organized religions, has become an issue of public debate in Turkey amid reports that many young people, including conservative ones, have recently started to turn to this belief.
Full report at:
http://www.hurriyetdailynews.com/turkeys-top-religious-official-labels-deism-very-interesting-trap-138510
--------
Africa
Boko Haram: UN condemns attack on Borno communities
November 2, 2018
By Maina Maina
The UN Humanitarian Coordinator in Nigeria, Mr. Edward Kallon, has condemned a deadly attack on a camp for Internally Displaced People just a few kilometers from Borno State capital, Maiduguri on Wednesday.
The camp hosts over 12,600 civilians, who are seeking refuge there after having fled the violence in north-east Nigeria in past months.
An armed group carried out the attack on the camp adjacent to Dalori village and on four surrounding communities after dark, killing at least eight people and injuring dozens more, kidnapping women, and burning and looting homes, shelters and food stocks. --------
Hundreds have also been displaced as a result, according to the National Emergency Management Agency.
"I urge the Government of Nigeria to step up the protection of innocent people," said Mr Kallon.
"Attacks on camps for internally displaced people threaten these innocent women, children and men who have already fled their homes as a result of the ongoing conflict. Our deepest condolences go to the families of the victims of this attack and we wish the injured a speedy recovery."
"The attack took place in one of the nine camps for internally displaced people in Dalori; the camps were set up from 2015 and are now home to 47,500 civilians.
"In January 2016 a non-state armed group attack Dalori village, killing more than 100 people and burning most of the village down.
"The humanitarian crisis in Nigeria's north-east, that has spilled over into the Lake Chad region, is one of the most severe in the world today, with 7.7 million people in need of humanitarian assistance in 2018 in the worst-affected states of Borno, Adamawa and Yobe, and 6.1 million targeted for humanitarian assistance.
Full report at:
http://dailypost.ng/2018/11/02/boko-haram-un-condemns-attack-borno-communities/
--------
Nigerian Army Uses Trump's Words to Justify Fatal Shooting of Rock-Throwing Protesters
Nov. 2, 2018
DAKAR, Senegal — The Nigerian Army, part of a military criticized for rampant human rights abuses, on Friday used the words of President Trump to justify its fatal shootings of rock-throwing protesters.
Soldiers fired this Monday on a march of about 1,000 Islamic Shiite activists who had blocked traffic on the outskirts of the capital, Abuja. Videos that circulated on social media showed several protesters hurling rocks at heavily armed soldiers who then shot fleeing demonstrators in the back.
The Nigerian military said three protesters were killed, but the toll appears to have been much higher.
Amnesty International and leaders of the protest said more than 40 people were killed at the march and two smaller marches, with more than 100 wounded by bullets. A Reuters reporter counted 20 bodies at the main march.
Human rights activists and many Nigerians were outraged at the military's response, which echoed a similar confrontation in 2015, when soldiers killed nearly 350 protesters from the same group, the Islamic Movement of Nigeria, the largest and most recognizable face of Shiite Islam in the country. The group organizes frequent protest marches.
Early Friday morning, the military responded to the criticism.
The army's official Twitter account posted a video, "Please Watch and Make Your Deductions," showing Mr. Trump's speech on Thursday in which he said rocks would be considered firearms if thrown toward the American military at the nation's borders.
"We're not going to put up with that," Mr. Trump said in the clip. "They want to throw rocks at our military, our military fights back."
The army deleted the post hours later without explanation after it had caused an uproar on social media.
Mr. Trump is popular among groups in Nigeria's mostly Christian south that admire his tough talk against Islamic extremism. Though a polarizing figure, some people praise what they regard as his straightforwardness and frank talk, despite his reported insult last year when he said Nigerians in the United States would never "go back to their huts" in Africa.
Earlier this year after a meeting with President Muhammadu Buhari of Nigeria, during which Mr. Trump praised the Nigerian leader's fight against the Islamic State in West Africa, Mr. Trump said he never again wanted to meet someone so lifeless as Mr. Buhari, The Financial Times reported.
On Friday, John Agim, a spokesman for the Nigerian Army, said the initial posting of the video was a response to Amnesty International, which had criticized what it called the military's use of excessive force.
"We released that video to say if President Trump can say that rocks are as good as a rifle, who is Amnesty International?" he said. "What are they then saying? What did David use to kill Goliath? So a stone is a weapon."
"Our soldiers sustained injuries," he continued. "The Shiites even burnt one of our vehicles, so what are Amnesty International saying?"
The army has said as many as six soldiers were wounded during the protest after "thousands" of members of the sect overran a police checkpoint and blocked traffic along a highway.
Soldiers had arrived to assist the police, a news release said, and were met with protesters who threw canisters of fuel, "large stones, catapults with dangerous objects and other dangerous items."
The military posted photos of six slingshots and one pocketknife on its Facebook page as evidence.
"They wanted to take over the checkpoint with their weapons," Mr. Agim said. "They knew it was there. We responded to them."
Ibrahim Musa, a spokesman for the Shiite group, said that on Monday security forces refused to let protesters, who numbered about 1,000, pass the checkpoint as they marched toward their destination. He said 13 protesters were killed during two other marches this week, one before and one after Monday's deadly march.
"Rocks are not equal to bullets," he said. "The use of force is disproportionate. I don't think President Trump is a good example — even in America many are critical of him. I am surprised that the army will use Trump as a role model."
There was no immediate comment from the White House on the Nigerian Army's posting. But asked on Friday about whether he condoned American soldiers' firing on migrants in a Mexico caravan if they attempted to cross the United States border, Mr. Trump said: "They won't have to fire. What I don't want is, I don't want these people throwing rocks."
A State Department official in Washington, responding to the Nigerian shootings, said in a statement that the United States "supports regional efforts to fight terrorism and protect civilians, employing our full tool kit — including diplomacy, foreign assistance, senior military engagement, and security assistance."
The statement was a reiteration of a Twitter posting on Thursday by Tibor Nagy, assistant secretary for the State Department's Bureau of African Affairs, in which he called for restraint on both sides and an investigation to hold all lawbreakers accountable.
There was a conspicuous lack of comment on both the killings and the Nigerian Army's response from President Buhari and Atitku Abubakar, his main challenger in elections scheduled for next February.
Their silence may partly reflect the antipathy toward the Islamic Movement of Nigeria in their own bases of support.
There were also social-media expressions of support for the military's response.
"If the military in my country doesn't shoot back at a group of people who chose to block the highway and throw rocks at them, how would I trust them if they had to go toe-to-toe with a foreign enemy?!" wrote a senior aide to the governor of Kogi State in central Nigeria. "Please, use bullets to cure those fanatics of their madness!!
Despite its history of massacring innocent civilians in the war with the Islamist extremist group Boko Haram, detaining innocent citizens and raping women and girls fleeing war-torn communities, the Nigerian military has been the recipient of warplane sales and other gear from the United States. American officials are particularly worried about a branch of Boko Haram operating in Nigeria that says it has ties to the Islamic State.
A recent report mandated by Congress on the American strategy to improve security in Nigeria played down Nigerian military abuses, said Matthew Page, a former State Department expert on the region who is now an associate fellow in the Africa program of Chatham House, a British research group.
Mr. Page said that even under the Obama administration, Washington sent mixed signals to Nigeria on human rights, adding that diplomats and policymakers have been "house-trained by the Nigerian government to avoid public condemnation."
"Such concerns are now voiced in private, if at all. Detainee deaths and child imprisonment continues, and extrajudicial killings by Nigerian soldiers are not even covered up anymore," he said. "Under the Trump administration, any senior-level squeamishness about Nigerian military abuses has evaporated."
Almost 20 years after the end of military rule in Nigeria, protests are still viewed by many as a public disturbance and threat to the authorities.
Additionally, the Islamic Movement of Nigeria is seen as a threat by some Nigerians to the Sunni form of Islam that is dominant in Nigeria's north. The group does not recognize the Nigerian Constitution, claiming it excludes protections for minorities. Many Nigerian authorities say the group has the larger aim of creating an Islamic republic inspired by Iran.
In his meeting with President Buhari at the White House this year, Mr. Trump commented on the killings of Christians in Nigeria's Middle Belt, where clashes over land use have broken out between mostly Christian farmers and mostly Muslim herdsmen.
Full report at:
https://www.nytimes.com/2018/11/02/world/africa/nigeria-trump-rocks.html
--------
South Sudan frees rebel chief's associates to back peace deal
2 November 2018
South Sudan freed two associates of rebel leader Riek Machar from prison on Friday, advancing a peace agreement to end almost five years of civil war.
The two - retired South African colonel William Endley, an adviser to Machar, and James Gatdet, Machar's spokesman, had been sentenced to death.
President Salva Kiir on Wednesday ordered their release on Wednesday to reinforce the peace accord signed in September.
"We are here to implement the orders of the president. Their release comes as part of the peace process. They are now free," Interior Minister Michael Chiangjiek said after signing the paperwork confirming their release.
Sudan erupted in conflict in 2013 after Kiir sacked Machar as vice president. Ethnically charged fighting soon spread, shutting down oil fields and forcing millions to flee.
At least 383,000 South Sudanese have died as a result of the war, through combat, starvation, disease or other factors, according to a recent study by London School of Hygiene and Tropical Medicine researchers.
Under pressure from governments in East Africa and from United Nations and Western donors, Machar's group, other rebel factions and the government signed the peace accord under which he will again become vice president.
Endley was sentenced to death in February for trying to bring down the government, while Gatdet was sentenced to death in the same month on charges of treason and incitement against the government.
A Reuters witness at the prison where they had been said the two were brought out of their cells and told to put on civilian clothes.
Gatdet will go to Khartoum, Sudan's capital. Endley left South Sudan on Friday afternoon to return to South Africa, a Reuters witness at Juba international airport said.
Before their release, the two had expressed excitement at their impending freedom.
"I hope to see peace in South Sudan," Gatdet told Reuters from his jail cell, seated next to Endley.
"After two years and two months. It is finally a few minutes to go and also very happy today for the signed peace for the Republic of South Sudan," Endley said.
Machar returned to Juba on Wednesday, for first time since 2016. Read more
Full report at:
https://english.alarabiya.net/en/News/middle-east/2018/11/02/South-Sudan-frees-rebel-chief-s-associates-to-back-peace-deal.html
--------
Ex Al-Shabaab commander passed to run for political office
November 03, 2018
Mukhtar Robow Abu Mansur, a co-founder and former Al-Shabaab deputy leader has been cleared to run for political office, a year after he abandoned insurgency.
He announced his entry into politics early October 2018 but was banned by the central government due to his past record. But the regional elections chairman of the Southwest regional administration ruled otherwise.
He said the candidate had the right to participate in politics so long as he remained a Somali citizen. Robow has thus been cleared to contest to become president of the South-West state whose capital is Baidoa.
The elections are to take place later this month. Robow, a one-time candidate on the United States terror list will be coming up against an incumbent, Sharif Hassan Sheikh Aden and other aspirants.
He was expunged from the terror list in June 2017 and with that, a $5 million bounty on his head was withdrawn. In August same year, he defected to the government after several days of clashes between his militias and Al-Shabaab.
He reportedly has support from some regional MPs, a journalist with the Voice of America said.
US backs defections as means to degrade Al-Shabaab
The region is an autonomous one with its capital as Baidoa. It has an estimated population of 3.9 million and intended to consist of six Somali administrative regions Bay, Bakool, Middle Juba, Lower Shabelle, Gedo and Lower Juba regions.
Al Shabaab has been fighting for years to try to topple Somalia's central government and rule the Horn of Africa country according to their own interpretation of sharia law.
The militants, who are allied with al Qaeda, were driven out of the capital Mogadishu in 2011. They have also since lost nearly all other territory they previously controlled after an offensive by Somali government troops and African Union-mandated AMISOM peacekeepers.
Full report at:
http://www.africanews.com/2018/11/02/ex-al-shabaab-commander-passed-to-run-for-political-office/
--------
North America
Arab and Muslim Americans are taking Midterms by storm - and that's a good thing
2 November, 2018
Every two years pundits and politicos use the same old cliché about US elections being "the most important" choices of a lifetime.
But, with a surge in political mobilisation among Arab and Muslim Americans, these groups are more active that at any point in at least a generation.
Over the last three years, one study found the percentage of Muslim Americans that voted grew consistently at about seven percent.
Another report by the Arab America Institute (AAI) found that over 90 percent of Arab Americans voted in 2016 and that the community consistently votes at a higher-than-average rate. Most amazing of all, nearly 100 candidates for local, state, and federal government office across the country are Muslim American; that is magnitudes more than the dozen or so Muslims who ran for office just two years prior.
Now President Donald Trump's most ardent supporters find prospects of Arab and Muslim Americans - alongside pretty much any non-white Anglo Saxon Protestant (WASP) male - taking elected office terrifying.
Listen to the white nationalists walking the campus of the University of Virginia or the former leader of the Ku Klux Klan and one sentiment is crystal clear: These white men loathe the idea of losing their historical hold on power in the United States.
Demographic shifts already disadvantage their hold on societal influence, so political power is the last bastion of strength this particular group has; that is why they feel exceedingly marginalised and discriminated against. But, rather than symbolising the downturn of American exceptionalism, these midterm elections have the potential to illuminate the progress that Arab and Muslim communities are making, specifically, but also the progress the United States is making towards a more inclusive and progressive society.
Midterms 2018 is a chance to give Arab and Muslim Americans a voice
For these two communities - both of which has suffered bigotry, discrimination, and violence consistently since 11 September 2001, but even more so since Donald Trump's rise to power - the November midterms offer them a chance to send people to public office that share their values, outlooks on life, and ultimately speak on their behalf.
Only two members of Congress are Muslim, and neither are women. Of the handful of Arab American members of Congress, few are Democrats, though the larger population of Arab Americans identify with that party.
Make no mistake, perhaps at no point since September 11 have Arab and Muslim Americans needed their voices heard in Washington, as much as they do now. President Trump campaigned on radical plans to ban Muslims from entering the country and cheered past American law enforcement and national security acts that overwhelmingly targeted minorities in this country.
Since taking office, he made good on his pledge to ban Muslims - albeit in a watered-down fashion - and he has repeatedly made changes to immigration practices that hurt Arab and Muslim immigrants.
These are non-wartime measures, but it doesn't take an alarmist to ponder what moves his administration might take if there was some September 11th-like tragedy again - Guantanamo Bay and the PATRIOT Act are already chilling reminders of what the United States will do to these communities.
The current GOP-held Congress has been complicit in the president's demonising Arab and Muslim Americans.
Some pay lip service to standing up against the president's bigotry - some embrace it - but few have stood up to Trump in any meaningful way; no one proposed legislative fixes to the White House's decision to bar the most vulnerable Arab and Muslim refugees from entering the United States and the only member of Congress who challenged Mr Trump on issues like torture is no longer with us.
If Republican lawmakers are not going to have Arab and Muslim Americans' best interests in mind, it is only logical that the millions of individuals in this community send to Washington people that will safeguard their liberties.
Finally, for the Arab and Muslim communities specifically, these midterm elections offer them the opportunity to normalise civic engagement within the broader US political system.
In states like Michigan, Minnesota, California, New York, Texas, and Florida, Arab and Muslim communities have already proven to be successful and self-made business owners and public servants, but once more Arabs and Muslims make it to Capitol Hill - and more importantly govern well from Washington - then the broader population will not fear and demonise these communities.
It is a lengthy process, no doubt - consider that the preeminent demonisation of African American governance preceded the first post-Reconstruction era black senator by half a century and the first black president by nine decades - but laying the groundwork now is crucial for Arab and Muslim communities in the future.
As soon-to-be Congresswoman Rashida Tlaib said, candidates like herself expose their communities to the country "in a…pivotal way, an impactful way, through public service". This is especially important for the Muslim American community because, statistics show that this community will be the second-largest religious group in the country in just over two decades.
Think about the birther movement for a second and wonder if Americans right now would ever vote for a Muslim president.
If Muslim Americans get involved now and prove they are just as American and just as capable, politically, then by 2040 - when their numbers will surpass the Jewish community, and there will be a presidential election - then perhaps they can have their own Bernie Sanders (I-Vermont).
Arab and Muslim integration into the political system is good for the whole
While the midterms are important for the Arab and Muslim American communities specifically, their enfranchisement is necessarily good for the state of US democracy in general.
In a time when the country's wealth disparity is sky-high, as is the opportunity gap between white and minority communities, the government under which all Americans live needs to actually represent those Americans.
As former President Barack Obama noted, Americans should vote so the "face of politics" changes so "it looks [their] own". A responsible and accountable government - or a "government of the people, by the people, for the people," in the words of President Abraham Lincoln - must look like and share the very same experiences as its people.
The only way to ensure that Arab and Muslim communities are enmeshed in the fabric of the American democratic experiment is if they mobilise politically and find success on the ballot.
Decades after John F. Kennedy was elected president, Catholic Americans moved from electoral pariahs to fixtures in the legislative and judicial branches of the US government.
Popular mobilisation efforts by figures such as Cesar Chavez and Martin Luther King Jr. put in motion mechanisms that have resulted Hispanic and African American representation in Washington at an all-time high. To really have proportional representation in every sense of the word, Arab and Muslim Americans must mobilise politically, most importantly on 6 November.
Finally, if Washington is as diverse as the constituents it serves, the foundation of US democracy is stronger.
One study shows that greater diversity can lead to a lessening of bigotry like Islamophobia, which itself leads to greater intolerance of authoritarianism and militarism.
If the findings of this study are true, then greater Arab and Muslim representation can perhaps help curb President Trump's authoritarian tendencies and rein in US belligerency in the Arab and Muslim world (e.g., strikes on mosques in Syria, full-throated support for the brutal Saudi campaign in Yemen, etc.).
For minority communities in the United States, the 2018 midterm elections may truly be the most important of their lifetime. Arab and Muslim communities have the chance to stand up to President Trump and his sycophants in the Republican Party to pushback against the anti-Arab and anti-Muslim bigotry that seems to ooze from Washington.
https://www.alaraby.co.uk/english/comment/2018/11/2/arab-and-muslim-americans-are-taking-midterms-by-storm
--------
Palestinians slam plan to move Brazil embassy to Jerusalem
November 2, 2018
A senior Palestinian official on Friday condemned Brazilian far-right President-elect Jair Bolsonaro's announcement that he would move his country's Israel embassy to Jerusalem, following in the footsteps of US Preident Donald Trump.
"These are provocative and illegal steps that will only destabilise security and stability in the region," said Hanan Ashrawi, a member of the Palestine Liberation Organisation's executive committee.
The United States moved its embassy from Tel Aviv to Jerusalem in May, sparking fury among Palestinians, who seek the Israeli-annexed eastern part of the city as the capital of their future state.
"It is very unfortunate that Brazil has joined this negative alliance against international law," Ms Ashrawi said.
On Thursday Mr Bolsonaro tweeted that "as previously stated during our campaign, we intend to transfer the Brazilian embassy from Tel Aviv to Jerusalem".
"Israel is a sovereign state and we shall duly respect that," he said.
Israeli Prime Minister Benjamin Netanyahu hailed the move as "historic".
Only the United States and Guatemala currently have their embassies in Jerusalem, while other countries have theirs in Tel Aviv.
Israel occupied Arab east Jerusalem in the 1967 Arab-Israeli War and later annexed it in a move never recognised by the international community. It claims the entire city as its capital.
For decades the international community maintained that the city's status should be negotiated between Israel and the Palestinians.
Mr Bolsonaro's tweet about the embasy move is the latest controversial announcement by the former army captain, who has wasted no time implementing his hardline conservative agenda since his election win on Sunday.
He also made waves on the domestic front, naming the judge who has upended Brazilian politics with a massive corruption investigation, Sergio Moro, to be his justice minister.
Mr Moro is a hero to many Brazilians for his unrelenting "Car Wash" investigation, which uncovered the large-scale looting of state oil company Petrobras.
But for opponents, the move fuelled accusations that the judge was politically motivated - especially against leftist ex-president Luiz Inacio Lula da Silva who, according to opinion polls, would have beaten Mr Bolsonaro in the election had he not been jailed for 12 years for corruption.
Mr Bolsonaro promised in his victory speech to "change Brazil's destiny," and the four days since the election have given a glimpse of the magnitude of the change he has in mind.
The president-elect has doubled down on his vow to roll back gun-control laws so "good people" can take justice into their own hands, lashed out at the news media and begun lining up a cabinet of political outsiders, including an army general and an ultra-free-market economist.
A favorite with the market, Mr Bolsonaro's election has seen Brazilian stocks gain 3.9 per cent in the week since the vote, closing at a record high on Thursday.
On the diplomatic front, the embassy move squarely aligned him with the US president, and bolsters his image as a "Tropical Trump".
Full report at:
https://www.thenational.ae/world/mena/palestinians-slam-plan-to-move-brazil-embassy-to-jerusalem-1.787341
--------
GOP congressional candidate called Islam 'dangerous' and the work of Satan
November 2, 2018
The Republican candidate running in a competitive House race in North Carolina has a history of making anti-Muslim comments, a CNN KFile review finds.
Mark Harris, a former pastor who stepped down from his congregation in 2017, is the GOP nominee in North Carolina's 9th District, which runs along the state's southern border below Charlotte and Fayetteville. Harris defeated three-term GOP Rep. Robert Pittenger in a May primary and is now facing Democrat Dan McCready. CNN rates the race toss-up, the most competitive designation.
Harris, as the senior pastor of Charlotte's First Baptist Church, claimed Islam was "dangerous" and the work of Satan. He also said peace between Israel and the Palestinians could not be achieved until Muslims and Jews accepted Jesus Christ as their savior.
During one sermon, Harris showed his congregation a conspiratorial video claiming that Islam was taking over the world, including the United States. Harris said in that 2014 sermon that he was "shocked" and that "what he showed presented some cold hard facts that need to be exposed. And I mean, need to be exposed quickly."
The video, which was posted on YouTube in 2009 and which the online fact-checking site Snopes called "Mostly False," alleges that European and American cultures are in terminal decline due to a coincidence of decreasing fertility rates and booming population growth among Muslim immigrants. "As the population shrinks, so does the culture," the narrator states.  
The narrator later adds, "In a matter of years, Europe as we know it will cease to exist."
Over Middle Eastern-sounding music, the video goes on to cite dubious statistics on various European countries, including the assertion that the average Muslim family in France has 8.1 children to the average non-Muslim family's 1.8. "In just 39 years, France will be an Islamic republic," the video claims.
Pew research published in 2017 showed that while Muslim women in Europe do have more children than non-Muslim women, the difference was projected to be between 2.6 to 1.6 and 2.9 to 1.9 in France specifically. The research suggested that the Muslim portion of the European population is expected to increase over coming decades, although the data does not support the sweeping claims made in the video.
The video goes on to warn of a similar pattern in the United States before claiming that Islamic organizations had met "three years ago" in Chicago to plan "to evangelize America through journalism, politics, education, and more." It's unclear what meeting is being referenced in the video.
"If the foundations be destroyed, what can the righteous do?" Harris asked the congregation after the end of the video.
A spokesperson for Harris' campaign did not return a request for comment.
In another sermon, in November 2010, Harris called Islam dangerous and a counterfeit of Christianity.
"There is a satanic trinity of the dragon, the beast, and the false prophet. Satan is always a counterfeit," Harris said. "Listen to me, that is why the religion of Islam is so dangerous. It is the great counterfeit of our generation."
Harris went on to say that many elements of the Koran are identical to passages from the Bible, and warned against listening to political leaders who call Islam one of the great religions of the world.
"It is the great counterfeit. That's why we've got to be so careful of political leaders who somehow just like to speak of it as one of the great world religions. Ladies and gentlemen, it is not," he said. "In right here in Revelation 13, can't you see where we're moving? Because in Revelation 13 there is a counterfeit death and there is a counterfeit resurrection."
In another November 2010 sermon, Harris played on a similar theme, saying that in countries under Islamic rule, people are given no choice but to "worship the anti-Christ" and "to bow down to the image of the Beast."
"If you reject Jesus and you go into the great tribulation that we're describing in Revelation 13, the Devil's not going to give you that choice," he said. "You're going to be forced to worship the anti-Christ. You're going to be forced to bow down to the image of the Beast. And you know as well as I do in some countries of the world this very morning under Islamic rule, men are given no choice, but God's given you a choice this very morning."
In 2011, Harris delivered a sermon in which he recalled a recent trip he took to Israel and noted the tension that existed between Palestinians and Israelis. He went on to say there would be no peace between Jews and Muslims until they converted to Christianity.
"You cannot be in that land, as powerful and as moving as it is, without realizing the incredible tension that is constantly in that land between the Palestinians and the Jews," Harris said. "There will never be peace in Jerusalem until the day comes that every knee shall bow, every tongue shall confess that Jesus Christ is Lord."
Harris continued to say that no inhabitants of Jerusalem -- whether they be Jewish, Muslim, or Christians without a personal relationship with Jesus -- would experience peace until they accepted the teachings of Jesus.
Full report at:
https://edition.cnn.com/2018/11/02/politics/kfile-mark-harris-story/index.html
--------
Sanctions lifted on Turkish officials after US pastor freed
2 November 2018
The United States has lifted sanctions on two senior Turkish officials that were imposed in connection with the detention of American pastor Andrew Brunson.
The US had sanctioned Turkey's justice minister, Abdulhamit Gul, and interior minister, Suleyman Soylu, in August for their role in Brunson's arrest and detention.
Brunson spent nearly two years in confinement in Turkey on espionage and terrorism-related charges. He was sentenced to three years in prison in October but then was released and allowed to leave the country for the time already spent in custody.
The Treasury Department said in a statement Friday that Gul and Soylu have been removed from a sanctions list.
Full report at:
https://english.alarabiya.net/en/News/world/2018/11/02/Sanctions-lifted-on-Turkish-officials-after-US-pastor-freed.html
--------
US re-imposes all Iran sanctions lifted under nuclear deal
2 November 2018
The Trump administration on Friday announced the re-imposition of all US. sanctions on Iran that had been lifted under the 2015 nuclear deal.
The sanctions will take effect on Monday and cover Iran's shipping, financial and energy sectors. It's the second batch of penalties that the administration has re-imposed since President Donald Trump withdrew from the landmark deal in May.
With limited exceptions, the sanctions will penalize countries that don't stop importing Iranian oil and foreign companies that do business with blacklisted Iranian entities, including Iran's central bank, a number of private financial institutions and state-run port and shipping companies.
Secretary of State Mike Pompeo said the sanctions are "aimed at fundamentally altering the behavior of the Islamic Republic of Iran."
He has released a list of 12 demands that Iran must meet if it wants the sanctions lifted. They include ending support for terrorism, ending military engagement in Syria and completely halting its nuclear and ballistic missile development.
"Maximum pressure means maximum pressure," he said.
Pompeo said eight nations, which other officials identified as US allies such as Italy, India, Japan and South Korea, will receive temporary waivers allowing them to continue to import Iranian petroleum products for a limited period as long as they end such imports entirely. He said those countries had made efforts to eliminate their imports but could not complete the task by Monday's deadline.
Treasury Secretary Stephen Mnuchin said 700 more Iranian companies and people would be added to the sanctions lists under the reimposed sanctions.
Iran hard-liners in Congress and elsewhere probably will be disappointed in the sanctions because they were pushing for no oil import waivers as well as the complete disconnection of Iran from the main international financial messaging network known as SWIFT.
Mnuchin defended the move to allow some Iranian banks to remain connected to SWIFT, saying that the Belgium-based firm had been warned that it will face penalties if sanctioned institutions are permitted to use it.
Pompeo and Mnuchin both said the sanctions will have exceptions for humanitarian purchases.
Iran dismisses fresh US curbs
Iran said on Friday it had no concerns over the reimposition of new US sanctions on the country's vital oil and financial sectors, expected to be announced by Washington on November 4.
"America will not be able to carry out any measure against our great and brave nation ... We have the knowledge and the capability to manage the country's economic affairs," Iran's Foreign Ministry spokesman Bahram Qasemi told state TV.
The US government has agreed to let eight countries, including close allies South Korea and Japan, as well as India, keep buying Iranian oil after it reimposes sanctions on Tehran.
"The possibility of America being able to achieve its economic goals through these sanctions is very remote and there is certainly no possibility that it will attain its political goals through such sanctions," Qasemi said.
Full report at:
https://english.alarabiya.net/en/News/world/2018/11/02/Pompeo-US-to-temporarily-exempt-eight-countries-from-new-Iran-oil-sanctions.html
--------
Khashoggi's fiancee: Killers must be brought to justice
03.11.2018
By Umar Farooq
WASHINGTON
The fiancee of slain journalist Jamal Khashoggi on Friday demanded the international community to help reveal the truth about the whereabouts of his body.
In an opinion piece published in The Washington Post exactly one month after Khashoggi first disappeared and also on International Day to End Impunity for Crimes against Journalists, Hatice Cengiz said the "coincidence is tragic and painful."
"If the democracies of the world do not take genuine steps to bring to justice the perpetrators of this brazen, callous act — one that has caused universal outrage among their citizens — what moral authority are they left with?" Cengiz said.
Khashoggi, a Saudi national and columnist for The Washington Post, disappeared Oct. 2 after entering the Saudi Consulate in Istanbul to receive paperwork he needed to get married. Once inside, he was immediately strangled and then dismembered, according to the Istanbul Prosecutor's office.
Her piece was an invitation to the international community to take steps to reveal the whole truth of the killing, to bring the perpetrators to justice and to deliver Khashoggi's body to his family.
"We are now going through a test of humanity. And it requires leadership. The biggest responsibility lies on the heads of the governments," Cengiz said.
Cengiz noted efforts of Turkish President Recep Tayyip Erdogan and others there in managing the matter, and called for other leaders to join in these efforts.
"So I invite the leaders of all European countries and the United States to pass this test. Justice must be served. Those who ordered this murder — even if they stand in the highest political office — should also be prosecuted. I demand justice for my beloved Jamal," said Cengiz.
Full report at:
https://www.aa.com.tr/en/americas/khashoggis-fiancee-killers-must-be-brought-to-justice/1301607
--------
Europe
Swedish Municipality Refuses Conservative Request to Ban Public Muslim Call to Prayer
2 Nov 2018
The municipality of Karlskrona has rejected calls from the populist Sweden Democrats and the conservative Christian Democrats to ban the public call to prayer at a local mosque.
The municipality rejected the proposal to ban the public call to prayer saying that neither the Sweden Democrats nor the Christian Democrats could prove that the broadcasted Arabic prayer was causing a public disturbance that would warrant it being banned, local newspaper Sydöstran reports.
The Sweden Democrats said, "Prayer announcements in public places and in foreign languages are not part of Swedish society.
"These prayer announcements are not only a call to prayer but also an imposition on other religions."
Initially, the matter was supposed to have been decided in September but was delayed because lawyers of the municipality claimed they needed time to look into the legality of banning the call to prayer.
The issue of the public broadcast of the call to prayer has been an issue in other municipalities in Sweden like Växjö where, earlier this year, the local community demanded to be allowed to broadcast the call through a loudspeaker every Friday to aid in integration efforts.
Several months later, police in Växjö granted the Islamic community the permission to broadcast the call to prayer although some, like local Moderate Party politician Anna Tenje, criticised the move.
"If the Church of Sweden set up a tape recorder in the cathedral that proclaimed God's message, I would have objected to that too. I like the secular society and would like to defend it," she said.
While Sweden has, in some cases, allowed the broadcast of the call to prayer, other countries in Europe have been more hesitant, such as Germany where the Gelsenkirchen Administrative Court of North Rhine-Westphalia issued a ban on the practice earlier this year.
https://www.breitbart.com/europe/2018/11/02/swedish-municipality-refuses-conservative-request-ban-public-muslim-call-prayer/
--------
British doctor suspected of radicalisation demands right to return from ISIS ranks
November 2, 2018
One of six British nationals being held as ISIS detainees by Syrian Democratic Forces has denied accusations that he fled Britain to fight for the group and instead Muhammad Saqib Raza wants a "second chance" to return home from the battlefield.
Raza has told a British newspaper that he fell victim to an elaborate kidnap plot that unwittingly led him to ISIS controlled territory. "As a doctor I was very moved by what was happening in Syria, but I never wanted to go over there," he said.
Raza, 40, left Britain – where he worked in the health service – in the summer of 2016 to buy property in Istanbul and escape a crumbling marriage.
There, he was approached by a man. "We started chatting and when he found out about me he said, 'Wow, I'm a recruiter of doctors in Turkey," Raza said. "He told me my services could be used at a hospital, he told me other foreign doctors were there and that Turkey had no problem with us entering Syria."
He did not imagine the man could be a recruiter for ISIS. "I thought it would look good on my CV, he sold me an opportunity."
He crossed over to Syria with the handler's help, expecting to work at a medical facility controlled by Turkey in the border town of Jarablus. But he was instead taken to the Idlib province, where he was held for three months before being transferred to Hama in central Syria and then to Raqqa, the Caliphate's former self-proclaimed capital.
There, he was forced to attend an Islamic studies course, where the extremists promoted an interpretation of Islam he called "sick". "I saw a hand being cut and I wanted to vomit. I saw a heads of SDF fighters. I was disgusted," he said.
Raza pleaded with the British forces to be repatriated and put on trial in the UK, where he is aware that his story may not be believed.
"Maybe parts of my story don't make sense, but I can't change it to make it more sensible," he said. "I love Britain, Britain is my home. I respect British law, there is justice."
But whether or not Britain will decide to take back Raza and other five nationals currently detained by the SDF remains to be seen. Western governments are currently being pressured to repatriate nearly 1,500 foreign ISIS suspects, whom the SDF say will neither be tried in Syria or be held indefinitely.
The British government has considered amendments to make its Counter-Terrorism and Border Security Bill more stringent. Britain's Home Office announced in September it would make it an offence to travel to designated countries where terror groups like ISIS are prevalent without a "reasonable excuse", bypassing the need to prove the involvement in criminal activities within these countries.
While up to 80 widowed wives of ISIS fighters in Syria are set to return to the UK for questioning – including the wives of two "Beatles" extremists – the government has not yet made a pronouncement on the destiny of male ISIS members.
Full report at:
https://www.thenational.ae/world/europe/british-doctor-suspected-of-radicalisation-demands-right-to-return-from-isis-ranks-1.787306
--------
Tweets by Russian trolls aim to rouse conflict over Islam in Britain
Marianna Hunt
2 NOVEMBER 2018
The overwhelming majority of tweets in 2017 from accounts associated with Russian trolls centered around the status of Islam within Britain, a study by think tank Demos has revealed.
Tweets addressing Britain's withdrawal from the European Union proved to be less numerous than Twitter posts about Islam in the country, which were retweeted 25 times more than any other subject in the period between March and June 2017.
These tweets came from accounts affiliated with Russia's Internet Research Agency (IRA), a group described as a "troll farm" by the US Intelligence Community.
During this period Britain was hit by two terror attacks: the first in Manchester on March 22 and the second in London on...
https://www.telegraph.co.uk/technology/2018/11/02/tweets-russian-trolls-aim-rouse-conflict-islam-britain/
--------
France, Germany, UK, EU condemn new US Iran sanctions
3 November 2018
France, Germany, Britain and the European Union issued a joint condemnation Friday of the US move to place fresh sanctions on the Iranian economy, vowing to protect European companies doing "legitimate" business with Tehran.
"We deeply regret the re-imposition of sanctions by the United States stemming from their withdrawal from the Joint Comprehensive Plan of Action," the statement said in reference to the hard-fought 2015 nuclear deal with Iran.
Struck between world powers and Tehran after years of fraught negotiations, the deal was aimed at limiting Iran's nuclear capabilities in exchange for sanctions relief.
But US President Donald Trump announced in May that he was walking away from the deal and would re-impose sanctions, leaving the EU scrambling to protect companies that have forged trade links with Iran.
Friday's statement from EU nations defended the deal as "essential for the security of Europe, the region and the whole world".
"Our objective is to protect European economic actors involved in legitimate commercial trade with Iran," it added.
Europe will also seek to "maintain financial channels operational with Iran and to ensure the continuation of Iranian oil and gas exports", it said.
US officials said Friday that Washington was adding 700 individuals and entities to its Iran blacklist and pressuring the global SWIFT banking network to cut off Tehran when expanded sanctions are put in place next week.
US Secretary of State Mike Pompeo said the sanctions were aimed at getting Tehran to halt its nuclear activities and what the US says is broad support for "terrorism" in the region.
Full report at:
https://english.alarabiya.net/en/News/middle-east/2018/11/03/France-Germany-UK-EU-condemn-new-US-Iran-sanctions-.html
--------
EU, E3 condemn US for reimposing sanctions on Iran, vow to protect trade
Nov 2, 2018
France, Germany, the United Kingdom, and the European Union have jointly condemned Washington's fresh sanctions on Iran's economy, vowing to protect European firms doing business with Tehran.
In a joint statement issued on Friday, EU foreign policy chief Federica Mogherini and the E3 ministers of foreign affairs and finance expressed "deep regret" over the US reimposition of its unilateral sanctions on Iran following a May decision by President Donald Trump to withdraw from the Iran nuclear deal.
The statement described the 2015 agreement as "crucial for the security of Europe, the region and the entire world", adding that it is Europe's "aim to protect European economic operators engaged in legitimate business with Iran."
The statement also vowed to preserve and maintain "effective financial channels with Iran, and the continuation of Iran's export of oil and gas."
"These efforts have been intensified in recent weeks, particularly those underpinning the European initiative to establish a Special Purpose Vehicle (SPV) on which we are proceeding with work to set up," the statement said.
According to the statement, the SPV "will enable continued sanctions lifting to reach Iran and allow for European exporters and importers to pursue legitimate trade."
The statement also hailed Iran's commitment to the Joint Comprehensive Plan of Action (JCPOA), as confirmed by the International Atomic Energy Agency (IAEA) in 12 consecutive reports, and vowed to "remain committed to implementing the JCPOA as a matter of respecting international agreements and of its shared international security."
The reaction came after the US Treasury Department announced all sanctions on Iran lifted under the 2015 nuclear deal will be back in force on November 5.
According to Treasury Secretary Steven Mnuchin, the sweeping sanctions will see 700 people blacklisted, including people who were granted relief under the 2015 deal, as well as over 300 new names.
Speaking to reporters on Friday, Mnuchin said the sanctions will also target payments made through the EU's SPV channel.
He also warned global financial messaging service SWIFT that it could be punished if it doesn't cut off financial services to entities and individuals doing business with Iran.
"SWIFT is no different than any other entity… We have advised SWIFT that it must disconnect any Iranian financial institutions that we designate as soon as technologically feasible to avoid sanctions exposure," he noted.
His remarks dismissed an earlier report by The Washington Free Beacon, which claimed senior State Department officials have convinced Secretary of State Mike Pompeo to allow Iran to remain connected to SWIFT.
The Trump administration earlier agreed to allow eight countries to continue purchasing Iran's crude oil after Washington's sanctions on Tehran take place next Monday.
A senior administration official told Bloomberg that waivers were aimed at preventing oil price hikes and would be granted in exchange for continued import cuts.
Pompeo later confirmed the report on exempting the eight countries, but refused to name them and just said the EU as a singular entity was not among them.
He announced that more details will become available on Monday as the sanctions take effect.
South Korea, Japan, India, and China were the first four countries which were confirmed to have received the waivers. Later on Friday, Turkey and Iraq confirmed they have received the exemptions as well.
Turkish Energy Minister Fatih Donmez told reporters Turkey is among the eight countries according to the information it has received, but Ankara has not received the details yet.
"We have emphasized the importance of oil and gas trade with neighboring countries for the sake of Turkey's supply. We have said that the alternatives are very limited. It is understood that the claims that we have been making since the beginning have been accepted to some extent by our counterparts. I think this will make positive contribution to peace and stability of the region," he noted.
Reuters also quoted three Iraqi officials as saying that Washington has told Baghdad it will be allowed to keep importing crucial gas, energy supplies and food items from Iran after the re-imposition of sanctions.
The waiver is conditional on Iraq not paying Iran for the imports in US dollars, said the officials, who included a member of Iraq's ministerial committee that oversees energy activities.
The ministerial committee official said Iraq's Finance Ministry had set up an account with a state-run bank where Baghdad would deposit in Iraqi dinars the amounts owed to Iran for the imports.
The November 5 sanctions will be the second batch of bans to be reimposed after Trump pulled the US out of the 2015 deal, which was signed by Iran and six world powers in 2015.
Full report at:
https://www.presstv.com/Detail/2018/11/02/578871/Iran-EU-France-UK-Germany-Sanctions-waivers
--------
Norway summons Saudi envoy over Khashoggi murder
Nov 2, 2018
Norway has summoned Saudi Arabia's ambassador over the killing of dissident Saudi journalist Jamal Khashoggi in the Arab kingdom's consulate in Istanbul last month.
"We have raised the murder of Jamal Khashoggi and presented our point of view to the Saudi ambassador several times after it was known," Norwegian Foreign Minister Ine Eriksen Soereide said in a statement on Friday.
"We underlined how seriously we take this issue again yesterday, when he was at the Foreign Ministry for a discussion."
Khashoggi, 59, an outspoken critic of Saudi Arabia's de facto ruler Crown Prince Mohammed bin Salman, had been living in self-imposed exile in the United States since 2017, when Saudi authorities launched a massive crackdown on dissent.
He was seeking to secure documentation for his forthcoming marriage when he entered the Saudi consulate in Istanbul on October 2, but never came out despite Riyadh's initial claim that he exited the mission less than an hour after completing his paperwork.
The kingdom, however, later admitted that Khashoggi had been murdered in the consulate during an interrogation by rogue operatives that had gone wrong after diplomatic pressure grew tremendously on Riyadh to give an account on the mysterious fate of its national. However, Saudi Arabia said that it did not know the whereabouts of the body, which is widely believed to have been dismembered.
Full report at:
https://www.presstv.com/Detail/2018/11/02/578831/Norway-summons-Saudi-envoy-Khashoggi
--------
UK: Amnesty places Khashoggi sign outside Saudi embassy
02.11.2018
By Ahmet Gurhan Kartal
LONDON
The Amnesty International on Friday placed a mock "Khashoggi Street" sign outside the Saudi Embassy in London in an attempt to draw attention to the brutal killing of the journalist.
Jamal Khashoggi, a columnist for the Washington Post, went missing on Oct. 2 after he entered the Saudi Consulate in Istanbul. After denying to know his whereabouts for several days, the Saudi government claimed the journalist was killed inside the consulate in a "rogue operation". They have yet to produce his body.
In a statement, the London-based human rights watchdog said: "A mock 'Khashoggi Street' sign was erected near the gates of the Saudi embassy, exactly one month after CCTV cameras last recorded the journalist entering the consulate building in Istanbul."
Amnesty also urged for a UN investigation into the killing.
"The whole world has been shocked by this grotesque killing, and it's vital that we don't let the outrage fade away without justice being done," said Kate Allen, U.K. director of Amnesty International.
"We need to see Jamal Khashoggi's killers brought to justice -- not only those who actually carried out the murder, but those who ordered it and knew it was about to happen.
"Contrary to claims made by the Saudi Crown Prince and others, Saudi Arabia hasn't been 'reforming', it's been rounding up critics and activists in a brutal human rights crackdown.
"One thing Britain urgently needs to do is halt all further arms sales to the Saudi Arabia and other members of the military coalition in Yemen," she said in a statement.
Commenting on the Saudi-led war in Yemen, Amnesty said in the past three-and-a-half years "numerous coalition bombs and missiles have struck Yemeni hospitals, food depots, marketplaces, civilian buses, factories and funeral halls."
"The UN assesses that the 'majority' of the thousands of Yemeni civilian deaths are a direct result of this aerial barrage, while thousands more have been injured.
Full report at:
https://www.aa.com.tr/en/europe/uk-amnesty-places-khashoggi-sign-outside-saudi-embassy/1301572
--------
URL: https://www.newageislam.com/islamic-world-news/sharda-university-student-joins-so/d/116784
New Age Islam, Islam Online, Islamic Website, African Muslim News, Arab World News, South Asia News, Indian Muslim News, World Muslim News, Women in Islam, Islamic Feminism, Arab Women, Women In Arab, Islamophobia in America, Muslim Women in West, Islam Women and Feminism