New Age Islam News Bureau
19 August 2022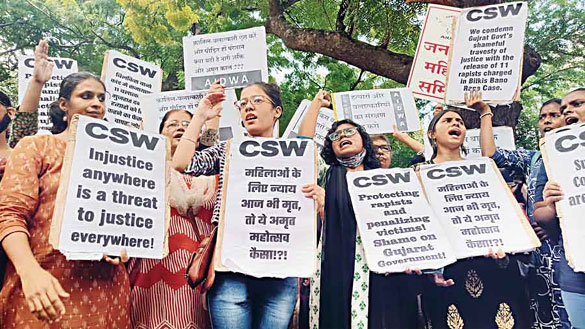 Women's groups protest on Jantar Mantar Road on Thursday against the release of the 11 gang-rape and massacre convicts who were serving life sentences in the Bilkis Bano riots case of 2002./ Centre for Struggling Women
-----
• Hosted By GOP Jewish Group, Dr. Mehmet Oz to Become the First-Ever Muslim Elected To the US Senate
• Supreme Leader of the Islamic Emirate, Hibatullah Akhundzada, Says He Will Engage With International Community within Sharia Framework
• Tehreek-i-Taliban Pakistan Warns Nationalists Levelling Allegations against the Banned Outfit
• Iraq's Sadrist Movement Rejects Results of National Dialogue
India
• Bababudan Dargah/Peetha': Management Panel Comprising Hindus, Muslims to Oversee Religious Practices
• Rohingya Refugees 'Speechless' After U-Turn
• Group of friends attacked in Kodagu over presence of 2 Muslims: Police
• Weapons dropping by Pak drones: NIA searches multiple locations in J&K
• Pakistan site warns of more targeted attacks in J&K over voting rights for all
--------
North America
• Most Americans Support Taking In Afghan Refugees But Oppose The Taliban, Finds Survey
• Confronting anti-Shia hate is necessary to prevent killings like Albuquerque's
• Michigan Imam Serves Tehran Regime as He's Fêted by U.S. Politicians
• Gander working with Muslim community to build mosque, retain Muslim doctors
• Federal court rejects Muslim student's lawsuit over controversial quiz about Islamic terrorism
• ISIS 'Beatle' faces life sentence for US hostage deaths
--------
South Asia
• 'You Have the Same Rights As I Have', Bangladesh PM Hasina Tells the Hindu Community on Janmashtami
• Former NSA Calls Doha Accord 'Terrible Agreement'
• Taliban Condemns Bombing of Mosque in Afghan Capital
• Hamid Karzai: 'After Taliban takeover, I told Indian envoy not to leave… glad they coming back'
• Want to export goods to India like Pakistan, says Taliban minister in Afghanistan
• Disgruntled Taliban commander killed while trying to flee to Iran
--------
Pakistan
• US commander lauds Pakistan Army's 'commendable' efforts in war on terror
• Madrassa student abuse case, Qari Shams gets life imprisonment
• Imran Khan: PTI's Plea Seeking Disqualification of PM Shehbaz, Cabinet Dismissed
• Salman Rushdie attack was unjustifiable: Imran Khan
• Pak Army Would Be Held Responsible By History for Doing Nothing to Stop Corruption: Imran Khan
• Pakistan lifts ban on import of non-essential and luxury items to meet IMF condition for bailout package
• Pakistan wants peaceful ties with India: PM Shehbaz
--------
Arab World
• Lebanon's Public Sector Paralyzed as Country Lurches toward 'Failed State'
• Saudi Crown Prince Meets Iraq's Shia Cleric, Ammar Al-Hakim, In Riyadh
• With few visitors, custodian of Syria castle has lonely job
• Lebanon records major spike in murders and suicides in 2022: Data
• Missile strike kills 9 civilians in northern Syria
• UN warns of increasing violence at Al Hol camp in Syria
• Turkish forces 'neutralize' 9 YPG/PKK terrorists in northern Syria
--------
Mideast
• Next Gaza Battle Will Sweep Israel off The Face of Occupied Palestinian Lands, Islamic Jihad Warns
• Israeli Forces Raid Offices of Several Palestinian Rights Groups, Civil Society Organizations in West Bank
• Iran Calls on Western Gov'ts to Stop Ignoring Israeli Crimes against Palestinians
• Palestinian Islamic State leader in Sinai killed by Egyptian forces - report
• Human Rights Chief Blasts US for Unjust Detainment of Iranians
• Israeli PM speaks to Germany's Scholz on Iran nuclear deal
• Palestinian killed in Israeli West Bank raid: Palestinian ministry
--------
Africa
• Ethiopia Calls UN Health Body Head's Remarks on Tigray 'Unethical'
• Somali Army Claims Killing 17 Al-Shabaab Terrorists
• Jordanian Journalists Protest to Mark 100 Days since Abu Akleh's Murder
• Morocco sentences 13 migrants to prison, says lawyer
• US senator meets Kenyan leaders amid election dispute
--------
Europe
• UK's Priti Patel Signs Deal To Deport Illegal Pakistani Migrants
• Alleged Anti-Muslim Hate Crimes Investigated By Portland Police
• Erdogan warns of 'another Chernobyl' after talks in Ukraine
• Turkey says Sweden's first extradition of Turkish convict falls short of demands
• EU hails decision by Türkiye, Israel to restore full diplomatic relations
--------
Southeast Asia
• Foreign Minister of Malaysia Condemns Myanmar Junta for Suu Kyi's Latest Prison Sentence
• Timor-Leste Muslims reject Indonesian Islamic group
• Australia upset at Indonesia reducing Bali bomber's sentence
• Amin Highlights Sharia Insurance Industry's Challenges, Opportunities
• Don't use civil servants as 'propaganda tools', PM told
Compiled by New Age Islam News Bureau
URL: https://newageislam.com/islamic-world-news/rights-groups-protest-bilkis-bano/d/127752
--------
Several Rights Groups Protest against Release of 11 Convicts Sentenced To Life for Gang Rape and Murder in the Bilkis Bano Case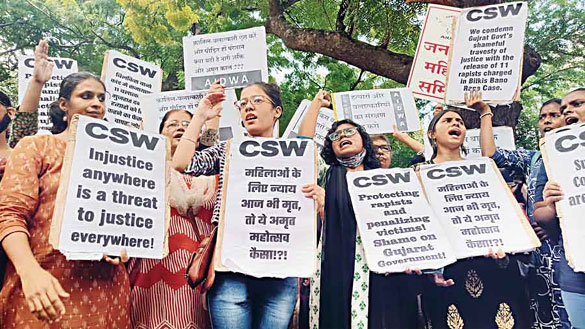 Women's groups protest on Jantar Mantar Road on Thursday against the release of the 11 gang-rape and massacre convicts who were serving life sentences in the Bilkis Bano riots case of 2002./ Centre for Struggling Women
-----
Pheroze L. Vincent | New Delhi
19.08.22
Several rights groups on Thursday protested against the release of 11 convicts sentenced to life for gang rape and murder in the Bilkis Bano case, telling the government "you have let down every woman in the country".
Around 6,000 individuals and institutions, including the National Alliance of People's Movements, women's groups and mass organisations of Left parties endorsed a statement asking the Supreme Court to undo the remission and saying that the justice from the courts had been undone.
Left women's groups demonstrated on Jantar Mantar Road, condemning the release as well as the welcome accorded to the convicts after they were freed.
A pregnant Bilkis was gang-raped during the 2002 Gujarat riots and seven members of her family, including her three-year-old child, were killed.
The release of the 11 men was executed under the Gujarat government's remission policy, following which the convicts were felicitated by Hindutva groups.
Among the critics was the Bharatiya Muslim Mahila Andolan, which had waged the legal battle against the triple talaq, a practice whose criminalisation the BJP tom-toms as an achievement for its government.
"The Prime Minister's call for Nari Shakti and women power is meaningless in front of this shocking remitting of the life… sentence for the rapists," a statement from the Andolan said.
"This act of setting the culprits free is in violation of the Centre's guidelines on remission. It invokes ethical questions over the state showing compassion for the accused whilst the woman who suffered unspeakable brutalities is left emotionally and mentally scarred for her lifetime.
"This act is a huge setback for several Nirbhayas across the country who are awaiting justice in matters of brutal sexual assaults and murders. This act would cripple women's fight for justice in all matters of sexual violence. It would embolden those indulging in gruesome crimes against women and children that they can get away under the loophole of remission.
"The Centre must prevail upon the Gujarat government to withdraw the order and revoke the remission. The accused must serve life-term as required by the HC verdict."
The People's Union for Civil Liberties demanded that the remission be revoked, the survivor be protected, the Centre and the Gujarat government be held accountable for "abuse of power", and the remission process be put in the public domain.
The Union said: "While PUCL is supportive of the remission of sentences, at the same time it cannot be done in a discriminatory manner, and especially in heinous crimes such as this one and that too without ascertaining and establishing full support and safety structure for victims."
The statement by the 6,000 individuals and institutions said: "To those who facilitated the release of 11 murderers and gang-rapists in contravention of the law of the land, we say this: You have let down every woman in the country. Made us more unsafe, more threatened and more at risk of violation."
The welcome the rapists and murderers received after they were released from jail is a slap in the face of a just society, Telangana Rashtra Samiti MLC Kavitha said.
In a series of tweets in Hindi, Kavitha said: "The welcome the rapists and murderers received, after their release from jail, from some people who follow a certain ideology is a slap in the face of a just society. It is imperative to stop this extremely dangerous tradition before it takes the form of a legacy."
She added: "The BJP government in Gujarat has displayed insensitivity by releasing the rapists of the then five months pregnant Bilkis Bano and the murder of her three-year old child. This is not only against the law but goes against humanity. Being a woman I can feel the pain and fear experienced by Bilkis Bano."
Requesting the Supreme Court's intervention and immediate action, Kavitha said: "This shameful decision must be withdrawn immediately so that citizens don't lose their faith in law and there are no more cases like the Nirbhaya case and no lady has to go through what Bilkis Bano suffered."
Additional reporting by PTI
Source: Telegraph India
Please click the following URL to read the text of the original story:
https://www.telegraphindia.com/india/rights-groups-protest-against-release-of-11-convicts-in-bilkis-bano-case/cid/1881006
--------
Hosted By GOP Jewish Group, Dr. Mehmet Oz To Become The First-Ever Muslim Elected To The US Senate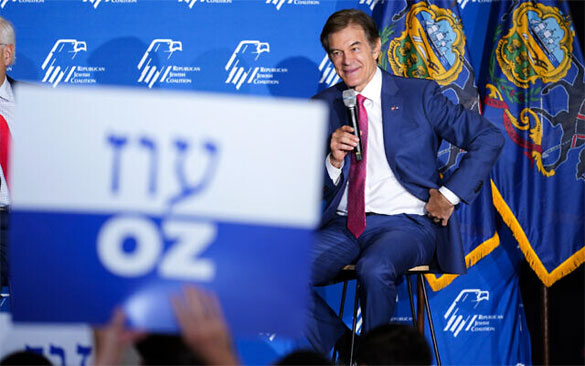 Mehmet Oz, a Republican candidate for US Senate in Pennsylvania, takes part in a Republican Jewish Coalition event in Philadelphia, Wednesday, Aug. 17, 2022. (AP Photo/Matt Rourke)
-----
By Jacob Magid
18 August 2022
PHILADELPHIA — Mehmet Oz sought to present pro-Israel bona fides at a Philadelphia event for Republican Jewish voters Wednesday night, as the GOP candidate aims to close a widening gap in order to become the first-ever Muslim elected to the US Senate.
Recent surveys showed Democratic nominee Lieutenant Governor John Fetterman leading over the retired heart surgeon and TV personality by double digits after the two began the race neck and neck.
Oz was welcomed by a warm audience at a hotel ballroom where roughly 300 people waved signs reading, "Fetterman is the Squad," "Jews for Oz," "Pro-Israel, Pro-Oz and "Oz" in Hebrew and English.
The gathering was hosted by the Republican Jewish Coalition and featured an onstage discussion between Oz and former US president Donald Trump's ambassador to Israel, David Friedman.
"There's no more important race in this country for us than right here in Pennsylvania," said RJC executive director Matt Brooks at the start of the event, insisting that keeping the seat vacated by retired Republican Sen. Pat Toomey would be essential if Republicans want to win back the Senate.
Brooks also made a point of highlighting Oz's background, declaring that "a Muslim, a Republican is going to be more pro-Israel than his Democratic opponent J Street John Fetterman."
The dovish Middle East lobby, along with the more centrist Democratic Majority for Israel, has endorsed Fetterman in the race against Oz, a dual American-Turkish national.
Friedman also expressed his excitement about Oz's candidacy, saying he was "intrigued by the idea of a pro-Israel Muslim, a very pro-Israel Muslim."
Oz seemed careful to clarify that he identifies as a "secular Muslim," adding that "in Turkish and Islamic culture, there's strong respect of Judeo-Christian values."
"I'm proud as a secular Muslim to stand tall and say together with many others who are Christian and Jewish — and other Muslims as well — to say that Israel is a force for good that brings light into the world," he declared to immediate applause.
Oz spent much of the event trying to paint his opponent as part of the "radical far left" and out of touch with most Pennsylvanians.
"John Fetterman is on the opposite side of just about every major issue from me, and that includes the future of Israel," said the Republican nominee.
"He's okay with the United States putting pressure on Israel to manage their internal affairs differently, in particular with how they manage the Palestinian population within Israel," Oz continued. "I believe people should have the autonomy to make important decisions in their lives, like they do with their own personal health."
Fetterman has made few public statements regarding his pro-Israel positions, but he told Jewish Insider in April that he opposes conditioning US aid to Israel.
It was unclear whether Oz was referring to Arab Israelis or Palestinians living in the West Bank and Gaza, but he still appeared to suggest that Israel's treatment of the Palestinians beyond the Green Line was a domestic matter.
Oz argued that Israel should not "give up any of its territory" when Friedman asked the Republican candidate whether he opposed ceding West Bank land to the Palestinians.
The former Trump envoy and backer of the settlement movement went on to prime Oz on the issue of US aid to the Palestinians, arguing that it should cease, given the PA's payments to those jailed on terror offenses and to the families of deceased attackers.
The US hasn't given aid to the PA since 2014, instead donating to the UN agency for Palestinian refugees as well as to humanitarian causes in the West Bank, Gaza and East Jerusalem. The Trump administration cut all of that funding, but it has been restarted by US President Joe Biden, about which Oz said he would "reverse course."
Oz took a similar stance regarding the Iran nuclear deal, which Biden is seeking to reenter. Trump in 2018 withdrew from the agreement, which traded sanctions relief for curbs on Iran's nuclear program, and initiated a "maximum pressure" sanctions campaign against Tehran, which led to the Islamic Republic rapidly expanding its nuclear program in violation of the agreement.
"Why would we be giving back all the money that we had been able to block for so many years, allow them to then accelerate the weaponization of their armed forces and be able to clearly present a risk to Israel?" he asked. "I still don't understand why Joe Biden would get us back into it. The hard part was getting out of it. Trump figured that out, and my opponent John Fetterman is embracing that idea."
This was the only time that Oz mentioned the former president during the roughly one-hour event, in what appeared to be part of a broader effort to make inroads with more centrist voters. Trump endorsed Oz in the Republican primary. The latter made a point of arguing that Fetterman, who endorsed Sen. Bernie Sanders in the 2020 presidential primary, was a fringe figure in his party, and noted that he, Oz, had been engaging with conservative Democrats.
Receiving no mention at all was Republican candidate for Pennsylvania governor Doug Mastriano, who has also fallen in the polls amid continuous revelations of his ties to far-right conspiracy theorists, including the Gab social media platform, on which the Tree of Life synagogue shooter posted antisemitic diatribes.
Brooks, the RJC director, acknowledged that his group had some "concerns" regarding Mastriano and would like to see him assure "the Jewish community [as to where] he stands as it relates to antisemitism."
However, he insisted that voters are differentiating between the two races and that Oz will manage to eventually overtake Fetterman in the November election.
Fetterman has faced mounting questions regarding his health after he suffered a massive stroke days before the May Democratic primary. The lieutenant governor made one of his first public appearances since the life-threatening incident at a campaign rally last week, where media reports noted his ability to stand through the duration of his 11-minute speech.
Source: Times Of Israel
Please click the following URL to read the text of the original story:
https://www.timesofisrael.com/hosted-by-gop-jewish-group-dr-oz-makes-case-for-becoming-first-ever-muslim-senator/
--------
Supreme Leader Of The Islamic Emirate, Hibatullah Akhundzada, Says He Will Engage With International Community within Sharia Framework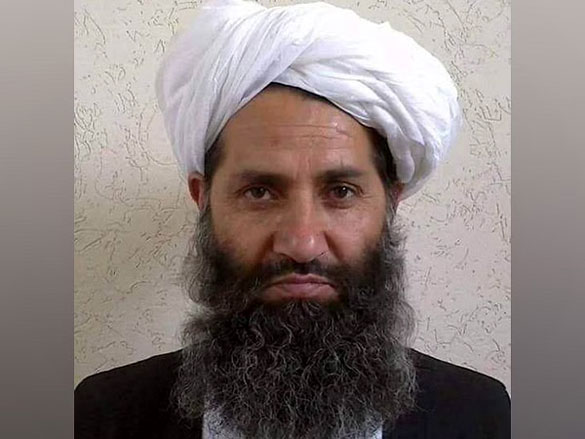 Taliban supreme leader Hibatullah Akhundzada
-----
August 19, 2022
The supreme leader of the Islamic Emirate, Mawlawi Hibatullah Akhundzada, reportedly spoke today at a meeting in Kandahar and said he will not let anyone interfere with the current government but he is ready to engage with the international community within a Sharia framework.
A high-level gathering of around 2,500 participants including Islamic clerics, civil society activists, Islamic Emirate officials and officials of the former Afghan government was held on Thursday in Kandahar.
There was no media coverage during the speech of the Islamic Emirate's leader.
Meanwhile, the acting Minister of Foreign Affairs, Amir Khan Muttaqi, said that the Islamic Emirate has represented Afghanistan in a "better way" around the world.
"No one should test the Afghans. Let these poor and proud people live happily," he said.
Muttaqi said that the Islamic Emirate wants good relations with all countries, but relations after 20 years of war with some countries cannot be expected to be normalized quickly.
"Afghanistan will not be the ground for the conflict of world powers, and the Afghan soil will not be used against anyone," he added.
"There is no land in the country which is not under the control of the Islamic Emirate," said the acting Minister of Vice and Virtue, Mohammad Khalid Hanafi.
"All of the girls are your girls. The facilitation of education for them is the wish of all Afghans," said Abdul Samad Madani, a trader.
The gathering is the second largest to be held since the Islamic Emirate came to power, after the meeting of clerics in Kabul.
Source: Tolo News
Please click the following URL to read the text of the original story:
https://tolonews.com/afghanistan-179452
--------
Tehreek-i-Taliban Pakistan Warns Nationalists Levelling Allegations against the Banned Outfit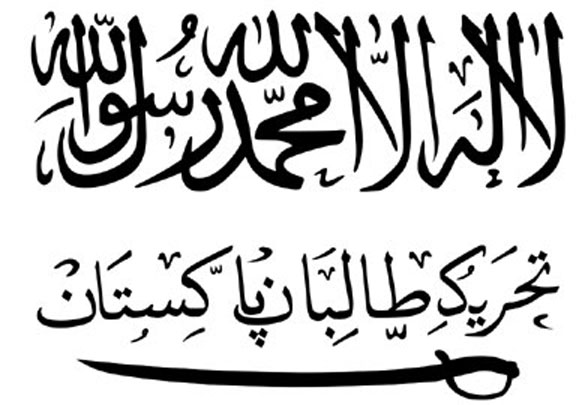 Tehreek-e-Taliban Pakistan
-----
August 19, 2022
PESHAWAR: Showing keenness for the success of the ongoing peace talks with the government of Pakistan, the proscribed Tehreek-i-Taliban Pakistan (TTP) has warned 'secular' and nationalist groups to stop levelling allegations against the banned outfit.
In a statement issued here on Thursday, TTP said that some pro-western groups were frustrated as situation in Pakistan showed signs of improvement owing to its peace talks with the government.
"These people do not want Pakistan to be peaceful and prosperous. That's why these groups are trying to create an impression from different platforms that Taliban are being brought to Khyber Pakhtunkhwa, including the merged districts, under the garb of negotiations," said the statement.
It said that TTP had reiterated its stance on many occasions that it wanted real peace in the country. It added that TTP was neither anti-state nor was it working for anti-Pakistan powers.
The statement said that TTP did not want to clash with any religious or political party. It warned liberal, secular and nationalist groups to refrain from making baseless propaganda and levelling allegations against it. It added that those parties, keeping under consideration its policies, should not choose the path of confrontation.
"These parties suffered losses in the past because of their wrong policies," it claimed.
The statement did not threaten any specific nationalist or secular group for spreading baseless allegations against the proscribed outfit. Awami National Party recently highlighted the issue of extortion and resurgence of militants in the province. The party also blamed members of the provincial cabinet for paying extortion to Taliban.
TTP recently denied its involvement in extortion, amid resurgence of armed group in Swat, Dir and other parts of the Khyber Pakhtunkhwa. The outlawed group alleged that nationalist and secular groups, who were enemies of the religious values and unity of Pakistan, were spreading disinformation regarding TTP's involvement in extortion in order to please their masters.
"We (TTP) appeal to all patriotic and Islam loving people to not to pay attention to the baseless propaganda of the atheist elements. These secular and nationalist elements are the enemies of Islam and this country. These groups do not want the supremacy of Islam," said the statement.
A political analyst, while commenting on the TTP statement, said that the entire world was wondering as to how a particular group could fight against a state for such a long time without any substantial financial resources.
"Is it possible to continue such a long conflict against the state, without resources," he questioned.
Commenting on the statement of the proscribed organisation, ANP provincial general secretary MPA Sardar Hussain Babak said that his party had no enmity with any group. He said that the party was following its hundred-year-old narrative that was peace, democracy and development. "Our policy is very clear, and we do politics under these guidelines," he added.
He said that terrorism had plagued Pakhtun's land for the last five decades and people had migrated to other parts of the country and abroad because of lawlessness. He said that terrorism affected every sector including economy, education and social values. He added that it was a known fact that ministers of PTI had been paying extortion for long time.
"Only ANP is not party to this conflict. Every Pakhtun should play his role to end this war," said Mr Babak. He added that violence, suicide attacks and extortion had a severe effect on the society and economy.
Source: Dawn
Please click the following URL to read the text of the original story:
https://www.dawn.com/news/1705624/ttp-warns-nationalists-against-levelling-allegations
--------
Iraq's Sadrist Movement Rejects Results Of National Dialogue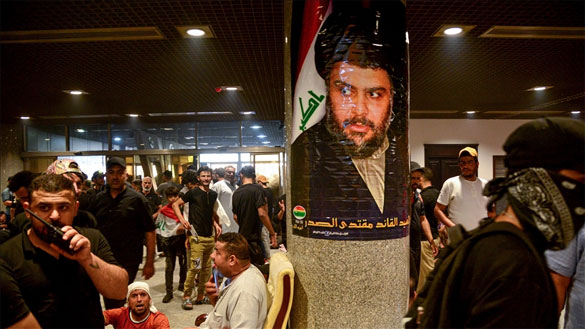 Photo: aa.com
----
Raed al-Hamed
18.08.2022
BAGHDAD
The Sadrist movement in Iraq on Thursday rejected the results of a national dialogue meeting.
The movement led by Shia cleric Muqtada Al-Sadr refused to participate in the talks that were called by Prime Minister Mustafa Al-Kadhimi.
The Wednesday's session was attended by UN envoy to Iraq Jeanine Plasschaert to find a solution to the ongoing political crisis which has hindered the formation of a new government.
Salih Muhammad al-Iraqi, a leading member of the movement, accused most of the attendees of seeking to remain in power.
"This secret meeting of yours does not concern us with anything," and "the people do not want people to do anything but to step aside," he said in a statement.
The meeting urged the movement to engage in talks to set mechanisms for a comprehensive solution.
It also encouraged proceeding with talks to lay down a legal and constitutional road map to address the crisis, and stop all forms of field, media or political escalation.
Tension flared in Iraq in recent days following the nomination of Mohammed Shia al-Sudani as the new prime minister by the Coordination Framework, a coalition of groups close to Iran.
The move triggered mass protests from supporters of al-Sadr, who called for the dissolution of parliament and early elections.
Last June, 73 lawmakers of al-Sadr's movement resigned from the 329-seat parliament after failing to form a "national majority" government, as the Coordination Framework hampered the Cabinet formation.
Iraq has been in a political deadlock for nine months following general elections last October, which has since failed to agree on a new government between rival parties.
Source: Anadolu Agency
Please click the following URL to read the text of the original story:
https://www.aa.com.tr/en/middle-east/iraqs-sadrist-movement-rejects-results-of-national-dialogue/2664117
--------
India
Bababudan Dargah/Peetha': Management Panel Comprising Hindus, Muslims to Oversee Religious Practices
August 19, 2022
Bengaluru: The Karnataka government has issued an order for constituting a management committee, comprising both Hindus and Muslims, to oversee religious practices at 'Sri Guru Dattatreya Bababudan Swamy Dargah/Peetha' in Chikkamagaluru district.
The order dated 19 July is based on recommendations made by a Cabinet sub-committee headed by Law and Parliamentary Affairs Minister J C Madhuswamy. The state cabinet on 1 July had accepted the recommendations made by its sub-committee.
This government order replaces the earlier order appointing Syed Ghouse Mohiyuddin Shah Khadri, a Muslim cleric, to conduct rituals at the disputed religious site, which was issued in March 2018 by the then Congress government.
According to the new order, the management committee comprising both Hindus and Muslims will appoint an 'archaka' and 'mujawar' to carry out religious practices.
The Datta Peetha issue has been a controversial one in Karnataka for several years. A Hindu shrine in the name of Dattatreya and a dargah in the name of Sufi saint Baba Budan are located at the cave in the Bababudangiri Hills of the Western Ghats.
Baba Budan was a 16th-century Sufi saint, who is said to have introduced the coffee plant to India by bringing in seven raw beans from the port of Mocha, Yemen while coming back from Hajj.
As per the order, a Hindu priest, who has passed in 'Agama Shastra' will be appointed to conduct daily rituals such as lighting of the nanda deepa inside the cave and offer floral prayers for the 'Dattatreya peetha/ paduke'.
The management committee will also take measures to hold Hindu religious practices such as 'Datta mala', 'Datta Jayanti', among others, it said.
The order further states that the mujawar appointed by the management committee will carry out customs at the dargah every evening and after namaz on Mondays and Thursdays.
Source: Firstpost
Please click the following URL to read the full text of the original story:
https://www.firstpost.com/india/bababudangiri-karnataka-government-orders-constitution-of-management-panel-comprising-hindus-muslims-11079271.html
--------
Rohingya refugees 'speechless' after U-turn
Pheroze L. Vincent | New Delhi
19.08.22
Sabber Kyaw Min waited a good seven hours before issuing a media release thanking the Centre for announcing that Rohingya refugees would be resettled in Bakkarwala near Delhi's western boundary with Haryana. But it was too good to be true.
Although the flats are in the back of beyond, far from Okhla where most Rohingyas in the capital live and work as daily wagers and domestic helps, this would have been the first official recognition of them as humans — and not the several unproven labels of them being criminals, rioters or vermin. An estimated 1,080 Rohingyas live in different parts of Delhi.
But Kyaw Min, the director of the Rohingya Human Rights Initiative here, had spoken too soon. On Wednesday afternoon, the Union home ministry practically nullified the offer made by housing and urban affairs minister Hardeep Puri in the morning.
After withdrawing his statement, the Rohingya activist was too choked with emotion to respond to queries from this newspaper.
He told The Telegraph on Wednesday: "I am speechless, please forgive me. We thank India for simply allowing us to live here so far. There are refugees from Somalia, Sudan and Afghanistan, too, in Delhi. I don't know why people have a problem with us."
Most Rohingya huts in Okhla's Madanpur Khadar on the west bank of the Yamuna were gutted in a fire in June last year. As they were rebuilding their shanties, the Uttar Pradesh irrigation department tore them down. The department owns a part of the Delhi floodplain the slum was located on.
"Half of us are living on the premises of the (NGO) Zakat Foundation of India in the area, and the rest live in the open on the lanes of Madanpur Khadar. After the fire and the eviction, the UNHCR (the United Nations' refugee agency) held talks with the sub-divisional magistrate and we were given food and water for three months. A large number of police personnel have been deployed here for some time, and they told us that we would eventually be moved somewhere," Kyaw Min said.
The first Rohingya refugee child to enter college, Tasmida Johar, is from this slum. Like her, many of the children go to schools run by Jamia Millia Islamia and other charitable institutions that do not insist on Aadhaar cards for admission.
"The genocide case against Myanmar is being heard at the International Court of Justice. The US in March this year recognised the genocide against us. India is our neighbour and is respected in the world community. We plead for your solidarity in this hour of crisis, and your support in our rightful return to Myanmar when the conditions are safe. We request India to take a humanitarian stand for our physical and mental well-being," Kyaw Min said.
In a statement on Thursday, Kyaw Min said at least 17 Rohingyas registered with the UNHCR had been deported from India since 2017, and 294, including four children, were in detention.
"It came as a surprise to the whole Rohingya community, as neither the UNHCR nor the government shared or discussed such plans (of resettlement)…. As a member of the UN Human Rights Council and a country that has taken in refugees who were persecuted in their home countries, we urge the Indian government to give the Rohingya people the tools they need to claim their right to life," he said.
The Aam Aadmi Party government in Delhi has accused the Centre of keeping it in the dark. Referring to a home ministry tweet that the Delhi government had requested for the Rohingyas to be shifted, deputy chief minister Manish Sisodia tweeted on Wednesday: "The news that the central government was not tired of boasting in the morning, after being opposed by the Aam Aadmi Party, has now started putting the responsibility blaming the Delhi government. Whereas it is a fact that the central government was secretly trying to give permanent residence to the Rohingyas in Delhi."
He added: "At the behest of the central government, the officers and police took decisions only on the orders of the LG, which were sent for the approval of the LG without showing it to the Chief Minister or the Home Minister."
Sisodia wrote to Union home minister Amit Shah on Thursday asking for a probe into the move to shift the Rohingyas to apartments in the national capital without his knowledge, if indeed it happened without the approval of the Centre.
He wrote: "The Delhi government opposes any step to give temporary or permanent accommodation to Bangladeshi Rohingyas in Delhi…. This is a matter of national security and the security of every citizen in Delhi is affected by this."
By describing the refugees as "Bangladeshi Rohingyas", Sisodia echoed Myanmar's ruling junta which considers the community as immigrants from what is now Bangladesh, and does not recognise them as citizens.
AAP's chief spokesman and MLA Saurabh Bharadwaj pointed to a file noting by the principal secretary of the Delhi home department that was marked to the lieutenant governor through chief secretary Naresh Kumar — without it being put before Sisodia, who handles the home portfolio. Kumar did not respond to a query on the resettlement plan from this newspaper.
BJP MP Gautam Gambhir on Thursday tweeted a letter from Delhi's home department to the New Delhi Municipal Council in June, asking for the Bakkarwala flats to supplement the existing "restriction centres" of the Foreigners Regional Registration Office that are overcrowded. It was a request of the FRRO, which reports to the Union home ministry, that the Delhi government had forwarded.
The police in the capital report to the LG. After a communal flare-up in April, AAP had accused the BJP of settling Bangladeshis and Rohingyas in Delhi to engineer riots — although all the accused were Indian nationals.
The UNHCR has 26,095 refugees from Myanmar registered in India. These are mainly Rohingyas and Chins. The former is a Muslim-majority community and the latter Christian.
Source: Telegraph India
Please click the following URL to read the full text of the original story:
https://www.telegraphindia.com/india/rohingya-refugees-speechless-after-u-turn/cid/1881002
--------
Group of friends attacked in Kodagu over presence of 2 Muslims: Police
Aug 19, 2022
Three men were allegedly attacked and their two woman friends verbally abused on Tuesday by workers of a right-wing organisation while they were on an outing in Kodagu district, in a suspected case of moral policing.
Madikeri police said a complaint was lodged by Nanda Krishnan (26), Mohammed Shamseer (24), Saman Sajeed (23) and two women who travelled from Mangaluru to Madikeri on a sightseeing tour in a car on Tuesday.
"The friends had gone to Abbey Falls in Kodagu district first. After parking their car near the location, they had hired a jeep to travel to the Mandalpatti Peak. By the time they returned, a mob of 30 people had gathered around their car and began questioning them," said a senior police officer seeking anonymity.
According to the complaint, the mob, who identified as right-wing group workers, questioned the friends about the presence of two Muslim men in the group. In the argument that followed, the mob allegedly assaulted the three men and verbally abused the women in the group.
The tyres of the car that the group had travelled in were punctured and the pictures of the five people were clicked.
"A case on charges of wrongful restraint, intentional insult, unlawful assembly with arms, rioting, criminal intimidation and voluntarily causing hurt was registered based on the complaint. We are still looking for the suspects," the police officer said.
In a similar incident, Bajrang Dal workers heckled pub goers in Mangaluru on July 26. The activists belonging to Bajrang Dal reportedly asked the staff at the pub in the Balmata area of Mangaluru to stop the event, alleging the students were indulging in some "illegal activities".
Source: Hindustan Times
Please click the following URL to read the full text of the original story:
https://www.hindustantimes.com/india-news/group-of-friends-attacked-in-kodagu-over-presence-of-2-muslims-police-101660849543211.html
--------
Weapons dropping by Pak drones: NIA searches multiple locations in J&K
Aug 19, 2022
KATHUA/DODA/JAMMU: The National Investigation Agency (NIA) has carried out searches in five districts of Jammu and Kashmir in connection with its investigation into dropping of weapons by Pakistani drones along the International Border, an official said.
The searches were carried out at eight locations on Thursday in Jammu, Srinagar, Kathua, Samba, and Doda districts in the case related to interception of a drone used for delivery of consignments of arms, ammunition and explosives by a key module of The Resistance Front (TRF), an offshoot of Lashkar-e-Taiba (LeT).
The TRF operatives were working at the behest of Pakistani handlers, a spokesperson of the federal agency said.
"The searches conducted today have led to recovery of various incriminating material, digital devices and documents," the NIA said.
The spokesperson said the TRF operatives were in constant touch with Pakistani handlers of LeT and were receiving weapon consignments and other terrorist hardware via drones in the Indian territory near the International Border in Samba.
"These weapon consignments were being further supplied to TRF terrorists in Kashmir for execution of terrorist attacks on minorities, migrants, and security forces," the official said.
The case was initially registered at Rajbagh Police Station in Kathua on May 29 and was re-registered by NIA on July 30.
Officials in Kathua said the NIA conducted raids on four houses in Marheen area.
Similarly, raids were carried out at a house in Kharoa-Bhalla of Doda district and at Talab Khatikan in Jammu.
Last month, police busted a module of LeT with the arrest of seven of its members, including their leader Faisal Muneer of Khatikan Talab.
Source: Times Of India
Please click the following URL to read the full text of the original story:
https://timesofindia.indiatimes.com/india/weapons-dropping-by-pak-drones-nia-searches-multiple-locations-in-jk/articleshow/93650977.cms
--------
Pakistan site warns of more targeted attacks in J&K over voting rights for all
Aug 19, 2022
SRINAGAR: A Pakistan-sponsored online mouthpiece for the Lashkar-backed terror outfit TRF on Thursday warned of a more intense wave of attacks targeting "migrant Pandits" and other "non-locals" in J&K, ostensibly in response to the chief electoral officer's estimate that the ongoing summary revision of rolls could see the addition of up to 25 lakh new voters in the Union Territory.
KashmirFight's threat to unleash violence through "resistance fighters" coincided with a chorus of dissenting mainstream voices, led by National Conference president and Srinagar MP Farooq Abdullah's call to "unite against the latest onslaught" at an all-party meeting next Monday. BJP is the only party not to receive an invitation to the meeting at Farooq's Gupkar Road residence.
At the heart of the uproar is CEO Hirdesh Kumar's statement in Jammu on Wednesday that anyone from any part of the country "ordinarily" living in J&K for work, education or business could now choose to get enlisted as a voter in accordance with the provisions of the Representation of the People Act, 1951.
KashmirFight, which in its previous avatar as a banned blog was known to threaten journalists and activists in J&K, claimed "making stooges and traitors vote" was a step towards initiating "demographic change".
"It is time to resist...Resistance fighters will accelerate their attacks...If these elements (non-locals) want to live like scapegoats, so be it," it said in a reminder of targeted attacks that have already claimed around 36 lives in two years, the latest a Kashmiri Pandit orchard owner in Shopian last Tuesday.
By the time J&K Police attempted to blank out the post on social media, screenshots had gone viral.
In Srinagar, the People's Alliance for Gupkar Declaration comprising NC, Mehbooba Mufti's PDP and CPM attempted a reconciliation of sorts with Altaf Bukhari's Apni Party and Sajjad Lone's People'S Conference by pitching the alleged bid to pack the electoral rolls with non-Kashmiris as a challenge they needed to combat together.
"We should focus on resolution of the Kashmir issue more than elections. Our youth are being radicalised. Kashmiri Pandits are getting killed, security personnel are being shot dead, and everybody is suffering," ex-CM Mehbooba said during a presser at her government-owned residence.
She claimed granting voting rights to non-Kashmiris was aimed at perpetrating a fraud in the name of elections and getting "BJP fascists" to run the UT. "They have understood after three years (since the nullification of Article 370) that they can't otherwise break the resistance of our silent people."
Source: Times Of India
Please click the following URL to read the full text of the original story:
https://timesofindia.indiatimes.com/india/pakistan-site-warns-of-more-targeted-attacks-in-jk-over-voting-rights-for-all/articleshow/93647396.cms
--------
North America
Most Americans support taking in Afghan refugees but oppose the Taliban, finds survey
AMOGH ROHMETRA
19 August, 2022
New Delhi: Fifty-six percent Americans, and an overwhelming 72 percent Democrats surveyed, would support a policy to accept refugees from Afghanistan, one year after US troops exited that country.
A study has found that 41 percent of Americans are opposed to that idea, and so are 64 percent of Republicans asked.
The 2022 Chicago Council Survey, involving 3,106 adults from all 50 US states, shows an overall positive response to refugees who have worked with the United States during the 20-year war.
Seventy-six percent of Americans supported such a policy from the US government, and 85 percent or every eight in ten Democrats were in favour of helping Afghans who supported the US during the War.
Among Republicans too, 67 percent were in favour of giving shelter to such Afghans.
According to the Chicago Council Survey, conducted 15 July to 1 August, three-quarters of US citizens supported food aid to the country undergoing a hunger crisis.
The survey said, "Three-quarters overall (73%), including large majorities of Democrats (82%), Independents (73%), and Republicans (64%), support providing food aid to the Afghan people."
Americans still oppose the Taliban
The survey authored by Craig Kafura, Assistant Director, Public Opinion and Foreign Policy at the Chicago Council, however shows a particular dislike towards the ruling Taliban.
Americans across party lines do not recognise the Taliban as a legitimate government of Afghanistan, with strongest opposition coming from the Republicans. Eight in ten Americans resist legitimacy to the current "Islamic Emirate of Afghanistan" government, while nine in ten Democrats oppose the same.
Following the Taliban's takeover in 2021, the United States had also frozen billions in Afghan government funds in the US.
Eight in ten Americans oppose the release of these funds — Republicans (89%) Independents (75%) and Democrats (74%).
Source: The Print
Please click the following URL to read the full text of the original story:
https://theprint.in/world/most-americans-support-taking-in-afghan-refugees-but-oppose-the-taliban-finds-survey/1089713/
--------
Confronting anti-Shia hate is necessary to prevent killings like Albuquerque's
August 18, 2022
By Faiyaz Jaffer
(RNS) — It was at the end of a religious service in the first 10 days of Muharram, some of the holiest days of the year for Shia Muslims, that news broke about the series of killings of Muslim men in Albuquerque — three in the space of two weeks. Initially suspected to be anti-Muslim violence, it was now believed that the suspect under arrest was acting on Shiaphobia — discrimination against members of the Shia sect of Islam.
My wife, my daughters and I are Shia Muslims. We, like many members of my community, are worried about what this attack means for us and our children. We are a community that has long been isolated and targeted, and these killings confirm that Shiaphobia is alive and active.
Shia Muslims make up a minority within the larger Muslim American community, which itself is only about 1% of the U.S. population. Following a different lineage of successors to the Prophet Muhammad than the majority Sunni Muslims, we are a minority as well among the global Muslim community, amounting to about 10% of Muslims worldwide.
It is difficult enough being Muslim in the United States. But my family and other Shia Muslims feel isolation, vulnerability and further loneliness in a world where we often struggle to find a sense of belonging. Our distinct theology, jurisprudence and ethical frameworks are assumed to be incorrect by the masses, contributing to a dehumanization of my community. In many places, our religious and cultural narrative has virtually been erased.
At New York University, where I'm a professor of Islamic law and ethics, my students who know my religious identity have questioned my legitimacy and scholarship, particularly in classroom discussions where I asked them to see beyond what they have been taught about a religion of close to 2 billion people. Shia Muslims have long been seen as "the other" when it comes to discourse around Islam, and this alienation has repercussions.
As the stories came out of Albuquerque, it turned out that these dangerous forces led to this violence. Authorities say the suspect, who had a history of domestic violence charges against his family and harbored Shiaphobia, targeted men in the community who were Shias or perceived to be Shias.
As a freshman in college, I was asked to leave the Muslim prayer space on my university campus by my Muslim peers because I am Shia. I spent the next two and a half years of my collegiate career praying alone in a stairwell of the library. When I share my experience with young Shia Muslims, hundreds of them say they have had similar experiences.
As a chaplain at New York University, I speak with Shia Muslim Americans daily, and everyone I know who identifies as Shia has experienced physical, verbal or (at the very least) casual anti-Shia microagression from privileged Muslims and others whose perception of Islam is shaped through negative media stereotypes. Reporting on political turmoil in Iraq and Iran, where Shia Muslims make up a majority, often lacks nuance about the geopolitics of the Middle East, instead caricaturing Shia Islam as "bad" or "evil." This skewed orientalist understanding of Islam, coupled with the United States' ties to Sunni majority countries that have long contributed to the genocide of their Shia communities, has allowed for a perception that Shias are "less Muslim" or "less human" than others.
The tragic episode in Albuquerque must be a rallying cry to create avenues that allow Americans of all faiths and backgrounds to appreciate the important differences in religious practice and expression, their subtleties as well as the headlines. As we have conversations about diversity and inclusivity, it is vital for us to acknowledge that religion is a salient element of identity for millions of people in the United States. We must learn to utilize our differences as a source of strength and growth.
Unfortunately, there are few models for combating anti-Shia rhetoric in this country. At the Islamic Center at NYU, my colleague Imam Khalid Latif, a Sunni Muslim leader, and I have sought to create a socially pluralistic space that embraces unity, but not uniformity. We strive to create an environment where Shia Muslims, Black Muslims and other minoritized people on our campus can freely express their religious identity and just "be" without any qualifying statements.
There is still so much more work to do, but it's a step in the right direction, and in a world filled with so much darkness, a small incremental step has to count for something.
Source: Religion News
Please click the following URL to read the full text of the original story:
https://religionnews.com/2022/08/18/confronting-anti-shia-hate-is-necessary-to-prevent-killings-like-albuquerques-shiite/
--------
Michigan Imam Serves Tehran Regime as He's Fêted by U.S. Politicians
by Susannah Johnston
August 17, 2022
A Michigan mosque and imam praised by politicians has served as a key institution for the interests and agenda of the Iranian regime for decades.
Since the early 1990s, Imam Mohammad Ali Elahi has presided over the Islamic House of Wisdom (IHW), an Iranian Shi'ite mosque in Dearborn Heights, Michigan. In recent years Elahi has publicly presented himself as a moderate, progressive Muslim devoted to serving the community with blood drives, COVID-19 vaccinations, and welcoming people of all faiths to his house of worship. He even serves as a police chaplain for the city of Dearborn.
Elahi seems popular, with his work apparently winning the attention of Vice President Kamala Harris, Michigan's Governor Gretchen Whitmer, Congressional representatives, and state and local officials.
Yet behind the façade of friendly community organizing, Elahi has worked as an Iranian regime operative and maintained decades-long friendships with Iranian leadership, tightly associating himself with a regime responsible for the deaths of at least hundreds of Americans. The regime has remained under some form of U.S. sanctions since 1979, and the U.S. Department of Defense calls it "the leading source of instability in the Middle East."
Elahi appears to be leading a double life, maintaining lengthy friendships with Iranian leadership and promoting hardline Islamist thought, while at the same time promoting himself as a loving member of his Dearborn Heights community.
Before moving to America, Elahi served as the head of "political ideology" for the Iranian Navy in the 1980s, according to both a U.S. government-commissioned 1987 Rand report and a CIA report. A since-deleted biography page at Elahi's mosque describes his appointment to the position. The post details Elahi's founding of the Cultural Research Center "to explain the spiritual motivations of the martyrs." A since-deleted resource linked to on IHW's website notes that martyrdom is a "goal of Shi'ite Islam."
According to a report commissioned by the United States Institute of Peace, Elahi came to the United States in 1991 on a four month visa "to inspect American branches of Hizbullah (Tehran's network of agents) and to reinforce Tehran's influence on Shi'ite communities."
In 1992 he became an imam for the Islamic Center of America, a leading Shia Islamist institution that in 2010 hosted a memorial service for Hizbullah "spiritual leader" Mohammad Hussein Fadlallah.
IHW's website boasts pictures of Elahi meeting in 2005 with Fadlallah, who advocated suicide bombings during Lebanon's civil war in the 1980s. In fact, some consider Fadlallah "the inventor of the modern suicide bomb." When Fadlallah died in 2010, Elahi publicly mourned him as a "great scholar" and "a man of great wisdom, knowledge, leadership, and spirituality."
Elahi also claims lengthy friendships with at least three of Iran's recent presidents. In 2013, he offered high praise for the election of Hassan Rouhani (President of Iran 2013-2021), who Elahi said he had known for thirty-seven years and "admire[d]...his ethical character and moral values." During his term, Rouhani poured billions into funding terror, arrested thousands of political dissidents, and allowed physical and psychological torture of prisoners.
In January 2017, upon the death of Iran's former President Ayatollah Hashemi Rafsanjani, Elahi wrote a Facebook post describing him as a "great hero, a shining star in the sky of wisdom," followed with multiple pictures of himself with Rafsanjani during his presidency.
Presumably Elahi's admiration for Rafsanjani includes his views on Iran's weapons programs: "If one day, this Islamic World is also equipped with weapons like those that Israel possesses now, then the imperialists' strategy will reach a standstill because the use of even one nuclear bomb inside Israel will destroy everything."
After praising the late president in January, Elahi traveled to Iran in March 2017 and met with former Iranian president Mohammad Khatami, whom he called a friend of "almost thirty years." They had an "extremely friendly conversation" in his office about Khatami's eight years as president and discussed memories of Ayatollah Ruhollah Khomeini, the regime's founding figure.
Khatami, while less bombastic than former Iranian President Ahmadinejad, made his hostility to the "Zionist regime" clear: "If we abide by the Koran, all of us should mobilize to kill." Khatami later took credit for developing Iran's nuclear technology.
In 2005, when then-President Mahmoud Ahmadinejad said Israel should be, "wiped off the map," Elahi defended the remarks.
While Elahi decries "gun violence" in the West, he praises Iranians with violent ideals and violent histories. In 2020, U.S. forces killed Qasem Soleimani, head of the Islamic Revolutionary Guard Corps' Quds Force, "the Iranian regime's primary liaison with Islamic terrorist groups across the Middle East." Elahi protested his killing and asked President Donald Trump to apologize and lift sanctions.
Elahi's mosque seems no less troubling. IHW presents itself as a friend of Americans and offers the holistic services expected from a healthy religious institution: care for the displaced, employment help, foster care, family counseling, education, and spiritual guidance. It also prominently promotes interfaith dialogue.
But IHW's website has also taught extremist ideas. Its online library has openly contained extremist texts and was publicly available on its website until July of this year. When Focus on Western Islamism contacted Elahi about it, the mosque apparently tried to delete the evidence.
Web archives show the library page as seen in July. It encouraged readers to read resources advocating the subjugation of the world under Islam, fighting Jews and Christians, upholding martyrdom as a Shi'ite goal, denigrating women, and prescribing the death penalty for apostasy.
One article offering information about jihad, linked to on IHW's website, says "It is these People of the Book whom we are to fight until they pay the Jiziyah (tribute). When they have humbled themselves before us and submit to paying the Jiziyah, we are to fight no more."
Another linked resource demeans and derides Jews: "Why does the chief advisor of land distribution have to be a Zionist Jew? ... Should a government which does not submit to the laws of Islam rule over the Muslim masses? You tell me, your excellence!" Yet another IHW resource calls Jews "more murderous than the Pharaoh, greater worshippers of wealth than Qarun and more deceitful than Balaam."
The Islamic House of Wisdom also glorifies the late supreme leader of Iran, Ayatollah Khomeini, and promotes the current supreme leader, Khamenei.
Despite Islamic House of Wisdom's promotion of Islamist resources and Elahi's support for Tehran, Elahi reportedly received an invitation to a vaccination event in July 2021 featuring Vice President Harris.
In 2021, Michigan's Governor Whitmer participated in an IHW prayer service. The Mayor of Dearborn Heights, Bill Bazzi, fundraised for IHW, saying "We do need to support the Islamic House of Wisdom financially" and Imam Elahi has "an open line to us both" – a reference to himself and Dearborn Heights Council Chair Dave Abdallah, who formerly served on the board of IHW.
Neither political office responded to requests for comment when asked about IHW's radical Islamist record.
Elahi did initially respond to FWI's inquiries. In an email, he referred to himself as "a man of interfaith and dialogue." When asked by FWI about his past in the Iranian navy, his praise of Iranian leaders, and his online library that "calls for subjugating Christians and Jews under Islam and recommends the death penalty for apostasy," he stated that he "didn't like the tone of your email" and that "many of the stuff u mentioned sound strange to me and i would be very curious to know about." He did not comment further.
Source: M E Forum
Please click the following URL to read the full text of the original story:
https://www.meforum.org/63464/michigan-imam-serves-tehran-regime-as-he-feted-by
--------
Gander working with Muslim community to build mosque, retain Muslim doctors
Aug 18, 2022
The central Newfoundland town of Gander is working with its local Muslim community to establish the town's first mosque — and to retain Muslim doctors.
Gander Mayor Percy Farwell and Dr. Mohamed Barasi, director of the Central Newfoundland Islamic Community, said Wednesday they hope a mosque will encourage Muslim doctors to stay in the region.
Farwell says there are several internationally trained Muslim doctors working in Gander, and in the past, the town has had difficulties convincing them to stay. While he applauds the provincial government's efforts to attract international medical graduates, he said communities in need of their expertise have an important role in retaining them.
"Doctors are parts of families, and families have needs that go way beyond the professional life of the physician," Farwell said in an interview. "The rest of the community needs to be part of that."
Like the rest of Newfoundland and Labrador, Gander needs more doctors, Farwell said. In a province of about 522,875 people, nearly a quarter don't have a family doctor, according to the Newfoundland and Labrador Medical Association.
Premier Andrew Furey announced Tuesday that the medical school at Memorial University in St. John's would open five new residency seats for international medical graduates wanting to practise family medicine. Other medical schools, including Dalhousie in Nova Scotia and all six schools in Ontario, already have residency seats reserved for international doctors.
Barasi, an orthopedic surgeon, said his community has been working with the Town of Gander for over a year to establish a mosque, and they've identified a suitable plot of land.
"We started the conversation from nothing over a year ago," Barasi said. "To have the lot, in a year — that's a big thing."
Stuck in paperwork
He said his group is now stuck in the paperwork process of establishing itself as a registered charity so it can begin fundraising to buy the land. The complicated process takes time and resources, and Barasi said he hopes someone will be able to help them with it.
Gander, with a population of about 11,600 people, is home to a busy regional hospital and health centre. Farwell estimates the local Muslim community to be about 55 residents, but he says that figure is closer to 100 if surrounding communities are factored in.
Barasi said a local mosque would serve a critical need for Muslims in Gander, as well as those in nearby communities.
"If you're a Muslim doctor working in Newfoundland, an international graduate — after two years or three years, if you're able to go to Ontario, saying you got the same money, you'll go to Ontario," Barasi said. "You'll find a lot of mosques there, and you can go to the mosque in person instead of staying home. You can practise your religion in person."
During Ramadan this year, the town let the Central Newfoundland Islamic Community gather in a building at a city park, Farwell said.
Dr. Nizar Belgasem, a physician who had been practising in Gander since 2017 before taking a temporary leave for more training, said it made a huge difference.
"Before that, we used to go sometimes to one of our basements or something," he said in an interview Wednesday. "Everybody loved it; even children really enjoyed it. It's much easier when you have a place outside your home."
Source: CBC
Please click the following URL to read the full text of the original story:
https://www.cbc.ca/news/canada/newfoundland-labrador/gander-mosque-doctors-1.6554703
--------
Federal court rejects Muslim student's lawsuit over controversial quiz about Islamic terrorism
By Alex Swoyer
August 18, 2022
A federal court ruled this month that an Arizona community college professor's quiz about jihad and Islamic terrorism did not force a Muslim student to violate his faith.
The U.S. Court of Appeals for the 9th Circuit's opinion highlights teachers' immunity from liability over curriculum choices.
Student Mohamed Sabra and the Council on American-Islamic Relations of Arizona sued Maricopa County Community College District and professor Nicholas Damask over an Islamic terrorism lesson as part of a world politics class in 2020.
Mr. Sabra alleged that the lesson and a multiple choice quiz violated his religious rights by having him affirm something that is contrary to his faith. A lower court ruled against him.
A three-judge panel ruled 2-1 that the college did not have a practice or policy that ran afoul of the Free Exercise or Establishment Clause and that Mr. Damask was protected by qualified immunity, which shields government workers from civil liability lawsuits.
"Although Plaintiffs allege that Damask has taught his World Politics class for 24 years, they do not allege that the course in other years contained the same content that offended Sabra, or that Damask's views or teaching methods are so persistent and widespread as to constitute part of the College District's 'standard operating procedure,'" the appeals court ruled.
Mr. Sabra said the lesson was "biased" and "distorted" Islam.
One of the multiple choice questions he took issue was "Where is terrorism encouraged in Islamic doctrine and law?" The correct answer was "the Medina verses," but Mr. Sabra selected "terrorism is not encouraged in Islamic doctrine and law."
Another question: "Terrorism is ____ in Islam." Mr. Sabra answered "always forbidden," but the correct answer was "justified within the context of jihad."
The three-judge panel said the quiz wasn't enough to violate his religious rights.
"We have never held that actions like the ones challenged in this case constitute a violation of the Establishment Clause or Free Exercise clause. Nor is this the exceptional case where the alleged constitutional violation is so obvious as to obviate the need for a case on point," wrote Judge Richard Clifton, a Bush appointee.
He was joined by Judge Lawrence VanDyke, a Trump appointee.
Judge Daniel Bress, a Trump appointee, disagreed and chastised the curriculum.
"Although Sabra suffered no First Amendment injury through his mere exposure to inflammatory course materials, he may have suffered such an injury when, in connection with those disturbing materials, he was forced to answer black and white multiple-choice questions that he plausibly alleges required him to violate his religious beliefs on pain of receiving a lower grade," wrote Judge Bress.
After learning of the quiz, the community college reached out to Mr. Sabra and gave him credit for his answers. It also apologized for any offensive content in the "inaccurate" quiz.
After being contacted by Mr. Sabra about the questions, Mr. Damask told him in an email that the quiz was meant to portray what terrorists believe.
Neither the college nor Mr. Damask immediately responded to a request for comment.
According to a 2020 interview with the Arizona Daily Independent, Mr. Damask and his family faced threats after Mr. Sabra's complaints went viral on Instagram.
CAIR did not comment about whether it's planning to appeal the panel's decision.
Douglas Laycock, a law professor at the University of Virginia, said there is a fair amount of such lawsuits but courts tend to be deferential to schools.
"Courts have been terrified of becoming classroom supervisors and having to review course assignments and grade disputes that could arise without end," Mr. Laycock said.
Robert Tuttle, a law professor at The George Washington University, said the quiz was terrible but the professor didn't clearly violate any laws.
Source: Washington Times
Please click the following URL to read the full text of the original story:
https://www.washingtontimes.com/news/2022/aug/18/federal-court-sides-az-school-professor-over-musli/
--------
ISIS 'Beatle' faces life sentence for US hostage deaths
19 August, 2022
A member of the notorious ISIS kidnap-and-murder cell known as the "Beatles" is to be sentenced in a US court on Friday for the deaths of four American hostages in Syria.
El Shafee Elsheikh, 34, faces a mandatory sentence of life in prison after being convicted in Alexandria, Virginia, in April of hostage-taking, conspiracy to murder US citizens and supporting a terrorist organization.
The grueling two-week trial of the former British national, which featured emotional testimony from former hostages and parents of the victims, was the most significant prosecution of an ISIS extremist in the United States.
The 12-person federal jury deliberated for less than six hours over two days before finding Elsheikh guilty for his role in the deaths of four Americans -- journalists James Foley and Steven Sotloff and aid workers Peter Kassig and Kayla Mueller.
Elsheikh and another former "Beatle," Alexanda Amon Kotey, were captured by a Kurdish militia in Syria in January 2018 and handed over to US forces in Iraq.
They were flown to the United States in 2020 to face trial.
Kotey, 38, pleaded guilty in September 2021 and was sentenced to life in prison in April by US District Court Judge T.S. Ellis, who will also deliver the sentence on Friday against Elsheikh.
Another alleged "Beatle," Aine Davis, 38, was deported to Britain last week from Turkey and was remanded in custody on terrorism charges.
The fourth "Beatle," executioner Mohammed Emwazi, was killed by a US drone in Syria in 2015.
The hostage-takers, who grew up and were radicalized in London, were nicknamed the "Beatles" by their captives because of their distinctive British accents.
Active in Syria from 2012 to 2015, they are accused of abducting more than two dozen journalists and relief workers from the United States and other countries.
Ten former European and Syrian hostages testified at Elsheikh's trial accusing the "Beatles" of months of brutal treatment including beatings, electric shocks, waterboarding and mock executions.
Foley, Sotloff and Kassig were beheaded by Emwazi, and videos of their deaths were released by IS for propaganda purposes.
Mueller was initially held by the "Beatles" but was later turned over to ISIS leader Abu Bakr al-Baghdadi, who reportedly raped her repeatedly.
ISIS announced Mueller's death in February 2015. The group said she was killed in a Jordanian airstrike, a claim disputed by US authorities.
Baghdadi died during a US special forces raid in 2019.
Ahead of Elsheikh's sentencing, British police revealed details on Wednesday of the years-long effort to identify the hostage-takers and bring them to justice.
Source: Al Arabiya
Please click the following URL to read the full text of the original story:
https://english.alarabiya.net/News/world/2022/08/19/ISIS-Beatle-faces-life-sentence-for-US-hostage-deaths-
--------
South Asia
'You have the same rights as I have', Bangladesh PM Hasina tells the Hindu community on Janmashtami
Aug 19, 2022
DHAKA: The Hindu community in Bangladesh has the same rights as she has, Bangladesh Prime Minister Sheikh Hasina has said, asserting that the number of mandaps in Dhaka during the Durga Puja festivities were much higher than in West Bengal.
Hasina interacted with the Hindu community leaders on Thursday on the occasion of Janmashtami and urged believers of other faiths not to think of themselves as minorities, saying everyone irrespective of their religions will enjoy equal rights in Bangladesh, a Muslim-majority country.
"We want people of all faiths to live with equal rights. You are people of this country, you have equal rights here, you have the same rights as I have," the Dhaka Tribune newspaper quoted her as saying.
"You would always think that you are the citizens of this country and you will enjoy equal rights," the premier noted.
Hasina virtually joined the event at Dhakeswari Mandir in Dhaka and JM Sen Hall in Chattogram from her official residence in Gonobhaban.
"We also want to see you in that way. Please don't undermine yourselves. You were born in this country, you are the citizens of this country," she noted.
The prime minister said the number of mandaps in Dhaka is higher than the number in West Bengal or Kolkata, and across Bangladesh during the Durga Puja festivities.
Hasina lamented that whenever an untoward incident occurs, it is propagated in such a manner that the Hindu community don't have any rights in Bangladesh.
"Colours are given to that incident in a way that the Hindus have no rights here. And the actions of the government after the incidents don't get proper attention," Prothom Aalo newspaper quoted her as saying.
Hasina said her government and the Awami League did not believe in undermining people from any religion.
"We can say it clearly. Our government is very cautious about it. I can assure you that," she added.
Source: Times Of India
Please click the following URL to read the full text of the original story:
https://timesofindia.indiatimes.com/world/south-asia/you-have-the-same-rights-as-i-have-bangladesh-pm-hasina-tells-the-hindu-community-on-janmashtami/articleshow/93653062.cms
--------
Former NSA Calls Doha Accord 'Terrible Agreement'
By Arif Ahmadi
19 Aug 2022
KABUL, Afghanistan – In an exclusive interview with TOLOnews, former US ambassador to UN and National Security Adviser John Bolton, said that Donald Trump's decision to sign the Doha agreement between the United States and the Taliban was a big mistake.
His remarks came at a time both the Taliban leadership and the United States have repeatedly blamed each other for breaking the pact – mainly after the recent American drone strike that killed Al-Qaeda leader Ayman al-Zawahri at an urban safe house in Afghanistan.
"I think history has proven in fact that it was a terrible agreement," he said, as TOLOnews quoted. "The objective the Taliban wanted was America, NATO, out of Afghanistan, everything else was secondary."
According to Bolton, the former US envoy for peace in Afghanistan Zalmay Khalilzad did not contribute positively during the peace negotiation, saying he was "taking orders" from both the former President Trump and the Secretary Pompeo.
"Let's be clear, he was taking orders from President Trump and Secretary Pompeo, so whatever criticisms one makes about Zal's (Zalmay Khalilzad) performance should be understood as criticizing both what Trump and Pompeo were instructing," he said.
Meanwhile, Bolton exclaimed the Islamic Emirate leadership has failed to uphold its commitments, increasing the chances for Afghan soil to be used as the battleground for many terrorist activities, including bombing against other nations.
"I very much fear our knowledge of efforts which have been made to launch terrorist attacks from Afghanistan is deeply incomplete and that the risk is high and if we were still there we would have a much better chance to detect these plans for terrorist attacks before they took place," he explained. 'Now we are not entirely blind, but we are certainly not in the position we were."
But the Islamic Emirate rule has repeatedly denied the accusation, defying the United States has consistently violated the Doha agreement.
Source: Khaama Press
Please click the following URL to read the full text of the original story:
https://www.khaama.com/former-nsa-calls-doha-accord-terrible-agreement/
--------
Taliban Condemns Bombing of Mosque in Afghan Capital
By Saqalain Eqbal
18 Aug 2022
The Taliban government authorities vehemently condemned the Wednesday evening mosque explosion in Kabul, the Afghan capital, which reportedly left at least 21 people dead and 33 more injured.
Senior Taliban government spokesperson Zabihullah Mujahid expressed sympathy to the victims' families and prayed for the injured to recover quickly, in a tweet posted on Wednesday.
The explosion was denounced by the Taliban and Zabihullah Mujahid stated that "the perpetrators of such atrocities will soon be brought to justice and will be punished."
The attack on Wednesday night in Kabul, the latest to hit the country in the year since the Taliban took power, elicited no immediate claims of responsibility.
According to eyewitnesses and authorities, an explosion at a mosque in the Afghan capital during evening prayers resulted in at least 21 fatalities, including a well-known imam, Amir Mohammad Kabuli, and his students, with at least 33 injuries.
Since reclaiming control, the Taliban administration has been denied international recognition, which has resulted in a debilitating economic meltdown for the country.
Source: Khaama Press
Please click the following URL to read the full text of the original story:
https://www.khaama.com/taliban-condemns-bombing-of-mosque-in-afghan-capital-68659/
--------
Hamid Karzai: 'After Taliban takeover, I told Indian envoy not to leave… glad they coming back'
by Nirupama Subramanian
August 19, 2022
As India was preparing to shut down its embassy in Kabul on August 15 last year in the wake of the Taliban takeover, Hamid Karzai urged Indian Ambassador Rudrendra Tandon not to leave, the former President of Afghanistan said in an interview to The Indian Express.
"Well, of course, it was very clear that I advised him not to leave," Karzai said, declining to give details of that conversation. "There was no reason for India to leave, I am glad they are coming back. I've been urging Indian government leaders to re-open the embassy. There's so much relationship between Afghanistan and India that requires India's presence here. Active full strength presence here. So I'm glad they are returning. And I want them to return full-fledged, full force."
Karzai, who studied in India from 1979-1983, said Delhi must, "on priority", reissue visas to Afghan students who were studying in India, and have not been able to return to their studies, and issue visas to those who wish to study in India. "The return of the (Afghan) students is important", he said.
"We are talking about India, Afghanistan, people to people, civilisational links. It's for that reason that India has a place in Afghanistan. Afghanistan has a place in India. Therefore, this engagement is necessary with the Afghan people, and India must return," he said.
Karzai, who led Afghanistan from 2002 to 2014, as head of a transitional administration for two years and following the 2004 elections, as President, lives in the Afghan capital. His home is near Zanbaq Square, an area whose fortifications have been taken over by the Taliban. An armoured car with a gun mounted on it, is stationed at the square. Armed Taliban cadres check for identity and papers every few metres.
Karzai's home is next to the Arg, the presidential palace, and the foreign ministry, which is now run by the Taliban. His own security are deployed inside the compound.
Karzai and Abdullah Abdullah, who served as former chief executive in the first Ashraf Ghani government, were the only two top political leaders who stayed on after the Taliban takeover. As panic spread at the news that Ghani had left, the statement by the two leaders that they would remain to manage a peaceful transition, served as a reassurance to Kabul residents.
Since then, Abdullah has travelled out of the country including to India earlier this year. Karzai is allowed to meet visitors at home, and within the city, but is not allowed to leave Kabul. The Taliban have turned down requests from him to travel abroad.
Asked if he was a prisoner of the Taliban he said: "No, I have just not been able to visit abroad. Whatever we describe that as, I wouldn't call that a prisoner."
Karzai's son recently left to study in Germany. The former President said his son had an opportunity to study abroad in 2020, but both he and his wife wanted him to finish schooling in Afghanistan. "But then things changed, and education suffered, so there was no more an opportunity here for him to educate, and we, out of total compulsion, agreed to send him to Germany," he said.
Karzai also has three young daughters, who attend school in Kabul. "I want my daughters to study here. And to study from Class 6 to 12, as well here. And the Taliban. I am urging them strongly, very strongly, to reopen girls school as a vital important issue for our country," he said. The Taliban have banned education for girls beyond Class 6.
Karzai said he and Abdullah had urged the Taliban to reopen high schools for girls. "They have to, that must be the decision. It's inevitable. The country cannot take steps towards towards dying. If we are not going to go to school, that means we're killing ourselves and our future. Therefore, there simply is no other option. That's an imperative. Is there a word beyond imperative, or that's where it ends?" Karzai said.
The response from the Taliban to his and Abdullah's entreaty "has been quite positive", Karzai said. "We are waiting for action on all this," he said.
As those running the country, the Taliban was now responsible to ensure "that Afghans don't leave the country, that the educated ones are not only given an opportunity to stay in Afghanistan, but those who have left are attracted back to come back to their own country, and that the government represents the aspiration of all the Afghan people," he said.
He said the one big change in the last year was that there was no large-scale "fighting" or casualties. "In that sense, there is a lot better security. The countryside is a lot better in this respect than what we had before," he said.
"But in other aspects, in the economy, we have a serious deprivation, in terms of education, there is serious decline, the universities are not functioning to even half their strength, the schools are not functioning to half their strength. And the most important of all, girls are not going to school from grade 6 to 12. Plus a lot more. We lost the reserves of the country, $7 billion. For a country of poor means and resources, that's a lot of money. There is a loss of institutions, the collapse of the state itself, we have at least 55 of our army helicopters in our neighbouring countries. Imagine if each one of those helicopters is calculated between at least 10 to $15 million, that that's almost $700 million. So in those terms, we have lost a lot," he said.
He said he had asked the Taliban to start a "national dialogue" with all Afghans. "You cannot govern a country without technocrats, without educated people, without professionals, you cannot govern the country effectively without the participation of women. So all aspects of good governance must be put in place. And that must begin with a dialogue with all Afghans. And that should lead to the expression of the will of Afghan people on the government and the future of the country," he said.
The will of the people could be ascertained through the traditional Afghan assembly of loya jirga, or a referendum. "Whatever way is best at a given time, must be used," he said.
He dismissed a recent loya jirga as not one at all. "That was a more a jirga of the Taliban themselves, a meeting of largely of the clergy of the religious scholars of the country, plus some others. So that wasn't really representative in any sense," he said.
Source: Indian Express
Please click the following URL to read the full text of the original story:
https://indianexpress.com/article/world/hamid-karzai-former-afghanistan-president-after-taliban-takeover-i-told-indian-envoy-not-to-leave-8098591/
--------
Want to export goods to India like Pakistan, says Taliban minister in Afghanistan
August 18, 2022
Amir Khan Muttaqi, who is the Foreign Minister of the Taliban government of Afghanistan, has sought to export goods to India. He said that the Taliban want good relations with all countries.
Addressing an event in Kandahar, Muttaqi said: "The Islamic Emirate wants good relations with all countries. But relations after 20 years of war with some countries are not expected to be normalised quickly." Muttaqi was speaking to a gathering of tribal leaders in Kandahar."
He said if Pakistan is allowed to transport its goods to Asian countries, Afghanistan should also be able to transport its goods to India. "We were able to play a key role for India by helping India transport goods to Uzbekistan via the Pakistani transit routes," he said.
Source: India Today
Please click the following URL to read the full text of the original story:
https://www.indiatoday.in/world/story/afghanistan-taliban-foreign-minister-amir-khan-muttaqi-india-export-request-1989506-2022-08-18
--------
Disgruntled Taliban commander killed while trying to flee to Iran
18 August, 2022
Kabul [Afghanistan], August 18 (ANI): Mawlawi Mahdi Mujahid, a disgruntled Taliban commander, was killed by Taliban border forces when he wanted to enter Iran through the province of Herat in western Afghanistan, media reports said citing a statement from the Taliban's Ministry of Defense.
This comes as tensions have been rising between Iran and Afghanistan over the boundary dispute and an Iranian embassy in Kabul announced that a delegation, led by the deputy minister of foreign affairs, arrived in the country to discuss border matters with the Taliban officials.
It is worth mentioning that Mujahid had clashed with the Taliban multiple times after starting a dispute with the group in the Balkhab district of Sar-e-pol in northern Afghanistan. Mawlawi Mujahid was the only Hazara Taliban commander to take up arms against the Taliban government.
The statement which was released on Wednesday made no mention of the date on which Mahdi Mujahid was killed, reported Afghanistan's local media portal Khaama Press. In the statement, Mujahid was referred to as a "rebel."
13 years ago, Mawlawi Mahdi Mujahid embraced the Taliban. At the time when the foreign forces were stationed in Afghanistan, he played a key part in the collapse of the republican party in Afghanistan's northern provinces.
However, more than ten months after the Taliban assumed power, he began to criticize the Taliban group.
According to reports, Mahdi Mujahid sought more Hazara participation in the Taliban government, but the Taliban leaders disregarded not just his demand, but also the views of the international community and internal political circles, in order to establish an inclusive government.
Since the Taliban regime took control of Afghanistan, blasts and attacks have become a regular affair with unabated human rights violations involving ceaseless murder of civilians, destroying mosques and temples, assaulting women, and fueling terror in the region.
Last month, a bomb exploded near Karte Parwan Gurudwara in Kabul, a month after the holy place was attacked by members of the Islamic State. Religious minorities in Afghanistan, including the Sikh community, have been targets of violence in Afghanistan.
The ongoing economic crisis in Kabul has caused abject poverty in the region. As per analysts, the primary reason for the rise in poverty is due to political changes. Moreover, following the Taliban regime in the country, many private businesses have stopped operating as well impacting the country even more.
Source: The Print
Please click the following URL to read the full text of the original story:
https://theprint.in/world/disgruntled-taliban-commander-killed-while-trying-to-flee-to-iran/1088897/
--------
Pakistan
US commander lauds Pakistan Army's 'commendable' efforts in war on terror
August 18, 2022
ISLAMABAD: General Michael Erik Kurilla, Commander US CENTCOM along with a delegation visited GHQ and held one-on-one meeting with the Chief of Army Staff (COAS) and discussed the matters of mutual interest, regional security situation & stability, defence and security cooperation particularly military to military ties during the meeting.
The one-on-one call was followed by delegation level meeting. Pakistan Army's counter terrorism efforts and significant contributions towards regional peace and stability were discussed. Pakistan-US military training exchange programme also came under discussion.
The visiting dignitary acknowledged Pakistan Army's commendable efforts in fight against terrorism, counter terrorism experiences and efforts for regional peace and stability.
Source: Pakistan Today
Please click the following URL to read the full text of the original story:
https://www.pakistantoday.com.pk/2022/08/18/commander-us-centcom-calls-on-coas/
--------
Madrassa student abuse case, Qari Shams gets life imprisonment
August 18, 2022
Qari Shams, the man who abused a student of his own Madrassa (seminary) on December 27, 2019 at Thakra Mansehra, has been sentenced to life imprisonment after being proven guilty and imposed a fine of Rs. 0.2 million.
According to the details, Additional District and Session Judge Mansehra Ajmal Tahir awarded a total of 16.5 years imprisonment to Qari Shams, after proven guilty, 14 years of jail, six months in jail for the torture of the victim boy and two more years of imprisonment in case of non-payment of Rs. 0.2 million fine.
Qari Shams raped a 10-year-old student of his own Madrassa in 2019 and also tortured the victim boy for two days, medical report proved the rape and the DNA of the convicted also matched with the victim boy.
Mansehra police registered case No. 254 324/109/337Aii/201/202 and 53 CPA on 27.12.2019 against the main accused Qari Shamsuddin.
The hearing of the case was in progress for three years and during this course of time, many influential people of Mansehra have tried to pressurize the family of the victim boy and settle the case out of court.
Source: Pakistan Today
Please click the following URL to read the full text of the original story:
https://www.pakistantoday.com.pk/2022/08/18/madrassa-student-abuse-case-qari-shams-gets-life-imprisonment/
--------
Imran Khan: PTI's plea seeking disqualification of PM Shehbaz, Cabinet dismissed
M Zulqernain | Lahore
18.08.22
A Pakistani court on Thursday dismissed a petition of Opposition Pakistan Tehreek-e-Insaf (PTI) seeking disqualification of Prime Minister Shehbaz Sharif and his Cabinet for "misuse of power".
The petition was filed by PTI's senior leader Andleeb Abbas and ousted premier Imran Khan's nephew Advocate Hassaan Niazi in the Lahore High Court. The petitioners alleged that Prime Minister Shehbaz "misused" his powers and violated the Constitution by allowing his son Suleman Shehbaz and nephew Hussain Nawaz -- both proclaimed offenders - to meet the Saudi Crown Prince Muhammad Bin Salman (MBS) during an official visit'.
Besides, Shehbaz took his Cabinet members to London to meet proclaimed offenders -- former prime minister and PML-N supreme leader Nawaz Sharif and former finance minister Ishaq Dar -- which is against the law of the land," the petitioners argued through their counsel in the LHC.
They said that prime minister and his Cabinet members violated the Official Secret Act 1923, therefore, it is requested to the court to disqualify them and direct the police to initiate criminal proceedings against Shehbaz and his Cabinet members.
During the hearing, Justice Shahid Waheed asked the counsel of the petitioners under what law the respondents could be disqualified.
Source: Telegraph India
Please click the following URL to read the full text of the original story:
https://www.telegraphindia.com/world/pakistan-court-dismisses-imran-khans-partys-plea-seeking-disqualification-of-pm-shehbaz-sharif-cabinet/cid/1880952
--------
Salman Rushdie attack was unjustifiable: Imran Khan
Aug 19, 2022
ISLAMABAD: Former Pakistan Prime Minister Imran Khan has condemned the attack on Salman Rushdie, describing it as "terrible" and "sad", and saying that while the anger of the Islamic world at the author's book "The Satanic Verses" was understandable, it could not justify the assault.
In an interview to the Guardian, Khan also said he expected Afghan women to "assert their rights" in the face of Taliban restrictions in which he sought to moderate his reputation as a firebrand.
He is fighting for his political survival after being ousted from office in April.
Khan says his staff and followers are being persecuted and intimidated and he is battling eight-year-old charges of illicit campaign financing that could lead to him being banned from politics.
Ten years ago, Khan pulled out of an event in India because Rushdie would also be appearing and the two men exchanged insults, but he does not appear to have expressed support for violent action against the Indian-born author.
His denunciation of the attack is striking, however, in a region where most politicians have ducked comment, The Guardian reported.
Asked for his response to the knife attack in New York state that left Rushdie badly wounded, Khan said: "I think it's terrible, sad.
Source: Times Of India
Please click the following URL to read the full text of the original story:
https://timesofindia.indiatimes.com/world/pakistan/salman-rushdie-attack-was-unjustifiable-imran-khan/articleshow/93655372.cms
--------
Pak army would be held responsible by history for doing nothing to stop corruption: Imran Khan
Aug 18, 2022
ISLAMABAD: In a scathing attack on Pakistan's powerful military, former premier Imran Khan on Thursday said that it would be held responsible by history for doing nothing to stop corruption in the country.
Addressing a seminar in Islamabad, the Pakistan Tehreek-e-Insaf (PTI) leader used the word "neutral" for the army, which he coined after the armed forces declared that they would not interfere in politics when he was unceremoniously removed from office through a no-confidence vote in April.
He asked the army to review its policy to stay neutral and act forthwith to stop the economic decline of the country.
"I want to ask the neutrals today: Do you know where the country is heading? How can the country and economy progress when you don't even know what will happen in the next 2-3 months," he said.
Khan said that in the day run up to his coming to power, the powerful Inter-Services Intelligence (ISI) spy agency used to tell him about the corruption by Pakistan Peoples Party and Pakistan Muslim League-Nawaz leaders and he started believing that "establishment will act but that did not happen".
"I now ask the establishment, how did you let these corrupt leaders rule the country? This means you don't see theft as a bad thing…When the establishment was aware of the corrupt people, why did not they stop their way?" the ex-premier asked, pointing out that the establishment had the greatest degree of power in the country.
"But with great power comes great responsibility," he said. "No matter how many times you call yourself neutral, history will blame you for what you did with the country."
The former premier also revealed that the anti-corruption watchdog, the National Accountability Bureau (NAB), was not under his control when he was chief executive of the country.
"There was a hand of someone who would press the accelerator and undo it as per his wish. If NAB was in my control, I would have retrieved Rs 15 to Rs 20 billion from them (his rival politicians)," he claimed.
Khan said that he would never accept the present government and preferred death instead if there was no other choice, as he urged the Army to make correct decisions to bring political stability, which was needed for economic development.
He slammed the decision made behind the curtains and asked that the establishment should make decisions for the sake of 220 million people, especially youth.
Source: Times Of India
Please click the following URL to read the full text of the original story:
https://timesofindia.indiatimes.com/world/pakistan/pak-army-would-be-held-responsible-by-history-for-doing-nothing-to-stop-corruption-imran-khan/articleshow/93646786.cms
--------
Pakistan lifts ban on import of non-essential and luxury items to meet IMF condition for bailout package
Aug 18, 2022
ISLAMABAD: Pakistan on Thursday lifted the ban on the import of non-essential and luxury items to meet a condition of the IMF ahead of the global lender's meeting later this month to decide on a bailout package for the cash-strapped nation.
The government led by prime minister Shehbaz Sharif imposed the ban due to depleting foreign exchange and deteriorating balance of payments.
Addressing a press conference, finance minister Miftah Ismail said that the ban would go but with a price on importers as heavy duty would be imposed to make the import costly.
Ismail said the government was scrapping the import ban as it was an international requirement, but the regulatory duty that will be imposed on the non-essential imported items will be three times higher than the current levels.
"We will impose such heavy duties that these items cannot be imported (easily) or at least in their finished form. I don't have enough dollars, so I will prioritise cotton, edible oil, and wheat. I do not prioritise Iphones or cars," he said.
The heavy duties will be imposed on completely built-up (CBU) commodities - cars, mobile phones, and electronic appliances - and apart from them, the imported fish, meat, purse, and other such non-luxury items.
Even then, if a person wants to import a car that is originally worth Rs 60 million, after the regulatory duties it will cost them Rs 300-400 million, they can import it, the minister said.
Ismail said the government's objective was not just to allow imports, but it was to fulfil international and IMF demands, while also keeping the current account deficit in check.
The IMF's executive board will meet on August 29 to approve a bailout package for Pakistan, including the pending disbursement of about USD 1.18 billion.
Talking about the restoration of the stalled bailout package, Ismail said the International Monetary Fund wanted Pakistan to ensure funds amounting to USD 6 billion for which it needs to secure USD 4 billion in funding from other countries, which has been arranged.
Source: Times Of India
Please click the following URL to read the full text of the original story:
https://timesofindia.indiatimes.com/world/pakistan/pakistan-lifts-ban-on-import-of-non-essential-and-luxury-items-to-meet-imf-condition-for-bailout-package/articleshow/93645352.cms
--------
Pakistan wants peaceful ties with India: PM Shehbaz
Syed Irfan Raza
August 19, 2022
ISLAMABAD: Prime Minister Shehbaz Sharif on Thursday said that Pakistan desired peaceful relations with India and resolution of the Kashmir issue and urged the international community to play its role in this regard.
According to the Prime Minister's Office (PMO), Mr Sharif expressed these views during a meeting with newly-appointed Australian High Comm­issioner to Pakistan, Neil Hawkins.
The PMO quoted the prime minister as saying: "Pakistan desires peaceful ties with India, based on the principles of equity, justice and mutual respect. In this context, a just and peaceful resolution of the Jammu and Kashmir dispute in accordance with the relevant UNSC resolutions and the wishes of the Kashmiri people, was indispensable."
"The international community has to play a facilitative role in this regard, as it was essential for durable peace and stability in South Asia," the prime minister said.
Mr Sharif also highlighted the cooperation that Pakistan continued to extend to the international community in the wake of the situation in Afghanistan, particularly since August last year.
Source: Dawn
Please click the following URL to read the full text of the original story:
https://www.dawn.com/news/1705646/pakistan-wants-peaceful-ties-with-india-pm-shehbaz
--------
Arab World
Lebanon's public sector paralyzed as country lurches toward 'failed state'
18 August, 2022
It's a weekday, but 50-year-old Lebanese finance ministry employee Walid Chaar is not at work and hasn't been since June.
He rushes to water the garden at his home in the hills south of Beirut, using the single hour of rationed state power to run the sprinkler. He then phones his mother, who is struggling to get a new passport at a state agency grappling with paper and ink shortages.
"The public sector is at its end if we keep going like this," Chaar told Reuters.
Like thousands of state employees in Lebanon, Chaar has been on strike for two months over the collapse of his salary caused by Lebanon's economic implosion - one of the world's worst in modern times.
The public sector paralysis is spreading further - this week judges launched their own protest, while soldiers moonlight to feed themselves and government offices run out of power and basic office supplies.
State infrastructure, already strained by years of unchecked spending, corruption and a preference for quick fixes over sustainable solutions, has reached breaking point.
"We are in a state of collapse," said Lamia Moubayed of the Lebanese Institute of Finance Basil Fuleihan, a research center at the Ministry of Finance.
In parliament, there is no fuel to run a generator for the elevator - so security guards run messages up and down the stairs between workers.
Those registering a new car purchase with the department of motor vehicles were given handwritten notes instead of proper state-issued documents due to paper shortages.
Commanders in Lebanon's security services are looking the other way as troops take on second jobs – typically prohibited, but now unofficially allowed as soldiers' salaries crash.
The average public servant's monthly salary has dropped from around $1,000 to barely $50 - and counting, as the Lebanese pound loses more value by the day.
That prompted tens of thousands of state employees – from ministries, local government bodies, schools and universities, courts and even the state news agency - to strike.
This week, 350 Lebanese judges will not show up for hearings, demanding a hike to their salaries, too.
"The judges are hungry," said Faisal Makki, a founder of the country's Judges' Club – the judiciary's equivalent of a syndicate or union.
Makki told Reuters the justice ministry had long been underfunded, so judges had for years been buying paper and ink for their office printers at their personal expense.
"Now I can't do that because it means I couldn't afford to eat. This is definitely a failed state."
'Primitive lives'
In response, the government is rolling out piecemeal policies. In a two-month stop-gap, it agreed to increase daily benefits and provide social assistance to most state workers, effectively doubling take-home monthly pay - to just $200.
But with food prices jumping eleven-fold and many restaurants and even service-providers charging in dollars, the olive branch has not satisfied Lebanon's roughly 150,000 public sector workers.
"No state employee is able to buy a kilo of meat or chicken except maybe once a month. Our lives have become primitive, and we are only buying basic necessities," said Chaar.
Nawal Nasr, head of a public sector employees association, said workers were demanding a five-fold salary increase and help with soaring education and health costs, but that has prompted fears of run-away inflation.
Meanwhile, state revenues flounder as tax collection was halted for two months as relevant employees were striking.
Prime Minister-designate Najib Mikati has said meeting all of the workers' demands "is impossible and will cause a broader collapse of the situation." Wage increases must come "within the context of a broader financial stabilization plan," he said.
A hollowed state
But political factions have yet to reach consensus around such a plan - costing the government some of its highest-skilled workers. Nearly six in 10 state employees are either leaving or planning to leave - a pace not seen since the country's 1975-90 civil war, said Moubayed.
"These are not numbers, these are the best people in the Lebanese state... People we need for the recovery, for implementation of any structural reform plan Lebanon will eventually undergo," Moubayed said.
Chaar, who holds a PhD and heads a top finance ministry tax directorate after nearly three decades in public service, says he is demoralized and wants to leave Lebanon.
The public workers union he is a part of has lost roughly half its members, and its representative for aviation workers recently took a one-way ticket out of Beirut.
To those left behind, it feels like Lebanon's pile-up of problems is finally catching up.
Source: Al Arabiya
Please click the following URL to read the full text of the original story:
https://english.alarabiya.net/News/middle-east/2022/08/18/Lebanon-s-public-sector-paralyzed-as-country-lurches-toward-failed-state-
--------
Saudi Crown Prince Meets Iraq's Shia Cleric, Ammar Al-Hakim, In Riyadh
Mustafa M. Haboush
19.08.2022
RIYADH, Saudi Arabia
Saudi Crown Prince Mohammed bin Salman on Friday met Iraqi Shia cleric Ammar al-Hakim to discuss the lingering political crisis in Iraq.
The meeting came after the leader of Iraq's Hikma Movement, a political coalition, arrived in the Kingdom on an unannounced visit, according to the official Saudi Press Agency.
The agency reported that during the meeting, Saudi-Iraqi relations alongside a number of issues of common interest were discussed.
For his part, Hakim tweeted: "The Saudi crown prince and I emphasized the close historical relations between the two brotherly peoples."
He added, "We discussed the importance of dialogue between the various parties to reach solutions to the current political impasse in Iraq."
Al-Hakim stressed the importance of stability on both sides of the Gulf and praised Iraq's role in mediating between Iran and Saudi Arabia to restore bilateral relations.
He also underlined the centrality of the Palestinian cause.
Hakim's visit came after his participation on Wednesday in a national dialogue with the aim of resolving the country's political crisis.
Source: Anadolu Agency
Please click the following URL to read the full text of the original story:
https://www.aa.com.tr/en/middle-east/saudi-crown-prince-meets-iraqs-shia-cleric-in-riyadh/2664903
--------
With few visitors, custodian of Syria castle has lonely job
18 August, 2022
A Crusader fortress on Syria's Mediterranean coast that welcomed hordes of visitors before the war is now largely the preserve of one person, its custodian of the past 15 years.
Every morning, Younes Dayoub uses a large metal key to unlock the wooden gates of Al-Marqab castle, located near the coastal city of Baniyas in Tartus province.
The 49-year-old government employee spends much of his shift inside a ticket booth adorned with a picture of President Bashar al-Assad on the wall.
He rarely issues any admission tickets.
"The gates of the castle are still open but sometimes days and weeks go by without me giving out a single ticket," Dayoub told AFP. "This has been the case since the start of the war" in 2011.
Dayoub passes his time sipping hot tea or enjoying the sea view from the hilltop fortress which once attracted visitors from Syria and abroad.
He showed AFP pictures from before the war when tourists used to clamber over the castle's ramparts and wander its cavernous halls.
"I feel lonely here, and I have no friends except these high, silent walls," he said.
Al-Marqab castle is close to 1,000 years old and has survived the civil war largely unscathed, with no major damage, the antiquities department said.
First fortified by Muslims in 1062 AD, the hilltop site is considered one of the finest examples of military architecture from the period of the Crusades.
But the civil war has kept nearly all foreign visitors away while domestic tourism has been virtually brought to a halt by a spiraling economic crisis that has plunged most of the population into poverty.
Rising fuel prices have put long-distance travel within Syria beyond the means of many.
In the meantime, national treasures like Al-Marqab castle have been gathering dust.
Source: Al Arabiya
Please click the following URL to read the full text of the original story:
https://english.alarabiya.net/features/2022/08/18/With-few-visitors-custodian-of-Syria-castle-has-lonely-job
--------
Lebanon records major spike in murders and suicides in 2022: Data
18 August, 2022
Lebanon has seen an 18 percent increase in murders and almost an 8 percent surge in suicides in 2022 so far, compared to the same period last year, according to new data.
Beirut-based research center Information International conducted a study based on reports from the General-Directorate of the Internal Security Forces which was published on Wednesday, revealing the surge in murders and suicides in the Levant country.
However, the report also showed a decrease in theft incidents, recording a 6.5 percent decrease and a decline in car thefts by around 6 percent.
Dramatic surges in crime and theft were recorded in Lebanon last year, mostly due to the economic crisis. Information International reported a 212 percent increase in car thefts, a 266 percent increase in theft crimes overall and a 101 percent increase in murders compared to the first 10 months of 2019, right before the economic crisis took a turn for the worse.
The research firm added that murder cases rose by at least 68 percent and suicides by at least 42 percent last month, compared to July 2021.
Lebanon was rated the angriest country in the world by US company Gallup which analyzed emotions in over 100 countries for its Global Emotions Report. It found that nearly half of the survey respondents in Lebanon experienced anger regularly, including on the day before they took part in the survey.
The Levant country also ranked among the saddest and most stressed countries in the Gallup report.
Gender-based violence
Lebanon-based non-government organizations ABAAD and KAFA told Al Arabiya English last month that they noticed an increase in gender-based violence throughout the country.
KAFA told Al Arabiya English in an email last month that violent incidents against women worsened since the beginning of the COVID-19 lockdown. Following the onset of the pandemic, the Beirut Port Blast in 2020 compounded multiple crises facing Lebanese society, leading to a COVID-spurred economic meltdown, severe currency devaluation, layoffs, and mass migration, all while the government offered no support to mitigate these issues.
Source: Al Arabiya
Please click the following URL to read the full text of the original story:
https://english.alarabiya.net/News/middle-east/2022/08/18/Lebanon-records-major-spike-in-murders-and-suicides-in-2022-Data
--------
Missile strike kills 9 civilians in northern Syria
Omer Koparan and Ethem Emre Ozcan
19.08.2022
AL-BAB, Syria
At least nine civilians were killed and 15 others wounded when a missile targeted the town of al-Bab in northern Syria on Friday, according to initial reports from the ground.
Children were among those killed in the attack, which hit a civilian-heavy part of the town. There was no immediate claim of responsibility so far.
Türkiye launched Operation Euphrates Shield in northern Syria on Aug. 24, 2016 to eliminate Daesh/ISIS and other terrorists and help the safe and voluntary return of Syrians to their homes.
Source: Anadolu Agency
Please click the following URL to read the full text of the original story:
https://www.aa.com.tr/en/middle-east/missile-strike-kills-9-civilians-in-northern-syria/2664918
--------
UN warns of increasing violence at Al Hol camp in Syria
Betül Yürük
18.08.2022
UNITED NATIONS
The UN warned Thursday of increasing violence at the al-Hol refugee camp in eastern Syria, home to families of suspected Daesh/ISIS terror group members.
The warning came after a four-day visit by the UN resident coordinator and humanitarian coordinator in Syria to the northeastern al-Hasakeh and ar-Raqqa governorates.
''This year alone, at least 26 people, including three this week, have been murdered in the camp. Twenty of those murdered were women,'' Imran Riza said in a statement.
He warned that Syria is facing a severe water crisis from drinking water to water for irrigation, food production, and power generation that is affecting the health and livelihoods of residents.
The al-Hol camp is run by the YPG/PKK terror group and houses 55,000 suspected Daesh/ISIS members and their families from Syria, Iraq and 60 other countries with more than half of the residents being children.
The UN has deplored inhumane and degrading conditions at the camp with human rights experts urging states to repatriate their citizens that are held at that location.
Source: Anadolu Agency
Please click the following URL to read the full text of the original story:
https://www.aa.com.tr/en/middle-east/un-warns-of-increasing-violence-at-al-hol-camp-in-syria/2664547
--------
Turkish forces 'neutralize' 9 YPG/PKK terrorists in northern Syria
Diyar Guldogan
18.08.2022
Turkish forces "neutralized" nine YPG/PKK terrorists in northern Syria, near the Turkish border, the Turkish Defense Ministry said on Thursday.
The terrorists were planning an attack on Türkiye's Operation Peace Spring zone, the ministry said in a statement.
Turkish authorities use the term "neutralize" to imply the terrorists in question surrendered or were killed or captured.
Since 2016, Ankara has launched a trio of successful anti-terror operations across its border in northern Syria to prevent the formation of a terror corridor and enable the peaceful settlement of residents: Euphrates Shield (2016), Olive Branch (2018), and Peace Spring (2019).
Source: Anadolu Agency
Please click the following URL to read the full text of the original story:
https://www.aa.com.tr/en/middle-east/turkish-forces-neutralize-9-ypg-pkk-terrorists-in-northern-syria/2663690
--------
Mideast
Next Gaza battle will sweep Israel off the face of occupied Palestinian lands, Islamic Jihad warns
Friday, 19 August 2022
The Palestinian Islamic Jihad resistance movement has warned that any new military confrontation with Israel in defense of the Palestinian cause and as a natural response to the ferocious acts of Tel Aviv's aggression will be a game-changer that will wipe the Tel Aviv regime off the face of occupied lands.
Nasser Abu-Sharif, a member of the Islamic Jihad's political office, said on Thursday that Israeli authorities are flagrantly enacting multiple measures and implementing Zionist projects to deliberately deny Palestinians of their basic rights and freedoms.
He added, "The next confrontation with the Israeli Occupation will be a game-changer as it will sweep the Tel Aviv regime off the face of occupied Palestinian territories."
Abu-Sharif stressed that efforts should be made towards complete liberation of Palestine, calling for more unity among Palestinian factions in this regard.
The senior Islamic Jihad official pointed out that Palestinians are grateful for the sacrifices made by the resistance front, saying, "We insist on the unity of Palestinian factions in order to firmly stand up against the usurping and occupying Israeli regime. We hope other forces in the Arab and Islamic world join this struggle."
"It is our religious and moral duty to confront the Israeli aggression. The Islamic Jihad courageously stood up against such viciousness during the three-day onslaught on the Gaza Strip, and this is a source of pride for all Palestinians," Abu-Sharif noted.
The Israeli regime carried out new massacre in the besieged Gaza Strip on August 5, killing nearly 50 people, including Taysir al-Jabari, a senior commander of the Palestinian Islamic Jihad resistance movement.
The Israeli airstrikes prompted the al-Quds Brigades, the Islamic Jihad's military wing, to respond by firing hundreds of rockets toward the occupied territories, pushing the regime forces on the back foot.
The strong retaliation, as was pledged by the resistance group, forced Tel Aviv to accept an Egyptian-mediated ceasefire, which took effect late on August 7.
Secretary General of the Islamic Jihad resistance movement, Ziad al-Nakhala, says the movement has made "a great achievement" in the face of Israel, lauding Palestinian people's resistance against the regime's aggression.
Ziad al-Nakhala made the remarks after the movement agreed to a truce with the Tel Aviv regime following three days of strikes on the Gaza Strip by the Israeli forces.
"Fifty-eight Zionist-populated settlements were simultaneously brought under the al-Quds Brigades' rocket fire," Nakhala said during a press conference in Tehran.
"The occupiers failed to impose any of their conditions on us," he added. The Islamic Jihad, on the other hand, conditioned the truce on the release of two of its prisoners, who have been detained by the Israeli regime, he added.
Source: Press TV
Please click the following URL to read the full text of the original story:
https://www.presstv.ir/Detail/2022/08/19/687644/Next-Gaza-battle-will-sweep-Israel-off-the-face-of-occupied-Palestinian-lands,-Islamic-Jihad-warns
--------
Israeli forces raid offices of several Palestinian rights groups, civil society organizations in West Bank
18 August 2022
The Israeli regime's forces have stormed the headquarters of several Palestinian human rights and civil society organizations in the occupied West Bank, in yet another crackdown on rights groups in the Palestinian territories.
Palestine's official Wafa news agency said the raid took place in the early hours of Thursday and targeted seven human rights NGOs in the occupied West Bank cities of Ramallah and al-Bireh.
"The heavily-armed soldiers stormed the offices of the organizations, muscled inside, tampered with the contents, seized office equipment and documentation, shut down the main entrances with iron plates, and leaving behind military orders declaring the organizations unlawful," Wafa reported.
The Palestinian news agency said the organizations raided were Al-Haq, Addameer, the Bisan Center for Research & Development, Defense for Children International Palestine (DCI-Palestine), the Union of Agricultural Work Committees, the Union of Health Work Committees and the Union of Palestinian Women.
Local media reports said the Israeli soldiers and police officers "closed seven institutions and confiscated property" in the overnight raids, adding that at the Ramallah offices of human rights group Al-Haq, the front door had been welded shut and an Israeli notice left saying it would remain closed for "security reasons."
The Thursday move led to heavy clashes between Palestinians and Israelis, with the regime's force firing teargas canisters at protesters outside Al-Haq's office and Palestinians responding with rocks and Molotov cocktails over the overnight raids.
In a tweet, senior Palestinian Authority official Hussein al-Sheikh described the raids as "an attempt to silence the voice of truth and justice."
In October last year, the Israeli regime issued a military order declaring the Ramallah-based Al-Haq, along with the other six rights groups, as "terrorist organizations."
The occupying regime accused the groups of funneling donor aid to Palestinian resistance fighters and of having links to the Popular Front for the Liberation of Palestine (PFLP). The groups have strongly denied the claims.
Last month, nine European Union states rejected the Israeli regime's terrorist designation of the Palestinian civil society groups, saying they would continue their cooperation and strong support for the organizations as the regime had failed to prove the allegations.
Source: Press TV
Please click the following URL to read the full text of the original story:
https://www.presstv.ir/Detail/2022/08/18/687611/Israeli-regime-Palestinian-human-rights-civil-society-organizations-West-Bank
--------
Iran Calls on Western Gov'ts to Stop Ignoring Israeli Crimes Against Palestinians
2022-August-18
"In line with what has been stipulated in many official documents… and countless reports by human rights institutions, the Zionist regime is an apartheid regime, which is culpable for genocide, war crimes, and crimes against humanity," Foreign Ministry Spokesman Nasser Kana'ani wrote Twitter on Thursday.
He advised the Western governments to stop denying "objective facts" regarding the Israeli regime's apartheid character and instead start backing the Palestinian nation's human rights.
Numerous human rights organizations have condemned the Israeli regime for its practicing apartheid by systematically oppressing the Palestinians via military occupation and racist laws.
Leading human rights groups, including Human Rights Watch and Amnesty International, have equated Israeli policies against Palestinians to apartheid.
Iran has repeatedly stressed the international community should force Israel to account for human rights violations and crimes against Palestinians. Tehran stated that Washington-supported barbarity will not change the inevitable fate of the Tel Aviv regime.
Israel unleashed a wave of air raids on the Gaza Strip during the last week. Forty-nine Palestinians, including 17 children and two Islamic Jihad commanders, were martyred in the Israeli bombardment of the Gaza Strip. Hundreds of Palestinians were also wounded.
United Nations Human Rights Chief Michelle Bachelet has sounded the alarm about the high number of Palestinians, including children, killed and injured by Israel in 2022.
Almost 40 Palestinian children have been killed so far this year in the occupied territories and in many incidents, Israeli forces appear to use lethal force in a manner that violates international human rights law, Bachelet said.
The toll of civilian casualties in the Israeli attack on Gaza "was heavy", the UN rights chief added.
Iran describes Israel as the root cause of instability in the region, but says the regime's US-supported barbarity will not change the inevitable fate of the Tel Aviv regime.
Iranian President Seyed Ebrahim Rayeesi strongly condemned the new crime committed by Tel Aviv in the Gaza Strip, and noted the Israeli regime is on a fast-track towards decline because of the resistance of the Palestinian people in the besieged enclave.
"Through its crime last night, the Zionist regime once more showed its occupationist and aggressive nature to the world," President Rayeesi stated on Saturday.
Source: Fars News Agency
Please click the following URL to read the full text of the original story:
https://www.farsnews.ir/en/news/14010527000198/Iran-Calls-n-Wesern-Gv's-Sp-Ignring-Israeli-Crimes-Agains-Palesinians
--------
Palestinian Islamic State leader in Sinai killed by Egyptian forces - report
AUGUST 18, 2022
The leader of Islamic State in Sinai responsible for the death of 305 Egyptians in a 2017 mosque massacre has been killed in fighting with the Egyptian Armed Forces, the Sinai United Tribes announced on Monday.
Hamza Adel Muhammad Al-Zamili, better known by the Jihadi moniker Abu Kazem Al-Maqdisi, was killed in combat along with nine other Islamic State fighters. Three others were arrested, and as of Tuesday, Egyptian military operations were still underway, according to the Sinai United Tribes, which is aligned with the Egyptian government.
Rawdah mosque massacre
In 2017, 305 people at Al Rawdah mosque in the northern Sinai were killed in a bombing and gun attack during Friday prayers. Many of those killed were reportedly Sufis, a branch of Islam that is considered idolatrous by the Islamic State. Maqdisi was reportedly responsible for the attack.
"The armed forces and the police will avenge our martyrs and restore security and stability with the utmost force," Egypt's President Abdel Fattah al-Sisi said in a televised address at the time. "What is happening is an attempt to stop us from our efforts in the fight against terrorism, to destroy our efforts to stop the terrible criminal plan that aims to destroy what is left of our region."
A Gazan extremist
Maqdisi was from Gaza but was at odds with the ruling Hamas regime. He had accused Hamas of cooperating with Israel and Egypt to crack down on ISIS-affiliated radicals, Voice of America reported.
Source: J Post
Please click the following URL to read the full text of the original story:
https://www.jpost.com/middle-east/isis-threat/article-715016
--------
Human Rights Chief Blasts US for Unjust Detainment of Iranians
2022-August-18
"The US has arrested tens of innocent Iranians under the pretext of circumventing its cruel and inhumane sanctions," Qaribabadi tweeted on Thursday.
"The last two are Messrs Sarhangpour and Attar-Kashani. All innocent Iranians must be freed – effective immediately," he added.
He also said that Sarhangpour is held under dire humanitarian conditions and was forced to pay the rent for the apartment in which he is placed under arrest.
Sarhangpour's access to emergency medical care is denied and he has been forced to pay the exorbitant treatment costs, the official stated, calling it "Barbaric".
The remarks came after Iran announced it's ready to swap prisoners with the United States, calling on President Joe Biden's administration to act instead of performing theatrical shows.
"Iran has repeatedly announced to the United States through different channels that it is ready to address the issue of prisoners independently of the issue of the JCPOA," Iranian Foreign Ministry Spokesman Nasser Kana'ani said on Wednesday, reffering to the 2015 nuclear deal, officialy known as the Joint Comprehensive Plan of Action (JCPOA).
Some Iranians are in US jails just because of ignoring Washington's illegal sanctions on Tehran.
He declared Tehran's readiness for the immediate implementation of the existing agreement with Washington on releasing prisoners, noting the US must release jailed Iranian citizens without any conditions.
"Tehran is ready to get the innocent Iranians imprisoned in the United States, those who have become victims of injustice by the judicial system of that country on false charges of violating the cruel and illegal Washington's sanctions, released and make their quick freedom and return to the open arms of their families possible," the spokesman added.
""It is surprising that the US, instead of acting and removing the obstacles in this field, is only performing propaganda shows against Iran," he noted.
US officials have recently called on Iran to release American prisoners held in the country.
Tehran has numerously urged Washington to free Iranian nationals who have been taken hostage for baseless reasons under the pretext that they have bypassed and violated the US sanctions. Iran has also blasted the US for linking a humanitarian exchange of prisoners with the talks over the revival of the 2015 nuclear deal.
Source: Fars News Agency
Please click the following URL to read the full text of the original story:
https://www.farsnews.ir/en/news/14010527000375/Hman-Righs-Chief-Blass-US-fr-Unjs-Deainmen-f-Iranians
--------
Israeli PM speaks to Germany's Scholz on Iran nuclear deal
18 August, 2022
Israeli Prime Minister Yair Lapid spoke to German Chancellor Olaf Scholz on Thursday, pressing Israel's position that efforts to revive a nuclear deal with Iran should end, a senior Israeli diplomatic official said.
As well as speaking with Scholz, Lapid spoke to Ted Deutch, chairman of the US House Foreign Affairs Committee's Middle East Subcommittee and with the US ambassador to Israel Tom Nide, the official said.
The head of Israel's National Security Council, Eyal Hulata, is due to travel to the United States next week for more talks.
The conversations came days after the European Union submitted a "final" draft text aimed at salvaging the 2015 nuclear deal which former US President Donald Trump walked away from in 2018.
In an emailed statement, the Israeli official said the time had come to walk away from the talks with Iran, adding: "Anything else sends a message of weakness."
"Now is the time to sit and talk about what to do going forward in order to prevent Iran from obtaining a nuclear weapon," the official said.
Israel has repeatedly spoken out against efforts to revive the deal, reserving the right to take military action to prevent Iran obtaining a nuclear weapon or against Iranian-backed militant groups in the region.
Source: Al Arabiya
Please click the following URL to read the full text of the original story:
https://english.alarabiya.net/News/middle-east/2022/08/18/Israeli-PM-speaks-to-Germany-s-Scholz-on-Iran-nuclear-deal
--------
Palestinian killed in Israeli West Bank raid: Palestinian ministry
August 19, 2022
RAMALLAH, Palestinian Territories Presse: A Palestinian man was killed Friday by Israeli forces during a raid in the north of the occupied West Bank, the Palestinian health ministry said.
Salah Sawafta, 58, "died of critical wounds, sustained by live bullets from the occupation (Israeli military) in the head, in Tubas this morning," a ministry statement said.
The Israeli military said soldiers came under fire during a raid in the town.
During an operation in "Tubas, several suspects hurled Molotov cocktails and opened fire at (Israeli) troops, who responded with fire," the army said in a statement, adding "hits were identified."
The mayor of Tubas, Hossam Daraghmeh, said Sawafta had been leaving dawn prayers when he was shot.
"He left the mosque and was heading to his house wearing a prayer robe. There was a vengeful soldier stationed in a building near the municipality who shot him in the head," he said.
Daraghmeh said Sawafta had been unarmed when he was hit.
"This man did not have a stone or anything in his hand," he said.
The Israeli military said five people were detained in overnight raids across the West Bank.
On Thursday, a 20-year-old Palestinian was killed by Israeli troops during clashes in the northern West Bank city of Nablus.
Source: Arab News
Please click the following URL to read the full text of the original story:
https://www.arabnews.com/node/2146121/middle-east
--------
Africa
Ethiopia calls UN health body head's remarks on Tigray 'unethical'
Addis Getachew, Seleshi Tessema
18.08.2022
ADDIS ABABA, Ethiopia
Ethiopia on Thursday described as "unethical" comments made by the head of the World Health Organization concerning the humanitarian situation in Tigray, the country's northernmost region.
"The comment is one among many unethical ones being made by the WHO Director General and is not surprising," said Billene Seyoum, press secretary at the Prime Minister's Office.
"Using a race card and one's multilateral position to garner the sympathy of the global north for personal, partisan politics is quite unbecoming of such a high profile position," she said.
"We have no doubt that the UN will review the continued breach of the UN office by the WHO Director General wherein the oath of office itself clearly requires a UN staff to act within impartiality and independence," she said.
In a press briefing on Wednesday, WHO Director-General Tedros Adhanom Ghebreyesus, who is an ethnic Tigrayan, said the situation caused by the conflict in Tigray, was worse than any other humanitarian crisis in the world.
"I haven't heard in the last few months any head of state talking about the Tigray situation anywhere in the developed world. Anywhere. Why?" Tedros asked. "Maybe the reason is the color of the skin of the people in Tigray."
He suggested racism could be why Ukraine was getting more attention internationally than Tigray.
Meanwhile, Billene said humanitarian aid continued to enter Tigray.
Armed conflict between Ethiopian federal government and Tigray rebels erupted in November 2020 and in March 2022 the Ethiopian government declared a humanitarian truce, which is holding to date.
Source: Anadolu Agency
Please click the following URL to read the full text of the original story:
https://www.aa.com.tr/en/africa/ethiopia-calls-un-health-body-heads-remarks-on-tigray-unethical/2664103
--------
Somali army claims killing 17 al-Shabaab terrorists
Mohammed Dhaysane
18.08.2022
MOGADISHU, Somalia
The Somali army claimed to have killed 17 al-Shabaab terrorists in the country's central region of Hiran.
In a brief statement issued on Twitter on Thursday, the army said that the terrorists were killed in counter-terrorism operations.
The military also liberated three villages from al-Shabaab during the operations, the statement said.
Hiran, a central province that borders Ethiopia, has seen increased military activities over the last few weeks, as the new Somali government has vowed to continue fighting the group.
On Wednesday, the US army in Africa (AFRICOM) said it conducted an airstrike in the same region, killing at least 13 al-Shabaab terrorists.
Source: Anadolu Agency
Please click the following URL to read the full text of the original story:
https://www.aa.com.tr/en/africa/somali-army-claims-killing-17-al-shabaab-terrorists/2664090
--------
Jordanian journalists protest to mark 100 days since Abu Akleh's murder
Laith Al-jnaidi
18.08.2022
AMMAN
A number of Jordanian journalists on Thursday held a vigil in commemoration of the 100th day since Palestinian journalist Shireen Abu Akleh was shot dead by an Israeli sniper in the West Bank city of Ramallah.
The protest took place in front of the office of the Al-Jazeera news network in central Amman.
Participants raised photos of the late journalist, reading: "Justice for Shireen," and "You will remain present in our hearts ... the martyr of free speech."
Participants called for accountability for what Abu Akleh was subjected to and the need for justice, describing what had happened as a "crime."
Basil Al-Akour, the editor-in-chief of "Jo 24 Site" (Independent), said in a speech during the protest: "100 days have passed and we are still hurt, the wound is still tender, we are still sore, since our colleague fell as a martyr on Palestine's soil, bearing the banner of truth and justice."
He added: "Journalists carry their lives, their future, and the future of their children on their shoulders as they try to convey the truth to you as it stands. The UN and the International Criminal Court are an illusion, as Israel goes unpunished every time."
Hassan Shobaki, the director of the Al Jazeera Office in Jordan, confirmed that this crime will not be silenced, pointing out that "the hand of treachery chose Shireen... There is no greater crime in the world than the crime of occupation."
Al Jazeera's Abu Akleh was killed on May 11, and the Palestinian Health Ministry said she was shot in the head while covering an Israeli army's incursion in the city of Jenin, northern West Bank.
Source: Anadolu Agency
Please click the following URL to read the full text of the original story:
https://www.aa.com.tr/en/middle-east/jordanian-journalists-protest-to-mark-100-days-since-abu-akleh-s-murder/2664122
--------
Morocco sentences 13 migrants to prison, says lawyer
18 August, 2022
Morocco sentenced 13 migrants to two-and-a-half years in prison on Wednesday, their lawyer said, following a deadly mass crossing into the Spanish enclave of Melilla in June.
Their representative, Khalid Ameza, could not specify the charges against the 13 when approached by AFP.
They appeared at a court in Nador, a Moroccan city bordering Melilla, and intend to appeal.
The two Spanish enclaves of Melilla and Ceuta are the EU's only land borders with Africa.
According to the official toll, 23 people died when around 2,000 migrants, many of them from Sudan, stormed the fences along the frontier in June.
It was the largest death toll in years of attempted crossings into the enclaves.
Spanish rights group Caminando Fronteras says as many as 37 people lost their lives in the mass crossing attempt.
The United Nations, the African Union and independent rights groups have condemned the use of excessive force by Moroccan and Spanish security personnel.
Morocco earlier this month sentenced 14 migrants to eight months' jail following their arrest a day before the deadly mass crossing.
Source: Al Arabiya
Please click the following URL to read the full text of the original story:
https://english.alarabiya.net/News/north-africa/2022/08/18/Morocco-sentences-13-migrants-to-prison-says-lawyer
--------
US senator meets Kenyan leaders amid election dispute
Andrew Wasike
18.08.2022
NAIROBI, Kenya
US senator Chris Coons met separately Thursday with Kenya's President-elect William Ruto, veteran opposition leader Raila Odinga and outgoing President Uhuru Kenyatta amid uncertainty about recent election results.
Coons, who is on a five-nation tour of Africa, met Odinga who challenged the Aug. 9 elections in which he lost to the deputy president.
"We held candid discussions on developments around our general election and bilateral relations with the Congressional delegation of the US Senate and House of Representatives. We reiterated our commitment to pursuing legal means to resolve issues around the election results," Odinga wrote in a tweet. He has said that he is going to challenge the results in court.
Coons later met Ruto, who said talks centered on the elections and ties that would benefit both countries.
"The talks touched on the just concluded elections in the country and areas of cooperation between Kenya and United States. We commit to deepen relations and further partnership for the mutual benefit of the citizens of the two countries," he tweeted.
Later, Coons commended Kenyatta, who made his first public appearance since the elections, for his leadership. "We are encouraged by the peace Kenya has continued to experience during this period," he said.
Kenyatta said "the process of transition will be smooth" and his greatest desire is for peace to prevail.
Coons' trip comes days after Ruto was declared Monday the winner of the elections amid a dispute.
Odinga, who was also hoping to take the mantle from Kenyatta, is headed to the Supreme Court to challenge the results.
Lawyer and political analyst George Kithi told Anadolu Agency that the possibility of a brokered power-sharing deal cannot be ruled out but right now all eyes are on the Supreme Court that will decide where to uphold Ruto's win or call a new election.
"I think because it was done before, probably it can be done now," he said.
Coons was among those who urged Kenyatta and Odinga to talk in 2017 following an election that was marred with irregularities.
Source: Anadolu Agency
Please click the following URL to read the full text of the original story:
https://www.aa.com.tr/en/africa/us-senator-meets-kenyan-leaders-amid-election-dispute/2664219
--------
Europe
UK's Priti Patel signs deal to deport illegal Pakistani migrants
Aug 18, 2022
LONDON: Britain has clinched a new agreement with Pakistan, dubbed a "landmark" deal, to speedily remove Pakistani nationals with no legal right to remain in the UK.
The Returns Agreement was signed by Home Secretary Priti Patel and Pakistan Interior Secretary Yousaf Naseem Khokhar and the country's High Commissioner to the UK, Moazzam Ahmad Khan in London on Wednesday.
The agreement will target Pakistan criminals, failed asylum seekers, visa overstayers and immigration offenders to facilitate their return to their home nation.
"I'm proud to have signed a new landmark agreement with our Pakistani friends to return foreign criminals and immigration offenders from the UK to Pakistan," said Patel.
"I make no apology for removing dangerous foreign criminals and immigration offenders who have no right to remain in the UK. The British public have quite rightly had enough of people abusing our laws and gaming the system so we can't remove them. This agreement, which I am proud to have signed with our Pakistani friends, shows the New Plan for Immigration in action and the government delivering," she said.
"Our new Borders Act will go further and help end the cycle of last-minute claims and appeals that can delay removals," Indian-origin Cabinet minister said.
According to the UK Home Office data, Pakistan nationals make up the seventh largest number of foreign criminals in prisons in England and Wales – totalling nearly 3 per cent of the foreign national offender population, around 2,500 prisoners.
The British government says the new agreement underlines both countries' ongoing commitment to tackling the issue of illegal migration and the significant threats it poses to both nations. The agreement also includes ongoing work to "improve and expand UK-Pakistani law enforcement cooperation".
The new pact with Pakistan is among a series of Returns Agreements signed by Patel in 15 months under the government's "New Plan for Immigration" to tackle illegal migration.
Source: Times Of India
Please click the following URL to read the full text of the original story:
https://timesofindia.indiatimes.com/world/uk/uks-priti-patel-signs-deal-to-deport-illegal-pakistani-migrants/articleshow/93645129.cms
--------
Alleged anti-Muslim hate crimes investigated by Portland police
by Leela Stockley
Aug 19, 2022
A series of alleged hate crimes targeted at Portland's Muslim community are under investigation by the Portland Police Department.
Three separate instances of actions attempting to intimidate or ostracize Muslim members of the Portland community were reported by members of the Omar Bin Alkhetab Masjid mosque on Aug. 2, according to the Portland Press Herald.
The mosque members reported two videos that were shared with them; one showing a person burning a Quran and one showing a person entering the mosque some time in April while recording details of the interior while talking with others on WhatsApp, a social media platform, according to the Press Herald.
A Muslim family also reported that graffiti with allegedly threatening messages was left on a street outside their home on or before Aug. 5, the Portland newspaper reported.
The Portland Police Department has opened an investigation, and will report any evidence that is indicative of a hate crime to the Cumberland County district attorney's office and the Office of the Maine Attorney General.
A hate crime is defined as any action against a person that is motivated by bias against a person's race, religion, ancestry, national origin, gender, disability or sexual orientation. Any attempt to threaten, intentionally injure, intimidate or oppress someone based on bias is a Class D offense in Maine, punishable by up to 364 days in jail and a $2,000 fine.
Attorney General Aaron Frey declined to comment on the ongoing investigation, according to the Press Herald.
Members of the Council on American-Islamic Relation welcomed an investigation into the videos and graffiti, calling for appropriate actions to be taken in the wake of the investigation.
Source: Bangor Daily News
Please click the following URL to read the full text of the original story:
https://www.bangordailynews.com/2022/08/18/news/portland/muslim-hate-crime-investigation-portland/
--------
Erdogan warns of 'another Chernobyl' after talks in Ukraine
August 19, 2022
LVIV: U.N. Secretary-General Antonio Guterres urged Russia and Ukraine on Thursday to show a "spirit of compromise" to ensure the continued success of a UN brokered deal, even as Turkish leader Recep Tayyip Erdogan warned of an impending nuclear disaster in Ukraine during his first face-to-face talks with President Volodymyr Zelensky since the invasion began.
"We are worried. We don't want another Chernobyl," Erdogan said during a press conference in the eastern city of Lviv, during which he also assured the Ukrainian leader that Ankara was a firm ally.
"While continuing our efforts to find a solution, we remain on the side of our Ukraine friends," Erdogan said.
Guterres said he was "gravely concerned" about the situation at the plant and said it had to be demilitarised, adding: "We must tell it like it is — any potential damage to Zaporizhzhia is suicide".
Erdogan, who has major geopolitical rivalries with the Kremlin but maintains a close working relationship with President Vladimir Putin, met with the Russian leader less than two weeks ago in the Black Sea resort of Sochi.
The Turkish leader along with Guterres were key brokers of a deal inked in Istanbul last month allowing the resumption of grain exports from Ukraine after Russia's invasion blocked essential global supplies.
Ahead of the press conference with Zelensky, Ukraine's port authority announced that the 25th cargo ship under the deal had departed for Egypt carrying 33,000 tonnes of grain.
Guterres said after talks in the western Ukrainian city of Lviv that 21 ships had departed from Ukrainian ports under the deal in less than a month, and 15 vessels had left Istanbul for Ukraine to load up with grain and other food supplies.
"Since the Russian invasion of Ukraine, I have been clear: There is no solution to the global food crisis without ensuring full global access to Ukraines food products and Russian food and fertilisers," he told reporters in Lviv.
Source: Dawn
Please click the following URL to read the full text of the original story:
https://www.dawn.com/news/1705641/erdogan-warns-of-another-chernobyl-after-talks-in-ukraine
--------
Turkey says Sweden's first extradition of Turkish convict falls short of demands
18 August, 2022
Turkey's justice minister Thursday said Sweden's pledge to extradite a Turkish convict fell far short of Stockholm's commitments under a deal paving the way for its NATO membership bid.
NATO member Turkey is threatening to freeze Sweden's attempts to join the Western defense alliance unless it extradites dozens of people Ankara accuses of "terrorism."
A non-binding deal Sweden and fellow NATO aspirant Finland signed with Turkey in June commits them to "expeditiously and thoroughly" examine Ankara's requests for suspects linked to a 2016 coup attempt and outlawed Kurdish militants.
The Swedish government said earlier this month that it would extradite Okan Kale - a man convicted of credit card fraud who appeared on a list of people sought by Ankara published by Turkish media.
Justice Minister Bekir Bozdag told the conservative Milliyet news site that Sweden needed to do far more to win Turkey's trust.
"If they think that by extraditing ordinary criminals to Turkey they will make us believe that they have fulfilled their promises, they are wrong," Bozdag said in the first government response to the extradition decision.
"Nobody should test Turkey," he warned.
Bozdag is seen as one of the more hawkish members of Recep Tayyip Erdogan's government.
The Turkish leader himself has warned that he will not submit the two countries' applications for ratification in parliament unless they comply with his extradition demands in full.
Erdogan said in July that Sweden had made a "promise" to extradite "73 terrorists."
The Turkish justice ministry in June formally requested the extradition of 21 suspects from Sweden and 12 from Finland.
Sweden and Finland ended decades of military neutrality and decided to try and join NATO in response to Russia's February invasion of Ukraine.
Their bids have already been ratified by the United States and more than half of the 30 members of NATO. Each application must win unanimous consent from member states.
Sweden and Finland are due to hold their first formal consultations with Turkey about the dispute on August 26.
Source: Al Arabiya
Please click the following URL to read the full text of the original story:
https://english.alarabiya.net/News/middle-east/2022/08/18/Turkey-says-Sweden-s-first-extradition-of-Turkish-convict-falls-short-of-demands
--------
EU hails decision by Türkiye, Israel to restore full diplomatic relations
Agnes Szucs
18.08.2022
BRUSSELS
The European Union on Thursday hailed the recent Turkish-Israeli rapprochement.
"I welcome the announcement between Turkey and Israel to restore full diplomatic ties," EU commissioner for Enlargement and Neighborhood Oliver Varhelyi said on Twitter.
The remarks came after Türkiye and Isreal announced on Wednesday that they will resume diplomatic relations and mutually reappoint ambassadors and consuls.
Varhelyi called the agreement "another milestone strengthening bilateral relations, stabilizing the region and fostering prosperity."
"The EU is ready to support establishing new grounds of cooperation," he added.
In his speech announcing the restoration of diplomatic ties with Israel, Turkish Foreign Minister Mevlut Cavusoglu stressed that Türkiye will "continue to defend the rights of Palestine, Jerusalem, and Gaza, and it is important that our messages are conveyed directly to Tel Aviv at the ambassador level."
On Wednesday, Turkish President Recep Tayyip Erdogan had a phone talk with Israeli Prime Minister Yair Lapid to discuss bilateral relations and regional issues.
Erdogan said he supports the development of cooperation and dialogue between the two countries built on a sustainable basis and respect for mutual sensitivities.
He also expressed his satisfaction with the progress achieved in relations under a framework agreed on during recent visits to Türkiye by Lapid and Israeli President Isaac Herzog.
Source: Anadolu Agency
Please click the following URL to read the full text of the original story:
https://www.aa.com.tr/en/europe/eu-hails-decision-by-turkiye-israel-to-restore-full-diplomatic-relations/2664038
--------
Southeast Asia
Foreign Minister of Malaysia Condemns Myanmar Junta for Suu Kyi's Latest Prison Sentence
August 16, 2022
PETALING JAYA: Foreign minister Saifuddin Abdullah has condemned Myanmar's junta for sentencing deposed leader Aung San Suu Kyi to six years in prison.
Reuters reported yesterday that a court in military-ruled Myanmar handed down the sentence after finding Suu Kyi guilty in four corruption cases, after she had already been sentenced to 11 years in prison in other cases.
Suu Kyi has denied all the charges against her.
"The additional sentencing of Suu Kyi and the recent execution of four democracy activists prove that the junta repeatedly disregards calls by Asean leaders for concrete and inclusive dialogue for national reconciliation in Myanmar," said Saifuddin in a tweet.
Suu Kyi, a 77-year-old Nobel laureate and the figurehead of Myanmar's opposition to military rule, has been charged with at least 18 offences ranging from corruption to election violations, carrying combined maximum jail terms of nearly 190 years.
Saifuddin said Malaysia stands with the people of Myanmar and supports calls for Suu Kyi's immediate release.
"This is so that the process of peaceful and inclusive dialogue with all stakeholders, including the country's National Unity Government (NUG) and National Unity Consultative Council (NUCC), can begin," he said.
He said the junta had failed to fulfil the five-point consensus (5PC) to end the country's turmoil which was agreed upon at the Asean Leaders Meeting (ALM) in Jakarta in April 2021.
It called for an immediate cessation of violence, holding dialogues with all key stakeholders, the appointment of a special envoy to facilitate mediation, for the delegation to visit and meet with stakeholders in Myanmar, and allowing Asean to provide humanitarian assistance to the people in Myanmar.
Myanmar has been in crisis since last year when the military overthrew an elected government led by Suu Kyi's party, before leading a deadly crackdown on dissent.
Source: Free Malaysia Today
Please click the following URL to read the full text of the original story:
https://www.freemalaysiatoday.com/category/nation/2022/08/16/saifuddin-condemns-myanmar-junta-for-suu-kyis-latest-prison-sentence/
--------
Timor-Leste Muslims reject Indonesian Islamic group
August 18, 2022
A top leader of Timor-Leste's minority Muslim community has turned down an offer from a leading Indonesian Muslim group to open its branch in his Catholic-majority country, fearing it would destroy religious harmony.
Haji Abdullah Inacio Antonio Soares, vice president of the government-recognized organization called Timor-Leste Muslim Community said he has rejected the offer from Indonesia's largest moderate Islamic organization, Nahdlatul Ulama [NU].
"As a fellow human being and a fellow Muslim, I welcome their presence, but to open a branch here as they wish is not easy," he told UCA News on Aug. 18.
Soares' response came after a delegation of NU and its youth branch Gerakan Pemuda Anshor from East Nusa Tenggara province, which borders Timor-Leste, concluded a four-day visit to Timor-Leste on Aug. 17.
The delegation met with leaders of Timor-Leste's Muslim community and President Jose Ramos-Horta and discussed issues related to reconciliation, human brotherhood, and peace.
The visit aimed to establish "friendship and consolidation" and to "open our branch here," said Ajhar Lawe, chairman of the East Nusa Tenggara province branch of Gerakan Pemuda Anshor after meeting President Ramos-Horta on Aug. 16.
Soares told UCA News that he was "well aware" of NU's track record as a moderate organization. "But I'm afraid the presence of such an organization will actually bring new problems to our country."
The group is welcome to work with Muslims in Timor-Leste in social fields such as education. Opening a branch of this organization will lead to a flood of other organizations, he said.
Muslims are only less than one percent of Timor-Leste's 1.3 million population, with 97 percent Catholics.
He said Timor-Leste Muslims live as one community without any factions "in harmony with other religions. So, when we make a decision, we also consider the impact it will have on people of other religions."
"A bigger issue is about the life of the nation" and the future of co-existence of different religions. "So far it has been going well" and should be left undisturbed Soares said.
"My decision to reject the opening of the branch was indeed criticized a lot, but actually what I consider is a matter of greater interest, about our nation," he said.
Soares' rejection was supported on social media.
Faralata-Ratutey Arapausa'e Simao wrote on Facebook that Timor-Leste does not need Islamic organizations "because in Indonesia how difficult it is for Christians to establish churches."
Source: UCA News
Please click the following URL to read the full text of the original story:
https://www.ucanews.com/news/timor-leste-muslims-reject-indonesian-islamic-group/98440
--------
Australia upset at Indonesia reducing Bali bomber's sentence
August 19, 2022
CANBERRA: Australia's leader said Friday that it's upsetting Indonesia has further reduced the prison sentence of the bombmaker in the Bali terror attack that killed 202 people — which could free him within days if he's granted parole.
The most recent reduction of Umar Patek's sentence takes his total reductions to almost two years and means Patek could be released on parole ahead of the 20th anniversary of the bombings in October.
"This will cause further distress to Australians who were the families of victims of the Bali bombings," Prime Minister Anthony Albanese told Channel 9. "We lost 88 Australian lives in those bombings."
Albanese said he would continue making "diplomatic representations" to Indonesia about Patek's sentence and a range of other issues, including Australians currently jailed in Indonesia. Albanese described Patek as "abhorrent."
"His actions were the actions of a terrorist," Albanese told Channel 9. "They did have such dreadful results for Australian families that are ongoing, the trauma which is there."
Indonesia often grants sentence reductions to prisoners on major holidays such as the nation's Independence Day, which was Wednesday.
Patek received a 5-month reduction on Independence Day for good behavior and could walk free this month from Porong Prison in East Java province if he gets parole, said Zaeroji, who heads the provincial office for the Ministry of Law and Human Rights.
Zaeroji, who goes by a single name, said Patek had the same rights as other inmates and had fulfilled legal requirements to get sentence reductions. "While in the prison, he behaved very well and he regrets his radical past which has harmed society and the country and he has also vowed to be a good citizen," Zaeroji said.
Patek was arrested in Pakistan in 2011 and tried in Indonesia, where he was convicted in 2012. He was originally sentenced to 20 years imprisonment.
With his time served plus sentence reductions, he became eligible for parole on Aug. 14. The decision from the Ministry of Law and Human Rights in Jakarta is still pending, Zaeroji said. If refused parole, he could remain jailed until 2029.
Patek was one of several men implicated in the attack, which was widely blamed on Jemaah Islamiyah, a Southeast Asian militant group with ties to Al-Qaeda. Most of those killed in the bombing on the resort island were foreign tourists.
Another conspirator, Ali Imron, was sentenced to life. Earlier this year, a third militant, Aris Sumarsono, whose real name is Arif Sunarso but is better known as Zulkarnaen, was sentenced to 15 years following his capture in 2020 after 18 years on the run.
Source: Arab News
Please click the following URL to read the full text of the original story:
https://www.arabnews.com/node/2146031/world
--------
Amin highlights sharia insurance industry's challenges, opportunities
August 19, 2022
Vice President Ma'ruf Amin highlighted future challenges and opportunities of the national sharia insurance industry amid implementation of ASEAN Framework Agreement on Services (AFAS) aimed at eliminating restrictions to trade in services among ASEAN countries.
"On one hand, the domestic sharia insurance industry is required to compete with foreign rivals in the domestic market, while on the other hand, it (the AFAS implementation) increases prospects for the Indonesian sharia insurance industry to expand its market to other ASEAN member states," Amin stated while addressing the 19th anniversary of the Indonesian Sharia Insurance Association (AASI) in Jakarta on Thursday.
The ability to penetrate the insurance market is hinged on the industrial capacity. The national sharia insurance companies should be able to capitalize on the momentum by preparing themselves to be more competitive and efficient, so that they can compete and lead the regional sharia insurance market, he affirmed.
To that end, he urged AASI to encourage sharia financial literacy, particularly about sharia insurance, among members of the public; make the most of digital technology to strengthen the Indonesian sharia insurance industry; and create attractive products for Indonesia's productive generation.
In addition, the vice president called on the AASI to improve the quality and capacity of human resources in the field of sharia finance and insurance and take active part in supporting micro, small, and medium entrepreneurs (MSMEs) in terms of business protection and literacy.
"Sharia insurance can also encourage sharia financial inclusion by targeting the middle to lower class population that makes up the large market through micro insurance products. There is a lot of evidence that the industry is successfully engaged in micro products. Hence, micro products, with an unburdening and affordable payment system, must be innovated," he remarked.
Source: Pak Observer
Please click the following URL to read the full text of the original story:
https://pakobserver.net/amin-highlights-sharia-insurance-industrys-challenges-opportunities/
--------
Don't use civil servants as 'propaganda tools', PM told
August 19, 2022
PETALING JAYA: Prime Minister Ismail Sabri Yaakob's call for civil servants to defend the government from allegations will lead to them being used as "propaganda tools" to boost Barisan Nasional's (BN) image, says Pakatan Harapan (PH) Youth.
PH Youth said Ismail's action is tantamount to abuse of power.
"Any attempt to use civil servants to defend the government must be strongly rejected," it said in a statement.
"Civil servants should adhere to the principle of neutrality in ensuring that the delivery of government services is not affected, even if there is any change in leadership."
The statement was signed by PH and DAP Youth chief Dr Kelvin Yii, PKR Youth chief Adam Adli, Amanah Youth chief Hasbie Muda and Upko Youth chief Felix Joseph Saang.
It noted that after PH took over Putrajaya in May 2018, following its victory in the 14th general election (GE14), the Cabinet decided to ban civil servants from getting involved in politics to ensure that they remain neutral in all administrative affairs.
The former PH government also introduced regulations to prohibit top civil servants, as well as those in managerial and professional roles, from being involved in politics.
During a meeting with staff of the Prime Minister's Department on Tuesday, Ismail said it would be apt for civil servants to defend the government against allegations that the government under his administration had failed.
On allegations that the police were linked to a network of fake social media accounts and pages that tried to boost support for the government and run down the opposition, PH Youth said Ismail's message to the public servants only served to add credence to such claims.
It also urged the Malaysian Communications and Multimedia Commission to conduct an investigation into the allegations, stating that it would help restore the police's integrity.
Source: Free Malaysia Today
Please click the following URL to read the full text of the original story:
https://www.freemalaysiatoday.com/category/nation/2022/08/19/dont-use-civil-servants-as-propaganda-tools-pm-told/
--------
URL: https://newageislam.com/islamic-world-news/rights-groups-protest-bilkis-bano/d/127752
New Age Islam, Islam Online, Islamic Website, African Muslim News, Arab World News, South Asia News, Indian Muslim News, World Muslim News, Women in Islam, Islamic Feminism, Arab Women, Women In Arab, Islamophobia in America, Muslim Women in West, Islam Women and Feminism