New Age Islam News Bureau
9 Apr 2019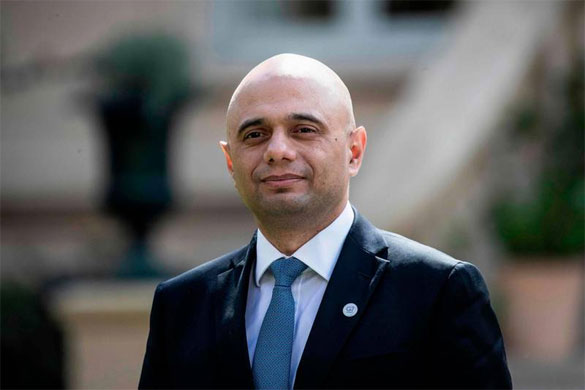 Britain's Home Secretary Sajid Javid is taking action to tackle hate crime. AFP
--------
• Senior Conservatives Have Tried To Downplay The Anti-Muslim Abuse: Facebook Posts by Tory Members Reignite Party's Islamophobia Crisis
• Social Media Companies Face Tough UK Sanctions Over Extremist Content
• Rabbi and Imam Teach At Gandhi Ashram In Coexistence First
• Jaish Commander Nisar Ahmed Tantray Says He Knew About Pulwama Attack
• Muslims in Delhi and Haryana Feel 'Unfairly Represented' in Hindi Newspapers: Survey
• Chinese Govt to Play Mediator in Sending Back Rohingyas Refugees from Bangladesh to Myanmar
• Hamas West Bank Leader Jailed By Israel for Six Months without Trial
Europe
• Senior Conservatives Have Tried To Downplay The Anti-Muslim Abuse: Facebook Posts By Tory Members Reignite Party's Islamophobia Crisis
• Social Media Companies Face Tough UK Sanctions Over Extremist Content
• Blacklisting IRGC meant to help Israel's Netanyahu: Iran envoy
• Russia calls for closure of Syrian refugee camp at Rukban
• Putin and Erdogan to discuss fresh Syrian offensive in Moscow
• British extremists trapped in Syria to face jail on return
--------
North America
• Rabbi and Imam Teach At Gandhi Ashram In Coexistence First
• US Bars Entry to 16 Saudis over Role in Khashoggi Murder
• US Declares Iran's Revolutionary Guard a Terror Entity
• Pompeo warns all banks, businesses to end dealings with the IRGC
• Several US troops killed in Taliban attack
• US official: ISIS can't be defeated in Syria as long as Iran has a foothold
• 3 US military personnel killed in Afghanistan
--------
India
• Jaish Commander Nisar Ahmed Tantray Says He Knew About Pulwama Attack
• Muslims in Delhi and Haryana Feel 'Unfairly Represented' in Hindi Newspapers: Survey
• In Terror-Funding Probe, Mirwaiz Umar Farooq Questioned By NIA
• NIA questions Mirwaiz; Geelani's son asked to join probe
• India: Islamist Terrorism Contained, Not Terminated
--------
South Asia
• Chinese Govt to Play Mediator in Sending Back Rohingyas Refugees from Bangladesh to Myanmar
• 13 militants killed in coalition airstrikes in Southeast of Afghanistan
• After Bangladesh, Rohingyas flee to Malaysia, over 200 believed at sea
• Taliban agree to meet Afghan govt officials in Qatar
• 3 U.S. service members, 1 contractor killed in IED explosion near Bagram airbase
• Explosion kills 2 people in Jalalabad city of Nangarhar province
• Taliban kill 12 security forces in western Afghanistan
• 12 Afghan security personnel killed in Taliban attack in Badghis province
--------
Mideast
• Hamas West Bank Leader Jailed By Israel for Six Months without Trial
• Israel Arrests Brother of Palestinian Teen Ahed Tamimi
• New Palestinian government to be formed in days
• Arab Coalition intercepts drone launched by Houthis toward Asir region
• Erdogan to discuss possible Turkish operation in Syria with Putin: RIA
• Yemeni army dismantles Houthi explosives
--------
Pakistan
• Pakistan accepts India's proposal for April 16 technical meeting on Kartarpur corridor
• Ehsas to turn Pakistan into welfare state: PM
• PPP warns Centre against 'constitutional intervention' in Sindh
• LHC hints at releasing Khadim Rizvi on written assurance
--------
Southeast Asia
• Court Quashes Zahid's Ban on G25's Book On Islam
• Prabowo Feeds Voters Nativist Themes, Promises; Jokowi Keeps Highlighting Own Achievements
--------
Arab World
• Saudi Welcomes US Blacklisting Of Iran Revolutionary Guards
• US Sends New Military Equipment on 700 Trucks to SDF in Eastern Syria
• Turkish Army Training Ankara-Backed Militants for Heliborne Operations to Fight against Kurds
• Three killed as suicide bombers attack Syrian army position
• Saudi Arabia: Abu Hadriyah terrorists were involved in past al-Qatif attacks
--------
Africa
• Army Will Not Allow Sudan to 'Fall Into Chaos': Minister
• Libya Clashes Death Toll Rises To 32
• UN envoy to Libya condemns attack on Tripoli's Mitiga airport
• Report: LNA closes in on Tripoli, avoids entering into residential neighbourhoods
• 7 killed in 2 days of Sudan's ongoing protests: Interior minister
• Libyan government forces retake two bases from Haftar
• UN chief calls for immediate halt to Libya fighting
Compiled by New Age Islam News Bureau
URL: https://www.newageislam.com/islamic-world-news/senior-conservatives-tried-downplay-anti/d/118274
--------
Senior Conservatives Have Tried To Downplay The Anti-Muslim Abuse: Facebook Posts by Tory Members Reignite Party's Islamophobia Crisis
Jack Dutton
April 8, 2019
British Conservative Party members have been posting anti-Muslim comments on Facebook, urging each other to prevent Home Secretary Sajid Javid from becoming prime minister, adding to the Islamophobia crisis within the party.
Buzzfeed News reported that 20 Facebook users that claimed to be Conservative members made anti-Muslim comments on the platform.
However, senior Conservatives have denied that the party has an Islamophobia problem.
Prime Minister Theresa May previously told parliament: "The party chairman takes very seriously any allegations that are brought before the party and we will continue to do so", though Brandon Lewis [Chairman of the Conservative Party] himself said he "would dispute that that is a problem that exists".
Buzzfeed reported that a man who was in a closed group of Conservative members called Muslims "muzz rats", "sub human scum" and asked "why have we got them in our country?"
Another man, who wrote that he joined the party last week to get a hard-line Brexiter to become prime minister said: "Britain is not ready for a Muslim PM, that would be taking the absolute piss out of the country".
Speaking about London Mayor Sadiq Khan, he added: "This man does not represent the United Kingdom, he is only the Mayor of Londonistan… Theresa May needs to get a grip of this Muslim Brotherhood stooge."
Both Mr Khan and Mr Javid are from families of Pakistani descent.
One woman who wrote two days ago that she was staying as a Tory member "so that we can elect the right leader" wrote that the home secretary "will protect his own. He was sworn in on the Koran".
The recent posts on social media have reignited the party's Islamophobia crisis.
Sunder Katwala
@sundersays
Important Conservatives suspend members for racism & prejudice against Muslims. Party must be more proactive now: if such statements made in group forums & accepted/not robustly challenged, this indicates a bigger problem of education & party culturehttps://twitter.com/alexwickham/status/1115278802937155584 …
Alex Wickham
✔
@alexwickham
NEW: Another 20 Tory members are facing suspension after posting anti-Muslim comments on Facebook
Members vowed to use their votes at a leadership contest to stop Sajid Javid becoming PM
More than 50 Tory members have now been suspended for Islamophobiahttps://www.buzzfeed.com/alexwickham/tory-islamophobia-facebook-stop-sajid-javid …
44
10:28 PM - Apr 8, 2019
Twitter Ads info and privacy
37 people are talking about this
Commenting on the recent Facebook posts, recently retired former Conservative MP Nick Boles said the party leadership "needs to act decisively to cut this cancer out. Enough with the suspensions; we need to see expulsions".
On March 25, Conservative Party has quietly reinstated the membership of 15 councillors who were suspended for posting racist and anti-Muslim content online, an investigation by a British newspaper has found.
Former Tory party chair and first Muslim woman cabinet minister, Sayeeda Warsi, said that the move to reinstate the councillors was "revolving door racism".
"Another bunch of bigots found out," she wrote on Twitter.
Nick Boles MP
✔
@NickBoles
It is no longer possible to describe examples of Conservative Party members expressing anti-Muslim hatred as isolated incidents. The party leadership needs to act decisively to cut this cancer out. Enough with the suspensions; we need to see expulsions.
Alex Wickham
✔
@alexwickham
NEW: Another 20 Tory members are facing suspension after posting anti-Muslim comments on Facebook
Members vowed to use their votes at a leadership contest to stop Sajid Javid becoming PM
More than 50 Tory members have now been suspended for Islamophobiahttps://www.buzzfeed.com/alexwickham/tory-islamophobia-facebook-stop-sajid-javid …
3,536
9:41 PM - Apr 8, 2019
Twitter Ads info and privacy
1,705 people are talking about this
The party announced earlier in March that 25 party members had been suspended over anti-Islamic comments. Another 40 were suspended following previous investigations into Islamophobia.
https://www.thenational.ae/world/europe/facebook-posts-by-tory-members-reignite-party-s-islamophobia-crisis-1.846632
--------
Social media companies face tough UK sanctions over extremist content
Nicky Harley
April 8, 2019
Social media companies that fail to protect users from harm face bans and heavy fines in new proposals announced by the UK government.
The policies were launched on Monday in a long-awaited white paper on online harm and would also make company directors personally accountable for the behaviour of users. A 12-week consultation will now take place on the UK proposals.
It comes less than four weeks after New Zealand's Christchurch massacre in which the terrorist live-streamed footage of the mosque shootings on Facebook for 17 minutes.
The company said the artificial intelligence it uses to monitor content failed to flag it.
Under the UK government's proposals, companies would be sanctioned if they fail to stop child abuse, or prevent users from viewing or sharing extremist content.
The government intends to impose a "short, predetermined time frame" in which offensive posts must be removed.
It also proposes a new statutory duty of care on social media companies, and the creation of an independent regulator.
Prime Minister Theresa May said self-regulation among social media companies was at an end.
"Online companies must start taking responsibility for their platforms, and help restore public trust in this technology," she said.
Home secretary Sajid Javid and Jeremy Wright, the UK culture secretary, said tougher measures were necessary as self-regulation was ineffective.
"Voluntary actions from the industry to tackle online harms have not been applied consistently or gone far enough. Tech can be an incredible force for good and we want the sector to be part of the solution in protecting their users. However, those that fail to do this will face tough action," they said in a joint statement.
Last week, the UK's security minister Ben Wallace said technology companies needed to do more to combat the rise of extremism online.
He said the threat from far-right extremists was almost on a par with ISIS, with neo-Nazis using the same social media methods as other extremist groups to recruit supporters.
Sara Khan, of the UK's Commission for Countering Extremism, said that more needs to be done to tackle terror online.
"Social media has been a game-changer for extremists. Tackling harmful but legal extremist content online must remain high on the agenda for a duty of care and a new regulator," she said.
"Social media has allowed extremists to connect, organise and promote their propaganda and disinformation at a frightening rate.
"Despite repeated requests for self-regulation, the government has now had to step in to force companies to take action. We also need better conversations online, a positive use of algorithms, and a proactive and effective response to ensure extremists don't exploit advertising on social media to further their cause."
The Australian government last week passed new legislation to impose large fines and prison sentences for social media executives if they fail to rapidly remove "abhorrent violent material" from their platforms.
The British white paper outlines the government's proposals to tackle abuse and extremism, and the sanctions will use to enforce them.
Social media companies have faced criticism from the families of young people who committed suicide after viewing inappropriate content.
Reports of child abuse online have also risen globally from 110,000 complaints in 2004 to 18.4 million last year.
"For too long social networks have failed to prioritise children's safety and left them exposed to grooming, abuse, and harmful content," Peter Wanless, chief executive of UK children's charity the NSPCC, said.
"It's high time they were forced to act through this legally binding duty to protect children, backed up with hefty punishments if they fail to do so."
https://www.thenational.ae/world/europe/social-media-companies-face-tough-uk-sanctions-over-extremist-content-1.846482
--------
Rabbi And Imam Teach At Gandhi Ashram In Coexistence First
By Ben Bresky
MARCH 29, 2019
An American-Israeli rabbi and an African-American Muslim imam were like fish out of water during a special trip to a Hindu ashram in India.
Like a reality TV show, two people from two different communities were recently thrown together in a challenging environment. Pesach Stadlin, an Israeli-based rabbi in his 30s, and Abdullah Faaruuq, a 71-year-old American-based imam, became roommates for a month at the Gandhi Ashram in Ahmedabad, India.
Born Jeremy David Stadlin in Philadelphia, the young rabbi traveled through several dozen countries around the globe before settling in Israel where we was ordained by the late Rabbi Sholom Brodt of Yeshivat Simchat Shlomo in Jerusalem. He chronicled his journeys and lessons learned in his 2016 book Sustainable Bliss.
Faaruuq was born Jeconiah Barrow to a Jamaican immigrant mother in the rough streets of Boston. Growing up in the civil rights era, he gravitated to Islam, eventually becoming active at the Mosque for the Praising of Allah in Boston's Roxbury neighborhood that he has led for the past 20 years.
Their similarities include having been born and raised in the United States, having musical backgrounds, and both being monotheists who had never before visited the mostly Hindu country of India.
They spoke to The Jerusalem Post via phone from Ahmedabad.
"This is neutral ground," stated Faaruuq, noting that although there is a strong Muslim minority, the history of the region is far from the Arab-Israeli conflict.
The two bonded over their newfound challenges, such as shopping for kosher and halal food or attempting to walk across a busy street. "There are very few traffic lights and people drive fast," noted Stadlin. "You have to edge your body into traffic, and the cars hopefully see you and slow down or go around you. Otherwise you end up standing on the side of the road for 20 minutes waiting for your lucky break."
Their daily duties included teaching about their respective religions in various locations, such as at a leprosy camp, a school for the blind, a Zoroastrian temple, a Sufi mosque and the city's only remaining synagogue.
Stadlin noted the novelty of leading Hebrew songs for people who told him they had never met a Jew before and asked, "What is a Jew?"
"Every day at the ashram and all of its centers throughout India they have interfaith prayer services, where they recite the Shema Yisrael," Stadlin explained, "We showed up at a school and as soon as we walked in the door they happened to be in the middle of reciting the Shema Yisrael prayer." He related that the students and teachers were excited to have a rabbi explain the further depth of the centerpiece prayer in Jewish liturgy.
Faaruuq and Stadlin were chosen for the unique mission by a group calling itself Children of Abraham, in conjunction with Manav Sadhna, a non-profit organization based at the ashram. Founded in 1951 as the Sabarmati Ashram, the site is where the Indian leader Mohandas (Mahatma) Gandhi studied and from where he led the famous Salt March, also known as the March to Dandi, in 1930.
It was a Jewish friend from Boston, Jerry Katz, who led Faaruuq to the project. The two would often share a falafel together as a local kosher restaurant. Katz explained that he was given a donation to fund a special interfaith project and he was looking for a Jewish and a Muslim volunteer to participate. Stadlin was recruited by Katz's cousin Tobie Weisman, who was a long-time friend of the Rabbi Brodt, Stadlin's mentor.
"This experience has been so rich," Faaruuq said. "I'm not saying it's going to solve the problems of the world, but certainly it is a glowing example of what's possible in humanity," he stated.
Both described seeing Hindu and Muslim children living side-by-side in abject poverty without complaint.
"I'll be 72 in a few months, and I've never seen anything like this," he said. "I'm not a baby. I've had all kinds of experiences, and I've been to several countries, but this is different. I want you to tell the world, they're doing something different over here and we don't know what it might blossom into."
Although Faaruuq's Roxbury neighborhood has been described as rough, he said it's nothing compared to the urban villages of Ahmedabad. "Too many of the people in the United States have no understanding of what's going on over on the other side of the world," he said. "They laugh and joke, drink Pepsi and eat popcorn. But if they were to just come here and live, and not just as tourists, they would have a different view of life and be appreciative of America."
Stadlin echoed the sentiment, noting that the two had been sent on various teaching assignments throughout the city, but didn't have any standard tourist experiences such as dining at restaurants. "This is the first time for both of us in India. We got off the plane and had to go food shopping," he said. "We are immersed in the society, basking in both the blessing and beauty, as well as some of the very harsh realities and challenges that this community is facing."
The two also visited the only synagogue in town, where Stadlin led Torah study sessions. Built in 1934, the once thriving Magen Abraham Synagogue today only has Shabbat and holiday services. But the still-active community of about 150 Indian Jews keeps the community alive.
The odd couple roaming through the urban blight of India was a novelty to locals who, according to the pair, have accepted them with warm smiles and open arms. Stadlin noted that "Friendships between Muslims and Jews happens all the time back in Jerusalem. It just doesn't make the cover of the newspaper."
"Energy flows were attention goes," he said, adding the hope that their trips will create positive repercussions for their respective communities upon their return.
"It's the possibility of a Jew and a Muslim working together for a common cause. We're just two people meeting each other as humans," Faaruuq stated. "A spark in a new direction will turn into a bigger light."
https://www.jpost.com/Magazine/Rabbi-and-imam-585006?fbclid=IwAR1d0K-6abIHP_JtXsxyXrbsxNS27DwZM3EJUIjDNH-jUJtLtcDfX7u6p9U
--------
Jaish commander Nisar Ahmed Tantray says he knew about Pulwama attack
Apr 09, 2019
Neeraj Chauhan
Jaish-e-Mohammed commander, Nisar Ahmed Tantray, deported from the UAE to India last Sunday, has disclosed that he knew about the February 14 Pulwama suicide car bombing because the key conspirator, Mudassir Khan, had asked him to participate in a "spectacular" attack being planned at the instructions of JeM's leadership in Pakistan, an official involved in Tantray's interrogation said.
This is the first confirmation from a JeM commander that the Pulwama attack was carried out on the orders of the outfit's leadership, and that Khan was the person who executed it. Until now, Indian investigative agencies were depending on intelligence inputs and the questioning of some lower-level JeM terrorists.
Tantray, the brother of slain JeM leader Noor Ahmed Tantray, fled from India on February 1 this year.
According to an intelligence bureau officer who spoke on condition of anonymity, he has significant influence over JeM cadres in Kashmir valley, particularly after he planned the December 30, 2017 attack on a CRPF Group Camp in Lethpora.
Tantray has told interrogators that Khan called him using a social media app and informed about the plan to hit a convoy in mid-February with heavy explosives somewhere in Pulwama.
Khan asked for Tantray's help in the logistics, planning and execution of the bomb blast . Tantray was a senior commander of JeM in the Valley and cadres, who were part of the operation, would be motivated with his presence, a NIA officer said on condition of anonymity.
Although Tantray has denied any involvement in the Pulwama attack, where a suicide bomber blew up a CRPF convoy, killing 40, and which brought India and Pakistan to the brink of war (he says he was in Dubai at the time), the NIA is not taking his word for it.
"Nisar Tantray is a senior JeM operative in Kashmir. Commanders at his level are aware of all the plans, particularly for a Pulwama type attack which would have taken months of planning. We are further interrogating him about his role because the timing of his flight to UAE is suspicious. He might have taken active part in the Pulwama attack and fled two weeks before February 14 to avoid capture", the NIA officer added.
https://www.hindustantimes.com/india-news/jaish-commander-nisar-ahmed-tantray-says-he-knew-about-pulwama-attack/story-KZWzEFKSnnIb74HD3ud1FP.html
--------
Muslims in Delhi and Haryana Feel 'Unfairly Represented' in Hindi Newspapers: Survey
April 8, 2019,
New Delhi: Muslim readers feel unfairly represented in Hindi newspapers and gauge an 'anti-Muslim' bias in news coverage, a survey conducted by Mass Media journal has found.
The survey, published in the its April issue of Mass Media, a monthly media research journal, says that its Muslim respondents complain of anti-Muslim bias, hostile editorial policy and lack of coverage.
In the survey, conducted across 20 Muslim localities in Delhi and five cities in Haryana, 76 per cent of respondents (all of whom were Muslims) believed that Hindi newspapers were biased against their community; 84 per cent of the readers said that Hindi newspapers did not give enough coverage to the minority community. The respondents said that Hindi newspapers "either don't report about them or, if at all they do, the tone and tenor of their reporting is negative."
When asked if they were satisfied with the coverage of Muslims in Hindi newspapers, 67 per cent answered in the negative.
The survey also found that 44 per cent of respondents in Delhi and Haryana only read Hindi newspapers and 23 per cent read both Hindi and Urdu publications.
Majority of the respondents also felt that Hindi newspapers tended to gloss over Muslim news coverage and did not give space to minority voices in their publication, with 43 per cent saying that they rarely see news of Muslim interest or statements issued by Muslim leaders or organisations. Thirty one percent of respondents estimated that they saw only one article concerned with minority issues per week.
Majority of the respondents, an overwhelming 79 per cent, also said that articles on Muslim interests such as Triple Talaq, Aligarh Muslim University or Babri Masjid were supportive of stance of the BJP or the RSS on the issue.
The survey, conducted between December 2018 and January 2019, covered areas surrounding Delhi's Jama Masjid (Kishangnaj, Ballimaran, Nabi Karim); East Delhi (Ghonda, Jafarabad, Mustafabad, Mansarover Park, Seemapuri, Loni); South Delhi (Abul Fazal Enclave, Zakir Nagar, Shaheen Bagh, Kanchan Kunj, Jaitpur, Vasundhra Enclave, Trilokpuri), West Delhi (Raghubir Nagar, Uttam Nagar, Jahangirpuri, Vikas Nagar) and Haryana (Ballabh Garh, Nooh, Panipat, Shakrawa, Gurugram).
https://www.news18.com/news/india/muslims-in-delhi-and-haryana-feel-unfairly-represented-in-hindi-newspapers-survey-2093457.html
--------
Chinese govt to play mediator in sending back Rohingyas refugees from Bangladesh to Myanmar
APR 09, 2019
In a significant development, the Chinese Communist Party (CPC) signed a memorandum of understanding (MoU) with the ruling Bangladesh Awami League last week. It is noteworthy that after meeting Bangladesh Prime Minister Sheikh Hasina, the visiting CPC Central Committee international development minister Song Tao confirmed that the discussions included Chinese mediation in ensuring repatriation of the Rohingya refugees from Bangladesh. He said China was in discussion with the Myanmar government in this regard.
The 2017 agreement between Bangladesh and Myanmar hasn't taken off primarily because Bangladesh insists on voluntary return of Rohingyas to Myanmar, for which there are no takers as conditions have not been created that give the refugees confidence that they would be safe and secure in that country. Exacerbating the already complex situation, Bangladesh has announced plans to relocate refugees in temporary shelters in a floodprone island and Myanmar has revealed plans to set up designated complexes away from their erstwhile homes for the returning Rohingyas.
The origins of the Rohingyas in northern part of Rakhine State are mired in conflicting historical narratives. While the Rohingyas themselves trace their ancestry to the seventh century Arab traders, others believe that the presentday Muslim population is largely a result of British policy of relocating labour from Chittagong to work in the paddy fields of the state. The Myanmar military, however, is convinced that the Rohingyas are illegal immigrants from Bangladesh. While Rohingya Muslims had representation in the Myanmar government for a few years after the country's independence, the situation steadily worsened after the military coup of 1962. The enactment of the Myanmar Nationalities Law by the junta in 1982 deprived the Rohingyas of citizenship status. In order to further emphasise their resolve, the Myanmar junta renamed the Arakan region as the Rakhine State. While earlier too Rohingyas had fled to Bangladesh to escape repression by the majority Buddhists and the military, the August 2017 exodus saw an unprecedented movement of over half a million people fleeing the Tatmadaw crackdown.While Bangladesh continues to reel under the burden of hosting over half a million refugees, the regional powers India and China have attempted to find a solution. Both countries have major stakes in this region. China has the strategically critical Kyaukpyu deep sea port and the gas pipeline from there to its energy hungry landlocked province of Yunnan. The Rakhine State is also a crucial component of its Belt and Road Initiative. India too has economic and strategic interests in the region. India has invested in the Kaladan multi-modal project to connect Sittwe port to the northeast. However, for India there are, in addition, security concerns emanating from the presence of a large stateless and repressed Muslim population along its borders that potentially provide opportunities for radicalisation and terrorist recruitment.
In November 2017, China had proposed a three-step solution to address the Rohingya issue- first ceasefire on the ground, second bilateral dialogue between Bangladesh and Myanmar to reach a workable solution, and finally poverty alleviation to tackle what it perceives as the root cause of the crisis. While on ground hostilities have ceased in Rakhine, and Bangladesh and Myanmar have signed a repatriation agreement, the situation remains unchanged. India's approach to the crisis so far has been to push for development in the region by operationalising the MOU with Myanmar on Rakhine State Development Programme. Both approaches have not borne fruit. The Chinese perception of the root cause being poverty overlooks the flawed 1982 Myanmar Nationality Law and the repression of the Muslim Rohingyas by the majority Buddhists. However, while China may want to protect its investments in the region, it may not want a conclusive solution to the issue. It is perhaps not coincidental that major Ethnic Armed Organisations along the Chinese border did not sign the Nationwide Ceasefire Agreement in October 2015 while those abutting India and Thailand did so. The crisis provides China leverage on the Myanmar government and an opportunity to meddle in India's immediate neighbourhood. In this context it is noteworthy that China has often come to the defence of the Myanmar government over the Rohingya crisis. The recent MoU between the Bangladesh ruling party and the powerful CPC indicates yet another Chinese attempt to mediate in the Rohingya crisis after its "three step solution" proved to be a non-starter. The Indian approach too would not yield lasting peace in the region because economic development may be a necessary but certainly not a sufficient condition for sustainable peace. A relook at the flawed Myanmar Nationality Law enacted by the pre-democracy military regime may be a difficult but perhaps essential ingredient of a longlasting solution.
https://economictimes.indiatimes.com/news/international/world-news/chinese-govt-to-play-mediator-in-sending-back-rohingyas-refugees-from-bangladesh-to-myanmar/articleshow/68788655.cms
--------
Hamas West Bank leader jailed by Israel for six months without trial
8 April 2019
Israel on Monday handed down a six-month detention order without trial for a West Bank leader of Palestinian Islamist group Hamas, his family and an Israeli intelligence service said.
Hassan Yousef, a co-founder of Hamas, was arrested on April 2 at his home in the occupied West Bank, according to the Palestinian Prisoners' Club NGO.
He was given a six-month administrative detention order Monday, his family said.
The Israeli Shin Bet intelligence service confirmed the decision.
Yousef had been released from a previous imprisonment in October 2018.
"We condemn this decision. He suffers from diabetes and high blood pressure," his son Owais said, pointing out he had spent around 20 years in prison.
A co-founder of Hamas and a member of the defunct Palestinian parliament, 64-year-old Yousef has been arrested multiple times by Israel.
The administrative detention system allows Israel to detain prisoners for renewable six-month periods without charge.
Israel says it allows authorities to hold suspects to prevent attacks while continuing to gather evidence, but critics and rights groups say the system is abused.
In total around 500 Palestinians are currently being held under administrative detention orders, according to the Palestinian Prisoners' Club.
Israel has fought three wars with Hamas in Gaza since 2008 and considers it a terrorist organization.
https://english.alarabiya.net/en/News/middle-east/2019/04/08/Hamas-West-Bank-leader-jailed-by-Israel-for-six-months-without-trial.html
--------
Europe
Blacklisting IRGC meant to help Israel's Netanyahu: Iran envoy
Apr 8, 2019
Iran's ambassador to the United Kingdom has called US government's blacklisting of Iran's elite military force as a ploy to help Israeli Prime Minister Benjamin Netanyahu win the upcoming elections in the occupied Palestinian territories.
Hamid Baeidinejad said in a tweet on Monday that designating Islamic Revolution Guards Corps (IRGC) as terrorist was one of US President Donald Trump's most idiotic decisions in his more than two years in office.
"Rushing to announce the decision in days when the IRGC is busy rescuing flood-hit (Iranian) people is just a gift to Netanyahu to help him in the Israeli elections," said Baeidinejad while making a reference to massive floods that have affected areas in north, west and southwest of Iran.
The post came just an hours after the White House announced that it had proposed the blacklisting of the IRGC in a first ever move for the US to designate an official military force of another country as terrorist.
Iran swiftly reciprocated the move with the Iranian Supreme Council of National Security issuing a statement designating all military units run by the United States Central Command (CENTCOM) as terrorist.
Baeidinejad's reference to links between Trump's IRGC designation and Israeli elections comes against the backdrop of similar moves in recent past, including the White House decision to recognize Israel's illegal annexation of Golan Heights, a territory occupied by the Israeli regime since 1967 which belongs to Syria under international law.
Trump's support for Netanyahu has proved to be vital as polls suggest he has managed to please far-right groups just ahead of the elections slated for Tuesday. The Israeli premier, who had in the past accepted international rulings on occupied territories, said on Saturday that he would even annex the occupied West Bank if he is re-elected into office.
https://www.presstv.com/Detail/2019/04/08/592930/Iran-UK-envoy-US-blacklisting-IRGC
--------
Russia calls for closure of Syrian refugee camp at Rukban
Mina Aldroubi
April 8, 2019
Russia has called for the dismantling of the Rukban camp on the Syria-Jordan border, which is home to tens of thousands of Syrians displaced by their country's civil war.
"We are ready to discuss all steps needed to assist Syrian refugees to leave Rukban," Russian Foreign Minister Sergey Lavrov said during a visit to Jordan on Sunday, where he met Jordanian Foreign Minister Ayman Safadi.
Russia, an ally of Syrian President Bashar Al Assad, has long pushed for the closure of Rukban, where about 45,000 Syrians live without proper facilities and face severe shortages of food and medical supplies.
"According to UN observers who visited the camp, most of the displaced people there want to return home, including to territories controlled by the Syrian government," Mr Lavrov said.
But residents told The National they were being pressured to leave against their will.
"We have no other choice but to return home where the regime is in control of our lives," said Khalid Abo Ali, 35. "We left because we feared for our lives and we cannot go back.
"The suffering that we are enduring in the camp is pushing us to leave."
At least 400 camp residents left on Sunday for shelters provided by the government in central Homs province, bringing the total of those who left since March 24 to 1,660 people, the UN says.
Residents blame Russia and the regime for the lack of food and medical supplies, saying Mr Al Assad is stopping aid from reaching the camp. The last aid delivered to Rukban was two months ago.
In a letter to the UN, residents accused the international community of failing to end their suffering.
Mr Al Assad's block on food and aid led to the deaths of camp residents including dozens of children this year, they said, calling it an act of genocide.
"The silence by the international community is encouraging the regime's actions and supports the blockade on us," the residents said.
"We consider you a partner in these atrocities."
Millions of people have been displaced since Syria's civil war broke out in 2011, and hundreds of thousands have been killed. Many fled to Jordan and other neighbouring countries.
But Jordan closed its border near Rukban, saying there were armed groups operating in the camp. Russia has made similar claims.
"There are a lot of illegal armed groups there and the Americans are gladly co-operating with them, as far as I understand, to help them recover their strength," Mr Lavrov said.
Rukban is in a de-escalation zone set up by the US to protect its troops at Al Tanf military base near the border.
The US military has stressed to Russia the importance of the zone "in clear and unambiguous terms", a spokesman said on Monday.
The US supports UN efforts to improve conditions in Rukban, Col Scott Rawlinson told AP. He said their departure from the camp should be "safe, informed and voluntary".
Full report at:
https://www.thenational.ae/world/mena/russia-calls-for-closure-of-syrian-refugee-camp-at-rukban-1.846615
--------
Putin and Erdogan to discuss fresh Syrian offensive in Moscow
Jonathan Brown
April 8, 2019
Turkish President Recep Tayyip Erdogan has said his army is ready to launch an offensive against Kurdish groups in northern Syria and that he will discuss the plans with Russian President Vladimir Putin.
"Our preparations on the border are finished, everything is ready for an operation," Mr Erdogan told reporters before flying to Moscow on Monday morning. "We can begin it at any moment."
The Turkish president's comments came ahead of his third meeting with Mr Putin this year. Ankara sees Kurdish groups operating in Syria as a security threat because of their links to the Kurdistan Workers' Party, or PKK, which has waged an insurgency in Turkey since the 1980s. Over the past two years, Turkish forces have worked to rout Kurdish forces from parts of northern Syria.
The Kremlin said ahead of the meeting in Moscow that Messrs Erdogan and Putin would meet with representatives from the Russian and Turkish business community and attend an event marking the beginning of a year of joint culture and tourism between the countries.
The two leaders also said they would discuss joint energy projects and US President Donald Trump's recent decision to recognise the Golan Heights, annexed from Syria in 1981, as Israeli territory. Both Turkey and Russia have spoken out against Mr Trump's decision, and Kremlin officials have described it as counterproductive to brokering peace in the region.
Also on Monday's agenda is a contentious missile systems deal between Russia and Turkey which has stirred controversy on the international stage.
Moscow has found itself at the centre of a dispute between Ankara and its Nato allies over Mr Erdogan's decision to go ahead with a deal to buy the S-400 missile defence system from Russia.
Washington says Turkey's decision to link the Russian systems poses a security risk to Nato and has threatened to impose sanctions on Ankara if it goes ahead with the decision. The US has also said it could withhold the delivery of fighter jets to Turkey. Vice President Mike Pence recently became the most high-ranking US official to cry foul over Turkey's decision to buy the S-400 systems from Russia.
"Turkey must choose," he said in Washington at an event last week celebrating Nato's 70 anniversary, between staying in the "most successful military alliance in history" or "reckless decisions that undermine our alliance".
Turkish officials including Mr Erdogan have said time and again the purchase is a done deal and that US officials have no right to dictate who Ankara buys arms from. For Russia, the deal is an opportunity to drive a wedge between members of Nato, which Russia sees as a threat.
The close ties on display between the two leaders mark a sharp contrast to 2015 when Turkey shot down a Russian jet on the Syrian border, resulting in the death of a pilot. Mr Putin halted flights to Turkey and described the incident as "a stab in the back by the accomplices of terrorists".
But the two presidents have become fast friends since a thaw in relations and closer coordination over the war in neighbouring Syria. Even though the presidents hаve backed opposing sides in the conflict, Russia and Turkey alongside Iran have formed an alliance to broker a solution to the eight-year conflict.
During Mr Erdogan's last visit to Russia on Valentine's Day alongside the Iranian leader Hassan Rouhani, the three agreed to stall an offensive on the last bastion of opposition to Syrian President Bashar Assad, even though Russia has been impatient to rout opposition groups.
Full report at:
https://www.thenational.ae/world/mena/putin-and-erdogan-to-discuss-fresh-syrian-offensive-in-moscow-1.846510
--------
British extremists trapped in Syria to face jail on return
Jack Dutton
April 8, 2019
British extremists trapped in Syria face jail sentences of up to 10 years if they return to the UK, under a law that came into effect last month.
The legislation makes it an offence to enter or remain in "designated areas" outside Britain.
The British home secretary and foreign secretary will designate areas they believe UK citizens should avoid to protect them from the risk of terrorism.
After the area has been designated, there will be a grace period of a month before the offence takes effect, giving militants time to return to the UK to escape a harsher sentence.
So far, the only area covered by the legislation is Idlib, a province in north-western Syria that is partly controlled by extremists linked to Al Qaeda.
But the law is expected to extend far wider, with a new list of areas being discussed by MPs this year.
The Sunday Times reported that such areas would probably include large parts of Syria, as well as regions in Afghanistan, Libya and Somalia.
There are exemptions to the law, including whether a person has travelled to provide humanitarian aid, work as a journalist, attend court, work for the UN, work for the government of a country other than the UK, attend a funeral of a relative, or visit a terminally ill relative.
The offence would also not apply to a person who is in the service of the UK, such as British Army personnel.
Similar laws have been enacted in Australia and Denmark as a response to the conflict in Iraq and Syria.
The UK government said that more than 900 people who pose concerns to national security travelled from the UK to Syria.
Since 2014, large numbers of British nationals have travelled to Iraq and Syria to engage in terrorism.
In his evidence to the Public Bill Committee, assistant commissioner Neil Basu, the head of the UK's counterterror policing, said the law would help to tackle the threat posed by foreign fighters.
"In the scenario of a future conflict that was attracting foreign fighters from the UK, we see real operational value in a designated area offence," Mr Basu said.
Full report at:
https://www.thenational.ae/world/europe/british-extremists-trapped-in-syria-to-face-jail-on-return-1.846203
--------
North America
US bars entry to 16 Saudis over role in Khashoggi murder
Apr 9, 2019
The US State Department has barred 16 Saudi nationals from entering the United States over their involvement in the murder of dissident journalist Jamal Khashoggi in the Saudi consulate in Istanbul last October.
The list includes Saud al-Qahtani, a senior adviser to Crown Prince Mohammed bin Salman, and Maher Mutreb, a member of the young prince's entourage on foreign trips.
"Those individuals and their immediate family members are ineligible for entry into the United States," the State Department said in a statement on Monday.
The group had already been sanctioned by Washington in the aftermath of the apparent hit job on the US-based writer, who was also a Washington Post contributor.
Khashoggi, once a close friend of bin Salman, had criticized his policies in columns written for The Washington Post prior to his death.
Riyadh admitted to killing Khashoggi weeks after he entered the consulate on October 2. Saudi authorities first tried to avert attention from the case by offering contradicting accounts of the journalist's death. But once evidence pointed to a planned murder ordered by the highest royals, they eventually settled on the explanation that he had been killed in an operation masterminded by former advisors to bin Salman.
While the CIA has concluded that the crown prince was in on the operation, the kingdom firmly denies he had any involvement.
The recent action by Washington was done under the 2019 State Department appropriations bill, which states that the US Secretary of State must deny entry to individuals and immediate family members of foreign nationals who have been "involved in significant corruption or gross violations of human rights."
In November last year, the US Treasury Department slapped sanctions on 17 Saudis on the grounds that they had "targeted and brutally killed a journalist who resided and worked in the United States."
President Donald Trump's critics say the sanctions are not enough and the administration needs to punish MbS for his deeds.
US lawmakers, including some of Trump's closest allies in the Republican Party, have even called for bin Salman's removal.
Meanwhile, in a letter drafted to Secretary of State Mike Pompeo, several rights groups, including Amnesty International and Human Rights Watch, have called on him to monitor the ongoing Saudi trial of the 11 accused in the murder.
"The trial sessions held so far have been closed to the media and the identity of those on trial, as well as the charges they face, have not been disclosed," read the letter, which was also sent to French and British foreign secretaries, Jeremy Hunt and Jean-Yves Le Drian.
Saudis have invited representatives of France, Britain, the US, Russia and China to attend the trial in Riyadh.
In their letter, the rights groups pointed to the Saudi justice system's "severe inadequacies" and the regime's long record of concealing the truth through forced confessions.
"This lack of independence, transparency, and fairness has meant that the Saudi criminal justice system falls well below international human rights standards," the wrote.
"In addition to reinforcing the fair trial rights of the accused persons and to guard against potential scapegoating of some individuals, transparency around the trial can work to guarantee that the court proceedings do not cover up the alleged involvement of the Saudi leadership," the letter added.
https://www.presstv.com/Detail/2019/04/09/592959/US-16-Saudis-barred-Khashoggi-murder-pompeo
--------
US declares Iran's Revolutionary Guard a terror entity
Apr 8, 2019
WASHINGTON: In an unprecedented move that will doubtless stir interest in New Delhi, the United States on Monday announced that it would formally designate Iran's Islamic Revolutionary Guard Corps as a foreign terrorist organisation.
The designation marks the first time Washington has branded a foreign government official military entity a terrorist group, and is certain to engender thoughts in India to seek a similar designation for the Pakistani military, particularly its intelligence unit ISI, which New Delhi says has long been involved in terrorist activities in India.
The ISI has also been implicated legally in the United States in a court case that resulted in the conviction of Kashmiri activist Ghulam Nabi Fai. New Delhi has also pointed to ISI fingerprints on several terrorist attacks in India, most notably the 26/11 Mumbai carnage, which among other convictions resulted in the sentencing of ISI agent David Headley aka Daood Gilani.
The step to designate the Iranian military unit "recognises the reality that Iran is not only a state sponsor of terrorism, but that the IRGC actively participates in, finances, and promotes terrorism as a tool of statecraft," US President Donald Trump said in a statement that described the outfit as "the Iranian government's primary means of directing and implementing its global terrorist campaign".
"This action sends a clear message to Tehran that its support for terrorism has serious consequences. We will continue to increase financial pressure and raise the costs on the Iranian regime for its support of terrorist activity until it abandons its malign and outlaw behavior," he added.
The terrorist designation, which will take effect April 16, allows the Trump administration to seek criminal penalties against elements of the IRGC and foreign officials deemed to be aiding it. It will also allow Washington to ban travel to the United States for individuals associated with IRGC.
Following up the announcement, US secretary of state Mike Pompeo said the designation makes clear that the IRGC is not just a behind-the-scenes enabler of terrorism but a direct participant in planning and carrying out terrorist attacks.
"This historic step will deprive the world's leading state sponsor of terror the financial means to spread misery and death around the world," he said, warning that businesses with a presence in Iran or engaged with its companies will have to take extra steps to ensure they are not violating US sanctions.
Influential voices within the US have long cautioned against such a move by Washington, warning about the fallout on US military presence in the middle-east, but the Trump dispensation is so over the heels with Israel's hardline Prime Minister Benjamin Netanyahu that it chose to ignore such advice. Netanyahu himself appeared to take some credit for the designation, while thanking Trump in a tweet.
"Thank you, my dear friend, President of the United States Donald Trump, for your decision to declare Iran's Revolutionary Guard as a terror organisation," Netanyahu wrote. "Thank you for responding to another one of my important requests, that serves our interests and the interests of regional countries."
The Trump administration has adopted a hardball stand towards terrorism affecting the US and its close allies, including taking a tough stand towards Pakistan despite Washington needing Islamabad help in Afghanistan. President Trump has publicly castigated Pakistan and cut off all aid to the country.
Full report at:
https://timesofindia.indiatimes.com/world/us/us-declares-irans-revolutionary-guard-a-terror-entity/articleshow/68784468.cms
--------
Pompeo warns all banks, businesses to end dealings with the IRGC
8 April 2019
US Secretary of State Mike Pompeo on Monday warned all banks and businesses against dealing with Iran's Revolutionary Guards after Washington designated the group as a terrorist organization.
"The leaders of Iran are racketeers, not revolutionaries," Pompeo said. "Businesses and banks around the world now have a clear duty to ensure that companies with which they conduct financial transactions are not conducted with the IRGC in any material way."
During the press conference, Pompeo said the designation would come into effect in one week.
"In an important step to counter the Iranian regime's terrorism, the US has designated the Islamic Revolutionary Guard Corps, including the Quds Force, as a foreign terrorist organization. We must help the people of Iran get back their freedom," Pompeo tweeted on Monday.
Full report at:
https://english.alarabiya.net/en/News/middle-east/2019/04/08/Pompeo-warns-all-banks-businesses-to-end-dealings-with-the-IRGC.html
--------
Several US troops killed in Taliban attack
Apr 8, 2019
Three American service members and a US contractor have been killed when their convoy hit a roadside bomb near Bagram Airfield, the main US base in Afghanistan, the US says.
In a statement Monday, the Afghan military said three other US troops were wounded in the explosion and were receiving treatment.
The Taliban has claimed responsibility for the attack and described it as a suicide car bombing, rejecting the US forces' account of the incident.
The group said an attacker detonated his explosives-laden vehicle near the base in Parwan province.
Iranian media reports have described those killed in the attack as "American terrorists."
Located in Bagram district in northern Parwan province, the base serves as the main US air facility in the country.
The fatalities bring to seven the number of US soldiers killed in Afghanistan so far this year.
Last year, 13 US service members were killed in the country.
The Taliban have continued to carry out daily attacks on Afghan security forces despite holding several rounds of peace talks with the United States in recent months.
Full report at:
https://www.presstv.com/Detail/2019/04/08/592938/US-troops-Afghanistan-Taliban-killed-Bagram-Airfield
--------
US official: ISIS can't be defeated in Syria as long as Iran has a foothold
Mina Al-Oraibi
April 8, 2019
One of America's main aims in Syria remains pushing Iranian forces and its militias out of the country, a top United States official told The National, adding that "there are a lot of tools we can use."
US Deputy Assistant Secretary of State and Special Envoy for Syria Joel Rayburn said his country's "priorities haven't changed" in Syria, adding that "we continue to do our planning about the means we use to accomplish our strategic objectives".
Mr Rayburn outlined US objectives as "an enduring defeat of Daesh [ISIS] and other terrorist groups like it; to try to bring about a withdrawal from all of Syria of all Iranian commanded forces; and to support a political settlement of the conflict under United Nations security council resolution 2254".
He added that "If there is ever to be a stable and sustainable Syria, there has to be a political process.
"You cannot fight your way out of this, there has to be a political settlement".
Last December, US President Donald Trump announced a full troop withdrawal from Syria, only to scale this back and agree to maintain some 400 troops in the country.
On the decision, Mr Rayburn said the president's move was "in order to continue to take part, under the auspices of the coalition and with local partners, in this next stage of the campaign [against ISIS]".
Mr Rayburn, who has military experience in Iraq, said he expects the next phase to look a lot like Iraq in 2009 and 2010 as US forces handed over security operations to local partners but stayed on to assist and advise.
The United States expects continued military actions against ISIS that are closer to guerrilla warfare. "The physical caliphate is destroyed but what it means in military terms is that you will see the campaign shift to a phase that will look somewhat different," Mr Rayburn said. "You will not see major combat operations with tens of thousands of troops engaged, as Daesh reverts to previous manifestations… to an insurgency".
He added: "you will continue to see some kinetic action, just as you would against clandestine terror group".
The capture of ISIS leader Abu Bakr Al Baghdadi is, the US official noted, "important but not decisive".
The American assessment is that Al Baghdadi and his inner circle remain important to "Daesh's attempt to reconstitute themselves and to keep the networks alive, but as a phenomenon, if he is captured or taken off the battlefield, that doesn't spell the end. It is not like the organisation will collapse without him".
To fully defeat ISIS and work towards a political settlement, Mr Rayburn said that it is vital to get Iranian troops and allied militias out of the country. "Their very presence gives Daesh breathing room… it gives Daesh a political cause. So they must go," he said. "Their presence is a destabilising factor, they perpetuate the civil war so it is harder to get a political settlement, they write the Assad regime a blank cheque, making it easier for him to stay away from a political solution".
He also said that the presence of the Shiite forces and militias backed by Iran "create friction on the ground, taking part in sectarian cleansing… that created a backlash."
Mr Rayburn said that what the Iranians are currently doing in Syria is "what they did in Iraq but it is even more intense in Syria".
Mr Rayburn said the international community largely supports the American position on Iran. But when asked if Russia – a crucial backer for President Bashar Al Assad alongside Iran –was a partner in this effort, he was not definitive. "They should be," he said. "I wouldn't say they are yet".
Although, he said it is unlikely that Moscow shares Tehran's aims on the ground. "The Iranian regime's vision for Syria is that it becomes a strategic outpost for the [Iranian Revolutionary Guards Corps], to establish military bases with medium-range missiles, with drones, radars, large militia formations and to use Syria to dominate the northern tier of the Arab world in an unprecedented way," he said.
Getting the Iranians out of Syria is "part and parcel of the Iran strategy" that the United States is pursuing.
Last May, US Secretary of State Mike Pompeo said the withdrawal of Iranian troops and Iranian-backed militias was on the list of US demands. Mr Rayburn said that "economic and political pressure and isolation" brought by American-led sanctions efforts would continue to mount on Iran unless it responded to those demands, including withdrawing from Syria. They must, he said, "give up their dreams of setting up strategic outposts in Syria that they can use to threaten Syria's neighbours".
The interview was conducted before Mr Trump announced the designation of the IRGC as a terrorist group on Monday. As such, Mr Rayburn declined to address the rampant speculation that the designation was imminent.
One major US change in policy on Syria is Mr Trump's surprise announcement on March 21 to recognise Israeli sovereignty of the occupied Syrian Golan Heights, captured in 1967.
Despite the significance of the move, Mr Rayburn refused to speak to the impact of this decision, but said it was wrapped up in the political settlement to the 8-year old Syrian civil war. "When we think of the political process and when we exchange views about it with like-minded countries and the Syrian opposition, the US input to the thinking about the political settlement is that you go through a political process [and] you get to a settlement, the political process produces a differently-behaving Syrian government and there is a true settlement of the civil war and all the elements of the broader conflict and that includes reverting to the status quo that existed before 2011 in regards to foreign troop presence".
Mr Rayburn said that he didn't believe it was time to start sitting down with Mr Al Assad or re-admit Syria it to the Arab League. "We hold the same position as some of our key Arab partners, including Saudi Arabia, which is the time is not right for the embrace of the Assad regime... without the Assad regime fulfilling any of the conditions to make peace possible". The Arab League Summit held last month in Tunis did not agree to proposals for re-admitting Syria to the body, eight years after it was expelled over spiralling violence in the country.
Full report at:
https://www.thenational.ae/world/mena/us-official-isis-can-t-be-defeated-in-syria-as-long-as-iran-has-a-foothold-1.846629
--------
3 US military personnel killed in Afghanistan
Umar Farooq
08.04.2019
WASHINGTON
Three U.S. service members and a contractor were killed Monday near an American military base in Afghanistan.
An additional three service members were wounded by the improvised explosive device near Bagram Air Base, according to the Pentagon.
The wounded were evacuated and are currently receiving medical care.
The Taliban later claimed responsibility for killings. Taliban spokesman Zabihullah Mujahed tweeted an image of the blast along with a statement saying a suicide bomber waited for hours for the Americans to come out of the base before attacking them.
The air base, 40 miles from Kabul, is the largest U.S. military base in Afghanistan, hosting thousands of troops from Washington.
The names of the military personnel who were killed are currently being withheld until their families or next of kin are notified.
Last month, two U.S. soldiers were killed in Kunduz province while conducting an operation, an official statement confirmed on March 22. In January, the Taliban took responsibility for killing one U.S. soldier in Uruzgan province.
The deaths come amid negotiations to broker peace between Afghan national forces and the Taliban.
Zalmay Khalilzad, the U.S. special representative for Afghanistan reconciliation, is leading the push for talks with the Taliban. He returned to Kabul on Sunday after a brief visit to Pakistan.
This comes after multiple rounds of talks between the U.S. and the Taliban in Qatar.
The next round of talks is set to take place later this month, but no exact dates have been announced.
Full report at:
https://www.aa.com.tr/en/americas/3-us-military-personnel-killed-in-afghanistan/1446069
--------
India
In terror-funding probe, Mirwaiz Umar Farooq questioned by NIA
Apr 09, 2019
The National Investigation Agency (NIA) on Monday questioned separatist leader Mirwaiz Umar Farooq in connection with its terror-funding probe in Jammu and Kashmir, an official with knowledge of the matter said.
Farooq, chairman of the All Parties Hurriyat Conference, was asked questions about a hi-tech communication device that was recovered from his residence on February 26 this year, and his alleged links with the terror organisations, the official said. The separatist leader had skipped previous two summons, issued on March 11 and March 18, by the central anti-terror probe agency. He appeared before it on Monday after he was assured that he would be provided security. As soon as he arrived at the Delhi airport, he was assigned security officers.
Before reaching the NIA headquarters for questioning, Farooq tweeted, "In Delhi today with my colleagues for the NIA summons, efforts to malign leadership for its political stand wont work. Inspite of harassment #Hurriyat will continue to seek peaceful resolution of the #Kashmir issue, urge people back home to stay calm and peaceful."
Farooq has been asked to come to the NIA headquarters for questioning on Tuesday as well. Another NIA officer said they are investigating people linked to terror funding besides those who instigated stone pelting on security forces, were involved in burning down of schools and damage of government establishments.
The agency has already named Lashkar-e-Taiba (LeT) chief Hafiz Saeed, Hizbul Mujahideen chief Syed Salahuddin and 10 others in its chargesheet filed in January 2018 in J&K terror funding case.
https://www.hindustantimes.com/india-news/in-terror-funding-probe-mirwaiz-umar-farooq-questioned-by-nia/story-4mlVu4Jphognfjo51yF5kM.html
--------
NIA questions Mirwaiz; Geelani's son asked to join probe
Apr 8, 2019
NEW DELHI: The NIA on Monday questioned Hurriyat Conference chairman Mirwaiz Umer Farooq for nearly eight hours in connection with a case related to funding of terror groups and separatist organisations in Jammu and Kashmir, officials said here.
He was asked to appear before the agency again on Tuesday, the officials said, adding Naseem Geelani, son of pro-Pakistan separatist Syed Ali Shah Geelani, was also summoned on Tuesday.
After avoiding the first two summons, the Mirwaiz finally appeared before the National Investigation Agency (NIA) after he was assured of being provided security upon his arrival in the national capital.
Umer was accompanied by other separatist leaders, including Abdul Gani Bhat, Bilal Lone and Maulana Abbas Ansari.
During the questioning, the Mirwaiz was asked several questions related to the funding of his party Awami Action Committee as well as Hurriyat Conference, the officials said, adding that the replies were not satisfactory.
He had been asked to appear before the NIA on March 11 and March 18 but expressed his inability to join the investigation in the national capital, saying he feared for his security in view of "conditions of hostility".
In its third summons issued last week, the NIA promised him security.
The NIA probe seeks to identify the chain of players behind the financing of terrorist activities, pelting of stones on security forces, burning down of schools and damaging of government establishments.
The case names Hafiz Saeed, the Pakistan-based chief of Jamaat-ud-Dawah (JuD), the front for the banned Lashker-e-Taiba, as an accused. It also names organisations such as the Hurriyat Conference factions led by Syed Ali Shah Geelani and the Mirwaiz, the Hizbul Mujahideen and the Dukhtaran-e-Millat.
Ahead of his appearance before the NIA, the Hurriyat Conference chairman tweeted, "In Delhi today with my colleagues for the NIA summon, efforts to malign leadership for its political stand wont work. Inspite of harassment Hurriyat will continue to seek peaceful resolution of the Kashmir issue. Urge people back home to stay calm and peaceful."
On Sunday night, the Hurriyat held an executive meeting and strongly condemned the move to summon the Mirwaiz. It claimed its chairman was "being deliberately harassed and there was an effort to criminalise leadership for their political stand".
It said the Hurriyat is a coalition of political parties striving for the peaceful resolution of the Kashmir issue and to associate it with anything to do with terror is ridiculous and a deliberate victimisation for their political ideology.
"It's unfortunate that while they have always maintained that Kashmir is a political issue that needs resolution peacefully and humanely and always worked towards that end... yet rulers of the day are resorting to such tactics to harass and intimidate them under the garb of legality," it said.
The Mirwaiz or any member of Hurriyat Conference has nothing to do with the "so called funding case and it is sheer vindictiveness on the part of authorities", it said.
The NIA had on February 26 carried out searches at premises of several leaders, including the Mirwaiz.
The probe agency questioned two maternal uncles of the Mirwaiz, Maulvi Manzoor and Maulvi Shafat, and his close aides last year. Both Manzoor and Shafat are retired senior government officers.
Full report at:
https://timesofindia.indiatimes.com/india/nia-questions-mirwaiz-geelanis-son-asked-to-join-probe/articleshow/68783549.cms
--------
India: Islamist Terrorism Contained, Not Terminated
April 9, 2019
By Ajit Kumar Singh*
On March 25, 2019, personnel from the Bihar Ant-Terrorism Squad (ATS) arrested two terrorists, identified as Khairul Mandal and Abu Sultan, from Patna, the State capital. A Police statement disclosed, "Many suspicious documents related to the Security Forces posted in Jammu after the Pulwama attack have been recovered from the arrested. Both the men are said to be active members of Bangladesh's banned militant outfit Jamiat-ul-Mujahideen Bangladesh (JMB) and Islamic State Bangladesh."
On the same day, Rajasthan Police arrested a 42-year-old man, identified as Mohammed Parvez, from Delhi, for allegedly spying for Pakistan's Inter-Services Intelligence (ISI). During questioning Pervez revealed that he was in contact with ISI handlers and had travelled to Pakistan 17 times in the last 18 years.
On February 21, 2019, two Jaish-e-Mohammed (JeM) terrorists, identified as Shahnawaz Teli and Aqib Ahmad Malik, were arrested from Deoband in the Saharanpur District of Uttar Pradesh (UP).
According to partial data compiled by the South Asia Terrorism Portal (STAP), at least 2,688 persons have been arrested since 26/11 attacks (Mumbai 2008) in connection with Islamist extremism and terrorism, including terrorist cadres, Pakistani Inter-Services Intelligence (ISI) agents, and Bangladeshi, Nepali and Pakistani nationals (data till April 7, 2019). 312 of these arrests were made in 2018 as against 249 in 2107. 91 of these arrests were made in 2019 (data till April 7, 2019).
As in past, arrests made by the Security Forces (SFs) across the country in 2018 resulted in the neutralisation of several terror sleeper cells. Most prominently, in an early morning action on December 26, 2018, the National Investigation Agency (NIA) carried out searches at 17 locations in Delhi and Uttar Pradesh in a major crackdown on an Islamic State (aka Daesh)-inspired module styled as Harkat-ul-Harb-e-Islam (Movement the War of Islam), with active support from Delhi Police and UP Police/UP Anti-Terrorism Squad (ATS). At least 10 cadres of the outfit were arrested and the Daesh-cell was neutralised.
Most recently, the SFs identified and neutralised a terrorist module purportedly 'inspired' by Daesh when they arrested nine members of the self-styled Ummat-e-Mohammadiya (Community of Mohammad) from Thane and Aurangabad in Maharashtra on January 21-22, 2019.
Specifically, according to the SATP database, a total of 167 Daesh sympathizers/recruits have been arrested and another 73 persons have been detained, counselled and released, in India (data till April 7, 2019). Another 98 Indians were believed to have travelled to Syria, Iraq and Afghanistan to join IS – microscopic numbers in terms of the country's huge Muslim population. Of the 98 who travelled abroad to join Daesh, 33 are confirmed to have been killed.
Moreover, the pressure on the Students Islamic Movement of India (SIMI)/Indian Mujahedeen (IM), which suffered major losses in 2008 and thereafter continued through the year. According to SATP data, since March 11, 2000, at least 716 SIMI/IM cadres have been arrested in 135 incidents (data till April 7, 2019). Six of these arrests were in 2018.
Due to these operational successes, Pakistan-backed Islamist terror formations, as well as Daesh and Al Qaeda in the Indian Subcontinent (AQIS), the last two of which have been attempting to make inroads since 2014, have failed comprehensively in their ambitions. There was just one Islamist terrorist attack in India, outside Jammu and Kashmir (J&K), through 2018. On September 14, 2018, a policeman sustained a minor injury in a blast at the Maqsudan Police Station in Jalandhar city, Punjab. The NIA is currently investigating the case. In 2017 as well, a single Islamist terror attack was recorded: nine persons were injured in a blast in a train near Jabdi Railway Station in Shajapur District of Madhya Pradesh on March 7, 2017. The next day, a terrorist involved in the blast was killed by SFs in Lucknow, UP. It is useful to recall that, in 2008, Islamist terror formations operating out of Pakistan had carried out 10 terrorist attacks in India, outside J&K, resulting in 352 fatalities. the largest number recorded in a year since 2000. These attacks resulted in the death of 352 persons (310 civilians, 30 SF personnel and 12 terrorists). This was the largest number of attacks and fatalities in a single year since 2000. The last major attack (resulting in three or more fatalities) by Islamist terrorists in India outside J&K, took place on October 27, 2013, when terrorists carried out bomb blasts in Patna, killing seven civilians. One of the attackers was also killed.
Cooperation from friendly countries has also helped India in its fight against Islamist terrorism. In total, at least 71 fugitives have been extradited by foreign governments to India since February 20, 2002, till date, according to the Ministry of External Affairs Website, including 21 from UAE, nine from USA; six from Canada; four from Thailand; three each from Germany and South Africa, two each from Australia, Bangladesh, Belgium, Indonesia, Mauritius, Portugal and Singapore; and one each from Bahrain, Bulgaria, Hong Kong, Morocco, Nicaragua, Nigeria, Oman, Peru, Saudi Arabia, Tanzania, and UK. At least 19 of these 71 fugitives were extradited for offenses related to terrorism (mostly attacks outside J&K), while the remaining 52 were extradited for other criminal offenses, including 15 for murder.
Further, Governments at the Centre and in the States have taken certain measures to deal effectively with Islamist terror. Significantly, while replying to a question,"whether any effective steps have been taken by the Government to check the increasing terrorist activities" the Government informed the Parliament on February 12, 2019, that it has taken various measures to counter the menace of terrorism, prominently including "establishment of observation posts, border fencing, flood lighting, deployment of modern and hi-tech surveillance equipment; upgradation of Intelligence setup; strengthening the coastal security."
Nevertheless, several worries remain.
The Union Ministry of Home Affairs (UMHA) in a January 31, 2019, notification, disclosed that the government had decided to continue its ban on SIMI for another five years for its "subversive activities". UMHA noted,
[SIMI] has been indulging in activities which are prejudicial to the security of the country and have the potential of disturbing the peace and communal harmony and disrupting the secular fabric of the country.
It is useful to recall that the SIMI/IM complex was mobilized by Islamabad in the early 2000s due to increasing international pressure on Pakistan in the aftermath of the 9/11 terrorist attacks in the US. Not surprisingly, a large proportion of major terrorist attacks in India's hinterland, thereafter, had the signature of the SIMI/IM complex, allied to various Pakistan-based terrorist formations.
However, though Daesh has failed to inflict significant harm so far, given intermittent incidents of 'lone wolf attacks' by IS-inspired individuals across the globe, it remains a threat. The increasing trend of fringe Islamist terror formations in several countries getting associated with the IS is a source of concern for India as well. Significantly, on February 12, 2019, the Jharkhand Government banned the Popular Front of India (PFI) for its suspected links with Islamic State. A Government statement noted,
The state has banned the Popular Front of India, which is active in Jharkhand, under the Criminal Law Amendment Act, 1908. The Home Department had recommended the ban. The PFI is very active in Pakur District. The members of the PFI, which was set up in Kerala, are influenced by the IS. According to Home Department report, some PFI members have even gone to Syria from southern states and are working for the IS.
Full report at:
https://www.eurasiareview.com/09042019-india-islamist-terrorism-contained-not-terminated-analysis/
--------
South Asia
13 militants killed in coalition airstrikes in Southeast of Afghanistan
09 Apr 2019
At least thirteen militants have been killed in separate airstrikes conducted by coalition forces in southeastern Paktika and Ghazni provinces.
The 203rd Thunder Corps in a statement said at least eight militants were killed in a coalition airstrikes conducted in Malik Shahi and Ganchi areas of Barmal district.
The statement further added that a vehicle and a compound of the militants were also destroyed during the same airstrikes.
At least five militants were killed separate airstrikes conducted in Miadadwal area of Andar district and Gari area of Nawa district, the 203rd Thunder Corps added.
The anti-government armed militants including Taliban have not commented regarding the airstrikes so far.
https://www.khaama.com/13-militants-killed-in-coalition-airstrikes-in-southeast-of-afghanistan03676/
--------
After Bangladesh, Rohingyas flee to Malaysia, over 200 believed at sea
09 April 2019,
Forty-one Rohingya were found in northern Malaysia Monday, police said, the second group of the Muslim minority to arrive in the country within weeks, while about 200 more are feared trapped at sea. Many Rohingya have been seeking in recent weeks to leave by sea from Bangladesh -- where they live in squalid refugee camps after fleeing their mostly Buddhist homeland Myanmar -- before the monsoon season starts in earnest. Security forces have prevented hundreds from departing for Malaysia with people smugglers on fishing boats. But last month 34 Rohingya arrived in the northern Malaysian state of Perlis, the first group believed to have landed in the country in almost year.
On Monday police detained 41 Rohingya men -- aged 14 to 30 -- who arrived by sea in the same area the last boatload landed, and are hunting for another six believed to have come ashore, local police chief Noor Mushar Mohamad told AFP.
About 200 more are thought to be trapped at sea in Thai waters, said the police chief, citing testimony from migrants.
"This is definitely the work of human smuggling syndicates working with local syndicates," he said.
"I fear there could be more Rohingya arrivals unless maritime enforcement agencies step up patrols urgently."
Noor Mushar said initial investigations indicated those who came ashore travelled in a large boat before being transferred to smaller craft by local criminal gangs and ferried ashore.
According to testimony from one migrant, the Rohingya paid 4,000 ringgit (USD 975) each, and were dropped off a short distance from the coast and walked to shore, he said.
The 41 detained have been handed over to immigration authorities, he said. It was not clear whether they had departed from Bangladesh or Myanmar, or when they had arrived.
About 740,000 Rohingya fled Myanmar for Bangladesh following a brutal military clampdown in their home country in August 2017, joining hundreds of thousands already living in crowded camps.
The traditional route to Malaysia is by boat from Myanmar or Bangladesh. Refugees arrive either in Thailand and head overland to Malaysia, or arrive directly in Malaysia.
But arrivals have fallen markedly since 2015 when Thailand launched a crackdown, which disrupted the lucrative trade and led to smugglers abandoning huge numbers of refugees at sea.
Full report at:
https://www.newsnation.in/world-news/after-bangladesh-rohingyas-flee-to-malaysia-over-200-believed-at-sea-article-219959.html
--------
Taliban agree to meet Afghan govt officials in Qatar
April 09, 2019
WASHINGTON: US special envoy Zalmay Khalilzad has announced a major breakthrough in efforts for ending war in Afghanistan, saying that representatives of the Afghan government will participate in the Doha talks next week.
The Taliban also acknowledged this major development, saying that some Afghan government officials will participate in the talks but they will do so in their own personal capacities and not as state representatives.
Ambassador Khalilzad "discussed with (Afghan) President Ashraf Ghani and others how to ensure the intra-Afghan dialogue in Doha next week, in which representatives of the Afghan government and wide society will participate, can best advance our shared goal of accelerating a settlement process," said a statement issued by his office on Sunday evening.
US-Taliban talks: As hopes rise of a deal, what comes next?
In a separate statement to various media outlets, the Taliban also said that the next US-Taliban meeting would be held in Doha in mid-April "within the framework" of previous peace talks. The United States and Taliban have already held six rounds of peace talks in Doha, Qatar.
The Taliban insisted that the participants would only be sharing their own "views and policies" with others in the meeting. "If government- affiliated members do participate, they will be doing so in their own capacities and not as state representatives," the statement added.
The statement also claimed that some Afghan officials had participated in previous meetings as well, but not as representatives of the Kabul government.
The statement marks the first acknowledgement from the militant group of its willingness to include the Afghan government in the peace talks and comes on the day a suicide-bomber attacked a US base near Bagram.
Meanwhile, Ambassador Khalil­zad, who leads the US team in these talks, completed his 15-day visit to the region on Monday "following productive talks with President Ghani on accelerating a settlement process, reducing violence across Afghanistan, and supporting Afghan security forces if violence continues," his office said.
He also discussed these topics with former Afghan President Hamid Karzai, leaders of the High Peace Council and other prominent Afghans and was pleased to see "the Afghans with whom he met, inside and outside government, coming together to put peace first," the statement added.
Ambassador Khalilzad underscored "the imperative of reducing violence across Afghanistan in the coming weeks and explored ways to build broader regional support for the effort to realise Afghan people's yearning for peace," his office said.
In a tweet released after his two-day visit to Islamabad this week, Ambassador Khalilzad thanked Pakistan for its "efforts for supporting the Afghan Peace Process and for "re-affirming the understanding that ultimately Afghans, and Afghans alone, will determine their future.
Always more work to be done".
In another statement, Ambassador Khalilzad acknowledged Pakistan's role "in facilitating the travel of the Taliban's negotiating team", adding that he discussed with Pakistani leaders "how peace in Afghanistan will also benefit Pakistan and can unlock opportunities for regional economic integration and development."
Full report at:
https://www.dawn.com/news/1474913/taliban-agree-to-meet-afghan-govt-officials-in-qatar
--------
3 U.S. service members, 1 contractor killed in IED explosion near Bagram airbase
09 Apr 2019
At least three U.S. service members and one contractor were killed in an explosion triggered by an improvised explosive device near Bagram airbase in Afghanistan.
"Three U.S. service members and one contractor were killed, and three U.S. service members were wounded by an improvised explosive device April 8 near Bagram Air Base," the NATO-led Resolute Support mission said in a statement.
The statement further added that the wounded service members were evacuated and are receiving medical care.
The identities of the deceased service members and the contract have not been disclosed.
Full report at:
https://www.khaama.com/3-u-s-service-members-1-contractor-killed-in-ied-explosion-near-bagram-airbase-03675/
--------
Explosion kills 2 people in Jalalabad city of Nangarhar province
08 Apr 2019
At least two people were killed in an explosion in Jalalabad city, the provincial capital of Nangarhar province in East of Afghanistan.
According to local officials, the incident took place earlier today in the vicinity of 3rd police district of Jalalabad city.
A spokesman for Nangahrar Police Headquarters said the explosion was triggered by an improvised explosive device which was planted in a police vehicle.
The identities of the deceased individuals have not been ascertained so far.
No individual or group including Taliban or ISIS loyalists has so far claimed responsibility for the attack.
Full report at:
https://www.khaama.com/explosion-kills-2-people-in-jalalabad-city-of-nangarhar-province-03673/
--------
Taliban kill 12 security forces in western Afghanistan
8 April 2019
Taliban fighters have killed 12 security forces in the last 48 hours in clashes in Afghanistan's western province of Badghis, the defense ministry said Monday.
In the latest assault on Afghan forces -- who have faced devastating losses in recent years -- Taliban fighters last week smashed through government lines near the city of Bala Murghab, seizing several checkpoints.
"It is with great sadness we announce that during these operations, eight Afghan National Army and four police who fought with bravery and courage accepted martyrdom," the defense ministry said in a statement.
Another 10 soldiers and 24 police were wounded in the operation that killed "99 Taliban terrorists," it added.
Clearance operations continue in the district, officials said, and security forces helped Red Cross workers evacuate the bodies of Taliban fighters that had been left on battlefields, officials said.
The defense ministry last week said Afghan forces had made a "tactical retreat" from a number of checkpoints in the district to "avoid civilian casualties."
Abdul Aziz Beg, the head of the Badghis provincial council, had described the situation as "critical" and called for reinforcements.
Over the weekend Afghan and US-led coalition aircraft conducted multiple air strikes in support of ground forces.
The Taliban said they had conducted a coordinated attack on a series of government checkpoints, killing 12 security forces.
The militants launched their assault ahead of a widely expected spring offensive.
They typically declare a new fighting season as winter snows melt, and have in the past sought to gain control of district centers and target government facilities.
The clash started as Zalmay Khalilzad, the US envoy tasked with forging a peace deal with the Taliban, was in Afghanistan, where he spoke with national leaders and stakeholders.
Khalilzad is expected in the coming days to go to Qatar, where Taliban and Afghan officials are due to meet.
Full report at:
https://english.alarabiya.net/en/News/world/2019/04/08/Taliban-kill-12-security-forces-in-western-Afghanistan.html
--------
12 Afghan security personnel killed in Taliban attack in Badghis province
Apr 8, 2019
Twelve Afghan security personnel have been killed in clashes with the Taliban in the northwestern province of Badghis.
Afghanistan's Defense Ministry said in a statement on Monday that in a time span of 24 hours eight Afghan National Army soldiers and four police "who fought with bravery and courage" were killed in Bala Murghab district.
Ten soldiers and two dozen other police officers were also wounded in the clashes.
The statement said nearly a hundred Taliban militants were killed, too.
Jamshid Shahabi, the spokesman for the Badghis governor, said the militants "have suffered heavy casualties."
US-led foreign forces have cooperated with the Afghan army in the clashes, Shahabi added.
Fighting has raged since hundreds of Taliban militants stormed Bala Murghab on April 3, attacking several security checkpoints.
Last week, the defense ministry said Afghan forces had made a "tactical retreat" from a number of checkpoints to "avoid civilian casualties."
In March, 50 government soldiers were killed during a week-long battle in the district. Some 100 Afghan soldiers fled their posts and tried to cross into neighboring Turkmenistan. Many were captured by the Taliban after Turkmen government forces prevented them from crossing the border safely.
President Ashraf Ghani said earlier this year that 45,000 members of Afghan security forces had been killed since he took office in September 2014.
Full report at:
https://www.presstv.com/Detail/2019/04/08/592909/Afghanistan-Badghis-Abdul-Aziz-Beg-President-Ashraf-Ghani
--------
Mideast
Israel arrests brother of Palestinian teen Ahed Tamimi
8 April 2019
The family of Palestinian protester Ahed Tamimi says her younger brother has been arrested in their home in the occupied West Bank.
Their father, Bassem Tamimi, says soldiers broke in early Monday and arrested 15-year-old Mohammed.
He says Mohammed broke his arm over the weekend running from tear gas during protests in their village and suspected he was arrested for throwing stones at Israeli soldiers.
The military says it arrested 21 Palestinians overnight for rioting and other disturbances, without providing further details.
Ahed Tamimi served eight months in an Israeli prison for slapping two Israeli soldiers in an incident captured on film that made her a symbol of Palestinian opposition to Israeli military rule. In a video taken of her brother's arrest she yells: "Stop, or I will hit you."
https://english.alarabiya.net/en/News/middle-east/2019/04/08/Watch-Israel-arrests-brother-of-Palestinian-protest-icon.html
--------
New Palestinian government to be formed in days
8 April 2019
Palestinian prime minister-designate Mohammad Shtayyeh will announce the make-up of his new government in the coming days, Palestinian officials said Monday.
Shtayyeh has until April 14 to form a new government which is expected to exclude all supporters of Hamas, a longtime rival to the Fatah movement of both Shtayyeh and Palestinian president Mahmoud Abbas.
Analysts say real decision-making power remains with 84-year-old Abbas, in power since 2005.
Abbas on March 10 charged Shtayyeh with forming the new government, replacing Rami Hamdallah's technocratic administration which had the nominal backing of Hamas.
The movement controls the Gaza Strip, while the Palestinian Authority Abbas heads is based in the West Bank, where Israel also maintains a military occupation.
Five smaller factions will also join Fatah in the new government, officials said.
Others, including the Popular Front for the Liberation of Palestine, refused to take part.
Deputy President Mahmoud Aloul told AFP a meeting would be held Monday evening between Shtayyeh and Abbas to decide on candidates for remaining ministries.
He said agreements had been reached over which factions would control which ministries.
Hamas has criticized the formation of the government, accusing Fatah of a power grab.
Hamas and Fatah have been at loggerheads since the Islamists seized control of the Gaza Strip in a 2007 near-civil war, a year after winning parliamentary elections.
Palestinian politics has effectively been frozen since, and multiple reconciliation attempts have failed.
Full report at:
https://english.alarabiya.net/en/News/middle-east/2019/04/08/New-Palestinian-government-to-be-formed-in-days.html
--------
Arab Coalition intercepts drone launched by Houthis toward Asir region
8 April 2019
The Arab Coalition in Yemen intercepted and destroyed a drone launched by the Iranian-aligned Houthi militias toward Asir city in Saudi Arabia, the Saudi Press Agency said late on Sunday.
No injuries or damage were reported, SPA added.
The official spokesman of the coalition, Colonel Turki Al-Malki, stated that at 20:50 local time on Sunday (17:50 GMT), the Saudi Royal Air Defense Systems detected an unidentified object headed toward civilian properties in Asir, and dealt with the target "according to rules of engagement".
Al-Malki added that the continuous attempts by the Iran-backed Houthi militias to target civilians through UAVs and remote-controlled explosive speedboats "seeks to provoke coalition forces into conducting military operations in Hodeidah", SPA reported.
"The Joint Forces Command would take all deterrent measures in accordance with international humanitarian law and its customary rules," he said.
Al-Malki reaffirmed the commitment of the coalition to supporting the political efforts spearheaded by Martin Griffiths and the chair of the Redeployment Coordination Committee to successfully implement the Stockholm Agreement.
Full report at:
https://english.alarabiya.net/en/News/gulf/2019/04/08/Arab-Coalition-intercepts-drone-launched-by-Houthis-toward-Asir.html
--------
Erdogan to discuss possible Turkish operation in Syria with Putin: RIA
Apr 8, 2019
President Recep Tayyip Erdogan says he is scheduled to discuss with his Russian counterpart Vladimir Putin a possible Turkish military operation in northern Syria, where it has been confronting US-backed militants.
Erdogan said he would hold talks with President Putin in Moscow on Monday, Russia's RIA news agency reported.
"Our preparations on the border are finished, everything is ready for an operation. We can begin it at any moment. I will discuss this issue among others face-to-face (with Putin) on my visit to Russia," Erdogan was cited as saying.
The Turkish leader has vowed that his troops would crush the US-backed YPG militia east of the Euphrates in northern Syria, saying the militant group could not rely on Washington's support to defeat the Anatolian country.
He said last year that preparations were complete for an operation.
Turkey considers the YPG as a terrorist organization and an extension of the outlawed Kurdistan Workers' Party (PKK), which has been fighting for an autonomous region inside Turkey since 1984.
Turkey has been infuriated by US support for the YPG, which forms the backbone of the so-called Syrian Democratic Forces (SDF), an anti-Damascus alliance of predominantly Kurdish militants.
Turkey first deployed forces to northern Syria in 2016 to repel the YPG under the banner of the so-called "Operation Euphrates Shield."
The Turkish incursion in Syria's northwestern region of Afrin started after the United States said it sought to set up a thousand-strong force in Syria near the Turkish border comprising SDF, which is led by the YPG.
Syria views the Turkish military intervention as a violation of its sovereignty, and has repeatedly called on Ankara to pull its forces out.
Turkey, however, has vowed to press ahead with attacks on the positions of the YPG.
Last month, US President Donald Trump ordered a quick withdrawal of all 2,000 American forces from Syria but then said troops would get out slowly "over a period of time."
Trump's decision to leave Syria has exposed the Kurdish group to possible Turkish attacks.
The United States, which has set up observation posts on the Syrian side of the border, has warned Turkey against a new incursion and said the newly constructed positions would help deter any security threat against Turkey coming from Syria.
In a separate development on Sunday, Russia's Foreign Minister Sergei Lavrov said the easiest way to resolve the issue of Rukban refugee camp near Syria's frontier with Jordan is to put an end to the unlawful US occupation of the Syrian territory.
"I think that the easiest and most effective choice would be to put an end to the unlawful occupation of this territory by the United States," he said.
The camp is located near the US base at al-Tanf which is a key center for training and equipping militants opposed to the Syrian government.
The top Russian diplomat further said that that US forces cooperate with militants in al-Tanf zone, urging Washington to end its "occupation" of the region.
"The Americans have announced the establishment of some safety zone in the al-Tanf area with a 55-kilometer radius. It is unclear what they base their illegal presence there on: it is basically occupation."
Full report at:
https://www.presstv.com/Detail/2019/04/08/592890/Turky-President-Erdogan-Russia-Putin-Syria-Kurds
--------
Yemeni army dismantles Houthi explosives
April 09, 2019
DUBAI: The Yemeni army dismantled explosives planted by Houthi militia in the south of Hodeidah, Saudi state-agency SPA reported on Monday.
The militia placed the explosives in farms and residential areas of Ad-Durayhimi district.
Operations by the militia, targeting Yemen army positions in the province violated the Stockholm agreement, while the army continued to support peace in the country the report added.
http://www.arabnews.com/node/1479861/middle-east
--------
Pakistan
Pakistan accepts India's proposal for April 16 technical meeting on Kartarpur corridor
Apr 8, 2019
ISLAMABAD: Pakistan accepted on Monday India's proposal for a technical meeting on April 16 on the Kartarpur corridor.
"Continuing with Pakistan's spirit of constructive engagement, we have agreed to the Indian proposal for a technical meeting on 16 April. We expect positivity from India so that the corridor becomes reality for 550th celebrations. Pakistan Kartarpur Spirit," the Pakistan foreign office spokesman, Dr Muhammad Faisal, tweeted.
On March 29, the FO spokesperson had announced that New Delhi had postponed the scheduled Kartarpur corridor meeting, which was to be held at the Wagah border on April 2.
On March 19, Pakistan and India had held a technical meeting at the designated zero point to discuss the plan for the corridor project. During the meeting, technical experts had indicated areas related to the corridor.
The Kartarpur corridor will connect Gurdwara Darbar Sahib in Pakistan's Narowal district with Dera Baba Nanak in India's Gurdaspur district.
Pakistan will build the corridor from the Indian border to Gurdwara Darbar Sahib while the other part, from Dera Baba Nanak up to the border, will be constructed by India.
Last year, Pakistan Prime Minister Imran Khan had laid the foundation stone for the corridor.
https://timesofindia.indiatimes.com/world/pakistan/pakistan-accepts-indias-proposal-for-april-16-technical-meeting-on-kartarpur-corridor/articleshow/68785190.cms
--------
Ehsas to turn Pakistan into welfare state: PM
Syed Irfan Raza
April 09, 2019
ISLAMABAD: Prime Minister Imran Khan on Monday released his policy statement on the government's programme Ehsas, saying it will turn Pakistan into a welfare state.
He said the programme's premise was grounded in the importance of strengthening institutions, transparency and good governance.
"Ehsas is about the creation of a 'welfare state' by countering elite capture and leveraging 21st century tools — such as using data and technology to create precision safety nets; promoting financial inclusion and access to digital services; supporting the economic empowerment of women; focusing on the central role of human capital formation for poverty eradication, economic growth and sustainable development; and overcoming financial barriers to accessing health and post-secondary education," the prime minister said.
"The programme is for the extreme poor, orphans, widows, the homeless, the disabled, those who risk medical impoverishment, for the jobless, for poor farmers, for labourers, for the sick and undernourished; for students from low-income backgrounds and for poor women and elderly citizens."
This programme, he said, was also about lifting the areas where poverty was higher. The poverty reduction strategy of Ehsas is articulated in four pillars and it currently embodies 115 policy actions, which may be expanded as the process of consultations on the programme, further widens, he added.
"The four pillars include addressing elite capture and making the government system work to create equality; safety nets for disadvantaged segments of the population; jobs and livelihoods; and human capital development."
The programme has proposed to amend the Constitution to legally bind the government to provide food, shelter and basic social services to all the citizens.
He said Rs80 billion would be added to social protection spending in the 2019-20 budget and total incremental increase would be Rs120bn in the 2020-21 budget.
The prime minister said one-window social protection operation will be conducted to assist beneficiaries of social protection and to reduce duplication and abuse.
He said a need-based system in the framework of the new National Finance Commission Award will be introduced besides promoting poverty reduction and addressing inequalities, requires improving mechanisms that regulate allocation of financial resources and creating the right incentives to deliver on services for citizens.
Mr Khan said a new policy introduced to guide the use of development expenditure by parliamentarians to promote transparency, independent oversight and accountability and guidelines on conflict-of-interest for state and government functionaries.
He said a share for those below a certain poverty line will be earmarked by allocating khokhas (kiosks), tea shops, newspaper stands, shoe polishing booths on government-owned land or in government-owned hospitals, parks, and railway stations.
He said registration of residents of slum and Kutchi Abadis to facilitate their transparent inclusion in the event of subsequent commercialisation of the area will also be done.
The prime minister said partnership with NGOs will also be done to upscale successful programmes for orphans, street children, seasonal migrants, transgender people, victims of child and bonded labour and daily-wage workers.
He said Ehsashomes will be constructed for 10,000 orphans, Panahgahsin several major cities, housing scheme for the poor (including landless farmers) through interest-free loans.
He said labour pension has been increased from Rs5,250 to Rs6,500 through the Employees Old-Age Benefit Institution.
Mr Khan said human capital development was a significant contributor to the wealth of a nation. "It necessitates prioritising investments in early years — tackling malnutrition, preschool or early education, protecting children from harm; ensuring access to quality education, skills and jobs; long-term commitment to Universal Health Coverage, and measures for empowering women and girls."
He said the government has also introduced 5+1 model of Desi chicken asset transfer for poverty alleviation and nutrition and a kitchen gardening initiative has also been taken to promote subsidised certified seed and seedlings through the entrepreneurial model to promote fruit and vegetable intake.
The prime minister said a policy has also been introduced to accelerate reform of public hospitals with an increase in their budgets.
He said Ehsas will provide a certain percentage of loans under the Prime Minister's Youth Programme to support the solutions innovation challenge and prize funding policy.
Full report at:
https://www.dawn.com/news/1474835/ehsas-to-turn-pakistan-into-welfare-state-pm
--------
PPP warns Centre against 'constitutional intervention' in Sindh
April 09, 2019
HYDERABAD: Pakistan Peoples Party (PPP) central information secretary and senator Moula Bux Chandio has said that Imran Khan is an "incompetent" prime minister and in order to hide his ineptness, he is hurling allegations at others.
Speaking to reporters while inaugurating a hospital in Tando Mir Mahmood here on Monday, he said the prime minister actually wanted political opponents to seek NRO from him.
He said that for the PPP, politics was worship whereas the Pakistan Tehreek-i-Insaf (PTI) was using it as a source of power. "There is no room for politics of ethnicity in Sindh." he remarked, and said PPP believed in serving the masses.
He said it was due to wrong policies of the government that prices of all commodities had gone out of control in the country. This clearly reflects failure of the rulers.
He said that now the government would face difficult days ahead as those who had brought them to power were themselves worried.
Claiming that the PTI wanted to seek constitutional intervention in Sindh, he warned that if the ruling party did that, it would also face the similar intervention in the federal government. He said the federal law minister was a short-sighted man and was giving wrong advice to the government.
He stated that the PTI claimed that the manifestos of the MQM-P and PTI were same. Arguing that the MQM-P wanted to divide Sindh, he asked if the PTI also believed so. He said that the outgoing chief justice was "dictated" by someone else like the present government.
Full report at:
https://www.dawn.com/news/1474795/ppp-warns-centre-against-constitutional-intervention-in-sindh
--------
LHC hints at releasing Khadim Rizvi on written assurance
April 9, 2019
LAHORE: The Lahore High Court (LHC) on Monday hinted at releasing the Tehreek-e-Labbaik Pakistan (TLP) leader Khadim Hussain Rizvi if he provides a written affidavit saying he would not create unrest in the society if released on bail.
In November 2018, Rizvi was taken into "protective custody" by police in Lahore after the law enforcement agencies launched a crackdown on TLP workers amid their call to observe martyrs day on November 25. Rizvi had reportedly asked workers and supporters to gather at Islamabad's Faizabad — the same venue where the party had staged a weeks-long sit-in in November 2017 that had virtually paralysed the federal capital and led to several people losing their lives.
Rizvi's arrest also came weeks after the TLP led three-day protests across the country against the acquittal of Aasia Bibi — a Christian woman whose blasphemy conviction was overturned by the apex court.
A two-member LHC bench headed by Justice Muhammad Qasim Khan on Monday directed the lawyers for the TLP chief and the state to present their arguments regarding the bail application on April 11.
Lahore High Court Bar Association Chairman Hafizur Rahman was among the lawyers representing Khadim Rizvi in court. Rahman assured the court that the TLP chief would not disrupt the law and order situation after his release on bail. "He is an innocent man sitting in jail," he argued.
The bench, while remaining unconvinced, asked the lawyer what guarantee there was that Rizvi would not create unrest if granted bail. Subsequently, the bench ordered that a written guarantee from Rizvi should be provided to the court.
In November 2017, TLP workers demanding the resignation of then law minister Zahid Hamid had staged a weeks-long sit-in at the Faizabad interchange that had disrupted daily life in the federal capital and led to several deaths. The apex court had taken notice of the sit-in and directed the defence and interior secretaries to submit a detailed report on the matter.
Days later, the then PML-N government had launched against the protesters an operation which, when failed, had forced the authorities to cave and Hamid to resign.
Full report at:
https://www.pakistantoday.com.pk/2019/04/08/lhc-hints-at-releasing-khadim-rizvi-on-written-assurance/
--------
Southeast Asia
Court quashes Zahid's ban on G25's book on Islam
09 April 2019
By Ida Lim
KUALA LUMPUR, April 9 — The High Court today nullified then-home minister Datuk Seri Ahmad Zahid Hamidi's 2017 ban on pro-moderation group G25's book that compiled writings on the administration of Islam.
The G25 movement's lawyer, Surendra Ananth, said High Court judge Datuk Nordin Hassan allowed the group's legal challenge against the ban on the basis that it was "illegal" and against Section 7(1) of the Printing Presses and Publications Act.
Among other things, Section 7(1) states that the home minister has the absolute discretion to order a ban on any publication if he is satisfied that it is likely to be prejudicial to public order or alarm public opinion or be prejudicial to the public interest
However, Surendra said the judge concluded that the requirement was not satisfied.
"The judge found there was no material put by the minister to show that the book was likely to be prejudicial to public order," he told Malay Mail when contacted.
Surendra said the former home minister's affidavit showed that the sole basis for the ban was based on a view Zahid had received from the Department of Islamic Development Malaysia (Jakim) asserting that portions of G25's book were not Shariah-compliant.
"The court found that a guideline by Jakim in itself doesn't show or fulfill the requirement under that Section and there's also a Court of Appeal decision that says that," he said.
Surendra said the judge also noted that about one-and-half years had passed between the book's publication in December 2015 and the ban, with no untoward incident occurring to justify the 2017 prohibition.
"So he found the ban to be illegal and he quashed it," Surendra said.
The book Breaking the Silence: Voices of Moderation ― Islam in a Constitutional Democracy was compiled by the G25 group comprising prominent Malay-Muslim individuals including retired senior civil servants, judges, academics and professionals.
The G25 members who filed for judicial review of the ban were Datuk Noor Farida Mohd Ariffin, Datuk Zainuddeen Abdul Bahari, the group's de-facto chairman Tan Sri Mohd Sheriff Mohd Kassim, the late Datuk Latifah Osman Merican and Dr Asma Abdullah.
In a previous supporting affidavit, Mohd Sheriff said the book published by Singapore-based publisher Marshall Cavendish International contained the writings of 22 leading academics, lawyers and social activists, including himself and Asma.
Mohd Sheriff had explained that the 379-page book was aimed at promoting "discussion and dialogue on a moderate practice of Islam and was to be part of the consultative process embarked upon by G25 to address the excessive politicization of religion in Malaysia".
He had noted that former prime minister Tun Abdullah Badawi wrote the foreword in the book, in which he recognised G25's cause "in pursuit of a moderate and tolerant Islam with justice for all".
He had also said then prime minister Datuk Seri Najib Razak had accepted a copy of the book from G25 members during a visit to his office on December 7, 2015.
Then the home minister, Zahid had on June 14, 2017 banned the book on grounds that it was likely to be "prejudicial to public order, alarm public opinion, be prejudicial to public interest", with the order gazetted on July 27, 2017.
The G25 group had written to Zahid in August 2017 with a request for the book ban to be revoked in 14 days, but had to resort to filing the lawsuit.
On behalf of G25, Mohd Sheriff had in the affidavit argued that the book ban violated the G25 group's constitutional rights to freedom of speech and equal treatment, respectively, under the Federal Constitution's Article 10(1)(a) and Article 8(1), as well as its right to a fair hearing under Article 5 and 8 when it was not given an opportunity to be heard before the book ban.
Mohd Sheriff had argued that the book ban was "unfair and discriminative treatment" of G25 that was inconsistent with the government's policy of pushing for a moderate approach of Islam, and that the ban was selective as the government had in many cases tolerated and acknowledged extreme views on Islam and did not take action against those who made such remarks.
The G25 group argued that the book ban should be quashed due to its illegality, procedural impropriety and as it was irrational and disproportionate, as well as G25's legitimate expectation that the home minister would act according to the Malaysian government's policy of promoting a "moderate approach of Islam".
https://www.malaymail.com/news/malaysia/2019/04/09/court-quashes-zahids-ban-on-g25s-book-on-islam/1741270
--------
Prabowo Feeds Voters Nativist Themes, Promises; Jokowi Keeps Highlighting Own Achievements
APRIL 08, 2019
Jakarta. As Indonesia approaches the April 17 election, the presidential hopefuls intensified their campaigns by luring constituents with promises and solutions to the country's myriad of problems.
In a show of force, former Army general Prabowo Subianto and his running mate Sandiaga Uno – the only pair challenging the incumbent, Joko "Jokowi" Widodo and his running mate Ma'ruf Amin – held a mass rally at Gelora Bung Karno Stadium in Jakarta on Sunday.
The rally, which started with a mass prayer at dawn, was enliven by enthusiastic supporters who had been arriving at the stadium since midnight from across Jakarta and its satellite cities.
Prabowo, who served under former President Suharto's regime, fed the crowd with nativist and nationalistic themes, portraying himself as a leader capable of coming up with solutions for Indonesians who feel insecure both about their daily lives and the nation's place in the world.
He repeated a promise to ensure a government free from corruption. He also touched on the issues of protecting Indonesia's wealth, job creation jobs and poverty reduction.
"The people want to see changes. The people want improvement in their welfare. The people don't want to get tricked anymore. God willing, we will win. We look forward to the change we expect," the 68-year-old presidential hopeful, wearing a peci hat, safari jacket and sunglasses – the trademark of Sukarno, the country's charismatic first president.
The son-in-law of the country's second president said Indonesians no longer have patience to wait for change. "Too much corruption in this country," he said, repeating a previous statement: "Corruption in Indonesia is already a disease and this disease is already at stage four."
"I witness; I promise; I swear; by God's grace, [if] we accept a mandate [from the people], we are going to create a clean government, as clean as possible," said the former commander of the Army Strategic Reserve Command (Kostrad), which Suharto commanded in 1965.
Message to Jokowi's Camp: Don't Celebrate Too Soon
Citizens across the archipelago will exercise their right to choose a new president, vice president, lawmakers and members of regional legislative councils on the same day, the first time ever these elections are held simultaneously in the country of about 260 million people.
Although dozens of opinion polls put Jokowi in the lead by a double-digit margin, some analysts, including Ericssen Wen, a Singapore-based independent political analyst who specializes in electoral politics, American politics and Indonesian politics – said Prabowo could still find a way to beat the incumbent.
"We have made our own calculations. We have our own accurate sources, who last time predicted [election results in] Greater Jakarta, West Java and Central Java. They were proven accurate!" said Prabowo, the former husband of Suharto's daughter, Titik.
The Prabowo camp claimed that more than a million people attended Sunday's rally in Jakarta, despite the stadium only having a seating capacity of 150,000.
Support for Pancasila
Prabowo also reiterated comments he made during the fourth presidential debate, saying that he has no plans to do away with the official state ideology of Pancasila – or five basic principles – and introduce an Islamic caliphate, despite support from radical organizations such as the banned Hizbut Tahrir Indonesia, which forms part of an international group seeking to establish a global Islamic caliphate.
Prabowo described these allegations as "cruel libel."
Bachtiar Nasir, a key figure in the now banned organization, made an appearance at the rally, while flags similar to the group's, were displayed.
"Our ulema teaches that Islam in Indonesia is rahmatan lil-alamin [brings mercy to all creation]. Islam that is at peace with all races and ethnic groups," Prabowo said.
In his speech, the presidential candidate also explained that he has gathered some experts to start working on his expected future government's programs. "By God's grace, once we receive a mandate, we can start working," Prabowo said.
Firebrand cleric Rizieq Shihab, leader of the hardline Islamic Defenders Front, or FPI, appeared in the video, delivering a message to the crowd during the rally.
"Why is the Prabowo-Sandi candidate pair welcomed everywhere with enthusiasm? People come without having been paid, without promises of any prizes. That is because Prabowo-Sandi is the pair chosen by the ulema," Rizieq said in the video.
Prabowo added that if he wins the election, he would bring the controversial Muslim leader back to Indonesia from his self-imposed exile. Rizieq fled to Saudi Arabia to avoid arrest in a pornography case. The case has since been dropped due to insufficient evidence, but he has yet to return to Indonesia.
Prabowo Claims Injustice
According to Prabowo, Indonesians can no longer be fooled by the current government's promises.
"People of Indonesia do not want to be fooled anymore. They are sick of corruption and they cannot accept that their rights are being trampled," he said, citing several cases of "injustice," including the jailing of rock star-turned-political activist Ahmad Dhani, whom he claimed was prosecuted for criticizing the current government.
The singer was sentenced to a year in prison for spreading hate speech on social media. He has appealed his conviction in the Supreme Court.
"It's great to have you all present here… It's not for the dawn payer. I think all of you came here to show your support. Sandi and I have been traveling Indonesia for almost eight months. We saw, felt and captured the thrill in the hearts of the people of Indonesia. The people of Indonesia now need change," he said.
Prabowo criticized Jokowi, saying that the cincumbent proudly considers the development of transportation infrastructure and the reduction of poverty through various cards, such as for health and education, as proof of his government's achievements, and which he wants to continue.
"Dude, we need jobs, not cards," he said. "Please don't hurt the people. There is no power in this world that can compare with the power of the people."
Prabowo went on to paint a grim picture of conditions in the country, saying that it was like "the motherland is being raped, our wealth is being taken." He did not elaborate or give any examples, but promised to change the situation if he is elected as the next president.
Jokowi's Response
Responding to Prabowo's statement, Jokowi explained that the country has achieved much.
"There should be no talk that the motherland is being raped. It is not true. The truth is the motherland is achieving," he said at an indoor campaign in BSD City in Tangerang, Banten, on Sunday night, citing the success of Indonesian athletes in 2018 Asian Games, Asian Para Games, youth football and more.
He urged his supporters to continue spreading good news, keep a positive mind and remain optimistic, while having the courage to disprove and oppose political hoaxes, false accusations and hate speech.
Prabowo Ally Not Happy
Separately, Susilo Bambang Yudhoyono, co-founder and chairman of the Democratic Party, criticized the Prabowo-Sandiaga campaign from Singapore on Sunday, saying that it was wrong to combine a political rally with a mass dawn prayer. The Democratic Party forms part of the opposition coalition.
"From my perspective, conducting a grand campaign at Gelora Bung Karno is not common and it does not constitute an inclusive national campaign," he told members of his party in a letter on Saturday.
"Prevent demonstrations, especially shows of force based on identity, whether religion, ethnicity or ideology, and avoid polarization associated with political extremism," he said.
In the letter, Yudhoyono also requested senior members of his party to advise the Prabowo camp on how to conduct a more inclusive campaign.
Full report at:
https://jakartaglobe.id/context/prabowo-feeds-voters-nativist-themes-promises-jokowi-keeps-highlighting-own-achievements
--------
Arab World
Saudi welcomes US blacklisting of Iran Revolutionary Guards
April 09, 2019
Saudi Arabia welcomes the US decision to designate Iran's elite Islamic Revolutionary Guard Corps a foreign terrorist organisation, Saudi state media said on Tuesday.
Saudi Arabia, led by a Sunni Muslim royal family, has accused Shia-majority Iran of interfering in its and other Middle Eastern countries' internal affairs. Iran and Saudi Arabia have been fighting proxy wars for years, backing opposing sides in conflicts in Syria and Yemen.
Take a look: Saudi minister calls out Iran for 'accusing others' while being 'world's chief sponsor of terrorism'
"The US decision translates the Kingdom's repeated demands to the international community of the necessity of confronting terrorism supported by Iran," SPA news agency said, citing a foreign ministry source.
https://www.dawn.com/news/1474942/saudi-welcomes-us-blacklisting-of-iran-revolutionary-guards
--------
US Sends New Military Equipment on 700 Trucks to SDF in Eastern Syria
Apr 08, 2019
The London-based Syrian Observatory for Human Rights (SOHR) reported on Monday that the US-led coalition has sent new military convoys, including tens of trucks carrying military aid and logistical equipment, from Iraqi Kurdistan region to areas occupied by the SDF in Eastern Euphrates.
It added that nearly 700 trucks, carrying vehicles and military and logistic equipment of the US-led coalition have arrived from Iraq to Eastern Euphrates.
Last month, Washington-backed Kurdish fighters in Syria declared their final victory over the ISIL terrorist group, ending bloody battle against the group that once held territory spanning a third of Syria and Iraq.
The US Defense Department also announced that the Islamic State no longer holds any territory in Syria, according to former White House Spokeswoman Sarah Sanders.
In December 2018, US President Donald Trump declared the ISIL terrorist group defeated in Syria and announced American troop pullout from the country but gave no timeline. The surprise announcement resulted in the resignation of Secretary of Defense James Mattis, US anti-IS coalition envoy Brett McGurk and Pentagon Chief of staff Rear Admiral Kevin Sweeney who disapproved of the American president's decision.
But last month, the American leader confirmed that 400 US soldiers will remain in the war-torn country indefinitely. Notably, Trump did not give any credit to the Syrian Army, Russia and other allies for reducing the self-styled caliphate to its current miserable state.
Notably, the US troops have been operating in Syria as part of an international coalition for about five years without the permission of Syrian authorities or the UN Security Council. The United States has, in particular, supported the Kurdish-led militia controlling the territories to the East of the Euphrates and opposing the Syrian government.
Full report at:
http://en.farsnews.com/newstext.aspx?nn=13980119000642
--------
Turkish Army Training Ankara-Backed Militants for Heliborne Operations to Fight against Kurds
Apr 08, 2019
The Arabic-language Enab al-Baladi news website quoted media activists and Turkish journalists as saying on Monday that members of the so-called 'National Army' affiliated to the Turkish army stationed in Northern Aleppo are being trained for heliborne operations, using Turkish helicopters.
It added that the exact place where the Turkey-backed militants are being trained is not clear, noting that they are likely being prepared for heliborne operations in the Turkish bases near the borders with Syria.
Meantime, Commander of the National Army Mostafa Sejari said that his forces have undergone intense training for heliborne operations to be prepared for military operations against the Kurds.
His remarks came as media reports said on Wednesday that clashes between the Kurdish fighters and Ankara-backed terrorists had resumed in Northeastern Aleppo.
The Kurdish-language Hawar News reported that heavy clashes had erupted between the so-called 'al-Bab Military Council' militants and terrorists affiliated to the Turkish army in the villages near the town of al-Arimeh in the Eastern part of the town of al-Bab in Northeastern Aleppo.
It added that the Ankara-backed terrorists had targeted the Kurds' positions in the villages of Tal Turin and al-Bawihaj from the village of al-Kuridiyeh.
Full report at:
http://en.farsnews.com/newstext.aspx?nn=13980119001057
--------
Three killed as suicide bombers attack Syrian army position
9 April 2019
Syrian government forces fought off an attack by a group of suicide bombers on a position in western Syria on Tuesday, during which three people were killed in addition to all of the militants, a state-run TV station reported.
The attack took place at around 3 am (midnight GMT) near Taybat al-Imam in northern Hama province.
"The clash between the guards of the position and the terrorists resulted in three martyrs and the killing of all members of the terrorist group," al-Ikhbariya cited a military source as saying.
https://english.alarabiya.net/en/News/middle-east/2019/04/09/Three-killed-as-suicide-bombers-attack-Syrian-army-position.html
--------
Saudi Arabia: Abu Hadriyah terrorists were involved in past al-Qatif attacks
8 April 2019
Saudi Arabia's Presidency of State Security on Monday released the names of the two terrorists who were killed after they targeted a checkpoint in the Kingdom's Eastern Province and said they were involved in past terror attacks in al-Qatif.
A statement released on Monday named Majed Ali Abdulrahim al-Faraj and Mahmoud Ali al-Zarea as the two terrorists who were killed during the attack in Abu Hadriyah. The statement said that al-Faraj was on Saudi Arabia's terror list for involvement in previous attacks in al-Qatif, Eastern Province.
Two other terrorists who were arrested on Sunday were not identified, as an investigation was still pending, the statement added.
"All the terrorists were involved in a number of terrorist cases that took place in al-Qatif, which included the shooting of citizens, residents, and security personnel, attacking public facilities, disrupting public life and carrying out crimes of theft, armed robbery, kidnapping, rape and drug trafficking," according the Saudi Presidency of State Security.
Out of the four men, three were on Saudi Arabia's wanted list of terrorists.
Details of the attack
The statement said that security forces in the Eastern Province caught the terrorists while driving a car towards Abu Hadriyah to execute an attack that had been planned.
When stopped and demanded to turn themselves in, the suspects fired at the security forces who then shot back.
After the terrorists' car was damaged, they resorted to a gas station near the location and threw a hand grenade, which caused a minor fire at the station.
As a result of the operation, a Bahraini woman and a Pakistani man were injured at the gas station, along with two men from the security forces. They are currently all being treated for their injuries.
Full report at:
https://english.alarabiya.net/en/News/gulf/2019/04/08/Saudi-Arabia-Abu-Hadriyah-terrorists-were-involved-in-past-al-Qatif-attacks.html
--------
Africa
Army will not allow Sudan to 'fall into chaos': Minister
9 April 2019
Sudan's armed forces will not allow the country to "fall into chaos," Defence Minister General Awad Ibnouf said Monday as thousands of anti-government protesters demonstrated outside the military's headquarters in Khartoum for third straight day.
"Sudan's armed forces understand the reasons for the demonstrations and is not against the demands and aspirations of the citizens, but it will not allow the country to fall into chaos," Ibnouf said at a meeting of the top brass, according to the official SUNA news agency.
UN appeals to Sudan to avoid violence
UN Secretary-General Antonio Guterres on Monday appealed to all sides in Sudan to avoid violence.
Guterres urged the government of President Omar al-Bashir to "create a conducive environment for a solution to the current situation and to promote an inclusive dialogue."
Sudan's Interior Minister Bushara Juma said seven protesters died on Saturday when forces tried to disperse them, 15 were wounded and 2,496 arrested during the demonstration.
The UN chief "appeals to all actors to exercise utmost restraint and avoid violence," said a UN statement.
Guterres called for the release of the detained protesters and for the full respect of human rights including the freedom of assembly and freedom of expression.
Sudan has been rocked by more than three months of protests that began with demonstrations against the hike in bread prices and have since morphed into opposition against Bashir.
https://english.alarabiya.net/en/News/middle-east/2019/04/09/Army-will-not-allow-Sudan-to-fall-into-chaos-Minister.html
--------
Libya clashes death toll rises to 32
8 April 2019
At least 32 people have been killed and around 50 wounded in fighting with strongman Khalifa Haftar's troops near Tripoli, the UN-backed government said.
Health minister A'hmid Omar gave the updated death toll in an interview with Libya's Al-Ahrar television station late Sunday. Haftar's forces have so far said 14 of their fighters have died.
Fierce clashes raged on Sunday near Tripoli between pro-Haftar fighters and troops loyal to the internationally recognized Government of National Accord (GNA).
The two sides also exchanged air strikes days after Haftar -- who backs an administration in eastern Libya opposed to the GNA -- launched an offensive Thursday to seize the capital.
The clashes came despite calls by the United Nations and the United States for an urgent ceasefire. Pro-GNA forces on Sunday announced a counteroffensive named "Volcano of Anger".
Spokesman Colonel Mohamed Gnounou said the operation was aimed at "purging all Libyan cities of aggressor and illegitimate forces", in reference to Haftar's fighters.
Libya has been riven by divisions since the NATO-backed uprising in 2011 that killed dictator Muammar Qaddafi, with rival administrations and armed groups vying for power and control of the country's oil.
Haftar's offensive has threatened to plunge the country into a full-blown civil war and once again thwart diplomatic efforts to find a solution to Libya's woes.
2,200 people flee clashes
At least 2,200 people have fled from fighting south of the Libyan capital Tripoli since April 4, the United Nations humanitarian office said in a report on Monday, and many civilians were trapped and cut off from emergency services.
Full report at:
https://english.alarabiya.net/en/News/north-africa/2019/04/08/Libya-clashes-death-toll-rises-to-32-.html
--------
UN envoy to Libya condemns attack on Tripoli's Mitiga airport
8 April 2019
The UN envoy to Libya Ghassan Salame condemned in a statement on Monday an air strike on Tripoli's only functioning airport, Mitiga, considering it as "a serious violation of humanitarian law."
"This attack takes place as part of an escalation of violence on the ground in areas around Tripoli and Western Libya," the UN mission said in the statement.
Eastern Libyan forces confirmed the air strike on Tripoli's airport.
Ahmed Mismari said on Monday that his force had not targeted civilian planes, only a MiG parked at Mitiga airport.
Meanwhile, Libya's UN-backed Prime Minister in Tripoli Fayez al-Serraj received a phone call from France's President, Emmanuel Macron.
Full report at:
https://english.alarabiya.net/en/News/north-africa/2019/04/08/UN-envoy-to-Libya-condemns-attack-on-Tripoli-s-Mitiga-airport.html
--------
Report: LNA closes in on Tripoli, avoids entering into residential neighbourhoods
8 April 2019
The Libyan National Army on Monday confirmed that it is in close proximity to the Libyan capital but is avoiding entering into residential neighborhoods of the city, an al-Hadath correspondent reported.
The correspondent also reported skirmishes around the Tripoli airport and said that the LNA now controls four of the seven military posts in the region. According to the correspondent, the military has also announced the control of strategic sites including the entrances of the Spring Valley.
Full report at:
https://english.alarabiya.net/en/News/north-africa/2019/04/08/Report-LNA-closes-in-on-Tripoli-avoids-entering-into-residential-neighborhoods.html
--------
7 killed in 2 days of Sudan's ongoing protests: Interior minister
Apr 8, 2019
Sudan's Interior Ministry has announced the death of at least seven people during two days of the ongoing anti-government protests in the country.
In a statement, a copy of which was seen by Reuters, Sudanese Interior Minister Bishara Jumaa said six people were killed during protests in the country's capital of Khartoum on Saturday and Sunday, and one more died in the western region of Darfur.
Jumaa also said 15 civilians and 42 members of the security forces were injured in the anti-government rallies, adding that 2,496 protesters were arrested in Khartoum.
On Saturday, thousands of Sudanese people launched the biggest anti-government rally since protests first erupted in December last year, marching on the residence of President Omar al-Bashir and calling for his resignation.
Security forces fired tear gas and clashed with the protesters, arresting a number of them.
On Sunday, the protesters gathered outside the presidential compound, which also houses the defense ministry and the army headquarters, chanting slogans against Bashir's government.
Some protesters blocked a nearby bridge linking Khartoum with the northern Bahari district with rocks, causing huge traffic jams. The move prompted the Sudanese riot police to use teargas to disperse the crowd.
Sudan has been the scene of frequent protests since December, when the government tried to raise bread prices.
The initial public display of anger over the bread price hike spiraled into calls for 75-years-old Bashir, who took power in 1989 through a military coup, to step down.
In an attempt to further quell the rallies, the embattled president declared on February 22 a state of emergency across the African country, dissolved the central government, replaced state governors with security officials, boosted police powers and prohibited unauthorized public demonstrations.
The slew of measures, however, failed to appease the demonstrators.
Sudan protesters seek talks with army on 'transition'
The Alliance for Freedom and Change, the Sudanese group spearheading months-long protests against the 75-year-old embattled president, called on the army on Monday to hold direct talks with demonstrators about forming a transitional government.
"We call on the Sudanese armed forces to talk directly with the Alliance for Freedom and Change for facilitating the peaceful process of forming a transitional government," Omar el-Digeir, a senior member of the group, said in a statement.
Digeir said the protest organizers had also formed a council to start talks with security forces and the international community, which was aimed at reaching an agreement on a political transition that would give power to a "transitional government that represents the wish of the revolution."
"We also call on the Sudanese armed forces to withdraw their support for a regime that has lost its legitimacy," Digeir said. "We call on the Sudanese armed forces to support the Sudanese people's alternative for a transition to a civilian democratic government."
The call comes as anti-government protests are underway for a third day in the capital.
Sudan army deploys as protesters keep pressure on Bashir
Witnesses said on Monday that Sudan's army had stationed troops around its headquarters in Khartoum, blocking several roads leading to the complex, the most heavily-guarded one in the country.
Thousands of protesters have been holding a sit-in outside the complex since Saturday, calling on the military to back their calls for the president's resignation.
Sudan has been suffering from a worsening economic crisis, including a serious shortage of foreign currency.
Full report at:
https://www.presstv.com/Detail/2019/04/08/592933/Sudan-Bashir-Khartoum
--------
Libyan government forces retake two bases from Haftar
Afra Aksoy
09.04.2019
TRIPOLI, Libya
Forces loyal to Libya's UN-backed Government of National Accord (GNA) recaptured two military bases near the capital Monday from commander Khalifa Haftar, according to GNA's social media account.
The counteroffensive, called "Volcano of Anger", repelled attacks conducted by Haftar's forces in Tripoli and other cities, retaking Yarmouk and as-Sawareh military bases, according to the social media posts.
Some 23 forces of Haftar were captured during the operation, it said.
GNA forces also recaptured Tripoli International Airport from Haftar, according to a local military source.
Meanwhile, flights returned to normal at Mitiga airport in the capital after it was targeted earlier Monday by warplanes affiliated with Libya's eastern government and forces loyal to Haftar.
Last Thursday, Haftar launched military operations with the aim of capturing Tripoli. After initial success, however, the campaign appeared to have ground to a halt Monday.
Libya has remained beset by turmoil since 2011, when a bloody, NATO-backed uprising led to the ouster and death of strongman Muammar Gaddafi after four decades in power.
Full report at:
https://www.aa.com.tr/en/africa/libyan-government-forces-retake-two-bases-from-haftar/1446152
--------
UN chief calls for immediate halt to Libya fighting
April 09, 2019
UNITED NATIONS, United States: UN Secretary-General Antonio Guterres on Monday strongly condemned the military escalation near Tripoli and called for an immediate halt to the fighting in Libya.
The appeal followed an air attack by the forces of commander Khalifa Haftar on the Mitiga airport east of the capital.
Guterres "urges the immediate halt of all military operations in order to de-escalate the situation and prevent an all-out conflict," said a UN statement.
He "strongly condemns the military escalation and ongoing fighting in and around Tripoli, including the aerial attack today by a Libyan National Army (LNA) aircraft against Mitiga airport."
The air strike shut down Tripoli's only functioning airport as fighting raged around the capital and thousands fled.
Haftar's self-styled LNA claimed Monday's air strike against the airport, with a spokesman saying the attack targeted a MiG-23 military plane and a helicopter.
Haftar launched the offensive on Tripoli last week just as Guterres was in Libya to push for a political deal on holding elections.
A UN-backed unity government controls the capital, but its authority is not recognized by a parallel administration in the east of the country.
As fighting escalated over the weekend, the United Nations called for a humanitarian pause to allow civilians trapped in the violence to escape, but the appeal fell on deaf ears.
Full report at:
http://www.arabnews.com/node/1479806/middle-east
--------
URL: https://www.newageislam.com/islamic-world-news/senior-conservatives-tried-downplay-anti/d/118274
New Age Islam, Islam Online, Islamic Website, African Muslim News, Arab World News, South Asia News, Indian Muslim News, World Muslim News, Women in Islam, Islamic Feminism, Arab Women, Women In Arab, Islamophobia in America, Muslim Women in West, Islam Women and Feminism