New Age Islam News Bureau
10 Aug 2015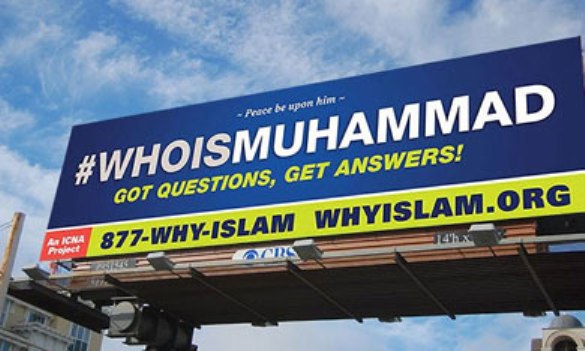 Billboard promoting #whoismuhammad. (Photo courtesy ICNA via CBS)
-----------
Africa
• Senegalese Imam Declares 'Green Jihad' To Protect Environment
• 'Strategy Rethink Needed' as Boko Haram Shifts to Suicide Attacks
• Bomb Kills Seven in Eastern Libya As ISIS Presses On
• Mali govt seeks answers after deadly hotel siege
• Boko Haram: Michika returnees allege discrimination in distribution of relief materials
• Nigeria: Borno - Eight Boko Haram Members Renounce Membership of the Sect
• Ethiopia: Global Cooperation in Fighting Against Al-Shabaab Imperative
• Somalia: Deadly Al Shabab Attack Hits AMISON Vehicle
------------
South Asia
• ISIL Releases Gruesome Video Showing Execution Of Afghans
• Taliban Bombing Kills 21 in Afghanistan
• Suicide bomber killed by his own explosives in Helmand
• Key Taliban commander, 11 men surrender in Orakzai
• Ghani, Nawaz discuss Afghan Taliban reconciliation process
• 5 Pakistani members of ISIS terror group arrested in Afghanistan
• Policeman gunned down six colleagues in Helmand
• Mutmain: Mullah Mansour to remain Taliban's supreme leader
----------
Arab World
• ISIS Kills 37 Rival Insurgents in Syria's Aleppo
• Saudi Arabia Mistakenly Kills 20 Allied Militants in Yemen
• Several Militants Killed, Wounded in Syrian Airstrikes in Hama Province
• Four dead, 10 wounded in Kabul airport suicide attack
• Four killed in new Saudi airstrike in SW Yemen
• Two Egyptian activists tied to Brotherhood die in govt. custody
• Egypt's Mursi stops eating, says he 'cannot trust prison food'
• Gamaa Islamiya leader dies in Egyptian prison
• Syrian Army Advancing against Militant Groups in Dara'a Province
• Syrian Warplanes Pound ISIL Strongholds near Palmyra
• Iraqis stage rallies in support of Abadi's reform plan
---------
Mideast
• US Deploys F-16s in Turkey to Be Used In Operations against IS
• Nearly 400 PKK Rebels Killed In Two Weeks of Turkish Strikes
• Yemen president's loyalists retake provincial capital
• Yemeni Popular Resistance forces tighten grip on south
• U.S. consulate, police station attacked in Turkey
• One killed after Kurdish rebels fire at Turkish police
• Iran ex-president's son begins 10-year jail term
• Hadi forces seize 3rd city in southern Yemen
• Iran Designs Threat Assessment Command and Control System
• Israel frees suspects in Palestinian toddler's death
-----------
India
• UP Muslim Youth Translates Hanuman Chalisa into Urdu
• 100 Dalit Families of Hisar Village Convert To Islam at Jantar Mantar
• Owaisi Brothers Are Enemies of Indian Muslims, Says Former UP Governor
• Pakistan Broke Protocol by Not Inviting J&K Speaker: India
• Muslim Professionals to Give Career Guidance to Students to Pay Tribute to Late APJ Abdul Kalam
• Hindus, Muslims Take Out March against Cow Slaughter in Aligarh
• Pak Investigator Now Says 26/11 Executed By 'Non-State Actors'
-----------
Pakistan
• 30 Islamic Seminaries Closed, Says Interior Minister
• De-Radicalised Militants Freed In Khyber
• Jamaat-e-Islami chief calls for unity of Ummah
• Militants torch school, abduct ten labourers in Kurram
• Key Taliban commander, 11 men surrender in Orakzai
• Movement for 'protection of Pakistan ideology' planned
• No place for traitors in Pakistan: Siraj
-----------
Europe
• Norwegian Labour Deputy Leader 'On a Mission from Allah to Islamise'
• Jihadis' VJ Day Plot to Bomb the Queen: Police and MI5 in Race against Time to Thwart the Plot
• Russia dismisses 'unfounded accusations' about chemical weapons in Syria
• Father, son and daughter revert to Islam in Morocco
• Irish Pastor Faces Charges for Labelling Islam as 'Satanic'
------------
North America
• WhoIsMuhammad Billboards in Bay Area, Across U.S. Aim to Raise Awareness about Islam
• Muslim American: I Am at War With Anyone Who Supports Islamic State
• How hawkish the GOP candidates are on the Islamic State, ranked
-----------
Southeast Asia
• Kalla Praises Islamic Schools' Contributions to RI's Development
• The week in review: Moderate Islam in Indonesia
• Stranded Indonesian sailors saved in Somalia
Compiled by New Age Islam News Bureau
URL: https://www.newageislam.com/islamic-world-news/new-age-islam-news-bureau/senegalese-imam-declares-'green-jihad'-to-protect-environment/d/104227
-----------
Africa
Senegalese Imam Declares 'Green Jihad' To Protect Environment
Aug 10, 2015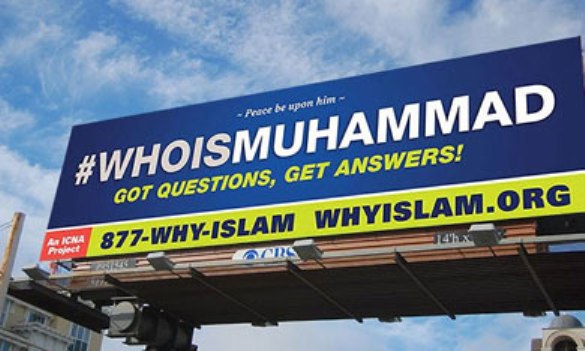 Billboard promoting #whoismuhammad. (Photo courtesy ICNA via CBS)
-----------
A Senegalese Muslim leader has called for a "Green Jihad" against pollution, urging his country's parliament as well as the entire Muslim community to engage in what he regards a clear Islamic duty to protect the environment.
Pointing to Islam's environment-related principles, Imam Youssoupha Sarr said in a Sunday interview with al-Jazeera English network that he cannot believe how people in his Muslim nation are accustomed to living in an environment polluted with plastic bags and other forms of waste.
"Islam is clear [on the issue of the environment]," Sarr said, adding, "Any form of pollution or aggression towards the environment is a sin and clearly forbidden. People need to be reminded of this."
The Muslim leader said he believed God has provided human beings with a self-generating environment, and thus the human community is duty-bound to protect the environment at any cost.
The file photo of a Senegalese shore littered with plastic bottles and other forms of waste
Sarr's call for aggressive measures against pollution has reportedly mobilized Senegal's parliament. The African country recently banned the use of plastic bags nationwide.
Consequently, those who litter the streets or the environment with plastic bags may face imprisonment of up to six months as well as a hefty fine.
People in the impoverished nation, however, still continue to use plastic bags and have censured the parliament for outlawing the use of plastic bags without offering people any alternatives.
This is while Senegal has been struggling to contain environmental pollution over the years, and apart from the impact of climate change, the country is suffering from man-made environmental pollution.
The country's major industries such as fish processing, textiles, pharmaceuticals, paint manufacturing and food processing often discard their waste into the sea or in open fields.
Moreover, the country's fertile lands are also endangered. Due to inappropriate agricultural practices, Senegal faces the loss of its green land.
http://www.presstv.ir/Detail/2015/08/10/424091/Senegal-Imam-Youssoupha-Sarr-environment-protection-Green-Jihad
------------
'Strategy Rethink Needed' as Boko Haram Shifts to Suicide Attacks
August 10, 2015
LIBREVILLE: A West African regional force set up to fight Boko Haram will need "local intelligence" to root out Islamic insurgents forced on the run by national army offensives, security experts say.
"With Boko Haram reverting to acts of terrorism and hit-and-run armed raids... Nigeria and her allies will need to secure a reliable and extensive local intelligence network," said Ryan Cummings of security firm Red24.
Nigeria's neighbours Chad, Cameroon and Niger, which have all suffered attacks by Boko Haram, launched a regional force earlier this year to end a conflict that has claimed more than 15,000 lives since 2009.
But the Joint Multinational Intervention Force (MNJTF), which also includes Benin and is expected to number some 8,700 troops and police, has yet to go into action.
Meanwhile, national armies have succeeded in scattering Boko Haram militants to remote, inaccessible areas.
Many of the insurgents are hiding out in Lake Chad, a shallow, marshy water body dotted with hundreds of islets, and in Nigeria's Sambisa Forest near the border with Cameroon.
The Islamists once controlled large swathes of territory and key towns such as Gwoza and Baga in northeastern Nigeria where they proclaimed an Islamic caliphate before pledging allegiance to the Islamic State group.
Now in disarray, they have begun conducting suicide missions into cities and towns, often using very young girls who detonate themselves in crowded areas.
Residents of Maroua, a market town in Cameroon's Extreme North region, were spared from Boko Haram violence until female teenage suicide bombers killed 33 people there in July.
"While Nigeria and her allies have proven that the use of conventional warfare was effective in dislodging Boko Haram from areas they had captured, such tactics may be problematic in countering... asymmetric warfare," Cummings said.
Benjamin Auge, a researcher associated with the French Institute of International Relations (IFRI), said the force's "main challenge" would be to gather intelligence and use it effectively on the ground.
Citizens of all the countries involved are encouraged to help the fight by reporting any suspicious activity.
But experts warn that the Nigerian army has lost the trust of local people in Boko Haram strongholds in the northeast because of actions committed by soldiers deployed against the jihadists.
The Islamists have infiltrated this poor, Muslim-majority region where many people belong to the same ethnic group as the insurgents.
In Chad, which is playing a key role in the fight against Boko Haram, two suicide attacks have claimed around 50 lives in less than a month.
Unexplained delay
The keenly-awaited MNJTF has yet to begin operations since its supposed launch on July 30, hampered somewhat by discord between English-speaking Nigeria and its French-speaking neighbours.
The joint force was agreed in May 2014 in the wake of the kidnapping of more than 200 Nigerian schoolgirls that shocked the world.
President Muhammadu Buhari, who took office in late May after winning election on pledges of defeating Boko Haram, has held many face-to-face meeting with his regional counterparts.
Little has filtered out about the delay in operations.
But some Chadian officers, requesting anonymity, say the deployment will be a matter of reinforcing contingents already on the ground.
Chad's army launched its own offensive in the Lake Chad area in mid-July.
The breakdown by country of the multi-national force has not been announced apart from Benin's pledged contribution of 800 men.
What is known however is that the force, headquartered in the Chadian capital N'Djamena, will be led by Nigerian General Iliya Abbah, a northerner, and that it will be divided into "sectors".
Cummings warns that the force's remit was still "open to fierce debate".
The five countries have yet to "determine in which areas of Nigeria and neighbouring countries the multinational force will be allowed to operate in," he said.
The delay may also be explained by funding problems for a force almost entirely financed by its members.
The United States has pledged $5.0 million (4.5 million euros) to MNJTF, while France is providing technical assistance.
http://www.ndtv.com/world-news/strategy-rethink-needed-as-boko-haram-shifts-to-suicide-attacks-1205573
------------
Bomb kills seven in eastern Libya as ISIS presses on
10 August 2015
A car bomb exploded in Derna in eastern Libya on Sunday, killing at least seven people and wounding 19 others, medics and residents said, as militants from the Islamic State of Iraq and Syria (ISIS) pressed an offensive to retake the port city.
It was not immediately clear whether ISIS was responsible for the car bomb. Accurate information is difficult to obtain in Derna, a remote city controlled by extremists outside government control.
ISIS has built up a significant presence in Libya, exploiting a security vacuum as two rival governments battle for power four years after the ousting of Muammar Qaddafi.
But ISIS was expelled from Derna in June by rival Islamist groups backed up by residents angry over the arrival of foreign fighters and clerics in the city.
Security vacuum
ISIS fighters were trying on Sunday to retake Derna, residents said. The rival Islamist Abu Salim Martyrs Brigade managed to repulse their attack, but fighting with heavy weapons raged on the eastern edge of the city late into Sunday night, they said.
According to ISIS, a commander who opposed their group was killed, adding others had been killed and wounded. But no further details were immediately available.
The air force of Libya's official government, which has been based in the east of the country since losing control of the capital Tripoli a year ago, conducted an air strike on an area that ISIS was trying to take, said Abdul-Karim Sabra, a local military spokesman.
The eastern government forces have had a presence near Derna for more than a year but have not tried to take the city.
The government and parliament based in Tripoli are not recognized internationally.
Both Libyan administrations are allied to loose groups of former anti-Qaddafi rebels who have divided up along political, tribal and regional lines.
http://english.alarabiya.net/en/News/middle-east/2015/08/10/Car-bomb-kills-seven-in-eastern-Libya-as-ISIS-presses-offensive.html
------------
Mali govt seeks answers after deadly hotel siege
10 August 2015
BAMAKO: Malian authorities Sunday sought to identify the perpetrators of a hotel siege that ended with the deaths of at least 12 people including five UN workers.
No one has claimed responsibility for the assault, which coincided with a surge in rebel attacks in the region.
The drama began early Friday in the central town of Sevare when gunmen burst into the Hotel Byblos, frequented by expatriates.
The Malian army — along with foreign Special Forces, according to a Malian military source — stormed the building, bringing the siege to an end nearly 24 hours later.
Reports vary on the numbers and identities of those killed.
The UN mission in Mali (MINUSMA) said two Ukrainians, a Nepalese and a South African were killed during the siege and subsequent military operation, as well as a Malian driver working for a company contracted by the mission.
An army officer said "five terrorists" were killed in the operation as well as five soldiers and "two whites."
Four of the soldiers were buried in Sevare on Saturday, with the rural development and security ministers, Boukary Treta and Sada Samake, in attendance, a witness said.
Both the army and MINUSMA said the death toll could rise.
Meanwhile, residents said the army mounted patrols overnight following the siege.
Soldiers could be seen in Sevare as well as along the road to the nearby regional capital Mopti, a popular tourist destination and the gateway to Dogon Country, a UNESCO World Heritage site. A Sevare resident told AFP by telephone in Bamako that the night was calm. "People are starting to go about their business. Everything is returning to normal here in Sevare," he said.
http://www.arabnews.com/world/news/788936
------------
Boko Haram: Michika returnees allege discrimination in distribution of relief materials
August 9, 2015
Residents of Michika Local Government Area of Adamawa State, whose communities were recaptured from Boko Haram, have raised alarm over alleged discriminatory distribution of relief materials.
Some of the returnees who spoke to journalists in Yola said a leading tribe in the area was marginalizing the other tribes using ethno-religious sentiments to distribute relief items and denying many other relief items.
One of the returnees, Ishaku Musa, said "Whenever there is a relief material to be distributed, members of a particular tribe which I don't want to mention would dominate the distribution points making sure that other tribes do not benefit.
"If there is a list to be taken, they make sure that only their tribes men or kith and kins were listed for support.
" My people are experiencing this particularly in Garta village of the area," he alleged.
Mr. Musa called on authorities concerned to investigate the matter which he said had been brewing tension in the area.
Another complainant who simply identified himself as Baba, also called for government intervention to check the discrimination, adding that Michika Local Government has long history of ethno religious tension that was aggravated by the boko haram crisis. He said this needs to be checked before it snowballs into a major clash.
"This is the time for relevant authorities and leaders from the area to intervene to address this problem before it turns into an ethno- religious crisis being experienced in parts of Plateau and Kaduna states," Mr. Baba said.
Efforts to get government officials in the council proved abortive. However, an official at the state Emergency agency who did not want to be named as he was not permitted to talk to the press, assured that the agency will investigate promptly.
http://www.premiumtimesng.com/regional/nnorth-east/188077-boko-haram-michika-returnees-allege-discrimination-in-distribution-of-relief-materials.html
------------
Nigeria: Borno - Eight Boko Haram Members Renounce Membership of the Sect
8 AUGUST 2015
By Kareem Haruna
Eight members of the terrorist group, Boko Haram, in Mussa town of Askira/Uba local government area of Borno State, have renounced their membership of the sect. The chairman of the youth vigilante group in the town, Apagu Istifanus, told newsmen on phone. He said the eight claimed they were tired of killing innocent souls.
Istifanus said the eight were arrested in Musa and after interrogations, they said they were tired of killing innocent people that was why they denounced the membership of the sect and moved into the town.
Full report at:'
http://allafrica.com/stories/201508100212.html
------------
Ethiopia: Global Cooperation in Fighting Against Al-Shabaab Imperative
8 AUGUST 2015
It is to be recalled that Al-Shabaab has lost most of its key strongholds following a major offensive by African Union Mission in Somalia, or AMISOM troops--- with Ethiopian Defence Forces reputedly credited with doing much of the fighting.
As Ethiopia is the victim of terrorism, it has been fighting terrorism for the past ten or so years. In the Horn of Africa, the chief terrorist threat emanates from Al-Shabaab fighters who attempting to violently overthrow the Somali government and impose fundamentalist Islamic law. Although much of the violence is occurring away from Ethiopia in Kenya and Somalia, there are fears that the violence could spread across the borders. The group and its affiliates are also attempting to sow unrest in neighbouring countries like Kenya.
The Ethiopian government has been fighting this terrorist group and its allies target innocent lives in the Horn of Africa. It is true that terrorists operating through subtle networks can only be defeated through concerted global action and cooperation. Ethiopia has strong partnership with major peace builders of Somalia including USA. As Prime Minister Hailemariam Dessalegn noted during Presidant Obama's visit to Ethiopia, AMISOM forces and Somali national army are making great progress with the support of the US and other partners in the fight against Al-Shabaab.
The Ethiopian government has apprehended terrorists on many occasions and brought them to justice. For many experts closely following events in the Horn of Africa and the fight against terrorism, Ethiopia stands out as having been exceptionally successful. Ethiopia has also been praised by the AU, EU, and UN for good performance of tackling terrorism both at home and globally. In this regard, President Barrack Obama praised Ethiopia as an "outstanding partner" in the fight against Al-Shabab. Its troops had played a key role in weakening the Al-Qaeda-linked Al-Shabaab group in Somalia.
For long, Ethiopia has engaged in securing peace in many war torn areas and currently it has collaborated with regional forces mainly to eliminate and fight the threats of terrorism. Lack of collective approach in dealing with terrorism only increases one's vulnerability to the attacks of terrorist groups such as Al-Shabaab. Thus, countries in the region and beyond need to coordinate their efforts at the national, regional and at the continental levels to strengthen their response to the serious challenges and threats posed by terrorist groups and their allies.
Full report at:
http://allafrica.com/stories/201508101282.html
------------
Somalia: Deadly Al Shabab Attack Hits AMISON Vehicle
8 AUGUST 2015
The African Union Mission for Somalia (AMISOM) forces clashed with heavily armed Al Shabaab militants following ambush attack on its vehicle passing through Elbuur and Mahaas towns in central Somalia.
The deadly battle started when Al Shabab agents armed with rocket propelled grenades and machine guns attacked on AMISOM convoy, travelling through Wabho village straddles Elbuur and Mahaas towns.
The African Union forces travelled from Elbuur town in Galgaduud region and headed to Mahaas district which located in central Somalia's Hiran region, according to Mahaas district commissioner, Mohamed Ma'ow Halane.
Mr. Mohamed added that Somalia troops backed by African Union forces had launched an operation which was intended to opened blocked roads by Al Qaeda linked Al Shabab militants based in Somalia.
Full report at:
http://allafrica.com/stories/201508100804.html
------------
South Asia
ISIL releases gruesome video showing execution of Afghans
Aug 10, 2015
The Takfiri ISIL terrorist group has released a new gruesome video showing the execution of ten Afghan tribesmen, allegedly for cooperating with the Taliban militant group and Pakistan's intelligence agency.
The footage, claimed to be filmed in the eastern Afghan province of Nangarhar, was released on Monday by the terror group's members in a region, which the ISIL calls Wilayat Khorasan, comprised of Afghanistan, Pakistan, and nearby areas.
The tribesmen were accused of cooperating with the Taliban and Pakistan's Inter-Services Intelligence (ISI) agency, and giving them information about ISIL members.
The video shows the notorious terrorists using a new way to kill their victims by digging holes in the ground and planting explosive materials in them. The victims are then forced to seat on the holes before the materials are detonated using a remote control.
Full report at:
http://www.presstv.ir/Detail/2015/08/10/424096/ISIL-Afghanistan-Taliban-Pakistan-terrorist-group-
----------
Taliban bombing kills 21 in Afghanistan
August 10, 2015
KUNDUZ - A Taliban attack killed at least 21 people in northern Afghanistan, officials said Sunday, after a wave of lethal bombings in the capital as the insurgency escalates following a bitter power transition.
The Afghan interior ministry said all those killed Saturday evening in the Khanabad district of Kunduz province were civilians, although local officials called them anti-Taliban militiamen.
The Taliban claimed responsibility for the attack, which comes after a barrage of bombings in Kabul killed at least 51 people on Friday, the deadliest day for the capital in years.
"The incident took place (when) a suicide bomber detonated his suicide vest in Khanabad district," the interior ministry said, strongly condemning the "heinous act".
"The suicide attack.
.
.
resulted in martyrdom of 21 civilians and wounding of 10 others.
"
But Abdul Wadood Wahidi, spokesman for the governor of Kunduz, said 22 militiamen - including four of their commanders - were killed by an improvised explosive device.
Kunduz is a volatile province where the Taliban recently came close to overrunning Kunduz city, in the most alarming threat to any provincial capital since the 2001 US-led invasion of Afghanistan.
The insurgency has been rapidly spreading across the north from its traditional southern and eastern strongholds, with Afghan forces increasingly battling the militants on their own.
US-led NATO forces ended their combat mission in Afghanistan in December last year, although a 13,000-strong residual force remains for training and counter-terrorism operations.
The bombings on Friday in Kabul struck near an army complex, a police academy and a US special forces base, killing at least 51 people, officials said.
They were the first major attacks since Mullah Akhtar Mansour was named as the new Taliban chief last week in an acrimonious power transition after the insurgents confirmed the death of longtime leader Mullah Omar.
The wave of violence has underscored Afghanistan's volatile security situation amid a faltering peace process and the potency of the Taliban insurgency, despite it being riven by growing internal divisions.
Experts say the growing number of attacks demonstrates Mullah Mansour's attempt to boost his image among Taliban cadres and drive attention away from internal rifts over his leadership.
Sayed Sarwar Hussaini, a police spokesman in Kunduz, also identified the victims of Saturday's bombing as armed militiamen.
With Afghan forces suffering record casualties as foreign troops pull back, Kabul is increasingly relying on informal militias as a bulwark against the insurgents - a gambit observers say is akin to fighting fire with fire.
The mobilisation of militias represents a complete departure from previous government efforts to disarm these groups, blamed for devastating Afghanistan during the civil war in the 1990s and setting the stage for a Taliban takeover.
Full report at:
http://www.khaama.com/5-pakistani-members-of-isis-terror-group-arrested-in-afghanistan-9580
------------
Suicide bomber killed by his own explosives in Helmand
By KHAAMA PRESS - Mon Aug 10 2015
A suicide bomber has been killed by the explosive materials he was carrying to target a gathering in southern Helmand province.
A statement issued by the Ministry of Interior states that the incident took place in Girishk, the district headquarters of Nahre Saraj District around 12:45 PM this afternoon.
The statement adds that the suicide bomber had placed explosive materials inside his shows and before he could enter to the gathering he was identified and detained by the security forces.
Full report at:
http://www.khaama.com/breaking-news-suicide-attack-reported-in-helmands-girishk-district-3731
------------
Key Taliban commander, 11 men surrender in Orakzai
ALI AKBAR
Aug 10, 2015
PESHAWAR: Tehreek-i-Taliban Pakistan (TTP) commander Razman Shah and eleven other 'TTP' men surrendered to security forces in the Kalaya area of Orakzai Agency on Monday.
Razman Shah is believed to be an important commander of the banned militant group's Orakzai chapter.
The other 'militants' include Meer Khan, Shahid, Abdullah, Ameenullah, Mohammad Ameen, Irfan, Hazrat Mohammad, Meela Khan, Speen Mir Khan, Mohammad Adeel and Dinullah.
The 12 'TTP' men who laid down their arms all belonged to the banned outfit and were wanted by security forces because of their involvement in different terror activities, security sources said.
Orakzai is one of Pakistan's seven semi-autonomous tribal regions in the northwest, where Pakistani Taliban and Al Qaeda-linked militants are said to have carved out strongholds.
It was a key abode of former Tehreek-i-Taliban Pakistan (TTP) chief Hakimullah Mehsud before he was killed in a US drone strike in North Waziristan in 2013.
Pakistan's military has intensified its operations against militants in the tribal areas bordering Afghanistan in the aftermath of deadly Taliban attack on an army-run school in Peshawar that killed 150 people, mostly children in December 2014.
Full report at:
http://www.dawn.com/news/1199592/key-taliban-commander-11-men-surrender-in-orakzai
------------
Ghani, Nawaz discuss Afghan Taliban reconciliation process
IRFAN HAIDER
Aug 10, 2015
ISLAMABAD: Afghan President Ashraf Ghani telephoned Prime Minister Nawaz Sharif on Sunday evening to discuss the ongoing reconciliation process with Afghan Taliban, the PM House said in a statement.
Both the leaders discussed matters related to mutual and bilateral interest including the regional situation, it added.
Nawaz also expressed sorrow over the recent blasts in Afghanistan and conveyed his condolences over the loss of precious lives.
Earlier, the prime minister's special assistant for foreign affairs, Tariq Fatemi, had said that Afghanistan and Pakistan can take joint action against the Taliban groups who refuse to participate in the reconciliation process.
Fatemi had said this while briefing the Pakistani media at the end of a 10-day visit to Washington on July 30. He hoped that the terrorist attack in Gurdaspur in Indian Punjab would not have any impact on efforts to improve bilateral ties with India as Pakistan had nothing to do with it.
Full report at:
http://www.dawn.com/news/1199412/ghani-nawaz-discuss-afghan-taliban-reconciliation-process
------------
5 Pakistani members of ISIS terror group arrested in Afghanistan
By KHAAMA PRESS - Mon Aug 10 2015
The Afghan Intelligence – National Directorate of Security (NDS) arrested at least 5 members of the Islamic State of Iraq and Syria (ISIS) terrorist group in Afghanistan.
A statement by NDS said the detained individuals hail from Pakistan and were involved in terrorist related activities in favor of ISIS terrorist group in Nangahrar province.
The statement further added that the detained individuals have been identified as Abdul Rashid also known as Ghulamullah who is originally a resident of Shengali area of Peshawar in Pakistan.
The other suspects were identified as Mohammad Ayaz son of Salim who is a resident of Orokzai in Khyber Pakhtunkhwa area of Pakistan.
The third suspect was identified as Rahmuddin son of Nasruddin who is also a resident of Orakzai while the fourth suspect is Kuram Agency who was identified as Azizullah and was also known as Khater.
Full report at:
https://www.khaama.com/5-pakistani-members-of-isis-terror-group-arrested-in-afghanistan-9580
------------
Policeman gunned down six colleagues in Helmand
By KHAAMA PRESS - Mon Aug 10 2015
A policeman has gunned down six of his colleagues in southern Helmand province.
The incident reportedly took place in Adam Khan village of Girishk District late last night.
A security official from Girishk District said on condition of anonymity that the policeman who carried out the attack was assigned by Taliban.
He said the policeman has also taken some government issued weapons from the security post and has escaped to an unknown location.
Full report at:
http://www.khaama.com/policeman-gunned-down-six-colleagues-in-helmand-3731
------------
Mutmain: Mullah Mansour to remain Taliban's supreme leader
By KHAAMA PRESS - Mon Aug 10 2015
After reports of rifts within the Taliban leadership over the appointment of Mullah Mohammad Mansour as the Emir of the group, Mullah Abdul Hai Mutmain, a senior Taliban political advisor and former spokesman for Mullah Mohammad Omar has made it clear that the decision is not going to be reversed.
Mullah Abdul Hai Mutmain has told Pakistan's The Express Tribune news that Mullah Akhtar Mohammad Mansour was elected by a clear majority of the leaders and that he is not going to be removed from the position if a few figures oppose him adding that the opposition is aimed at sabotaging system.
"The 'Amirul Momineen' (leader of the faithful) has been elected with a clear majority at a very sensitive time, and opposition to his election is aimed at sabotaging the system as there is no possible alternative,
Full report at:
http://www.khaama.com/abul-hai-mutmain-no-change-due-in-taliban-leadership-mullah-mansour-was-elected-by-majority-3730
------------
Arab World
ISIS kills 37 rival insurgents in Syria's Aleppo
9 August 2015
ISIS fighters killed at least 37 rival insurgents in an overnight attack in Syria's Aleppo province and 20 fighters remain missing, the Syrian Observatory for Human Rights said on Sunday.
Rami Abdulrahman, head of the Observatory, said that late on Saturday a suicide bomber from the hardline group blew himself up in a military post held by a group of rival insurgents in the Umm Housh village in northern Aleppo countryside.
ISIS fighters then seized the village after heavy clashes with rival groups.
Full report at:
http://english.alarabiya.net/en/News/middle-east/2015/08/09/ISIS-kills-37-rival-insurgents-in-Syria-s-Aleppo-province.html
------------
Saudi Arabia Mistakenly Kills 20 Allied Militants in Yemen
Aug 10, 2015
Yemeni sources said the airstrike during the late hours of Saturday targeted an area along a coastal road heading toward the Southern embattled city of Zinjibar.
Meanwhile, at least 16 children and women were injured after Saudi-backed militants fired mortar shells in Yemen's Ta'izz City.
On Saturday, at least 70 militants fighting for Yemen's Saudi-backed fugitive former President Abd Rabbuh Mansur Hadi were killed after Ansarullah fighters and allied Yemeni army units repelled an attack on Zinjibar, the capital of Abyan Province. Latest reports indicate that the militants, backed by Saudi air cover, have been forced to retreat from the troubled region in the face of strong resistance by the Yemeni forces.
Saudi Arabia has been striking Yemen for 138 days now to restore power to fugitive president Mansour Hadi, a close ally of Riyadh.
Full report at:
http://english.farsnews.com/newstext.aspx?nn=13940519000341
------------
Several Militants Killed, Wounded in Syrian Airstrikes in Hama Province
Aug 10, 2015
The sources said that strongholds of the rebel groups in al-Ziyara, Zaizoun and al-Zyadia in the Northwestern side of Hama were massively bombed by the Syrian warplanes, which resulted in the killing or wounding of tens of terrorists.
The sources went on to say that in joint operations of the Syrian army and the country's air force in al-Arbain village and South of Kafar Zita, and in Attshan village to the North of Hama city, a large depot of the rebels ammunitions and weapons were destroyed.
On Friday, military sources underlined that the Syrian army has successfully pushed back rebels from their positions in various parts of Hama province, and killed or wounded scores of them.
Full report at:
http://english.farsnews.com/newstext.aspx?nn=13940519000451
------------
Four dead, 10 wounded in Kabul airport suicide attack
Aug 10, 2015
KABUL: At least four people were killed and 10 wounded by a suicide car bomb near the entrance to Kabul's international airport on Monday, police said.
"Our initial information shows four people have been martyred in the suicide attack. We are trying to identify the victims," Kabul CID chief Fraidoon Obaidi told AFP.
He said 10 others were wounded while the Afghan health ministry put that figure at 15.
Obaidi confirmed that the explosion was caused by a suicide car bomb.
"The explosion occurred at the first checkpoint of Kabul airport," said deputy Kabul police chief Sayed Gul Agha Rouhani.
Smoke billowed from the scene of the explosion. An AFP photographer saw pieces of charred flesh strewn around the checkpoint, where passengers undergo the first round of body checks before entering the airport. Ambulances with wailing sirens rushed to the area and were seen removing bodies.
No group immediately claimed responsibility for the attack, which follows a wave of lethal bombings in the Afghan capital on Friday as the insurgency escalates after a bitter power transition within the Taliban.
The blasts on Friday struck near an army complex, a police academy and a United States special forces base, killing at least 51 people.
They were the first major attacks since Mullah Akhtar Mansour was named as the new Taliban chief in an acrimonious power transition after the insurgents confirmed the death of longtime leader Mullah Omar.
Experts say insurgents are stepping up attacks as Mansour tries to distract attention from internal rifts over his leadership.
The wave of violence underscores Afghanistan's volatile security situation amid a faltering peace process.
Full report at:
http://www.dawn.com/news/1199602/four-dead-10-wounded-in-kabul-airport-suicide-attack
------------
Four killed in new Saudi airstrike in SW Yemen
Aug 10, 2015
At least four civilians have lost their lives in a new Saudi airstrike in Yemen's southwestern province of Ta'izz.
The four individuals were killed after Saudi fighter jets bombarded a house in Ta'izz early on Monday.
Also on Monday, Saudi warplanes repeatedly pounded various areas in the Yemeni capital, Sana'a, as well as the central province of Ma'rib.
At least 16 women and children were injured in a mortar attack blamed on the al-Qaeda terrorist group on the al-Samil market in Ta'izz, Yemen's al-Masirah television reported on Monday.
Furthermore, the death toll from a Saturday night air raid on the southwestern Yemeni province of Ibb rose to 15. At least 20 more were wounded in the attack.
To retaliate against the relentless Saudi aggression, the Yemeni army, backed by Popular Full report at:
http://www.presstv.ir/Detail/2015/08/10/424081/Saudi-Arabia-Yemen-airstrike-Taizz-Marib-Ibb
------------
Two Egyptian activists tied to Brotherhood die in govt. custody
Aug 9, 2015
Two leading Egyptian anti-government figures affiliated with the anti-coup alliance led by the Muslim Brotherhood have died in government custody, Press TV reports.
Essam Derbala, a member of Egypt's Building and Development Party (BDP), died on Sunday in government custody at al-Aqrab jail, located on the outskirts of the capital, Cairo, marking one of the latest incidents in the case of inmate fatality blamed on "medical negligence" of prison authorities.
The cause of the death was described in a BDP statement as "deliberate medical negligence" on the part of prison authorities.
According to the BDP statement, which insisted that Egyptian prison officials had resorted to the practice of "torture" against Derbala, the prominent political activist was consistently "deprived from medicine" while in government custody. The BDP called for an "international investigation" into his death.
On Sunday, Mohamed Mahdi Akef, another political detainee who was formerly the chairman of the Brotherhood, also died due to a medical condition in a police station in Egypt's second largest city of Alexandria.
Meanwhile, Egypt's Interior Ministry released its own statement regarding Derbala's death, claiming that he passed away due to "circulatory failure."
It also added that the activist was granted "first aid" on Saturday after complaining about "fatigue" and suffering from "low blood pressure" following his return from a court session and before being transported to the hospital where he died.
Derbala was detained in May on charges of joining the pro-Brotherhood anti-coup alliance, a coalition formed in 2013 to demand the reinstatement of Mohamed Morsi, the first democratically elected president of Egypt, who was ousted in a July 2013 coup led by the then head of the armed forces and current president, Abdel Fattah el-Sisi.
Nearly 150 Egyptian prisoners, mostly political detainees, have died in custody since Morsi's ouster due to "medical negligence," according to several local and international human rights organizations.
Full report at:
http://www.presstv.ir/Detail/2015/08/09/423987/Egypt-Muslim-Brotherhood-Essam-Derbala
---------
Egypt's Mursi stops eating, says he 'cannot trust prison food'
9 August 2015
Egypt's ousted Islamist President Mohammad Mursi said to court on Saturday that he will refrain from eating since he cannot trust the food given to him in prison, according to reports by Aswat Masriya.
Mursi claimed his life is in risk inside prison, and requested that he be referred to a medical team, due to his low blood pressure.
He was present during a session in his trial on "charges of espionage."
Mursi and ten others, were accused of "leaking classified documents to Qatar concerning Egypt's intelligence services and armed forces during his one-year presidency."
The case was adjourned by the courts until Sunday.
A medical team will examine Mursi by court order.
Qatar has avoided Egypt's accusations of backing Mursi's Muslim Brotherhood group.
In June, Mursi received death sentence for conspiring to escape from prison in 2011 as well as a 25-year sentence in an additional spy-related case.
Full report at:
http://english.alarabiya.net/en/News/middle-east/2015/08/10/Egypt-s-Mursi-stops-eating-says-he-cannot-trust-prison-food-.html
------------
Gamaa Islamiya leader dies in Egyptian prison
10 August 2015
CAIRO: A prominent leader of a Islamic group that backed ousted Egyptian President Muhammad Mursi has died in jail in Cairo, the Interior Ministry said on Sunday.
It said Essam Derbala, a senior leader in Gamaa Islamiya, died on Saturday after returning from a hearing at his trial.
Police had arrested the 58-year-old in May on charges of inciting violence and joining a pro-Mursi opposition alliance.
A medical check-up showed Derbala had a fever, low blood pressure and diabetes, the ministry statement said, adding that he had a history of diabetes and also previously suffered strokes.
"While being taken to the hospital he started bleeding from the nose, and suffered low blood pressure and breathlessness that led to his death," it said.
Derbala was also an opponent of ex-President Hosni Mubarak who was forced out in 2011.
He was jailed for 25 years during Mubarak's rule for his alleged involvement in violence in Upper Egypt when Mubarak's predecessor Anwar Sadat was assassinated in 1981.
Derbala was released from prison in 2006.
Full report at:
http://www.arabnews.com/middle-east/news/788951
------------
Syrian Army Advancing against Militant Groups in Dara'a Province
10 August 2015
The sources said that the militants' strongholds in Simlin town were targeted by the Syrian army men whose attacks caused the fighters to retreat from the battlefront.
The army also foiled the rebels' attempts to infiltrate into the villages of Rakhm and al-Karak al-Sharqi in the Eastern parts of the province towards the village of Skaka, near Sweida province.
Commander of the Ansar Mohammad Battalion Malek Mahmoud Shlash was killed in the army's operation in the abovementioned operations, the sources added.
On Saturday, The Syrian army targeted positions of al-Nusra Front and other terrorist groups in the Southern Daraa province, inflicting heavy losses on the Takfiri militants.
A military source said that the army conducted a special operation against a position of the Takfiri terrorist groups in al-Jhaira square in Bosra al-Sham city, 4o km to the East of Daraa city.
Full report at:
http://english.farsnews.com/newstext.aspx?nn=13940519000520
------------
Syrian Warplanes Pound ISIL Strongholds near Palmyra
Aug 10, 2015
he sources said that the Syrian air force targeted positions of the ISIL near a gas station to the West of Palmyra, in the surrounding areas of al-Sultanyeh, Abu Turaha, al-Tarfawi, Talbeseh to east of the city, and the farms in the Southern side of Palmyra.
On Sunday, the Syrian air raids killed 30 ISIL terrorists, mostly Saudis and Tunisians, in the countryside of Homs.
A military source said that 30 ISIL terrorists, mostly Saudis and Tunisians, were killed in al-Qaryatain town in the countryside of Homs.
The source added that 7 machinegun-loaded vehicles and a rocket depot were also destroyed in al-Qaryatain.
Egypt rejects Qatar offer to mediate with Muslim Brotherhood
CAIRO — Egypt has rejected an offer by Qatar to mediate with the banned Muslim Brotherhood group, focus of a government crackdown since the ouster of Egypt's Islamist president in 2013.
Foreign Ministry Spokesman Ahmed Abu-Zeid said Sunday that Egypt does not accept any external interference in its internal affairs, underlining that authorities have declared the Brotherhood a terrorist organization.
Full report at:
http://www.saudigazette.com.sa/index.cfm?method=home.regcon&contentid=20150810252978
------------
Iraqis stage rallies in support of Abadi's reform plan
Aug 10, 2015
Iraqis have held rallies in the country's capital, Baghdad, and other cities to voice support for Prime Minister Haider al-Abadi's reform plan.
The demonstration in the capital was held at the Tahrir (Liberation) Square Sunday night in support of Abadi's seven-point reform plan that aims to battle corruption and slash government costs. Several other cities in the Arab country also witnessed similar rallies by the Iraqis.
"We are here in Tahrir Square for our demands. Corruption makes life in Iraq so difficult," a demonstrator told Press TV's correspondent. "We demand that Abadi decrease the salaries of the parliament and decrease the number of parliament numbers from more than 350 to less than 220."
The premier's reforms, which were earlier approved by the cabinet, also aim to improve the administration's performance in the face of a wave of dissatisfaction with government services.
Full report at:
http://www.presstv.ir/Detail/2015/08/10/424090/Iraqi-Abadi-reform-plan-Nouri-alMaliki-Tahrir
------------
Mideast
US deploys F-16s in Turkey to be used in operations against IS
10 August 2015
BRUSSELS: The United States for the first time on Sunday deployed half a dozen F-16 warplanes to Turkey to help operations against the Islamic State group (IS), US officials said.
The deployment marks the first time since an international coalition began bombing IS targets in Iraq and Syria a year ago that US jets will launch strikes from Turkey, following an accord signed with Ankara late last month.
Six US Air Force F-16 Fighting Falcons deploy to Incirlik Air Base, Turkey, to support the fight against IS, the US mission to Nato said in a tweet.
The arrival of the fighter jets in Turkey along with support equipment and around 300 personnel was confirmed by the US European Command in a statement.
"The detachment is from the 31st Fighter Wing based at Aviano Air Base, Italy. This follows Turkey's decision to host the deployment of US aircraft conducting counter-ISIL operations," it said.
The United States and Turkey, as members of the 60-plus nation coalition, are committed to the fight against IS in the pursuit of peace and stability in the region. The US up to now has used armed drones from Incirlik to strike IS targets in Syria, supporting the Turkish air campaign against the militants.
According to media reports some 30 US fighters are due to arrive in the coming days to take part in the operation.
A member of Nato, Turkey had refused to participate actively in the anti-IS operations for fear of supporting the Kurdish fighters battling the militants on the border in Syria.
But Ankara changed its position after a deadly bombing blamed on IS on July 20 in Suruc, a Turkish town opposite the Syrian flashpoint of Kobane, that left 32 people dead.
If IS is proven to be responsible for the bombing, it would mark the group's first strike on Turkish soil.
Full report at:
http://www.dawn.com/news/1199473/us-deploys-f-16s-in-turkey-to-be-used-in-operations-against-is
------------
Nearly 400 PKK rebels killed in two weeks of Turkish strikes
9 August 2015
Nearly 400 members of the outlawed Kurdistan Workers Party (PKK) have been killed and hundreds injured in two weeks of Turkish airstrikes on positions in northern Iraq, the official Anatolia news agency reported on Sunday.
The report, which could not be independently verified, said at least four PKK leaders and 30 female rebel fighters were among the dead.
Anatolia generally bases its information on security and Turkish intelligence sources.
Turkey last month launched a two-pronged "anti-terror" offensive against ISIS jihadists in Syria and PKK militants after a wave of attacks inside the country. But so far the Kurdish rebels have borne the brunt of dozens of airstrikes, while just three have been officially recognized as targeting ISIS.
Full report at:
http://english.alarabiya.net/en/News/middle-east/2015/08/09/Nearly-400-PKK-rebels-killed-in-two-weeks-of-Turkish-strikes.html
------------
Yemen president's loyalists retake provincial capital
10 August 2015
ADEN: Forces loyal to exiled Yemeni president recaptured a southern provincial capital from Houthi rebels and their allies on Sunday as well as a coastal town, as they pressed an advance from second city Aden.
Zinjibar, capital of Abyan province, had been held by troops of the renegade 15th Brigade which remains loyal to ousted strongman Ali Abdullah Saleh who is allied with the Houthi rebels.
Troops entered Zinjibar, some 50 kilometres east of Aden, after overrunning the brigade's barracks with support from Saudi-led coalition air strikes, military sources said.
They deployed tanks to secure the city and then also retook the coastal town of Shaqra with "little resistance" from rebel forces, a military source said.
Zinjibar residents forced out by fighting that devastated their city returned on Sunday to take stock of the damage, a relief official said.
But many, including loyalist fighters, lost their lives to mines planted by the rebels before they withdrew.
At least 19 people were killed and 163 wounded on Saturday and Sunday in and around Zinjibar, Aden health chief Al-Khader Laswar said.
Similar explosions in Aden have reportedly killed dozens of civilians and wounded hundreds.
Zinjibar is the third southern provincial capital from which the rebels have been driven out since loyalists secured Aden in mid-July and Lahj provincial capital Huta on August 4.
Military sources said the southern province of Daleh was also now controlled by the so-called Popular Resistance fighters loyal to President Abd-Rabbu Mansour Hadi.
Aden was Mr Hadi's last refuge before he fled into exile in neighbouring Saudi Arabia in March.
Riyadh has since led a bombing campaign and air and sea blockade against the rebels and their allies in a bid to restore his authority.
Full report at:
http://www.dawn.com/news/1199505/yemen-presidents-loyalists-retake-provincial-capital
------------
Yemeni Popular Resistance forces tighten grip on south
10 August 2015
Yemeni Popular Resistance forces on Sunday captured from Houthi rebels multiple cities in the country's south, including the capital of the Abyan province, the city of Zinjibar, which fell to the pro-government forces after days of fighting.
Yemeni news sites reported that Central Bank governor, Mohamed Bin Hammam, managed to escape from Sanaa and moved to to Hadramout as battles are approaching the capital.
The rapid progress of the Popular Resistance and the national army pushed Houthi and former President Ali Abdallah Saleh's militias to retreat in several provinces. Due to this, the Houthis declared a state of emergency in the capital city Sanaa, sources told Al Arabiya News.
The state of emergency took effect shortly after midnight as the group had braced for an offensive by the Popular Resistance.
Senior Yemeni military commander Abdullah Subaihi said last week he expected government forces to retake Sanaa within two weeks.
Full report at:
http://english.alarabiya.net/en/News/middle-east/2015/08/10/Popular-resistance-continues-making-gains-in-southern-Yemen.html
------------
U.S. consulate, police station attacked in Turkey
10 August 2015
Two attackers opened fire outside the U.S. consulate building in Turkey's biggest city, Istanbul, on Monday after bomb attack at a police station in the city killed three people and injured at least 10 others.
Turkey's Cihan news agency said those involved in the attack on the building in Istanbul's Sariyer district included one man and one woman. It was later reported by broadcaster NTV that police have detained the female suspect.
Earlier, the attack targeting the police station in Istanbul's Sultanbeyli neighborhood and caused a fire that collapsed part of the three-story building, according to Anadolu news agency. The explosion also damaged neighboring buildings and around 20 cars parked nearby, the private Dogan news agency reported.
There was no immediate claim for both attacks, which comes at a time of a sharp spike in violence between Turkey's security forces and rebels of the Kurdistan Workers' Party, or PKK.
The attacks also come at a time when Turkey is taking a more active role against militants from the Islamic State of Iraq and Syria (ISIS). Last month it conducted aerial strikes against ISIS positions in Syria and agreed to let the U.S.-led coalition use its bases for its fight against Full report at:
http://english.alarabiya.net/en/News/middle-east/2015/08/10/Bomb-targets-Istanbul-police-station-injures-seven.html
------------
One killed after Kurdish rebels fire at Turkish police
9 August 2015
Officials say Kurdish rebels have fired at a police vehicle in southern Turkey, killing a policeman and wounding another, in the latest attack against Turkish security forces.
The governor's office for Mardin province said militants of the Kurdistan Workers' Party, or PKK, opened fire late Saturday at the officers who were on patrol duty.
Militants also fired rockets at a military outpost in the southeastern Mus province. There were no casualties.
Full report at:
http://english.alarabiya.net/en/News/middle-east/2015/08/09/One-killed-after-Kurdish-repels-fire-at-Turkish-police-.html
------------
Iran ex-president's son begins 10-year jail term
9 August 2015
The son of Iran's former president Akbar Hashemi Rafsanjani began a 10-year prison term for financial and security crimes on Sunday, insisting his conviction was politically motivated.
Mehdi Hashemi was in March handed prison sentences totalling 25 years after being convicted on three charges in separate cases involving national security, fraud and embezzlement.
The 45-year-old was also ordered to pay undisclosed fines and financial penalties, and was barred from holding public office. He lost an appeal.
The trial was held behind closed doors and details of the evidence and specific crimes has not been released.
He was sentenced to two terms of 10 years in prison and one of five years, and in line with Iranian law will serve the longest of the three sentences.
Iranian media said he had arrived at Evin Prison in Tehran where he read a statement to reporters demanding that recordings of his trial be released.
Hashemi said he saw "political purposes as the main element" of the case against him.
He said his conviction was "neither fair nor legal" but he hoped "to protect and defend the integrity of my honourable and oppressed father".
"I demand once again that state television broadcast my court hearings fully," he said.
"I firmly believe that this measure will prevent abuses by radicals from harming one of the important pillars of the Islamic republic," he added, in an apparent reference to the judiciary.
Full report at:
http://english.alarabiya.net/en/News/middle-east/2015/08/09/Iran-ex-president-s-son-begins-10-year-jail-term-.html
------------
Hadi forces seize 3rd city in southern Yemen
9 August 2015
ADEN: Forces loyal to Yemen's exiled government recaptured a southern provincial capital from Shiite rebels and their allies on Sunday as they pressed an advance from second city Aden.
Zinjibar, capital of Abyan province, had been held by troops of the renegade 15th Brigade which remains loyal to ousted strongman Ali Abdullah Saleh who is allied with the rebels.
Troops entered the coastal town, some 50 kilometers (30 miles) east of Aden, after overrunning the brigade's barracks outside with support from Saudi-led air strikes, the sources said.
It is the third southern provincial capital from which the rebels have been driven out. The loyalists secured Aden in mid-July and Lahj provincial capital Huta on August 4.
Booby traps planted by the rebels to cover their withdrawal took a heavy toll among both loyalist fighters and civilians.
At least 19 people were killed and 163 wounded on Saturday and Sunday in Zinjibar and the surrounding area, Aden health chief Al-Khader Laswar told AFP.
Mines and unexploded ordnance have caused similarly high death tolls in Aden itself since the rebels' pullout last month, with dozens of civilians reported killed and hundreds wounded.
Aden was the last refuge of President Abedrabbo Mansour Hadi before he fled into exile in neighboring Saudi Arabia in March.
Full report at:
http://www.arabnews.com/middle-east/news/788716
------------
Iran Designs Threat Assessment Command and Control System
Aug 10, 2015
The command and control system to assess threats has been designed and is being built in Iran for the first time and it will be completed within the next two months," Jalali said, addressing a forum in Tehran on Monday.
He also said that the Civil Defense Organization plans to stage specialized drills in the middle of the next season.
He explained that the Civil Defense has already conducted exercises in the radiation, biological, chemical and cyber fields.
After wide-scale cyber attacks on Iranian facilities, including its nuclear sites in recent years, Iranian officials started planning a proper and well-concerted line of defense against virus attacks.
In March 2012, the Islamic Republic of Iran announced plans to strengthen its cyber power by establishing a Supreme Council of Cyberspace to defend the country against cyber attacks.
Supreme Leader of the Islamic Revolution Ayatollah Seyed Ali Khamenei tasked the Iranian president with the duty of establishing a Supreme Council of Cyberspace.
In January 2013, Iran's mission at the United Nations criticized the US for its involvement in cyber attacks against Tehran, and stressed that Iran respects international laws and regulations against the use of malwares against other nationsˈ economic sectors.
In a statement issued at the time, the mission said Iran condemns any use of malware that target important institutes by violating the national sovereignty of states.
"Unlike the United States, which has, per reports in the media, given itself the license to engage in illegal cyber-warfare against Iran, Iran respects the international law and refrains from targeting other nations' economic or financial institutions," the statement read.
It also rejected claims that Iran has allegedly orchestrated cyber attacks on the US financial institutions, and said, "We believe that raising such groundless accusations are aimed at sullying Iran's image and fabricating pretexts to push ahead with and step up illegal actions against the Iranian nation and government."
In December 2012, Iran announced that it has thwarted a second cyber attack on one of its Culture Ministry institutes.
The cyber attack, originated from the US city of Dallas via switches in Malaysia and Vietnam, had targeted the information center of the Culture Ministry's Headquarters for Supporting and Protecting Works of Art and Culture.
The attack was repelled by the headquartersˈ experts.
In the last few years, various Iranian industrial, nuclear and government bodies have come under growing cyber attacks, widely believed to be designed and staged by the US and Israel.
In April 2012, a similar attack was carried out against Iran's oil ministry. According to the oil ministry, the cyber attack was carried out through a virus penetration that damaged usersˈ hard disks, but failed. Senior Iranian oil ministry officials later announced that their computer systems resumed normal operation.
A few days later hackers failed to penetrate into the Iranian Science Ministry's computer network.
Full report at:
http://english.farsnews.com/newstext.aspx?nn=13940519000572
------------
Israel frees suspects in Palestinian toddler's death
Aug 10, 2015
Israel has released all suspects held in connection with the firebombing of a Palestinian home that killed an 18-month-old baby and his father.
An Israeli official said on Monday that all the suspects arrested on Sunday were freed, but did not provide further details, including their number.
A Palestinian toddler was burnt to death in an arson attack by Israeli settlers against his house in the village of Duma in the West Bank on July 31.
The parents of the baby and his four-year-old brother were also injured in the attack. His father also succumbed to his injuries on Saturday.
Palestinian men on August 8, 2015 carry the body of Saad Dawabsha, the father of a Palestinian toddler killed last week when their home was firebombed by Israeli extremists. ©AFP
Following the attack, the Palestinian resistance movement, Hamas, vowed to take revenge for the cold-blooded crime.
Full report at:
http://www.presstv.ir/Detail/2015/08/10/424097/Israel-Palestinian-toddler-Duma-Hossam-Badran-Hamas-spokesman
-----------
India
UP Muslim Youth Translates Hanuman Chalisa into Urdu
Aug 10, 2015
A Muslim youth in Uttar Pradesh has now translated Hindu prayer Hanuman Chalisa into Urdu after noted Urdu poet Anwar Jalalpuri came out with his rendition of Shrimad Bhagwad Gita.
"I have translated Hanuman Chalisa in 'Musaddas' style which comprises six lines. Like a 'Chuapai' has four lines, 'Musaddas' has three 'Shers' and six lines," Abid Alvi, who carried out the translation, said.
The youth, who hails from Jaunpur, said he was planning more such works, including translation of Shiv Chalisa prayer, as he felt that it will help people from the two communities to understand each other's culture and beliefs.
He said the translation has a total of 15 "Bandhs", each containing six lines.
"I always wanted both communities (Hindus and Muslims) to know each other's culture. Therefore, I want that Urdu books are translated into Hindi and vice versa," he said.
"It is because people should know each other. This will strengthen brotherhood, unity and love. Therefore, I did this work," he explained.
"The idea (to do the translation) came to my mind during Varanasi visit where some foreigners asked people to recite Hanuman Chalisa," he said.
Full report at:
http://indianexpress.com/article/india/india-others/muslim-youth-translates-hanuman-chalisa-into-urdu/
------------
100 Dalit families of Hisar village convert to Islam at Jantar Mantar
Ishtiyaq Sibtian Joo
Aug 08, 2015
As many as 100 Dalit families from Bhagana village of Hisar district claimed to have converted to Islam at Jantar Mantar in New Delhi on Saturday.
Speaking to Hindustan Times over phone from New Delhi, Dalit leaders alleged that a feeling of alienation from Hindu religion, the failure of district administration to attend to their concerns and indifferent attitude of successive state governments left them with no option than to seek refuge in Islam.
"We don't feel like being part of Hinduism at all. The upper caste people (Jats) in our village have always treated us as if we are not human beings. So what is the point to stay in such religion?" Bhagana Kand Sangharesh Samiti president Virendrar Bagoriya said.
Bagoriya confirmed that Maulvi Abdul Hanif from nearby Qutab Minar mosque performed the conversion formalities.
"We read Kalma and offered Namaz," Bagoriya said.
Dalits from Bhagana have been protesting for the past more than three-and-a-half years to press their demand for allocation of promised plots as per a state government scheme and also against the atrocities they allegedly suffered at the hands of upper castes.
While the protesting Dalits are claiming that they should be given 100-yard plots each from Panchayat land outside the village, the village Panchayat has been refusing to do so.
They also alleged that all the accused in the gang rape of four Dalit girls in the village had not been arrested. They alleged that the police and district administration tried to cover up every wrong done against Dalits in the village by the Jats.
Full report at:
http://www.hindustantimes.com/haryana/100-dalit-families-of-hisar-village-convert-to-islam-at-jantar-mantar/article1-1377993.aspx
------------
Owaisi brothers are enemies of Indian Muslims, says Former UP Governor
Siraj Qureshi Agra, August 8, 2015
Former UP Governor Aziz Qureshi on Saturday termed Hyderabad's Owaisi brothers as the biggest enemies of Indian Muslims and claimed that the ISI had agents in India who should be beheaded for the sake of the country.
Talking to India Today in Agra, where he had arrived to attend a function at a local college, Qureshi said that the Owaisi brothers are spreading communalism through their speeches and misleading the Muslim youth into thinking that Hindus are enemies of Muslims, whereas Hindus and Muslims were two threads in the fabric of Hindustan and drawing out any threat will unravel the entire country.
Yakub Memon involved in Mumbai attack but did not deserve gallows: Asaduddin Owaisi
He said that he was appalled by the statement given by the Pakistani youth Naved who had been arrested in Jammu. He said that these youth were being misled by the ISI and strong action should be taken against Pakistan by the world for preparing terrorists.
Answering a question regarding the hanging of Yakub Memon, he said that it was an unprecedented display of the Indian justice system at work where Yakub was given opportunity to place his plea before the court at 3 am. If someone still calls this injustice, then they should be hanged as traitors too.
Full report at:
http://indiatoday.intoday.in/story/owaisi-brothers-are-enemies-of-indian-muslims-says-aziz-qureshi/1/457234.html
------------
Pakistan broke protocol by not inviting J&K speaker: India
Aug 9, 2015
Pakistan broke protocol by not inviting the speaker of the Jammu and Kashmir assembly for a Commonwealth meeting here, India's envoy here T.C.A. Raghavan has said. The Dawn newspaper on Sunday quoted Raghavan as saying at a book release function here on Saturday night that Pakistan had invited delegations from Jammu and Kashmir in the past. India has said it won't attend the Commonwealth Parliamentary Conference if Pakistan does not invite Jammu and Kashmir Speaker Kavinder Gupta, the high commissioner said. The conference is to be held in Islamabad from September 30 to October 8. India has demanded that the venue be shifted to some other country.
Full report at:
http://indianexpress.com/article/india/india-others/pakistan-broke-protocol-on-kashmir-speaker-india/
------------
Muslim Professionals to Give Career Guidance to Students to Pay Tribute to Late APJ Abdul Kalam
By Dipti Singh
Aug 10, 2015
The Association of Muslim Professionals (AMP) has appealed to Muslim professionals across the country to come forward and conduct Skill Development Lectures (SDL) in schools run by Muslim trusts or Urdu-medium civic schools to encourage students to take up careers in defence and research, civil services, law and media. The week-long national campaign "Hum Banenge Hind ki Nayi Pehchan" (We will become the new identity of India) has been organised between August 15 and August 22 to pay tribute to former president late APJ Abdul Kalam and to create awareness among Muslim students about the importance of education. The association members have said that the government too must start such an initiative.
The SDLs are intended to make the students understand the need for quality education in order to contribute to nation building. Volunteers who have come forward have been trained by the AMP members to conduct lectures along with audio-visual aids. "SDLs and sessions on career counseling are important for Muslim students, especially those studying in vernacular medium schools. These students are unable to connect with the scenario today," said computer engineer and businessman Aamir Edresy, the founder and president of AMP. Edresy added, "AMP and its aim of nation-building by imparting education is based on the wise words of Maulana Abul Kalam Azad, who once said, Education is the most powerful weapon which you can use to change the world." On Saturday, nearly 80 professionals, from Mumbai and Pune, were trained to conduct the lectures. AMP is planning to conduct these lectures in at least 250 schools across the country. Muzna Memon, a chartered accountant and vice president, finance, Deutsche Bank, has enrolled himself to be a trainer for the cause in Mumbai. "Our focus currently is on students who are already part of mainstream education. But a lot of Muslim students study in madrassas. We have planned to convince them to opt for mainstream education. We hope to interact so much so that they do not look at the trainers as just another teacher but a role model." Abrar Syed, head of the national coordinating team of AMP, said, "I am associated with AMP for past six years now. Nowadays, teachers only read out what is there in the textbooks and that is not enough in today's competitive world."
http://indianexpress.com/article/cities/mumbai/muslim-professionals-to-give-career-guidance-to-students/
------------
Hindus, Muslims take out march against cow slaughter in Aligarh
Eram Agha
Aug 9, 2015
Aligarh: Hindus and Muslims in the region have promised to abstain from slaughtering cows in the recently launched 'gauraksha padyatra' (march to save the cow) - a movement that started from Tappal, a town that had recently become a flash point in communal discord.
A fortnight back, a man in Tappal had slaughtered a cow, sparking animosity between the two communities. Subsequently, shops remained shut for three days in fear of a backlash.
Samajwadi Party leader and Koil MLA Haji Zameer Ullah Khan, who is leading the cow protection movement, condemned the incident and said these episodes "should not be repeated". "We will go on a state-wide campaign, spreading the message of saving cows. The recent incident in Tappal showed how passions can be wrongly," the lawmaker said.
The MLA also announced that he would donate Rs 51,000 to gaushalas that receive no political or administrative support. In his bid to solidify communal harmony in the region, Khan said they were planning to have a gaushala that will be managed by Muslims.
Animal activists unanimously hailed Khan's rally, calling it a "heart-warming gesture" and "a good step". Former servicemen and several organizations, namely Pradhan Sangathan and Shyam Purushottam Gaushala, have extended their support to the movement.
Full report at:
http://timesofindia.indiatimes.com/city/agra/Hindus-Muslims-take-out-march-against-cow-slaughter-in-Aligarh/articleshow/48415064.cms
------------
Pak investigator now says 26/11 executed by 'non-state actors'
Aug 10, 2015
A week after his revelations about evidence linking the Lashkar-e-Taiba to the 2008 Mumbai attacks, the top Pakistani investigator who led the probe into the incident has said the carnage in India's financial hub was carried out by "non-state actors".
Tariq Khosa, who was made head of the Federal Investigation Agency (FIA) weeks after the attacks that killed 166 people, refuted reports that he had spoken about the involvement of Pakistani state elements in the incident. He also accused a section of the Indian media of giving a "twist" to the article he had written about the Mumbai attacks in the Dawn newspaper on August 3.
The article, which detailed a raft of evidence linking the Lashkar-e-Taiba (LeT) to the carnage, was extensively quoted by the Indian media. Indian officials said Khosa's graphic revelations had confirmed their stand that the entire operation was executed from Pakistan.
"It is evident in the article that the terrorist attacks had been committed by non-state actors against whom a thoroughly professional investigation was carried out by the FIA and they are being prosecuted by the state of Pakistan," Khosa said in a statement issued on Sunday.
However, the complexities of proving a case of conspiracy was pointed out as his professional viewpoint, he added.
Khosa said the facts mentioned in his article were "shared officially by the government of Pakistan with the government of India in 2009 after the indictment of the seven arrested accused in the anti-terrorism court".
He further said introspection is needed by India to tackle its internal security problems. "It is for the Indians to look inward and sort out their internal security faultlines. That is why I chose not to respond to any of their mediapersons' attempts to draw me in this controversy," he said.
Full report at:
http://www.hindustantimes.com/india-news/pakistani-investigator-tariq-khosa-now-says-26-11-executed-by-non-state-actors/article1-1378360.aspx
-----------
Pakistan
30 Islamic Seminaries Closed, Says Interior Minister
KHAWAR GHUMMAN
Aug 10, 2015
ISLAMABAD: Interior Minister Chaudhry Nisar Ali Khan has said that law-enforcement agencies have so far placed 30 religious seminaries in the "suspect" category which have been closed.
The minister said this in an official report on the implementation of the National Action Plan (NAP) against terrorism and extremism.
Two of the "suspect" Madaris was from Punjab, 15 from Sindh and 13 from Khyber Pakhtunkhwa. No seminary in Balochistan has been placed in this category since the launch of the NAP in December last year.
Although the report does not explain in so many words what is meant by suspected madaris, a senior official involved in the implementation of the NAP said they had some direct or indirect connections with militants or their activities.
According to the report, Sindh is the only province which has taken concrete action and has so far closed 72 unregistered Madaris. No such action has been reported from the other three provinces.
About reforms and registration of Madaris, Chaudhry Nisar, who is the focal person for implementation of the NAP, has admitted that it is a time-consuming exercise, but says the provincial apex committees are actively working on NAP's implementation. He said a standard registration form had been prepared and shared with the provinces. The authorities in Punjab, Islamabad Capital Territory and Azad Kashmir have completed the mapping of Madaris in their areas and the exercise is being carried out in the other provinces.
About 30,000 Madaris, both registered and unregistered, are operating in the country and critics say that even if 10 per cent of them are not following rules, as per the interior minister's own estimate, action needs to be stepped up.
In a separate report on the initiatives taken by the successive governments to reform madrasa education, Minister for Religious Affairs and Inter-Faith Harmony Sardar Mohammad Yousaf has claimed that no progress was made on this front since 2000 – the era of Gen Parvez Musharraf.
According to him, a madrasa education board was set up through the "Pakistan Madressah Education (Establishment and Affiliation of Model Dini Madaris) Board Ordinance, 2001, to cater to religious and modern education. Under the ordinance, three model seminaries were set up – one each in Islamabad, Karachi and Sukkur. In Islamabad, the seminary was only for girls and those in Sukkur and Karachi for boys. The number of these madaris was to be increased with the passage of time, but unfortunately not one has been added so far.
Full report at:
http://www.dawn.com/news/1199516/30-seminaries-closed-says-minister
------------
De-radicalised militants freed in Khyber
IBRAHIM SHINWARI
Aug 10, 2015
LANDI KOTAL: The Khyber Agency political administration released at least 65 suspected militants, who had surrendered to the security forces during military operation in Bara.
Political Agent Shahab Ali Shah told Dawn that as many as 602 suspected militants, affiliated with Bara-based proscribed militant groups, had surrendered to the government at different times after the launch of Khyber-One operation in the tribal area on October 16 last year.
The surrendered men, including both young and elderly, were kept at Levies Centre in Shahkas near and Jamrud and some private buildings, currently under the occupation of security forces in Bara.
"The released men, mostly elderly and belonging to different tribes of Bara, have completed
eight to 10 months of de-radicalisation programme at the internment centres. They are now at the disposal of elders of their respective tribes for their future good conduct," said Mr Shah.
He added that the administration on its part would also keep a strict vigil on the activities of those former extremists so that they didn't revert to their previous unlawful activities.
The Khyber Agency political administration had hired the services of some workers and instructors of Sabawoon, a non-governmental organisation having expertise in re-radicalising suspected militants surrendered to security in different parts of tribal areas and Khyber Pakhtunkhwa.
Full report at:
http://www.dawn.com/news/1199562/de-radicalised-militants-freed-in-khyber
------------
Jamaat-e-Islami chief calls for unity of Ummah
August 09, 2015
LAHORE - Jamaat-e-Islami chief Sirajul Haq is still of the belief that the politics of Karachi is being controlled from London.
Addressing overseas Pakistanis at Mansoora on Saturday, the JI chief held that external powers wanted to continue their hold on the port city - the political and economic lifeline of the country- in line with their 'Great Game'. He urged the Muslims, particularly, Pakistanis to get united for facing the challenges ahead.
Siraj, at the same time, demanded of Turkey and Pakistan to play effective role in removing the misunderstandings between Saudi Arabia and Iran and bringing the two Islamic countries closer. The conflict between Saudi Arabia and Iran must be avoided, he underscored.
"The western powers always try to divide the Muslims on racial and sectarian grounds to weaken their power and to grab their vast resources, leading to wars like in Syria, Yemen and Libya."
Full report at:
http://nation.com.pk/lahore/09-Aug-2015/jamaat-calls-for-unity-of-ummah
-----------
Militants torch school, abduct ten labourers in Kurram
ALI AKBAR
Aug 10, 2015
PESHAWAR: Militants torched a school and abducted ten labourers in Kurram Agency on Sunday.
The incident took place in the Sarkai area of Central Kurram Agency.
According to security and administrative officials, militants torched a primary school in Sarki, and abducted ten labourers who were living in the school's premises.
Officials said labourers were working on an under-construction road and would rest inside the school after the day's work was over.
Full report at:
http://www.dawn.com/news/1199597/militants-torch-school-abduct-ten-labourers-in-kurram
------------
Key Taliban commander, 11 men surrender in Orakzai
ALI AKBAR
PESHAWAR: Tehreek-i-Taliban Pakistan (TTP) commander Razman Shah and eleven other 'TTP' men surrendered to security forces in the Kalaya area of Orakzai Agency on Monday.
Razman Shah is believed to be an important commander of the banned militant group's Orakzai chapter.
The other 'militants' include Meer Khan, Shahid, Abdullah, Ameenullah, Mohammad Ameen, Irfan, Hazrat Mohammad, Meela Khan, Speen Mir Khan, Mohammad Adeel and Dinullah.
The 12 'TTP' men who laid down their arms all belonged to the banned outfit and were wanted by security forces because of their involvement in different terror activities, security sources said.
Orakzai is one of Pakistan's seven semi-autonomous tribal regions in the northwest, where Pakistani Taliban and Al Qaeda-linked militants are said to have carved out strongholds.
It was a key abode of former Tehreek-i-Taliban Pakistan (TTP) chief Hakimullah Mehsud before he was killed in a US drone strike in North Waziristan in 2013.
Pakistan's military has intensified its operations against militants in the tribal areas bordering Afghanistan in the aftermath of deadly Taliban attack on an army-run school in Peshawar that killed 150 people, mostly children in December 2014.
Full report at:
http://www.dawn.com/news/1199592/key-taliban-commander-11-men-surrender-in-orakzai
------------
Movement for 'protection of Pakistan ideology' planned
Aug 10, 2015
LAHORE: A meeting of representatives of various parties, chaired by Jamaatud Dawa emir Hafiz Saeed, has announced to launch a movement for protection and promotion of Pakistan ideology under the umbrella of the Pakistan Ideology Coordination Council.
The meeting held at a local hotel here on Sunday was attended by Liaqat Balochi, Ijazul Haq, Pir Ijaz Hashmi, Shahibzada Pir Sultan Ahmed, Ghulam Muhammad Safi, Hafiz Abdur Rahman Makki, Syed Yousaf Nasim, Syed Kafil Shah Bukhari, Pir Masood Chishti, Abdul Ghaffar Ropri, Ibtisam Elahi Zaheer and Maulana Amir Hamza.
It decided caravans would be taken out in all major towns of the country on Aug 14 under the coordination council with participation of all political and religious parties.
Hafiz Saeed said the coordination council would not be a political forum. He said a grand meeting of the forum would be organised to formally announce the supreme council and core committee.
Full report at:
http://www.dawn.com/news/1199574/movement-for-protection-of-pakistan-ideology-planned?preview
------------
No place for traitors in Pakistan: Siraj
HABIB KHAN GHORI
Aug 10, 2015
KARACHI: Jamaat-i-Islami emir Sirajul Haq has said that Pakistan is not merely a piece of land but an ideo­logy and there is no place for traitors in the country.
Addressing a 'Pakistan Zindabad Rally' via telephone on Sunday, he said treason against Pakistan would actually be treason against the blood of martyrs, Mohajirs, Hijrat and the Quaid-i-Azam.
The rally was taken out from Gulshan-i-Iqbal near Urdu University Campus to the M.A. Jinnah Road.
Mr Haq said that people who sought help from Nato, United Nations and India, would not find a place to live in Pakistan and asked why the prime minister had not taken notice of it.
"We will protect Pakistan till the last drop of our blood. We are not against any community, but we are against corrupt oligarchy and oppressors. We are determined to turn Pakistan into an Islamic polity because solution of the country's problems lies in the Islamic system of governance," he said.
He invited youths to join Jamaat's struggle and said successive governments, including military regimes, had failed to stop exploitation of people. "We will eliminate usury" after coming to power, he declared.
Mohammad Hussain Mehnati, another JI leader, said Pakistan came into being in the name of Islam and the Quaid-i-Azam had announced that the country's constitution would be based on the Quran and Sunnah.
Full report at:
http://www.dawn.com/news/1199524
------------
Europe
Norwegian Labour Deputy Leader 'On a Mission from Allah to Islamise'
9 Aug 2015
The small-state, anti-immigration Progress Party (Fremskrittspartiet, FrP), became embroiled in the row with AP after one of its local councillors made a Facebook post last week. Acting as the administrator of the party pensioner group, he wrote that Norwegian-born, Pakistan heritage Labour deputy leader Hadia Tajik, was on a mission from Allah.
He wrote: "She has a mission from Allah to Islamise Norway… All those who come here have the same mission, big or small, with or without weapons."
A spokesman for FrP has already made an apology to Labour and Tajik, saying they were comments did not represent the party or its members. FrP, which presently co-rules Norway in a coalition with the Conservative party may come to regret the speedy abandonment of its councillor, who has been removed from the pensioners section of the party, reports theLocal.no.
Full report at:
http://www.breitbart.com/london/2015/08/09/claim-labour-deputy-leader-on-a-mission-from-allah-to-islamise/
------------
Jihadis' VJ Day Plot to Bomb the Queen: Police and MI5 in Race against Time to Thwart the Plot
9 August 2015
British Jihadis plan to blow up the Queen next weekend at an event to mark the anniversary of the end of the Second World War.
The Mail on Sunday can reveal that police and MI5 are involved in a frantic race against time to thwart the assassination plot being orchestrated from Syria by Islamic State commanders.
The extremists aim to strike on Saturday by exploding a deadly pressure cooker bomb during events in Central London to mark the 70th anniversary of VJ Day – Victory in Japan.
Such an attack, if successful, would cause high casualties and represent the realisation of long-held fears of a terror 'spectacular' by home-based Muslim extremists.
Sources have told this newspaper that a specific threat was made against the Queen, triggering an urgent review of security arrangements for next weekend's events.
Other members of the Royal Family, including Prince Charles, who is identified in intelligence reports as another possible target, are also due to attend.
They will join Prime Minister David Cameron, assorted dignitaries, more than 1,000 veterans of the Far East campaign and their families, and serving members of the Armed Forces.
And with thousands of members of the public expected to line the streets around Whitehall and Westminster Abbey, police fear enormous potential for carnage.
The plot is understood to involve a device similar to that used in the 2013 Boston Marathon bombing which killed three people and injured more than 260.
In the UK's most deadly terror attack of recent years – the July 7 London bombings – 52 people were killed and more than 700 injured when four suicide bombers struck on Tube trains and a bus in Central London in 2005.
Typically, having been warned about next week's planned attack, the Queen indicated her determination to attend the event to 'honour the fallen'.
Senior members of Scotland Yard's Royal Protection branch, SO14, have been informed, along with SO1 Specialist Protection, the unit responsible for the security of the Prime Minister and any dignitaries considered to be 'under threat from terrorist attack'.
The Home Office has also been made aware of the plot.
On Saturday, the Queen, accompanied by the Duke of Edinburgh – a veteran of the war in the Pacific – will first attend a service at St Martin-in-the-Fields in Trafalgar Square. From there dignitaries will move to Horse Guards Parade for a traditional military 'drumhead' service, a flypast and a wreath-laying ceremony before the set-piece VJ Day parade of veterans and current troops down Whitehall to Westminster Abbey.
All the events will be broadcast live on television by the BBC.
While hundreds of IS converts have left UK for Syria and Iraq over the past two years, others have been urged to remain in the UK and launch attacks on home soil.
Although The Mail on Sunday understands that no arrests have been made, counter-terrorism officers are monitoring the plot's development.
Some intelligence reports suggest that the 2pm drumhead service in Horse Guards Parade, just half a mile from Downing Street, might be a specific target.
Led by the Bishop to HM Armed Forces, the Right Reverend Nigel Stock, it will see drums draped with military colours used in place of an altar to replicate services held on the field of battle during the war.
The Japanese surrender on August 15, 1945 – less than a week after the United States dropped atom bombs on Hiroshima and Nagasaki – brought the Second World War to its conclusion.
Full report at:
http://www.dailymail.co.uk/news/article-3190706/Jihadis-VJ-plot-bomb-Queen-Police-MI5-race-against-time-foil-Boston-style-IED-spectacular-Saturday.html
------------
Russia dismisses 'unfounded accusations' about chemical weapons in Syria
Aug 9, 2015
Russian Foreign Minister Sergei Lavrov has warned against making 'unfounded accusations' regarding undeclared chemical weapons in Syria.
Lavrov said in a statement on Sunday that the operation to remove chemical weapons stockpiles from Syria has been successful.
"This problem was successfully resolved," said Lavrov, adding, "We have every basis to consider that Syria will continue cooperating closely."
The Russian foreign minister said all claims to the contrary should be investigated.
"Sometimes publications come out that there could be undeclared chemical weapons in Syria. This is all being checked, here we must avoid unfounded accusations," Lavrov stated.
The Syrian government has already surrendered its stockpiles of chemical weapons to a joint mission led by the United Nations and the Organization for the Prohibition of Chemical Weapons (OPCW), which oversaw the destruction of Syria's chemical weapons.
File photo shows expert personnel examining chemical sites in Syria.
US war rhetoric against Syria intensified in August 2013 after foreign-backed opposition forces accused the government of President Bashar al-Assad of launching a chemical attack on militant strongholds in the suburbs of the capital, Damascus.
Damascus has repeatedly rejected the allegation. Syria says such attacks have been carried out by the Takfiri Daesh terrorists. Russia has also maintained that there is no solid proof that Damascus is behind such attacks.
Syria subsequently agreed to elimination of its stockpile of chemical weapons under a deal that was initially put forward by Russia as a way to head off Washington's possible use of force against Damascus.
Full report at:
http://www.presstv.ir/Detail/2015/08/09/423969/Russia-Foreign-Minister-Sergei-Lavrov-Syria-chemical-weapons
------------
Father, son and daughter revert to Islam in Morocco
August 9, 2015
El Jadida (Morocco): The number of foreigners converting to Islam continues to rise in Morocco, as lately a Spanish family of three people announced their conversion on Friday, in El Jadida, 56.27 miles away from Casablanca, Morocco World News reported.
The father and his son took the Shahada in the presence of thousands of worshippers in the Nour Mosque, after the noon prayer.
The daughter, on the other hand, was taught the Shahada by a woman in the women's quarters of the mosque.
In a video posted on YouTube, the father and his son expressed their happiness to convert to Islam and their new brothers and sisters.
The father decided to change his name to Omar while the son chose Idriss as his new name, although Islam does not require new converts to adopt Muslim names.
Every year during summer time, a number of non-Muslim foreigners announce their conversion to Islam, while visiting Morocco.
Full report at:
http://www.ummid.com/news/2015/August/09.08.2015/spanish-family-reverts-to-islam.html
------------
Irish Pastor Faces Charges for Labelling Islam as 'Satanic'
Karla Dieseldorff
9 August 2015
His controversial sermon at the Whitewell Metropolitan Tabernacle in Belfast last year was streamed online. McConell has also posted written insults about Islam that have caused controversy. The Pastor appeared before the Belfast Magistrates Court to confront accusations.
Around 1,000 protesters in support of McConnell were gathered around the court chanting and holding signs in his favor.
According to RTE News, the 78 year-old Preacher's Defense Lawyer, Joe Rice declared to District Attorney Judge Amanda Henderson that the his client was denying the accusations saying he was just expressing "his own personal views".
Rice affirmed that McConnell "had not incited hatred nor had he encouraged violence against Muslims". McConell "strenuously denied" any moral or legal charges.
The Preacher defended himself outside the court in front of his supporters by declaring to RTE News that these accusations against him were "absolutely stupid."
"There has been a reaction of anger" in his support "even from atheists, even from people that don't go to church". He condemns these charges as "ridiculous," he said.
The Pastor also told the court that he was taking a "principled stance" appealing to freedom of speech. He believes that "he has every right to criticize Islam, as Islamic clerics have the right to entice him".
Full report at:
http://www.moroccoworldnews.com/2015/08/165165/irish-pastor-faces-charges-for-labelling-islam-as-satanic/
------------
North America
WhoIsMuhammad Billboards In Bay Area, Across U.S. Aim To Raise Awareness About Islam
August 8, 2015
SAN FRANCISCO (CBS SF) — A roadside campaign to raise awareness about Islam has arrived to Bay Area billboards.
It is part of a nationwide push to dispel myths about Muslim Americans called #WhoisMuhammad launched by The Islamic Circle of North America, an American Muslim organization based in New York.
Eight billboards have gone up in the Bay Area, with messages like, "Muhammad believed in peace, social justice, women's rights" and "Muhammad always taught love, not hate; peace, not violence." Drivers and passers-by are invited to visit a website and find out more about the Islamic faith. The billboards are mainly in English, but some are in Spanish.
Current Bay Area #WhoisMuhammad billboard locations include Oakland, San Francisco, San Jose, Stockton, Castro Valley and Santa Clara. There are also billboards going up in Los Angeles and other major cities across the United States.
According to Reuters, the #WhoisMuhammad movement was launched to quell anti-Muslim sentiments that arose after Islamist militants killed staffers at the French satirical magazine Charlie Hebdo, in Paris, last January for publishing cartoons featuring the prophet. The deadly assassinations drew worldwide attention.
Full report at:
http://sanfrancisco.cbslocal.com/2015/08/08/whoismuhammad-billboard-muslims-campaign-in-bay-area-across-u-s-aims-to-raise-awareness-about-islam/
------------
Muslim American: I Am at War With Anyone Who Supports Islamic State
August 8, 2015
Millions of Muslims around the world are insisting that Islamic State extremists don't speak for Islam, including American Muslim activist Dr. Zuhdi Jasser, president of the American Islamic Forum for Democracy.
"As an American, I am at war with anyone who swears allegiance to Islamic State. They are at war with us and with our way of life and we must be at war with them until they are permanently destroyed," said Jasser, author of A Battle for the Soul of Islam: An American Muslim Patriot's Fight to Save His Faith, to The Christian Post this week.
Jasser, who is a medical doctor and also served in the U.S. Navy, has been campaigning against radical Islam since the early 2000s after the 9/11 attacks on the United States. He says that the emergence of Islamic State has been a wake up call for many Americans and believes Muslim reformists are the greatest asset in the battle for freedom and national security in the United States.
He says that all Muslims have a responsibility to reject governments and ideas that support radical Islamism as well as the groups that align with those values including Hamas and the Muslim Brotherhood. All Americans need to be aware and understand that their influence reaches the United States, he warned.
"As long as we do not have a filter against the ideology of Islamism for those within or advising government, Muslim Brotherhood allies and operatives will continue to dominate American policy makers. They are backed by a long history of organized Islam in America and their benefactors around the world," Jasser stressed.
He also noted that persecution of religious minorities in the Middle East didn't begin with the Islamic State, but IS has magnified the violence against minorities for the world to see. The population of Christians dwindling in nations like Iraq occurred long before the evolution of IS, he pointed out.
"It's (persecution of religious minorities) engrained in the supremacist Islamism of Iranian Khomeinists, Saudi Wahhabis and the Egyptian Muslim Brotherhood," Jasser explains. "Islamic State makes it clear that its goal is to cleanse Syria and Iraq of Christians. Its ideology is a natural by-product of Wahhabism from Saudi Arabia. In the kingdom, Christians are not allowed to build churches, worship in public or carry Bibles. What Islamic State does openly, Saudi Arabia does covertly."
It's a pattern that can be seen throughout history with other minority groups such as the Jews who've been driven out of almost every Arab nation.
Besides Jasser, other Muslim groups have also spoken out against Islamic State and extremism, including the Muslim Council of Britain and Muslim communities in Germany, France and Indonesia. And organizations like U.K.-based Quilliam Foundation, which recently launched a new counter-terrorism video as part of its #NotAnotherBrother campaign on social media this week.
Also U.K.-based grassroots organizations such as the Conscious Muslim Club continue to challenge the status quo with open talks that address difficult questions, "and challenge the stereotypes of what a Muslim is often portrayed to be, with gentleness and compassion and with an understanding that we are all in a state of returning to the Almighty," says its founder, Khatija Sacranie.
Full report at:
http://www.christianpost.com/news/muslim-american-i-am-at-war-with-anyone-who-supports-islamic-state-142490/
------------
How hawkish the GOP candidates are on the Islamic State, ranked
By Amber Phillips
9 August 2015
Depending who the next president is, Americans could find themselves in yet another war in the Middle East. Several candidates in Thursday night's two separate Republican debates promised to put troops on the ground to battle the Islamic State.
For the past year, the United States and its allies have targeted airstrikes over Iraq and Syria to disrupt the Islamist militant group, also known as ISIS or ISIL. The group has beheaded at least a dozen foreigners, including two American journalists, and controls an estimated one-third of the region. Americans are also trying to train Syrian and Iraqi fighters to battle the Islamic State on the ground.
Pentagon officials have recently described this fight against the Islamic State as "a stalemate."
Politically, there is momentum in Republican circles for a more involved U.S. presence -- up to and including ground troops. This has not been uniformly embraced, though, as Republicans recall the war-weariness that marked the drawdowns in Iraq and Afghanistan.
What to do about the Islamic State was a frequent topic of both debates, as everyone seemed to agree it's the next front in America's war on terrorism. Among the candidates who talked about or were asked about the Islamic State, we ranked what they'd do, from most hawkish, to endorsing the status quo, to getting out of it entirely.
The list goes from most-hawkish to least.
Lindsey Graham: "Whatever it takes"
In Congress and on the presidential trail, the senator from South Carolina is one of the most hawkish Republicans. He's calling for 20,000 American ground troops in Syria and Iraq and regularly says that without American ground involvement, our country risks an imminent Islamic State attack.
"I cannot tell you how much our nation is threatened," he said. "If we don't stop them over there, they are coming here just as sure as I stand here in front of you."
Jeb Bush: "Use every tool at our disposal"
The former Florida governor has the trickiest line of all to walk on engagement in the Middle East. His brother and father both launched military actions against Iraq, and he stumbled on the campaign trail this spring about whether he would have done things differently after the Sept. 11, 2001, attacks.
He argued in the debate that al-Qaeda was "done for" when President Obama took office (a line The Washington Post's fact checker team rated as false). But Bush also argued that Obama's withdrawal of troops from the region led to a "void" that the Islamic State filled.
He certainly didn't rule out ground troops, saying "we need to take out ISIS with every tool at our disposal."
Bush also said stopping the Iran nuclear agreement the Obama administration recently negotiated would be a priority, because Bush and other Republicans fear the lifting of sanctions on Iran will allow Iran to fund the Islamic State.
George Pataki: Send troops in, get 'em out quickly
The former New York governor said he doesn't want to spend "another decade or a trillion dollars" in the Middle East, but he would be willing to send American troops in to quickly "destroy their training camps and recruiting centers."
"I would not place one American life at risk unless it was absolutely necessary," Pataki said. "But to destroy ISIS, it is necessary."
Bobby Jindal: Directly arm the Kurdish fighters
Full report at:
http://www.washingtonpost.com/news/the-fix/wp/2015/08/09/how-hawkish-the-gop-candidates-are-on-the-islamic-state-ranked/
------------
Southeast Asia
Kalla praises Islamic schools' contributions to RI's development
August 09 2015
Vice President Jusuf Kalla said Indonesia's education institutions, including Islamic boarding schools, must provide quality education that stays up to date with current developments as it would be likely for deviant ideologies to try and capture the minds of the youth.
He also praised the developmental roles that Islamic boarding schools have played by providing quality religious education and general knowledge to their students.
"Education must be dynamic so that it keeps up to date with the current developments as education is important for the future," said Kalla during the 33rd anniversary of the Assalam Islamic modern boarding school in Surakarta on Saturday.
The Vice President said that the education that all Assalam students had received would be useful to help them face problems in the future. He later explained that the spread of radical ideologies by the Islamic State (IS) movement was an example of old-fashioned education that was no longer in line with developments in the current era.
"Islam is a religion that respects followers of other religions. The Assalam Islamic boarding school has also adopted a similar principle," praised Kalla.
He further said all Assalam students and alumni must be able to give solutions to various problems Indonesian people were currently facing. They should care for people facing life's hardships.
Full report at:
http://www.thejakartapost.com/news/2015/08/09/kalla-praises-islamic-schools-contributions-ri-s-development.html
------------
The week in review: Moderate Islam in Indonesia
August 09 2015
Indonesia's two largest Islamic organizations — Nahdlatul Ulama (NU) and Muhammadiyah — have just elected new leaders and executive board members for the 2015-2020 period through their muktamar (congresses) in Jombang, East Java, and Makassar, South Sulawesi, respectively.
The NU reelected Said Aqil Siradj as its leader early Thursday, while Muhammadiyah chose Haedar Nashir as its new chairman in place of two-time chief Din Syamsuddin later that day.
Observers welcomed the election and reelection of the two figures, who they say will guide the two influential Muslim groups to overcome future challenges, notably the quest for shaping moderate Islam amid the global trend of radicalism.
By shunning practical politics, both the NU and Muhammadiyah have managed to focus on addressing various national issues, ranging from poverty to religious intolerance, and thereby maintain their relevance.
In one of its recommendations that wrapped up its congress, the NU asked the government to review all legislation related to political life so as to promote ethics in politics. The call was made in response to recent Constitutional Court rulings that endorse the practice of building political dynasties and the quest of former graft convicts to contest elections for public posts.
The NU considers the rulings an impediment to efforts to uphold morality and ethics in politics.
Article 7 of Law No. 1/2015 on the election of governors, regents and mayors stipulates that no candidates should have conflicts of interest with the incumbents, in that they should not have any affiliation through marriage with the incumbents, like fathers, mothers, parents-in-law, cousins or nieces, except after one interval of tenureship. The court ruled that the article contradicted the Constitution as it condoned discrimination.
In its recommendation, the NU opined that politics did not function as an instrument to defend public policies but was simply being turned into a rent-seeking mechanism to plunder natural resources and public funds.
Said Aqil promised after his reelection not to drag the NU into the political arena but instead focus on developing a democratic economy and education for the poor. "I don't have any political agenda. My agenda is the NU's, nothing else," he said, adding that he would help Muslim youths fight radical ideology.
"We will make the NU a more moderate and tolerant jam'iyah (organization), which will be beneficial for NU members, the nation and the world," he said.
Meanwhile, newly elected Muhammadiyah chairman Haedar said that one of the keys to success in managing harmony in relations is communication and in order to reach that he would pay attention to the aegis extended by the majority to minority groups.
"Therefore, we have to become the platform for nationhood [...] the big protects the small and the small is in synergy with the big," he said. He recalled that from the beginning, all groups in Indonesia embraced the culture of harmony.
Haedar said such a construction should provide a platform for Indonesia to maintain security and harmony among various ethnic groups.
He further said that good inter-ethnic relations would be beneficial in settling any conflict arising in a region. Efforts to mediate will be made to overcome conflict and localize information, thereby reducing skepticism by the international world toward Indonesia, he said.
Full report at:
http://www.thejakartapost.com/news/2015/08/09/the-week-review-moderate-islam-indonesia.html
------------
Stranded Indonesian sailors saved in Somalia
August 10 2015
The Foreign Ministry said on Monday that 12 Indonesian crew members had been saved from a South Korean fishing vessel, which was stranded in Somalia earlier this month.
"Alhamdulillah [Praise God]. Due to good coordination between the Indonesian Embassy in Nairobi [in Kenya] and the Putland Police [in Somalia], 32 sailors, including 12 Indonesians, were rescued," the ministry's director for protection, Lalu Muhamad Iqbal, said in a press statement.
Lalu said that the Indonesian embassy in Nairobi had also contacted the 12 sailors, who were staying in a Hotel in Putland, Somalia.
Full report at:
http://www.thejakartapost.com/news/2015/08/10/stranded-indonesian-sailors-saved-somalia.html
------------
URL: https://www.newageislam.com/islamic-world-news/new-age-islam-news-bureau/senegalese-imam-declares-'green-jihad'-to-protect-environment/d/104227