New Age Islam News Bureau
3 Nov 2013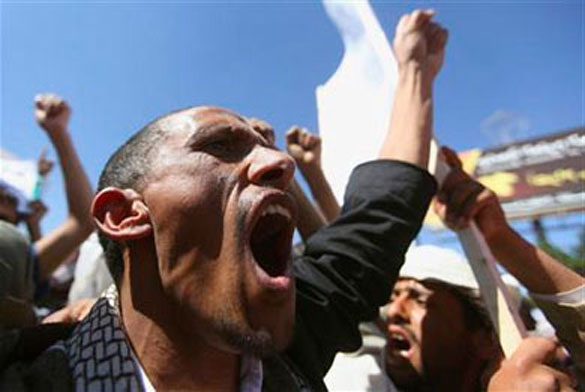 A man shouts slogan during a protest outside the home of Yemeni President Abd-Rabbu Mansour Hadi against the fighting between the Shiite Houthi movement and Salafi militants in the northern town of Damaj, in Sanaa, November 2, 2013. REUTERS/Mohamed al-Sayaghi
-------------
Mideast
• Sectarian clashes kill 55 in lawless north Yemen
• Iran's Khamenei says Israel is 'illegitimate, bastard' regime
• Khamenei is not 'optimistic' but supports Iran nuclear talks
• Rebels press attack on Yemeni town
• Turkey, Iran signal thaw in ties amid mutual concern on Syria
------------
Africa
• 17 killed in Nigerian church stampede: Official
• Somali army attacks al-Shabab base
• Jordan says will 'take measures' if Syrian refugee crisis not resolved
• Africans push deferral of Kenya trials with UN draft resolution
• Nigerian Movie Star Reverts to Islam
------------
Pakistan
• 'US in State Of War with Pakistan': Religious Parties
• Govt., Army, Taliban Shouldn't Let Talks Scuttle: Representative Of The Ulema
• Torture, inhuman treatment with prisoners against Islamic injunctions: CJP
• Pakistan to review US ties after 'attack on peace,' says Nisar
• Blockade of NATO supplies won't stop drones: govt
• Imran vows to block NATO supplies in KP
• Pakistan, Korea celebrate 30 years of diplomatic ties
• Diwali Mela sets off at Swami Narayan Temple
------------
North America
• US dismisses claims drone strike hurt Pakistan talks
• Obama Official: US is an Islamic Country
• US secretary of state arrives in Egypt
• Being Muslim in Post 9/11 America - Nov. 5 forum
------------
South Asia
• Bangladesh court sentences British Muslim, US citizen to hang
• Boat carrying 70 Muslim Rohingya sinks off Myanmar
• Afghan Taliban condemn Mehsud killing
• Jamaat-Shibir violence protested
------------
India
• Patna terror accused was beaten up by villagers for his hard-line ways
• Family refuses to claim body of Patna terror suspect
• Modi visits Patna blast victims' homes
• India, Pak forces exchange sweets at Attari border on Diwali
• Indian Mujahideen would be under al-Qaida: Riyaz told Yasin
• Burmese Muslim refugees in Delhi, search for haven in J&K
------------
Europe
• Two French journalists executed in Mali
• British accuse Glenn Greenwald's partner, of 'terrorism'
------------
Arab World
• Jailbreaks in Pakistan, Iraq & Libya part of Qaeda plot
• US, Iraq vow to fight Qaeda
• Shootings kill four in north-central Iraq: officials
• Report: Leaked recording outlines Mursi's meeting with EU's Ashton
• Kerry heads to Mideast to reinforce key Arab ties
• Fighting intensifies around Syrian capital
------------
Southeast Asia
• Indonesian Diaspora regrets attack on Yogyakarta meeting
• Malaysia summons US, Australia over spy row
• Indonesians find themselves in a jam
Compiled by New Age Islam News Bureau
URL: https://newageislam.com/islamic-world-news/sectarian-clashes-kill-55-salafis/d/14267
------------
Mideast
Sectarian Clashes Kill 55 in Lawless North Yemen
November 03, 2013
SANAA: The death toll in four days of clashes between rival Muslim clans in north Yemen rose to 55 on Saturday, one of the clans said, as the Yemeni government tried to broker a ceasefire in a region that lies largely outside its control.
Shia Houthi rebels launched an attack on the town of Damaj, held by their Sunni Salafi rivals, on Wednesday.
The army said earlier a ceasefire had come into effect on Friday afternoon, but a Salafi spokesman then said clashes had continued on Saturday, and that in all 55 Salafis had been killed by rockets and tank fire.
Yehia Abuesbaa, the head of a presidential committee tasked with ending the fighting in Damaj, said a ceasefire was now expected to come into effect on Sunday.
He said the Houthis had sought the release of six of their followers who had been kidnapped by pro-Salafi fighters from a third group, the Al-Ahmar clan, in the neighbouring province of Omran. The six had been freed following the intervention of President Abd-Rabbu Mansour Hadi, Abuesbaa said.
The Al-Ahmar clan includes both Sunnis and Shias and its members are key figures in the Sunni Islamist Islah party.
Houthi officials could not be reached for comment.
There was no immediate independent account of Saturday's clashes or report of Houthi casualties in Damaj, which lies in Saada, a mountainous province that has long been outside central government control. A Houthi statement on Wednesday accused the Salafis of igniting strife by bringing thousands of foreign fighters into Damaj. The Salafis, a puritanical sect, say the foreigners are students there to study Islamic theology in a seminary built in the 1980s. The Salafis say Damaj, which is near the Houthi-controlled city of Saada near the Saudi border, has been under rebel siege for weeks and say their rockets have hit, among other targets, student dormitories at a religious school.
Apart from the Salafi-Houthi conflict, Yemen is struggling with southern secessionists and militants of al Qaeda in the Arabian Peninsula, which has plotted attacks on US airliners and targets in Saudi Arabia, the world's top oil exporter.
Meanwhile, AFP quoted military and aid officials as saying that Shia rebels and Sunni fighters have agreed to a ceasefire in a northern Yemeni town, but the Red Cross is still being denied access. Troops have been deployed in areas evacuated by the two sides, an official said.
But the International Committee of the Red Cross said on Saturday that its teams were still being denied access to Dammaj. "We deplore the lack of access to Dammaj, where the number of wounded people in need of evacuation is growing," said Cedric Schweizer, the ICRC director in Sanaa. "We are particularly concerned about people who need emergency assistance. We appeal for a halt to the violence and for immediate and unconditional access, so that we can evacuate the wounded and deliver much-needed medical assistance," Schweizer said in a statement. Agencies
http://www.dailytimes.com.pk/default.asp?page=2013\11\03\story_3-11-2013_pg4_8
------------
Iran's Khamenei says Israel is 'illegitimate, bastard' regime
November 03, 2013
TEHRAN: Iran's supreme leader Ayatollah Ali Khamenei described arch-foe Israel as an "illegitimate and bastard" regime on Sunday, as he hit out at its alliance with the United States.
"The Zionist regime is an illegitimate and bastard regime," Khamenei said in remarks carried by his website.
"The Americans have the highest indulgence towards the Zionists and they have to. But we do not share such indulgence," he said.
http://www.thenews.com.pk/article-124971-Irans-Khamenei-says-Israel-is-illegitimate,-bastard-regime--
------------
Khamenei is not 'optimistic' but supports Iran nuclear talks
3 November 2013
Supreme Leader Ayatollah Ali Khamenei expressed his support on Sunday for Iran's nuclear talks but said he was not optimistic.
"No one should see our negotiating team as compromisers,"Khamenei was quoted as saying on his official website, Agence France-Presse reported.
"I am not optimistic about the (nuclear) negotiations but, with the grace of God, we will not suffer losses either," he added.
A new round of talks between Iranian negotiators and representatives from the P5+1 group of world powers is due to take place in Geneva for November 7 and 8.
The talks are aimed at reducing Iran's nuclear activities in exchange for a relief from international sanctions.
Decisions on the disputed nuclear program which the West and Israel suspect is aimed at atomic weapons, widely rely on Khameini.
"All the better if the negotiations bear fruit but if there are no results, the country should rely on itself," Khamenei was quoted as saying by AFP while criticizing the U.S. policy of approaching the talks on two fronts of sanctions and diplomacy.
"The Americans smile and express desire for negotiation; on the other hand, they immediately say that all options are on the table," he said. "We should not trust a smiling enemy."
Khameini has also described Iran's arch enemy Israel as an "illegitimate and bastard" regime as he also criticized the U.S. for supporting it.
"The Zionist regime is an illegitimate and bastard regime," he was quoted as saying in remarks carried by AFP from his website.
"The Americans have the highest indulgence towards the Zionists and they have to. But we do not share such indulgence."
http://english.alarabiya.net/en/News/middle-east/2013/11/03/Khamenei-is-not-optimistic-but-support-Iran-nuclear-talks-.html
------------
Rebels press attack on Yemeni town
3 November 2013
SANAA: Shiite Houthi rebels pressed their offensive on Saturday against a town in north Yemen held by their Salafi rivals, a Salafi spokesman said, bringing the total death toll in four days of sectarian clashes to 55.
Spokesman Serour Al-Wadei denied a statement on the Yemeni defense ministry website saying that the fighting in the town of Damaj had ended on Friday afternoon and that the Yemeni army had taken up positions in the troubled area.
The spokesman for the puritanical group told Reuters the Houthis, using rockets and tank shells, had killed 15 more Salafis and wounded at least 30 in their latest attack on Damaj, which lies in the mountainous Saada province that has long been outside Yemeni control.
Houthi officials could not be reached for comment. There was no independent account of Saturday's clashes and no immediate report of any Houthi casualties.
A Houthi statement on Wednesday accused the Salafis of igniting strife by bringing thousands of foreign fighters to Damaj. The Salafis say the foreigners are students there to study Islamic theology in a seminary built in the 1980s.
The Salafis say Damaj, which is near the Houthi-controlled city of Saada has been under rebel siege for weeks and say their rockets have hit, among other targets, student dormitories at a religious school
http://www.arabnews.com/news/471686
------------
Turkey, Iran signal thaw in ties amid mutual concern on Syria
ISTANBUL: Turkey and Iran said on Friday they had common concerns about the increasingly sectarian nature of Syria's civil war, signalling a thaw in a key Middle Eastern relationship strained by stark differences over the conflict. Iran has been a staunch ally of Syrian President Bashar Assad since the start of the 32-month-old uprising against him, while Turkey has been one of his fiercest critics, supporting the opposition and giving refuge to rebel fighters.
But the election in June of President Hassan Rowhani, a relative moderate who says he wants to thaw Iran's icy relations with the West, and shared concern over the rise of Al-Qaeda in Syria, have spurred hopes of a rapprochement.
"Sitting here together with the Iranian foreign minister you can be sure we will be working together to fight these types of scenarios which aim to see a sectarian conflict," Turkish Foreign Minister Ahmet Davutoglu told a conference in Istanbul. Iranian Foreign Minister Mohammad Javad Zarif, who held talks with Turkish President Abdullah Gul in Istanbul and was due to meet Prime Minister Tayyip Erdogan later in Ankara, echoed the comments, saying that sectarian unrest posed an even greater risk than the use of chemical weapons.
"I believe sectarian conflict is even a greater threat and it is not confined to one region," Zarif said.
"If the flames of sectarianism rage in the Middle East, you will see the results in the streets of London, New York, Rome and Madrid," he told the conference.
While deep divisions remain between Ankara and Tehran over the conflict in Syria, particularly over the role of Assad in any transitional government, diplomats and government officials say both sides want to mend a relationship which could be key to wider diplomatic efforts towards a solution.
"Both Iran and Turkey are at a point where they think they can work together on Syria," a senior Turkish official said.
"Both countries believe the situation needs an urgent solution. But the big question is how," he told Reuters.
A long-delayed international peace conference in Geneva, first proposed in May, would be high on the agenda in Zarif's conversations with Erdogan, government sources said.
Arab and Western officials told Reuters this week that international powers were unlikely to meet their goal of convening the "Geneva 2" talks later this month, largely due to differences over who will represent the opposition.
Turkey has long argued that Iran and Iraq, another neighbor with whom Ankara has been trying to mend fences, should be involved in the talks if they are to be credible.
Tehran's desire to participate in a June 2012 meeting on Syria hosted by the United Nations in Geneva was a major bone of contention between Washington and Moscow, Assad's key ally.
"For Geneva 2 to be meaningful there must be a clear political strategy and there must be Russia and Iran at the table. Both of them must be included and so must Iraq," a source close to the Turkish government said.
With al Qaeda-linked groups such as Jabhat Al-Nusra and the Islamic State of Iraq and the Levant (ISIL) taking territory in parts of northern Syria near Turkey's border in recent weeks, pressure for a resolution has been mounting.
"Turkey and Iran's positions have moved closer, because I think Turkey also has realised the threat of these radical elements on its border," a regional diplomatic source said, speaking on condition of anonymity.
"There are still disagreements, but I think these disagreements can and must be overcome because both Turkey and Iran are key to the stability of the region."
http://www.arabnews.com/news/471191
------------
Africa
17 killed in Nigerian church stampede: Official
Nov 3, 2013
LAGOS: Seventeen people were killed and dozens of others injured on Saturday in a stampede following the end of an overnight church vigil in eastern Nigeria, a government spokesman said.
"We have visited the hospital in Nkpor and found 17 corpses that were brought in from the scene of the disaster," spokesman Mike Udah told AFP.
Local media reports claimed the death toll could be higher, claiming that up to 28 people had been killed in the stampede at St Dominic's Catholic Church.
There was no immediate known cause for the stampede which happened in the grounds of the church as followers celebrated an overnight vigil to mark All Saints' Day.
Full report at:
http://timesofindia.indiatimes.com/world/rest-of-world/17-killed-in-Nigerian-church-stampede-Official/articleshow/25155495.cms
------------
Somali army attacks al-Shabab base
02 Nov 2013
Somali government soldiers, backed by African Union peacekeepers, have clashed with al-Shabab fighters on the outskirts of Kolbiyo, a town in lower Jubba province near the Kenya-Somalia border.
About 80 government soldiers on pick-up trucks attacked the group's bases 10km from the town on Saturday, an al-Shabab spokesman told Al Jazeera.
The early-morning attack lasted for more than an hour, he said.
The Kenyan military said dozens of fighters from the anti-government group was killed in the ensuing clashes.
"Somali National Army kill over 30 al shabaab in Kolbio, close to Kenya border," spokesman Emmanuel Chirchir said on his Twitter account.
But al-Shabab denied the claim.
"We have not lost a single fighter. We killed four apostate soldiers and critically injured their colonel who was leading their attack," the group's spokesman told Al Jazeera.
Previous attacks
The al-Shabab base that the government soldiers attacked is close to Kolbiyo and not far from Badhadhe. Both towns have been scenes of recent attacks by the group fighting the UN-backed Somali government.
Full report at:
http://www.aljazeera.com/news/africa/2013/11/somali-army-attacks-al-shabab-base-2013112113725724262.html
------------
Jordan says will 'take measures' if Syrian refugee crisis not resolved
3 November 2013
Jordan will "take measures" to protect its interests if the Syrian refugee crisis is not resolved, King Abdullah II said on Sunday in a speech to parliament.
The monarch said that the influx of Syrian refugees is draining Jordan's resources and called for international assistance to deal with the problem.
"Jordan currently hosts around 600,000 Syrian refugees -- an issue that depletes our already limited resources and puts enormous pressure on our infrastructure," the king said.
"If the international community does not move quickly to help us shoulder the burdens of the Syrian crisis... Jordan is able to take measures to protect the interests of our people and country," he added without elaborating.
King Abdullah II also said that since the start of the Syrian conflict, Jordan has been supporting a political solution that would preserve the war-hit country's unity and territorial integrity, as well security in the region.
Full report at:
http://english.alarabiya.net/en/News/middle-east/2013/11/03/Jordan-King-says-will-take-measures-if-Syrian-refugees-crisis-not-resolved-.html
------------
Africans push deferral of Kenya trials with UN draft resolution
November 03, 2013
UNITED NATIONS: Rwanda, Togo and Morocco circulated among U.N. Security Council members on Friday a draft resolution to defer the International Criminal Court trials of Kenya's President Uhuru Kenyatta and his deputy William Ruto for one year.
The African Union asked the Security Council last week to postpone the trials of Kenyatta and Ruto so they can deal with the aftermath of the Nairobi mall attack by al Qaeda-linked group al Shabaab, in which at least 67 people were killed in September.
Kenyatta and Ruto face charges related to the violence after Kenya's 2007 elections, in which 1,200 people died. Both deny the charges and have tried to have the cases adjourned or halted. Ruto's trial started last month, while Kenyatta's trial is due to start on Feb. 5 after being delayed for a third time.
Full report at:
http://www.dailytimes.com.pk/default.asp?page=2013\11\03\story_3-11-2013_pg4_6
------------
Nigerian Movie Star Reverts to Islam
By Rafiu Oriyomi
03 November 2013
LAGOS – Jolting millions of her fans, Nigerian screen diva Lizzy Anjorin has officially embraced Islam, a religion she told OnIslam.net had always been her favorite from childhood but which she could not practice in deference to her father who was a Christian.
"I have always been a Muslim at heart right from childhood. My mother was a Muslim and I have always dreamt of one day practicing Islam," she told OnIslam.net in a telephone interview.
"That day has come and here I am. Alihamdulillah."
Lizzy Anjorin, a lone child of her parents, is a top-rated award-winning movie artist and producer in the booming Nigerian movie industry – The Nollywood – where she maintains a record of being one of the most enterprising actresses around.
Finding Islam, Lizzy appeared in photos donning hijab and announced that he has taken the name Aisha as her official Islamic name.
Yet, the movie star said she continues to use the name Lizzy Anjorin to feature in movies. She was until her conversion Elizabeth, her Christian baptism name.
"It is not true that my conversion was due to my fiancé being a Muslim," Lizzy told OnIslam.net, debunking insinuations by some of her fans that she may well dump Islam if she parts ways with him, who some reports claim is a Muslim.
Many Nigerian movie actors and actresses, like their foreign counterparts, are plagued with unstable marital relationships.
Her conversion to Islam jolted millions of her fans and the entertainment industry but the delectable actress said she turned to Islam as part of her life's dream.
Speaking on her conversion, Lizzy told Onislam.net: "Everything came the way it did. It came so sudden though I always expected it."
"This is a dream I have nursed since I was old enough to know what I want. At birth, I was half Muslim and half Christian. My father was a Christian while my late mum was a Muslim.
"I went to church while growing up because of my father. But the reality is that I have always has interest in Islam so immediately my father died I announced my conversion to Islam, my mother's religion."
Lizzy also confirmed performing the 2013 holy pilgrimage. "I have crowned my journey to Islam with a holy pilgrimage," she said.
Muslim Advise
The news of Lizzy Anjorin's conversion has jolted many Muslims across Nigeria, especially her numerous fans who congratulated her "for finding Islam at last."
"I am happy for her because it is not by her own wish but it was by Allah's grace that her dream has become a reality," Tajudeen Olumide, who calls himself a great fan of Lizzy Anjaorin, told OnIslam.net.
But many Muslims have also urged the movie star to consider changing her lifestyle to suit the code of conducts prescribed by her new religion, Islam.
"I am sincerely happy for her and as a fellow Muslim I wish her a rewarding practice of religion of Islam," Shakirah Adedo, a chartered accountant, told OnIslam.net, in response to Lizzy's conversion.
"But I hope she recognizes the fact that Islam is a beautiful religion with codes of conducts.
"Beyond the news of her conversion, Lizzy may now have to be choosy about the role she takes in movie and her wears. Islam prescribes hijab for women. Islam calls for modesty. Will she abide by these?"
Full report at:
http://www.onislam.net/english/news/africa/465627-nigerian-movie-star-reverts-to-islam.html
------------
Pakistan
'US in State Of War with Pakistan': Religious Parties
November 03, 2013
'US in state of war with Pakistan'
LAHORE - In the backdrop of US efforts to sabotage talks with Taliban, leaders of different religious parties have asked the government to immediately start dialogue with the banned outfit and the drones should be shot down if the US challenges Pakistan's sovereignty again along with blocking Nato supplies.
Addressing a meeting of central and provincial leadership at Mansoora on Saturday, JI chief Syed Munawar Hasan asked the government to start dialogue with Taliban without delay even after the US effort to sabotage the talks.
He said the drone attack on Friday which killed TTP top leadership was an attack on the solidarity of the country aimed at sabotaging talks with TTP.
He said federal interior minister had also accepted that the US was sabotaging the talks between Pakistan and Taliban. Munawar said Pakistan government should pull out of the US war, stop Nato supplies and refuse to bow to any pressure by Washington.
He said JI, being coalition partner of Khyber PK government, would be part of the action for a blockade to Nato supplies. He urged all the political and religious parties to unite against any US conspiracies to harm the integrity and solidarity of the country. JI chief said the US and India had been carrying out bloodshed in Pakistan in the name of Taliban since long.
He said the assassins of Major General Sanaullah were also the agents of CIA and RAW, besides those carrying out bomb blasts in Peshawar soon after the announcement of talks. Munawar said whenever Pakistan took a step for an end to terrorism, the US drone attacks sabotaged such an attempt. He added that in the past, TTP leaders Nek Muhammad and Wali ur Rahman were killed in drone attacks when they were holding dialogue with Pakistan government.
Jamaatud Dawa chief Hafiz Muhammad Saeed said government should shoot down the drones if the US challenges Pakistan's sovereignty again.
He said whenever talks were initiated the US accelerated the drone attacks. He said America was the biggest hurdle in dialogue between the government and TTP. He said Pakistan government should alienate itself from this pseudo war against terrorism and stop the drone attacks, which were essential for the success of dialogue with TTP. He added that the government should also stop the Nato supply line. Chief of PML-Zia, Ijazul Haq and known defence analyst Lt-Gen (r) Hameed Gul said recent drone strike was not launched for the first time as whenever government had started a dialogue the US sabotaged the process. They proposed that the government should keep the dialogue process secret.
They maintained that US was in a state of war against Pakistan. They added that the US and India jointly damaging Pakistan. They demanded that government should revisit its foreign policy with special reference to the US.
US main hurdle in peacetalks: Bilour
Strongly condemning US drone attacks, Awami National Party (ANP) Senior Leader MNA Ghulam Ahmed Bilour has said that the United States (US) is a main hurdle in peace talks with Taliban, as it doesn't want peace in Pakistan.
Talking to media persons at Bilour House here on Saturday, Ghulam Bilour said, "Despite killing my brother Bashir Bilour and ANP's 800 workers by militants, I condemn the drone attack which has killed Hakimullah Mehsud."
The ANP senior leader said that Hakimullah agreed on holding talks with the government and today (Saturday) a delegation was to leave for holding talks with TTP leadership but the US drone attack in Miranshah targeted the TTP leadership, which means that the US does not want peace in Pakistan.
He said that Taliban killed over 800 ANP's workers from 2008 to 2013. "I have also lost my brother Bashir Ahmed Bilour in a suicide attack," he added. Despite all, he said the US drone was condemnable. Bilour said that only Pakhtuns were being killed in Pakistan and Afghanistan whether it is USSR and US wars or even Kashmir.
"We want successful and meaningful talks between government and Taliban as we want peace in Pakistan. But the US is against peace and a main hurdle in restoration of peace in Pakistan," he added.
Full report at:
http://www.nation.com.pk/pakistan-news-newspaper-daily-english-online/lahore/03-Nov-2013/us-in-state-of-war-with-pakistan
------------
Govt., Army, Taliban Shouldn't Let Talks Scuttle: Representative Of The Ulema
November 03, 2013
KARACHI: The representative of the Ulema, who had appealed to the Taliban for a ceasefire, Mufti Syed Adnan Kakakhel condemning the latest drone attacks in North Waziristan, Sunday said that US doesn't want peace in Pakistan, Geo News reported.
The Mufti once again appealed to the Pakistan army and Taliban not to let the talks process scuttle.
Full report at:
http://www.thenews.com.pk/article-124953-Govt.,-army,-Taliban-shouldnt-let-talks-scuttle:-Adnan-Kakakhel-
------------
Torture, inhuman treatment with prisoners against Islamic injunctions: CJP
November 02, 2013
Chief Justice of Pakistan (CJP) Iftikhar Muhammad Chaudhry has said in Islam it is instructed to treat the prisoner as a free individual with the exception of being confined to prison.
He said this in his key note address at the inaugural session of one day workshop on Prisoners Vulnerability-Lacking awareness at Federal Judicial Academy here Saturday.
He went on to say this purpose can be achieved by providing them opportunities for trade and business. Similarly, they can render services for teaching. They might be provided with the reading and writing materials, and provided with the access to their families.
He went on to say Islam addresses every sphere of our lives and guides mankind with logical solutions in virtually every system of administration. Thus, Islam presents its own philosophy with regard to the question of imprisonment and the prison system, he added.
He held Islam considers imprisonment as a case of last resort, and in many circumstances imprisonment is not used as a punishment. However, there are number of offences for which imprisonment has been prescribed but the torture and inhuman treatment with the prisoners are completely against the injunctions of our religion.
And it also cannot be denied on the basis of principles of morality, envisaged in Islam, to treat everyone with fairness.
He observed right to human dignity is inviolable irrespective of the type of crime one commits and one should not be tortured or treated cruelly or inhumanely under any circumstances.
He said the old and dilapidated structure of prisons does not fulfill the objectives of prisons. Therefore, I believe it is need of the time to take urgent remedial steps in prisons reforms, he stressed.
Full report at:
http://www.nation.com.pk/pakistan-news-newspaper-daily-english-online/islamabad/02-Nov-2013/torture-inhuman-treatment-with-prisoners-against-islamic-injunctions-cjp
------------
Pakistan to review US ties after 'attack on peace,' says Nisar
2013-11-02
ISLAMABAD: Calling the drone strike that killed Pakistani Taliban chief Hakimullah Mehsud on Friday "an attack on regional peace by America," Interior Minister Chaudhry Nisar Ali Khan Saturday said bilateral ties with the US will now be reviewed.
Speaking to a press conference after concluding a high level meeting at the interior ministry, he vowed to raise the matter at international forums including the United Nations. The minister said that five permanent members of the UN Security Council will also be contacted on the issue.
He said an urgent meeting of the Cabinet Committee on National Security (CCNS) has been called to review bilateral cooperation and ties with the US. The meeting is expected to take place in next two to three days upon return of Prime Minister Nawaz Sharif from London, he added.
Mehsud, along with at least four other militants, was killed when a US drone targeted his car in the North Waziristan tribal area of Pakistan near the Afghan border.
Speaking to both local and foreign media today, Nisar said the identity of those killed in the drone strike was irrelevant. "The government of Pakistan does not see this drone attack as an attack on an individual but as an attack on the peace process," he said.
The interior minister said a three-member committee, comprising of Islamic clerics, was scheduled to leave for a meeting with the Tehrik-i-Taliban Pakistan (TTP) leadership on Saturday morning.
Claiming that TTP leadership including Hakimullah was aware of the meeting, he said he had written and telephonic records of recent correspondence between the government and the militant outfit.
Earlier on Friday, Pakistani Taliban spokesman Shahidullah Shahid said the Taliban had "no contact" with the government, a day after Prime Minister Nawaz Sharif said a process to initiate peace talks had already begun.
Chaudhry Nisar questioned timings of the Hakimullah's killing by the US asking why he was targeted just a day before the talks. "Can this be called supporting peace initiative?"
He said the US ambassador was being summoned to serve a demarche and convey formal protest of the government over serious damage done to the dialogue process with Taliban by the drone attack.
Full report at:
http://www.dawn.com/news/1053627/pakistan-to-review-us-ties-after-attack-on-peace-says-nisar
------------
Blockade of Nato supplies won't stop drones: govt
2013-11-03
LAHORE, Nov 2: Information Minister Pervaiz Rashid on Saturday rejected the demand for cutting off Nato supplies to Afghanistan in protest against the latest US drone attack and expressed the hope that the incident in which TTP leader Hakeemullah Mehsud was killed would not stop Taliban from holding talks with the government.
Talking to reporters at a local hotel, he said blocking Nato supplies would not stop drone strikes. "Tit-for-tat actions flare up fire and our government wants to put out this fire," he said. "We will not allow the [TTP leader's] killing to derail the process of negotiations with Taliban."
He said political parties calling for cutting off Nato supply lines should be asked whether such a strategy in reaction to the Salala incident had halted drone attacks, adding that the strikes had continued during the suspension of supplies to Nato forces in Afghanistan.
Asked about the chances of derailment of talks with Taliban in the wake of the killing of Hakeemullah Mehsud, he said that ups and downs during such peace process were a routine matter.
Full report at:
http://www.dawn.com/news/1053782/blockade-of-nato-supplies-wont-stop-drones-govt
------------
Imran vows to block Nato supplies in KP
2013-11-02
LAHORE: Pakistan Tehrik-i-Insaf (PTI) chief Imran Khan vowed Saturday to block Nato supplies from crossing through Khyber Pakhtunkhwa in response to the US drone strike that killed Pakistani Taliban chief Hakimullah Mehsud and 'sabotaged' peace talks.
Khyber Pakhtunkhwa is one of two key routes Nato supplies move in and out of Afghanistan and is seen as crucial as US-led allied forces prepare to drawdown from the war-torn country in 2014.
Opposition parties in Pakistan have accused the US of using the drone strike to stymie the peace process before talks proper had even started.
Khan, whose party leads the provincial government in Khyber Pakhtunkhwa, said: "Even if we lose our provincial government, we will not let Nato supplies pass through as long as drone strikes do not stop."
He was speaking at a news conference in the eastern city of Lahore after a meeting of the party's central committee.
He said the all parties' conference had decided to pursue the path of peace talks, and that the Taliban had only put forth the condition of halting drone attacks.
Commending the interior minister, he said Chaudhry Nisar Ali Khan had brought the government to a stage where the peace dialogue process could be taken forward.
"This drone strike has sabotaged the dialogue process. It has proved that they (the Americans) do not want peace in Pakistan," said the cricketer-turned-politician.
Urging all political parties to unite "in this defining moment", Khan said that their party would pass a 'unanimous' resolution in the KP assembly on Monday. He said the party would also raise the matter of stopping Nato supplies in Parliament on Monday.
Full report at:
http://www.dawn.com/news/1053624/imran-vows-to-block-nato-supplies-in-kp
------------
Pakistan, Korea celebrate 30 years of diplomatic ties
November 03, 2013
ISLAMABAD: The Embassy of Korea celebrated the "30th Anniversary of Establishment of Diplomatic Relations between the Islamic Republic of Pakistan and the Republic of Korea" on Saturday.
Korea Ambassador Dr Jong-Hwan Song termed the celebration as a momentous occasion. He said both Pakistan and Korea shared history, decades of trust and a relationship that was mutually beneficial to millions of people. In 1983, many in Pakistan would not have known Korea, but today the two countries shared a strong and robust relationship, he said.
He said, "Our trade volume has grown more than 10 folds since the establishment of diplomatic relations and Korean companies are investing billions of dollars in Pakistan."
"We owe a gratitude to successive ambassadors, diplomats, government officials, leaders and many friends in Islamabad and Seoul who supported the vision of establishing and improving our relations."
He said the Korean government and the embassy were trying to boost cultural relations between the two countries.
Dr Song said, "In a few years, I would like to see billboards with images of Korea on Pakistani streets. I want to see my Pakistani friends in Korean cars and I want my Korean friends to enjoy Pakistani fruits."
Full report at:
http://www.dailytimes.com.pk/default.asp?page=2013\11\03\story_3-11-2013_pg7_5
------------
Diwali Mela sets off at Swami Narayan Temple
By Amar Guriro
November 03, 2013
KARACHI: Makeshift markets set in the Swami Narayan Temple, one of the oldest Hindu temples of Karachi at MA Jinnah Road, are seen selling fire crackers, earthen lamps, colours and other items used in the Diwali Pooja. The Hindu community has completed all preparations for the annual religious festival (Diwali) being celebrated today.
Every year, like other parts of the world, Hindus of Sindh celebrate this festival to remember the return of their God Rama from the forest after 14 years of forced exile. Deyari, Deepawali, or Diwali (Markiscarali) although is a Hindu religious festival, it is also celebrated by Sikhs and Jain.
Weeks before the festivals, a large number of the stalls were set up in different Hindu temples in the city to sell items used in Pooja (worship) such as brass bells, lamps, Charnamantra pots, stands for incense sticks, colours to make the Pooja Mandaps, statues of goddesses, betel nuts and leaves, coconuts, and rose, jasmine and lotus flowers.
Most of the Hindus have repaired and painted their houses and have got new clothes to wear on the festival.
With an approximate population 5.5 million, Hindus are the biggest religious minority in Pakistan and majority (around 90 percent of the total population) lives in the Sindh province. They speak different languages, ie, Sindhi, Marathi, Gujarati, Balmaiki, Tamil, Dhatki, Marwari and even Balochi and Urdu, and celebrate Diwali at a mass scale.
"We have made all the preparations to celebrate the festival; washed and painted our houses and are planning to cook special Diwali dishes to invite our relatives and even Muslim friends to come and enjoy the festival," said Prakash Lohana, a banker who lives in Saddar.
Though the actual rituals of the festival will begin on Sunday evening, children started buying firecrackers and sparklers weeks before the festival.
"On Sunday evening we will glisten our homes with lamps and candles and then the festival will begin with the worship of Hindu goddess Laxmi. And after dinner we shall burst the firecrackers, said Santosh Kumar who came to buy candles, lamps, sparklers and firecrackers at the temple.
Full report at:
http://www.dailytimes.com.pk/default.asp?page=2013\11\03\story_3-11-2013_pg12_3
------------
North America
US dismisses claims drone strike hurt Pakistan talks
2013-11-03
MIRANSHAH: The United States insists it has a shared interest in ending extremist violence after Islamabad accused Washington of scuttling efforts towards peace talks by killing Pakistani Taliban leader Hakimullah Mehsud in a drone strike.
Mehsud, who was under a $5 million US government bounty, was killed when a drone targeted his car in a compound in North Waziristan tribal district on Friday.
The death of its young, energetic leader represents a major setback for the Tehreek-e-Taliban Pakistan (TTP), a coalition of factions behind some of the most high-profile attacks to hit Pakistan in recent years.
But it also threatens the government's efforts to begin talks to end the TTP's bloody six-year insurgency that has left thousands of soldiers, police and civilians dead.
Interior Minister Chaudhry Nisar condemned the US strike as a "drone attack on the peace process", saying a team of religious clerics was about to meet the TTP with a view to starting peace talks when Mehsud was killed.
"Brick by brick in the last seven weeks we tried to evolve a process by which we could bring peace to Pakistan and what have you [the US] done?" he said. "You [the US] have scuttled it on the eve, 18 hours before a formal delegation of respected ulema (religious scholars) was to fly to Miranshah and hand over this formal invitation."
A State Department official declined to confirm that Mehsud had been killed and did not specifically address Nisar's comments, saying the issue of whether to negotiate with the TTP was an internal matter for Pakistan.
"The United States and Pakistan continue to have a vital, shared strategic interest in ending extremist violence so as to build a more prosperous, stable and peaceful region," the official said.
Full report at:
http://www.dawn.com/news/1053841/us-dismisses-claims-drone-strike-hurt-pakistan-talks
------------
Obama Official: US is an Islamic Country
11/2/2013
Mohamed Elibiary, a member of the Department of HoMeland Security Advisory Council, is under fire for tweeting that America is "an Islamic country," reported the Washington Free Beacon.
After a Twitter user asked Elibiary on Thursday to "show me just ONE example of an Islamic country where non Muslims are treated with equality," he responded with the tweet: "America and yes I do consider the United States of America an Islamic country with an Islamically compliant constitution. Move On!"
The back-and-forth between Elibiary and the Twitter user, who identified himself as Tim Lee, started when Elibiary said the conservative perception of Islam needed to "evolve."
According to the Free Beacon, Elibiary has served on the department's "Countering Violent Extremism Working Group," as well as its "Faith-based Security and Communications Advisory Committee." He is also a strong supporter of the Muslim Brotherhood.
The Beacon reported that neither the Department of HoMeland Security nor Elibiary responded to its request for comments.
Full report at:
http://www.israelnationalnews.com/News/News.aspx/173507#.Unbtj3C-rXA
------------
US secretary of state arrives in Egypt
03 Nov 2013
US Secretary of State John Kerry has arrived in Cairo, on his first visit to Egypt since the army overthrew President Mohamed Morsi in July.
He was expected to stay in the country for just a few hours on Sunday.
Kerry began his Cairo day stop with a meeting with Egypt's Foreign Minister Nabil Fahmy. Later he was to see Egypt's Army chief, General Abdel Fattah el-Sisi as well as the interim president, Adly Mansour, and civic leaders.
His visit comes at a time of strained relations between the traditional allies after Washington suspended some military aid to Egypt following Morsi's ouster.
The United States said on October 9 it would withhold deliveries of tanks, fighter aircraft, helicopters and missiles, as well as $260m in cash aid to Egypt, pending progress on democracy and human rights.
Kerry intended to underscore the necessity of democratic transition through a transparent and inclusive constitutional process, and free and fair parliamentary and presidential elections.
Only once progress is made on those, American officials say, will the US consider restoring the suspended aid.
Spotlight
Follow our ongoing coverage of the political crisis in Egypt
Political Turmoil
Kerry, who embarks on a Middle East tour lasting up to November 11, said this week he would visit Cairo to meet a "cross-section of civil society".
Kerry last was in Egypt in March, when he urged Morsi and his Muslim Brotherhood-backed government to enact sweeping economic reforms and stressed the importance of political inclusiveness. Those calls went unheeded.
Simmering public unhappiness with the president's rule boiled over when the powerful Egyptian military deposed Morsi in July 3 and established an interim government.
Washington has repeatedly urged the army-backed interim authorities to govern in a more inclusive manner, including the accommodation of the Muslim Brotherhood and restoring democratic rule.
It has instead taken harsher measures against Egypt's oldest Islamist movement. Hundreds of its backers have been killed and the Brotherhood's leaders are behind bars, leading to fears that some members of the group will take up arms against the state.
Ongoing protests
Several hundred people protested in a few Egyptian cities on Friday, responding to a call from a pro-Morsi alliance for daily protests until the ousted president's trial begins on Monday.
Charges relate to the deaths of about a dozen people in clashes outside the presidential palace in December after Morsi enraged his opponents with a decree expanding his powers.
In Alexandria, seven people were wounded after residents clashed with Morsi supporters before security forces intervened, a security official said. Forty-five Morsi supporters were arrested.
Full report at:
http://www.aljazeera.com/news/middleeast/2013/11/us-secretary-state-arrives-egypt-2013113842622915.html
------------
Being Muslim in Post 9/11 America - Nov. 5 forum
November 2, 2013
Julia Shearson, executive director of the Cleveland Chapter of the Council on American-Islamic Relations (CAIR)-Ohio, will address "Being Muslim in Post 9/11 America" at 11 a.m. Tuesday, Nov. 5, in Bluffton University's Founders Hall. Her presentation is free and open to the public.
Shearson will discuss her conversion from Catholicism to Islam and the challenging national climate faced by American Muslims.
She has been executive director of CAIR-Ohio's Cleveland chapter for 10 years. There, she has worked on civil rights advocacy, educational outreach and media and public relations. She has also initiated projects to improve communication and build partnerships between law enforcement and the Muslim community.
Full report at:
http://www.blufftonicon.com/news/2013/11/02/being-muslim-post-911-america-nov-5-forum
------------
South Asia
Bangladesh court sentences British Muslim, US citizen to hang
November 03, 2013
DHAKA: A Bangladesh war crimes court sentenced a British-based Muslim leader and a US citizen to death on Sunday in absentia for atrocities committed during the 1971 war of independence.
The International Crimes Tribunal convicted Britain's Chowdhury Mueen-Uddin and Ashrafuzzaman Khan, from the United States, on all 11 charges relating to the murder of 18 intellectuals during the conflict.
Full report at:
http://www.dailystar.com.lb/News/International/2013/Nov-03/236641-bangladesh-court-sentences-british-muslim-us-citizen-to-hang.ashx#axzz2jdP6jynb
------------
Boat carrying 70 Muslim Rohingya sinks off Myanmar
November 03 2013
A boat carrying 70 ethnic minority Muslim Rohingya capsized Sunday off the western coast of Myanmar, an aid worker said. Only eight survivors have been found.
The boat was in the Bay of Bengal and headed for Bangladesh when it went down early Sunday, said Abdul Melik, who works for the humanitarian organization Action Against Hunger.
The incident comes after the United Nations warned that an annual and often deadly exodus of desperate people from Myanmar's Rakhine state appears to have begun. The exodus usually kicks off in November, when seas begin to calm.
As many as 1,500 people have fled in the last week, Dan McNorton, a spokesman for the U.N. High commission for Refugees, said at a press briefing Saturday in Geneva.
He said the agency had received several reports of drownings and was seeking details from authorities.
In Sunday's incident, Melik said the wooden boat carrying at least 70 Rohingya from Ohn Taw Gyi village left at around 3 a.m. and broke apart about four hours later. Women, children and babies were among those on board.
Family members and friends were scouring the Bay of Bengal and coastlines for survivors, but so far only eight survivors have been found, he said.
It was not immediately clear whether any bodies had been recovered.
Full report at:
http://www.thejakartapost.com/news/2013/11/03/boat-carrying-70-muslim-rohingya-sinks-myanmar.html
------------
Afghan Taliban condemn Mehsud killing
November 03, 2013 AFP 1
KABUL - The Afghan Taliban on Saturday described the killing of Pakistani Taliban leader Hakimullah Mehsud as "a big loss" and urged Islamabad to prevent any further US drone strikes. Mehsud, who was under a $5 million US government bounty, was killed when a drone targeted his car in the North Waziristan, near the Afghan border. "The Islamic Emirate of Afghanistan strongly condemns this terror act by America and describes the martyrdom of Mullah Hakimullah Mehsud as a big loss," the Taliban said in a statement.
, using the group's formal name.
Full report at:
http://www.nation.com.pk/pakistan-news-newspaper-daily-english-online/national/03-Nov-2013/afghan-taliban-condemn-mehsud-killing
------------
Jamaat-Shibir violence protested
November 3, 2013
Eminent cultural personalities and academicians at a gathering at Central Shaheed Minar in the capital yesterday protested the violence unleashed by Jamaat-Shibir activists recently.
During the meeting organised by Sammilito Sangskritik Jote, Nasiruddin Yusuf Bachchu, president of the organisation, demanded that Jamaat-e-Islami be designated as a criminal group for the violence they were causing.
"It is not enough to annul the election registration of the group. It must be banned from doing any activities," he said.
Popular folk singer Fakir Alamgir said, "In 1971, our politics was steeped in the culture of the people, which gave greater unity. We must strive for that again," he said.
Cultural activist Mofidul Hoque said Jamaat-e-Islami had persistently been against the achievements of 1971.
Full report at:
http://www.thedailystar.net/beta2/news/jamaat-shibir-violence-protested/
------------
India
Patna terror accused was beaten up by villagers for his hard-line ways
ABHIMANYU SINGH
2nd Nov 2013
Ahle Hadees, the religious sect to which all four men suspected of having carried out the Patna bomb blasts belonged, had attracted a small but vocal following in Sithio village near the Jharkhand capital. However, their activities were generally disliked for promoting an extreme form of Islam, which insisted on its superiority over other sects. Ahle Hadees is a sect with Wahhabi leanings.
It was Imtiaz Ansari, the eldest of the lot, who was the most active and claimed to be a proselytizer of the sect, according to reports in the local press. Imtiaz used to stay away from the village for days on end, claiming to be working for the sect. The boys who accompanied Imtiaz to Patna had travelled with him in the past. Taufiq, Tarique, and Nouman were in their teens and followed Imtiaz. Nouman and Taufiq have not been arrested and are missing while Tarique died at a hospital in Patna.
Sithio village lies on the outskirts of Ranchi, the state capital. It was an obscure village before the world woke up to the news of its inhabitants, all young men, having allegedly carried out a deadly bomb attack in Patna on the day the BJP's PM candidate Narendra Modi was to address a rally there.
When this correspondent visited the village, it was clear that Ahle Hadees was the one topic no one wished to speak about.
According to information pieced together by speaking to those who wished to stay anonymous, the picture that appeared seemed to be one of divide in the village and contempt bordering towards hostility towards the sect. The Ahle Hadees is not liked in the village as it is considered to be hardliner. Imtiaz had been beaten up last year by villagers for his activities. Villagers said that the sect looked down upon pirs and fakirs, among other practices they consider deviant from Islamic tradition. "They used to visit our houses in small groups and preach to us," said a local.
The level of secrecy is such that the villagers first refused to show where the makeshift mosque of the followers of the sect was located, until one of them was coaxed into it.
According to sources, the followers of the sect number anywhere between 30 to 60 in the village, which has approximately 500 houses. The population is evenly divided between Christians and Muslims.
However, it was a mere four people who could be seen offering the namaaz when this correspondent caught up with them at the mosque, a fledgling brick structure covered with a blue plastic tent.
Mehboob Alam, 39, a supplier of construction material, emphasised that they were not boycotted by the village. "There is just one village committee and we are all part of it. We are together in joy and sorrow," said Alam. He pointed out that the committee had organised a function against terrorism on Friday in the village. "We are against any act of terror as it hurts the country," he added.
Full report at:
http://www.sunday-guardian.com/news/patna-terror-accused-was-beaten-up-by-villagers-for-his-hardline-ways
------------
Family refuses to claim body of Patna terror suspect
Nov 3, 2013
PATNA: Three days after Ainul Ansari alias Tarique, a suspect in the serial bomb blasts in the Bihar capital, died at a hospital due to injuries to his brain, his family has refused to claim the body for last rites, police said on Sunday.
"No one from his family has turned up so far to claim his body," Patna superintendent of police (Railway) Upendra Kumar Singh said.
Six people were killed and nearly 100 injured in seven bomb blasts in Patna Oct 27.
Six of the seven blasts took place on Oct 27 at Patna's Gandhi Maidan before Bharatiya Janata Party's prime ministerial candidate Narendra Modi was to address a rally. The seventh explosion was at the Patna railway station.
Ainul was seriously injured in the bomb explosion at the railway station and he died Friday at Indira Gandhi Institute of Medical Sciences due to his injuries.
Ainul's body is kept at the mortuary of the Patna Medical College and Hospital.
"The Government Railway Police officials have been deployed outside the mortuary for security reason," a police official said.
Ainul's 70-year-old father Ataullah Ansari, a resident of Dhurva in Ranchi, Jharkhand, had publicly declared last Friday not to take custody of his body.
"After I heard that he was involved in terror act and seriously injured, I announced that he was not my son... where is the question of claiming his body," he had then said.
According to him, there is no place of terrorism in Islam.
"Ainul was not my son as he violated the rules of Islam," said Ataullah.
Singh said that railway police, starting Friday, will keep the body for 72 hours in the mortuary before his last rites are performed as per his religious faith.
"If any one from his family turns up Sunday, we will hand over the body. In case no one claims his body, last rites would be performed Monday as per religious rituals by a Muslim organization, known for burial of unclaimed bodies here," Singh said.
Ainul's postmortem examination was conducted by a medical board and videographed.
Full report at:
http://timesofindia.indiatimes.com/india/Family-refuses-to-claim-body-of-Patna-terror-suspect/articleshow/25173559.cms
------------
Modi visits Patna blast victims' homes
2nd Nov 2013
Six days after a series of blasts rocked Patna's Gandhi Maidan during Narendra Modi's Hunkar rally, the BJP's PM candidate returned to Bihar. He said he was there to answer his "call of conscience" and offer his "sympathies" to the families of those killed and injured. His visit triggered a war of words with Bihar's ruling JD(U) and the Congress, who described it as a "political stunt" and accused Modi of "polarising" people.
Modi's return visit coincided with BJP's Asthi Kalash Yatra, which started on Thursday from the villages the six victims belonged to in Supaul, Gopalganj, Begusarai, Nalanda, Kaimur and Patna districts. The Yatra is expected to tour the entire state before reaching Patna for cremation on 5 November. Six persons were killed and 90 injured on 27 October.
Modi's visit to the six families was delayed by two hours because of inclement weather which eventually forced him to skip two villages.
Modi first reached Gaurichak, about 70 km from Patna where he met the family of Rajnarain Singh. He garlanded the photograph of the deceased, offered condolences to the family and handed them a cheque of Rs 5 lakh. He was told that Rajnarain was an ardent follower of Jaiprakash Narayan and had gone to hear Modi without informing his family. Senior BJP leaders promised that the party would erect the statues of all six victims in their respective villages.
Narendra Modi arrived in Patna late on Friday evening and was accorded the status of a "state guest" by the Bihar government. He was staying in Patna's state guest house, right opposite CM Nitish Kumar's residence. Heavy security arrangements were put in place for Modi's visit. Besides, Bihar police personnel, a large contingent of security officials accompanied Modi's. The security apparatus included 35 Black Cat commandos, 70 officials from the Gujarat Police, seven bomb squads. Special helipads had been created in each of the villages where Modi was to visit.
Because of bad weather Modi could not go to Supaul. Instead he called up the family of victim Bharat Rajak. "Spoke to Shankar, the son of Shaheed Bharat Rajak over telephone. People from his village shared a very touching anecdote," Modi tweeted. "Shaheed Bharat Rajak had a pet pigeon who would stay next to his bed. Bharat would not begin his day without feeding grain to the pigeon. Pigeon refused to leave dead body of Bharat and travelled with the body till the funeral. Even now the pigeon stays around Bharat's room," Modi tweeted.
In Gopal Ganj, Modi called up Patna blasts victim Munna Shrivastav's wife and consoled her. Modi tweeted, "Spoke to wife of Shaheed Munna Srivastava on phone. We are all a part of one family and stand by them in this hour of grief." Consoling Srivastava's wife, Modi said, "Your daughter is like my daughter, will take care of her."
He visited Kaimur where he met the wife of victim Vikas Singh. "In Kaimur, met the wife and children of Shaheed Vikas Singh and offered my deepest condolences to the family," Modi tweeted. He later went to Nitish Kumar's bastion Nalanda to meet the family of deceased Rajesh Kumar.
Commenting on Modi's return visit, JD(U) spokesperson, Shivanand Tiwari said, "This is not a 100 metre race. Narendra Modi must understand this. This is a semi-marathon, if not a marathon. There are still five months left and if he continues to remain in such a hurry then I feel he might fall and get hurt."
Full report at:
http://www.sunday-guardian.com/news/modi-visits-patna-blast-victims-homes
------------
India, Pak forces exchange sweets at Attari border on Diwali
November 3, 2013
Indian and Pakistani forces at the border here exchanged sweets on the occasion of Diwali on Sunday.
Border Security Force's officiating DIG, Deby Joseph, along with other officers and Jawans, gifted different types of traditional Indian sweets to their Pakistani counterparts.
Pakistani Rangers Wing Commander Mohammed Asheer Khan returned the gesture with an assortment of choice Pakistani sweets.
Full report at:
http://www.thehindu.com/news/national/india-pak-forces-exchange-sweets-at-attari-border-on-diwali/article5309557.ece
------------
Indian Mujahideen would be under al-Qaida: Riyaz told Yasin
Neeraj Chauhan
Nov 3, 2013,
NEW DELHI: Indian Mujahideen's (IM) Pakistan-based leader Riyaz Bhatkal looked to tap an al-Qaida connection to access an arms manufacturing base in a remote area of Thailand and is closer to the Afghan Taliban, than the Tehrik-e-Taliban Pakistan (TTP) as the latter had fallen out with the ISI.
Arrested IM leader Yasin Bhatkal, who ran the terror outfit's India operations, has spoken about Riyaz's disillusionment with the TTP who the IM boss felt is wrongly engaged in battling the ISI and other arms of the Pakistani establishment.
"Indian Mujahideen wants to be closely associated with Afghan Taliban and al-Qaida and not Tehrik-e-Taliban Pakistan based in Pakistan because latter is against ISI. Members of the TTP are Pathans, who are pure but foolish," Yasin has said in his statement to the National Investigating Agency (NIA).
Tapping his conversations with Riyaz, who directs IM in coordination with ISI, Yasin has spoken of "a Pakistani political leader's men working in Afghanistan for the Taliban".
The confession to NIA records these facts among several others gleaned during discussions with Riyaz in May, while Yasin was hiding in Nepal to avoid detection by Indian agencies.
Speaking about an association with al-Qaida, Riyaz claimed he had met a Myanmarese national, an old- timer, who had been with Mullah Omar and Osama Bin Laden. With the help of this person, Riyaz said he is eyeing an illegal arms manufacturing centre in Thailand, an area where government control is weak.
Riyaz, in his fairly long conversations with Yasin, spoke of his views on various issues in Pakistan. Riyaz apparently revealed that he had once been held in Pakistan due to the actions of an al-Qaida leader.
Yasin told NIA that, "Riyaz talked of going on a tour to meet an al-Qaida contact to discuss a possible journey to Thailand. He mentioned he couldn't go to TTP and that he will join hands with al-Qaida."
Riyas held the view that the Taliban of Afghanistan talked only about Afghanistan and not about other places. "Riyaz said that they (Taliban-Afghanistan) had their priorities. He said that Taliban of Afghanistan were clear that they would not let their land to be used against others".
Full report at:
http://timesofindia.indiatimes.com/india/Indian-Mujahideen-would-be-under-al-Qaida-Riyaz-told-Yasin/articleshow/25153576.cms
------------
Burmese Muslim refugees in Delhi, search for haven in J&K
2nd Nov 2013
NAVTAN KUMAR
Thousands of Rohingya Muslims have taken refuge in India after fleeing deadly religious persecution and massacre in Burma, which has wiped out village after village in these last few years. Though the exact number of these "infiltrators" is not known, it is estimated to be in the range of 20,000-25,000. The Rohingyas have spread into places like Delhi, Jammu, Noida, Mewat (Haryana), Saharanpur, Muzaffarnagar, Aligarh, Hyderabad and Mumbai. In Delhi, they live in the slums of Kalindi Kunj, Khajuri, Nizamuddin and in neighbouring Noida. Their largest settlement is in Jammu, where around 2,300 Rohingyas live in subhuman conditions in makeshift tents. The Centre, which has finally woken up to the plight of these people, has started giving visas and refugee cards to them.
According to Mohd Haroon, who sneaked into Indian territory illegally through the India-Bangladesh border, at least five "infiltrators" living in Kalindi Kunj have got visas that are valid until 2016, while another 100 have got refugee cards. "We are being called by the UN Refugee Agency in phases, for verification and processing of our documents," he said.
Haroon, an erstwhile resident of Mangdu Boosidang area of Burma, said he had no choice but to flee the country because of the communal violence there. He, his wife and five children came to India two years ago. Haroon is coordinating with different social organisations to ensure that Rohingyas get refugee status from the Indian government.
Haroon told The Sunday Guardian team, which visited the Kalindi Kunj slum, "We would have been killed in Burma, therefore, we decided to come to India. We first sneaked into Bangladesh, where we spent three-four months, after which we entered India, with the help of a dalal (tout)." "Now that the process of giving visas and refugee cards has begun, we hope Rohingyas will soon start getting assistance in the form of ration and health facilities provided by the United Nations," he said.
Another refugee, Omar Hamza, who teaches children at the Kalindi Kunj shelter, which houses 206 people, said, "Living conditions here are bad. There are no proper toilets or drinking water facilities. We started constructing a toilet following an assurance from some organisations, but there was controversy and the police arrested one of us. As we have started getting refugee cards, we hope the situation will improve now. The government is sympathetic to us. We do not want to return to Burma as we might get killed there."
Narrating her tale, an 18-year-old Rohingya, Tasleema said, "While sneaking into India, I got separated from my family (touts generally arrange the entry of the infiltrators in parts), who got stuck in Bangladesh. I was then taken to Jammu, where I was sold to someone. However, I managed to speak to Zafar, my cousin, who lives in Delhi, who rescued me and brought me here."
In Kalindi Kunj, the Rohingyas have earmarked a small place where they can offer namaaz. One of them has opened a shop inside the slum, where he sells stuff for daily use such as biscuits, snacks, chocolates and bread. Most of them work as daily wage labourers.
The issue of giving refugee status to Rohingyas has been pending for some time. In May last year, Rohingyas from all over the country demonstrated outside the UN Refugee Agency's office at Vasant Vihar, in New Delhi. They got support from a few local groups as well as Maulana Mahmood Madani's Jamiat Ulama-i-Hind. "After the demonstration, many families started living around the Shahi Masjid area in Vasant Vihar, Gori Masjid near Dhaula Kuan and also near the UN Refugee Agency office. However, as locals objected to their presence, they migrated to other areas. Most of them have migrated to Jammu now," said Ghayyur Ahmad Qasmi, a Jamiat Ulama-i-Hind functionary, who has been coordinating with the authorities on the Rohingyas.
Full report at:
http://www.sunday-guardian.com/news/burmese-muslim-refugees-in-delhi-search-for-haven-in-jak
------------
Europe
Two French journalists executed in Mali
03 Nov 2013
Two French journalists have been killed in the northern Mali town of Kidal after being abducted by gunmen, French and Malian officials say.
Ghislaine Dupont and Claude Verlon, both journalists with French radio station Radio France Internationale (RFI), were seized on Saturday afternoon after they had finished an interview with a Tuareg rebel leader when several armed men grabbed them, according to a city official.
"A few minutes after a pursuit began for the abductors of the two French, we were informed that their bodies were found riddled with bullets outside the town," said Paul-Marie Sidibe, prefect of the town of Tinzawaten, who is based in Kidal.
A senior Tuareg official also said the bodies had been recovered outside Kidal. A Mali security source said the journalists were killed about 12km outside the town.
The executions occured as the government is trying to talk with rebels in the north to prevent a wider conflict in the country.
The French Foreign Ministry confirmed their deaths in a statement, saying they were abducted by an armed group.
"The French government, in conjunction with the Malian authorities will make every effort to find out as soon as possible about the circumstances of their death," said the statement.
RFI described Dupont, 51, and Verlon, 58, as professionals with long experience in challenging areas.
Dupont was a journalist who was "passionate about her job and the African continent that she covered since joining RFI in 1986", it said in a statement.
Verlon was "used to difficult terrain throughout the world".
Full report at:
http://www.aljazeera.com/news/africa/2013/11/two-french-journalists-executed-mali-2013112174124558898.html
------------
British accuse Glenn Greenwald's partner, of 'terrorism'
2013-11-03
WASHINGTON: British authorities claimed the domestic partner of reporter Glenn Greenwald was involved in "terrorism" when he tried to carry documents from former US intelligence contractor Edward Snowden through a London airport in August, according to police and intelligence documents.
Greenwald's partner, David Miranda, was detained and questioned for nine hours by British authorities at Heathrow on Aug. 18, when he landed there from Berlin to change planes for a flight to Rio De Janeiro, Brazil.
After his release and return to Rio, Miranda filed a legal action against the British government, seeking the return of materials seized from him by British authorities and a judicial review of the legality of his detention.
At a London court hearing this week for Miranda's lawsuit, a document called a "Ports Circulation Sheet" was read into the record. It was prepared by Scotland Yard - in consultation with the MI5 counterintelligence agency - and circulated to British border posts before Miranda's arrival. The precise date of the document is unclear.
"Intelligence indicates that Miranda is likely to be involved in espionage activity which has the potential to act against the interests of UK national security," according to the document.
"We assess that Miranda is knowingly carrying material the release of which would endanger people's lives," the document continued. "Additionally the disclosure, or threat of disclosure, is designed to influence a government and is made for the purpose of promoting a political or ideological cause. This therefore falls within the definition of terrorism..."
Miranda was not charged with any offense, although British authorities said in August they had opened a criminal investigation after initially examining materials they seized from him. They did not spell out the probe's objectives.
A key hearing on Miranda's legal challenge is scheduled for next week. The new details of how and why British authorities decided to act against him, including extracts from police and MI5 documents, were made public during a preparatory hearing earlier this week.
British authorities have said in court that items seized from Miranda included electronic media containing 58,000 documents from the U.S. National Security Agency and its British counterpart, Government Communications Headquarters (GCHQ).
Greenwald, who previously worked for Britain's Guardian newspaper, has acknowledged that Miranda was carrying material supplied by Snowden when he was detained.
In an email to Reuters, Greenwald condemned the British government for labeling his partner's actions "terrorism."
"For all the lecturing it doles out to the world about press freedoms, the UK offers virtually none...They are absolutely and explicitly equating terrorism with journalism," he said.
Separately on Friday, media disclosed details of an open letter Snowden issued to Germany from his place of exile in Russia, in which he says his revelations have helped to "address formerly concealed abuses of the public trust" and added that "speaking the truth is not a crime."
Full report at:
http://www.dawn.com/news/1053811/british-accuse-glenn-greenwalds-partner-of-terrorism
------------
Jailbreaks in Pakistan, Iraq & Libya part of Qaeda plot
November 03, 2013
WASHINGTON - US counter-terrorism analysts believe that the recent jailbreaks in Pakistan, Iraq and Libya that freed hundreds of suspected militants were part of an al Qaeda plot, according to American officials.
Citing the officials, ABC News said while firm connections between the jailbreaks have not been conclusively established, similarities in the tactics al Qaeda-affiliated assault teams used to free known militants" in the three countries, which all occurred within a week of each other this summer, and a relevant message on jailbreaks from Osama bin Laden's successor, lead many to suspect coordination. "Just this week, a small group of the escaped showed themselves to be back to their old ways, captured on video carrying out an attack against security forces in Iraq," the leading American television network said.
At a minimum, it said, the bloody external assaults that freed the jihadis, along with a subsequent uptick in violence in North Africa, the Middle East and South Asia, has caused alarm.
"We are very concerned about it," one U.S. official tracking the jailbreaks, was quoted as saying. Officials said they feared the legion of terrorists sprung from behind bars could target US and other western interests overseas - or even in the hoMeland.
The Westgate mall terror attack in Nairobi, Kenya, last month, which left more than 60 dead including Western shoppers, the report said added to the jitters already felt over suddenly having to worry about hundreds of liberated inmates expert in assassination, making improvised explosive devices and leading terror cells. The prison attacks also have become a rallying cry in public statements by Al Qaeda affiliates in Iraq, Syria, Somalia, Tunisia and Yemen, and prompted a global INTERPOL alert last August.
Prisons in Taji and at Abu Ghraib near Baghdad were assaulted July 21 by heavily armed terrorists, who freed comrades from al Qaeda-Iraq (AQI), according to US and Iraqi officials. Since then, a wave of suicide and vehicle bombings has slain thousands in Iraq - which officials partly blame on the freed inmates - while other former convicts have moved through al Qaeda staging areas in the western desert to fight in Syria.
"You can't ascribe all of the violence to the jailbreaks, but it has replenished AQI's stocks," one US official told ABC News. "They have given AQI an advantage with their numbers and experience."
There were more than 600 [escapees], most are AQI, ISIS and other terrorists," Hakim Al-Zamili, a member of the Iraqi parliament who closely follows security issues, said in Baghdad. "Those AQI fighters have the ability to influence and to work in groups on the ground. The jailbreak operations have given them the motive and support to move on, and also the motive to free other [terrorist] inmates."
Al Qaeda on Friday posted video online of armed former inmates who escaped from Abu Ghraib capturing and executing Iraqi military officers, the report said.
A week after the Iraq breakouts, more than 1,000 inmates escaped a prison in Benghazi, Libya, though many who overwhelmed the jail were said to be relatives of petty criminals held there, one of the U.S. officials cautioned. Other prisoners escaped in much smaller numbers in separate incidents elsewhere in Libya around the same period. On July 30, a prison in Dera Ismail Khan, Pakistan, was attacked by Tehrik-e-Taliban Pakistan using almost identical tactics, techniques and procedures as in al Qaeda's Iraq assaults.
The attackers liberated a dozen or more known terrorists picked up in the tribal areas. The sophisticated D.I. Khan operation was claimed to have been carried out by former Pakistani air force officer-turned-extremist Adnan Rasheed, who was busted out of a prison in Bannu last spring, itg was pointed out.
He subsequently helped form a special terror unit in the tribal areas, Ansar al-Aseer, to stage more attacks to free terrorists in Pakistan, he declared in a video online.
"The first purpose of this group is to make your release possible by all means," Rasheed said, addressing those locked up, as he squatted with two European mujahideen cradling Kalashnikov rifles in their laps.
Full report at:
http://www.nation.com.pk/pakistan-news-newspaper-daily-english-online/international/03-Nov-2013/jailbreaks-in-pakistan-iraq-libya-part-of-qaeda-plot
------------
US, Iraq vow to fight Qaeda
November 3, 2013
US President Barack Obama and Iraqi leader Nuri al-Maliki Friday discussed how to "push back" against al-Qaeda after the resurgent group whipped up the deadliest surge of violence in the country in five years.
Obama welcomed Maliki to the Oval Office nearly two years after the last soldier left Iraq, but as fears mount that al-Qaeda will send the country spiraling back into civil war.
"We had a lot of discussion about how we can work together to push back against that terrorist organization that operates not only in Iraq but also poses a threat to the entire region and to the United States," Obama said.
But he did not offer specifics of US aid. Before the visit, US officials privately hinted that they were willing to offer increased intelligence help to Iraqi forces battling extremist fighters — many of whom have crossed into the country to flee violence that is rending neighboring Syria.
Full report at:
http://www.thedailystar.net/beta2/news/us-iraq-vow-to-fight-qaeda/
------------
Shootings kill four in north-central Iraq: officials
2013-11-02
BAGHDAD: Authorities in Iraq say shootings have killed four security members, including two anti-al-Qaeda militiamen, in north-central Iraq.
Police officials say the first attack took place early Saturday when gunmen in a speeding car killed two fighters and wounded four at a security checkpoint manned by Sunni Sahwa militiamen in the city of Samarra.
Also, police say they found the bodies of two police officers killed by gunshots to the head, in a town near the northern city of Mosul, a day after they were kidnapped.
Medical officials confirmed the casualty figures. All officials spoke on condition of anonymity as they weren't authorized to release the information.
Full report at:
http://www.dawn.com/news/1053626/shootings-kill-four-in-north-central-iraq-officials
------------
Report: Leaked recording outlines Mursi's meeting with EU's Ashton
3 November 2013
Egyptian President Mohammad Mursi said that he rejected the charge of killing protesters, which he is about to be tried for on Monday, according to a recording of his July 30 meeting with EU Foreign Affairs Chief Catherine Ashton, obtained by newspaper al-Watan.
According to the newspaper, Mursi said: "I totally refuse the issue that I'm accused [of] because the procedure of trying a president is completely different according to the constitution.
"If I go to trial, I will defend myself at court. I did not get involved in killing protesters. I will say this to the judges," he reportedly added during the July 30 meeting at an undisclosed location.
The ousted Muslim Brotherhood-affiliated president will stand trial on Nov. 4, with 14 other defendants, over the killings of protesters outside the presidential palace in the Heliopolis district of Cairo in December 2012.
According to the newspaper, he further acknowledged that millions of Egyptians took to the streets on June 30 to demand his ouster.
"Yes, millions took out [to the streets]. They say 30 million. They should have waited for parliamentary elections," Mursi reportedly says.
For her part, Ashton reportedly told Mursi that he should have listened to the protests demanding his resignation.
"Millions of Egyptians took to the streets demanding that you and the Brotherhood exit [power]. You must've listened to them. This is democracy," she reportedly said.
Following the protests demanding his resignation, Mursi was removed from power in a Military-led ouster on July 3.
Full report at:
http://english.alarabiya.net/en/News/middle-east/2013/11/03/Report-Leaked-video-shows-Mursi-admitting-million-protesters-wanted-his-ouster-.html
------------
Kerry heads to Mideast to reinforce key Arab ties
3 November 2013
U.S. Secretary of State John Kerry headed to the Middle East Saturday, aiming to shore up decades-old alliances with Egypt and Saudi Arabia left badly frayed by the turbulence sweeping the region.
Egyptian state media said the top diplomat would visit Cairo Sunday for the first time since Washington froze part of its $1.5 billion in annual aid, angered by the bloodshed and lack of democratic progress since the July ouster of President Mohamed Mursi.
The Cairo stop was not immediately confirmed by U.S. officials.
It would come just a day before Islamist leader Mursi, the country's first democratically elected president, is due to go on trial on charges of inciting the murder of protesters outside the presidential palace in December 2012.
Clashes and unrest between supporters of Mursi's Muslim Brotherhood and military security forces have left about 1,000 dead since he was overthrown by the army on July 3.
The U.S. administration has openly voiced concern at the lack of visible progress by the interim military-led leadership toward restoring democracy and holding fresh presidential and parliamentary elections.
Washington announced in early October that it was "recalibrating" its aid to Egypt, which includes about $1.3 billion for military assistance.
It also said it was suspending the delivery of big-ticket items such as Apache helicopters, F-16 fighter jets, M1A1 Abrams tank parts and Harpoon missiles until it sees some progress on democratic reforms.
If Kerry's Cairo trip goes ahead, the timing is somewhat awkward, with Mursi's trial likely to inflame further protests by his Islamist backers.
A huge security net is being thrown over the southern part of the city, with some 20,000 police being deployed to guard the police academy where proceedings against Mursi and 14 other defendants will take place.
U.S. officials have repeatedly called for Mursi's release and for an end to any politically motivated trials.
But Egypt's official MENA news agency said Friday that Kerry would only stay in Cairo for "several hours."
U.S. officials, meanwhile, say he will arrive in Saudi Arabia some time on Sunday, where he also faces tough talks with the kingdom's leaders, including King Abdullah.
Kerry's 17th trip since becoming secretary of state in February will also take him to Poland, Israel, Bethlehem, Jordan, the United Arab Emirates, Algeria and Morocco, and he is due to return to Washington on November 12.
Along with its concerns over the hesitant U.S. policy towards the bloody conflict in Syria and Washington's outreach to arch foe Iran, Saudi Arabia has been dismayed by the freezing of U.S. aid to Egypt, seen as a cornerstone of regional stability.
The Gulf kingdom had considered Mursi's Muslim Brotherhood a threat and had quickly pledged financial aid to Egypt's new military-installed authorities congratulating interim Egyptian president Adly Mansour after he was appointed in July and unveiling a $5 billion aid package.
The dragging war in Syria, now in its 31st month, is also one of the major bones of contention straining ties between Washington and Riyadh, a staunch supporter of the Syrian opposition rebels fighting to oust Syrian President Bashar al-Assad.
In an unprecedented move, Riyadh earlier this month turned down a coveted non-permanent seat on the UN Security Council in protest at the world body's failure to end the war that has left over 115,000 dead.
Full report at:
http://english.alarabiya.net/en/News/middle-east/2013/11/03/Kerry-heads-to-Middle-East-to-shore-up-key-Arab-ties-.html
------------
Fighting intensifies around Syrian capital
02 Nov 2013
Syrian air and land forces have pressed ahead with an intensified campaign on rebel-held pockets around Damascus, as Kurdish fighters in the country's north drove home advances against al-Qaeda-linked groups, monitoring agencies report.
The Syrian Observatory for Human Rights, a UK-based anti-government group, said the air force carried out raids on Sbeineh, south of the capital, on Saturday as government troops shelled the town.
Rebels on the capital's southern front were battling government troops backed by pro-government militias, it said.
"The strike was part of the regime's offensive against rebel areas in and around southern Damascus," Observatory director Rami Abdel Rahman told AFP news agency.
There has been a marked escalation along Damascus' southern belt, which has been under a suffocating siege for months, giving rise to widespread malnutrition especially among children.
The regime has for months been trying to secure the capital, which is surrounded by rebel positions.
State news agency SANA, meanwhile, said two people were wounded in shelling by "terrorists" of the Bab Jabieh neighbourhood of central Damascus.
Southeast of Damascus, several mortar rounds smashed into the majority Christian-Druze neighbourhood of Jaramana, wounding nine people, according to SANA.
In rebel-held Yabrud, northeast of the capital, one person was killed and several others were wounded in a car bomb explosion, according to the SOHR.
Kurdish offensive
Meanwhile, Kurdish fighters pressed an advance against the al-Qaeda-linked Islamic State of Iraq and the Levant in the majority Kurdish province of Hasake, according to the Syrian Observatory.
Full report at:
http://www.aljazeera.com/news/middleeast/2013/11/fighting-intensifies-around-syrian-capital-2013112225051841858.html
------------
Southeast Asia
Indonesian Diaspora regrets attack on Yogyakarta meeting
November 02 2013
Indonesians living abroad under the grouping, the Indonesian Diaspora, have signed a petition asking law enforcers to bring members of the Anti-Communist Front (FAKI) to court over last week's attack on a meeting organized by relatives of victims of the 1965 communist purge in Yogyakarta.
"Firm measures should be taken against the head of FAKI and its members, for they cited hate speech, broke up a meeting and were violent toward meeting participants," the Indonesian Diaspora stated in a press release sent to The Jakarta Post on Saturday.
The diaspora stated that it had sent the petition to President Susilo Bambang Yudhoyono and all state institution leaders. It also urged the police to remain impartial and arrest the attackers to uphold justice.
Figures like senior journalist Aboeprijadi Santoso, who currently resides in Amsterdam, the Netherlands; researcher and political scientist Burhanuddin Muhtadi, who is currently pursuing a PhD in Canberra, Australia; Nahdlatul Ulama (NU) scholar Ahmad Sahal, who is studying toward a doctoral degree in the US, and campaigner Nursyahbani Katjasungkana are among the petition's 137 signatories.
Full report at:
http://www.thejakartapost.com/news/2013/11/02/indonesian-diaspora-regrets-attack-yogyakarta-meeting.html
------------
Malaysia summons US, Australia over spy row
November 03, 2013
KUALA LUMPUR: Malaysia summoned the heads of the US and Australian missions in protest at spying allegations, its foreign minister said Saturday, as a row over a vast US-led surveillance network deepened in Asia.
China and Indonesia have already demanded explanations from Australia over reports that Canberra's missions were being used to monitor phone calls and collect data as part of American surveillance.
The dispute erupted in the region this week following a story in the Sydney Morning Herald, which reported a top-secret map leaked by fugitive intelligence analyst Edward Snowden that showed 90 US surveillance facilities at diplomatic missions worldwide — including in Cambodia, China, Indonesia, Malaysia, Myanmar and Thailand.
Widespread reports of US National Security Agency spying based on leaks by Snowden, including that the agency was monitoring German Chancellor Angela Merkel's phone, have already sparked a major trans-Atlantic rift.
Malaysian Foreign Minister Anifah Aman said his country on Friday summoned the US and Australian mission heads to "hand over a protest note in response to the alleged spying activities carried out by the two embassies in Kuala Lumpur".
The US was represented by its deputy mission chief Lee McClenny, as the ambassador was out of town, the minister said in a statement, without giving details of what transpired.
Anifah on Friday also met his Australian counterpart Julie Bishop on the sidelines of a regional meeting in Perth, expressing "deep concern of such reports (of alleged Australian spying activities) which have caused considerable anger amongst the Malaysian public".
"He further stated that such activities are not done amongst close friends as it could severely damage existing relations," the statement said, adding both ministers would work together "to manage the situation and to avoid it from affecting the close bilateral relations". US Secretary of State John Kerry this week admitted US spying has sometimes gone too far.
Indonesia has also summoned both its Australian and US ambassadors, while China has called for "a clarification" from
both sides.
Full report at:
http://www.dailytimes.com.pk/default.asp?page=2013\11\03\story_3-11-2013_pg4_2
------------
Indonesians find themselves in a jam
3 November 2013
The Indonesian expatriate community in the Kingdom, which is largely made up of domestic workers and which accounts for the largest number of runaways within the country, is in a frenzy over procedures to legalize their employment status in time for today's deadline.
Indonesian workers, in particular, fear they may not be able to return to the Kingdom owing to the current suspension of recruitment of domestic workers from Indonesia.
This has led to many Indonesians opting for status legalization as opposed to repatriation.
Many middle-class and working class Saudi families prefer Indonesian domestic workers and have been on a desperate search to hire Indonesian housemaids amid the manpower shortage and the race against the amnesty deadline.
The amnesty period announced by Custodian of the Two Holy Mosques, King Abdullah, provided ample opportunity for Saudi families to hire runaways and workers seeking sponsorship transfer and for Indonesian domestic workers to seek employment.
However, the process is proving cumbersome with the Indonesian government's new stipulations. Indonesian authorities are insisting on a minimum salary of SR1,200 and a contract signed by the Saudi employer with proof of ID in the presence of a consulate official.
They also demand that the document be legally valid and binding in case of a violation by either party.
Full report at:
http://www.arabnews.com/news/471436
------------
URL: https://newageislam.com/islamic-world-news/sectarian-clashes-kill-55-salafis/d/14267